Tess's 5th Bday at Disney: Morning with Daddy
Last year we celebrated Tess's first Disney birthday and honestly? I think she was too young.
It was overwhelming for her to make choices about what she wanted to do and she was just not quite old enough to understand the whole concept.
I plan to do a regular birthday party for Spear until he turns 5 and transition into a Disney birthday then – Tess's 5th Disney birthday was AMAZING and she really, really loved being the birthday girl!
When we started planning her trip she wanted to copy her trip from last year 😉
Last year she and Zach went to Magic Kingdom together for their special time so she wanted to do the same thing this year.
I scheduled them an early morning breakfast at Be Our Guest for her special day.
Tess did Bibbidi Bobbidi Boutique last year for her birthday but opted to try out the "mermaid makeover" at Pirate's League this year (a first time experience for us!).
I went ahead and scheduled that the same day as her Daddy time at MK since it's located there as well so we surprised her with a special mermaid dress!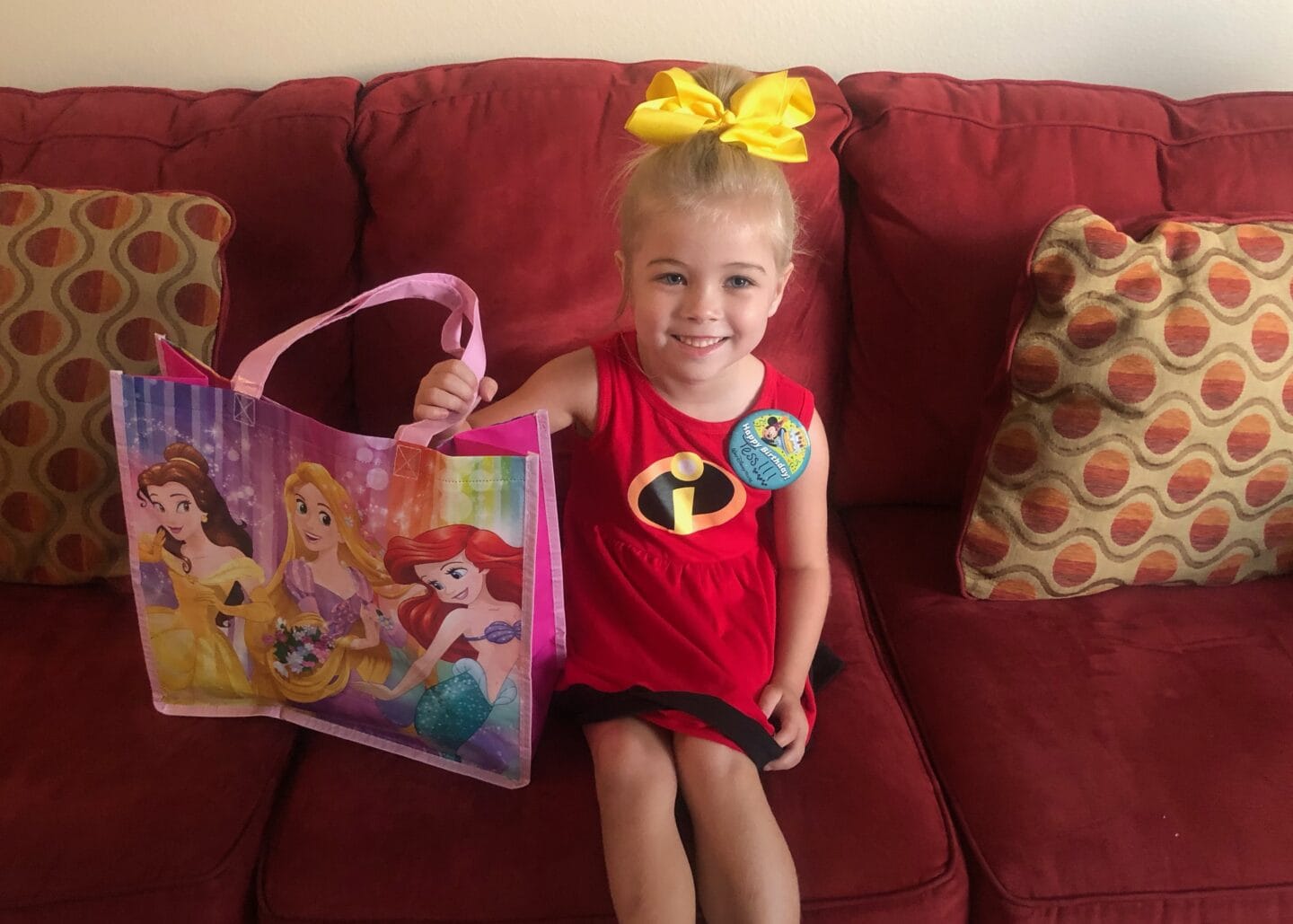 They had a super leisurely morning since they had early entry to the park for breakfast!
They had a BLAST all morning together!
They rode TONS of rides and Tess didn't even have a stroller – Zach put her on his shoulders a lot of the morning.
They rode It's A Small World and Haunted Mansion (aka "The Spooky Ride")
They also played on the playground a bit and rode 7 Dwarfs Mine Train.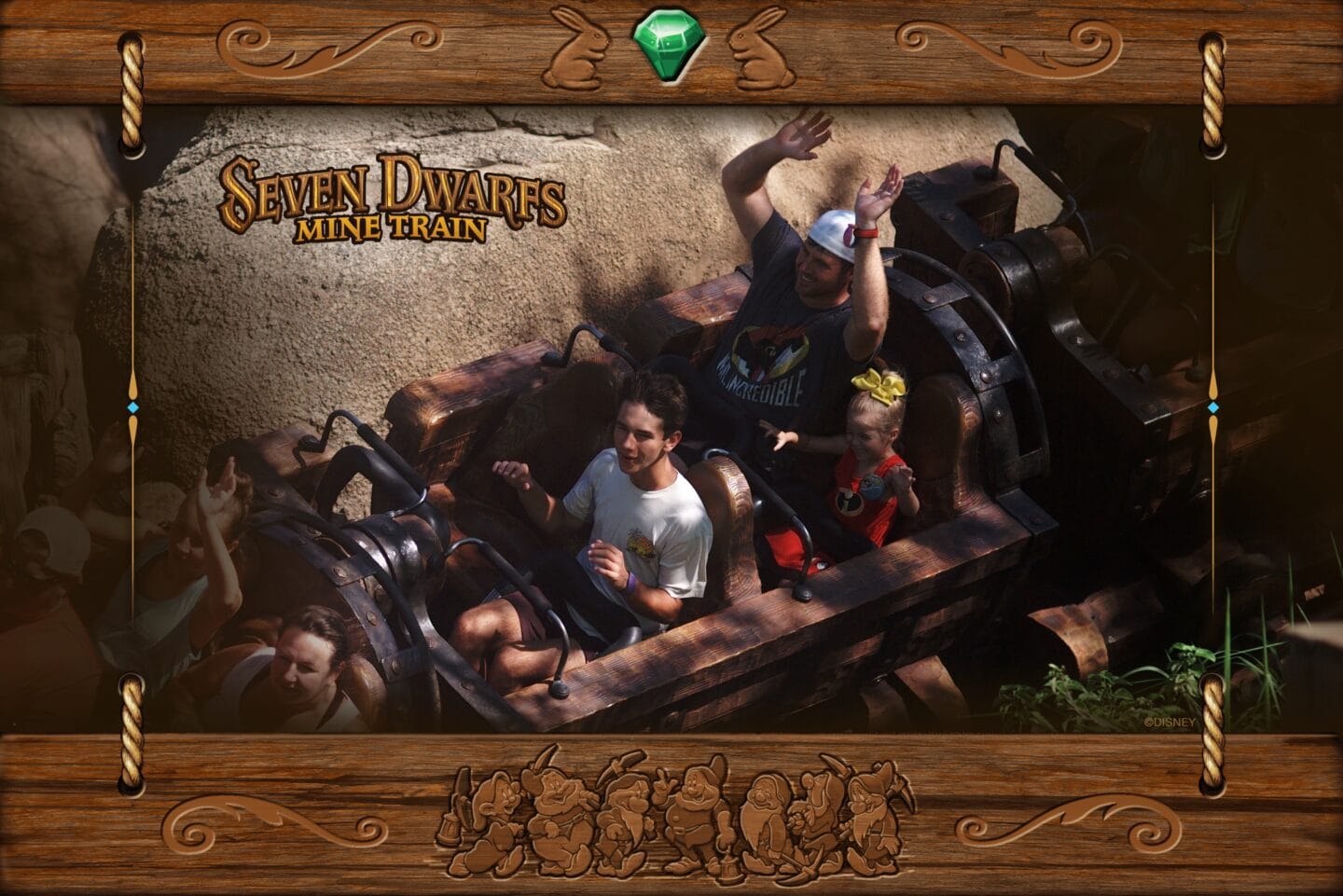 They also had the Enchanted Tales with Belle experience where Tessie was chosen to be Maurice!
Any Disney day with Tess means STICKY FOOT snacks!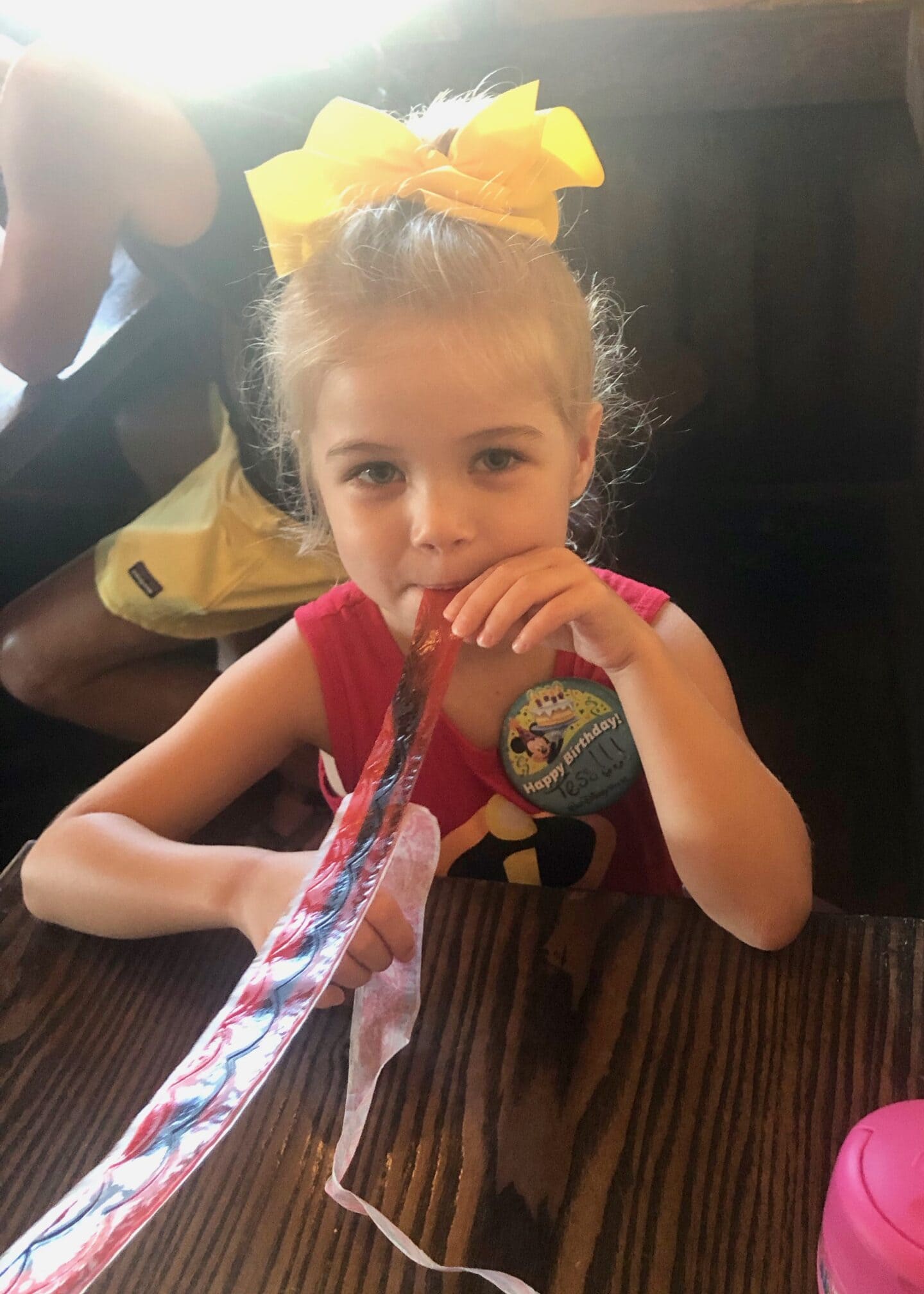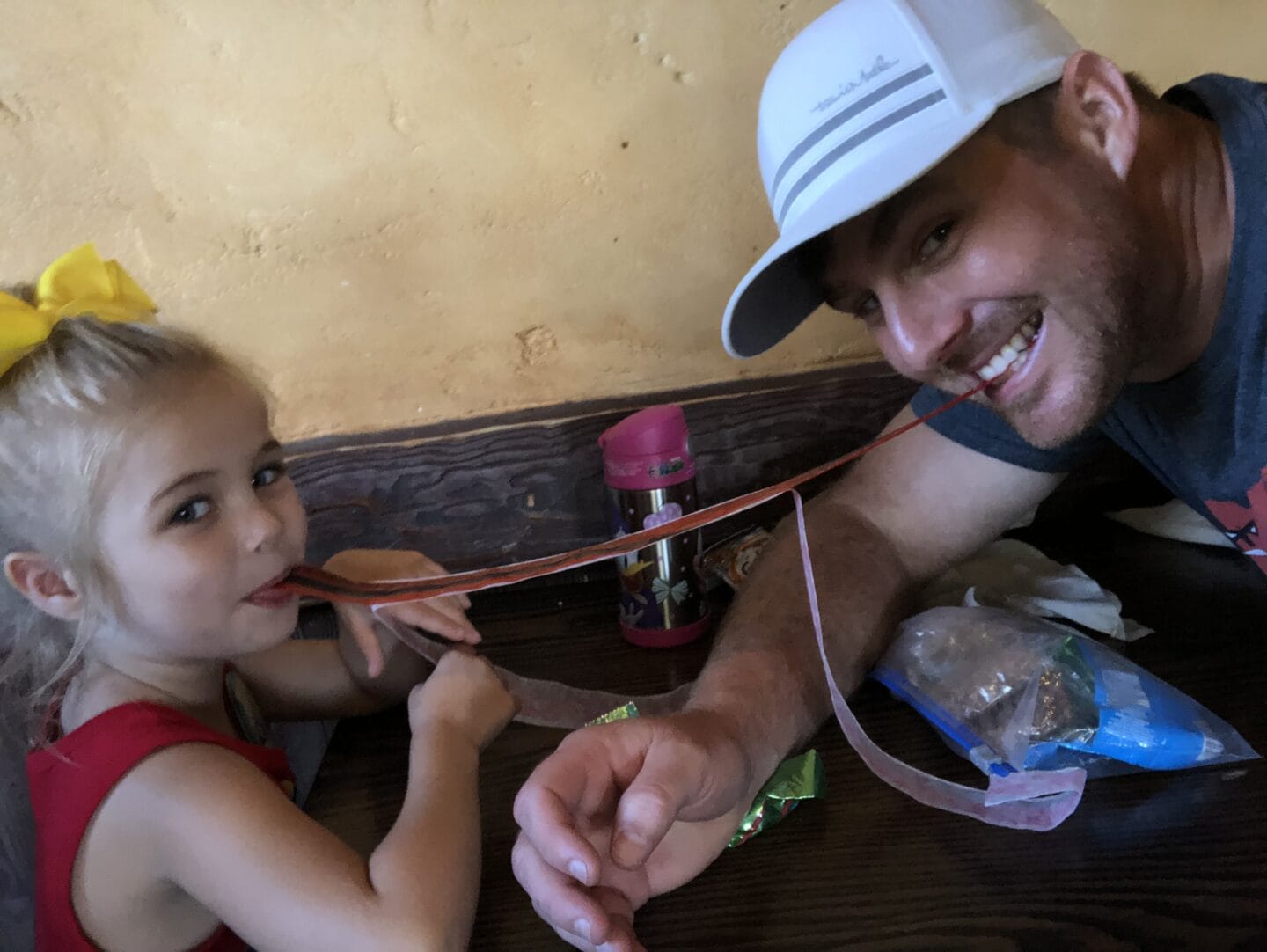 Tess loves riding rollercoasters with her Daddy. They rode Barnstormer and were able to see a lot of the progress for the new Tron ride.
Daddy does NOT like Winnie the Pooh 😉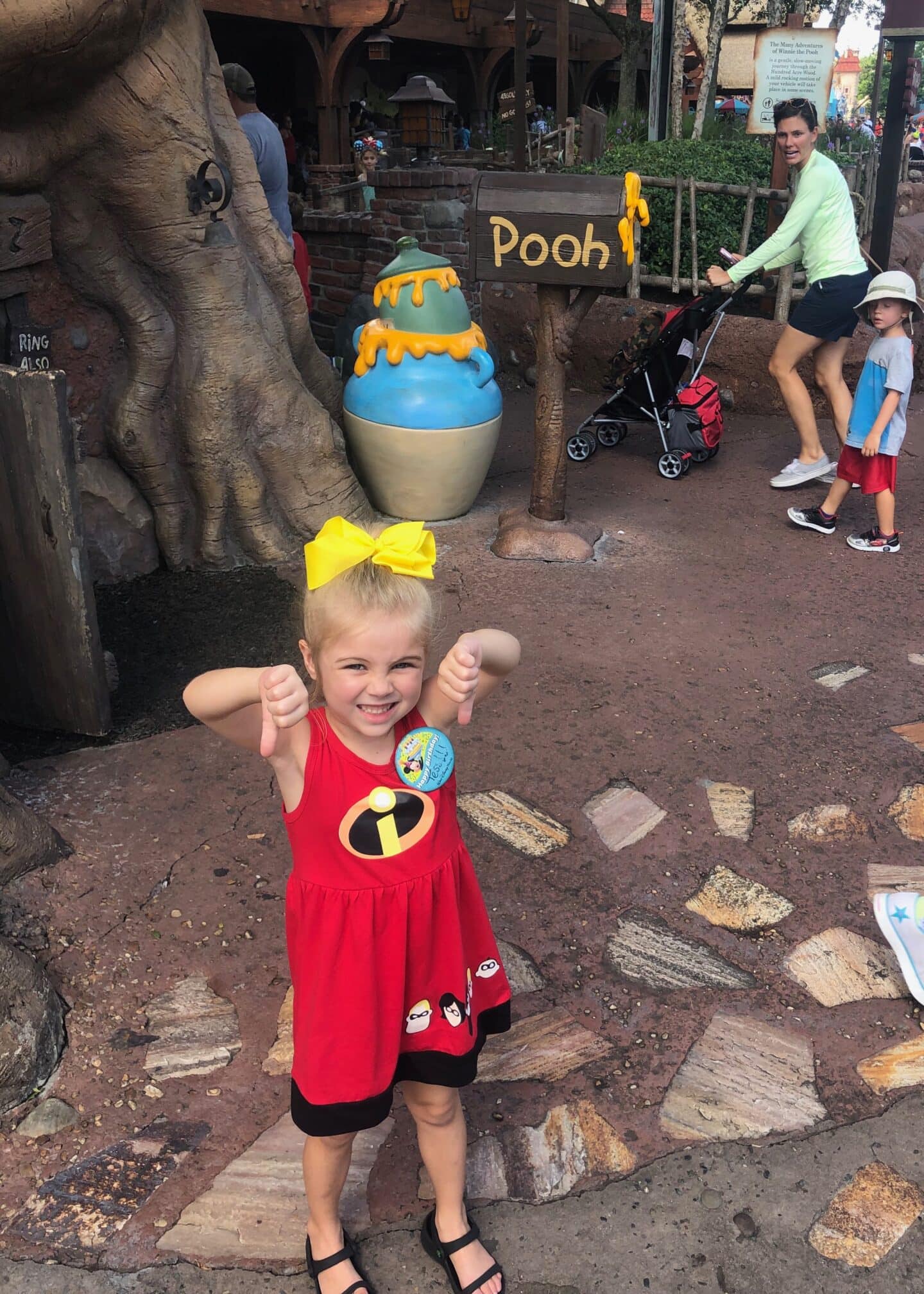 They had lunch together before ending their morning together when we all met up 🙂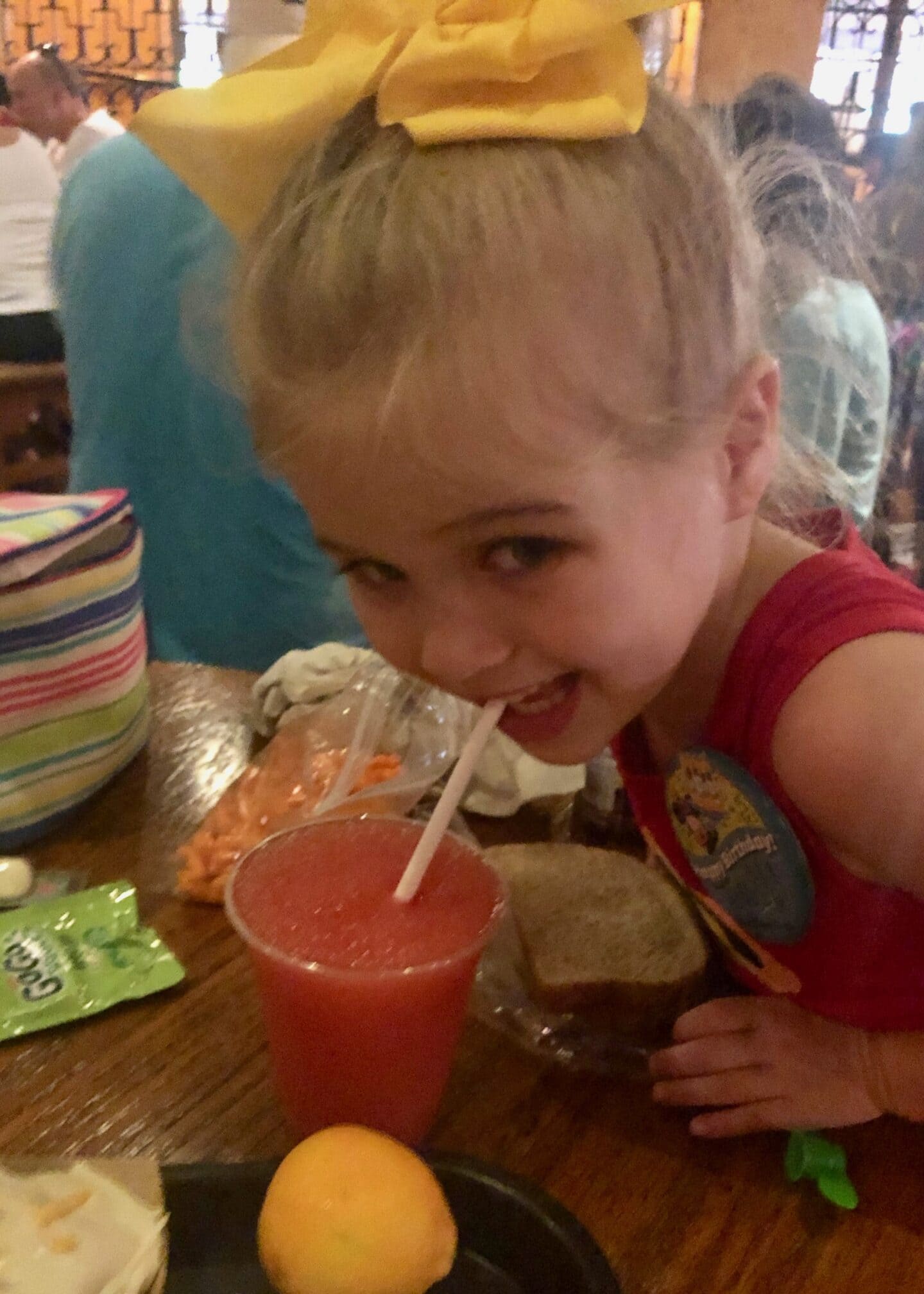 Such a special morning together!
Since Mrs Charlotte drove her own vehicle down for the trip we decided to ALL have a morning at the park 🙂
We didn't need to get there as early as Zach and Tess did so our crew took our time before heading that way!
We had the ferry completely to ourselves!
We planned a more chill morning, Kye and Britt wanted to show G-Mama the Sorcerers Game and I wanted Spear to get to do some fun stuff!
We stopped to get a few castle pics as we headed down Main Street! I love just not really caring about "needing" a certain photo. Whoever wanted one, got one!
We literally didn't even decide what our first ride of the day would be until we were standing by the castle to watch the opening show – I LOVE pass holder life 😉
We decided to head straight for Teacups.
Y'all.
I've NEVER ridden the Teacups before! Isn't that CRAZY? I've always been easily queasy and super prone to motion sickness so the idea of spinning around in a cup hasn't ever been appealing to me.
But now that Britt is 7 she and Kye can ride solo and spin to their hearts content.
And G-Mama, Spear and I didn't have to spin at all! I was DOWN for it!
We had a fastpass for Buzz and Spear was so cute on it! Britt was pumped to ride solo for the first time!
We hopped on People Mover and Spear was cracking us up because every time we went through the dark his eyes GOT HUGE.
It's also funny how quickly kids this age change.
We never took any of the older three to Disney until they were over 2.5 years old. Spear still isn't even that age yet so every time we take him to the parks we don't know what to expect!
When I just took him last month solo to MK he sat perfectly still on People Mover. Not. This. Time. He was climbing all over the place!
We then headed over to Dumbo because the kids were hoping to play on the playground but it wasn't open (I think they must only open it when it's crowded?). So we still hopped on the ride!
After Dumbo we had a fast pass for Zach's favorite…Winnie the Pooh 😉
We had a large block of time before we needed to meet back up with Zach and Tess which was perfect to play Sorcerers of the Magic Kingdom!
The great thing about the game is you can scan the band at ANY station and it will tell you where you need to go to pick back up where you left off.
I love chances for Kye and Britt to bond and this was a great opportunity for that!
I pushed Spear in the stroller and Mrs Charlotte and I talked as we followed them from port to port as they completed their mission.
We even met a hardcore card player who gave Kye lots of tips and traded cards with him to help him out!
Kye and Britt DEFEATED Hades which means they completed the entire GAME!
Once you beat the game you have to go back to Main Street to get more free cards and advance to the next level.
Kye is now on the Medium level and got to sign his name in a book of people who have all conquered the level!
I guess now it gets tricker and card combinations matter more and help advance things more too!
We decided to stop there and will pick it up next time to see what this new level has in store!
The kids got their new cards organized and we walked a bit through the Emporium to head back over to Adventureland.
We had enough time to grab a quick lunch before meeting Zach and Tess for our group fastpass to ride Pirate's!
The kids were SO HAPPY to be reunited and it was PRECIOUS just seeing them all so excited to share details about their mornings. Britt and Kye do so great with Tess giving her that attention and asking questions about all the fun she'd had.
And Tess just ADORES her siblings. She lit up when we saw us and she snuggled Spear and Britt non-stop!
It was a super fun morning that had an awesome ending! Post to come on the Pirate's League Experience!