If you're looking for the best place to meet Santa for photos in Orlando, then The Santa Workshop Experience at ICON Park is exactly what you've been waiting for!
I LOVE having photos of my kids with Santa every year. It's a tradition that we all look forward to every Christmas.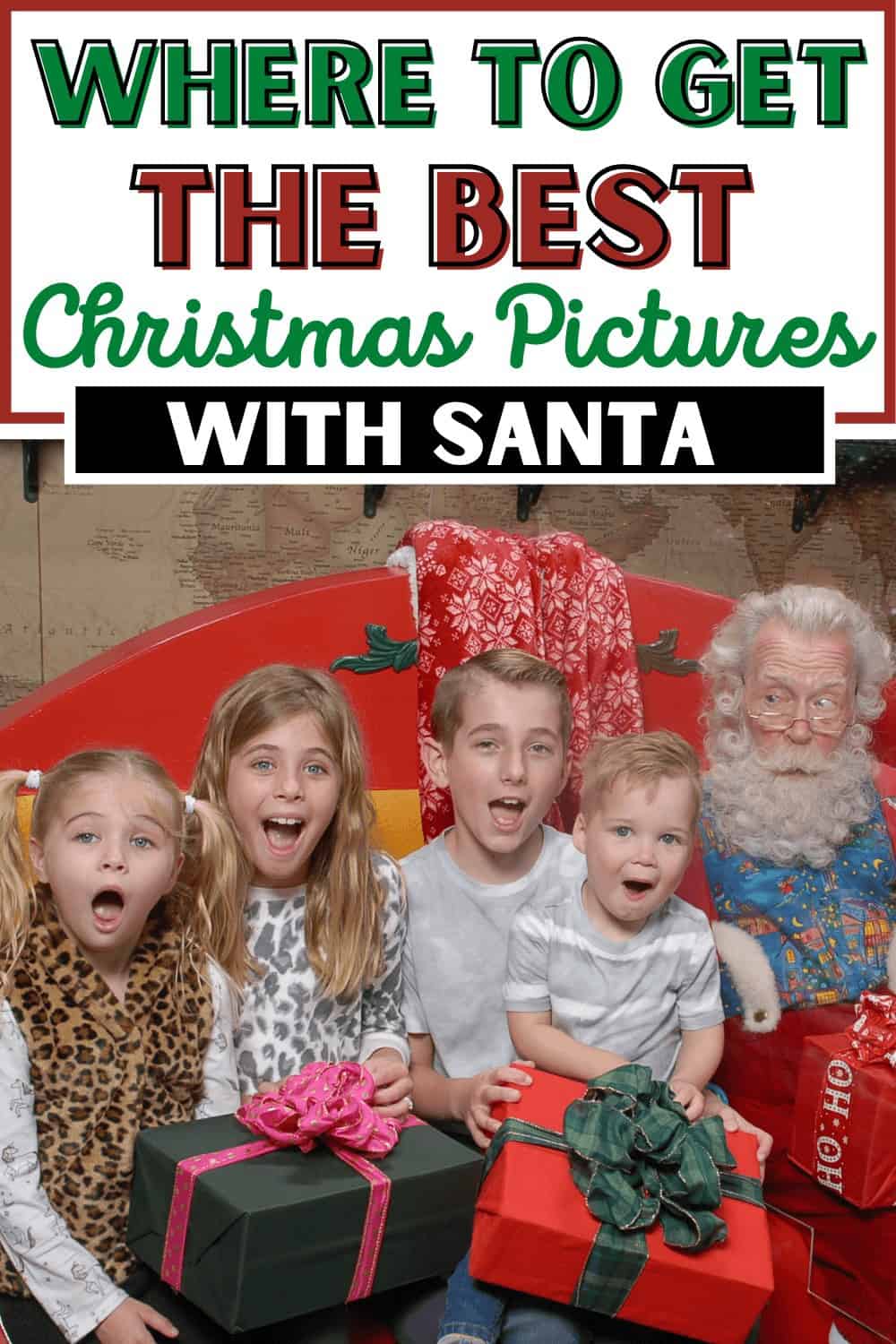 With the weird year of 2020 I was super nervous as to if meeting Santa would even be possible and I was on a mission to find a safe way for my crew to have the Santa experience they love.
ICON Park Orlando hosted our family for an AWESOME day of activities (check out my full travel guide here!) and I was super pumped to be able to have this surprise for the kids on our way home from such a fun-filled week.
When they mentioned they had a Santa meeting experience I was quick to jump on board but had NO clue what to expect.
I'd never visited ICON Park and hadn't ever heard about The Santa Workshop Experience and I was instantly BLOWN AWAY from the minute we walked in the door.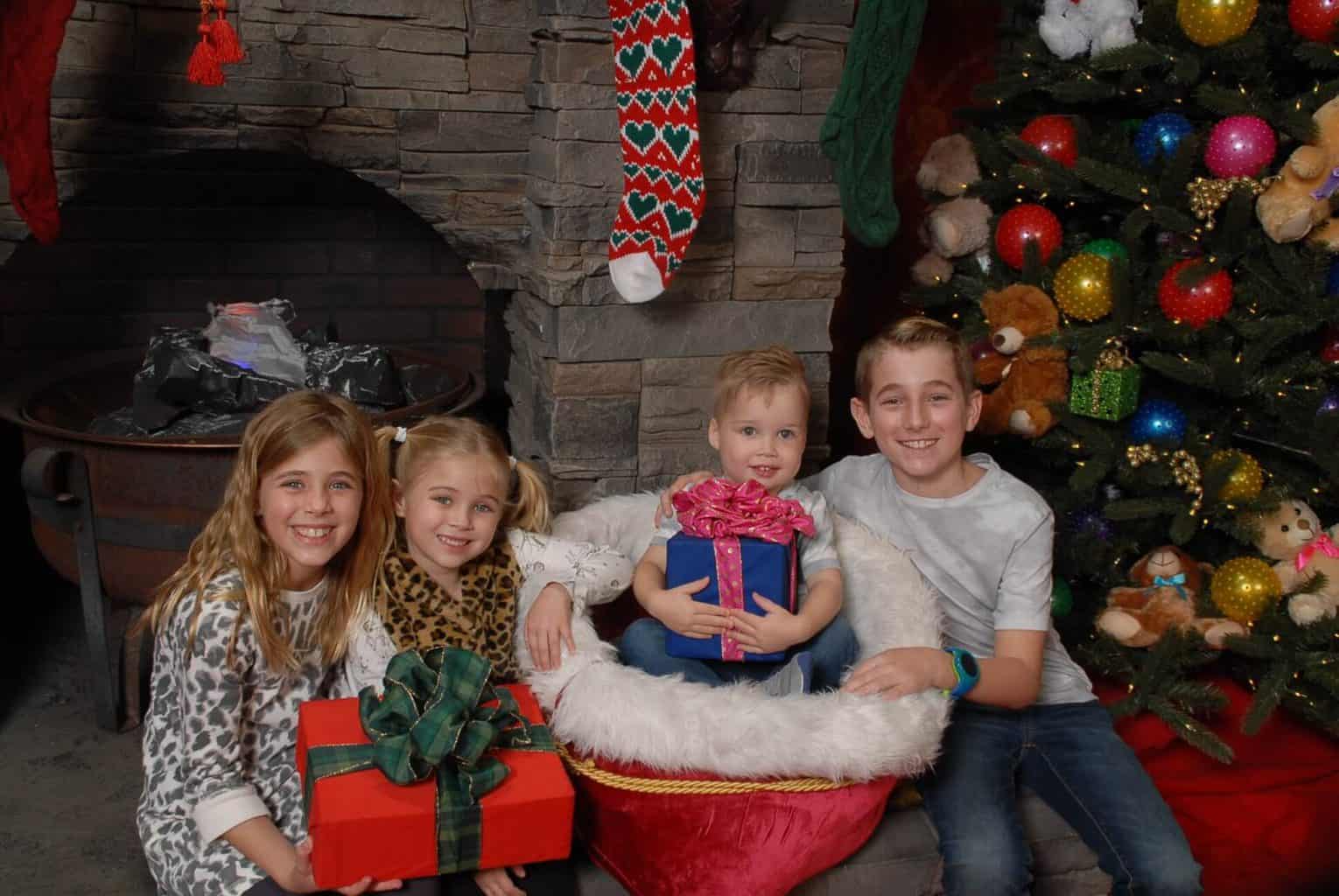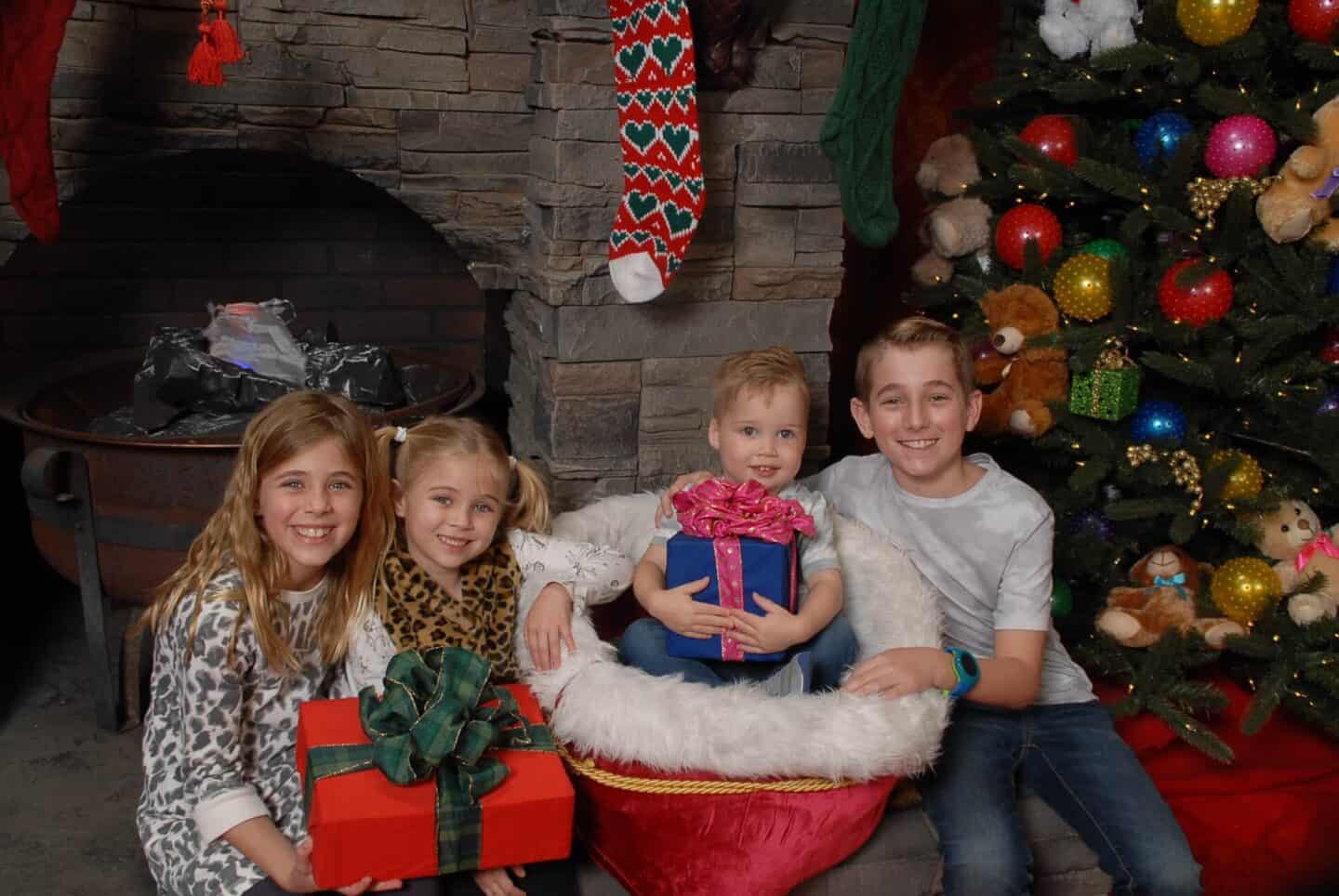 What is the Santa Workshop Experience?
The Santa Workshop Experience is more than just the best place to get pictures with Santa, it's so much more!
The Santa Workshop Experience was previously located at the Mall at Millenia and is considered to be the best Santa experience in Central Florida (we live in Georgia and I have to say it's THE BEST Santa Experience EVER ANYWHERE!)
This year the Santa Workshop Experience moved to ICON Park Orlando and has been completely updated with health and safety guidelines to allow for an incredible joyful holiday experience while also keeping families safety at the forefront.
Reservations are required and free parking is included. For every photo package purchased a free ride on The Wheel is included for each child in the party, adults are able to purchase tickets at 50% off.
Also included is an adorable train ride on the holiday-themed Pearl Express train. When you present your reservation for the Santa Experience your children receive a ride for free on Santa's Northpole Express from the parking garage to the workshop.
There are also lots of holiday activities including holiday-themed beverages and treat options available including cookie decorating with Mrs. Claus. Along with the over 40 awesome restaurants, shops, and attractions located at ICON Park Orlando.
The BEST part as a mom about the Santa Workshop Experience? You can use your phone to take as many photos and videos as you'd like – no commitment for purchasing the photo package required (but trust me… you'll WANT to buy 'em!)
Santa arrives at ICON Park early in November and stays through Christmas Eve in December so when considering places to meet Mr. Claus be sure to nail down a reservation early in the season to avoid the crowds. We went on a Sunday morning (over Thanksgiving week) and it was perfect!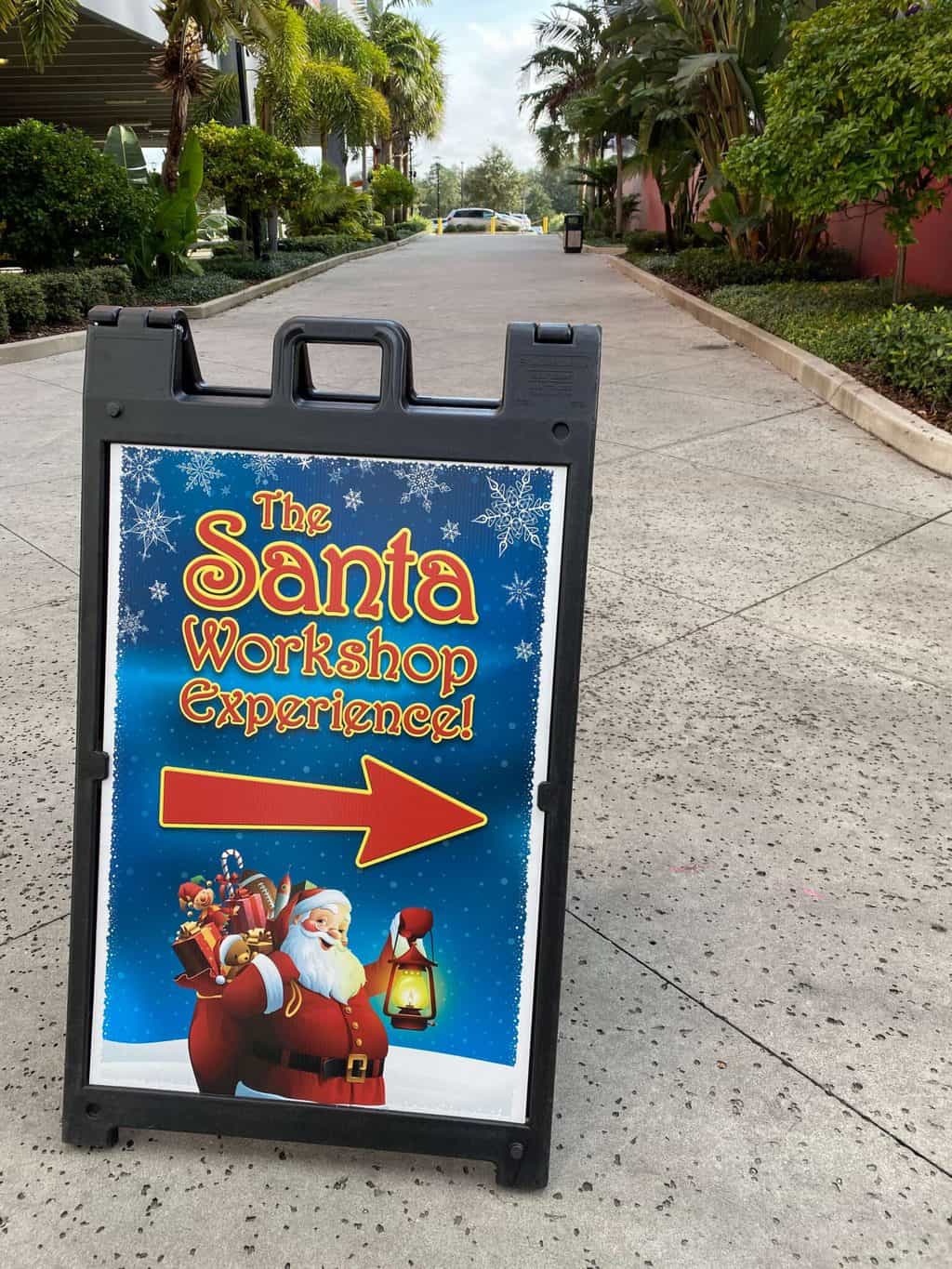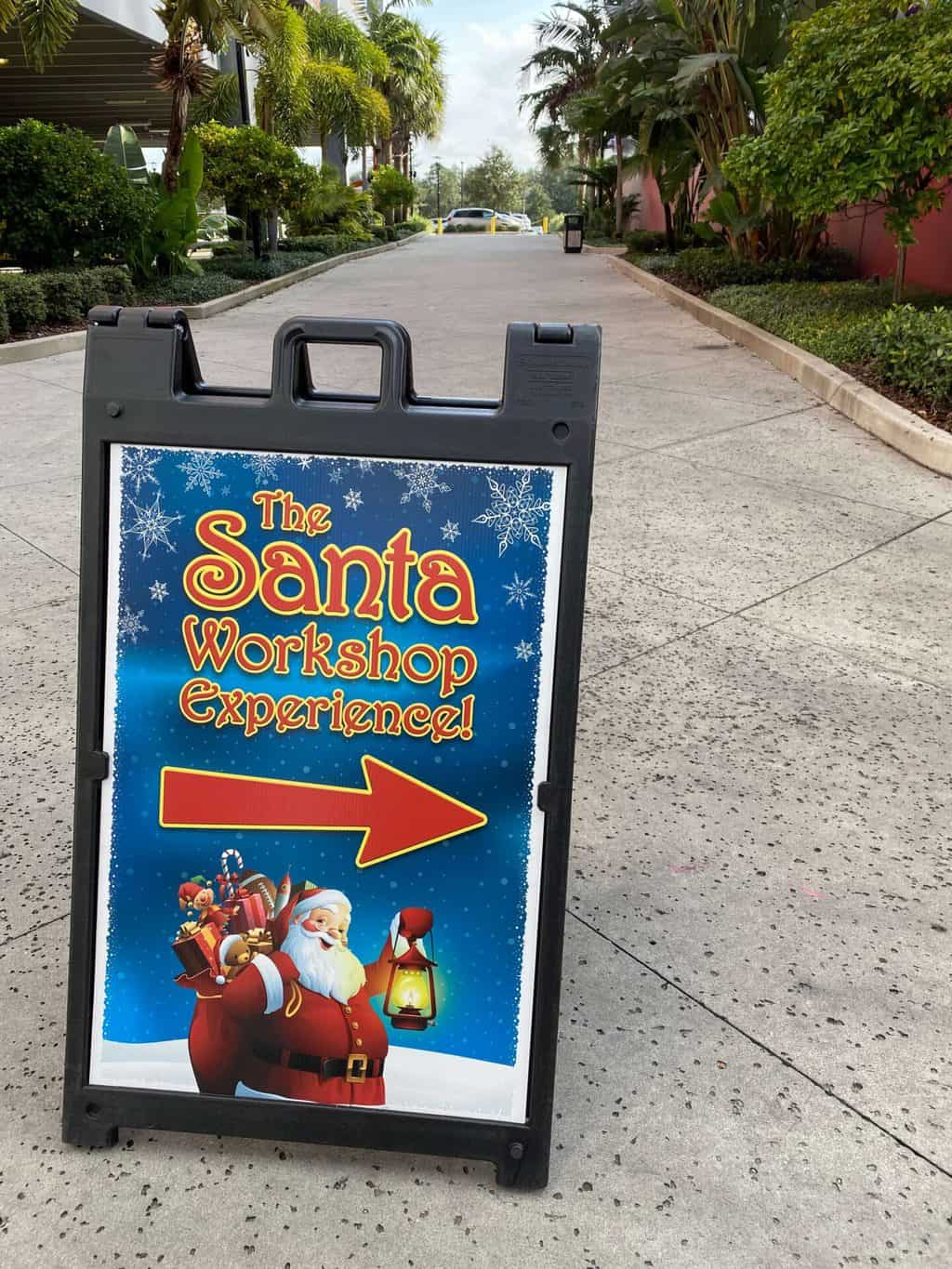 What to Expect During the Santa Workshop Experience
We were a bit early for our scheduled time but were welcomed right in by a friendly greeter and taken into a room that had been truly transformed into Jolly St Nick's home right out of the North Pole.
The kids loved looking at all the well thought out details (and the adorable toy covered Christmas tree!) and were guided kindly by the professional photographers through different scenes for THE BEST Christmas themed photos we've ever had.
Yall. They got my wild man two year old to not only sit still but to POSE on DEMAND. I was blown away.
I instantly regretted not having the kids all wear holiday themed attire – we saw other families coming in with Christmas pajamas and matching holiday themed family outfits (yes, the photographers WILL do full family photos too!).
The photographers were true pros in capturing each of our children so beautifully.
And then we saw SANTA. He was the most adorable Santa ever and was SO perfect for Florida!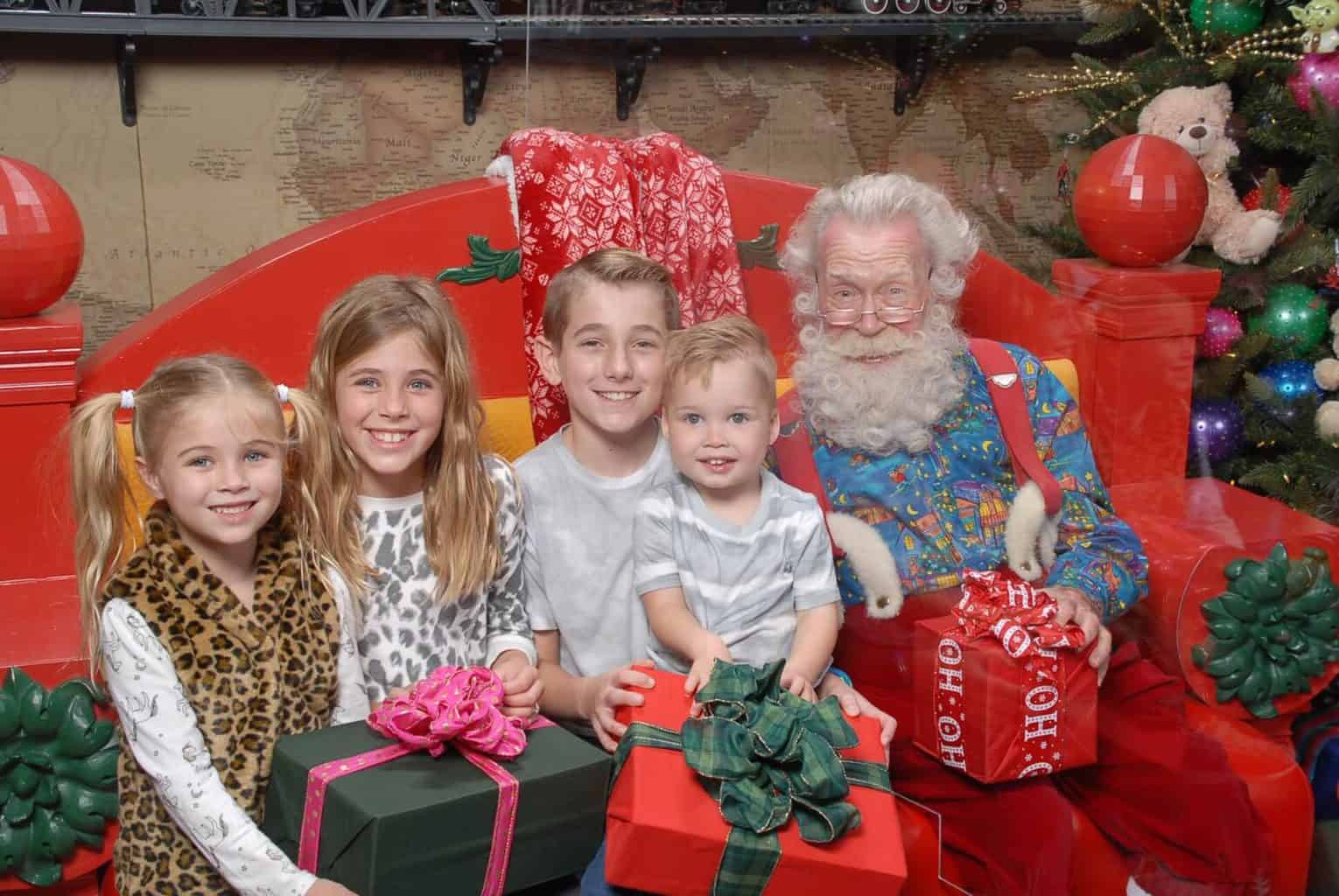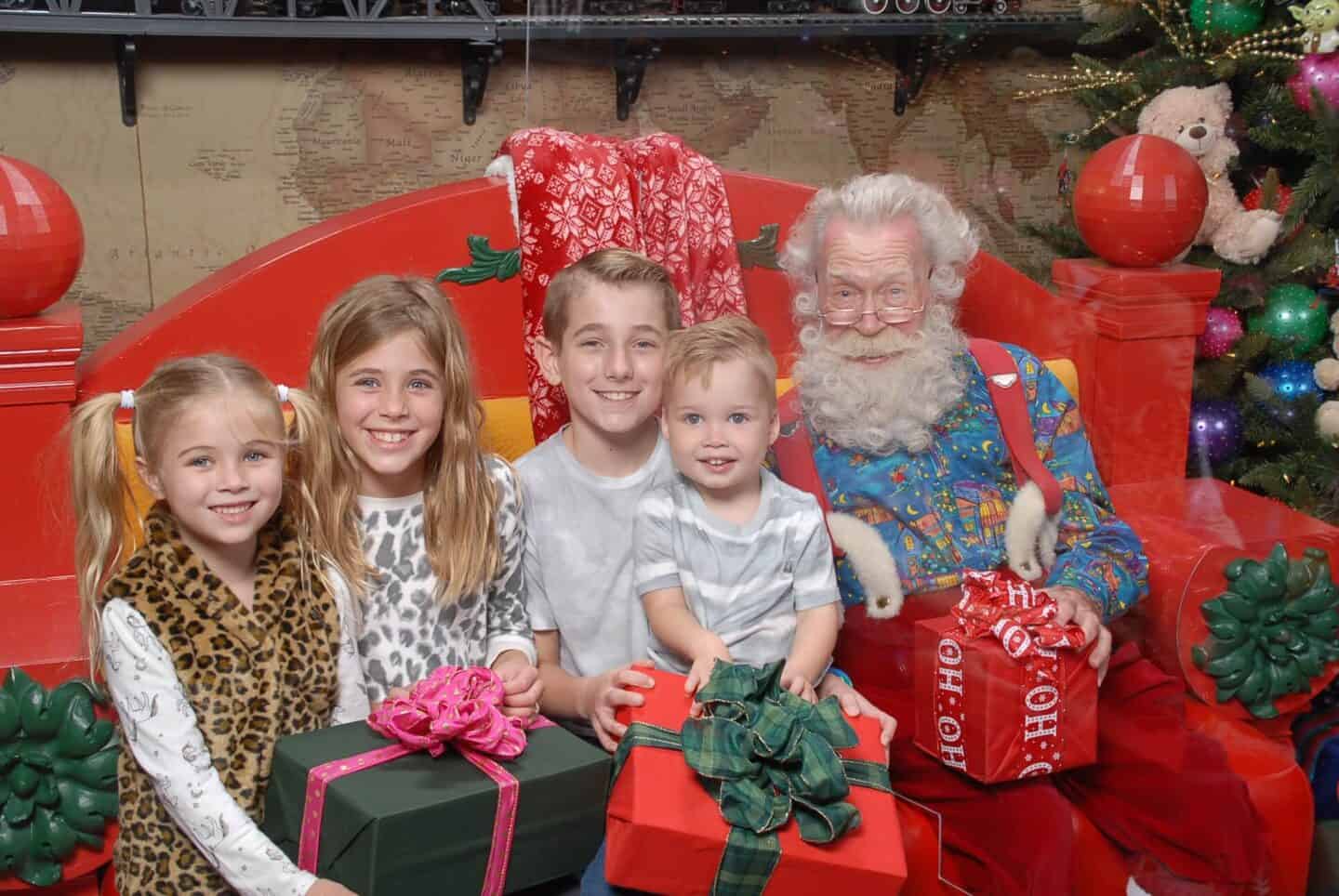 Safety Measures Taken by the Santa Workshop Experience
I had seen many friends share Santa photos over the months leading up to Christmas in 2020 and they were all socially distanced or masked experiences with Santa. Which just honestly made my heart hurt. It's NOT the same and isn't as magical as truly meeting Santa and having that connection time with him to ask him for your special Christmas wishlist.
I was blown away impressed with how The Santa Workshop Experience handled the crazy times of 2020. I talked to the staff at length and they explained to us that they had two options: cancel or adapt and they chose to adapt.
And rather than just go with the easier solutions (social distanced Santa or masks) they put TONS of time, energy and finances into making a Santa meeting that was JUST as special as usual while still being safe.
Santa sat beside clear plexiglass that you literally CANNOT EVEN SEE. They staged it so seamlessly that you have to know it's there to even see it.
My kids LOVED the setup and I think it was even better than the traditional sitting on Santa's lap. With having a pre-teen boy who feels awkward about these sorts of things (especially the lap-sitting) it was neat to see HIM having fun and enjoying the interaction too rather than feeling silly or embarrassed by it.
We all could NOT get over how awesome it was and how much FUN the entire experience was from start to finish. It was truly a chance to forget about all the health and safety concerns – the staff made it so safe that you didn't have to worry one bit and could just relax and enjoy the special moment.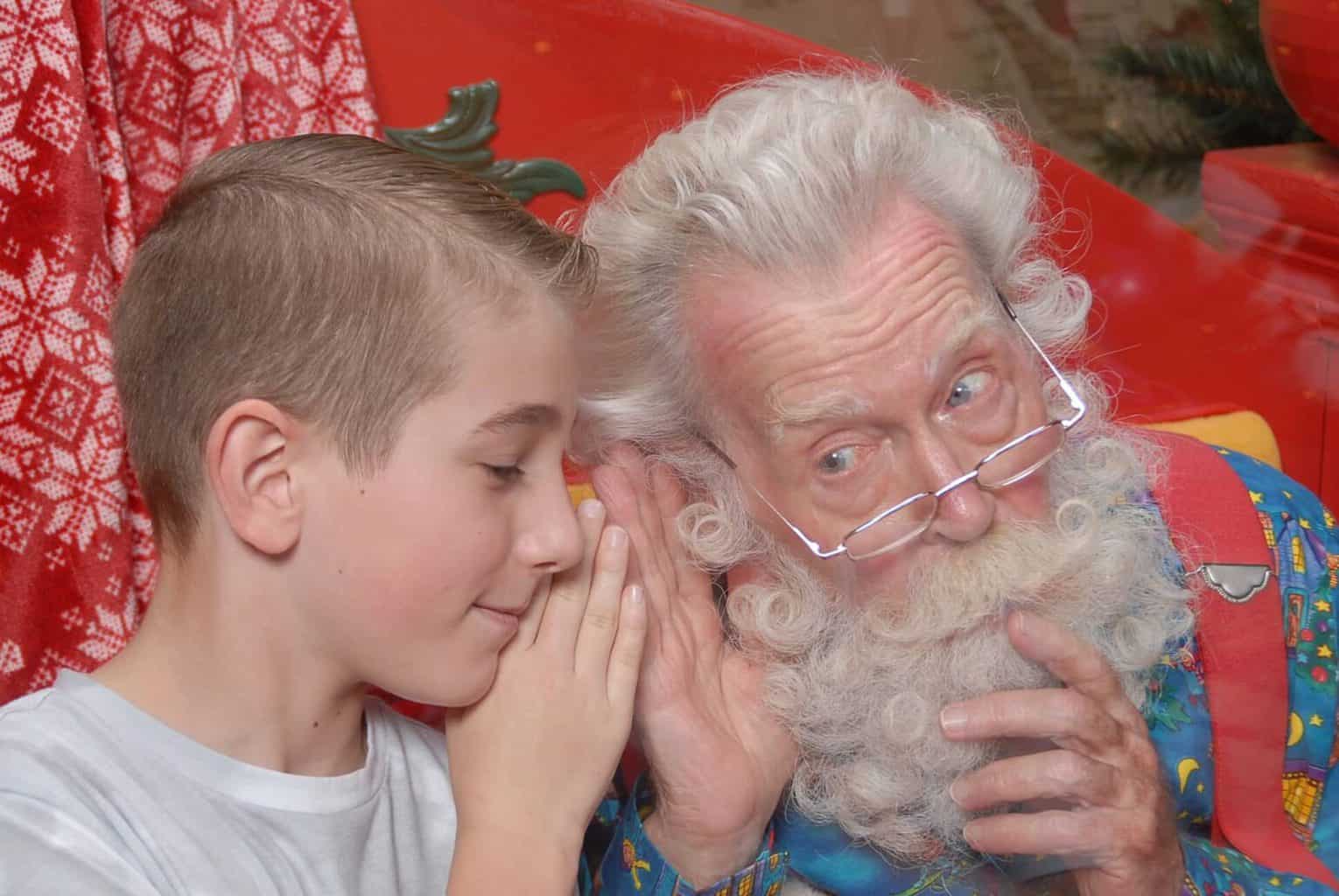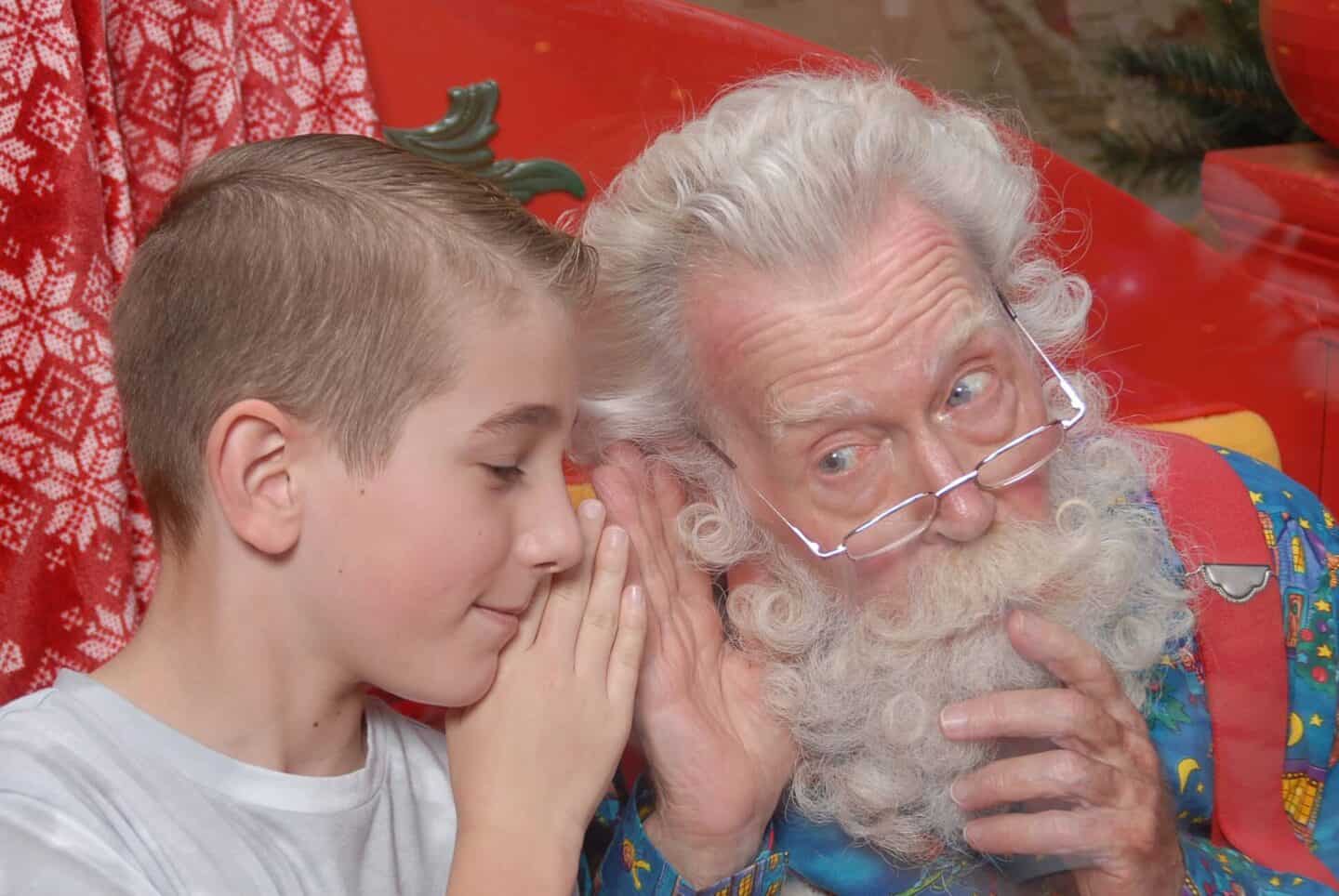 Why ICON Park is the Best Place to Meet Santa and the Best Santa Photos
We have NEVER had so much TIME with Santa. Whenever we go to typical meet and greets with Santa Claus we're met with a long line and feel rushed. We've met him many times and NEVER have we had the causal environment we experienced at ICON Park.
Typically every holiday season we meet Santa at Disney World (usually at Disney Springs…you can see our meet and greet from December 2019 here) and the thing with a theme park meeting is that it WILL feel very rushed. The long wait in line, the standard posed quick photos, it's just not as amazing as it could be.
But this experience? It was relaxed and jolly and gave us ALL the Christmas feels.
In addition the photo package was phenomenal. We knew quickly that we'd want to purchase the package. We have four kids and to have ALL of their photos on a jump drive (with the digital and printing copyrights) was only $89. Not bad at ALL compared to the price I paid in my hometown (where I paid $100 for 5 photos and a short 10 min experience and very traditionally posed shots).
Who would have thought in 2020 that we'd have the best Santa photos EVER? But we sure did! Even my husband (who can be a grinch with the spending) took no convincing when it came to buying the pictures and even HE said we gotta come back next year as a new annual tradition!
It was a very comfortable experience for ALL of our kids and they ALL had so much fun with it and got into the Santa photoshoot fun!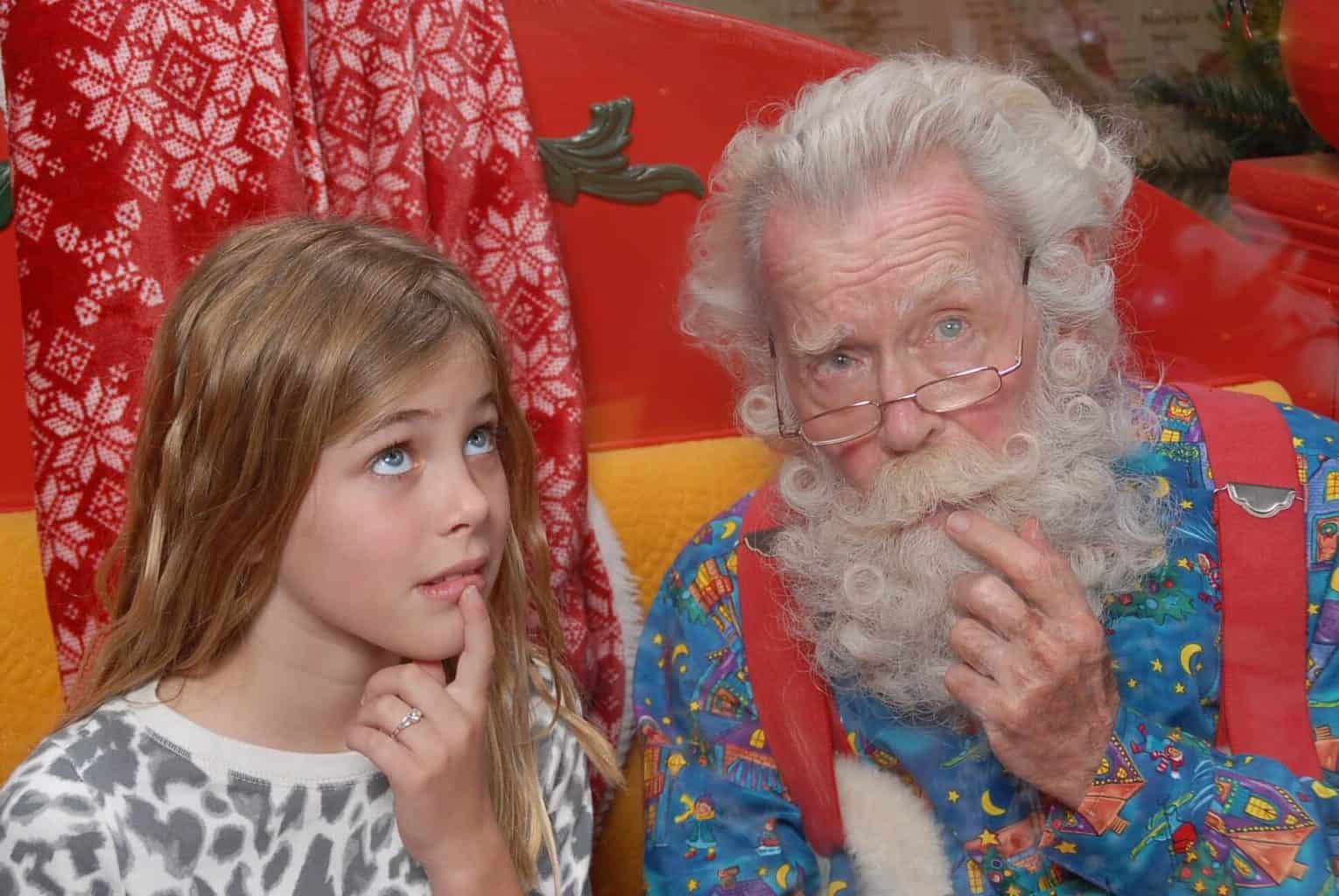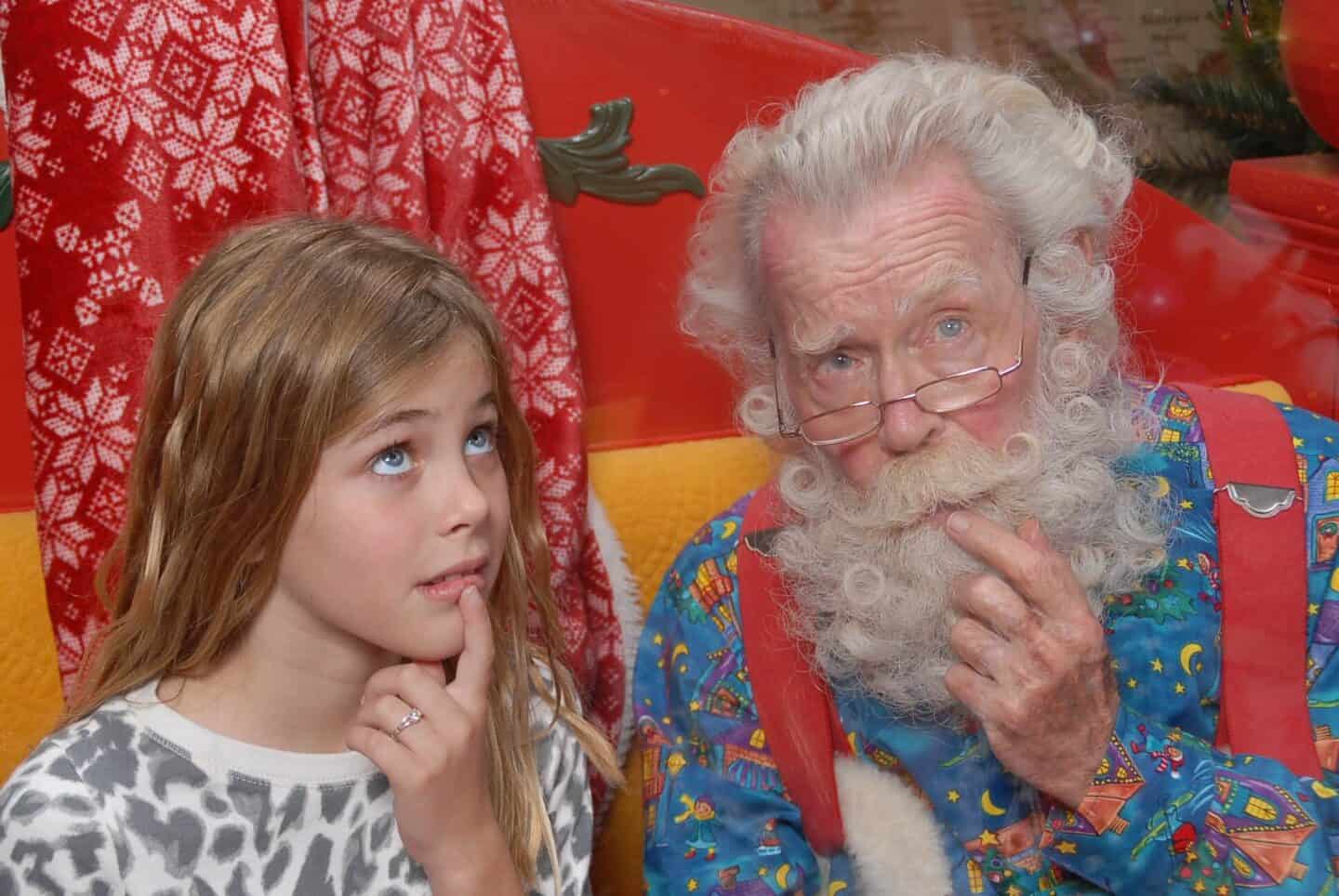 Individual and Family Photos with Santa
I am a big believer in taking the time to have as many individual photos of my kids as possible. I love sibling group photos and, of course, love a good family photo too, but there is just something extra special about having solo shots of each of my kids.
Related—-> The Best Family Picture Ideas Outside (Fall and Winter)
It allows for their personalities to shine and for them to have photos to look back on that aren't always lumped in with the rest of the family.
The photographers at ICON Park's Santa Workshop Experience did a fantastic job of taking time with EACH child. They did so many fun and creative poses and Santa was such a good sport too.
I didn't ask or suggest a SINGLE thing. I truly was completely hands-off in the entire experience and just let the pros do their thing and I couldn't have been happier with the end results.
Kye knows the truth about Santa and I feel like Britt is probably going to be asking the big Santa question by next Christmas so I'm SO thankful we had these epic Santa pictures taken this year!
I also love that the photographers didn't JUST do posed shots and also got a great blend of candids… like Tess whispering her wishlist to Santa while she plays with her hair. She is a hair twirler when she's a bit nervous and it's precious to have that memory.
The rates vary depending on the number of photos you're wanting – we went all out for the biggest package because we have so many kids. Next year we plan to do the same package but this time make sure Zach and I get in on some of the pictures too!
And if we did them early enough in the holiday season – wouldn't they make SUCH cute Christmas cards?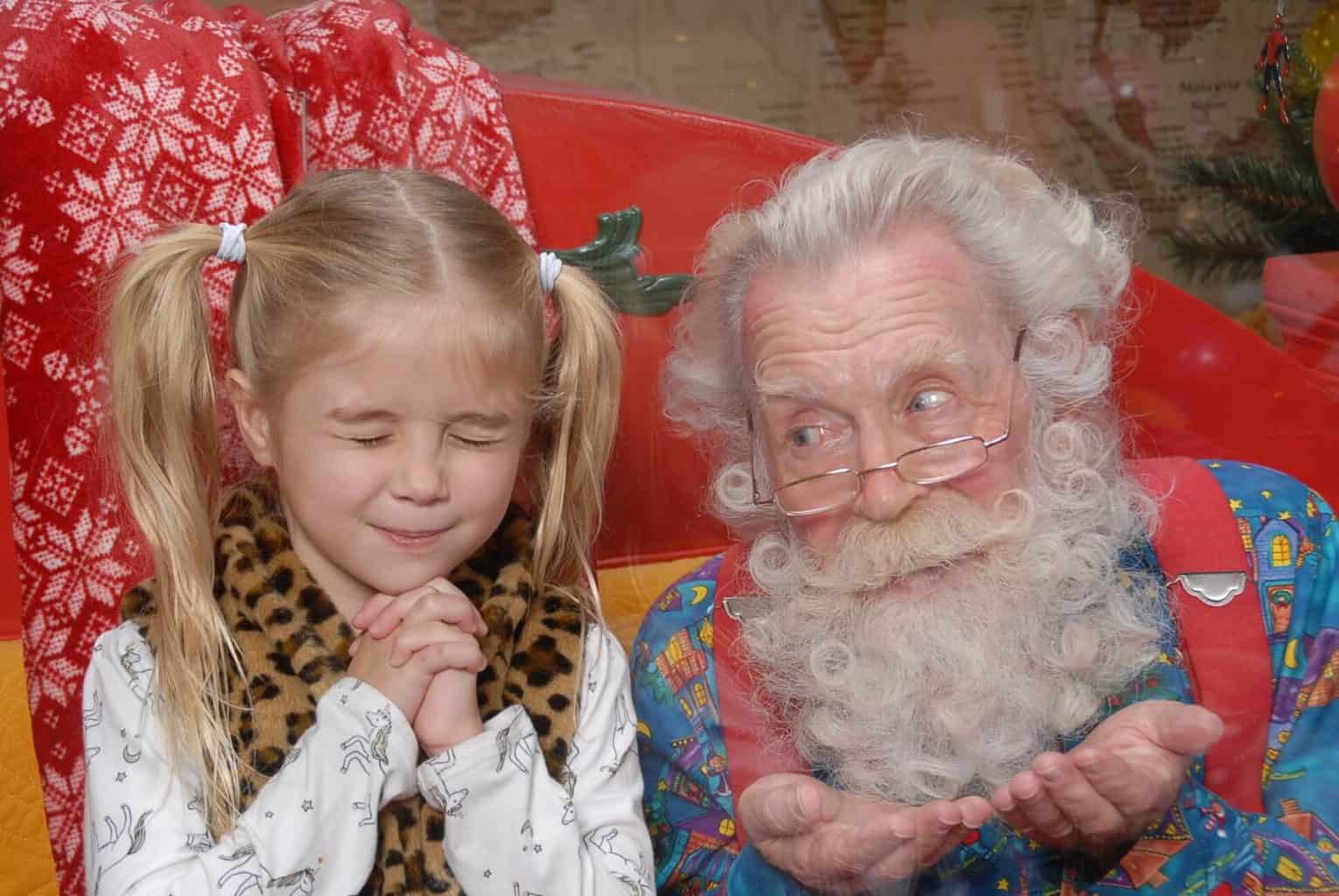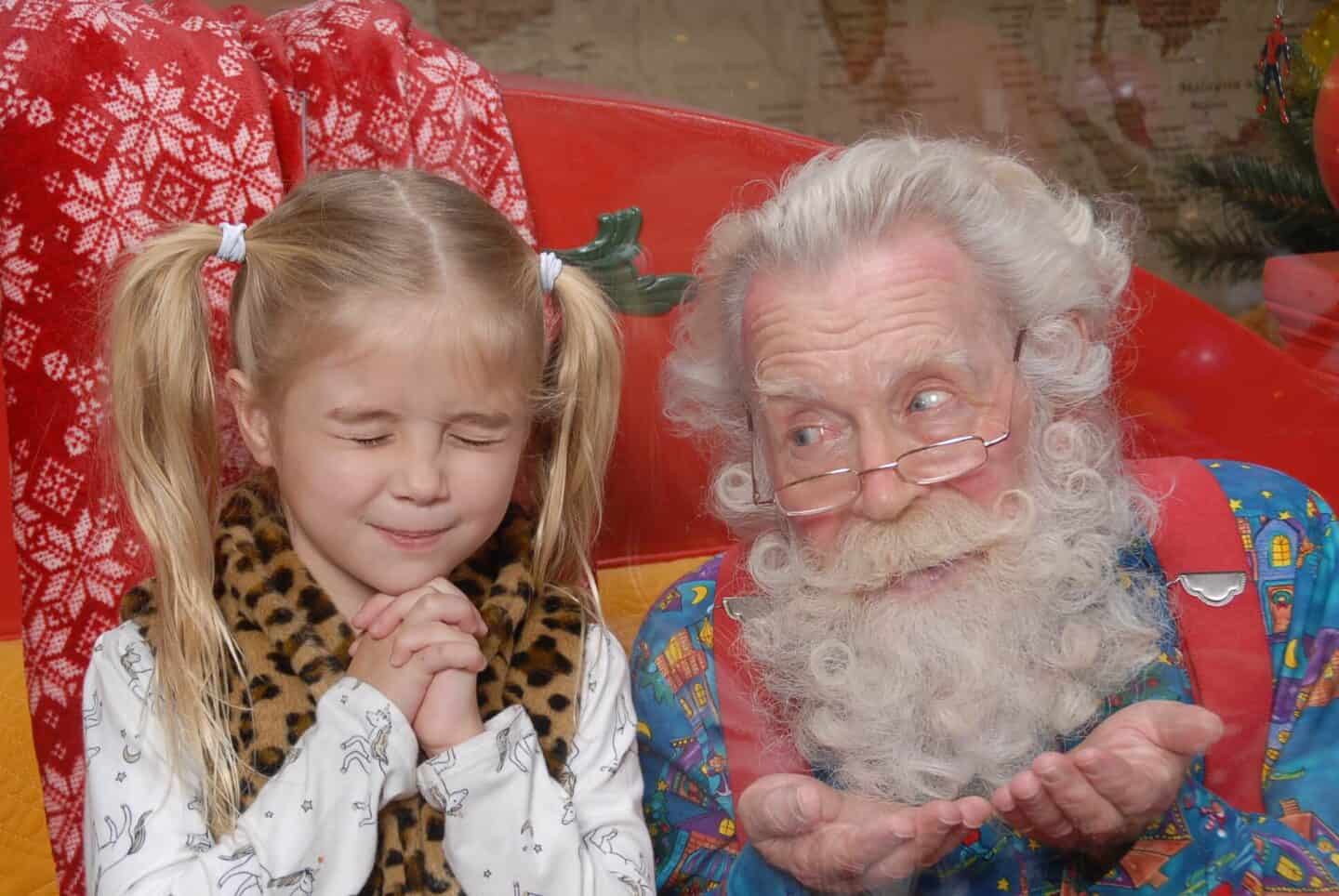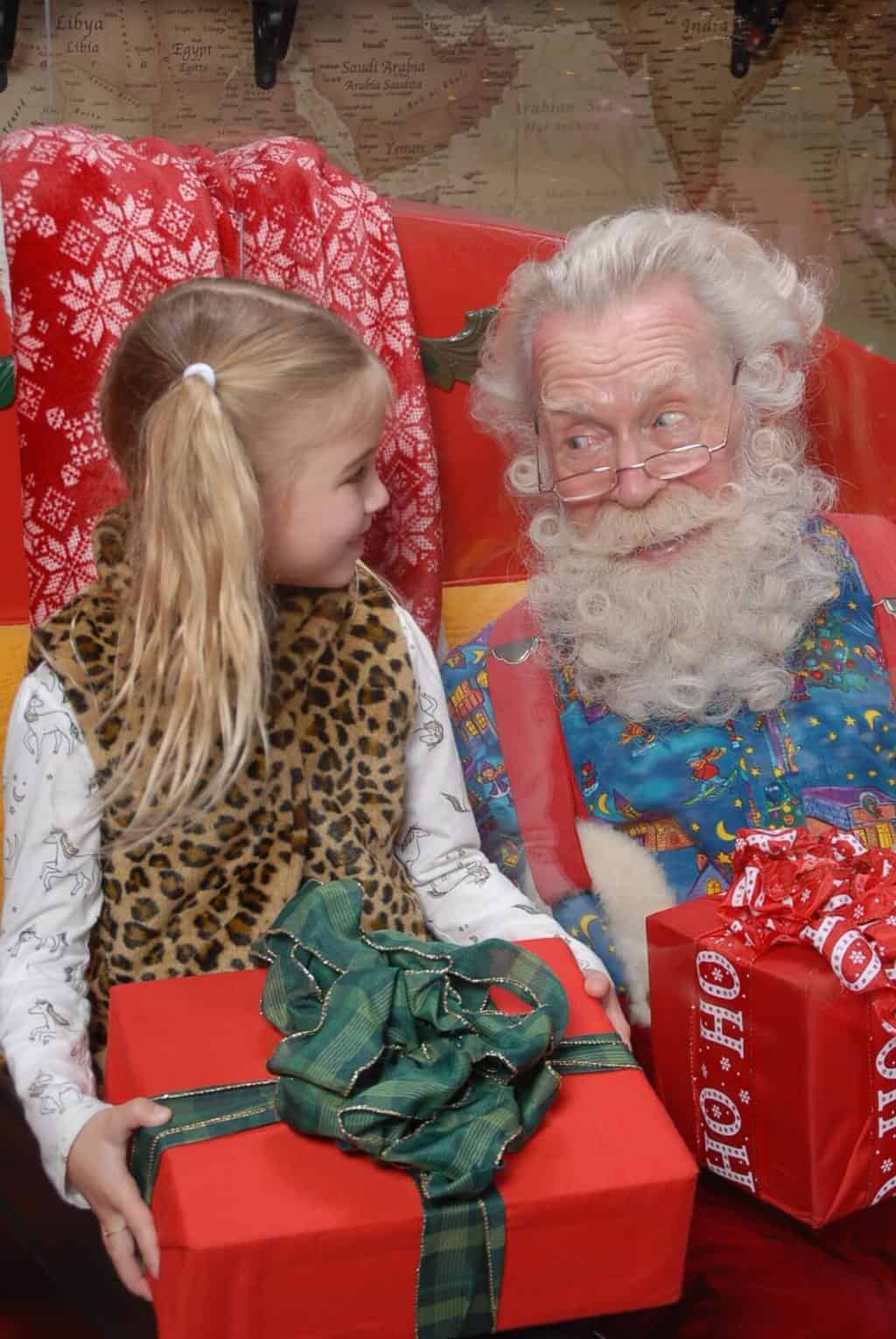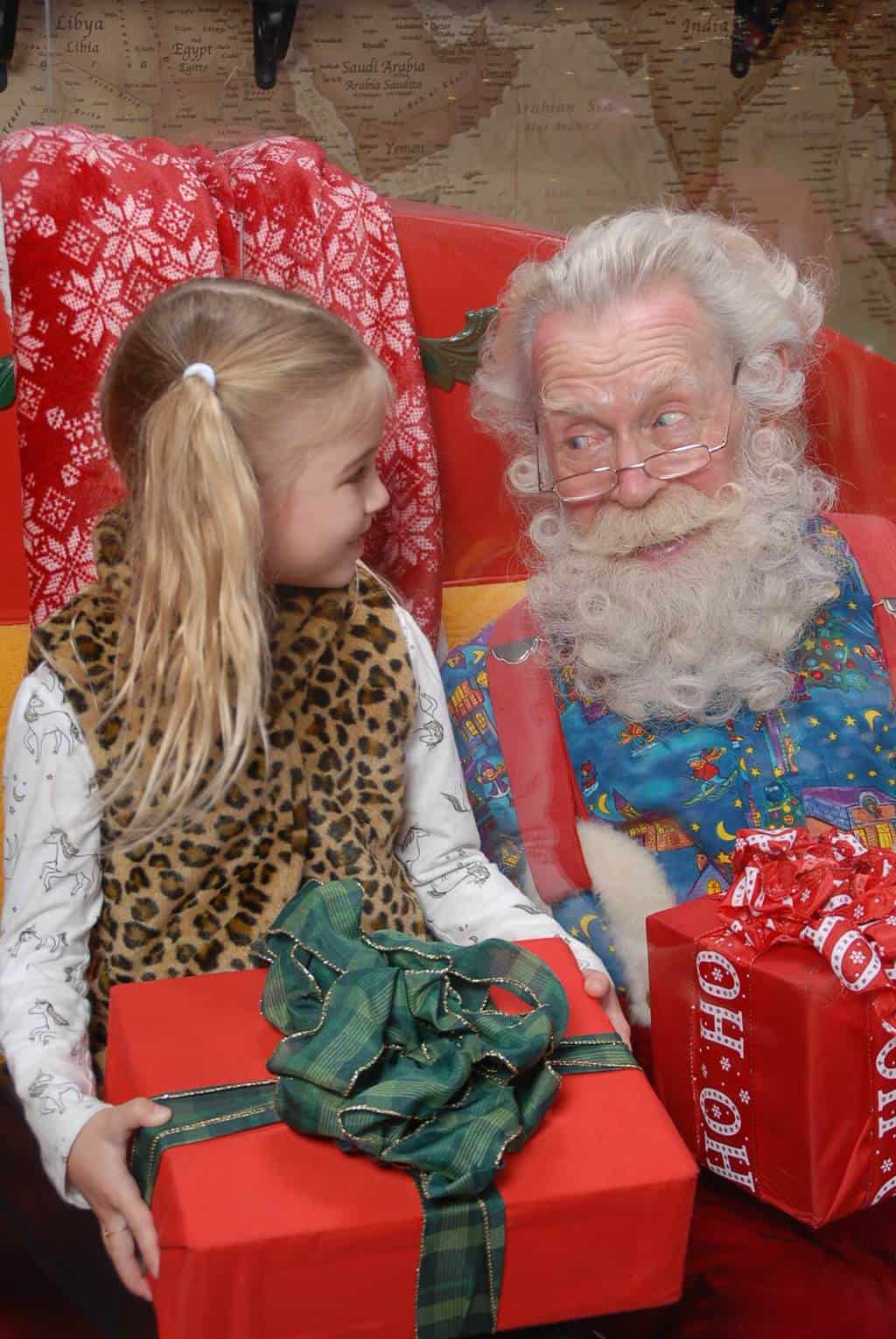 How to Capture the Best Santa Photos
When it comes to getting the best Santa photos of your kids with Mr. Claus I think it's really important to let the kids lead as much as possible.
When it comes to younger siblings it's crucial to consider your child and when THEY will be their best selves. My older kids will be great ANY TIME. But Spear? He does best early in the day. I would never schedule our Santa pictures for nap time or later in the evening. Early morning is perfect!
Another perk of booking the photos early in the morning is that you get it out of the way. No worries about an outfit getting messed up, a potty accident happening, a stain popping up, hair getting wild. They are done and you can just relax and enjoy the fun that Icon Park has to offer!
My travel guide for Icon Park Orlando can be found here!
The order for the photos when you have multiple kids is also something to think about. Spear is ALWAYS afraid of Santa. He's never been comfortable sitting in Santa's lap aside from his first experience as a newborn (Yes, we got Santa pictures of him at just a couple weeks old!)
Having his older siblings go first helped him to see the process and feel more at ease and eager to have his turn. He's ALL about being like the big kids and going with that angle helped a TON.
However, we have so many kids that if we had him go LAST we'd risk him being totally over it. With family photos we've found that if he's IN the mood – going first works great but if he's not in the mood going second or third is better rather than last.
Usually the longer a toddler has to wait for their turn…the less focused and well behaved they will be. I also think these toddler Santa photos went so well because I stayed away! I didn't even WATCH.
Kids tend to do better for strangers than they do for us, right? So I kinda hid myself out of sight so he would just listen to the photographer and their instructions. And it was ADORABLE.
I think a really great benefit of having Santa photos at ICON Park was that they don't just have ONE photographer standing behind a camera (like at many theme parks and mall Santa experiences). They have a photographer AND someone who is in charge of the posing and attention-grabbing and who helps keep everything flowing smoothly.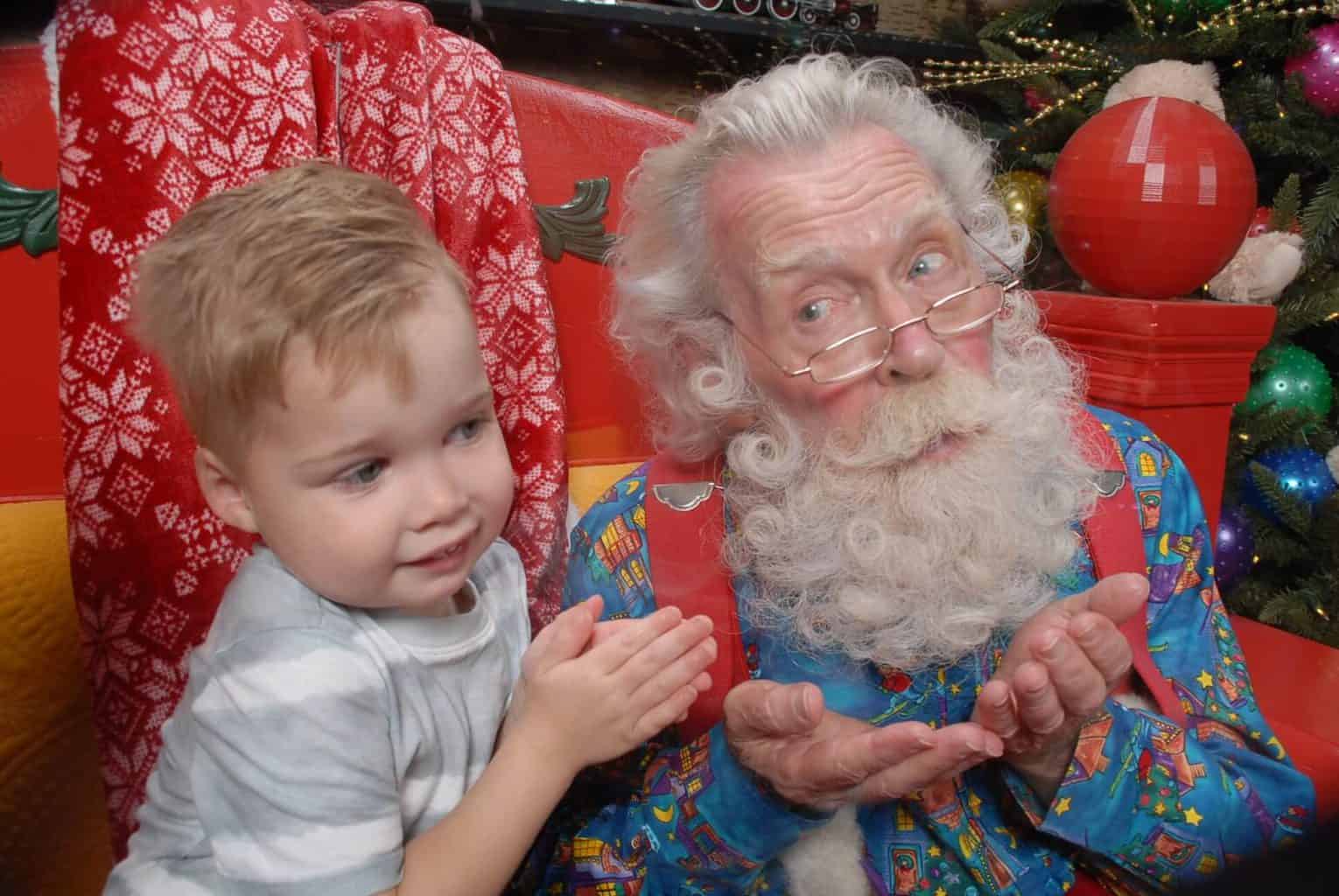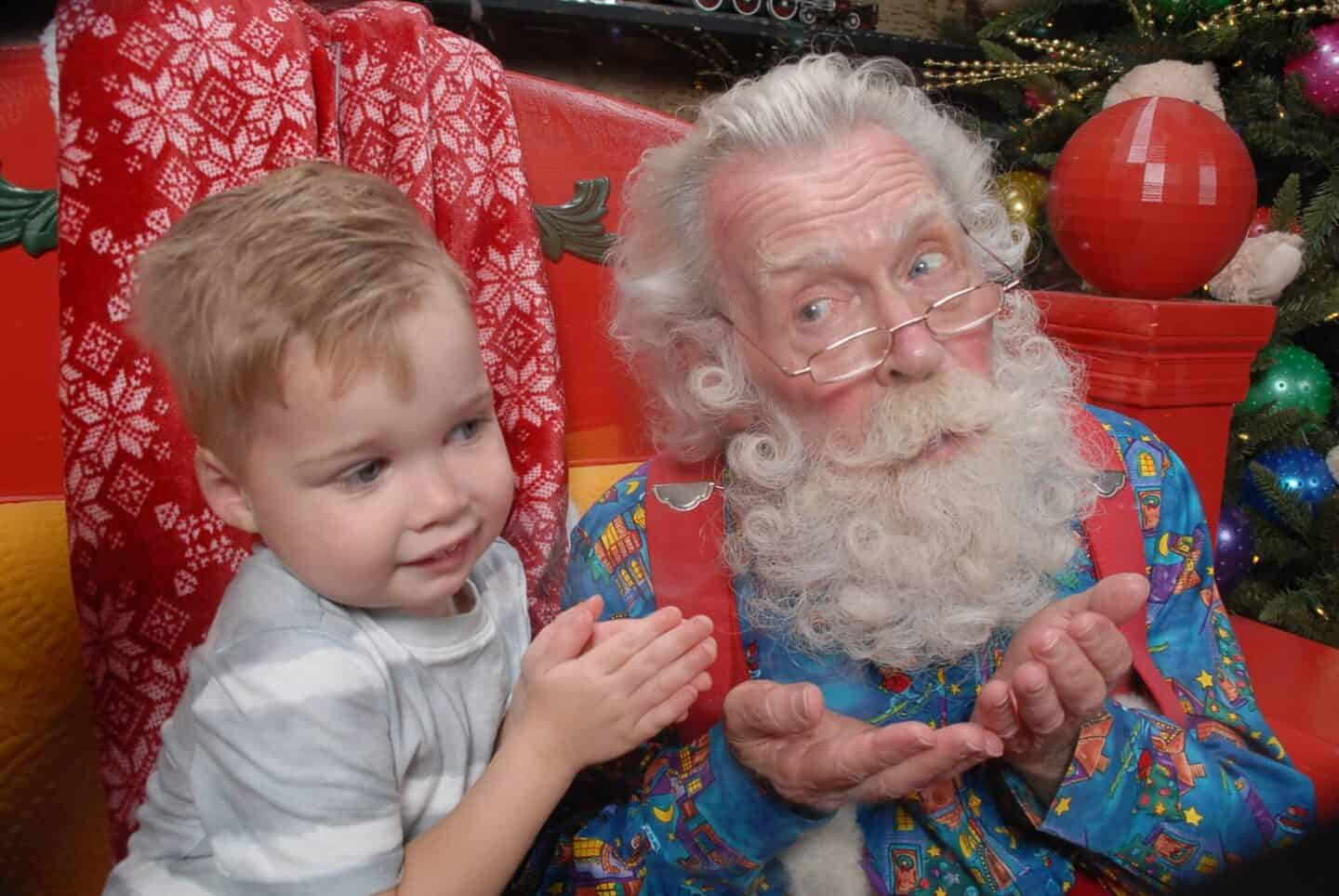 Learn More about the Santa Experience at ICON Park
The entire Santa photo session was less than 20 minutes total. The staff does a stellar job at making sure you don't feel rushed while also keeping things moving in a steady fashion.
Once everyone was done having their individual time with Santa to share their Christmas list with him they got to meet Santa from behind the glass! He had on a shield which was very inviting and friendly still (I love that he wasn't wearing a mask).
He stayed a good bit away and didn't hug the kids or anything but did hand each of them a special Santa coin. This coin is good for the free admission into The Wheel experience at Icon Park. We already had tickets for The Wheel so the kids just kept their coins as a special souvenir to remember their magical meeting. (I LOVE Britt's sweet face looking at Santa in the first photo!)
I didn't even realize until we were on the way home just how AWESOME the coin is! We actually stored them with our Christmas decor to bring out every Christmas to enjoy!
From start to finish The Santa Workshop Experience at ICON Park was not only THE best place to meet Santa and the BEST Santa photos ever but it was also the best holiday Christmas experience we've ever had!
If you have travel plans to the Orlando area on your radar I'd personally highly consider making arrangements to visit Icon Park to meet Santa. It's an experience you'll never forget, and that your kids will love.
Learn more on ICON Park's website here. HUGE thank you to Icon Park for giving our family a new annual tradition to look forward to each year!
And if you're looking for a place to stay be sure to check out our rental home only 3 miles from Disney (it took us under 20 minutes from the house to Icon Park). We offer lots of discounts for blog readers, you can learn more here!