You can read about the first part of our Mother-Son trip to New Orleans here 🙂
I booked our tickets to the World War II Museum for first thing in the morning on the 2nd day of our trip. I wanted the first day to give us a good feel for the city and the second day to be all about the museum!
Kye LOVES buffets, especially for breakfast so I tried to find an all-you-can-eat buffet for him. At this time NOLA was just easing up on their mandates so there weren't a whole lot of options to choose from. We headed to The Market Cafe and the place was DEAD. As in no one on the streets, no one at the restaurant. I literally pulled right in and had a parking spot on the road of the restaurant located in the heart of the French Quarter. We "opened" the restaurant for the day even though we were there an HOUR after its official open time. Another perk of being in the town the same weekend as the NCAA tournament – everyone was sleeping in 😉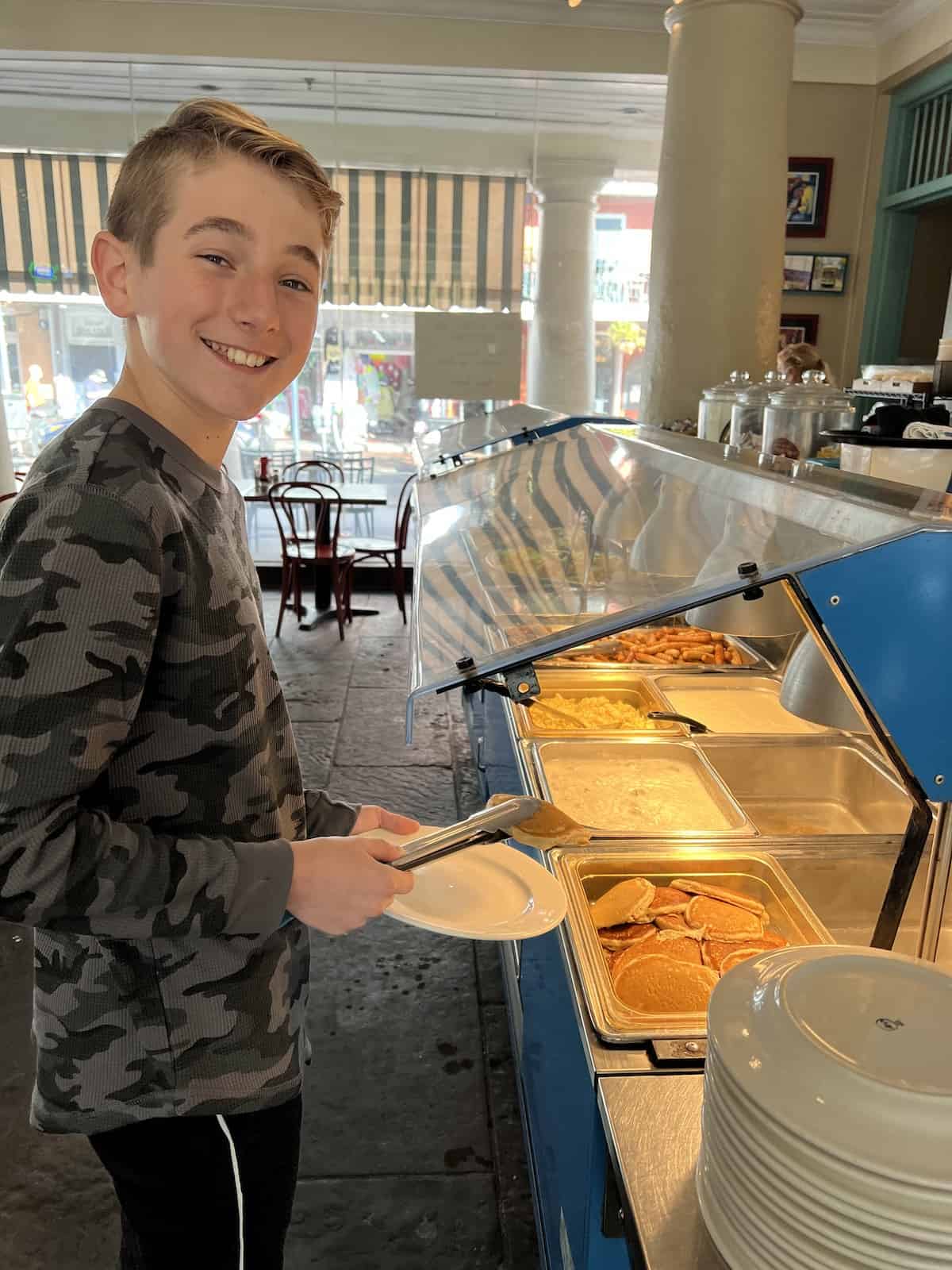 The WWII museum was a very easy drive and not too difficult to navigate off the highway. I love that the parking pass for the parking garage included a reminder of where we were parked – made it way easier to find our car at the end of the day!
When Zach and I visited New Orleans the WWII Museum had just opened or was about to open and we heard so many things about it and said we'd come back someday to check it out. Here's the website for all the info about The National WWII Museum.
It is a REAL DEAL Museum. But it's SO well done with tons of interactive areas, lots to see, and SO much information and different programs and presentations that you could go back again and again and still not see and experience everything!
Once we went through security and scanned our entry tickets we had a little bit to look around the lobby and then boarded a train (which explains why they have set arrival times when you order your tickets – they need to stagger guests' entries for the train). On our train ride we were each given our own "dog tags" (a hotel room keycard type thing). We scanned our dog tags and learned about our own individual soldiers (real people!). We learned about their backgrounds and then we were able to follow their unique journey through the war in each exhibit and we could scan our tags to collect items that can be accessed online at home as well! SO cool and a great way to get guests engaged right from the start.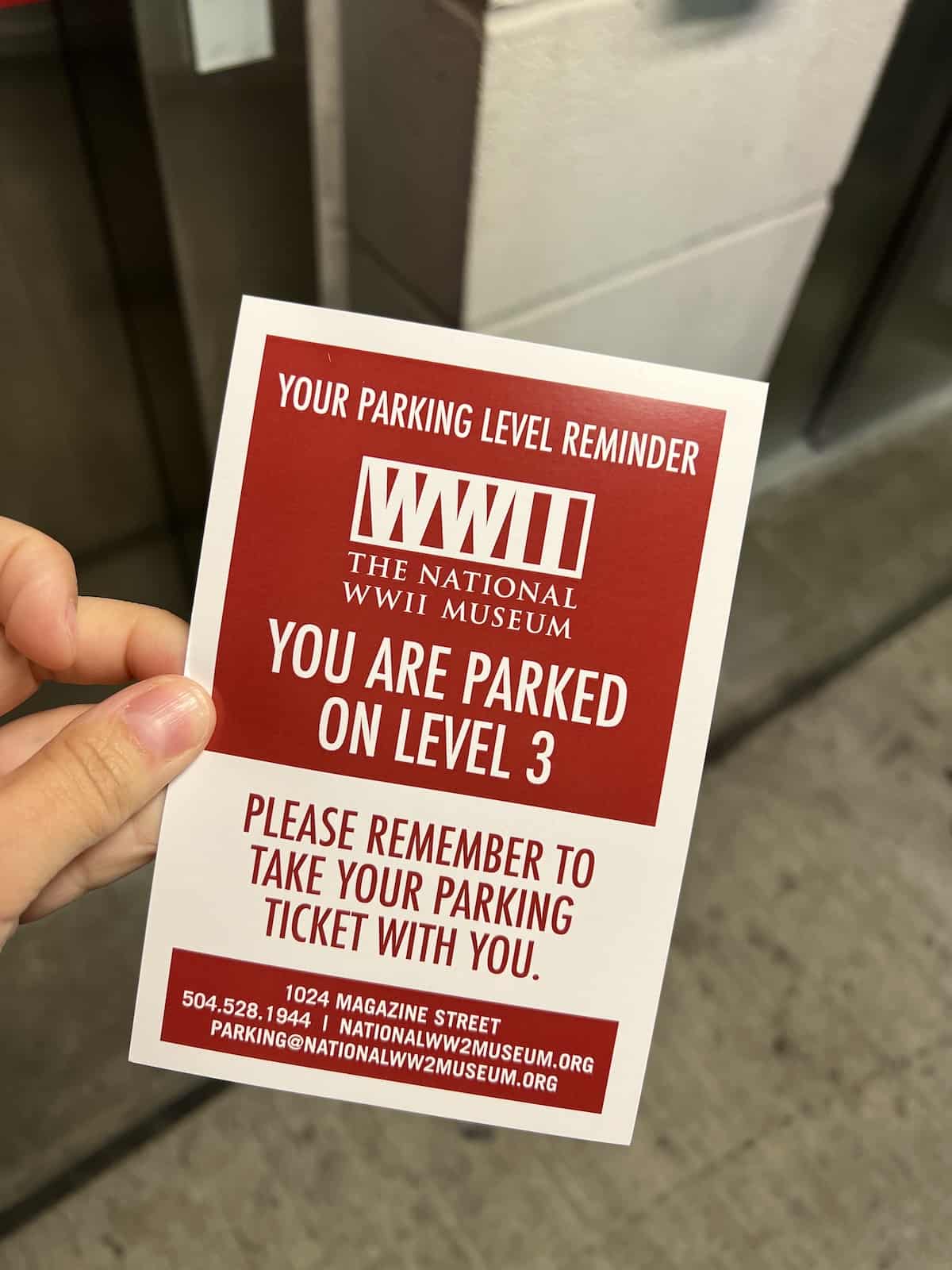 When I ordered our tickets online I had the option to add on a museum guide to our package and I'm glad I did that as Kye loved having the info and enjoyed "leading" me through the exhibits and it made a nice keepsake too. When we booked there were NOT group tours or audio tour options – I assume due to Covid restrictions. But I'm sure either of those would be great too! We enjoyed being able to go at our own pace and take time on the things that interested Kye and skip over the things he was less interested in.
For me personally, I'm a hit the highlights kinda museum goer 😉 But I enjoyed the time with HIM and pouring into HIS interests and am so thankful we were able to experience this together.
We were also able to see a set up about the real people in the movie Pearl Harbor (glad we chose that one to watch!). Cuba Gooding Jr's character in the movie was based on a true story of a cook in the war who became a hero!
There were so many incredible details and it was so neat to see how American life was during WWII times.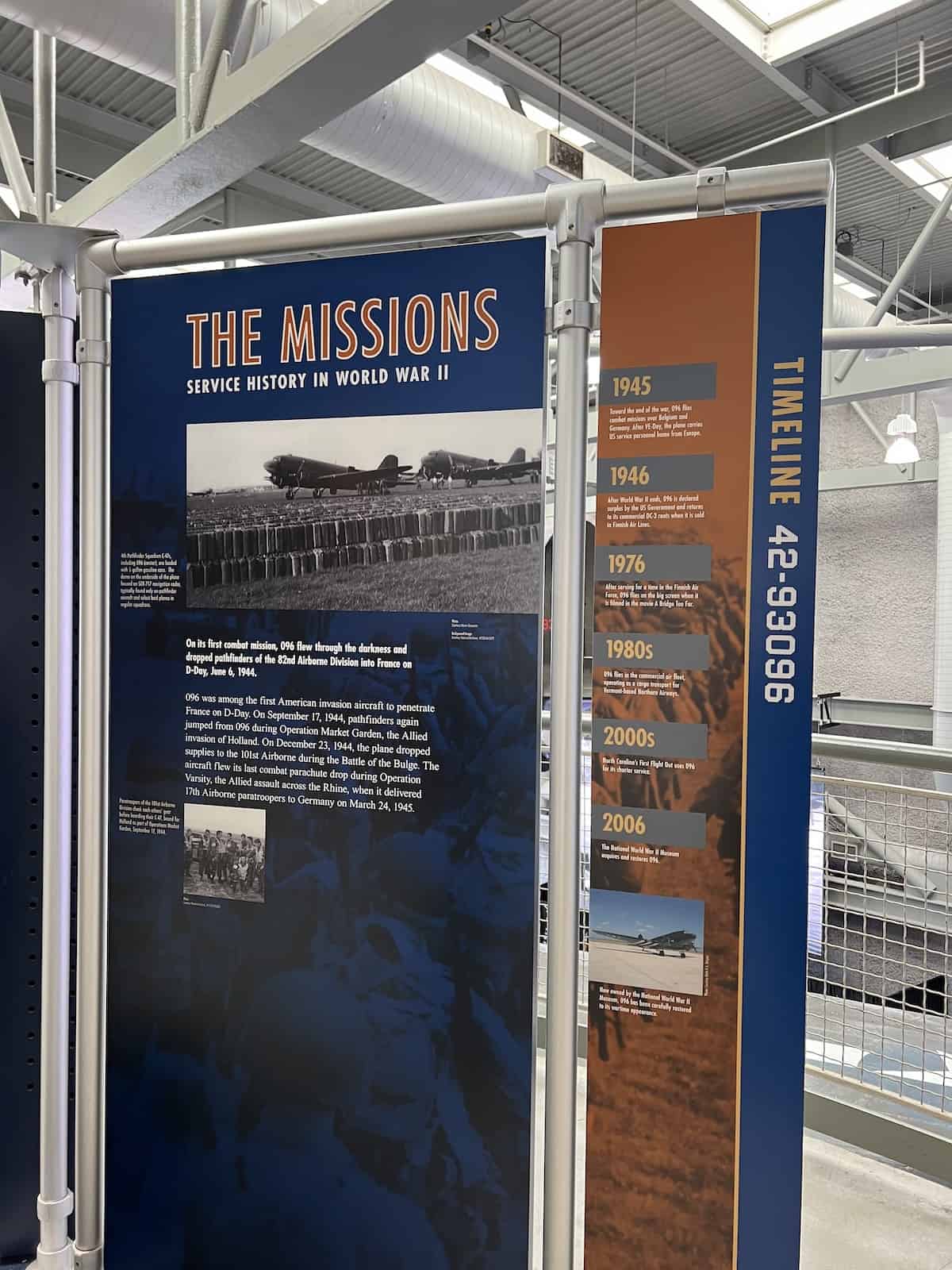 I spy a hidden Donald Duck 😉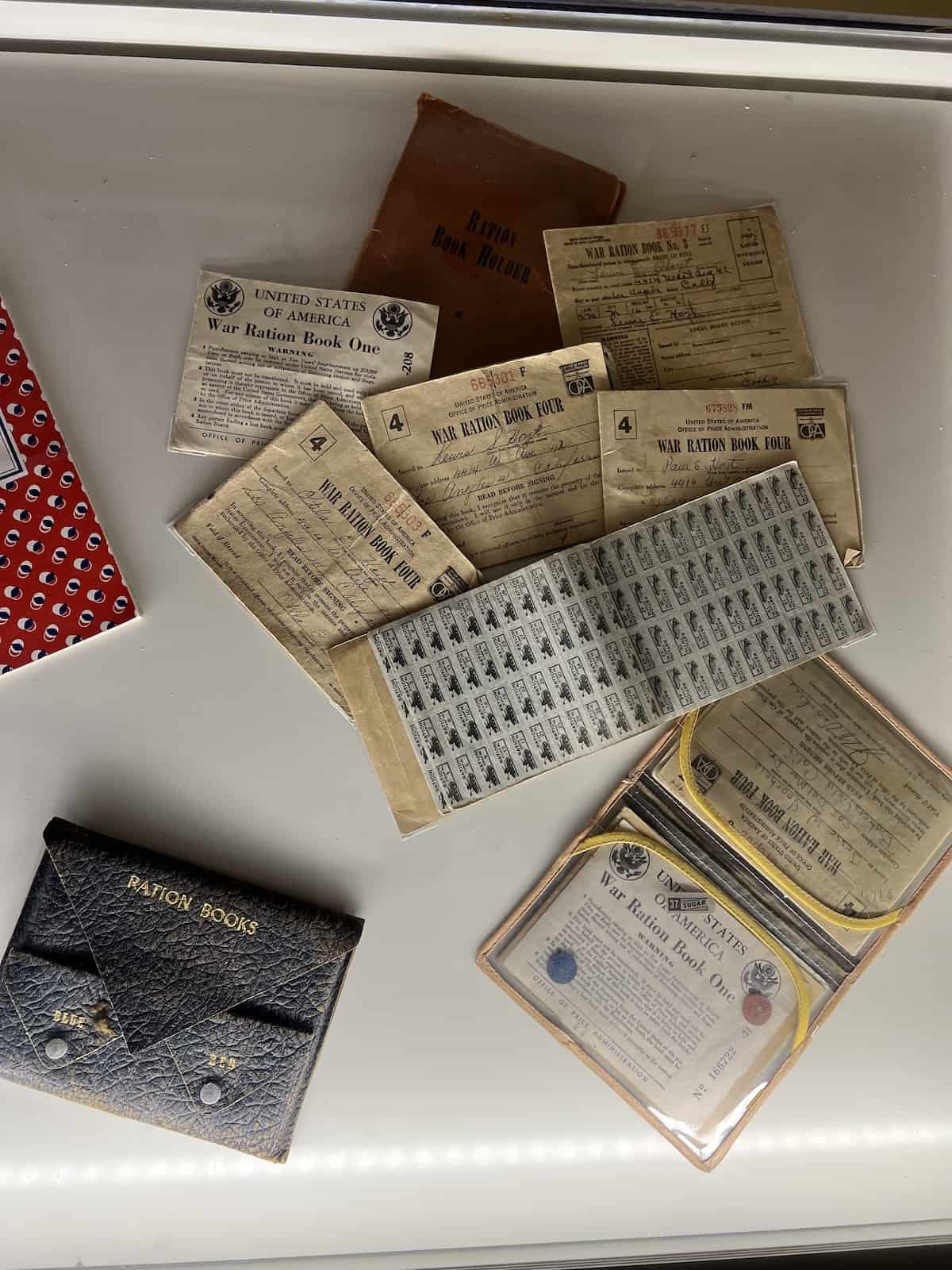 Learning more about The Manhattan Project was probably my favorite part of the day – and Kye loved it too!
So many of the exhibits were hands-on and life-size so we could have a TRUE idea for the real-life experiences from all different perspectives.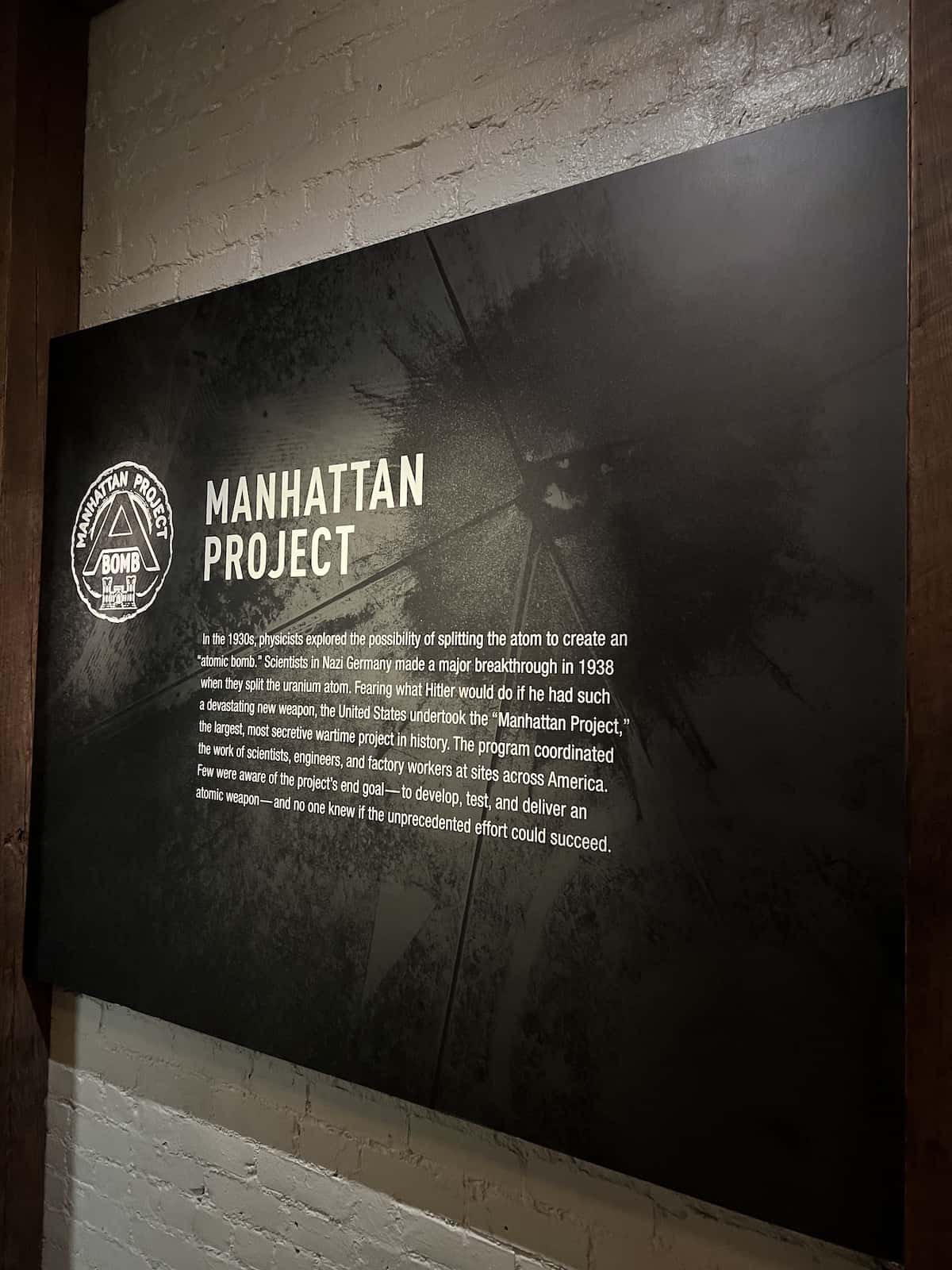 I cracked up in the weapons room because every single dude was taking TONS of pictures. I made sure to take plenty for Kye to have too!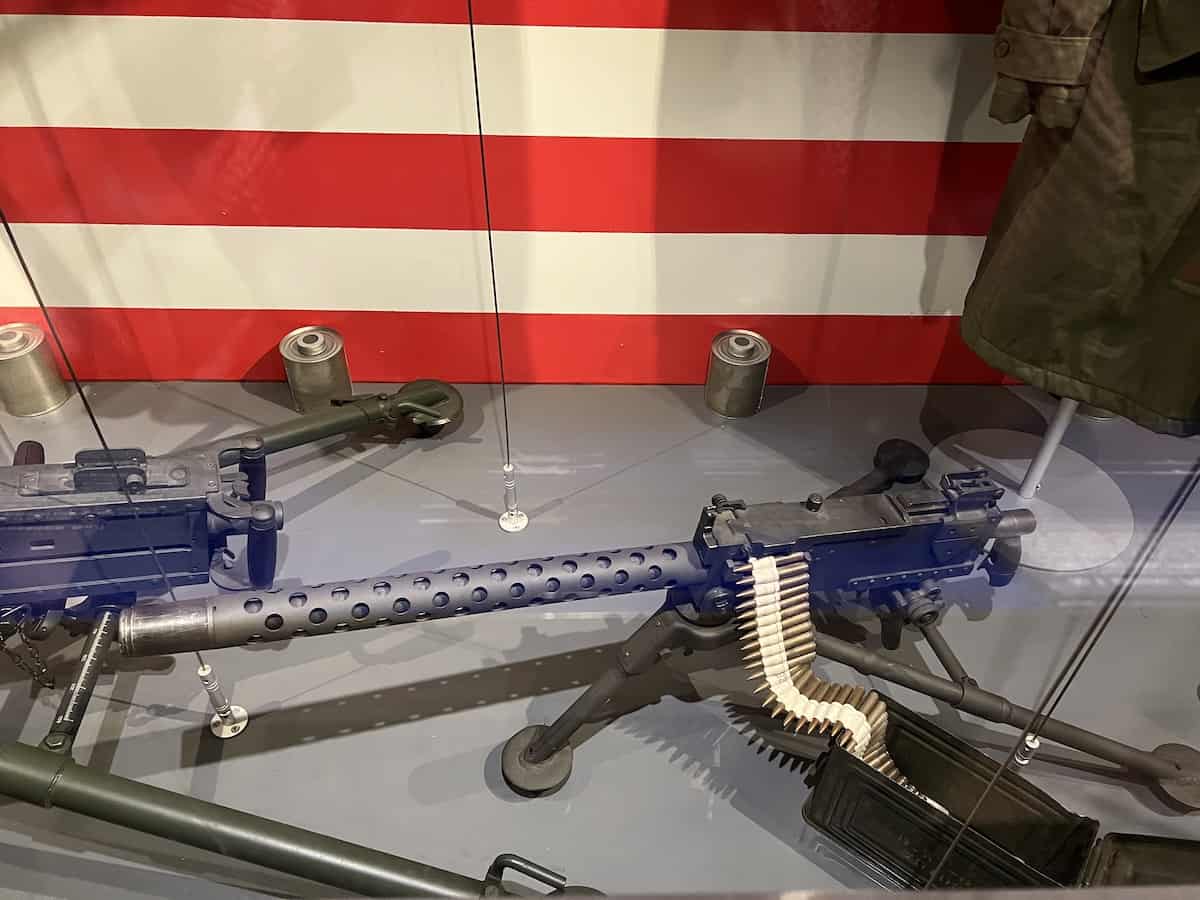 Of course, my absolute favorite part of the day was just watching Kye. He was soaking it all in and I just loved getting to watch him enjoying it so much!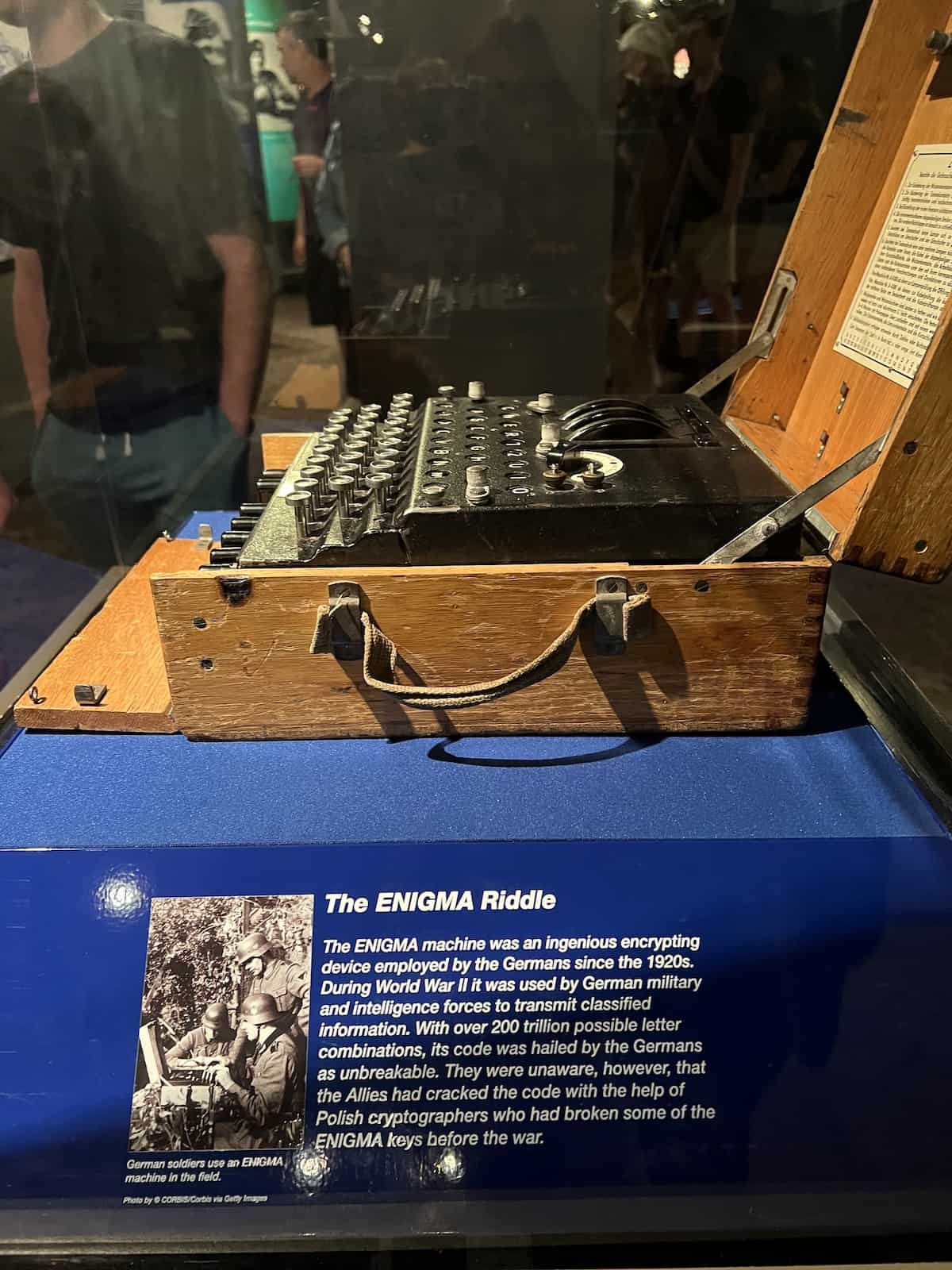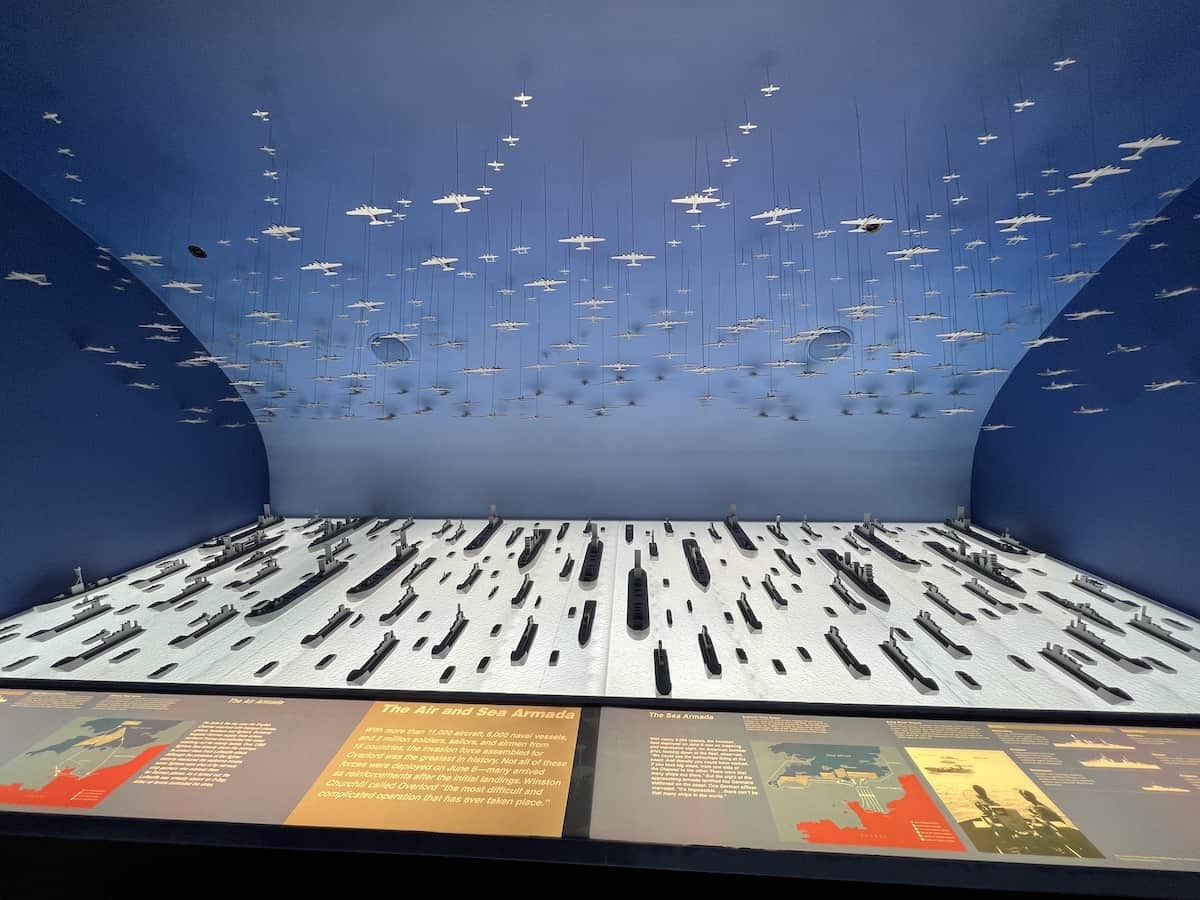 We purchased additional tickets for the $D experience. It's a movie called Beyond All Boundaries and features Tom Hanks. It was WELL worth the admission and it was a great break to sit for a bit. It ook about an hour total to watch the film. We scheduled our arrival time for the museum entrance at 9:45 and did the movie at 1:00 and it was perfect timing. We didn't feel rushed to get there at all!
The movie is located near the restaurant as well as the gift shops. We put our names in for lunch and looked around at the gift shop while we waited. They have AWESOME merchandise and really top-quality items. Again, as a mama I just loved how excited Kye was. We'd watched LEGO Masters and he was really into the war scenes of the LEGOS. We took inspirational pics for his own creations at home and he wanted some sort of toy to remember our trip by 🙂
Our lunch was FANTASTIC. Delicious food and a beautiful atmosphere. So many little details and storytelling, complete with Tootsie Rolls with the check and a history about their place in the war. I loved it! We even splurged on dessert 🙂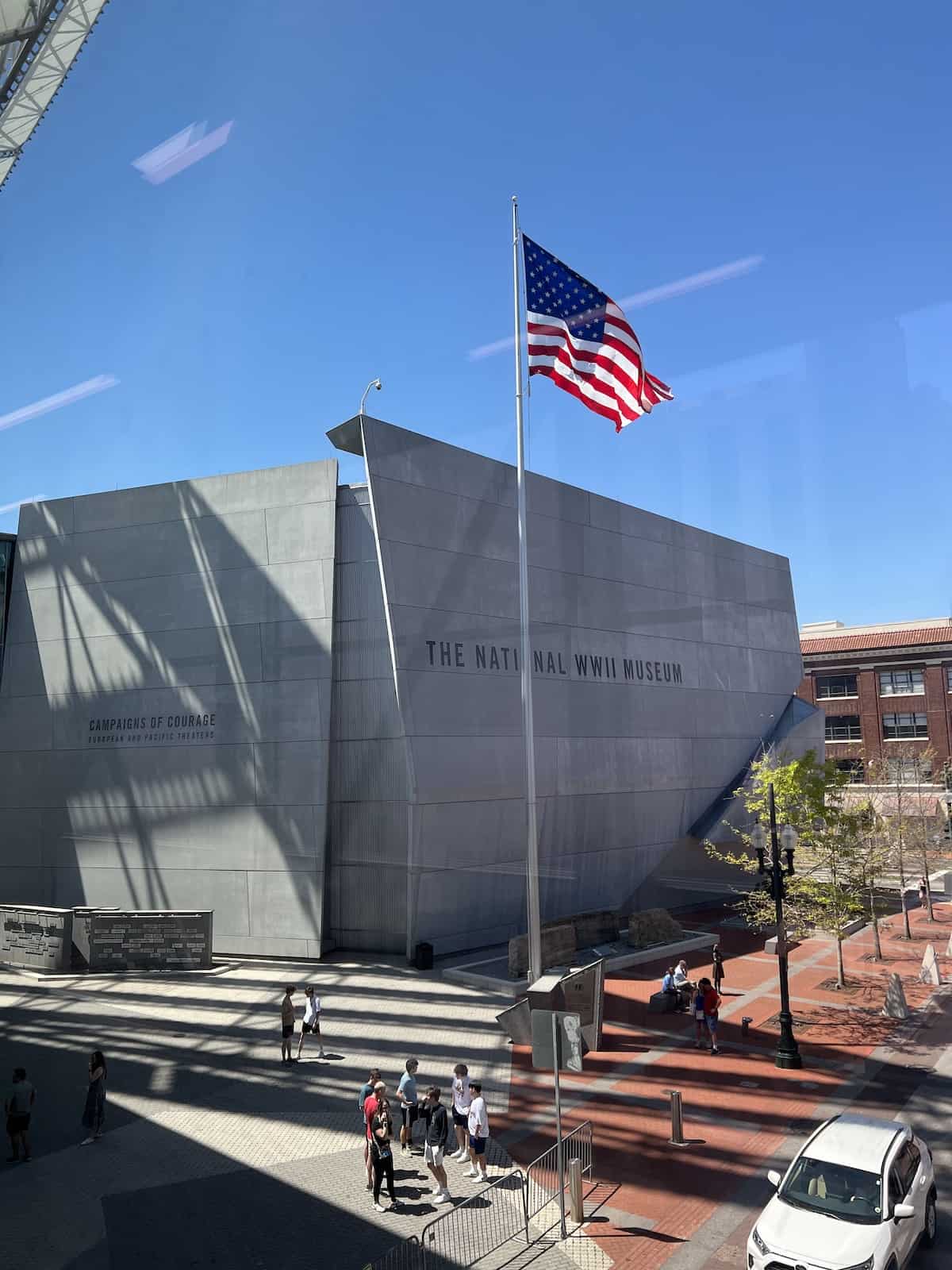 I am SO glad I planned this trip – not just the trip for us together but this specific trip. This museum was PERFECT for a teenage boy. Honestly, it's perfect for ANY dude. Husband, boyfriend, father or grandfather. We saw so many adult men there together in groups or even solo.
Every room and detail was SO well done. I'm not a museum person at allll but even I was NEVER bored. I loved every second and learned SO much.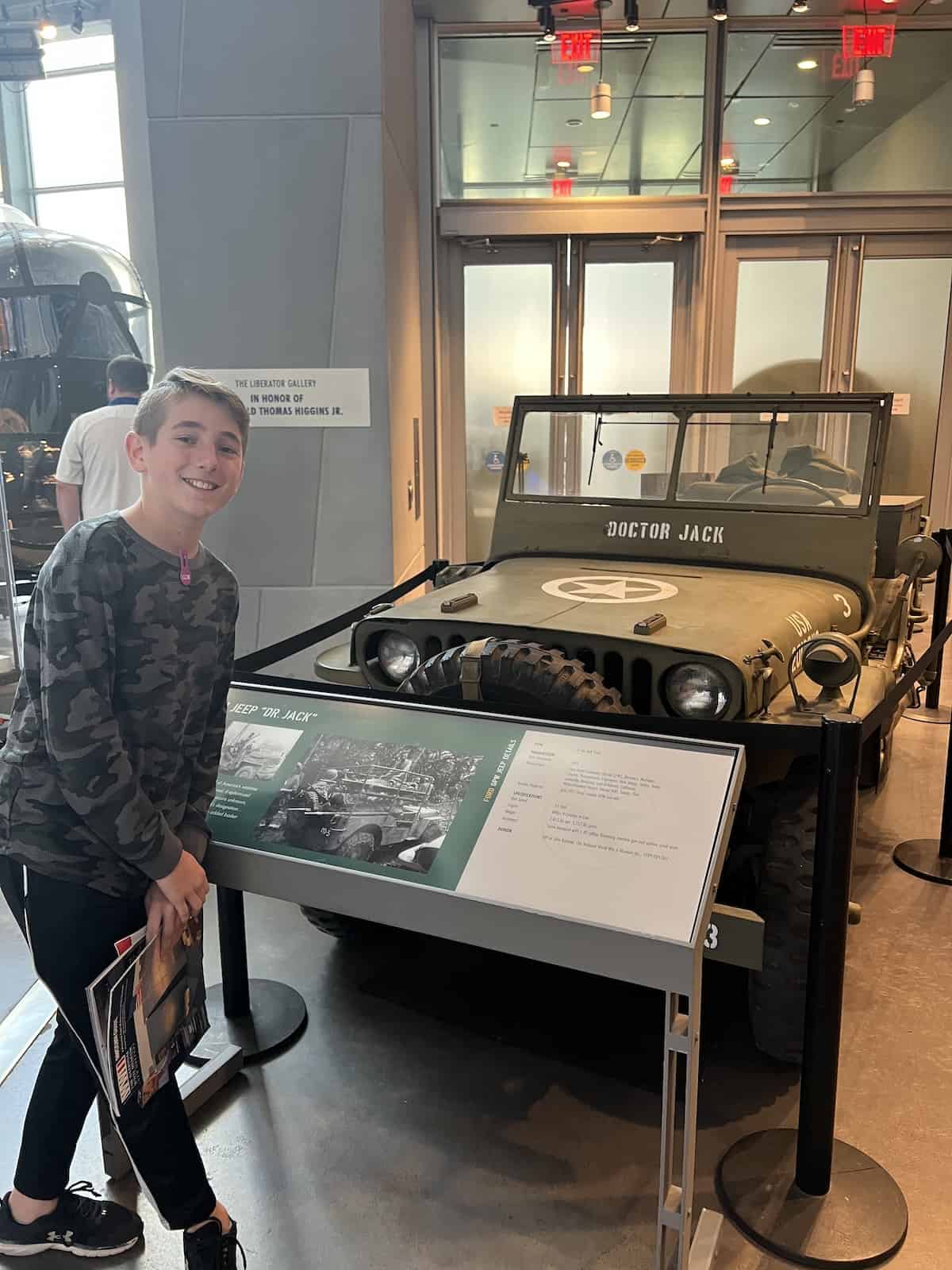 There is a large open area that has presentations and an interactive element where they presented us with different "tough decisions" that had to be made throughout the war. We got to pick what we'd do in each scenario and then the film revealed how it actually played out. It's just crazy to think about ALL the decisions and how each one impacts so many lives as well as the outcome of the war as a whole.
After the movie, lunch, shopping and the interactive areas we realized we were cutting it close to closing time. The museum closes at 5 so we decided to hit up all of the must-see areas on Kye's list! We ended up being able to do them all as well as still had time to see all the remaining areas too. We weren't able to take as much time as we were earlier in the day, but it all worked out!
The museum truly guides you itself – perfectly. It is well paced with each exhibit room having short films to break it up as well as places to sit and rest. It all told a very cohesive story that was wonderfully done and highly engaging. You can go at your own pace – even the areas we "rushed" through we were still able to enjoy and gain knowledge from. We never once felt rushed at all but both agreed we could have spent even more time!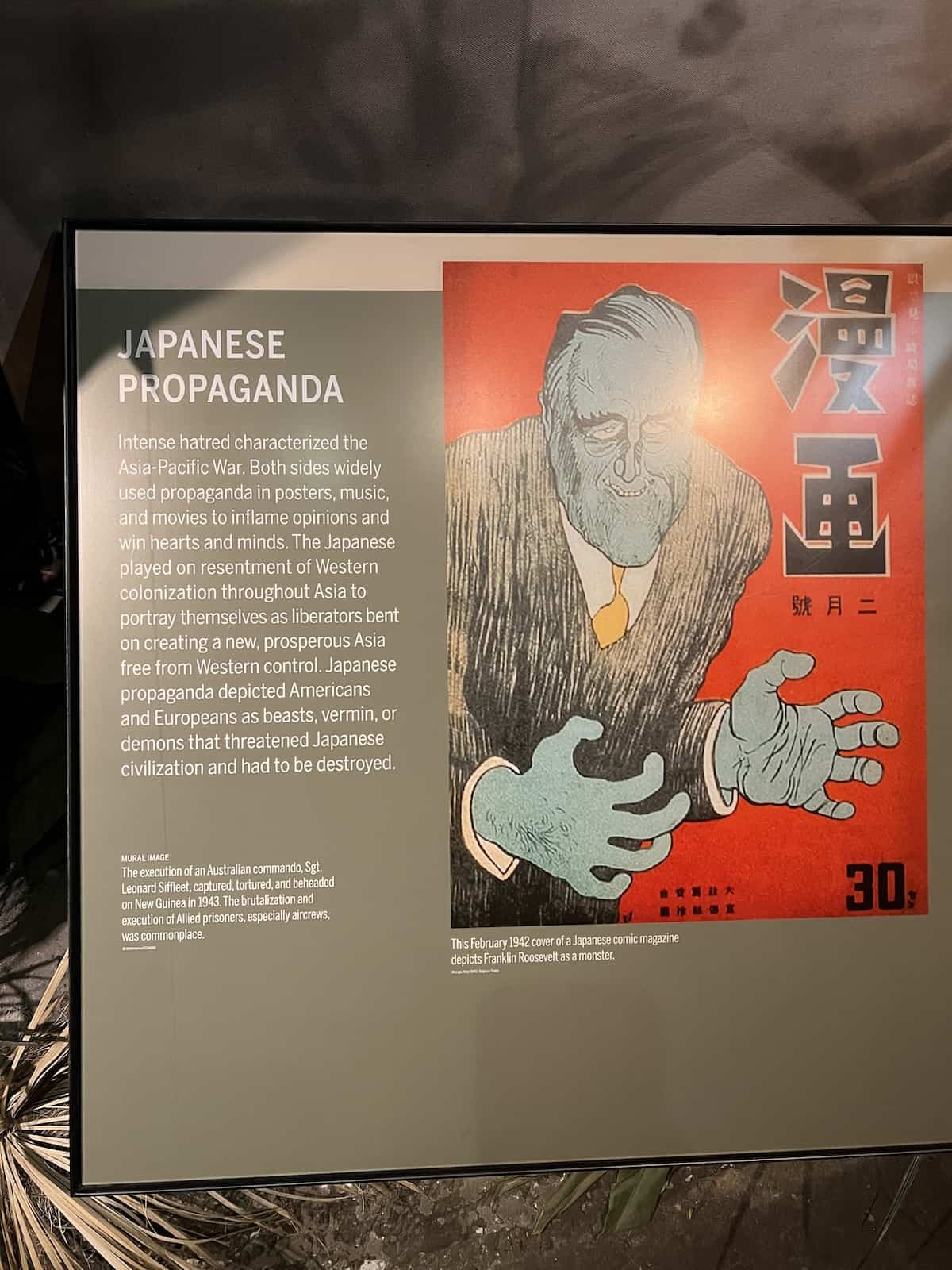 We arrived at 9:30 that morning and shut it down at 5:00. We spent 7.5 hours and loved every second!
Again, it was just SO, so well done. It was very well planned out and it was clear that every detail was also well thought out. An incredible experience that left us both appreciating WWII with more dept and reminding us of the importance of the past in preventing it from being repeated in the future.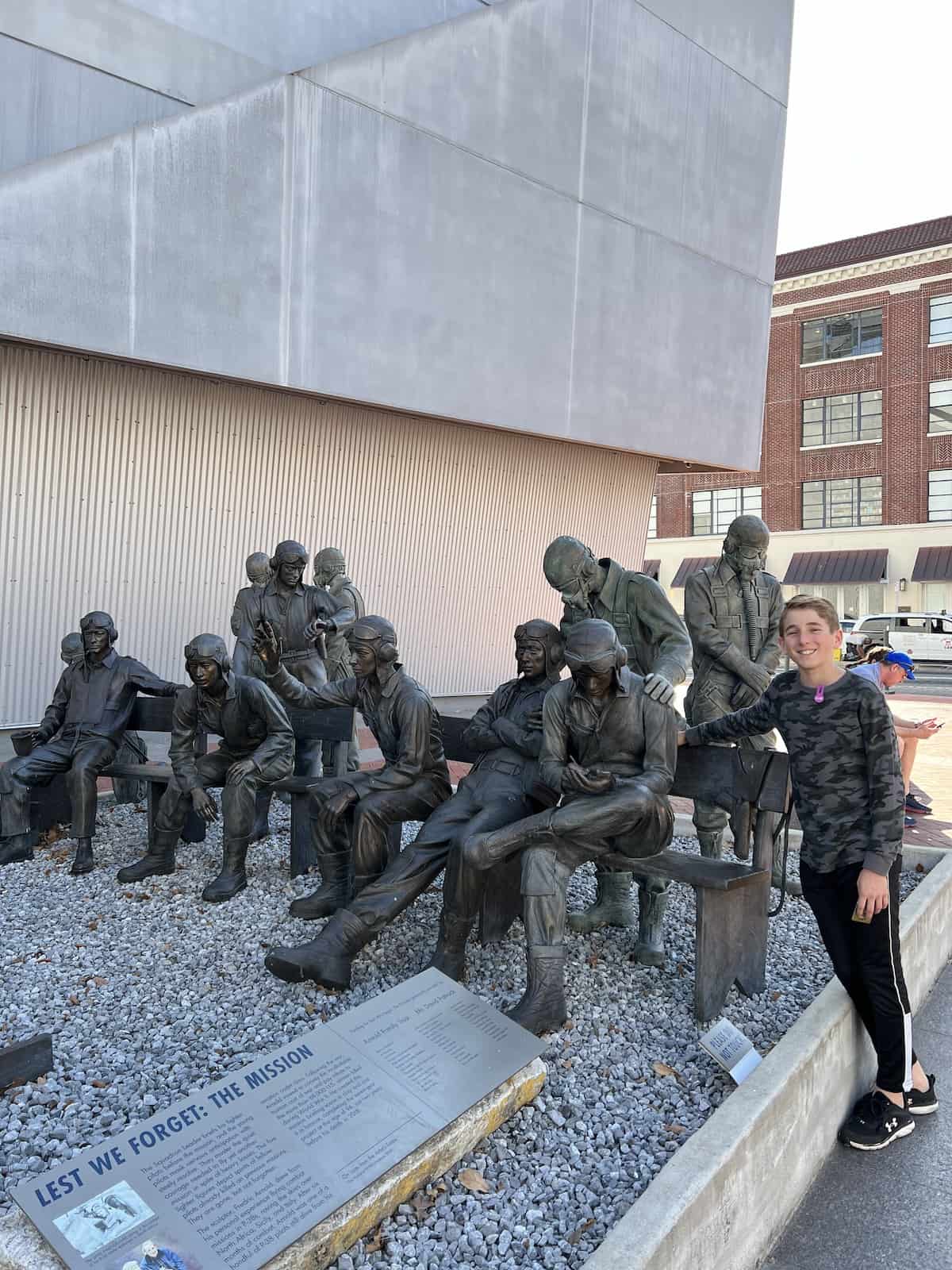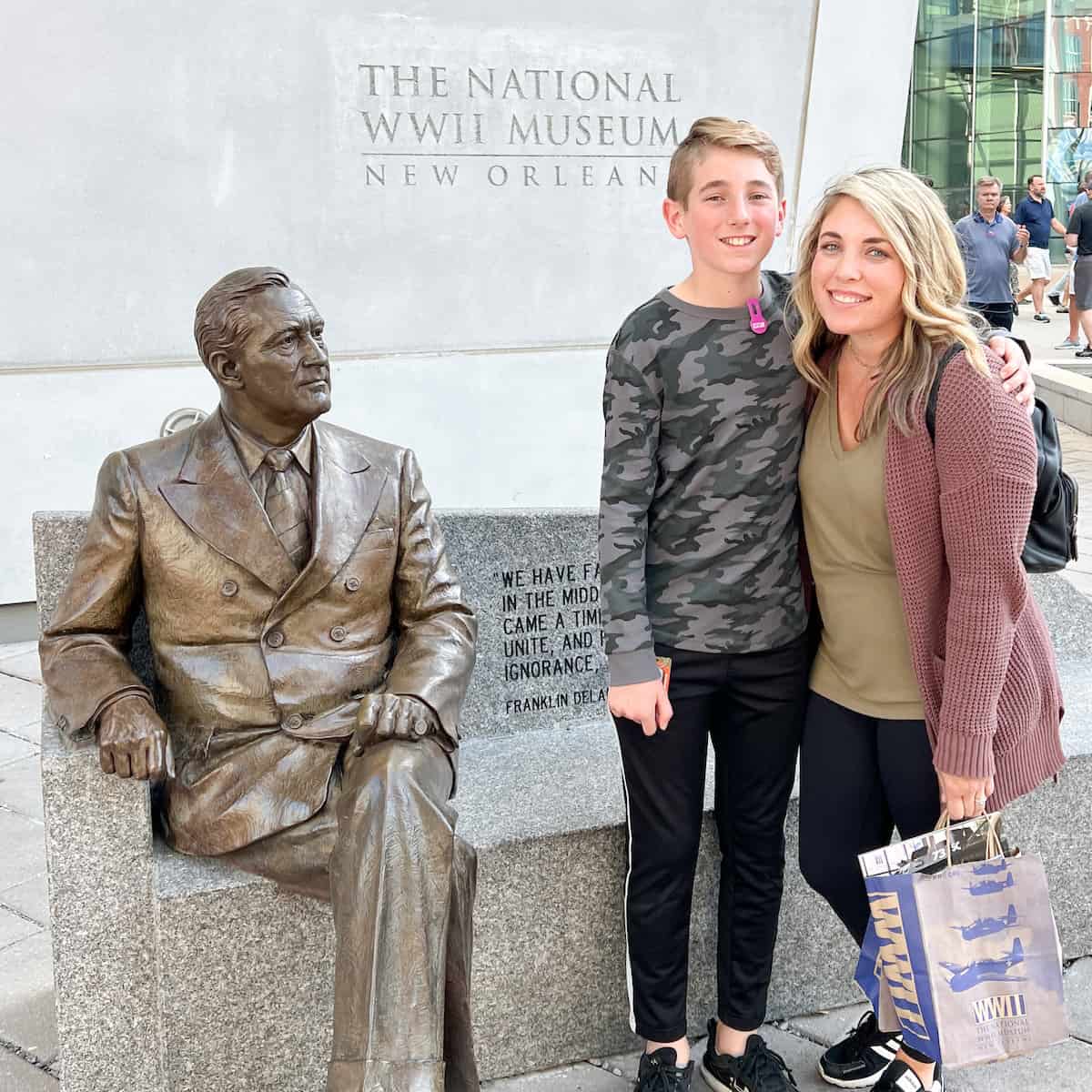 The timing also worked out nicely that we were able to be back at the hotel before 5:30 for the night – no concerns about safety or being out after dark! I also felt an added safety by the fact that we had to scan our hotel key inside the elevator to even take us to our floor. I would 100% stay at the Hampton Inn Garden District again in the future. We had a fantastic experience! Very safe, excellent location, delicious breakfast, daily room cleaning and on site self parking gated parking lot!
We both decided we for sure weren't watching another WWII movie that night – we were both "war-ed out" haha. We did more episodes of LEGO Masters and had some video game decompression time!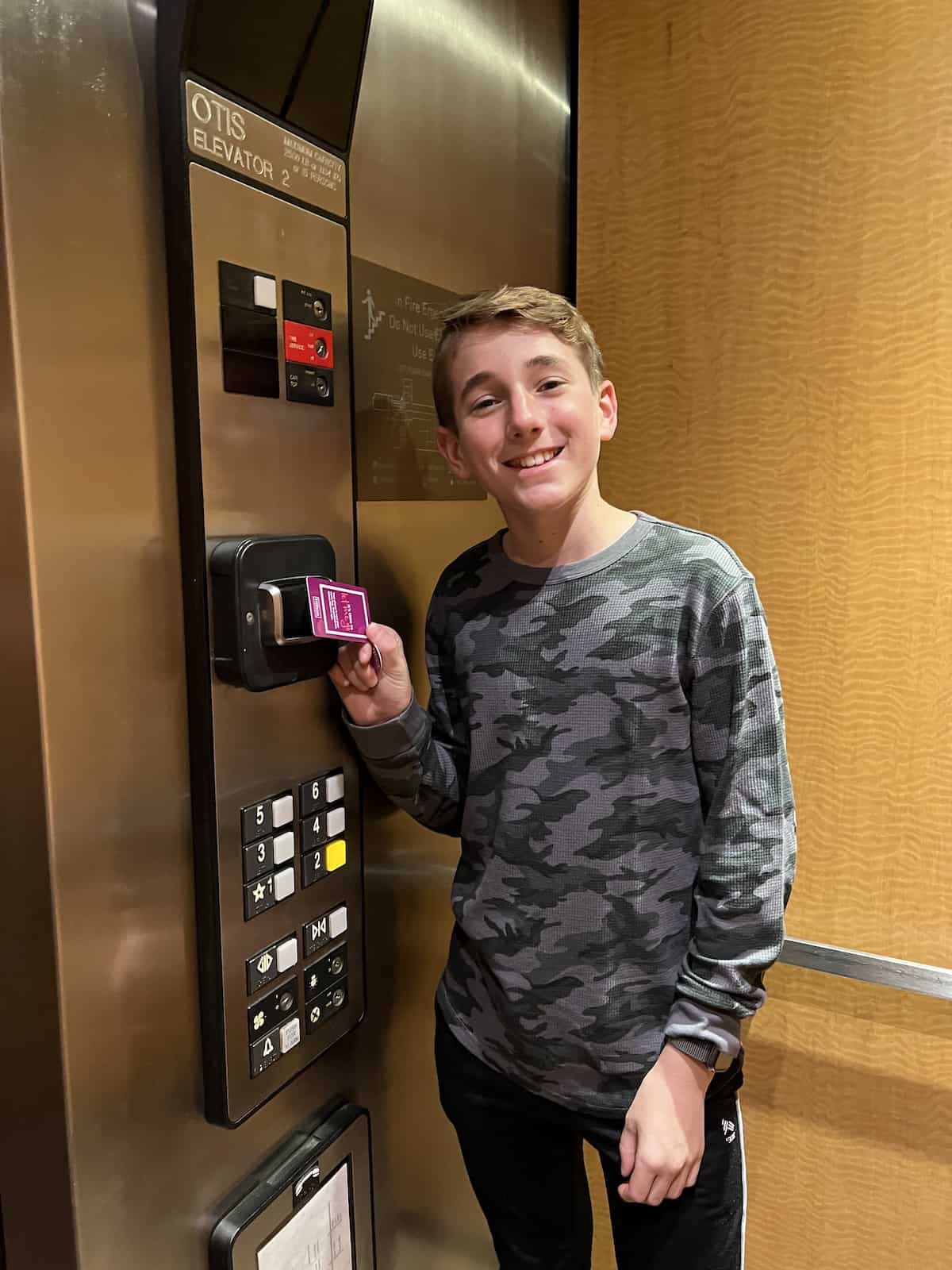 Our tour around town on Day 1 didn't get us a lot of time in the cementary and Kye really enjoyed that aspect of it so I did a little research and learned that one of the most famous cemetaries (St Louis Cemetery No 1) is only accessible with a special guided tour. I thought it'd be the perfect send-off before hitting the road to head home!
It was a walking tour and I was able to book for us the night prior to the tour with no issues (the company is Cemetery Tours New Orleans).
The tour met at a visitors center type place – Basin St Station. Again, we felt VERY comfortable and safe and enjoyed looking around. It was a beautiful building with a parking lot attached. While we waited for our tour I explained what a VooDoo Doll is to Kye 😉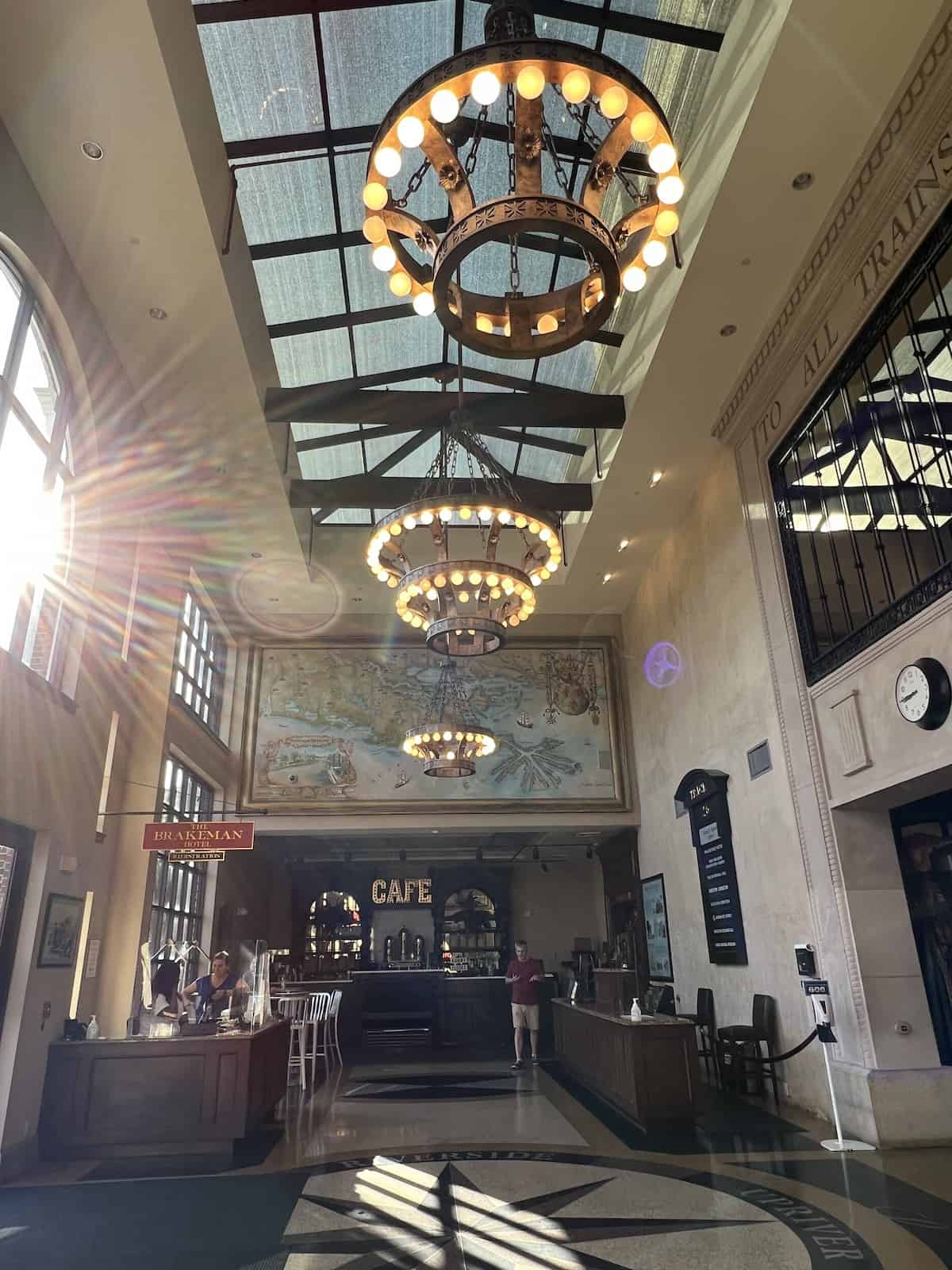 The cemetery had a lot to see and we were in a very small group for our tour (just us, a father and son, a single woman and the tour guide). He provided fun facts and we were able to ask as many questions as we wanted to as we walked around with him.
We saw the famous tomb of the "VooDoo Queen" – people still make offerings to her and draw XXX markings to supposedly "call her" out from the dead. Her tomb is a big reason the fence around the cemetery is locked, has a guard on duty, and can only be accessed through private tours.
We saw a tomb of a famous chess player – loved the little chess pieces!
We also got to see Nicolas Cage's tomb which we also know is currently empty since he's still alive 😉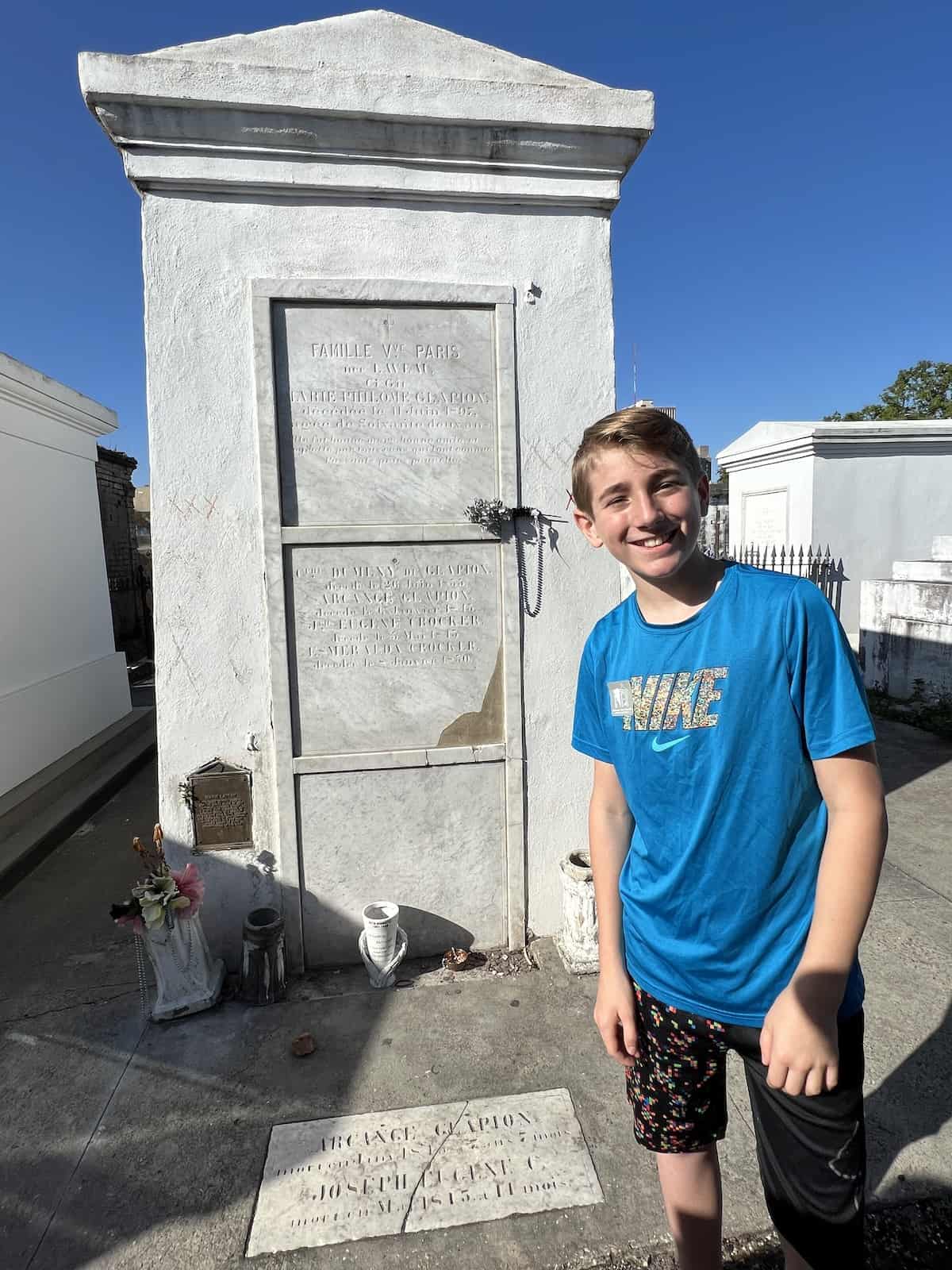 We also saw the tomb of Plessy – famous for the Plessy vs Ferguson Decision.
The tour was roughly 45 minutes and we were able to walk around the entire cemetery. It was perfect timing and a great send off from our fantastic weekend!
We hit the road to get home and both had such a great time together. I'm so glad we were able to make these memories, just the two of us and I know these memories will be precious to me forever – and I hope the same is true for Kye as well 🙂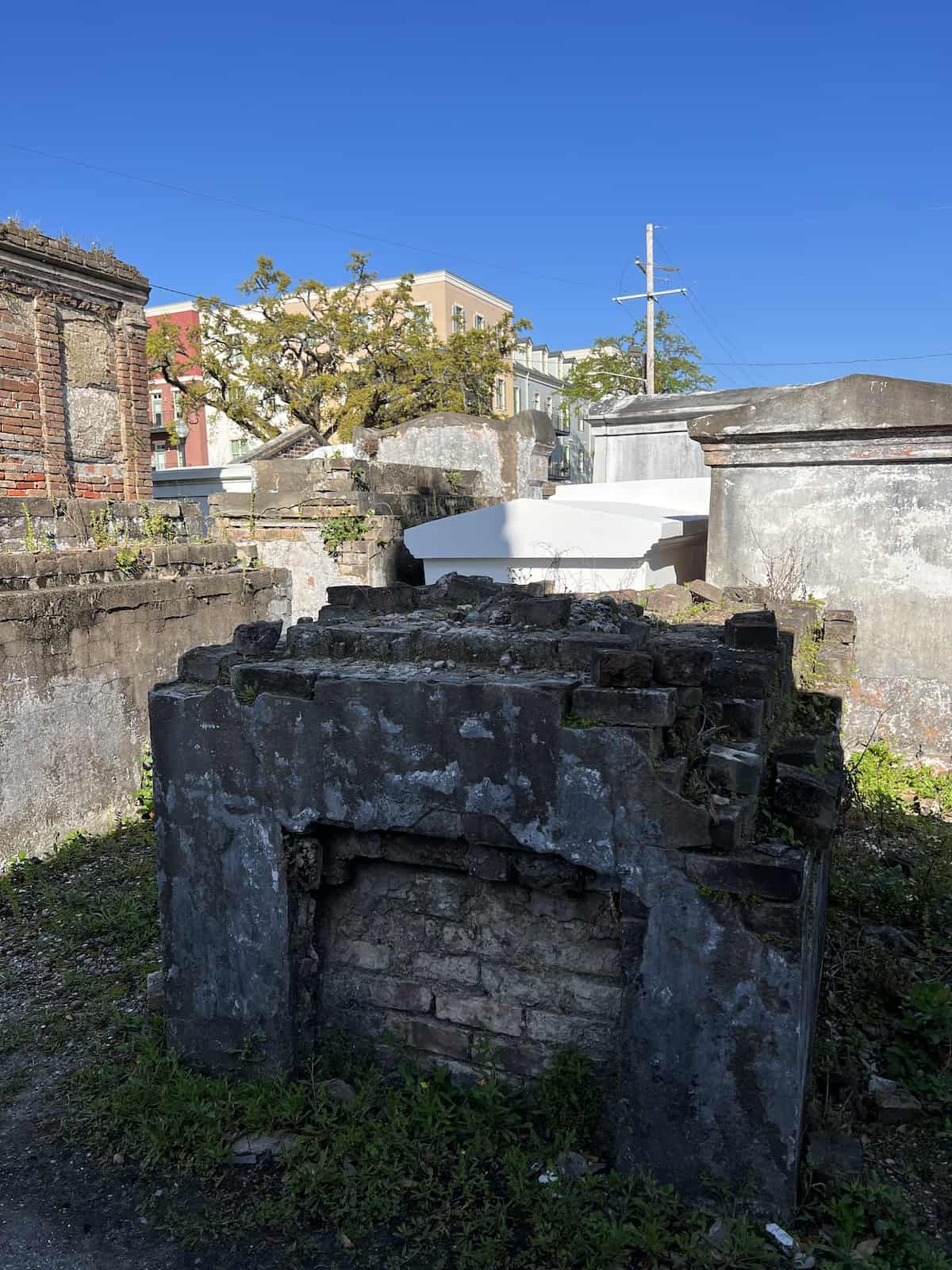 The other kids were enjoying Spring Break by spending a day with G-Mama while Daddy worked. They went to the playground and the mall and, naturally, got Chick-Fil-A!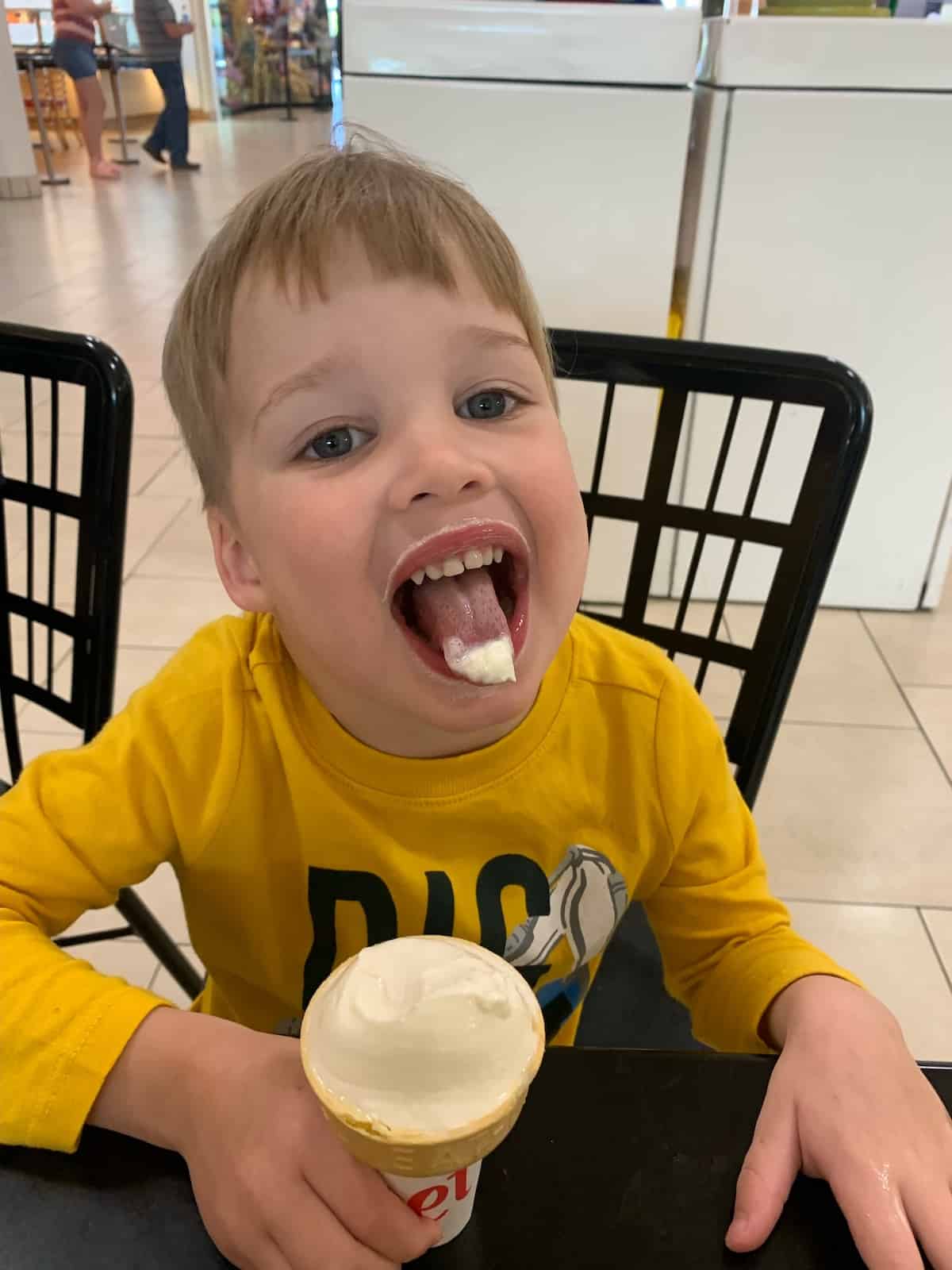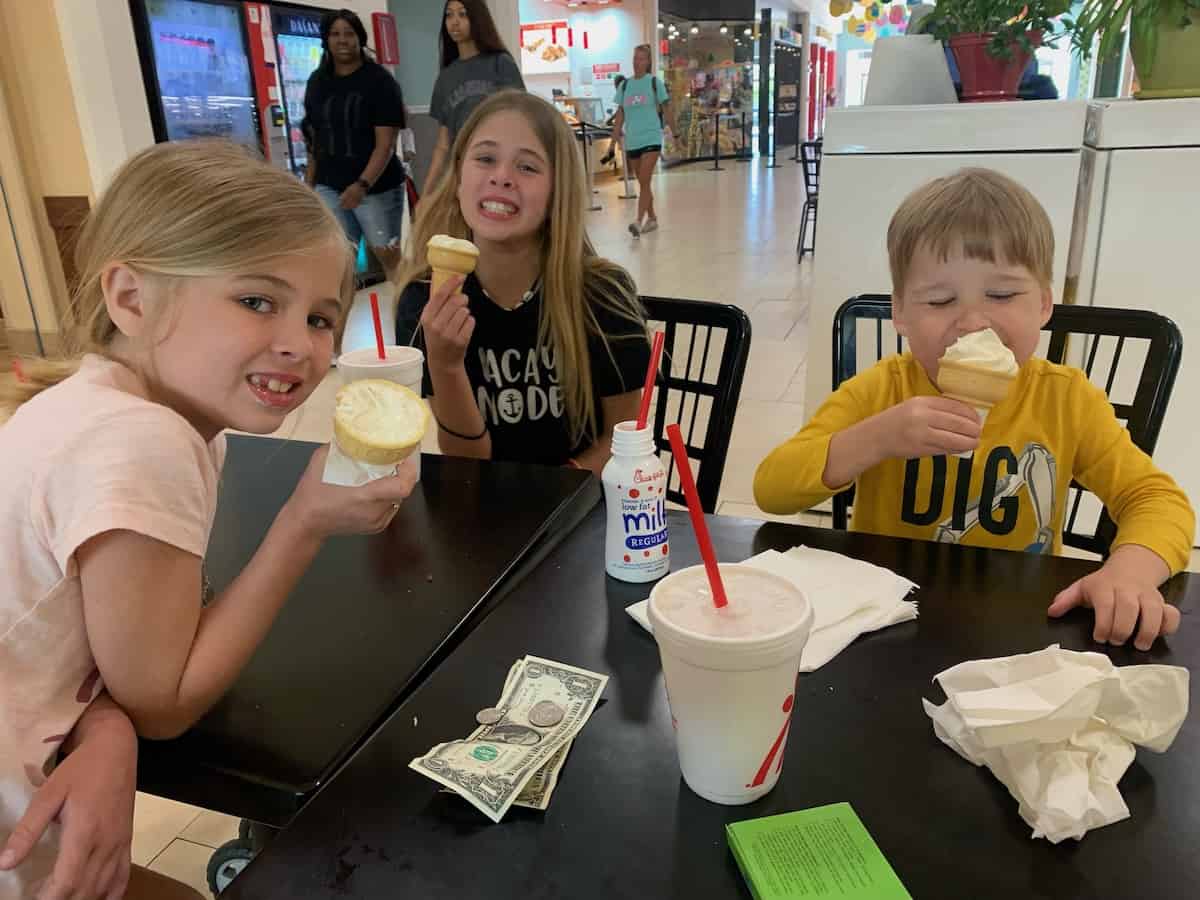 We made one last Buc-ees stop on our way home to load up on our favorite treats 🙂
While on the way home we listened to a Crime Junkie podcast covering the Mysterious Death of Kendrick Johnson. This case is literally WHAT our town is known for which is very unfortuante. It was interesting to listen to the KJ case from this perspective and Kye also found it interesting. I wish the family would just try to have peace rather than continue to push for answers that simply won't be there. I understand these crime podcasts wanting to peak interest for viewers but this case is just a crazy accident with a sad ending and an unfortunate decision by the family to push blame where there just isn't any.
It was a great car conversation for Kye and I and a solid bonding experience to end our time together!