As is natural with pre-teens and teens, Kye has been gravitating more and more toward Zach the last few years and I don't see that slowing down anytime soon. Typically kids start to bond deeper with the same-sex parent and continue to stay closer to that parent into adulthood. I love that Zach and Kye have so many shared interests and it's my prayer that they share a similar close bond to the one that Zach has with his own dad.
It's also tough on my Mama heart to find that Kye and I have less in common. That many times his interest in long Mommy talks is not there in the ways it used to be. He's growing up! I'm so proud of who he is and the man he is becoming but I also want to be intentional in making sure he and I have our "thing" together as he enters adulthood.
I have tried to be really intentional in finding things to keep us connected. I know as he gets older it'll be more and more on ME to find those connections. One thing that has been great has been watching shows and movies together. I have great memories of watching stuff with my dad and it's been an awesome way for Kye and I to continue to bond.
A friend also suggested that it's wise for kids to do a trip with their opposite-sex parent before they hit the full-on teenage years and I really loved the idea of a getaway just Kye and I! He and I had a "Mommy trip" several years ago (you can read about that here) and I was totally down for another one.
A chance for just the two of us to create lasting memories together. I knew he'd have a good time but I also knew going into it that this trip was FOR ME more than it was for him. A chance for ME to have memories with my growing baby boy. A chance for ME to have moments to cherish that is "just us" as he enters this next stage of life!
Zach was on board for Kye and I taking a trip and I struggled HARD with where we could go. I wanted to stick to driving with so many guidelines and restrictions in place and to also minimize costs. I also wanted to go somewhere Kye hasn't ever been. I wanted to find something that he was super interested in and would enjoy and be excited about.
Originally I looked into doing something just in Georgia. Sure, we've gone to Atlanta on a mother-son weekend with friends and we've gone as a family to Savannah but Georgia has SO much history. Kye LOVES history and I thought doing a historic tour through the state would be fun – however, he then mentioned to me that he is not interested in the Civil War and finds World War II to be the most interesting and the one he wants to learn the most about. That quickly took Georgia out of the running!
When he mentioned how much he enjoys World War II history I instantly had a great idea – New Orleans! Zach and I had visited NOLA before and when we'd visited we flew bc it was an Aflac trip but I remembered that we were shocked to learn that NOLA is only about a 6 hour drive from us. Not a bad road trip at all!
We also really enjoyed New Orleans when we visited. It's a place Kye has never been but that I was somewhat familiar with. PLUS New Orleans is home to the National WW2 Museum! Perfect!
We didn't have any plans for Spring Break this year due to us having booked a trip as the kids Christmas gift but then changing plans. We'd already opened up our Disney House for renters and someone had booked the week so we were trip-less for Spring Break. It was the perfect chance for our getaway!
We gifted Kye the trip as part of his 13th Birthday but really it wasn't a birthday trip and was just a special Mother-and-Son weekend!
We hit the road and decided to really focus on this trip being all about FOOD! Kye loves to eat and we thought it'd be fun to try new places and new things. First up was a stop at Whataburger (a first for us both) and Kye had a patty melt (another first) and had to try the Dr Pepper milkshake too!
We also couldn't pass up a stop at Buc-ees on the way! The drive was BEAUTIFUL and very easy and we got to drive through FIVE states which is pretty neat in itself! I would totally do the drive again in a heartbeat.
On the way I looked down and noticed my ring was completely broken. Random but when we got married we had my wedding band connected and it was so weird to feel the three separate pieces! Thankfully our jeweler was able to fix it once we got home but I mostly just wore my engagement ring the rest of the trip.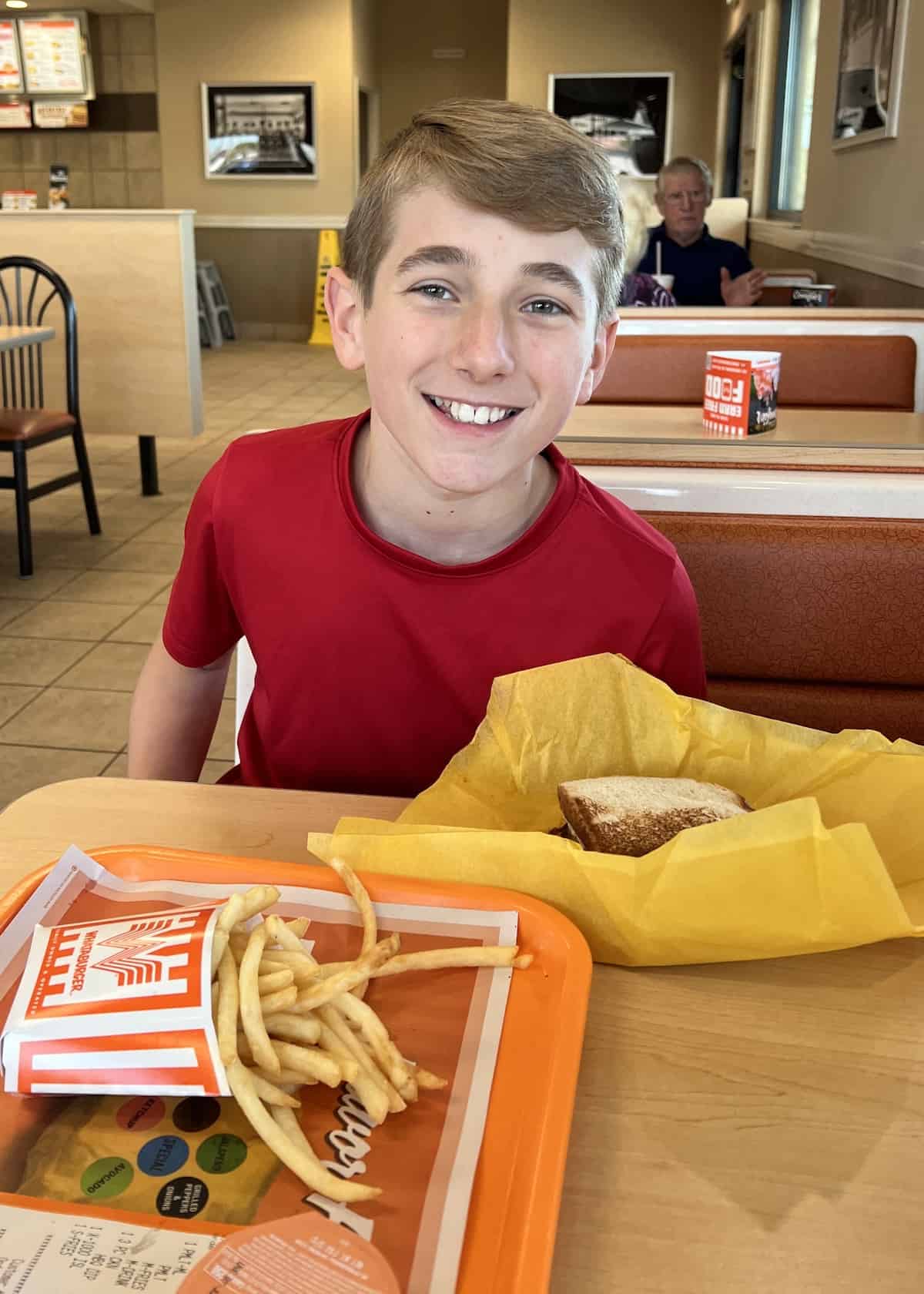 I recently had a friend who has a college-age son give me some GREAT advice that when it comes to quality time with our older boys it's important to keep the interactions BRIEF. Short and sweet! Don't put too much pressure on those moments and let them happen as naturally as possible.
I really tried to keep that in mind when planning this trip. I decided to do a 3-night stay due to the long drive there and back and that would allow us one full day to explore NOLA and one full day for the World War 2 Museum.
A BIG thing that I really, really prioritize is safety when it comes to traveling – especially solo. While Kye may be grown in many ways, he's still MY child and I didn't want to put either of us in any sort of potentially worrisome situation. I spent a LOT of time researching hotels and safe areas to stay.
I had a tough time finding anything available at all! We ended up having to share a king size bed because there were literally NO ROOMS available ANYWHERE and the price was crazy high too!
I was shocked to learn the reasons the prices were so high was because the NCAA Final 4 basketball tournament was in NOLA that very same weekend that we were in town (Fri April 1st through Mon April 4th). It really turned out to be such a "God thing" though. Not only did the tournament provide a fun vibe but it made everything EXTREMELY safe. SO much security presence everywhere we went!
New Orleans is known for being an unsafe area and I was so thankful for our timing! We felt VERY safe all weekend long!
For our stay we booked Hampton Inn Garden District. The hotel was FABULOUS (excellent breakfast) and the location was beautiful and easy to access.
When mapping out our plans for the weekend I intended on us being back at the room early each evening. I wanted to avoid being out after dark to really make sure we were safe. I'm telling you – I don't play around with that kinda stuff. By the time we arrived and got checked in and settled, we decided to just order a pizza for dinner in the room and watch a movie together. Proud mom moment that Kye packed his devo for the trip 🙂
Back home Spring Break was kicking off with a homemade Daddy cookie cake (and swimming too)!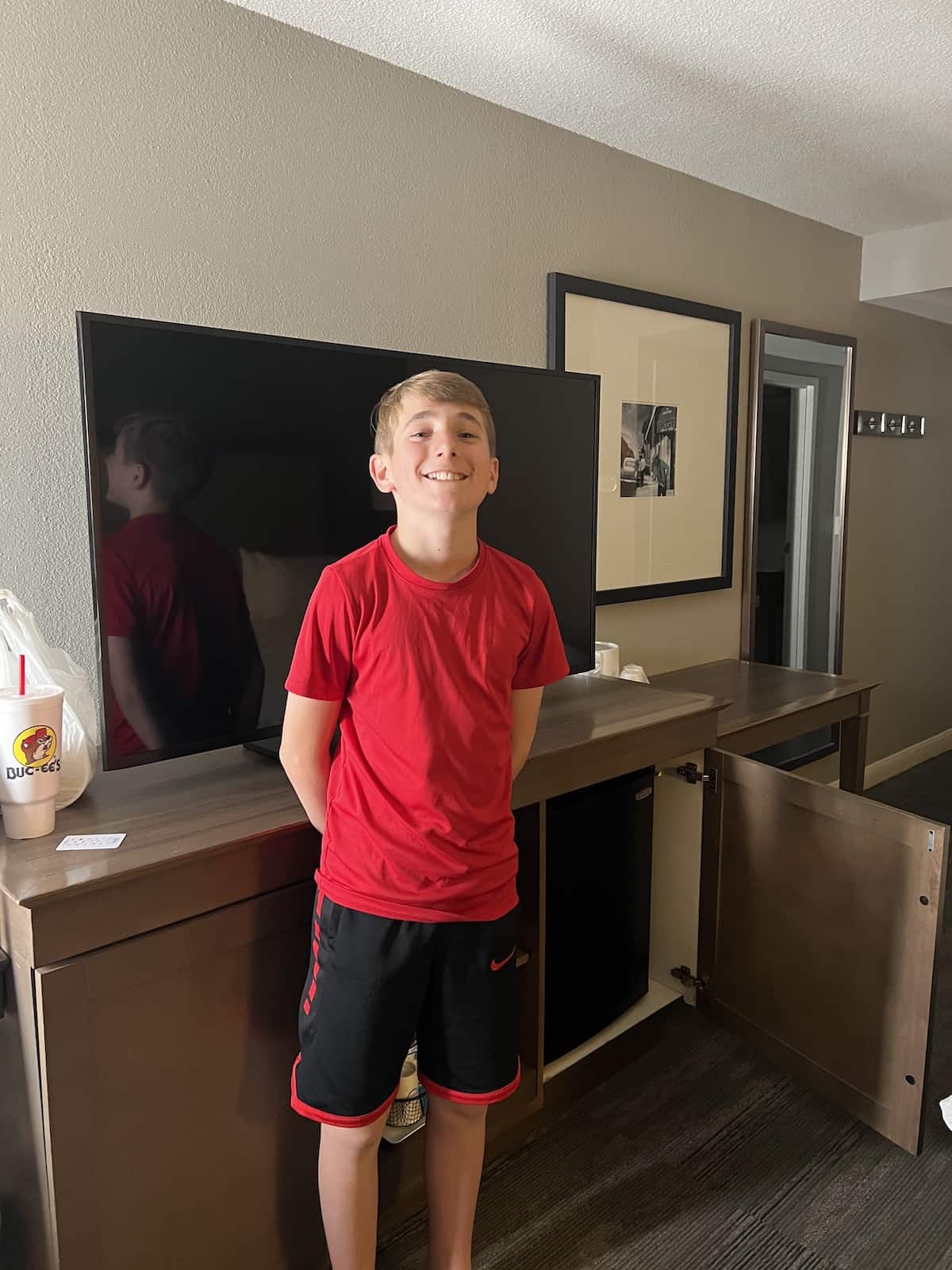 With Kye now being 13 and being so into history I thought it'd be fun to start the trip with watching his first war movie together. We decided to watch Pearl Harbor since it was the start of the US's involvement in the war.
The language was a bit much (but to be expected with a war movie) but there was only one "love" scene so I just had him turn away for that part. Overall he enjoyed it and we had a great time watching it together. He did however REALLY have a hard time watching the realness of the death scenes. I love his tender heart and never want to harden that so it was good to know to be super mindful of what we watch in the future with him. Pearl Harbor was a very mild war movie and anything more intense would really affect him in a negative way so I don't want that!
We kicked off our first day with an epic hotel breakfast – I swear the waffle bars at hotels are always THE BEST! So good!
For our day I booked a New Orleans Site Seeing Tour through Viator. Zach and I enjoy a good tour to kick off a visit to somewhere new and I liked that this was a bus tour which allowed it to cover many different areas in a short span of time and it worked out great that it also kept us dry from the rain!
It was so good for Kye to see the area and to learn its history, especially the portions about Katrina and how it impacted the people of New Orleans. The tour also had an extended stop at Cafe Du Monde so Kye was able to have authentic beignets for the first time. And they did NOT disappoint 🙂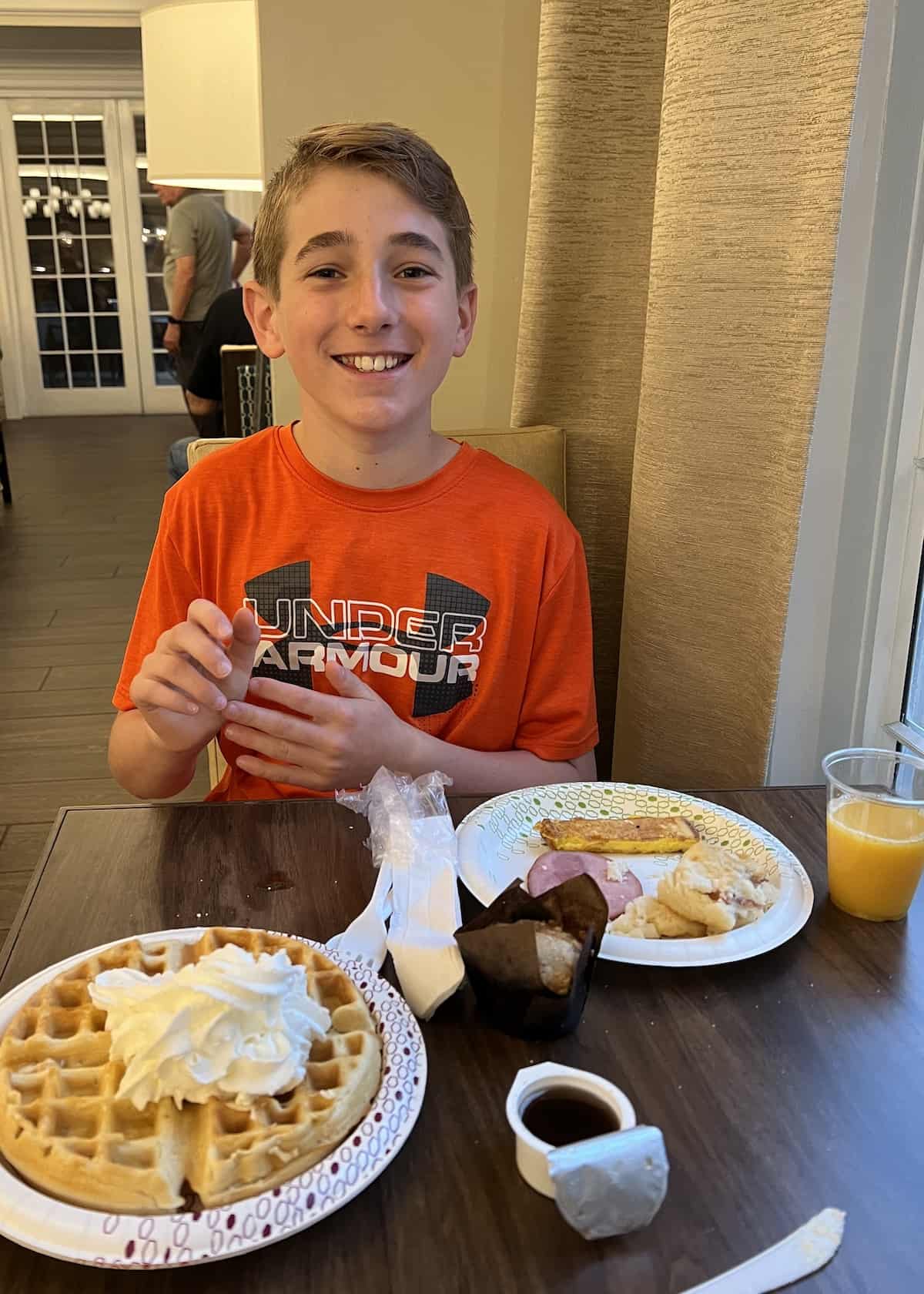 The tour also included a stop at one of the cemeteries and thankfully the rain had let up for us. Seeing the above-ground cemetery was so neat and it's so interesting how different customs can be when it comes to how the process of death is handled. Kye really thought the cemetery portion of the tour was the coolest!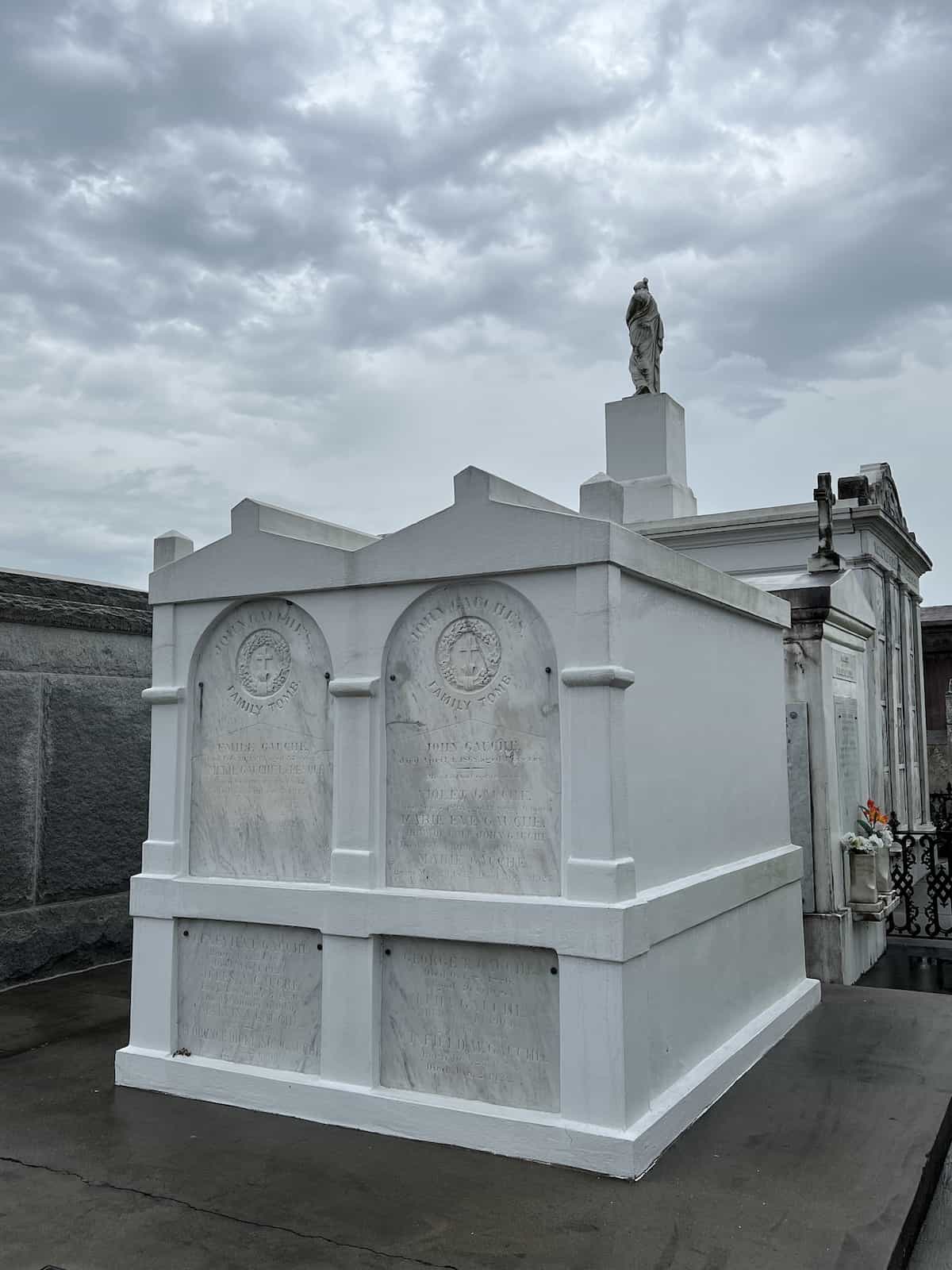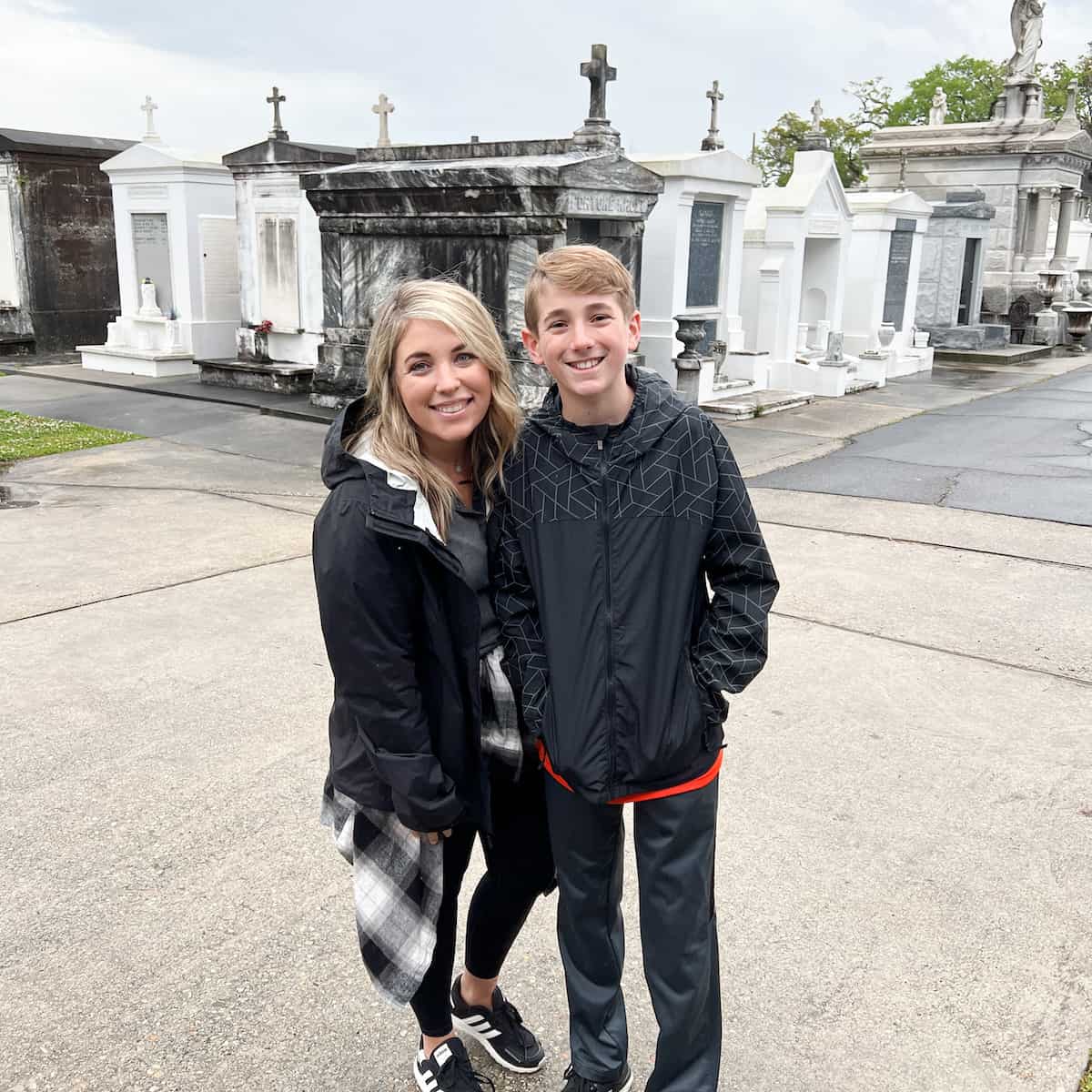 After the tour, we found parking along the Mississippi River and did some of our own exploring in downtown New Orleans. We started with Jackson Square and visited The Cabildo Museum to take in a more detailed history of the city. Kye is all about his historical facts and loved walking through and seeing everything and reading the descriptions.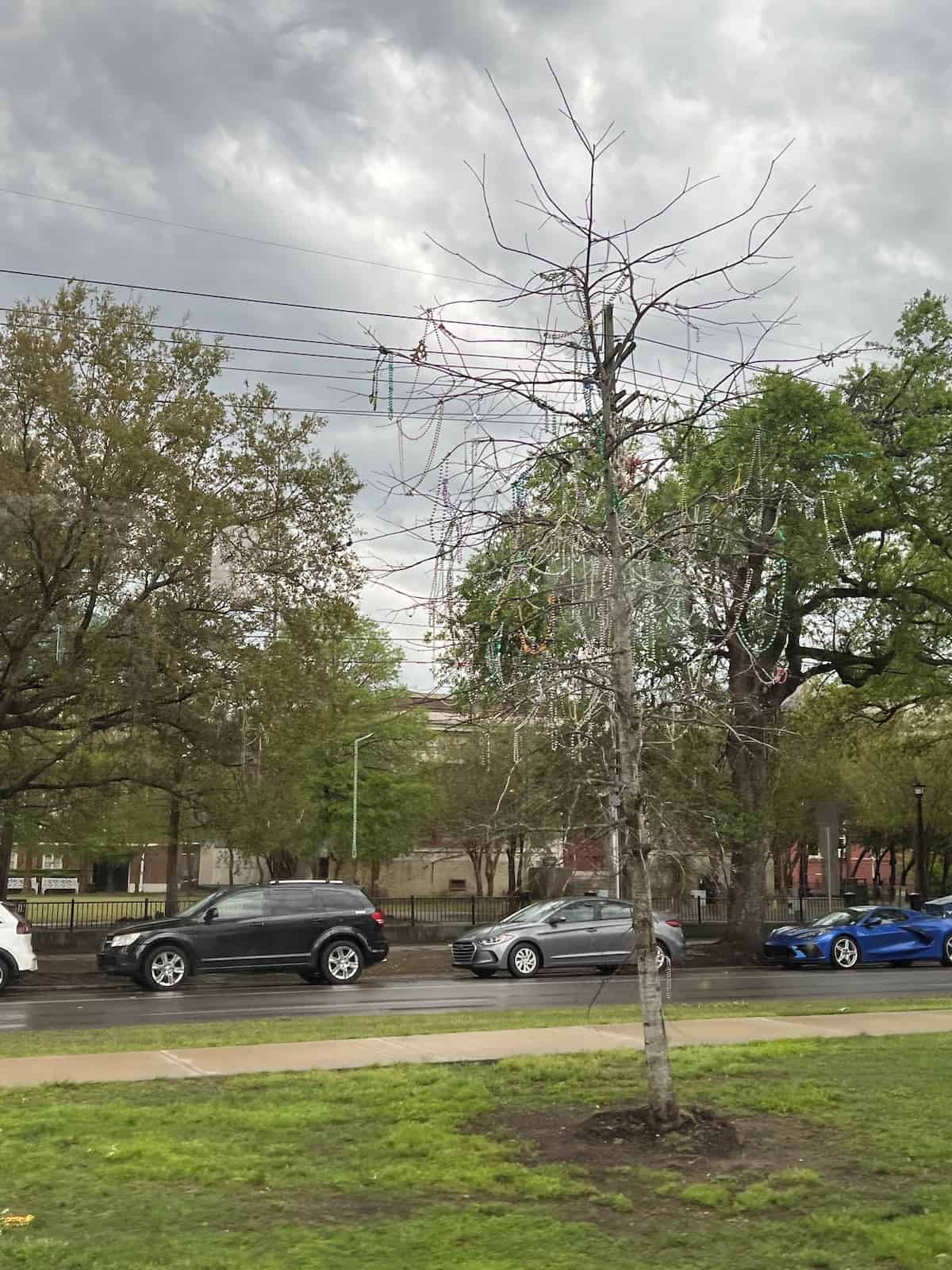 The museum didn't take long to walk through and the coolest part was getting to see Napoleon's Death Mask! Kye thought it was awesome. I loved just following him around and letting him explain different things to me that he was learning as we went.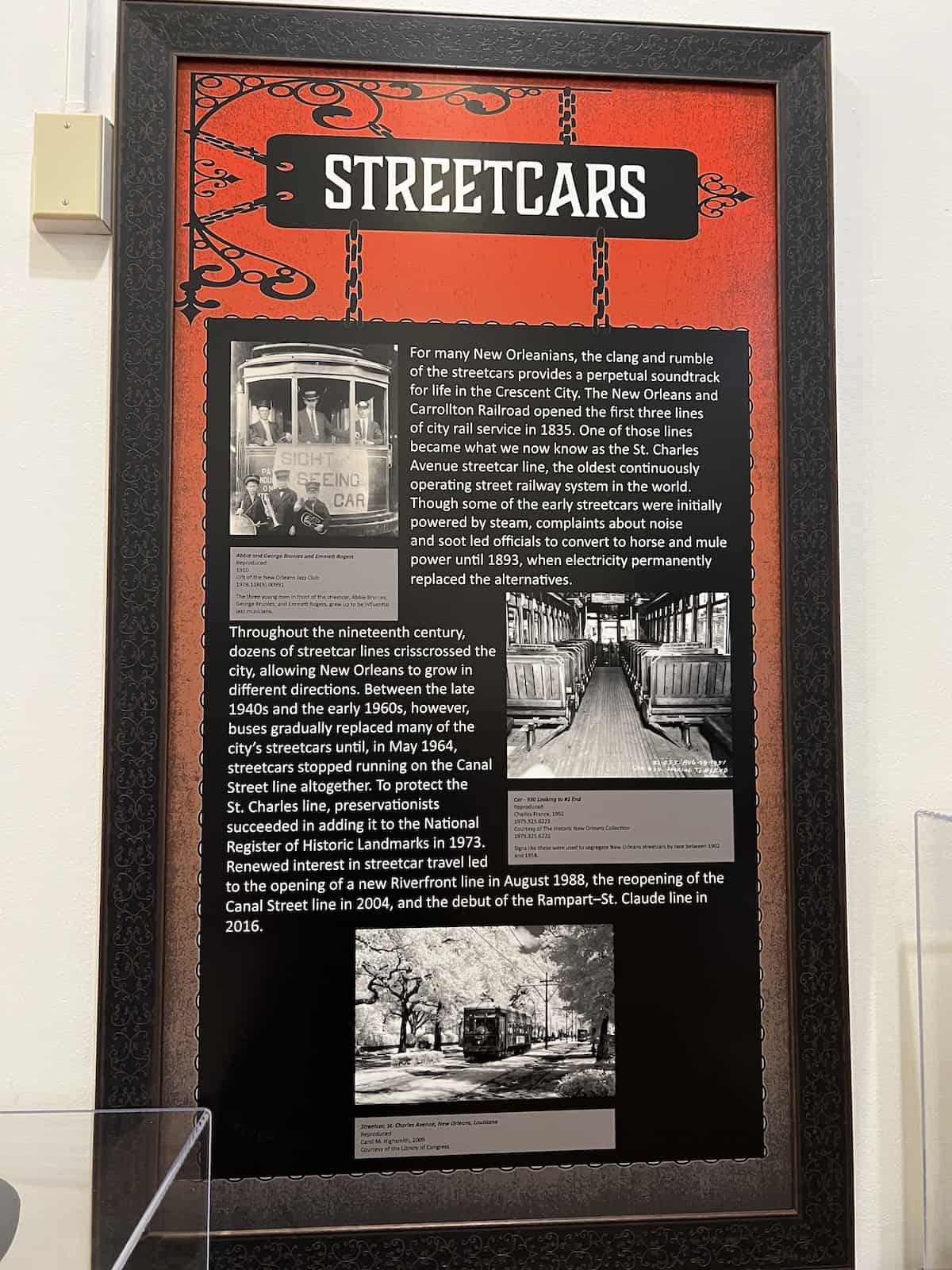 After we walked towards the French Market area and enjoyed all the sites and sounds around us. The vibe was so fun and it was neat getting to see street performers (the painted people are so impressive to me!). We stopped for a photo with the Joan of Arc!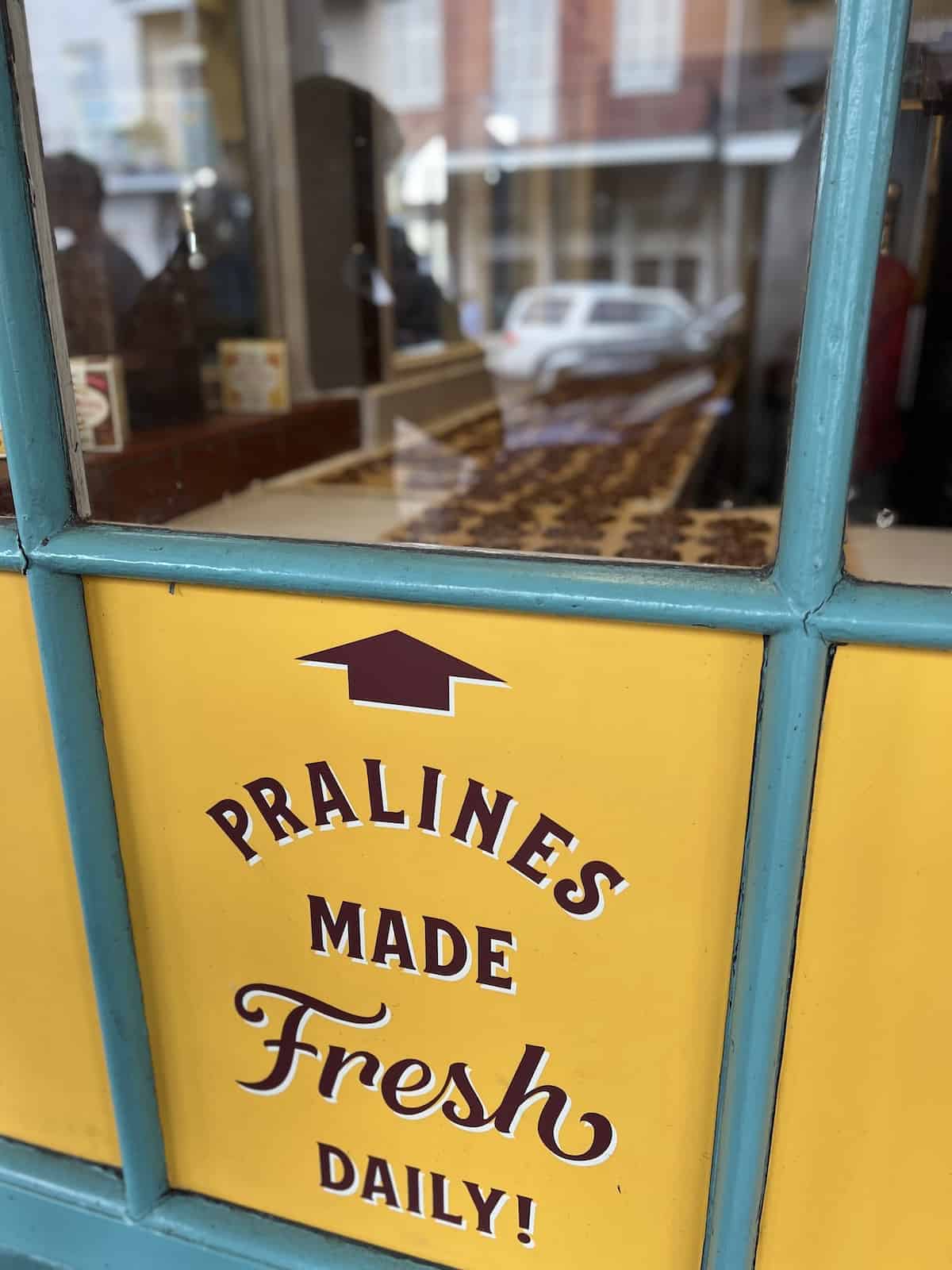 Once inside the French Market we knew we had to add another new food item to our list – GATOR BITES! They were actually (surprisingly) DELICIOUS! Kye's love language is gift giving. He has the most thoughtful ideas for gifts. We hadn't even talked about getting his siblings anything but as we walked by a vendor playing these cute little handmade instruments he said "We gotta get these for the girls!"
Along with the gator bites we also had to stop and try another first – pralines! Oh my goodness they were SO GOOD. We bought a box to have later for a "midnight snack."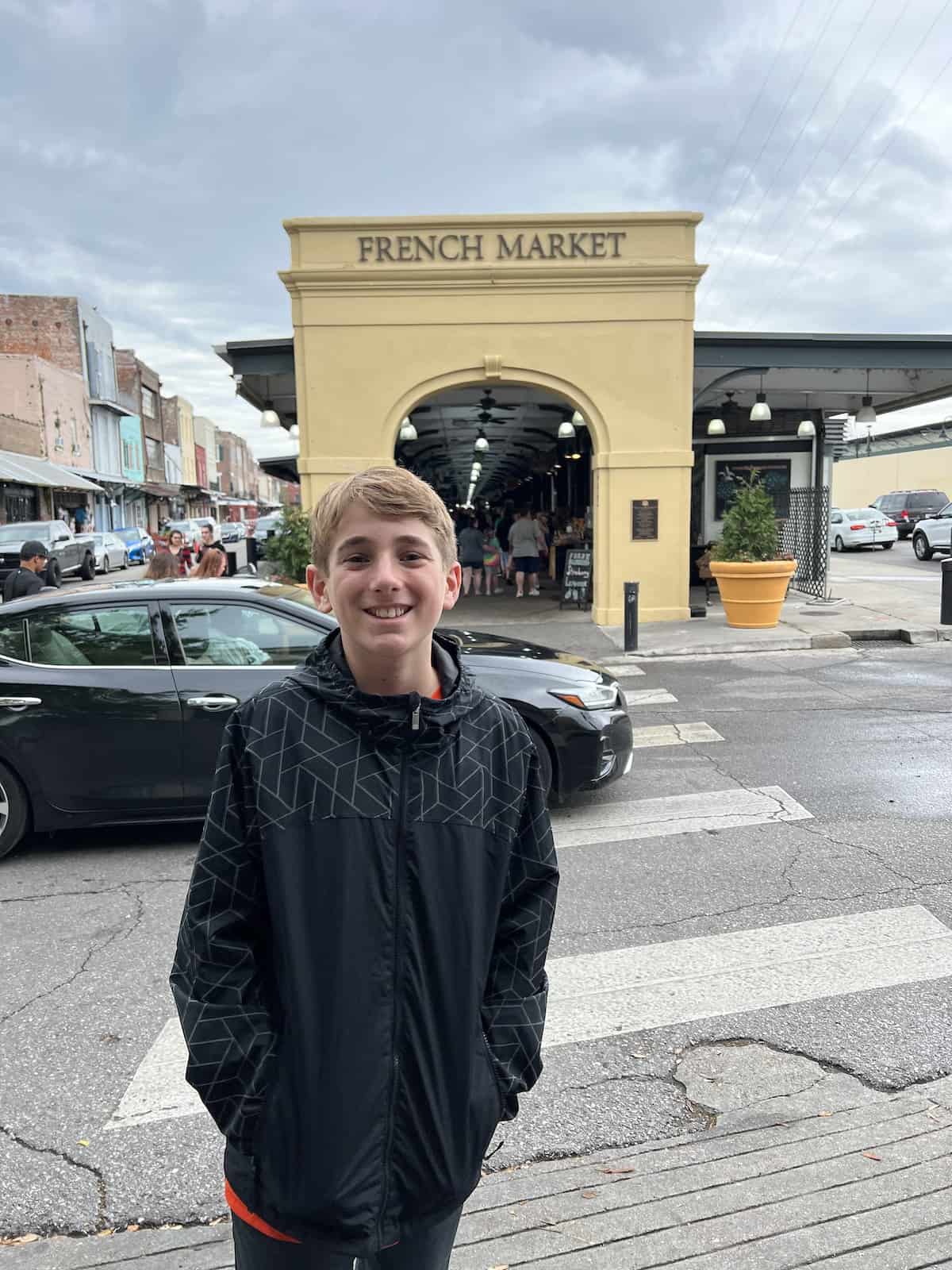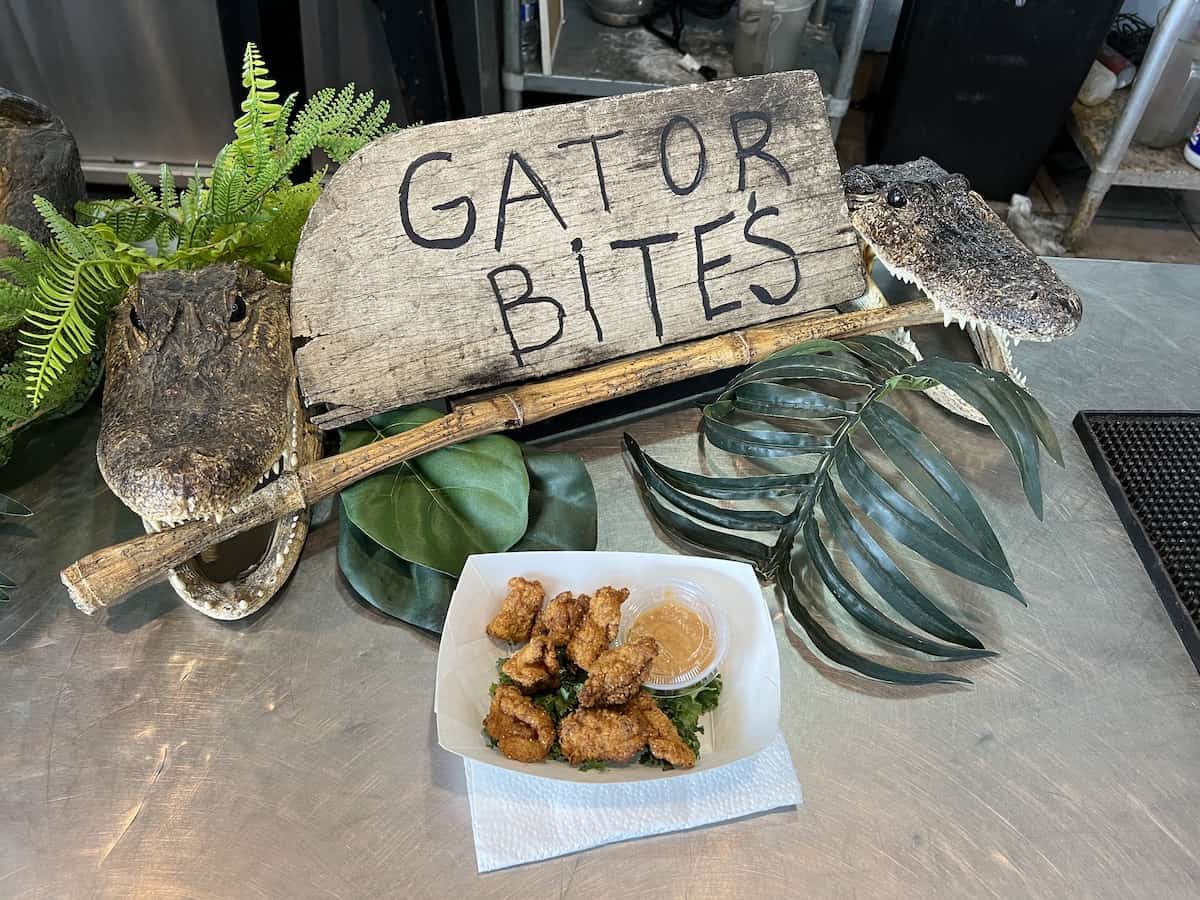 We walked around town a bit more and it was really cool getting to see the set up for all the media surrounding the basketball tournament. We even got some free stuff from different venders (Kye was all about that free soda!).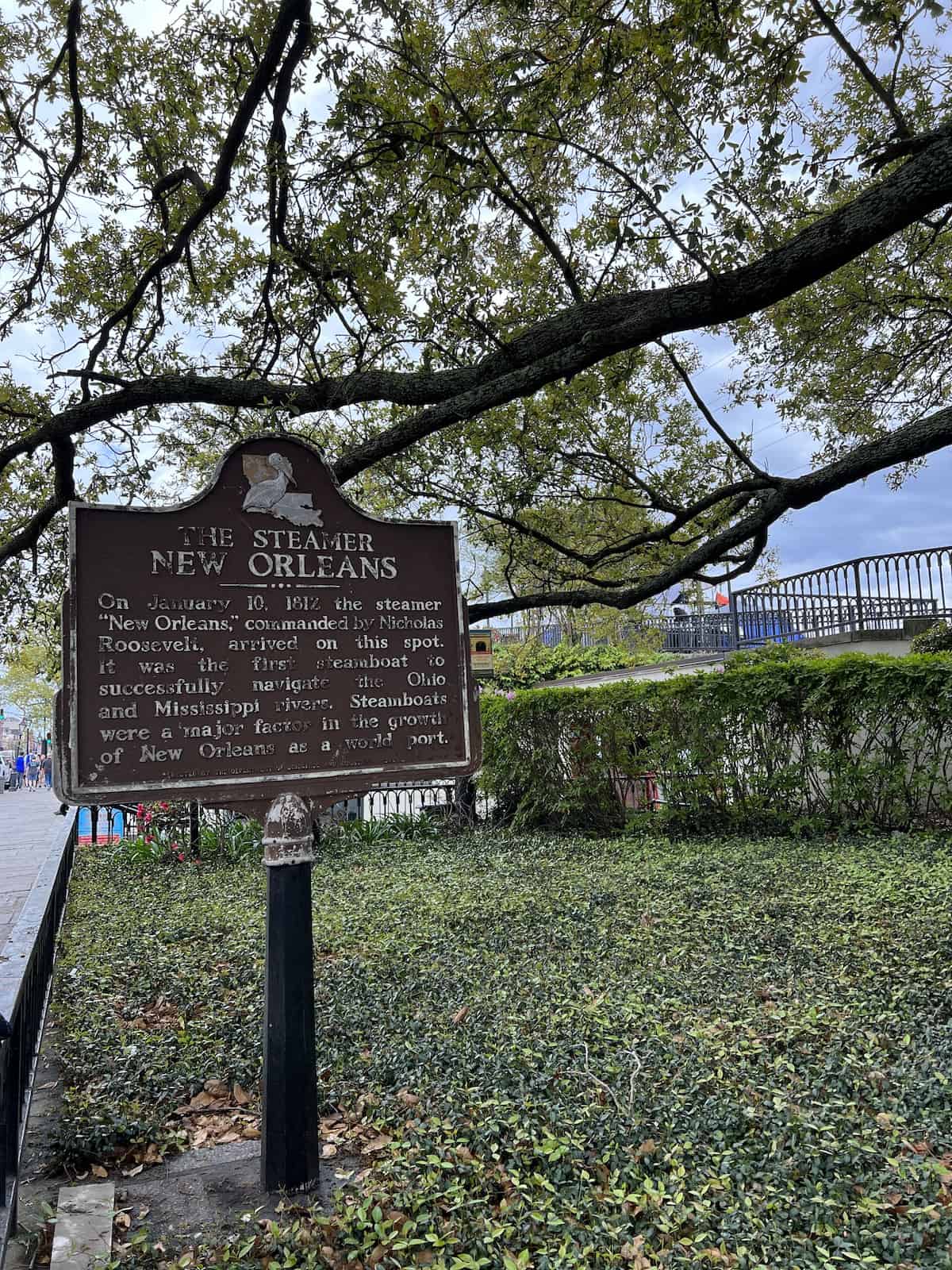 Pretty quickly into our "walk around the town" time I realized Kye was NOT feeling it. Zach and I enjoy walking around taking in new places but I think the bus tour was enough for him and he wasn't as into the walking around looking at things portion of the day.
Again, my goal of this trip was to bond with HIM in the ways in which HE was having the most fun and doing things that bring HIM joy! This trip was ALLL about Kye!
I had a talk with him about it. He was a bit "in the jar" in one of those sullen teenagers kinda moods and I told him we can switch it up! There is no real agenda, no plan, no "must do" list. The goal is FUN. So if he wasn't having FUN let's switch it up!
We looked into a couple options and decided to walk down to Fulton Street and go bowling! It was a nice walk on the way and we got to see more sites and Fulton Street itself was a big set up for CBS and their coverage of the basketball stuff so that was super cool to get to see!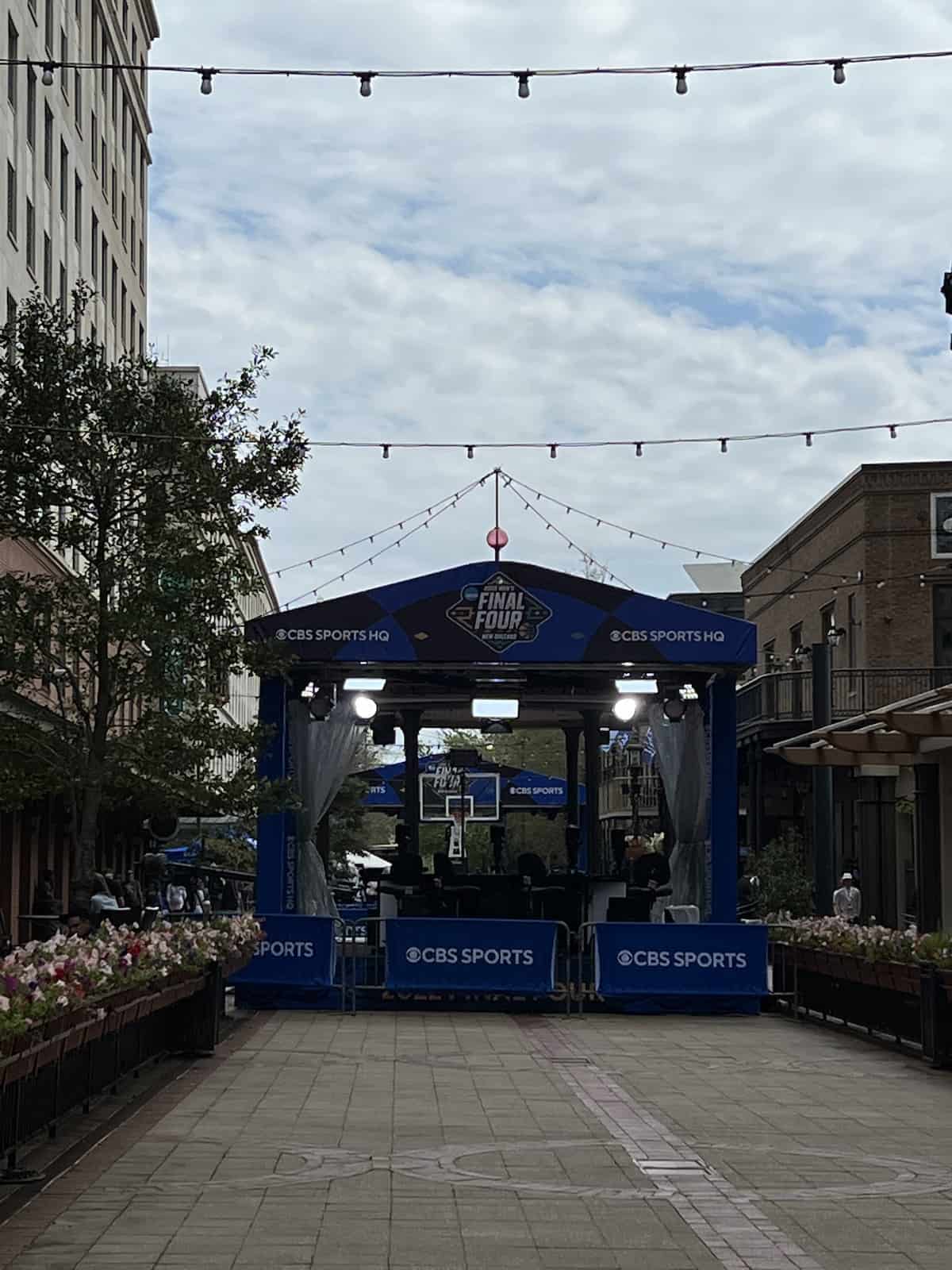 We went to Fulton Alley and had THE best time! It was so fun and just what Kye needed to perk up and get into the moment and enjoy the experience! Of course beating me didn't hurt his spirits either 😉 The first game my TOTAL score was 15 bahahah. Kye played up until the last minute and finally got him a strike before it ended!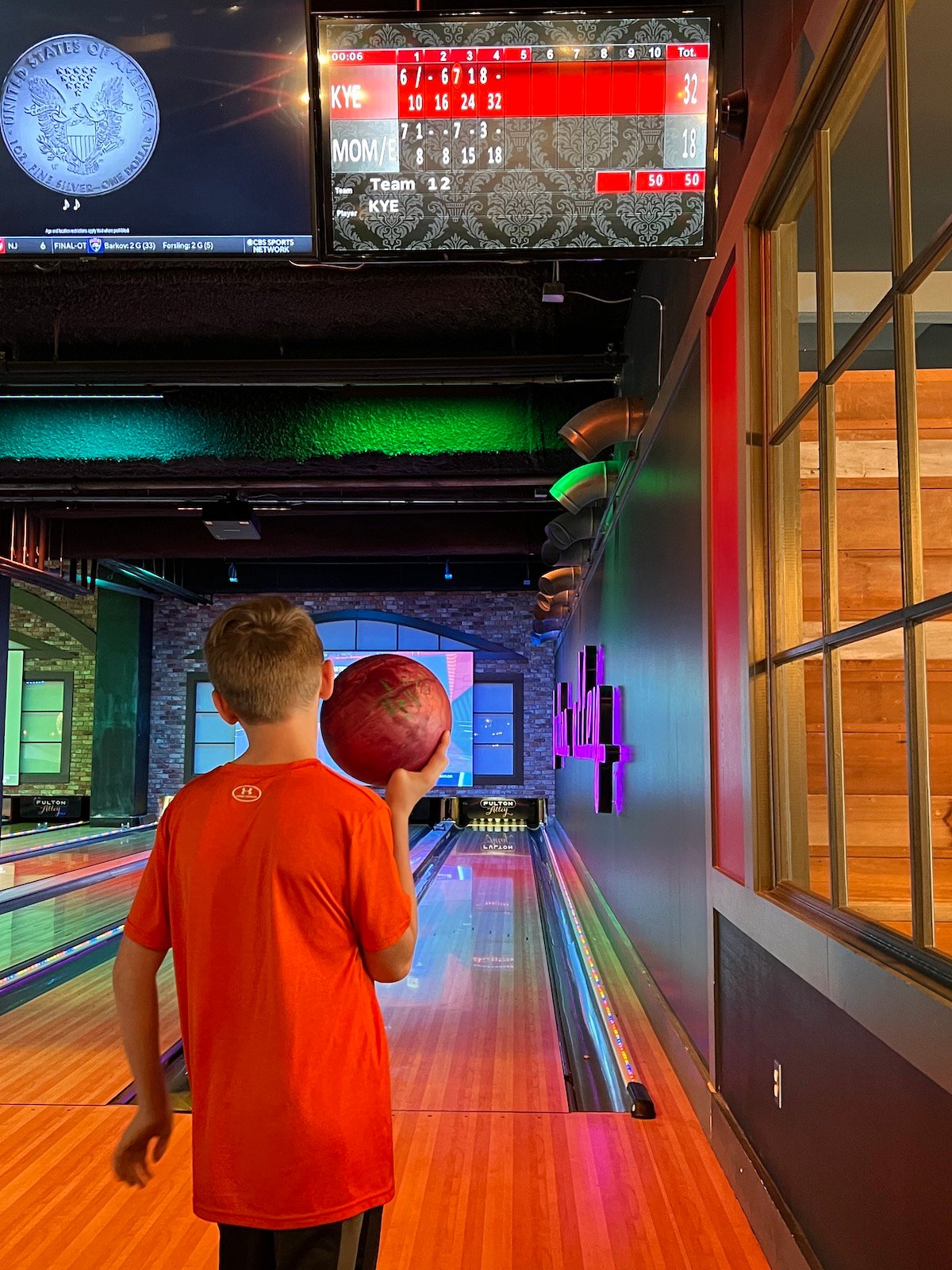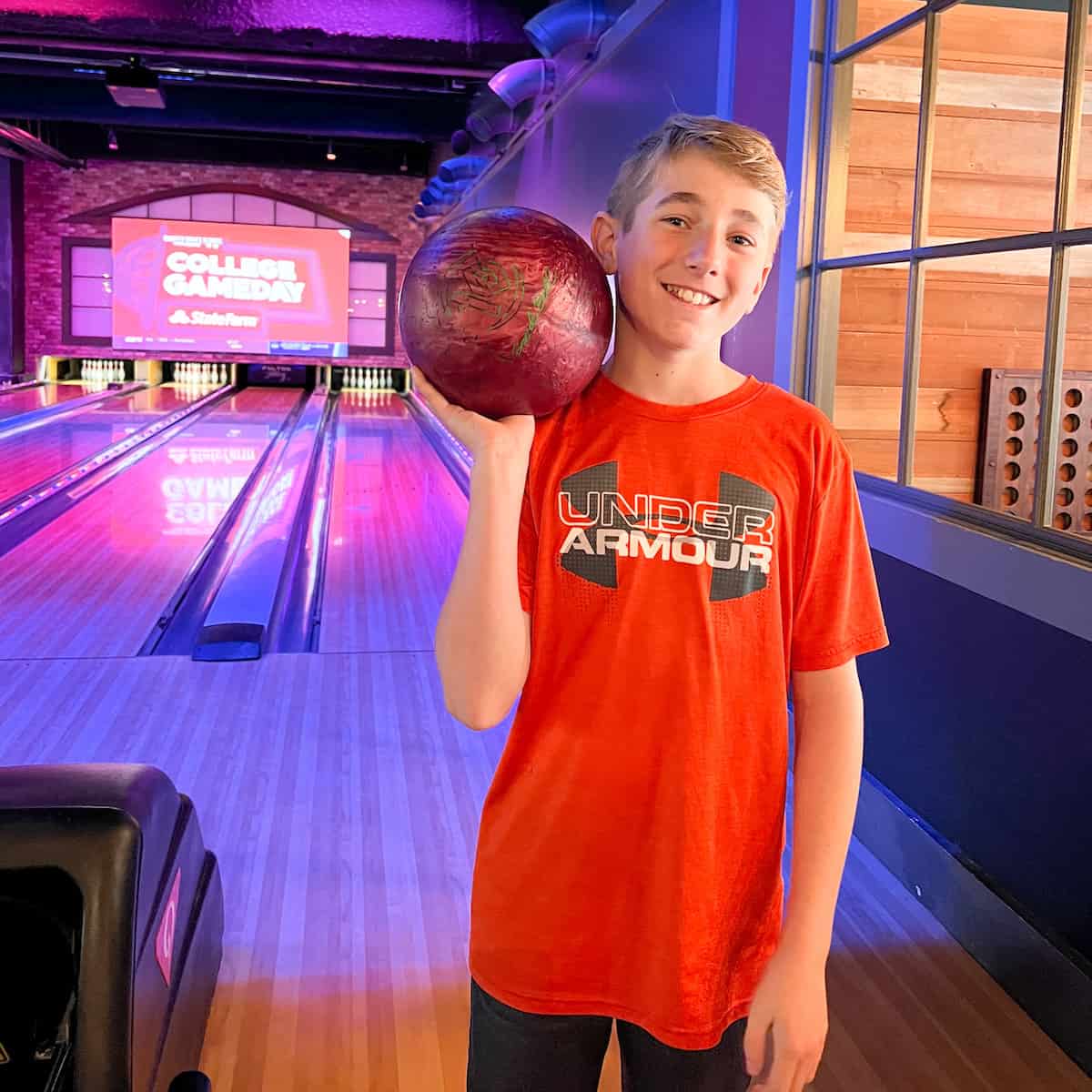 On our way out CBS was broadcasting live! It was REALLY cool to see a live telecast up close and in real life like that. Such an awesome opportunity! We even saw the telecasters limos all lined up waiting for them.
On my list of things to do for our trip was to ride a street car but they seemed to be few and far between and I didn't want to be stuck waiting around for one so we never did end up riding one!
For dinner, we stopped into Landry's Seafood House and my adventurous eater ordered the BBQ Shrimp and LOVED it! I wasn't playing around when it came to safety on this trip – we ate a late lunch and super early dinner and got back to the hotel before 5 pm. We both were tired and ready for some chill time!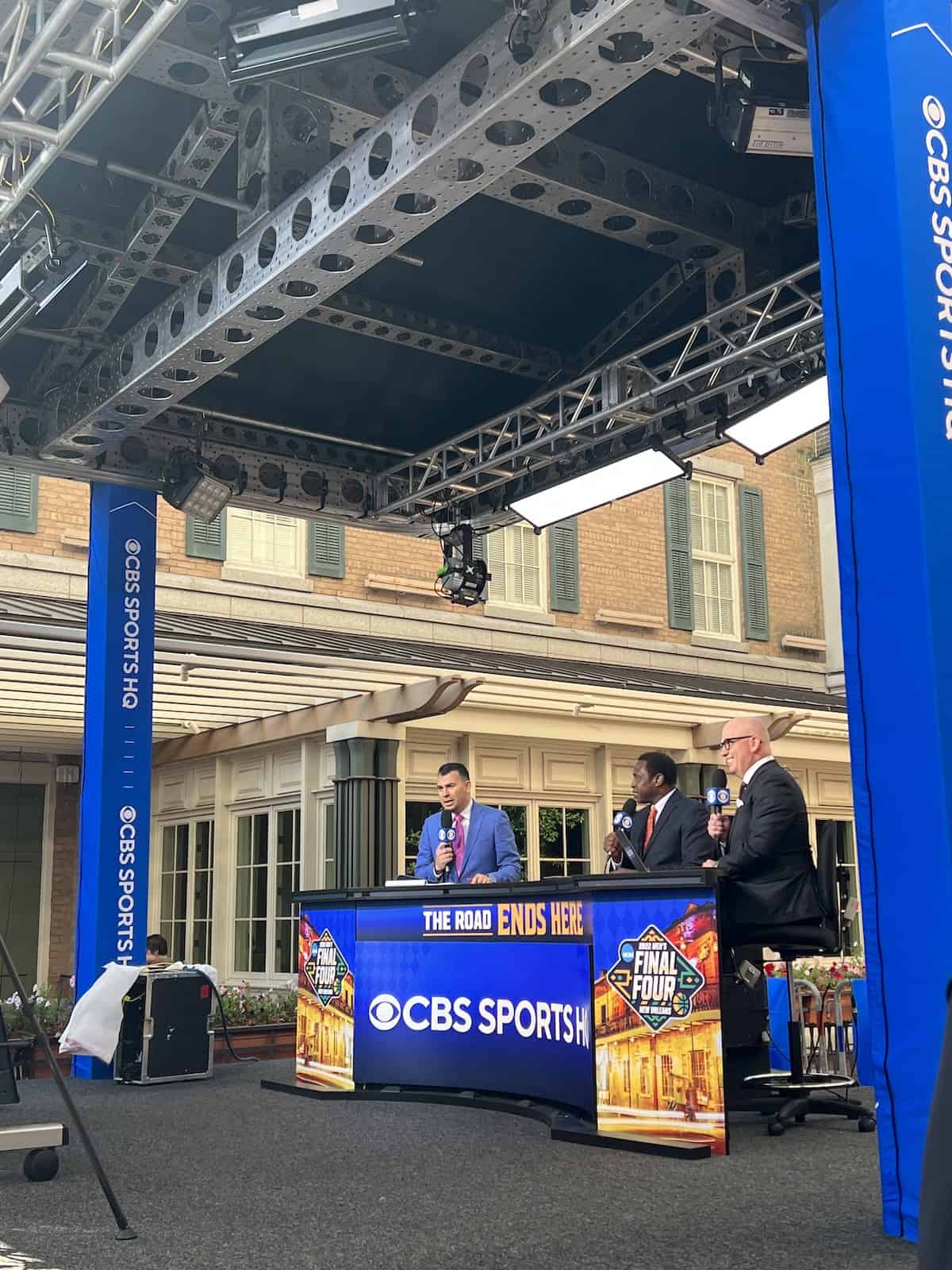 Another fun meal for the Spring Break home crew with their spaghetti and meatballs!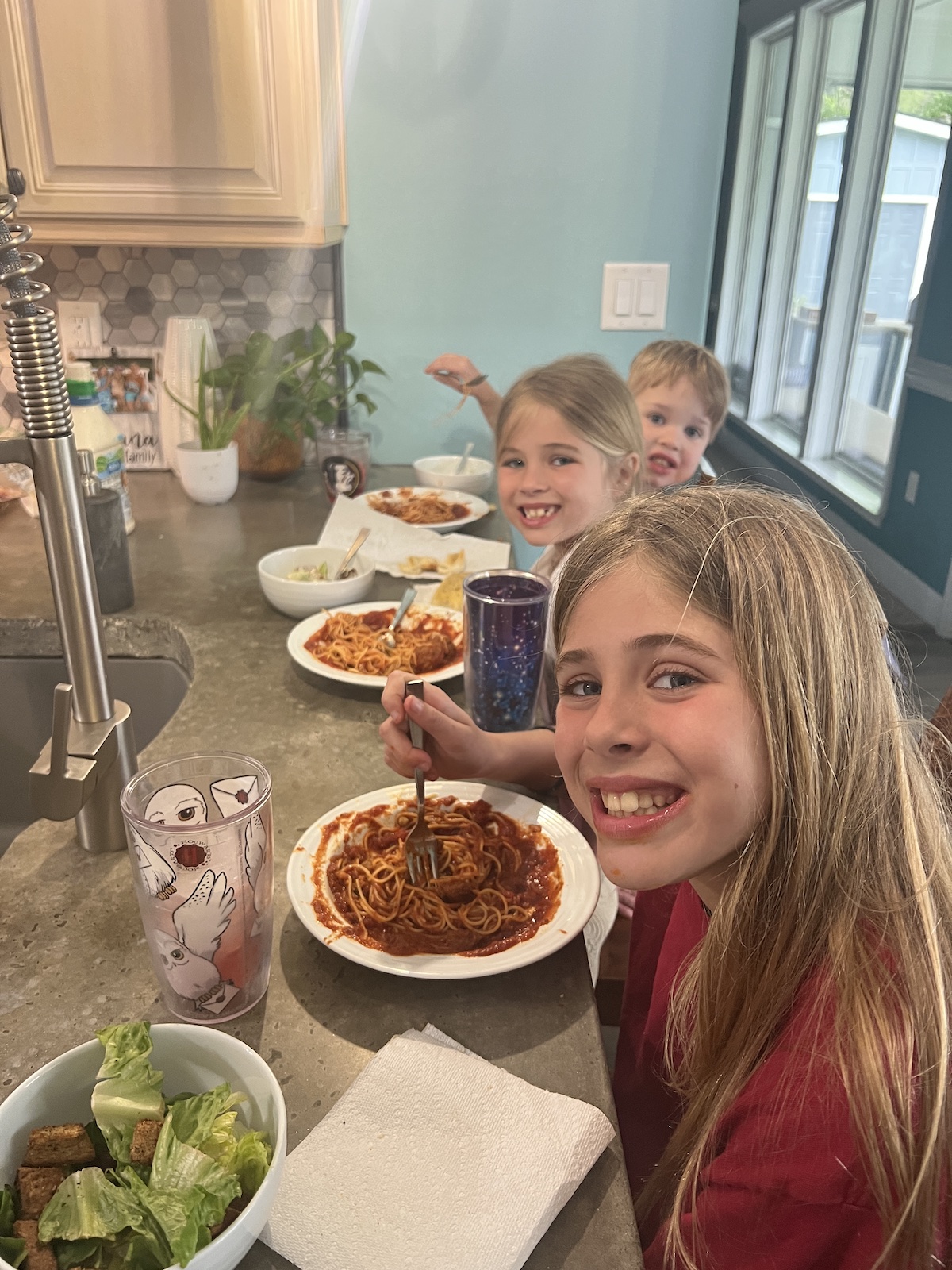 We brought a couple of games with us on the trip and decided to play checkers together. Usually, at home, I am rushed when playing because someone needs me or is waiting for me so by the time we get to the phase of the game where only kings are left I basically give up. But it was fun for me this time to get to truly PLAY the entire game. I forgot how fun it is to be strategic 😉 He was NOT happy when I won so we stopped playing games (Kye is VERY competitive) and instead decided to try a new show together – Lego Masters. Oh my gosh I LOVE IT. It's so, so good!
We enjoyed watching a couple of episodes and eating our pralines before bed for the night so we could be well rested for our big day the next day!