Today I'm finally giving a little tour of our new homework study room for kids! We have converted an office space into a study hangout spot for our kids and found that the color we already had on the walls works perfectly as one of the best paint colors for a study room for kids too! It all came together so easily and perfectly, it's like the space was always meant to be.
We built our home in 2010 while we only had ONE child and Kye was just a toddler at that! When we built our home we really put a lot of thought into every detail and aspect and tried to plan for the future. As our family has grown over the years it's been really neat to see how our home was almost a foreshadowing of the life we'd have in the years to come.
Now that our family is complete it's such a gift to have a FULL house! Our home is finally able to live up to all the hopes and plans we had for it and we are truly so content and love our home so much.
Today I'm taking you through a tour of the study room and sharing how we converted it, including where we got the furniture used and why the walls are considered one of the best paint colors for a study room!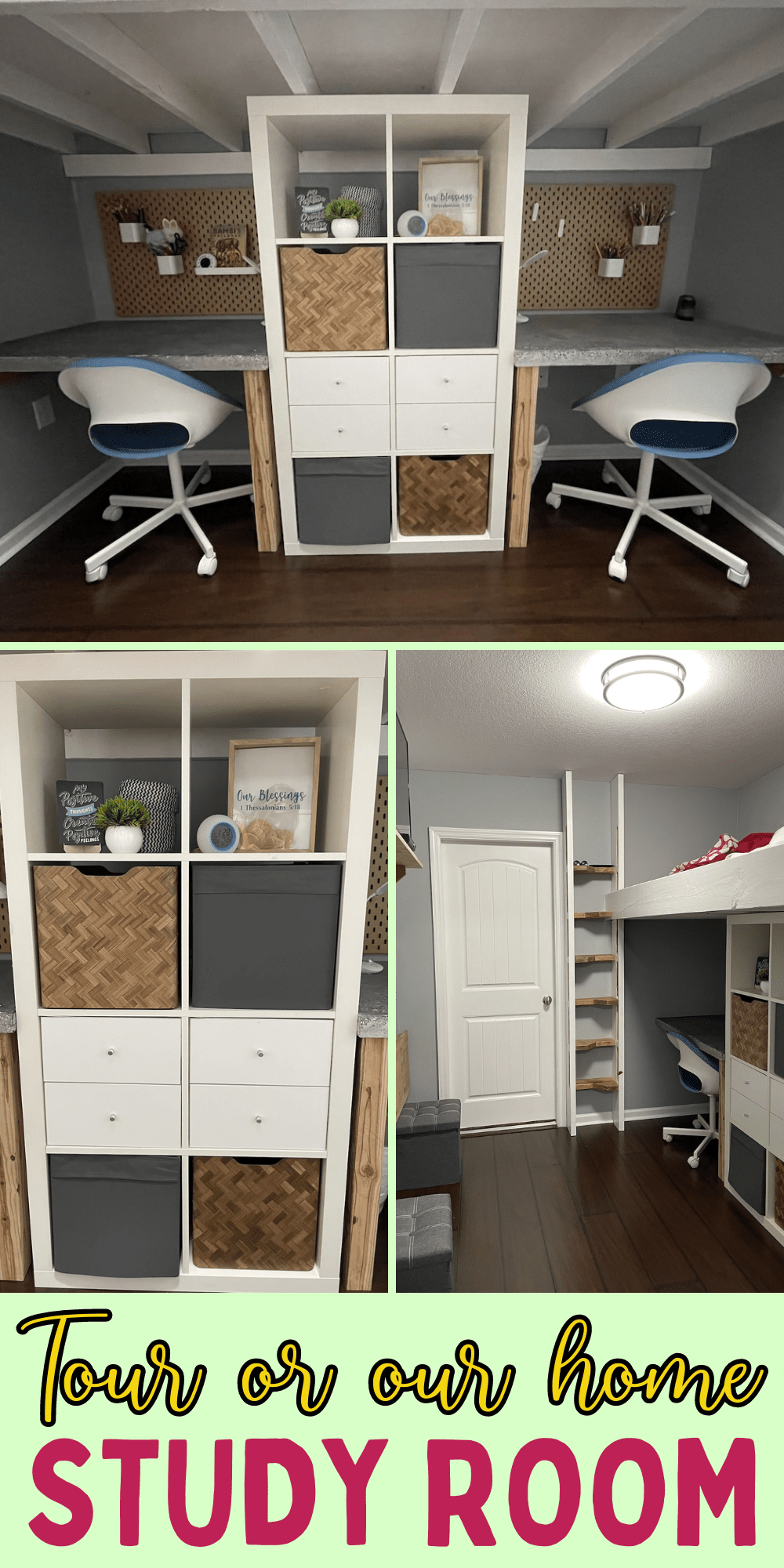 The Study Room Story
When we built our home we intended to finish the room above the garage for a playroom someday and the builders had to lay special flooring when building to allow the space to be accessed as a true room. (Zach did completely finish the playroom on his own and it's one of the coolest spots in our house for sure!).
The builders got confused at the house plans or something and accidentally also put that same subflooring down in the area we had intended to be used as attic storage space. We left it as attic storage up until just a year or so ago when Zach completely finished that room as well and it's now Tess's Treehouse Room!
As I said, we never intended the attic area to be a living space so we made a little office for Zach at that end of the house that leads into the attic storage area. Now that the attic storage space is Tess's bedroom it's a bit weird having to walk through an office space before entering her bedroom!
For almost a decade now Zach has had an office space where he works and doesn't work from home nearly as often. His job also is mostly done over the phone and with an iPad when he is at home so he tends to prefer to sit outside or on the couch and doesn't have a need for physical office space at home anymore. It has been kinda silly to have a whole room set aside for an office for him when it's not in use!
When building our house we were intentional in our decision to keep the kids' bedrooms on the smaller side. Their rooms are THEIRS and a safe space for them where they can go anytime they need to get away and have some alone time. However, I intentionally try to limit activities in their rooms to encourage more time together.
They keep some toys and such in their rooms and their rooms are off-limits to the other kids. So their special items, their breakable favorites are all in their bedroom. But most of the fun toys and games and activities are elsewhere throughout our home and not in their rooms.
As they are getting older I also do not want screens in their rooms. No internet in the bedrooms! They are allowed to take their iPads in their rooms when in use but I really wanted a great place for their screens to "live." The playroom isn't a great spot as we do still have a wild man toddler on the loose and it was a pain for them to have to come downstairs every time they needed to get their iPad or put it away.
Kye has a desk in his room but the girls don't and they are both getting more into art and drawing. I also thought it'd be nice for them to have a workspace. I have always kept all the craft stuff in the kitchen and laundry room downstairs which takes up valuable storage real estate for me and has become just one more thing for Spear to get into!
So the idea of a "homework hangout room" was born. We had the perfect little unused space that would be ideal to transition from an adult office to a kids study room. There is a door that separates the room both from Tess's room as well as the hallway so it can be closed off and private if the kids have a project they are working on. The facing rooms are Tess's room and the upstairs hallway. Along that hallway are Kye's and Britt's rooms as well as a shared bathroom and the playroom!
Zach is SO handy and creative and as we brainstormed ideas we also had the thought to not only have it be a place for screens to live and homework to be done but also a spot to CHILL.
Often on Sunday afternoons the girls will want to watch a movie (Harry Potter usually) and Zach will be watching tv in the living room. Just as I feel like internet doesn't belong in kids' bedrooms I also strongly believe tvs don't either. Why not put one in the homework room? And while at it, why not add a loft area with pillows and blankets as a spot to hang out on their screens, watch a movie, play video games, or curl up with a book?
I LOVE the way this all came together! It was a true labor of love from Zach to our babies and it's become one of the most loved spaces in our home for the kids 🙂
The Study Room: How We Put It Together
Zach built the loft area, ladder, tv shelf, as well as all four desks himself. A couple of years ago he did a little update to our kitchen (I need to update this blog post!) and made concrete countertops. He had a section he had to redo so we had extra slabs that worked perfectly for the space as table tops for part of the desks!
Here's a little tour of the "homework hangout" study room:
The loft has also been a great spot to toss larger stuffed animals and older bean bag chairs – adds to the comfort and helps clean up other areas of the house too 😉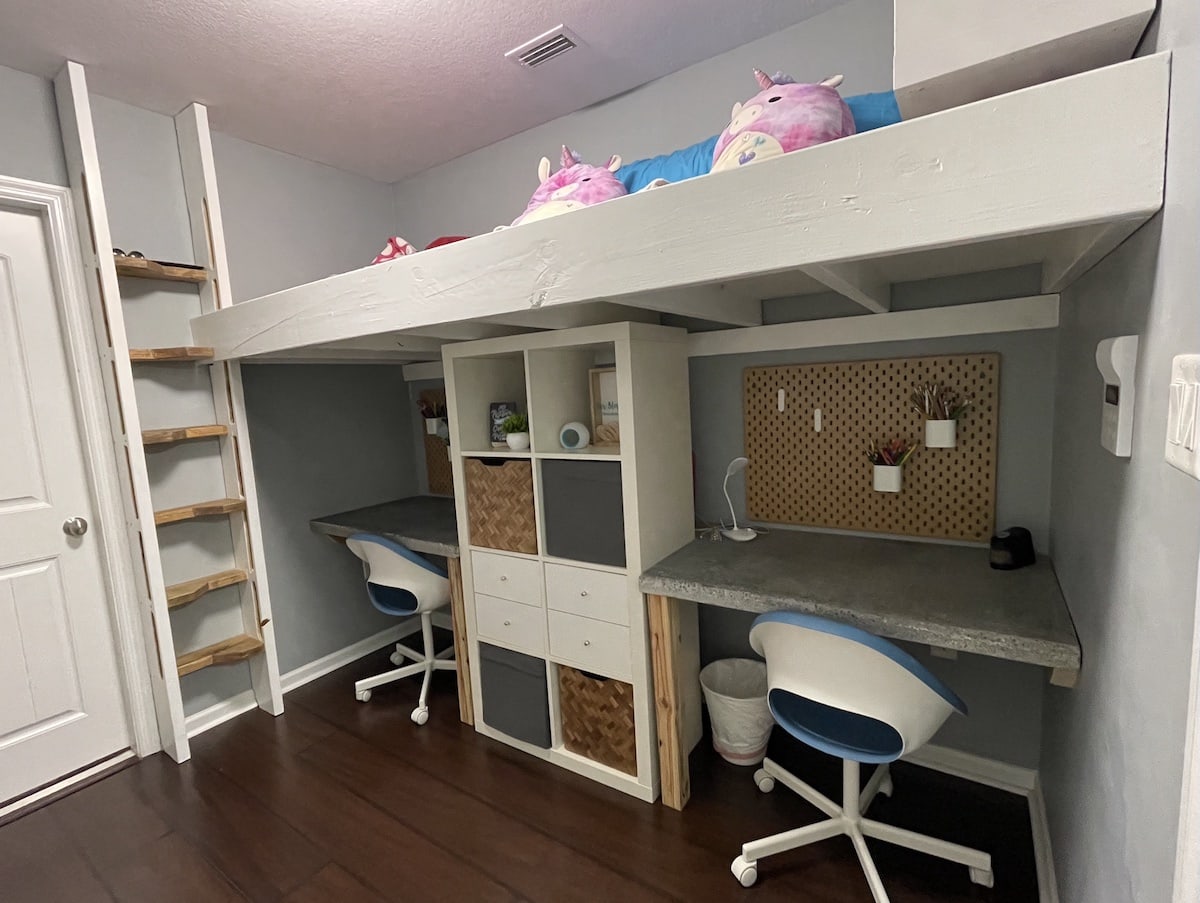 With most of the items being from Ikea for this room it can be a bit tricky to find! Often many Ikea items can now be found on Amazon so I will link what I can. If something IS on Amazon I will link there because who doesn't prefer Prime shipping and the ability to avoid an Ikea trip? Otherwise I will link Ikea when I can find the item there! 🙂
The chair is the Eldberget (here's the options currently available on Ikea's website – I can't seem to find an option on Amazon).
It was important to me to have lots of storage but for it to also be easily accessible for the kids! We used the Ikea Kallax 8 cubed storage unit for a divider between the desks on the main wall as well as for storage. (link here from Amazon!)
We also purchased this Kallax shelving unit drawer insert and it works SO great! I love that they can be sitting at the desk and simply pull open a drawer to grab markers, crayons, etc with ease.
Over our many, many years of Ikea purchases, we've learned it's easiest to just purchase storage bins from Ikea as well to ensure a smooth fit in their products! For this unit, we used the Bullig Box in Bamboo as well as the Drona Box in dark grey. I love how the bamboo pulls together dark wood tones and was the natural choice when paired with the lighter shades of wood throughout the small space.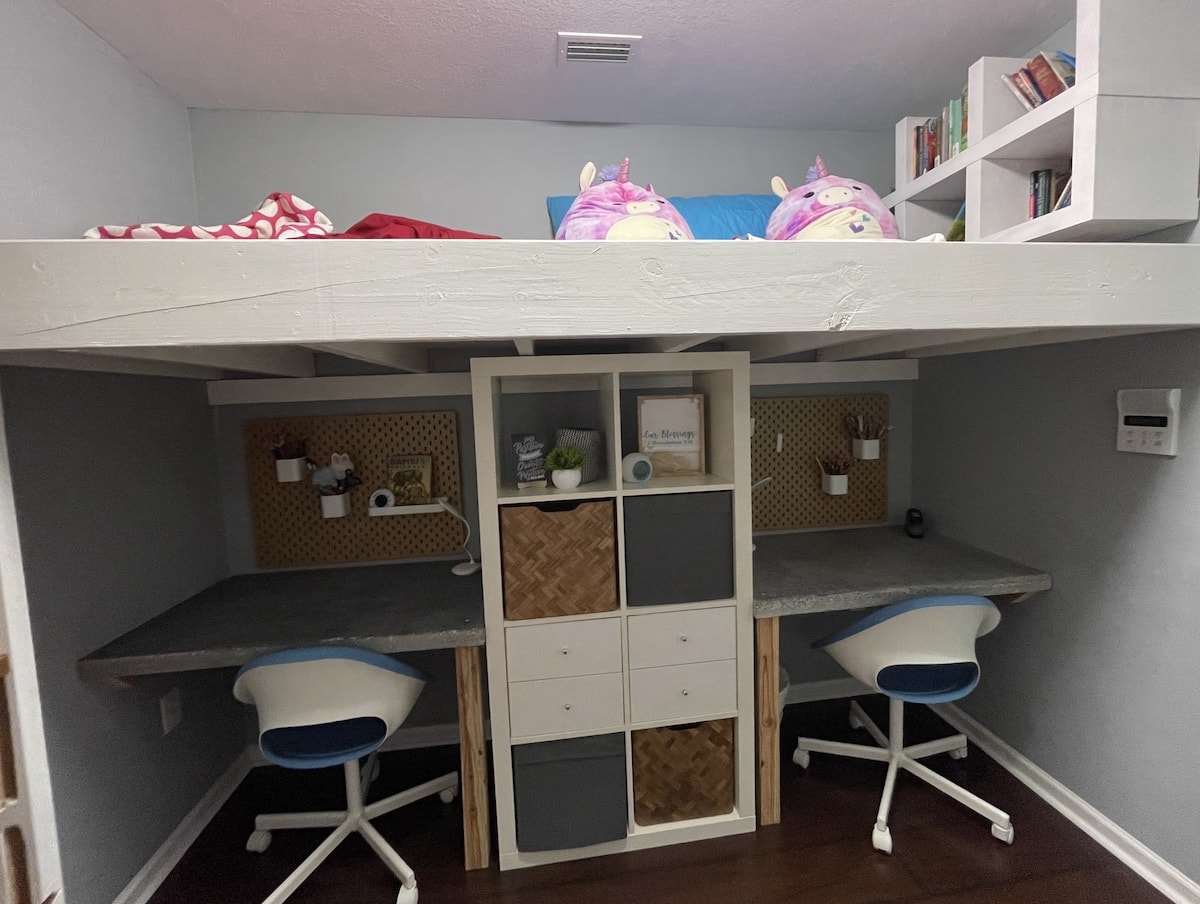 I really, really love the way the natural wood colors all tie together so nicely with the pegboards too! We used the Skadis Pegboards and the size was perfect!
At the time when we put together this space it was when we weren't sure if our kids would be needing to learn from home with digital learning or not and apparently everyone else in the world had the same thoughts because we did TWO trips to TWO different Ikeas and they literally had NOTHING in stock! I was thankful Amazon has a lot of Ikea stuff now and was able to find the items we wanted to bring the room together.
I found this super cute Skadis shelf as well as four of the Skadis Containers and a pack of the Skadis Clips too!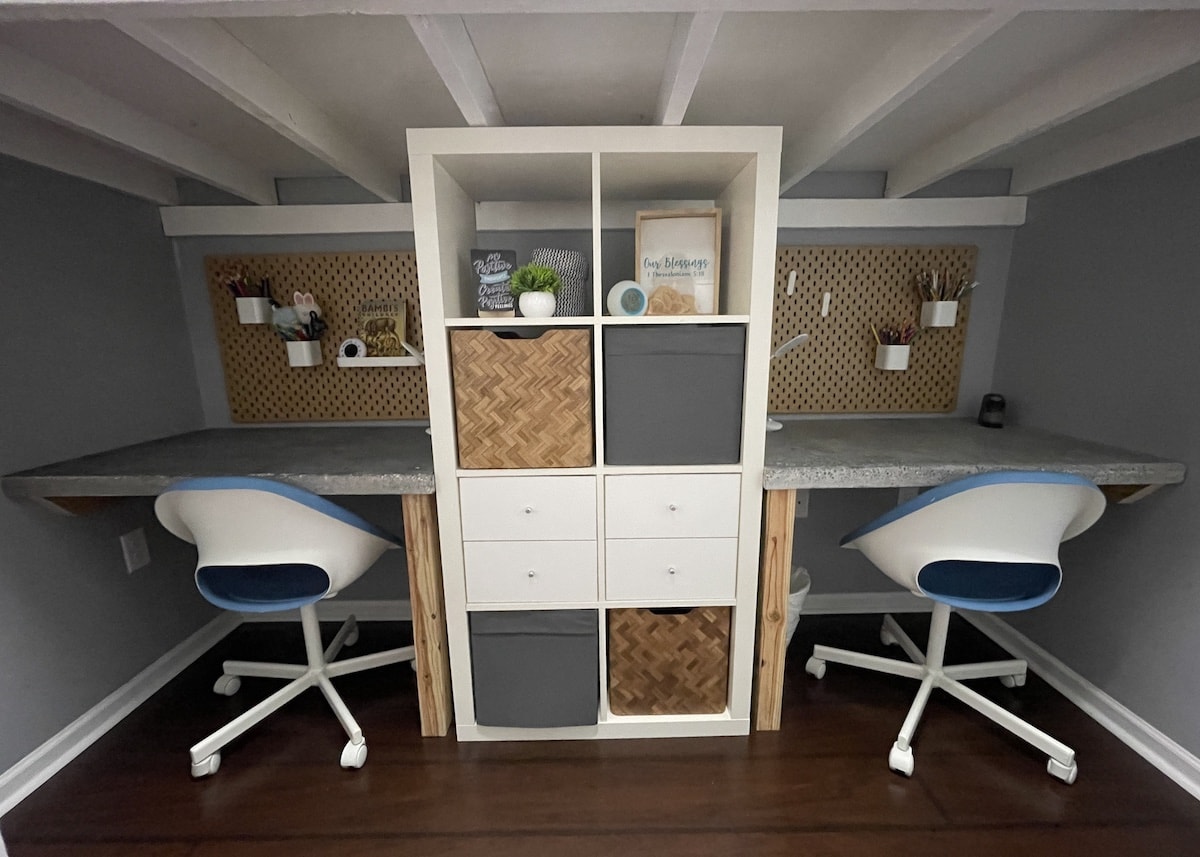 We wanted to make sure the loft area was truly a spot to lounge and didn't want it becoming cluttered with toys and such. However, I did want to make sure to have a spot to put some books for them!
We have four kids spanning over 8 years. I believe books are a worthwhile investment but we have a LOT of them. The homework hangout bookshelf has become THE spot to pass down books from one sibling to the next. Almost like their own little sibling reading library 🙂
Take a book, leave a book!
We recently redecorated Kye's room from a football theme to a more mature, Star Wars lightly themed space so we had his Lack Shelf Unit and Zach simply cut it and stacked the shelves on top of each other to make a book case 🙂 We really try to reuse things as much as possible in these sorts of projects if you can't tell – we are like Disney World in our repurposing!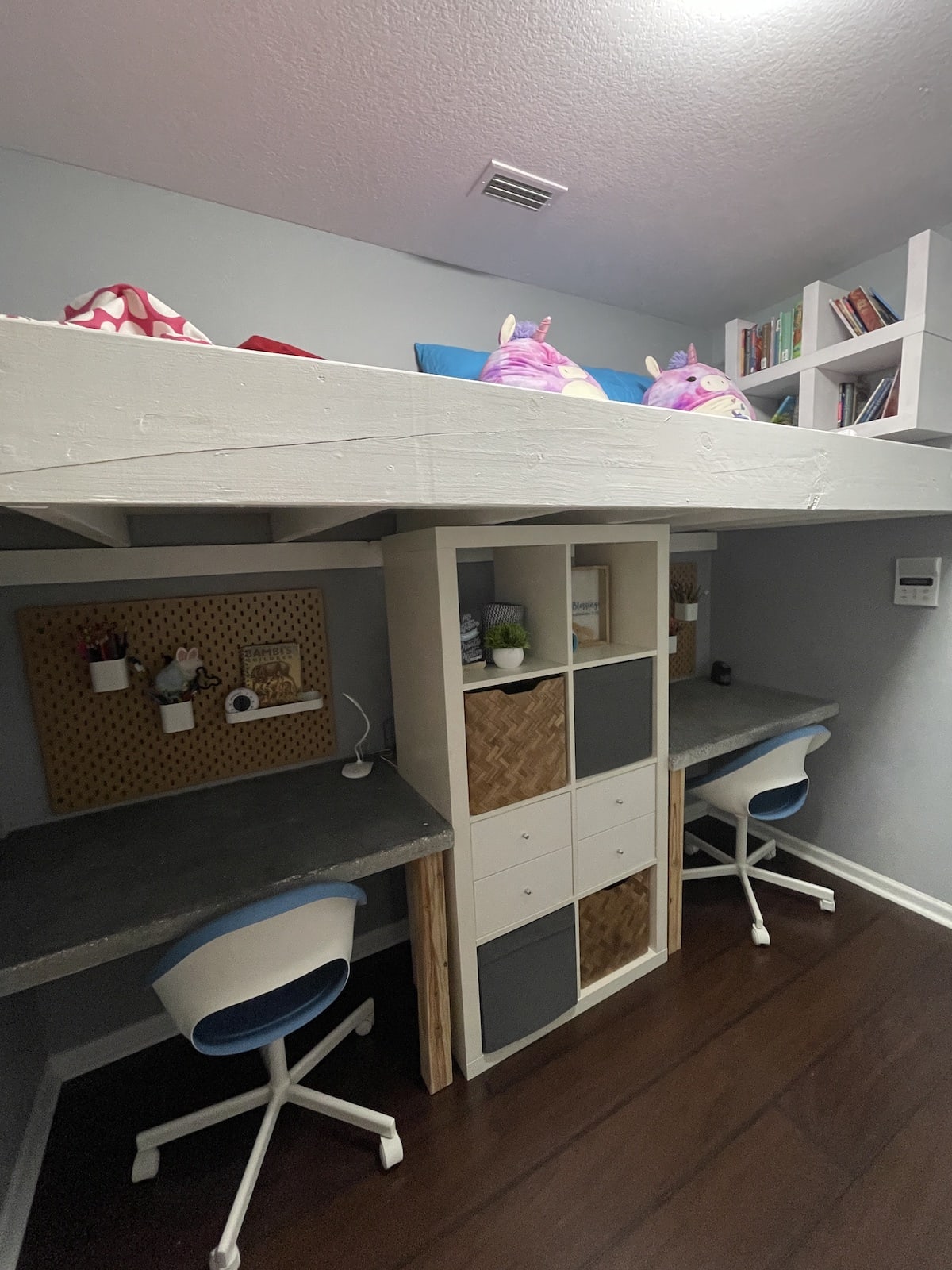 My goal in this space is to keep it simple. I didn't want to overly decorate it or add anything that would turn into clutter. I focused my efforts on providing storage and an easy system for organization!
I used decor items we already had around the house to add a little touch to the room. I also purchased this simple alarm clock for the kids to be able to keep track of time while working on projects (and it is the best color as it ties in a soft teal, ocean blue color scheme I wanted a touch of in the space) as well as this cute plant!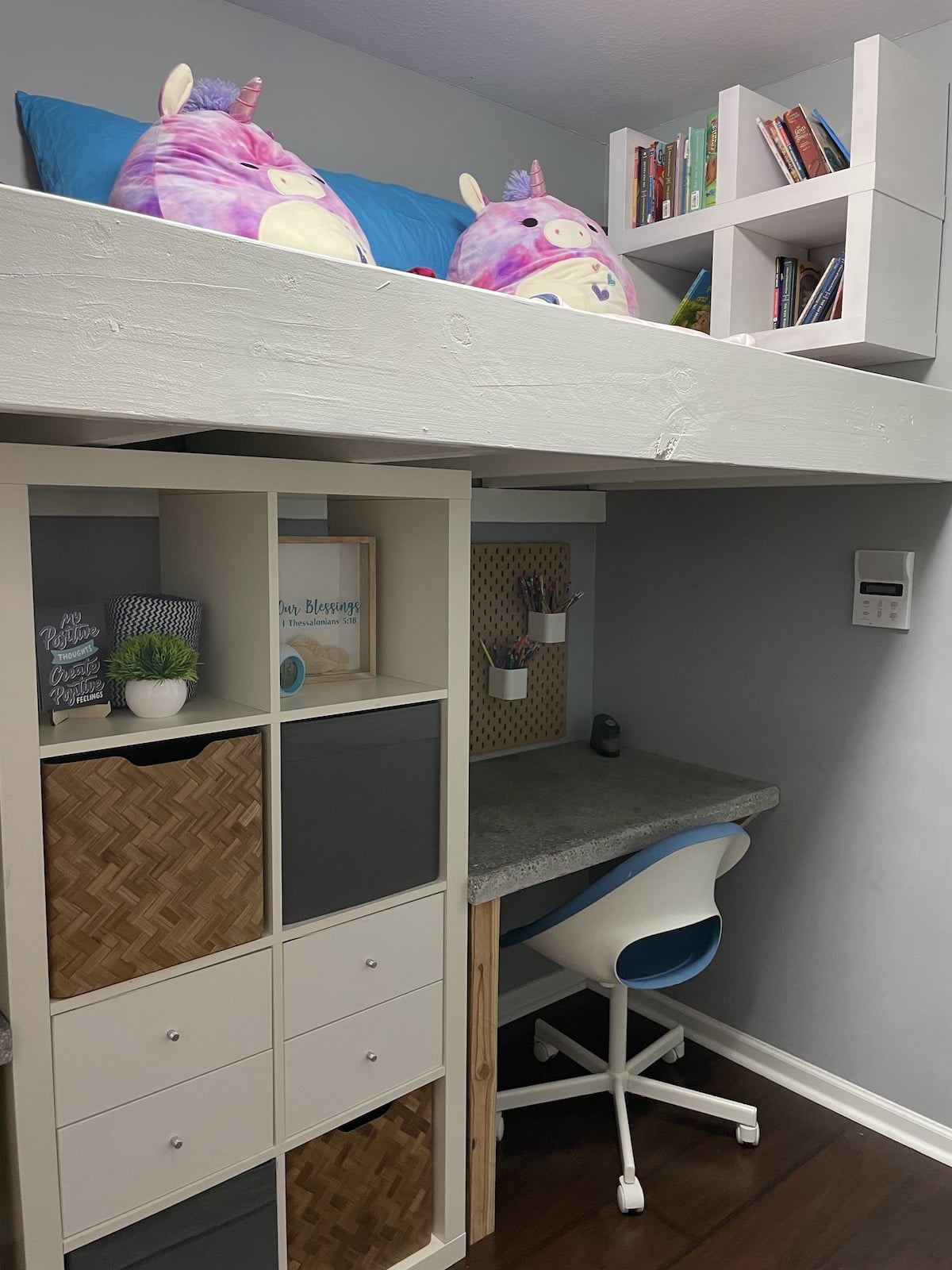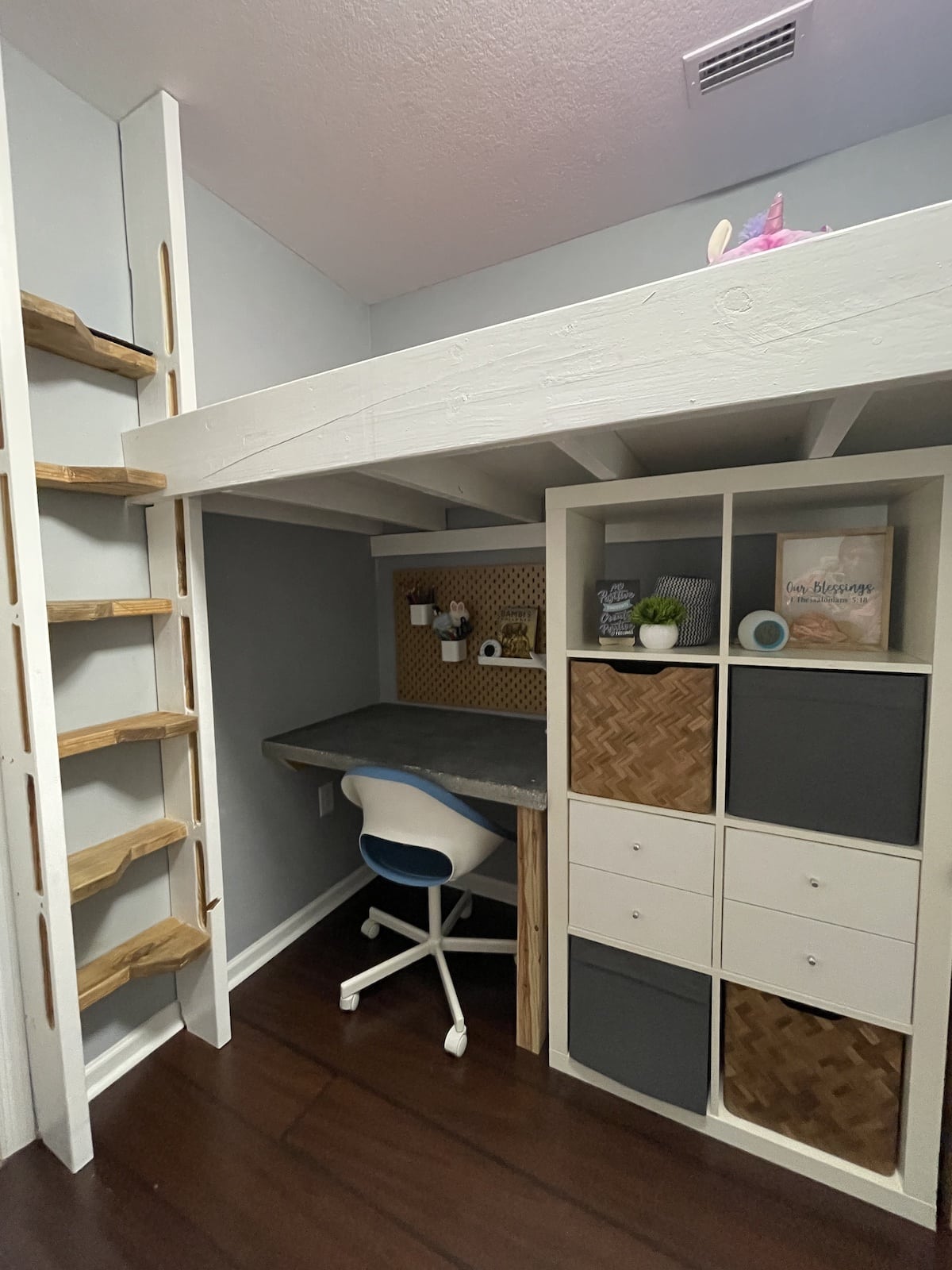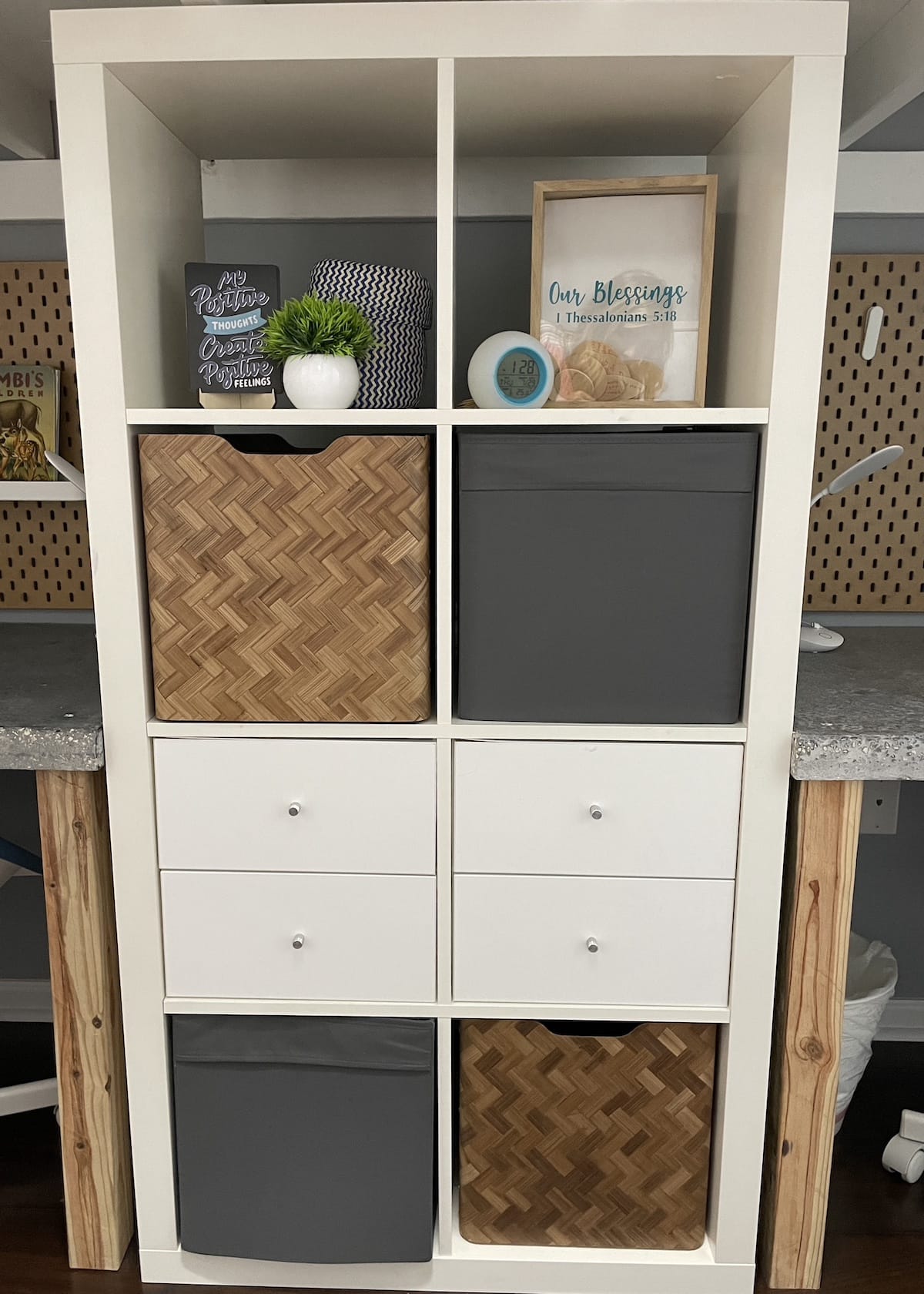 Along with keeping decor to a minimum I also wanted to keep the workspace areas clutter-free. With the loft overhead, some of the light from the room is shadowed in the desk areas so I bought this awesome set of LED desk lights and they are perfect!
The girls helped me in getting the space organized and spent a lot of time sharpening ALL the pencils and colored pencils! This pencil sharpener is a great one 🙂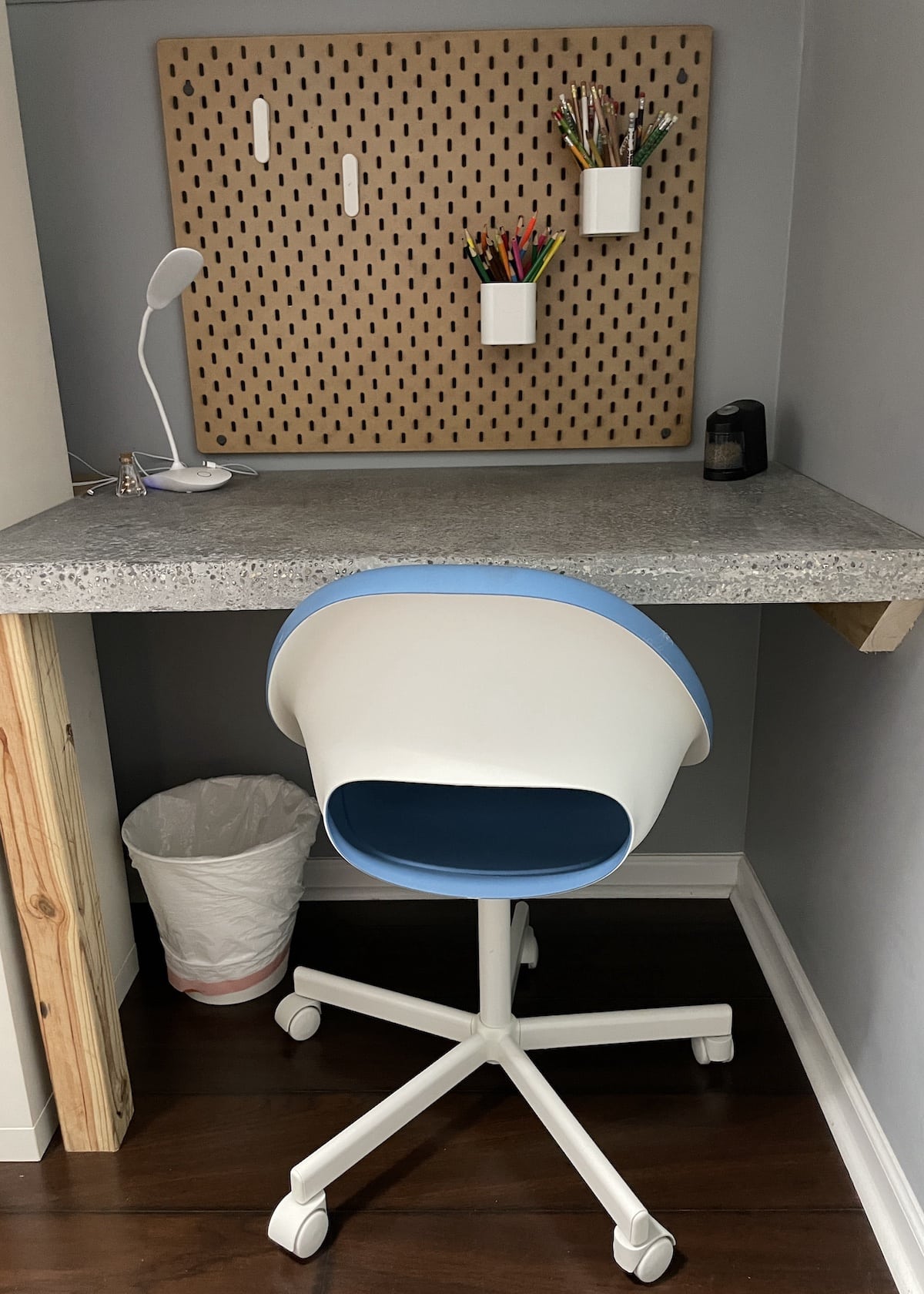 We stored the colored pencils, writing pencils, and all their "fun" themed pens in the storage containers. I am also a big believer in the use of timers for kids as a parenting tool. I have several of these timers around the house. The kids use them when taking turns playing with something or partaking in an activity. Britt uses one when she showers because she will take 30 minutes if we don't limit her time ha!
I put a timer in an easy to access spot in the hangout room to help minimize any arguments that may happen in the shared study area space!
I did not take a photo of the iPad storage area but you can see a glimpse of it in this picture. The storage shelving is not as deep as the loft or the desk space so I asked Zach to attach wood between the storage shelf and the wall. On this hidden shelf, I bought two of these wire racks. I have them side by side so they can each be accessed on either of the desk sides.
I purchased this usb multi port charger and have it plugged in the wall. The kids can easily store their iPads and kindles on the rack and have them charging while in storage! Keeps all the cords hidden and the screens out of the line of sight as well. Kids are a lot less likely to ask for screen time when they don't see the screens! Cleaner, less cluttered areas allow for a better work environment and better concentration as well. If only I could apply this same idea to my own work space!
Be sure to watch the video in this post as it shows closer details of the hidden shelving area and how we store and charge tablets and devices out of sight in this study space!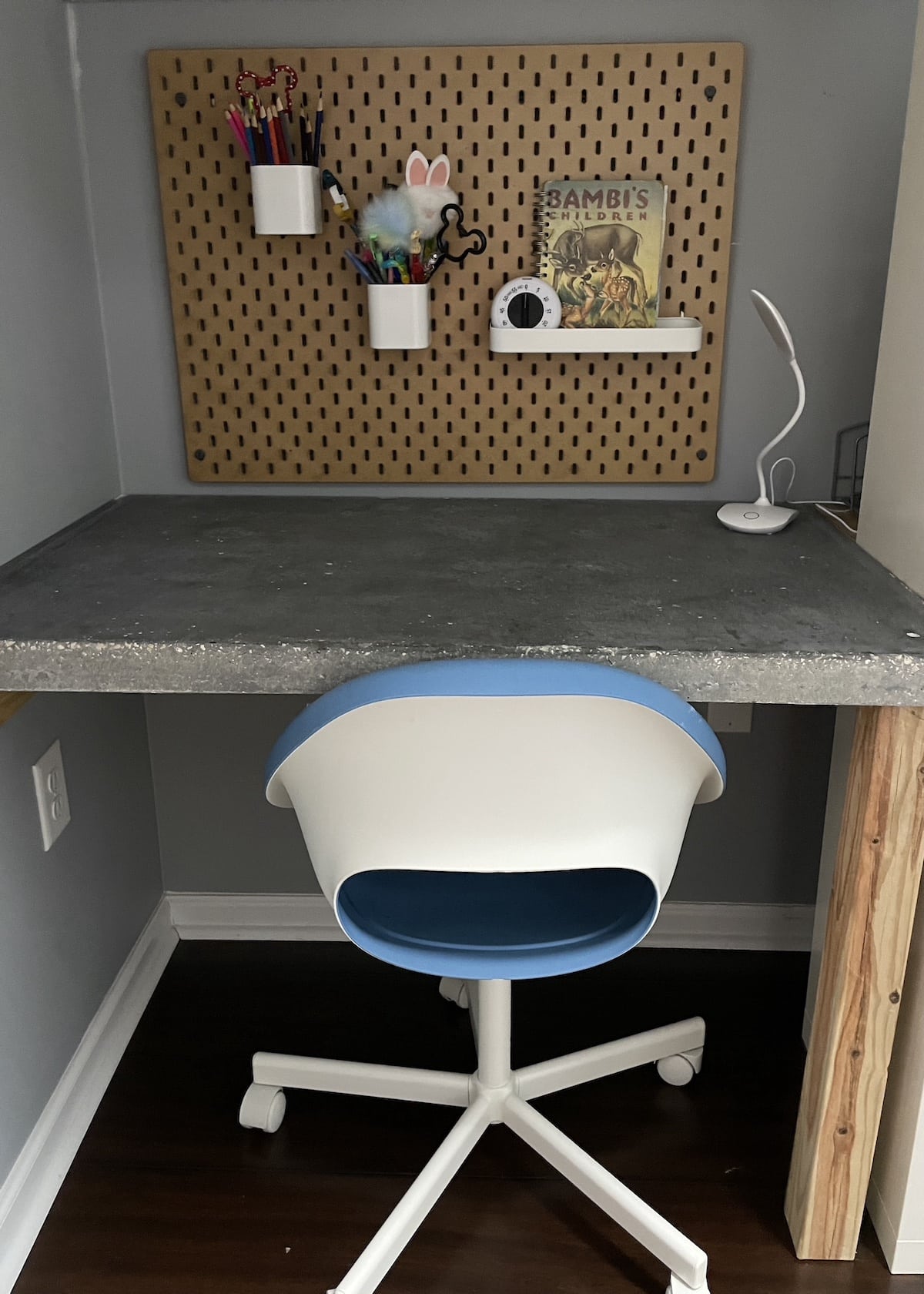 We have four children and I really wanted to make sure EACH child has a spot to work in the homework hangout area. Zach was so sweet to understand why that matters so much to me and was on board with making these simple drop down desks.
The wall space on this side of the room is very narrow so the drop down desks work perfectly. He also hung them where both doors can open and not hit the desks when the desks are assembled or in use.
When we introduced the kids to the hangout space we were very clear that they don't get to call "dibs" on a desk – every work space is equally for everyone to use! It's a first come, first serve situation!
Right now Spear, who is almost four, very rarely goes into the homework hangout study room at all (which is part of why the older ones love it ha!) but eventually I want to make sure he feels just as welcomed there as the others do!
To provide seating space for the wall desk units I purchased these storage ottoman cubes. They have been PERFECT! The young children and even older ones find them comfortable to sit on and the lids come on and off easily. I've used the storage space for their journals and coloring books!
We also updated the overhead lighting for this room and got rid of the standard "nipple light" and went with these led flush mounts! We have these throughout our home and they've been a great purchase.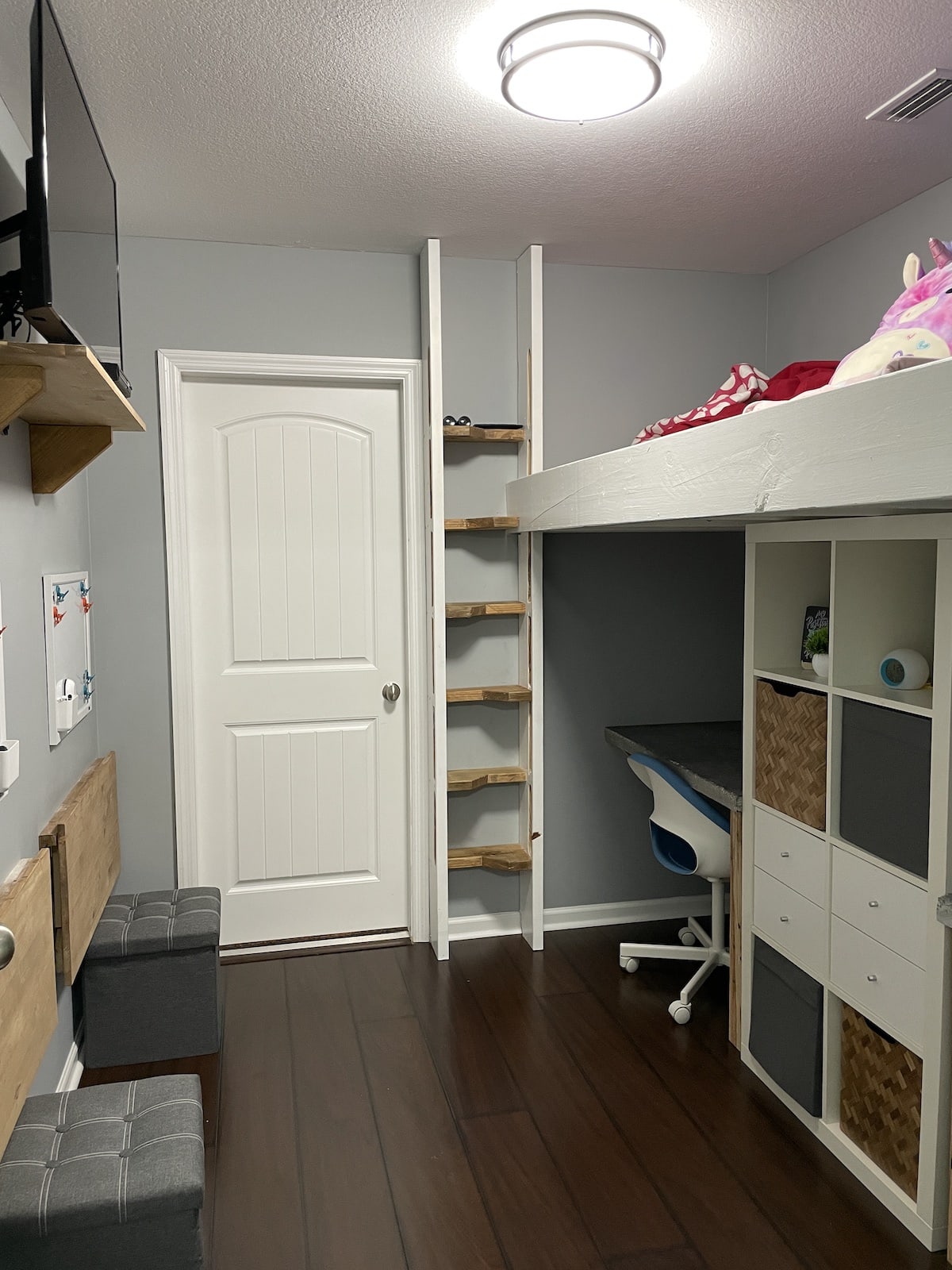 I know a lot of people love chalk boards and the whole chalk paint trend is a "thing" but I just personally have never been a huge fan of the look. I don't like how messy the chalkboard looks over time with all the erasing and writing and chalk itself is a pain to write with and chalk pens are too fancy for my liking.
I wanted to make sure the kids did have a brainstorming spot and eventually decided to purchase two of these whiteboards for them to have along this wall. Not only does it help tie in all the white paint from the loft bed but it provides a nice bright spot among the light gray walls and wood details.
I also bought this pack of magnet clips so they are able to clip things onto the magnetic whiteboard when desired. I loved this pack specifically because it wasn't primary colors and had better choices in the variety of colors and I thought it was the best way to pull in the accent color from the different tones of blue).
I found a locker set during back to school that had the cute little magnetic cubby and eraser for the board too! Tess literally draws on the boards every single day 🙂
I wish I had seen this set back when I was looking as it includes two magnetic holders and magnetic clips!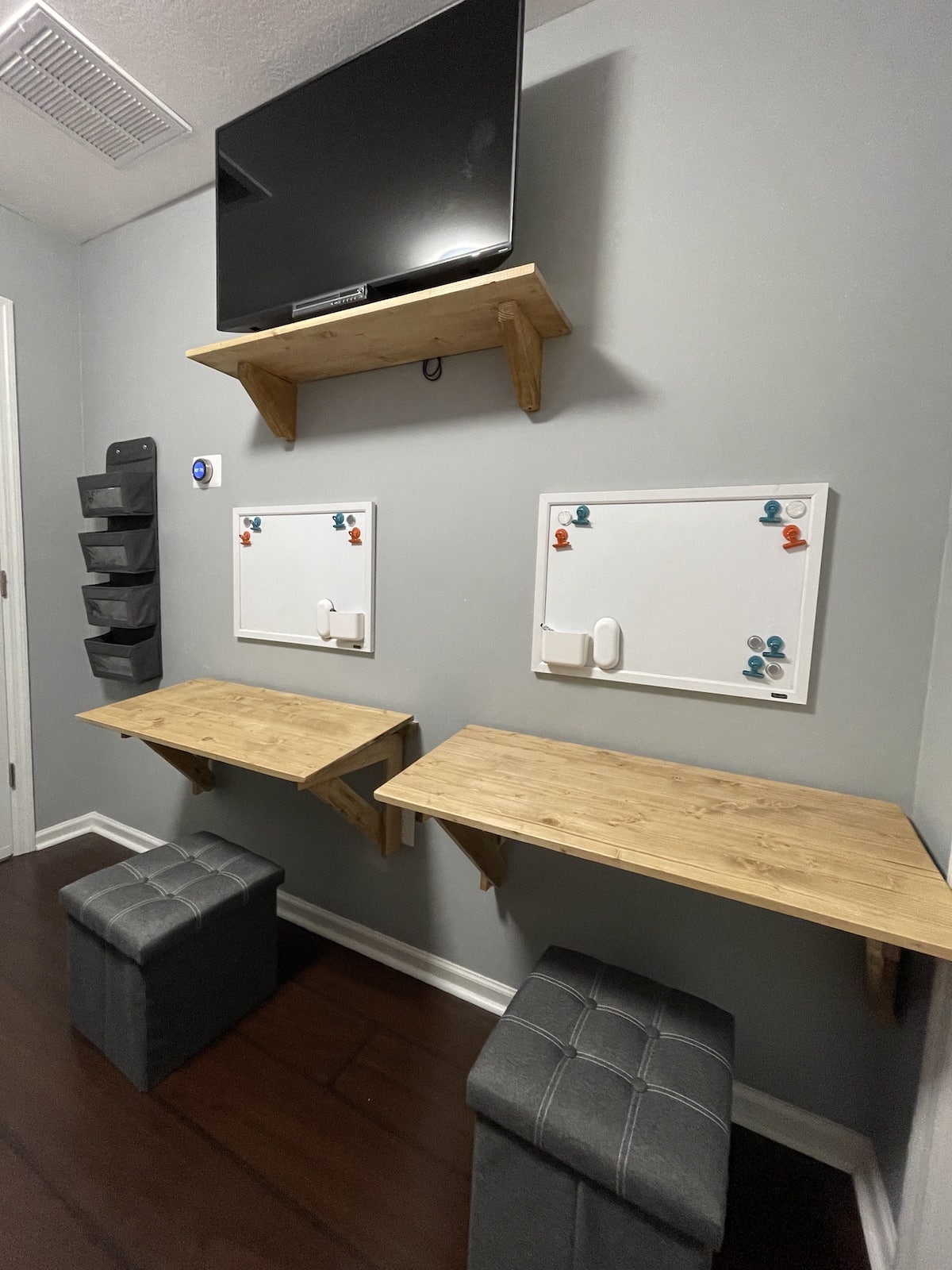 In my efforts to also help keep the children's study room space organized I purchased this organizer with four pockets – one for each kid to store any of their items in the room. I also thought it'd be helpful with school papers or reminders or homework projects etc! It fits perfectly on the wall and is hidden behind the door when the door is open.
We are a family that owns a good bit of dvds still and our internet can sometimes be spotty upstairs so we purchased a basic DVD player as well as a smart tv for the hangout space. The kids have LOVED hanging out in the loft watching movies together AND because the room has NO windows it's a really great dark room for movie watching – it feels like they are in a movie theater 🙂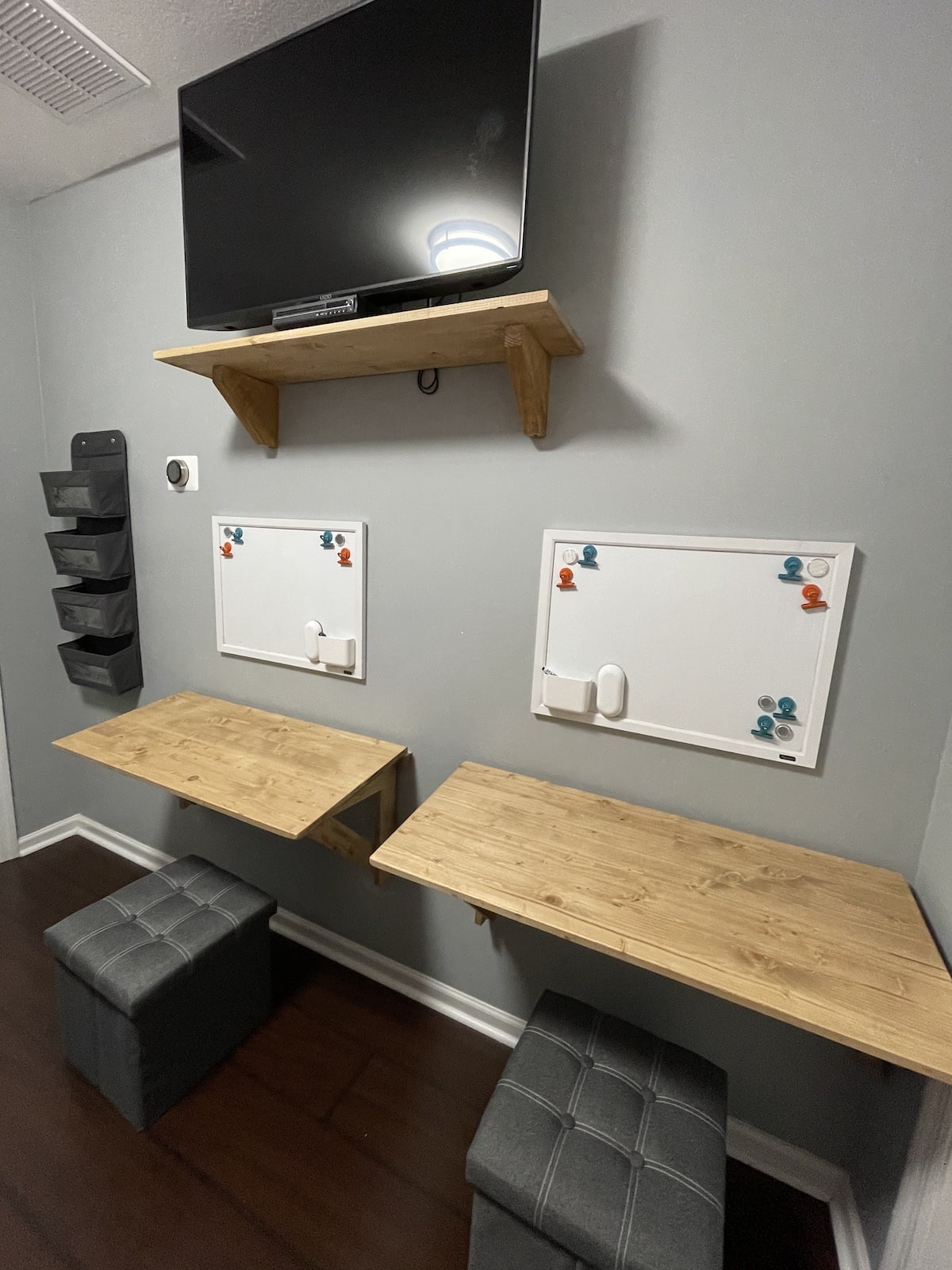 The Best Paint Colors for a Study Room
When updating the office spaces with a fresh look as the kid's study space Zach and I agreed that it would be a good idea to just keep the versatile colors of the gray wall color we already had in the room when it was Zach's office. While I'm not any sort of interior designer I do think this was a good choice, and turns out it's one of the best paint colors for a study room!
I tend to be really drawn to brighter colors – we don't have any white walls in our entire house! The best paint colors in my opinion are ones that have a calming effect. I love all blue paint colors and am drawn to natural light. With this small space, it made sense to stick to lighter shades of paint rather than darker shades and to avoid any sort of bold color as that would only make the space feel smaller.
I didn't have a set color scheme for this space but wanted it to feel cozy and have that small room feel to it. I don't know anything about color psychology but I've always found a blue-gray color to be super inviting! I think all the best home office paint colors are in the gray family of paint shades and gray is such a versatile color.
In the main living areas of our home we actually have light blue walls and use gray as an accent color. Even our dining room is dark blue! However, I'm really glad we left this space with the gray hue rather than repainting. It really is the best color and served as a good option and made redecorating and redefining the space even easier! Who likes to paint? NOT US!
We have actually converted Tess's old bedroom into my office space and I'm struggling with the gray paint in that room because it is a larger space and is just the wrong shade for my workflow. I need some light colors but don't want to spend that much time figuring it all out and dealing with repainting so I've made do… for now at least!
I am so so so happy with how this homework room came together! It's the perfect homework station space for our kids to be able to work, relax and play too! The vibe is very welcoming and cozy and the kids have LOVED spending time in their homework study room together. It's encouraged them to be more creative by having their art supplies readily available to them and I've had less questions about having screen time thanks to the iPads being stored safely out of sight!
I am so thankful for Zach being on board with this vision and idea and I love the end result! It's a study room space that I know our kids will love and enjoy for years to come 🙂 He is so handy with DIY projects and our house has truly been a labor of love!