Spear's First Visit to Satellite Beach.
Something that is very important to me is that each of my baby's have their first beach day at the beach where I was born: Satellite Beach, Florida.
I achieved the goal with Kye (his post here), Britt (hers here) and Tess (hers here) and was SO SAD when I wasn't able to make it happen for Spear.
We'd planned for a visit TWICE last year but it was too cold the first try and then pouring rain and storming the second.
So it had to wait and he had his first beach visit to St Augustine (you can see that post here)!
It was a TOP priority for me this year to make SURE a Satellite Beach visit happened with Spear prior to our annual trip to St Augustine.
And we made it happen!
Our Disney Rental House is only 45 min or so from the beach, an extra bit of drive to go to my actual home town but worth it!
We went to the Disney House over the weekend of April 12th. We knew it might still be a bit chilly first thing in the morning so on Saturday we hung out and let Spear have his morning nap and then hit the road to Satellite Beach for the afternoon!
Our first stop was to eat at Bagel World…DUH.
The big kids and I visited back in January but Zach hasn't gotten to enjoy the amazingness of Bagel World in a LONG time and it was, obviously, Spear's first visit!
I am loving that so many doors have been opening with my family and it's been so great reconnecting and visiting with everyone when possible.
I reached out to those I could and Jonathan's schedule worked out where he was able to join us for our early lunch AND went with us to the beach!
It made my heart SO HAPPY to get to spend that quality time with him and the kids kept saying "your BFF COUSIN!" 🙂
While we were eating I happened to glance at the table behind us and immediately recognized Sebastian from Survivor.
When we watched his season I saw he was from Melbourne, Florida and wondered if he was actually from Satellite Beach so it didn't SHOCK me to see him at Bagel World.
I mean it IS the celebrity hot spot right? 😉
I didn't even debate it: I whispered to Zach that I was going to say hey and then I just turned around and said "hey, I'm sure you're used to this but can I get a pic with you?"
Once we left and I looked him up on social media I realized he may NOT be used to it. Jonathan said he'd seen him around a good bit but never asked.
So I probably should have been a little more natural about the whole thing haha. I didn't bug him though or chat long…and honestly? When it comes to reality TV I totally forget EVERYTHING about the season once it's over.
I don't really remember much about him at all from his season or how he did or anything so I didn't want to have too much small talk because I didn't want to embarrass him that I didn't remember anything haha. Truly I only recognized him BECAUSE he's from there!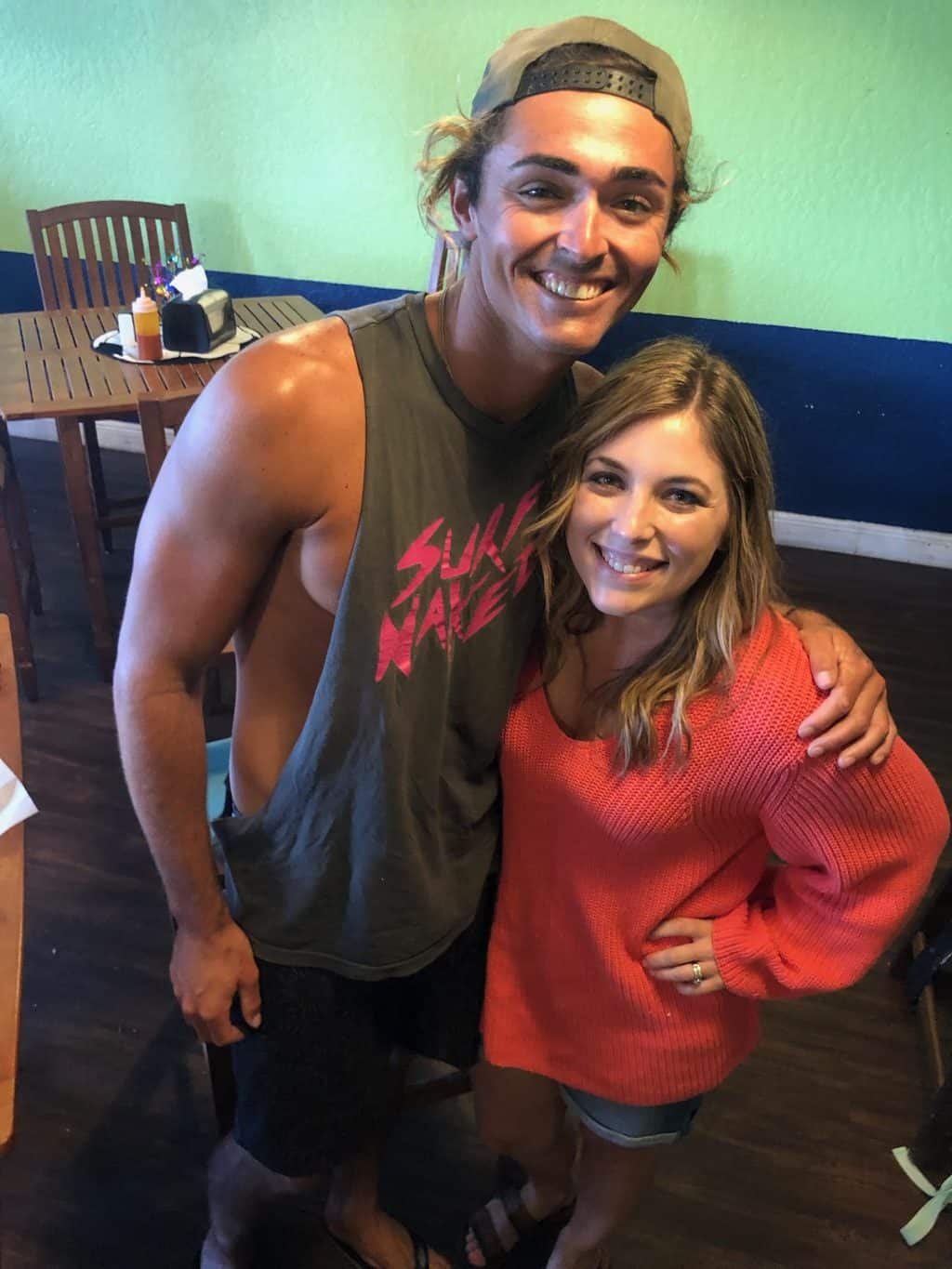 What is even funnier about this experience is that I shared it in my Stories on Instagram and tagged him in it and then he replied and chatted me up a bit about Bagel World. I joked with Zach that he was sliding into my dms haha!
After we finished up with our bagels we headed to the beach! It was a GORGEOUS day and everyone and their mom was at the beach so we had to park across A1A and we were so glad Jonathan was there to help carry stuff haha
We tried to keep it simple and didn't bring a ton with us but even with not that much stuff it's still a LOT with four kids! And Zach didn't bring the beach cart (which we will next time).
This was our first attempt at going on a day trip to Satellite Beach from the Disney House so Zach got a small beach tent for us to leave at the rental for days like these!
We ended up staying for just a couple of hours…which is plenty with small children. It was during Spear's afternoon nap so he was a bit fussy but not too bad. He also seemed bothered by the sunscreen (more on that next post…) but overall the little outing was wonderful!
It was SO AWESOME catching up with Jonathan and for him get to really spend real quality time with the kids. I'm pretty sure we scared him off from wanting too many children of his own haha! Four is a LOT!
Tess does NOT like the beach and was NOT excited about it at all. She kept asking if she could just not go with us.
When we left she said she DID have fun but that she still does NOT like the beach!
(And I keep getting questions about her suit…I bought it from the kids sale sorry guys!)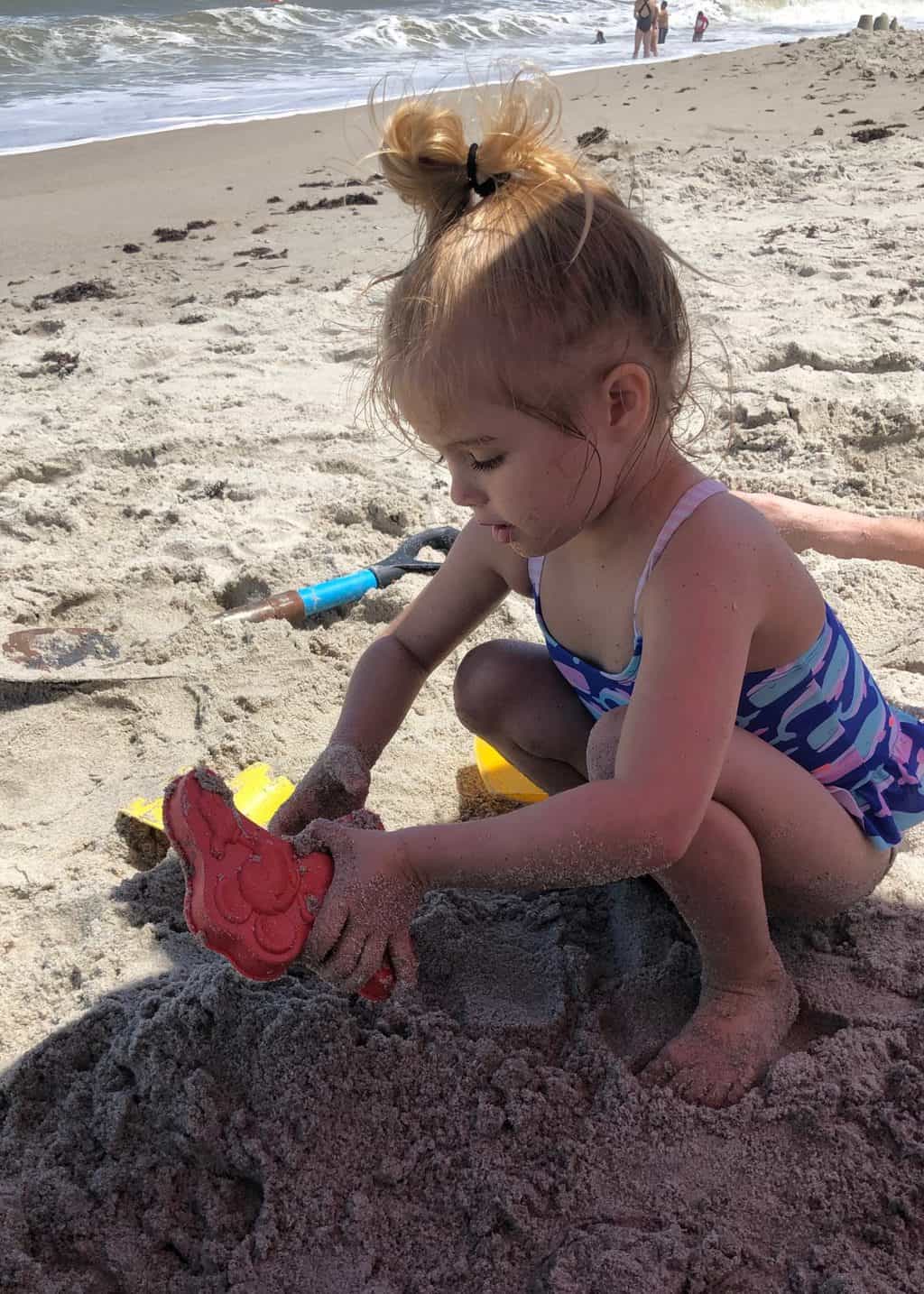 While Tess wasn't a huge fan, Kye and Britt were SO BUMMED when it was time to leave. They LOVED it and were boogie boarding like crazy!
The wind was a bit crazy but it didn't slow them down one bit!
We brought along some yummy cookies from Fresh Beginnings and all enjoyed them for a treat!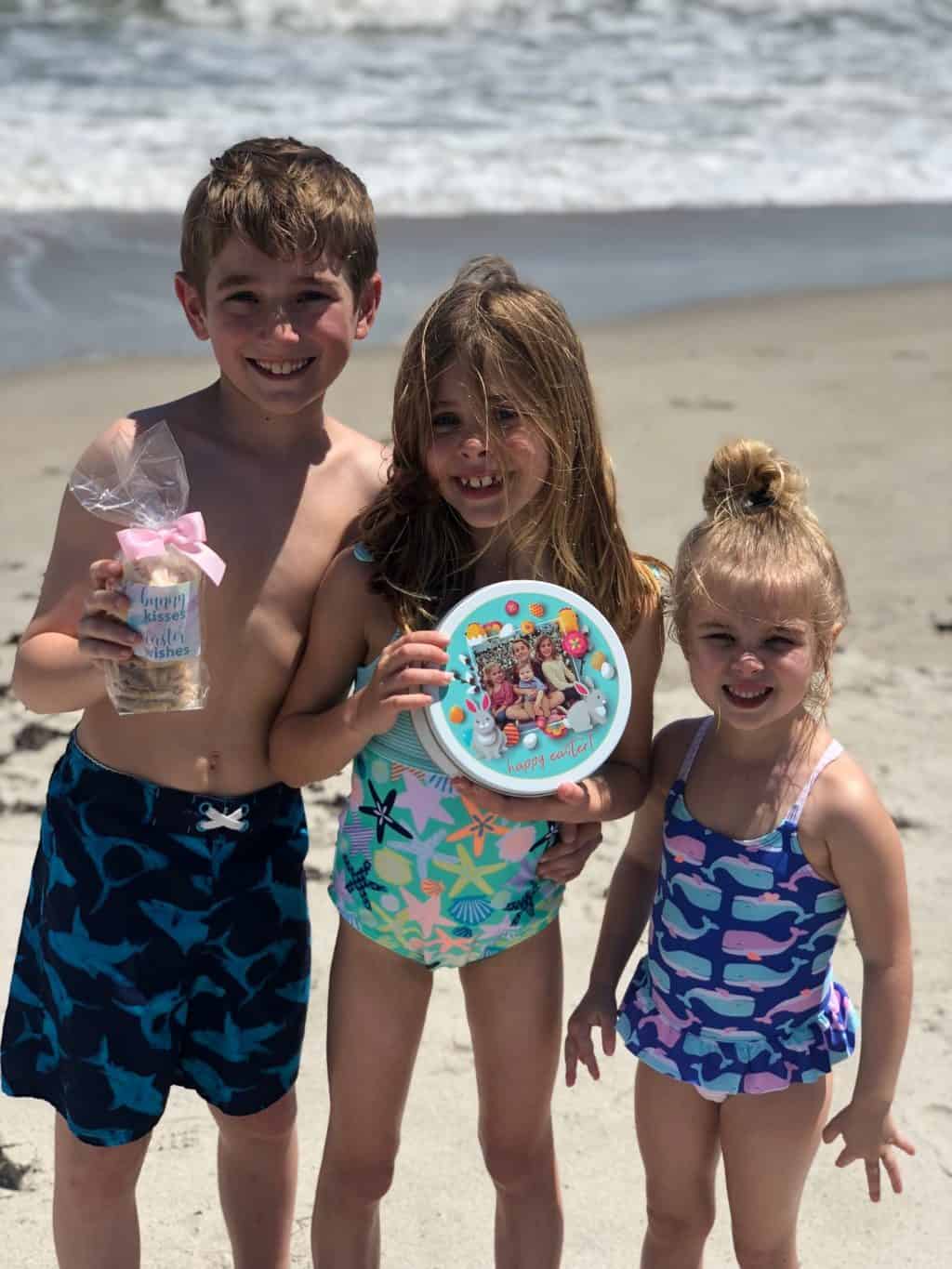 It really couldn't have gone much better. The weather was just SO PERFECT. Not crazy hot but the water was warm enough to enjoy too.
We plan to make the trip again in the summer during a visit to the Disney House! Next time we plan to leave first thing in the morning, have Bagel World for breakfast, and then hit the beach nice and early in the day and plan to head back around naptime or so during the hot part of the day.
It made me so, so happy to have Spear have that experience. It's such a special place to me and was even more special to have Jonathan there with us.
Here's a few more pics of our beach boy!
It worked out nicely that the public beach had a bathroom so we were all able to change before the drive back.
While Zach went to get the car Jonathan helped me handle the kids and we got some pics…a sweet stranger even asked if we wanted a family photo 😉 So duh I said yes!
I feel bad we didn't get any with Zach in them but when he pulled up with the car the kids were kinda melting down, Zach was OVER IT and Jonathan saw his escape bahaha
I was really proud of us for rolling with things and just enjoying the day together as a family.
It's true what "they" say…the more kids you have the more relaxed you become in a lot of ways. We didn't have a set gameplan for our day but it went great!
Originally I'd thought we'd get dinner in Satellite Beach…probably Longdoggers.
But then we were done so early with the beach and none of the family were able to get together for dinner so we figured, why not just head back?
After such a big day Mommy and Daddy deserved some treats – slushee for Daddy, coffee for Mama 😉
The drive back allowed Spear to get a decent nap in and we researched options of places to stop to grab dinner that are close to the Disney House.
I'd never heard of a Red Robin but we felt like a chill burger place so we decided to make the stop there!
We were SO IMPRESSED. Very, very family friendly restaurant!
First, their prices are very reasonable. Second, they offer a lot of BOTTOMLESS options which is PERFECT for large families!

The kids loved getting to add a specialty drink to their kids meals for only $1.99. And they were bottomless 🙂 Britt got some fancy strawberry lemonade and Kye got rootbeer float!
With the bottomless options, we were able to do a lot of sharing which also allowed for saving money!
We got back to the house plenty early and were able to let the kids jump in the pool and swim for a bit to get all the sand off before baths and bedtime.
We all slept SO GOOD that night!
We had SUCH a special day with memory making as a family! While I wish it'd been a year ago, it was worth the wait for it to be as special as it was and it's opened up the door for us to make more day trips like this in the future.
A big thing we keep saying is that "it'll only get easier" which is so TRUE. We did this day with very little hiccups. Spear is pretty dang easy going and pretty decent in the car. But as he gets older...these day trips will only be easier too!