Zach and Kye Ski Trip – Steamboat, Colorado
In 2018 we started giving a travel experience as the kids' big Christmas gift and started cutting back on the number of gifts we buy!
Our first Christmas trip was to Great Wolf Lodge and the kids LOVED IT.
For the 2019 gift, Zach and I tried to be strategic in the travel planning.
Kye LOVED skiing for his 10th birthday and is at an age where that same-sex parent bond is really important and where he still thinks his parents are totally super cool 😉
Spear is also at an age where any sort of vacation plan isn't really valuable to him.
So we decided to have Kye and Zach go on a father-son ski trip as Kye's gift this year and have the girls and I go on a Disney Cruise together.
We plan for the Christmas trips to be ONE trip as a FAMILY but this year it made sense to split up!
Zach planned the entire ski trip himself which was great for minimizing my Mommy Mental Load and made sense since he has more ski knowledge and experience than I do!
It worked out great that Zach actually ended up also planning another ski trip with some friends and they decided to go to the same place that he and Kye would be going.
As a parent, it's SO beneficial to have that prior experience knowledge before adding kids to the mix and Zach was super glad he'd already been before his trip with Kye!
Zach and Kye drove to Atlanta on Thursday Feb 13th and flew out from there on the morning of the 14th.
Zach booked a ski in-ski out reservation through AirBnB for their trip at Steamboat, Colorado.
He chose Steamboat because it's supposedly less expensive…I have no clue but all I know is that this ski trip ended up costing more than our Disney Cruise.
Apparently skiing ain't cheap which made us both even MORE glad that we did a split trip this year.
It's a lot cheaper for 2 people to ski (Kye actually skied for free!) and stay in a 1 bedroom condo than it would be for 6 people to ski and have to stay in a larger unit.
Same with the cruise. A WHOLE lot cheaper for 1 stateroom for the three of us than it would be taking us all and needing two rooms!
Kye loved the travel pillow from Valentine's Day!
Their flight was from Atlanta to Denver and then they had to rent a car and drive three hours.
It was a LOT of travel for Kye! He's not used to that! Three hours from our house to Atlanta then the flight then another 3 hours of driving to Steamboat!
Again, thankful Zach had just done this trip a couple of weeks prior as he knew the roads and conditions and I felt much better knowing he was comfortable driving!
Kye was PUMPED for the skiing but he was especially excited for the SNOW.
And there was PLENTY of it!!! (Sidenote the Hurley hoodie he's wearing was mine in high school)
The first night they got pizza…and finished an extra-large in a matter of minutes 😉
Kye was not only excited about the skiing and the snow but he was also pumped for the FOOD. Kid loves to grub and he and Zach love the same types of food!
The first night they hit up the hot tub. There was some event going on that Zach was looking forward to with air balloons and fireworks and such so they got all set up in the hot tub to watch it and then realized it was taking place on the complete other side of the condo!
Oh well! Still great views of the night skiing!
All the snowballs stacked behind them is totally my favorite thing. Kye said they started a snowball fight with some kids below the hot tub area.
Zach said the trip was basically one big long snowball fight. Kye was all about hitting Daddy with as many snowballs as possible 😉
They had three full days of skiing.
When Zach was planning the trip I was thinking they'd only ski for like half the day on two days but nope they skied morning and afternoon for three SOLID days!
They would come in for a short lunch break then go right back out.
In the evenings they were worn out and exhausted.
They'd eat dinner and watch a movie and go to bed!
Total DUDE TRIP for surrrrre (They watched Little Giants and Remember the Titans and Kye loved both).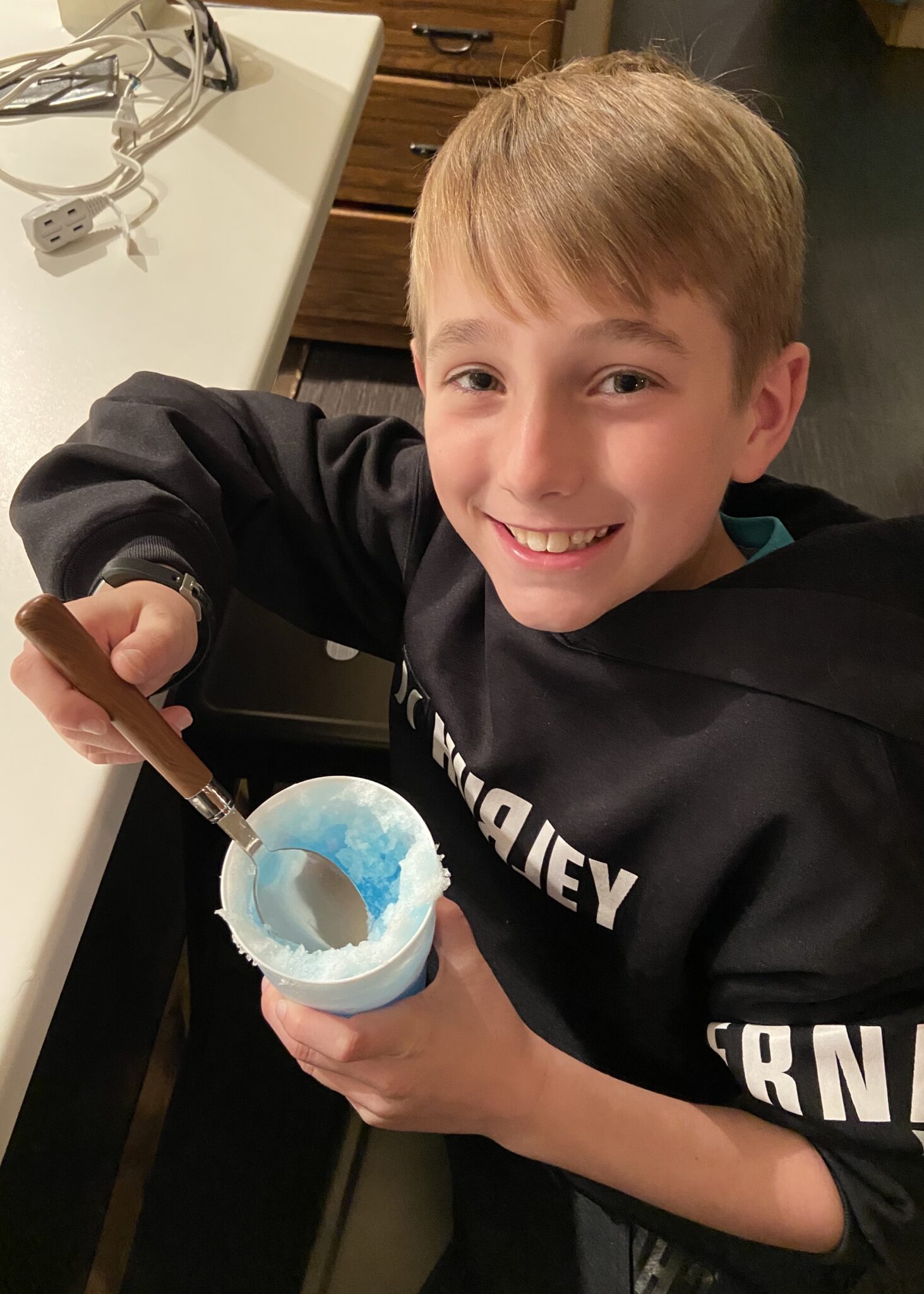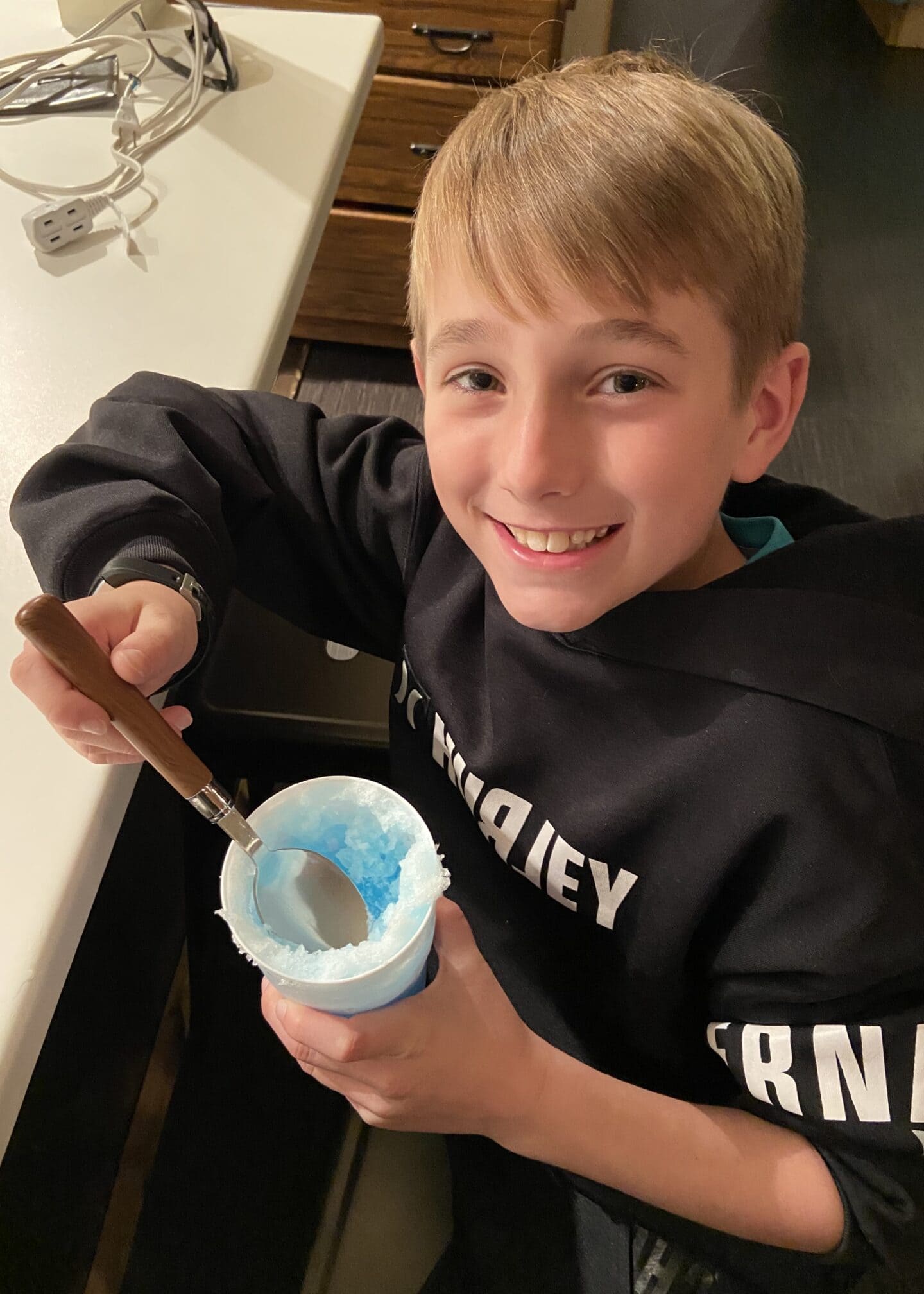 The first day was the only day that it wasn't actively snowing so it was the best day as far as the ease of skiing was concerned.
Which worked out really perfectly because it gave Kye a chance to get used to the conditions before dealing with actual snow blowing in his face!
I have been skiing in Colorado twice – once in like 1st grade (and I cried the whole way down the mountain) and the second time with Zach's family while we were engaged (and I'm pretty sure I cried at some point that trip too).
Needless to say, I'm more of an East Coast skier 😉
I was nervous about how Kye would do in the different conditions because it's drastically different!
Zach was a little nervous too but Kye did AMAZING and took to it naturally and loved it!
The video in this post shows his early on skiing on the first day.
Zach said by the end of the trip he was WAY faster and they were doing jumps and going through the forest and everything!
Skiing is Kye's best sport he said…too bad we don't live in the right climate for him 😉
He skied on green and blue runs and even black diamonds! Zach is SO proud (and impressed) of his skills on the slopes!
It's all SO gorgeous!!!! Such an incredible experience for the two of them to share!
That night they went out for ribs – another Zach and Kye fav 🙂
After that first full day, the weather got a lot tougher!
The second day was the worst with the snow conditions in the afternoon and that was Kye's least favorite time skiing.
Like Zach said though, it's obvious that Kye was LOVING IT because even in bad conditions he still wanted to keep going!
They had SO much snow!
Zach said it would like stick to their goggles making it hard to see as they were skiing.
They were able to have a big snowball fight and still skied a ton and had a blast – there just wasn't any possible way to get many pictures or videos in those conditions.
Look how high it was on Kye! Past his knees!
Zach said if they stopped skiing to talk or anything that Kye would just randomly fall over standing there because it was hard to stay still with that much snow!
I told him "at least get one good picture of yall together on the mountain"
Here's what I got 😉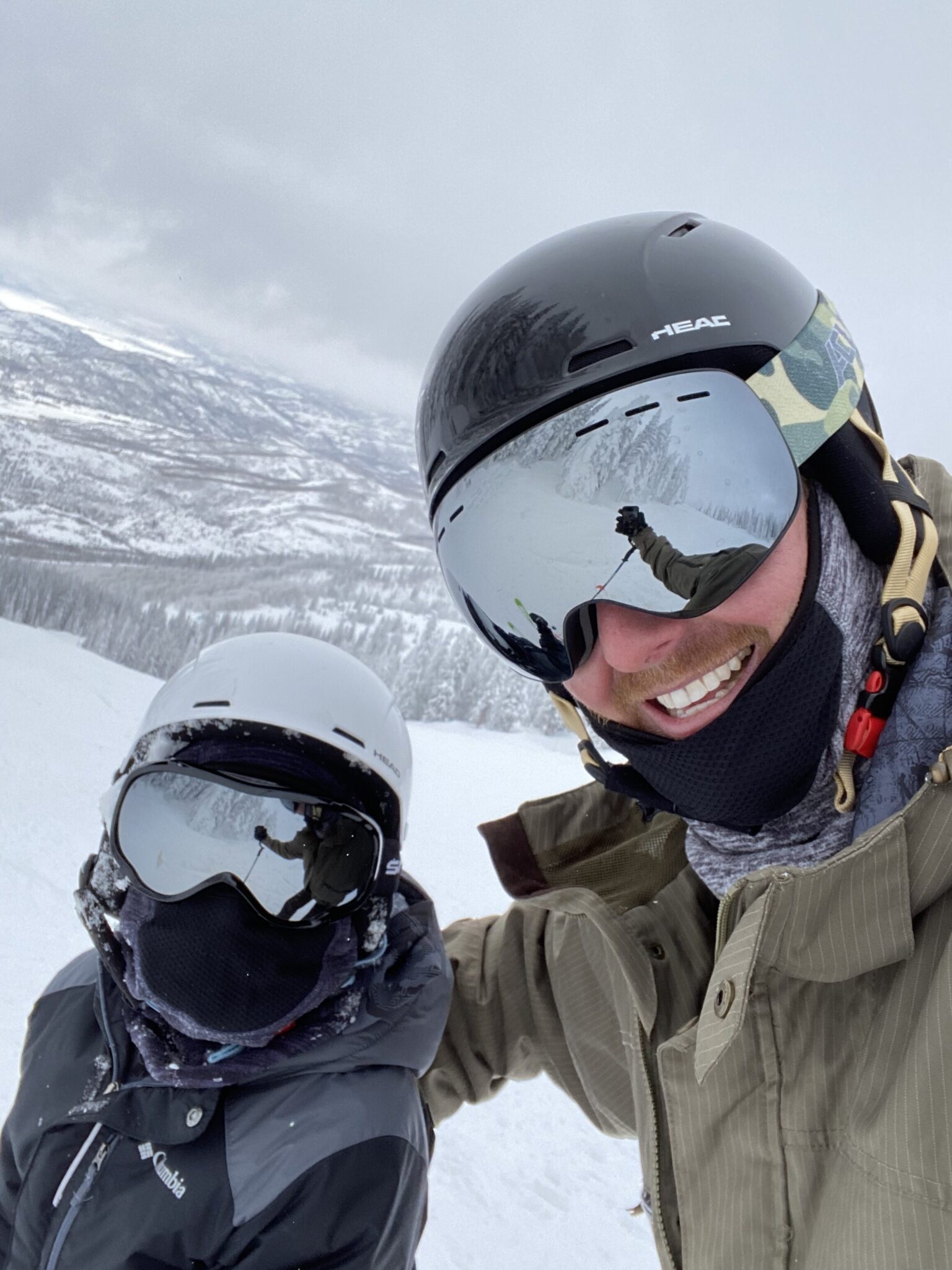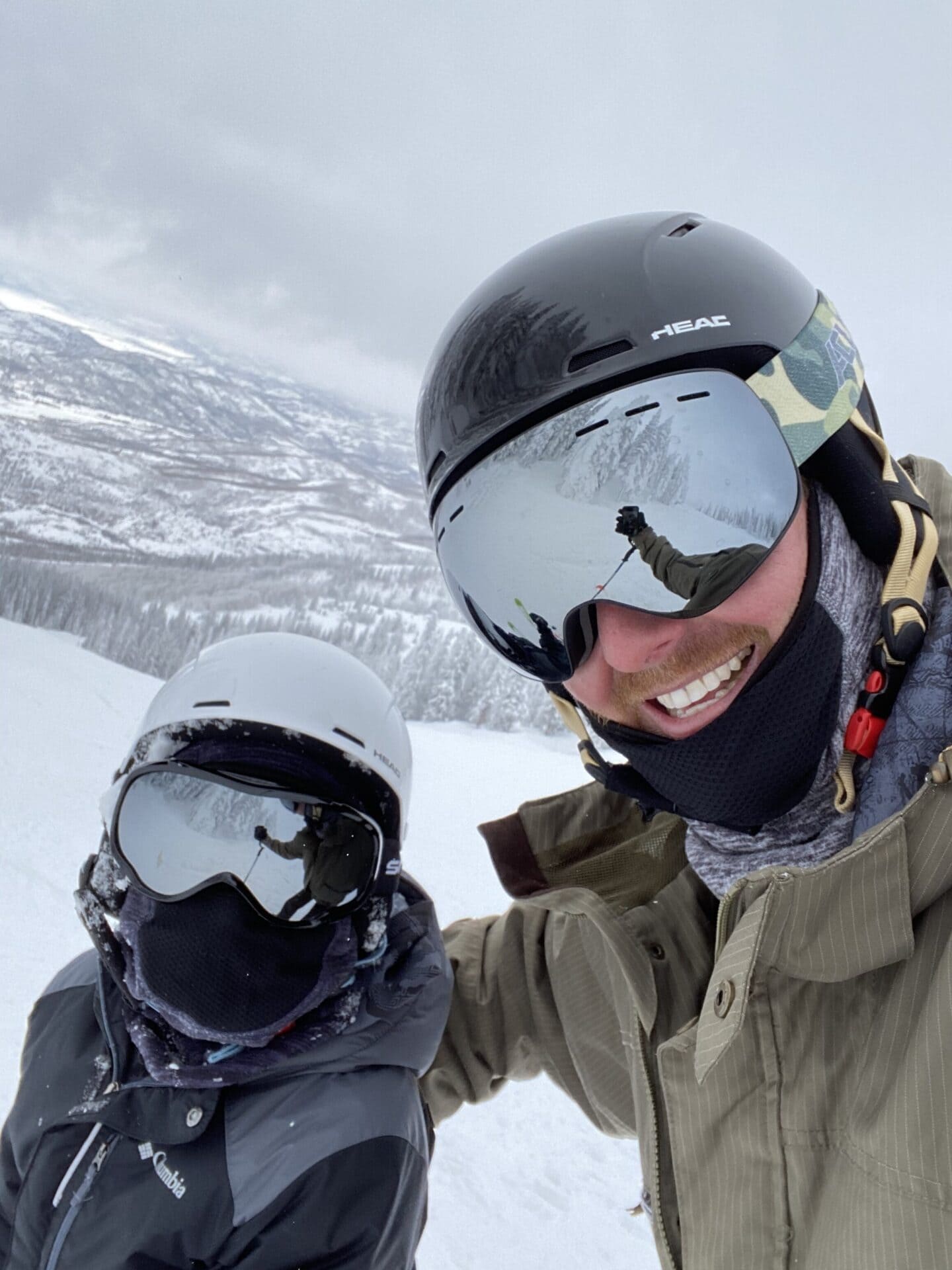 The third night Zach had to literally DIG OUT the rental car from the snow!
They had to get up at 3 am to drive to the airport and Zach told me later (so thankful he waited until AFTER they were safely at the airport to tell me) that it was the most scared he's ever been.
The drive was a ton of ice on the roads and just horrible conditions and Zach said it was so scary and that he and Kye prayed several times to get there safe.
It def makes us thankful for our South Georgia sunshine – no iced roads here!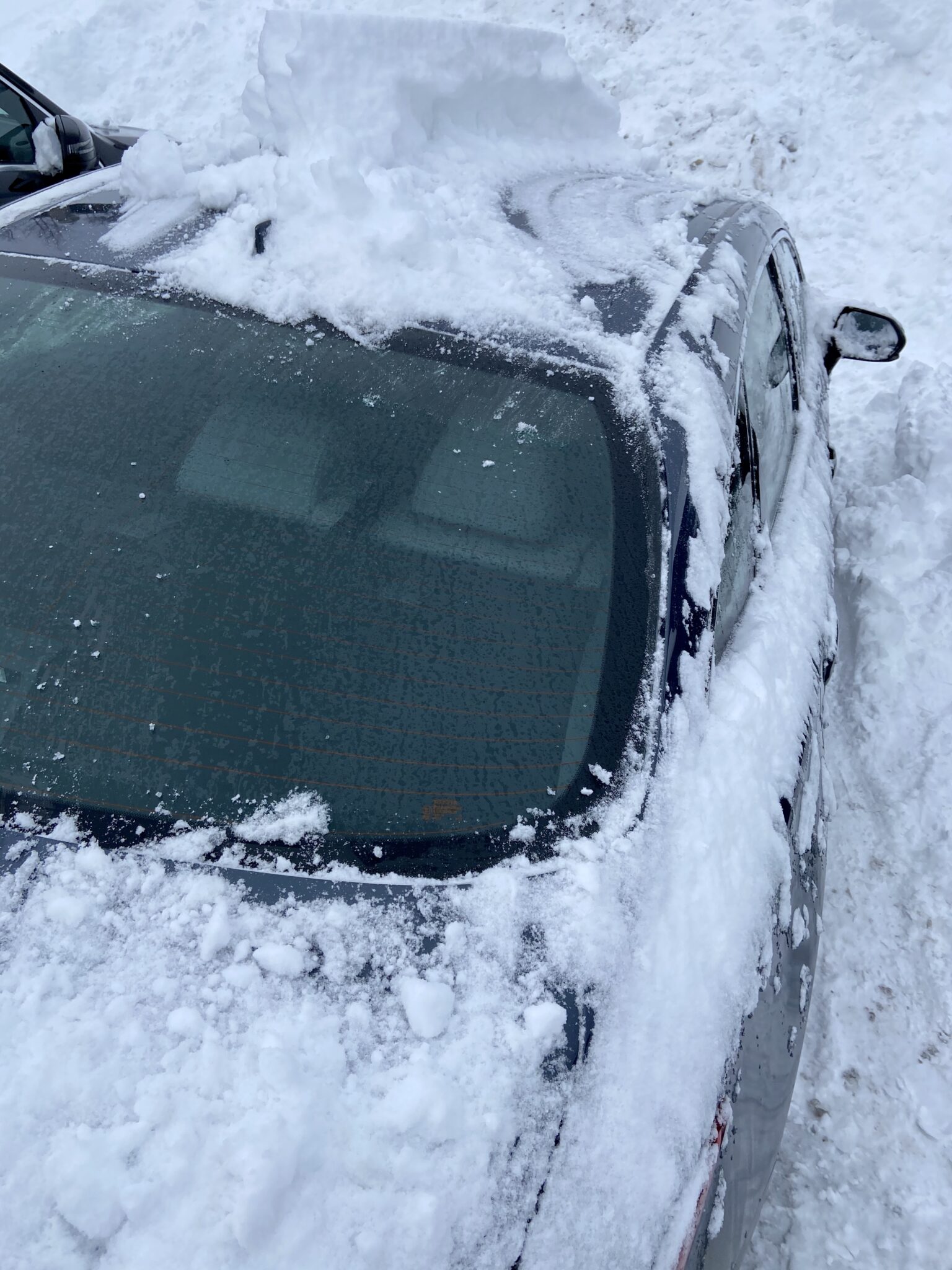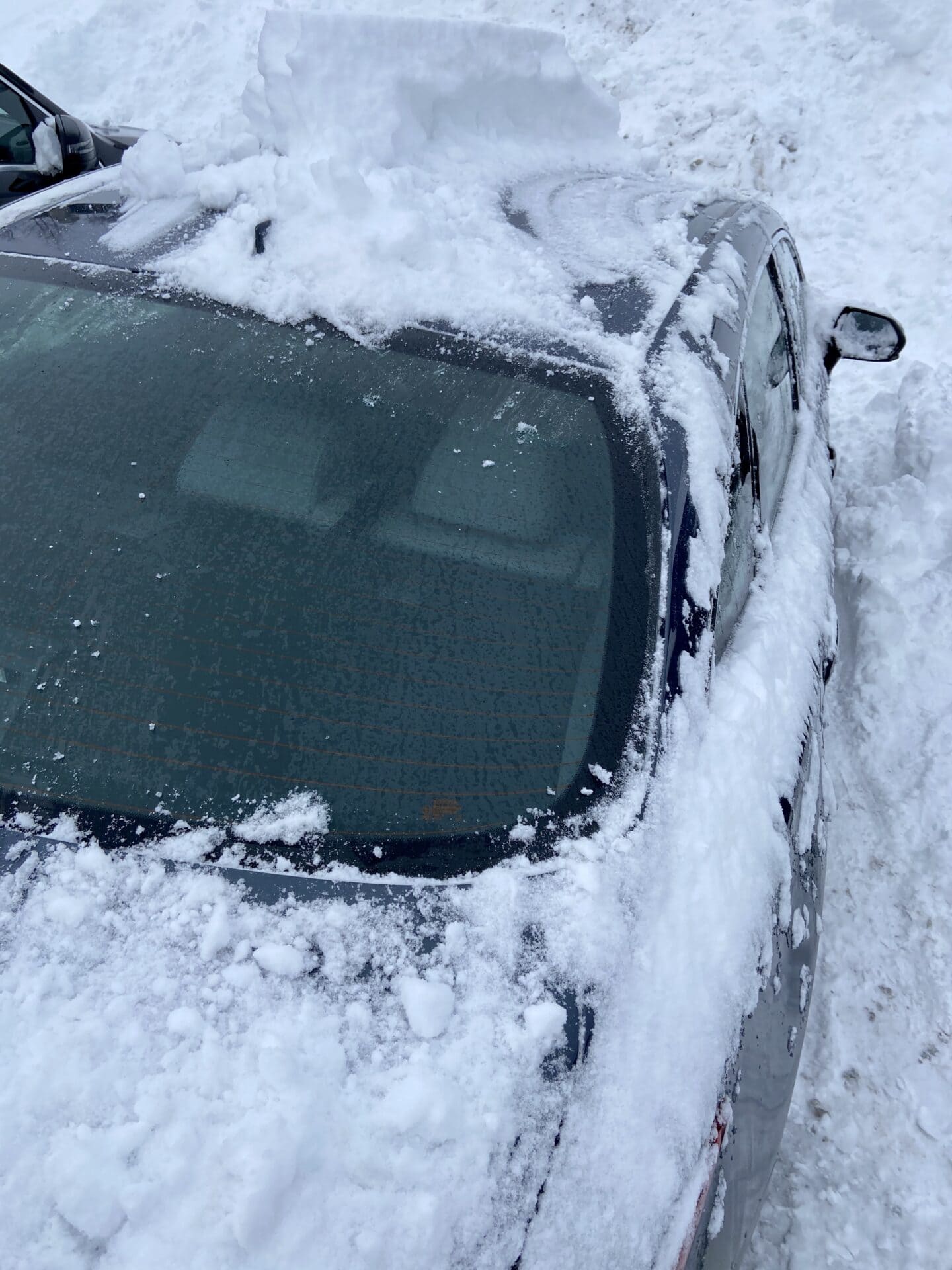 I love that Kye wanted to have a hat to remember the trip by! The Colorado state flag is really cool so I don't blame him there 🙂
It was a crazy long travel day getting back…they drove at 3 am to get to the airport by 8 am then sat around there until their flight left at 10 am.
Got into Atlanta at 3:30ish Atlanta time then had to take a shuttle back to the hotel to get the car and then drive the 3 hours home.
WHEW!
They got home around bedtime and we were all SO HAPPY to see them!
They had an incredible time and Kye is so glad he was able to have this experience as his Christmas gift.
Of course, Britt is now begging to get to go too 😉
I was interested to hear Zach's thoughts of having so many days one on one with one of our kids – that's a rare thing for us to have!
He said it was amazing. Truly he got a little emotional even talking about it.
Zach has a very close relationship with his dad and he's always wanted that bond with his own son and this trip was HUGE for him and Kye and their bond.
He said everything flowed so smoothly and they both just truly, genuinely enjoyed each other's company in a natural, easy way.
I bet there will be MANY father-son trips in the future and it wouldn't shock me one bit if Kye starts saying he's going to save up for another ski trip 😉
A video should play live in this post!
What Kye Wants to Remember:
I thought it'd be good to have Kye write some of this blog post as I make my blog posts into blog books and I want the kids to have THEIR memories to keep forever 🙂
Hey, I am Kye and I will like to tell everyone the special memories I made during my trip to Steamboat Colorado:
I got to see real snow for the first time.
Dad and I were bonded together and didn't argue at all.
I got to do jumps and paths through the trees with dad and had lots of fun doing so.
It was one thing that I was about as good as dad at.
We were free of any annoyances and were just free to ski and be the great fun men (bros) we are.
We didn't have a plan we just rolled with it.
I never really got no for an answer to something I wanted to do.
Skiing was fun and we were carefree on most paths we wanted to go on.
I was able to ski well without going to a ski school because of earlier trips to ski.
We were able to ski a long time before having to go on a lift
This trip was one of the best trips I could have and I want to thank my parents for everything they did to make this trip possible.
This was a fun carefree trip that I will always remember in my heart and mind and I will miss the fun times that me and my dad shared together.
Kye Logging off…