As I am preparing for surgery I have been going through my "drafts" on the blog and found some a post from 2010 that I never posted! Perfect timing for a Flashback Friday 🙂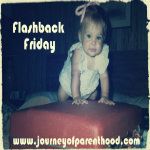 This post was titled "Daddy Obsessed" and obviously I planned to talk about how close Kye and Zach were at this age. What's funny is that they still are! Zach and Mr. Rusty are SUPER close and I LOVE that Zach and Kye are very close as well. Yes, Zach is strict with Kye and is the main disciplinarian but Kye adores his dad and they have so much fun together. I'm so thankful to have SUCH a hands on husband and I love the laughter that fills our home!
When we lived at our old house they LOVED to wrestle on the bed (something they still love to do at our new one too!)
Kye also has always loved helping Daddy with the yard work!
Here's a couple more pictures of my cuties as a toddler 🙂
SUCH a fun age! I'm enjoying it with Britt now for sure!
He may be older now but Kye is just as adorable, as sweet, and as FUN! It only gets better and better as he continues to get older! I hope it's a trend that only continues 🙂 I love any chance to look back at old pictures of him and am glad I am finally posting these! Happy Weekend!