Christmas Trip Redo: Girls' Trip to Universal
For Christmas we gifted the kids an experience rather than a lot of presents, you can see their gifts and reactions here 🙂
Kye and Zach had their ski trip in February and had a BLAST. The girls and I were supposed to go on our Disney cruise in early April over Spring Break.
Obviously with covid taking over the world, our cruise was canceled. I REALLY held out hope for a LONG time. As Disney canceled cruises, I rescheduled ours for the first cruise date.
I continued doing that method until I finally had a cast member shoot me straight and tell me to stop. So I decided to book for the end of the summer, our cruise was set to sail on Tess's birthday (July 31st).
It seemed like it really might possibly happen as Disney updated their Cruise safety guidelines, the parks reopened, and they canceled other cruises with later dates but ours stayed on the books. I was pretty hopeful!
Then, it too, was canceled. Rather than continue to rebook and delay the girls being able to celebrate their Christmas gift I decided to find a Plan B option and call it quits on the cruise. I do still have the cruise credit but don't even know WHEN to try to rebook. So for now I'm just keeping it in limbo and currently have until March 2022 to decide I think.
I struggled to come up with an idea for their redo Christmas gift that wouldn't be crazy expensive AND would be a SURE THING. Universal was running a Buy Two Parks Days Get Two Free deal and I started playing around with rates and such.
Tess's Disney Birthday plans we'd had planned pre-Covid were obviously a bust as well and she had told us that the only thing she REALLY wanted to do for her birthday was visit a water park. Universal's deal included an option to their water park (Volcano Bay) and I thought it might make sense to do a Universal Birthday for her combined with a redo-Christmas trip.
Financially we'd have to buy water park tickets anyway and taking advantage of the Universal ticket pricing deal would allow us to have a fun family trip over the time we'd allotted to be celebrating Tess's birthday at Disney.
It was CRAZY for me to be trading in Disney time to instead be doing Universal…but hey when Disney makes it super hard to visit their parks, you find the next best option and roll with it!
I waited to tell the girls the plans until just 13 days before the trip. I had told them a LONG time ago that the cruise wasn't going to happen, they did not know I'd booked it for July but I did tell them that I was brainstorming ideas for things for us to do together to make up for it.
They both said what they wanted most was to get to stay together in a hotel so I felt like getting the Universal tickets and staying on site would be SUPER fun for them!
When we visited Universal last year we rushed to learn enough about Harry Potter to appreciate the trip, but had NO CLUE at the time just how in love with HP Britt would become. Now she is full on obsessed (she listens to it on audio book literally every single day and is on her third time listening to all of the books…she also has the illustrated series and is reading all of them as well).
I knew she'd be THRILLED to visit Universal and would appreciate it so much more this time having so much more love and knowledge of all things Harry Potter. Tess also adores everything Britt loves so she is a little wizard too and I knew she'd be just as excited.
I surprised them with a special box to open that revealed a personalized letter, details of our trip, a countdown for them for each day, Harry Potter dresses, custom masks, and itinerary!
I even designed our own countdown for the girls to use each day! I hunted on Pinterest to try to find one and didn't have any luck so I made my own 😉
We love to have a countdown for our trips – simply print it off using your color printer at home and then put in an 8×10 picture frame. We use a dry erase marker every day and it's a simple but fun way to build anticipation and excitement for all of our travels!
When we'd booked the cruise originally the plan was for the girls and I to go on the Disney cruise and then meet Zach and the boys (and Zach's mom) at our Disney House for the remainder Spring Break (which would have also been Kye's birthday celebration).
So we basically just did the same exact game plan. The girls and I left a few days before the boys and Zach's mom to go on our leg of the trip and then met them at our rental house after, but this time for Tess's birthday celebration.
When planning for the cruise I really wanted to make it an extra special girl trip. My girls LOVE to match each other as well as match with me so I bought us all sorts of super cute coordinating outfits.
When Covid first reared it's ugly head in March I went ahead and packed up my suitcase of all the cruise stuff so I wouldn't keep seeing it in my closet and obsessing over it. Once it kept getting canceled I went through the suitcase and put everything into piles. 1) pile to keep until we DO get to cruise (our fish extender, door magnets, etc) 2) pile of things to hopefully use on another tropical trip someday (we may have kinda sorta booked another surprise buttttt are having to cancel it too so who knows when that stuff will get used) and 3) pile of outfits to wear on our Universal trip.
By the time we DO get to cruise I know a lot of the clothes won't fit them so I figured we'd better wear 'em NOW 🙂 Having our matching outfits did make the trip even more fun and exciting for us all.
I had gathered up a few fun items for our fish extender for the cruise (let's not talk about the $40 I spent on customized ornaments to pass out on the ship for other people's fish extender gifts…) and I grabbed a few other little fun surprises to give them as a goody bag to kick things off!
My girls LOVE little journals and fun pens and anything small and girly so it was easy to make those big smiles appear!
We left first thing in the morning on Tuesday July 21st. The girls ate breakfast on the way and then we stopped to get some snacks too, of course!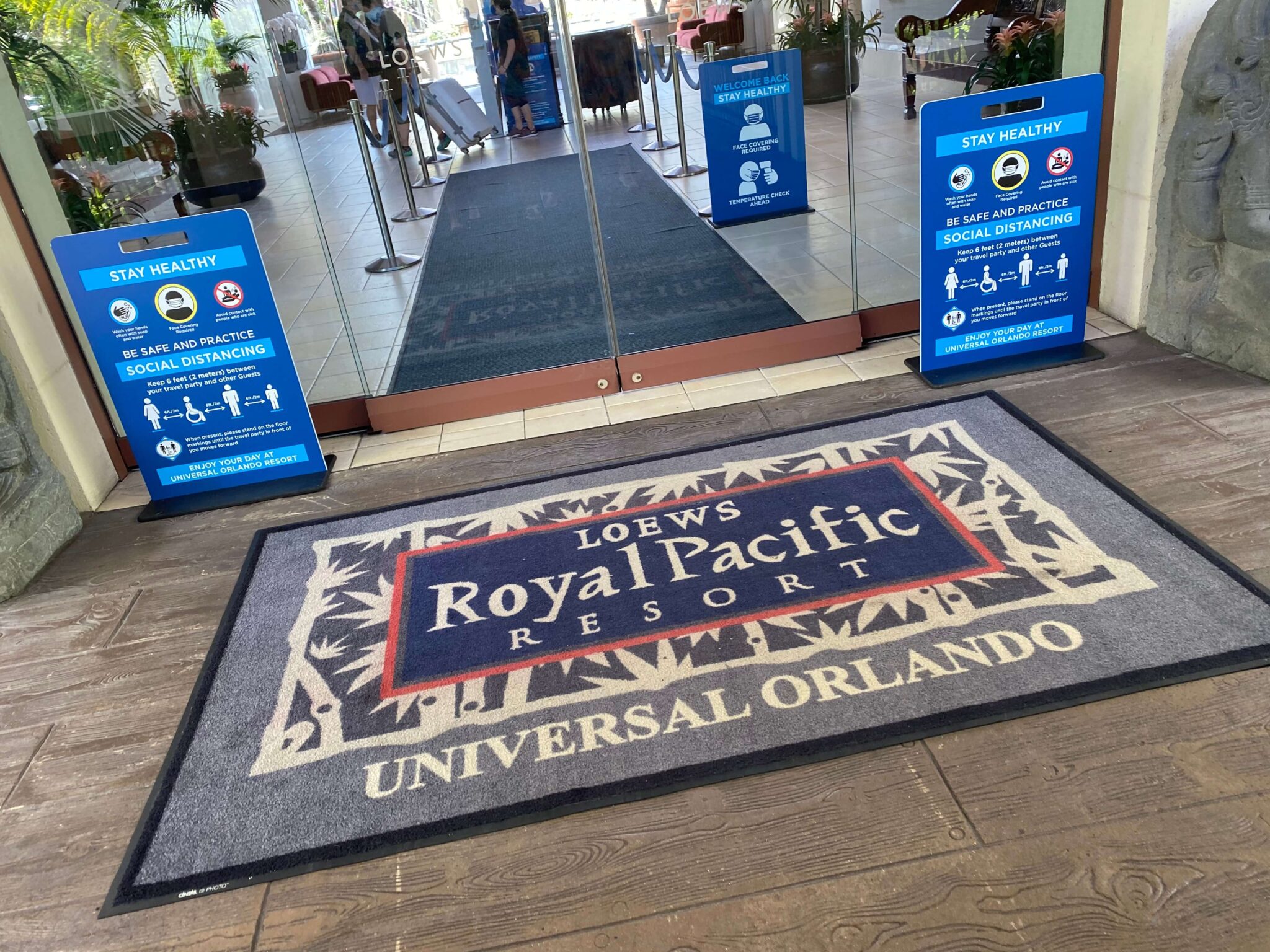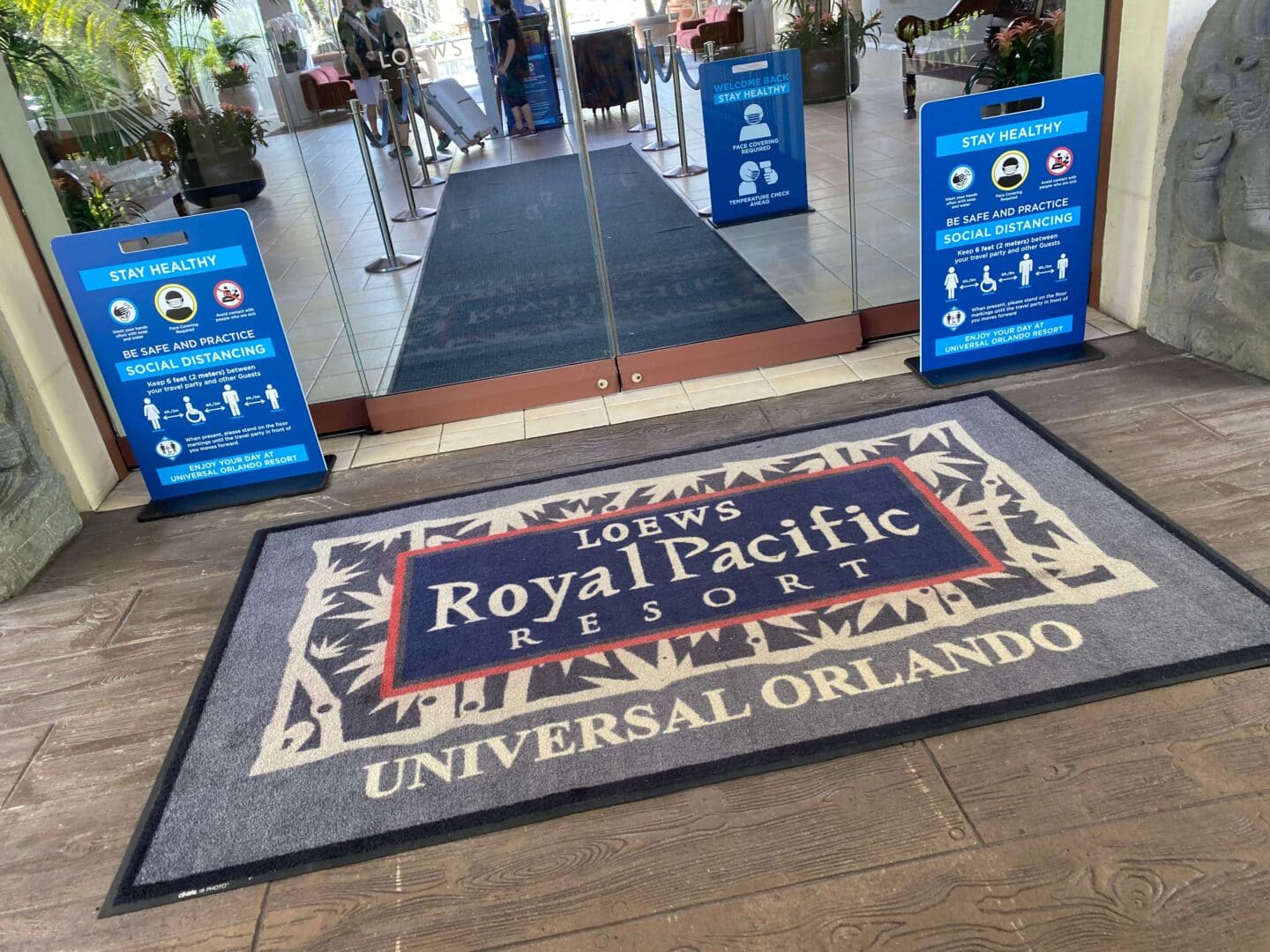 I debated a lot on where to book our stay but decided on Royal Pacific Resort as it has a Polynesian type vibe (Britt LOVES anything Hawaii-like, just like her mama), we've never stayed there, it has boat transportation to the parks, and it included Express Passes with our stay.
It was GENIUS of me to include Zach and Kye in our reservation because it meant THEY got express passes too even though they weren't with us at the hotel. I will discuss that more on the day we all went together but it's a good tip if you're combining trips!
Masks are required on property at Universal Orlando Resort. The check-in process was VERY smooth.
Naturally, I will be doing a lot of comparing and contrasting of Universal vs Disney and will probably combine all my thoughts into a separate blog post soon!
But I liked that we walked in and had temperature checks and then had a wristband to wear all day signifying we'd already had a check and didn't need another until the following day. We were good to go all over the resort, to City Walk, and to both theme parks without having to have additional scans.
The hotel was pretty much empty and it allowed us to get to know a lot of the Team Members while there and it was interesting talking to them about their thoughts on reopening and about Disney too. Many were former Cast Members who are actually Annual Passholders at Disney as well. They said they love the Mouse but he doesn't take care of his employees the same way Universal does, I thought that was very interesting to hear!
When pricing out the trip I looked into the Harry Potter Package offered by Universal and it made sense to add it to our trip based on what it included. Plus I knew it'd be that something extra special to make the trip more memorable for the girls too!
We got checked in and dropped our stuff in the room (which is GORGEOUS) and then headed to the restaurant on property for lunch – Jake's!
One way I really try to save money while traveling is on food so the girls and I ordered one order of pretzel sticks and one cheeseburger and split it all. It was plenty of food for us and cut down on the cost. The pretzel stick things were AMAZING. Like truly one of the best items I've ever eaten on any theme park property. The burger was awesome too and the girls officially like hamburgers after eating it!
I was very impressed with the Team Members. Yall know I'm LOYAL Disney but man Universal was impressing me left and right and we'd just gotten there. Everyone was SUPER nice and our waitress took the time to tell us the backstory of the restaurant, all about Jake and his love story with a famous actress, and really made our meal a memorable experience.
My girls are partial to the name Jake as they love "Uncle Jake" (Zach's cousin).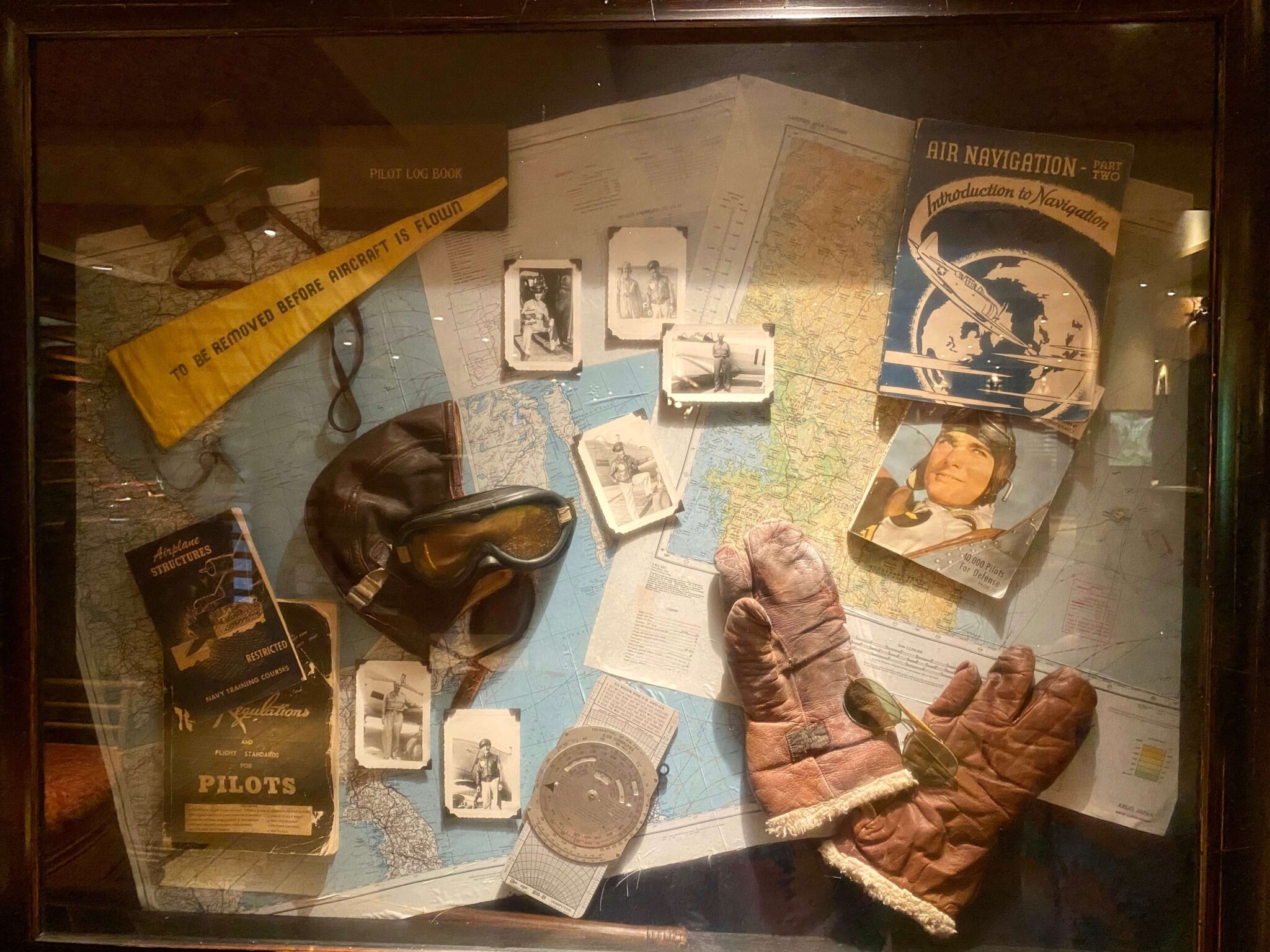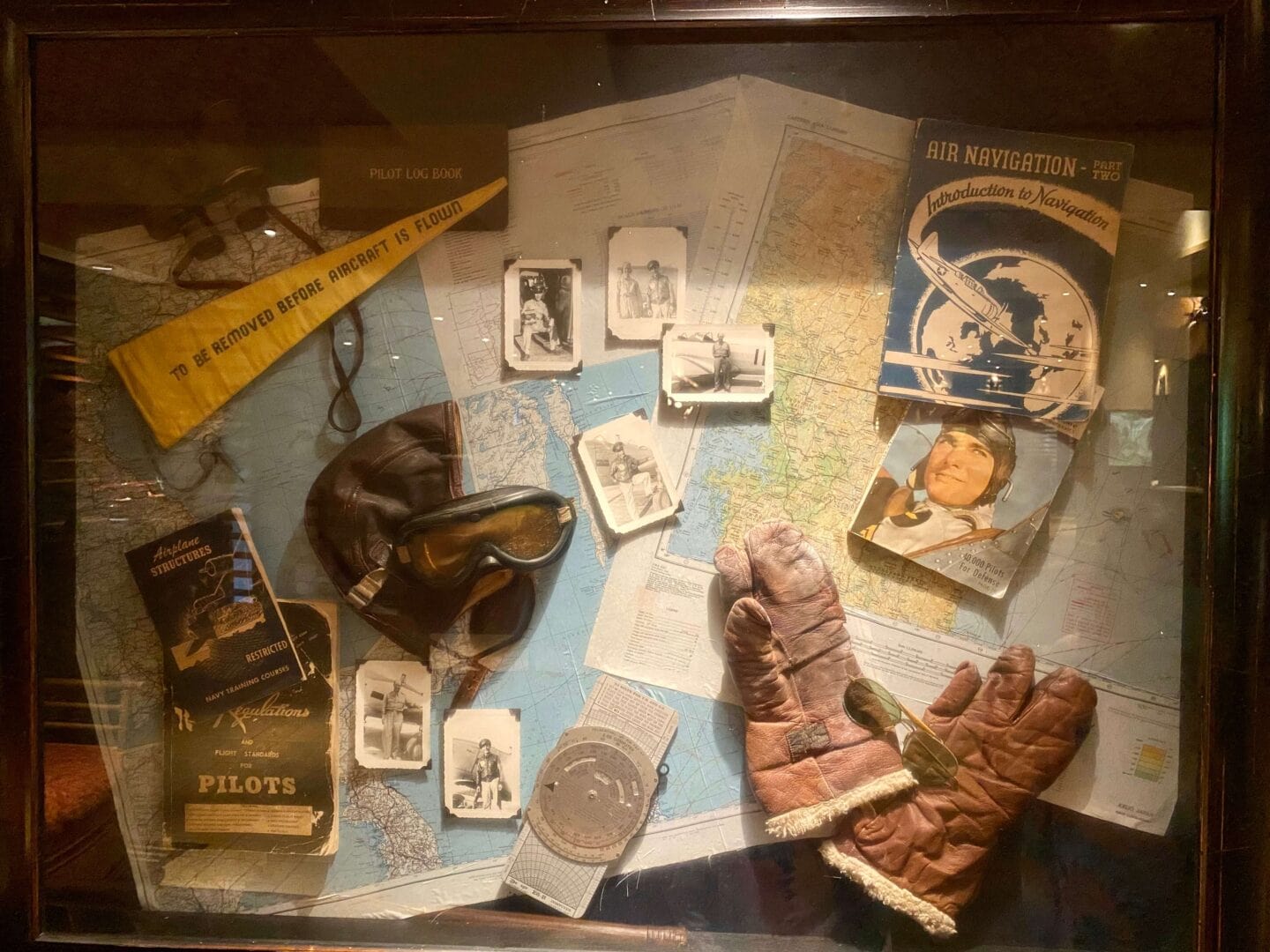 We enjoyed our lunch and then headed to the room to put on bathing suits for swimming! A big perk of the empty resort was that our room was in an ideal location on the first floor close to the pool.
The girls and I wore our matching cover ups (they double as towels…here's a link to mine…and here's a link to the ones the girls are wearing) and headed to the pool only to discover it was closed.
It was a very frustrating situation as there was a total lack of communication from any team members at all. No life guards standing around to let us know what was happening. Nothing.
I asked fellow moms who were waiting and they said there had been lightning in the area and that it was the reasoning. It was funny watching their boys playing and chasing squirrels while they waited for the pool to reopen while my girls asked to walk around the resort to take pictures and to look in shops while we waited. The differences in boys and girls!
We even ended up going back to the room for awhile because it was taking so long for the pool to reopen. At one point I even went into the life guard station room and asked them. We waited over an HOUR with no storms, rain, or lightning in sight. Super annoying.
We got unpacked and settled in the room and then finally got to HIT THE POOL! The pool at Royal Pacific is gorgeous and massive and we loved the beach sandy area as well as the zero entry pool entrance.
Tess really wanted to swim with me which was so sweet. She wanted to pretend to be a baby and have "swim lessons" with Mommy like we used to do when she was Spear's age. It was nice to be able to just focus on her in the water as I think she misses that now that I am always focused on Spear and his swim skills.
Britt was also cute playing her own little game where she was talking out loud as she acted out all the different characters in her game. I used to do the EXACT same thing as a kid myself!
We went back to the room and got ready to head to City Walk for dinner and to check out the area! It was so great having the boats to take us from the resort to the City Walk area.
We didn't have to have our temperature checked again since we'd already done it at arrival and the security bag check was a BREEZE. It's like an airport security and went way quicker and smoother than Disney did.
I LOVED our cruise outfits for the night! I got this Vacay Mode shirt for each of us, the girls wore these skirts, and I wore this one!
Again, it's just so FUN having girls! They wanted to walk around and see everything and they especially wanted to SHOP. We didn't buy anything but had a lot of fun looking and getting ideas for Christmas gifts.
We did go into Toothsome's Chocolate Emporium (we actually ate there for Britt's bday a few years ago) to get some treats for us to have in the room the next night as a midnight snack once we got back from the parks.
Tess has talked about her favorite memory from Great Wolf Lodge being the candy cup she got. Part of the Wolf Pass we had on that trip allowed the kids to fill their own candy bucket and Tessie LOVED it and said she really, really wanted to get to have that experience again. So that was her treat at Toothsome's and she was thrilled.
Masks are required at City Walk but we took them off for photos and never had anyone say anything to us about it, which I was appreciative of!
A big surprise I had in store for the girls was to get their hair wrapped! Growing up I LOVED having my hair wrapped on vacation. I have memories of trying to keep my wrap in all summer long so I could start back school with it in.
Hair wraps have changed a lot over the years. They still had the traditional kind which truly wraps around the hair but it cost a TON more than the reusable option which were wraps already pre-made that the team member braided into the hair. We went that route and I took video of HOW she did it so I can redo their hair when the time comes!
Fun fact: I've NEVER had a VooDoo Donut. There is SO much hype about them that I was super excited to try some and we decided since we'd had such a big lunch to just get donuts for dinner 😉 It was fun to go inside and see all the neat donut creations and we each chose a donut to eat back at the hotel.
A memorable moment was when we were waiting to take a picture on the chair outside of VooDoo and these two kids were climbing ALL OVER IT like way up to the top. Their parents weren't watching and we were just standing there waiting for them to get down so we could take a picture. The boy got his foot stuck in one of the donuts and fell but his leg was still trapped. Then his parents came over yelling at them when they hadn't been watching them anyway. It was a great lesson for the girls in making good choices for sure.
It was fun fixing all of our hair for our night out! I purchased this beach waver prior to the trip and really liked the end results of using it. It's super quick and easy and the girls hair took to it well too!
We had a totally empty boat for the ride back and then headed by the market in the resort to grab a few healthy items (fruit and wraps) to eat with our donuts for dinner. We decided to sit outside by the beautiful elephant pool that is located right outside the lobby.
We had the place to ourselves and enjoyed the pretty views more than we enjoyed the donuts. I was super bummed that they did NOT live up to the hype!
My original hope was to get in the bed early for our BIG day the next day buttttt that didn't happen. Instead I just soaked up the moments rather than stressing bedtime.
I got us all matching pjs for the cruise and we wore them on our girl's trip! These sets are super lightweight and so cute and even come with a sleep mask that Tess insisted on wearing to bed every night (girls sized pjs linked here, women's linked here)
When I booked the room I did two double beds with the intention of letting the girls trade off nights to sleep with Mommy. One girl one night, one the next. However, the girls said they just really wanted to sleep together! It made me so happy that they have that special sister bond! They will ALWAYS have each other and that is amazing.
I love seeing them having so much fun and laughing and being silly together. Sisters really are the best of friends and I'm blessed to be their mama!
We truly took a disappointing situation and turned it into something wonderful – our Christmas redo trip was off to an awesome start!
A video should auto play in this post of the surprise telling the girls about the trip!