Our Stay at Universal's Cabana Bay Beach Resort. We were provided with complimentary accommodations and theme park tickets in exchange for coverage of our stay.
I am still pinching myself over this opportunity. I was SO thrilled when Universal Orlando Hotels reached out to me and helped in planning this trip as a family.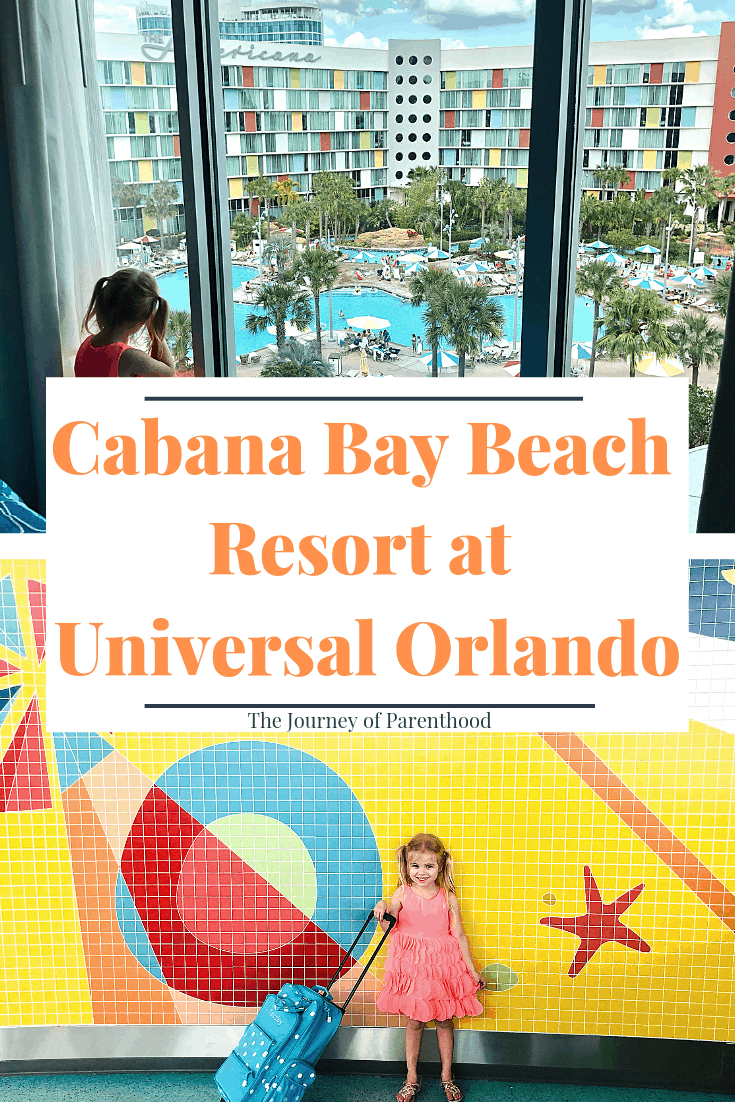 Zach and I did an awesome job keeping the whole thing a secret and the dates worked out where we were already in the Orlando area. The kids thought we were heading home and we had them go outside to load the car and when they came back in they were greated with a surprise they did NOT see coming!
Here's A Video I Took of Their Surprise: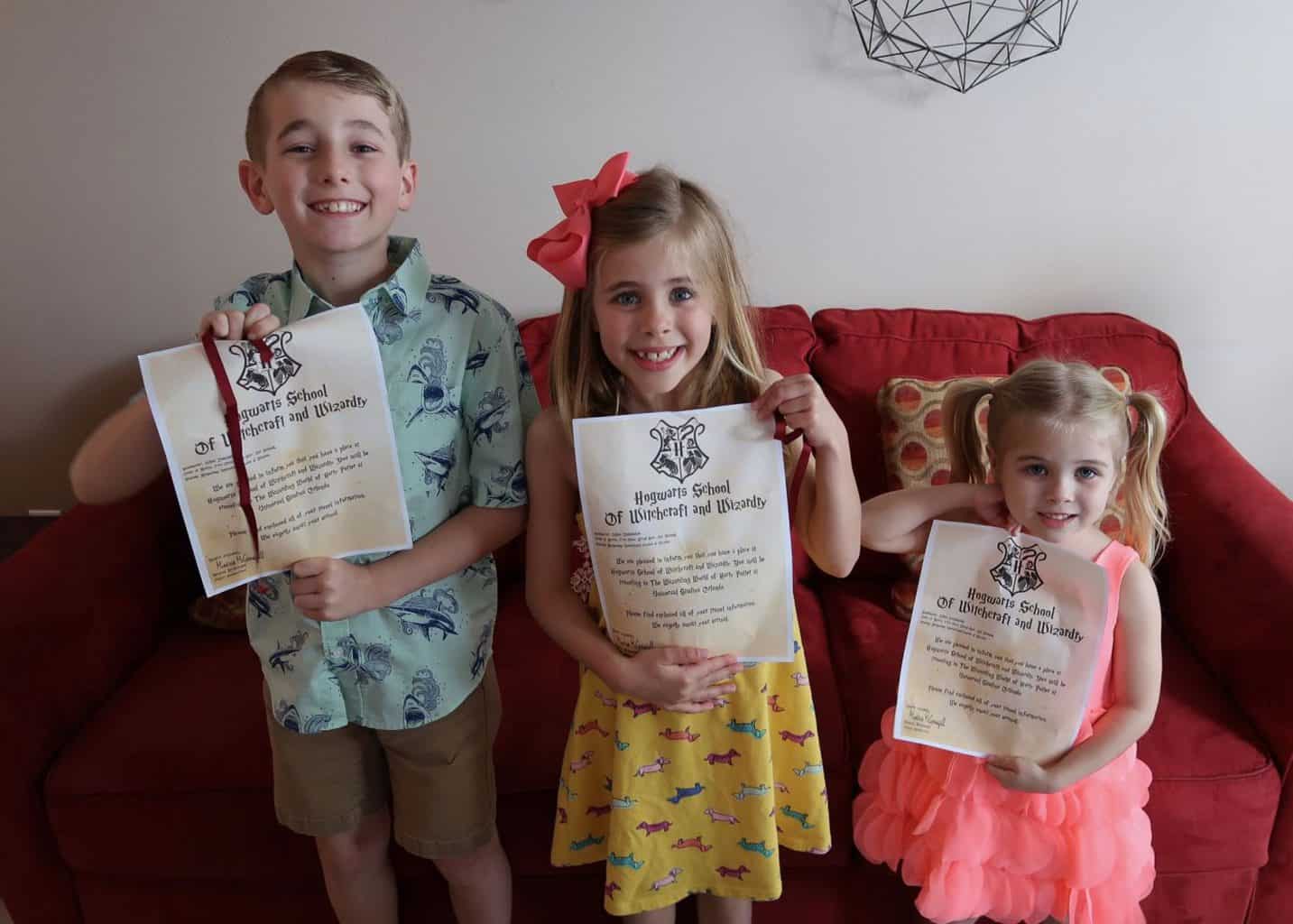 They were SO shocked. Kye was literally SPEECHLESS and Britt kept saying "We get to go to The Wizarding World of Harry Potter!"
I'm not quite sure if Tess had any clue about what was happening but she rolled with it 😉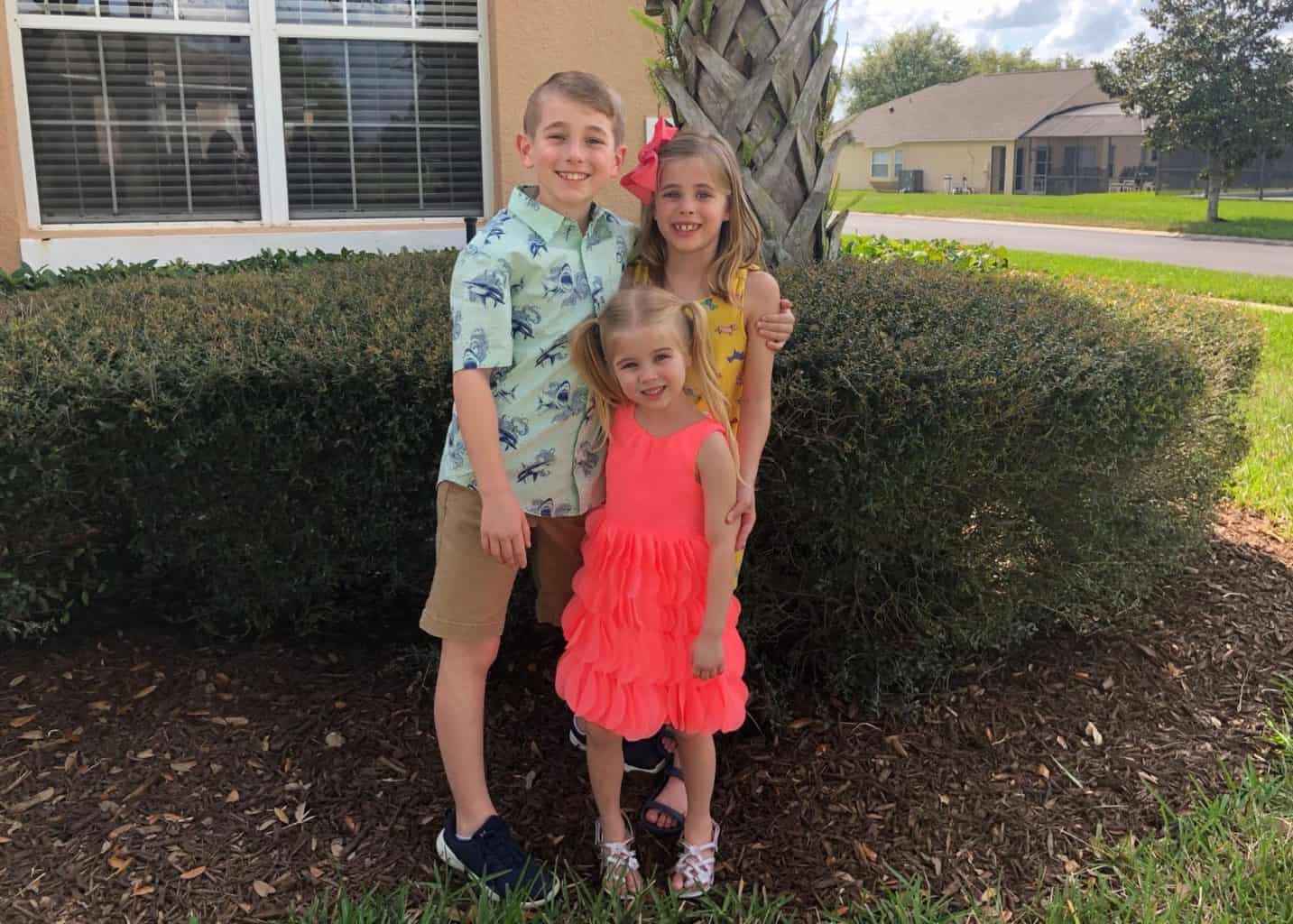 Cabana Bay Beach Resort is located on-site at Universal Orlando Resort. It is gorgeously themed in the style of the beach resorts from the 1950s and 1960s but with all the modern updates of course 😉
Our family has never visited Universal Studios Florida and haven't ever stayed on-site at a theme park property location before either. So many fun firsts for our crew this trip!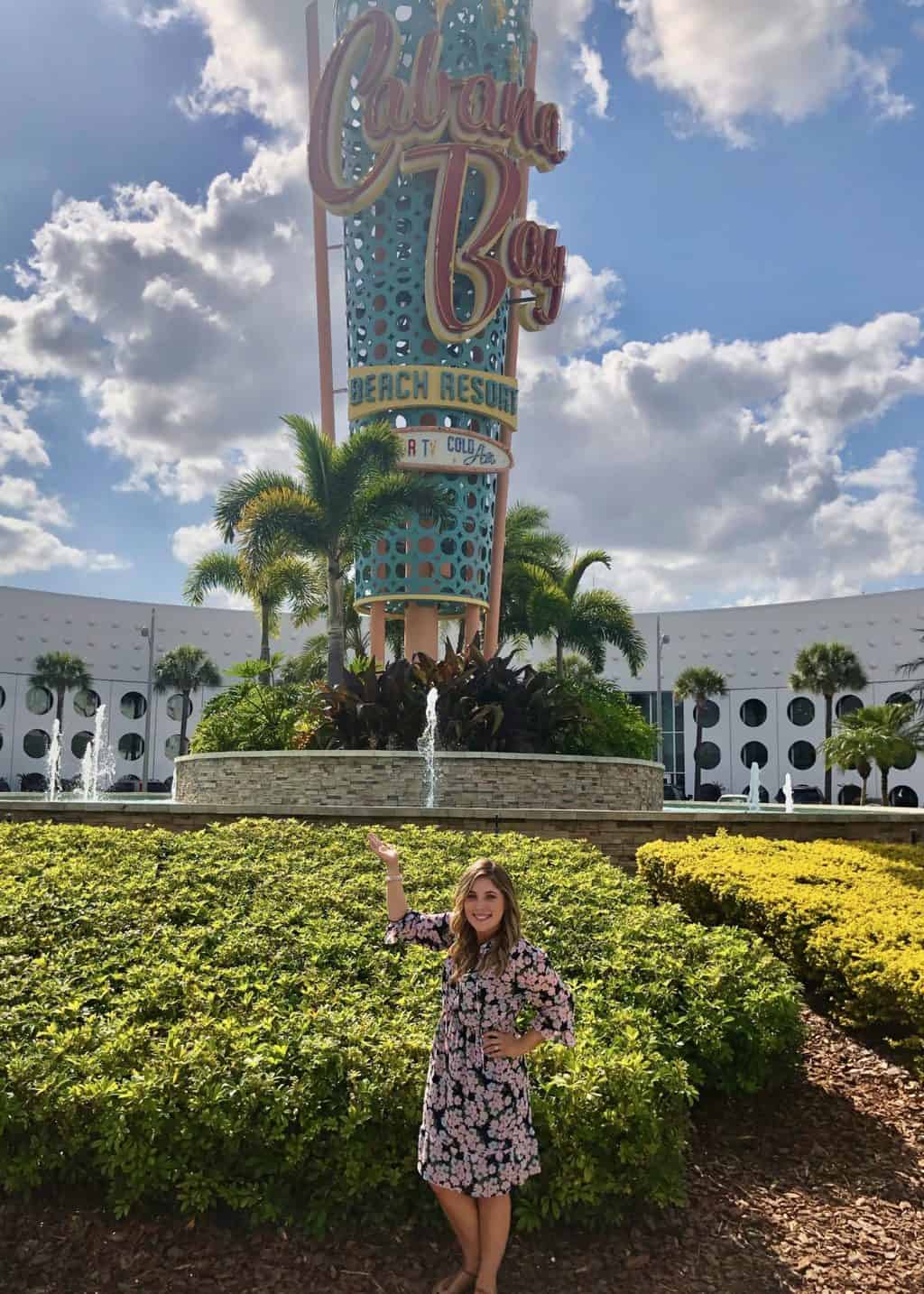 The vintage cars parked in front of the lobby just added to the classic vibes!
Little Miss Independent was SO excited to check out what the resort had to offer!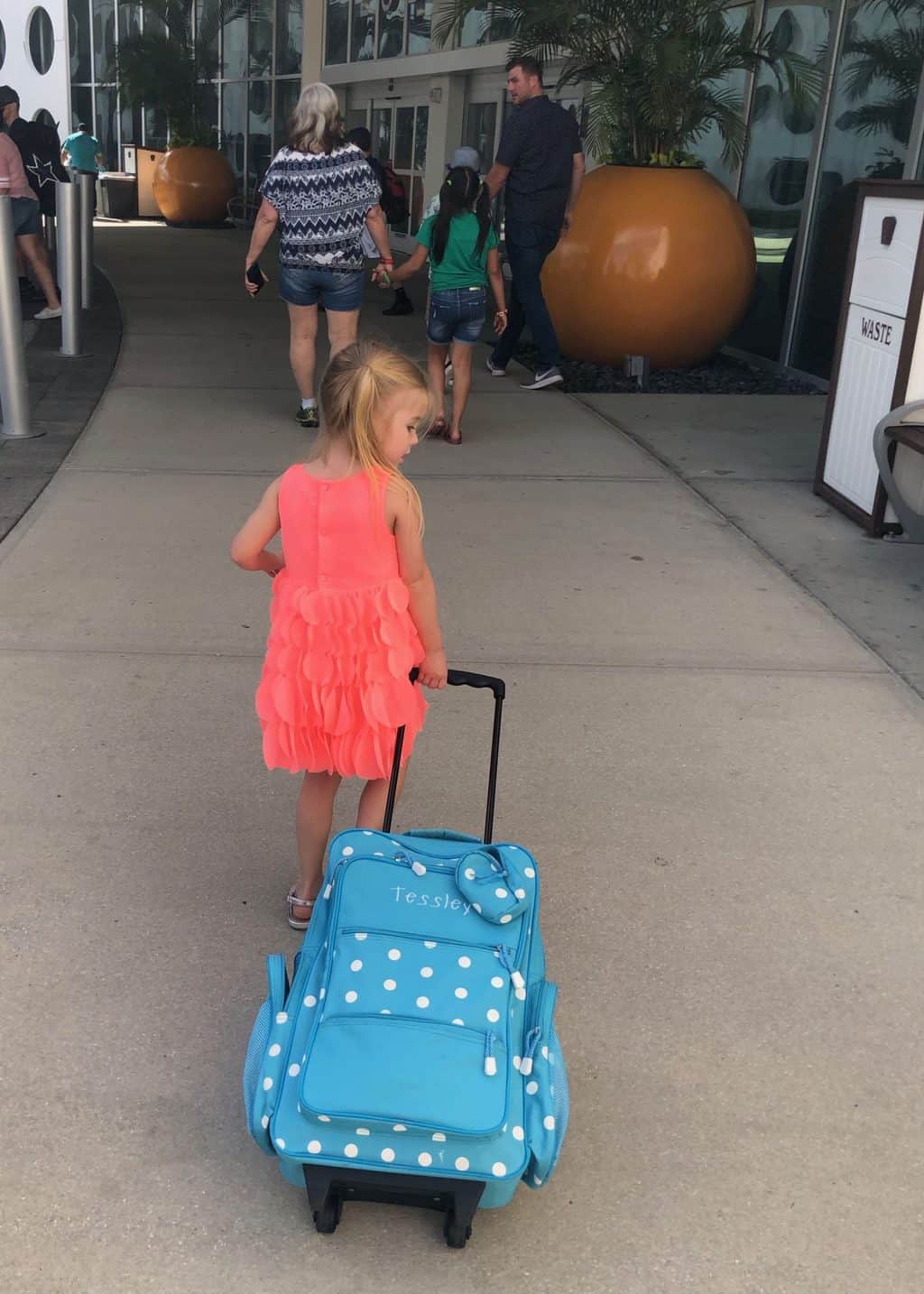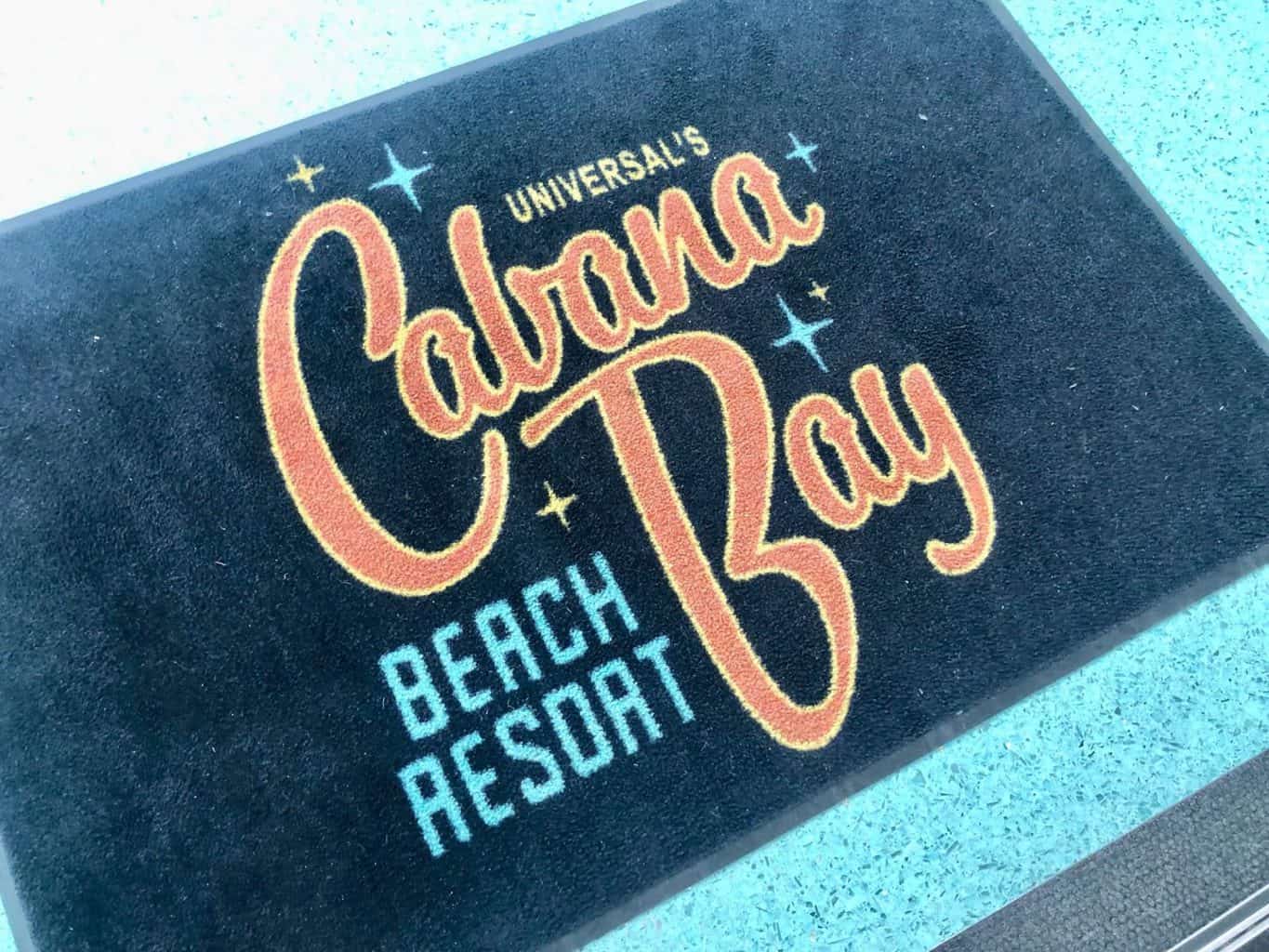 I was a little bit nervous about the check-in system. We were arriving RIGHT at 4:00 which is the check-in time and I assumed we'd have a crazy long line and rushed staff.
I was so pleasantly surprised with how smoothly the process went. I waited less than 10 minutes for my turn at the counter and was helped by a super friendly staff member who patiently went over all the details with me and gave me tons of tips about the resort as well as a clearly marked map for me to use to get around during our stay.
Right off the bat, I was impressed!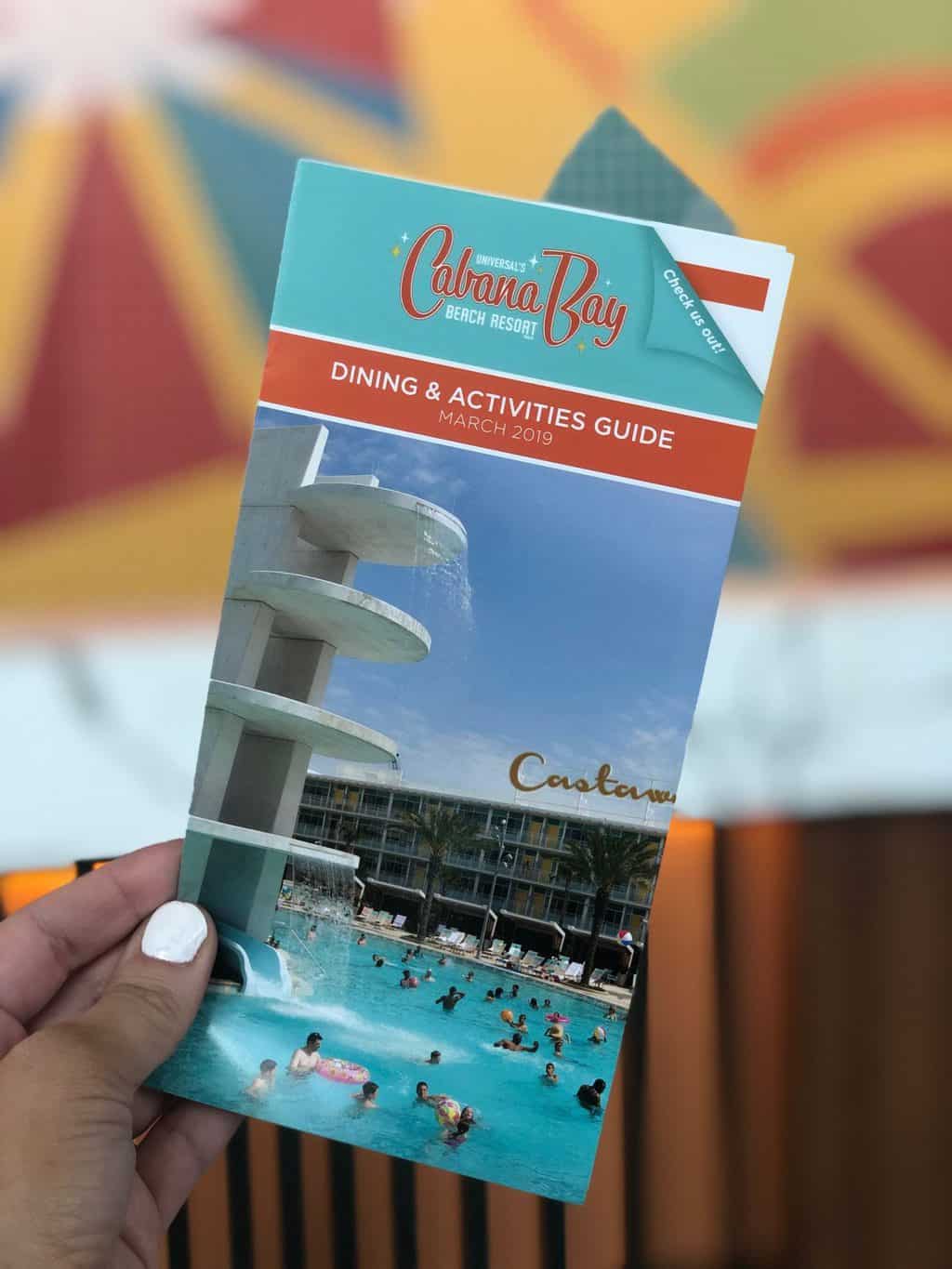 I felt like this resort was designed and decorated with me in mind. Y'all know me. I LOVE beachy vibes and describe my home decor style as "modern beachy." I also LOVE bright colors! I'm not a girl with a closet full of black or walls painted boring tan!
Everywhere we looked in the lobby area of Cabana Bay Beach Resort we saw bright, vivid colors that evoked joy! Immediately when you walk in you are instantly transformed into VACA MODE BABY!
We walked around just checking everything out and all agreed that the tile beach scene wall and the huge palm trees in the center of the lobby were our favorite details (Well…Zach may have loved the seating area with tvs playing the basketball games the best…)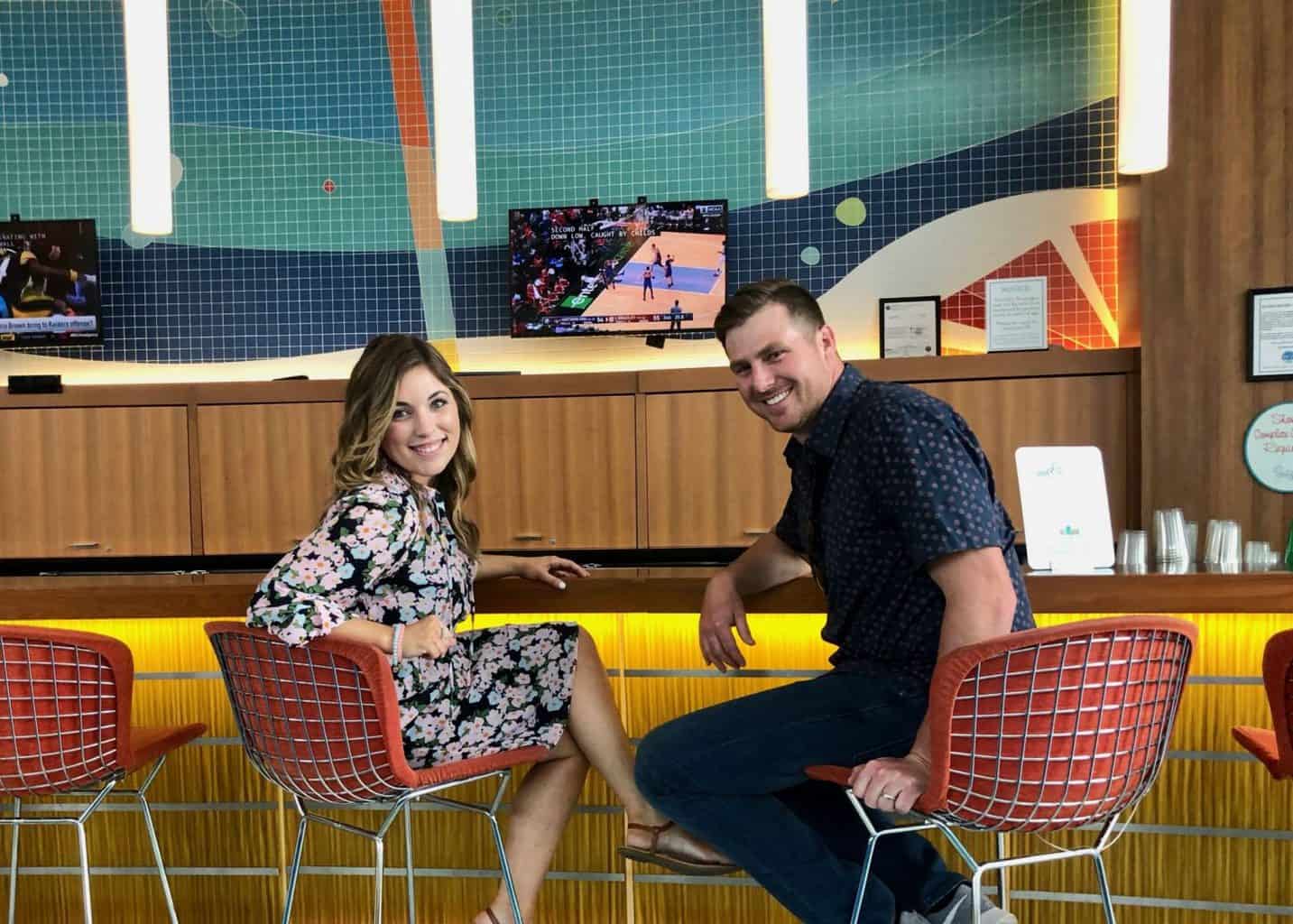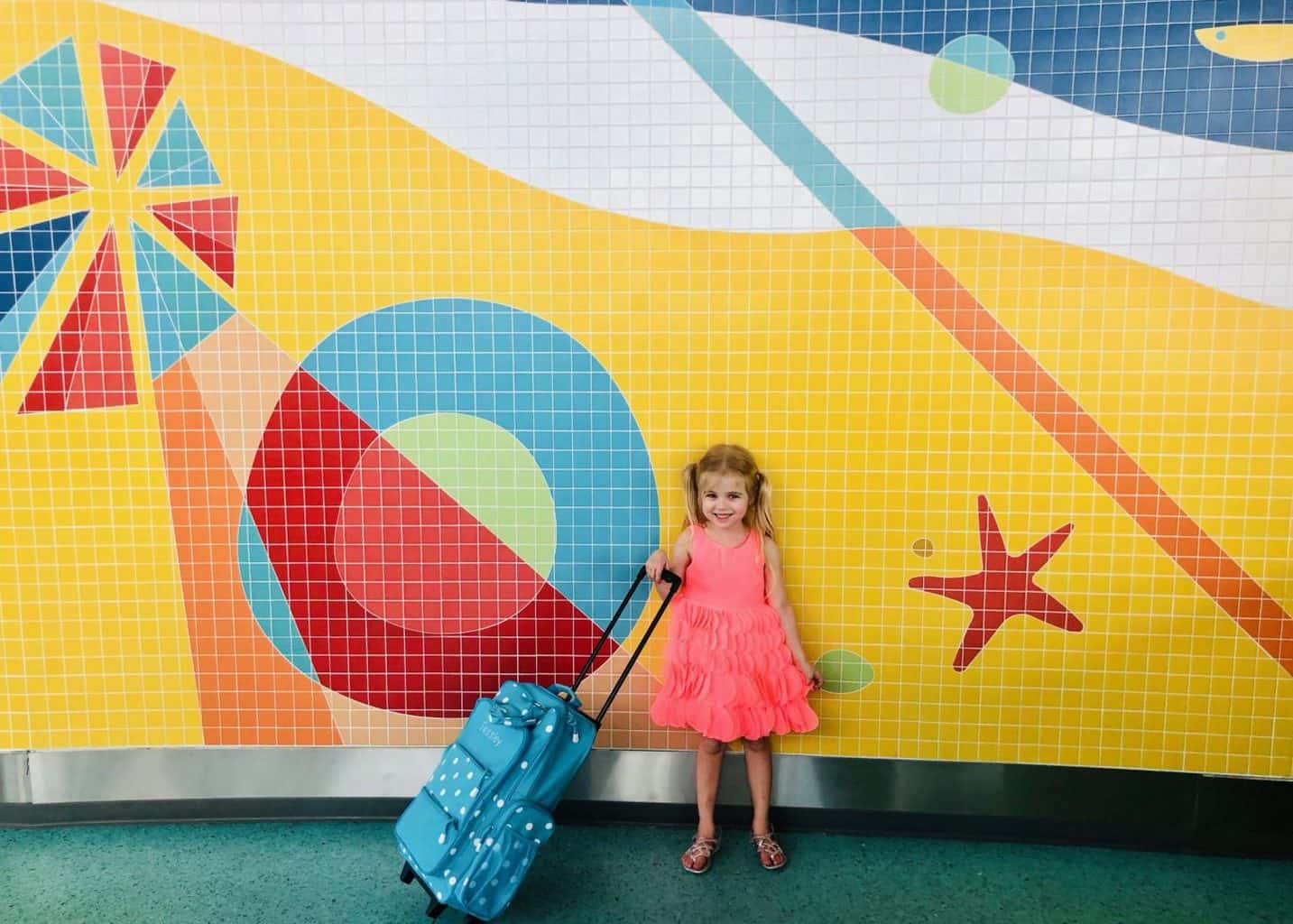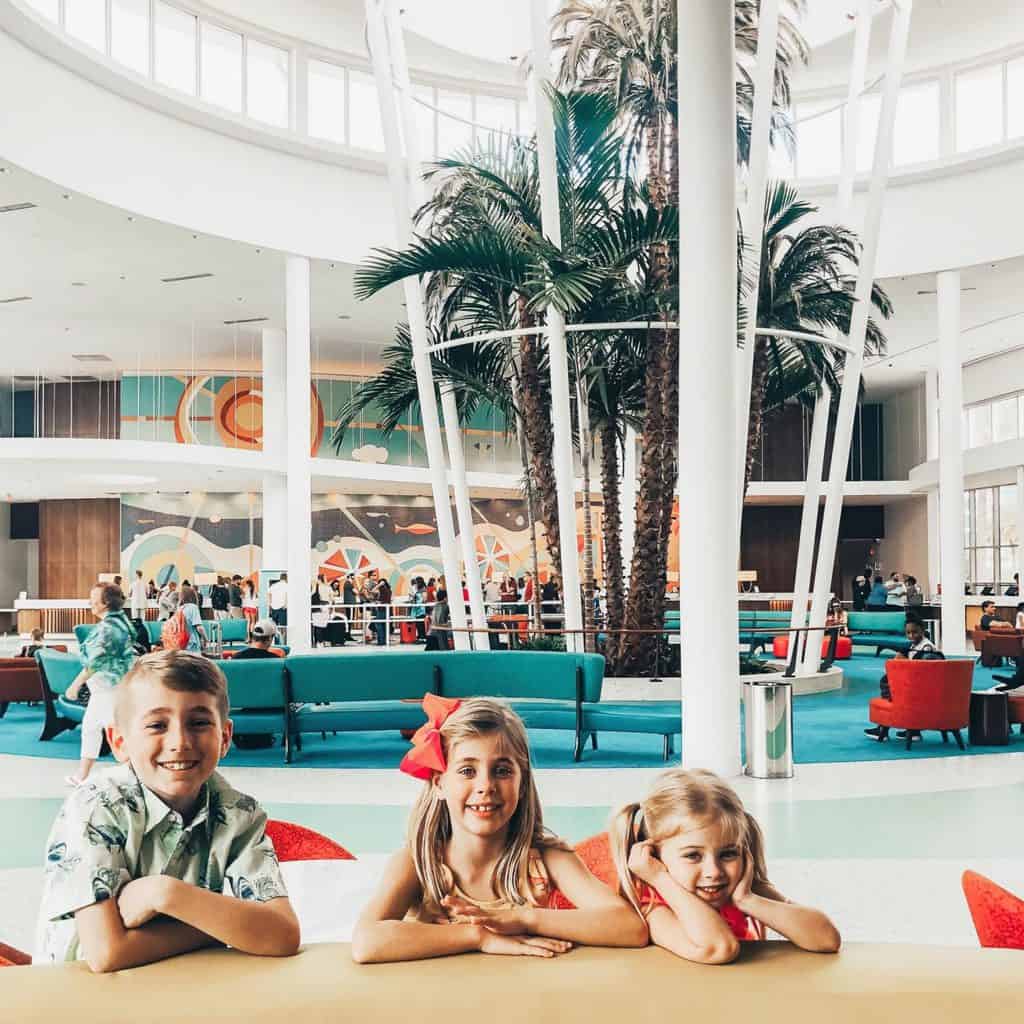 Once we got checked in and checked out everything the lobby had to offer we headed over to the super convenient ticket desk to pick up our tickets to Universal Orlando Resort theme parks.
It was another very easy process. We didn't wait in line for more than a few minutes and the staff member at the desk was very helpful in our total and complete lack of Universal knowledge. She explained the ticket process and explained our Express Passes to us as well.
I was so thankful to be able to save that step from having to pick up the tickets at the ticket booth the next morning. I love to have a solid game plan and knew we'd be busy enough in the morning without the added stress of having to pick up everyone's park admission too!
That morning was the day of the Daylight Savings Time Change and we were BEAT. Looking over the Univeral Orlando Resort map got everyone excited though! Three parks all within walking distance from Cabana Bay Beach Resort? So many options!!!
Our Family Suite was ready upon our arrival and we were able to park our car with easy access to the elevators and entrance to our room. The resort was easy to navigate and our accomidations included free parking.
Something to note is to keep your room key handy as it's needed to access the parking gate for the resort parking lots!
When we walked in we were greeted with a fun little welcome pack from Universal Orlando Hotels and y'all I felt so special and #sopro 😉
Not only were the treats fun but I also want to point out the outlet in the wall behind the cute vintage car…I LOVE thoughtful details and this area of the room was SO well thought out.
It is part of the kitchenette area and features USB plugs, grounded plugs, and even a phone line. It was SO conveient to be able to plug everything in on top of this countertop area. Away from the kids. No cords to trip over. And easy to access when the kids were sleeping in the next room!
The counter/bar area was also the perfect spot for breakfast each morning of our stay. We brought food items along with us and were able to store them in the mini fridge and storage shelves and cubbies!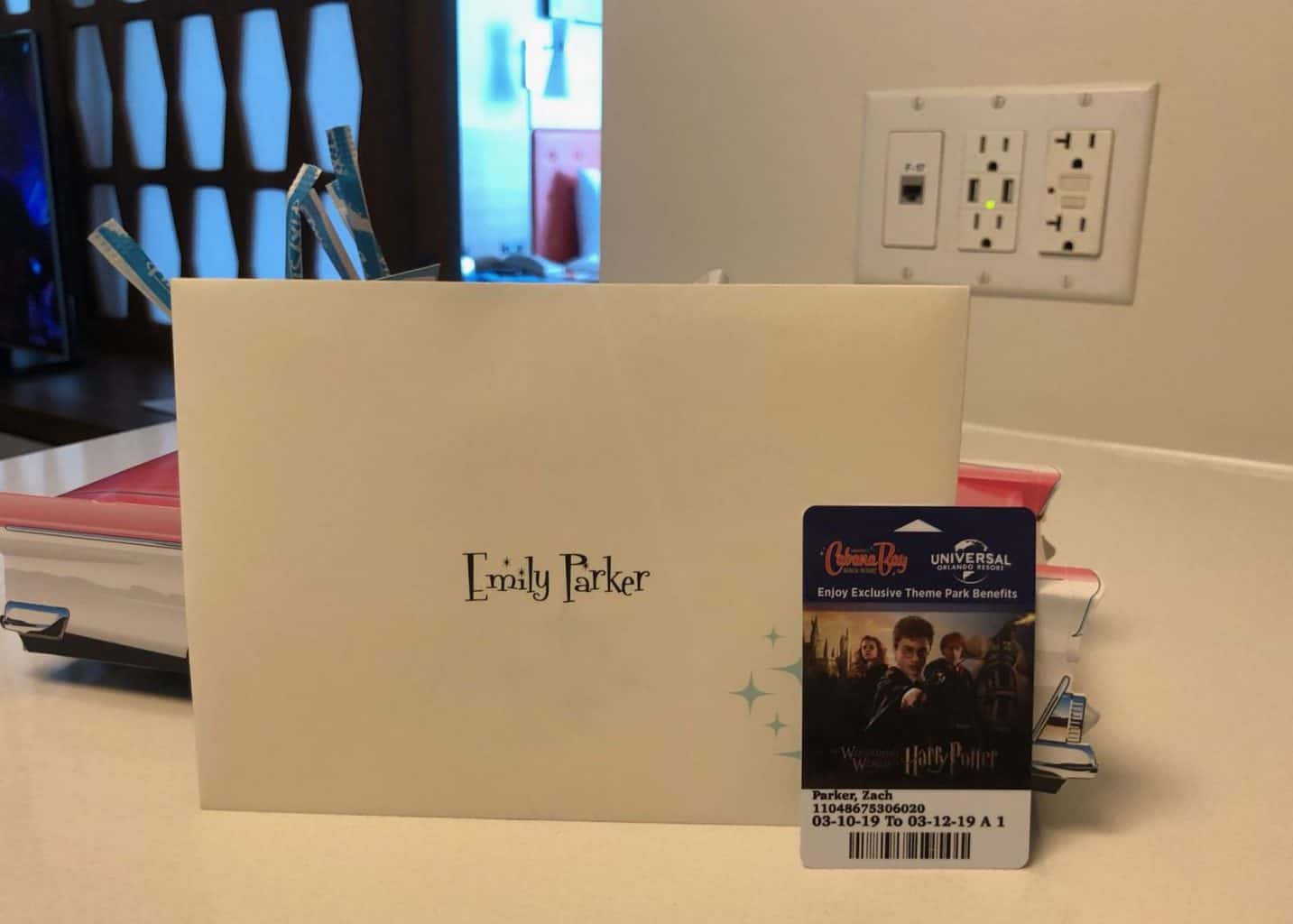 We were blown away by the awesome family suite accommodations. I especially appreciated all of the storage options, the bathroom layout, and the nice divider so the kids could go to bed and Zach and I were able to hang out (and it really held out the sound well – we were able to watch tv without waking anyone!).
I put together this video of a room tour to give you a detailed view of every element in the family suite at Cabana Bay Beach Resort:
Check out that view!!!
I also took this video as the kids got to check out the room for the first time!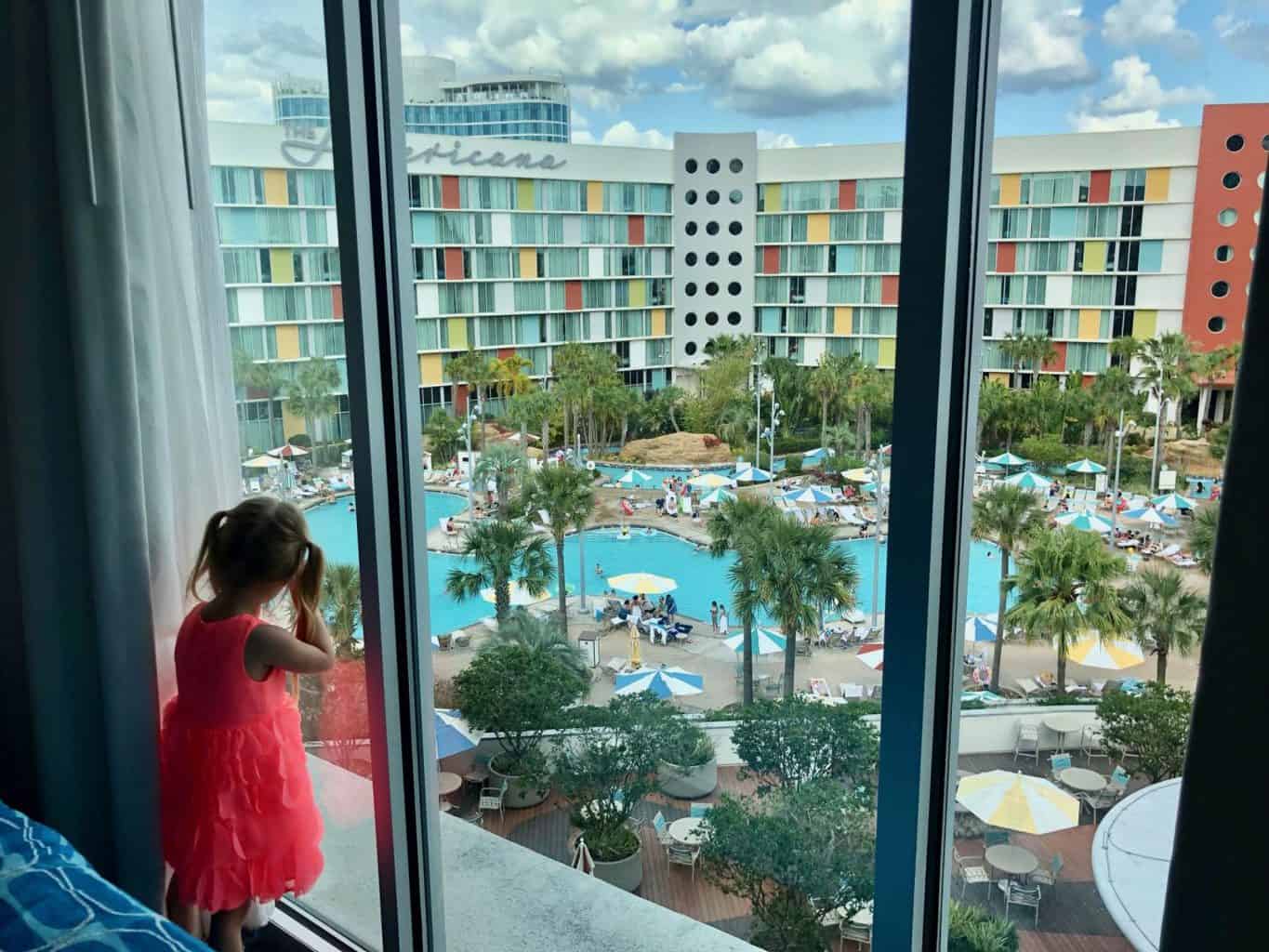 Our must-have picture in every hotel room – the pile up on Daddy bed pic!
We decided to leave Spear at home for this trip (he stayed with his G-Mama!). Traveling with a toddler isn't easy and we knew we wanted to be able to maximize our time at the Universal Parks and also knew that six people in one hotel room (yes, even a family-sized suite!) can be a tad tight.
I was pumped to see the SUPER large sized closet in the room. It might even fit a pack and play! But I didn't have any regrets over not bringing Spear along.
When it came to sleep arrangements we put two kids together in one bed and a third kid in the second bed in the main bedroom area. Then when Zach and I went to bed he moved the third kid onto the fold out bed in the living room area to sleep. It worked out great!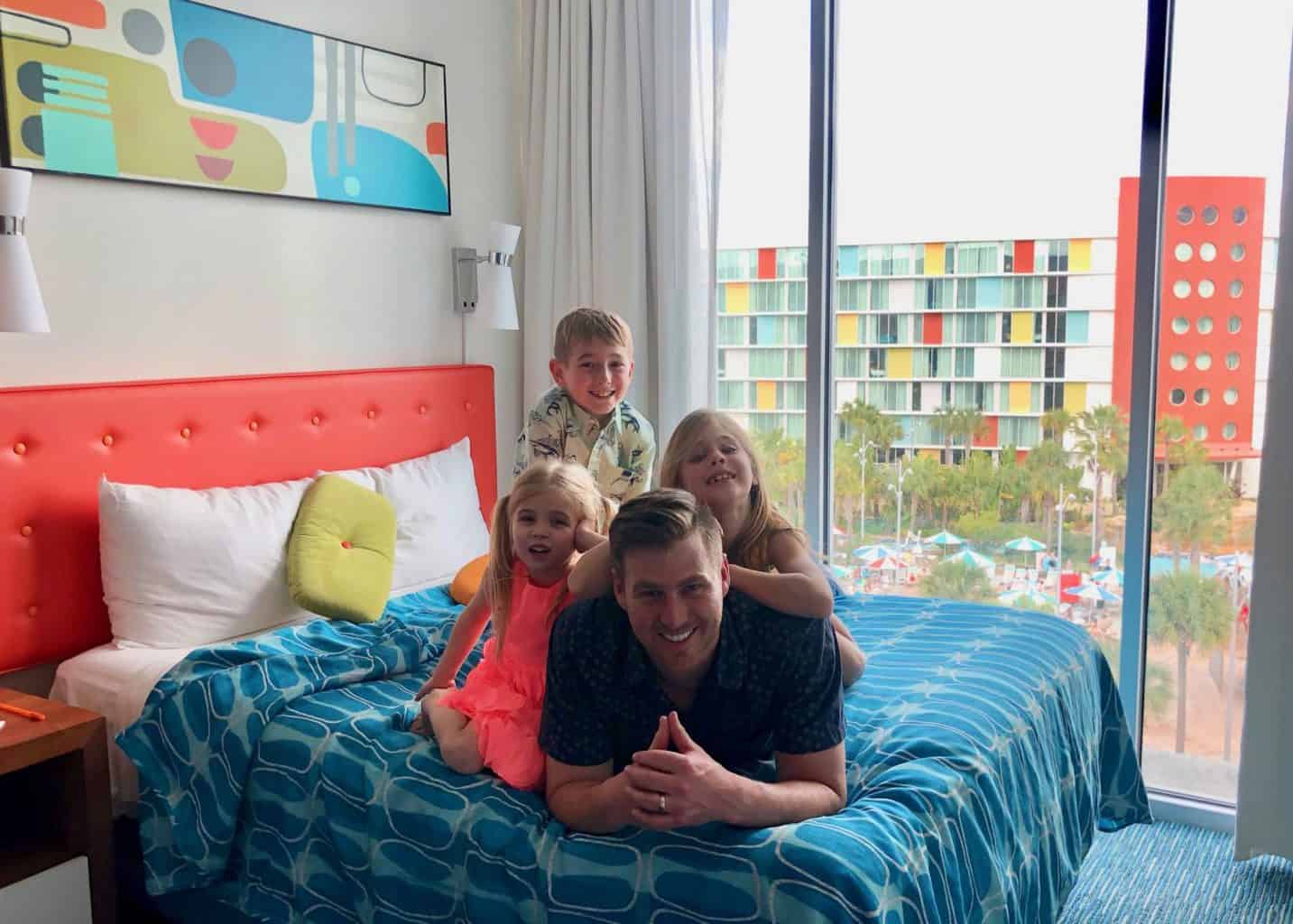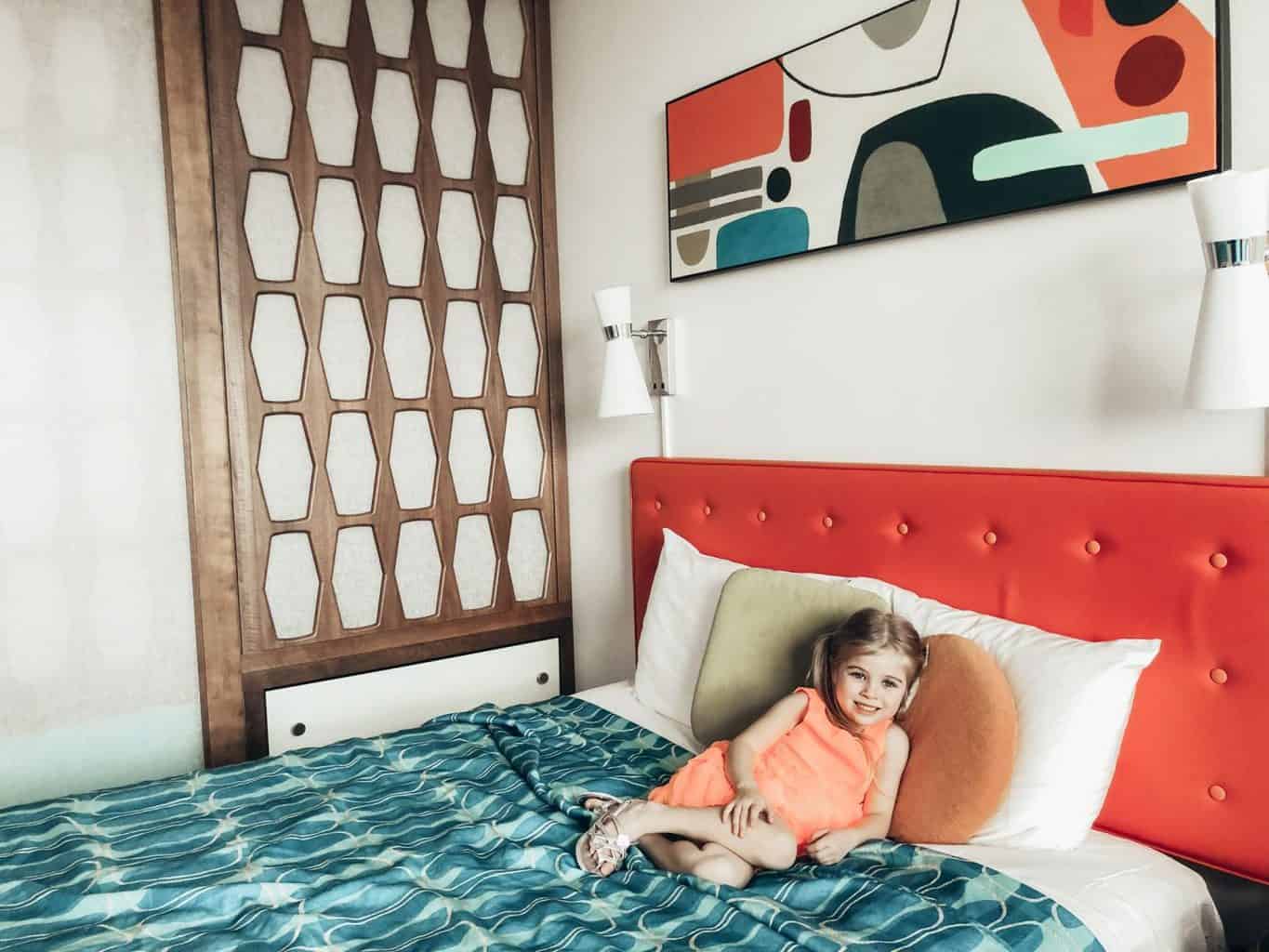 Retro theming even down to the bath products!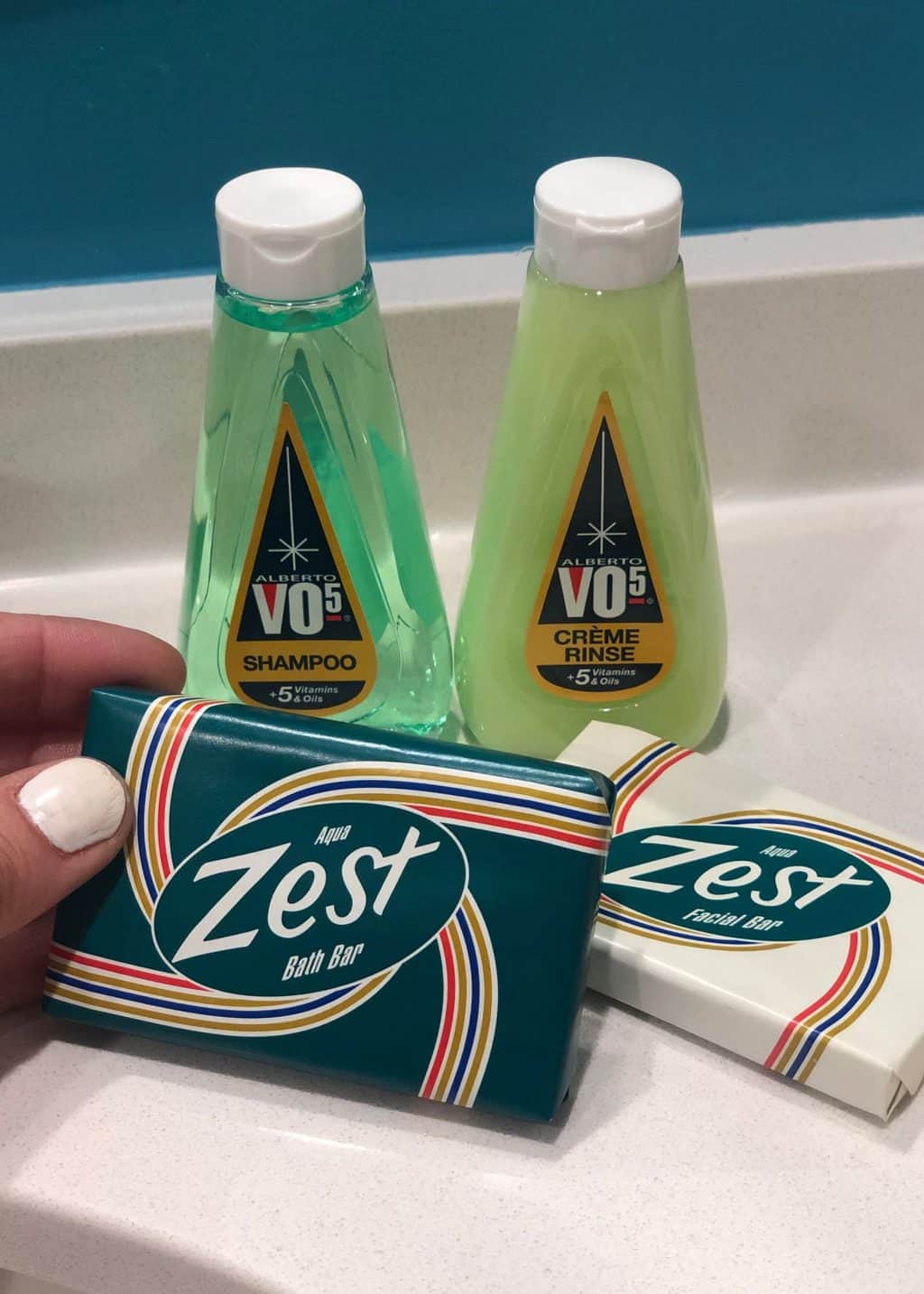 Just a little light reading before bed…had to do that prep work for The Wizarding World of Harry Potter!
Cabana Bay Beach Resort has several different dining options but we knew what we wanted to do for dinner: BOWL.
We don't go bowling often (it's randomly pretty pricey when you have so many kids!) so this was a huge treat for us and something the kids were THRILLED about!
It was actually Tess's first time ever bowling I believe and I think the last time we bowled as a family was when she was in my tummy 😉
A little item to know about Zach is that he LOVES activities based dining. Dinner at the movie theater? All about it. Eating while bowling? Bring. It. On.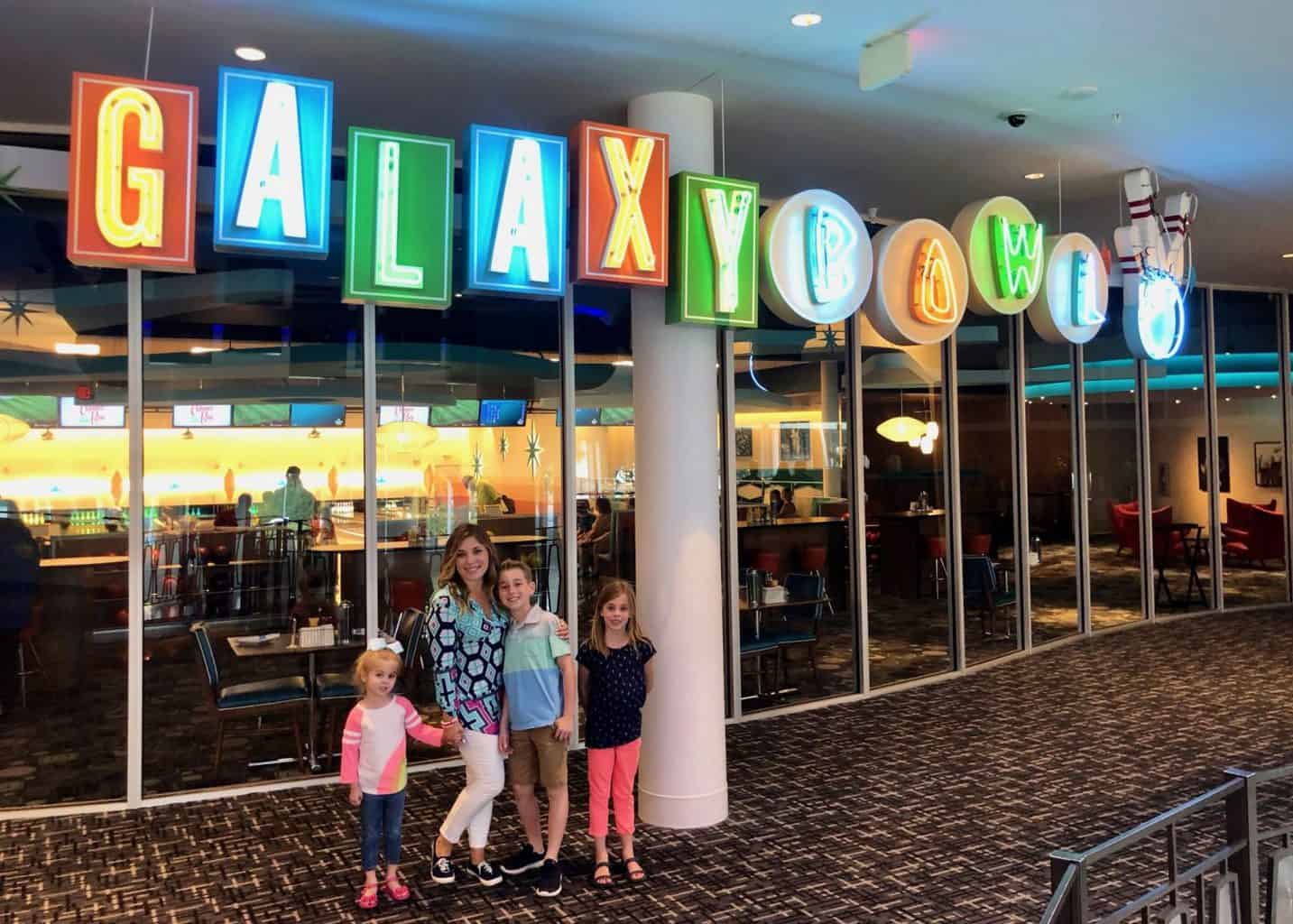 Our pro bowling stances ready for Galaxy Bowl!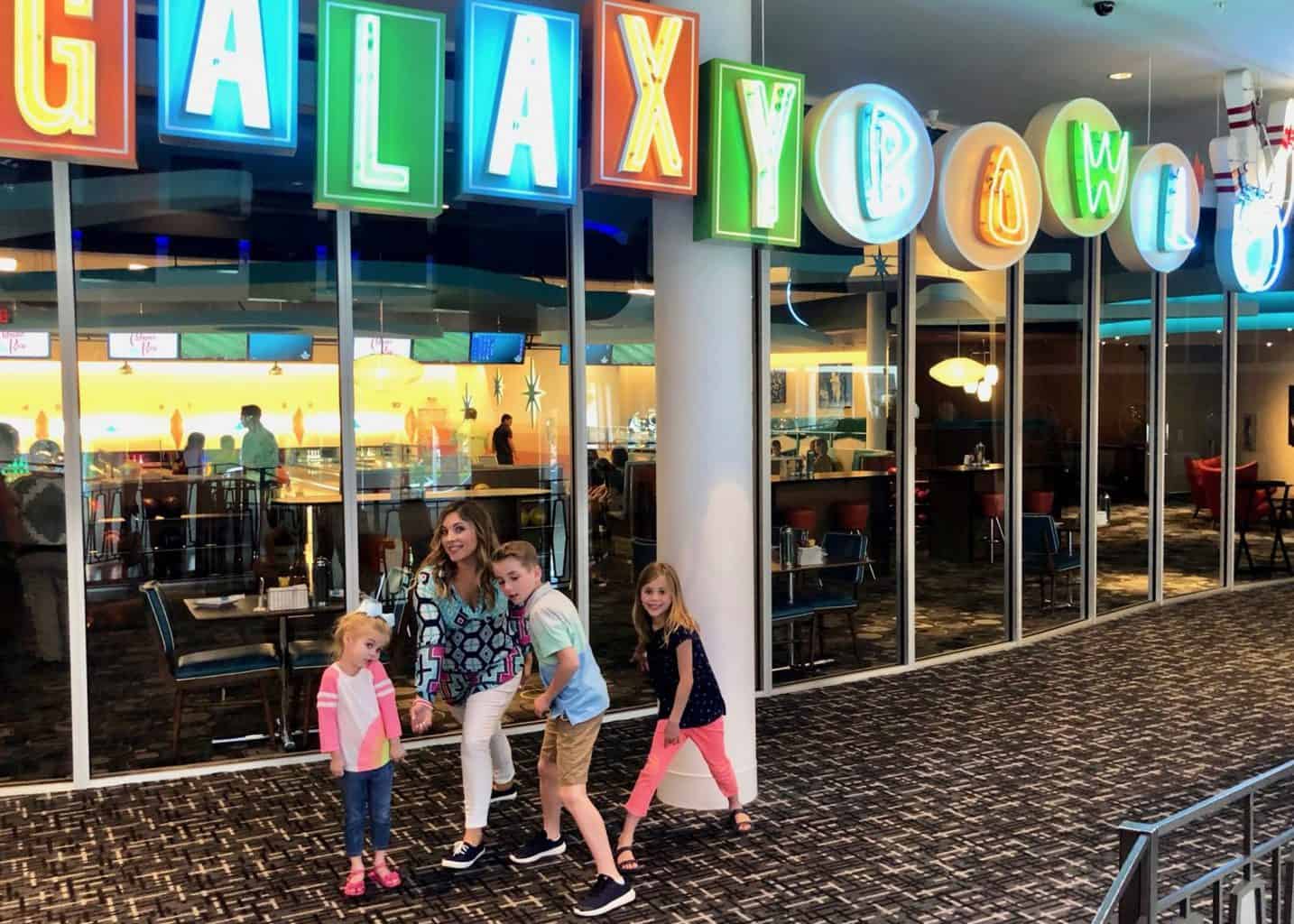 Lots of great food options…at family-friendly prices! Often when you eat "on-site" you naturally think BIG dollar signs but I was happy to see the pricing was VERY reasonable!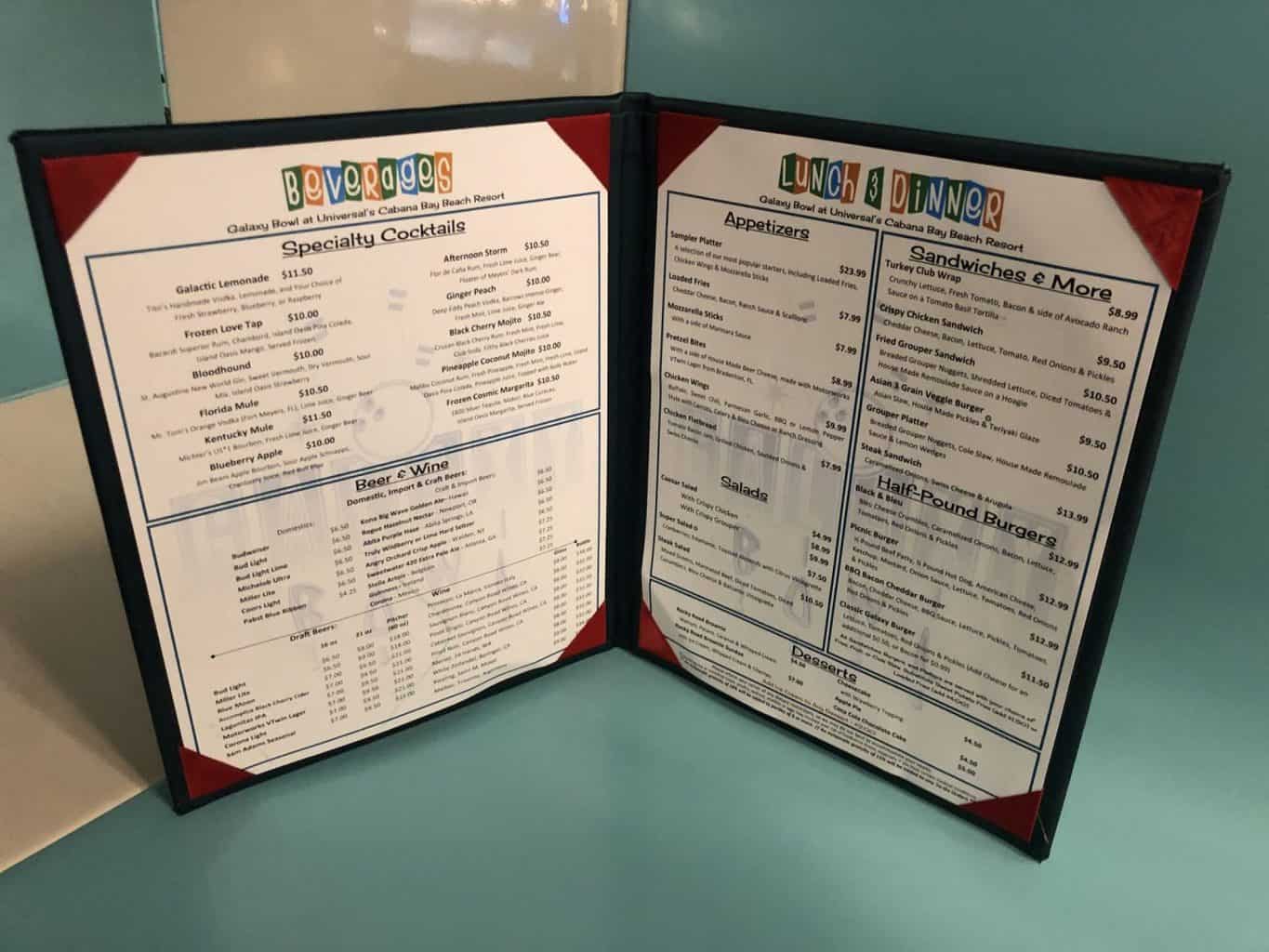 I took this video to show the bowling ally!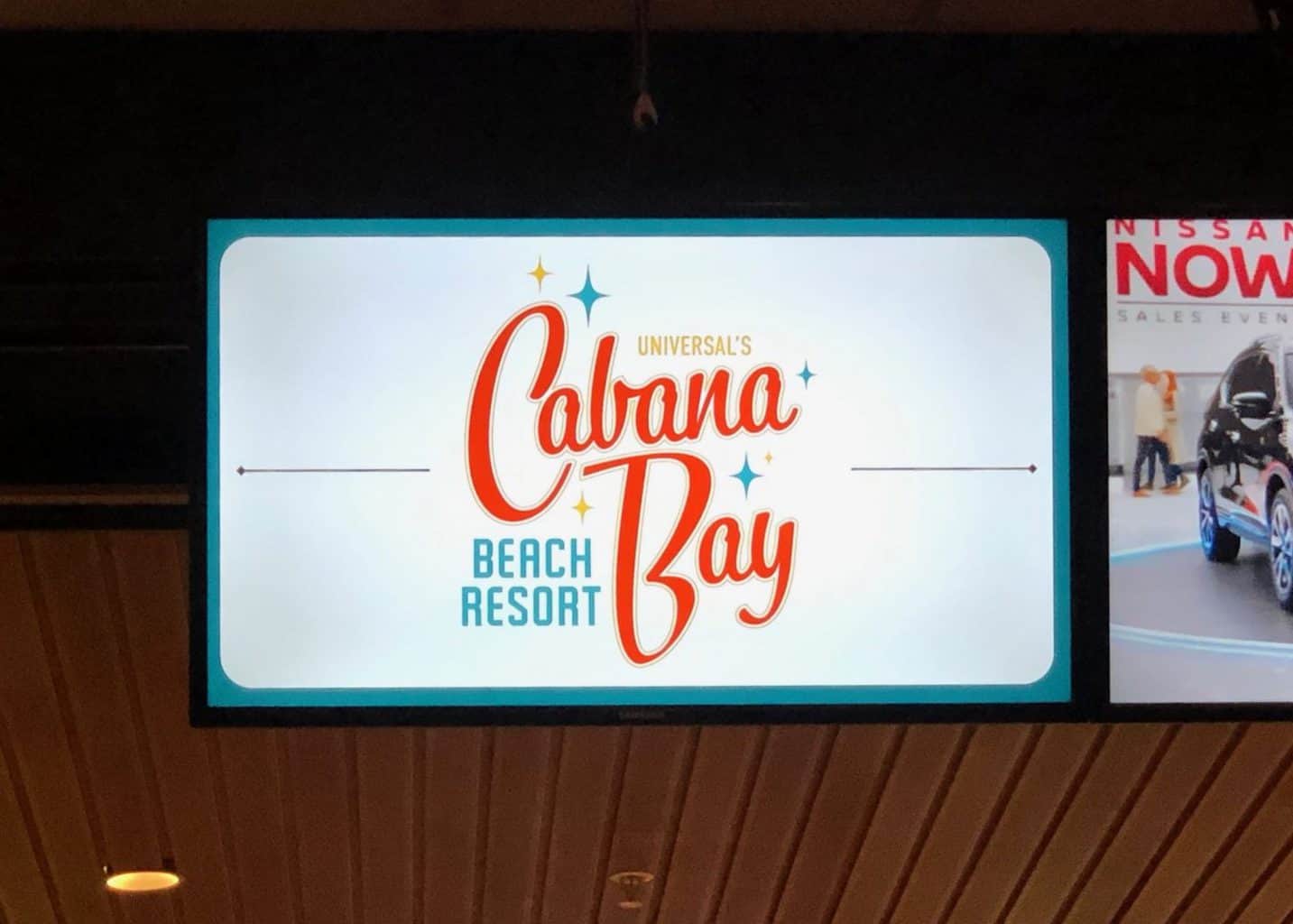 At first, Tess had NO interest in bowling (hence why she doesn't have proper shoes on) so we didn't set her up to play but then she LOVED IT. She ended up bowling every single one of my turns!
Poor Zach never got to sit down because he was up and down helping Britt and Tess and also taking his own turn! But he was also in Heaven getting to play with his babies and see them having so much fun too.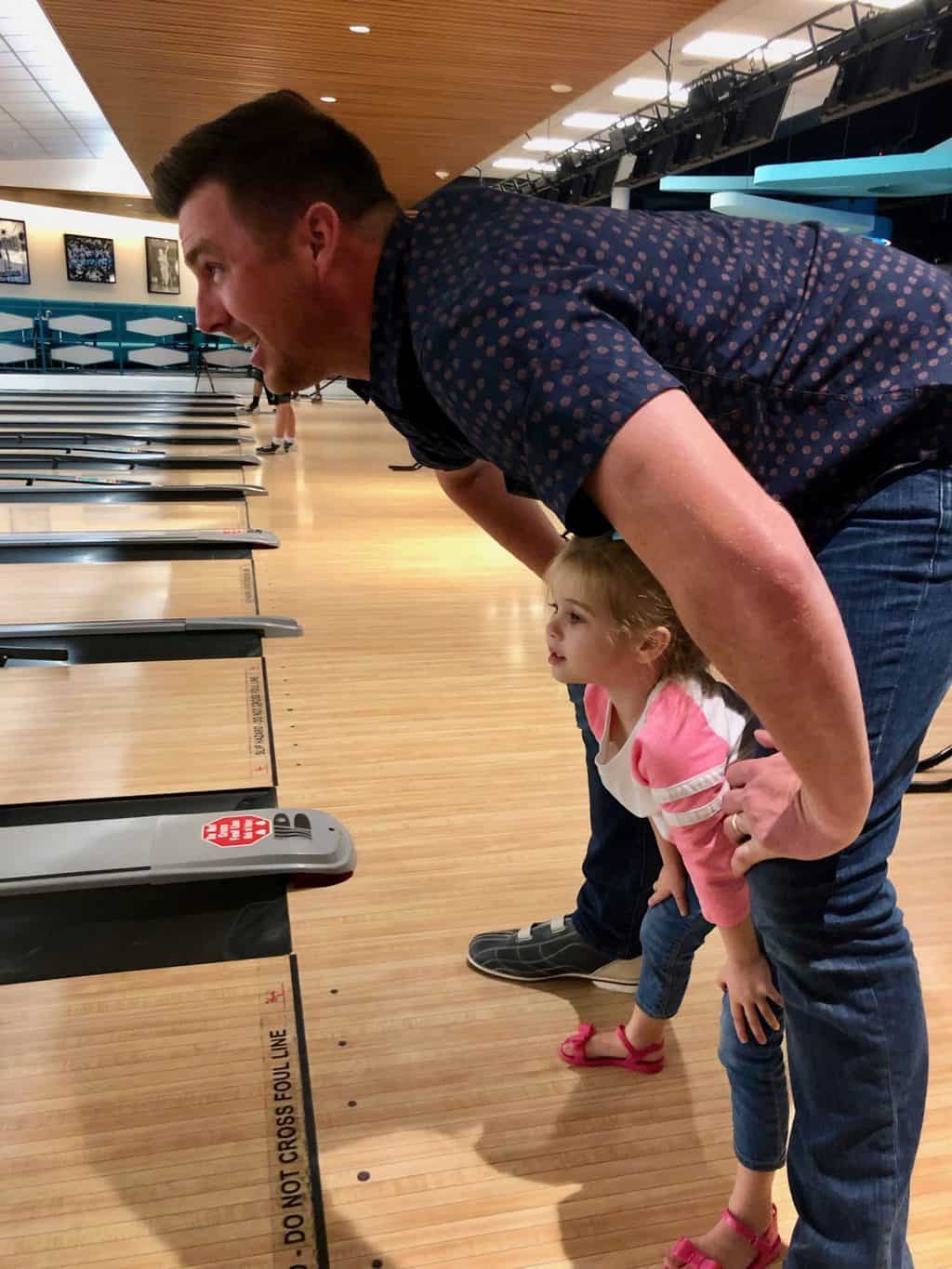 Skills! Kye was VERY competitive and got super frustrated with himself that he wasn't pro-bowler level. But dude we NEVER bowl!
We tried to get him to put the bumpers up like the girls had but he refused so he just kept being frustrated!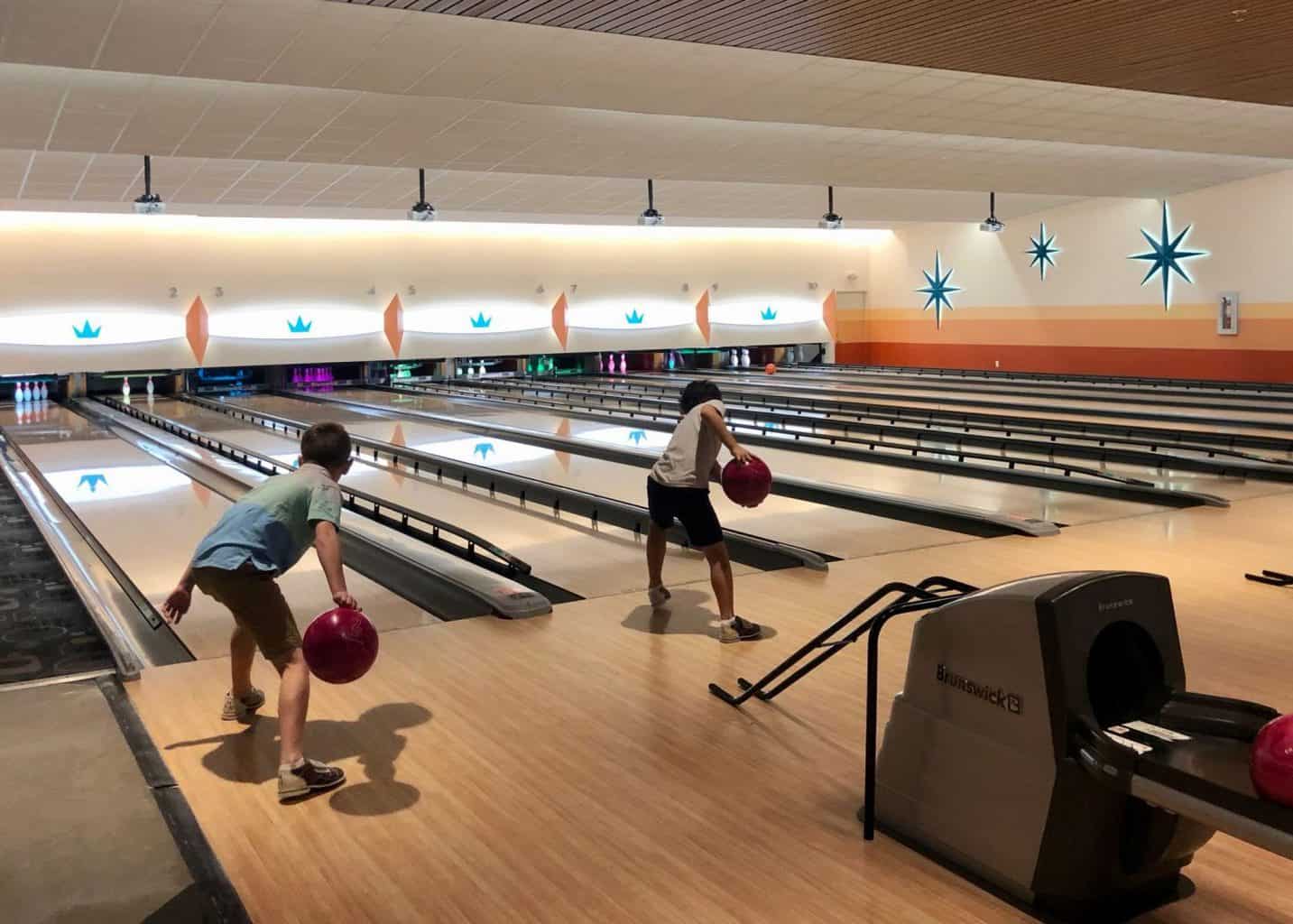 I took a few videos of the bowling action: Britt bowling, Tess bowling and then Britt bowling again!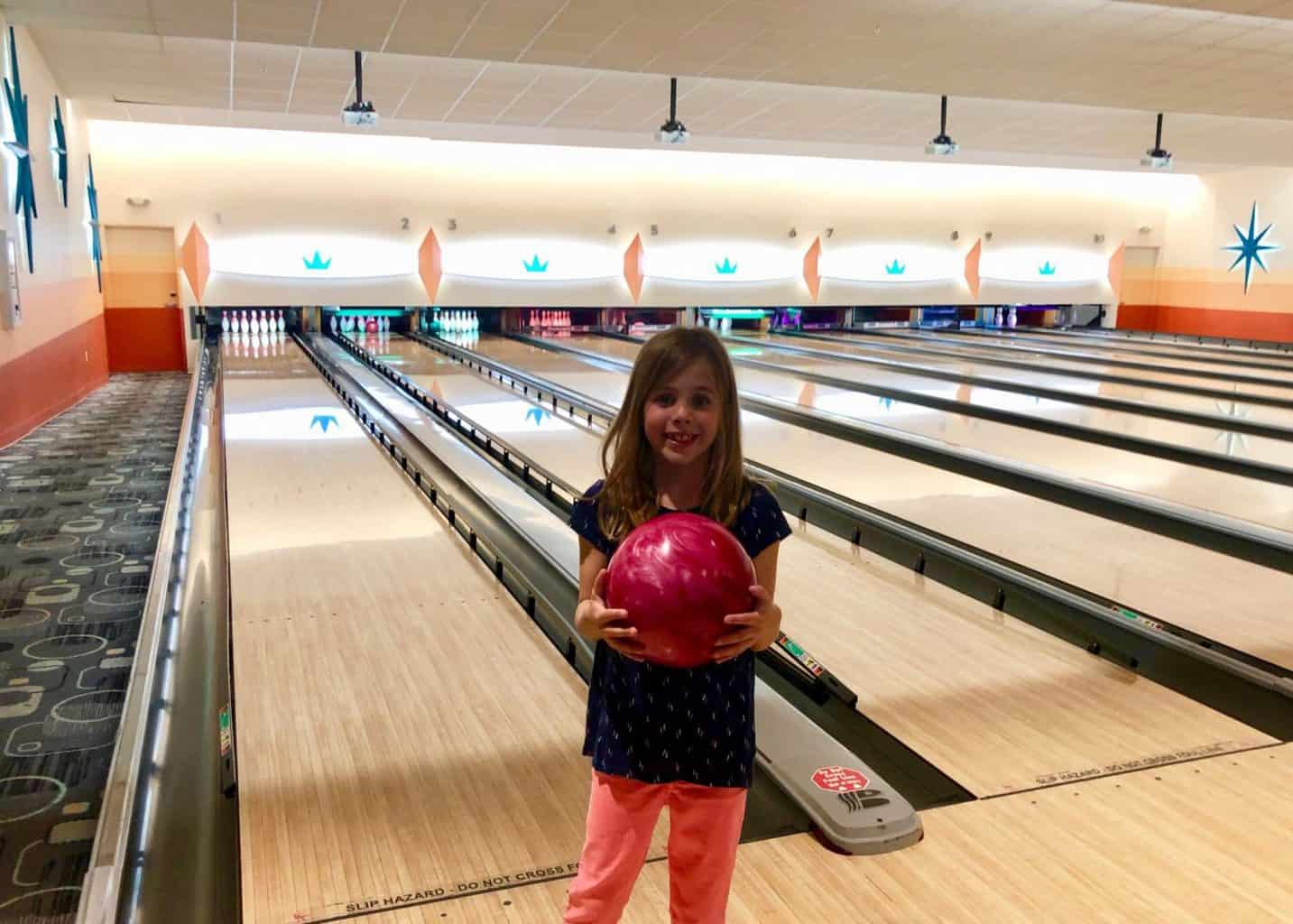 You know what makes vacation extra fun? Getting to drink Shirley Temples and order whatever you want from the menu 😉 We were living WILD!
We got the appetizer sampler platter and it was AMAZING. It comes with loaded fries, chicken wings and mozzarella sticks. Cheesesticks are MY JAM. Zach devoured the wings and the fries were a crowd pleaser for sure!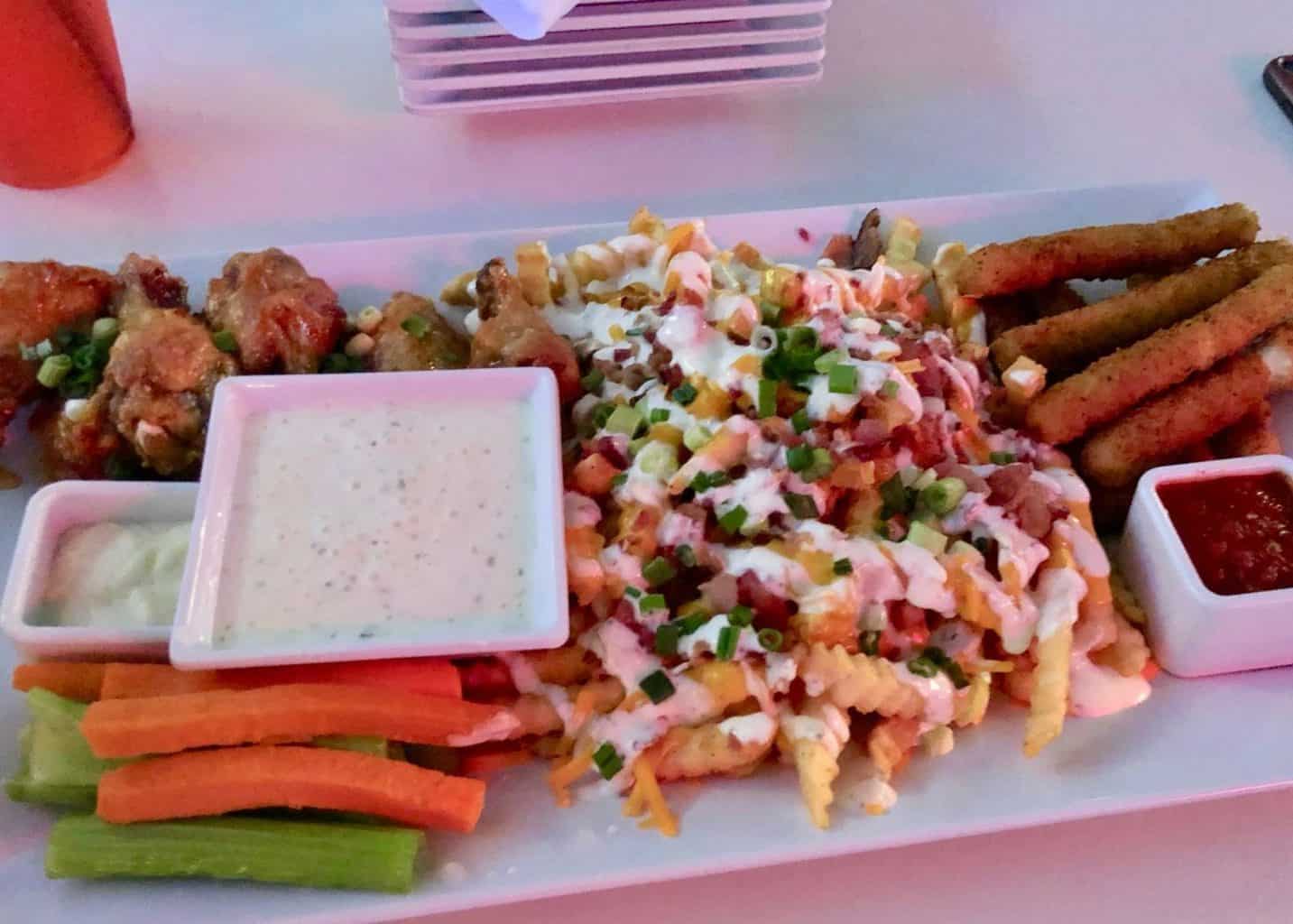 Tess and I shared the pretzel bites and they were SO GOOD. By far my favorite thing we ordered!!!
I also got a burger and the server told me it was really good but y'all, it wasn't. All the rest of the food was SUPER good and far beyond typical theme park style of food. But the burger was just not good. I'm pretty sure I took one bite and didn't touch it again.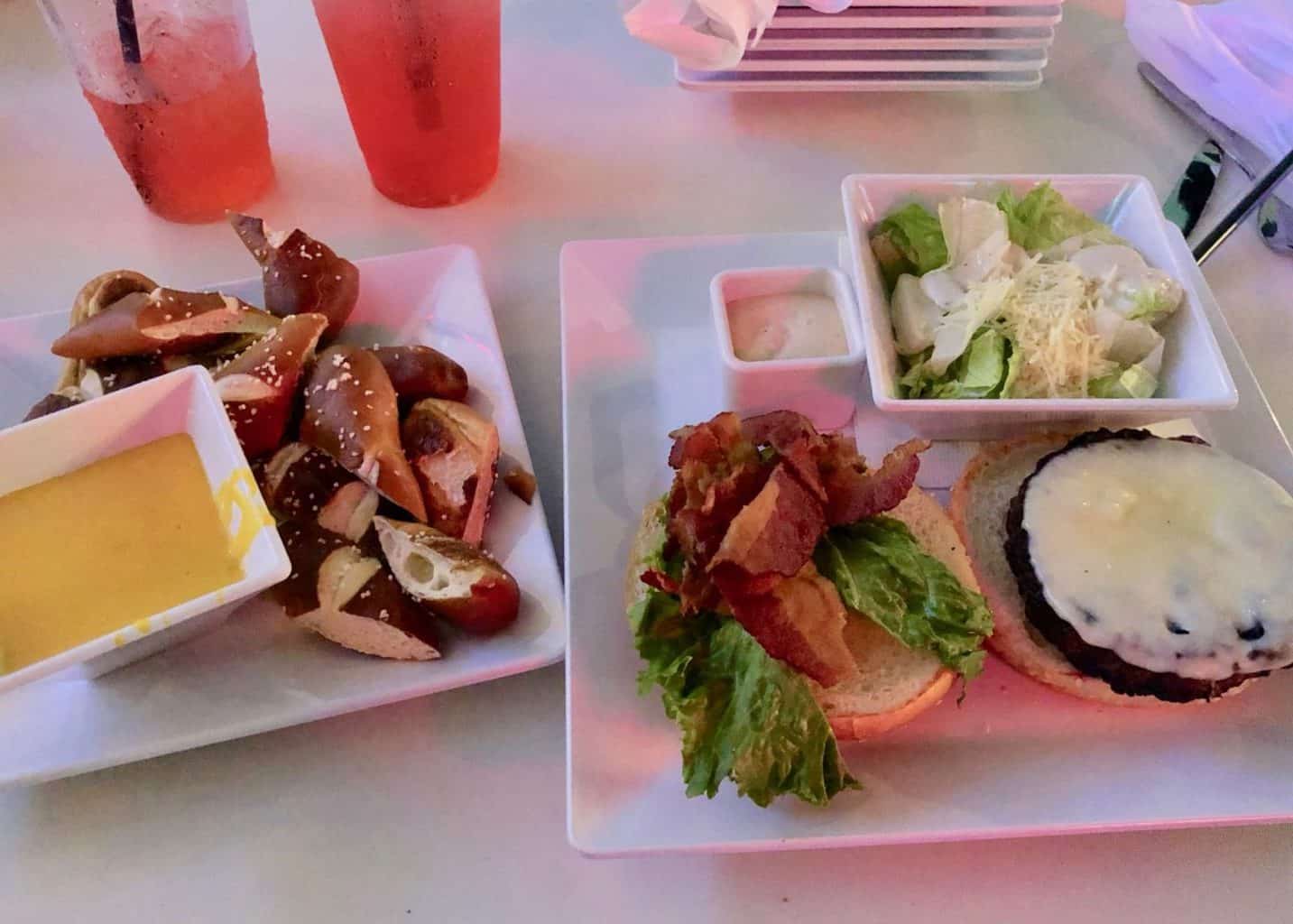 Kye, however, ordered the Picnic Burger and LOVED it. It is a hamburger with a hot dog on top which I'm shocked isn't more of a "thing." This was my first time ever hearing of something like that!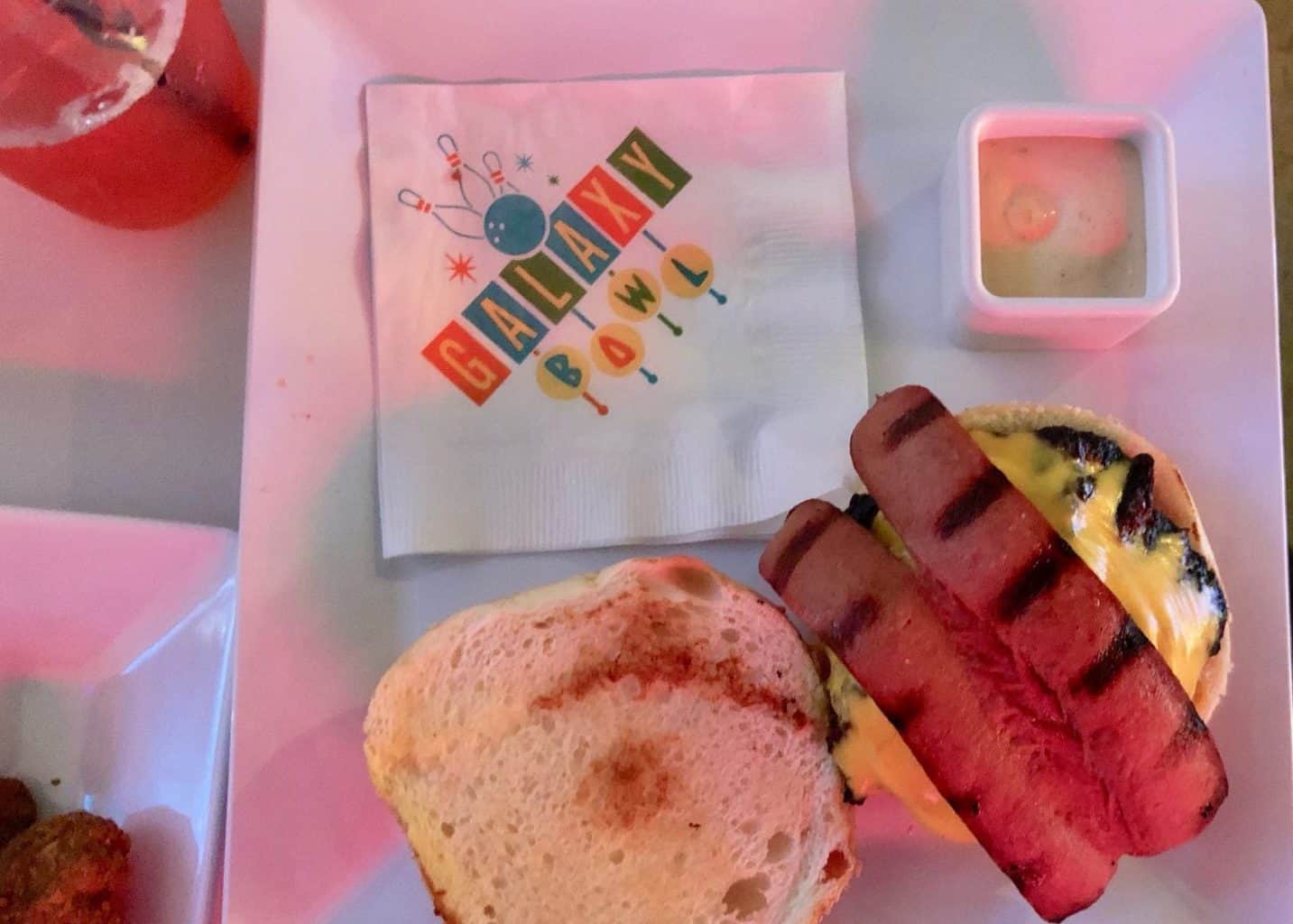 In the evening the lights went down and the bowling ally lit up for fun night bowling!
Living our BEST lives at Cabana Bay Beach Resort!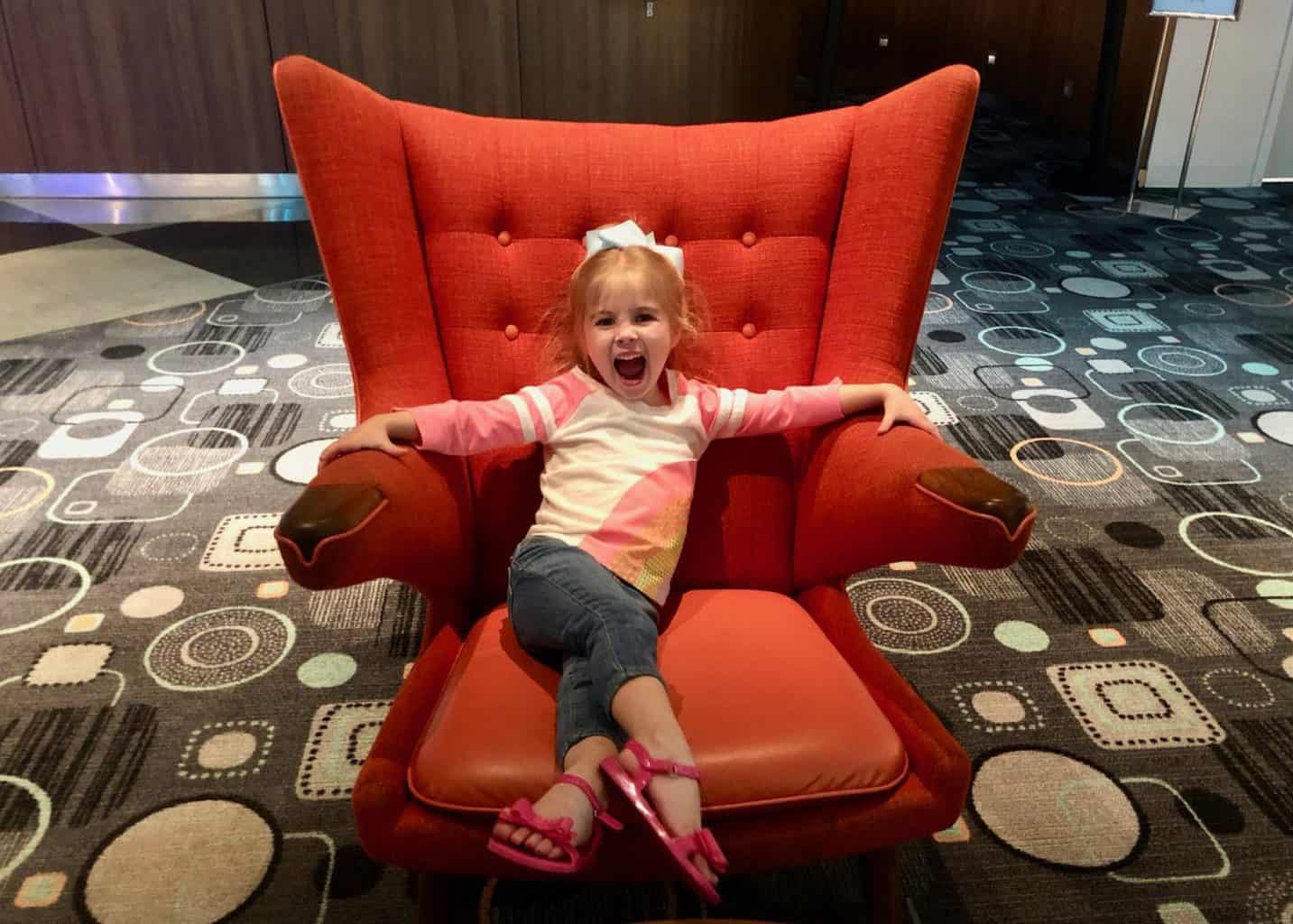 Oh, you thought this was our typical Parker Family Vacation? Where we go to bed super early? Well, you thought WRONG!
We knew we'd be exhausted the next day and didn't wan to miss out on the awesome resort pool.
The Lazy River Courtyard was located super close to our area of the resort. The temperature of the water was PERFECT and I was so thankful for the Daylight Savings Time Change so we could enjoy the pool for longer in the daylight.
Coolest. Mom. Ever.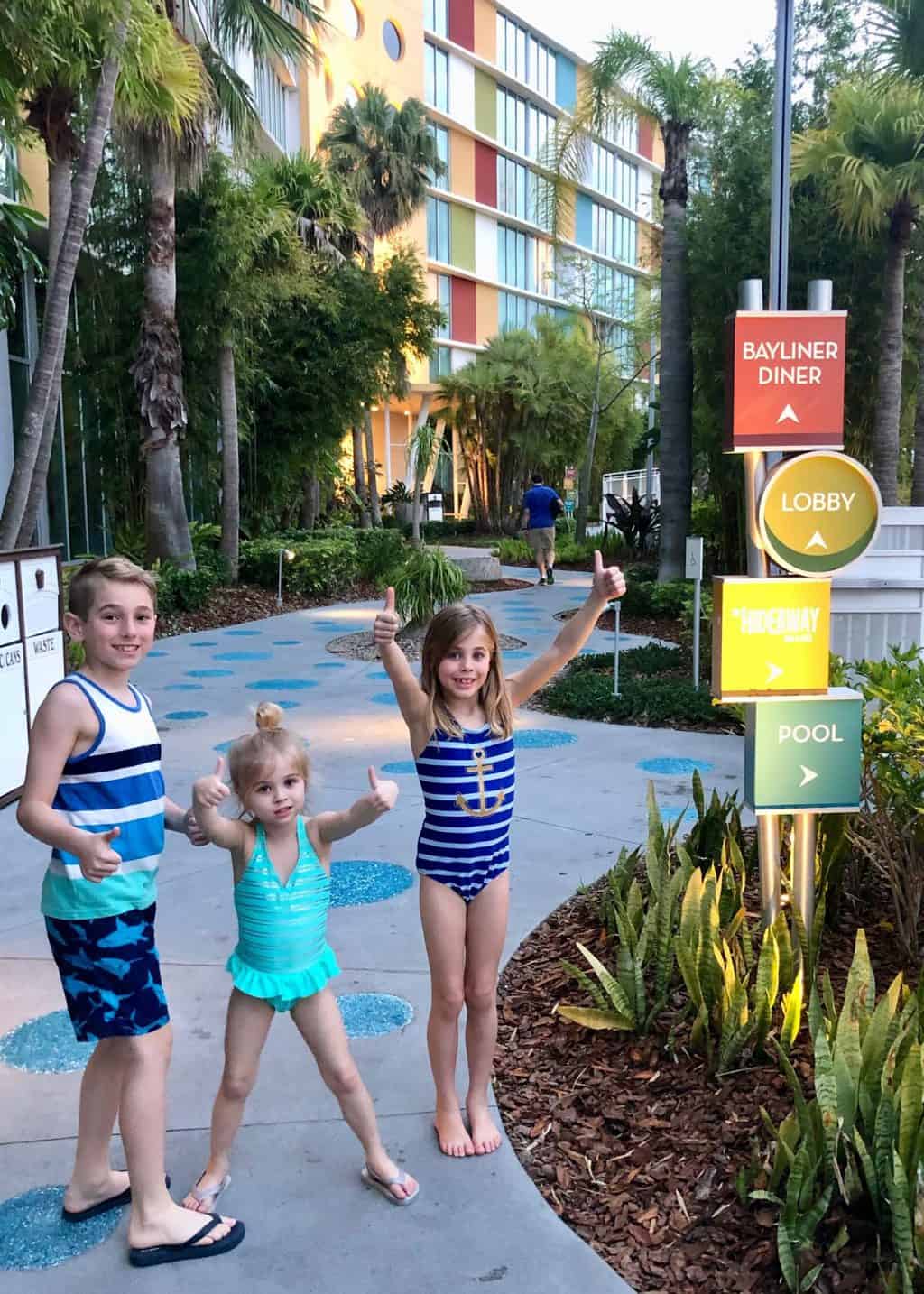 We did not get a chance to try out the Hideaway Bar and Grill but random Emily fact: I really love eating chicken tenders by the pool. Something about them is just tastier poolside. That and peanut butter sandwiches. It just brings back childhood (oh man gimmie that ice cream truck too!).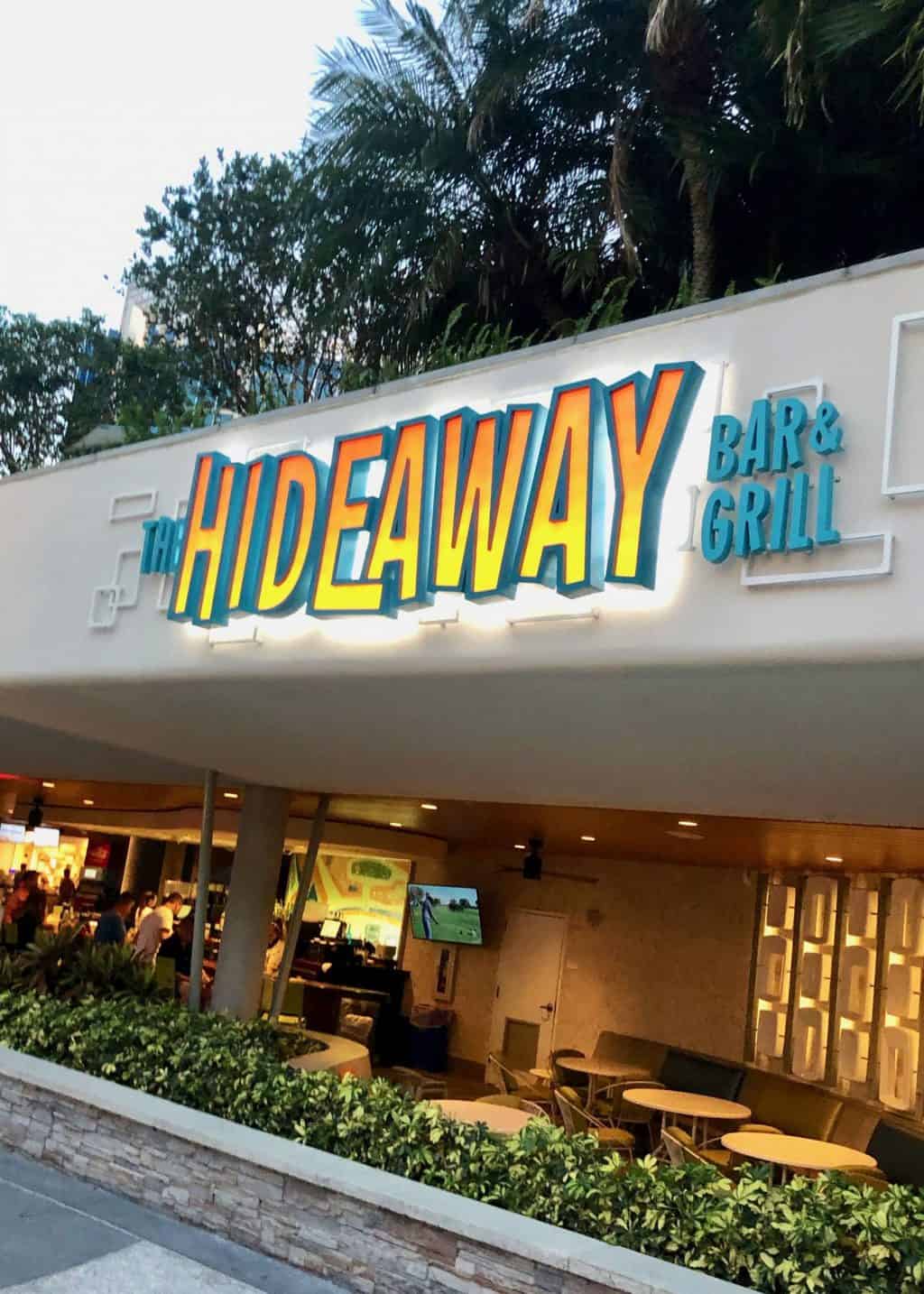 Bedtime Swim Time!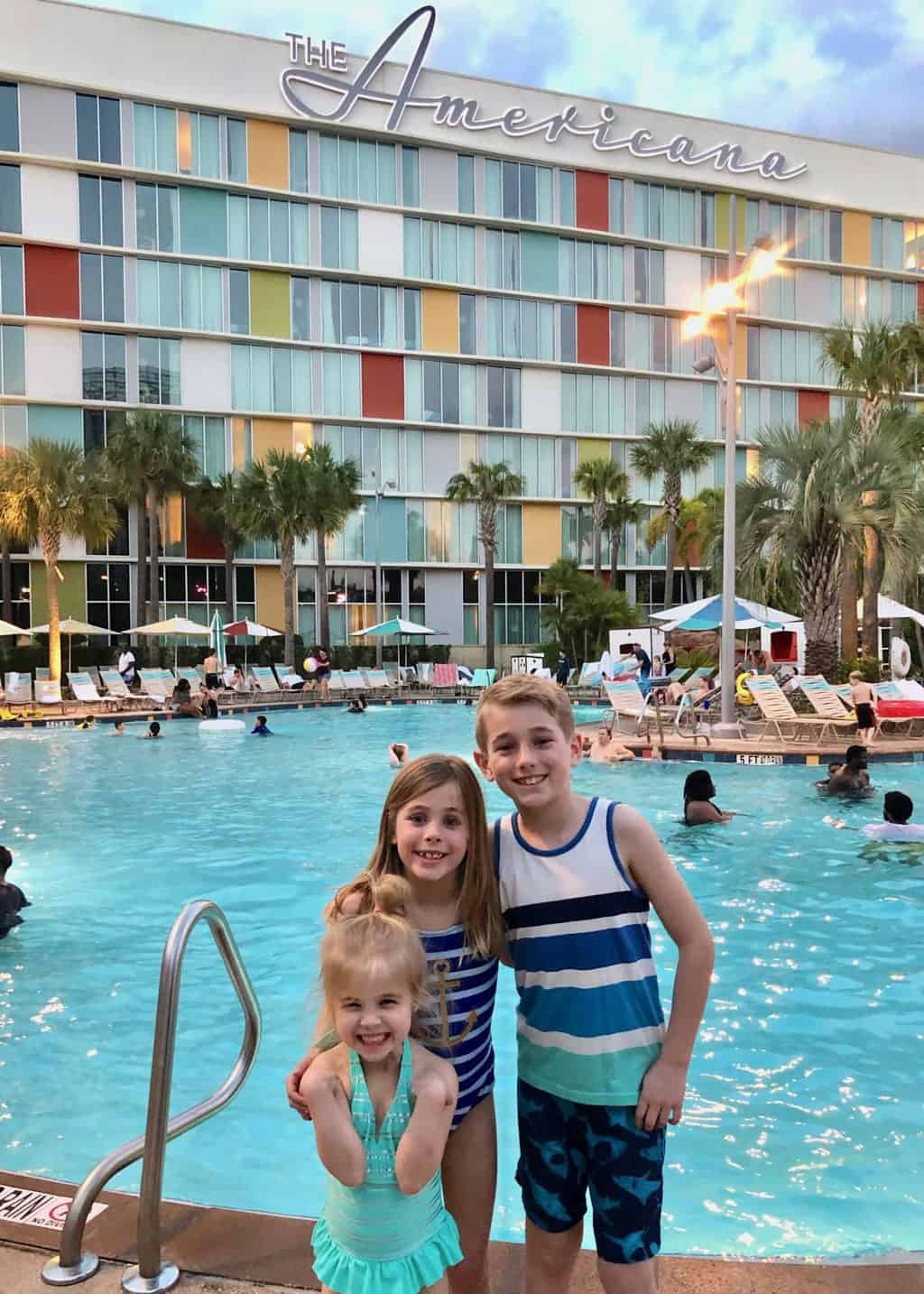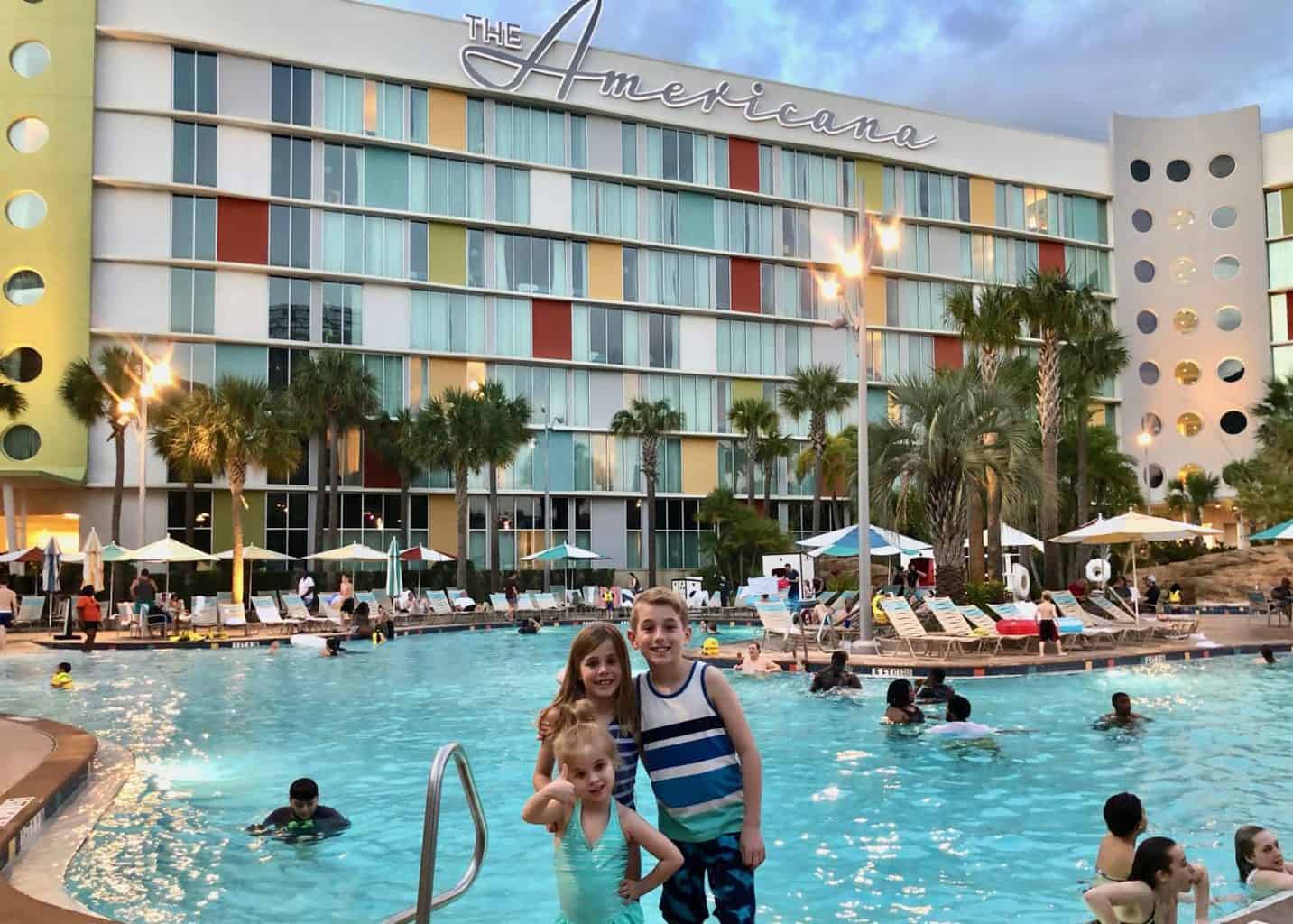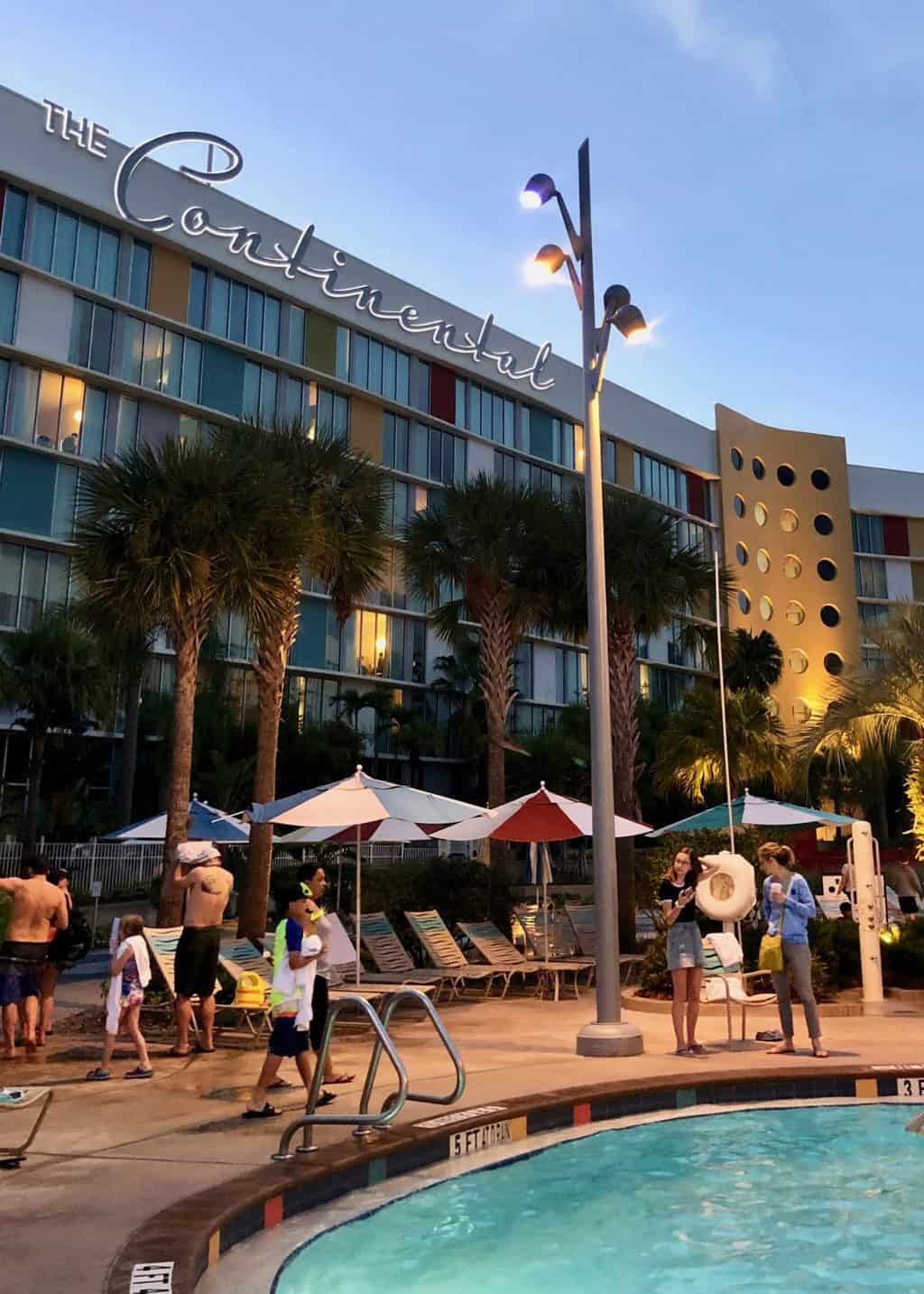 Yay for night swimming and for getting to swim with DUCKS!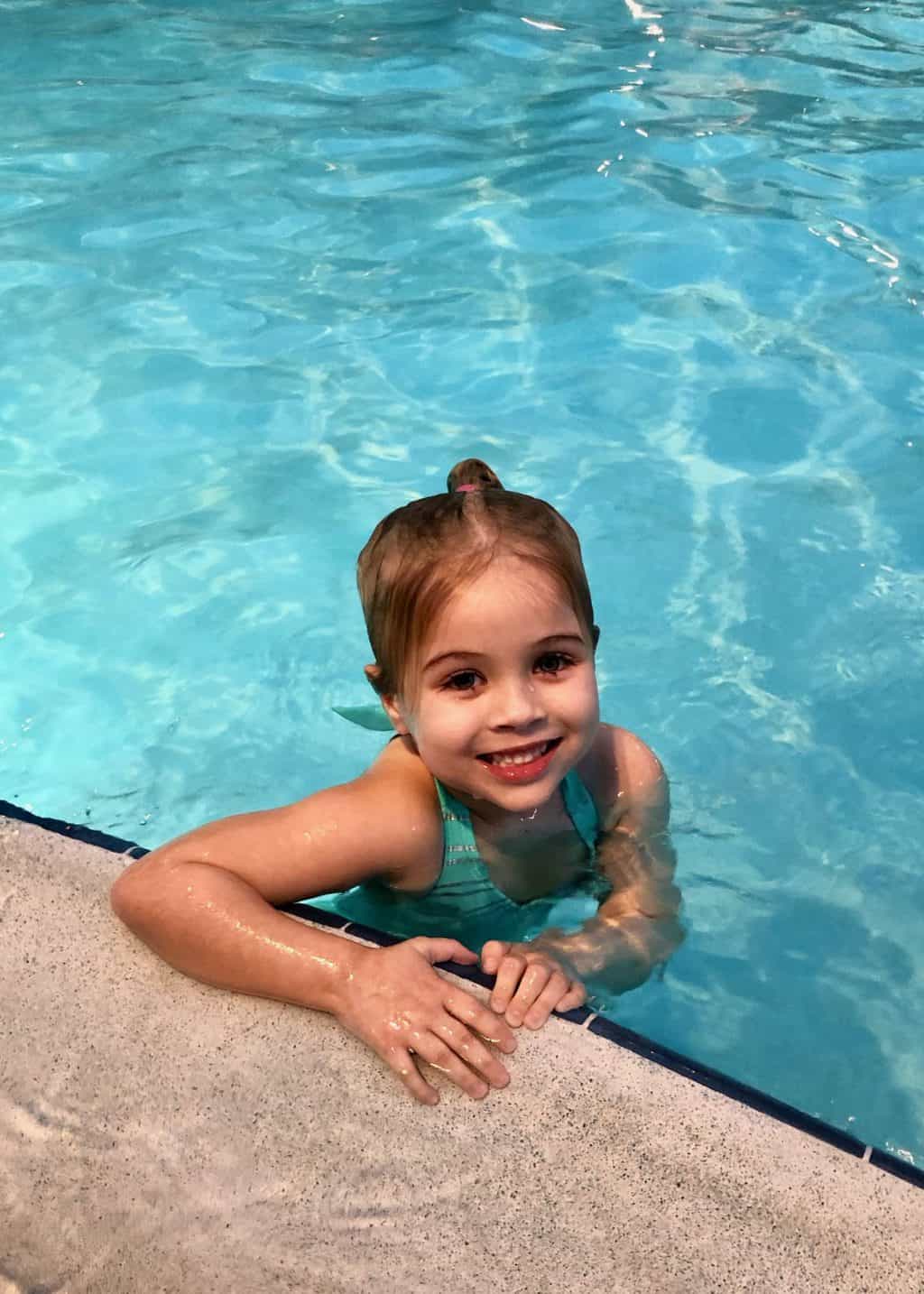 I was pretty excited to check out the lazy river. I am not a water slide girl but I will totally chill in a lazy river all day every day.
I wish I'd known in advance that they SELL the floats for the lazy river. I have so many at home I could have brought with us, but I was unwilling to shell out $7 for a float that we'd use once and be done with (plus you know the kids would all want to share with me ha!).
So we just floated/swam/walked around and still very much so enjoyed it! We joked that it was a not-so-lazy river 😉
There are lots of fun spots along the way with fountains and waterfalls. I especially appreciated seeing so many lifeguards at stations. I'm pretty hardcore about water safety (drowning is the #2 cause of accidental death in children) and I always apprecaite an abundance of life guards on duty.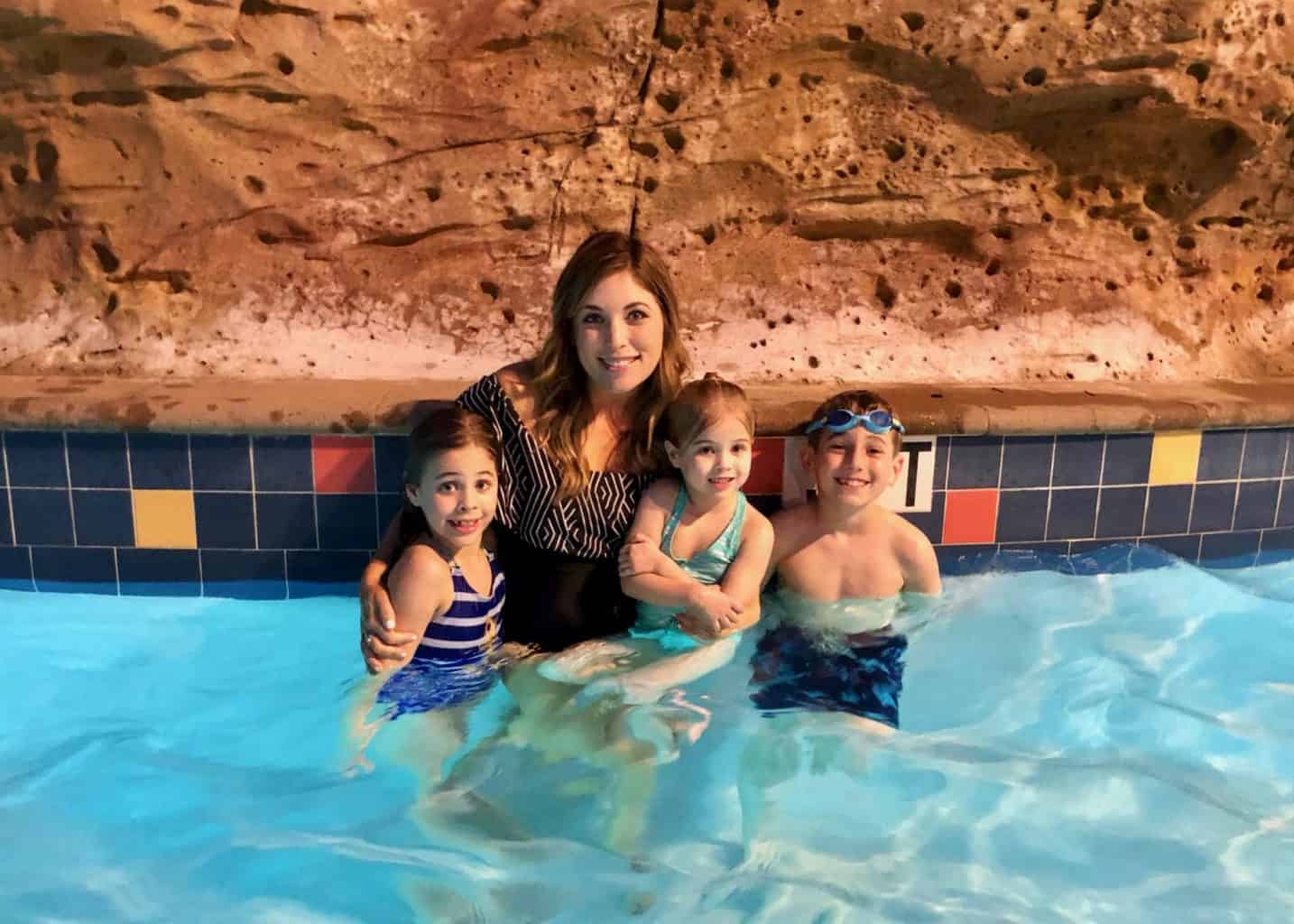 Even though we were staying in a family sized suite and even though we didn't bring Spear along, Zach and I were still pretty nervous about how the whole sleep situation would work out.
We like to SPREAD OUT and have a lot of space so we can all get the best possible sleep, especially with a BIG day at the parks to come!
We were impressed with the beds and their comfort and with the pull out couch bed as well. While we didn't want to sleep on it, we knew the kids would be comfortable on it during our stay!
The room itself was totally conducive to our needs. I was able to be quiet and get ready for bed in the sink and shower area by closing the door. We were also able to close the divider area from the living room and were able to watch tv and it didn't disturb the kids at all!
The one thing about the room that made sleep a problem? The movie they play by the pool every night. I'm sure the times vary but during our stay the movie played at 8 pm.
Which worked out FINE the next night. We had the kids in the bed PRIOR to the time the movie started so they were well asleep before it geared up and got loud and then we went to bed around 10ish which is about the time the movie ended so we weren't bothered by it either.
But that was the next night. For night one? It was rough. It was past 8:00 by the time we got back from the pool and got the kids into bed. Even with three sound machines going the movie could still be heard!
The whole movie-by-the-pool concept is super fun (the movie that night was Hunger Games though, which we wouldn't have been letting the kids watch anyway) but if you're like us and like to get to bed early then I recommend requesting a room away from the pool area or just making sure you are settled in for sleep before the movie starts!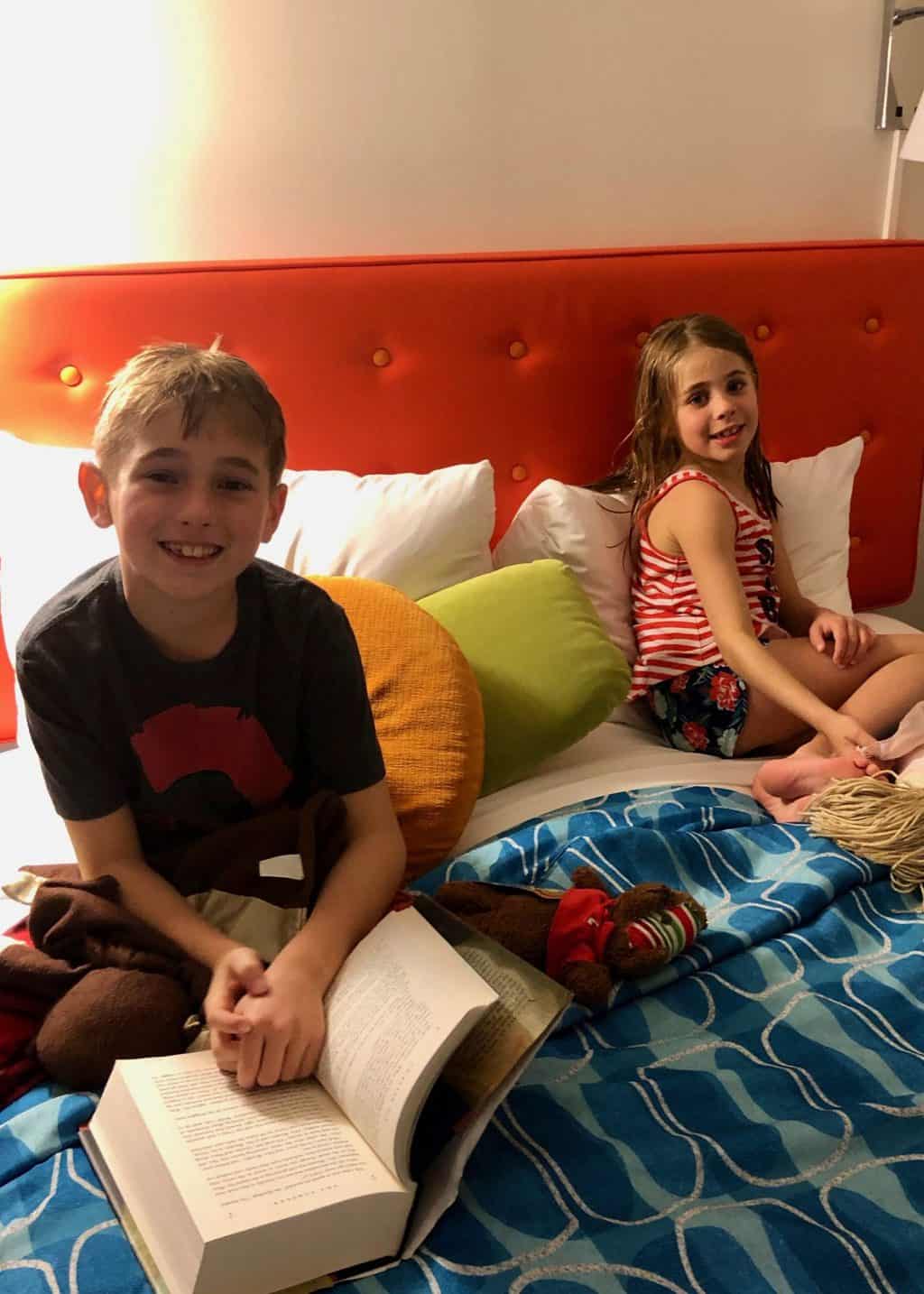 For this post, I'm combing ALL of our experiences AT Cabana Bay Beach Resort. I will be posting separate posts about each of our days at the Universal Orlando Resort theme parks but wanted to just do one large combo post for all the fun at the actual resort!
A HUGE benefit of staying on-site was that we were able to take advantage of early park admission to the Wizarding World of Harry Potter and Volcano Bay.
We were also able to use the free shuttle, water taxi, or walk to the theme parks.
When I checked in the staff member advised us to walk. He said it'd be quicker than the bus service, so we went for it.
It was a tad bit tricky to figure out and it also took us over 30 minutes to get there. Oops! Beginners mistake! We learned our lesson and used the water taxi on the way back that afternoon as well as the following day!
Even though it was a bit of a walk, it was a very, very pretty walk. Zach and I kept commenting on how well maintained the grounds are and as we'd pass others we'd hear them commenting on the pretty greenery and other foilage as well.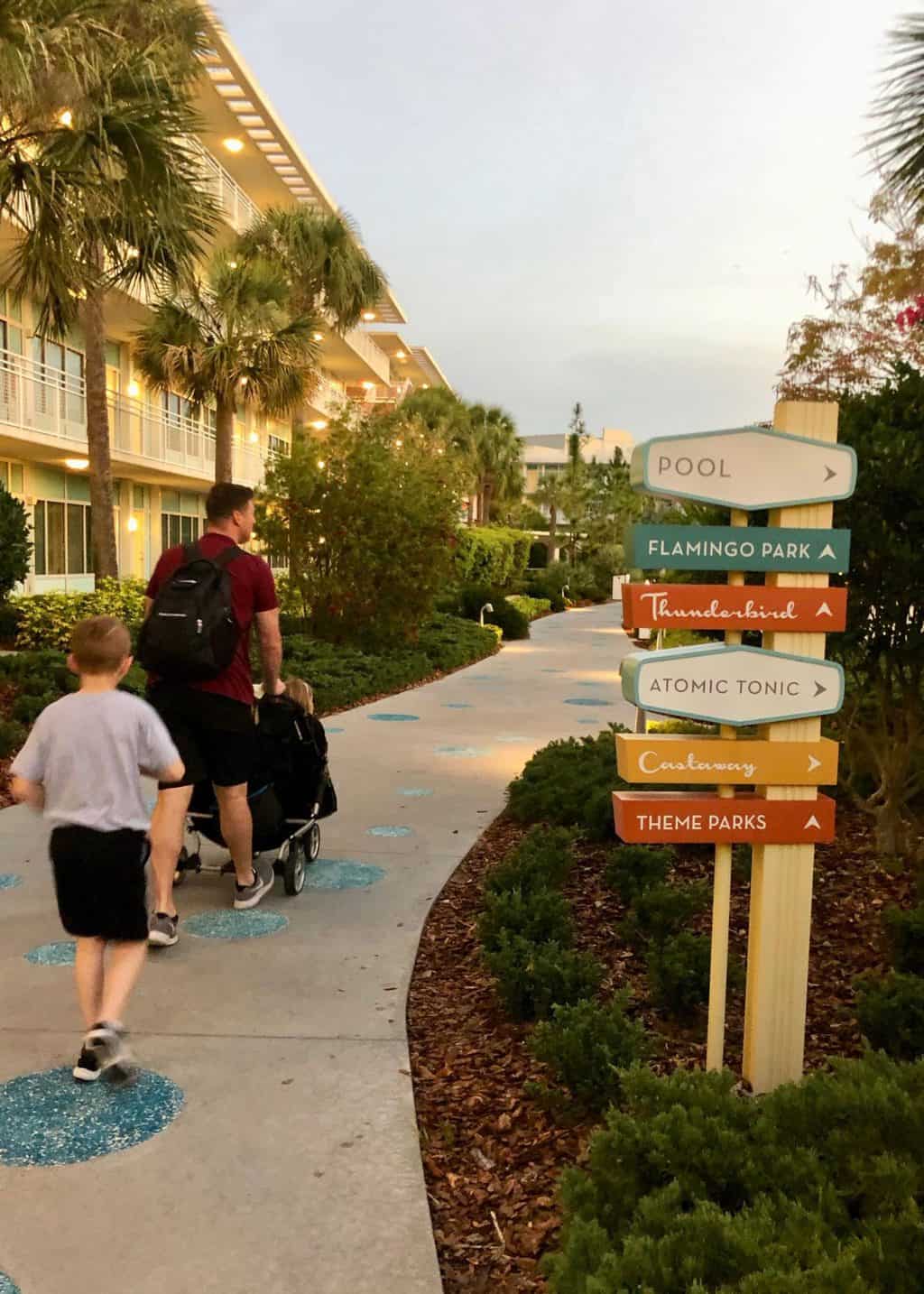 The water taxis pick up right outside the entrance of Universal Studios Florida and drop off at neighboring resorts. There is not a docking area at Cabana Bay but we were dropped off at a nearby resort (Sapphire Falls) and it was a short walk over from there to our room.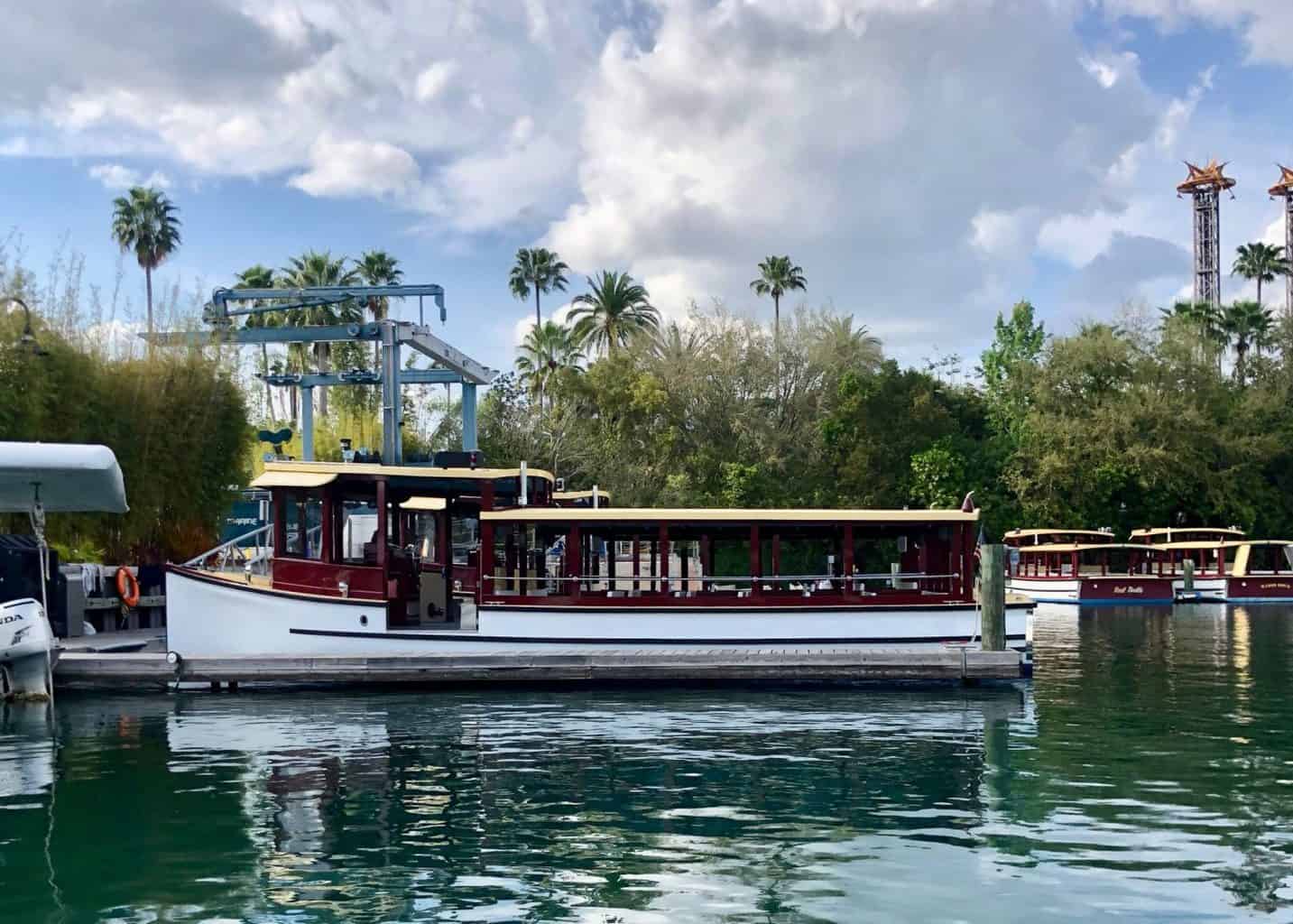 We had originally planned to eat dinner in Universal Studios Orlando park but had quite the eventful day (post coming soon with all the details) and decided to just head back to Cabana Bay Beach Resort instead and eat dinner at the adorable Bayliner Diner.
We had the place practically to ourselves and were all BEAT from our day and just thankful to SIT and chill and GRUB!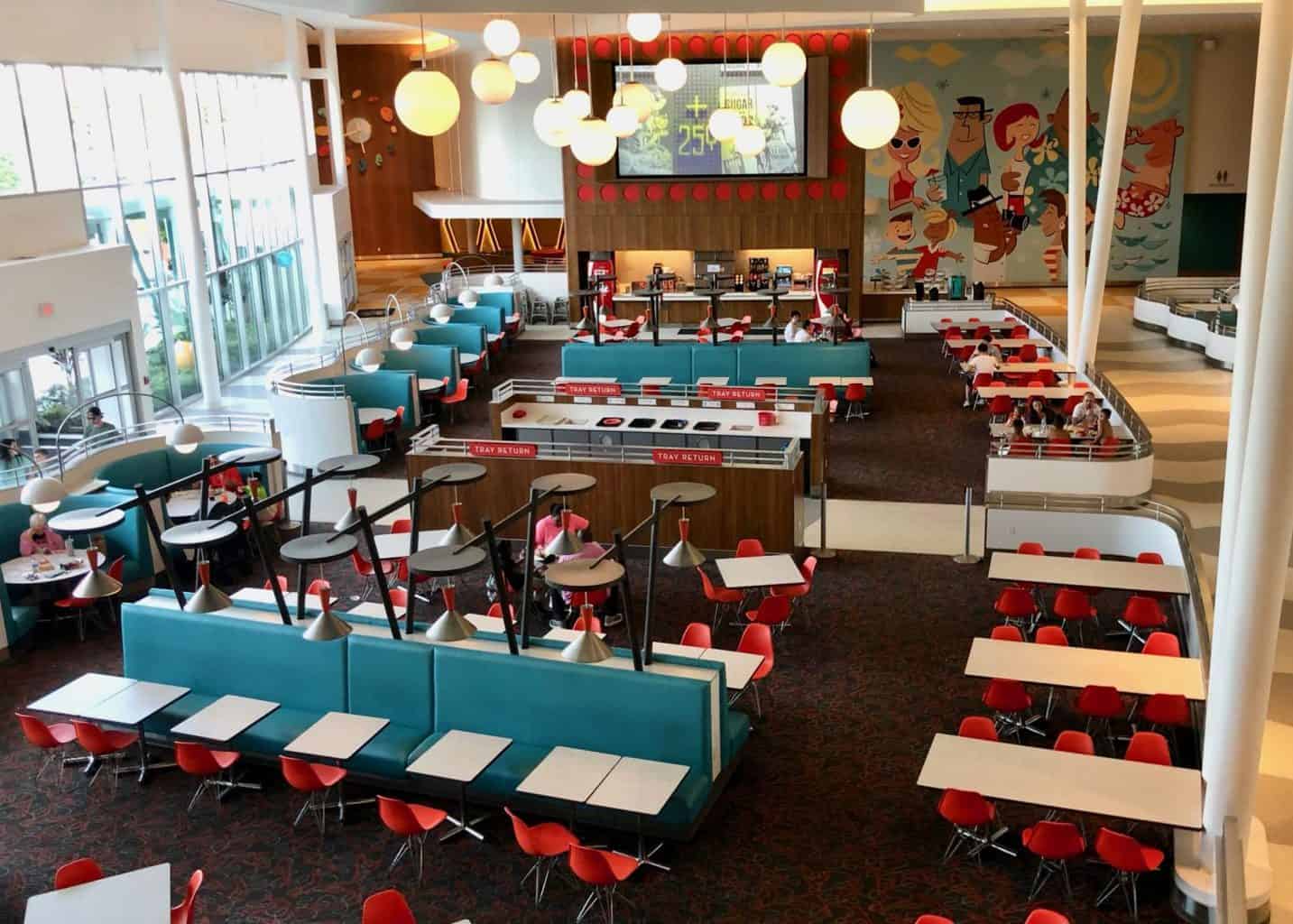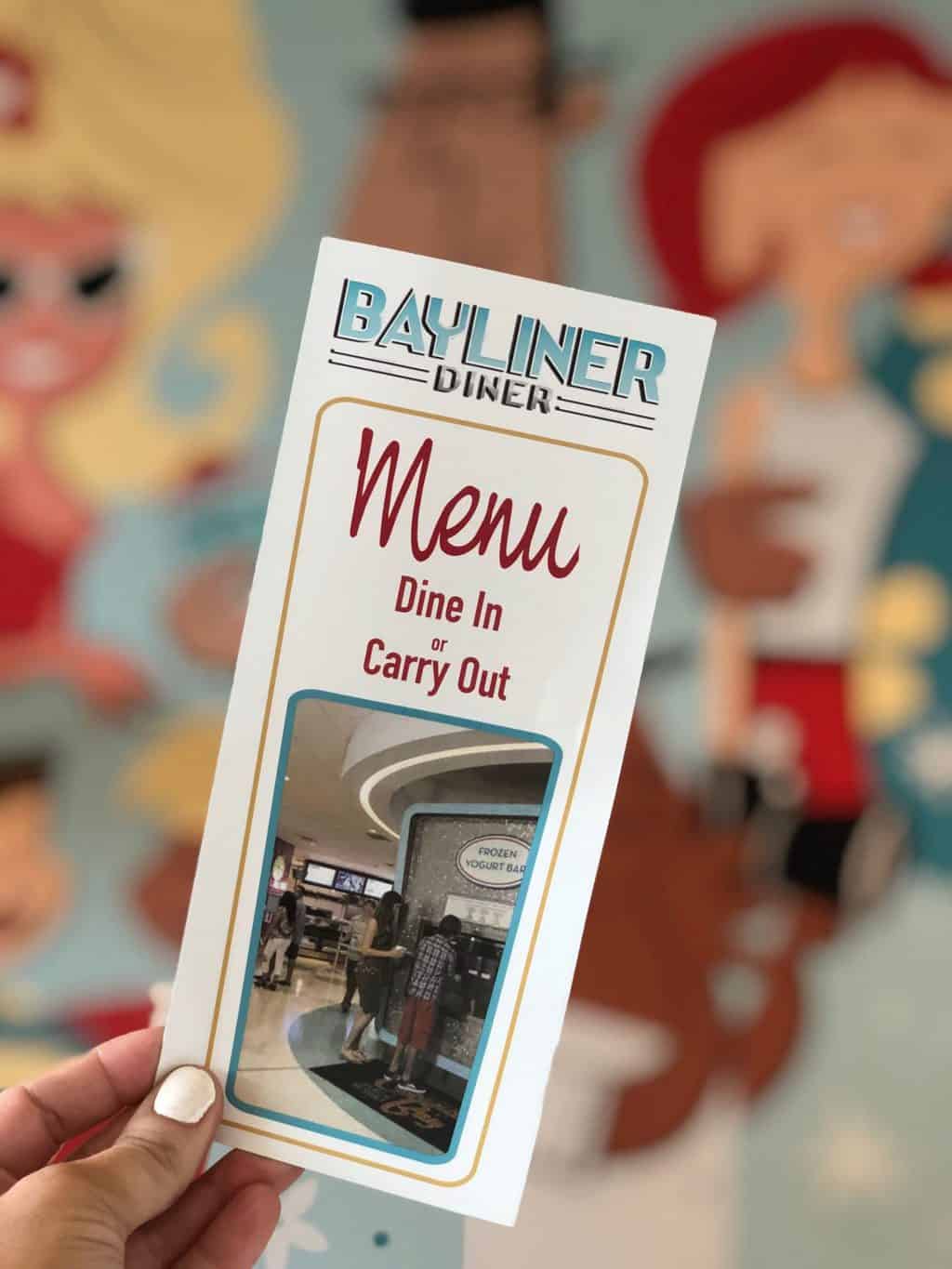 I love how the theming is in every area of the resort, even the food court! Bayliner Diner serves graband go items from a variety of themed stations. They have a great variety and we were happy with the pricing as well. MUCH cheaper than it would have been if we'd eaten in the theme parks!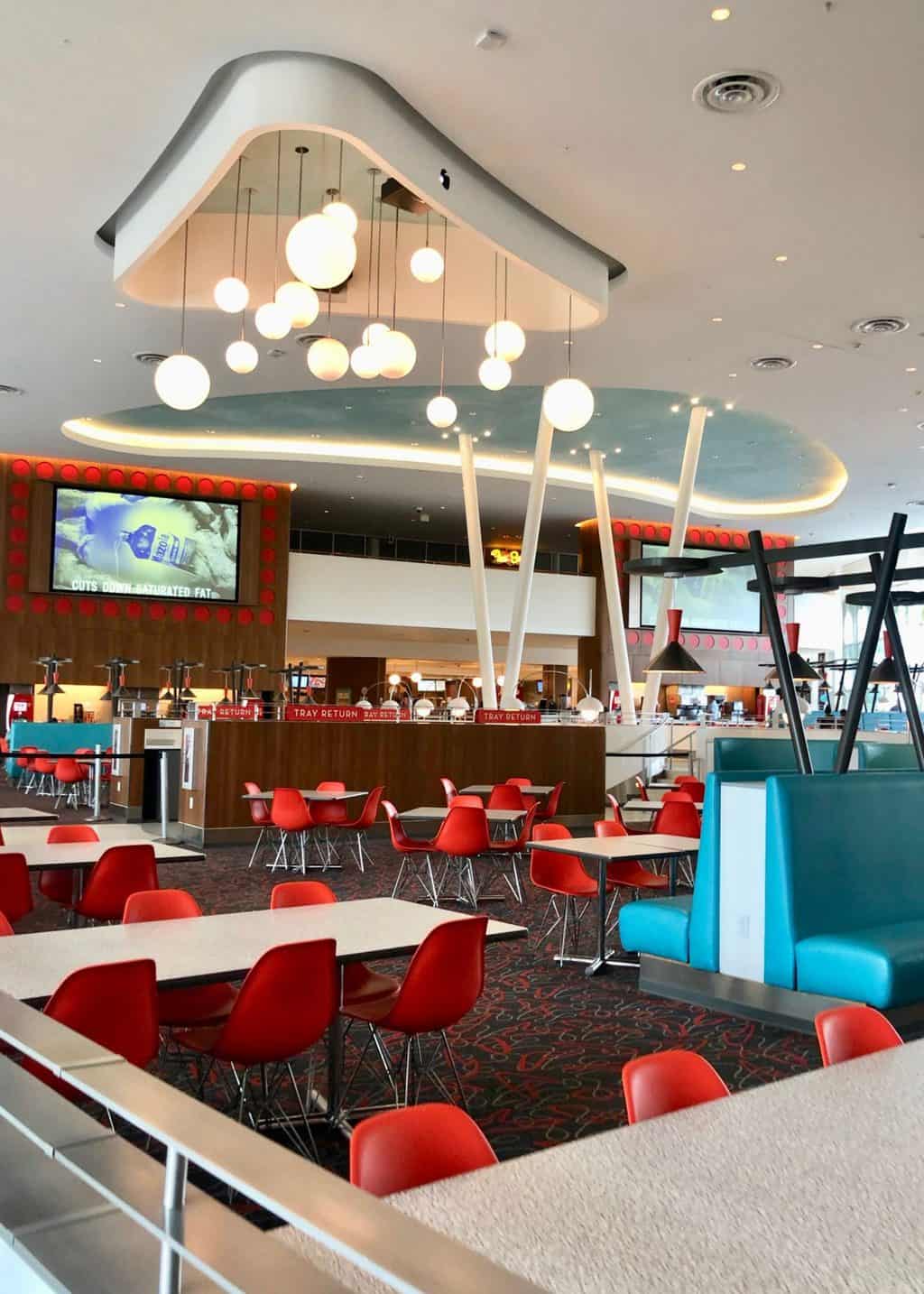 Zach had been eying the Delizioso menu in our room (they offer room delivery) so we ordered up pizzas and Zach made himself a salad at the salad bar.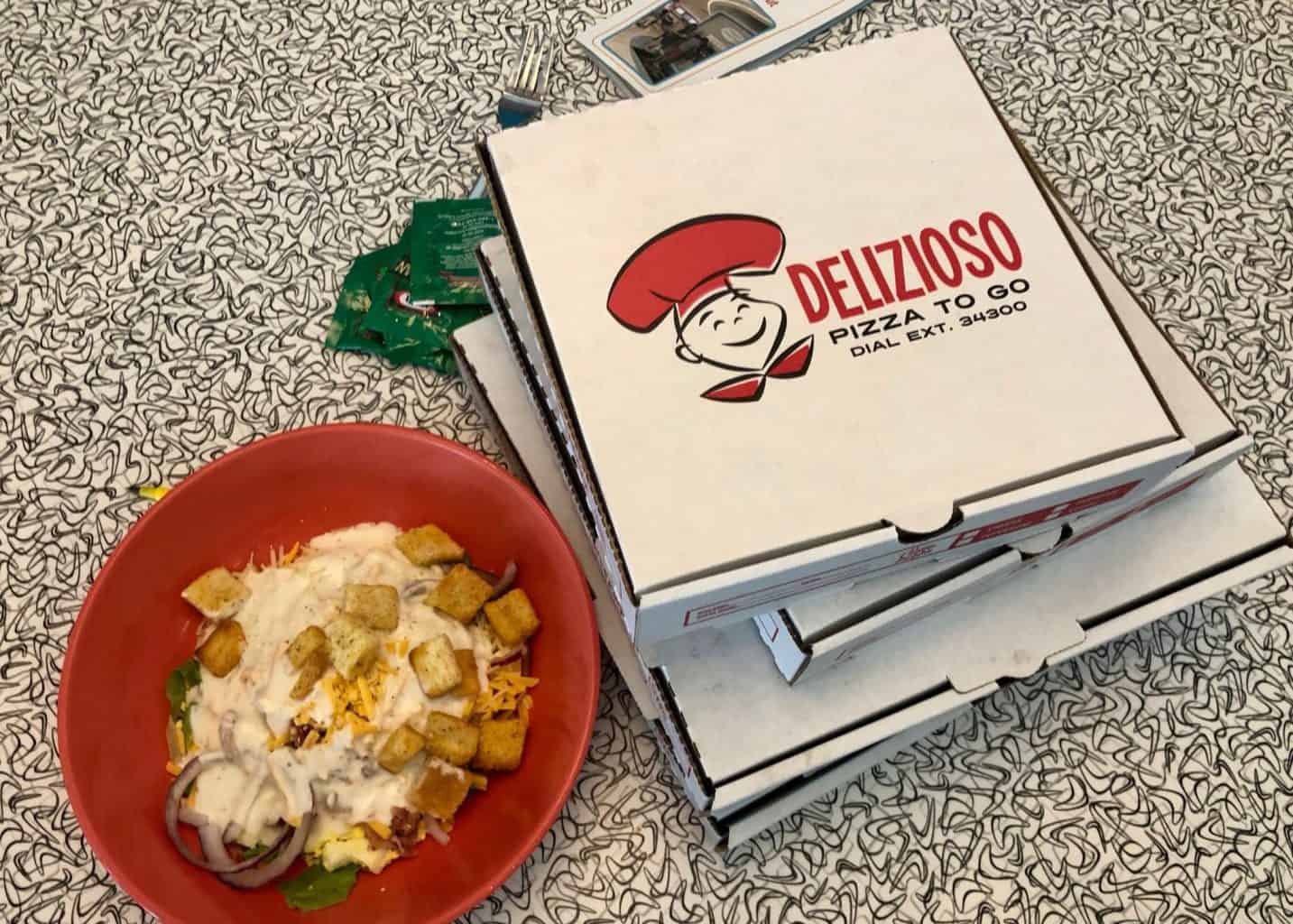 Tessie wasn't feeling well and just wanted ice cream for dinner. She lucked out that the food court also had a FROYO STATION. What! What! We were so pumped! Nothing better than some nice froyo after a long day.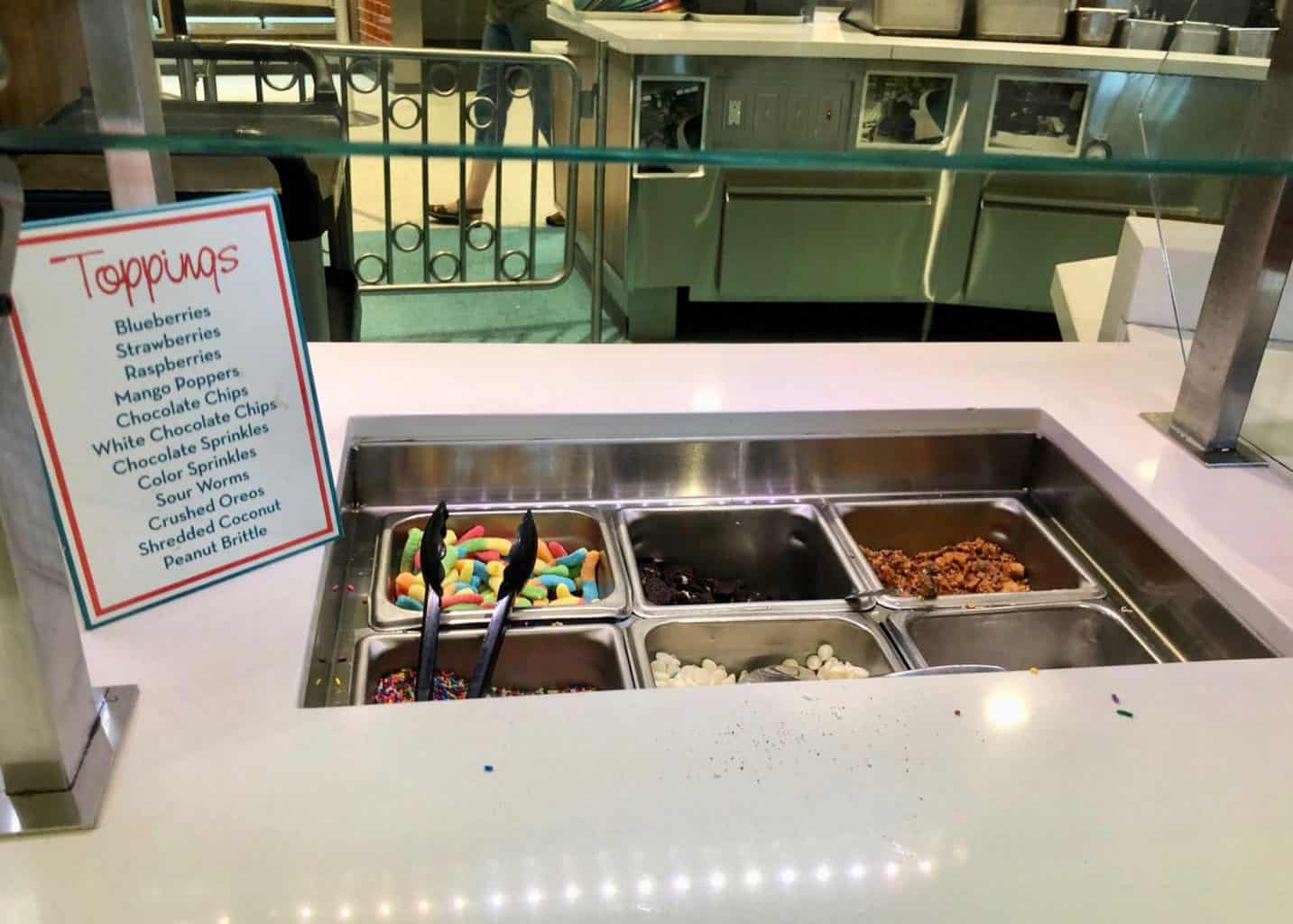 My thoughts about traveling are that I LOVE experiencing new places but that I love it MOST when we have a little experience under our belts.
We knew our first night and our first day in a place we've never stayed at a resort and theme park that we'd never visited would be a BIG learning curve.
And they were!
But that second night and second day? We were PROS. We had it DOWN.
We knew the movie would start at 8 so we had the kids all ready for bed WELL before then. They were all asleep by 7:30 and we went to bed when the movie ended. Everyone slept AWESOME the second night!
We also knew the lay out of the resort and Zach is a navigation PRO so we were able to get to the water taxi nice and early the second day and arrive at Universal Studios Florida in PLENTY of time to be among the first people to enter the park.
Let's just say that Night 2 and Day 2 were my favs of the trip 🙂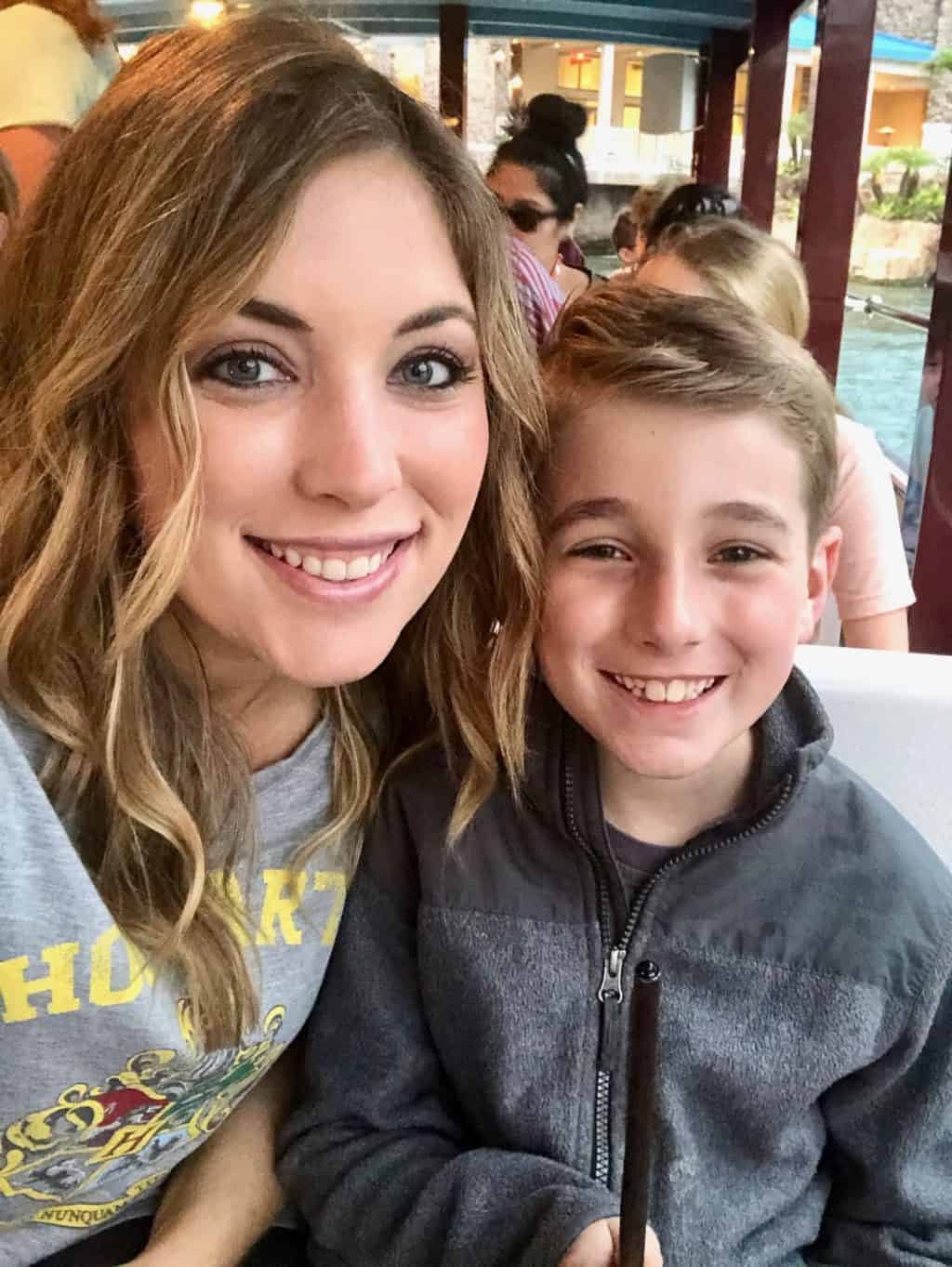 We spent our second morning at The Wizarding World of Harry Potter and then headed back to the room to get packed up, checked out, and eat lunch before hitting up Universal's Volcano Bay!
Check out time is 11 but if you call at 7 am the morning of check out they can extend it by an hour, if possible. We were thankful we had that extra time as it allowed us not to be in a rush that morning and be able to take our time packing up!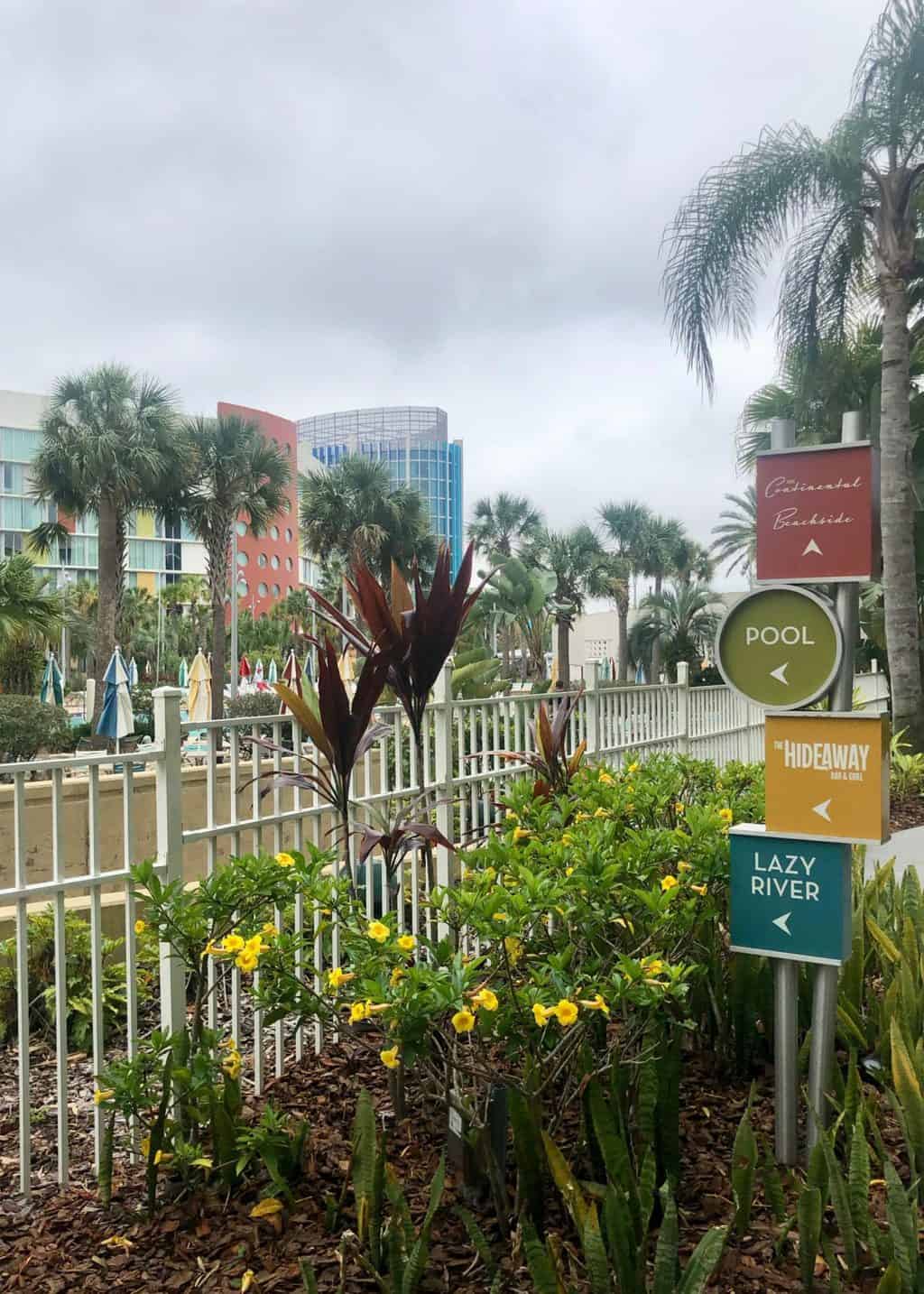 We headed back to our fav – Bayliner Diner as an affordable lunch option for our crew before heading over to Universal's Volcano Bay!
A great thing about the food court as well is that it has paper plates and microwaves. We had a kitchenette in our family suite and were able to save leftovers from the dinners the two nights prior. We heated them up in the microwaves to save costs and were able to just purchase some fries and salads and be all set!
Cabana Bay Beach Resort – WE LOVE YOU!
Cabana Bay Beach Resort is located VERY close to Universal's Volcano Bay water park. Being guests at the resort we were able to keep our car parked in the parking lot and just took the short (under five minutes this time!) walk over to the water park entrance.
We passed by the bus stop on our way and laughed at how much quicker it probably would have been to take the bus to Universal Studios rather than that long walk we had the first morning!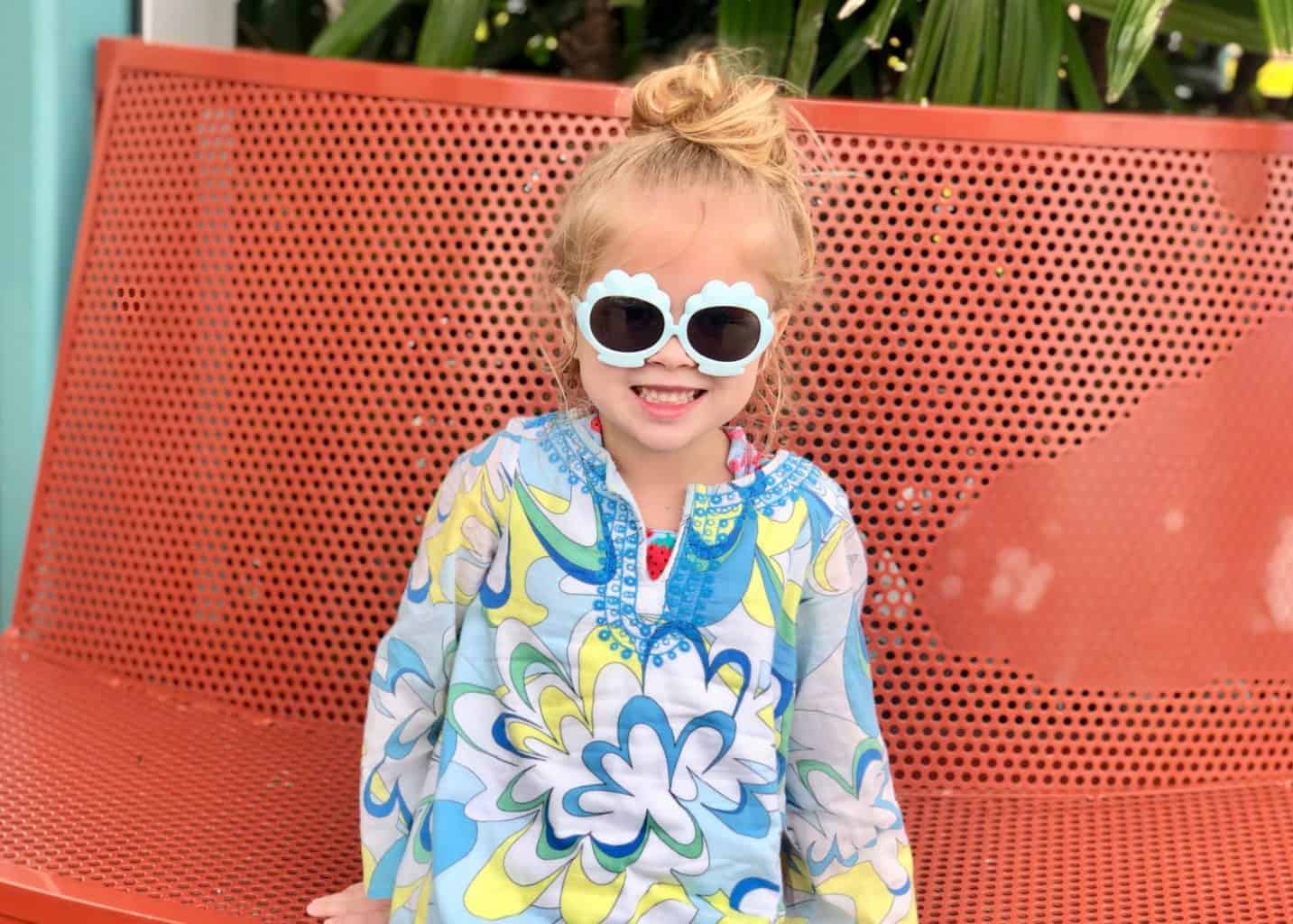 We had a BLAST at Volcano Bay and then walked back over to change clothes in order to head home!
Little Miss Independent was back to tote her bag of our clothes to change into 😉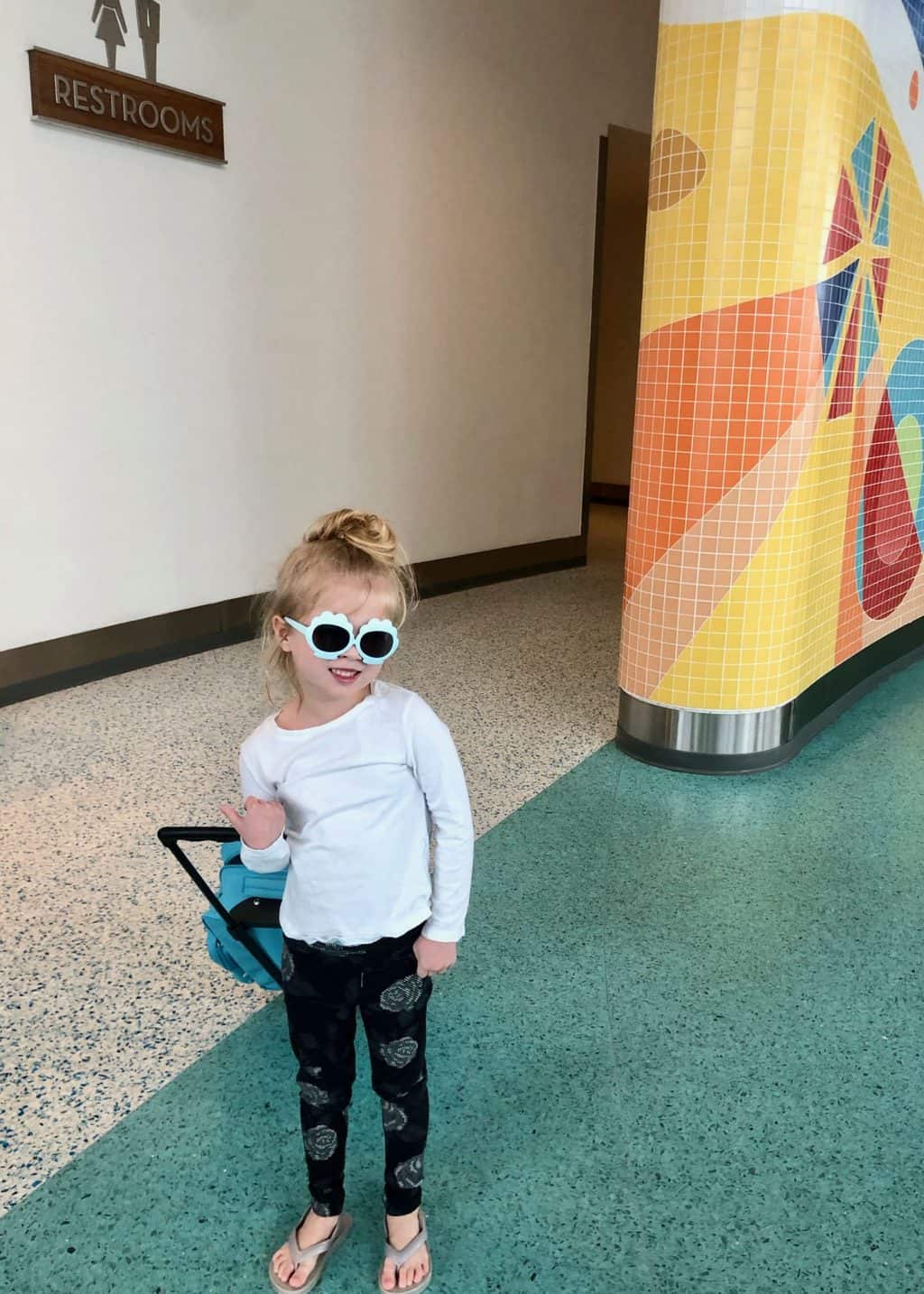 We had SUCH an incredible stay at Universal's Cabana Bay Beach Resort. We loved the theming, we loved all the fun activity options, we loved being so close to the theme parks, we loved the awesome family suite!
If you're traveling to the Orlando area and plan to visit the Universal Orlando Resort parks (Universal Studios Florida, Universal's Islands of Adventure, or Universal's Volcano Bay) then be sure to look into everything Universal's Cabana Bay Beach Resort has to offer!
Florida Resident? There are some sweet deals for you! Be sure to check out the special offers for Florida Residents here!
You Can Read My Additional Posts About Our Trip Here:
HUGE thank you again to Universal Orlando Hotels for this incredible opportunity. Making memories and having experiences is something we value highly as a family and this was such a fabulous few days away together!
Fist bumps for an epic trip!