I work with several companies and links to any products within posts are affiliate.
Zach and I didn't find out the sex of any of our three babies while I was pregnant.
We both agreed it was something we wanted to wait and find out in the delivery room.
People legit are SHOCKED when they hear this!
I know we are in the minority but I always suggest to my pregnant friends to consider waiting to find out the gender of their baby…here are the reasons why we chose to wait and why I think you should too 😉
Sometimes The Ultrasound is Wrong:
Y'all. It happens. I've known more than a couple of people who it has happened to.
They are told "it's a boy!" only to announce the news to friends and family, decorate a nursery in a boy theme, choose a name, and get a bunch of boy clothes to then find out that it's really a girl.
Gender Neutral:
If you plan on having more than one child then sticking to neutrals is the best route to take!
By not knowing the sex ahead of time you're able to avoid getting sucked into all the pink car seats, strollers, and toys and instead stick to basics that will be able to be used and enjoyed by many babies!
We are still using LOTS of the gender neutral items from our first baby for our third and they were purchased 8 years ago!
Non-Clothing Gifts:
When you find out the sex of the baby people WILL buy you TONS of clothes. TONS.
Especially (sorry boy moms) if it's a girl.
Baby clothes are SO FUN and SO CUTE.
But when they buy clothes that means they aren't buying the stuff you really need.
And it means you end up with a TON of clothes that your baby will grow out of quicker than they can wear or that quite possibly isn't your style.
Since every store under the sun sells baby clothes it also makes them difficult to return or exchange when received as presents.
Since we never find out the sex we actually receive practical gifts at baby showers and it's SO fun buying gender specific clothing once the baby arrives.
No Disappointment:
Let's just say you reeeeealllly want a son.
Finding out the sex while pregnant and finding out it's a girl when you wanted a boy is disappointing.
And it's easier to BE disappointed when you're only halfway through your pregnancy.
Not knowing the sex for the entire pregnancy gives plenty of time to find benefits to having either sex (you already have a little girl? then a sister would be so fun even if it means it's not the son you're hoping for) and when you find out the sex after just delivering that baby?
I promise you it's impossible to be disappointed when that newborn baby is in your arms!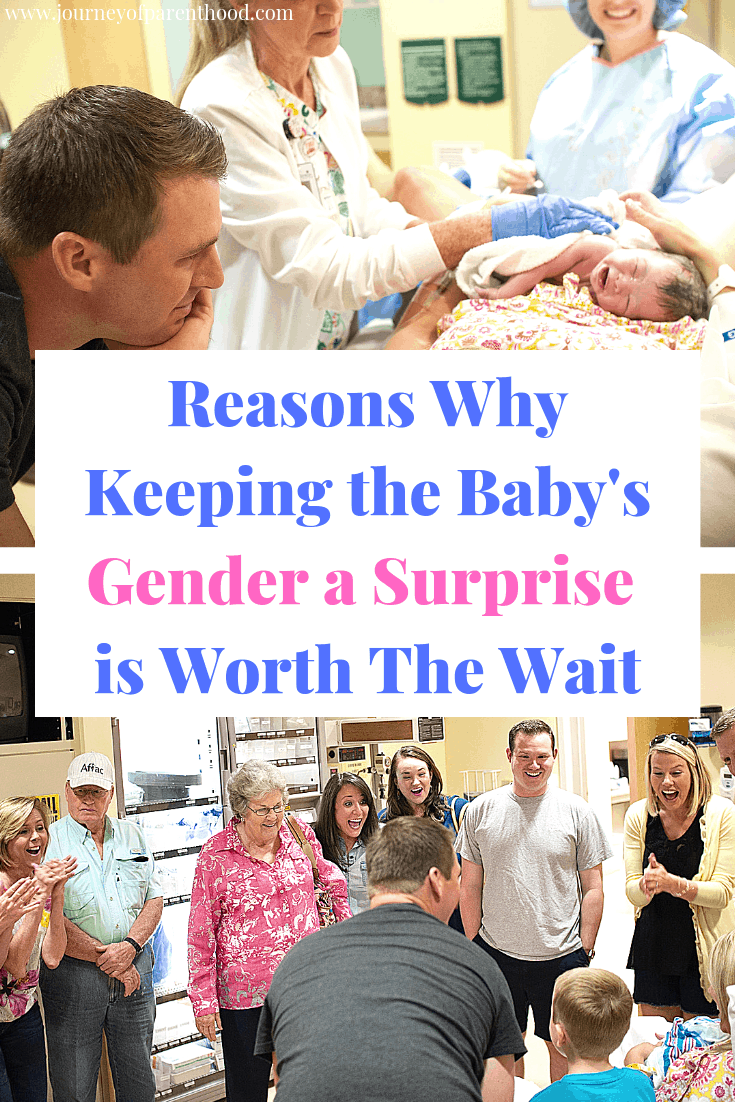 Motivating During Labor:
Labor is hard. Pushing is hard. Delivering a baby is straight up HARD.
But there is NO better motivation to push, push, push than to know you will finally get to know if your baby is a boy or a girl!
This was actually one of my big reasons I didn't want to find out the sex of our third baby.
I do natural childbirth and going through that experience I was very motivated by the anticipation of knowing if we had a son or a daughter!
Less Opinions:
People can be rude, often without meaning to be.
When you know the sex of the baby you get bombarded with opinions on names. Names people like. Names they don't. Opinions after opinions.
When you don't know the sex? You don't have to deal with ANY opinions on names 🙂
Oh, and we kept our names a secret too 😉
Which if you DO decide to find out the sex of your baby, I at least HIGHLY recommend keeping names a secret until delivery day!
Our families weren't thrilled about a few of our names but they had to play nice about them it was too late haha!
More Exiting for Friends and Family:
People get SO EXCITED while I'm pregnant because we don't know the sex.
It makes it super fun for friends and family to guess, to look at old wives tales to try to figure it out, and to eagerly await the news on delivery day.
I know we all know people who find out the sex while pregnant and have probably known some that also keep it a surprise…as a friend or family member which is more exciting?
Sure gender reveal parties and name announcement are cute, but nothing compares to having friends and family come into that delivery room and getting to tell them that the new precious baby in your arms is a son or daughter!
I mean, nothing can beat that joy!!!
Great Way to Include Siblings:
Not knowing the sex made it even MORE exciting for our kids when their siblings were born.
When we had our 2nd child our oldest got to be the one to tell all of our friends and family that "it's a girl!"
It was PRECIOUS and made him feel so proud and special.
When we had our third baby we let our 2nd child announce the sex to everyone. The moments in the delivery room meeting a new sibling are a lot on little ones.
It's confusing and a bit overwhelming but including them in such a huge moment makes them PROUD and excited!
Leading up to the birth we'd talk a lot about how they'd get to make those special announcements, it helped build anticipation in a positive way for such a big life-changing event for our entire family.
Best Surprise Ever:
There are so few HAPPY surprises in life. Sure, we all get hit with negative surprises. Unexpected bad news. Though moments we didn't think would happen to us.
But when are their awesome, exciting, happy surprises?!?! VERY RARELY.
This is an opportunity to have the best kind of surprise possible! Why pass it up???
Makes One of THE Happiest Moments Even Happier:
It may be cliche but it's so true. The birthdays of your children are among the happiest days of your life.
When our 1st child was born I remember the dr saying "it's a boy!" and I instantly sobbed and looked at my husband and said "You have your son! You have your son!"
Finding out such awesome news in such a joyful moment just made it even better.
Same with our girls. I had always dreamed of having a daughter and when they laid my first daughter on my belly and said: "it's a girl" I was overwhelmed with so many emotions and filled with such joy.
No one ever says that the day they looked at the ultrasound and saw that they were having a girl/boy was the best day of their lives.
Waiting to know the sex until delivery day just really takes the entire experience to an even more joyful level and it's a precious moment that you and your husband can share that you will both remember for the rest of your lives (plus it only adds the excitement to the story when you tell your children about the day they were born!)
Bonus Reason: It Makes The Birth Story More Fun to Tell:
Now that my kids are older I want to add this additional reason for keeping the gender a surprise until delivery day.
On each of my kids' birthdays, they LOVE hearing about the day they were born!
And let's be real, there are a LOT of details about that day that we have to leave out.
But the moment they entered the world? The reactions Daddy and I had to hearing "it's a boy!" or "it's a girl"? Those are the moments they love hearing about the most!
By waiting to know the sex, you are giving your child the gift of a super special story to remember every year of their lives 🙂
I often hear people give reasons why they NEED to know the sex while pregnant:
"I'm a planner" Dude. You are talking to THE most hardcore of hardcore planners. What about knowing the sex changes anything regarding planning? The baby will come when it comes regardless of if it's a boy or a girl or if you know at 10 weeks or 32 weeks or the day he or she arrives.
"I need to decorate the nursery" There are TONS of gender neutral themed nurseries. Our first nursery was gender neutral, our 2nd one I waited to decorate until after the baby was born (it's not like they know the difference or are even awake long enough in the beginning to notice!), and the third we did gender neutral but had gender specific bedding made (we had the ultrasound tech put our results in an envelop that I sent to the girl who made the bedding so SHE knew the sex but no one else did. It was AWESOME. While I was in the hospital during postpartum my husband and older kids opened the box of the bedding and such and put it all in the new nursery…it was a great way for the older children to help and it was so exciting to come home and see it all completed!). There are PLENTY of ways to still get the nursery you want without having to know the sex of the baby in advance!
"I want to feel closer to the baby" This one may be valid? It's hard for me to say because I've never known the sex of any of my babies while pregnant. I'd have to ask someone who has done it both ways to see their take on it? To me I don't see that knowing the sex would have made me feel any closer to my child or not? I'd love my baby the same boy, girl, healthy, health concerns, etc.
"I want to pray specifically for this child by name." I don't understand the purpose of this one. God knows your baby. He knows ALL. If you pray for your baby then God knows who you are talking about. He doesn't need to hear a specific name!
"My kids need to know if they are having a brother or sister." My kids were pumped for a new baby. Sure, they both would say which they hoped it'd be! Our oldest is a boy and wanted the newest baby to be a brother. People asked if I was worried he'd be upset if it was a girl. It was a girl and I have NEVER seen a child so in love with a baby as he was with her from the moment he laid eyes on her.
It's a very personal decision whether or not to find out the sex of your baby while pregnant.
I know the MAJORITY of people find out and will continue to choose to find out but maybe, just maybe, someone will decide to keep it a surprise after this post.
And if you do let me know so I can be super mega pumped about it 😉
You can read about the moments when we found out the sex of our babies here:
And you can see the excitement of announcing the sex (and names) to our close friends and family in these videos:
C'mon now you know you're convinced 😉
Rate This Post:
Average rating / 5. Vote count:
We are sorry that this post was not useful for you!
Let us improve this post!
Thanks for your feedback!