Zach and Emily Christmas Disney Getaway 2019
Every year Zach and I go away together for just a couple nights in December.
We started going away together actually in college as we did a "ski class" for a college PE credit and we'd go with other students and teachers to Banner Elk, NC and learn to ski.
It was SO FUN and we loved the area so much that we made it a yearly tradition for awhile.
With kids the December holiday rush is always so crazy and our chance to get away during that season is an opportunity for US to connect rather than allow all the busy to cause distance between us.
Now that we own the Disney Rental House we made the call to have our yearly trip be there every December.
We visited last year and did a few things that we decided will be part of our tradition and made some new plans this year too!
We are always so thankful to Mrs Charlotte for keeping the kids for us and it's worked out nicely where we go away on a bigger trip for our anniversary (which falls when kids are out of school) and then a short trip for Christmas (over a weekend).
It gives her quality time with our kids twice a year and they LOVE the G-Mama time! This year she had them help decorate her house and tree for Christmas!
We headed out on Thursday Dec 12th and hit up McAlisters on the way down.
I thought it'd be a fun thing to do an Instagram Q&A…part of it will play automatically in this post but you can see the full question and answer session with Zach and I on my Instagram profile highlight titled Z&E Q+A here!
I had this crazy goal for 2019 to visit a Disney park at least once a month for the year so I needed to hit up a park while we were down to count for my December visit.
We decided to be crazy people and go to Hollywood Studios to ride Rise of the Resistance.
It had just opened less than week prior so we knew it'd be NUTS but we also thought it'd be so fun to get to ride it for the first time together – JUST us!
A friend of mine went on opening weekend and shared her tips with me (thank you Kelly!).
The park opened at 7 am and we decided to get there at 6.
I just could fathom getting up earlier than 5 am. We debated just going in our pjs to get the passes and then coming back to get ready but decided to get ready just in case we were able to ride it close to our arrival time.
The way Rise of the Resistance is working right now is once you enter the park you login on the app and enter a virtual line and have a boarding group number.
You don't know when your number will be allowed to ride but once you get notified that your group is open, you have 2 hours to get to the ride.
I was a bit leery of the system because Disney's app often sucks and I just had these visions of it crashing or messing up or something.
We were pretty shocked when we walked up at 6ish and it was JAMMED PACKED.
We got in the park at 7 and were boarding group 29.
All boarding groups were filled before 8 am!
So if you wanna ride…you better arrive EARLY.
We got our boarding passes, updated Zach DAS pass and then decided to go to Smugglers Run.
We got to ride it before our kids were even at school for the day!
Most parents would sleep in on a weekend kid-free but we are Disney people 😉
It was neat to see the sun come up in the park – usually the phrase is "bright suns" and instead on that morning it was "rising suns"
Zach knows photo pass pics are my love language 😉
The one of us back to back cracks me UP. More like booty to back haha
It was such a relaxing morning. After the rush to get in the park it was just super chill.
The weather was great. The crowds were low (I mean it was only 7 am so they should have been ha!).
The only frustrating thing was the lack of stuff TO DO.
Everything we thought of to do was closed.
We grabbed a DAS for Toy Story Mania and then went over to Launchpad to meet some characters.
I was super excited that Darth Vader is now doing meet and greets!!!
But then I was instantly SO BUMMED about it.
I've heard about the cameras at the character meet and greets but I haven't experience one yet…yall. It's awful.
Instead of a photo pass photographer there is a computer camera that just shoots randomly.
Our pictures are TERRIBLE
They never did download onto my app
It completely ruined our character experience b/c we were all (Darth included) frustrated by the random flashing camera.
I'm REALLY hoping Disney phases these out. And I did fill out a survey and let them know. Can't hope for changes if you don't voice the issues!
We also met BB8 and the difference in the experience, and photos, is HUGE when there was a LIVE PERSON taking them:
It's crazy to me that Disney didn't have Mandalorian merch READY when they released it.
They had a small section of stuff but nothing really super exciting.
Our pass time came up for us to ride Toy Story Mania so we headed back over to Toy Story Land.
Toy Story Mania is one of my FAVS and we NEVER get to ride together so it was super fun.
Zach had researched and learned that if both people shoot certain targets at the same time then special secret targets are released.
It was really fun and I ABOUT DIED when we finished and I WON.
I mean I legit WON. I beat Zach. He lost. I WON.
One of my top 5 life moments? Maybe 😉
We debated hitting up the Skyliner and going to Epcot for a bit. Zach LOVES the pizza at Napoli and we thought we'd grab lunch and come back when our boarding group loaded but group 27 started boarding as we were walking towards the park exit and decided we should just stay and hang out and wait.
I wanted some pics in front of the gorgeous Christmas tree so we headed there first!
We found a chill spot and answered more Q&A questions and took some pics while we waited!
Sidenote but I LOVE my loopy case! Zach and I got new phones (I went with the 11 pro) and I legit waited to buy my new phone until Loopy had their new cases out to fit!
If you're wanting to try loopy here's the site and my code PHOOD10 gets you 10% off!
Our boarding group started loading at 9:15 am which I thought was pretty great, and it def beat standing in a line for that 2 hours!
We headed straight there as soon as we got the notification.
As you approach the ride the cast members scan your band and then you get in the regular line.
We didn't wait too long there – about 35 minutes.
The line was well designed with some cool features and also seating which is pretty genius!
There is also a section with Rey and BB8 that was fun to see too.
Truly there is only one word to describe the experience that is Rise of the Resistance: INCREDIBLE.
Nothing can compare to it.
1,000 times better than any other "ride" or experience or whatever.
It's AMAZING.
And yes, I'm a total wuss and the ride was VERY smooth. There is ONE drop and it scared the crap out of me b/c I didn't know about it in advance but it was super short and less of a drop than pirates so I will TOTALLY be riding it again.
Pretty sure Zach and I will argue over who gets to ride with the kids for the first time!
It was even so awesome that Zach didn't mind that his paints got ripped on the ride.
When we entered the ride portion of the experience a piece from the doorway to the seating just randomly ripped through his pants.
He didn't get stuck or snagged up or anything – it was so weird.
When we got off the ride we let the cast member know.
Being a new ride we figured they needed to know about stuff like that.
It was super impressive at how they handled it.
They stopped our car from going and had multiple people come over and talk to us, ask detailed questions and inspect the vehicle.
They told us it's actually been an issue and that some piece they placed to avoid fingers getting smashed has caused paints getting ripped instead.
They were all really nice and it was a neat chance to kinda see "behind the scenes" a bit.
Zach was issued a certificate for a free pair of "Mickey pants" but good luck finding pants in Disney World for dudes.
They have to be DISNEY and we looked everywhere and couldn't find anything. They had khaki shorts at a few locations and had ONE pair of blue sweatpants that Zach would never wear at another and that was IT.
He's in communication with Disney to see if they will send him some instead so we'll see!
As we exited the ride it started DOWN POURING.
We raced over to where they said they had some of the shorts to check 'em out and hid from the rain a bit.
It was the gift shop by Indiana Jones and on a whim I grabbed a hat to try on.
I have a thing about hats – I always try them on bc they NEVER fit.
Yes, I wear a men's size large/xl. Yes, I was made fun of for my head size which is just about the dumbed thing to tease someone about. Cool my head is big.
It just so happens that the HAT FIT!
WOAH. We both were excited because I've always said I loved these types of hats!
Zach bought it. Didn't even discuss with me. Didn't even look at the price. Just bought it.
How sweet was that?!?! Such a fun treat!
We also saw a Stitch behind the register and learned some fun Disney facts I didn't know!
Hollywood Studios is considered Stitch's Park (which is kinda silly that he doesn't have a meet and greet there right?!?!) because Lilo and Stitch is one of only 3 Disney movies to be completely filmed/animated INSIDE Hollywood Studios!
You can actually find hidden Stitches around the park and the one I found is called Indy Stitch and he has his own hashtag #indystitch. SO FUN!
The last few times we've visited DHS we've passed by this snack cart and have been wanting to try the funnel cake…we had planned to hit it up after Rise of Resistance and even though it was POURING rain my sweet hubby still made it happen 😉
We took it over to Frozen and ate it while we waited for the show to open for seating.
It is BOTH of our new FAVORITE Disney snack. It's SO GOOD. And big enough to share (but I mean I'd totally eat one myself too haha)
It's located at Epic Eats and we WILL be back!
We both love the Frozen Sing Along Show and heard from a cast member that it was holiday themed and that Olaf has joined in the show!
Not sure if he's permanent but having him be so massive was pretty funny and the holiday songs were really fun!
We headed out after the show!
It was SUCH a fun morning in the parks and neither of us were even tired (yet anyway!)
Leading up to our trip I had been chatting with my cousin, Susi, who lives in Orlando and had been planning to go to the park together with our husbands on a kid-free day (they have passes too).
TOTAL miscommunication happened and I knew we were going to the park on Friday but I totally communicated terribly and it lead her to think we were going on Thursday.
I FELT SO BAD when I got a text from her on Thursday that she was on her way to the parks and I was AT HOME.
Omg it was THE worst feeling EVER.
They had childcare and everything!!!! I felt so so so so so bad.
I'm SO glad it still worked out for us to meet her and Jade for lunch. I hate we didn't get to do Disney or hang out with her husband, Josh, but it was still SO great to have the lunch visit and Jade was an ANGEL.
I don't think we've ever had a kid that well behaved at just one years old. She was SO sweet the WHOLE meal. Never fussed or anything!!!
I love that Zach and I attended Susi's wedding, I got to go to her baby shower and now I get to experience her as a mama 🙂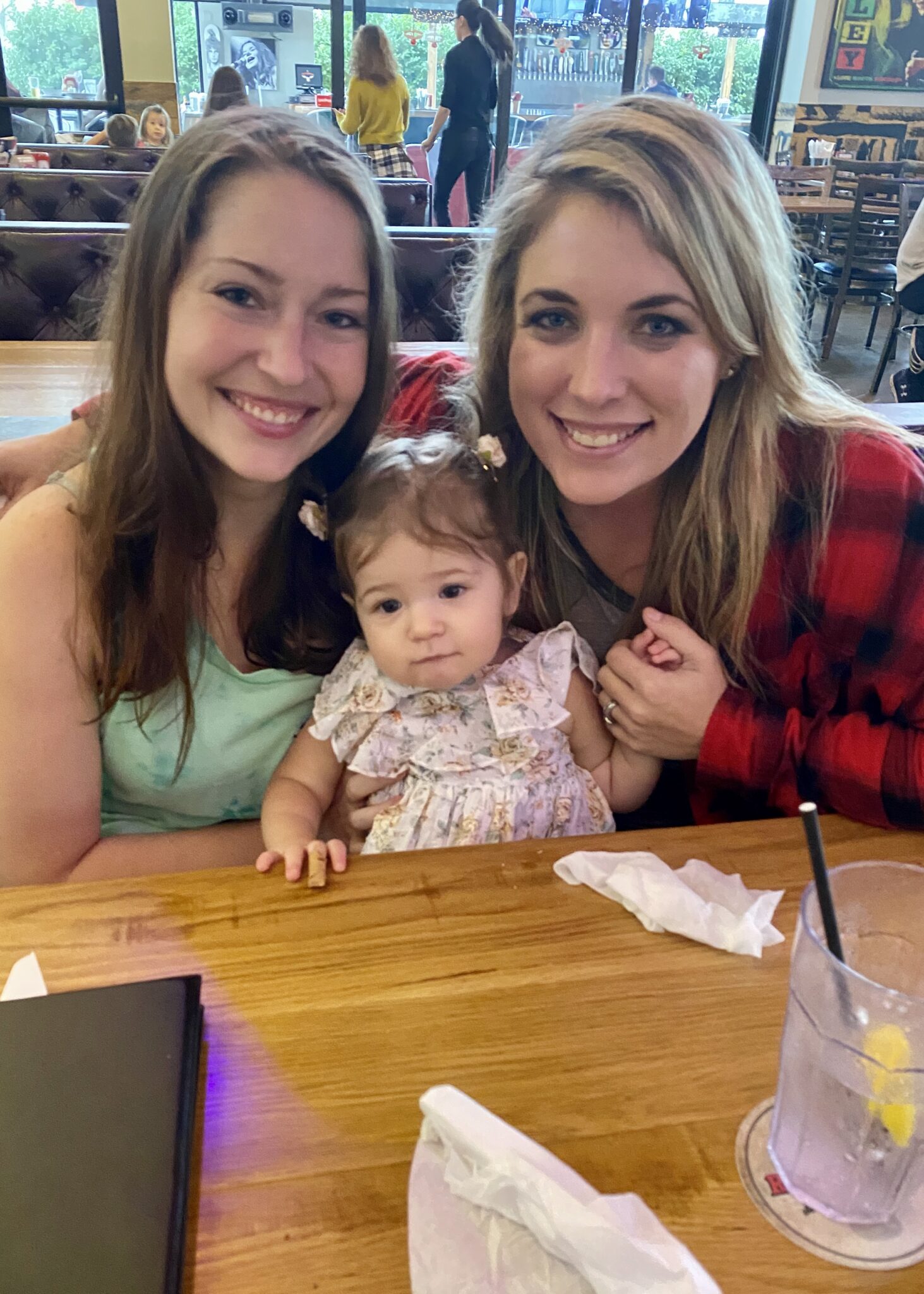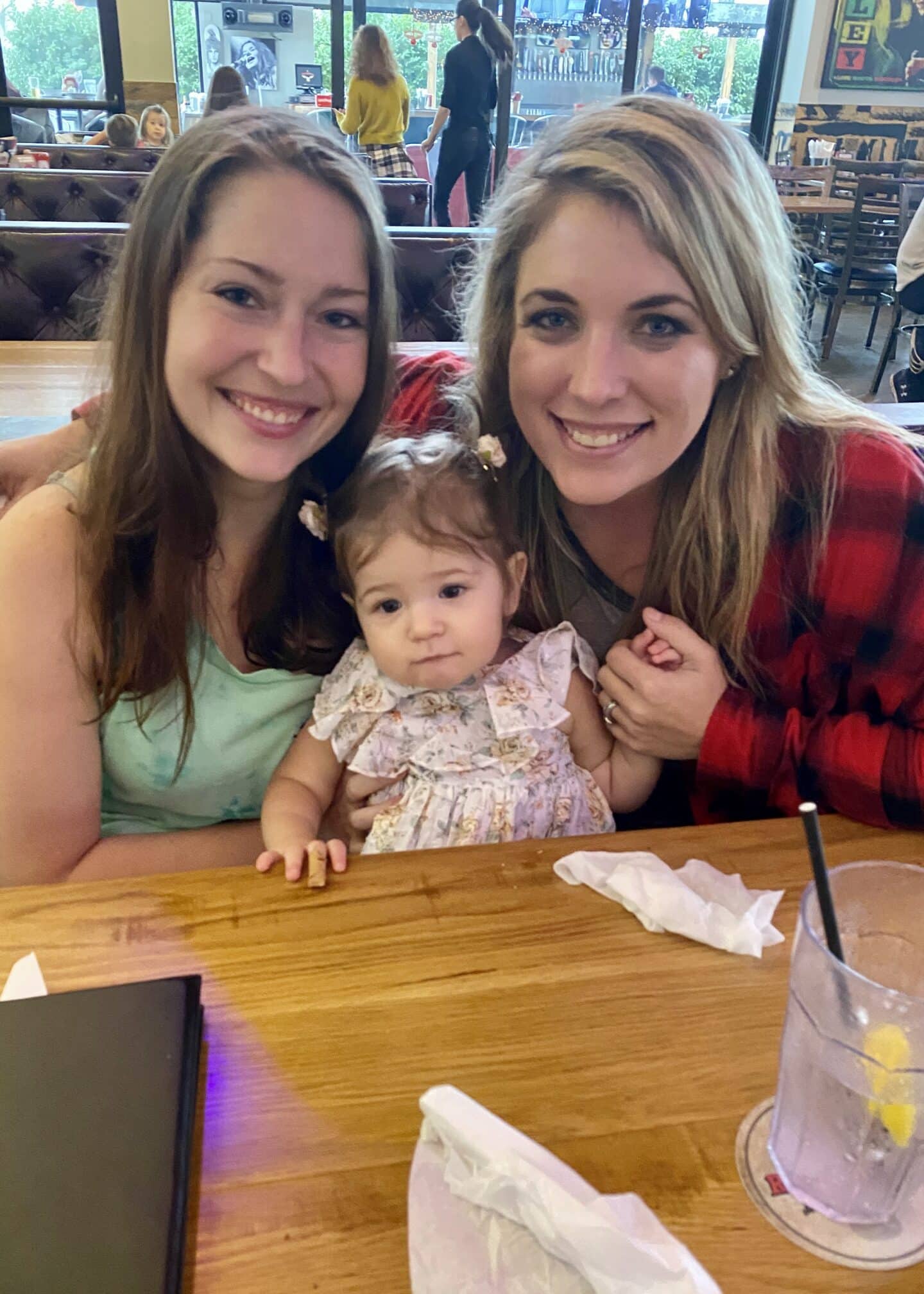 We headed back to the house and NAPPED HARD haha
We didn't wake up until after 5 pm and we had dinner reservations!
We got ready and headed over to The Grand Floridian to eat dinner at Narcoossee's.
It was our first time eating there and Zach was so sweet to book the reservation for a fancy night for us.
I got both crab cakes and lobster bisque and loved them both. Zach did have to send the steak back but enjoyed the second one!
We loved the atmosphere and the food was okay. I wouldn't say it was THE best but we enjoyed the meal overall!
A perk of the restaurant is the gorgeous location over the water and the perfect spot to see the fireworks from Magic Kingdom.
It was a Christmas Party night and we decided to wait around to watch them as we've never seen the Christmas ones they have now!
We went up to the Grand Floridian so I could get a treat from the gingerbread house (a first for me…I got the kids some stuff too as their present from our trip) and Zach didn't mind just sitting and resting his back a bit.
We headed back down to the water and caught some of the water show and then loved the view of the fireworks – especially with all the music piped in!
We had a BIG day and both were looking forward to hardcore sleeping in the next morning.
When I had the BFBN trip we did an escape room and LOVED it and I knew Zach would love it too!
We scheduled a 10:30 one and it was perfect to be able to sleep in and then head over.
It was SO FUN.
It was a private room so just us which was great and I was pleasantly surprised at how awesomely we worked together!!!
We really crushed it and beat it with 18 minutes to spare!
Under Pressure is the one they recommended for us to do next time – and we will def be back! We actually may take the kids sometime too as I think they'd love it!
Usually for Christmas we go shopping with our Christmas money but decided not to really do that this year.
We did hit up the outlet near the escape room as I wanted to check out the Disney outlet (it was a bust) and did pop in a couple stores as I needed a new tan purse and wanted to just get the least expensive one 😉
We may go back to our full shopping next year – we'll see!
Zach was happy to find the chocolate shop 😉
We headed back to the house to get changed and then went over to our SPA DAY!
We did massages last year and it was AMAZING and something we wanted to do FOR SURE again this year (and will probably do yearly forever haha).
Disney does everything right – including massages.
This year we went early to enjoy the facility and will probably try to go earlier next year and remember to bring a dang book 😉
I got stuck reading fashion magazines that apparently are now SO POLITICAL. So annoying.
We LOVED the relaxing massages but when we finished we had to book it to get to Disney Springs in time to see our movie.
Disney Springs was SLAMMED and parking was a nightmare but we made it to see Knives Out (and LOVED IT).
We love the AMC theater at Disney Springs and it was a great date night!
We couldn't sleep in as late Sunday morning b/c someone was renting the house that day and it had to be a quick turnover.
So we got ready and hit the road!
We headed to Disney Springs as we needed to renew our annual passes and wanted to hunt for Zach's Disney Pants (no luck) and grab some lunch before heading home to see the kids sing in the little Christmas program at church.
We ate for the first time at D-Luxe burger and we won't be back.
It was SUCH a bad experience that we ended up getting our entire meal free, including three milkshakes they gave us.
But honestly? We agreed we'd rather have ENJOYED the meal than have bad food for free.
The burgers just were not good. And took WAY too long. We had our milkshake over 30 min before our food and only got our food bc we had to ask TWICE for it after waiting that long. Oh and we were MOBILE ORDER.
Crazy.
We had SUCH an incredible weekend.
I just love the place we are at this year in our marriage and bond and connection.
I know people always say their husband is their best friend and real talk? I haven't ever really felt that way with Zach.
I've always LOVED him obviously but just didn't feel that friendship sort of connection.
The bond we have now though? It's just so much deeper in a new way – it's like that LOVE for my husband but also the communication and connection of a FRIEND.
It's been a BIG year for US and our growth TOGETHER and I just love love love where we are at and that we are both so committed to only keep getting better 🙂
So thankful for our awesome time away!