As a parent of little ones, it can be hard to find family-friendly activities that don't break the bank. A zoo visit is a great way to make memories while interacting with exciting zoo animals. Jacksonville Zoo has them all and is one of the best zoos in Florida! I've put together a post of must-have tips for visiting Jacksonville Zoo in this Jacksonville Zoo planning guide for families.
Jacksonville Zoo and Gardens is located in Jacksonville, Florida, and is very easy to navigate, located a very short drive off of Highway 17. It is also both an easy drive from Valdosta, Georgia as well as an excellent location and driving distance from many nearby surrounding Florida areas as well.
Jacksonville Zoo and Gardens is open every day from 9:00 am until 5:00 pm. Tickets may be required to be purchased in advance due to health and safety guidelines. General admission prices at Jacksonville Zoo start at $19.95 for children ages 3-12. Children under 3 are free. Current ticket prices and more information, including zoo rules and bag policy, may be found on the Jacksonville Zoo and Gardens website here.
Jacksonville Zoo parking is free and it is very easy to access the zoo from the parking lot area.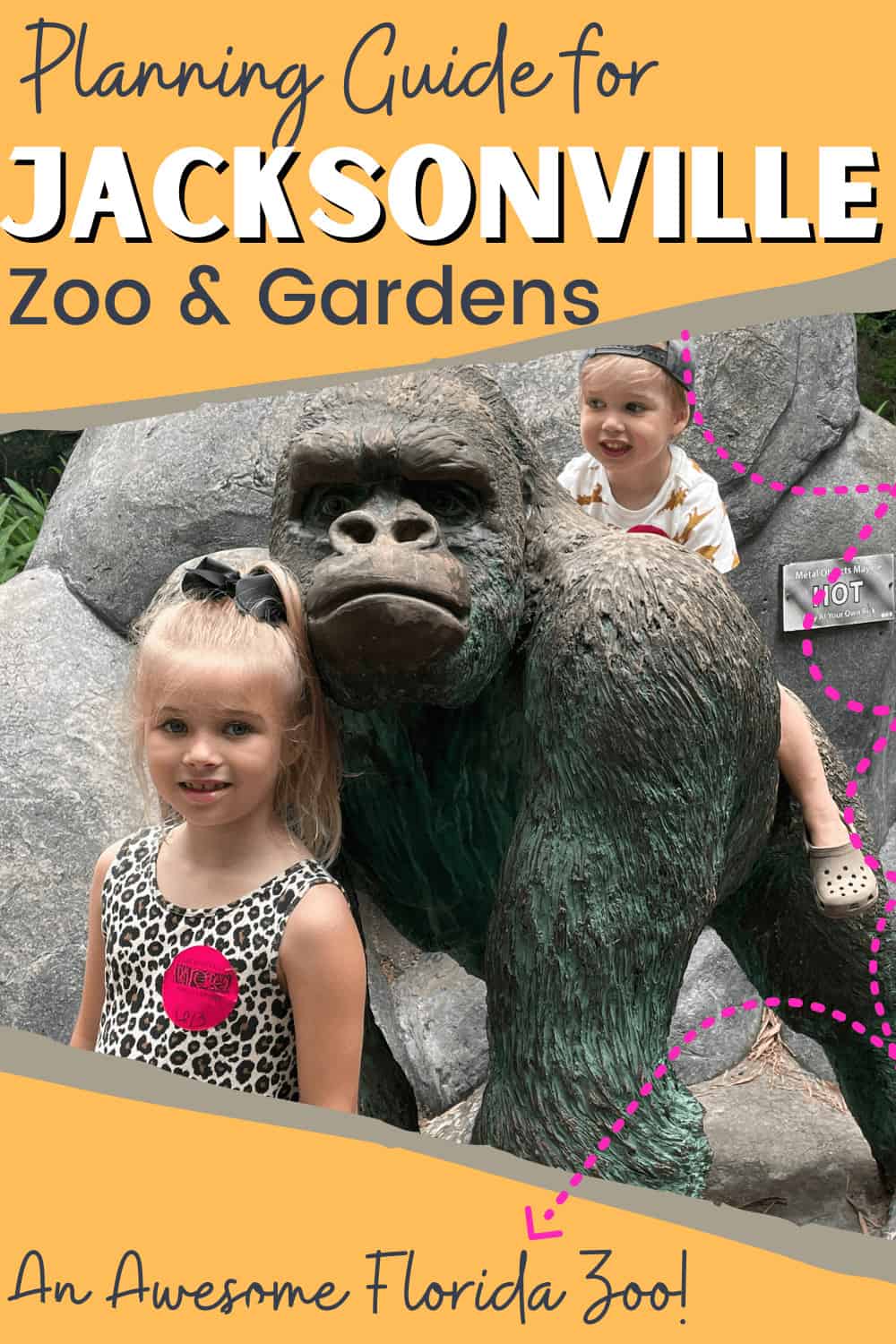 Disclaimer: post contains affiliate links.
Best Ages for Visiting Jacksonville Zoo and Gardens
Who doesn't love a zoo experience, right? Well, quite often kids hit an age where walking around looking at animals may not be high on their list of exciting adventures. To be honest, my husband is also one of those people who don't find joy in zoos.
The sweet spot for kids to visit a zoo and find joy in the full experience is between ages 2 until up to around age 8-10 depending on the child. I have four children and my older kids are awesome about being excited and making experiences fun for and with their siblings but I'd never take my nine and twelve-year-old to a zoo all day. The seven and three-year-old though? We had an AWESOME time at Jacksonville Zoo together!
Jacksonville Zoo and Gardens is laid out in a very easy-to-navigate way. You just follow the path that basically makes a straight line with paths that come full circle back to that main path. It has plenty of shade to protect from the often harsh Florida sun and has plenty of options to keep everyone happily entertained and entranced from start to finish.
Therefore, it is a great destination for both families as well as great outings for single parents or a group outing too. I felt very safe and very comfortable by myself at the zoo with my children. We have also visited Jacksonville Zoo with a new baby and the ease of the walkways throughout the zoo make it easy to navigate with an infant who may snooze the day away in their stroller and also enjoy the visual stimulation of the animals and wildlife.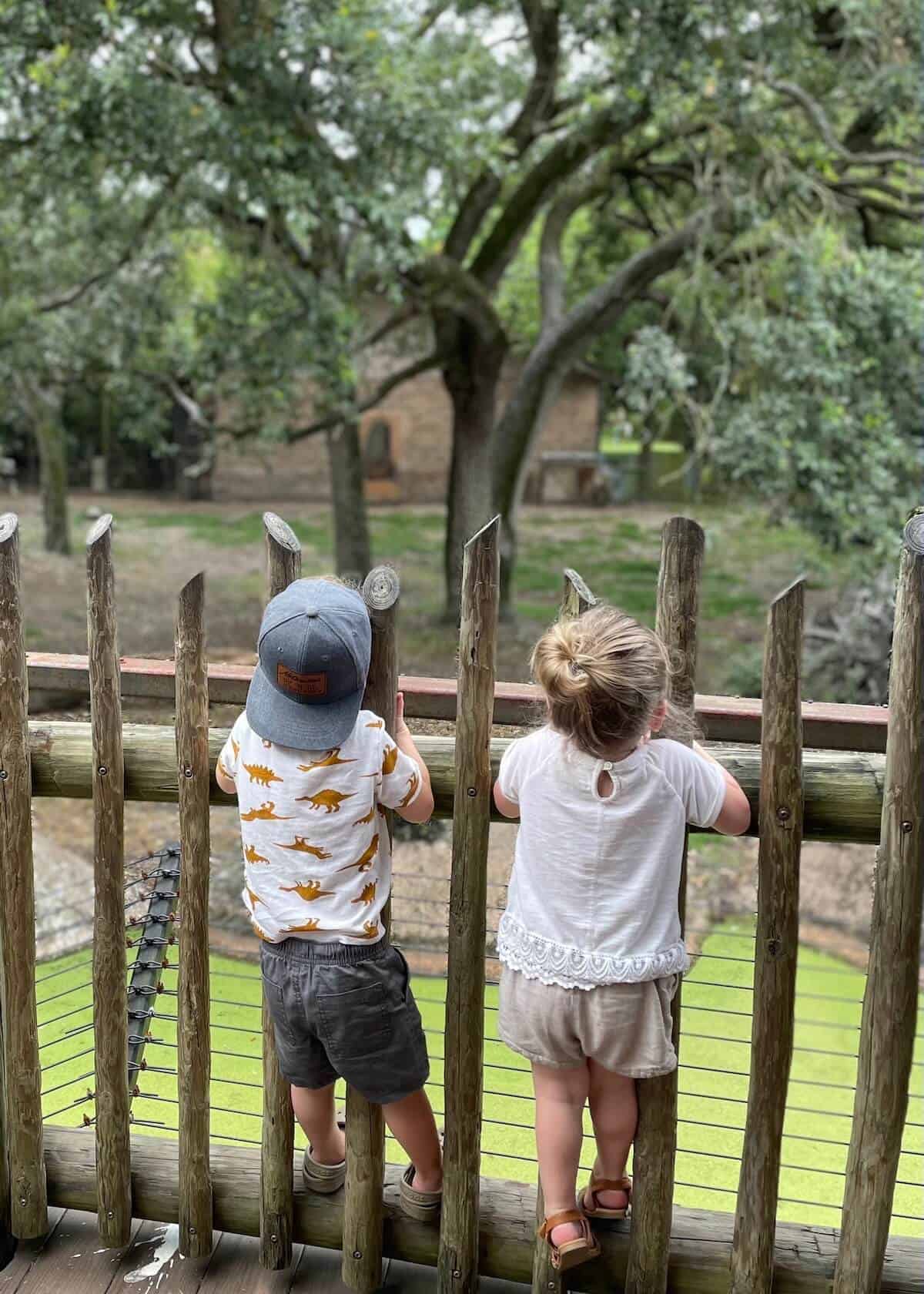 Should You Purchase the Total Experience Tickets?
Each time visiting Jacksonville Zoo and Gardens, we have purchased the Total Experience Tickets for everyone included in our party. The Total Experience Tickets include admission to the Zoo, 4D Theater, Unlimited Train, Unlimited Carousel Rides, and limited Animal Feedings.
I personally love hands-on animal encounters so that is a big reason I find the cost worthwhile for the ticket and I've always had children who LOVE trains so having the opportunity to ride a train is a huge advantage as well. The train does travel around the entire zoo so while you could just purchase the regular Jacksonville Zoo tickets and avoid your child seeing the carousel or the 4D theater you cannot avoid seeing or hearing that choo-choo!
As far as breaking down each of the items in the total experience ticket the 4D theater is fine but nothing special and is something I would confidently say is not worth spending additional money on in order to experience. The carousel is very cute but it's also just a carousel.
The train is both a fun adventure as well as valid transportation as you can ride the train from one train stop at the back of the zoo to the other train station at the entrance of the zoo. Not only does your child experience the joy from riding the train but you can also plan your day around utilizing the train for transportation purposes.
With the layout of the zoo being one main path rather than a full circle, utilizing the Jacksonville Zoo train schedule can be a GREAT way to minimize walking at the end of your day!
The train ride itself takes around 20 minutes to go the entire pathway through the zoo. It is also not anything super noteworthy or exciting. It's a nice break for a snack but the ride itself isn't seeing anything different than you see walking to the exhibits.
The animal feeding experiences we personally were able to take part in were feeding the giraffes at the giraffe overlook. There is also a bird aviary area with the option to feed the birds as well. It is unclear via the Jacksonville Zoo website whether or not other animal feeding experiences are offered at the zoo at this time beyond the giraffes and birds but we did enjoy the giraffee experience!
We also were able to take part in the stingray touch tank which I do think is included in the general admission ticket as well.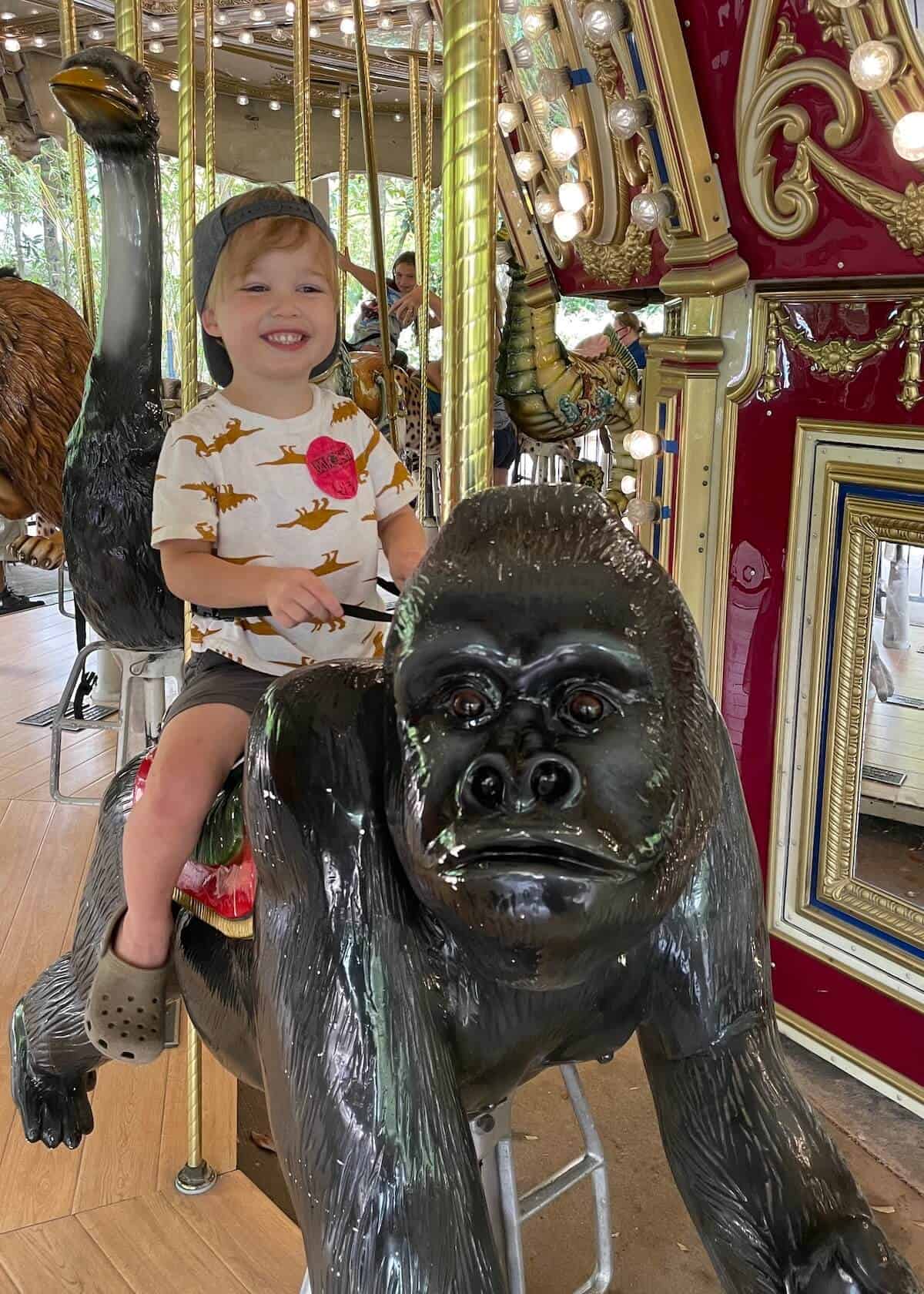 Dining Options While Visiting Jacksonville Zoo
I am a big believer in packing food to take with us whenever we visit a theme park or zoo (a big way we save money at Disney World is bringing our own food into the parks!) and Jacksonville Zoo was no exception.
Their website states that coolers and outside food are not permitted however I did not know that was a zoo rule until I looked it up this very minute for this blog post. Every time we've visited we have brought a soft cooler with a packed lunch and have never had any employees say a single word to us about it.
There are lots of places to sit in the shade or indoors to enjoy your meal. On my most recent visit, I packed lunches for my kids but enjoyed a delicious salad at one of the dining locations.
The Palm Plaza Cafe is mid-way along the main path through the zoo and offers a wide selection of menu items. The Village Sweet Shop is located in the same area and has many sweet treats perfect for a mid-day snack break.
The Trout River Grill is another dining location, this time located between the Play Park and the Australia exhibit. It also has a wide variety of lunch options for the family to enjoy.
One treat that is tough to ignore is the large Kona Ice Truck located at the Wild Florida Entrance and Gardens at Trout River Plaza. Plan ahead as your kids WILL beg you to stop and get a cool treat! A great way to cool off a bit on your adventure around the zoo too!
Finally, there is the Main Camp Cafe located at the entrance to the zoo. This spot serves Starbucks Coffee which is the perfect pick-me-up to get you through the drive home! Us mamas know that one of the best things to get us through a long drive is a yummy coffee treat!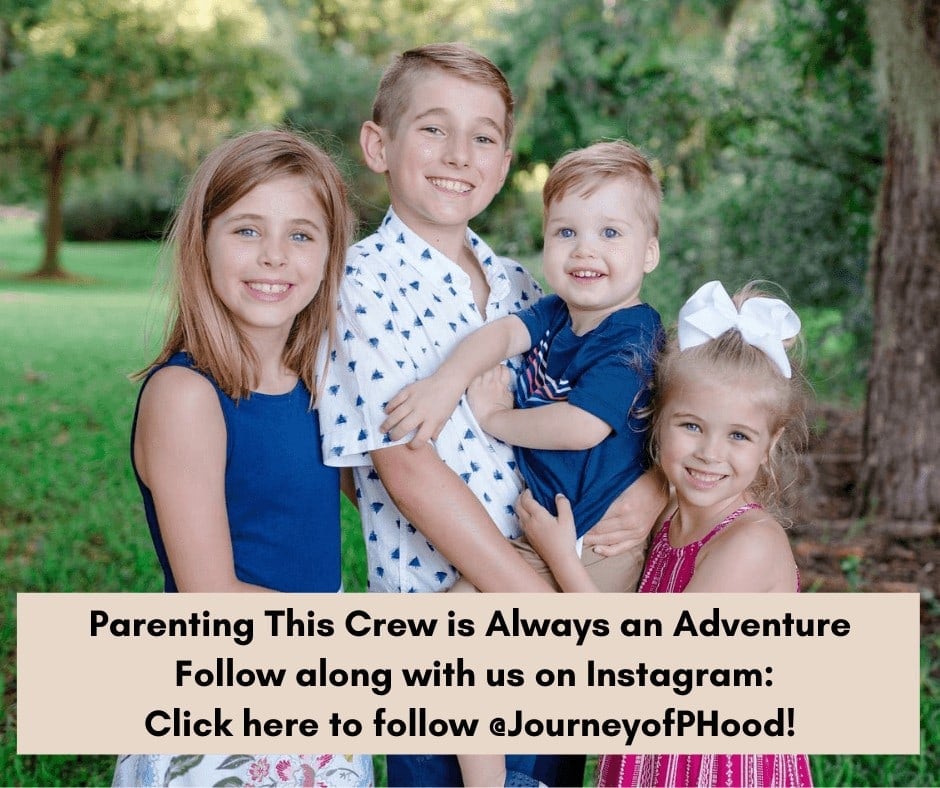 Planning Your Day at Jacksonville Zoo and Gardens
I am always an amusement park opening kinda person. I like to arrive at my destination before opening and be among the first inside to take advantage of the lower crowds early in the day and the cooler weather too especially when visiting Florida… where it's more like enjoying the less sweltering weather than actual cool weather 😉
Visiting Jacksonville Zoo and Gardens can be an all-day experience but it is also very doable with less than a full day to explore as well. You can spend more time enjoying the exhibits and hands-on activities and playground or splash pad or you can skip on the areas that aren't of interest, avoid the playground completely, and be done quicker.
A good game plan as far as how much time you need to spend at Jacksonville Zoo and Gardens is probably 4 – 6 hours. It is plenty of time to see everything and take your time without feeling rushed. On our most recent visit, we took a little longer to arrive and were at the gates at 10:30 and left at 3:30. We spent 5 hours and had five kids under the age of seven along with two adults. We did NOT do the Jacksonville Zoo splash pad or playground area but did and saw everything else and took plenty of potty and snack breaks in between too 🙂
Maps are not currently available so when entering the zoo be sure to take a photo of the large map by the entrance bathrooms! Save it in your "favorites" on your phone to be able to refer back to throughout the day.
Following the main path leads you through the zoo, simply make sure you also follow the paths that intersect so you make sure to see all of the animal exhibits and habitats. The zoo is organized by areas where the animals originated from and are typically found in their natural habitiat.
The nice thing about this layout is that it IS possible to skip an entire section if you need to. Don't have time to play at the playground? Skip the entire Play Park section! Want to end your day a little early and don't care much about seeing tigers? Hop on the train towards the back of the zoo and skip walking further down to the Asia section!
There is also a gift shop, Mombasa Gift Shop that has lots of fun items for the kids to take home. Our family tradition is to purchase a Christmas ornament from our family travels and they have great options in the gift shop. But if you have kids who tend to want all the things you can skip the gift shop and still get them a great "prize" to remember the day by.
You can purchase a kids drink that comes with a souvinear cup for only $1.99! I purchased one at the Main Camp Cafe for my kids on our way home. The perfect pre-car ride treat and they loved the fun cup to drink from at home to remember our day together!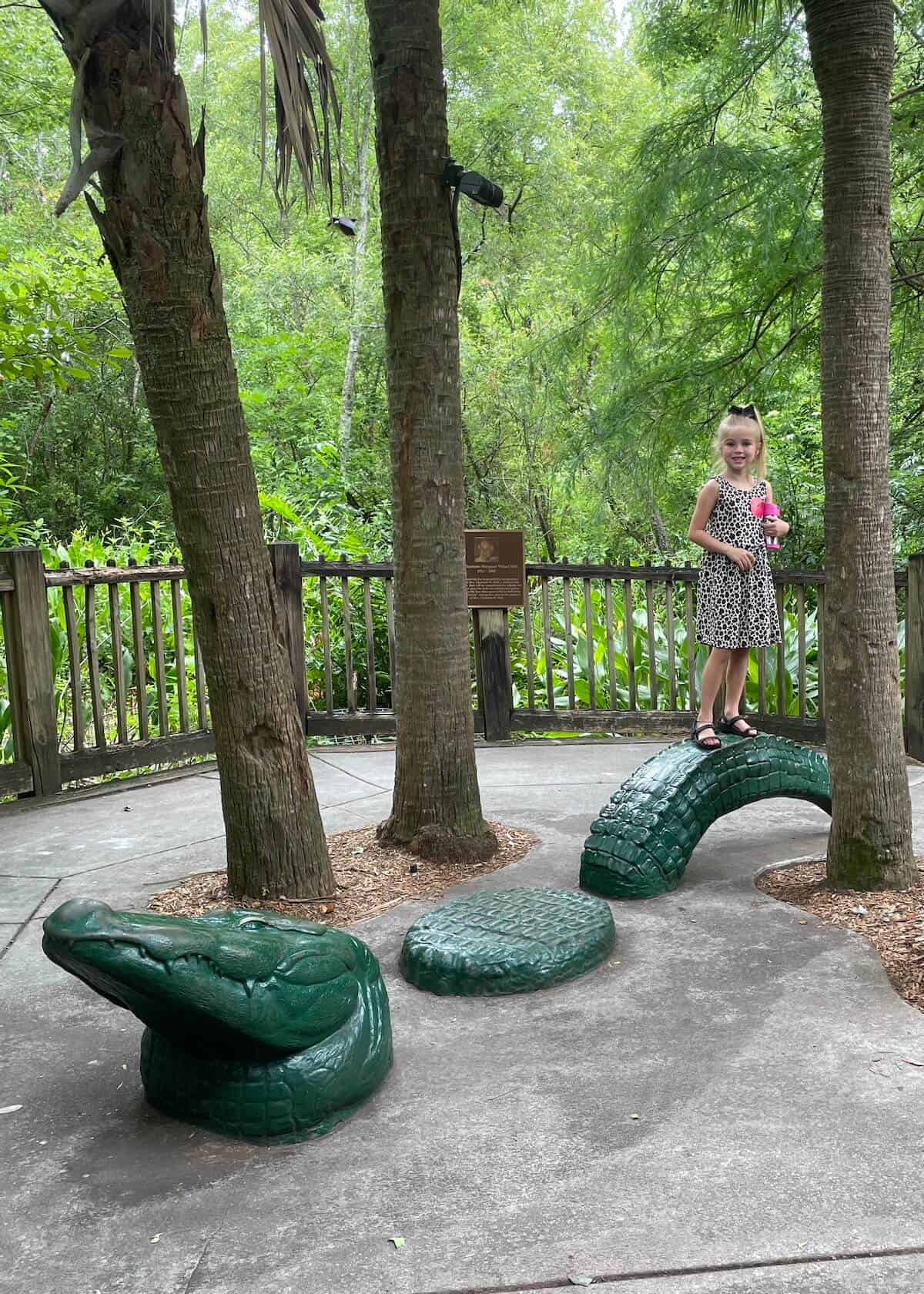 Animals You Will Find at Jacksonville Zoo and Gardens
As previously mentioned the zoo is organized with one main path and several sections branching off from the path. This design sets Jacksonville Zoo and Gardens apart as one of the top zoos I've visited. It's SO easy to navigate! It is broken down by locations where the animals would be found in their natural habitats and the areas have some nice theming to fit the envornment when they'd normally be found.
Here is a break down of each section and what each area includes from the exotic animals and endangered species to native animals of North America, listed in order from distance to the entrance of the zoo (starting with the section closest to the entrance):
Africa Loop and African Forest
Eastern Bongo
Cheetah
Egyptian Cobra
Red-spitting Cobra
East African Grey-Crowned Crane
African Elephants
Greater Flamingo
Rock Hyrax
Greater Kudu
Lion
Girdled Lizard
Western Plated Lizard
West African Green Mamba
Bronze-backed Mantella
Okapi
Ostrich
African Rock Python
Southern White Rhino
Siamang
Eastern Coral Snake
Aldabra Tortoise
Pancake Tortoise
African Bush Viper
Gaboon Viper
Lappet-faced Vulture
Palm-nut Vulture
Warthog
Grevy's Zebra
Bonobo
Angolan Colobus
Guereza Colobus
Western Lowland Gorilla
Black-and-white Ruffed Lemur
Ring-tailed Lemur
Mandrill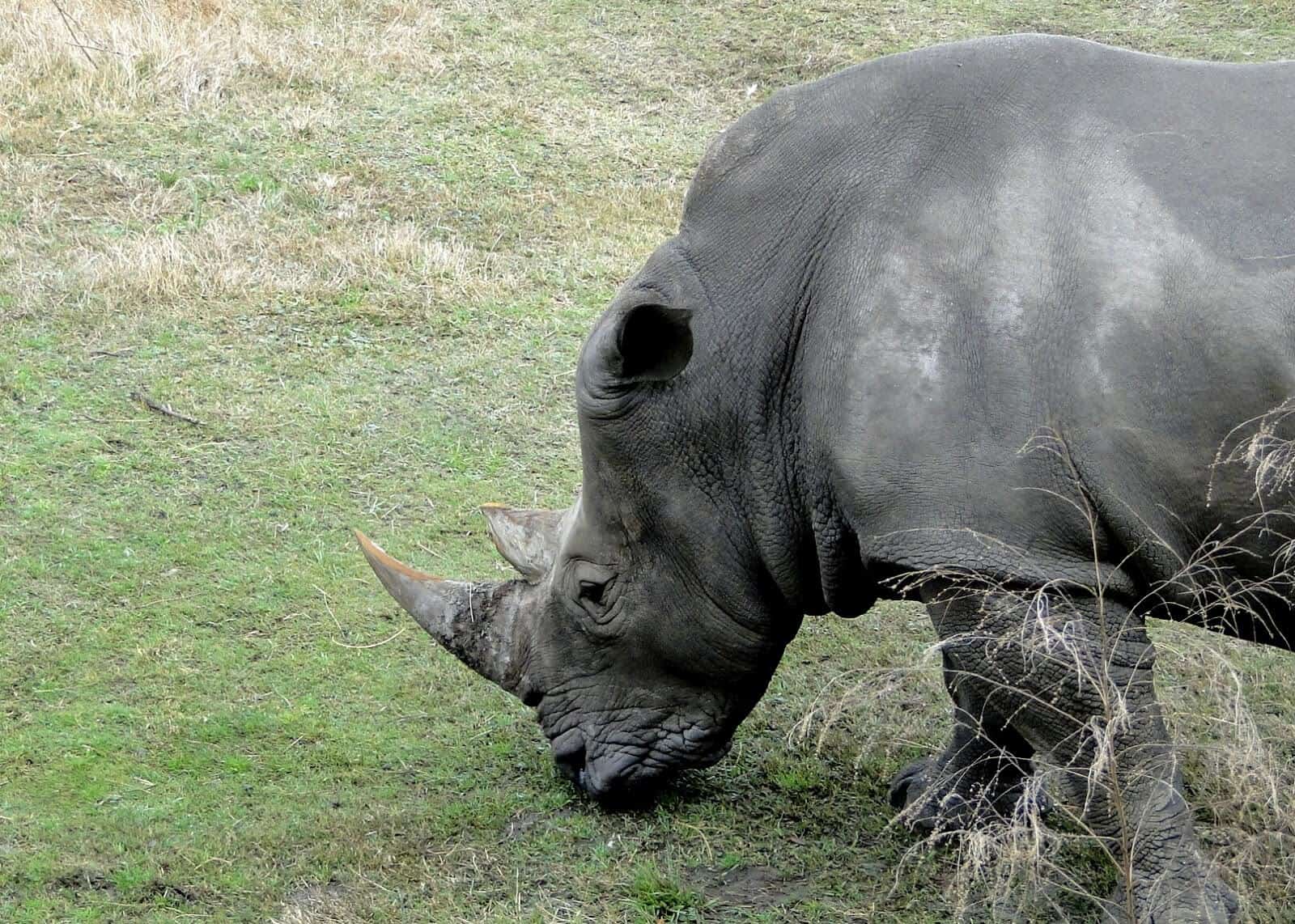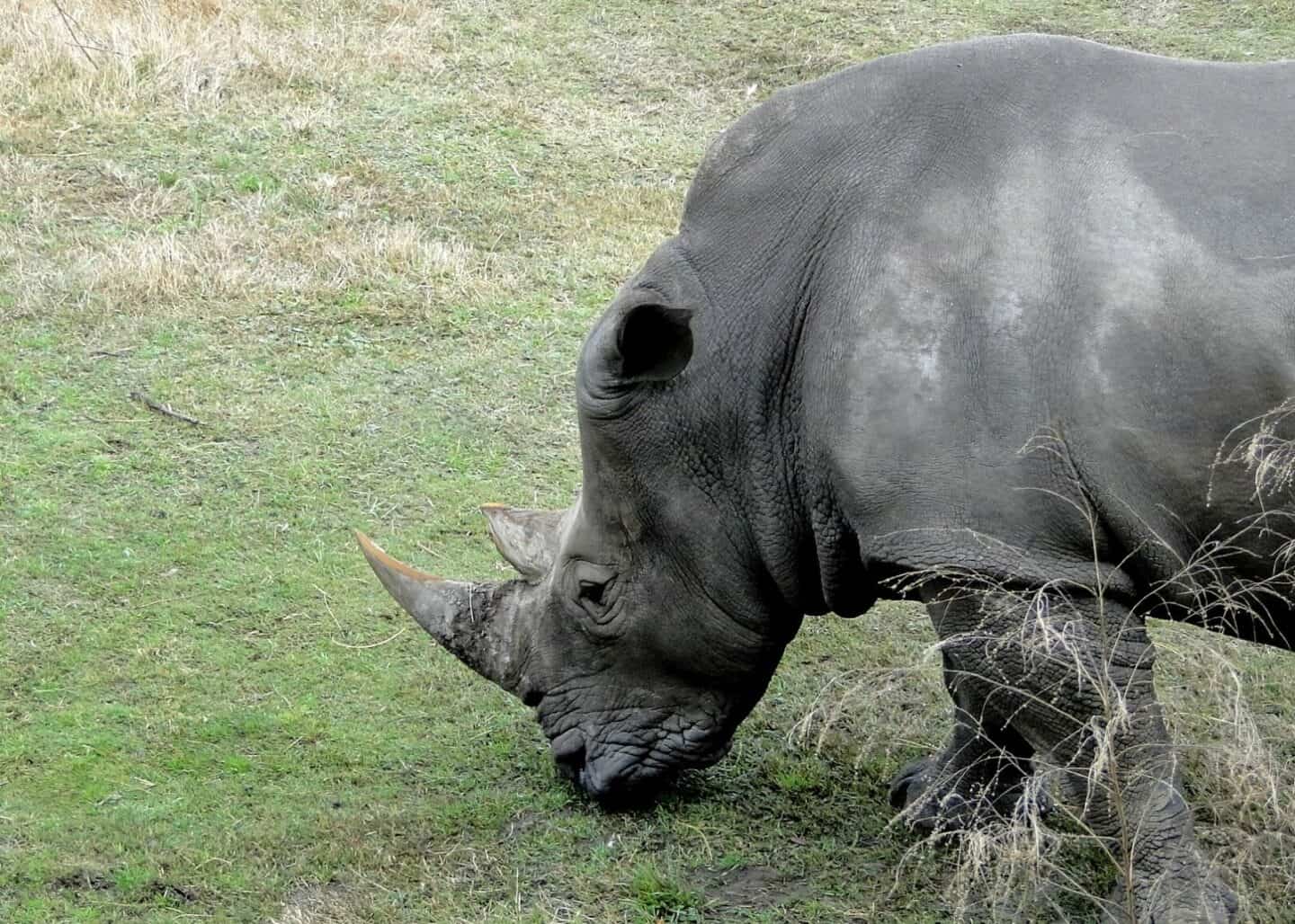 Wild Florida
This exhibit features local wildlife and native species to the state of Florida from South Florida to Northeast Florida and everything inbetween!
Personal note of recommendation: If you have a child who is interested in native Florida animals, particularly alligators, you may also want to plan a visit to Gatorland in Central Florida as it is the alligator capitol of the world and quite the fun experience and even has the opportunity to experience the screamin' gator zip line which my alligator-loving daughter was SO excited about for a birthday surprise! Learn more about Gatorland here 🙂
American Alligator
North American Black Bear
Florida Bobcat
Southern Copperhead Whooping Crane
Bald Eagle
Peninsula Newt
Marbled Salamander
Greater Siren
Everglades Rat Snake
Grey Rat Snake
Red Rat Snake
Yellow Rat Snake
Diamondback Terrapin Gopher Tortoise
Barking Tree Frog
Green Tree Frog
Squirrel Tree Frog
Alligator Snapping Turtle
Florida Box Turtle
Florida Mud Turtle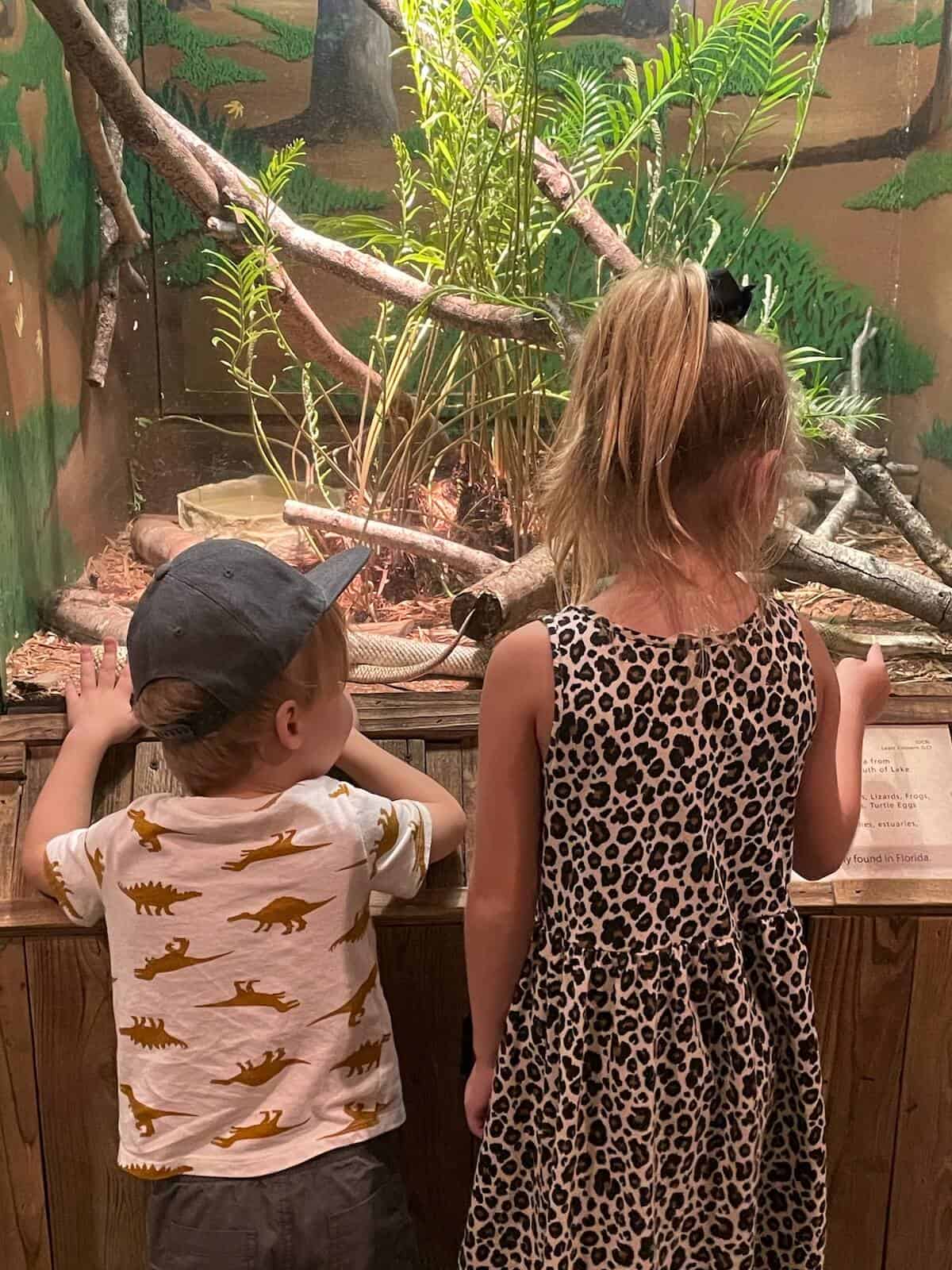 South America – Range of the Jaguar
Green Anaconda
Giant Anteater
Seba's Short-tailed Bat
Vampire Bat
Jamaican Fruit Bat
Brazilian Rainbow Boa
Colombian or Brown Rainbow Boa
Emerald Tree Boa
Rio Cauca Caecilian
Green-and-black Poison Dart Frog
Blue-Billed Curassow
Squirrel Monkey
Howler Monkey
Capybara
American Flamingo
Jaguar
Giant Otters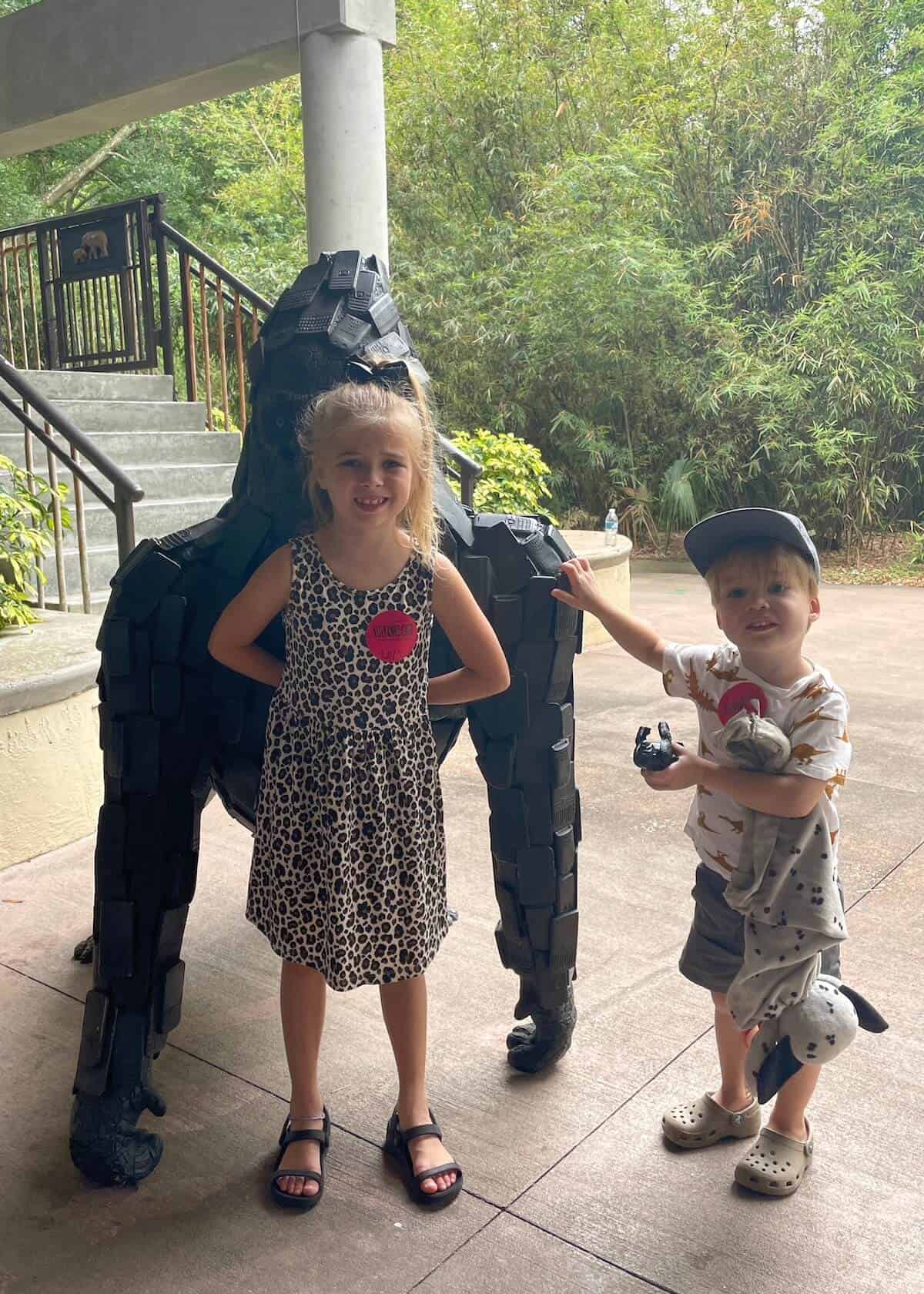 Australia
Double-wattled or Southern Cassowary
Emu
Rainbow Lorikeet
Yellow-streaked Lory
Asia – Land of the Tiger
Malayan Tiger
Sumatran Tiger
North Sulawesi Babirusa
Wreathed Hornbill
Rhinoceros Hornbill
Asian Small-clawed Otter
Visayan Warty Pig
Komodo Dragon
Koi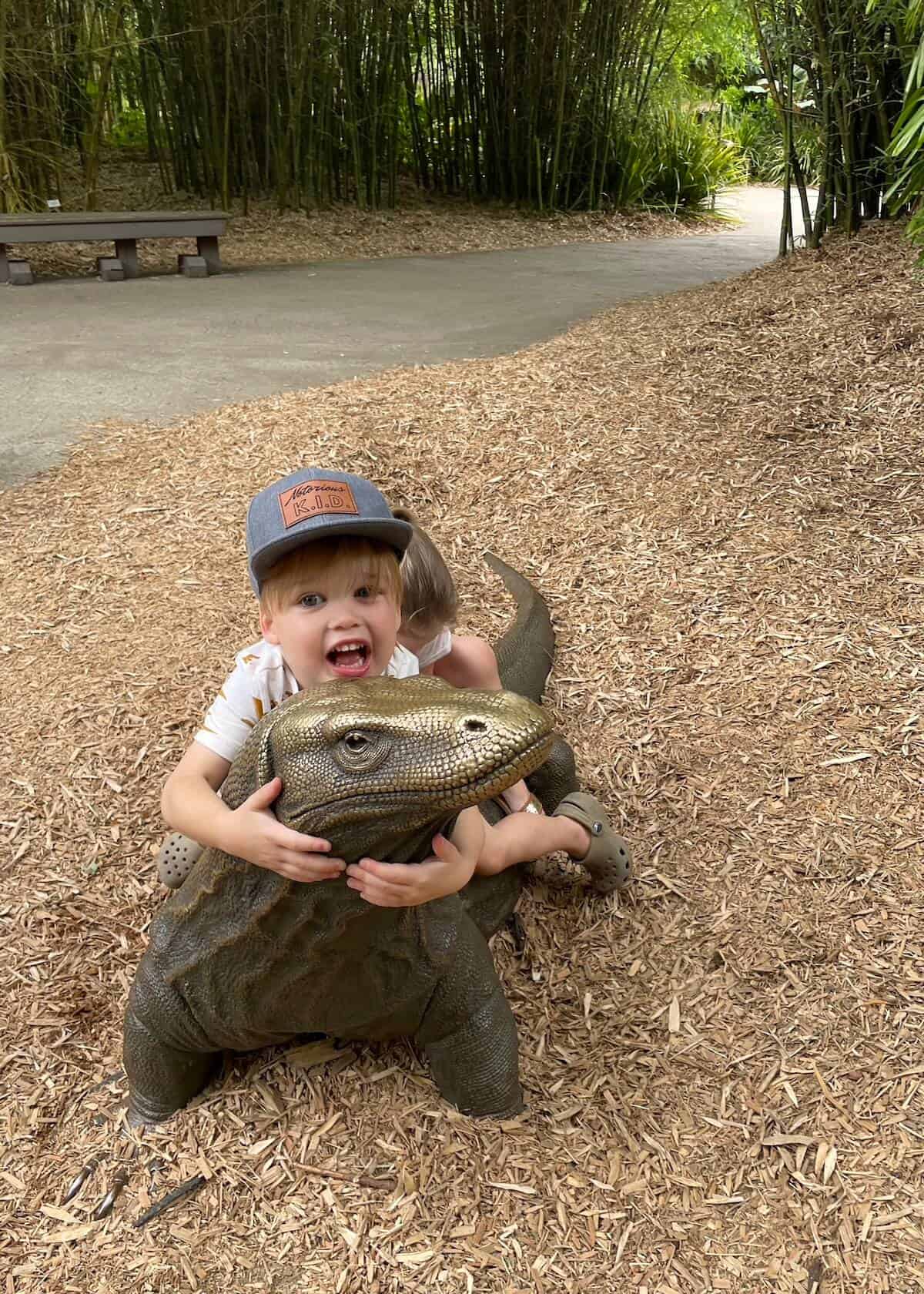 Additional Areas to Explore at Jacksonville Zoo and Gardens
Giraffe Overlook
This is the area where the giraffe feeding takes place and is off the main pathway and is probably among the top animal attractions at the zoo and helps set Jacksonville Zoo and Gardens apart as one of the best zoos in Florida.
I am a "Disney Mom" and am personally very partial to Disney's Animal Kingdom and especially love the safari park and the ride through the African safari as a great place to be able to be up close to the African animals. However, the giraffe feeding at Jacksonville Zoo and Gardens is a MUCH closer experience! I even preferred it over the Wild Animal Safari adventure we took in Lagrange, Georgia.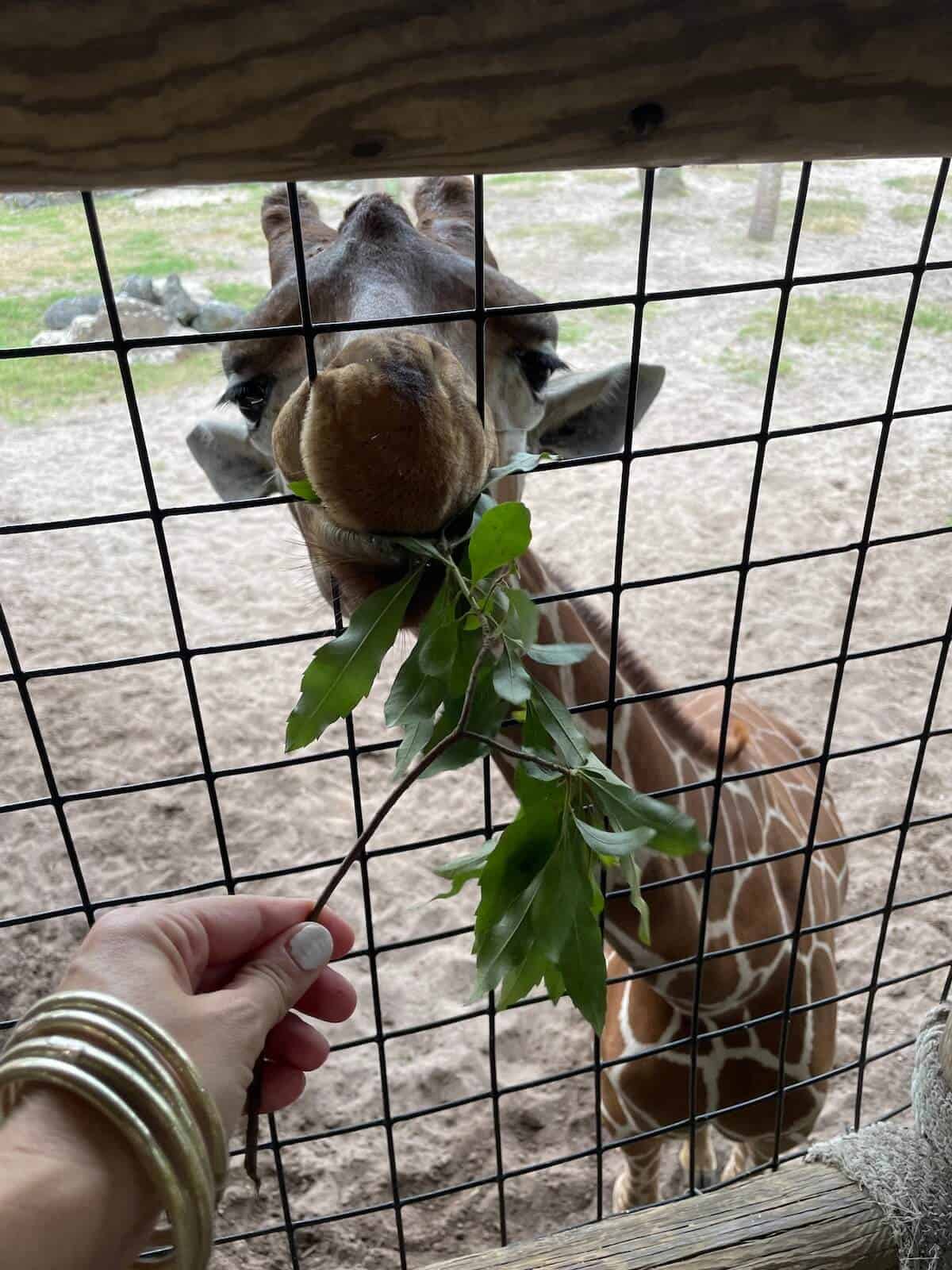 Play Park and Splash Ground
In this area you have both the playground area for kids as well as a splash pad area for water play (open seasonally). This is not a full water park but is plenty of water fun for kids of all ages!
Part of the area also includes the opportunity to see the following wild animals as well: Nigerian Dwarf Goat, West African Pygmy Goat, Squirrel Monkey, and Magellanic Penguin.
River Valley Aviary
In this enclosed free-flight aviary exotic birds fly and roam freely. There are many different species of birds represented in this large area with the ability to have interactive experiences in one of Jacksonville Zoo's most popular exhibits.
Stingray Bay
This is a great hands on area to both pet and feed stingrays which is a memorible as well as unique experience for the entire family!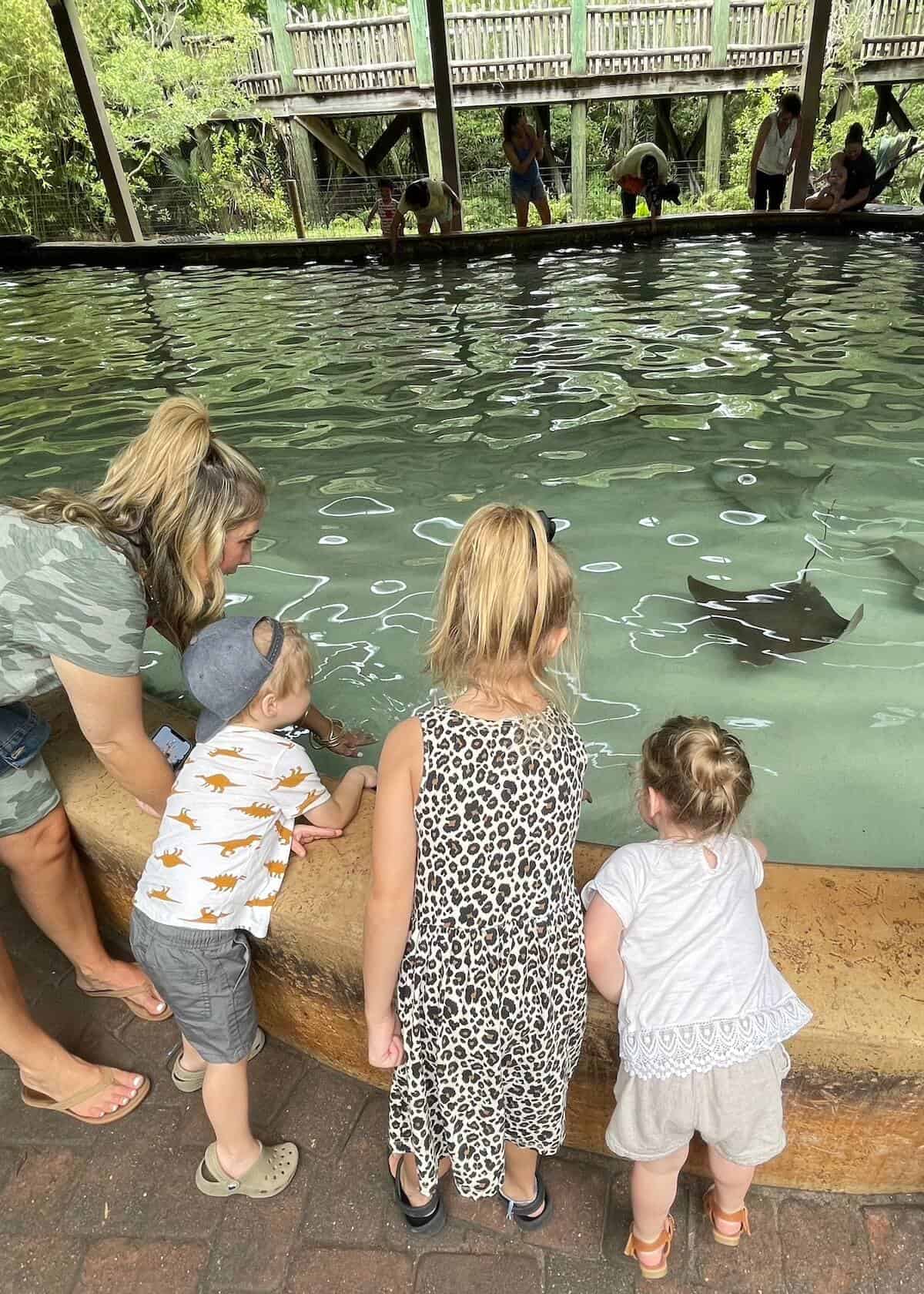 Tips for Visiting Jacksonville Zoo and Gardens – What to Bring
You may or may not want to pack a lunch to eat while at the zoo. Personally, I'd bring along a cooler with lunch stuff for at least the kids traveling with you to help cut down on costs and ensure they like the food they have!
If you are visiting Jacksonville Zoo in the warmer months (which is majority of the year in Florida) be sure to load up on sunscreen and bring along sunglasses and water bottles (these are my favorites for my kids). You may also want to consider cooling towels or even handheld fans. I brought my handheld portable fan with me and we visiting the first week in June but I never got too hot to even need it, but we did luck out with lots of clouds and even a bit of rain to help cool things off.
Even older children will appreciate the option to sit in a stroller during the day at the zoo. My kids enjoyed doing a lot of the walking but there are enough gaps between seeing animals at the different exhibits that having that place to sit and rest is helpful. Even my almost seven year old used the stroller a good bit!
If you plan to have your kids enjoy the splash area it would be wise to bring along a change of clothes or bathing suits, keeping in mind swim diapers for the little ones.
Make sure to wear comfortable shoes for walking (these are my favorite flip flops I even wear all day at Disney World!).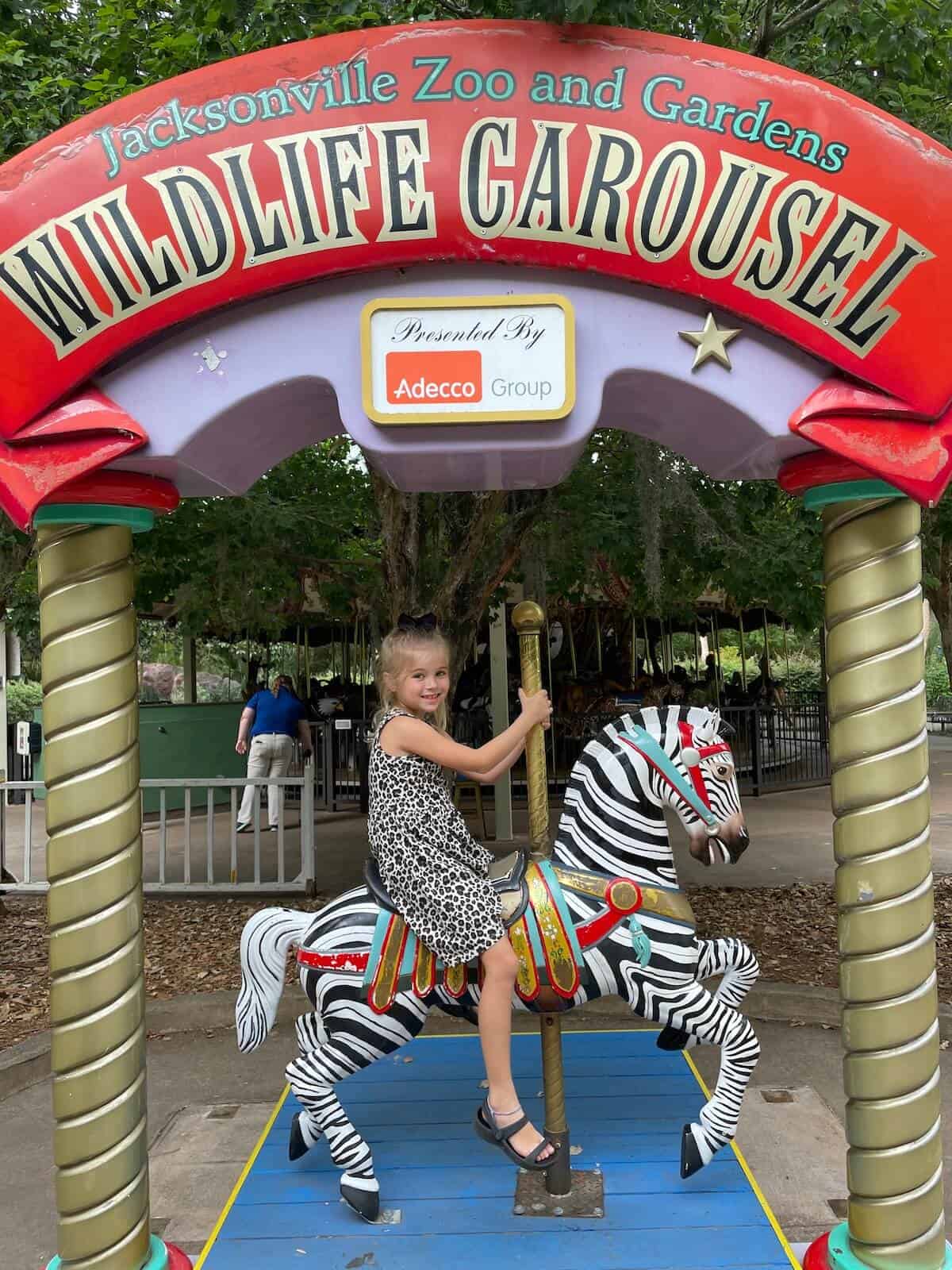 Final Thoughts
Jacksonville Zoo and Gardens is considered by many to be among the best zoos in Florida. When it comes to Florida zoos I have a special spot in my own heart for the Brevard Zoo as I am originally from the area and I also love Zoo Atlanta becuase I was raised near that zoo but now that I live in South Georgia I would prefer visiting Jacksonville Zoo over any of the others!
I appreciate the interactive exhibits as well as the wide variety of animals, especially rare endangered animals. I also love that it is an only drive of two ish hours from my hometown in South Georgia and is an excellent option for a family guided day of fun.
Most of all take your time walking through the exhibits! Keep in mind it isn't about rushing to see all the things or to check them off your list, this day is about enjoying the little moments with your children. Watching the joy and excitement on their faces and making memories as a family!
You may also want to consider many of the educational opportunities at Jacksonville Zoo and Gardens including their virtual options with their "Bringing the Zoo to You" program. The zoo also makes a great spot for a birthday celebration especially for little ones interested in a future zoo career or interested in wildlife research. You may also want to visit the Jacksonville Zoo and Gardens website for more information as well as to check out their special events, conservation efforts, and conservation programs.
Do you plan on visiting Jacksonville Zoo in the future, or have you visited in the past? Share your thoughts down below!