Wild Animal Safari In Lagrange, Georgia our Spring Break Trip.
When we first booked our trip to Great Wolf Lodge we knew we wanted to do other things than JUST the water park.
Originally we wanted to go white water rafting and wanted to spend time in Atlanta, visit the Coke Factory and do other things too.
But then we looked into white water rafting and Tess wasn't tall enough.
And when we decided to bring Spear we didn't want to drive out of the way to go to Atlanta.
So we hunted down something we ALL could participate in and enjoy TOGETHER.
When I found out about The Wild Animal Safari I was ALL IN.
I love petting zoo situations. I love interacting with animals. And I knew Tess would be so excited since she's our little animal lover!
We decided to visit the Wild Animal Safari on our check out day so we could just head home after we finished and it worked out really well!
We purchased our tickets in advance online and arrived right when they opened in order to secure the rental of one of their vans!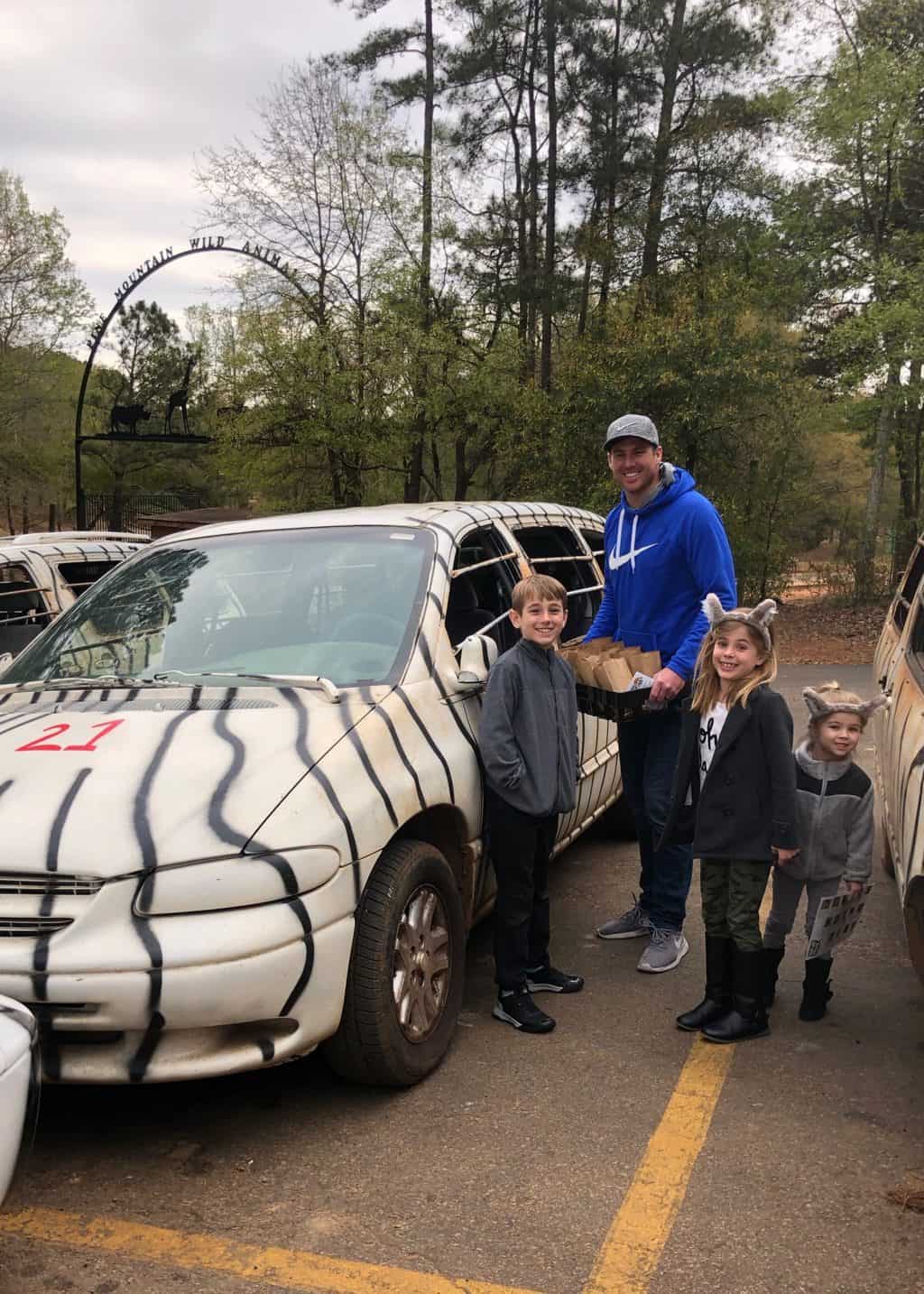 You can drive your own vehicle through the safari but y'all…don't do it. Your car or van or whatever will get TORE UP.
They also offer the option to ride on a bus driven by their staff. We wanted to let Zach drive and wanted the freedom to be in control of the length of time we took and just to be our little family rather than a bunch of strangers with us.
The safari is truly a HUGE piece of land where TONS of animals roam. It's 3 miles long and when you rent the van you're given an hour to drive through.
Which sounds like a super long time but really it's not when you're constantly stopping to feed the animals.
The food is also a separate purchase. So this place? It ain't cheap.
It was around $20 per person per ticket. $25ish to rent the van and another $25ish for the food. We were in around $200! For an experience that was about a total of 2 hours for our family.
Having four kids is pricey! ha!
We were warned at the start of the safari to not pet certain animals, the main one being the zebras. Apparently zebras are mean and you can't touch them.
Well good luck with that idea as as soon as you cross the threshold onto the safari…zebras ATTACK the vehicle and are pretty persistant the entire three miles.
We were all freaking out. It was EPIC.
I can't remember the last time I laughed so hard. Zach was trying to drive with animals reaching for him. Tess was scared to death and crying. Kye was throwing food as far away as he could hoping the zebras would leave us alone.
It was one of those memories that will ALWAYS be shared together and ALWAYS make us laugh when we remember it.
Zach doesn't like animals but he agreed: this was the best moment of our family trip! It was just SO FUNNY.
Once we got over the initial "attack of the zebras" the drive through the safari was really fun!
It wasn't as hands on with the animals as I'd expected…it was more try to feed them while avoid touching them.
Animals mouths are GROSS.
We were worried at first that we'd run out of food so we bought a good bit of it and ended up having a TON left over.
Because the animals are kinda "attack mode" for the food and because their mouths are so gross, you just don't end up using as much food as you'd think!
Once we were able to escape the zebras, things were much more calm and we were able to enjoy the animals more and the experience more too.
Tess loved it and was MUCH happier and more relaxed!
A super funny moment was when I was talking to the kids with my hands (per usual) and an animal approached without me realizing it and thought my finger was food and tried to eat it ha!
The animal I enjoyed the most was the giraffe. I didn't even mind touching it's tongue and it felt really cool!
They sell little animal guides for $1 and it was a worthwhile dollar as Tess LOVED having the fact sheet.
Even though she can't read she thinks she knows all the facts which is so stinking adorable!
We took just about the full hour with the van and the safari ride through portion.
Entering into the morning Kye and Britt weren't very pumped about the whole thing. Animals are just kinda a "Tess thing" but they honestly had SO MUCH FUN too!!!
I just couldn't stop laughing about the whole thing. It was just all so so funny!
Once we finished we did some HARDCORE hand washing and then headed over to a walkthrough area to see more animals.
I do think doing the walkthrough part first could be good to get kids comfortable with the animals as the safari was a bit intense.
But the downside is that going early and doing the safari first is smart because the animals are the most hungry then and the vans are more readily available for rent!
The walkthrough portion was still where many of the animals could be fed so we saved our food for that portion.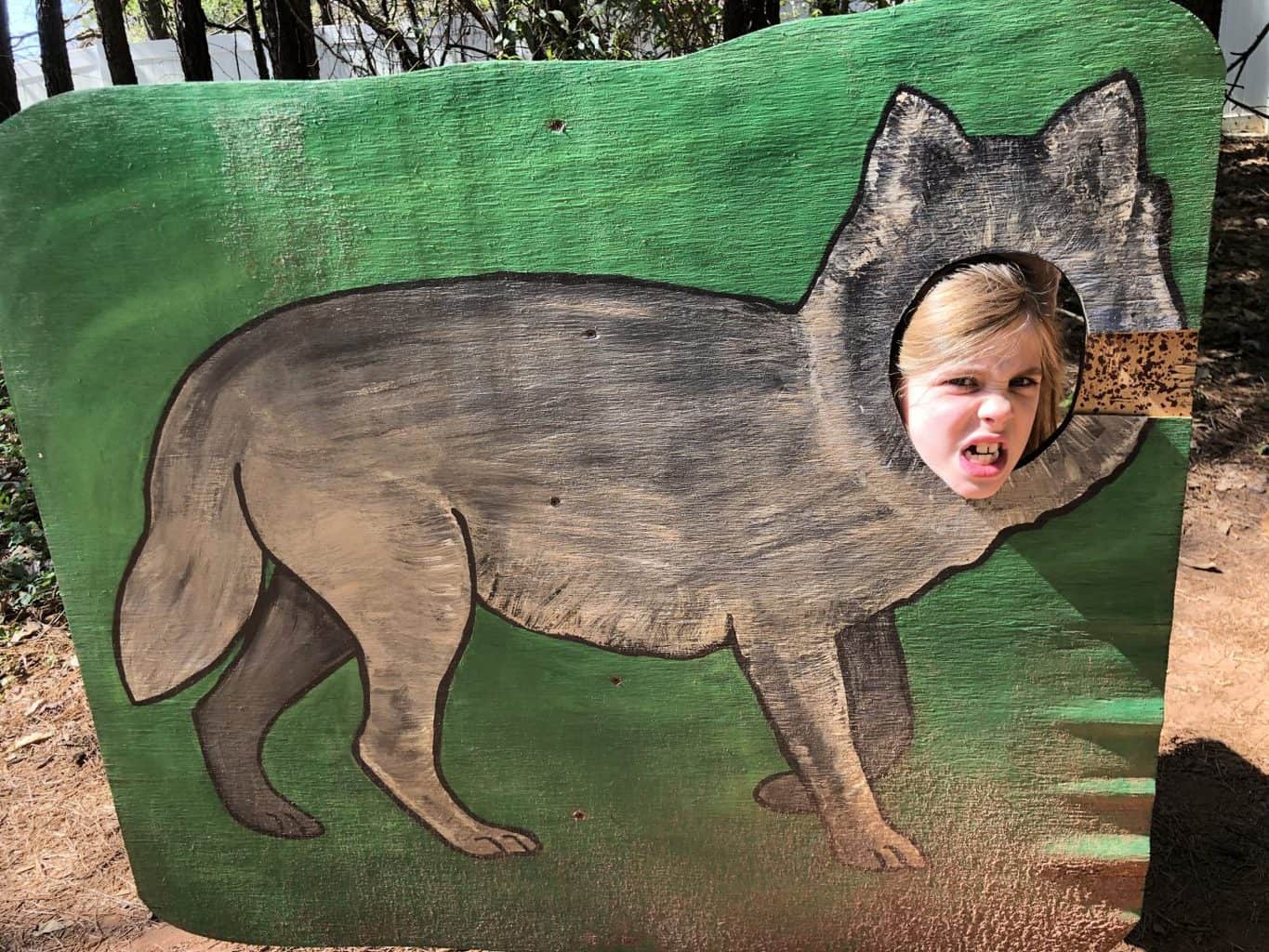 The coolest moment of the day was the BABY GIRAFFE!
It was SO CUTE and SO, SO SWEET!!!!
Even Zach, the non-animal lover, loved it!
The walkthrough area was very chill and a combo of hands-on petting zoo type animals as well as more of a zoo, just look, vibe.
It was so cute seeing Spear enjoying it too!
After being cooped up inside for so long at Great Wolf we all just loved the fresh air and family fun together. It was the PERFECT ending to our trip!
We left to head home and made a stop for lunch.
Y'all know. We aren't "on a whim" people. But we randomly stopped to eat at a McAllisters which was such a random stop and another big family win.
Eating outside and being silly together and just not rushing through or hurrying home was so relaxing.
I love making memories as a family and I LOVE that we are transitioning out of junky toys the kids never play with for Christmas gifts and into the memory making gifts.
Experiences are where it's at y'all!
If you're visiting the LaGrange/Columbus/Atlanta area I for sure recommend a visit to the Wild Animal Safari.
Real talk? Zach and I enjoyed it much more than Great Wolf Lodge haha!
I am DYING laughing in this video and it makes me laugh every time I watch 🙂