Spear's 3rd Birthday – December 1, 2020
We had Spear's birthday party a couple weeks before his actual birthday due to our traveling over Thanksgiving (read all about his construction birthday party fun here!).
Tucking him in on his last night of being two got me a little in my feelings but honestly three is one of my FAVORITE ages so I'm pretty pumped to have a three year old in the house for one last time and am not too sad to see two go forever!
The big kids love to get in on the birthday fun and I let them stay up a bit to be able to help wrap Spear's gifts. They love the have a sneak peak into what their siblings will be opening up!
A perk of having a December birthday is that our elves come to visit and bring a little gift with them 🙂
Our tradition is to wake up the birthday child as a family while singing. Spear responded like it was just any other day…kid is used to being the center of attention all the time 😉
We always have donuts and a birthday balloon and, of course, I got Spear a tractor one!
He even got to wear a new tractor shirt to school for his special day and he was super pumped!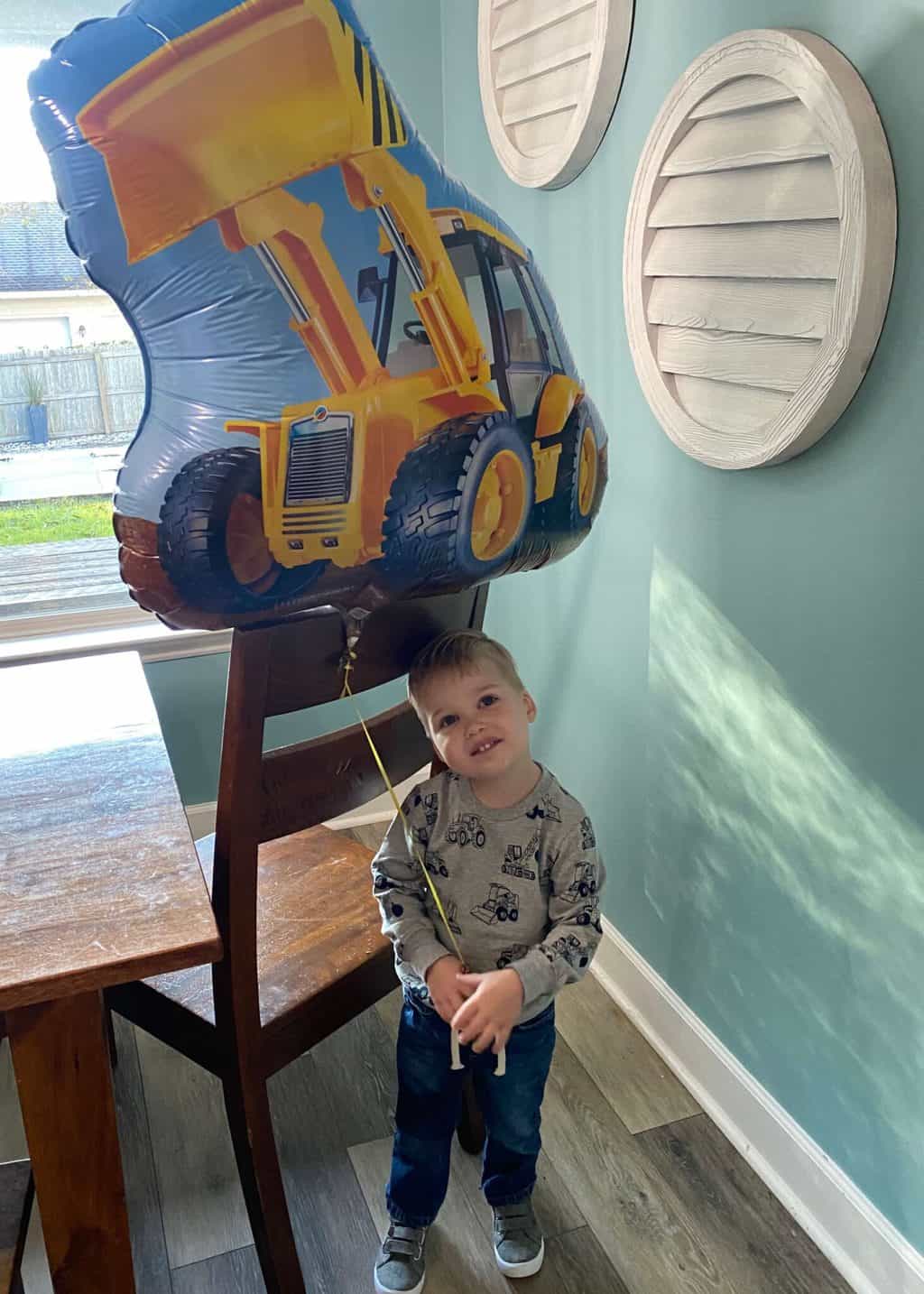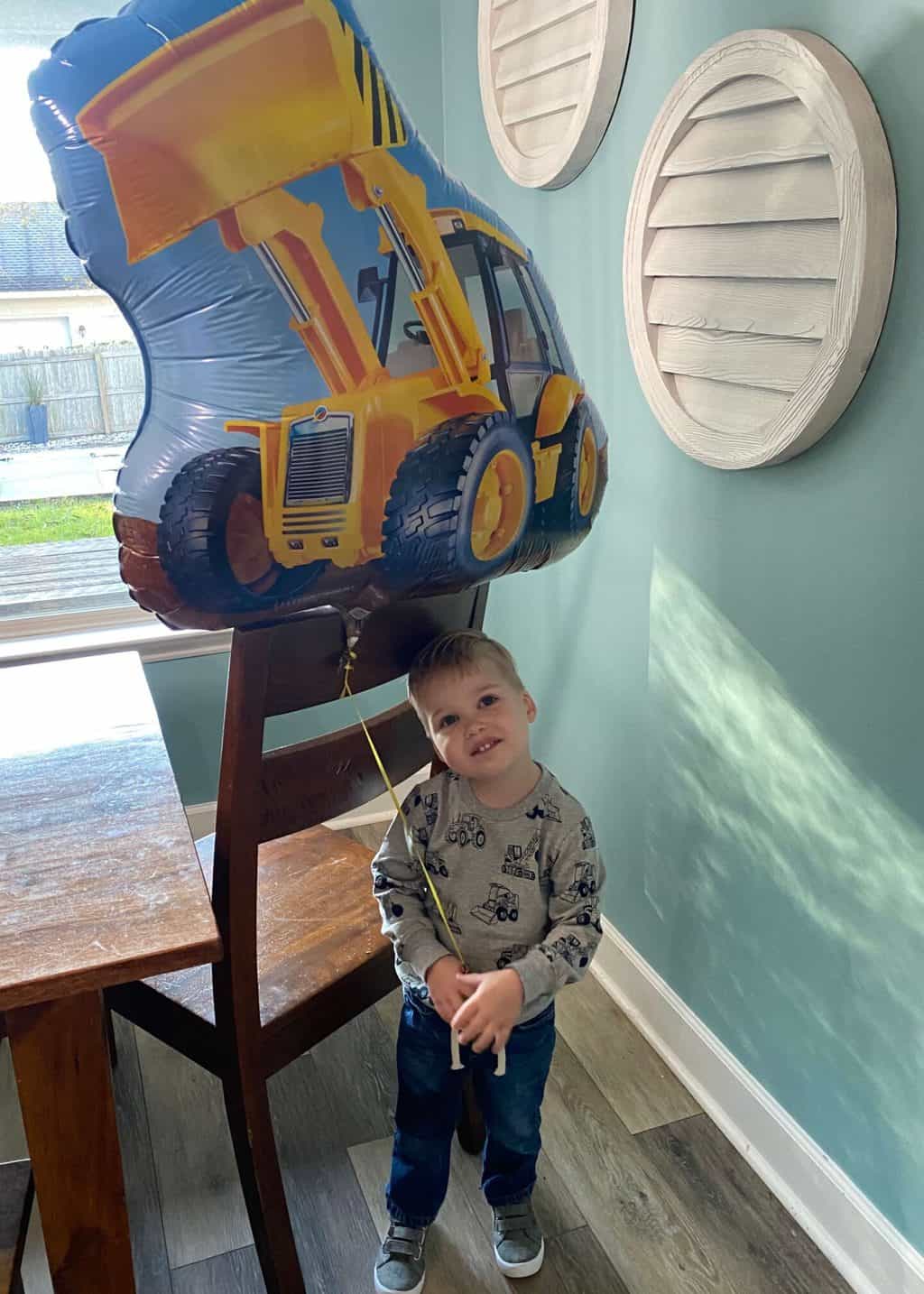 I still had him go to school on his birthday because he LOVES school and I knew he'd enjoy celebrating with his friends and his teachers.
I did have a birthday surprise for him when I picked him up…we have a John Deere store not too far from us and I surprised him by taking him to look at ALL the tractors.
It was THE best 15 minutes EVER. He FLIPPED OUT and was SO excited. He literally looked at every single tractor. He was so thrilled and took his time going from each one in the parking lot and worked his way around the entire place.
I didn't let him get inside them but I heard that the people who work there are super nice so I should have just asked – next time I will!
He kept asking to show Big Papa the tractors and talking about Big Papa buying them and taking him on rides "someday." He was SO appreciative and did SUCH a great job at leaving when it was time to go without tears.
I think the whole experience made me even happier than it made him 😉 I just LOVED seeing his excitement and PURE JOY!
My tractor loving boy was in HEAVEN!
We usually do a birthday dinner of the birthday child's choosing and opted to get pizza for Spear to celebrate his special day.
For his birthday cake, we used the leftover cake from Britt's American Girl birthday party – he didn't mind one bit and I LOVE his big smile while we were all singing to him 🙂
As another fun birthday celebration I picked up the free Build and Grow kits from Lowe's when they had a construction vehicle themed one. I saved 'em for Spear's birthday and they were the perfect activity to celebrate our sweet boy!
I mean totally a cool mom moment letting the kids use hammers on my kitchen table. A memory we will literally now have FOREVER. Oops.
It was one of the most complicated build and grow kits we've done and I even got in on helping the kids put theirs together.
For Spear's gifts this year I was really proud of how little I spent out of pocket. I used a lot of Kye's old items for him and also took on several sponsored Instagram campaigns to use as his birthday gifts. It still looked like he had a lot to open, when really I spent the least I've ever spent on a birthday child!
I have zero guilt over it – he's three. He was SUPER happy and excited and loved all of his gifts!
The kids were so sweet in gifting him items too and especially writing such sweet cards. I love the way my kids all love each other.
Kye's was especially sweet and thoughtful as he gifted Spear his Toy Story Blanket. Yall this is a HUGE THING. Auntie Katie gave this blanket to Kye when he was 18 months old and he's slept with it every single night since then.
He said it was time to pass it down to his little brother. SO SWEET and special!!!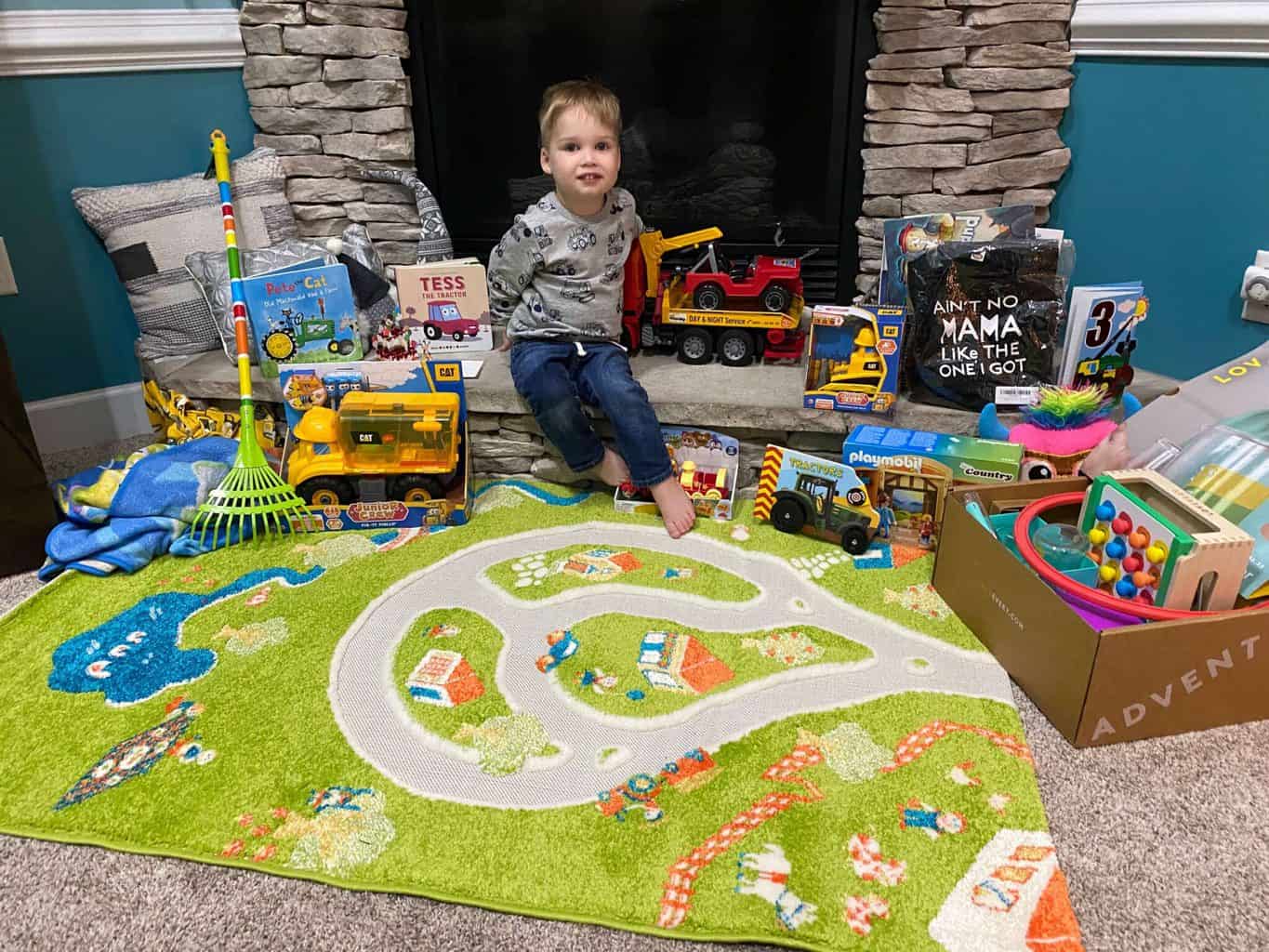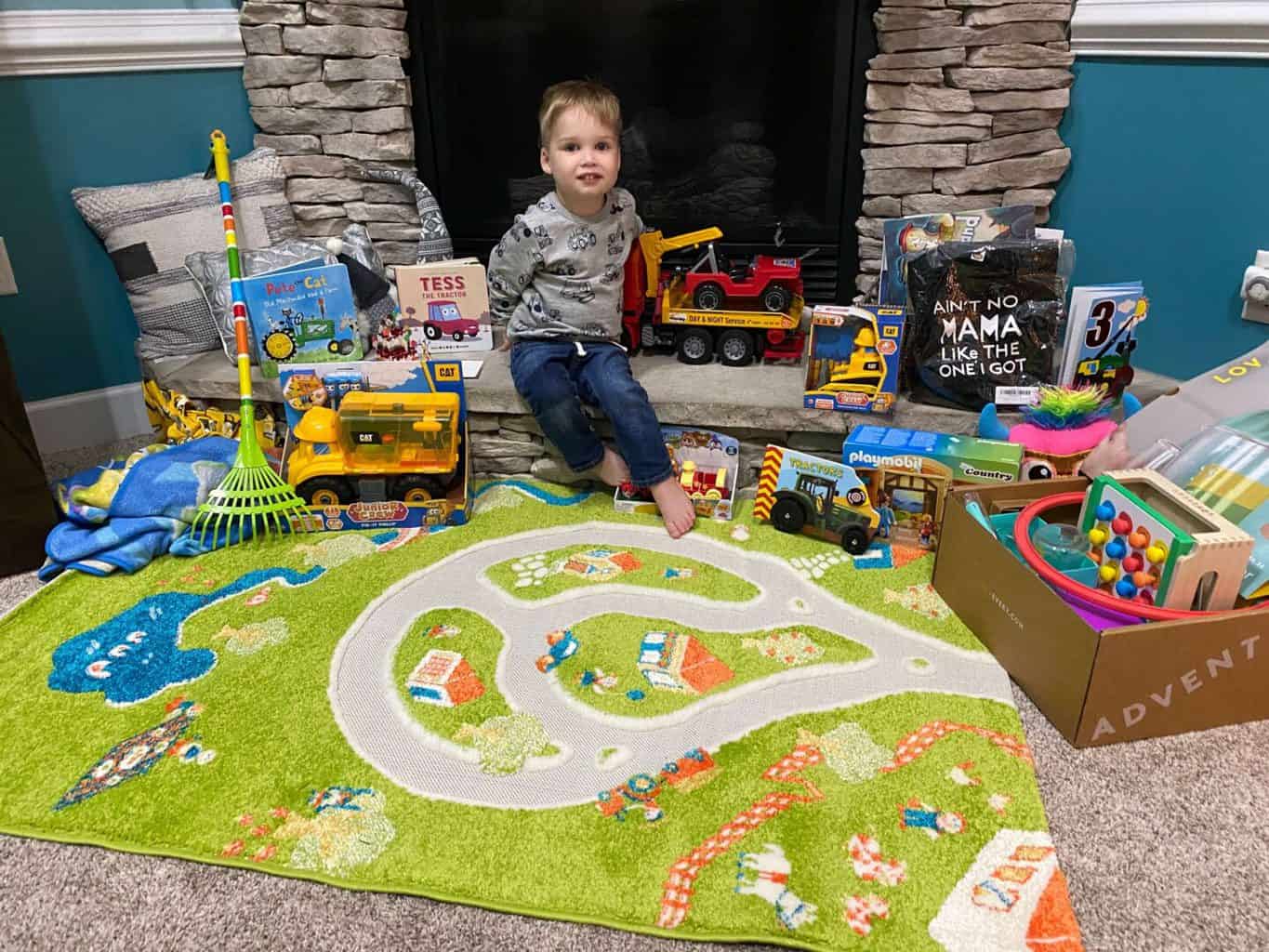 Spear had a super great birthday celebration! It was proof to me that we don't have to spend a lot in order to make our kids feel special 🙂
I really love the video I put together of all the clips and moments from his birthday – he truly LOVED being a birthday boy!!! It should auto play in this post!