When visiting somewhere new we want to make sure to do ALL THE THINGS and I'm not the best at making sure to plan for relaxation on vacation.
As we mapped out our itinerary we made sure to PLAN for downtime. We were staying at such an awesome resort (Hawks Cay) that we wanted to make sure to fully enjoy it too!
After our late dinner we had a slower morning and wanted to go down to check out the lagoon area for a bit.
As I previously mentioned there aren't a lot of beauty beaches in the Florida Keys and at Hawks Cay there is a saltwater lagoon that is seriously PERFECTION. To be honest, the beach with kids stresses me OUT but this lagoon was so perfect because it had so many of the beach elements kids love: salt water, sand, little critters, etc but I could easily keep my eyes on all of them while they played and didn't have to worry about wild waves sweeping them away.
It also helped the water to be warmer and was nice and calm and big enough to be fun and exciting for them. It was very shallow along the edges, with sandy beach to play in, and then deeper in the middle.
We set up a spot and let the kids explore and play while Zach and I relaxed. A RARE perk with kids! It was def nice not having the wild man toddler keeping us on our toes and it felt like a true vacation being able to read and hang out while the kids played.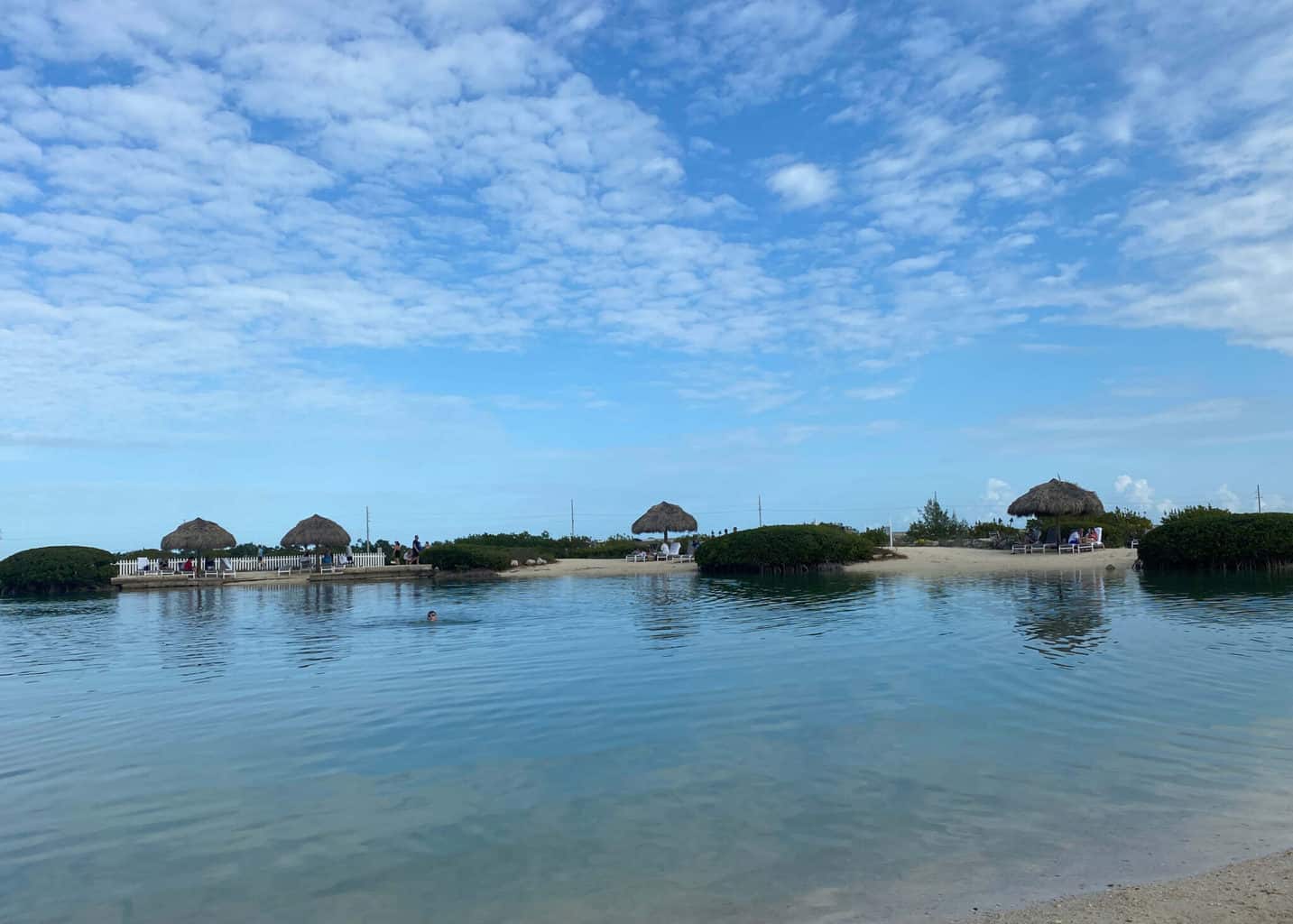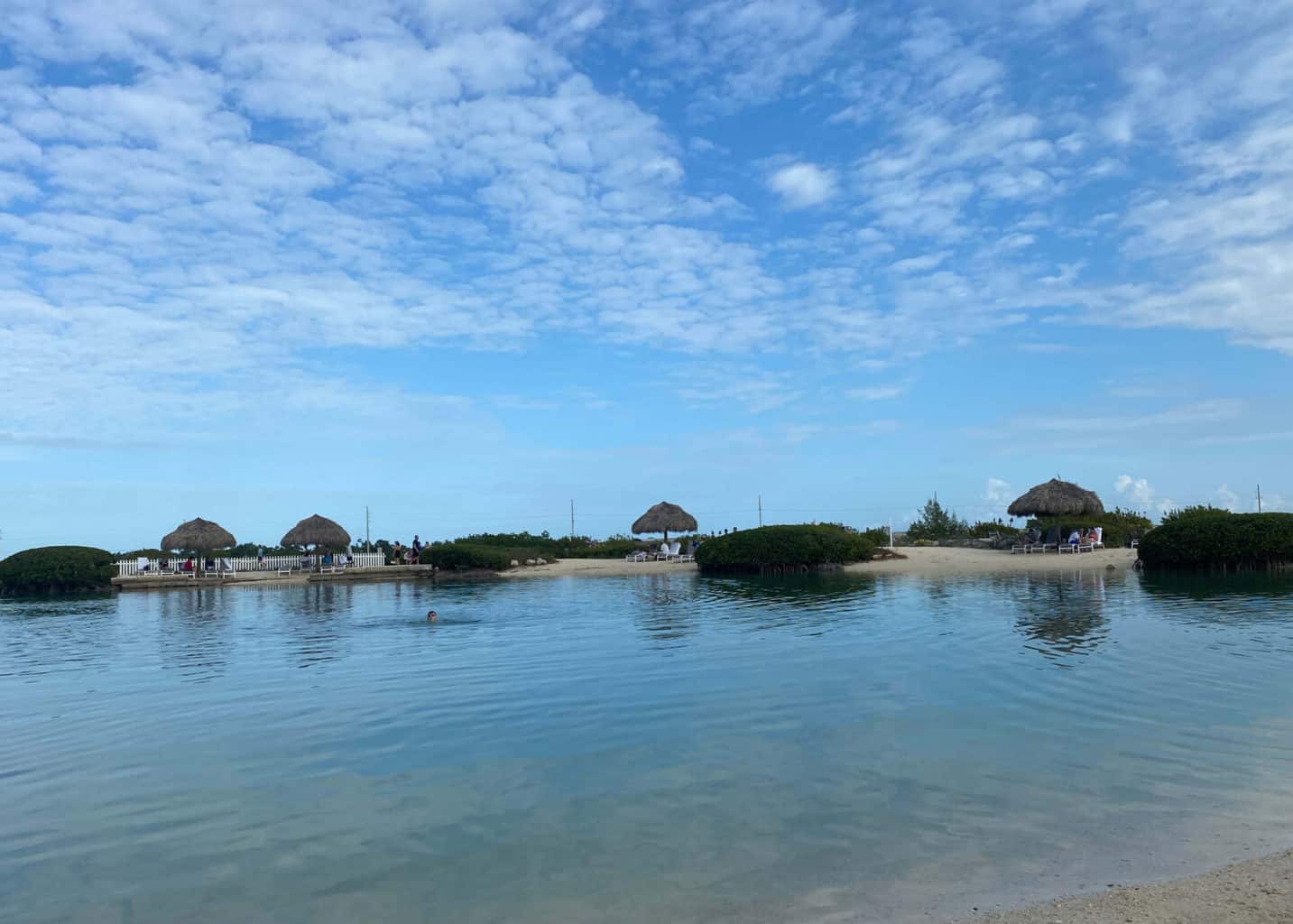 We headed back to the villa for an early lunch and then loaded back up to go do some snorkeling! When the girls and I had thought we'd be going on a Disney Cruise (Christmas trip 2019 that still hasn't been able to happen) we planned to go snorkeling and they had been super pumped about it.
Part of the reason behind us wanting to plan a tropical trip was to allow for activities the girls and I had planned on doing on the cruise, like snorkeling. None of the kids have ever snorkeled and, again, it was a great activity to do while we didn't have Spear along.
We are very strategic when it comes to thinking through decisions on plans with our kids. The reality is Spear will have THE MOST time with us and THE MOST opportunities to do things. Kye has sacrificed the most as he's the one who has had to be limited due to three little ones coming up behind him. I feel guilt that Spear isn't "part of" these memories but I know it's important for the older ones to be able to do these big kid things too and have these special times where they aren't sacrificing for the younger ones all the time! Spear will get PLENTY of opportunities over the next 15ish years 😉
When planning the trip we struggled with deciding where to go snorkeling. There are TONS of great snorkel options in the keys. We decided to stick closer to the resort as I read that the middle keys actually have some the best snorkel spots. Marathon is about a 10ish minute drive from Duck Key and we were able to book a time for a snorkel boat excursion. I really wanted to do a glass bottom snorkel cruise but I couldn't find one!
We booked through Starfish Snorkeling and I called ahead and talked through it all with them and they said it'd be a great first experience for the kids and recommended that we rent wet suits due to us being Southerners and the water probably feeling cold to us 😉
On our way we had our worship service and Kye read some scripture. Once there we were triggered by the sight of all the pelicans…and while we waited we watched one of the boat captians clean fish. He told us they do fishing excursions which is really a pretty good deal because they include the cleaning of the fish for the people who catch em!
We have been on a couple of boat rides now (whale watching in Cali and dolphin watching in St Augustine) and I have learned that Kye is very much like his mama where he easily feels queasy. He and I took dramamine before departure just in case and I'm SO GLAD I DID.
Everyone else on the boat commented once we docked that they could tell I wasn't feeling so great haha I thought I had put on a brave face about it but apparently not. I just focused on that horizon the whole time…I didn't want to relive my honeymoon experience haha
The water was SUPER choppy and the captain said that the visibility was awful so the area they usually go to for snorkeling just wouldn't be that enjoyable. He gave the option to go somewhere else where we'd see less but it'd be more enjoyable and yall know I was the FIRST person to say "smoother water? SIGN ME UP" haha
I was really proud of Zach and I about how we handled the snorkel experience. We've been snorkeling many times together and really enjoy it and we knew that this would NOT be up to par with our previous experiences due to the conditions just not being ideal that day.
We learned from the whale watching with the kids to remember that the KIDS DO NOT KNOW. They've never been snorkeling! They have NO expectations! WE can dictate the experience by our response to it!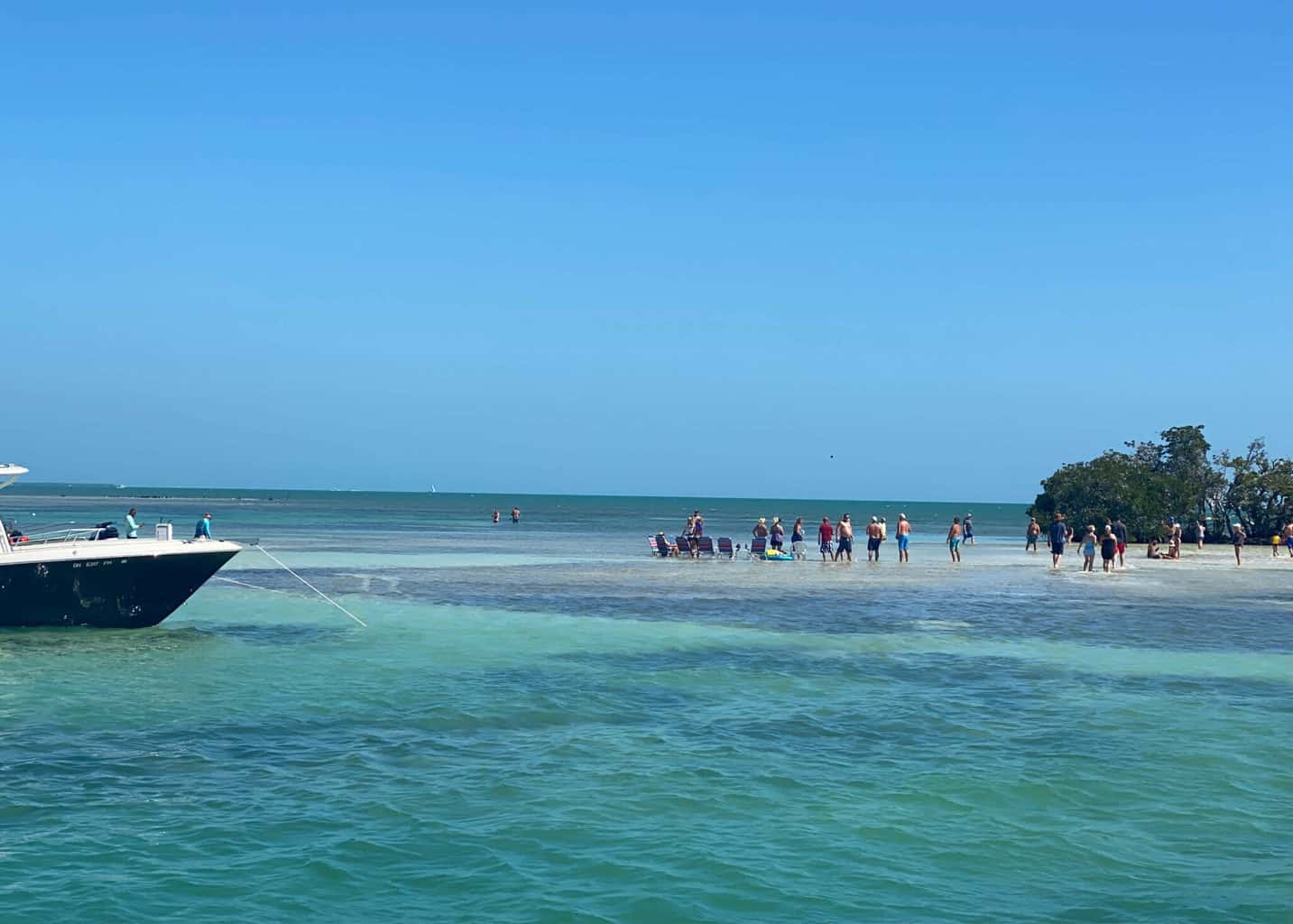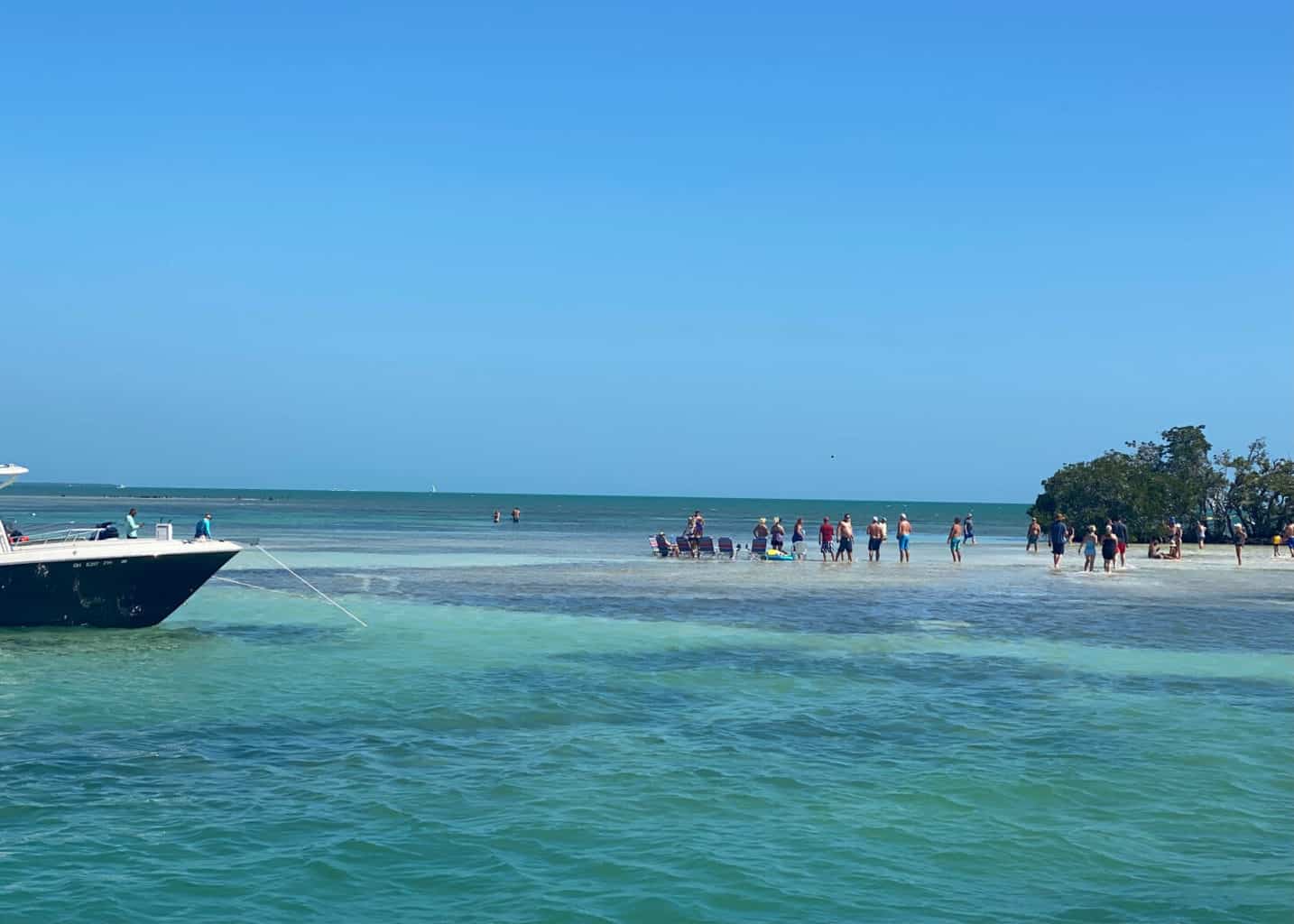 A lot of other people in our group didn't bother with snorkeling and just played on the little island area we visited. We knew we wouldn't see much. But we wanted to give our kids the snorkel experience so we got on our gear and went for it and Yall. IT WAS AWESOME.
I am SO proud of all three big kids and how amazing they did with it! Snorkeling is tricky to figure out and can be frustrating but they were ALL so patient (props to Daddy for being super patient too) and they had GREAT attitudes the ENTIRE time and we all just had SO much fun.
It was the best overall moment of the trip because it was an experience we were all part of and was really bonding. We saw lots of small fish and some coral and such and Zach did a great job even making every little thing we saw exciting and the kids LOVED it and it made us excited for the future when we can take them to some hardcore awesome snorkeling spots! And gave us an excuse to want to go back to the keys again too as I've heard on good condition days that it's AMAZING!
I really appreciate the honesty of the boat captain regarding the conditions and expectations and that he gave an alternative that worked out so well! We took pics of some of the fish we saw!
The ride back was MUCH smoother and I loved getting some quality time on the boat with each of the big kids. Kye wanted to sit next to me and snuggle a bit which filled my mama heart SO FULL! There is nothing better than salt water skin laying in the sun with that sea wind blowing. It was beautiful!
Tessie slept and Britt and Zach got cuddle time while Kye and I had our time together. It was SUCH a perfect afternoon and was the highlight of the trip for us all.
The captain said we were allowed to take things we found in the water so we brought back some cool sticks to the villa to let them dry out. We were all EXHAUSTED and decided to have an early night to catch up on some sleep.
We ate a hodgepodge dinner of leftovers and let the kids have some screen time (Britt beat Kye at Mario Kart!!!) and early bedtimes so we could have a FULL last day!
The last day of our trip is coming up next!