If you've missed the first two days of our trip here's day 1 in Islamorada and day 2 in Key West!
For the remainder of our trip we wanted to just stick closer to the resort at Hawk's Cay. For our third morning we slept in a bit and then FINALLY did some exploring around the resort to check it all out.
They have Coral Cay which is a kids area with both an indoor space with games, crafts, video games etc as well as an outdoor space with a splash pad, pool, putt-putt and more.
We didn't end up spending a whole lot of time at Coral Cay but if we'd had Spear with us we would have been LIVING there during our trip!
The resort is NOT on the beach. I was interested to learn that there aren't a whole lot of beach areas in the Florida Keys! Instead, the resort has this amazing lagoon area that is PERFECT for kids and activities. It is a true lagoon in that it's got a sandy bottom and creatures and gets pretty deep in the center. It was also so nice and warm and much calmer than the ocean which I appreciated soooo much b/c yall know the beach stresses me OUT with kids! So there was a very authentic vibe with the area and it was small enough to keep eyes on the kids and let them wander but also big enough to do tons of water activities (more on that later).
We found that people staying at the resort tended to be late risers…ya know like they were ON VACATION haha but not us 😉 And early birds may not always get the worms but they do get the best chairs so BE EARLY RISERS to claim those spots! It was 8:30 and the resort was VERY quiet (although I will say it was always very quiet which we loved) and it was also already 80 degrees!
When we planned the trip for Feb we were worry we'd be cold but the weather truly was FANTASTIC and so warm but also not sweltering hot either.
As I previously mentioned we stayed in the two bedroom villa section of the resort which meant we had a bit of a walk to the main portion of the resort. We just hopped in the car but they also have a resort shuttle available and it's super easy to use (and quick too).
The rooms around the pool and lagoon/marina area were all resort style hotel rooms!
We did some exploring and then came back to the villa to share a surprise with the kids (how gorgeous is that back porch?!)
When planning the trip Zach and I tried to think of as many big-kid-only activities that we could. We wanted to make sure the older kids got to do older kid experiences since Spear wasn't with us!
When I was in high school my dad, brother, boyfriend and I went to Hawaii (I know my dad was REALLY COOL letting my boyfriend come with us haha) and we swam with dolphins and it was SUCH a cool experience and one I really want my kids to have at some point!
As I was researching things to do in Key West I saw a lot of options for animal encounters and experiences. Hawks Cay has dolphins that LIVE on the property and in my research, they seemed to have the BEST dolphin experience. Since we'd literally be at the resort I felt like it was a must-do while we were there!
Before heading to get our swim on with some dolphins Zach whipped up some slushees for the kids!
When we originally planned our trip we were supposed to visit an all-inclusive resort in Mexico and the kids were beyond excited about the fun drinks and unlimited food options. When we changed plans we wanted to give them as much of that all-inclusive experience as we could.
Sweet Zach ordered all sorts of slushee stuff and even brought down some fancy blender he'd gotten from a work thing awhile back and he had the idea to let the kids shop for all the treats they wanted for the trip. They were in HEAVEN!
Tess packed herself a little popcorn snack bag to head over to the dolphin area of the resort 😉
Hawks Cay has multiple dolphin encounter experience options. I wanted us to be IN the water but Tess wasn't tall enough to actually SWIM with the dolphins so I opted for the most interactive experience that didn't include actually swimming with them (Dolphin Discovery).
The entire experience was located in the lagoon area and they have a great little classroom sort of area set up where they walked us through how to interact with the dolphins and some basic must-know info to allow for a smooth experience.
We originally intended just for myself, Kye, Britt, and Tess to do the dolphin encounter and for Zach to watch from the dock area but then once we were in the class and they were talking through the depth of the platform we'd need to stand on we realized that I would HAVE to hold Tess the entire time and probably struggle super super hard to remain standing on the platform WHILE holding her. Zach didn't want to have a pelican encounter 2.0 situation happen especially when we were spending that much and it was the big thing I really wanted to do on our trip so he opted to partake in it too and we were SO GLAD he did!
If you're short or have shorter kids who want to do the experience def have Daddy join in for sure!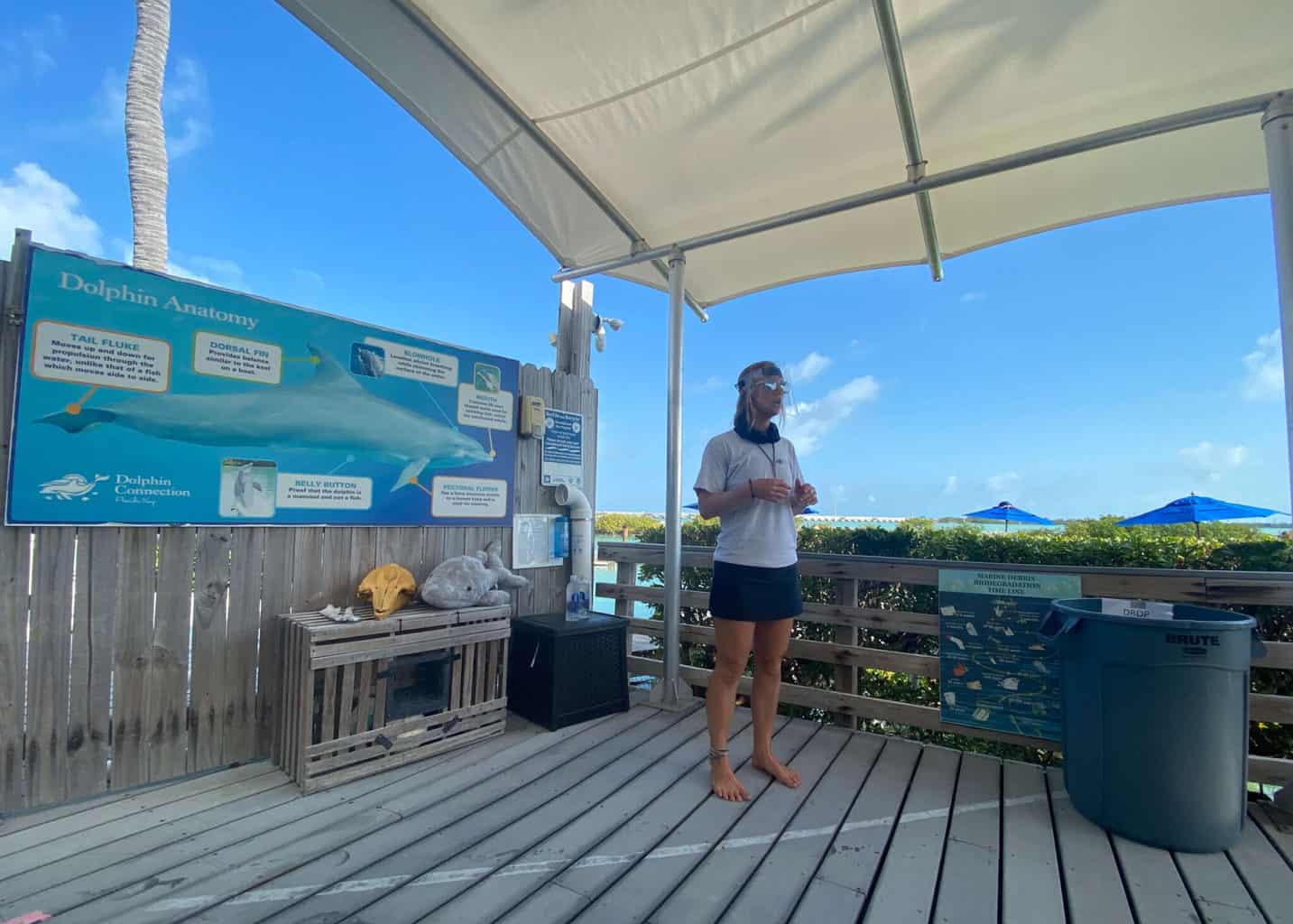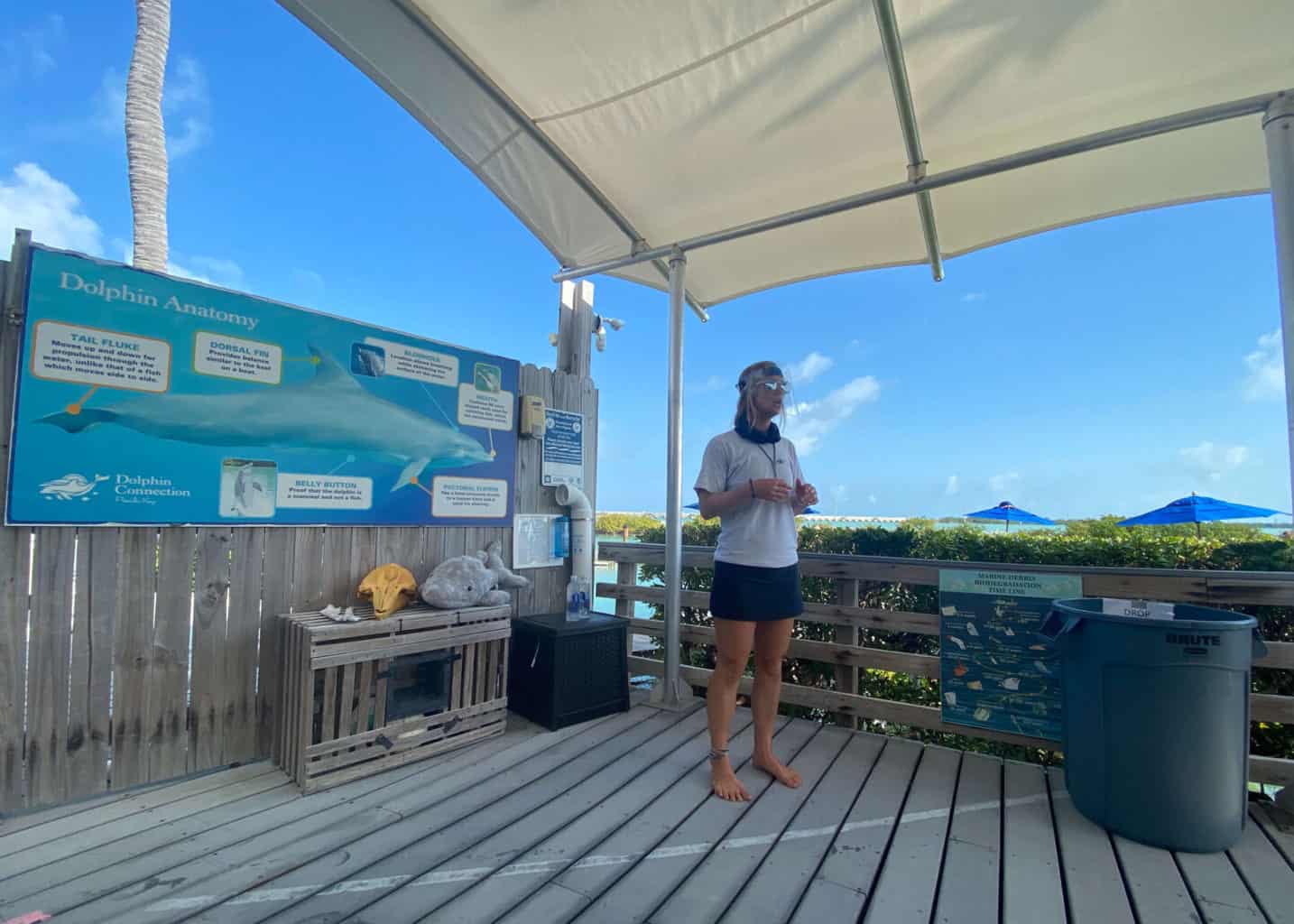 We spent 45 minutes in the water with the dolphins and the trainer. One other father and daughter duo was in our little area. I'm not sure if it's ALWAYS that small of groupings or if it was just due to the current health and safety guidelines but we weren't mad about it!
Our trainer was AMAZING. She did awesome in keeping track of who was who and who had already done which experiences with the dolphins. The package included at least 5 personal interactions PLUS PHOTOS.
Yall know the pictures were the big seller for me! We had a photographer assigned JUST to our little group and he took TONS of pictures and we got to download them ALL for free. And they are like GOOD pictures too. Great quality and he took so many posed as well as candid shots.
Our trainer was very patient with us all (especially those of us who kept overthinking things and having to ask if I was doing the motions correctly…).
The whole thing was just SO AWESOME. I knew I'd enjoy it but I LOVED IT like way more than I even thought I would!
The dolphins traded out between the groups too so they never got bored and it was obvious that the staff all spoil the dolphins and love them and that the dolphins are all well cared for and happy!
Kye isn't huge into animals but even he couldn't get over how cool the whole thing was! Love seeing his smiles!
Zach had to literally hold Tess the whole 45 minutes because she couldn't touch the underwater platform. Yall I literally wouldn't have been able to do it without him and am SO glad he hopped in and helped!
While animals also aren't his thing and it's not something he would have chosen to do, even Zach enjoyed the experience and kept saying how well done it all was. YES, it is pricey but it didn't feel like it was OVERPRICED either ya know? For sure not something we'd do on a regular basis but it was well worth the cost!
Tess says she now wants to be a dolphin trainer 😉
Out of us all though…this was MY JAM. I love love love hands on animal experiences! I always have and I always will. It was SO NEAT and honestly better than swimming with the dolphins because I felt like I got to interact with them more and take in the experience more than if I was just holding on while they swam ya know?
Anytime the trainer was talking or giving instructions I just kept rubbing on the dolphins and loving on them. It was truly so incredible and FUN!
The dolphins loved me too…def a mutual feeling 😉 When it came time to play catch with one of them the dolphin was supposed to retrieve the toy and take it back to the trainer but instead the dolphin kept coming back to ME over and over again. Anytime it did tricks or interacted with us as a group it was always focused on me and I loved it 😉
The dolphin experiences DO require advanced bookings and it was a VERY popular thing for resort guests however you also don't HAVE to pay to see the dolphins!
Many guests came over to watch our encounter and I overheard people at the pool saying "they are about to do the dolphin stuff" to their kids to go watch. There are plenty of viewing areas and all the training with the dolphins and feeding of them etc is all done in the same area so it's easy to have a great view and experience without spending any money at all!
After the dolphin experience, we headed back over to the Coral Cay kids area to check it out more. There is a fun hands touch tank as well as multiple indoor games and crafts that the kids checked out.
We didn't have a ton of time as we needed to get lunch before our next scheduled activity so we walked through Coral Cay and checked out everything and then I headed back to the villa to get lunch ready while Zach and the kids played!
Zach and Kye did some putt putt and they all enjoyed the pirate splash pad area too.
When talking about our must-do items for the trip we both agreed the ghost tour had to happen and I really wanted an animal encounter experience while Zach really wanted to rent jet skis!
Growing up my dad had a jet ski at his house and I LOVED it. I have the best memories of riding the jet ski around the lake and with my brother. Zach and I have done a jet ski excursion on a cruise but that's our only experience together with them together.
Zach did some research and found a place called Grassy Key which is located just a few minutes up the road from Hawk's Cay and offers jet ski rentals!
It couldn't have worked out better! We all drove over to the jet ski place and dropped Zach off then went back to the villa to get changed and meet him. The location of our villa was PERFECT because we had this little sandy area and Zach was able to drive the jet ski really close so we could all trade off taking turns riding.
We had the jet ski for four hours and at first kept trading off in like 20 minute increments which just is kinda silly and a waste of time and better to let a set of people go for a longer period to spend less time trading off.
I really used to love driving the jet ski growing up and it was so fun to be back at it again. I may not have been as fast as Daddy but the kids all humored me and went out with me a few times each. I loved having Kye with me as it just really brought back those memories with my brother!
Zach took the kids out to little islands they found and they went exploring and went out to the actual ocean too. When I drove I stayed more in the Bay Area and did NOT go out to the open water! When we swapped out the kids who weren't riding would have some chill time either at the pool that was located directly behind our villa (and was never crowded and SO pretty) or getting a snack and hanging out on the porch.
It felt so weird to be planning something DURING nap time but it was also such a huge perk of being toddler-free for the trip and we wanted to really make sure we took advantage of that freedom from the schedule.
We all had SO much fun with the jet ski and Britt said it was her favorite part of the trip. She loved going fast and exploring. Zach rode with the kids the most but I'm glad I got a chance to ride some too. The only negative was Zach and I couldn't ride together because someone had to be keeping eyes on our children 😉
How beautiful is this view from our back deck? The upstairs master had a little porch area and it was so pretty to look out! The pool was fantastic and just the right temperature. We also appreciated that it wasn't loud or like a "typical resort" where you have to hear constant music nonstop. The vibe was very relaxing and peaceful!
When we booked our stay I got in touch with some of the awesome people at Hawk's Cay and they invited us to enjoy dinner at one of their resort restaurants – Angler and Ale!
We were all SO excited, but Zach was especially pumped about the food 🙂 The girls and I had these "vacay mode" shirts that I'd planned for us to wear on our, canceled, cruise so we've now worn them on our Universal girl's trip as well as on our Key West trip so they def didn't go to waste!
Reservations are recommended for any of the dining locations on property. We drove over to the restaurant but it was also just a very quick drive and we probably could have walked if we wanted! Less than a minute or two away from the villas.
Angler and Ale was an AWESOME vibe with AMAZING food…and again…great service too. We just couldn't get over the great service we received everywhere we went in Key West but especially at Hawks Cay in Duck Key.
We ordered some of the cheese bread and Mac and cheese and both were fantastic. I loved that the dining area was decorated in theme and had plenty of lighting (pet peeve of mine is super dark restaurants) and Zach loved that there wasn't a bunch of loud music even though it was a Saturday night (pet peeve of his is loud music at restaurants…basically we are old people haha).
It is also located on the water (and they offer services where they will cook what you catch!) with gorgeous views of the bay. If we'd been able to eat earlier I bet the view at sunset is gorgeous!
I took the girls for a walk to check things out (and have a few dance numbers) while we waited on the food to arrive!
Zach ordered the steak and lobster as did Tess (girl loves a steak). I got the crab cakes (my favvvv) while Britt was SO pumped for a hot dog as she'd been craving one. Kye had been craving shrimp so he got a small order of shrimp as a side because we weren't sure if he REALLY liked shrimp or not and he KNEW he loves some ribs! We had a FEAST and enjoyed every bite!
Tess asked to sit in my lap during dinner and it's been soooooo long since she's done that! She used to ALWAYS want to "sit with Mommy" and it was a thing I didn't realized I missed until she asked to sit with me during dinner. I loooooved it!
Sweet Tess just couldn't hang. I love when she randomly falls asleep! She's always been my most flexible child in every way. She's easy going and could always miss a nap and still be just as happy as ever. We had a BUSY few days and it all just caught up to her and she crashed! She's my only kid to sleep randomly at places and it's just so adorable.
We ordered Zach's dessert to go and he called the shuttle to pick him up and take him back to the villa with her. He was alllll about soaking up those snuggles!
The biggest two and I ordered our desserts (the pie was AMAZING) and then loaded up to go back to the villa for the night too.
We had SUCH a great meal and loved everything we ordered. It was so fun to be a little spoiled as none of us are used to getting to choose things off the menu like that and we appreciate Hawk's Cay so much for hosting us – a night we won't forget (hey it lives on in Tess's dreams for sure ha!)
By the time we got back…Daddy had crashed out too 😉 You KNOW it's a great vacation day when you're all straight up exhausted before 9 pm!
There are a GREAT selection of restaurants on property at Hawk's Cay (you can see the full list here) and also a Starbucks. Marathon is the town just a short 10 min drive away as well and there are lots of restaurants there as well as that's where we went to Publix and where we rented the jet skis!