All of our family moments from May: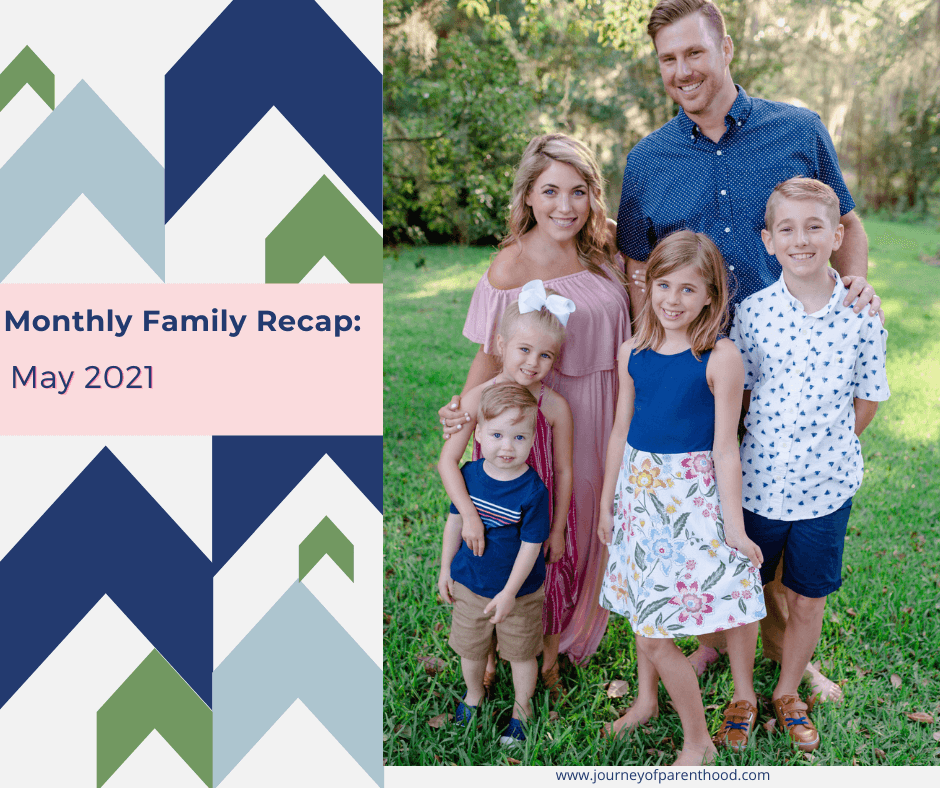 Kye finished off his first year of middle school and his first season of archery. Yall. They had a tournament in JUNE (unfortunately Kye wasn't able to attend due to Big Daddy's passing). Archery was truly an entire school year sport! Good to know for next year for sure.
We loved seeing Kye develop this skill and especially the sweet friendships and amount of JOY it brought to his life. We are def an archery fam and I don't see that slowing down anytime soon 🙂 Proud of our archer! He finished up his last regular tournament strong and the team was STATE CHAMPS!
Kye put in time working hard with Big Papa at the farm and you know it made Zach proud to see him do some manual labor 😉 I also love how Kye is so creative and he and the girls used random boxes from around the house to build little houses and a community.
This month we got some very sad news about the passing of a boy Kye grew up with in church, Scotty. It is so awful and tragic and we made the decision to take Kye alone to the visitation. We didn't feel like it was appropriate for all the kids to attend as have a young man pass away at just 12 years old is a hard thing for any of us to understand and grasp. We wanted to make sure we were able to give our full attention to Kye and any emotions he may have been feeling, we were also proud that he wanted to attend to pay respects to the family even though it was hard.
Afterward we had a rare event of getting dinner just us and Kye! Very, very rarely is there a time when any of our kids get us BOTH on their own. We tried out a new version of our old favorite, Aligatu, that opened up near our new church.
Britt lost a tooth this month – pretty sure she's ahead of Kye with the number of teeth she's lost!
She and Tess pulled out the American Girl dolls for lots of playtime and Britt has turned into my accessory QUEEN. She loves a good bracelet and any other accessory she can find. She loved creating the little houses with Kye out of the boxes and wanted to make some blondies to send to Grammie as a thank you for the cookies she sent us as well!
Tess is very thoughtful and sweet and I love finding random little notes from her to me all over the house (these were in my bed). She and I attended a reptile birthday party together (put on by Cold Blood Creations) and the birthday boy's mama sent me the note that Tess made for him. SO sweet!
Tess also used some random frog postcards I've literally had since childhood to mail out to her cousins and other family members. I love her heart and wish I was more like Tessie!
She also got to celebrate her birthday at school this month since she has a summer bday and the treat she wanted to bring for the class was Go Gurt 😉
It was the month of the HAIR for Spear. The head-shaving incident occurred the last weekend in April so we spent all of May covering it up the best we could haha.
He and I attended his Muffins with Mom event at school and yall I COMPLETELY FORGOT ABOUT IT. SO unlike me. I drove up to the school to drop him off and NO ONE was in the drop off line and I sat there wondering if I was late and my clock was wrong or what was happening. I just 100% BLANKED on it.
Thankfully a sweet teacher came out to the car and reminded me while we sat there. I had ZERO makeup on as I was heading to a facial after drop off (which I ended up missing the appointment for) and Spear was wearing a random old hand me down shirt of Kye's and had sunscreen in his hair from a campaign we shot pics for the night prior that wouldn't rinse out. HOT MESS EXPRESS.
I felt SO much guilt. Felt like I was a horrible mom for forgetting. Usually we'd be dressed in cute matching outfits BUT most of all I was upset (because Spear doesn't care one bit about matching) that we didn't have the anticipation that morning. I'm the queen of anticipating! I wanted to be able to GET PUMPED about our special morning together and THAT is what made me feel the most guilt and the sadness.
Thankfully we didn't miss the entire thing and were able to still get out donuts and juice and sit and visit and he was able to take me to tour his classroom. He was still so happy and proud to have me and I'm SO thankful we didn't miss it!!!
I also love that he was trolling me on his sheet by saying I tell him TO get out of bed hahaha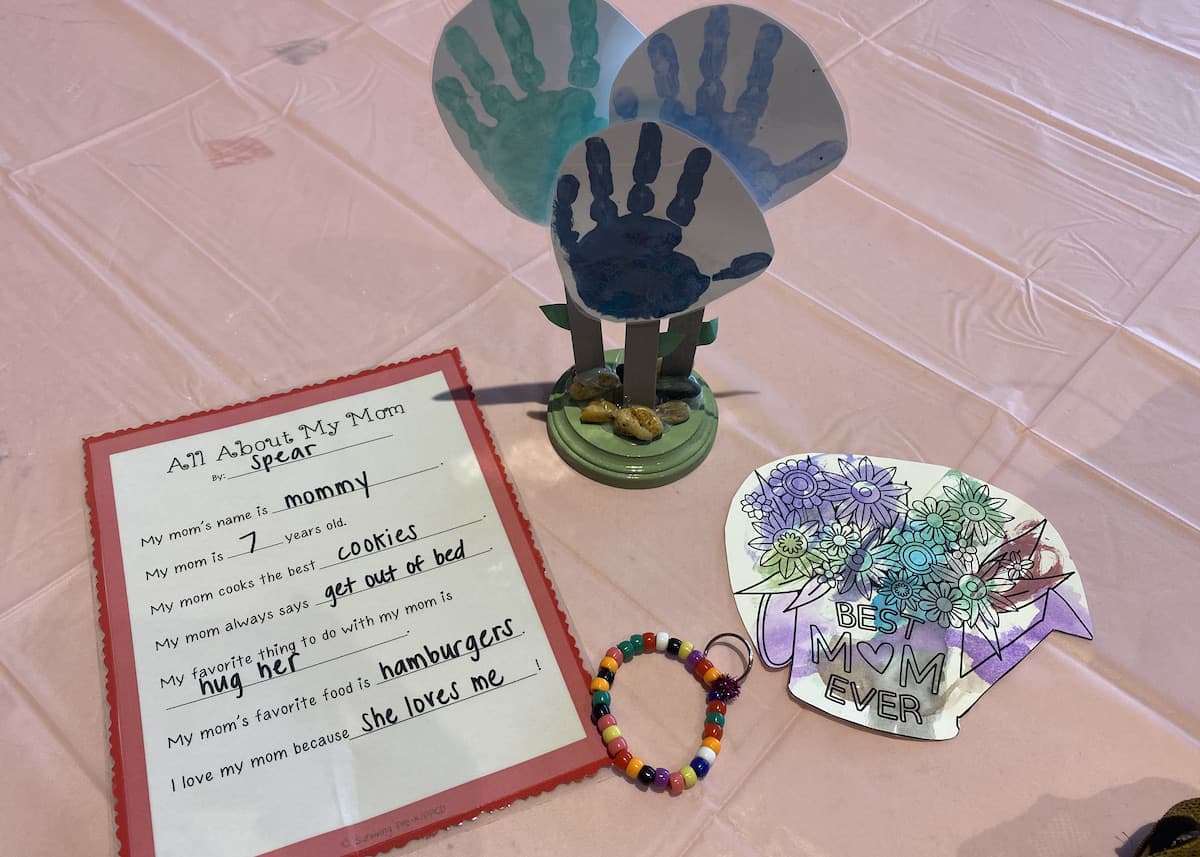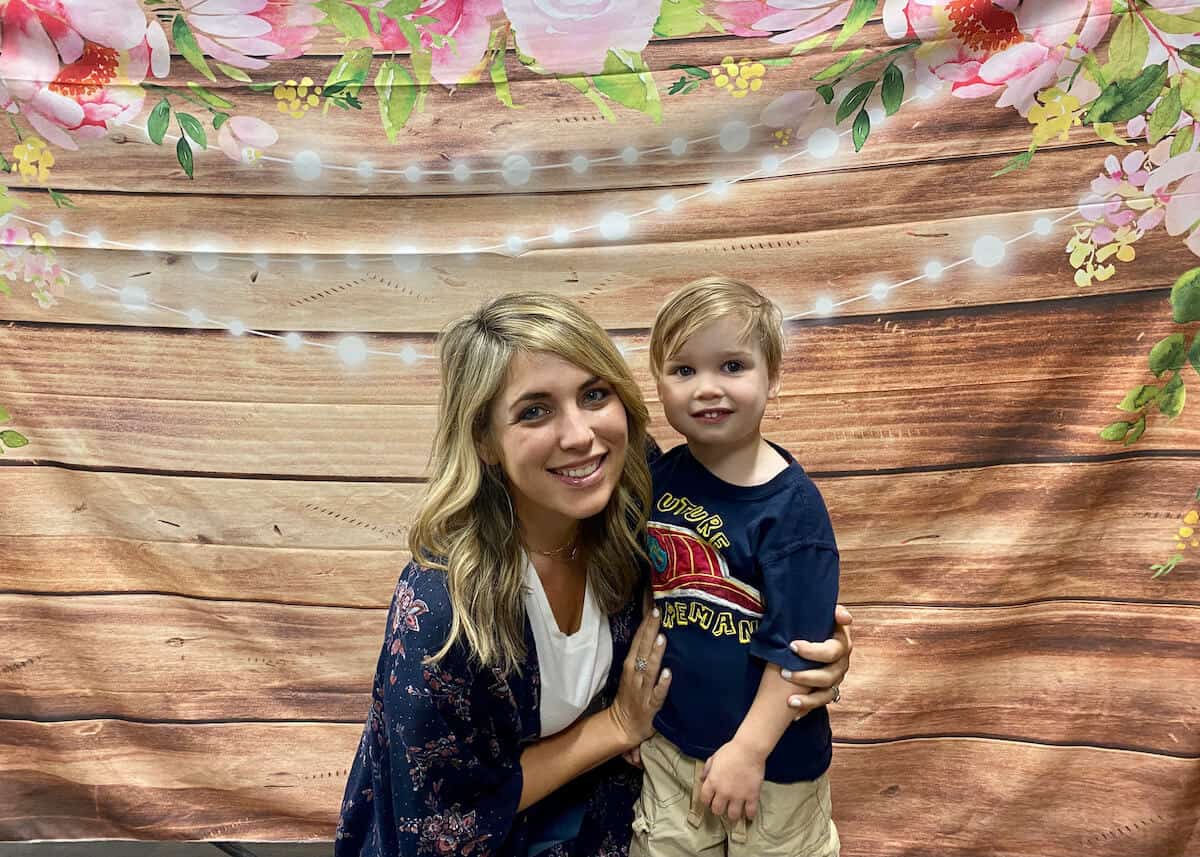 I put on my happy face during the mom event but when I left I cried my eyes out in the car and just felt awful the rest of the day. So the following day? I had SPEAR TIME.
We read together and I sat and PLAYED together with him all morning. We got excited about our plans and talked about them all morning long and we had a picnic lunch outside on the front lawn with gorgeous weather. The full morning was ALL about HIM and pouring into time together and it was so special.
He had a great time at the mom event at school and a great time having quality time with me but my heart was SO full after our morning together. I think I needed it more than he did 😉 We talked and talked and snuggled and tickled and watched vehicles go by and pretended to be animals. I love being his mama and am so blessed to call him mine. He's my gift!
Spear is doing a great job staying in his big boy bed and his bed tent is for sure helping with that! He also does a fantastic job playing on his own. He loves independent playtime in his room and will play happily for a full hour.
He is also doing great communicating about the need to go potty – even getting himself out of the pool and letting me know he had to poop! He will usually go in and do his business on his own without any help as well, he does still sit to go potty as I do not trust him to stand until he's able to be fully poop trained. He still currently wears a diaper at nap time and bedtime and does poop then which is super annoying but also something I'm just not stressing.
Spear is my little errand buddy and we have fun grabbing groceries together! His new favorite stance is to put his hands on his hips and it just might be my most favorite thing ever. He ADORES Henley at church and says he plans to marry her. They are precious together and make quite the wild pair 😉
The hair shaving incident happened at pretty perfect timing as we also had a sunscreen campaign to shoot for for Instagram…a bald head needs plenty of sunscreen for sure 😉
I know I say it every month but I truly just adore the bond my girls share. I love walking upstairs and catching them sitting together getting ready for bed in the bathroom just talking and sharing their days. They are always together and always WANT to be together. It's so special and such a gift they have in their bond!
ALL of my babies are so close and as a mom my prayer is that it is always this way. They always want to do things together and truly enjoy the little life moments of the day.
Spear is getting old enough to truly take part in those moments and he and Kye had so much fun playing a game together. It's great that his attention span is getting long enough to handle them!
Britt had these pjs that say "Stay in Bed" and now Tess has them and she was so excited to get a picture in her pjs IN bed with Spear since our whole phrase right now that is constantly being said around our house is "STAY IN BED" haha
I'm all about letting the kids be bored because that is where they get creative. The kids invented their own hockey game on top of a box fan. They had a blast working together and playing it!
We opened our pool for summer and it's def my favorite time of the year. We LIVE in our pool!
We got home from our universal trip to the sweetest care package from Grandpa and Grammie! SO sweet and thoughtful and was such a great surprise!
Our church has a playground across the street that is also owned by the church so the kids and Zach have discovered it's a great place to go for them to play with their friends but also to keep them contained.
We had Aunt Katie over for her birthday celebration and of course had to have a fun game night too!
Zach and I celebrated our anniversary in Charleston but did take a night to watch our wedding video with the kids as a family. We haven't watched it together in a couple of years and I think it's so important for the kids to watch it with us too. That day literally was the start of our entire family! It was fun to look back on all the moments.
When we built our house we had a spot for an office for Zach but now that Tess's room is finished it's a weird entryway to her room that Zach has converted into a homework hangout area for the kids and they LOVE it!
The big kids have been SO EXCITED that Georgia Bible Camp is BACK! Last year it was THE cancellation that brought the most tears as it is something Kye loves every summer and was supposed to be the first summer that Britt was old enough to attend.
Zach's tradition with Kye has been to go get supplies before camp kicks off and this year Britt got to be part of the fun!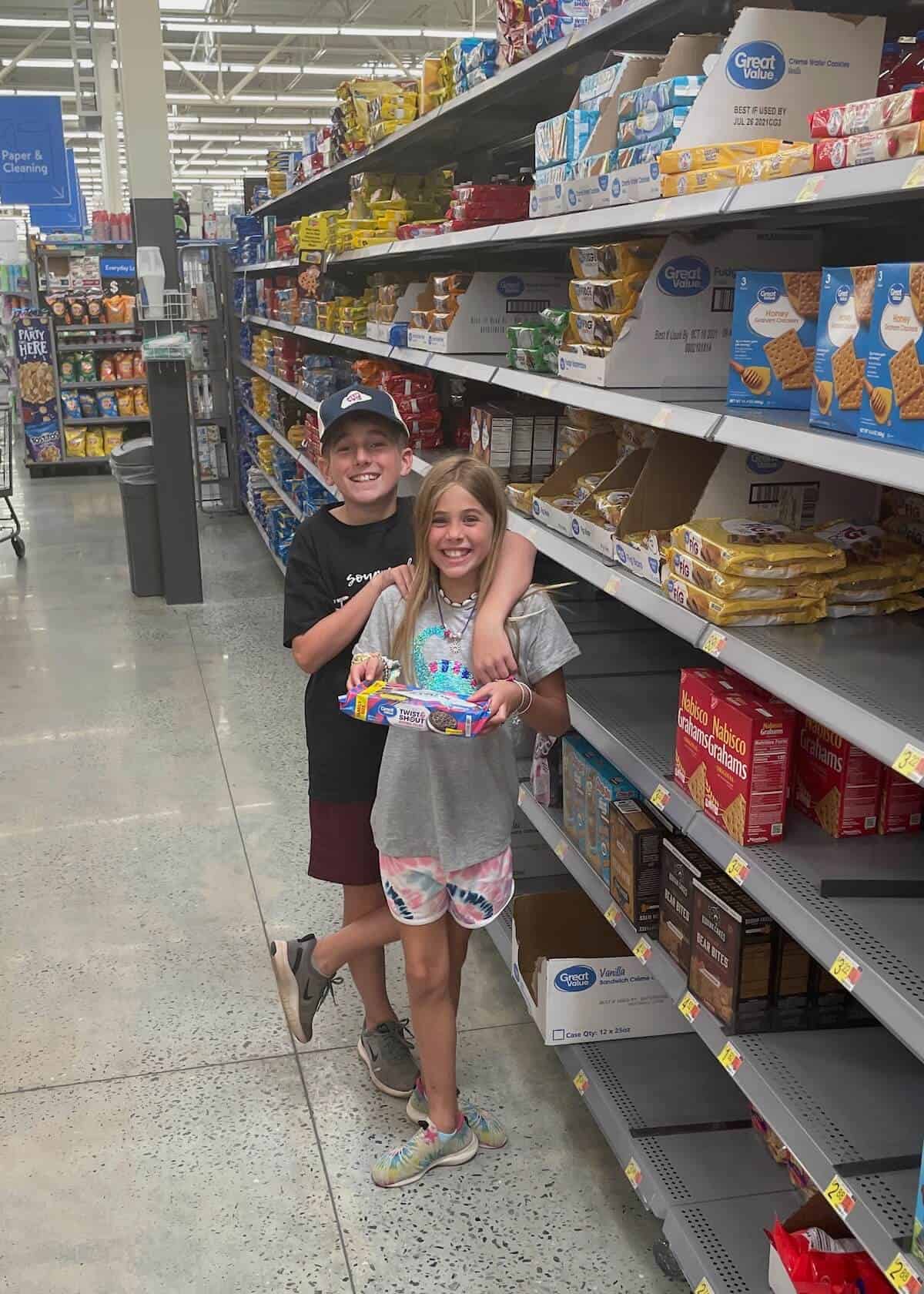 Zach and I were I Charleston the day that Kye and Britt were dropped off at camp and it was tough for me not to be there to see them off but they were both SUPER pumped about it!
Us being gone followed by them being gone meant we were apart for roughly 12 days which is probably the longest we've been away from either of them before. Britt had the TIME OF HER LIFE but I did actually get a phone call from Kye who said he missed me and really wanted me to come up there to visit. Heart melted and you know I was jumping in the car right then!
I lucked out and both kids had cabin leaders who had my number and sent lots of pics so I felt like I was there. Very proud of Kye for reading scriptures and leading prayers and so proud of Britt for talking about her baptism with her friends at camp and helping lead them to consider that step in their own lives too!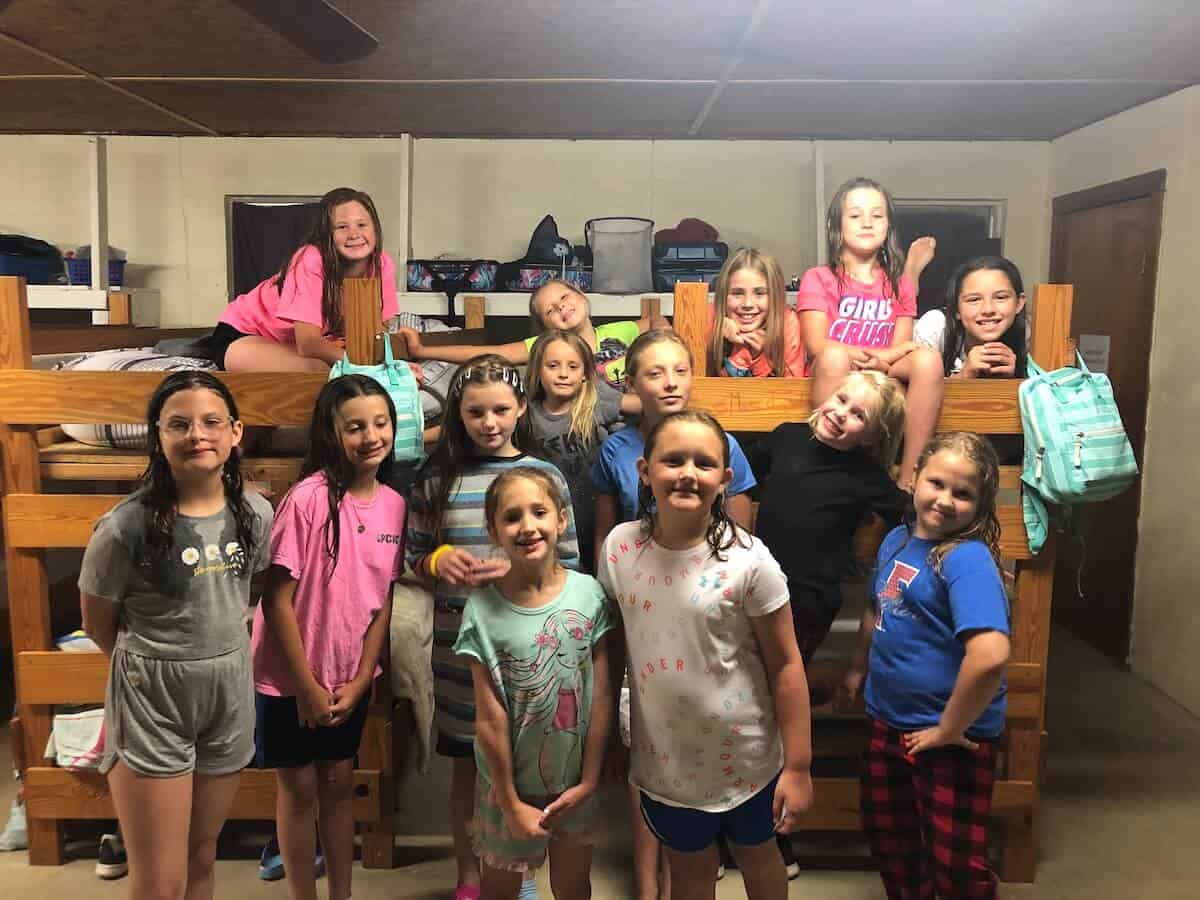 Bible Camp was not only fun for the kids but it was also a chance for them to spend quality time with several of their friends they've known their whole lives from our former home church. I love that the timing worked out where many of their friends were signed up the same week and that so many of the kids from our new home church were there that week too!
Reconnecting with old friends, making new friends, and (most importantly) learning more about God is what camp is all about! They stayed the night from Sunday – Friday and were straight up EXHAUSTED when they got home. Next year Tessie will get to join 'em and she's counting down!
This month we also had our family pictures with Lindsay and they turned out great! I always love getting to work with her. Thankful for our friendship!
Since the beginning of the pandemic I have always given updates on the status of the world, particularly in regards to Disney. I feel like when Disney gets back to being 100% normal that is when the world will really be healed 😉
This months updates were exciting when both Universal and Disney announced that they would no longer be requiring masks outdoors!
I've been so blessed in the friendship department and this year especially have enjoyed seeking new friendships and pouring into ones that pour back. I LOVE my group of fellow Christian mamas and the conversations we have and the bonds we share through our faith.
We had a Favorite Things Fiesta and it was so fun! We exchanged little gifts with each other and a night of laughter and fun. Love these girls and thankful for our friendships!
On our way to Charleston Zach and I stopped by Big Daddy and Little Mama's house to gift them a digital picture frame filled with pictures. Since Big Daddy was spending more and more time at home we knew he'd enjoy seeing photos of all the great-grandkids and that Little Mama would as well. It was a hard visit. Big Daddy wasn't doing well and it ended up being the last time I saw him in his home. The next time I visited with him would be in the nursing care facility and would be the last time I'd get to see him before he passed away. So thankful we stopped by that day. Thankful I just got to stand there and offer him lots of love. I miss him.
We also kicked off the summer vibes with a Hall family hang out with swimming and pizza and I had a game night with my book club pals too. Always thankful for fun times with friends!