All of our June Family Fun Moments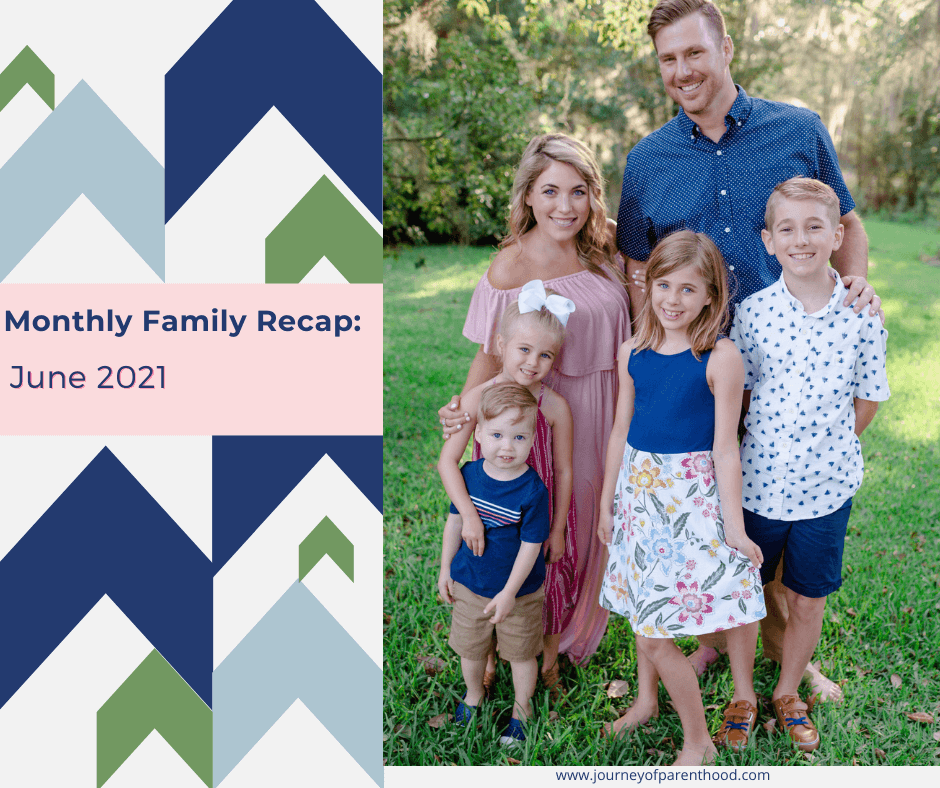 May ended and June began with Kye and Britt off at Georgia Bible Camp! They had THE best week! It worked out where a TON of their friends from our former church home attended the same week of camp and it was so good for them to get to spend quality time together with friends they've literally known their whole lives!
I always try not to be "that mom" and don't really check in during camp. I trust the counselors and I want my kids to get the full experience and not be bothered by Mom showing up 😉
Since Zach and I were away to Charleston when the kids went to camp we didn't get to see them off and it was actually the longest I think I've been away from possibly either of them!
I got a text from one of the members of our new church home (LOVE that so many of our new crew were there too that week!) that Kye missed me and wanted to see me! He talked to me on the phone and it was so precious and you know I RACED up there as fast as I could to see my babies!
He also did ask for me to bring more snacks…but lets just focus on the missing me and wanting to see me part…
Britt was in her own world and was having THE time of her life and was like "hey Mom good to see ya" and Kye was with his buddy Jack and they were both more excited to see me haha! I love that Britt was so content and I heard she owned the place making all sorts of friends, talking about the Lord, even inventing a "Grandma Wilson Club."
When the last day arrived I planned on letting them stay until the very end but sure enough, I got another text that Kye was READY to be HOME. He is for sure going to be that older man that wants to sleep in his own bed every night ha! Britt cried because she never wanted to leave!
I'm so thankful we had that awesome first week of summer. That the big kids got their time at camp and that Tess, Spear and I had our fun week too.
I am also thankful that they all came home when they did. Zach and I didn't tell the kids anything about Big Daddy until we were all back together as a family and we gave them each the option to go visit Big Daddy if they wanted to.
I am BIG about it being an OPTION. It's a tough decision in those moments because I understand not wanting to taint the last memories you have of someone you love and I equally understand having things you want to say to them as well.
Britt and Tess felt like they wanted those happy memories and Kye really felt like he had things he wanted to say. I decided to go with Kye. I felt content in my memories with Big Daddy and that he knows how much I love and adore him. But I also felt torn on if Big Daddy would want me to come visit him again and when Kye said he wanted to go, I knew I needed to be the one to take him.
When talking to Kye on the way there I told him I was sorry because I knew I would be very upset and that I wished I could be stronger for him but that he can feel or be however he needed to be. He said "what if I want to be strong for you mom?" We both cried together through it. Weak together. Strong for each other.
I'm so thankful for those last moments together. So thankful.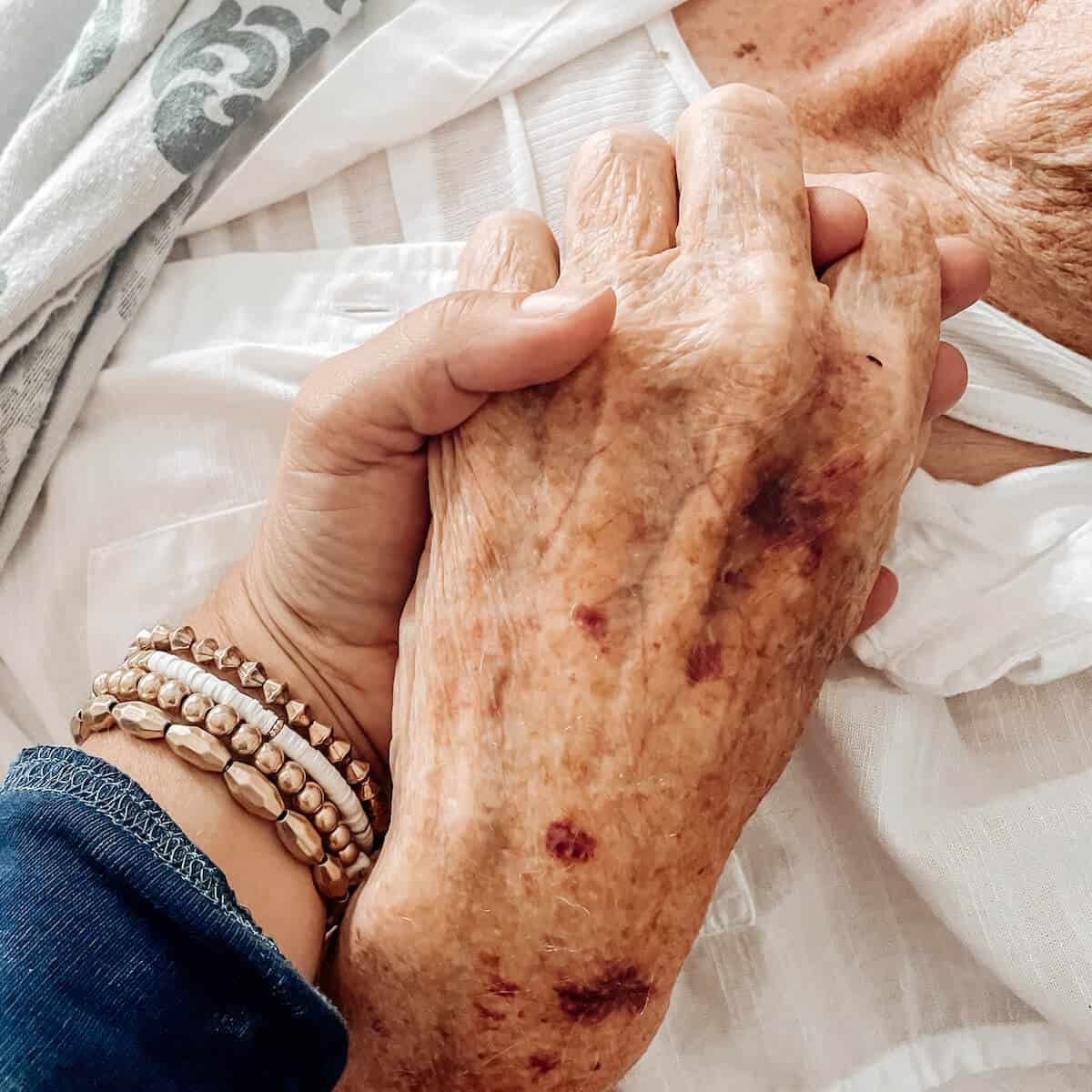 I'm especially thankful for the life Big Daddy lived. The love he always and forever continues to give. I'm thankful he's my Big Daddy.
Big Daddy passed away on June 7th. You can read about Big Daddy in my post devoted to him here.
When someone passes away time is super weird. Days feel like forever but you also feel like you are just kinda going through motions and not really accomplishing anything or moving forward in any way sort of way. It's like you are always stuck in this stare. Just sitting staring into nothing. Waiting for time to excel you forward.
The family time together was a gift to everyone. I was a bit nervous about when this time would come and what my place would be in this grief. He's Zach's grandfather. I felt like I'd need to be really mindful of that because I also knew my own grief would be a lot and I needed to make sure I put other's before my own ya know?
I will never forget the moment we got to Big Daddy and Little Mama's house and I saw Little Mama for the first time and I hugged her and I just was focused on HER and HER grief. And in that moment she asked how I was doing. She hugged ME and said over and over how much Big Daddy loved ME and that she loves me too. It meant the world to me.
Casey sent me a text checking in. Aunt Debbie and Gabi sought me out to see how I was doing. I joked with Mr. Rusty that he better be stepping it up now bc he's gotta be Big Daddy 2.0 and yall HE HAS. Even during the funeral, Uncle Steven mentioned my bond with Big Daddy.
I always knew what he and I shared was special to me. And to him. But I didn't really know that anyone else even noticed it outside of him and I. Big Daddy makes EVERYONE feel so loved and so special that I honestly just assumed everyone had the same kinda special bond we do.
It all meant so, so much to me. I felt seen by others in a way I haven't before. I didn't need any validation from anyone about our bond but getting it was an unexpected and cherished gift.
We spent time going through photos and found some gems! I love this of Zach and Little Mama. She always has the best smile that truly lights up her whole face and the whole room!
We also found the middle photo of Steven, Rusty and Karen as kids and Mr Rusty looks SO MUCH like Spear it's crazy! And of course you gotta have the "good bull" picture too 🙂
I linked the obituary on the other post but I know sometimes the internet isn't trustworthy so I'd like to make sure we have it in the blog books too. I also included what Big Daddy's church posted about him. I thought it was SO perfect to describe Big Daddy!
Our week looked like a lot of chill time, downtime, family together time. Zach had a big account for work he and Mr Rusty had to do but they were thankful for it. Everyone grieves differently. I need to decompress, Zach needs to STAY BUSY. It was a gift that he and Mr Rusty were able to stay busy together 🙂
The visitation was the night before the funeral and Katie was such a blessing to me in offering to come hang with the kids so we could attend kid-free. We offered the kids the option to come or stay home and Kye wanted to come. He felt like Big Daddy wanted him there to represent as a Parker. So proud of him!
We also made it work to run by and grab some pizza just us three on the way home. Joy in the sorrow.
I know no one likes to shop for "funeral clothes" but I made the decision to order 11 dresses from Amazon because I wanted to wear all black and all my all black dresses are cotton and I just know Big Daddy wanted this to all be taken seriously. I ended up loving this dress and it was perfect because it was super comfortable while also being a bit dressier but could also be casual and was a nice cool material. Linking it here!
The girls felt the same way I did. They both wanted to dress up for Big Daddy. He ALWAYS calls Britt "Miss America" so she wanted to wear a tiara. And Tess came down in a full on wedding white flower girl dress. At first Zach and I weren't sure it was okay but then ya know what? She wanted to look fancy to honor her Big Daddy so that's what she was going to do and I PROMISE you he was loving every second of it!
The funeral service was beautiful. Truly. It was held at our former church home which just added to the comfort for me. Even one of our sweet friends came to help watch Spear. He's just SO little that I didn't want him to take away from anything or to be a distraction and he's too young to understand anyway.
I did NOT expect or anticipate the kids having a hard time. We talked about everything when it happened and I think sometimes as a mom I tend to think as my kids as KIDS and forget that they are like legit PEOPLE too.
We had lunch at the building before the service and before the service started family was able to go in and see Big Daddy before the casket was closet (sidenote THANK YOU LITTLE MAMA FOR HAVING IT CLOSED. I'm notttt a fan of open casket).
I waited until the END of the visitation the night prior. I was just worried I'd break down crying and didn't want any sort of attention on me ya know? It's all so awkward.
We asked the girls if they wanted to see him since they hadn't the night prior, again leaving it totally up to them. Kye did not as he had already seen him that night and I understood that. The girls DID want to so we took them in and I just wasn't prepared for how difficult it would be on them.
Tess especially was VERY upset. And literally cried, hard, the entire funeral. Kye and Britt did as well and said later that they just kept thinking of all their favorite memories with Big Daddy. All the cousins kinda sat together which was SO precious! I kept looking over and seeing all their teary eyes and how they were holding each other and it was just so awesome that they will ALWAYS have each other and that they have such close bonds with their great grandparents. What a gift!
Zach said the closing prayer and did a great job and I know that meant a lot to him as well to be included.
It was also awesome that our former preacher came back to town to speak and all three men did such a beautiful job in truly honoring and recognizing Big Daddy's life. I will ALWAYS remember though Big Daddy's preacher sharing about Big Daddy's walk in faith in his life.
I only ever knew Big Daddy as the sweet, loving, super kind Big Daddy. But yall there was a "before" and I've heard about the way he used to be. Harder. Didn't really show affection. It was INCREDIBLE to hear the way God shaped Big Daddy and how Big Daddy strived to be softer and more loving. How his Bible is covered in his writing and that so often the notes all are reminders to show love. The MAIN word that is written over and over is LOVE. He wasn't the sweet Big Daddy I know from birth, he BECAME that Big Daddy. Through faith. Through WORK.
How incredible to live a life where you are constantly striving to be better and grow through God's Word and faith and by His grace. I walked away from the service feeling like I knew Big Daddy better. His life was a theme of personal growth and always striving to be a better version of himself and THAT is something I will always carry with me!
It's so encouraging that up until we take our last breath, no matter how old we may become or what "time" we're from we can ALWAYS grow and ALWAYS change. No excuses! Truly if Big Daddy did, we all really can ya know?
I'm sharing the service below in case anyone would like to watch:
I was not as upset as I'd expected to be during it and I truly think it's because of the kids but especially Tess because she was just SO upset. Zach and I were so thrown for a loop by it! She sobbed so much that she literally FELL ASLEEP. Like a DEEP sleep. Bless her heart. It was so sweet. It was VERY genuine. Just pouring tears. I truly think she FELT the sadness of us all.
During it she grabbed my face as I was crying and said "we're just the same Mommy" It was so sweet. She said later she wasn't sure why she was so sad but that she just could FEEL my sadness.
She was also SO comforting to Little Mama as well as even complete strangers. She showered Little Mama with kisses and even at the gravesite, she went up to Little Mama's sister, who Tess has maybe met one other time, as well as a woman I don't know and she was telling them about Big Daddy being in Heaven and how one day they will be in Heaven and that Tess will be in Heaven too. They were loving it and it was just so genuine and authentic and I def think she has that "Big Daddy" gift of making others feel special and loved and knowing what they need to hear in the exact moment.
When the services ended and we stood up I was SO surprised to see Robyn and Katie come walking up! I didn't expect it at ALL and I literally held back tears seeing them. Just knowing they were there that whole time for ME filled my heart so full! I'm so blessed!
We still managed to have a bit of fun during a tough week 🙂
I was very low key chill parenting and the kids wanted to dress up and go to Sam's. Kye was MORTIFIED and stayed home but the girls, Spear and I went to Sam's and they had SO MUCH FUN. Tess loved the attention and kept saying HI to everyone – even if they were too far away to really notice us.
They brought joy to lots of people that day which also in turn brought us all joy too. It was super fun!
I also may have taught them some unhealthy coping habits of emotional eating haha!
We had a chill weekend following the services. I really needed some time to just SLEEP and recover a bit and Zach was super sweet about understanding and kept the kids for a day to just allow me that time to decompress. We had a family movie night and introduced the kids to Mighty Ducks!
My goal for the summer was "Guilt Free Summer." We did a LOT less this summer than usual and that's OKAY. It was still super fun! I tried to plan one activity a week on the weeks we weren't traveling and it was a great balance.
We went to see Cruella in theaters and Daddy was even able to meet us there too! It was a discount day and it meant the kids got their own popcorn for the first time ever. We loved the movie and especially the fun family time!
We've really loved getting to know our new chuch fam and Tess and I are so alike we're even naturally drawn to the same people. She adores Mrs Beth and so do I! I'm pretty jealous about her special Mrs Beth day! They got their nails done and got froyo and even went to dinner together. Tessie felt so special and had the best time!
A great thing about Valdosta is that we are located ON THE WAY to a lot of things for a lot of people and I was SO excited that Rachael happened to be driving through and we were able to grab lunch together. Rach is actually the very reason this blog exists. She had one first and I loved the idea so I started this one 🙂
We've known each other since elementary school I think? Or close to it. She grew up on the street directly across from my neighborhood so I mean we've known each other a LONG TIME. And our friendship has only continued to deepen over that time. She's my "no matter how long it's been" friend. No matter how long it's been it's ALWAYS easy. It's ALWAYS natural. It's ALWAYS picking up right where we left off.
I love Rachael so, so much. I love her babies. I love her family. I love her! She is a gift in my life.
Something I learned about myself over the summer was that I tend to "hermit up" when I'm hurting. I kinda self isolate and it's so not who I naturally am. Big Daddy was tough to say goodbye too and in doing so it also opened some other wounds for me, as these things tend to do. So I was a bit of a hermit this summer and that's okay too!
So thankful for friendships and fun times together, and always glad I GO even when I don't feel like it! Katie, Tiffany and I found a new fav spot – JoJo's – if you are local it's a MUST!
Zach and I have also loved getting closer to his cousin Cole and his wife Gabi and of course Bryce too 😉 We had a fun night together hanging out with all the kids!
We've also been slowly working on home projects and finally got the last light replaced! I have been EAGER to swap out our foyer light but it's a tricky spot and, duh, Zach didn't want to hire anyone to do it so he risked his life but got it hung!
I also FINALLY, after 11 years of living here, FOUND PILLOWS that I legit like for our couch! I also am like a pillow nazi now because I won't let anyone use them haha. I don't want them to get messed up! Zach is not a fan!
We had a family youth event with the church and it was SO fun! The kids loved swimming and participating in the slip and slide and cornhole and football games. But you know Spear was the MOST excited because he got to DRIVE an EXCAVATOR (yup second time in one month) and even SCOOP THE DIRT!
We are super, super blessed with our church fam! God put us exactly where we need to be and we are so thankful!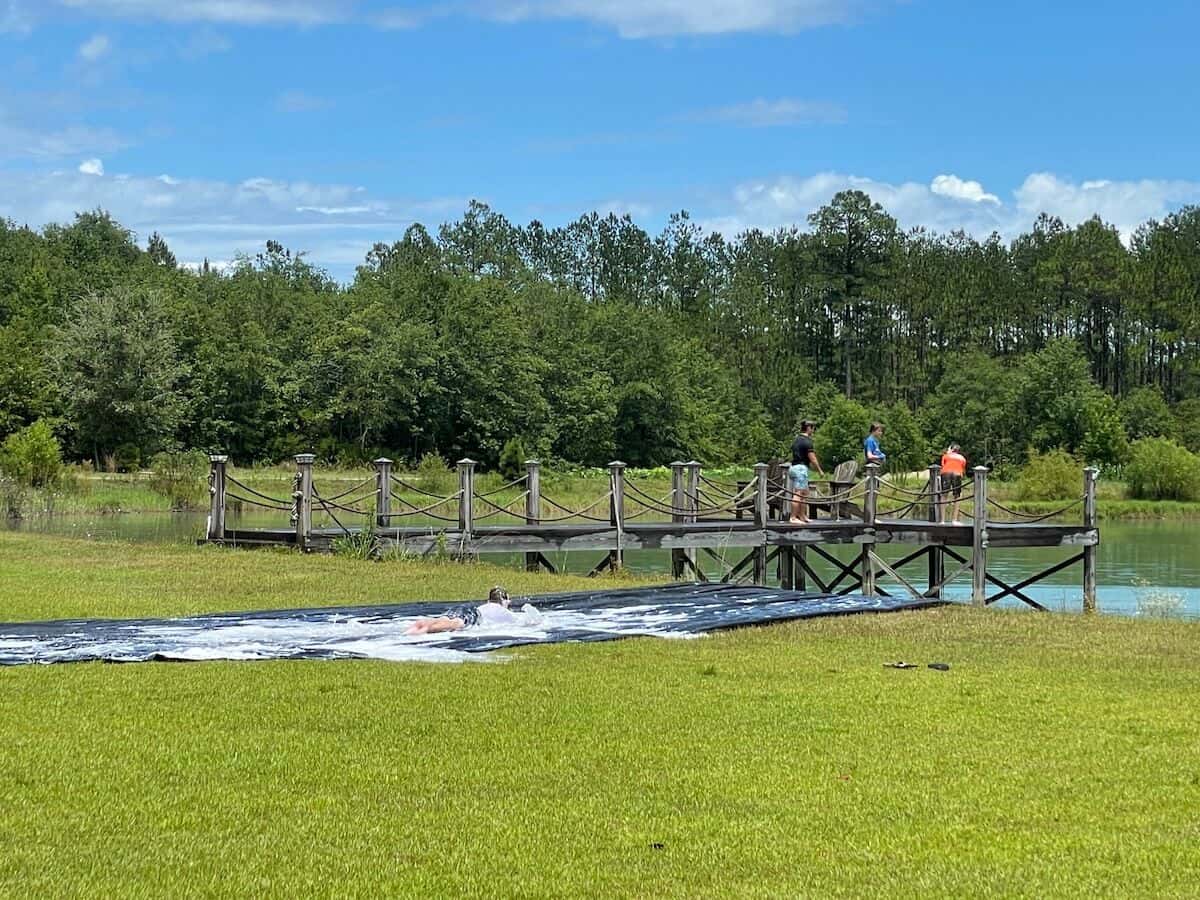 Kye is def living that pre-teen life. I feel like I barely saw him a lot of the summer! He has several friends, through church and archery, and was invited to go and do a good bit with them! I love that he's got GOOD friends who are truly good kids and he's able to have so many fun experiences.
Our gift to him from our Charleston trip was his first pocket knife 🙂 He was pumped! I also found a super sweet note he wrote me in 2015.
We had lots of family game time and out of all the kids family time together is def the most important to him. He LOVES it. We finally played Ticket to Ride and it's a GREAT game! The Jr version is perfect bc it's not too long. Linking here 🙂
Kye expressed interest in learning more about Zach's work and is def old enough to go with Zach on occasion to certain accounts. He had his first work day with dad and he LOVED it and did a great job! I know it was a special day for Zach especially 🙂
Britt is my summer-loving child. She is all about the pool and swimming and doing all the fun things! Each age with her just gets better and better and more and more fun. She struggled a bit with Kye being able to go and do with friends and she's def more in that awkward in-between stage of childhood. I love that she has Tess around to help her stay young!
Britt's favorite meal is fresh corn on the cobb so it's a summer staple around here!
Tess loved all the time at home and the time with her siblings. She is really into dressing up and wearing this random black hat we have. Her fav outfit SCREAMS Michael Jackson! It's so cute!
She had a lot of fun playing in makeup too and it was nice to have the lazy days to allow for it when we weren't going and doing.
She is a sweet girl!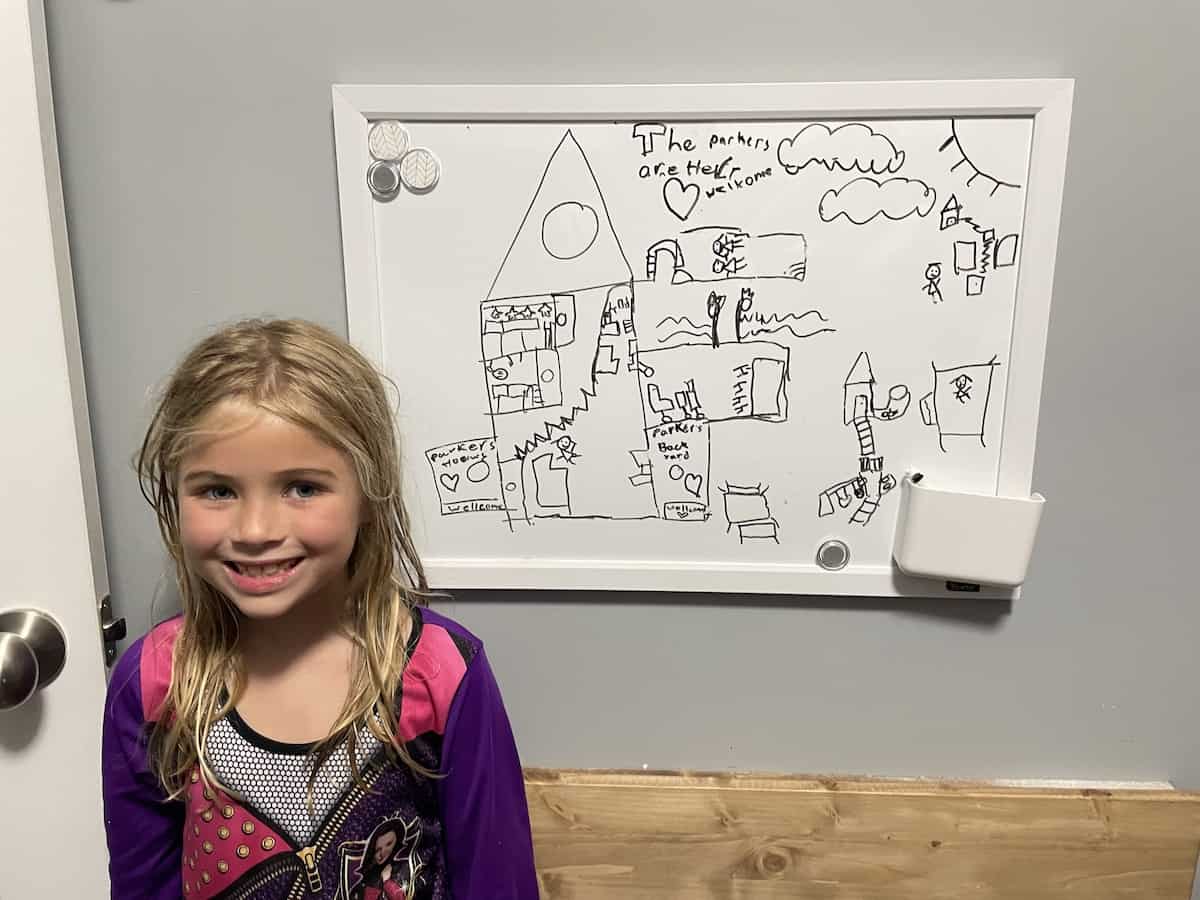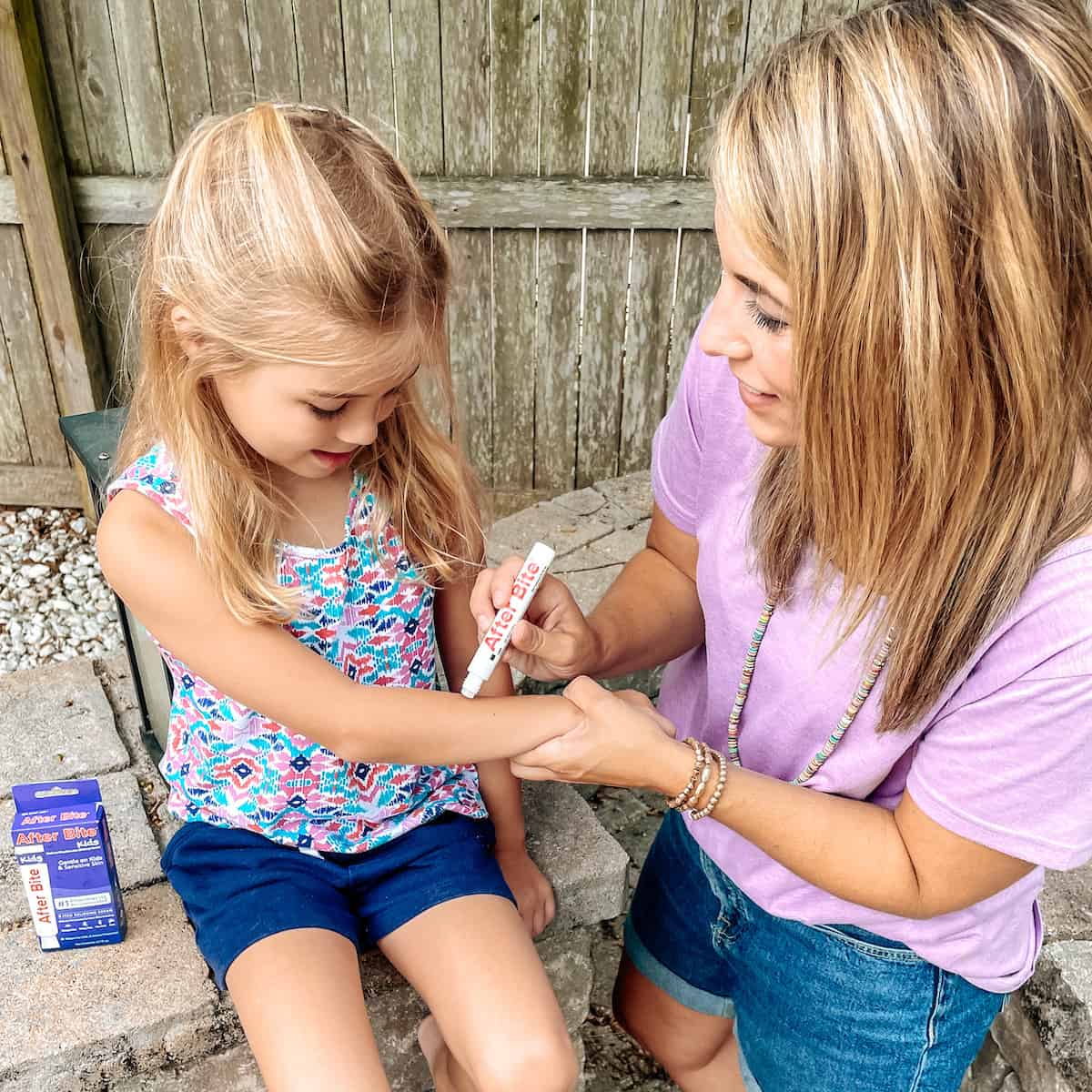 These are the last days of Spear's horrible hair. By the end of the month it was beyond time for the cut!
Spear loves to play on his own but also loves to sucker his siblings into giving him attention so many of his independent playtime mornings were spent with one of his sisters playing with him #spoiled.
I love this age and he's getting better and better at being more chill and less wild man all the time every second haha!
My favorite thing about summertime is all the quality together time my babies get with each other!
Days of grief are such an important reminder of how short life really is and how important it is to hold those you love close. My prayer is that these four ALWAYS, always have each other!
Had a couple of campaigns for Insta and love when the images turn out this cute 🙂