I literally have no idea where Spear's obsession with tractors came from. He's just always loved the outdoors, anything work-with-your-hands-related, and construction vehicles. Tractors are his favorite and his favorite brand is John Deere but his absolute favorite tractor is the excavator.
He loves the "scoop" and will do a little scoop motion with his arm to dig in the dirt anytime he finds any sort of dirt or sand.
A man is clearing land out by Mr. Rusty's and Mrs. Charlotte's house and while we were on the Parker Family trip Mr. Rusty mentioned talking to the man about letting him ride Spear a bit. He called me the Monday we got back and said the owner said he could ride and if we wanted to come by to check it out or even just send Spear solo.
You know I was NOT about to miss this moment!!! Not only was it a John Deere Tractor…it was an EXCAVATOR too!
At this point in my blogging career I don't really "do" these types of blog posts anymore as this would easily fit into the monthly summary post for June but it was TOO special of an evening not to get its own post 🙂
I cannot handle the pictures. Total picture overload and I'm zero percent sorry about it. Spear was SO EXCITED. Hands on his hips the entire time. My little future contractor talking through the project and overseeing it all. SO serious. I'm obsessed.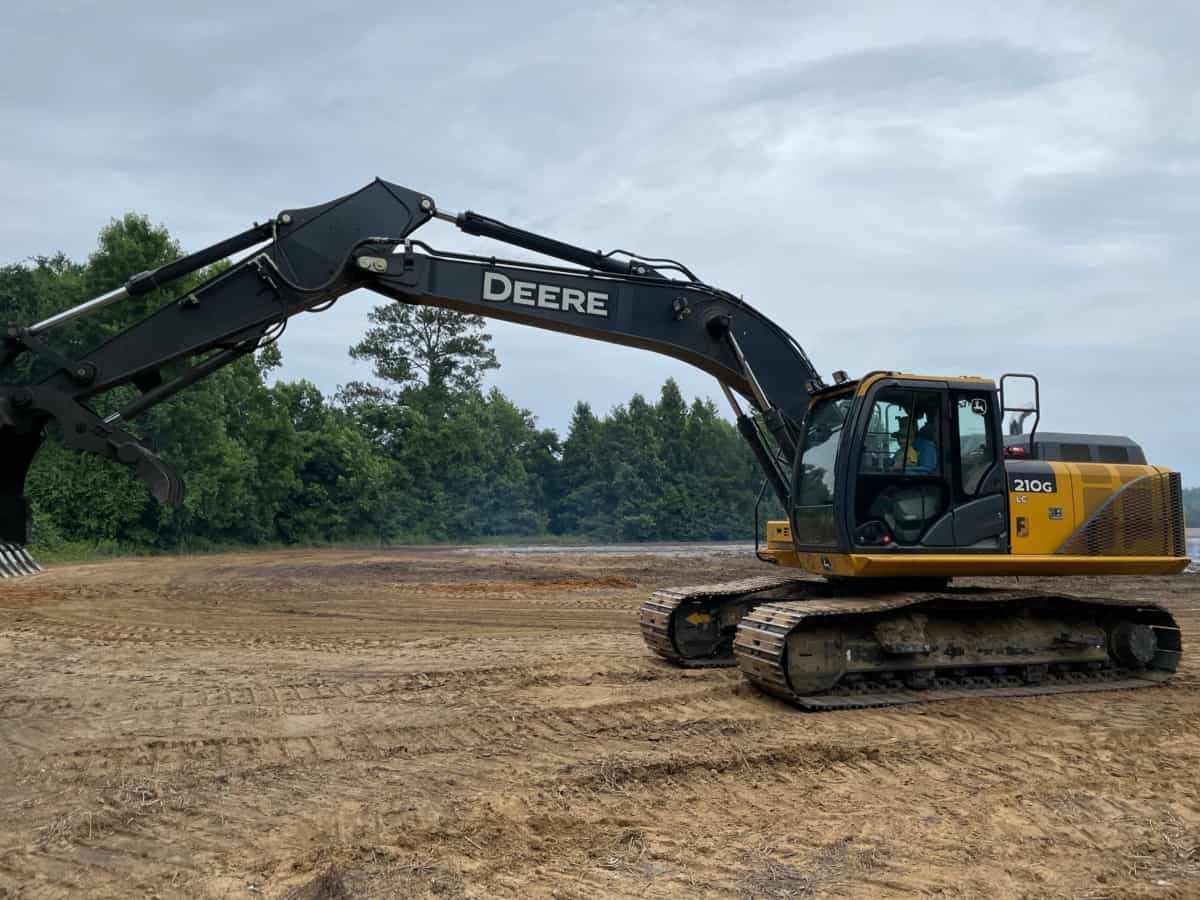 He loved watching. He loved riding. He especially LOVED scooping! What a special memory with his Big Papa!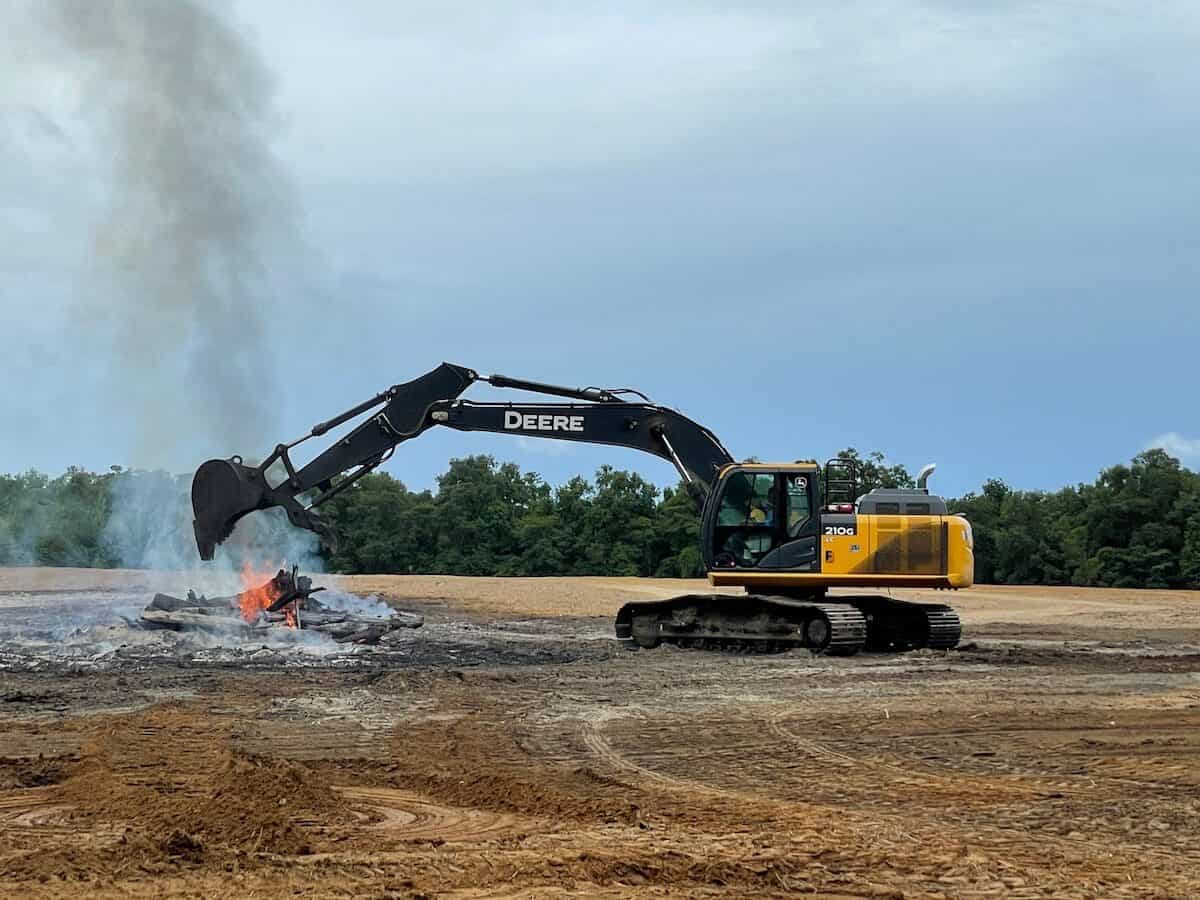 When it wasn't his turn to ride he was equally content watching and doing his own dirt scooping with his arm excavator. He was wearing Kye's old shirt and shorts, Tess's old boots and Mr. Scott's John Deere hat and he was in Heaven getting to have the experience of a John Deere Excavator.
Big Papa made sure that each of the kids got a ride and he enjoyed the whole experience himself because it's not every day you get to ride in such a huge piece of equipment let alone drive and operate it!
Tess was actually the best driver out of all four kids which was random and unexpected! Britt was probably the least interested in the whole thing but still did want to have the experience.
It was SUCH a special afternoon and a moment I will NEVER forget and know that Mr. Rusty and Spear won't either!
It meant THE world to me that Mr. Rusty took the time to notice the man clearing the land and to think about how much Spear would enjoy it and then go out of his way to ask if he could ride his grandson on it. To put the plans together and make it happen is just so thoughtful and sweet and shows the love he has for Spear (and all the kids of course!).
It. Means. The. World.
Here's my post I shared on Instagram. The moment brought tears to my eyes living it, then again when I shared about it, and again now sharing it here!
Our tractor boy was in heaven last night 🚜
Spear has always loved tractors but he especially loves @johndeere and his absolute favorite tractor is an excavator. Literally anytime we pass by any sort of dirt he converts his hand into a little bucket to scoop the dirt. Sound effects included, of course 😉
We got a call from Big Papa yesterday that he found an excavator and the owner is a friend who said he could take his grandson on a ride. Y'all. My heart could burst seeing the pure joy this boy experienced with his grandfather ❤️
Even cuter were the moments when he wasn't riding. I think we have a future contractor in the fam because he put those little hands on his hips and supervised while talking through what was going on and even scooped out his own dirt to layout the plans for Big Papa to follow 🥰
I never would have thought I'd be in tears over tractors 🤷‍♀️😆 What's something random that your kids love? Excavators will forever have a special place in my heart for sure now
When we finished up with the tractor we stayed to help pick peas in the garden for a while which was a great opportunity for the kids to be helpers and learn a bit about farming life.
Spear was NOT as interested in this part of things. He didn't care about helping with the crops but was all about putting some muscle into helping clear things out of the way.
Tess shocked us all again being the BEST little farmer! She worked the hardest without complaining and really did her best to pick the best peas and make sure she didn't miss any. She never stopped picking until the field was cleared!
Spear helped look after Aunt Karen's cat, Smokey, and had fun scooping more dirt and pretending to be on a mission to escape from dinosaurs chasing us 😉
We had SUCH a great family evening together and these are the little moments that make life so beautiful 🙂