Mommy and Big Kids Disney Weekend Part II – September 2019
If you didn't already read about the first part of our trip you can do that here!
We left Magic Kingdom around 3:30ish and drove over to Disney's Wilderness Lodge for dinner.
Our reservations weren't until 5:30 but I figured we'd get changed and just check and see if we could get in earlier and, if not, we'd hang out in the lobby 😉
Sure enough we lucked out and were seated pretty much right at 4:00!
This trip was a very last minute thing and I realized recently that I'm only THREE character meals away from having eating at them ALL.
I just checked online and there so happened to be reservations open for TWO of the three on my list!
I snatched 'em up real quick! I did not feel badly about Zach not attending these meals with us (or Spear either for that matter) because 1) Zach is notttt a fan of Winnie The Pooh (that meal is later on in this post) and 2) I'd heard the food at Storybook is super fancy and he's not into that either!
I will say up front now that I've been to both – I wish I'd waited for Zach and Spear to be with us.
I am hoping to snag a spot at Storybook for Zach and I as a date night at some point because I think he would truly love the food! Disney Wife FAIL.
Anyway…
We walked in and were instantly impressed with the decor at Storybook Dining at Artist Point. It's SO pretty and so well done!
It is a fixed price (and it ain't cheap) but you are given options to choose from on the menu.
I had been worried about the food being too fancy for our tastes but they had chicken fingers as an option upon request as well as French fries so we were golden 😉
Our server wasn't fantastic. She was just okay. But the atmosphere and food and fun made up for her lack of magic 😉
The food started coming and just kept coming!
The price includes cute, fun little appetizers. The butter was AMAZING. It came in little jars and we got to shake it up to enjoy!
I was VERY proud of the kids for TRYING new things and Kye was so adventurous and into it and truly ENJOYED it too!
None of us, however, tried the weird mushroom soup stuff haha!
We lucked out and had our ENTIRE meal prior to any characters coming by. I asked the server if that's the norm and she said no – we just got lucky!
Kye is an adult price at Disney now which is annoying buttttt at least he LOVES the food and truly EATS it too!
We both got the Prime Rib and yall I've been craving it ever sense! We really, really enjoyed it and the bread was fabulous too!
Britt got the kids prime rib and it did have the sauce on it which got all over the fries – I wiped all the sauce off with a napkin and they brought extra fries for her. Just something to note if you have kids!
The meet and greets were with Snow White, Grumpy and Dopey and then we received a special ticket to meet the Queen.
The meet and greet experiences were all super fun! The Queen though was AMAZING.
She KILLS IT. And it was a nice set up to be able to just enjoy our meal and use our ticket to meet her whenever we were ready. No line or anything!
My favorite moment though was with Snow White.
She hugged the girls and then went to hug Kye and he said "NO THANKS, I'M GOOD"
Yall dude rejected a straight PRINCESS. And not just any princess but THE OG PRINCESS.
DYINNNNGGGGG
Kye enjoys the non-face characters more I think at this age b/c it's less awkward. He was a great sport and does best when I kinda direct it "make a grumpy face!" "let's all be Dopey!"
If I just let things happen naturally, Kye is more uncomfortable!
Just like the appetizers they brought out several desserts as well and they were fun to try and super cute with the theme but none of them were AMAZING.
Overall we really had a BLAST at dinner.
After our busy (and HOT) morning we were all exhausted and pretty grumpy (see what I did there?) and leaving the parks and having a nice meal really shifted all of our moods and gave us a new boost!
This was the first time I've ever left the park to eat at a resort mid-day like this and it was a really great experience.
We had debated heading back to the house for the night but with our new energy we decided to keep on rolling and go to Hollywood Studios! YOLO right?
When it comes to my opinion of Storybook Dining at Artist Point I will say it's not a top of my list item or even a must-do item. But for families who have done all the Disney things already, it's a solid option and one I do foresee us doing again at some point in the future.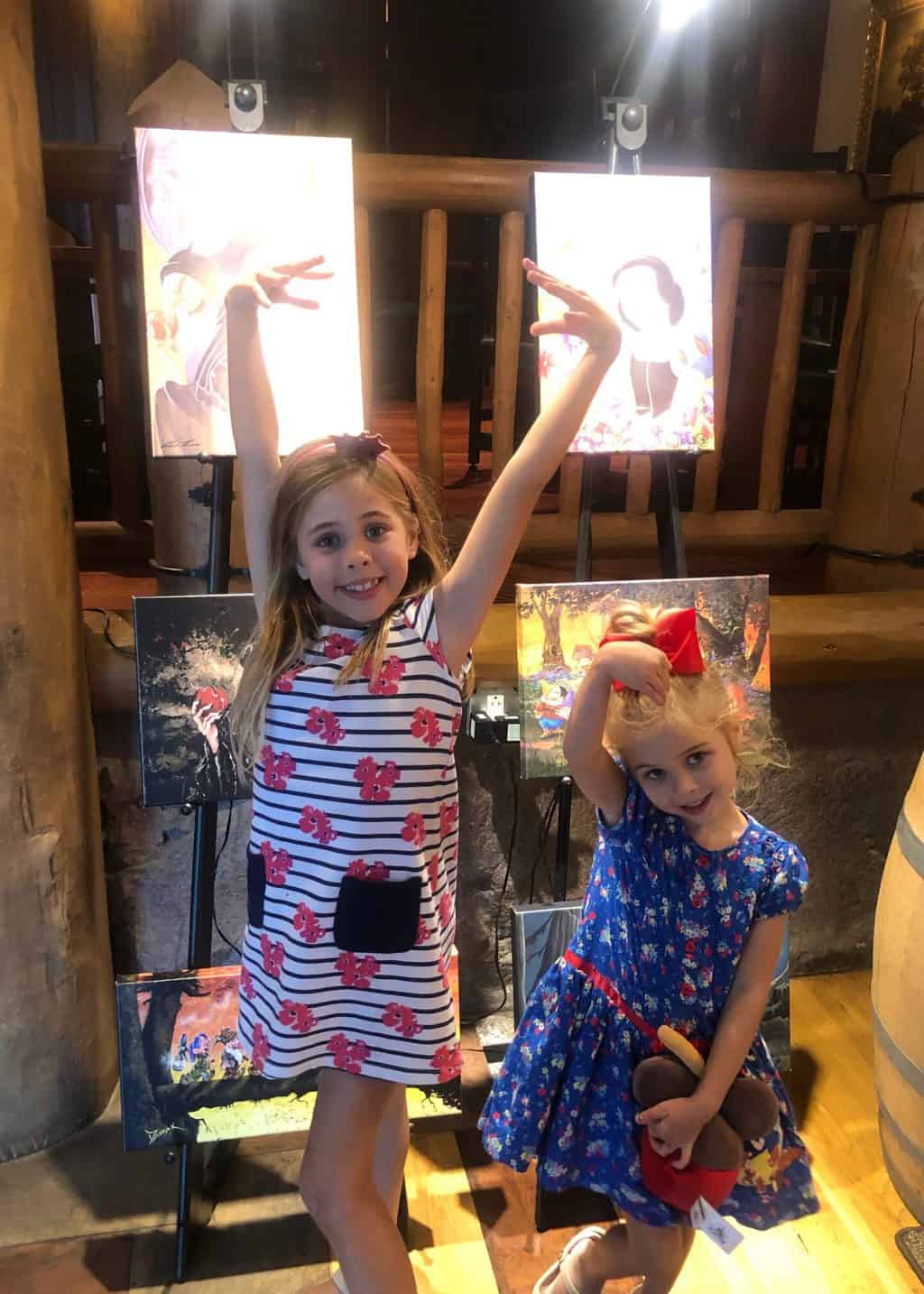 I love not being in a rush. Taking our time to stop and enjoy the scenery at Wilderness Lodge (and yes, I told Tess she's not supposed to pick the flowers!)
We decided on Hollywood Studios for one reason – Fantasmic!
We haven't seen Fantasmic since Disneyland and Tess basically slept during the entire show and we realized she's NEVER seen it at Hollywood Studios! (At least not that we can remember? Maybe she has?)
Tess hits a limit when it comes to picture taking and I have learned it's better to just not push her about it.
When I push she ends up being upset and it ruins the picture anyway, so I just always ask if she'd like to be in it and if she says no, then I accept that and grab whatever kids are in the mood ha!
Love that we got the "Galaxy's Edge Opening" sign b/c we were technically there at opening 😉
The park was not crowded at ALL. We headed to Toy Story Land and literally walked on to ride Alien Saucers with only a 10 minute wait!
I will say that line was one of the worst I've ever experienced though…even with only 10 minutes.
A family in front of us had a really, really rude father. He was rude to his children. So rude. And ugly. And mean. And using language that REALLY bothered me.
If the line had been longer I would have said something. If Zach had been there he FOR SURE would have.
It was a moment that made me sad for that man's children and thankful to my little core family and how blessed my babies are in the parental department.
Tess and I rode together and she made up a new game where we DANCE the whole ride!
After Alien Saucers, Toy Story Mania only had a 20 minute wait so we hopped on over there!
We stopped by to check out the new entrance sign for Toy Story Land.
Toy Story Land and Galaxy's Edge connect and I have to say…it's not very well imagined or themed and doesn't make a whole lot of sense.
We rode Toy Story Mania and had some issues with our screens during the ride. We reported them to a cast member and were told we could ride it again!
Whoop whoop!
When we left Magic Kingdom that morning I grabbed a Fastpass for Fantasmic seating.
We had to HURRY to get from Toy Story Mania ALL the way across the park for our seating time.
Yall. We made that walk in SEVEN MINUTES.
Which I'm pretty dang impressed with if I do say so myself!
We've never done the Fastpass seating for Fantasmic and it was GREAT.
We had some time before the show started and my fan battery died and it was just SO HOT but Tessie wanted to sit in my lap so I totally soaked that up (sweat and all)!
I really love Fantasmic. A good bit of it is outdated but it's such a complete show with truly something for everyone – and it has a solid storyline too!
We had planned to go see it over Britt's birthday but now we don't need to!
It will be fun once Spear is old enough for night shows. Right now we typically do our park time in the mornings so we don't see a lot of night shows.
Tess was EXHAUSTED after the show ended at 9.
We had one hour until the park closed and Kye, Britt and I had a mission: see Galaxy's Edge AT NIGHT.
Pandora (at Animal Kingdom) is a really different experience at night and we wanted to see what Galaxy's Edge has to offer at nighttime as well.
So we made the treck back across the park and decided to enter through Toy Story Land as we've never seen THAT at night either.
By the time we made it over there Tess was DEAD asleep so we just let her rest.
Although man if she'd been awake….everything was WALK ON wait times!
Since she was sleeping we did a little Christmas shopping for her – I'm so glad I grabbed a Forky as they are TOUGH to find! Apparently they are selling out super mega quick!
We then headed over to Batuu and had plenty of time to walk around the entire land again!
And it wasn't the least bit crowded. At all. Smuggler's Run only had a 30 min wait and it was the Saturday AFTER it's initial opening. Pretty crazy!
I talked to a cast member about it and they said that Disney is saying the low crowds for Star Wars have been due to the Hurricane that came through opening weekend. Which did probably have a lot to do with it, but I also think Disney prepared for CRAZY crowds and that's why it doesn't SEEM that crazy.
I am interested to see what happens when the second ride opens in December. Maybe everyone is waiting for then to go?
I'm hoping they stay this low so we can ride it in Jan when we take the kids haha!
We tried Blue Milk in Oga's Cantina on our first visit to Batuu but I heard the quick service version is different so I wanted to try it as well and we all agreed it's better – more of a slushy!
We didn't leave Batuu until after park closing. It was so neat to shut it DOWN!
We saw fireworks in the distance and were able to catch the majority of the Star Wars Fireworks show at the Chinese Theater before it ended!
Tess woke up a bit during it and I just said "go back to sleep" and she did. Maybe I have the powers of the force 😉
We got back to the house around 11 and the girls were suddenly wide awake and remembered that it was their night to sleep with Mommy.
Nicest. Mom. Ever.
I can't remember a more epic day at the parks.
We spent over 15 hours either at the parks or at a Disney resort.
We visited two theme parks. We rode SEVENTEEN rides. Watched one show. Watched 1 parade. Watched TWO night shows. And ate at a character meal.
It. Was. Amazing.
But Mama was TIRED.
I was super, super thankful that I made our breakfast the next morning for 10:30. We just slept in a bit and got the car all loaded up and headed to MK for breakfast!
We did NOT ride anything that morning. My plan was EAT and SHOP.
So that's exactly what we did! We never left Main Street all morning!
When you park in Simba 119…you ride the parking shuttle.
And when you've walked SO MUCH the day prior…you refuse to push a stroller up the monorail ramp. We just took our time and waited for the ferry!
Confession: I don't like the decorations at MK for Halloween.
I think they look cheap and are ugly.
Christmas is muccccch prettier although my fav is just PLAIN MAGIC KINGDOM 🙂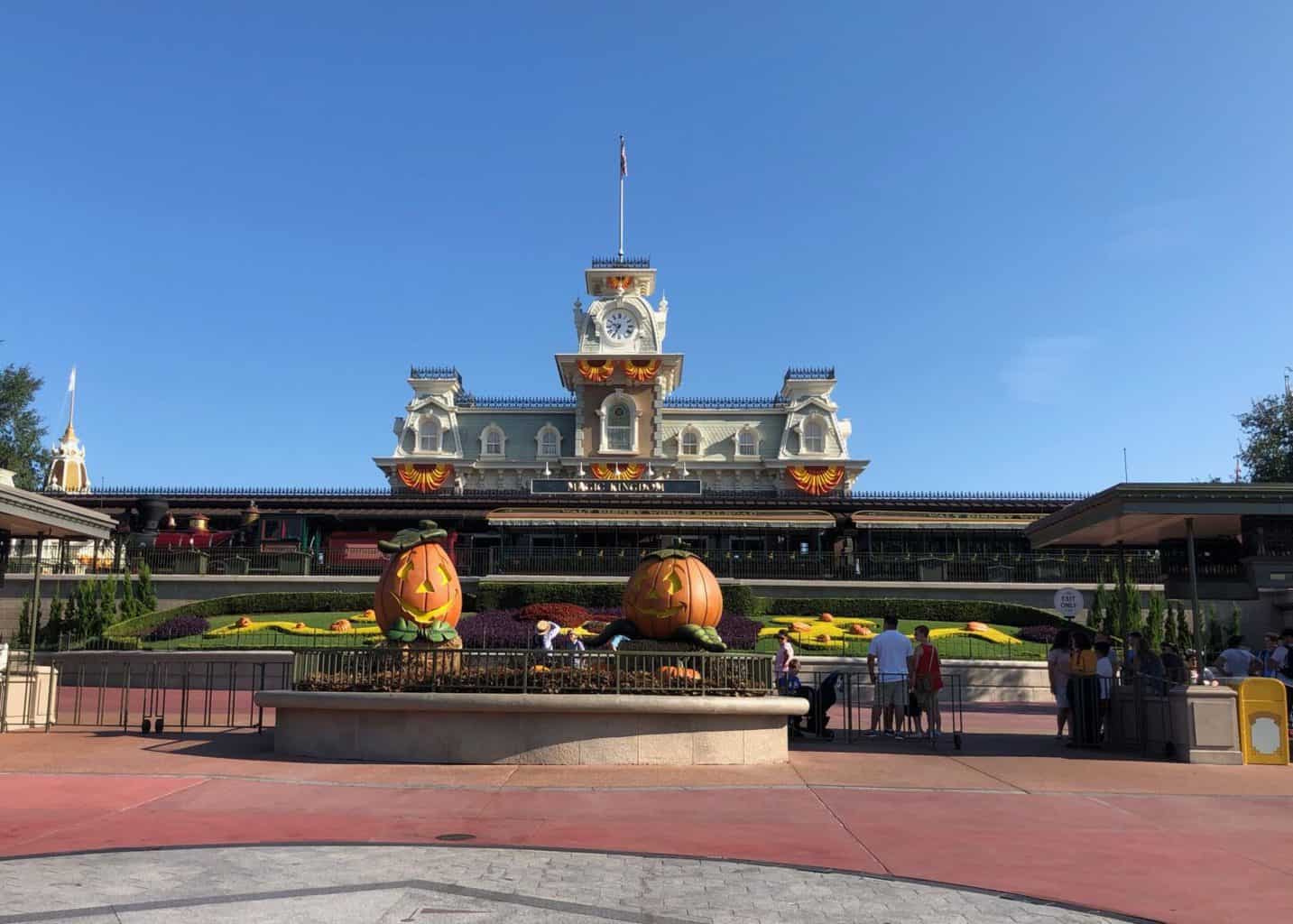 We had about 45 minutes until our reservation so we picked up our daily Sorcerer Cards from the firestation and then walked through the entire Emporium.
I browsed for things to buy for some upcoming IG giveaways and the kids browsed for Christmas gift ideas.
If you're not already following me on Instagram you can do so here and I'd recommend it as a LOT of these things are coming at you in the coming months as giveaways!
I instantly fell in LOVE with the new castle Loungefly book bag and yall they are FLYING off the shelves. I debated asking for it for my bday or Christmas but knew by then it'd be impossible to find so I went ahead and said TREAT YO SELF and got it! (hint: I may have gotten an extra one toooooo!)
Kye was so cute saying he wanted to buy Daddy a Mickey statue that says "Best Dad Ever"
We headed over to Crystal Palace for our late breakfast/early lunch.
I have eaten at Crystal Palace as a kid but never as a parent and not as a hardcore Disney fan so I felt like I needed to eat there again to be able to give a true review of it!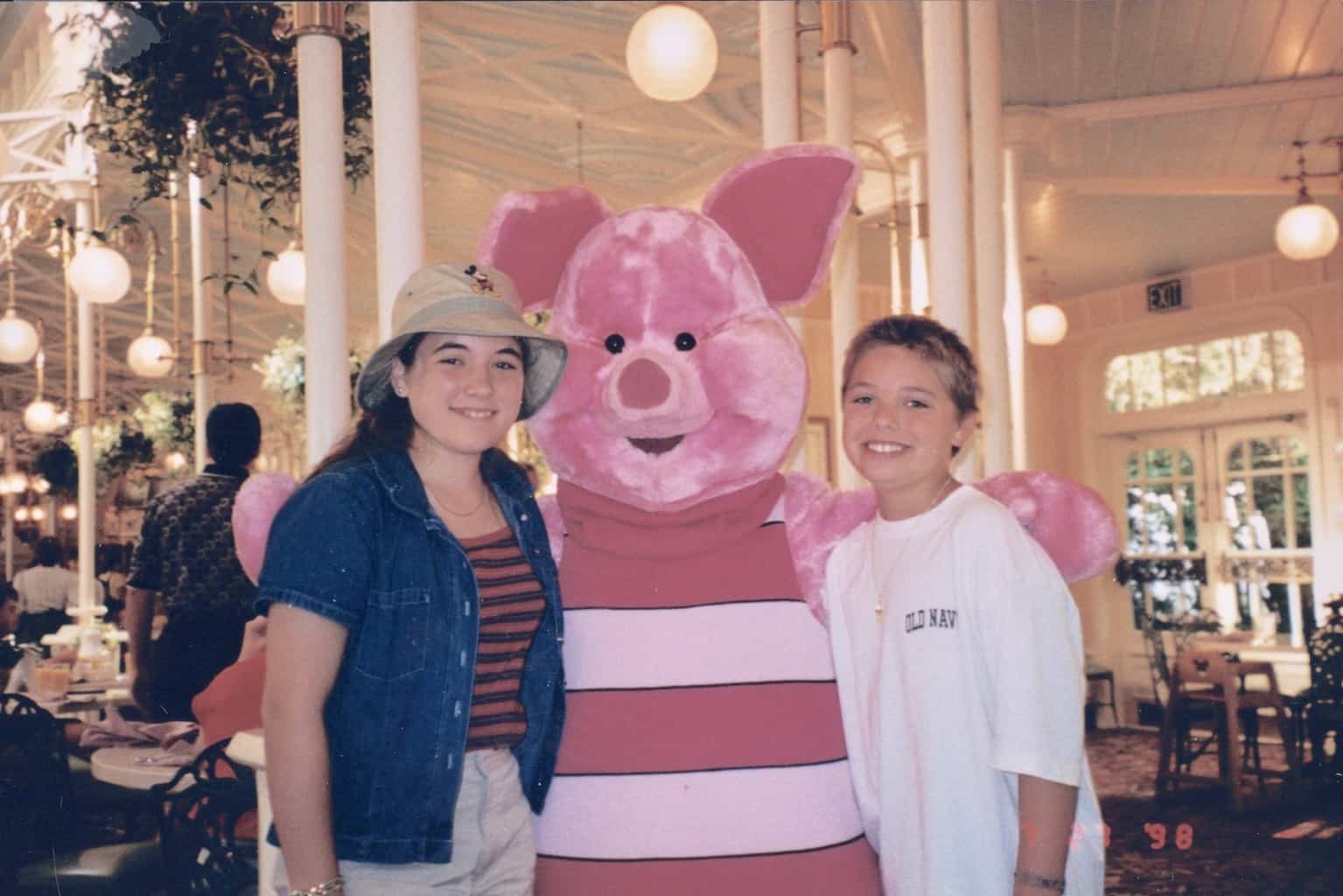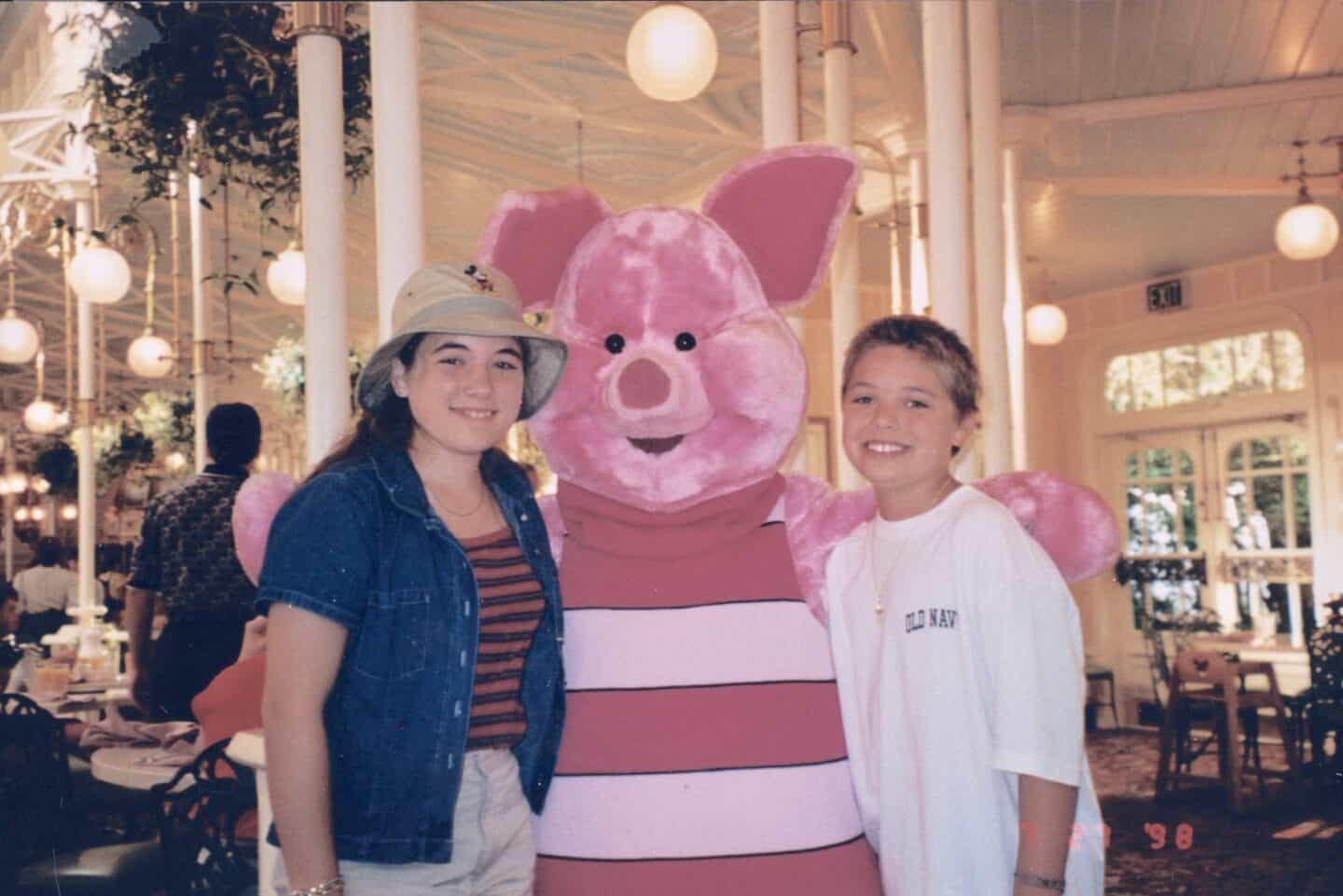 Crystal Palace is located in Magic Kingdom and is at the end of Main Street.
It's GORGEOUS and very much like the Plaza at Disneyland. AMAZING lighting and just SO inviting.
It FEELS like MAGIC.
Crystal Palace is a buffet and has TONS of options for food. It was all great!
I love that the big kids are all old enough to handle it all completely on their own. It made it SO relaxing.
It also made me proud that I was able to give them total freedom in their food choices and that they chose healthy options mixed in with the fun stuff!
I was proud of myself for remembering to pack reusable straws!
I started my dang period that morning and it was kinda perfect timing because I also started my period at a character breakfast for Tess's bday and I loaded UP on Mickey Waffles with ice cream…so I did the same thing for this breakfast but they had this yummy french toast so I did that instead of the waffles. SO GOOD.
I also have become obsessed with bagels, cream cheese, salmon and capers. Totally my fav at a buffet situation!
We also lucked out BIG TIME and they switched to lunch food while we were there and were able to get all the super fun themed Halloween treats!
Needless to say we were all SO STUFFED.
I am also including a pic of the drink menu b/c we glanced at it and thought a drink was called "Tess Parker!"
Our server was really great and the whole vibe was just very relaxed and we LOVED it.
I wish it was different characters because Zach is just super not into Winnie the Pooh so he's a hard sell on this experience.
I do think the Winnie the Pooh crew does fit well with the overall vibe and feel of the place.
I think other classic characters could work well too…like Marie? Or Fairy Godmother?
But we truly enjoyed meeting Winnie the Pooh and friends!
ALL of them were SO GREAT and I was especially impressed with how much they included KYE in it all.
Piglet and Eeoyre had so much fun looking through Kye's Sorcerer's of the Magic Kingdom cards!
Tigger was adorable, of course, and Pooh did NOT let Kye get away like Snow White did!
We had SO. MUCH. FUN!
After grubbing OUT we all took our time using the bathroom haha and then hit up Emporium to make all the purchases.
I went slightly overboard on Disney merch for Instagram! I was SO proud of the kids how patiently they waited and on several cast members complimented their behavior!
I have awesome kids 🙂
Kye wanted to stop by the fire station again to do a little card trading so he went there while we tried to meet Chicken Little!
It was the first time ever that I've had a rude cast member experience. We got up to the line and Chicken Little was leaving for break. No biggie.
But then he walked ALL the way from the center flagpole to near the fire station.
We were heading that way to meet Kye anyway so we were practically walking beside him and the cast member was like NOT letting him talk to us.
SEVERAL other families and kids ran up to him and he interacted with them but because we were polite and my kids know not to just run up to characters they didn't get to meet him.
I thought it was just really rude and disappointing. I told Britt to just go up to him since everyone else was but she wasn't comfortable doing that and I wouldn't have been either! It's annoying when people who break the unwritten rules of Disney get rewarded and the ones who follow the rules get left out.
We didn't let that little incident lessen our JOY. We had THE BEST WEEKEND.
It was so, so, SO fun and truly one of the best Disney weekends we've had! So many epic moments and memories we'll always cherish.
Britt got really upset and did NOT want to leave and said "can't we just live here?" I agree baby!
They did great for the ride home too and it was just an all around amazing big kid experience!
A video of all of our fun should automatically play in this post!