Our next park day kicked off at Animal Kingdom. Animal Kingdom is usually a pretty short stop for us as there isn't a TON to do. It was super strange walking into the park and passing by a huge Ice Age sculpture. It's just weird to see movies now associated with Disney that were NOT Disney movies when they were created!
The only real perk for staying on property at Disney World right now is that on site guests can enter ANY park 30 min prior to park opening. Which has changed up our mornings as off-site guests. No more real pressure to get there an hour before opening. We were there about 45 min before the official opening time and were among the front of the non-property guests waiting to get in.
It's also kinda silly for us to arrive that early when our "run at opening" ride is Dinosaur haha. We didn't have too many people pushing and fighting for that front of the line spot 😉
Dinosaur is one of Spear's favorite rides and it's so fun having G-Mama with us for these experiences!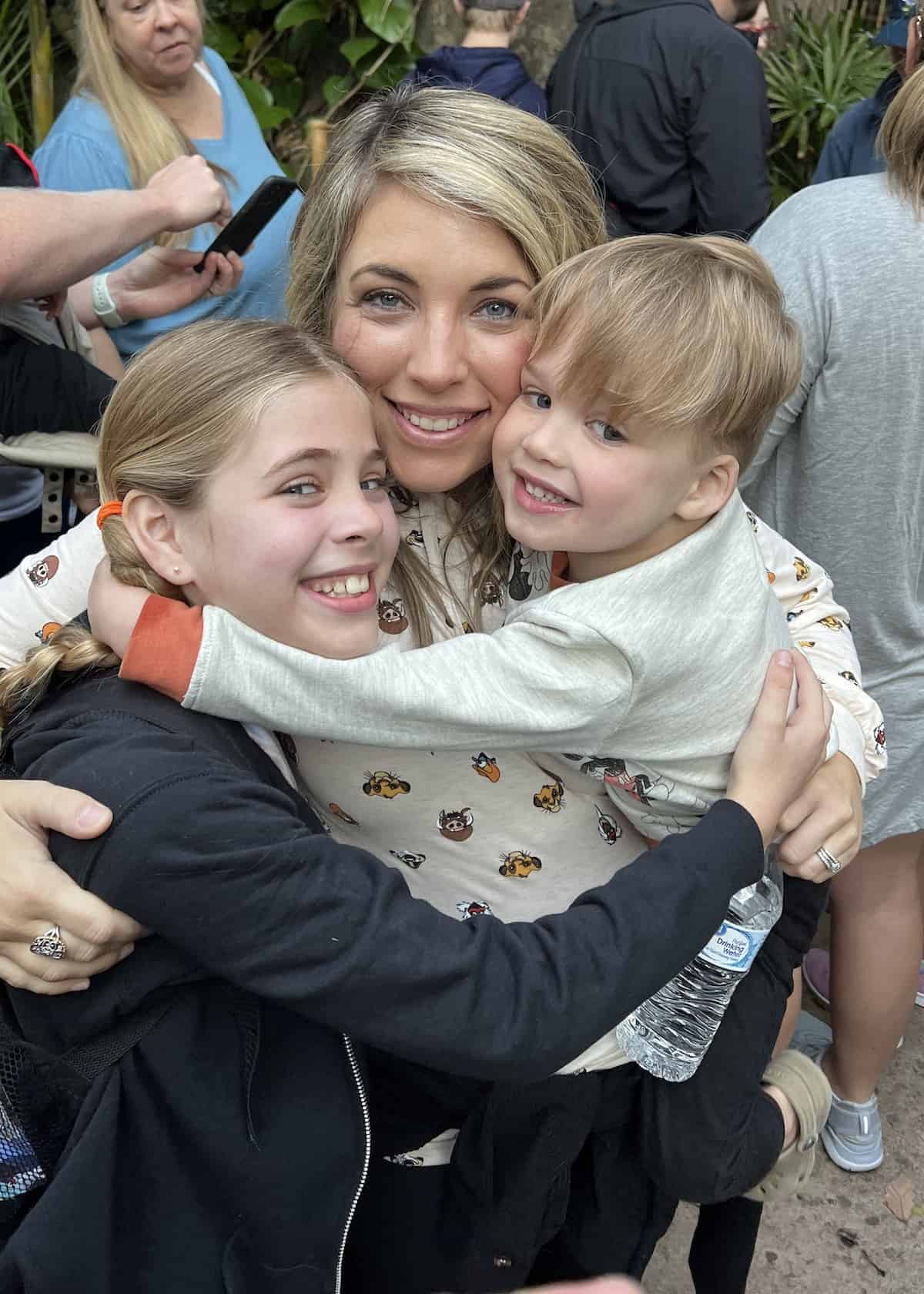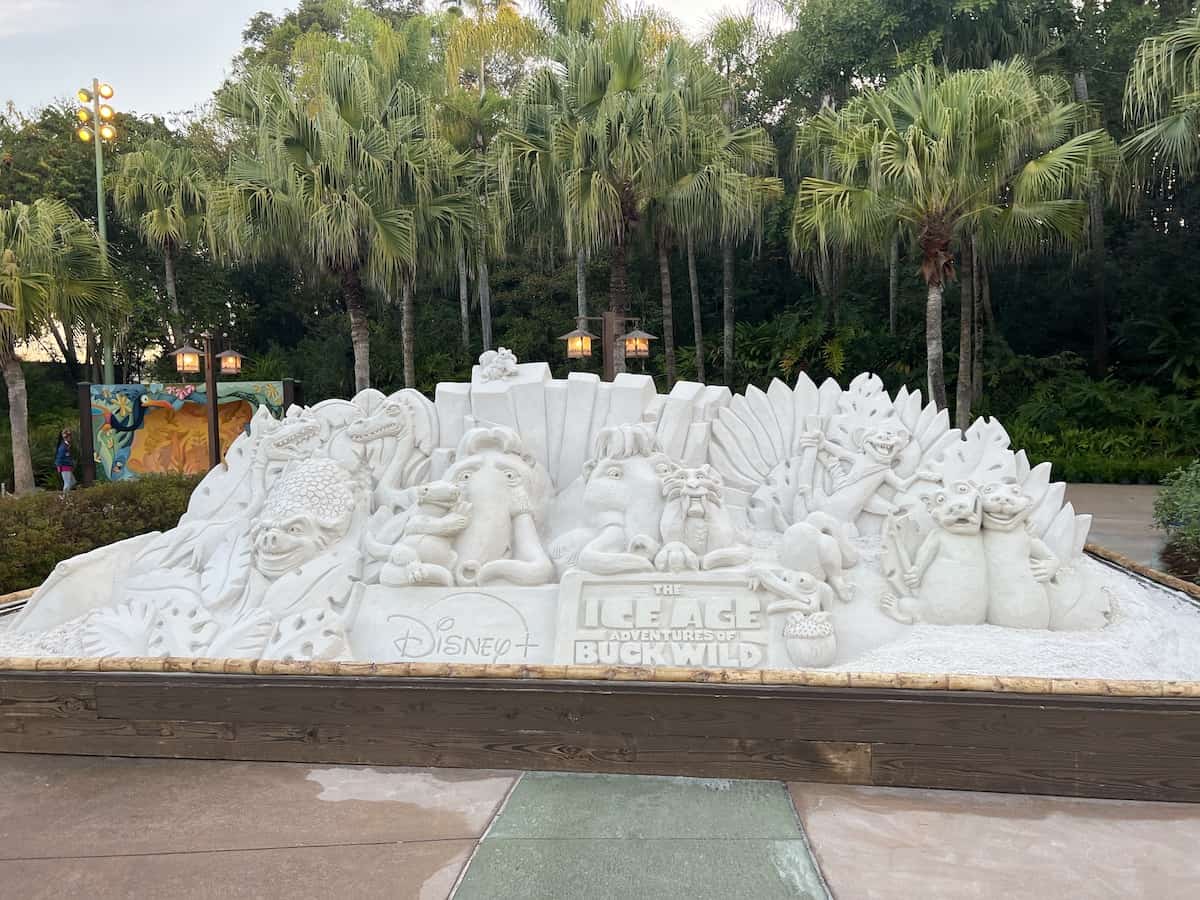 We next headed over to Pandora and rode Na'vi River Journey (another favorite for Spear…he calls it "the boat ride") and then the rest of our crew rode Flight of Passage and Spear and I hung out and played with his new dino toys that G-Mama bought for him! He's very easily entertained which is a blessing because Pandora (just like Galaxy's Edge) has NO WHERE for little ones to play while they wait for the height restricted attractions.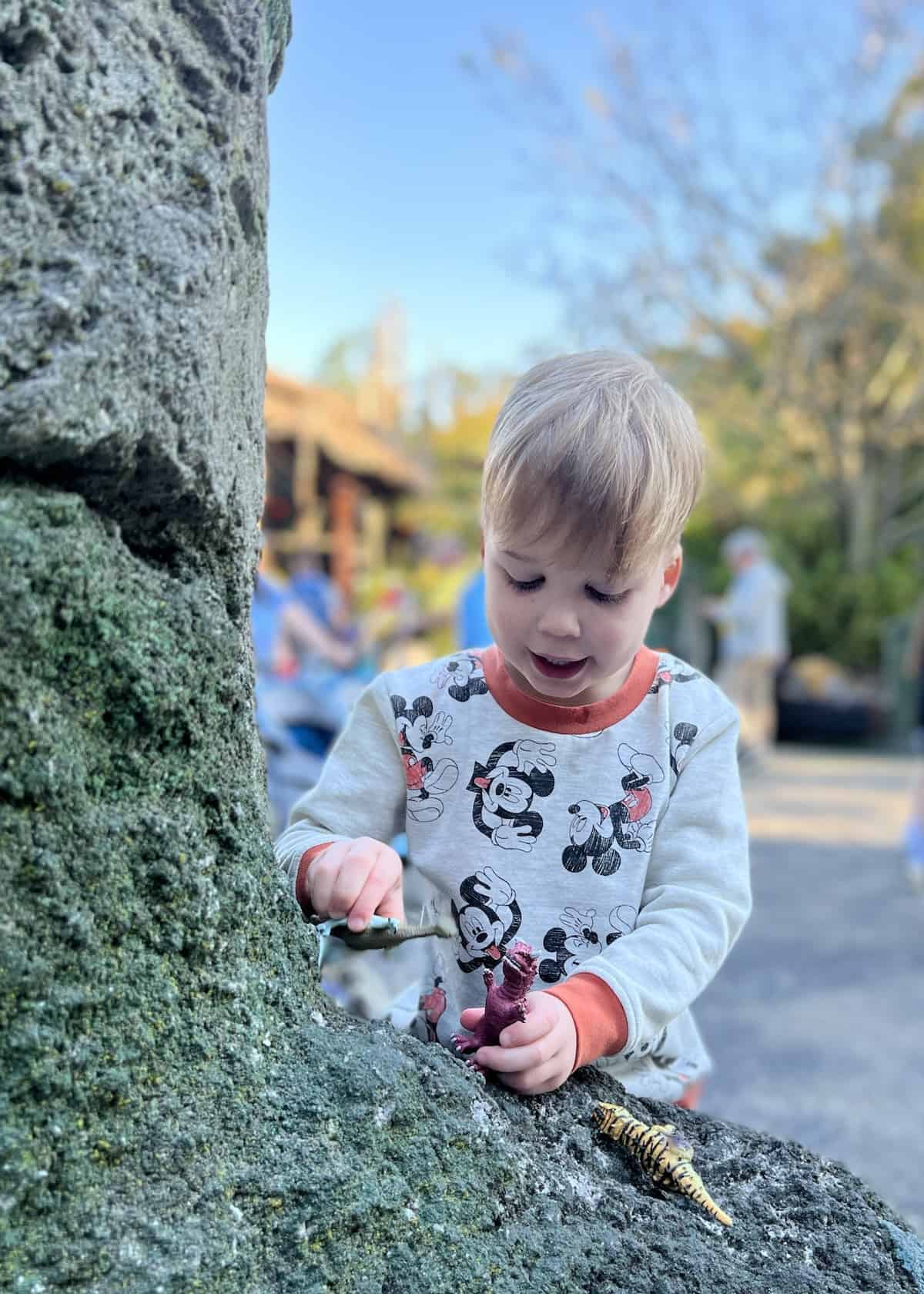 We ran into my friend (and fellow adoptive mama) Lauren! Loved getting to hang and chat with her and her sweet mom and a few of her babies too! The older ones met back up with us and we snacked and visited for a bit!
Spear really wanted to see the gorillas this visit so we walked through Gorilla Falls trail. Before leaving Kye picked a flower for me 🙂 Spear was so adorable watching the gorillas and even asked the cast member a question. He asked "how to they climb trees?"
My favorite thing is when my kids are sweet together and Kye and Britt were ADORABLE on this day! They were both in great moods and were super silly with each other and it just filled my mama love tank full 🙂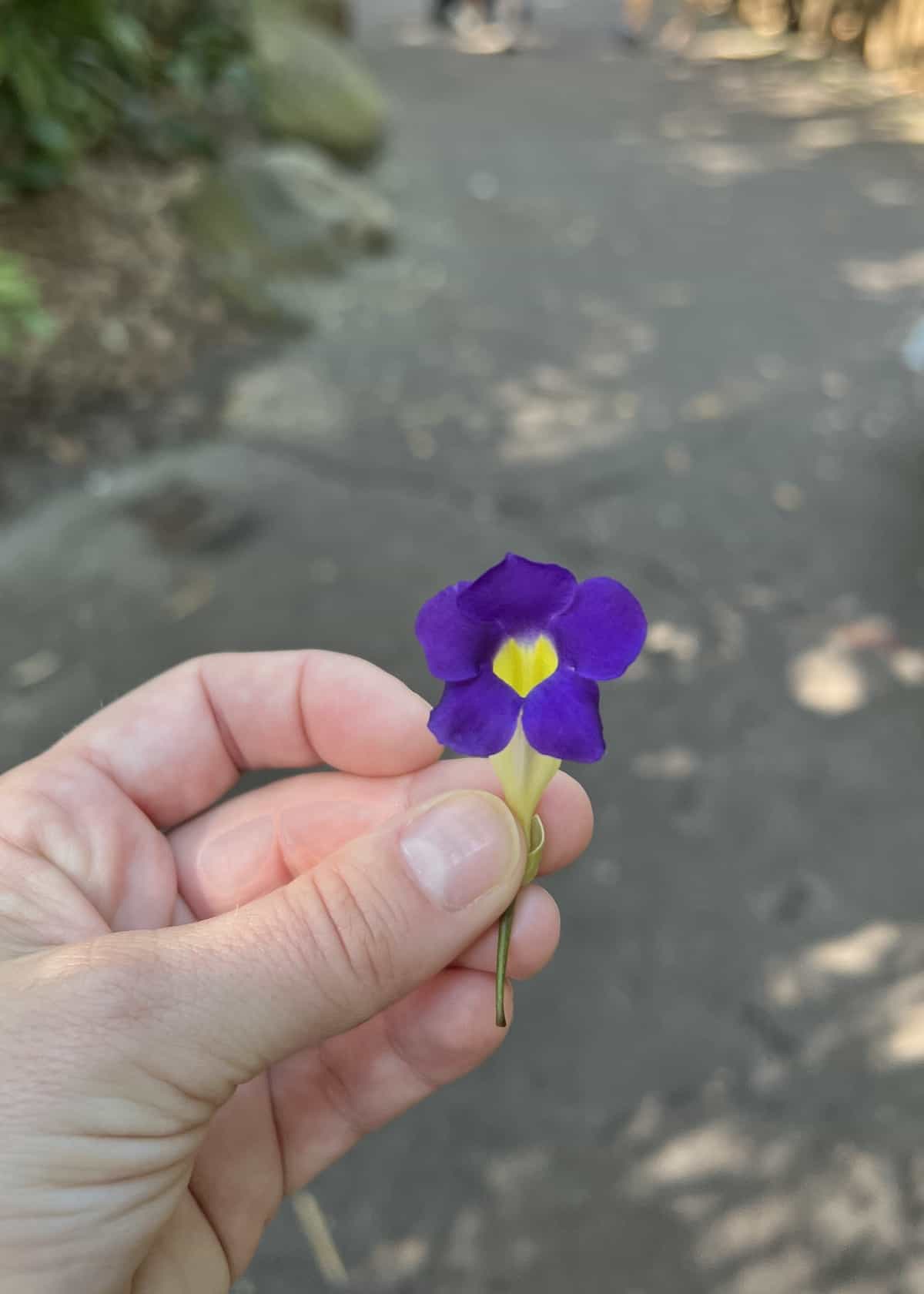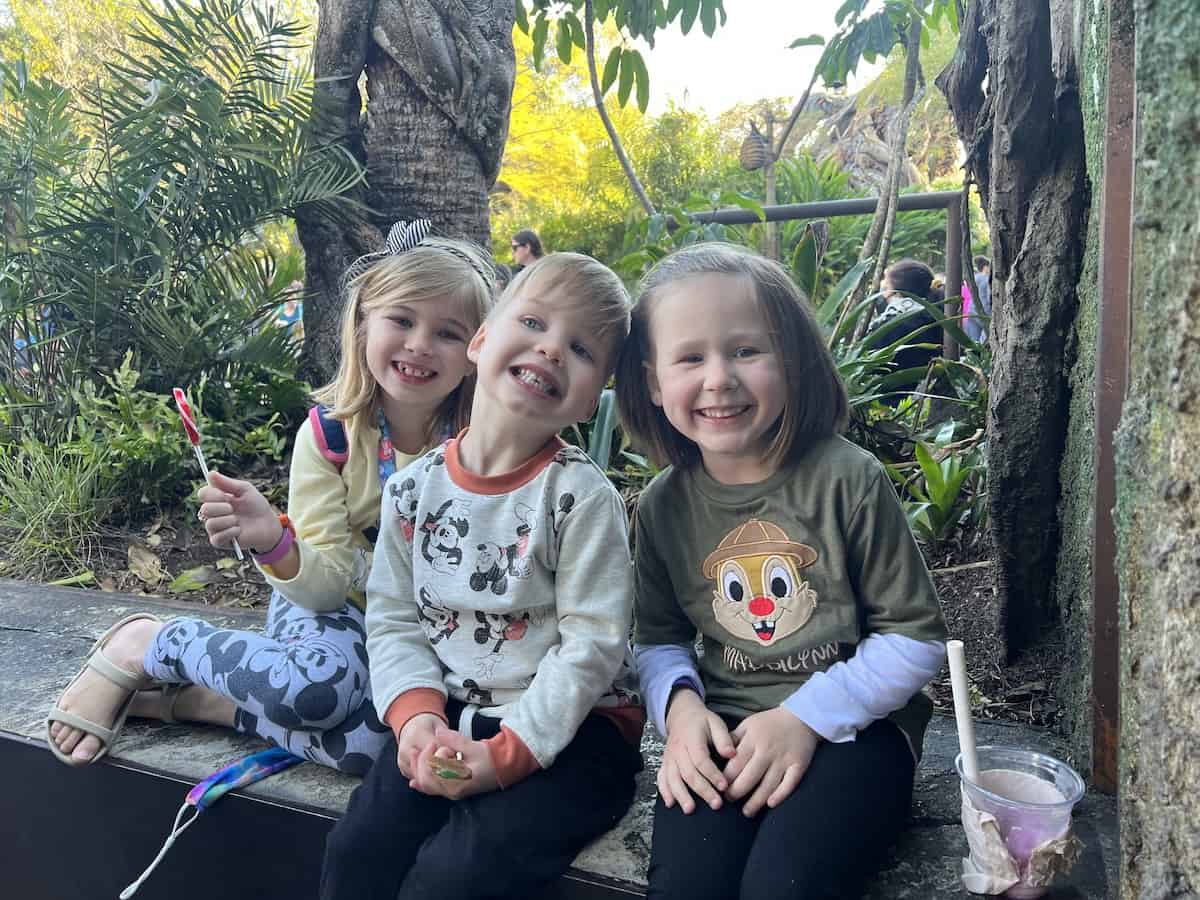 We rode Safari, hands down forever the best ride at Animal Kingdom in my opinion. I will miss the days of having a little one who gets so excited over all the animal sightings. I try to soak it up!
Tess both lost her Jasmine doll at DHS AND forgot her breakfast on our Animal Kingdom morning. With both situations she said SHE WAS FINE. And she meant it! She was! She explained that the thing that causes her to feel upset is when WE focus on those moments and US worrying or stressing over them causes her to worry and stress over them.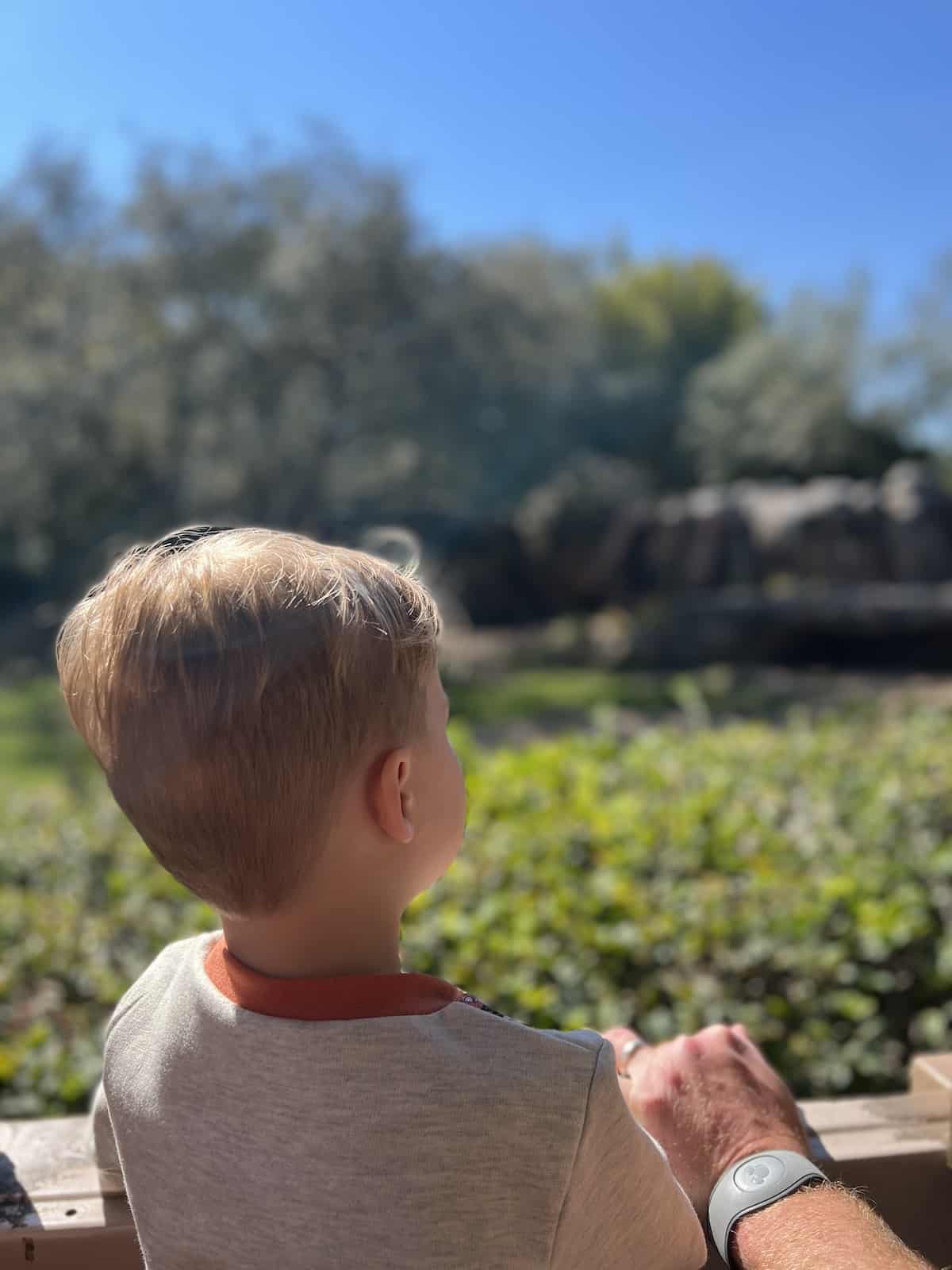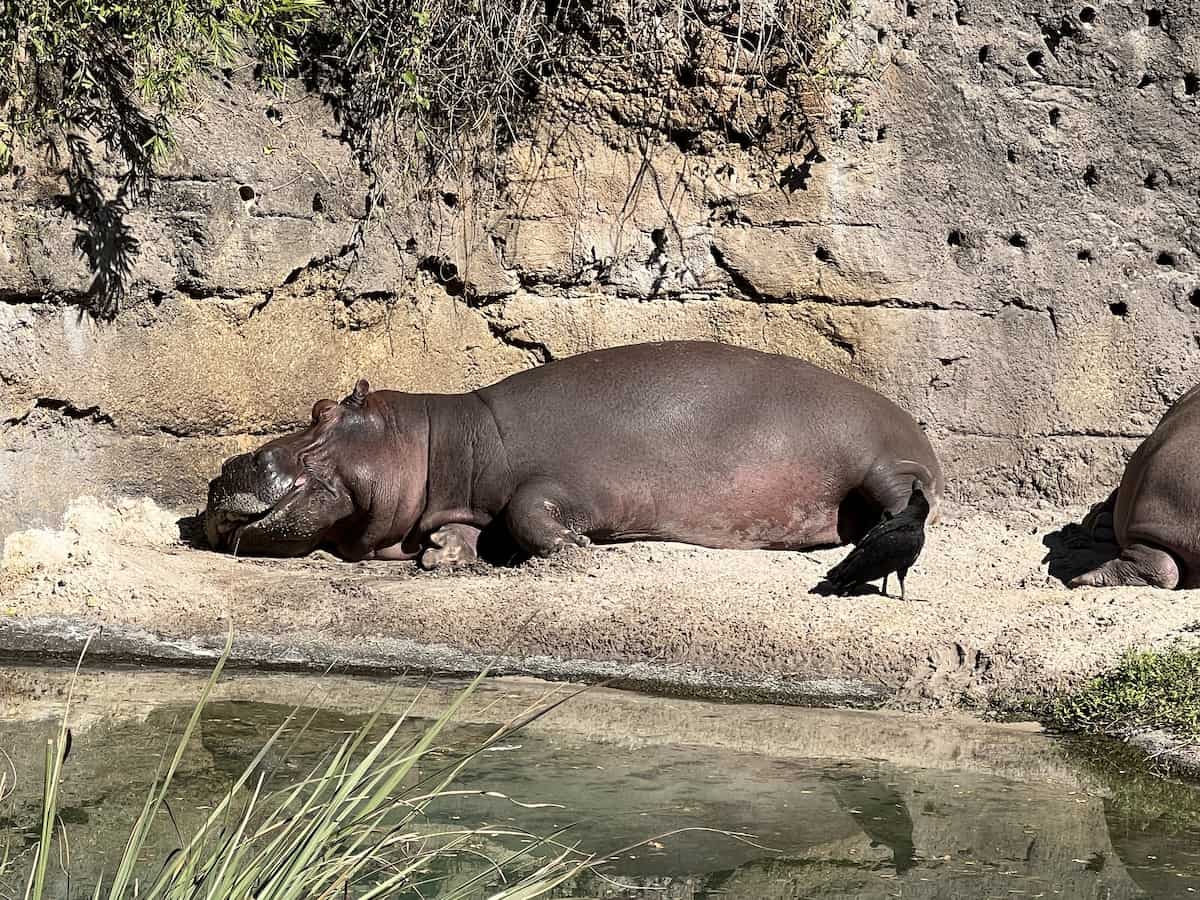 My big goal for the day was to watch KiteTails again since we enjoyed it so much last time. We got there early and the seating was plenty of time to hang out and watch all the character boats pass by. We had our lunches and enjoyed the show!
KiteTails is ADORABLE and a super fun addition to Animal Kingdom. It's never crowded, you never need to worry about seating. And the show is quick-paced, energetic and exciting. I mean jet skis and kites? How could that not be exciting right?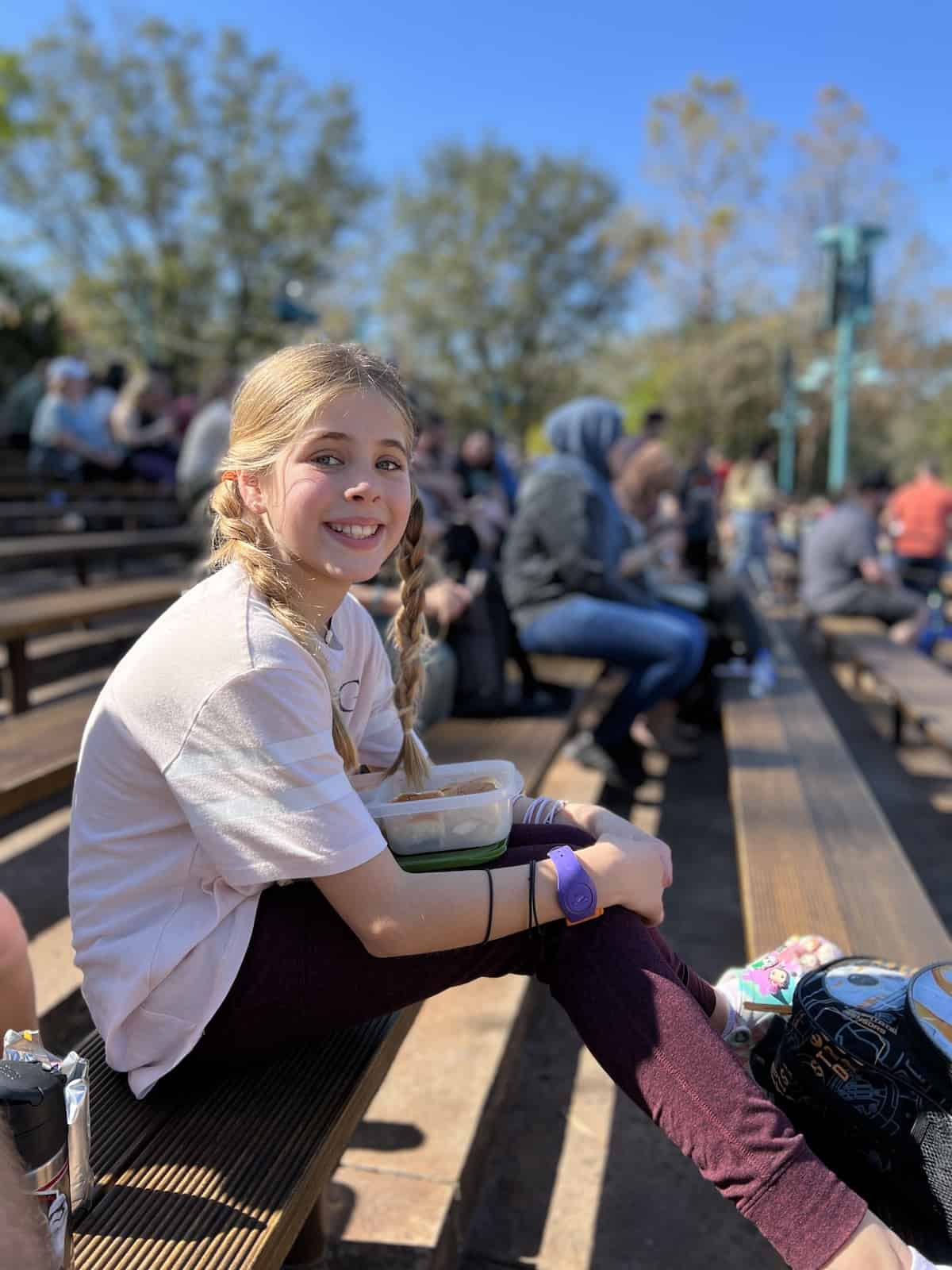 On our way out we also were SUPER excited to learn that Ms. D'Vine is BACK! We haven't seen her in AGES. We were able to say hey to Kevin AND reunite with one of our favs. G-Mama especially loves her!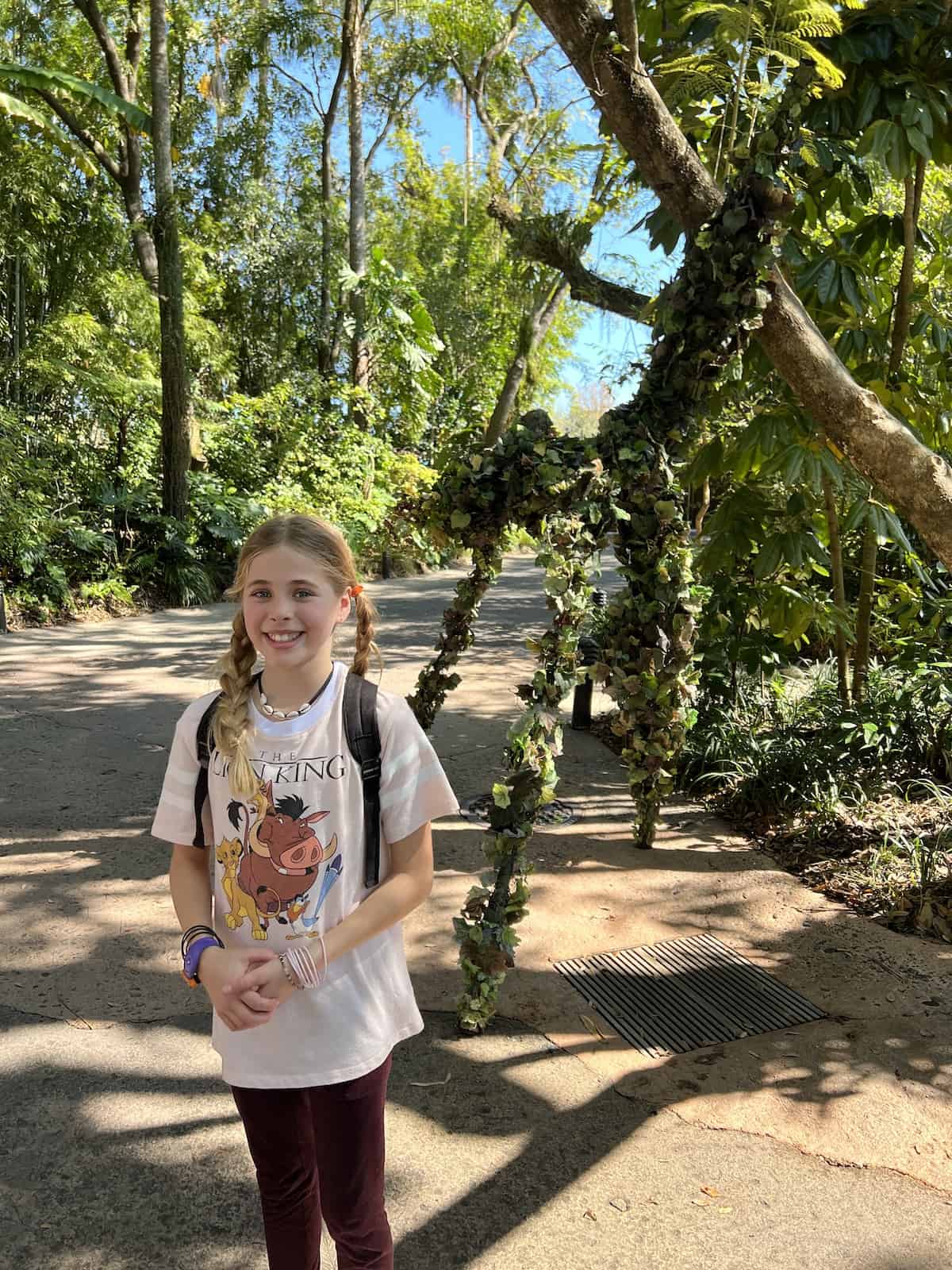 Our photopass pics of the day are probably some of my favs ever. Tess was KILLING IT. I died laughing when I saw these! We had no clue she was working the camera like that. And Spear all serious with those ears on too. Just amazing 😉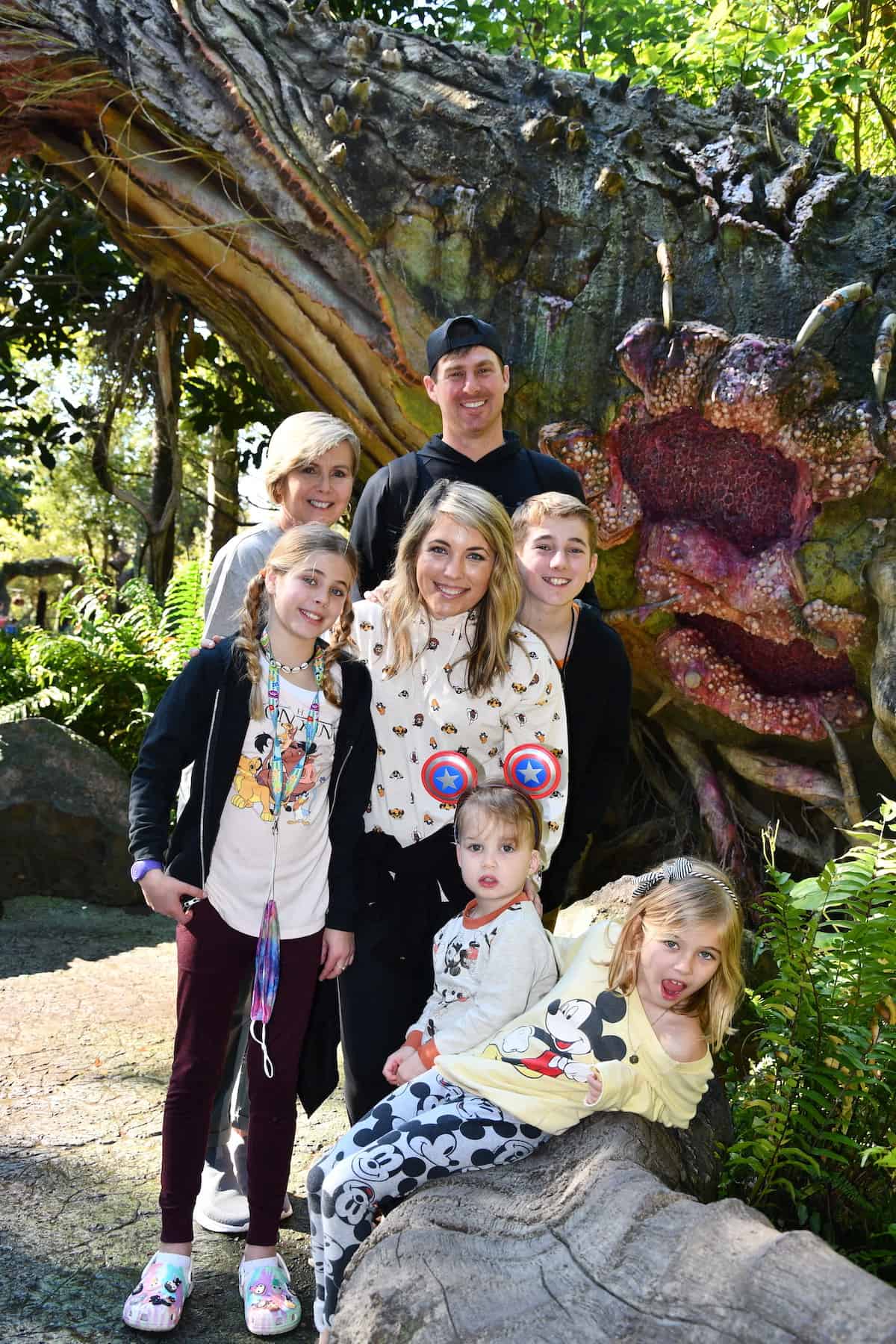 We had plenty of chill time back at the house. Kye really loves chill time so having downtime built into the trip was important for him. He and Zach played Rocket League and the girls enjoyed our heated pool at the rental house for a bit.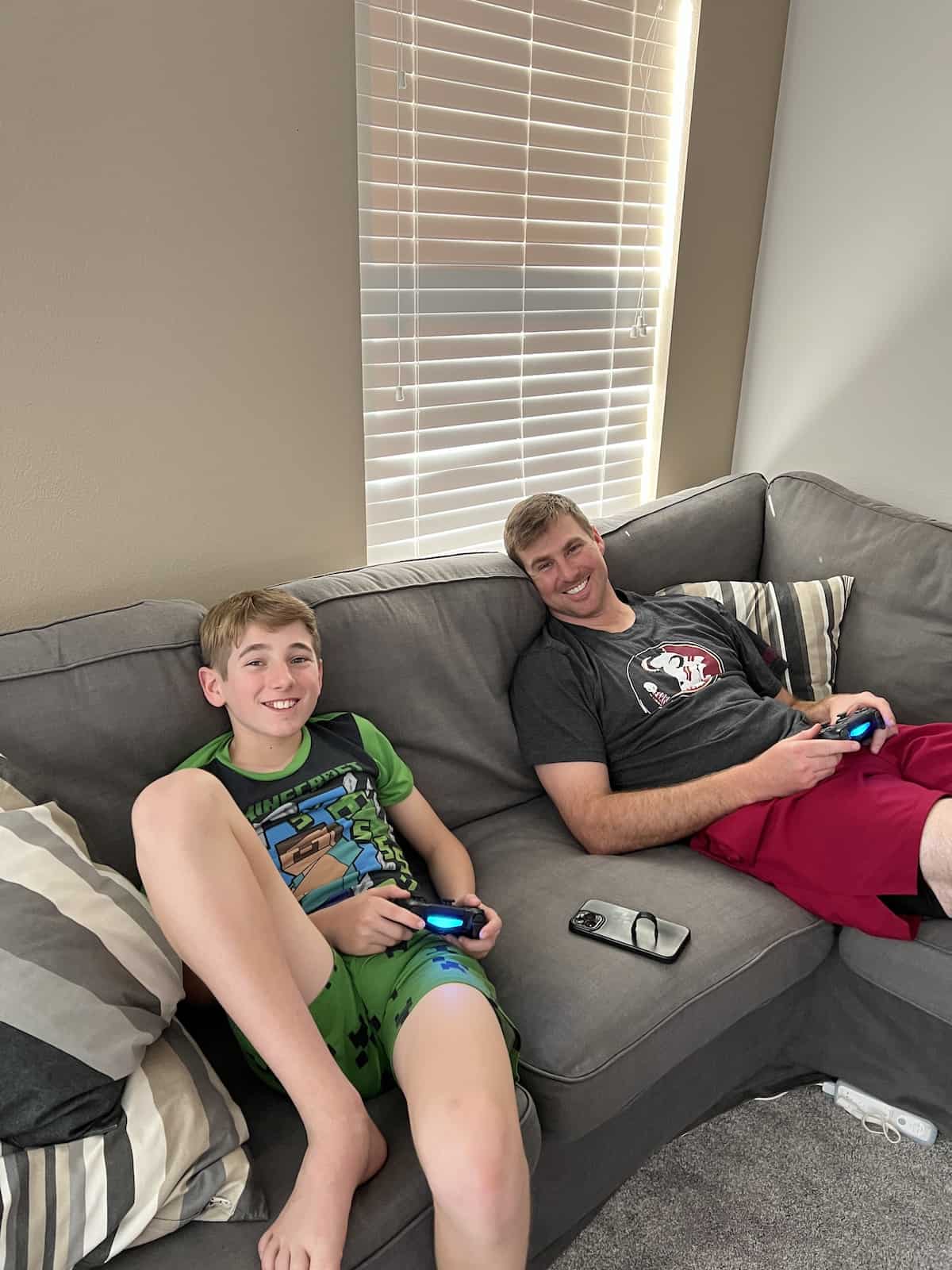 For the evening we surprised Kye with a visit to the Escape Room! He loved it in the past and we'd bought gift cards at a discount to go play again. We invited Tess to come as she LOVES space stuff and the theme of the room was a space theme but she opted to hang with G-Mama. She does not love stressful, high pressure situations.
They are back to having mixed parties together in the rooms which is kinda a bummer. One perk of Covid right? But it worked out great that the couple we were teamed with were super nice and truly an asset when it came to escaping. They were also sweet in letting the kids do things. Britt was so cute and gasped constantly as we discovered new areas and parts of the mission. We escaped Mission Mars with just 18 min left!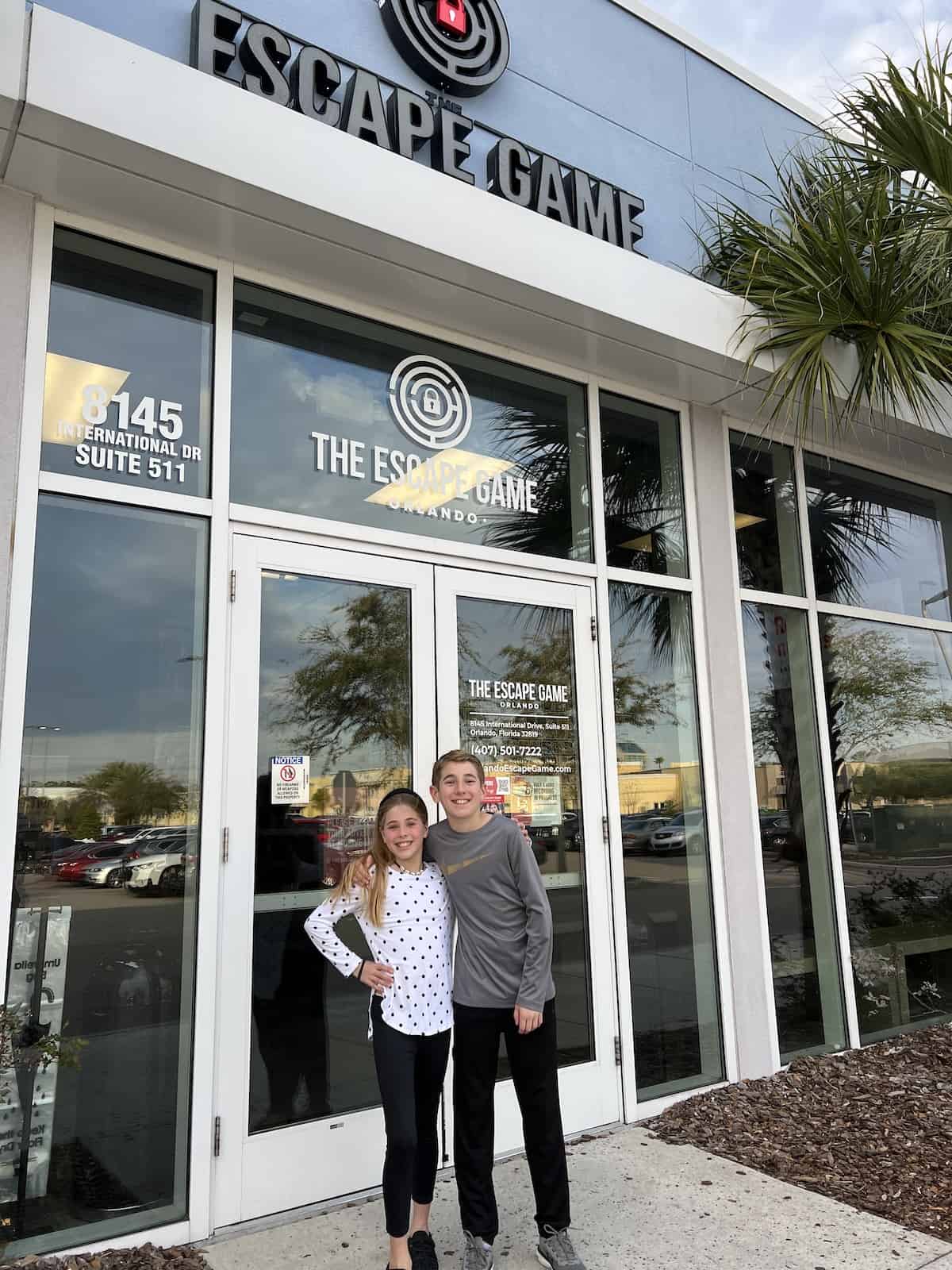 After we went to eat at an Uno's and it was noooooot great. The food and the service were both pretty lacking. BUT we had a really nice big kid only dinner. It was nice just the four of us, and a rare pairing. It's rare for Zach and I to both be together one on one with a kid or even just two on two like that. We were able to have more "adult" kinda conversations which was nice and talked more candidly about some things that they had questions about without worrying about little ears listening in and able to give them our full attention without having to keep eyes on the other kids too!