After our whale watching morning it was time to hit the beach!
We didn't have any sort of beach plan. We brought our suits and some towels from the hotel and just figured we'd find a public beach somewhere. While on the boat we saw a really cool beach area with an awesome cave that looked so perfect and we went on a mission to find it!
I love that I have such a great directionally inclined husband who is so good at navigating, even in places we've never traveled.
We found out that a super adorable boat ferry traveled over from the pier were we on to Balboa Island. We blasted our family fav jam "California" of course 😉 And put the windows down and just soaked in such a fun moment!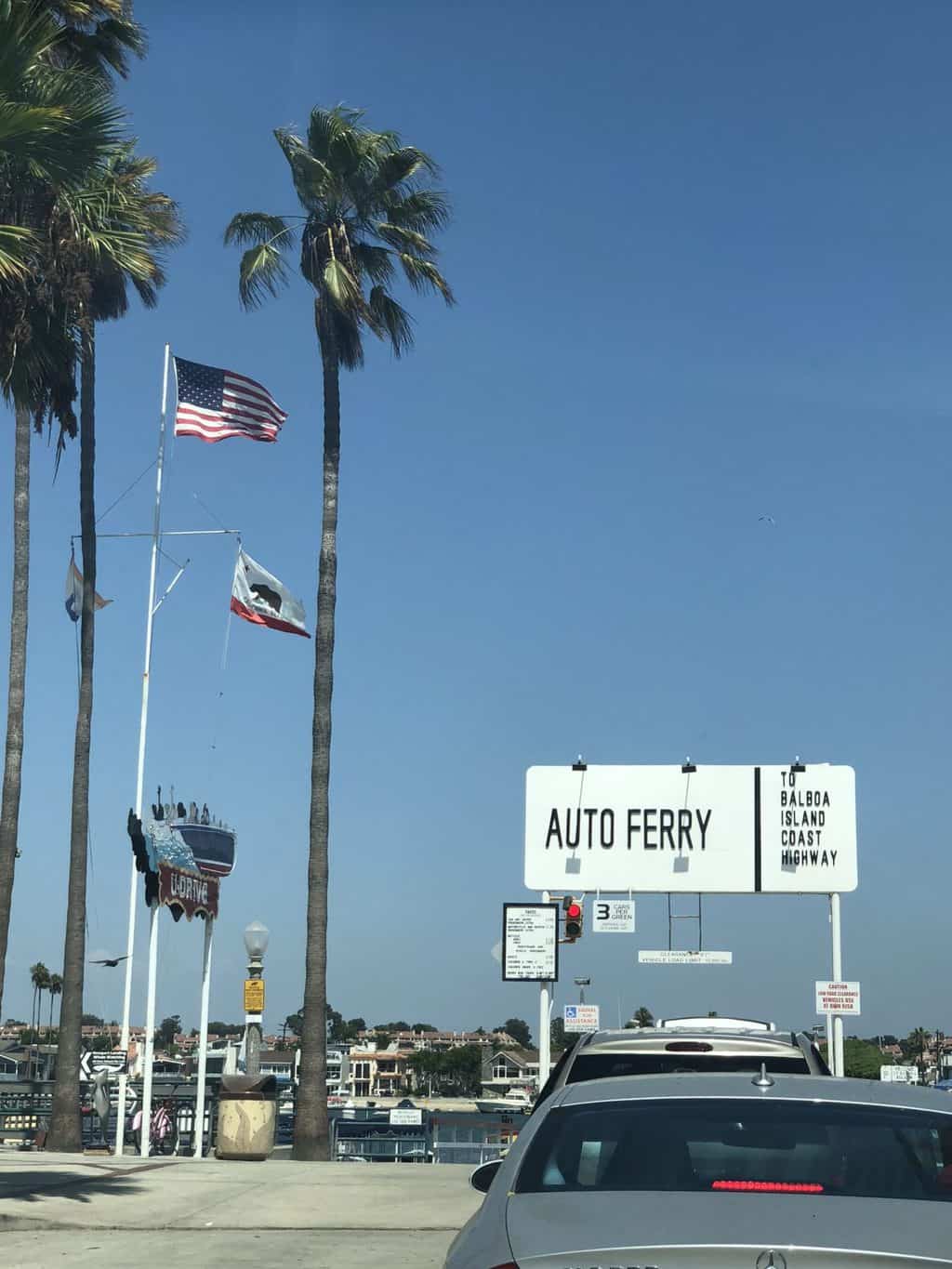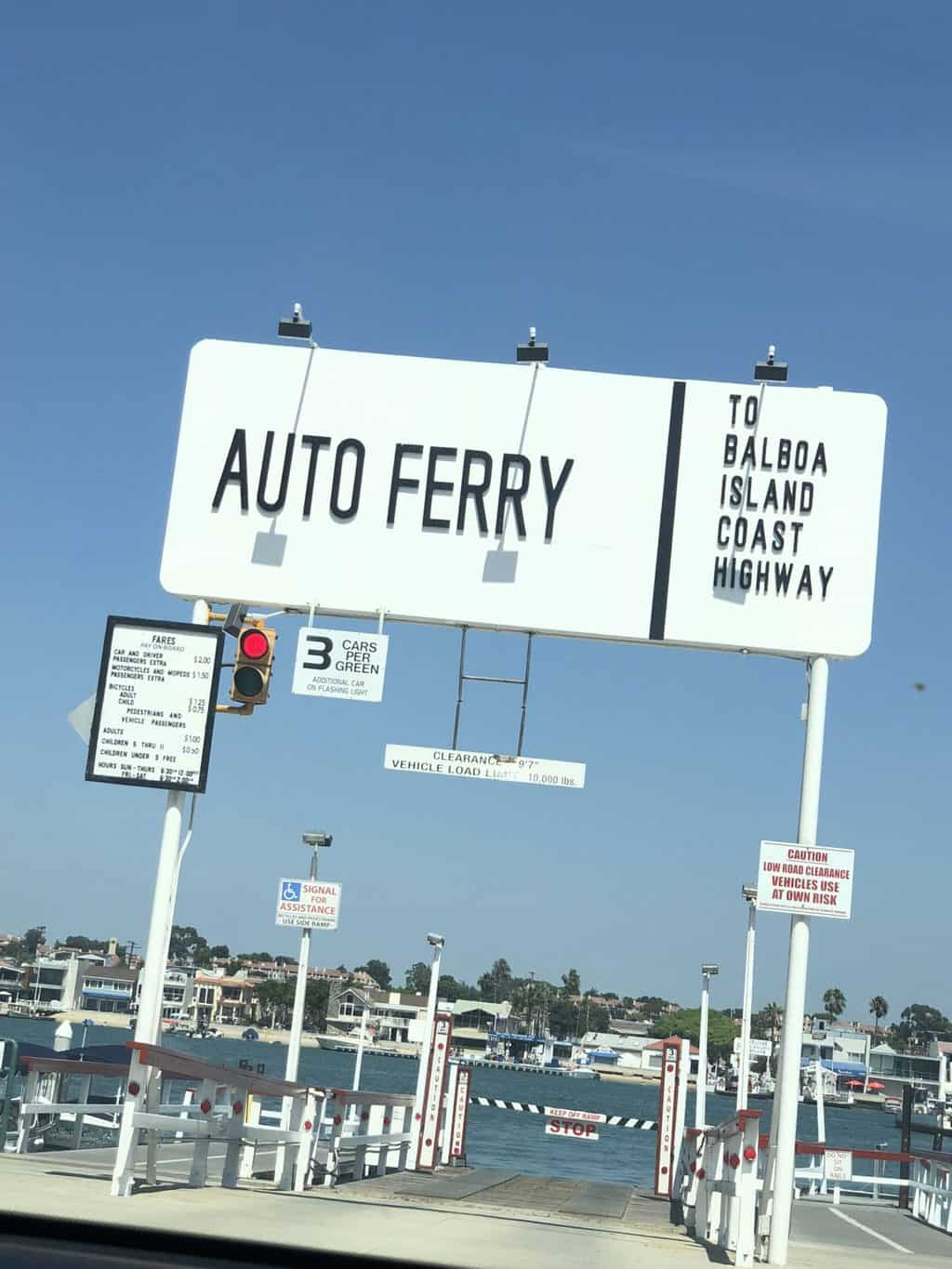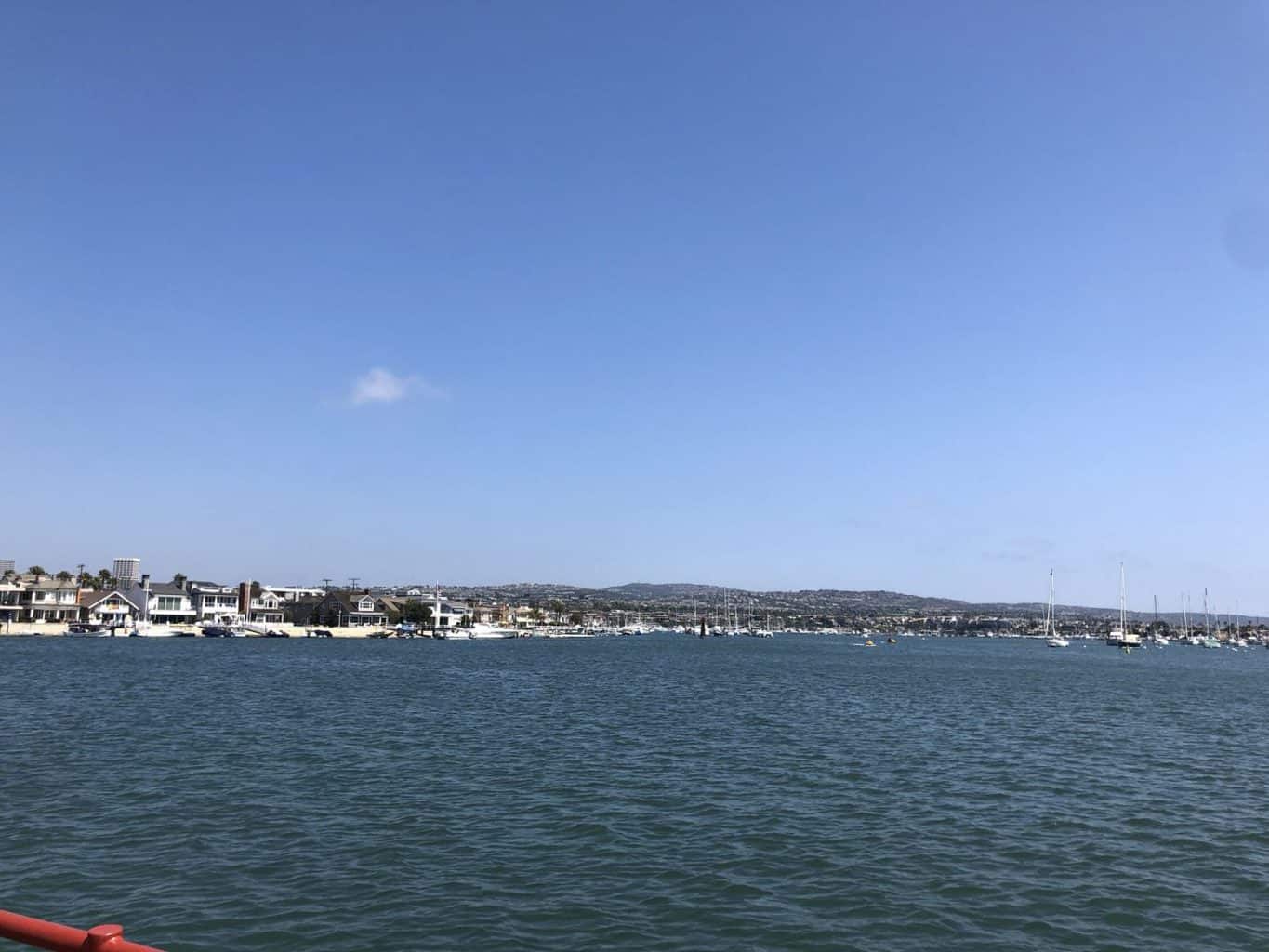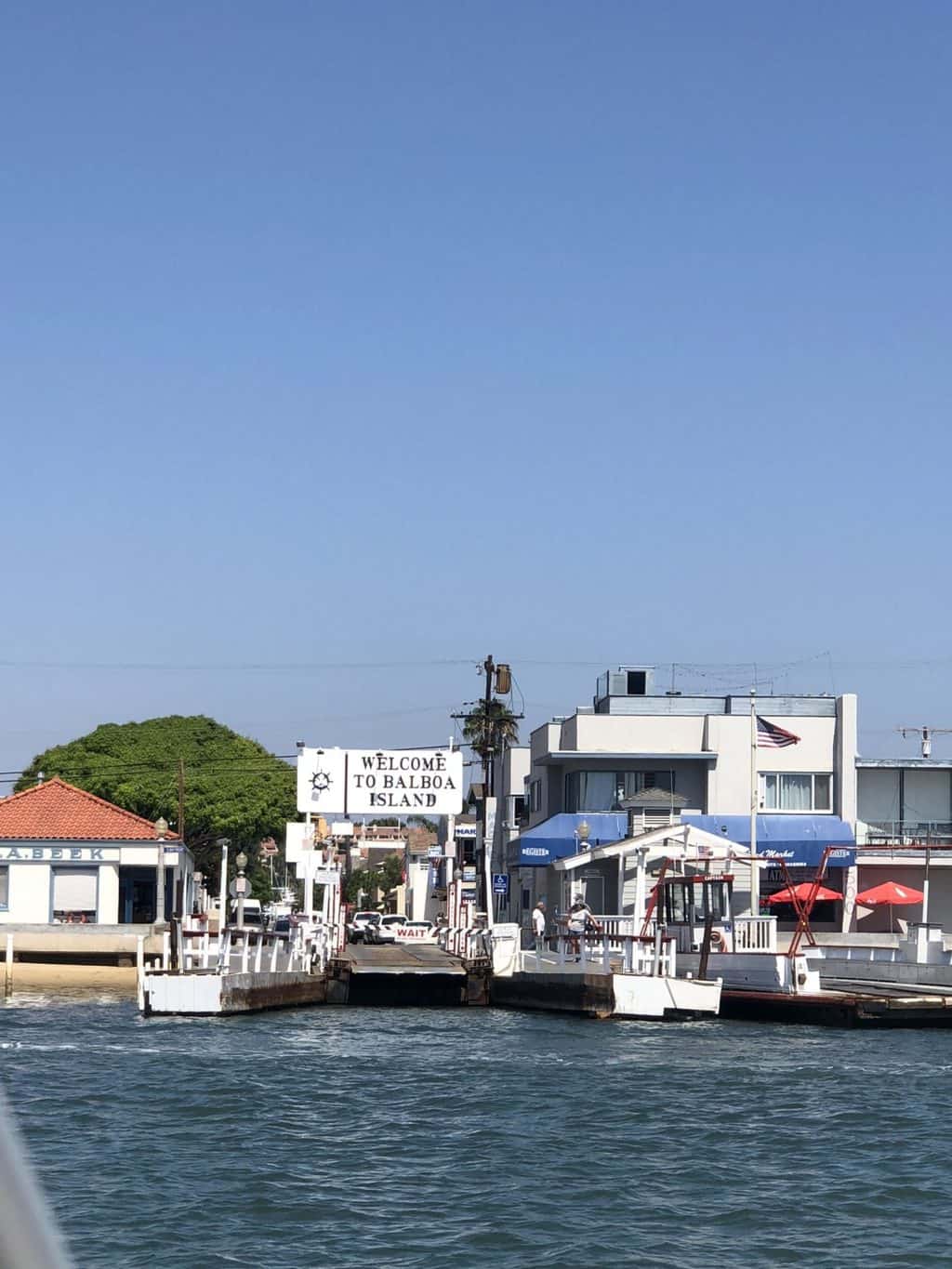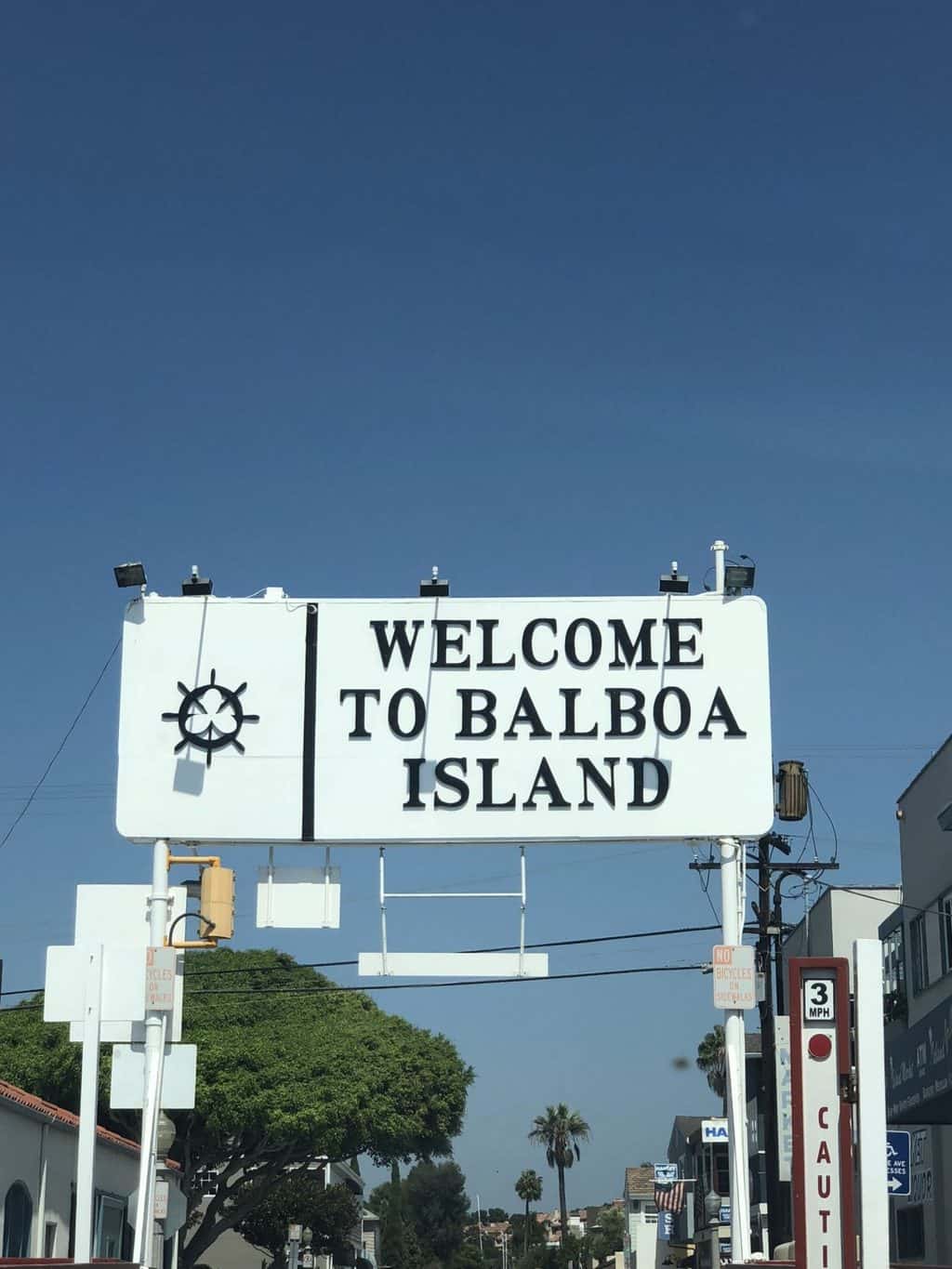 Such a gorgeous day! We were rolling down the street jamming and the girls are OBSESSED with the song "Stitches" Kye not so much.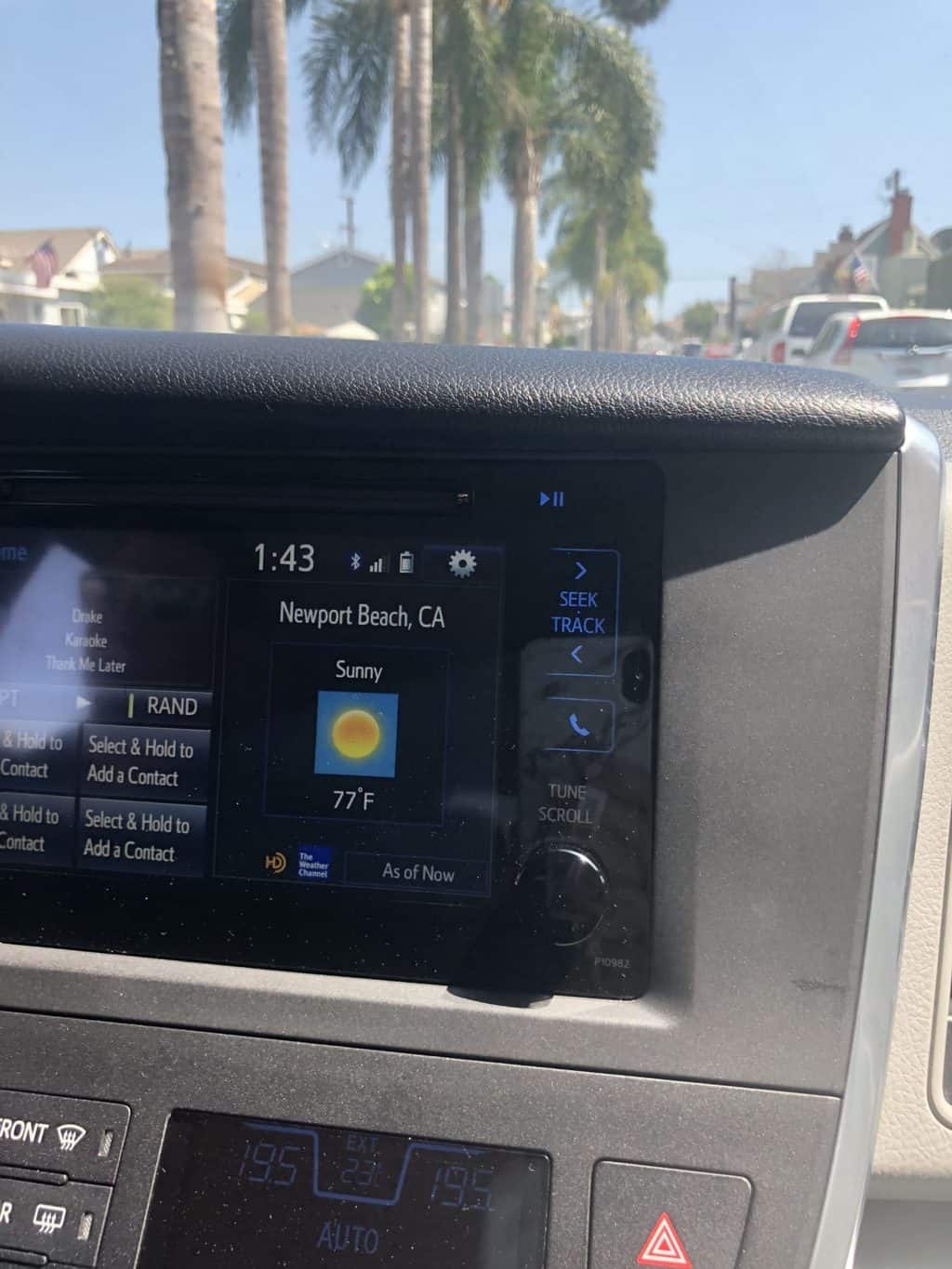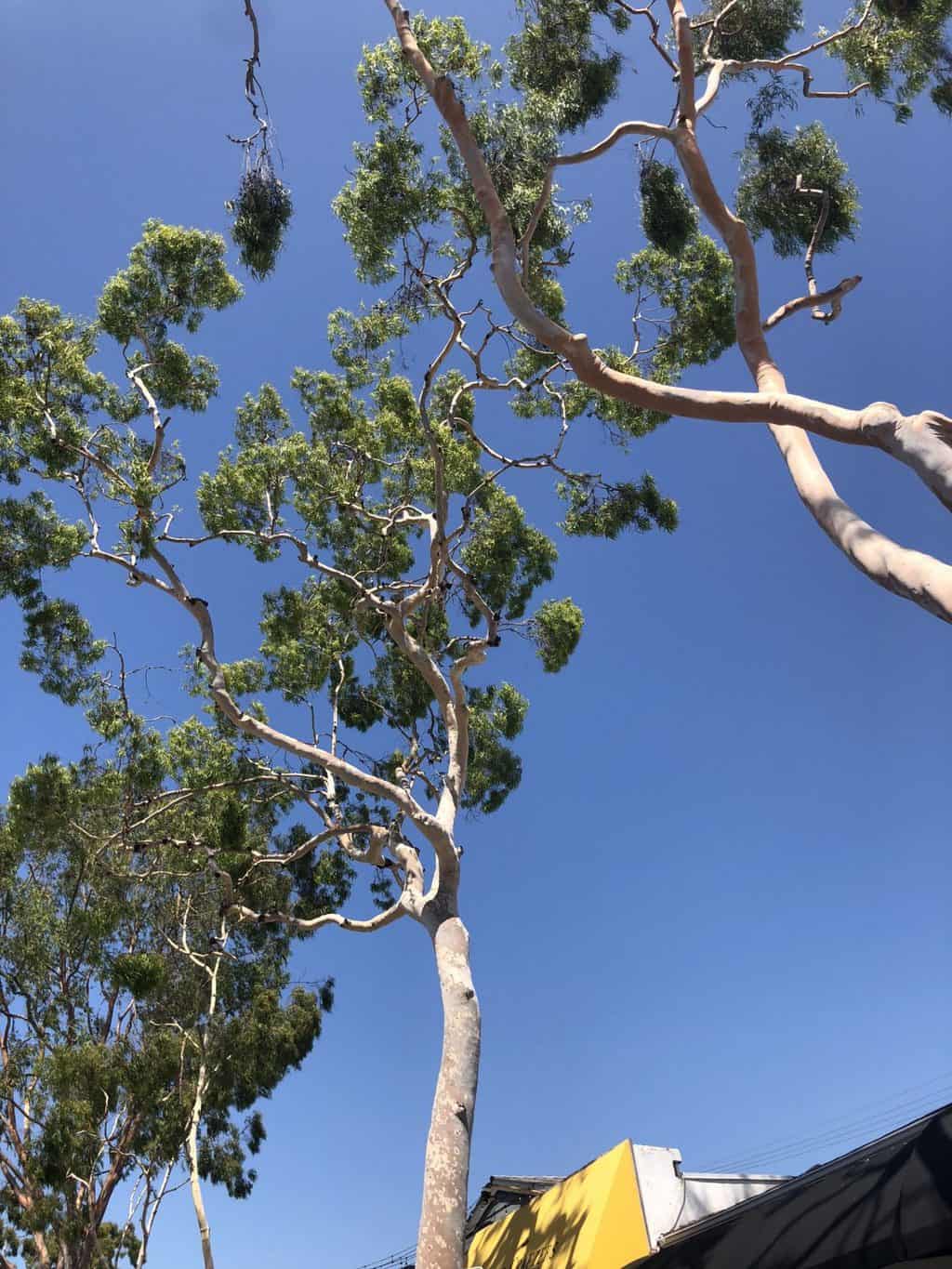 We parked at a public beach and got changed into our swimsuits in the bathroom. We're so used to the Florida humidity that I was fully prepared to be drenched in sweat after the bathroom clothing changes but it was SO nice there. Seriously California has THE BEST weather!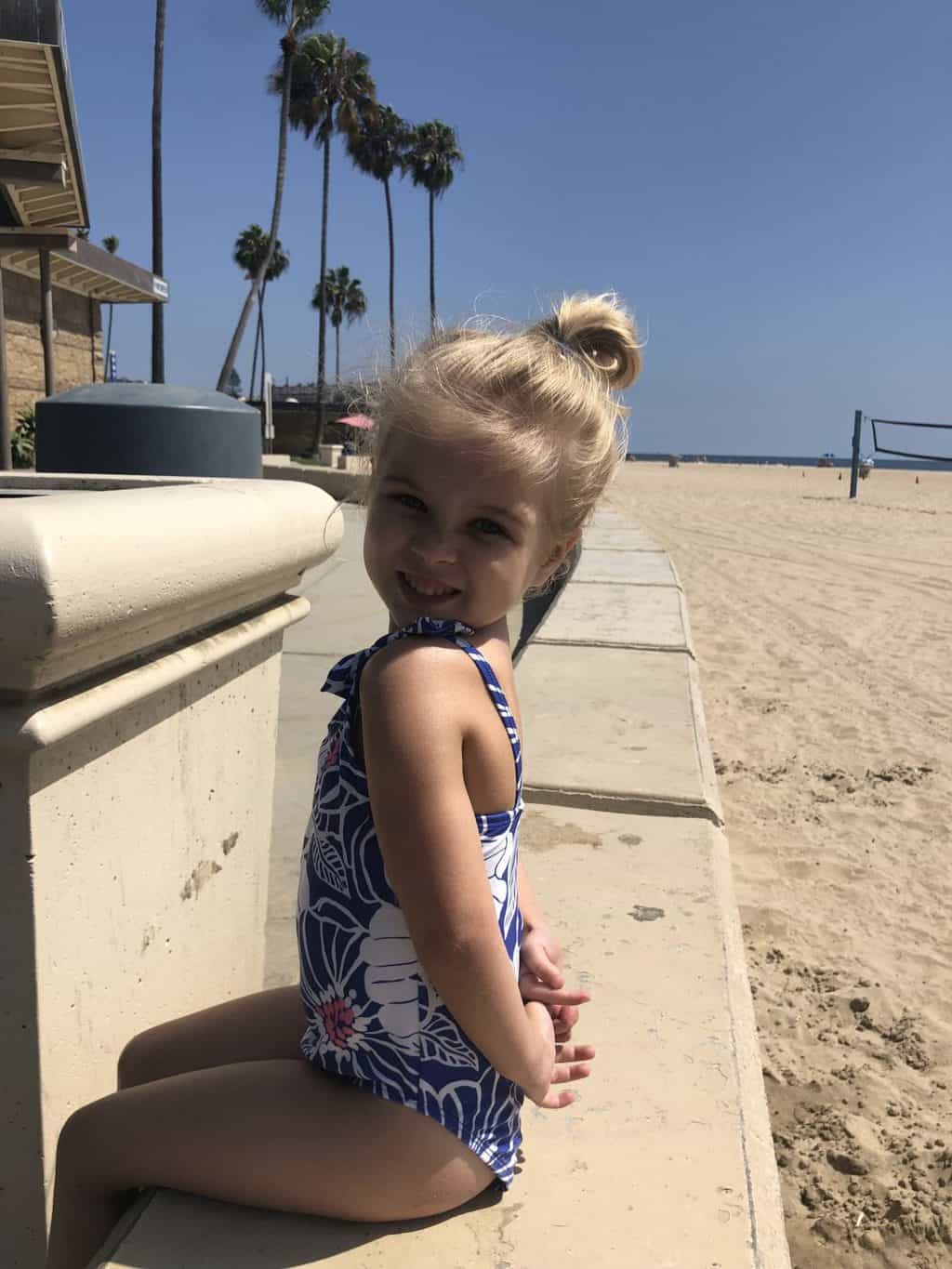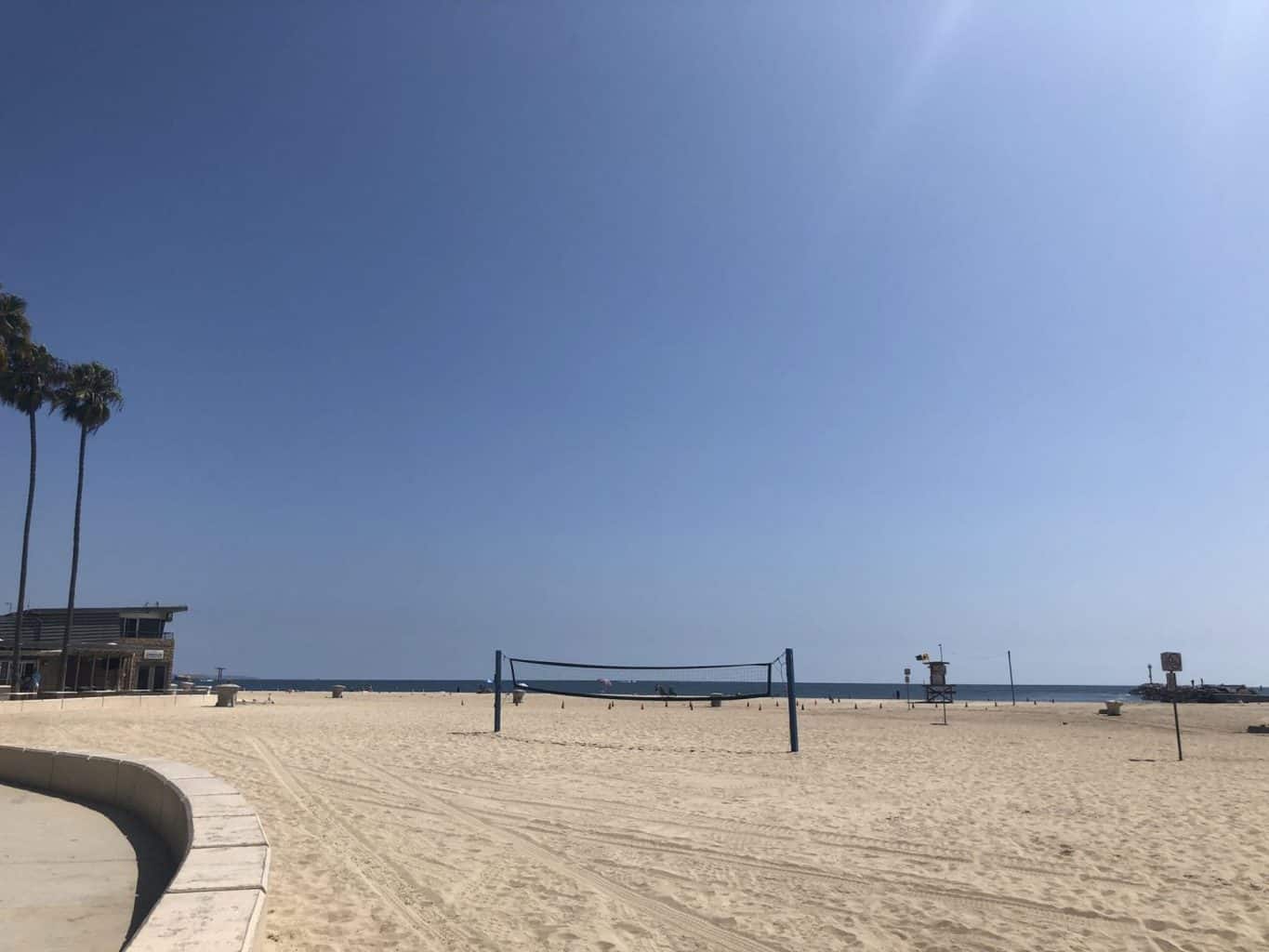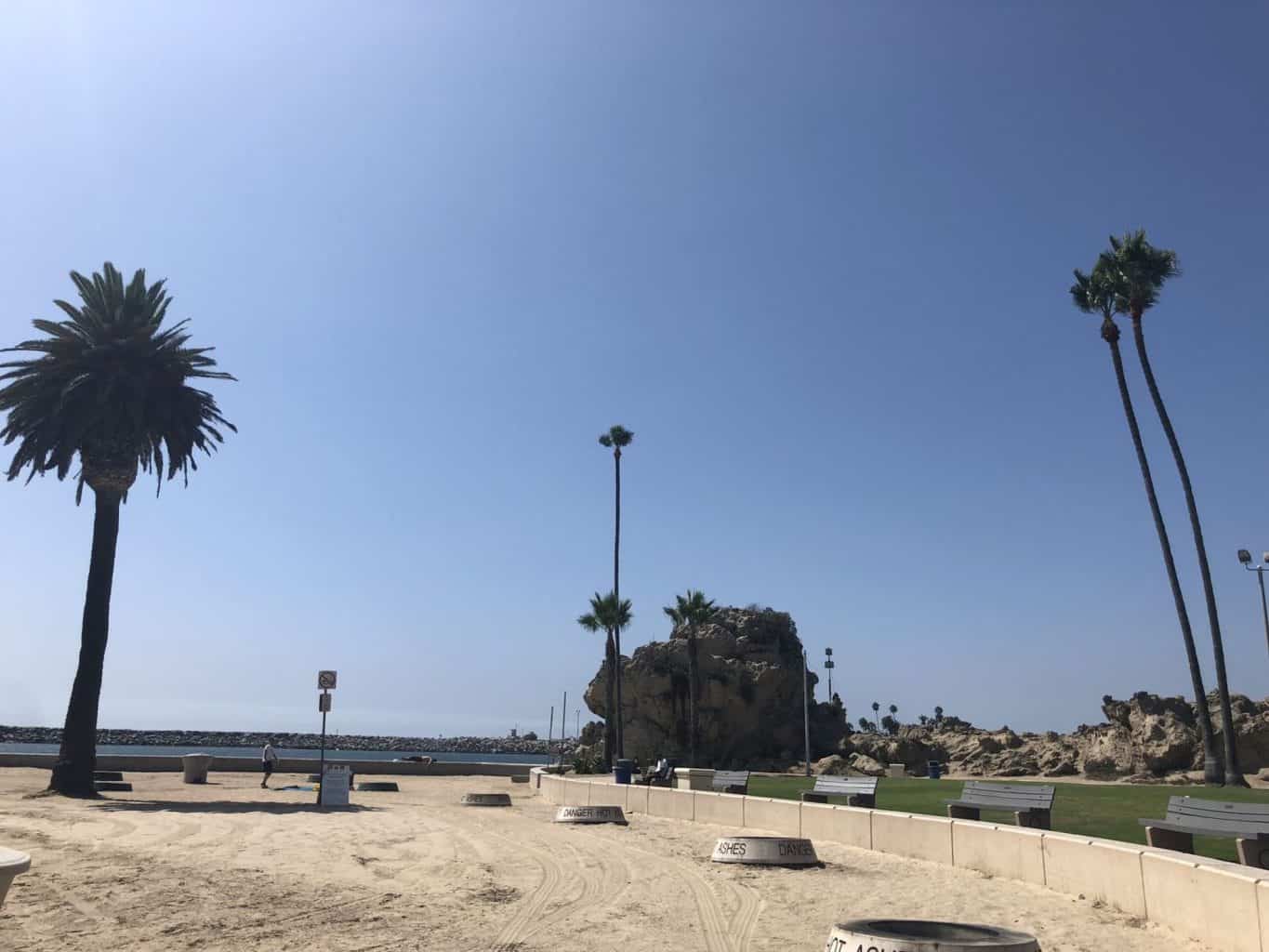 Our goal was to find the little beach and cave area we'd seen on the boat ride earlier and Daddy lead us right to it!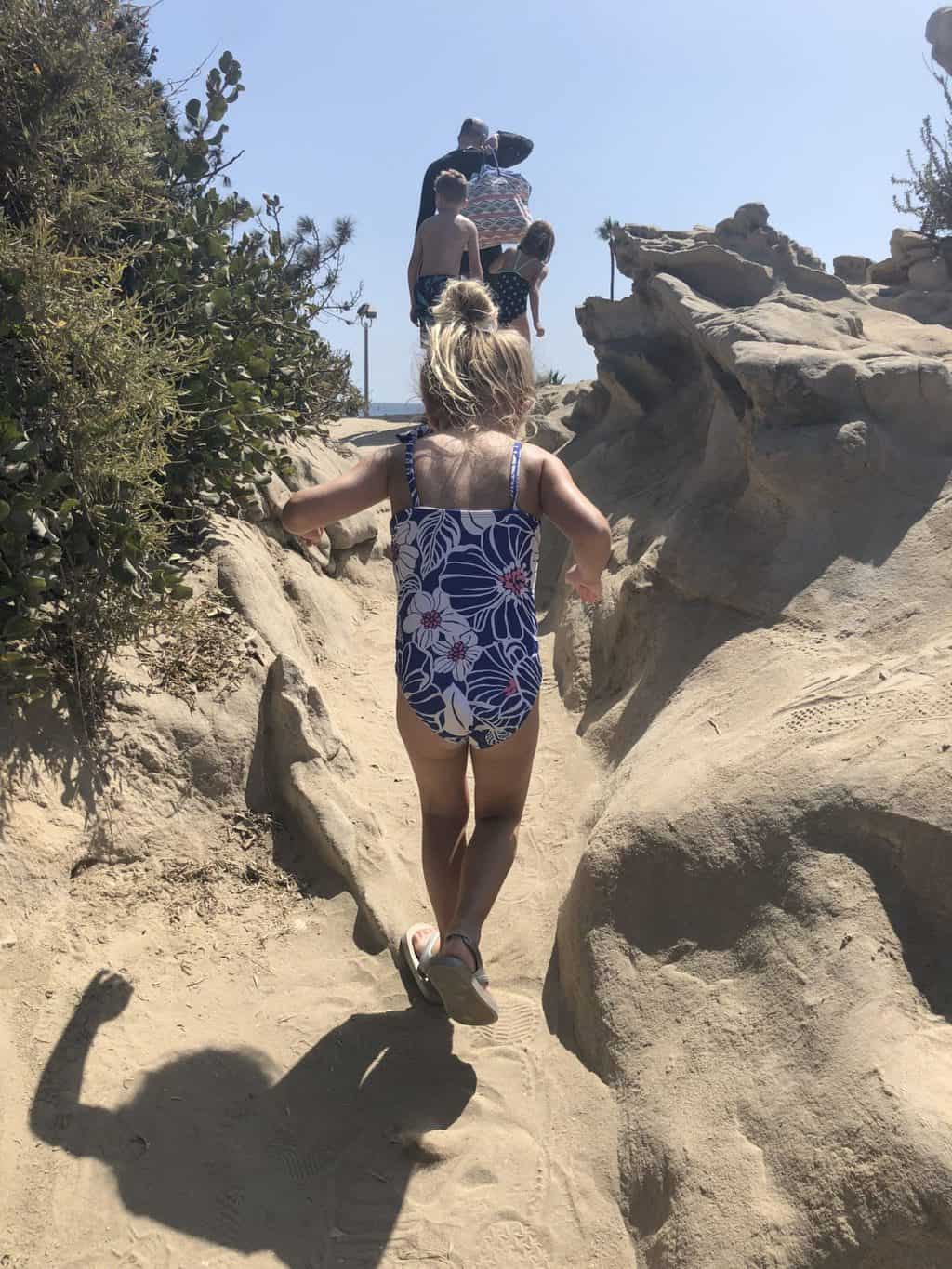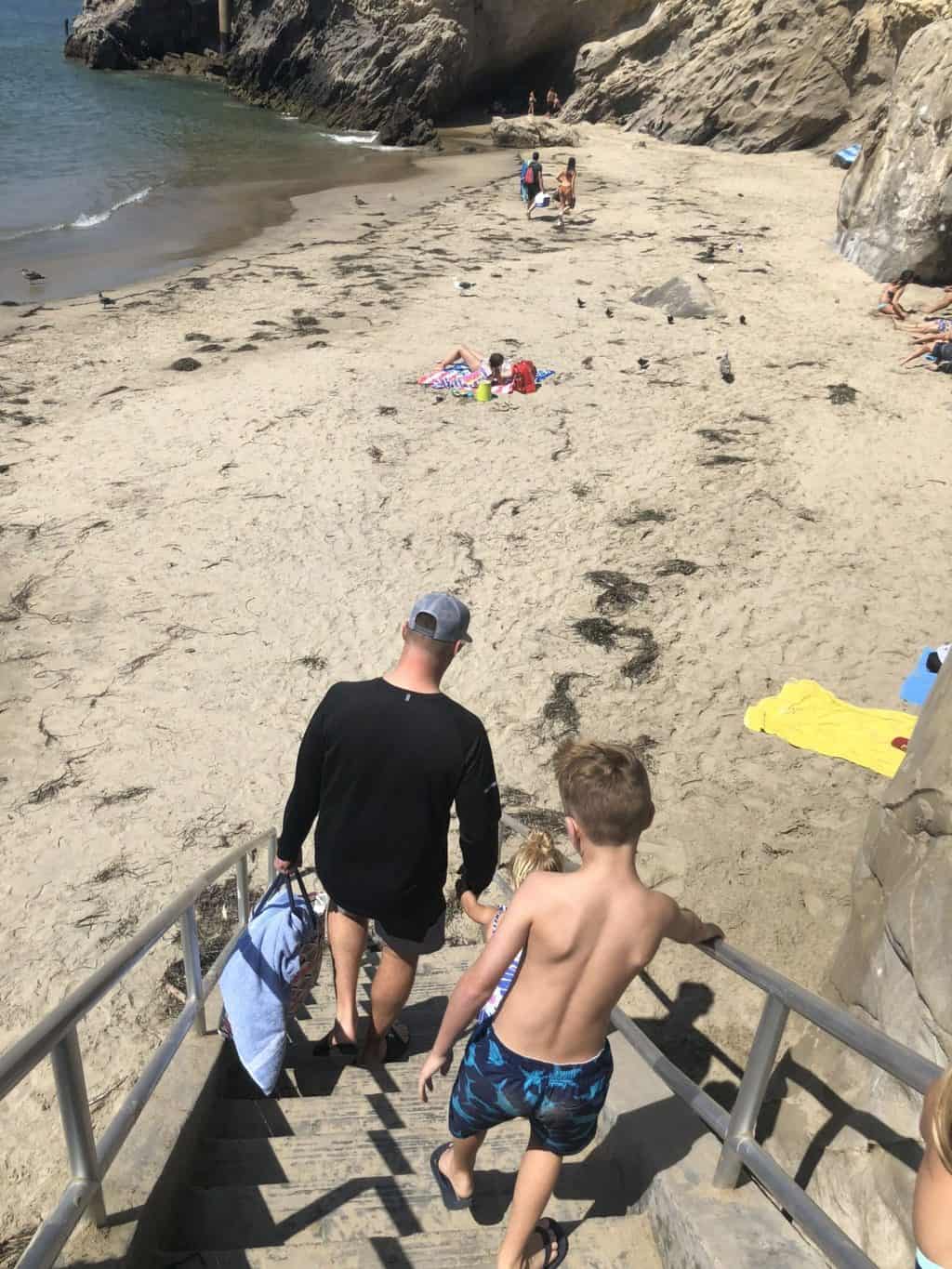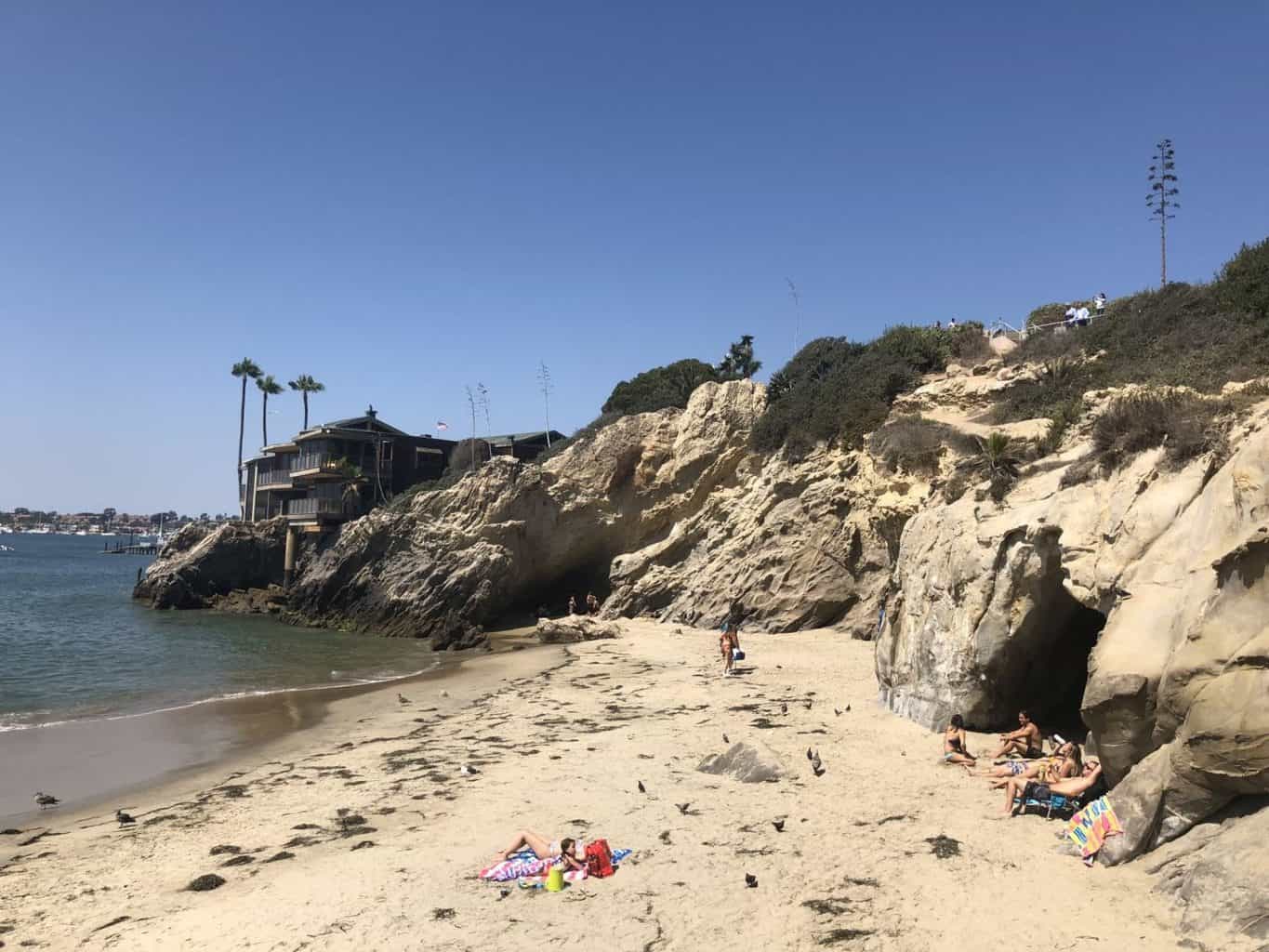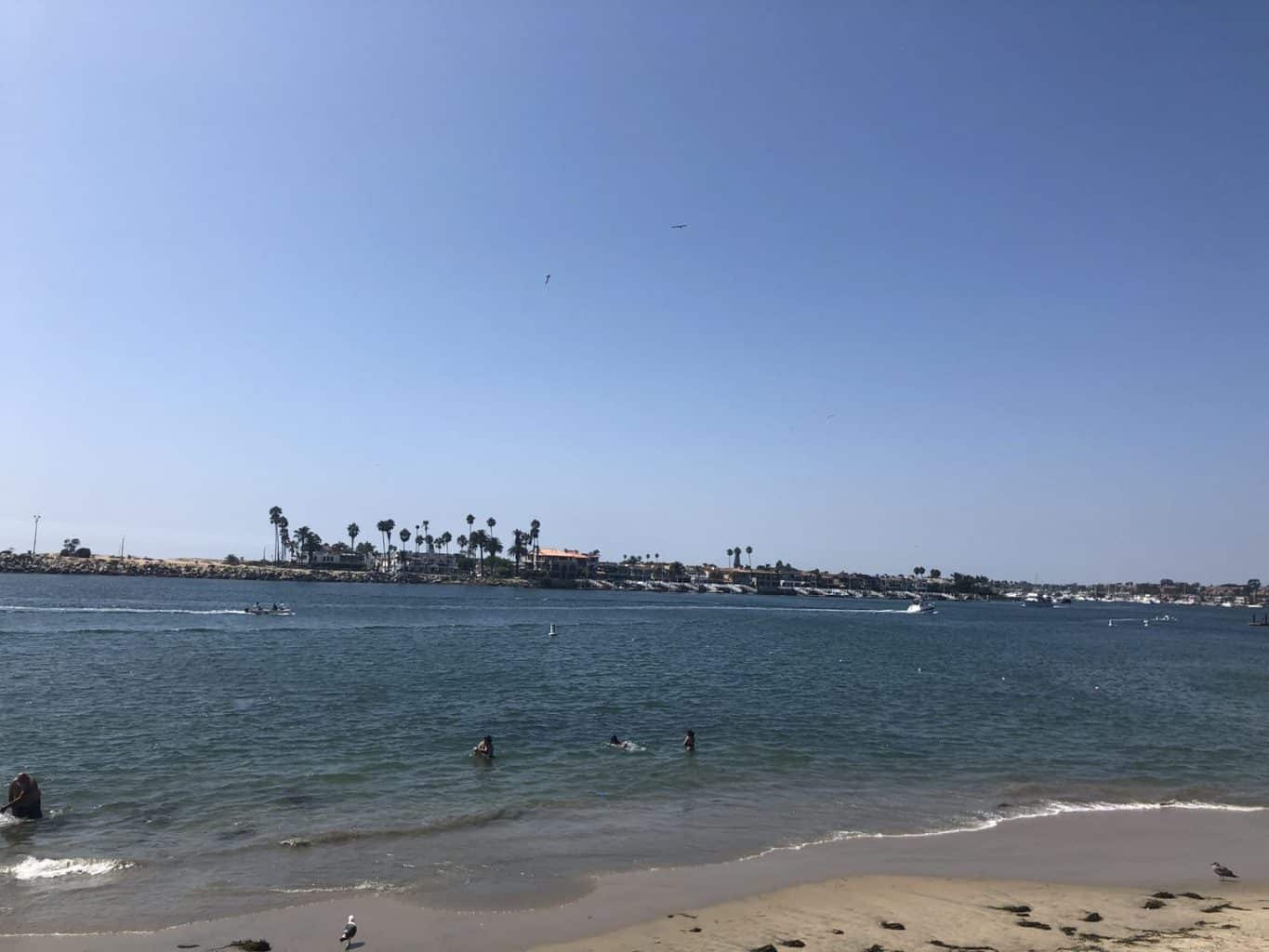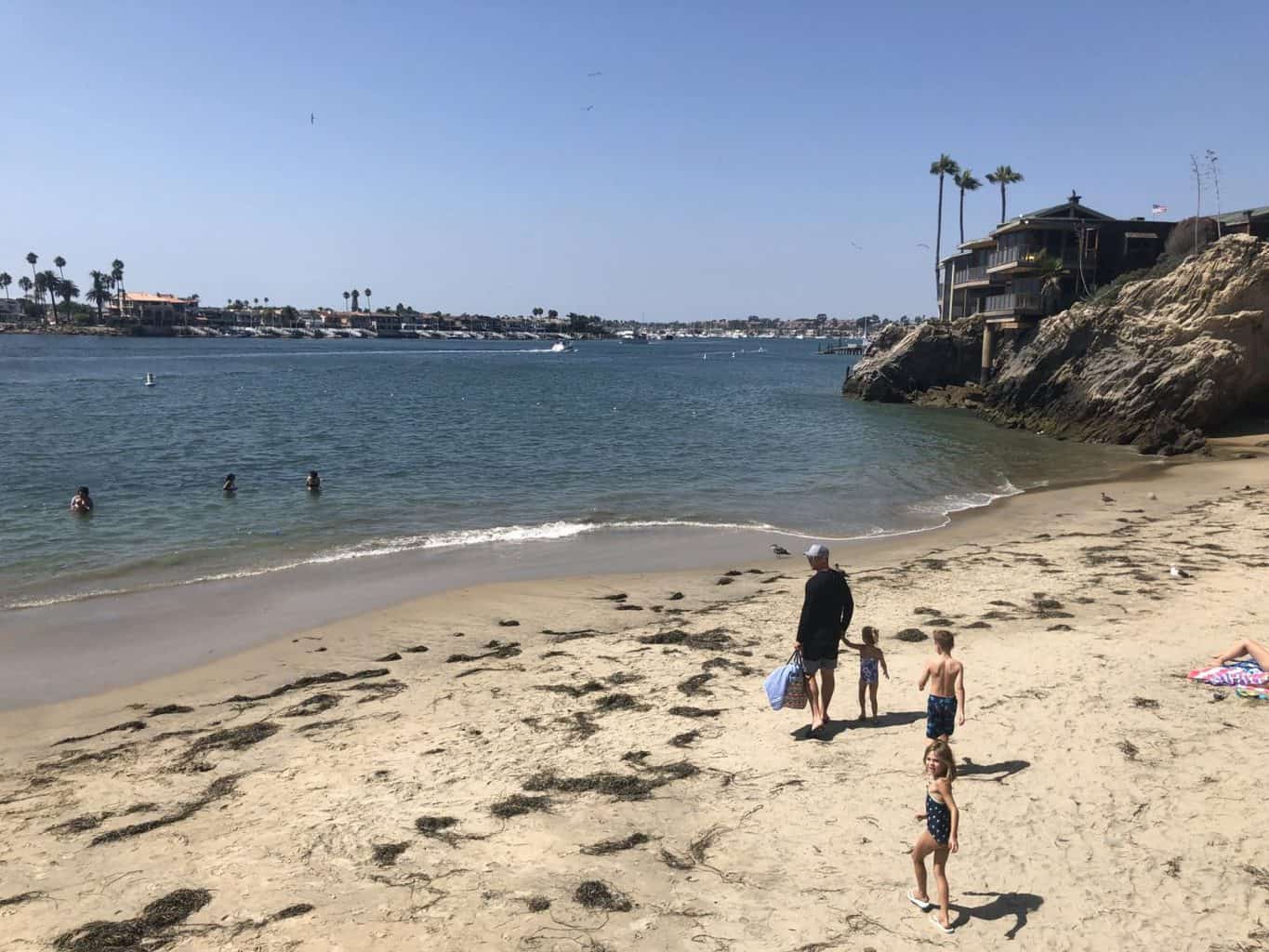 Hello Pacific, Nice to Meet You!!!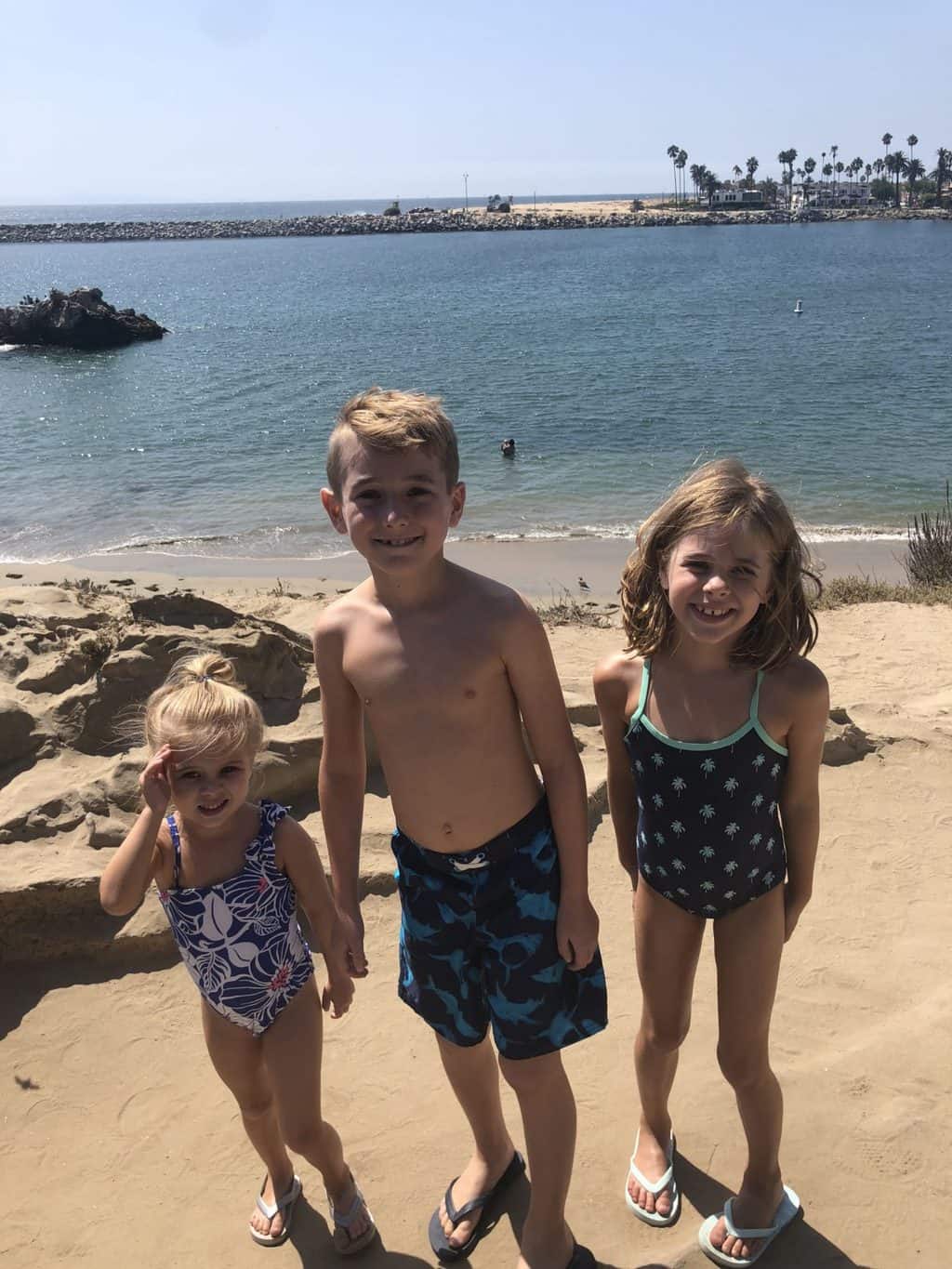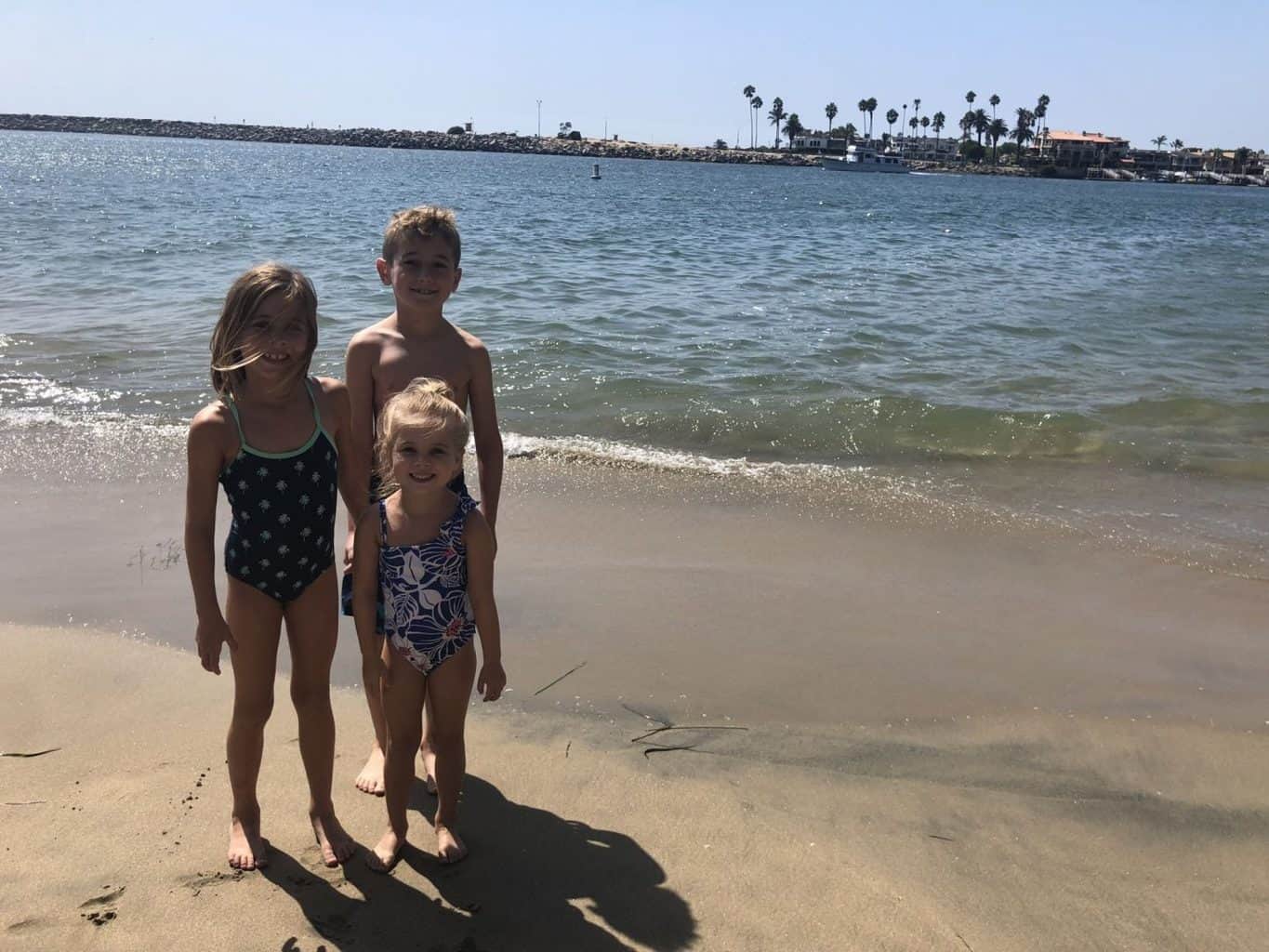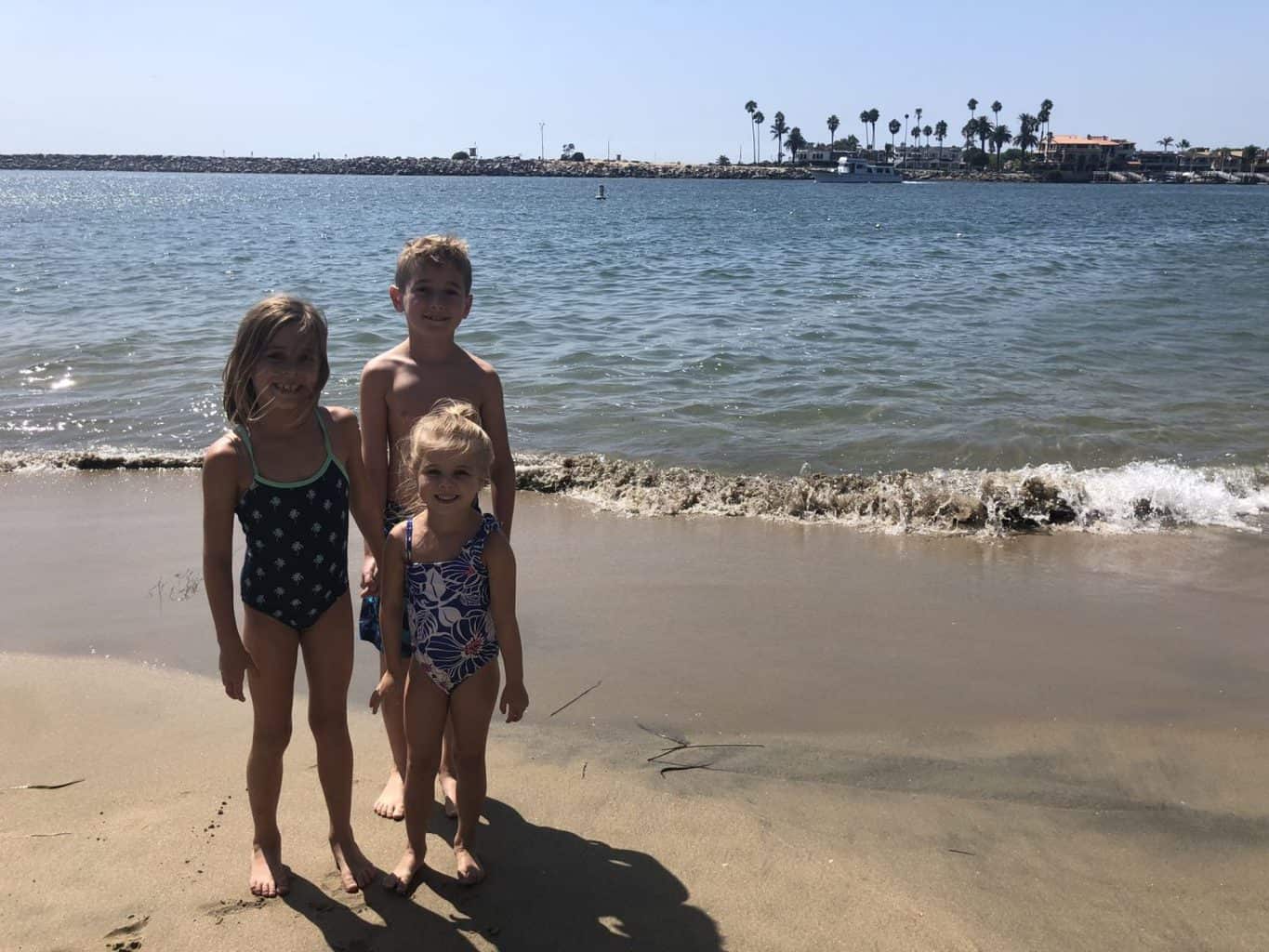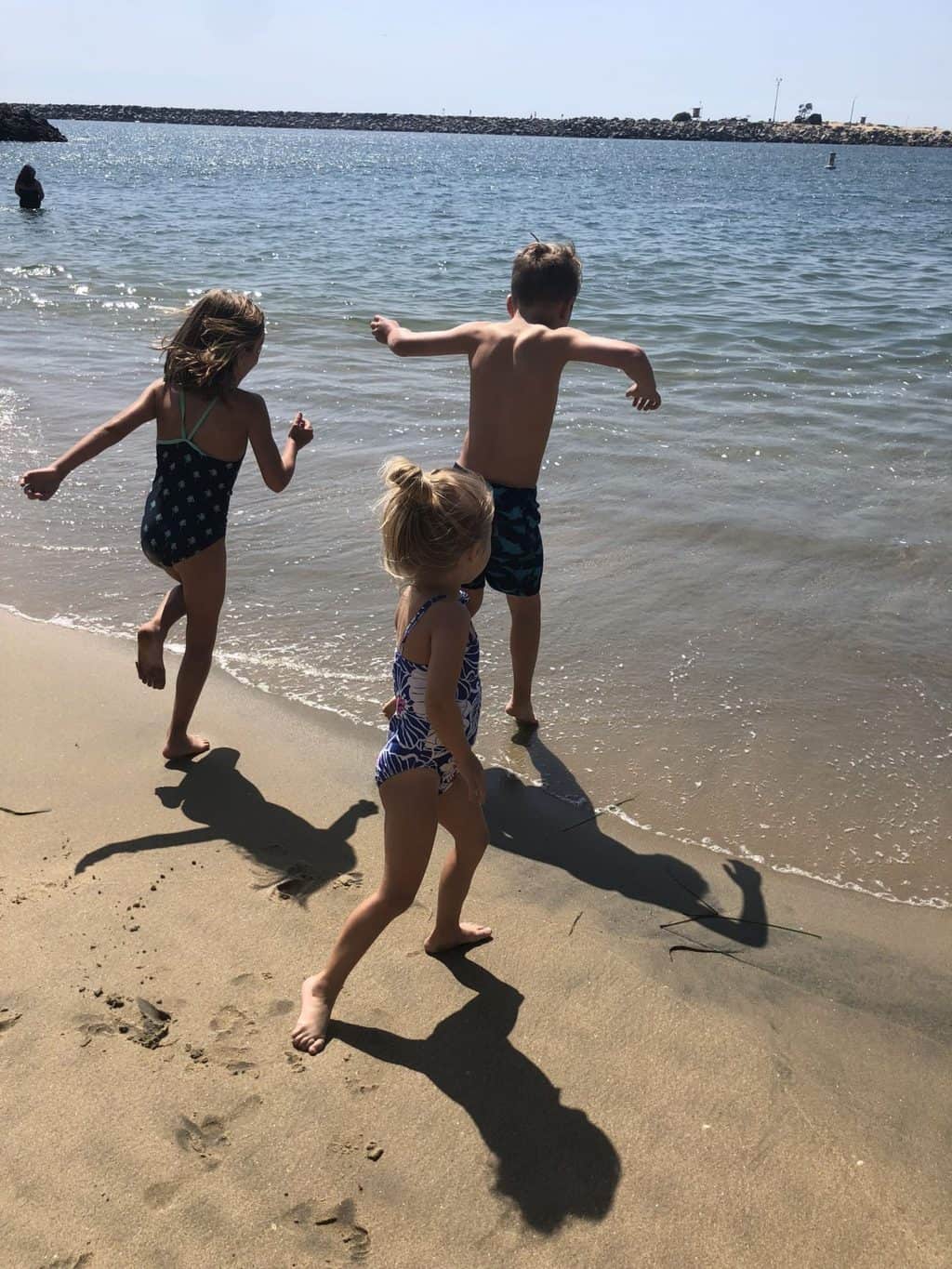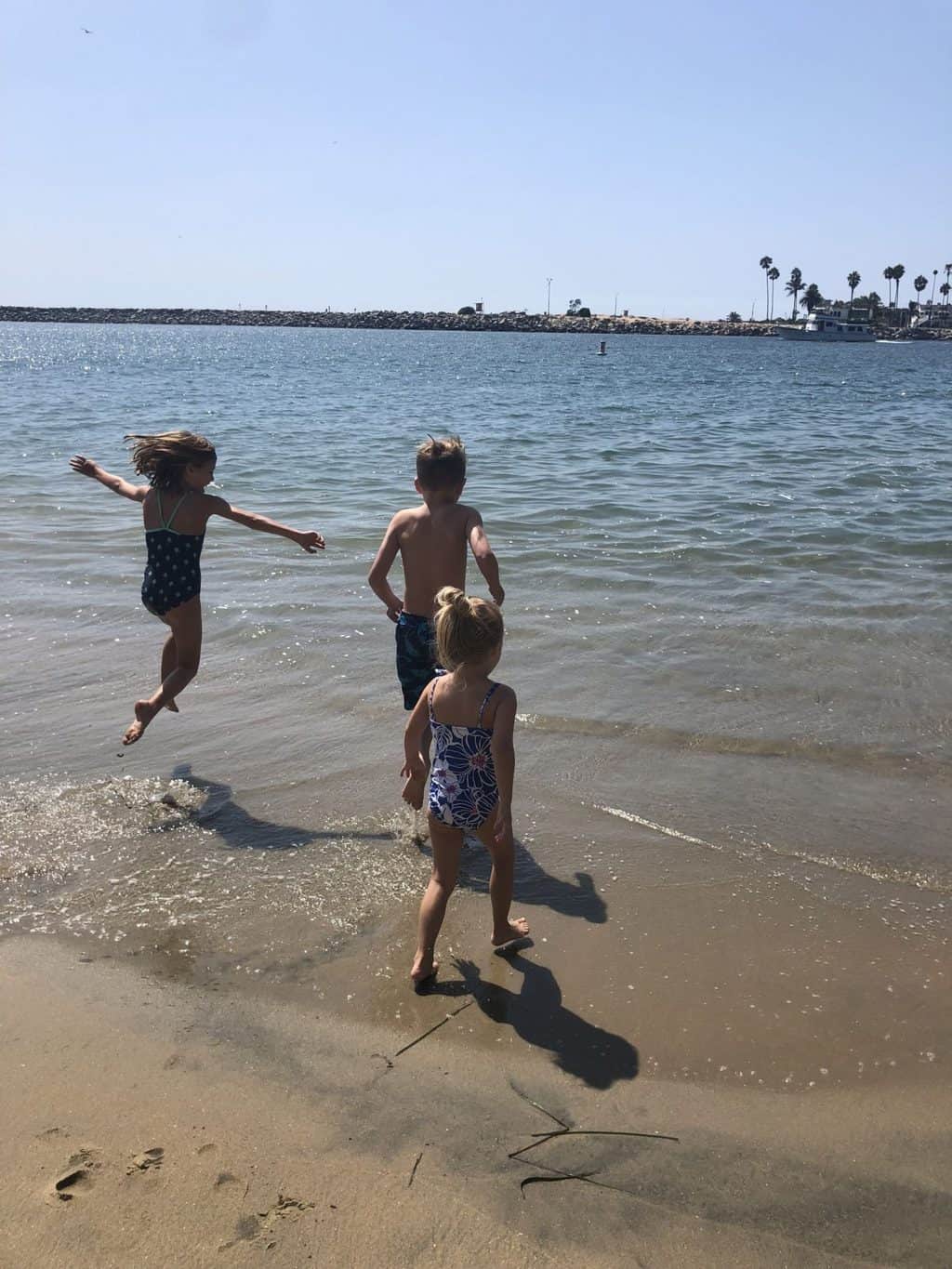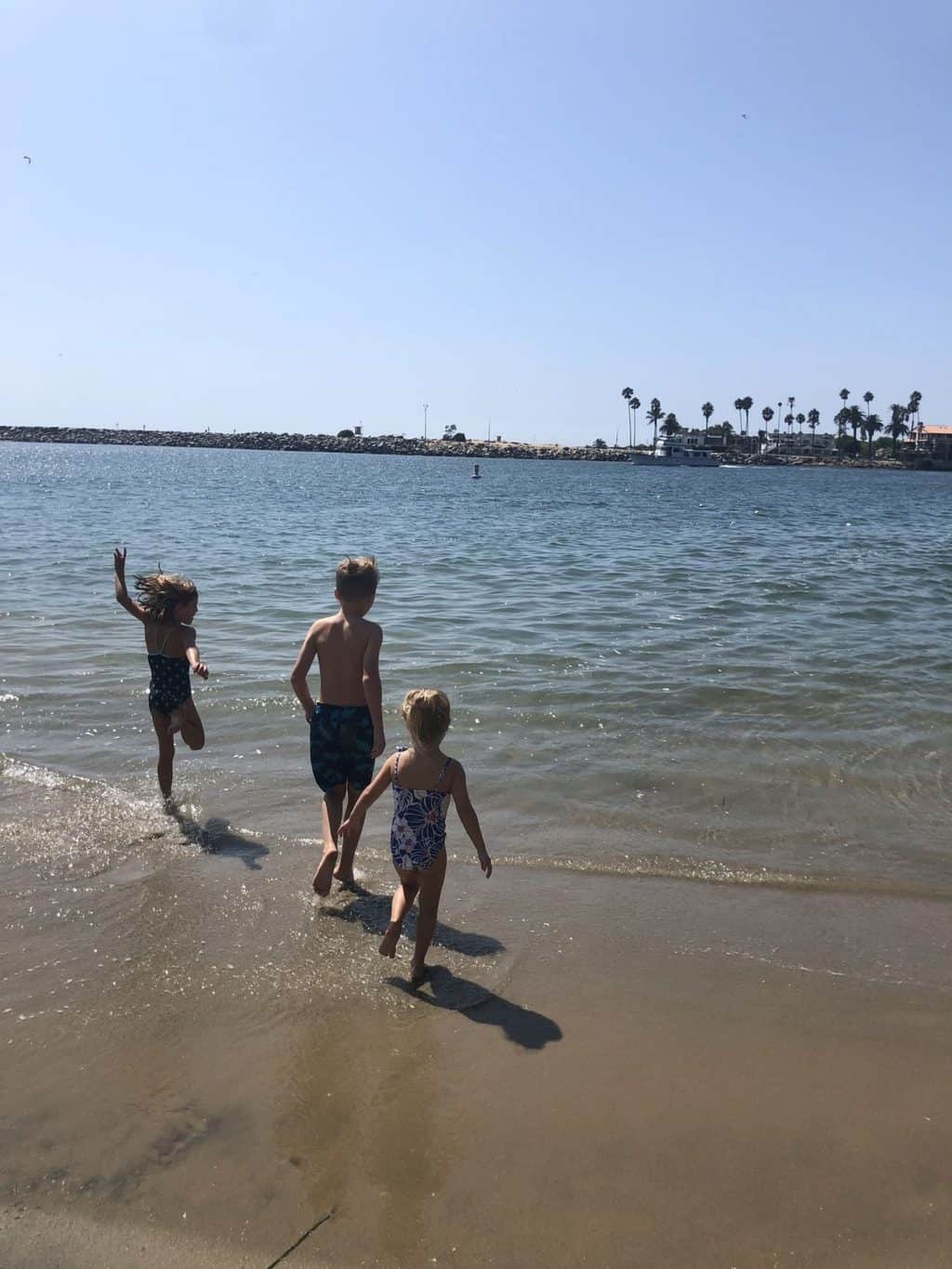 This shows their personalities so well. Something new? Britt is ALL ABOUT IT. She's excited and full of energy and just charging straight ahead without a care in the world. Kye is cautious but being mindful of leading his sisters. Looking down at what could be below, being mindful of each step. And Tess lingers a bit. Unsure of something new, cautious to adventure out into the unknown.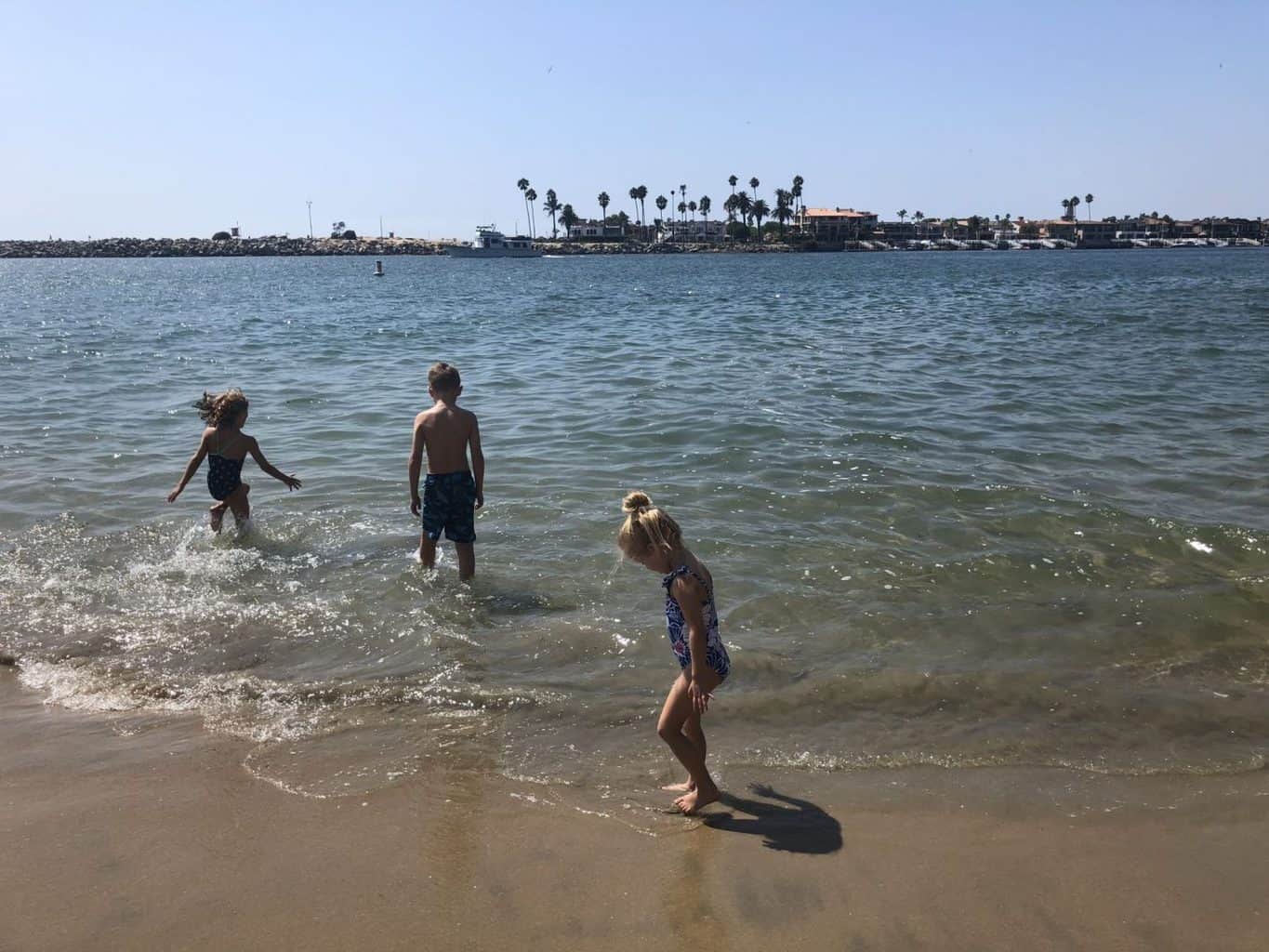 The water was CHILLY but so FUN!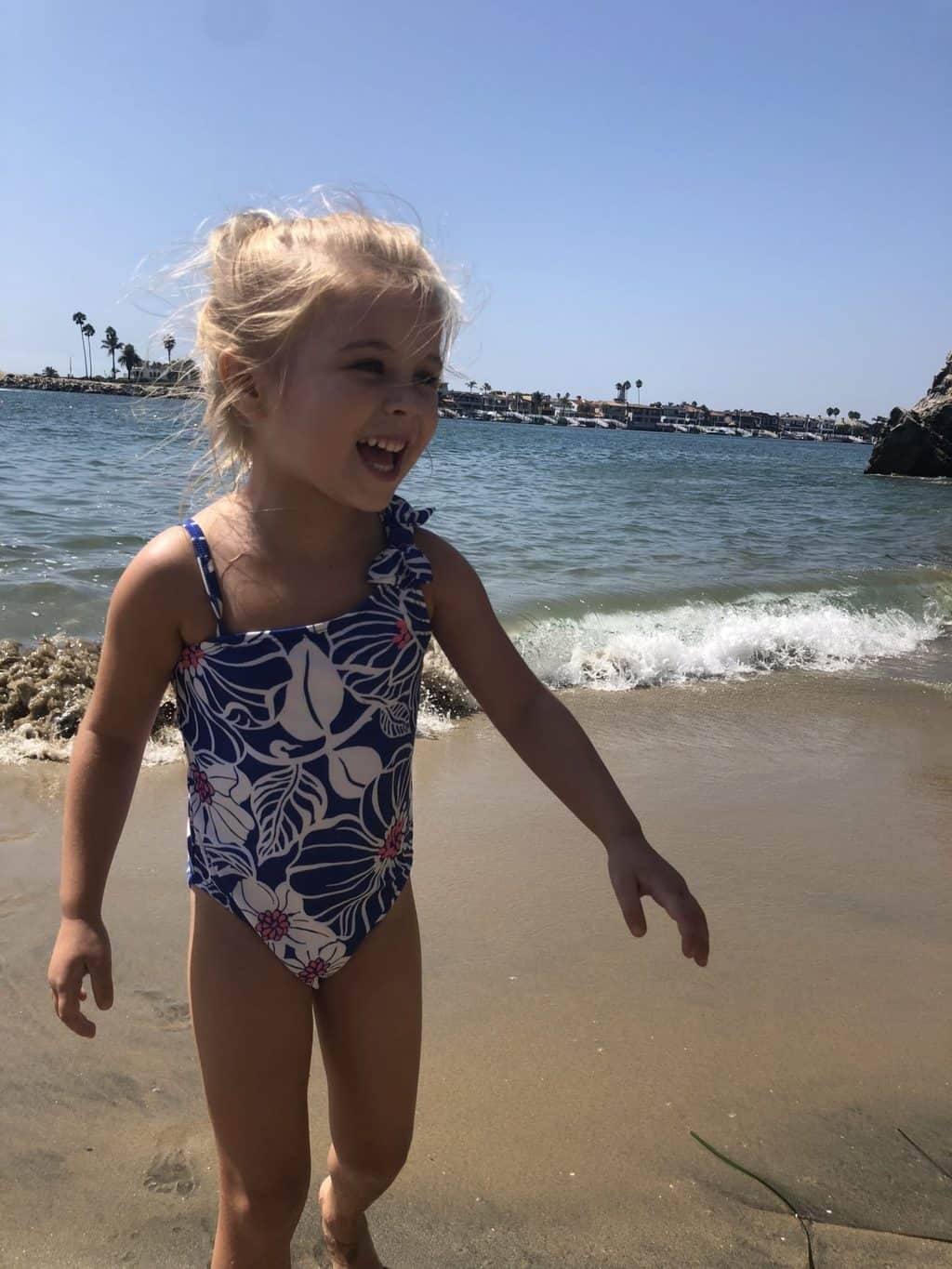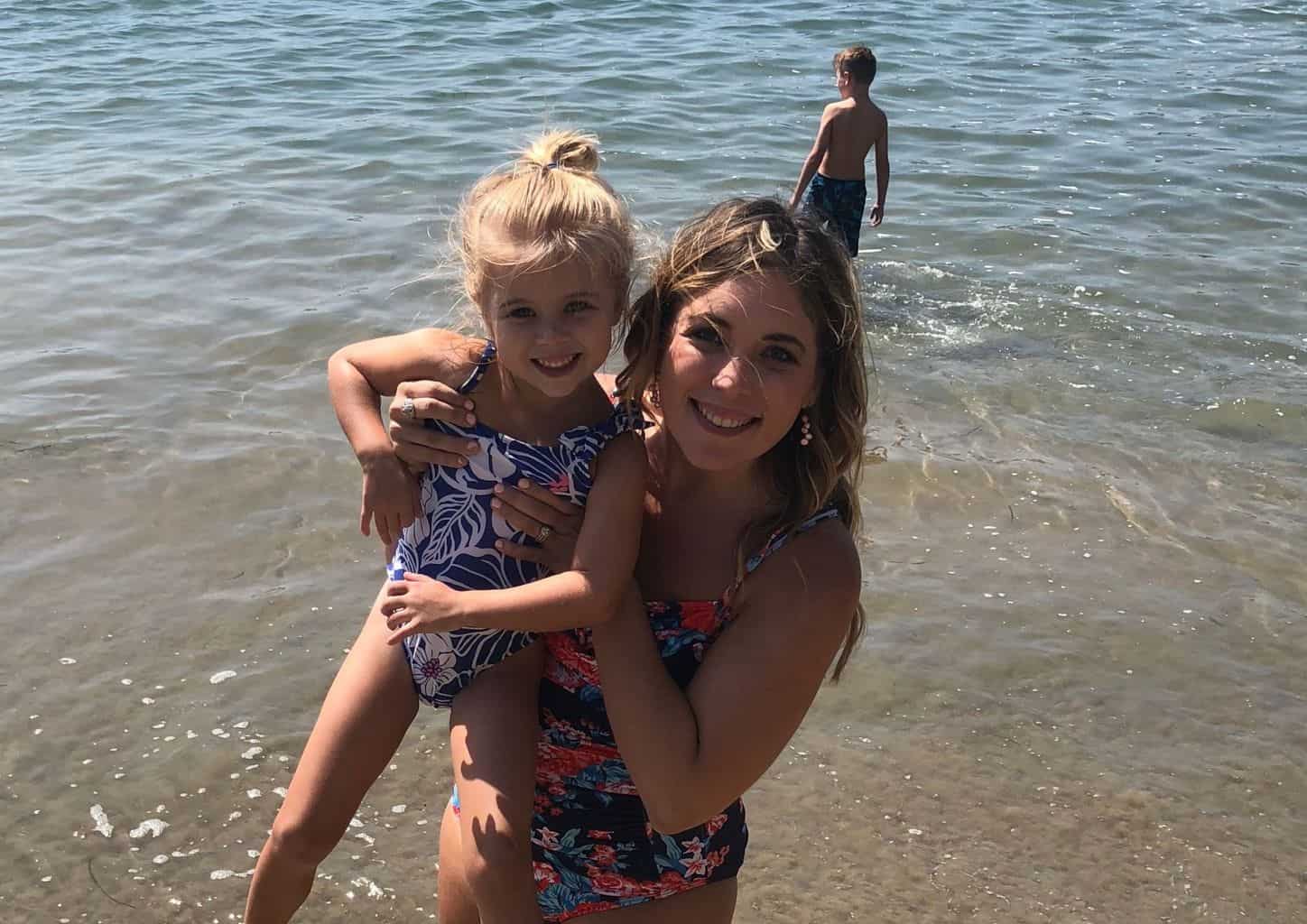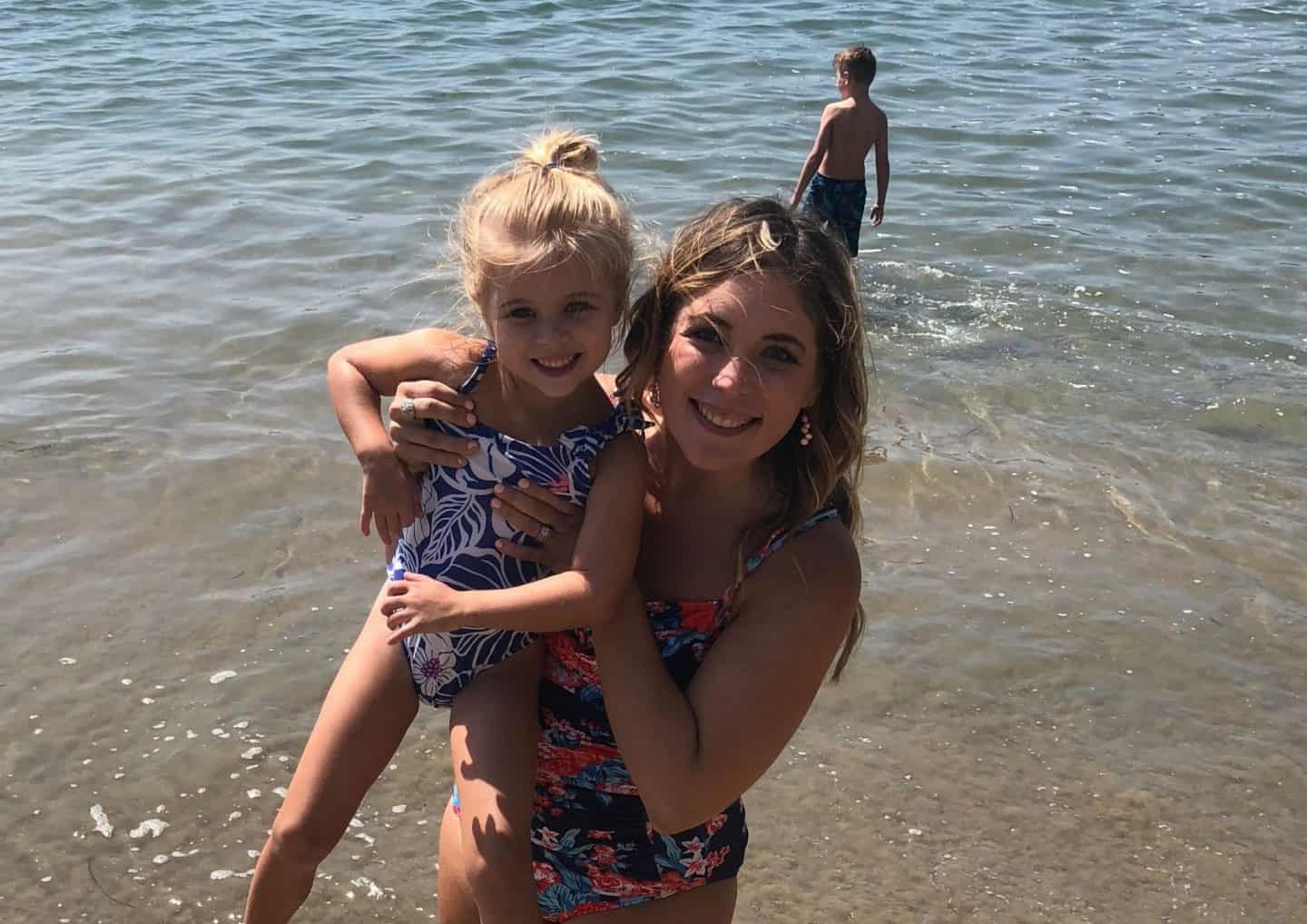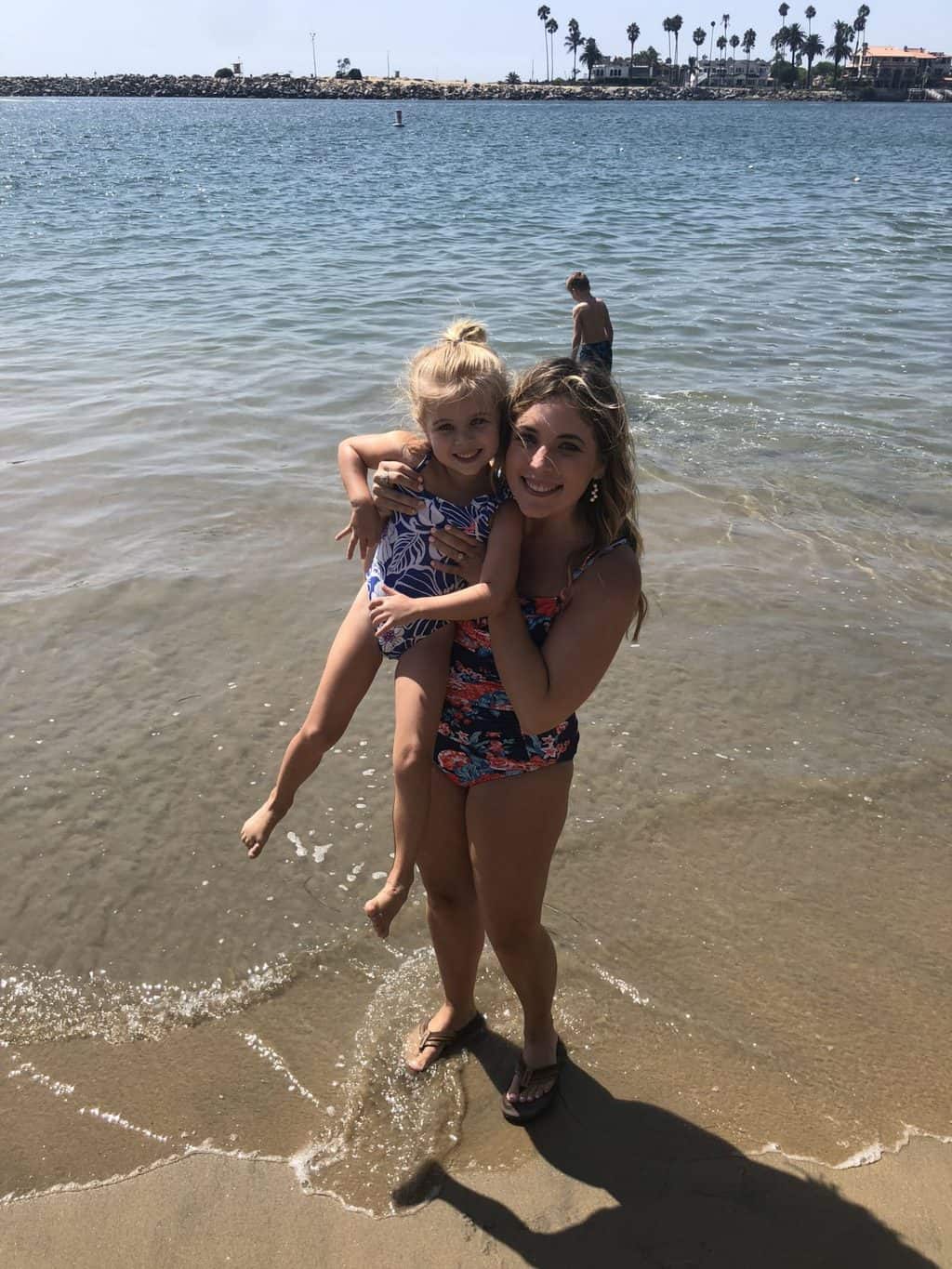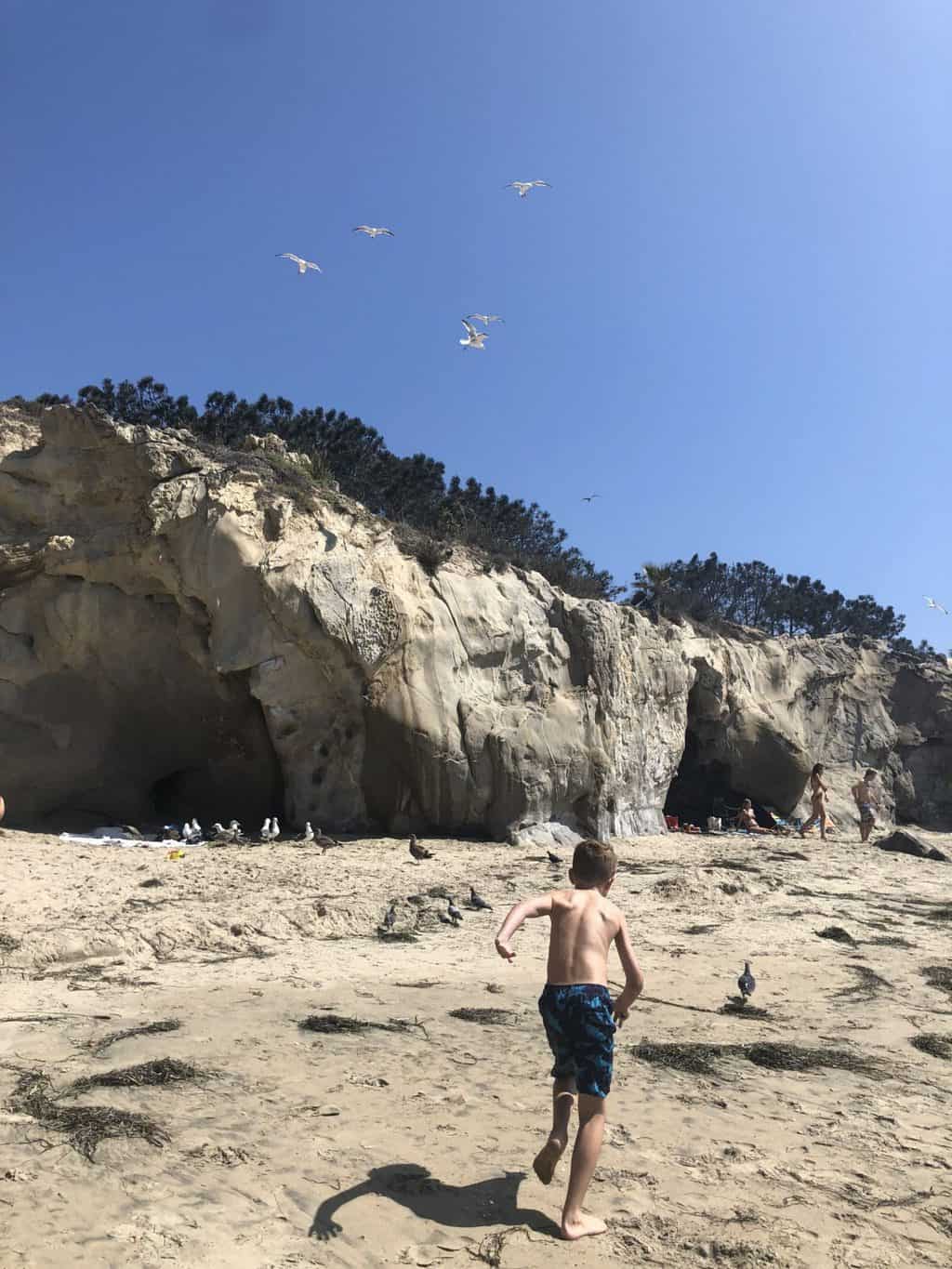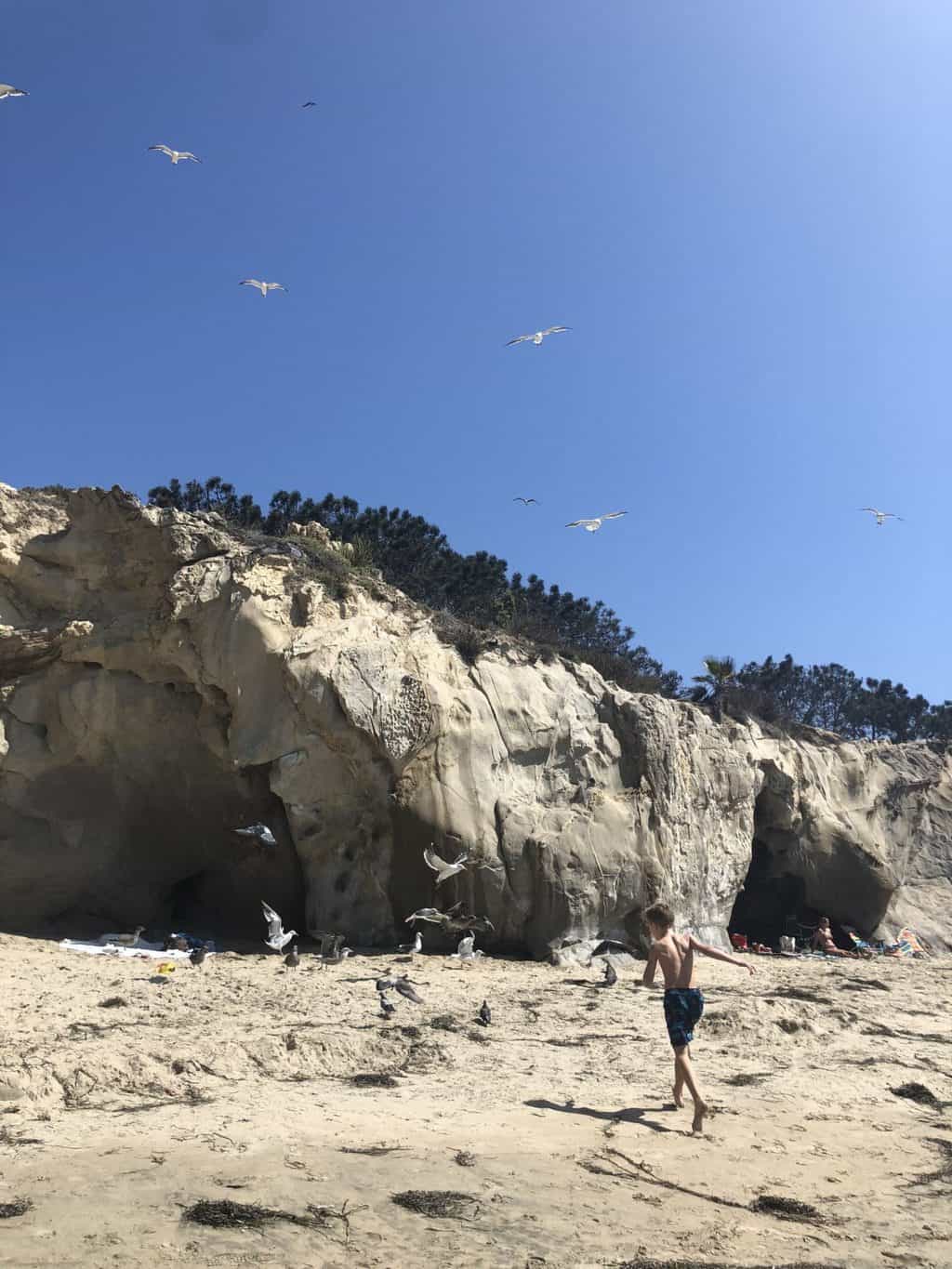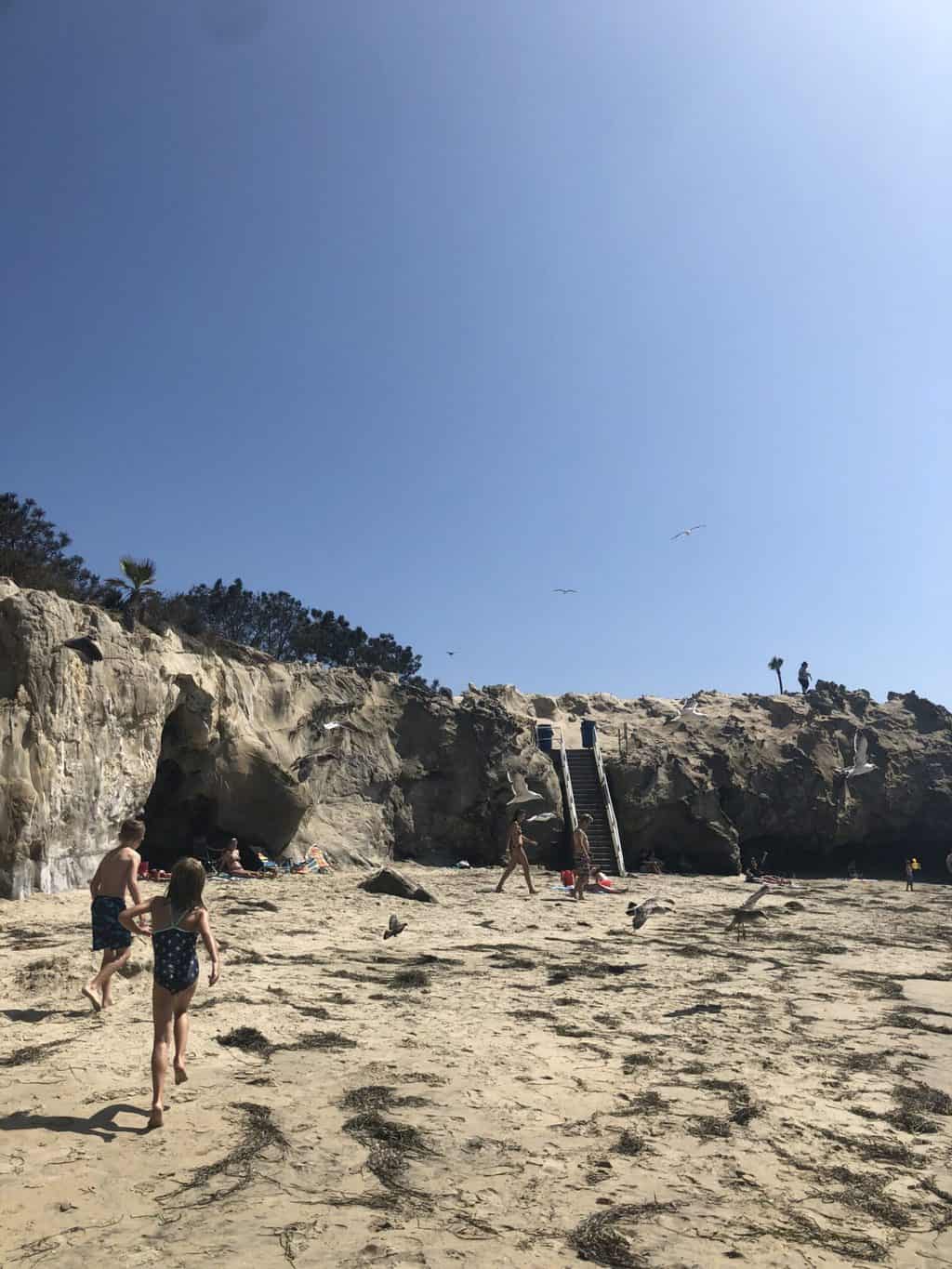 All the rock formations and little caves were SO AWESOME. We don't have anything like that at the Florida beaches we're used to! As a side note if you're visiting the area the beach we went to is Corona Del Mar.  It was so fun to explore…but we also quickly realized that a secluded public beach area brings out some less than ideal choices by people.
Whew the language. So. Vulgar. And the behavior. So raunchy. And the drugs and alcohol. So rampant.
I didn't let on anything to the kids. Zach was back at the car figuring out how to pay for our parking. So once he got back and saw and heard what I was seeing and hearing we moved on to a new spot 😉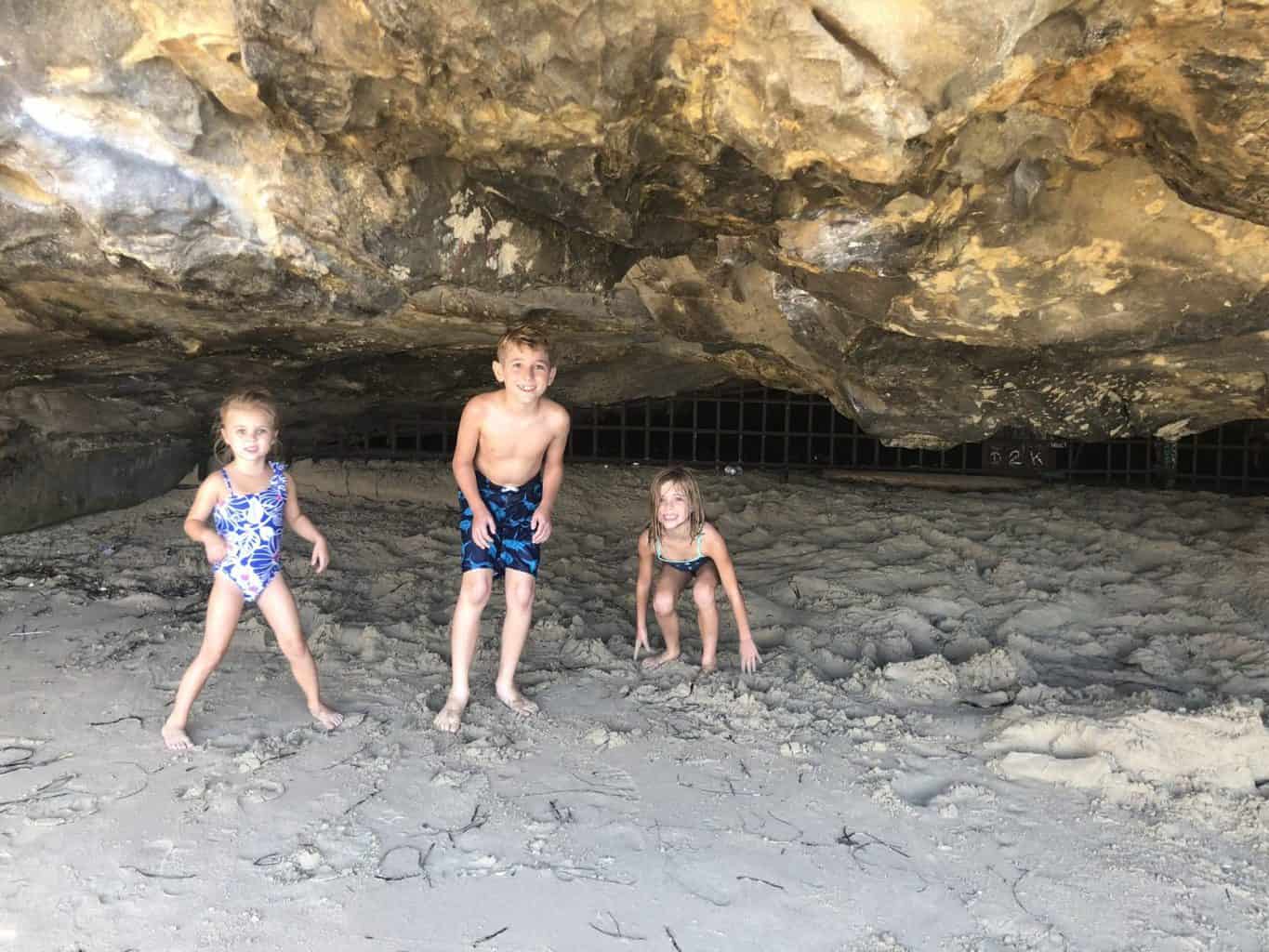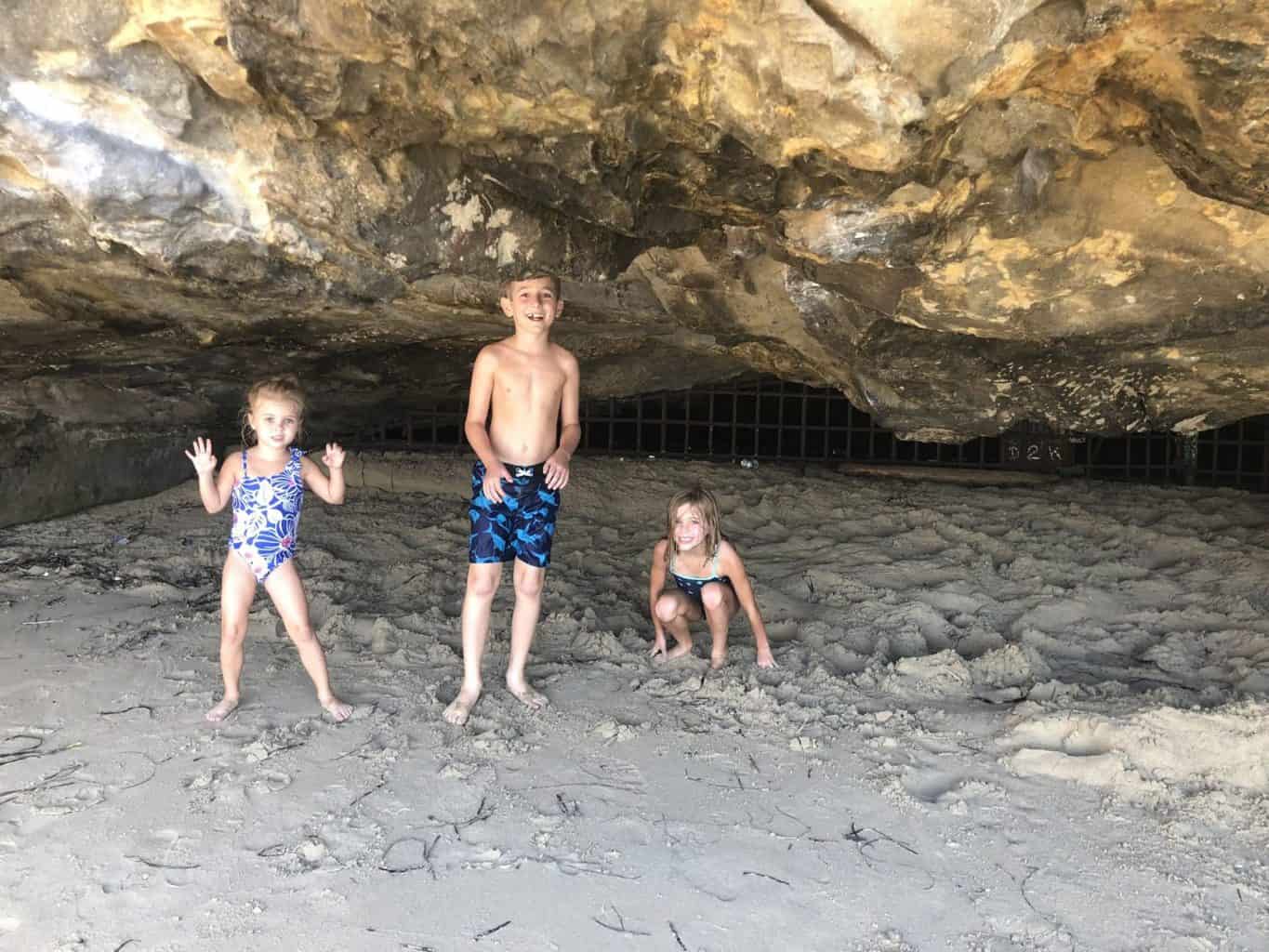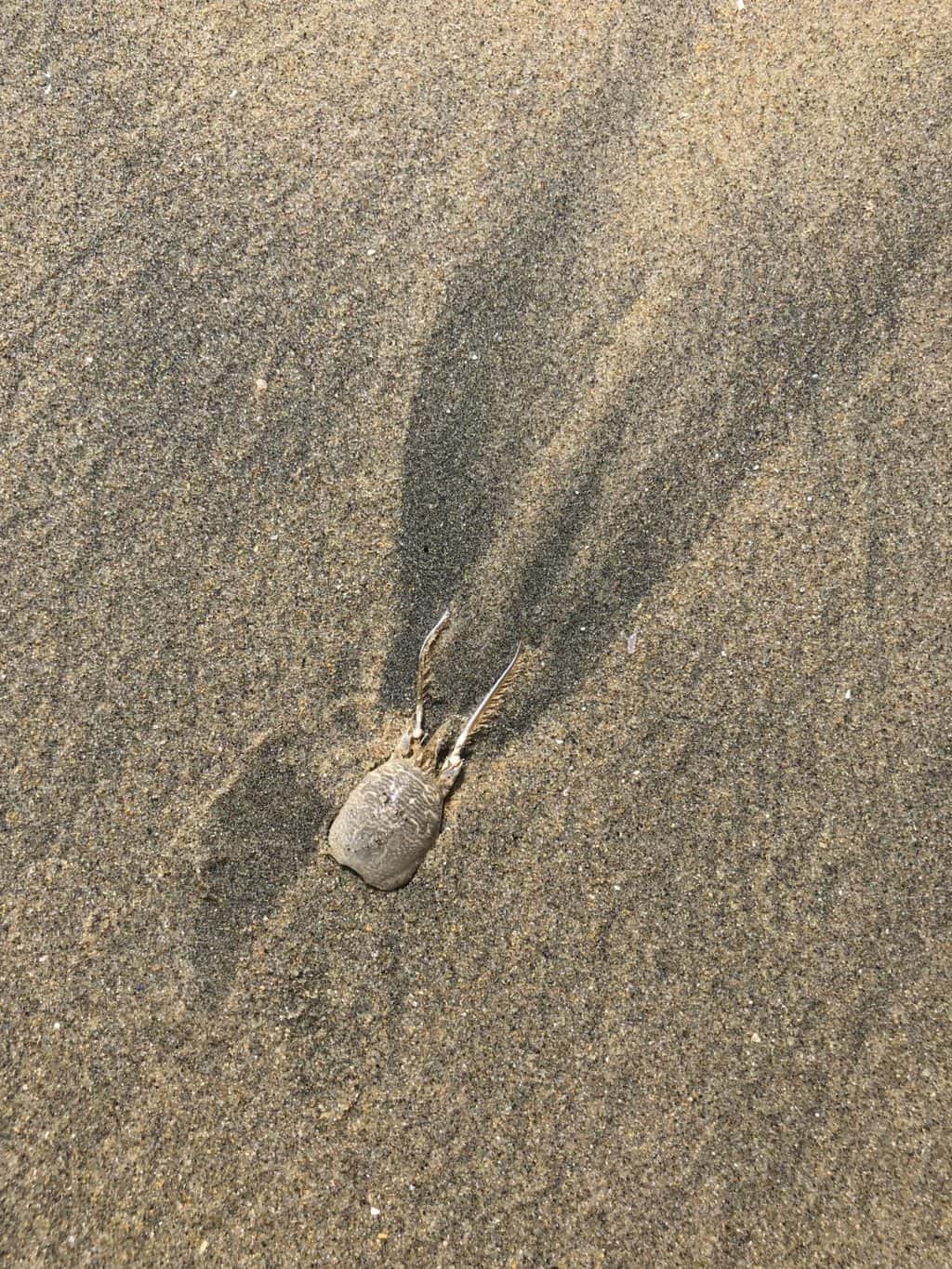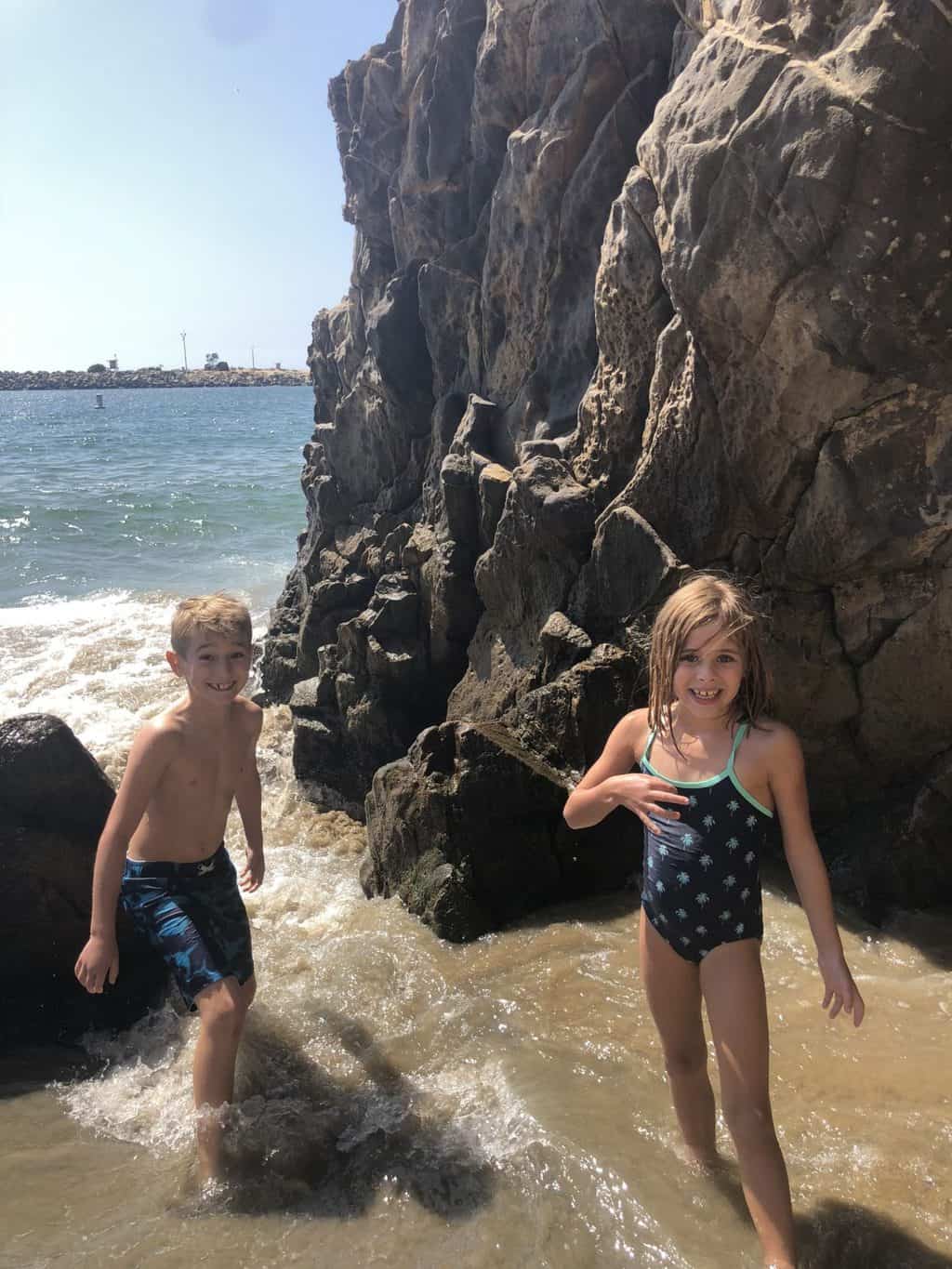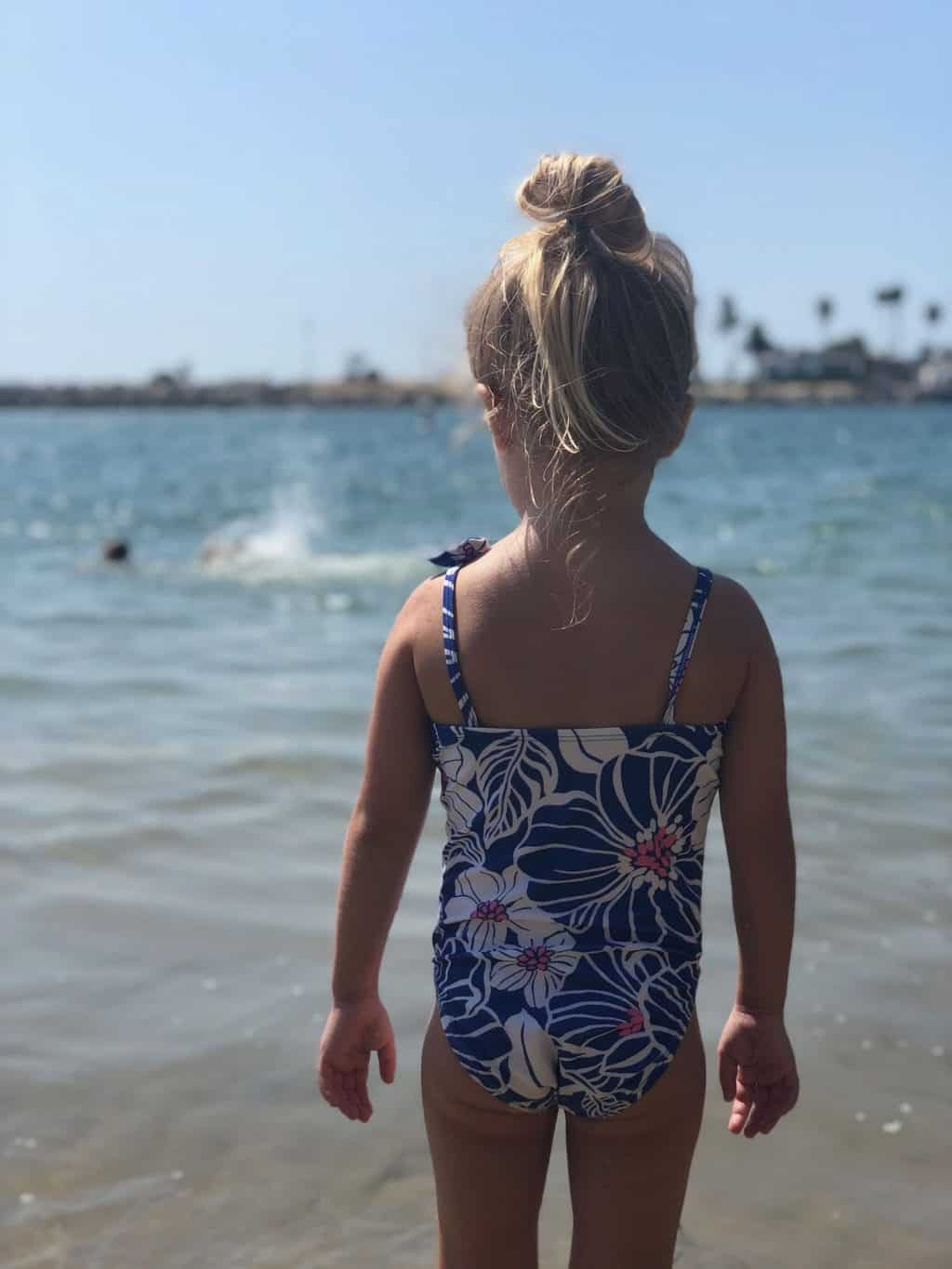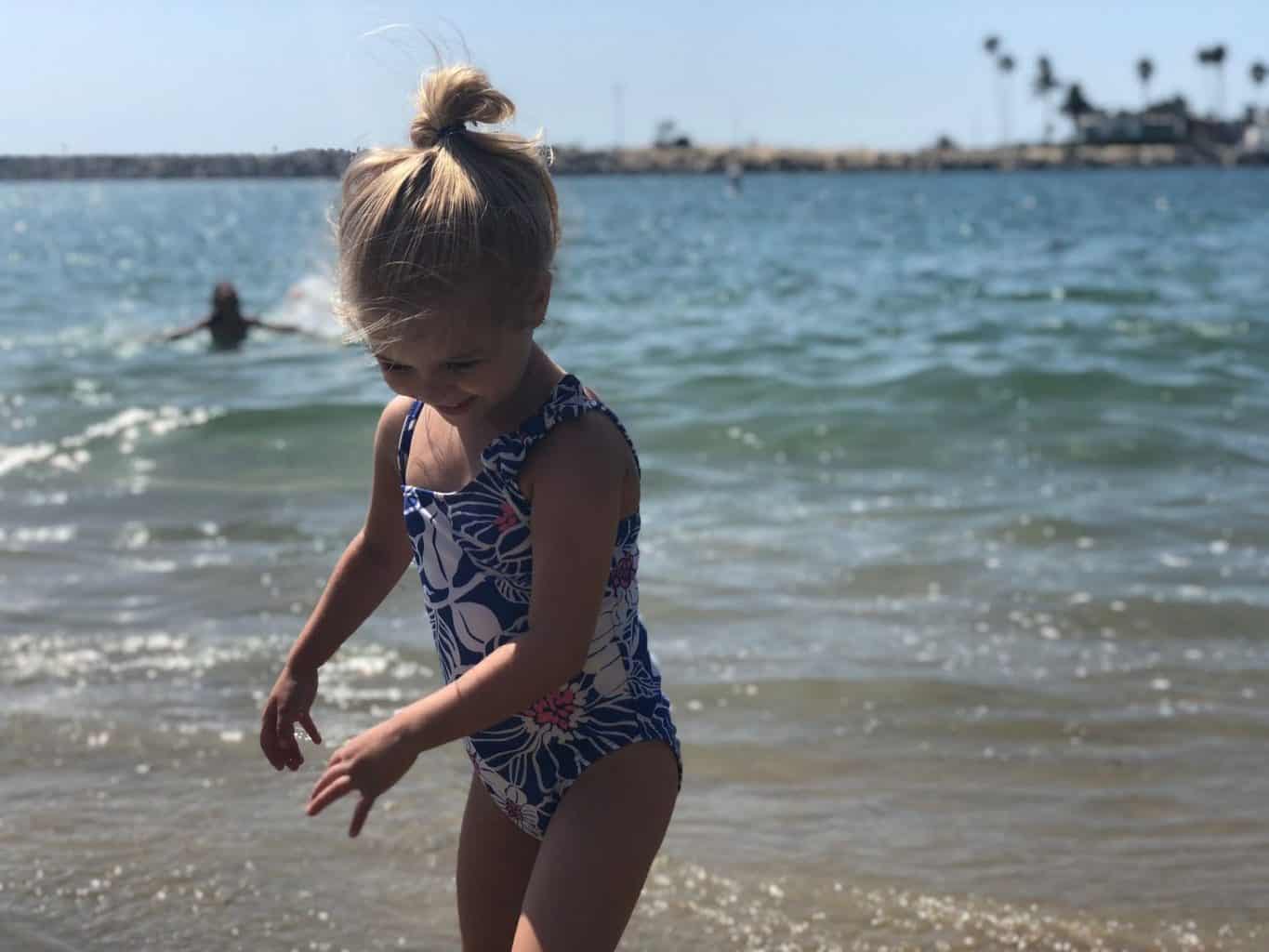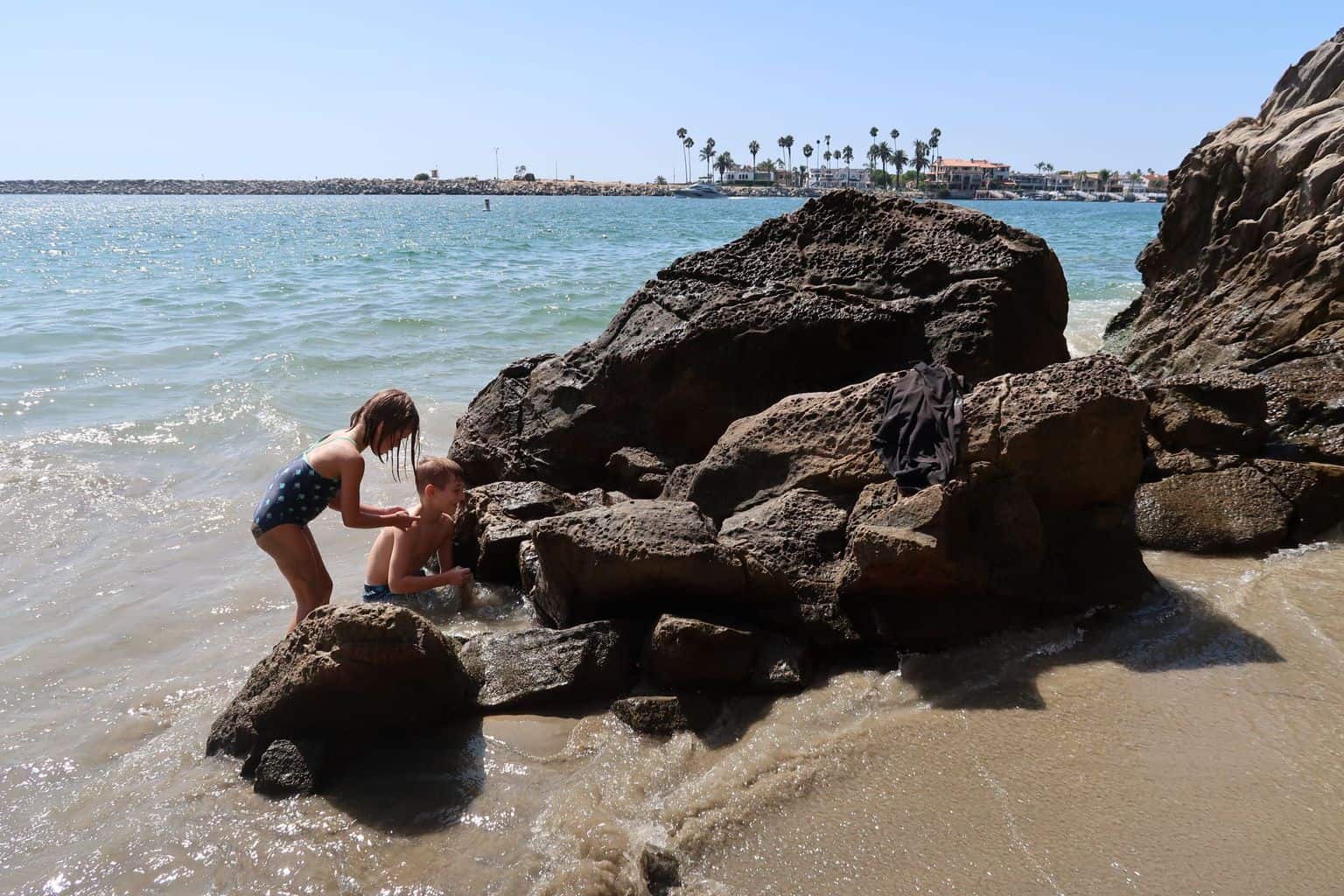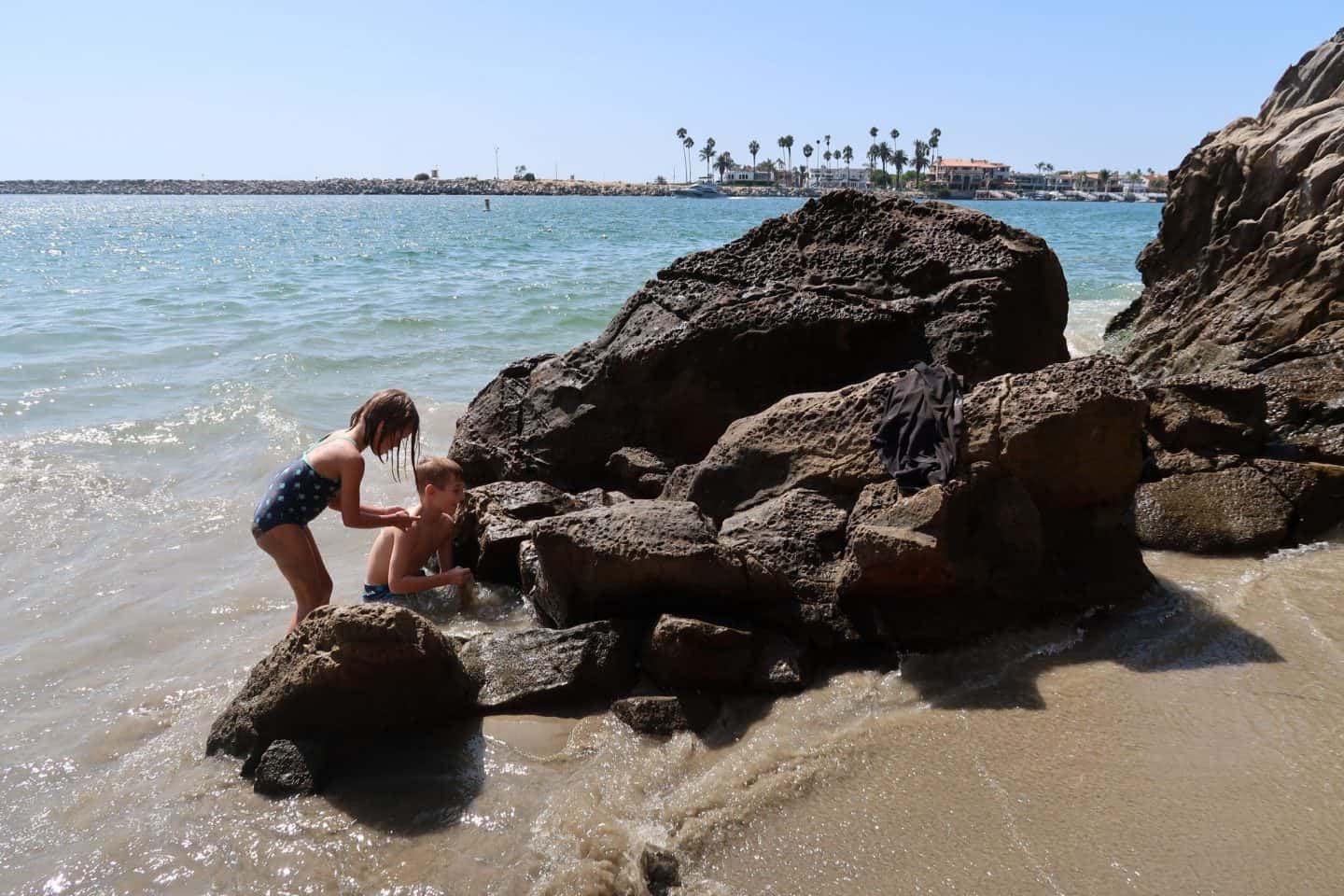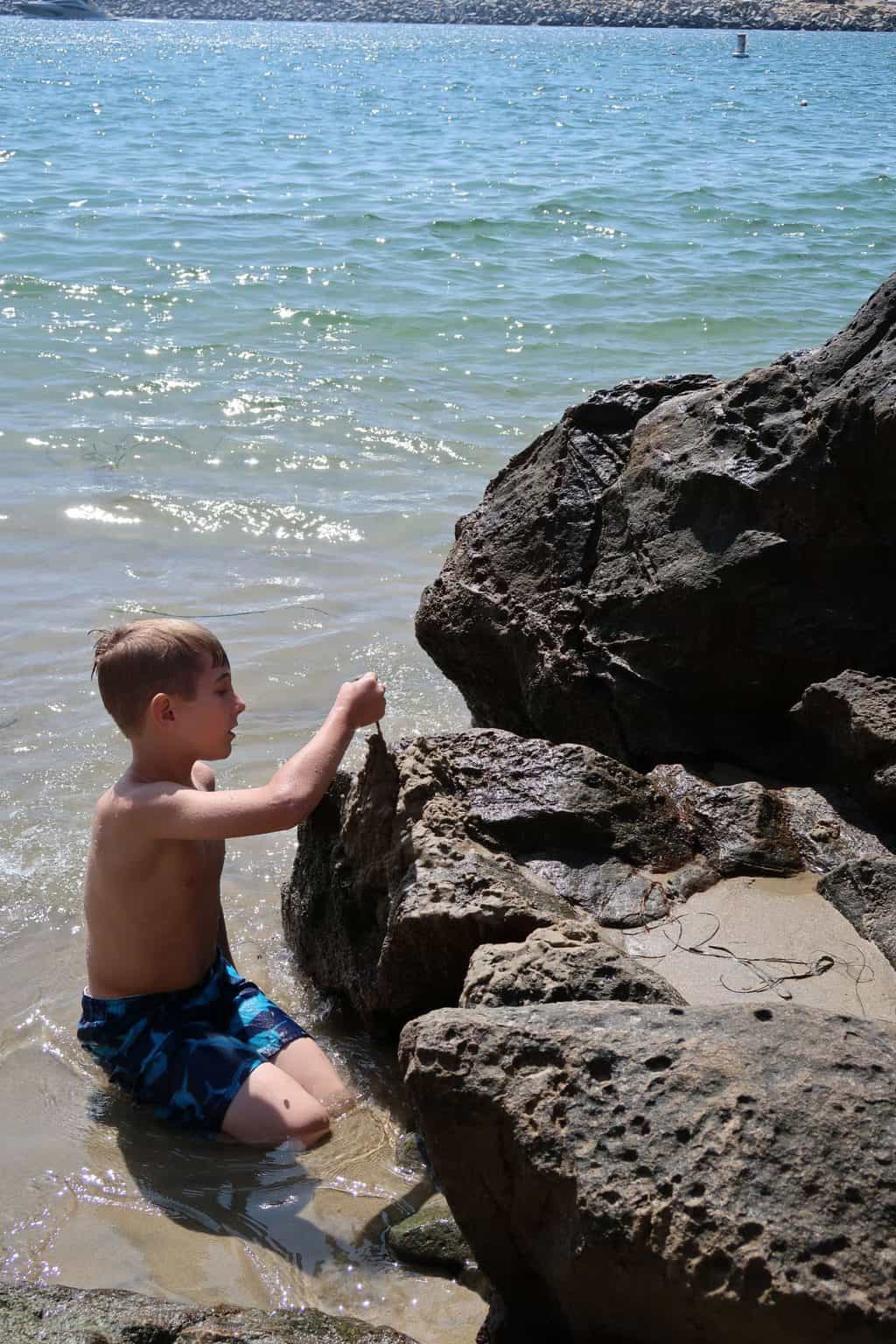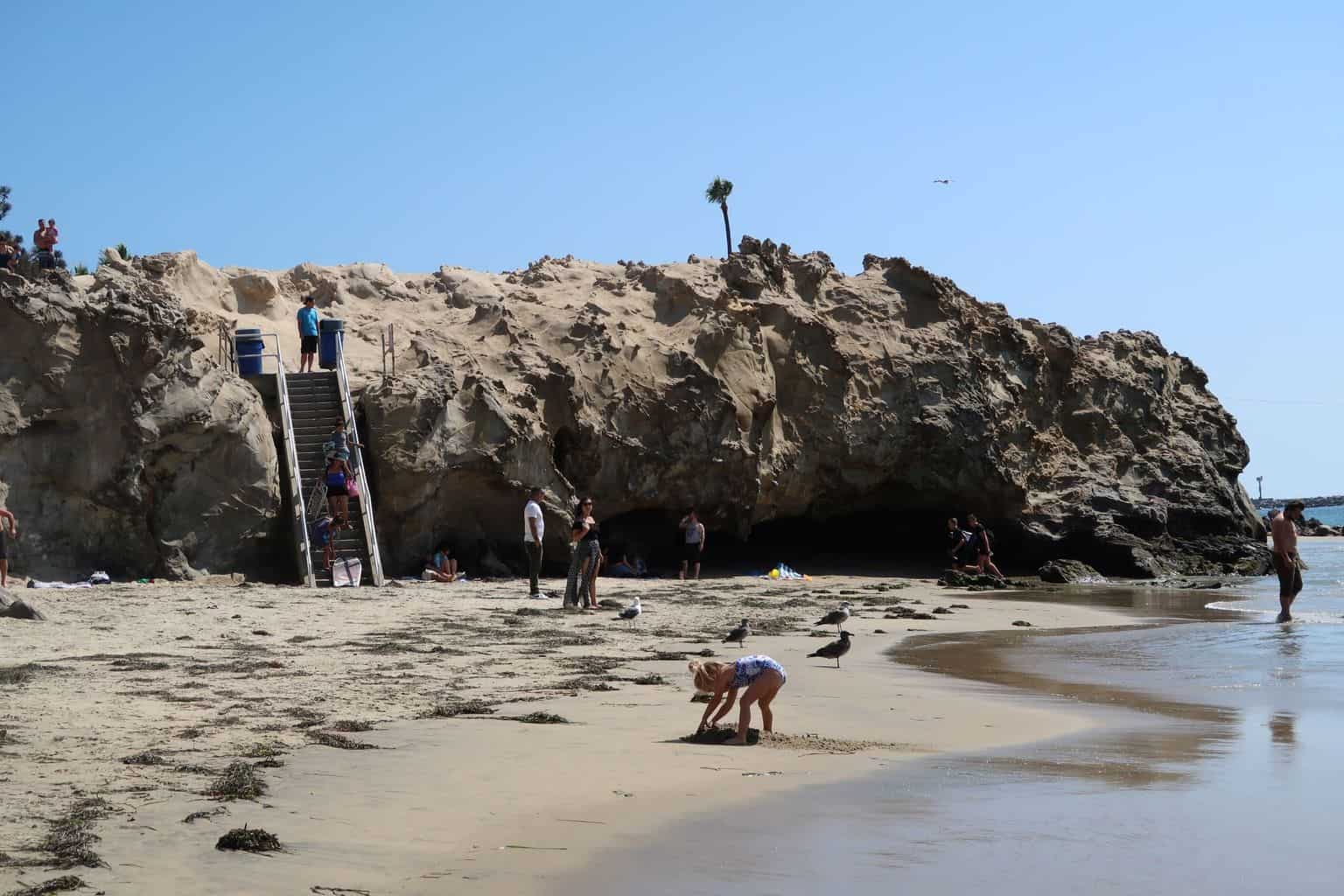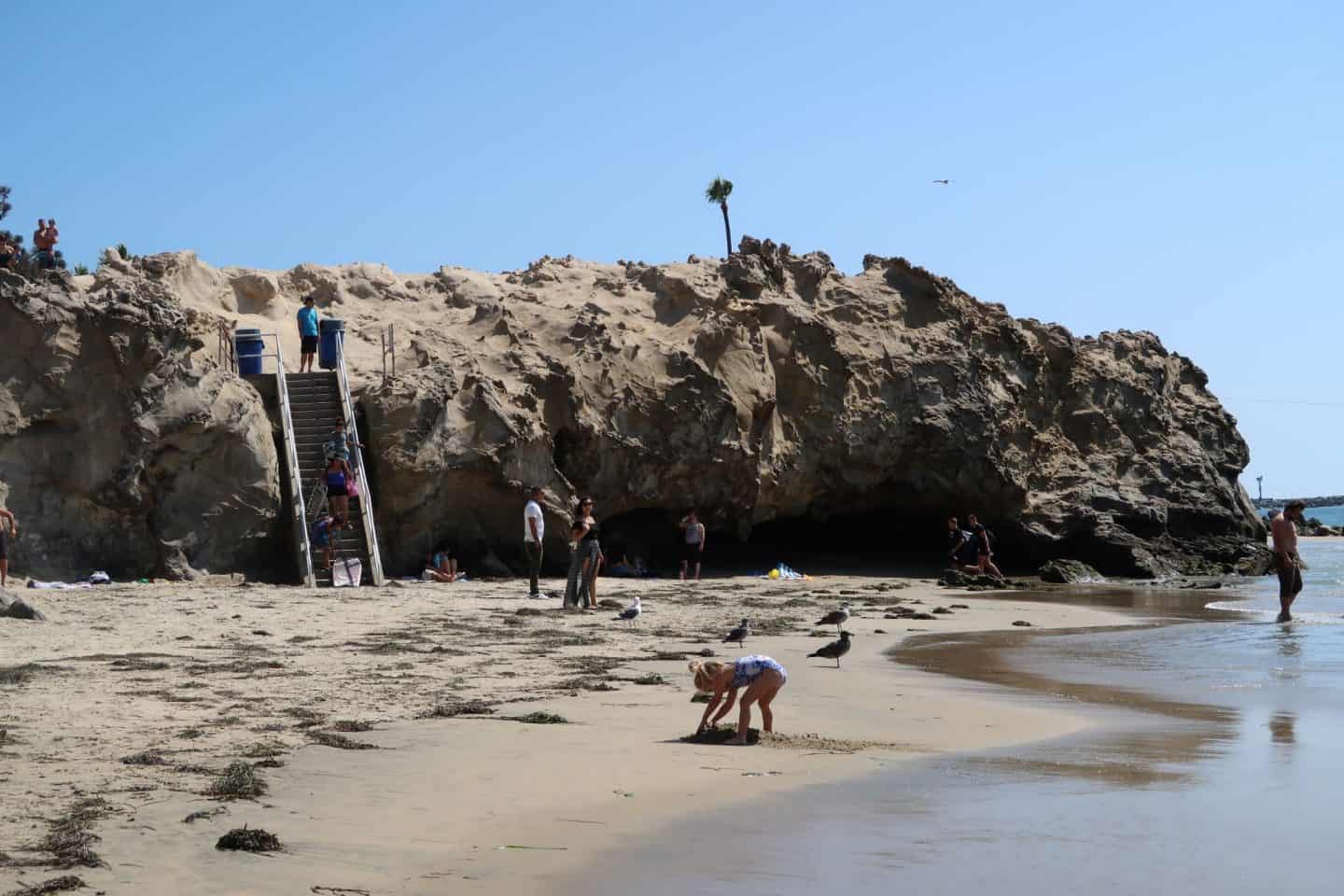 How stunningly gorgeous is this view?!?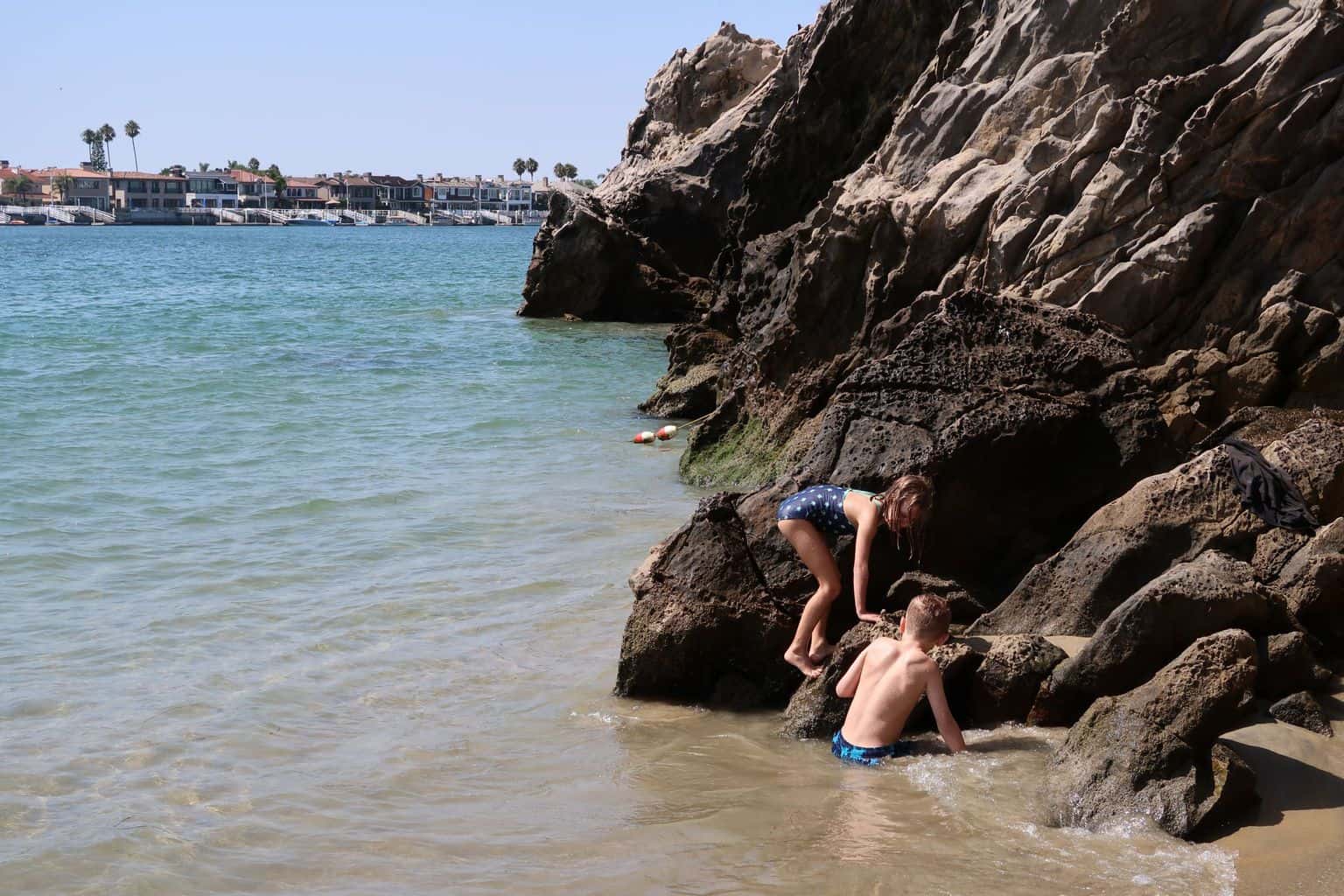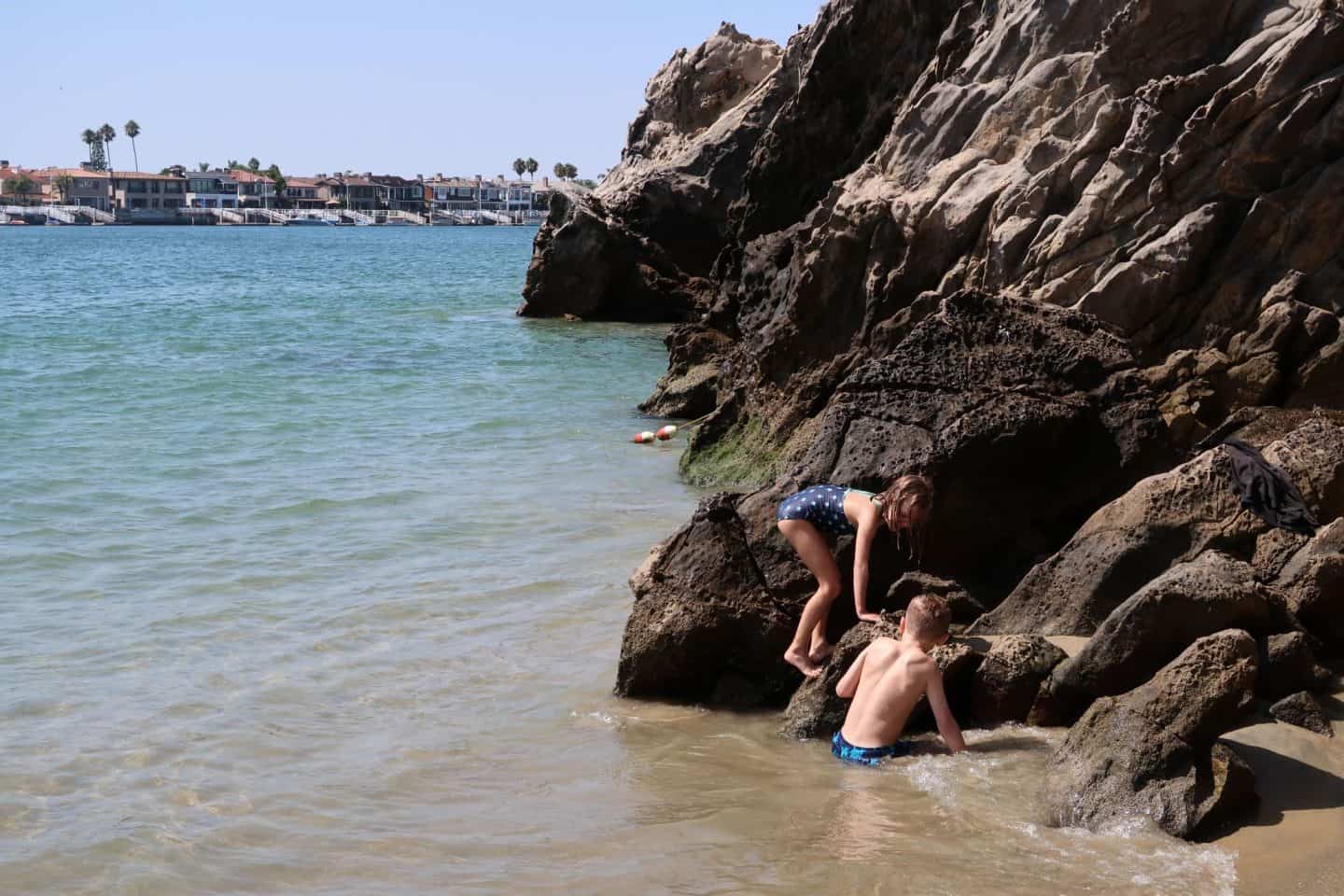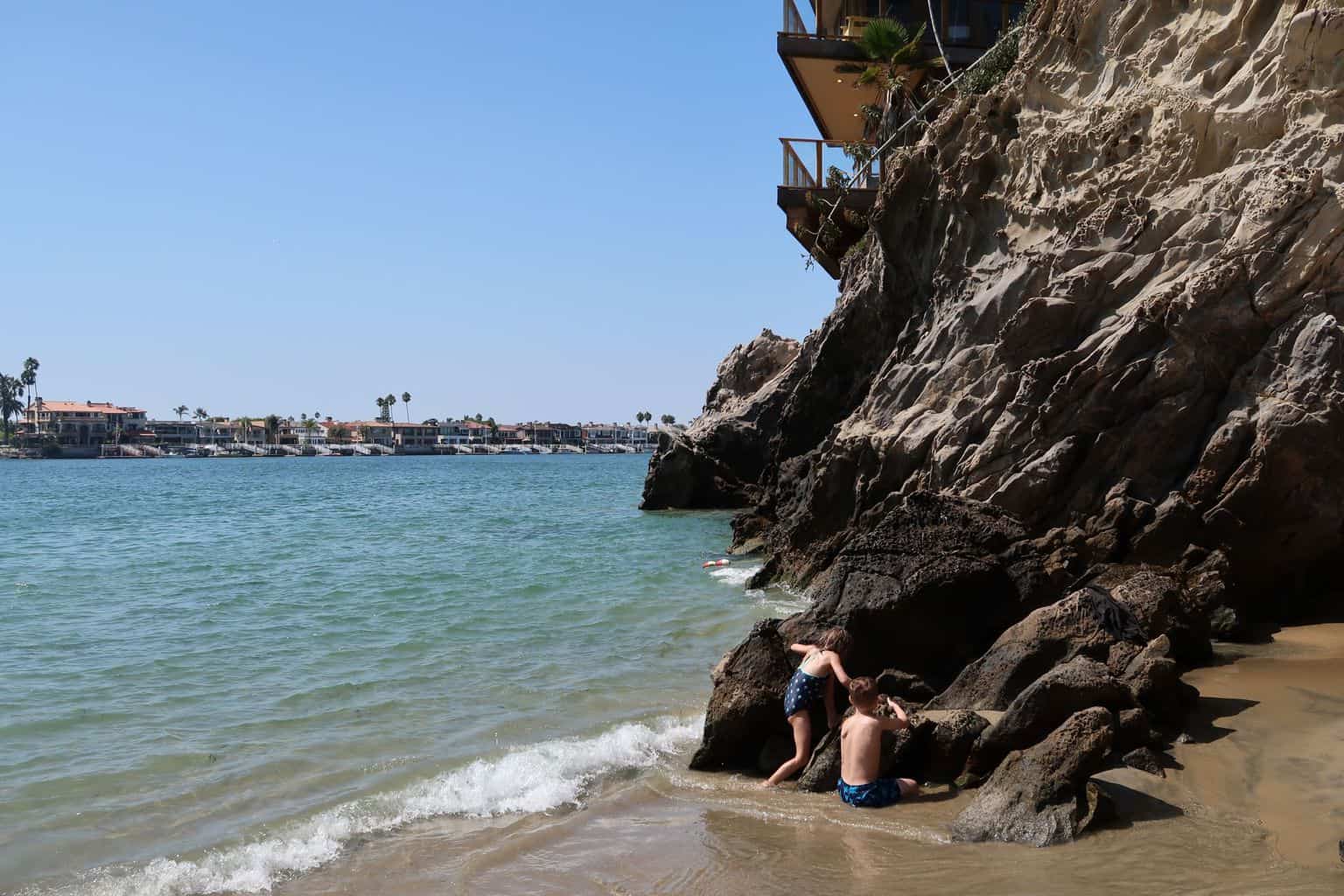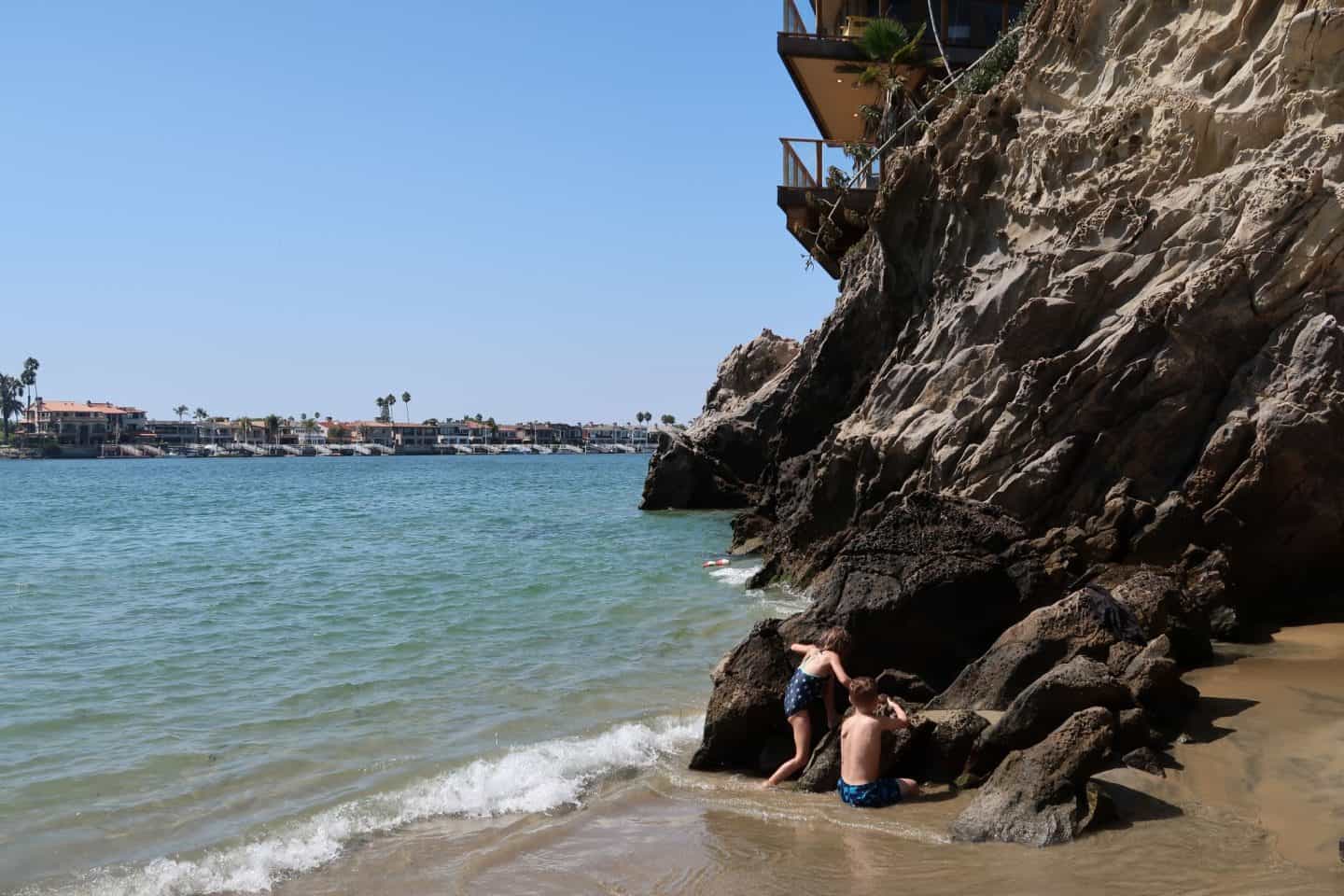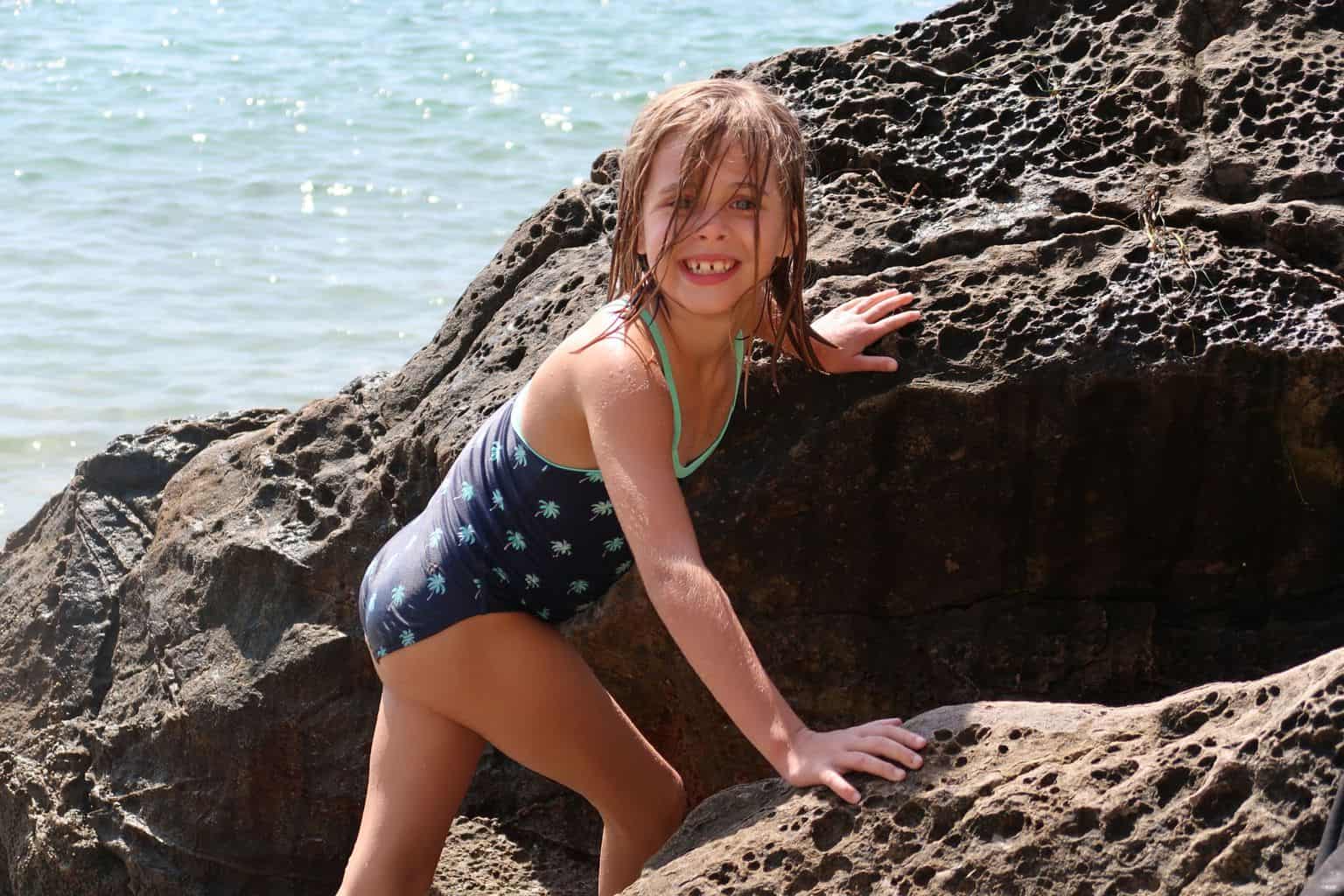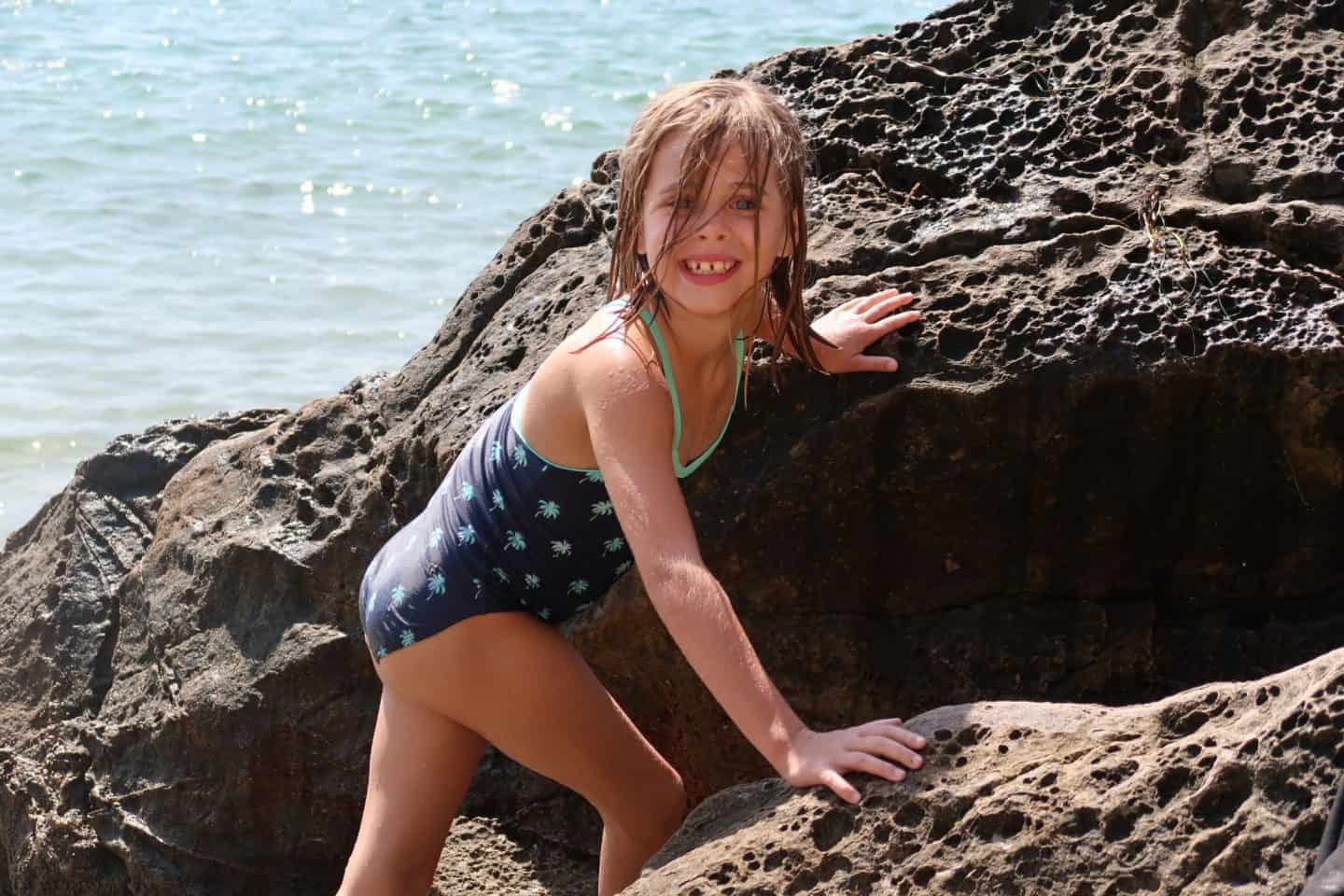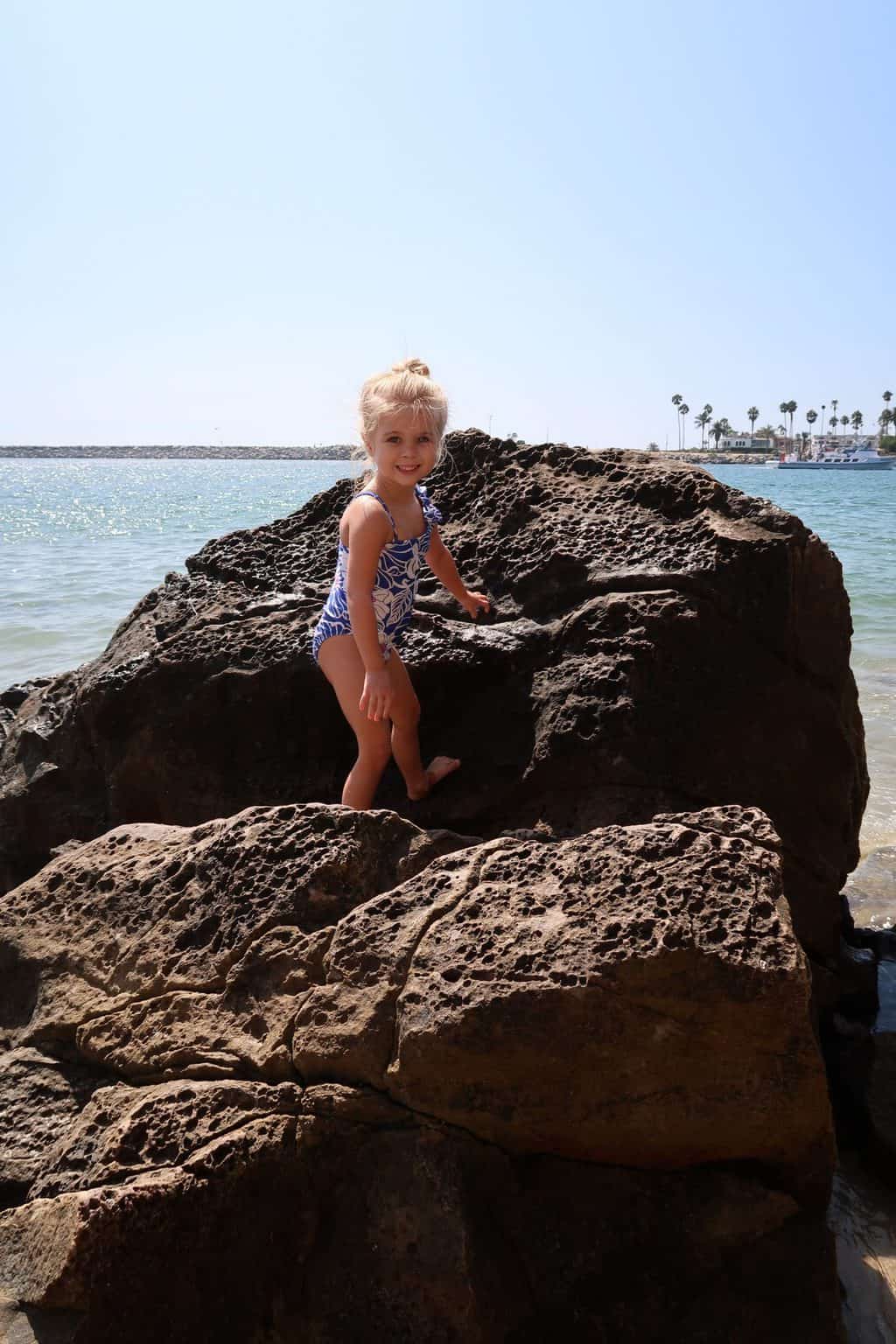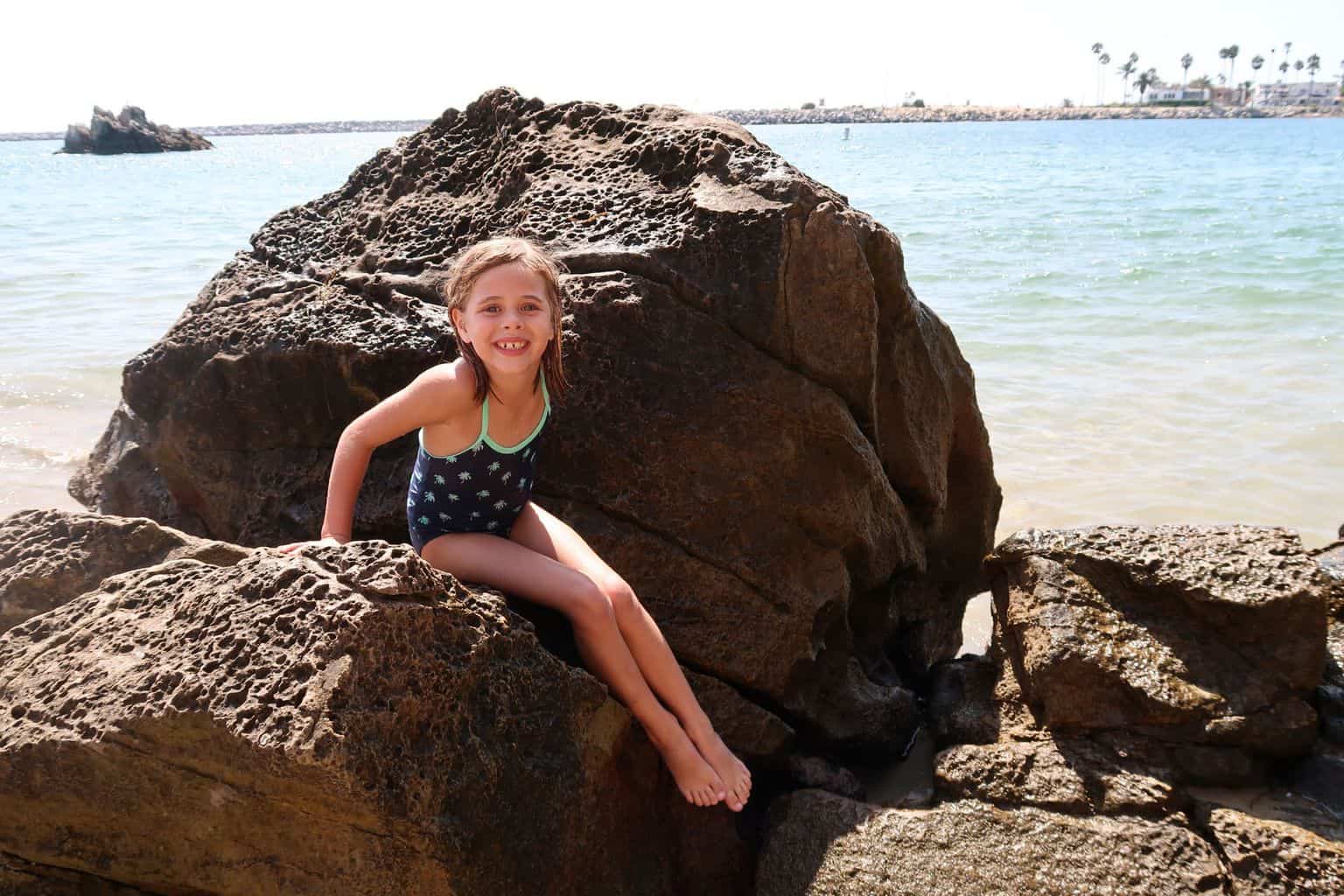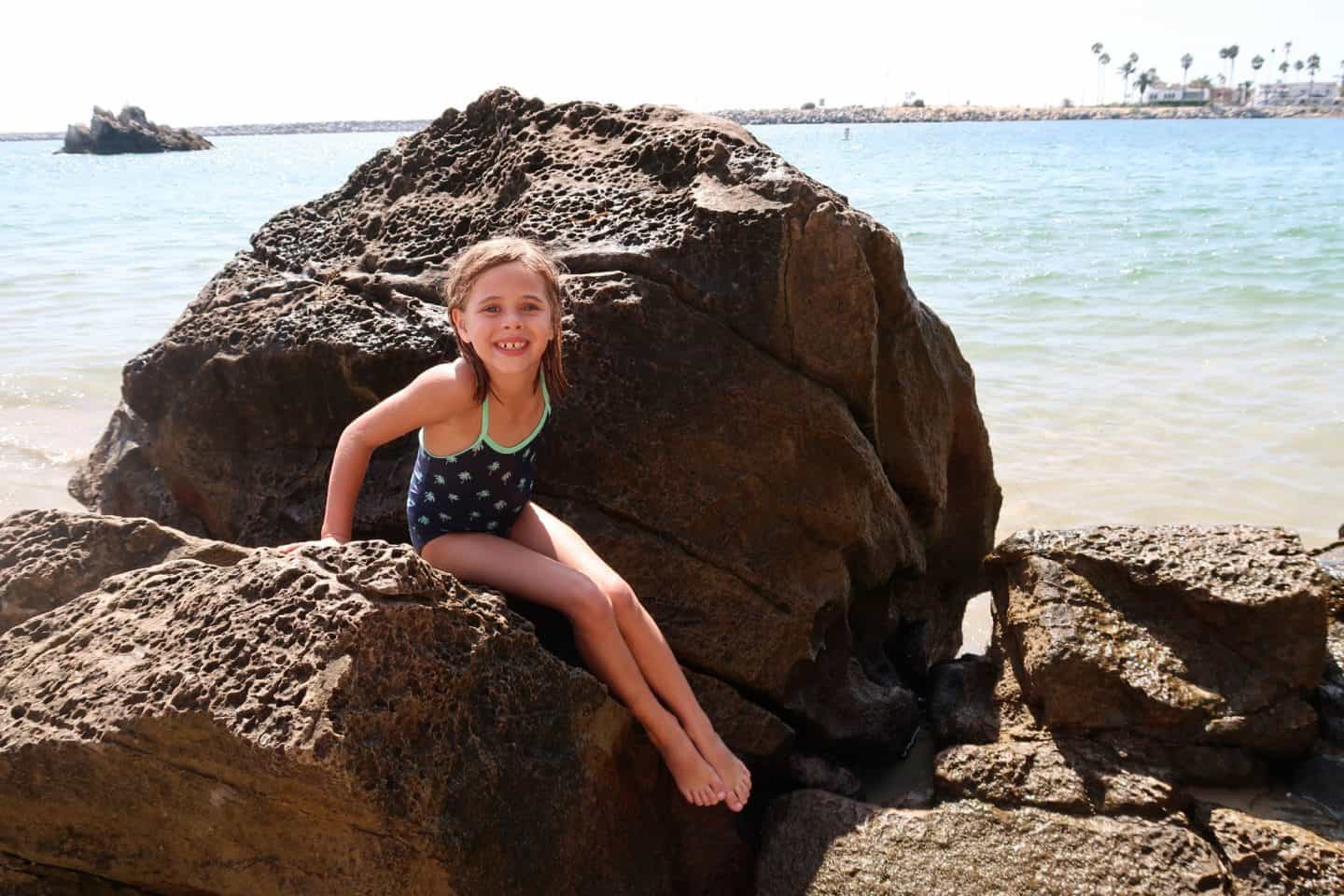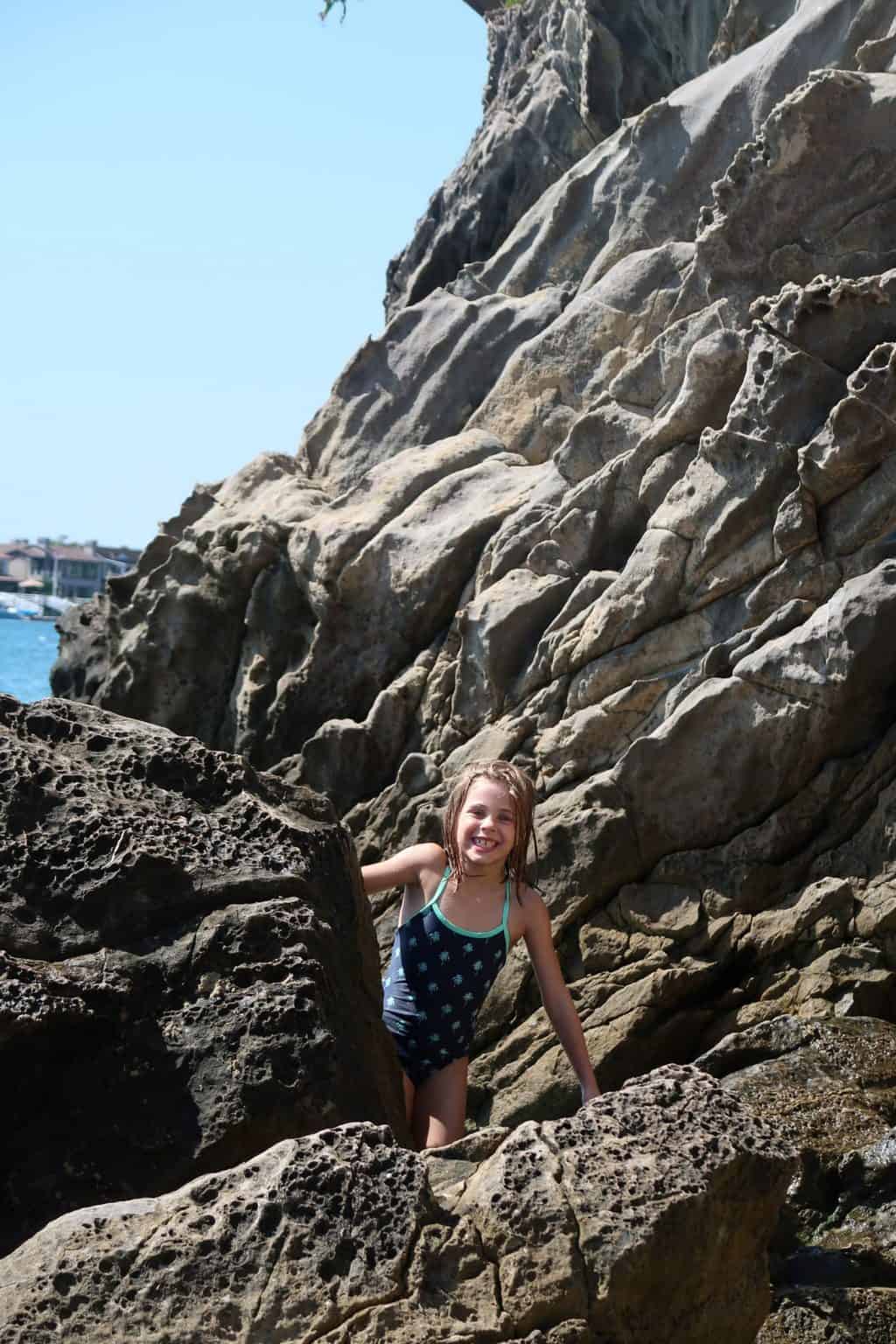 We walked around the cave area through the water to another small jut out beach that wasn't nearly as crowded or rowdy 😉 But just as beautiful!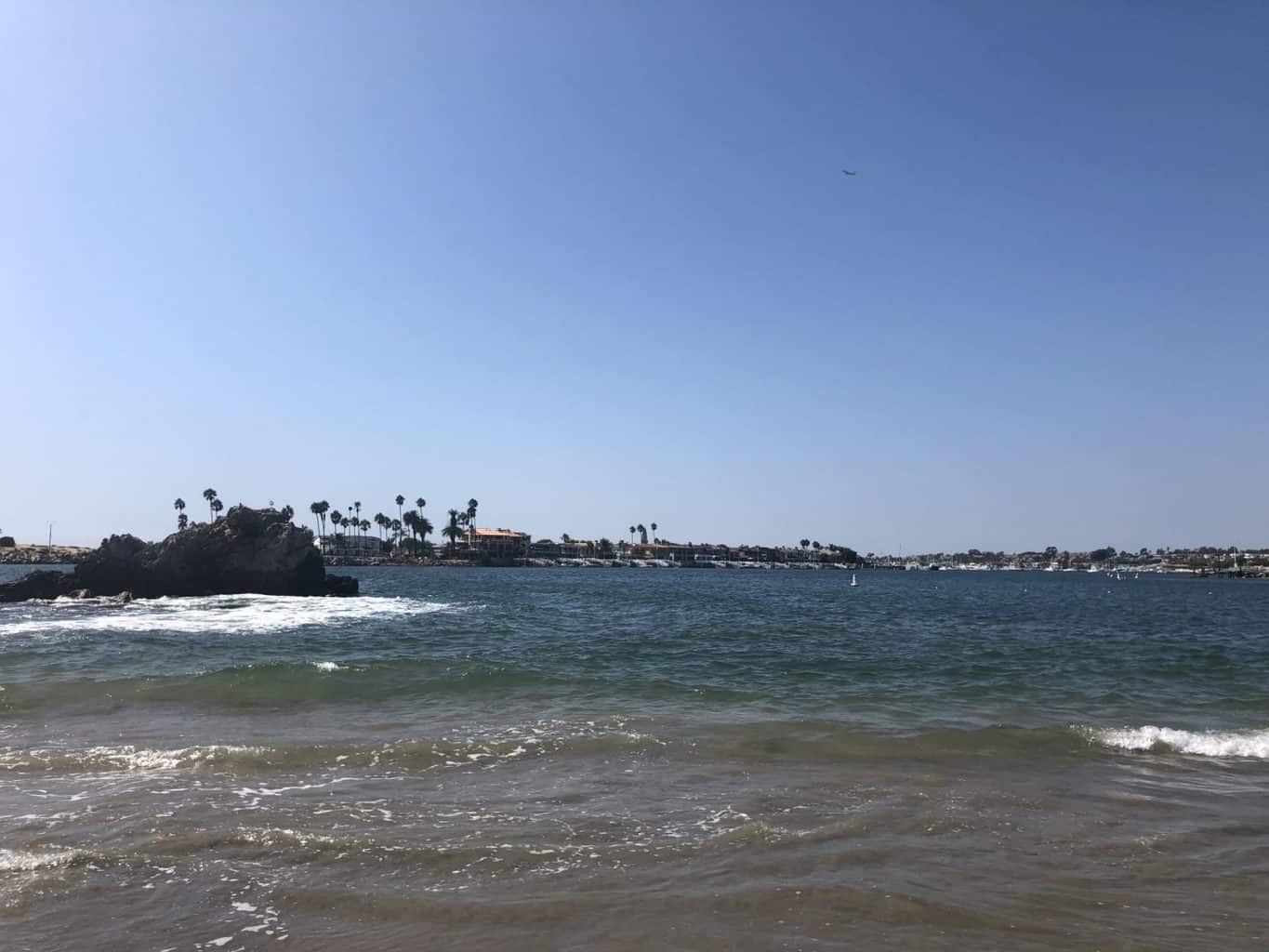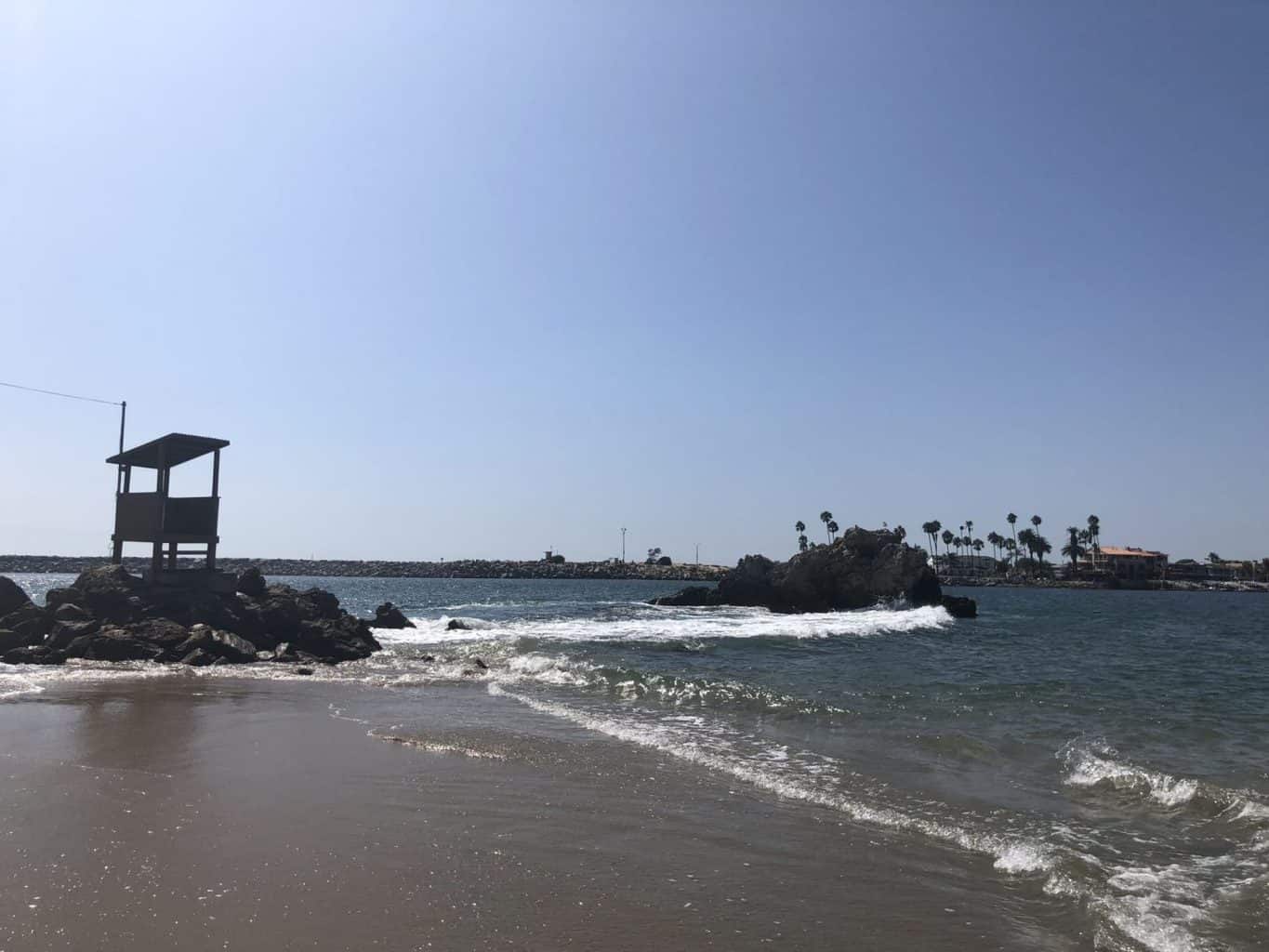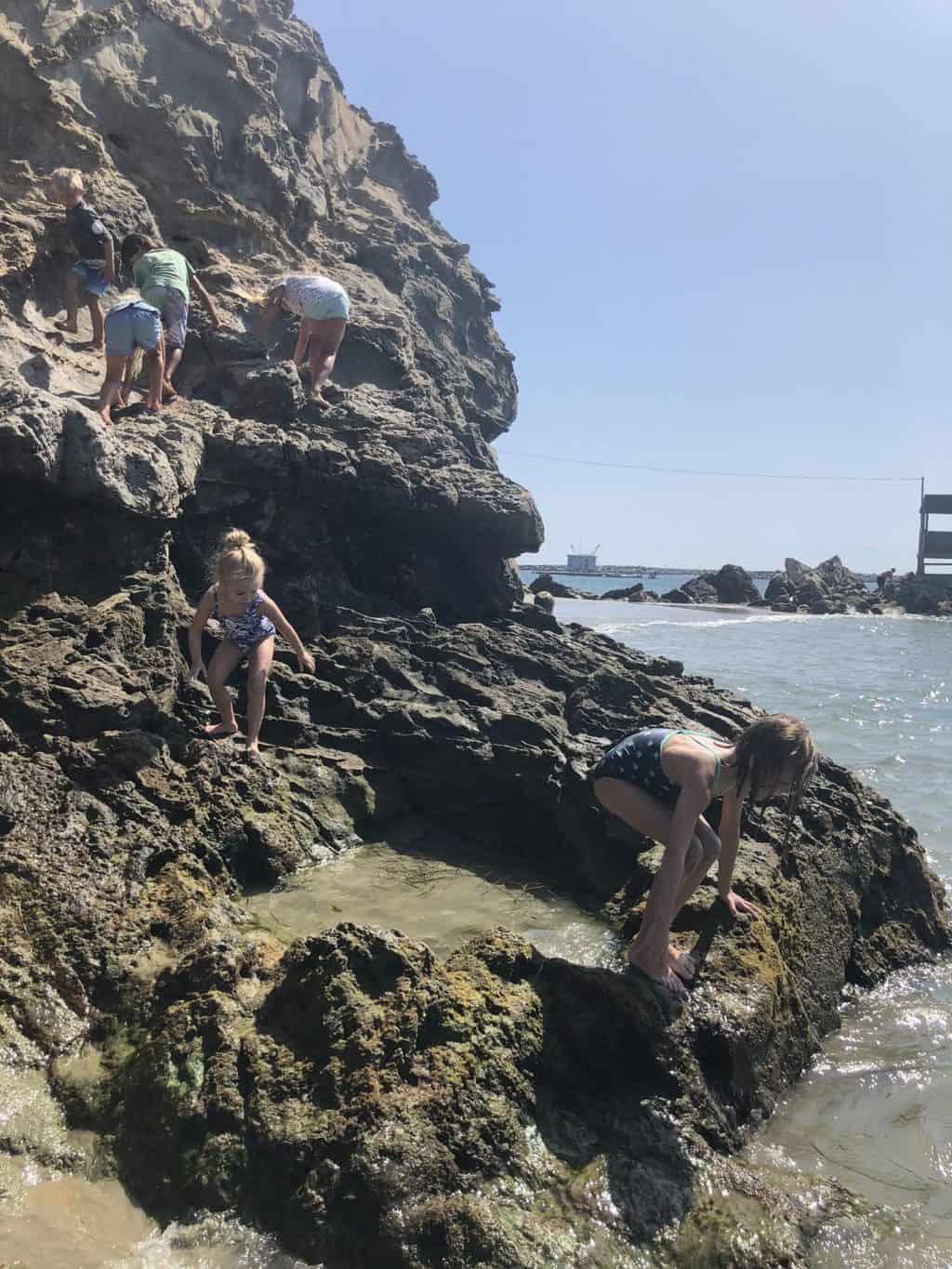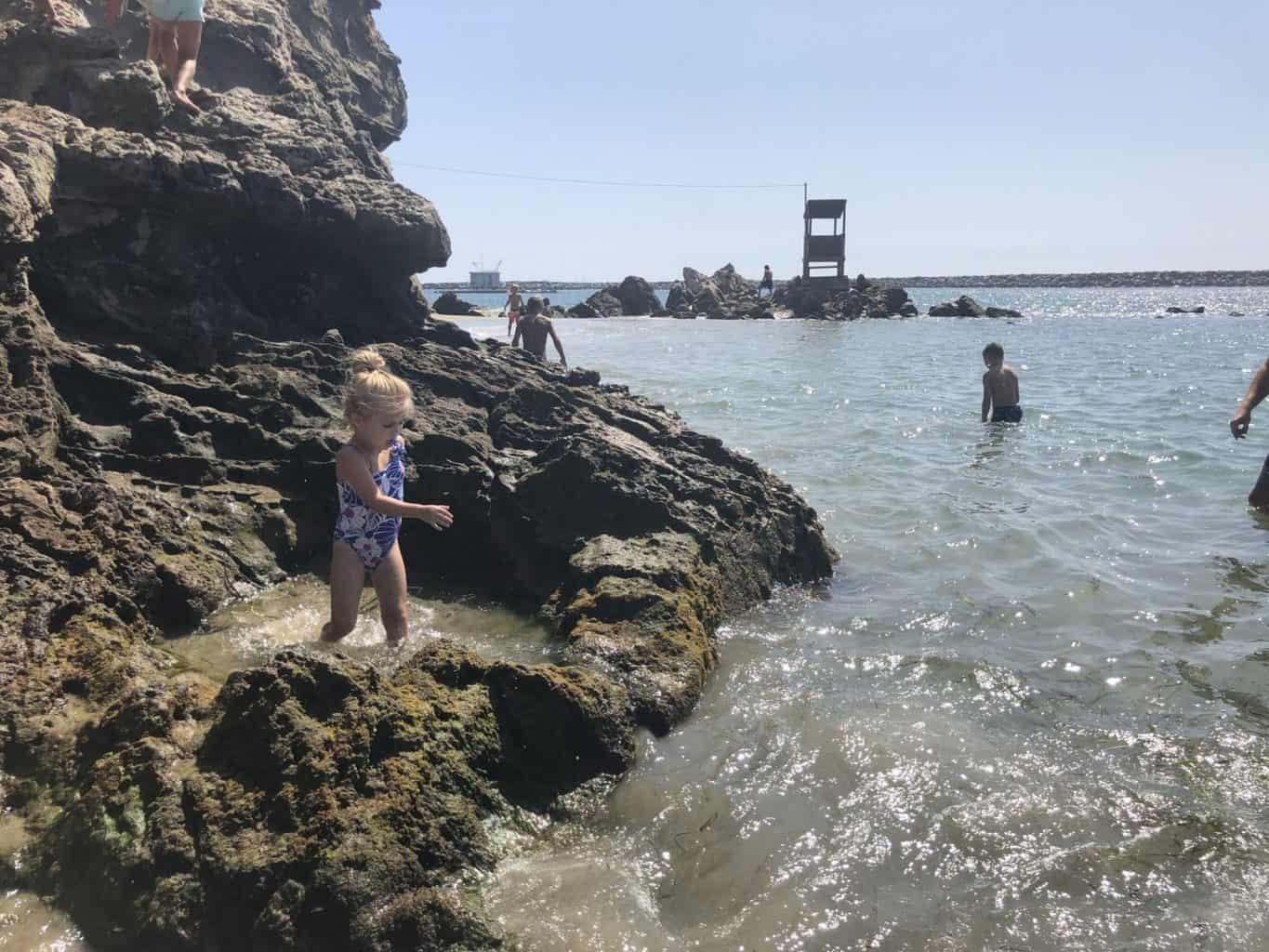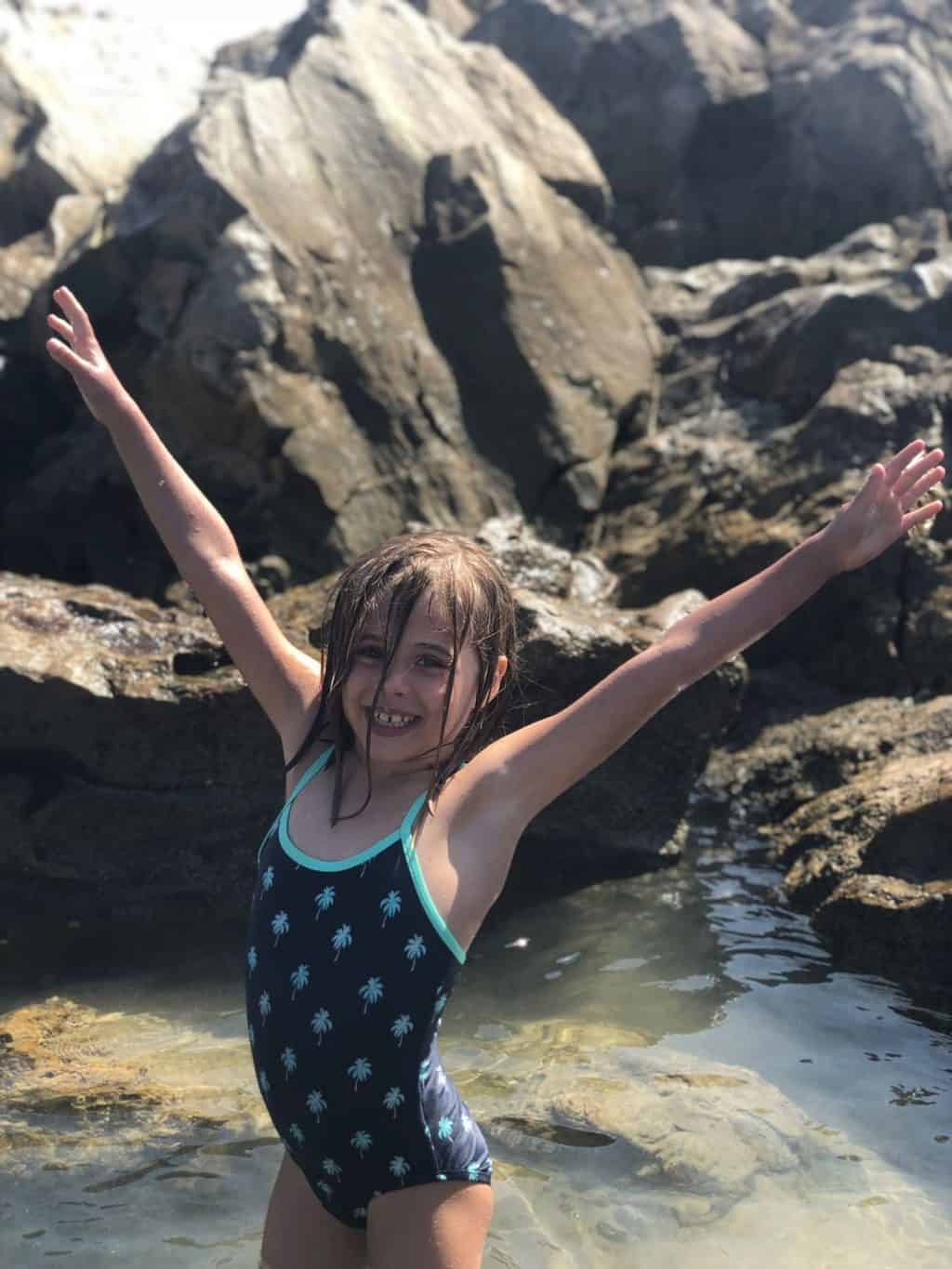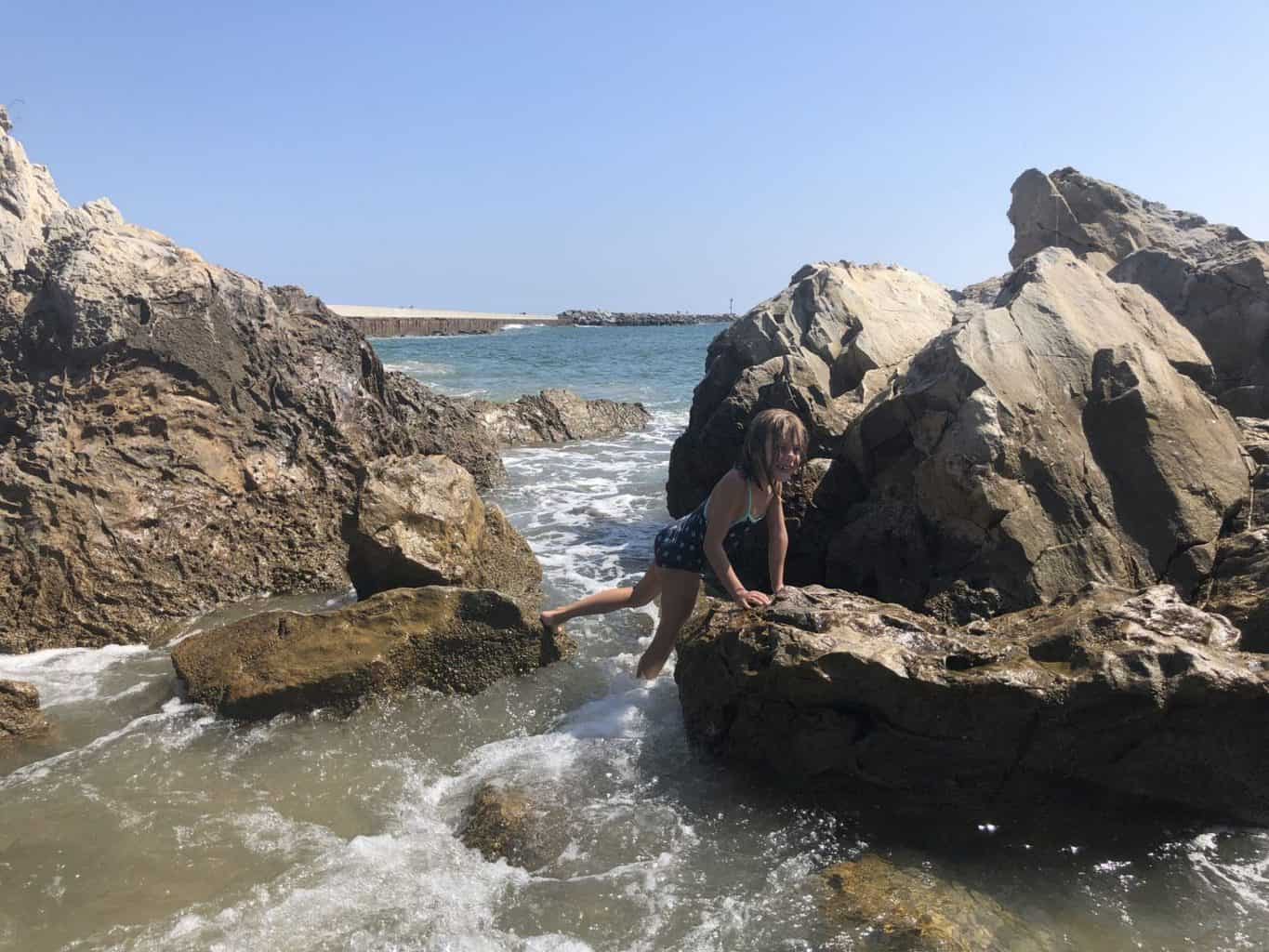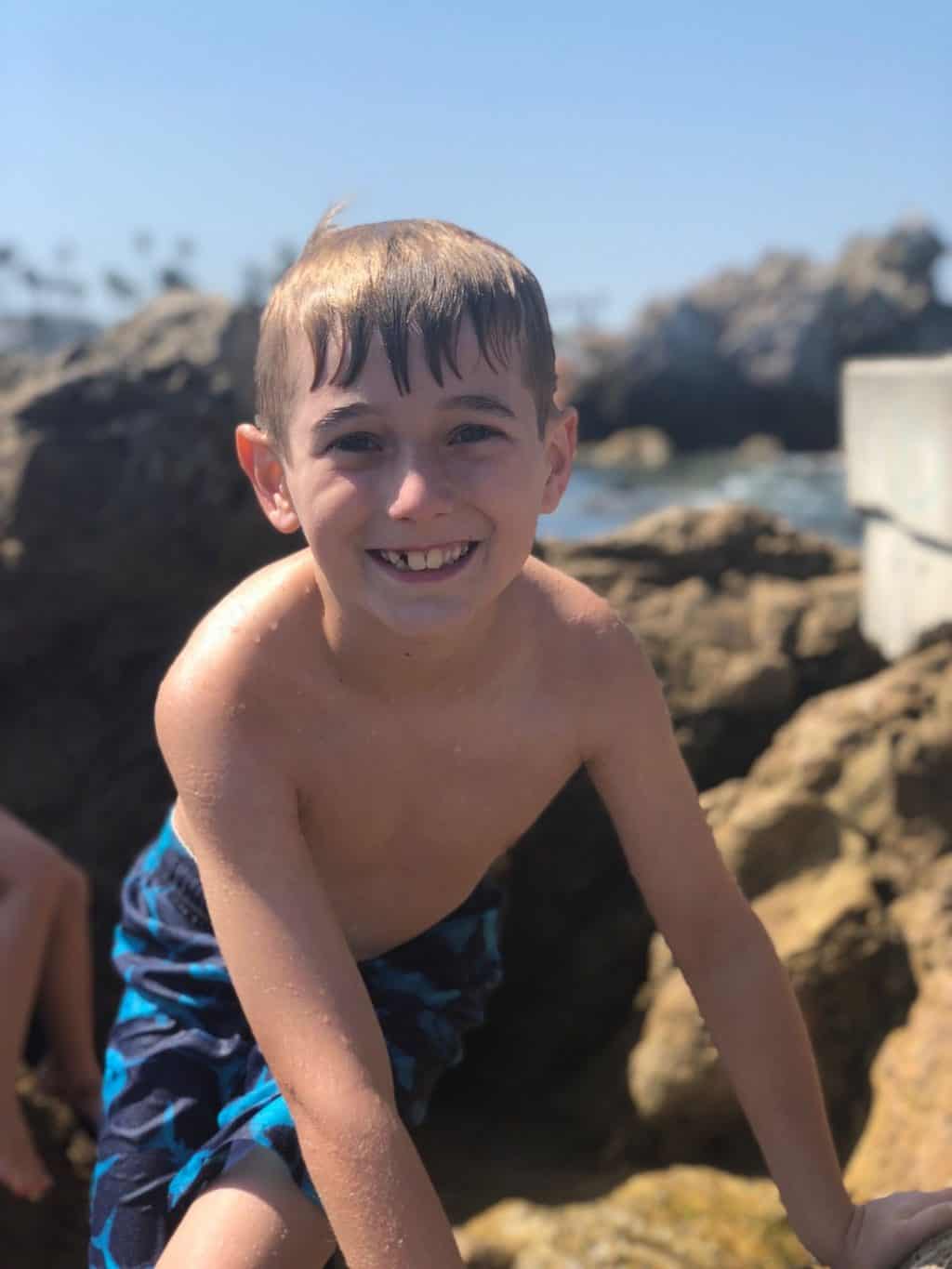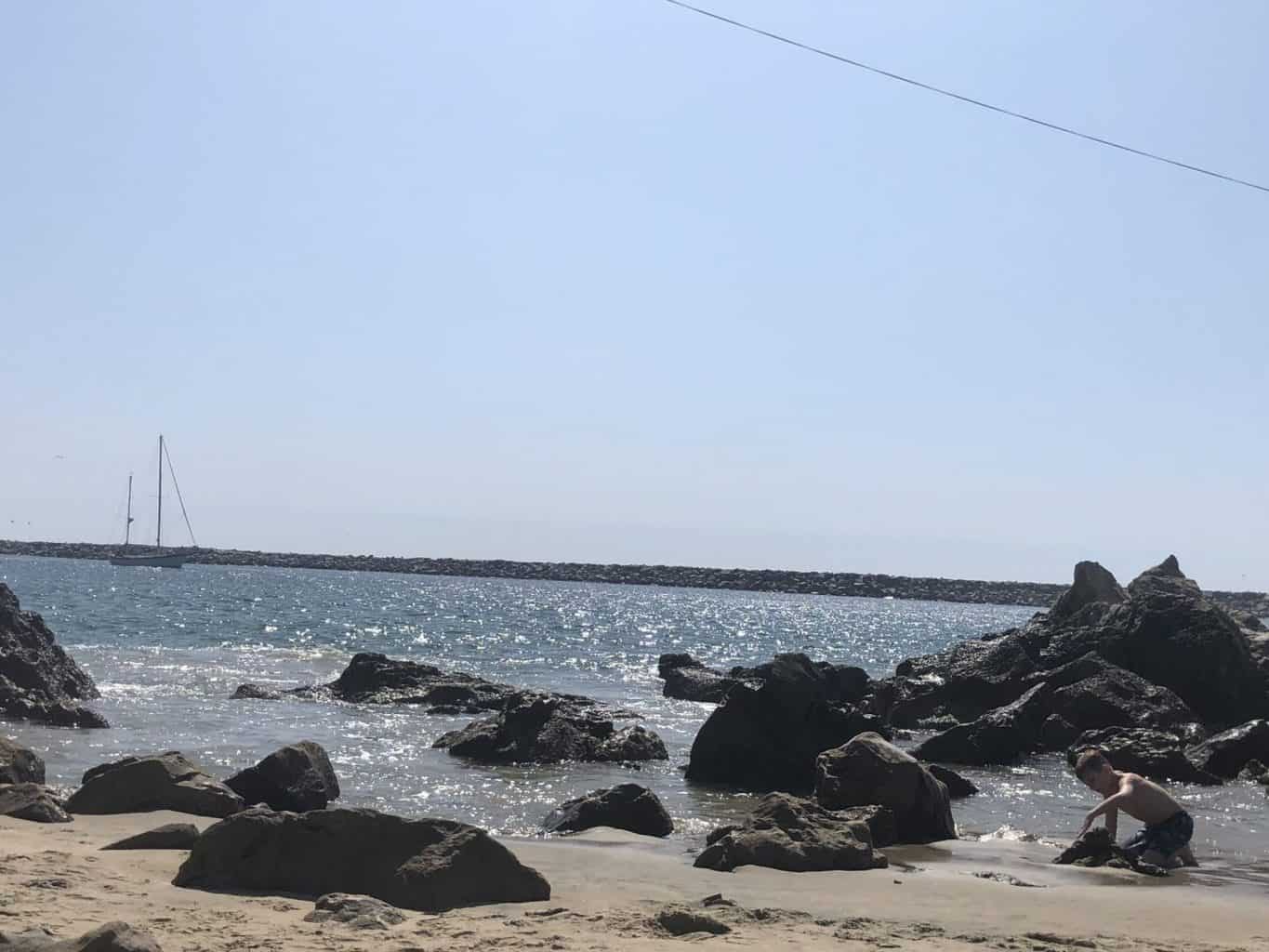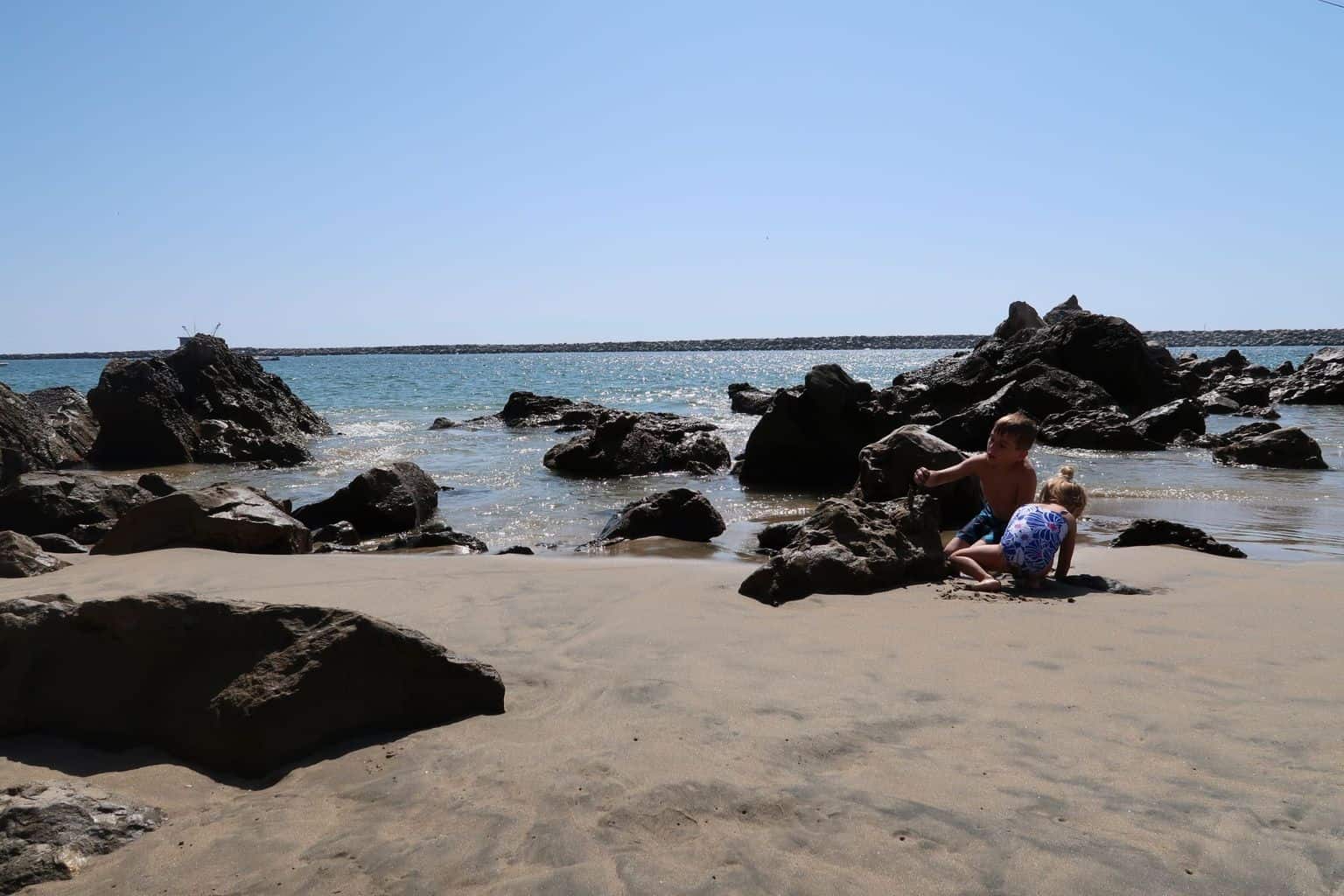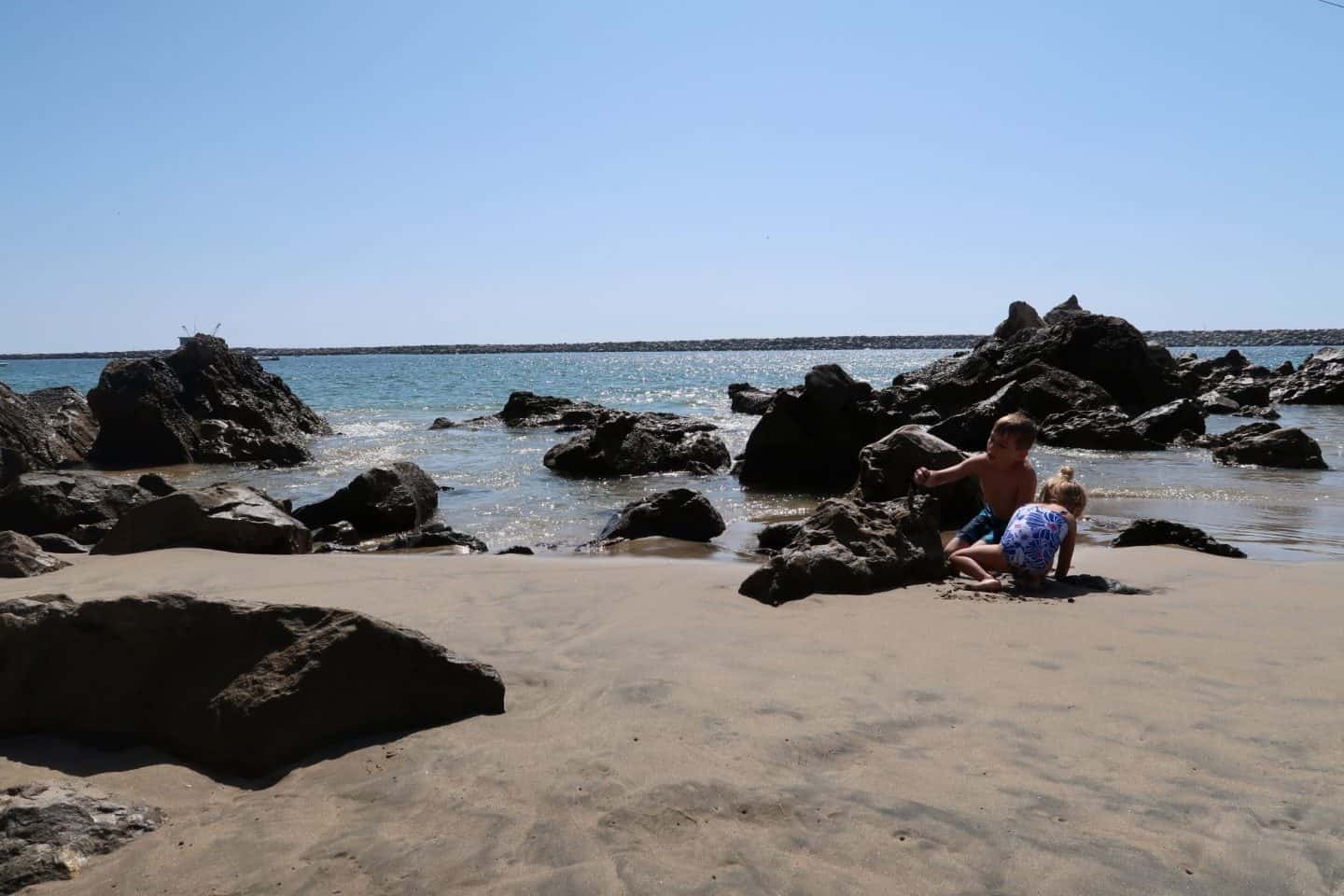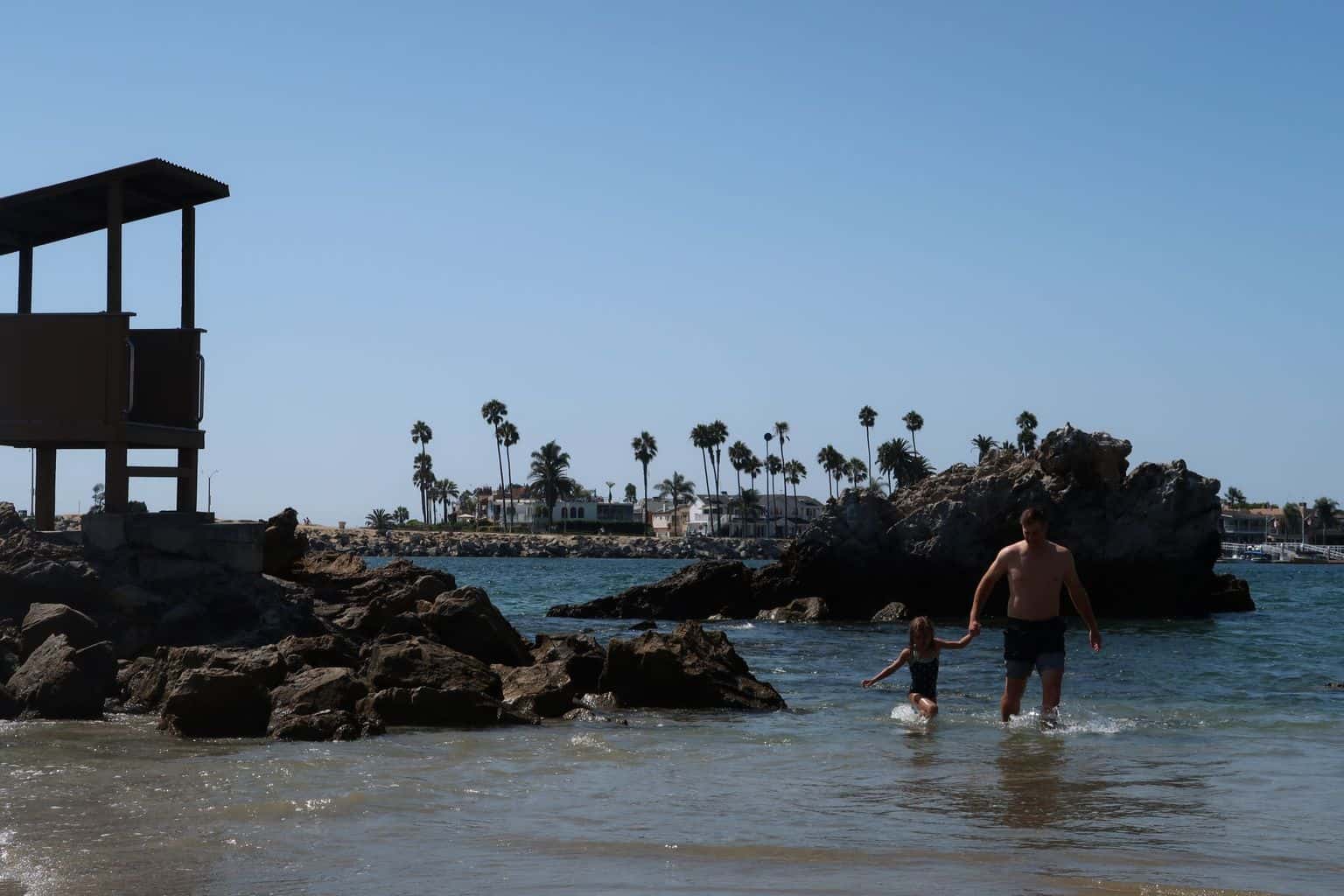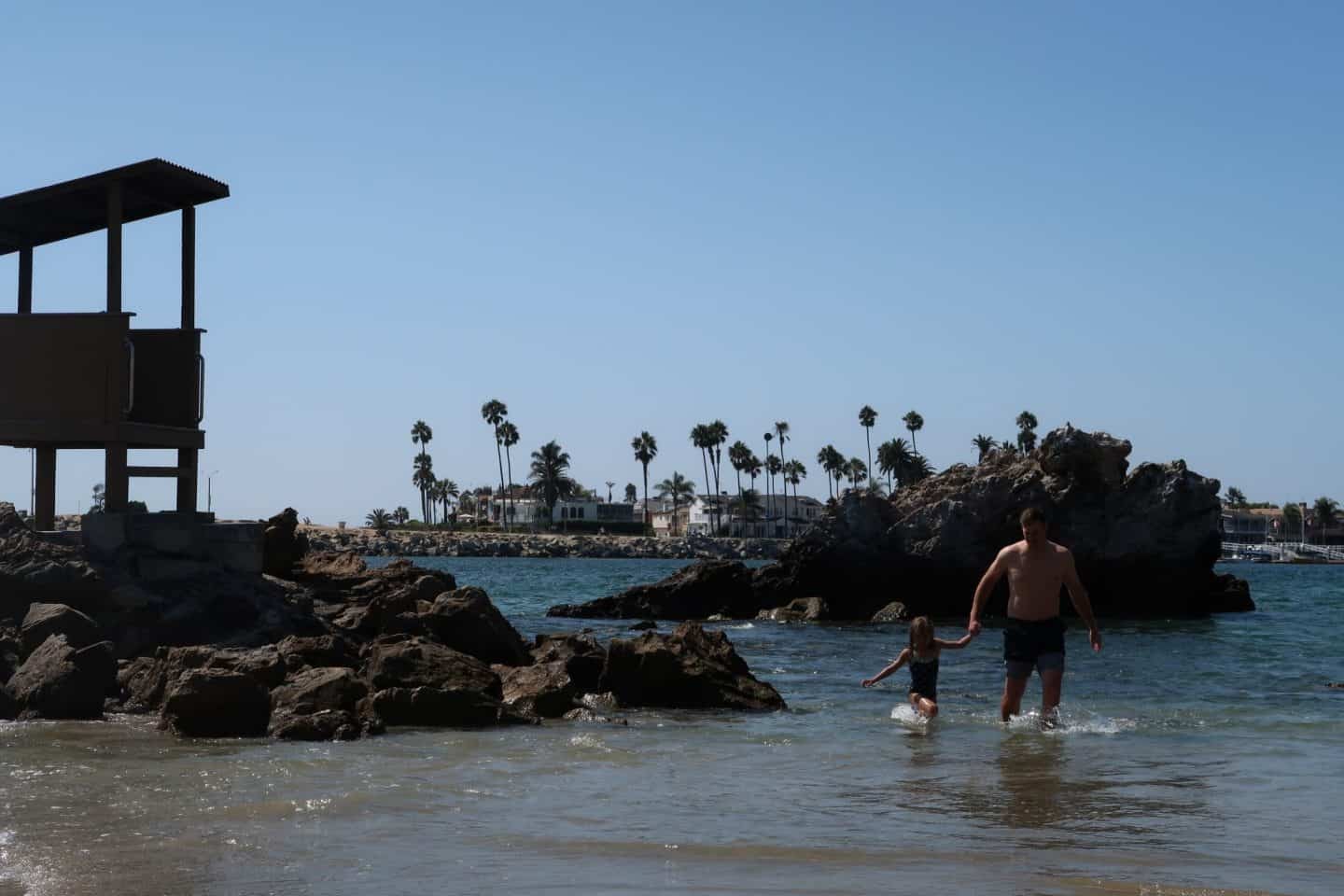 There may have been signs posted about not climbing on the rocks but I mean who listens to those signs, right? 😉 Apparently not any kids who must have been skipping school. We saw some more interesting teenagers coming down to the area where we were. This one young couple was cute to watch until they made out like crazy haha.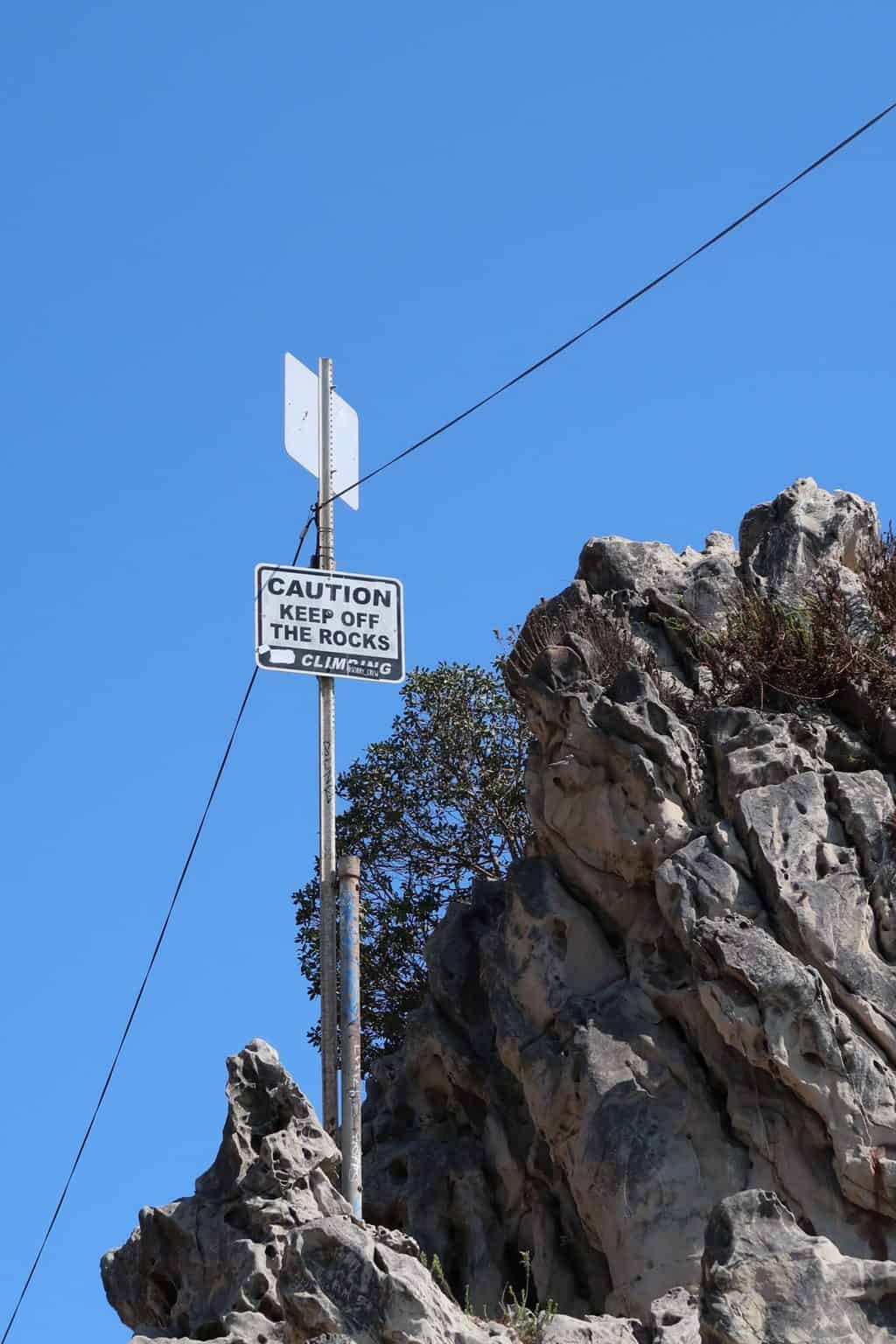 The adventurous ones!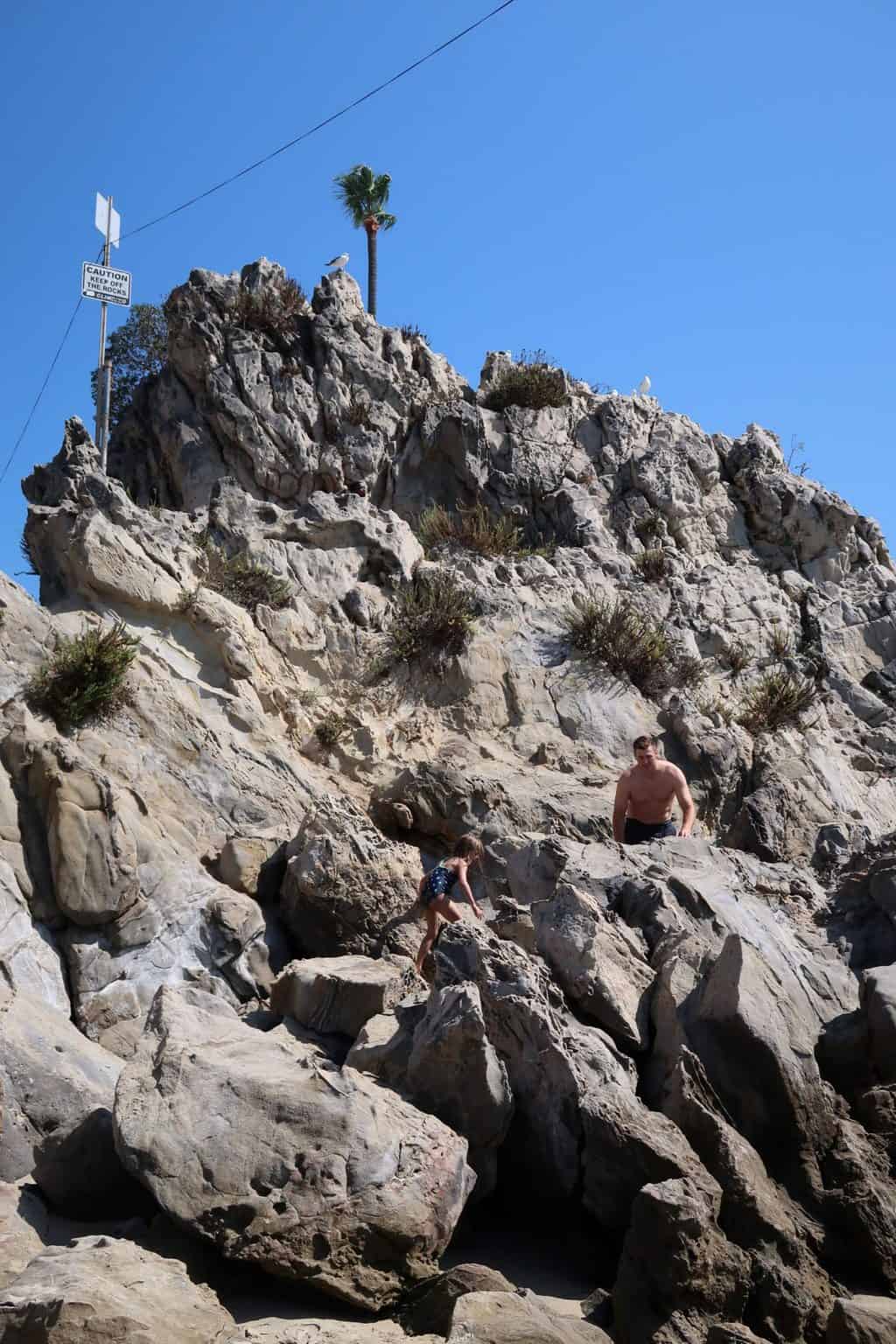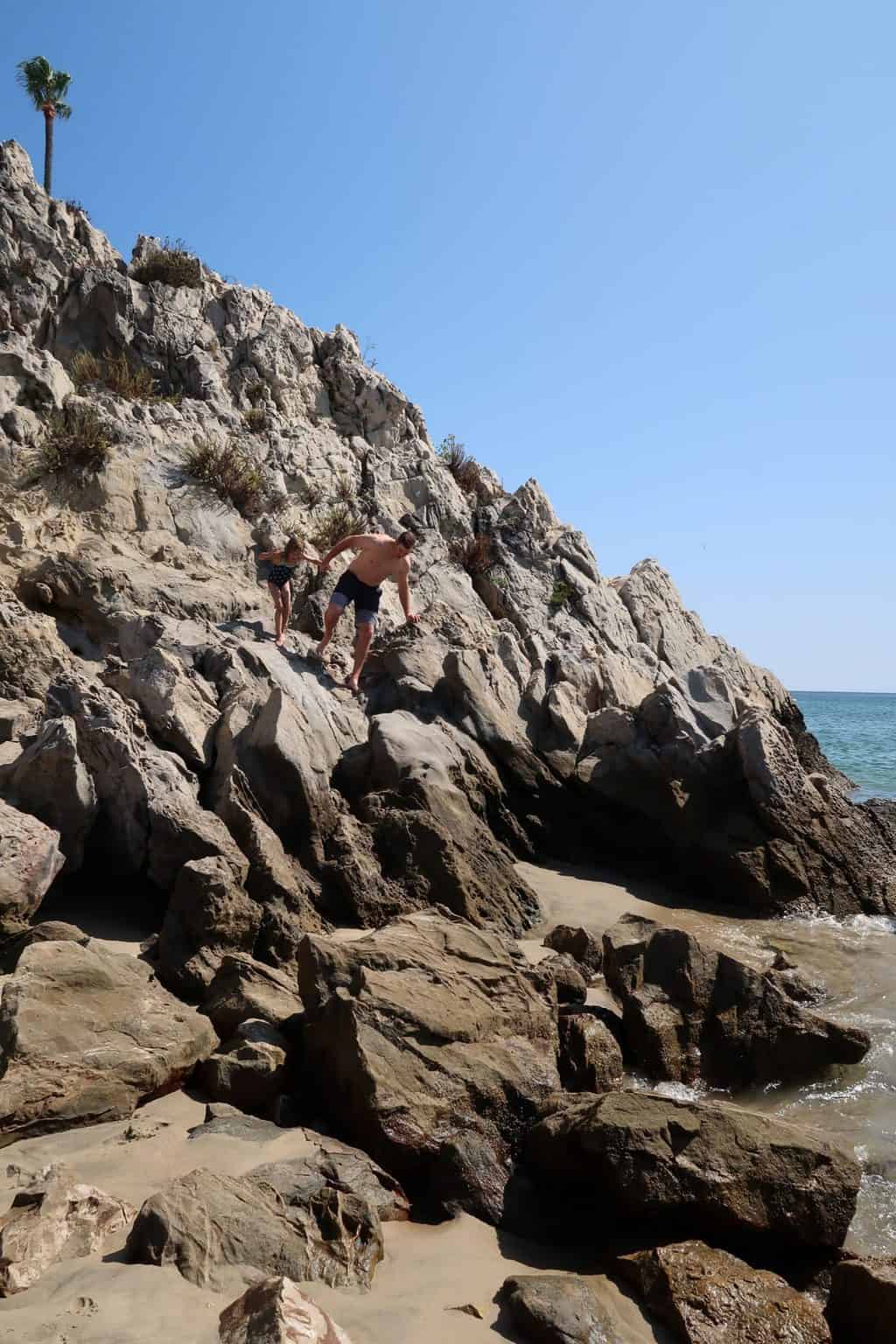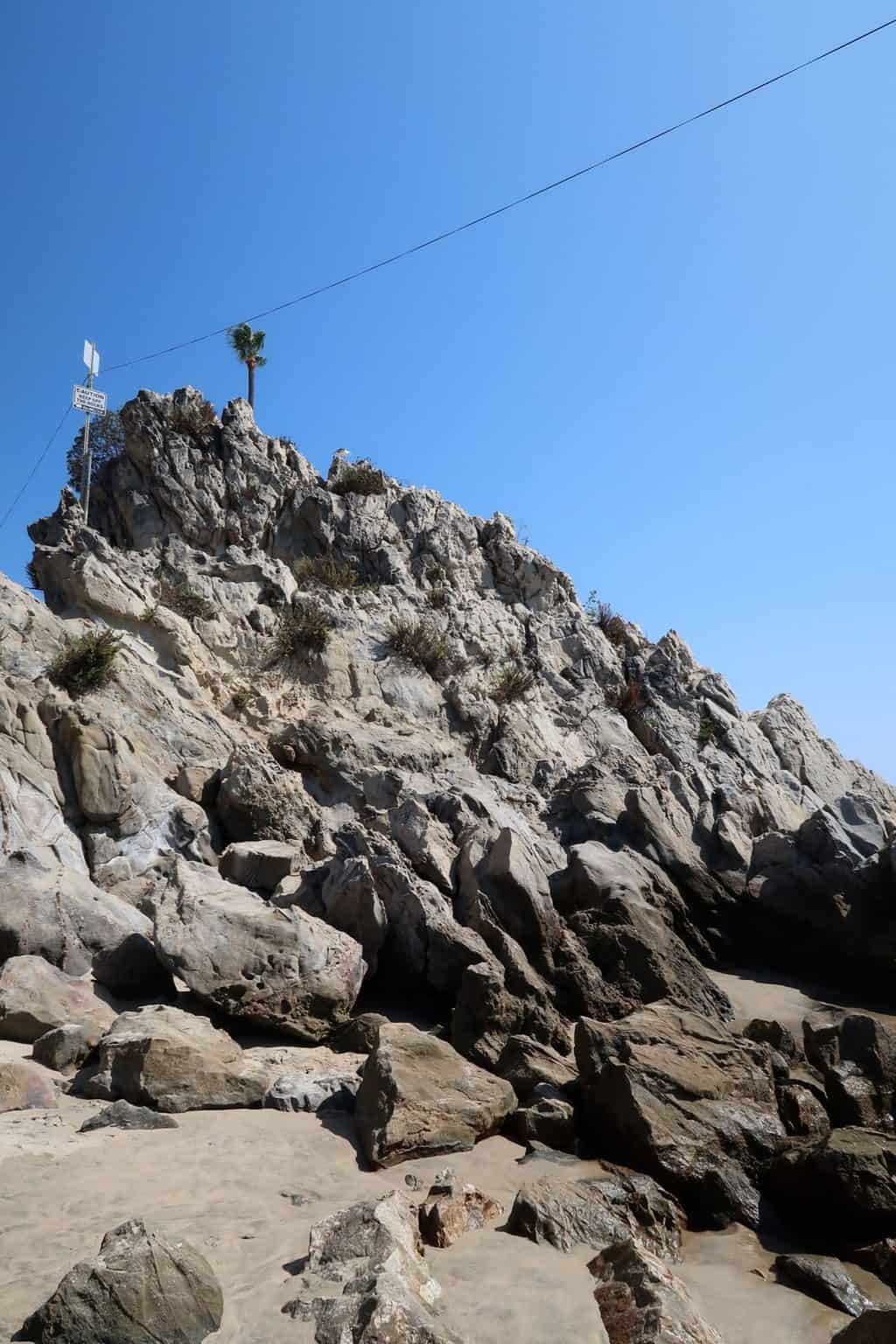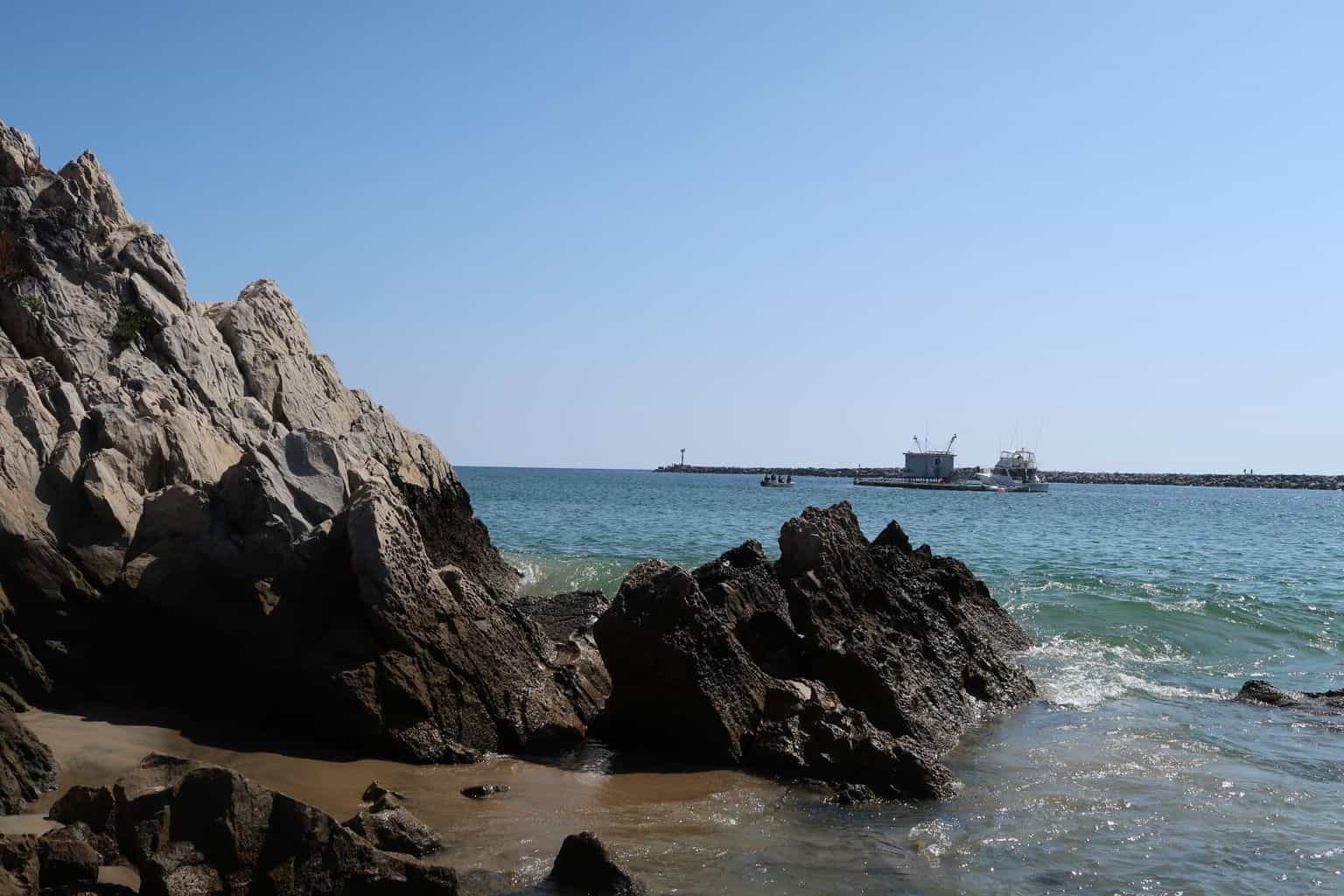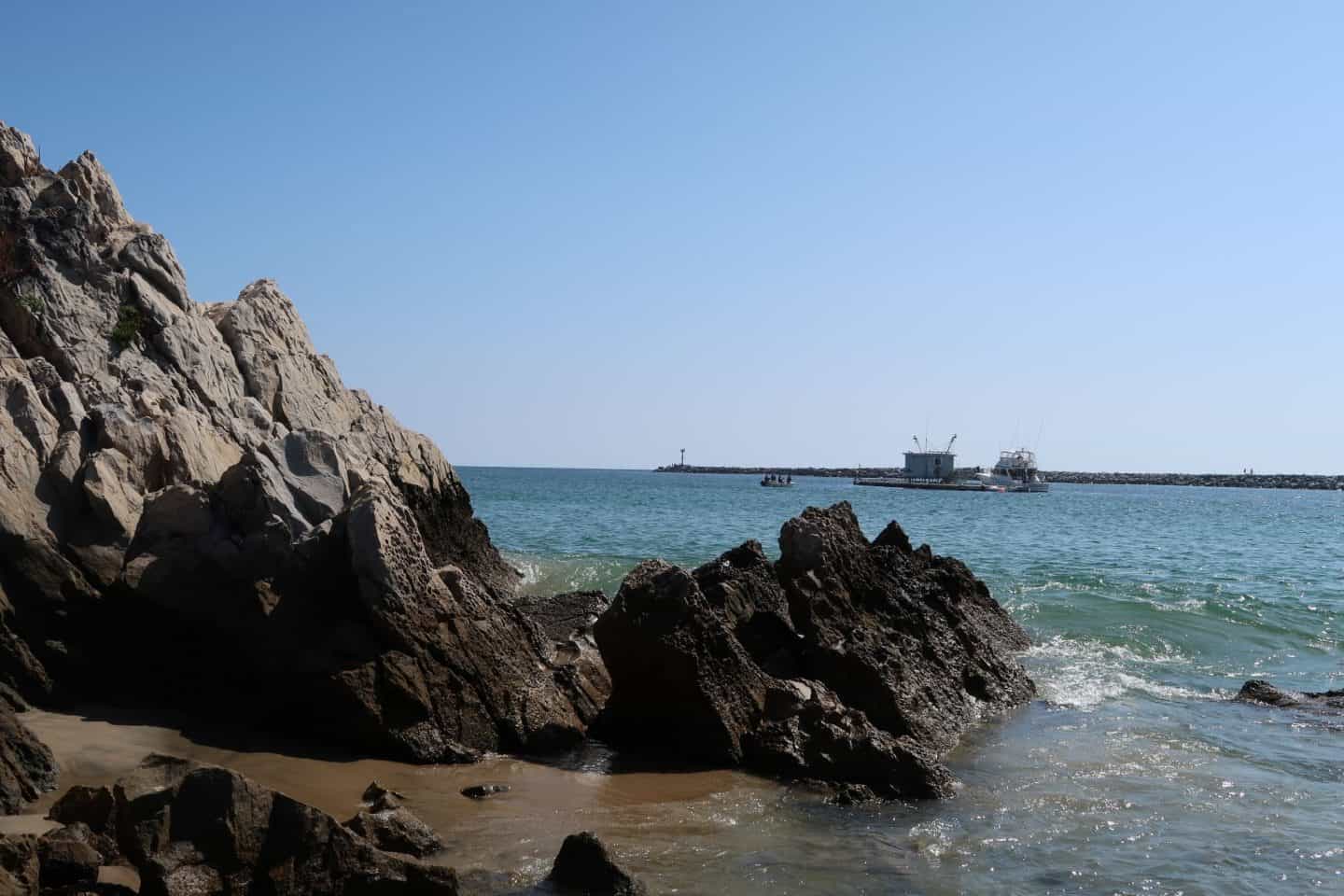 A couple of our "pals" from the cave area made their way over to the lifeguard stand. Y'all. I'm pretty sure they were doing more than just admiring the views. Whew. Not a sight I ever want to see again.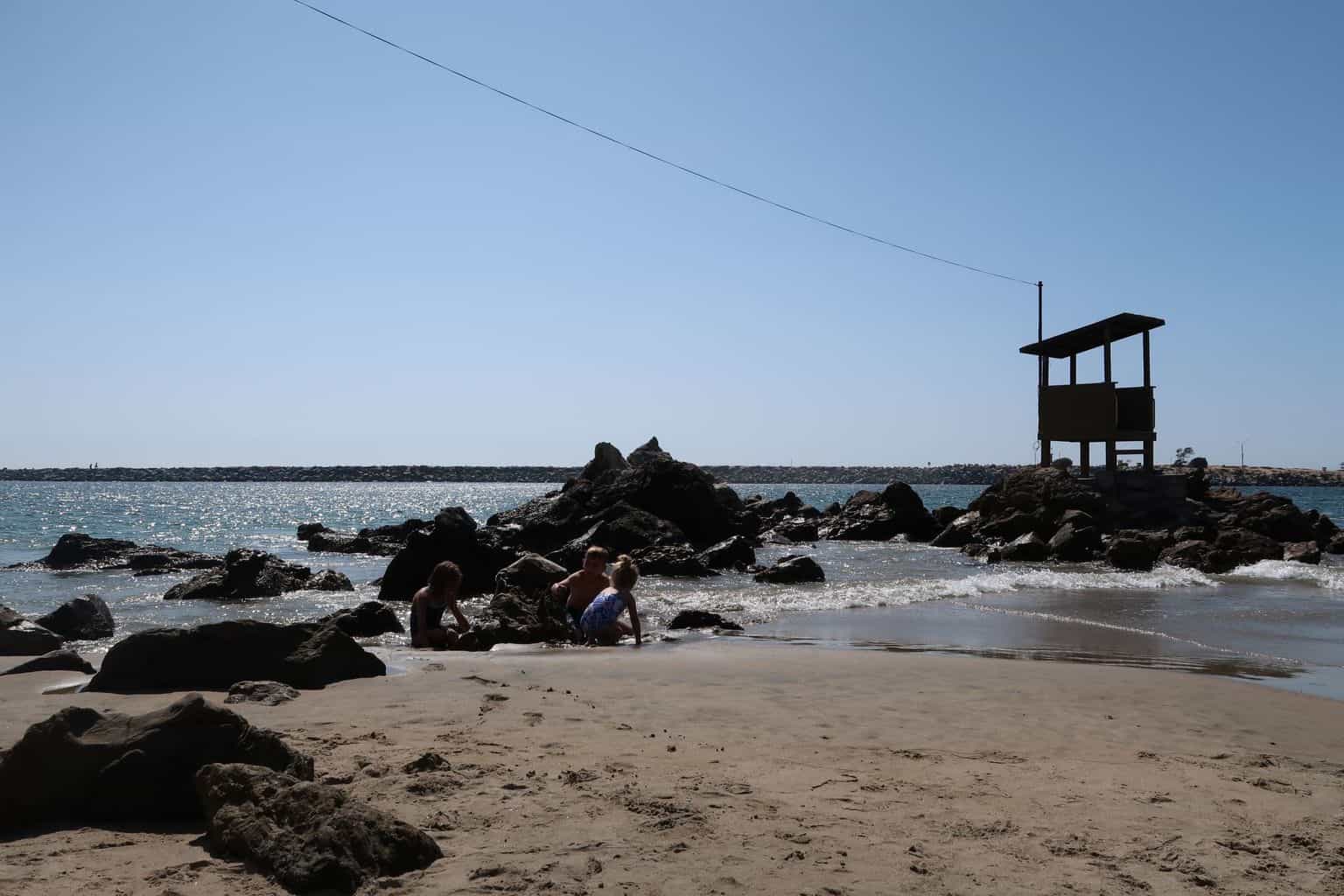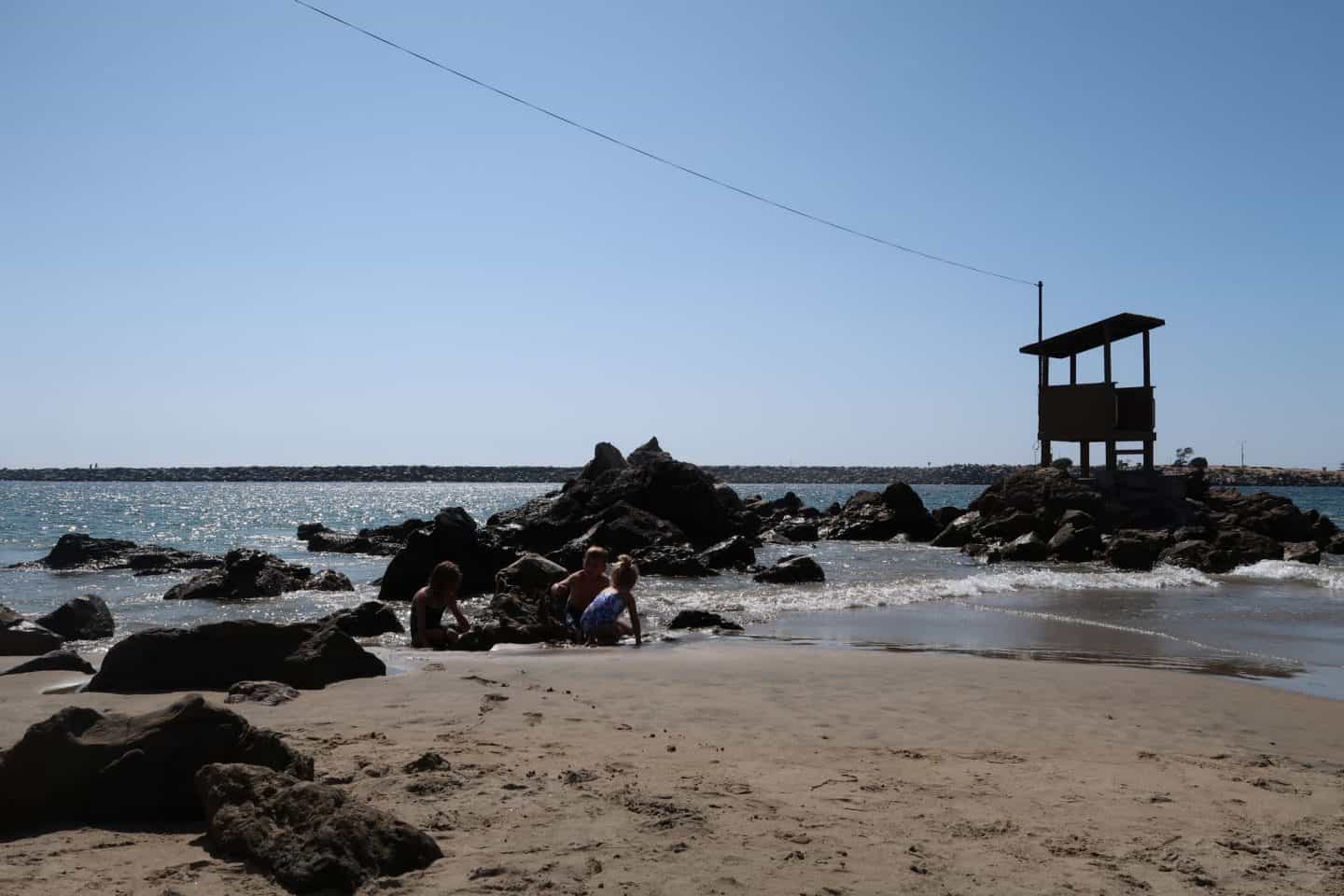 While there were many interesting people watching opportunities…we just loved watching the kids enjoy such a different experience and an environment they've never experienced before.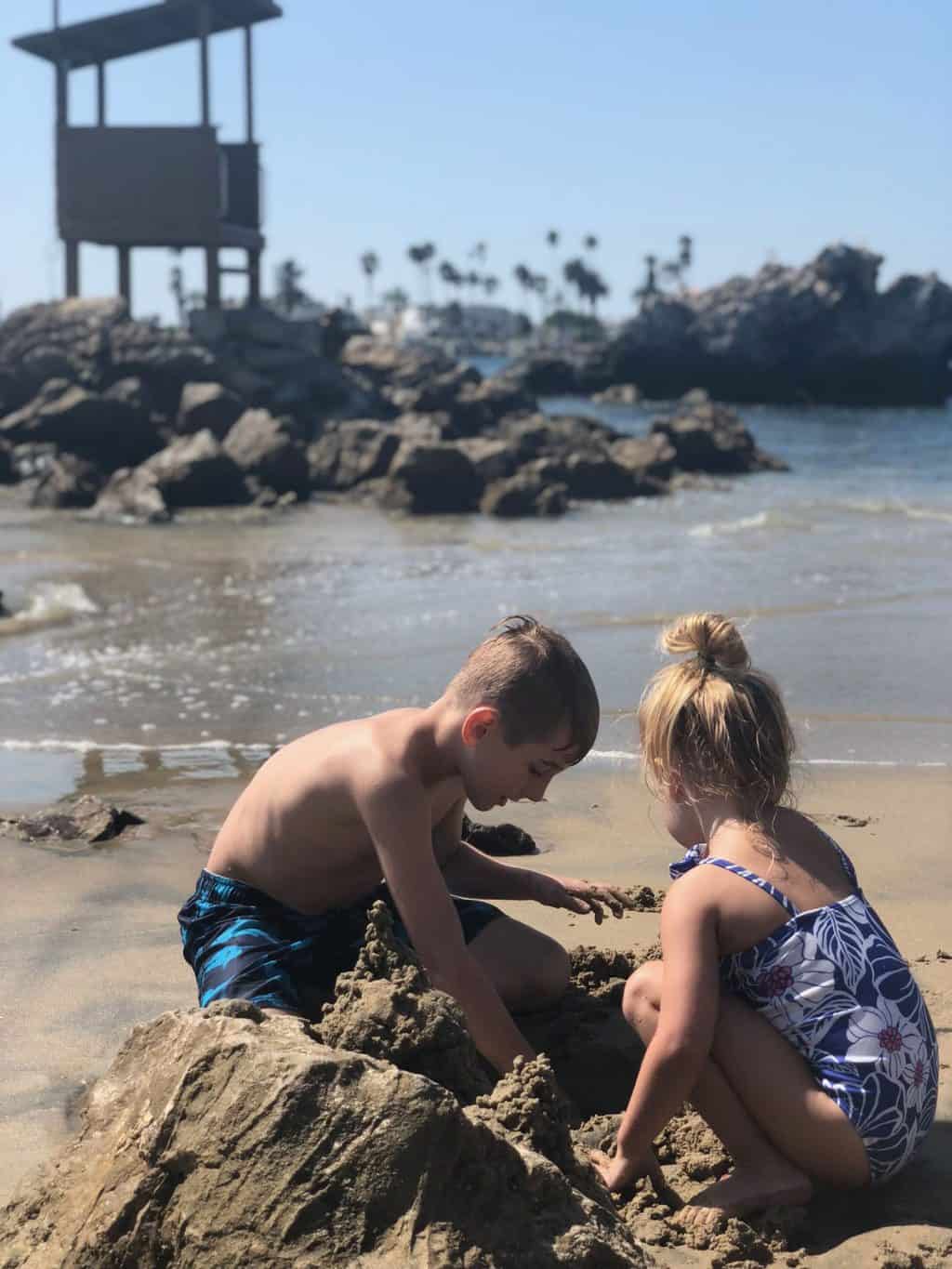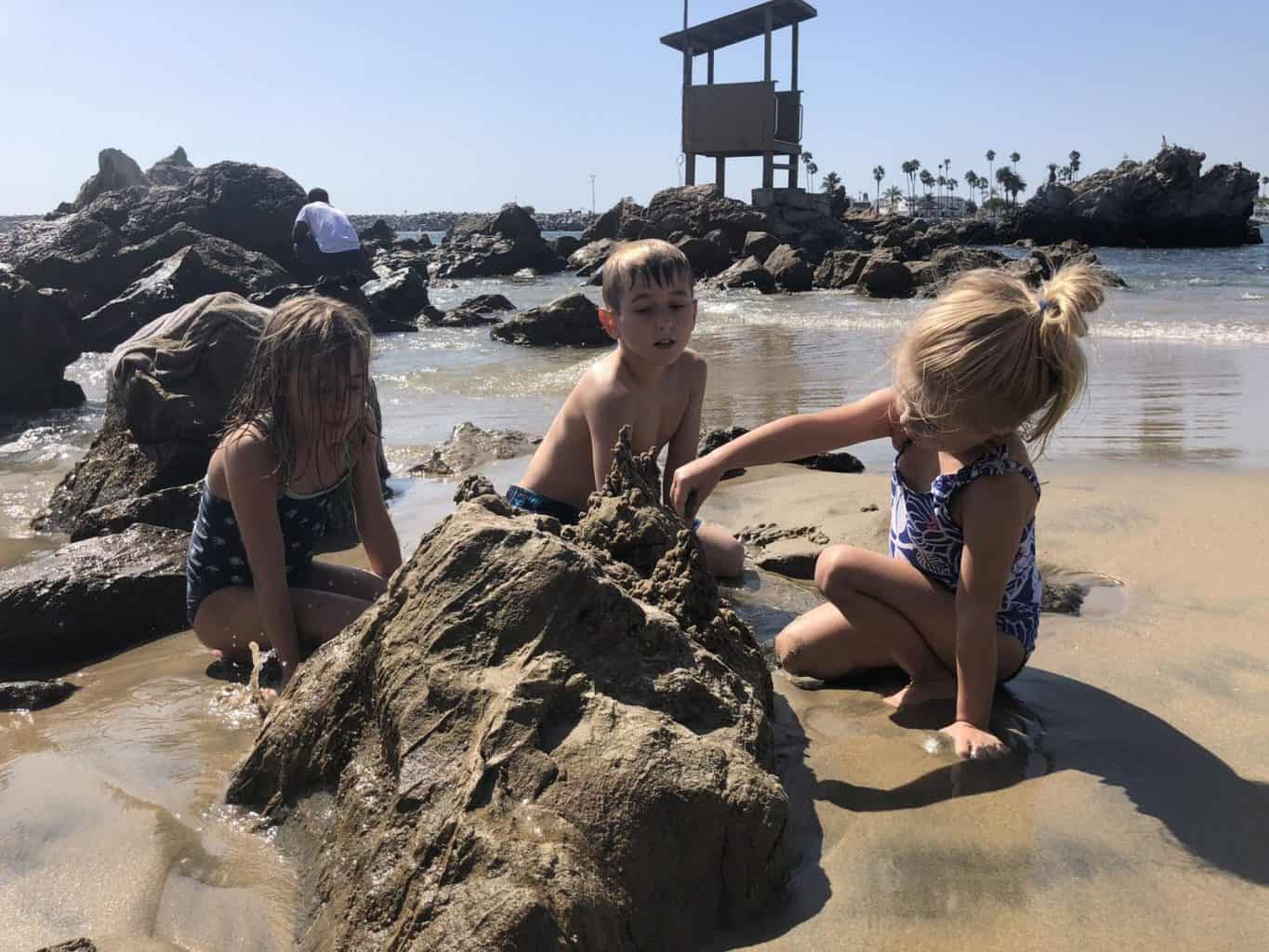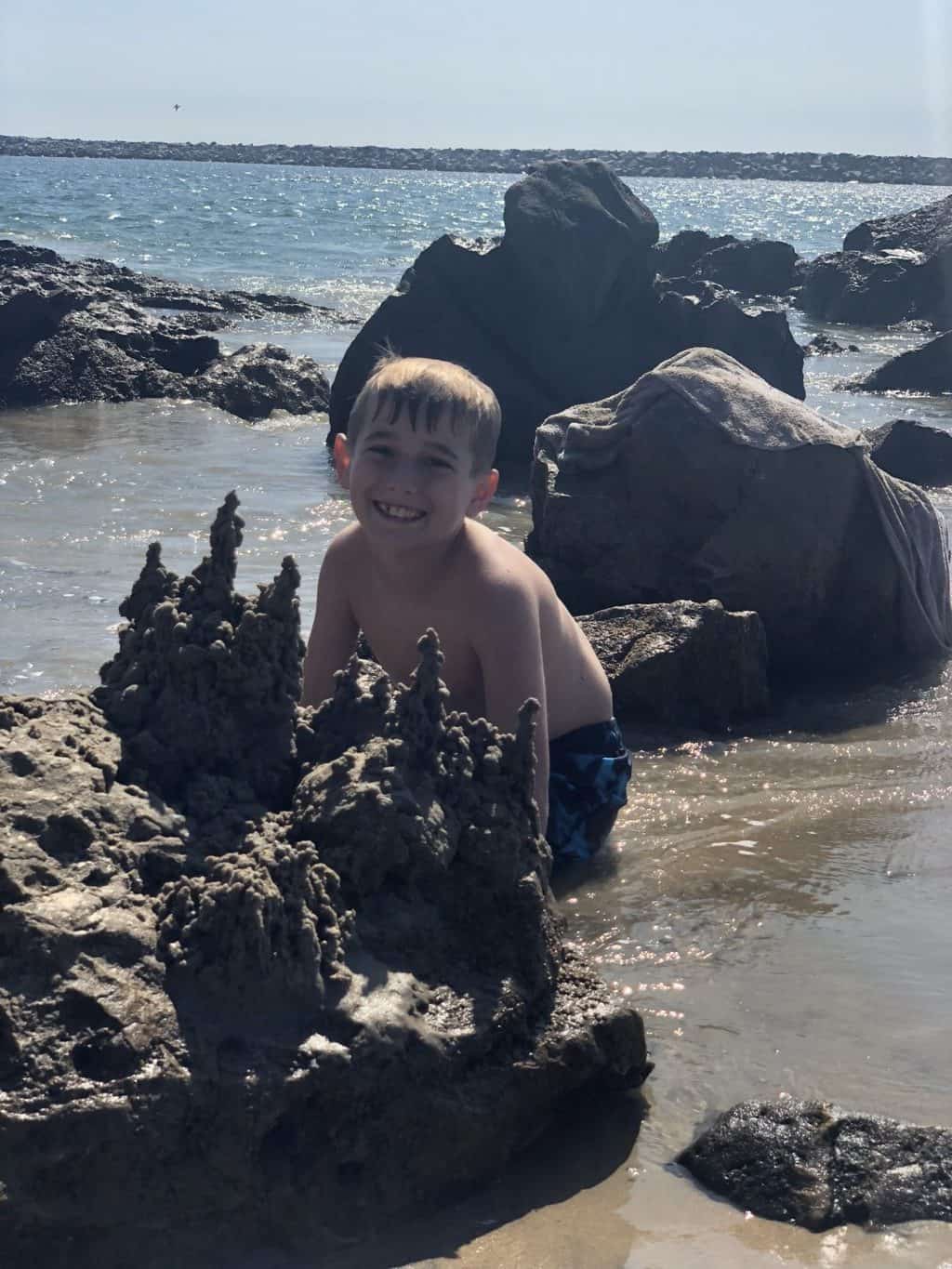 Ok I promise this is the last random people thing I'll comment on. But y'all. It was HILARIOUS. This young girl in a bikini came down to the area where we were at with this much older man. Maybe her dad? Maybe her manager? Maybe her sugar daddy? Maybe her personal Instagram photographer?
Whatever he was he was very patient with her as she posed A BILLION different ways A BILLION different times for A BILLION different photos. She did all the classics. The lay in the water shot. The booty shot looking out into the horizon. The lay across the rocks shot like she was actually comfortable laying on rocks. The splash herself in the ocean shot.
She did 'em all.
She was the definition of living for the gram.
I was sooooooo tempted to go up to them and offer to take a photo of them together haha. He never got in a single picture. It was HILARIOUS. I plan to always remind Zach of this moment when he gets annoyed with me for wanting so many pictures. I could be worse. Much worse.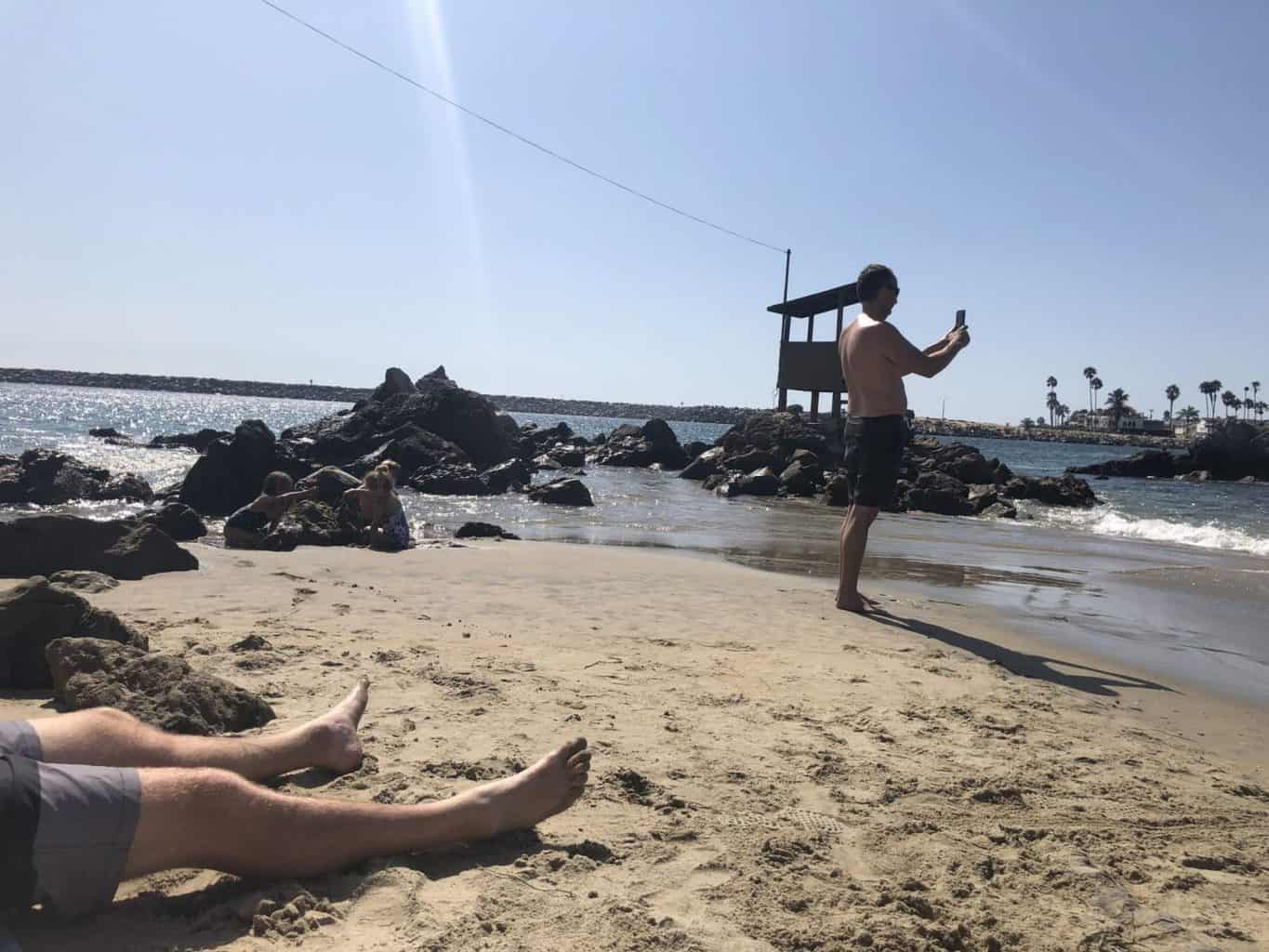 We spent a good while in our little secluded spot and then headed over to the public beach area to give the kids a chance to play in the waves a bit.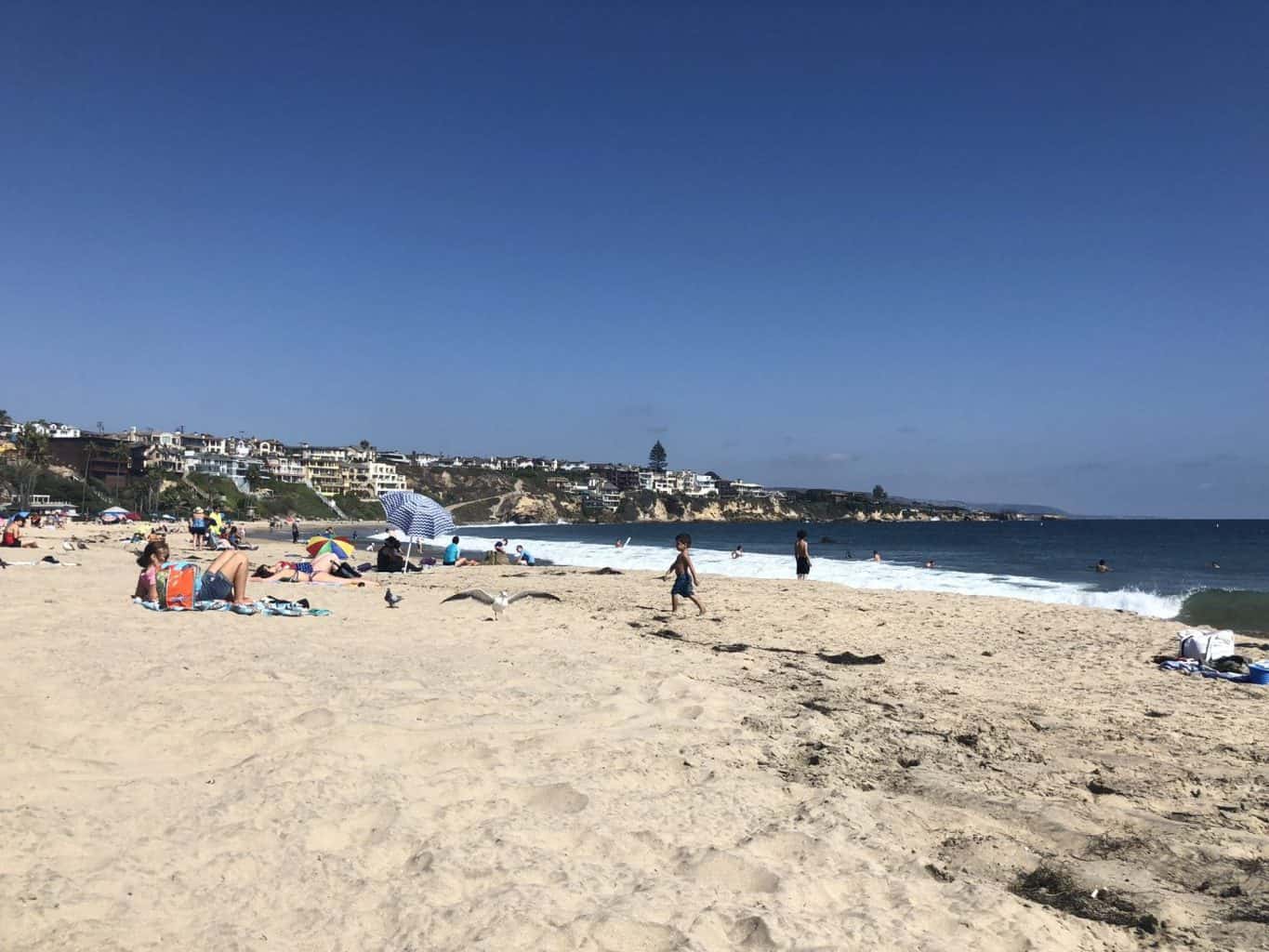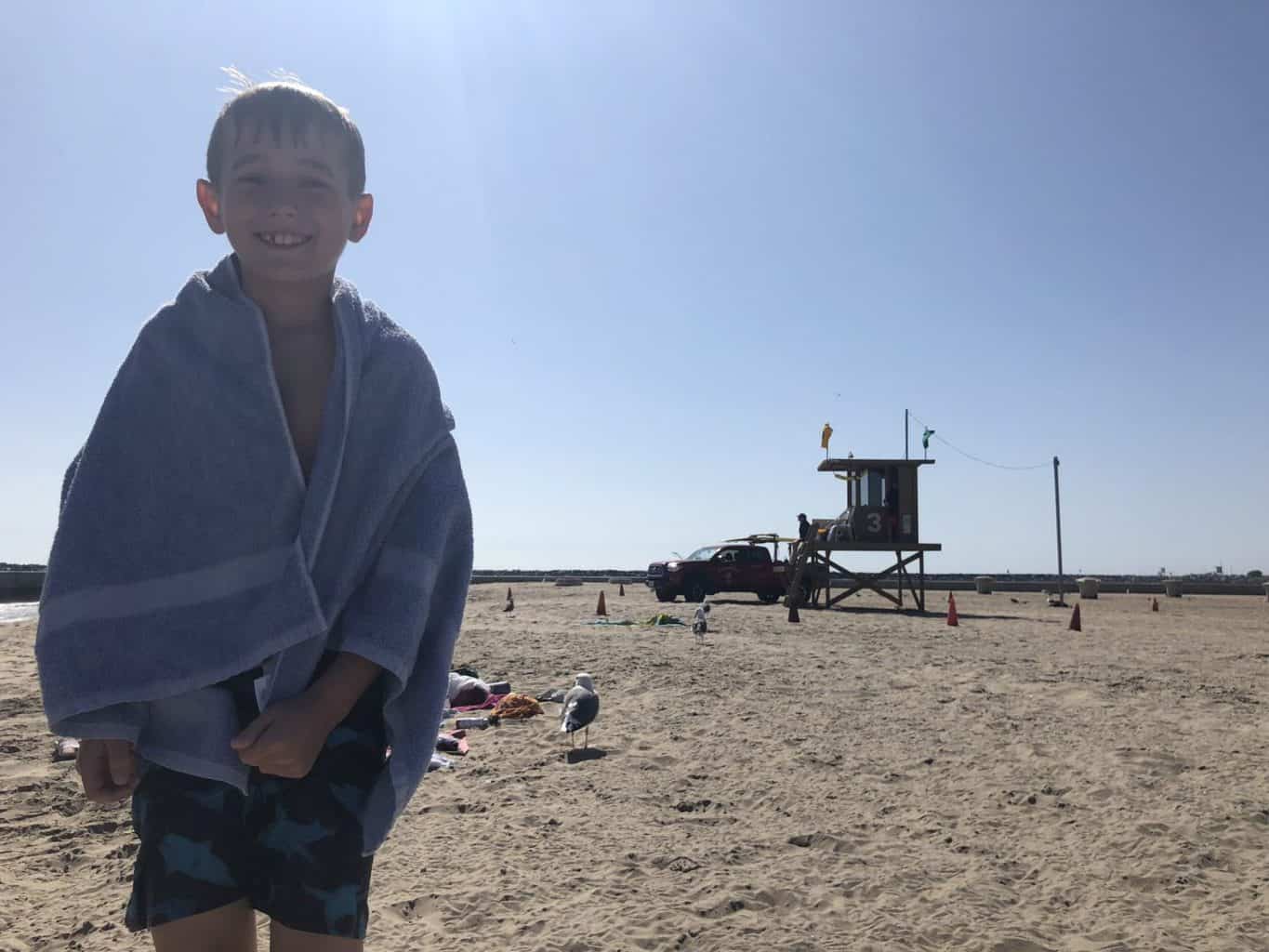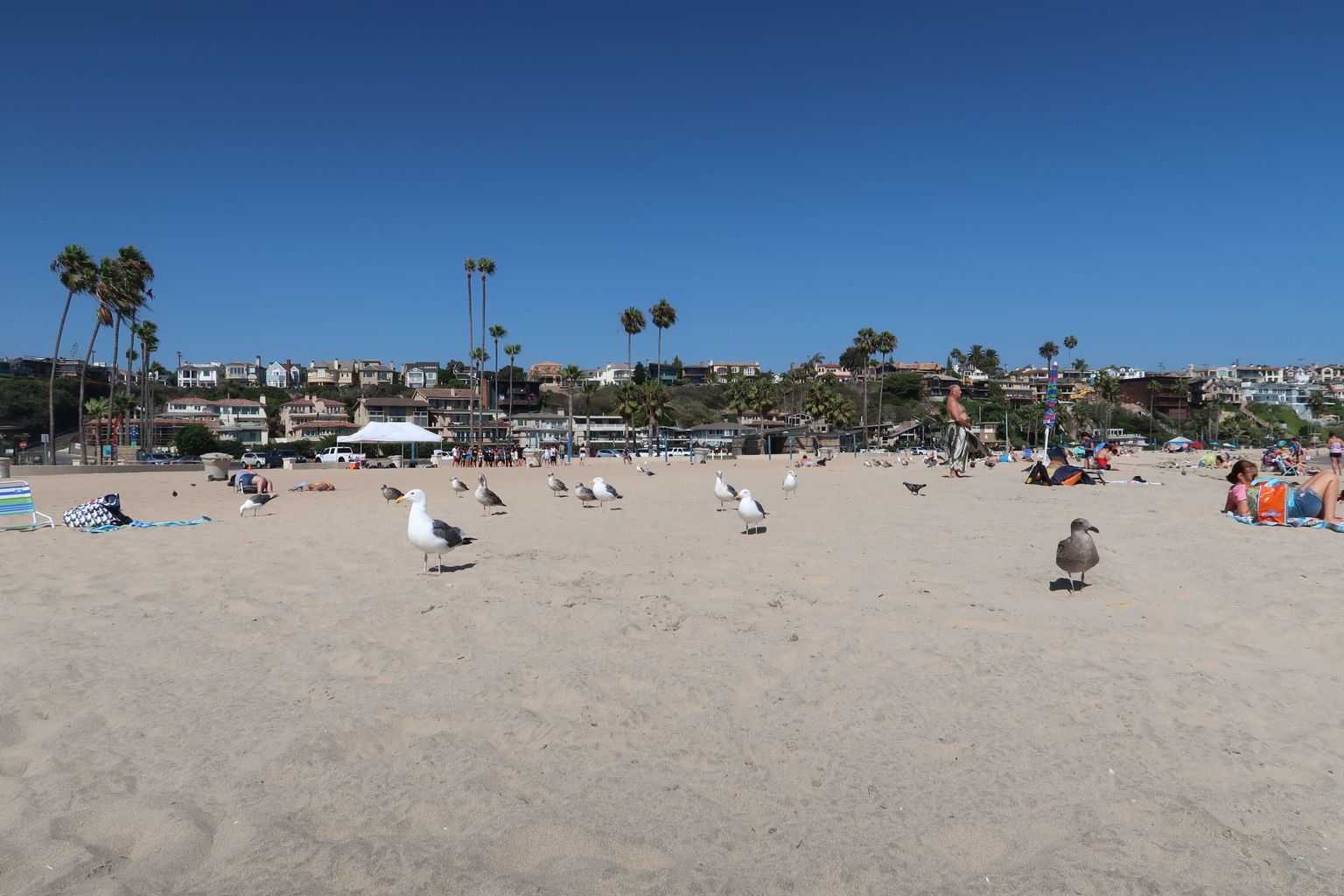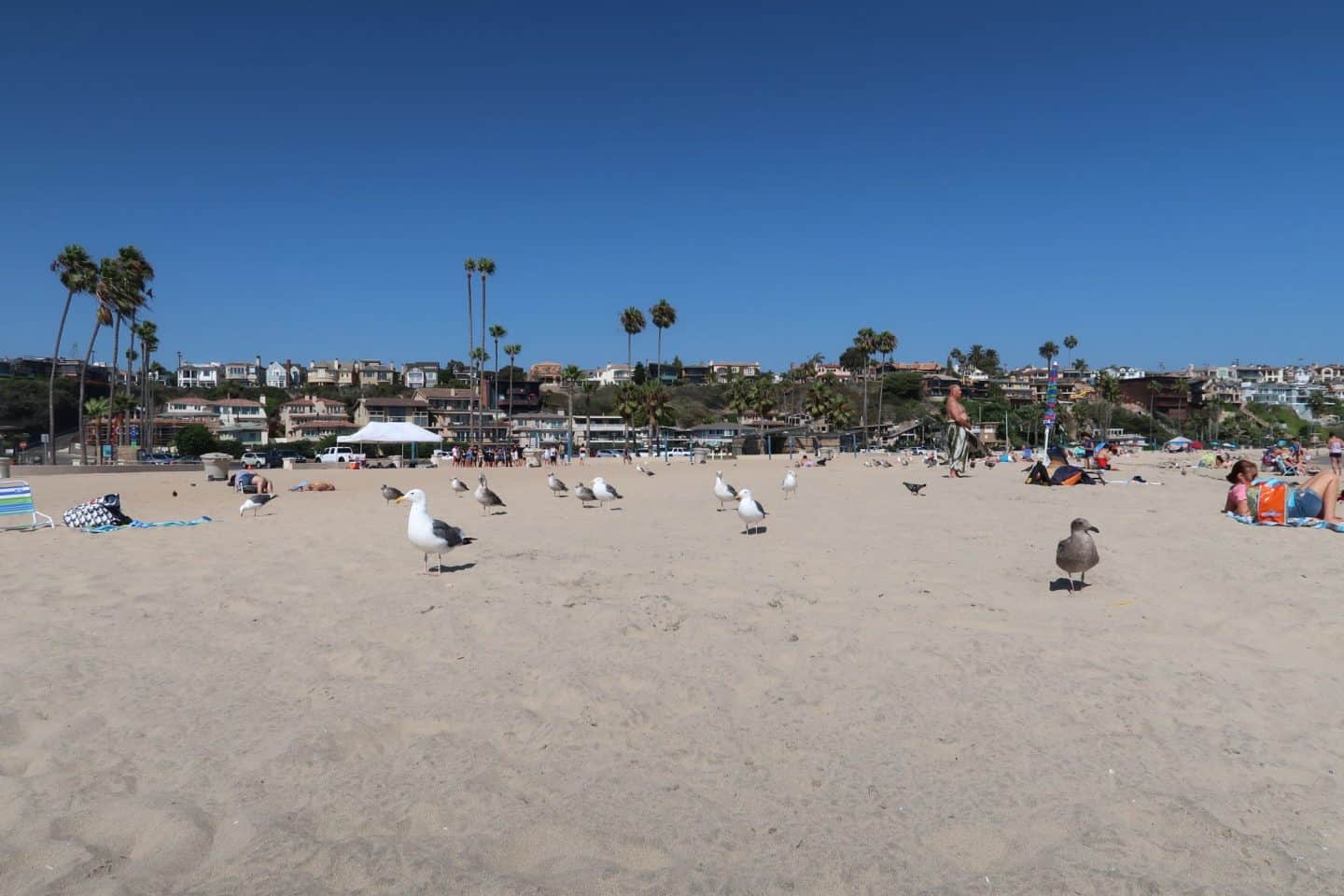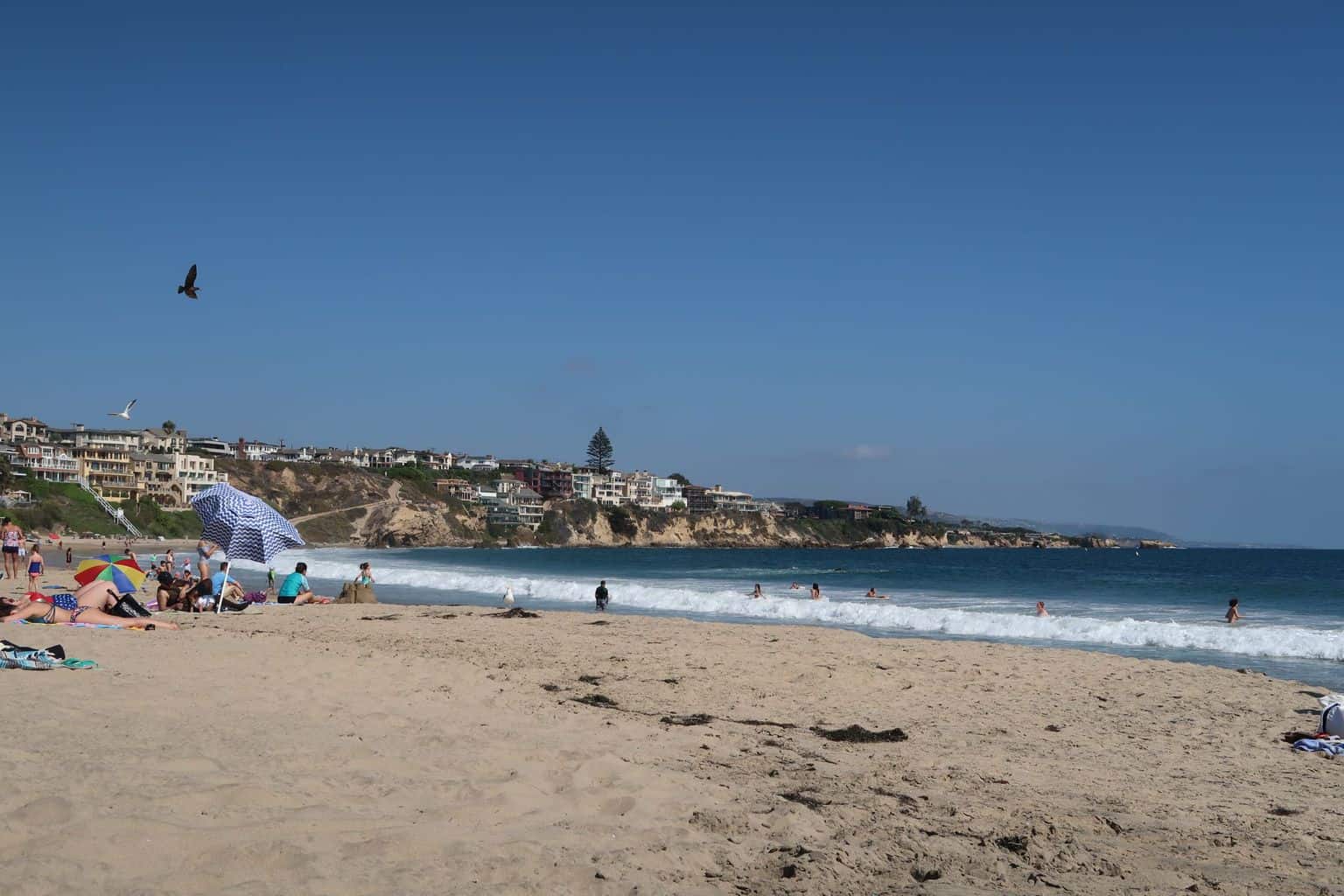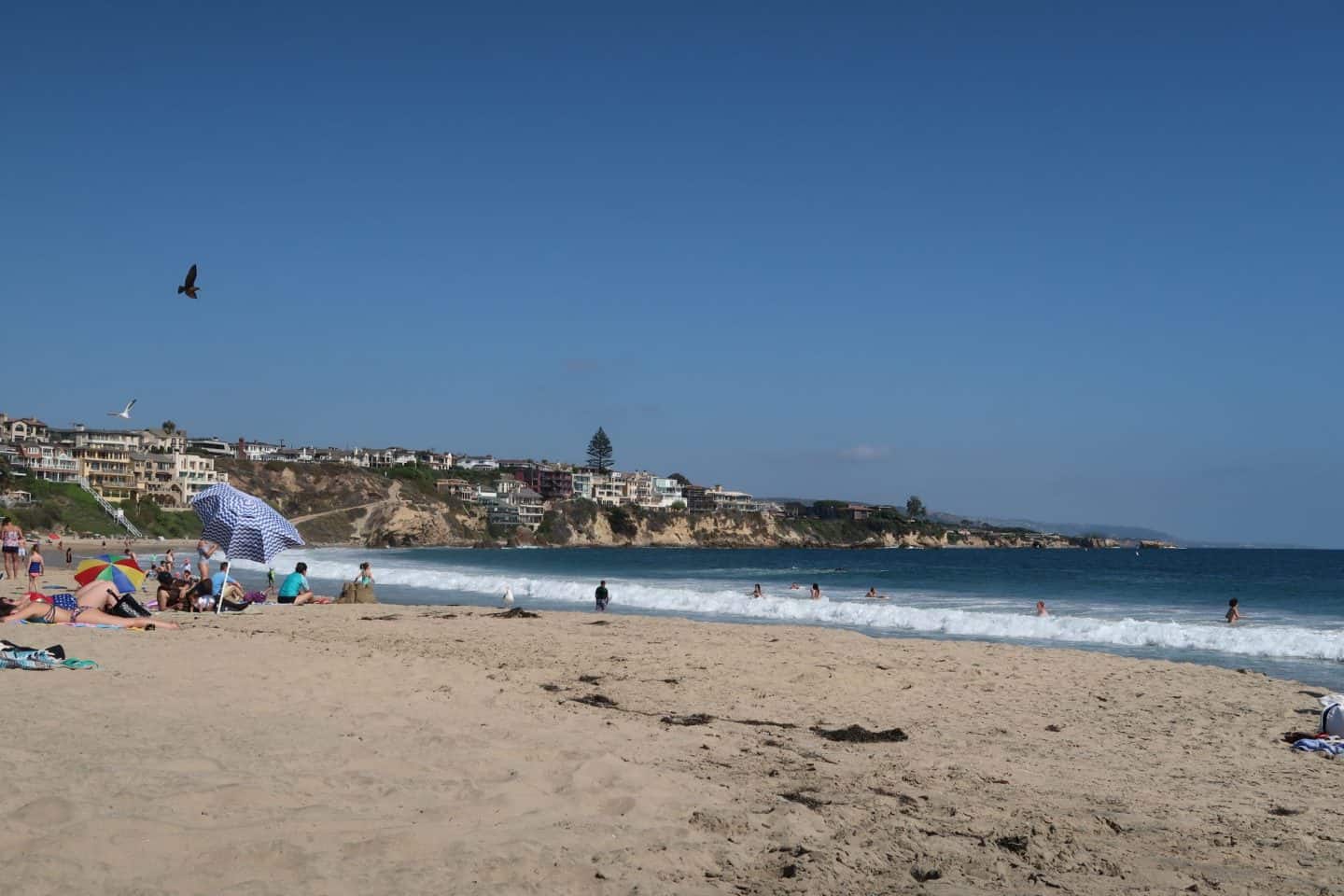 77 degrees at the beach ain't exactly warm y'all. We were pretty cold especially with our South Georgia blood 😉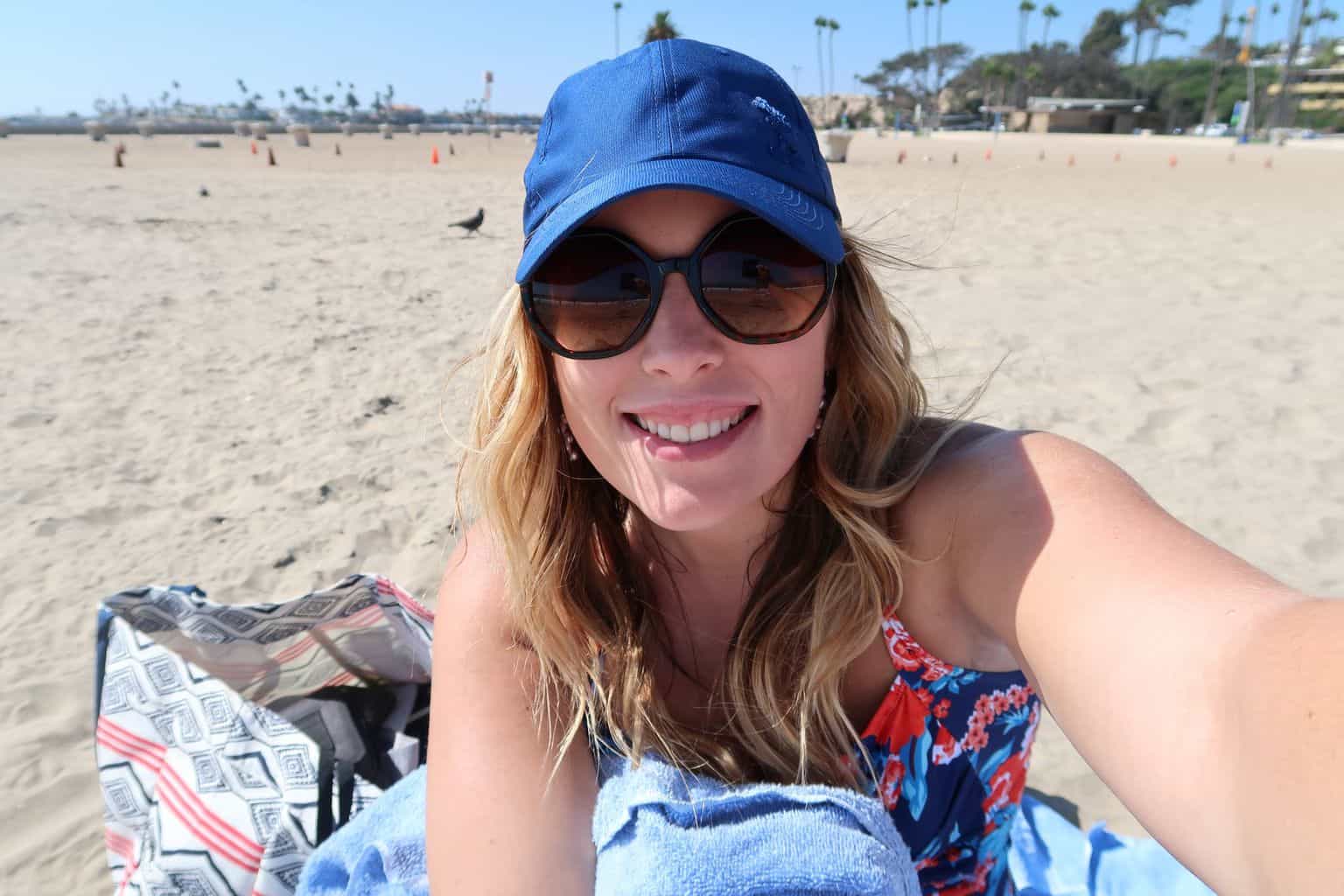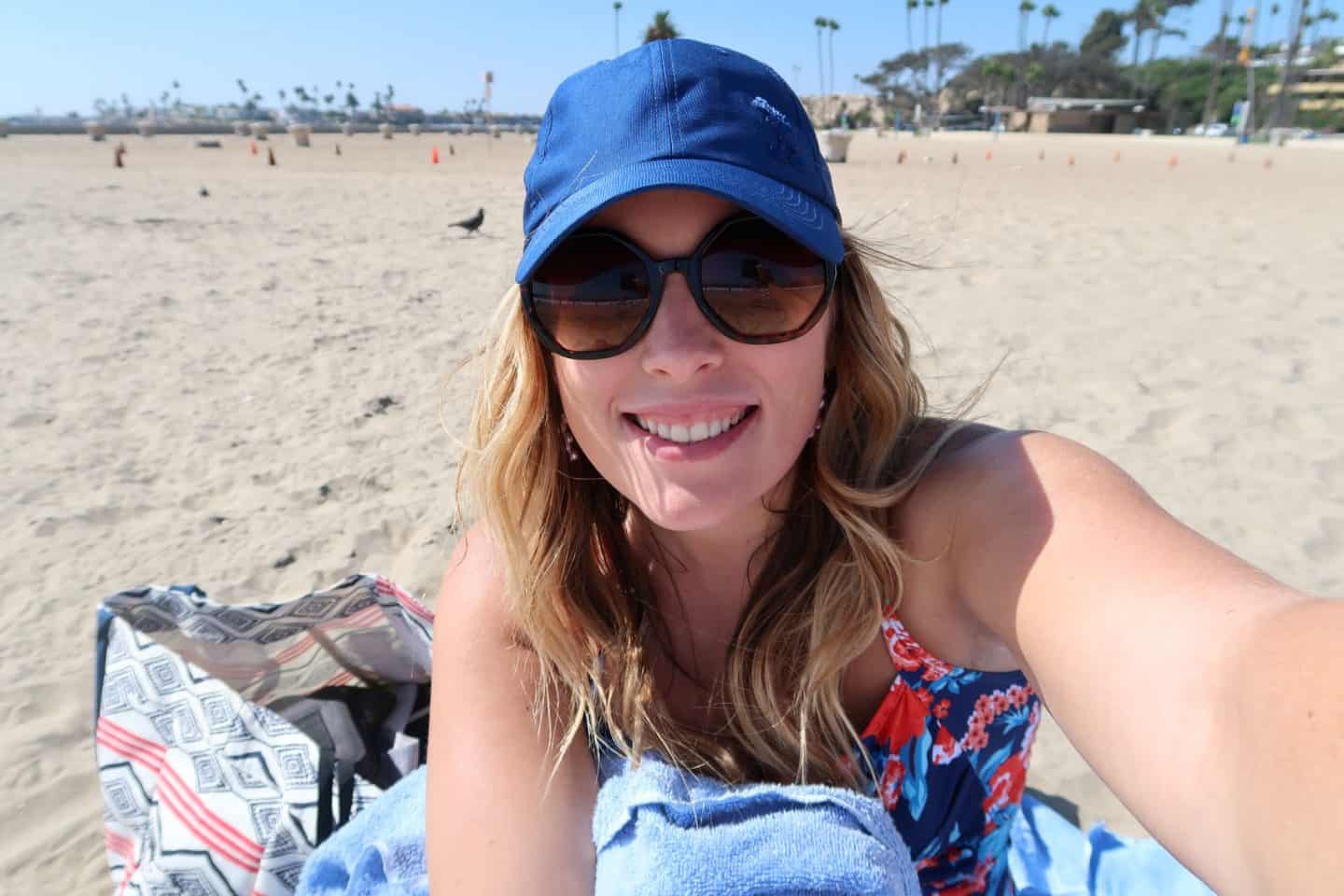 We learned during our St Augustine Trip this year that Tess isn't a beach girl. She just doesn't like it. I'm super glad I thought to bring along some toys so she could play in the sand while Zach, Kye and Britt enjoyed the water for a bit.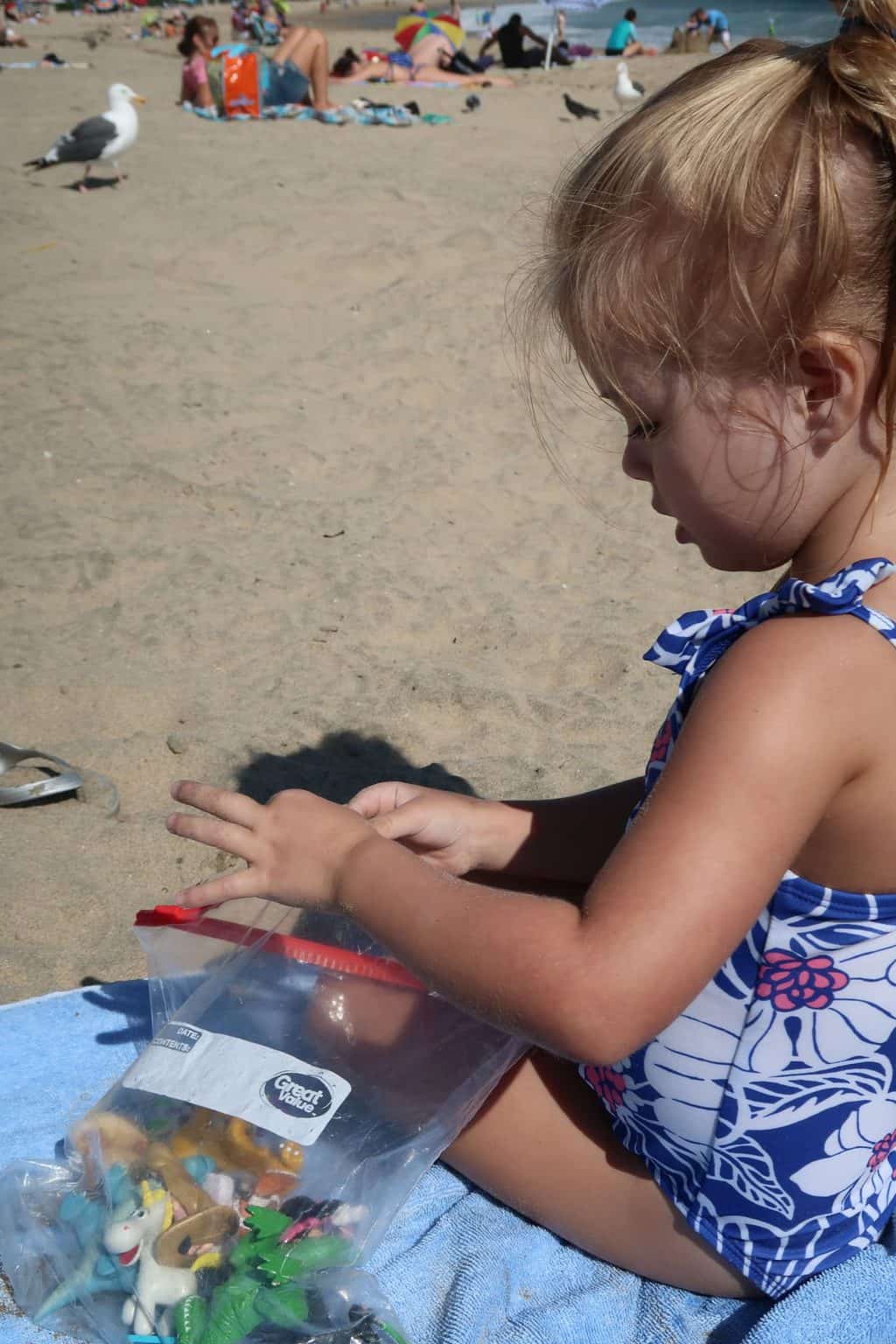 We def ain't in Florida anymore!!!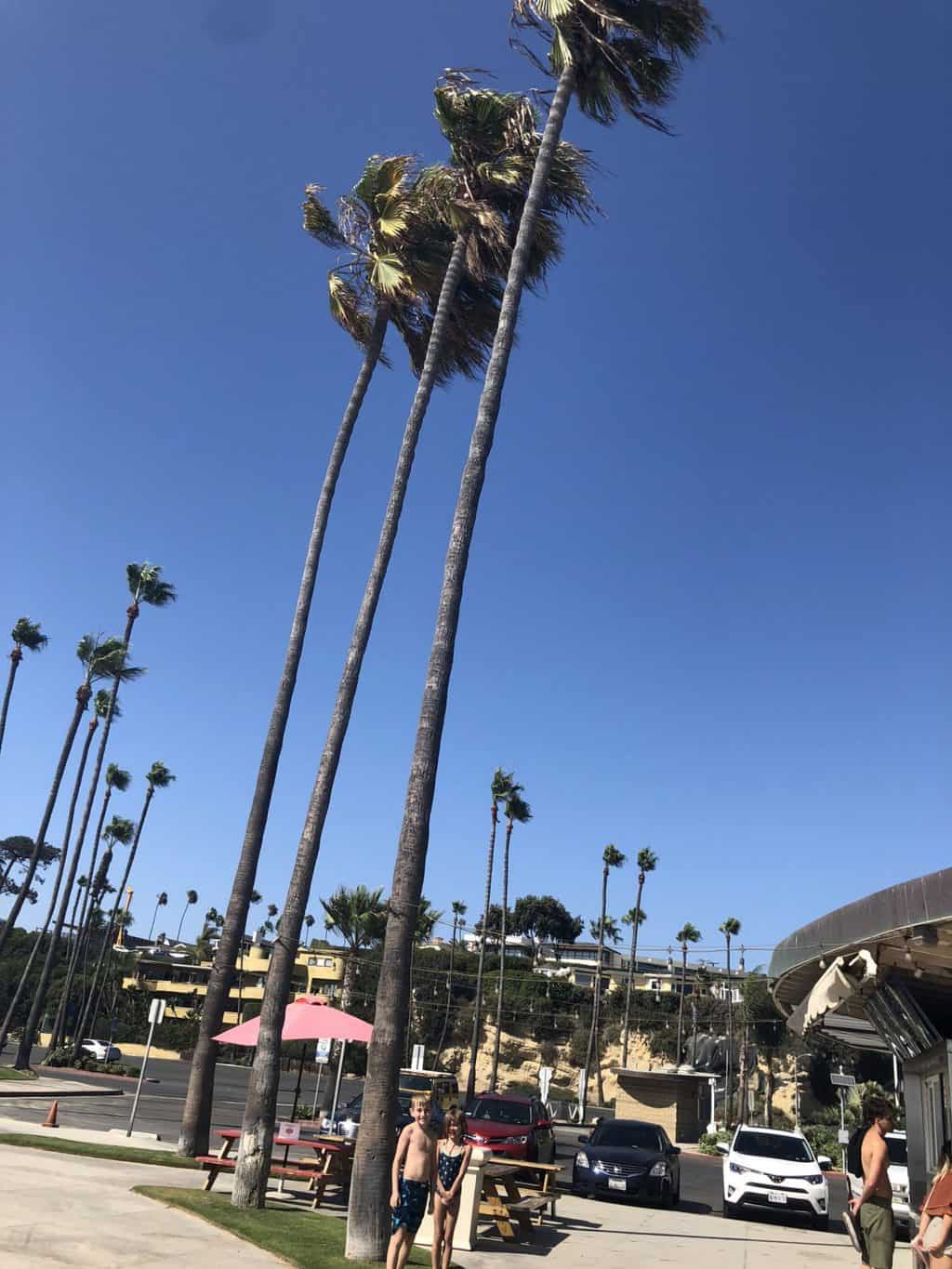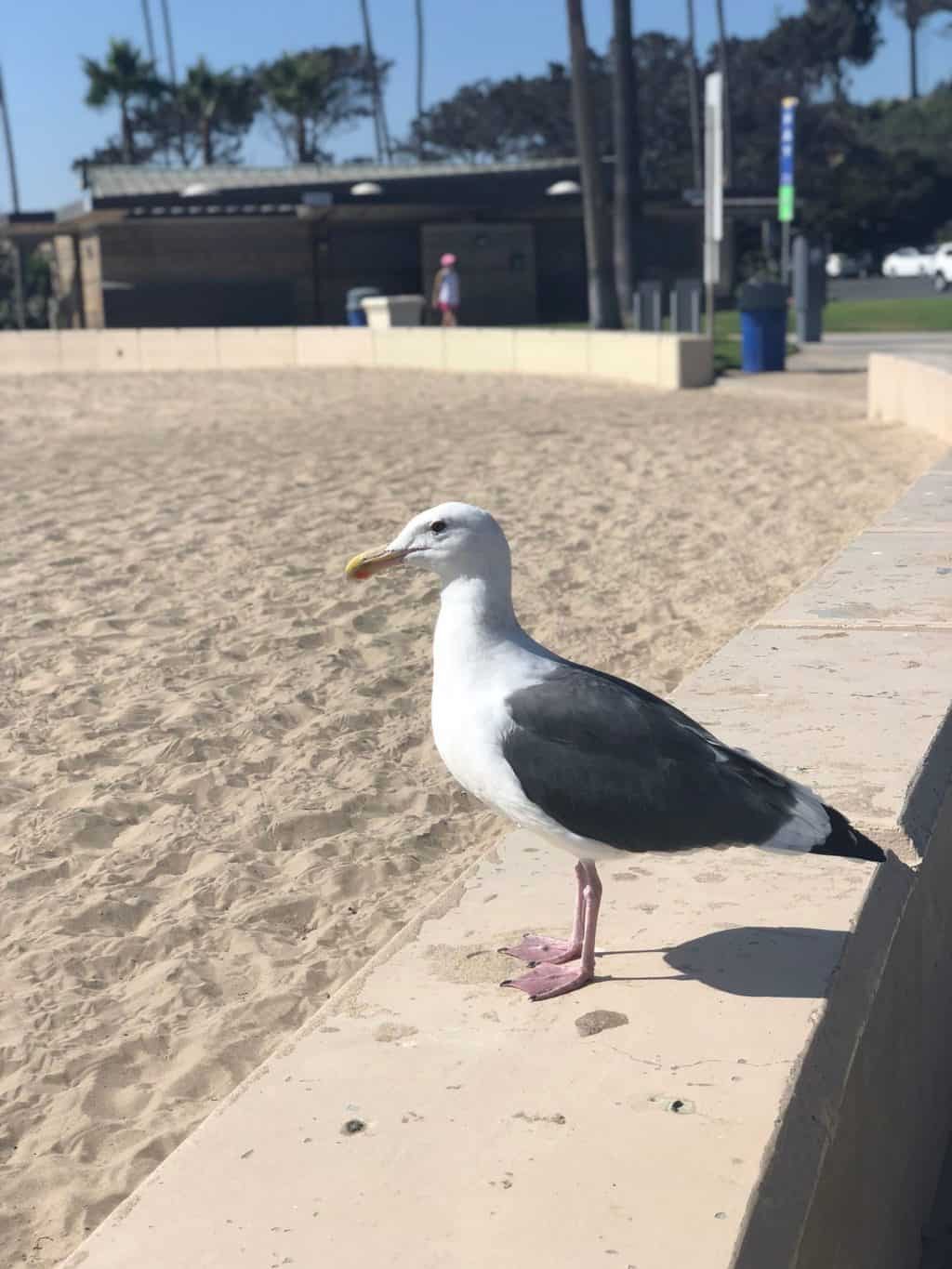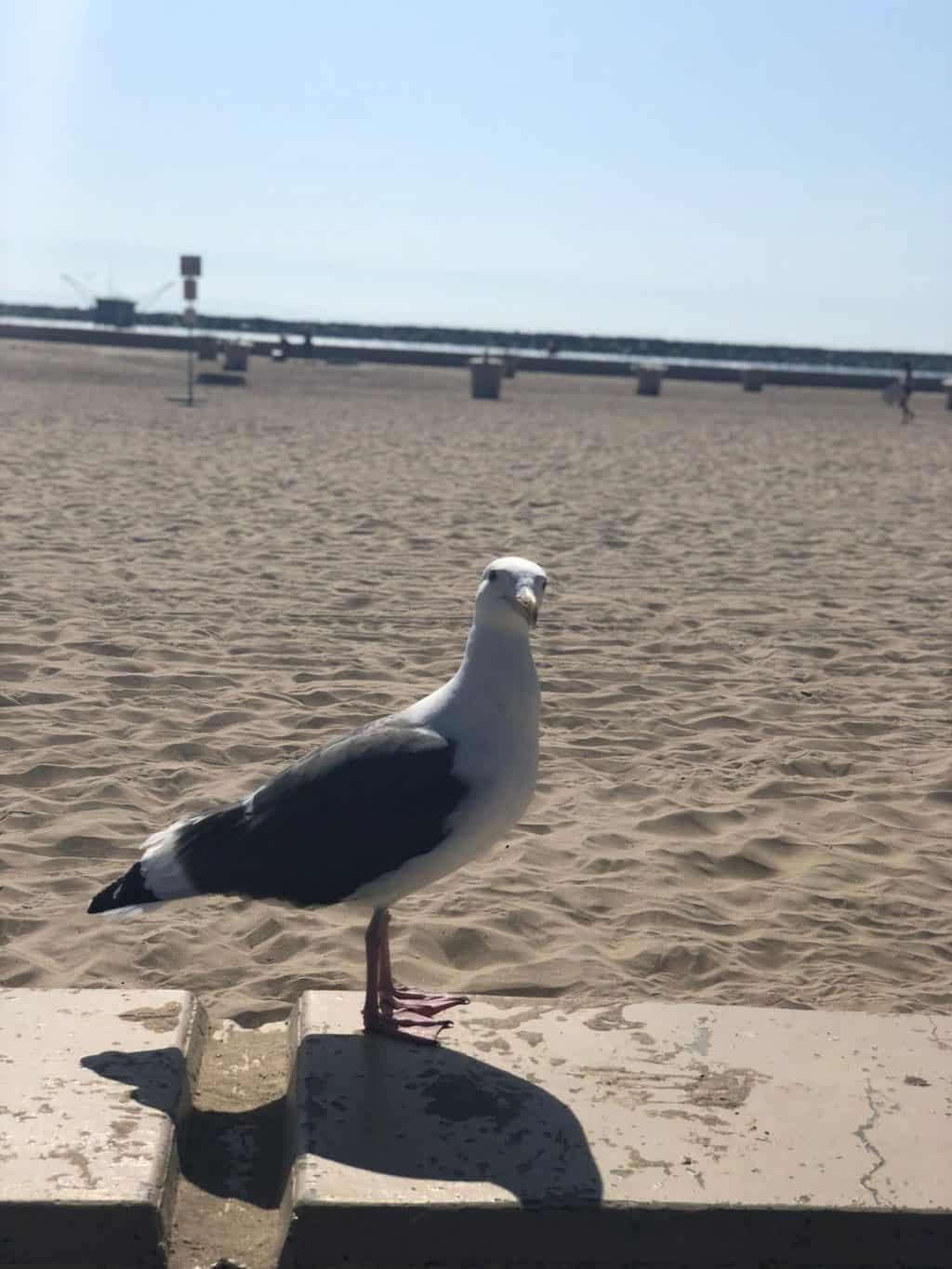 We headed back to Anaheim and passed the Angels stadium which was neat to see! I'm thankful we decided to stick close to the Anaheim area. Our original idea had been to take the kids to the Santa Monica Pier but with traffic it'd have been a solid 90 minutes drive one way if not more. It was SUCH a fun day and we had a much smoother drive back!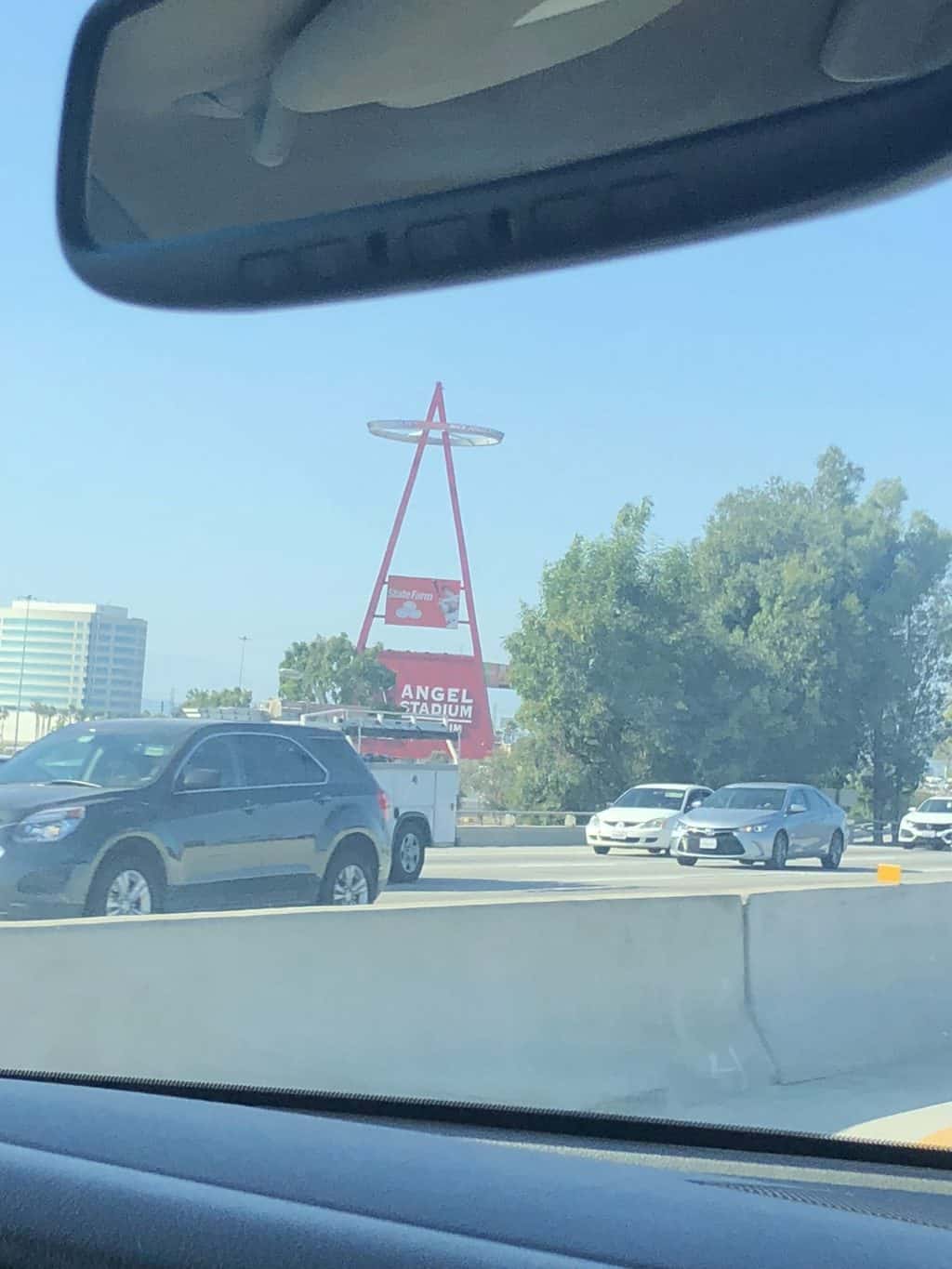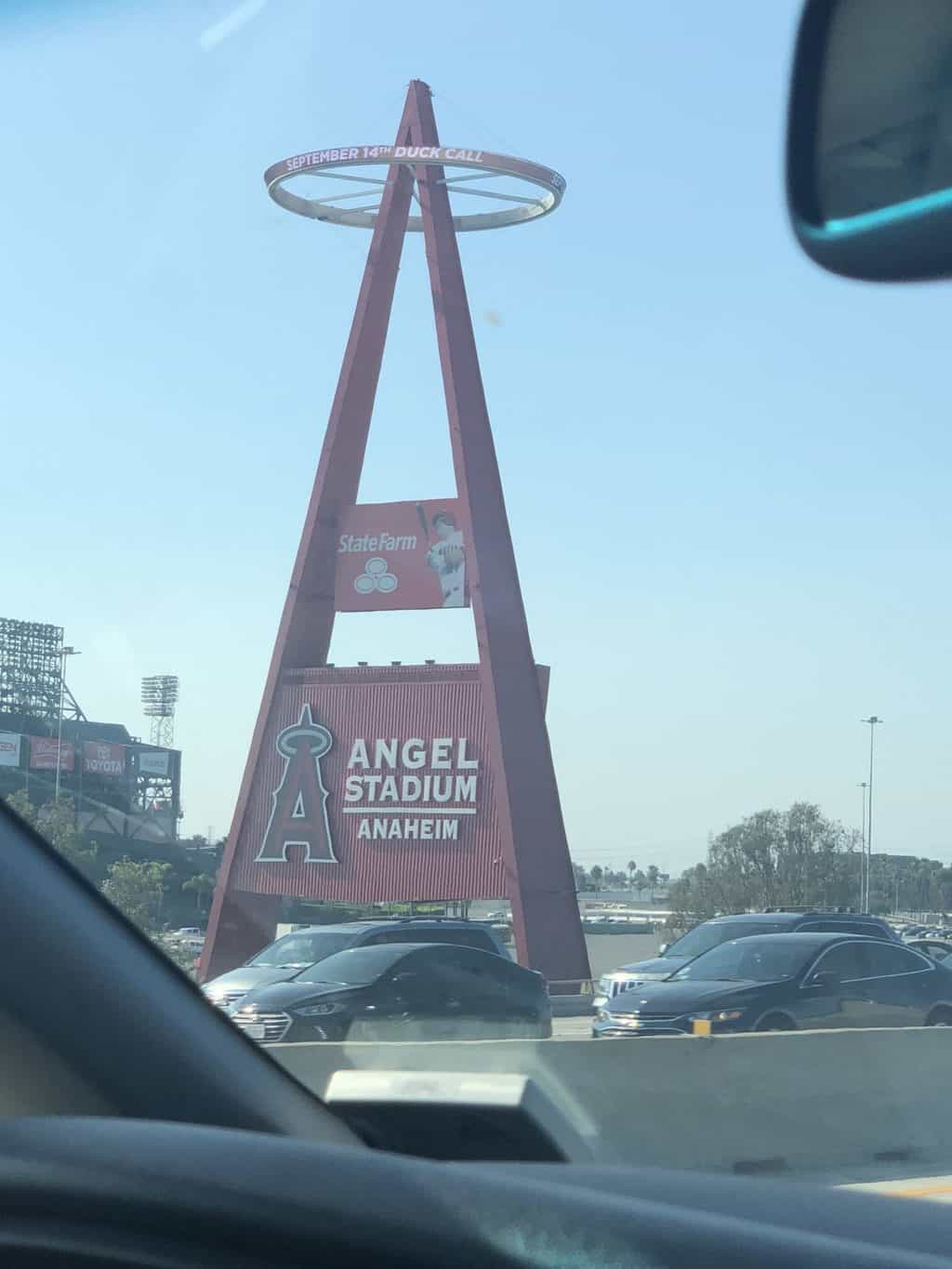 Just long enough of a drive for Tessie to get a little power nap!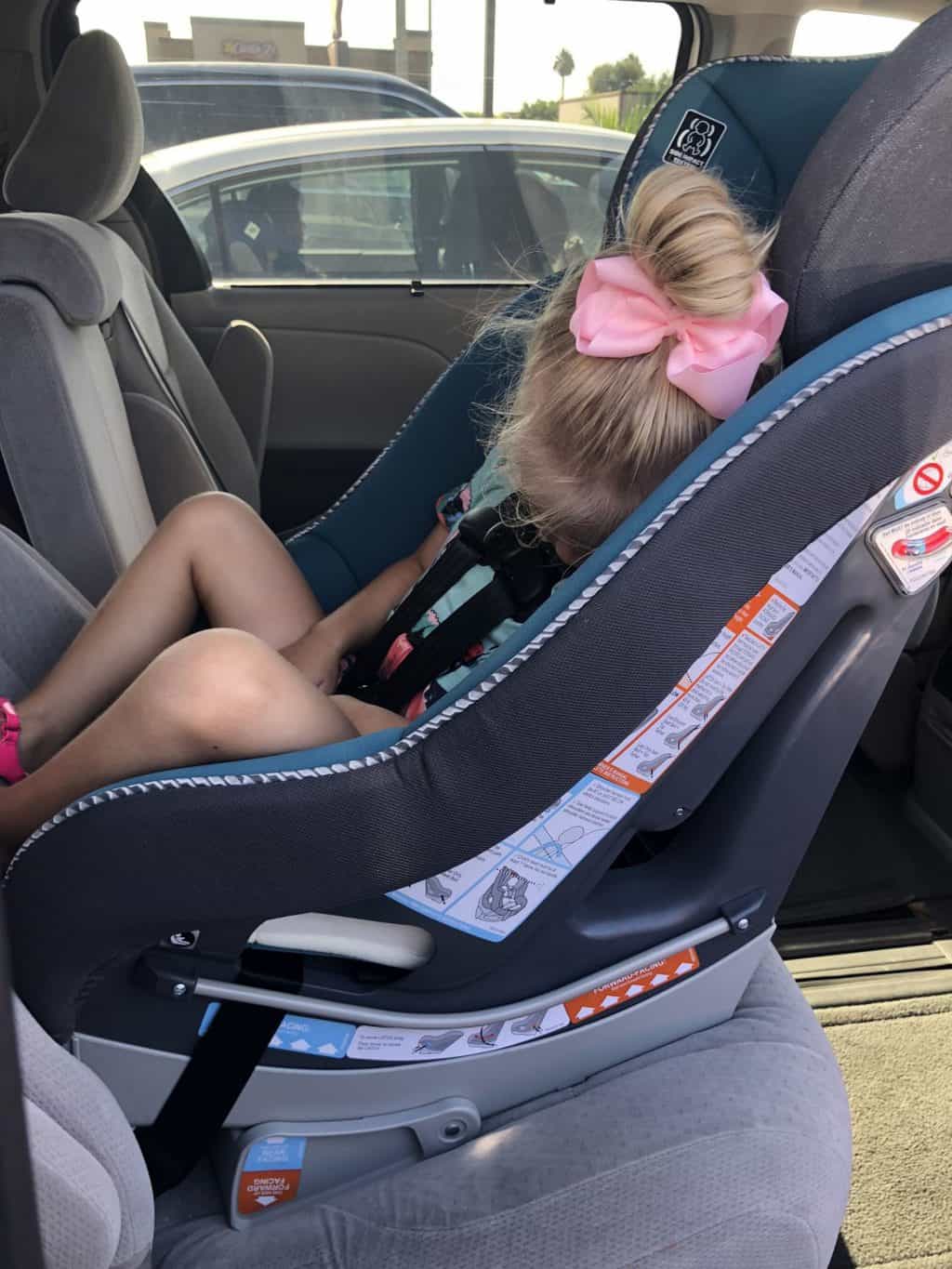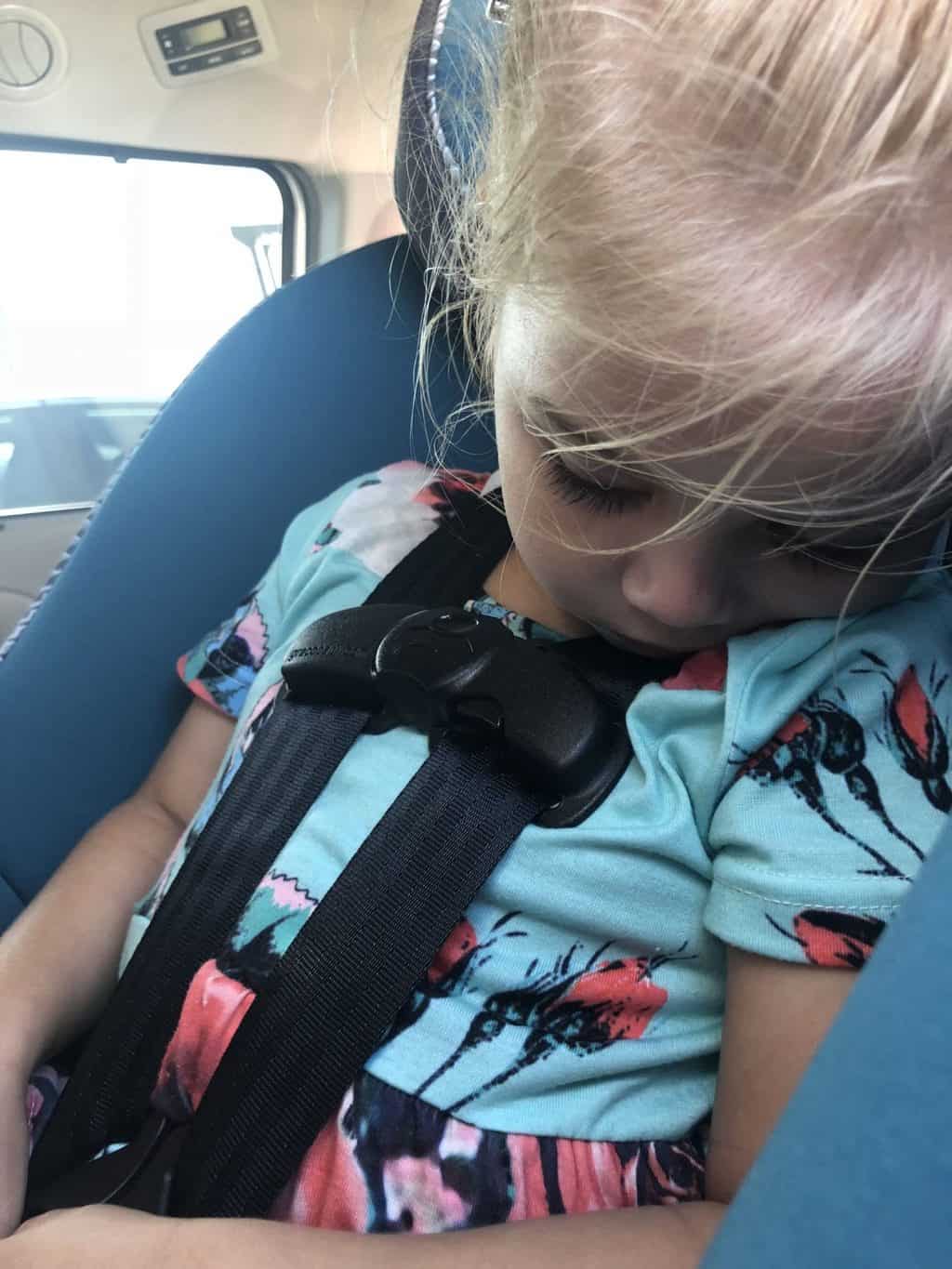 Another experience Zach and I had during our California trip that we wanted to kids to get to enjoy was In 'N Out!
Perfect spot to stop for dinner! We had headed back to the area super early so we could get dinner and get the kids in BED. We had another full park day the next day which would also be their third day in a row of not napping so we knew early bedtime would be so beneficial!
Bring on the burgers, fries and shakes!!!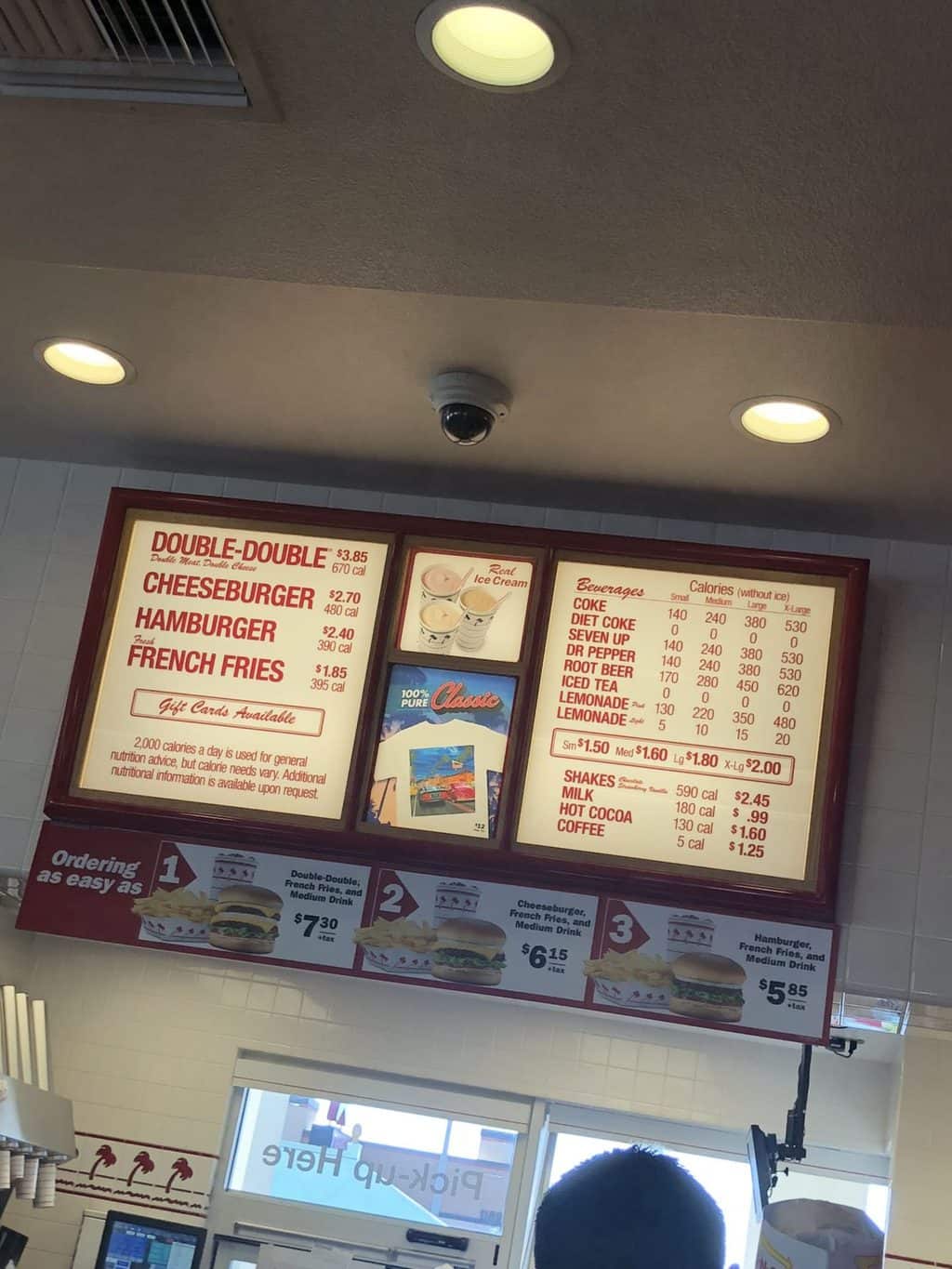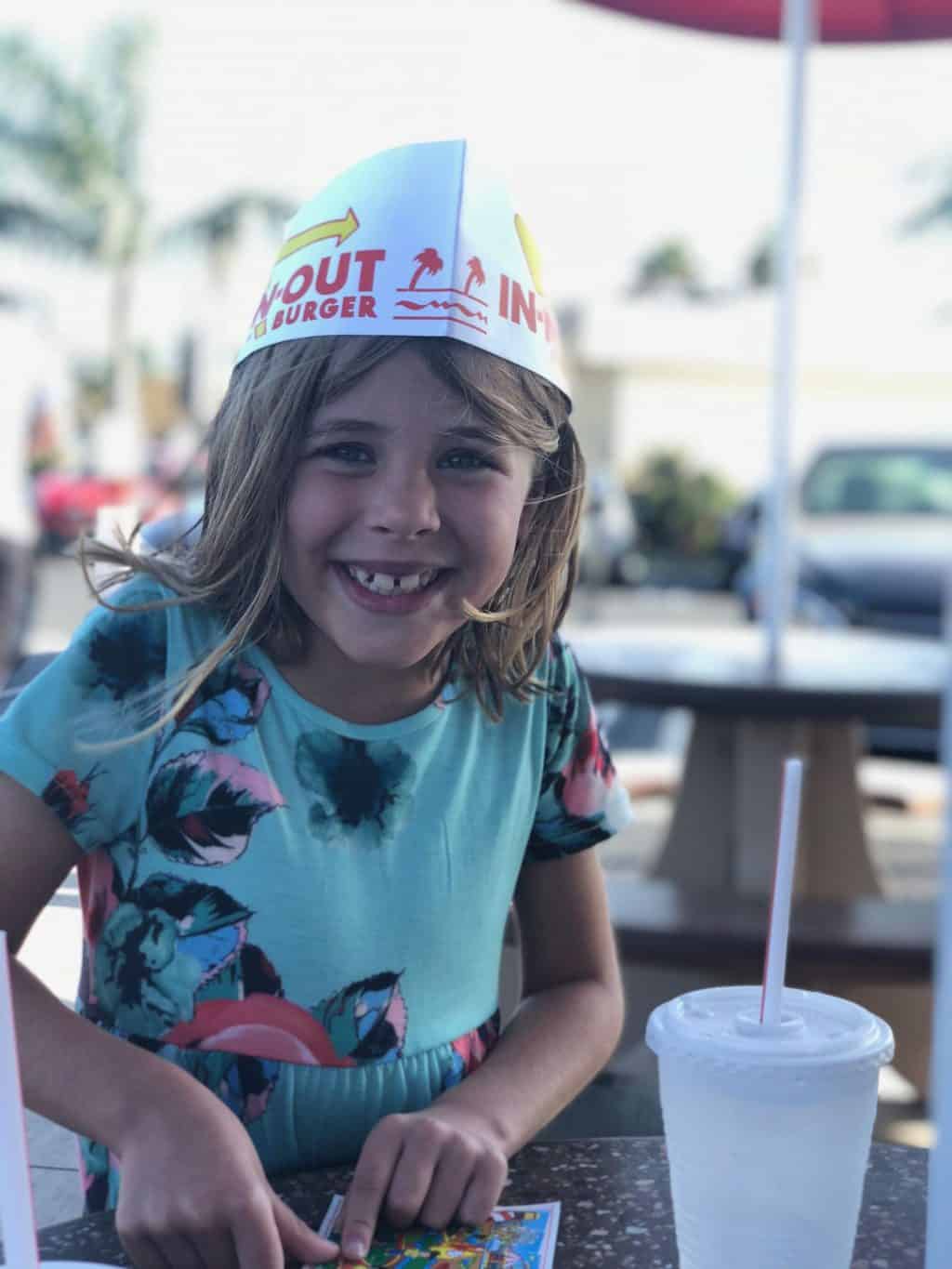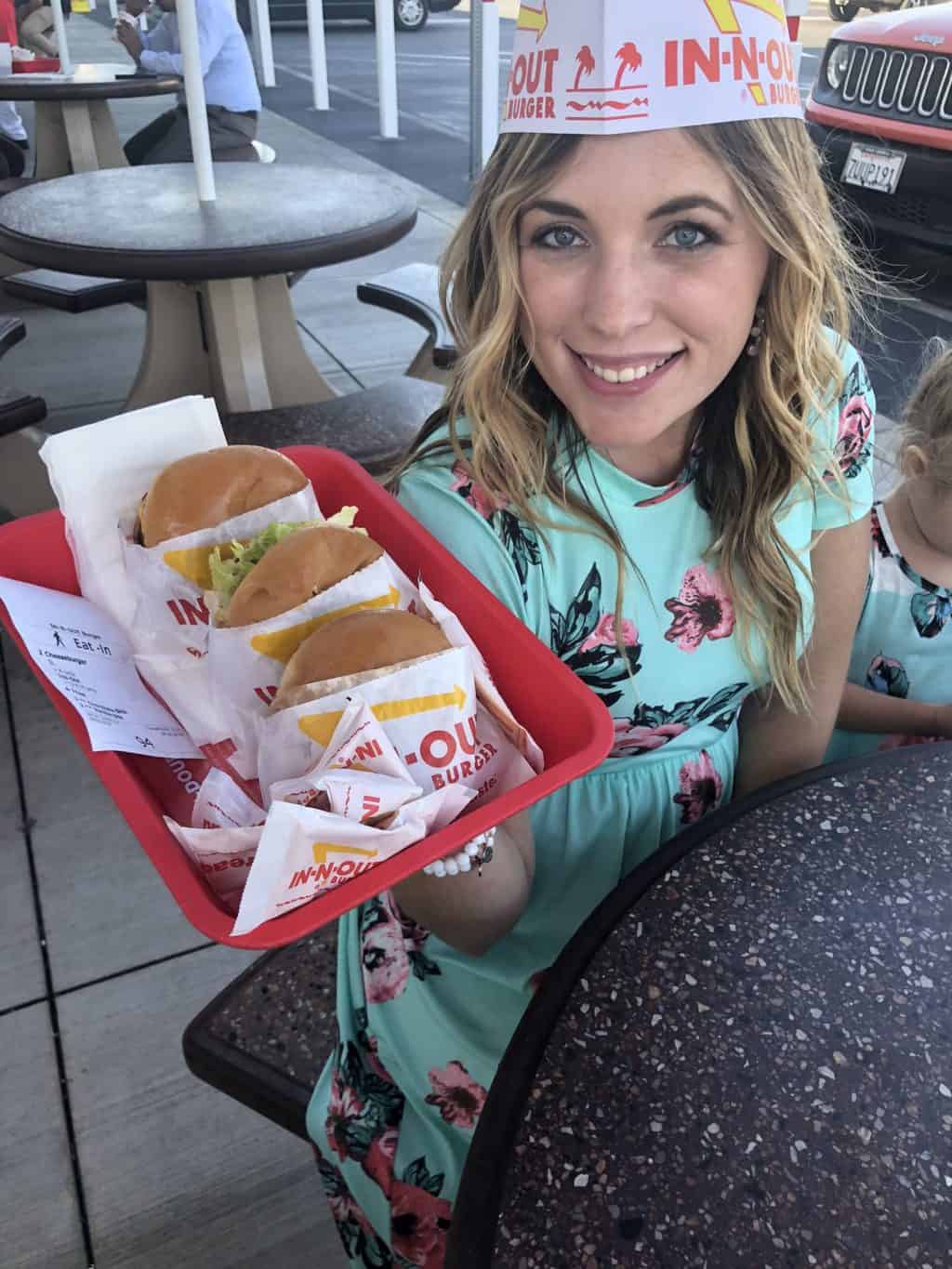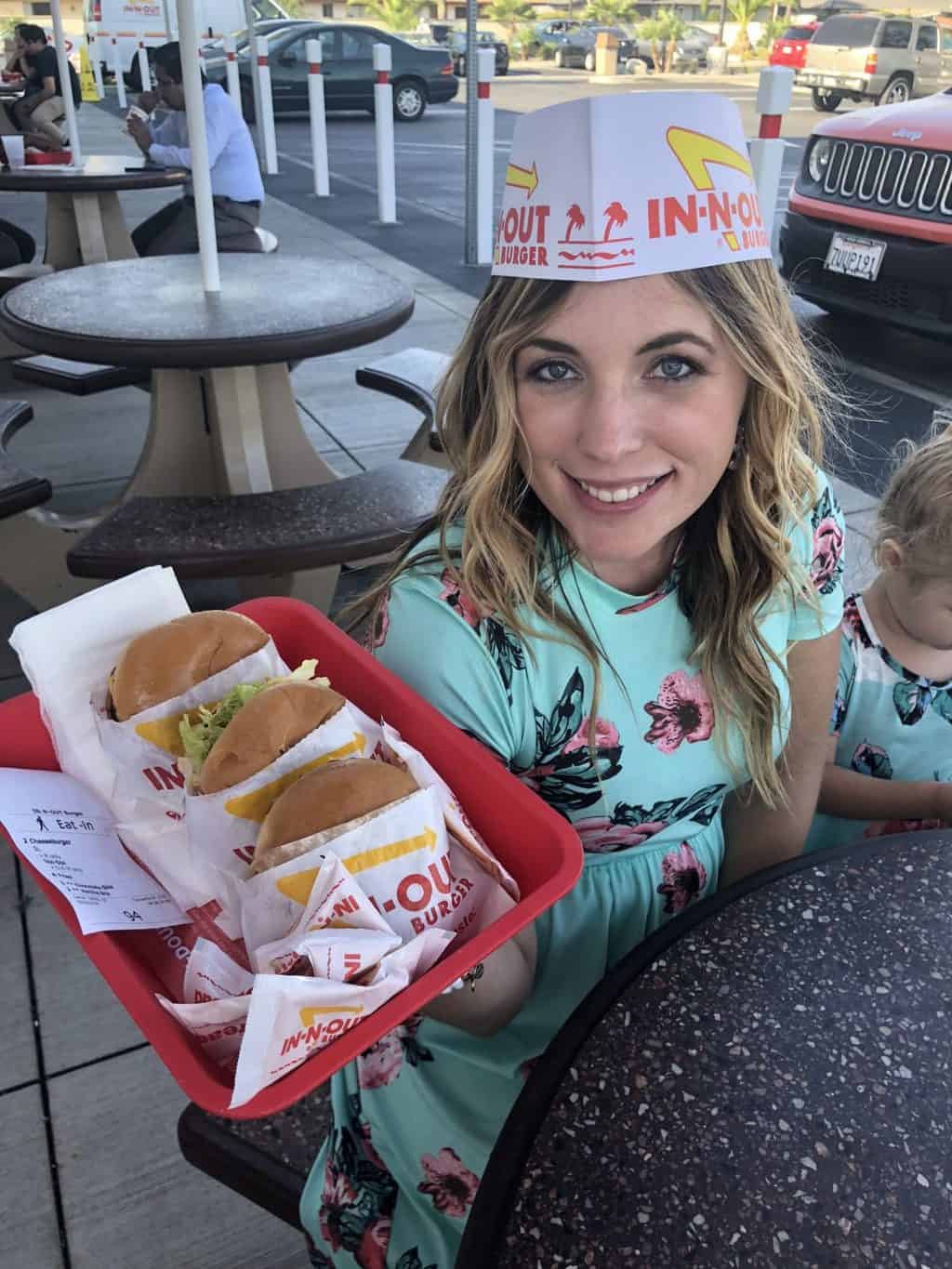 Tess's dreams come true!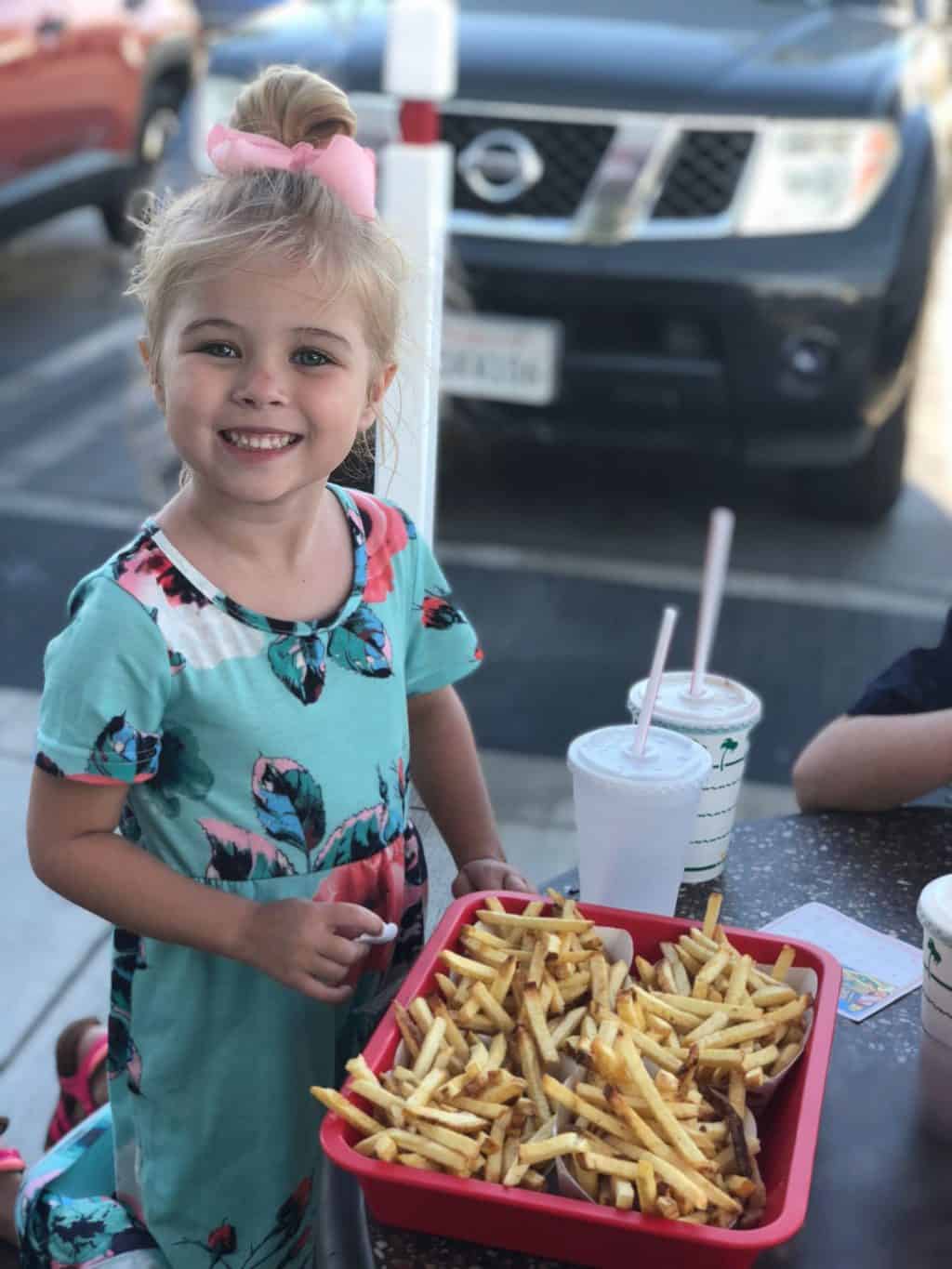 We each got a shake! Which was SO YOLO of Zach and I. We rarely order sweets for the kids when we eat out. Heck we rarely even order them their own meals haha IF we get a shake or a treat we ALWAYS split it. But they loved getting to order whatever THEY wanted!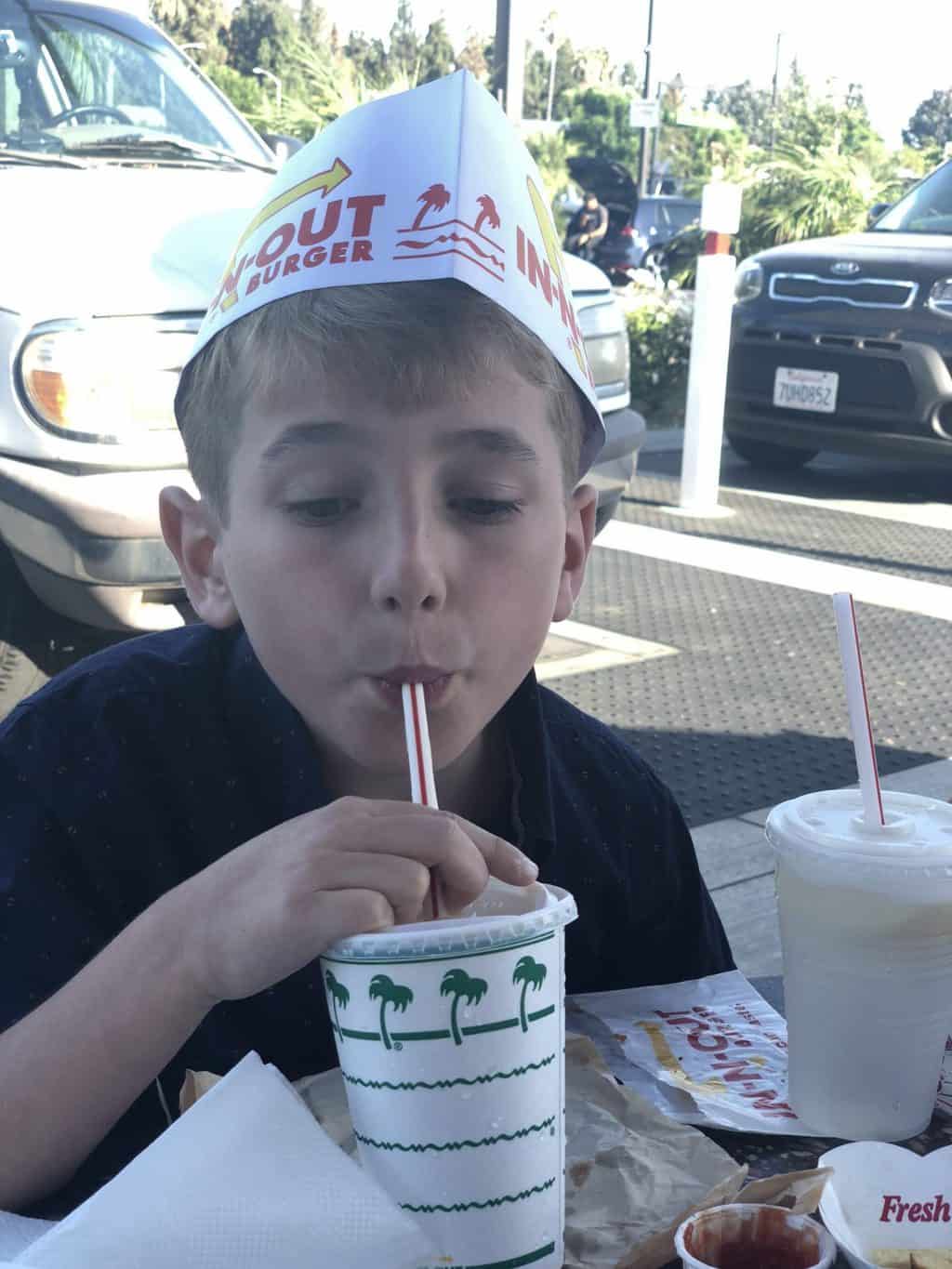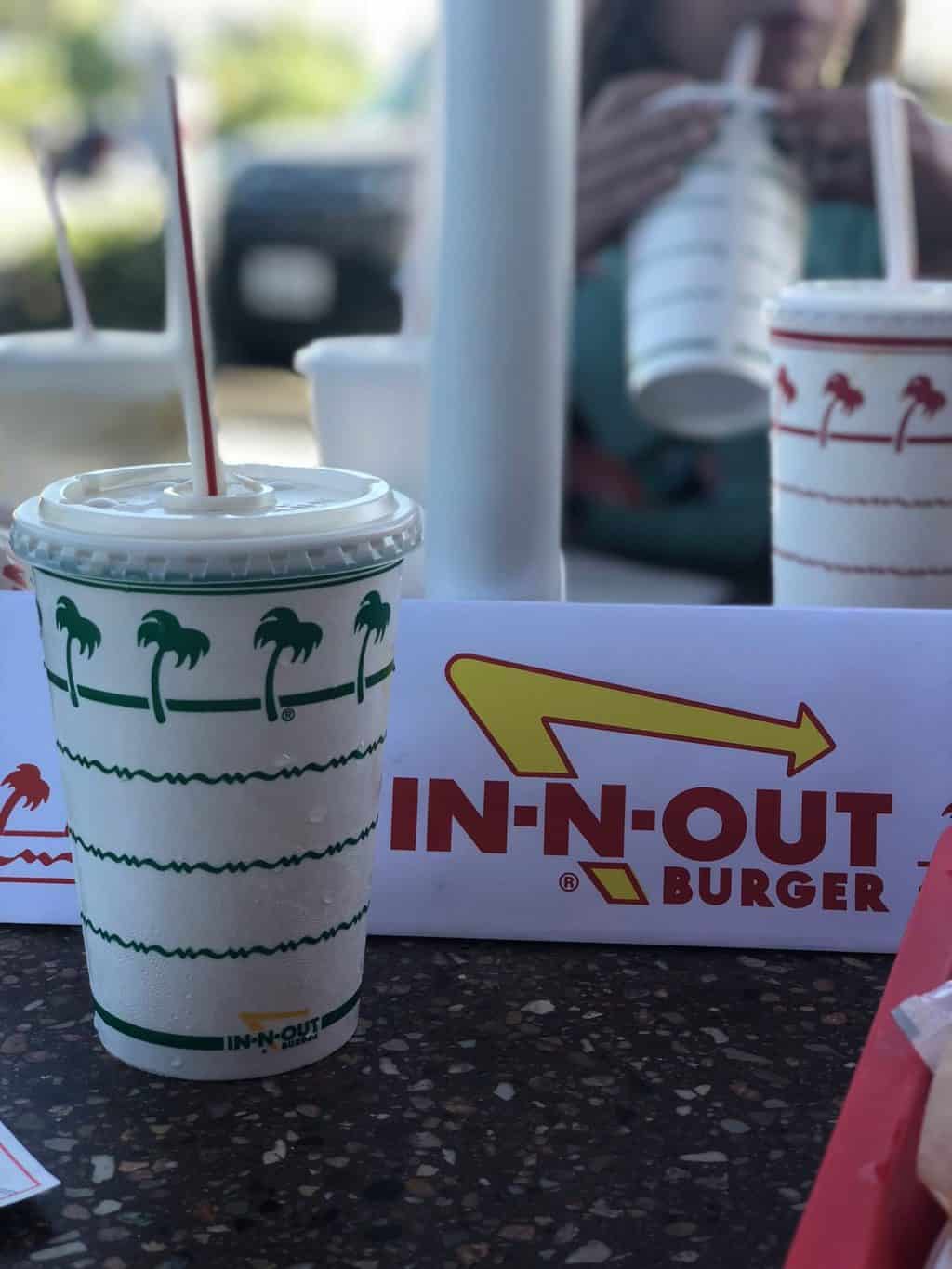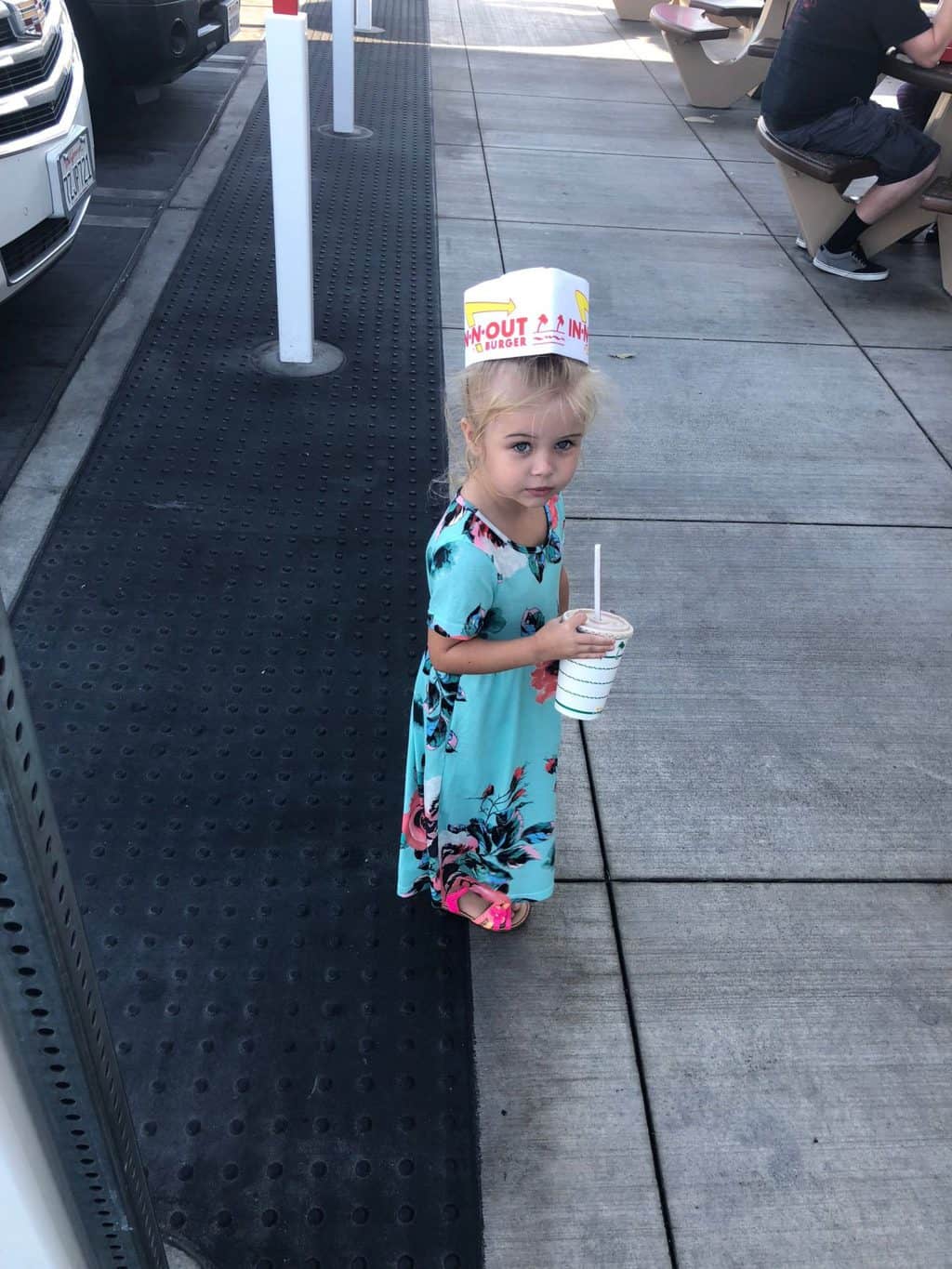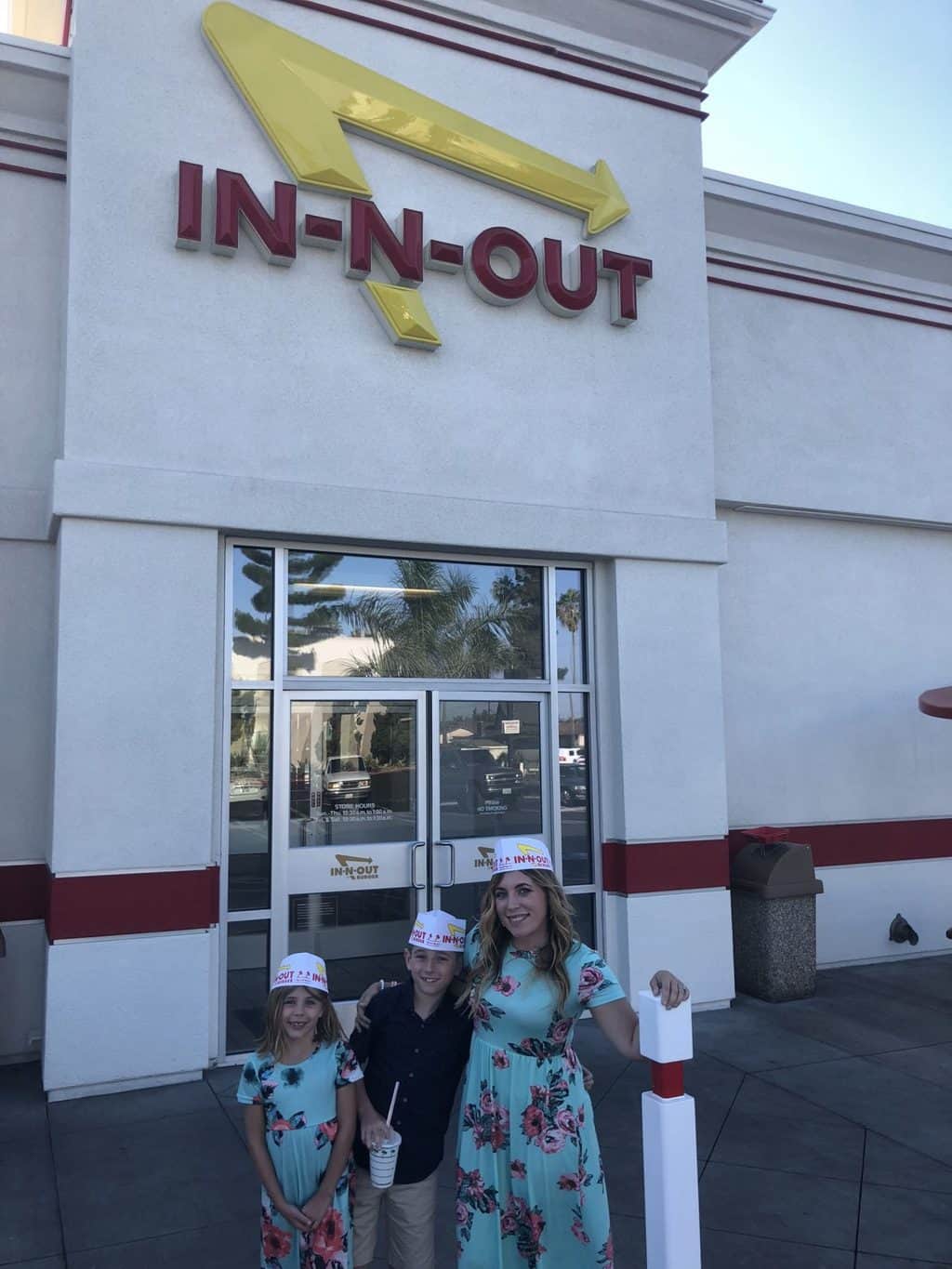 We got back to the room and wanted to go ahead and get the traditional picture on the hotel bed 🙂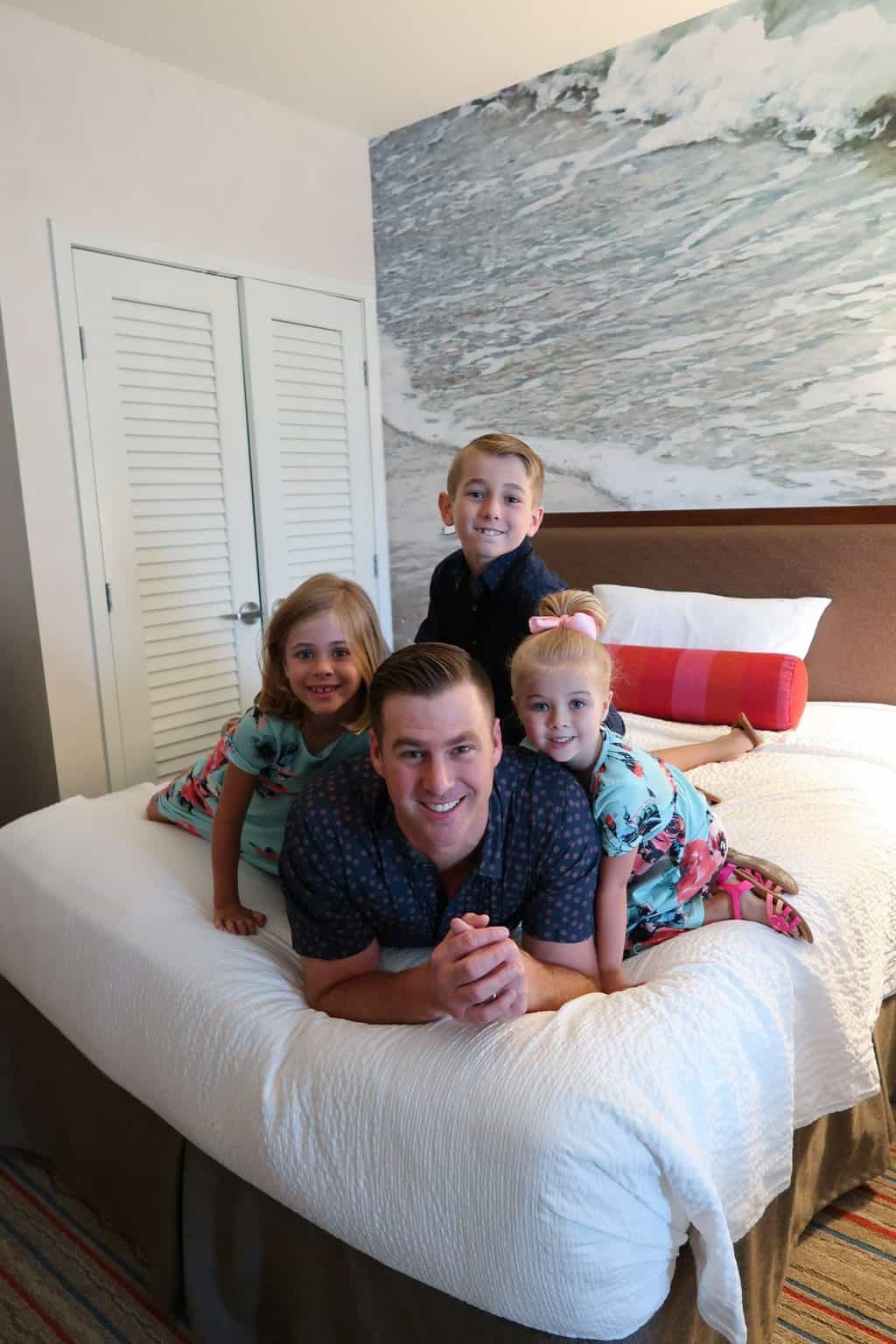 We got 'em all bathed and in the bed right around 6 PM so they could rest up from the busy day and be ready for the next busy day ahead!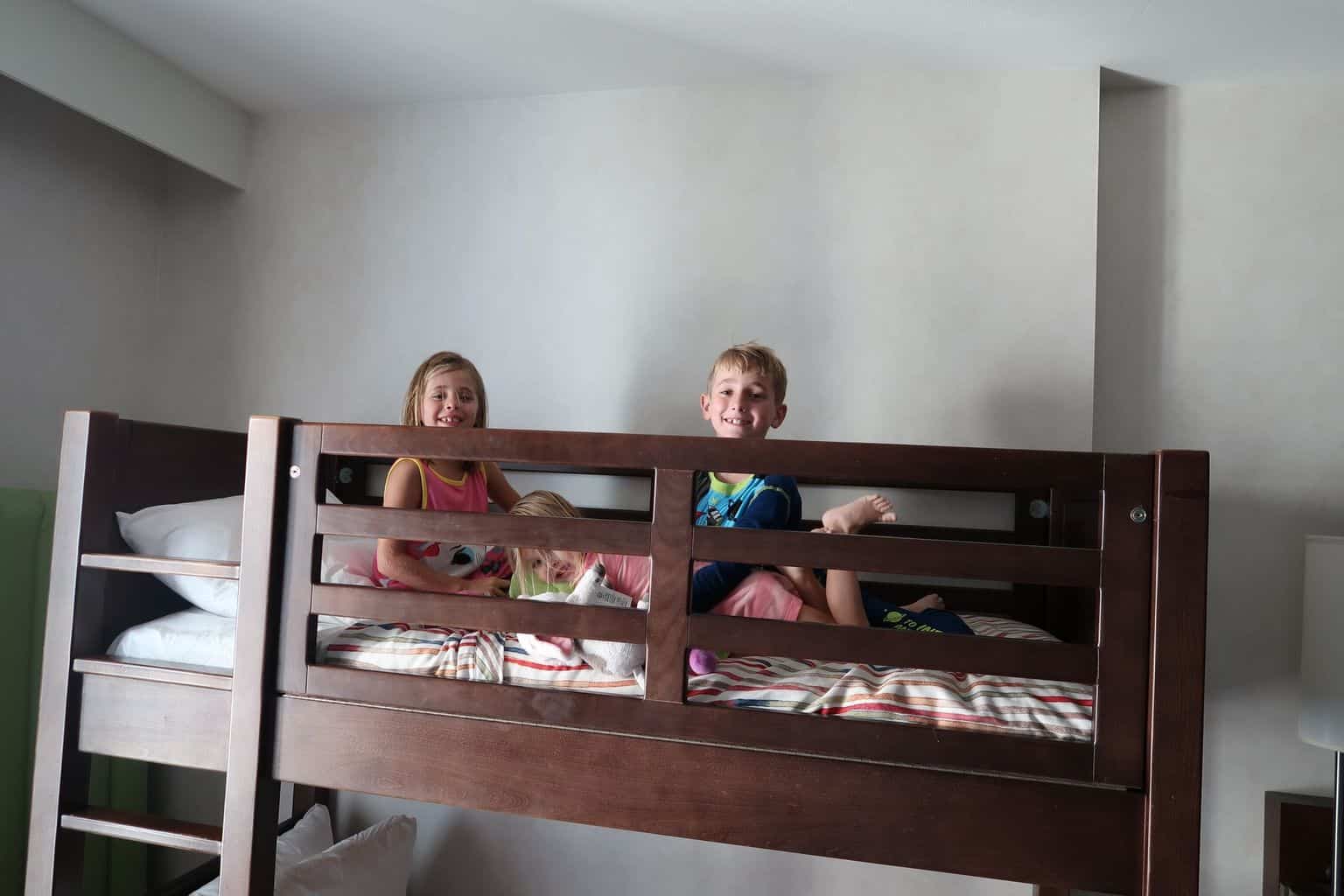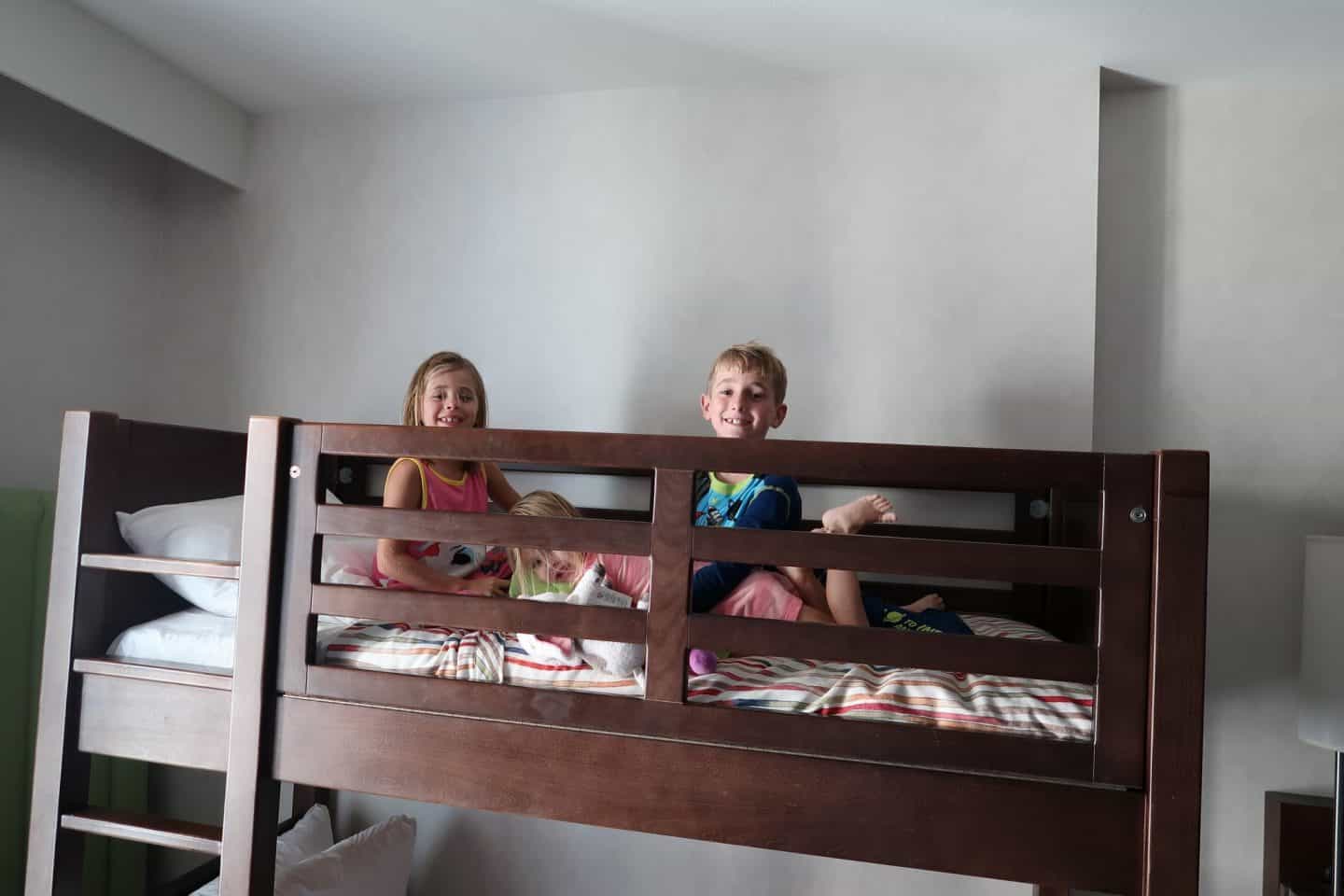 I know I keep saying that this trip was just so amazing. But it really, really was. Every part was just so FUN and this day was one that we'll never forget. It was such an adventure and just so fun to explore a new place together as a family and see the kids get to experience the Pacific for the first time!
SaveSave