We were feeling pretty lazy and ready for some serious snacking when the afternoon hit after our super fun morning at Disney's California Adventure.
When planning our trip I reviewed a lot of the add-ons available. As mentioned in our Disneyland evening post I like the idea of booking a dining package that gives us an advantage on the trip. Better seating, better views, better experiences etc.
In this line of thinking I actually booked us a dining package that would allow us the best seating options for Frozen. It was crazy expensive and I kept debating it over and over to myself. I knew we were going during a low crowd time and decided to just take the gamble and canceled the reservation. Why spend money when we could just show up early and see what seats we'd get?
Sure enough we were there an hour prior to showtime and were among the first in line! It couldn't have worked out better and I was SO GLAD I didn't spend that money!
We were allowed to have one person hold our spot and the others could leave so we got snacks and hung out to eat them (it was coffee time for mama!) while we waited for the doors to open!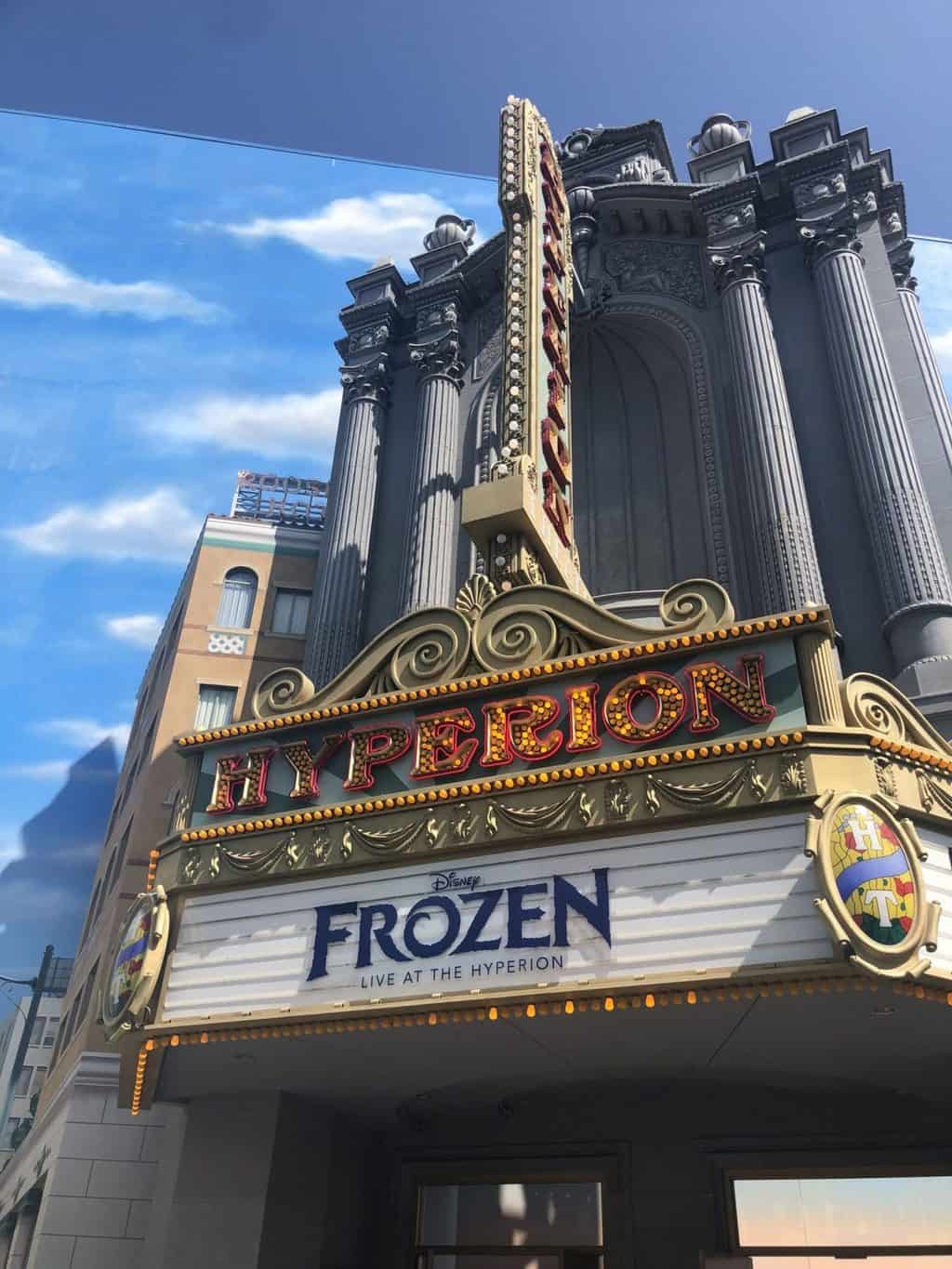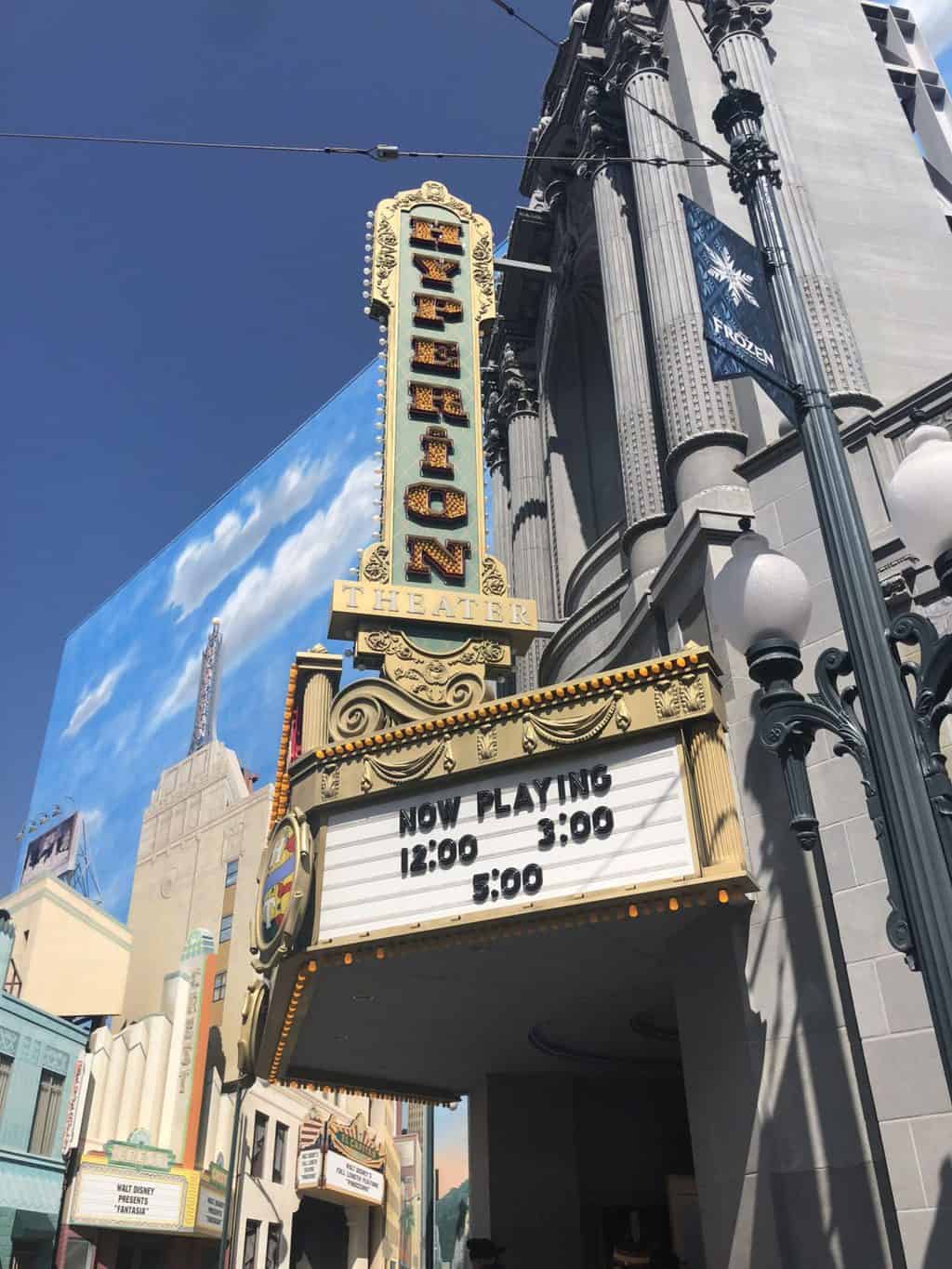 I love this magic shot 😉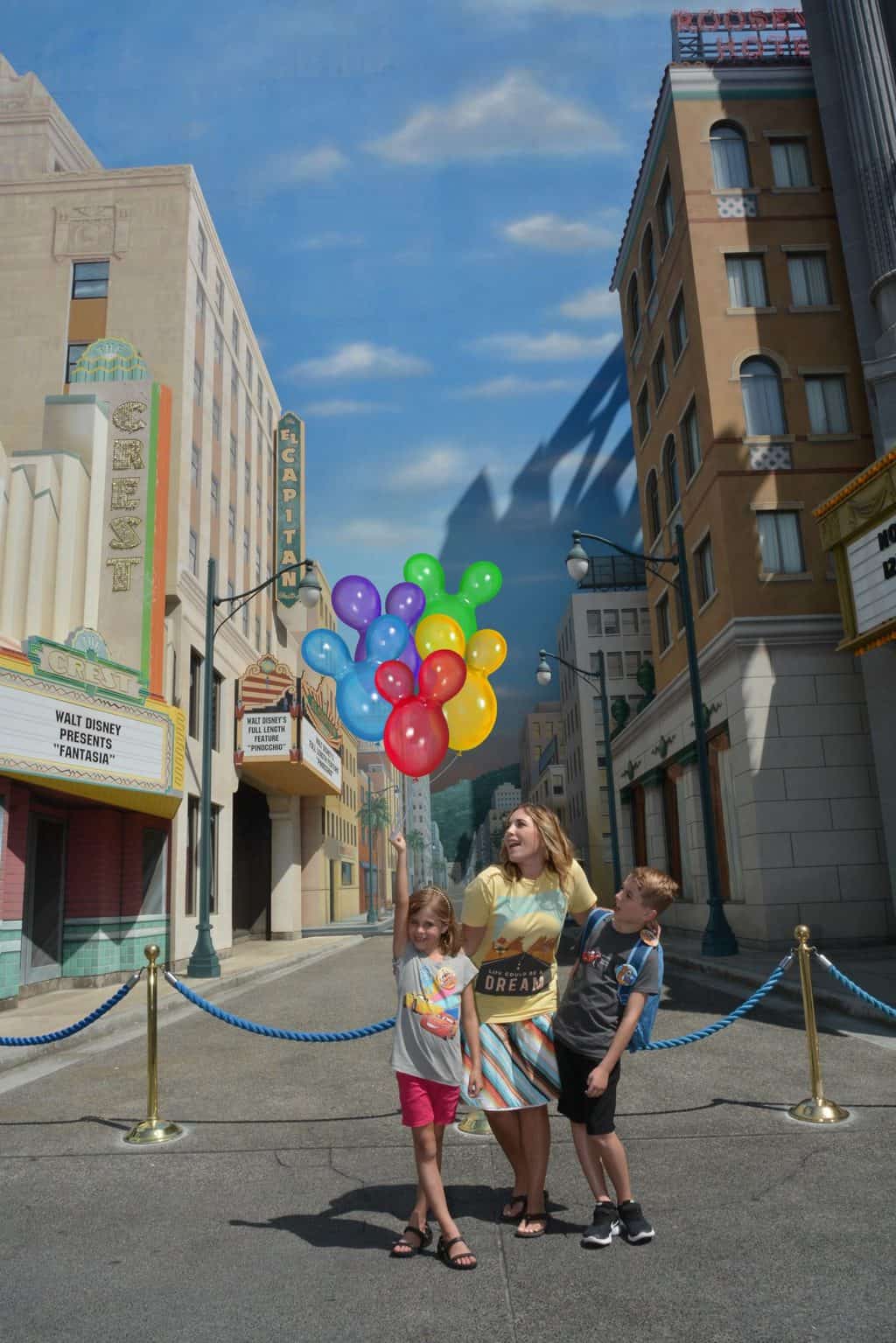 Kye was not overly thrilled about waiting a long time in order to watch Frozen…but he is used to the show at Hollywood Studios and this was something completely different and new!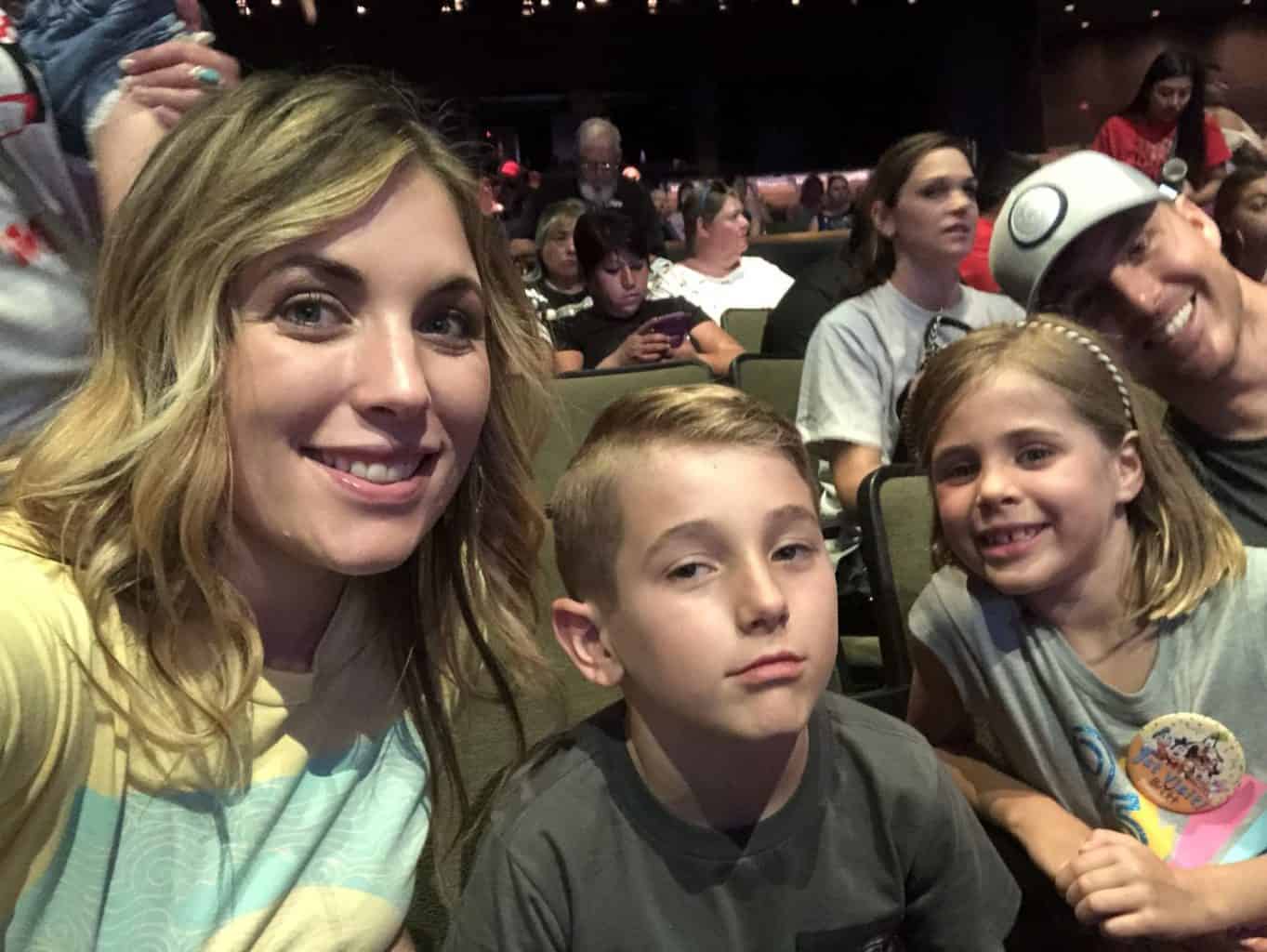 We were seated in the center stage area only a few rows from the front! PERFECT!!!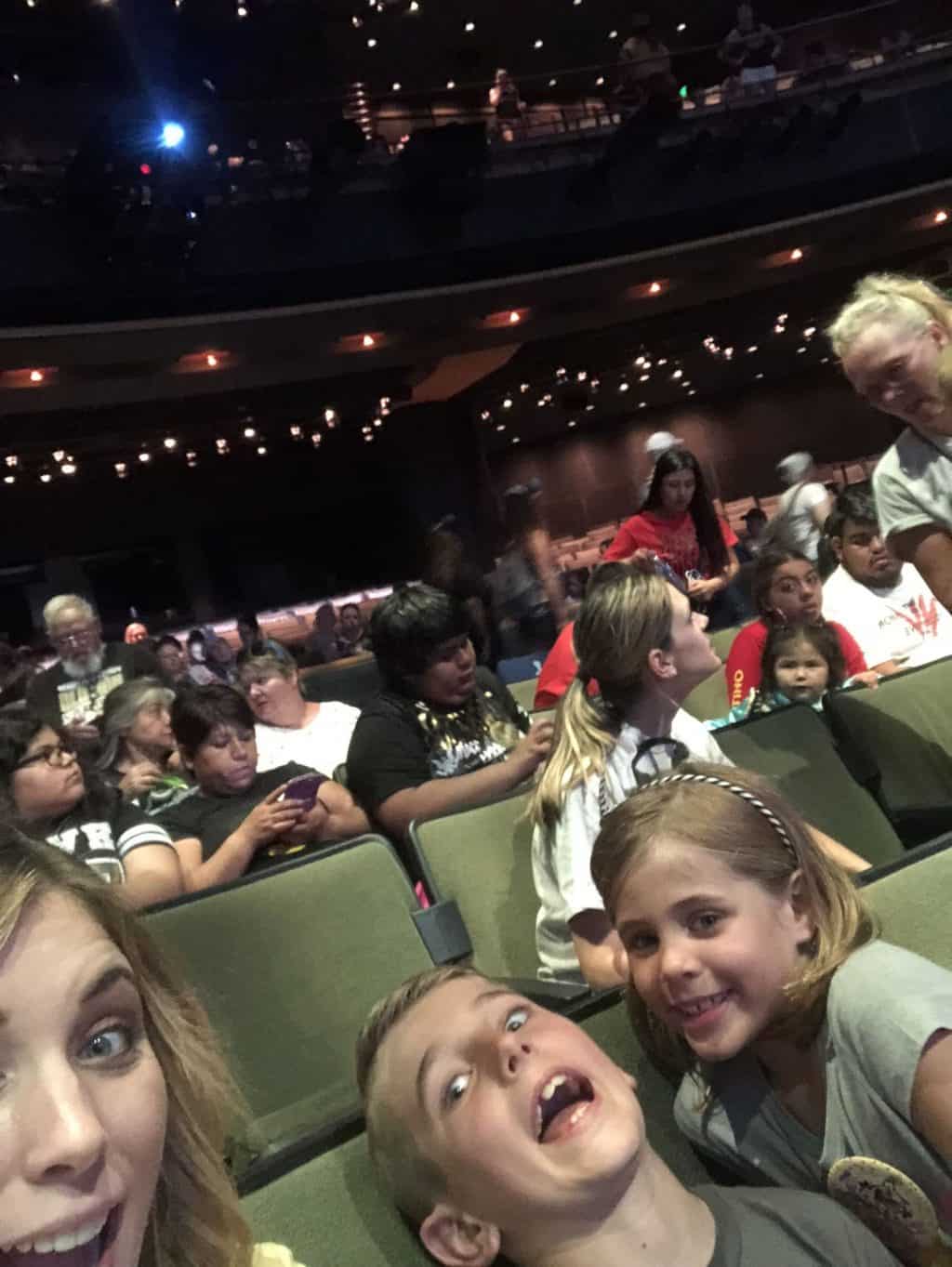 Snacks always cheer 'em up 😉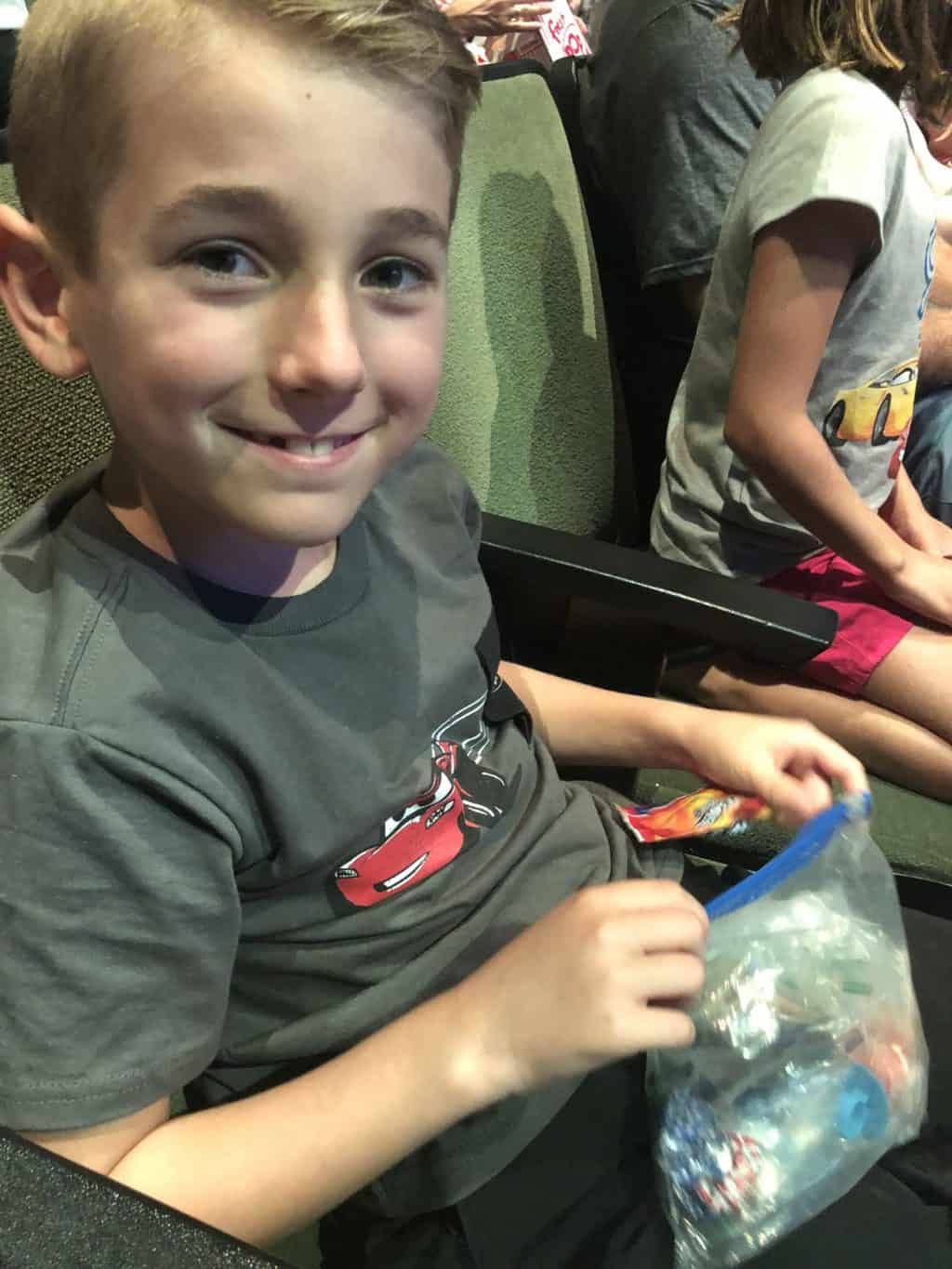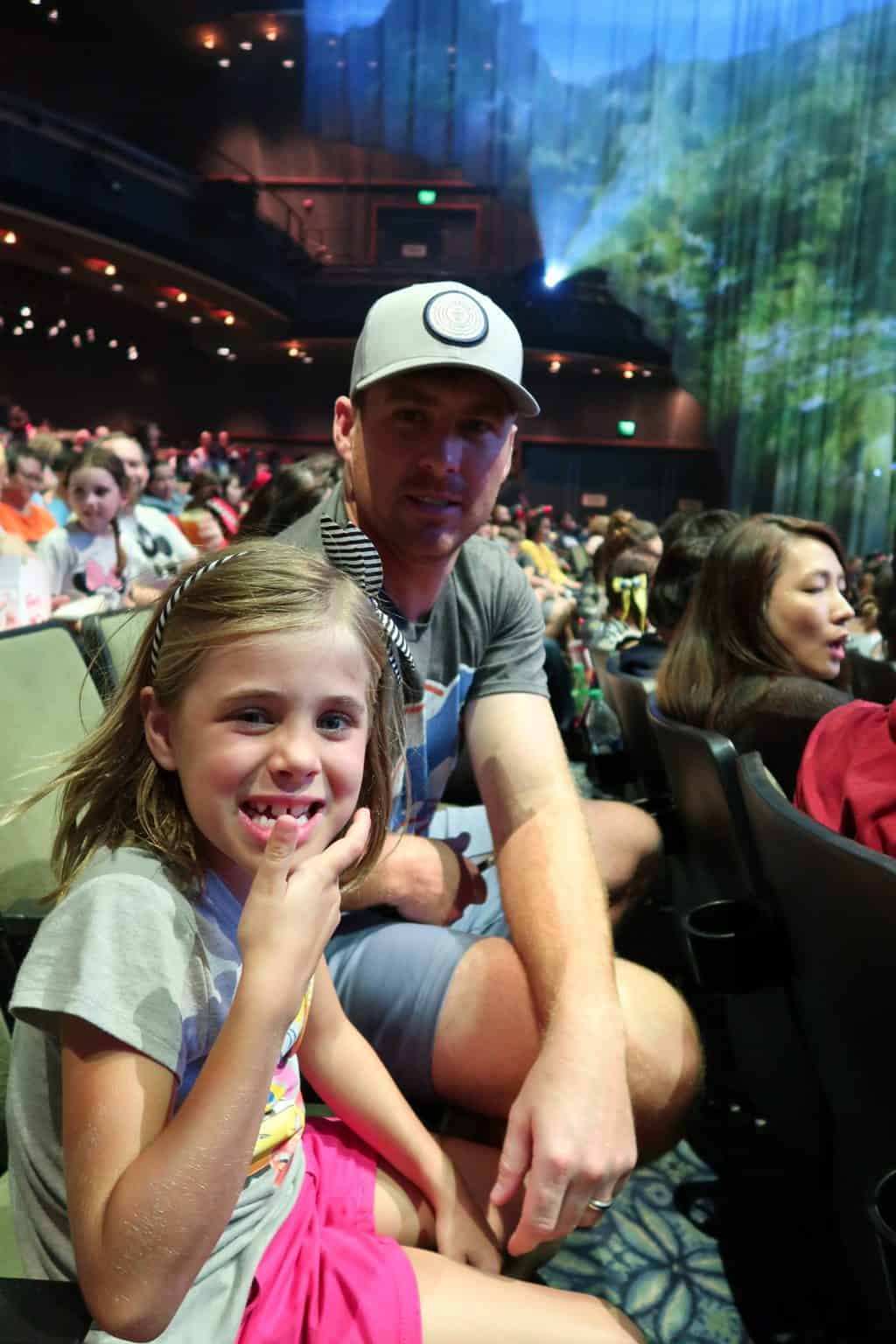 I know shows at the Hyperion are a "thing" and often Disney's way of preparing a show for Broadway. I'm actually seeing Frozen on Broadway next week so I'll be able to compare the two but I heard AMAZING things about Aladdin when it was at the Hyperion and the Frozen show didn't disappoint!
The stage was BEAUTIFUL and SO well done and SO detailed. The actors all did phenomenal and we all enjoyed it so much!!!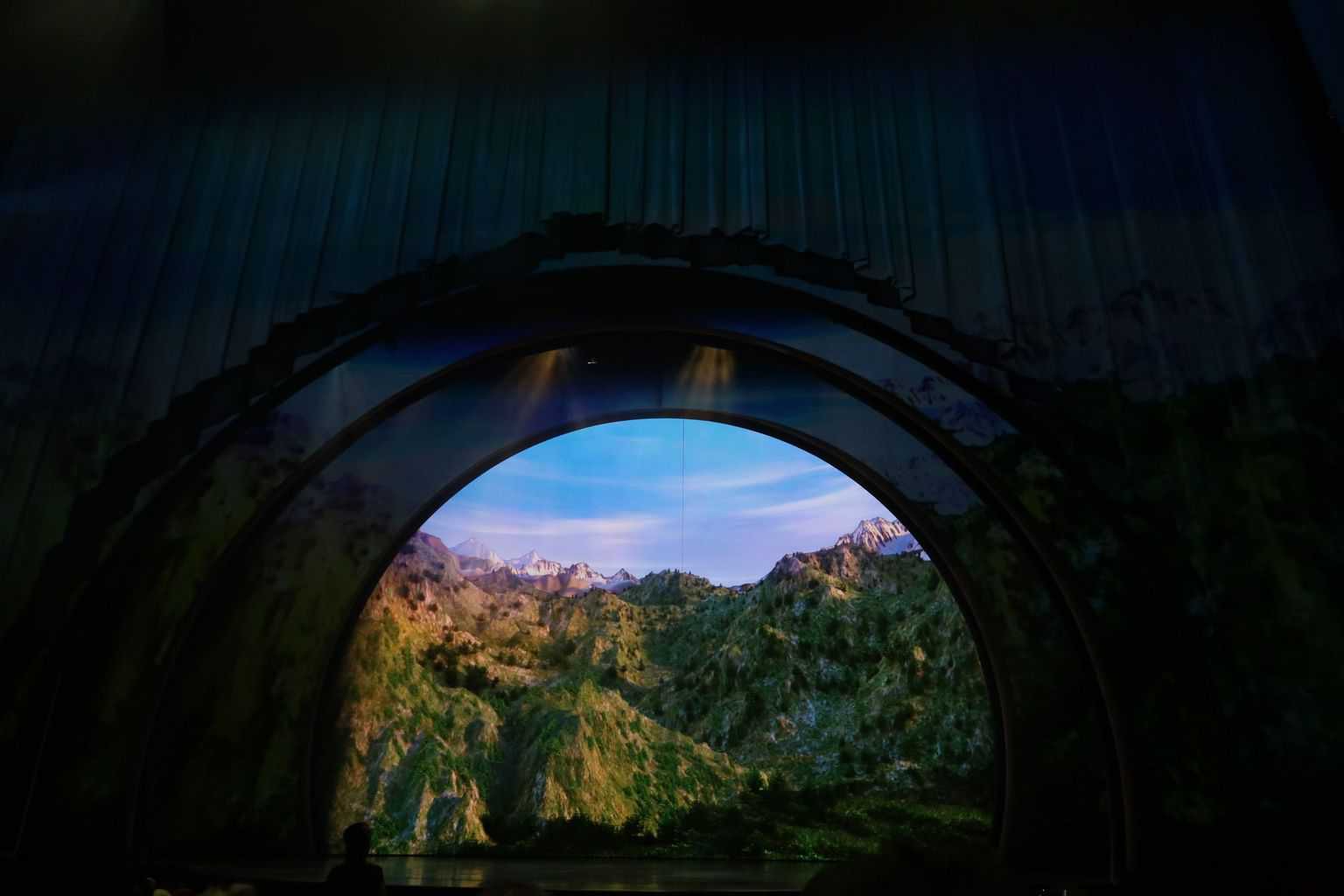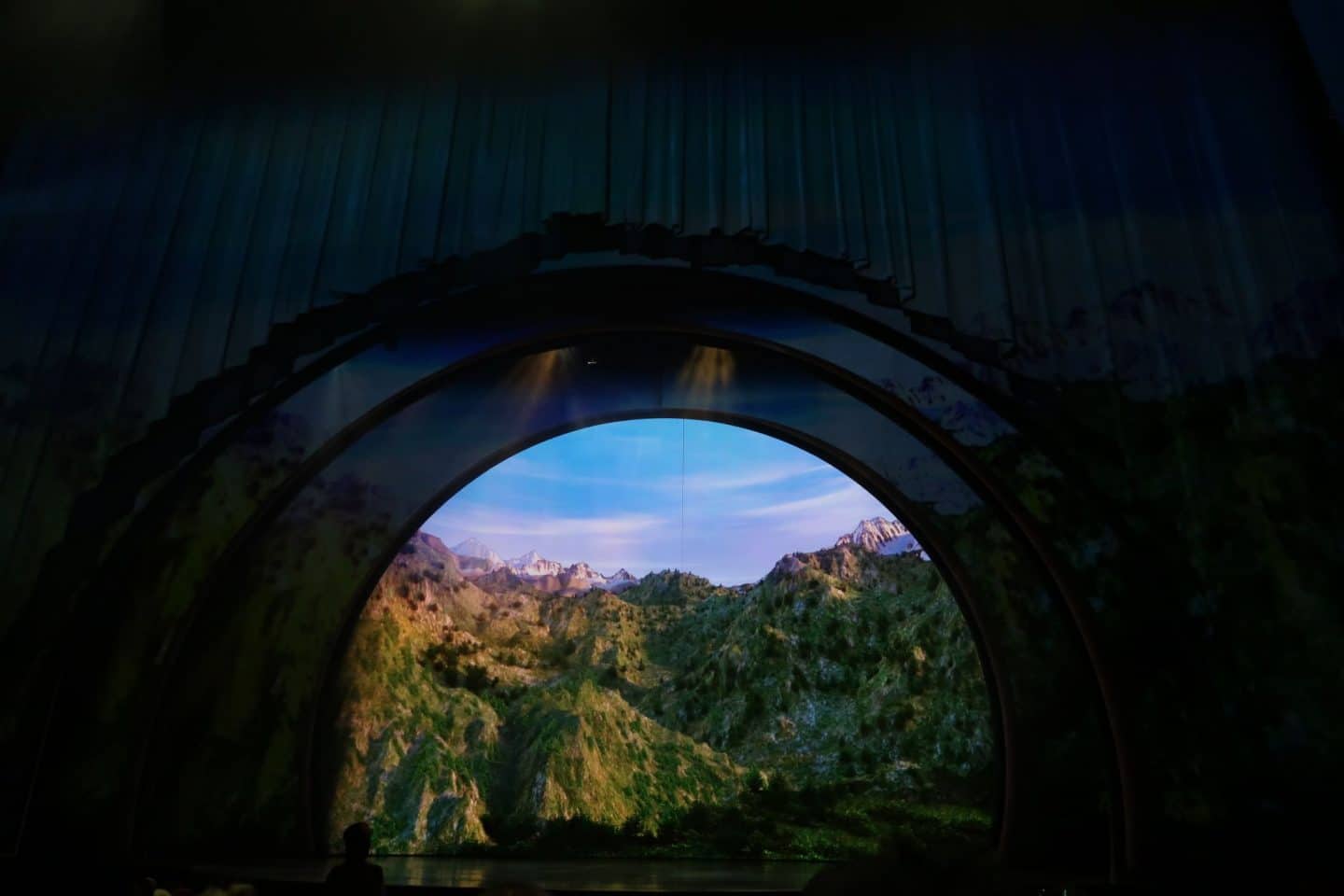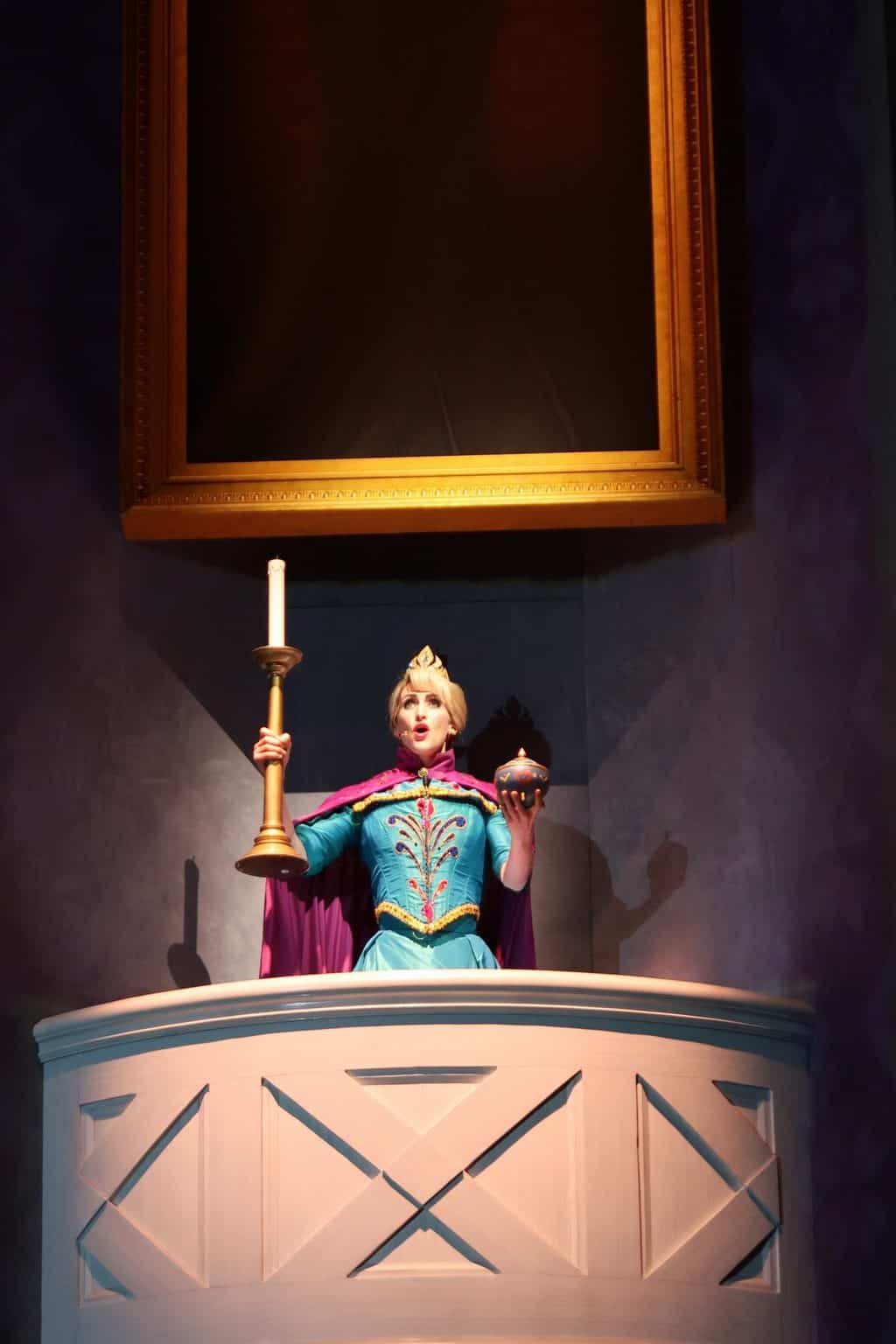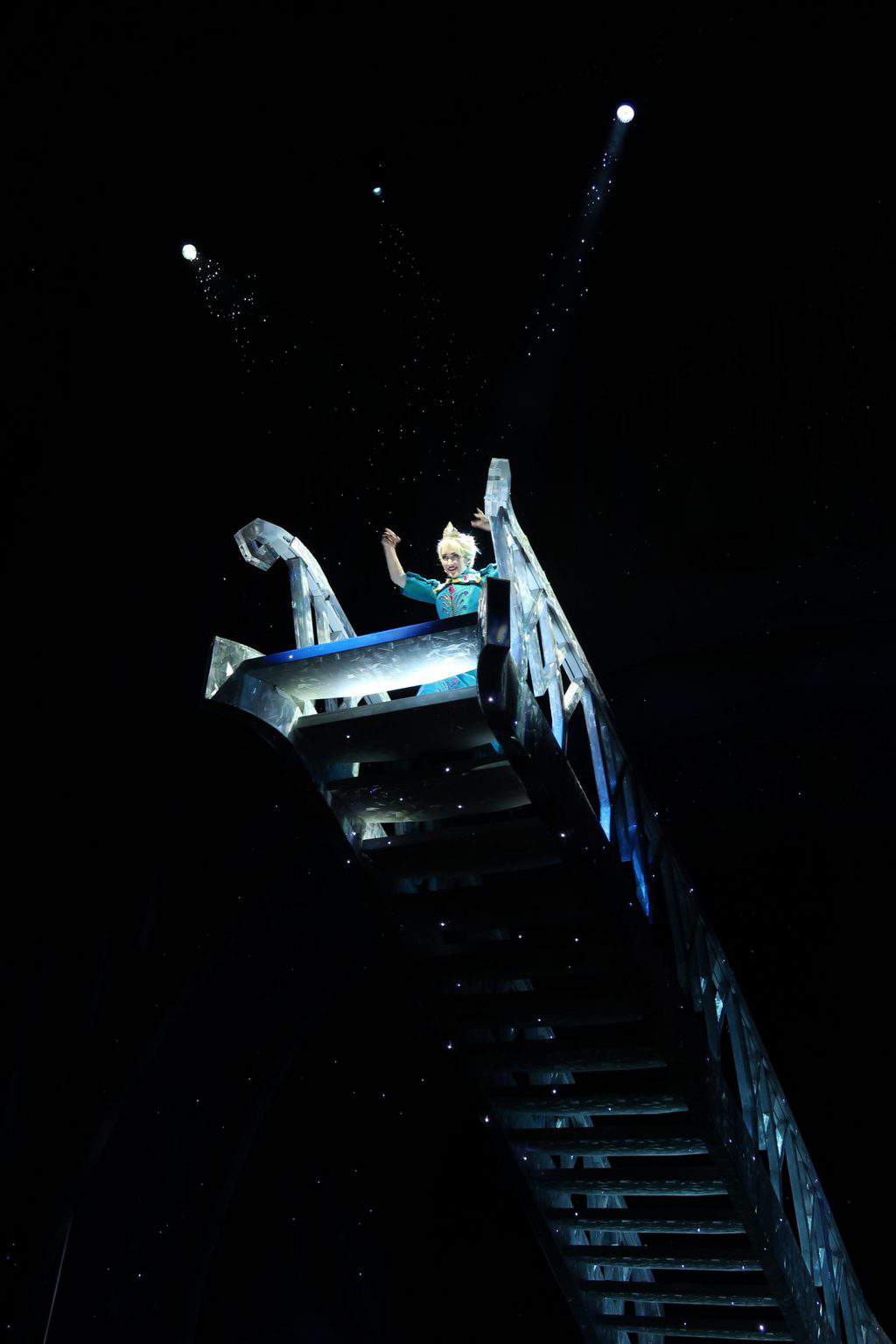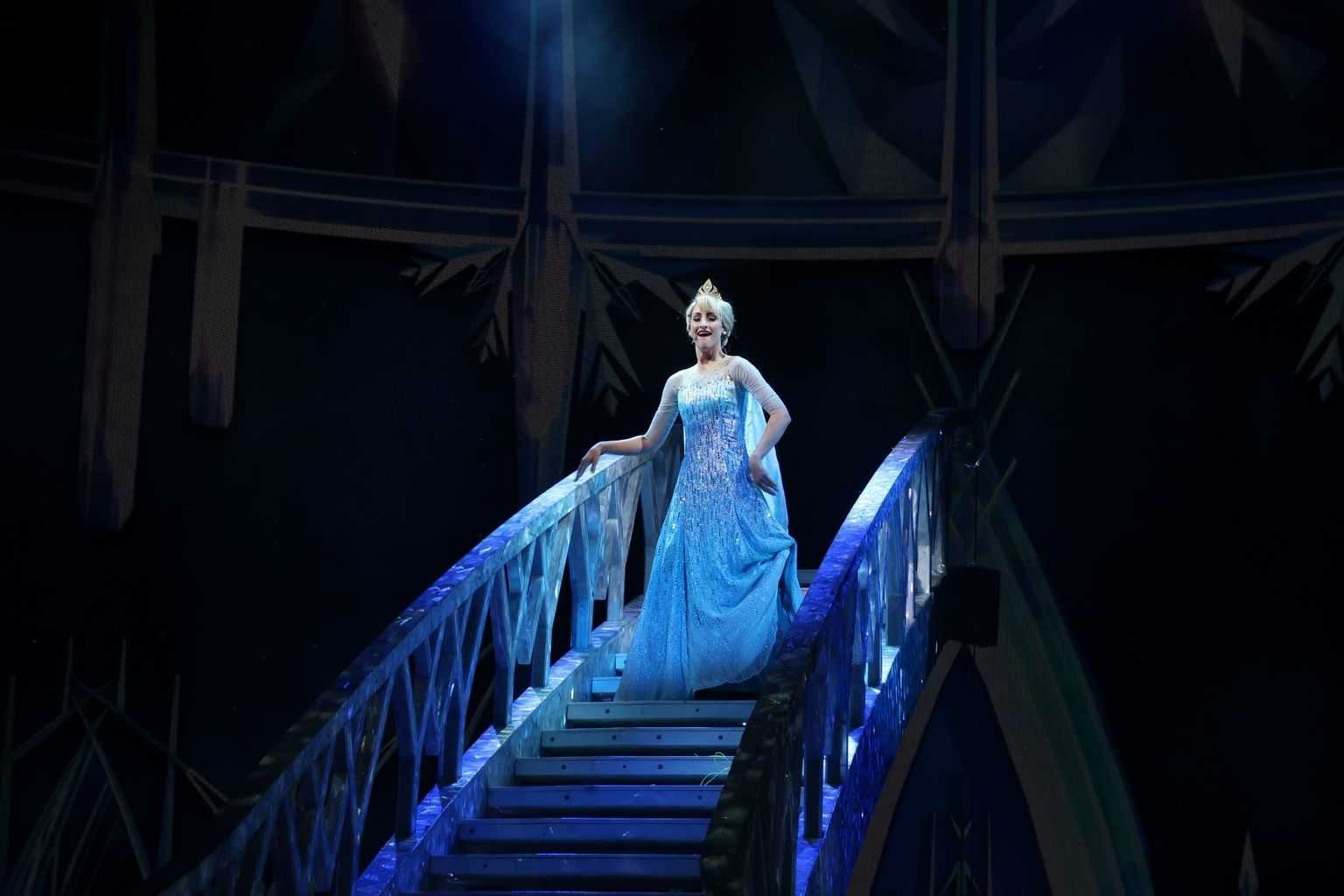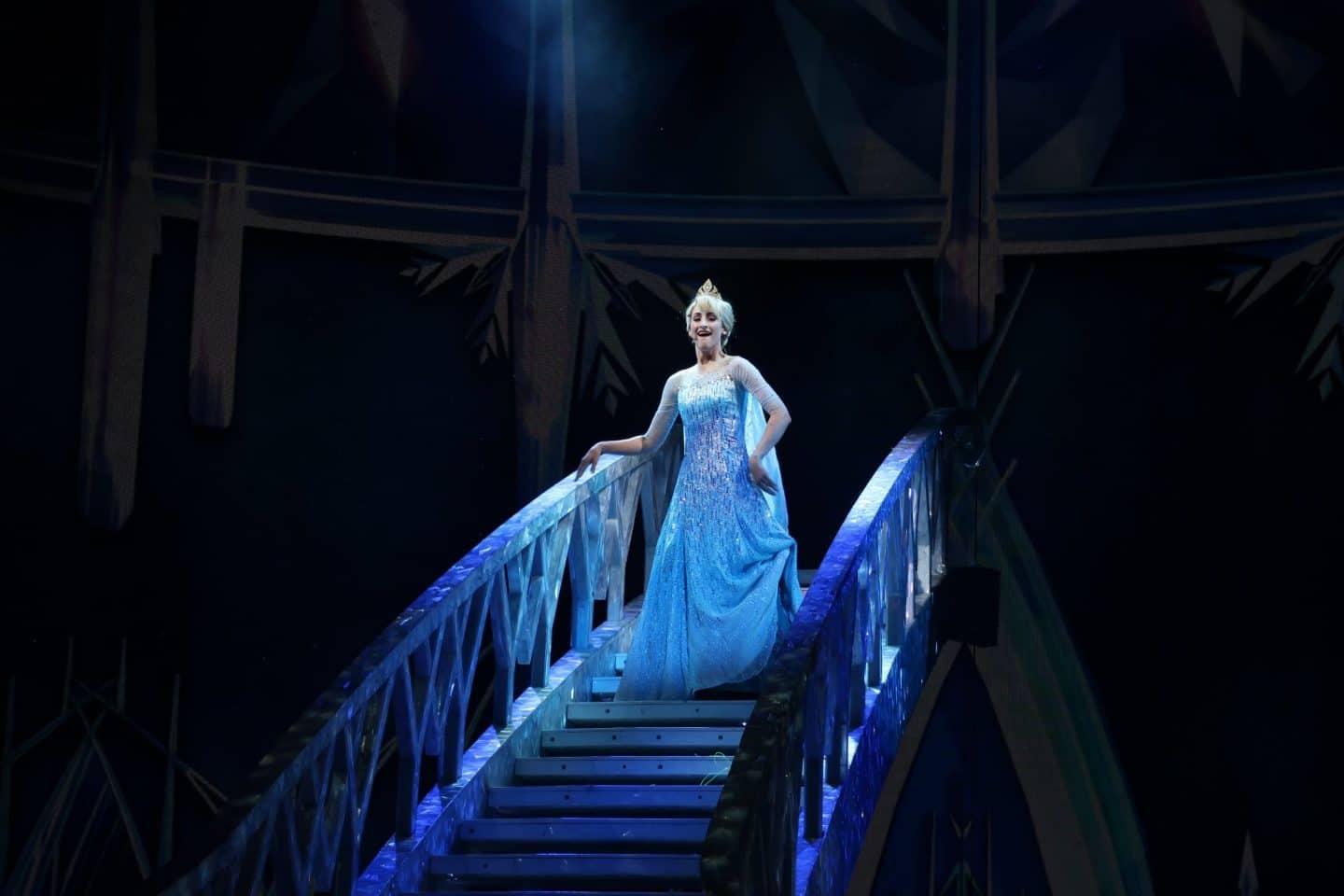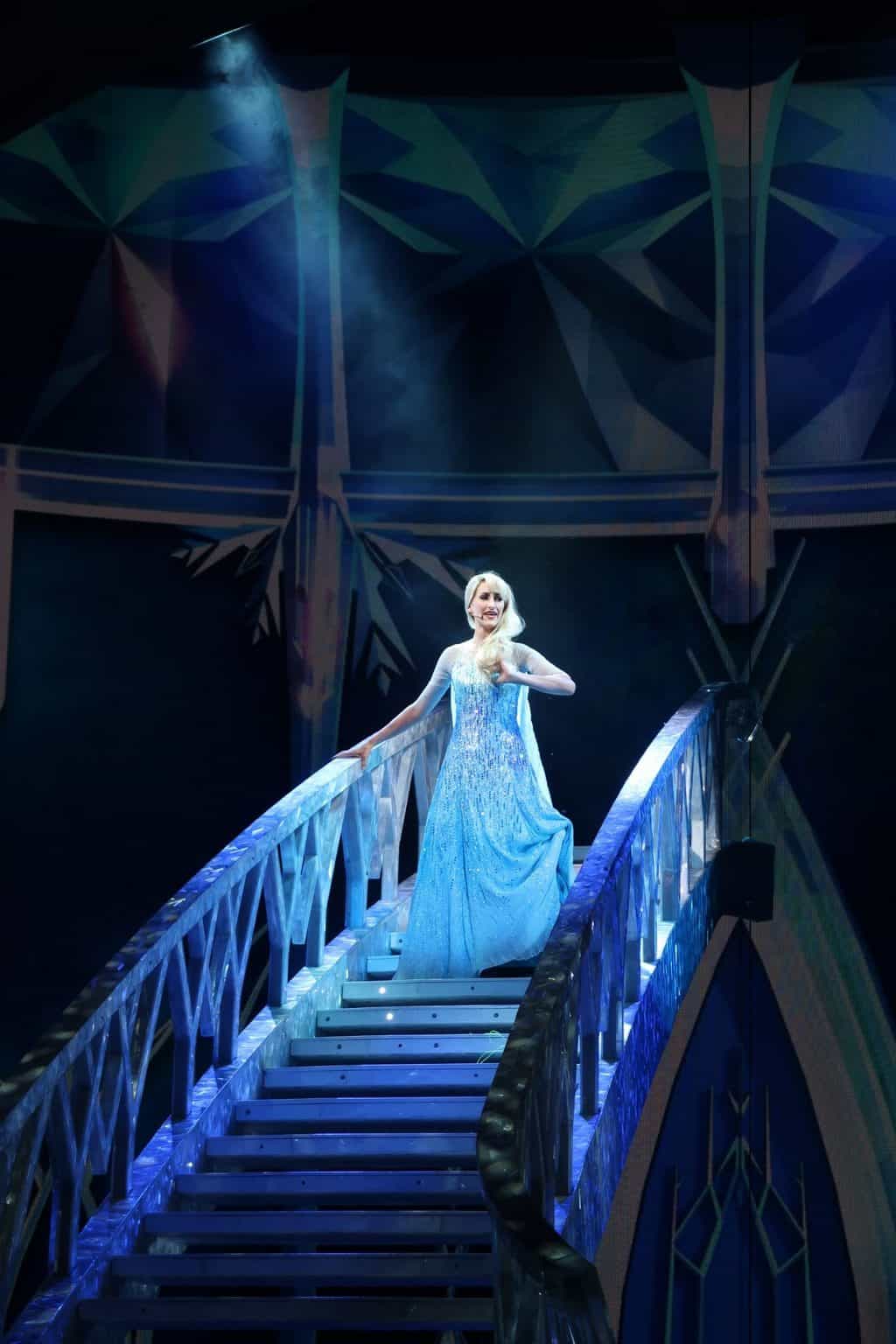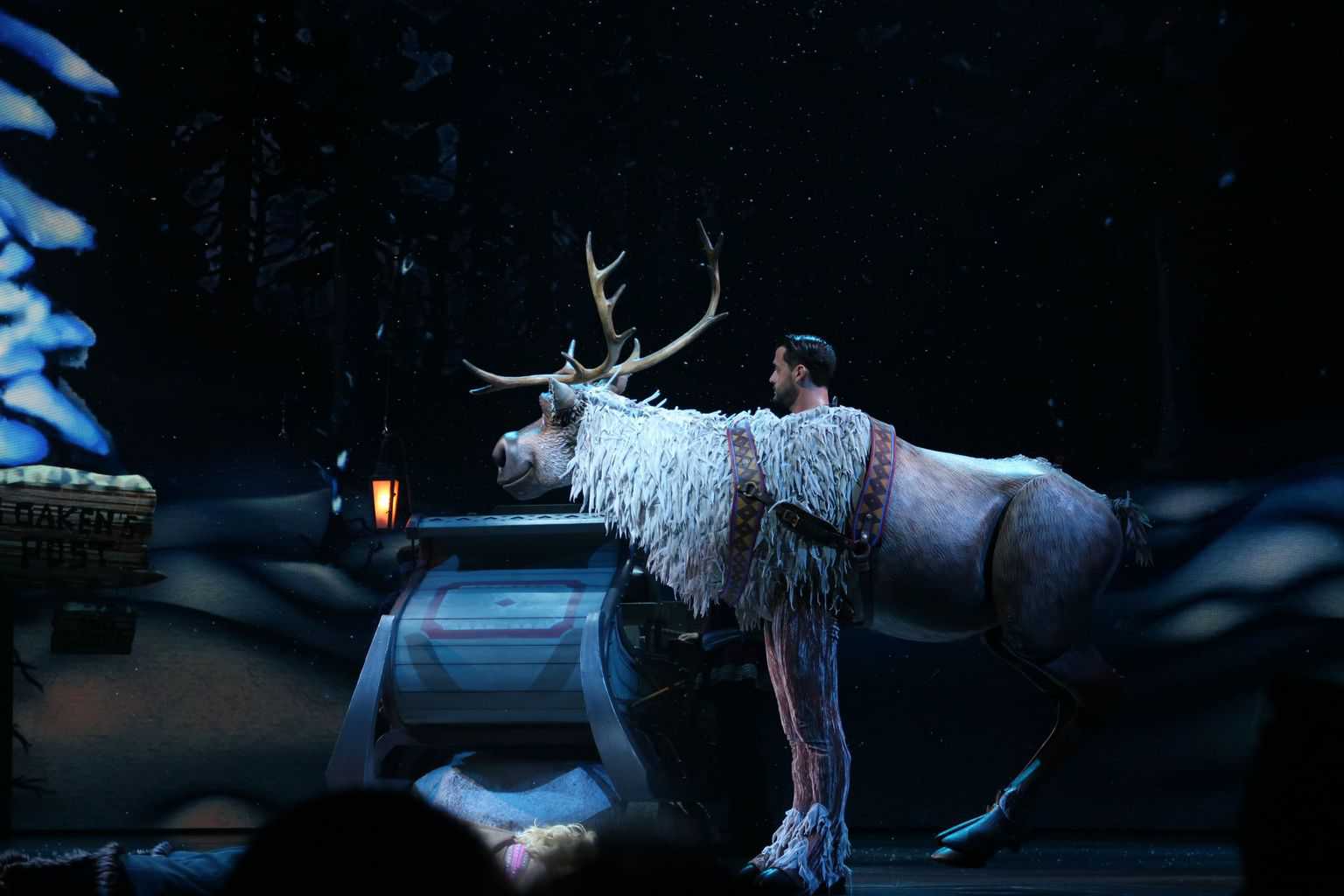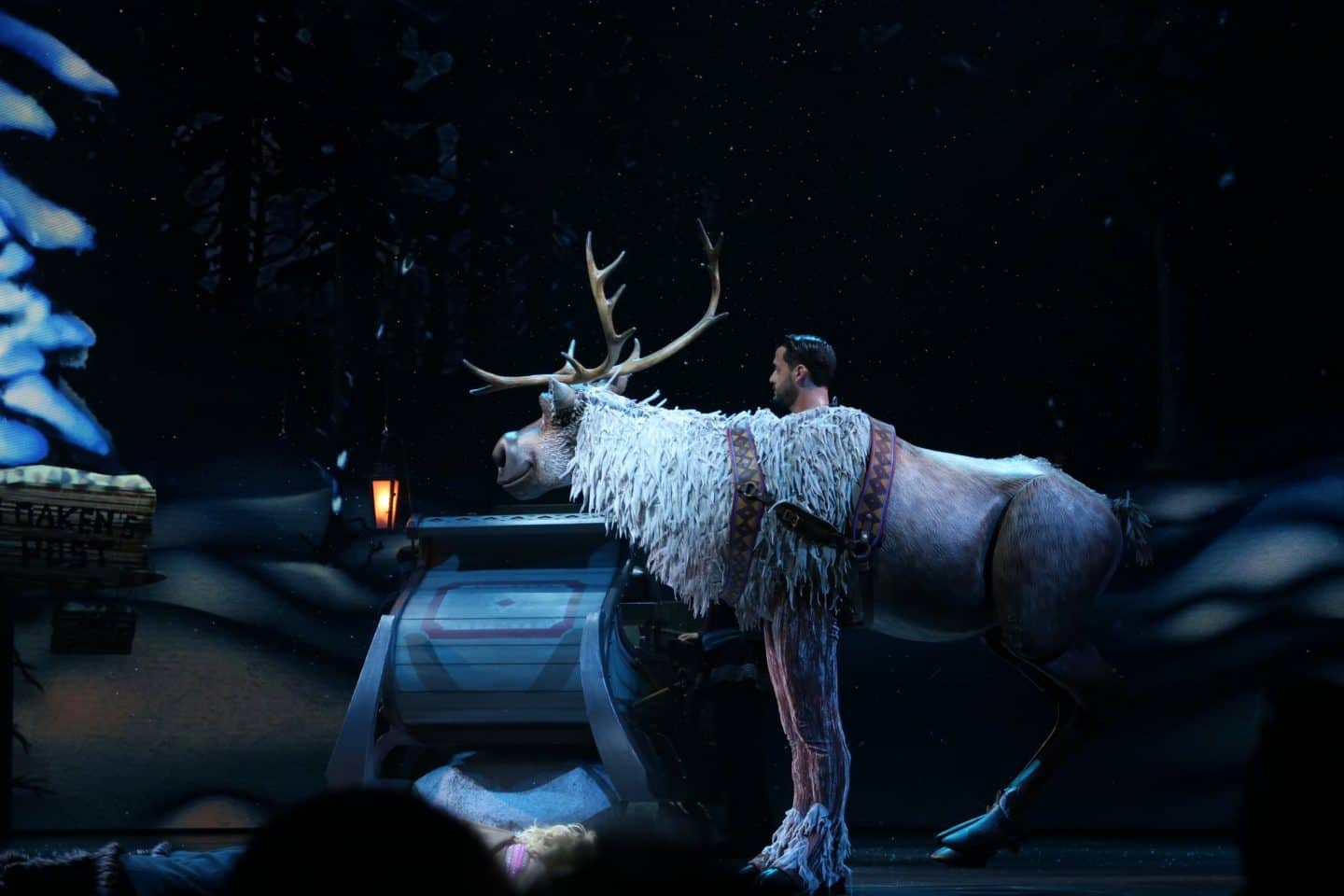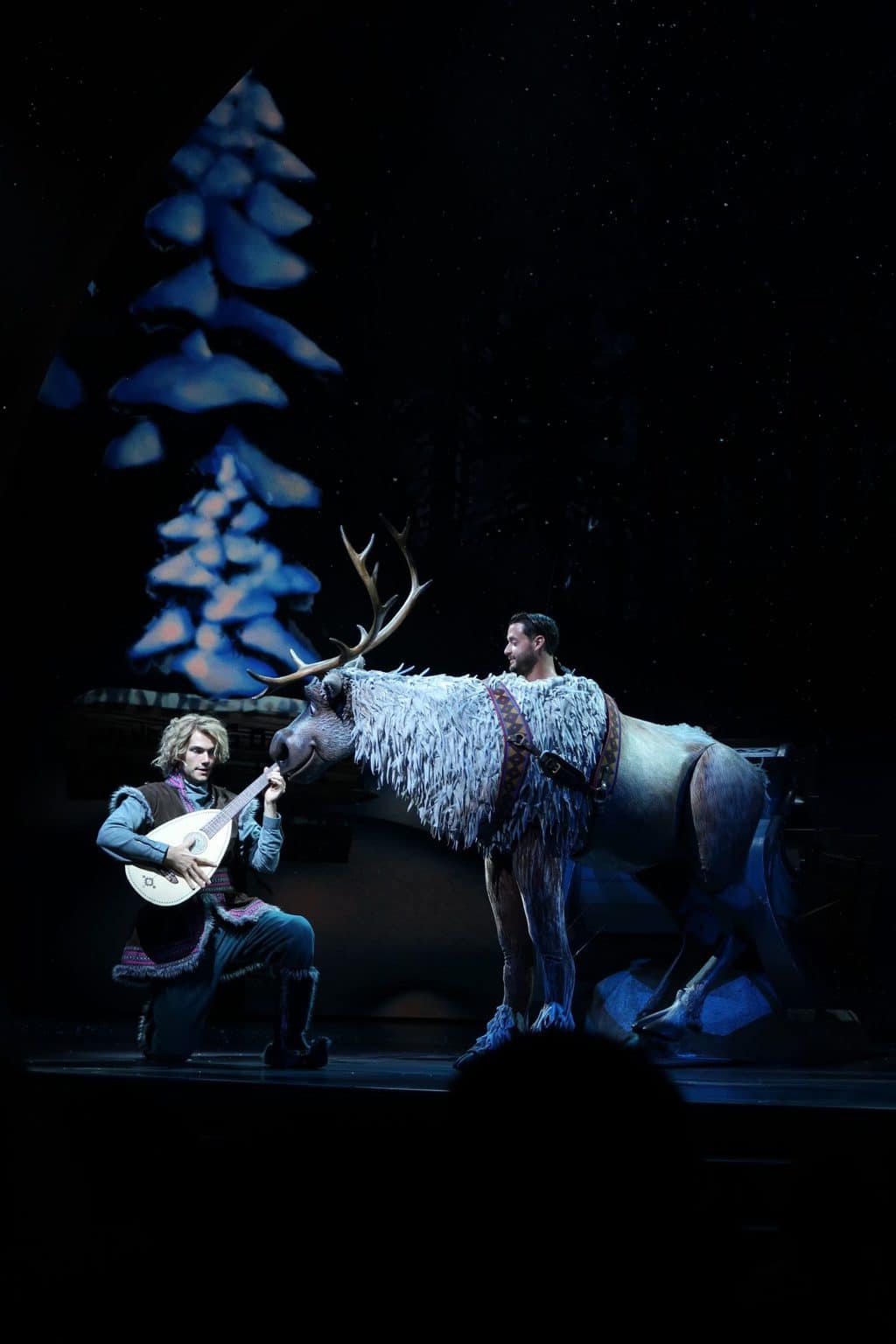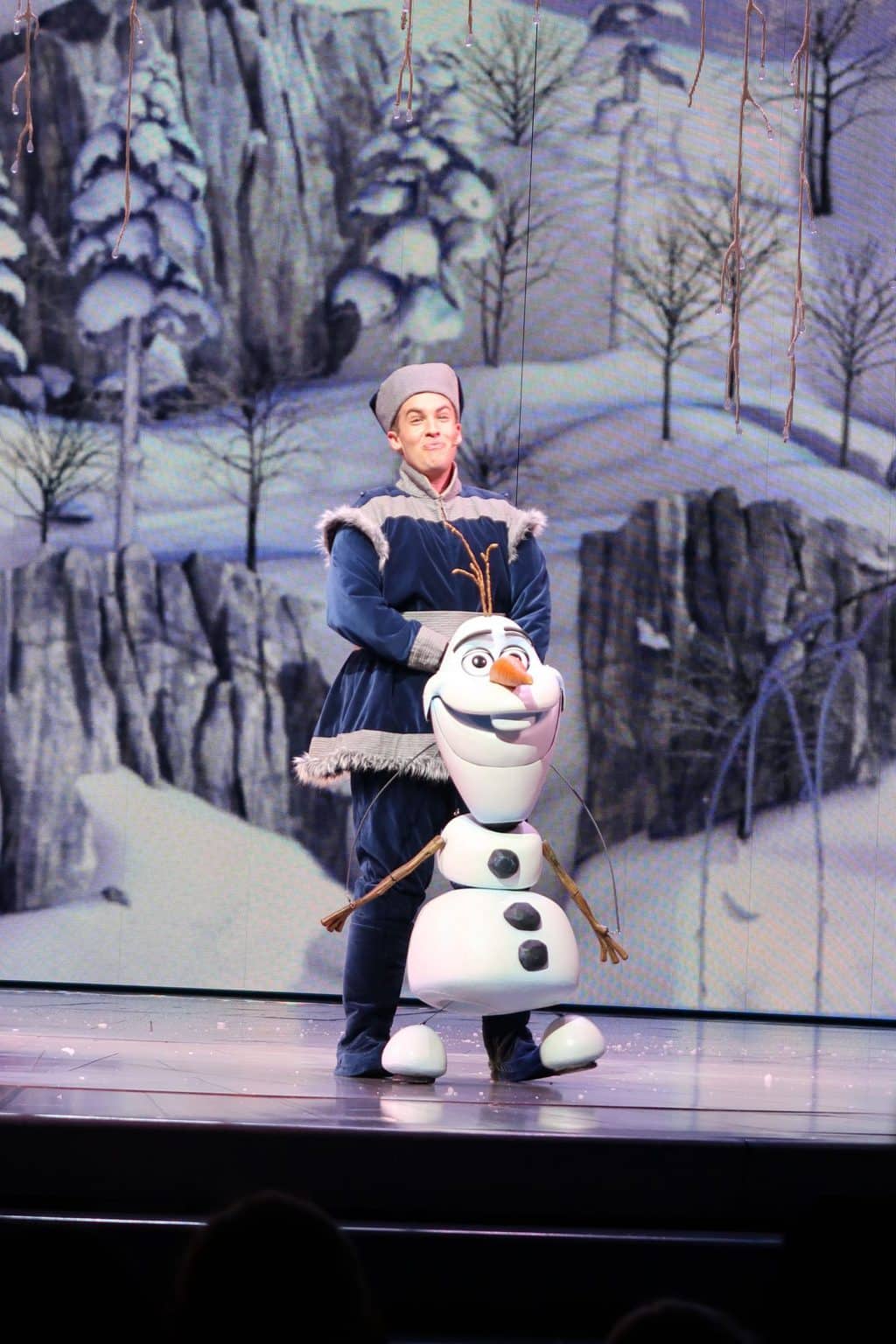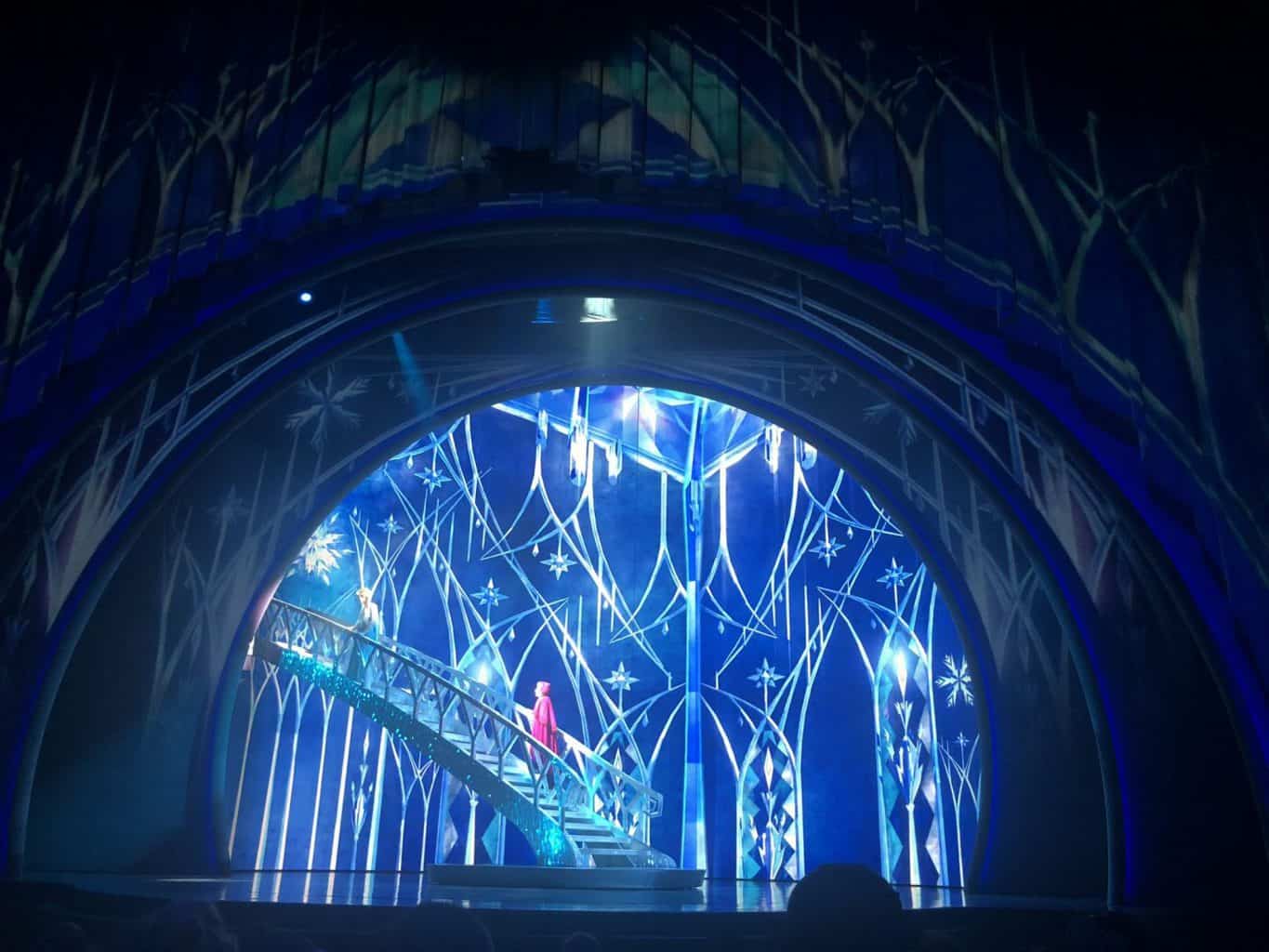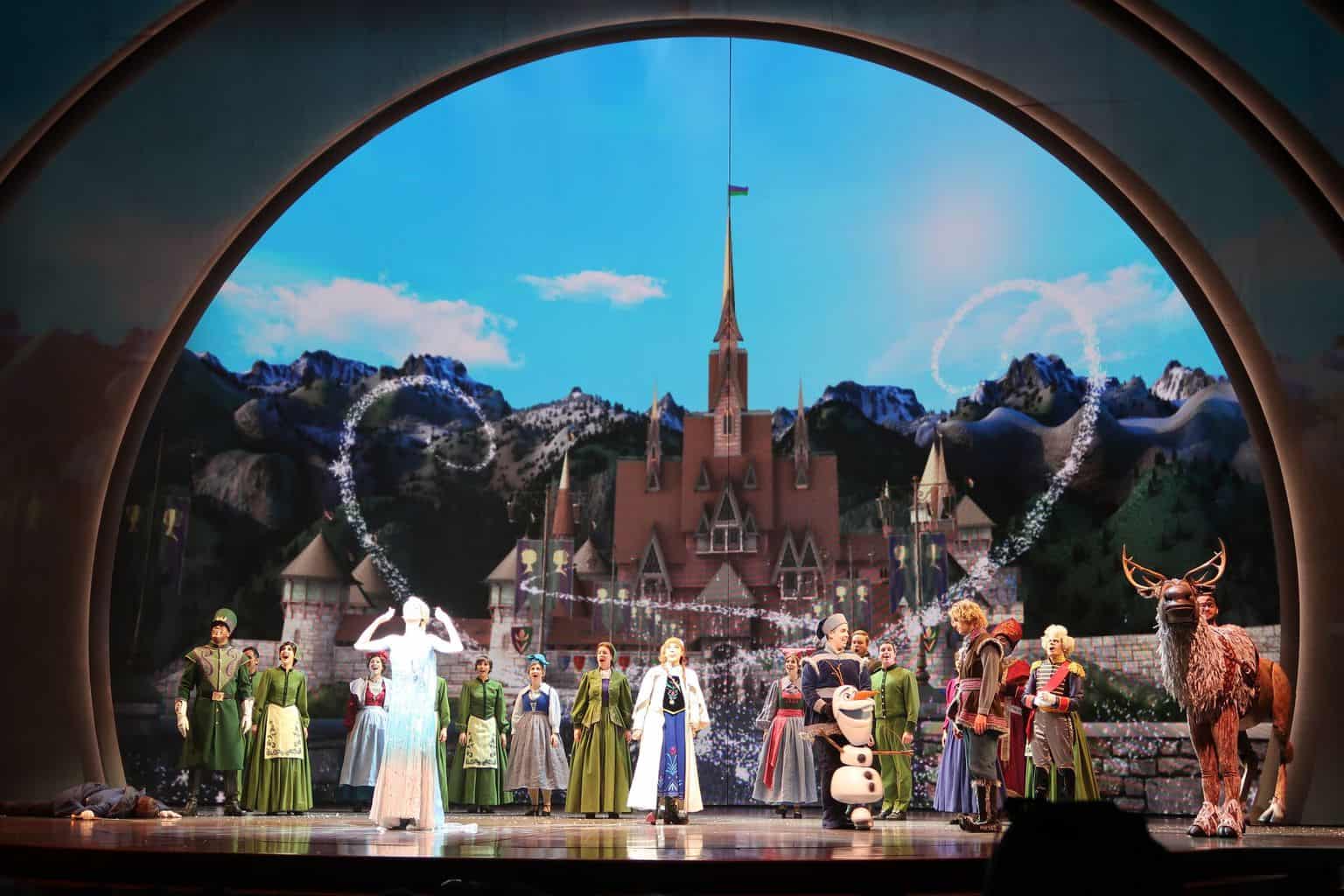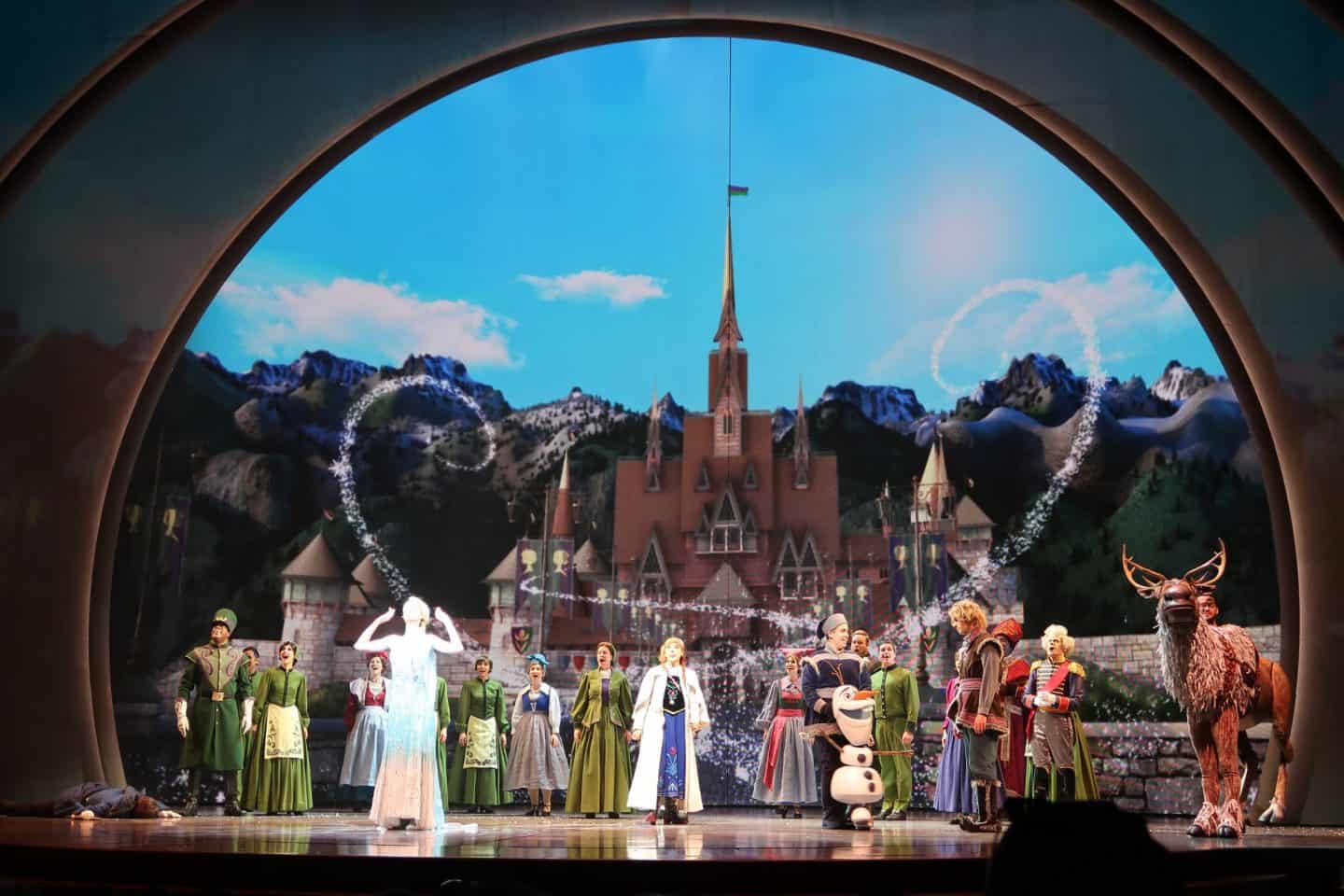 After the show we needed to get some energy out! We headed over to take part in the Disney Junior Dance Party! I've heard that the Disney Junior Live on Stage show at Disney's Hollywood Studios is getting a makeover and converting into the Dance Party version so I was eager to see it for myself and know what lies ahead and home 😉
We all agreed the dance party is a BIG step UP from the Live on Stage show. It was high energy with lots of characters (rather than puppets) and more of a fun vibe for a wider age range of audience.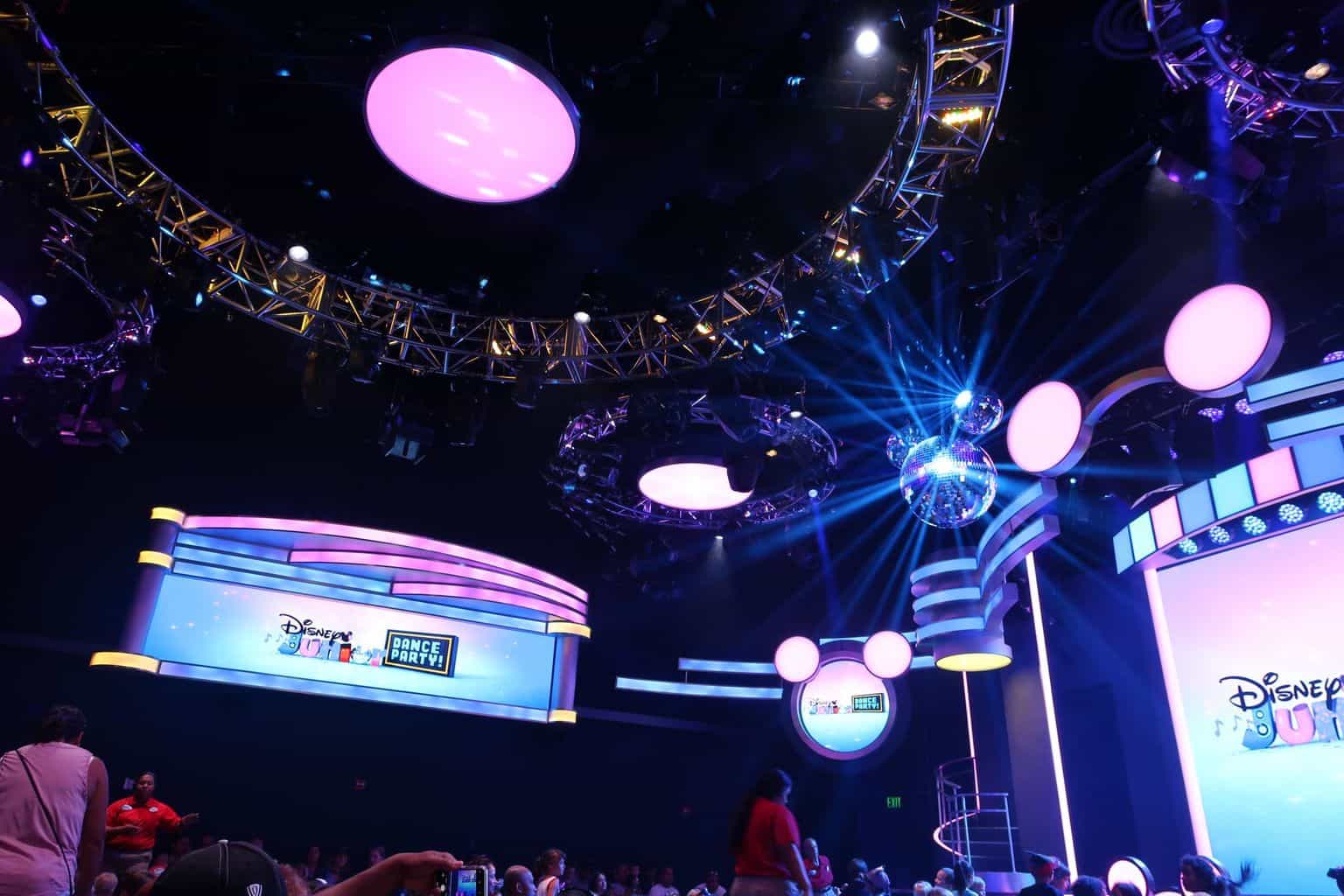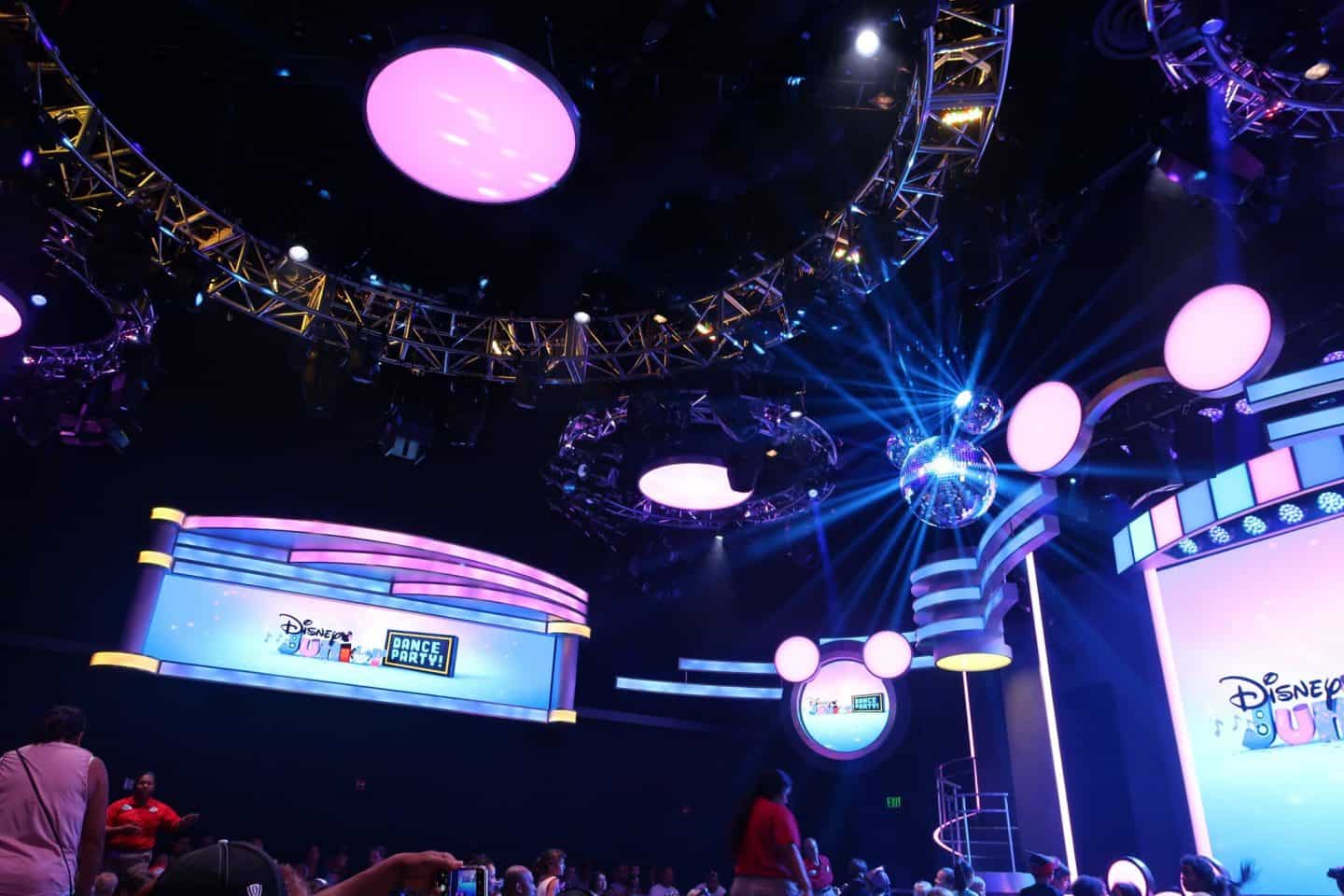 We were seated kinda mid-way towards the back but Britt being Britt made her way to the very front of the stage. Watching her at this show was a big ah-ha moment for us. She has ALL the factors to make an AWESOME cast member. She is high energy, joyful, has such a magnetic personality, loves to dance, loves attention, and just has that "it" factor that always draws her out in a crowd. I'm not sure what goes on in order to become a cast member but we def want to look into it when the time comes if it's something she continues to show interest in! I could just picture her hosting the dance party and being so great at it!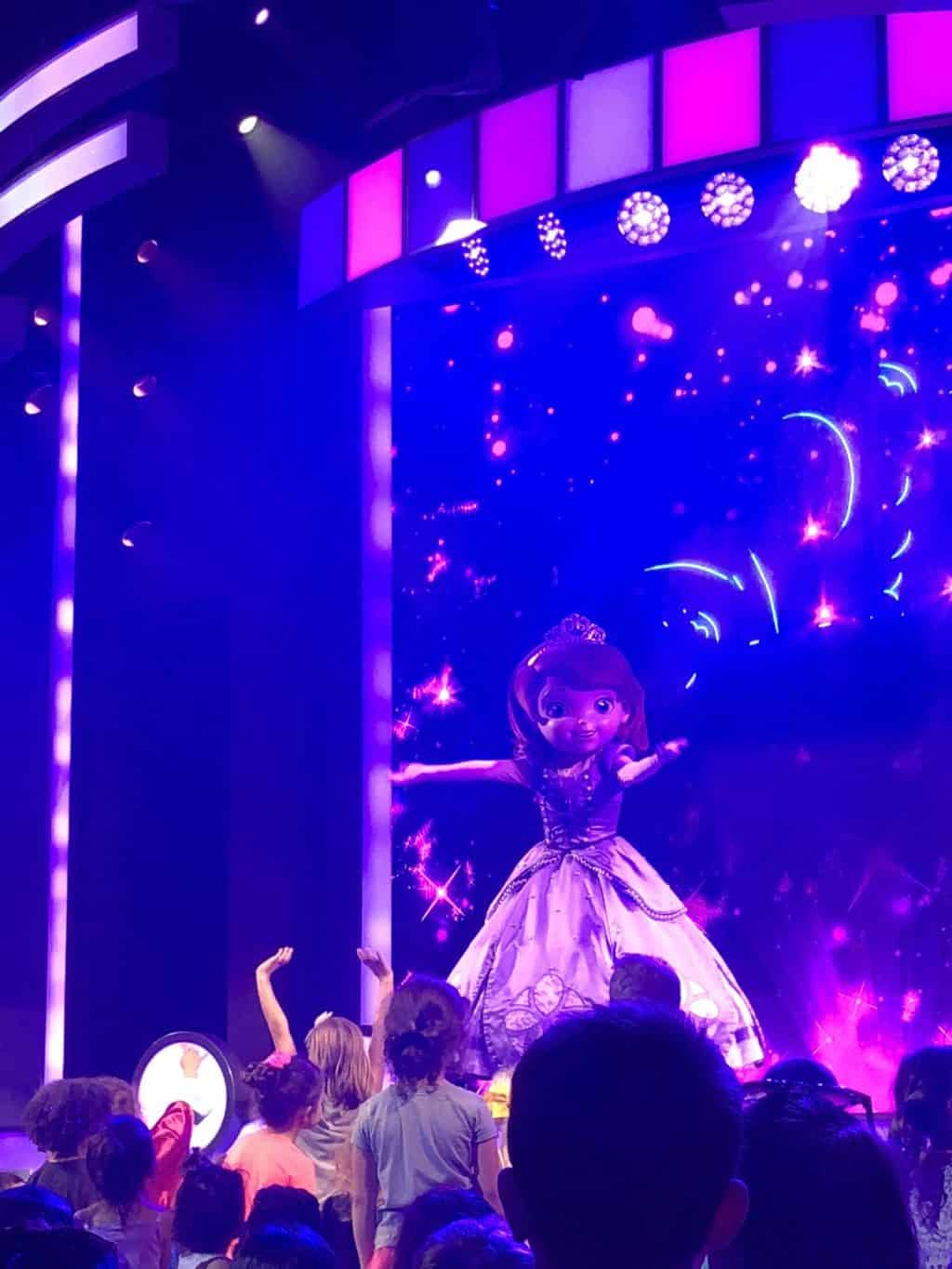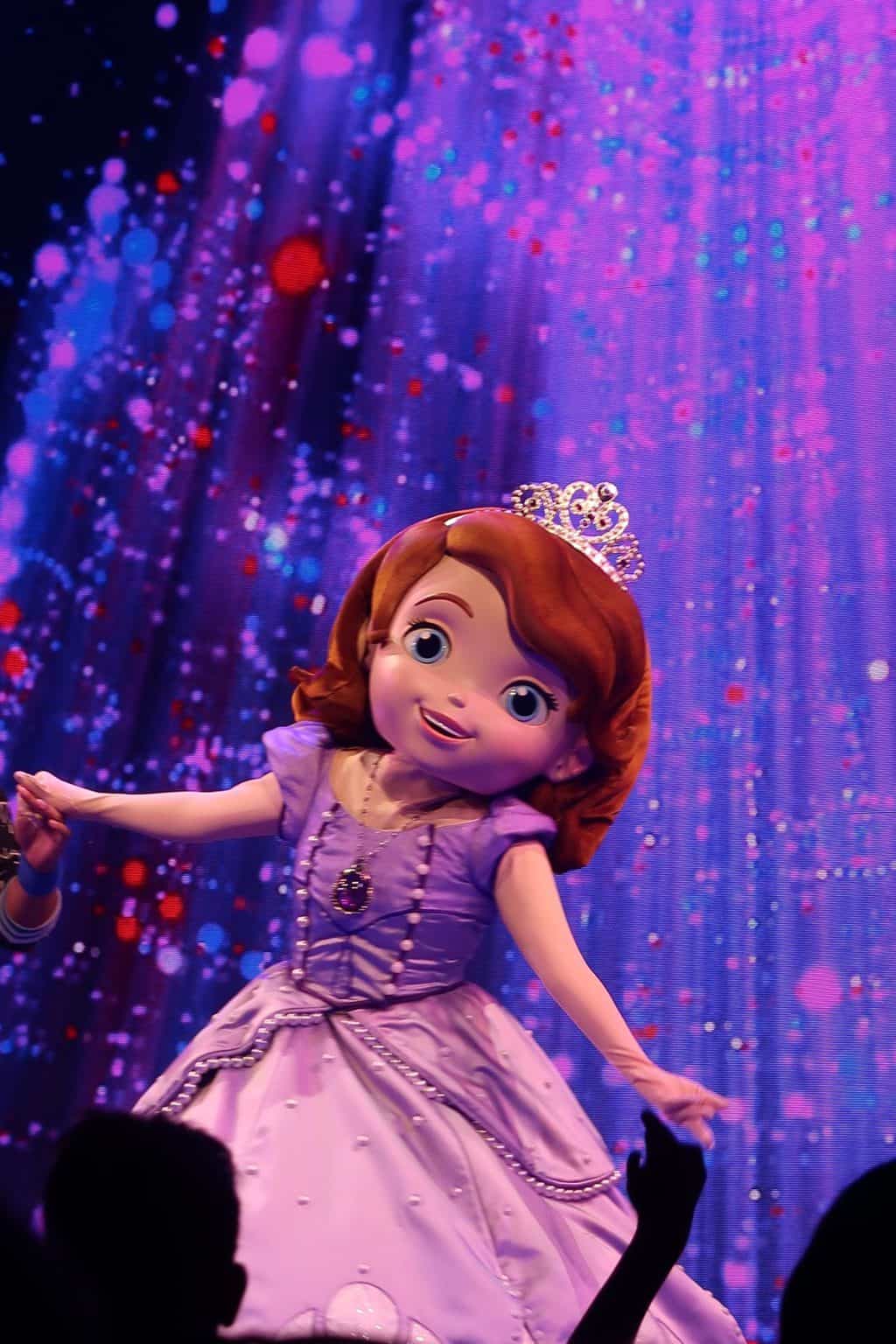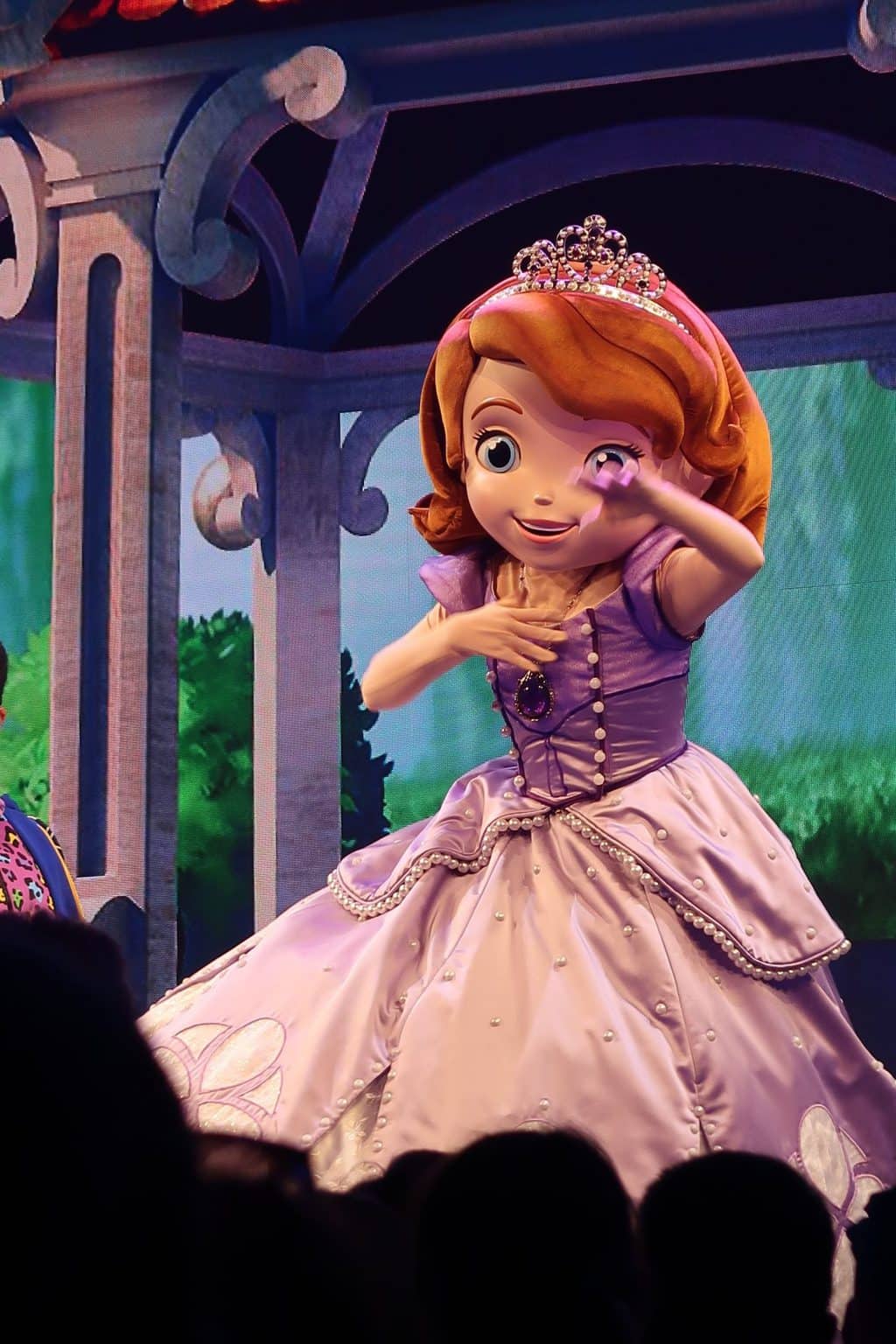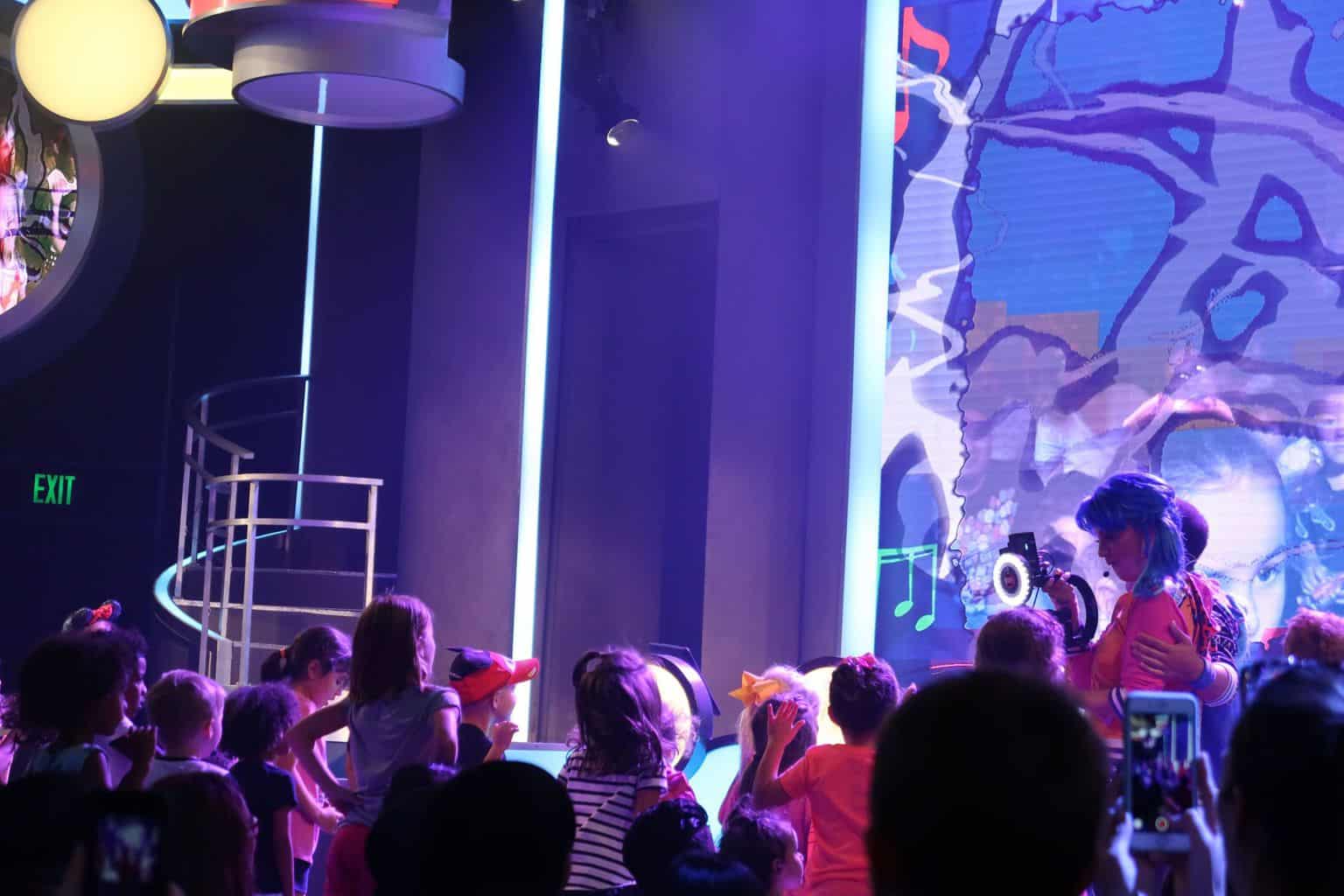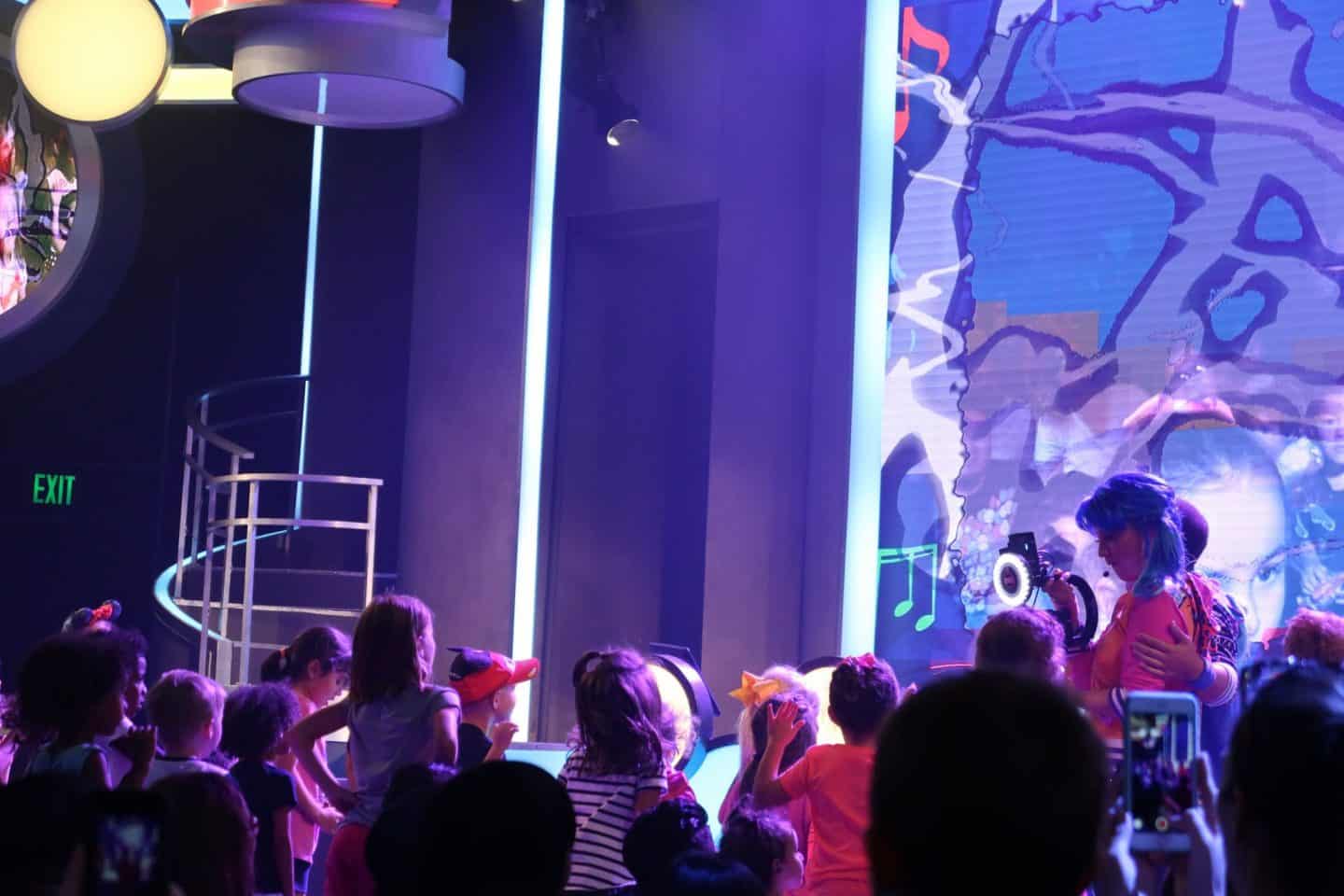 We were CRACKING UP watching her!!! She ain't shy 😉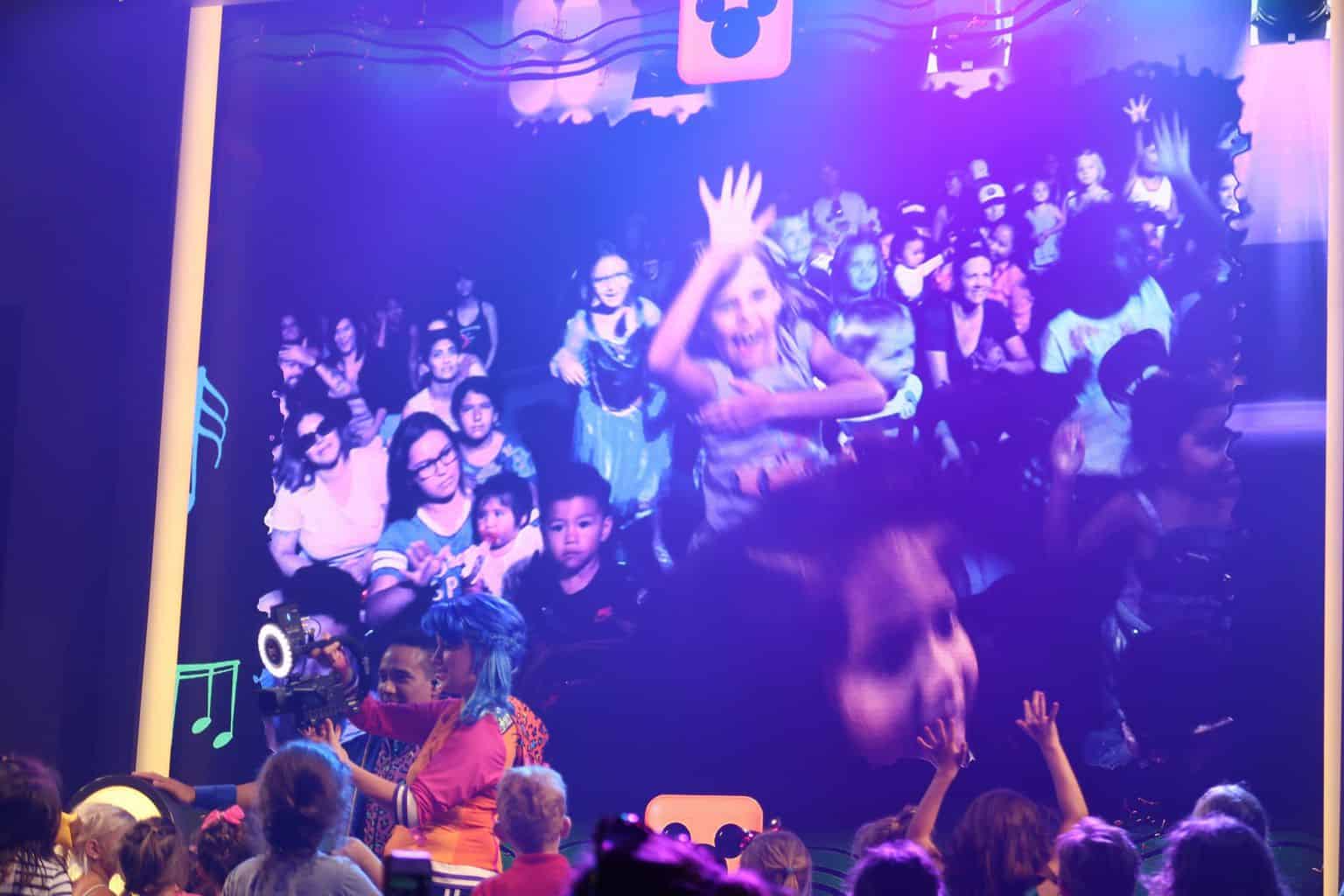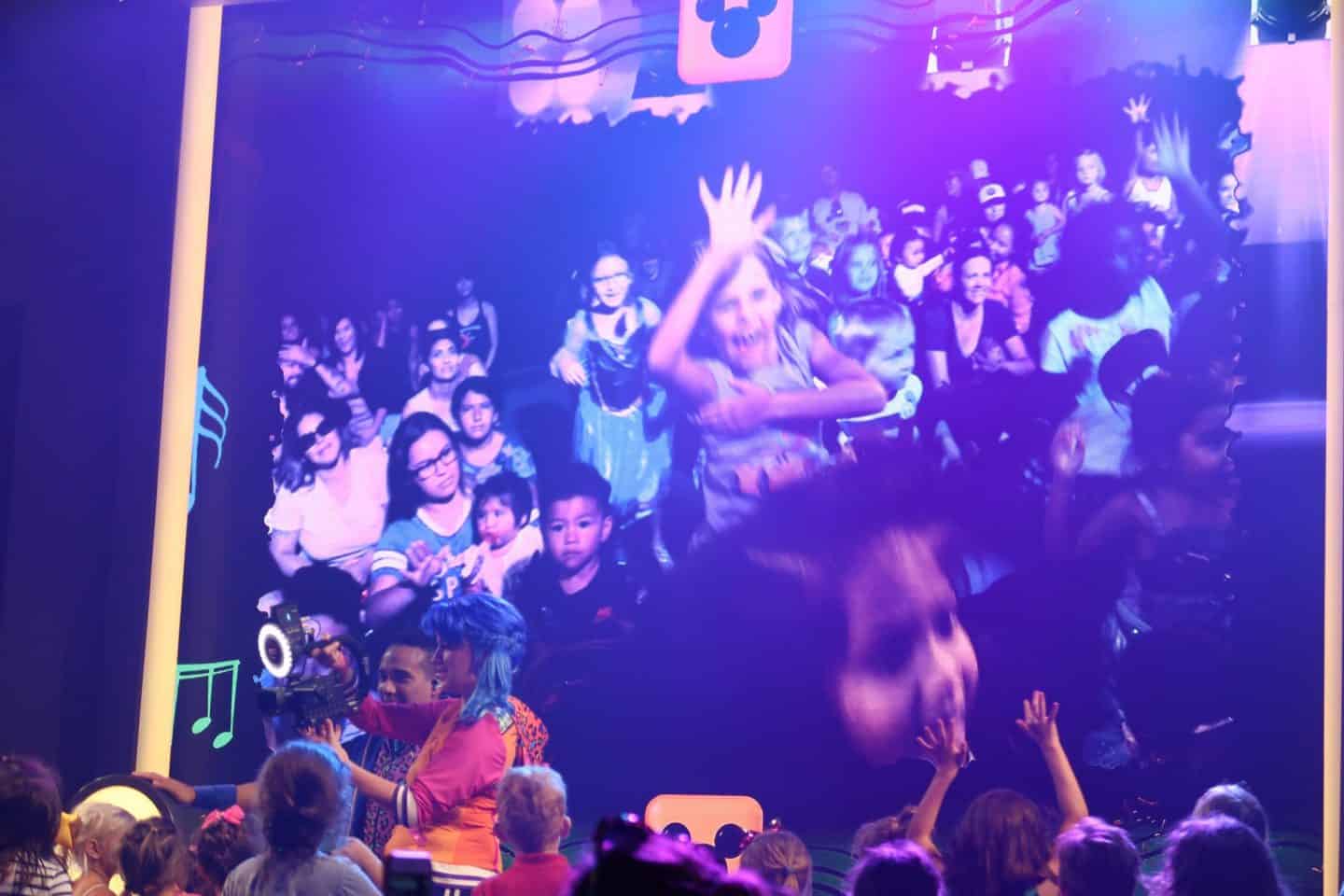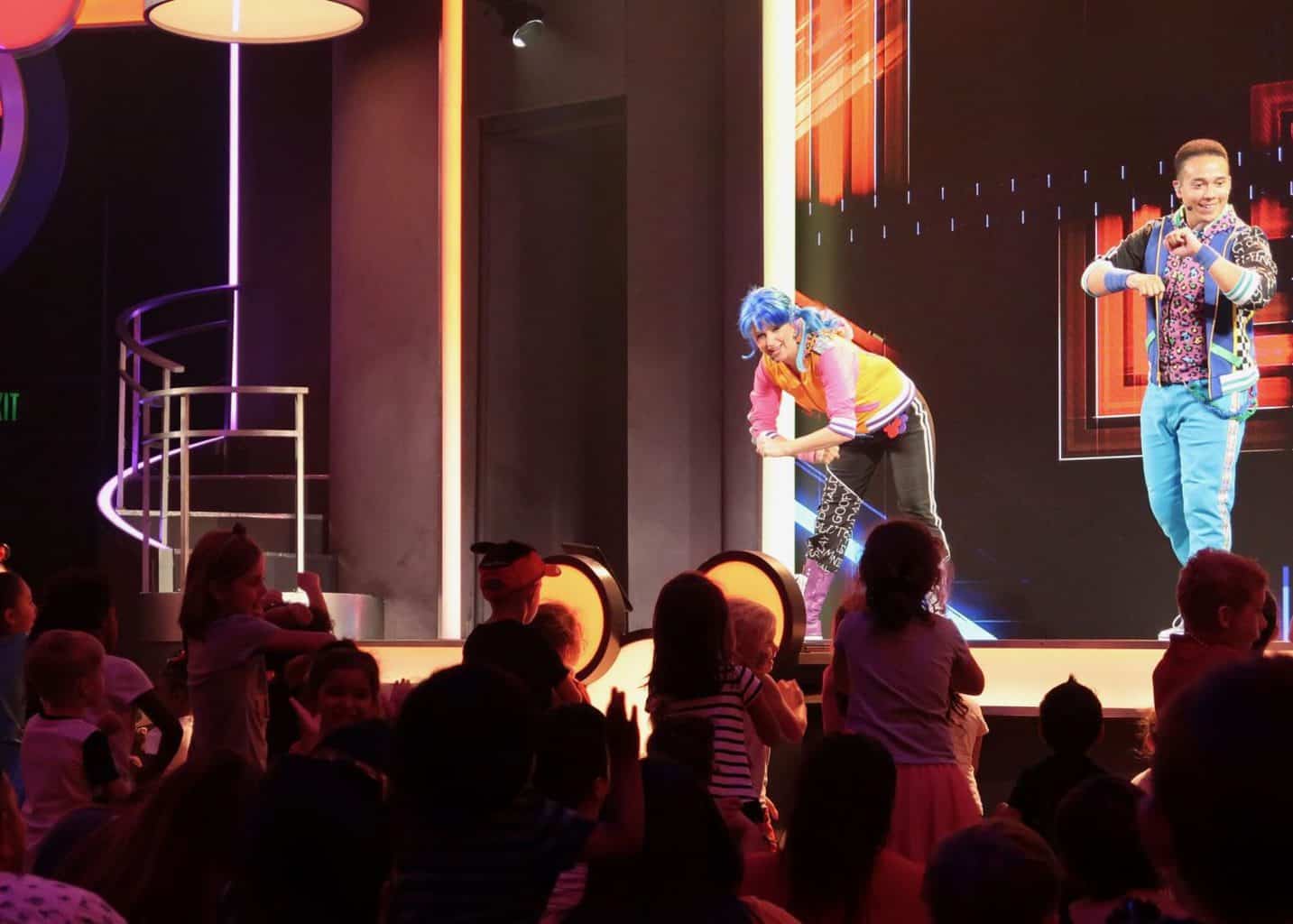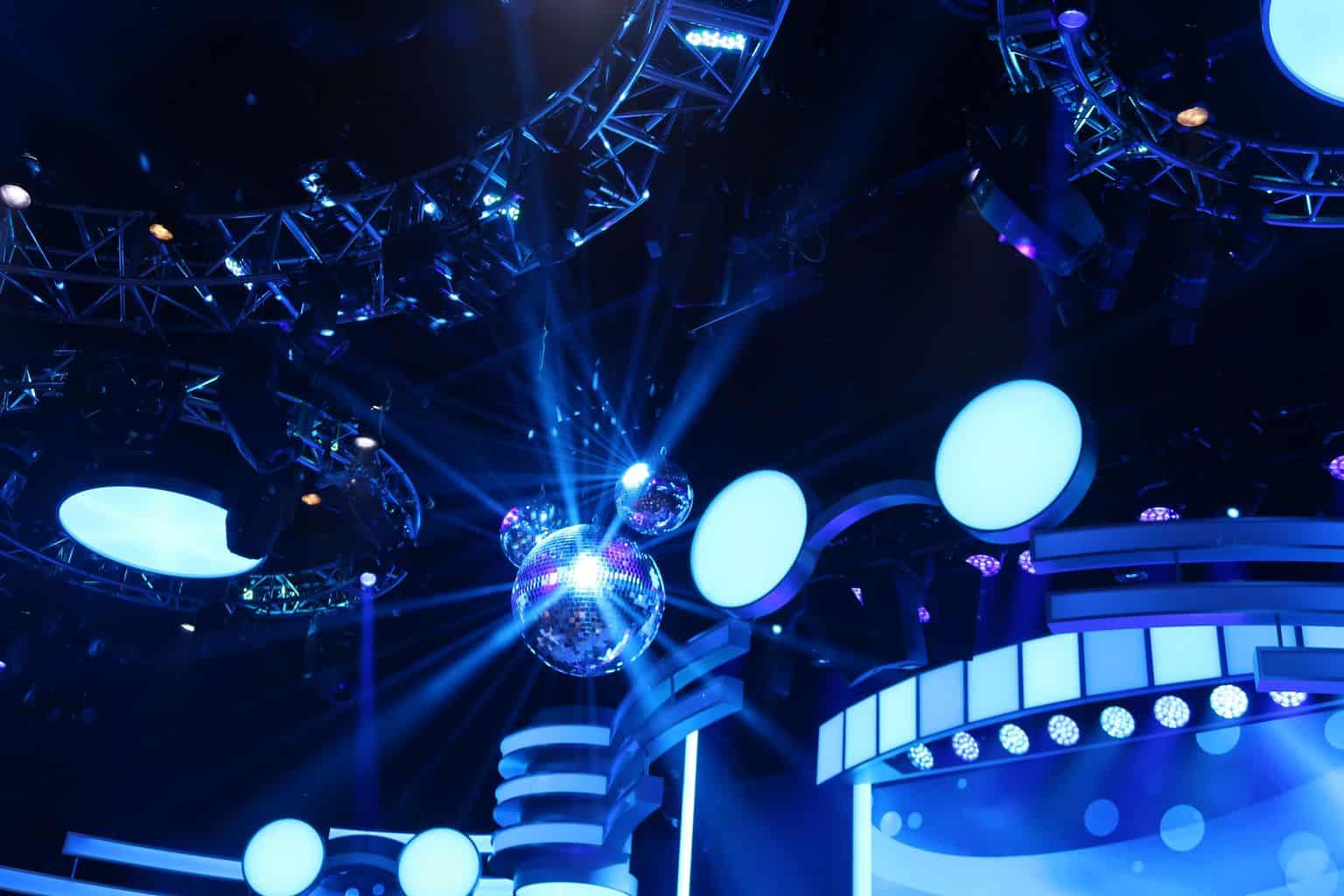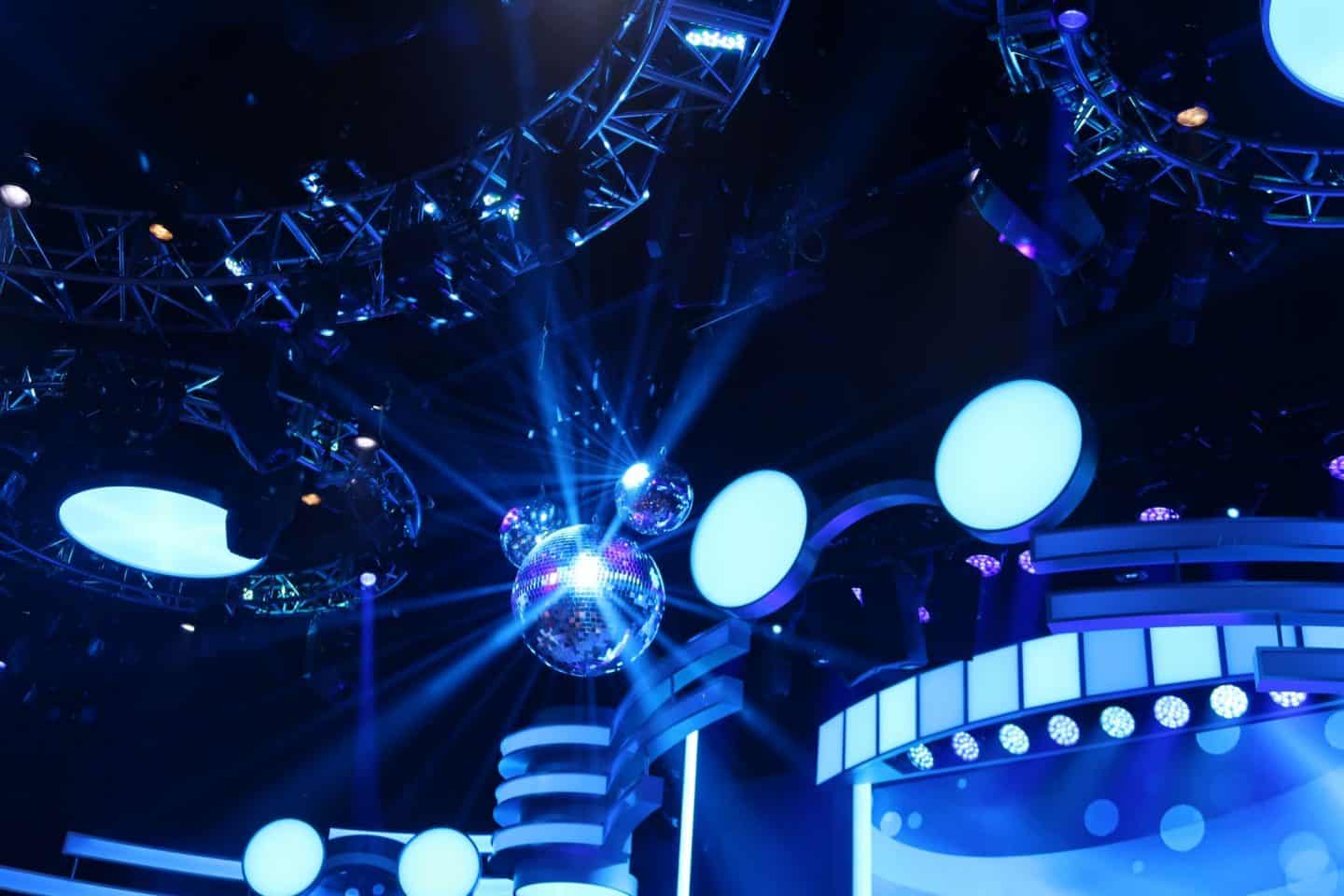 I love it. I hope she's ALWAYS the person to stand up and DANCE in a room surrounded by people sitting down. She's got GUTS and isn't embarrassed to just have FUN. Kye said he was envious of her because he wanted to dance too but felt awkward about it. Not everyone has that talent of just jumping right in like Britt does!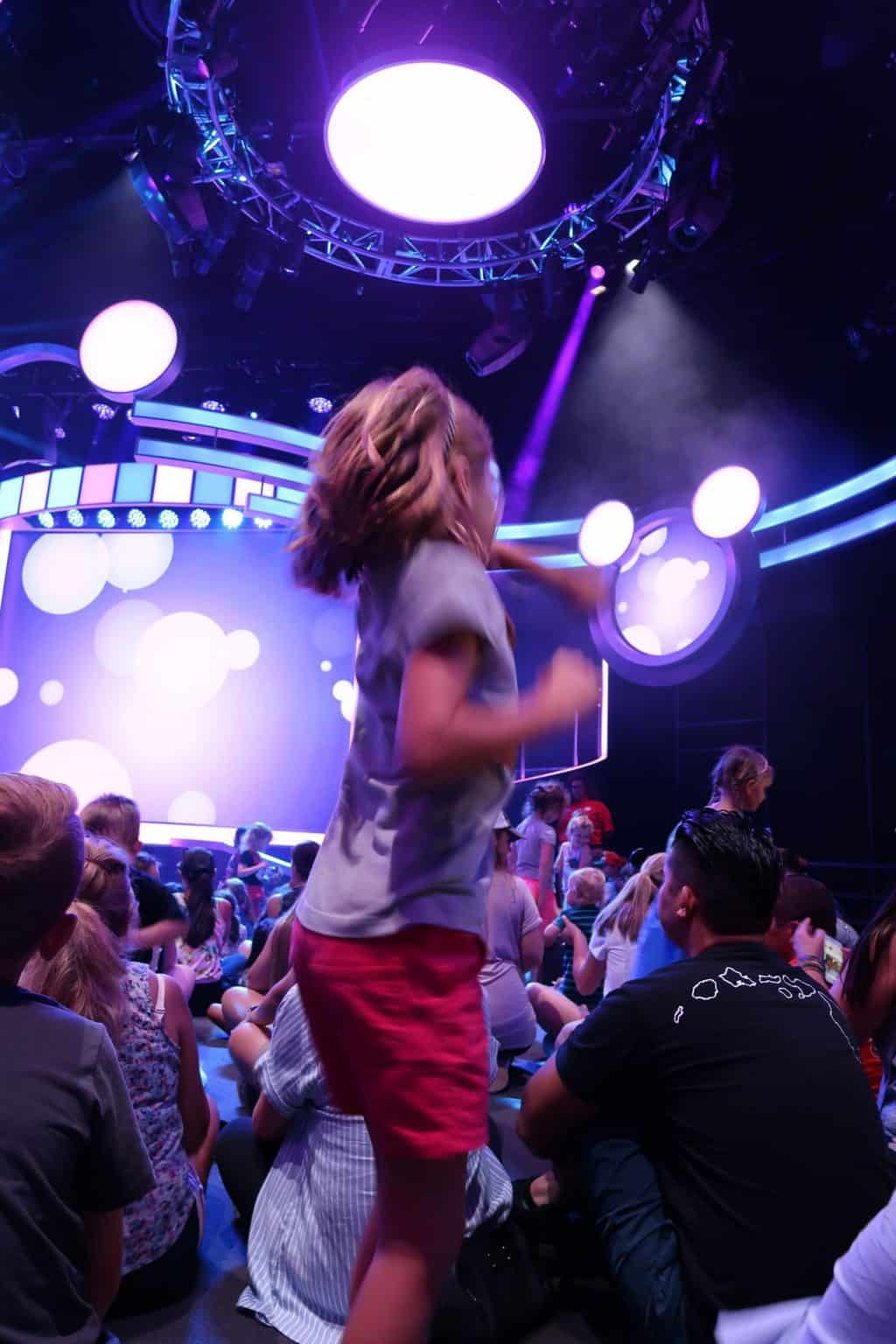 Tess had zero interest in standing. Or dancing. Not out of embarrassment, just because she enjoys taking it all in. She's a watcher like her mama. I get my joy by seeing others have joy and she's the same way. Perfectly content to sit there and let her sister shine 😉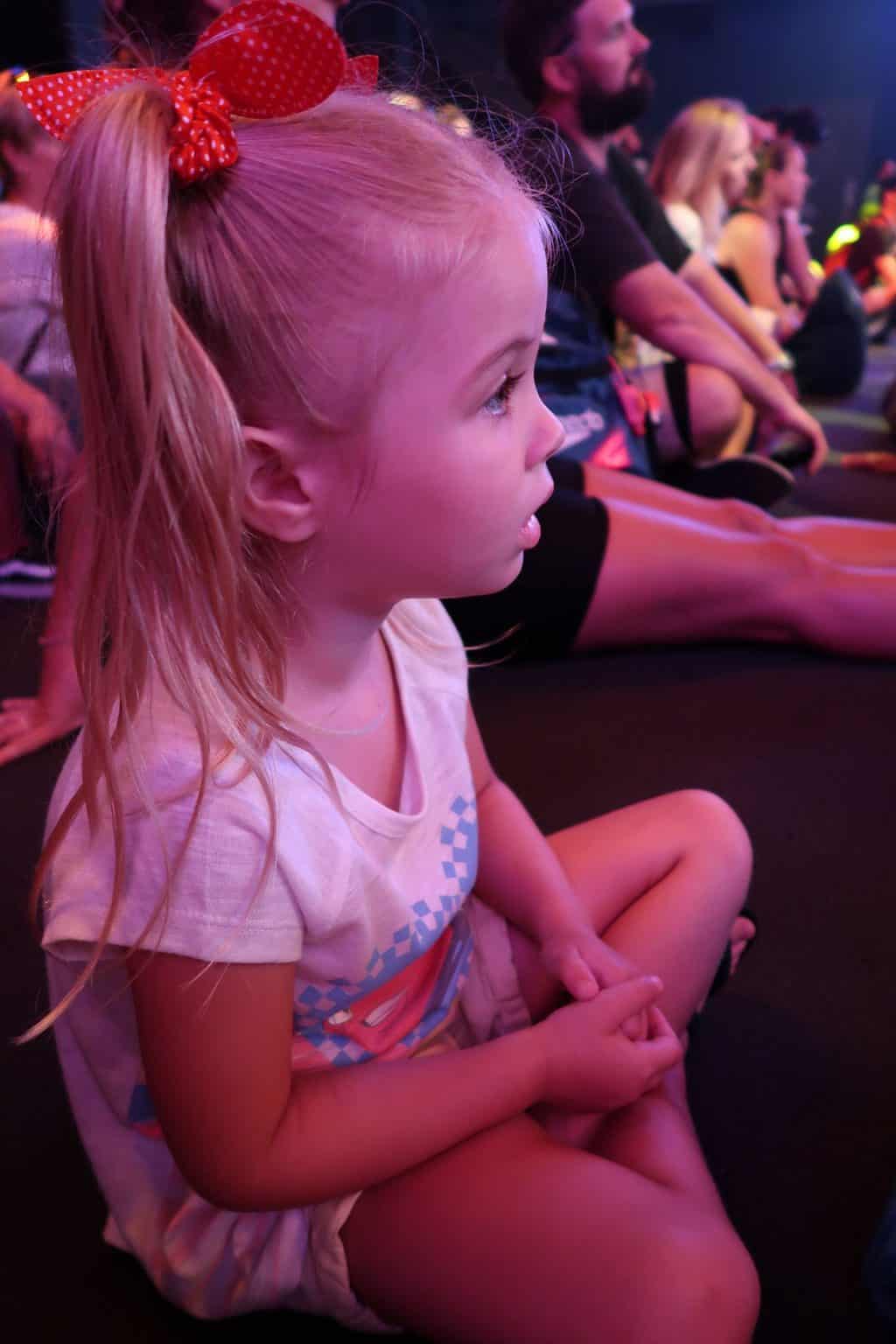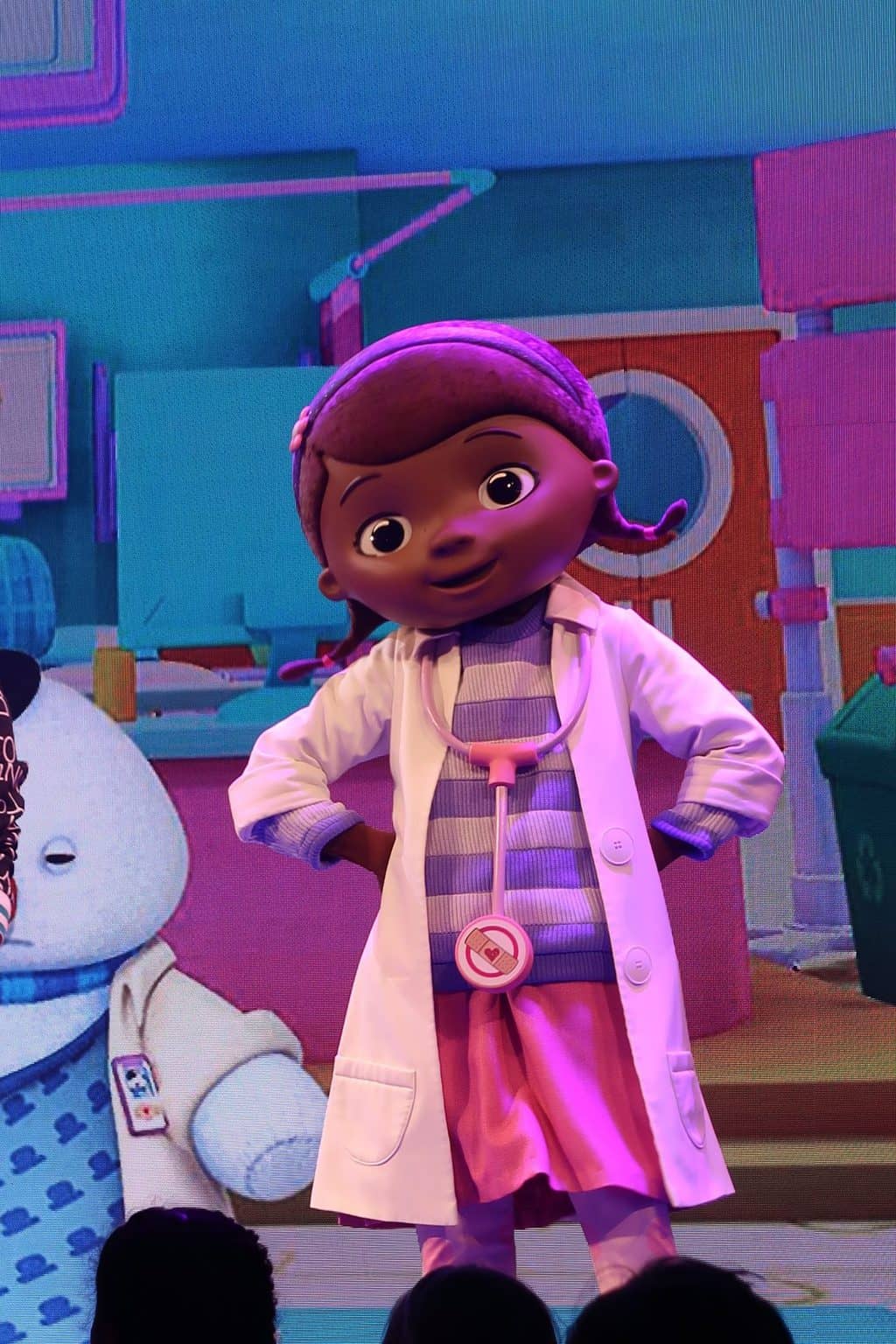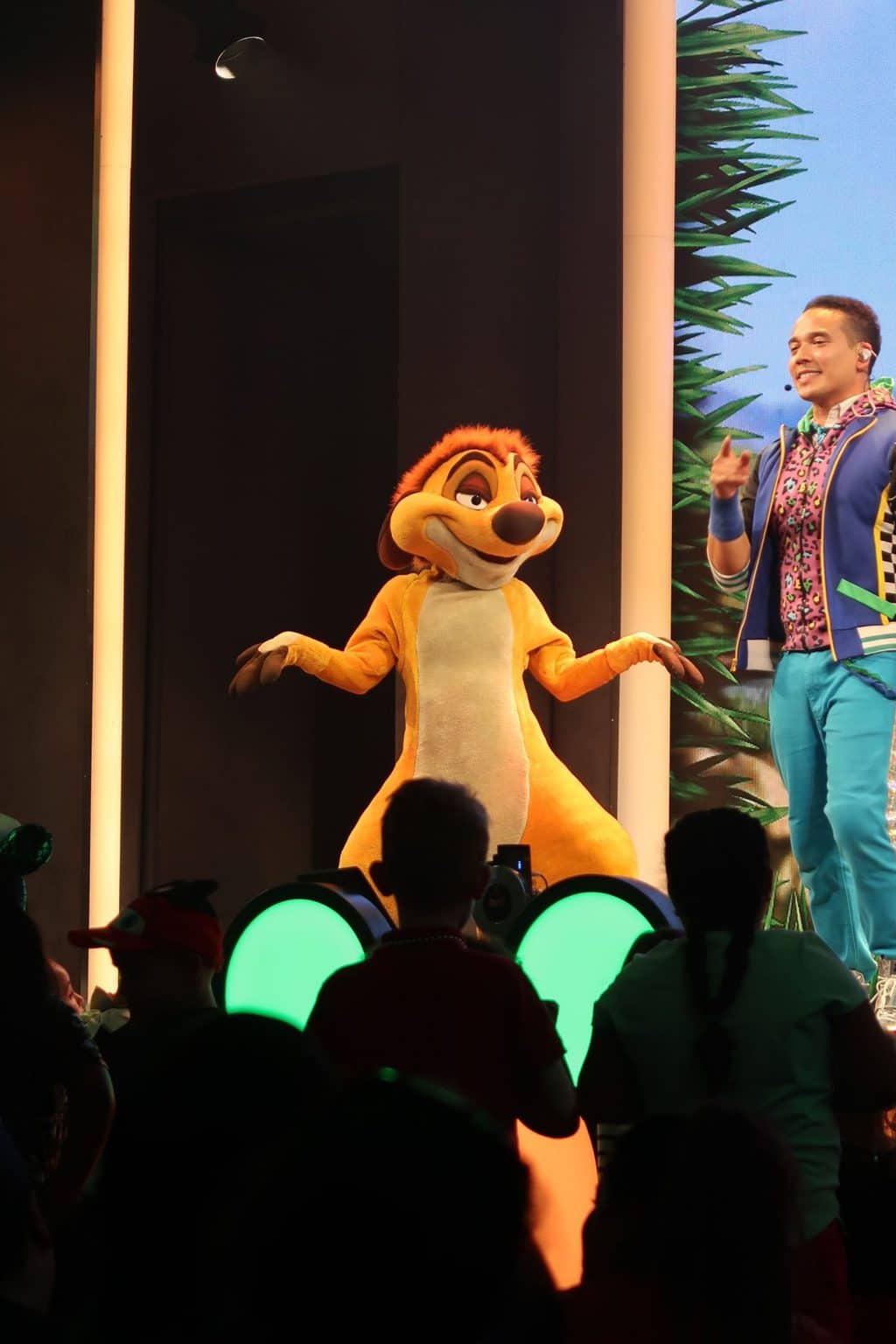 Our man Mickey! And a special treat to be ROADSTER MICKEY. Tess was PUMPED!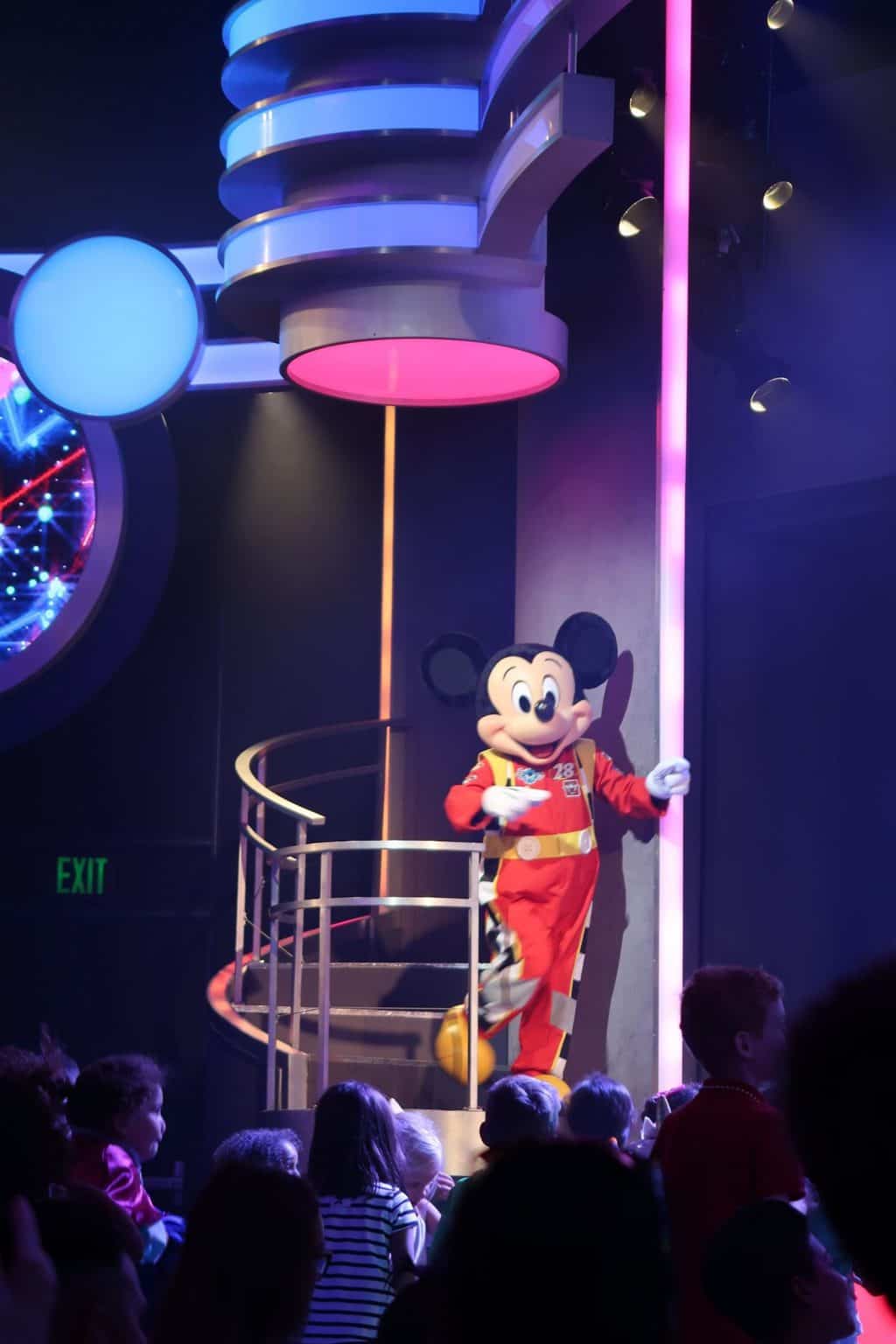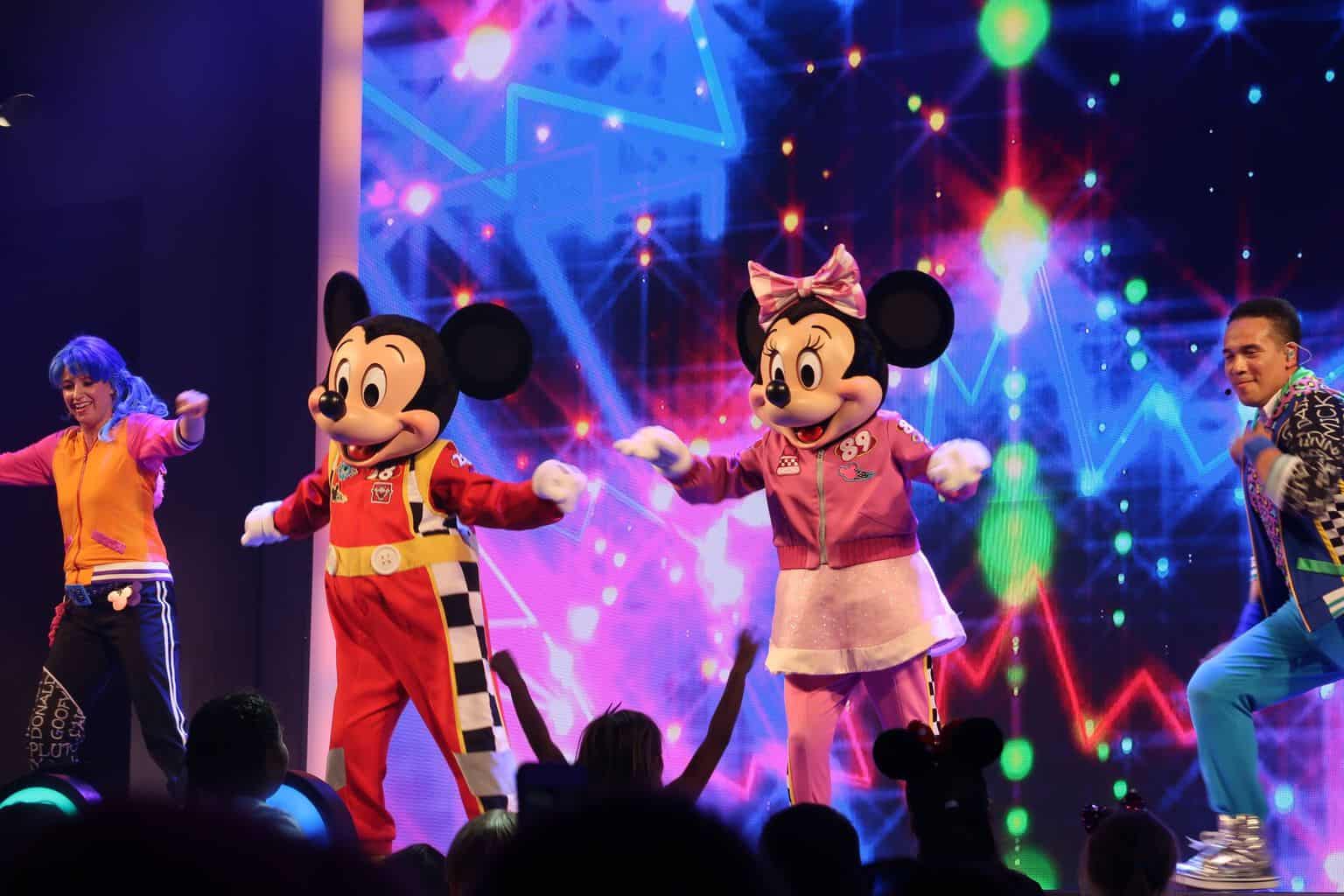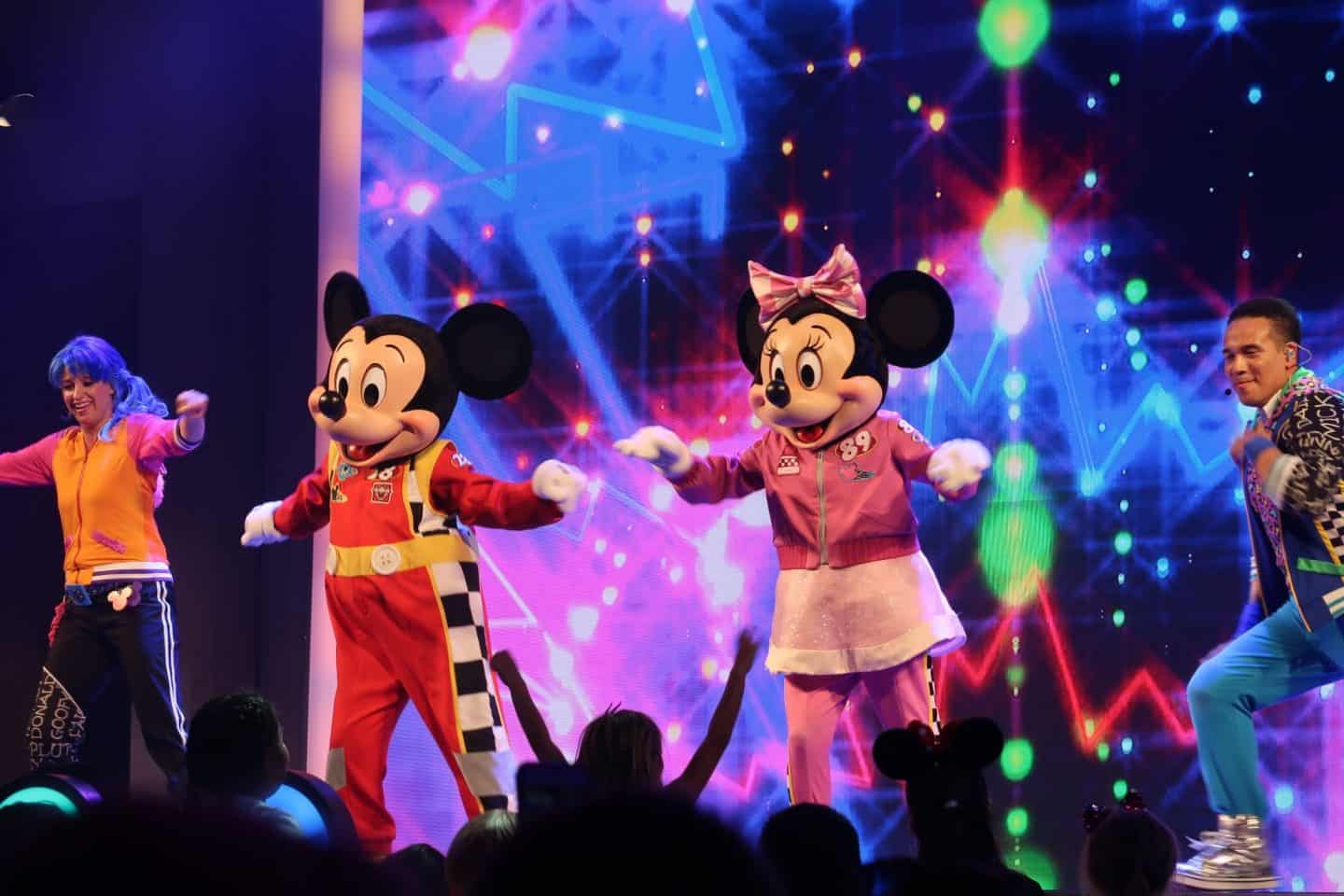 After our morning at Epcot riding Soarin' we were excited to ride it again at DCA. It is the exact same experience but that doesn't make it any less fun!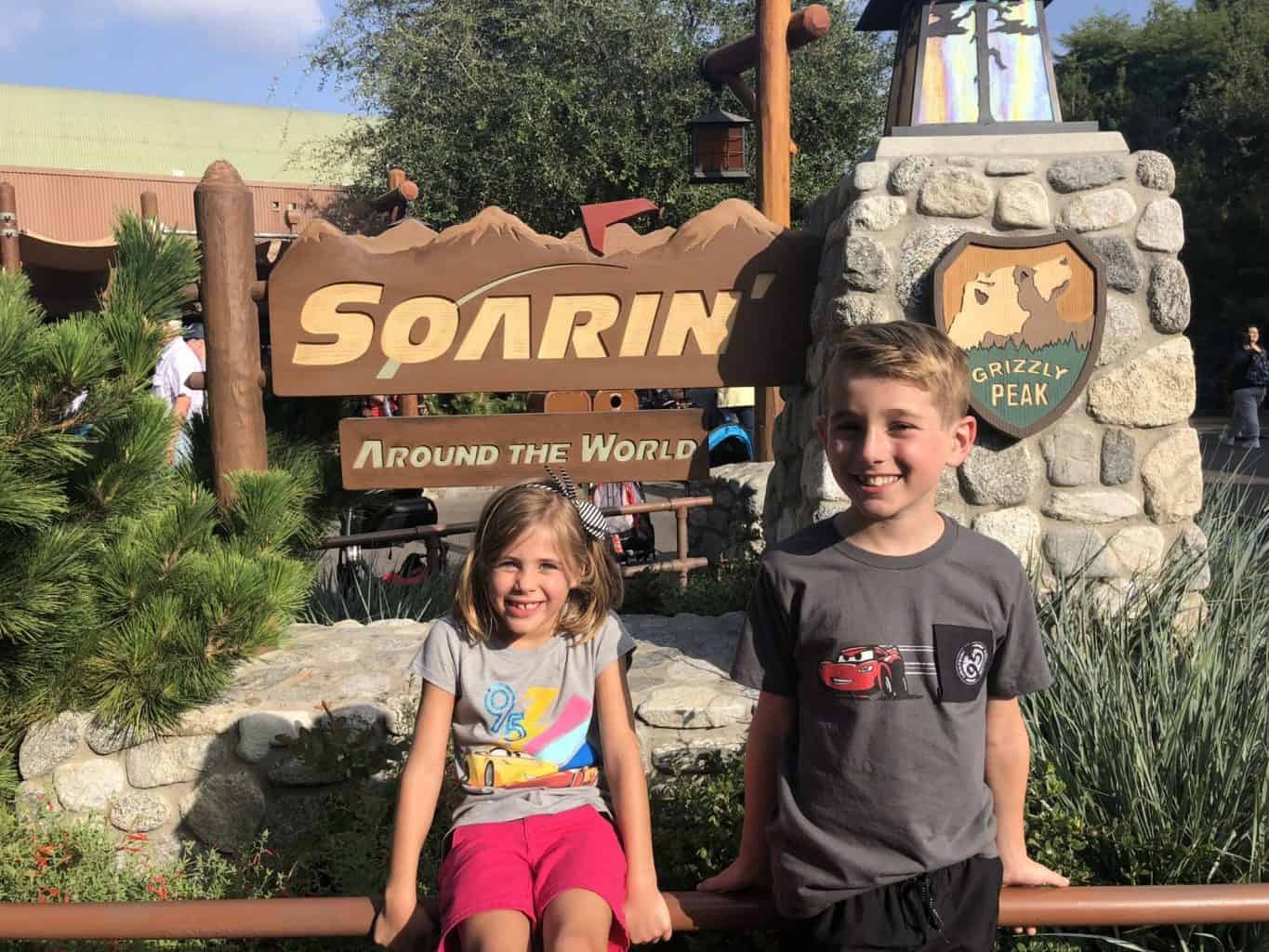 And look who was tall enough to ride with us!!!
Anyone remember how she was not 40 inches at her 4 year well check a few weeks prior to our trip? Maybe it was a Disney miracle. Maybe she just magically grew overnight. Or maybe these shoes helped bump her up a little 😉 No one knows!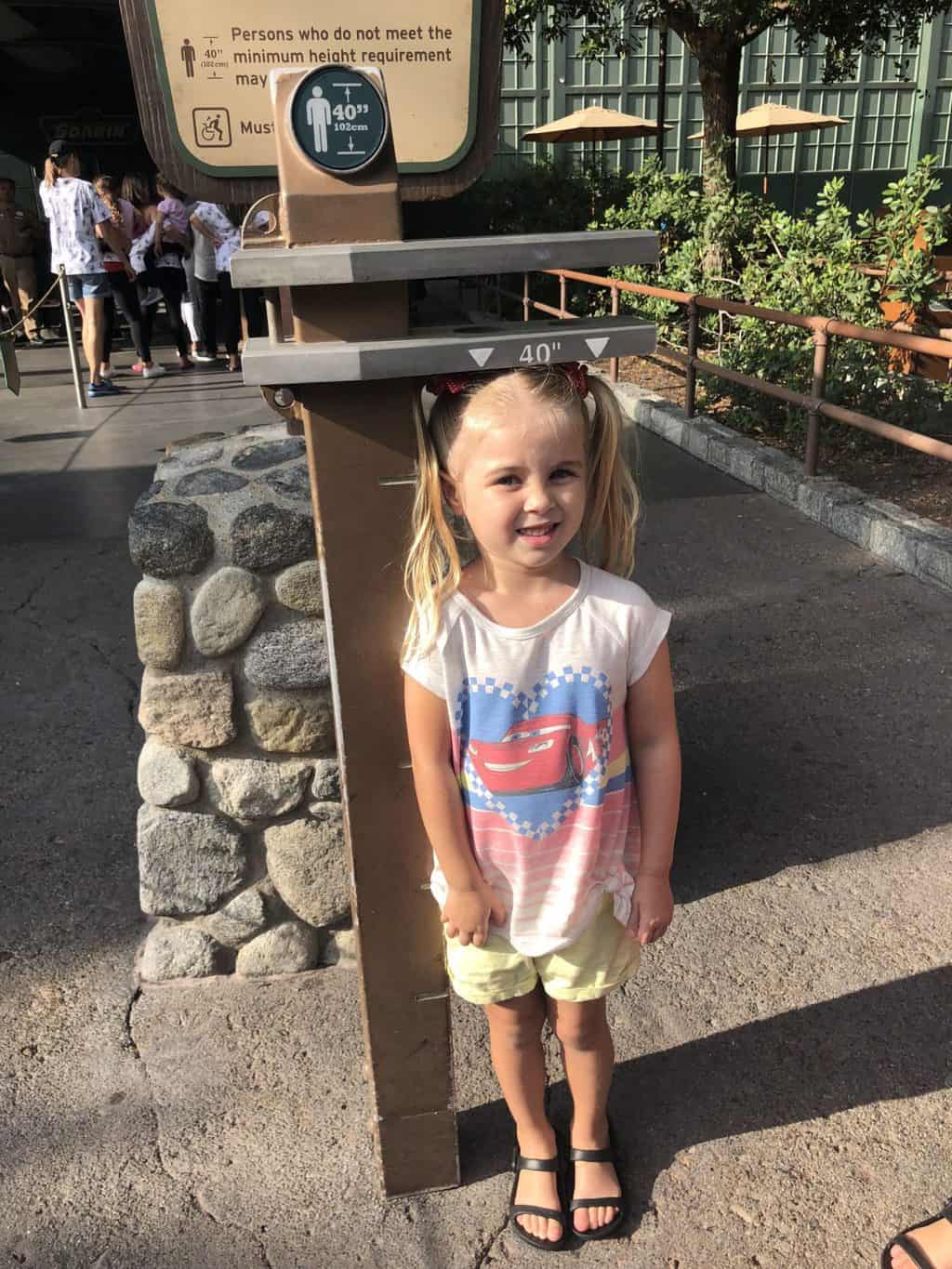 Disneyland cast members are pretty chill about the height requirements. If she was close to the marker they'd say "raise your arms" and it worked every time to make her just a tiny bit taller!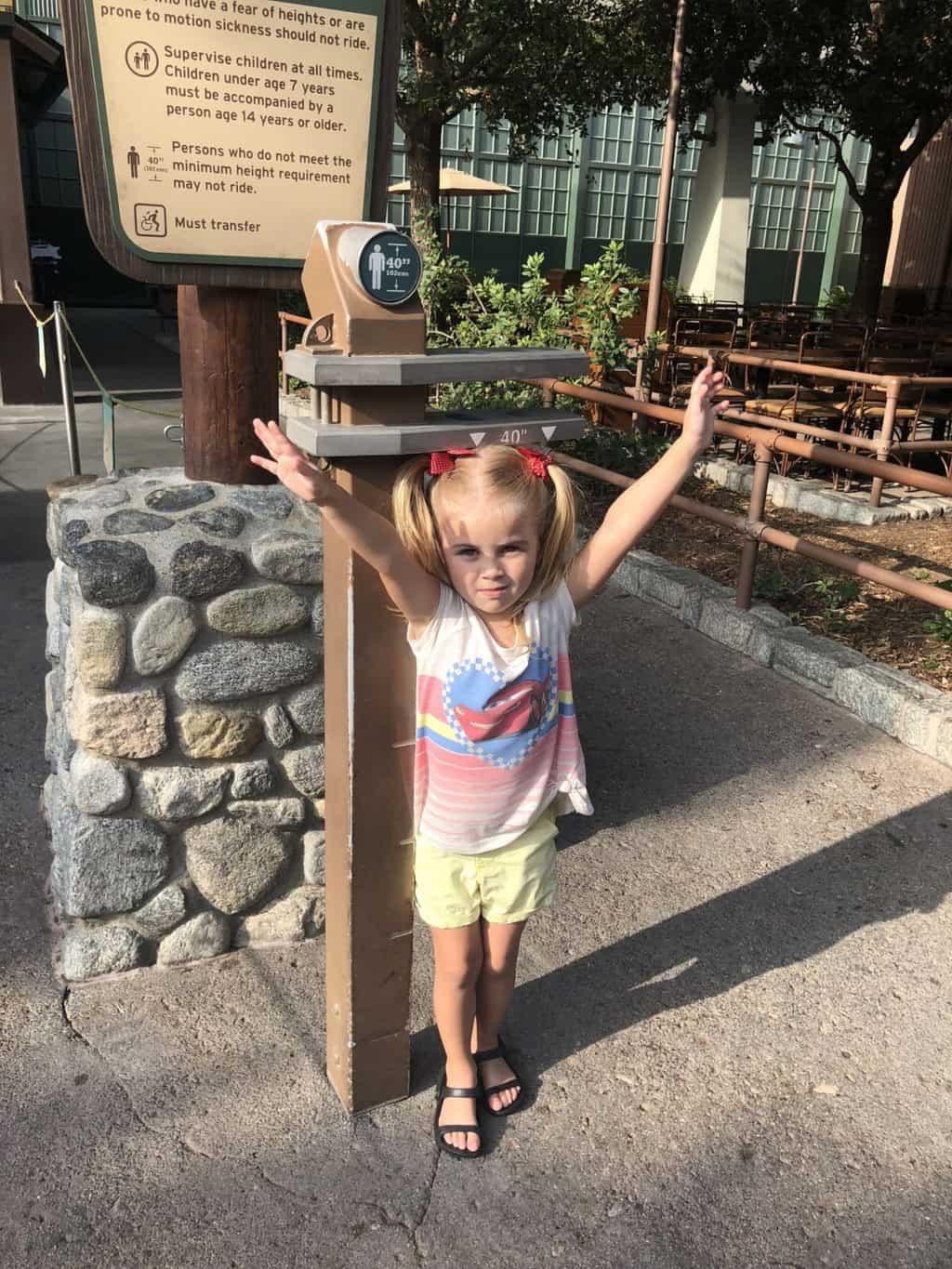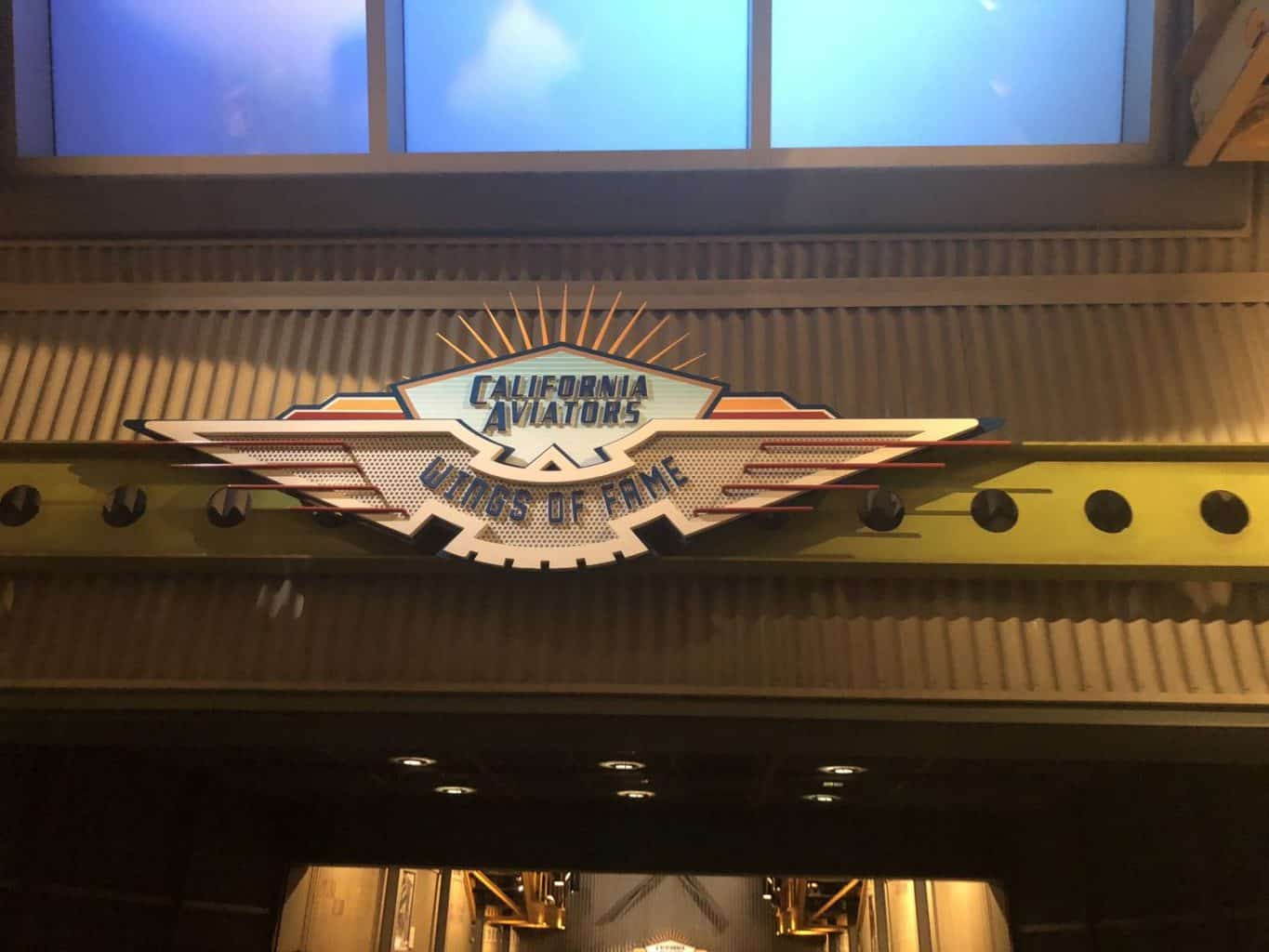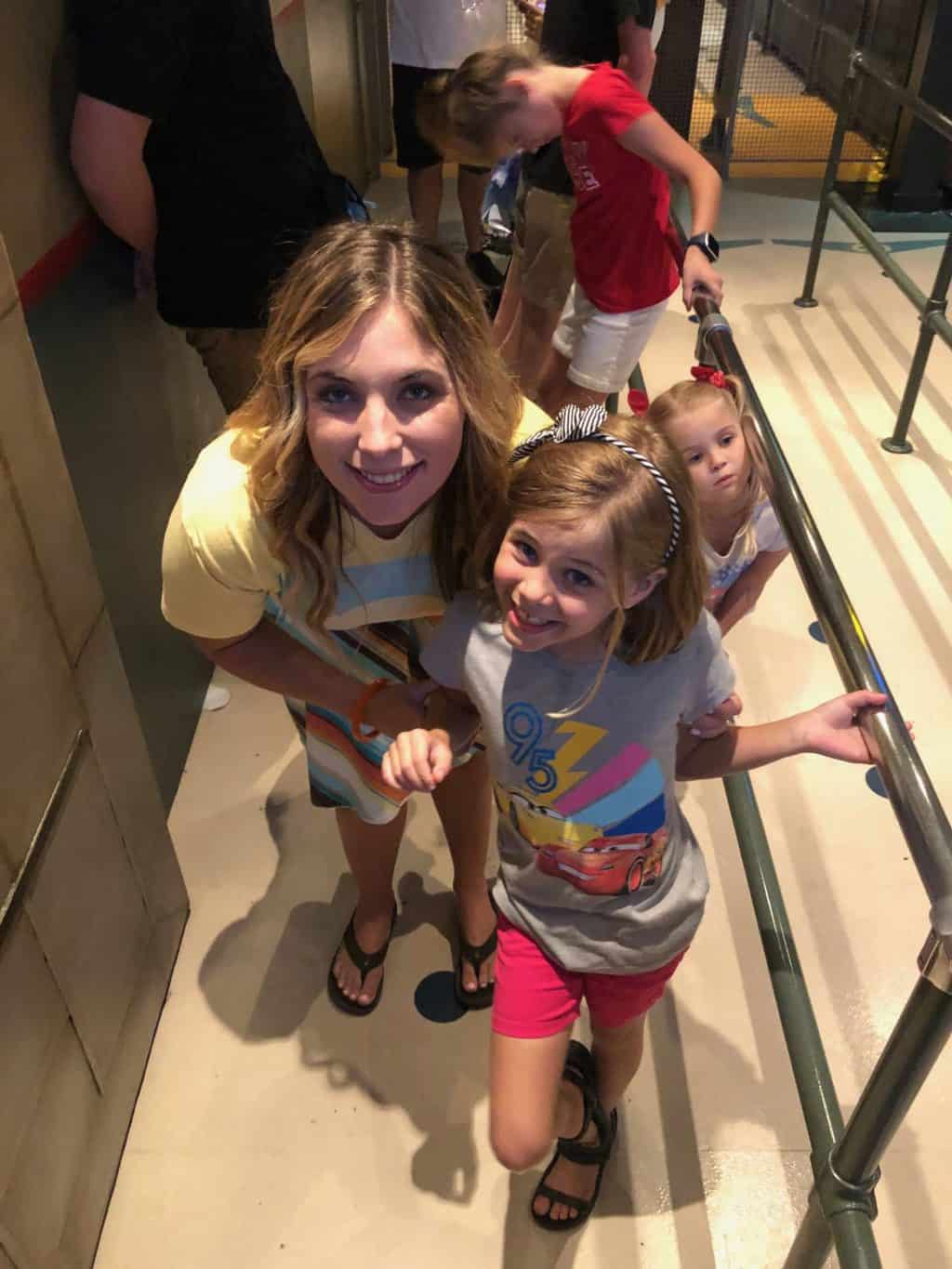 After Soarin' we headed over to the Animation Academy and Sorcerer's Workshop. We had SO much fun exploring and checking everything out. It's a very well done and detailed area of the park that is also very chill and laid back as it is not super popular. We could take our time and just enjoy it!
We checked out lots of different ways animation occurs and had the chance to make our own drawings come to life!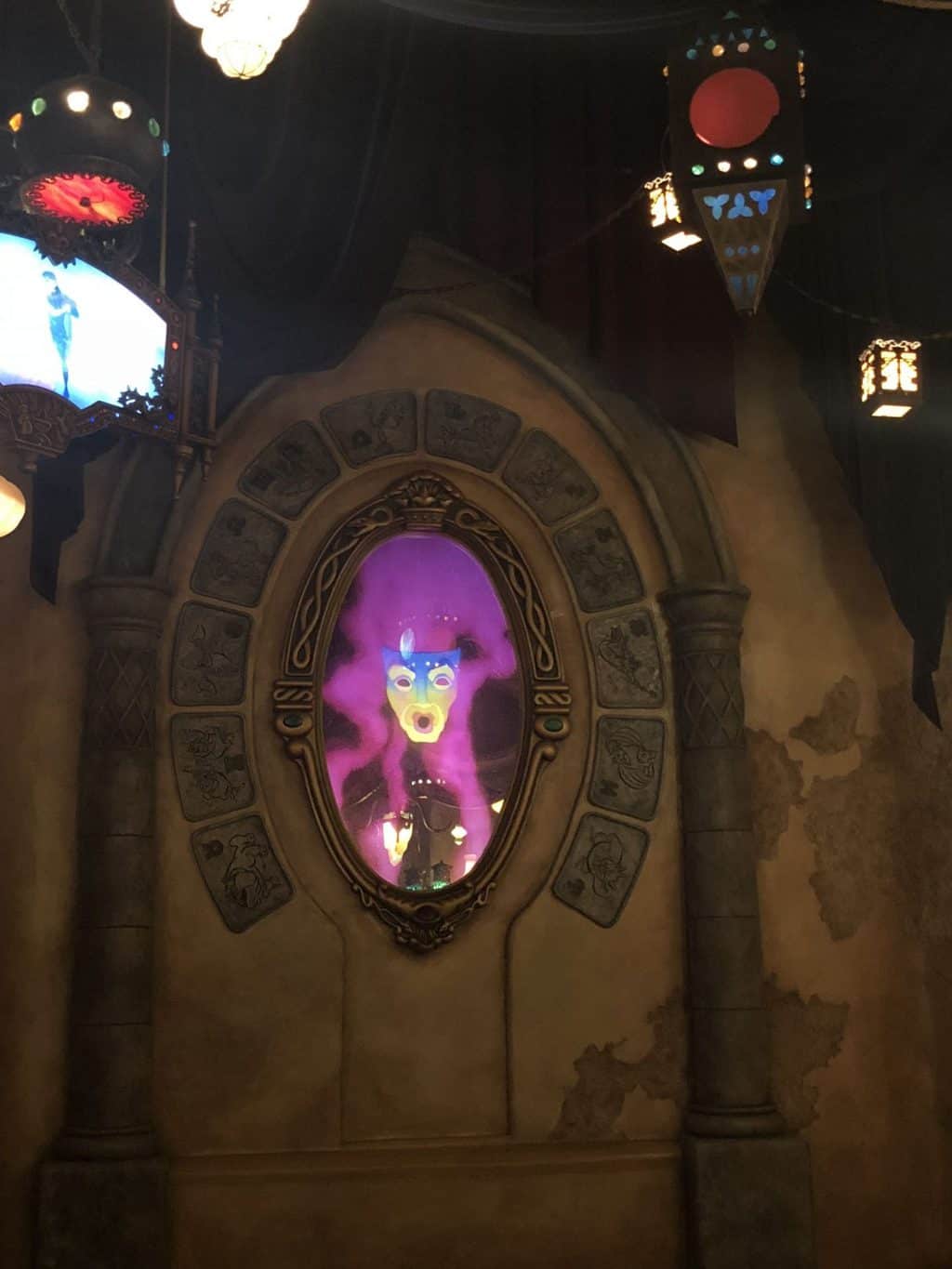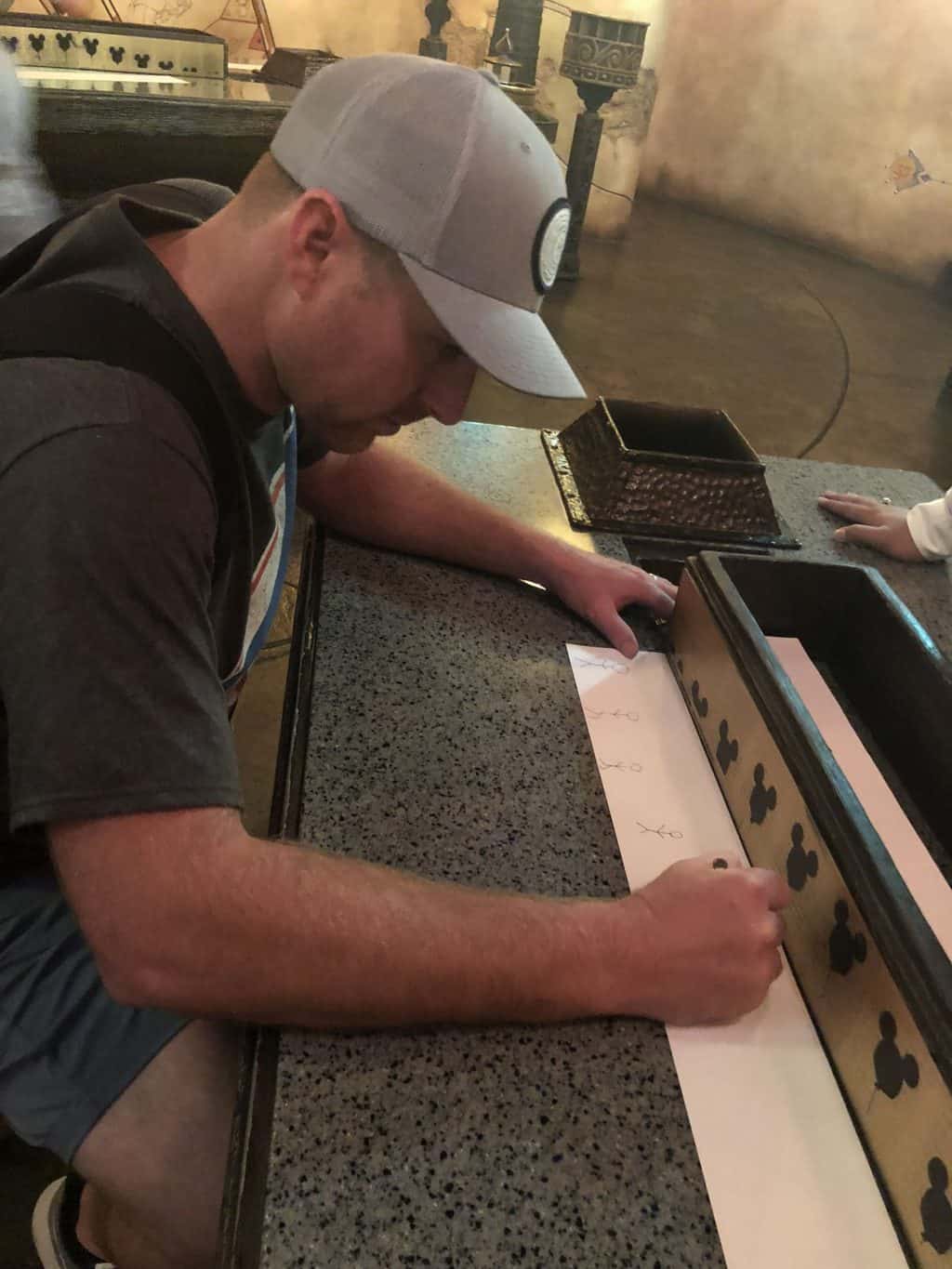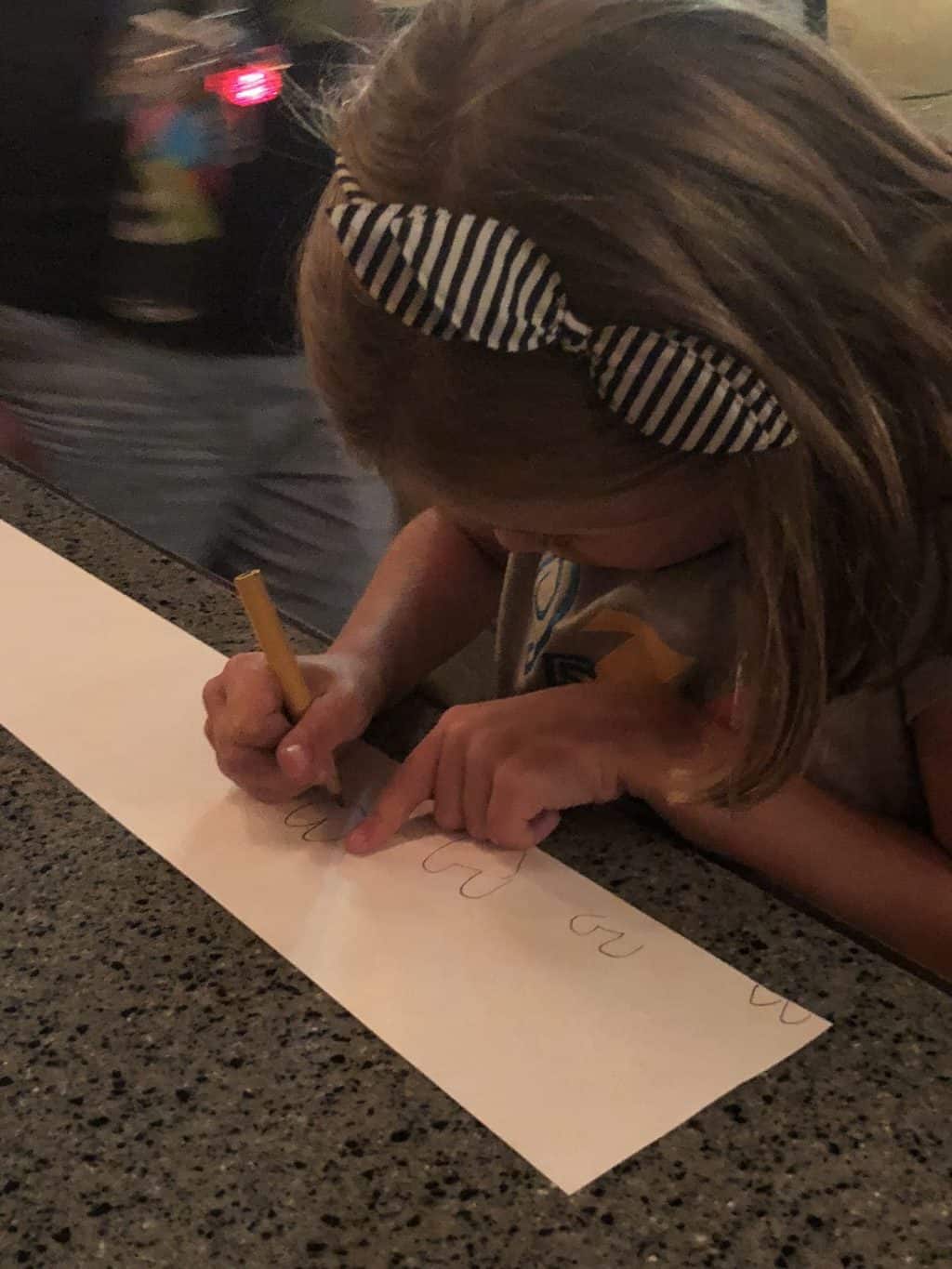 On a strip of paper we drew figures that changed slightly each time and then placed them in a spinning view spot and could see them come to life. It was SUPER COOL. And of course Zach was so good at it and his was awesome. #typical.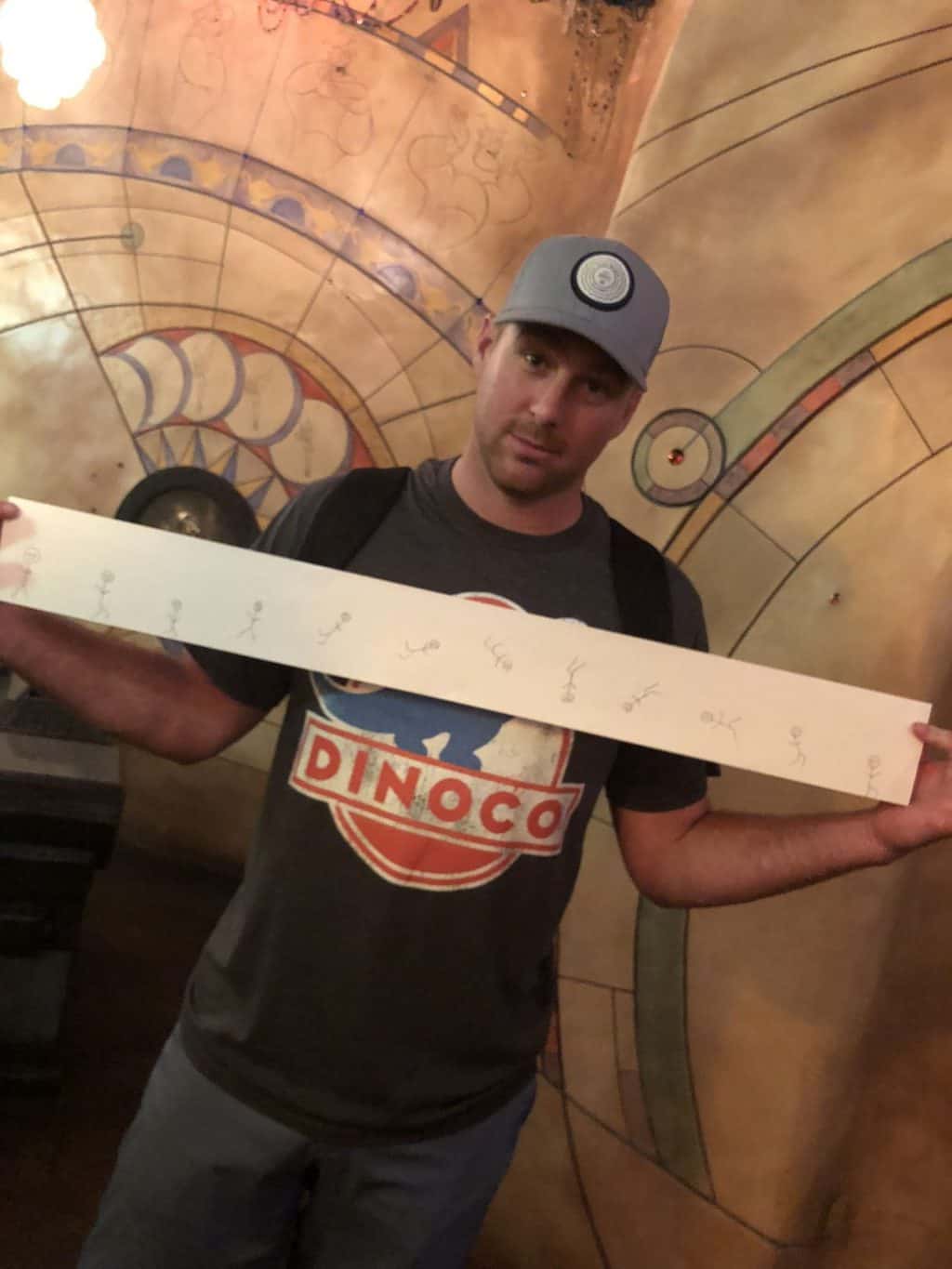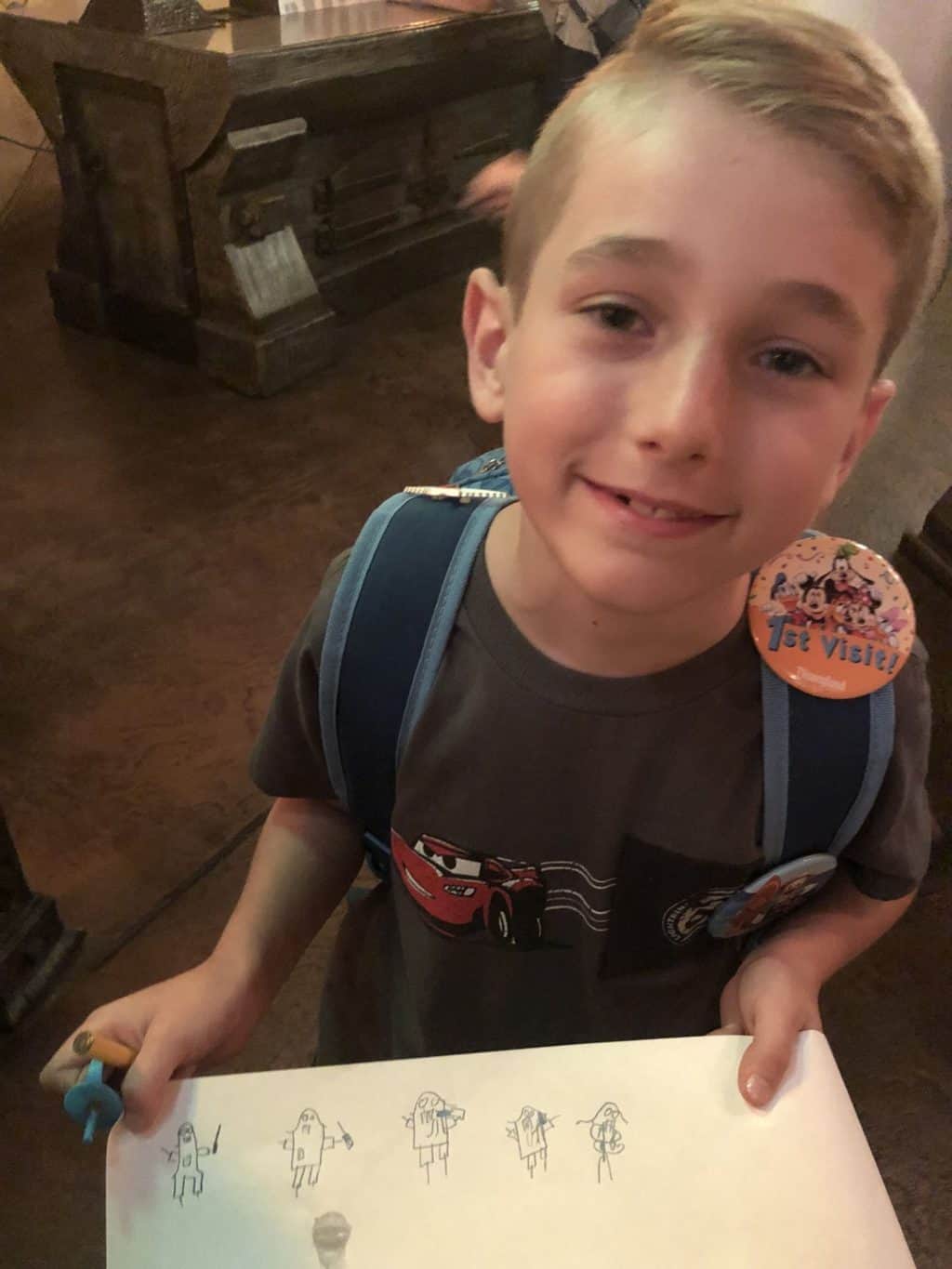 Next we headed into the Beast's Library which is very, very similar to elements from Be Our Guest at Magic Kingdom. The photo of Adam also changes into the beast and the rose pedals fall too.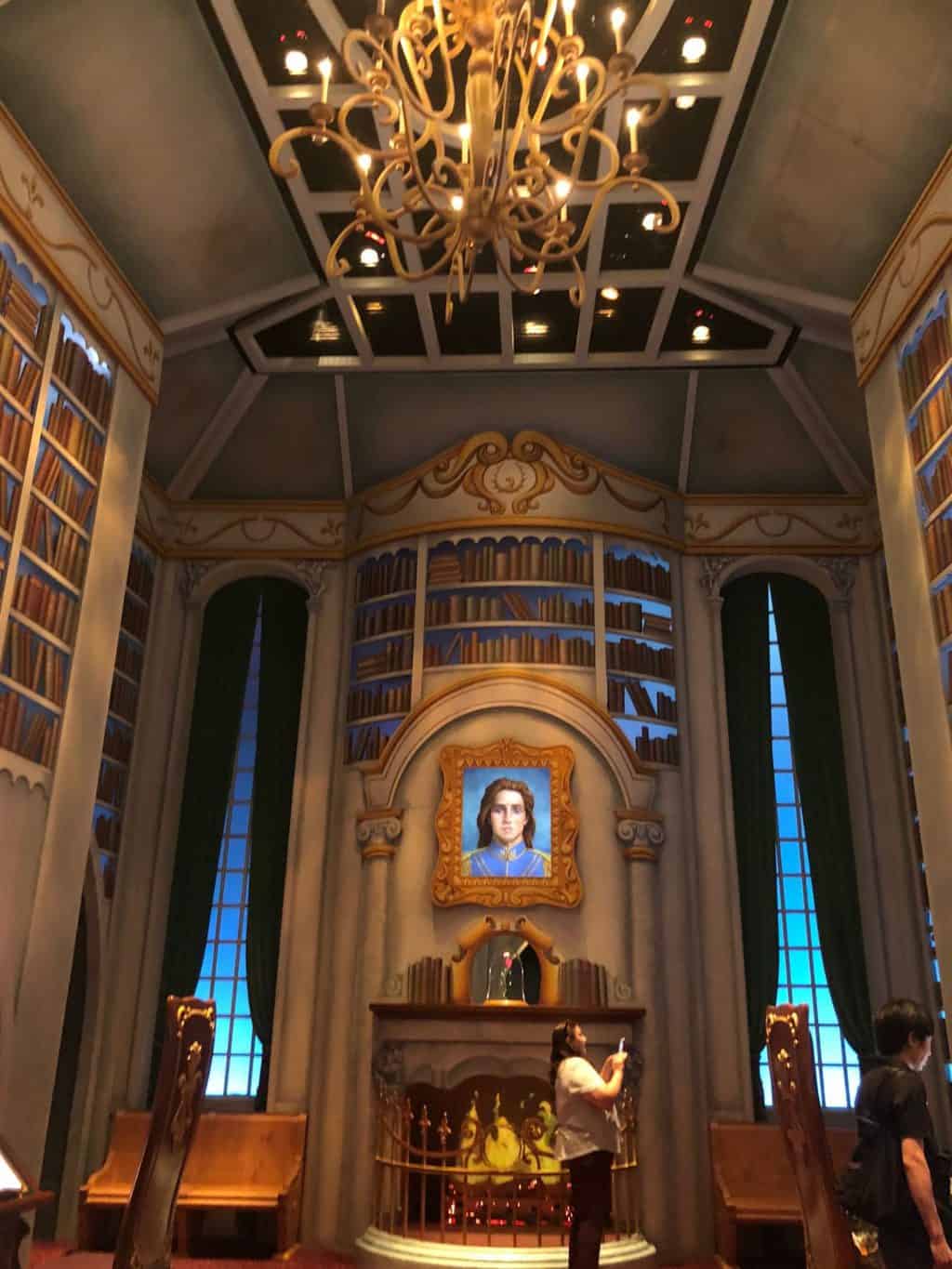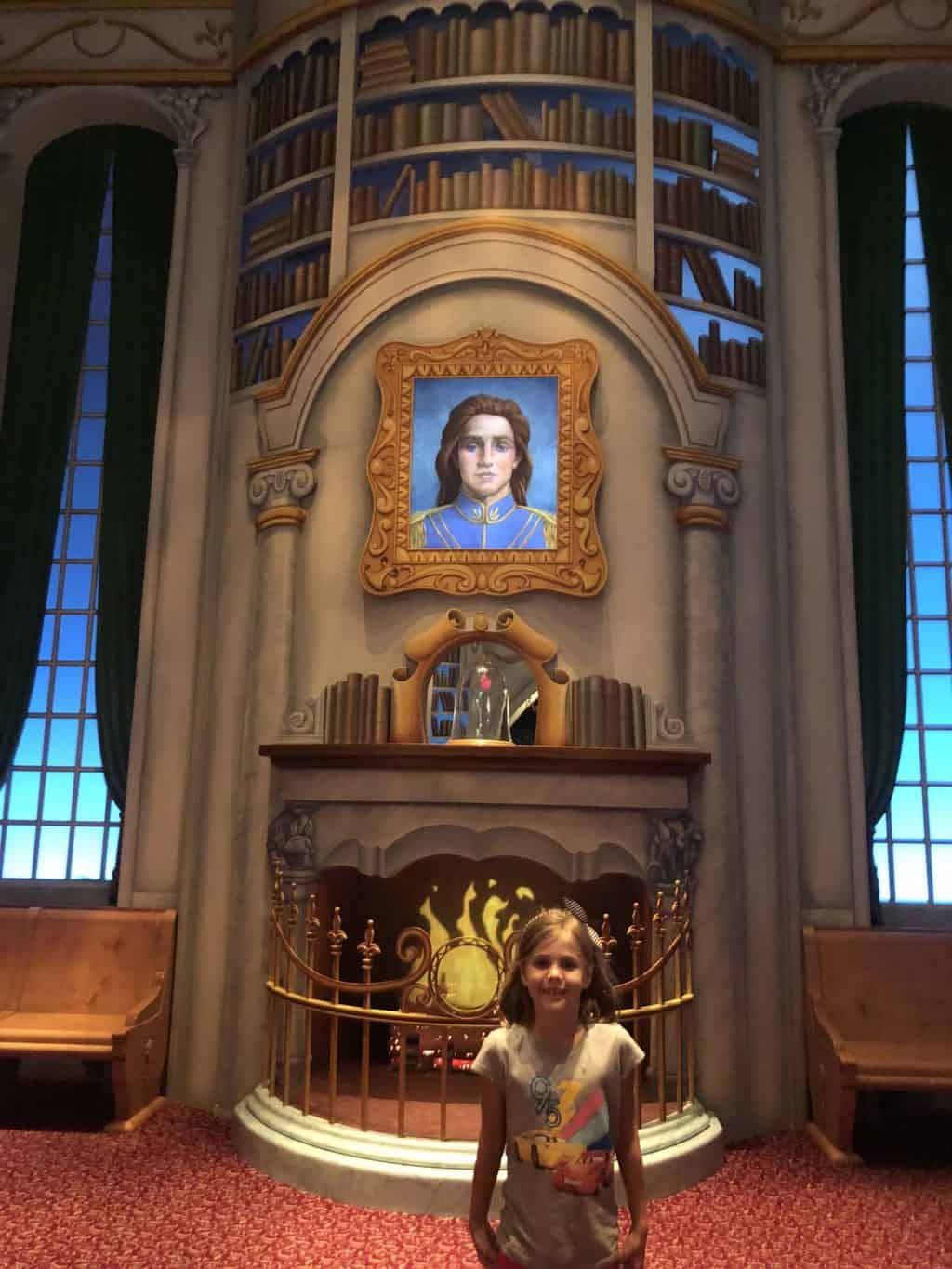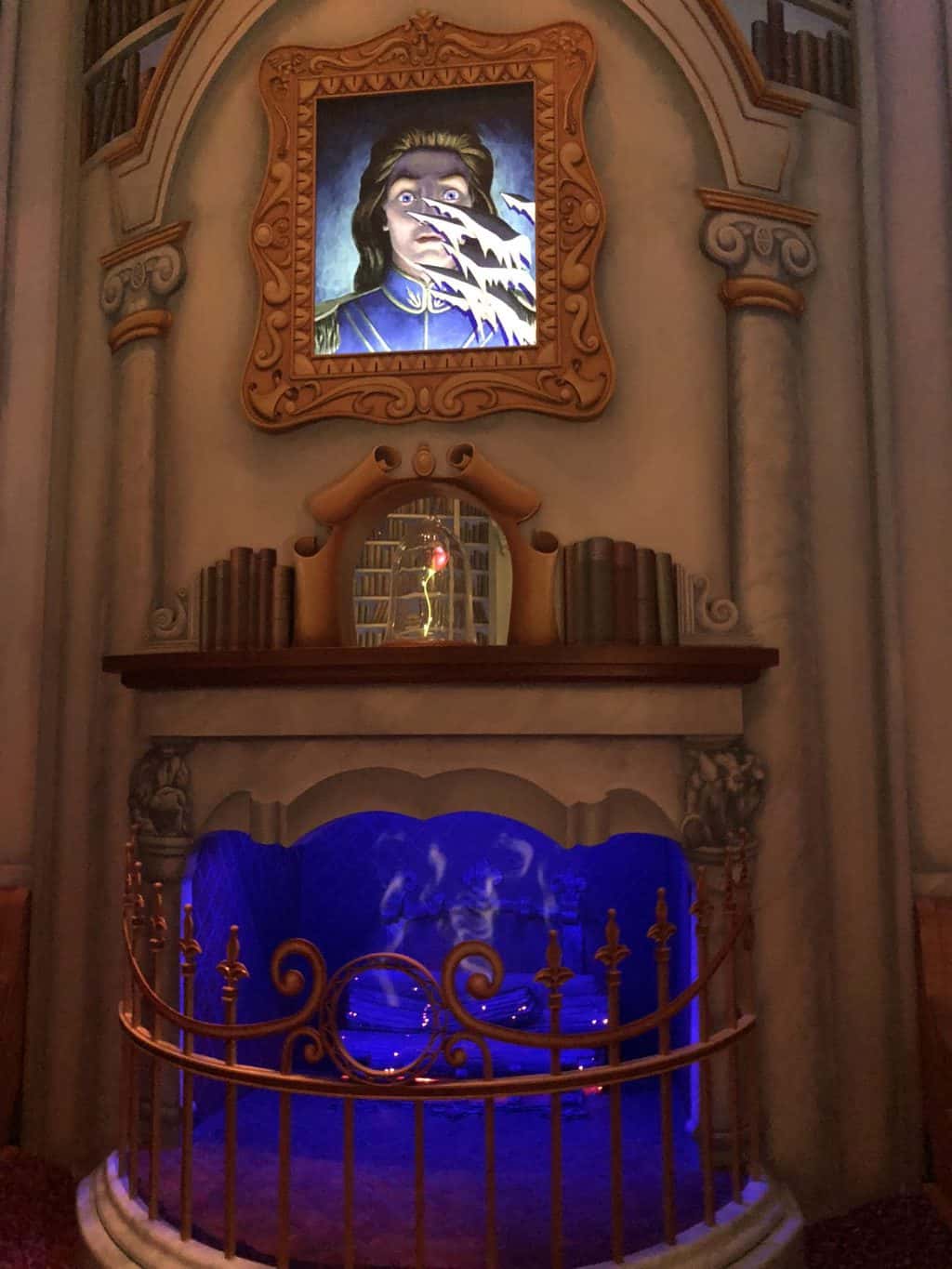 The cool thing that is unique to the Beast's Library are stations set up around the room to discover which Disney Character you're the most like. We all took turns finding out our characters!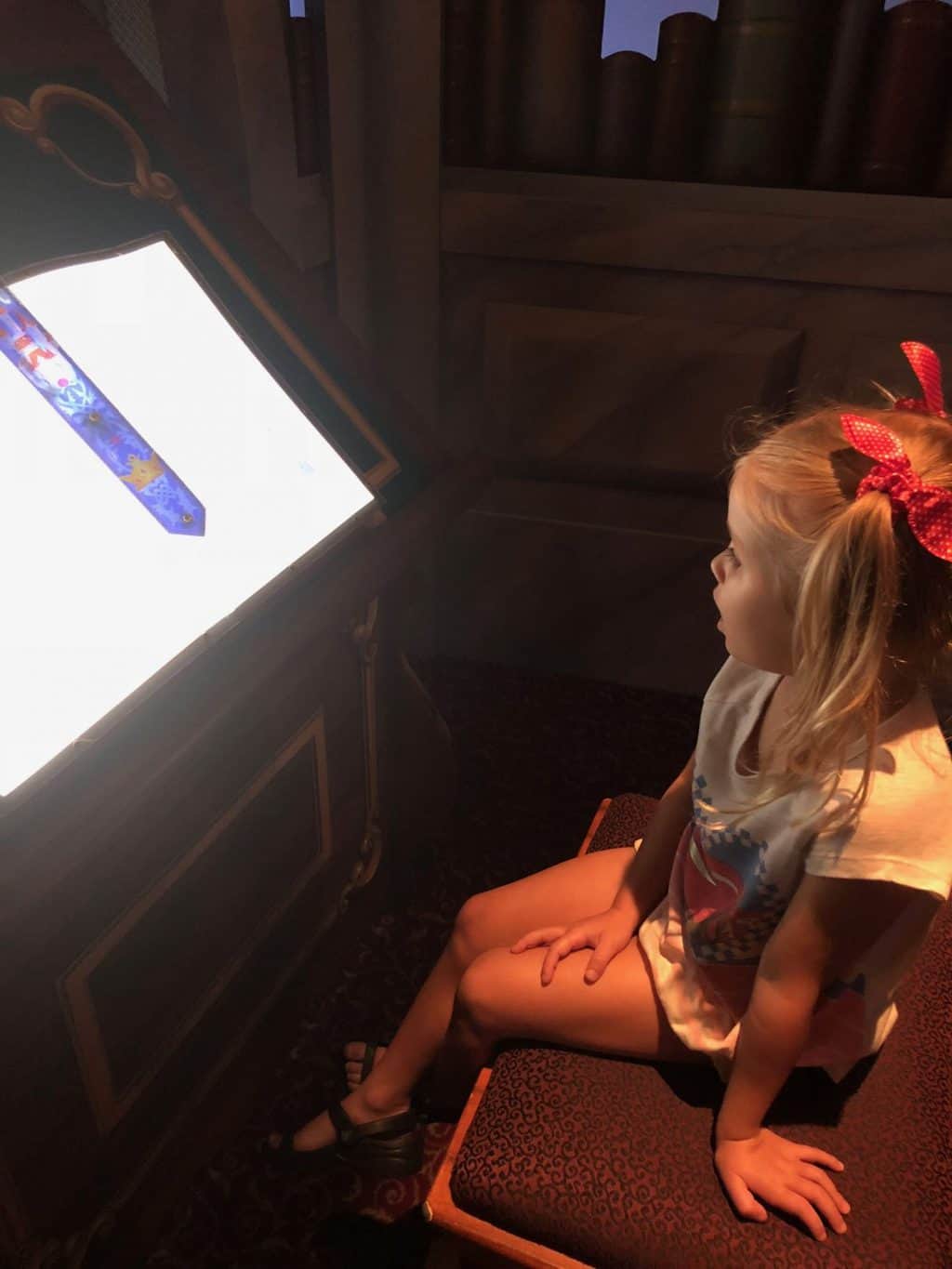 Tess = Tiana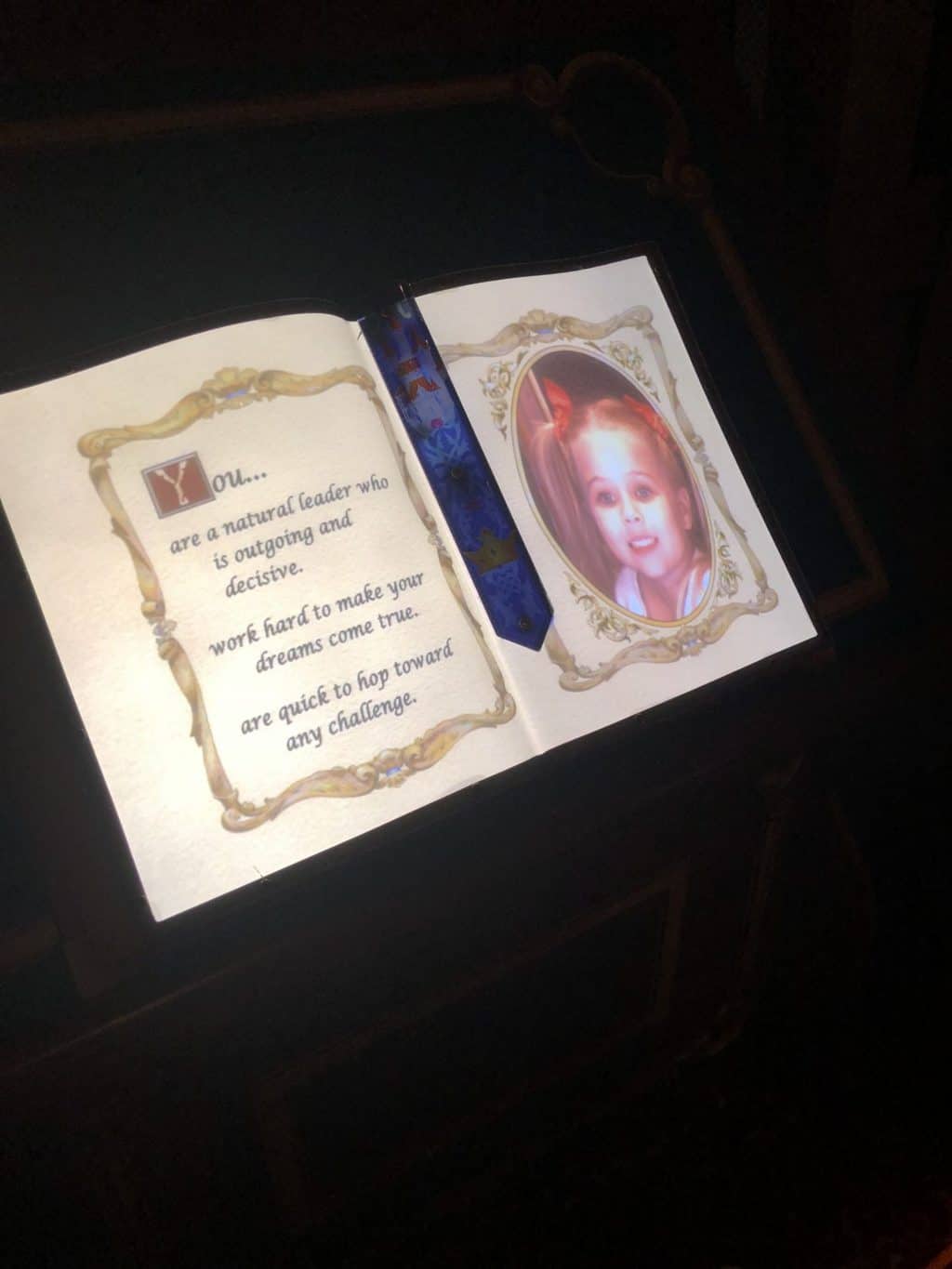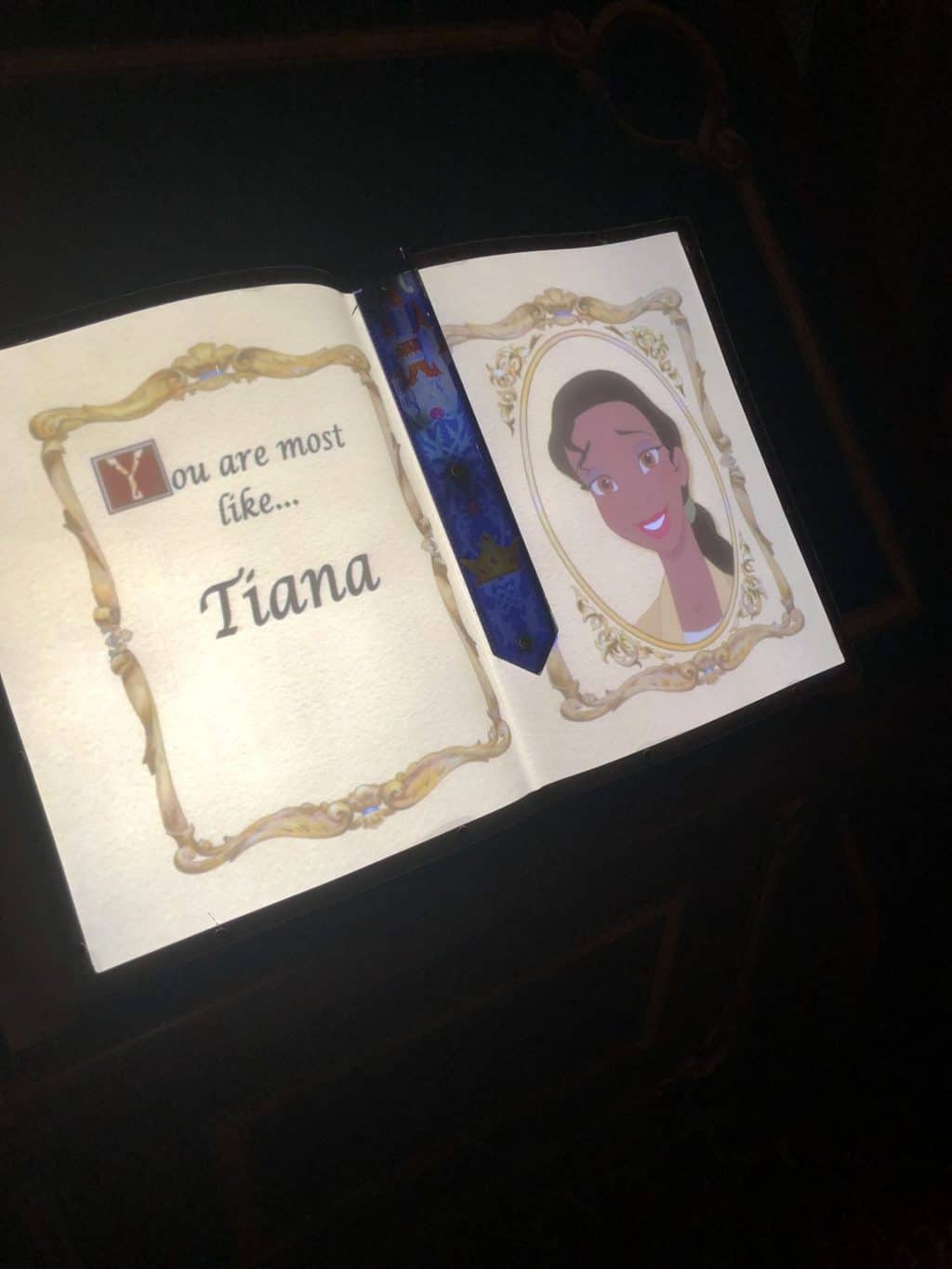 Britt = Mickey!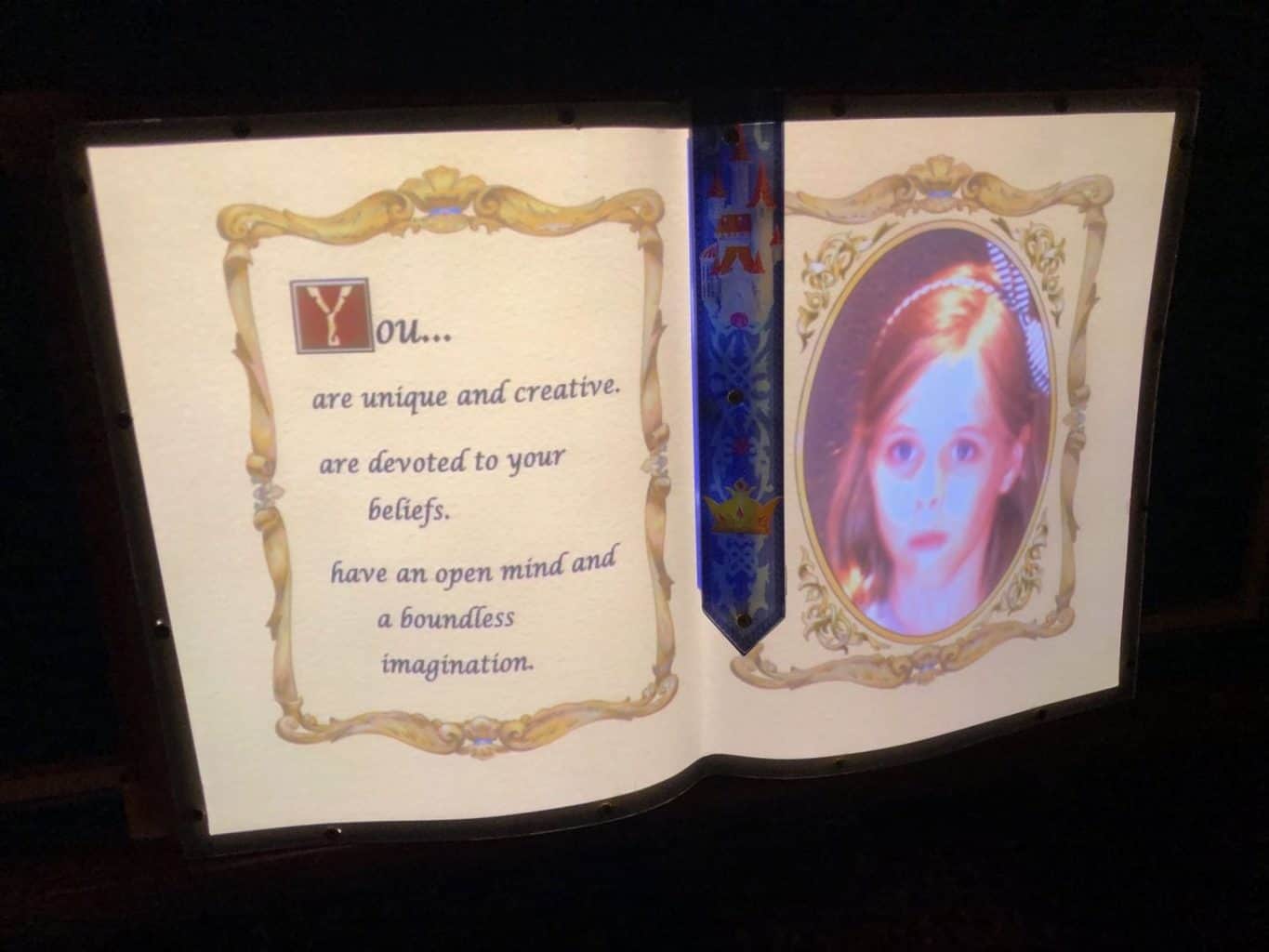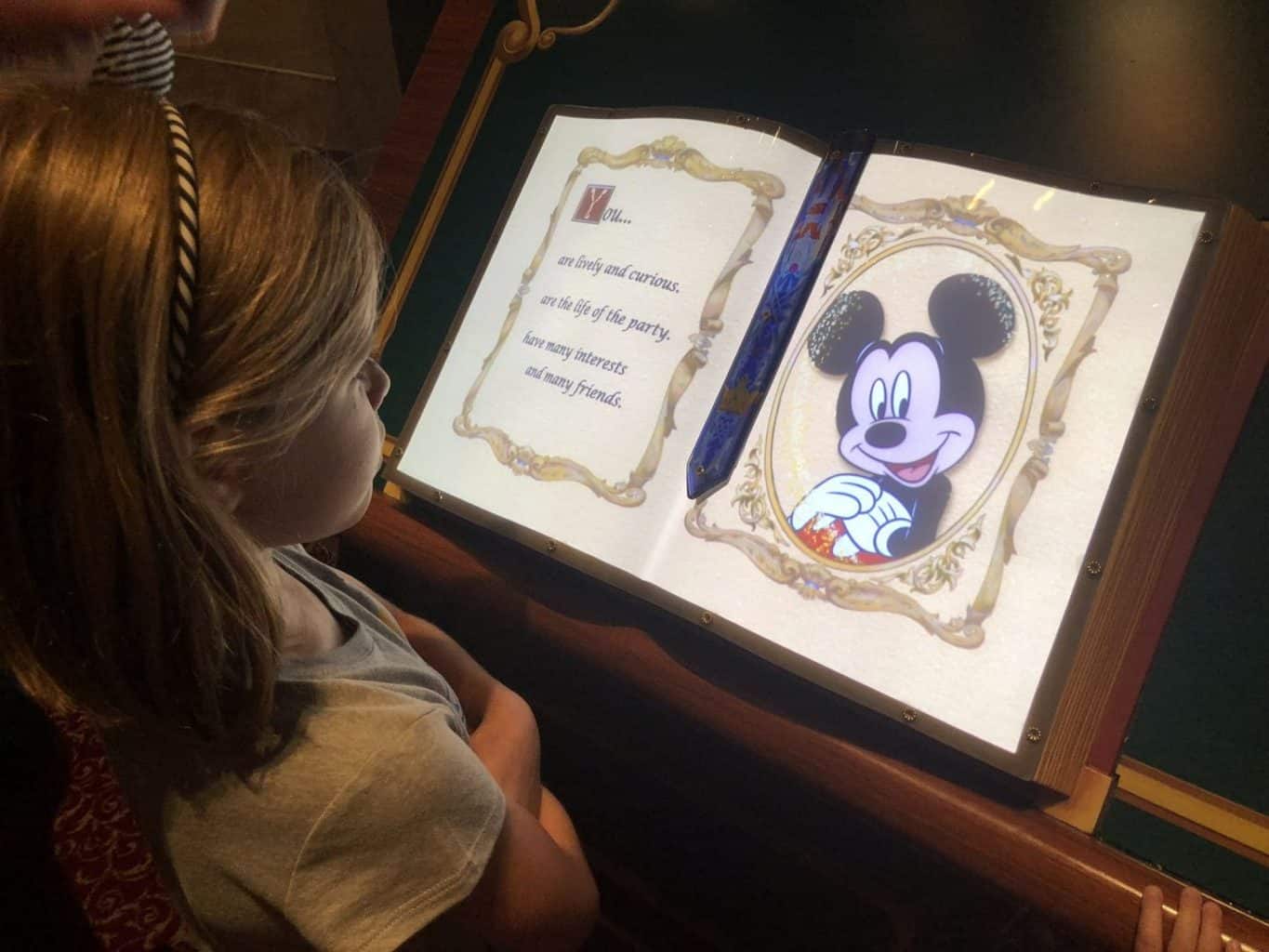 Me = Eve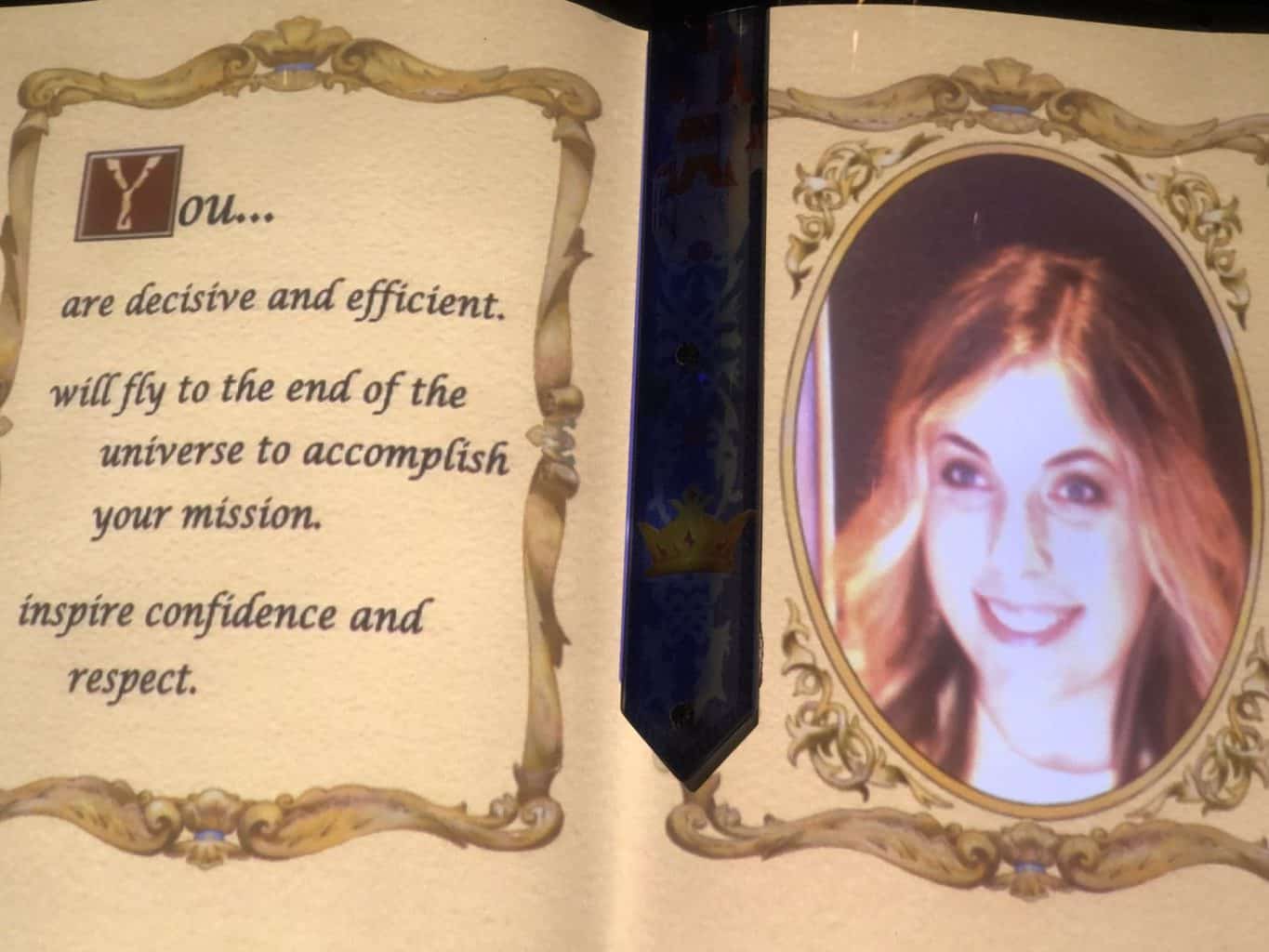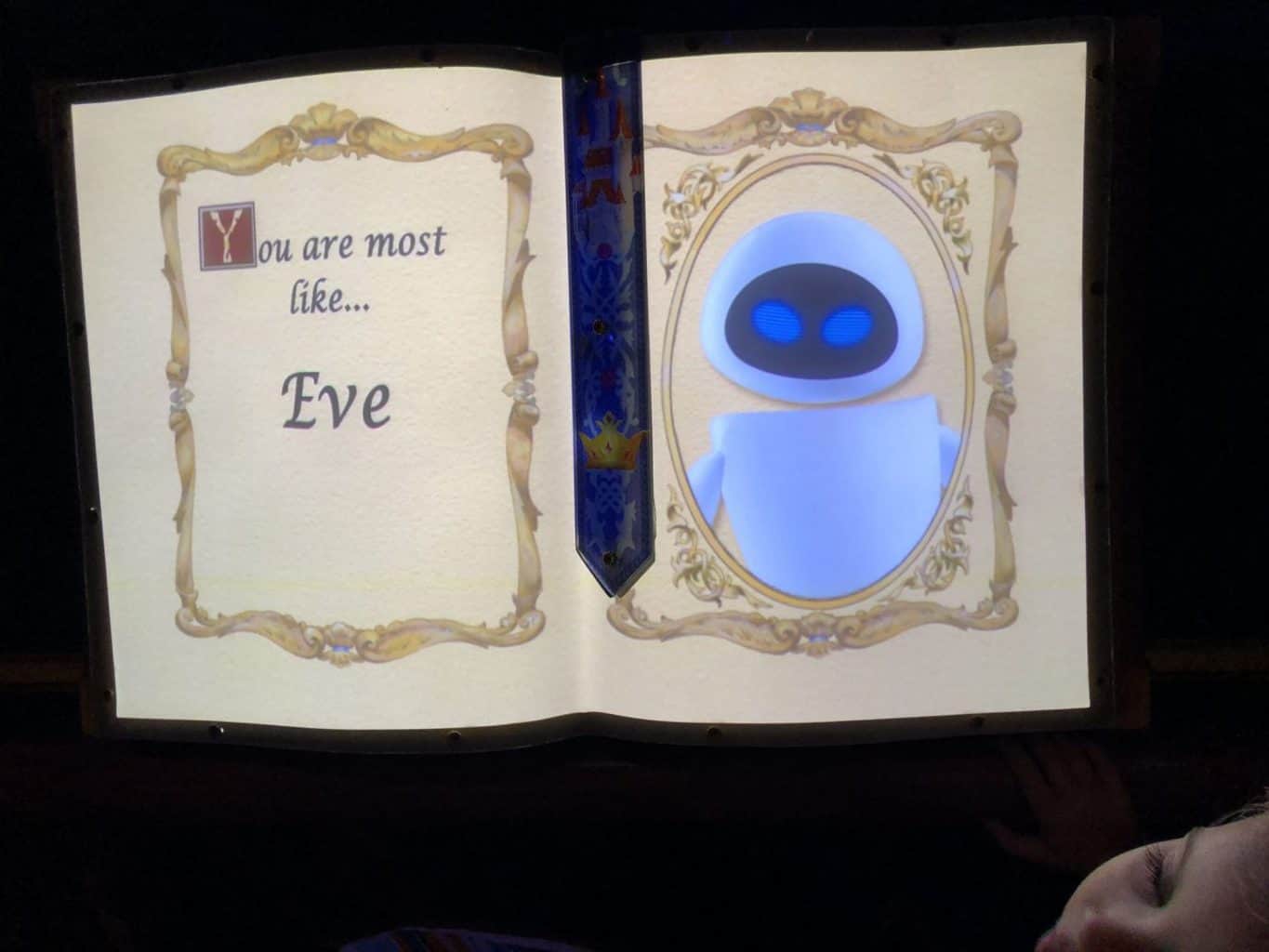 Kye = Woody!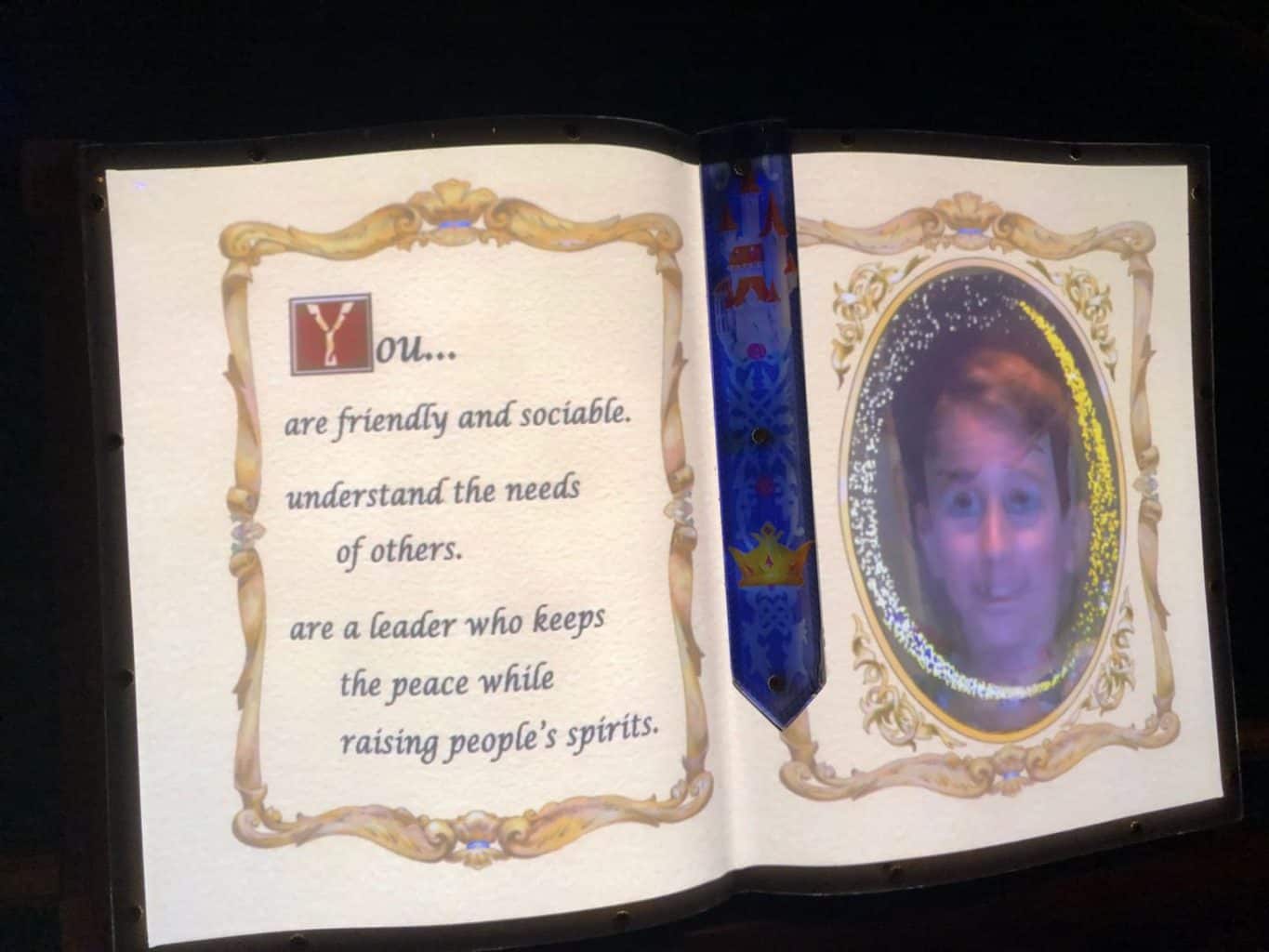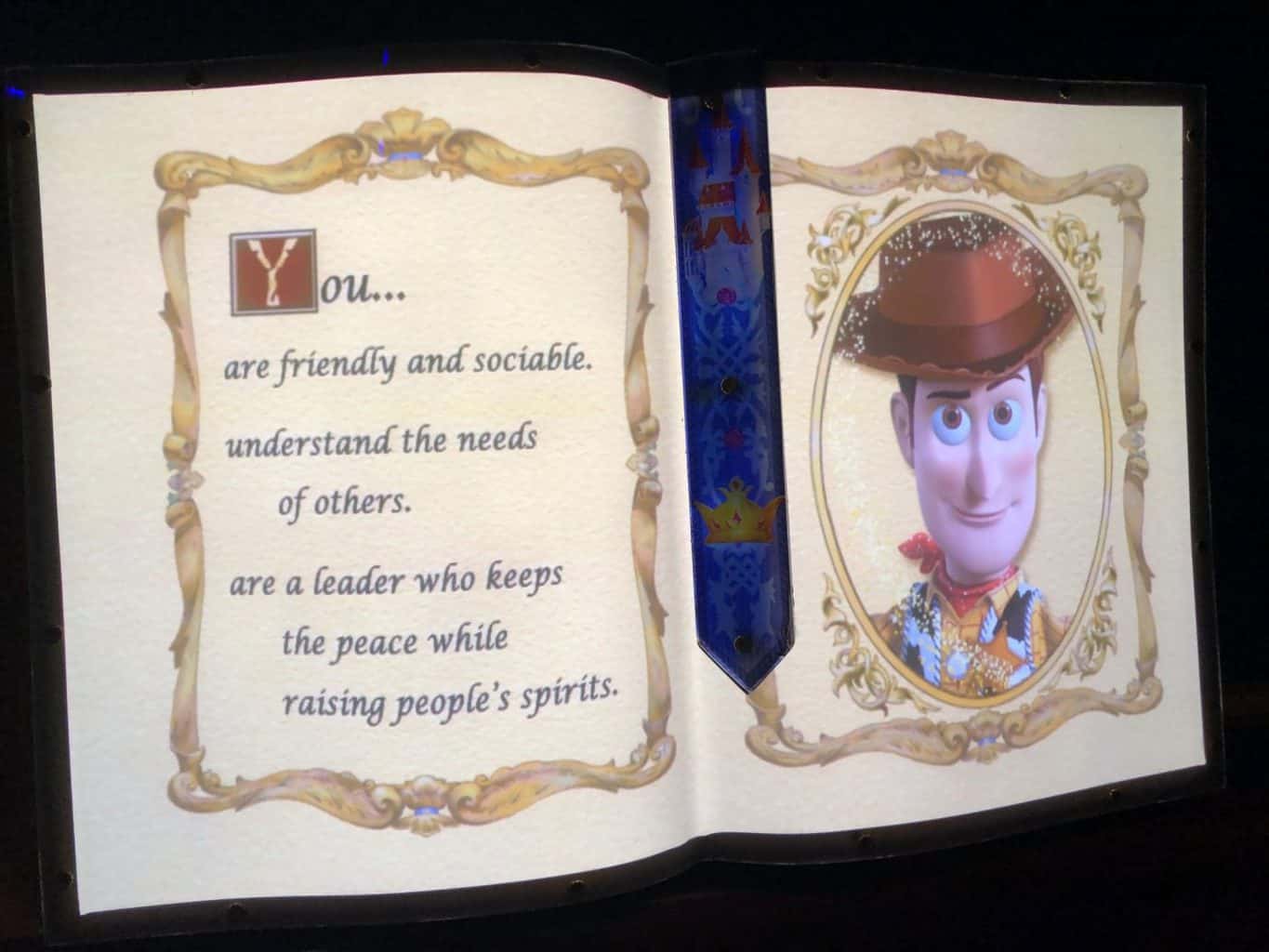 Zach = Peter Pan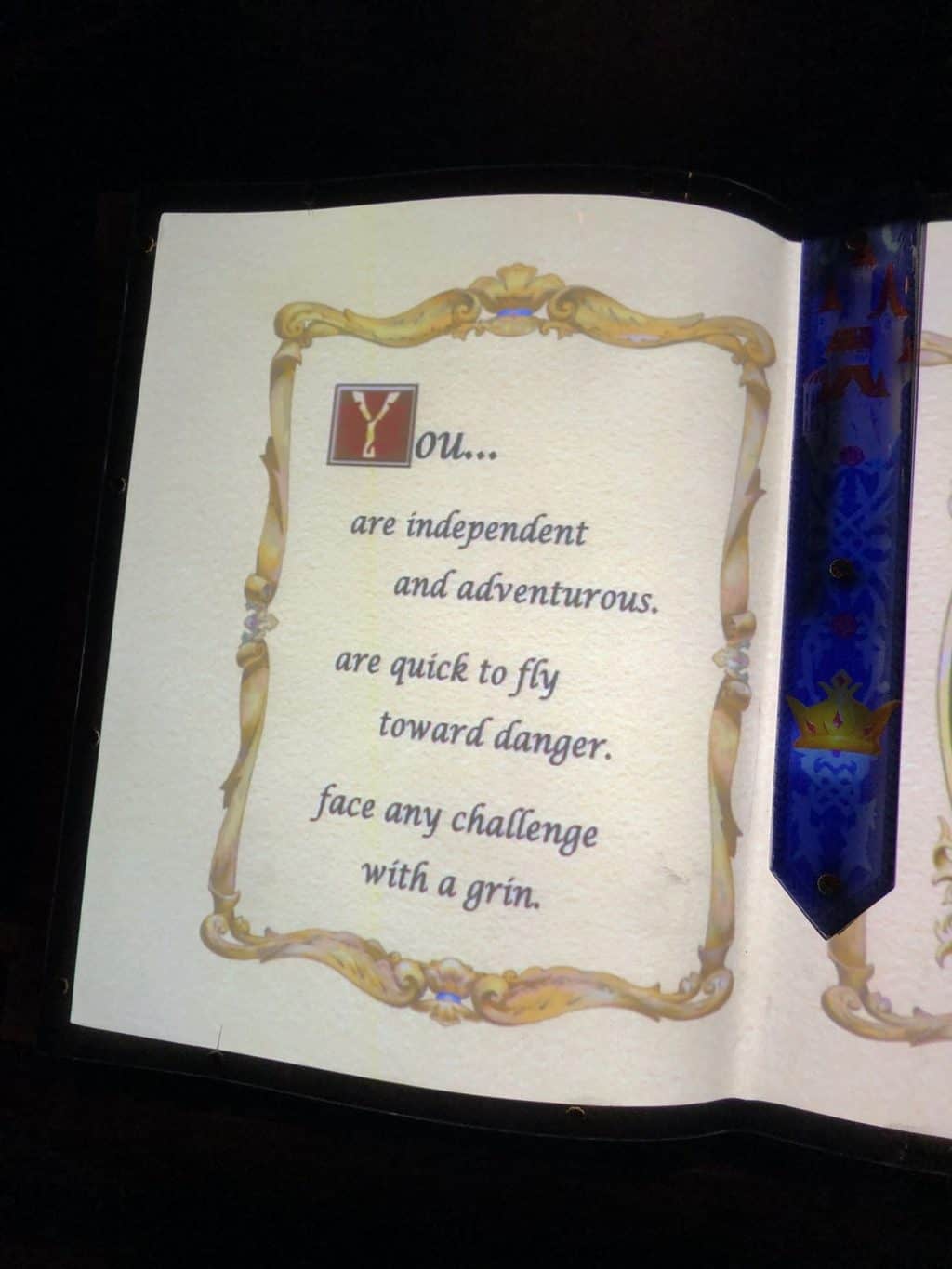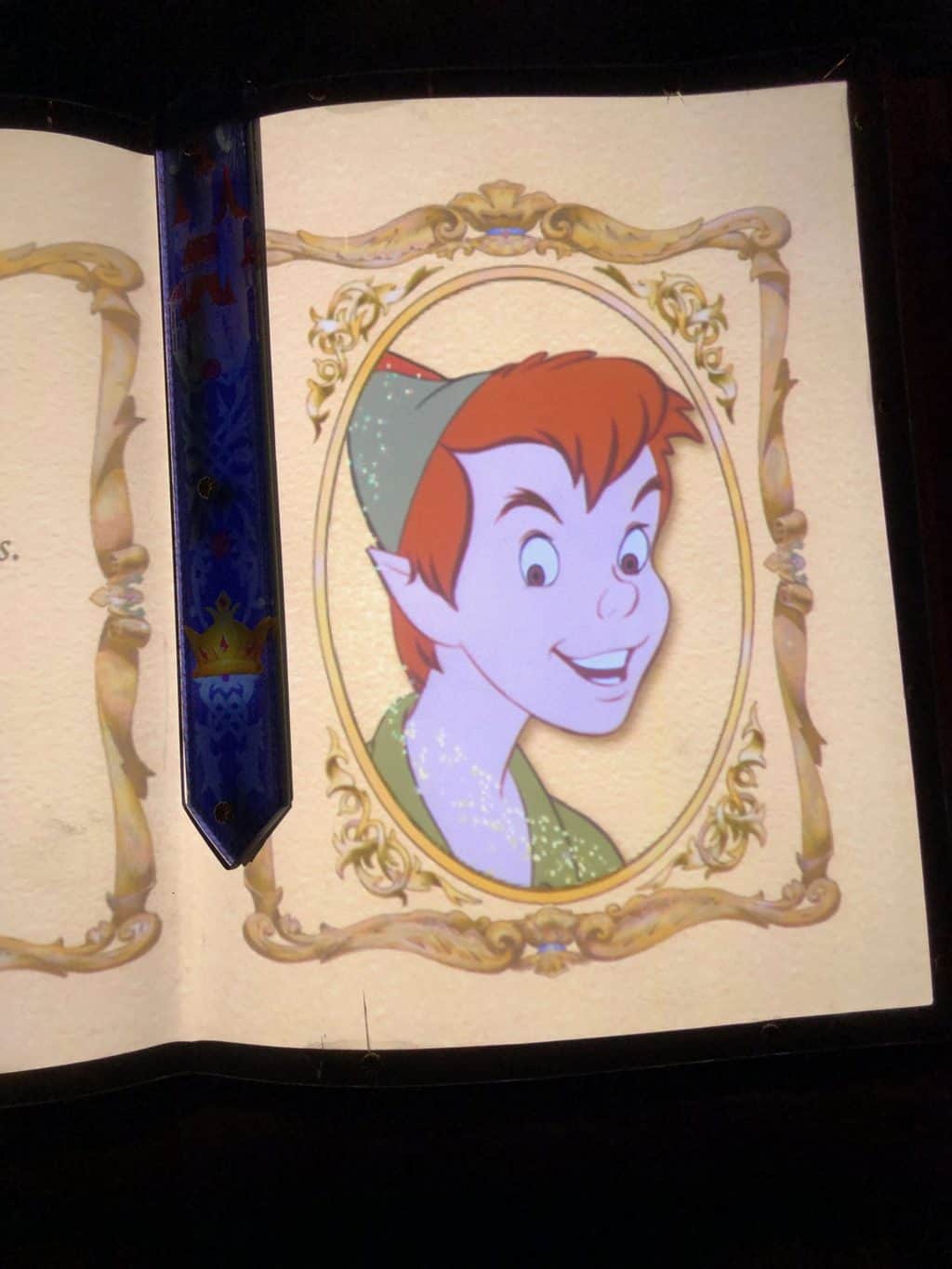 Really they were all so accurate! I especially think Kye as Woody couldn't be more spot on, am I right?
We then headed into the Animation Academy which was something I was looking forward to experiencing again. Zach and I really enjoyed it on our last visit and we enjoyed something similar as a family at Art of Animation Resort. Kye was rather hard on himself when we did the Mickey drawings at Art of Animation so we went into this keeping it VERY light and reminded him that it was just for FUN and to just enjoy drawing and not to stress over it.
He's like his mama and when we don't do things perfectly we tend to beat ourselves up. I try to help him learn at a younger age than I did that perfection is NEVER achievable and we just have to do our best and find joy in that 🙂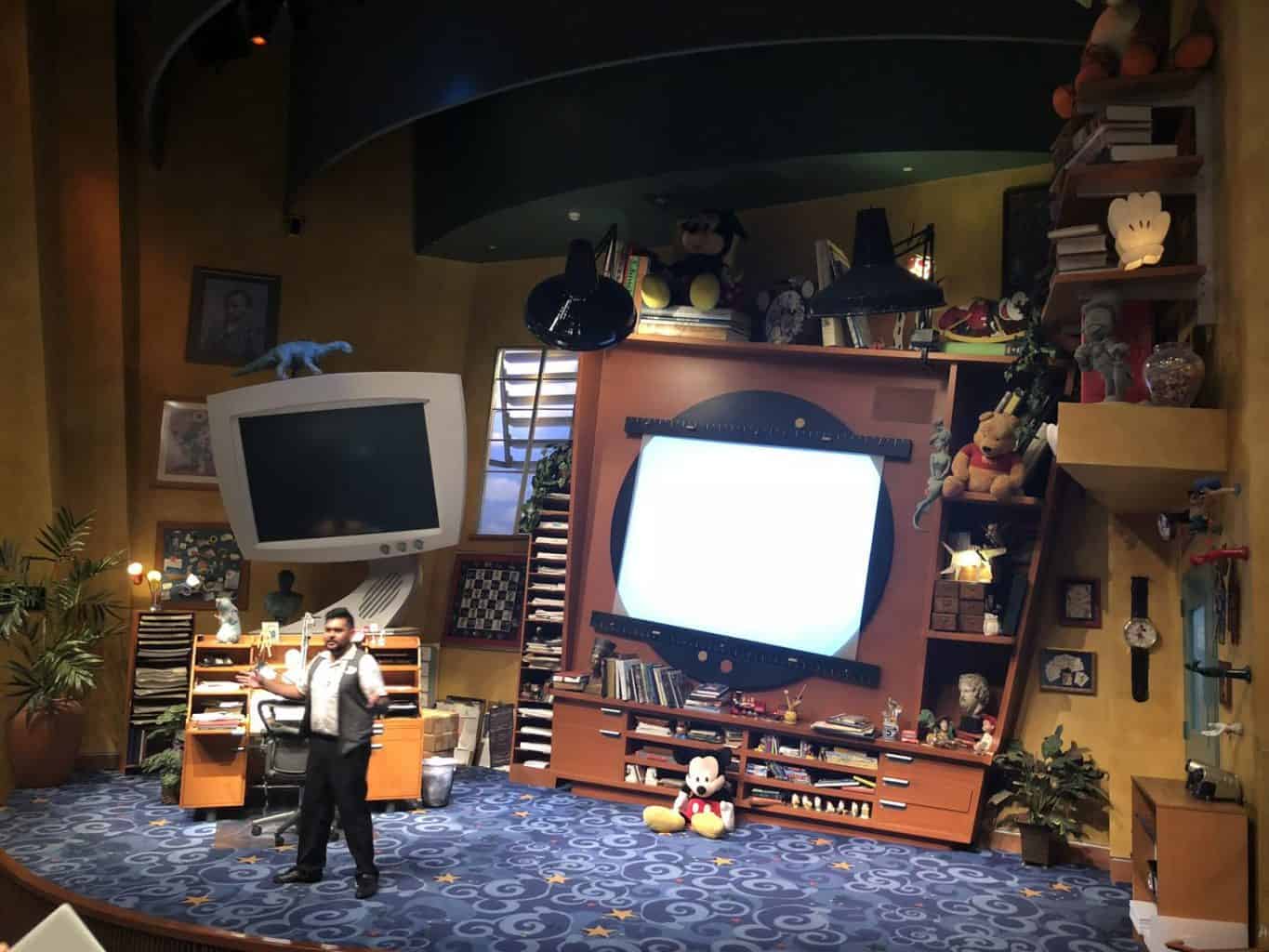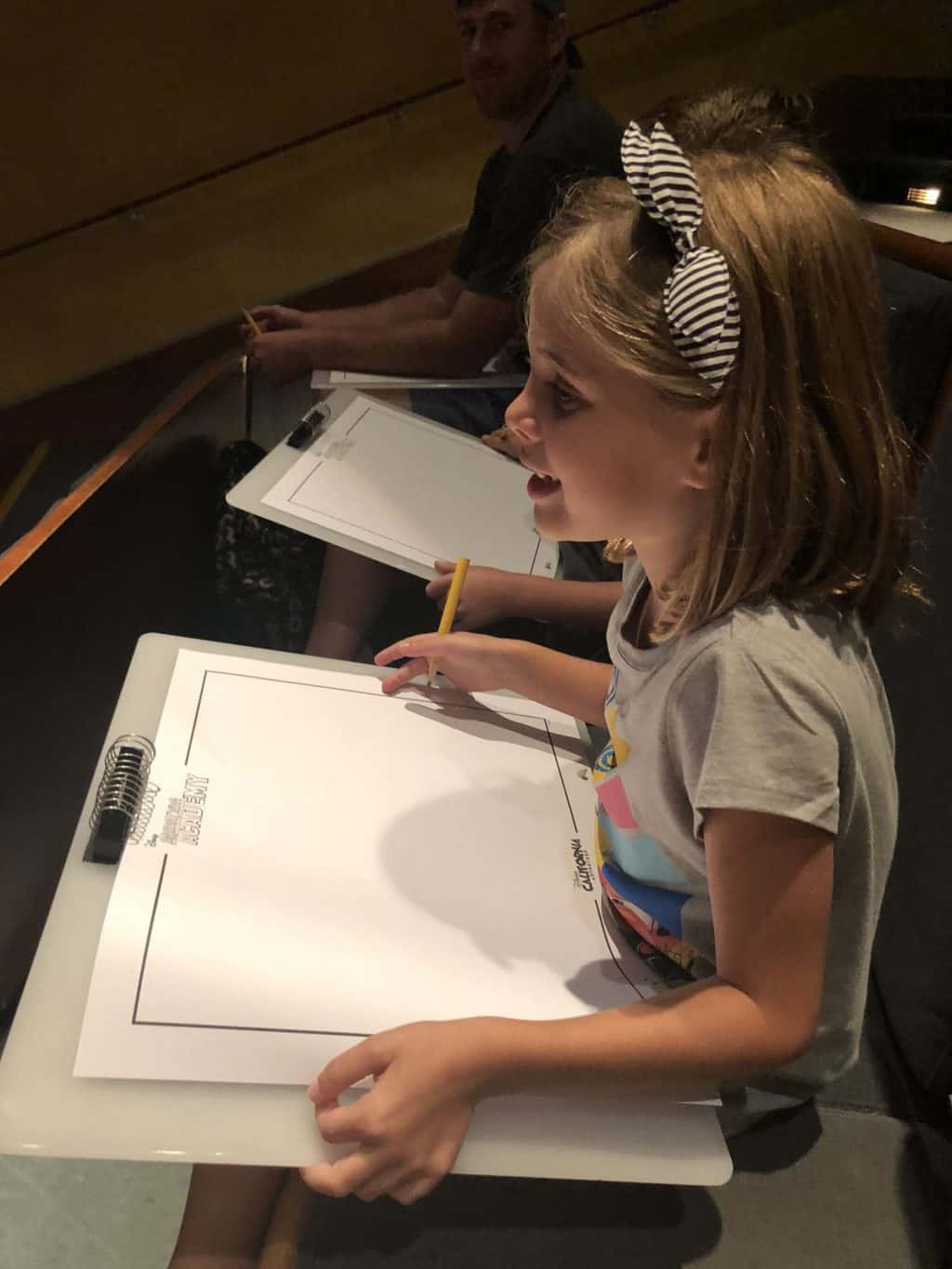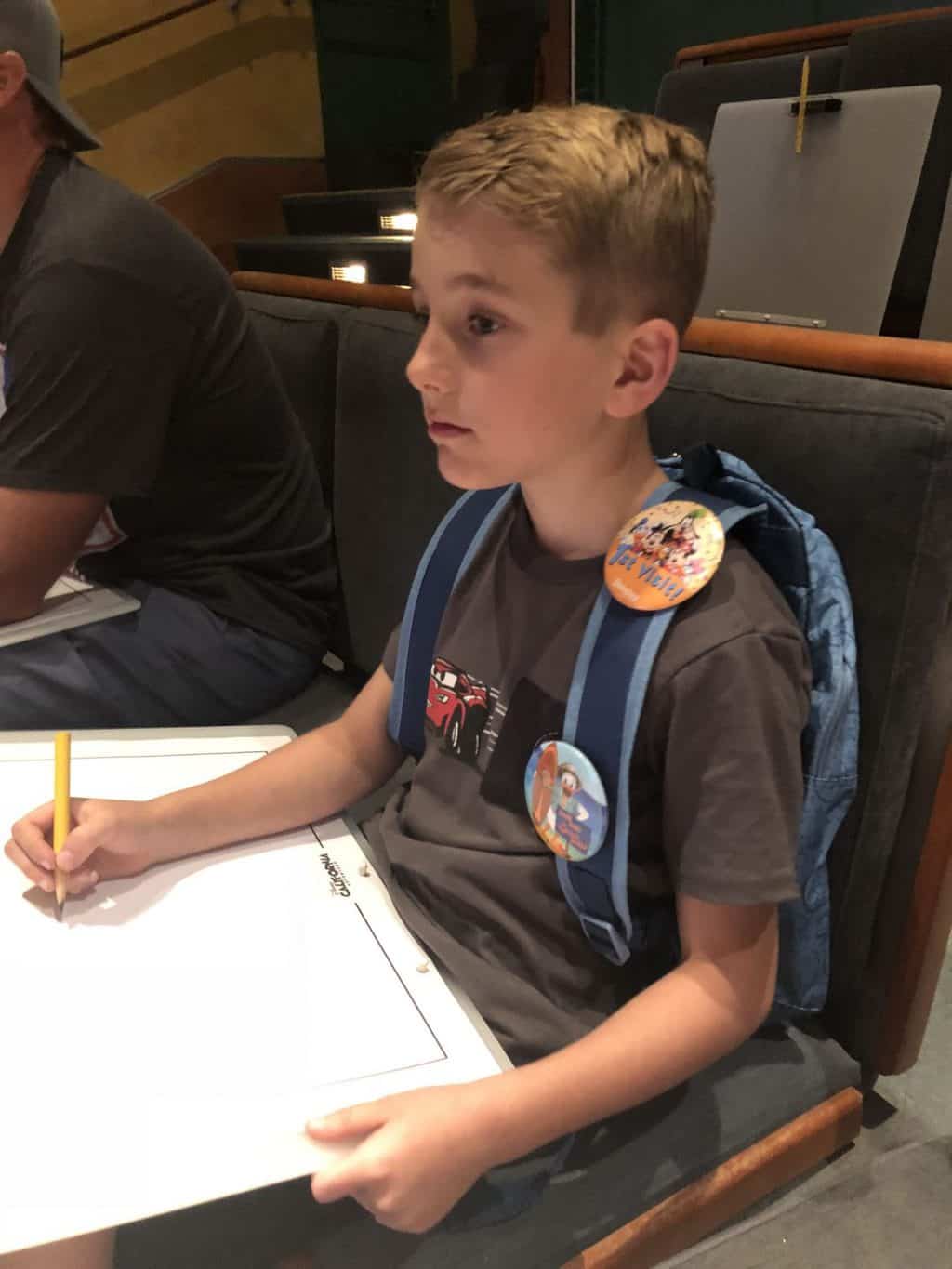 Tess was more interested in napping than in drawing 😉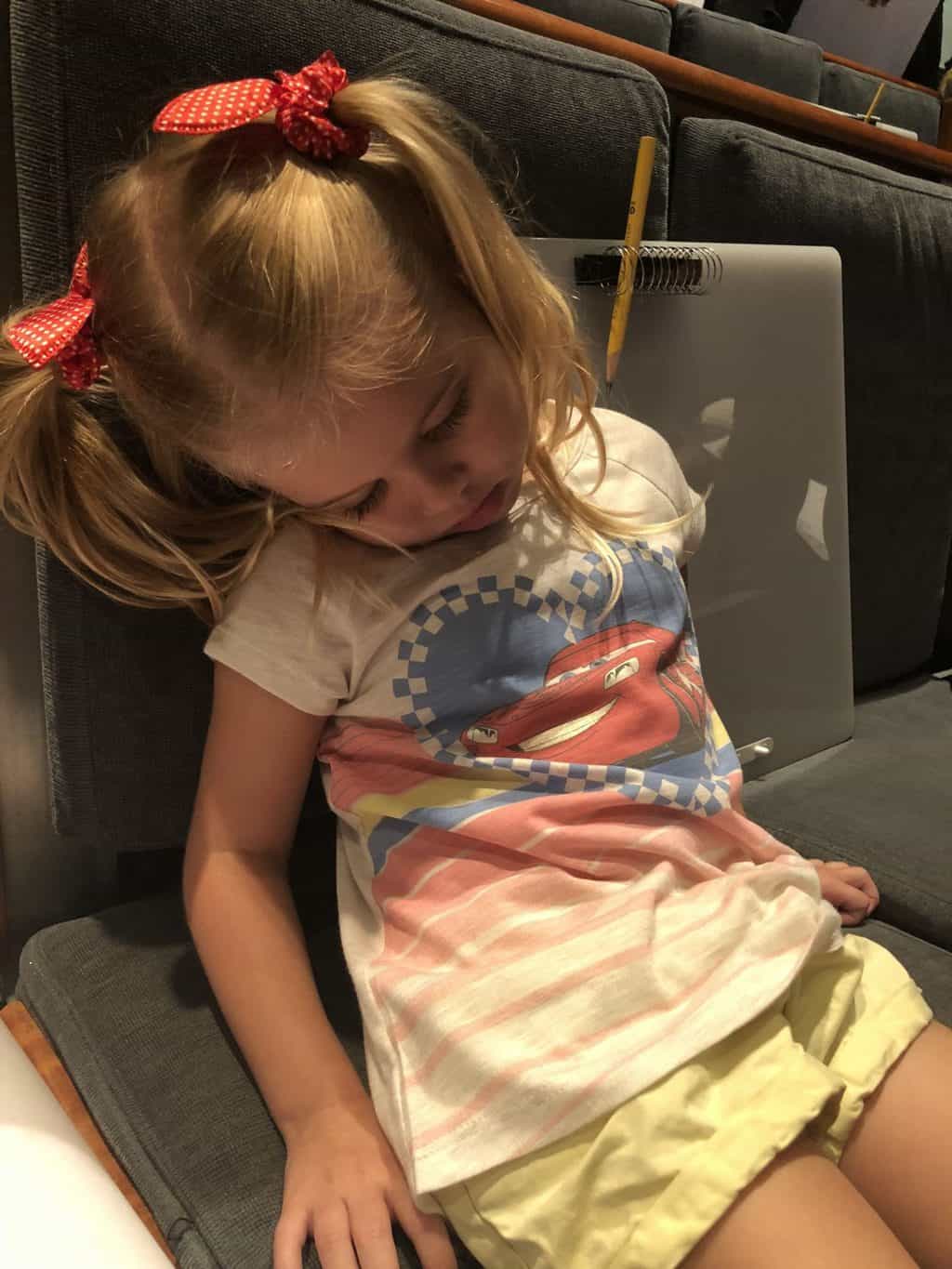 I was SO PUMPED that we got to draw OSWALD! In case you aren't familiar with Oswald he's actually the original "Mickey" as in he was the first character Walt created and had intended to grow and focus on. However, Universal Studios owned the rights to Oswald and basically ripped him out of Walt's hands. It's because of that departure with Universal that Walt created Mickey!
Oswald was owned by Universal for decades and not too long ago was traded back to Disney and is now back home with Disney where he belongs. I'd love to see more Oswald merchandise in the parks. We were hoping to meet him while in Disneyland and spent time hunting him down but he was never out and about when we were there!
So neat to get the chance to draw him – I was pretty proud of how mine turned out!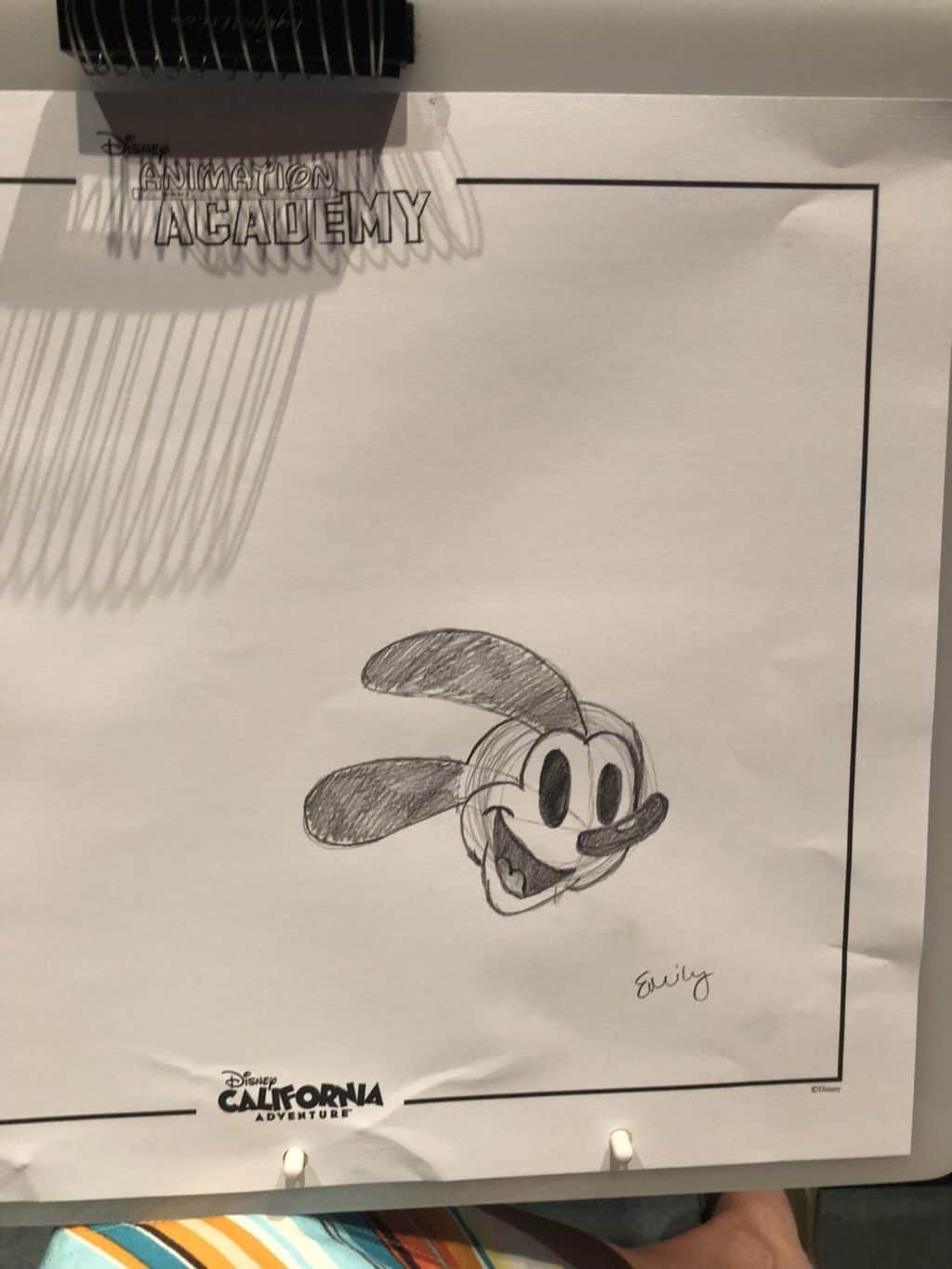 Britt's looks like something out of a nightmare haha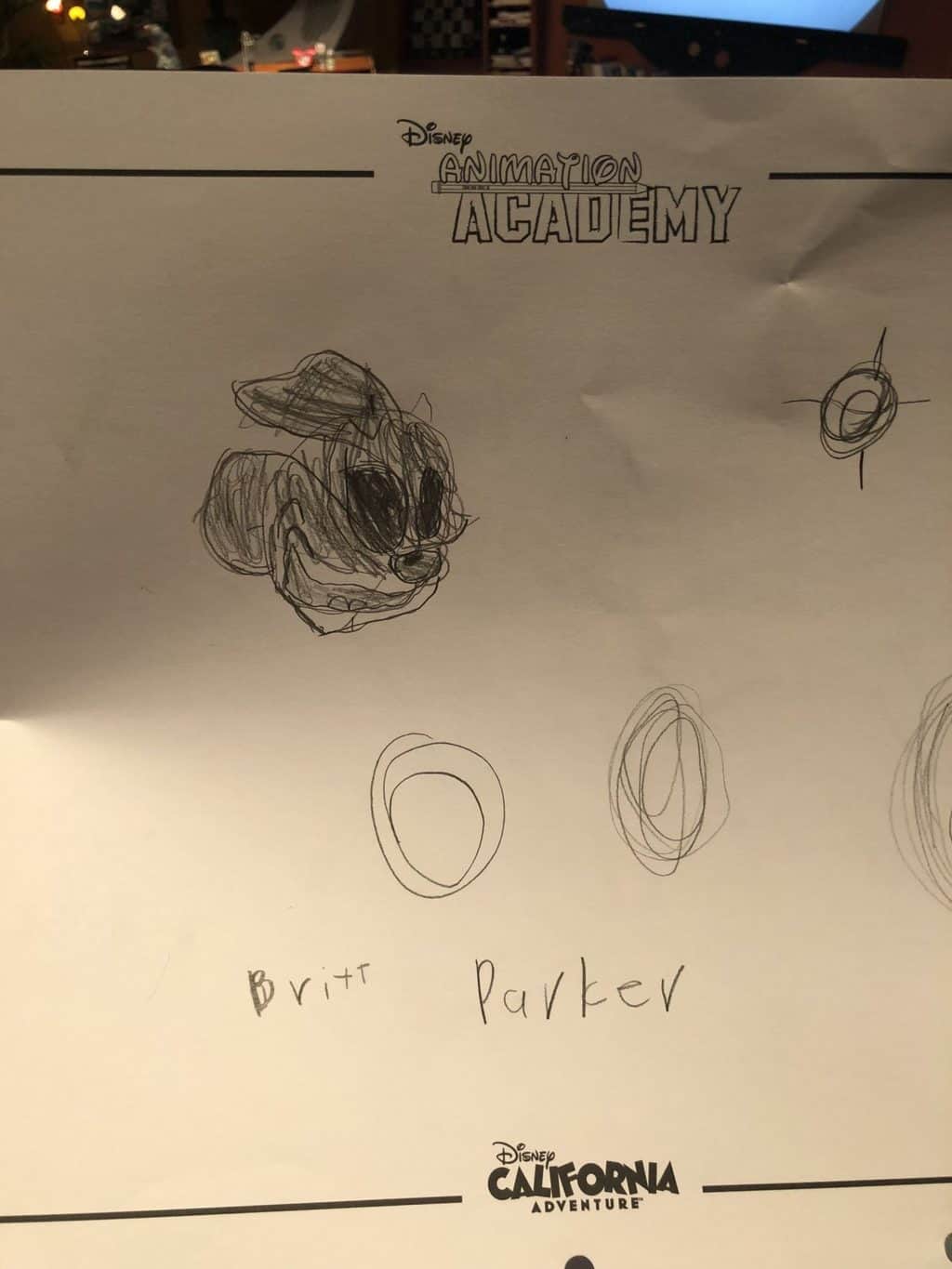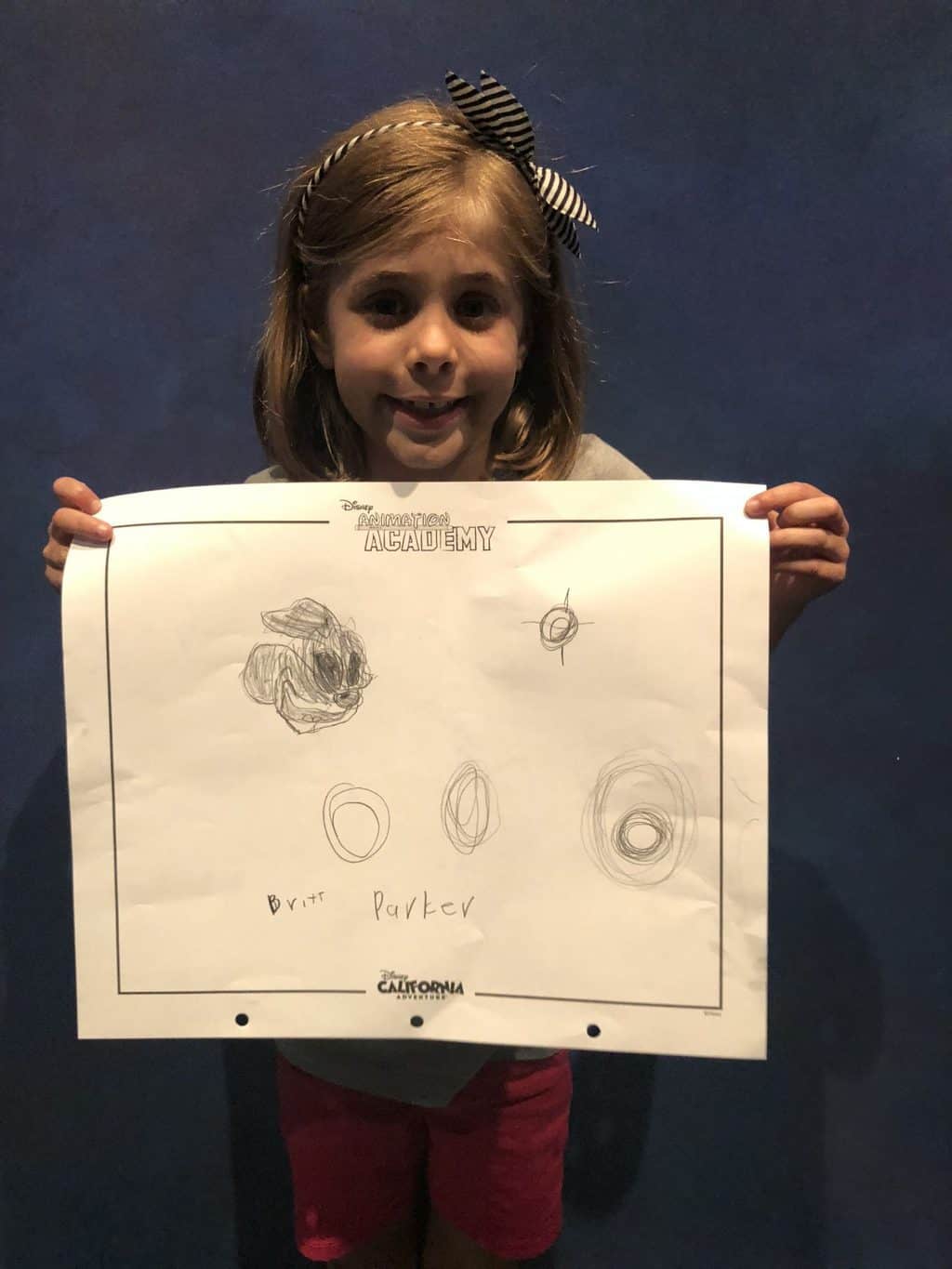 Kye did an EXCELLENT job not getting flustered or frustrated. The key is to draw LIGHT LINES so they can be easily drawn over if you want to make changes. His turned out SO GREAT and I just loved that he truly ENJOYED the experience and didn't put any pressure on himself 🙂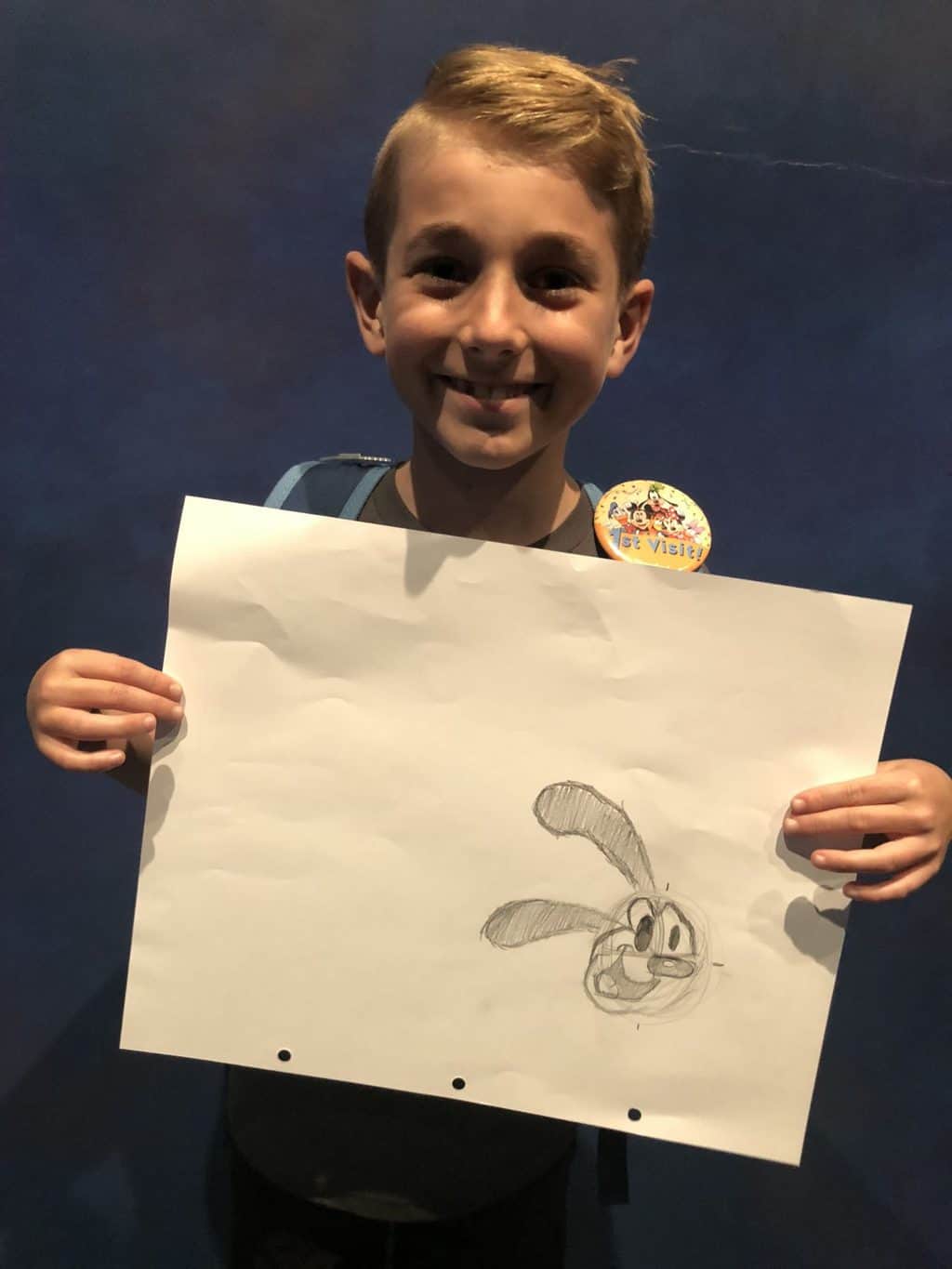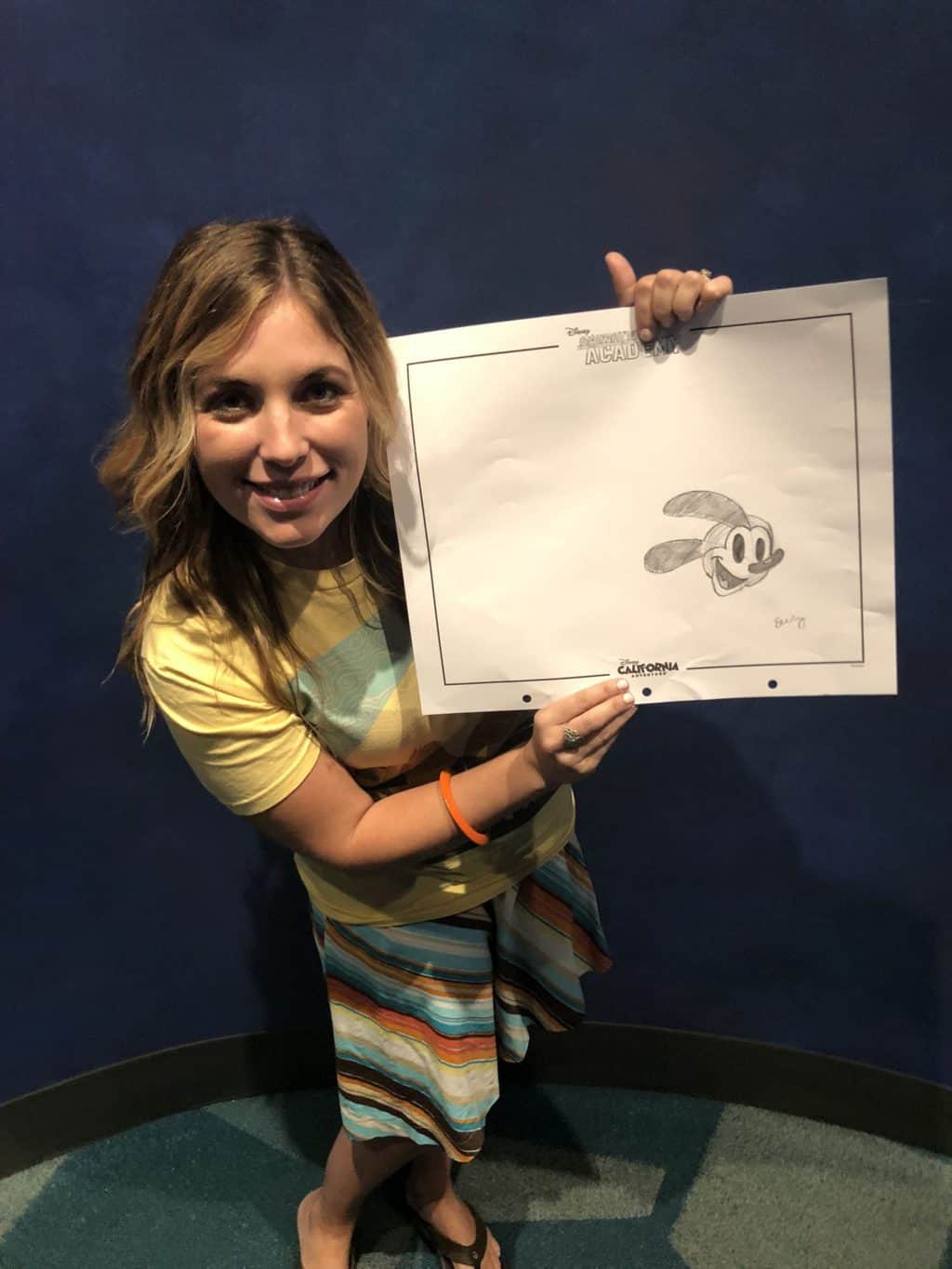 Of course Zach's is the best. #eyeroll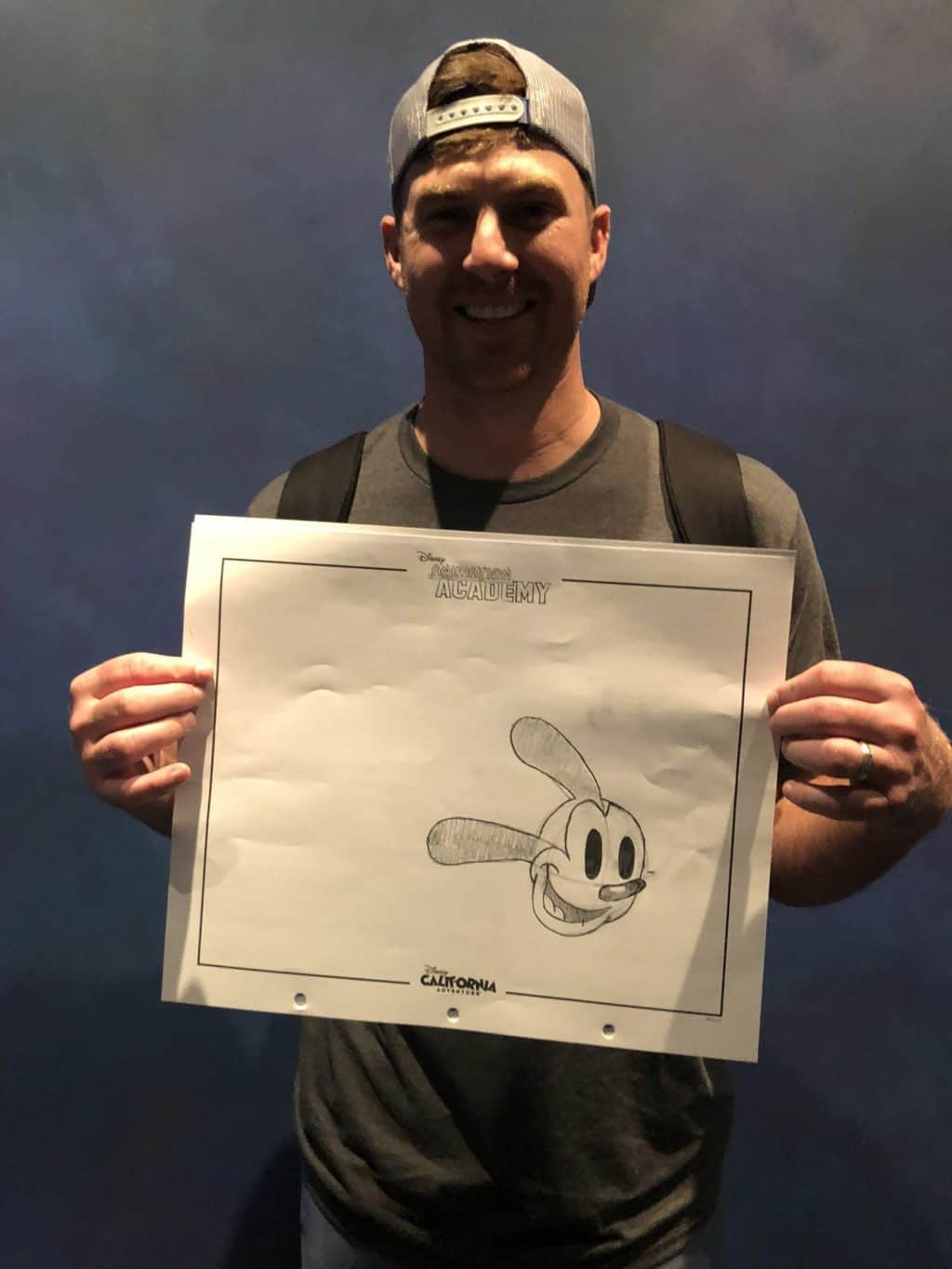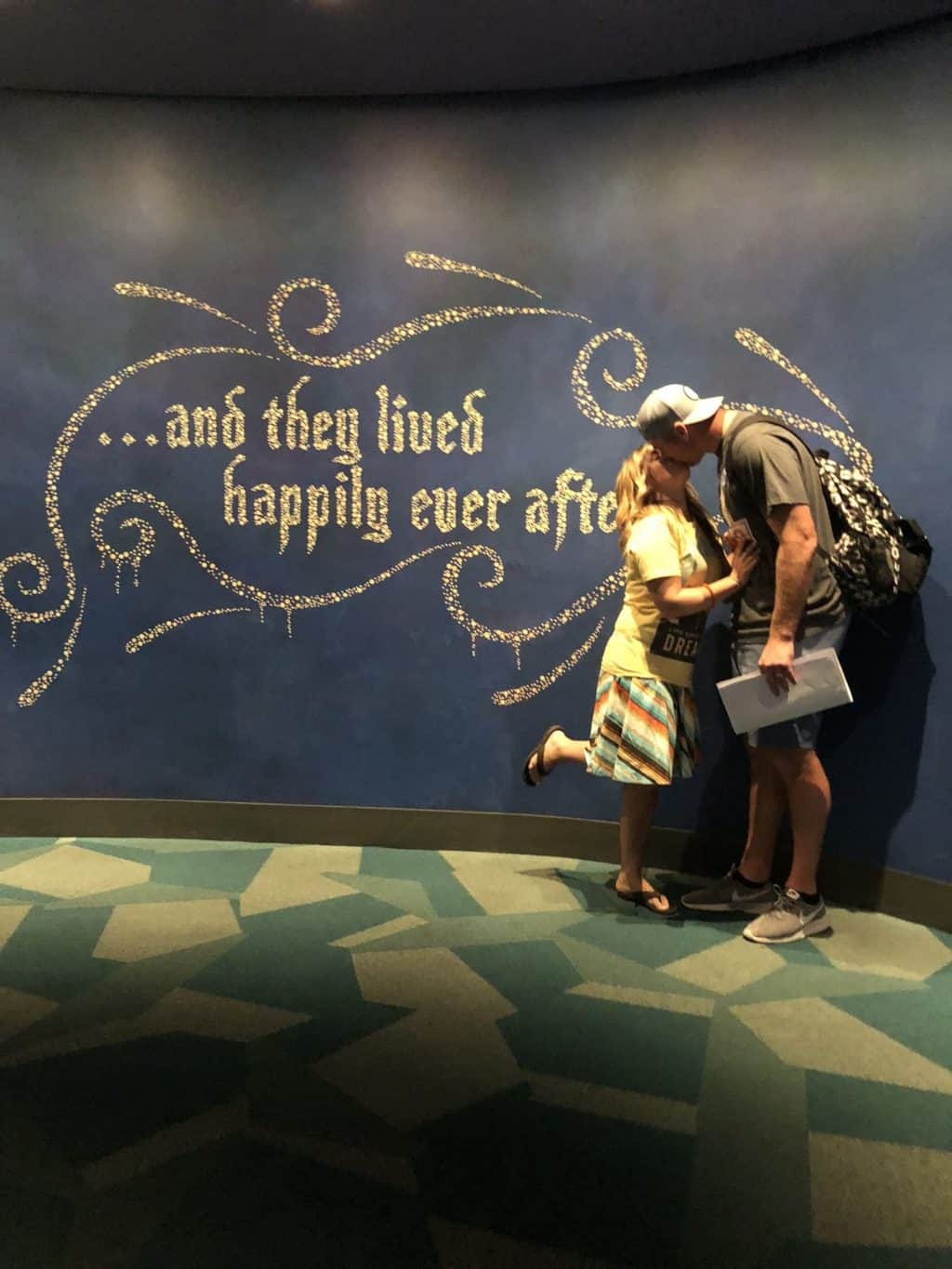 One of our Disney traditions is pin collecting. The kids each have their own pin board in our playroom where they can display their pins and we try to encourage them to choose a pin to remind them of the trip. Tess cracked us up when she chose a character from Guardians of the Galaxy as her pin since it was an experience she didn't like whatsoever (she rode Mission Breakout that morning).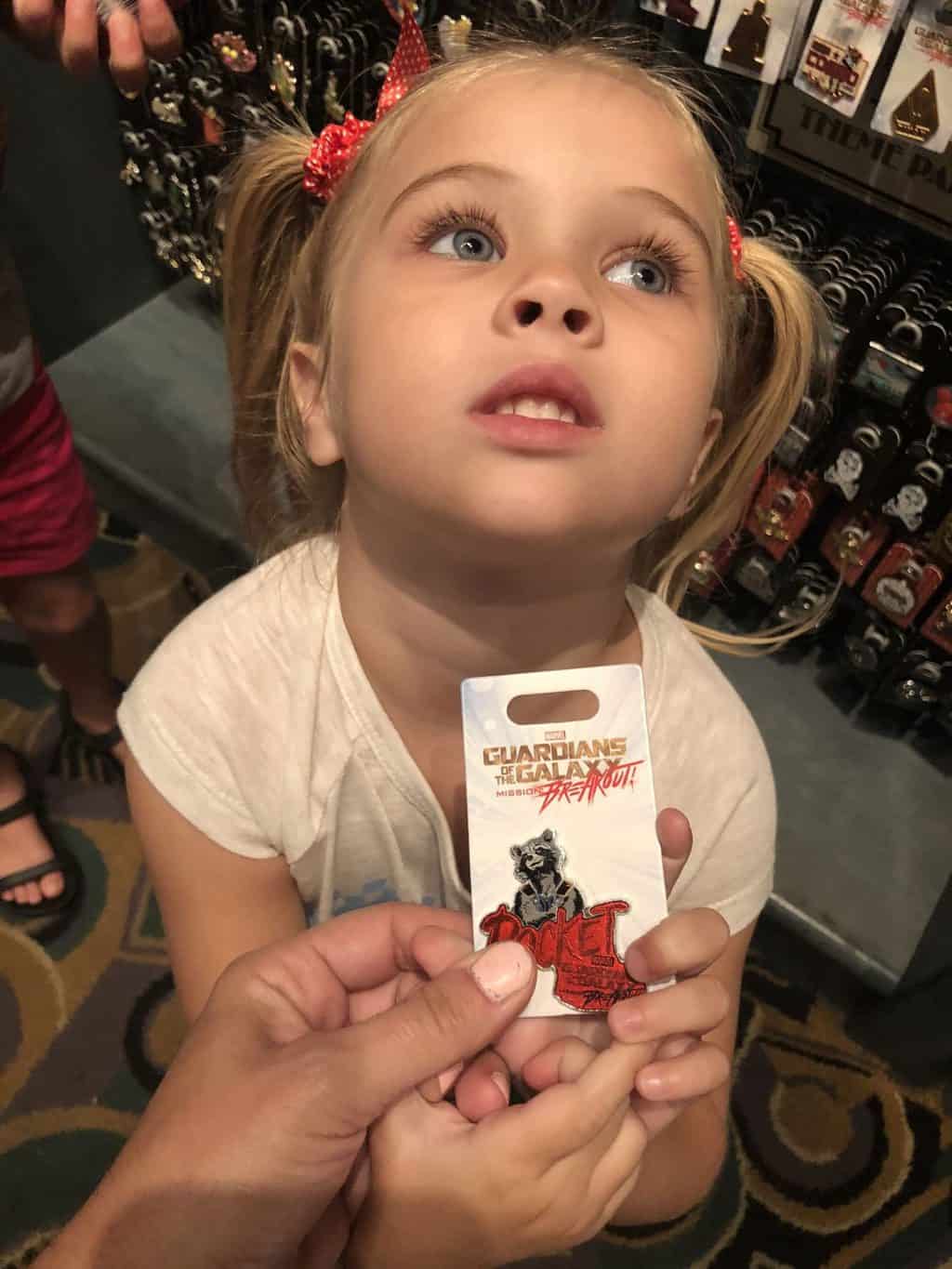 Random character sightings are THE BEST. Especially when it's our good pal Donald! You know Britt had to get her a kiss from her favorite 🙂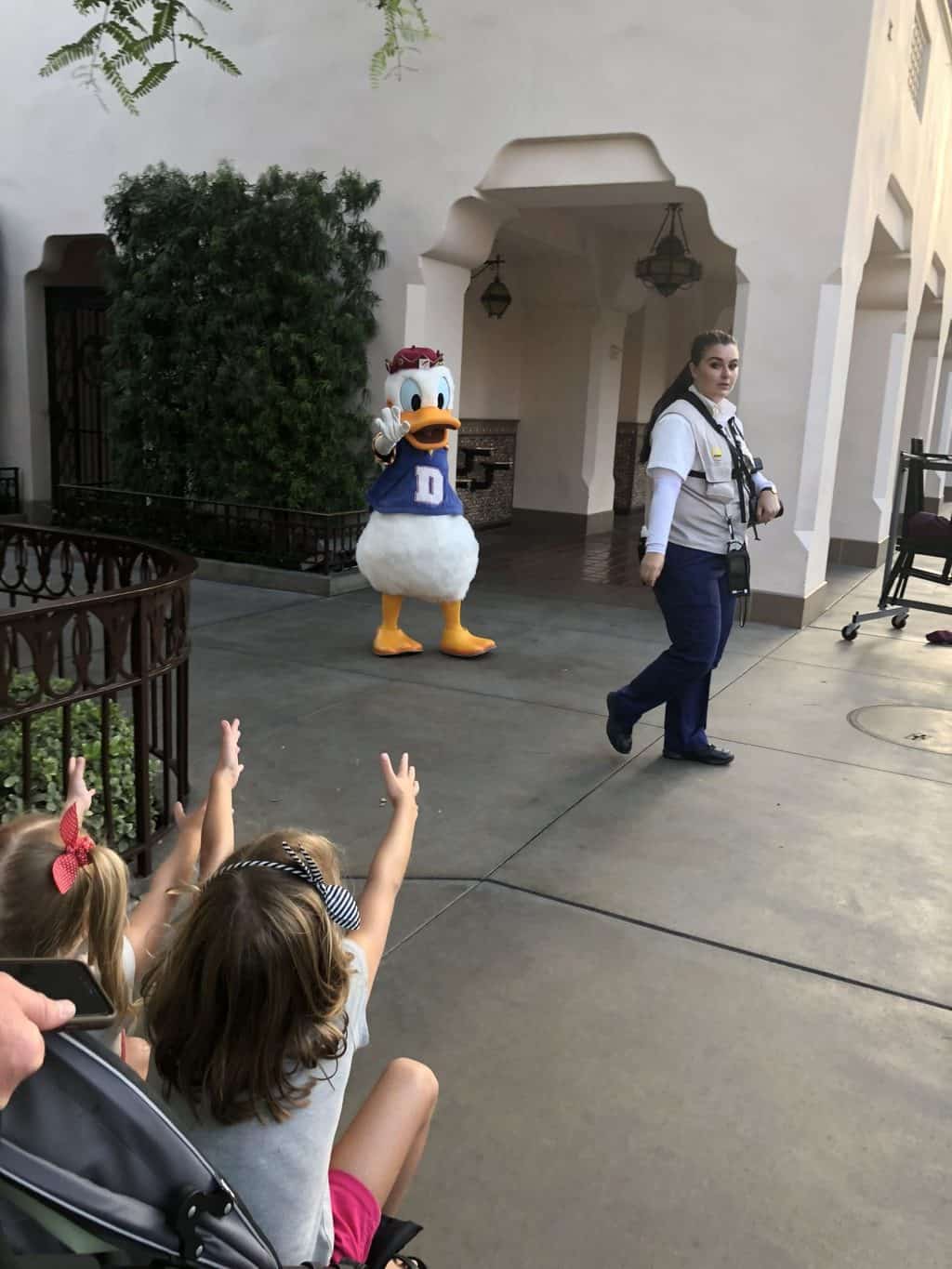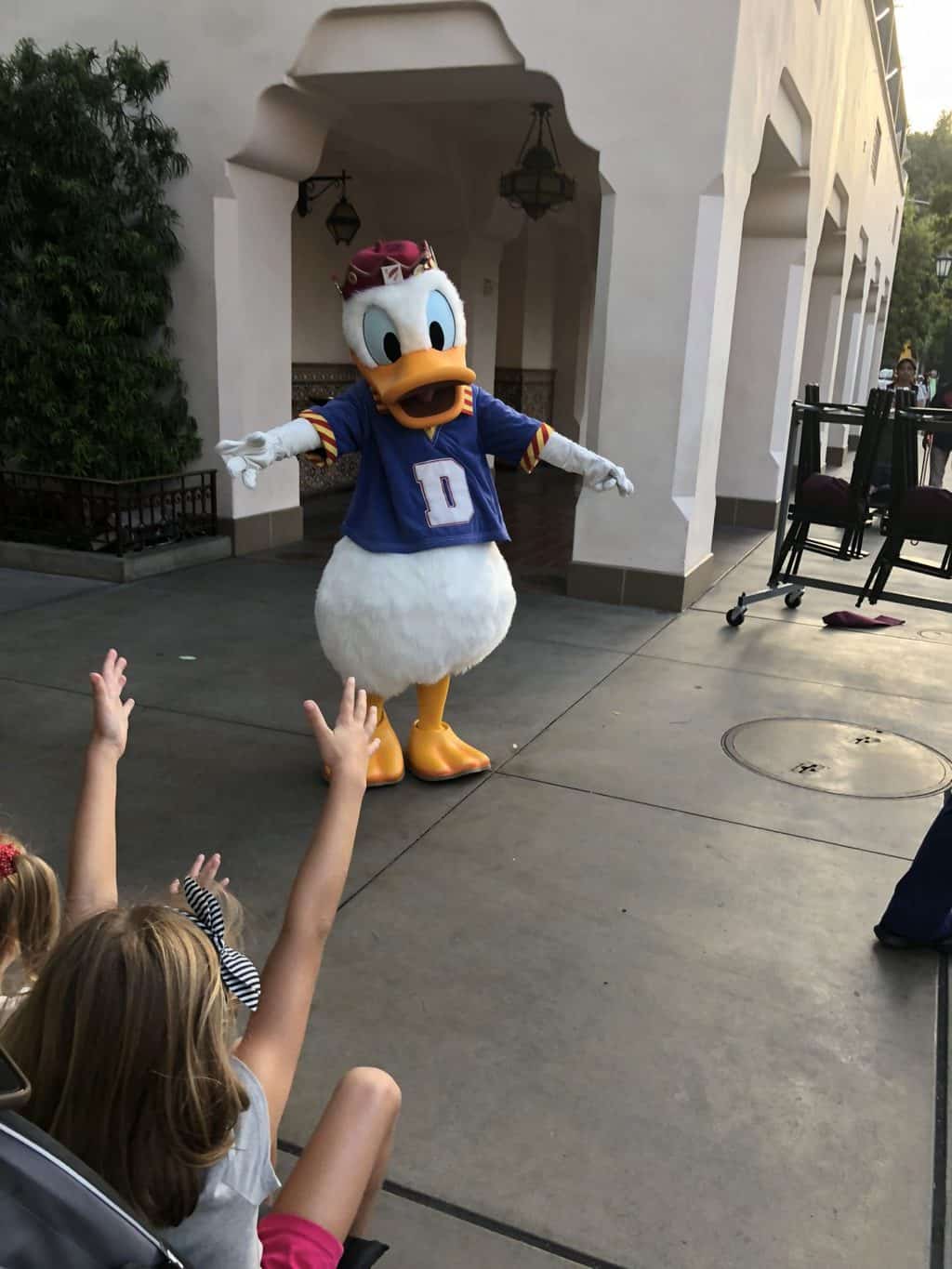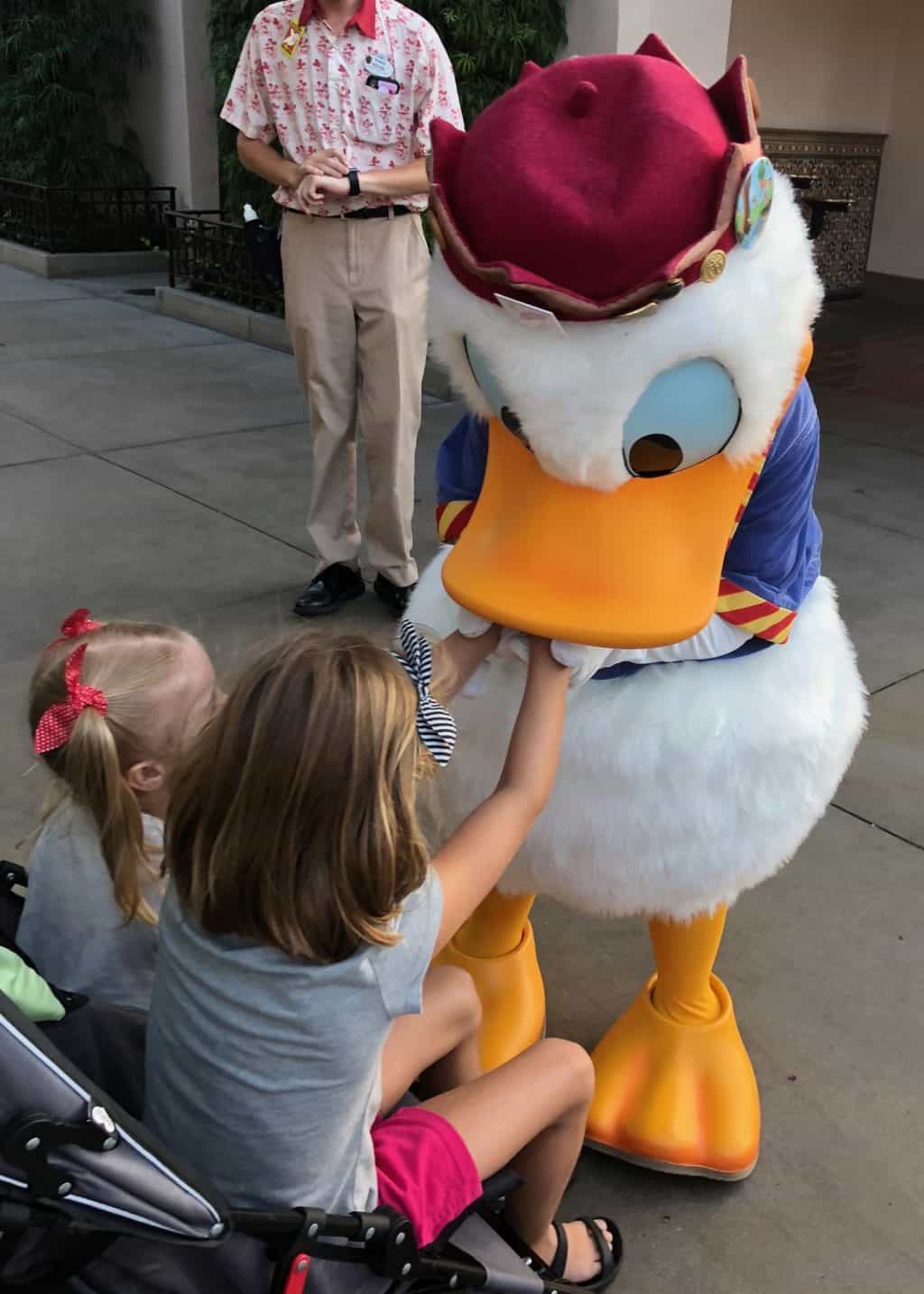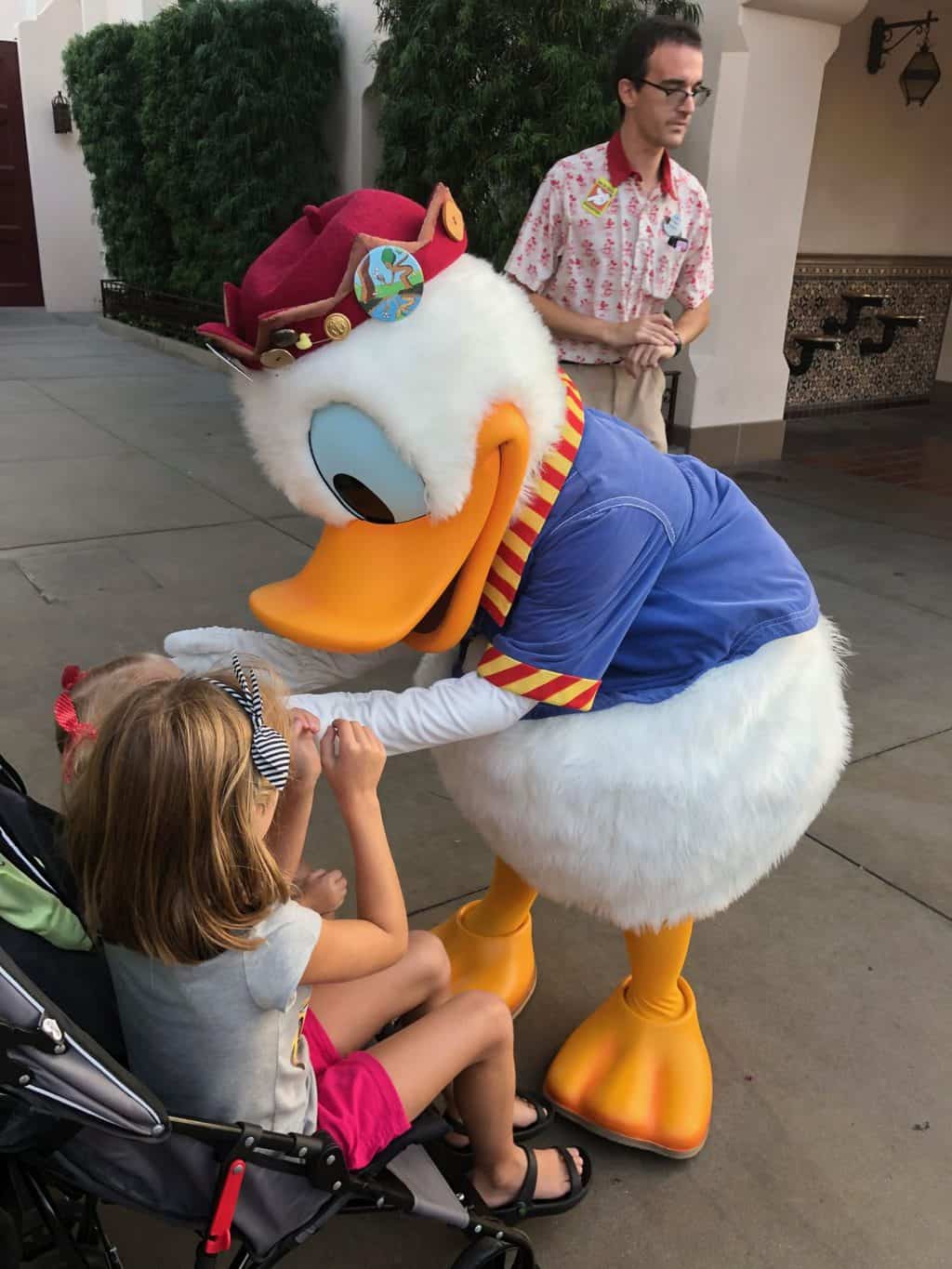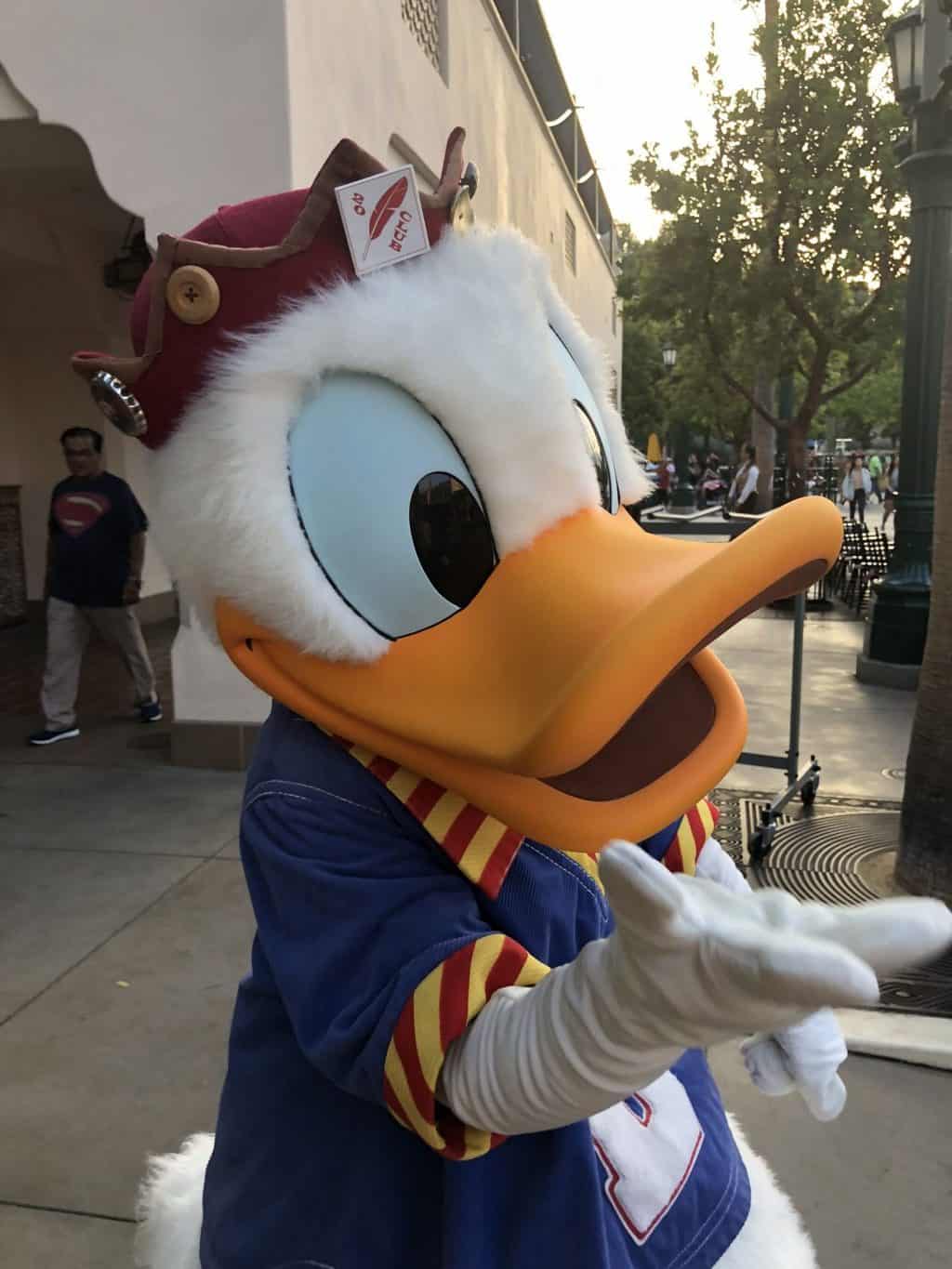 A really, really awesome area at Disney's California Adventure is the Redwood Creek Challenge Trail. It's a HUGE play area with TONS to do and explore. Zach and I were really looking forward to the kids having a blast there and it didn't disappoint.
A super cool feature is inside a cave where you can discover your spirit animal. Of course we each took a turn!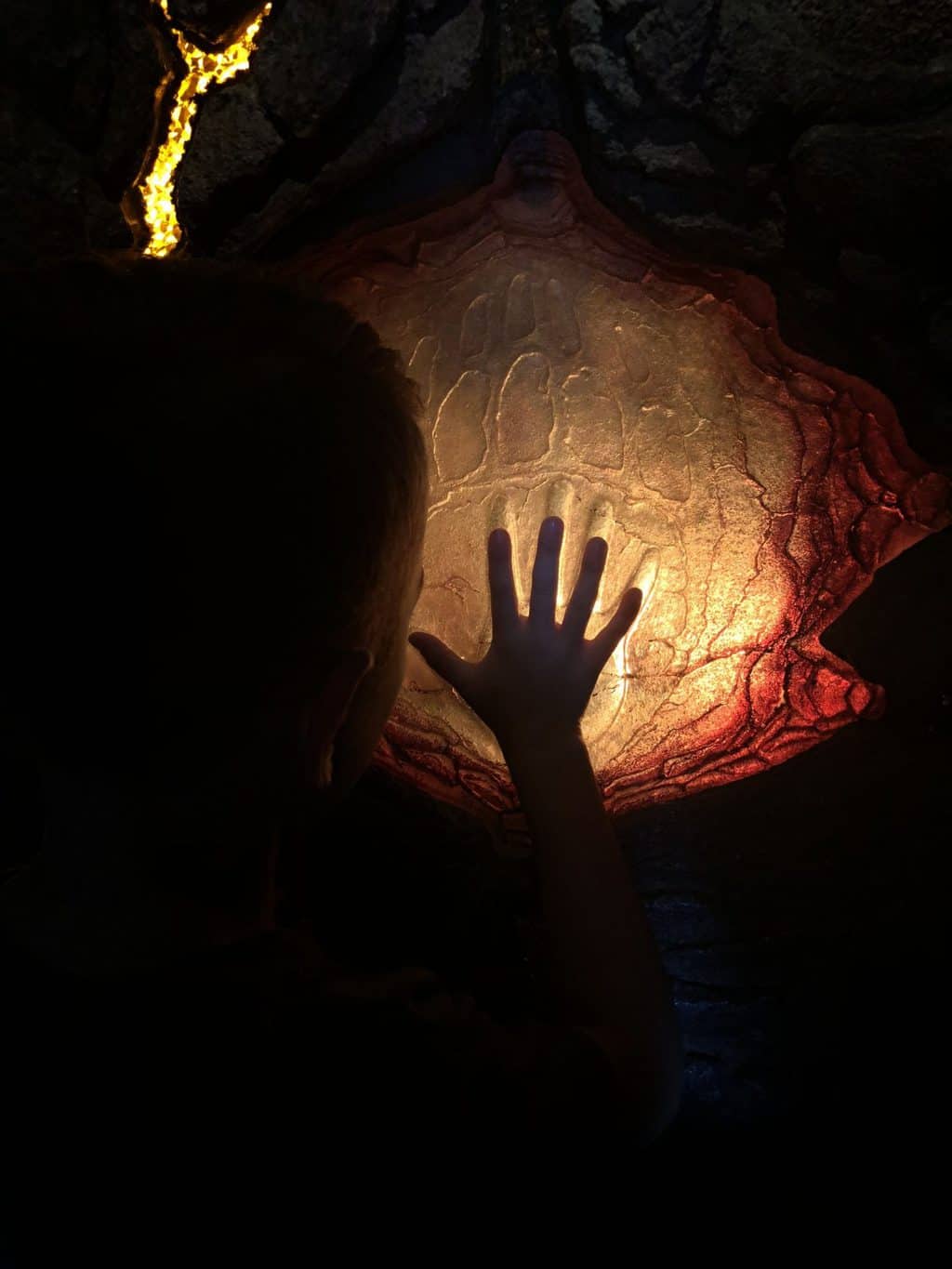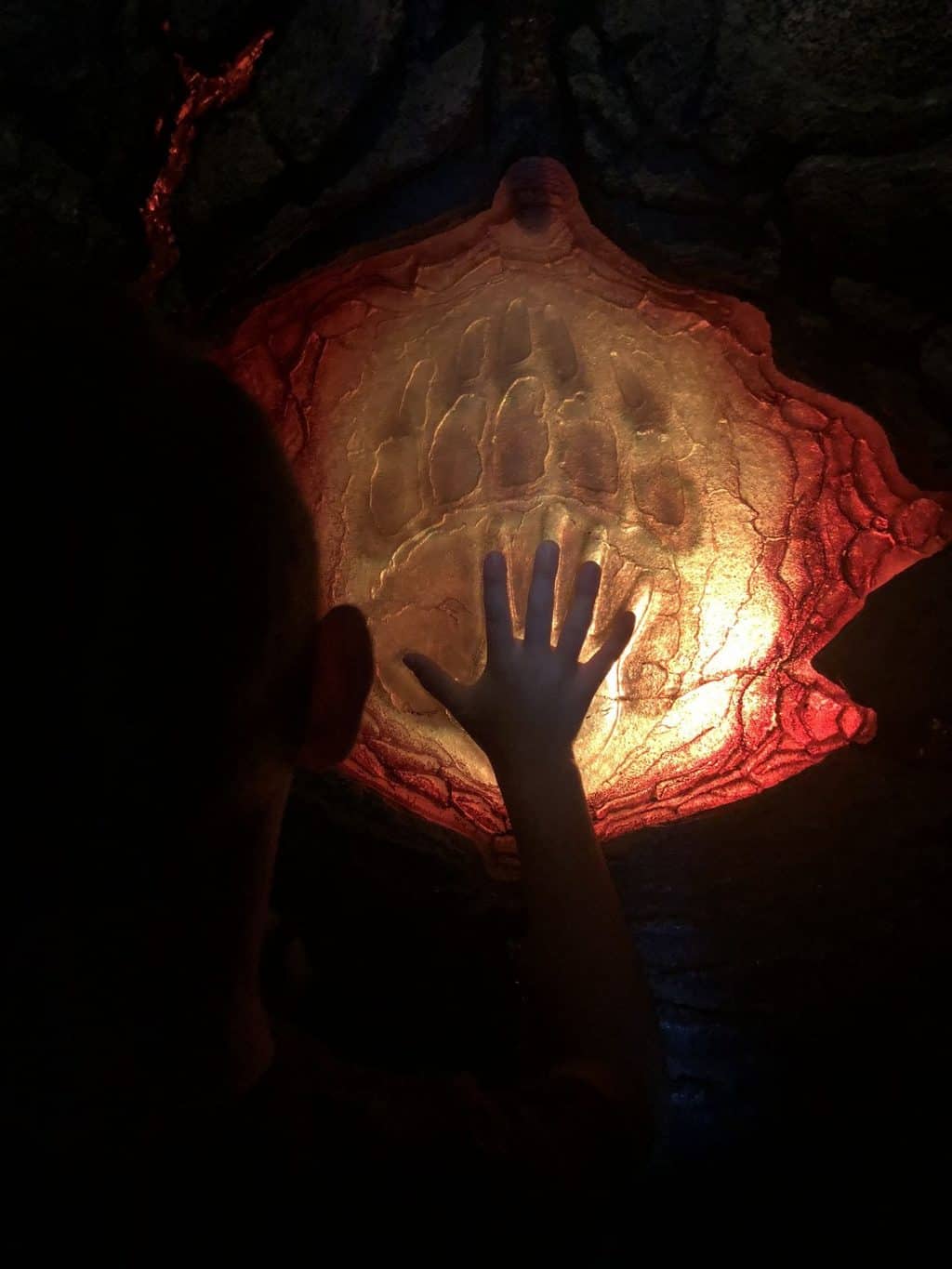 Our results!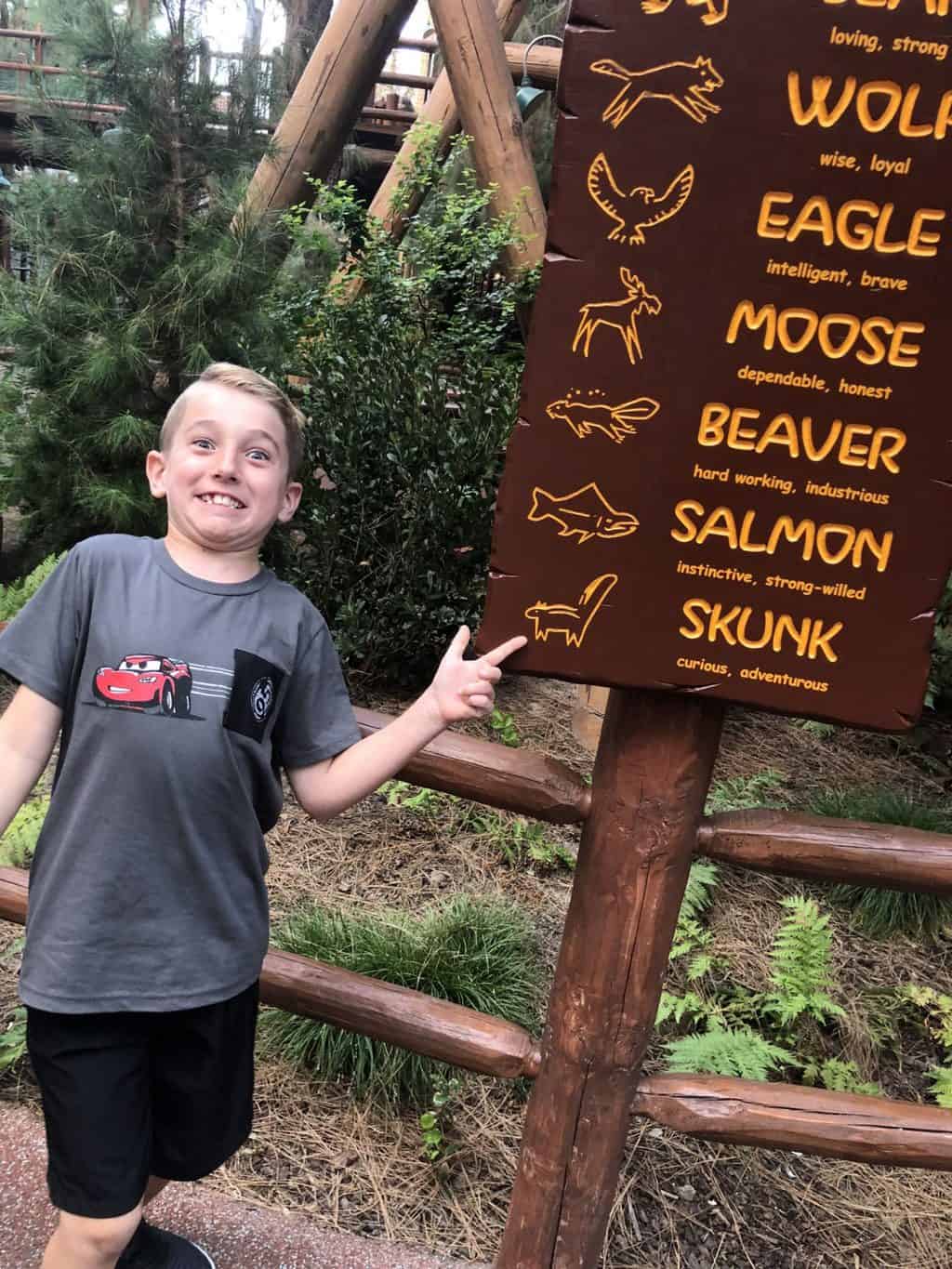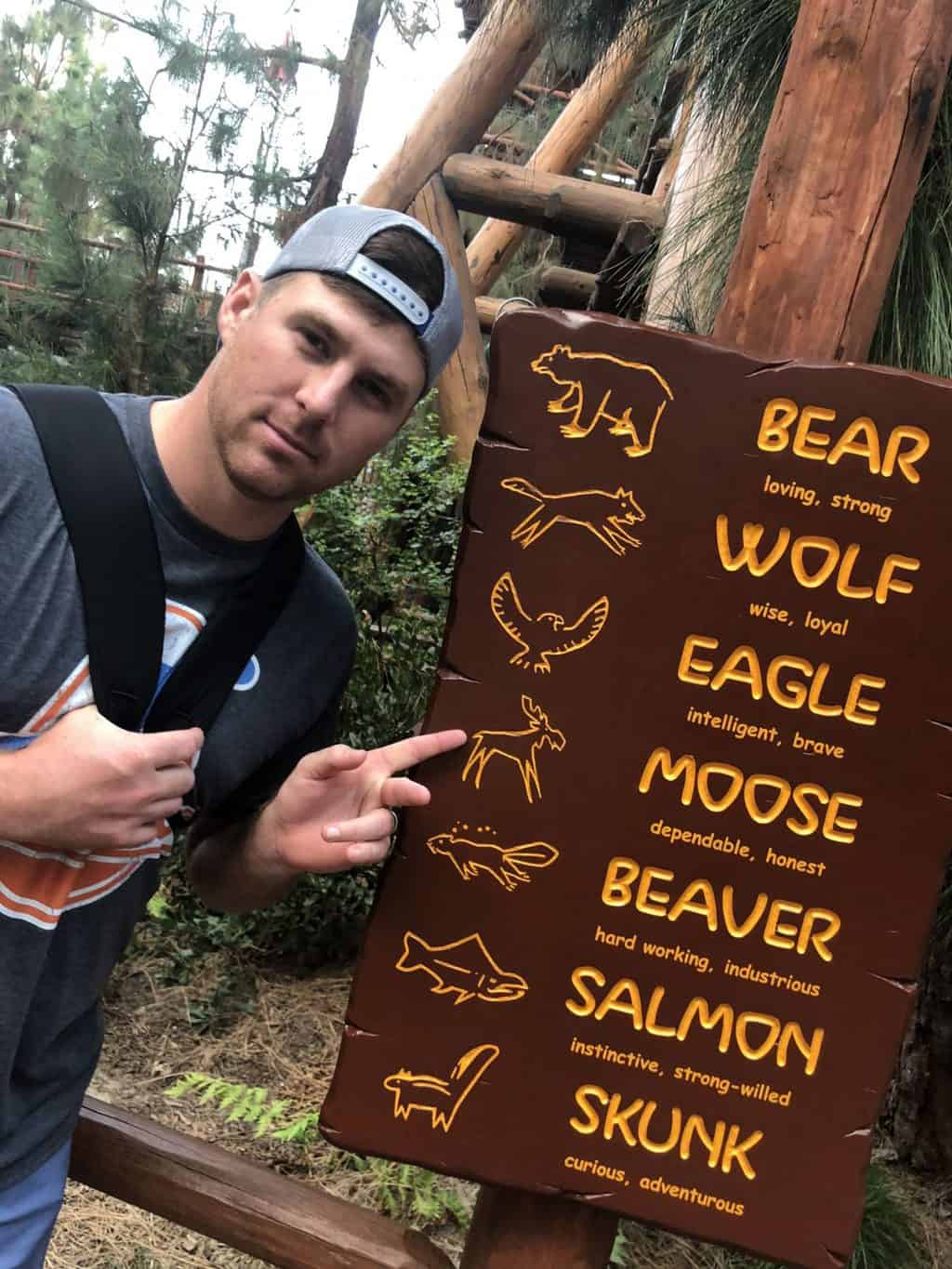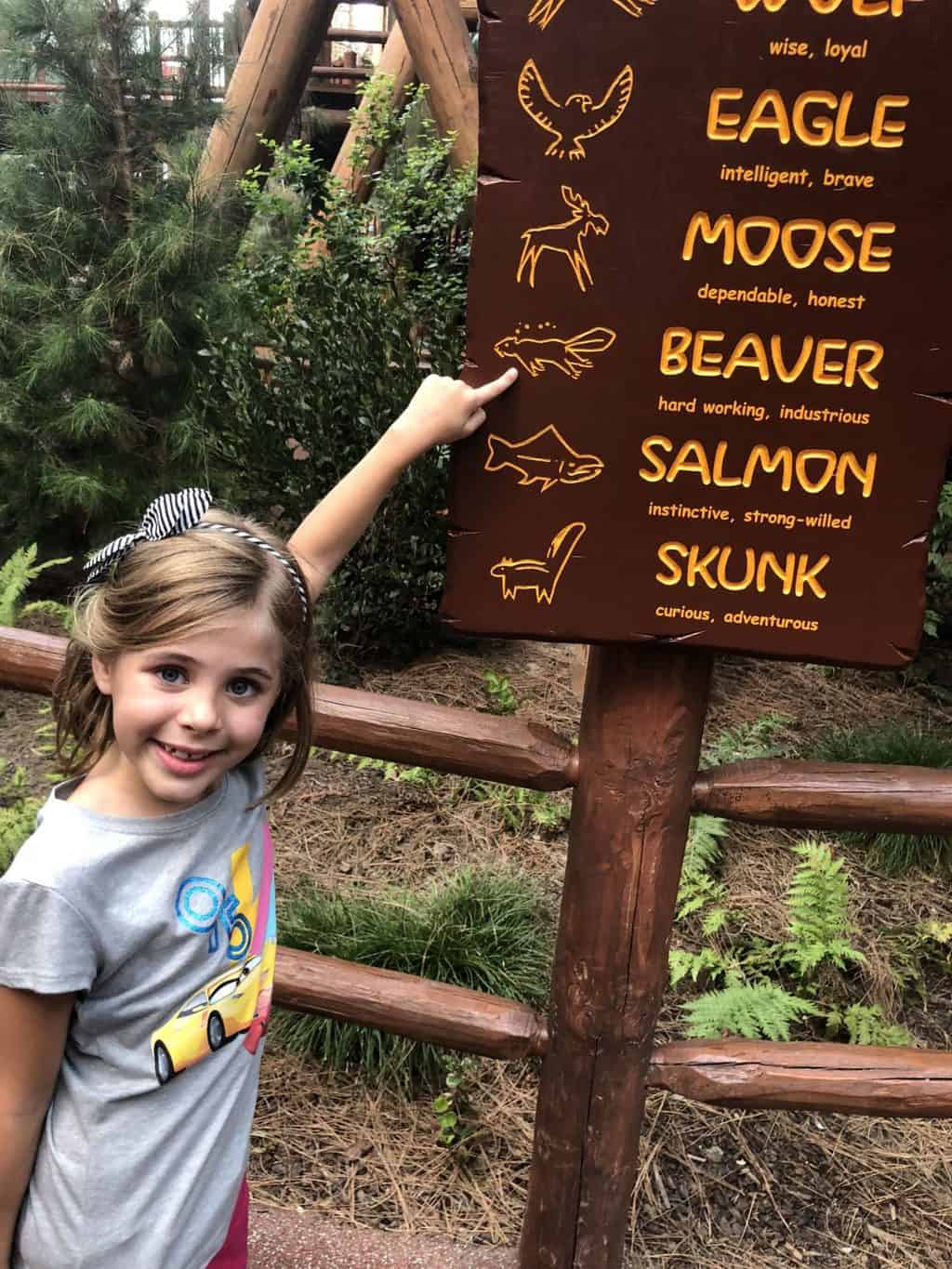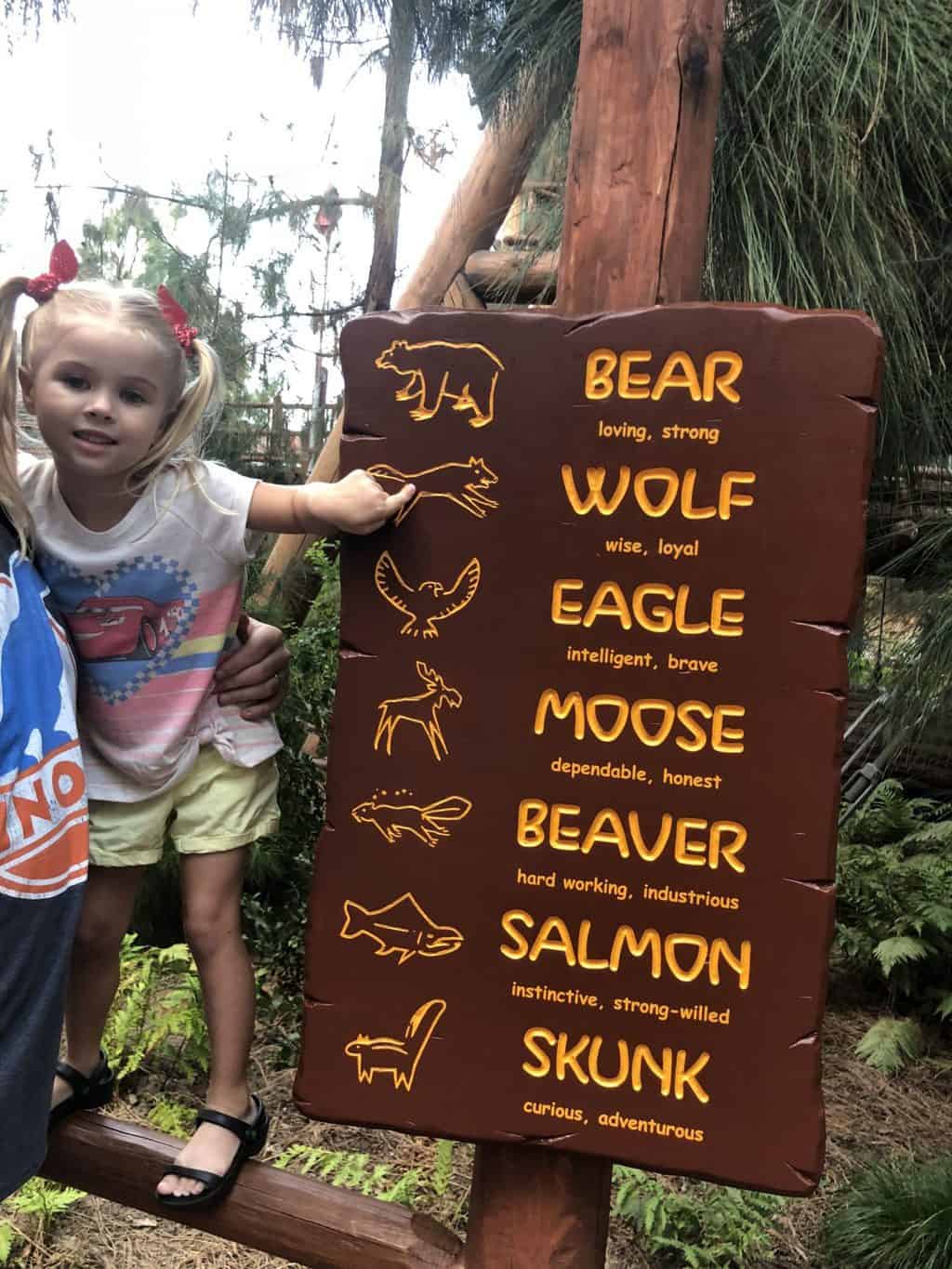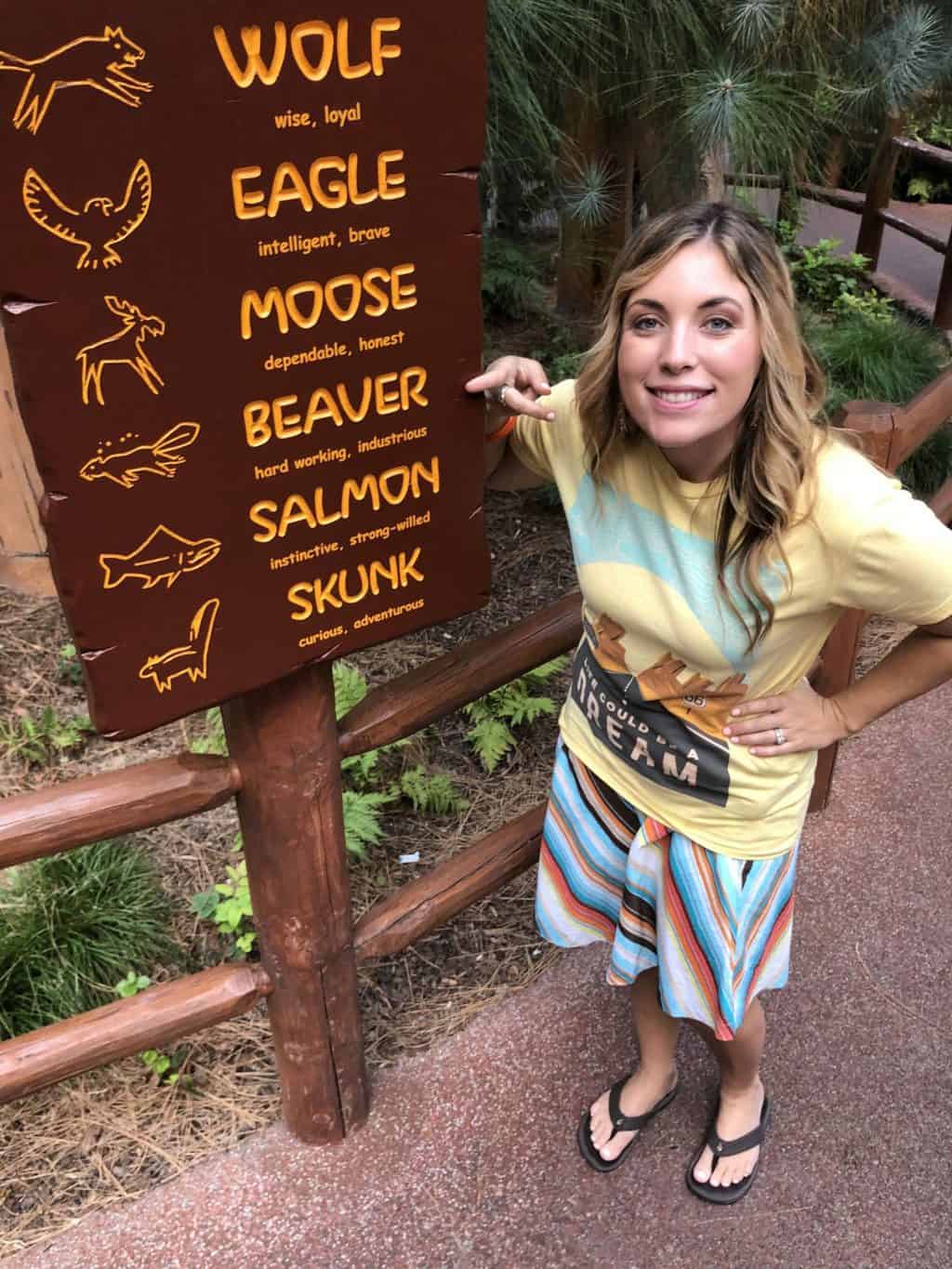 The kids got to play and play and Zach and I got to CHILL and just hang out for a bit. It's a very relaxing place and one I cannot recommend enough. It's easy to plan plan plan for a day at the parks but it's important to set aside time to enjoy the areas like these where kids can roam free and run and just PLAY!
Kye tire swing video – Britt tire swing video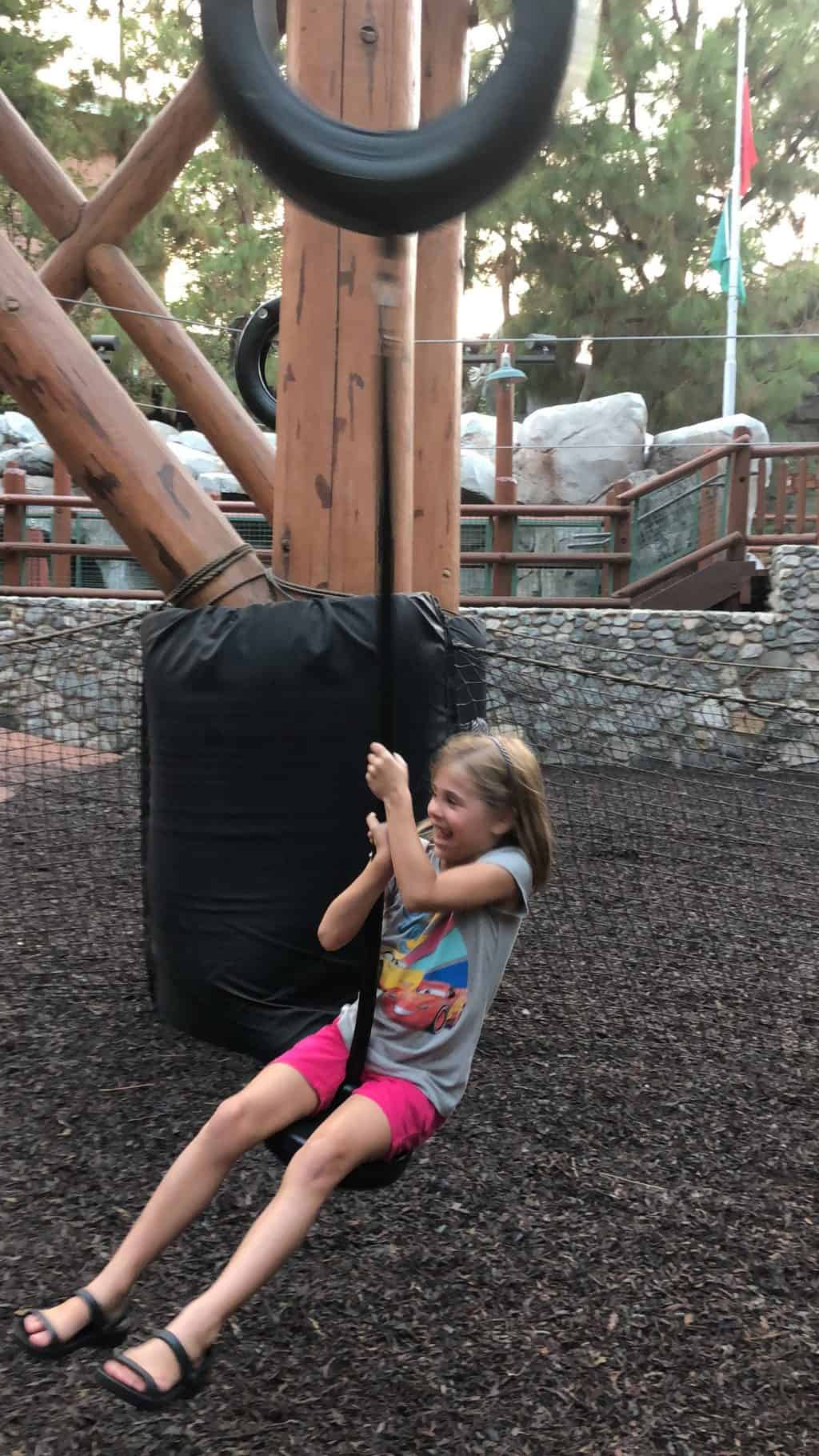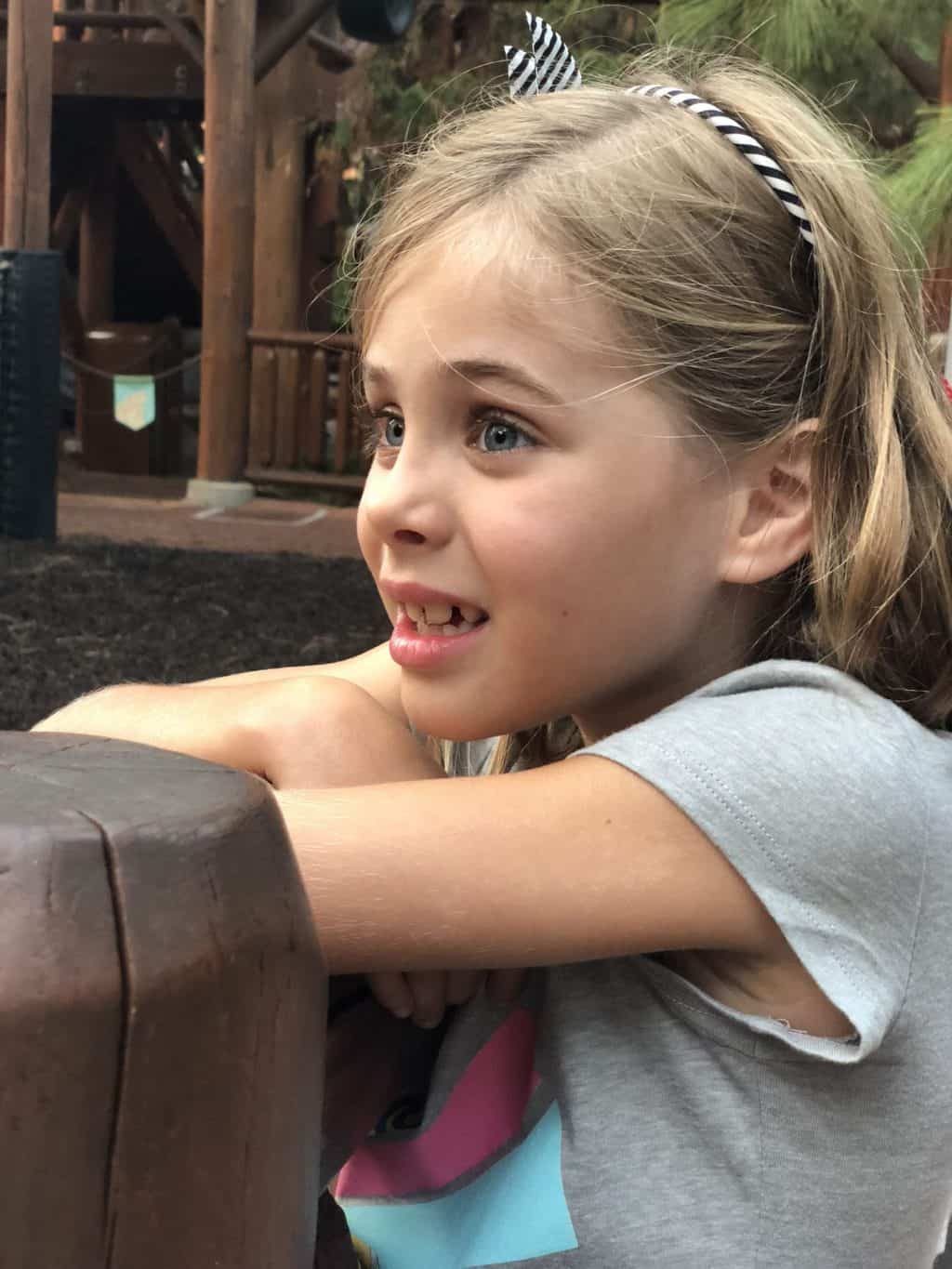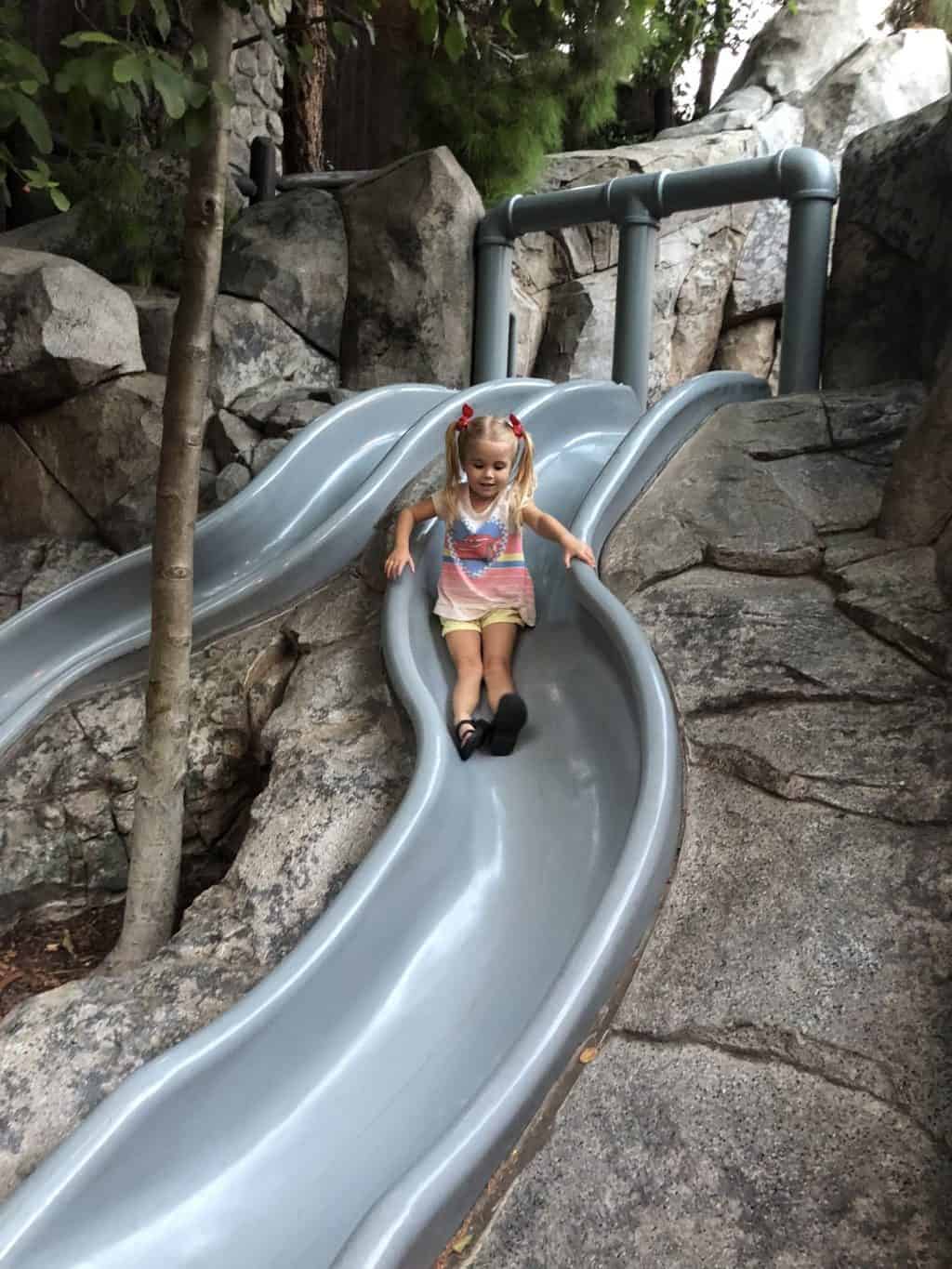 When we visited a few years ago Zach wanted to do the Grizzly River Run ride but, duh, I didn't want to get SOAKED and it was also pretty chilly when we visited and he didn't really want to walk around soaking wet and freezing either.
We didn't know that we'd be coming back with the kids while we were on our trip but Zach said multiple times that he was SO GLAD he opted to skip a lot of the thrill rides when just he and I visited. He was able to experience them for the first time with the kids while it was also their first time and it made those experiences even more special.
It's fun showing your kids something you love but it's even more fun experiencing something together for the first time!
Tess wasn't tall enough for the Grizzly River Run and was VERY upset to see the big two getting to go off with Daddy on an adventure. Zach, Kye, and Britt LOVED IT. As in they said it was one of their top experiences of the entire trip.
If you are planning a trip to Disney's California Adventure be warned that you get SOAKED on this ride. Not Splash Mountain wet but DRENCHED. It's not uncommon to see people wearing full on ponchos and covering their shoes with plastic bags for this ride. Be prepared!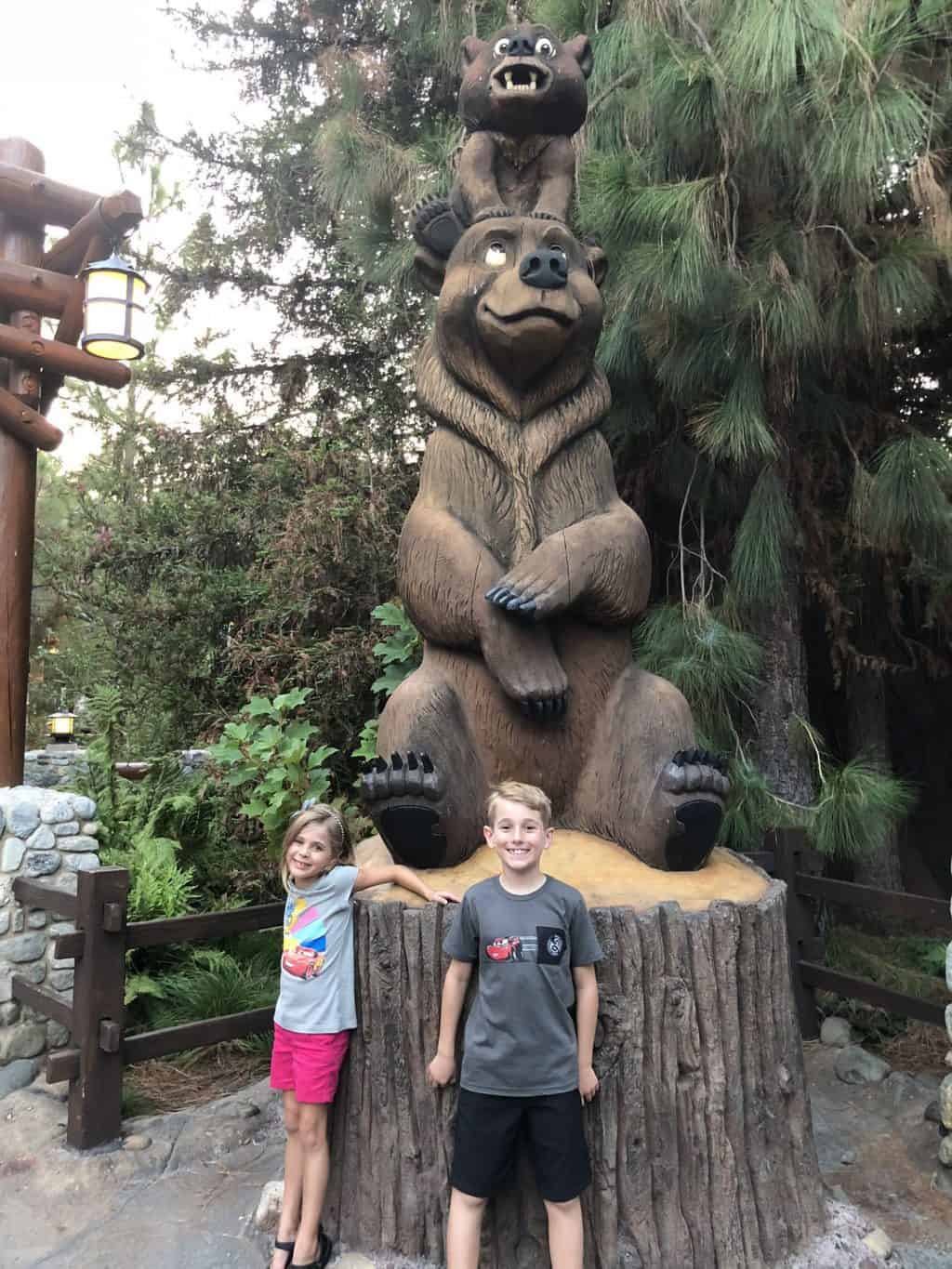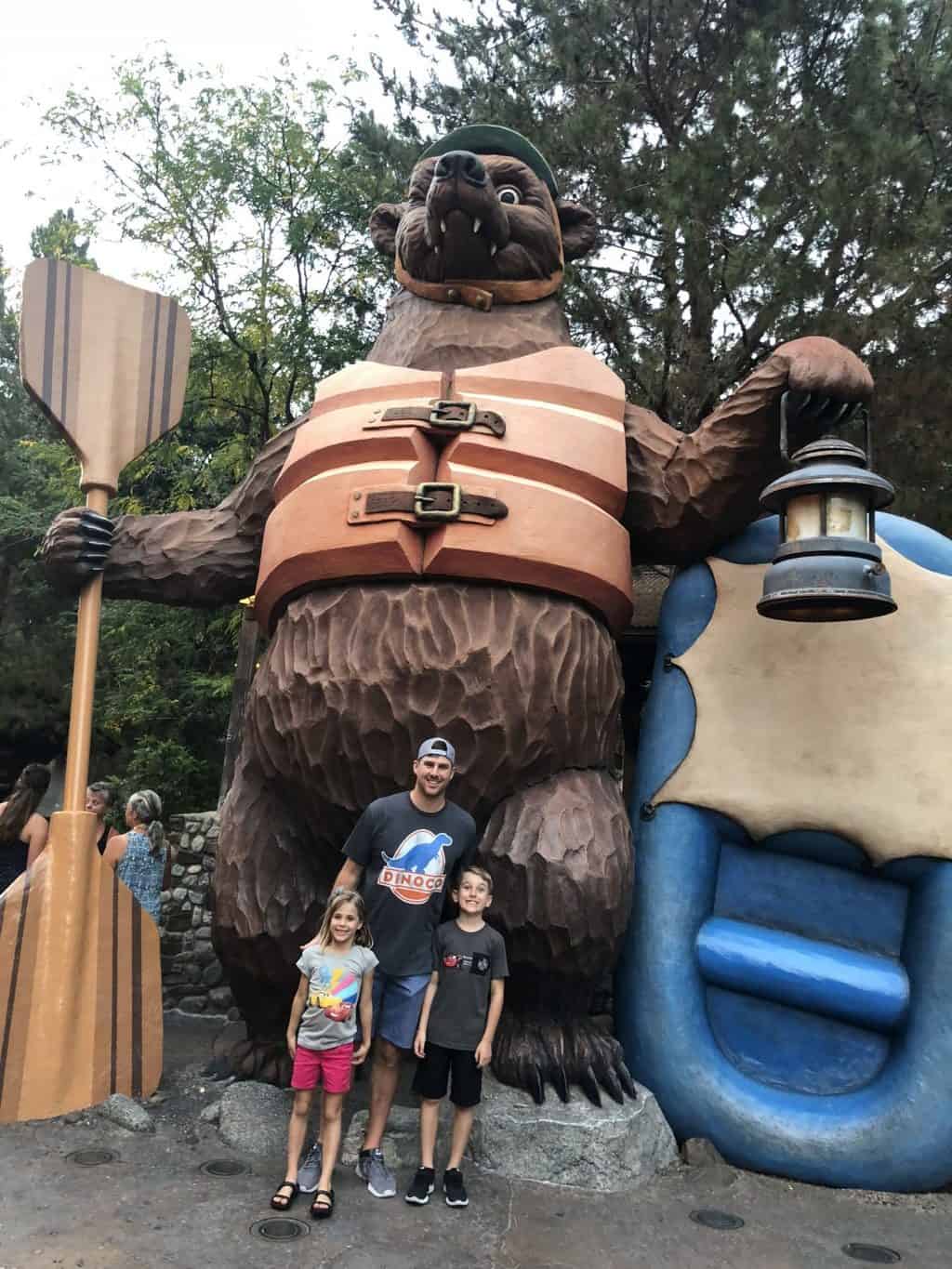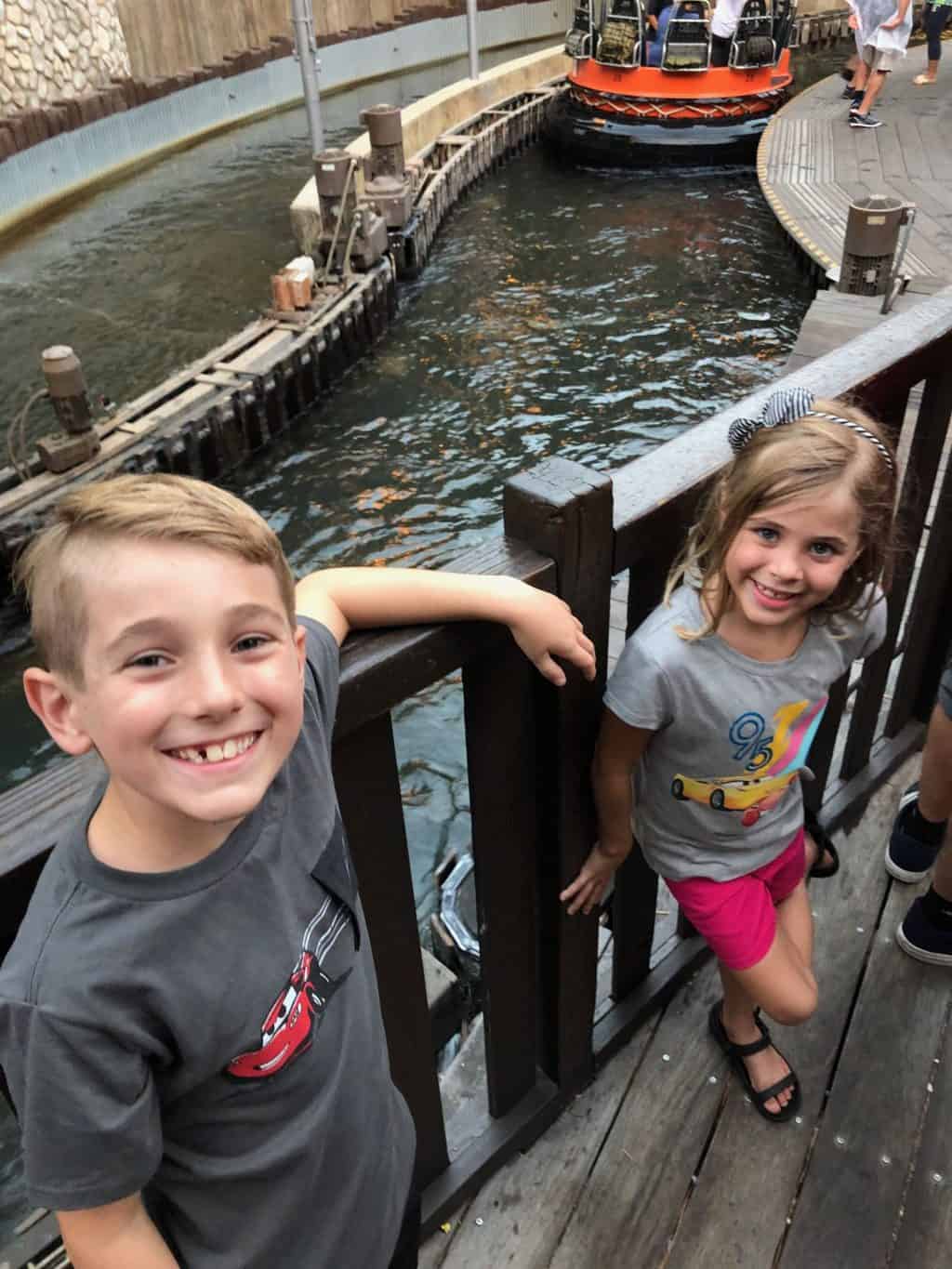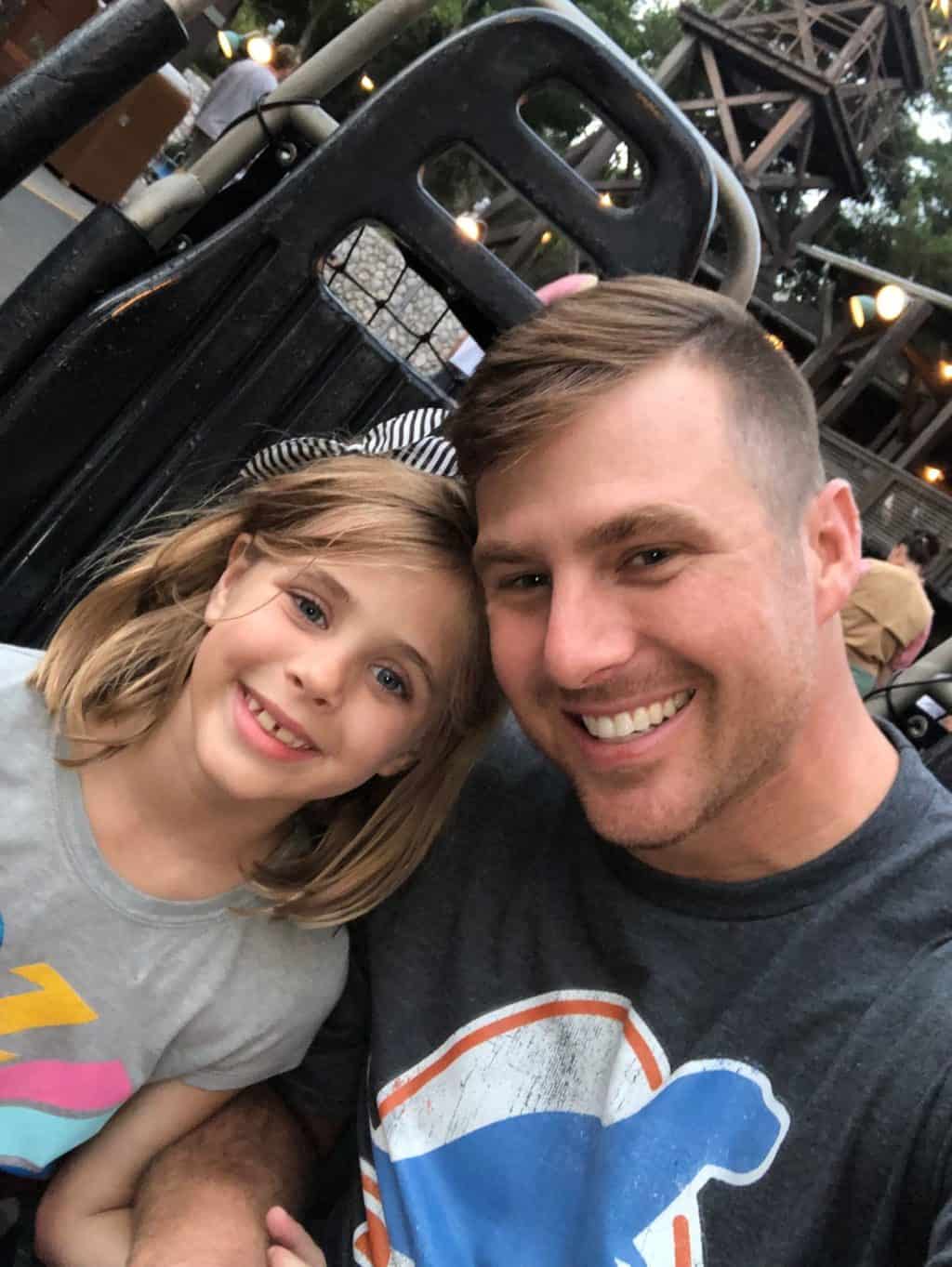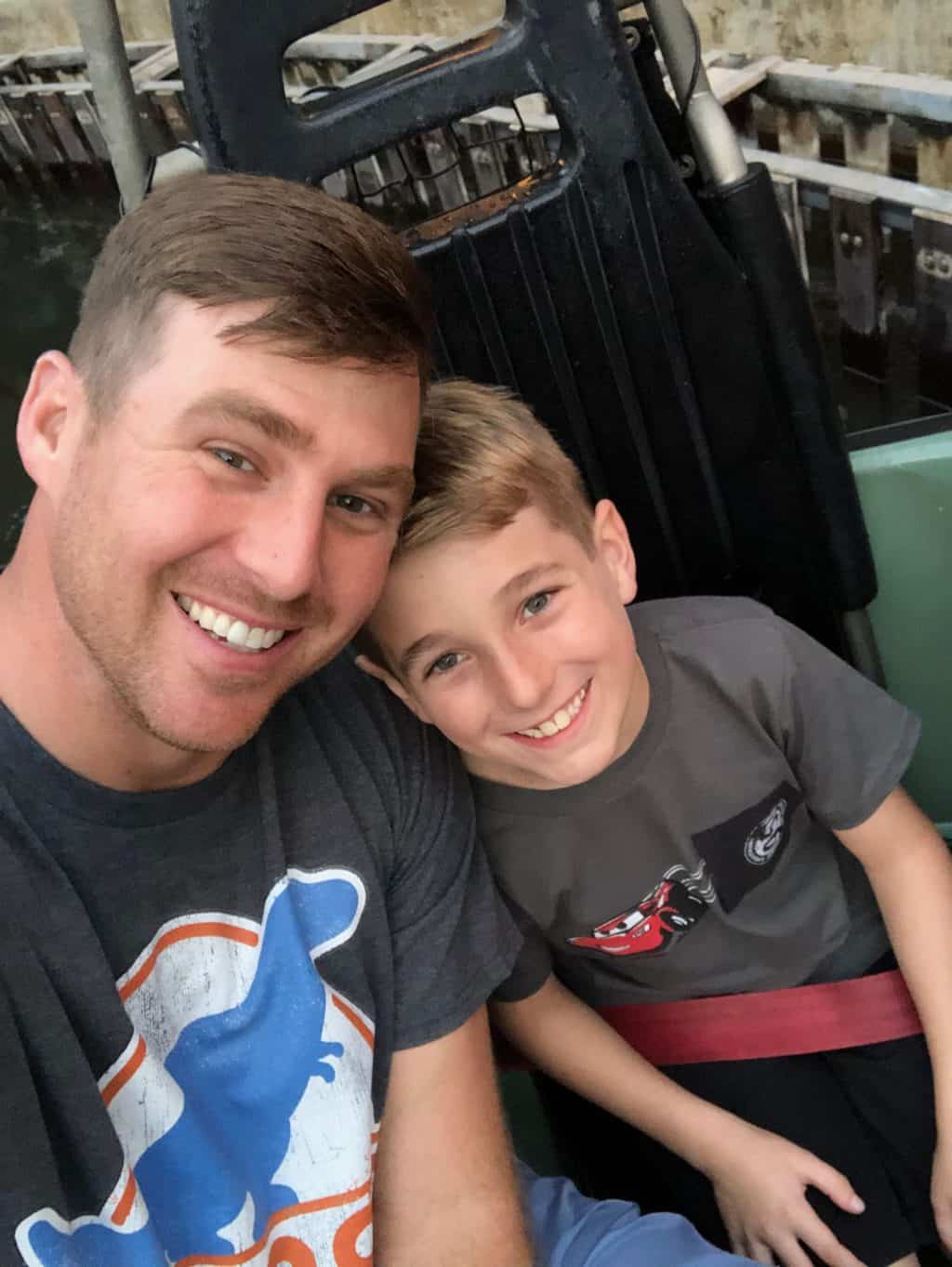 I LOVE this picture!!! So proud of Zach for having someone take it and they all just look so happy!!!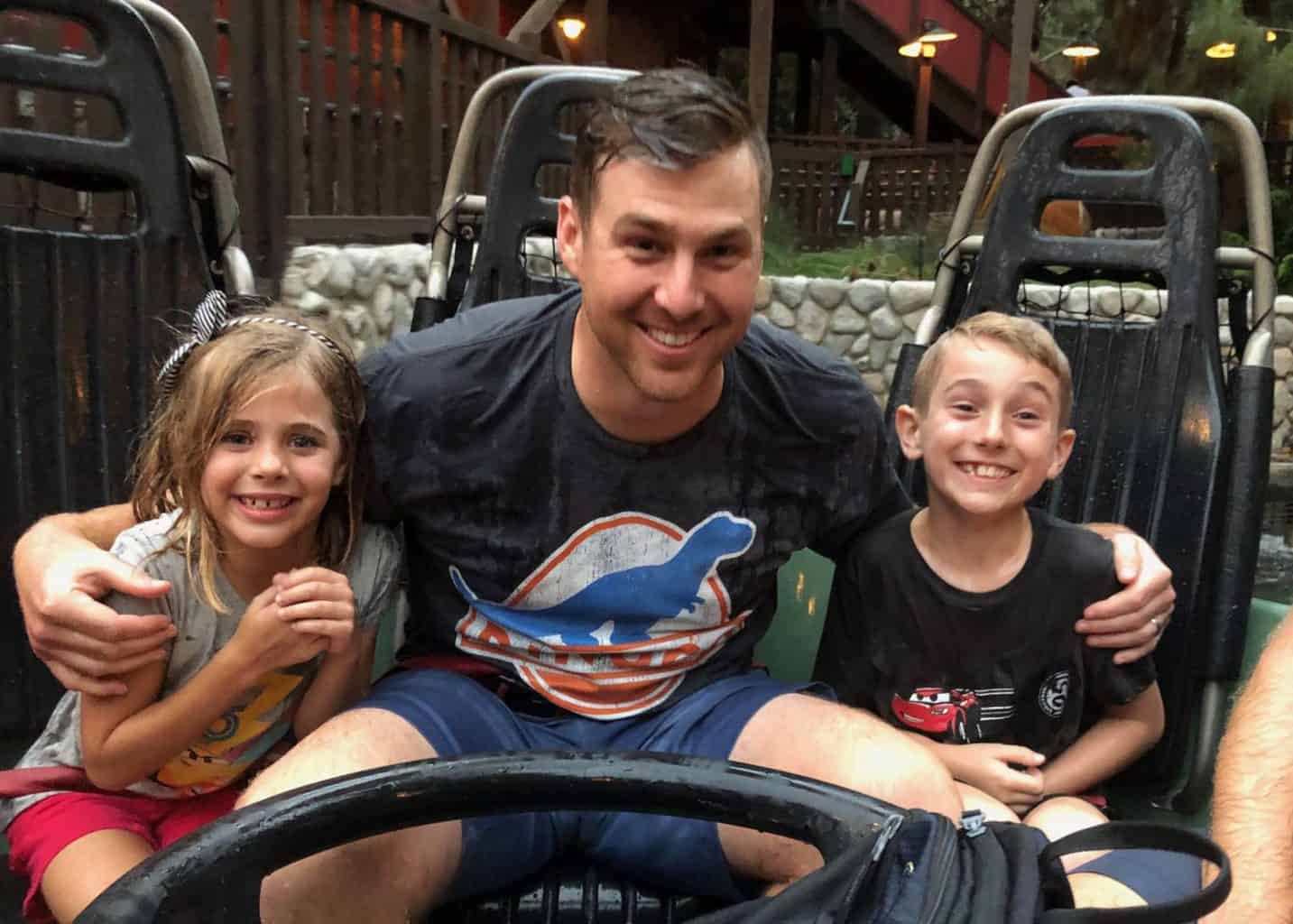 I tried super hard to make the waiting fun for Tess. I started heading over to Monsters Inc to ride that again and checked the app for wait times and it was closed. I then walked over to Bugs Land because it was really the only section that was kinda close that had rides she'd enjoy riding. With it being the last day Bugs Land was opened it was SWAMPED.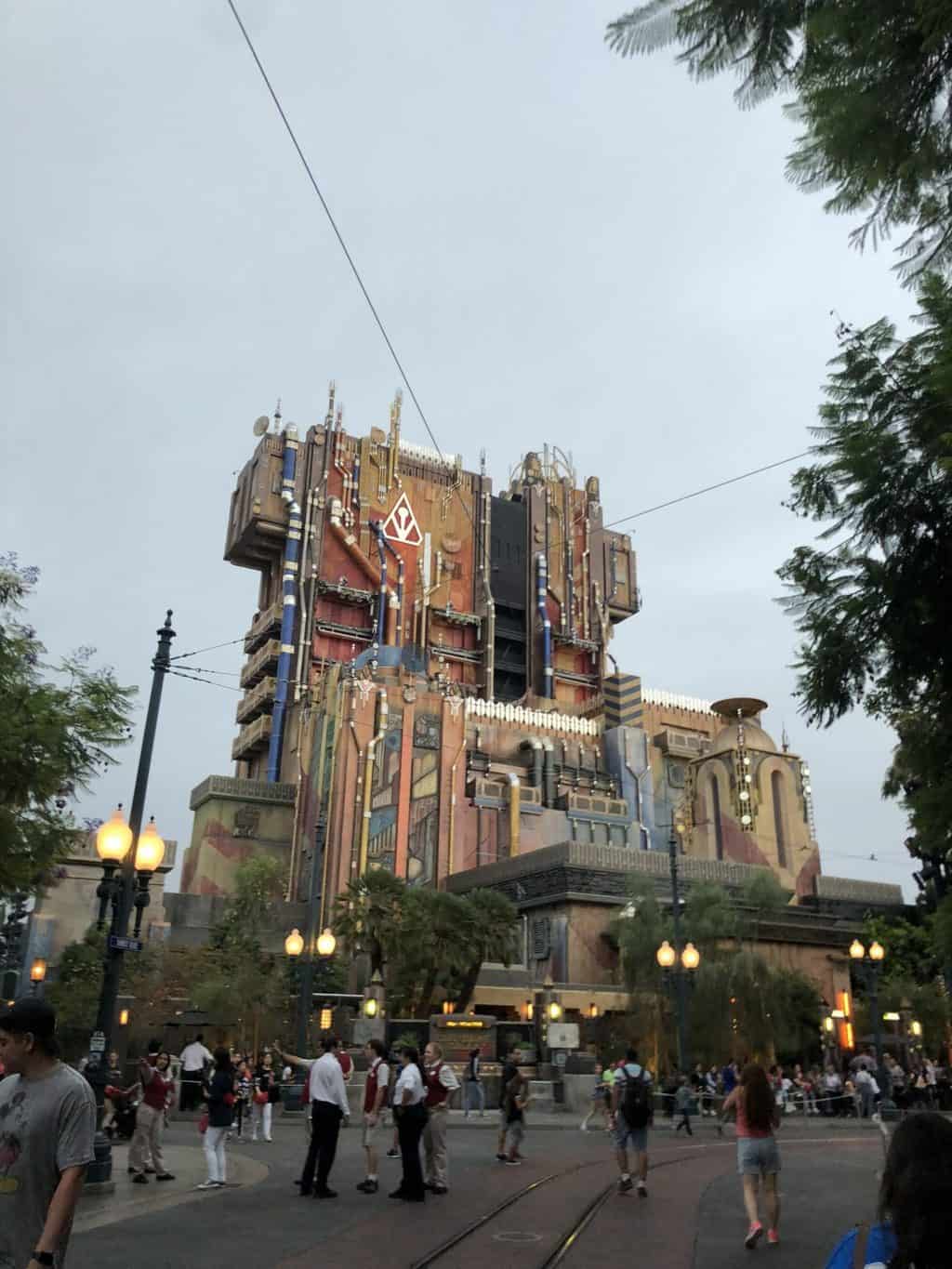 We got in line for one of the little rides in Bugs Land and it shut down due to mechanical issues so of course everyone in that line jumped over into the line of the ride beside it. So that line was super long.
We finally just got in a super long line for one of the other Bugs Land rides. We waited for over 25 minutes. Zach and Kye and Britt joined us and we were still only mid-way through the line at that point.
Tess was EXHAUSTED (we'd skipped nap this day!). It was dinner time. We were all hungry. And everyone agreed: let's skip riding this. So we got out of the line and headed out of the park.
It was a tad disappointing to end the day on that note because Tess was upset she didn't get to ride with Zach and the big two and then she and I had struggled so much being unable to find a single thing to do while we waited on them!
I do hate we were in Bugs Land on it's last night being opened and didn't even ride anything but we were all just ready to GO haha!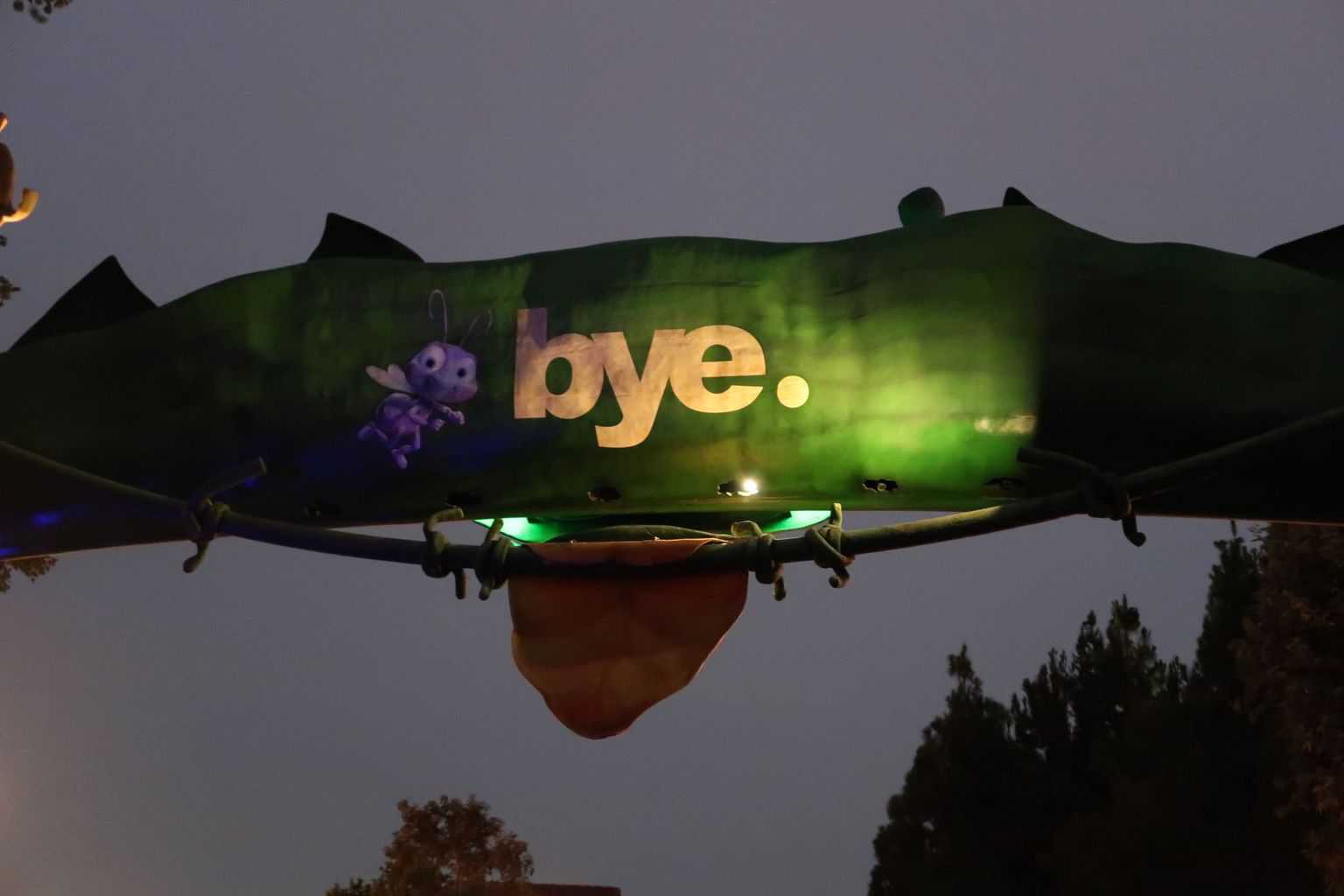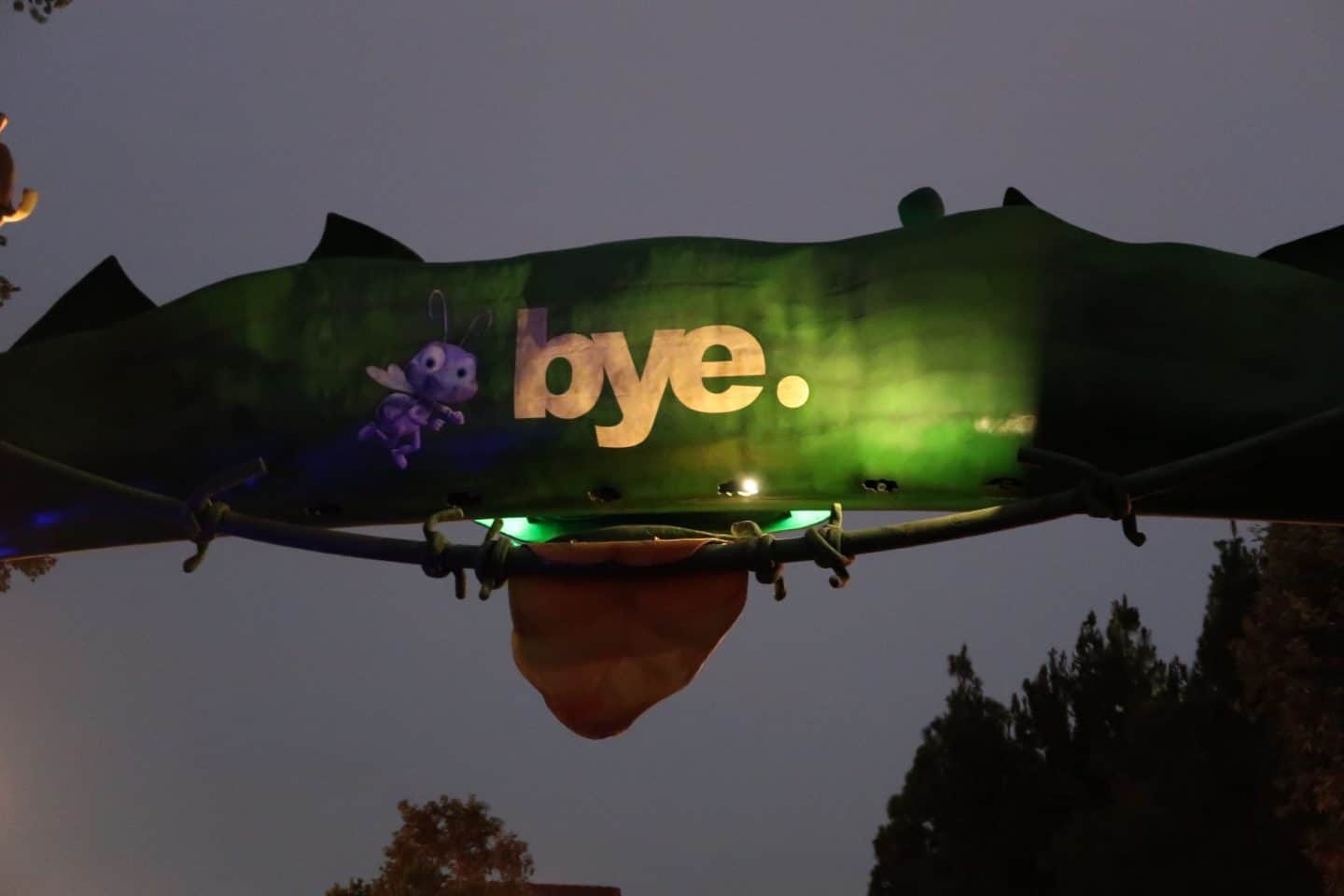 There was a McDonald's on our way from walking from the theme parks to our hotel room so we did mobile ordering and scooped it up. Everyone grubbed and then hit the bed!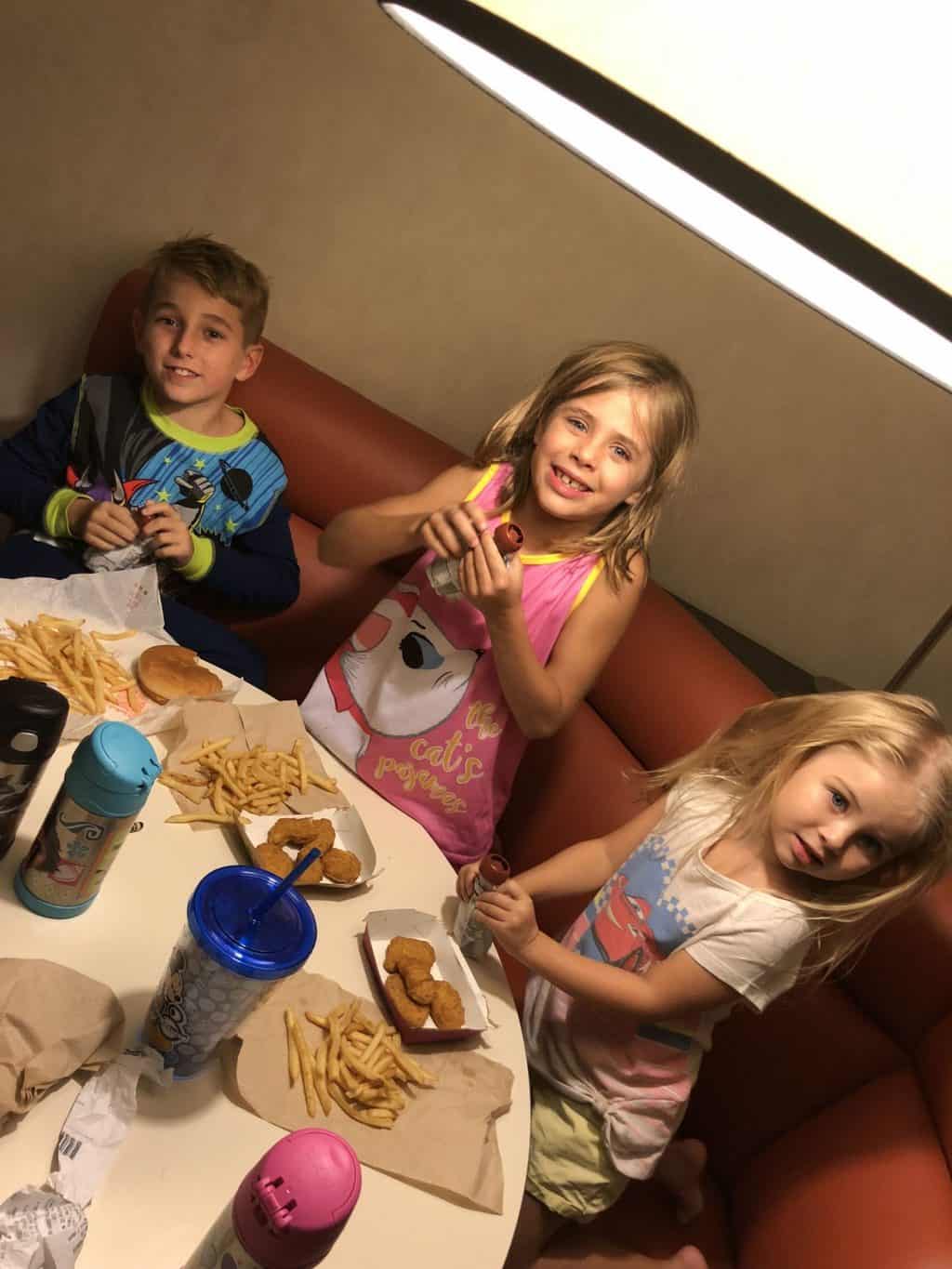 We had a FULL DAY. And the park didn't open until 10 am and closed at 8 pm. So it was only open for 10 hours that day. We were there for all 10 of them and in just that ONE DAY did every single thing at Disney California Adventure that we wanted to do. And still had plenty of downtime to rest and play!
It was such a great day and the kids LOVED California Adventure just like we knew they would! Here's a view outside of our room where you can see Space Mountain lit up just outside the water park. If there had been fireworks that night we'd def have had a perfect view to end the night!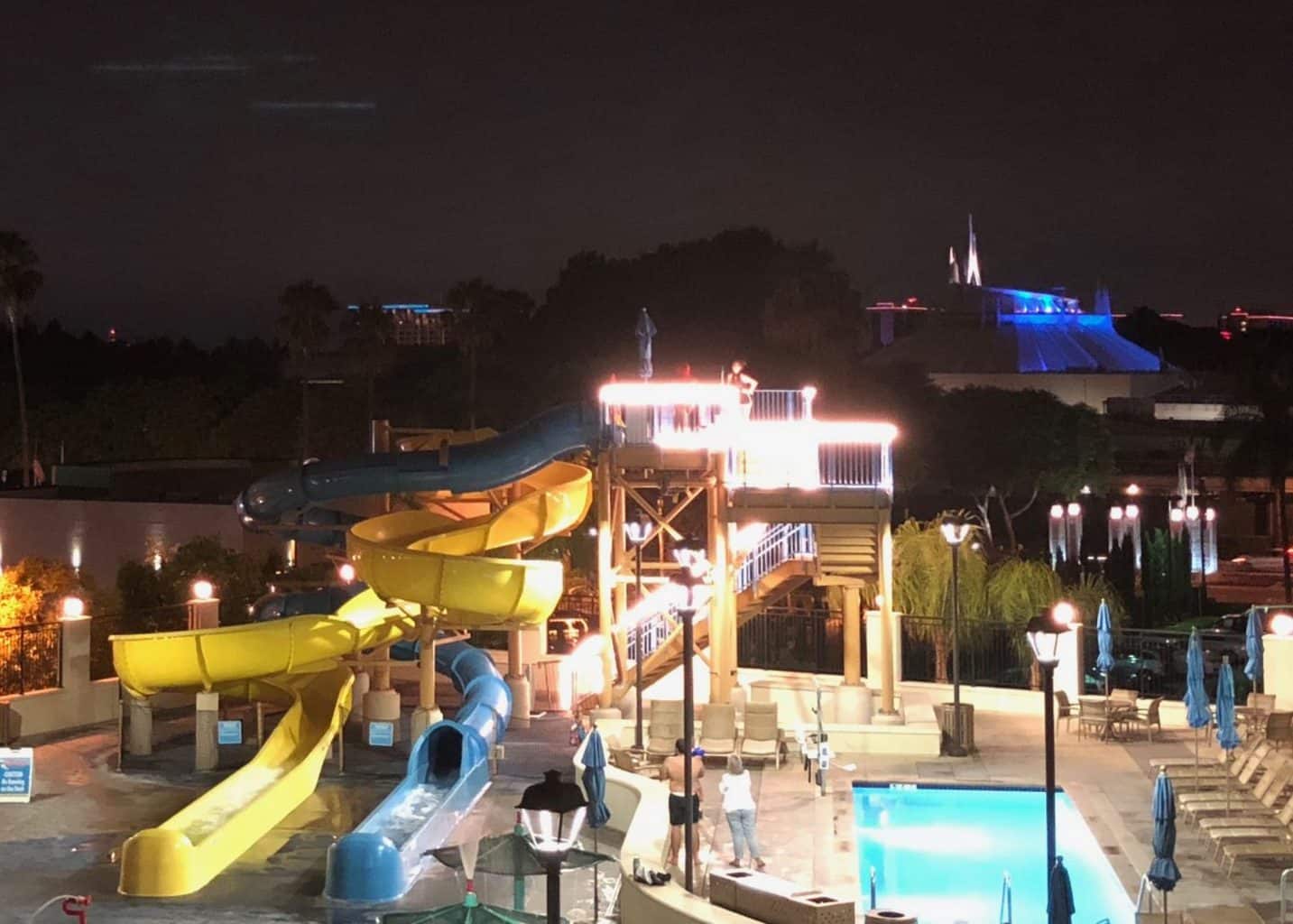 SaveSave
SaveSave
SaveSave
SaveSave
SaveSave
SaveSave