When we purchased our Disney Home (you can read about our decision here!) we decided to have the kids celebrate their birthdays at Disney rather than have a hardcore party. Something we came up with was the idea for the birthday child to visit the parks ALONE with EACH parent. This way the other parent can watch the remaining children and it allows the birthday child to really have quality one on one time with each parent on their own and they get to decide which park they visit and which experiences they have together.
For now we're planning to keep it as a half day experience. So half the day with one parent then half the day with the other. We'll see how this works out longterm. I know like for Britt's birthday we go to Disney at an EXTREMELY crowded time of the year so splitting it between one day may not make the most sense! For Tess's birthday though she decided she wanted to "ride all the rollercoasters with Daddy." That meant they were heading to Magic Kingdom for the day! Since it's so hard to get a fastpass for 7 Dwarfs Mine Train it made sense for them to start their day at MK so they could run right at opening to ride it 🙂
Zach was pretty pumped for their morning together…no stroller…no other kids…nothing to carry around! Just the two of them and LOTS of fun!!!
Leading up to her special birthday Tess had a hard time. I mentioned in an earlier post that we really learned a lot about Tess on this trip. She does not do well in the driver's seat and this trip revolved a lot around what she wanted to do and special time just for her and it was overwhelming for her and something she honestly struggled with. Def a good reminder to us to make sure she's getting that quality time more often. While we respect her personality type and recognize this may just be who she is, we also don't want her to have struggles with making decisions, being a leader, and taking charge when needed in the future. It's a balance for sure!
Once the actual day arrived though she was ALL SMILES and she and Daddy had an AWESOME morning together!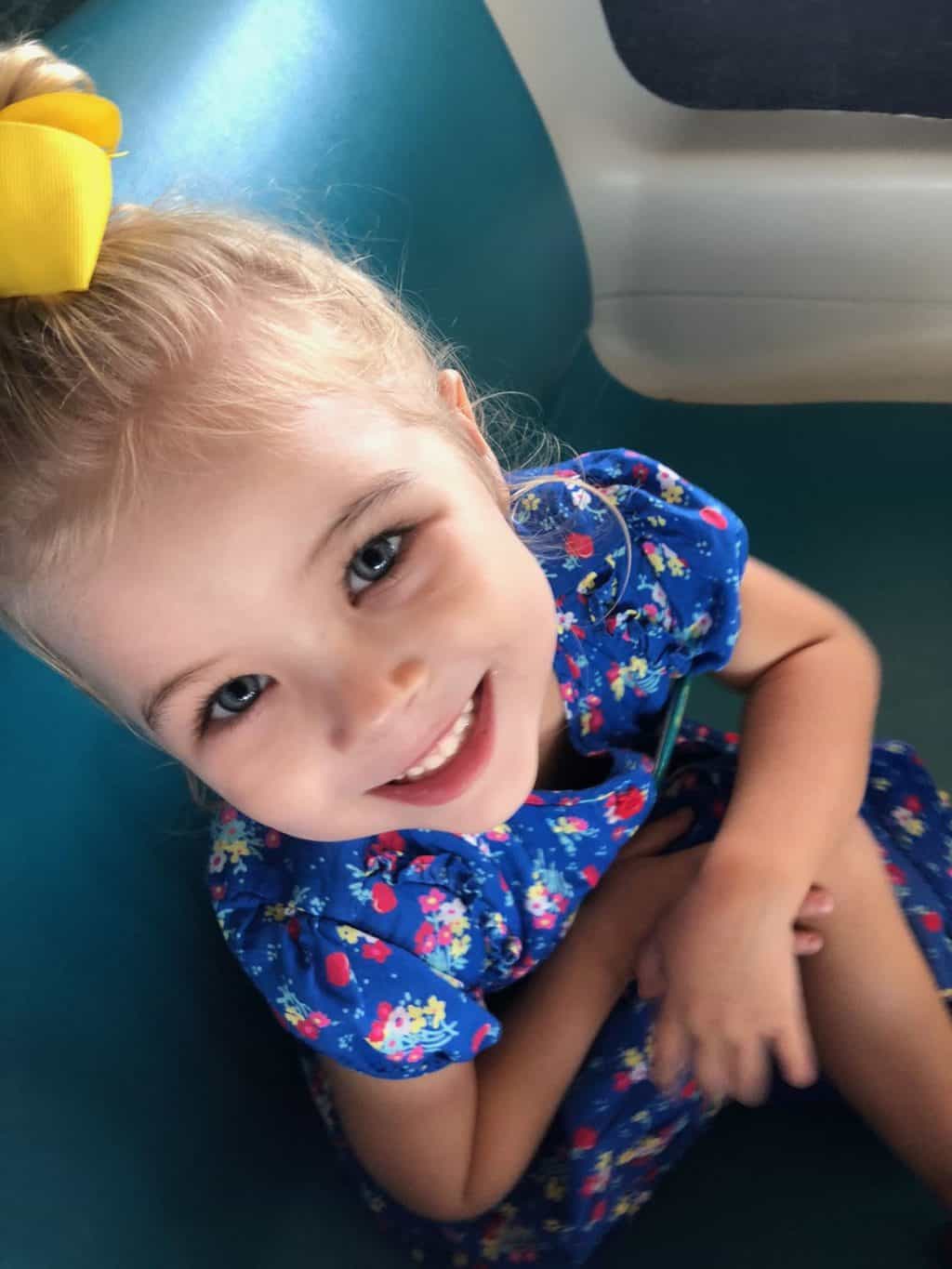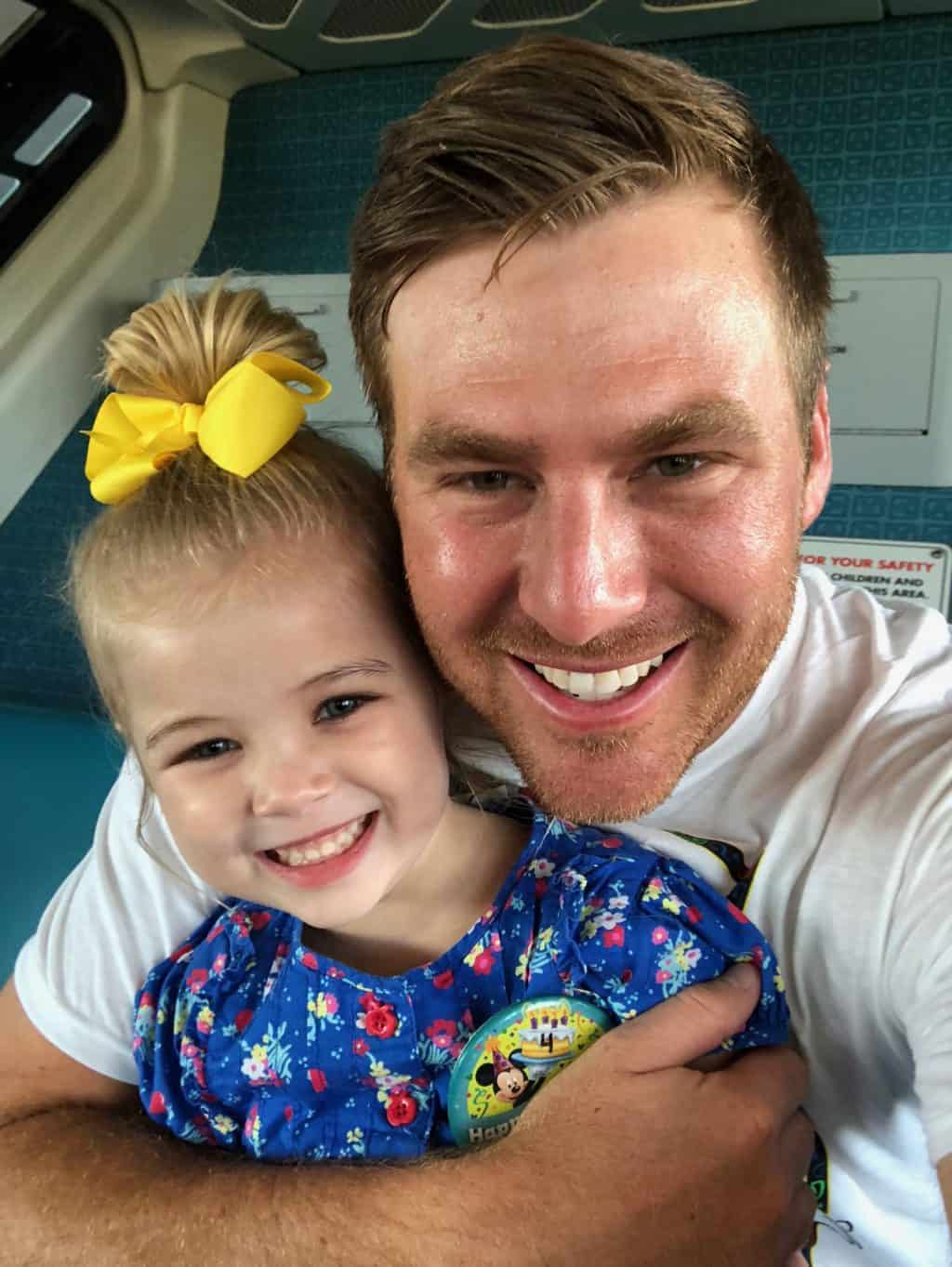 So proud of Zach stopping for a castle pic and using portrait mode 😉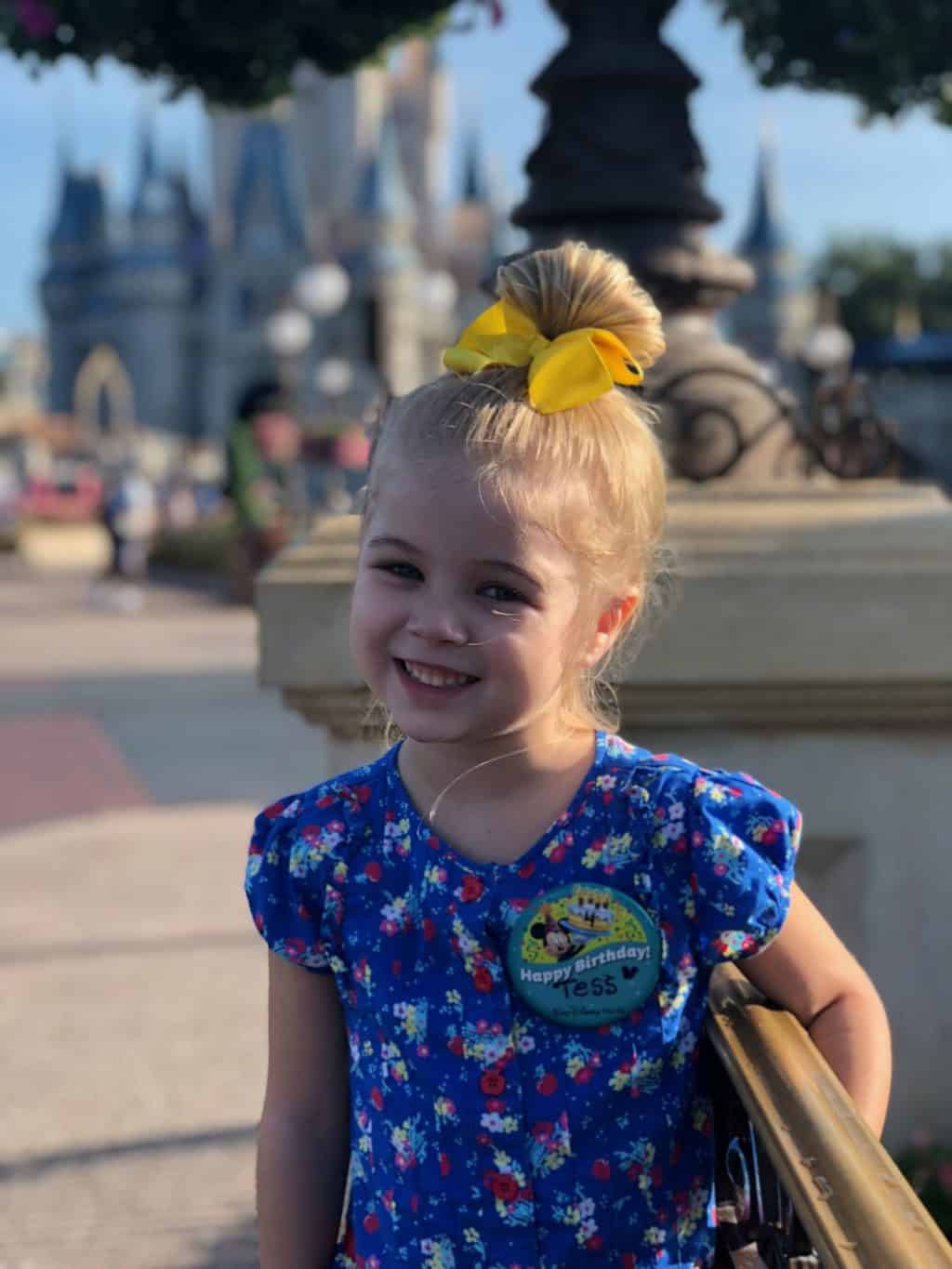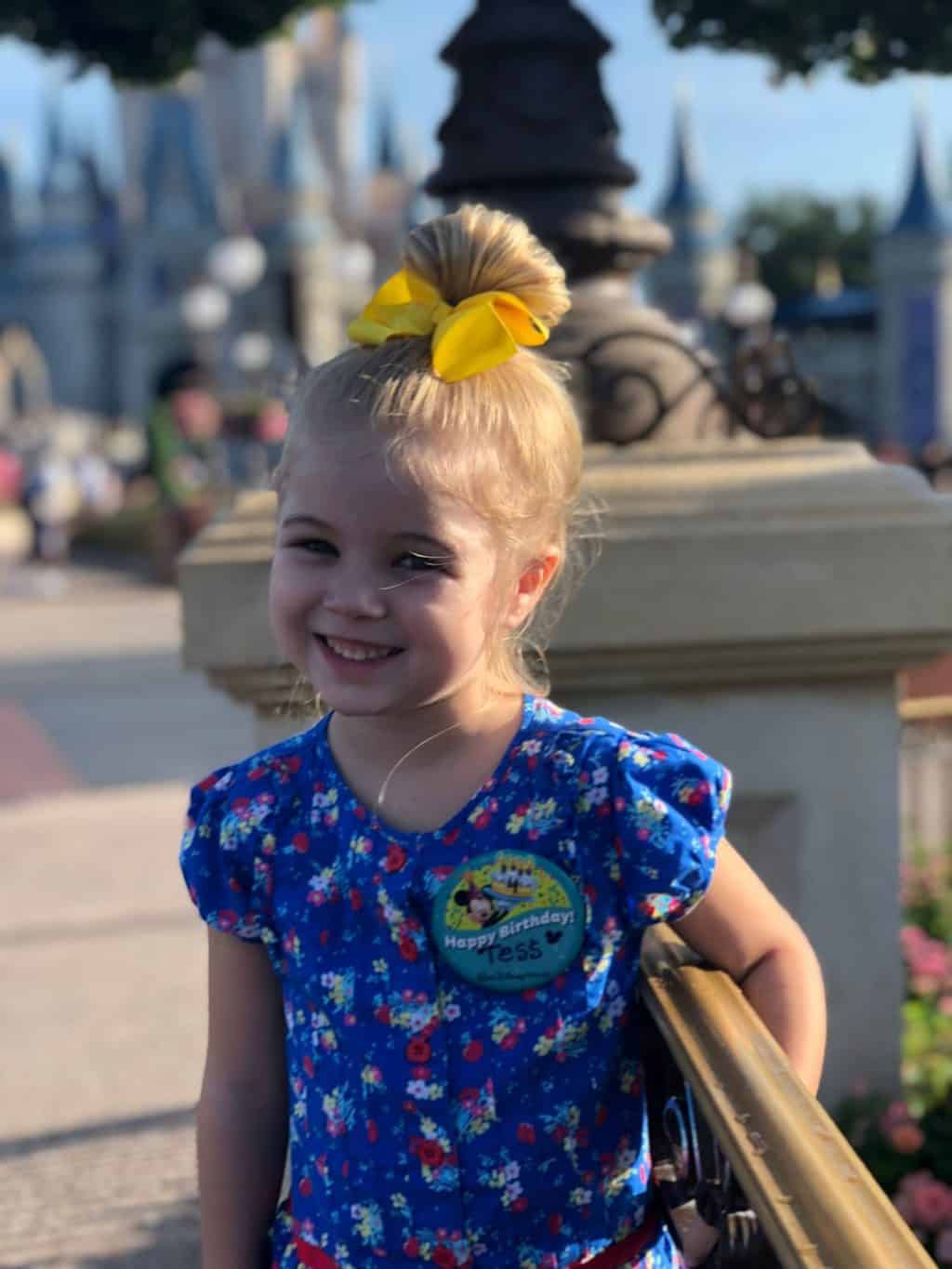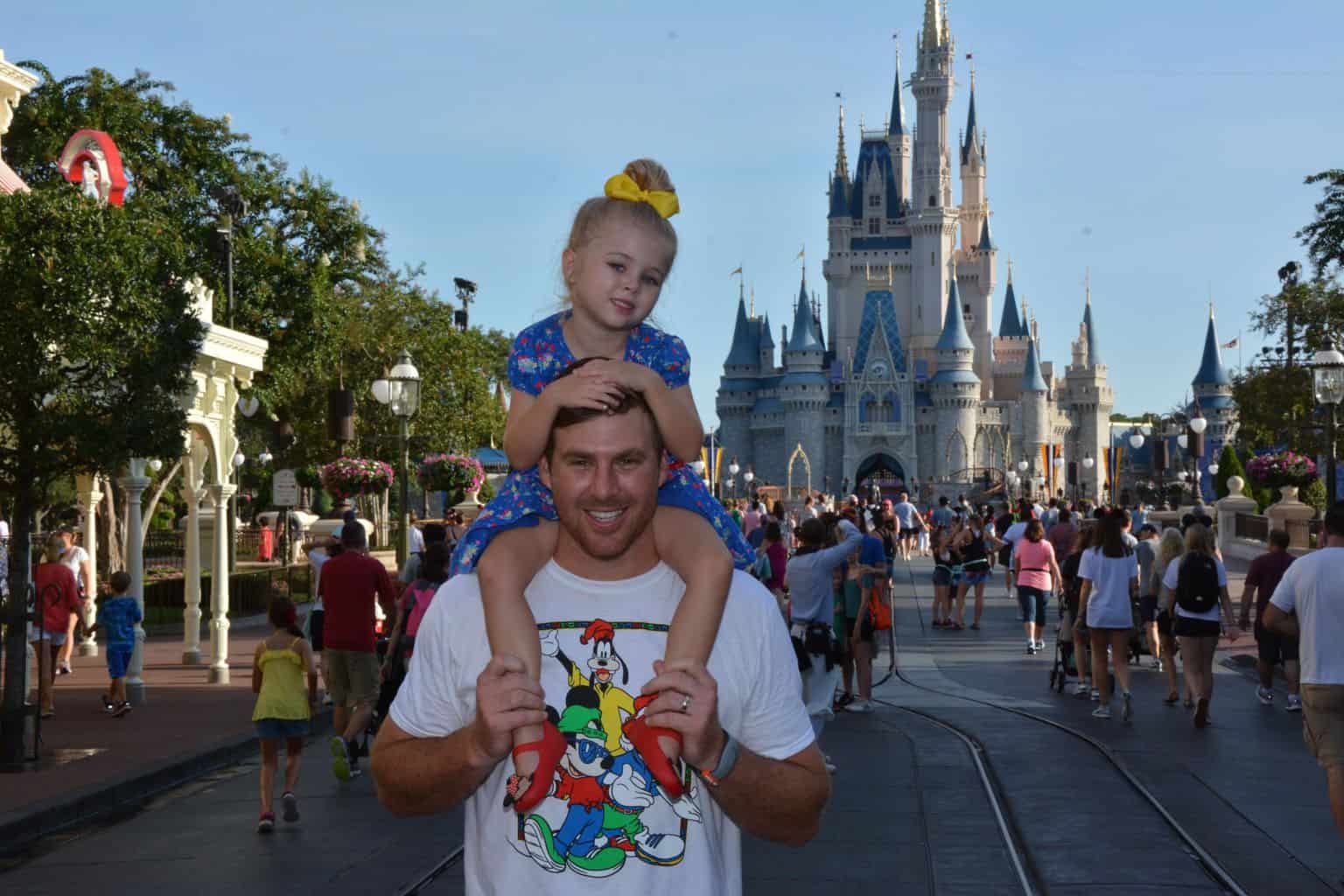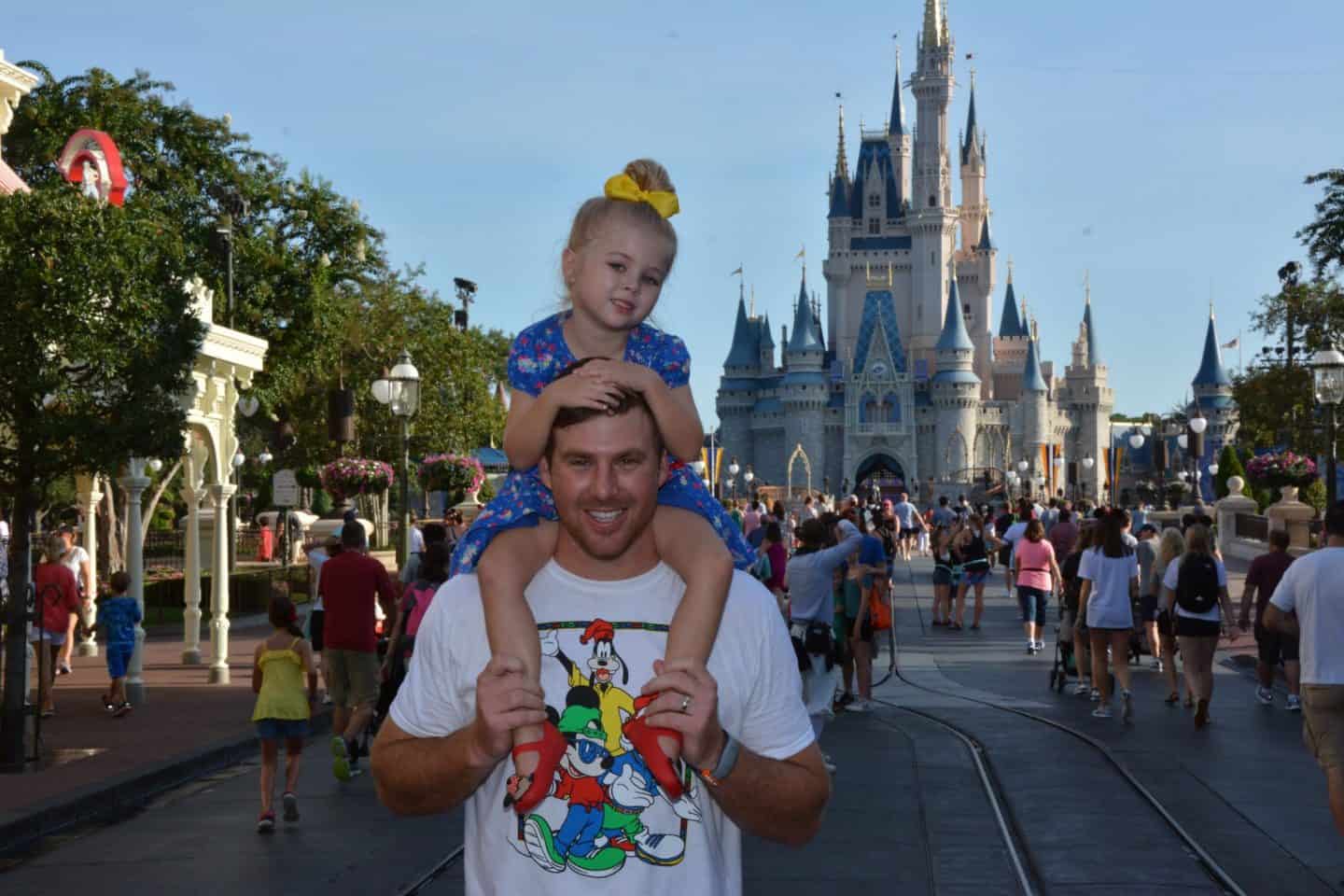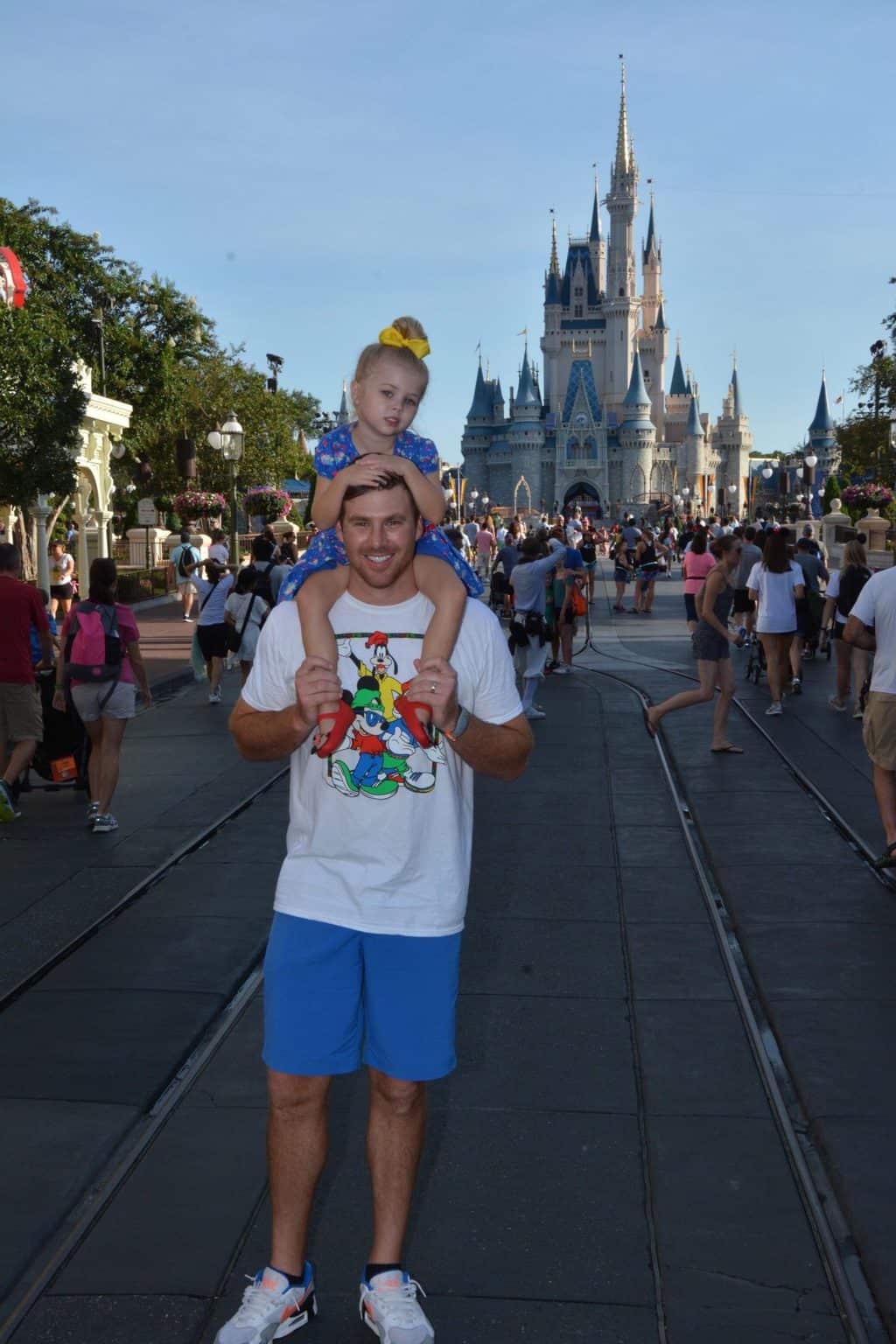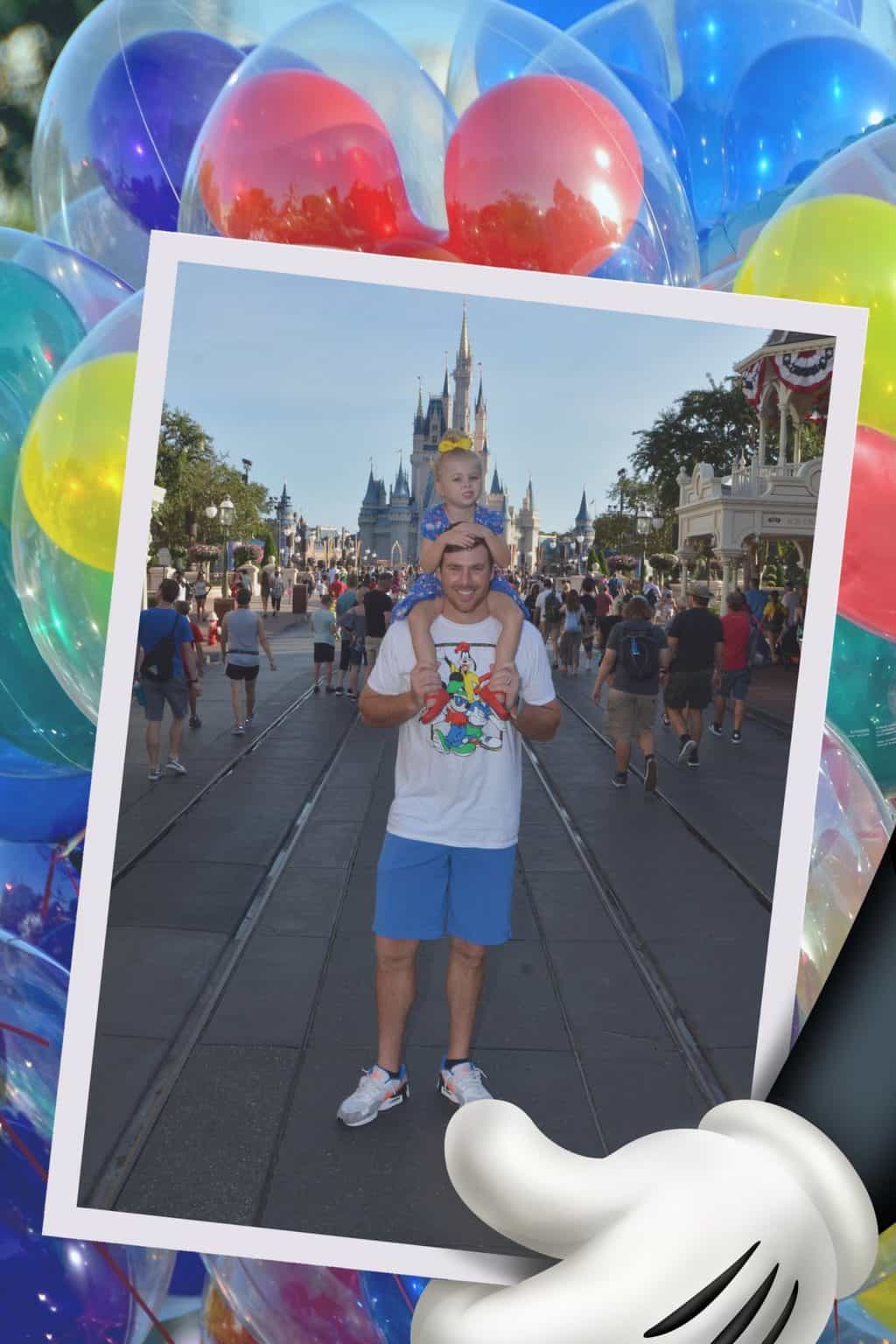 The High-Ho Ride!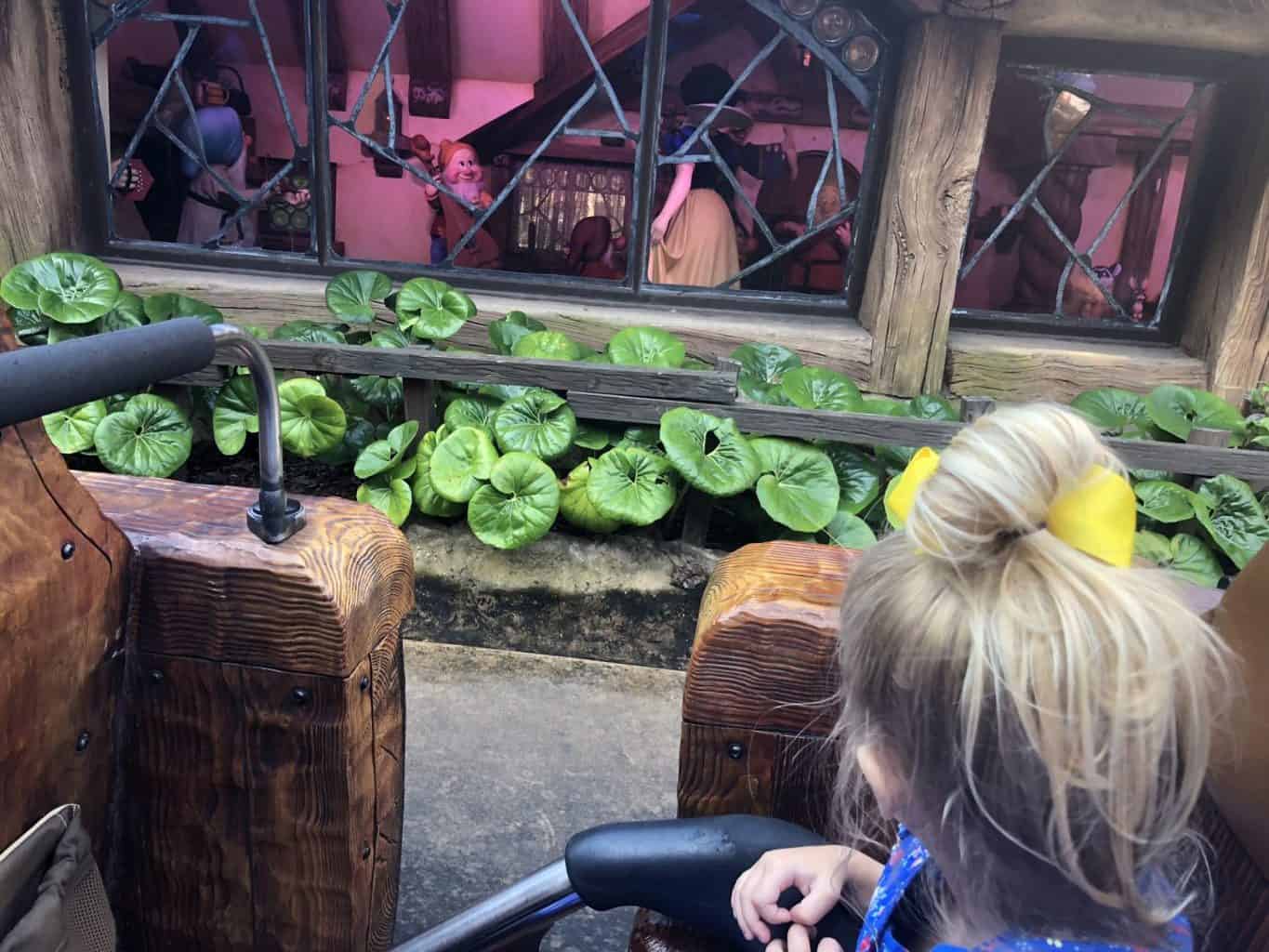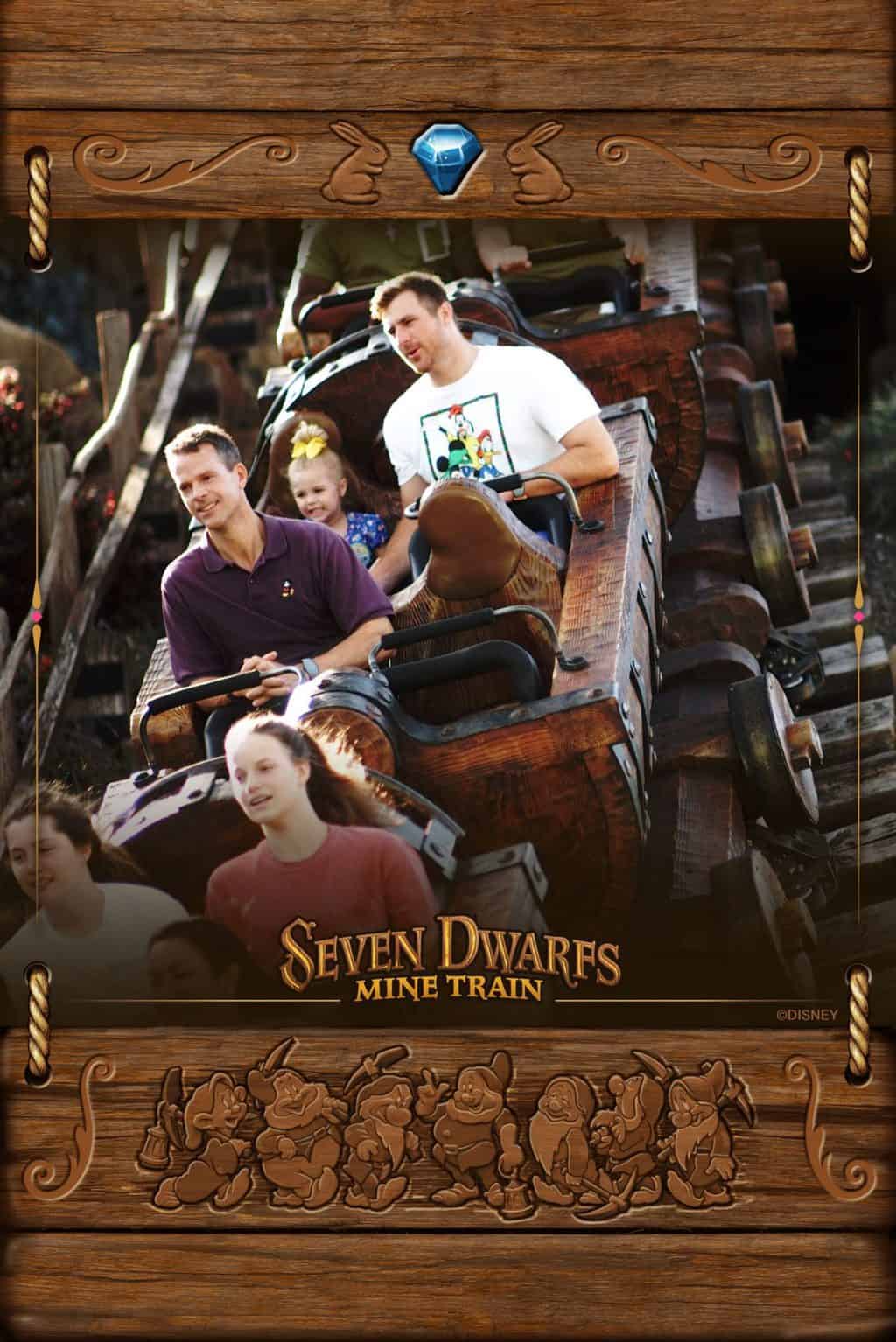 Barnstormer!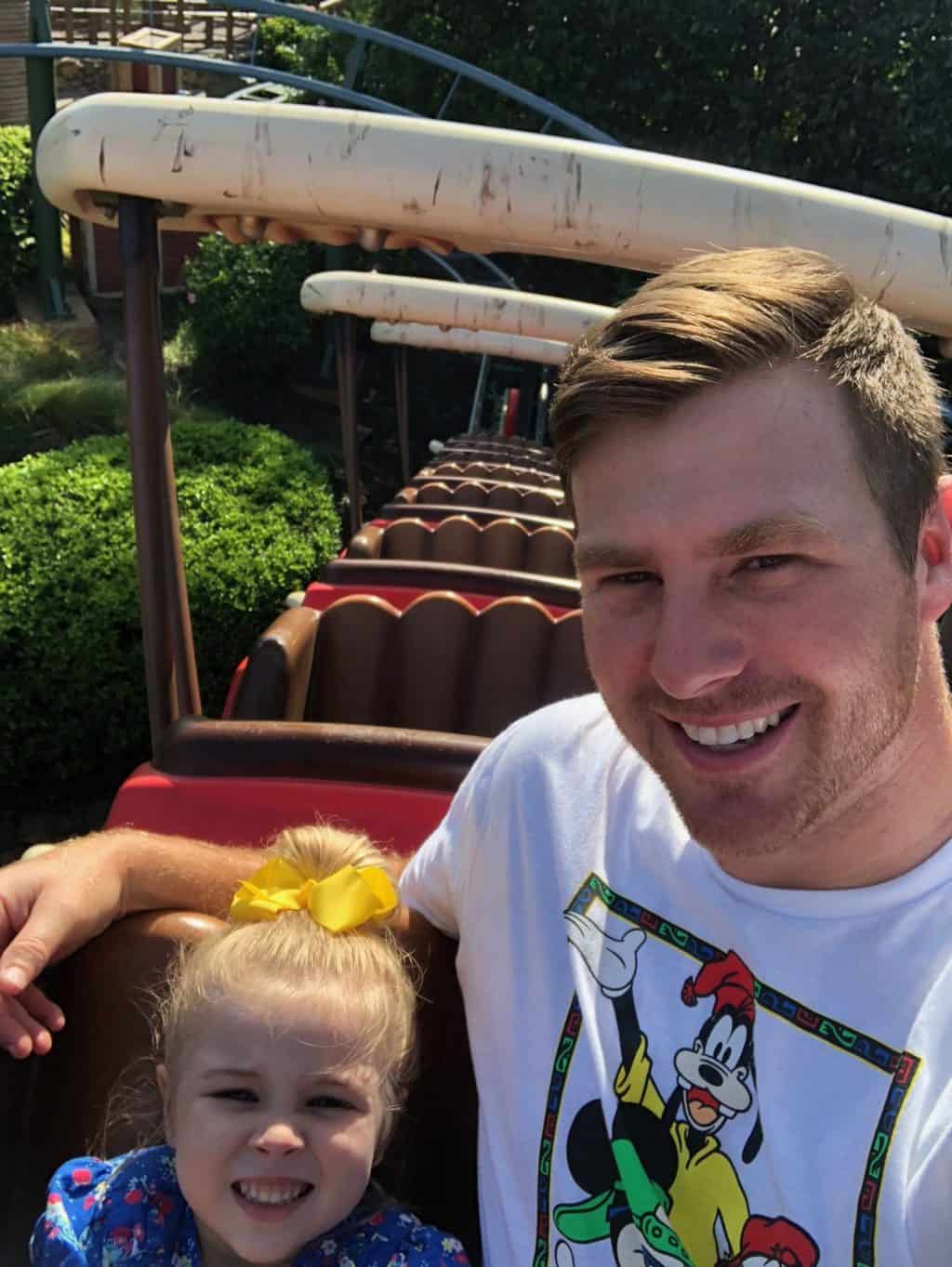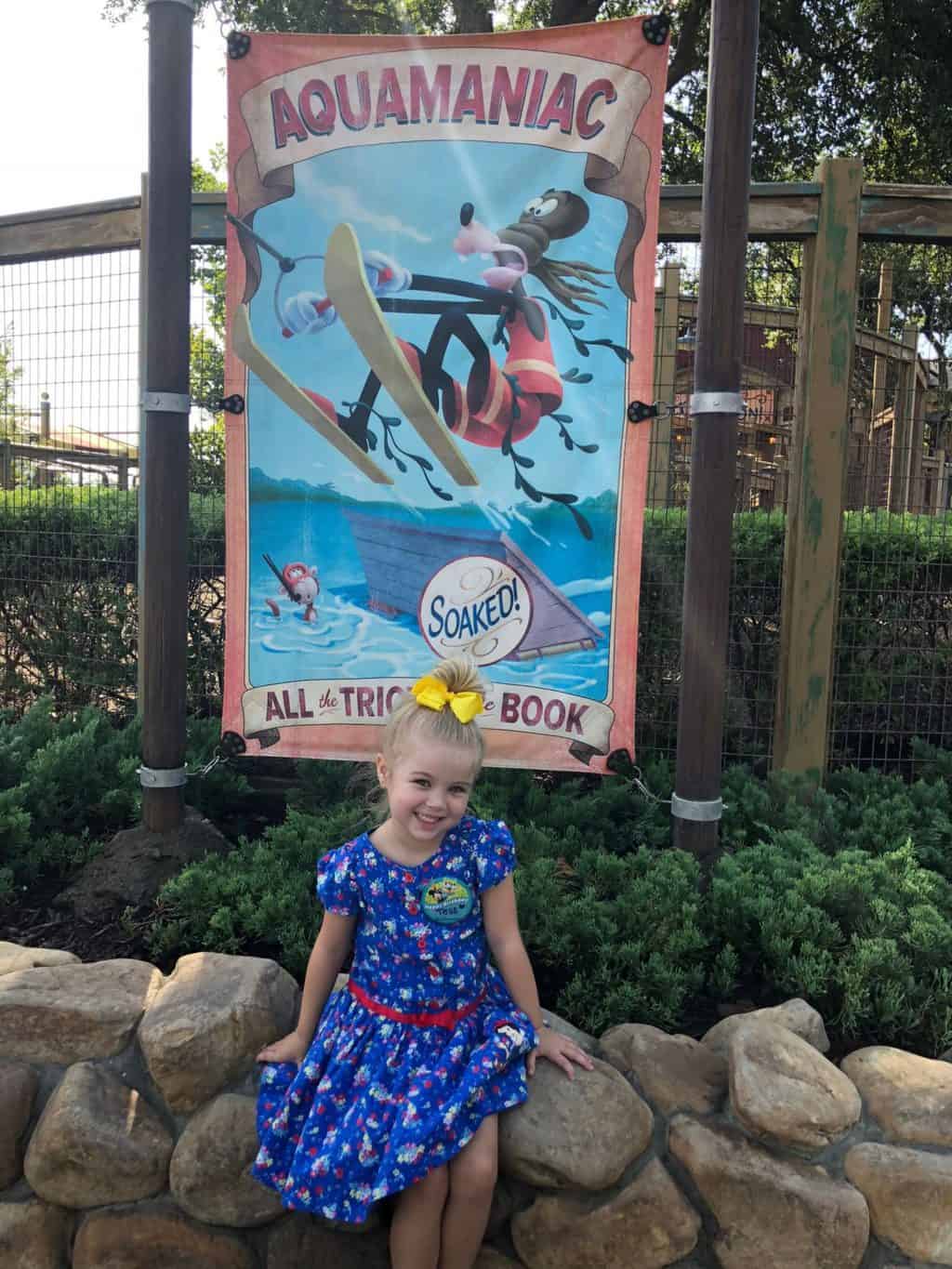 Since we weren't able to experience Enchanting Tales with Belle the day prior they did it together!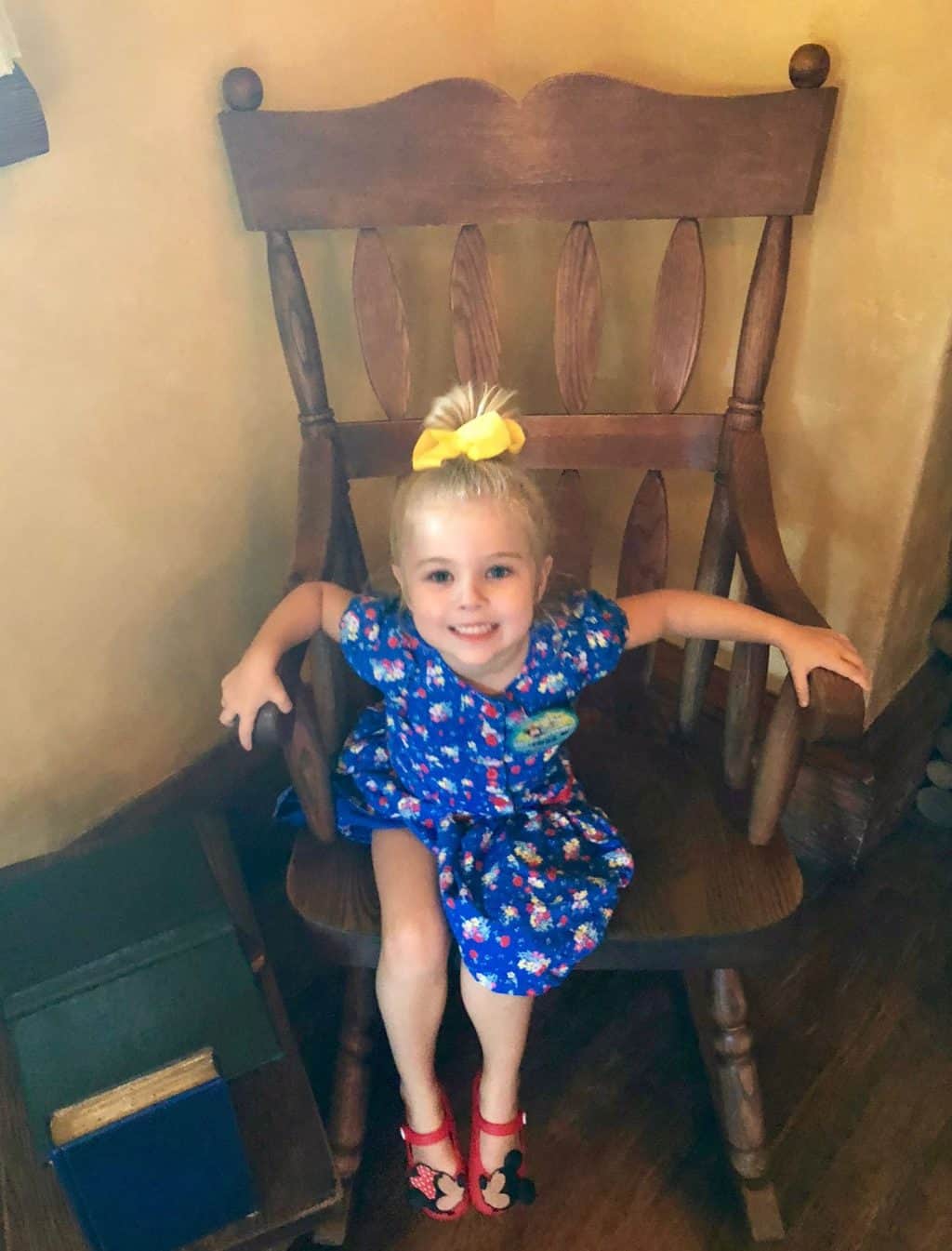 First time ever not being a guard!!! And instead he was the wardrobe haha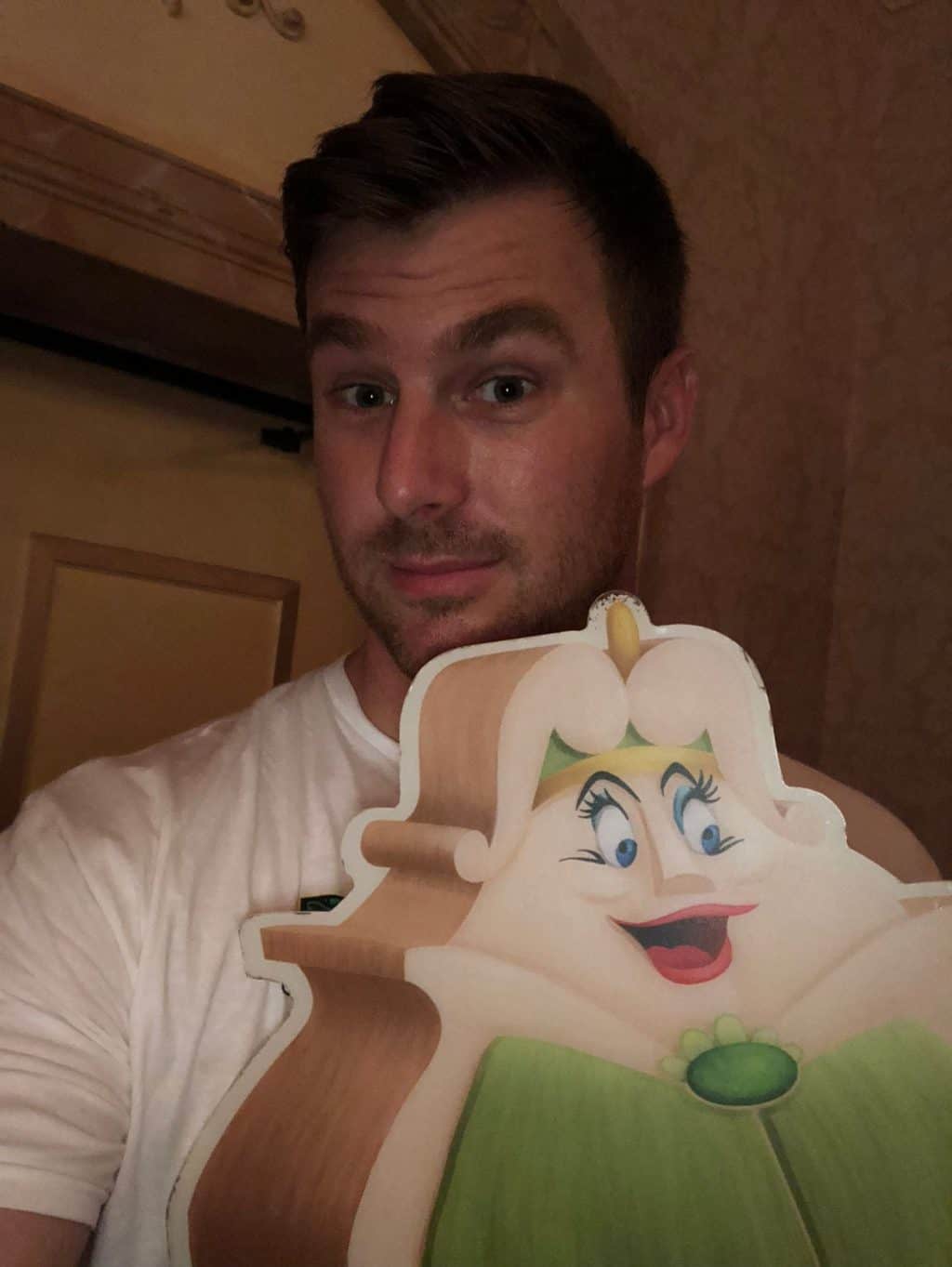 Yall. My Disney Mama heart BROKE when Zach sent me these pics and I realized I missed my sweet little girl getting to be THE BEAST!!!! It's SOOOO out of character for her. Zach said she didn't really even roar in the "auctions" and he thinks they just chose her because it was her birthday and because she's so dang cute. I'm SO proud of her for stepping outside that comfort zone and rocking her role! I am sad I missed it but a memory like this makes that time together even more meaningful for them!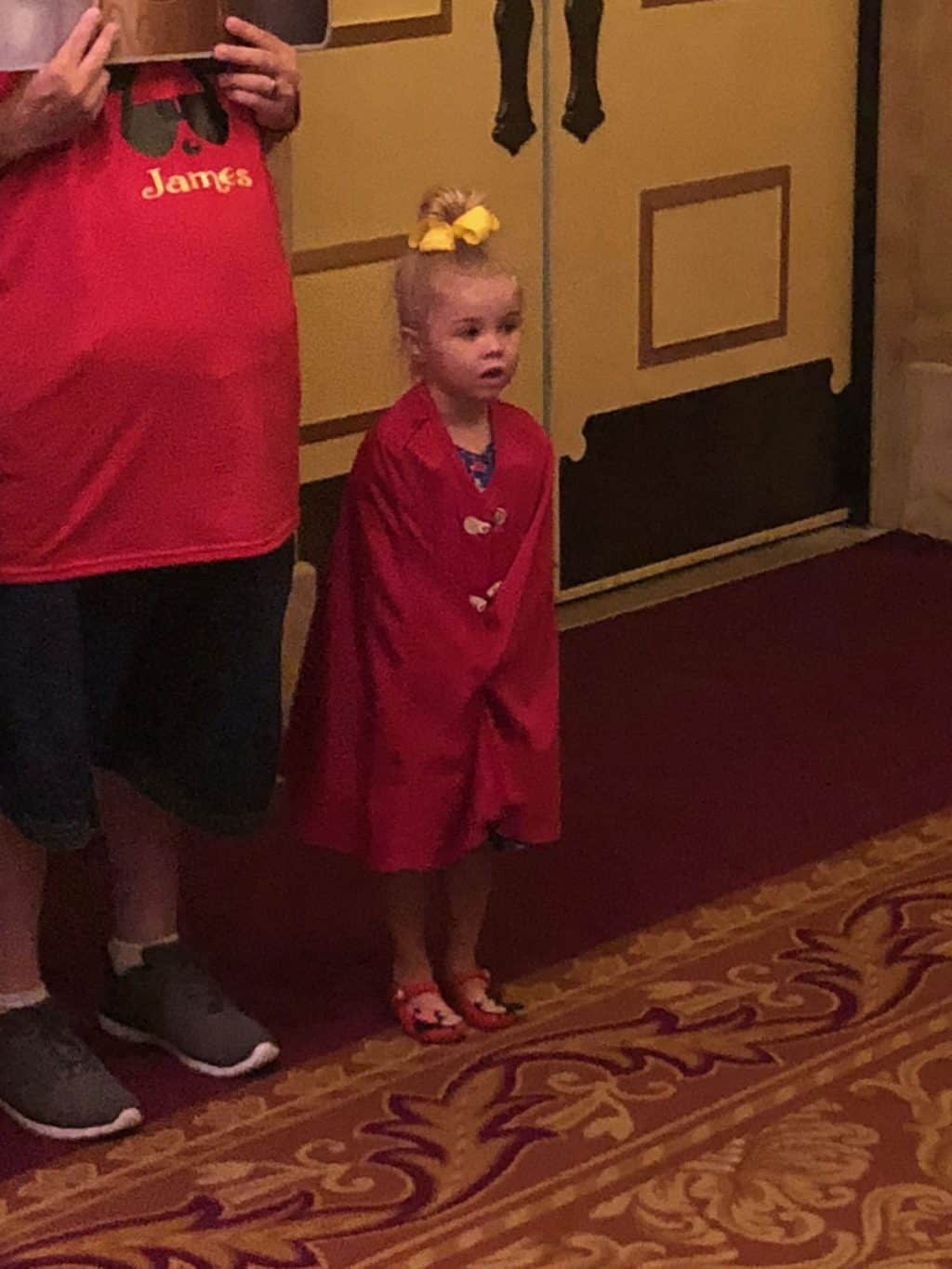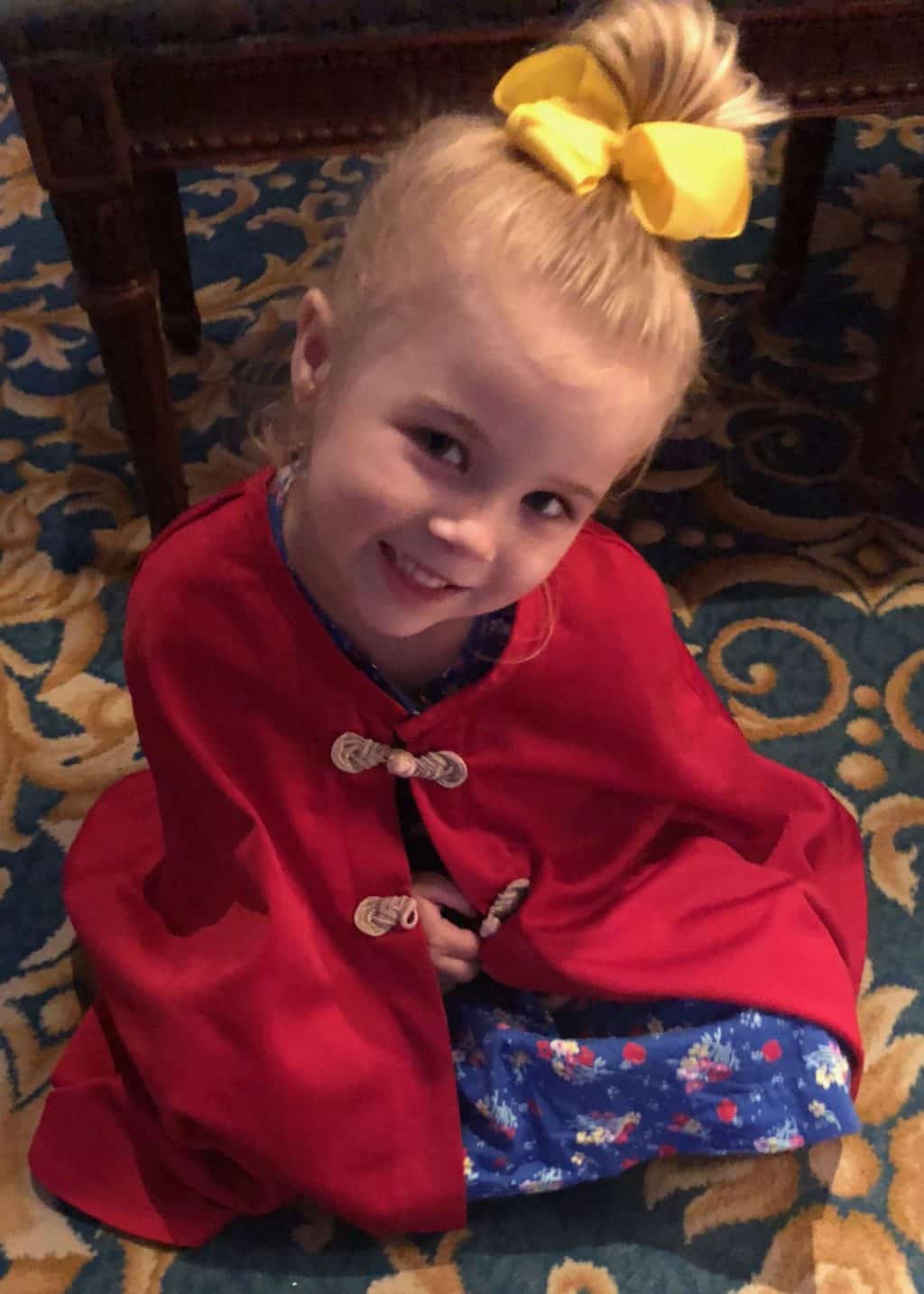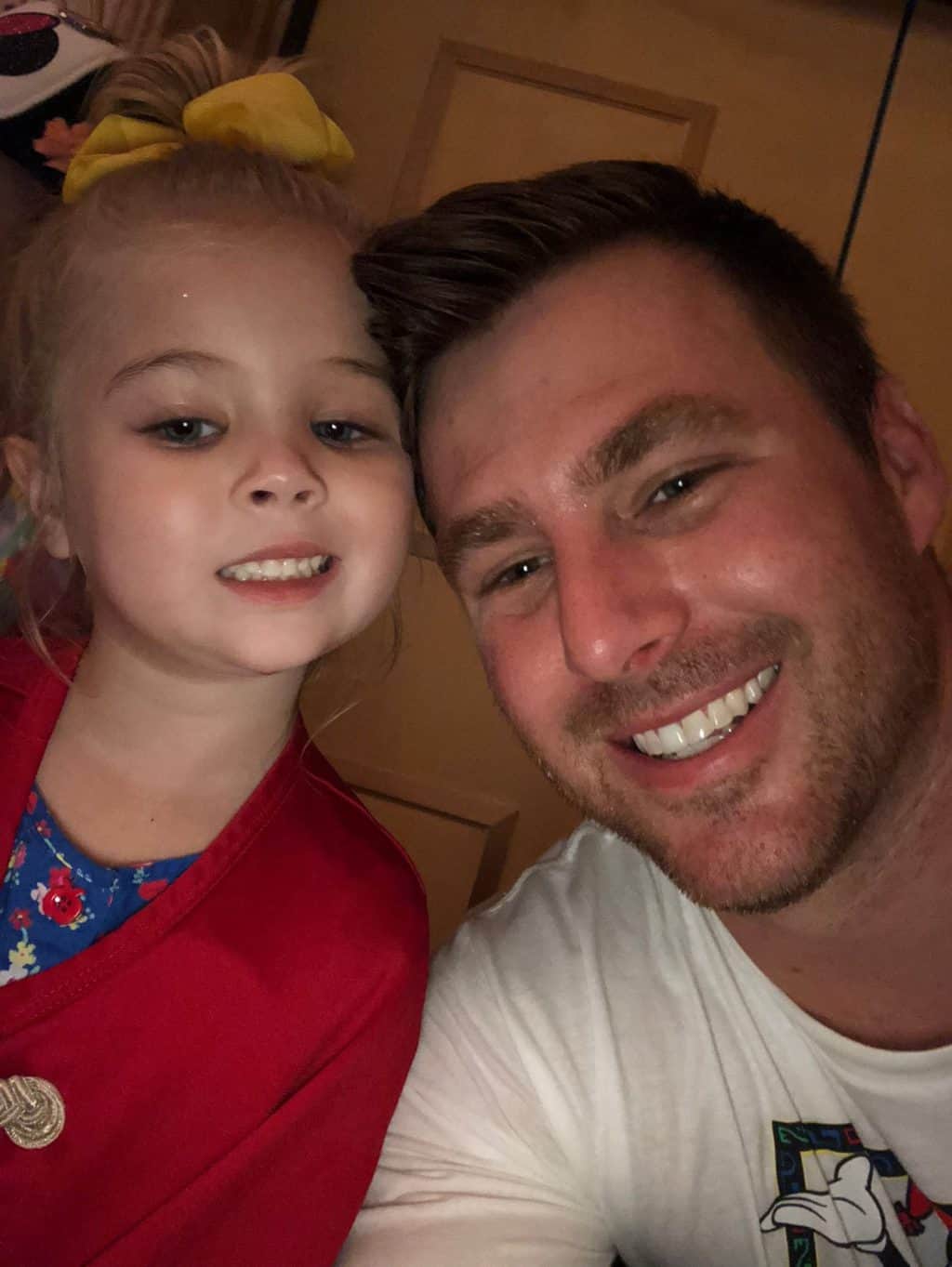 Daddy did a great job getting videos: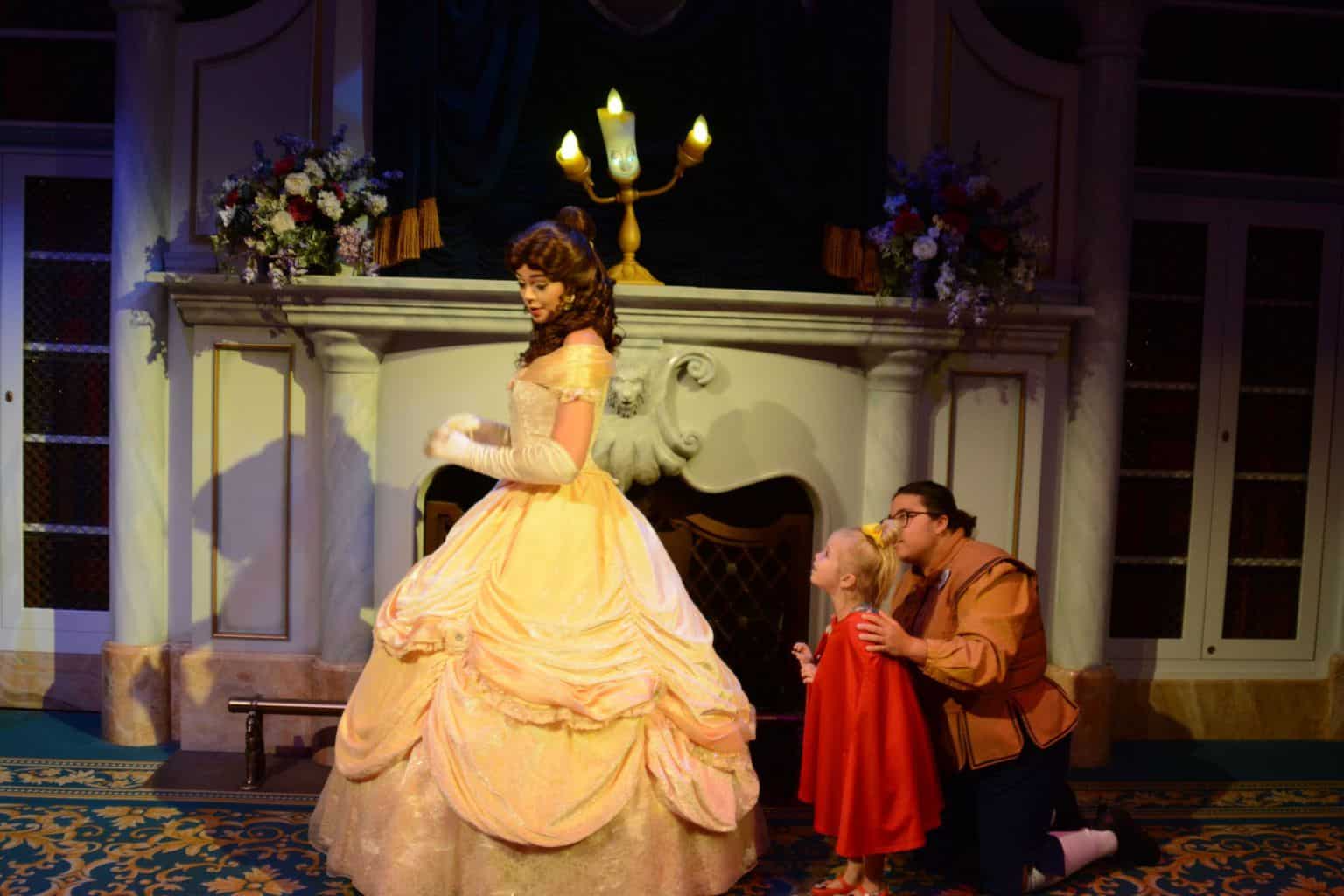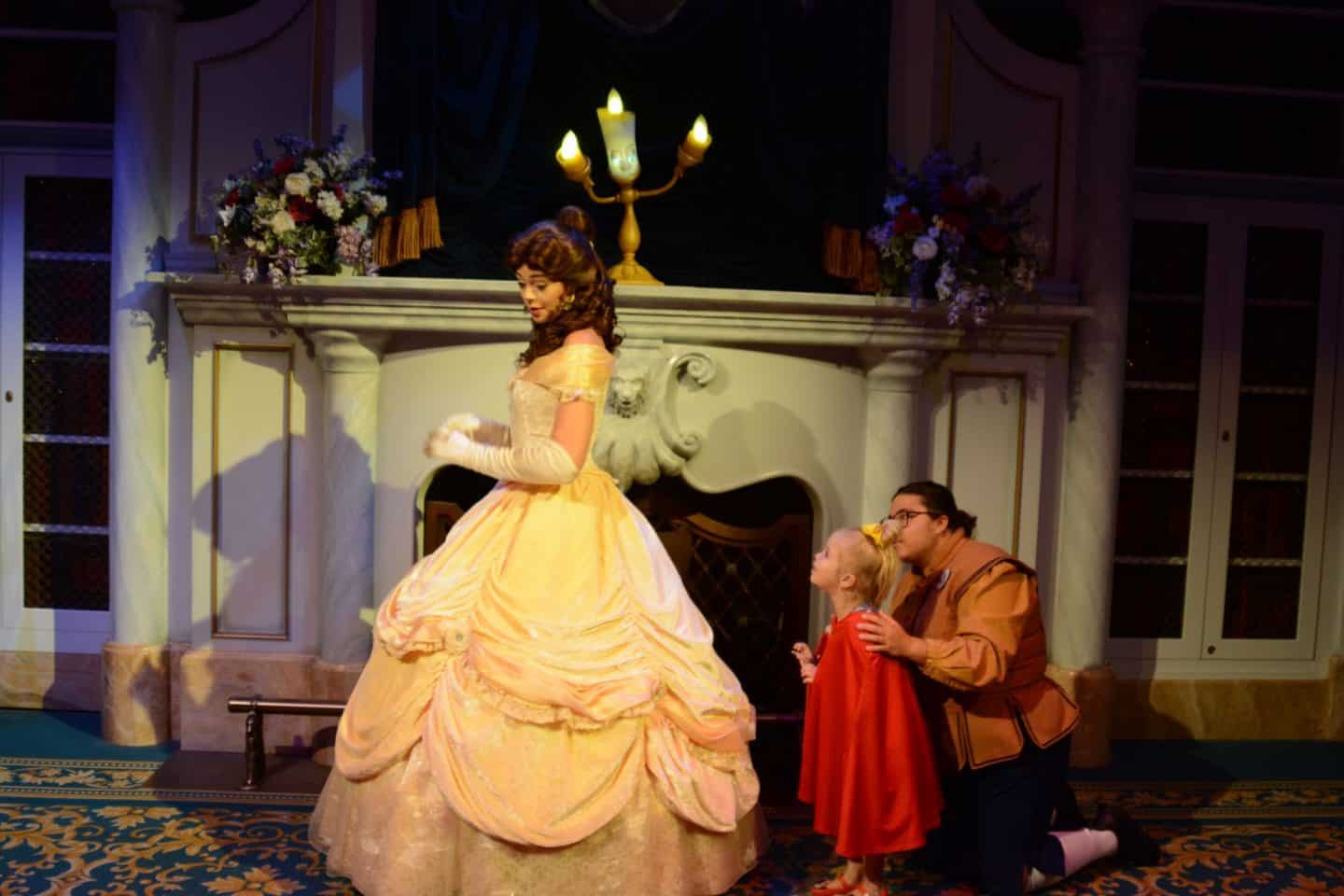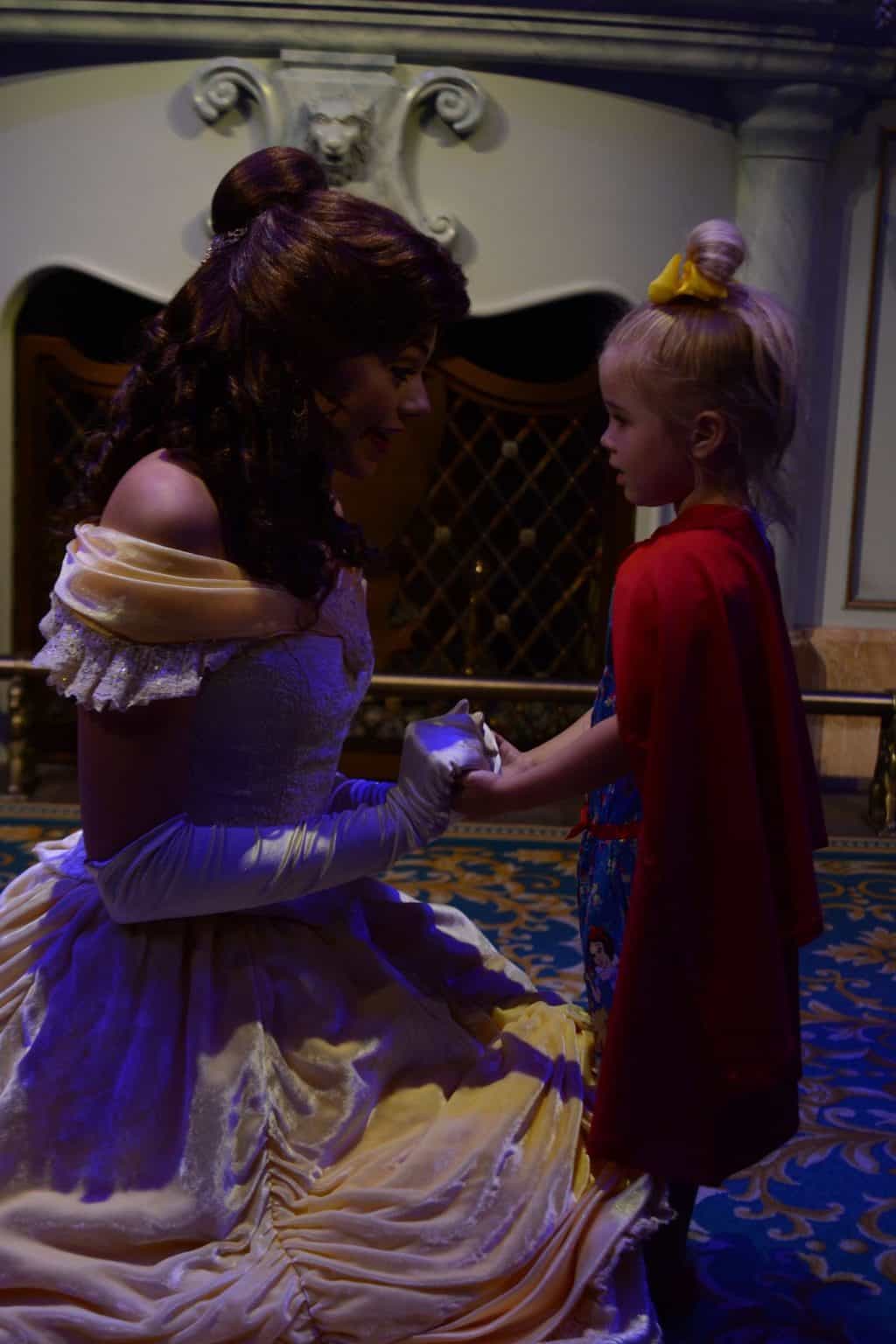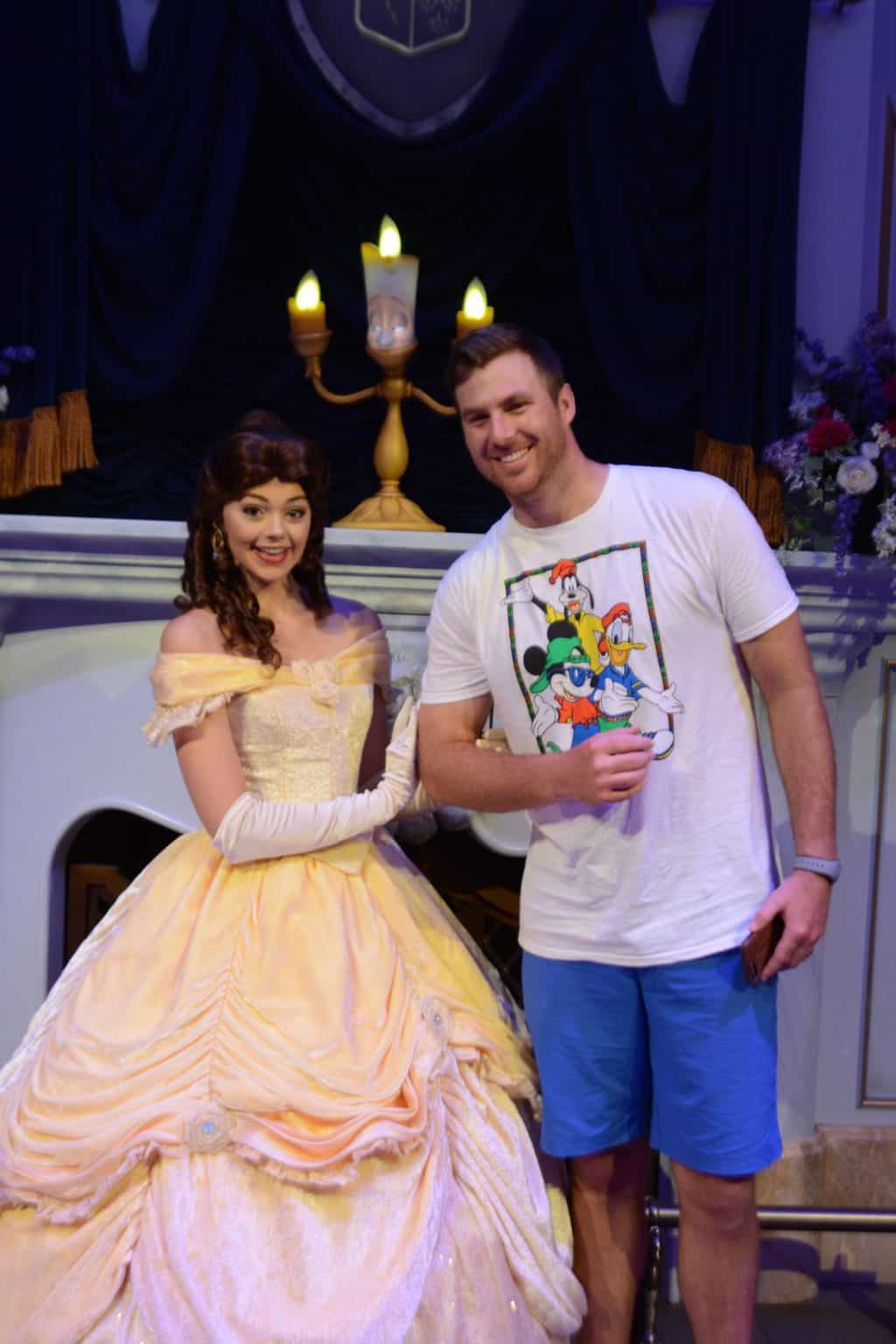 Zach and Belle – which I guess is fitting since he would make a great Gaston 😉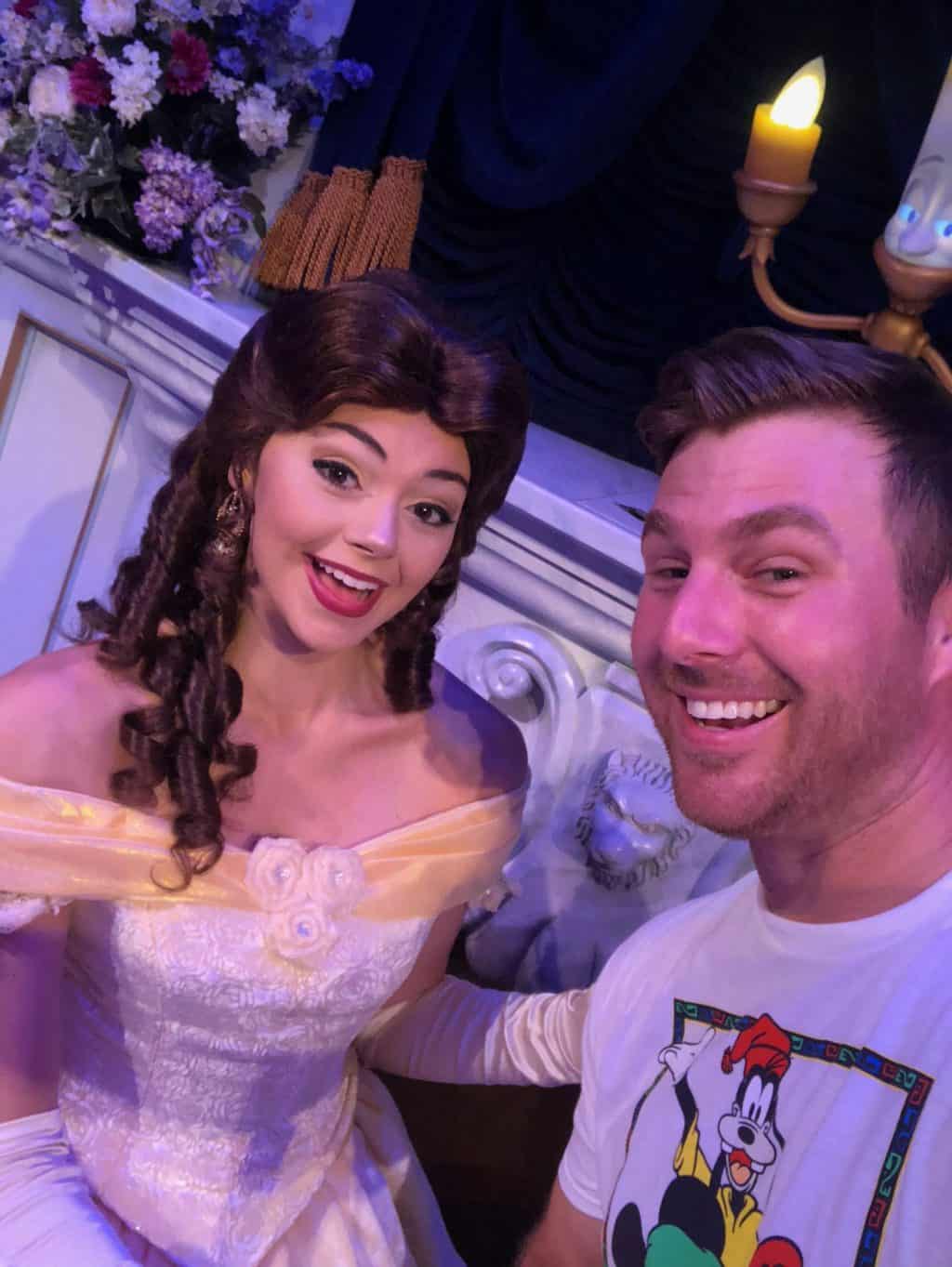 It's a Small World is Zach's favorite ride with Tess! When we'd visit the parks when she was younger it'd be a time where she'd snuggle up to him and hold his hand…which was rare for her because she was so mama obsessed!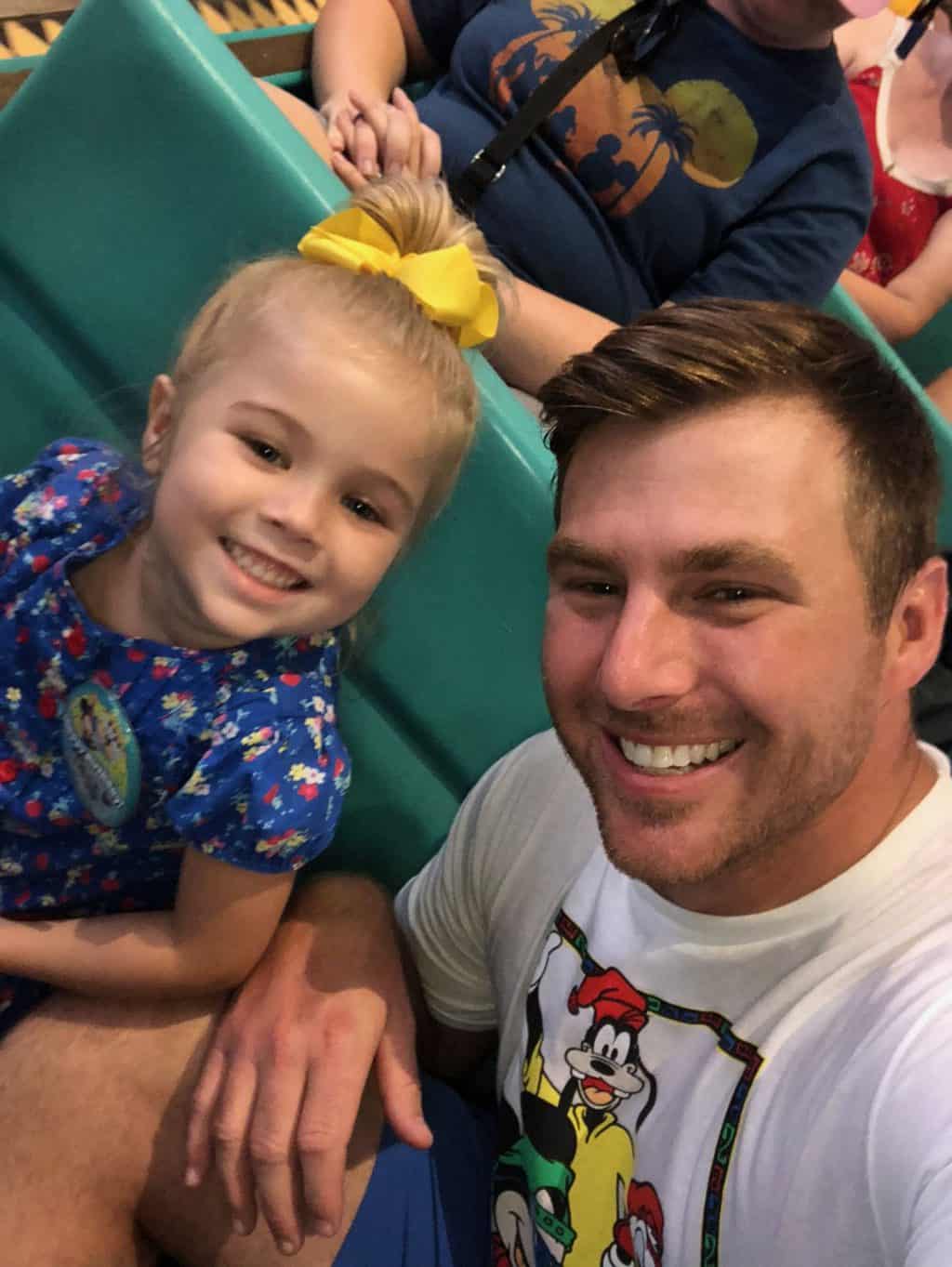 Haunted Mansion! Aka "The Spooky Ride"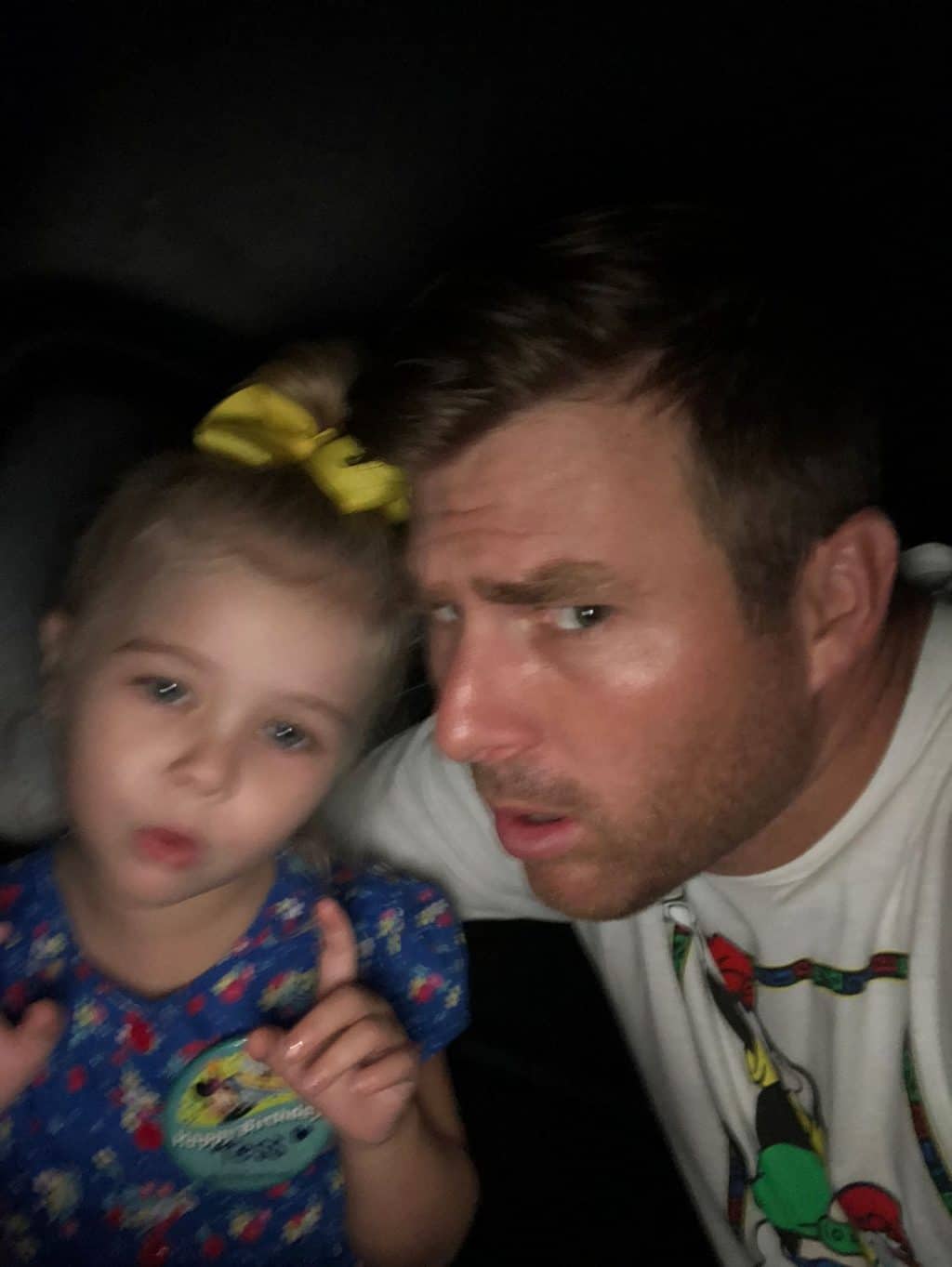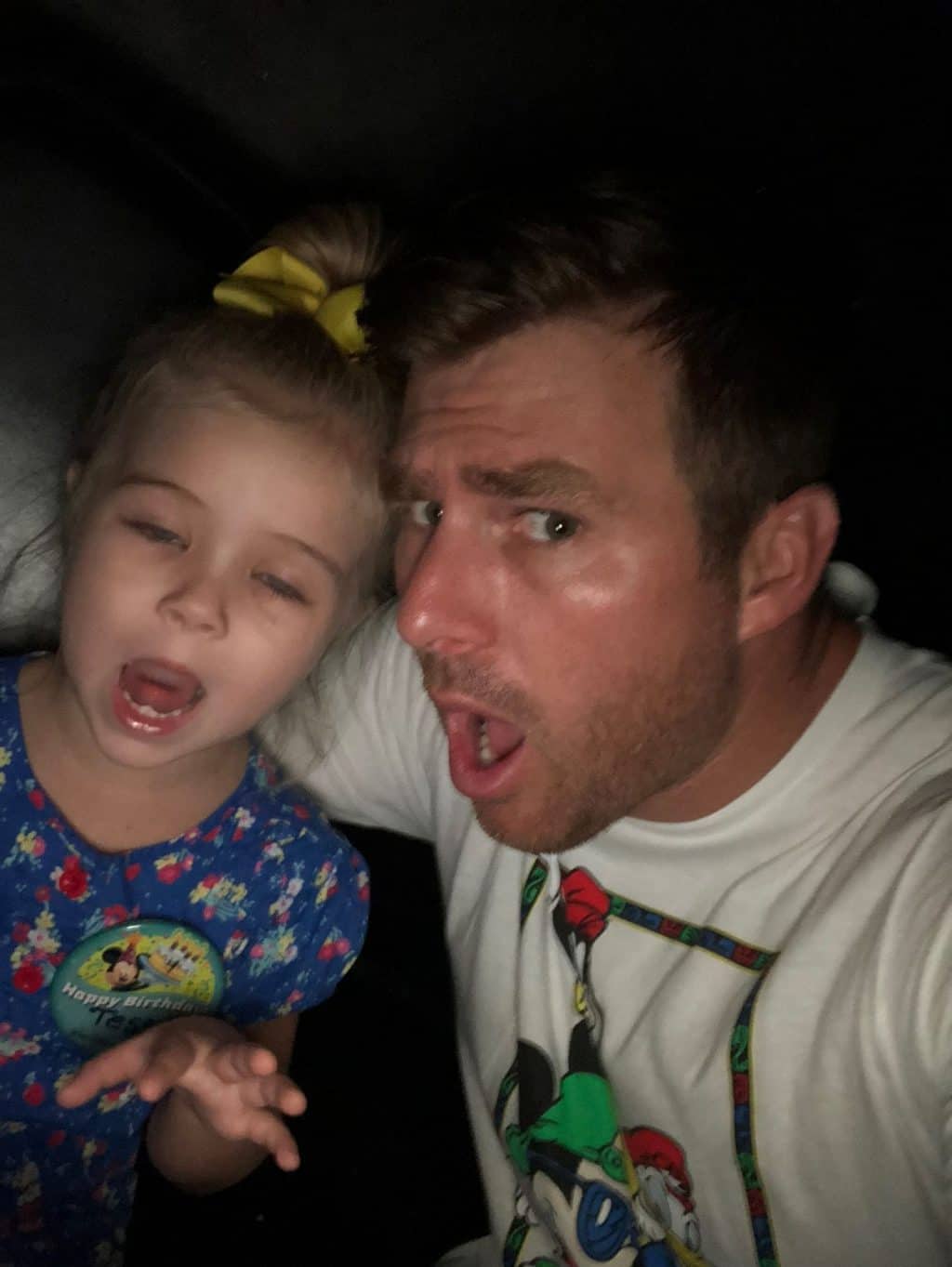 I'm also super proud of Zach for stopping and watching a stage show! Zach is NOT a fan of parades, fireworks or stage shows. Basically anything where huge crowds gather and/or he has to hold a kid up haha. Zach is so tall that he's always blocking someone's view. So he stood back a bit from Tess and she forgot he was there and PANICKED. I've had this happen with Tess a few times. She really gets anxiety when she can't see us. Which is a GOOD thing because I'm glad she's aware of it and looking for us but it's also SO sad to see her literally freak out the way she does. Zach never took his eyes off of her and was literally right behind her but when she glanced beside her and didn't see him she just panicked.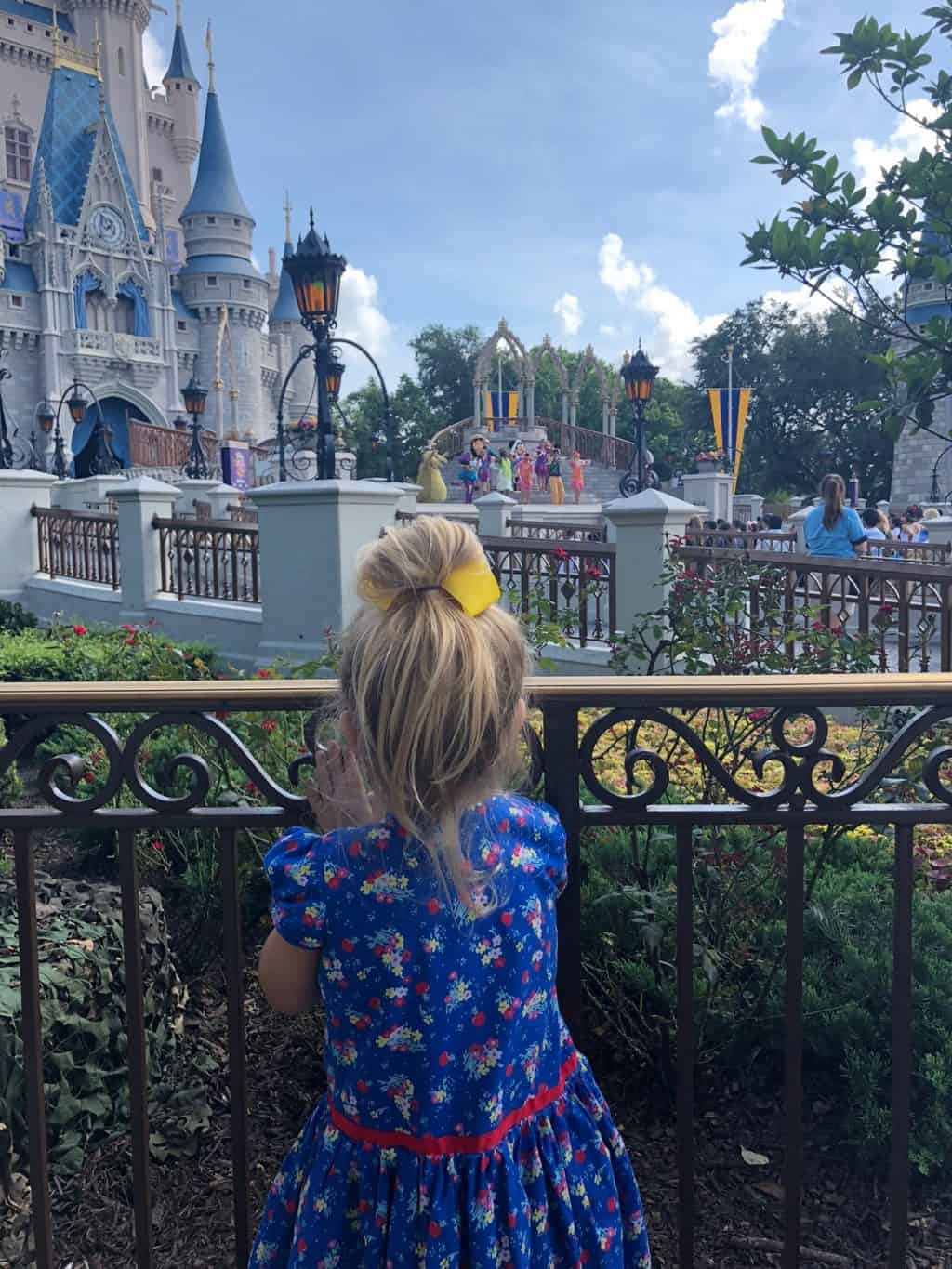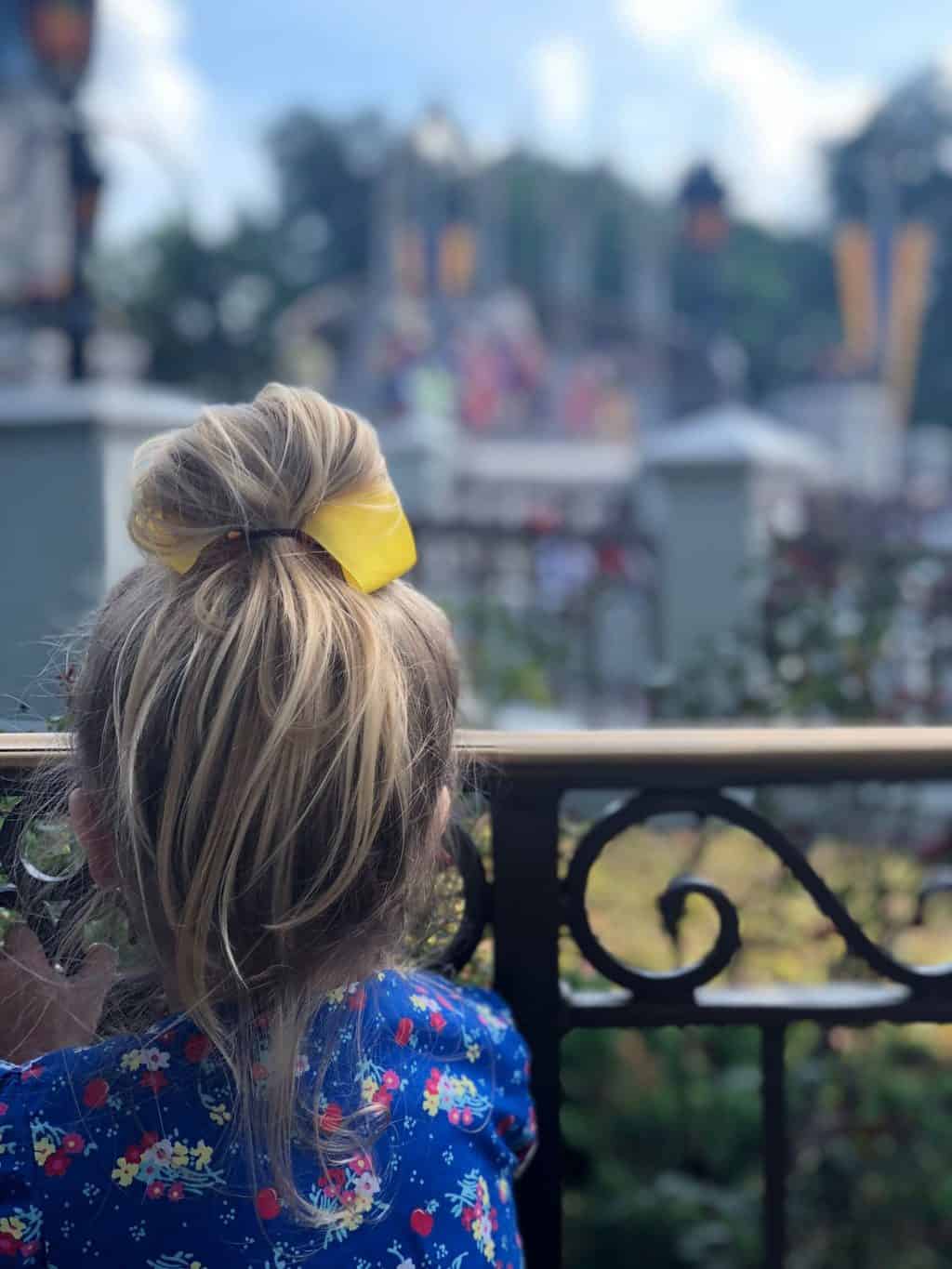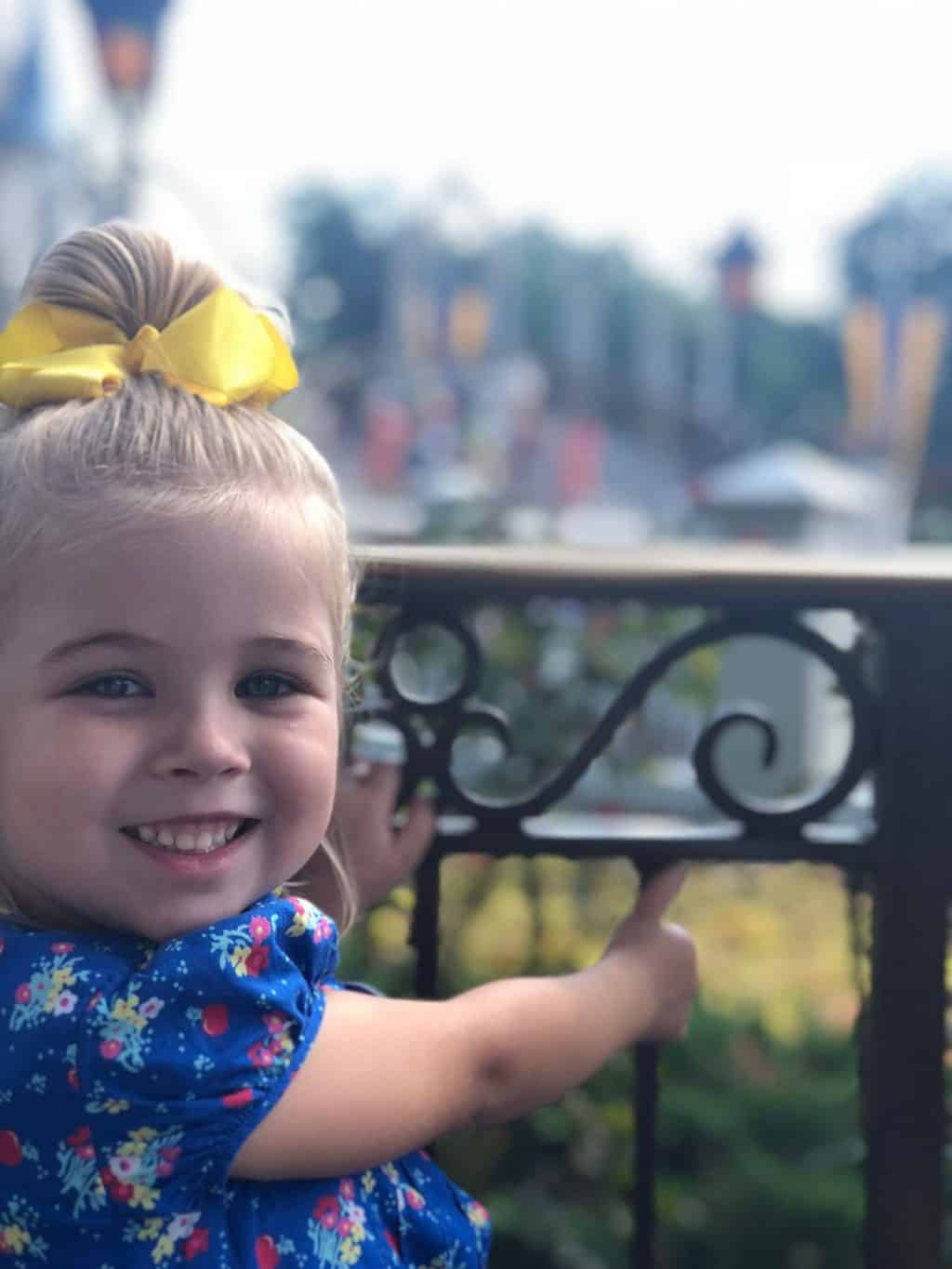 Can't pass up a chance to be a Galactic Hero!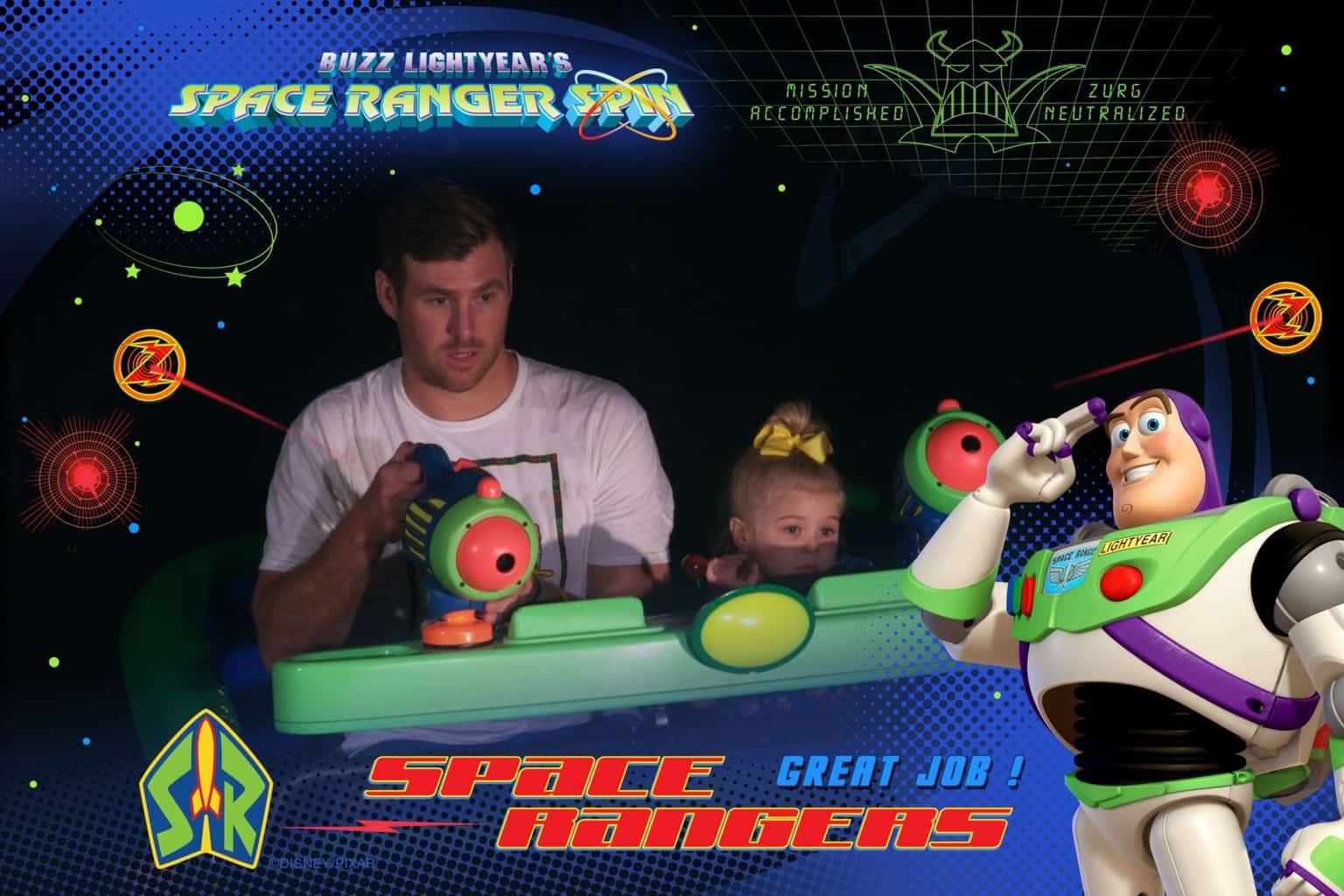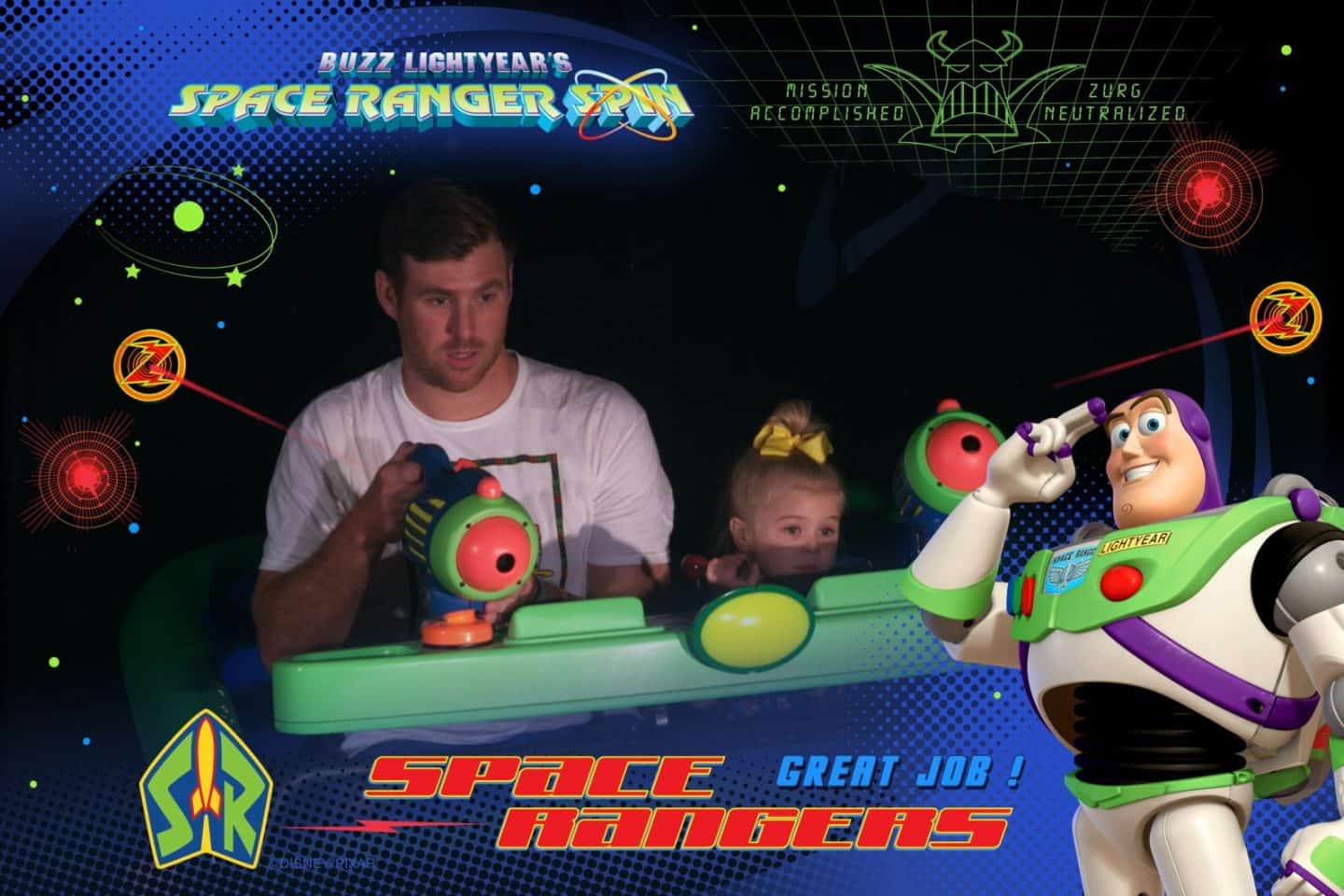 I booked a lunch for them at The Plaza and I'm so glad I did! I figured it'd work out well in their morning since it's located on the corner of Main Street which is on the way out of the parks. It's also a super cute, quaint vibe that I thought was perfect for a father daughter lunch date 🙂 They were the ONLY people in the place for a little bit and enjoyed having it to themselves!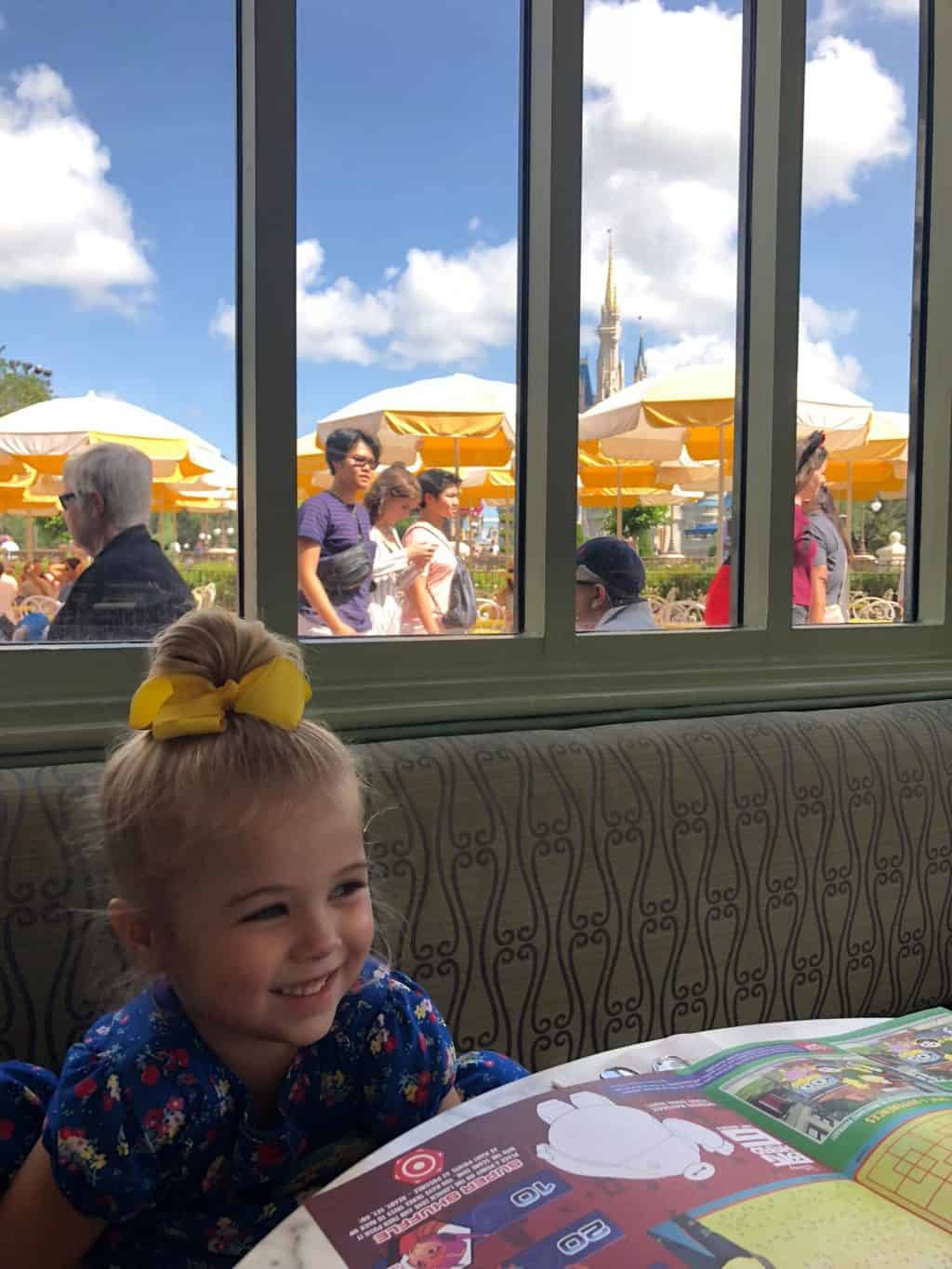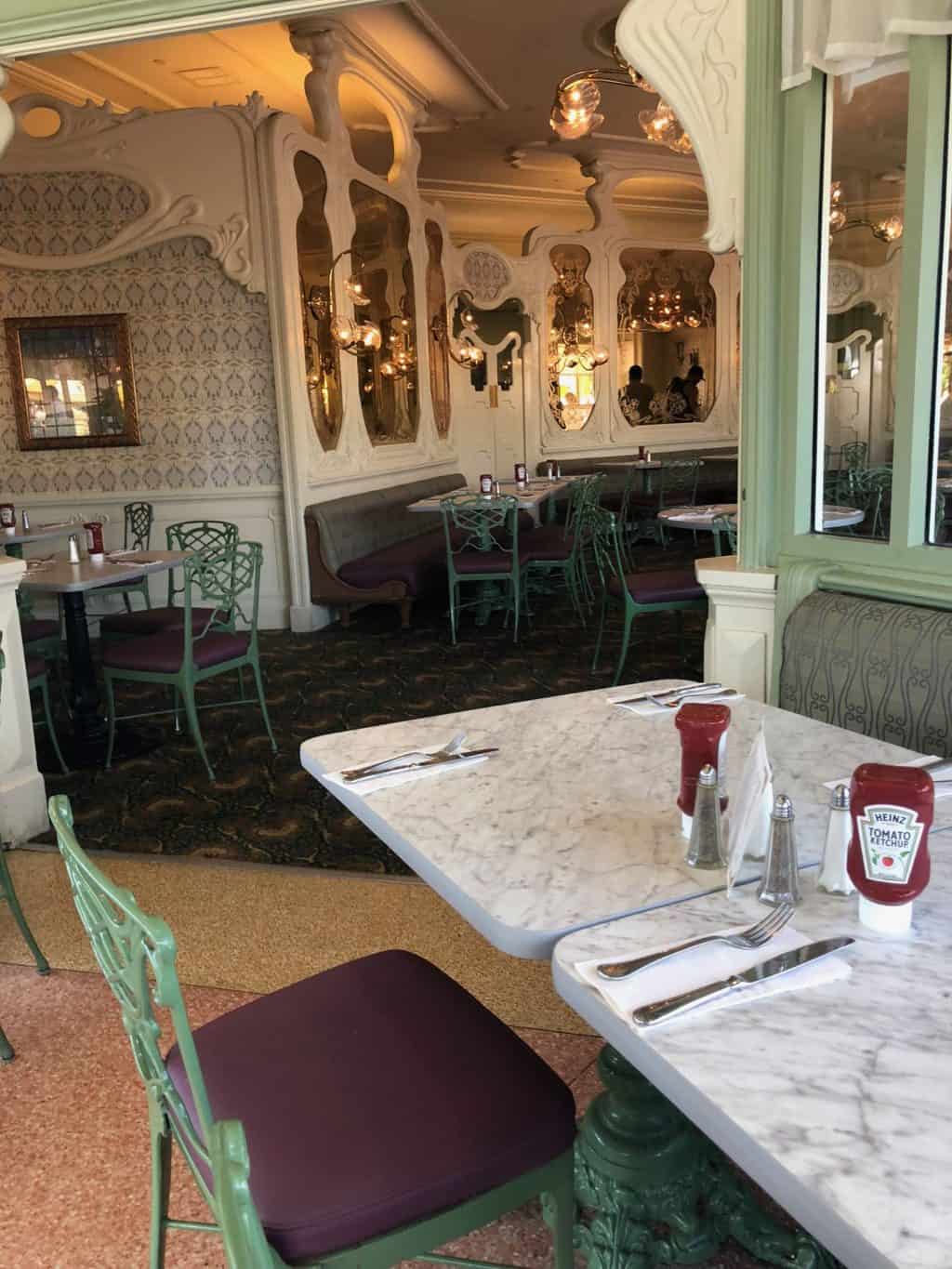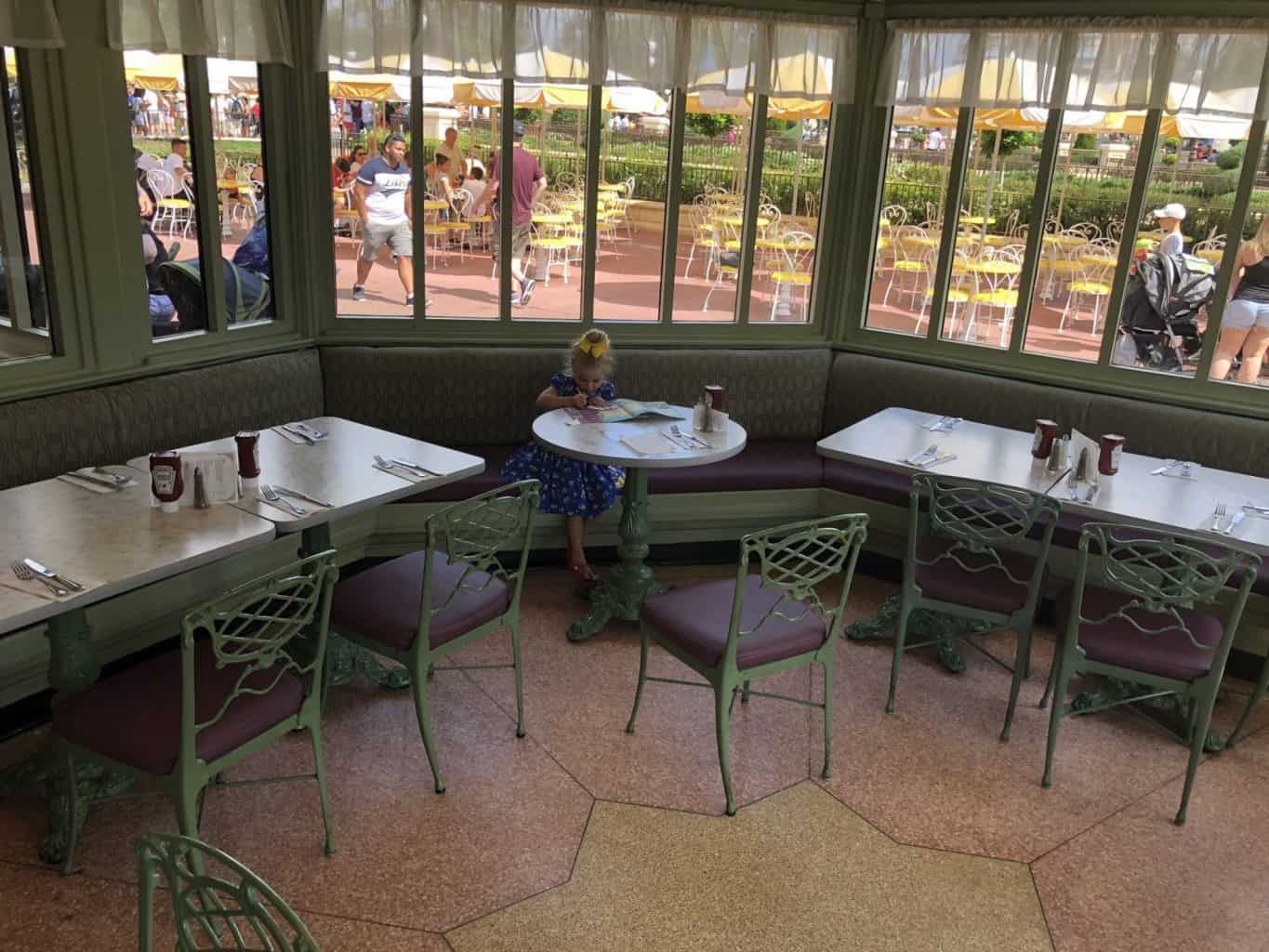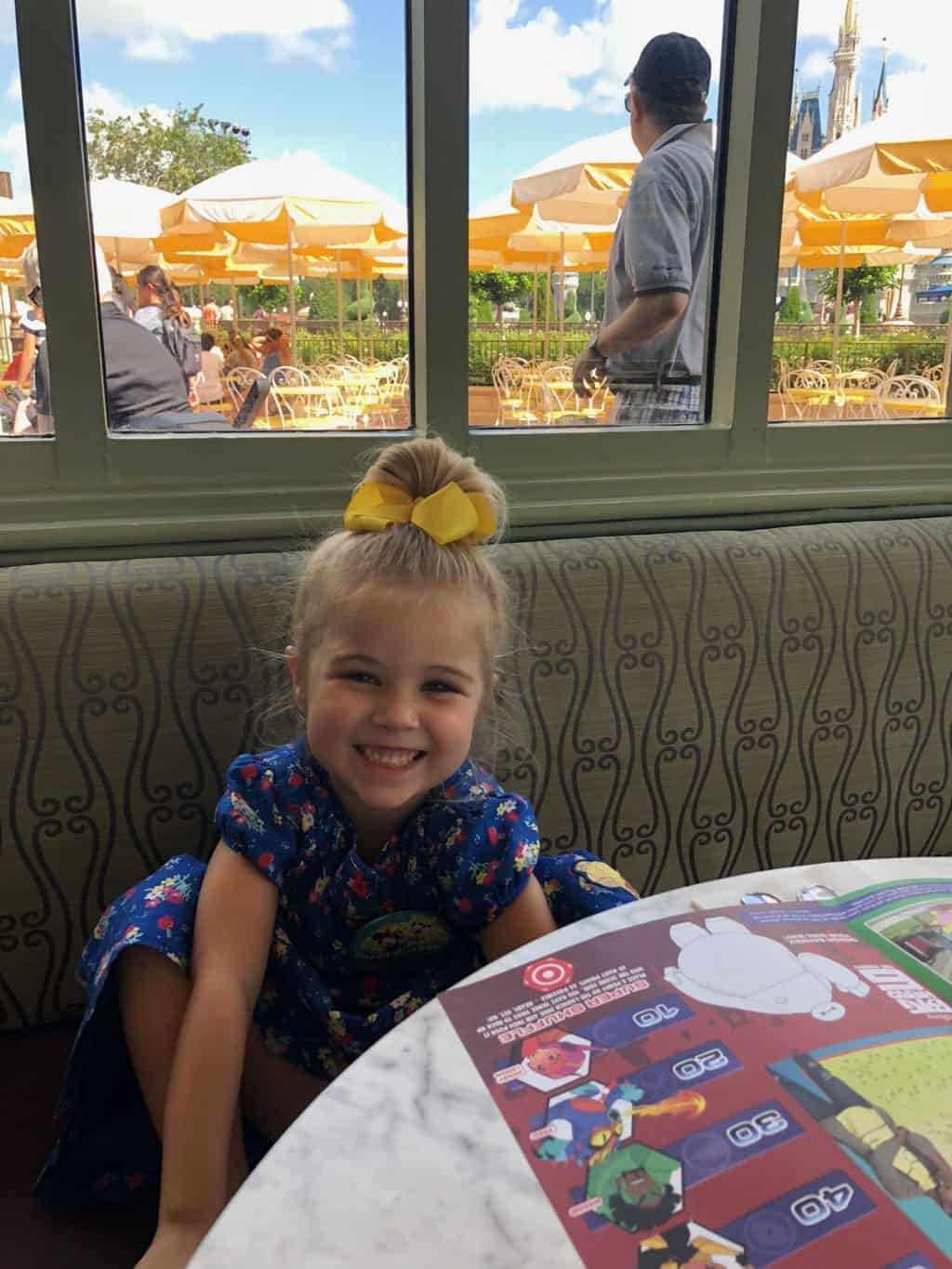 Zach said lunch was their favorite moment together of the day. They drank FIVE milkshakes haha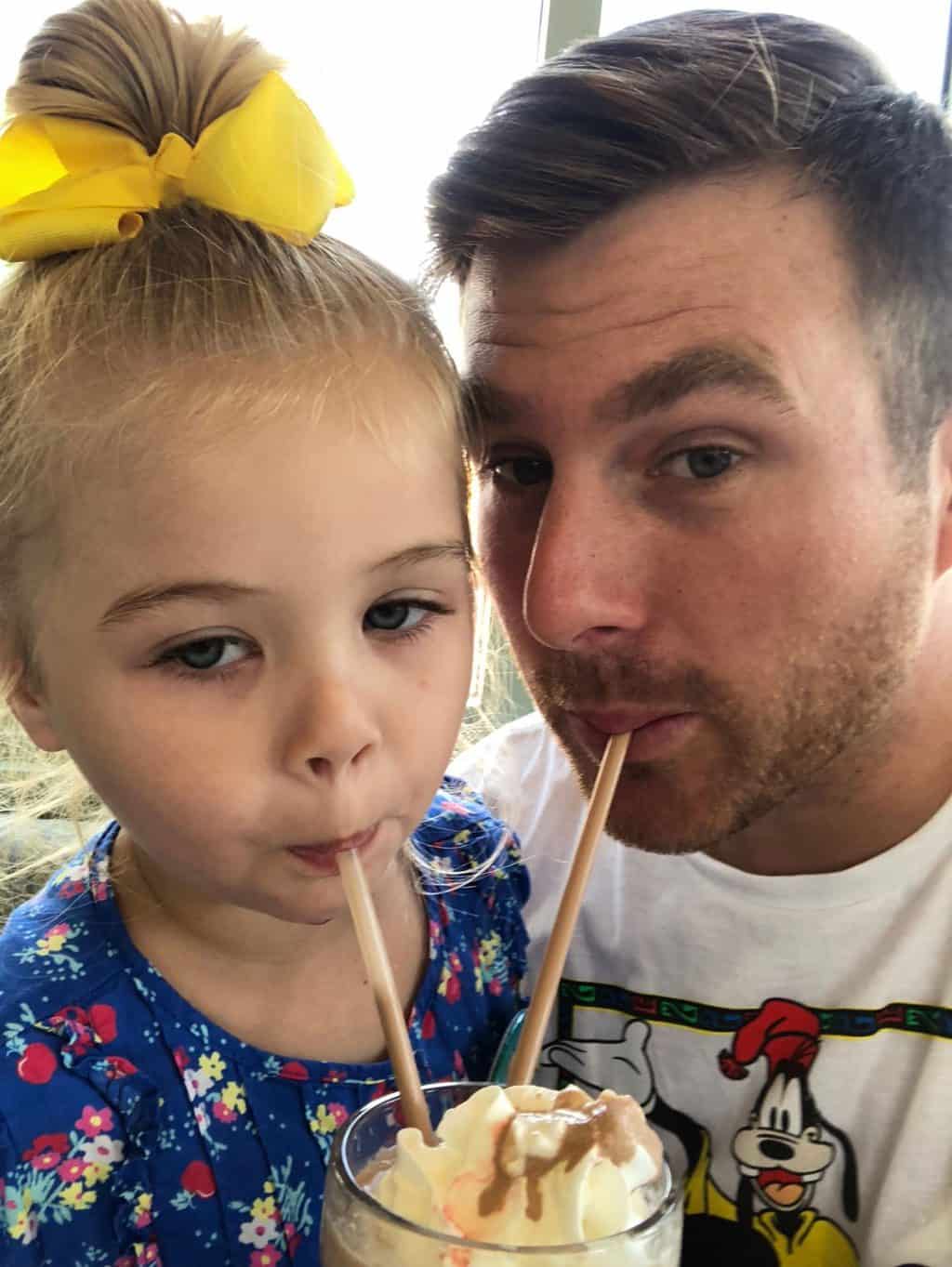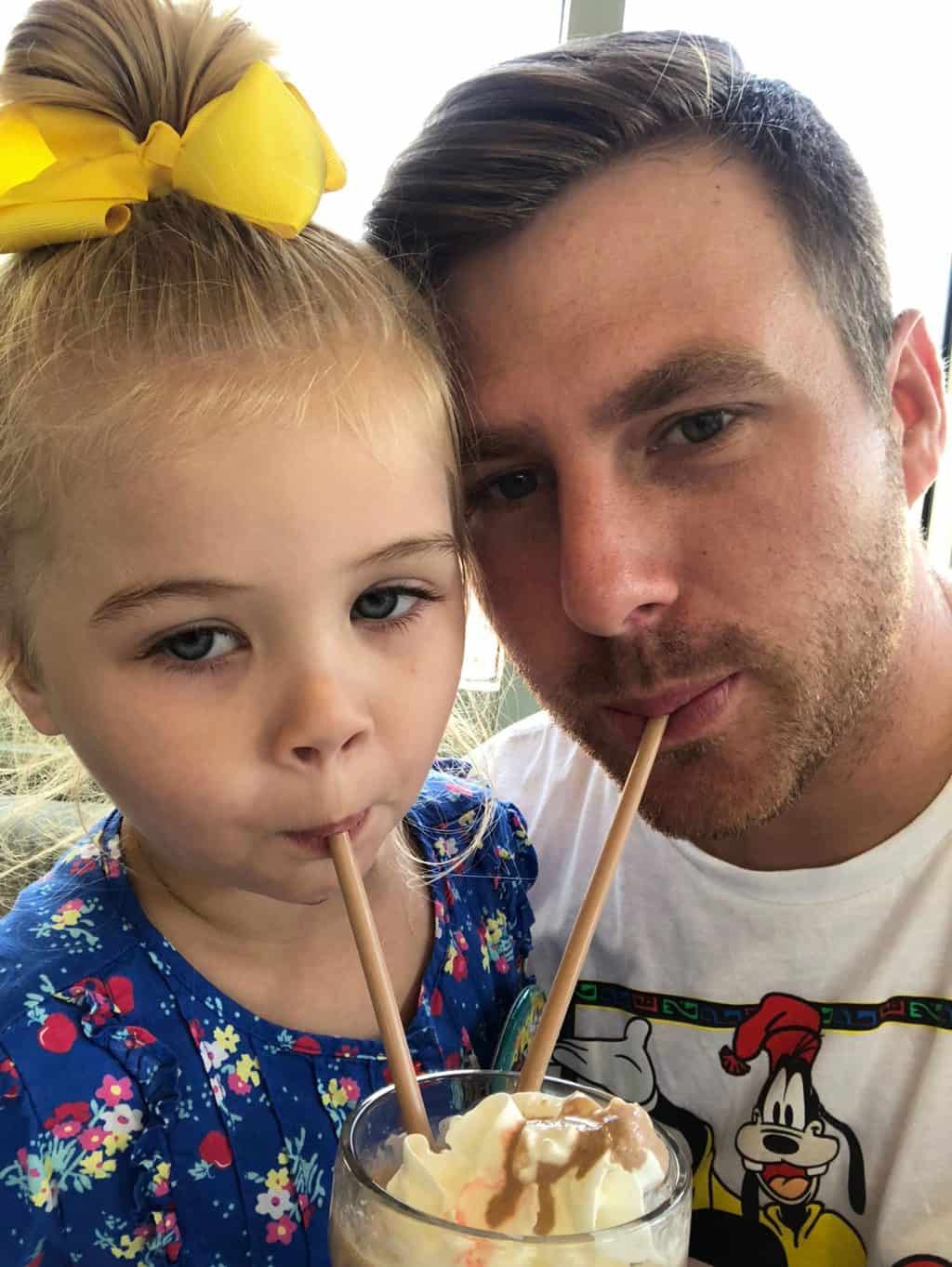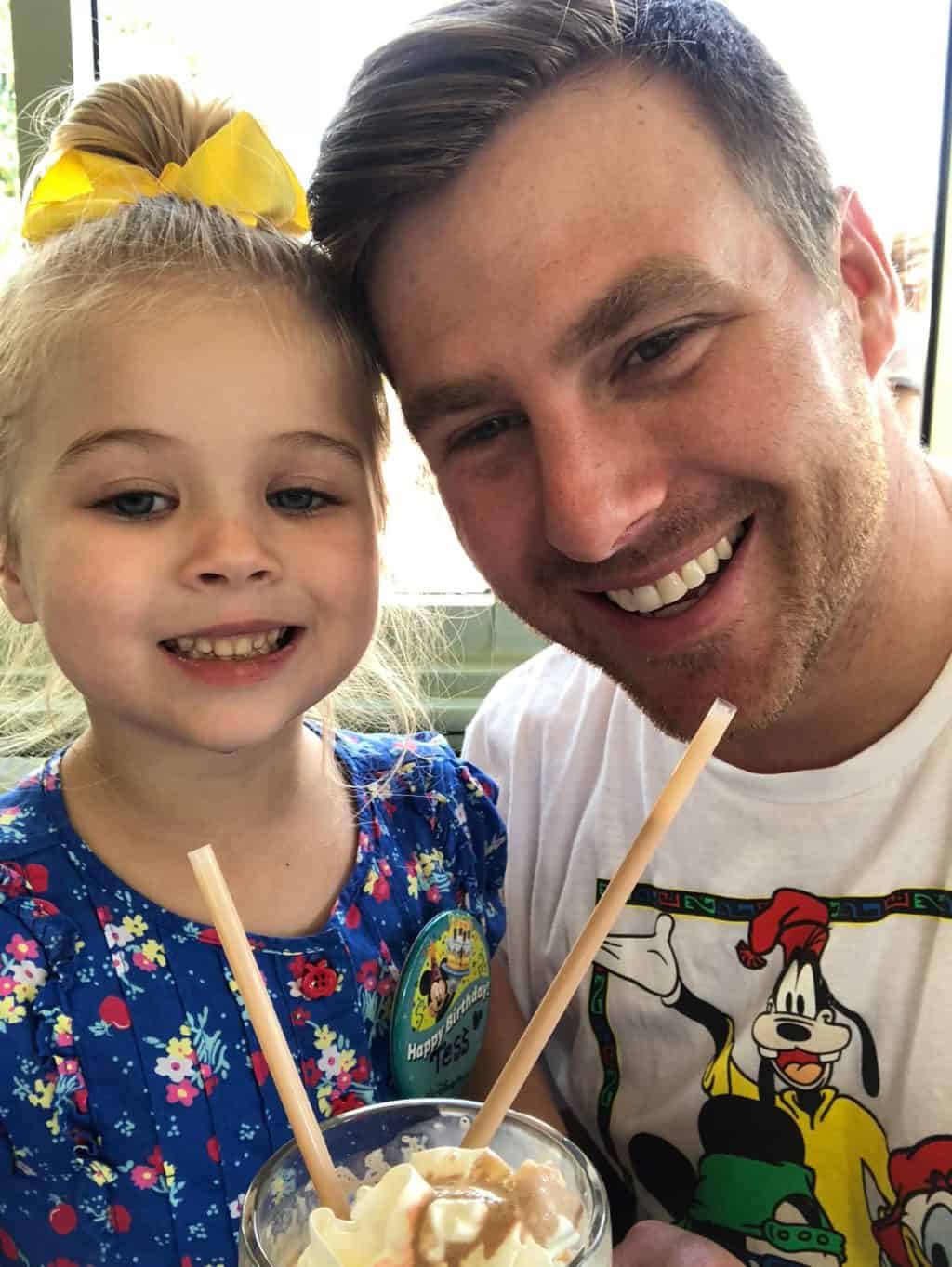 Zach also noticed when he looked around the restaurant that it was ALL DAUGHTERS. There were NO families with sons there. Isn't that odd? It's not what I'd consider a "girly" place but I mean apparently it just happened to be that all families with girls only came out to eat that day! Zach said a guy came up to him and was talking about it and said "I guess it's the place for sonless fathers to unite" and Zach felt bad telling him that he actually has TWO sons so he just rolled with it!


I actually met Zach on the drive back to the house to pick up Tess so we could head over to our special park time that afternoon! She had a FULL DAY of fun with her parents and had such a blast that morning with her daddy…I think his time topped mine for SURE!
They had the monorail completely to themselves on the ride back which is a rare moment!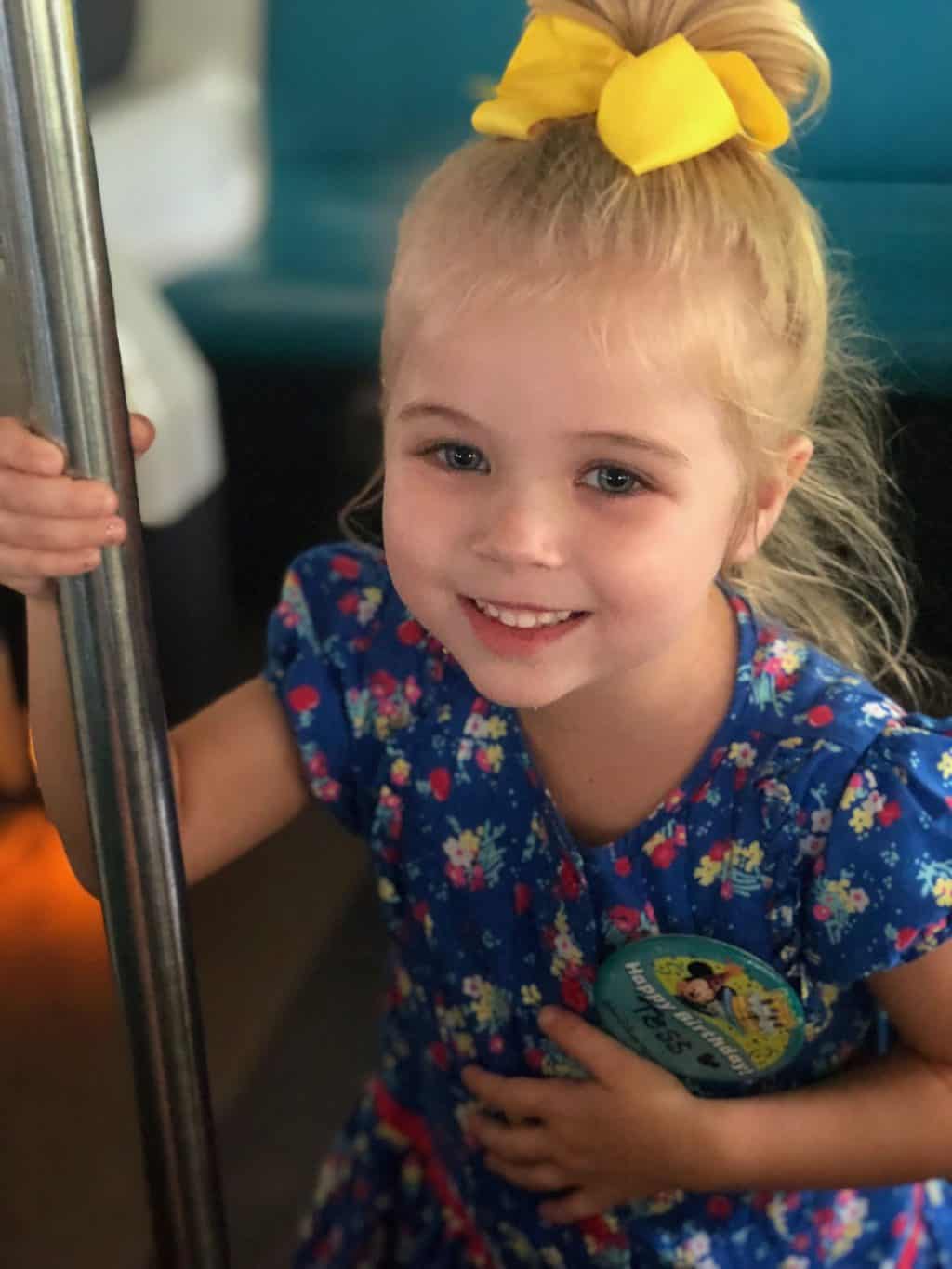 My original plan was to hang at the house the morning while Zach and Tess were at Magic Kingdom. But then when we worked out all the plans and realized Mrs Charlotte would be with us and she didn't mind hanging with Spear that morning (especially while nursing her injury) I figured why not run up to a park for a little bit at opening with the older two? I just recently discovered that I LIKE Soarin' (on my trip with Katie earlier this year!) and Britt hasn't ever ridden it before. Plus Kye rarely gets to ride it because he LOVES Test Track so that's always the ride they run to at opening. I really regret not getting to experience Flight of Passage with the kids the first time they rode it so I figured this was a perfect opportunity to experience a first "thrill ride" with Britt and also see how she liked it for my Cali planning 😉
Hi, I'm Emily and I can't resist a chance to step foot in a Disney park 😉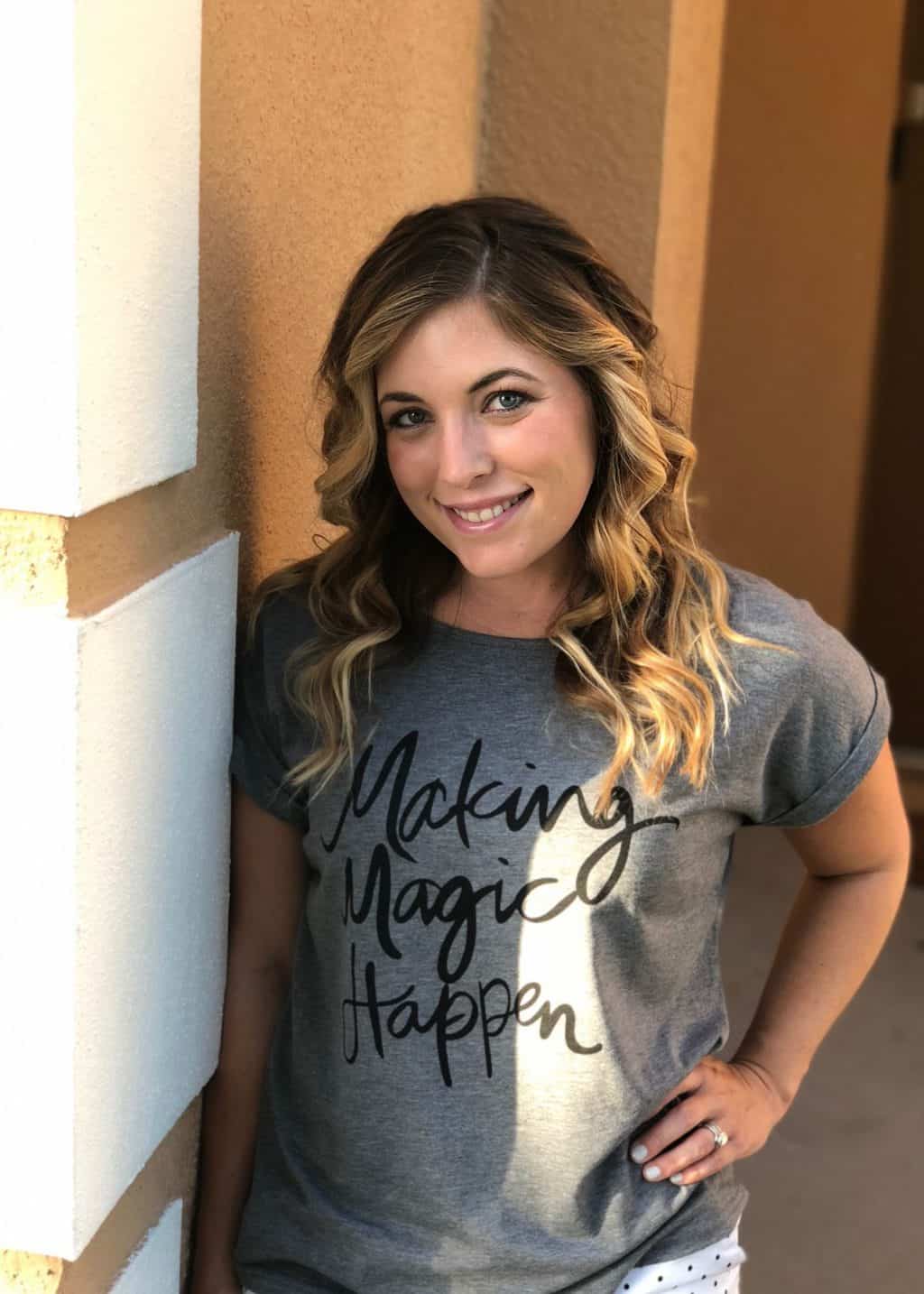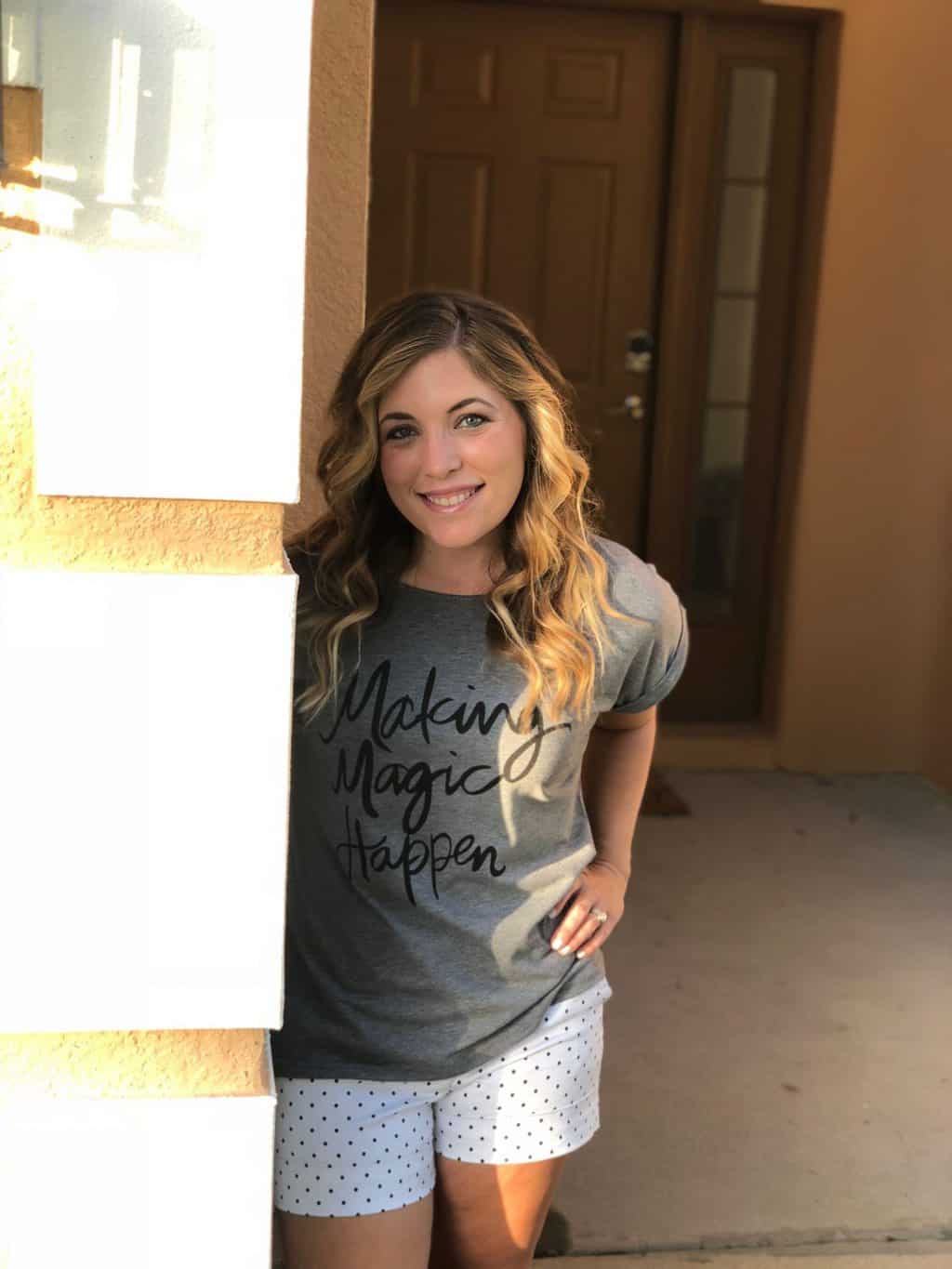 Of course the one time that we really don't need to be at the front of the line for any experience…we somehow end up at the front. But being the hardcore Disney people we are…we were all SUPER pumped b/c that meant front row viewing of the Jammitors! The Jammitors perform before Epcot opens and it's always a super fun, cute show. I'm so short that I've never actually been able to SEE it and Kye and Britt haven't ever been very close either so it's usually more of a listen than an actual viewing. They were PUMPED!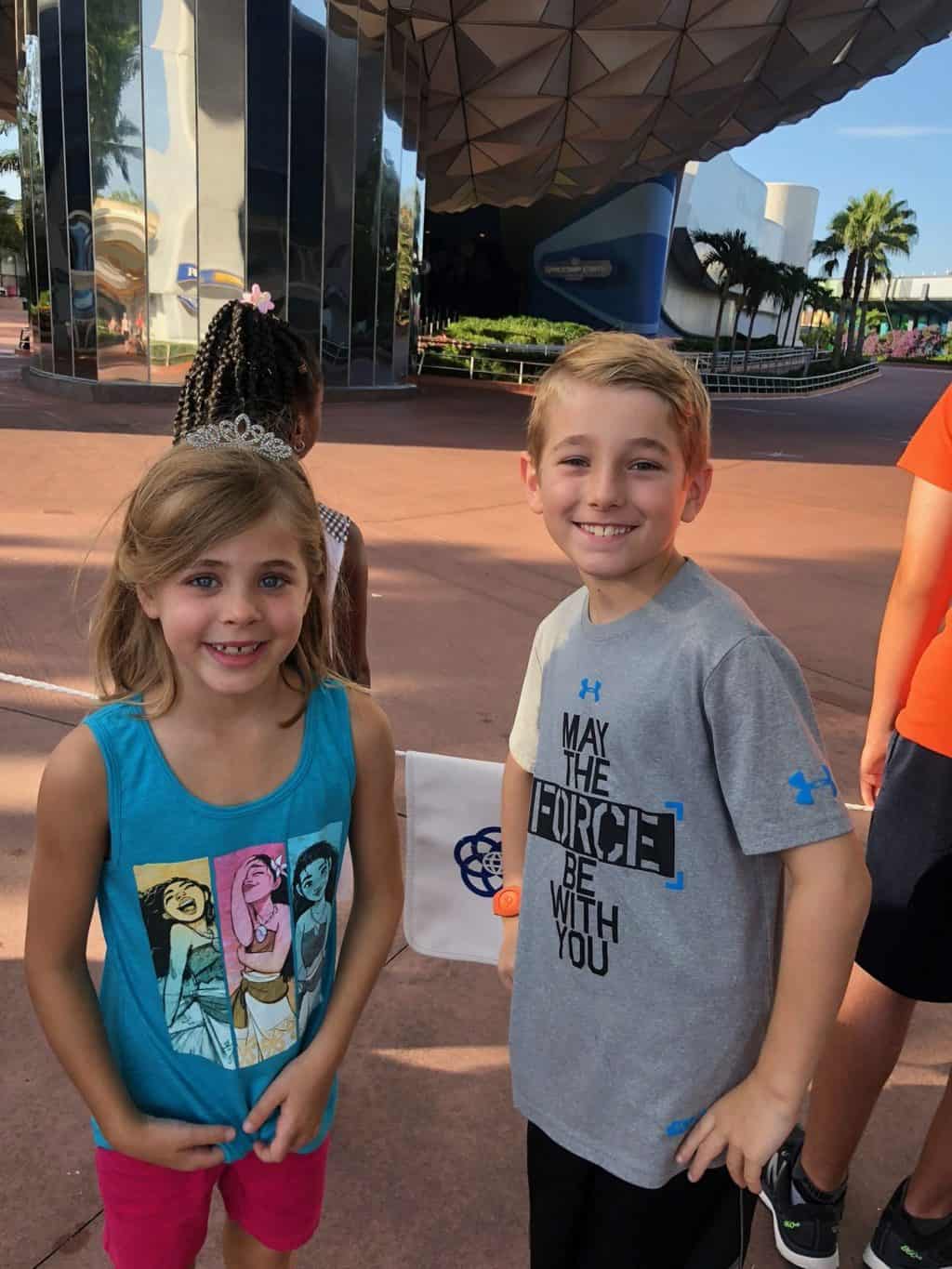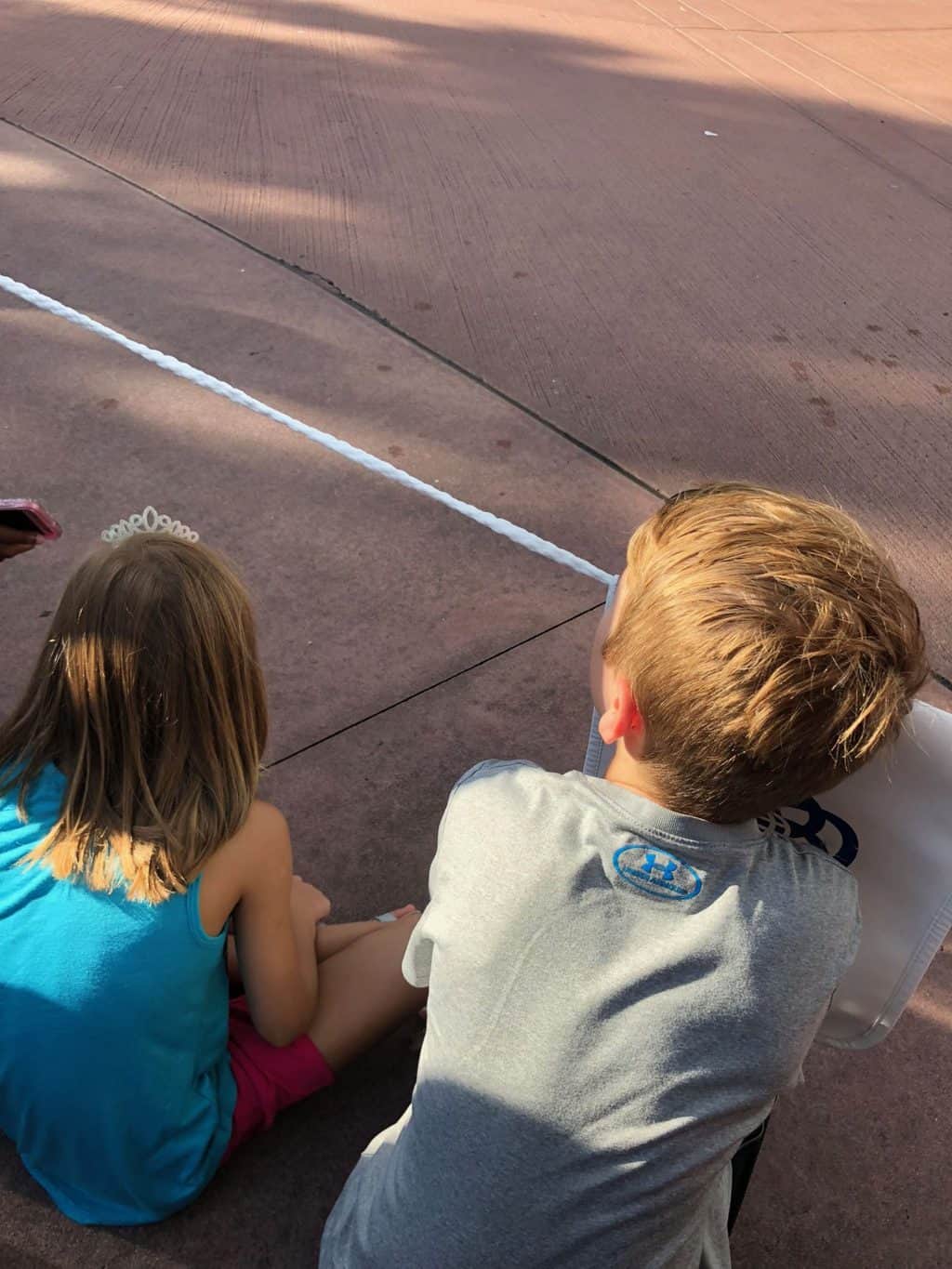 The Jammitors…get it…they are janitors who jam 😉
I took a couple videos for those of you who are dying to see what the show is like: video one  and video two!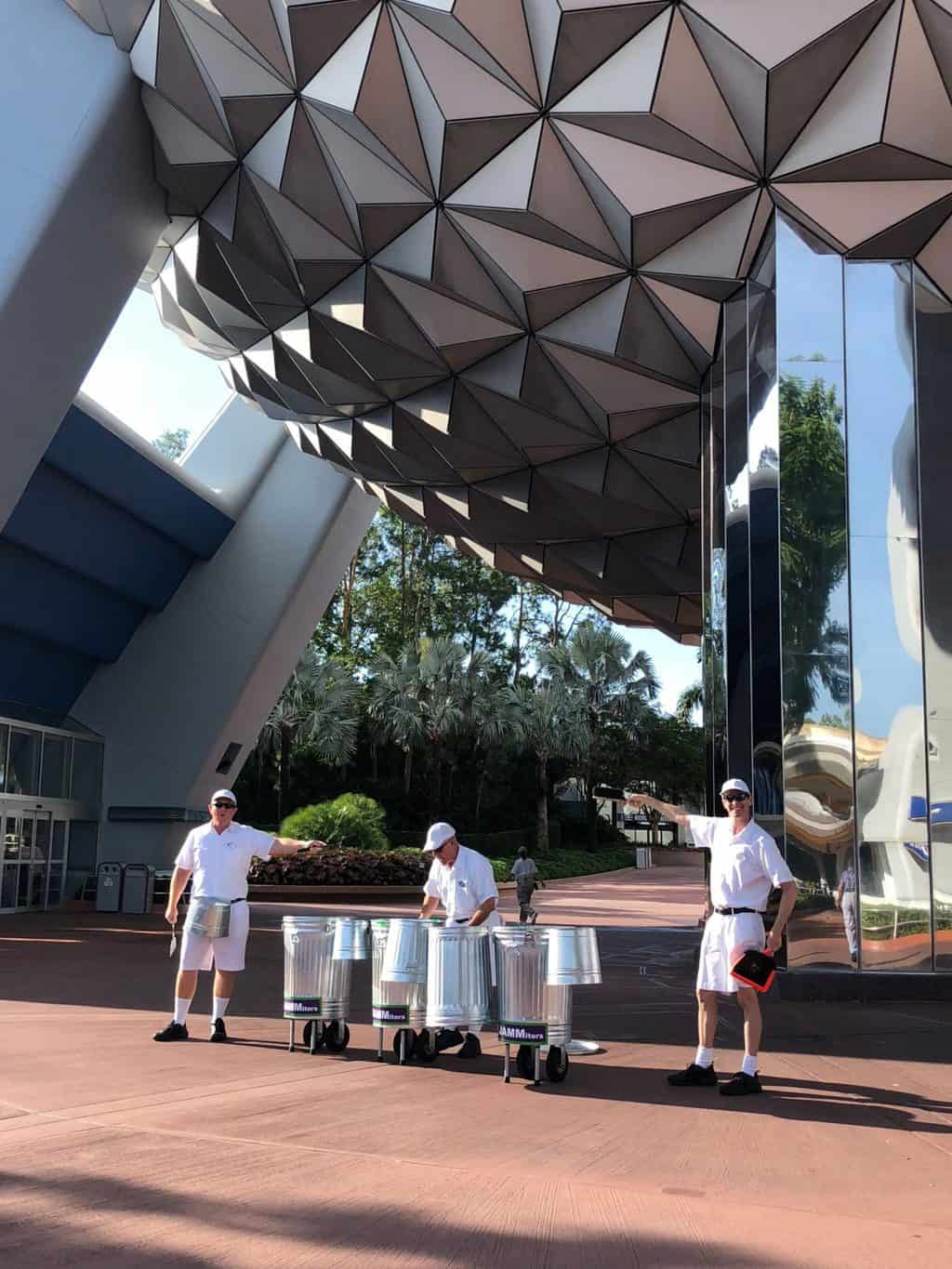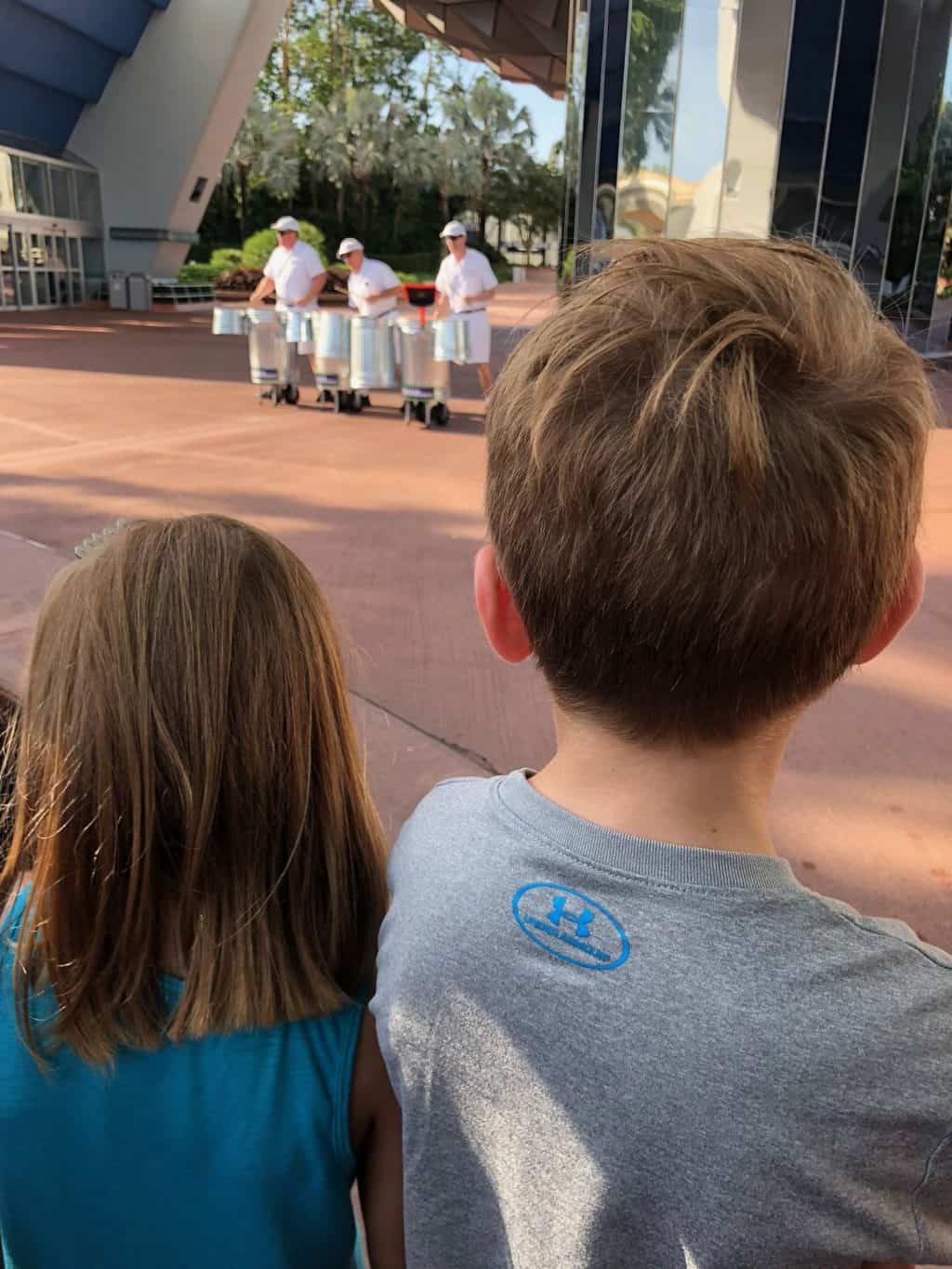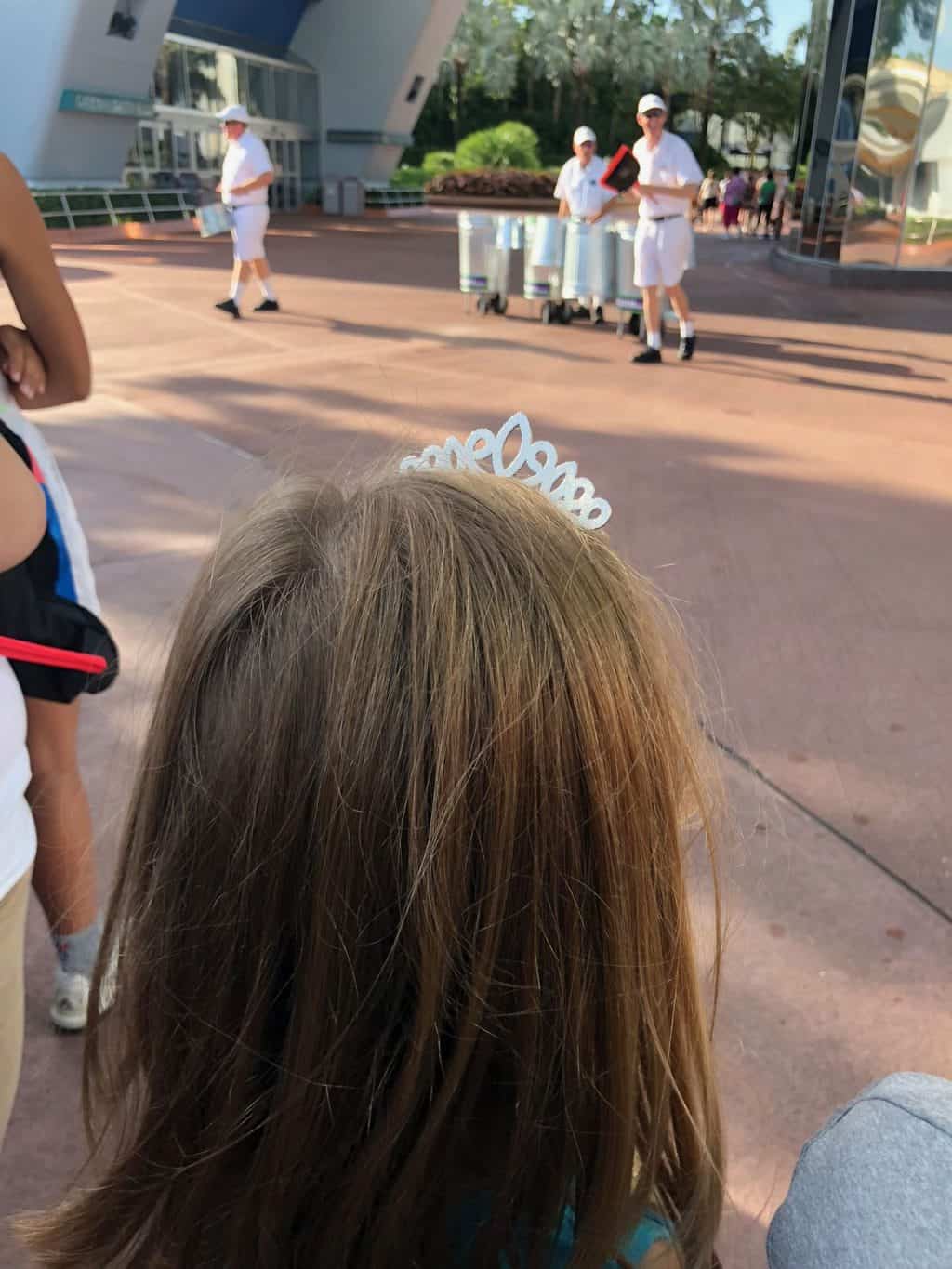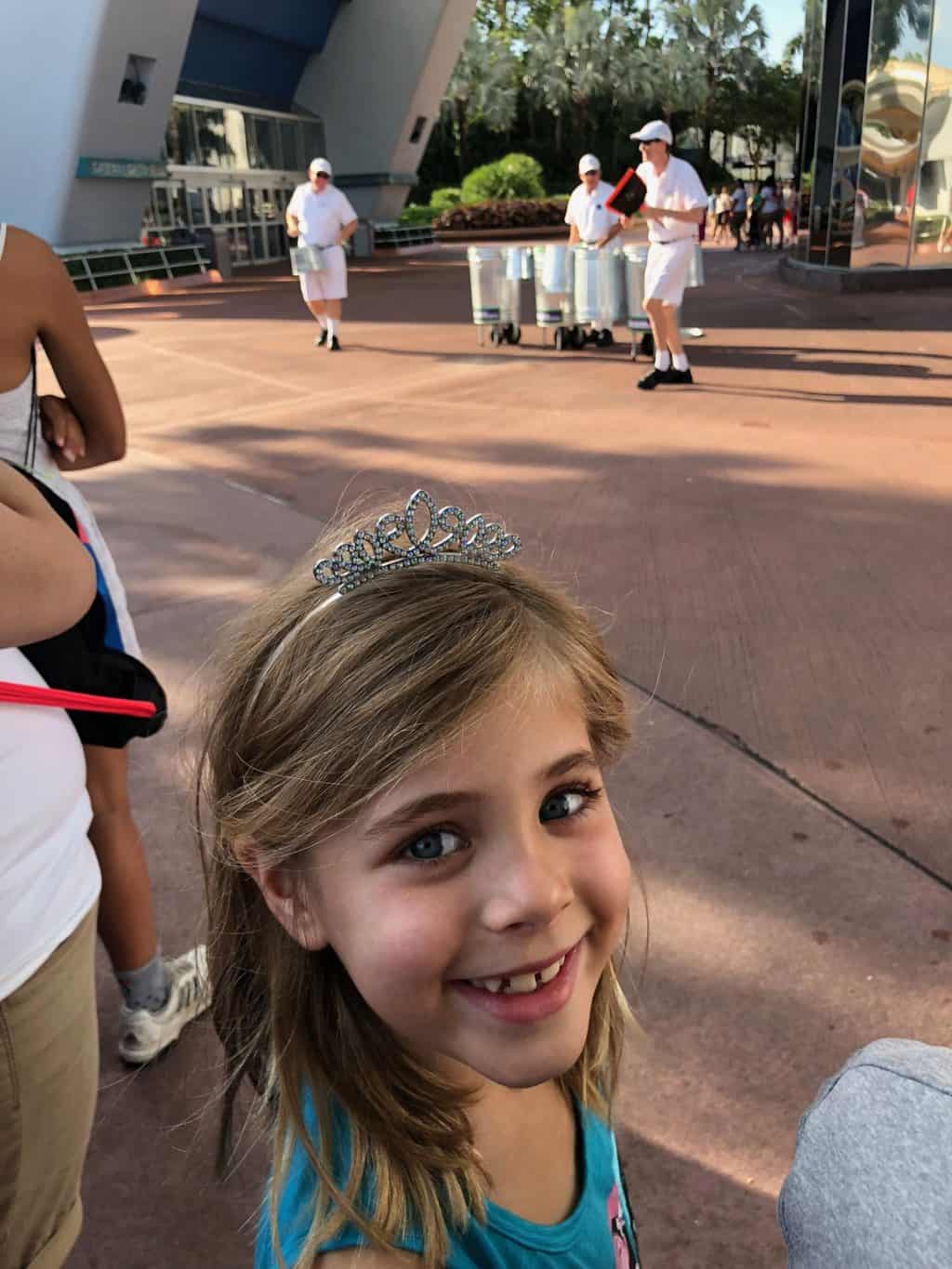 We hustled our way right onto Soarin' with no wait!
A big tip for Soarin': Request first row AND try to be in the center if possible. It's the best viewing and, for someone who gets motion sickness, the least likely area to cause me to get queasy!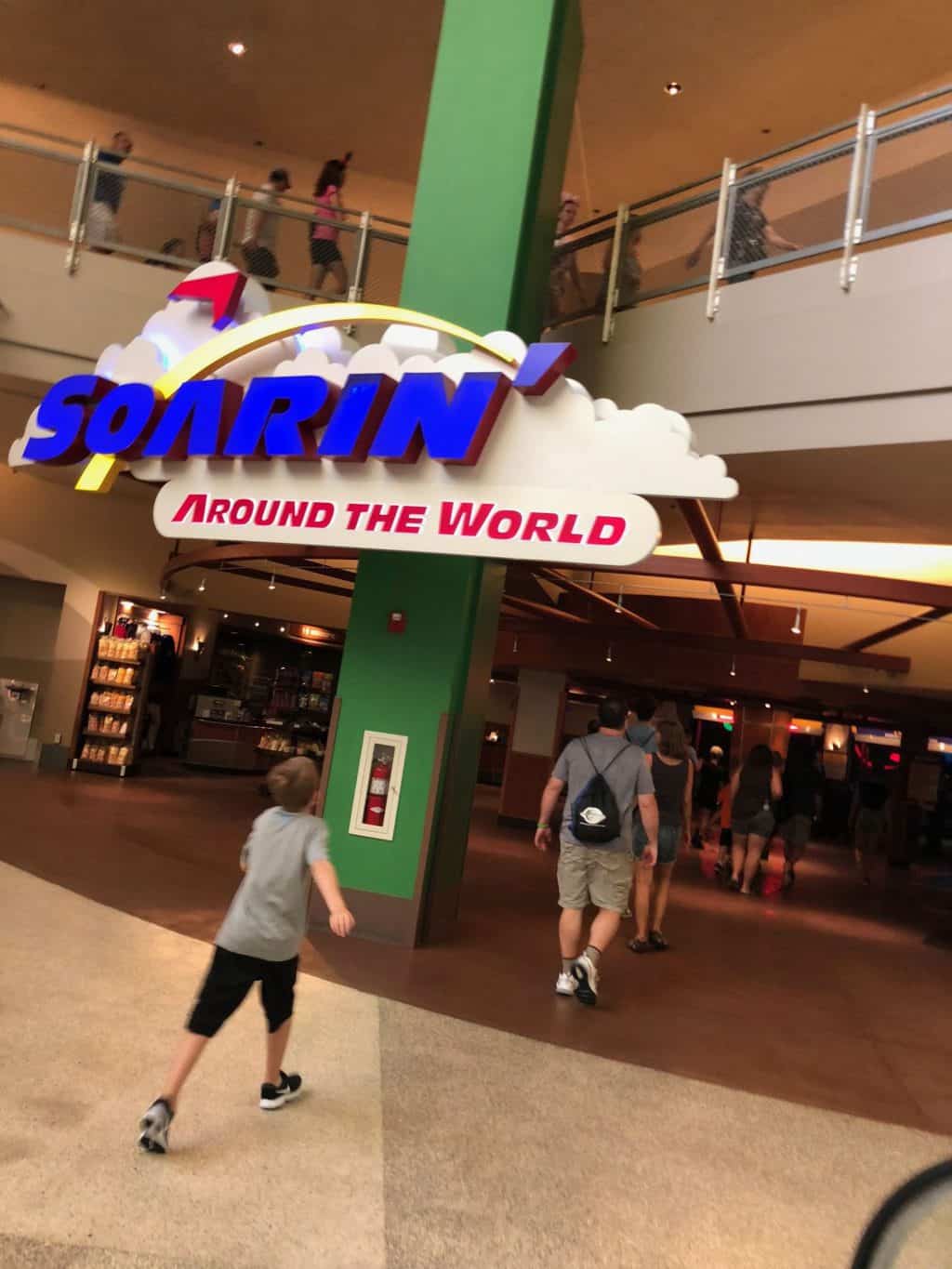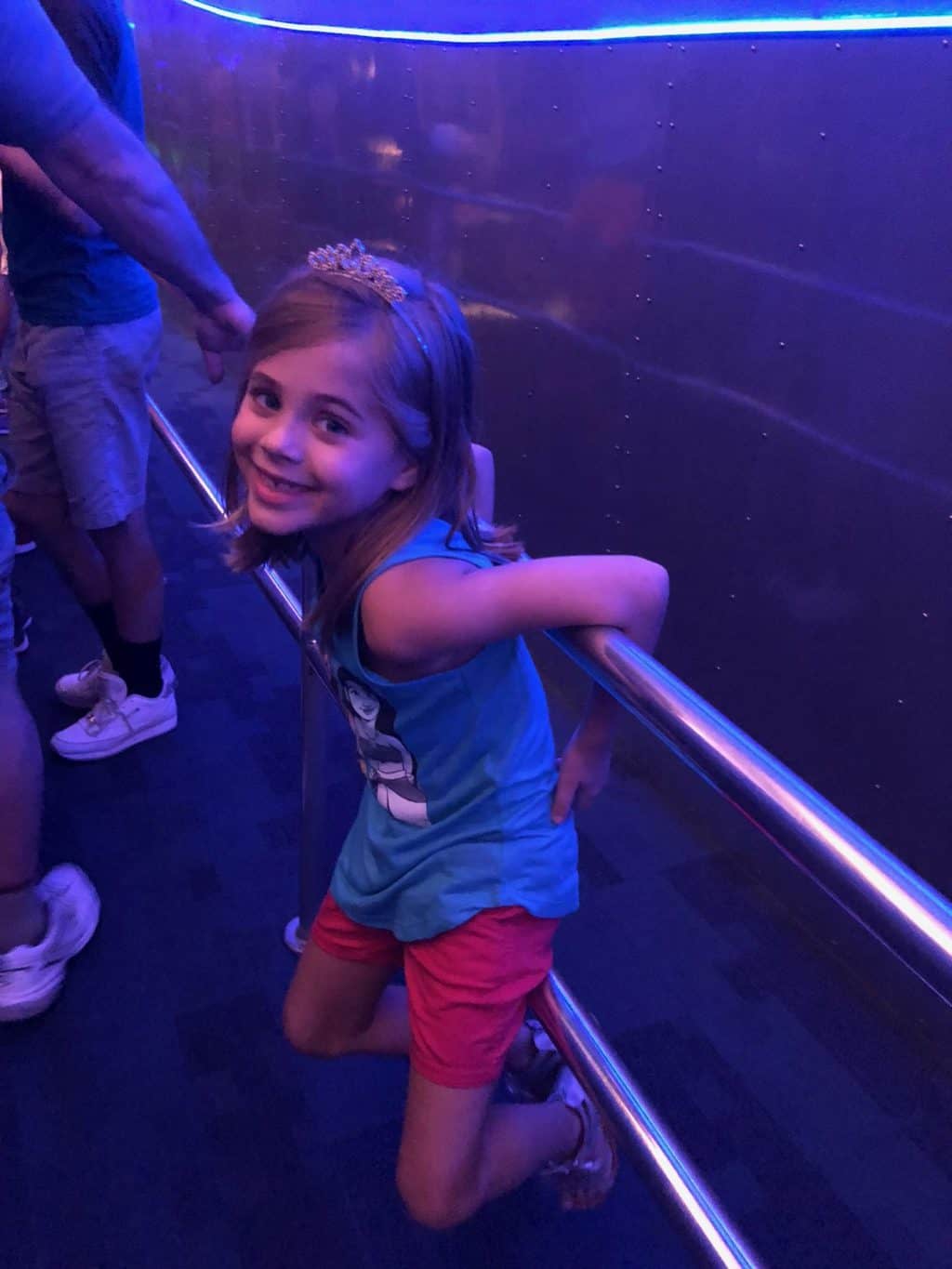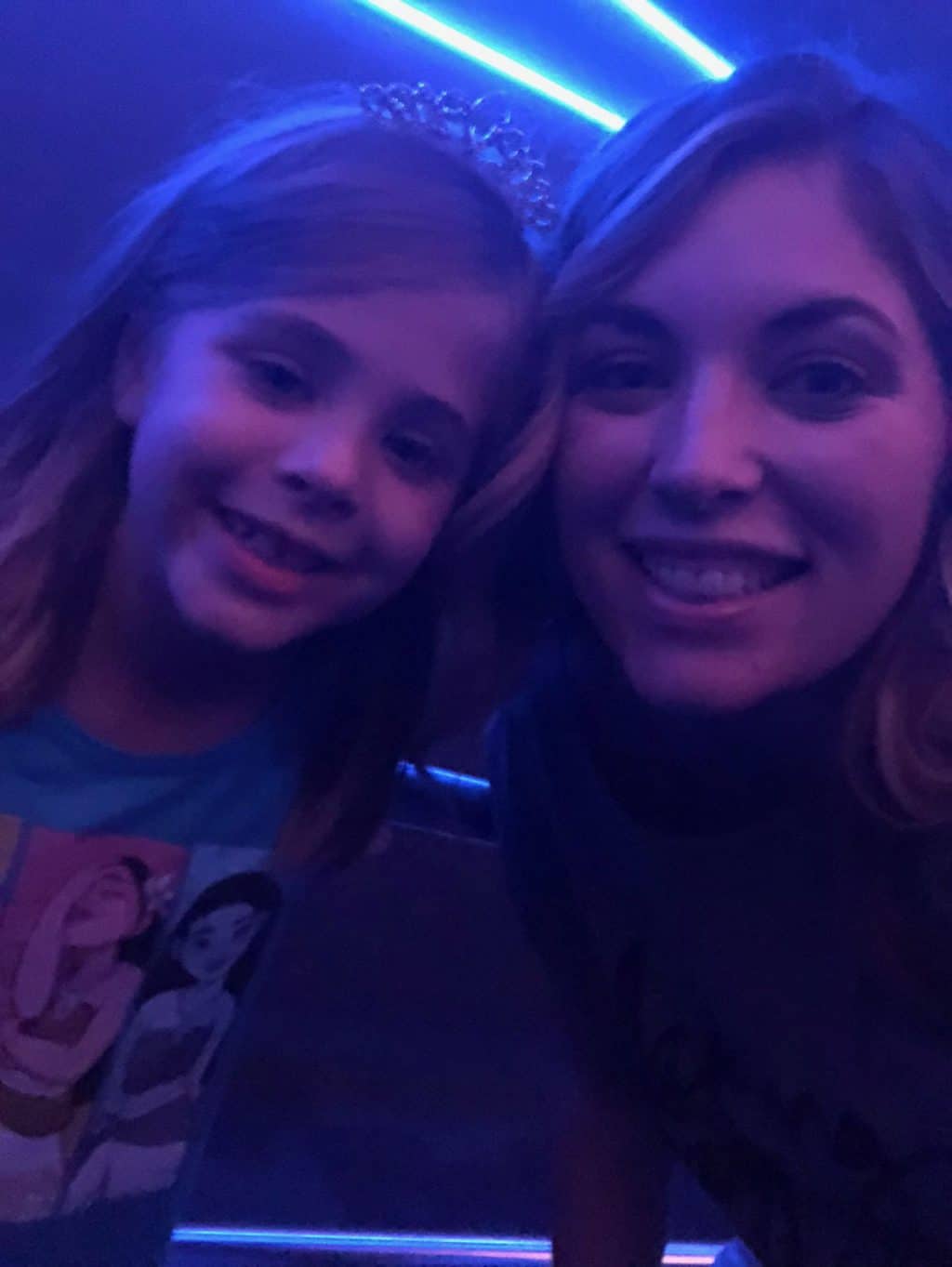 So excited for her first time!!!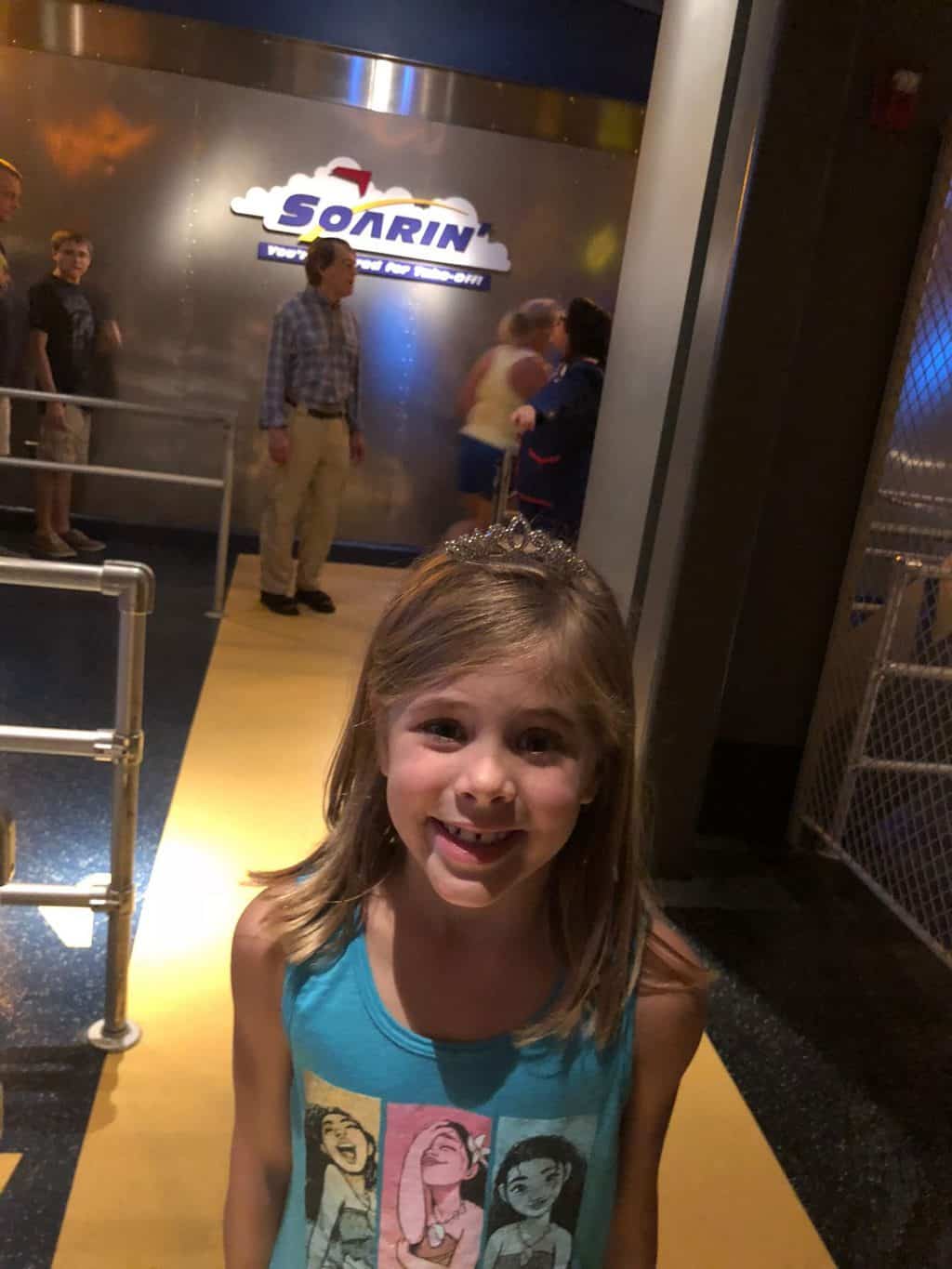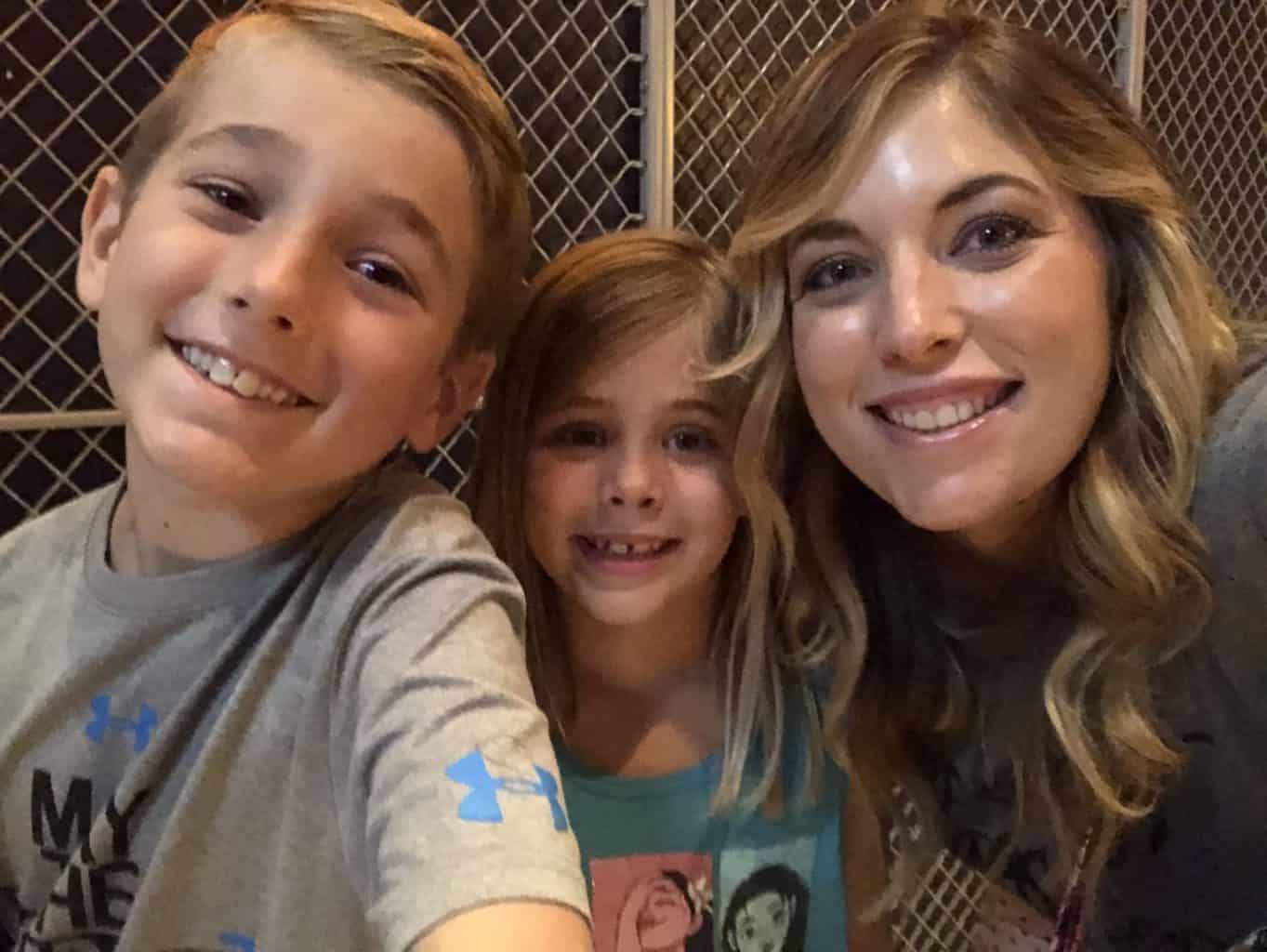 We rode it once and then were SHOCKED at the wait times. End of July is a GREAT time to go to Disney because it was DEAD. Everything was walk on…even FROZEN which typically by 30 min after opening has a solid 45 min or more wait!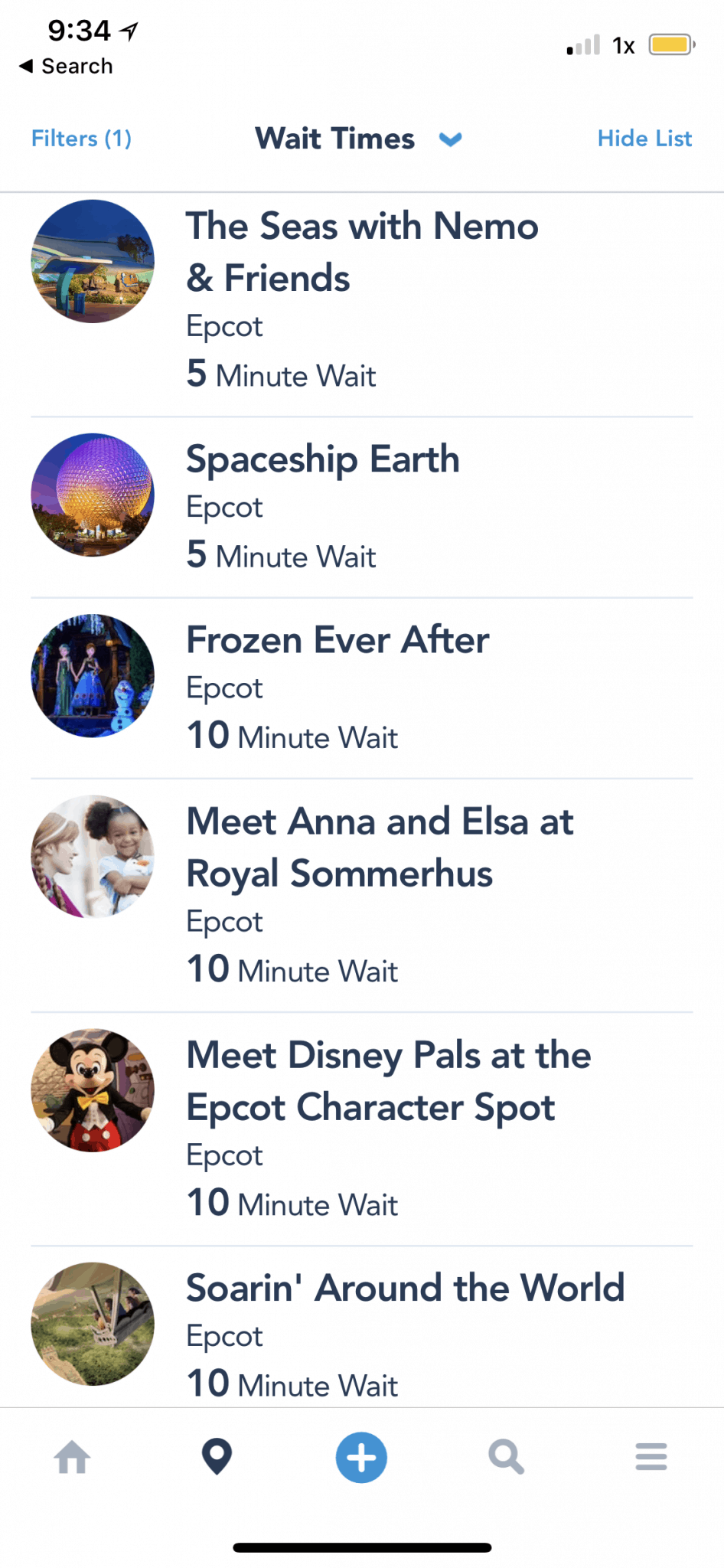 We debated what to do and decided to just hop on Soarin' again! By the time we walked to anything else it'd probably be a longer wait. We were right there…so we hit up the potty and then hopped on!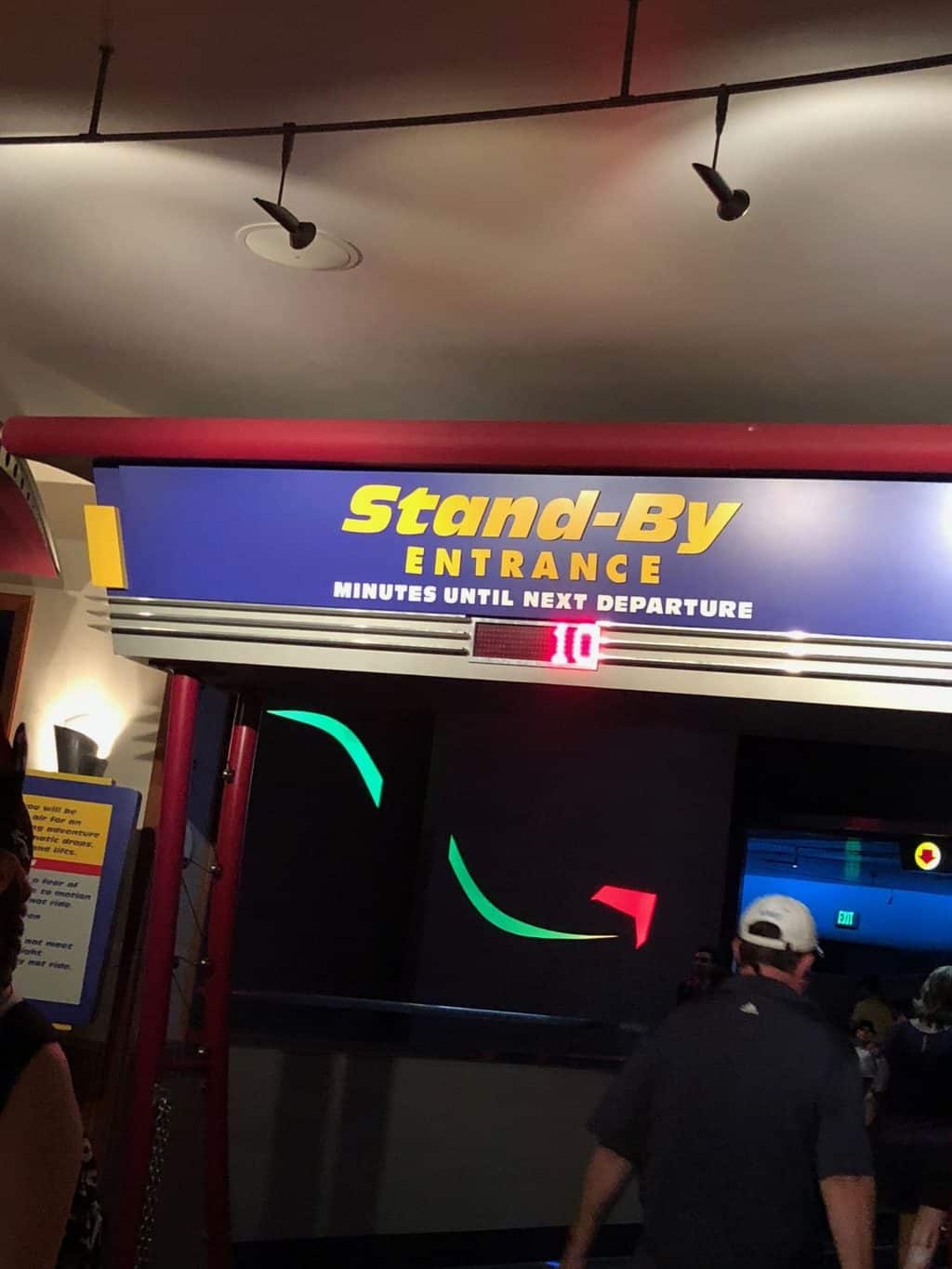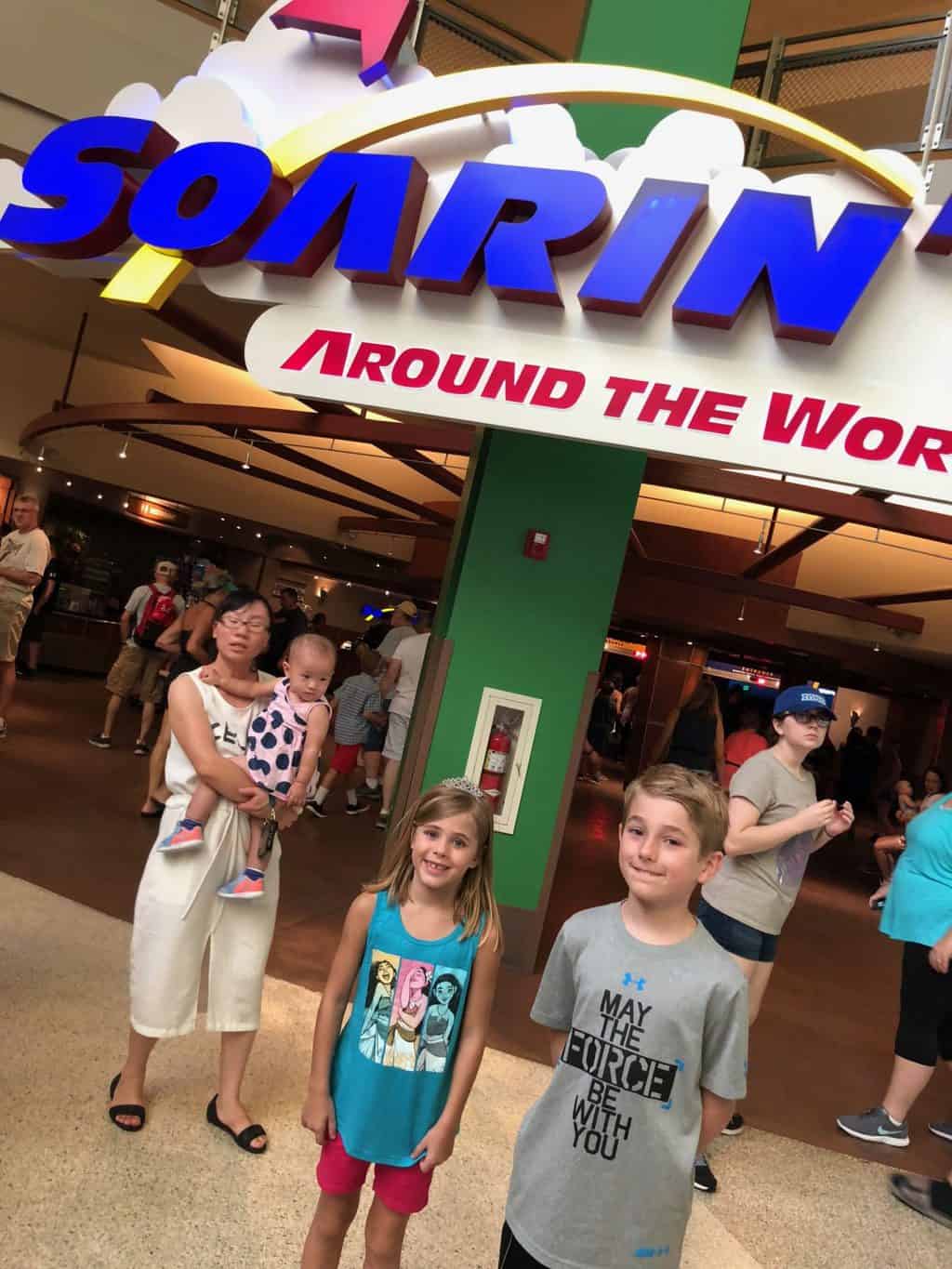 On our second round we still got the front but weren't in the center and it made me uneasy and just not feel settled when we got off. The wait was STILL only 10 minutes but I just couldn't go another round. I was soared out 😉
We like to let the kids get a pin on each Disney trip (or at least all the significant ones). We had SUCH a fun time on Soarin' that it made the perfect pin for the kids to get for that visit!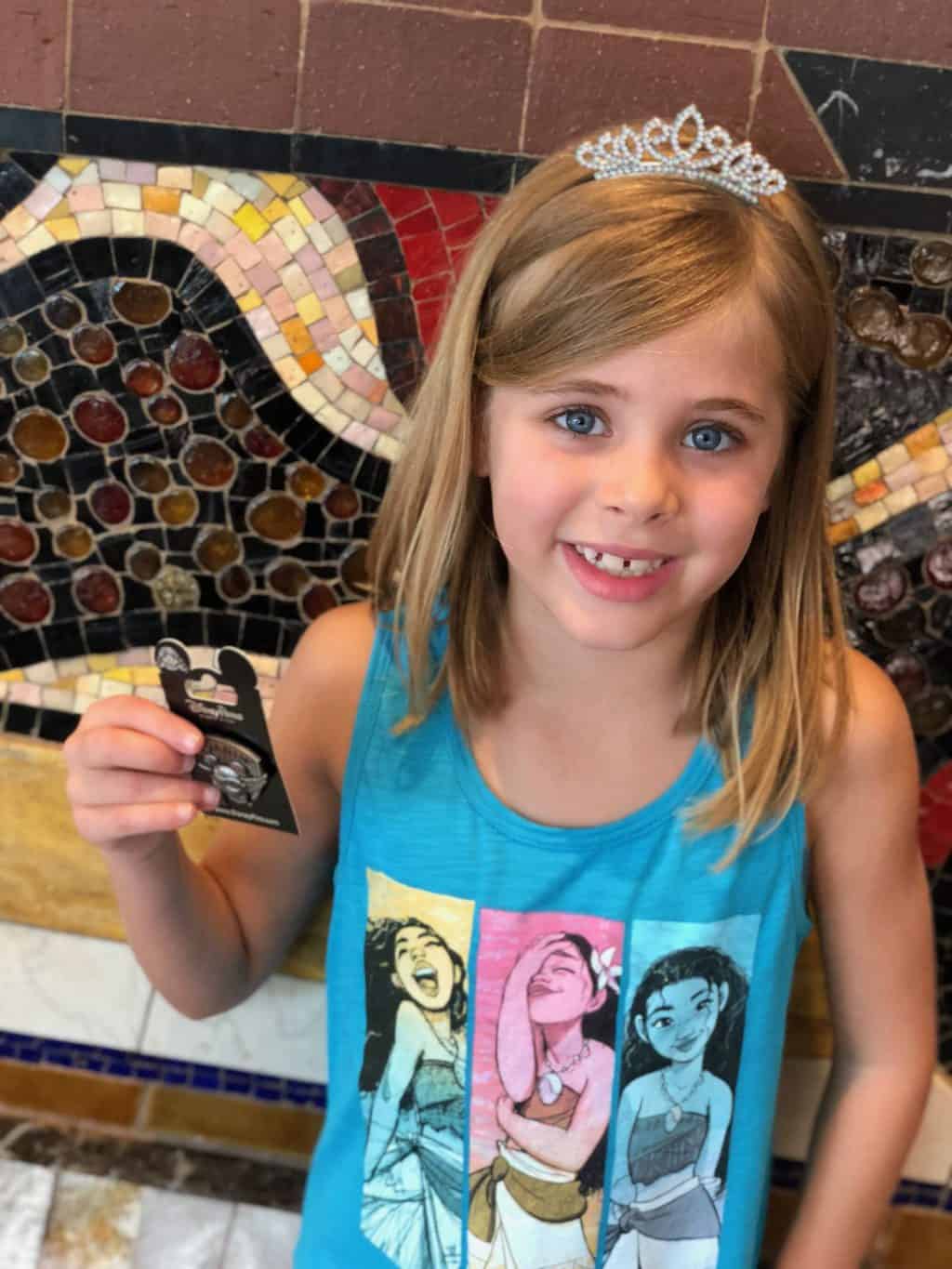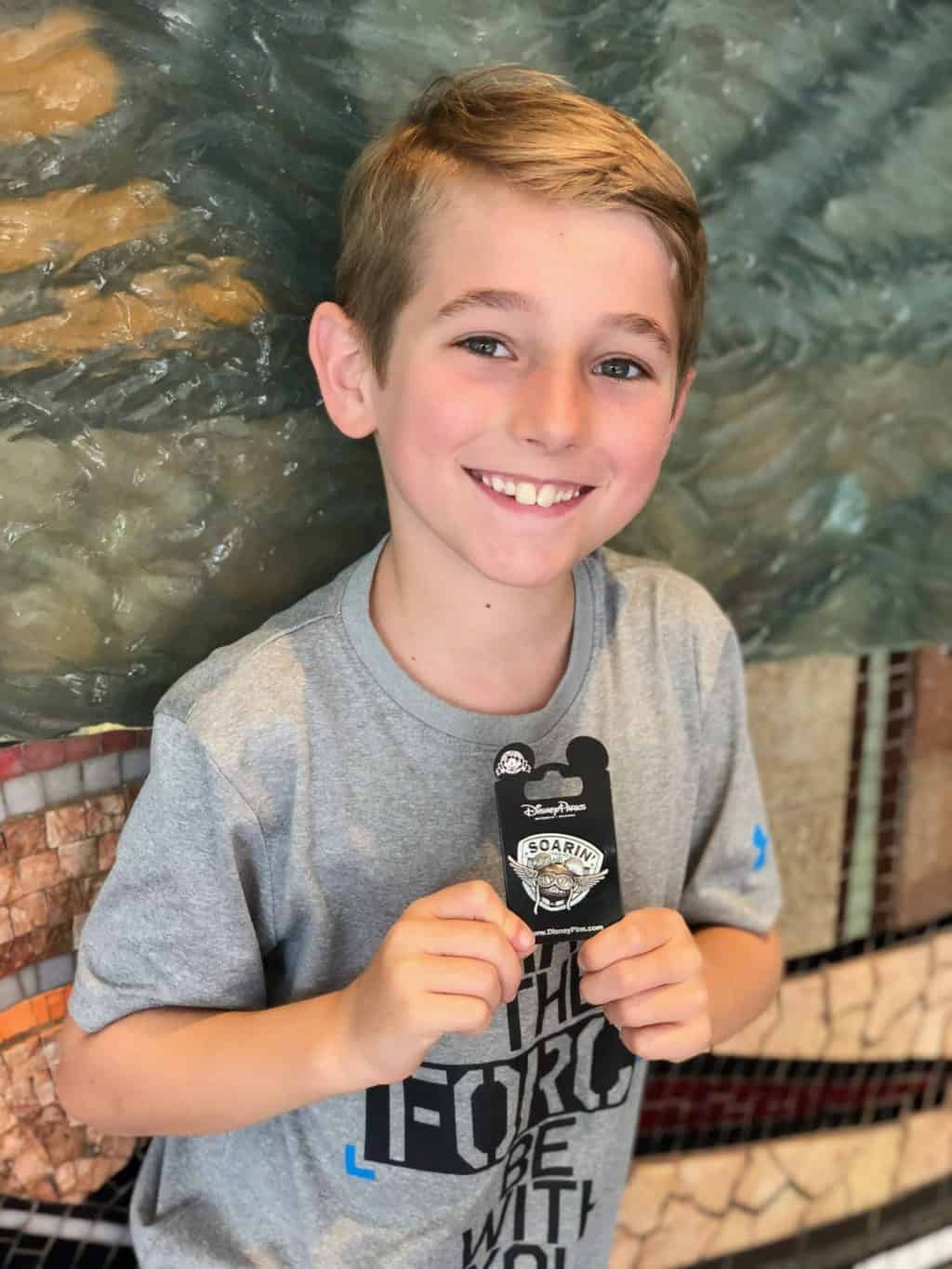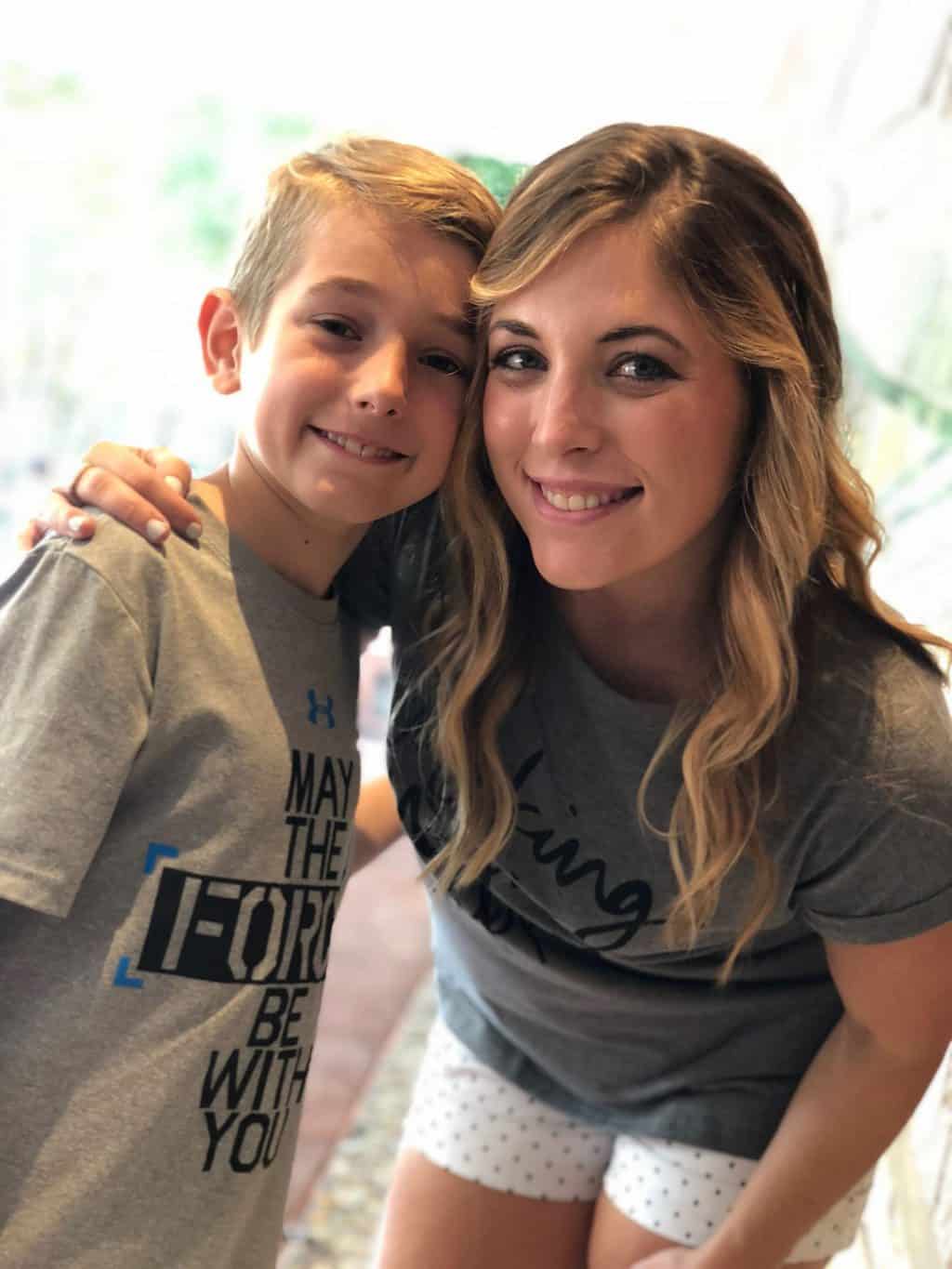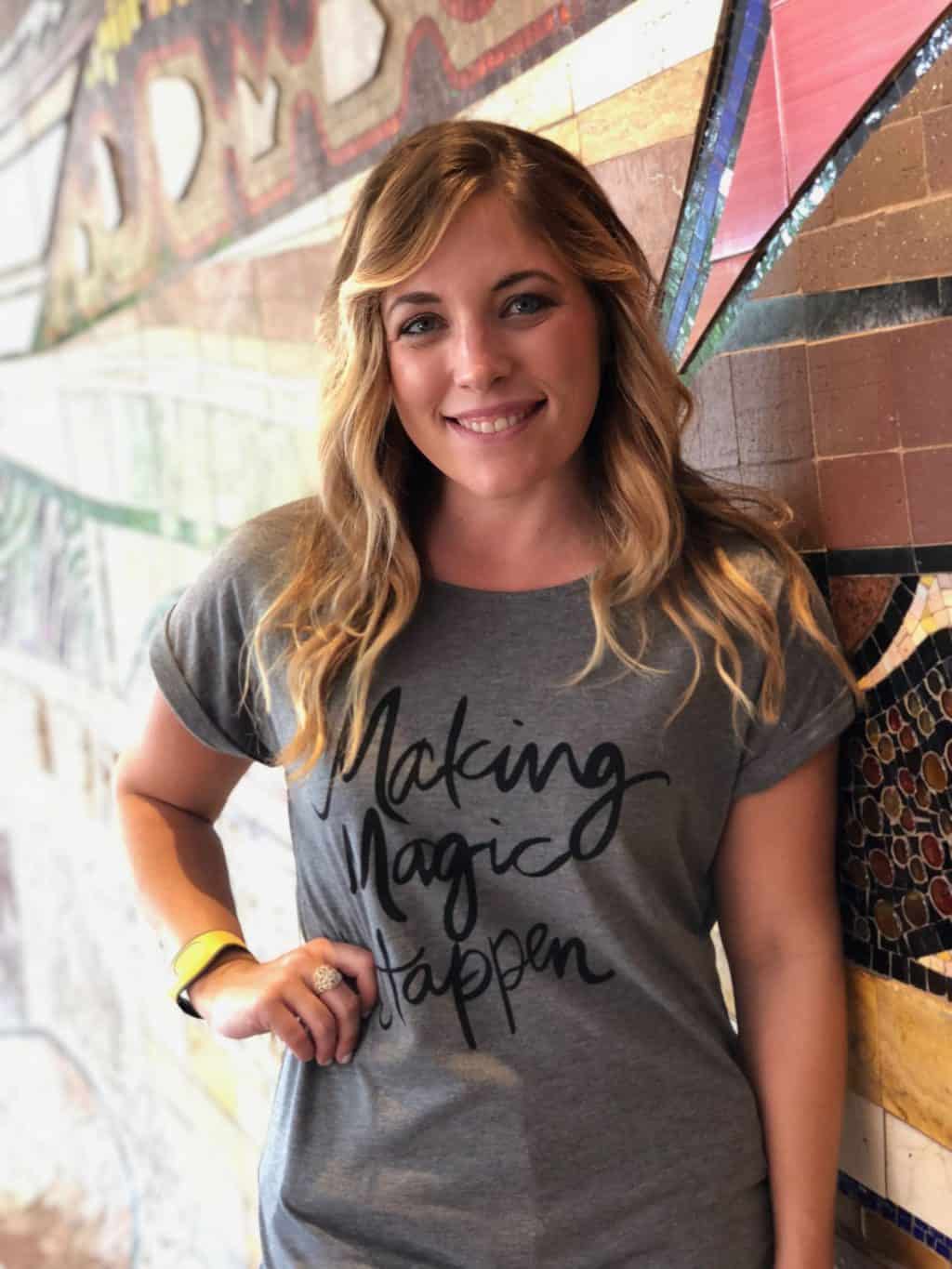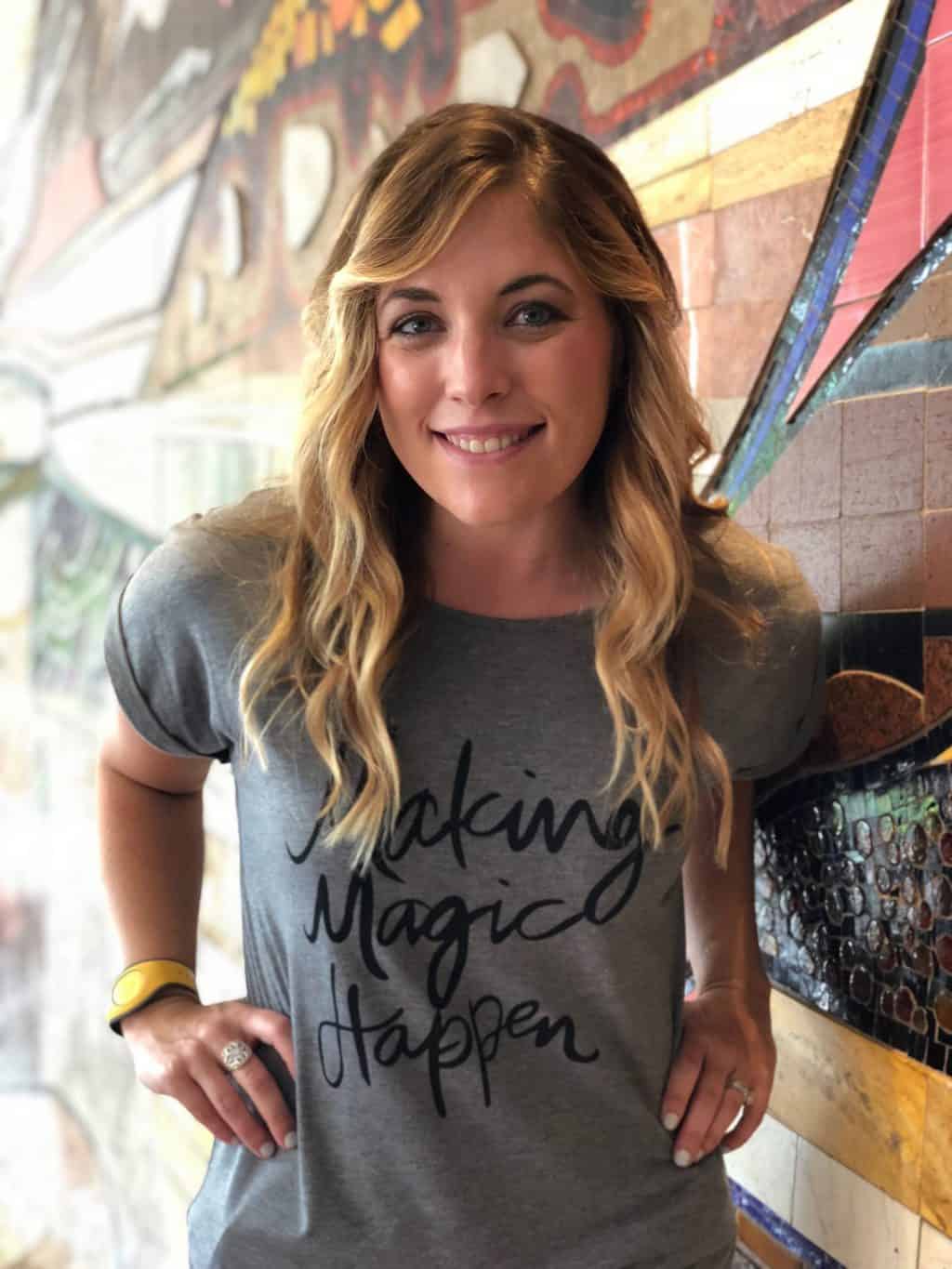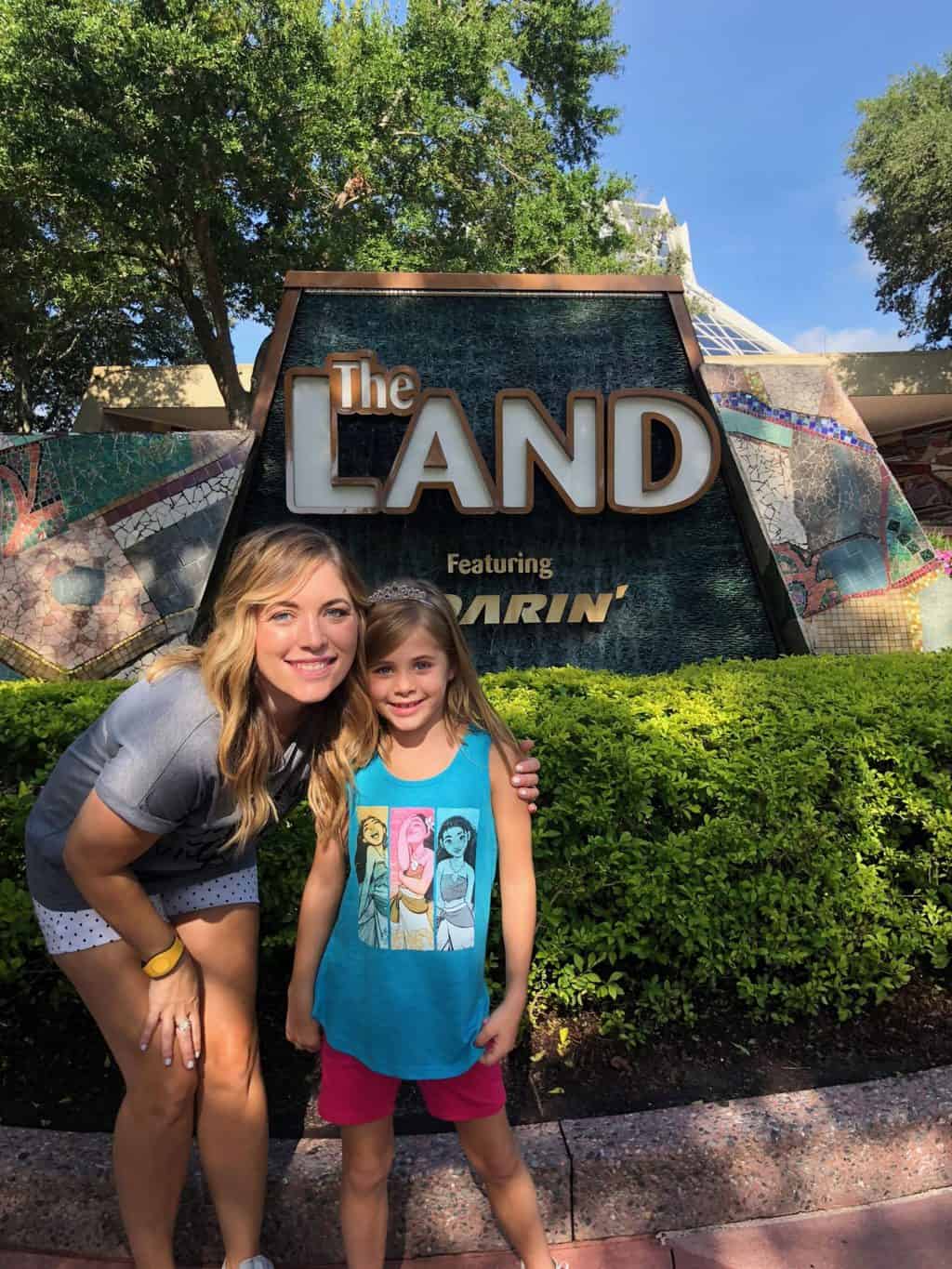 We needed to head out of the park by 10:30 so I would be able to get ready to meet Zach to take Tess on our afternoon at the park. We decided it was the PERFECT chancer to try out a special Epcot snack. Disney is known for their AWESOME snacks and I'm always down to get to try new things and have new experiences at the parks. We left The Land and sought out a cast member to ask for the best spot to go.
Well. They said that at that time in the morning that not a whole lot was open but that the most popular snacks at Epcot actually happened to be…back in The Land at Seasons!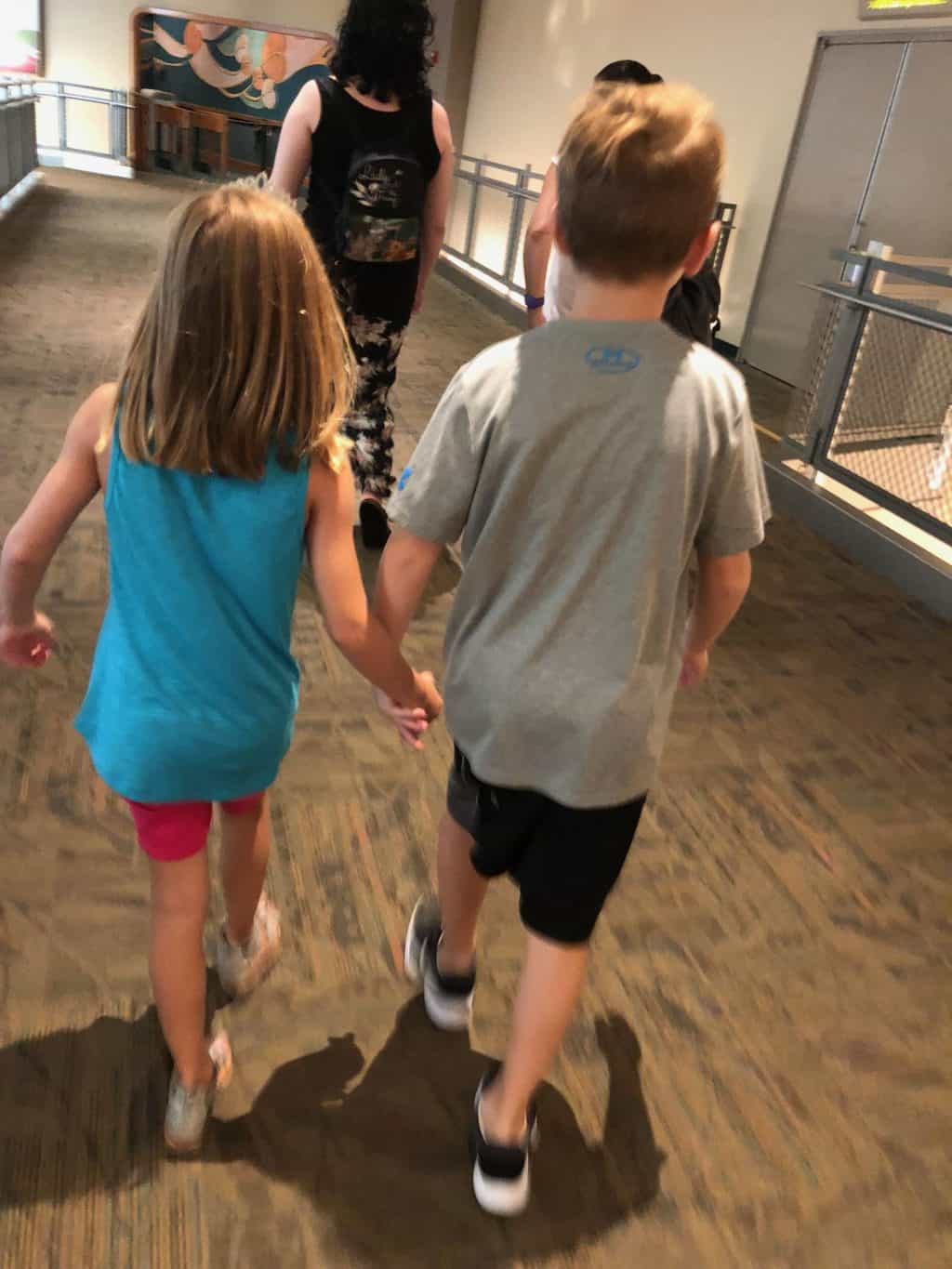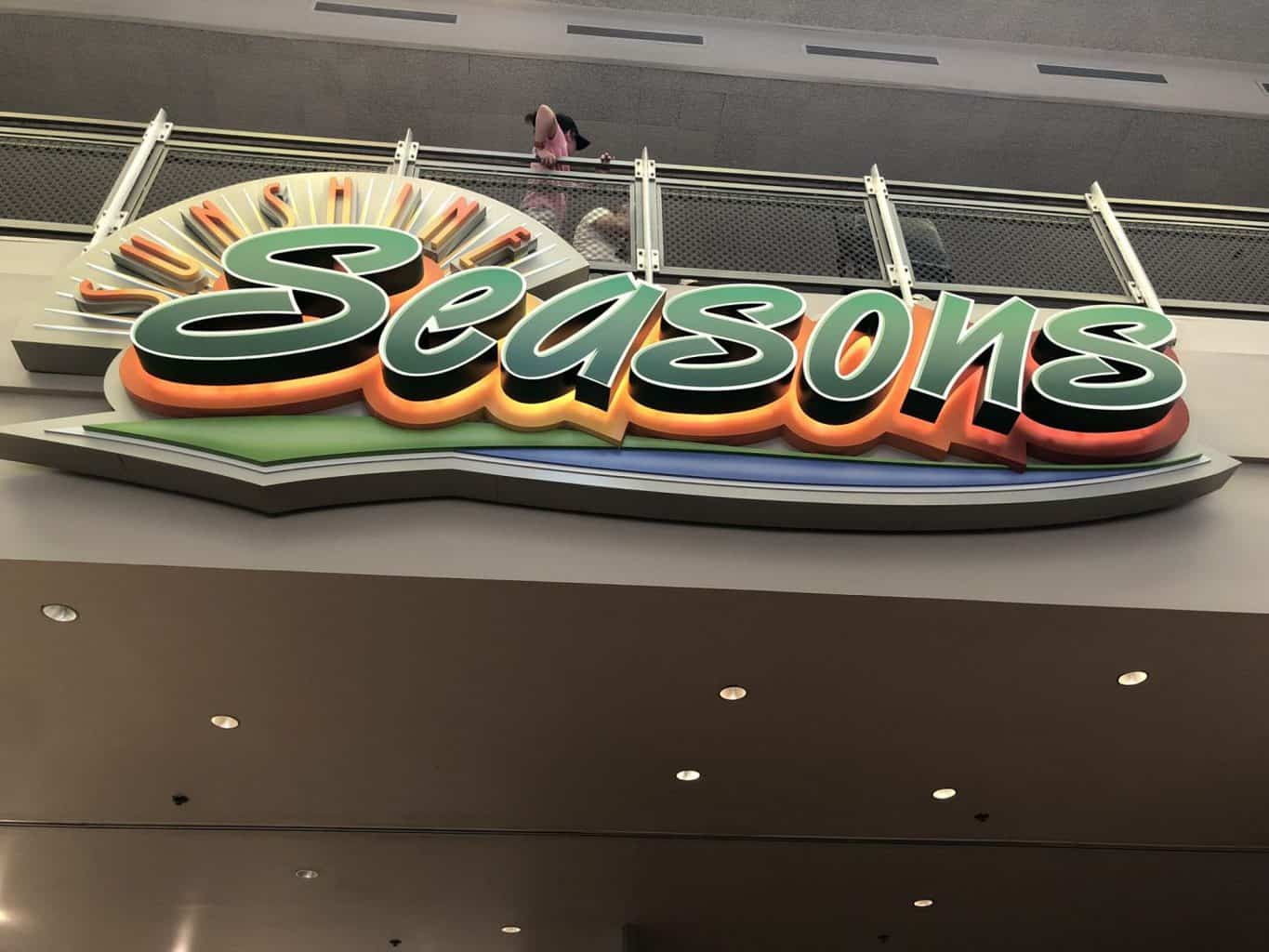 We each picked a treat and shared them all. I got a coffee as well and OMG yall it was SO GROSS. I did everything I could to doctor it up but it was awful. I'm used to super sweet stuff and this just wasn't sweet at all and no amount of sugar could change it haha.
Our favorite snack of the ones we purchased was the red velvet whoopee pie! Britt's cheesecake was also super good. Kye's lemonade was a bit too strong (kinda like my coffee ha!) so we added water to it and he liked it much better! It was so nice to just SIT and RELAX!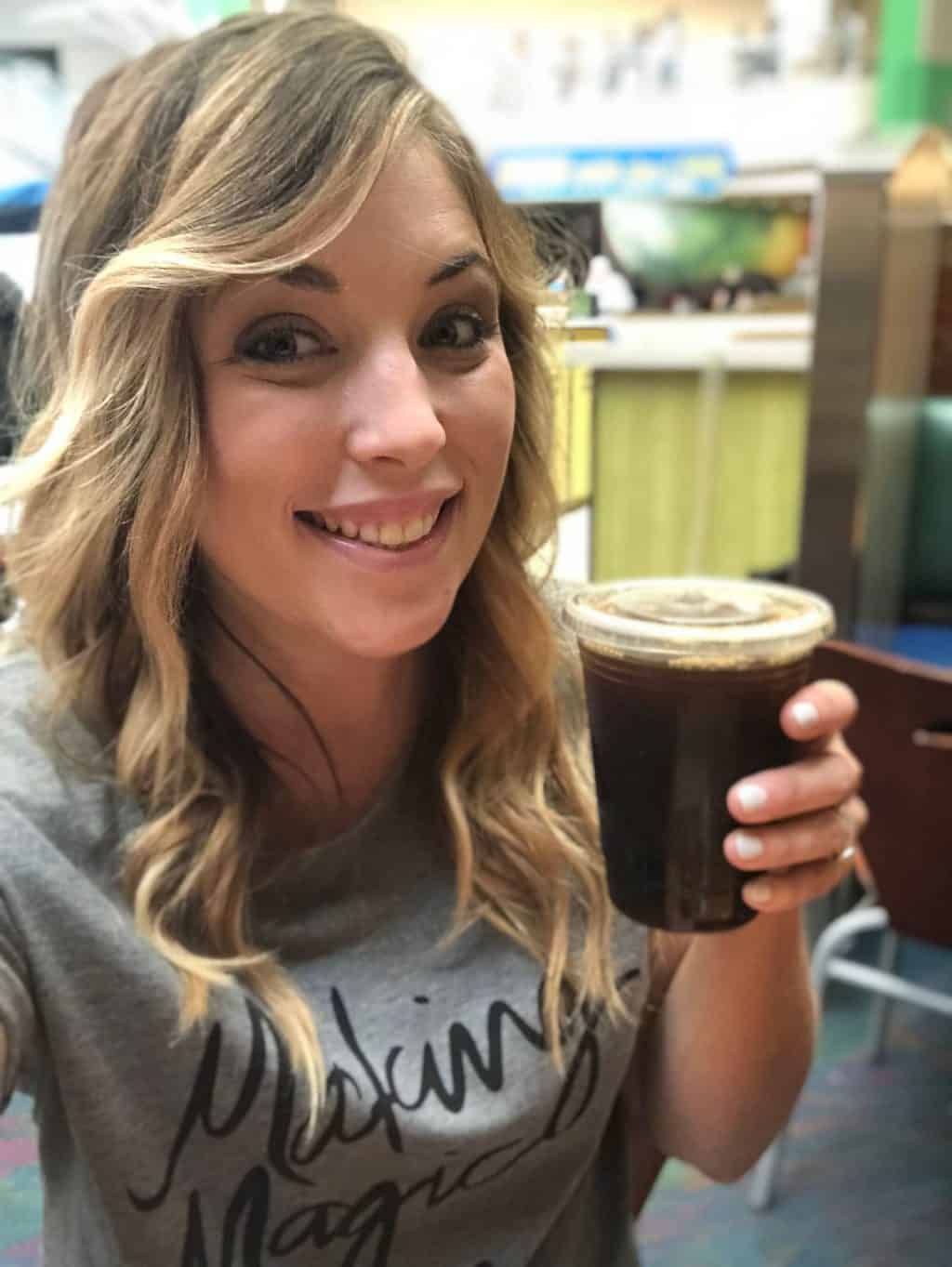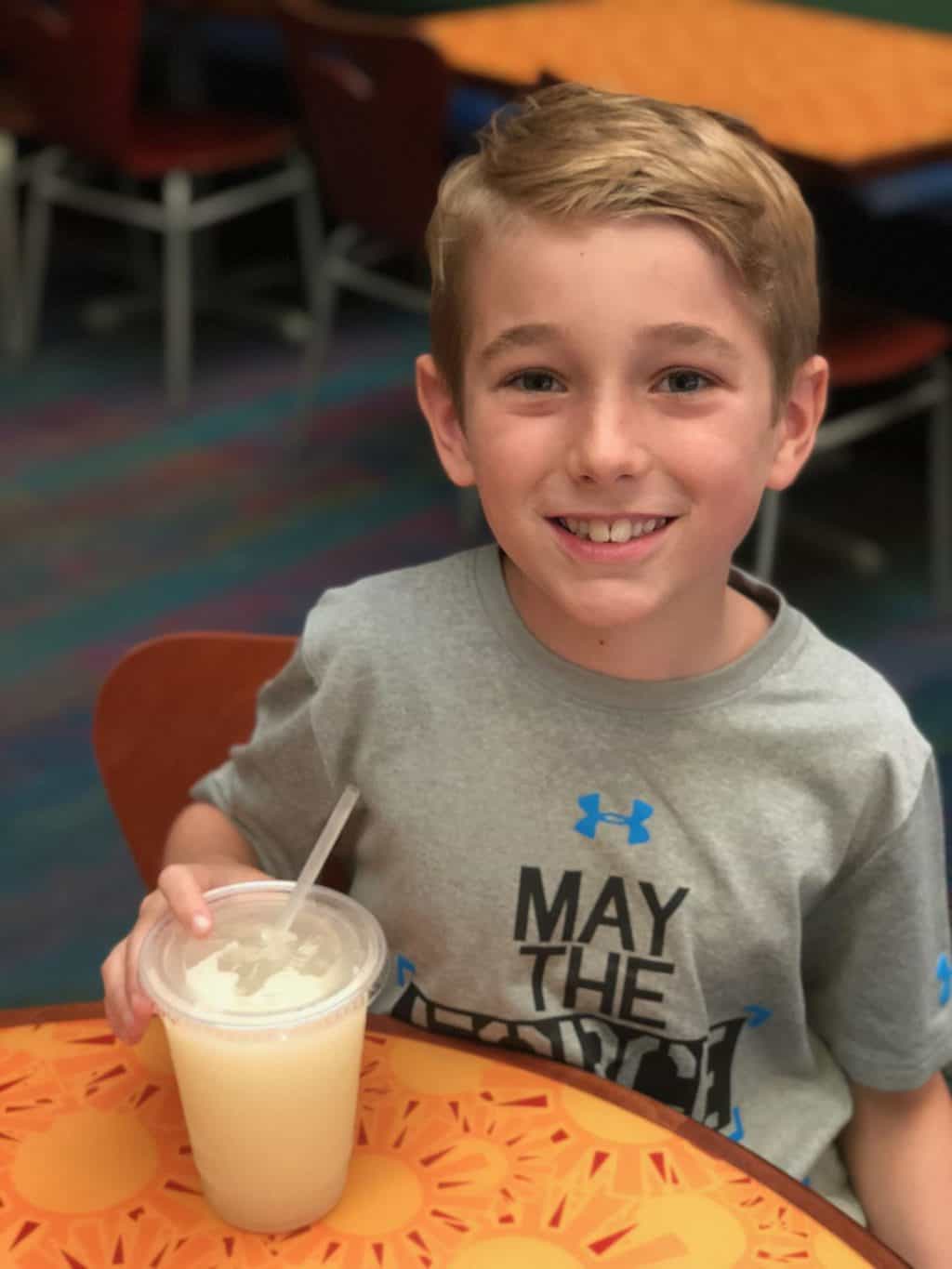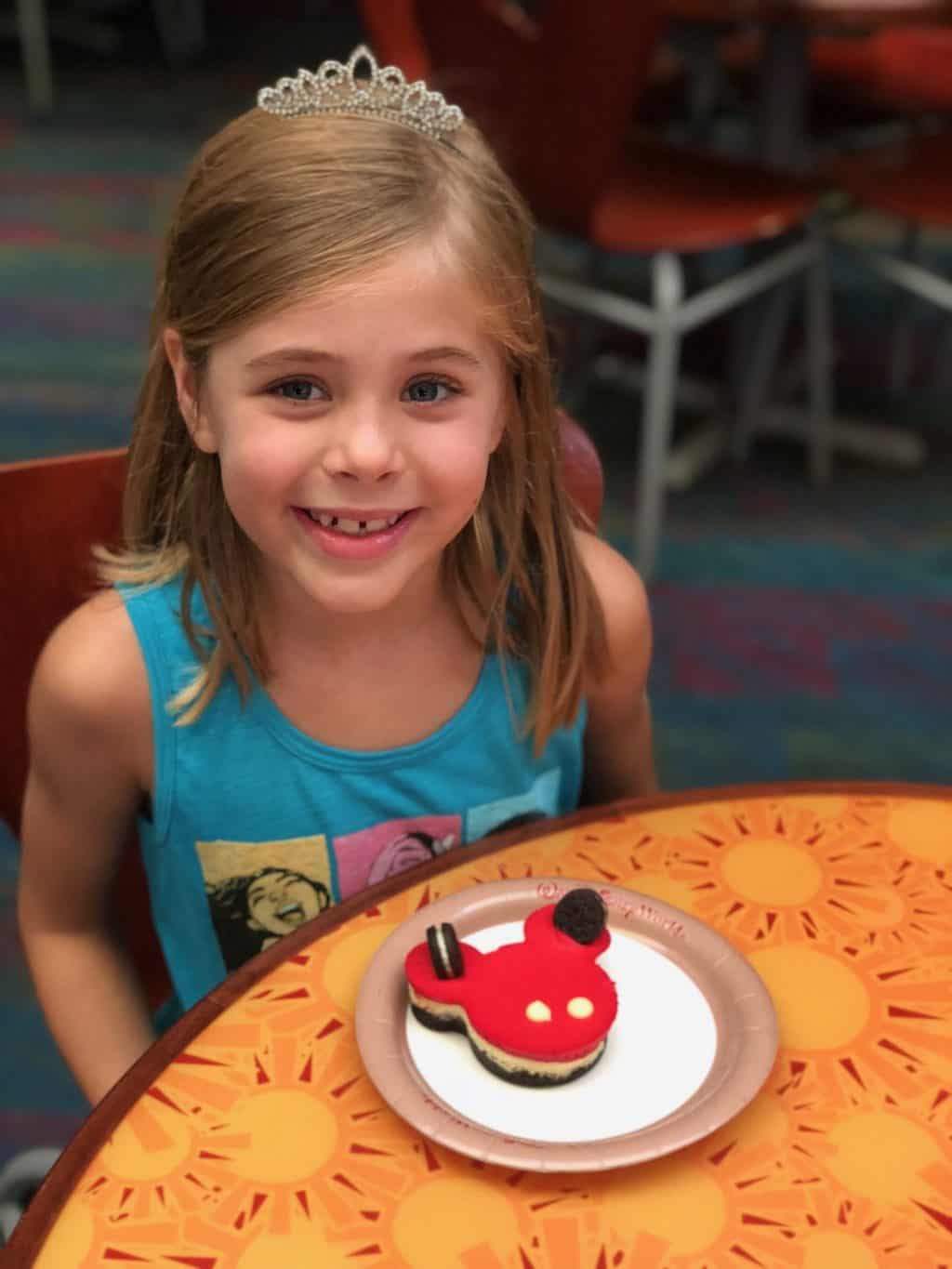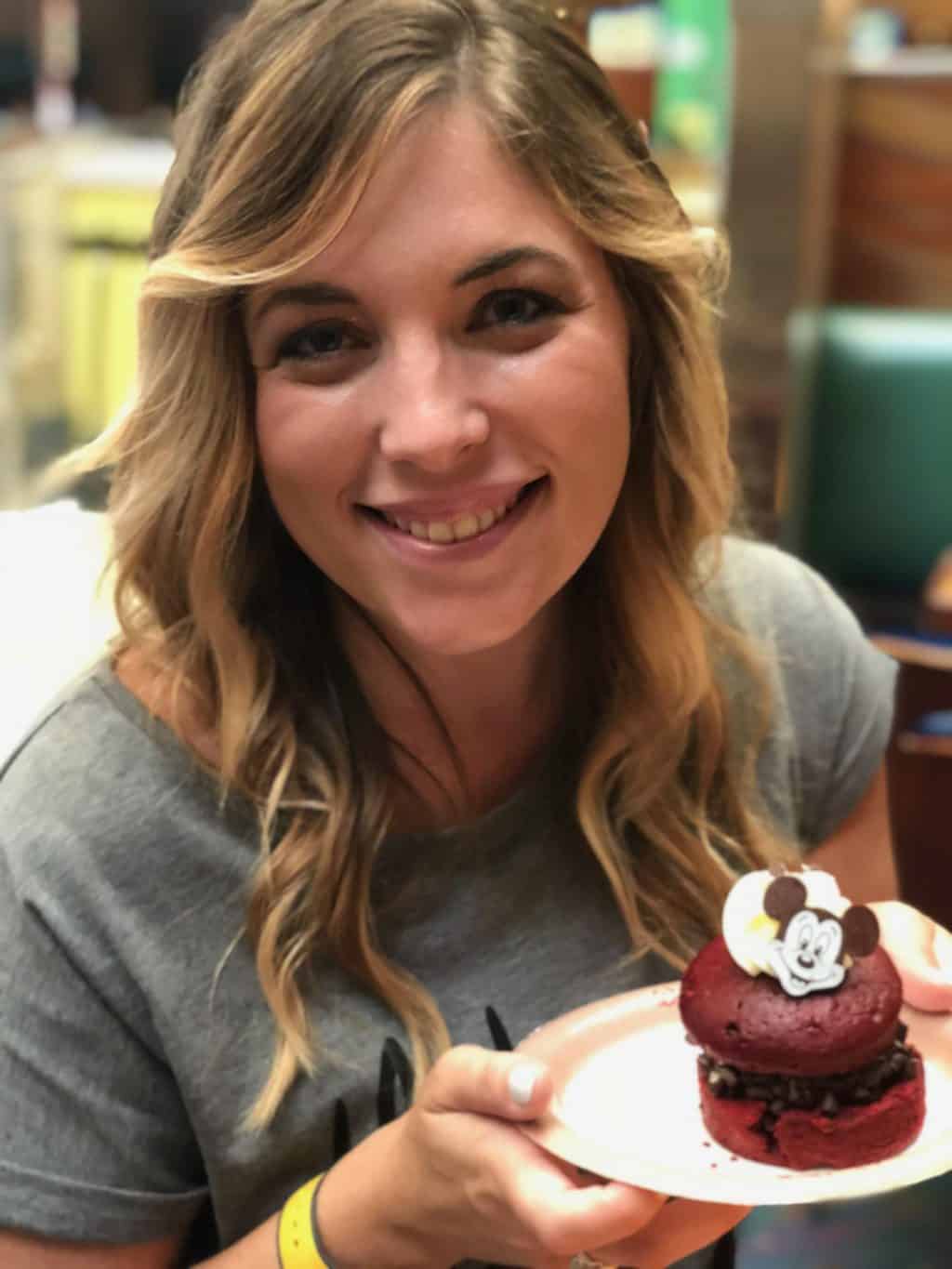 We decided to head to MouseGears on our way out so I could scoop up a couple gifts for Tess that she mentioned liking as birthday gifts for her. Yall we about DIED when on our way to the store we literally ran into the Jammitors!!!! They were SO AWESOME and took lots of pics with the kids and even gave them a special sticker! DAY MADE! Those kinda moments at Disney are my FAV and especially to get to meet them on the day we just so happened to get to see them perform!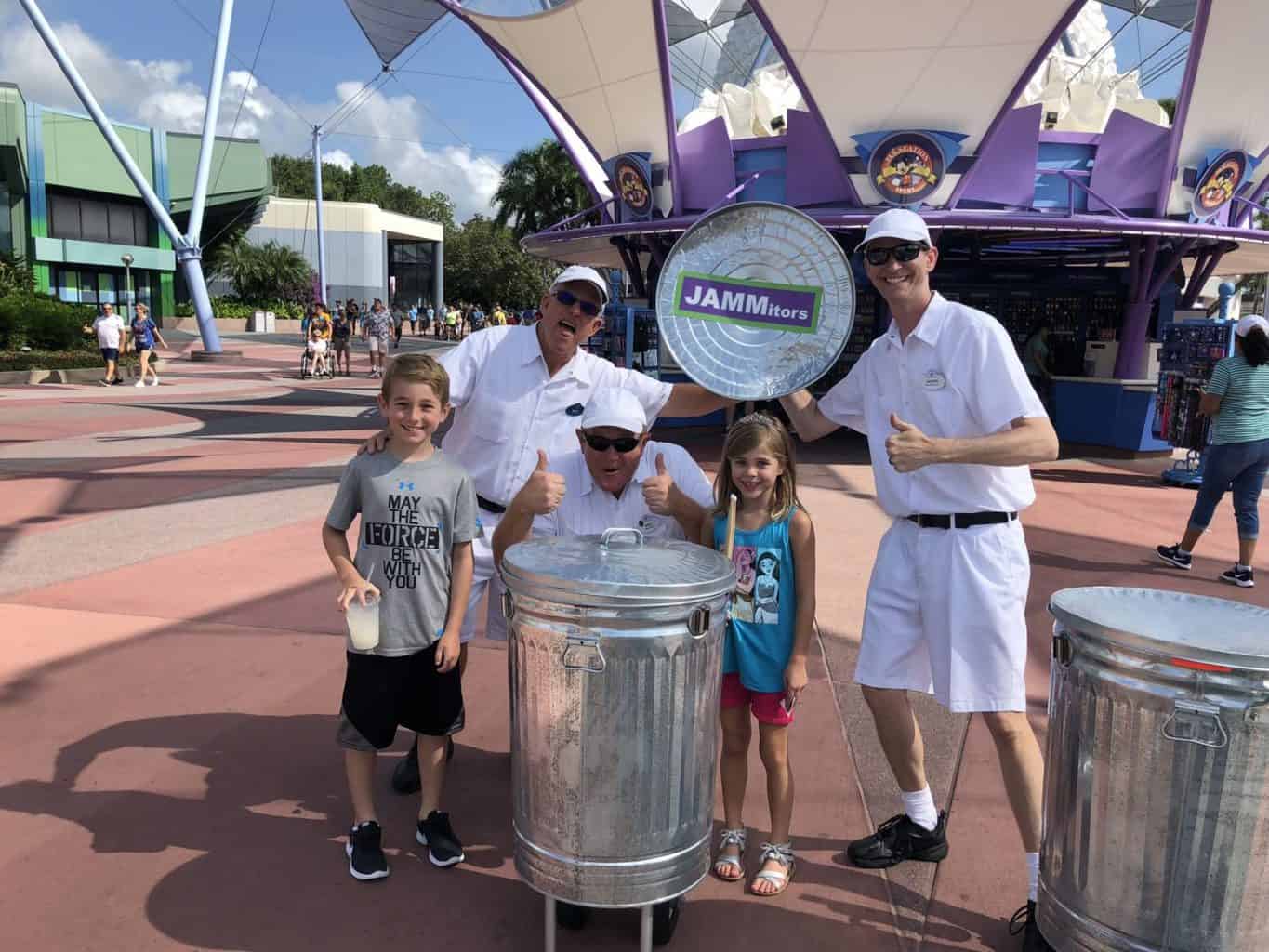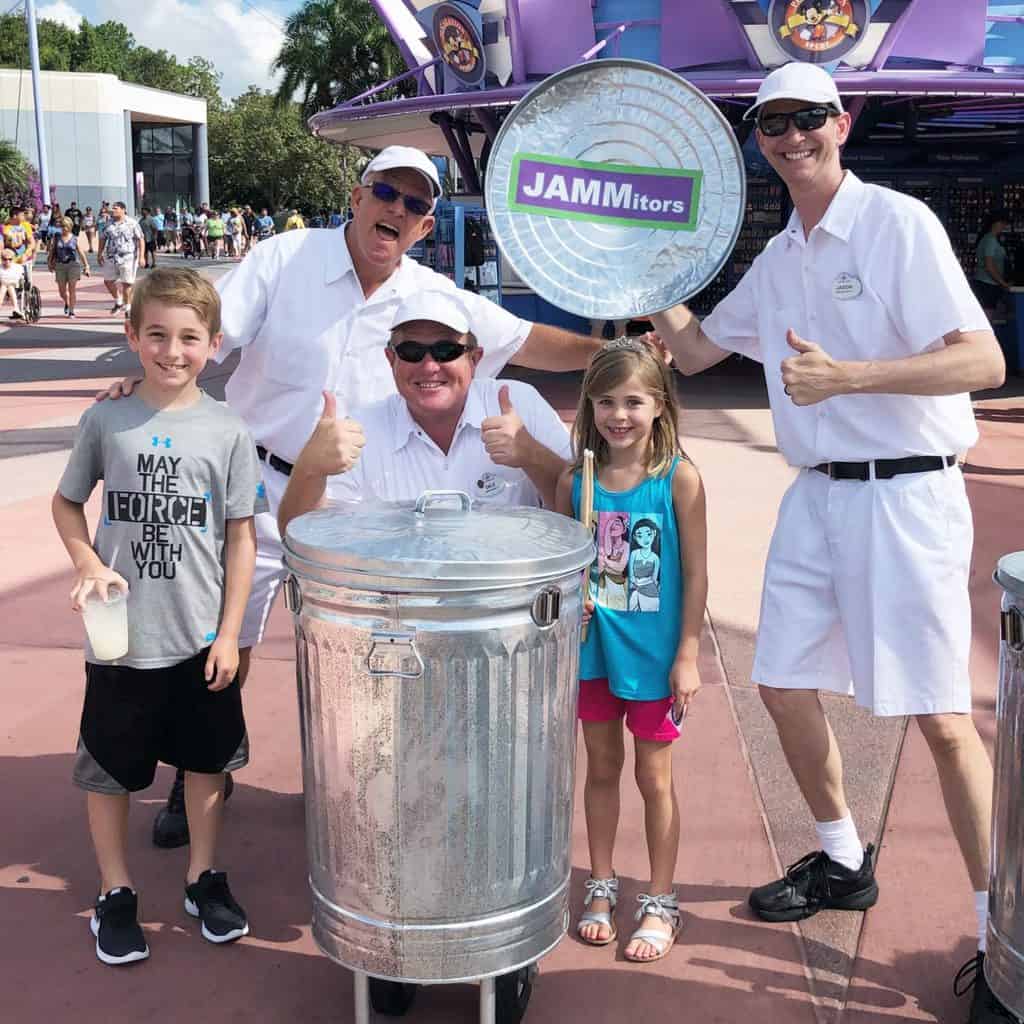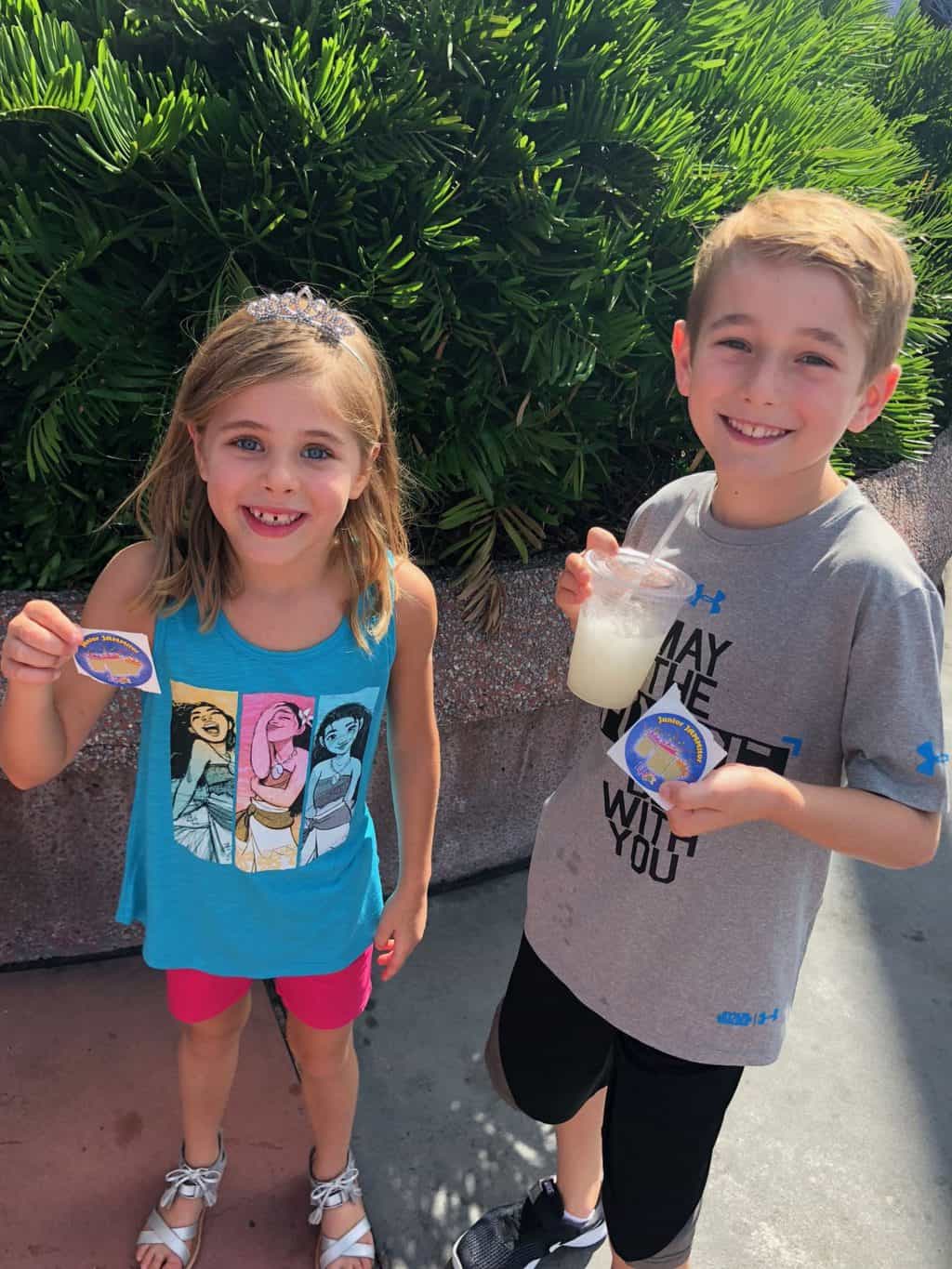 Checking out the latest merch!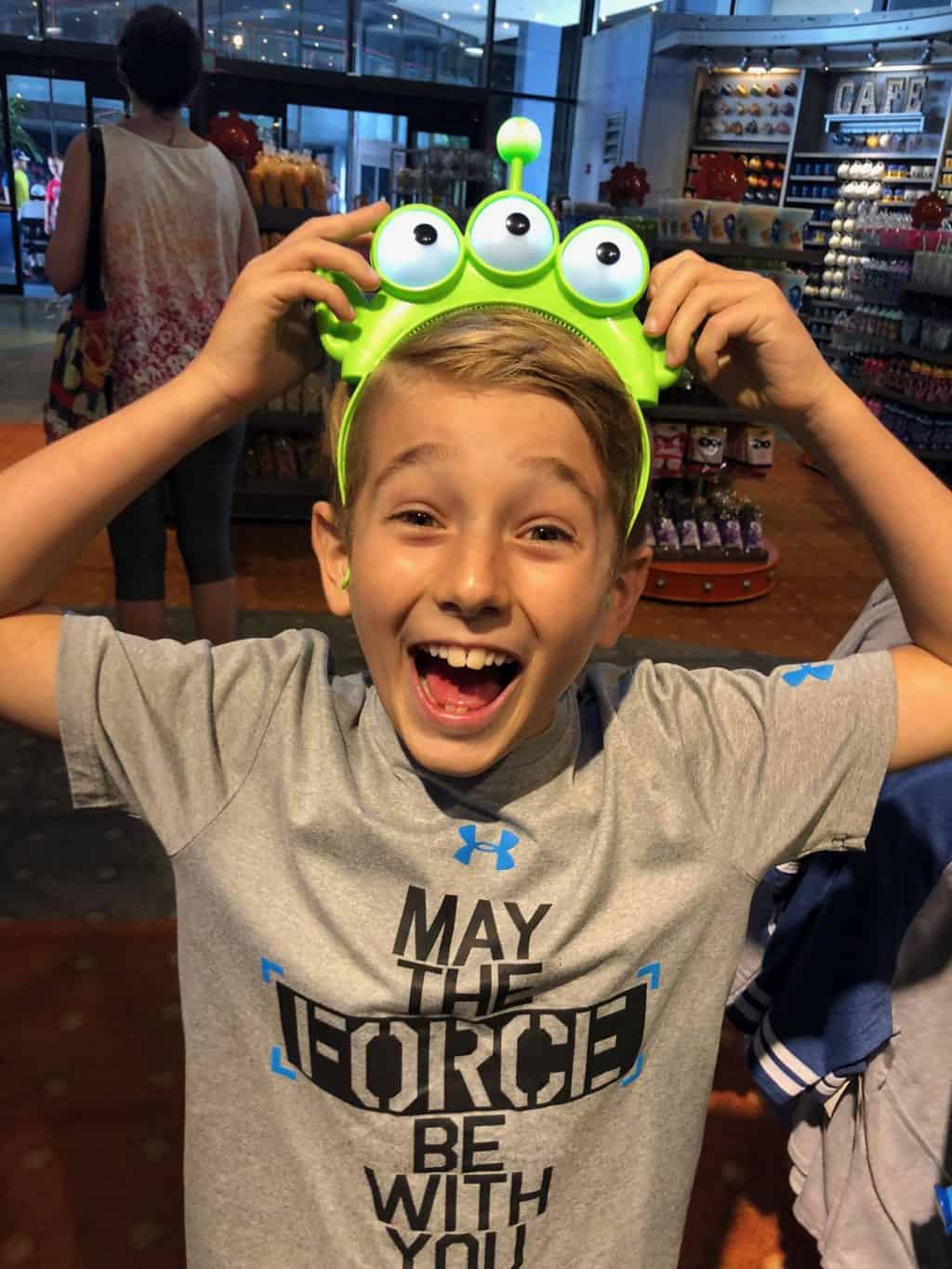 Finally the Mickey Pretzel is getting some well deserved love! Too bad the shirt was $40. Otherwise I would have scooped it right up!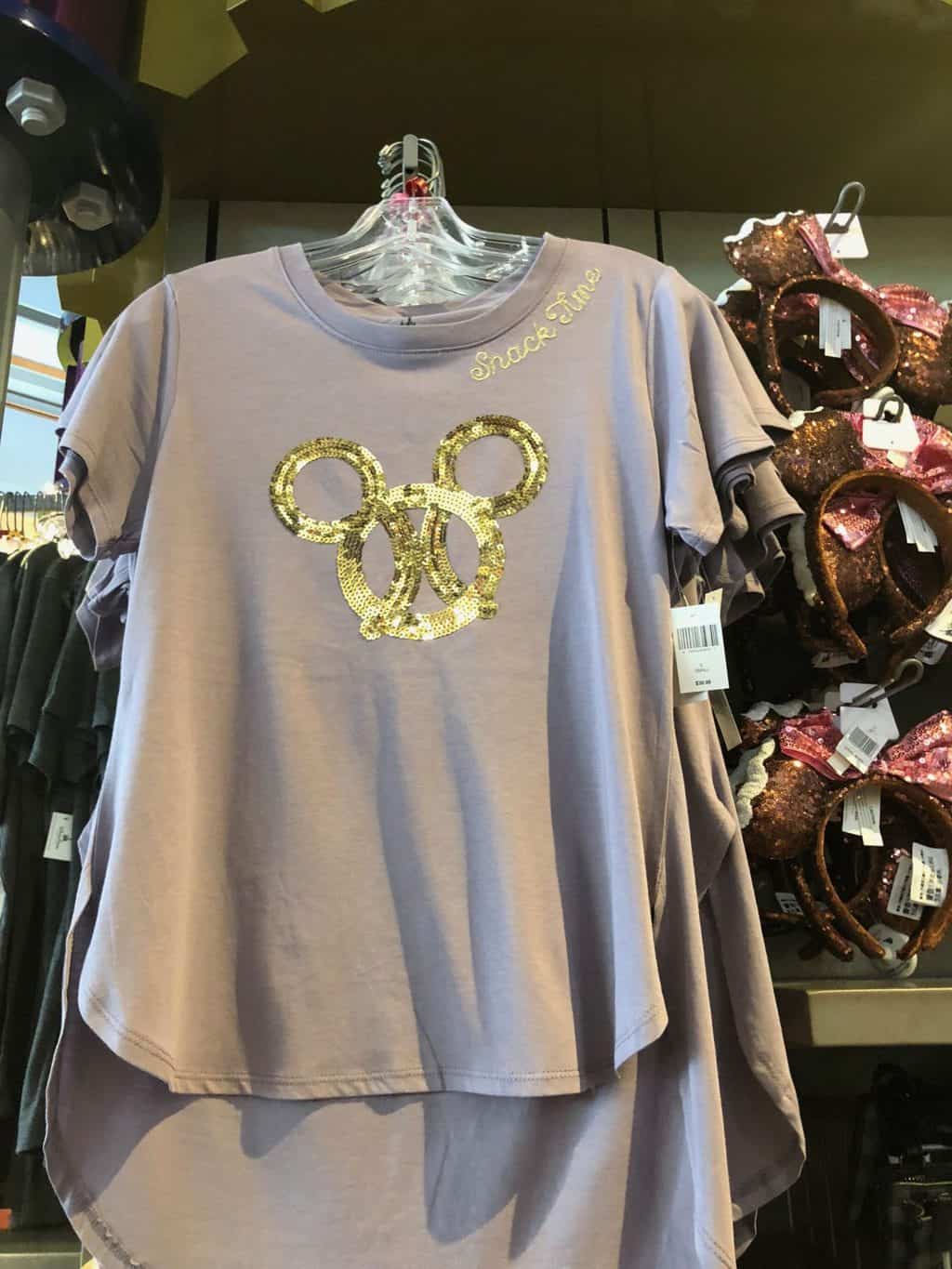 When you only have $4 left of your money but the stuffed animals are all $30 haha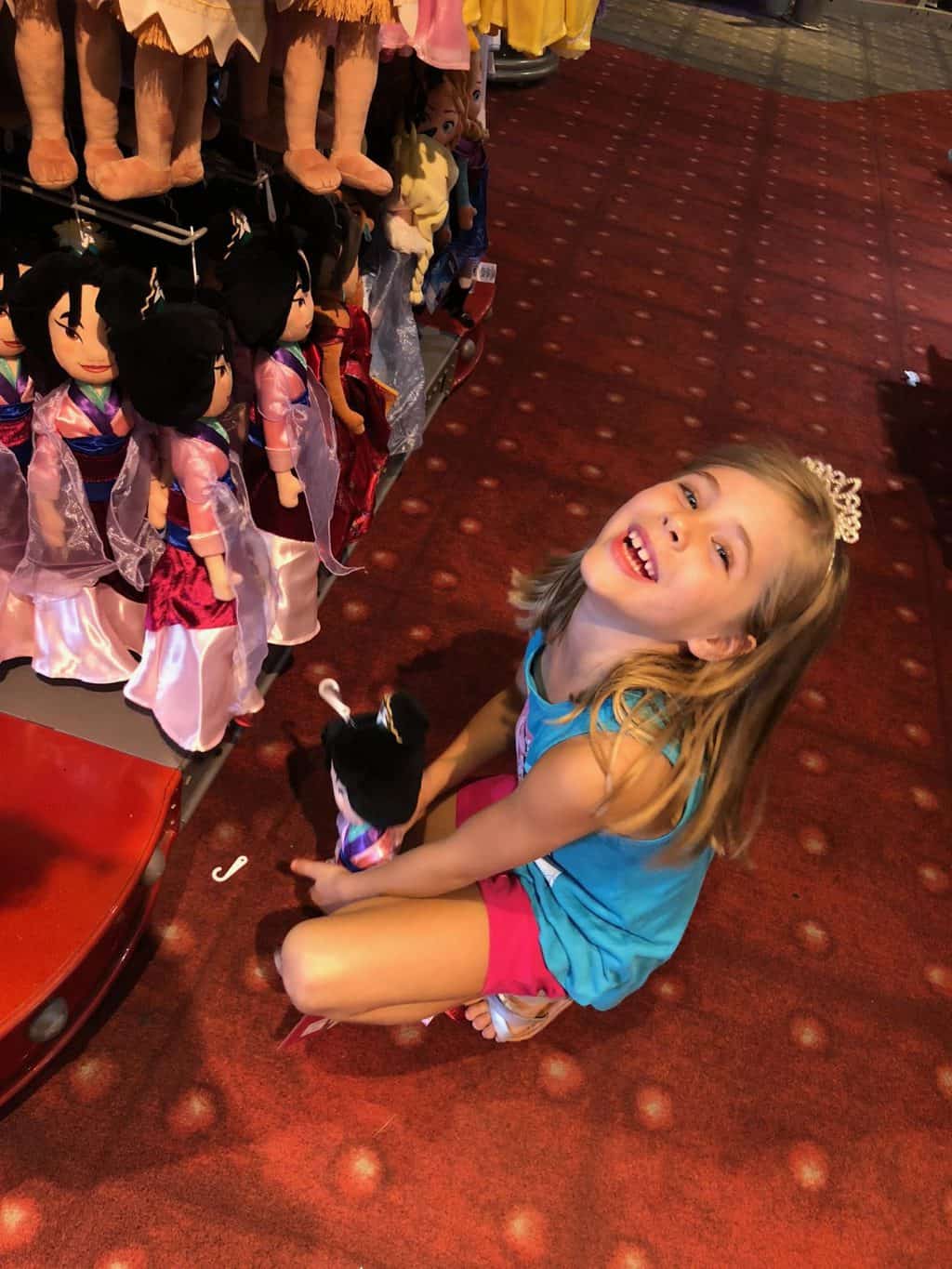 I can't pass up a photo pass opportunity!!! Loved our downtime together and it was so nice being stroller free and just roaming the park with no worries. And yes we only rode ONE RIDE and had a BLAST!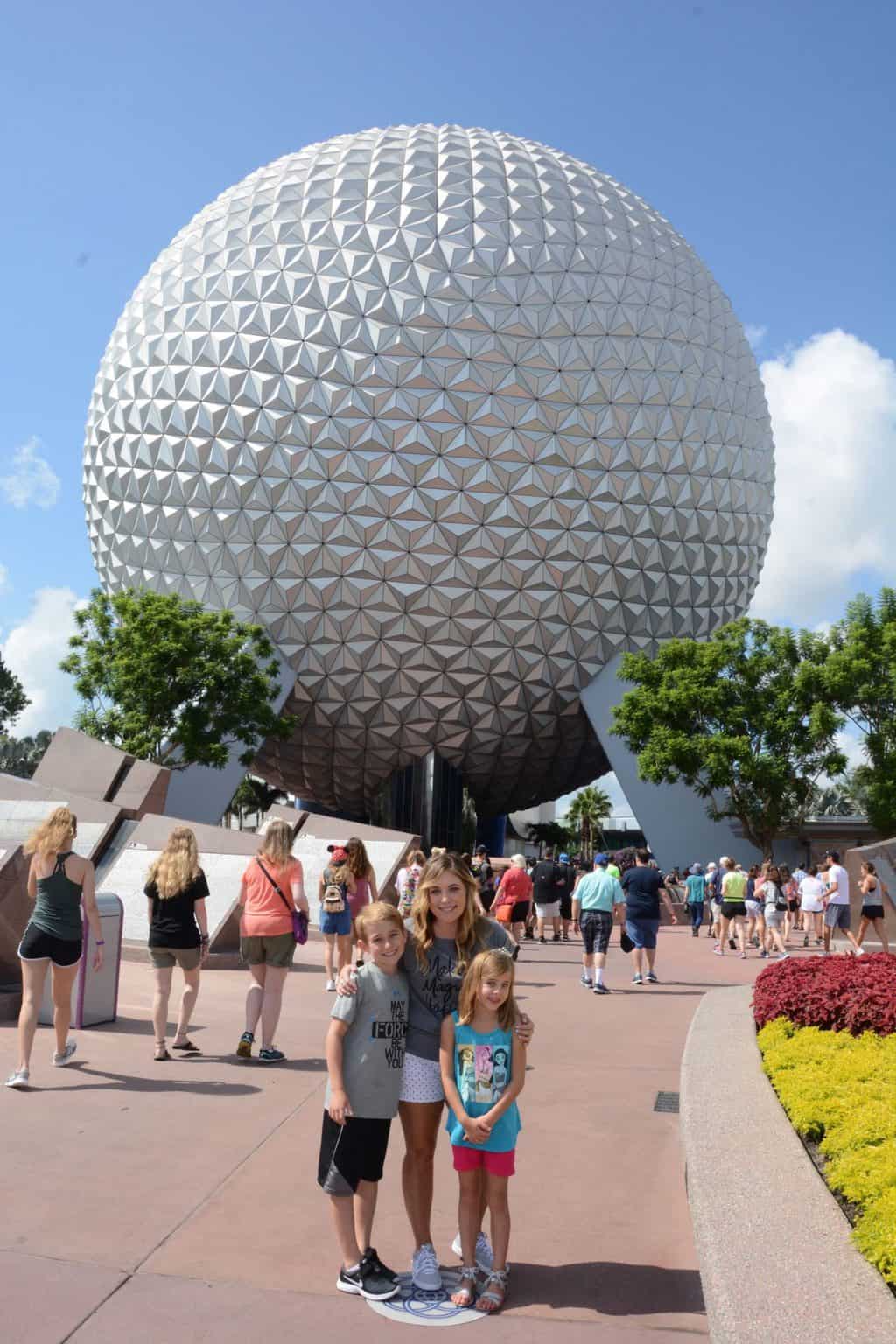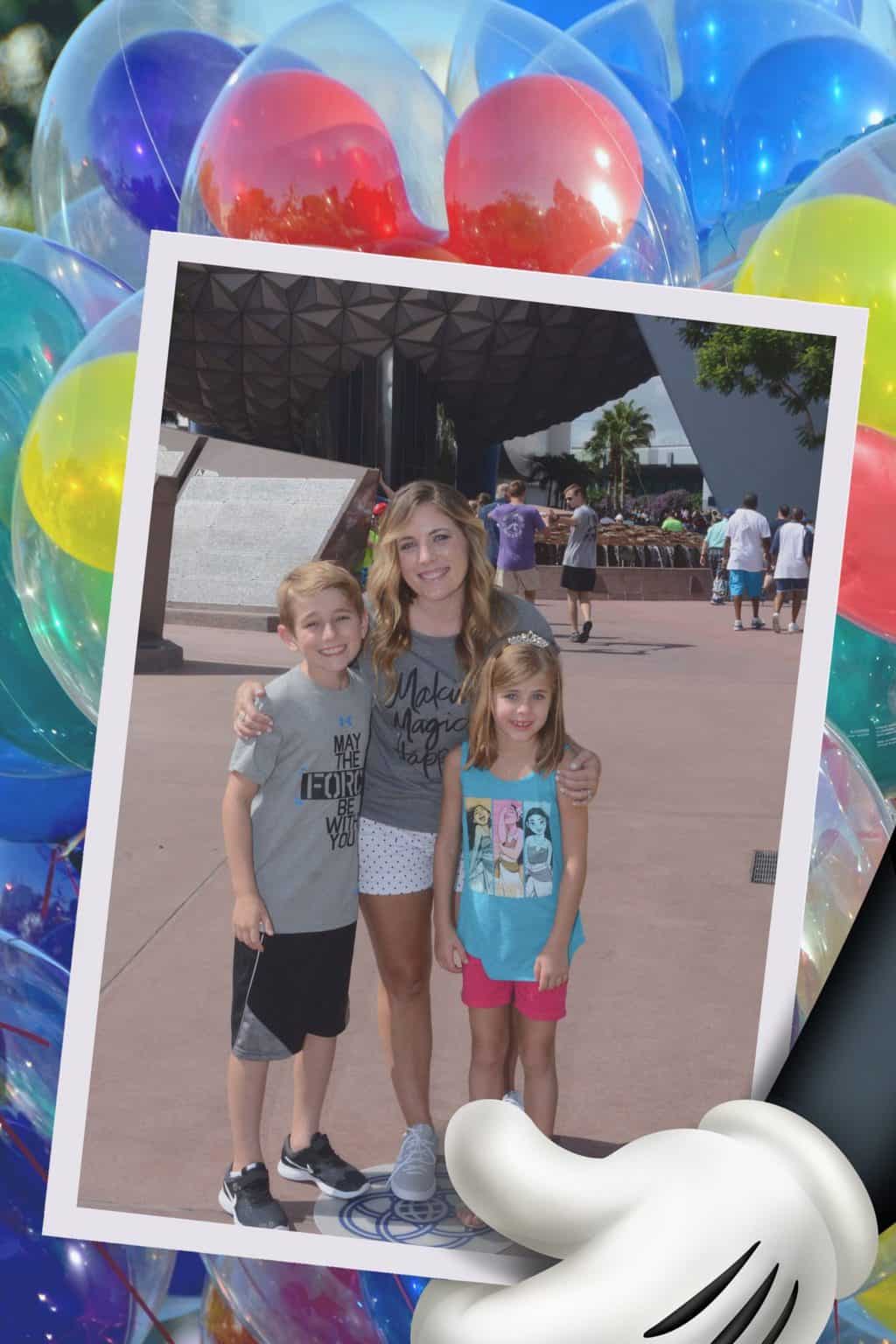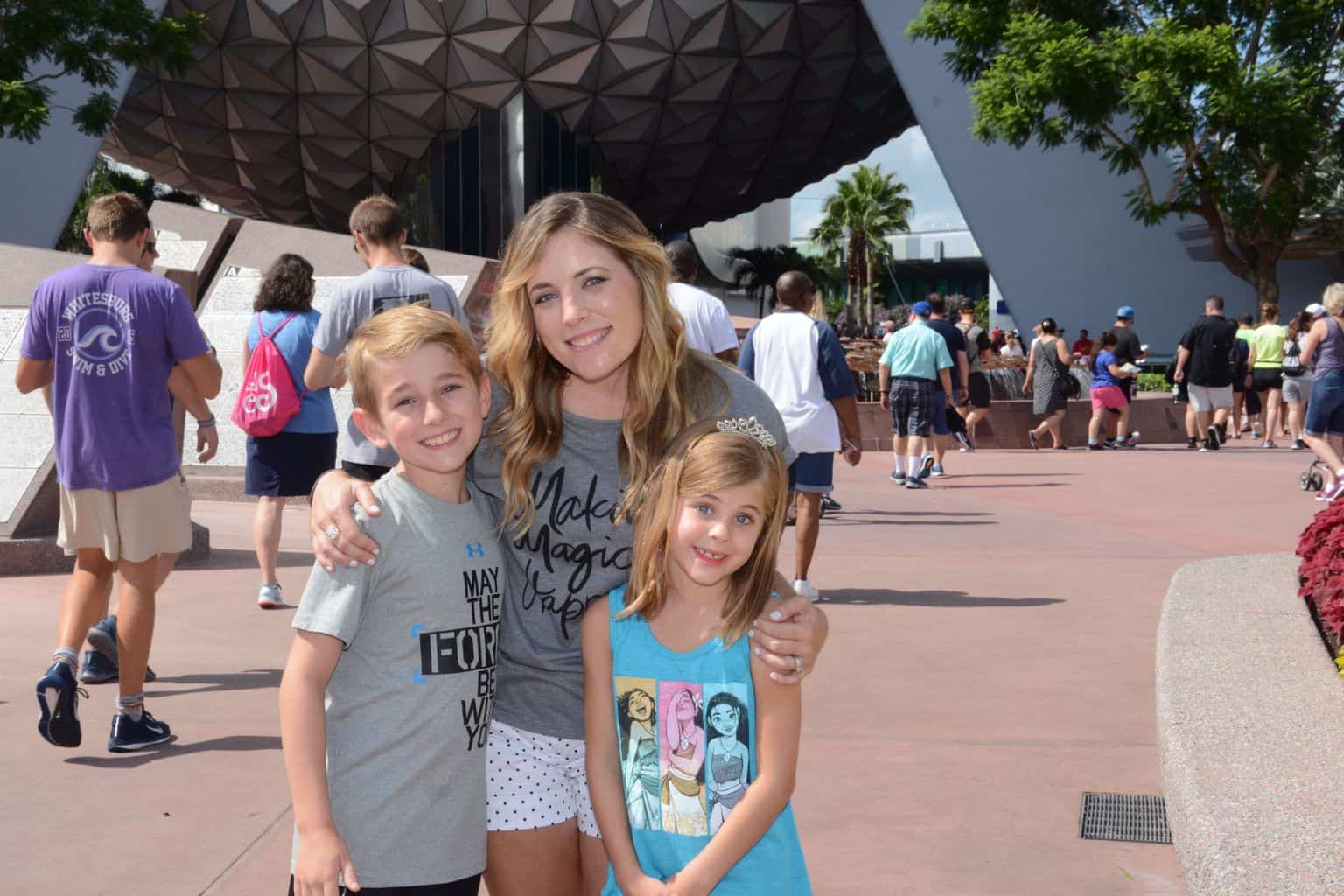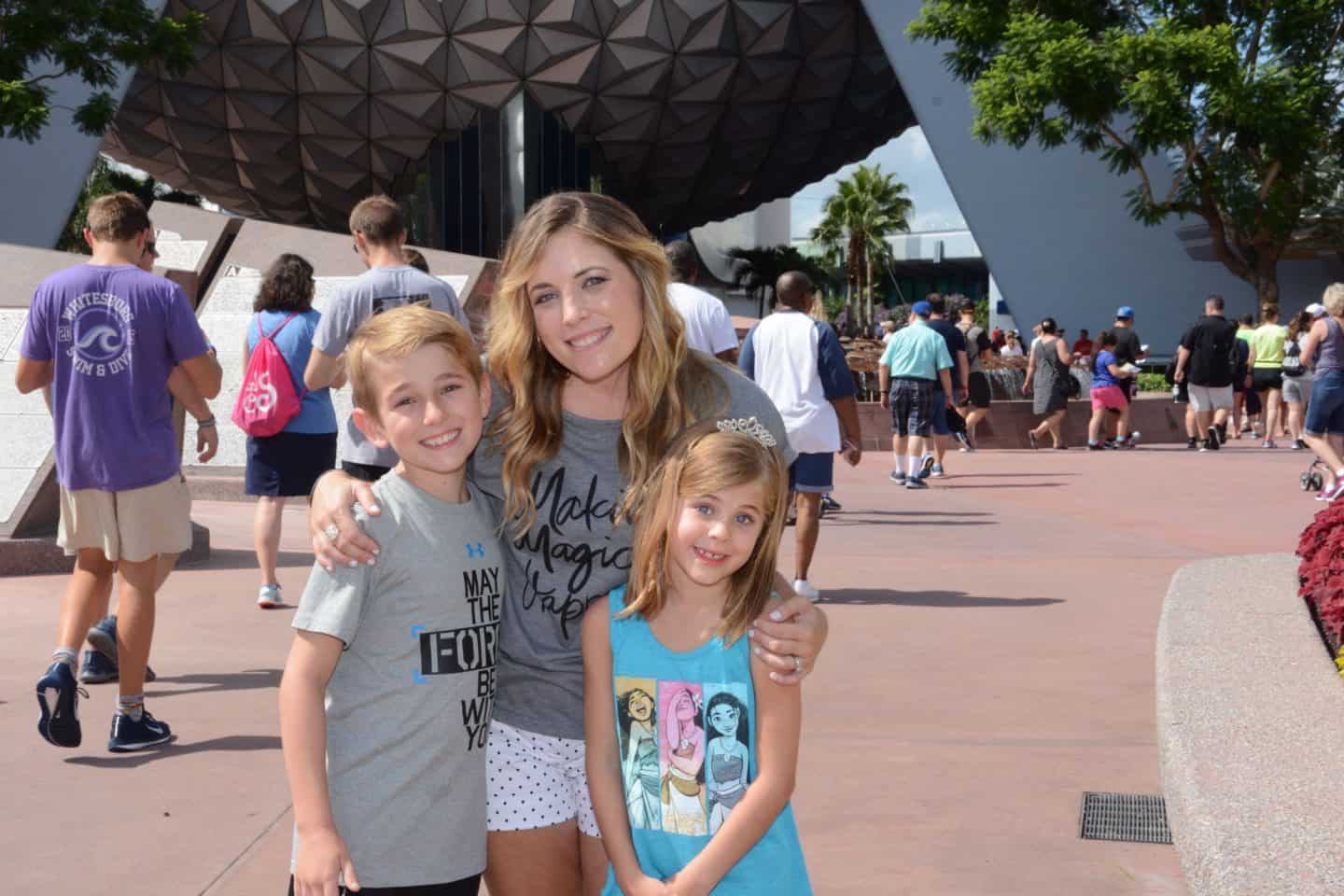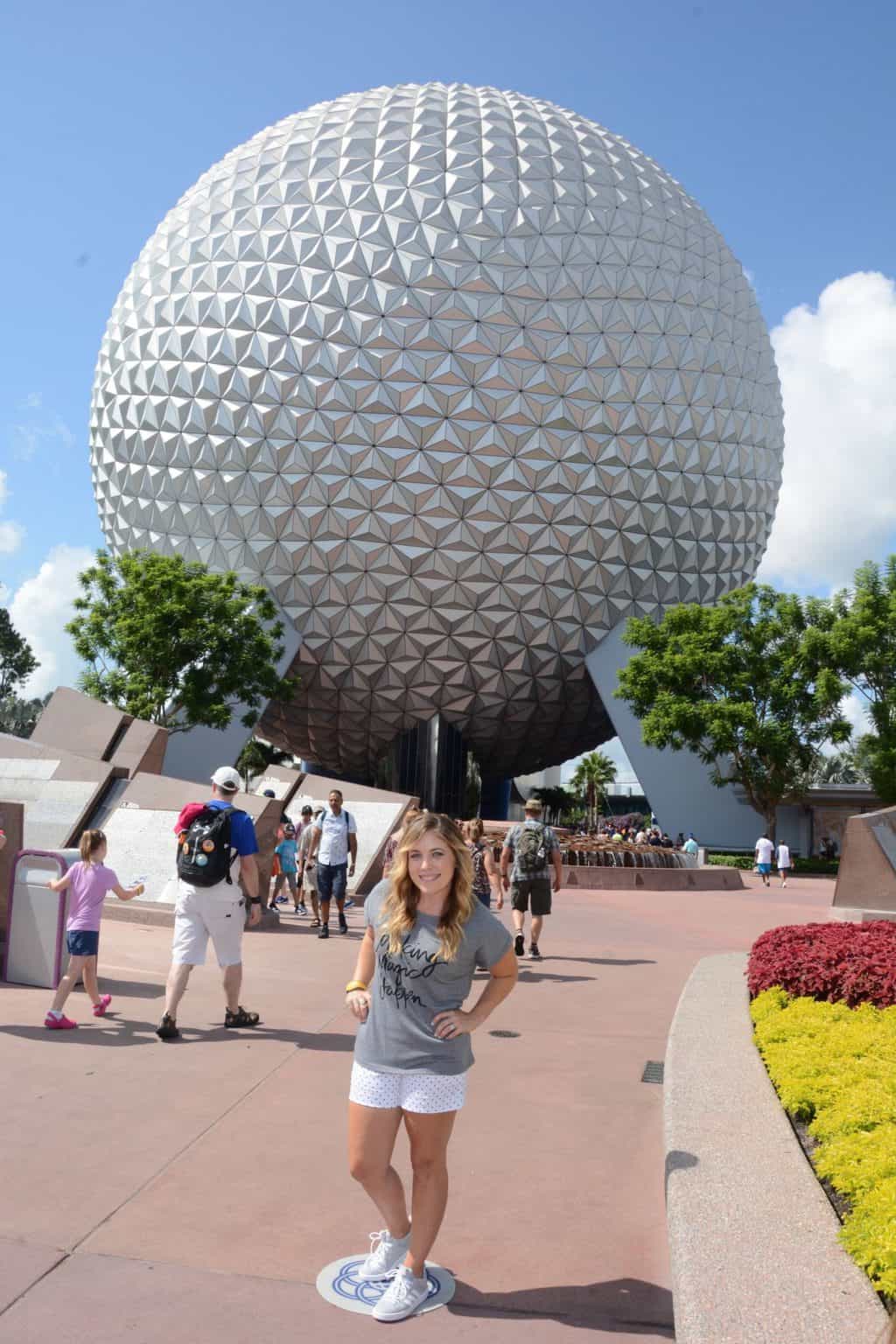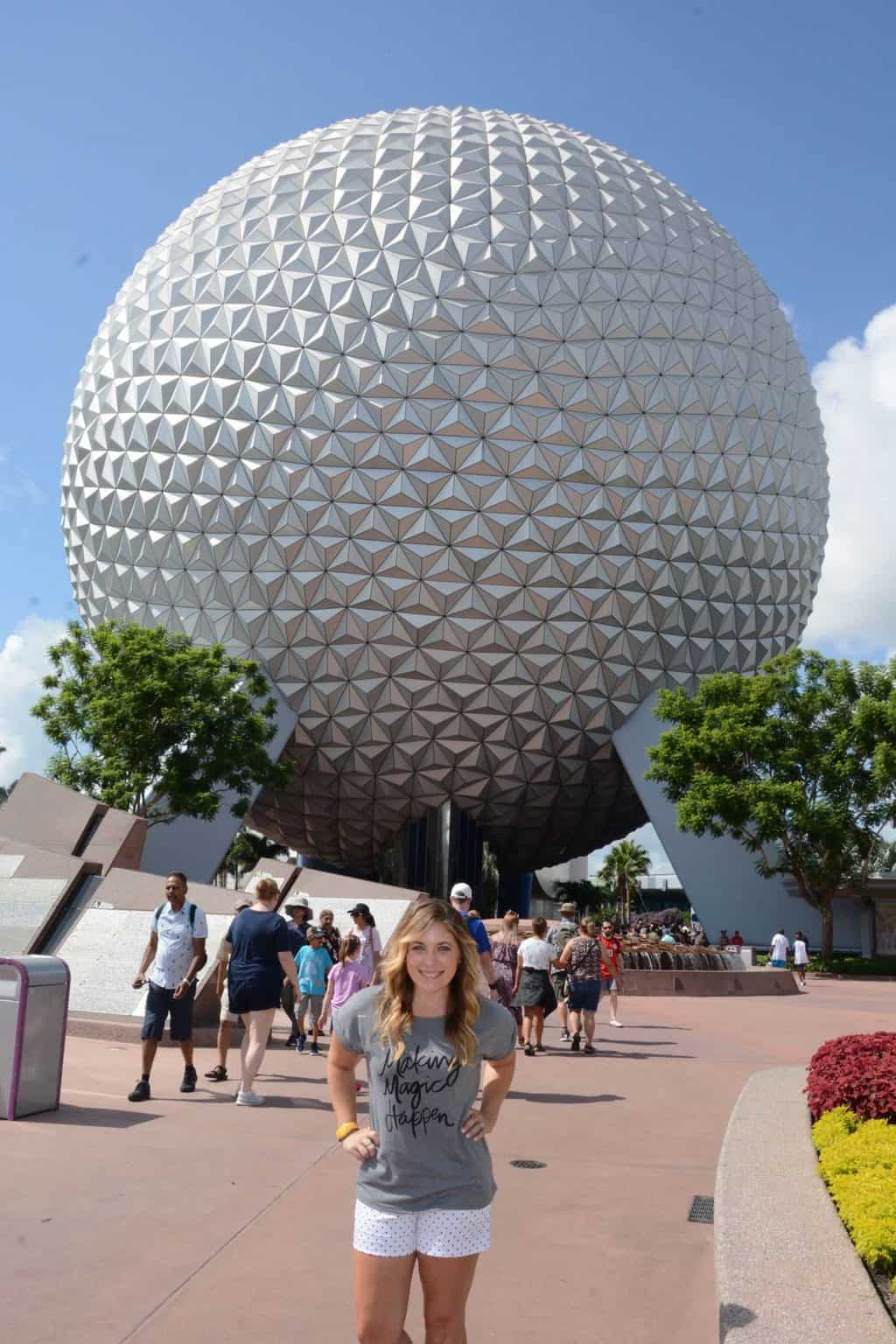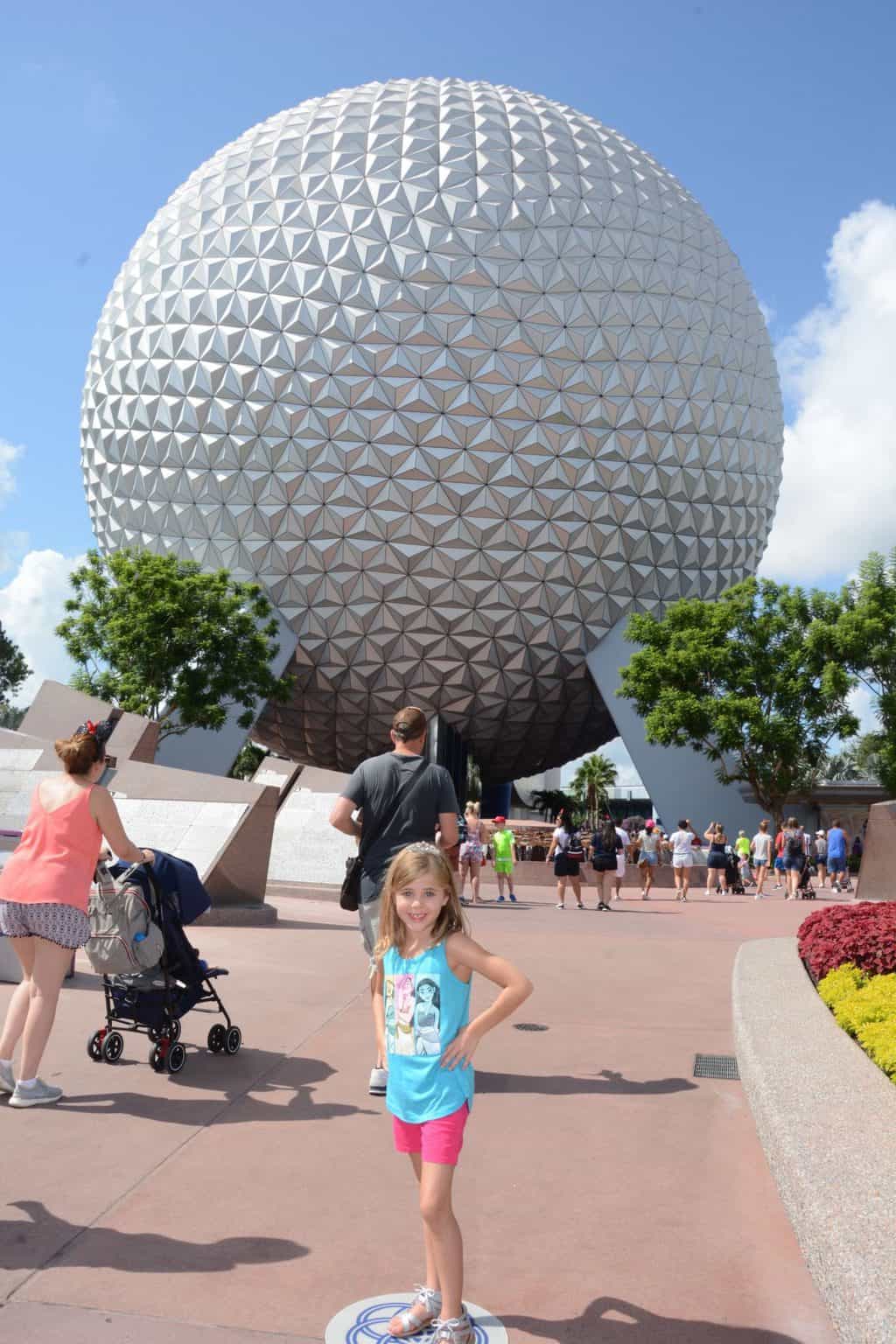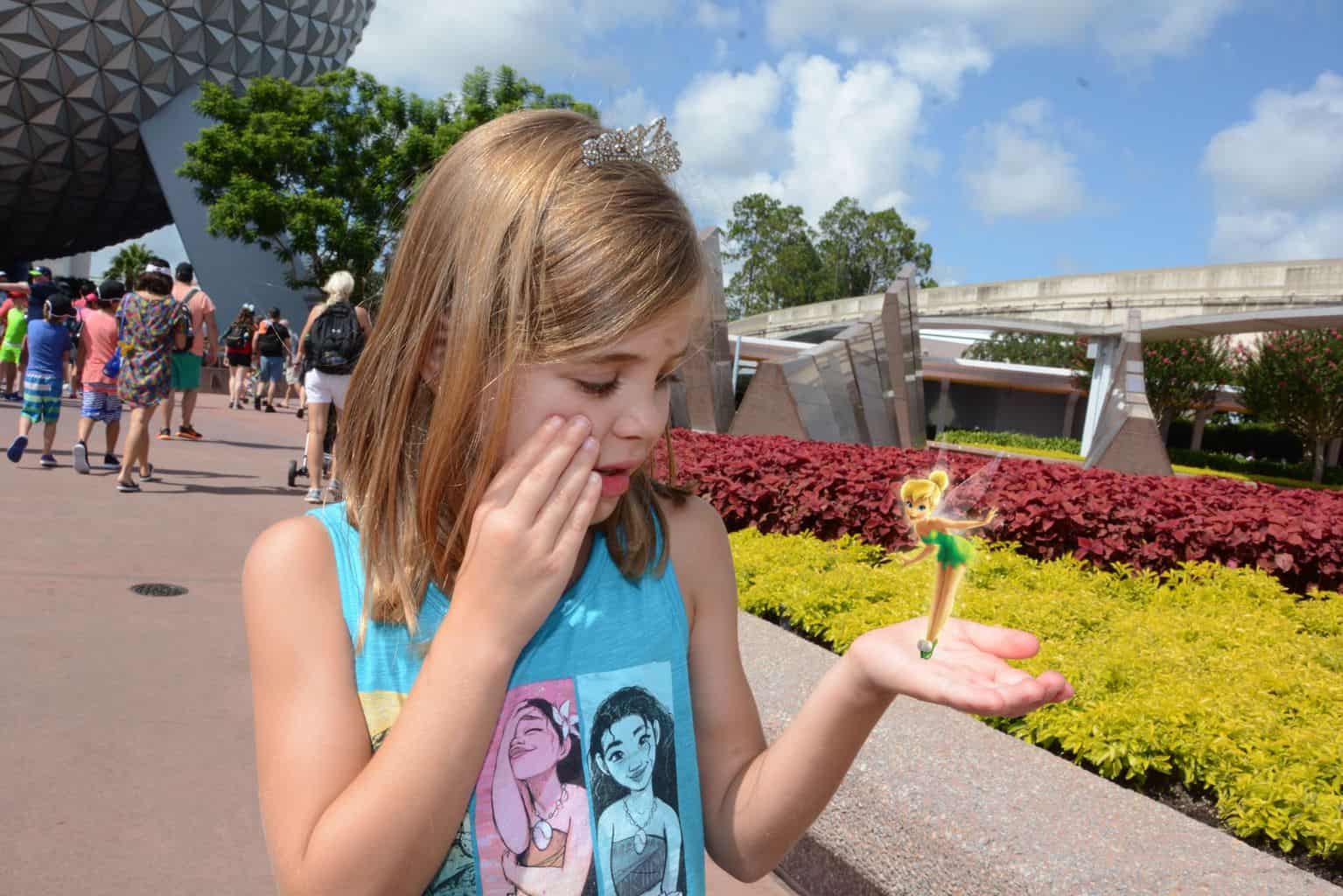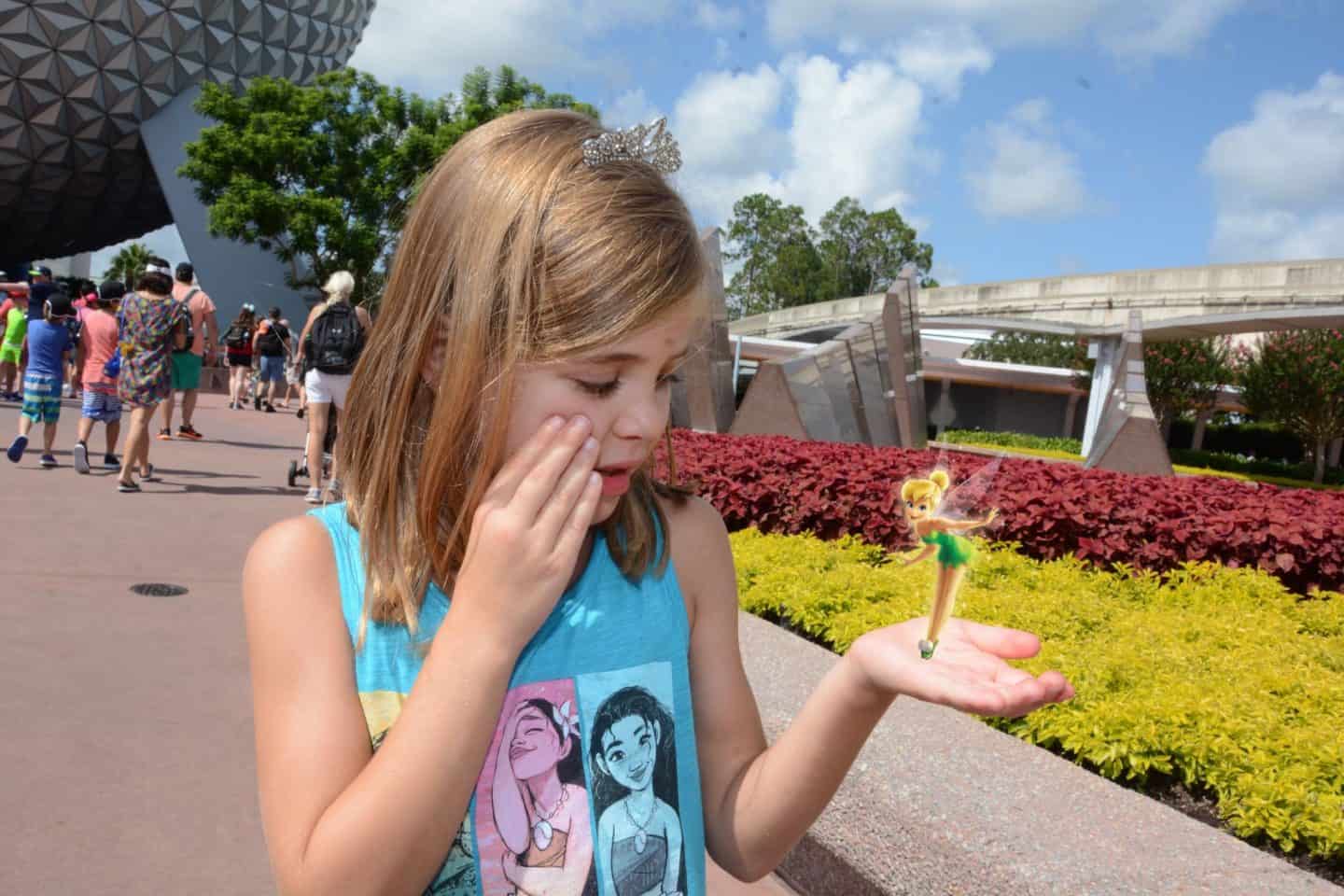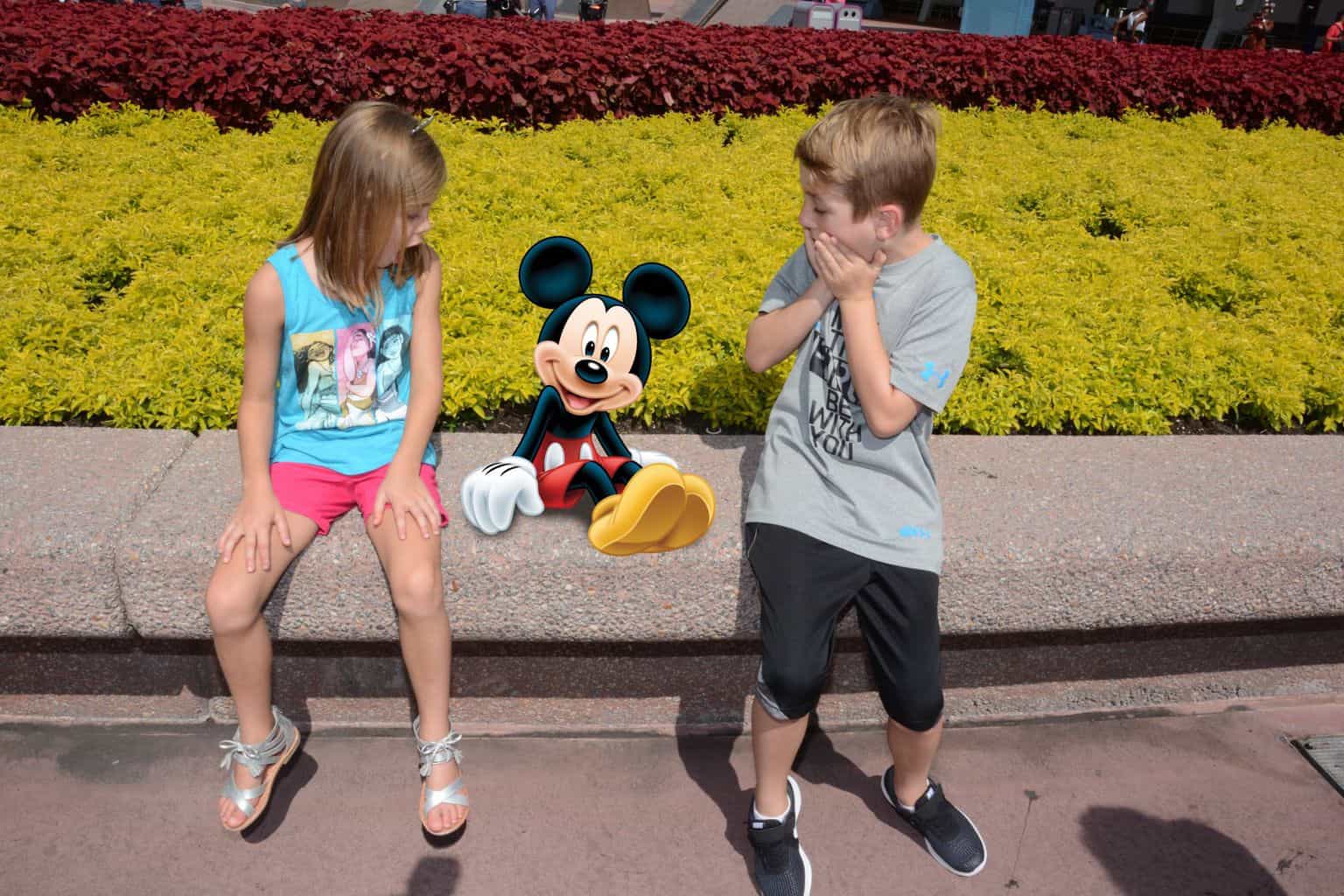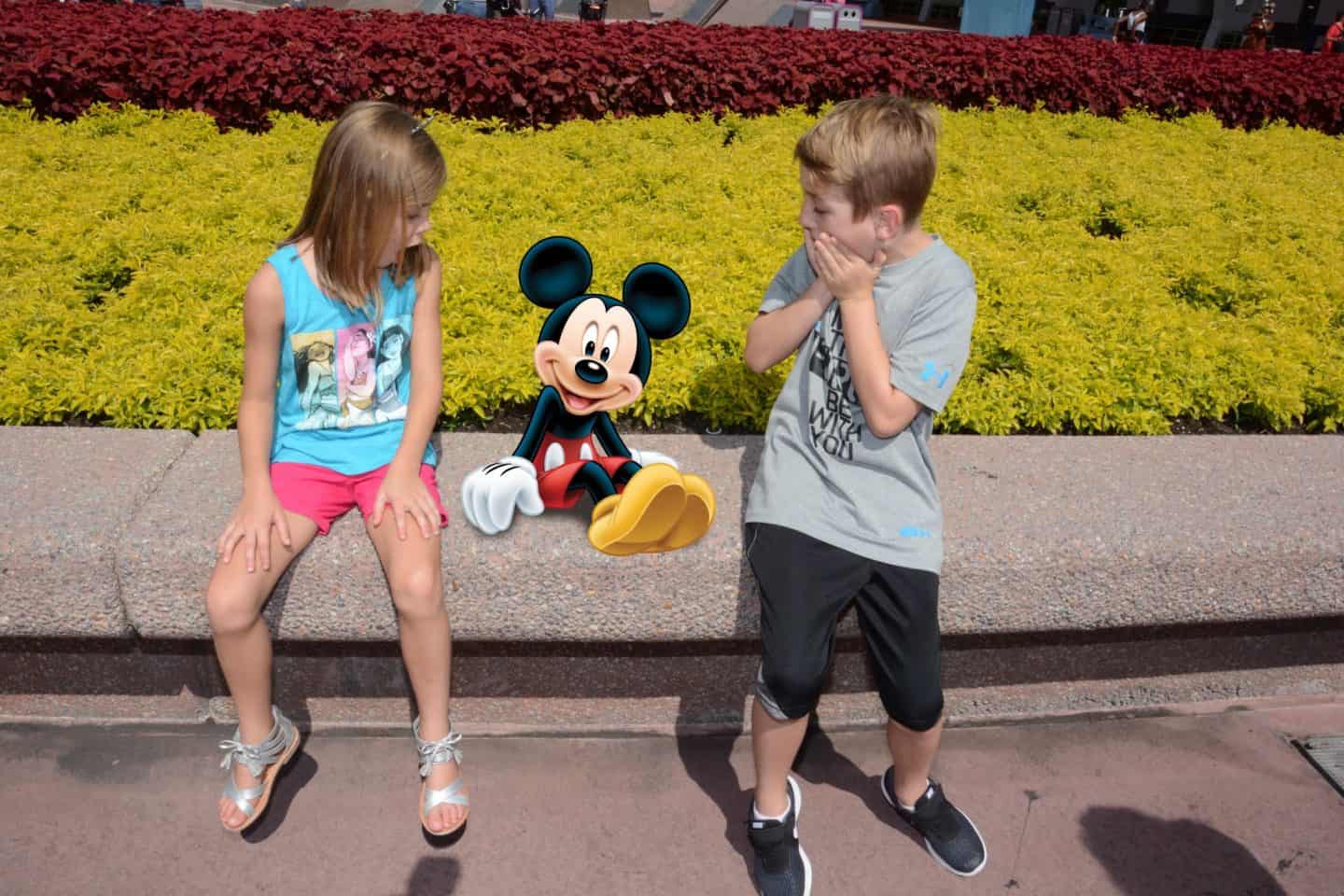 It was such a fun morning for us all (G-Mama had fun soaking up solo Spear time too!). I love relaxed days at the parks and I love this new tradition of having the birthday child get that special time with each parent!
Planning a trip to Disney? Be sure to check out our Rental House and the HUGE discount we offer to blog readers here!