A big reason we were SO thrilled to bring the kids to California was for Disney's California Adventure. Yes. Disneyland is AMAZING. It's where Walt walked. It has so much Disney history. But it also has a TON of similarities with Magic Kingdom. Disney's California Adventure? It's truly it's OWN park. There isn't anything like it at Walt Disney World in Florida so we knew it'd be an experience unlike anything our crew has ever encountered in a Disney theme park.
We woke up nice and well rested and the kids worked on their travel journals a bit while we got ready to go! The park hours after Labor Day are shortened during the weekdays. They opened at 9 am and closed at 8 pm and there were no night shows during the week. With that shortened of a day we decided to skip naps and just do a full day at the park to be able to experience all we could in that allotted time. I'm still splitting up this post into two separate posts though because otherwise it'd be MASSIVE 😉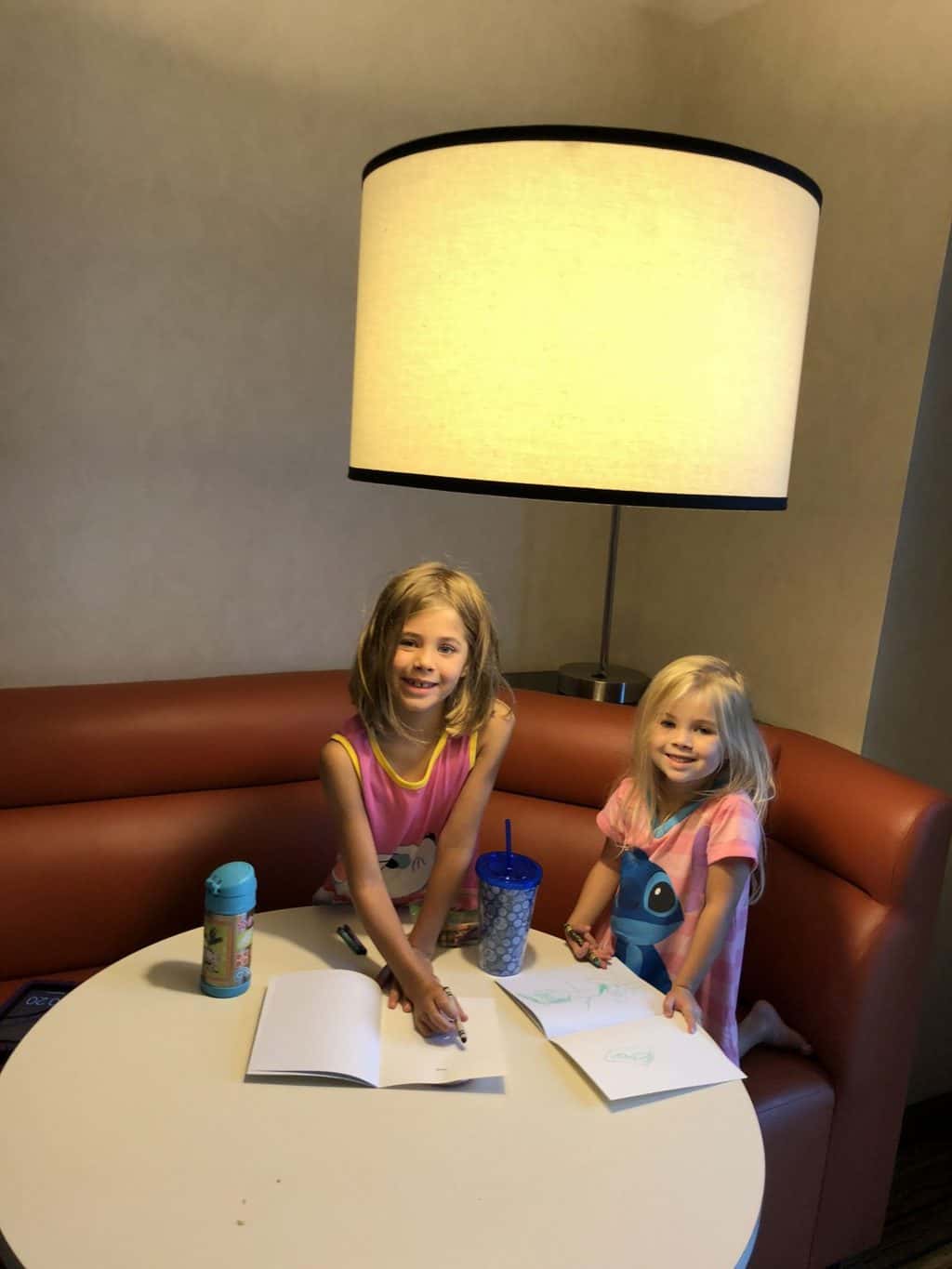 Same routine as at home…an hour early for park opening! This time the kids had plenty to do with them to keep them occupied while we waited!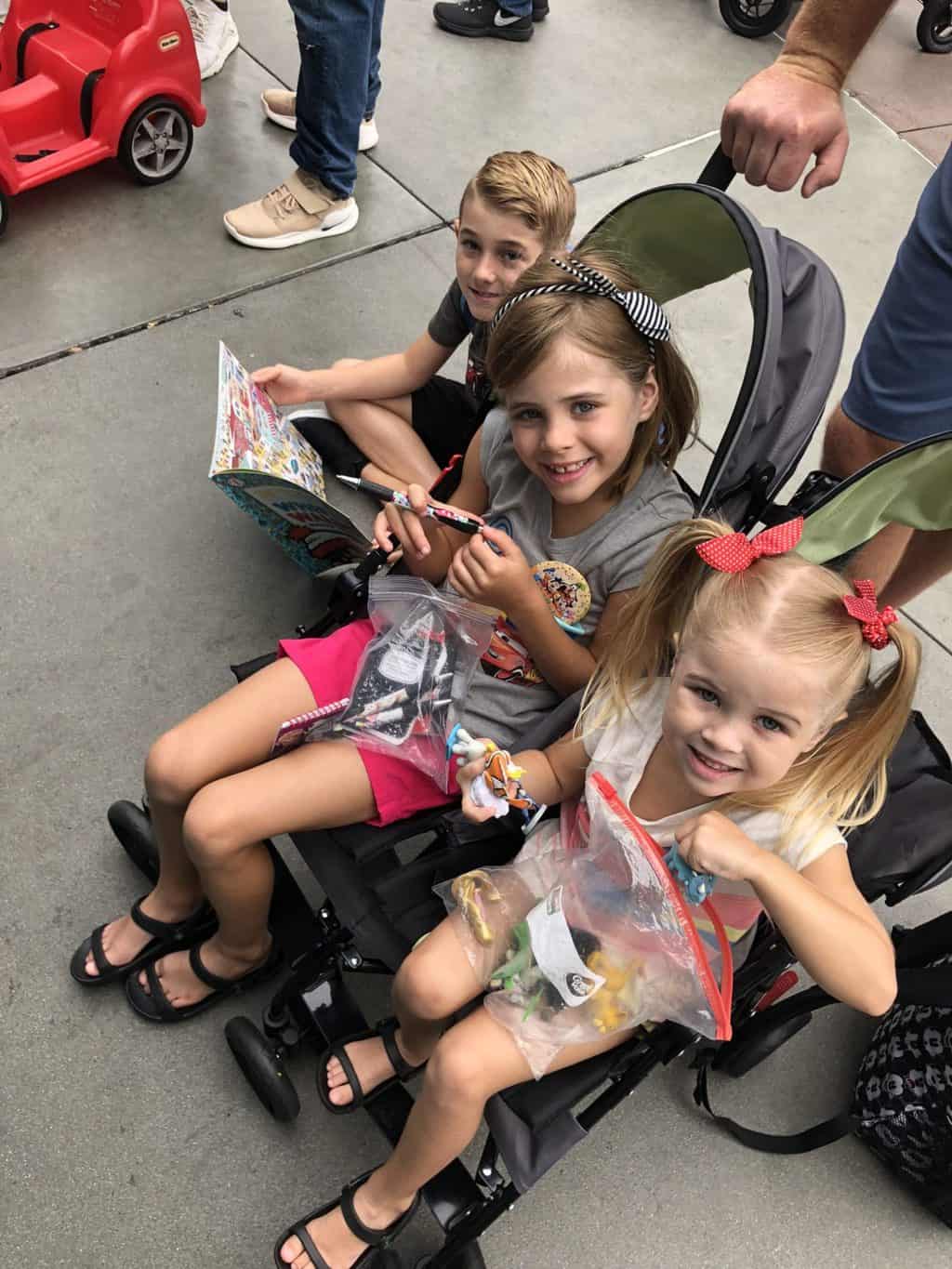 Just like at Disneyland (and I actually think every part at WDW does this too now) the park opens much earlier than actual park opening. This allows crowds to disperse into their areas of interest to wait for the ACTUAL park opening. We were in the front of the pack heading to either Cars Land or Pixar Pier.
It happened to be the very last day that Bugs Land was open. I wasn't worried about that affecting our crowd level because we didn't intend to explore Bugs Land and I also assumed that so many people heading there would help minimize the number of people elsewhere in the park! It was neat talking to people while we waited about Bugs Land and how special of a place it was to them in their lives.
Kye had the honor of being THE very first person into the park that morning when the park opened!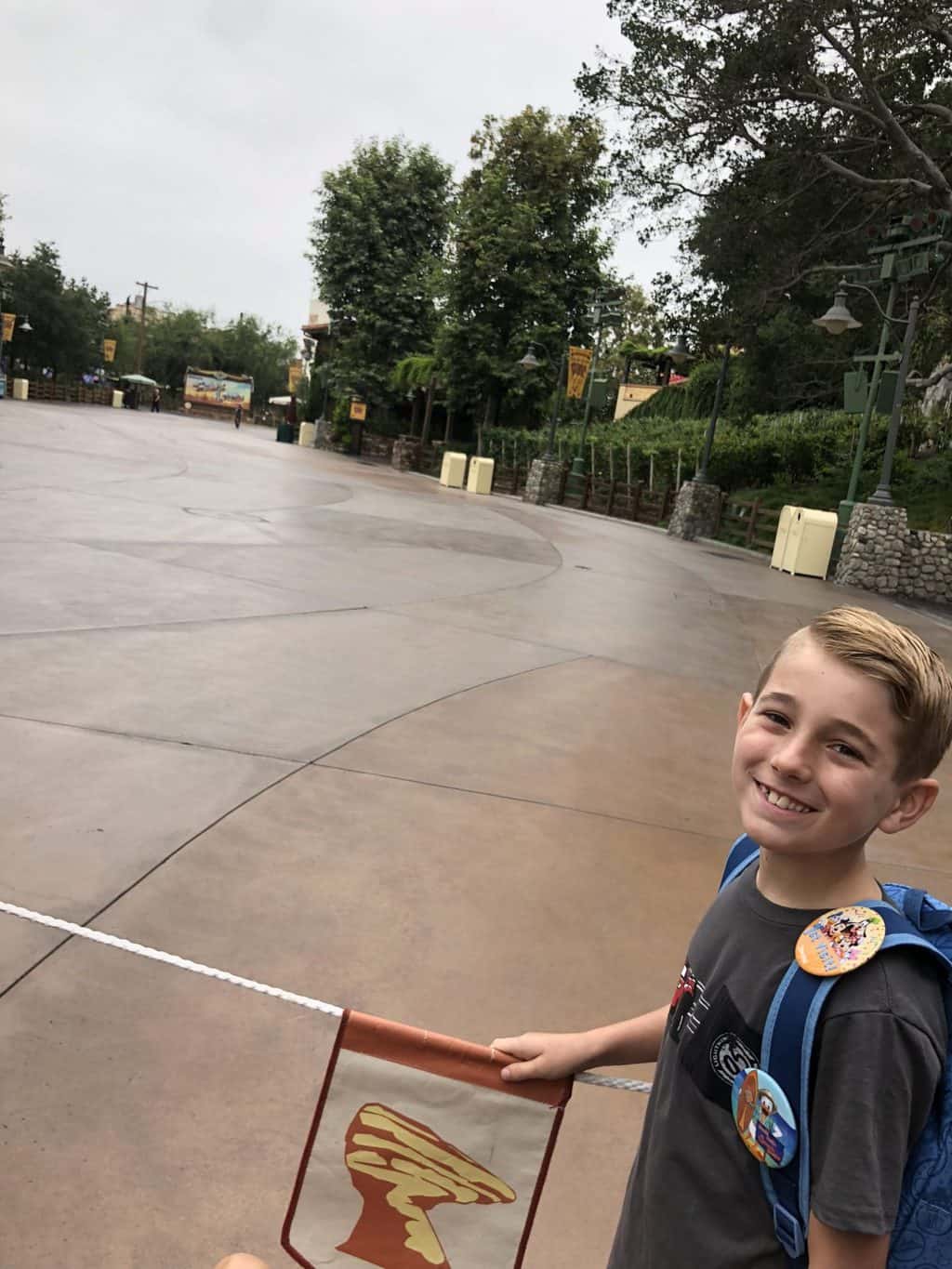 Zach, Kye and Britt went straight for Incredicoaster. Tess and I didn't have to worry about beating the masses of people and just took our time taking in the surroundings and I even stopped for a photo because, why not?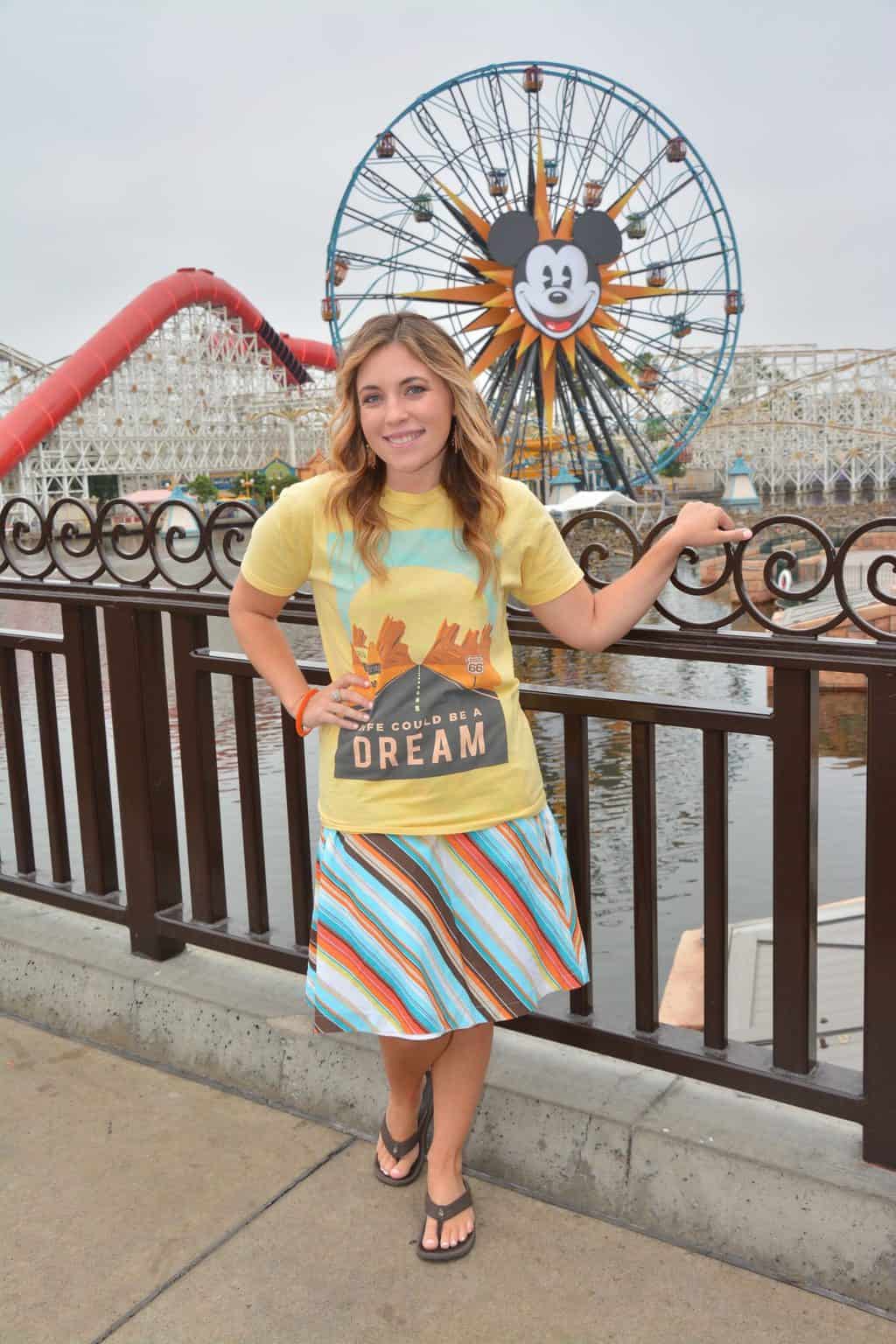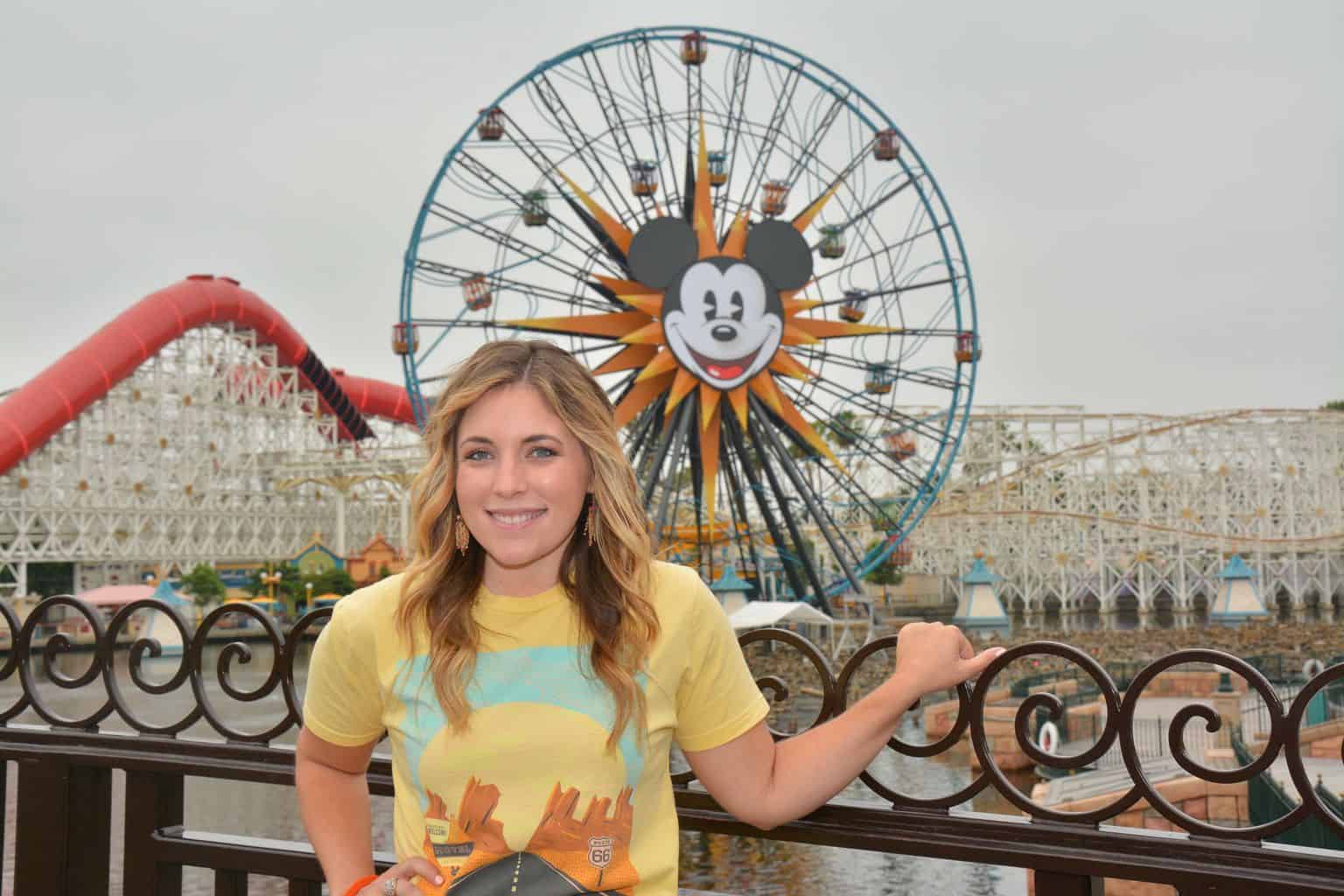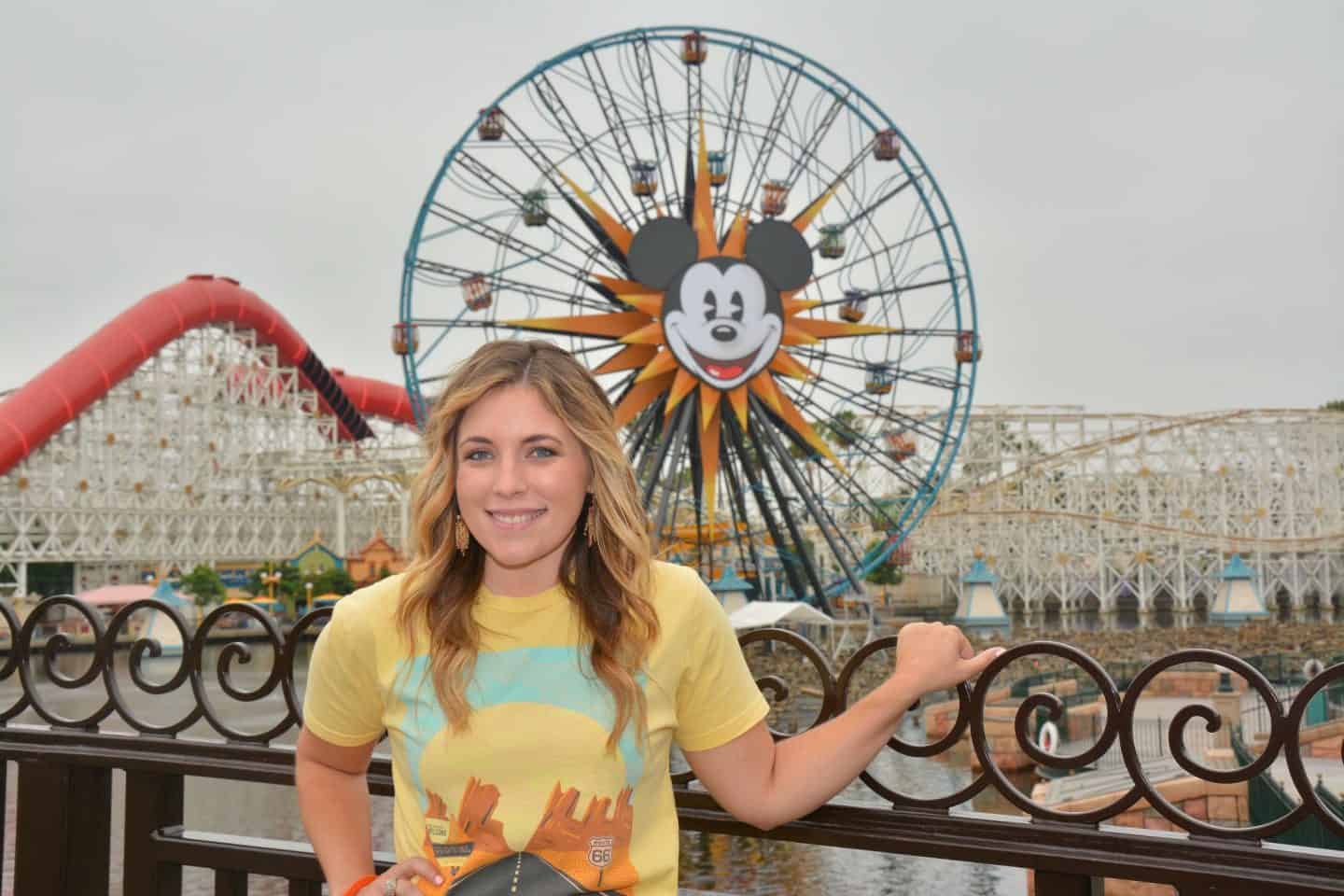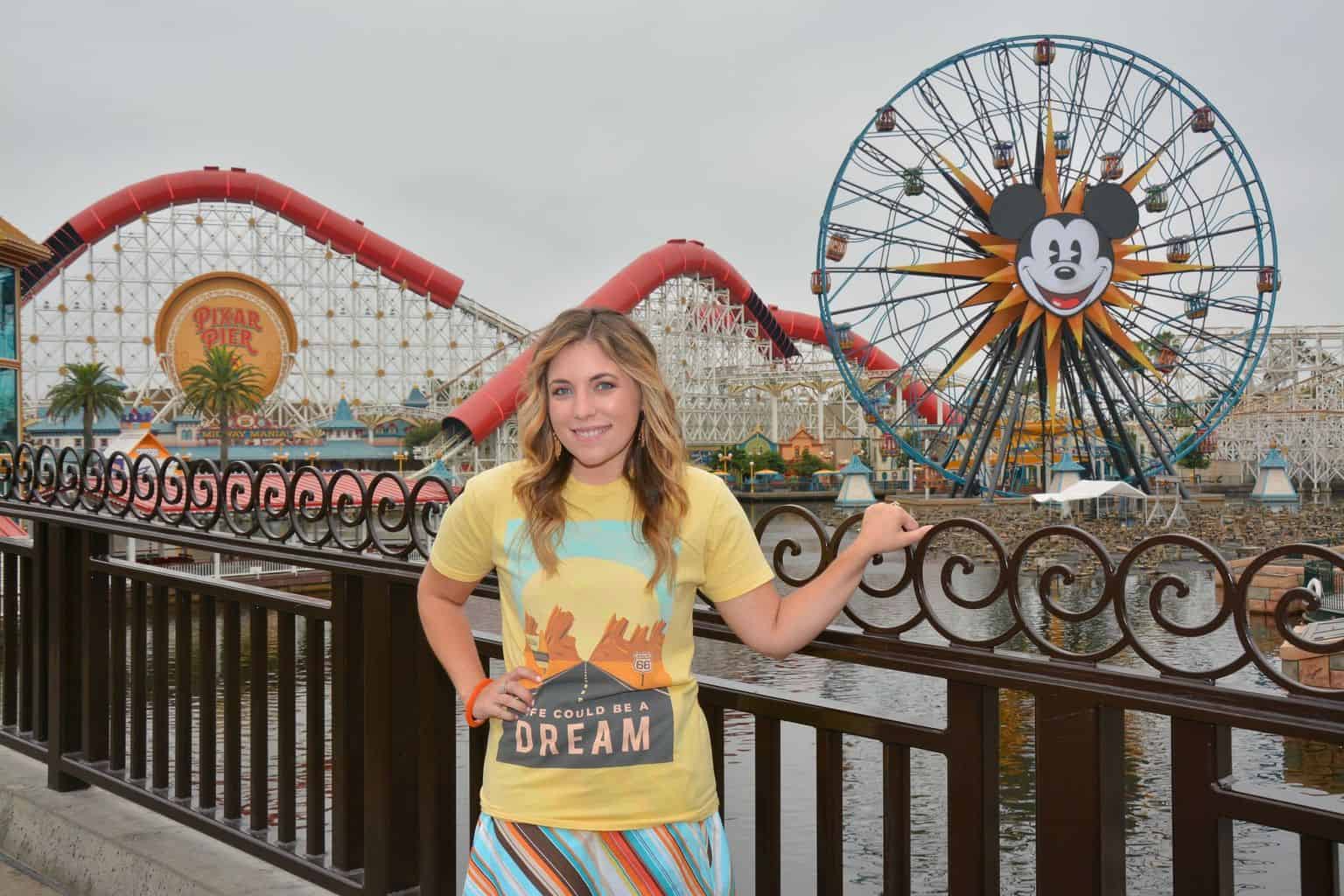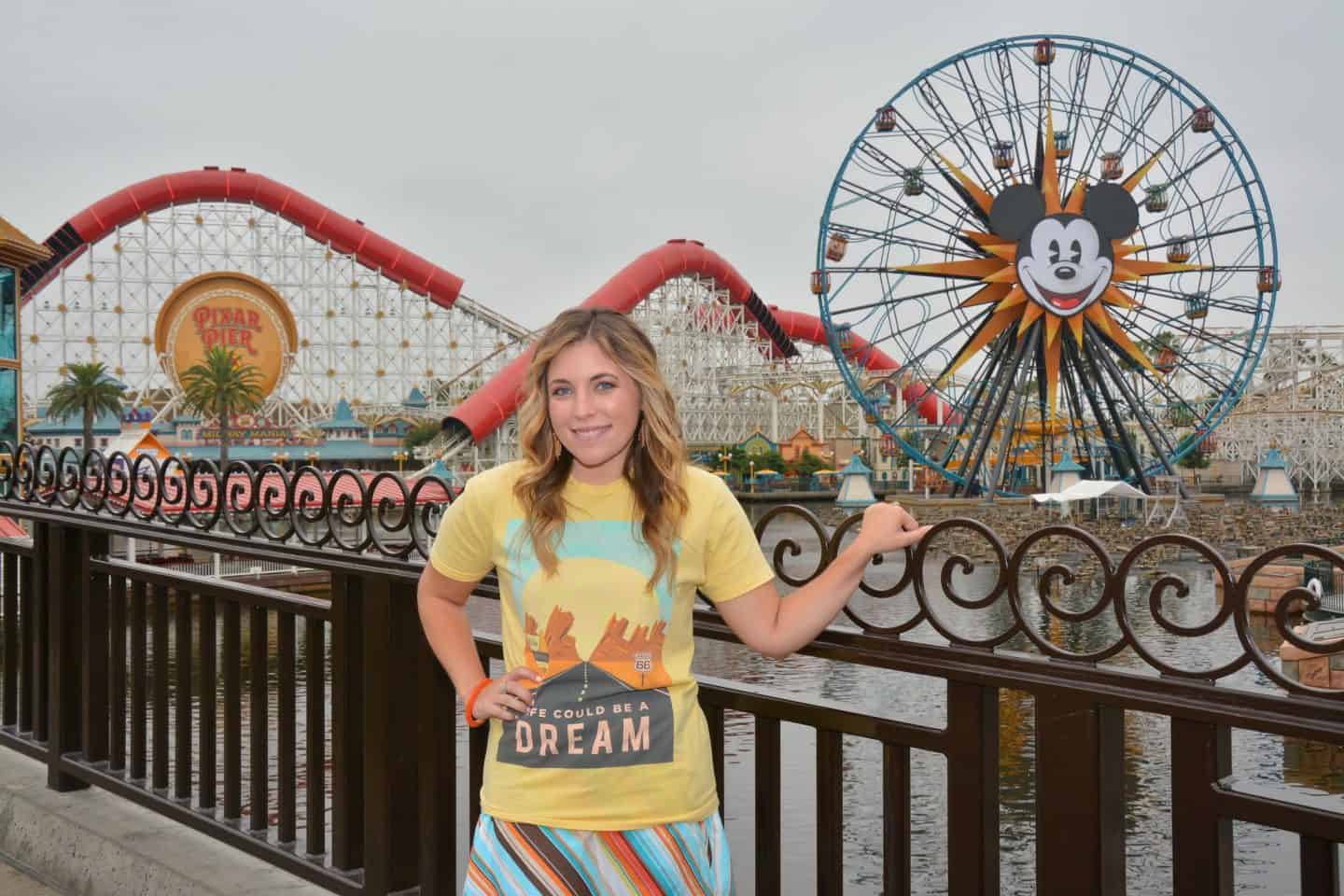 We ended up having a LOT of time to wait on Zach, Kye and Britt. It turns out that when the park opens and the MaxPass says "no fastpass available" that it actually means something is wrong with the ride. So when Zach and the big two raced to Incredicoaster they ended up having to wait a bit for the ride to actually get going. Still glad they went right away as it had issues on and off our entire trip!
Tess and I headed over to Pixar Pier to ride Toy Story Mania…which is exactly the same as at home but it's so nice to just walk right on with no wait. I think we ended up riding it three or four times total this trip? It's one of those that you can never get sick of. It's so fun!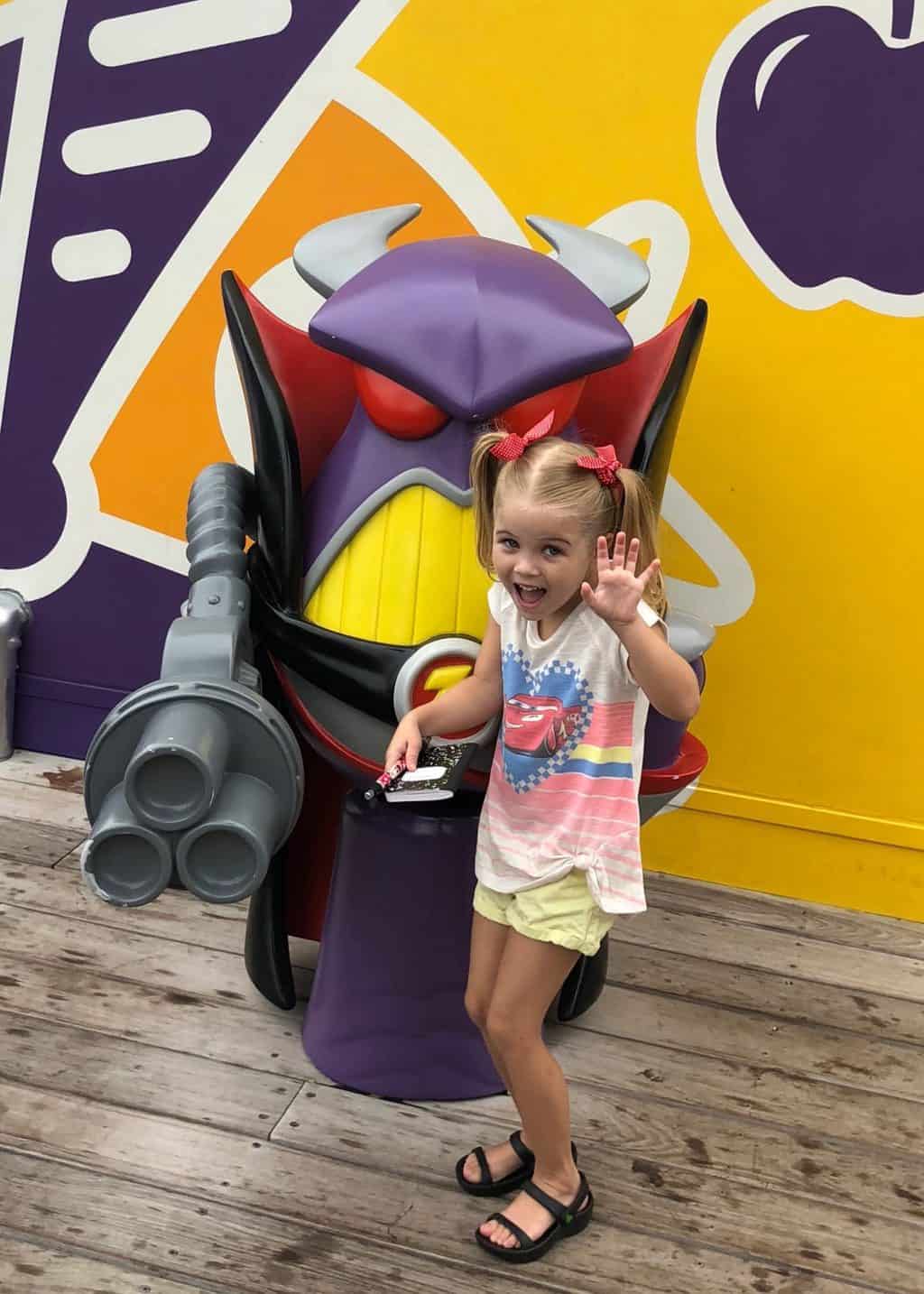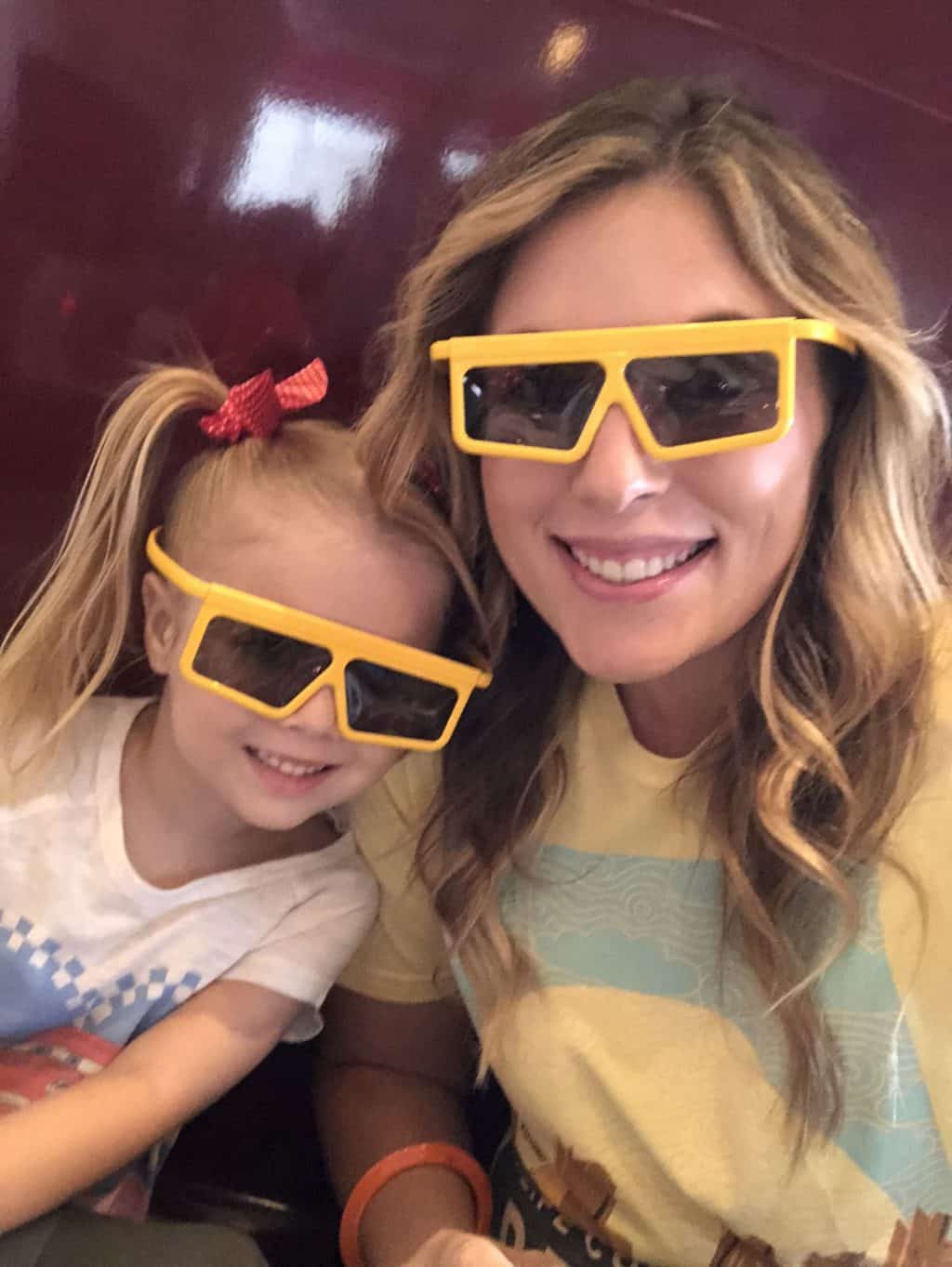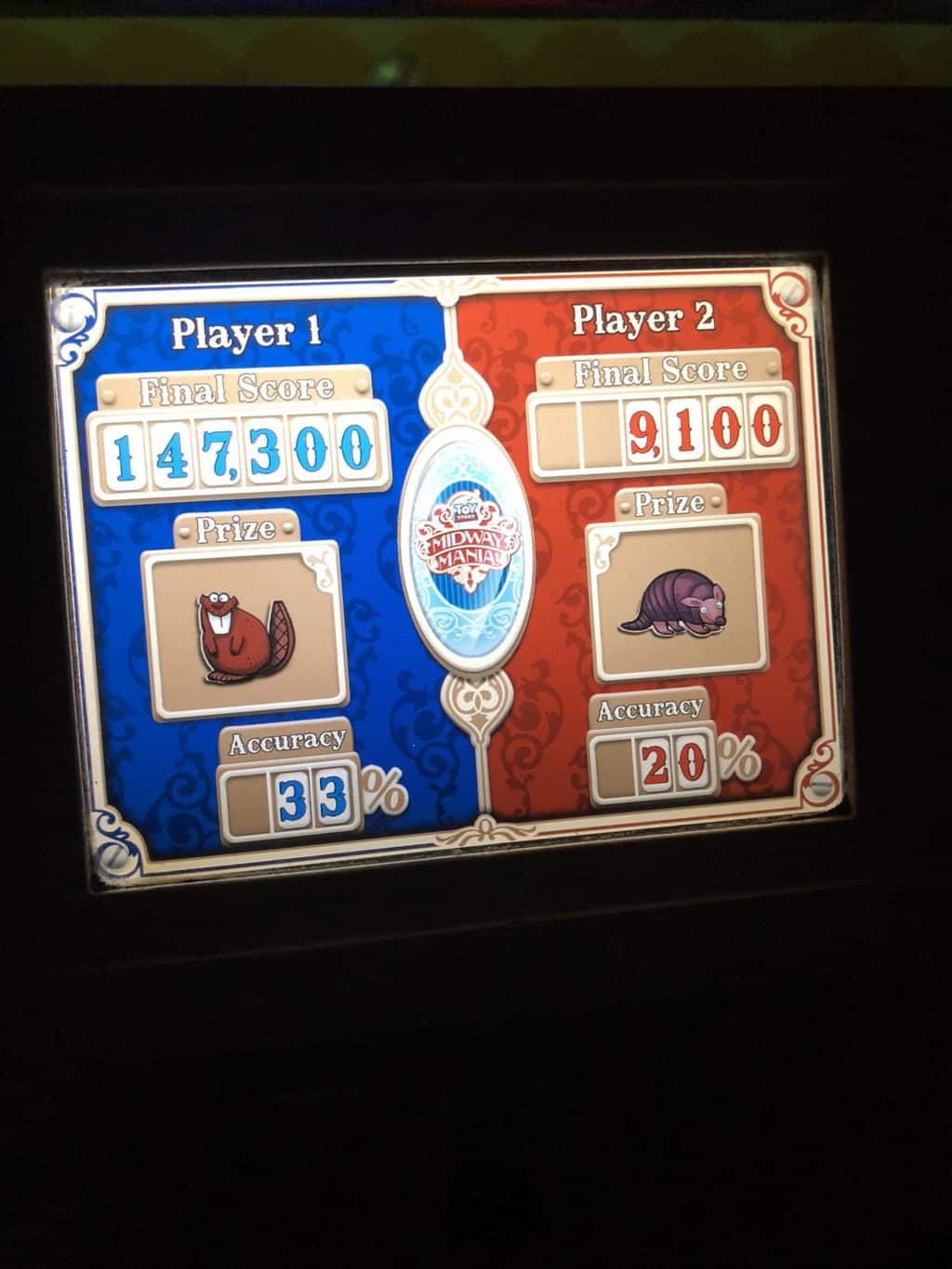 Waiting for Incredicoaster!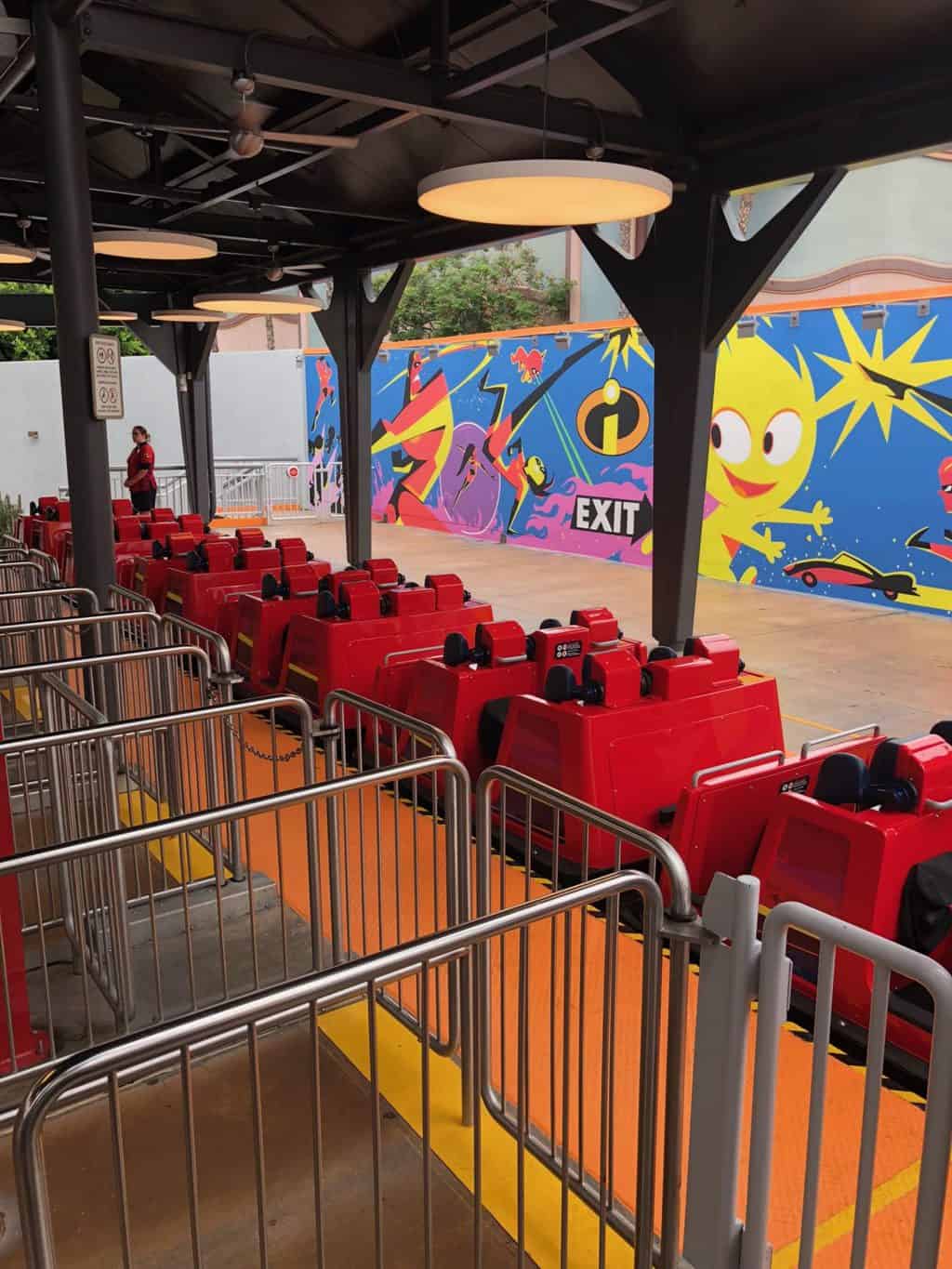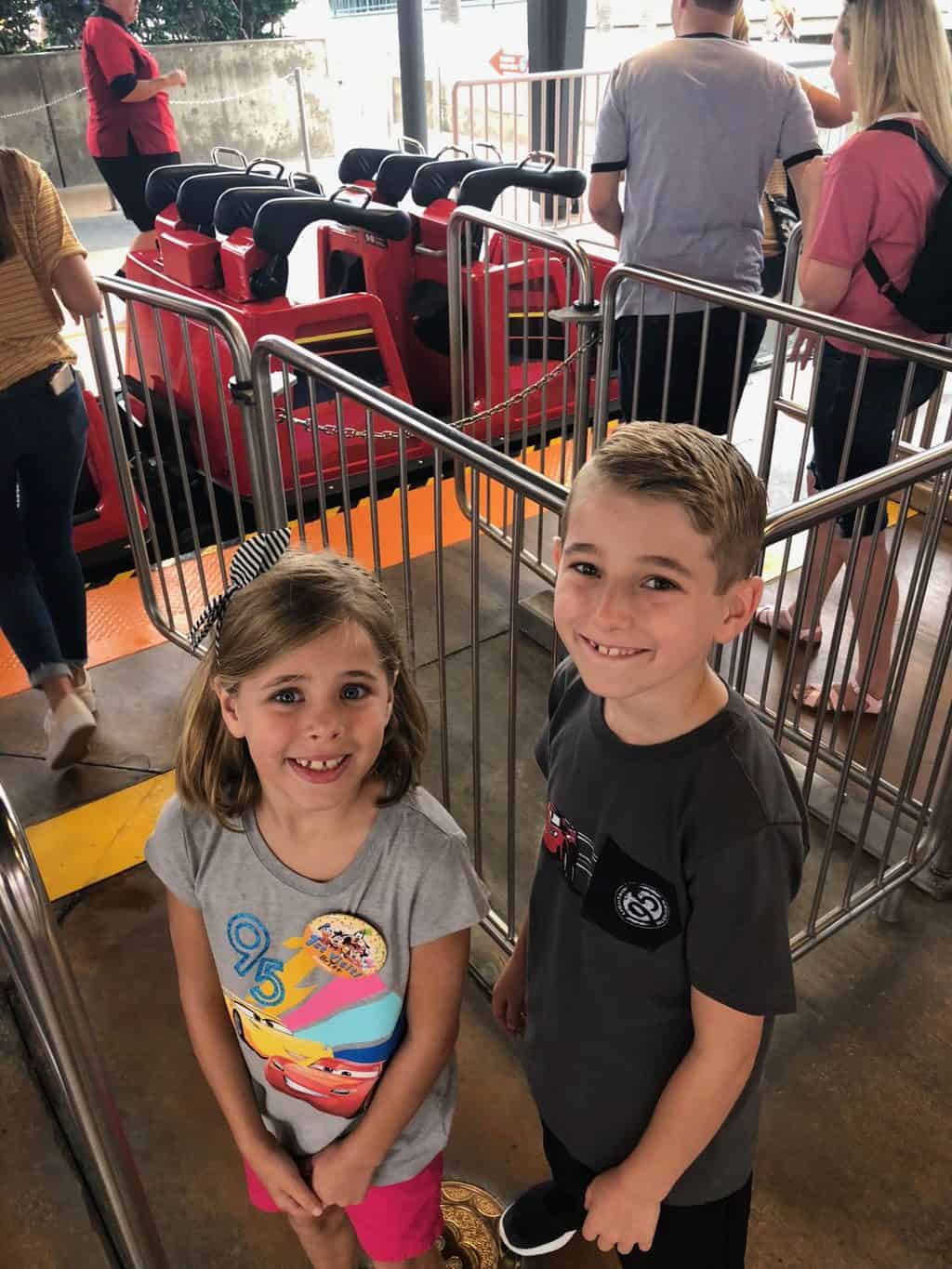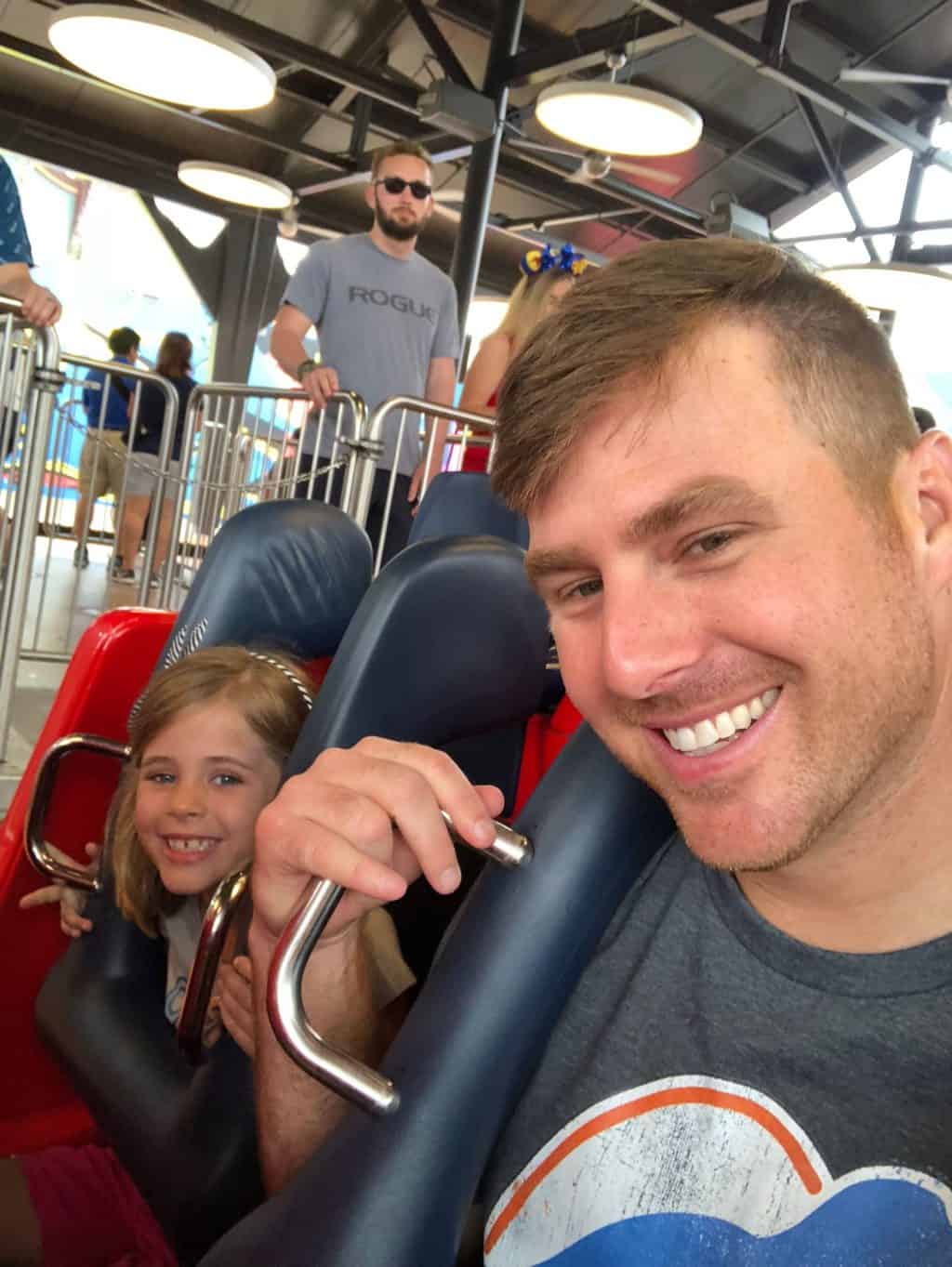 Hahah it looks like Britt is missing because she's ducking down in fear!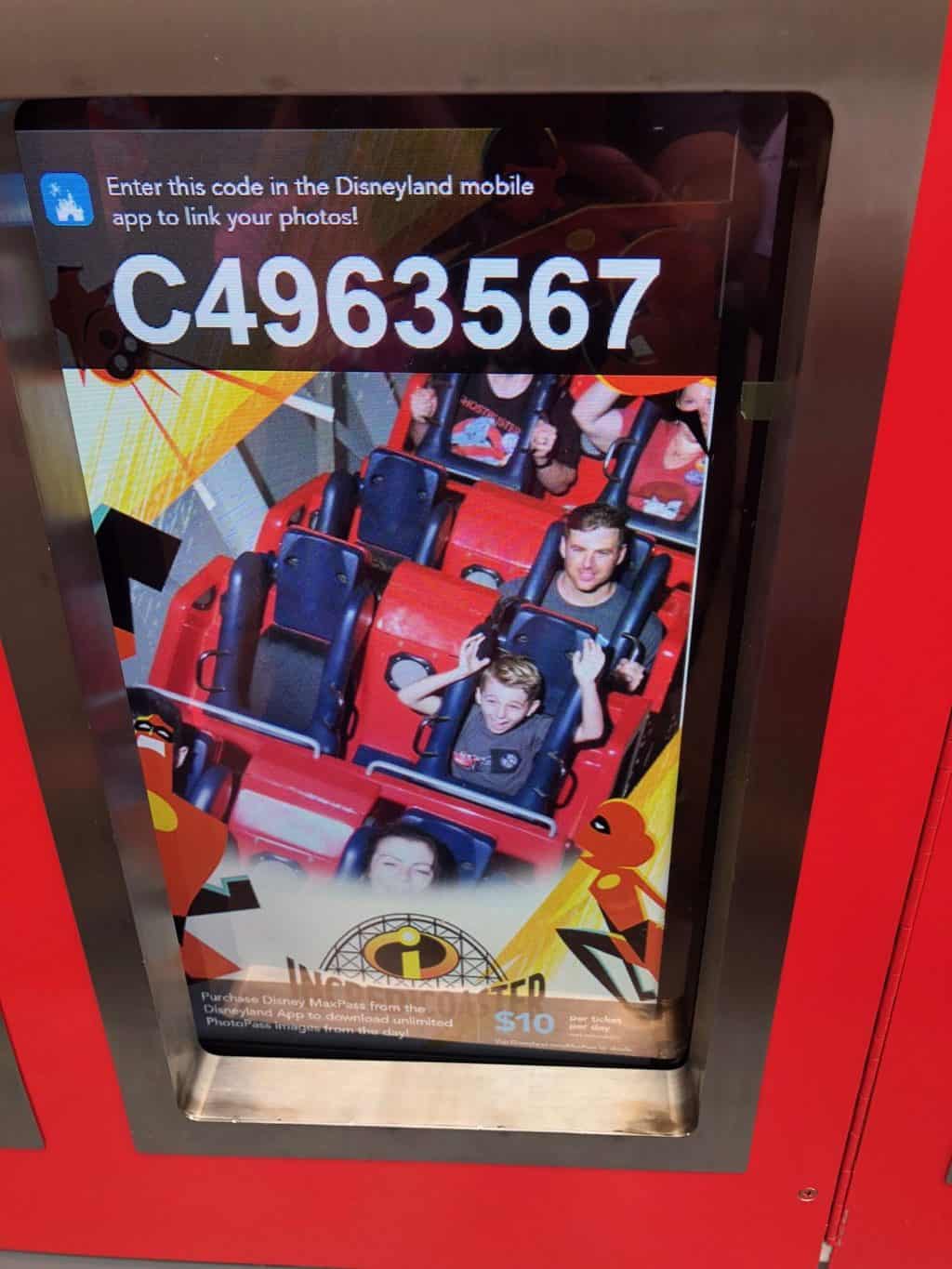 They ended up finishing the ride before Tess and I did so they hopped in line for a meet and greet (Zach has learned my favorite things to do right?!). Tess and I finished up just in time and we all got to meet Mrs Incredible! She was GREAT!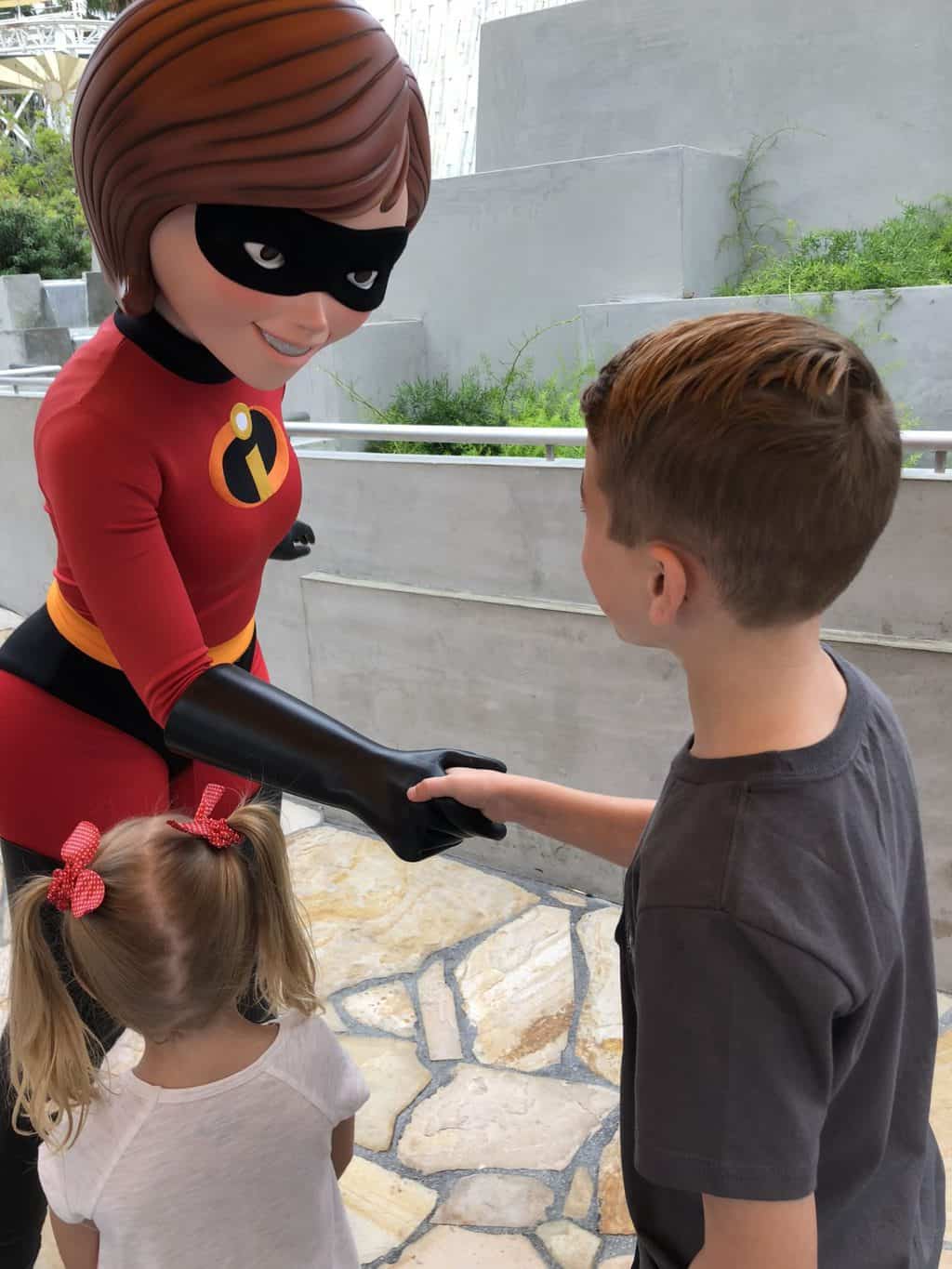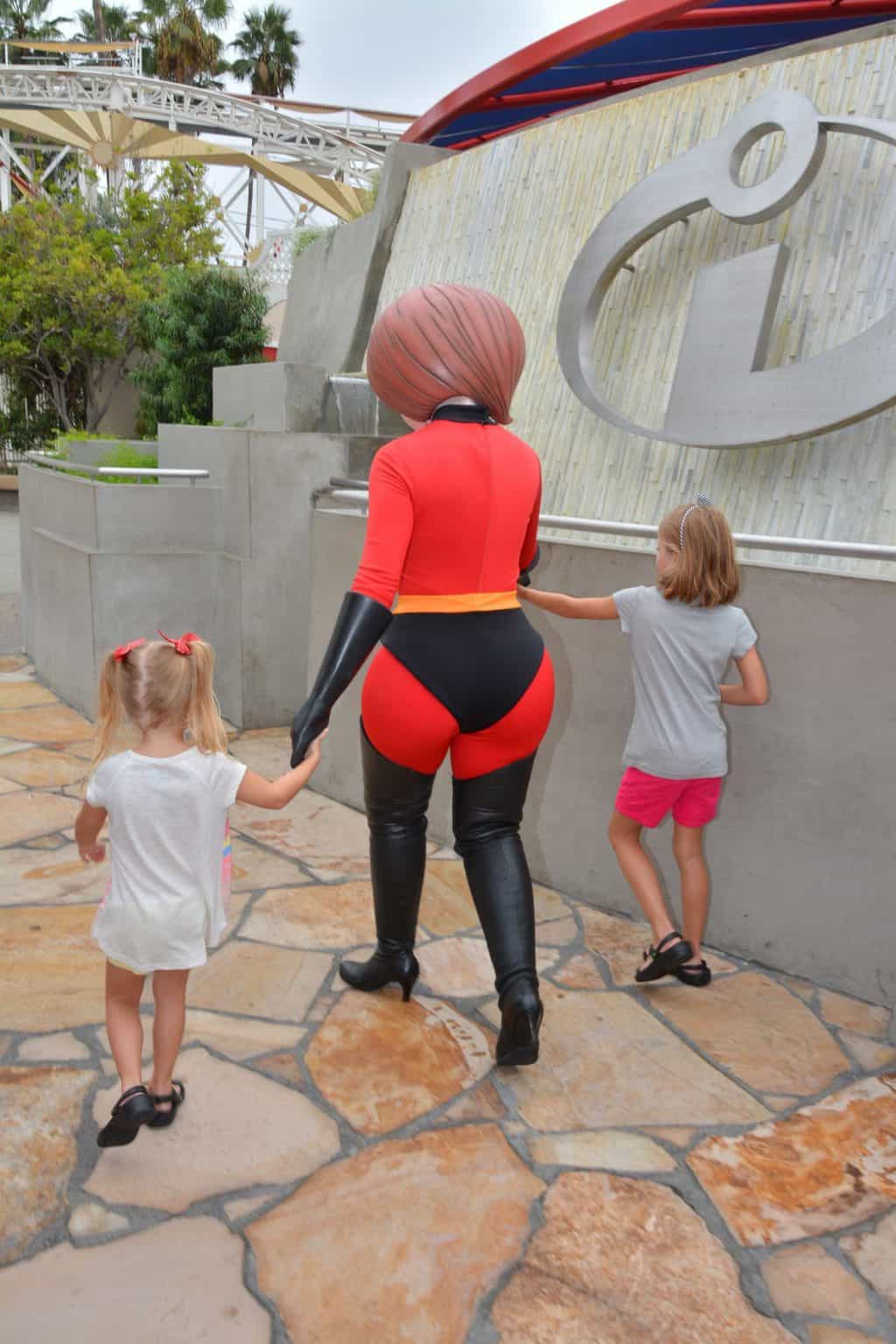 All of these pictures CRACK ME UP. It's hilarious how Kye doesn't know how to do an Incredible Pose and then with the whole family Zach is pretty awkward too. They are so great!!!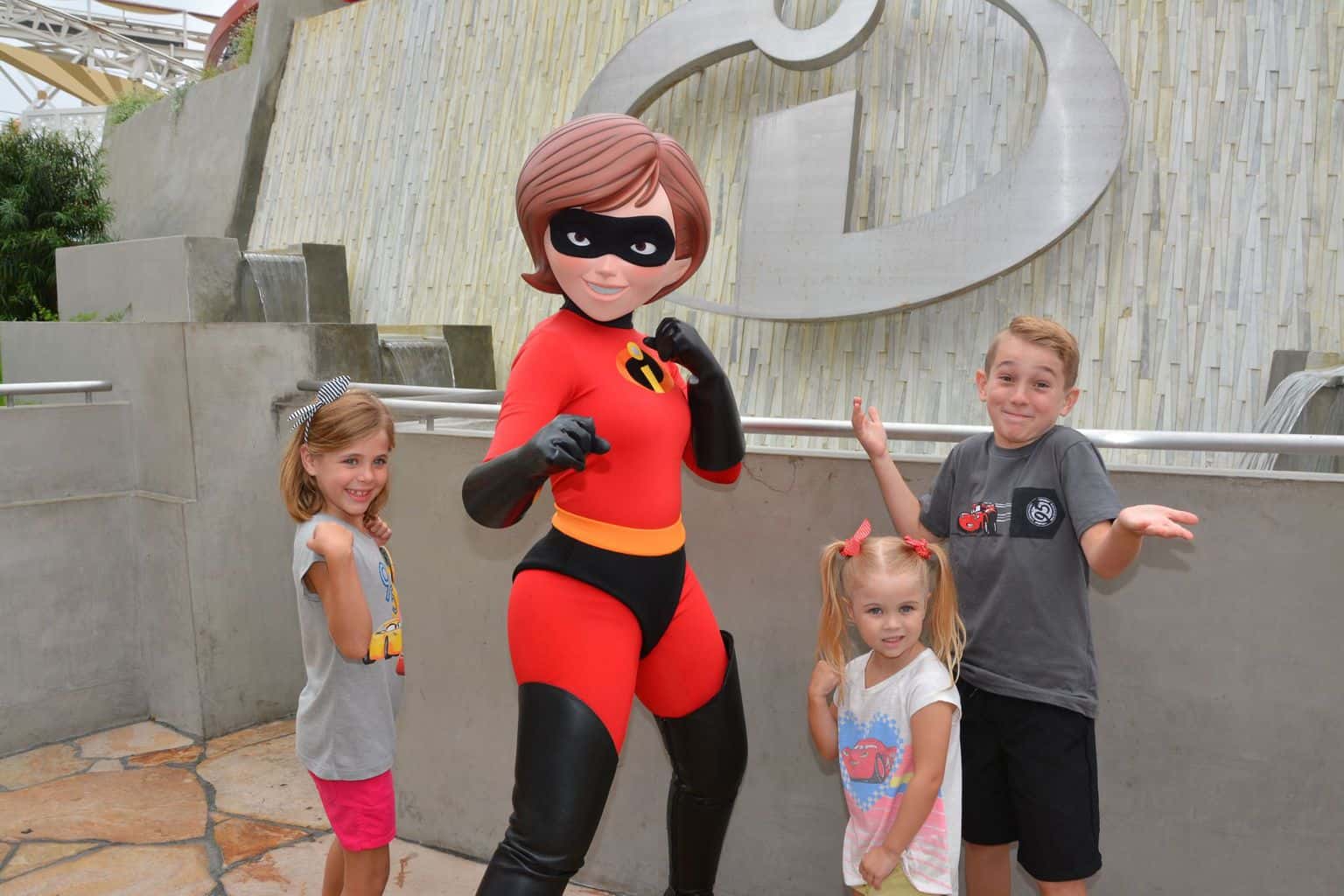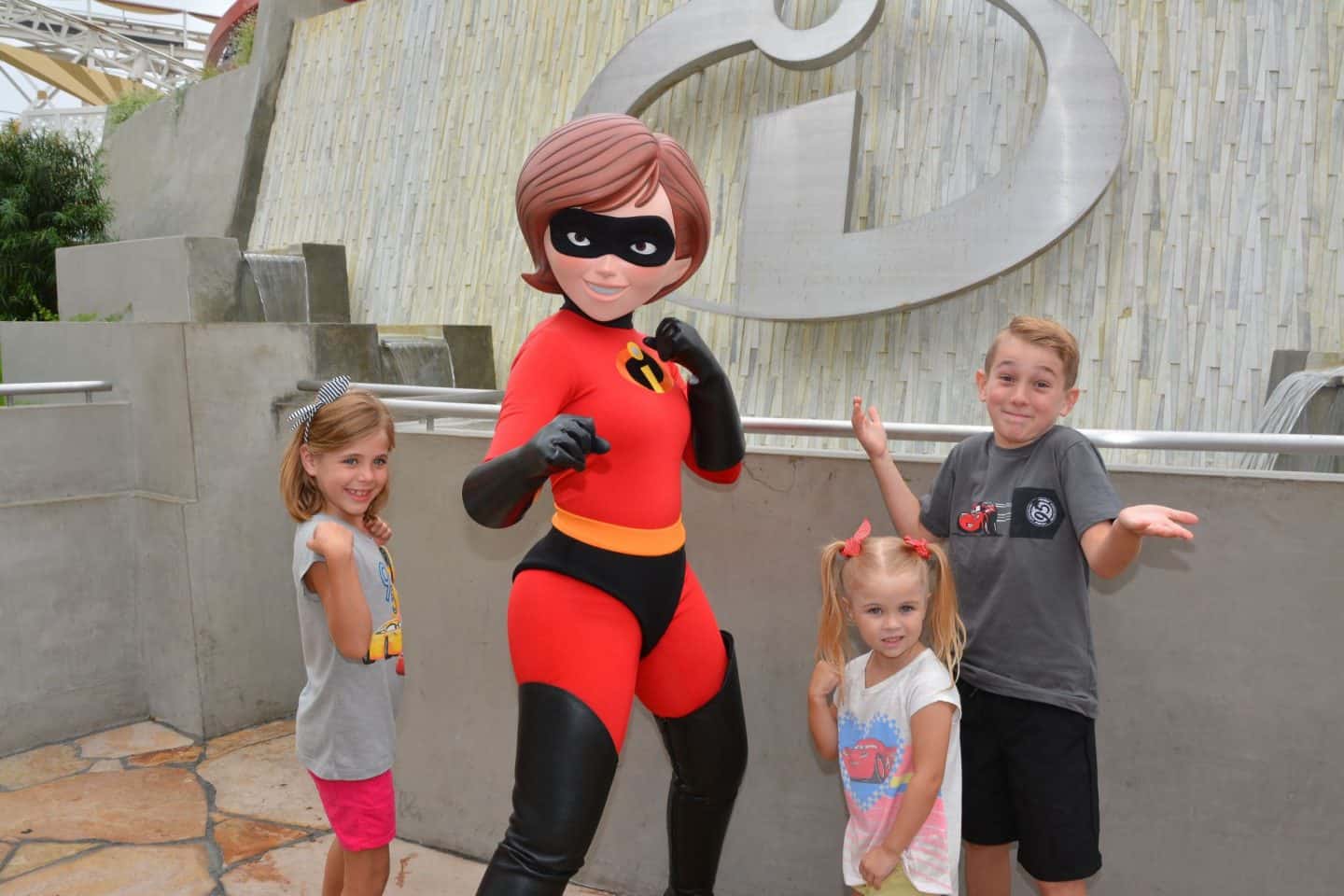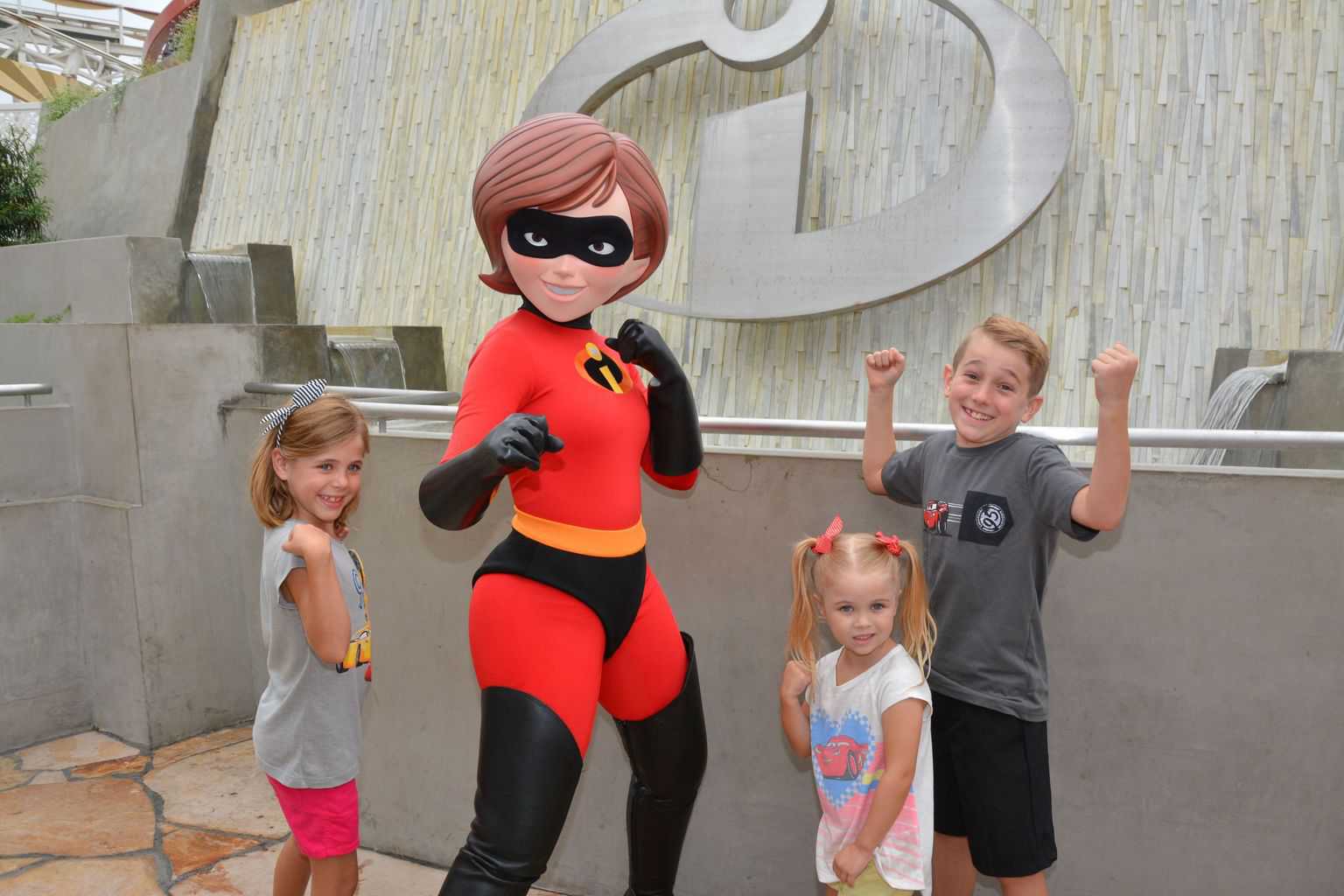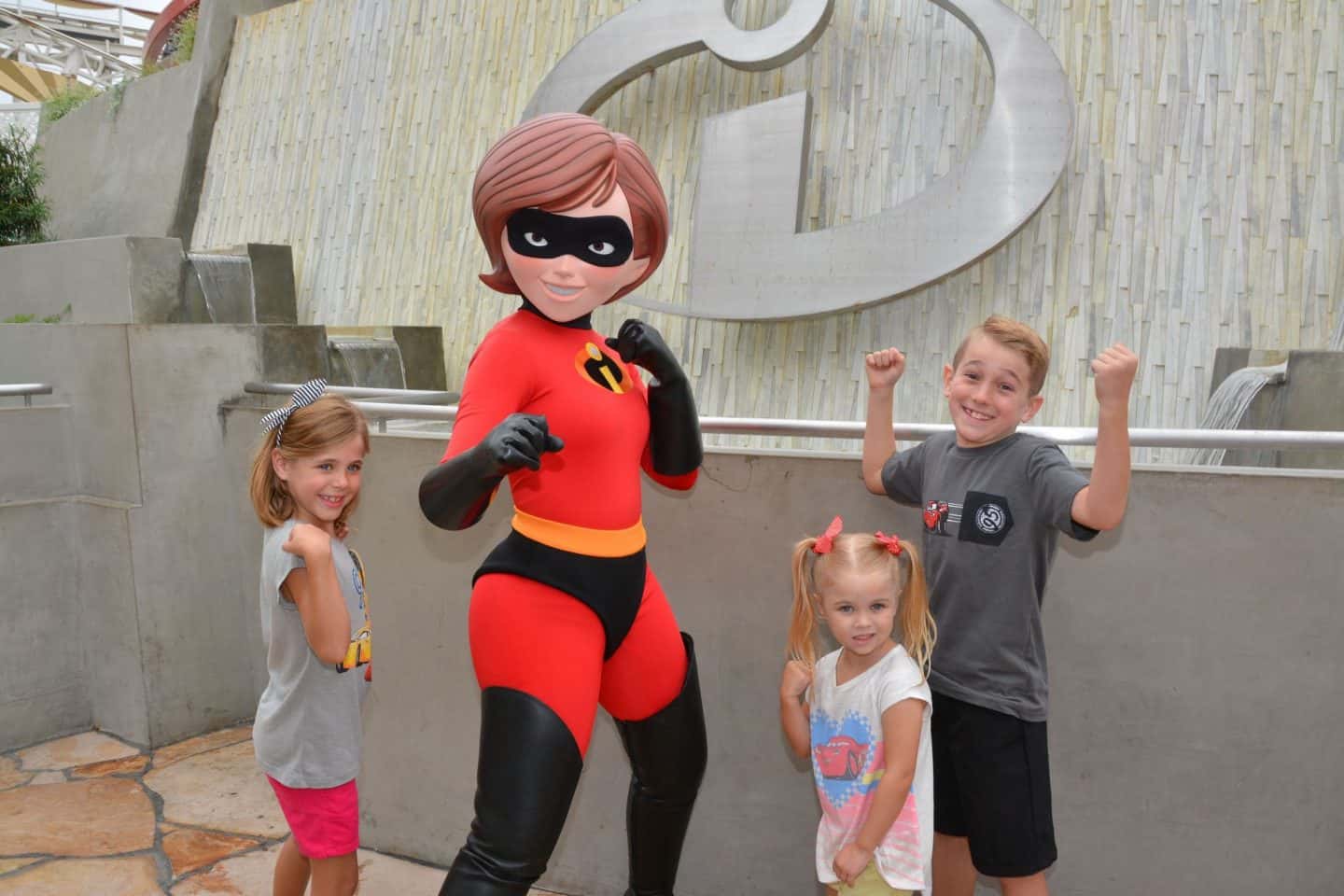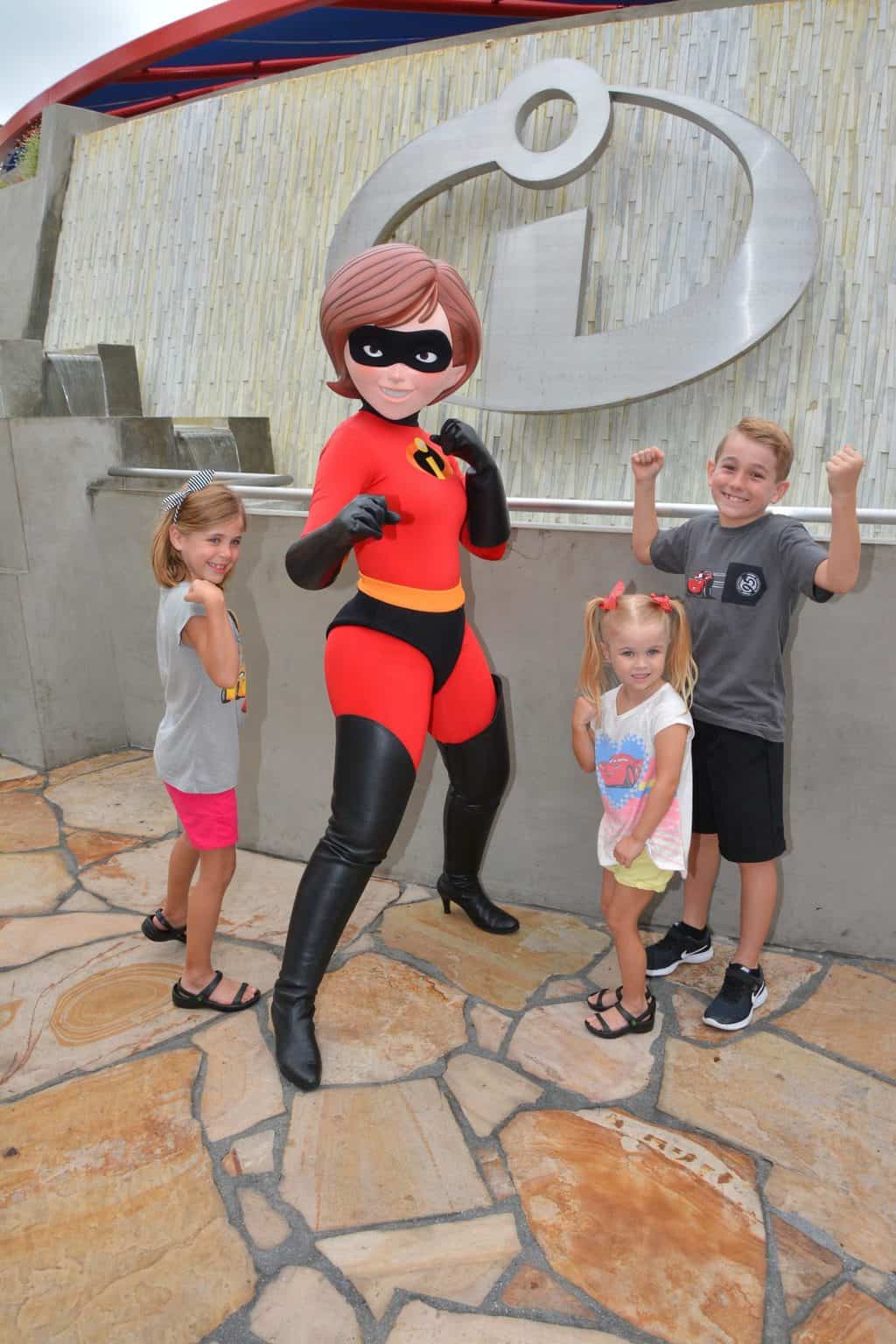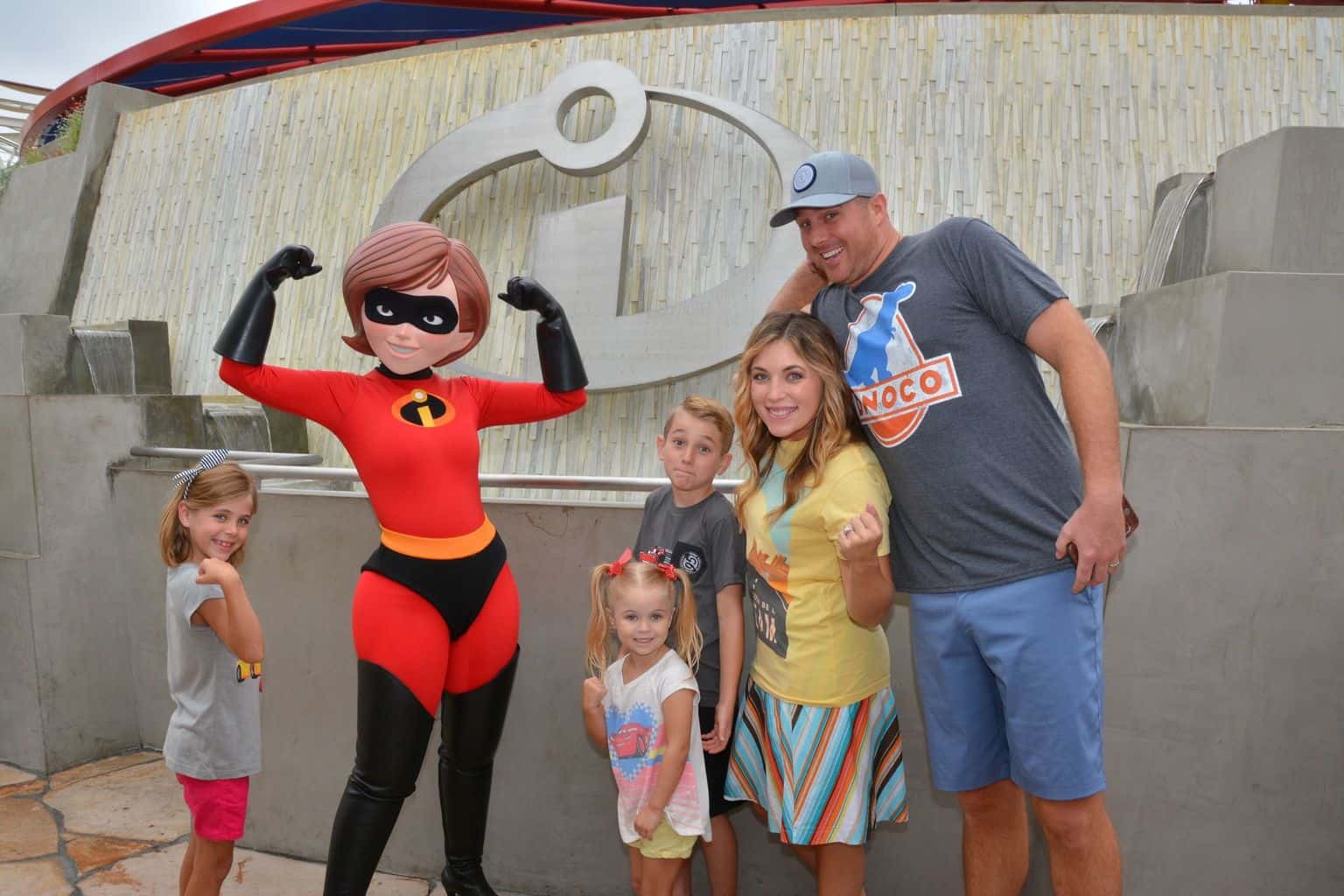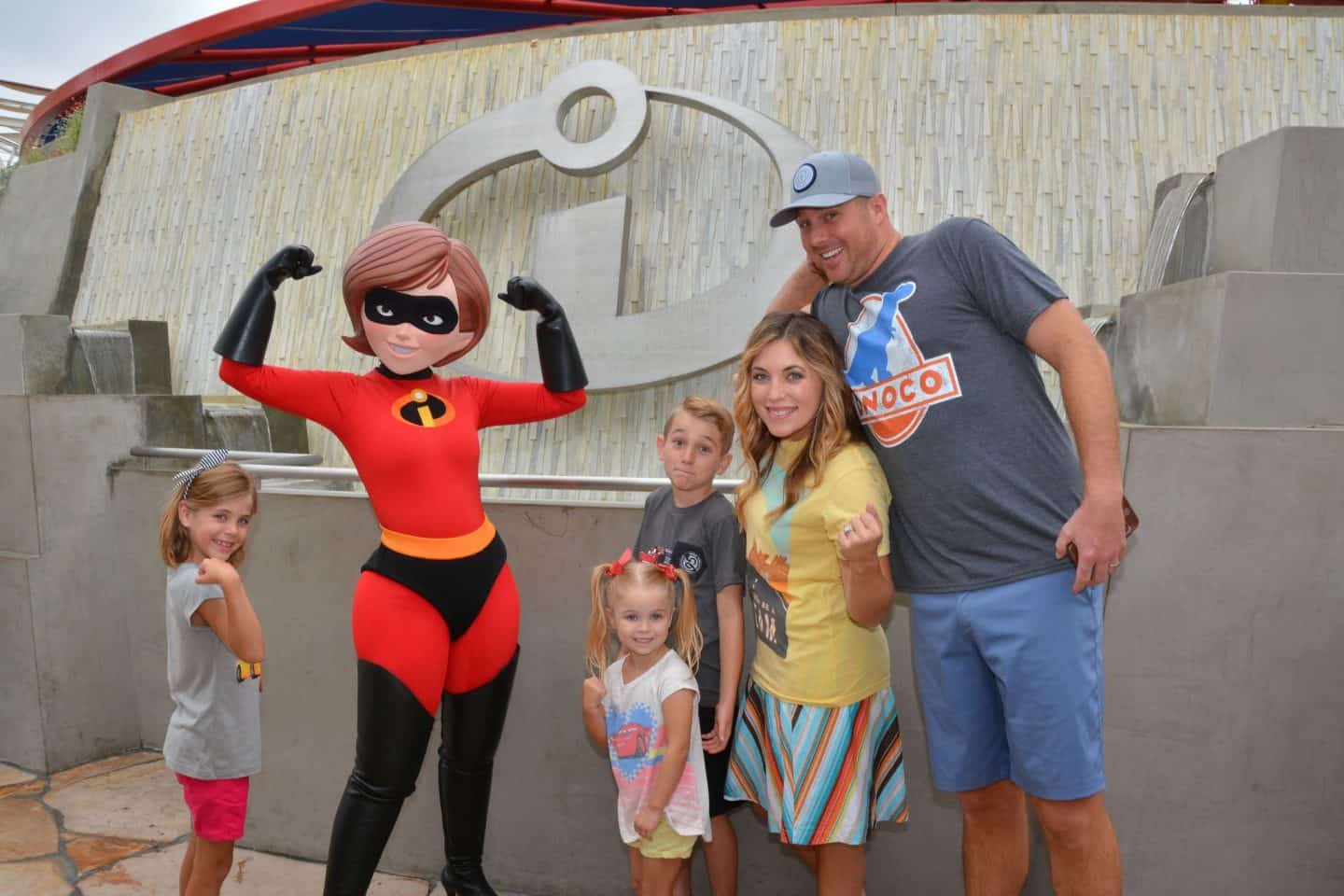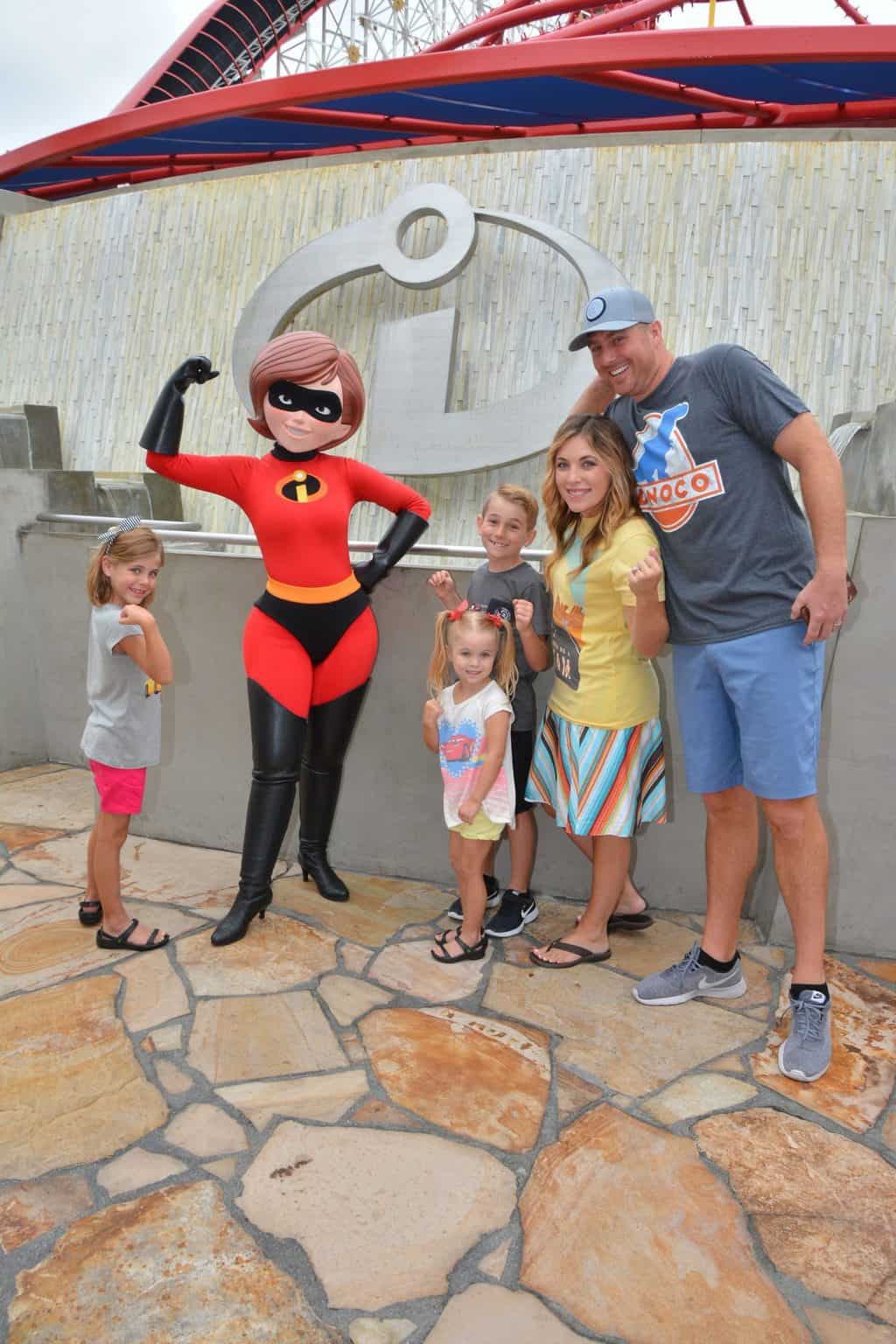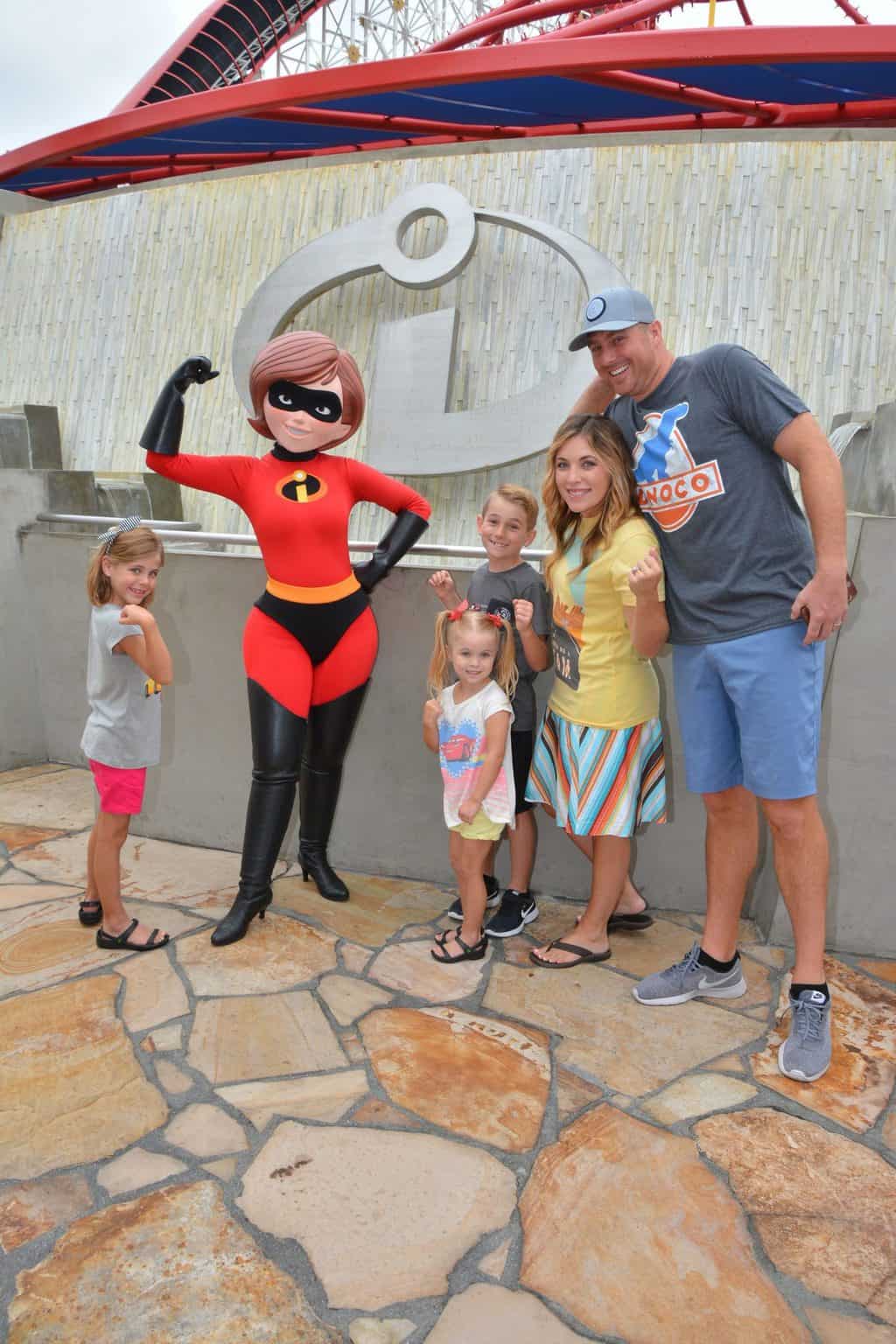 After we headed over to Mickey's Fun Wheel. It's an iconic spot at Disney's California Adventure and we opted to ride the non-swinging swings which meant we had no wait and could walk right on!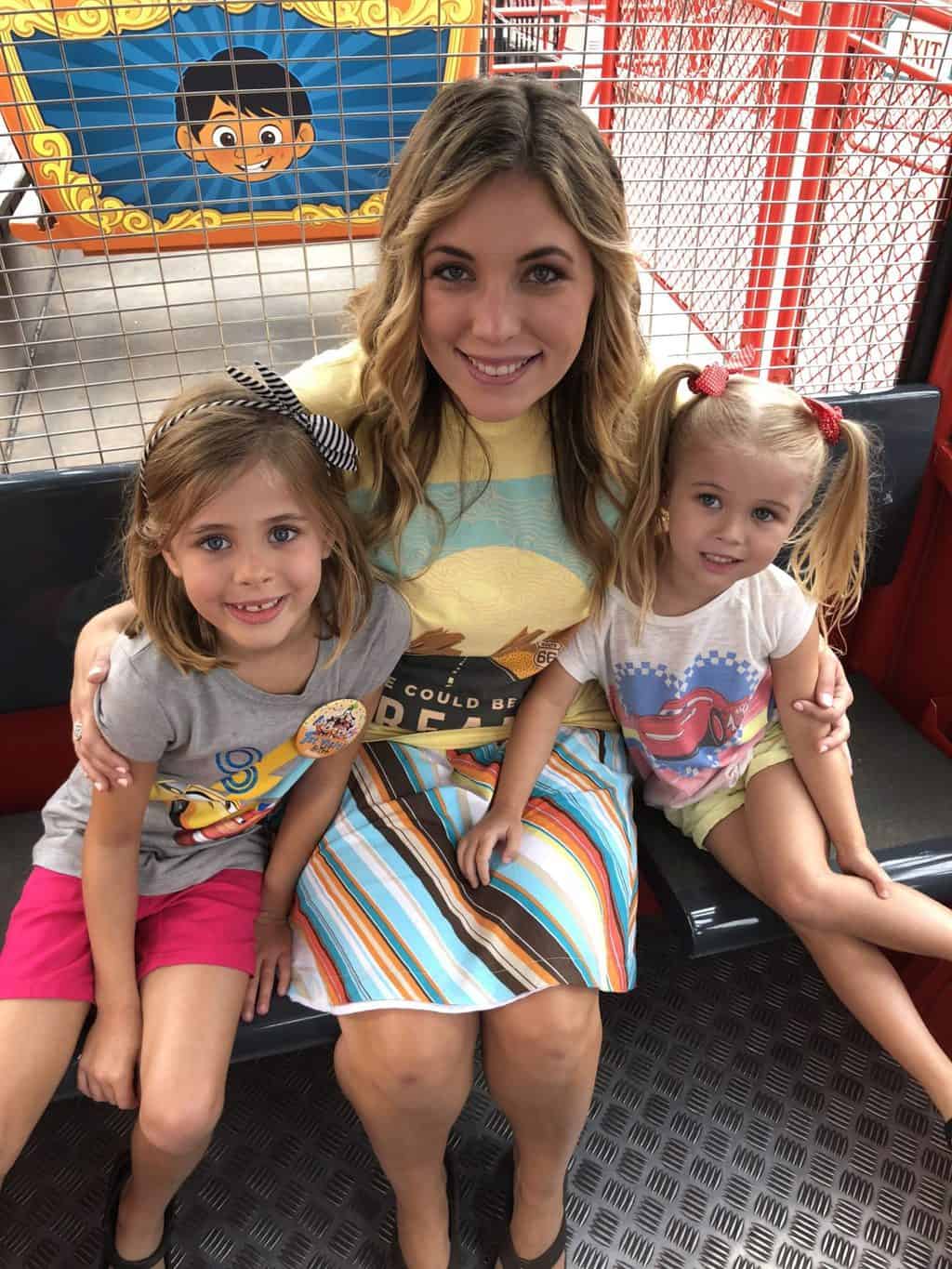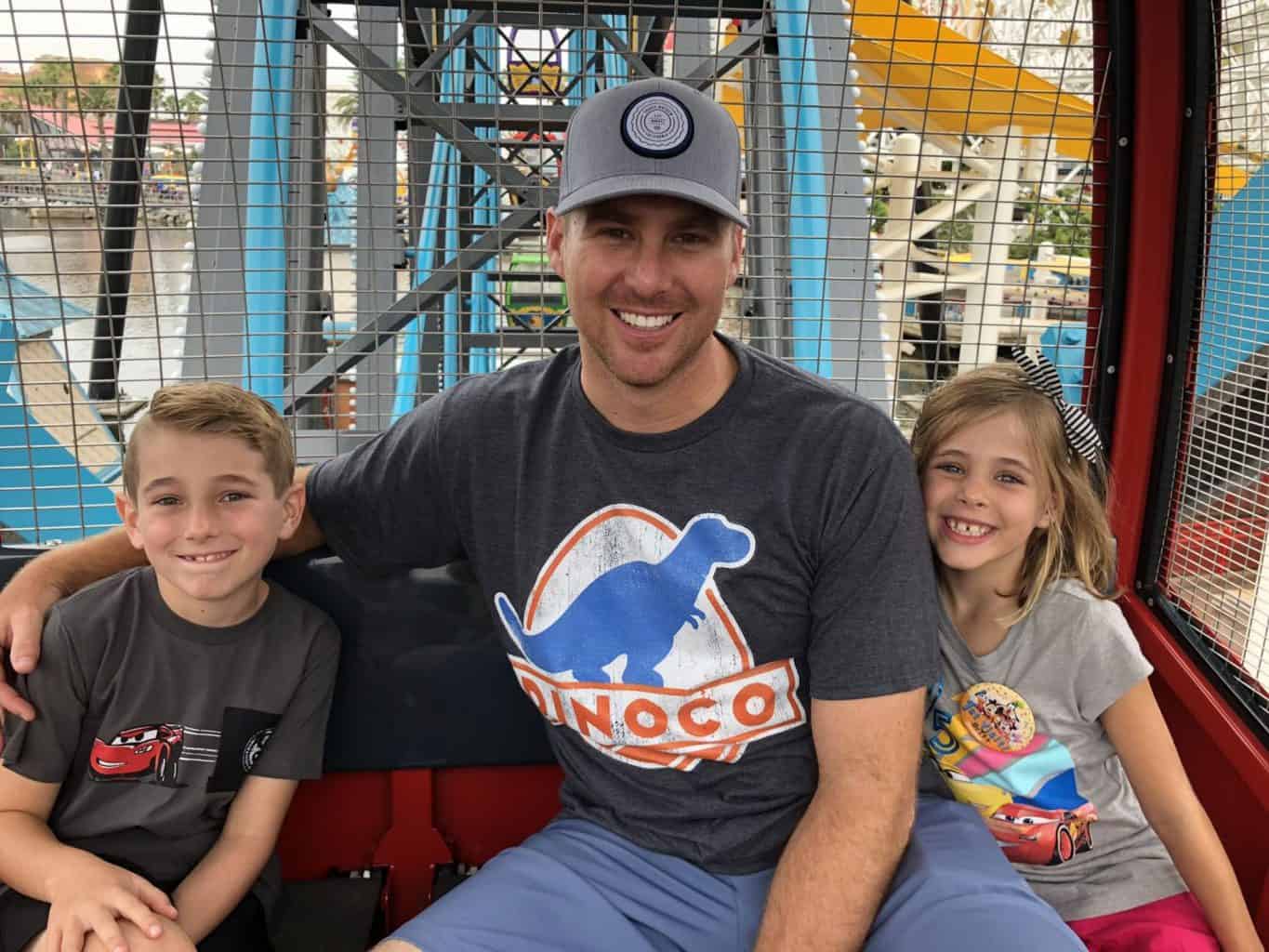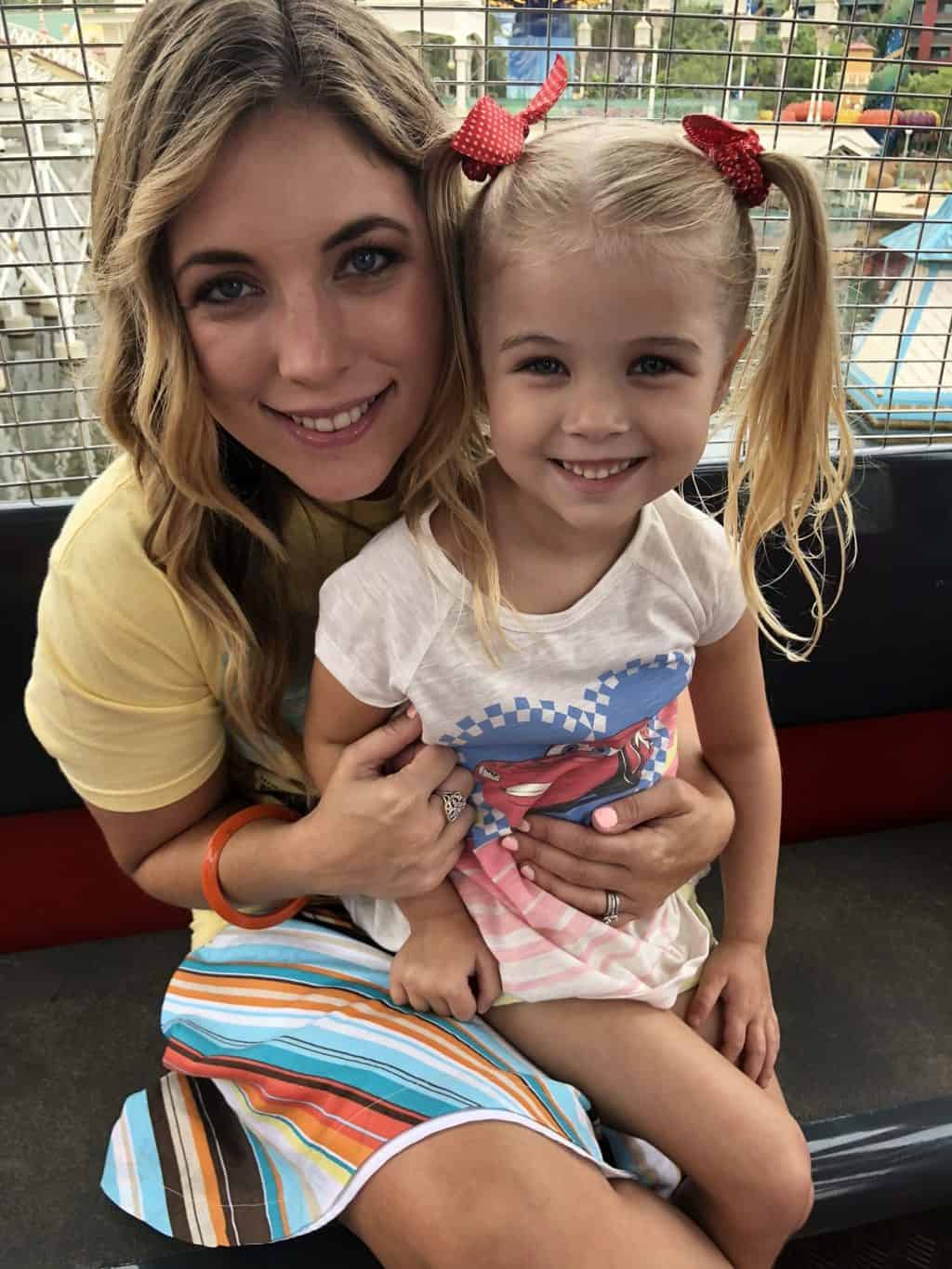 We love all the re-imaging of the Pier into Pixar stuff!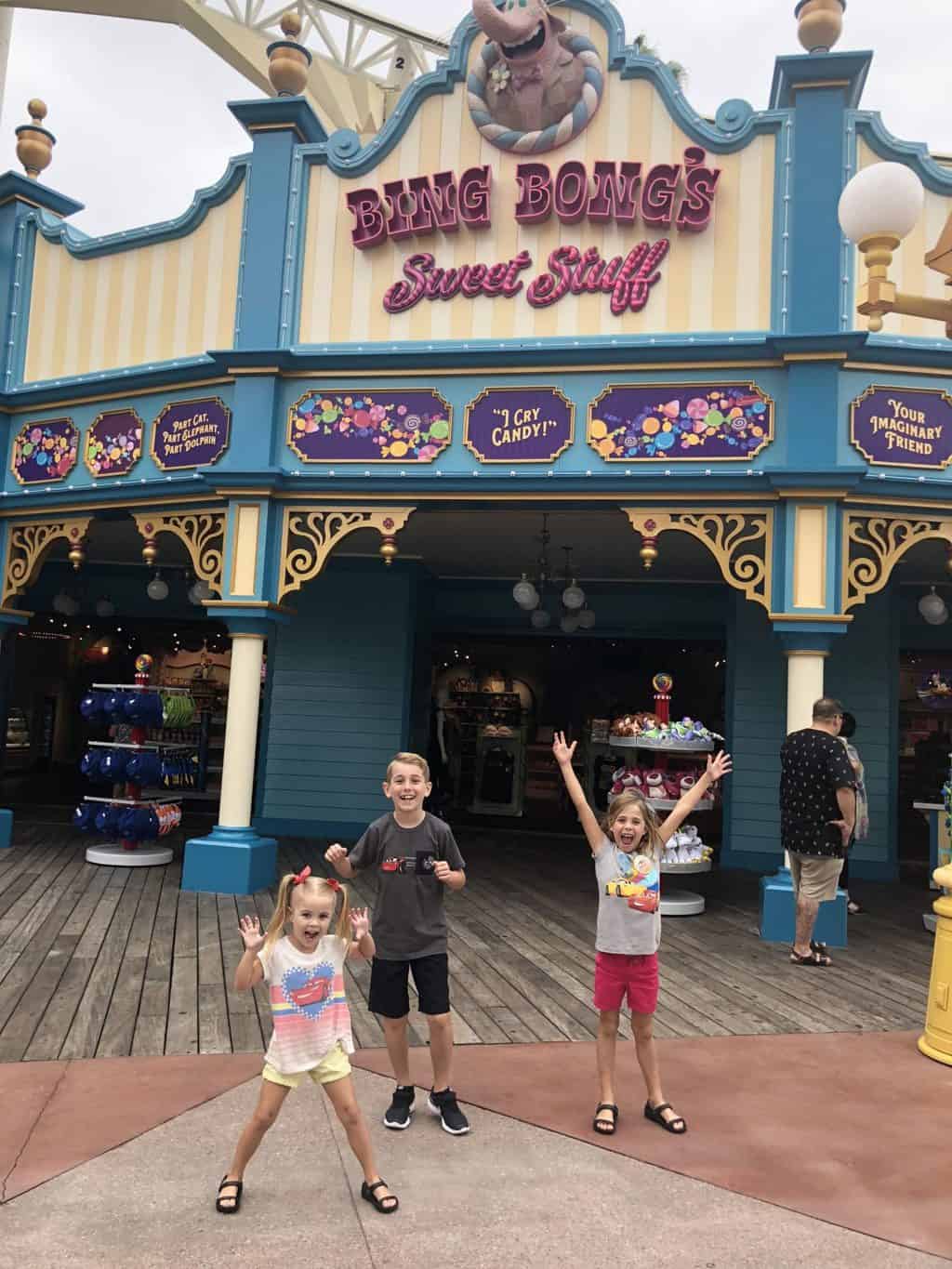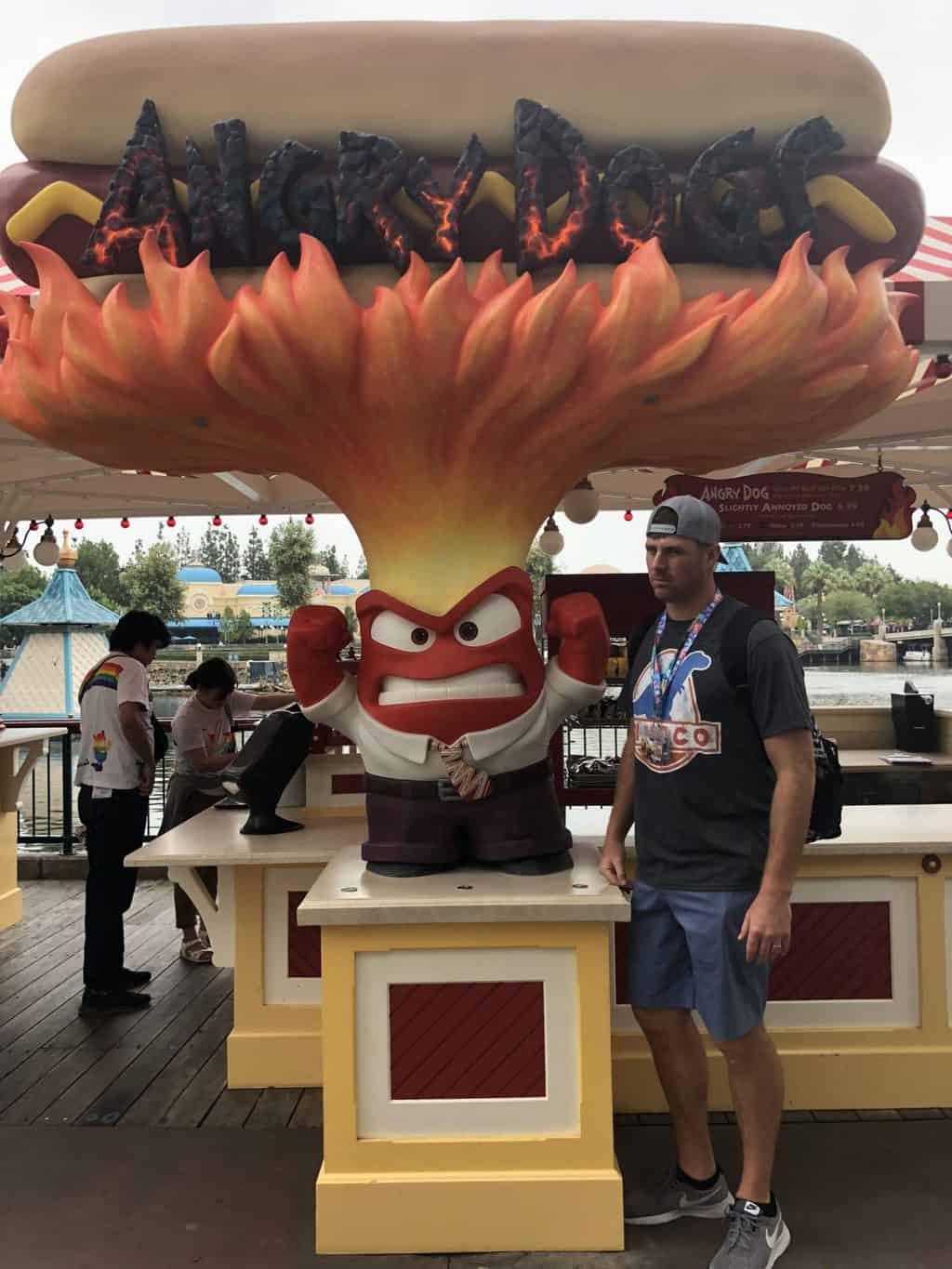 Another round of Toy Story Mania…this time with the Incredicoaster crew too!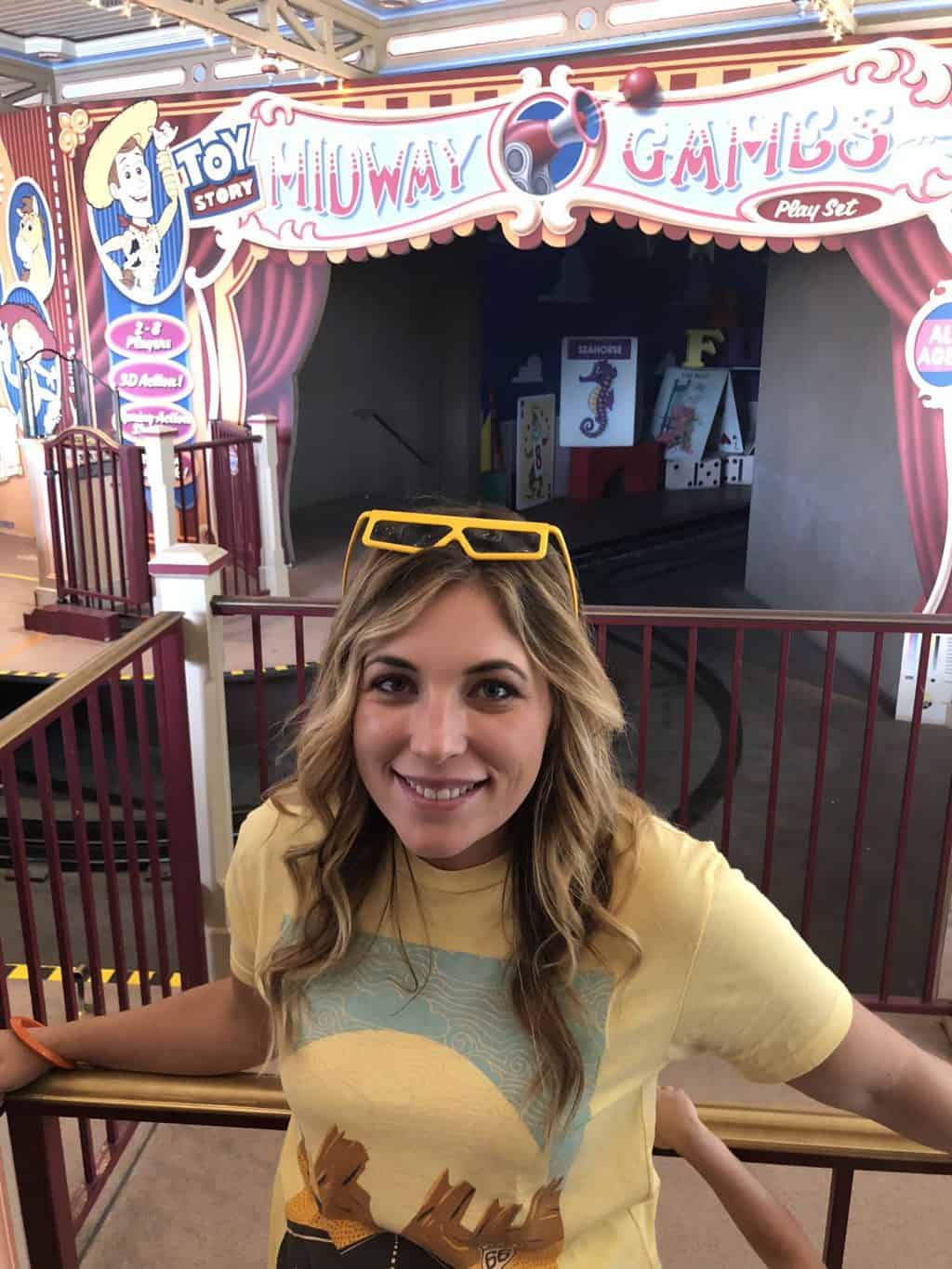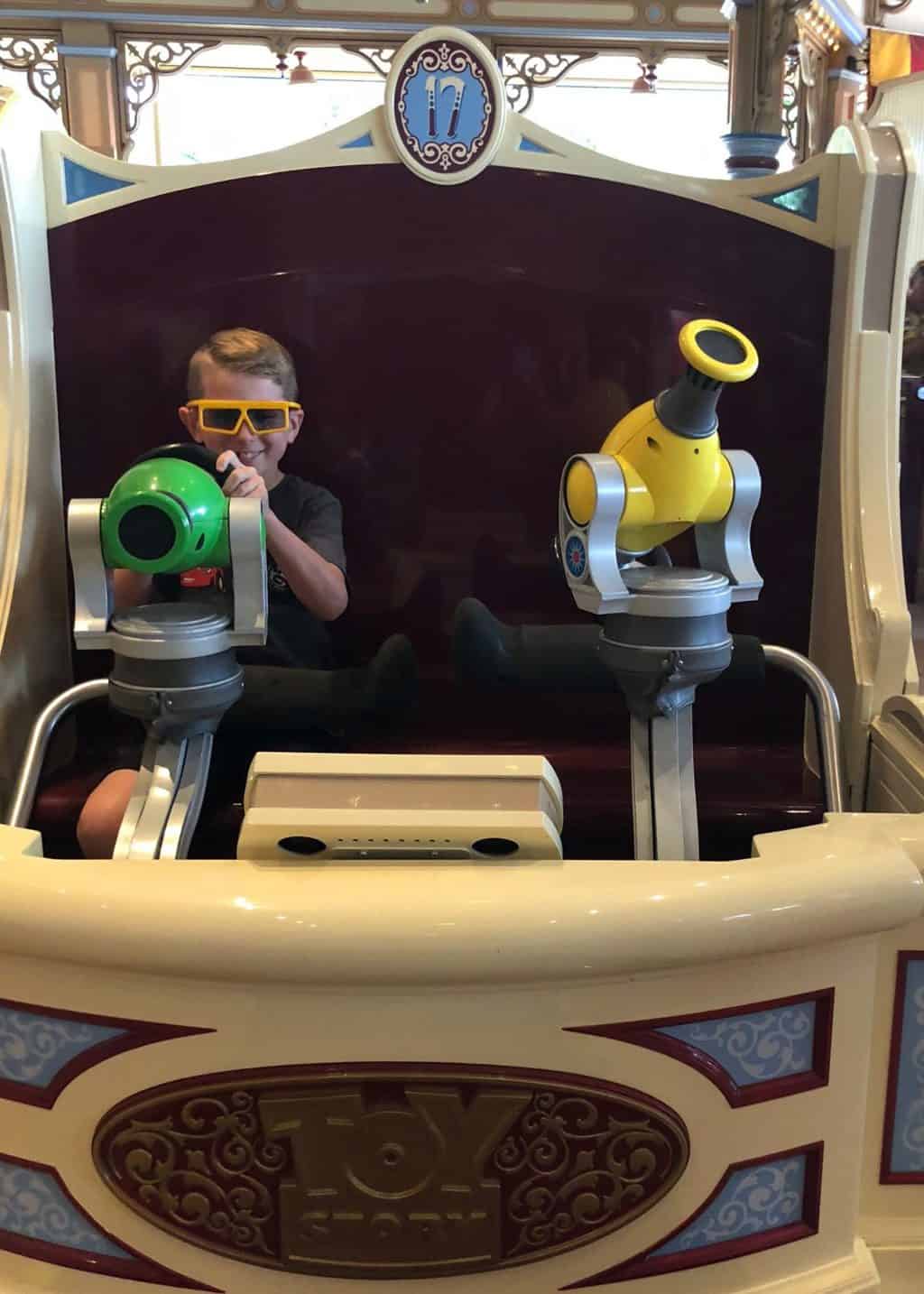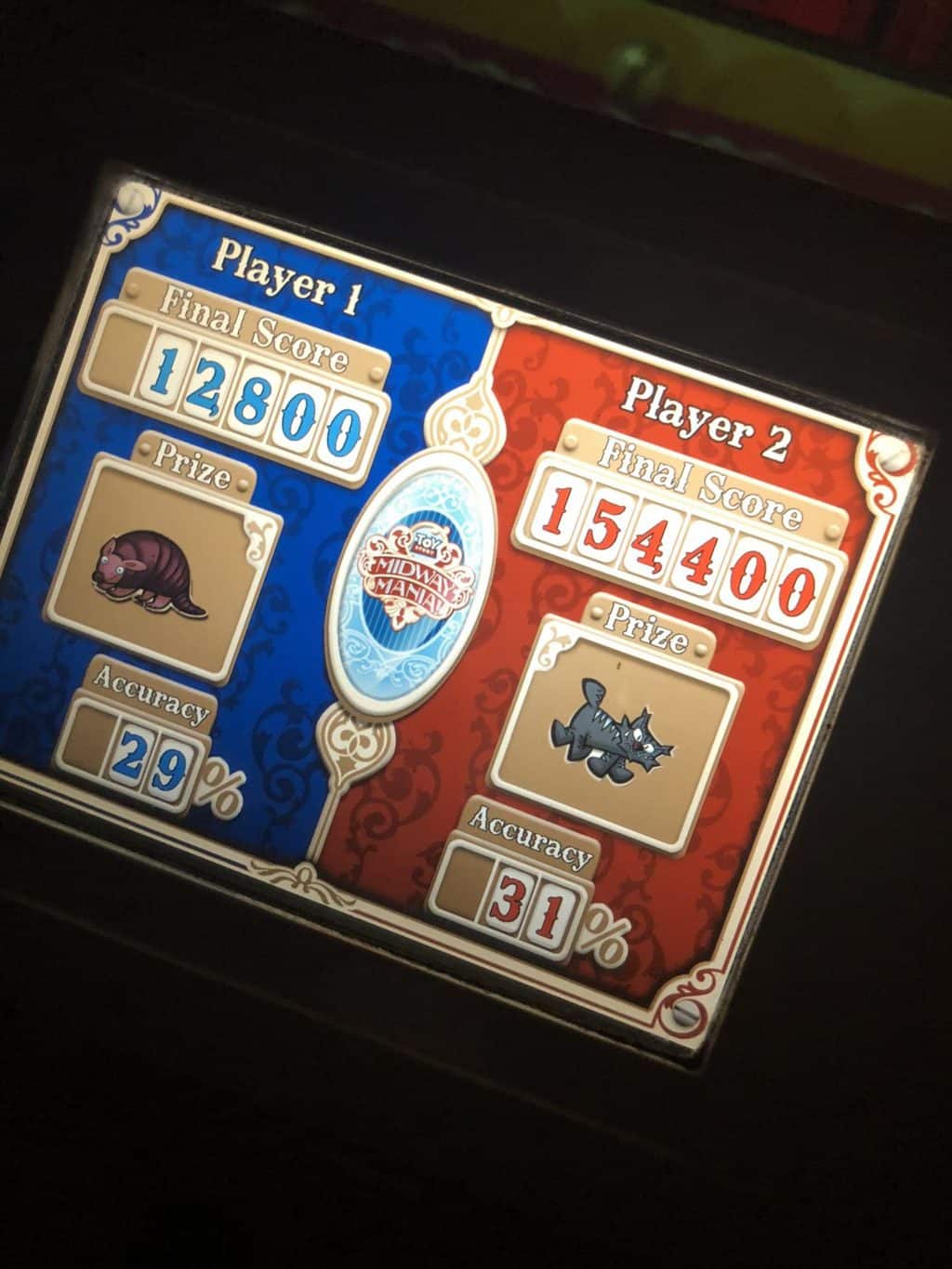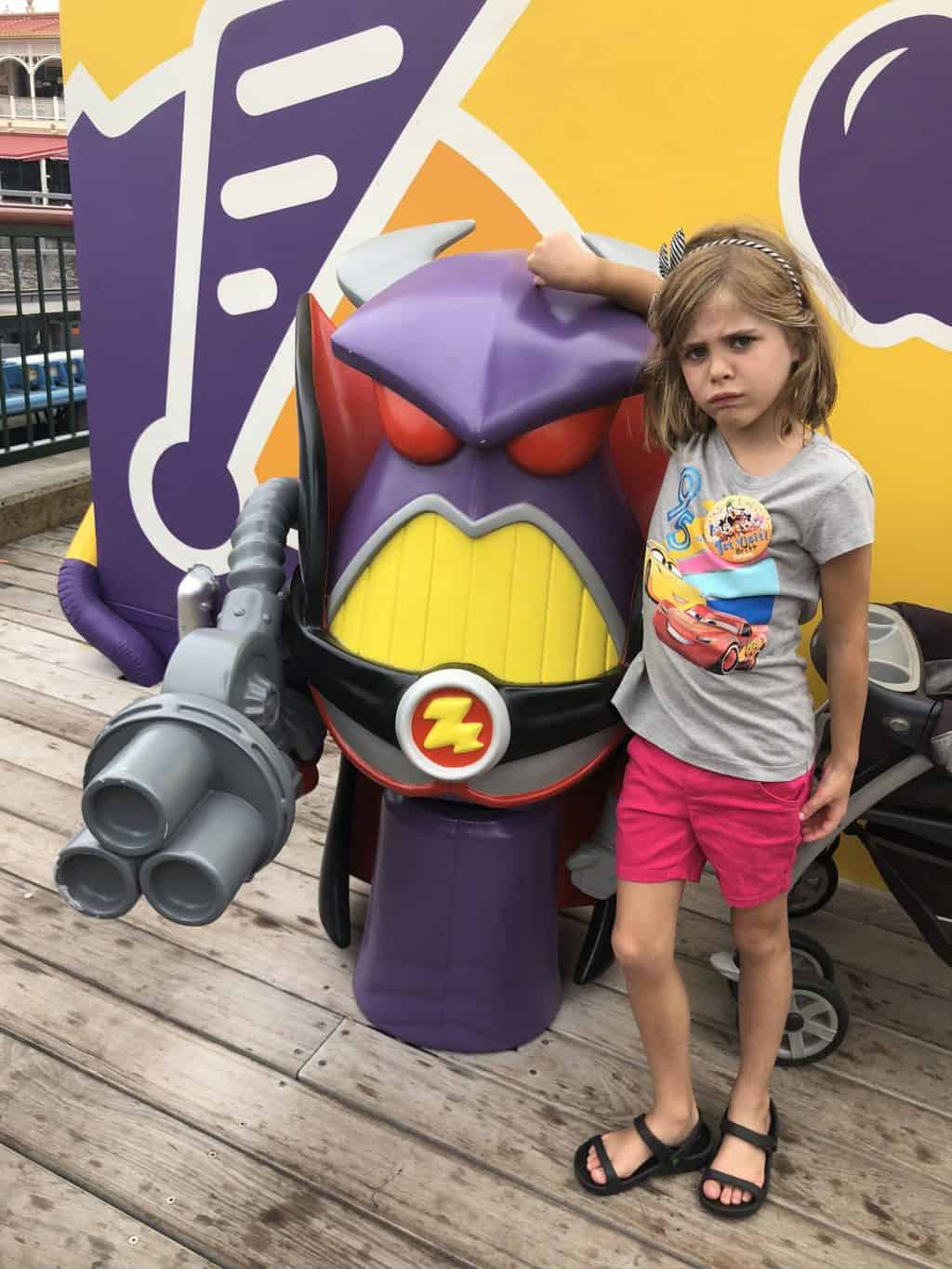 The big bulletin boards are so cool!!!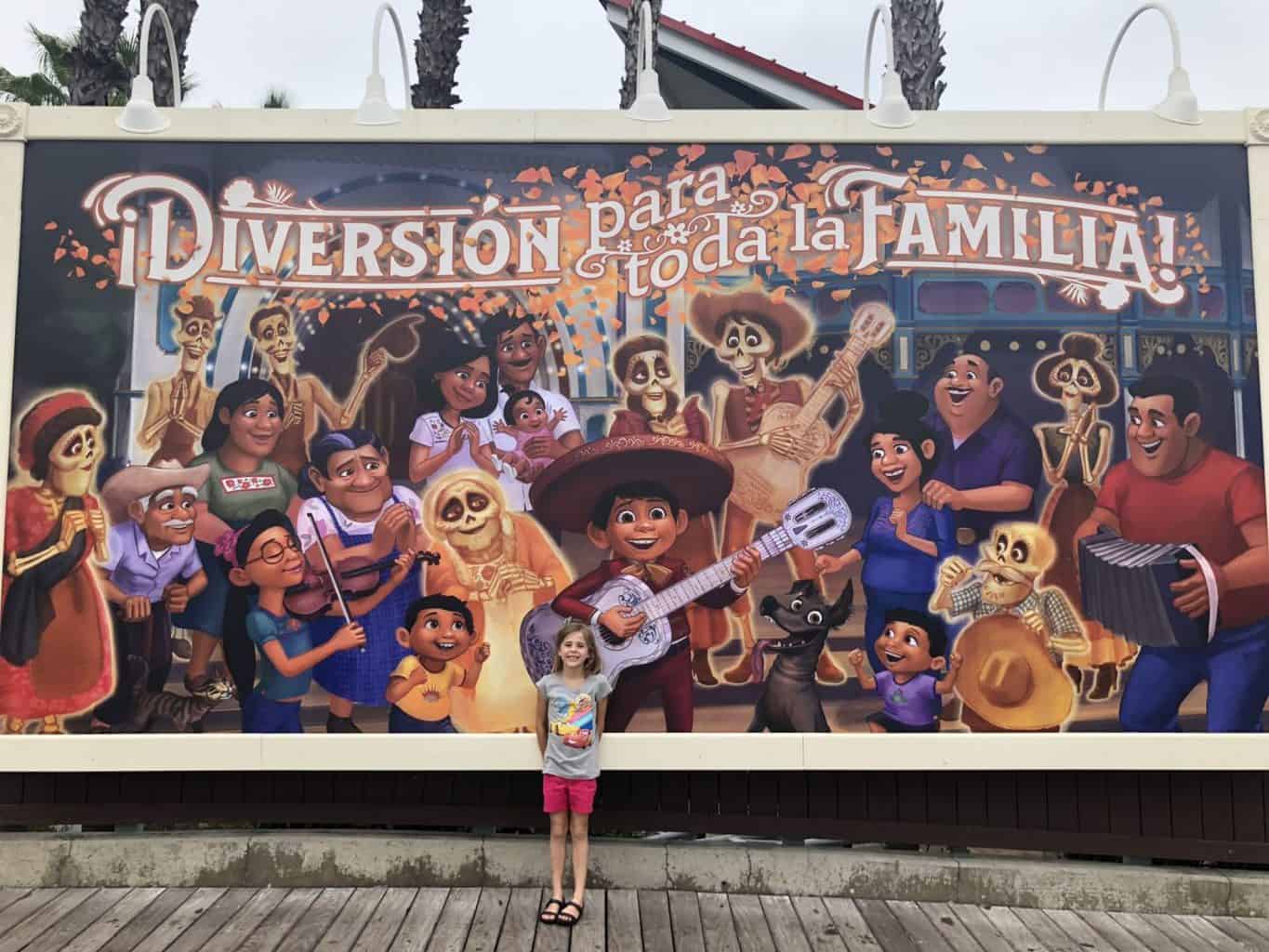 See ya later Paradise Pier!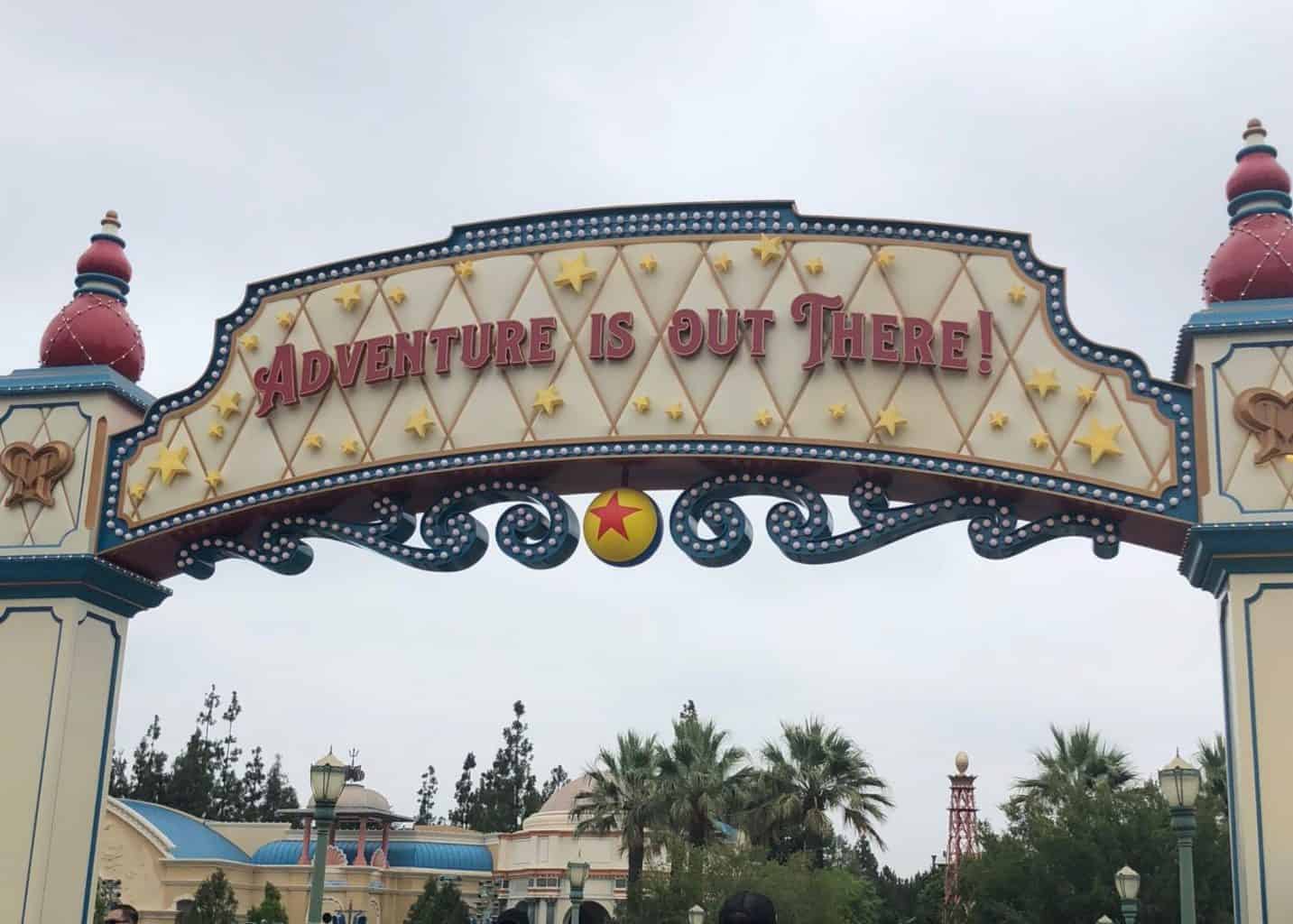 Photopass photographers can be hit or miss. Usually I LOVE the photos they take but sometimes they just are phoning it in. I mean a family picture at the pier should NATURALLY include the landmarks like the FERRIS WHEEL and ROLLERCOASTER. Right?!?! We knew we'd get a redo another day of our trip so we moved on but c'mon dude!
I do want to share where we got our outfits for the day:
Kye: Disney Store
Britt and Tess: Kohl's
Mine: Oh Yeah Apparel
Zach: Amazon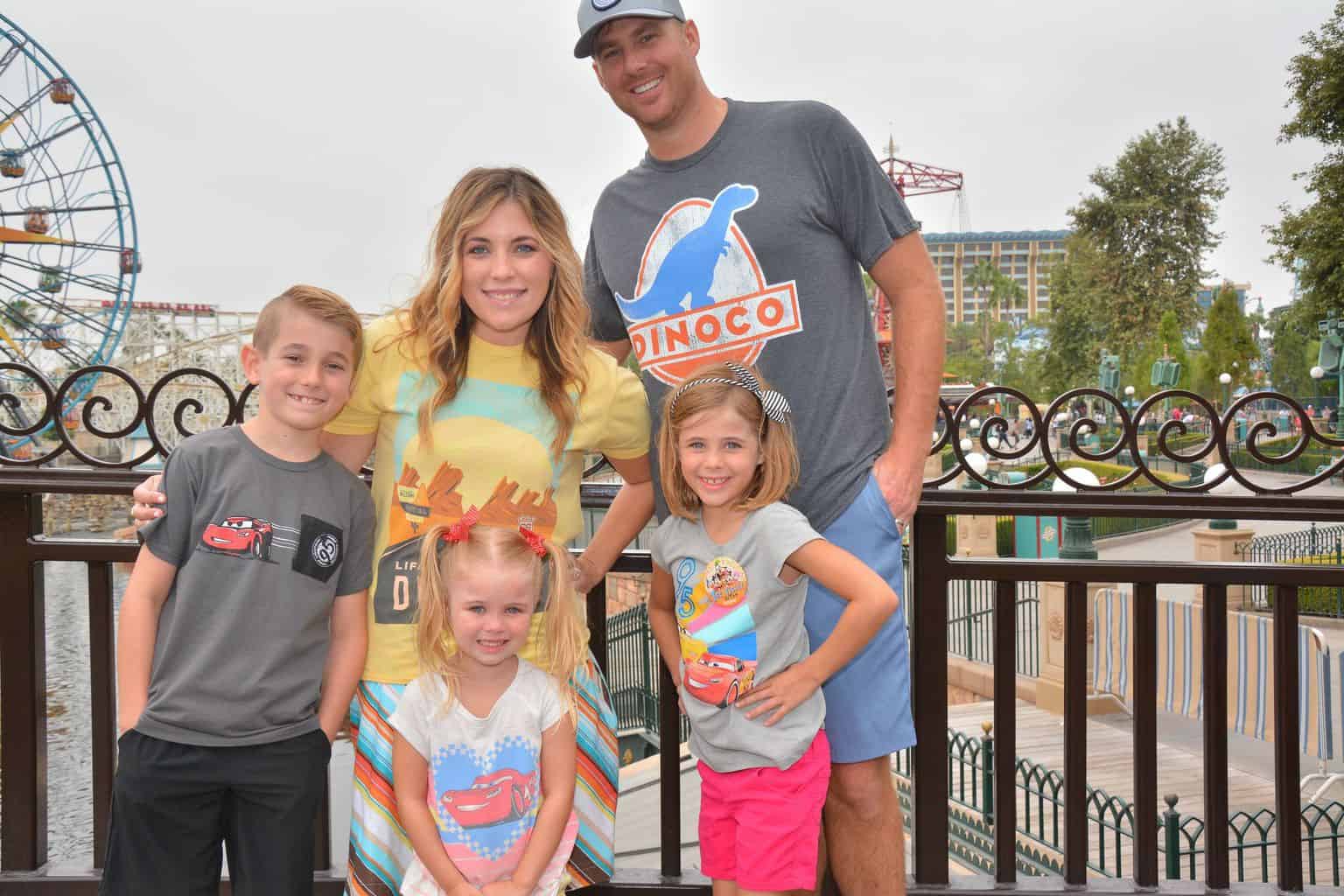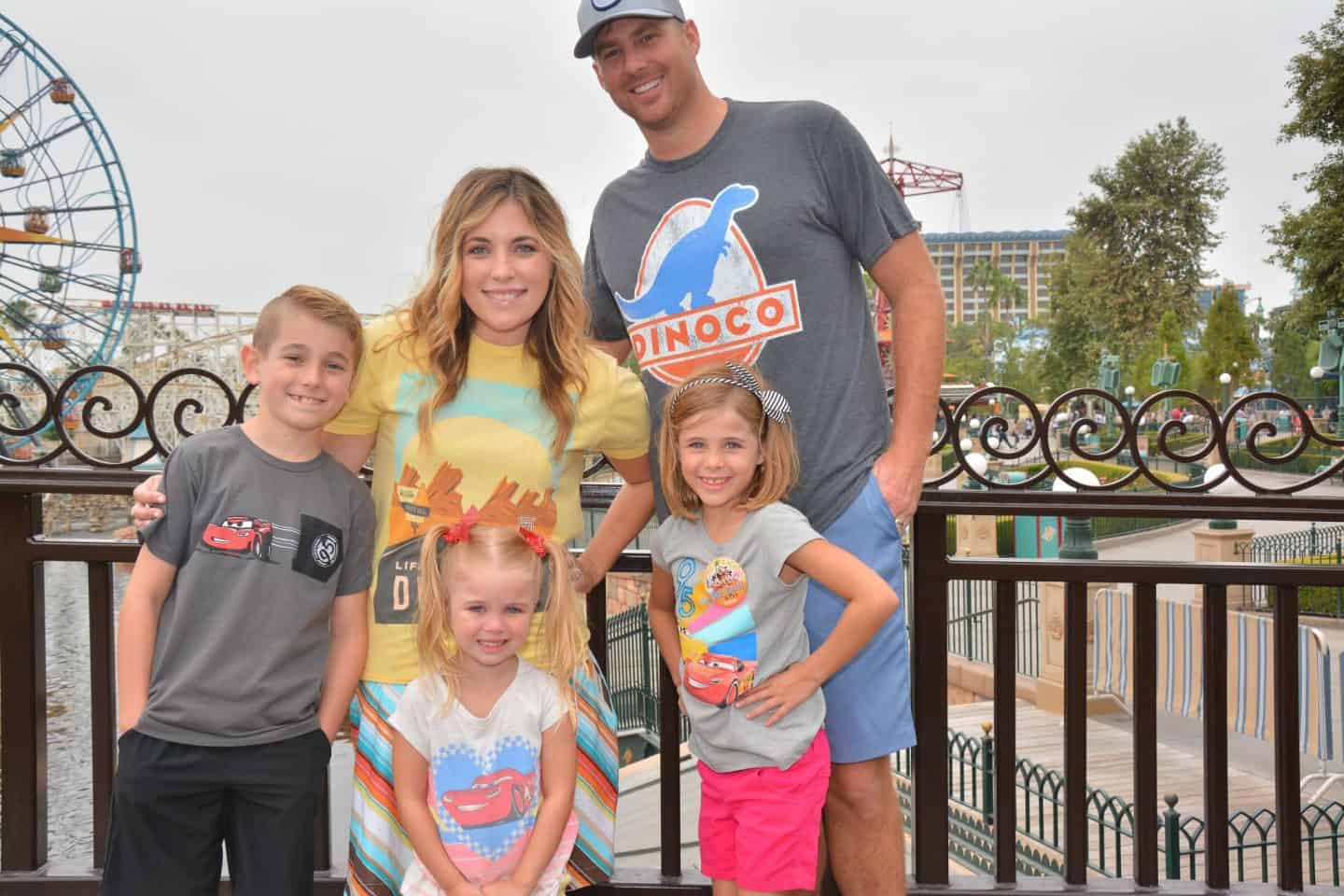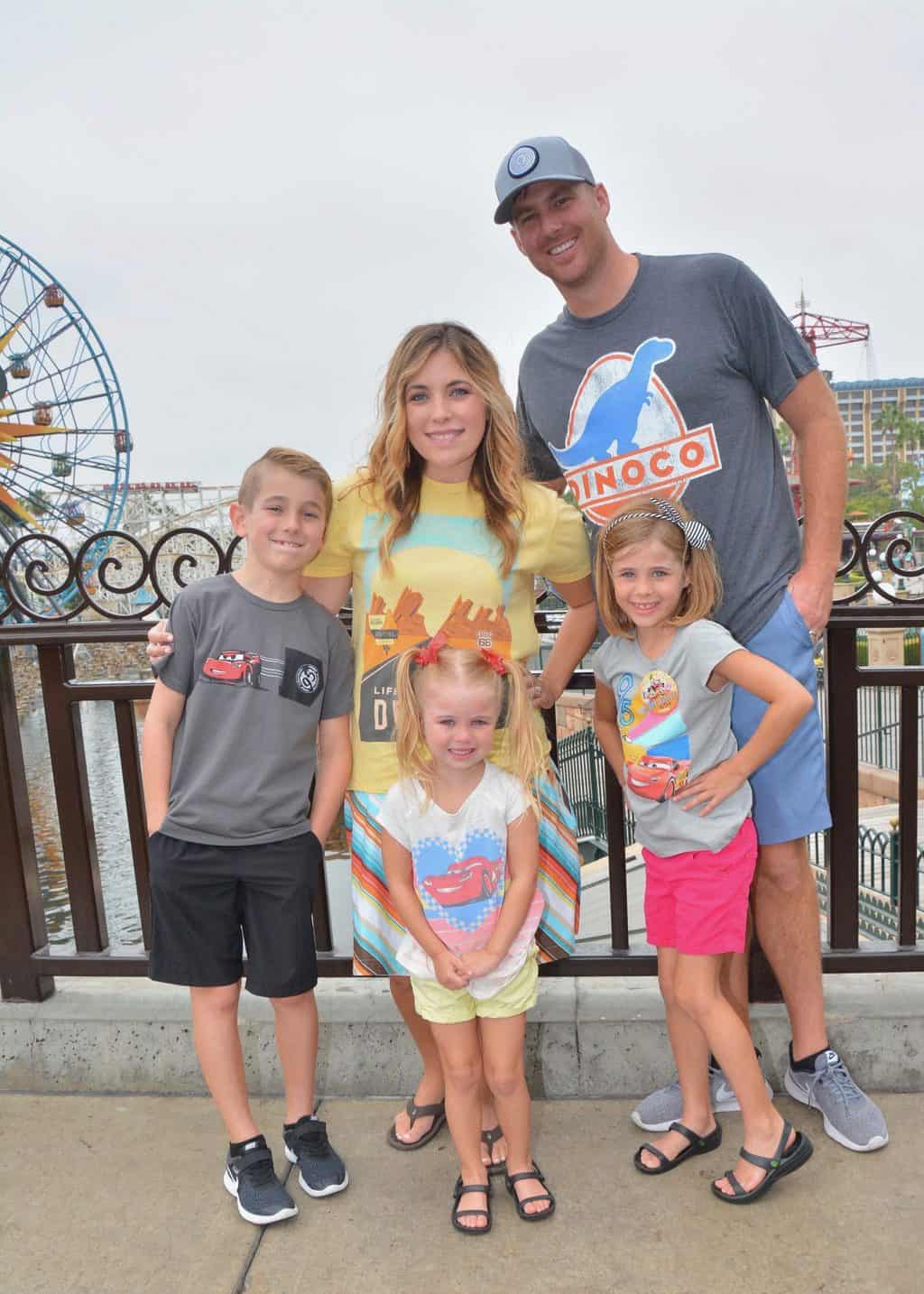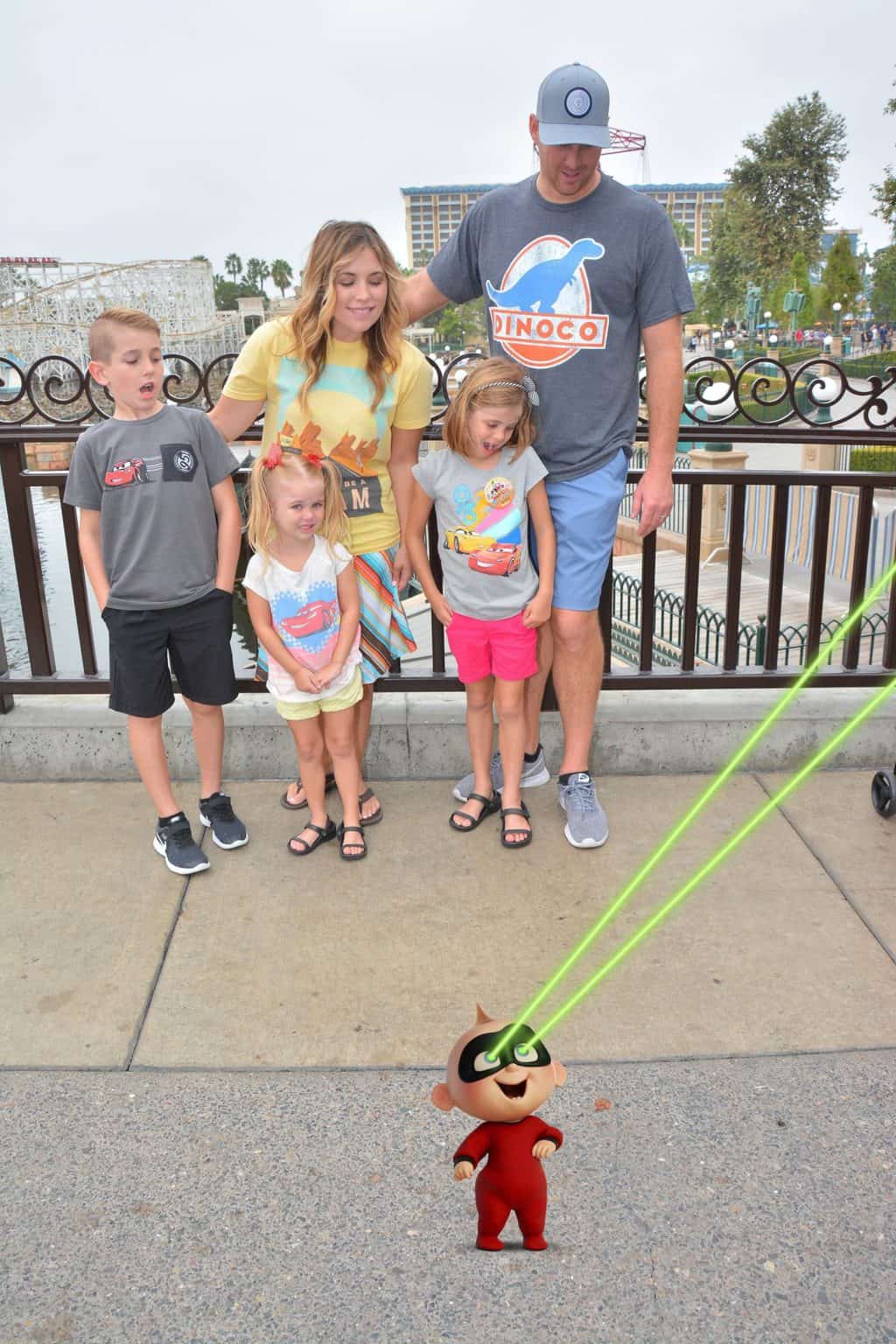 Cars Land is phenomenal. The most well-themed area of ANY Disney park. You can see more photos of the area itself from when Zach and I visited here! 
Ready to head down Route 66!!!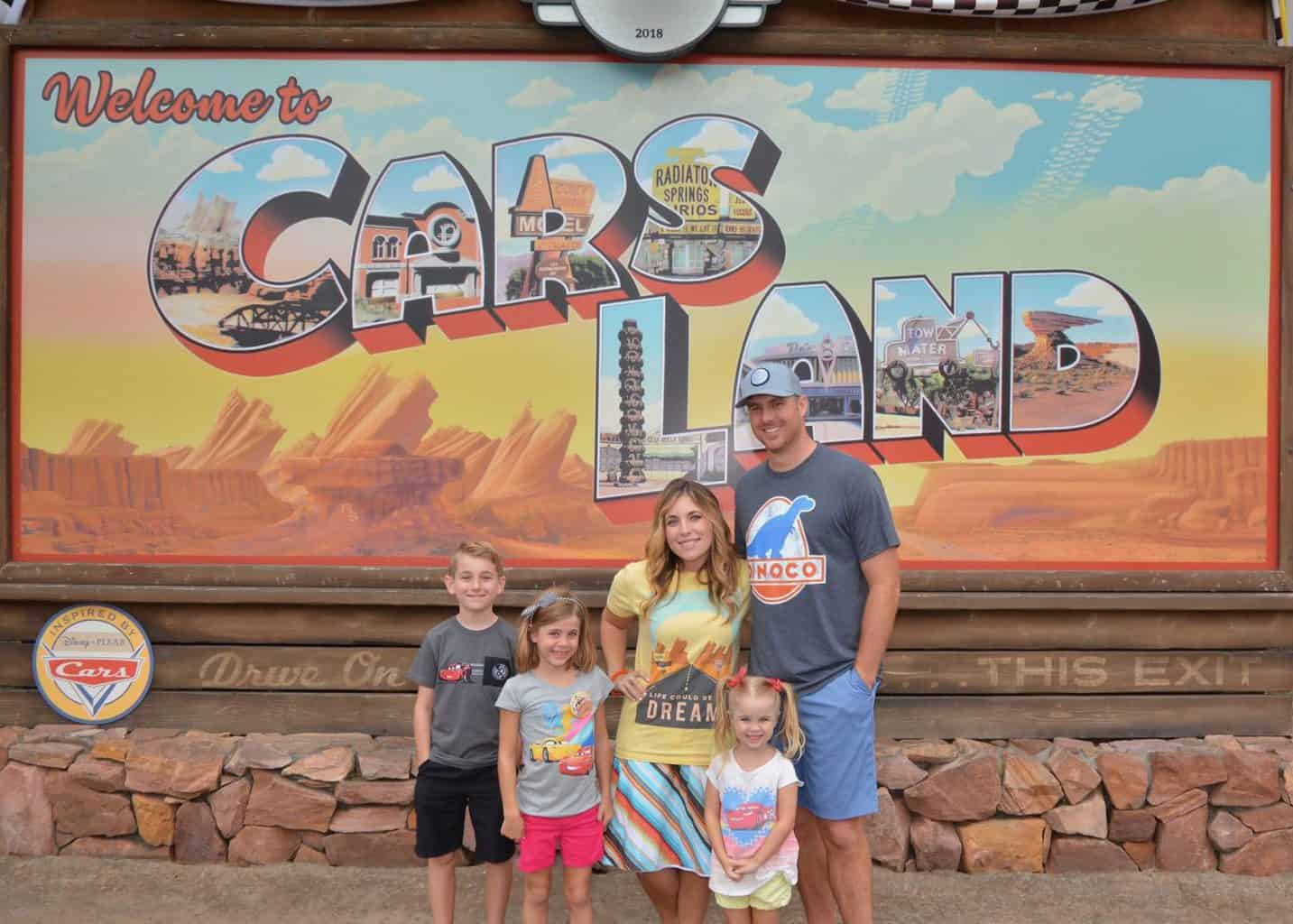 I adore these! I just love how into it everyone is!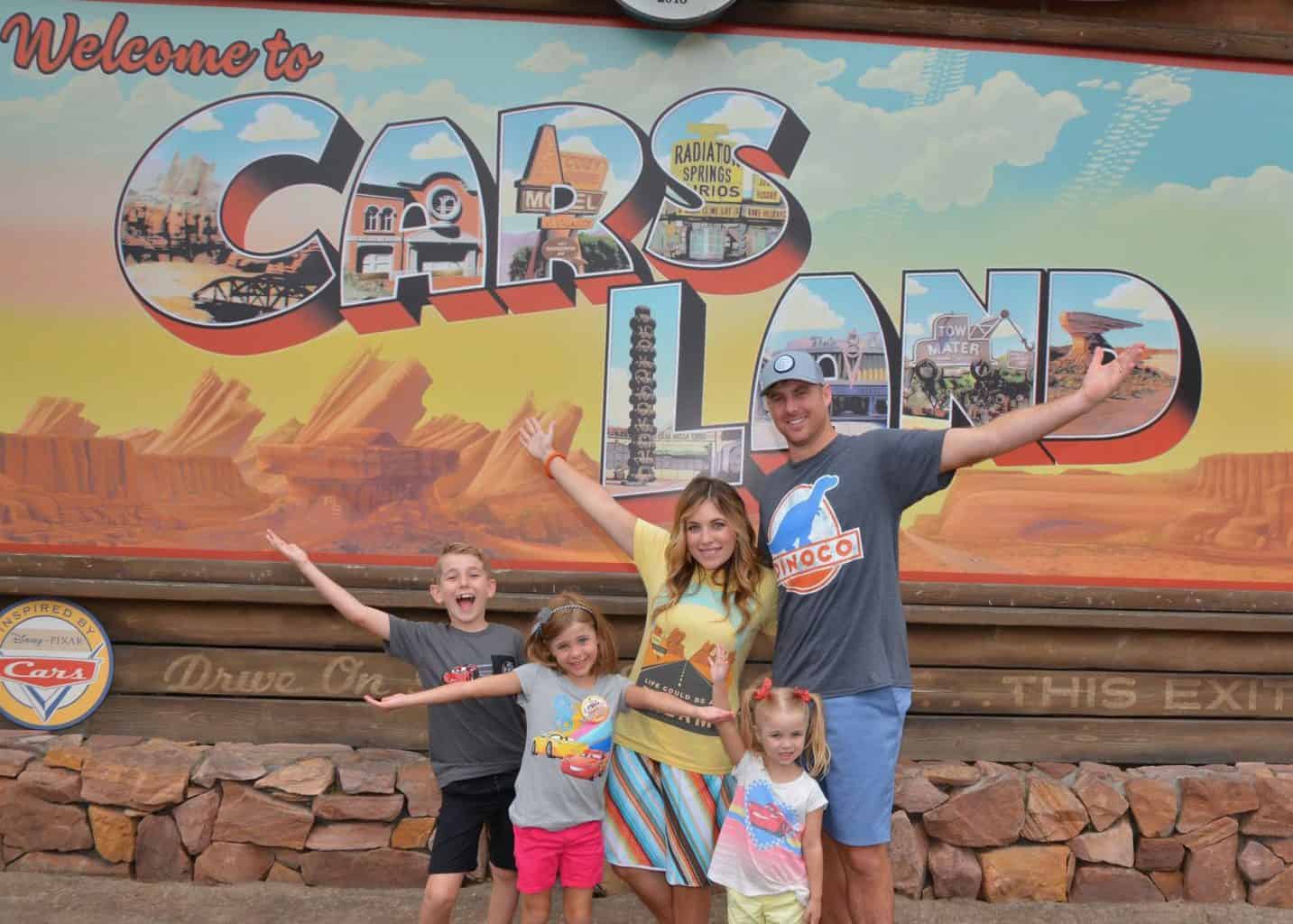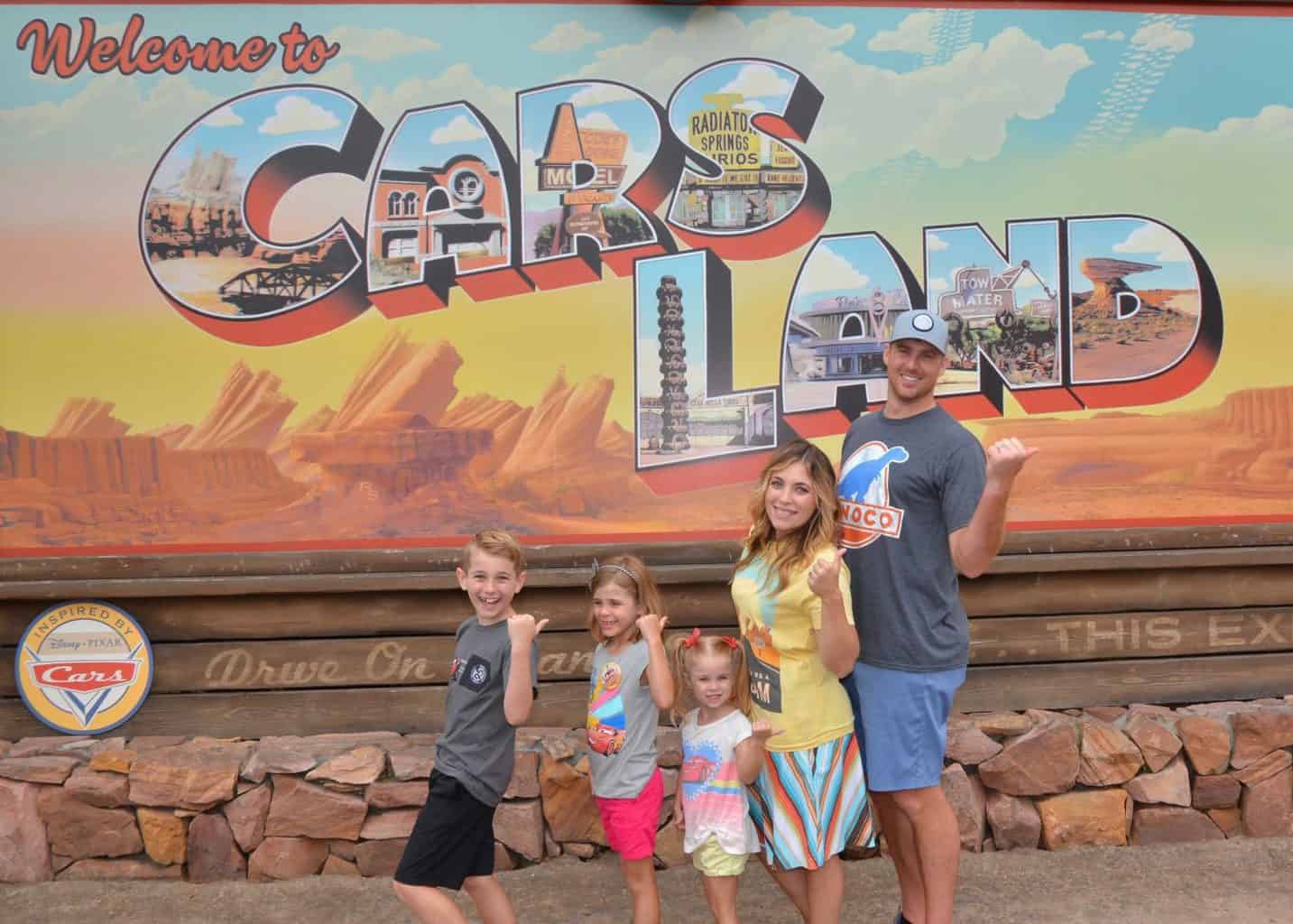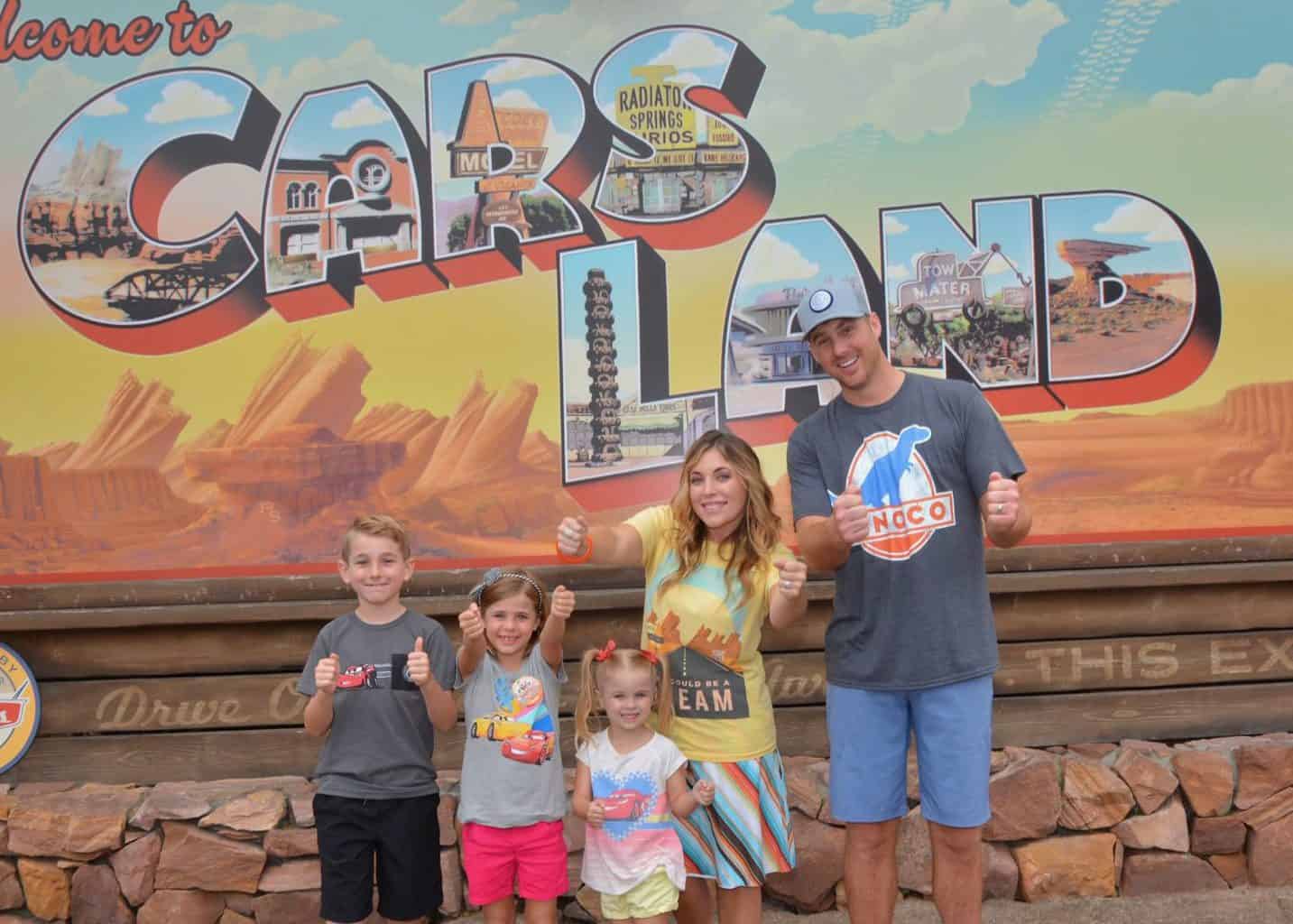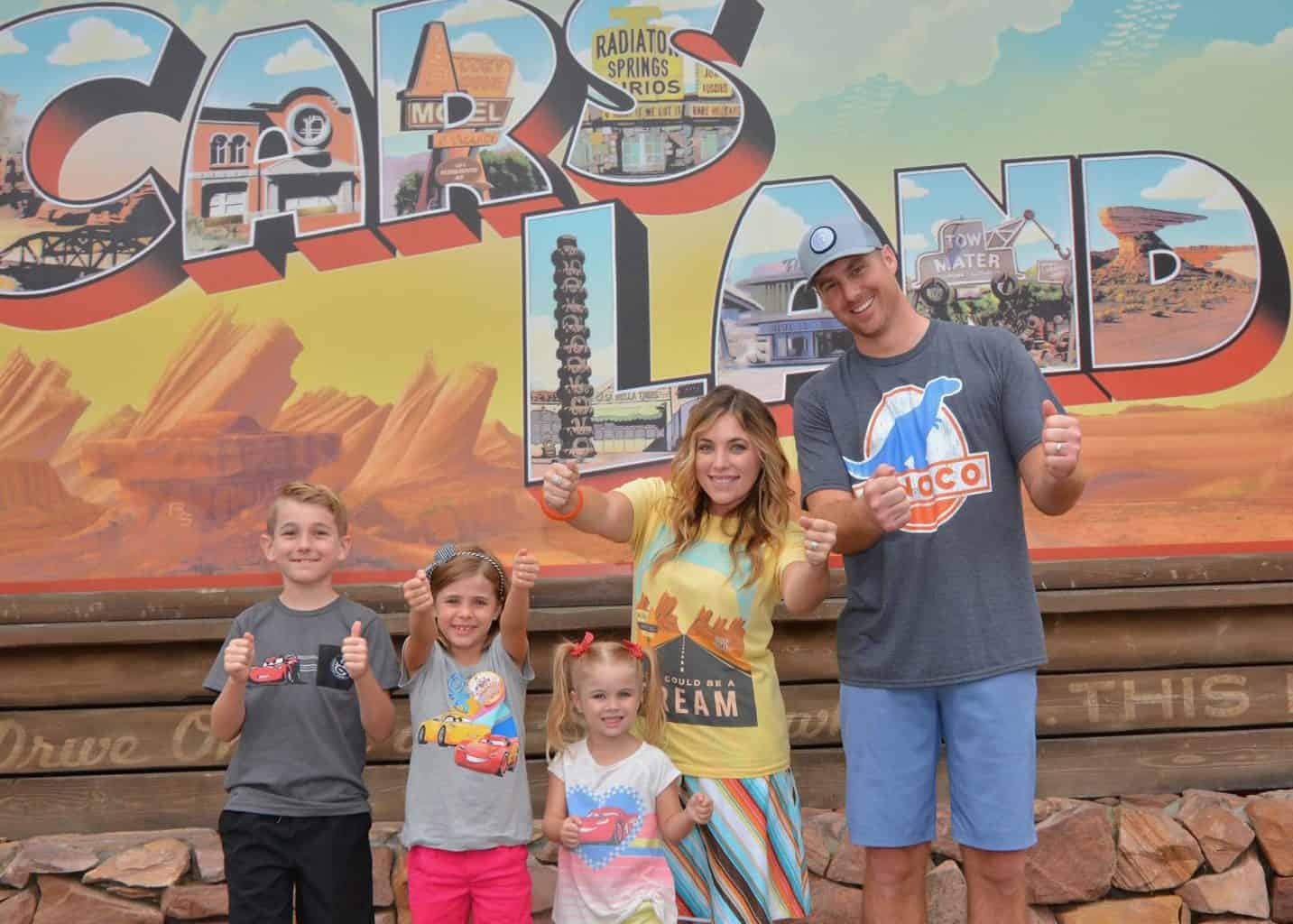 Kye wanted to bring his book bag and he carried it around all day … now both girls want their own Disney book bag too!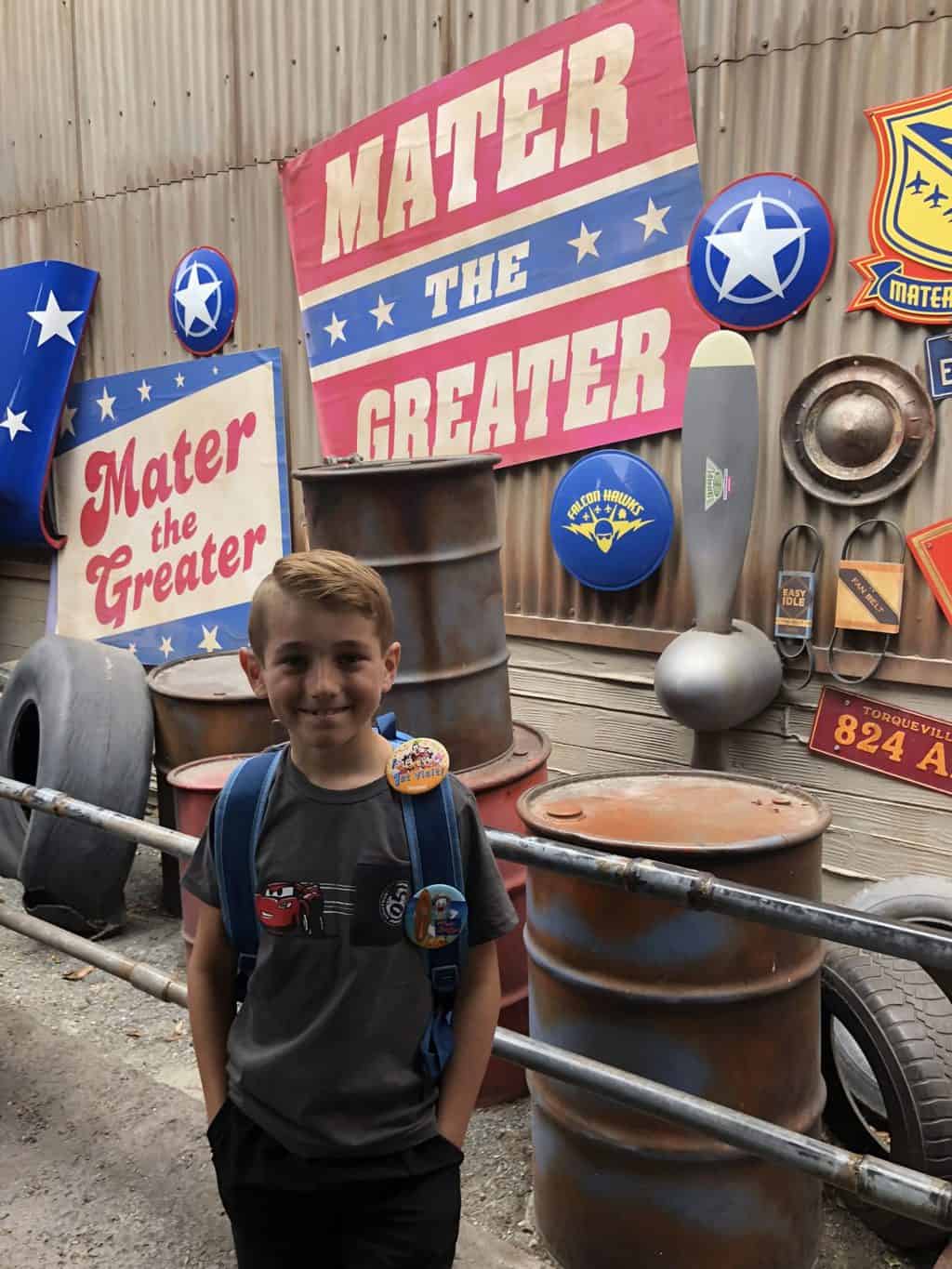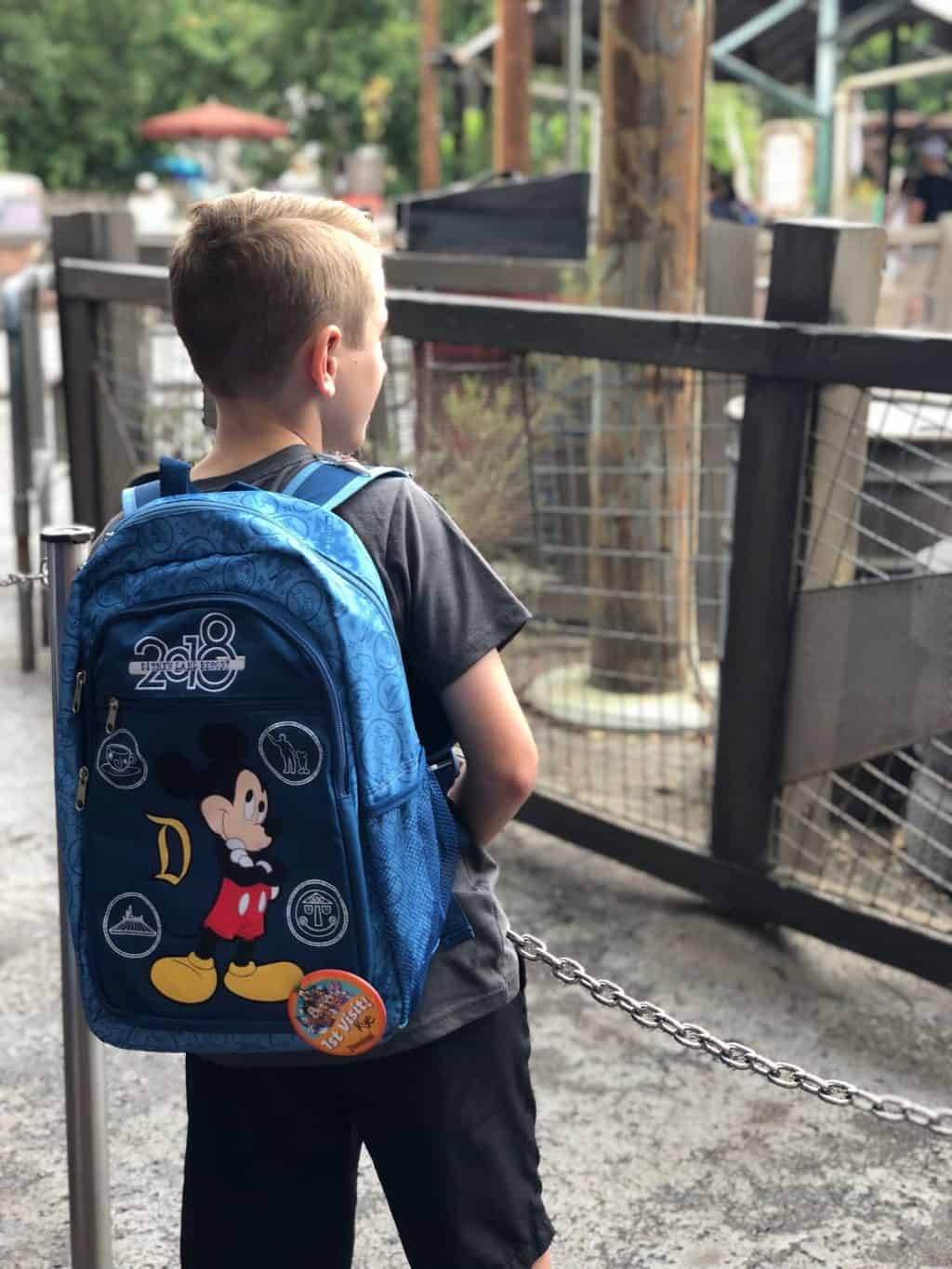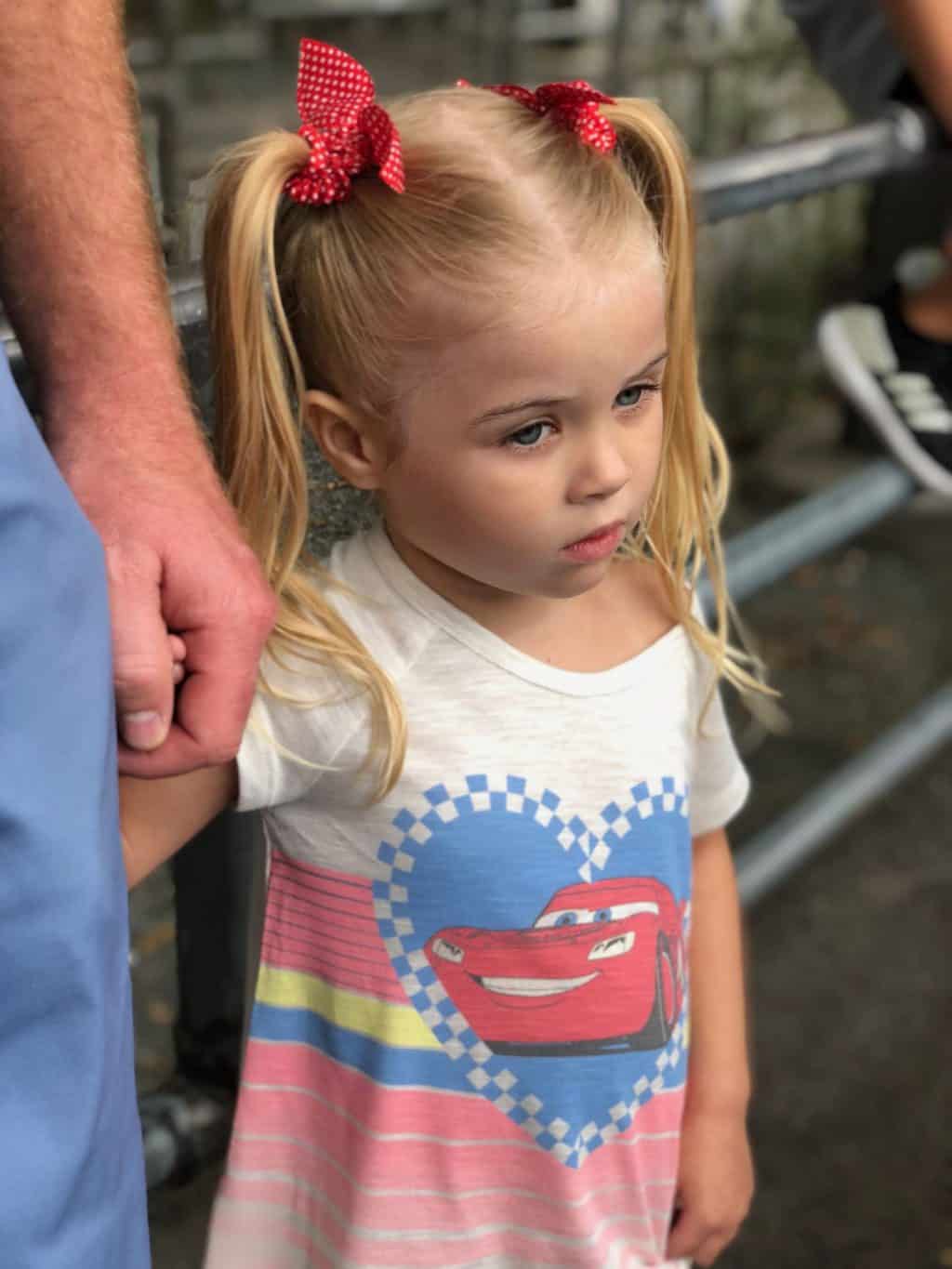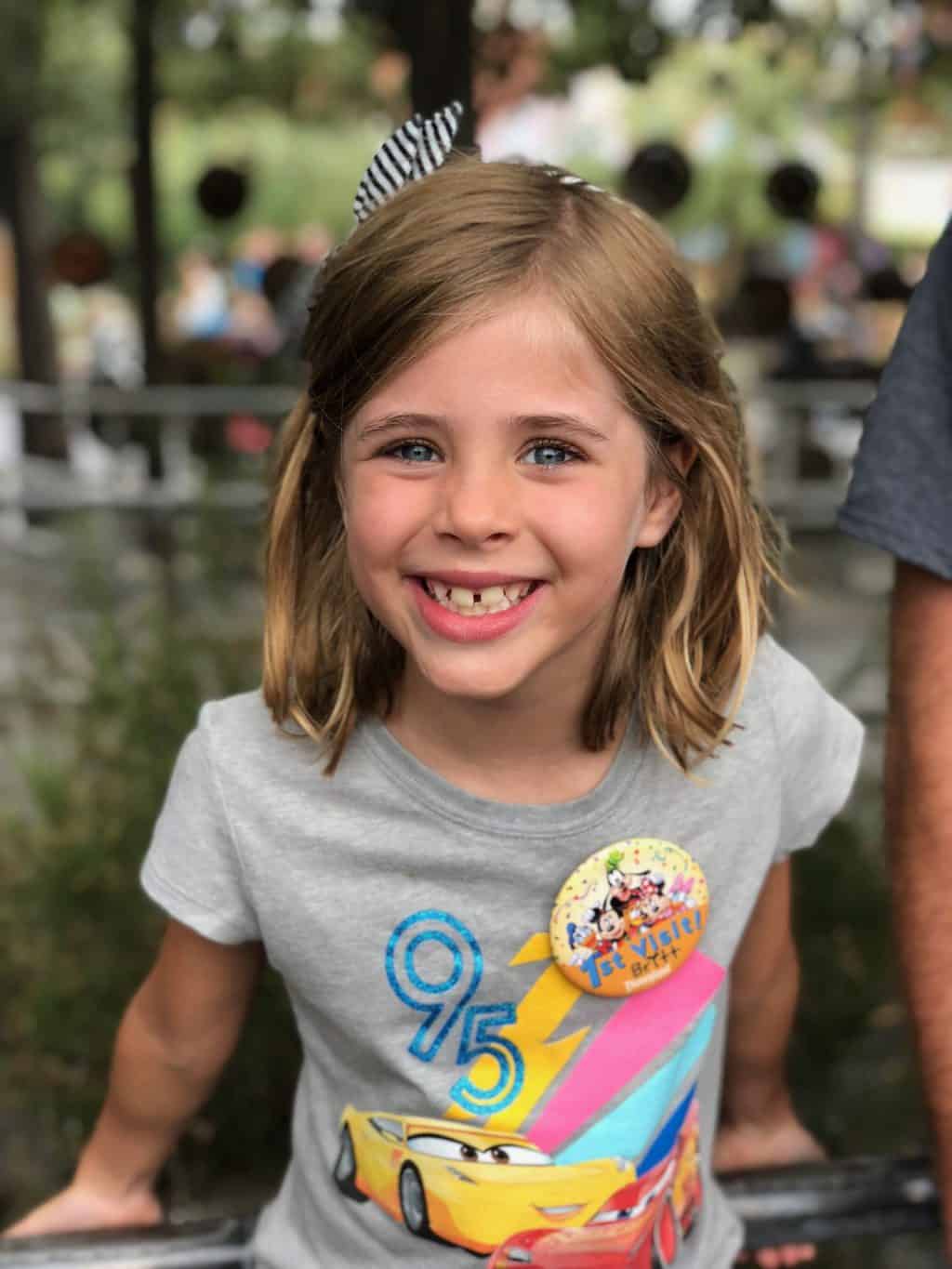 Up first: Mater's Junkyard Jamboree!
If you have visited Toy Story Land at Hollywood Studios…this ride is actually basically the same as Alien's Swirling Saucers. The seating area swivels and spins a bit, but nothing that made me overly sick (and yall know I'm a wuss)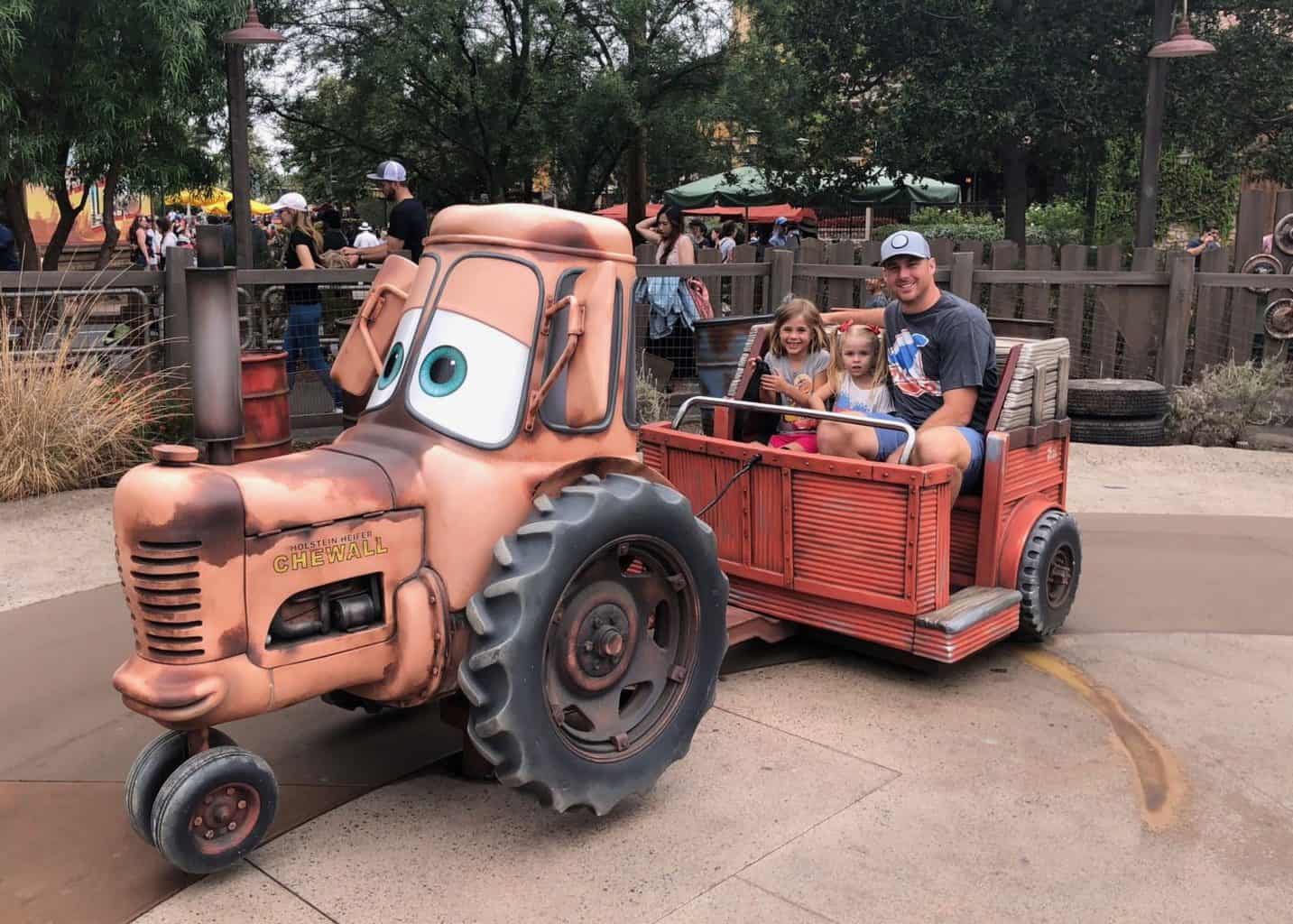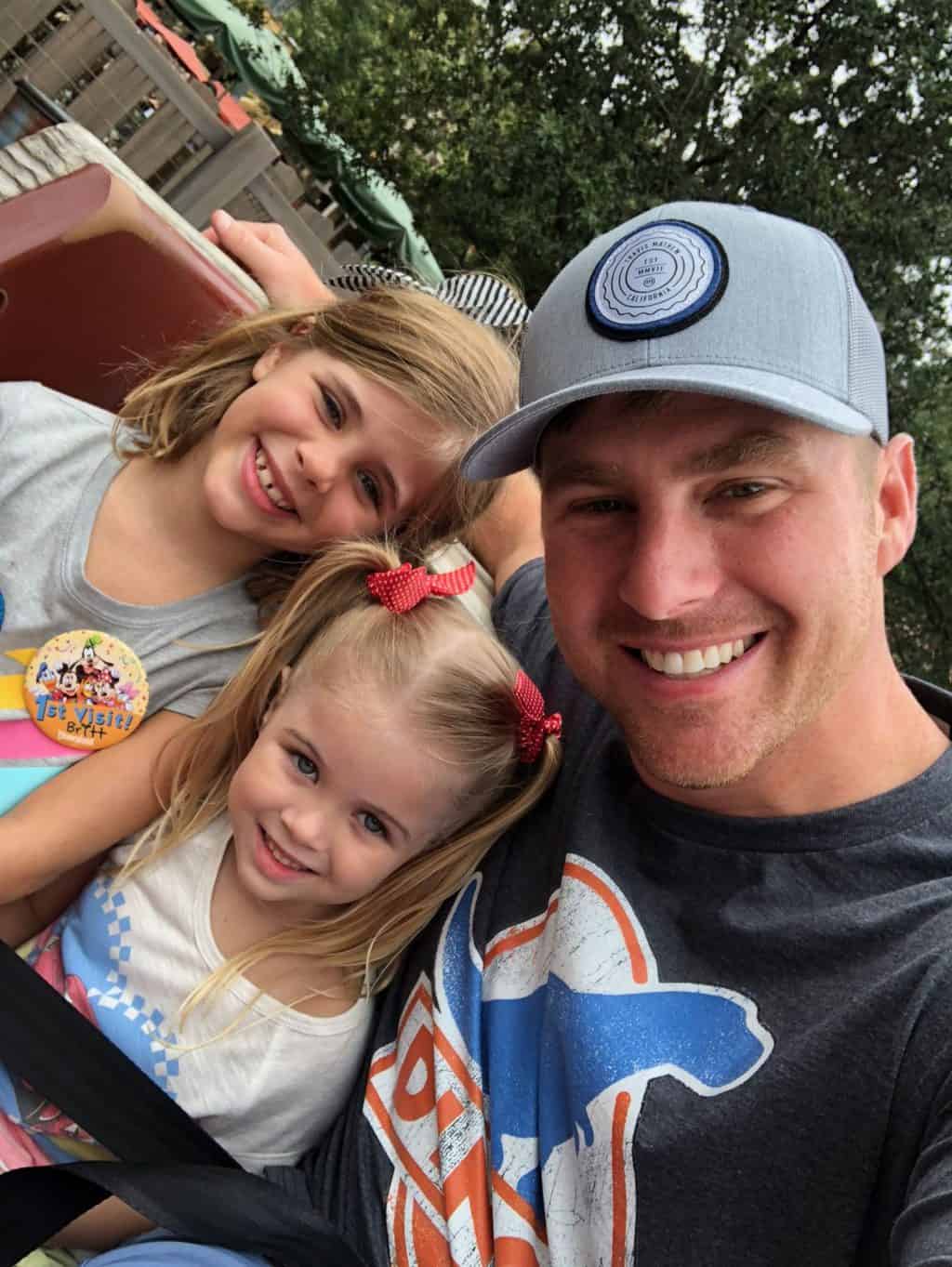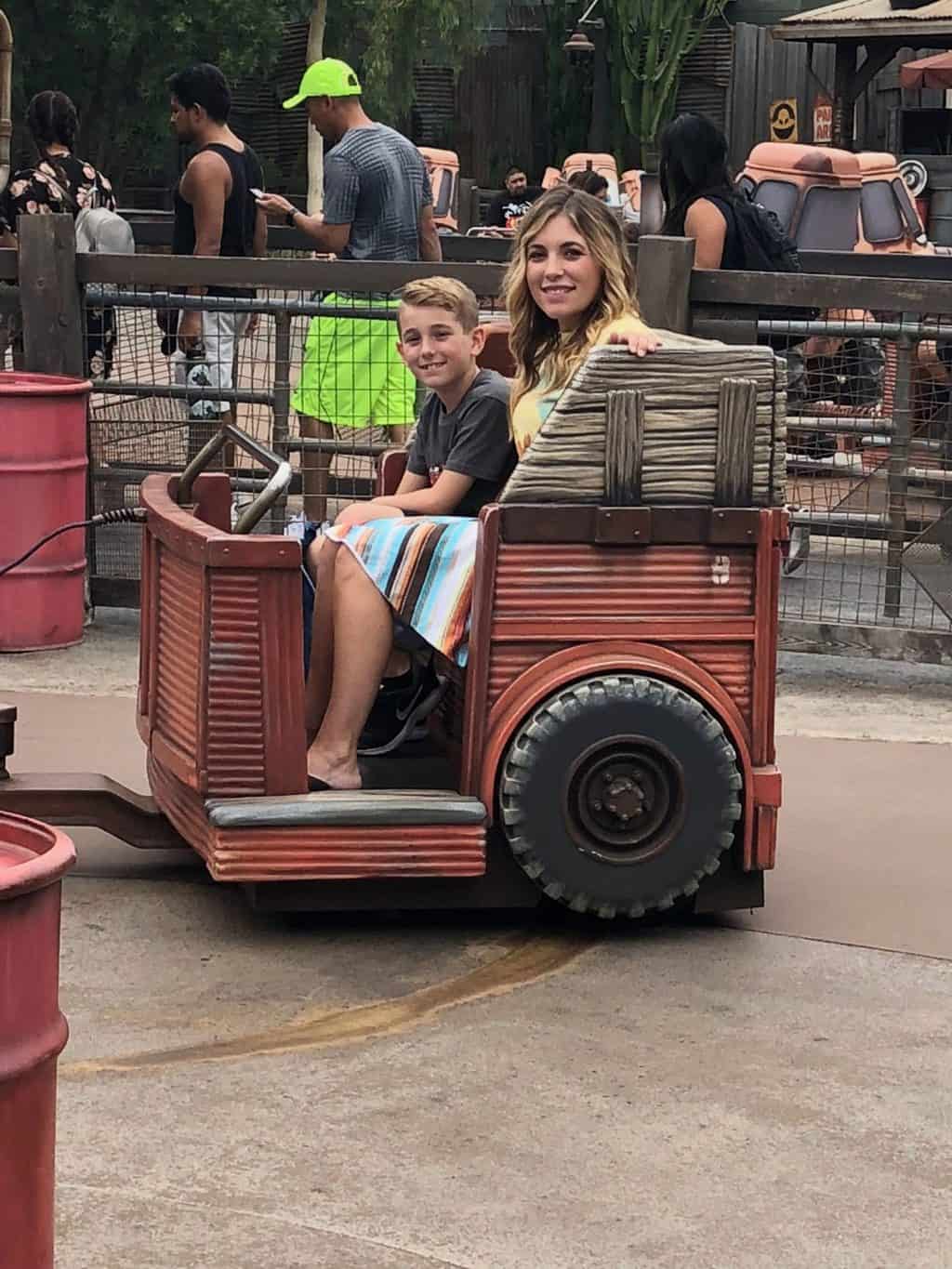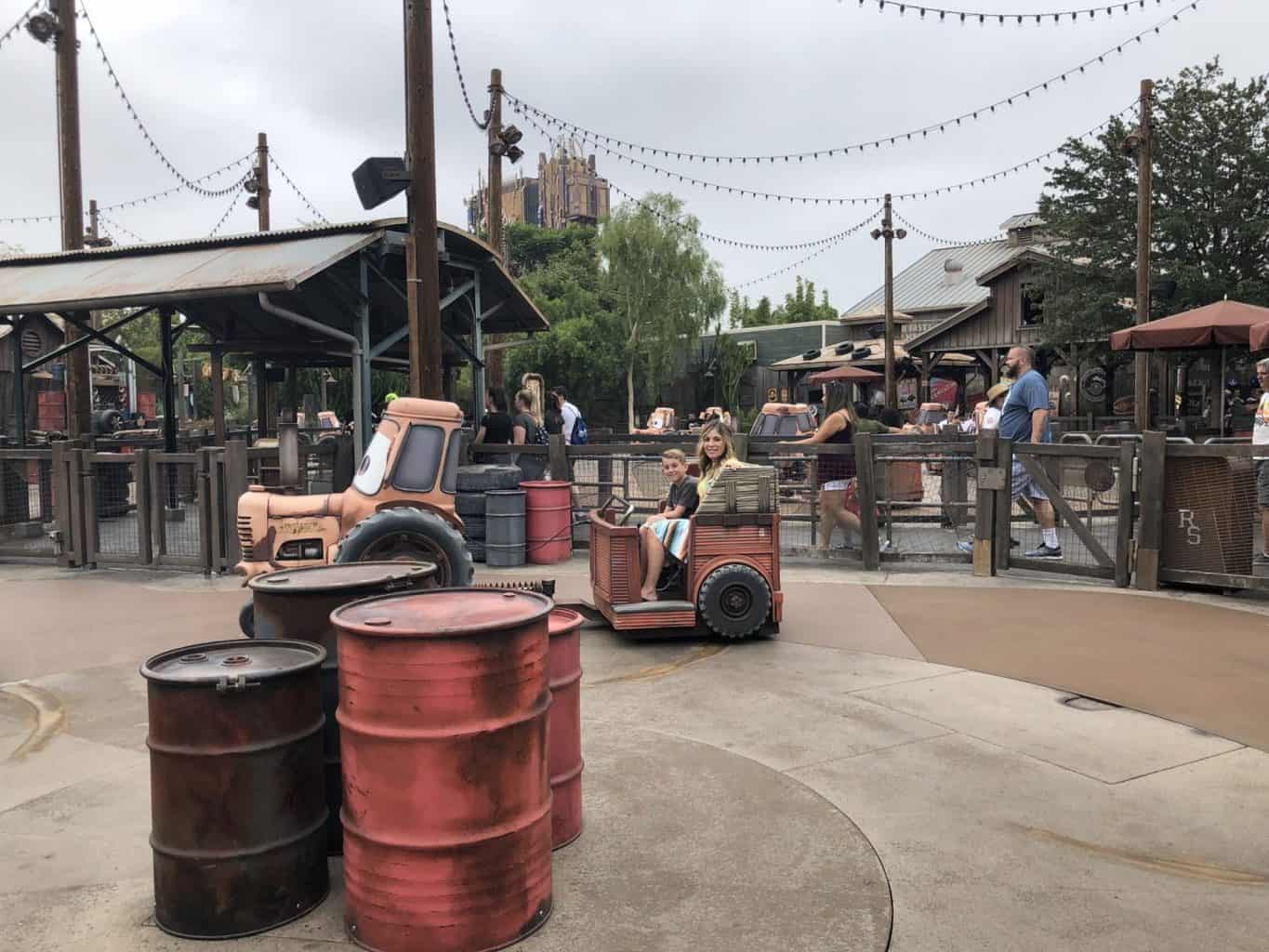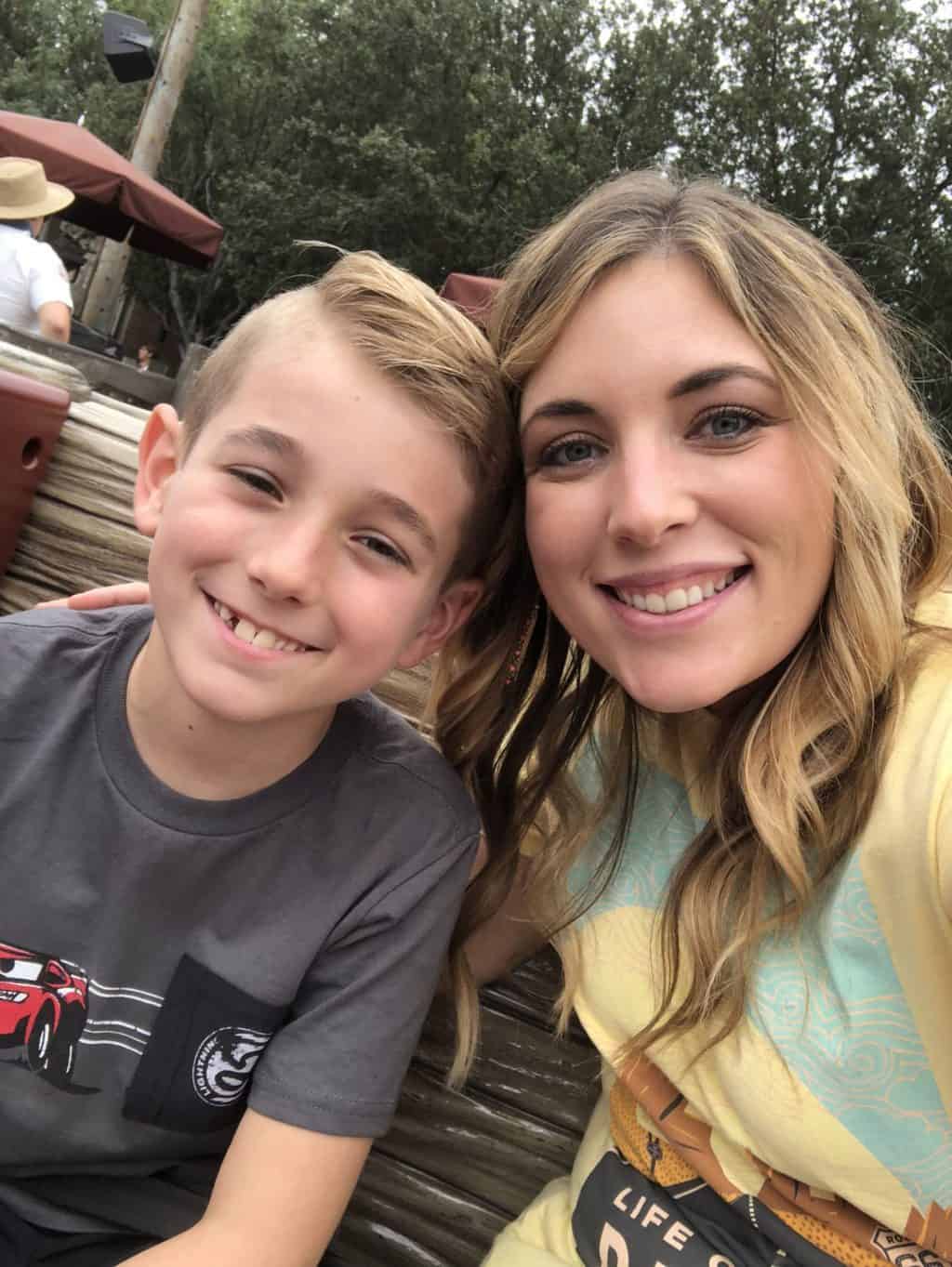 Next: Luigi's Rollickin' Roadsters
This ride doesn't get enough glory. It's ADORABLE and so well executed! The cars all "dance" in rhythm and the songs are switched up constantly. So it's truly a new experience each time!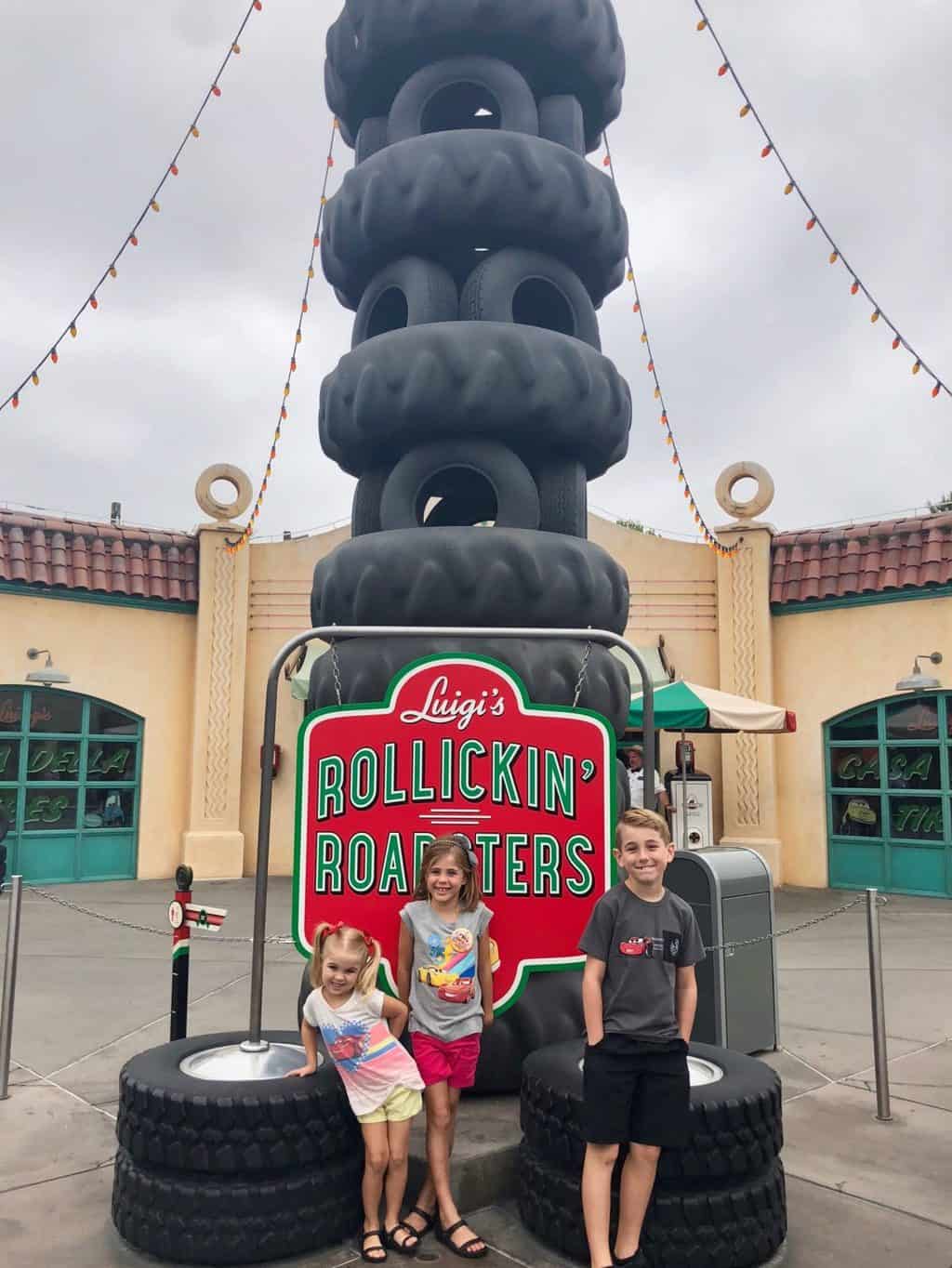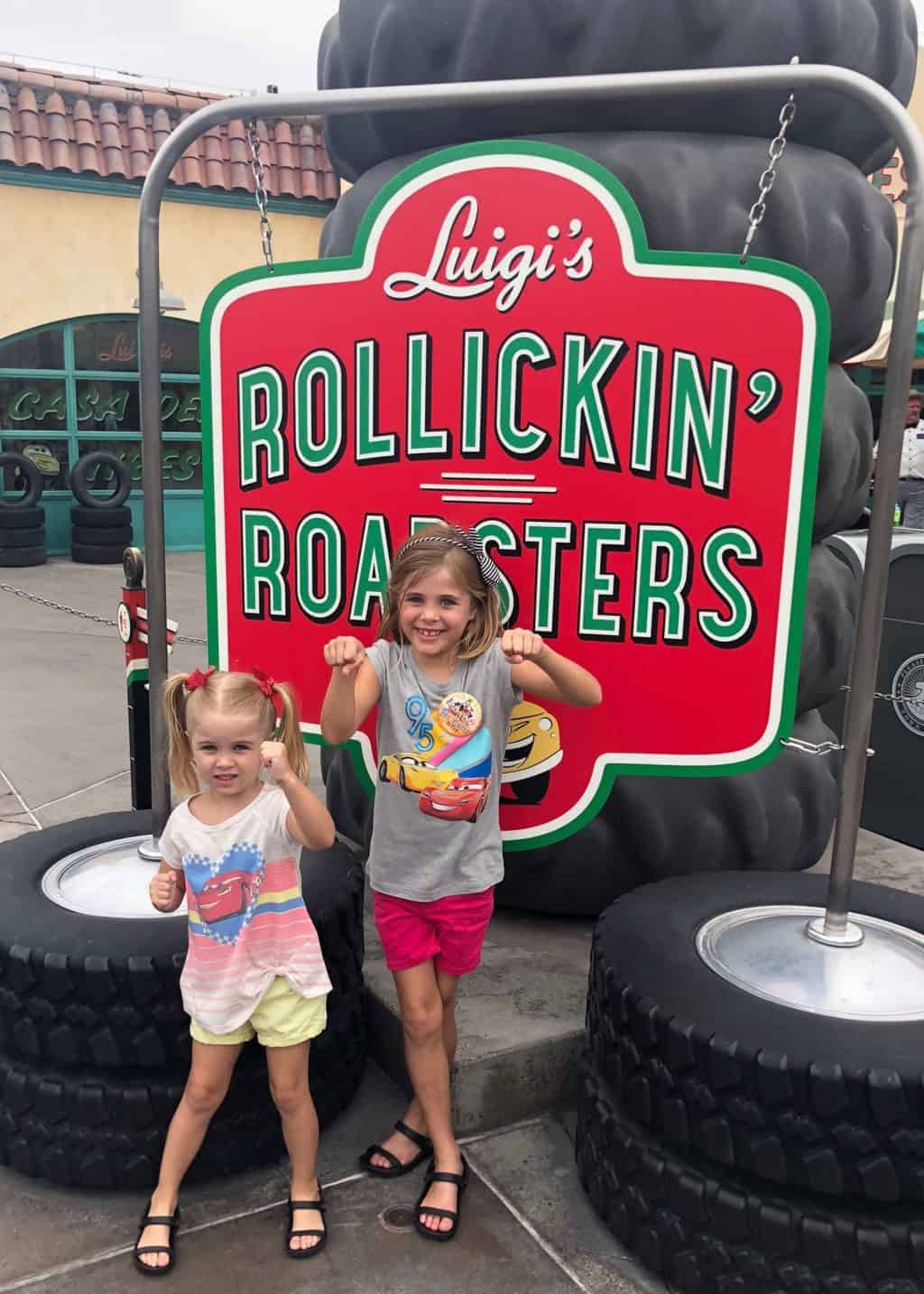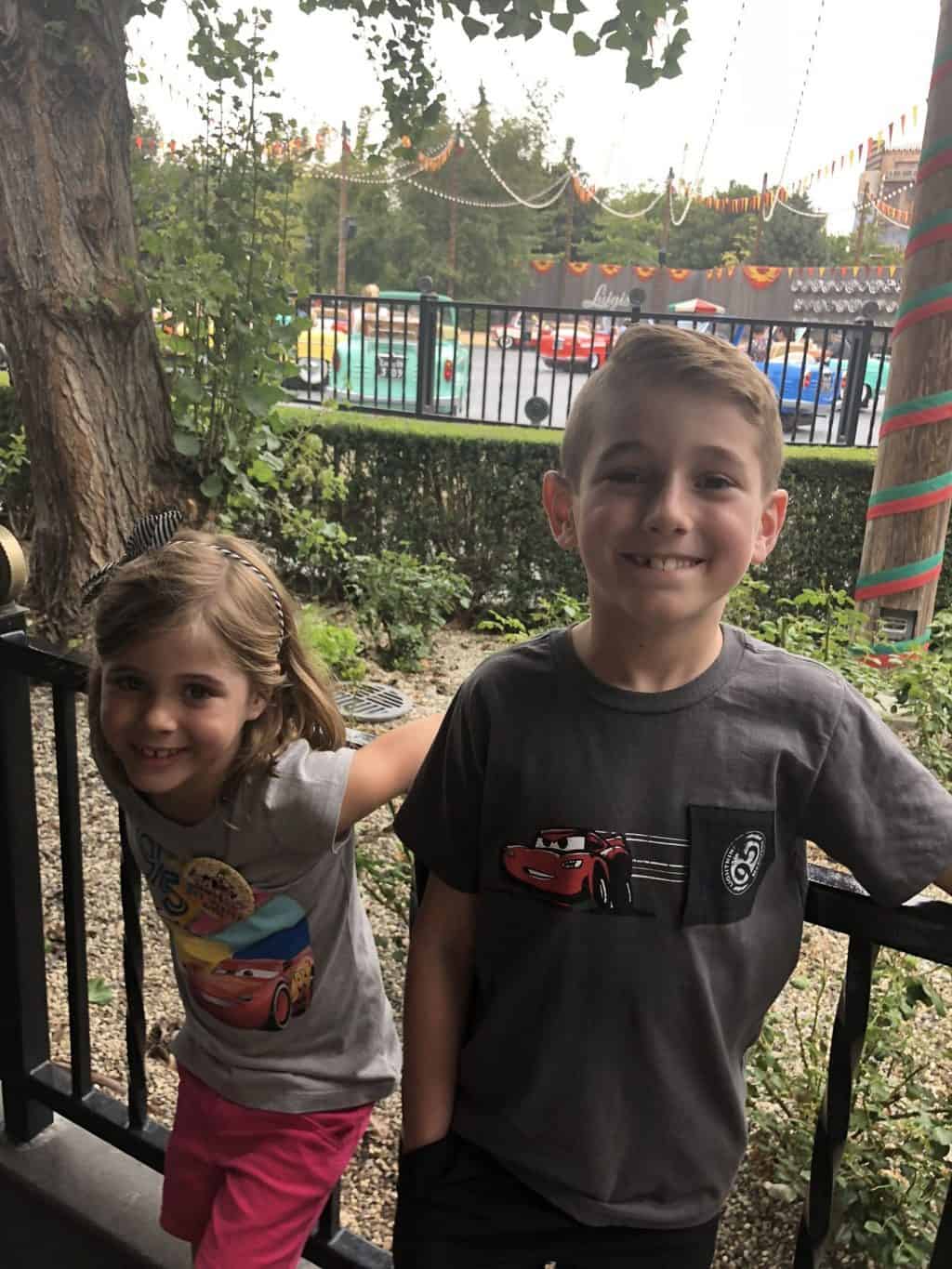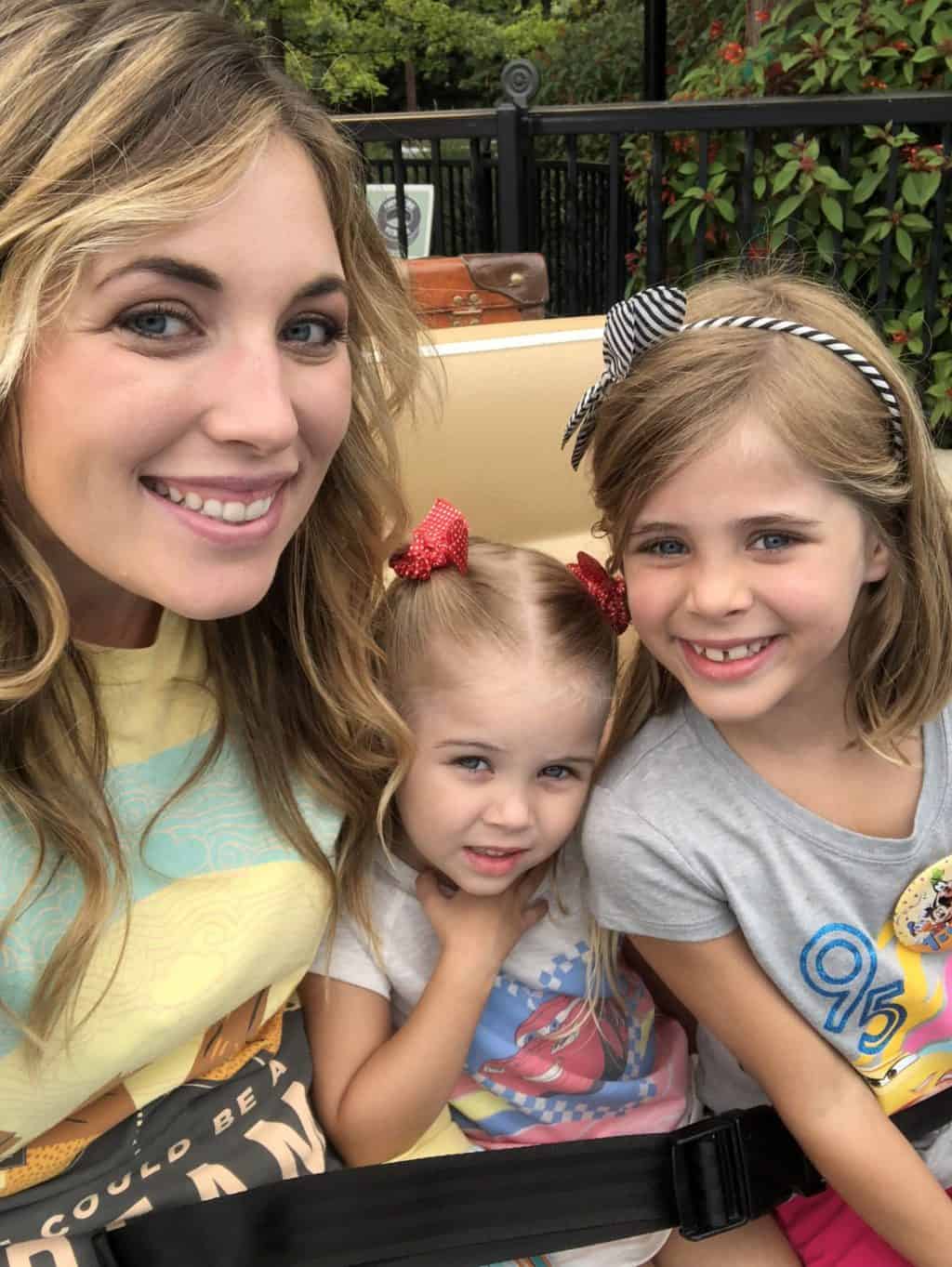 How Zach used to look driving my VW Bug ha!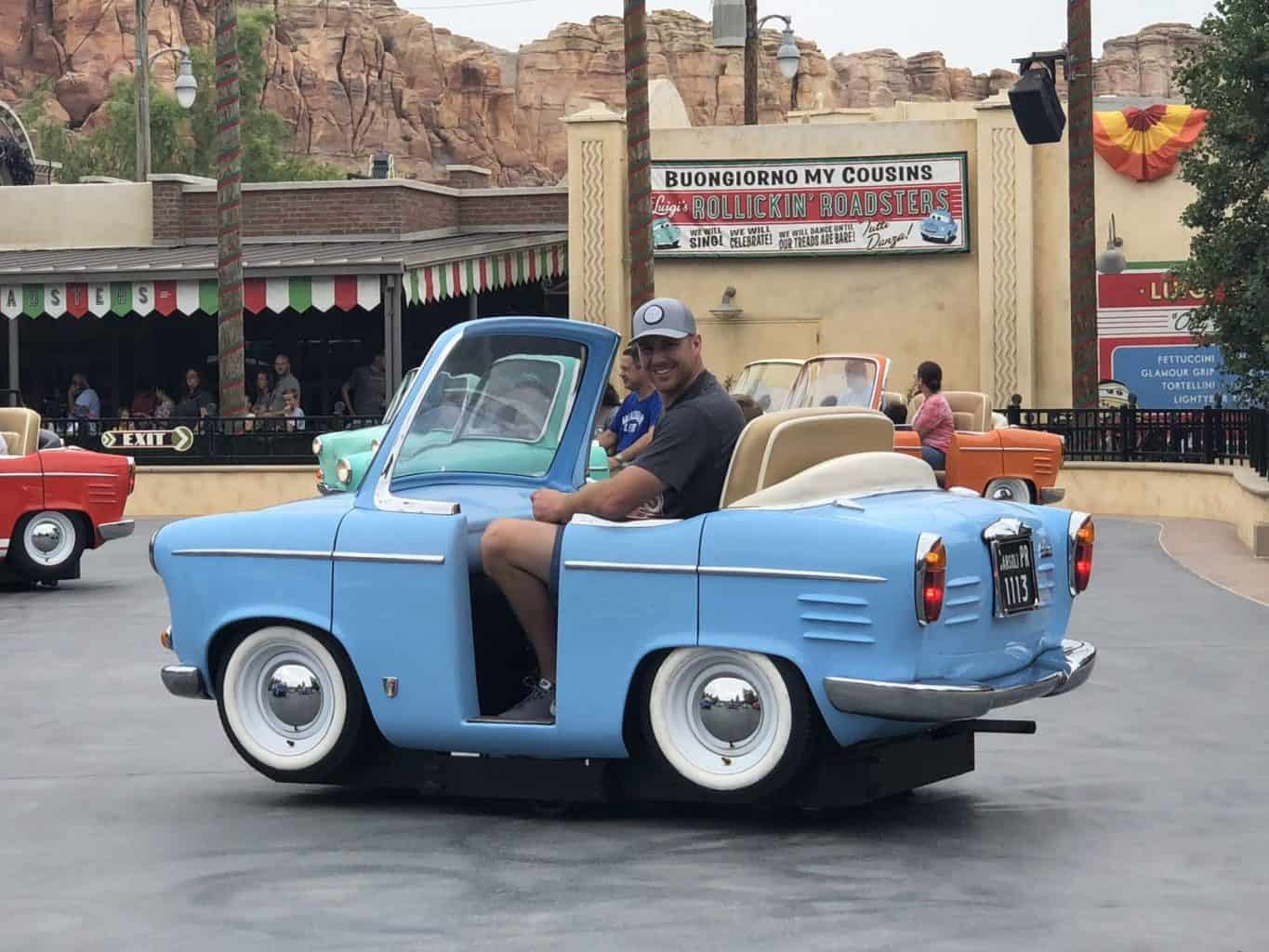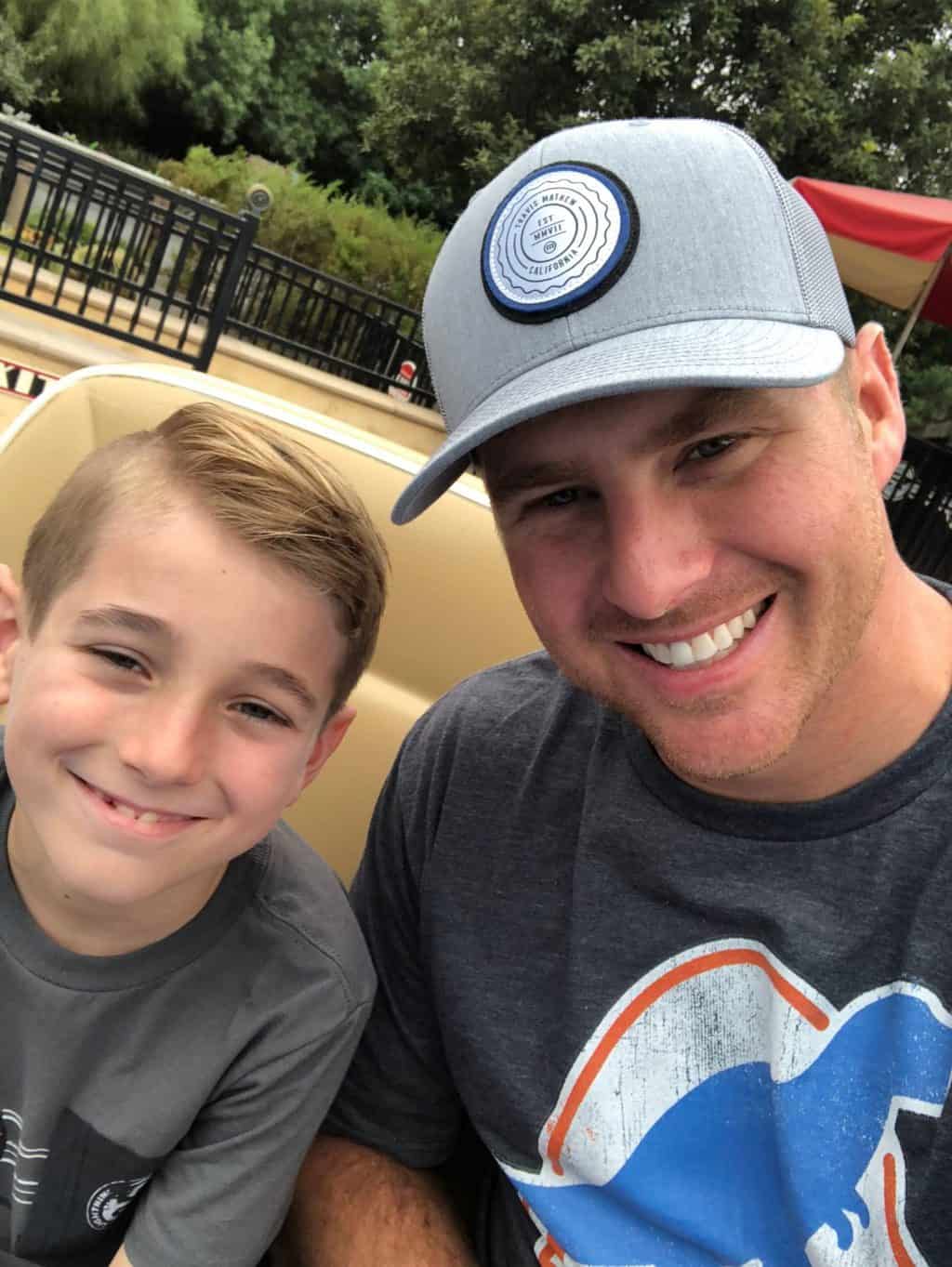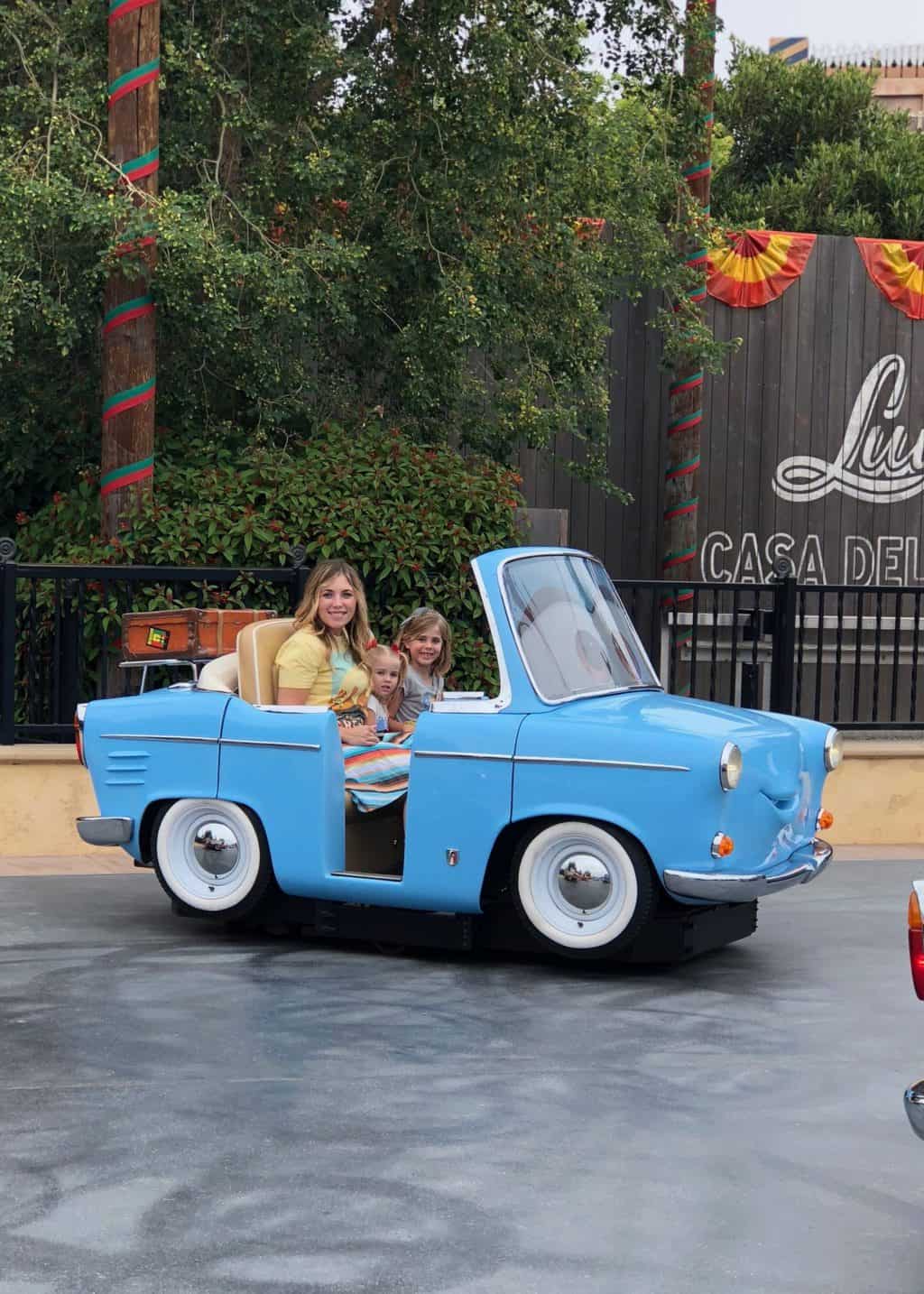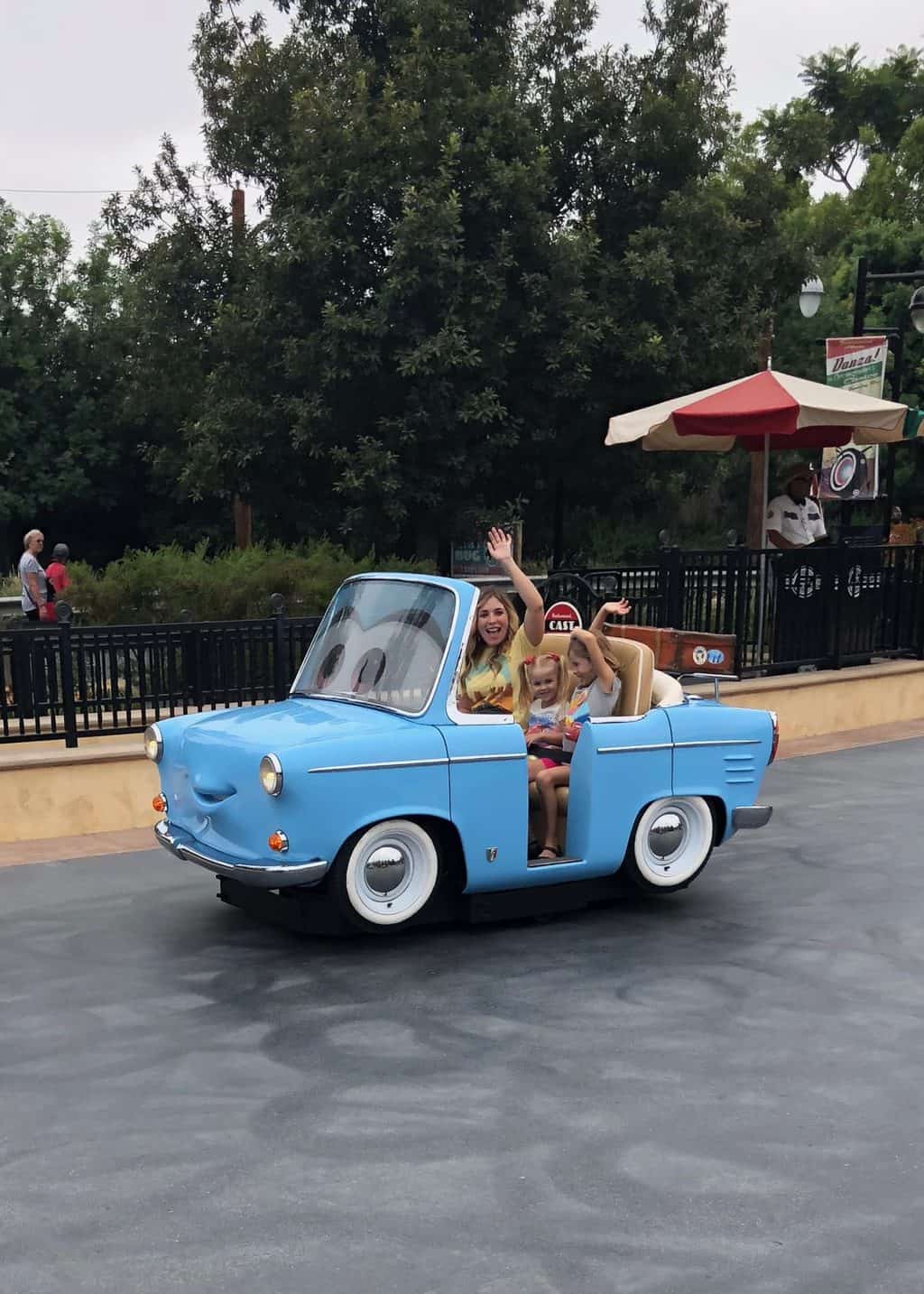 LOVE THIS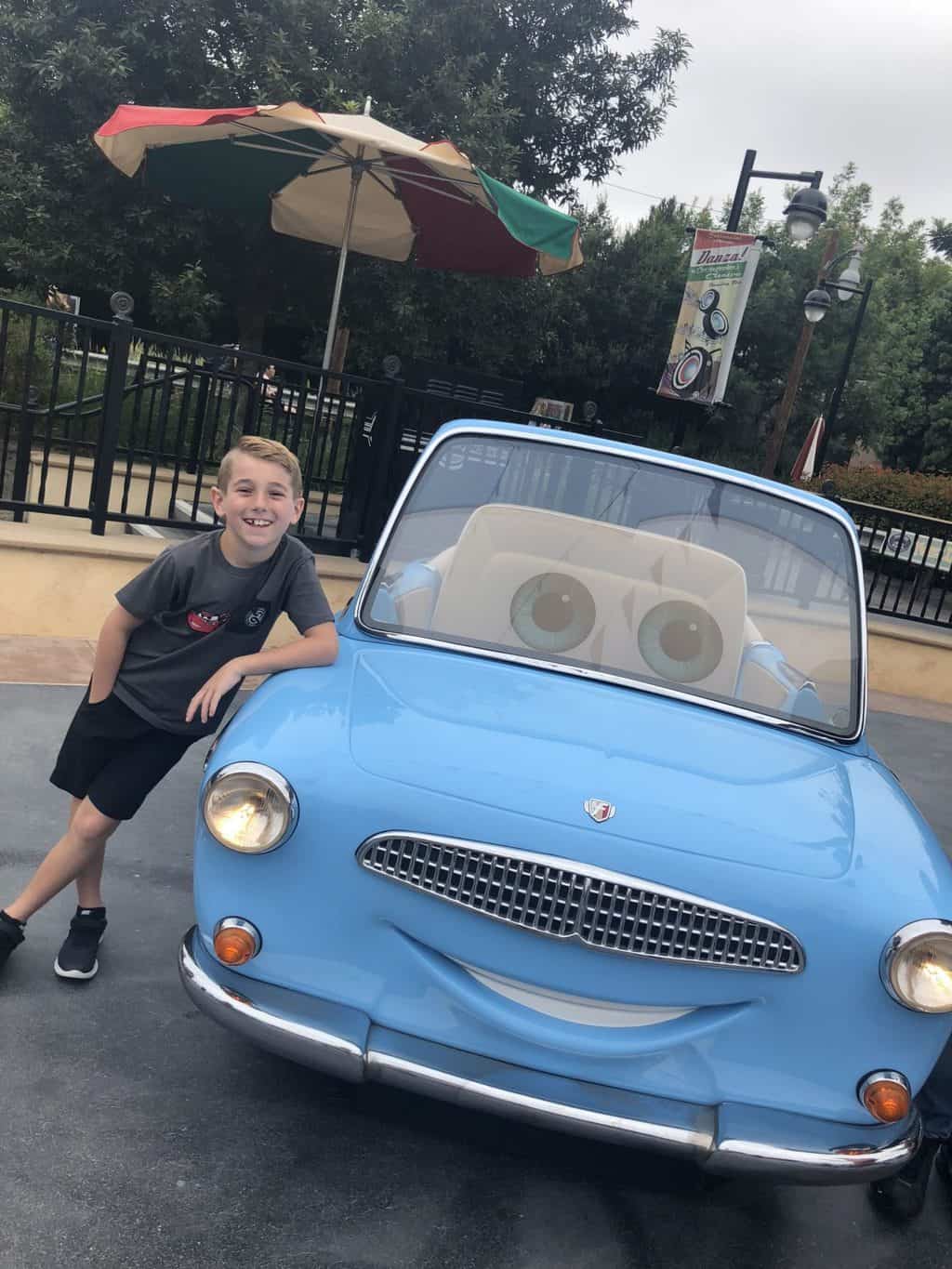 If you love Cars Land but can't head to Cali…be sure to visit Art of Animation Resort at Walt Disney World. You're allowed to just walk around without actually staying at the resort. They do a GREAT job of theming the entire Radiator Springs section!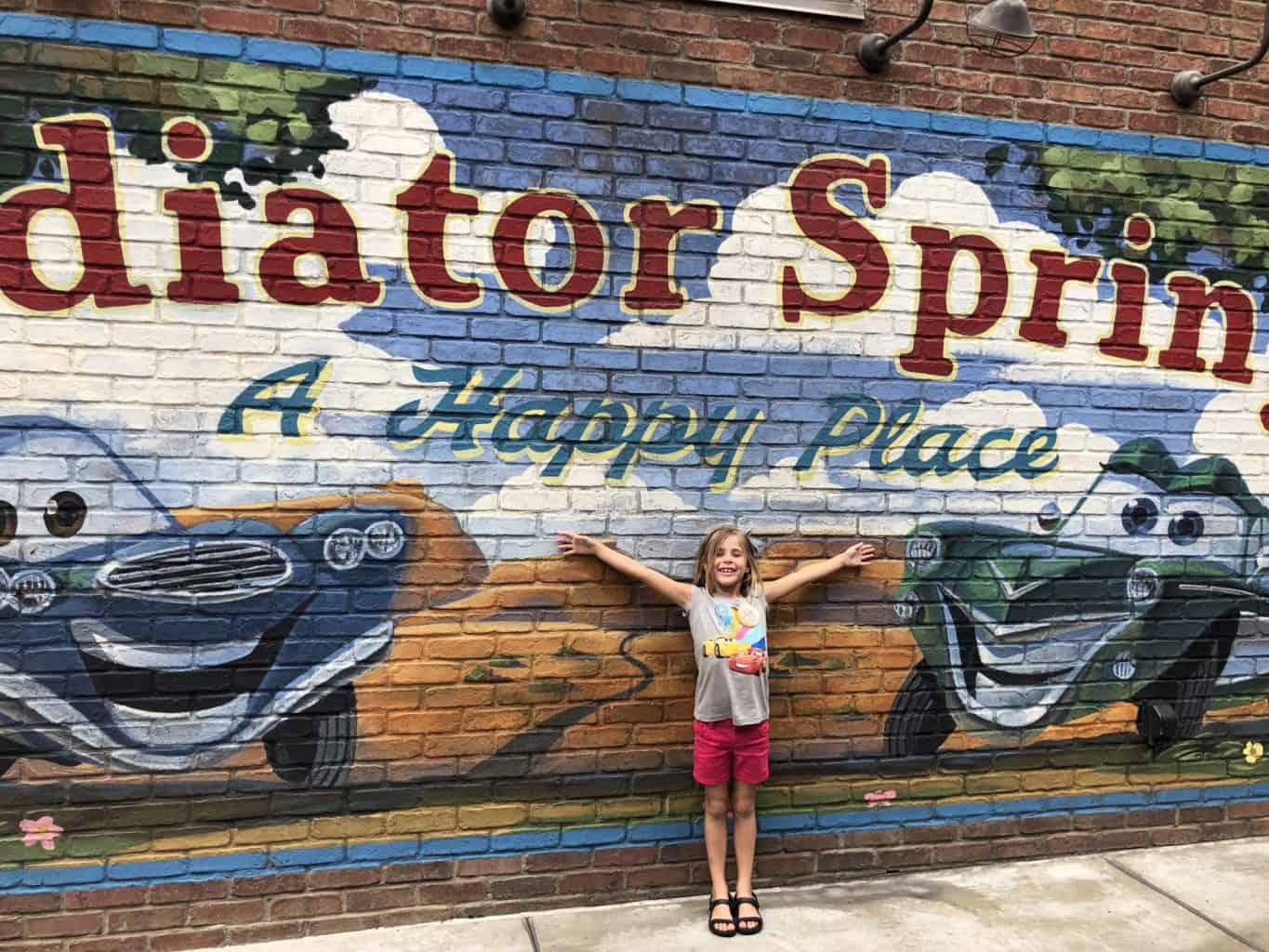 It was Tuesday Sept 4th and the park was pretty well decked out in the Halloween fun! Even Stanley got in on the action 😉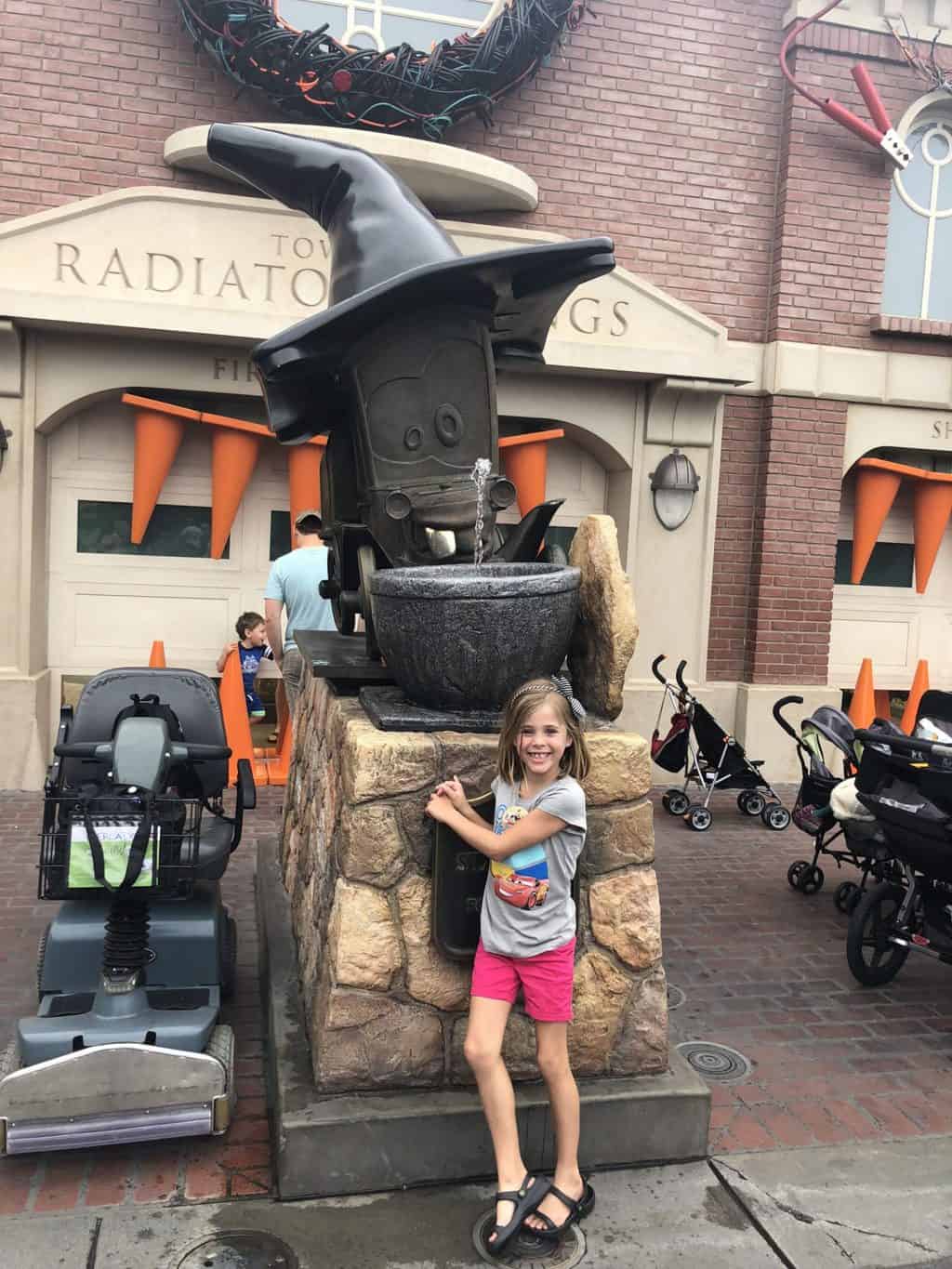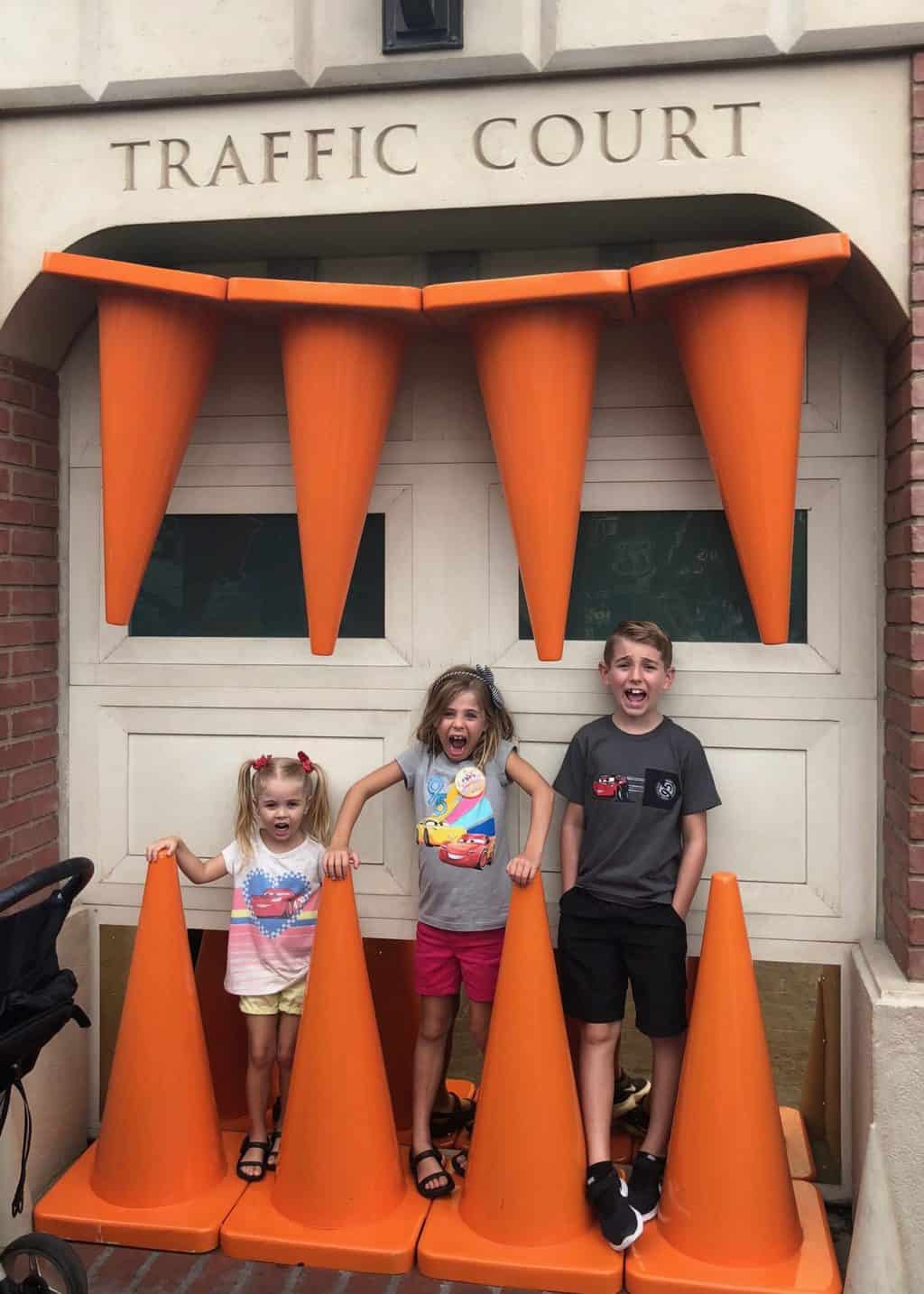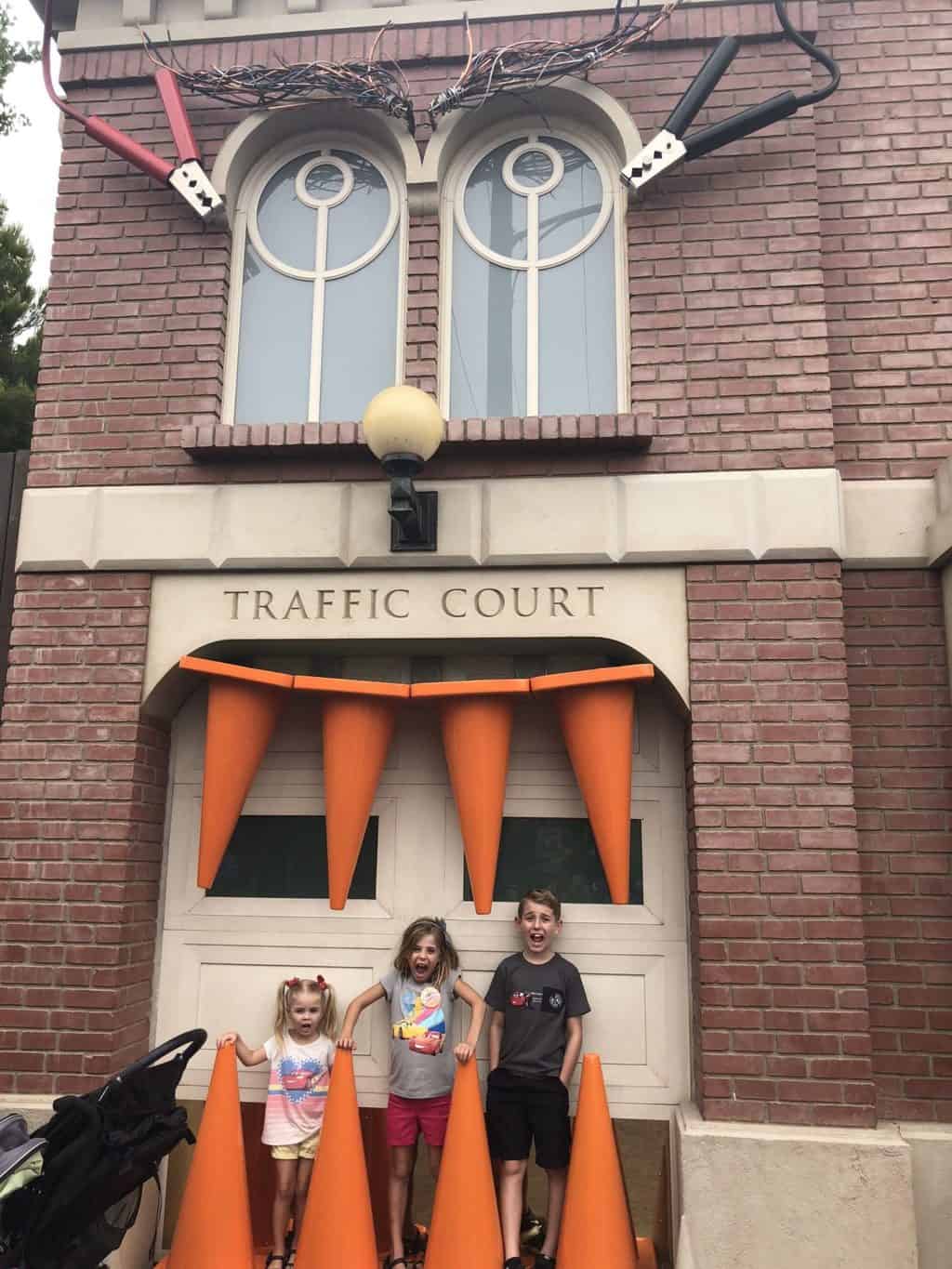 THE ride we were MOST excited for the kids to experience!!! Radiator Springs Racers!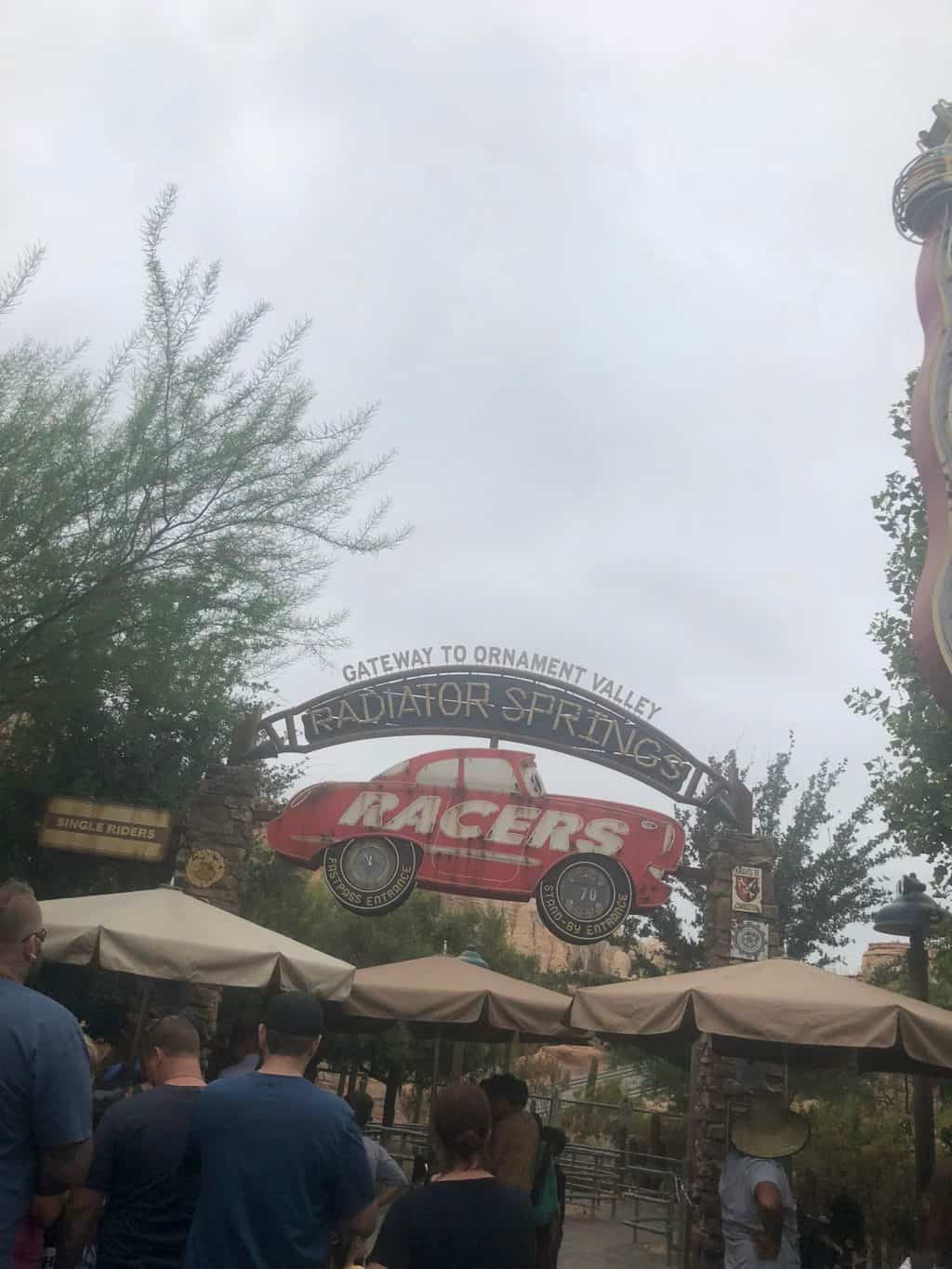 I only rode it once when Zach and I visited and once was enough for me. The end of the ride is an actual race and it makes my stomach pretty sick. But with a 40 inch heigh requirement and Tess being allowed to ride I wasn't about to miss out on having that experience with all three of my big kids! THEY LOVED IT.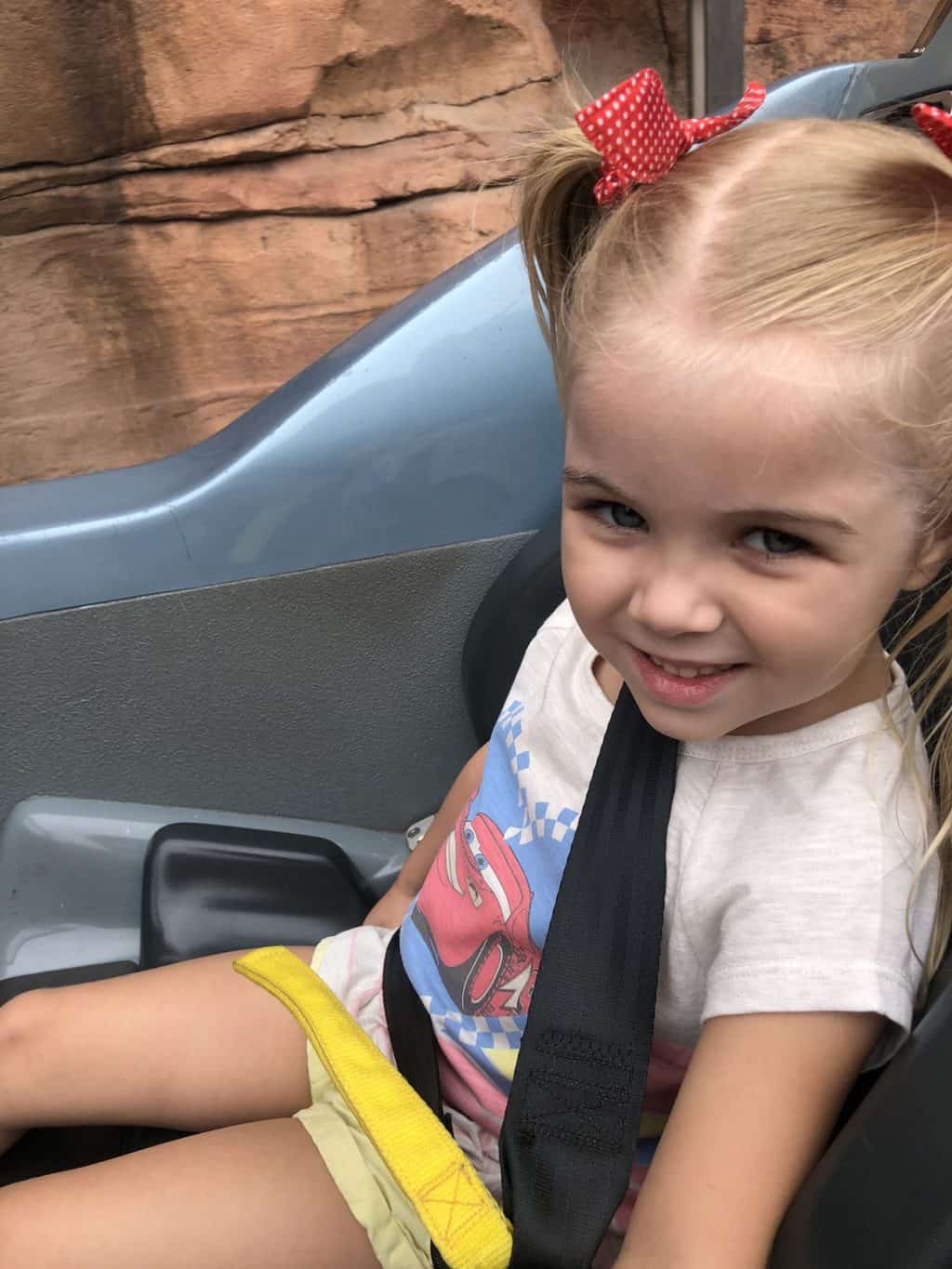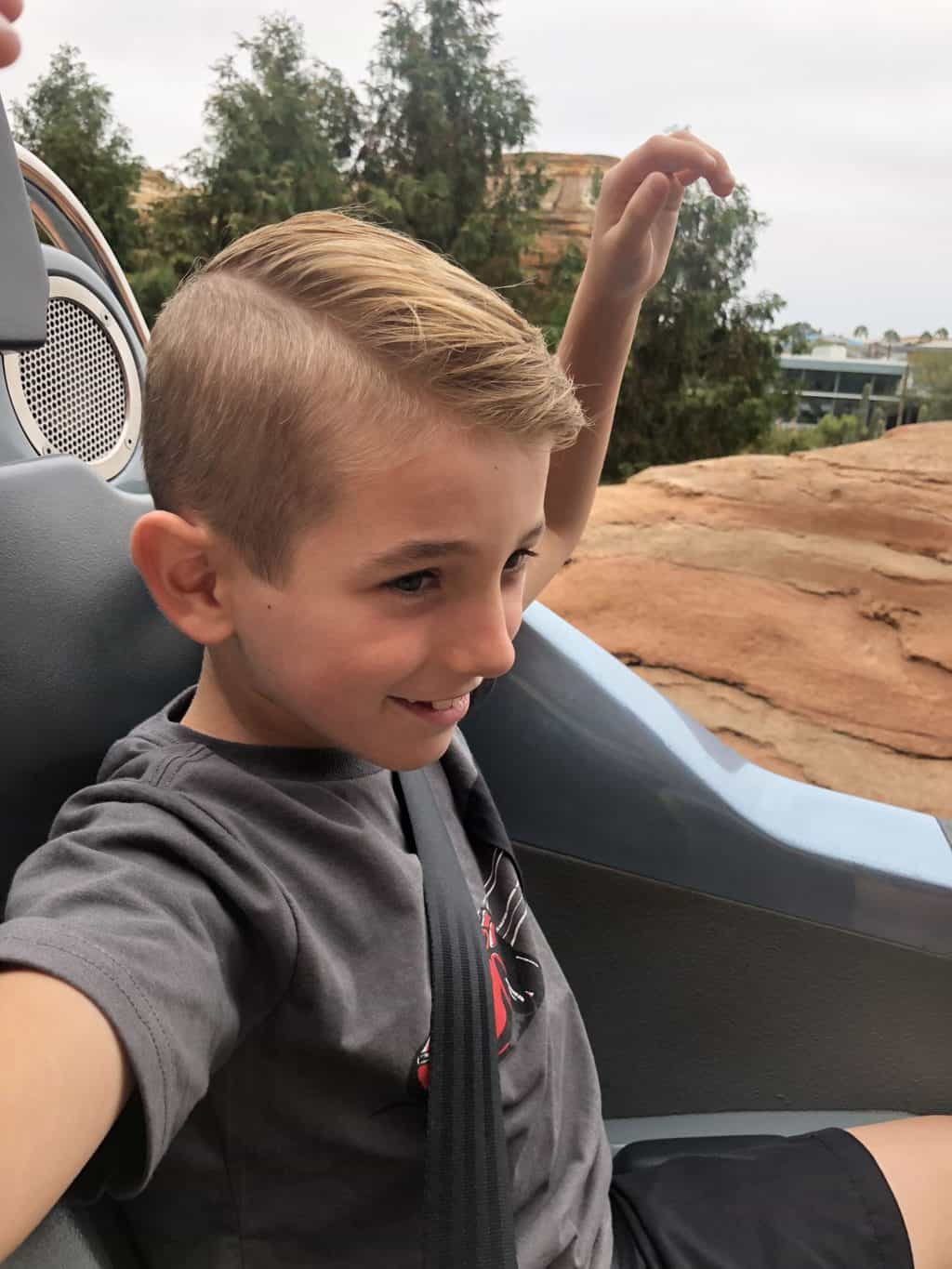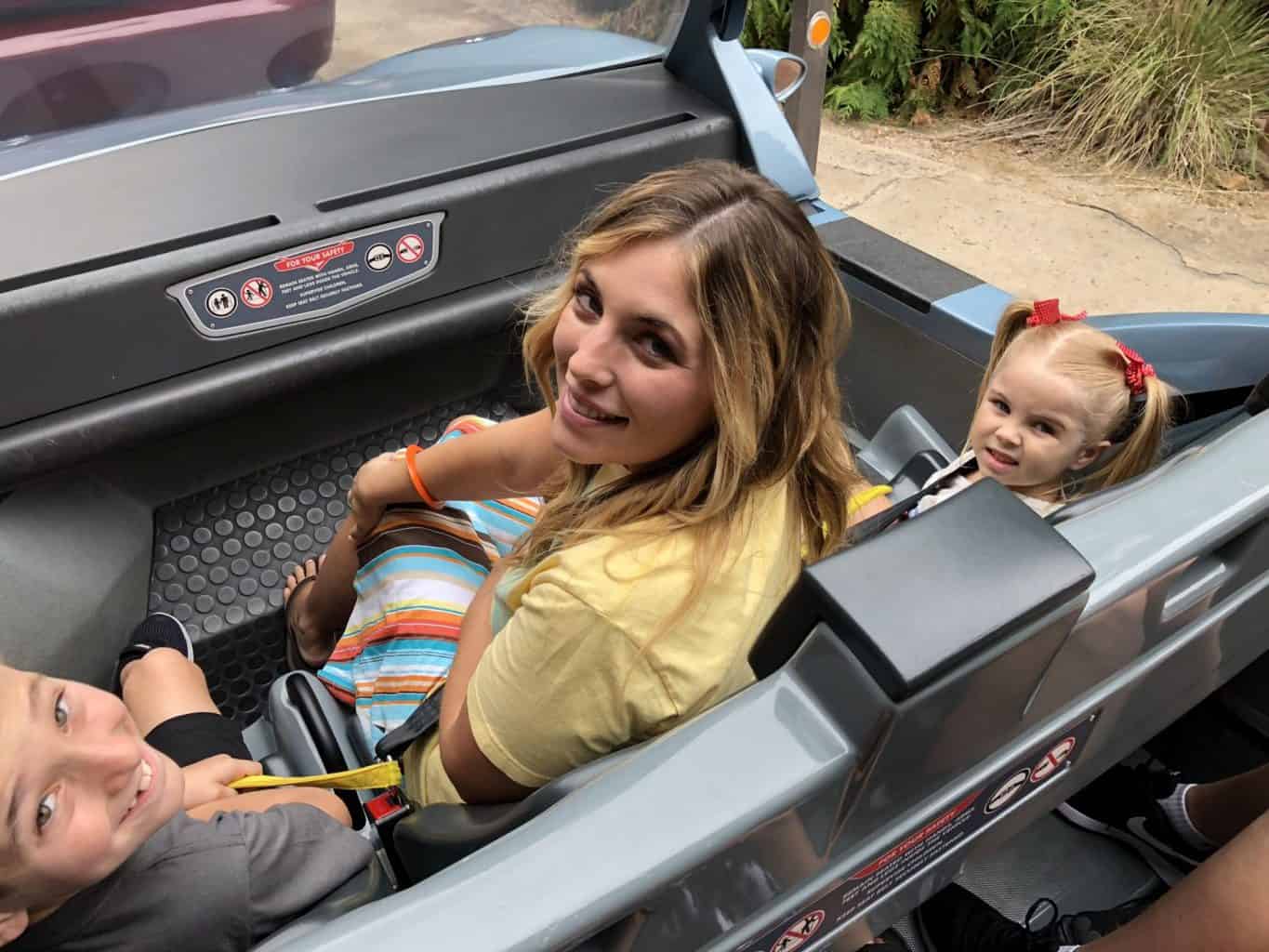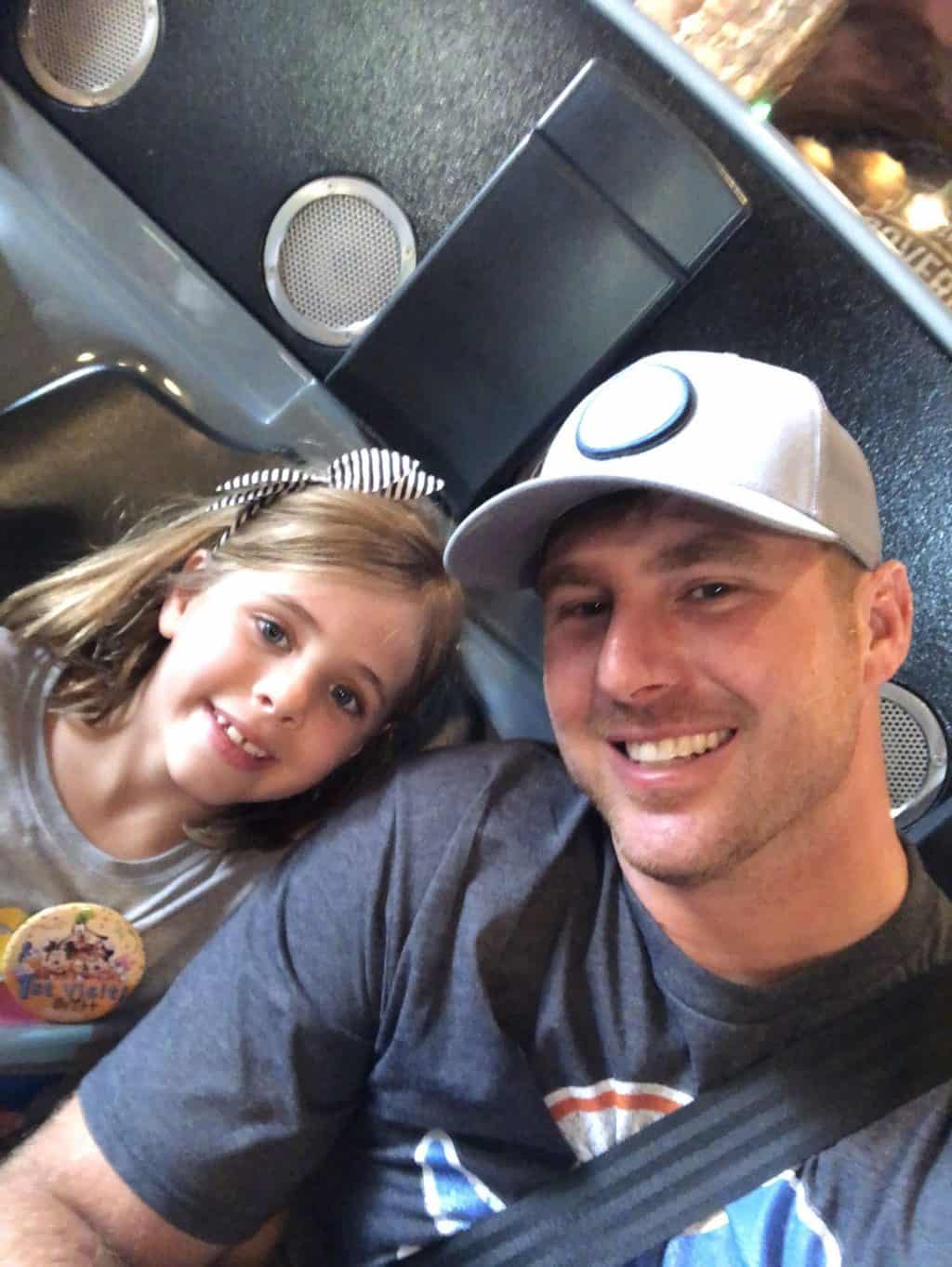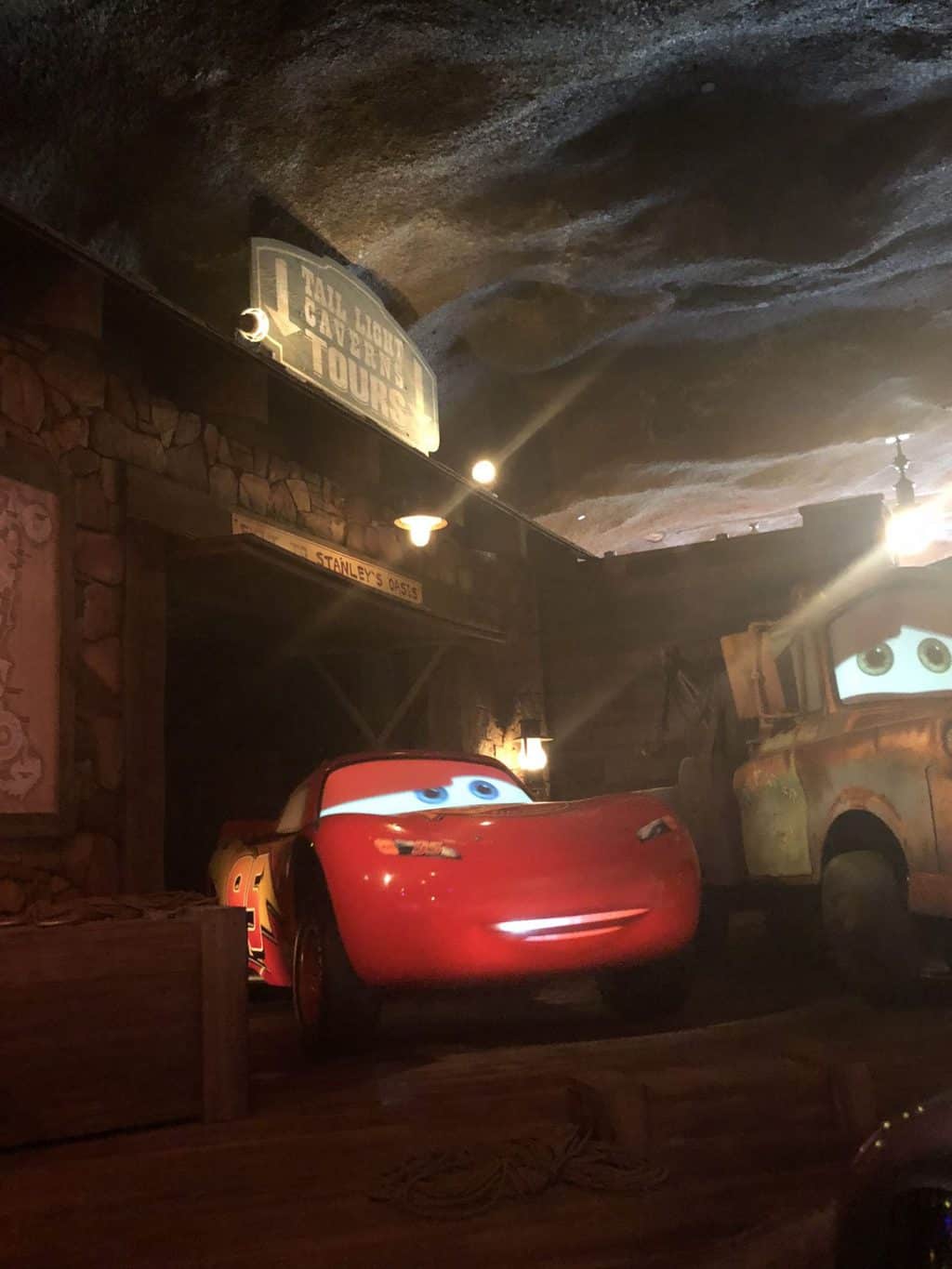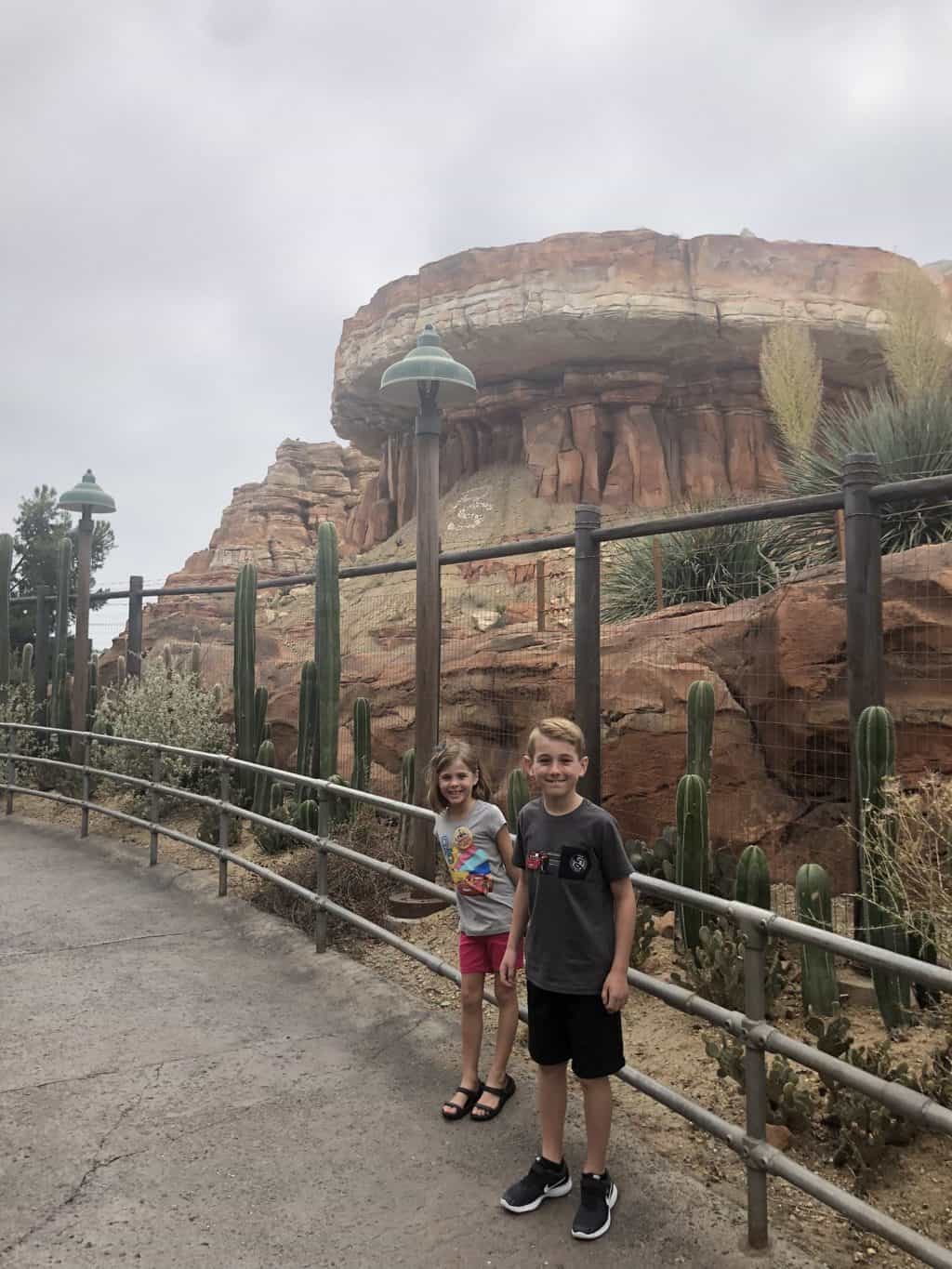 On our way out of Cars Land we stopped at Flo's for lunch. We also took full advantage of mobile ordering on this trip. Many of the restaurants had the option to order in advance and then just pick it up when we were ready to eat! SO easy and made it SO much quicker to get our food!
Mater met us on our way!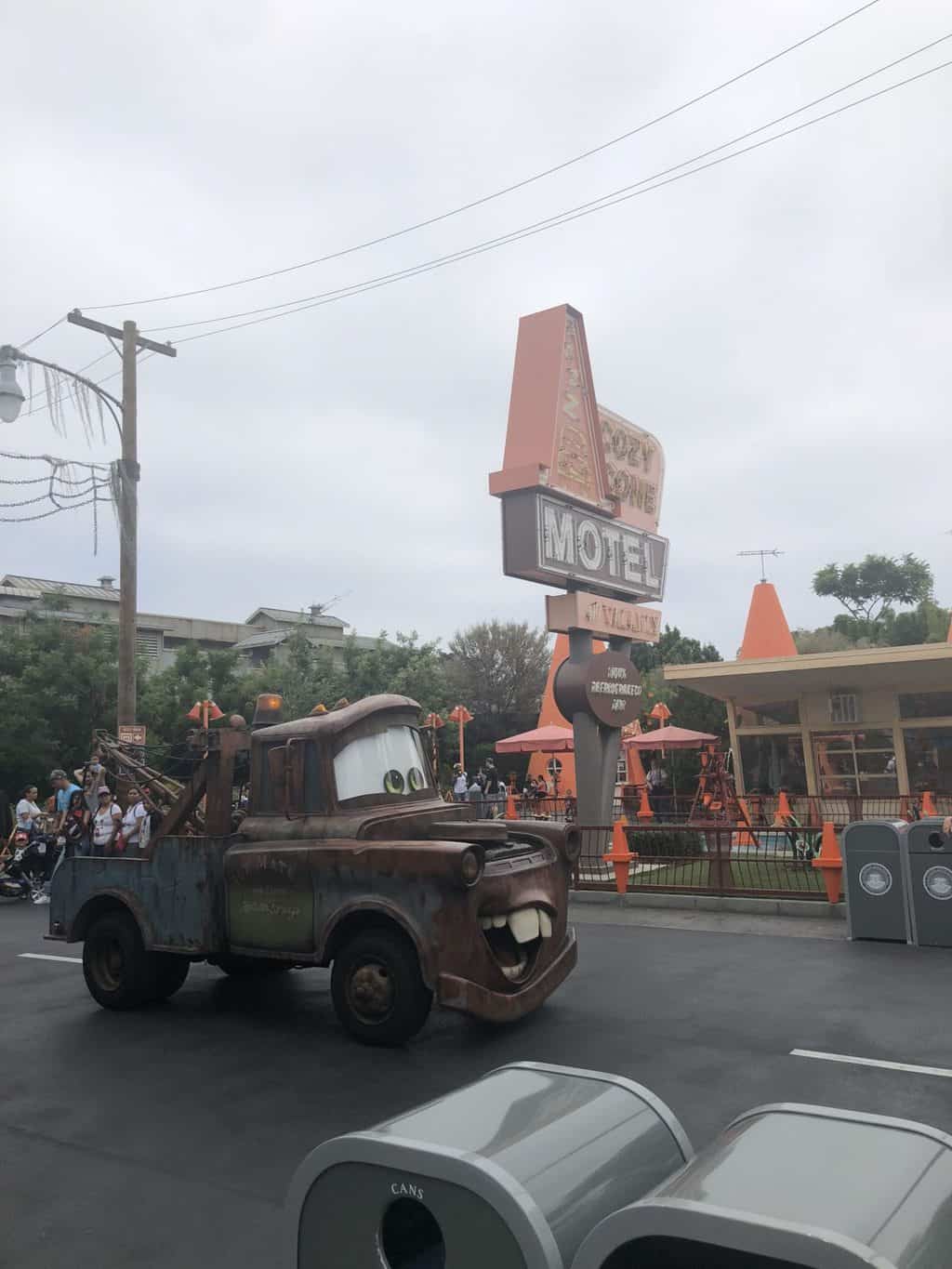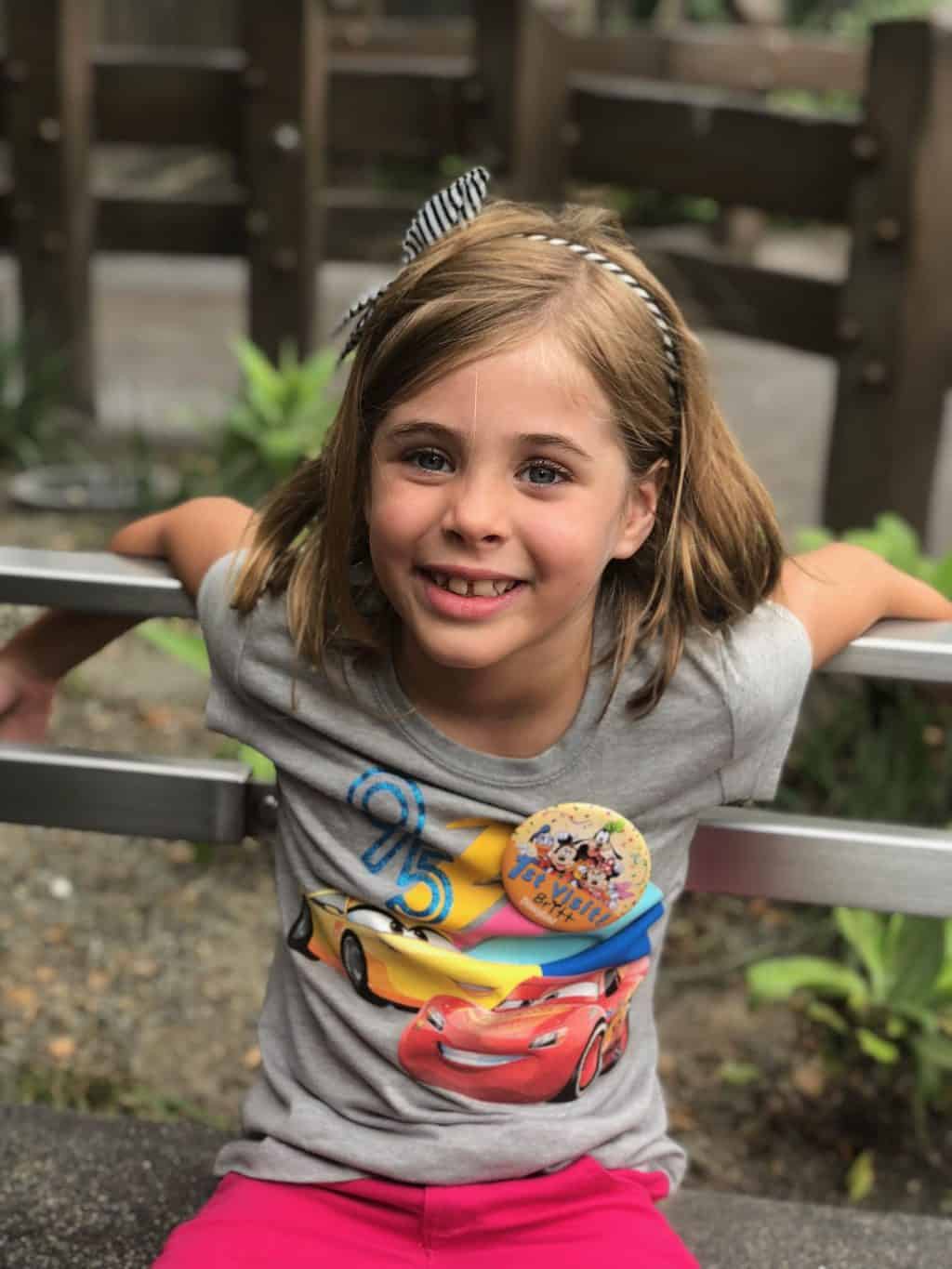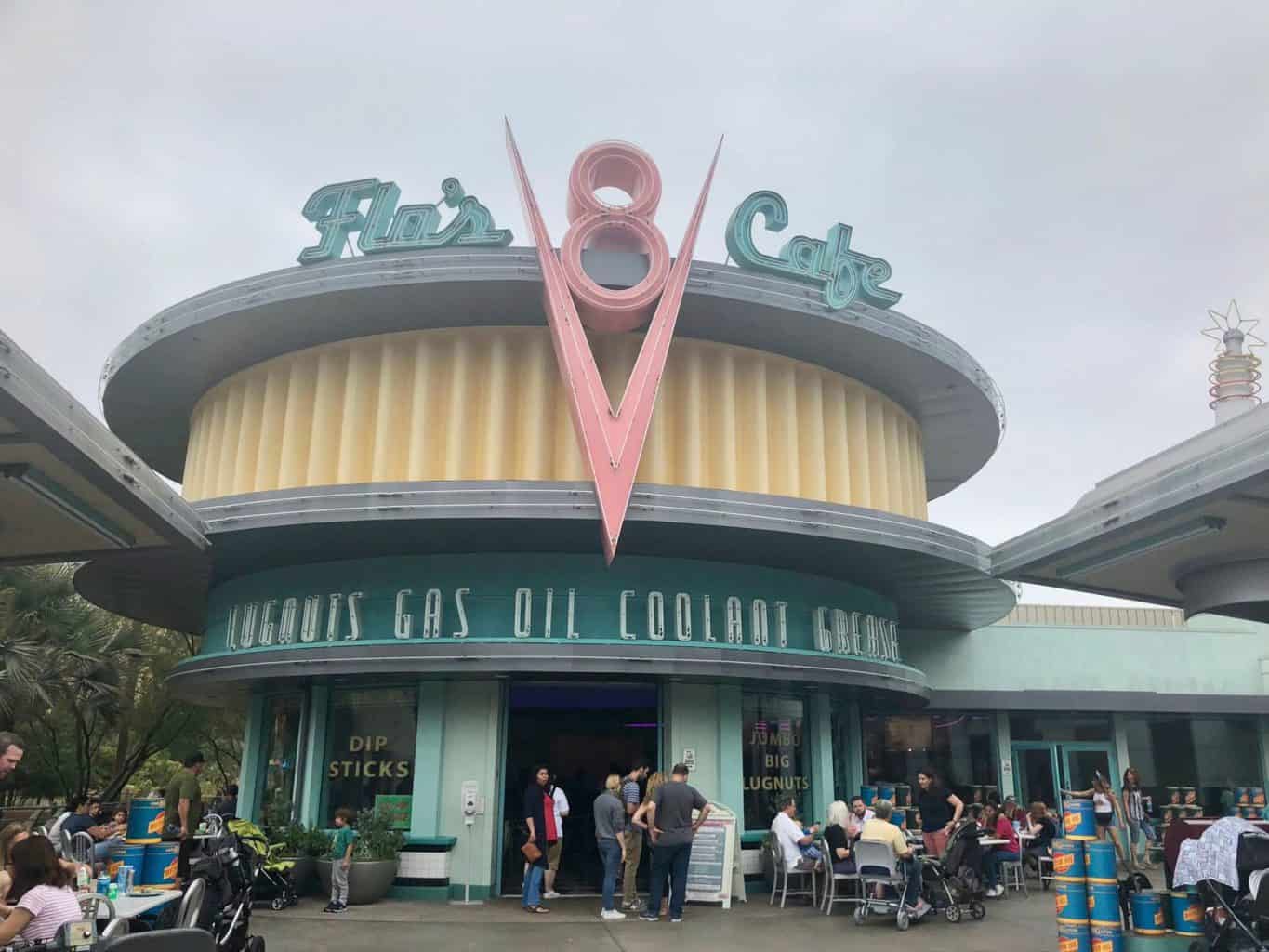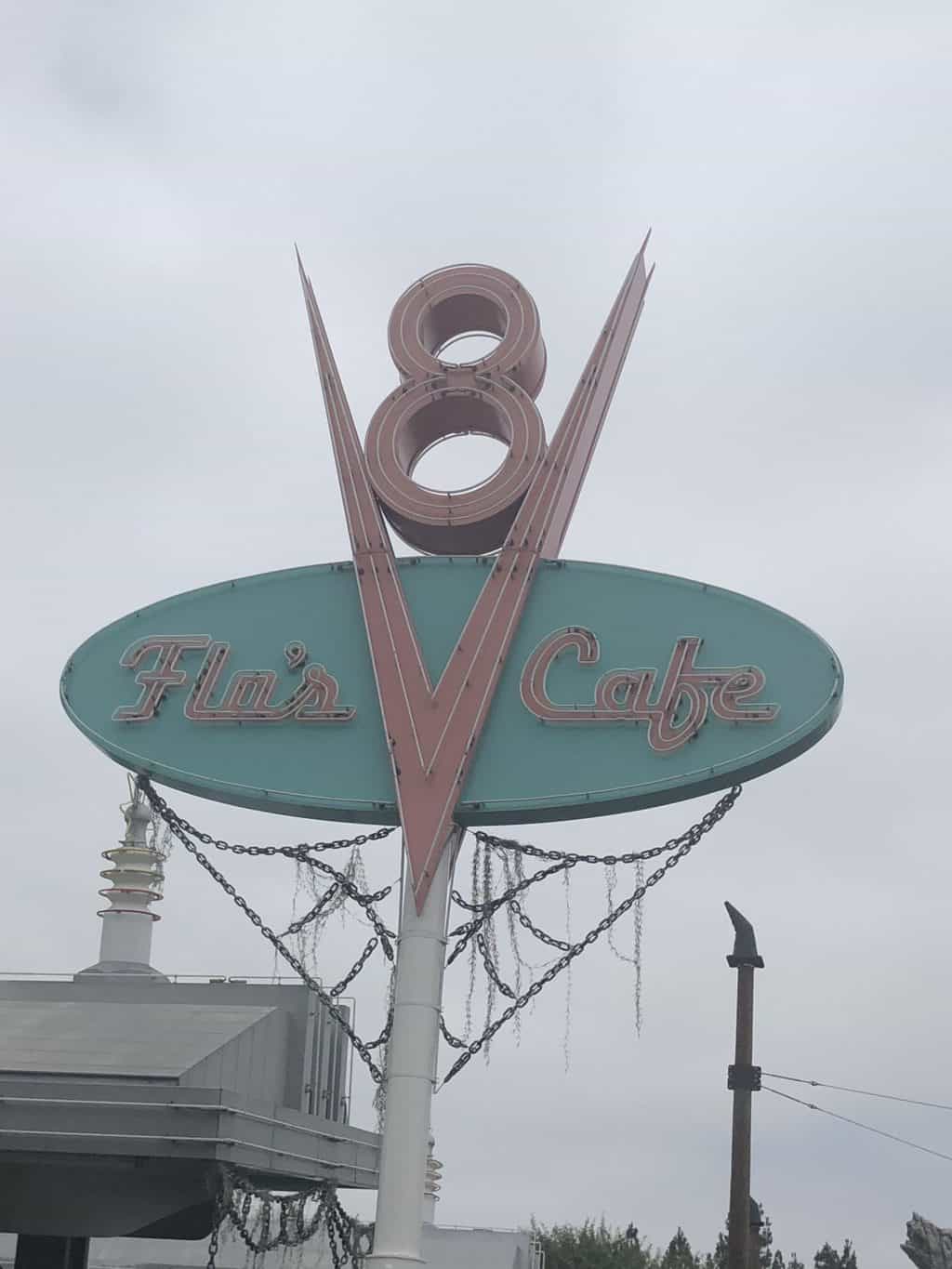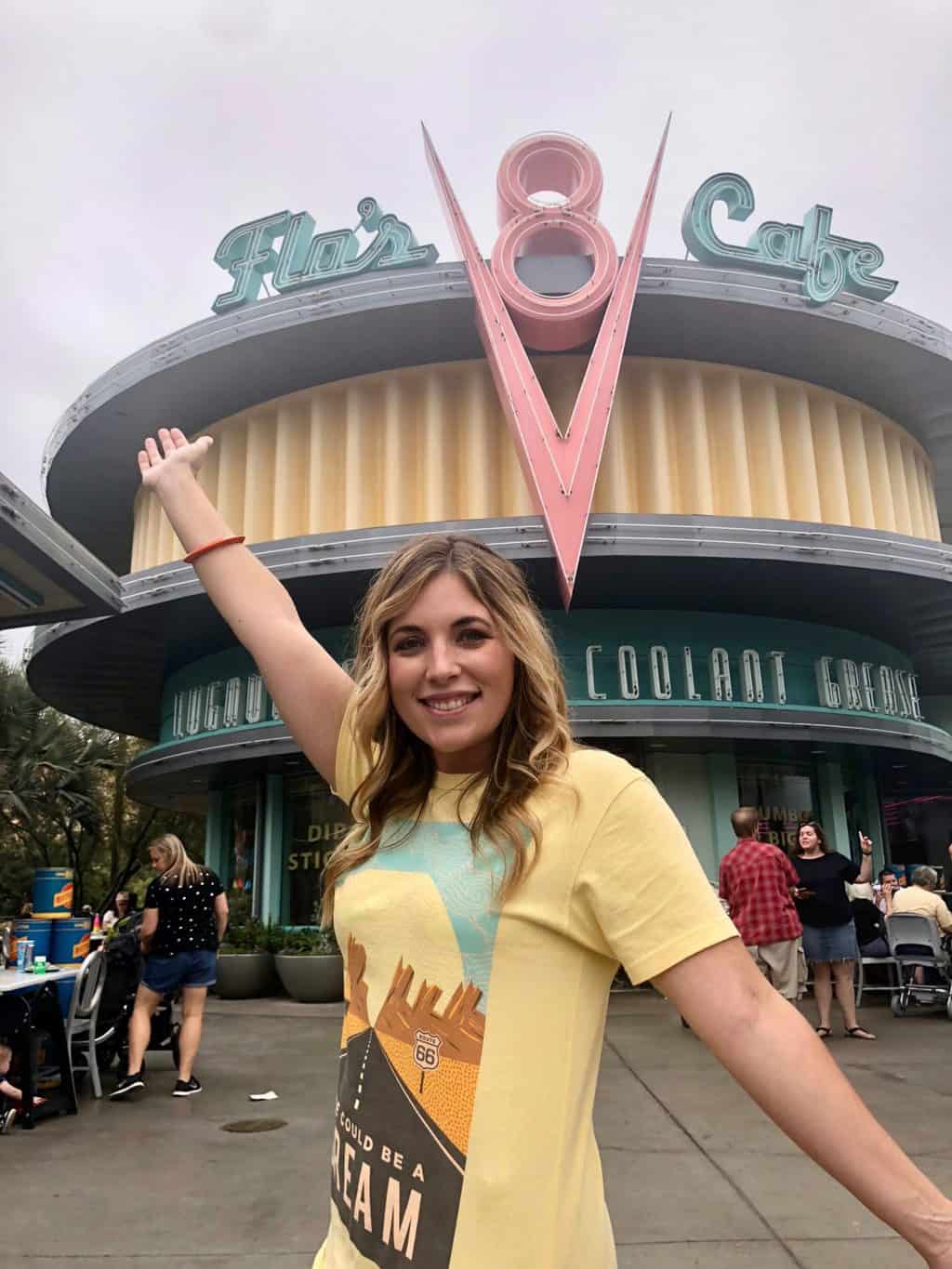 The fried chicken was SUPER good! We all really enjoyed our meals!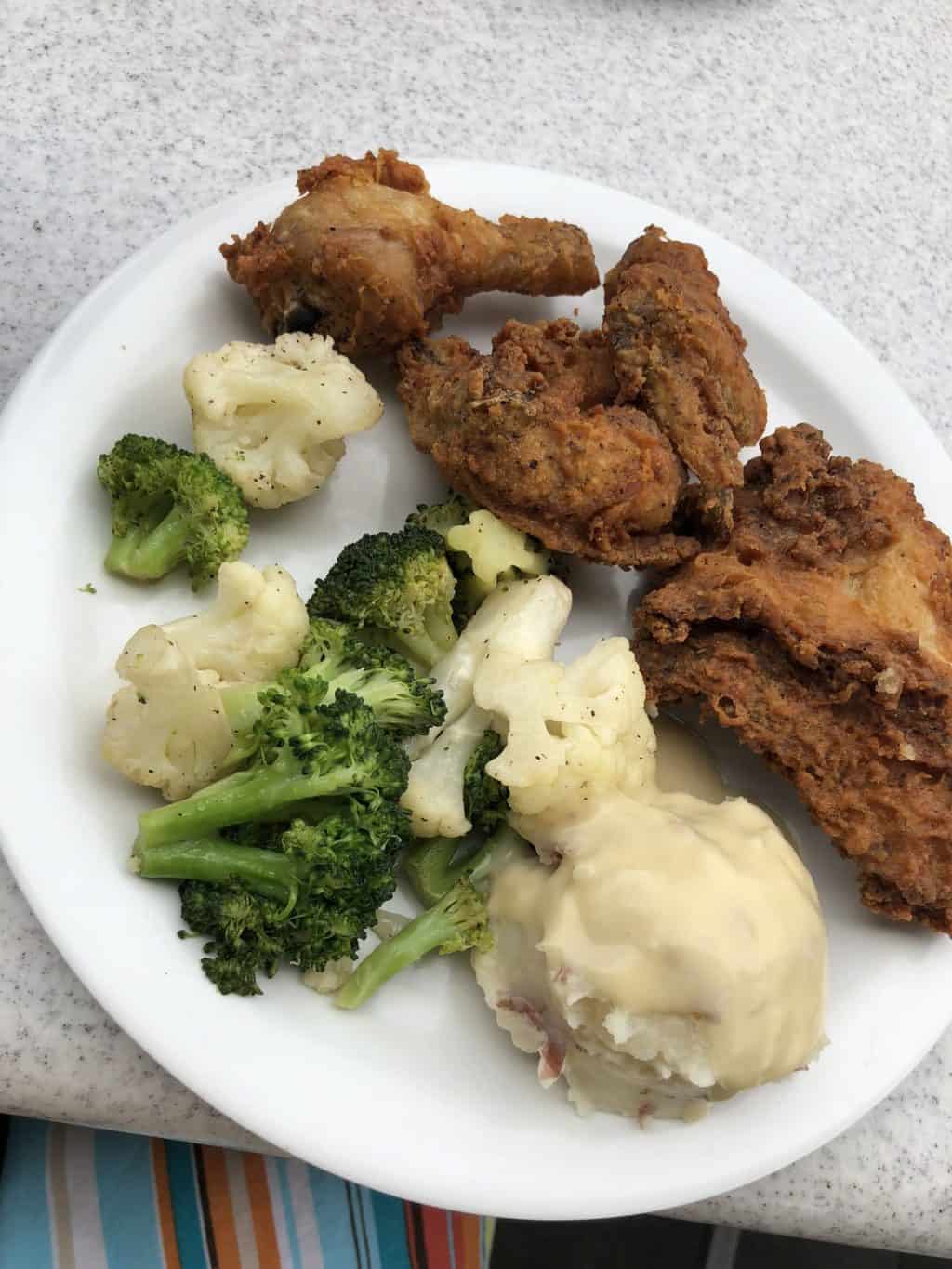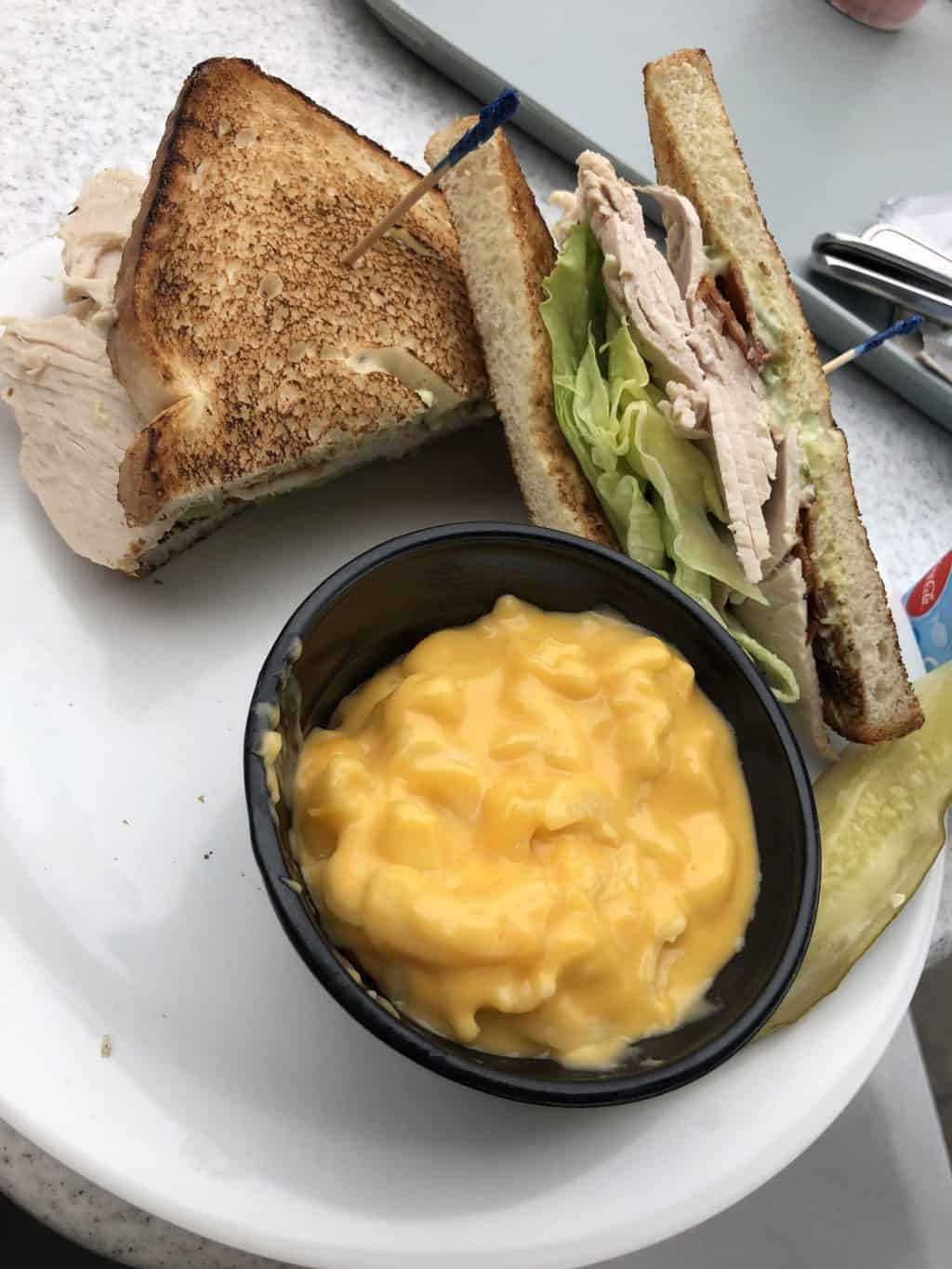 Both Kye and Britt wanted ribs!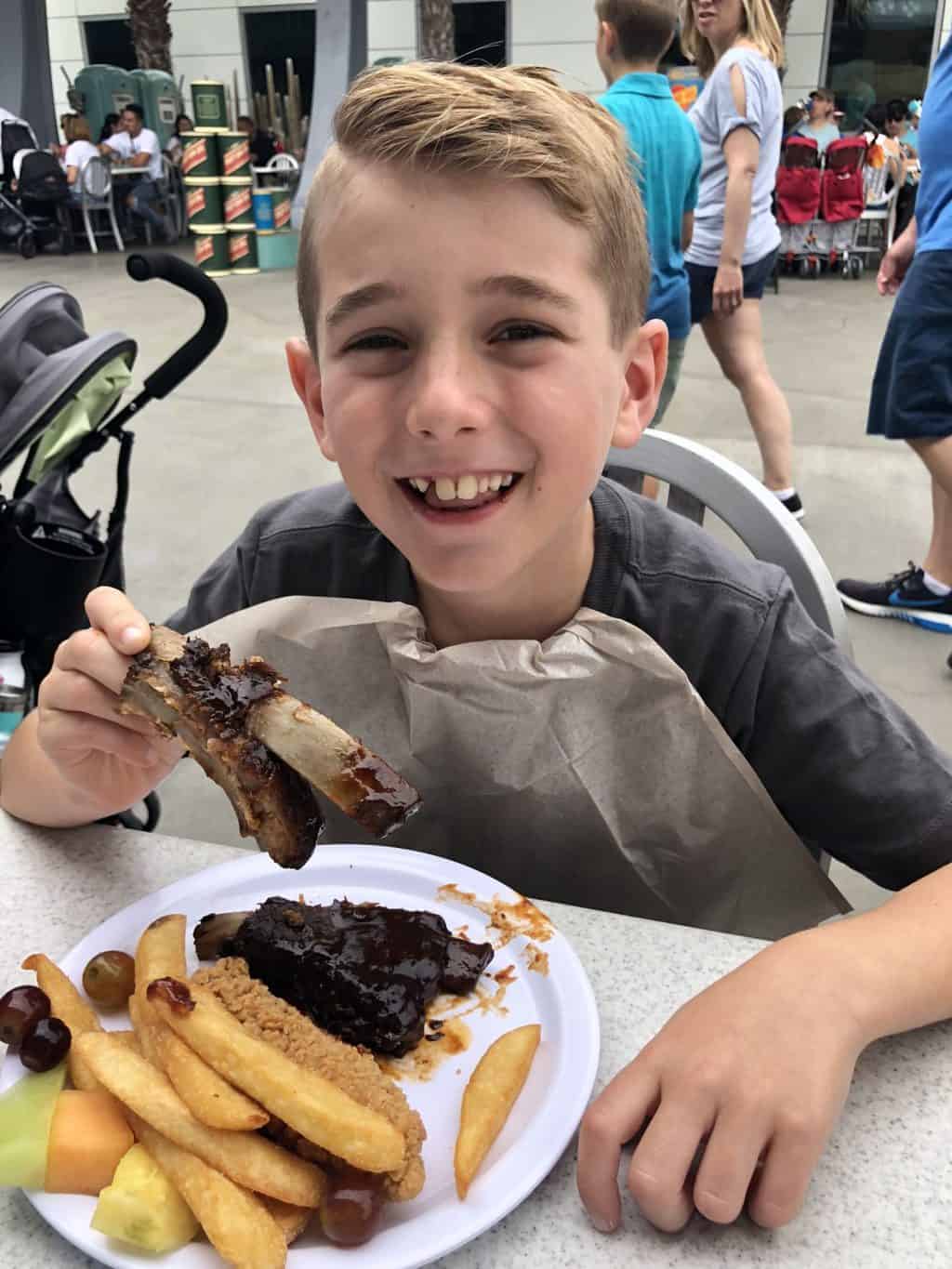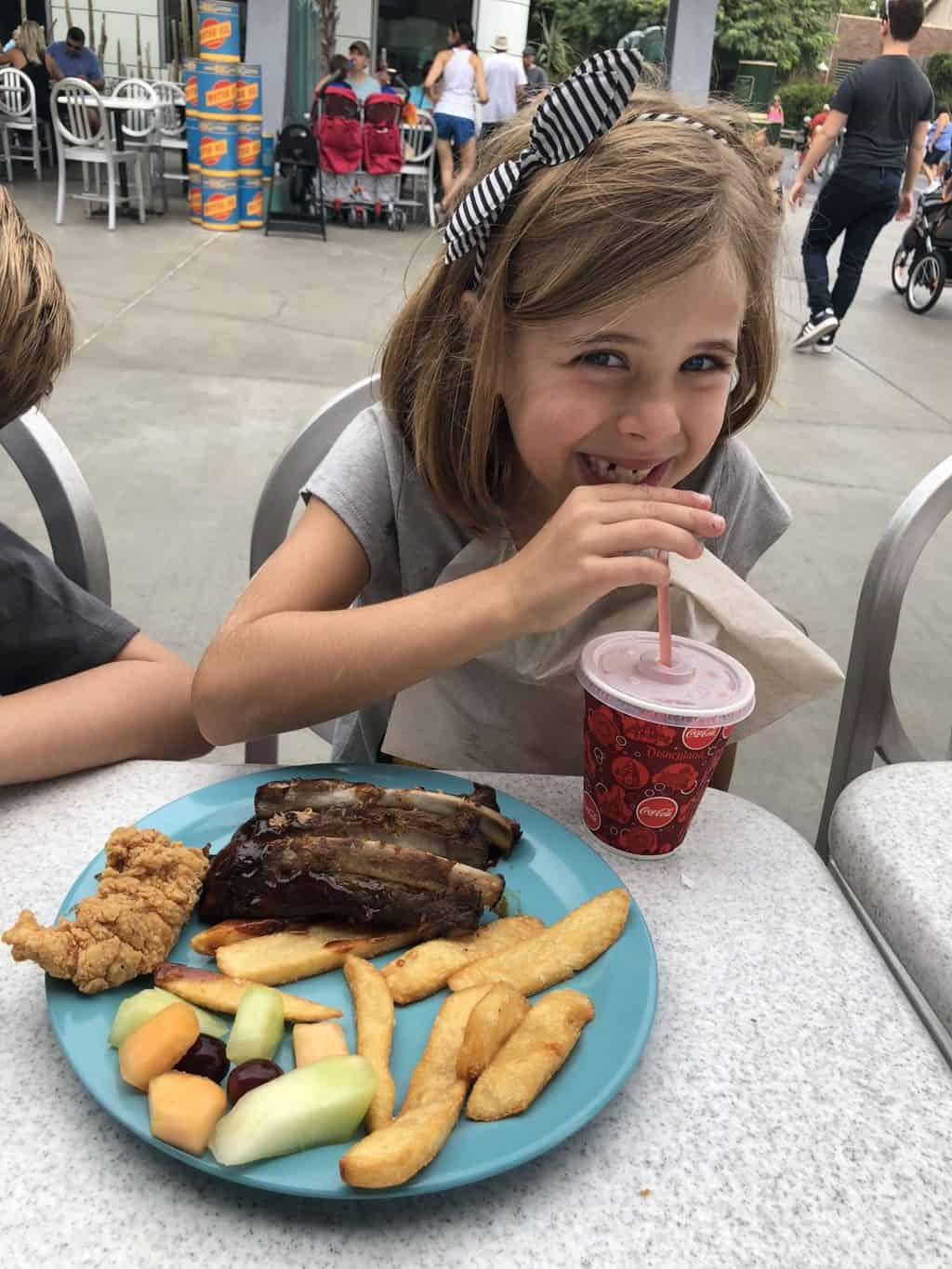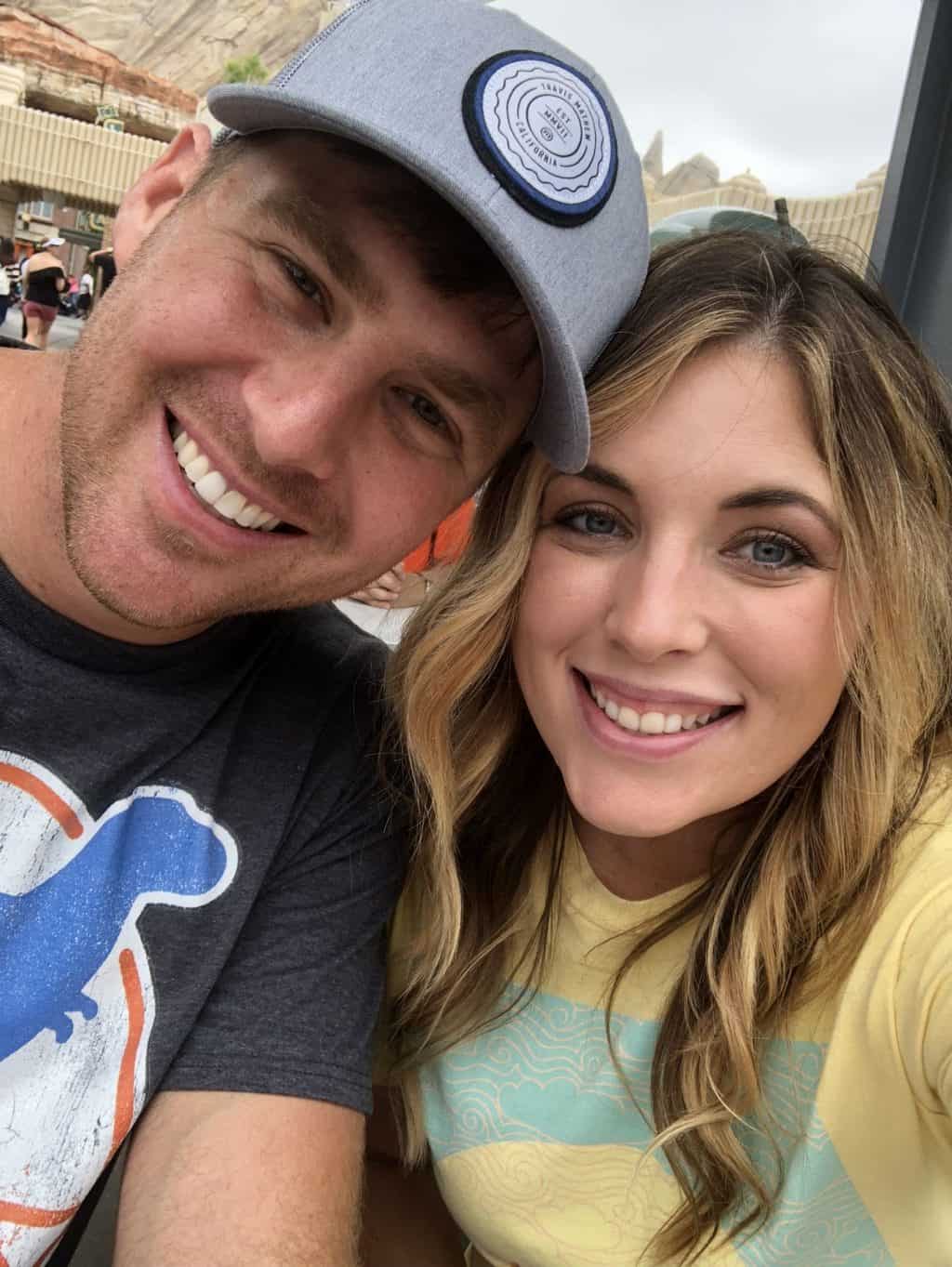 I'd been having a milkshake craving and the one at Flo's didn't disappoint!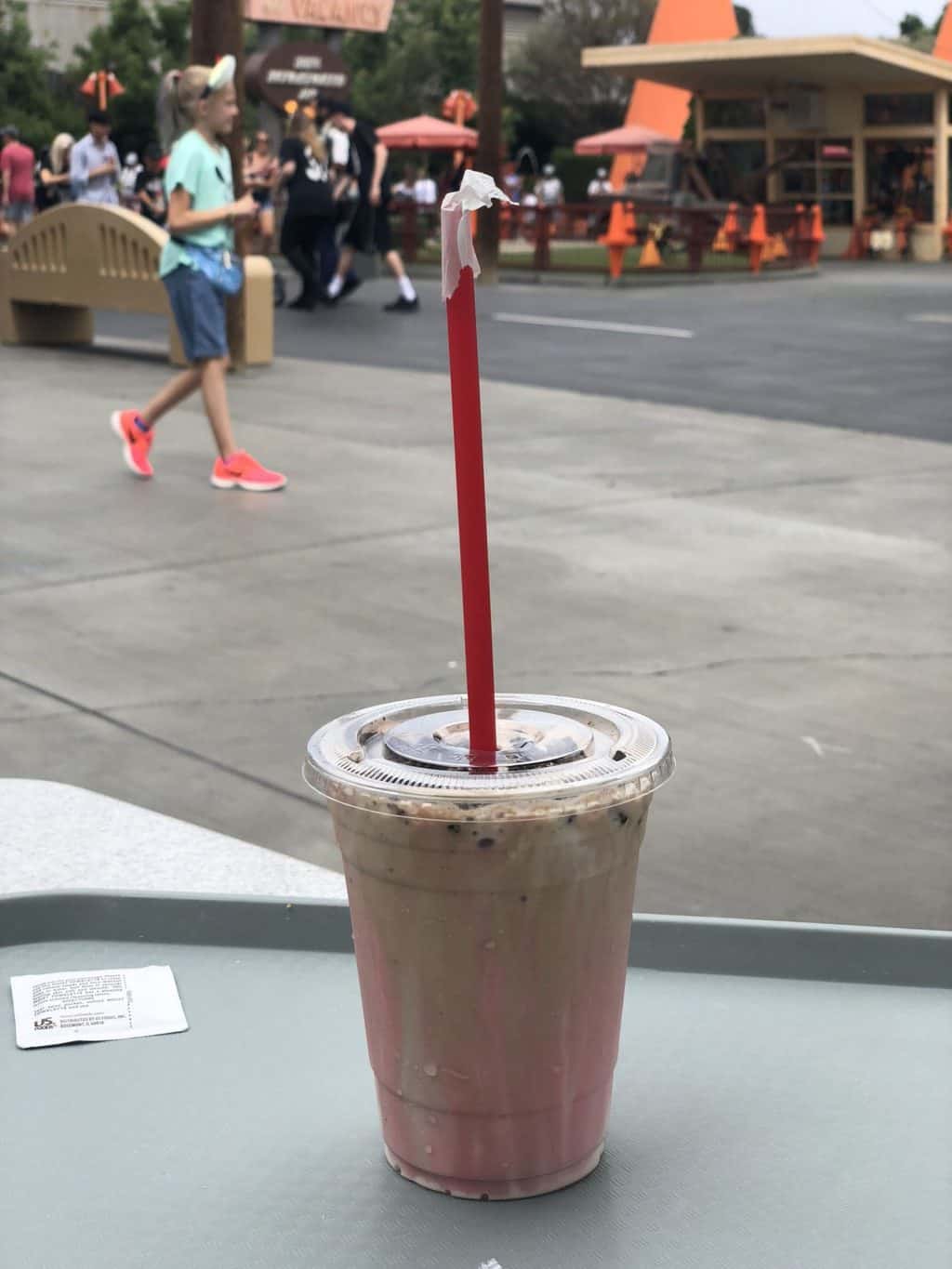 Mater passed by again to say hey!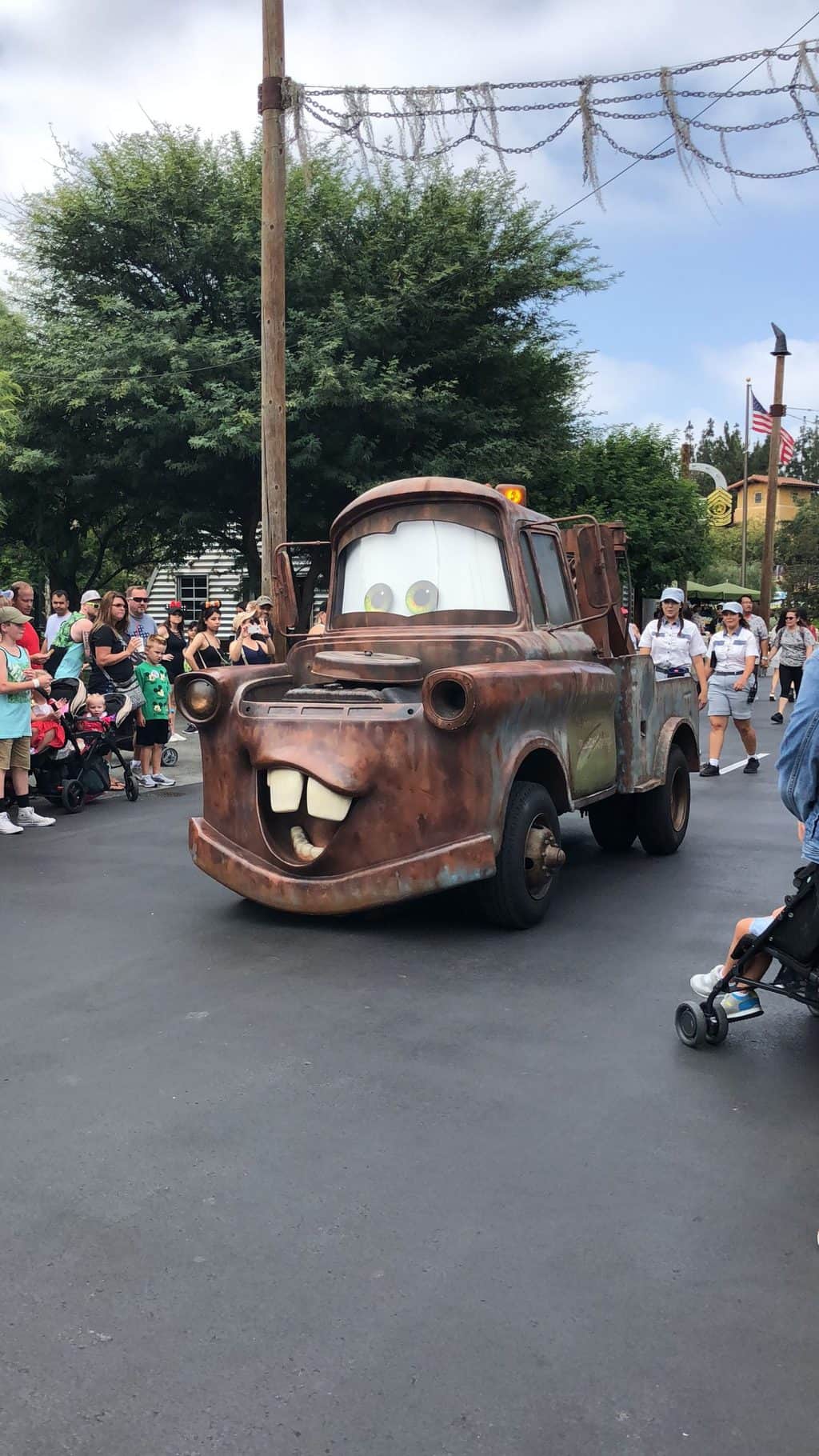 The Cozy Cone Motel area is probably one of my favorites. Just every little detail is so spot on!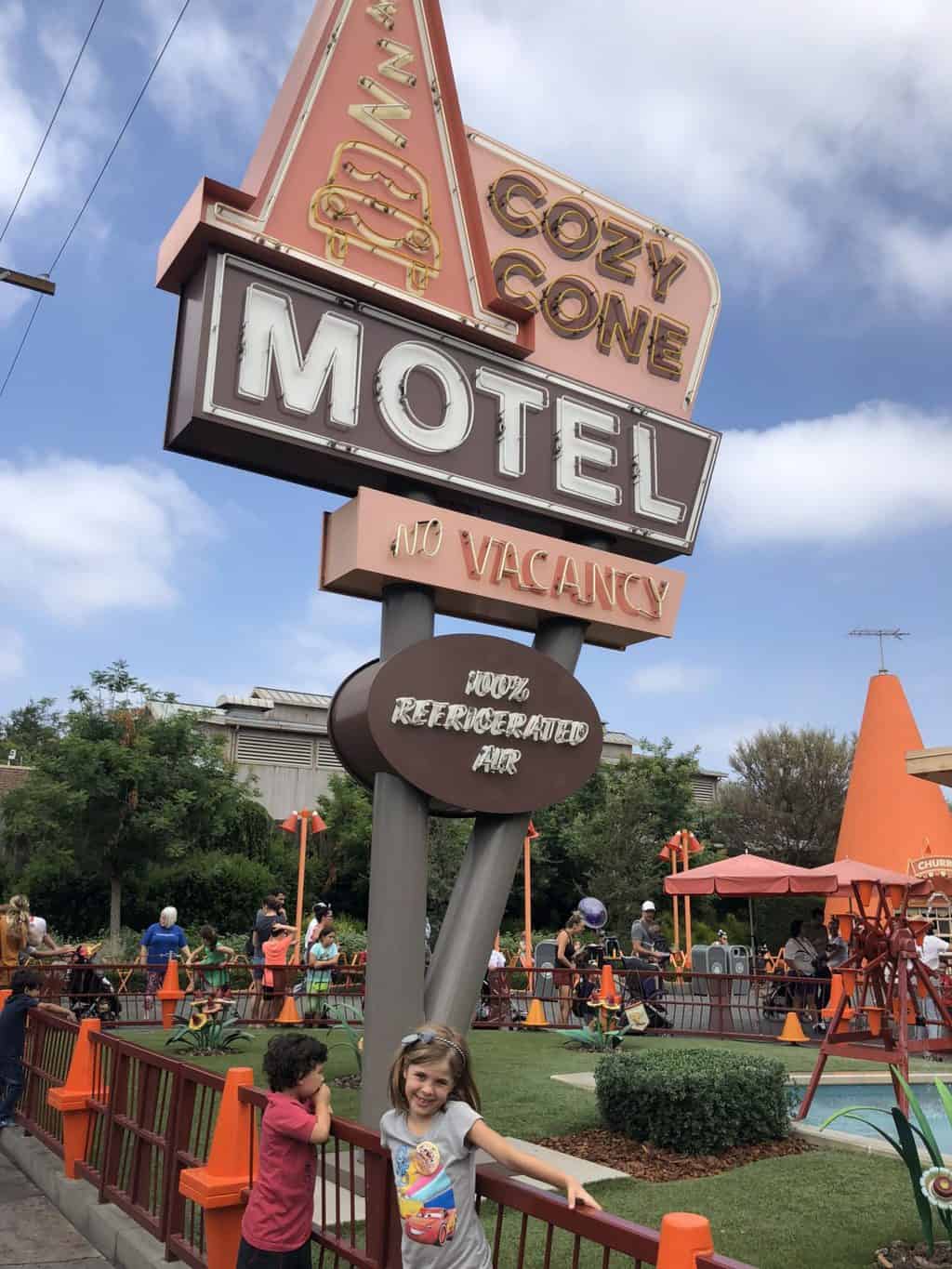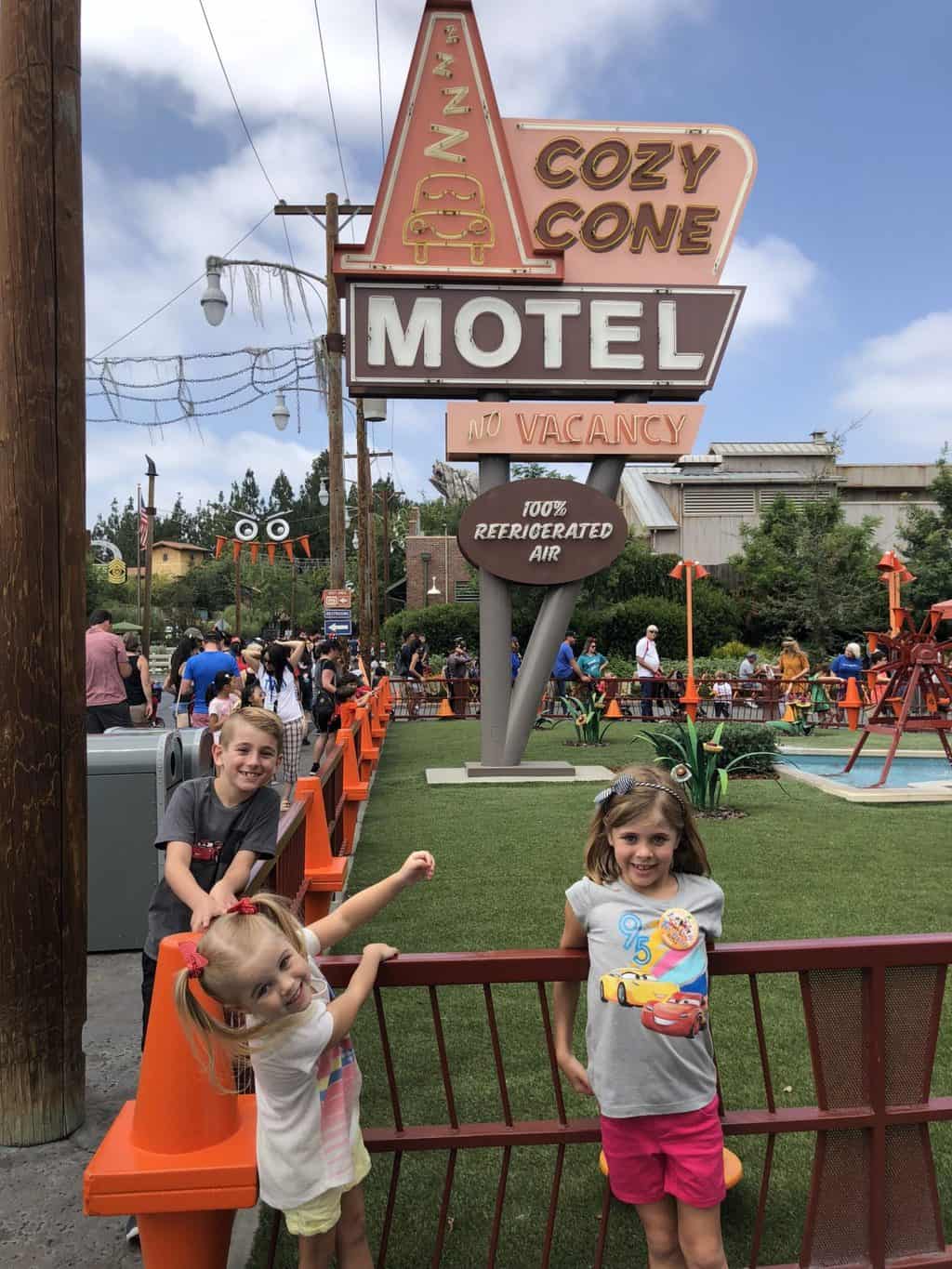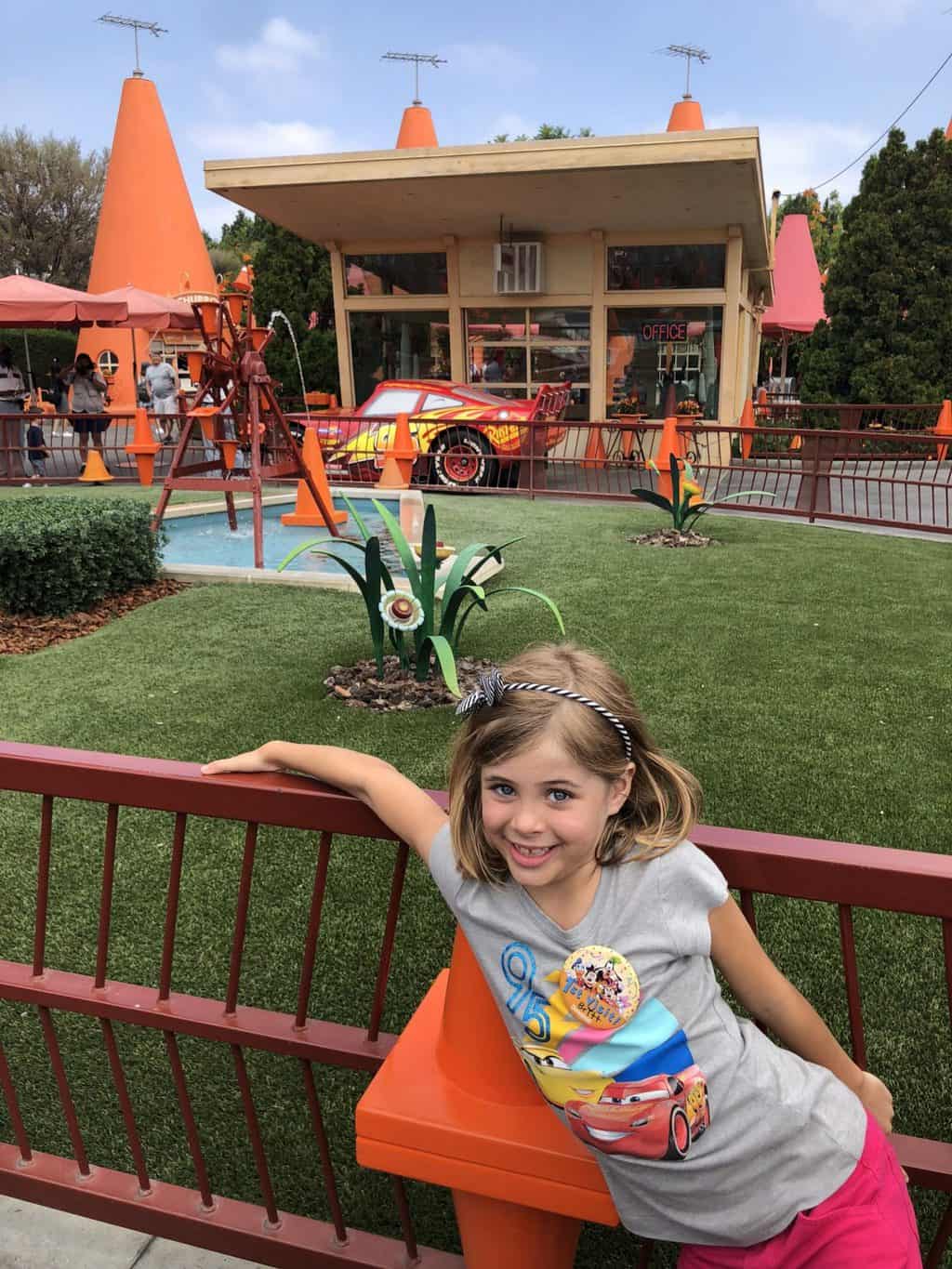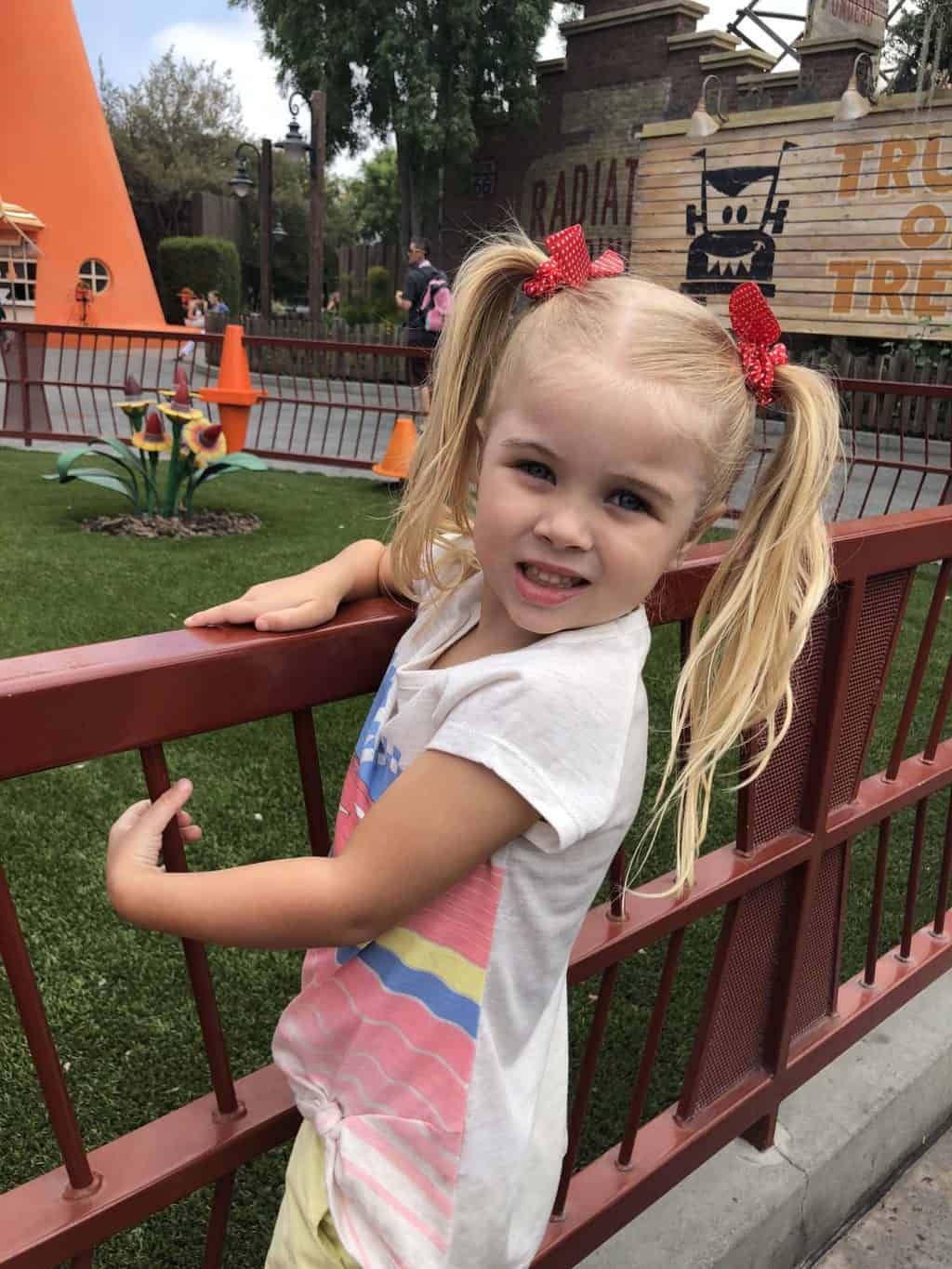 These movie posters had us laughing too. Something I just really love about raising our kids on Disney is that THEY recognize and truly appreciate all the little details. They were cracking up at these movie posters and I think Disney doing small details like these make it something for the older kids to "get" and appreciate on a different level!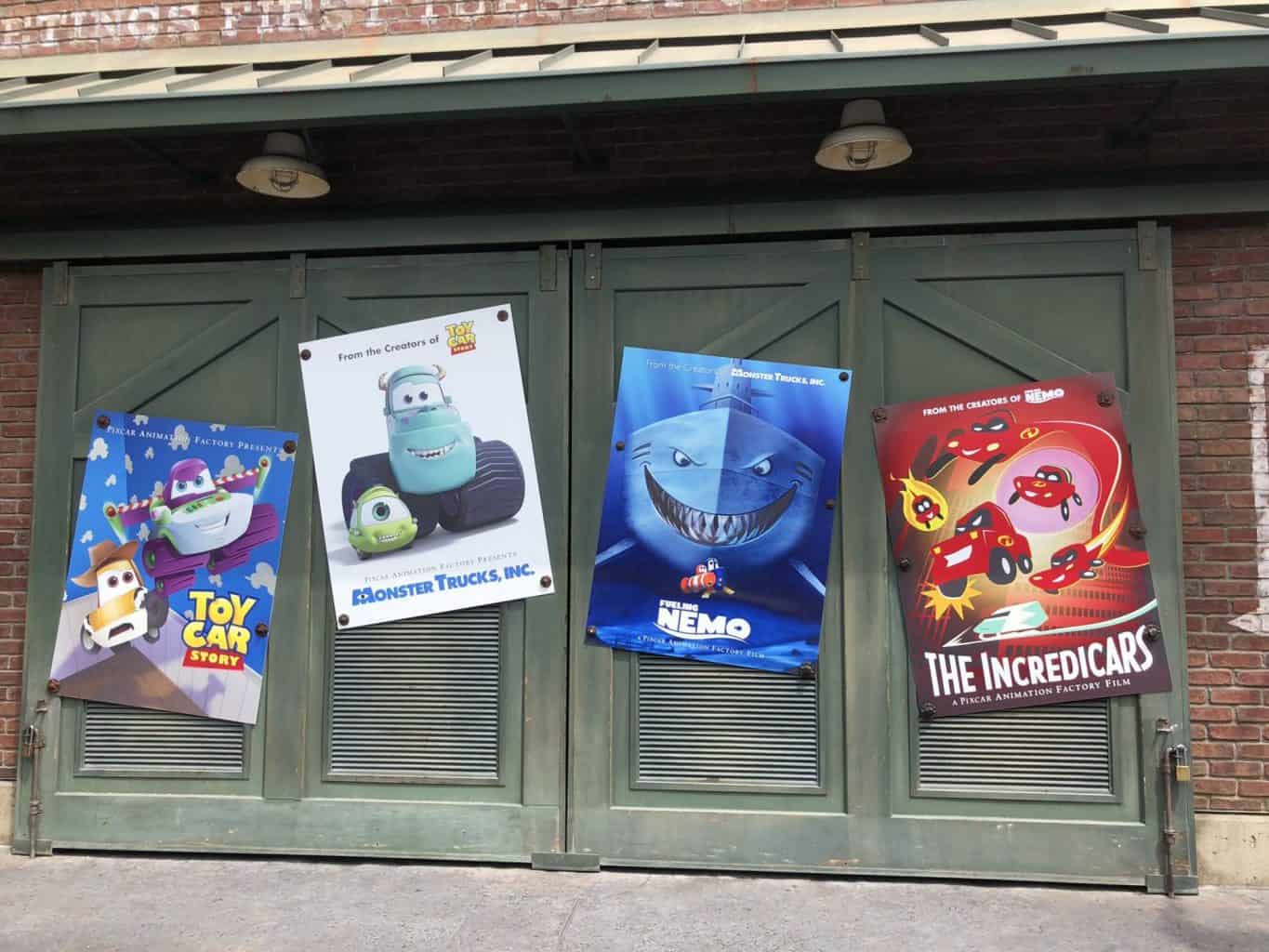 We got to walk through Bugs Land on our way to Guardians of the Galaxy Mission Breakout. It was neat to walk through Bugs Land knowing it'd be THE last day it would EVER be open. Zach and I did get to experience it on our trip a few years ago, and since I have no emotional attachment to the area I wasn't sad about the news of it changing.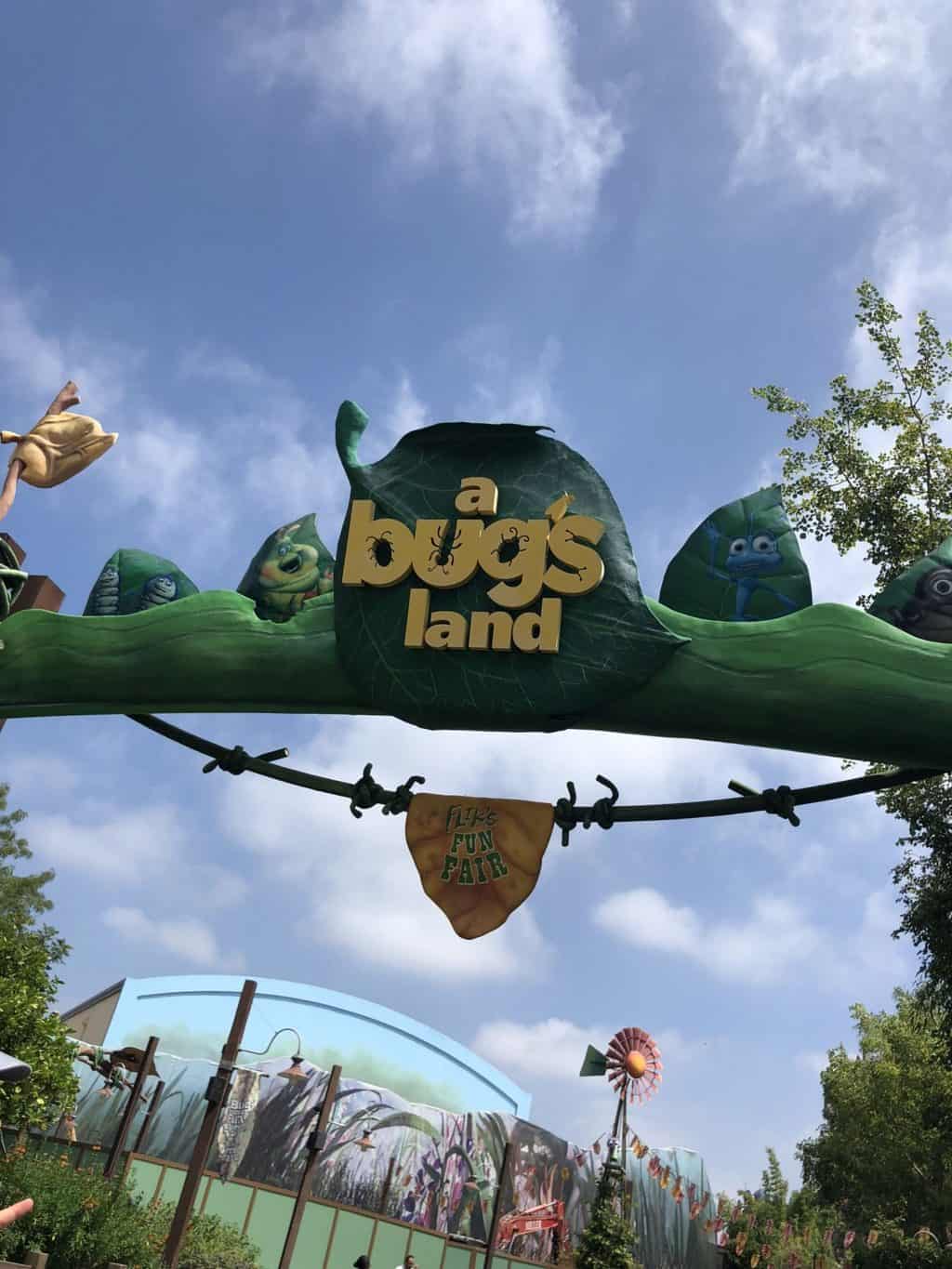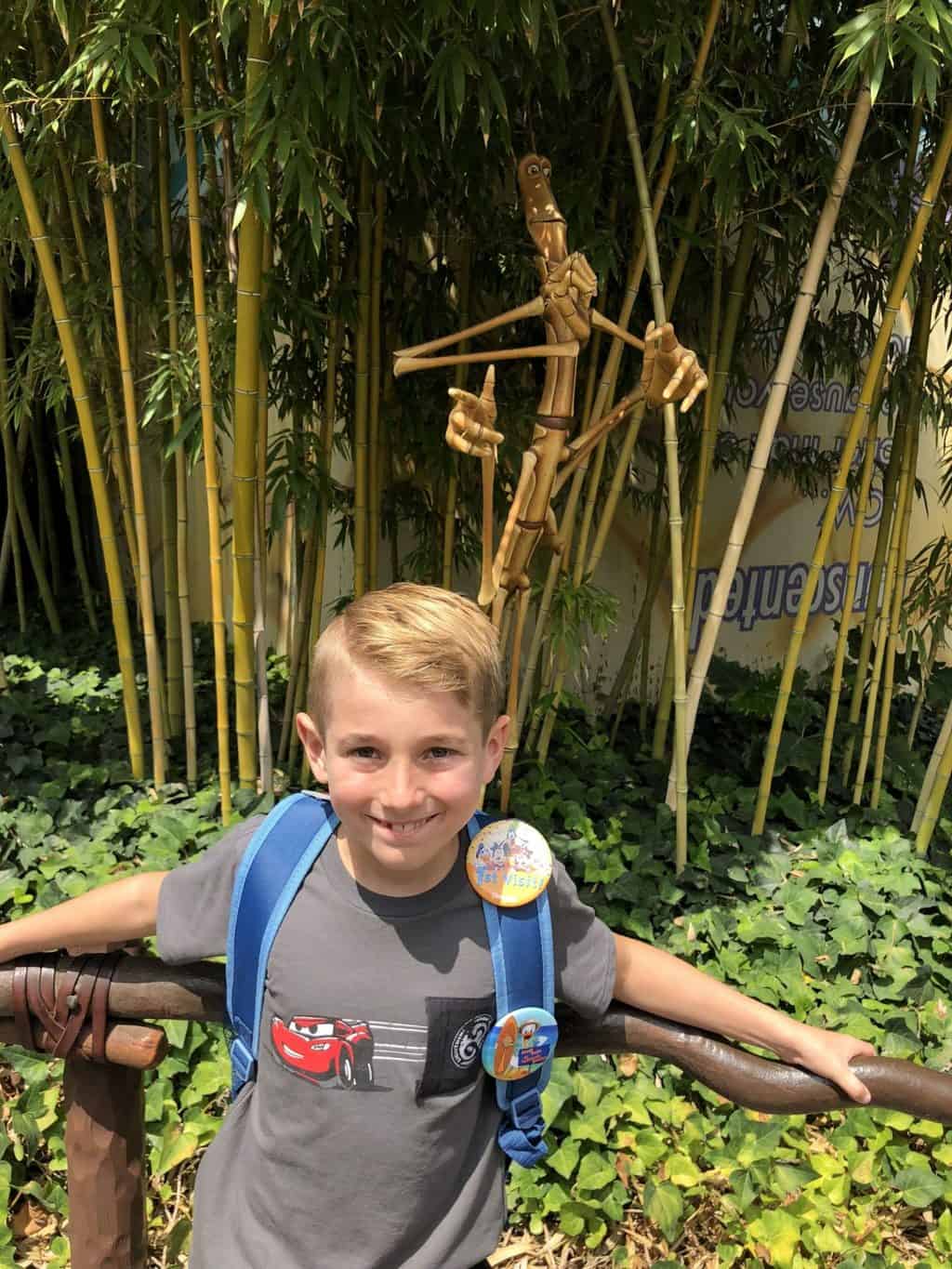 I also know people have a lot of feelings about Tower of Terror being switched over to Guardians of the Galaxy. But I've never ridden (nor will I ever ride) Tower of Terror so I also have zero opinion about this switch. I do not personally love the whole Marvel influence happening with Disney but living near Disney World it's not going to be a thing we experience much of for awhile since Universal Studios is still able to have the rights to Marvel in Orlando even though Disney owns the franchise. Kinda hoping it stays that way for a long time!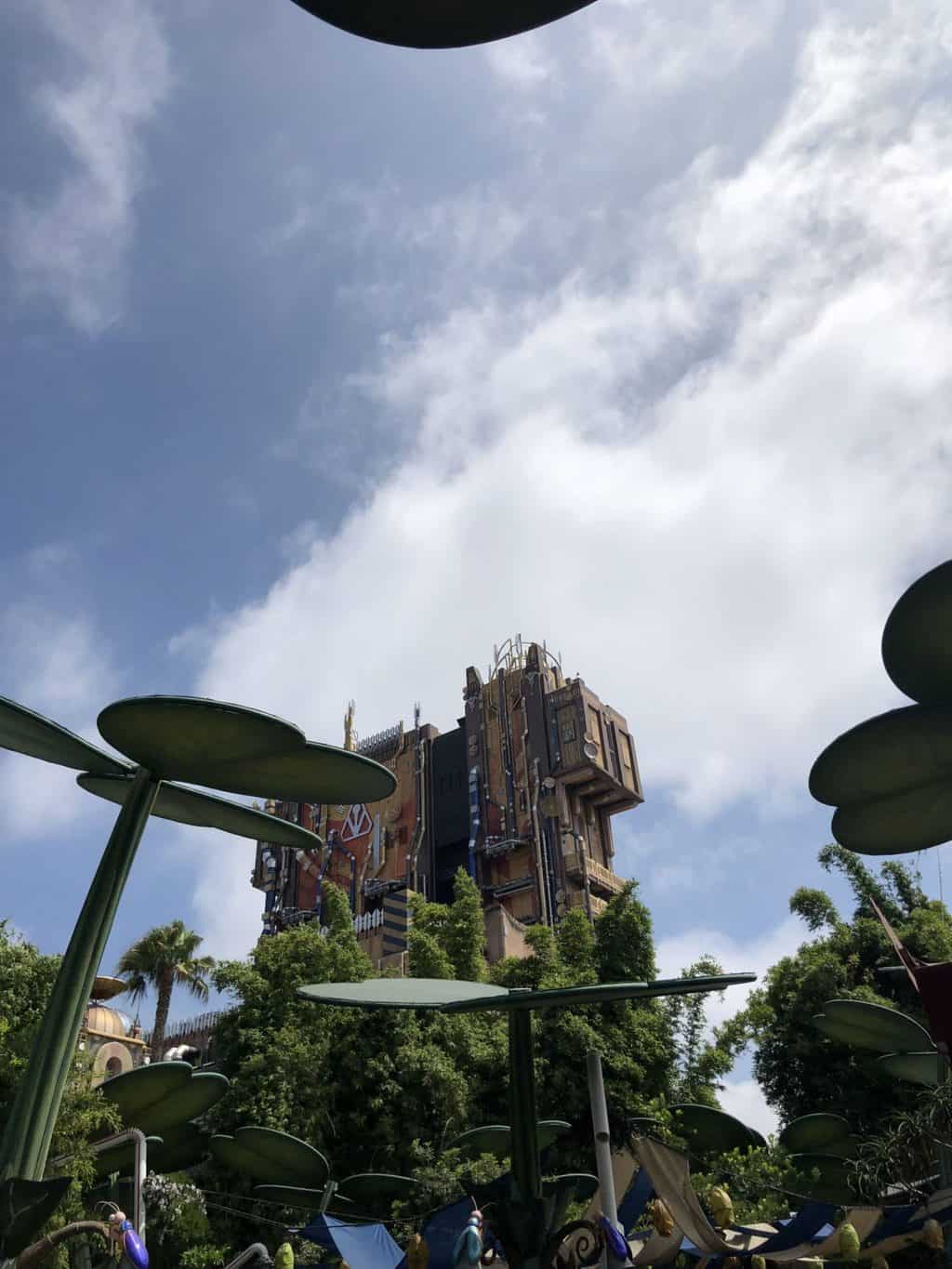 Whoop whoop! Tess was tall enough!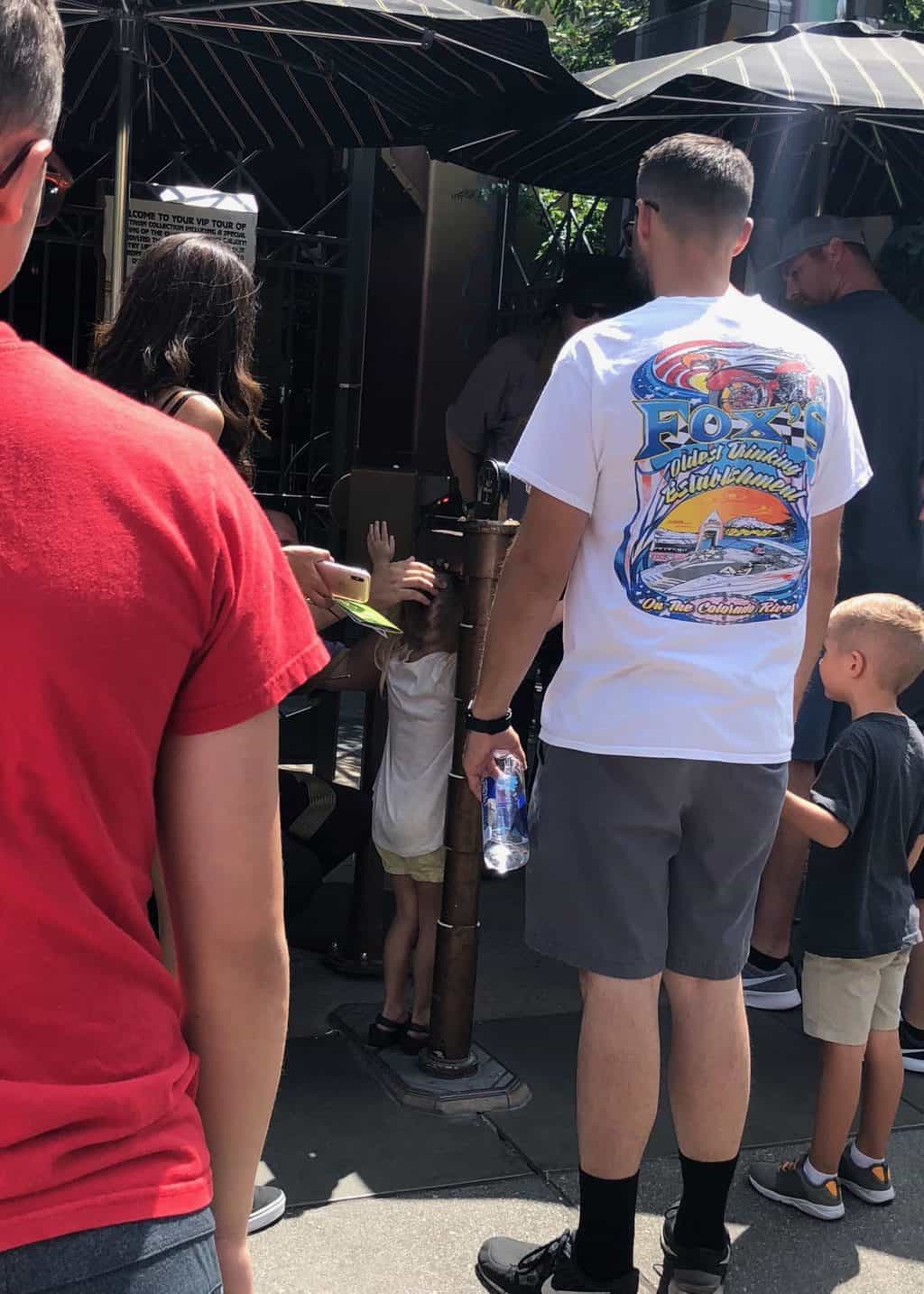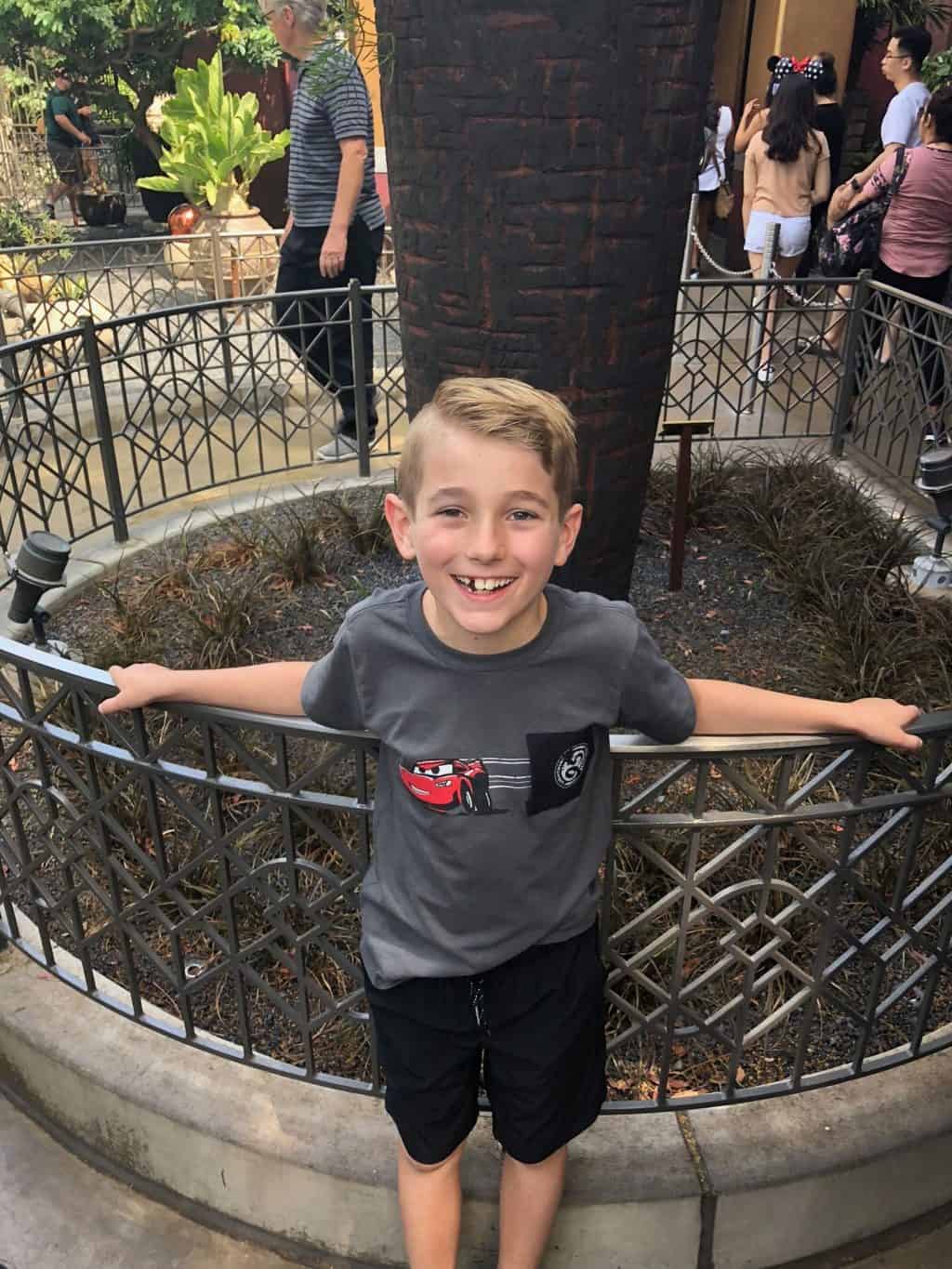 Brave girl!!!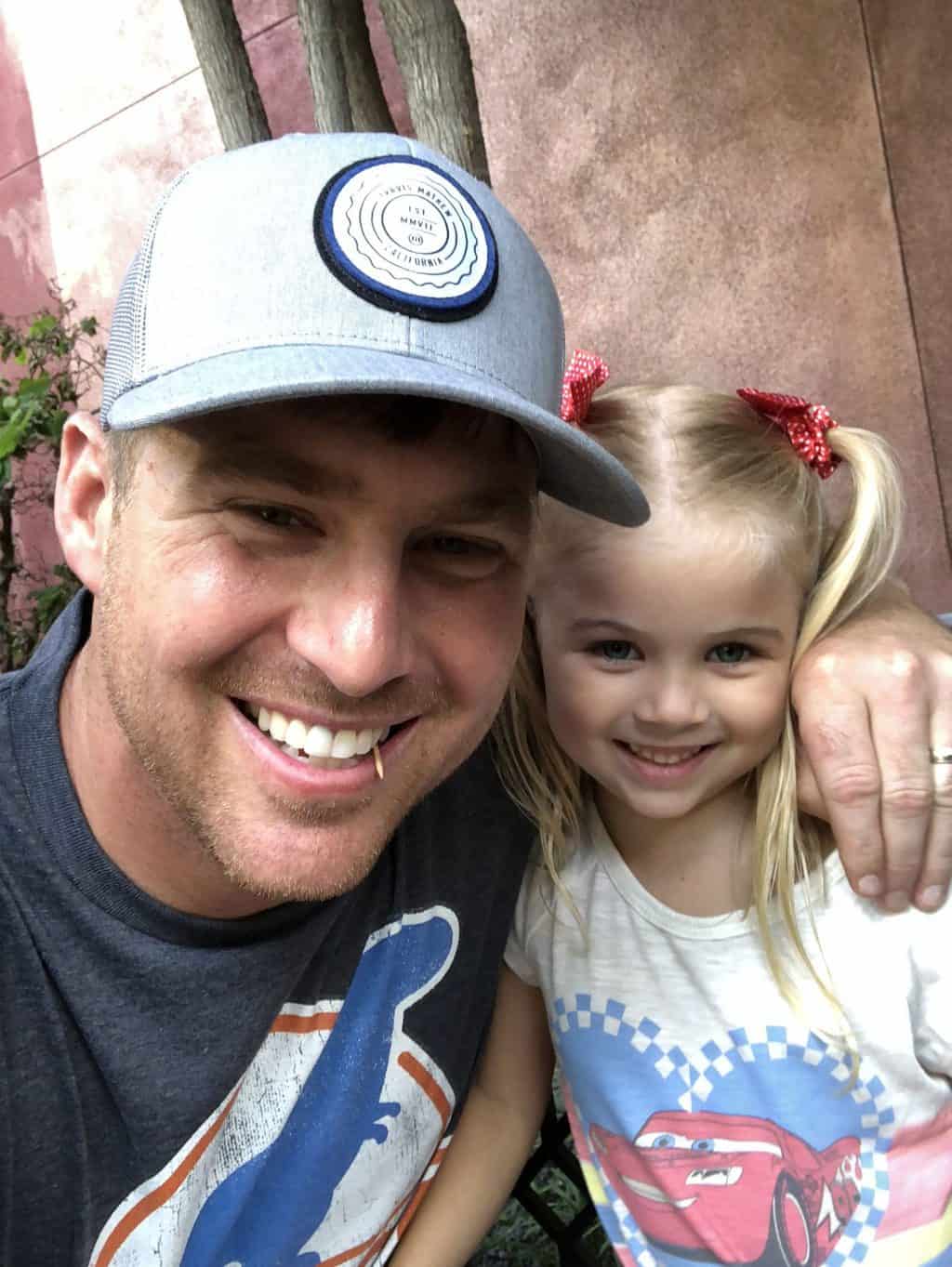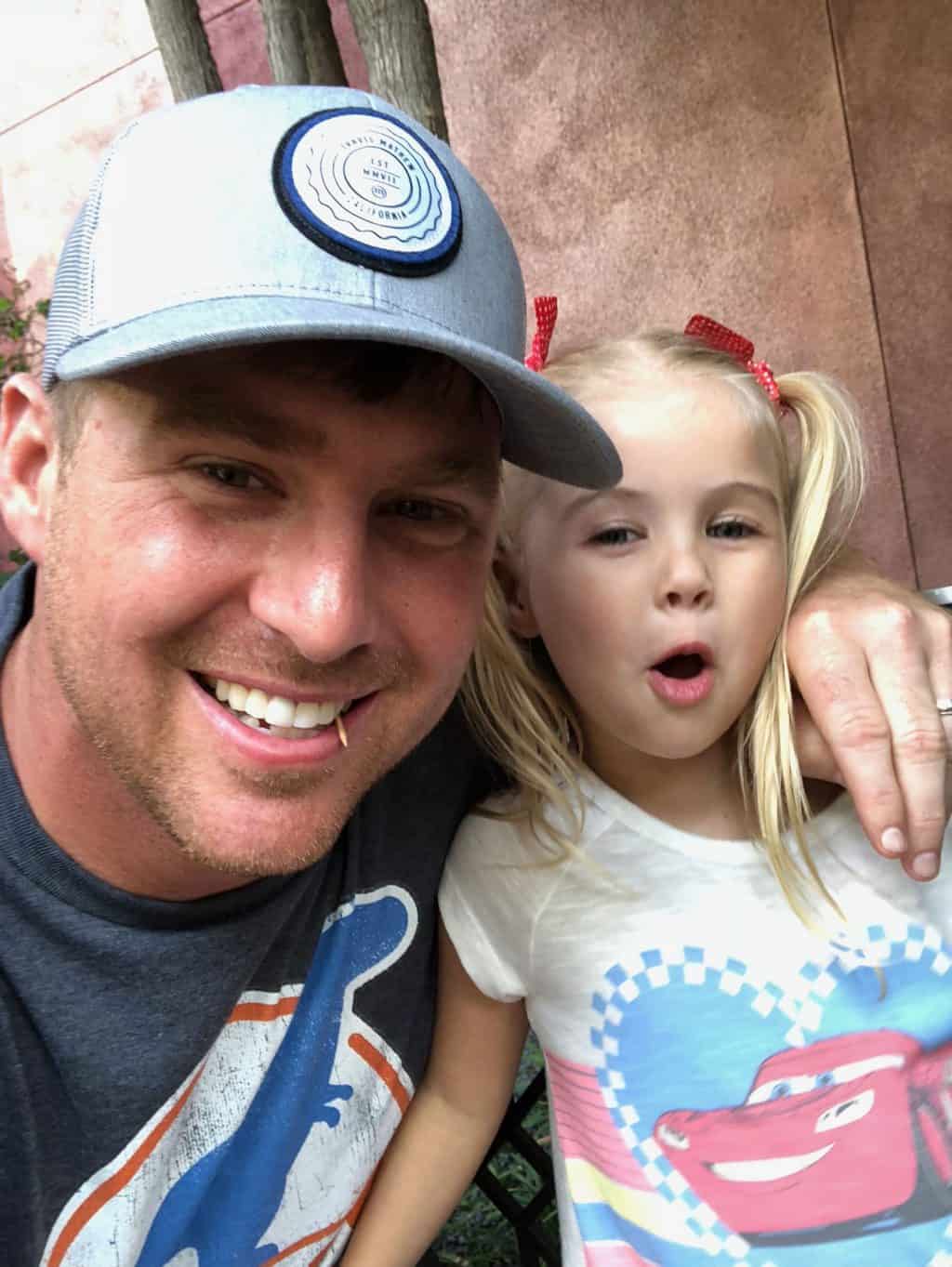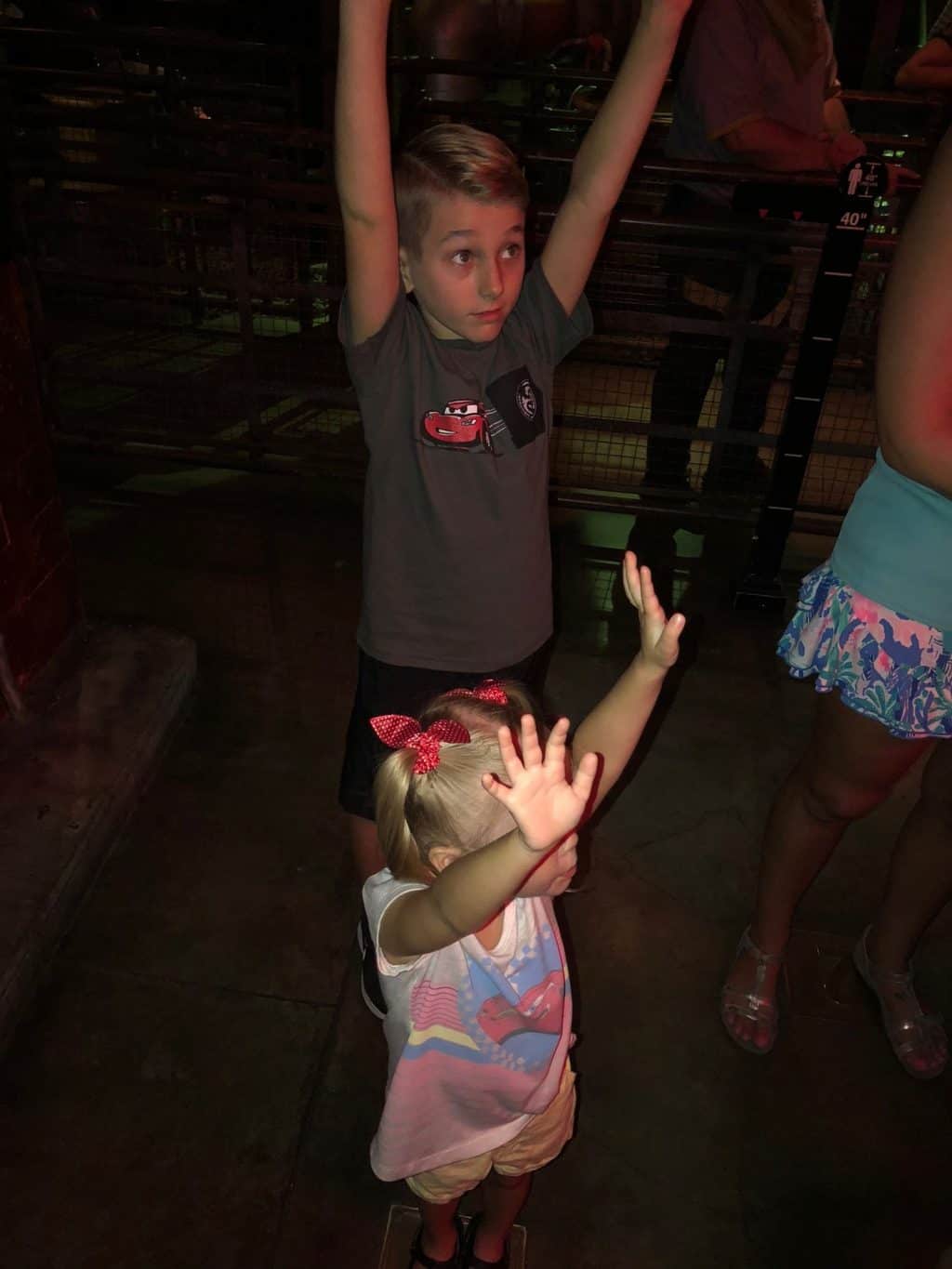 Britt has experienced Tower of Terror once and said she'd never ride it again so she had zero interest in this experience (it's the same exact ride, just different theming). She and I hung out while we waited and just so happened to be right on time for a Guardians of the Galaxy Dance Party!
I haven't seen any of the Guardians movies. Zach says they are NOT kid appropriate so the kids haven't seen them either and don't have a clue who any of the characters are. But you better bet that Britt kept inching her way closer and closer to that stage until the lead character guy called on her to come up front to help have a dance off in order to save the galaxy. Perfect girl for the task 😉
Of course I took several videos: one, two, three and four!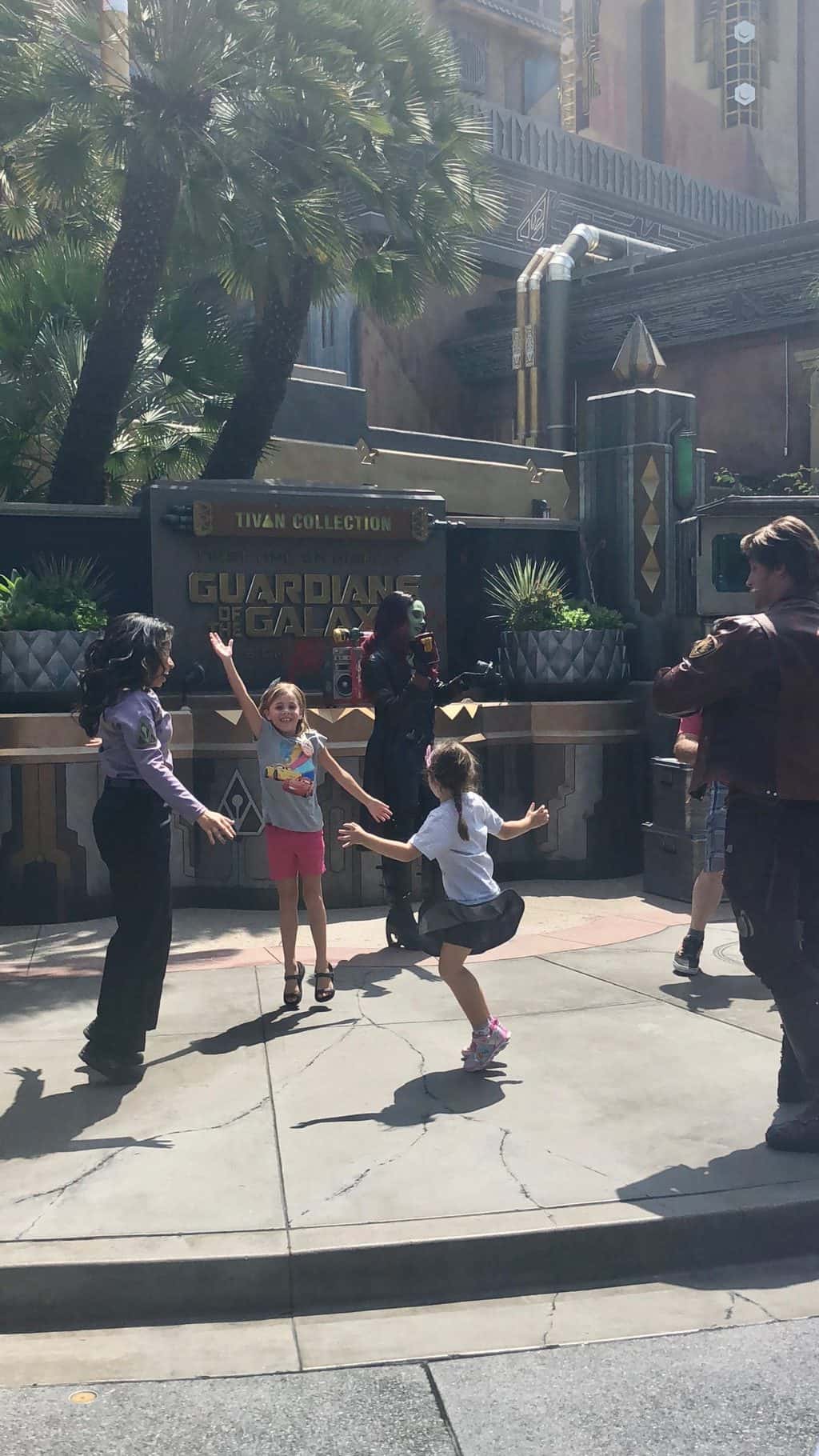 Britt danced the entire show. And when the show ended? Well she just kept on dancing! She told me that THIS experience was one of her very favorite highlights of the entire week. Girl loves to be on stage!!! I totally can see her being a cast member someday, she just has that "it" factor to always be picked out in a crowd!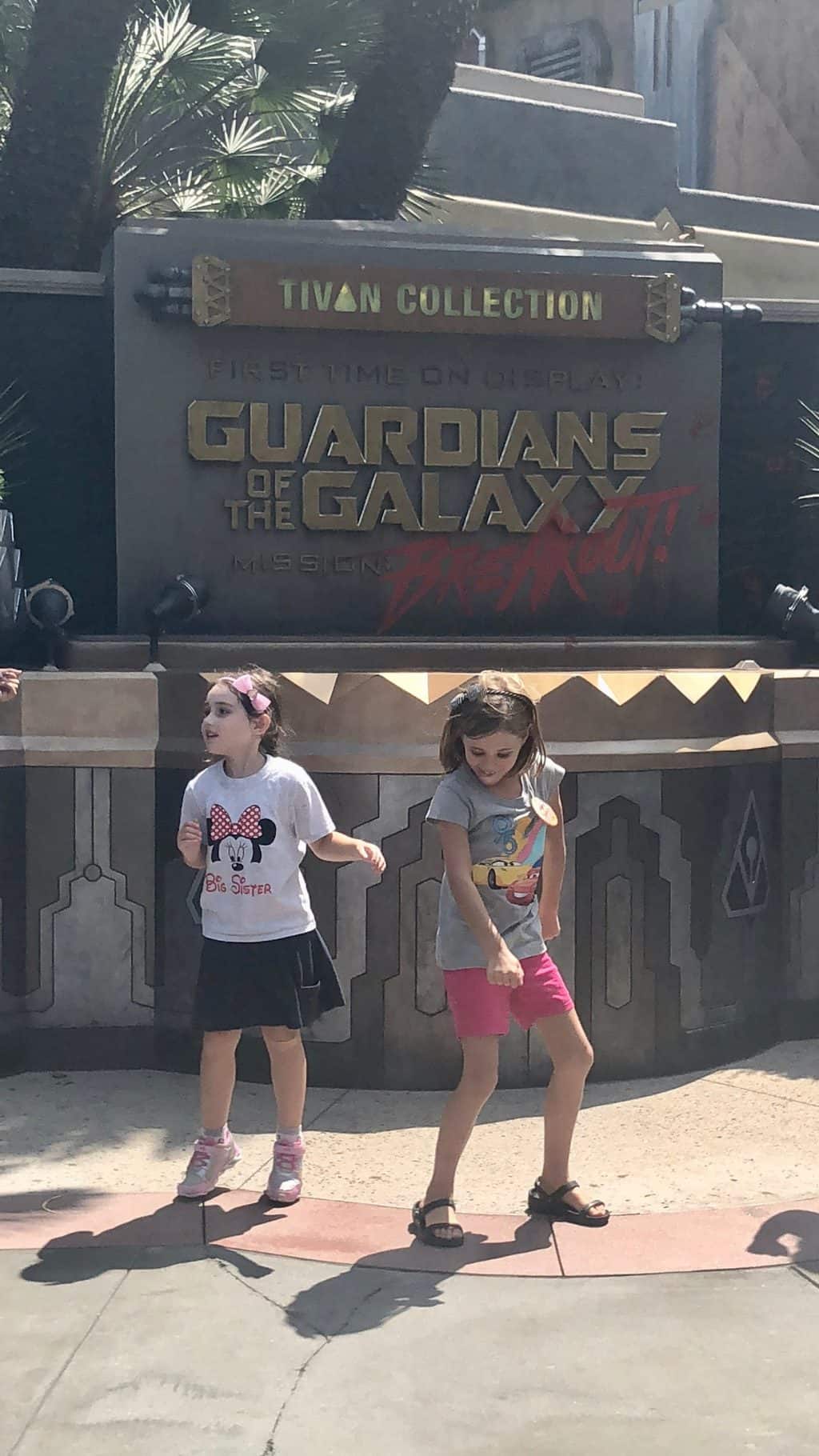 Kye and Zach both LOVED the ride!!!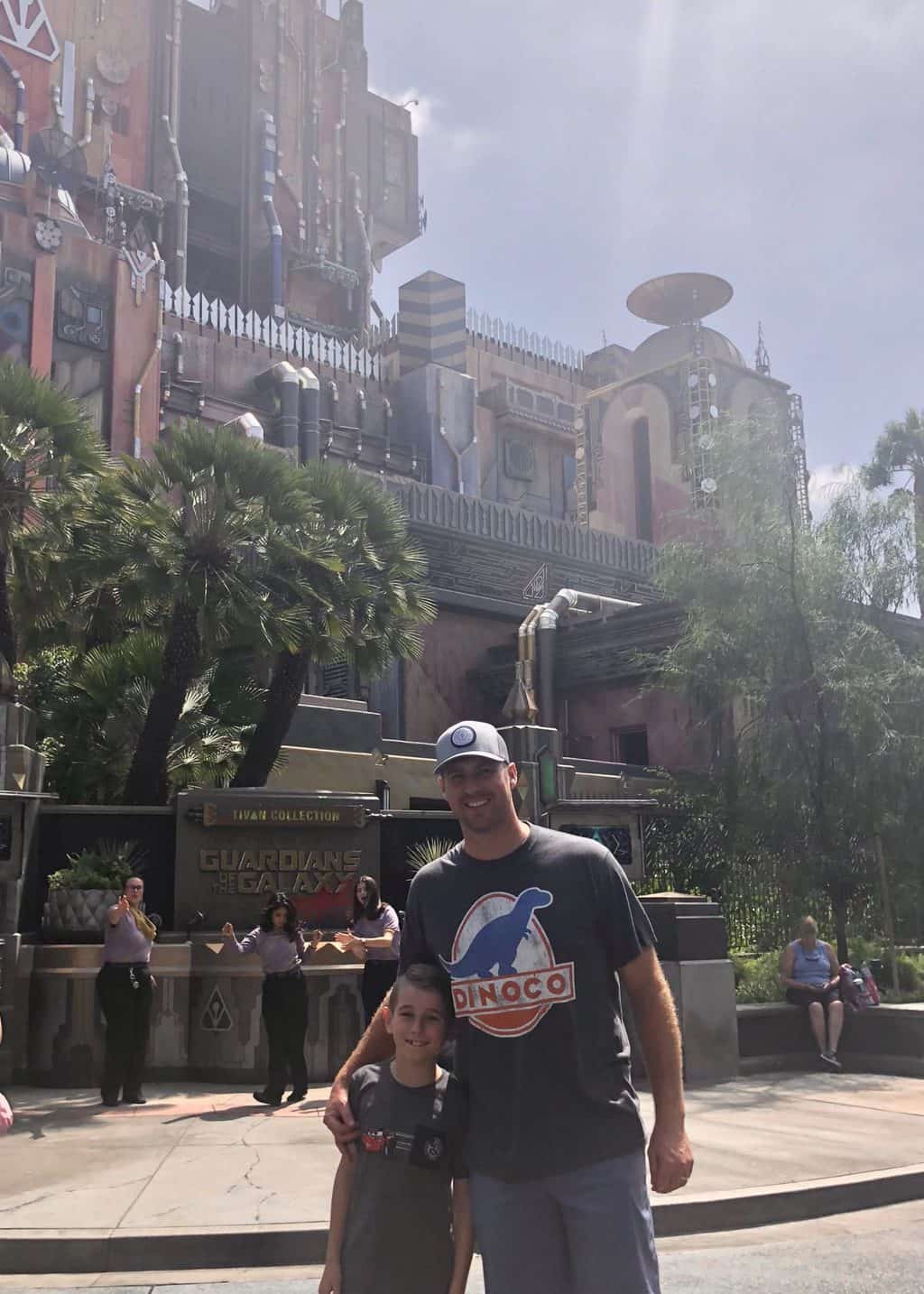 Tess hated it. Which isn't common for her. Britt is our one that wants to like the thrill rides and will say she likes them even though in the photos of her on the actual ride she looks terrified. Tess usually truly likes and enjoys the thrills and the pics usually show her with a big smile and arms up in the air! But not with this one. She was NOT a fan. So much so that she was even upset to get a picture in front of it.
Although I do so love this picture. Kye is pumped from the ride. Britt is pumped from her dance party and Tess is upset. A true picture of their individual experience!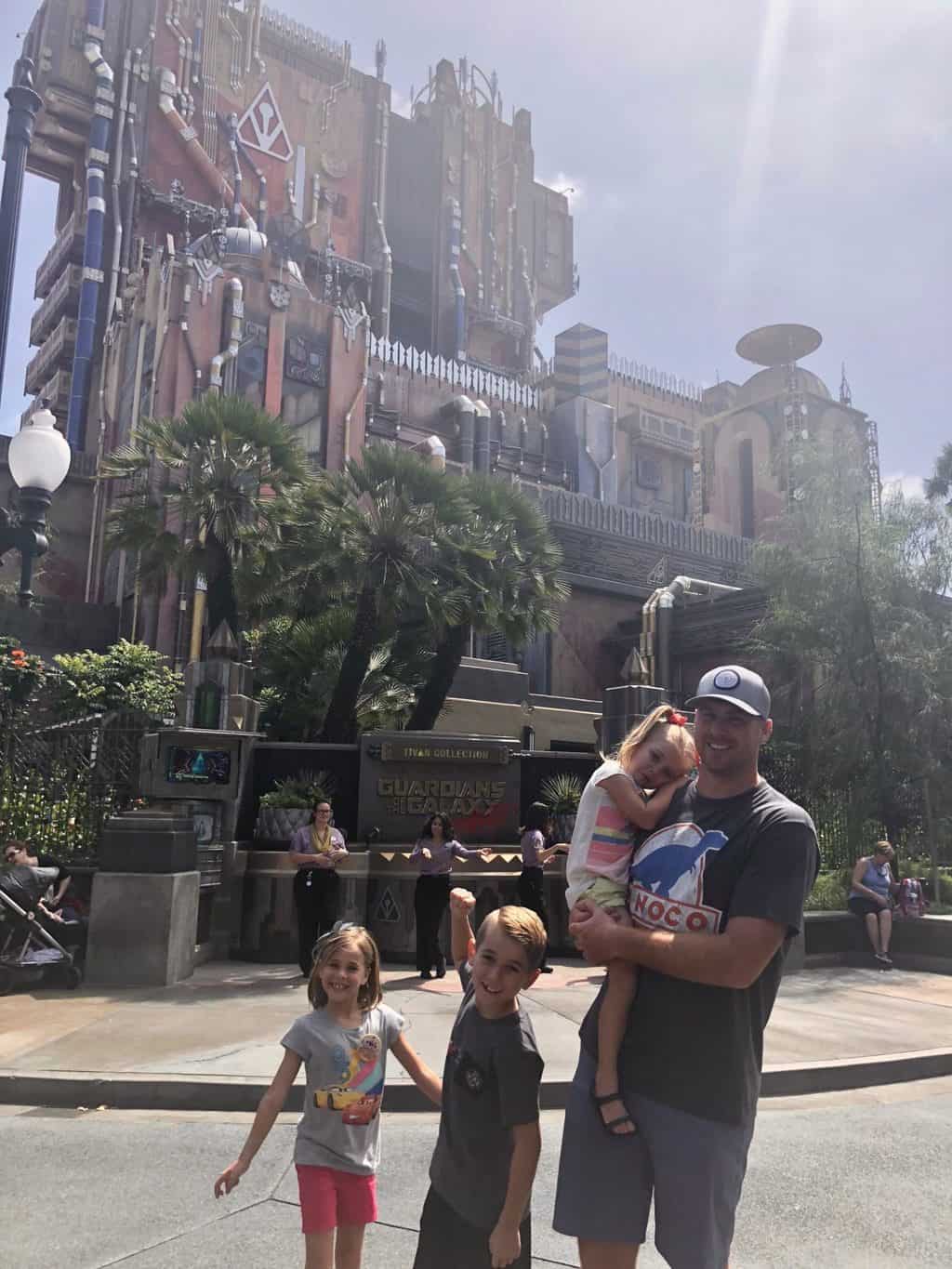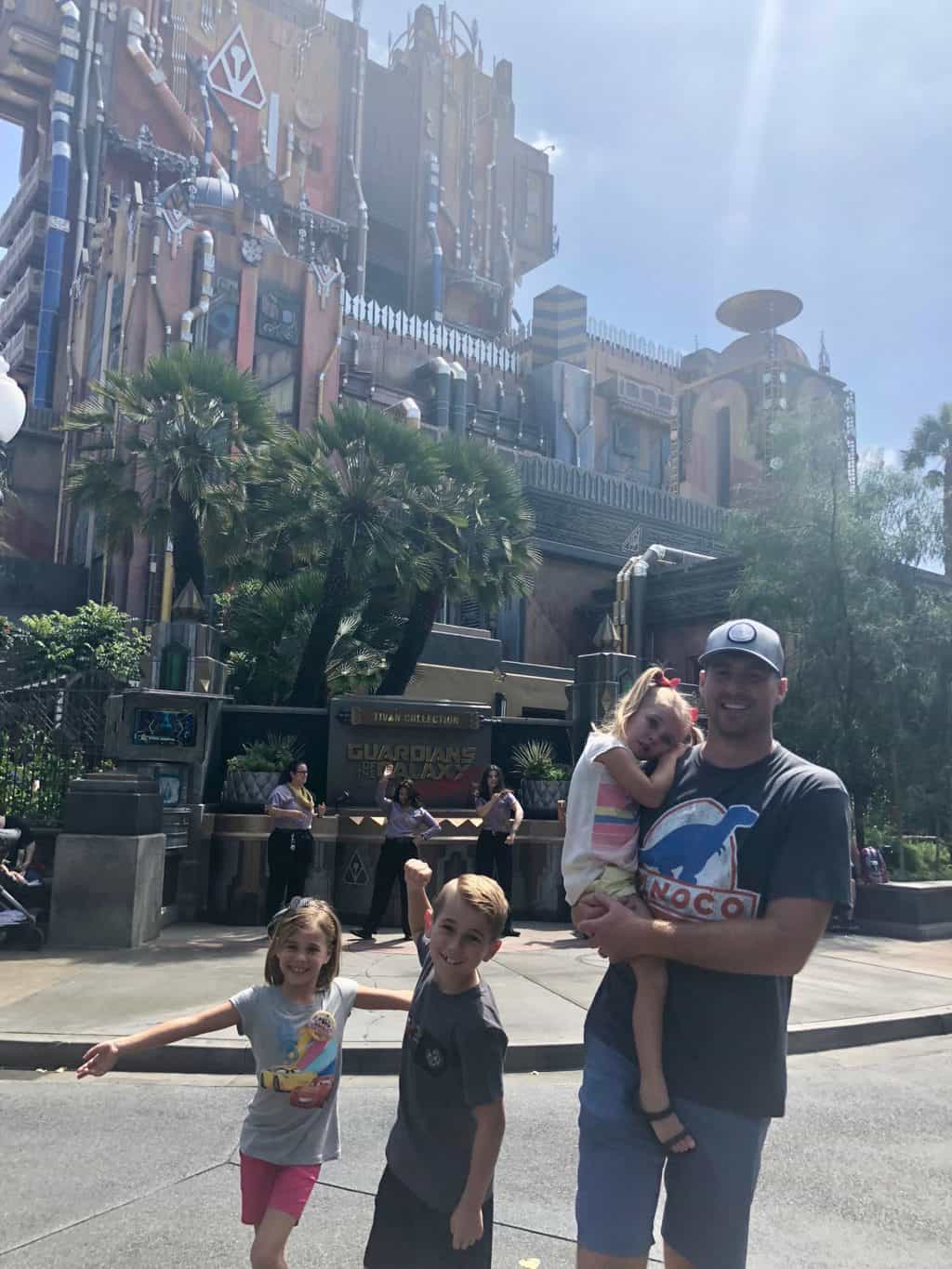 I found it neat that part of the park is called "Hollywood Studios!"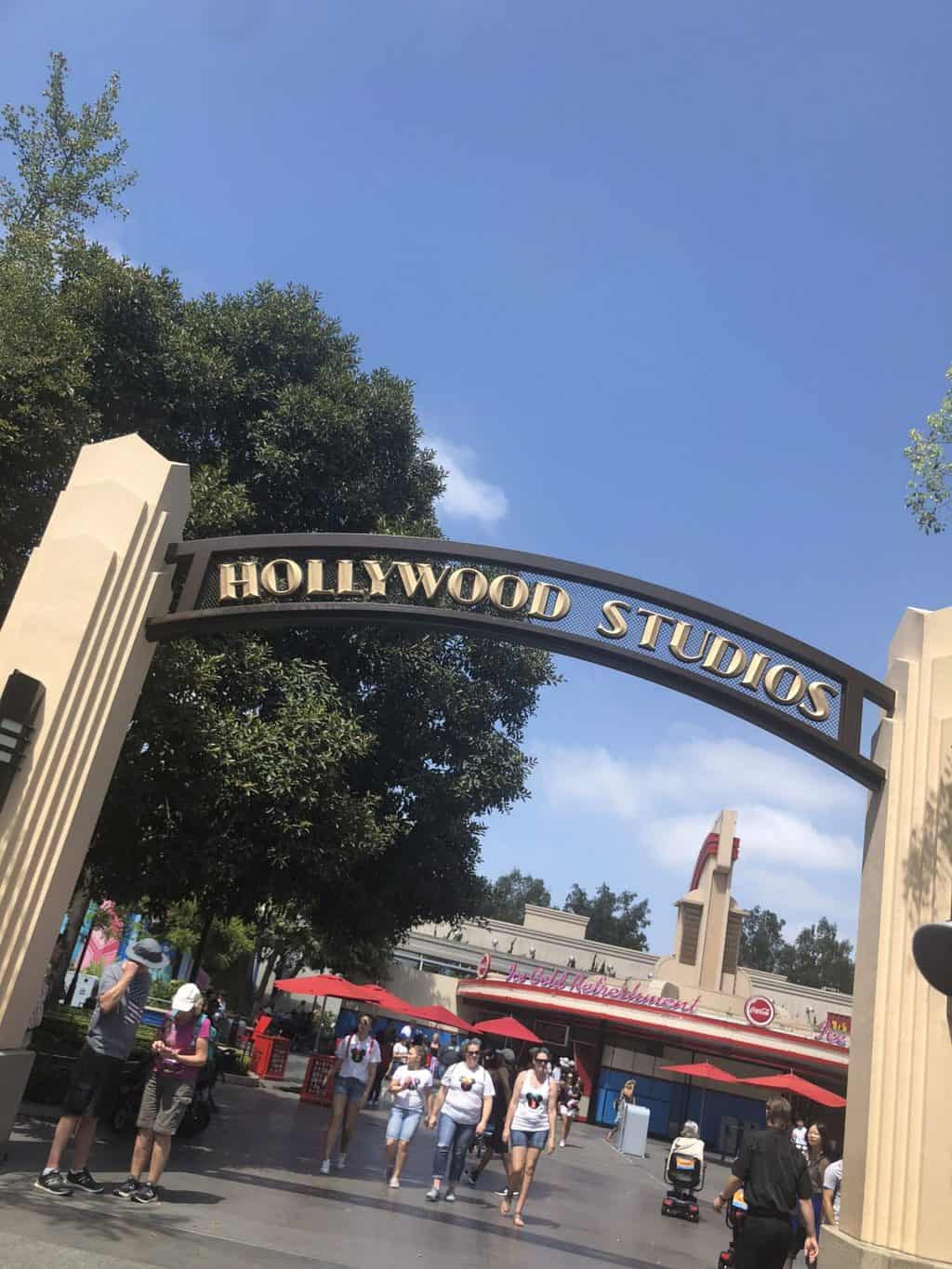 We LOVE Monsters Laugh Floor at Magic Kingdom but I think it's super neat that Monsters Inc is a dark ride experience at DCA. I love that it's different at both places and very, very different at that. Both are awesome and fun. Of course we're partial to Laugh Factory because it's home and we all love getting to participate 🙂 But the dark ride was great too and if you have a chance to ride it be sure to listen for Roz…she is hilarious and says personalized comments about the riders on the ride!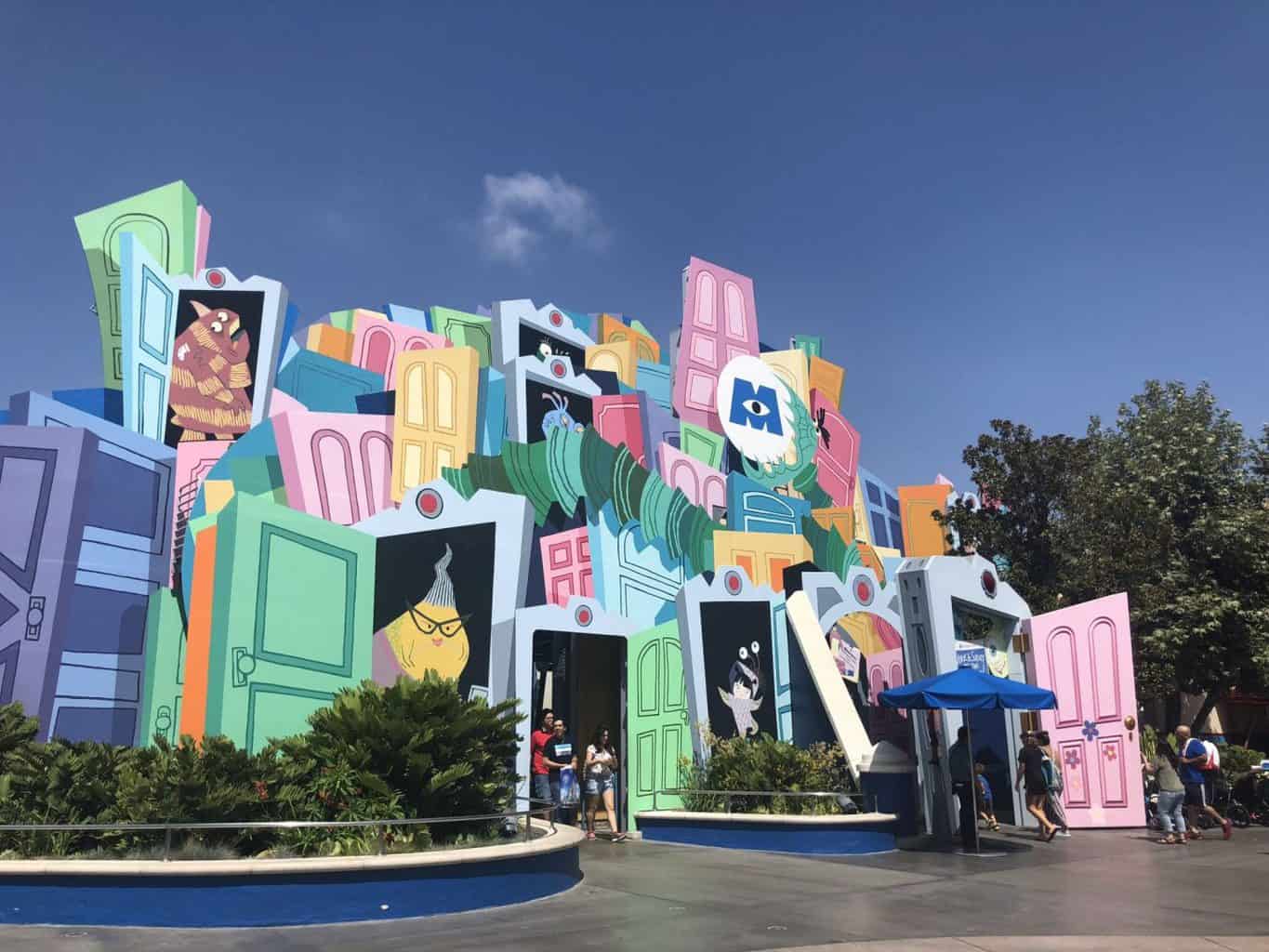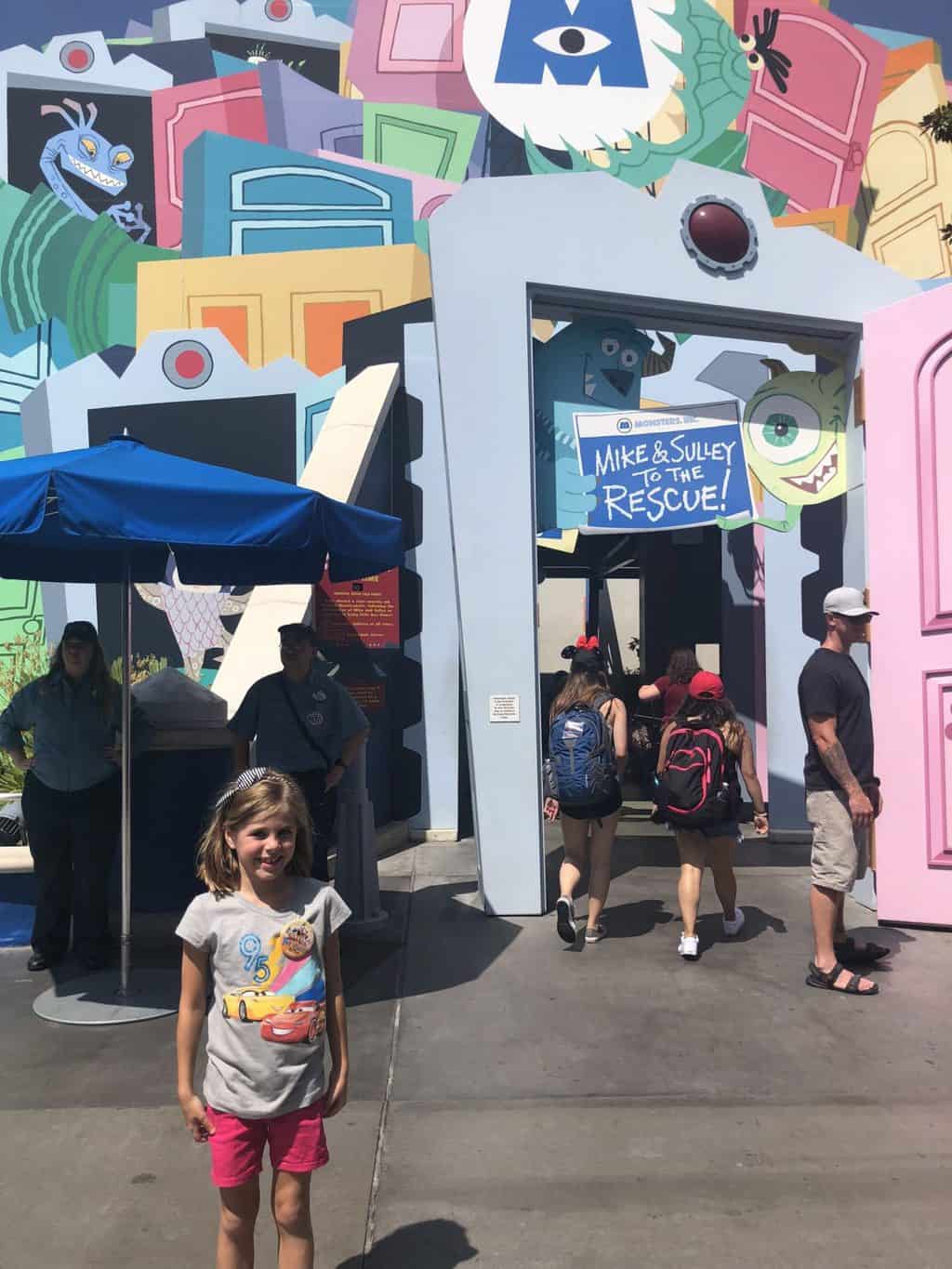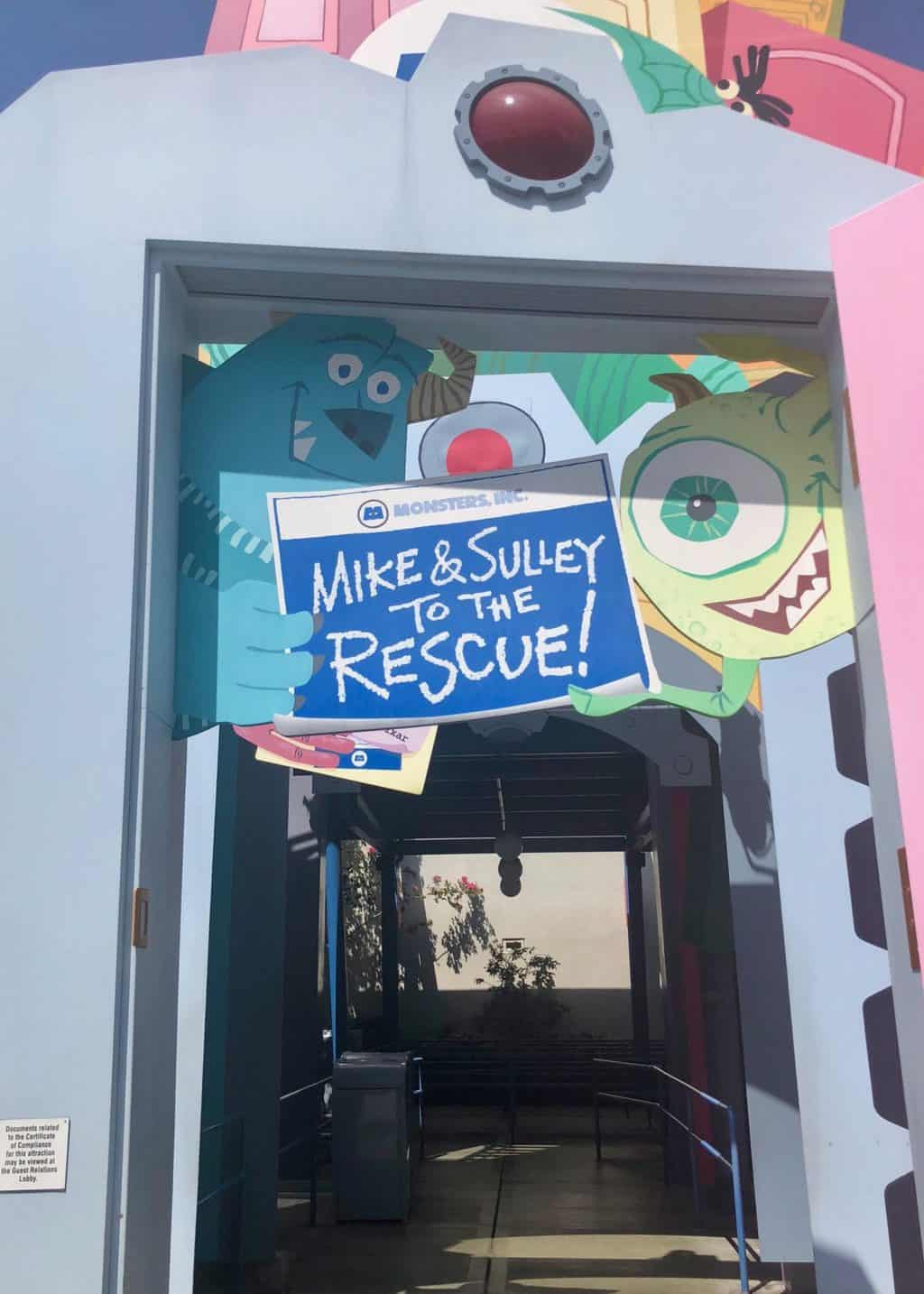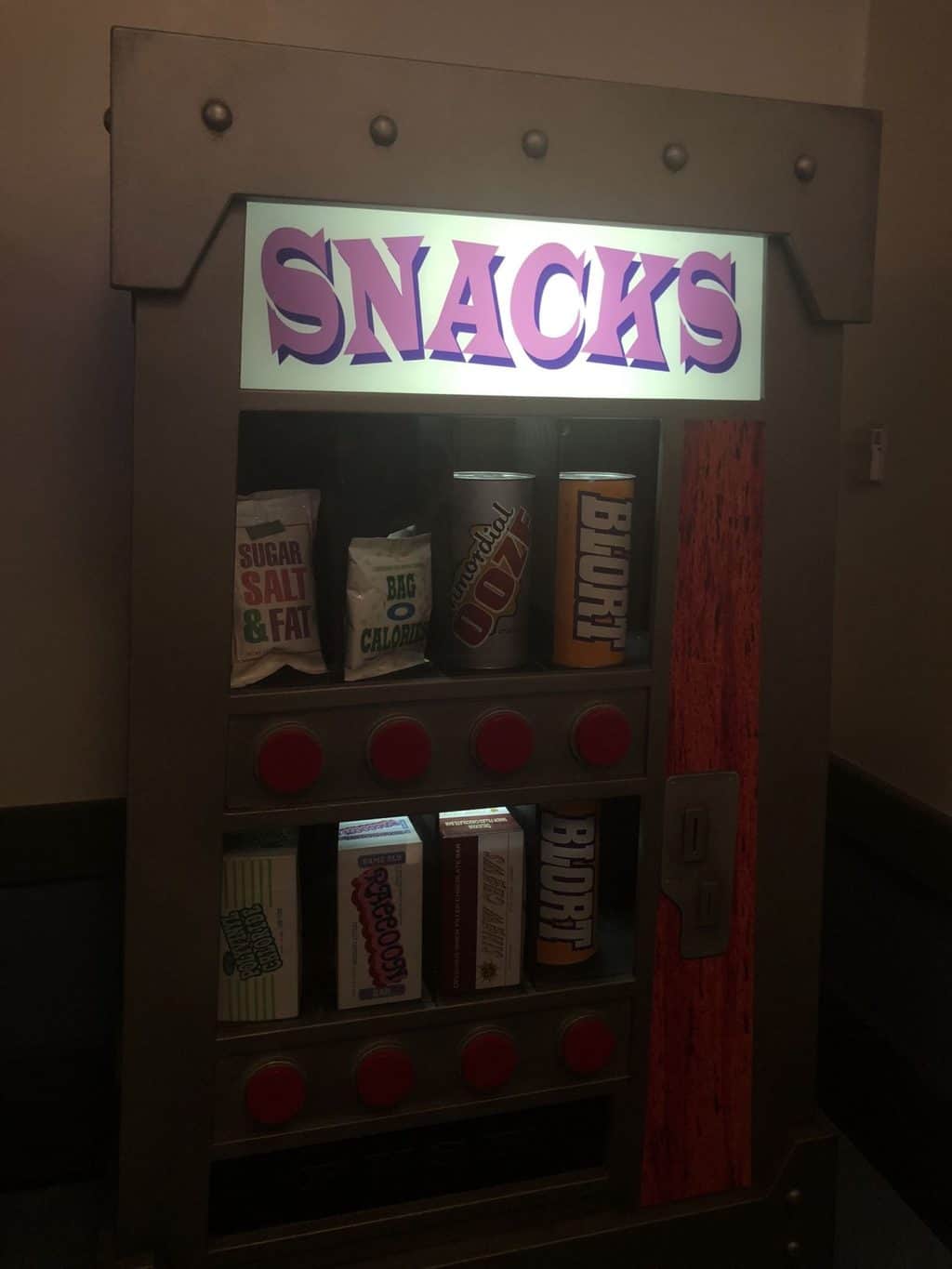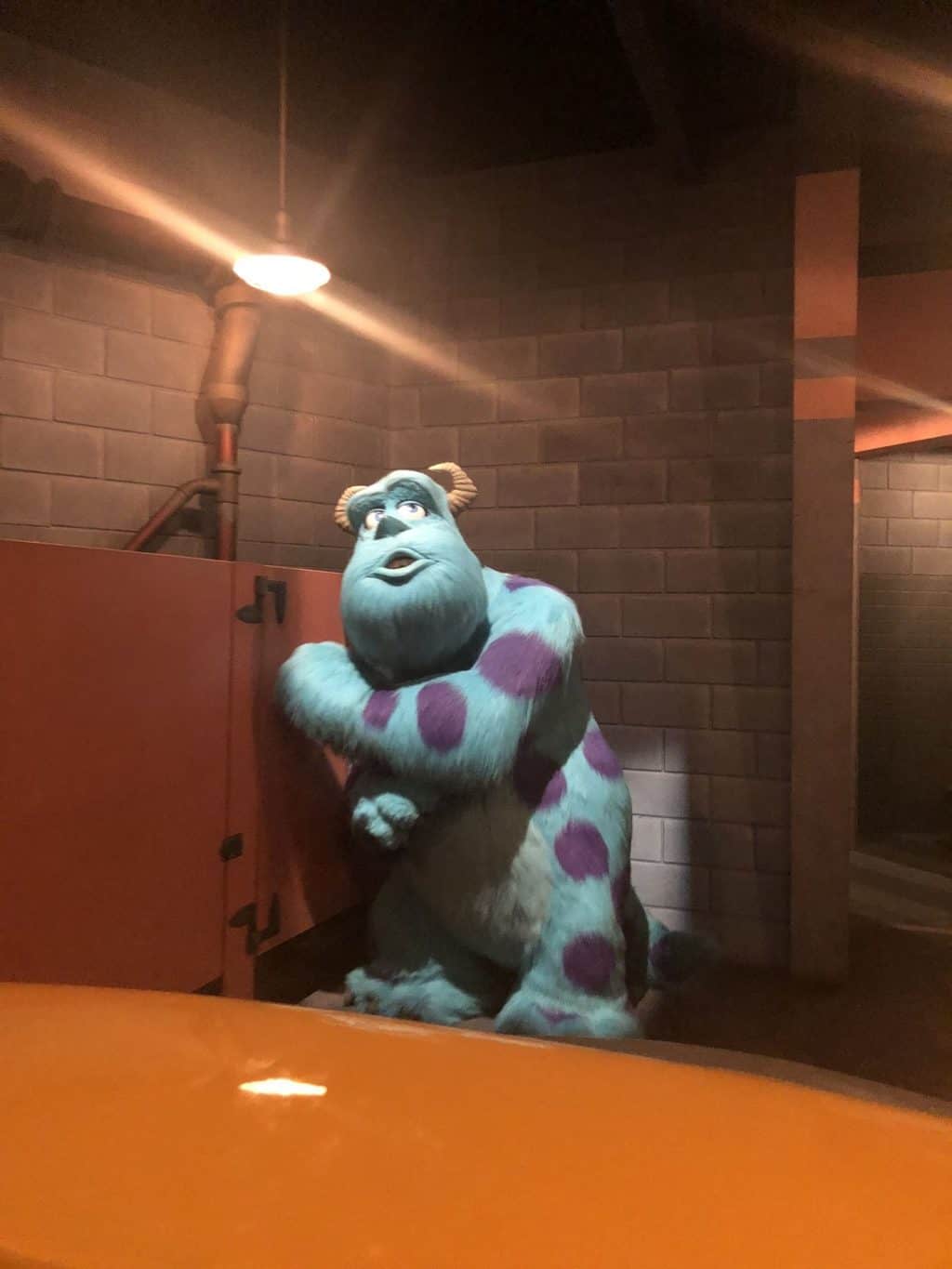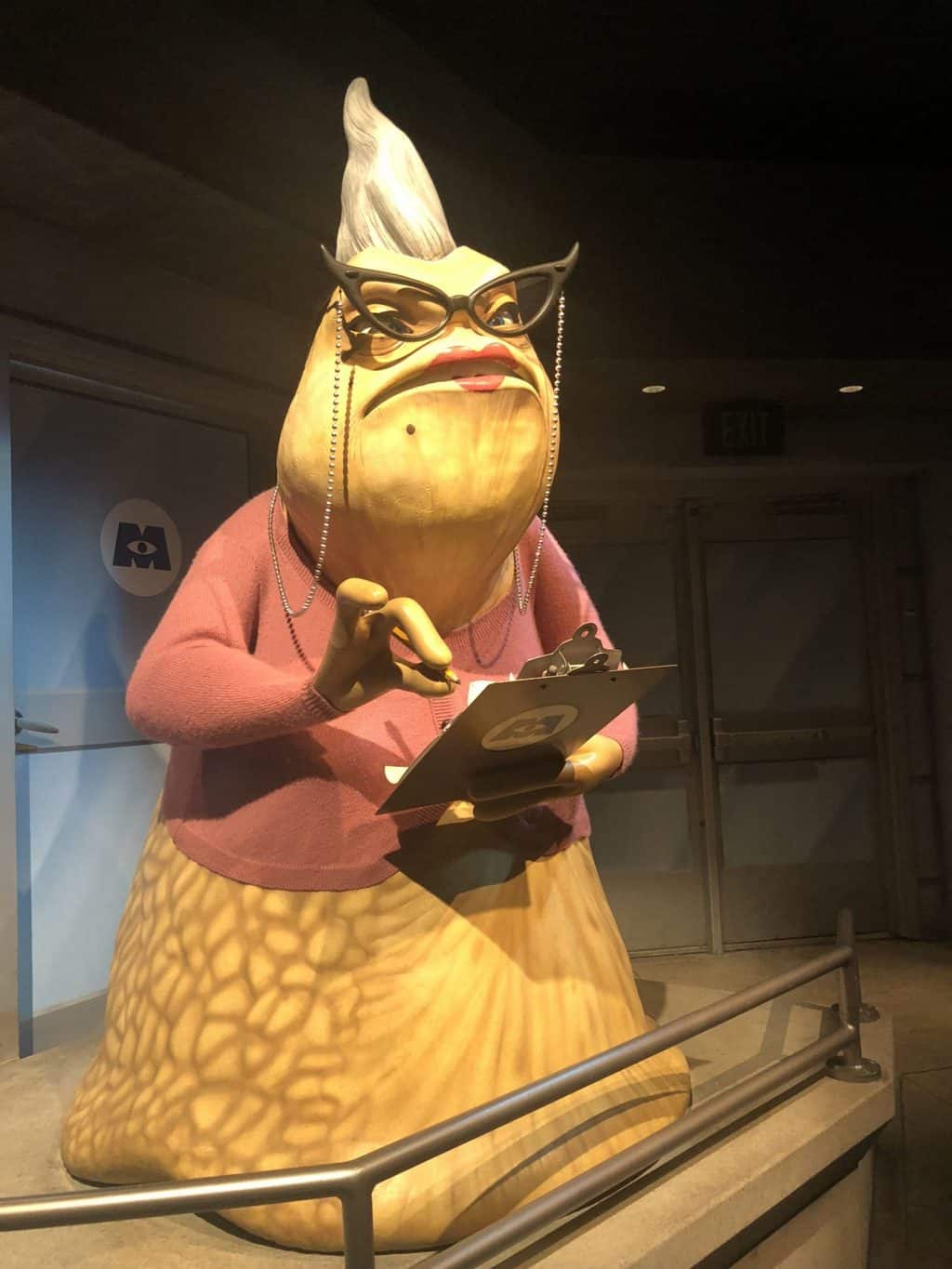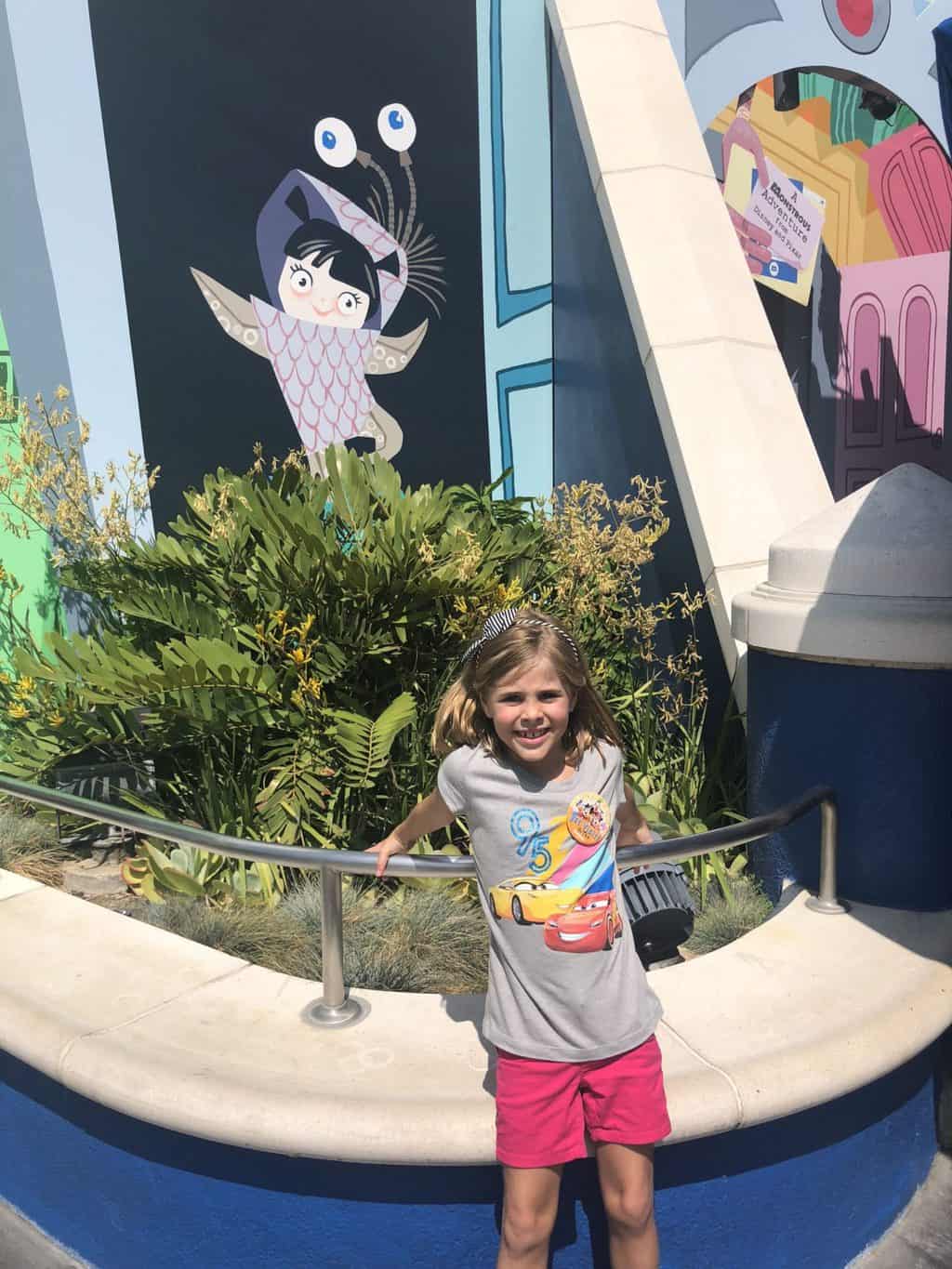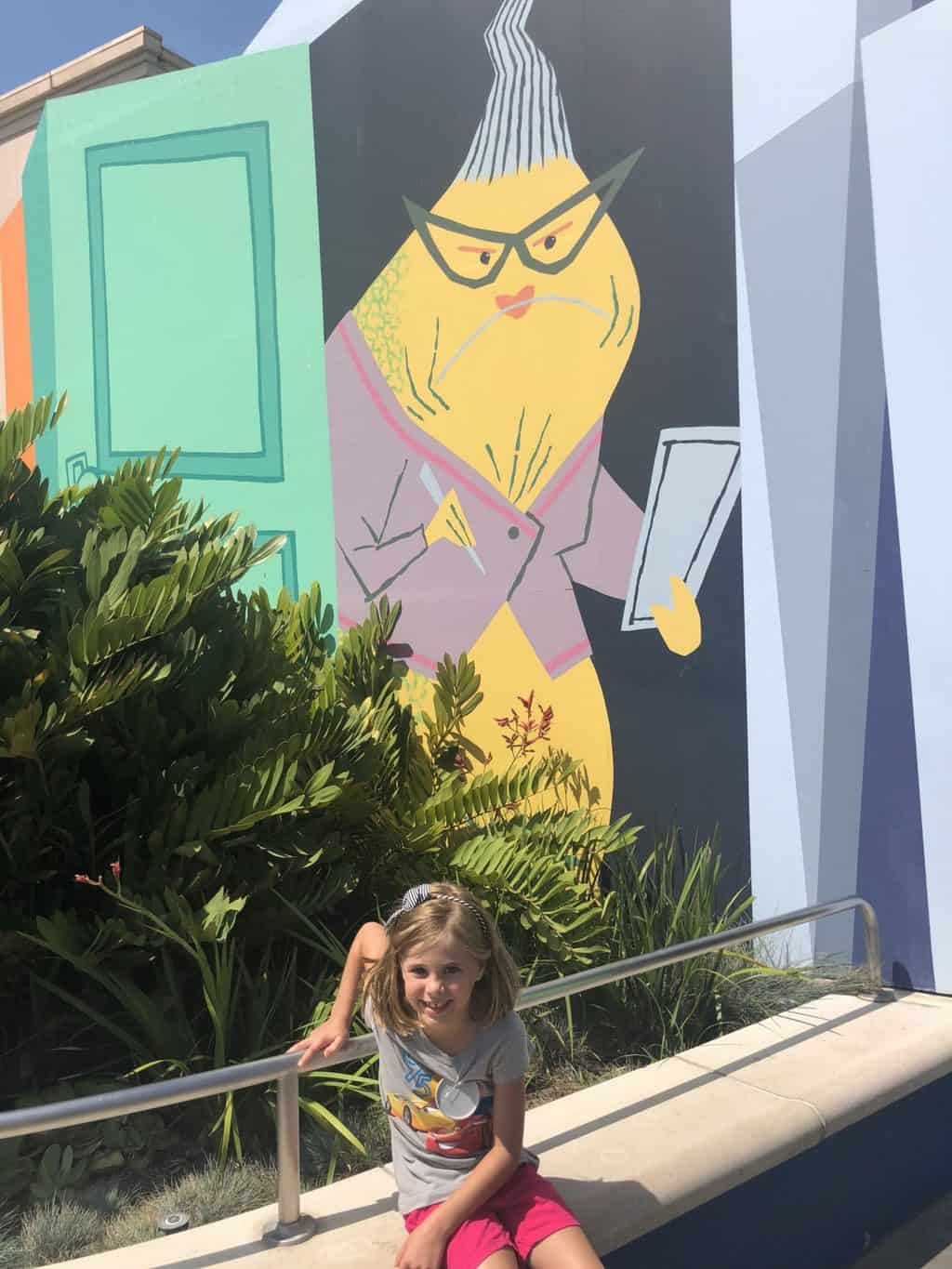 A potty break and perfect spot for some fun photo opportunities is a great place to chop the day in half in order to do the remaining afternoon and evening of our first day at Disney's California Adventure in another post!