Britt's 9th Birthday – December 6, 2020
Our sweet Britt turned NINE and had SUCH a fun celebration over Thanksgiving break.
Britt loves "birthday facts" and it's really neat that she and I have our birthdays on the same day of the week every year. So this year we both had Sunday birthdays!
We kicked off the day by waking her up with a birthday song and had a birthday balloon and special breakfast waiting for her. I went all out with the theming as I had some unicorn birthday items and I feel like we're on that verge of her probably not being super into stuff like that. It was all PERFECT for 9 though as she was THRILLED and super pumped to get to wear it all to church and soak in that extra birthday attention 😉
Our elves also wished her a Happy Birthday with a little gift of Elf Socks and two small Hufflepuff Harry Potter journals. As you can tell she also has been wearing her American Girl Birthday "nightshirt" non stop too 😉
We had breakfast and all got ready for church a bit early to have time to open her gift prior to church that morning. It's days like these that make me SO GLAD I don't have some super hardcore set birthday celebration tradition…it's SUPER flexible and easy to make work whenever their birthday falls!
Britt is THE most fun to buy for as she is always SO appreciative and has the BEST reactions!
Grandpa and Grammie sent her a super awesome Harry Potter card AND $20 which was the last amount she needed to meet her Hawaii savings goal (in case you missed it…Zach promised Britt if she saved $500 of her own money that he'd take her to Hawaii…should be interesting to see when/how that'll now happen that she's met the goal ha!).
It's the first year I bought her clothing items as a gift (a bootie with a bit of a heel) and she was thrilled! It's also her first squish mallow and she was SO excited about the owl.
The thing she wanted most was a Harry Potter Quill from Universal!
All of her birthday goodies!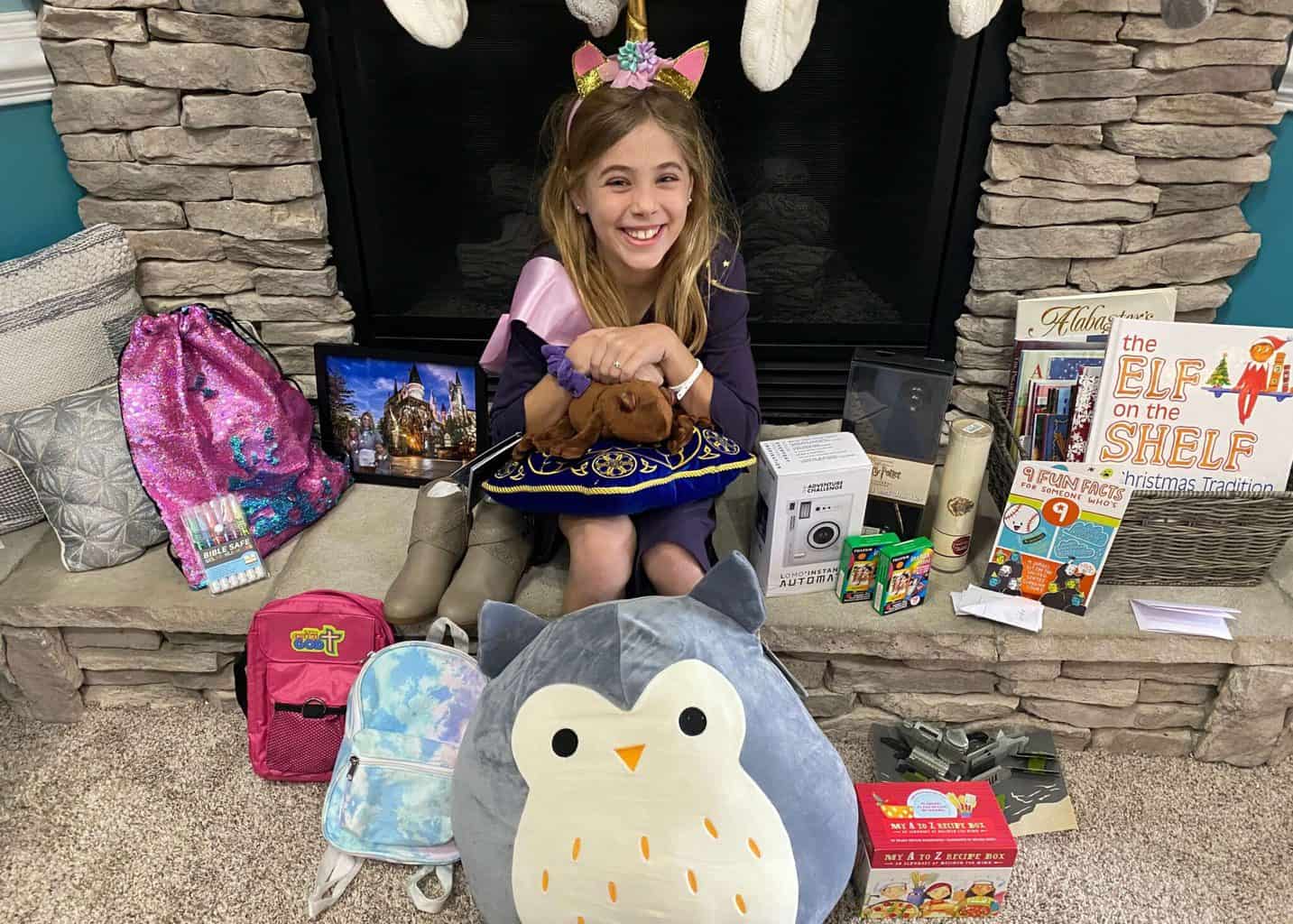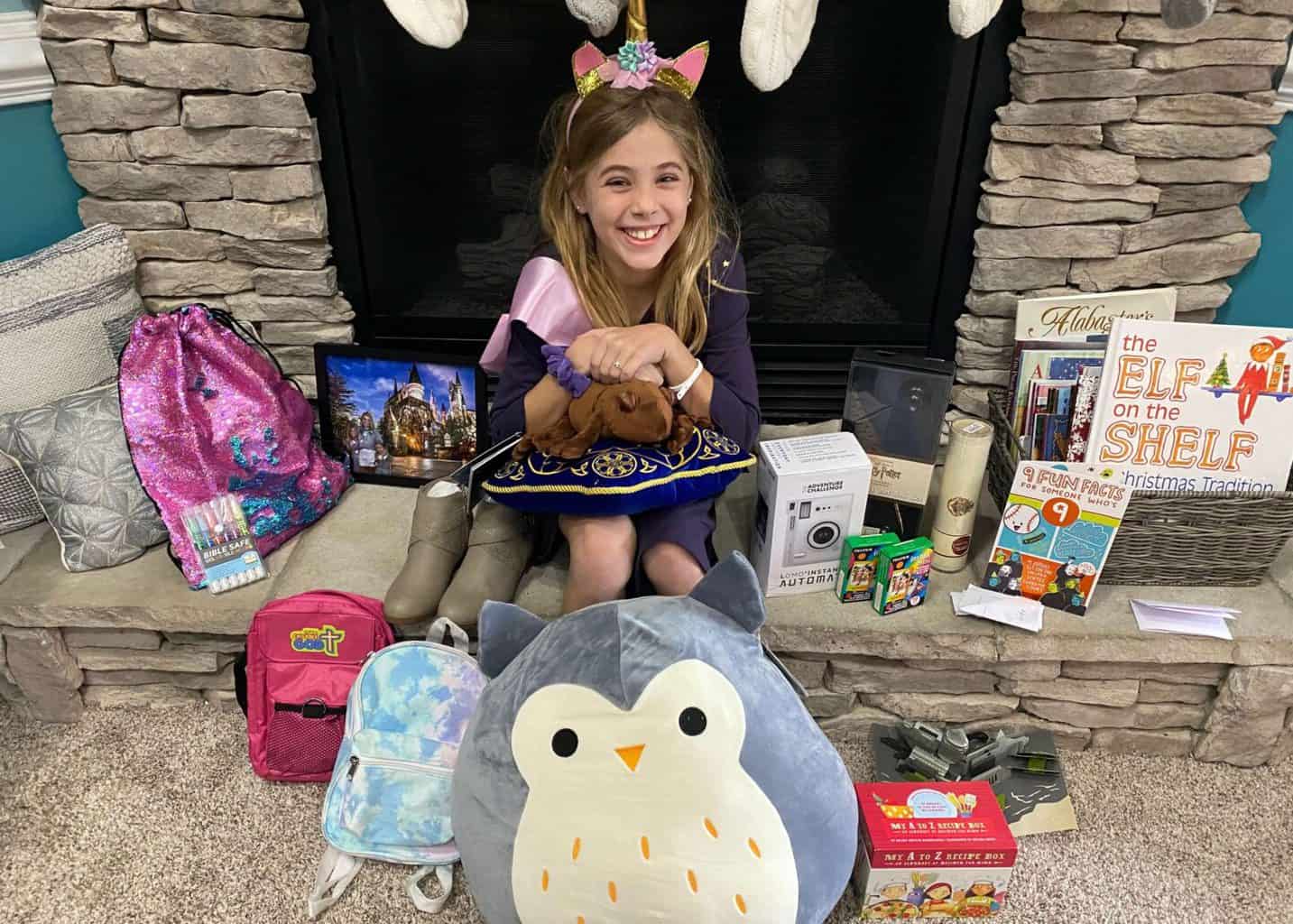 We went to church and then went out to eat for a birthday lunch of her choosing. Lots of places are still dine out only so the pickings were slim but Britt decided on Zaxby's and it was SO GOOD because we haven't eaten out in aggggges.
Big Papa and G-Mama stopped by after their church services too to visit the bday girl and bring her a little birthday surprise!
We watched her birthday slideshow as a family and then had cake and ice cream too!
I'm loving having a Sam's membership as the cookie cakes are a killer deal! We stuck with the unicorn theme and she was super excited 🙂
Her gymnastics had a make-up event for the class they missed over Thanksgiving break and it just so happened to fall on Britt's actual birthday. It couldn't have been more PERFECT for our gymnast to get to do her favorite thing on her favorite day of the year!
Britt quickly agreed she wanted to go to the event and, of course, Tessie wanted to tag along! The decorations at the gym even looked like birthday balloons 😉
It was literally impossible to get the entire family together to celebrate her birthday. Now that Kye has archery we literally have a cousin having a sporting event every single night of the week!
We finally just picked a night and ended up getting together with those who could make it at G-Mama's house to keep it simple. We picked up pizza and the cousins got some fun time to play and celebrate our sweet girl.
Spear was so cute pulling his chair to sit directly next to Cam and then when it was time for cake Spear said "I play tractors." He does not have the sweet tooth the rest of us have for sure.
We are so proud of our sweet girl and hope that she felt celebrated and loved on her special day!