Big Kid Universal Day – July 2020
While the girls and I were enjoying our together time at Universal, Zach and the boys and Zach's mom all drove down to the Disney House.
Mrs Charlotte was so sweet to watch Spear for the day so we could do a big kid day at Universal! Spear is just NOT old enough to handle Universal and there isn't nearly enough geared towards his age to make it worthwhile to bring him along.
When I made our hotel reservation at Loews Royal Pacific Resort I included Zach and Kye in the reservation. This allowed them to take advantage of the perks of the resort stay including riding the ferry boat with us to City Walk, entering the parks early and having the free unlimited express passes that came included when we booked the room!
The girls and I got everything loaded up for check out and met the boys in the lobby to load up my van and then head to the parks. It worked out GREAT!
With the pandemic, this year affecting our financial situation and we are being very mindful of spending. So I was SUPER thankful that all of the kids' clothing items still fit from our Universal trip last year!!!
It made packing easier and it was great to be able to reuse items we'd already purchased 🙂
We did the same routine as the day prior as the only thing open for early hotel access was Diagon Ally area in Universal Studios. We rode Gringotts right away and walked around a bit letting Kye do some spells.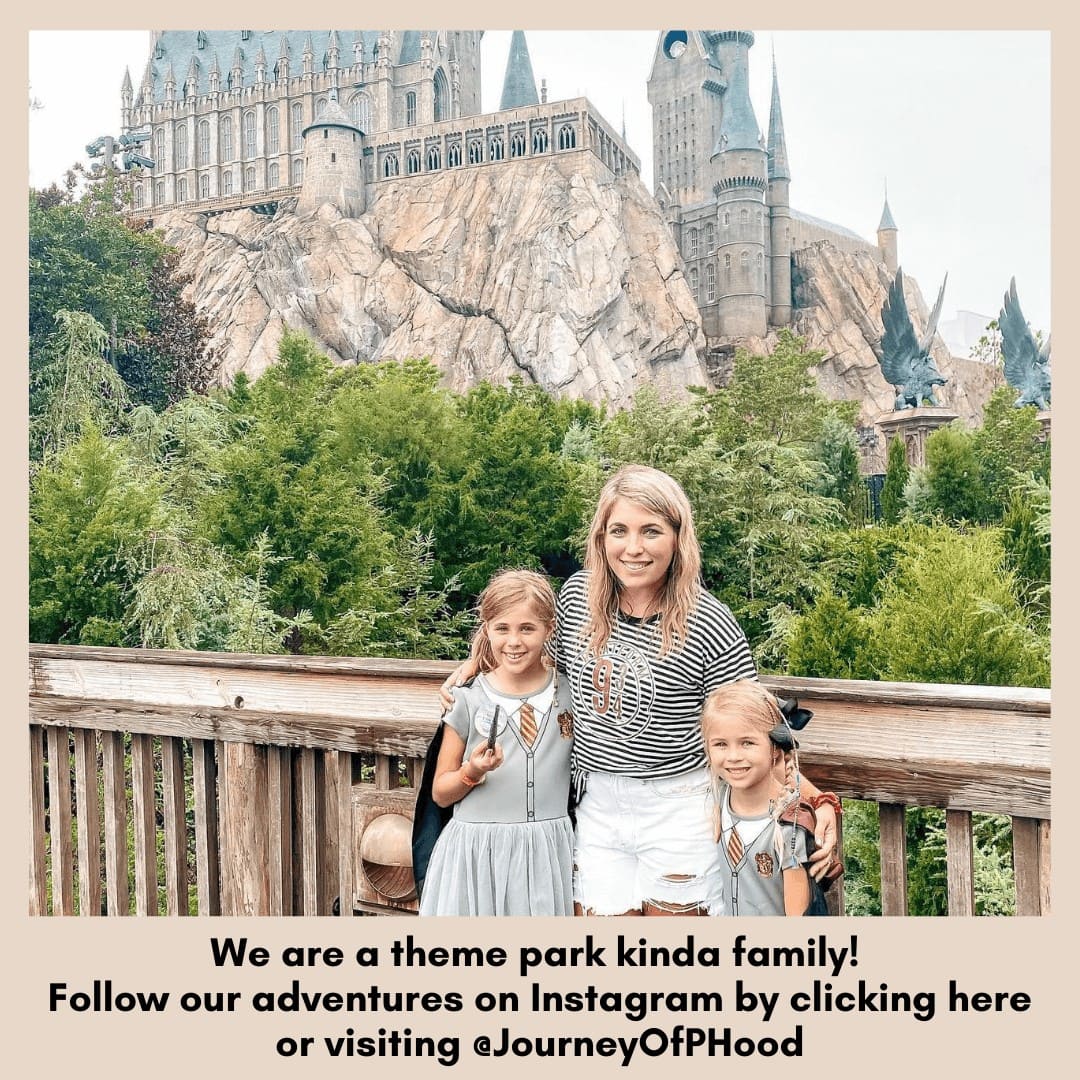 I will say it was a nice perk that this trip we could use all of our Disney gear and not have to worry about it 😉 Last year our trip was hosted by Universal so we had some pretty specific guidelines we had to follow like avoiding brand names and competing brands. I still don't like see Mickey at Universal but am not bothered enough by it to justify buying Universal merch 😉
Part of our Harry Potter Package that I bought when I booked the trip included a free breakfast at The Leaky Cauldron. Again, I included Zach and Kye on the reservation for the hotel room to ensure they'd be able to take advantage of this perk too!
We did not eat at The Leaky Cauldron last year so we were excited for the experience and Universal was great at accommodating us when we asked if we could bump our reservation up a bit earlier to go ahead and be done with Diagon Ally so we could head over to Hogsmeade quicker.
We were allowed to each pick a meal from the menu AND it included a free drink. Our meal total would have been around $70! A SUPER good meal and a great vibe!
It was also a chance for the kids to try Pumpkin Juice and NONE were fans of it so we swapped out for Butter Beer instead 😉 Kye looks SO grown in this last picture I love it of him!
We didn't rush and enjoyed our meal which was a nice perk of being at the parks during such a weird time in the world. To be sitting and eating breakfast during the crucial early morning time felt crazy!
Kye was REALLY into the spells on our last visit but less interested in them this time around…because he'd already done them all. I do think it's an area that Universal missed the mark as the Sorcerer's of the Magic Kingdom card game is progressive…the wand spells are AWESOME but they really are a "one and done" entertainment item.
He did still enjoy them, just not as excited as we was last year. We got a few pics and let him see Series Black's House and do the magical phone call in the phone booth then headed to Hogwarts Express to head over to the thrill rides at Hogsmeade.
A note on masks: Universal allows gaiters as a face covering, whereas Disney does not. The gaiter really worked well for Kye and he preferred over a mask all day. You can read all of our thoughts on the kids favorite masks for school here.
Kye really likes the gaiters with the ear loops too as it's easier to stay on, this is the set he has.
The big goal was for Zach Kye and Britt to be able to ride Hagrid's Motorbike Adventure. It has a virtual que and it was easy to grab spots for them on the Universal App as soon as it opened for the day. We had a time when they should return so we had a rough idea of what we could do while we waited.
There is one rollercoaster in the Hogsmeade area that allows for younger kids to ride (and even then they have to be 36 inches) and that's The Flight of the Hippogriff. It was so chill that the team member let Zach and the kids ride twice without exiting! Tess was SO thrilled to have a ride she could ride!
Zach, Kye and Britt also were able to walk right on to ride The Forbidden Journey without any wait! We did some more spells and took in the gorgeous details of the area. I was mindful to make sure KYE got to soak it all in since he wasn't with us the day prior AND because he felt AWFUL the day of our first visit.
Tess cracked me up this trip. She used to be VERY anti-pictures and for a long time we'd have pics at Disney without her even in them bc I'm not going to force a kid to be in a picture if they don't want to be ya know? But now? She's ALL about the pics and was very insistent on having pics taken BY HERSELF. Britt kept getting her feelings hurt because Tess would ask her to get out of the shot ha!
The virtual time arrived so Zach Kye and Britt headed to ride Hagrid's and I took Tess to keep her entertained. We met The Mystic Fountain the day prior and Tess was a HUGE fan. It's located right near the virtual line entrance for Hagrid's and is perfect for the younger kids to be distracted while they wait.
NO ONE was around so Tessie took her time talking with him and becoming besties.
It started to rain so we went under cover and soon Zach, Kye and Britt came and met us where we were waiting. They were literally ON the ride when the rain and thunder started and they had to get off and were told to come back later. BUMMER!
If we were at Disney I could spout off a million options to do in the rain but Universal? I was clueless. I tried doing some quick googling and we decided to hop on Kong. I really enjoyed it last visit!
Even with the Express pass we still had a bit of a wait but it's because it's one of the few options open during bad weather. We didn't mind since it was indoors and dry! It's a GREAT ride. I don't do roller coasters and this def is NOT one. It's really well done and very smooth too.
We also headed over and Zach and the kids did Spiderman. I don't think we did it last visit, they didn't really comment on whether or not they enjoyed it. The rain cleared (as most summer rains in Florida do) but we decided to just stay on our path. Workaround the whole park and end back at Hagrid's.
Kye's FAVORITE ride from our first visit last year was Hulk and Zach loved it too so we wanted to make sure they got to ride it.
It was frustrating the lack of other things to do in each area where there are rides with height restrictions. Poor Tessie LOVES thrill rides but isn't tall enough for the majority of them yet. Standing there watching her brother ride (Britt opted not to ride it) was tough on her!
There was a ride nearby Hulk that appeared like a tea cups type of thing. I asked the Team Member about it and they said it was "tea cups on steroids." NOPE.
So while we waited we played a trick on Daddy to make him THINK that the girls rode Hulk 😉
There a three water rides at Islands of Adventure and Tess is tall enough for them all! I read that one of them is like "Splash Mountain on steroids" (can you tell I'm pushing for Universal's new slogan to be "We're Disney…on Steroids" haha) and that a poncho is HIGHLY recommended.
No one took me up on my ponchos but Kye was super thankful I brought flip flops for him to allow him to keep his shoes and socks dry!
The first ride they got SOAKED and Tess was SO upset. She just wasn't expecting to be THAT drenched. I felt so bad that she didn't enjoy it and we pulled out her raincoat for her to wear on the next ride and she enjoyed it much more!
Everyone was FREEZING and SOAKED by the end of all three of them and I loved that I was nice and dry and that the kids all kept wanting to snuggle up to me to stay warm. Even in JULY it was freezing when that wet! I'm telling yall – bring the dang poncho!
We got back over to Hogsmeade again and they WERE able to ride Hagrid's! It had JUST started raining again when they ran up and were allowed to ride prior to it shutting back down as more rain came through.
All three of them agreed – BEST RIDE EVER.
We tried to hop back on the Hogwarts Express but even IT was closed due to weather at that moment. It was a lot of rain and thunder!
We hopped into Honeydukes and allowed the kids to choose a treat. I had planned to get each of them a chocolate frog but Britt ended up being the only kid that wanted one. Tessie wanted to go for more of the self serve candy and Kye opted for a box of taffy.
Hogwarts Express opened back up and by the time we got back to the Universal Studios side the rain had died down some.
Something super important on my agenda for this visit was to see the Bourne Stuntacular show. I heard awesome things on Twitter and wanted to see it for ourselves.
It has set showtimes so we raced to catch the next one. It was FREEZING in the waiting area – I felt so bad because Zach and the kids were dripping wet and that AC was pumping. They did show movie clips from the Bourne movies while we waited but none of them were inappropriate and they did give a little back story to help the kids know who Jason Bourne is etc.
The show itself was INCREDIBLE. Truly. AMAZING. I cannot recommend it enough. It's a MUST DO.
We left there and headed over for Zach and the kids to ride Minons and then Zach and the big two rode Mummy.
While Tess and I waited for them we realized we didn't have Tess's book bag. Thankfully Zach remembered right where it was at the stunt show so he ran back to look for it while I took the kids back to Diagon Ally to exchange Britt's wand again. This time it wasn't her fault…I SAT ON IT when we rode Hogwarts Express and broke it. Oops!
Glad they are lifetime guarantee 😉
I was thankful for the chance for Kye to get to do more of the spells in Diagon Ally area. Britt was eager to show off a bit to her brother and I reminded her that he hadn't gotten to do the spells the day before so we tried to let him lead a bit and enjoy the experience.
Thankfully Daddy rescued the book bag and met us back at Diagon Ally. We got one more butter beer to share and then started to head on back to finish the "loop" of Universal Studios before heading home!
We stopped by the Knight Bus as we exited the Wizarding World of Harry Potter and had a great chat with the talking head. No one was around so we had lots of time to visit with him and Tess was hilarious. He asked how old she is (she had on her birthday button) and he said "55? 35?" And Tess said "I'm under 10" haha
We wanted Kye to get to experience MIB so I rode it again and he LOVED it. He liked it better than Buzz at Magic Kingdom too. It def fed into his love for video games!
Since we walked right by ET we rode that one last time too before heading out to head back to the house to eat dinner with Spear and G-Mama.
My favorite thing at theme parks is walking and holding my kids hands, especially Kye's since it's not something that ever happens in "normal life." Wellllll looks like those days may be gone as I kinda sorta reached for his hand and he didn't take it. TEAR!!!
Zach and I only got one pic together all day (typical #parentlife). We had a REALLY great day all together though! I was really impressed with how well the kids AND Zach did with the masks all day long. It was HOT but NO ONE complained!
Zach even said the masks weren't as frustrating or annoying as he'd thought they'd be and it was worth it to have to wear a mask when the reward was super short waits!
A video should auto play in this post recapping our fun moments 🙂
Planning a Trip to Universal?