Valentine's Day 2020
We keep things pretty simple for Valentine's Day (you can see how we do family holiday traditions here).
This year Valentine's Day was a bit different because Zach and Kye headed out on Kye's Christmas ski trip on Feb 13th plus Kye has had basketball games NON-STOP!
We had to try to fit in all our V-Day celebrating before they left as well as between basketball games!
Our Valentine's Day tradition is to go on "date nights" with the kids.
Zach takes the girls out and I take Kye out.
Spear isn't not quite old enough yet to be enjoyable to go out to a nice meal with us but I still wanted to include him in the photos 🙂
I got these shirts ages ago and was so excited to have them match!
I planned for Spear and I to have some special time and Kye and I wanted to have a fancy dinner out.
We decided to go to Mom and Dad's, a local restaurant and planned for a fancy evening.
About 10 minutes into our dinner we had to leave (more to come on that story in a future post).
The restaurant was so great about letting us scoot out and Kye did well being okay with the change of plans.
We were able to go back for round two a couple nights later and just truly did a full re-do of the evening even wearing the same outfits 😉
We weren't super smart and both ordered steaks at an Italian restaurant. Oops. They were good but not amazing…we should have gone somewhere else for steaks!
The Shirley Temples though were epic 😉
We had some great talks, as we always do, and then headed over to get snow cones for dessert!
I need to remember for next year to go cheaper for the meal b/c the dessert is where it's really at anyway!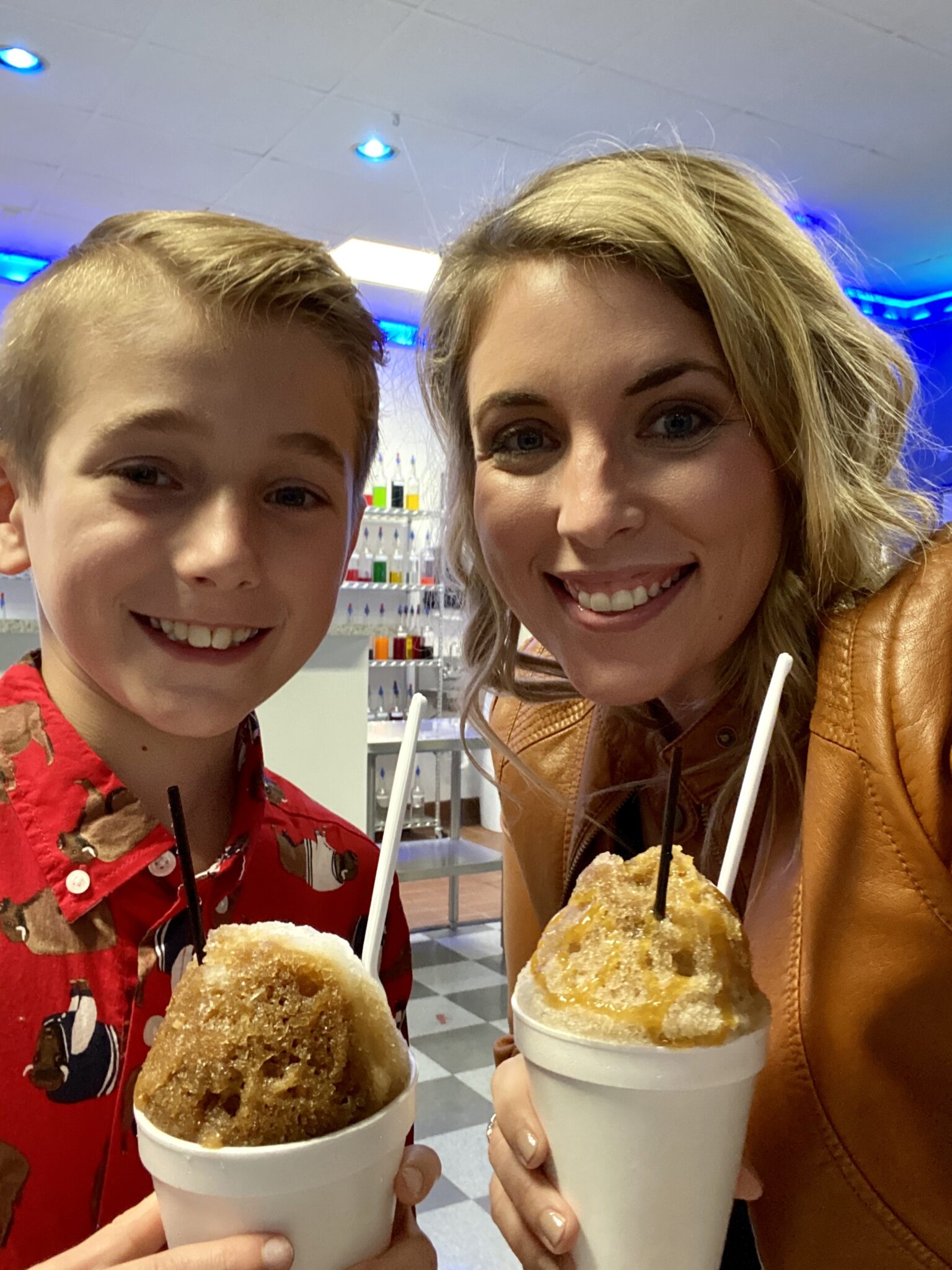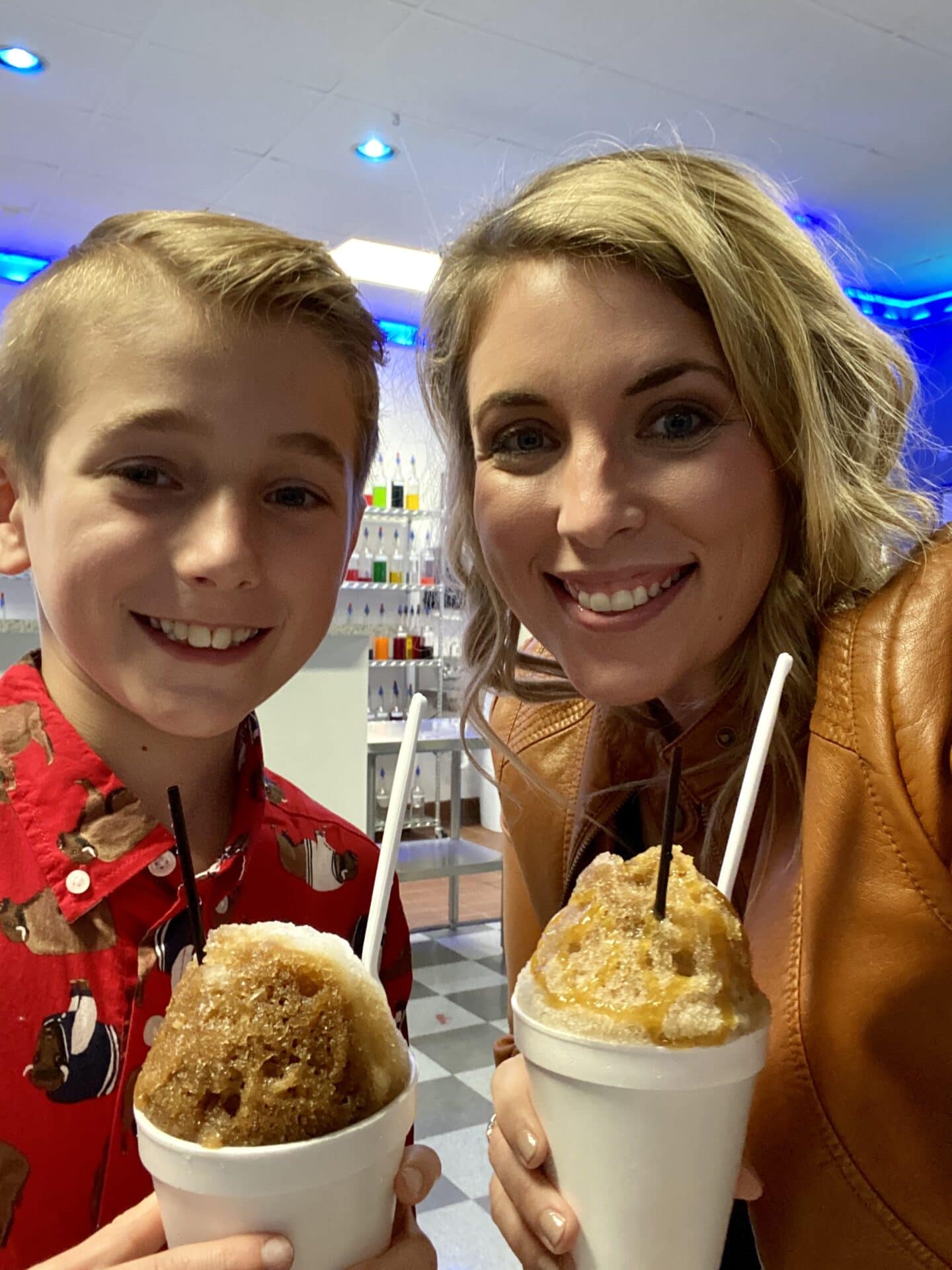 Mr. Rusty called me randomly and invited me to go out to dinner with him and the girls for their annual Valentine's Day father-daughter night.
It was my first time being included and it meant a lot to me and I really appreciated him thinking of me and inviting me.
I already had plans but rearranged things in order to be there!
I really enjoyed learning more about Mr. Rusty and his perspective on things. We can learn a lot from others and I tried to soak up all that knowledge!
This year I found the girls each a fancy dress to wear on their dinner date with Daddy!
They were SO excited about getting all dressed up and they chose to eat at Texas Roadhouse so they could get the peanuts.
Zach said he too shouldn't have spent money on the nice meal…because they just filled up on peanuts anyway!
Zach also said that Tess requested for them to do an activity next year together like shopping. He is thinking her love language is probably quality time and that got me thinking that it's probably time to do two separate Daddy Daughter Date Nights.
Allow each of them that quality one on one time with Zach! I think they'd enjoy it and know he would too!
Zach said they played "eye spy" at the restaurant and Tess said "I spy something handsome!" SO SWEET.
Prior to their dinner date we went ahead and opened our Valentine's goodies!
Every year we get out a decorated box to put our notes and such to each other in and then open them as a family.
Zach and I bought ourselves each a Kindle Paperwhite so we had no plans to get any gifts for each other.
Still though my love tank was filled SO FULL by how thoughtful Zach was this year!
He got each of us a card (one for every kid as well as for me) and picked out a special candy he knew each of us would enjoy. SO SWEET.
The kids also did SUCH a great job of making truly thoughtful, love-filled cards for each other!
I tried to be practical with the stuff I bought for the kids.
With Kye having his big ski trip I wanted to get him items he could use while traveling.
I grabbed this travel pillow (that has great reviews and he LOVED it) and these wireless headphones.
Zach had the idea for the headphones and man HUGE WIN. Kye wore them non-stop before he even left for the trip!
Britt and Tess had to make boxes for their classes and Britt was wise in saying she wanted Daddy to help with hers 😉
I helped Tess and basically just let her do whatever she wanted haha
Daddy is the more hardcore one when it comes to projects – I'm more "let the kids do it!"
Zach and I typically do a dinner date but, again, with the travel and basketball we just didn't have time.
Instead we went out for brunch!
It was our first time ever doing a date while all the kids were in school and it was a taste of the day when they are ALL in school every day!
It was so nice and we had a great time talking about future travel plans 🙂
Zach and Kye headed out for their trip on Thursday, Feb 13th.
It officially kicked off our GALENTINE'S WEEKEND!
The girls have been sooo pumped to have "girl time" (+ Spear) to celebrate Valentine's Day!
A local Chic-Fil-A had kids night and cookie decorating so I took the girls and Spear to that for dinner!
Spear was SO THRILLED to have his own meal 🙂
And he did awesome and sat so nicely to decorate the cookie and even waited to eat it.
The easier days are coming 😉
On actual Valentine's Day I surprised the girls with a special breakfast and set up a Galentine's Day table for when they got home 🙂
Britt was so sweet to pick up Kye's Valentine's stuff from his class and he had such a sweet note from one of his neighborhood buddies.
I'm SO GLAD that this year has been a HUGE year of friendship for Kye!!!
Britt also had lots, and lots, of notes. Several boys sent her candy grams but this one was one that stood out to me.
I love that he noticed her qualities and recognized her good example to others. A) I want my girls to find guys who appreciate those sort of things about them and B) I love that Britt is letting her light shine!!!
While the girls were at school I had my special time with Spear!
I took him to the Friday Frolic at the YMCA and he was ALL about it!
I don't love it because it's not true quality time together – it's just me chasing him but he loves it and it worked!
Once the girls got home we kicked off the official Galentine's Day (+ Spear) celebrating!
We baked a heart-shaped cake, G-Mama dropped off some goodies and Auntie Katie came over to enjoy dinner with us and to watch the 90s version of Little Women.
I was proud of myself for not going crazy overboard with our event.
I bought this banner to hang in the living room and it's adorable felt pieces that can slide which I really like!
Then I also bought this set of heart glasses and headbands which were really fun (and shockingly the glasses are pretty good quality and even fit my big head!).
Little touches that made it a little extra special too!
For dinner we hunted down all the ideas we could and ended up cutting a hot dog into a V shape and loading up on pink and red side items! It was cute!
The girl's dresses are from Sparkle In Pink (You can use code Emily10 for 10% off your order!)
We exchanged gifts as a family but I did stick a couple of things back in the box as Britt had made more cards for us to have on the real day too 🙂
My focus on gifts and items for the weekend was on stuff the girls could enjoy doing and also a little gift to build excitement for our upcoming Disney Cruise!
I am SO pumped about our door magnets. They are made by Disney Doors and code "journeyofparenthood" gets 10% off your order!
They are fabulous quality and I LOVE how they turned out!
We watched the movie and then I let the girls sleep over in my bed with me.
It makes me SO READY for a king-size bed haha.
It was hilarious because I felt like I was getting kicked and kissed and laid on ALL NIGHT.
I finally was like "I am DONE" and told the girls they had to go to their own rooms.
They both said they just weren't tired and I said "IT IS THE MIDDLE OF THE NIGHT"
I checked my phone and it was totally 6:45 which is when they usually get up for school haha!
Rather than just keeping our Galentine's Day fun for Valentine's Day…I kinda made it a weekend long thing to give the girls fun stuff to focus on while the guys were away.
The gifts I got them for V-Day were pretty genius as they've LOVED them all weekend long!
The girls loved matching with their American Girl dolls for church (these outfits are super cute)!
They decorated the little frames that I'd grabbed for them and decorated these AWESOME Frozen purses too.
Seriously these are gonna be my new go-to gift. The marker colors are so pretty and the design of the bag is pretty and the sequence flip to the horse character thing!
Another genius mom gift?
I saw this Jello Slime at Publix and grabbed it as Britt has been BEGGING me to make slime.
Yall. I'm a cool mom but I'm NOT a slime mom.
This was SO easy and the girls LOVED it and it didn't stain anything and wasn't a pain to make or clean up.
Plus the can made enough for two bowls full and was plenty! A bonus? It's edible. My original plan was for Spear to play too and if he had and any ended up in his mouth I didn't have to stress it.
The girls had SO MUCH fun with their girl time and enjoyed all the crafts and activities together!
While I'm SO READY for two of my guys to be home we def made the most of our girls only (+Spear) Valentine's Day celebrating!
I really loved all of our family moments this Valentine's Day and am always just so thankful to be married to such an incredible man and to have the opportunity to build a beautiful family with him!