What to Expect at Monster Jam.
My oldest son and I were recently gifted tickets from Brave PR Atl to a Monster Jam event at Mercedes Benz Stadium in Atlanta, Georgia.
This was the first time we've attended a Monster Jam Event and I had NO CLUE what to expect!
As a boy mom, it can be a struggle to find things for my son and me to do together.
Daddy has golfing, he has football watching, he has video games.
So many easy ways for father and son to bond and I've been on the hunt for ways for my son and I to bond too!
This event was a HUGE win for us. I was surprised by just how into it I got and it was so fun to see how excited my son was about it as well!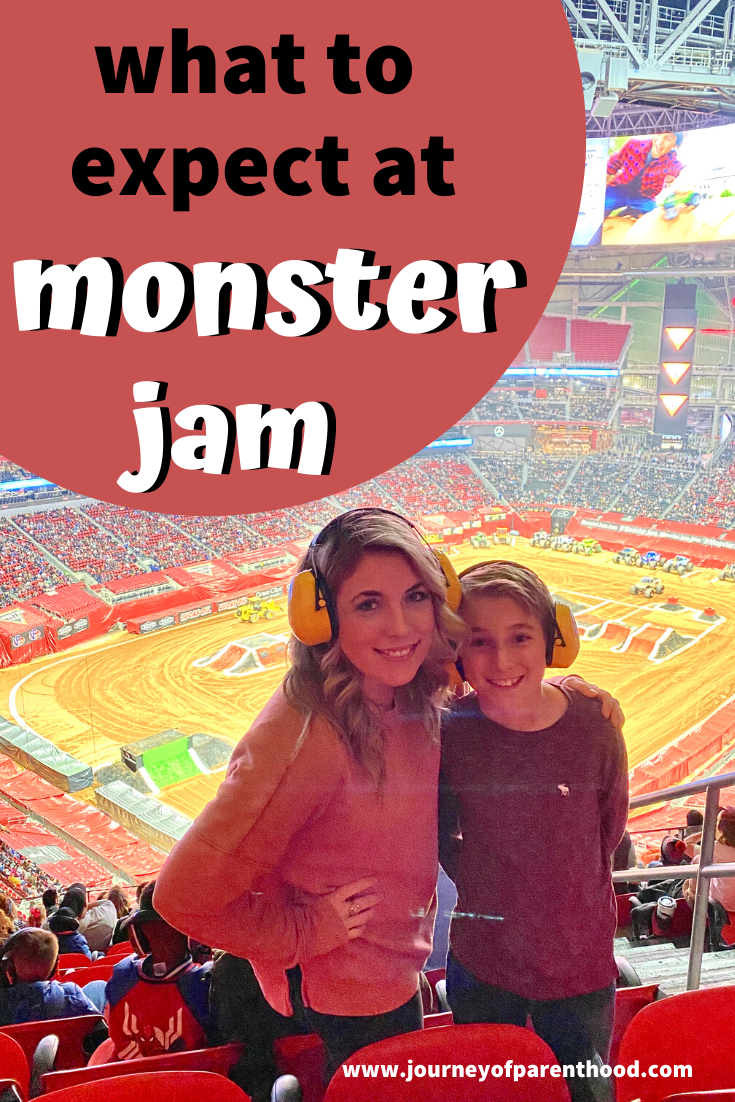 What is Monster Jam
Until I received our invitation to the Feld Entertainment Monster Jam show I'd never really ever heard about Monster Jam.
I knew about monster trucks as my brother played with them growing up and my sons have some as well that they like to play with.
It turns out monster trucks are quite a big deal and Monster Jam is a competition among monster truck drivers who drive, train, practice, and work for years to compete in events that include racing, timed tricks, and freestyle.
As a mom, it is important to me to attend family-friendly type events and entertainment choices and Monster Jam is geared towards family.
There were no cuss words or inappropriate attire or language.
The music choices were often not ideal but nothing more than you'd hear on the local radio station!
Most of the fans in the stands were family with kids of all ages and their parents rooting for their favorites like Grave Digger, Toro Loco, Monster, Black Pearl and more!
You can learn more about Monster Jam, including the jam trucks and the jam truck lingo on Monster 101 here.
Best Age for a Monster Truck Show
We saw every age at the Monster Jam event.
From infants to grandparents!
However, I personally wouldn't ever take an infant to a monster truck show.
It is LOUD and I just don't see it being something a baby could possibly enjoy on any level!
I also wouldn't have probably taken my kids at super young ages.
If your child is sensitive to loud noises or easily overstimulated, it may be best to hold off on attending Monster Jam until they are a little older.
It's especially important that they are old enough to be responsible for wearing ear protection and able to stay up late enough to enjoy the event without being overly tired.
My son and his friends that came with us were ages 10 and 11 and they were ALL ABOUT IT.
I'm glad I waited until my son was a bit older to attend his first Monster Jam because it's a GREAT "big kid" event that was something new and different for him to experience.
I believe he'd continue to enjoy it even as a teen!
We saw TONS of younger kids and I can see my current two year old being super into it once he's a little older.
I think it'd be super fun to take my oldest son with his younger brother in a few years too!
I also think girls could be into Monster Jam.
My daughters wouldn't personally probably enjoy it as much as they would other events (I took them to see Disney on Ice) but it would be a fun family event to do as a whole family too!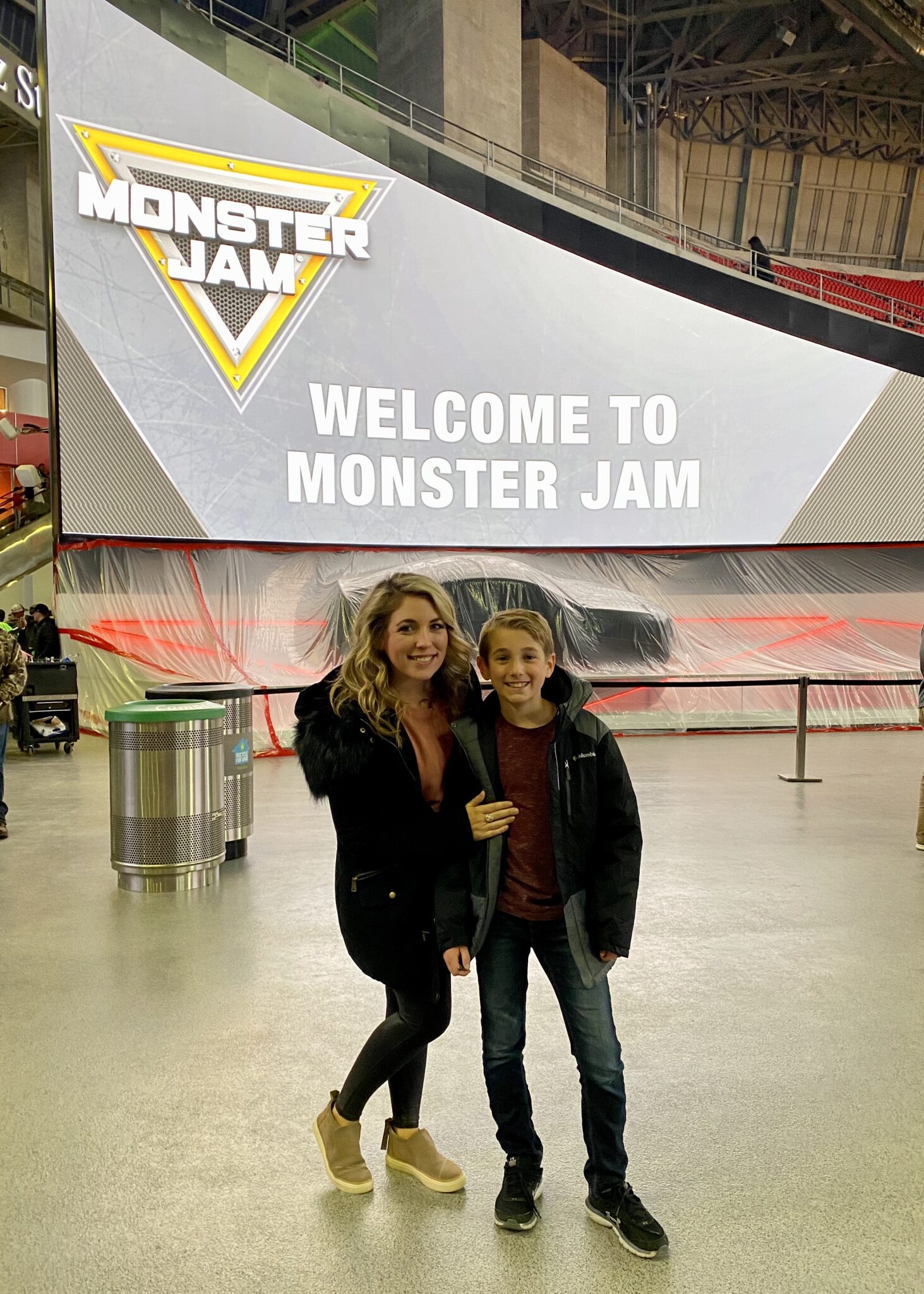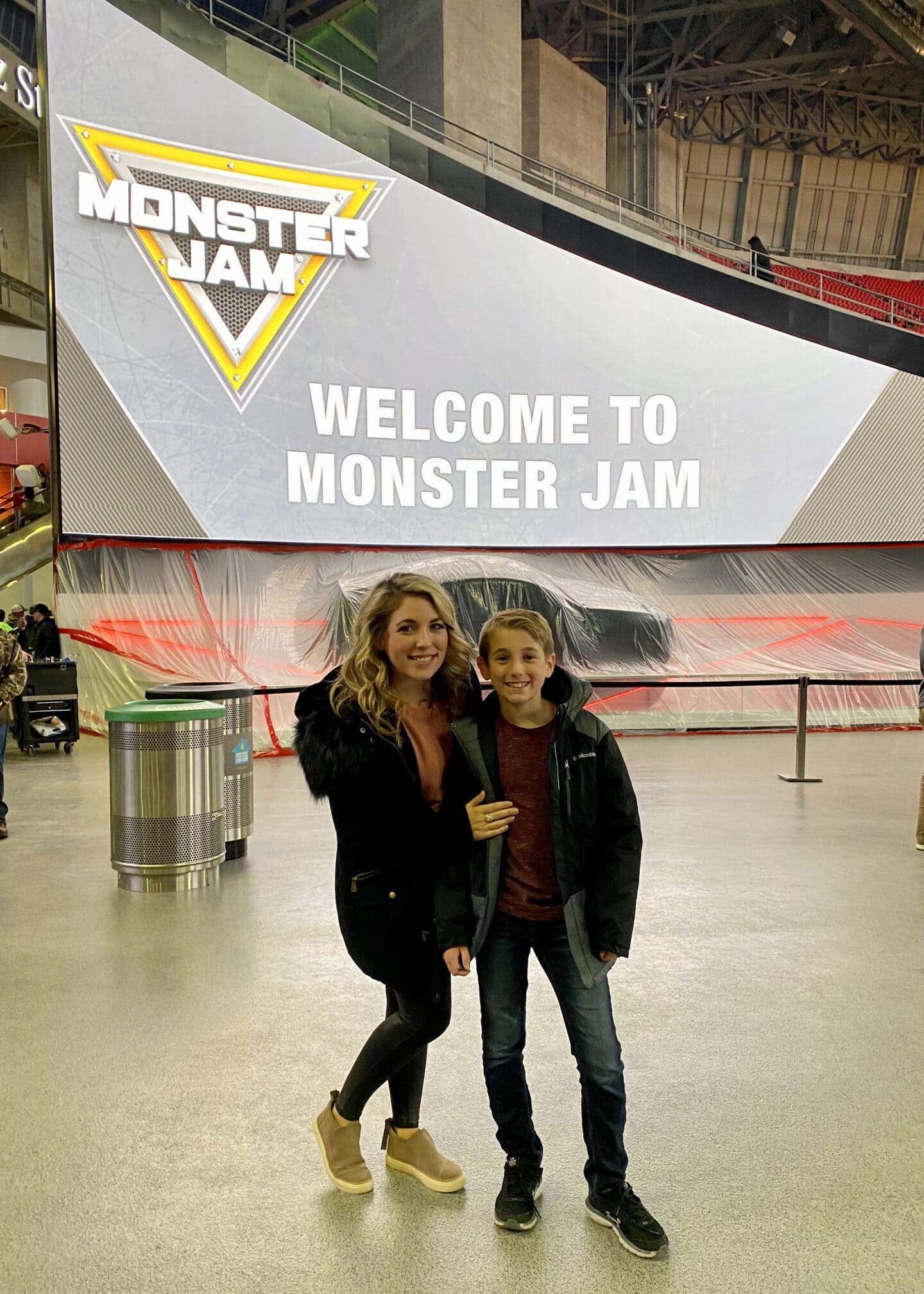 Where You Can See Monster Jam
Monster Jam takes place at large arenas (need lots of room for all those huge trucks to compete!).
I was impressed with the affordability of the event.
Tickets are priced very reasonable and start at under $20!
You can check for Monster Jam coming to a town near you and purchase your event ticket here.
We were fortunate enough to attend Monster Jam at Mercedes Benz Stadium in Atlanta, Georgia and it was FANTASTIC!
Such an awesome arena and an incredible experience.
We stayed at the Omni CNN Center and were able to walk from our hotel room to the arena with ease in under 10 minutes and felt very safe the entire time (it's well-lit with a large police presence).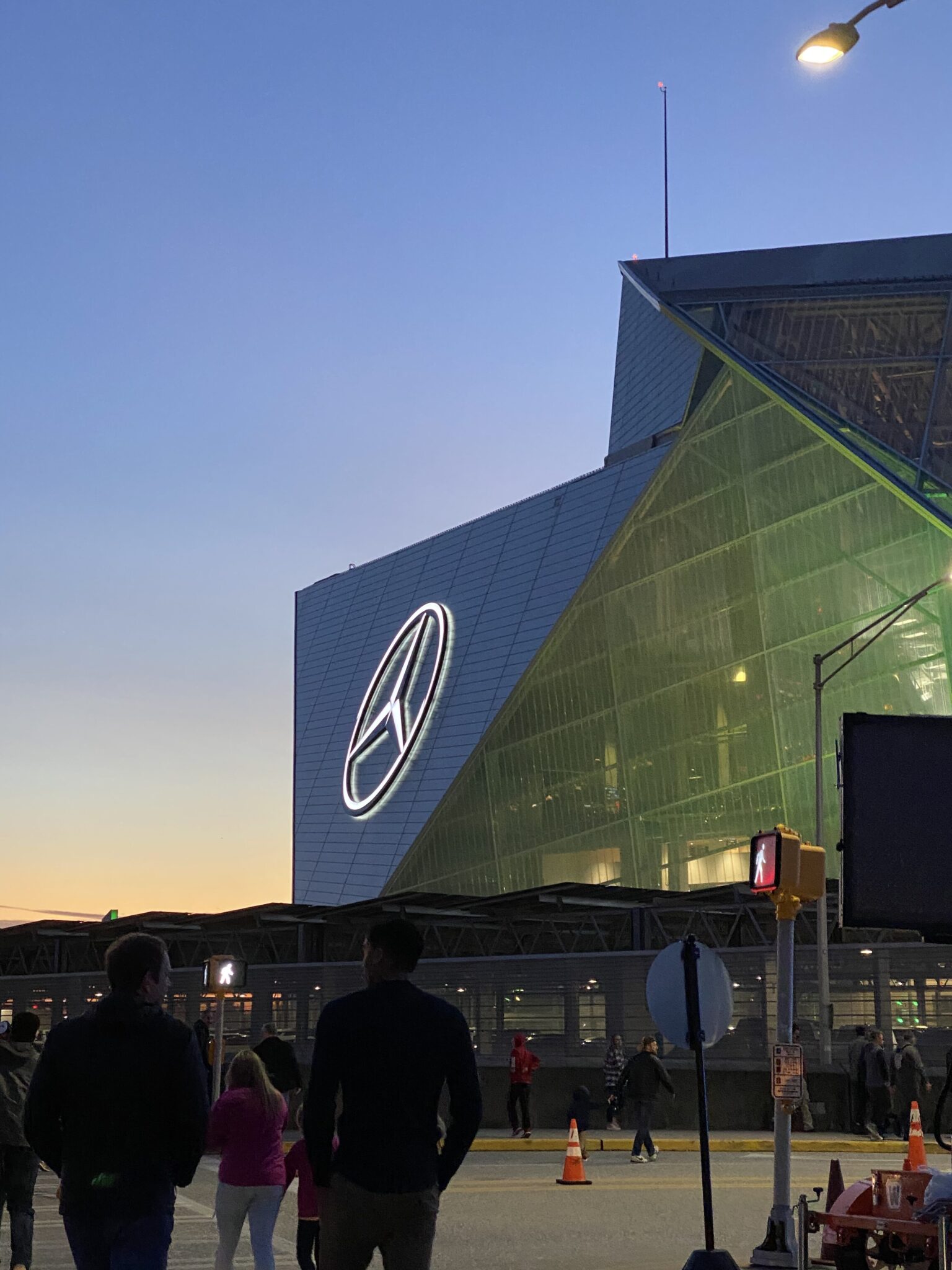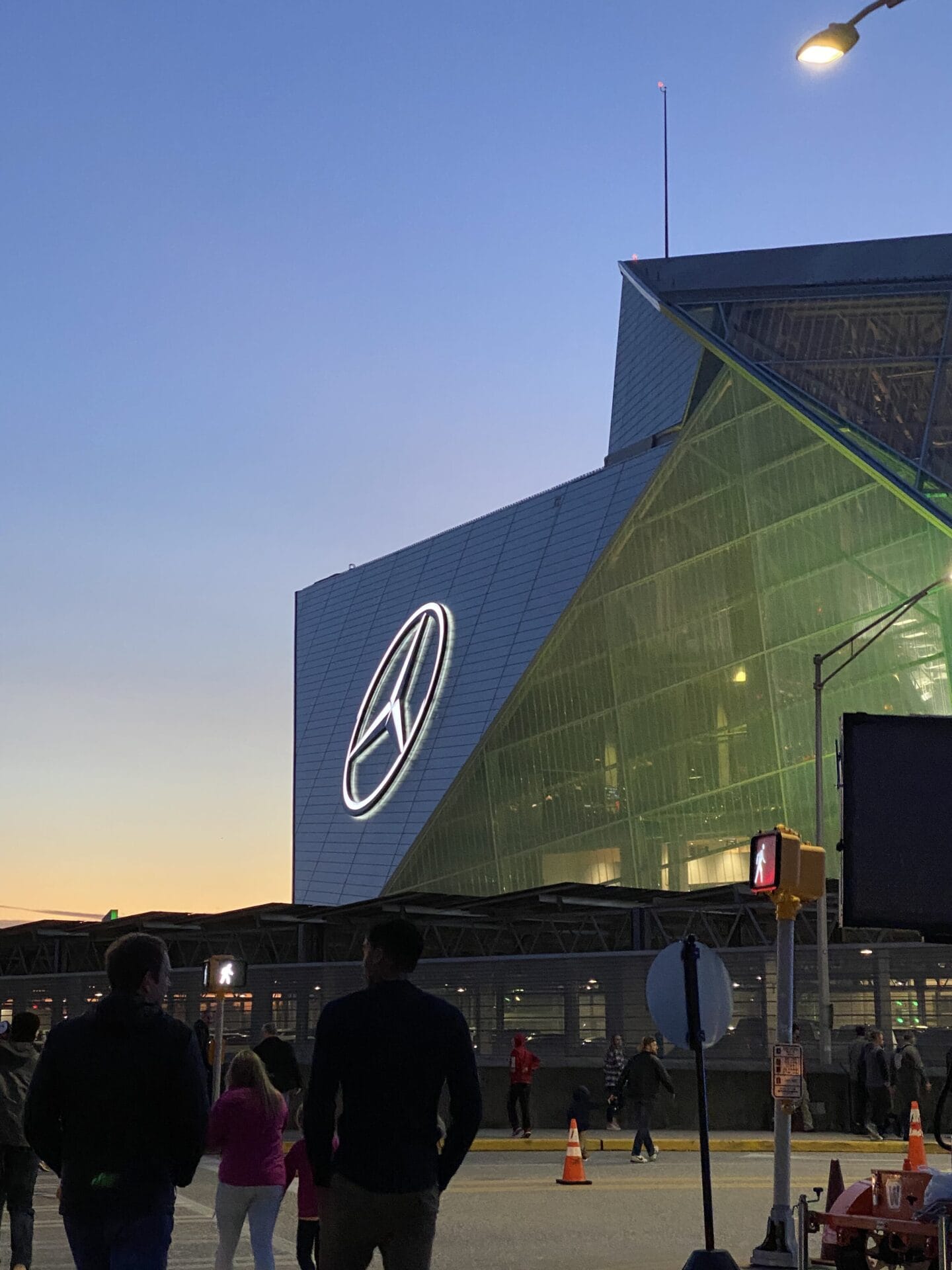 How Long is Monster Jam
Our event started at 7 PM and ended just after 9:30 PM.
The structure for the event was the racing followed by timed tricks then a rather long intermission (thirty minutes) and ending with freestyle.
We arrived right on time and I do not think this is an event that requires early arrival!
We didn't miss anything and by the time the freestyle portion was about halfway over the boys were getting tired and were pretty ready to go.
We ate prior to the event which also saved us time!
Monster Jam has the option to add onto your ticket by purchasing a Pit Pass that allows entry to the pre show pit party and allows fans to see the jam trucks up close and meet their favorite drivers.
Our hosted tickets did not include access to the pit party so I can't comment on my thoughts on it but the detailing and design of the trucks from far away looked incredible so I'd imagine seeing them up close would be super awesome too!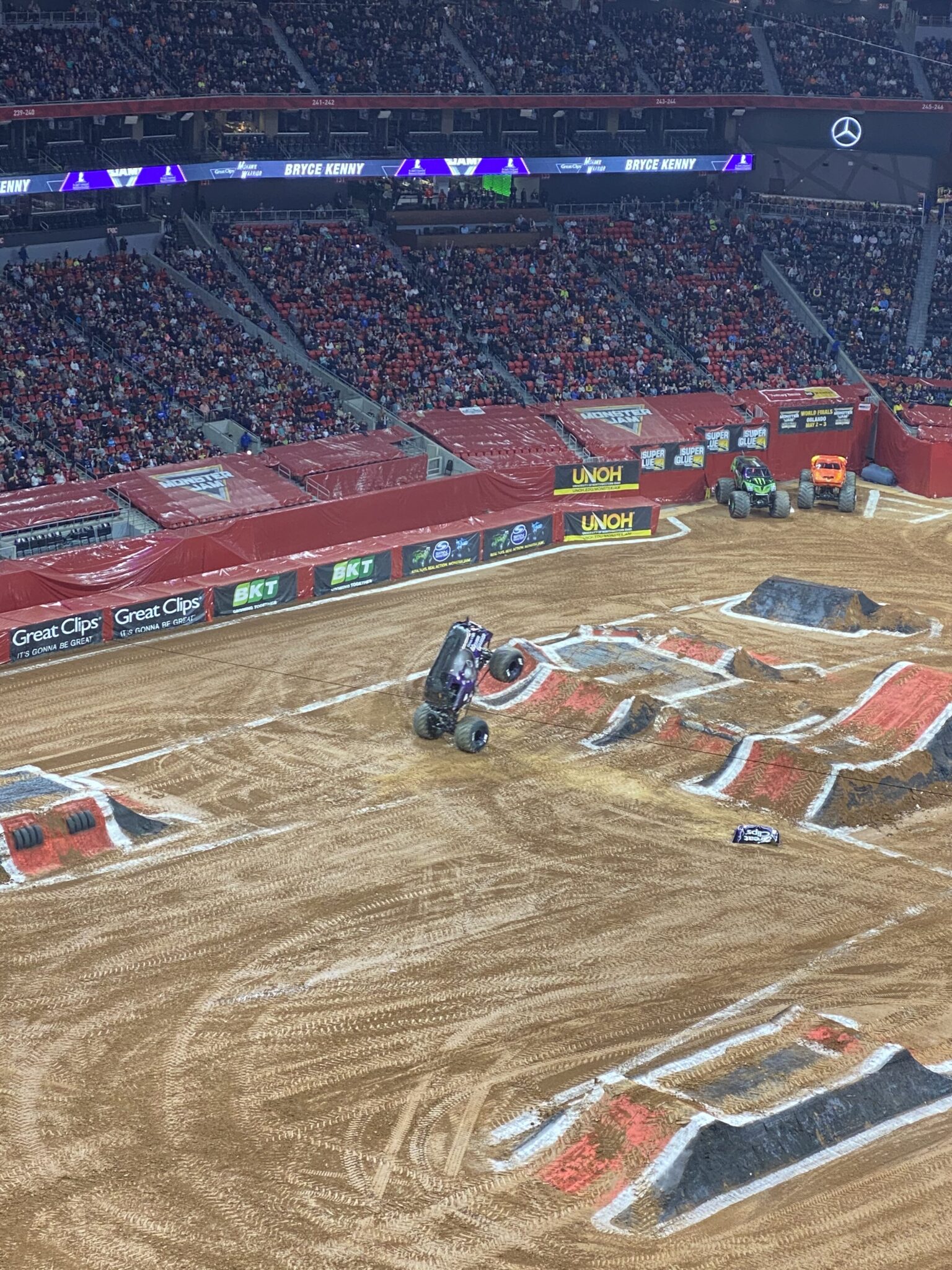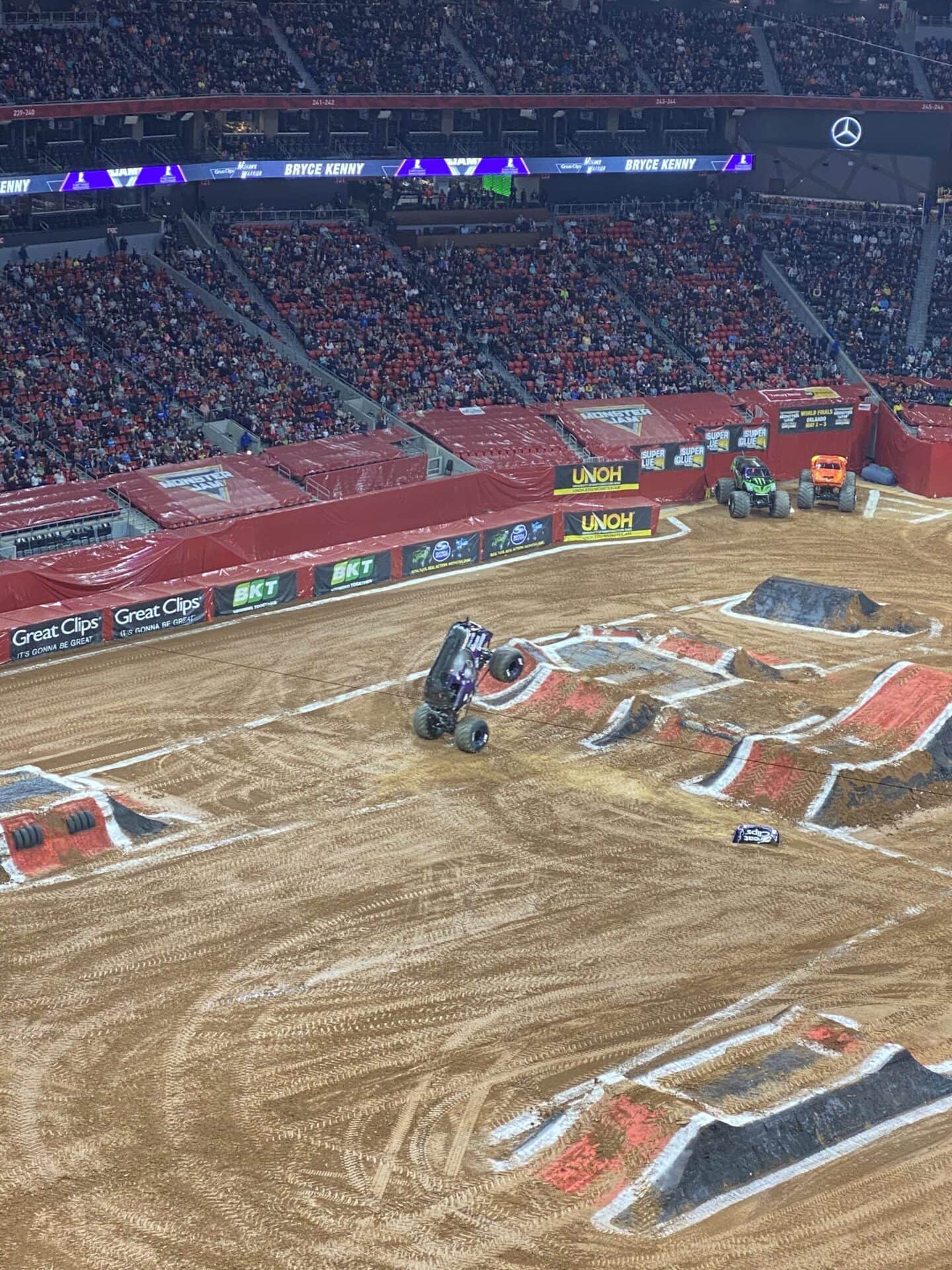 Best Seats for Monster Jam Event
At first, when I received our free tickets to Monster Jam I was a bit disappointed as our seats were located in what I'd call the "nose-bleed" section.
We were about as high up as you can get!
However, once we arrived at Monster Jam our seats ended up being AWESOME.
I'm sure being up close you're able to see the details of the trucks better but sitting far away gave us a great perspective and the ability to see the ENTIRE event rather than only the portions directly in front of us.
We had that birds-eye view and didn't miss any of the fun action!
If we were to attend again in the future I'd probably purchase the same seats.
If you're considering attending Monster Jam at Mercedes Benz Stadium our seats were in section 320 rows 15 and 16 and we loved them.
I think a BIG perk about sitting higher up was that it also helped cancel out some of the sounds.
Monster trucks are LOUD.
But the events are really pretty short and sitting that high up made it where we could all still talk to each other and carry on conversations and I didn't even feel the need to wear my hearing protection for most of the night.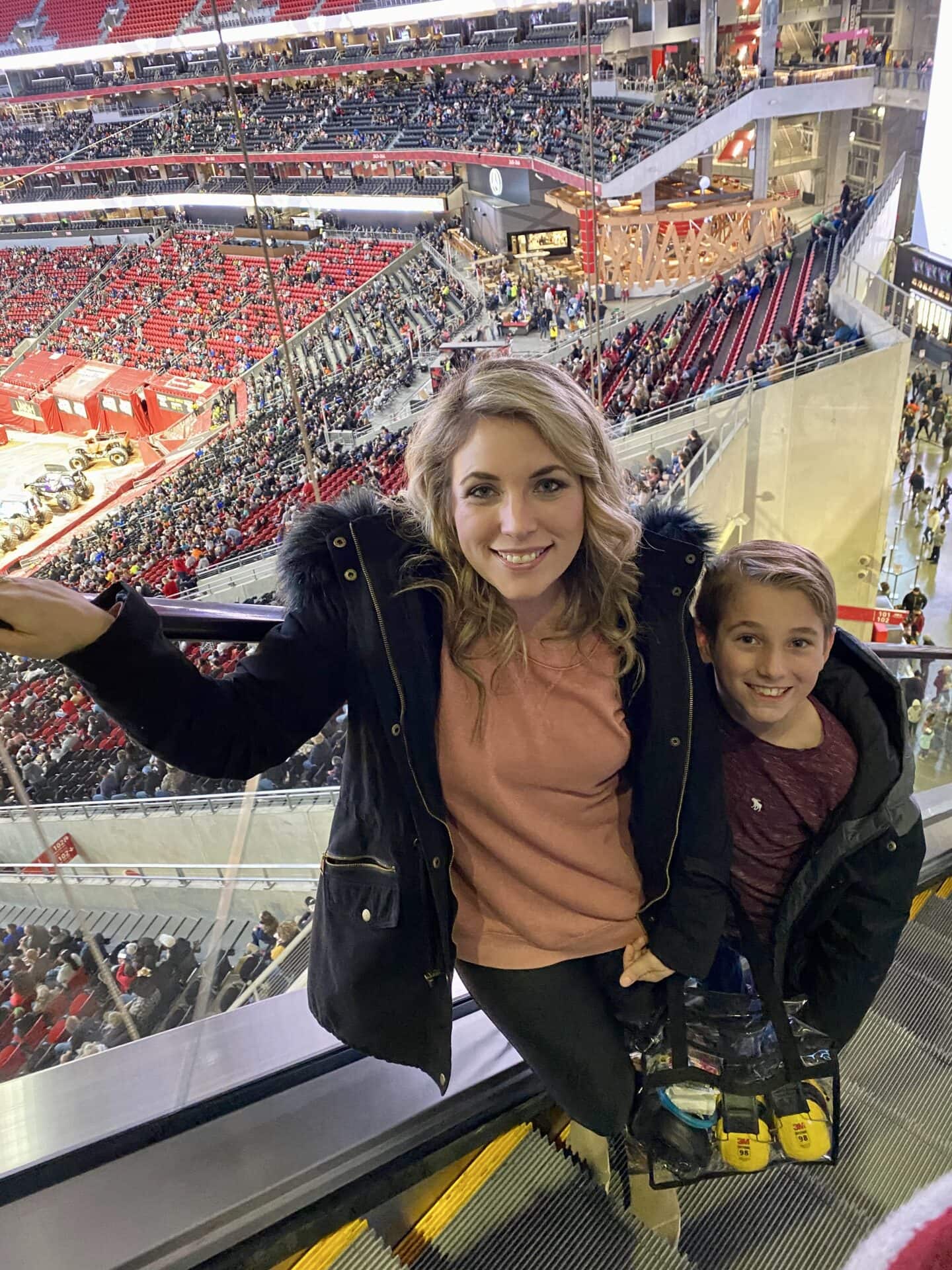 What to Bring to a Monster Truck Event
Mercedes Benz Stadium (as well as many of the locations for Monster Truck) is an open arena.
Many of the events are outdoors as well so dressing for the weather is ideal.
We all had jackets and did end up wearing them before the night ended.
Most stadiums require clear bags and I'm super glad I purchased this one prior to attending the event!
It was a PERFECT size, held all of our stuff, and was easy to carry! I'm for sure saving it for future stadium events.
I am also super glad I purchased ear protection in advance.
They were selling earplugs at the stadium (especially vendors on the streets) but I personally don't find earplugs comfortable.
Having these noise-reduction earmuffs really made a big difference!
My son wore them the ENTIRE event and never had any sort of headache or complained about it being too loud!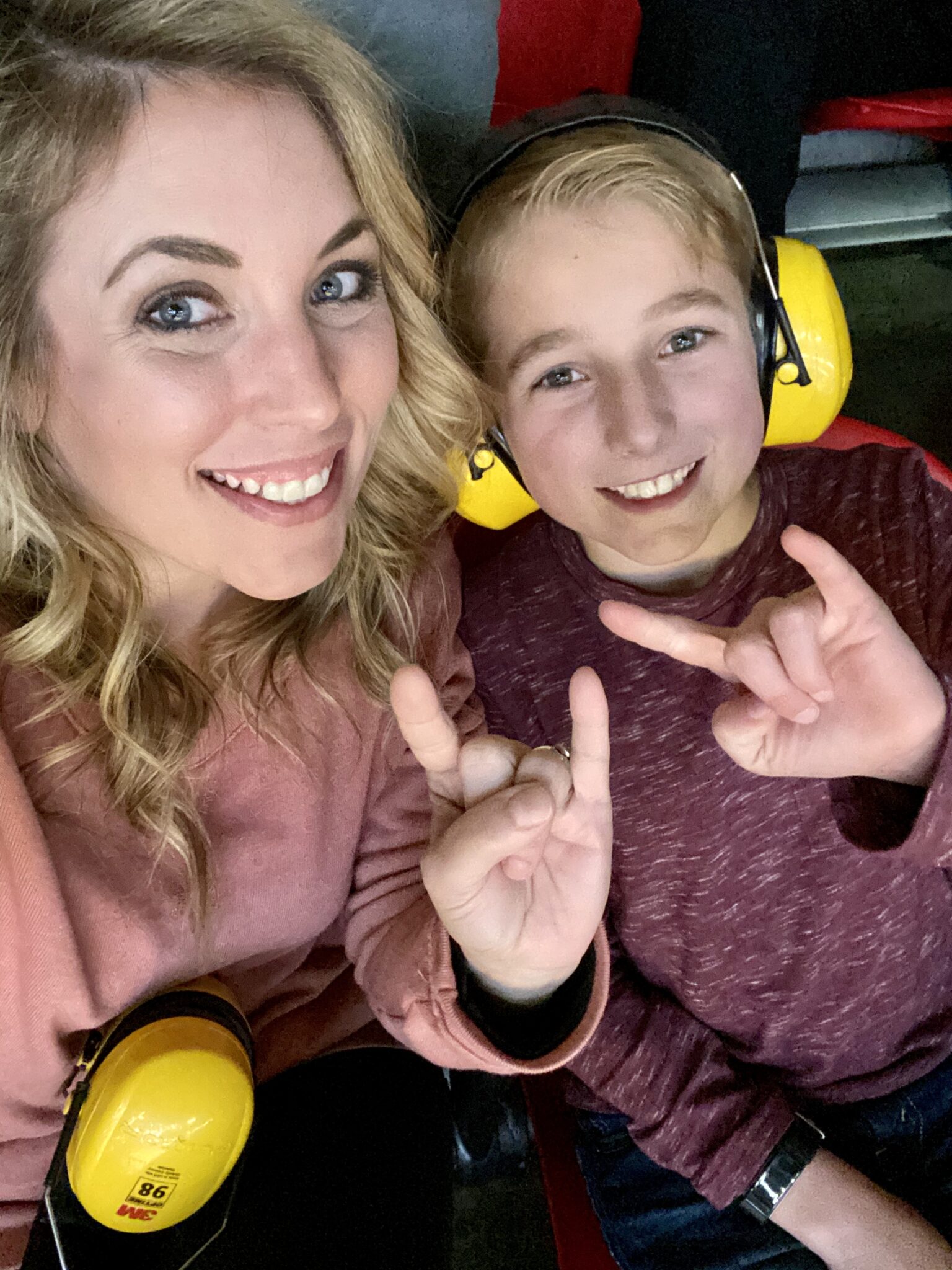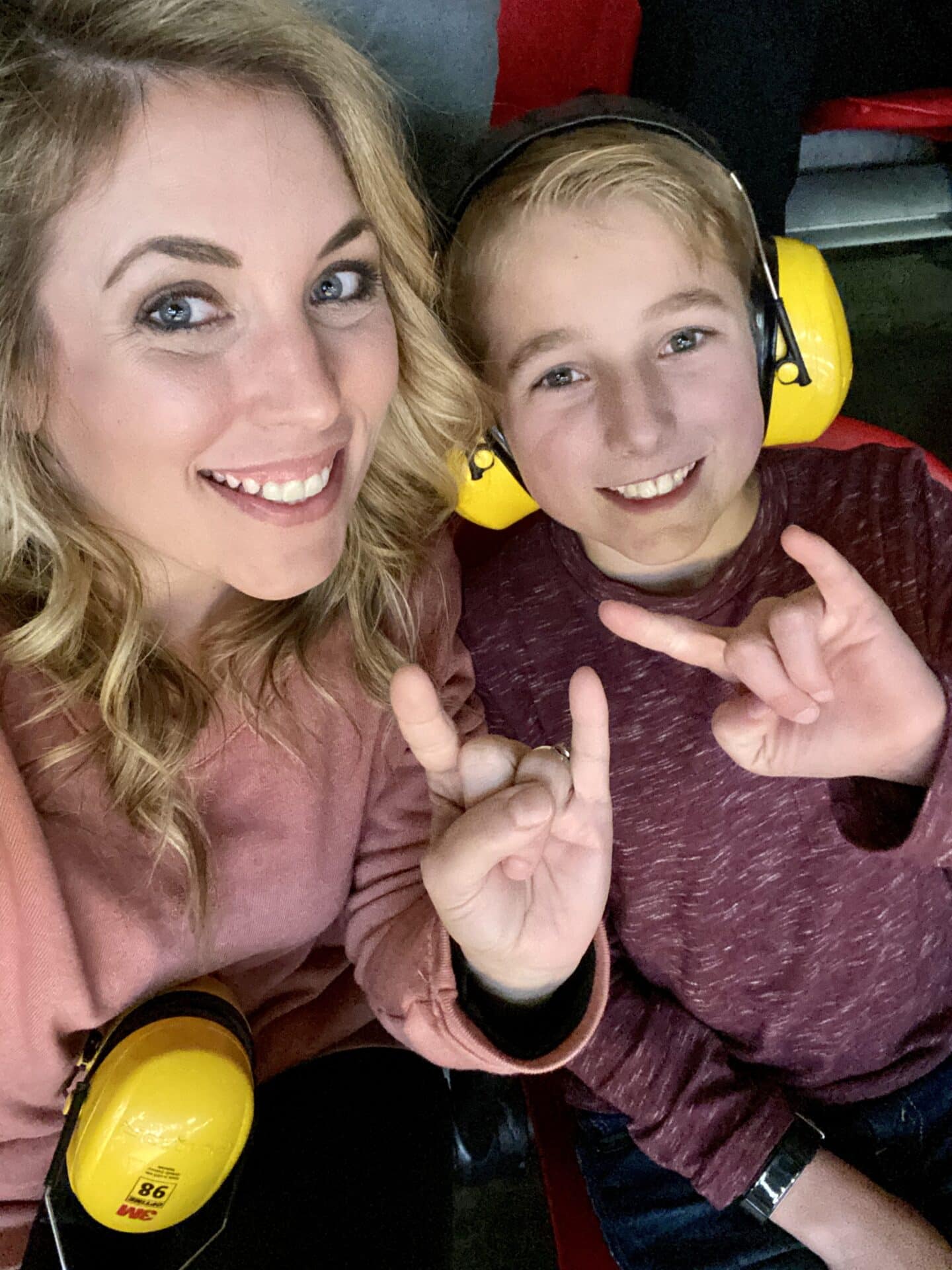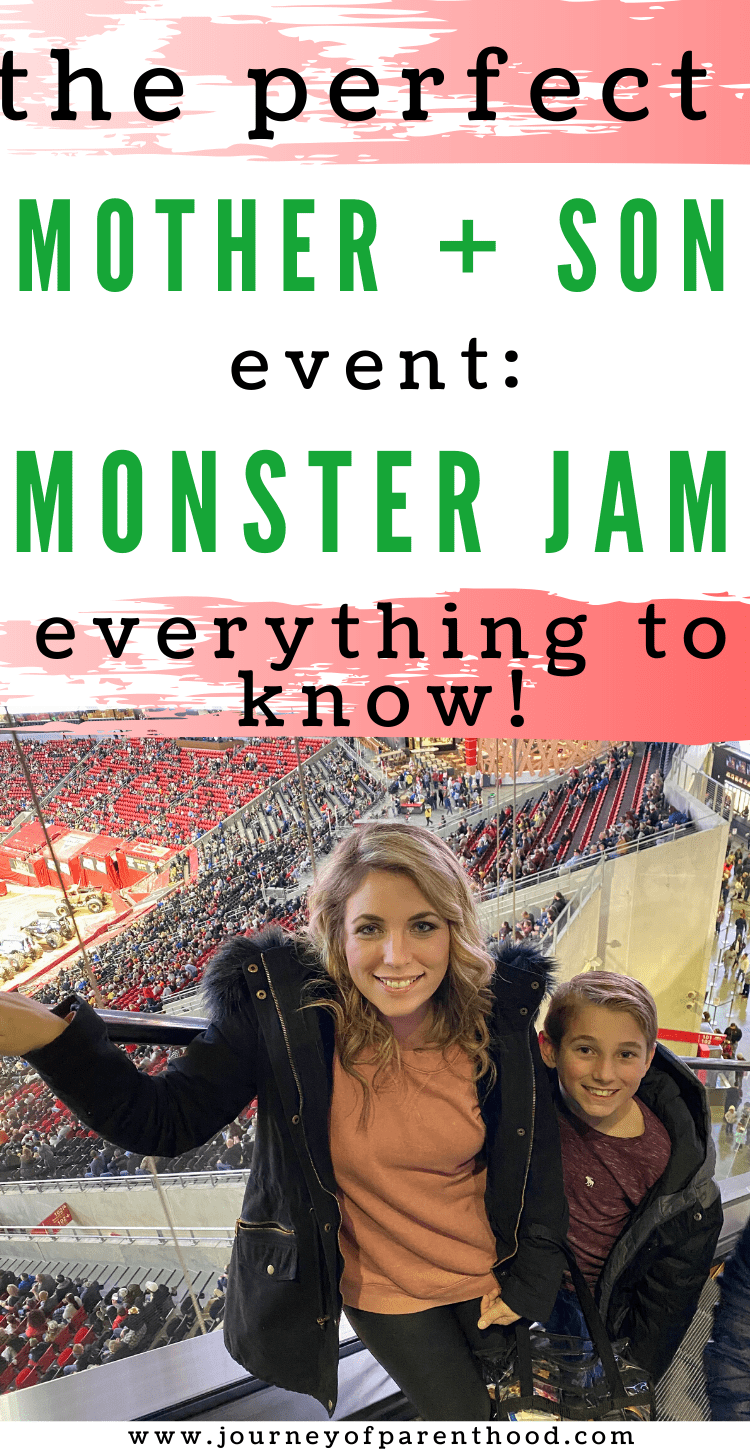 What to do Before Attending a Monster Jam Event
I wish I'd done a little research prior to the Monster Jam event!
I do think if we'd been able to have an access pass to the pit party that it would have allowed us to have a favorite truck or favorite driver prior to watching the competition.
It was SUPER fun rooting for the trucks and would have been even MORE fun if we'd each had a favorite truck that we wanted to win!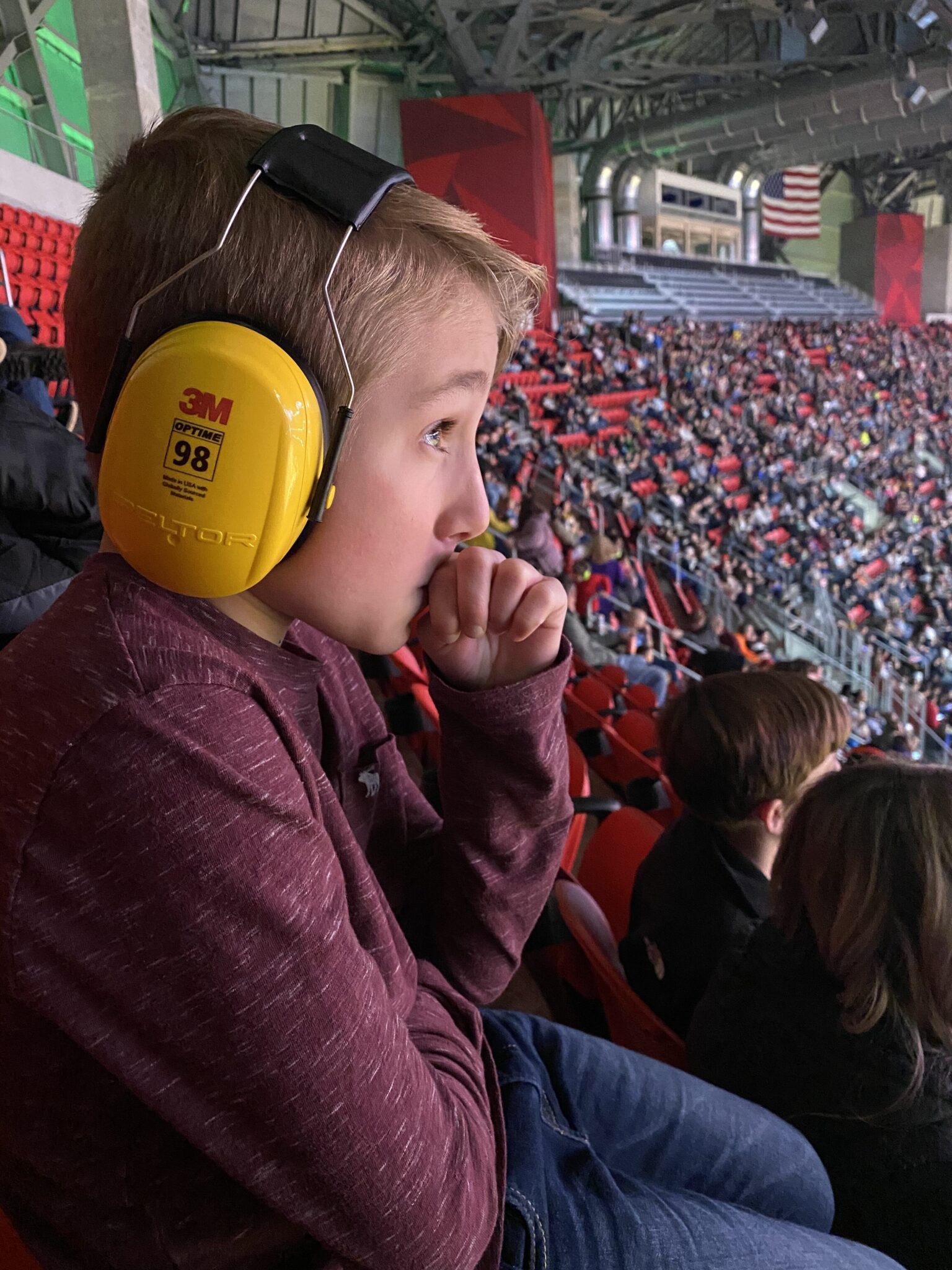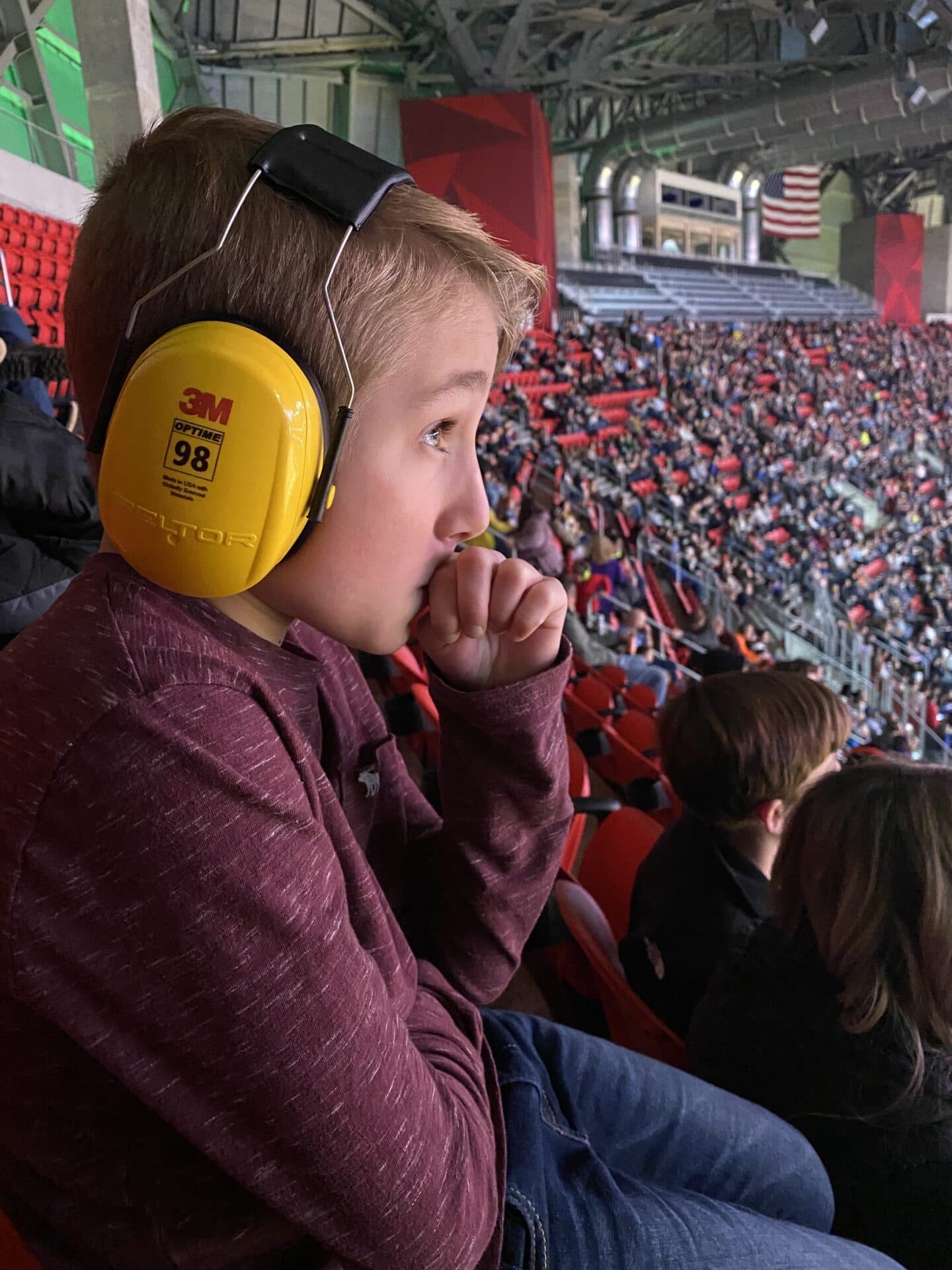 The Best Part of Monster Jam
When we first sat down and started watching we were all in agreeance that it was "cool."
But then? When it was explained how to log in on our phones and be part of the judging for the night?
It took it to an entirely different level of fun!
The boys LOVED getting to rate each truck on their performance and the ability to judge the competitions made us all more invested in the overall competition as a whole as well.
The Judges Zone access was very easy to use and after each truck participated in an event we had 20 seconds to lock in our scores for that truck.
You can see how user-friendly and easy to follow the voting process is here: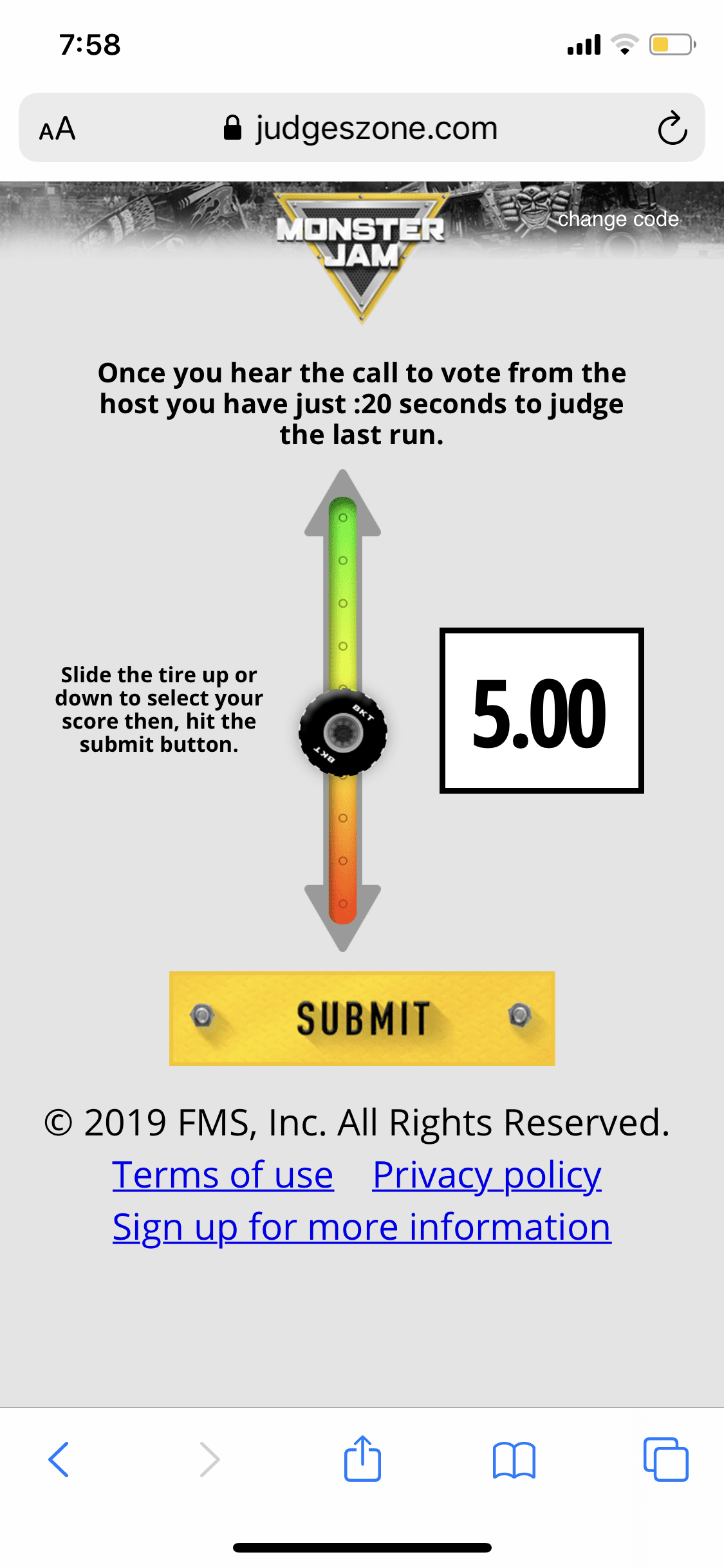 It was fun to discuss what we thought each truck deserved during their events and then cheer when trucks we thought did well had high final scores!
We all got super into it and it made the night SO fun!
We loved watching the trucks together and the best part of attending Monster Jam is the opportunity to make memories.
I am alllll about spending quality time with my kids and I LOVED the opportunity to enjoy this time with my oldest son and I know this was an event we will never forget!
You can read about our entire mother-son weekend visiting Atlanta here!
Thank you again to Monster Jam, Brave PR Atl and Mercedes Benz Stadium for hosting us for this event.