Thanksgiving 2019
I love our new family tradition of spending Thanksgiving at Disney!
Last year was our first year and it went great but it was also a learning year…we learned NOT to buy as much food this time for one 😉
When we celebrate birthdays at Disney the birthday child gets to choose one character meal and Britt wanted to visit 1900 Park Fare.
It worked out great having our character meal the morning of Thanksgiving last year so I did the same plan again this year!
I booked it for 10:30 which is our fav time for Disney meals…it's breakfast food but keeps us full until dinner!
We had a relaxing morning which was super nice.
The day kicked off with our Elf on the Shelf being BACK! Yay Hermey and Snowflake!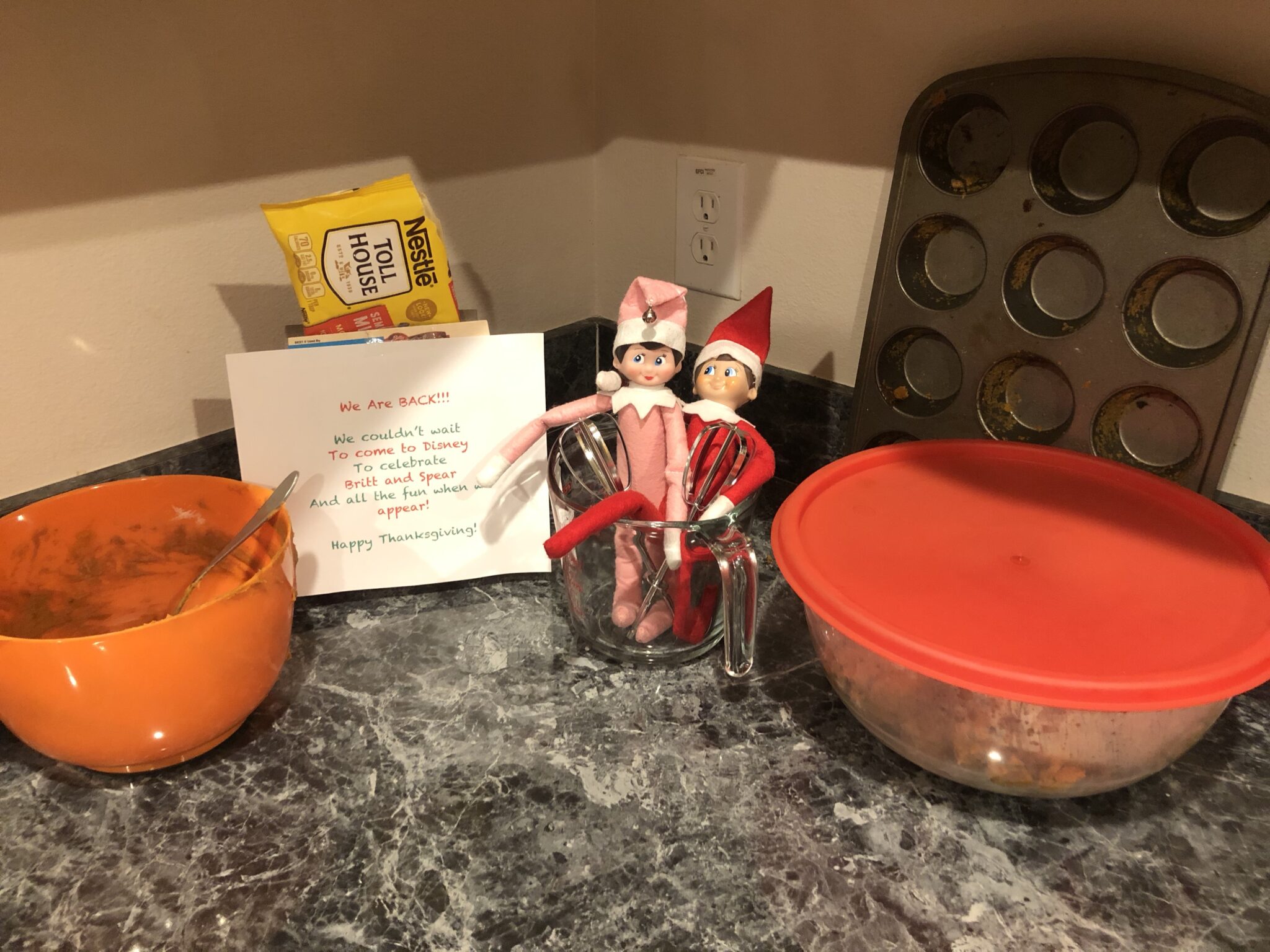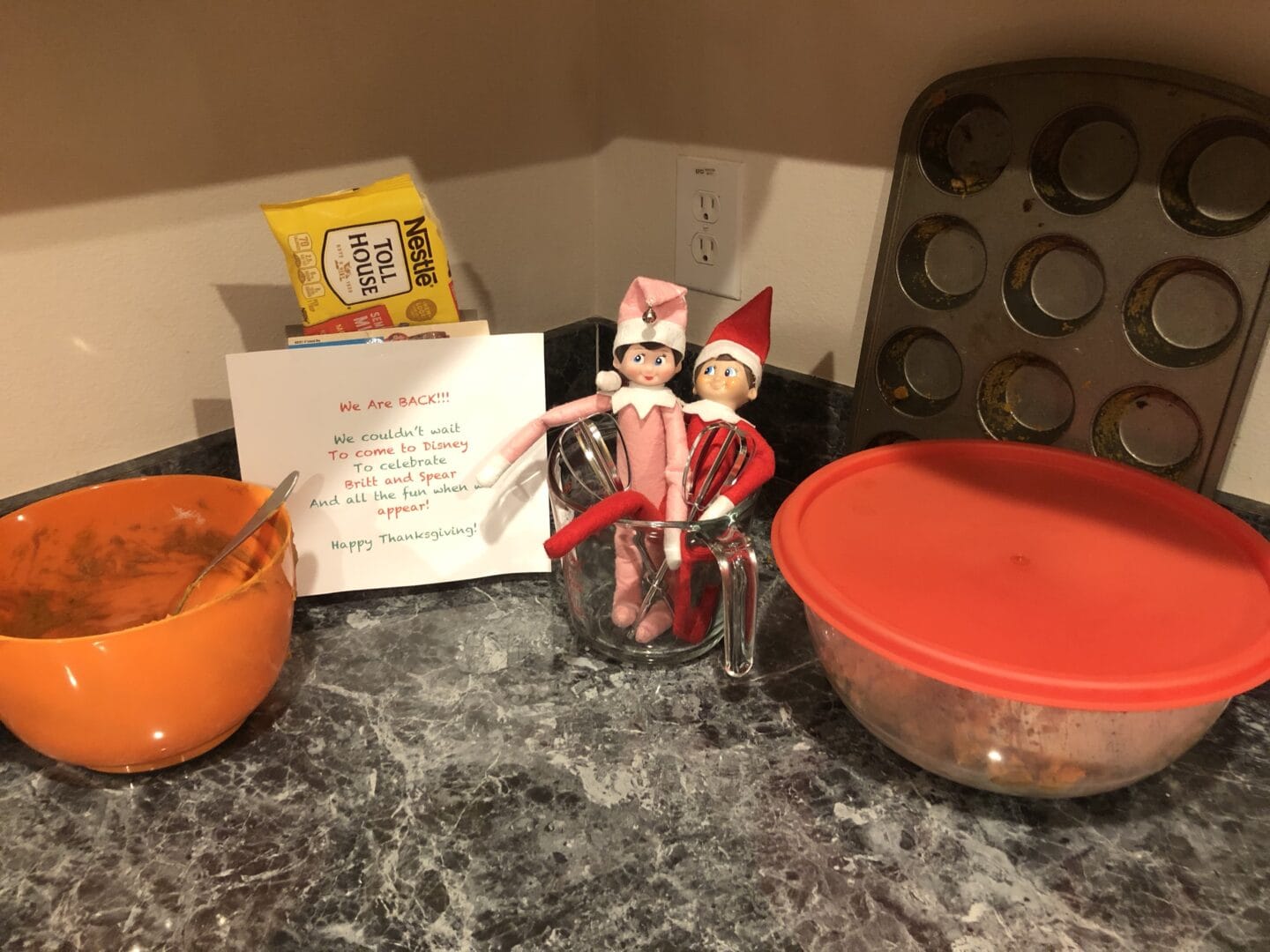 We got ready and headed to the Grand Floridian for breakfast.
I didn't even think about how GORGEOUS the Grand Floridian is decorated at the holidays!
It did NOT disappoint. SO, so pretty and so perfect for Britt as she felt extra special celebrating her birthday in such a gorgeous location.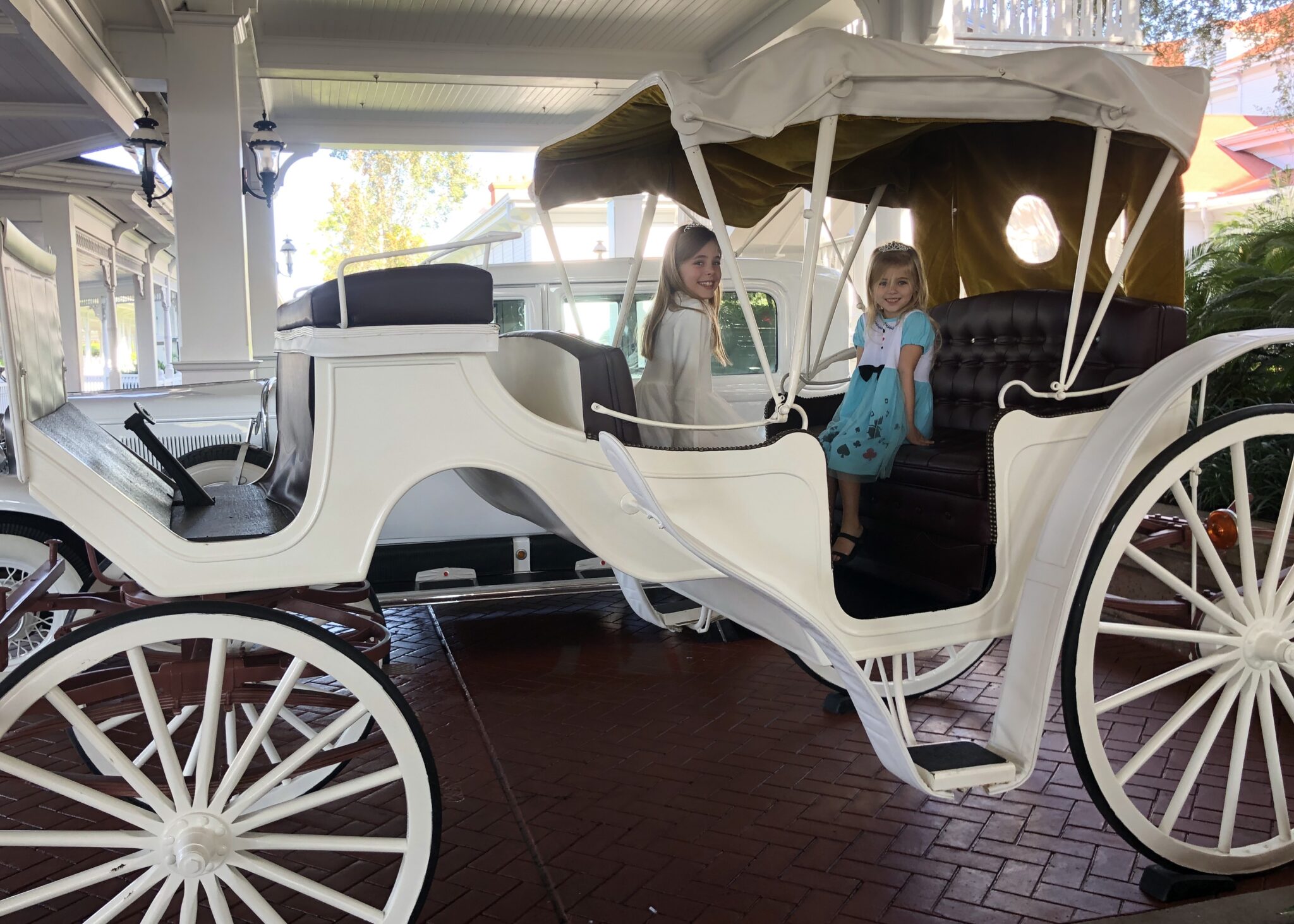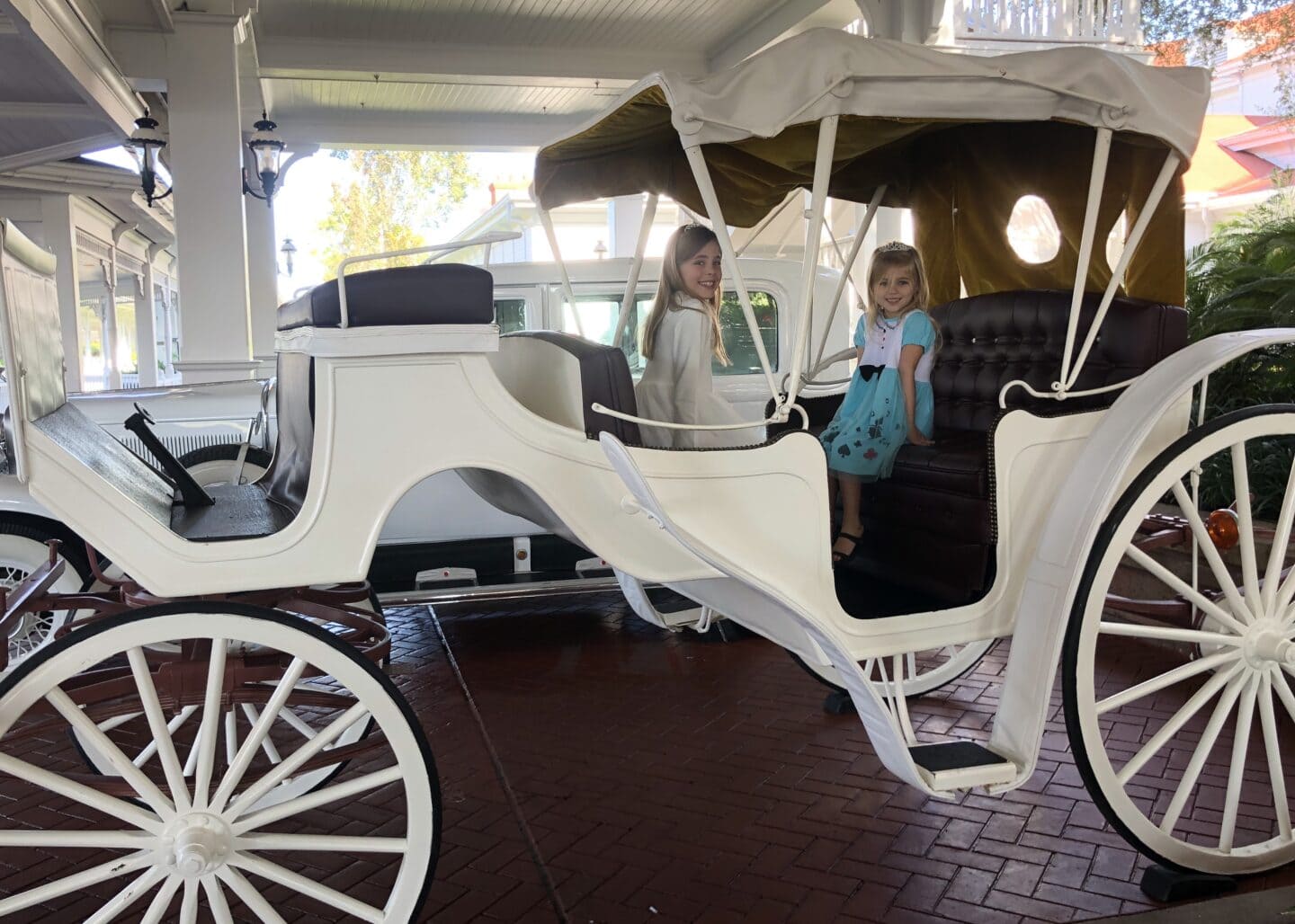 I was really excited about Britt's and Tess's dresses and I got them both on such a great deal.
Britt's is all white and SUCH great quality and she felt like a princess wearing it.
You can check it out here (Love that it comes in bigger sizes and it fit her perfectly, size up…I ordered Britt a 9 and she usually wears an 8)
Tess's is an Alice in Wonderland dress and we own TONS of these dresses and love them!
I also always size up with these dresses – Tess's is a size 6 and she usually wears a 4/5.
The girls were in awe of the beauty of the resort and we had some time before we were seated so we were able to look around a bit.
1900 Park Fare is SO great. The food is fabulous and we love it for both breakfast as well as lunch (characters are different at each meal).
I like that they swapped Tigger and Mad Hatter.
The last time we went for breakfast Mad Hatter was outside of the restaurant and required waiting to meet him and this time he roamed the tables and Tigger was located outside.
We got seated and I took the kids to meet Tigger before eating and he went on break and then we saw Pooh heading to our table so we left the line and rushed back!
We had a pretty good flow of character meeting and they were all so fun.
Spear wasn't a fan of Santa…and he also wasn't a fan of Pooh AT ALL.
After Pooh I just left him in the high chair the rest of the morning so there wasn't any pressure on him to meet characters.
The kids all used their new personalized autograph books.
Britt and Tess are the most thrilled and want me to print off pictures of them with each character to put in their books with the signatures!
You can get your books here…use code EMILY30 for 30% off!
It was lovely meeting Mary and Alice!
Spear wasn't into characters but he LOVED the Mad Hatter. He stared and smiled and watched him across the room.
Having the Mad Hatter roam the tables makes so much more sense b/c he's SO interactive and FUN!
We all loved the food and it was nice to actually ENJOY my meal. So often I feel like I'm rushed or helping kids but as the kids are getting older it's so much more relaxed.
I mean, yes, Spear was there but he is pretty dang happy to have a massive plate of food in front of him so it was a very enjoyable meal.
It's tough that Kye is 10 and is considered an "adult" at Disney…which means adult prices…but it's also great that he LOVES the food. He was in HEAVEN.
Britt and I realized they had red velvet pancakes and ICING and omg it was so delicious.
When we finished the meal I had to go hunt down Kye as he was hanging out by the food waiting to see if any good lunch options would be set out that he could eat really fast.
Oh and he def had his pockets filled with gummy bears that we all snacked on the rest of the day haha!
While the girls both took apples to go – we're training our children well 😉
I was super proud of Britt and Tess. They wanted to meet Tigger, Daddy went ahead and took Spear to run around somewhere, and Kye and I just wanted to EAT so the girls went together and Waited in line to meet him (we were seated near the line and I could see them the whole time).
I love that they were able to make a special memory together!
Once we got all finished we met up with Zach and went to the lobby to get some pics in front of the gorgeous tree and gingerbread house.
I had a mission for this trip to try to get a picture of all four kids together and the photo pass photographer was SO patient with me (and with Spear) while we tried it.
Spear kept getting up and walking away haha
The gingerbread house is really neat but I think it's lost a lot of it's magic for us because it's become a little shop and there are always people waiting in line around it…although I'm sure the treats are delicious!
While Zach was playing with Spear they found a super cool spot that we'd never seen before!
Such a sweet daddy to notice another photo pass spot and to tell his little princesses about it.
I love that he has embraced the Disney magical moments 😉
This photo pass spot is located on the second floor of the Grand Floridian and the photographer was GREAT!
Meanwhile…Spear just loved the stairs 😉
We rode the fancy elevator down and enjoyed the GORGEOUS day on our walk to the car!
And on our way…yall. WE SAW TURKEYS.
Like legit turkeys. Just hanging out at Disney World. ON THANKSGIVING.
I mean how awesome and epic is that?!
We got back to our Disney Rental House just in time for naps which was much needed for Mommy 😉
Everyone rested and then we got to work on our Turkey Cookies!
My dad called while we were putting the cookies together and we had such a great talk where each kid, and even Zach, got to talk to him for awhile. It was such a gift on Thanksgiving!
Zach is more into the whole Thanksgiving meal thing than I am so he went all out on a feast and even "invented" a special drink by mixing Sprite and Grape Juice together for our fancy glasses.
I took the kids outside to let Zach get all the things done for dinner and Mrs Charlotte arrived just about at that time too!
It's so sweet of her to come down on Thanksgiving to celebrate with us!
I'm not huge on the Thanksgiving food but loved the company and love my biggest blessings in life!
I wrote this post on what I'm thankful for this year 🙂
We had SUCH a wonderful day. When I think back on the day (and really on this entire trip) I just think of JOY and my heart just feels so HAPPY!