This has been such a big year of CHANGE for Tess! All those baby teeth are GONE and she's looking SO MUCH OLDER and I can't quite handle it!
All my kids are my babies but something about Tessie is that she's always felt like THE BABY. And now she's def entering that big girl club stage of life.
Here's what I posted on Instagram on her special day:
Today our little Tessie enters the golden age of childhood as she celebrates her 7th birthday 🥳
This has been such a huge year of changes for Tess and it's c-razy to me to even just compare pictures of her 6 months ago to now! She has changed SO MUCH physically but also has grown up in other ways as well. ❤️
I've loved seeing her develop her own sense of self, have her own opinions and to speak up about them too. As the third child she's always "gone with the flow" and it makes me happy to feel like we are getting to see and know the TRUE Tess more and more! 🥰
No matter what though she is still our little Tessie who brings joy to my life every day. I love the way she loves big (especially when it comes to Spear!). My book lover, sweet snuggler and popcorn obsessed girl! I'm excited to see what changes this year brings and am so thankful to call her mine 💕
Of course I had to use this picture of Tess rockin' her favorite outfit on her special day but be sure to swipe to see Tess through the years too! And y'all that bottom right picture was just taken in November 🤯
Happy Birthday Tess! 🎂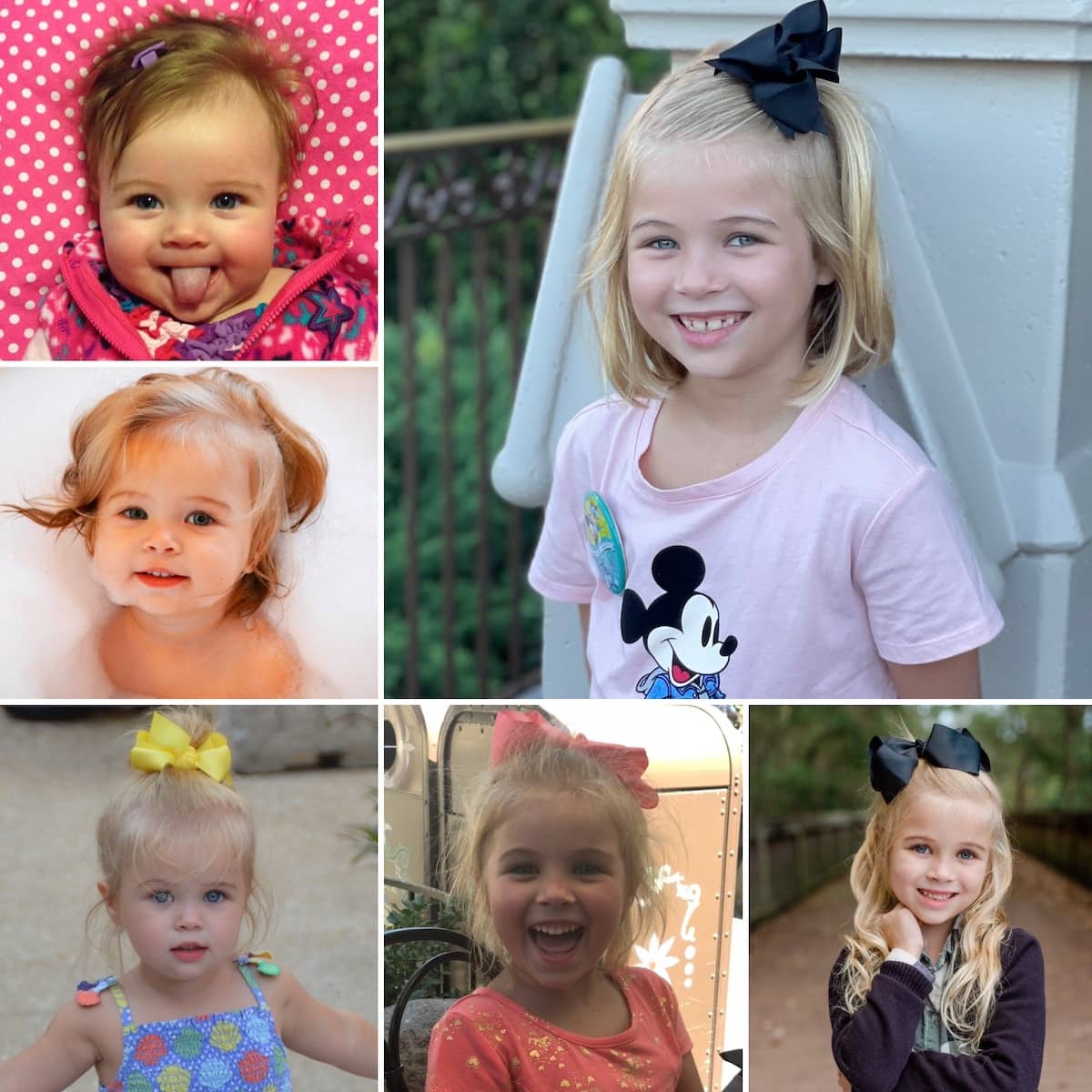 I tucked Tess in for the last time as a 6 year old and when she woke up she was SEVEN! It was the first time Spear joined us in singing Happy Birthday to the Birthday Girl and he was pumped – even more so SHE was thrilled. I love her smile and look of pure happiness. She adores that baby boy!
Tess's birthday is not only a summer birthday but it also fell on a Saturday this year which made it even more epic. She said she wanted a "summer theme" birthday and we planned a day around family summer fun activities!
I busted out all the summer stuff I have leftover from different themed parties over the years and she was thrilled when she came down stairs.
SO much festive FUN!!!
We had one present to open first thing in the morning to kick off the day of celebrating…
Tess made the comment that she's never had a pinwheel before OR a piñata. I thought a piñata would be a great gift for her and I stuffed it full of things she'd love!
Daddy made special pancakes for breakfast and Tessie was living her best life.
G-Mama always brings the kids a "day of" birthday gift so she brought Tess a fun fashion art set. Tess said on her bday she wanted special Mommy time and special Daddy time. For Mommy time she wanted to bake. You can't have a summer party without lemon squares right?
We then headed out back to bust the piñata! Everyone got a turn and then Kye busted it on his first try which did frustrate me as I'd specifically asked him to go EASY on it. I was wanting TESS to get to break it open. But, in true Tess fashion, she was totally happy and content for Kye to have that moment and she was thrilled to get all the goodies. I think Britt may have even been more excited with the bracelets!
We had family swimming time and played an intense round of pool basketball. Team Mom WON 😉
We decided to open presents before nap time. Tess had THE best reactions EVER to her presents. She was so excited and appreciative and it made my heart happy as well as all the siblings too. I love the time and care they each take to write sweet notes for their birthdays. They share such special bonds!
Zach and I bought Tess a new ring as she lost her old one (which was actually a ring of mine from childhood – oops!) and she's done an excellent job taking great care of it. It was also the year of Squishville! We worked with them for an IG campaign and she LOVES the little soft toys!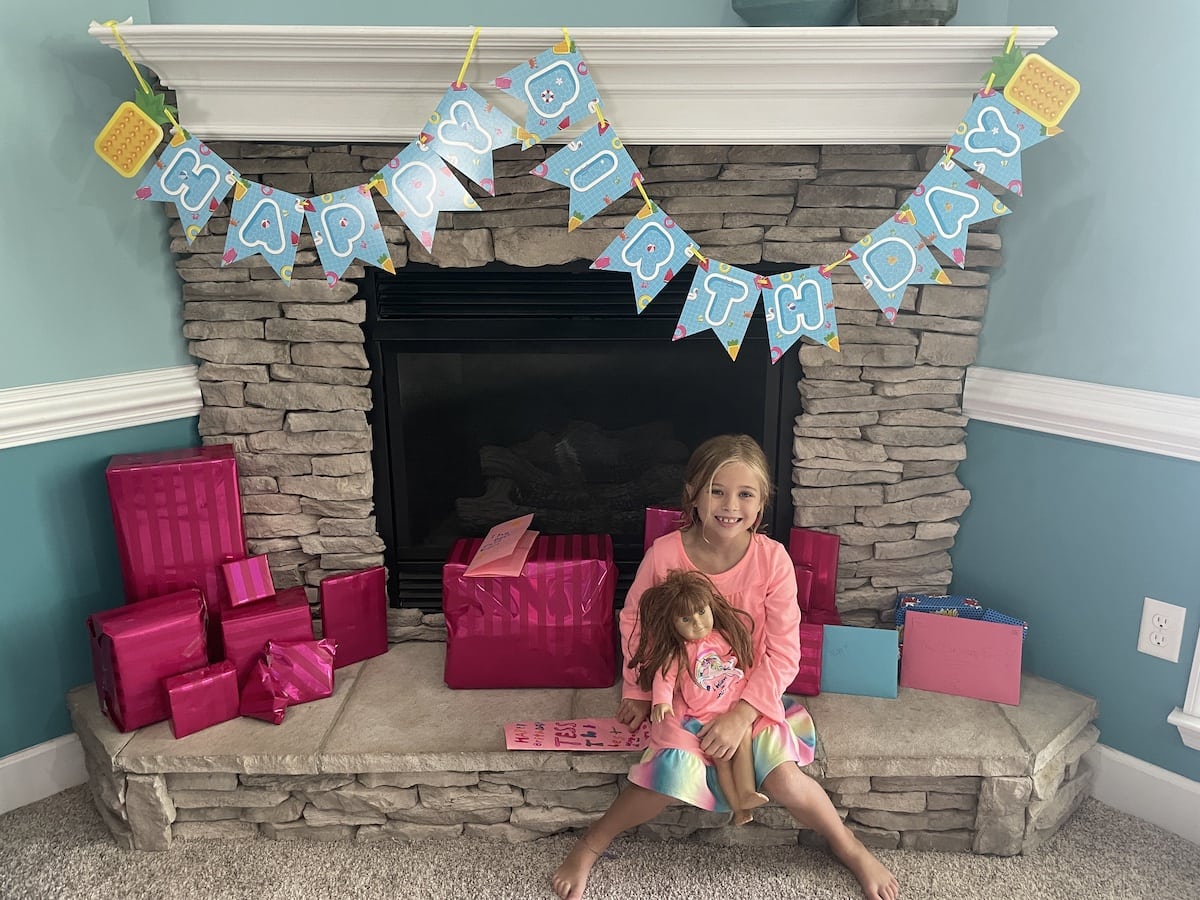 She wanted a new American Girl doll but decided to ask for the Target brand instead because their dolls cost sooooo much less than the actual brand names. She was able to get a lot more gifts thanks to saving money on her budget 😉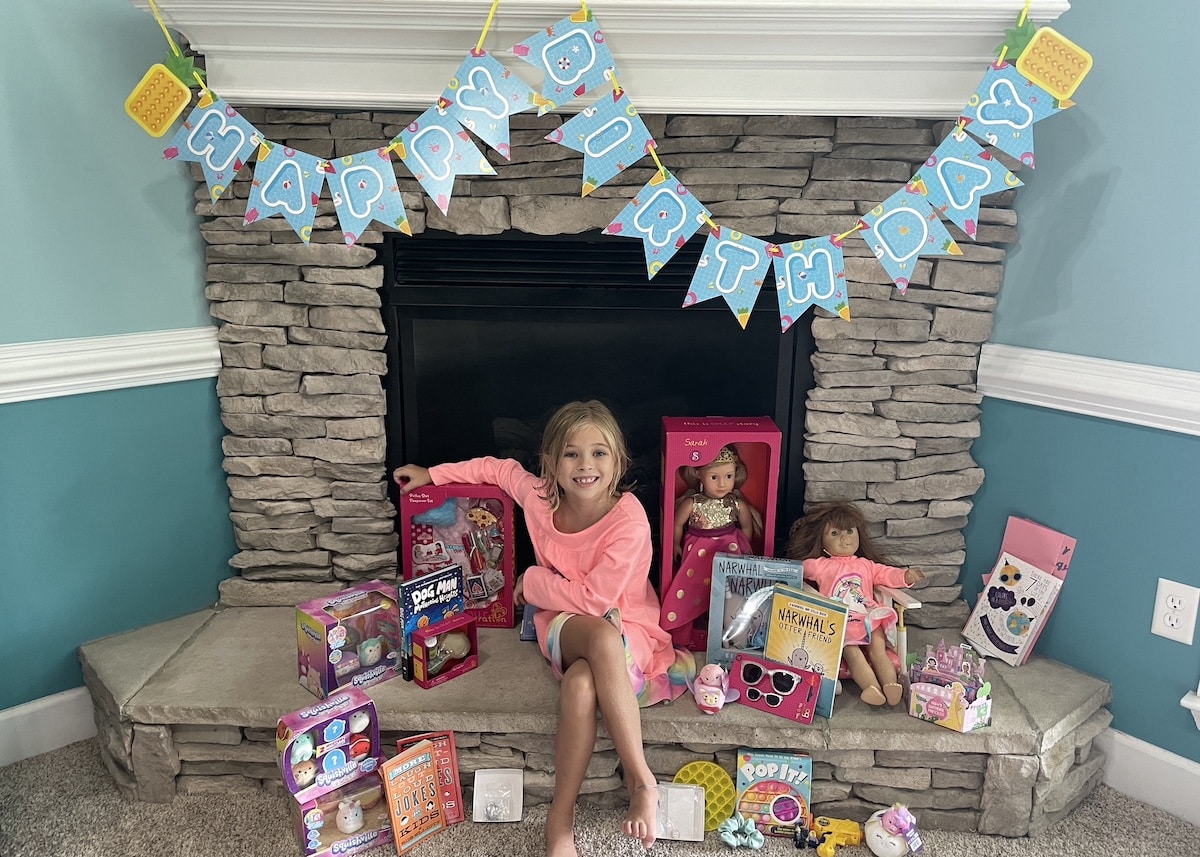 For her Daddy time together she wanted to watch football so they watched Zach's senior year National Championship game 🙂 Such good memories!
She also wanted to dress up fancy to match her new doll for her birthday dinner and wanted to choose my outfit too. 🙂
Big surprise – she wanted to go to Chick-Fil-A for dinner! We listened to her birthday song from Captain Zoom on our way and even her new doll enjoyed CFA as a fam!
Sam's cookie cake for the win! Tess actually realized she doesn't LOVE their cake as much as she thought she did so next year we are going to try to do something different – I'm thinking maybe I'll make another home made ice cream cake for her! We'll see…but I'm writing this as a reminder to myself NOT to get her a Sam's cake.
We watched her birthday slideshow and ended her birthday night with a sister sleepover in her bed! She had a fantastic day and a great kick-off to turning SEVEN!
(Tess and Zach did a combo birthday again for their celebration with Zach's fam so I will share about that on Zach's bday post!)