Mr. Rusty headed back home on our check-out day from Cape Canaveral while the rest of us loaded up and drove over to Disney to kick off Tess's "official" birthday trip portion of the week!
Our first stop was Disney Springs! I wanted to plan a little bit of a surprise for Tessie's birthday. It's been AGES since we've been bowling as a family and Spear has never been before. We were able to arrive at Disney Springs right when it was opening which meant no crowds and allowed us to easily walk into Splitsville to secure a walk up lane without any issues or wait!
This trip was SO exciting for us! We've been back to Disney plenty of times now since reopening day after the shut-down but this trip was THE trip where NORMALCY was back! We didn't realize it would be a short-lived taste of normalcy but we def enjoyed not having to deal with masks in the Florida heat in July.
It just felt DIFFERENT. Walking around without masks. Not seeing others wearing them. Not having concerns over keeping up with them or worrying about getting in trouble about them if we forgot to have them on in the right situation. It was SO freeing and felt SO NORMAL. It felt so normal that it felt WEIRD. We all kept "looking for our masks" and felt almost naked not having them!
Tessie, and our whole crew, was super pumped to get to experience bowling together! It is NOT cheap, however they do have a discount for pass holders. The experience it super fun and the food is also SO GOOD. We did finger foods to share (Nachos and Fries) and both were delicious!
We were able to play a few rounds and the kids all had so much fun. They did great waiting their turn and even Spear enjoyed pushing the ball down the ramp 😉
Spear had LOTS of "coaching up" for his first time bowling as well as quite the cheering section too! ALL of our kids are SUPER competitive and love anything competitive based (they did NOT get that quality from me that's for sure!).
We all kinda forgot how much FUN bowling can be and I was also super, super proud that everyone had great attitudes the entire time. Sometimes the competitiveness can cause for poor attitudes or someone being upset but everyone had a blast and all the big kids said they really want to go bowling more often in the future too 🙂
Of course we had to kick off the official birthday trip with a birthday treat too!
We very rarely go to the area in Disney Springs where Splitsville is located so we took a little time to explore. Again, not having to wear masks inside made such a huge difference to our enjoyment levels! You're more likely to go in and browse when you're not searching for your mask every time you enter and exit!
The M&M store is new and it was our first time visiting. They did SUCH a great job. I expected it to be super cheesy and the merch to be tacky but it was ADORABLE! Loved all the Disney touches!
We also visited the Candy Cauldron for the first time! The kids LOVE to hit up Goofy's Candy Co in the Marketplace area of Disney Springs so we assumed the Candy Cauldron would be the same. While it's decorated SUPER cute (love the theming!) it's NOT the same vibe nor does it have the same offerings as Goofy's Candy Co!
Kye still ended up getting his signature slushee but it was not as good as the one he usually gets. Tess was SUPER pumped though because they had a candy fill station. She loves the chance to fill a bag!
My personal favorite store in Disney Springs is Disney Style! We walked down to check that out for a bit and it was just so nice to browse and take our time and feel so comfortable not having to wear masks!
Britt is def my shopping buddy, especially when it comes to Disney. We had SO MUCH FUN walking together and looking at all the things. The girls love to look and show me items but they never ask to buy anything – we just add items to the Christmas wishlist!
A big thing when visiting Disney is when you like something – BUY IT THEN. Britt loved this journal and ever since I've been back I haven't been able to find it for her!
Once rental house was ready for us we headed over to get settled in and set up to play Tripoley which is now def our family favorite game. It's so fun that the kids are old enough to play games that Zach and I truly enjoy too. We put Spear and Tess to bed a little early for the game night and it made Kye and Britt feel really special!
Tess's must-visit park for our trip was Hollywood Studios. She LOVES Tower of Terror and couldn't wait to ride it for her bday!
It felt AMAZING to be back in the park with the guidelines and restrictions loosened. EVERYONE was happier. Guests. Cast Members. The vibe was BACK.
When we got there at park opening we were even back to hearing "fill in all available space" and I'm not even mad about it!
Probably the only time in my life that I'll say seeing a massive crowd made me happy but it just felt like NORMAL DISNEY. And we haven't felt that in a long time! We really did luck out to visit when we did as just a short time later the Delta Variant reared it's head and more restrictive guidelines were put into place.
It was great getting to experience Mickey and Minnie's Runaway Railroad for the first time as it's meant to be experienced! We were able to watch the pre-show and it's adorable!
It was also a first for us – being evacuated off a ride! It broken down while we were on it and we were escorted off and told we could have a "fast pass" to return later in the day.
A bit of a bumpy start to the day but we didn't let it phase us! We just hoped over to Toy Story Land and hit up Alien Saucers for some full-family fun.
Turning seven is a big milestone at Disney as it means kids are able to ride without a parent on any attraction where they meet Disney World's height requirements.
All three big kids have been SO excited for this day! Tess's first ride parent-free was Alien Saucers and she rode with Britt 🙂
Spear is currently obsessed with Daddy so he and Daddy rode together with G-Mama and that meant I was able to ride with Kye. A RARITY for me as usually the littles are all bickering over who gets to ride with Mommy and the girls usually win out so it was nice just Kye and I for a change.
We walked over to Smuggler's Run and had an AWESOME turn in our luck – SPEAR IS TALL ENOUGH TO RIDE!
We were all FREAKING OUT and SO excited about it! G-Mama encouraged us to all just go together as the ride seats 6 people in a cabin. Our first time getting to ride as a full family! We were all chanting and cheering and SO PUMPED.
Then a cast member even offered to take our picture for us (another thing that is BACK! Whoop whoop!) and I LOVE that we have this moment captured forever!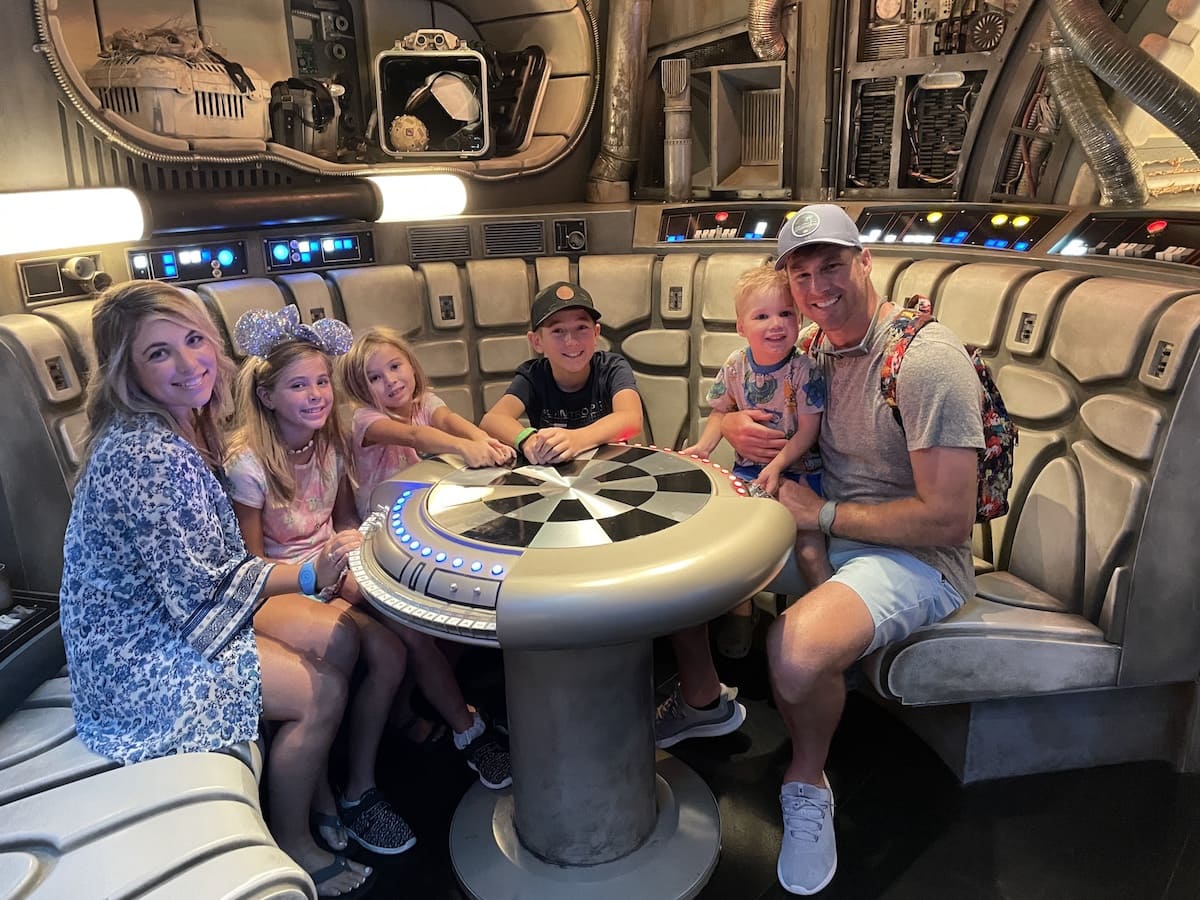 Spear's little hand on his hip during the ride is so cute. He was pretty freaked out because you are strapped in a seat not really near anyone else in your party and the ride is pretty intense for a 3 year old. Didn't really think all of that through ahead of time – we were just so excited he was tall enough!
Of course his 2nd Mama Tessie was right there and she reached her hand back to comfort him during the rockier parts. He was so brave and said he liked it!
After he kept pointing at the Millennium Falcon and asking "what WAS that ride?" Kye was really excited that we were all able to ride together! It's his favorite ride and it was special to get to experience it as an entire family unit.
My sweet husband made sure we got a photo pass picture to remember the day by! I LOVE how these turned out!!!
We all went back to Toy Story Land for another family favorite – Toy Story Mania! This time our turning 7 year old elected to ride with Kye for their first solo ride together. It was actually also Britt and Kye's first solo ride together too back when she turned 7!
Britt wanted to ride with G-Mama and Spear wanted to ride with Daddy soooooo I WAS RIDING ALONE. Man you go from the top having everyone literally fighting over you to being totally left out before you know it 😉 I truly don't mind though! It sounds cheesy but I LOVE Disney so I just want everyone else to have FUN and LOVE it too and am MORE happy that they experience it together and make these memories with each other!
We did a little shopping after and G-Mama told each kid she'd get them a little something on the trip. Kye wanted a bucket of Army Men and isn't that just PRECIOUS?! I literally got tears in my eyes about it! He will be 13 in March but still enjoys playing with army guys and I LOVE THAT about him!!! I want to hold onto his childhood as long as possible.
Runaway Railway was back up! We were all super pumped and I love Spear's new thing of pointing when he talks too. The dudes rode together 🙂
Afterwards we grabbed some lunch and some Wookie Cookies. They are basically huge oatmeal cookies with frosting inside – VERY sweet. Tasty but probably not something I'd buy again!
We didn't know it at the time but this ended up being our last time using boarding groups for Rise of Resistance and may be our last time riding for a long time due to all the changes with Disney's Genie system. I wish we'd known so we could have really savored the moment BUT we truly did LOVE it in a big way bc, again, it was NORMAL!
Another big first for us – we got ESCORTED OFF THE RIDE. Twice in one day! But this experience was even cooler because we were truly behind the scenes. I snapped as many pics as I could before I was told it wasn't allowed.
We were told once it was back up running that we'd be able to go back so we just kept rolling with our day! Since Spear is officially 38 inches it also means he's tall enough for SLINKY DOG!!!!
These pics of Spear and Zach are my new favs. SO ADORABLE. They are both so happy! But I love the top left of him after the ride…not quite as sure about it haha
Zach said he was a lot like Kye was with rides at that age. Just quite and soaked it in and wasn't too sure about it. I'm sure with time he'll be another thrill seeker like the rest of 'em!
Another great sign for Disney – maskless maps are back tooooo!!!!
The only thing missing from Disney being truly back to the ultimate level of happiness are the character meetings. It just won't be DISNEY until we can hug our buddies again!
We noticed that Walt's One Man's Dream was also back open and the current film is a GREAT one about Walt and the creation of Disneyland and Disney World. I mean I already knew everything in it but that didn't stop me from getting all the feels.
It was also adorable to look over and see Kye and Spear sitting in the exact same position 🙂 Such bros.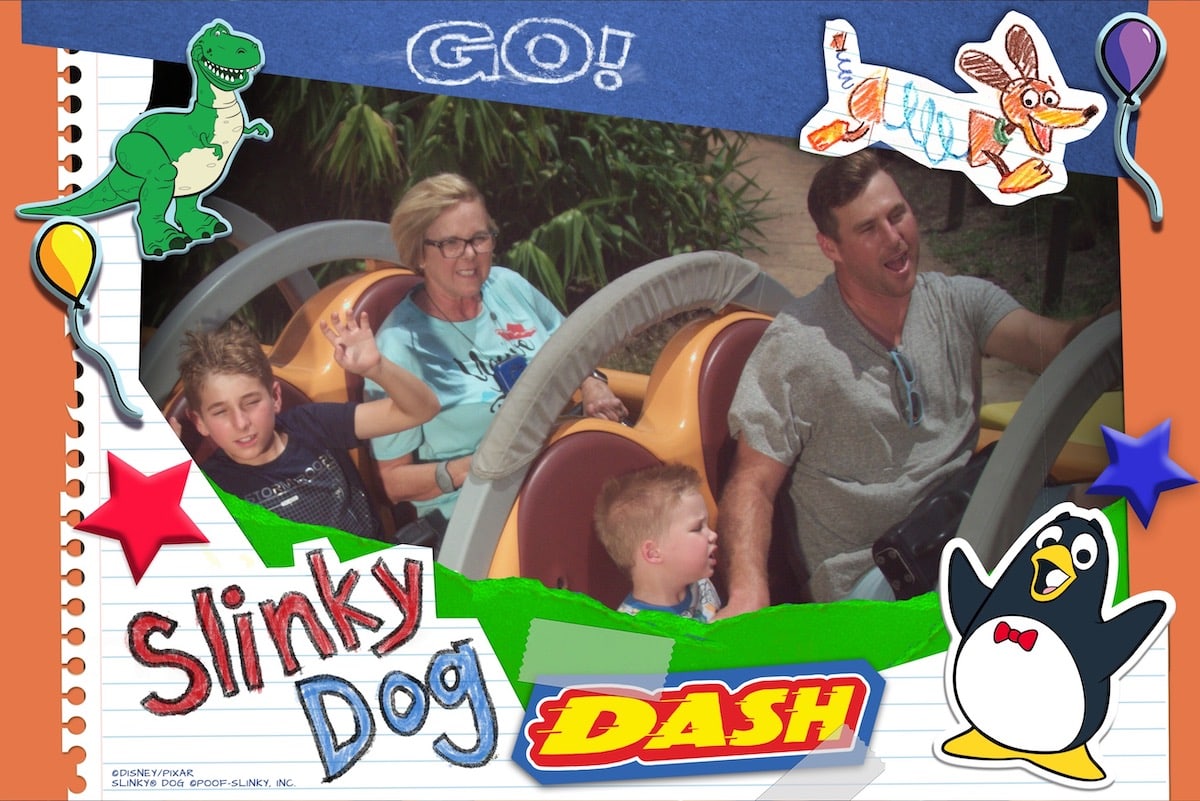 Rise opened back up so we went for round 2! G-Mama and Spear went to watch the Mickey and Minnie's Vacation film (another cute one!) and had some special time together while we did Rise. It didn't disappoint!
Tess, Zach and Kye went to finish out the pretty epic day with a ride on Tower of Terror while G-Mama, Spear, Britt and I did a little shopping 😉 He decided for his G-Mama prize that he wanted "Raya dragon" 🙂 The other kids asked to hold it in the car and he said "no you will probably break it"
Even though the day had a couple of hiccups it ended up being SO GREAT. It was just a VIBE 😉 We kept comparing to Tess's bday trip last year and the misery of wearing masks in the Florida summer heat and comparing it made this day EVEN more magical than it already was!
We got back to the house and had an early dinner and movie night. One of our favorite things while at Disney is to get home in the afternoon and just CHILL. We do a family movie EARLY (like 4:30ish) and then send the kids to bed early too 😉 It's a win-win!
We FINALLY got to watch Yes Day! It was very cute! It's funny because my post about Rules for Yes Day started getting CRAZY amounts of traffic and I couldn't figure out why and now I know it's because of the movie. 🙂