Our Spring Break doesn't always fall on the same week as Easter but this year it did. It set us up for a pretty crazy Easter weekend which on it's own would have been a LOT but it ended up being even more than we'd bargained for when Zach got sick on Easter.
I mentioned it in our Easter Recap 2021 post here but his stomach was messed up at Mema's and we had planned to leave from there to drive to our house at Disney World for the rest of the week.
We ended up going back to our house rather than heading straight to Disney. Zach is VERY sensitive to any sort of stomach bug and can EASILY dehydrate. He's ended up in the hospital numerous times needing fluid (most memorable is the North Carolina stomach bug fiasco).
The REALLY annoying thing about Disney World right now is the whole dang park pass reservation system. Even as an Annual Passholder we have to pre-book our park visit days AND are only allowed to book 3 at a time AND there is very, very limited passholder park pass availability.
We planned the trip way in advance and had our Hollywood Studios day planned for the day after Easter. Our Spring Break trip was also Kye's birthday celebration trip and there was no way I was gonna make my baby boy miss out on THE main park he wanted to visit on his trip and no way Zach would be okay with it being on him that he had to miss either!
So we rallied and Mrs Charlotte drove to our house rather than meeting us down at Disney. She and I went ahead and headed down with all the kids so we could get them settled in for the night and unpacked and things and then Zach drove her car down. That way he could take his time and stop and rest as needed.
It kicked off the trip in a not-so-great way. Zach slept in the upstairs master with his own bathroom and basically quarantined himself. It honestly was a blessing we WERE at the Disney House because our house at home doesn't have any extra bedrooms and I think him staying away from the rest of us helped it avoid spreading!
I was straight up exhausted too because Easter was a BUSY day between packing and loading up and all the Easter festivities and then driving down and unloading the car and unpacking everything. I was wore out from handling all my normal stuff as well as all the things Zach usually helps to do!
But I still wanted to make sure we were an hour early to the park the next morning because being early is truly CRUCIAL to riding all the big ticket rides with very little waits! I also had to be up to try to secure our entrance to Rise of Resistance…and I SCORED! We had group 33 which is my lucky number AND the lowest boarding group we've ever had!
Zach stayed at the house to rest and G-Mama and I prepared to conquer the day! We arrived right before the gates opened to allow us to park and were able to walk right onto Mickey's Runaway Railway! Spear was SO excited for "Mickey Choo Choo" and insisted on sitting next to Kye and ONLY Kye!
I had to have a big talk with the big kids. Hollywood Studios is THE BEST Daddy Disney Park. Because it's got SO many thrill rides that HE loves to do with the kids. I felt so bad but I just don't ride that stuff. Tess was super understanding about being unable to ride Tower of Terror (one of her favs) and we promised to ride it for her birthday trip in July!
Kye and Britt both wanted to do Rock N Rollercoaster so they headed there together to try to beat the crowd. It was MUCH more like a pre-Covid Disney Day as far as crowds were concerned. They got all the way over there and the wait was 50 minutes so they decided not to do it.
Instead we all headed over to Toy Story Land. G-Mama got a DAS for Slinky Dog and we walked onto Toy Story Mania with just a 15 minute wait! Not bad at all. I personally won't ever ride Slinky Dog but I'm thankful for it as it's helped Toy Story Mania be WAY less of a wait time and it's a family favorite ride for sure!
Once we exited the ride we realized Slinky Dog was down due to issues so we had to get that all figured out and just hung out at the bathroom for a bit in the tiny bit of shade that Toy Story Land has to offer while G-Mama and Mommy figured out a solid game plan to move forward!
Sidenote: Tess and Spear look SO MUCH ALIKE in the bottom picture of them together!!!
We didn't know it at the time but this ended up being our LAST DAY at a Disney theme park where masks were required outdoors and in photo pass pictures! I will say now that it's a MEMORY and not a current life moment…I AM glad we have these masked pictures. It's a crazy time we'll always remember (and always be thankful is OVER).
We headed over to Galaxy's Edge because our boarding group was called for Rise of Resistance! It USED to be a 2 hour return window but when we got the notification we only had like 30 minutes to get there which is pretty crazy!
We did a rider swap for Rise of Resistance so I could ride with the kids and so could G-Mama. It's SUCH an epic experience that will never get old to me!!!
Kye actually prefers Smuggler's Run over Rise of Resistance so we made sure he got to experience that ride as well but didn't do a rider swap for that one as it was just a LOT of sitting around and waiting for Spear.
Spear had to wake up early from naps Saturday for Katie's Easter get together then he skipped nap Sunday for Easter at Mema's, then all the travel issues he didn't get into bed until after 9 on Sunday. It was TOO much for him and he was EXHAUSTED and his behavior suffered. It was one of those days where I was tired too and wore out too and pushing through the best I could for the kids and him being overly tired and having behavior issues was NOT a good combo with my thin patience! It was a frustrating day for Mama and we BOTH needed SLEEP.
The big three though were awesome and appreciative and FUN and Tess was in a great mood and helped lift all of our spirits all morning too!
Kye felt special as the birthday boy and I really tried to make sure to focus things on HIM as much as I could. It was tough being spread so thin but our main goal was to make sure KYE did ALL THE THINGS that HE wanted to do and we did accomplish that mission!
While G- Mama and the big kids rode Smuggler's Run I just happened to walk up to this cool photo pass spot where they were doing the new video thing which was really neat! Spear had no interest haha I also ended up meeting another family who offered to let me sit with them while we waited and Spear just needed that rest time for sure!
Be sure to watch the video in this post to see the really cool photo pass thing I got to do!
We packed our lunch to eat in the park (one of my best money-saving tips for Disney!) and STRUGGLED to find a place to eat. THAT is one area that I'm super, super ready to go back to normal at the parks.
They had the quick service dining areas blocked off and didn't allow you to enter unless you were making a purchase from that location. Okay, cool I WILL BUY SOMETHING.
Well nope you can't. Ordering food at the quick service location isn't allowed. You MUST mobile order. And when you place your mobile order? You are given a return time. Which, in our situation, was OVER AN HOUR.
So like if I want a soda from a quick service spot…I'd have to wait an HOUR to return. I was literally standing there seeing tons of empty tables and wasn't allowed to even order a SODA. SO. SO. Frustrating.
We ended up finding a decent spot to sit and a frustrating situation turned into one of THE most magical moments we've had since the day the parks reopened!
As we were eating Chip and Dale wandered outside into a patch of fenced in grass in front of us. The kids RACED over and had THE best, and I'm pretty sure closest, character interaction since Jan 2020. For Spear, this was a BIG moment. I don't think he remembers actually getting to hug and touch characters.
Dale and Britt have a special bond as he's known for trying to steal her away at character meals with him 😉 So we started giving Dale special attention and HE ATE IT UP. He played "with us" and was just adorable and it filled my heart with SUCH joy. A (what is currently) rare magical Disney moment!
While we were watching Tess said "Disney movies are cartoons so characters are people in costumes." My immediate response: "HUSH CHILD THAT IS BLASPHEMY" Kidding…kinda…
Spear also kept trying to feed Chip and Dale and when they left he yelled "WAIT! You forgot your food!"
Kye really did want to ride Rock N Rollercoaster so I told him to GO! It was HIS DAY and we could find something to do while we waited for him! The wait was long but if he wanted to wait, we'd wait!
He headed off by himself and we went over to show G-Mama the cool Star Wars "meet and greet" special photo spot.
The girls crack me up because they LOVE pictures and ask for them ALL the time. But Tess is often in a stage where she wants to be by herself so she'll ask for Britt to leave the picture and every time Britt gets her feelings hurt about it.
Spear was with us but didn't want to take the picture which is fine! Yall know my rule…back in the day Tess went through a REALLY grouchy picture taking stage and I started telling her if she didn't want to take the picture she didn't have to! So we have a LOT of "family pictures" at theme parks and such without her in them. I really try to always make picture taking optional!
The girls wanted to do some shopping so we went and looked in shops (plus that AC was NICE). They found a few items for their wishlists and Spear got antsy and struggled with wanting to touch EVERYTHING. So he and G-Mama went out of the shop and danced and played.
I'm SO thankful we had G-Mama with us! I felt a LOT of guilt over her being there with me because I truly needed her help and that is NOT EVER why we include her in family things we do. We invite her on our trips to ENJOY them. We want it to be a time where she can enjoy the kids and make memories with them and we never, ever want her to HAVE to help us in anyway! I felt really bad but I truly could not have survived that situation without her help! I was beyond thankful!!!
I also was struggling HARD to find my regular "Disney crunkness" and having her there really helped MY mental state as she did an awesome job finding the FUN for us all 🙂
Kye met back up with us and we finished out our time at Hollywood Studios by watching Mickey and Minnie Vacation Fun! The last time we saw it the kids didn't get to take pictures at all the photo spots so I gave them alllll the time and pictures they wanted.
We were all SO sleepy that we hit that silly sleepy stage where everything was hilarious including taking pictures with non-photo spot stuff.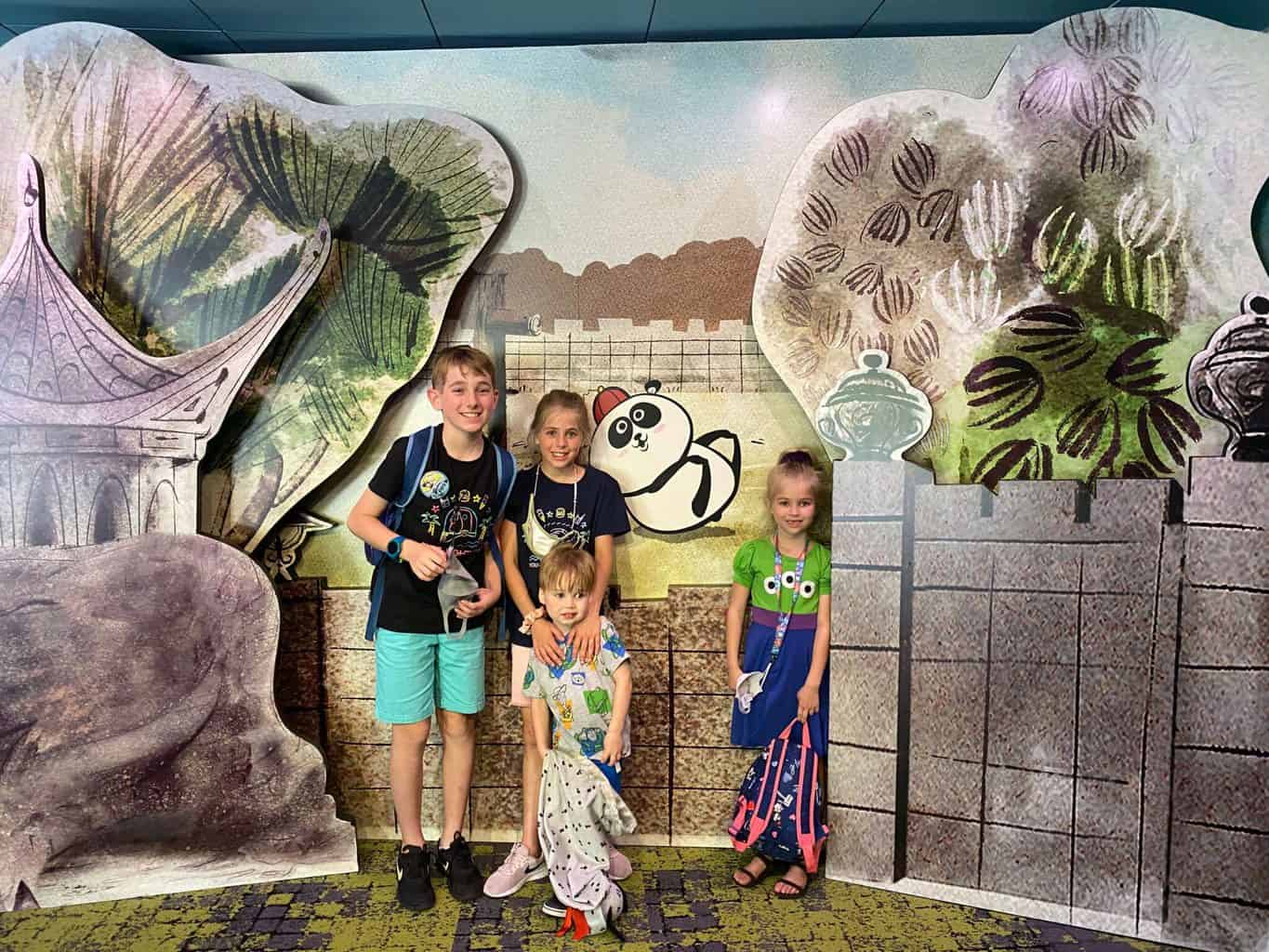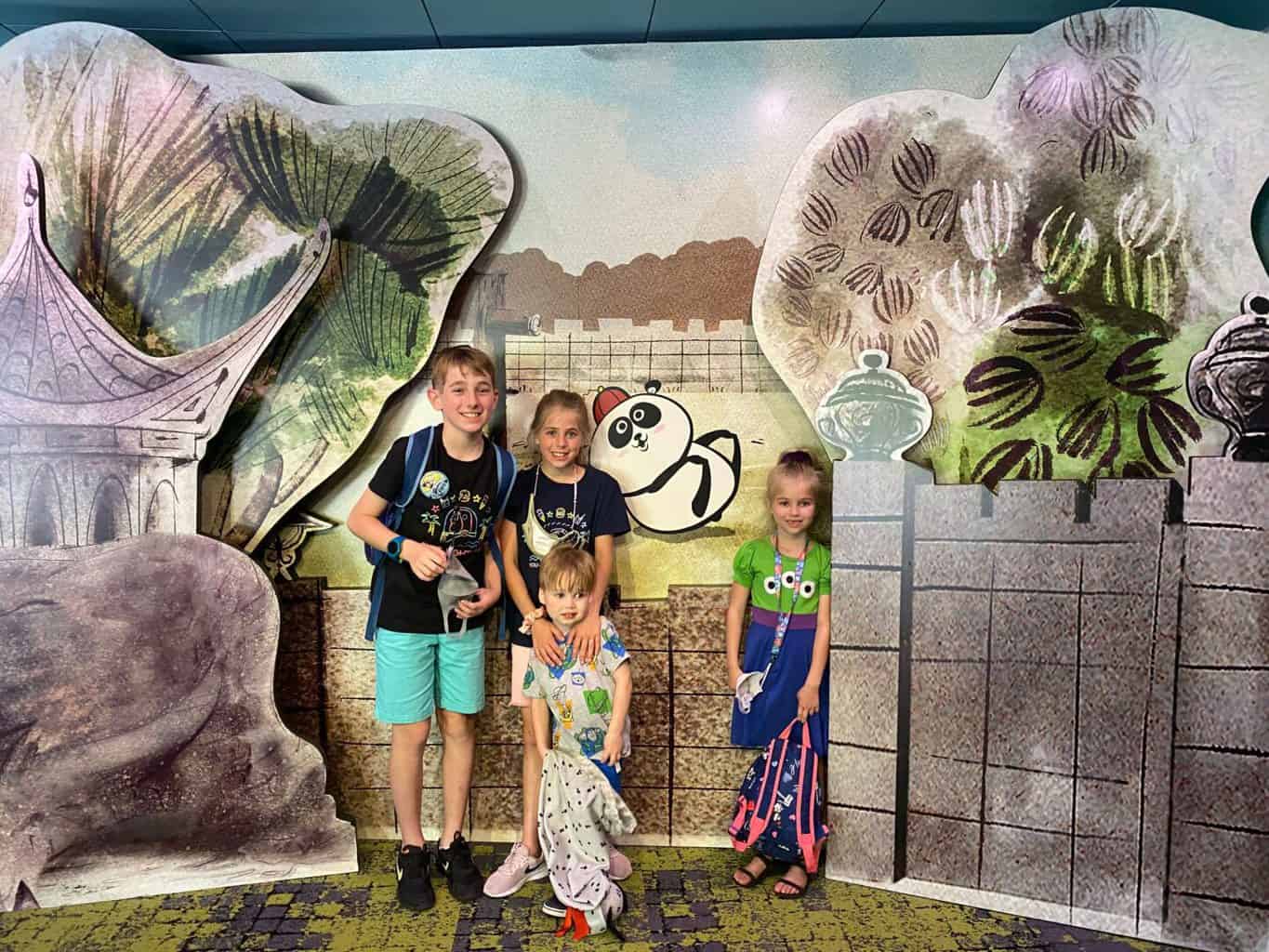 As we walked by Indiana Jones we spied my hands down favorite Disney snack…the cookies and cream funnel cake. Zach and I had it ONCE and it was AMAZING and I've yet to have it since then and the kids have never had it.
We needed a super mega fun moment to end the crazy morning and to lift our spirits. IT WAS PERFECTION. We shared two of them and they didn't let us down! It was also a good chance for Spear to get to run and play a bit while we ate since it was in a "hidden" area of the park where there weren't really ANY people.
It helped my mama heart so much to end on that good note, especially with Spear. I had a lot of guilt over how much dang time he had to be in the stroller simply because there wasn't a lot of options of things for him to do. I made it a mission to make sure we put some focus on SPEAR during the upcoming week too!
We survived Hollywood Studios!!!
We left at 2:30 which wasn't too bad with us taking our time a lot of the day and just not rushing things. We opted to have Spear skip his nap (he did fall asleep a bit in the car) and just go to bed SUPER early that night. We all needed it!!! I put Spear down at 6 and the big kids had to have lights out at 7 and then I was in the bed asleep by 8!
Zach was feeling MUCH better but still weak. Stomach bugs just do a NUMBER on him and we were thankful he was staying hydrated and felt confident he wouldn't need a hospital visit. He continued to keep his distance in the upstairs master bedroom and we did decide to just have another G-Mama and Mommy day the next day as well!
When we mapped out the week for Kye's birthday he didn't really have a desire to visit Volcano Bay but instead he wanted to get some JUST Kye and Daddy time at Universal. We planned for Tuesday to be the day where he and Zach went to Universal together and Mrs Charlotte and I took the other kids to Volcano Bay.
The nice thing about Universal that is waaaay better than Disney? WE COULD BE FLEXIBLE with our plans! We opted to switch things up and Mrs Charlotte and I took ALL the kids to Volcano Bay while Zach continued to rest and then he and Kye planned to do their Universal morning later in the week when we had a free chill morning planned! PERFECT!
I was SO thankful for a good night's sleep for us ALL. I felt WAY better and ready to conquer the day and, most important, Spear had a GREAT night of sleep and was back to his sweet self that morning!
A perk of being a passholder is we have visited Volcano Bay so many times now that we have it down to a science. We were allowed early entry which is SO nice to allow us to get settled in and allow the kids to ride a more popular water slide before it gets crazy.
Spear, Tess and I stuck to the kid area for a bit while G-Mama, Kye and Britt hit up the bigger ticket rides!
Kye was also able to go check things out by himself and do some rides that he wanted to do girl-free. Allowing him these independent moments is so great because it lets him feel responsible and shows the trust I have for him and he enjoys these moments of freedom like this! I like still knowing where he's at and that he's safe and I'm glad we have our timex family connect watch!
We did the lazy river, the wild lazy river, and checked out the EPIC wave pool. The kids all agree it's the best wave pool they've ever seen!
I am really excited for our upcoming beach trips this summer with Spear because he just LOVES the sand and any chance to dig. He takes his hand and makes it into an "excavator scoop" which is just the cutest thing EVER.
He was so funny because he kept putting sand on random people's feet too haha
We had our packed lunches and I had a bit of a surprise for the kids. I really wanted to do something FUN with the big kids to kinda help my mama-guilt heart feel better after the less than normal Mommy excitedness of the day prior. I figured riding a waterslide with them would be a super fun way to make a memory together of the day!
G-Mama and the kids convinced me that the best slide for me to do and the one they loved the most was Krakatu.
Yall. I didn't know that they even MADE waterslide rollercoasters. What. The. HECK.
I had NO CLUE what it was they just told me it didn't go backwards and that we'd all be in a raft together so I figured it couldn't that bad. I went into it literally with NO FEAR or A SINGLE CONCERN.
At first the kids thought my freaking out was hilarious but by the end of the ride they were about in tears haha Kye felt SO GUILTY for telling me to ride it. I was literally praying to Jesus to forgive me of my sins. When we got back I told Mrs Charlotte that I take back every single nice thing I've ever said about her haha. That was FOR SURE a never again experience for this mama and was def a memorable way to end the morning for the kids. Pretty sure they won't ever forget it!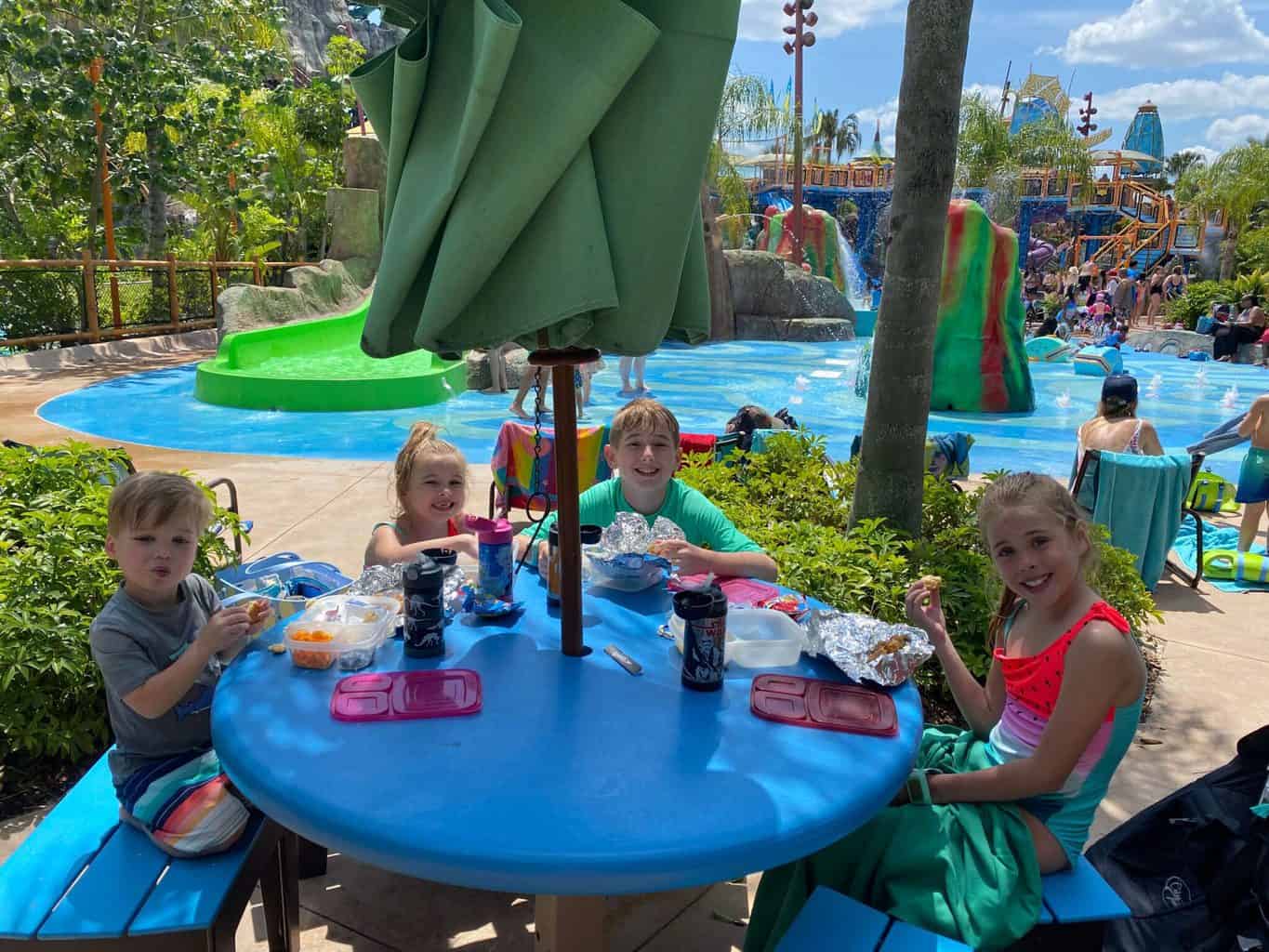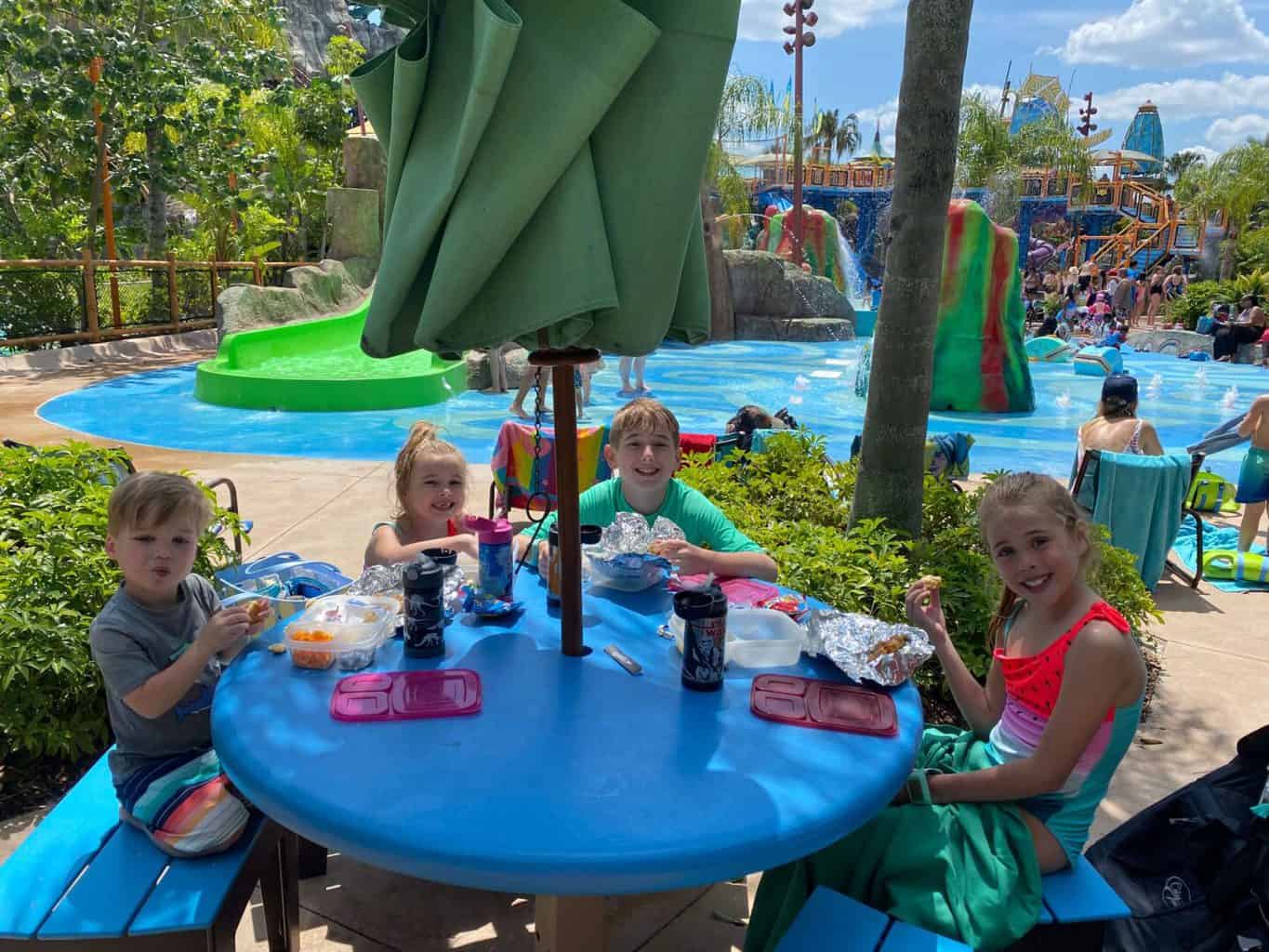 We arrived at 10 and were able to do that Krakatau thing twice, the kids did some other raft ride, we did the wild rapid lazy river twice, the regular lazy river once, and played in the wave pool and kiddie area before eating lunch and heading out by 1:30!
We got back and took naps and Zach was feeling WAY better. I woke up to Spear looking at me through the monitor saying "Mommy? Mommy? I not see you?!"
I slept too, and slept HARD, and then Zach went to pick up pizza. It's Kye's favorite food so we had to have it at least once on the trip 😉 Sweet Britt set up the entire table for everyone, including getting fruit and drinks while Zach was picking it up.
The timing really worked out great that Zach was BACK! Kye's main thing he wanted to do on his birthday trip was visit Dave and Busters. And it was SO GREAT that Zach was feeling 100 percent better and was able to go!
It was a month after his actual birthday (disadvantage of being our only kid whose bday isn't close to any sort of school break) but Kye didn't mind one bit! He lived it UP!
The girls are so cute because they love to play every game together. Kye is really into the shooting games, and so is Zach. We don't do any sort of shooting games at home so that is a big reason he really loves arcades!
A really awesome bonus for his birthday was Dave and Busters has a new Star Wars virtual reality game! How perfect was that timing-wise? He was PUMPED and it was hilarious to watch him!!!
The other kids try to get in on the shooting zombies but Britt got freaked out even seeing them haha
Arcades can truly be a family fun outing, especially now that Spear is a little older. It was SO FUN together. I was so thankful to have all my crew back together to make memories as a fam! We did some epic Mario Kart battles and then Spear fell in LOVE with riding the motorcycle.
It. Was. Adorable.
He wanted to do it "by himself" (you know G-Mama wasn't about to leave his side though…it's where Tess inherits her "helicopter sister ness"). It was so fun to watch him and HE EVEN WON!!!!
To make the night even more epic and fun Zach balled out at the basketball game and kept winning the max number of tickets for the kids. We ended up with almost 3000 tickets! Spear was able to get a really fun car toy and the girls were able to get special journals and Kye loaded up on some candy for the ride home!
It was a rocky, rough start to Kye's birthday trip / our Spring Break vacation but the upside of starting off rough is it can only get better and it def did!