Spear's 18 Month Pediatrician Well Visit.
It's SO nice being back on track for Spear's well visits!
He turned 18 months old on June 1st and we had his appointment on June 4th.
Being summer meant that the WHOLE crew came with us! We lucked out this time and had the earliest appointment of the day and were actually in and out of the office pretty quickly!
Rare occurrence for us 😉
We brought a TON of stuff with us expecting a long wait and I told the kids that's my new go-to plan. Bring all the boredom busters so you won't need 'em 😉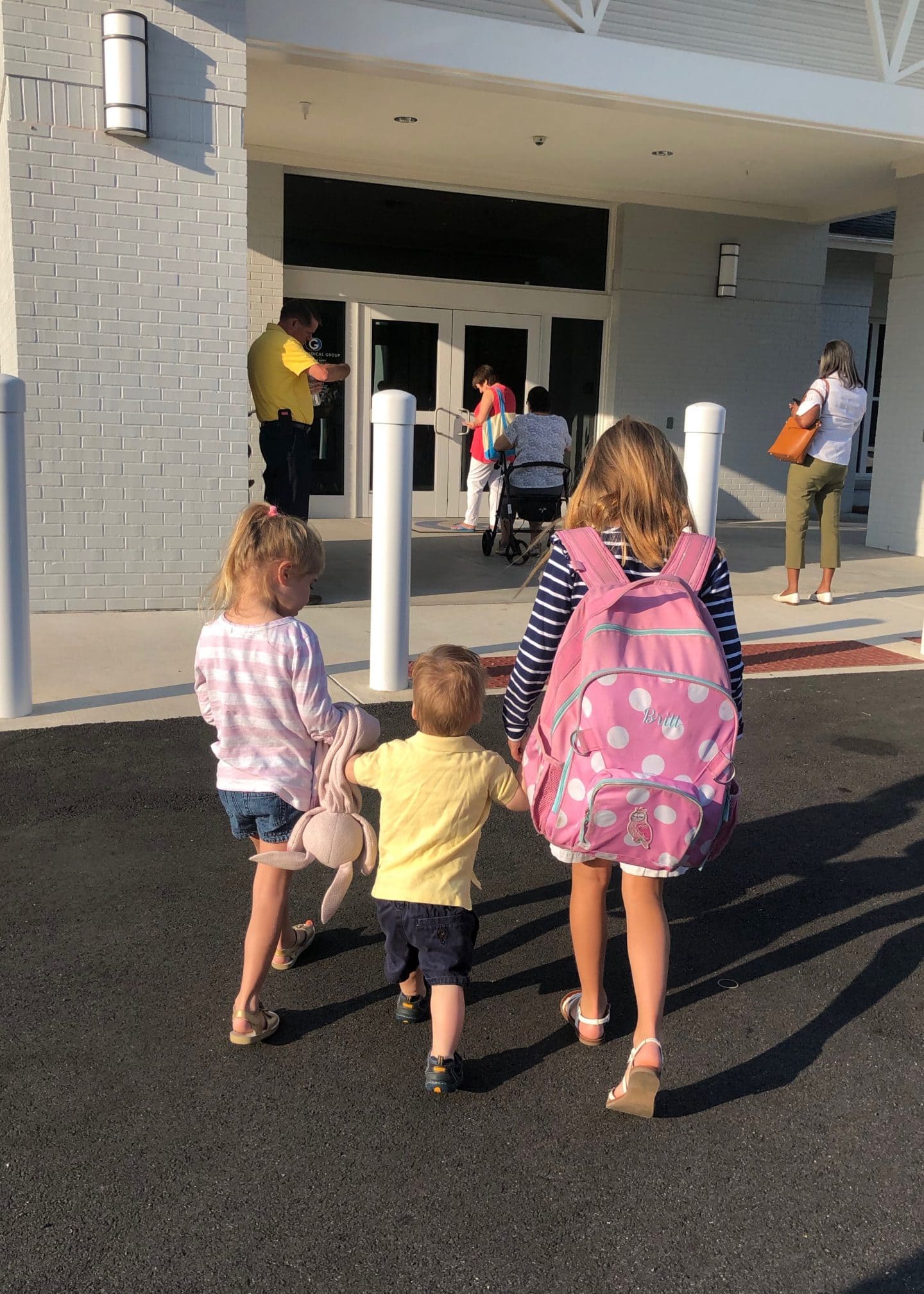 I was MUCH less nervous going into this appointment.
Spear is now walking great.
And we have been taking the steps for speech services so I didn't feel any concern about them being concerned about his speech since I've already taken those steps.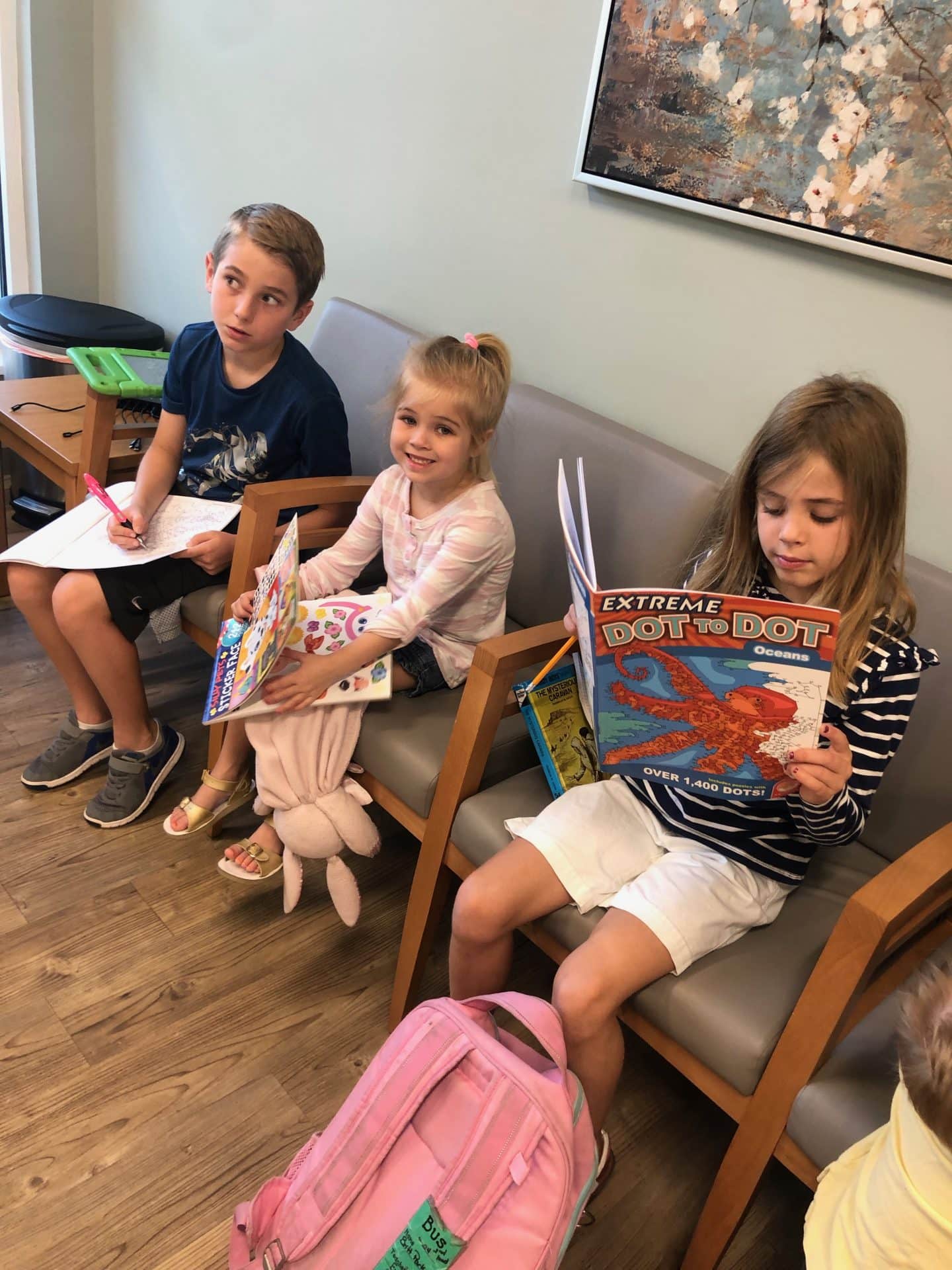 Stats:
The new set up of our pediatrician office is where they send kids through the first room for all their stats and such and then into the room for the actual dr visit.
At 18 months old here are Spear's stats: 32.75 inches long (51st percentile). He weighs 24.6 lbs (26th percentile). His head is 18.3 inches around (23rd percentile).
At 15 months old Spear was 30.75 inches long (25th percentile). He weighs 22.8 lbs (25th percentile). His head is 18.1 inches around (20th percentile).
To compare to siblings stats at the same age:
At Tess's 18 Month Well Check: 32 inches tall (51st percentile), 23.5 lbs (48th percentile) and her head was 18.1 (26th percentile).
At Britt's 18 Month Well Check: 33 inches tall (75th percentile), 23 lbs (25th percentile) and her head circumference was 17.16 inches (10th percentile).
At Kye's 18 Month Well Check: 33 3/4 inches tall (85th percentile), 27.5lb (70th percentile), and 19 inches head circumference (75th percentile).
Spear continues to be just slightly bigger than Tess and has had a consistent growth pattern and is always around the same percentiles.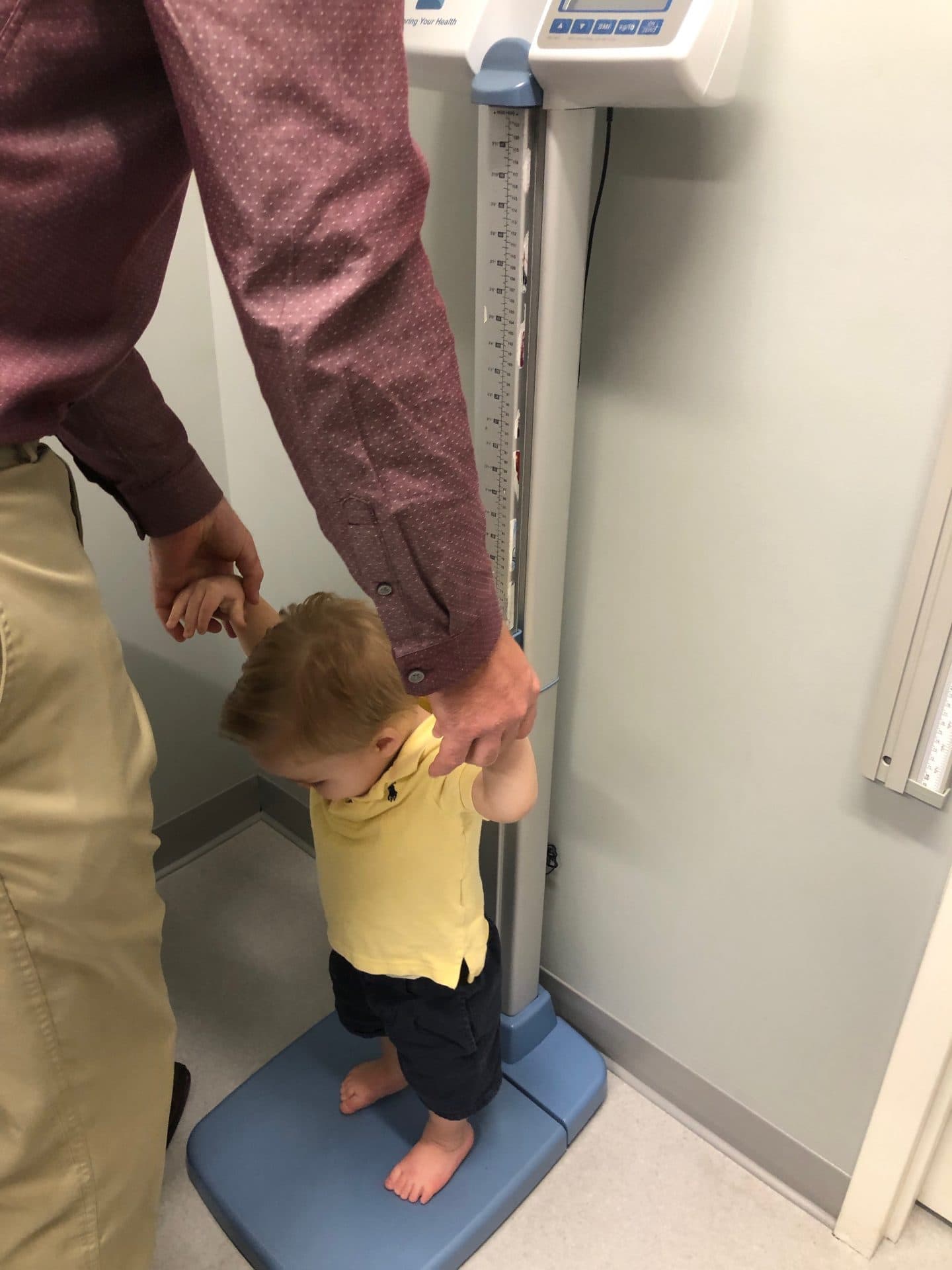 While we waited to be moved to an actual room I gave Britt a vision test myself just to see.
She's been complaining of headaches decently frequently and I had to get glasses at her same age so I feel like it could be vision related.
She did okay on the vision exam but even without doing it I knew I'd be making an eye appointment for her.
I did the same for Kye around this age and I think it's beneficial to have a legit eye dr exam with the headaches going on and the history of my poor vision.
Here's how she did which they told me is normal for her age:
Here is what we discussed during Spear's well check:
Eczema:
His pediatrician did confirm that he has Eczema.
She prescribed a steroid cream to use until it clears up and then recommended to use the cream we have after that to prevent.
She also said if he is itchy to use Zyrtec.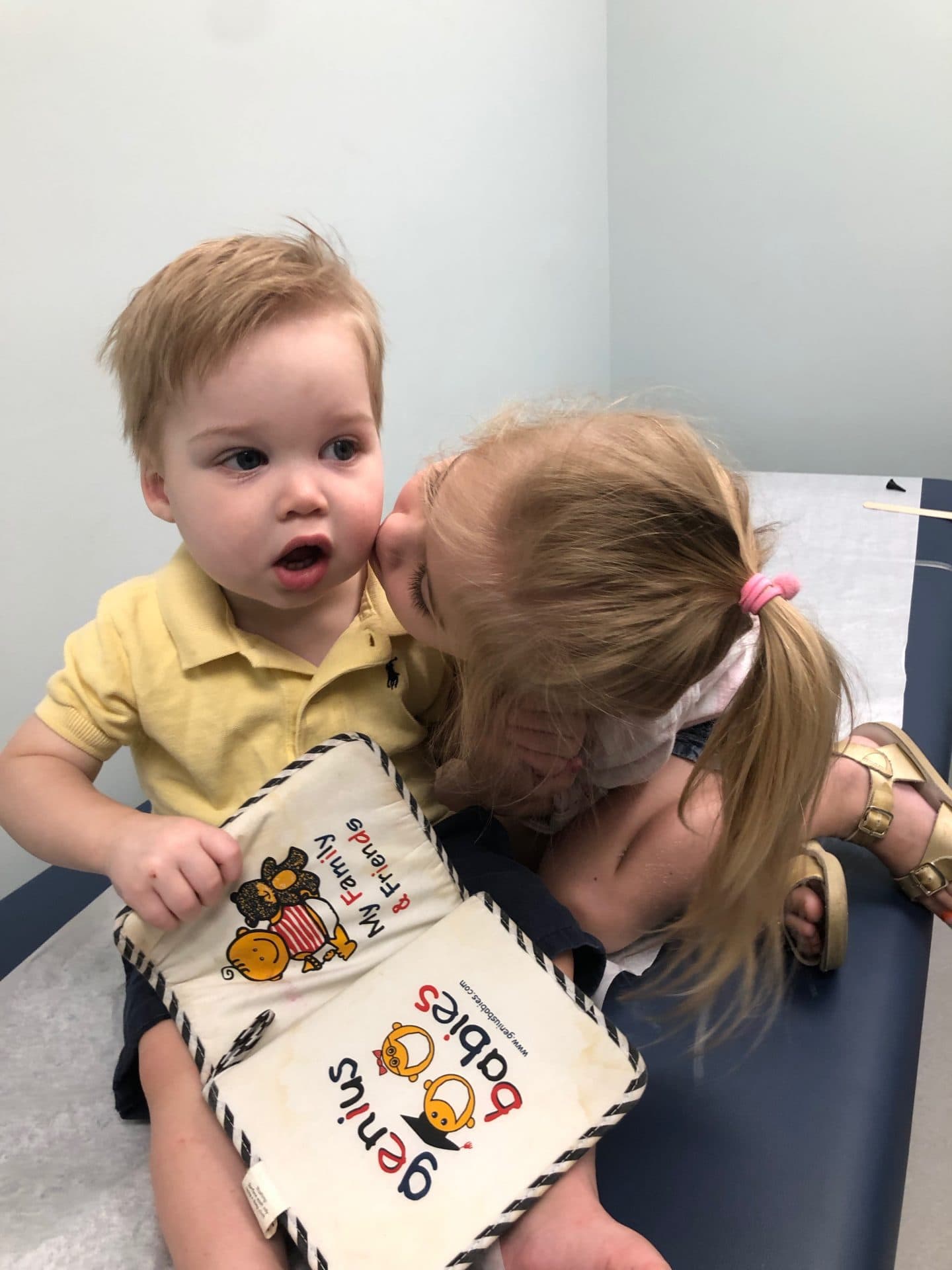 Autism:
I did have to fill out a form that helps check for autism symptoms.
He didn't have a single thing on the list which made my heart happy but I also wasn't surprised by that either.
Spear is our MOST social child!
I guess, though, that speech delay is a BIG indicator for autism so they really check with kids who have a delay in talking.
Headaches
I asked about Britt's headaches and she did agree with my plan for the eye doctor visit.
She also said that if kids get 2 or more headaches in a MONTH that a daily preventative medicine is highly recommended.
But before going that route she suggested spending 2 weeks of doing Flonase and Zyrtec daily to see if the headaches are allergy related and if that works then not to worry about the daily headache specific medication for her.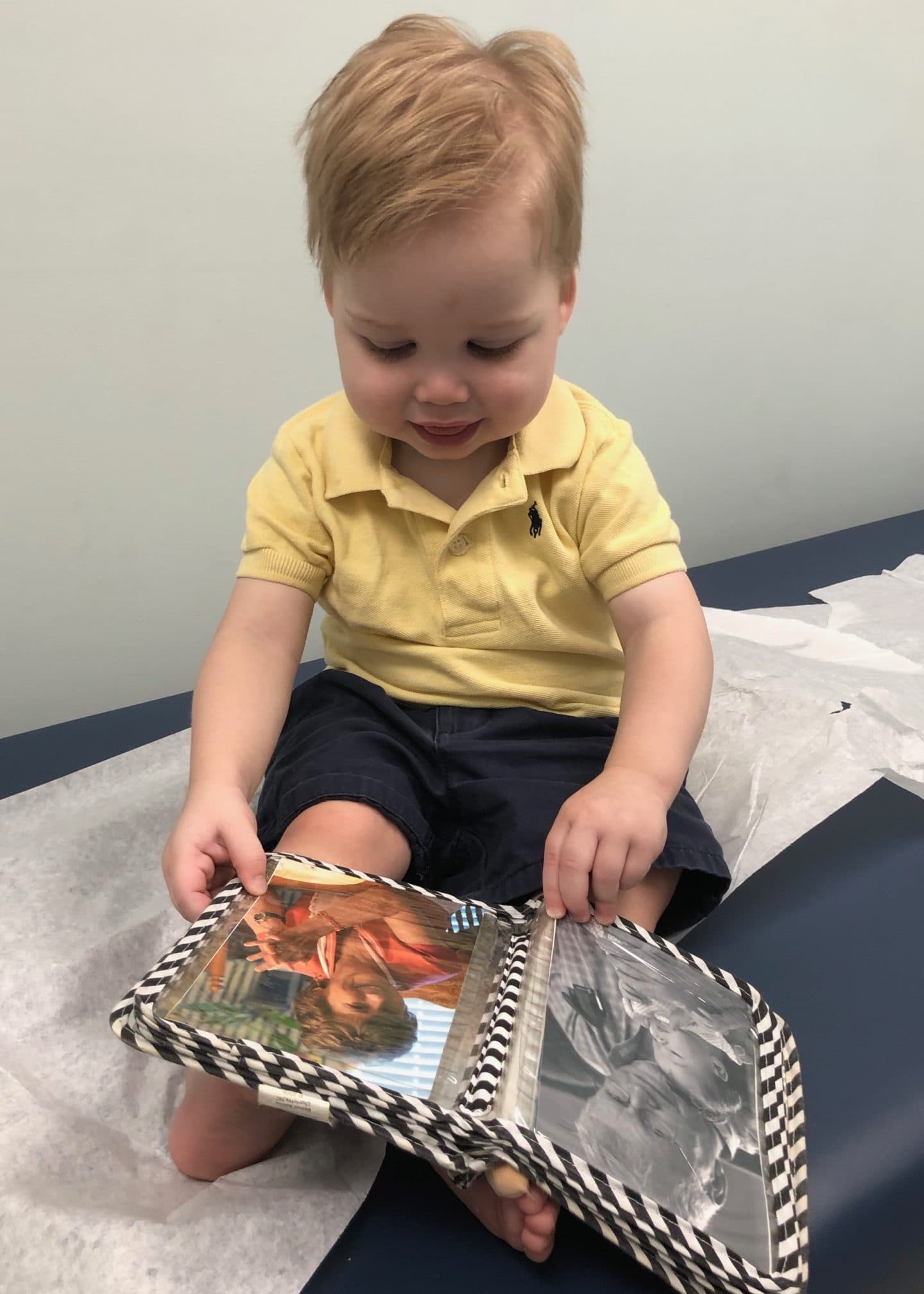 Iron
Spear loves giving me some NEW STUFF on my plate!
First time ever that I've had a child's hemoglobin come back low.
It was 10.1 and they said that's like 0.2 points off from the normal range and that there can be skewed results of up to a full point.
Soooo basically I don't take that very seriously.
They did check it twice and said they want him to come back in 8 weeks to check it again and that between now and then to do iron supplement twice a day.
Ugh.
I researched it and Spear eats SO healthy and eats SO many foods that are high in iron! So it's a bit frustrating.
I shared the news on Instagram and had awesome feedback and suggestions.
Everyone said that the supplements make kids constipated and I didn't want to risk that so I decided to just give it to him once a day.
We do it before bed and brush his teeth immediately following (the dr said it can really damage the teeth so it's important to brush right away).
It's been going well and he hasn't been constipated yet!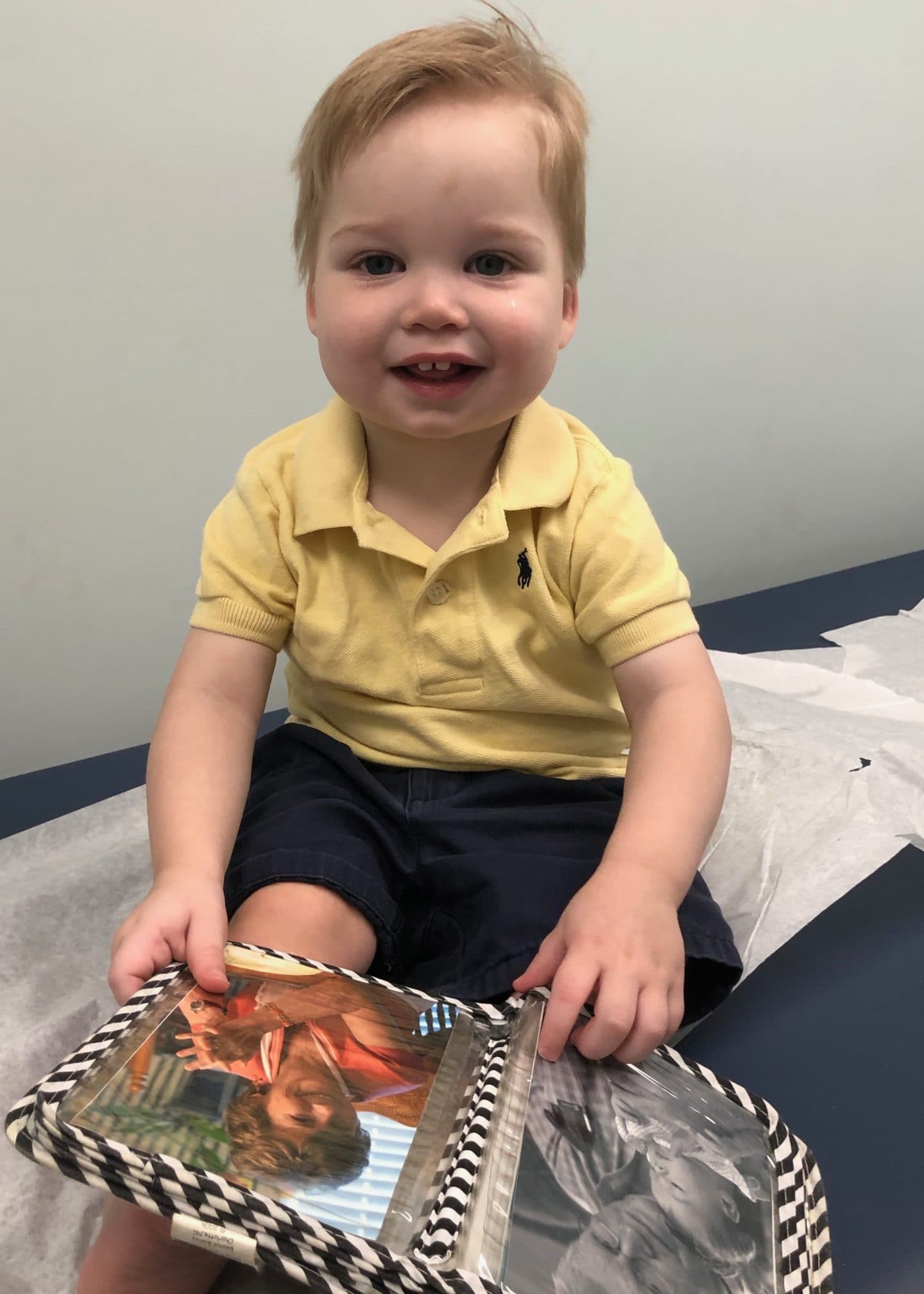 Spear had his 18 month shots (He does AMAZING with shots! Not even fussy after!) and we headed out!
Zach is going to take him solo for the hemoglobin check in 8 weeks as I don't do needles and I'm also zero percent concerned about the results from the check so I don't feel like I need to be there to ask any questions or anything.
Even with having to get the hemoglobin done twice and with having to discuss that plan of action, we were still in and out so much quicker than usual which was awesome!
So happy to have such a healthy growing TODDLER boy!