My Sephora Beauty Hall – Originally written in August 2019, Updated in June 2020 and again in 2022.
I recently placed a pretty epic order from Sephora and mentioned it on my Instagram Stories to see if anyone was interested in checking out what all I ordered.
Based on the responses I decided the easiest way to share the goodies without making a million story slides on IG was just to pop on over to the blog 😉
I was never a hardcore makeup kinda girl and still prefer to look very natural with my makeup routine.
However, the older I get the more I appreciate good makeup products and the more hardcore I am about my daily get-ready routine!
As a busy mama I need products that allow me to get ready easily and quickly AND that last all day…no time for retouches over here 🙂
Today I'm sharing my recent Sephora Haul – where I've restocked some of my favorites and have added some new-to-me items to test out.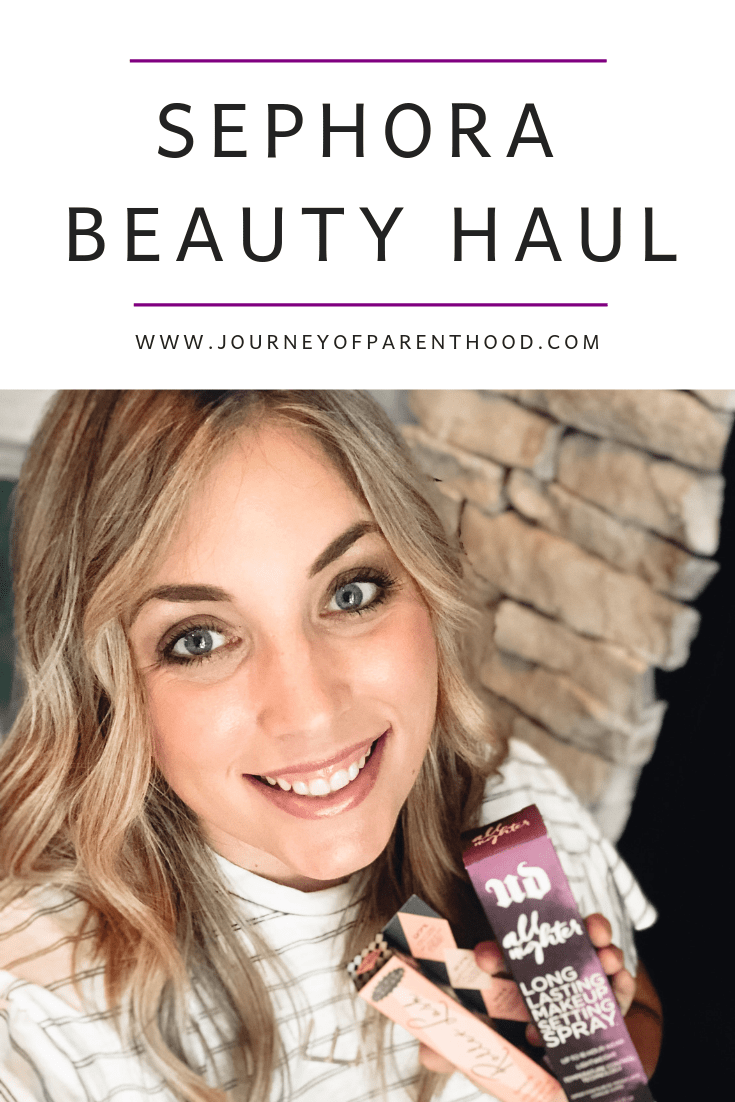 Restock of Favs:
Concealer
When it comes to concealer for me I'm ALL about the under eye.
I get pretty dang awesome sleep every night but man those circles and bit of discoloration just don't really ever go away, am I right?
I have found a GREAT system that works to achieve a less-exhausted-look each day 😉
First I use Tarte Colored Clay CC Undereye Corrector.
This helps with puffiness and discoloration. This is also great to use on any red spots or pimples all over. A bit of red chin? Dab it on and it does the trick!
The only downside of this product is it seems to get used up pretty quickly.
Whenever I do a makeup order it's because I'm OUT of this whereas everything else still has a good bit to go before empty!
This time I got smart and ordered two 😉
Then I add my FAVORITE makeup item EVER – Bye Bye Undereye Illumination Waterproof Concealer
Y'all this stuff is AMAZING. A tiny, tiny bit goes a super long way.
I dab it along my undereye and blend it in. I like the light color as it helps highlight and give a nice bright, awake look 🙂
I HAVE tried the SUPER popular Tarte Shape Tape Concealer and it does not compare to the Bye Bye Undereye. By far!
I know the Shape Tape is the "must have" that so many people swear by but I just doesn't live up to the hype and using it made me even more a believer in the bye bye undereye!
Update: The Tarte Undereye Corrector runs out so quickly and I love it so much so I was on a mission to try to find something else that I love just as much that will also last longer (or be cheaper).
I read a TON of reviews and decided to try out the Bobbie Brown Under Eye Corrector.
I've only used it a couple times so far and do still prefer the Tarte over it and will probably stick with Tarte from now on moving forward.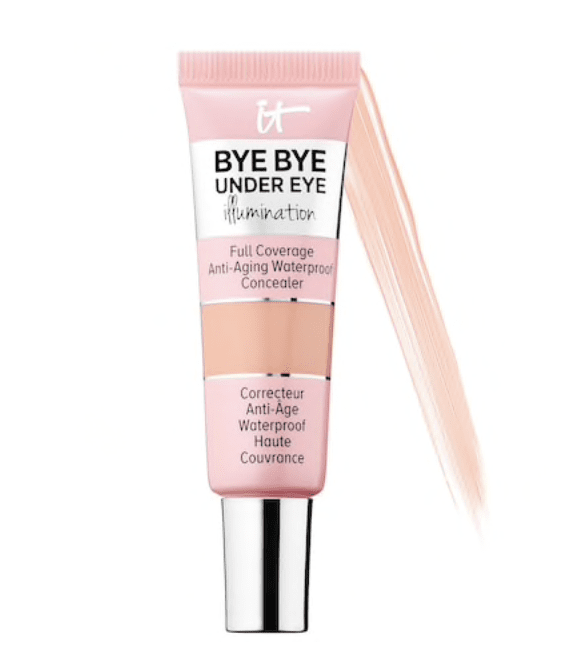 Foundation
Foundation is one of those things I put off wearing for a LONG TIME.
And when I did start wearing it I stuck to very light coverage.
But with age comes older skin and once I hit 33 years old I decided it was time to take it up a notch and now I wear my Too Faced Peach Perfect Matte foundation every day and LOVE it.
It's light and natural but with coverage that evens tone and LASTS.
A little goes a long way and one bottle lasts me a good 6 months or so no problem (I didn't even NEED more this order, I just got some to have when the time comes!).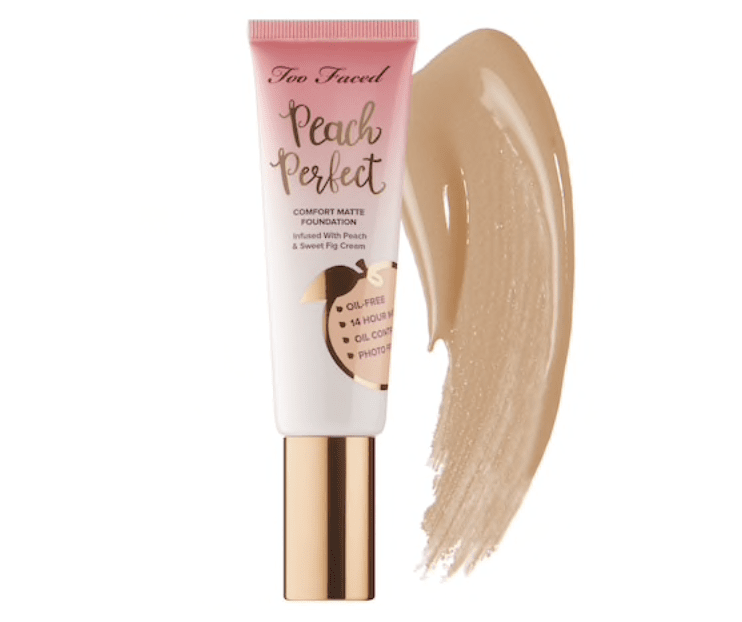 Update: As we're entering summer I was on the hunt for something to add a bit of color to my face.
I'm really hardcore about skincare on my face so my face tends to be MUCH lighter than my body in the summer months.
I didn't love the idea of putting self tanner on my face, especially because it gets washed off so quickly. So I decided to try some drops to add to my foundation.
You could also add them to moisturizer if you weren't wanting to wear foundation!
I bought these Drunk Elephant D-Bronzi Anti-Polluation Sunrise Drops.
I add 1-2 drops into my foundation each morning and I'm really liking the results! Gives a nice sun kissed look without the sun 🙂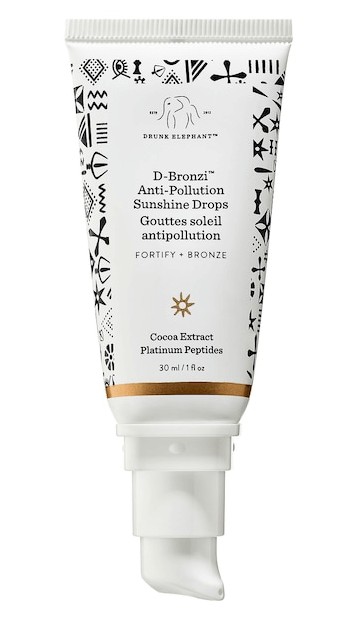 Update: I am SO SAD that they don't make the Peach Perfect anymore! Thankfully I've found an AWESOME replacement 🙂 The Fenty Beauty by Rihanna Pro Filt'r Soft Matte Longwear Liquid Foundation!
It is even better than what I used to use and I get compliments constantly on my skin now and it's the only major thing I've changed so I def think it'd the foundation that is the trick!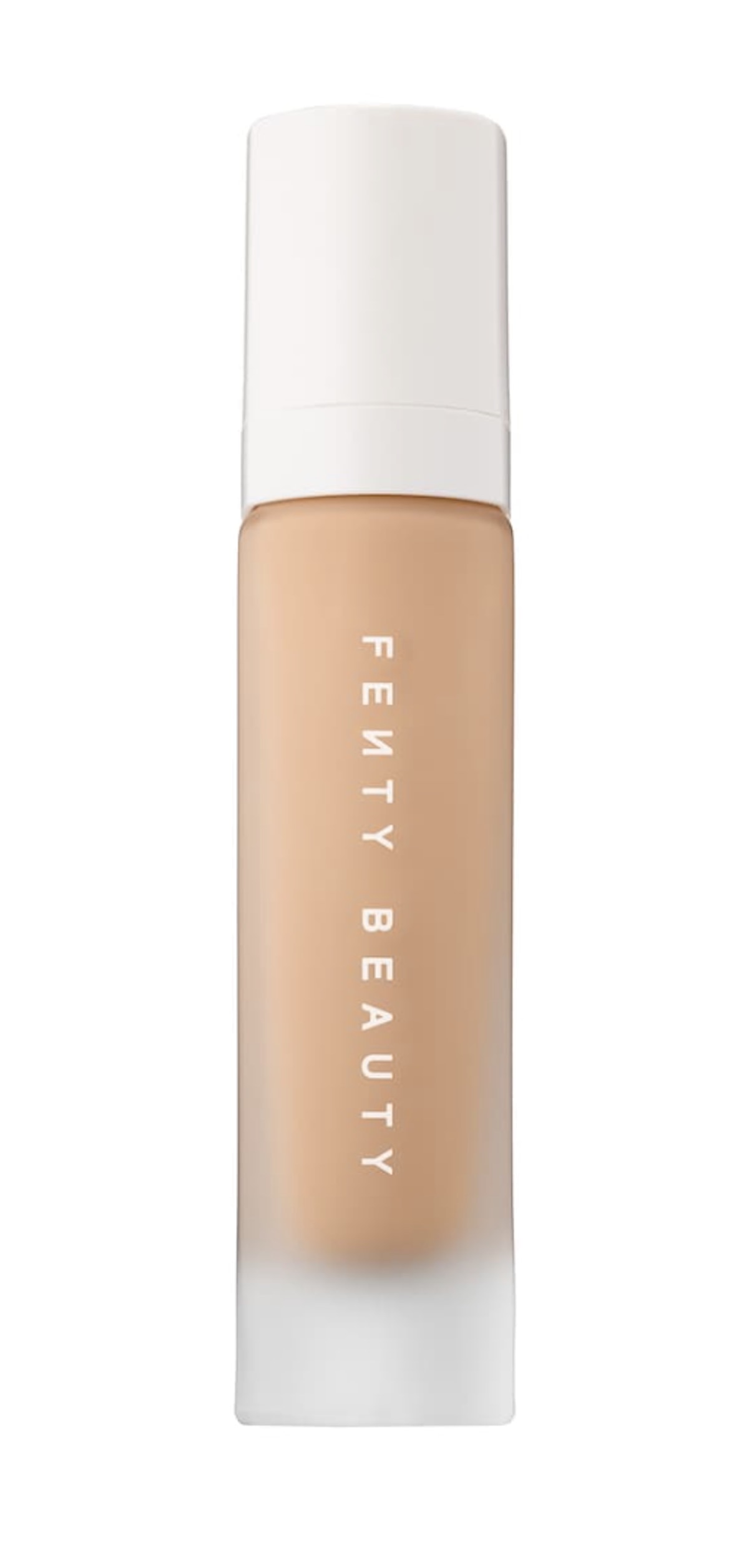 Brows
I've always had dark eyebrows my entire life and they've always been naturally thick.
I was an IDIOT 13 years ago and let someone wax them. UGH the REGRET.
Since then I've struggled to grow them back all the way.
Some girls HAVE to have mascara to feel alive…I have to have my brows 😉
My hands down favorite brow pencil is the Goof Proof Brow Pencil by Benefit.
You know how you see people with messy colored-in brows? Yeah that won't happen to you with this product.
It's SUPER simple to use and blends so well and is the quickest part of my get ready routine.
I love that it has a brush on one end too because I not only have thick brows…but also LONG ones and a good little comb-over does a sister good (and makes the blending even faster too!) 😉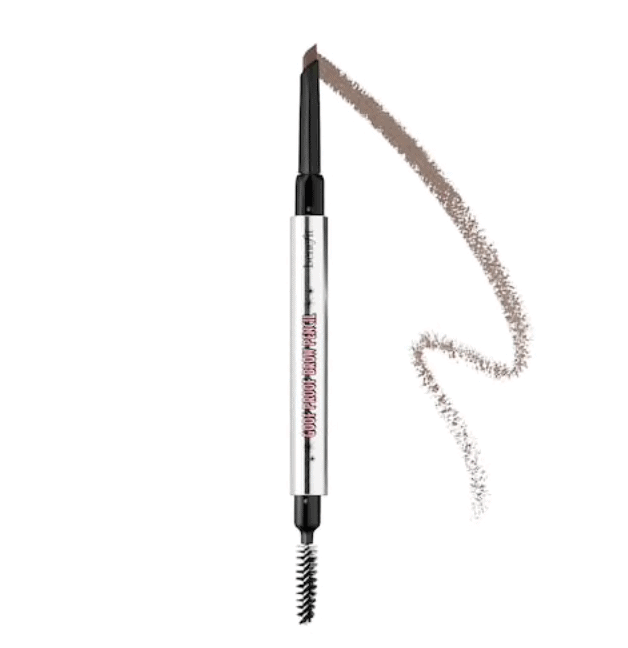 Lips
As mentioned earlier, I'm not a "lip girl."
I've always preferred playing up my eyes and put more of an emphasis on purchasing eye products.
Even as a child, I loathed lipstick. It was always a joke in my family that the only relative I'd kiss was an aunt who never wore lipstick.
I cannot stand the way it feels and I've never liked to wear it myself.
I have purchased countless different lipsticks, tinted chapsticks, lip balms etc that never end up getting used because I hate it so much. (My girls love that I don't love it because all those products get passed onto them to play with).
I have FINALLY found lip stuff I really love and both are super inexpensive and not actually at Sephora…but I wanted to include them in this post anyway 🙂
My absolute FAVORITE is Burt's Bees Lip Shimmer – color Watermelon.
I also got E.L.F Matte Lip Color (Praline) as a free sample from somewhere at some point and decided to try it out and am really liking it as well.
My lip routine is to put on the E.L.F while getting ready in the morning and then using the Burt's Bee's on top throughout the day.
It's a nice, natural look which I love and it never gets on my teeth or some weird smudge outside my lips and doesn't feel sticky!
Zach is really anti-lip stuff too and he doesn't even notice I'm wearing it but it's enough color where my lips don't look too nude (as we age our lips loose that natural pigment and I def have noticed mine lighting some so it's been good to find something!).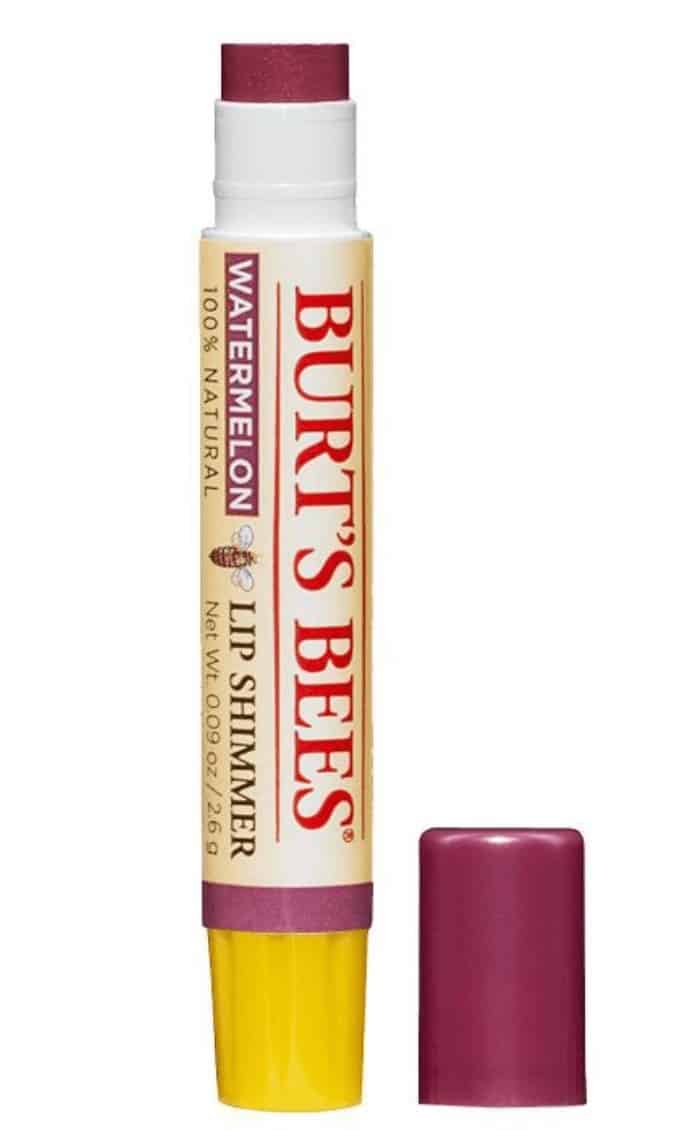 Update: I am still loving these lip options 🙂 I also added another good one to my small list of lip stuff I'm actually willing to wear haha!
I actually happened to be in the Sephora store and a sales associate helped me match for a natural shade for my lip color. When it comes to lips I just want to look like my normal lip color, nothing more than that. The Sephora Collection Cream Lip Stain Liquid Lipstick in shade 119 Bubble Bath – Matte Light Rose is pretty dang close to my normal lip color so that's a win in my book 🙂

Primer, Setting Powder and Setting Spray
I discovered my beauty secret YEARS ago on a Disney thread on Facebook and I SWEAR by it!
I'm constantly asked how my makeup stays put while at Disney (especially in the heat) and y'all this is THE reason I can do a day at the parks and still look halfway decent after 😉
Urban Decay All Nighter Long Lasting Makeup Setting Spray is where it's AT!
Up until now I've always purchased the travel size but this time I went ahead and got the big one because I love it so much and because we visit Disney so frequently 😉
You can also wear it every day but I just find that my regular makeup lasts all day at home on it's own.
However, I'm also a stay at home mom so it's not like I'm outside at recess as a teacher, or going on business lunches where I need to look fresh.
When I have events or things to do that I really want to MAKE SURE my makeup lasts – this is where it's at!
I am careful to wait a minute or so after applying mascara (which is my last step in getting ready) just so the mascara can dry fully.
Do a little spray and you're good to go the rest of the day!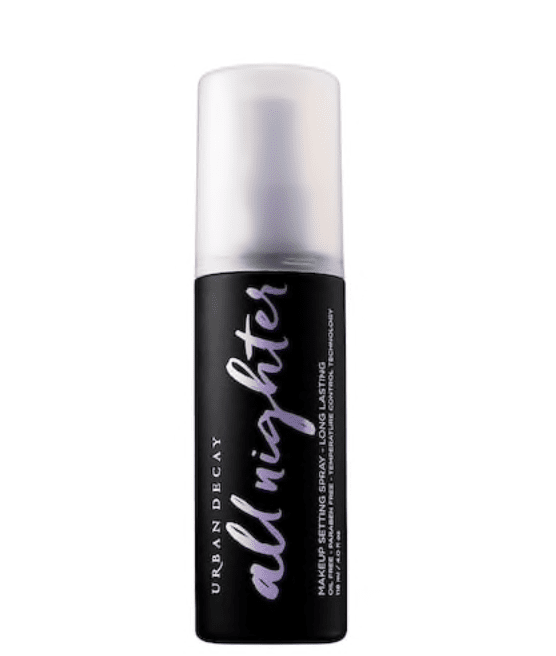 Update: I've recently also added a solid primer to my daily routine. I love how light and non-greasy the Bite Beauty Changemaker Skin-Optimizing Primer is and this combined with my new foundation is the best combo!

I also have recently added a setting powder to my routine. I will set everything when I'm done getting ready and usually add a little touch more of blush on top before I walk out the door! The sales associate I met with suggested Laura Mercier Translucent Loose Setting Powder and I've been super happy with it.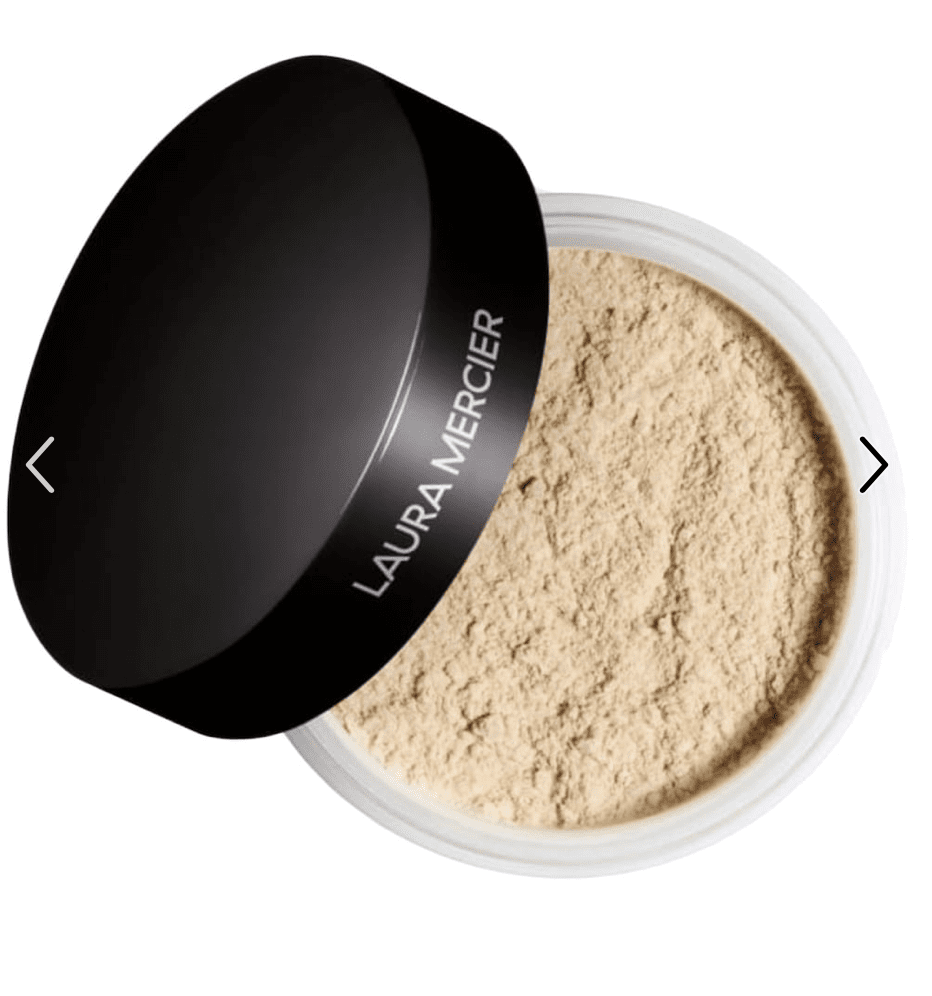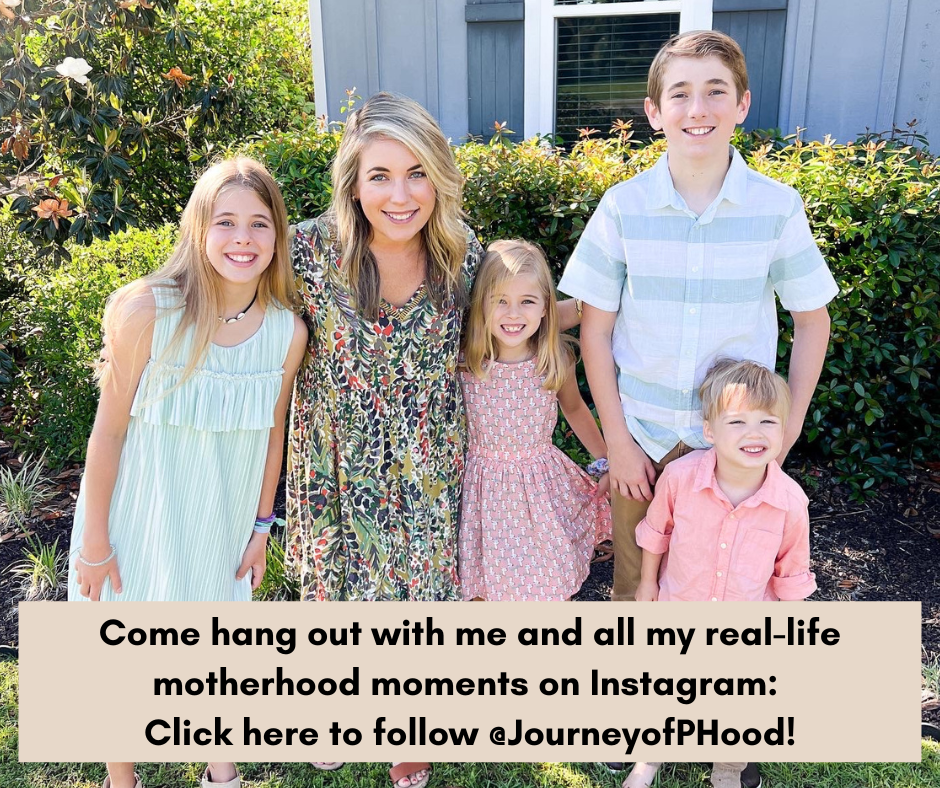 New Items to Try:
I am a VERY loyal buyer. When I find something I love I tend to really, really stick with it for the long haul.
And the restock items above? I LOVE THEM.
But there are several beauty items I've been using for a long time that I'm just kinda "eh" about so I thought this was a good time to mix it up and try new things!
Obviously I can't speak for how great these items are yet but I thought I'd share them here to see if yall had feedback but also so I can come back in later and give an update with my thoughts!
Mascara
I've always been a believer in cheap mascara.
Why spend a lot on something that works just like the cheap stuff?
I have naturally long lashes (#blessed haha) and mascara was actually the LAST beauty item I started wearing (I was in my 20s the first time I wore it!).
I've jumped from cheap mascara to cheap mascara and y'all? I'm just not thrilled with any of them.
Feel free to suggest one, but I bet I've tried it!
So I decided to give two pricer mascaras a try to see if I can find one I LOVE and will be able to be loyal to moving forward!
I wanna give a shout out to my sweet friend Ashley on Insta for all the tips!
I'm trying out Benefit Roller Lash Curling and Lifting Mascara and Stila Huge Extreme Lash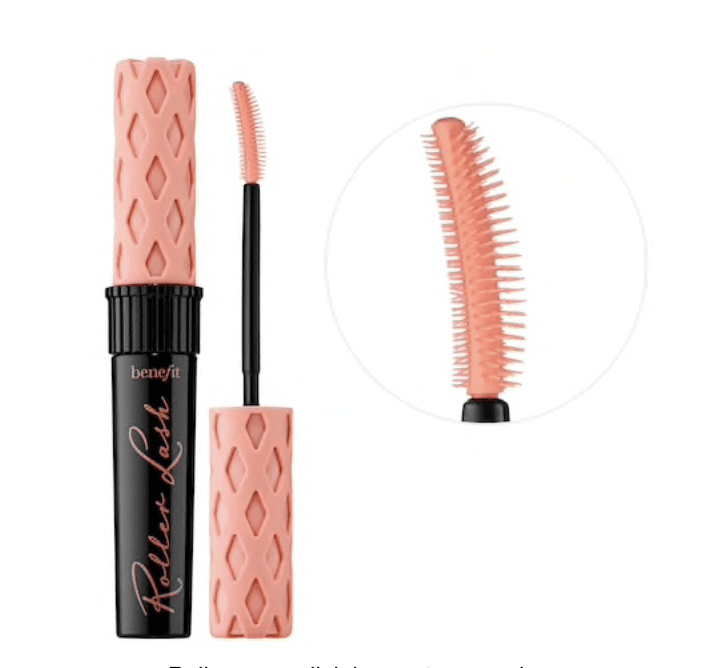 Mascara Update:
I didn't love either of these mascaras enough to justify the cost for them!
I got GREAT mascara feedback from this original post and had several DMs on IG with mascara tips.
I ended up trying out the L'Oreal Voluminous Mascara (from Target, not Sephora) and it's AWESOME.
Super cheap and gets the job DONE!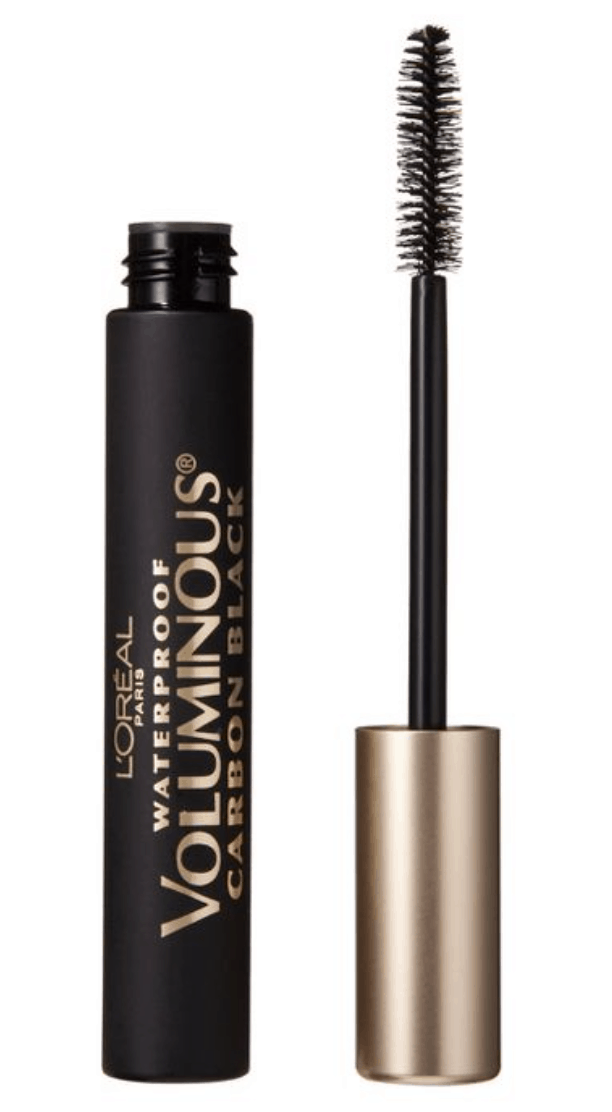 Another Update: So I'm going to try out something else new based on my SIL, Courtney's, recommendations. She's all about makeup and skincare and always has great stuff to try. She has been loving the Lancome Lash Idol Lash-Lifting & Volumizing Mascara so I'm going to give it a go as well. I also saw someone on IG share about the Diorshow Maximizer 3D Triple Volume Plumping Lash Primer. I used to use a lash primer daily and got out of the habit so I'm eager to use this too.

Eyeshadow Palette
Some girls are lip girls, some are eye girls.
I have never been into lipstick but have always focused my attention on my eyes.
I LOVE a very neutral look for everyday and have struggled to find something that I adore as much as the original Naked Palette that they don't make anymore.
I decided to try the Urban Decay Naked 2 Basics Palette.
I love that it's smaller than the regular sized palettes which which make it way easier for travel and to fit in my overfilled makeup drawer 😉
It has six shadows and I'm pumped to try them all!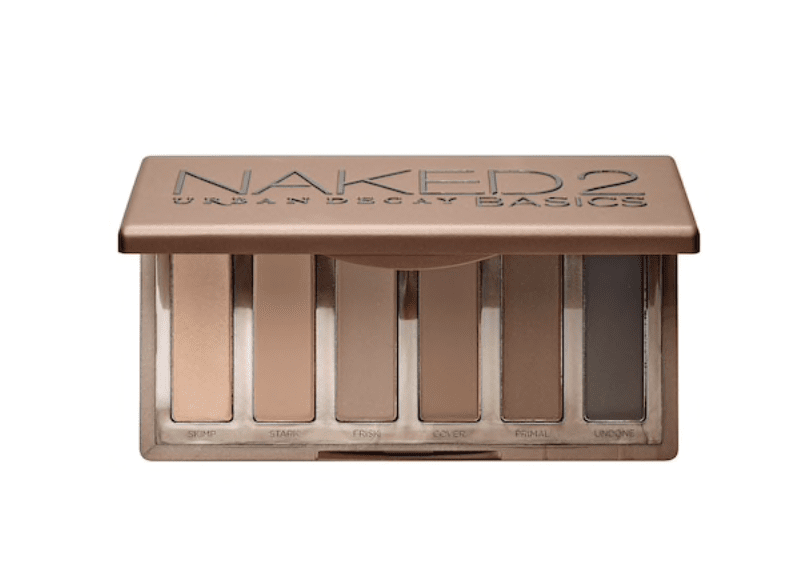 Glow Kit
Bronzer and highlighter are two things that make me SO NERVOUS.
My friend, Caitlin, is so great at rocking both and inspired me to give the Anastasia Beverly Hills Sun Dipped Glow Kit a try.
I've been using bronzer for awhile (so far I haven't found one that I'm LOYAL to!) and have been using some cheap highlighter I got from Target just to ease myself into it.
I don't think I've looked like a clown yet so I'm jumping in and we'll see how I like this kit!
First impression is it's a LOT of bang for your buck and a lot of the reviews said people use it for eyes too which will be a great option for travel!
Update: THIS IS INCREDIBLE.
I cannot recommend it enough! I've owned it for 9 months and it still looks barely used. And I used it daily.
I LOVE the bronzer and the highlighter so, so much. Totally a worthwhile investment!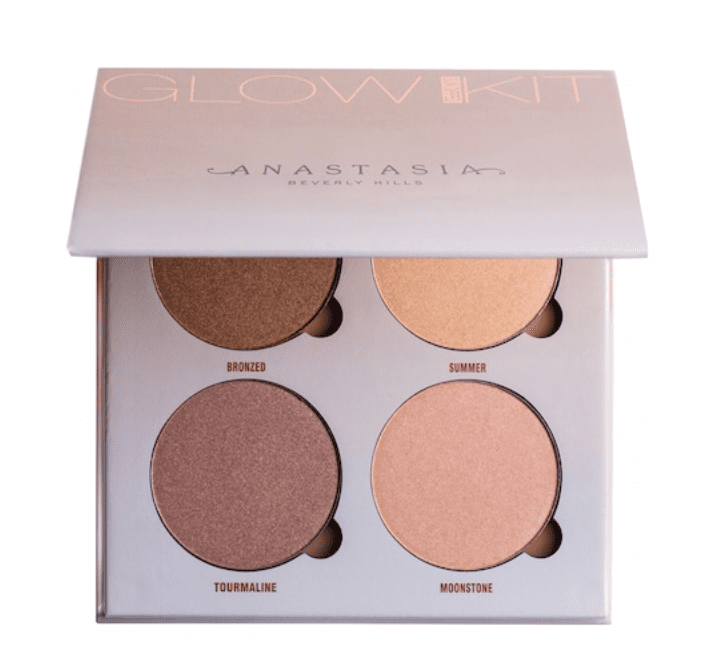 I also decided to order a better brush for my highlighter so on my last Sephora order I got this KVD Lock-It Precision Brush and it's been awesome for applying my highlighter!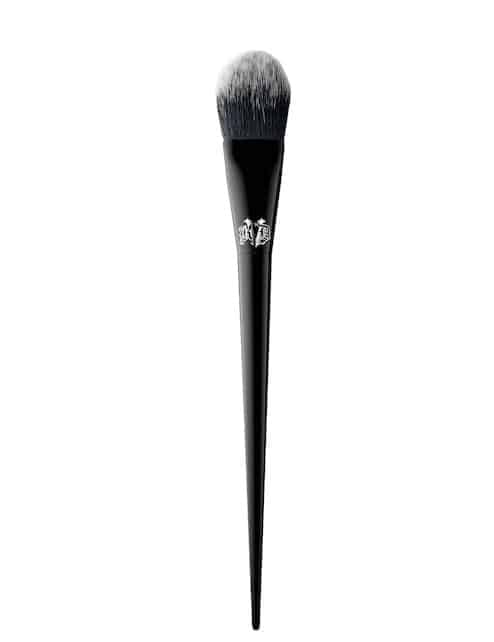 Update: I also have started using this Merit Day Glow Highlight Balm and love it! I used it so much that I actually used the entire tube and tried ordering something cheaper but am re-ordering the Merit as it is THAT good.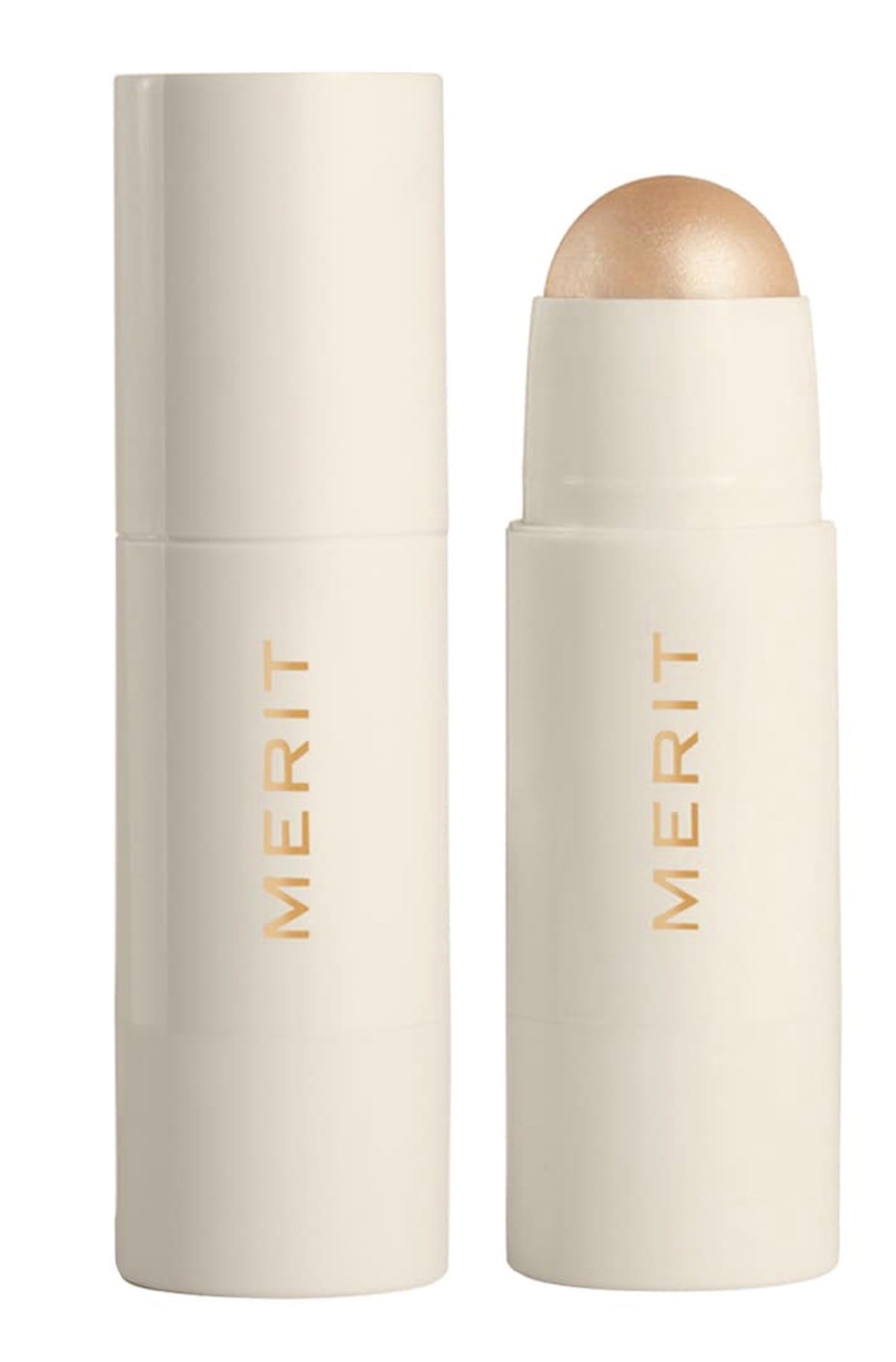 Blush and Bronzer
I don't know if you're like me but THE makeup item that fades the quickest during the day is blush.
Now, in my mission to not look like a clown I am very light handed when it comes to blush but still…it should last longer than a couple of hours right?!?!
I know everyone SWEARS by Nars Orgasm but I have NOT been impressed AT ALL.
So I'm mixing it up and trying something new!
Tarte Amazonian Clay 12 Hour Blush has reviews talking about how long it STAYS so I'm all about it!
Update: I like this blush but I consider myself still on the hunt for the perfect blush.
This one works, but I'm currently just going through all the blushes I've gathered over the years of attempting to find "the one" and using them up before I go back on the hunt so if anyone can recommend something let me know!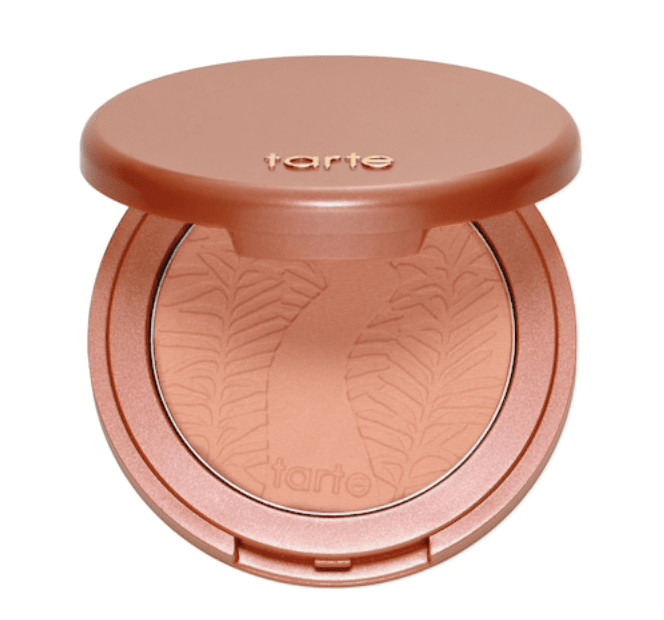 Another Update: I found my holy grail of blush! The Fenty Beauty by Rihanna Match Stix Shimmer Skinstick in color Yacht Life (glimmering peach-pink). I am obsessed with this and it's PERFECTION. After I use my setting powder I will do a swipe of the blush above with a brush just to add a little extra color too.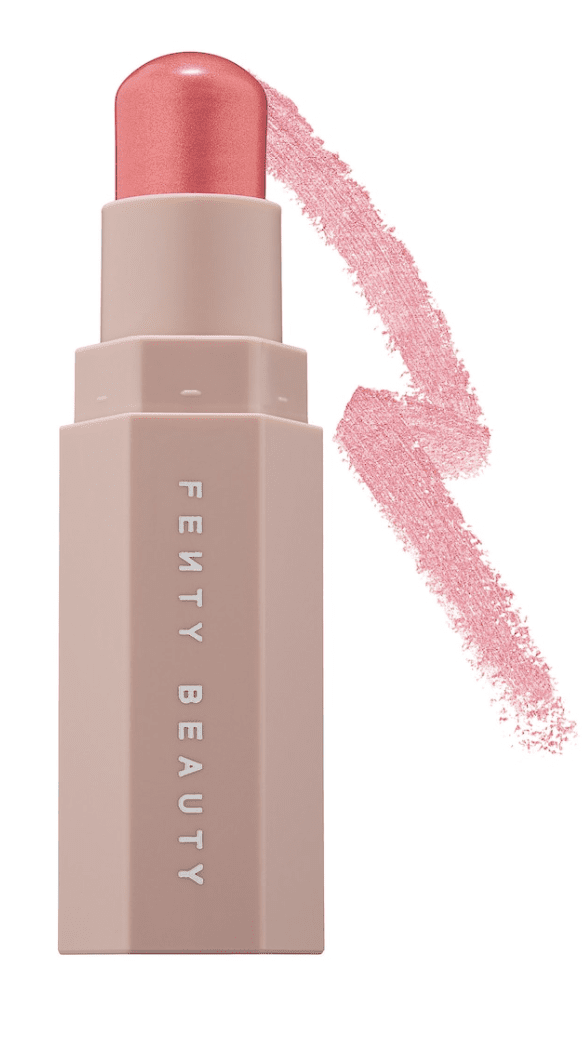 When it comes to bronzer I love using the Glow Kit I discussed above but another FAV is the Two Faced Chocolate Matte! It's one of those items that I've used the entire thing and was sad to see it run low so it's a must-replenish item for me, for sure.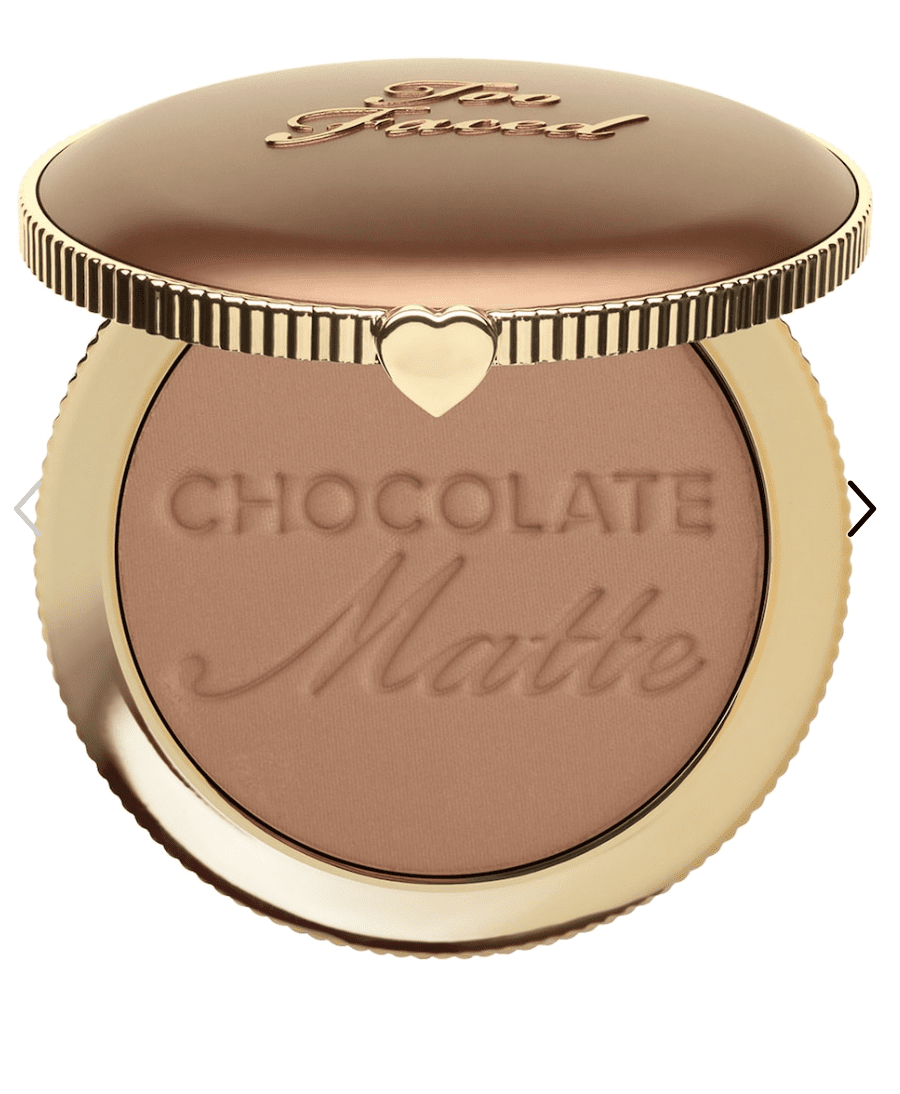 I have never purchased a LEGIT contour kit. I love the Glow Kit I talked about so much that I thought I'd try my hand at a true contour kit and I'm also hoping it can double as a very neutral eyeshadow. We'll see! I'm trying out the Anastasia Beverly Hills Contour Kit and also added the Sephora Collection Pro Contour Brush (#79) so hopefully I can apply it somewhat properly and not look like a clown 😉

Sunscreen Powder
As I mentioned earlier, it's summer and I am hardcore about protecting my skin.
Years ago I started using Elta MD UV Daily SPF 40 and it's fabulous.
It's tinted a great color and provides great protection against the sun.
However, I feel a little greasy when I wear it so I wanted to get a good quality SPF powder as well to use as a setting powder on top!
I decided to try out Tarteguard Mineral Powder Sunscreen. I've only used it a couple times so far and I do wish it was a pressed powder compact as the brush is a bit of a struggle for me to figure out.
The times I've used it though it def WORKS to help get rid of that sunscreen greasy look while also helping to protect my skin.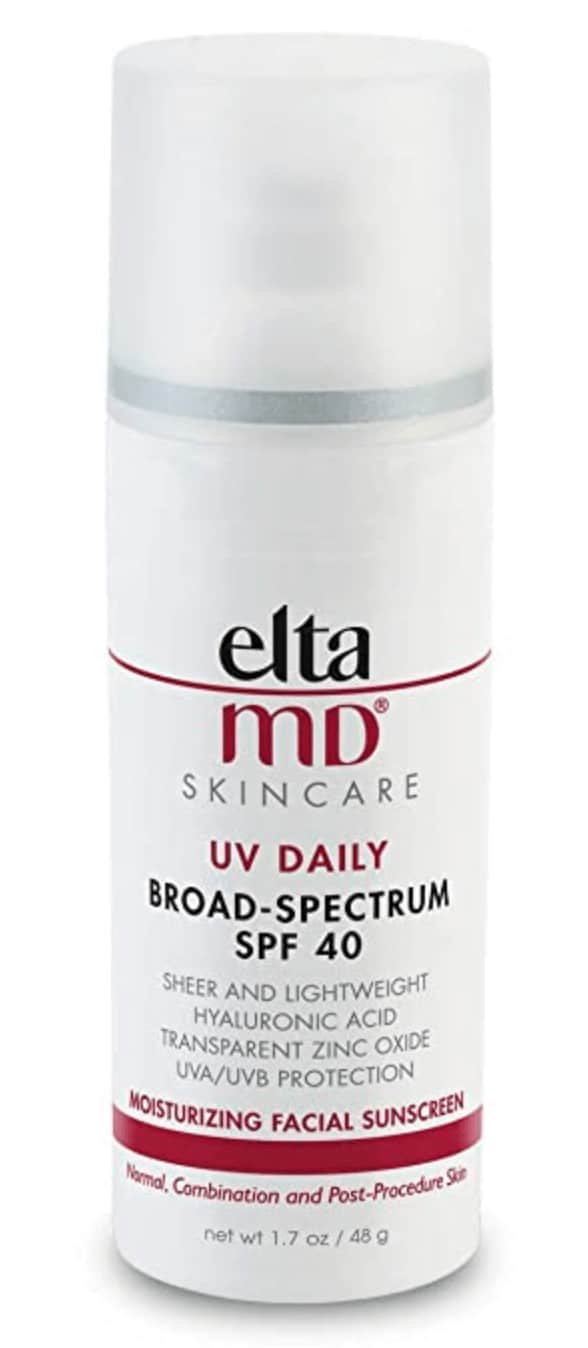 Hair Products
Another thing I tend not to spend a lot of money on are hair products.
I don't use the cheapest of cheap but I also don't use fancy stuff either. I always buy in the middle 😉
If you're like me then you've probably been sucked into those L'ange hair wand Facebook videos. I can't look away when I scroll past one haha!
One I got trapped watching recently showed this girl giving her straight hair more volume and it totally spoke to me 😉
When I wear my hair with curl, I have PLENTY of volume but when I do it straight I feel like it needs more body and just kinda lays there on my head all sad.
I consulted my friend Ashley who not only does awesome with her makeup but her hair too and she recommended to try DryBar Southern Belle Volume-Boosting Root Lifter (for use on wet hair) or DryBar Triple Sec 3-in-1 Finishing Spray (for use on dry hair).
So, duh, I'm trying both 😉
I like that both will work for my hair curled or straight and out of everything new I bought I'm the most excited to try these!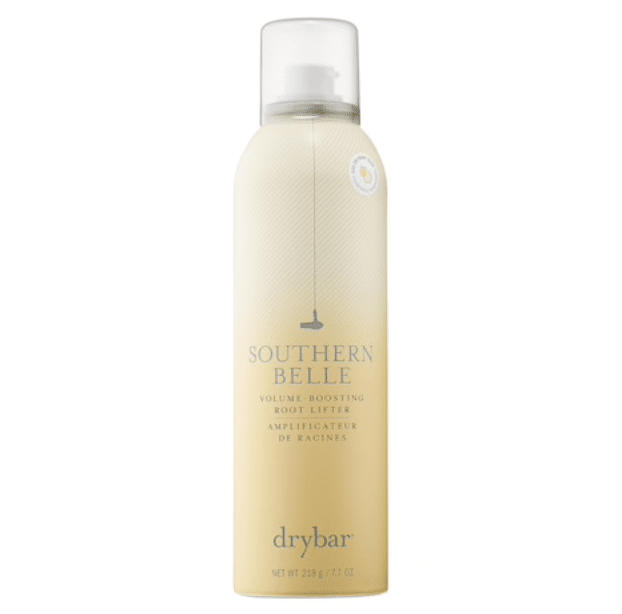 Update: I didn't LOVE the Drybar products. Zach would walk in the bathroom and complain about the smell and said it smelled very "chemical."
I decided to try out Living Proof Dry Shampoo and it's a GAME CHANGER.
THIS lives up to ALL THE HYPE. It's amazing.
I also equally love the Living Proof Full Dry Volume Blast.
It gives me SO much volume it's crazy! Both products are totally worth the money on them!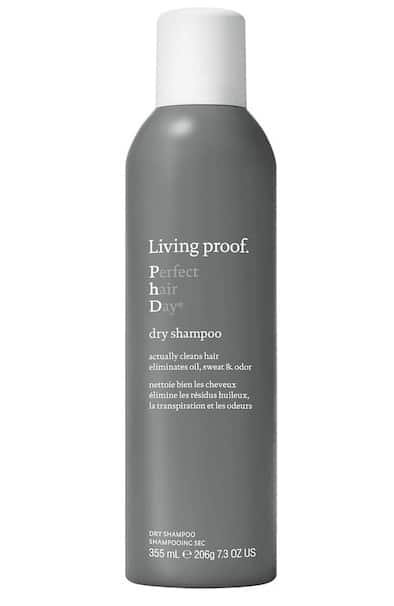 Update: I am still loving the Living Proof dry shampoo but have learned that it is NOT wise, or healthy, to use it too frequently. I limit my use to 1-2 times a week as I was using it daily (why do all these girls on IG talk about using it DAILY? Terrible advice) and it was actually causing my scalp to be TOO dry and not allowing my natural hair oils to get to my hair. Which then lead to my hair BREAKING.
Thankfully my stylist and I figured it out and now I'm just more mindful and careful. To help get my hair back to its healthy status I've started to be a little fancier with my hair care products.
Yup, I jumped on the Olaplex train. I don't love the shampoo or conditioner but I do LOVE the Olaplex No 3 Hair Repair Perfector. I put this in my hair 20 min or so (and sometimes sleep with it in my hair all night) before hair washing.
I also love, love, love the Olaplex No 6 Bond Smoother Reparative Styling Creme. I let my hair air dry and then blow it dry once it's close to being fully dried naturally. I run this through prior to blowing dry and it does wonders for making my hair smooth and shiny and SO soft.
Along with the No 6 I also mix in some drops of the Olaplex No 7 Bonding Oil before blowing my hair dry and I also use this on non-washing days before I apply heat as a protector. It's awesome too and the combo is great!
I'm restocking on these items that I already know and love from Olaplex but this time I'm also adding the Olaplex No 9 Bond Protector Nourishing Hair Serum to my cart to try. I think it'll be great for touch ups and I'm alllll about heat protection.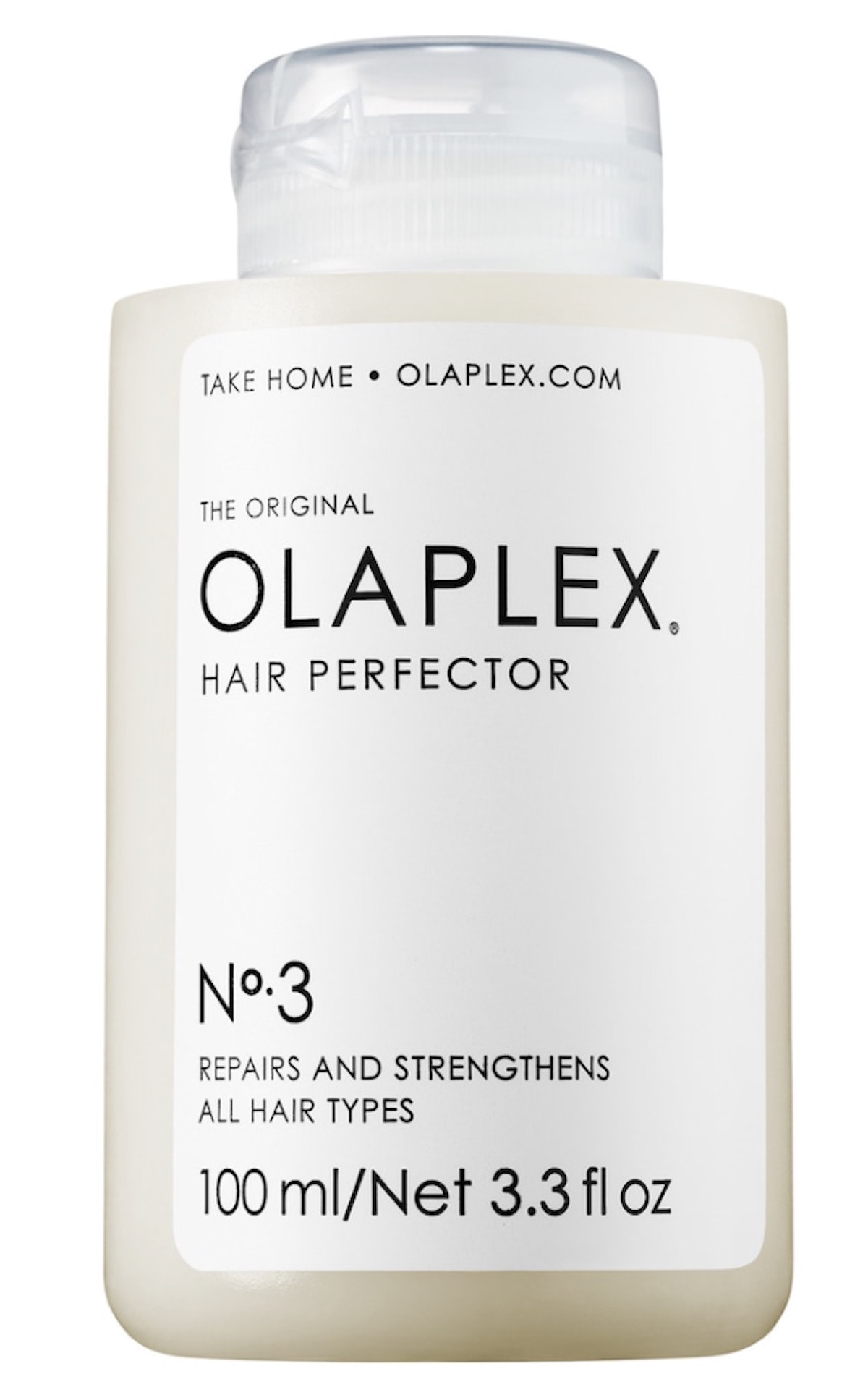 In regards to my favorite shampoo and conditioner combo I've been extremely impressed so far with the Redken Extreme Shampoo and the Redken Extreme Conditioner. I like the way they feel much better than Olaplex and they have the same sort of damage repair and prevention qualities.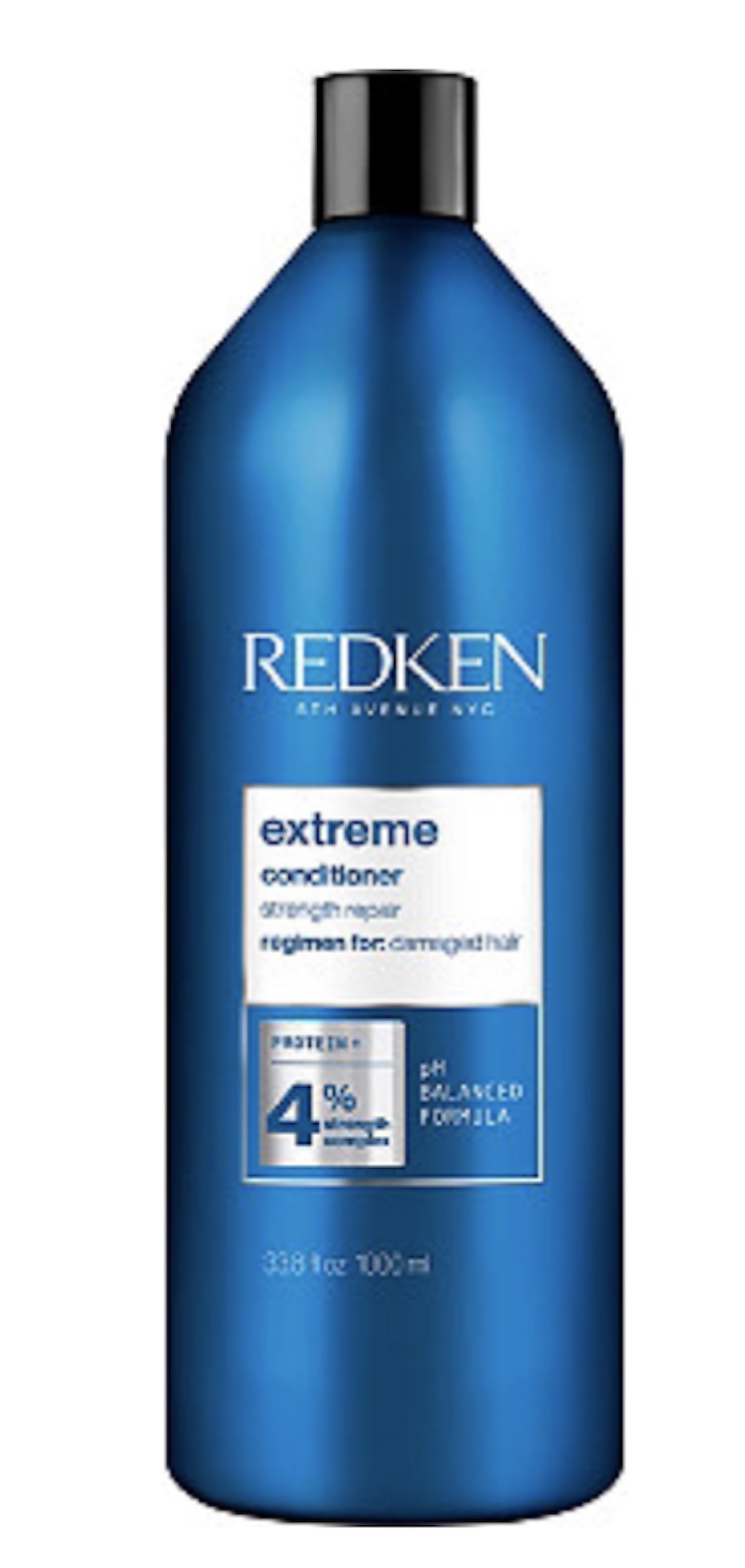 Final Thoughts
I think new beauty products to a mom is like a new Barbie doll for a little girl.
I'm so stinking excited haha!
Any items you plan to try? Any favorites you recommend for next order?
I'm really trying to balance out good quality products with more affordable (but still great) ones and I'd love any recommendations!!!