My Favorites from Spring 2020
Usually, I do a favorite things post every couple of months but living in a pandemic has caused me to drop the ball on a few of my regular routines and blogging is one of them!
We are always pretty mindful of our expenses and spending but especially so during the pandemic When Zach wasn't able to work. I tried to use this time to really start digging through my closet and find older pieces that I still loved but may have forgotten about.
Therefore there wasn't a whole lot of outfit sharing (plus let's be real we were allll living in pjs am I right?!?!). But I thought I'd share some of my favorite things from the Spring season!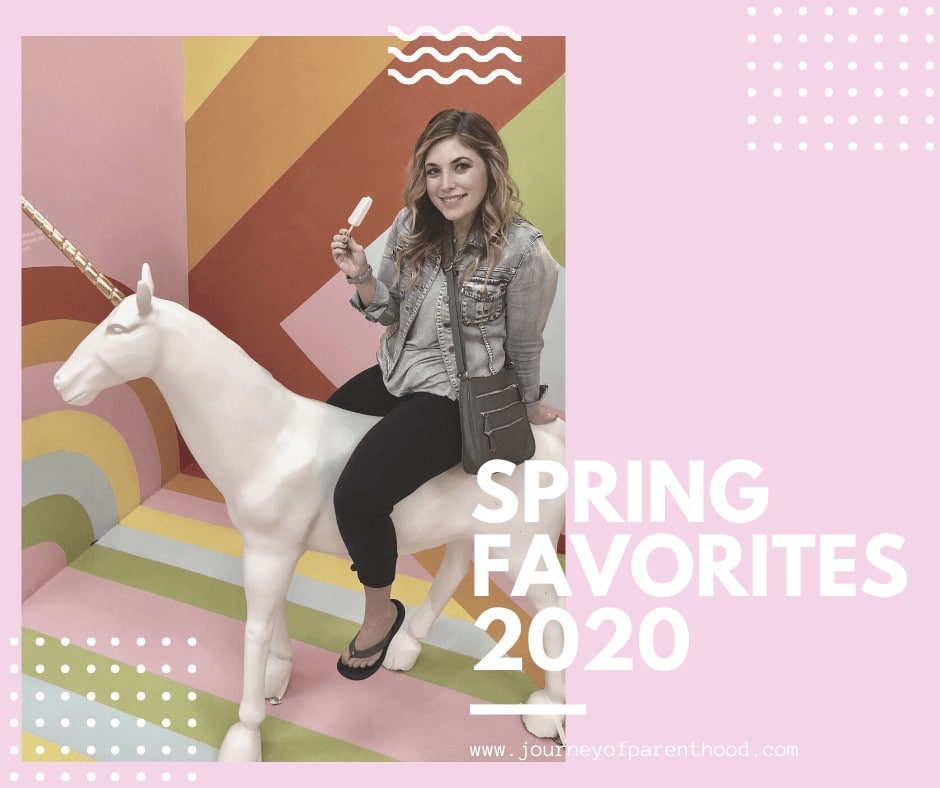 What I Read
While I may not have worn a whole lot of cute stuff during this season…I def did a WHOLE lot of reading!
I've been LOVING my kindle paperwhite and cannot recommend it enough. WELL worth the cost and it's crazy to think I took so long to jump on board (props to Katie for getting me to make the leap).
The Passenger was a fun, quick read. Not the BEST writing ever but a good one to read while laying by the pool!
Before I Go to Sleep was a REALLY cool concept that lured me in and made it super hard to put down. When I was just looking up the link for yall I realized it's also a movie with Nicole Kidman soooo it's on my list to watch now for sure!
Normal People was our book club book and it was a struggle for me to get through. I've heard great things about the Hulu series so I need to check it out. Usually, I'm all about a book about people and their lives but this didn't have any character growth and that really bugged me! I'm all about learning from our life experiences ya know?
Little Fires Everywhere is an excellent book. I did not LOVE the Hulu series as I thought it cheapened the characters and was more about the entertainment value of the show than the depth the characters truly brought to the story. I've had SO MANY TALKS about the mother-daughter relationship shown in the story with Elena and Izzy.
Behind Closed Doors was another fun thriller type read that was great for reading by the pool and I enjoyed it!
Truly Madly Guilty is by Moriarty Liane and I LOVE her books so I wanted to make sure to read this one and it didn't disappoint. It got mixed reviews but I personally enjoyed it and always love her way of developing characters.
SO many people told me I HAD to read Open Book by Jessica Simpson. I may be the only one but man I hated it. It made me like her less after reading it. It's like she wanted to be inspirational but there was no meat to it that would leave anyone to feel inspired. I also thought she scratched the surface of some interesting insight into her life but didn't go deep enough – lots of rambling with no real depth there.
—–> I keep an ongoing Amazon list of ALL the books I read! You can check it out here for lots of reading ideas 🙂
What I Wore
Comfy clothes were the name of the game during the stay at home orders!
Here are a few of the things I wore through Spring:
Early on in the corona life I used a gift card I'd been hoarding and got some cute new comfy items!
My FAV is this cardigan thing from Old Navy. Perfect for lounging and to toss on when I get chilly.
I also love a good v-neck white tee shirt and have found sizing up makes them extra comfy too!
These soft jogger pants were a new purchase for me as well. Very comfortable but size down as mine are a bit too big and I wish I'd gotten a small rather than a medium.
Slippers are a must for comfortable clothing days and my L.L.Bean slippers are one of my absolute favorite things and one of the most thoughtful gifts Zach has gotten for me. Well worth the price!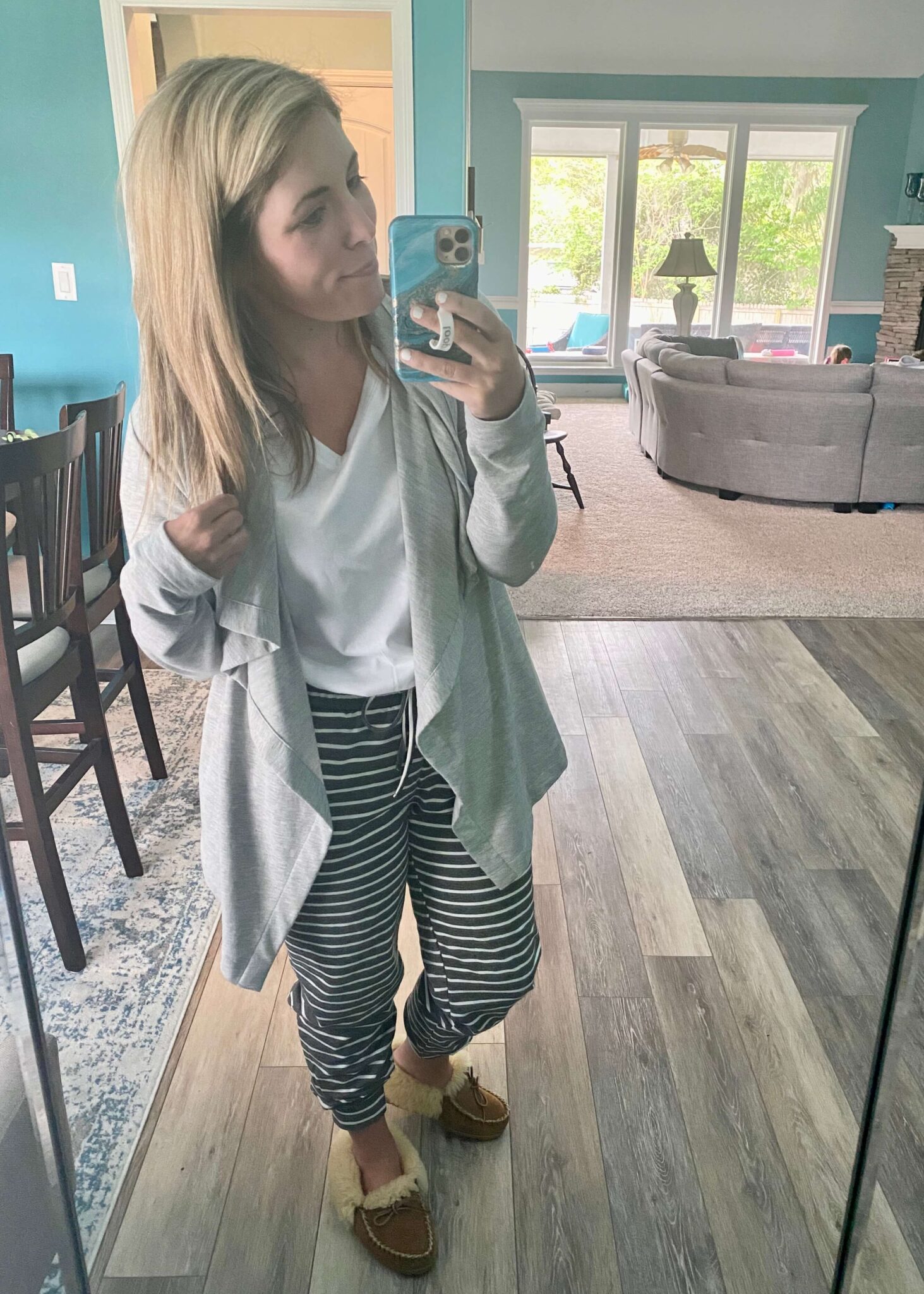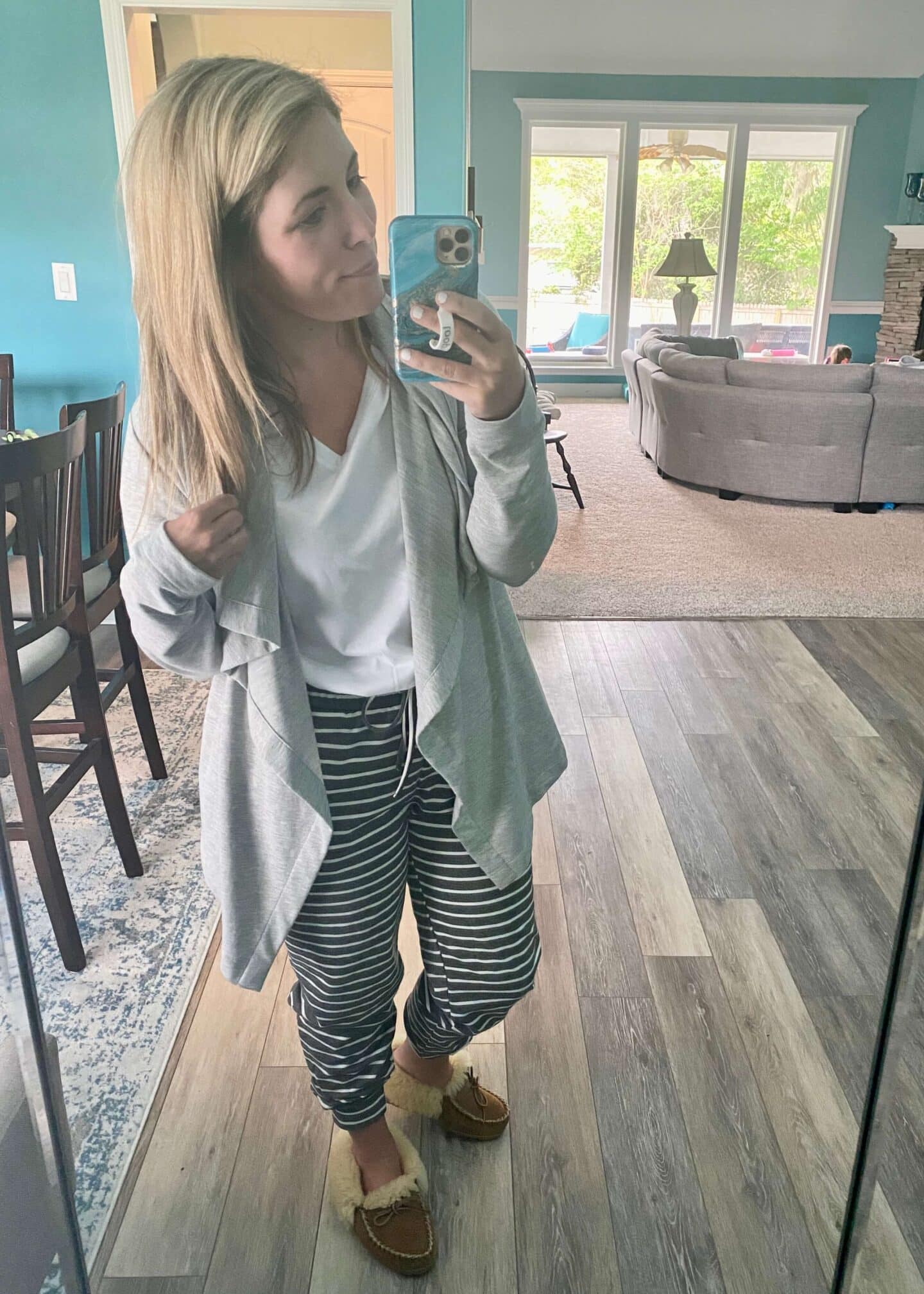 For Mother's Day I wore my favorite jumpsuit! I LOVE these and own a couple now of them!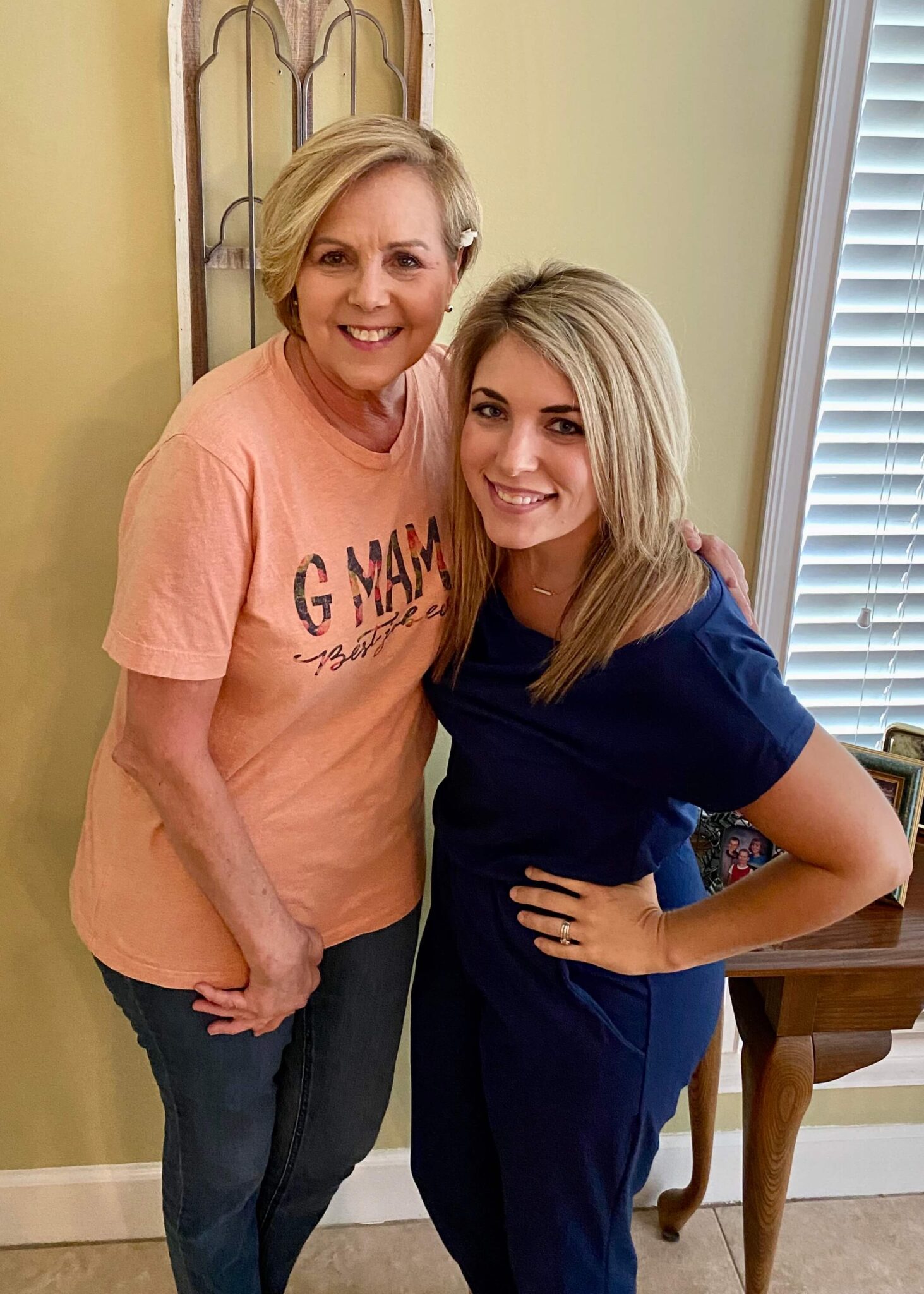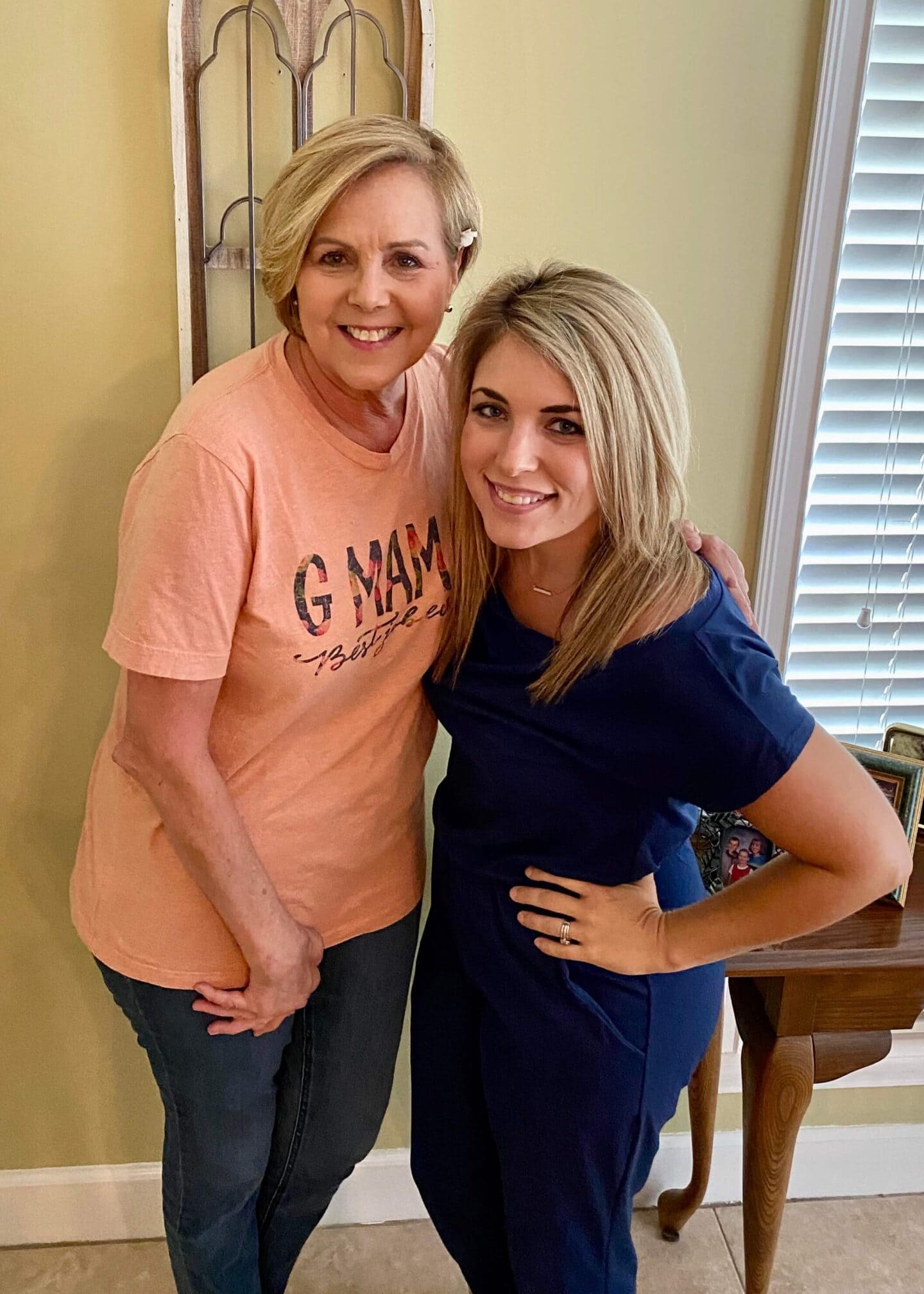 I love this top! Super lightweight so could easily be tossed on with shorts too.
These jeans are actually a random Walmart find! I love the detail at the hem and they are high waisted too.
I also love the blush pink of these shoes!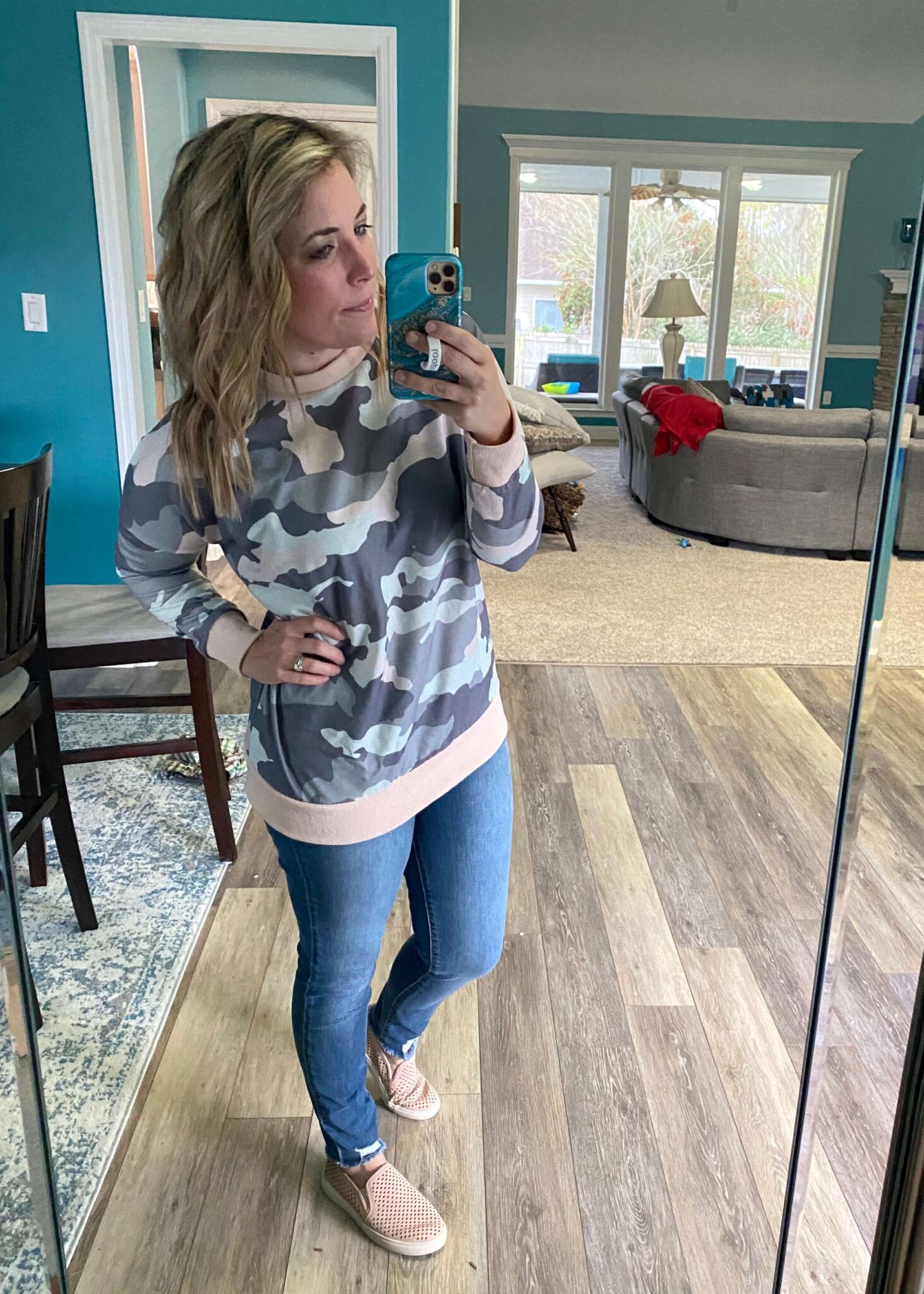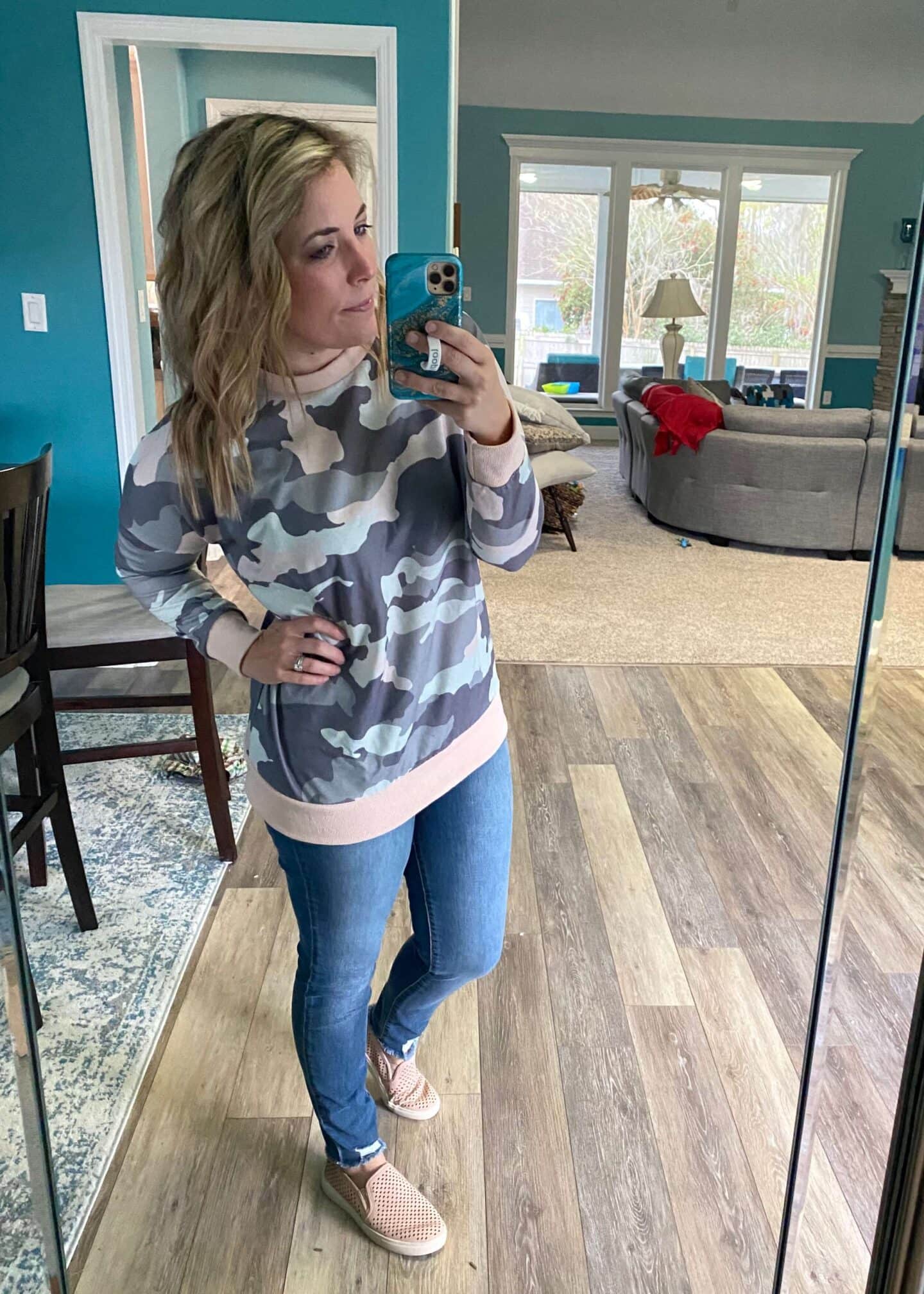 Another pair of awesome joggers! These are my favs for travel and I've been wearing them a lot during quarantine too!
These are also my FAVORITE summer sandals to throw on real quick when going and doing. I've been wearing them non-stop during summer so far and grabbed the white pair too 🙂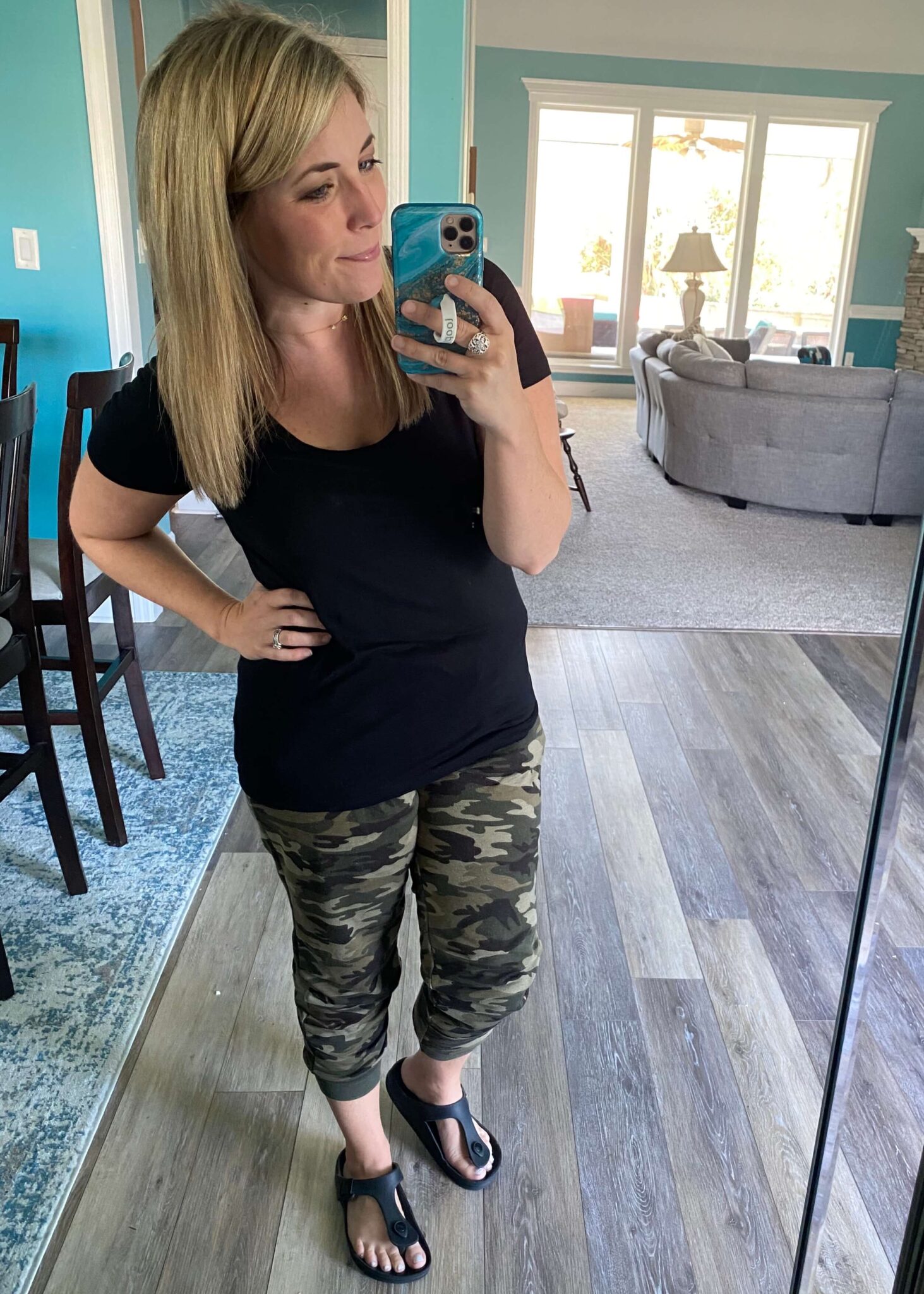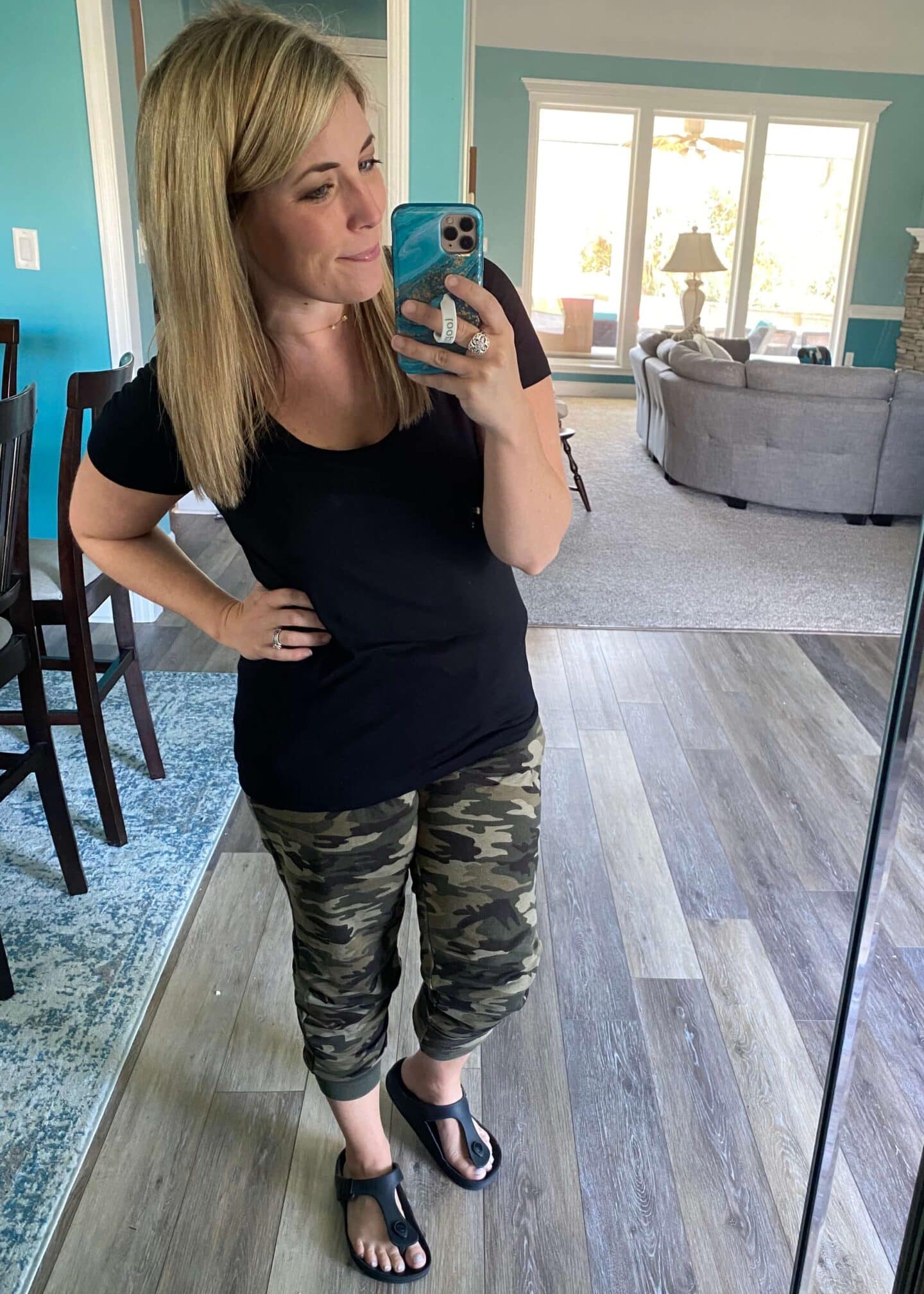 One of my big missions for Spring was to find some SHORTS. It's such a struggle because most shorts are either 3 inch length or 5 inch length. I'm short (5'2″ on my tallest days) and the 5 inch looks SO LONG but I'm also thicker in the legs so the 3 inch looks too short and too revealing.
In the past I've just rolled with the 5 inch but this year I wanted to find some solid 4 inch pairs that I LOVE. Here are the black ones I found and they are AWESOME! Size UP!
I also found THE official FAVORITE denim short. I don't have a picture of me in them from Spring but these are seriously perfection and I've had so many friends buy 'em too and love them!
Toms are always a good idea no matter the season 😉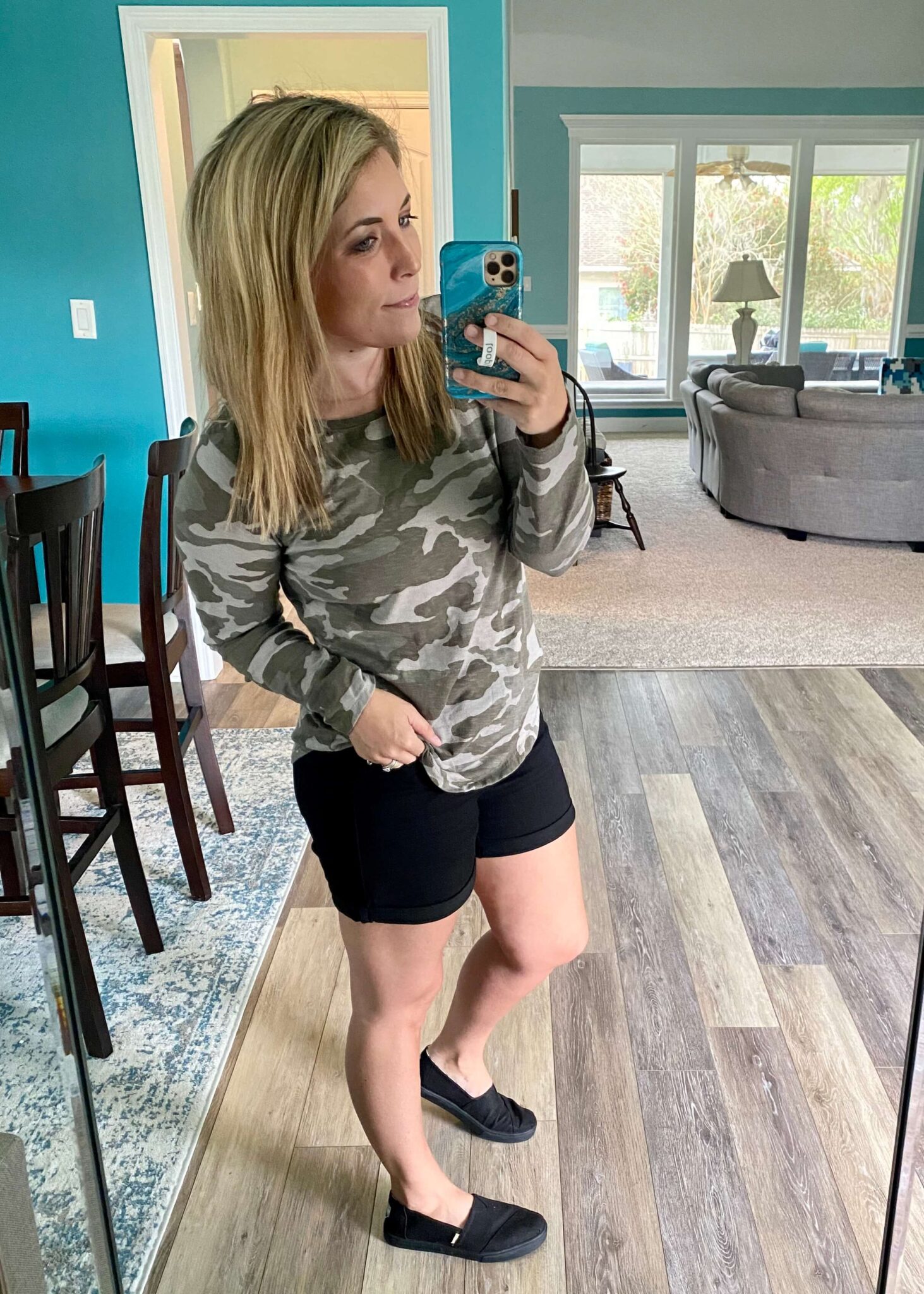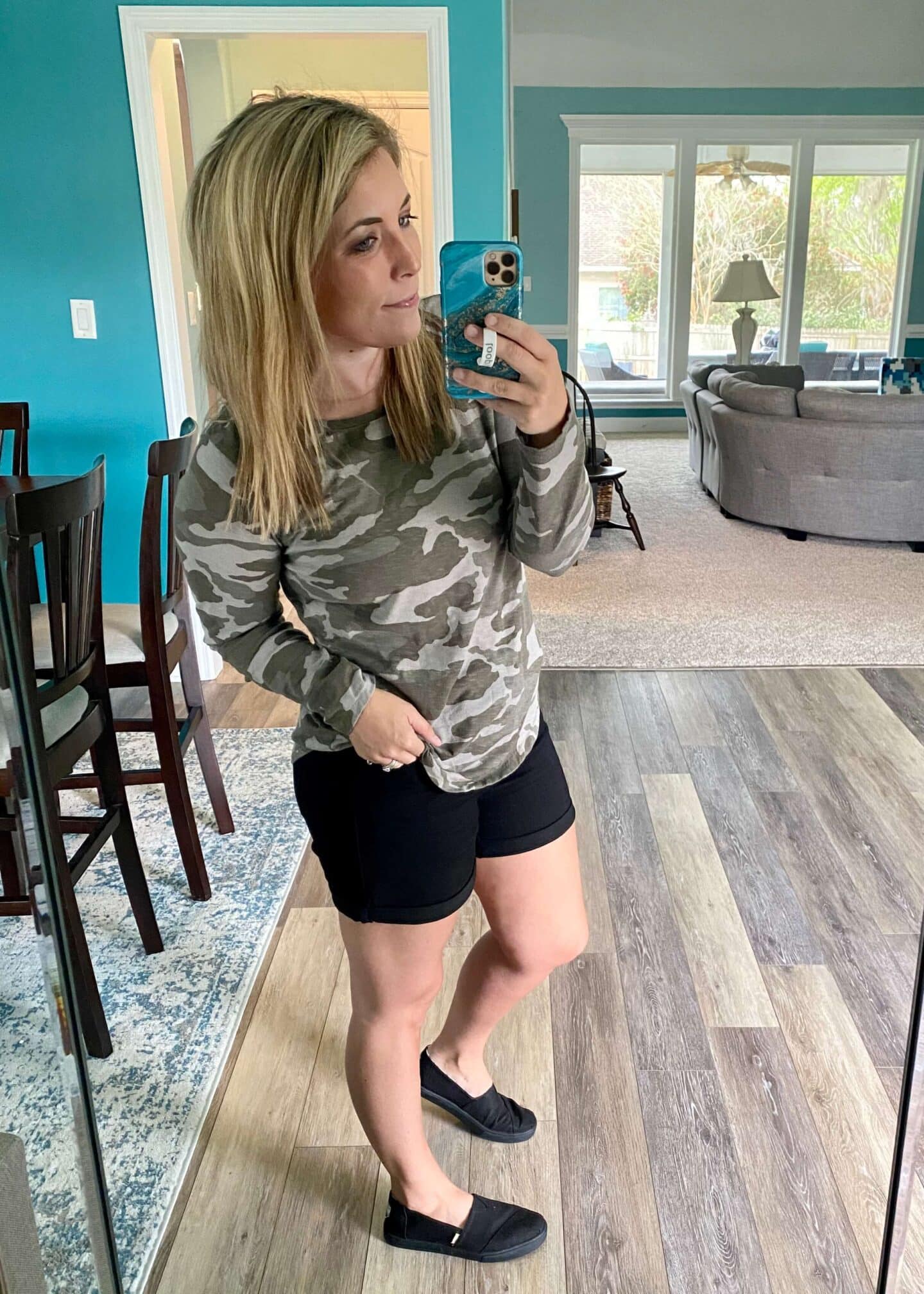 Another super comfortable top that is great for lounge but also cute for out and about. Size up in this as well as when you tie it it'll crop up shorter.
I also LOVE these jeans. Another great find for a short mama – the hem detail is my fav!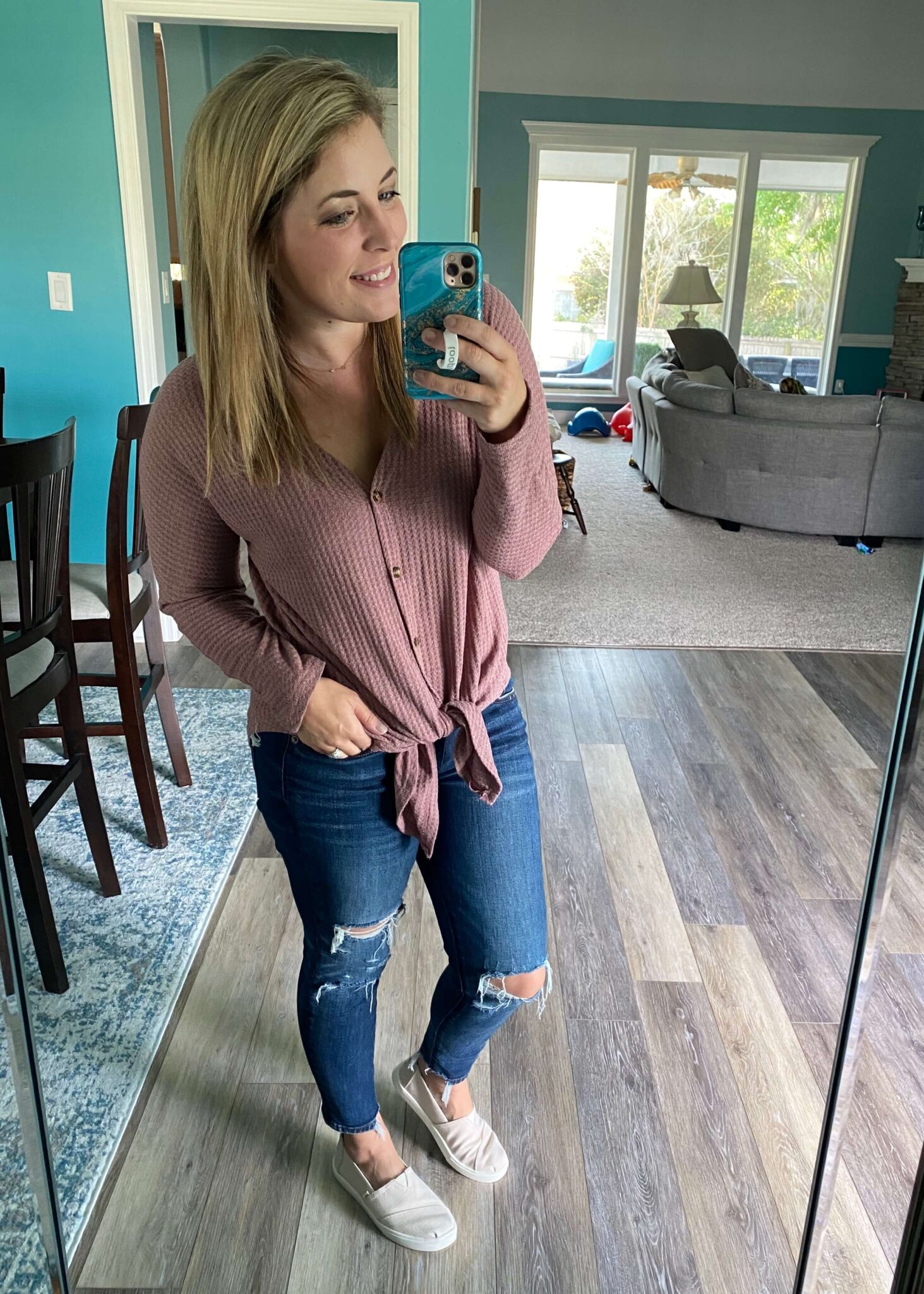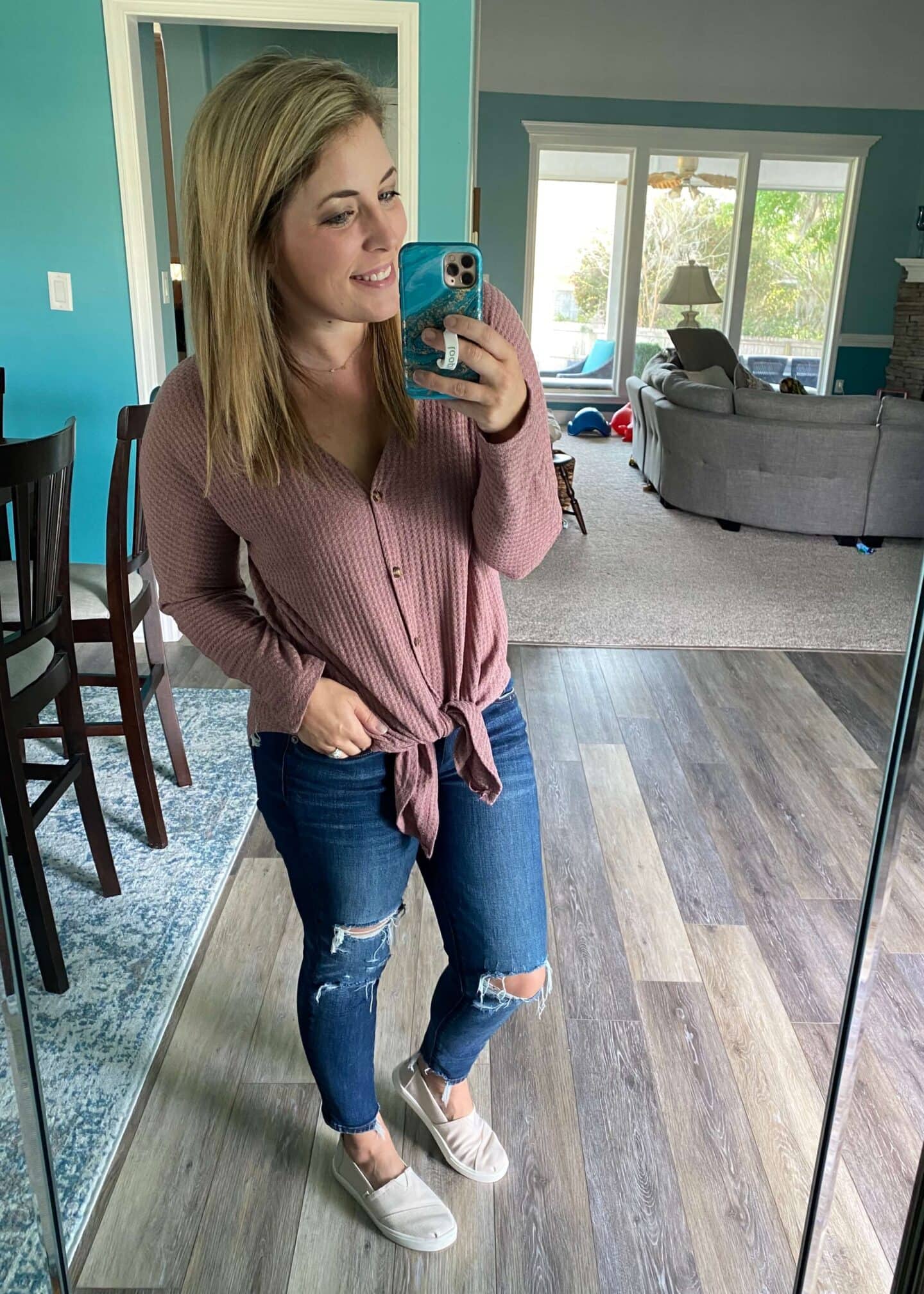 What mom doesn't need this sweatshirt? I had to pull it out to wear for our quarantine front porch project pictures 😉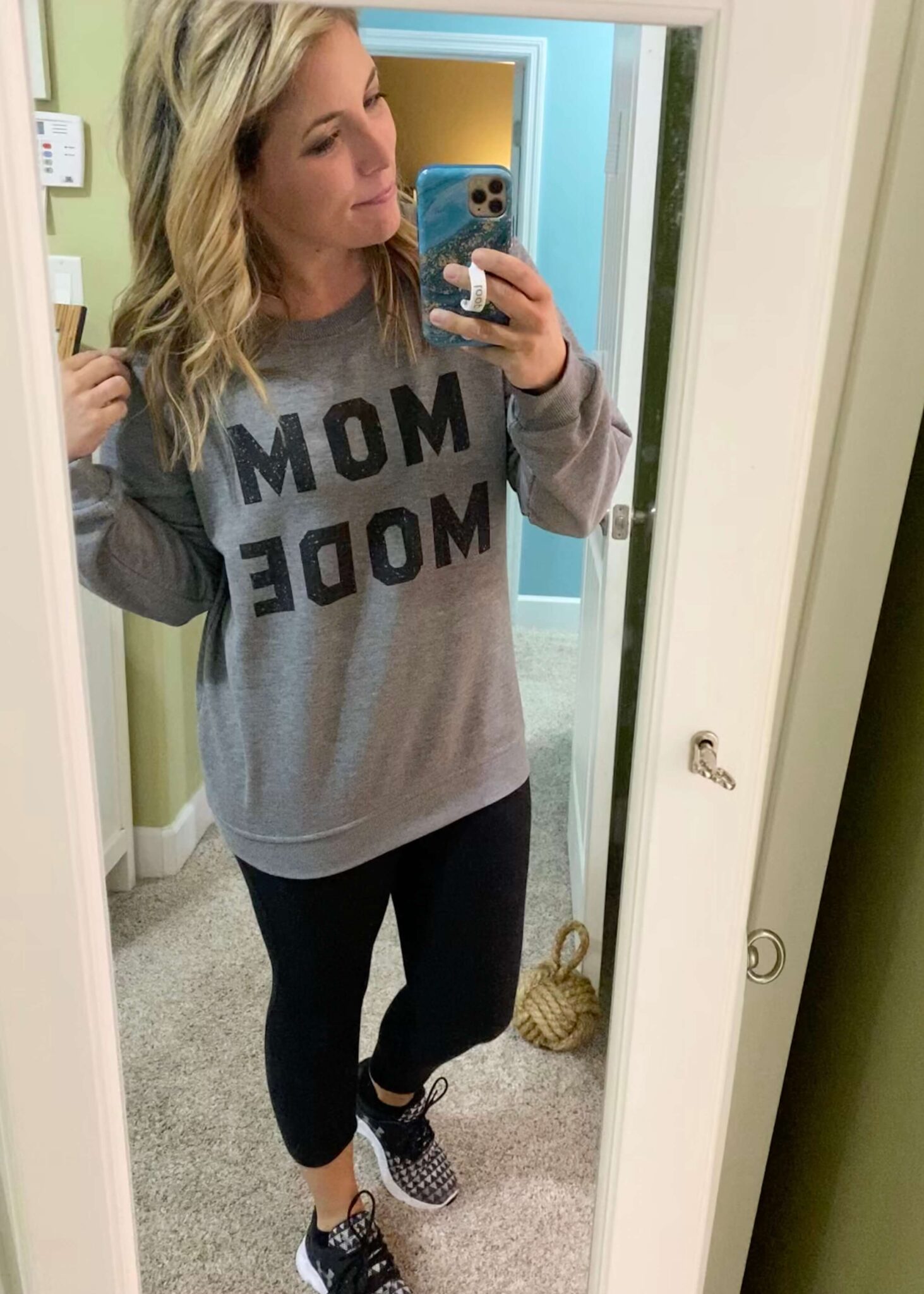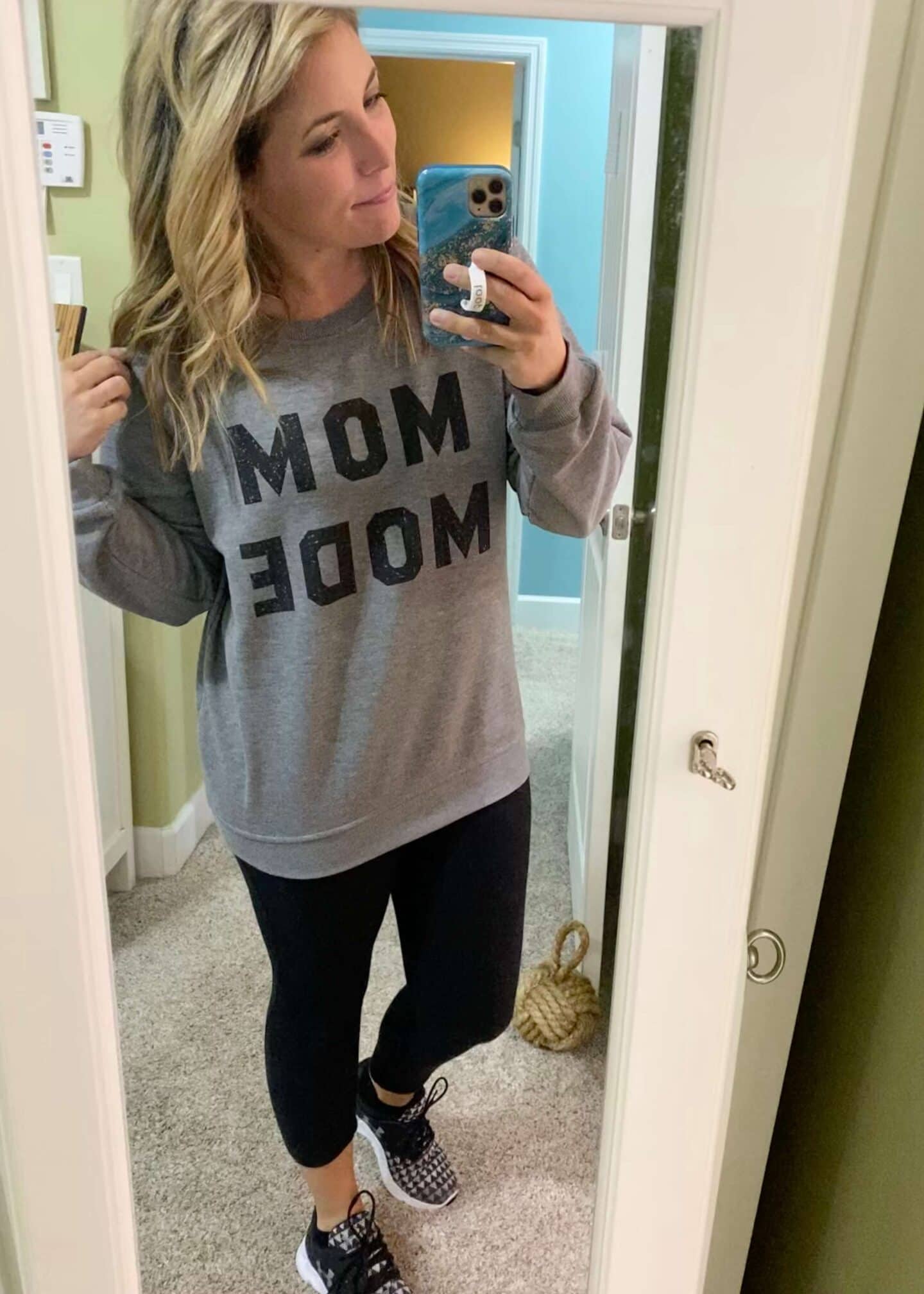 Out of all the joggers I own THESE are the BEST fit and I actually got them in black too and wore them the most during the stay at home orders!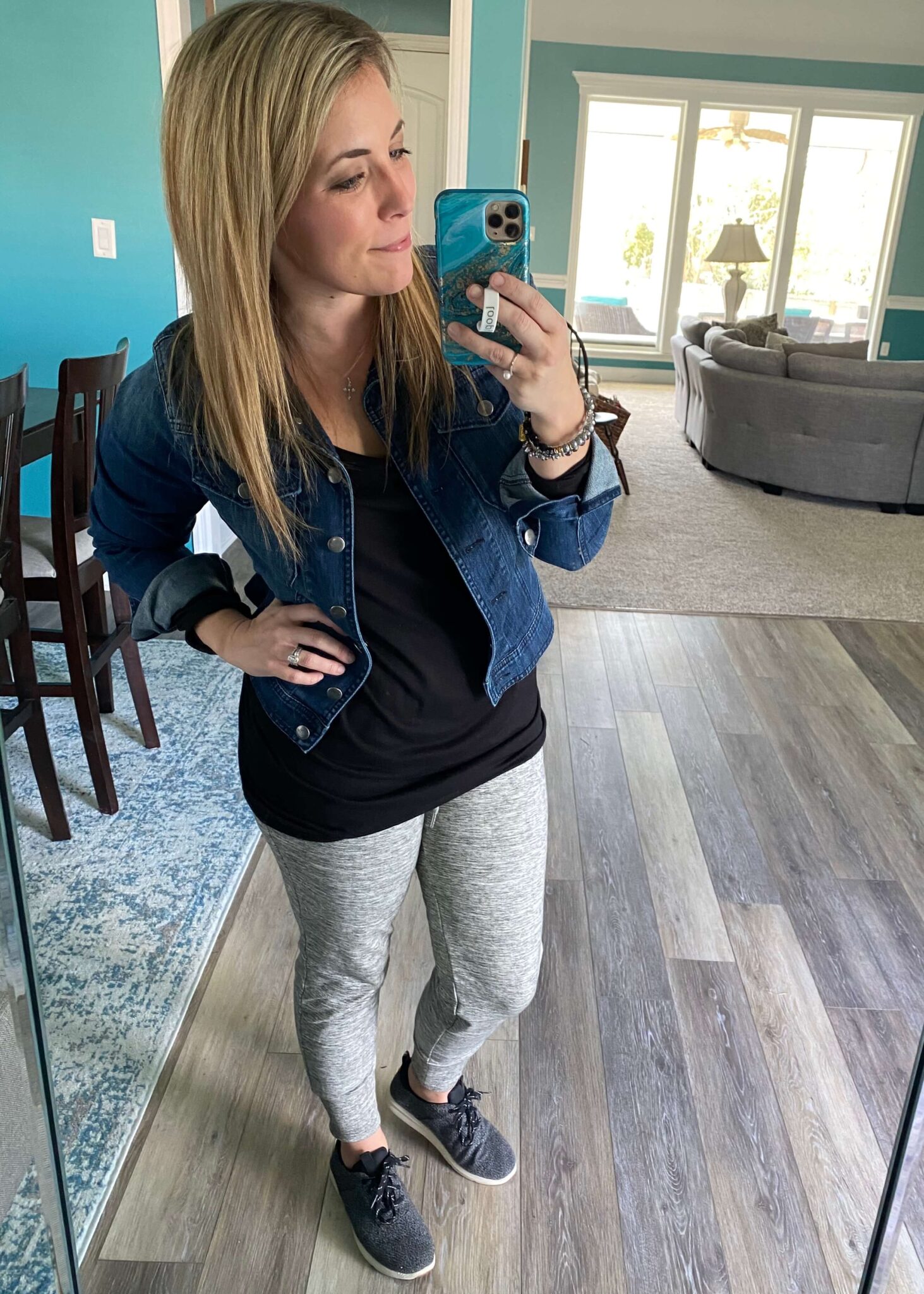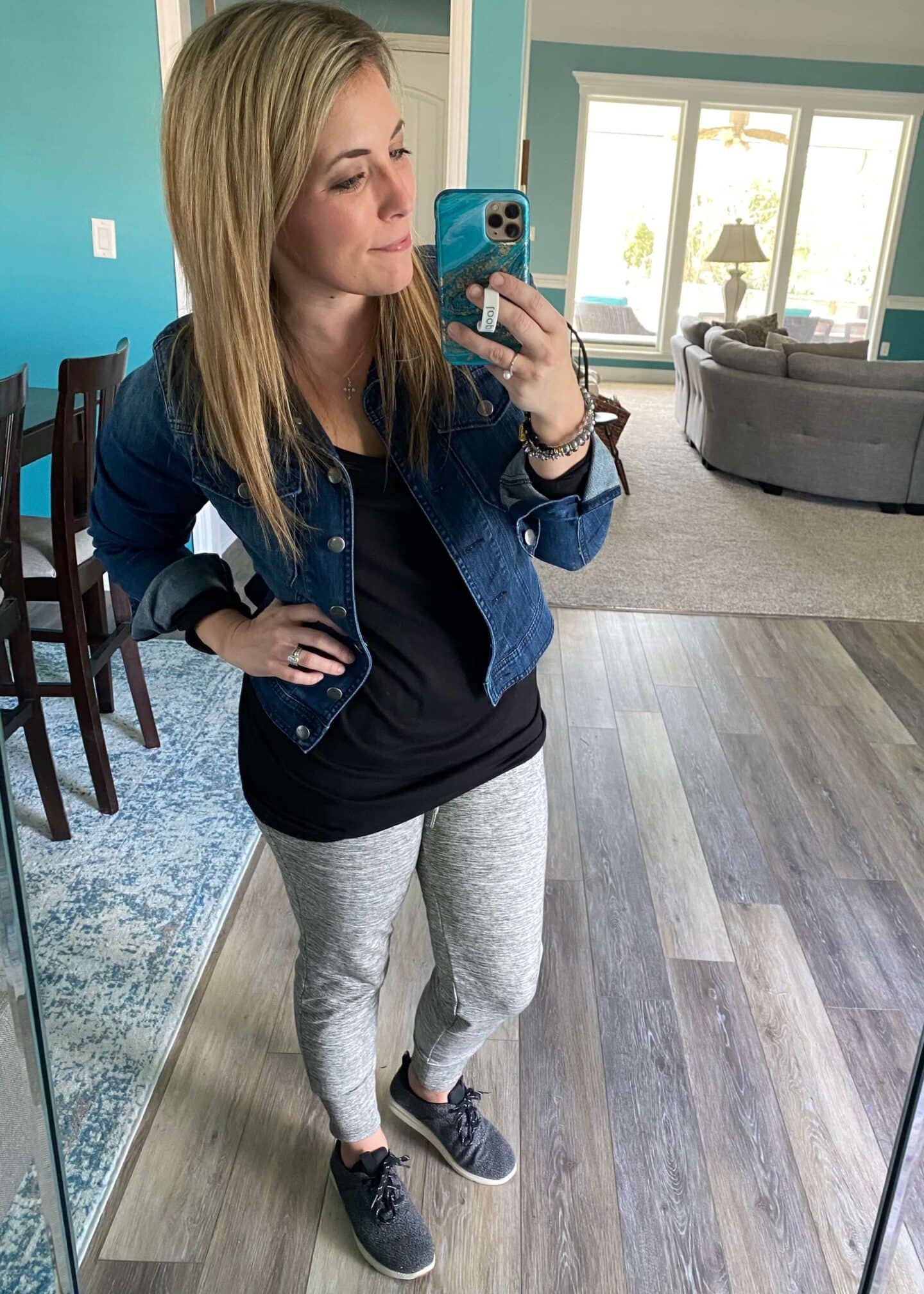 Ever have something in your closet that you forget you own? I totally forgot about this cardigan and it's SO cute and so great!!! Def going to bust it out more often.
Have you noticed a trend with my jeans? I love the distressed hem trend and this is another great pair I'm loving!
Yall know too that these are my must-have loafers. I have them in multiple colors. SO comfortable!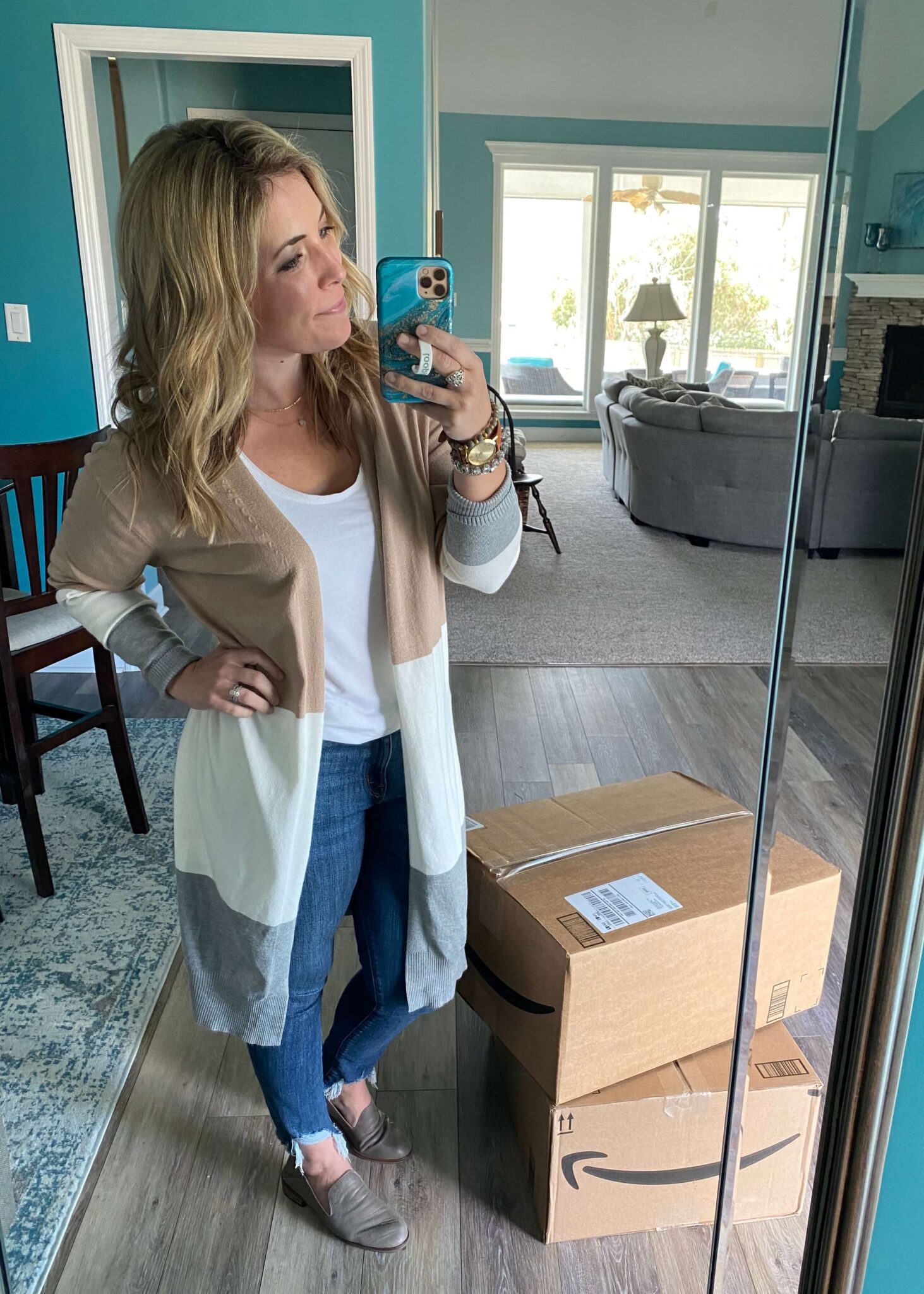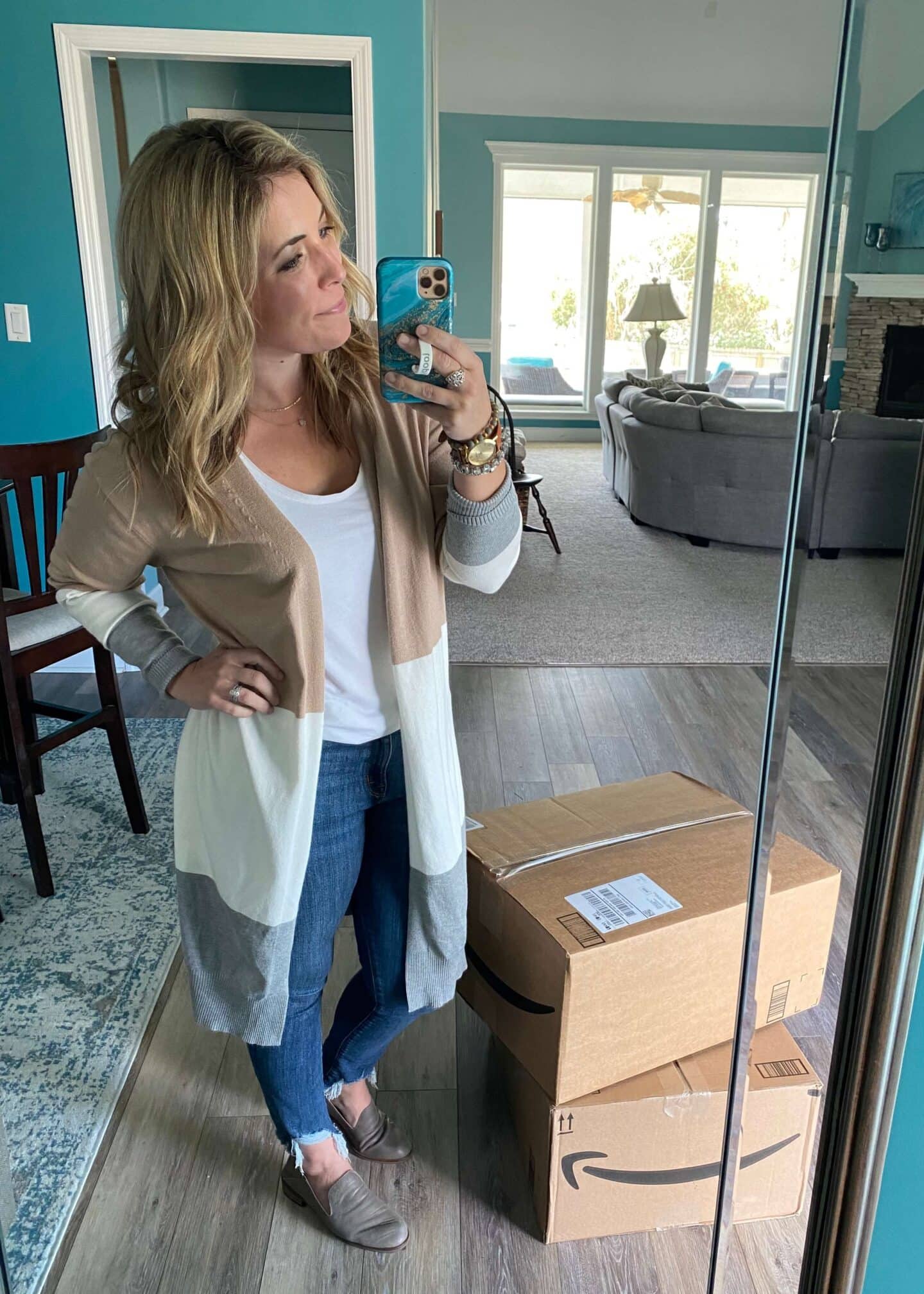 As I mentioned earlier, I'm trying not to buy a lot of new items. I did want to get ONE new thing to wear on our anniversary trip and love, love, love this romper and kimono combo. Yall know I love me a good kimono!
This romper is great for layering under a kimono and has pockets! I've seen lots of people wearing it as a cover up too.
And this kimono is so different from a lot of the ones I've been seeing. I hunted for AWHILE to find this and LOVE it!
I also wear my sexi flip sandals a ton in summer – I own them in lots of colors.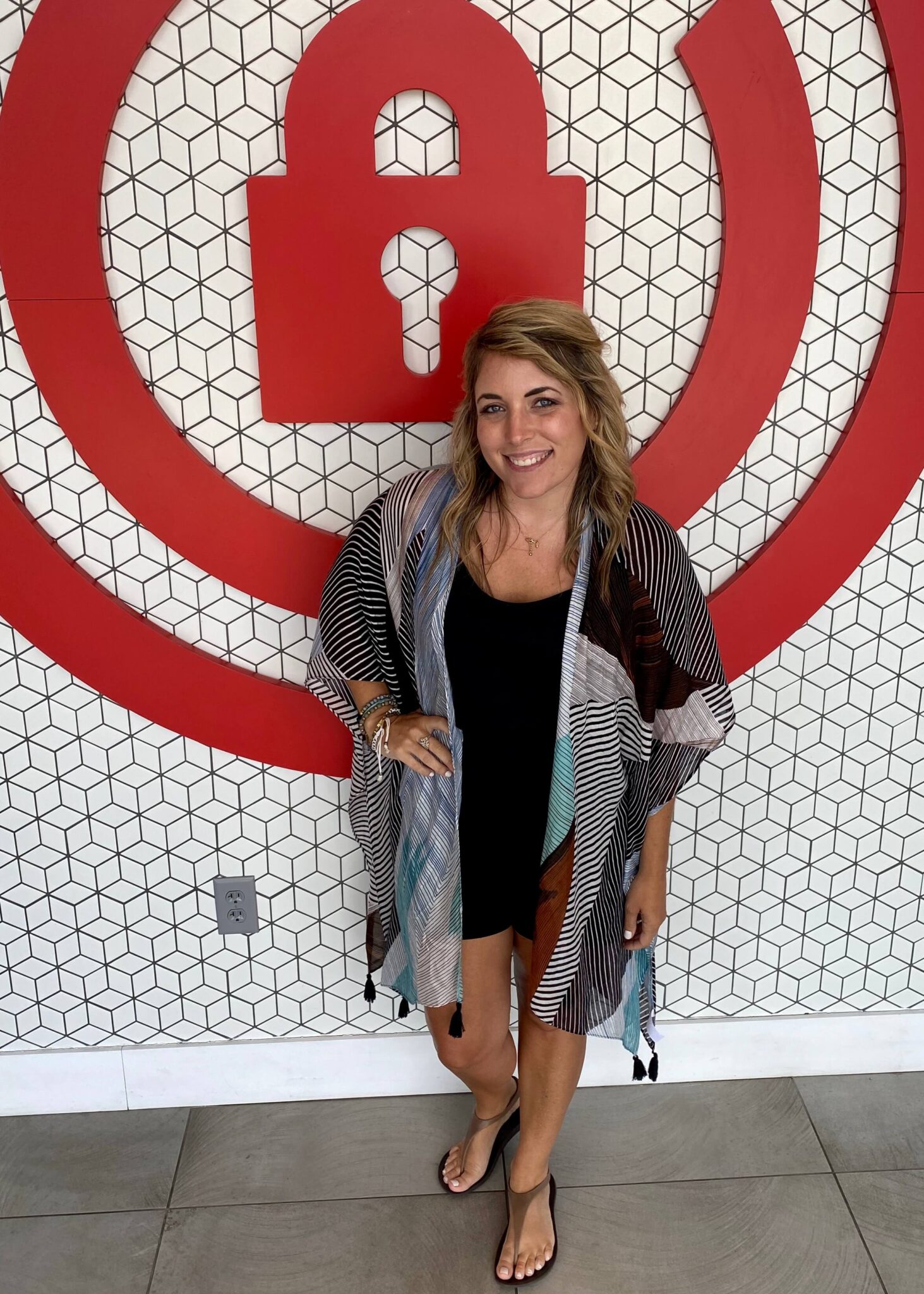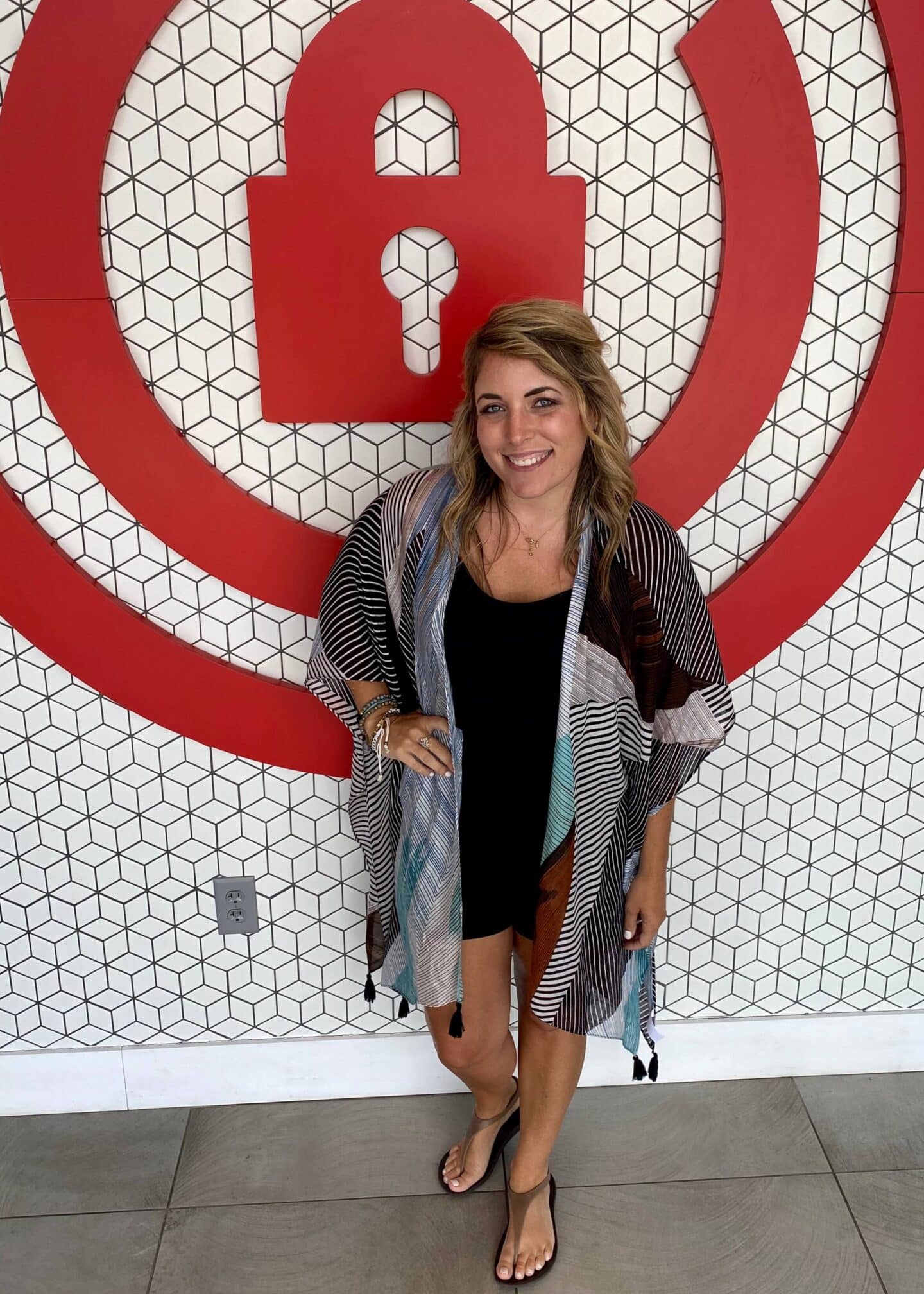 A great investment item has been this animal print top!
I wear it with leggings or shorts and always receive compliments on it 🙂
I always love when I get to work with a brand and the product is something I LOVE.
The simple sarong has been one of my FAVS! It's a towel and a cover up and is so cute!!! The kids versions are great as well.
This bathing suit is also my favorite!!! I have it in a couple of colors but I love that it's modest and still super cute and stylish while also a flattering "mom suit." Plus so affordable that I could easily justify having a couple of colors 😉
Here is the suit again but this pattern is my absolute favorite! It's THE suit this summer for me for sure! True to size as well and the pattern option is especially flattering 😉
I had planned to wear this entire outfit on our cruise but when it got canceled I decided to go ahead and bust it out to enjoy wearing 🙂
I love love love these cover up pants as a great option especially for these types of bathing suits that look like a top! I also bought the black pair of coverup pants too 🙂
And I finally found a GREAT beach hat for my big head 😉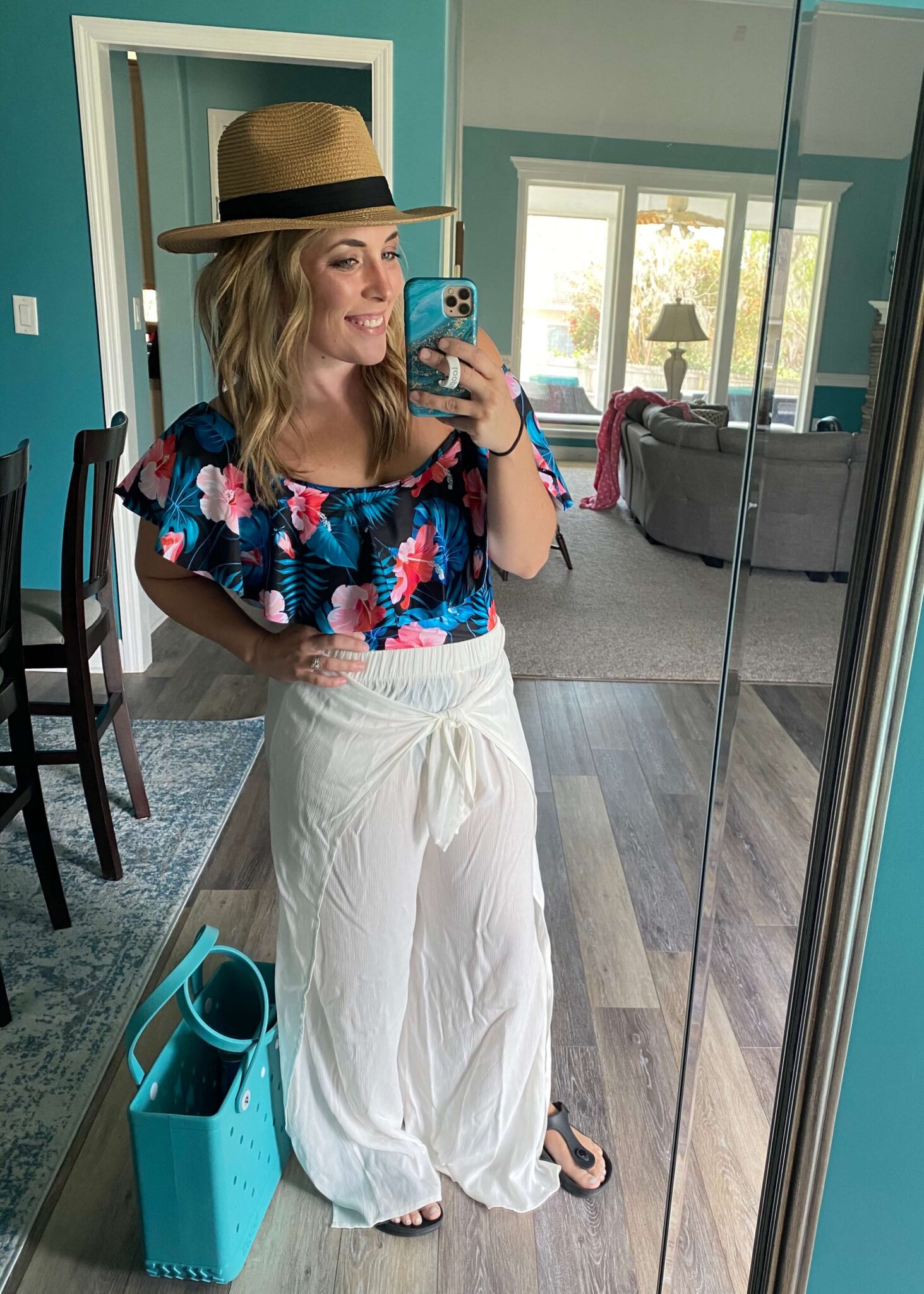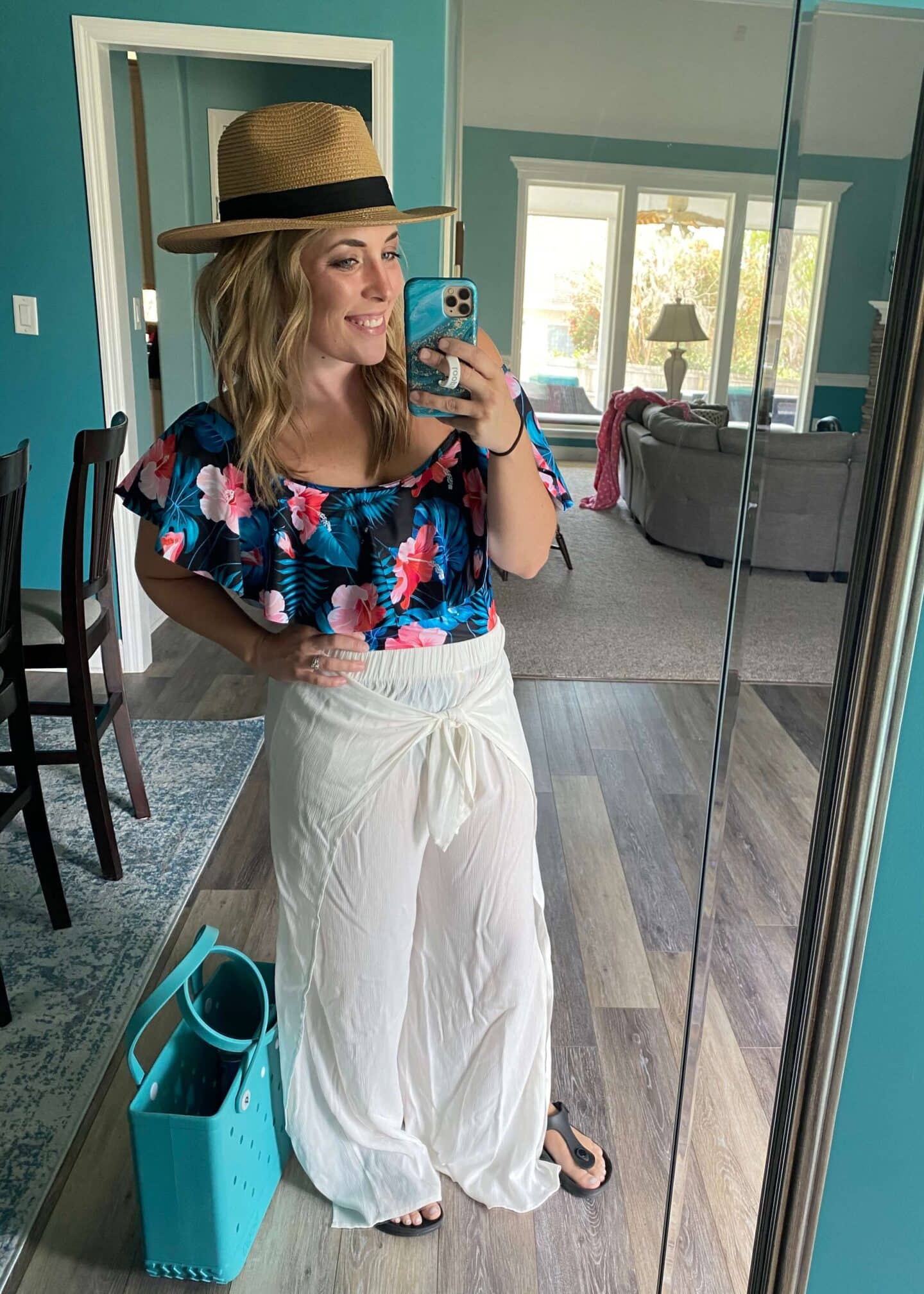 —–> You can shop most of my favorite looks in My Style shopping list on Amazon here!
What I Ordered
It's funny to look at my order history from March – the end of May.
March started off with me buying stuff for our cruise because up until almost the end of the month I thought we'd be going on it!
I did a big revamp of my makeup routine and ordered several great finds from Sephora! You can see my favorites and some of my recommendations in this post 🙂
I grabbed a pair of these shoes for both Britt and Tess to use in the water as well as for a quick slip on option. Since our cruise is canceled I'm actually packing them for the beach this week!
When covid stuff first started to go down I loaded us UP on elderberry. I know it's not supposed to help once you contract the virus but I've always been a big believer in how it can help in prevention and, so far, our crew hasn't been sick at all. Not just with corona but in general either and it's the first time we've ever been hardcore about taking elderberry on a daily basis!
I stocked up on these for the kids:
Living during a pandemic isn't easy on any of us, including our kids. I was so excited to find this book that really helps explain emotions to children and help walk them through healthy ways to cope with their emotions as well as help others too!
Keeping the kids entertained has been crucial during so much time at home!
The Easter Bunny brought each kid one of these sets of kinetic sand and they ALL love it!
One of THE biggest hits of corona though? This marker making kit! We had one from a Christmas gift at some point and the kids busted it out and since then they begged me to order another set and I just ordered a third as a gift for Tess's upcoming birthday!
Another HUGE winner for spending more time at home as been Osmo! The kits are AWESOME for all the bigger kids (I'd say ages 4 and up). I put together a list here of all the Osmo kits we own that the kids all love 🙂
Spending time at home made me really want to invest in a comfortable bra. I found this set of three bras and have LIVED in them all through quarantine and beyond! They still look great under a shirt but are soooo much more comfortable than my typical underwire style!
Even though we haven't been doing ANY traveling my kids actually use a little portable DVD player around the house on a decently regular basis. Britt uses it in her room to listen to Harry Potter audio books on cds and sometimes the kids will watch movies on them since we still use DVDs around here 😉
Our older portable DVD player bit the dust so we scooped up this one and it works great and will be great for the car when we start traveling again too!
Even with a toddler I still battle some diaper rash issues from time to time and yall I SWEAR by this diaper rash cream. It's THE BEST and works so, so well!
The big winner in the game category for quarantine has been Taco, Cat, Goat, Cheese, Pizza. I love how super simple it is to learn and fun for ALL of us! Challenging enough for even Zach and I to be into it!
I've heard SO many awesome things about this carpet cleaner and I finally took the plunge to try it out and, yup, it's super legit. Works awesome! Zach got some black caulk on Tess's new carpet and it came right out.
I have spent a ton over the years trying to find the perfect pool float for laying out and reading and Katie told me about this and LIFE CHANGER. Hello cheap pool float FOR THE WIN!!!
Over the years of living in South Georgia I've become worse and worse with seasonal allergies. I get headaches that only seem to go away with lots of Advil cold and sinus. I've started using a nightly nose spray and have had a HUGE success with using a humidifier every night while sleeping.
I have had a couple different ones and struggle with them getting yucky or having mold even. Not cool. I invested in this humidifier and it's PERFECT for my needs.
It has a large base so I don't have to fill it as frequently, it doesn't have any little parts to worry about getting mold, it runs very quietly at night, you can turn off ANY of the lights so it doesn't irritate me in the dark either, and it also has a spot if you want to add oils to it. I LOVE it and cannot recommend it enough!
My niece, Payton, turned 11 during corona and I wanted to get her something fun for her birthday. I grabbed this unicorn set of a variety of items and it was a huge win! I didn't see her until several weeks after her birthday and she was using many of the items and Courtney said it was one of her favorite presents.
This will be my new go-to gift for the preteen girl age!
It was also Colt's birthday during corona but we were thankfully able to all get together to celebrate! I feel like the pre-teen stage is TOUGH to buy for and I was SO PUMPED when I found this glow in the dark basketball goal.
He was really excited when he opened it and the reviews sound great so hopefully he likes it long term 🙂
—–> Want to see all my favorite finds throughout the year? Be sure to check out all of my Amazon Lists here!