Easter 2020.
If I had to choose a holiday to be messed up by coronavirus life I'd def choose Easter!
Our tradition for Easter is to be at home anyway and the only differences this year were worshipping online with our church rather than in person and not being able to go to Katie's the day prior or Mema's the day of for lunch.
While we missed getting to visit with her, it was an easy holiday to make EPIC at home for the kids!
Our neighborhood did an egg hunt so we kicked off the morning decorating eggs to hang on the porch for neighbors to see.
When we went outside to hang our eggs we discovered a special surprise egg hunt from our sweet friends from church!
SO thoughtful! Thank you Walker Family 🙂 It was such a fun activity!
We headed inside and decorated eggs!
Every year we decorate eggs and still went ahead and did it this year for the Easter Bunny to hide.
I love that Kye is still always into it and this year was the first year Spear really enjoyed it too!
We did some baking for our Easter Feast and were lucky to see the Easter Bunny passing by our house 😉
After naps we went for a long family golf cart ride around the neighborhood counting all the eggs and it was SO FUN.
We were just all laughing so much and it was one of those family moments that you just wanna bottle up and keep forever!
Every Easter growing up we always put our shoes out for the Easter Bunny to hide an egg in and it's a tradition I carry on with the kids!
This was the first holiday where we have FOUR KIDS participating in the fun and it made it extra special.
Spear was able to find eggs on his own and with the help of the older kids and it was so cute watching them all just have FUN!
Did the Easter Bunny go a bit overboard for anyone else during quarantine?
The kids got the most full baskets EVER!
Here's a rundown of some of their goodies:
Kye (11 Years Old)
Britt (8 Years Old)
Tess (5 Years Old)
Spear (2 Years Old)
I LOVED that Zach and I could kinda "sit back" this year and just WATCH.
It's such a blessing to have our family complete and it was such a nice moment to see all the kids so excited going through their baskets!
The gifts were all a HIT!
Zach's parents came by in the yard and dropped off Easter goodies for the kids and visited a bit. Spear struggled HARD with not getting to love on Big Papa!
It worked out great for them to snap a few pics of our family and we took a few additional ones of just the kids as well as me with the kids (with Pinterest making pins it's ALWAYS handy for me to have mom+kids for mom related stuff!)
We watched our church services on Live Stream and then had an Epic Easter Feast!
Zach loves a big lunch so we decided to eat at lunch time for our big meal and decorated the breakfast nook with the kids paintings 🙂
I really wanted to make this Easter extra special and what better way to do that than to have an AWESOME egg hunt?
We have the perfect yard for it for sure! Zach and I worked together to stuff 120 eggs with candy as well as 26 with prizes (mostly coupons…the kids GO NUTS over some coupons to skip eating beans at dinner or skip a chore and still get paid for it).
We hid them all in the yard during nap time and it was ON after they got up!
Spear was the least into it, I don't think he found a single egg. But he also knew he'd get treats anyway 😉
The others though LOVED IT and it was so fun hiding them and watching the kids have so much joy!
It was so fun seeing how into it they were! The weather was PERFECT and it was such a great end to the day!
Even though the quarantine-life is tough in many ways, I LOVED this Easter.
It was a blessing to have quality time with our family and make a memory together.
One year we had stomach virus on Easter and had to make other plans than our regular ones and that is the Easter the kids always talk about and I know this corona-Easter will be one that will be remembered forever too!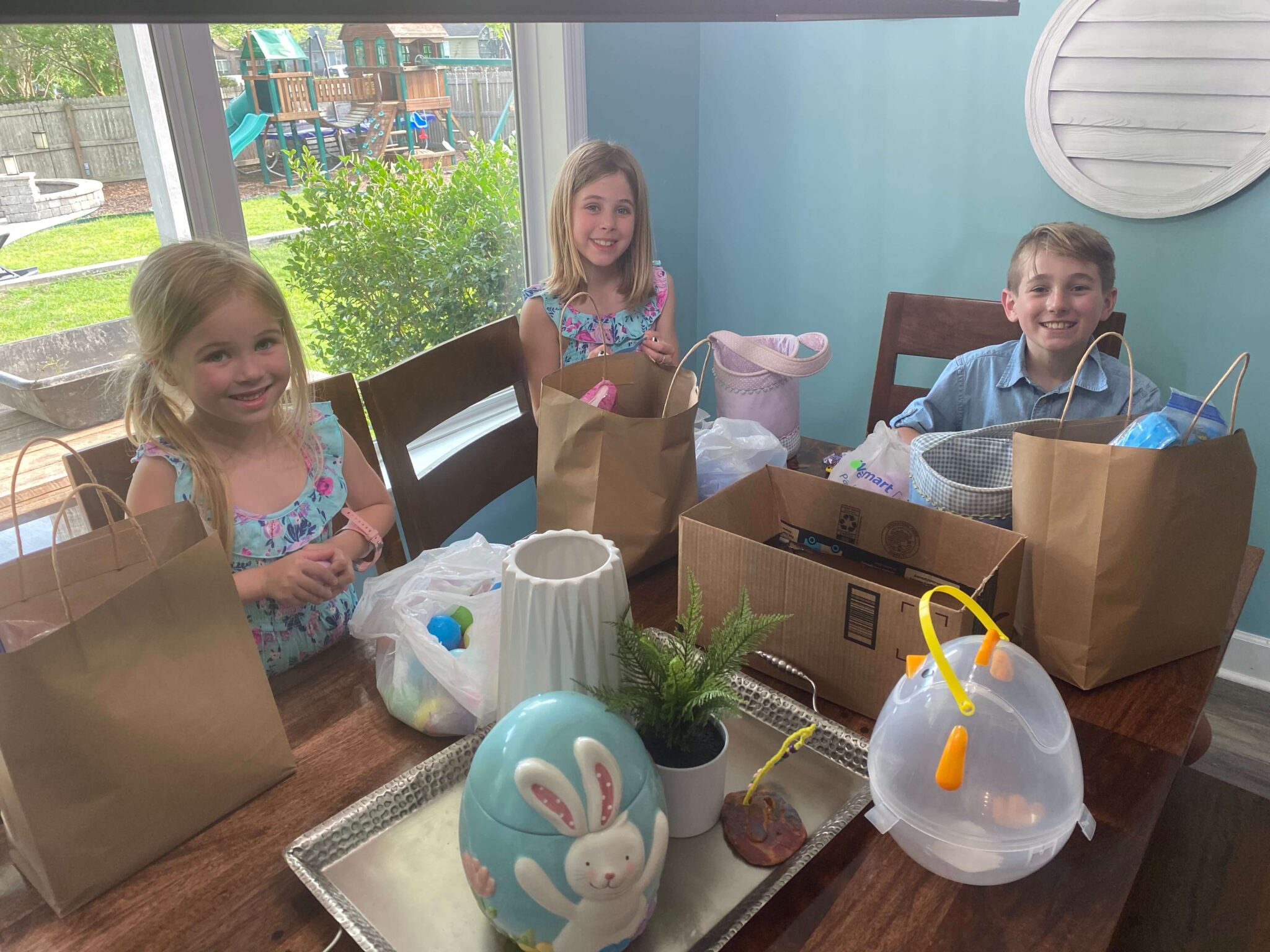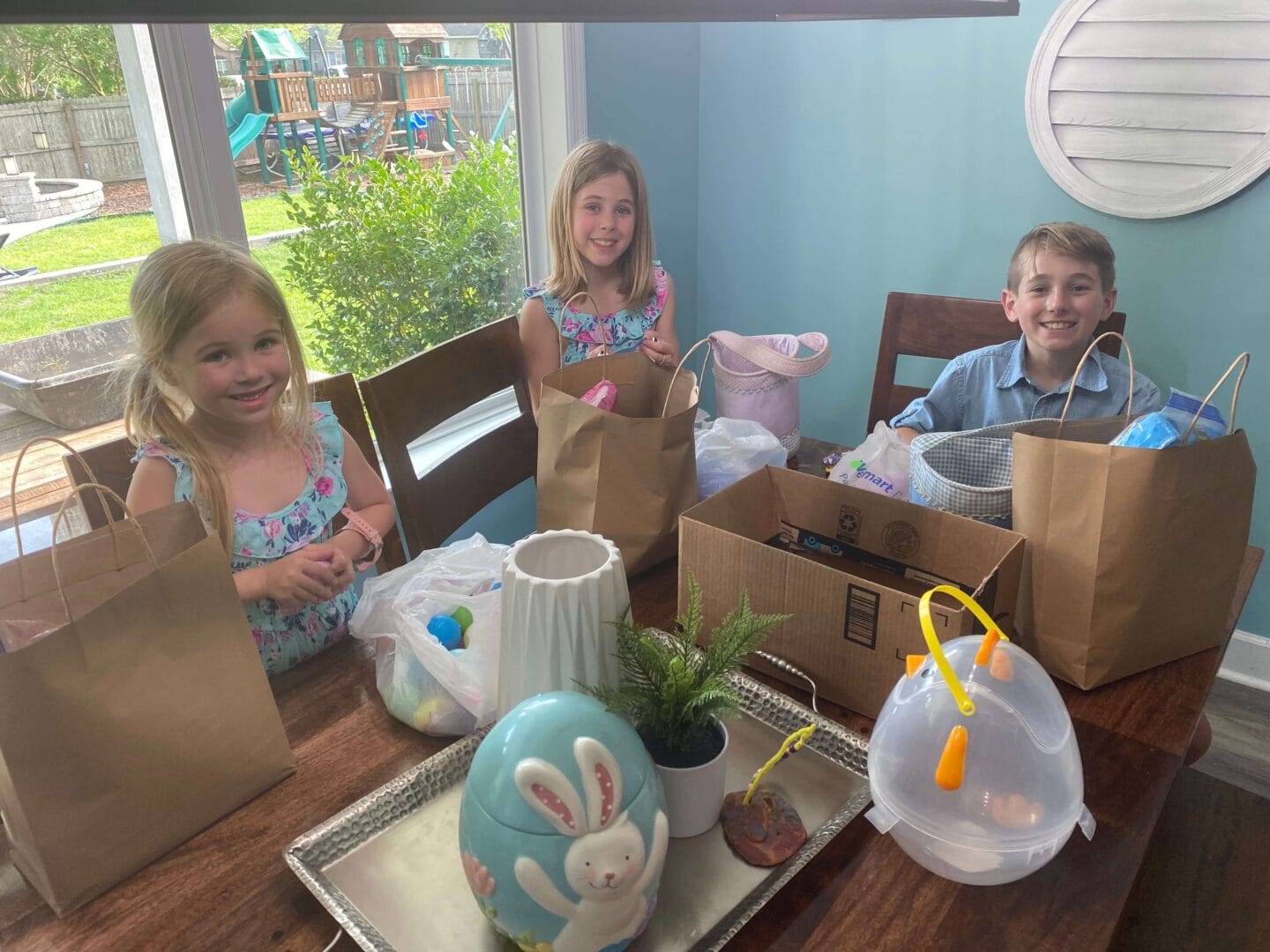 A video of our fun day should auto play in this post 🙂