Magic Kingdom Morning – April 2019.
After our beach day we had to have a Disney day 😉
I have this crazy goal of visiting Disney once a month for this whole year…and I'm on track to achieve it (just MY goal, not the whole family).
So an April park day had to happen!
Typically we visit the parks first thing in the mornings but the kids really wanted to go to Hollywood Studios and they had a morning magic hour so we knew it'd be SLAMMED by the time the park opened to all guests. AND all the fastpasses were gone for the morning and only available in the evening time.
So we switched things up and planned our family time for that afternoon at DHS. Zach wasn't too pumped about it but it ended up working out in his favor because The Masters were on and he was able to watch the whole thing prior to our park time!
For the morning time slot I took the big three to Magic Kingdom to be able to play Sourcerers of the Magic Kingdom.
We didn't have a lot of breakfast options so I got the kids a treat while we waited for the ferry. It's always a good time for a yummy treat!!!
Joffrey's is legit one of the best things about Disney. I LIVE for Joffrey's!
I read a thread on FB comparing Disneyland to Disney World and someone made the point that WDW is superior because it has Joffrey's…not going to disagree with that.
I was pretty pumped for my little bit of donut but was extra excited about my frozen coffee…until they handed me the cup and it had a CARDBOARD STRAW.
NO. SIR.
I get it. It's all about the environment or animals or whatever…but y'all. They are serving the drink in A PLASTIC CUP. Why in the world can't I have my plastic straw to go with it?!?!
Literally the straw disintegrated in the cup before I could even get halfway through drinking it. So. Annoying.
And I know, I can drink it without a straw. But I'm a STRAW GIRL and it's simply NOT THE SAME #firstworldproblems.
I fully plan to invest in some travel straws to bring with us in the future but I'm also going to complain about the straws everytime I go, so be warned 😉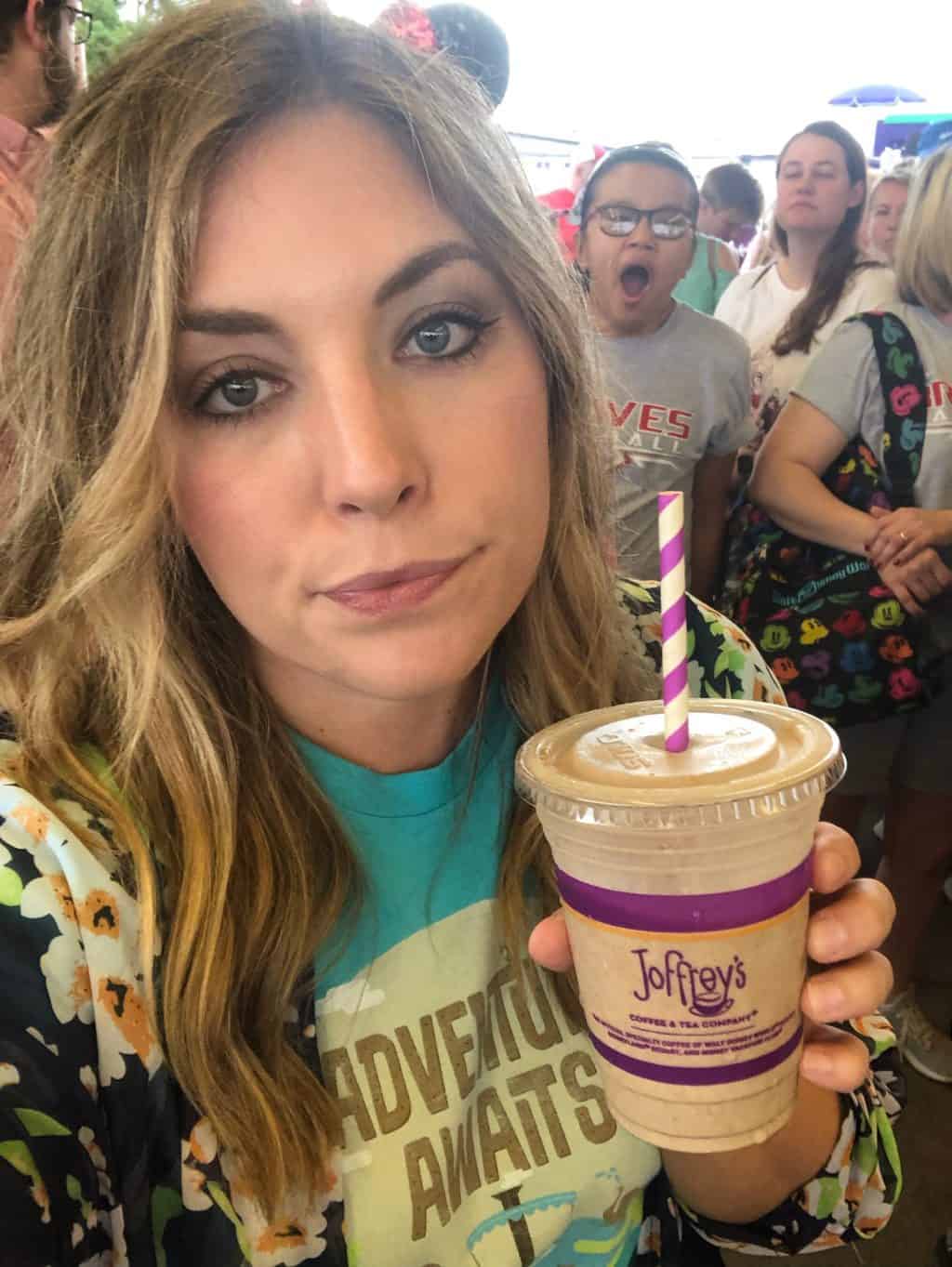 We opted for the ferry this morning as we had a lonnnnng 45 min monorail delay last MK visit 😉
Good morning Magic Kingdom! We took our time heading down Main Street as we were plenty early before park opening.
We had just enough time to get some individual pics in front of the castle!
Since we weren't together as a whole family I felt like going for solo pics was the way to go…I love that the kids each had a fun thing with them that can be a good memory of this stage of their lives 🙂
Britt sleeps with her elephant (Ellie) every night. She and I bought it together on our very first girl's shopping day when she was three and it quickly became her favorite. I love that she had Ellie along that morning!
The photo pass photographer was super sweet and made the pics special and did magic pics for us too!
Tess's makes me laugh because it's like she's saying "not another Tinkerbell pic" haha
Once the park opened we went straight to Buzz. Buzz never disappoints and is a pretty easy walk-on ride at park opening!
If you ever doubted that Tess and I look alike…check out our matching concentration faces 🙂
I go solo with my kids to the park pretty regularly at this point and it is such a blessing to me that we're able to do this and that it goes so smoothly.
I have great kids. I do. They listen. They behave. I trust them.
And so much of that comes from how we've raised them.
So taking them out and about by myself is not only a reminder of how awesome my kids are, but also a reminder to myself that hey, I'm doing a pretty dang good job as their mama 😉
We split up sometimes at the park. I love that I can trust them to SIT and STAY while I go grab the stroller! I especially love walking up and seeing them together. Sharing laughter. Seeing love!
We talked through ride options and each kid shared something they wanted to do while we were at the park, but our goal was to play the game.
We had our fast passes booked for DHS that afternoon so we just kinda went with the flow!
Omg y'all. How ADORABLE are these BABY DISNEY DUCKS!?!?!?!
Arriving at Fantasyland early in the day is always fun because you often get to run into characters! Peter Pan and the step sisters always have great interactions!
And side note: I LOVE that Britt's concentration face is her curled tongue!
Last time at MK we met celebration Mickey and Minnie and they gave out a checklist of items to complete in honor of their big birthday year!
Britt has taken this list SERIOUSLY. She reviewed it on our way to the park and her mission was to complete as many of them as possible.
One of them was visiting Philarmagic which wasn't a reach since it's her FAV!
Tess opted not to choose a ride so we'd be able to have more time to play!
The great thing about Sorcerers of the Magic Kingdom is that it picks up right where you left off during your last visit. It's super easy to just keep the game going!
One of my proudest "mama moments" is letting the kids run ahead and watching them at Disney. I love that they know how to navigate the parks but also that they just have such a LOVE for it like I do!
I love that Kye is getting old enough and skilled enough to snap some mama pics for me too 😉
Britt wanted to do some shopping but I was proud of her for not buying anything…myself on the other hand…I've learned that if you see something you love at Disney you better GRAB IT.
Merchandise doesn't last long at the parks and it can be hard to track it down online, and it usually costs MUCH more outside of the parks too!
We had to be near Pirates for the game so we popped in the gift shop and I saw this shirt. Thought it was cute. Left it. Came back and got it because I KNEW I'd regret it if I didn't!
Want it for yourself? Here's a link!
I didn't realize at the store that it was a mens shirt…but it def doesn't fit like one – it def runs small for a mens shirt! I. LOVE. IT.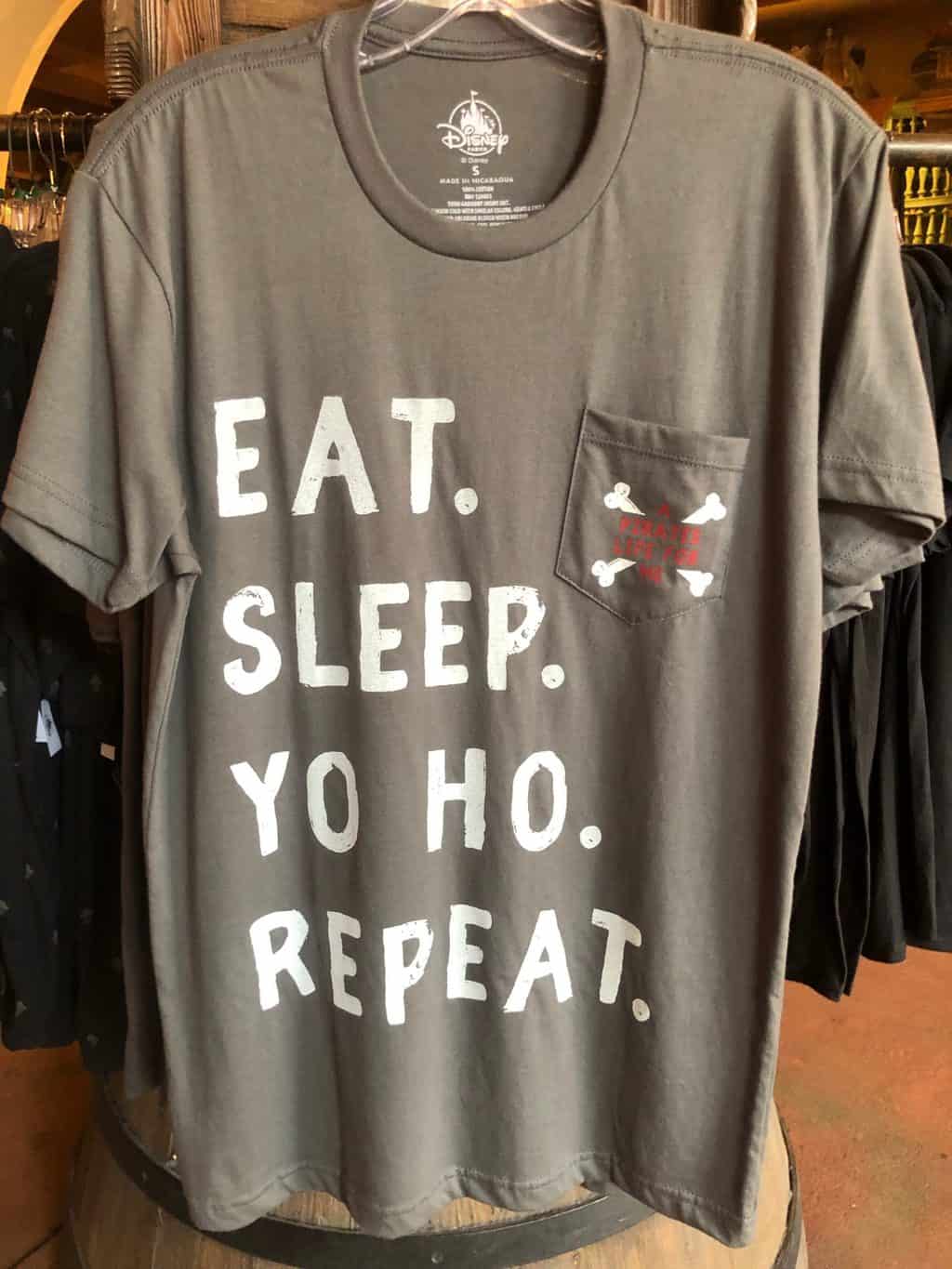 Pirates was shut down at the time when we were in the area and cast members were pulling out all the distractions.
If you're on a full schedule at the parks then you have to be aware of the Disney Distractions. A LOT of what goes on at Disney parks is a distraction.
It's there to keep you out of the lines for rides. It distracts you. Deters you from your plans. Helps lines run smoother because you are drawn into the distraction rather than being in the line 😉
However, if you're like us and just hanging out at the parks then the distractions are super fun! I am all about some random Disney moments.
So we soak 'em up!
I was proud of our athletic skills. We ALL made the shots! BOOM.
We finished up the game and headed on out of the park. Along the way we made a new friend!
I also was tempted to grab a Mickey Confetti Pretzel…it looks SO YUMMY but it was honestly just TOO hot for something so sugary!
On our way out we got to catch a bit of the celebration parade which helped Britt mark another item off of her "to do" list!
Britt also opted to spend her own money to purchase a Mickey Ice Cream in order to check it off the list.
I mean this Celebration list was GENIUS marketing from Disney…Britt shelled out MONEY to get that item checked off!
And Tess followed suite and spent her money on it as well!
Kye was wise and saved his money and opted to just share a frozen lemonade with me instead (so refreshing!)
Can I tell you a secret? I don't like Dole Whip. And I don't like Mickey Ice Cream. I LOVE the ice cream sandwiches but not the classic on a stick versions.
Y'all they are a NIGHTMARE of mess. It's EVERYWHERE.
The girls enjoyed them, but not my thing (I mean not as bad as cardboard straws but pretty close haha).
The kids were so fun this morning! They got along great and were just being so silly putting stickers on each other (and on me!) all morning!
We were back at the house in time for lunch which worked out so nicely so I didn't have to bring anything along with us.
I LOVE me some Disney but WHHHHHYYYY are the parking spots so close?!?! It's such a struggle with the double stroller!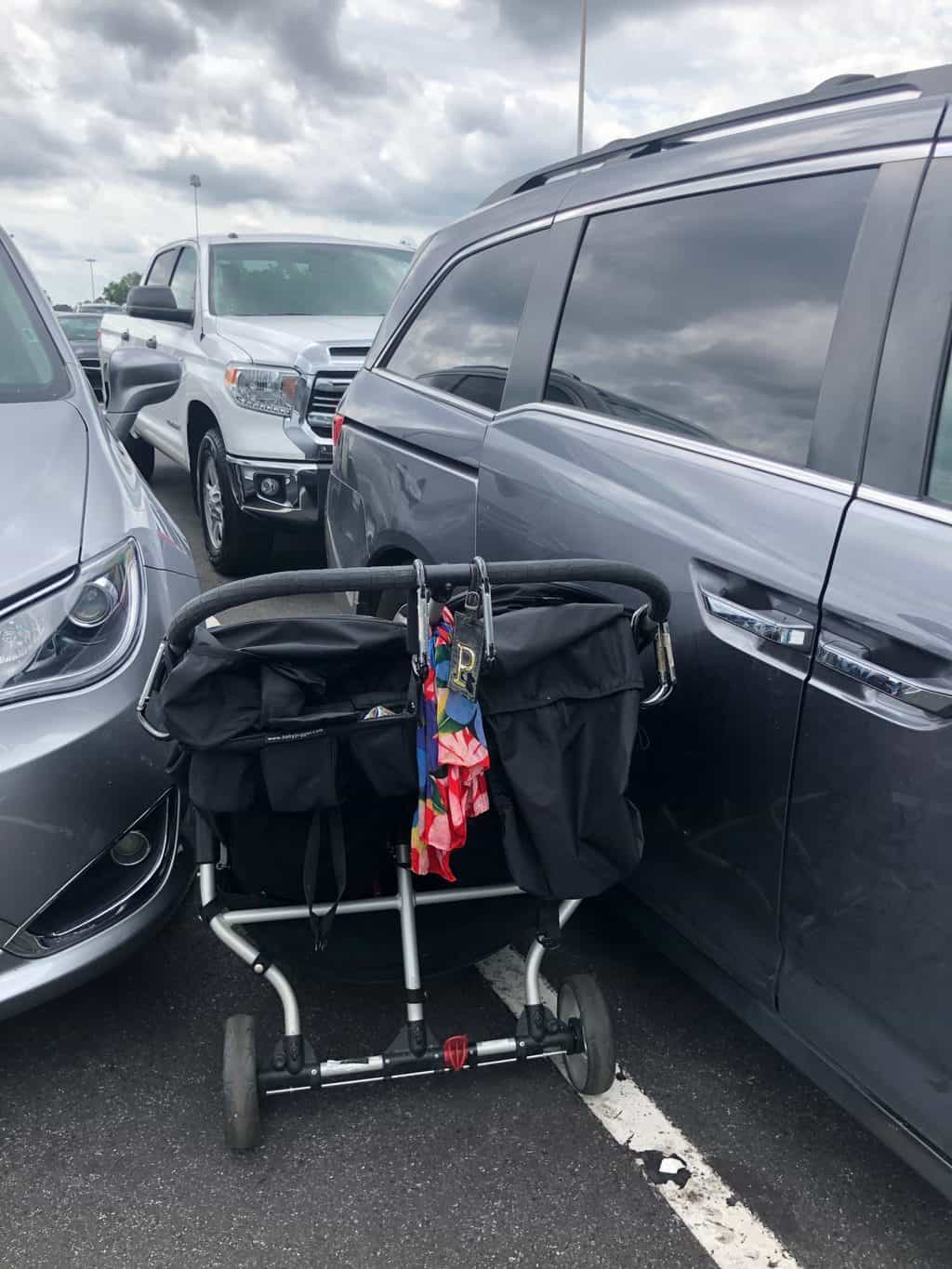 The timing all worked out great so the girls and Spear were napping while Kye and Zach got to watch TIGER WIN THE MASTERS! An epic day for these two Tiger Woods fans!!!