Even before we fell in love with Sorcerers of the Magic Kingdom we had planned to visit Magic Kingdom again the day after mine and Kye's solo day.
It ended up working out so perfectly because Kye was DYING to get back to play the game again and to introduce it to Zach and the girls! He was SO PUMPED!
That morning was the day the time changed for Daylight Savings Time. Plus Kye and I hadn't gotten home until after 10:00. So we were EXHAUSTED.
We opted to sleep in a bit and not rush to the park. We didn't really have a "must ride" ride that was worth getting there an hour before park opening and decided to get there right at opening and go straight for Thunder Mountain which never really has a wait that early in the day (you can read my must-get fastpasses here!)
I'm telling y'all it is SO nice to get to the parks an hour before park opening. Every part of our morning took SO MUCH MORE TIME when we arrived just 30ish minutes after we normally do.
We had to park further away. Which meant further walking. We had a longer line for bag check. We had a LOT more crowds for the monorail.
Then we had the luck of the monorail stopping and being stalled for 45 minutes. Yes. We sat on the monorail for 45 minutes and totally missed the opening of the park. It's a frustrating feeling to be sitting there seeing the time pass by and being in NO control about it.
I was super thankful that we were at least stalled AT Magic Kingdom. Not mid-air or anything but just at the station. I guess they were training a new driver and they didn't line up right so we had to sit and wait for the system to reset or something.
I get pretty claustrophobic and don't love heights so I was just super thankful to be stopped where we were and to see the sign saying the windows could pop out if needed 😉
Once we were finally allowed to depart the monorail I headed straight for guest services while Zach and the kids went ahead to the firehouse to pick up new playing cards for Sorcerers of the Magic Kingdom.
Here is the thing about Disney…they REALLY value guest experience and they WANT you to enjoy your time at the parks. I knew there would be no issue with discussing the whole monorail thing with them and getting Zach and the kids fastpasses for Thunder Mountain.
I just simply explained what had happened and that we had planned to hit Thunder right at opening when there wouldn't have been any wait and that at that time there was a 40 minute wait because we were entering the park so much after opening time. The cast member was super sweet and didn't even hesitate to issue an extra fastpass for our family.
Zach and the kids headed to ride Thunder and to use their fast passes for Splash Mountain. I took my time soaking in the park and walking that way without any rush!
I LOVE When Zach takes videos on rides that I don't ride so I can see the kids' reactions…this is Thunder Mountain!
I made it over to Frontierland when they were on Splash and was able to catch them going down!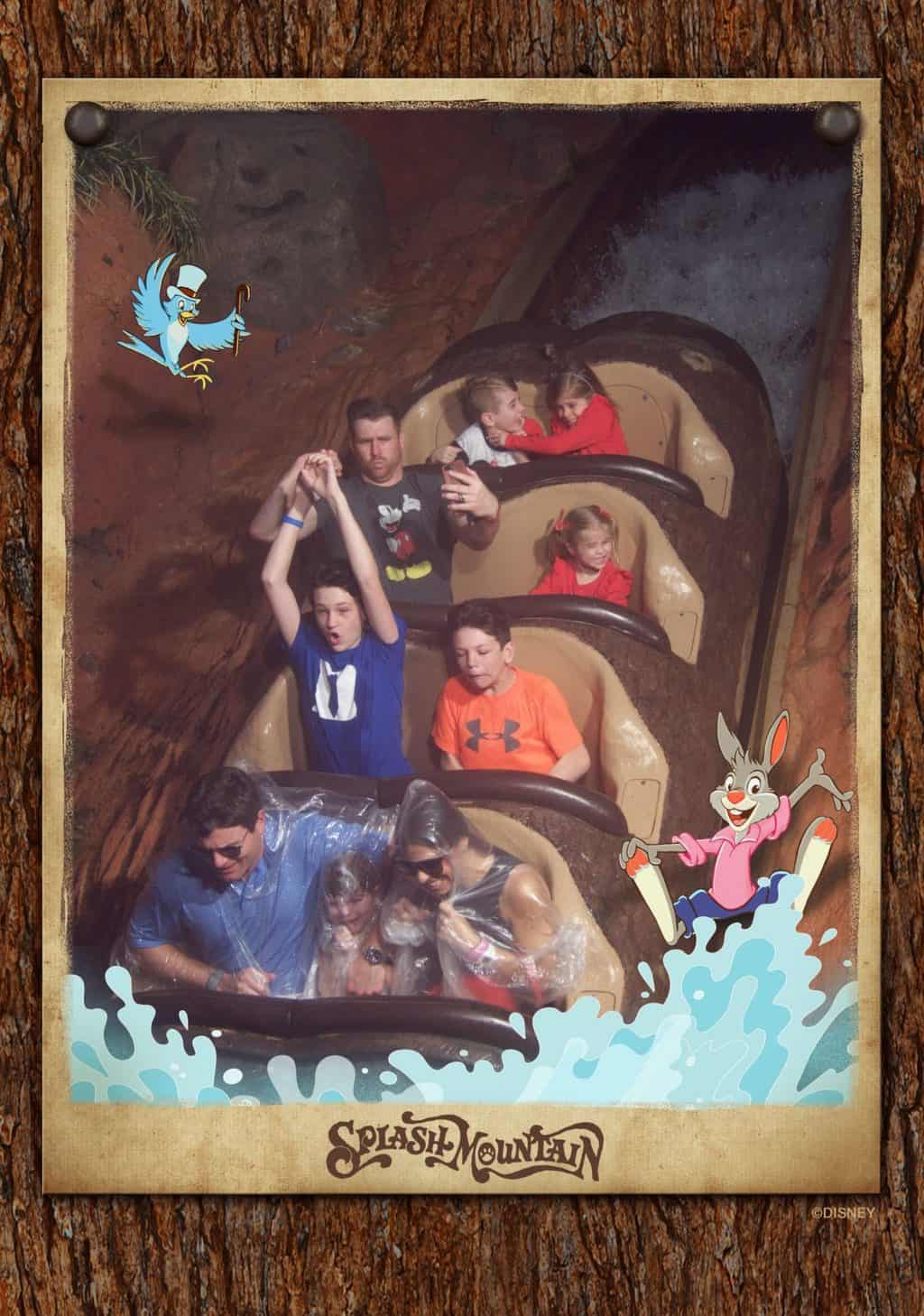 Enjoying my GORGEOUS solo time! I just love, love, LOVE soaking up all the beauty of Main Street and the castle without ANY rush!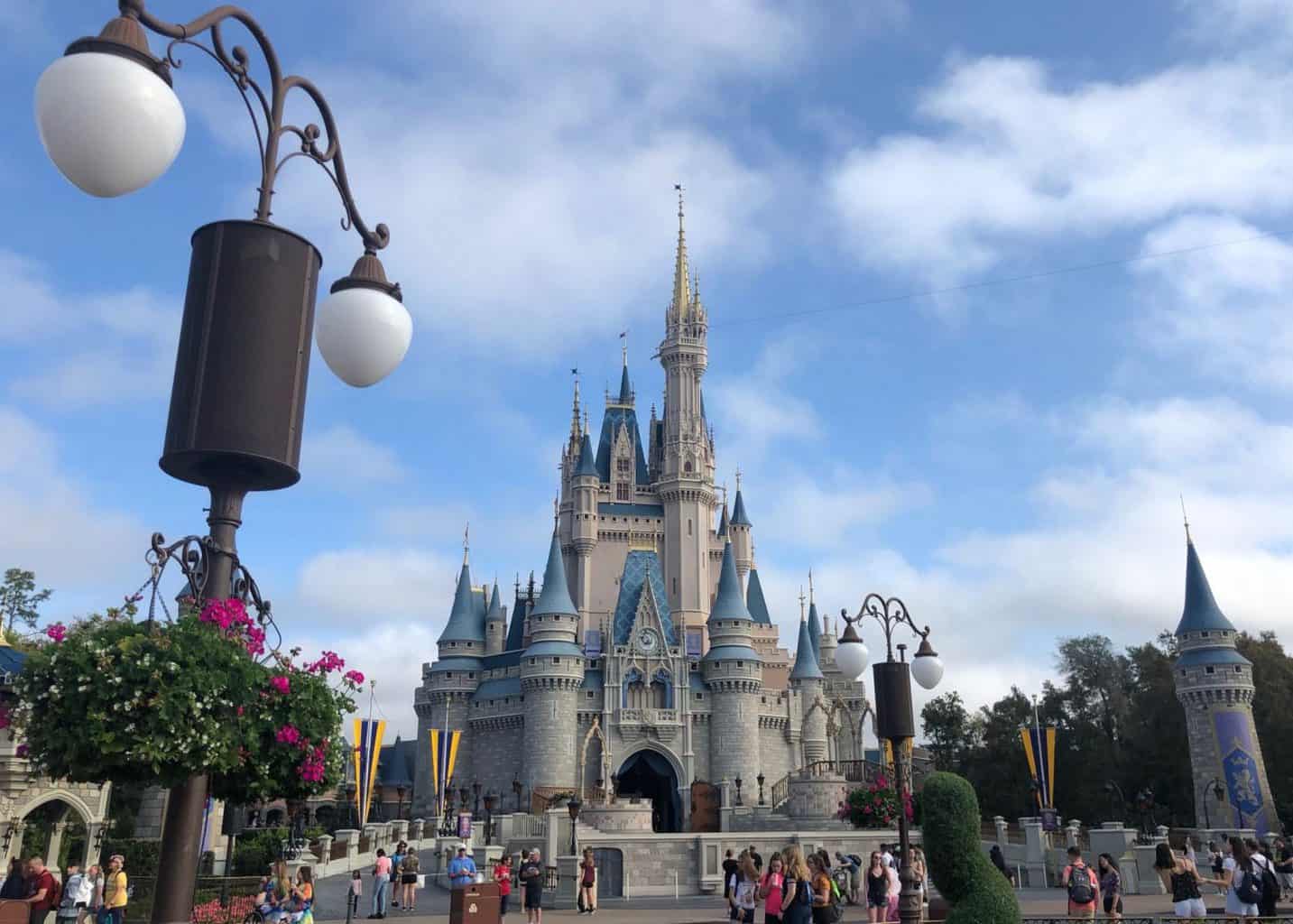 And duh I had to take advantage of the chance for solo pics too 🙂
While I waited to see Zach and the kids come down on Splash I saw this family with matching shirts and I just LOVED them.
Y'all for real. When I die everyone needs to plan a trip to Disney with my face on matching shirts and sneakily spread my ashes around the park (yes, it's illegal but I mean I'm worth it right?).
Duh, y'all know I couldn't help myself. I mentioned to the mom of the crew that I loved the shirts and she told me that her grandpa owned a business and when he died he specified in his will for them to sell the business and use the earnings to take a family trip every year. They made the shirts in his honor to wear on their special trip! How COOL is that?!?!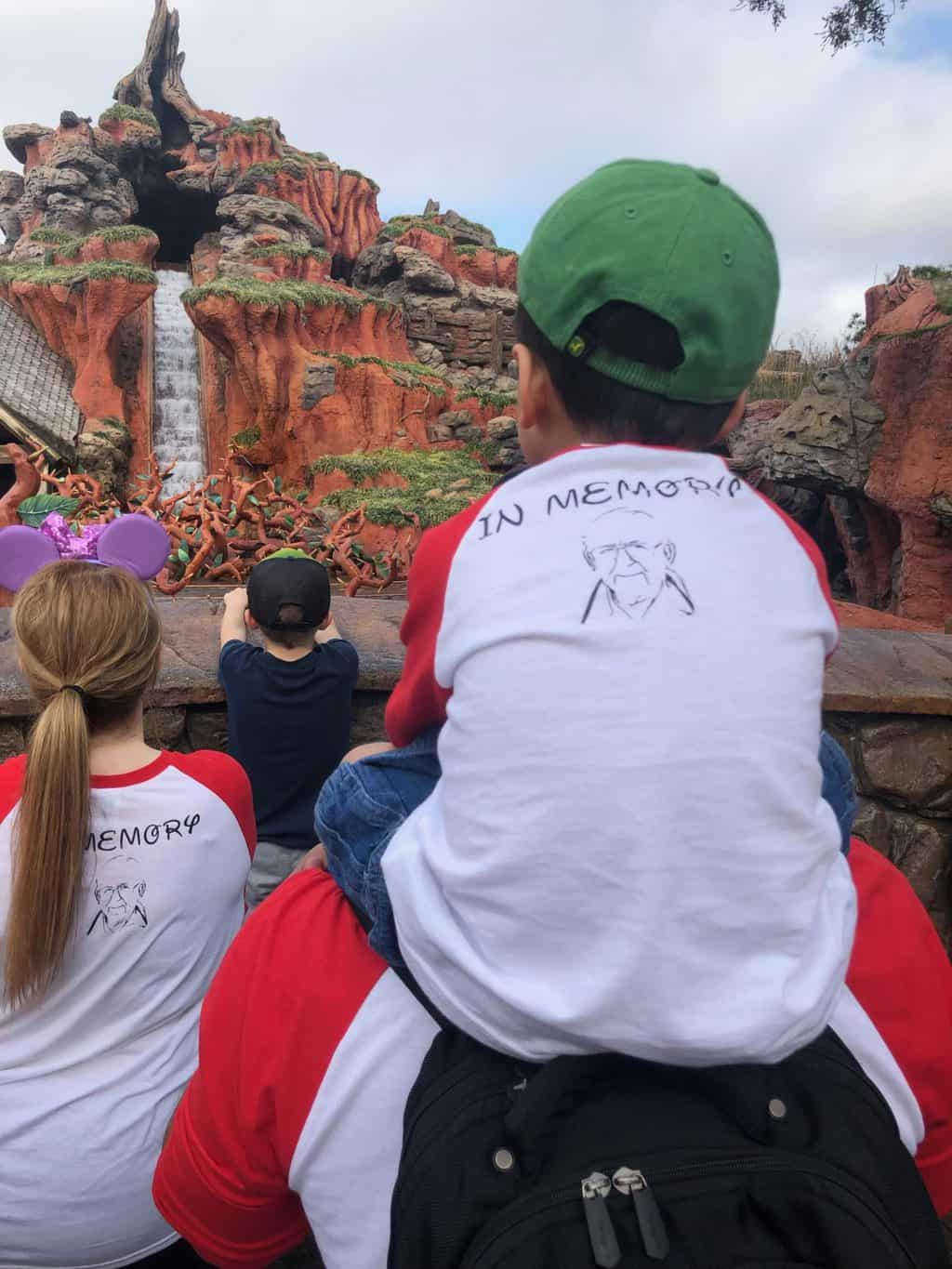 Everyone wanted to play Sorcerers as soon as they were done with Splash and Thunder (we had a large chunk of time before our next fastpass) and our next portal location was located in Fantasyland so we took a bathroom break at the best bathroom in the park (Rapunzel's NATURALLY) and let Kye get all organized with all the new cards we had picked up before starting to play!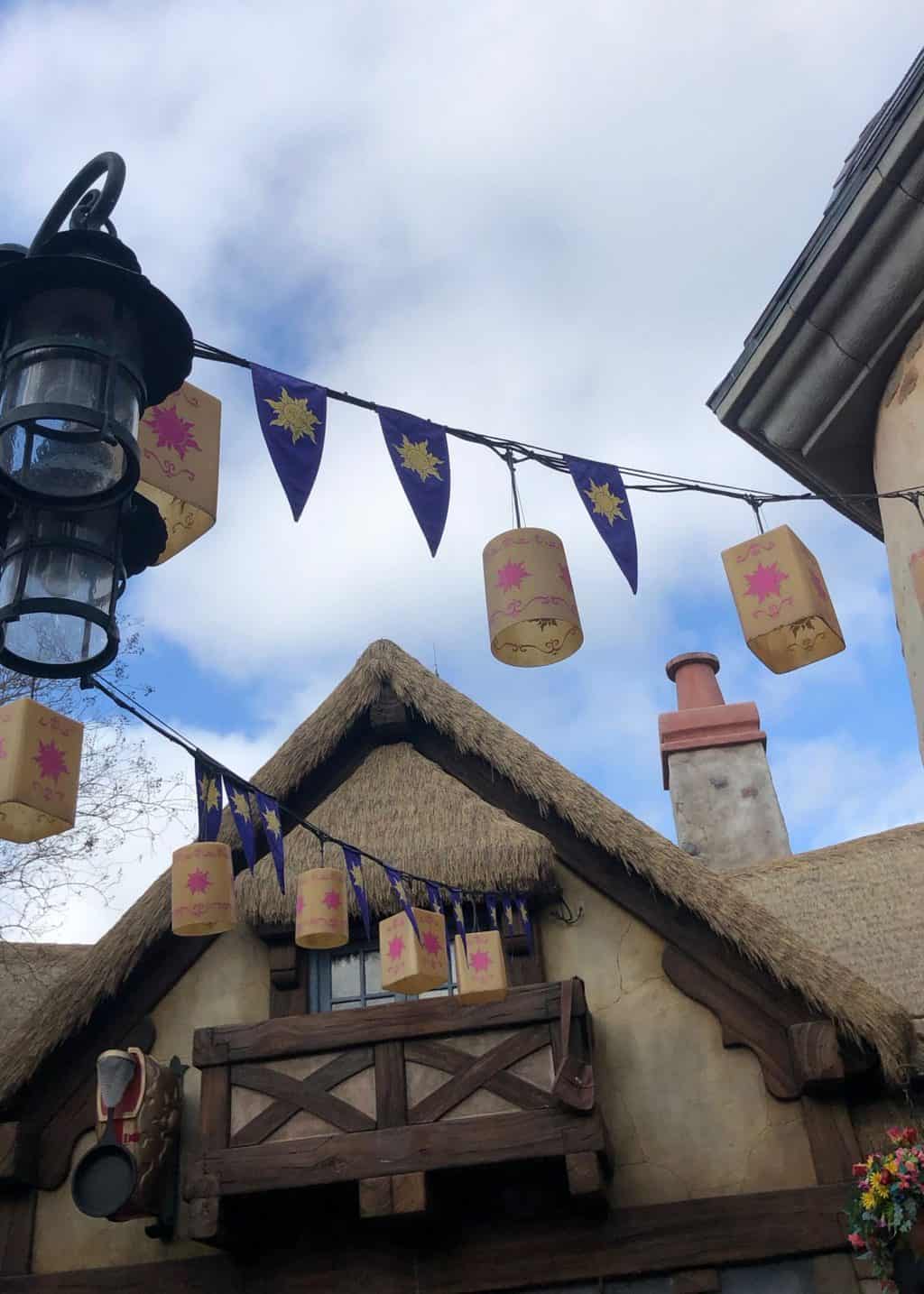 My Disney Girls!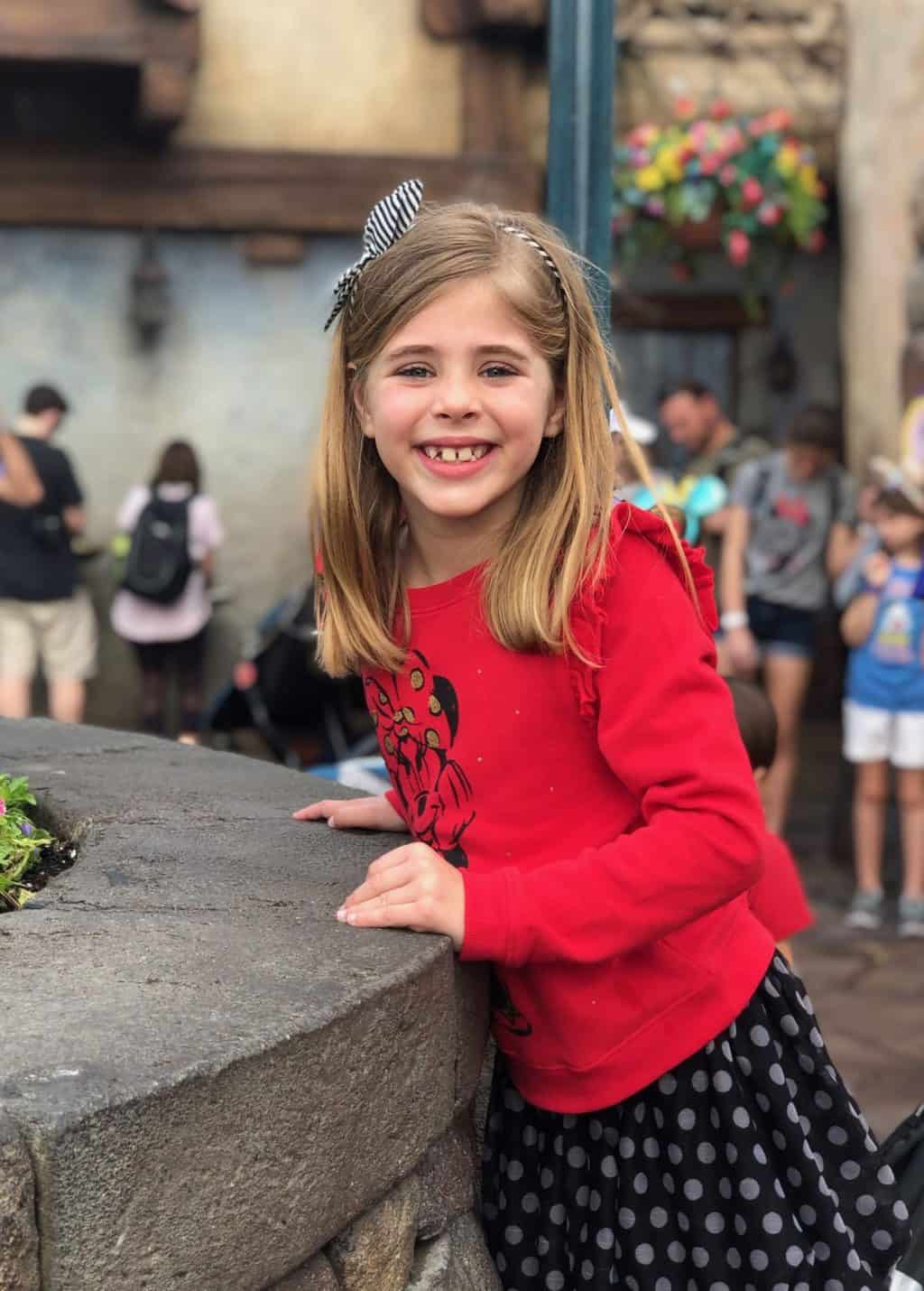 Kye LOVES having the carry case as well as the extra card set we purchased together. If you're interested in playing the game (or know someone who loves it and want to get them a super cool gift) be sure to check out these items: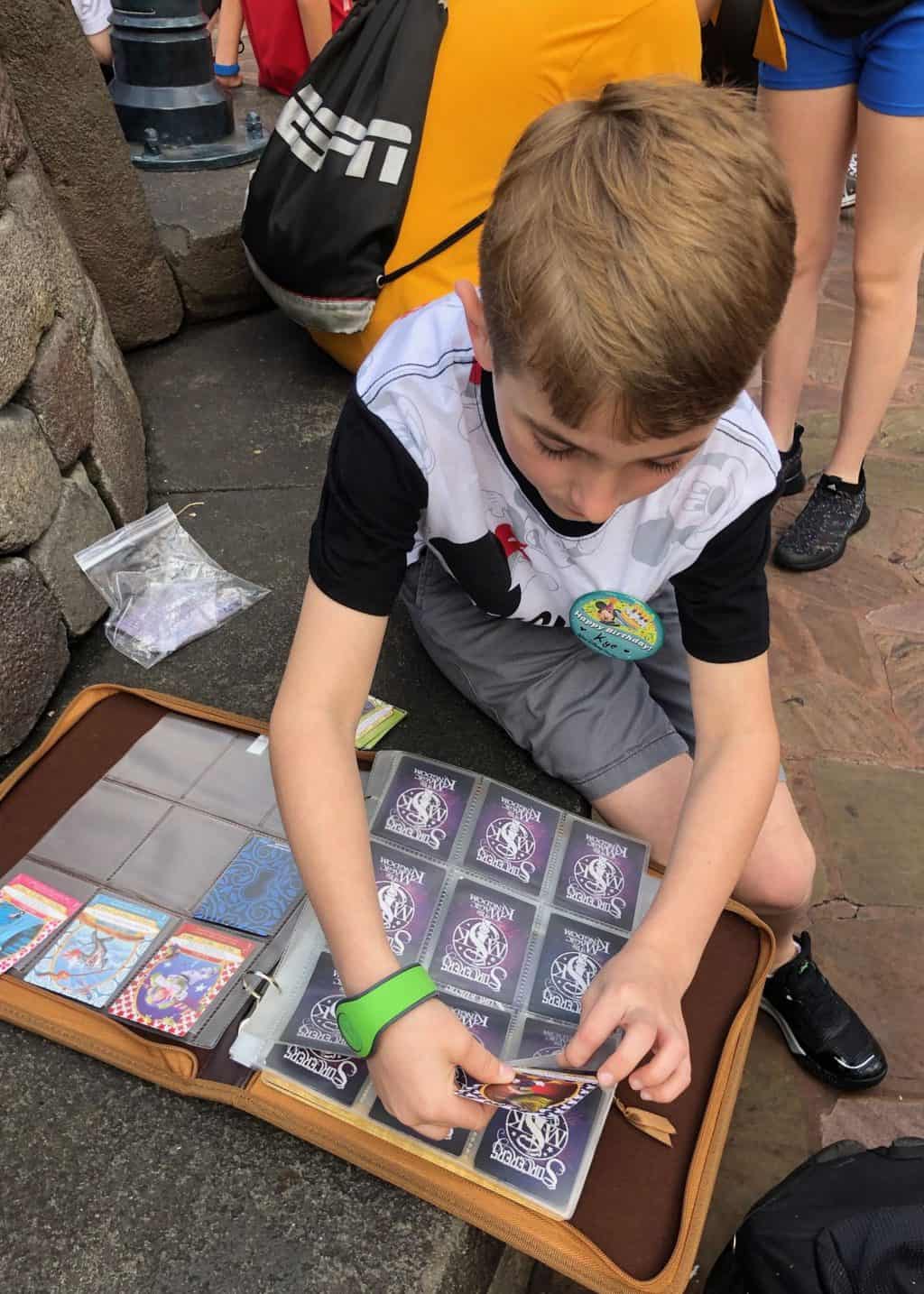 I wasn't sure how the girls would like the game, especially since we were picking up in the middle of a mission but they both LOVED it and Tess was actually upset when we were done playing for the day. We already have plans for visiting Magic Kingdom again just to play the game!
Instant fans!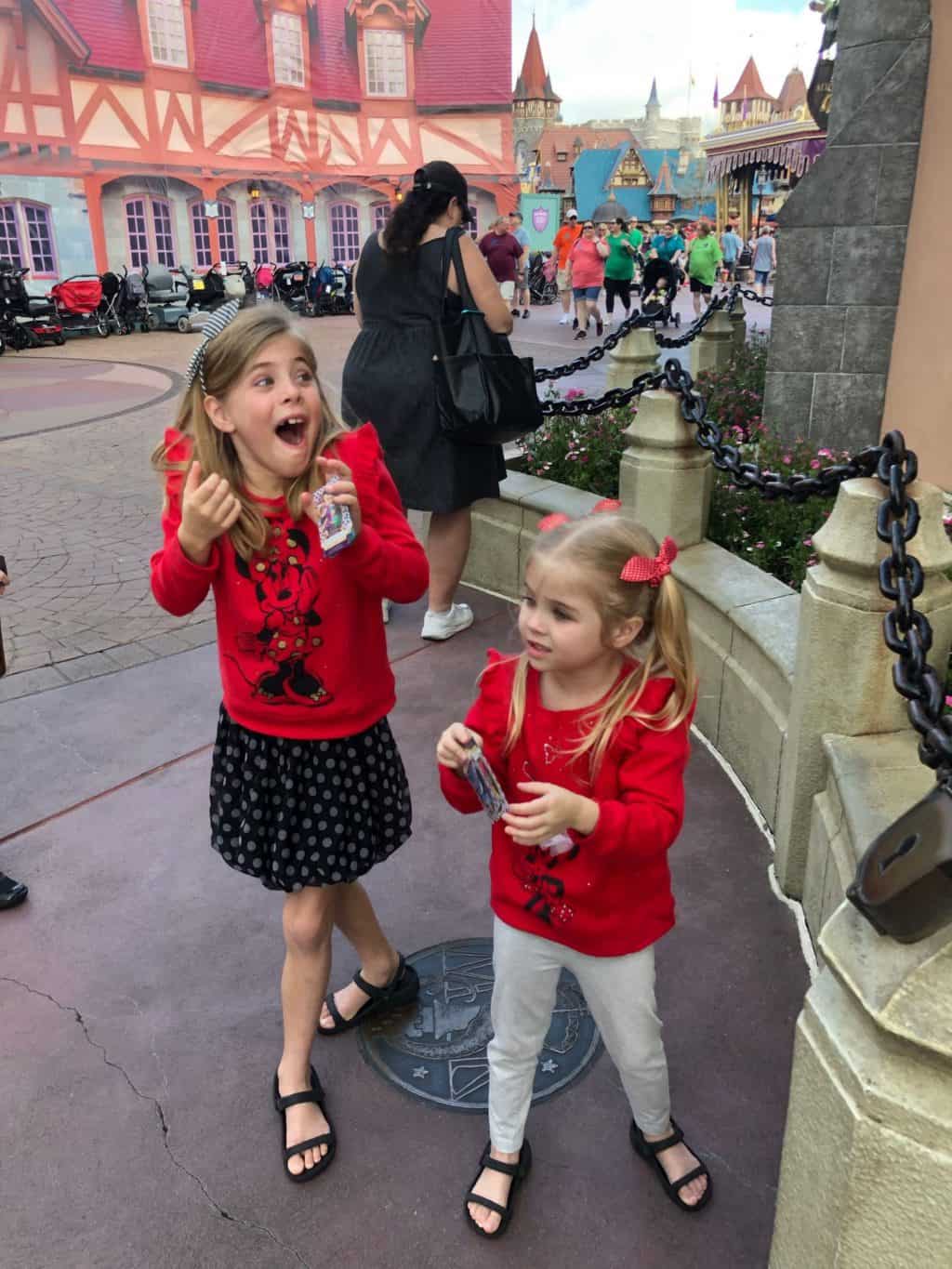 I have already mentioned this regarding playing the Sorcerers of the Magic Kingdom but I just love that it takes you to places in the park that you probably haven't visited or at least haven't noticed.
Like I didn't know they now have screens up around the park showcasing ride wait times? Say what?! I have NO clue if this is new or how long it's been a thing but it's so helpful!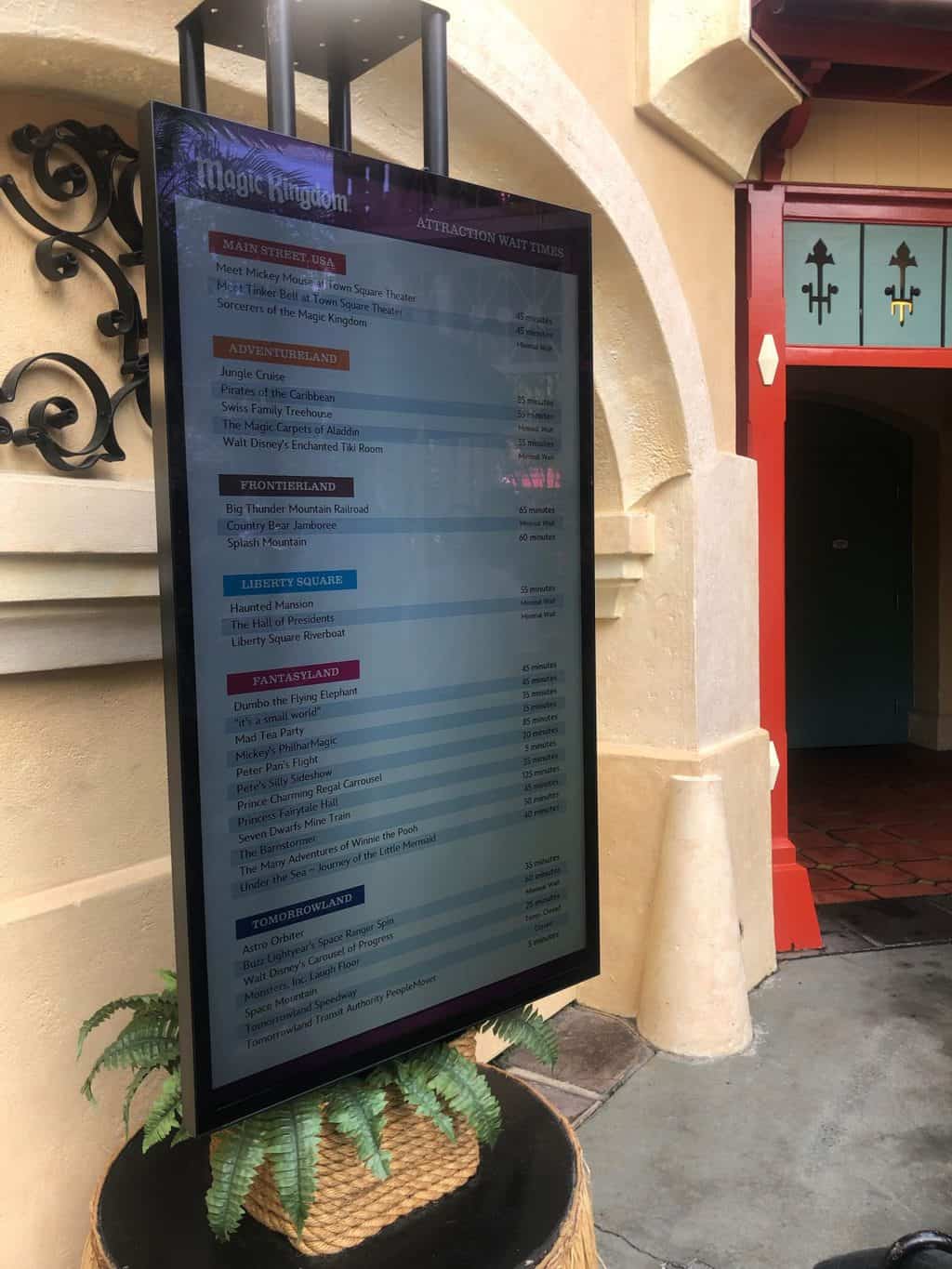 I've been to Adventureland a billion times and have NEVER noticed this moving parrot. Fun game…see if you can find him on your next visit 🙂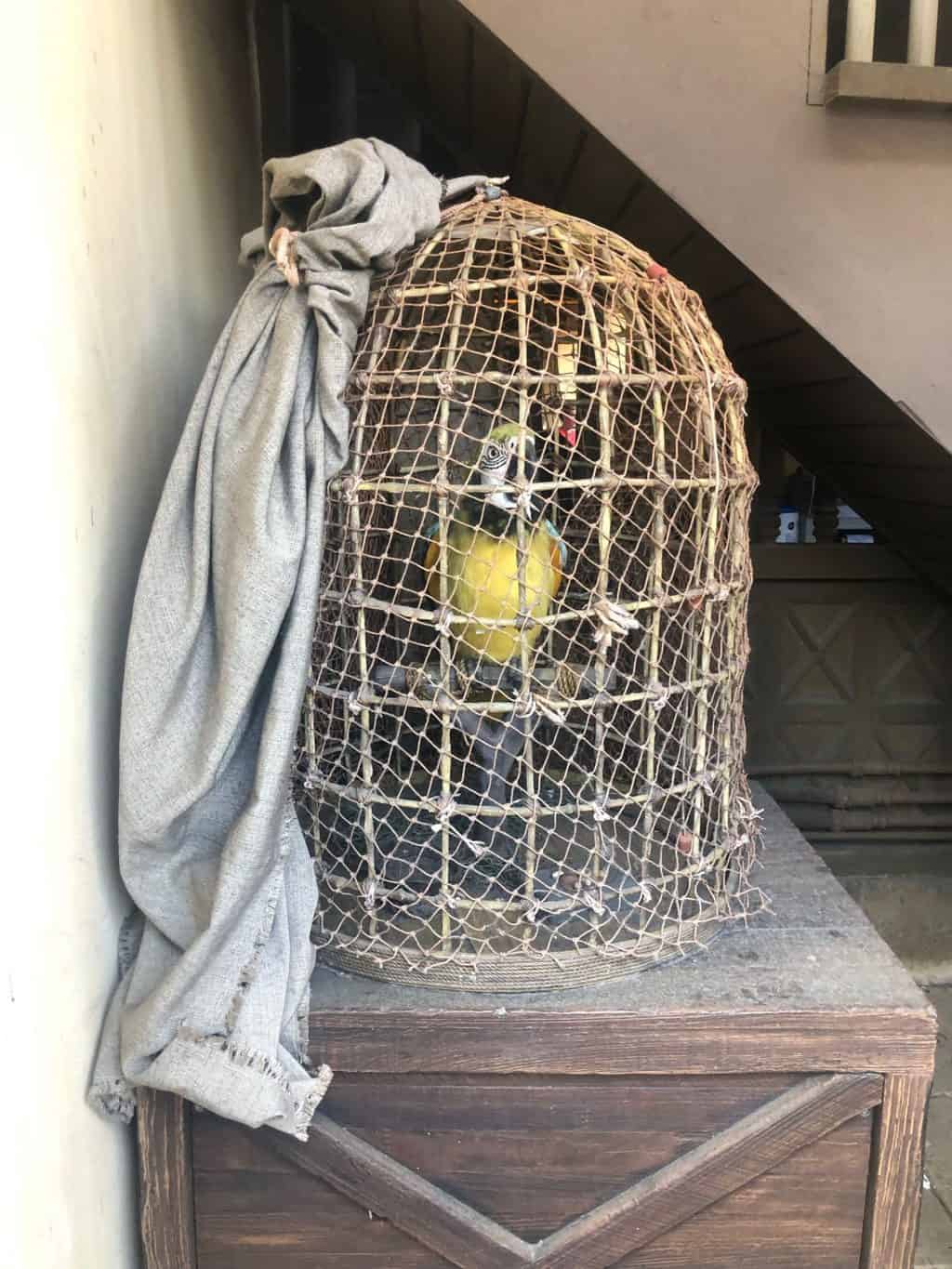 This girl LOVES some Disney!
We had a Fastpass for Buzz which I was thankful for because goodness it was SO crowded that day! Buzz is totally one of our family favorites and a must-do every visit to MK!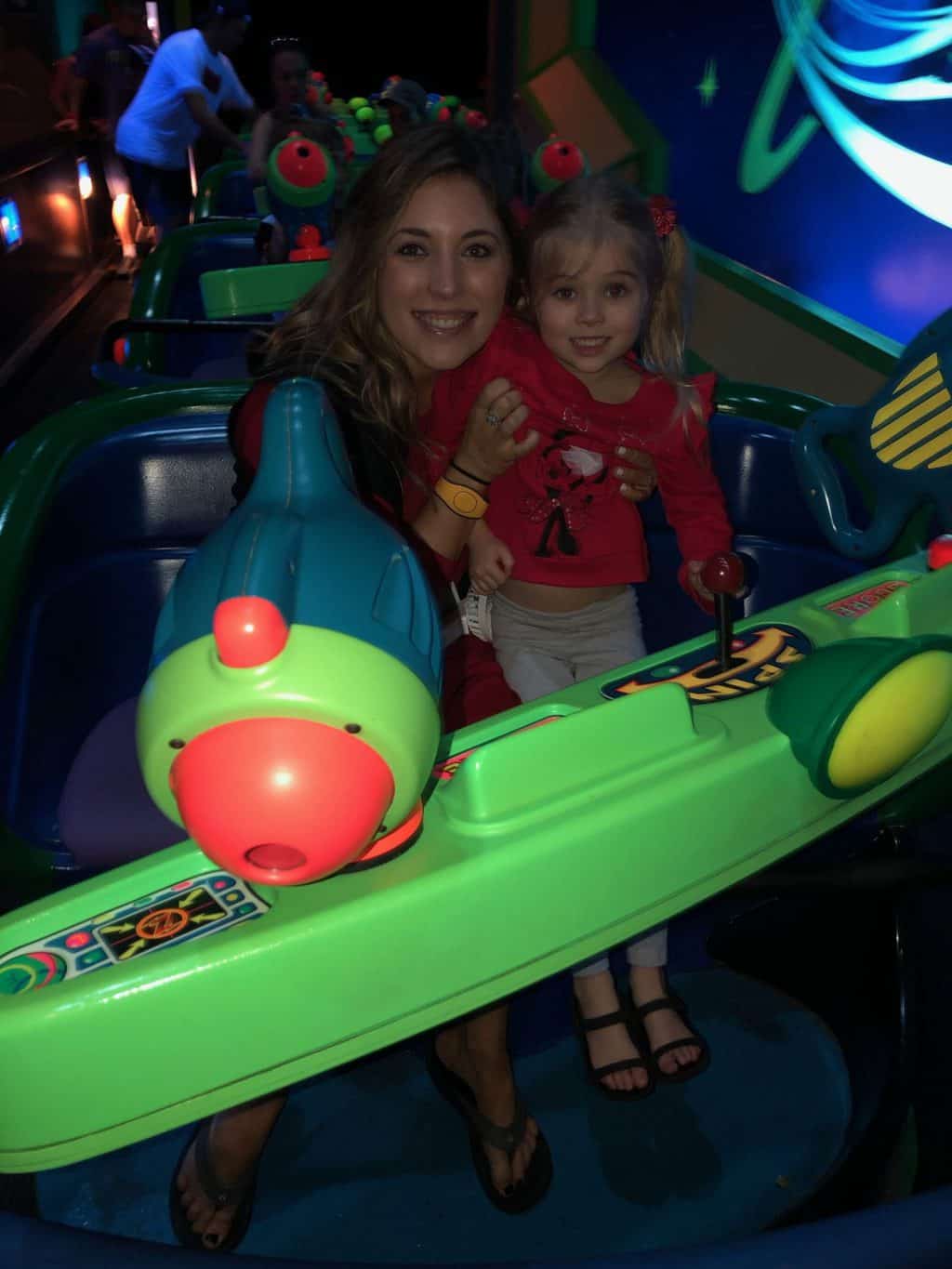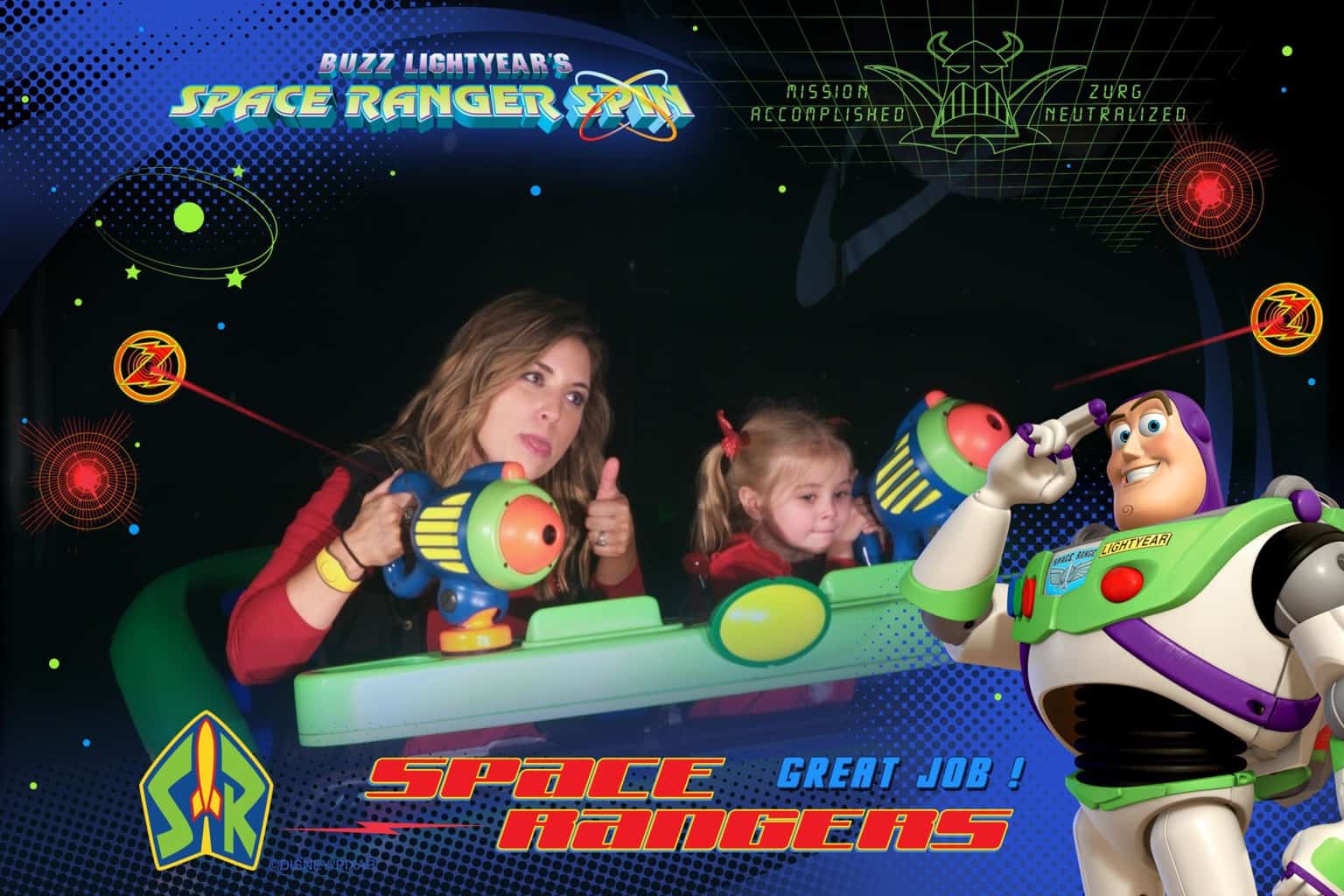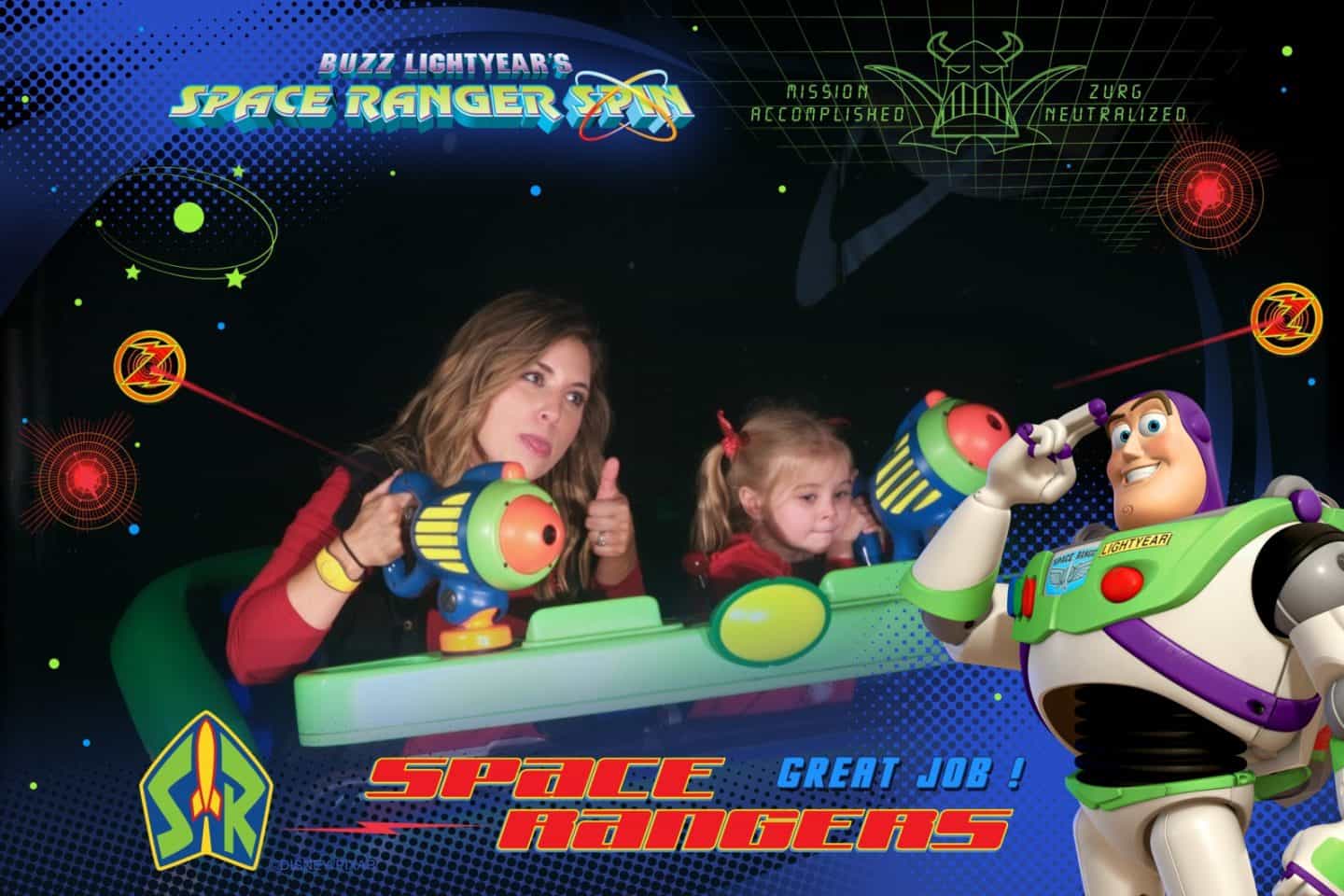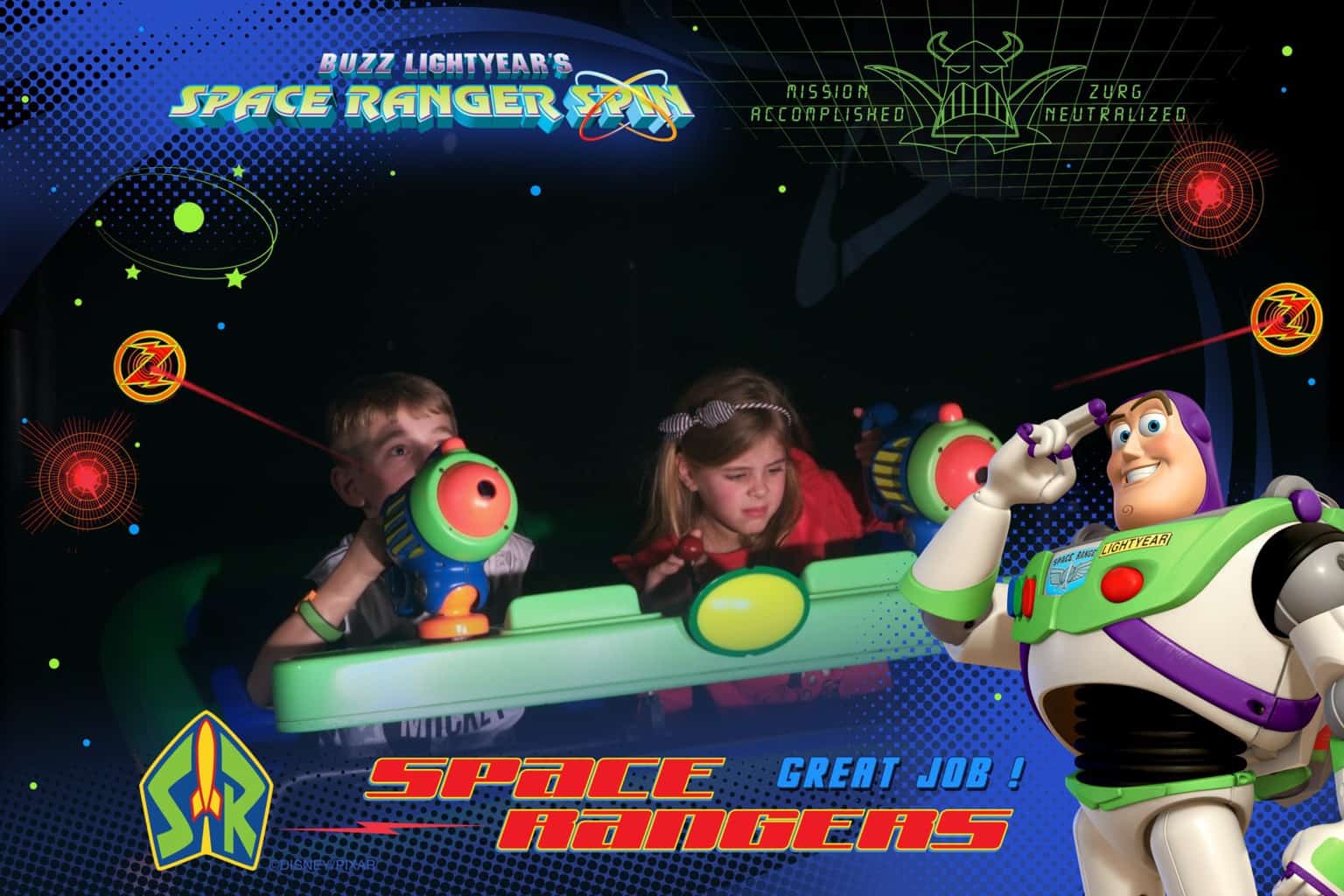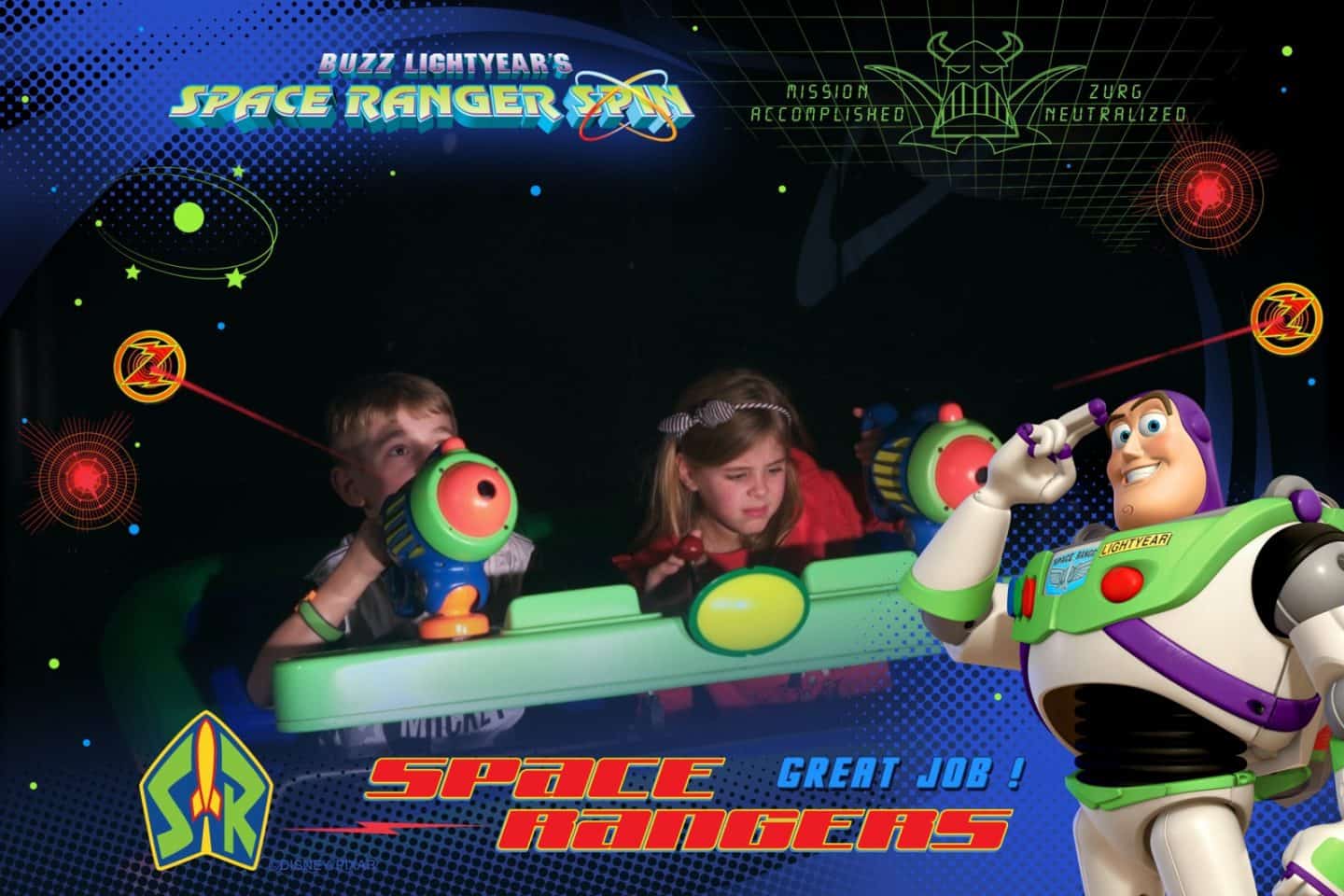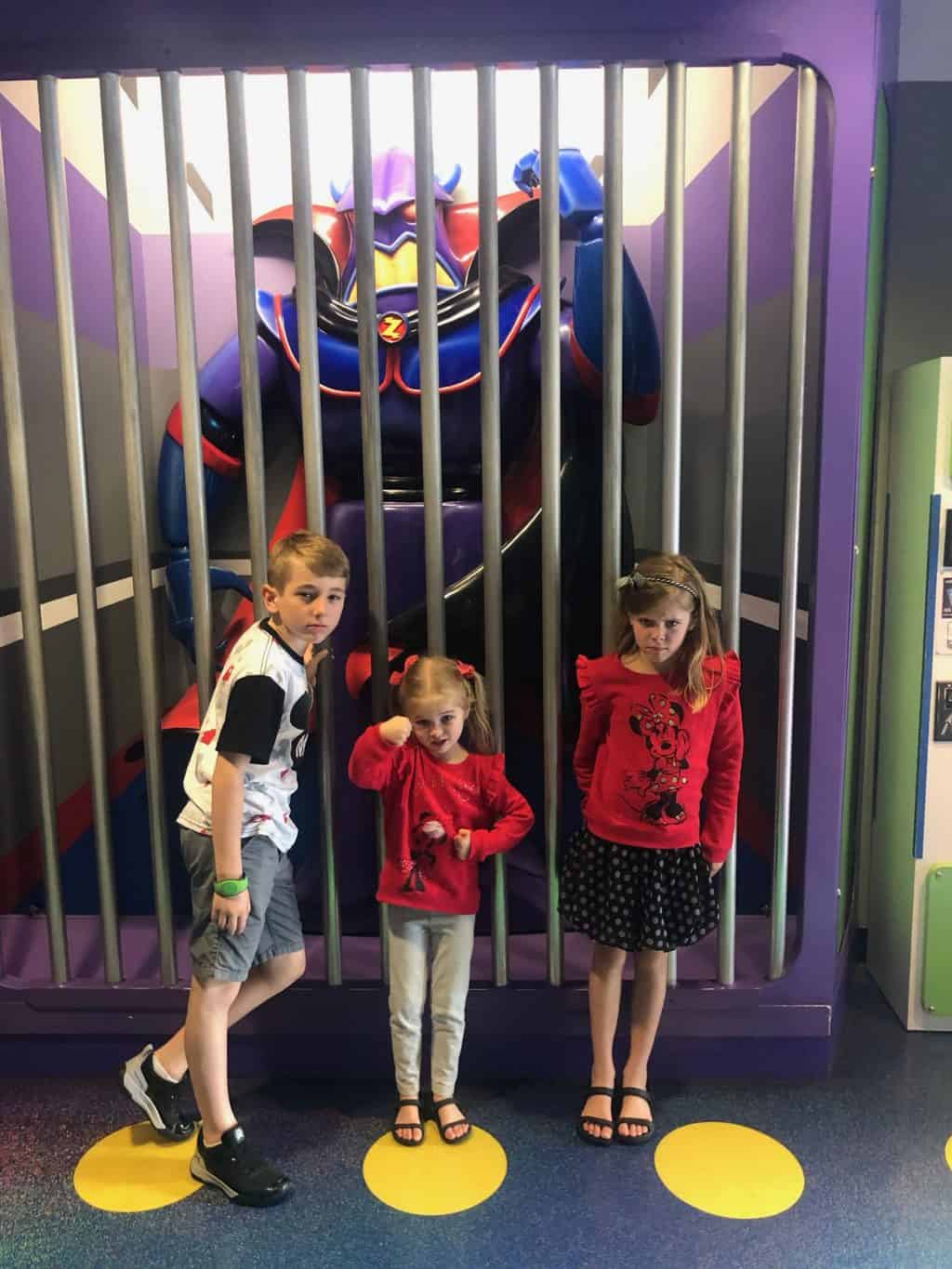 We have recently decided that we also LOVE some People Mover! It's a classic but it's also a lot more fun than you'd expect!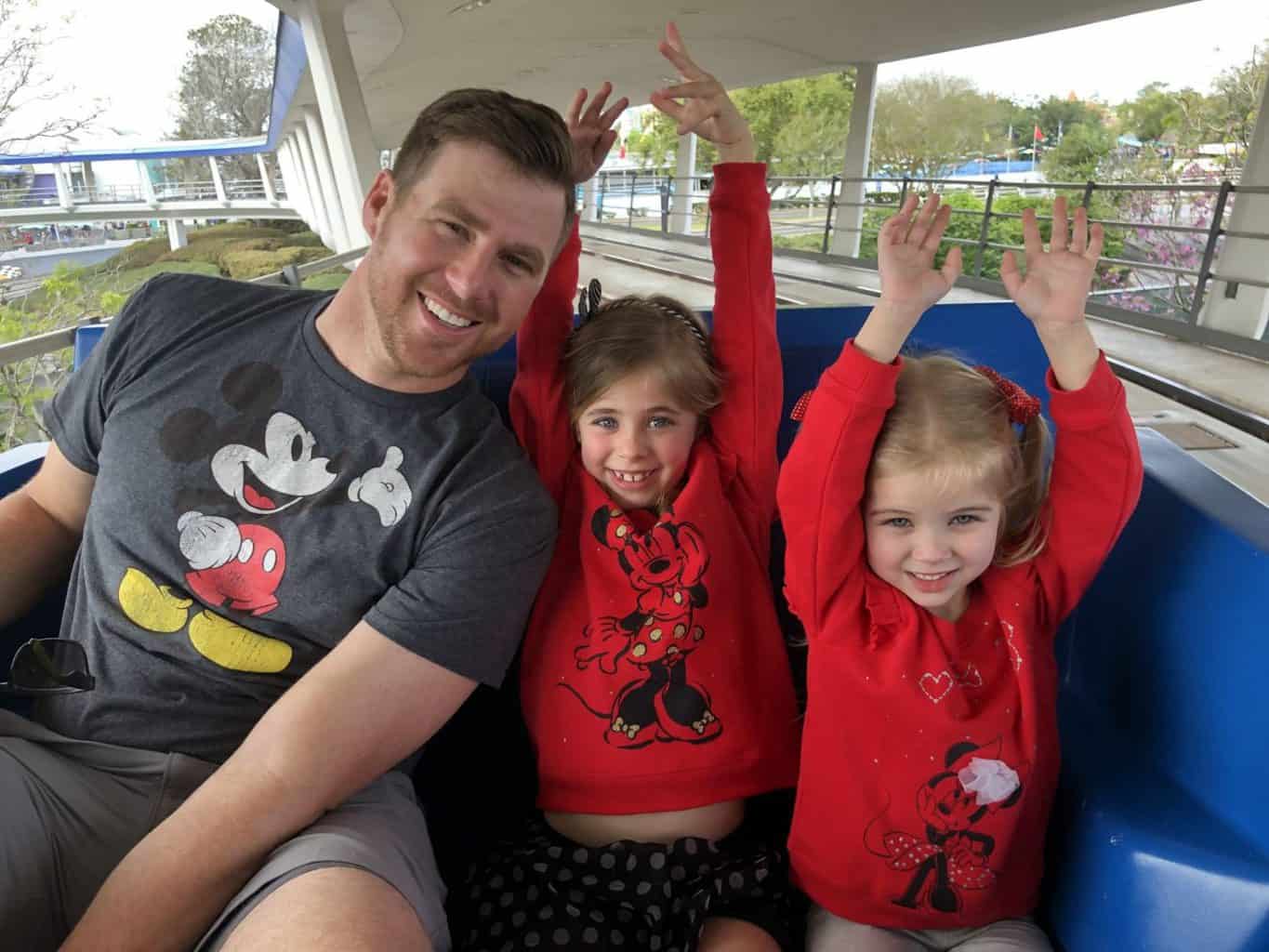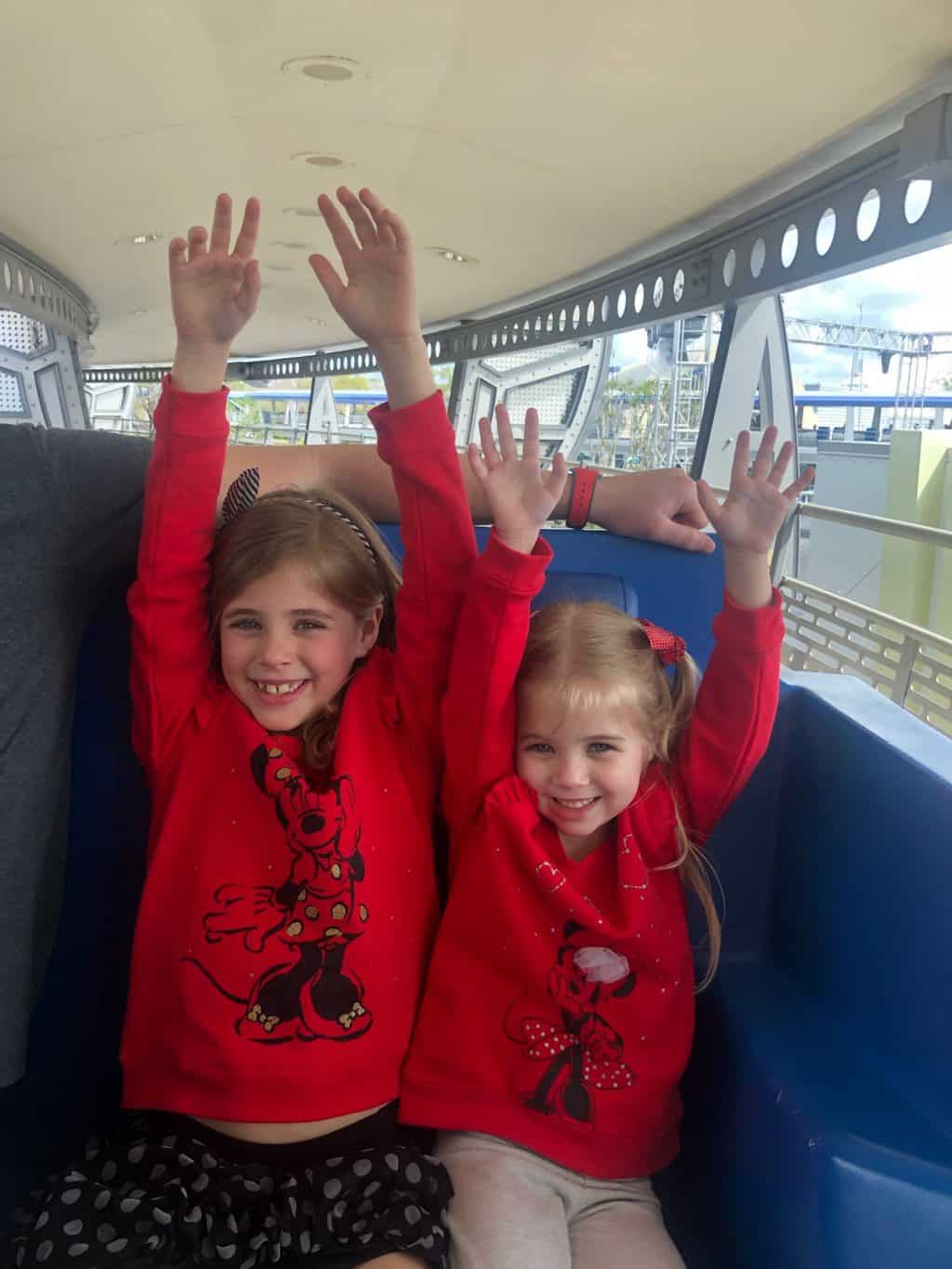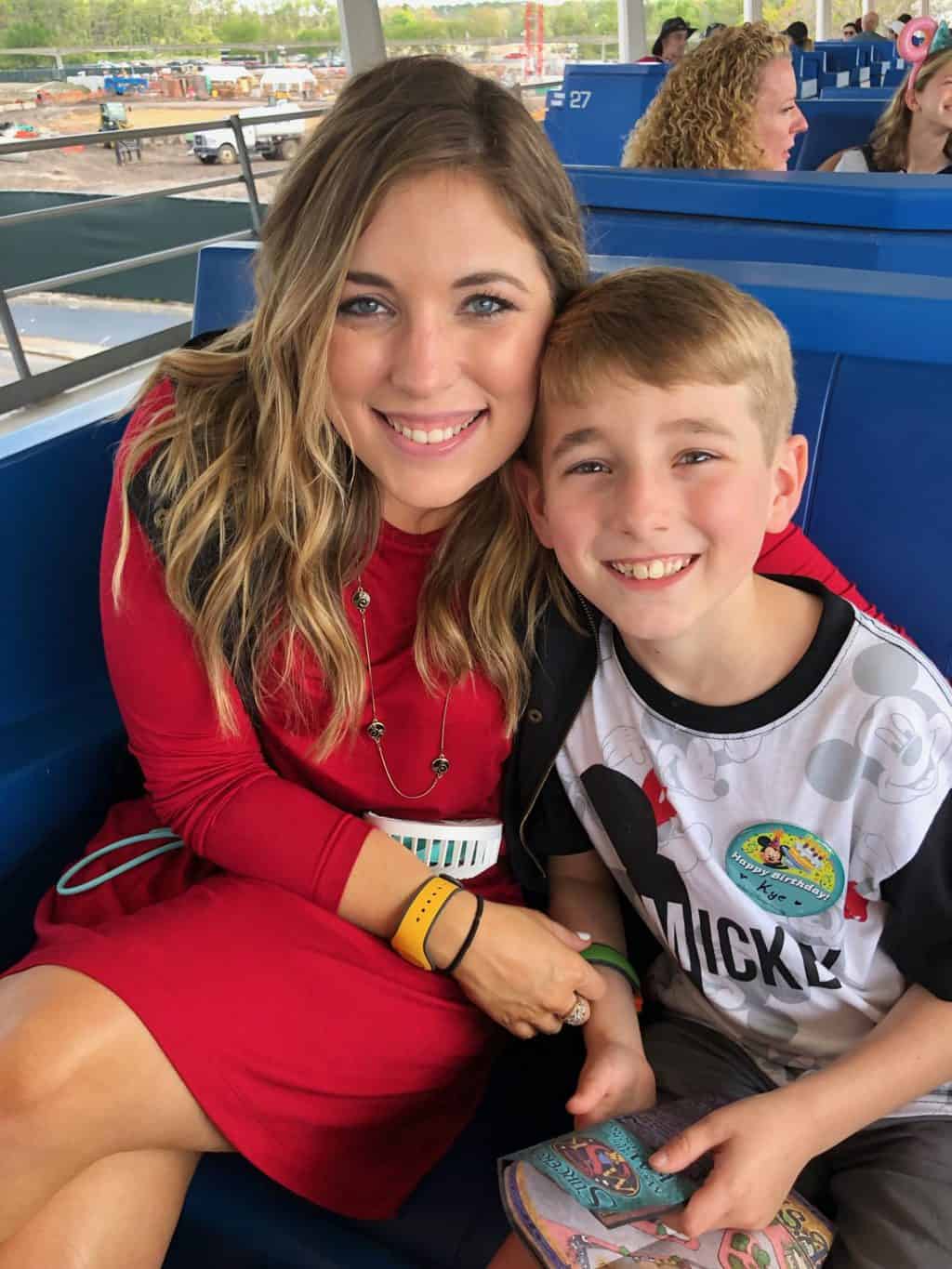 Always in game mode 😉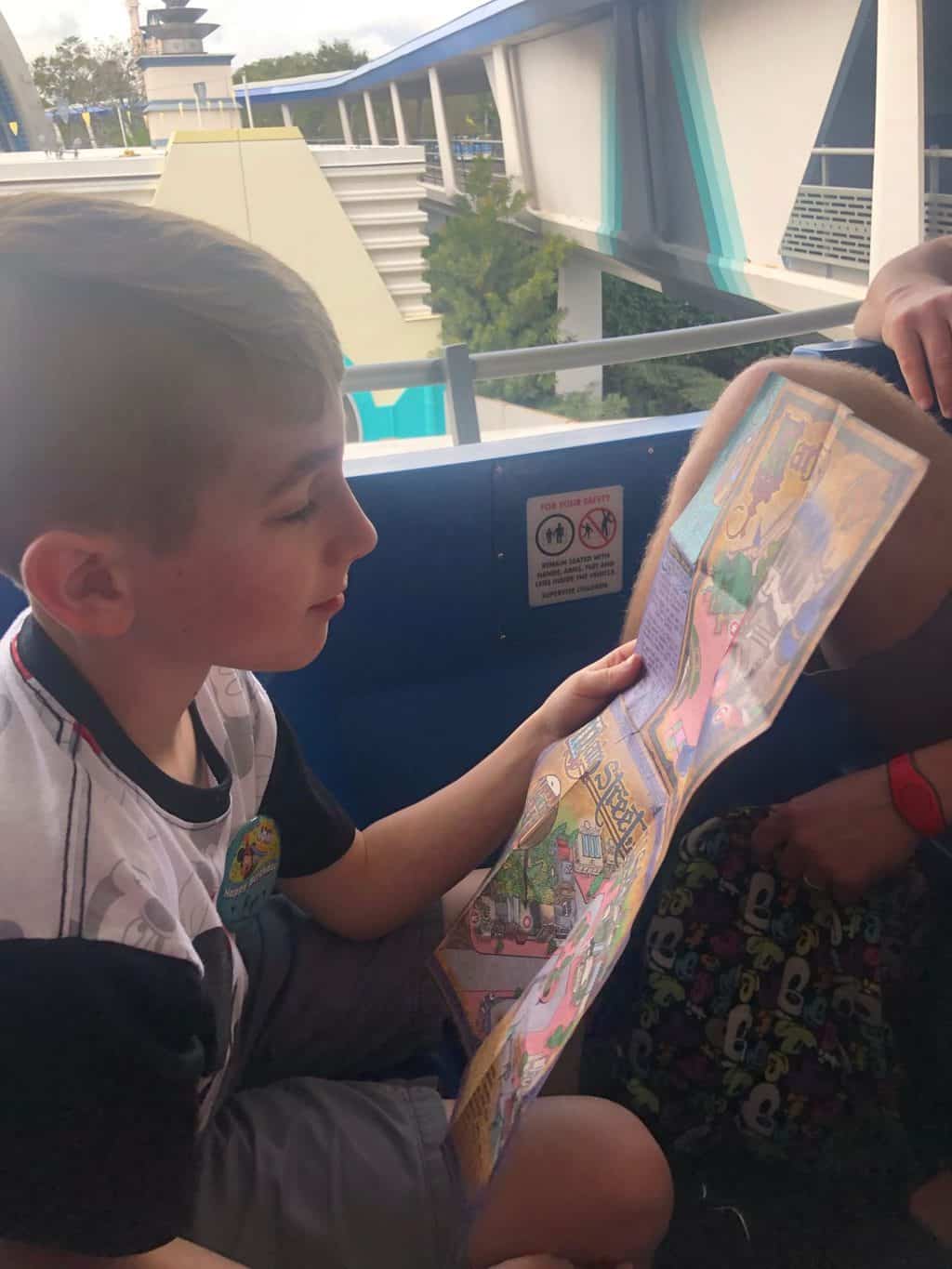 People Mover is currently a great place to check in on the Tron construction…not a whole lot to see yet!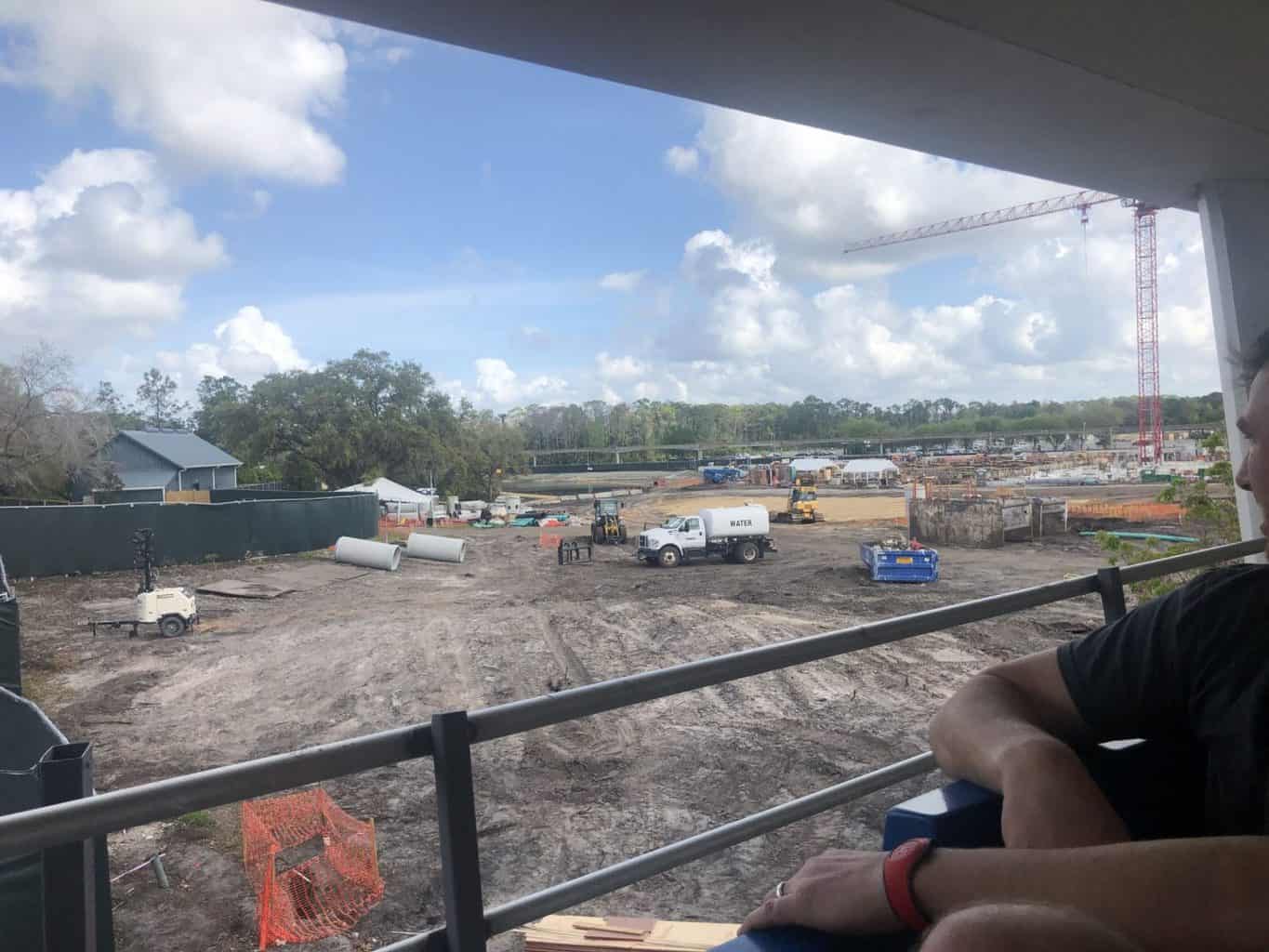 Britt has been killing it with her reading and as her prize for completing her calendar for February she got a special Disney treat and was able to choose anything she wanted…so…donut of course 😉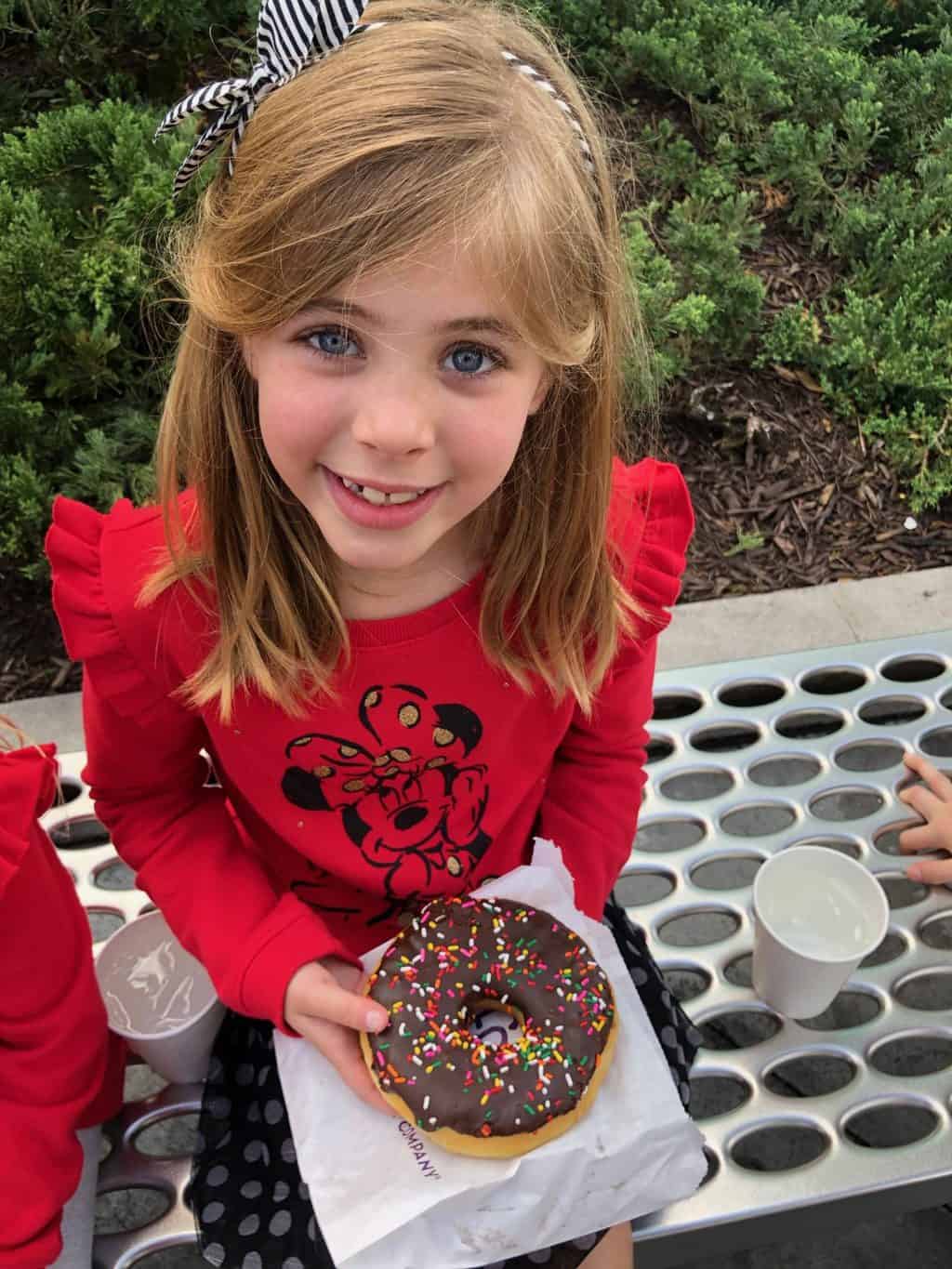 The Purple Wall is a must-stop too! We don't go by it often but when we do we snap a pic 😉
The boys had a fastpass for Space Mountain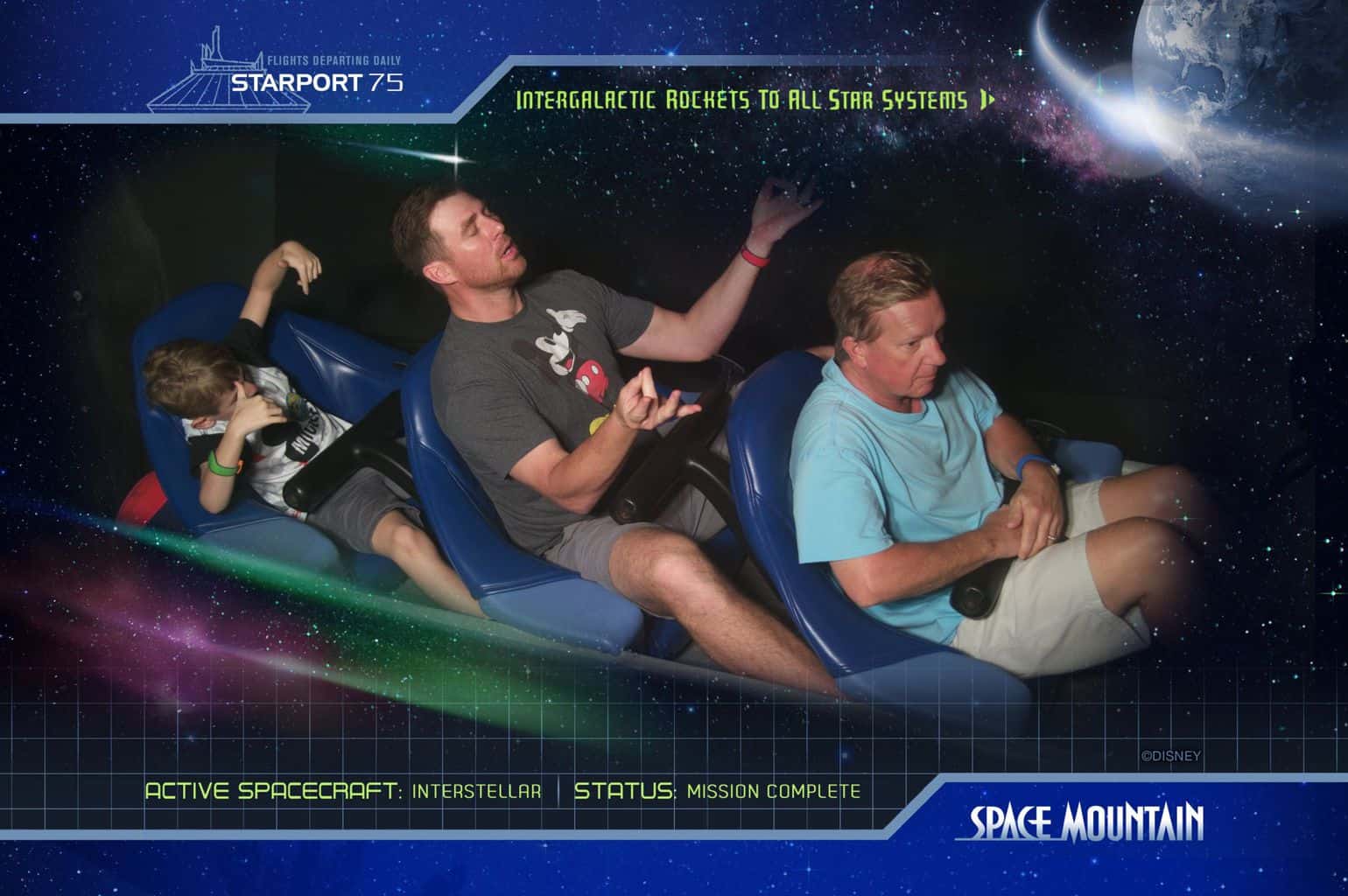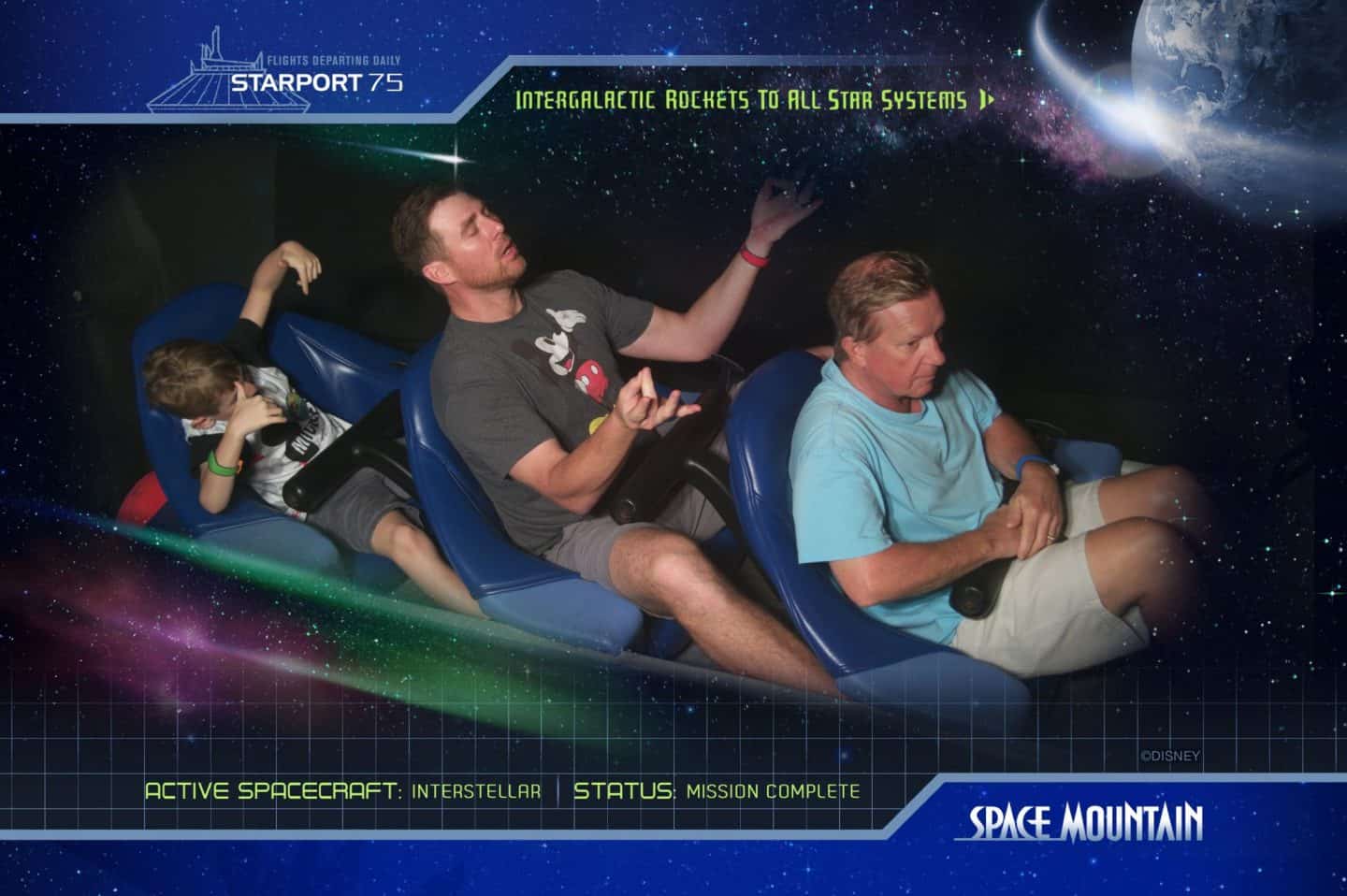 And the girls and I had a Fastpass to meet Celebration Mickey and Minnie. On our way to meet them we got to see the current update to the Move It Shake It Parade!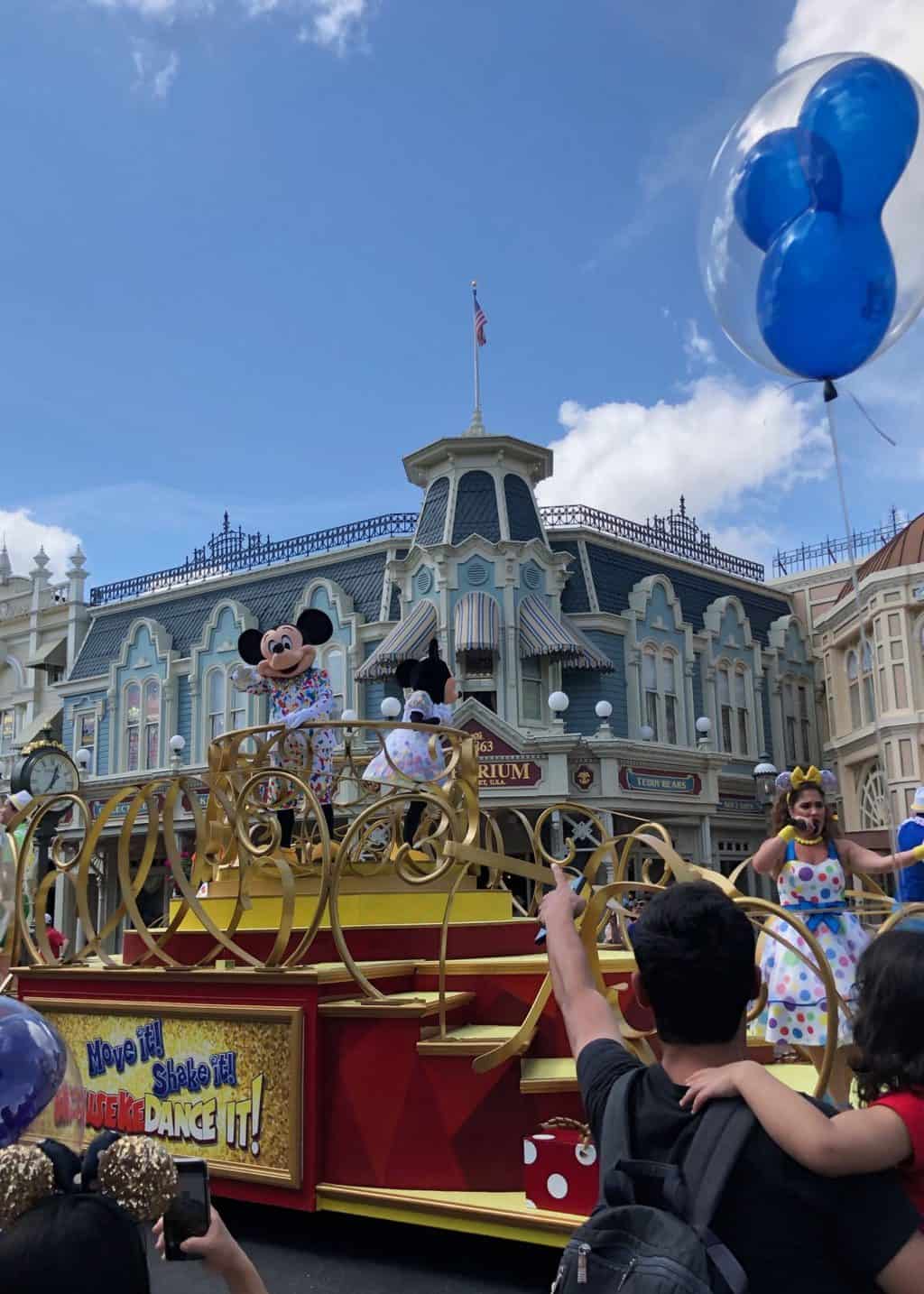 Currently through September there is a special birthday celebration taking place in Town Square Theater in honor of Mickey and Minnie!
Cast members are handing out adorable party invites and stickers and guests are able to sign Mickey and Minnie's guest book. And DUH we all three signed it. We are part of Disney HISTORY People!!!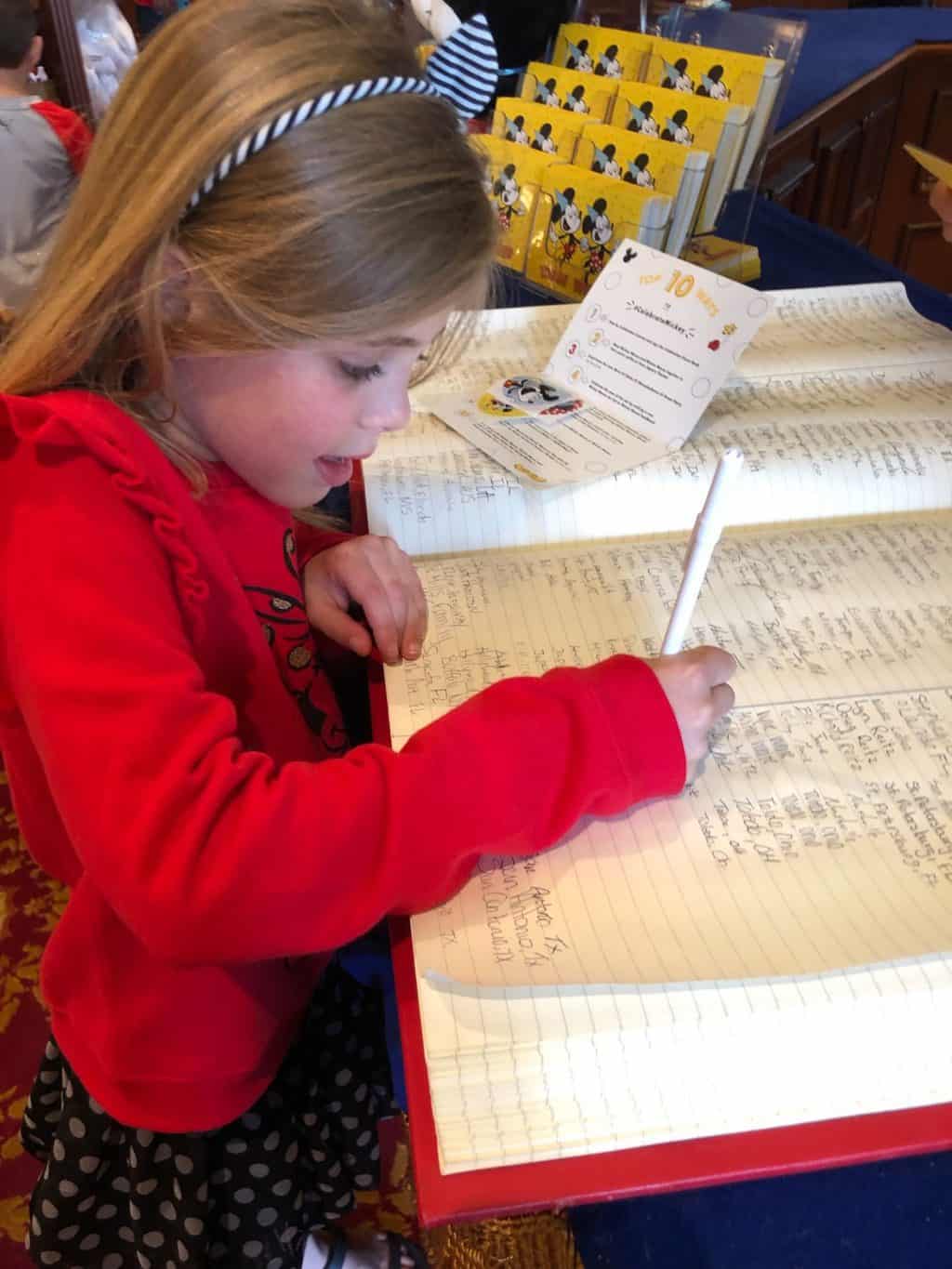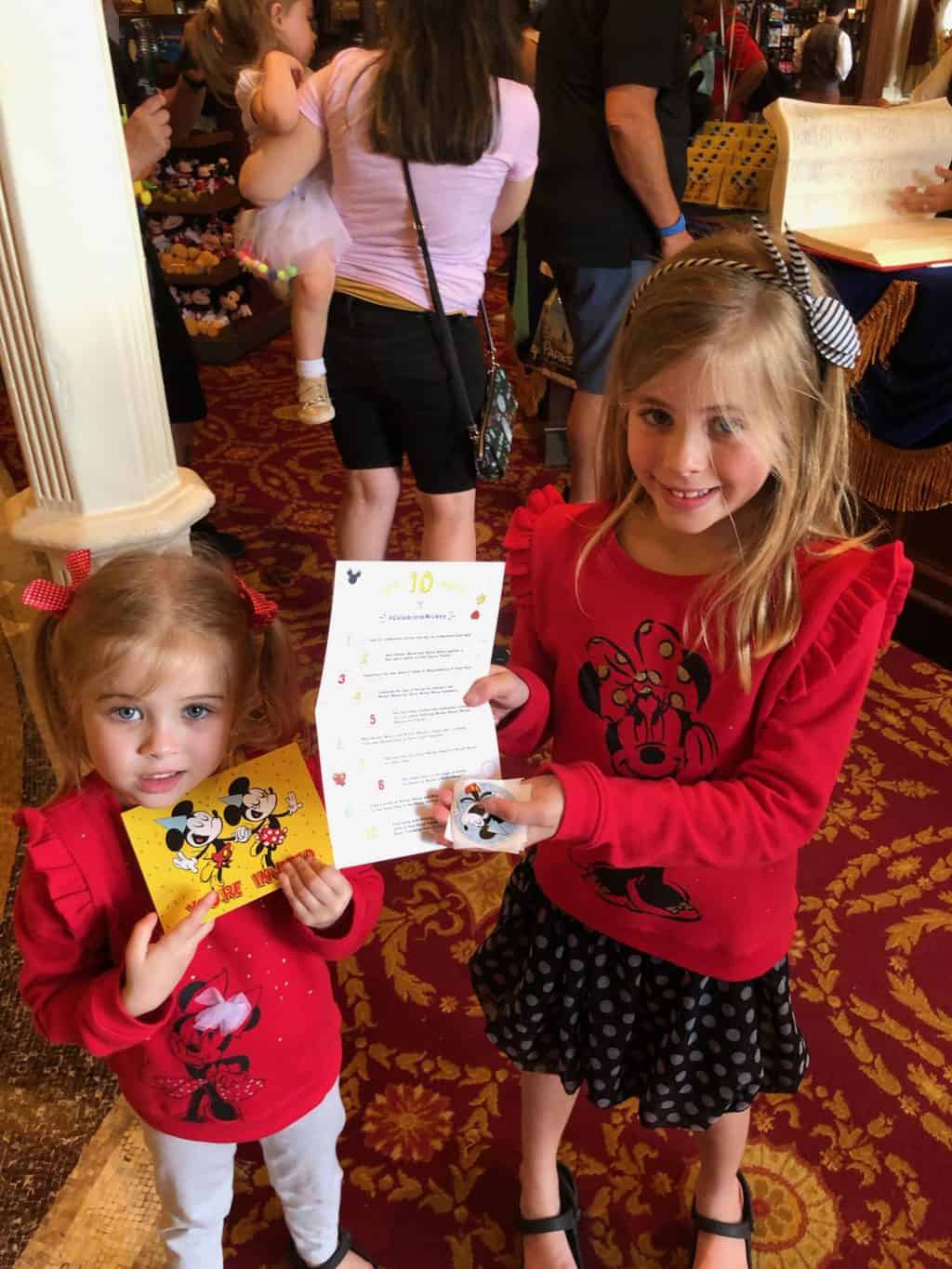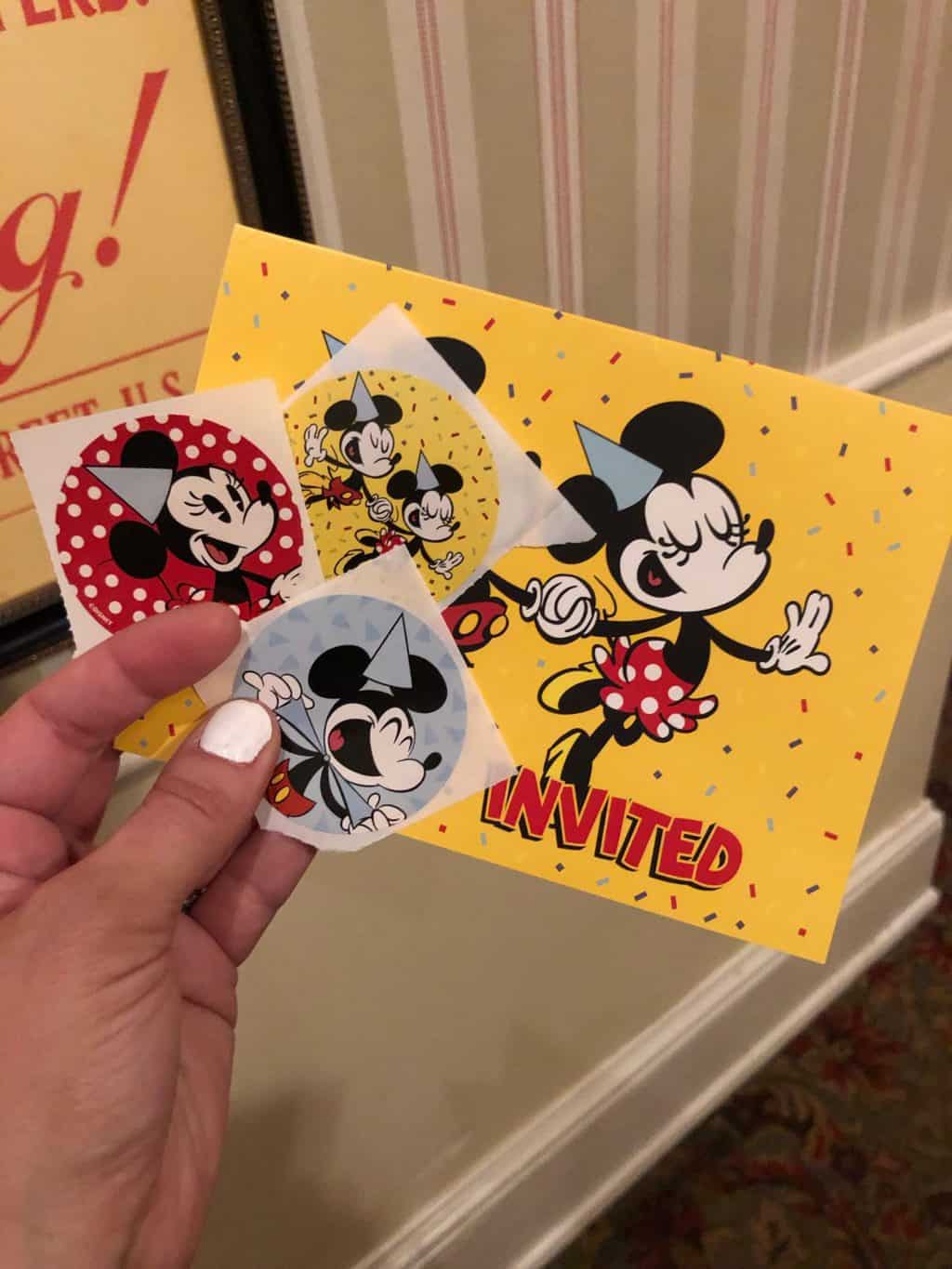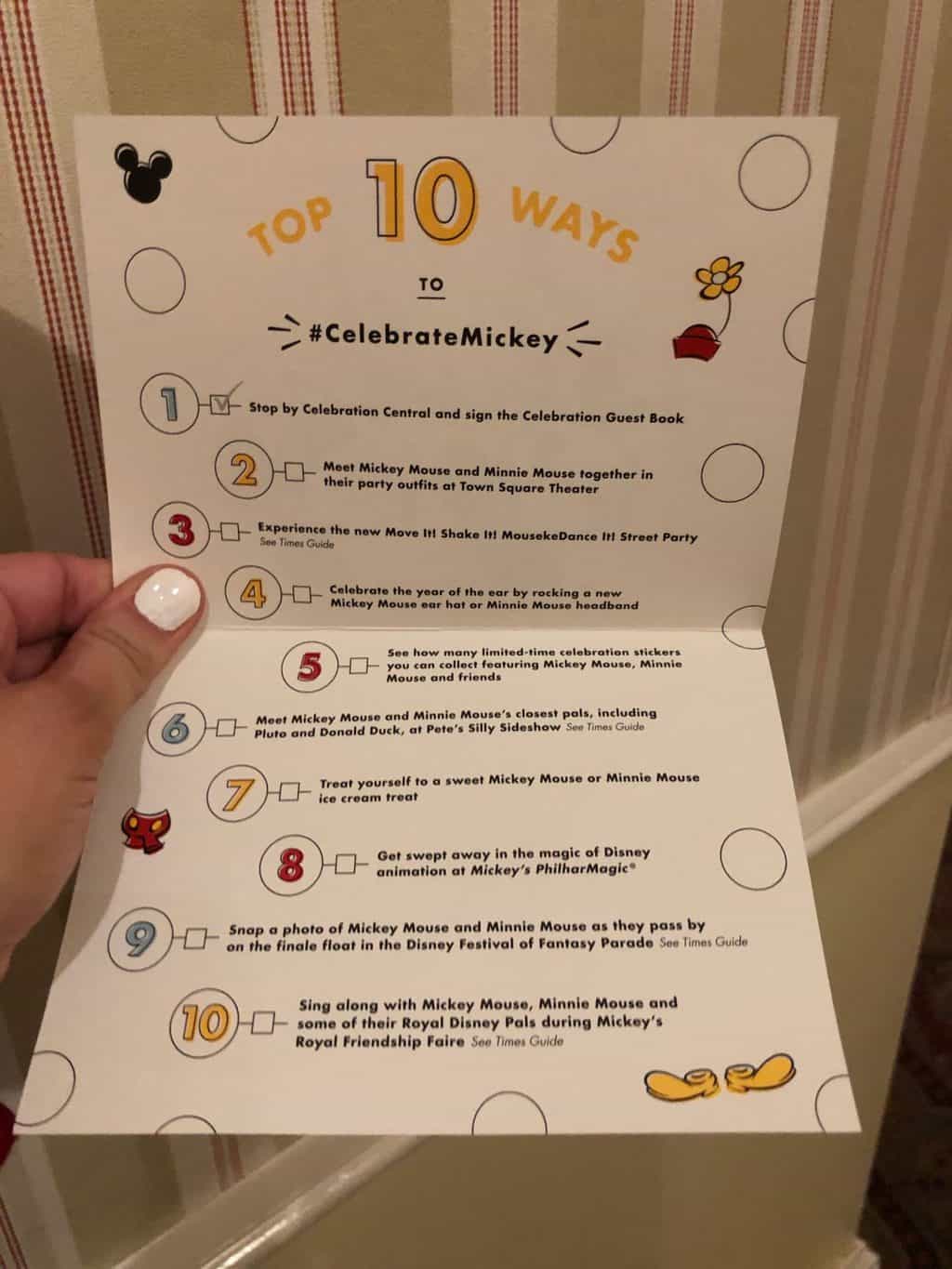 I adore all the birthday merch…but not enough to spend money to buy any of it haha!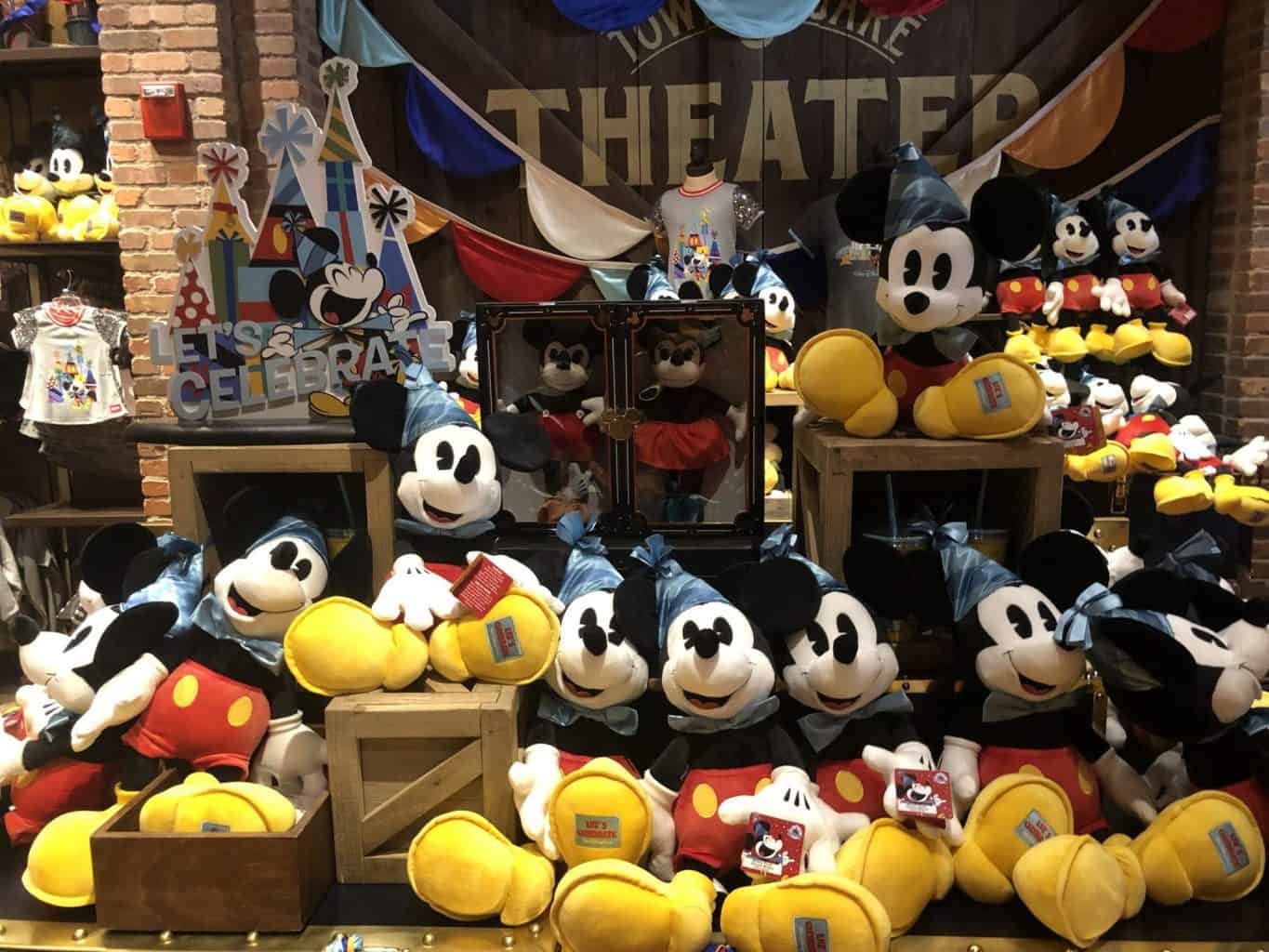 Tess is sometimes super random and this was one of those times. How many times has she met characters at this point? SO. MANY.
Yet for some reason she was NOT into meeting Mickey and Minnie. Well, too bad. Me and Britt were ALL ABOUT IT.
So I told her she didn't have to meet them but she had to wait with us while we met them. And I was proud of Britt for not letting Tess's issues (which I'm pretty sure were Daylight Savings time change related and not an accurate reflection of her love and adoration for Mickey and Minnie) dampen her moment.
These might be some of my favorite pics of Britt ever! I adore these!!!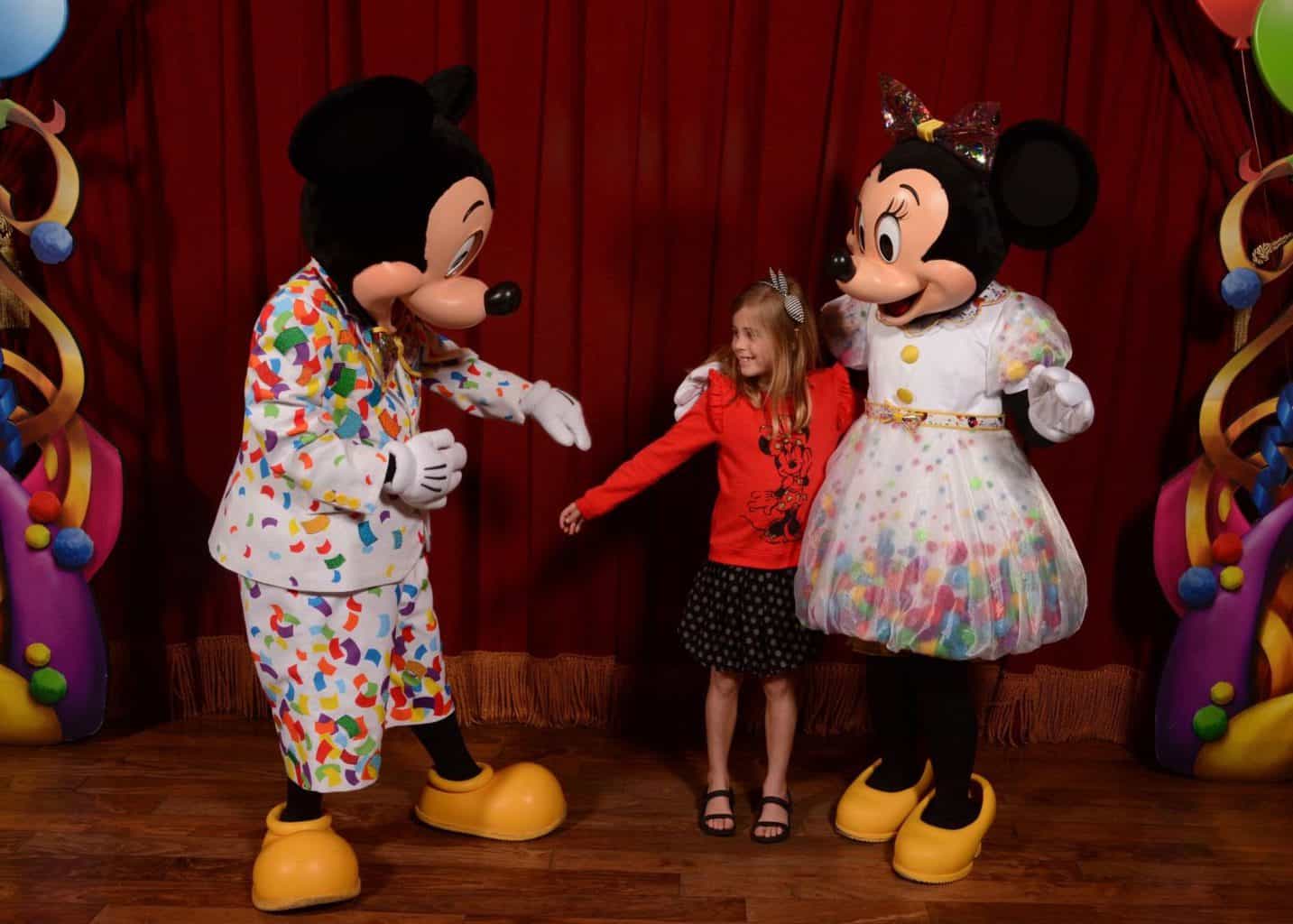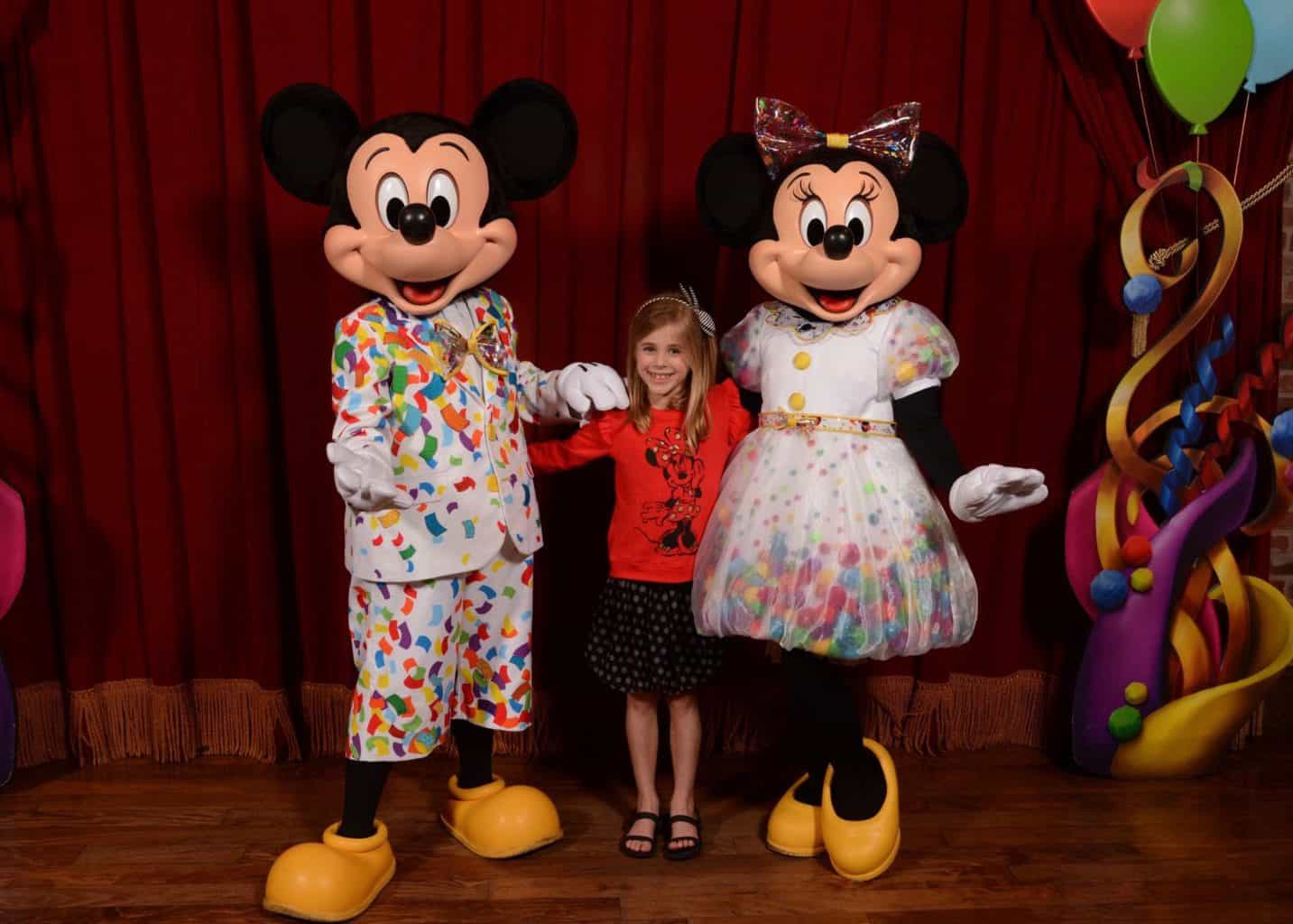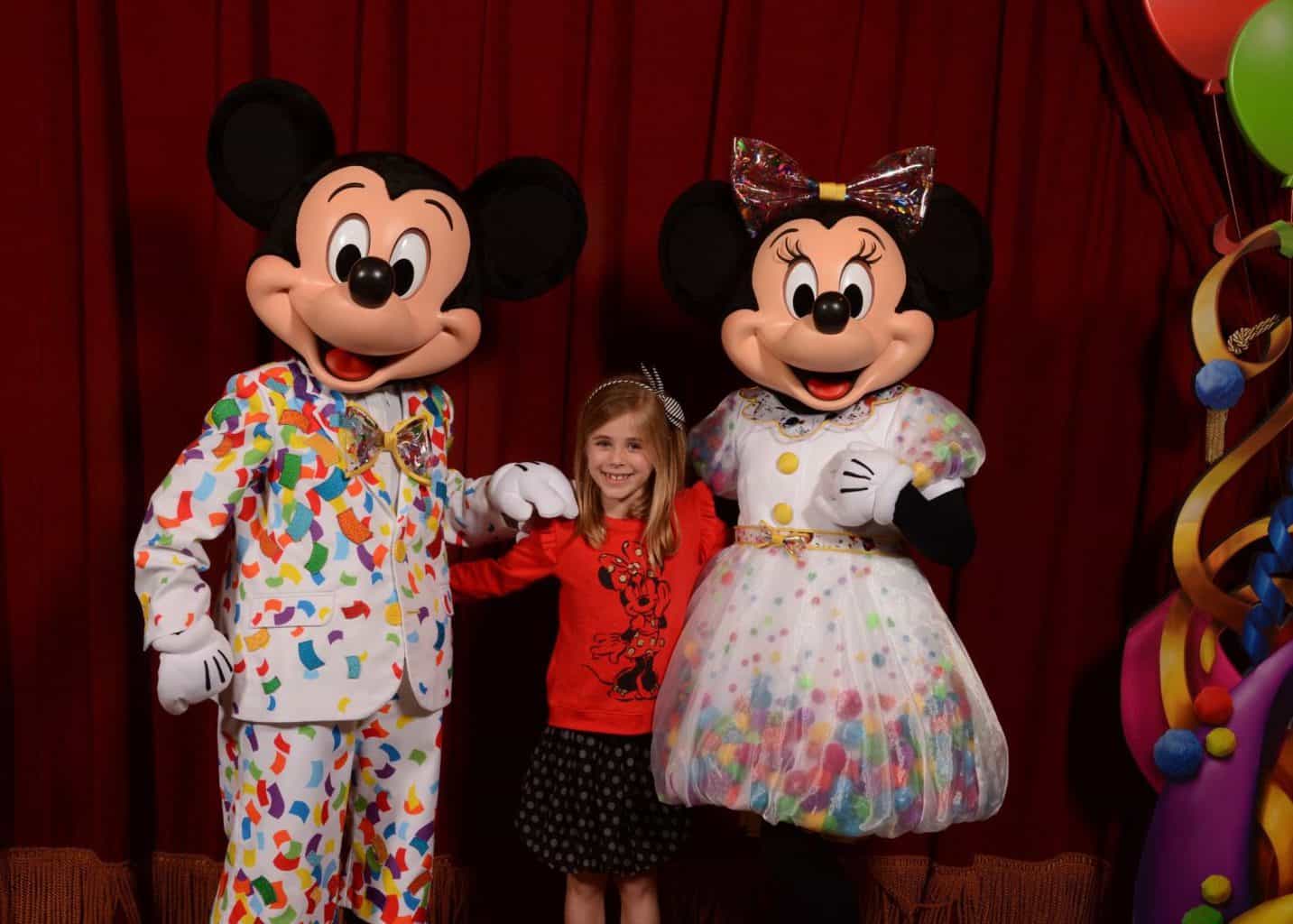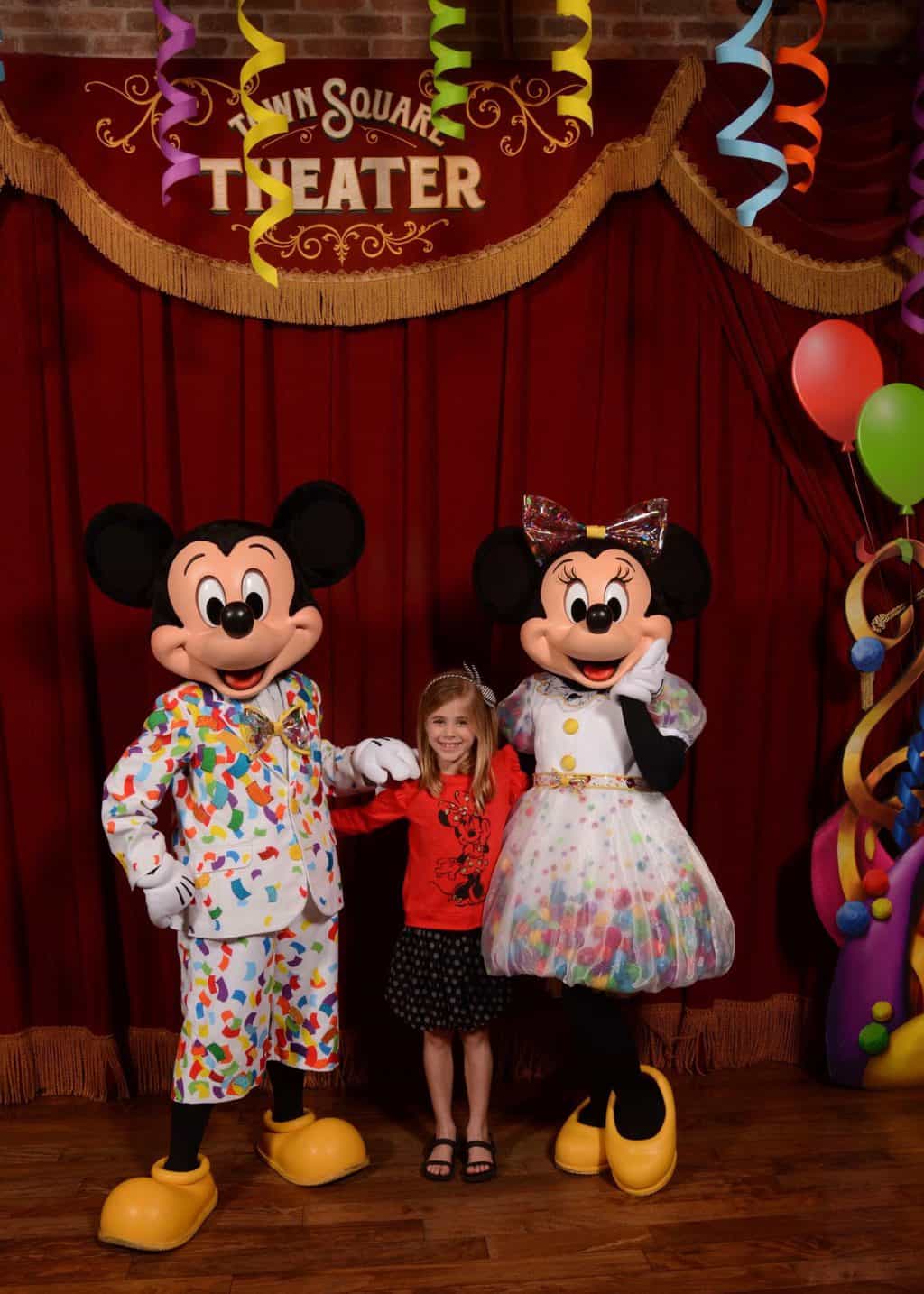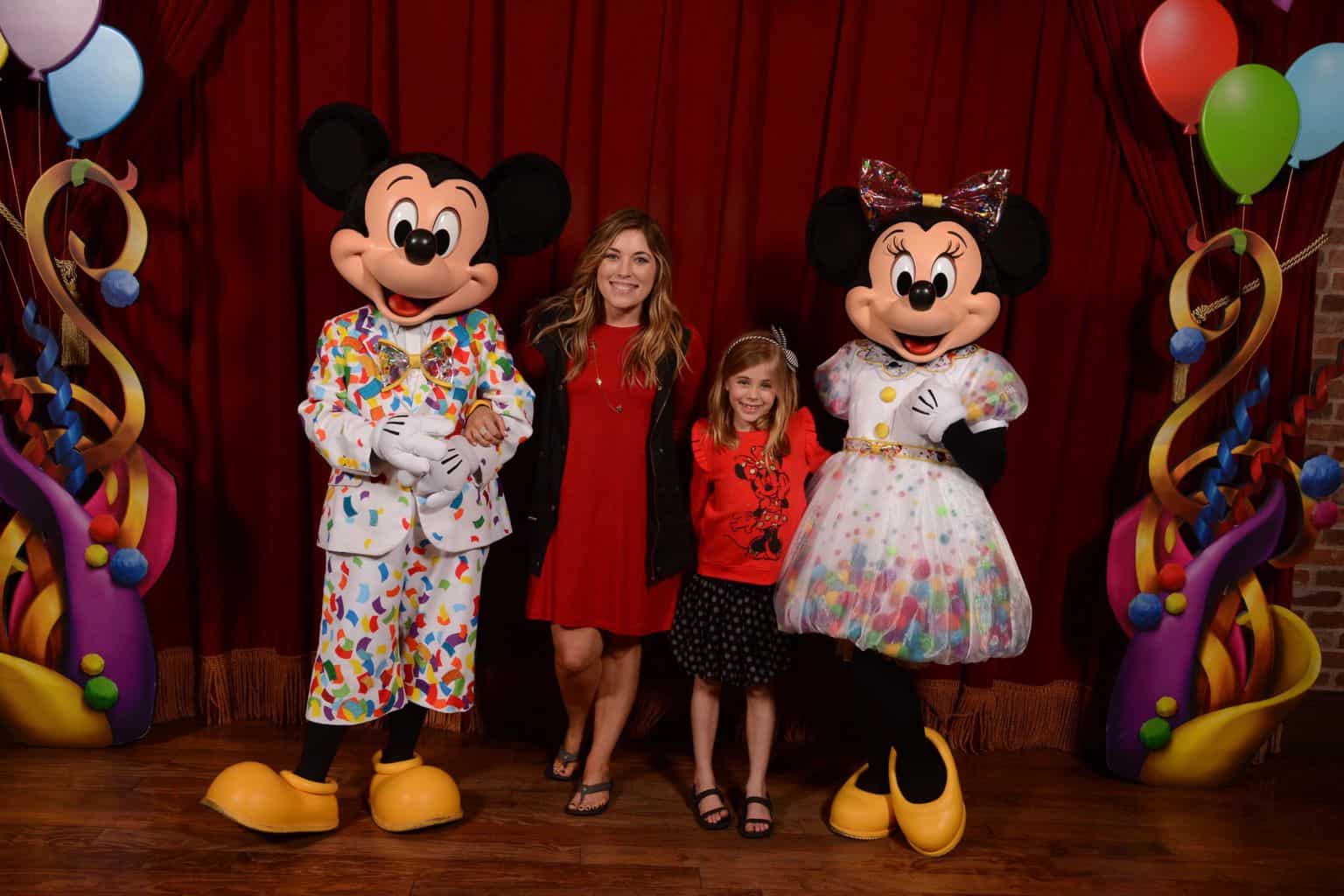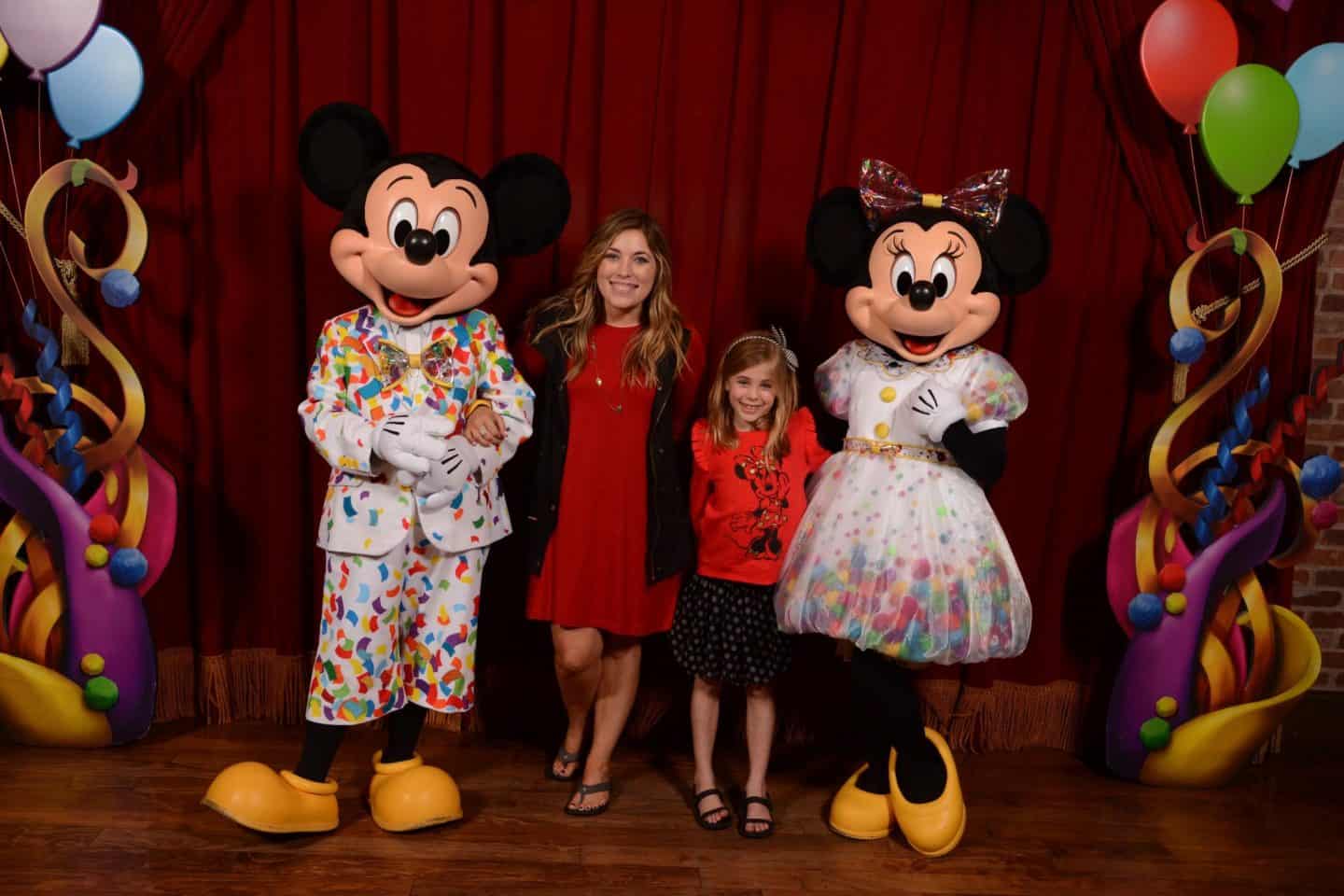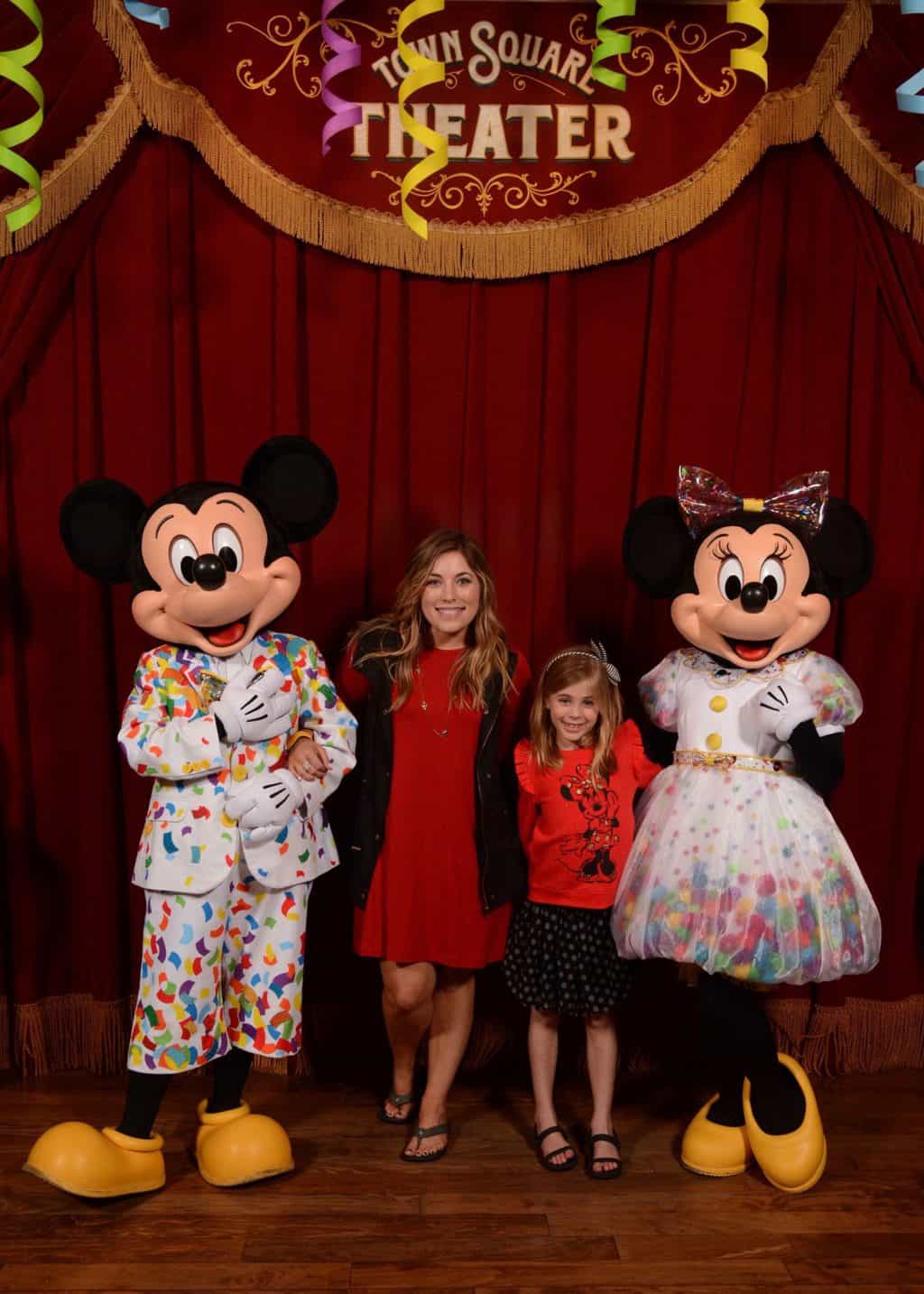 The cast members have no clue that we've been to Disney so many times and they handled Tess's weird mood SO sweetly. They thought she was just nervous to meet characters and was shy so they had her stand way in front of us to get a group picture.
Which is good to know if you are visiting and DO want a character picture but have a rather shy or timid child. Just request to have them in front of everyone else!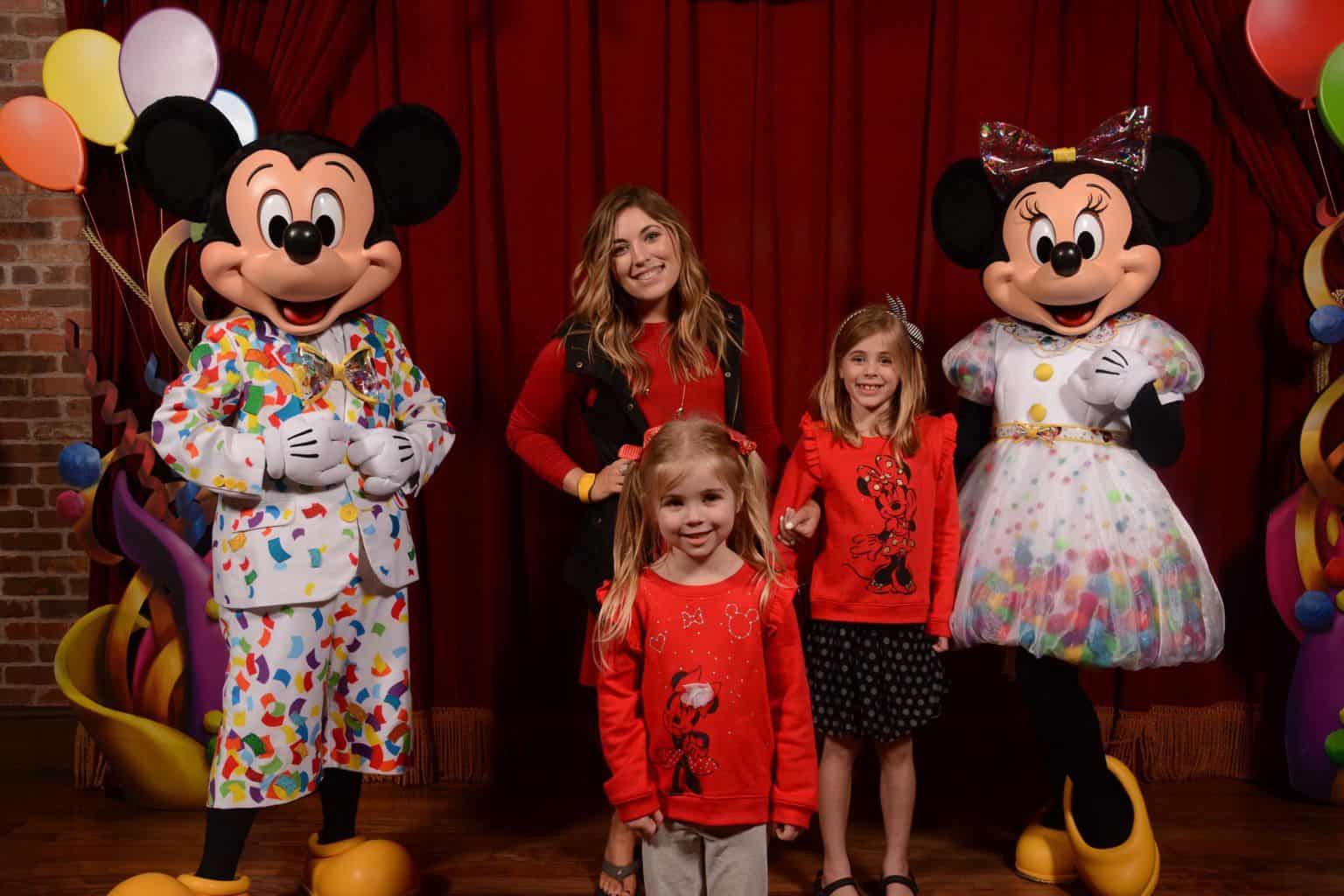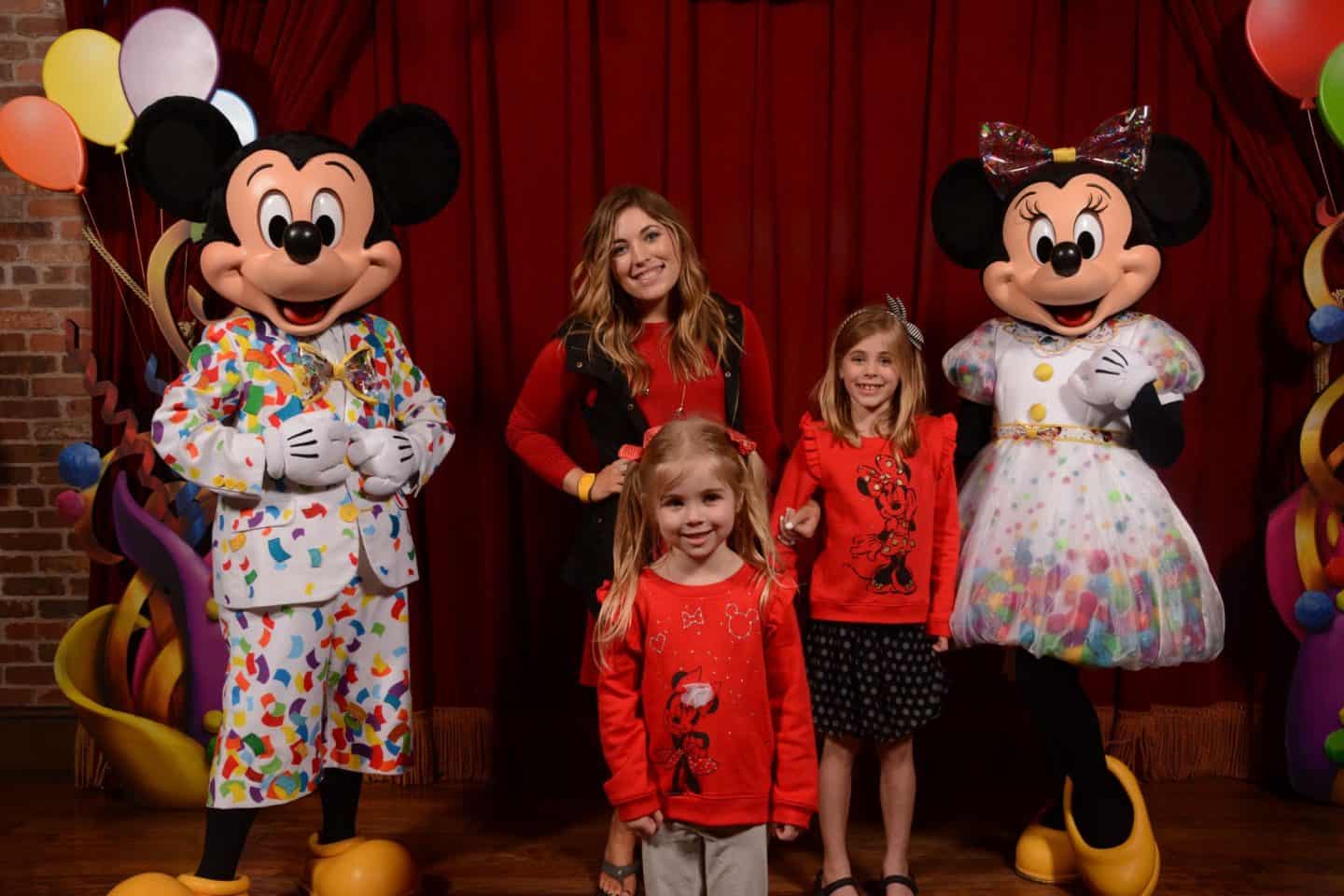 We had some pretty epic plans for that afternoon…so we headed back to the house at lunchtime after a fun (and gorgeous) morning at Magic Kingdom!
And Kye used the monorail time to do yet some MORE organizing of his spell cards…kid is OBSESSED 😉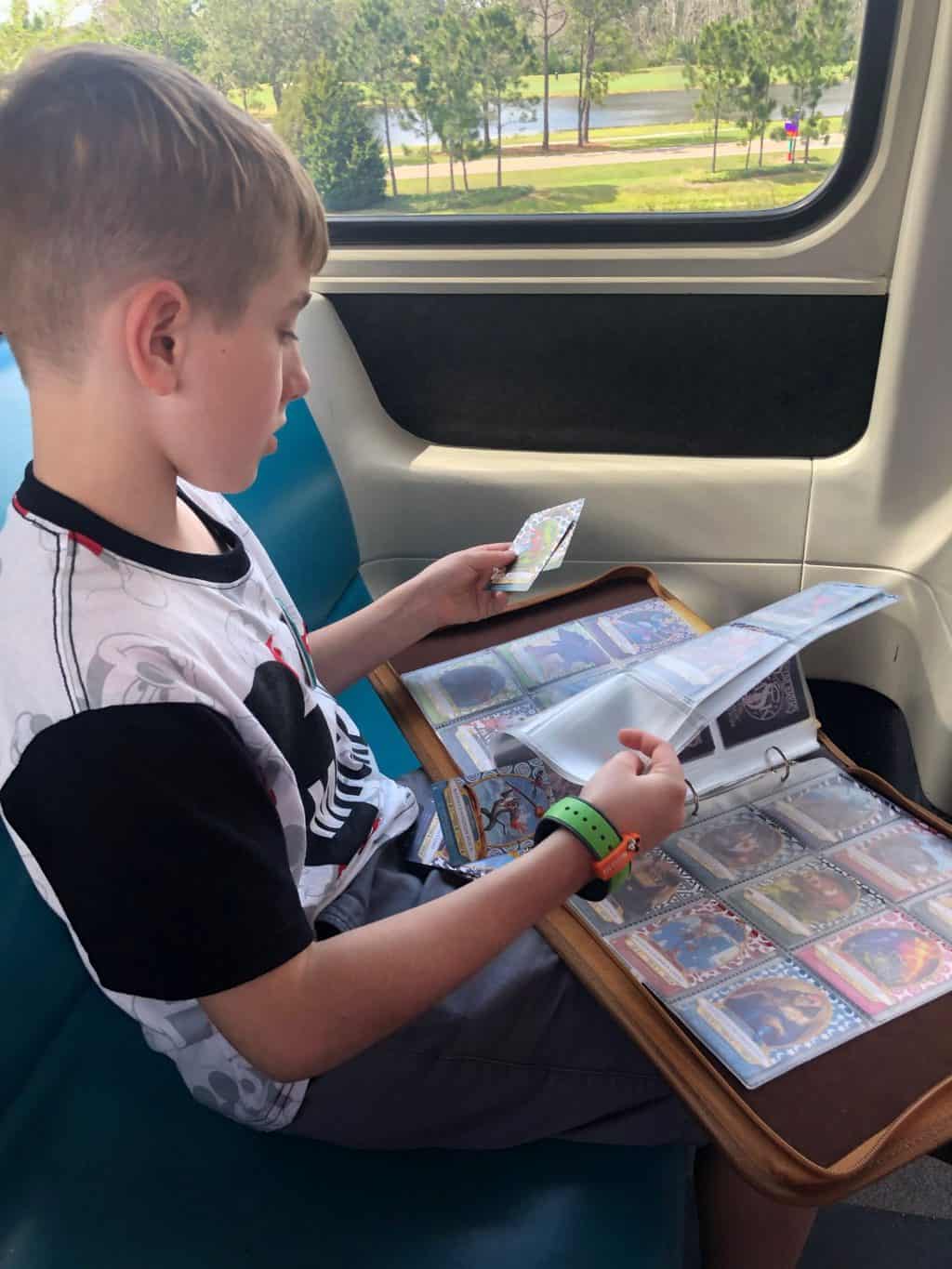 Planning a Trip to Disney???
My favorite planning tool for Walt Disney World parks is Touring Plans. Being a member of their site allows you access to crowd calendars and daily itineraries to avoid waiting in lines! Learn more here!