Tess absolutely LOVES LEGOLAND and allll she wanted for her birthday was to get to visit LEGOLAND again! I'm so thankful to LEGOLAND Florida for hosting us as part of her birthday celebration.
—–> If you're considering visiting LEGOLAND be sure to read all my tips in this post!
On the day of our visit the park opened at 10 and we arrived at 9:30 and had PLENTY of time to pick up a birthday button for Tessie as well as map out our game plan for the day.
LEGOLAND is a great park for many reasons, but especially in the Florida heat because it has SO much SHADE. We all enjoyed our visit so much more than we did other theme parks because we weren't nearly as hot!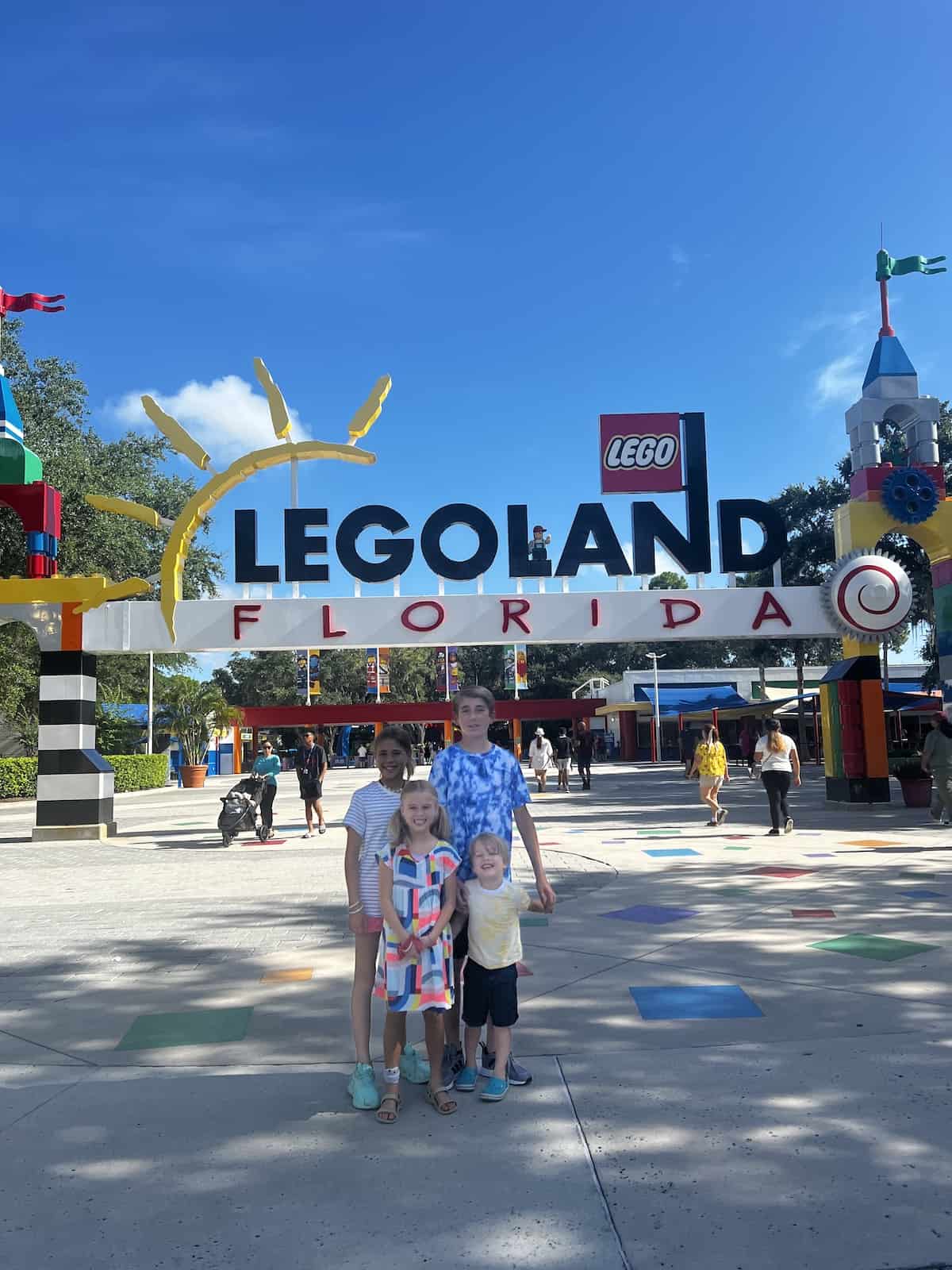 LEGOLAND has many different areas. Our last visit was just after reopening from shut-downs so a lot of the hands on and interactive experiences weren't yet back open.
This visit we really focused on those sorts of activities as we'd never gotten to experience them before!
In this location we each were given a tile and could decorate them however we pleased and then put them on display on the wall.
I always say that a reason I love LEGOLAND is that it's truly for ALL ages! We all enjoyed the hands-on activities!
Britt was a little frustrated that Tess copied her designed – but I reminded her that copying is a compliment 🙂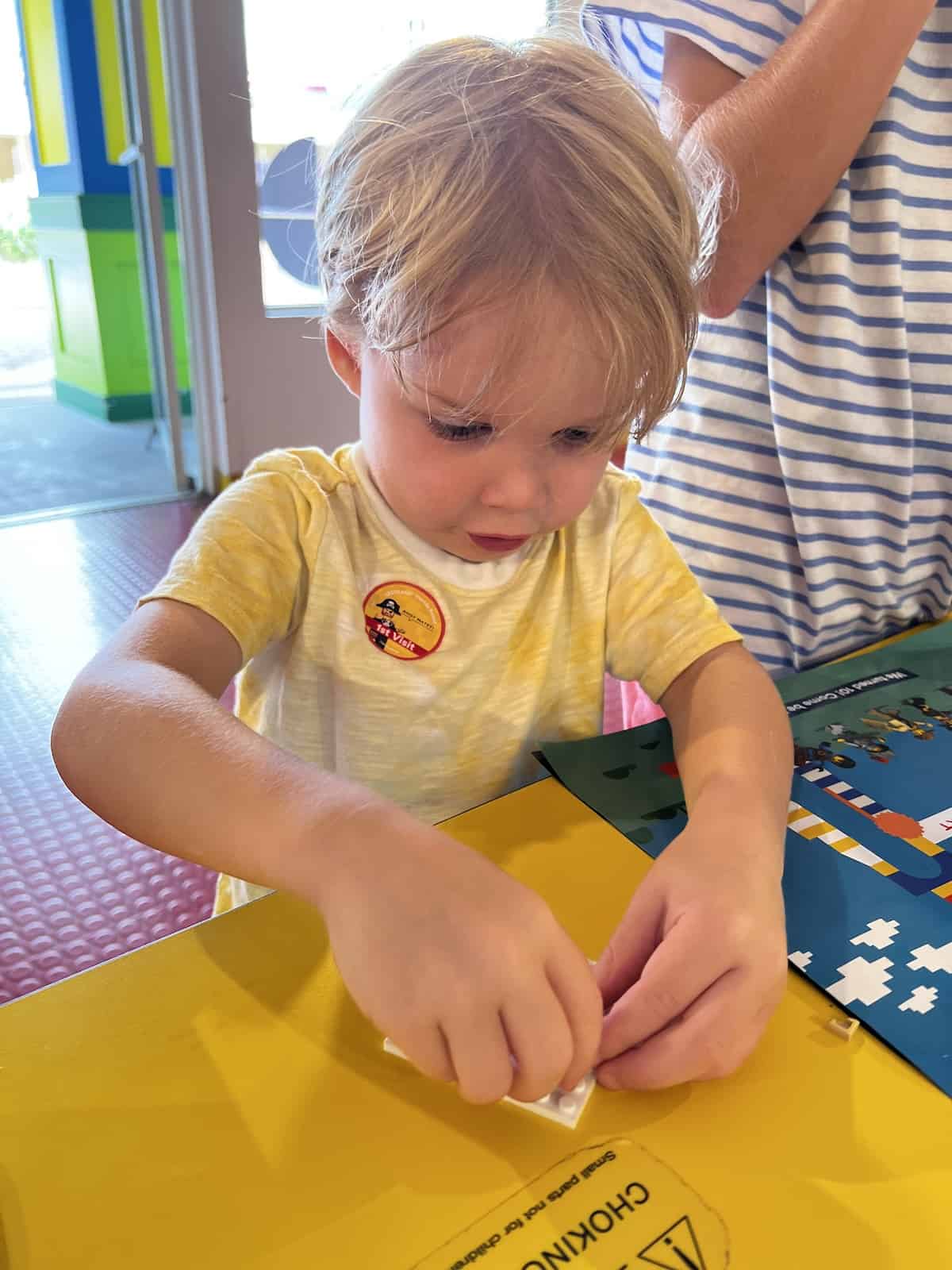 LEGOLAND recently added a tent type structure over the Mainland area and it made it soooo much more enjoyable. We loved exploring all the well thought out details.
Another detail that I appreciated so much on this visit is that throughout the waiting areas for rides there are play stations and build areas for the kids as well as signage letting you know "you're X far away from the ride." It helps to be more patient when you know how long the wait is ahead!
On our visit we had ZERO waits. An employee told me that most people run straight to the water park and then work their way back up to the exit but we did the opposite and had awesome luck riding so many things twice!
The only real downside ride-wise is that the Great Lego Race Coaster is STILL not virtual. They didn't bring back that feature after Covid which is a bit frustrating!
On the rides that Spear wasn't tall enough to ride he was so content and happy to wait because he could work on the LEGO builds!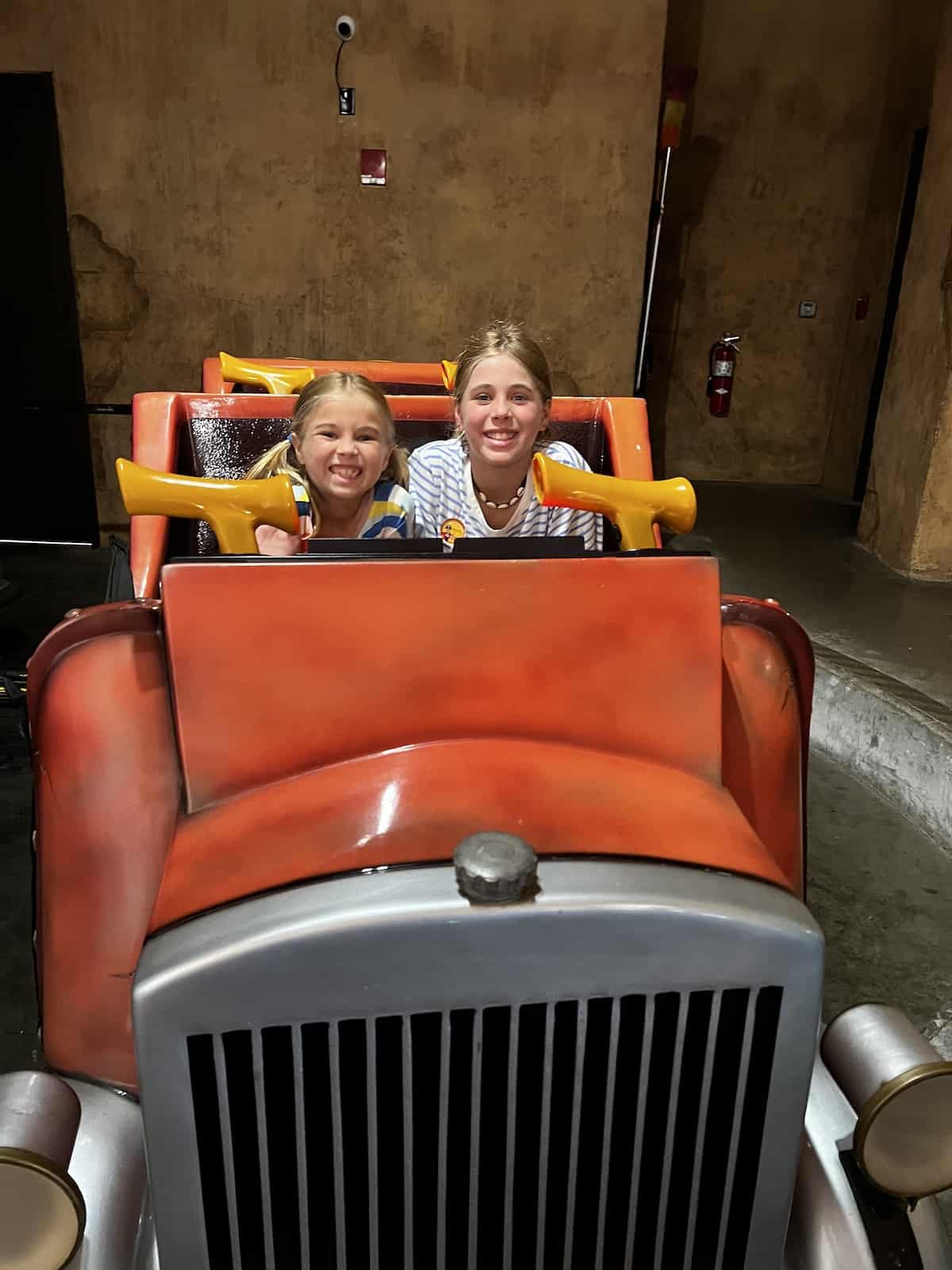 Two best rides according to our crew:
Lost Kingdom Adventure (a SUPER fun shooting style game ride) and Ninjago!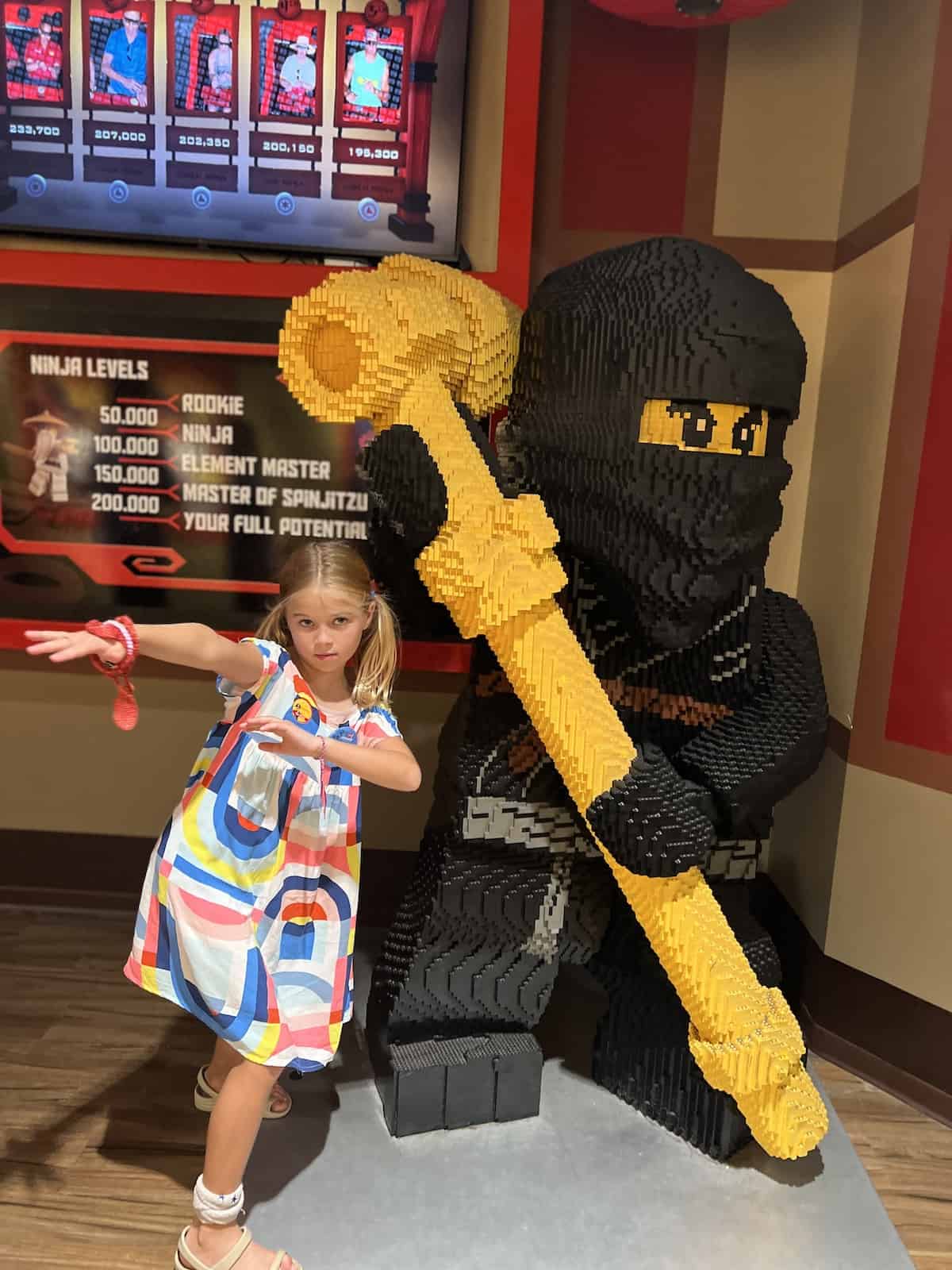 Outside food is allowed so we are all about packing lunches. I've heard a lot about the famous apple fries so we ate our lunch in that area to get them for dessert.
I also really appreciate that LEGOLAND passes out physical maps. So many places are going more and more digital and having a physical map is sooo much more helpful.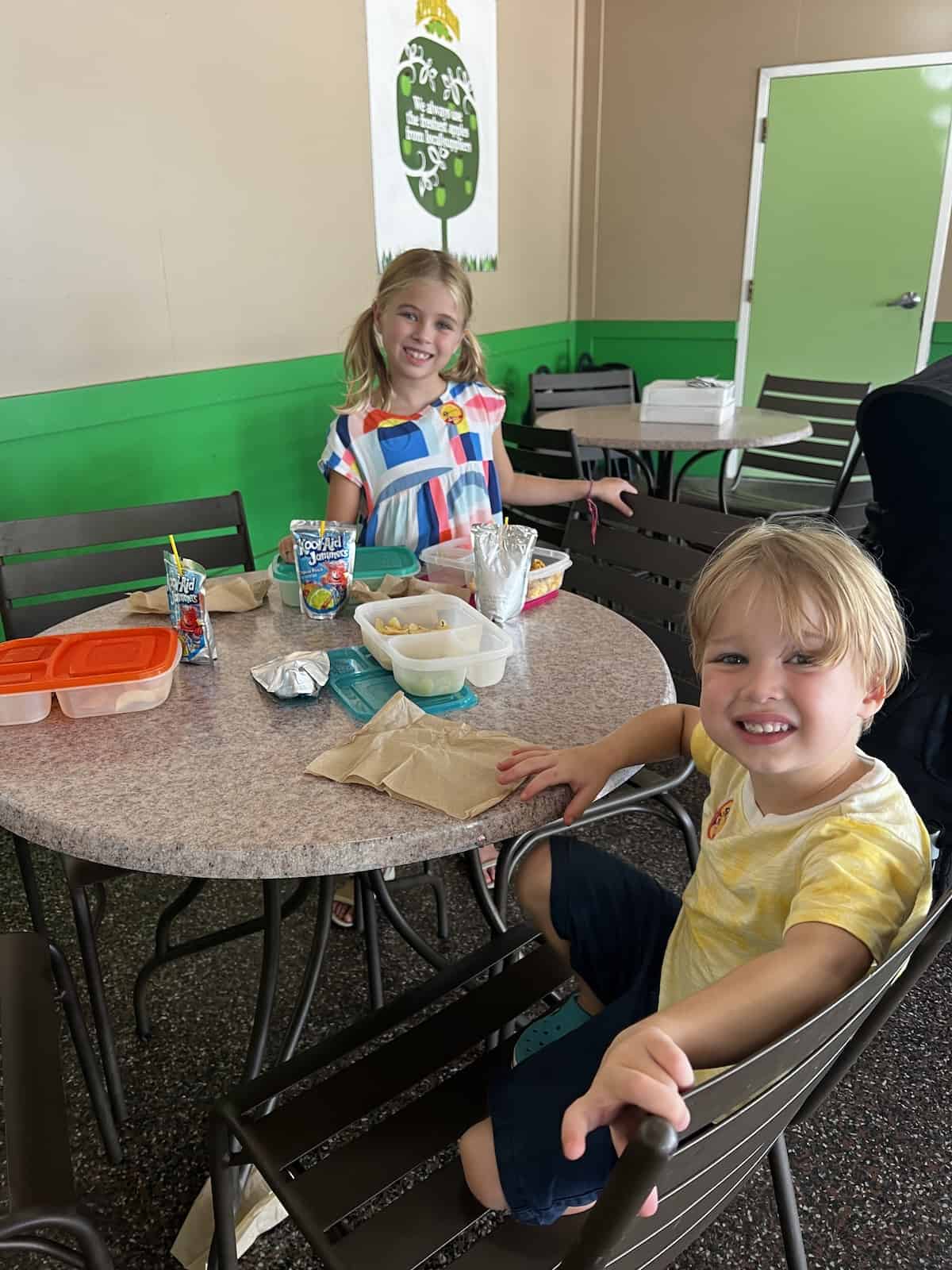 Another build area. The challenges and building opportunities change frequently so it's truly a park you can visit again and again and always have new experiences.
In this challenge each kid was given 6 identical bricks and they were able to build a creation to put on display – Kye made a cross 🙂
We LOVE watching LEGO Masters and it was awesome to see the final builds from Season 2 on display!
This time around we packed plenty of minifigs in preparation for trading and it was a highlight of the day!
It was also neat to learn that the first LEGO building instructions were for how to build a LEGO tractor. Love a fun fact 🙂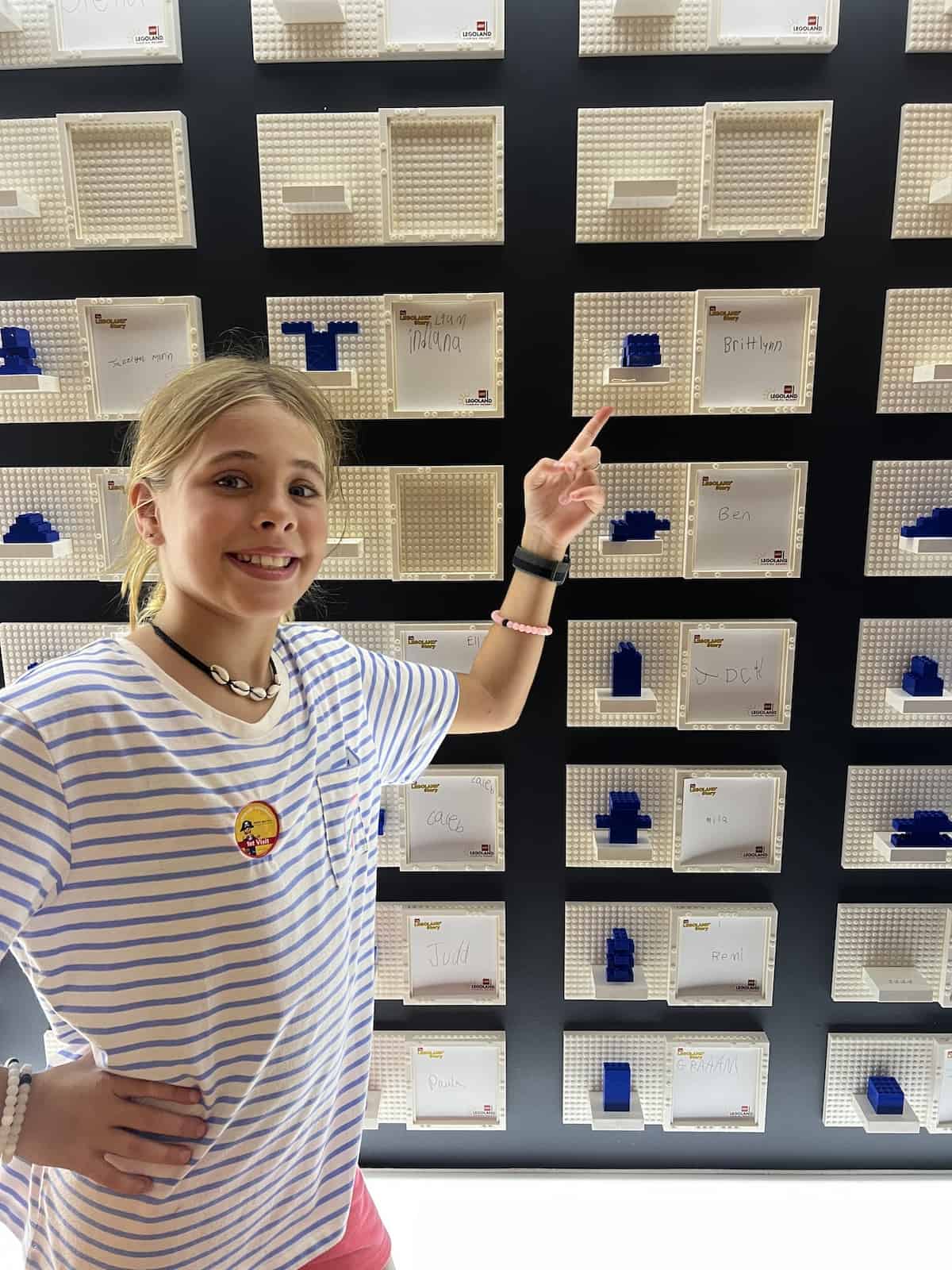 We had tickets that included the water park but in all honesty Zach and I did not feel like dealing with changing clothes and getting all wet. So we took the opportunity to surprise the kids with the news that we upgraded our Disney passes to include water parks. This helped them not want to bother with the LEGOLAND water park and allowed us to all stay dry instead 🙂
We headed over to Planet LEGOLAND which has TONS of build stations. Literally spent a couple hours just building creations together!
After you finish a build you take it to an employee and share your LEGO story in exchange for a fun lanyard and button!
Britt built a magical bed that is a normal bed during the day and at night it travels to an imaginary land. Tessie and Daddy built a magical hot air balloon. The staff was so impressed with Kye's roller coaster build that they gave him two badges – Maker as well as Designer!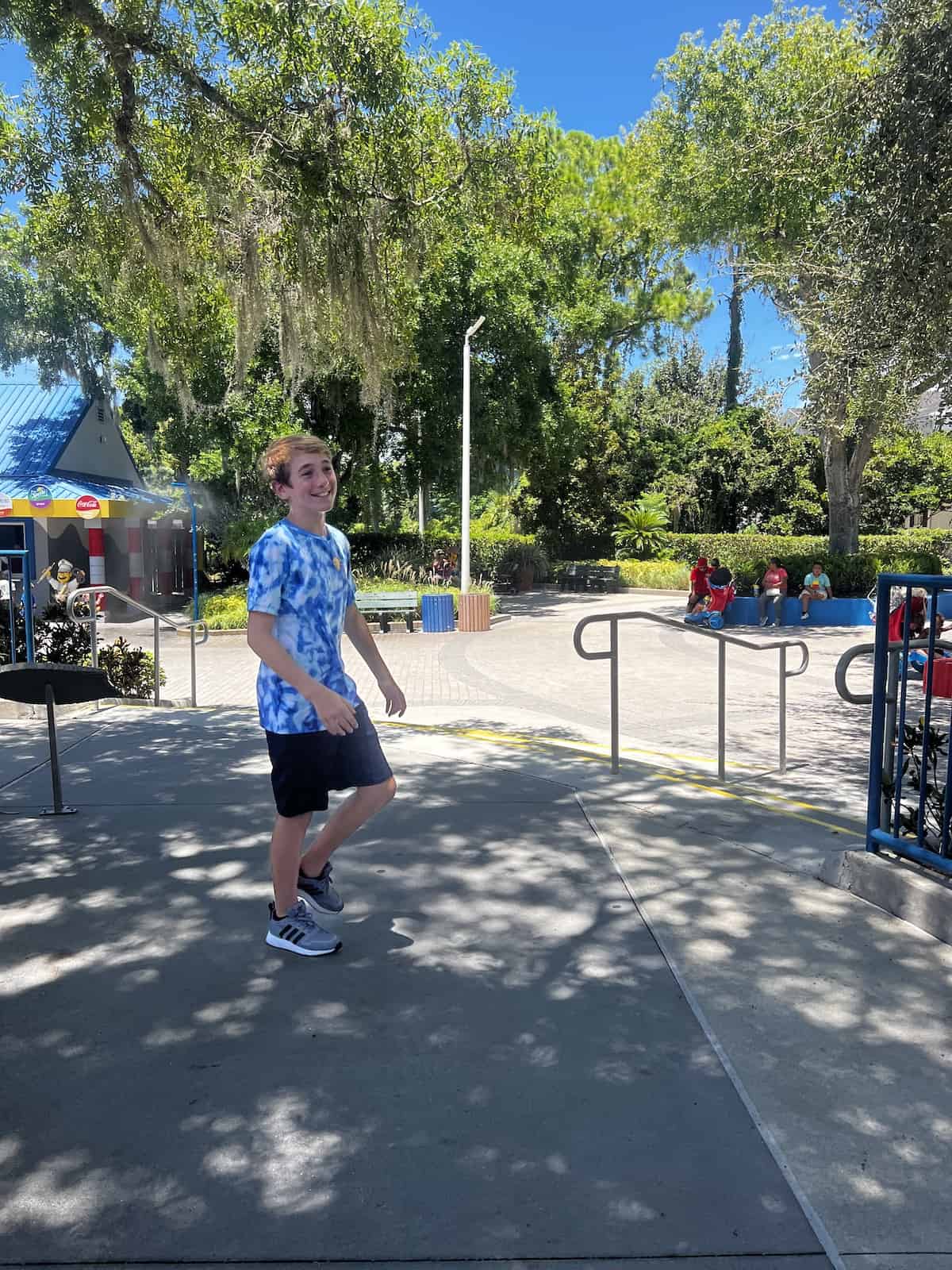 Of course we had to visit the gift shop as well before heading out!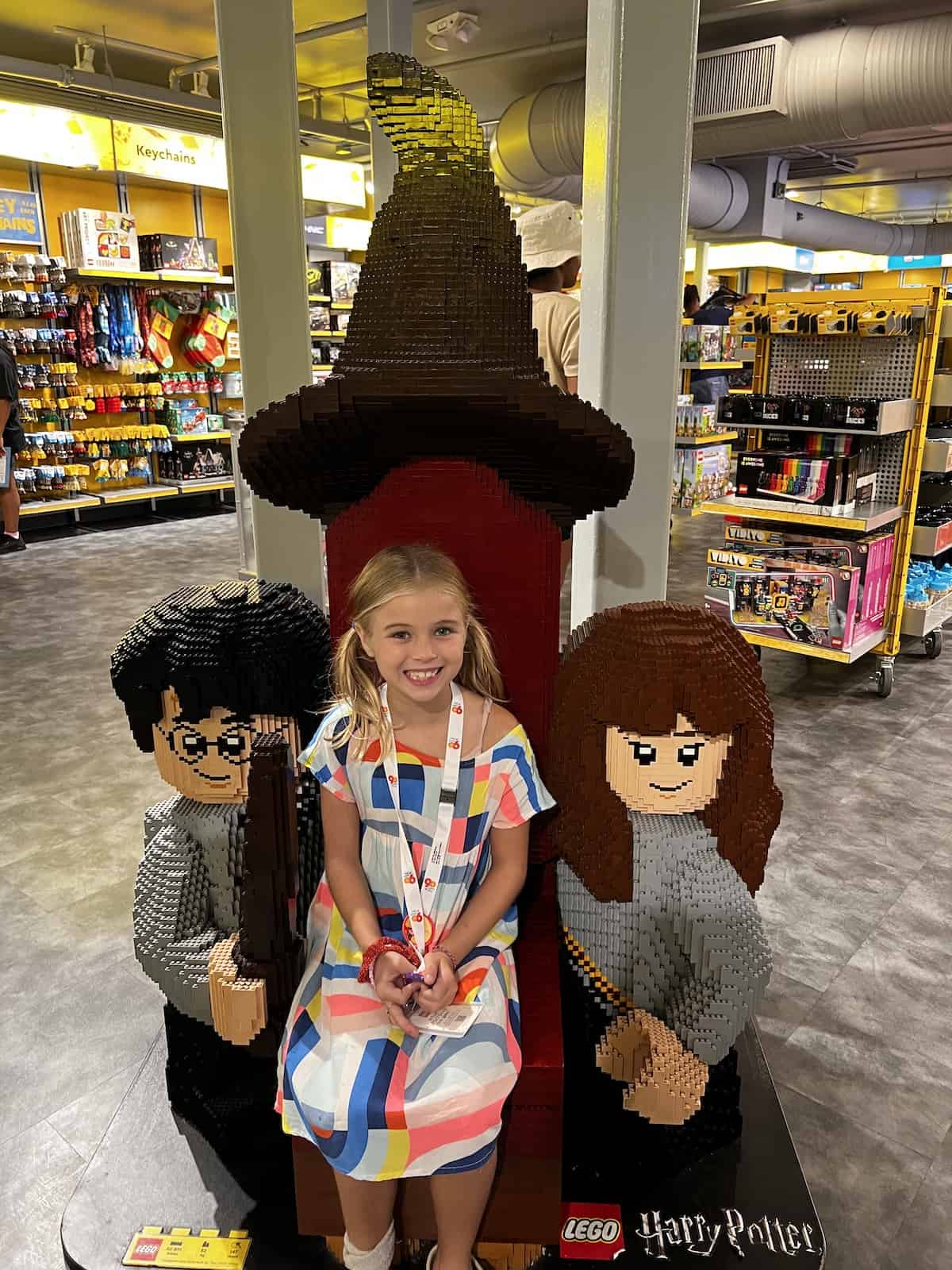 While Tess (and our fam) LOVE the theme park…the MAIN reason she wanted to celebrate her birthday at LEGOLAND was for the HOTEL. It. Is. AMAZING.
Again, huge thanks to LEGOLAND for hosting us!
As soon as we got the notification that our room was ready – we left the park. We wanted as much time to enjoy the resort as possible. A huge perk is that it's just a 2 min walk from the theme park!
Our first visit we had our hotel stay at the beginning of our trip followed by the park day. This time around we had the park day first followed by the hotel stay and we preferred that!
The Pirate Island Hotel has SO many amazing details. Truly I don't know why Disney doesn't take notes from LEGOLAND and make their hotels more heavily themed and interactive like this. It's an incredible experience beyond anything Disney has done!
Last time we visited we didn't know what to expect so only the big kids and I stayed at the resort but this time around I knew Spear and Zach would both enjoy it so we all stayed!
Each room has an Alexa as well as a treasure hunt. It's SUPER cute and SO FUN and has a legit treasure!!! The clues lead the kids throughout the room with things to count in order to come up with the combination to open the lock.
Minifigs for the win! My kids are slightly obsessed with them 🙂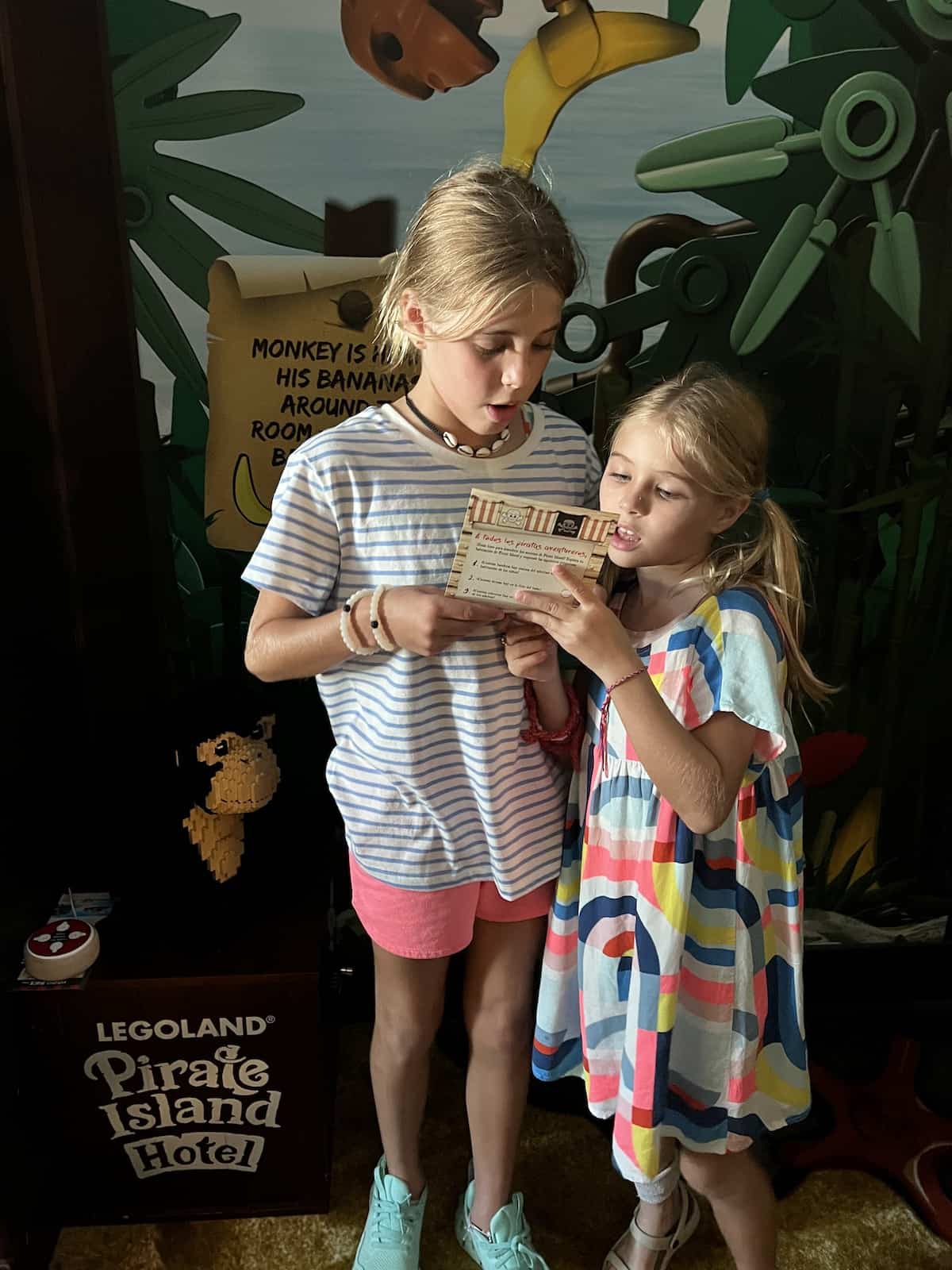 Each room at the resort sleeps 5 which we didn't realize until we checked in but LEGOLAND actually gifted us TWO rooms for the night! SO AWESOME.
Of course the kids didn't mind having two treasures to hunt 😉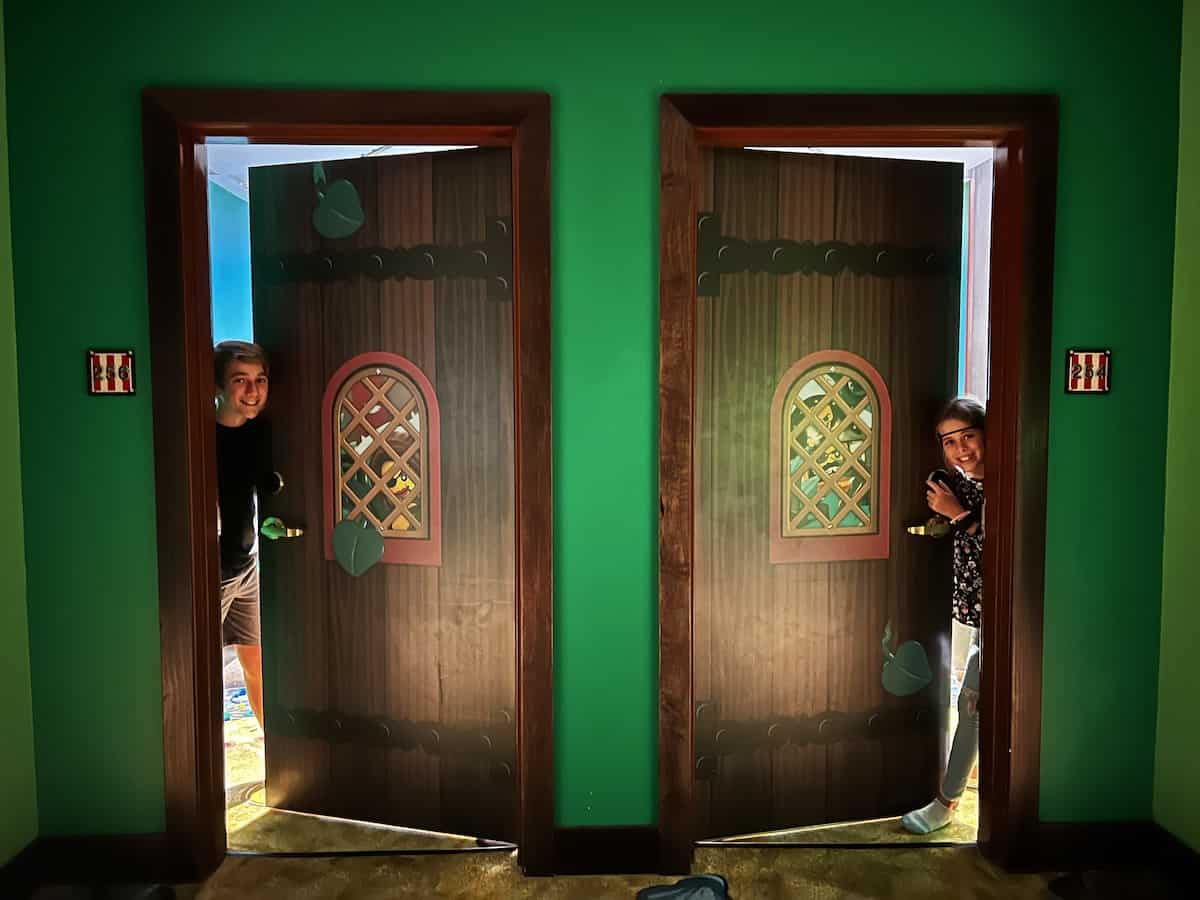 Nothing fills my mama heart more than experiences in which ALL of my kids can enjoy them. Kye was JUST as excited and into it all as the little kids were 🙂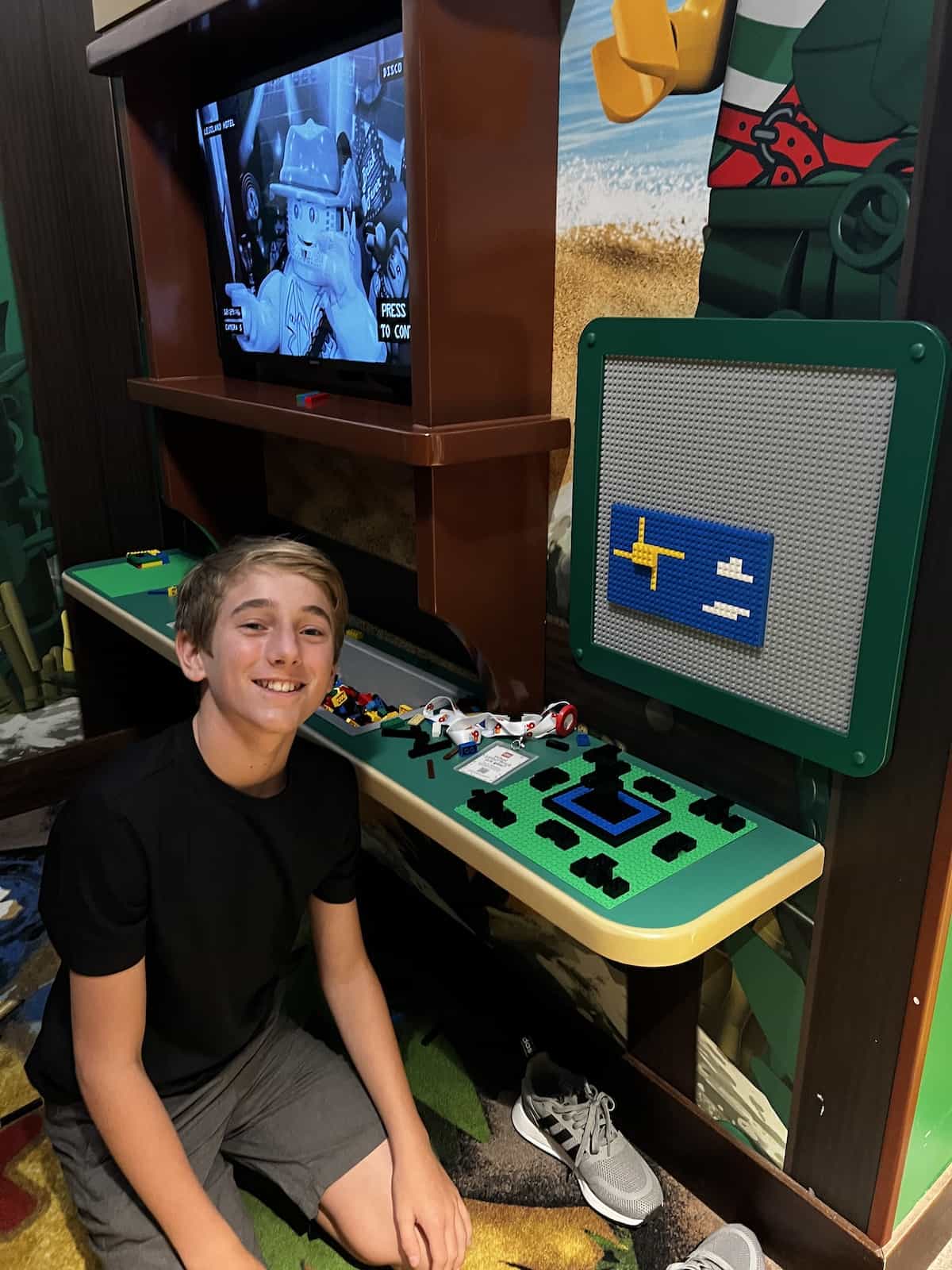 Not only did we want to spend as much time in our room as we could but we also wanted to have time to explore the entire RESORT! There are so many fun activities and things to do – including several "free play" stations set up and even a cool playground in the lobby!
LEGOLAND even provides a resort guide to be in the know about it all.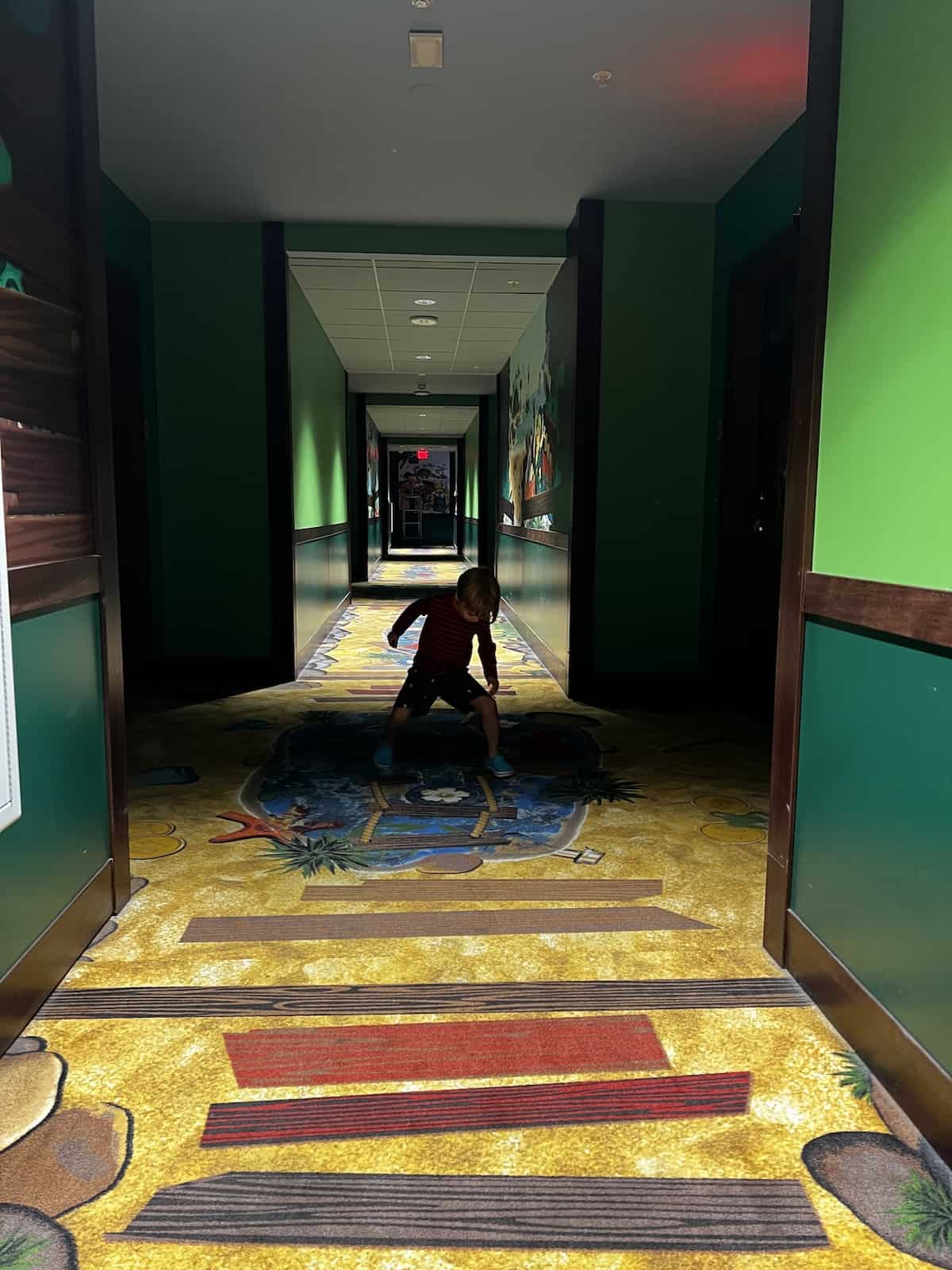 Pirate Bingo! Zach and Kye both won a round and were gifted minifigs as their prize.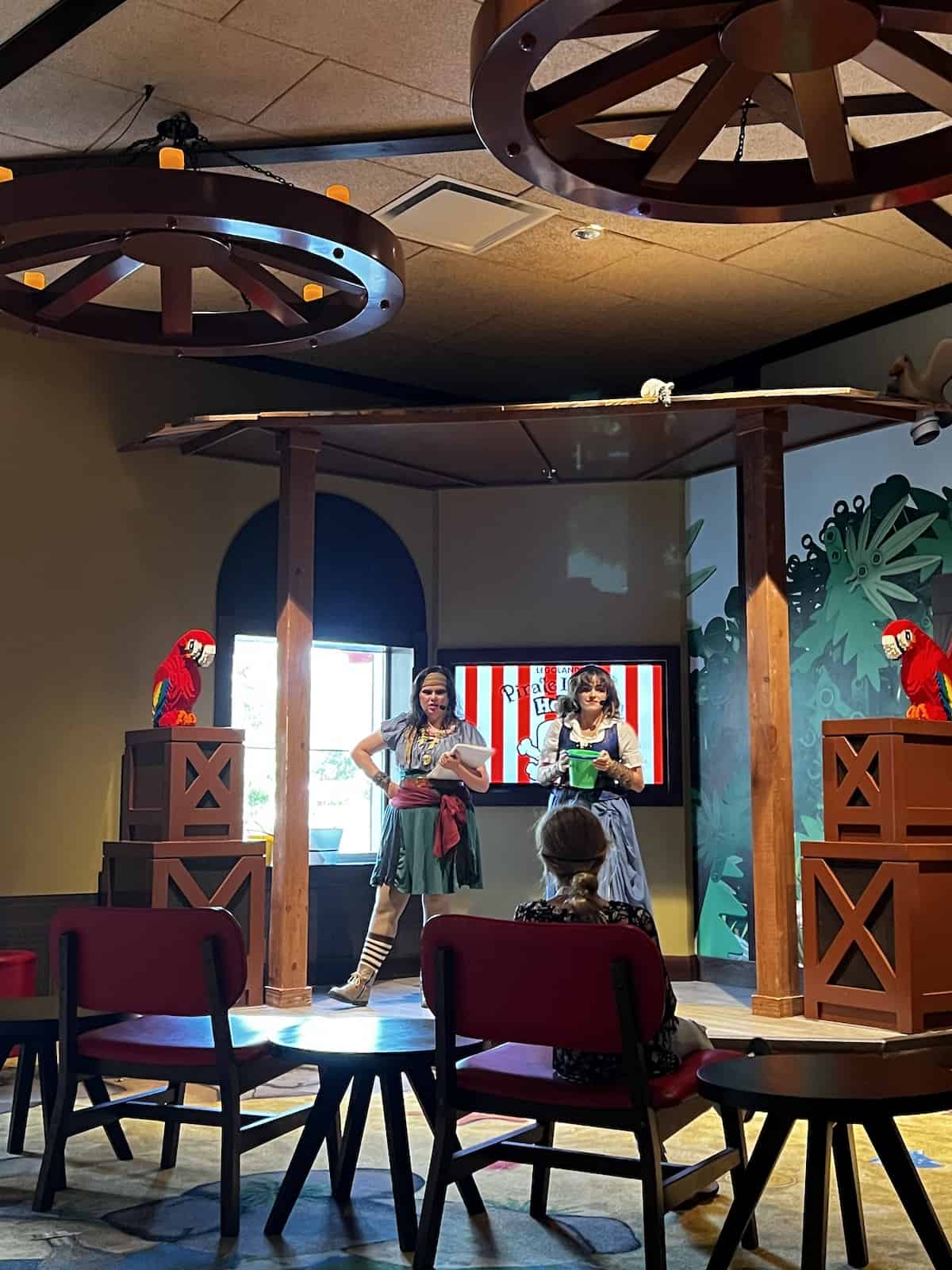 The dinner at Shipwreck Restaurant is truly PHENOMENAL. It's all served family style and is "all you care to enjoy." I also love me a good theme and LEGOLAND doesn't disappoint at dinner either – everyone gets a bandana to rock!
We tried all the desserts and even got some gold coins at the end of our meal.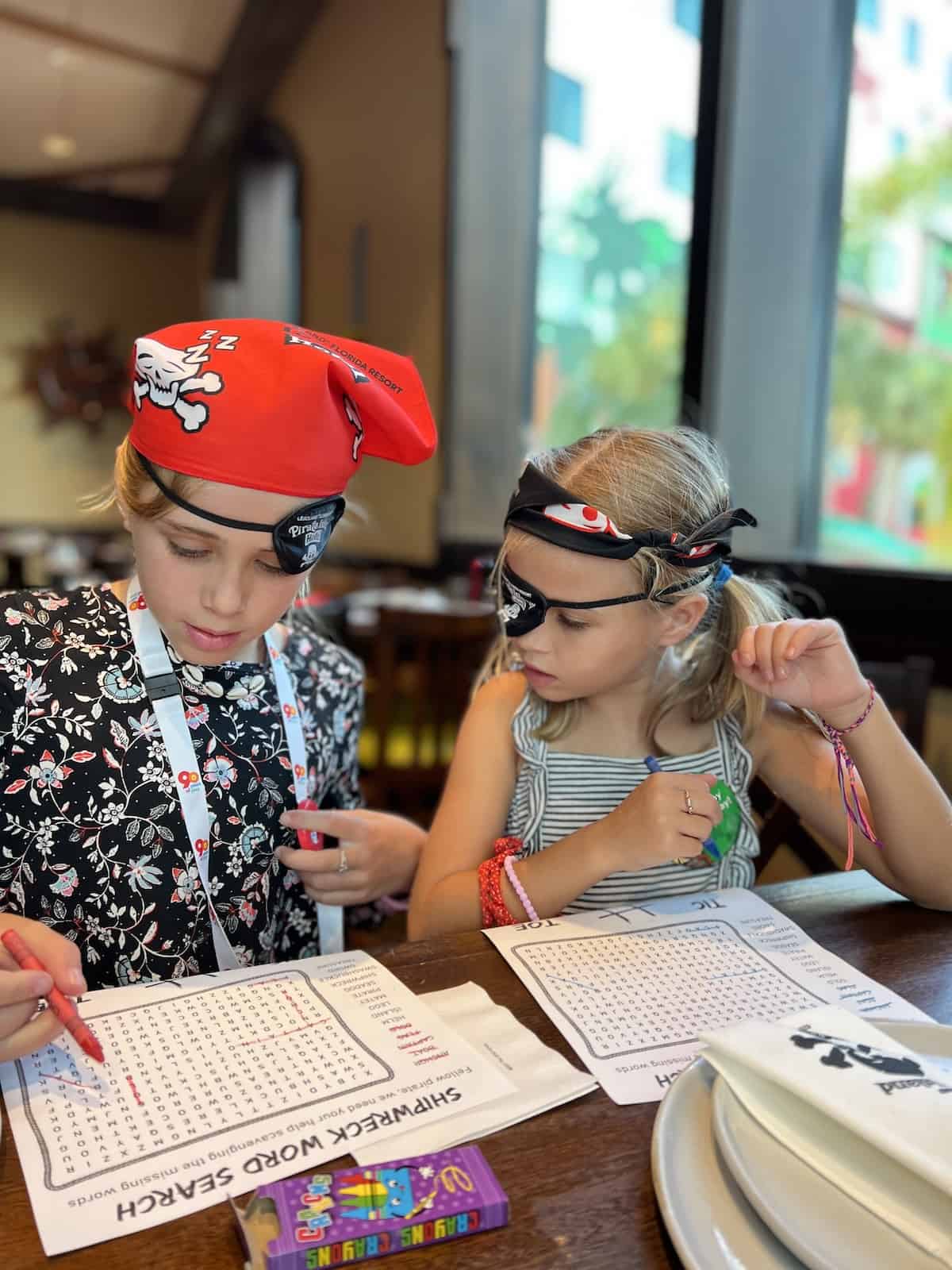 Another thing we'd missed out on last time was the Creative Workshop. It's a free LEGO build class where you get to take home what you build. It fills up QUICK so advanced reservations are highly recommended.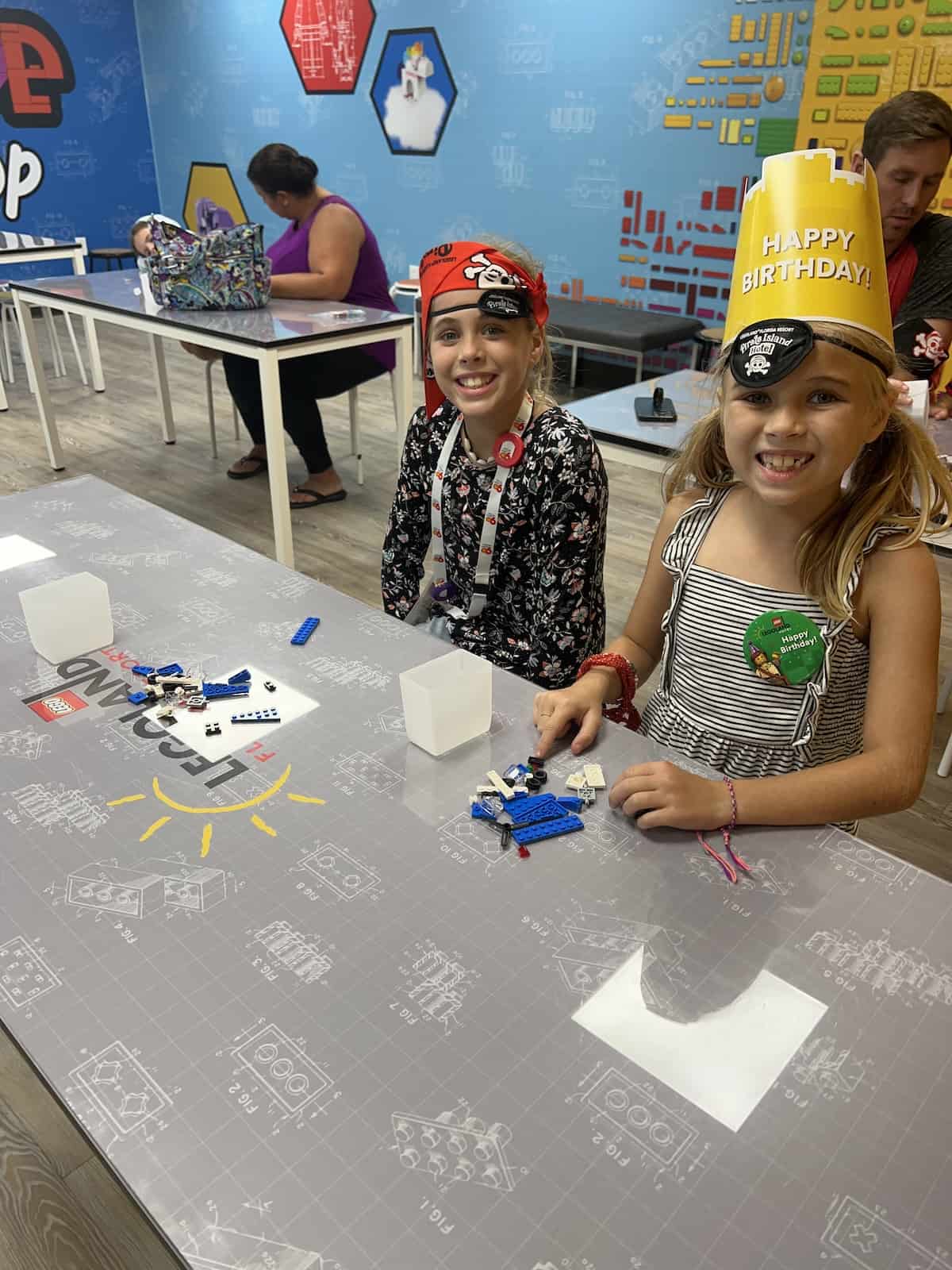 After dinner it was the after party – the PJ PARTY!
The resort had a PJ Dance Party but it didn't start until 8:30. Spear was on day 2 of no nap so we had a little pre-party with him before he went to bed. He was super, super excited to get to sleep in the top bunk!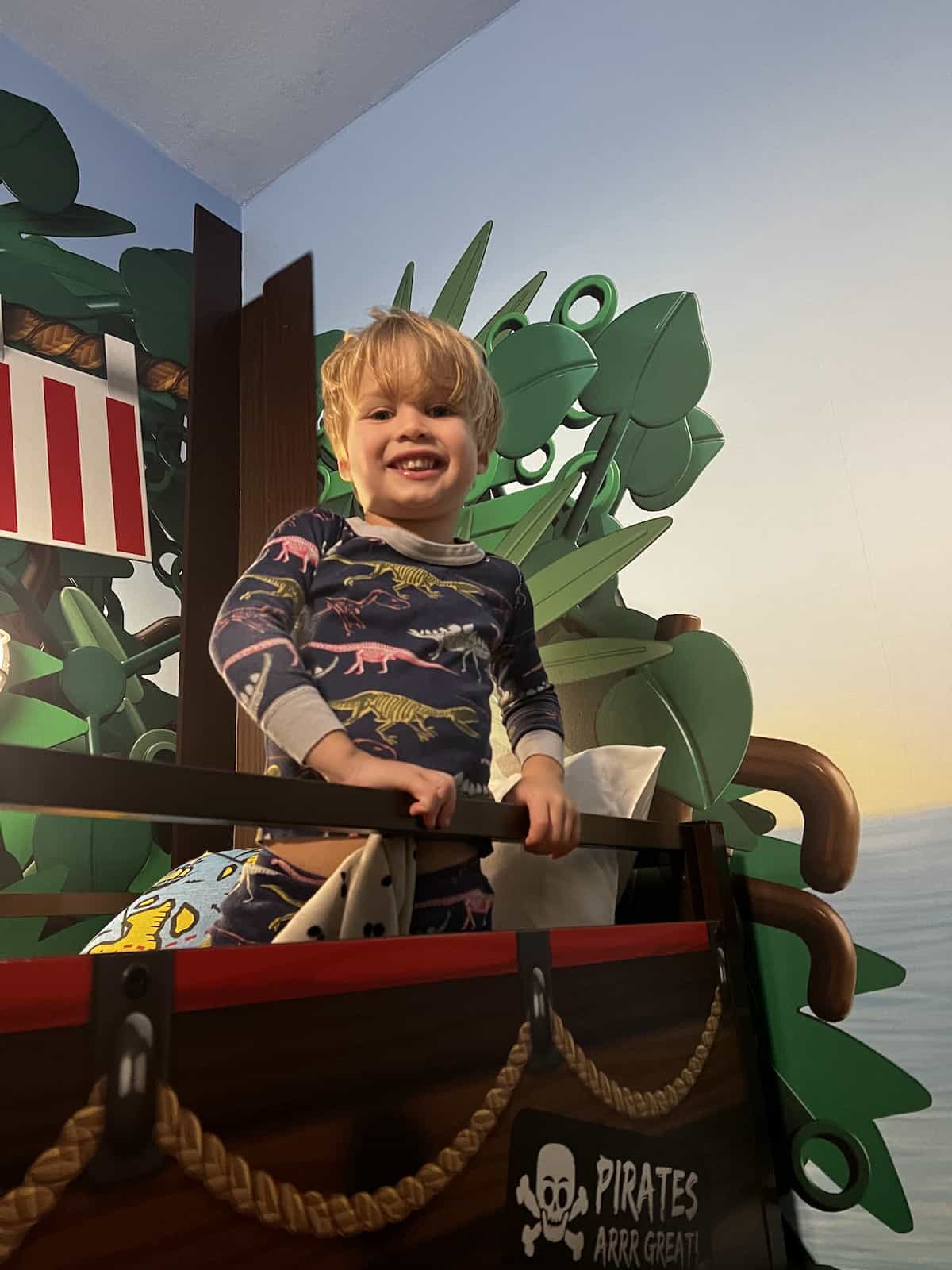 Then I took the older kids to the lobby for the fun. I was THE only adult in PJS and Kye quickly felt a little awkward. He stuck to building rather than dancing but the girls broke it DOWN.
We all slept awesome (beds were so comfortable and the rooms were nice and dark and quiet). We actually had to go in and wake Britt up at 9:30!
It worked out great having two rooms because the kids could get up and play and Z and I didn't have to worry about them while we got things packed up and got ready for the day.
The big kids had their own LEGO Masters challenge. Tess was the host and judge and the challenge was to build an animal in 10 min with a story about the animal.
Britt built Lily the Ladybug and Kye built Chelsea the Cheetah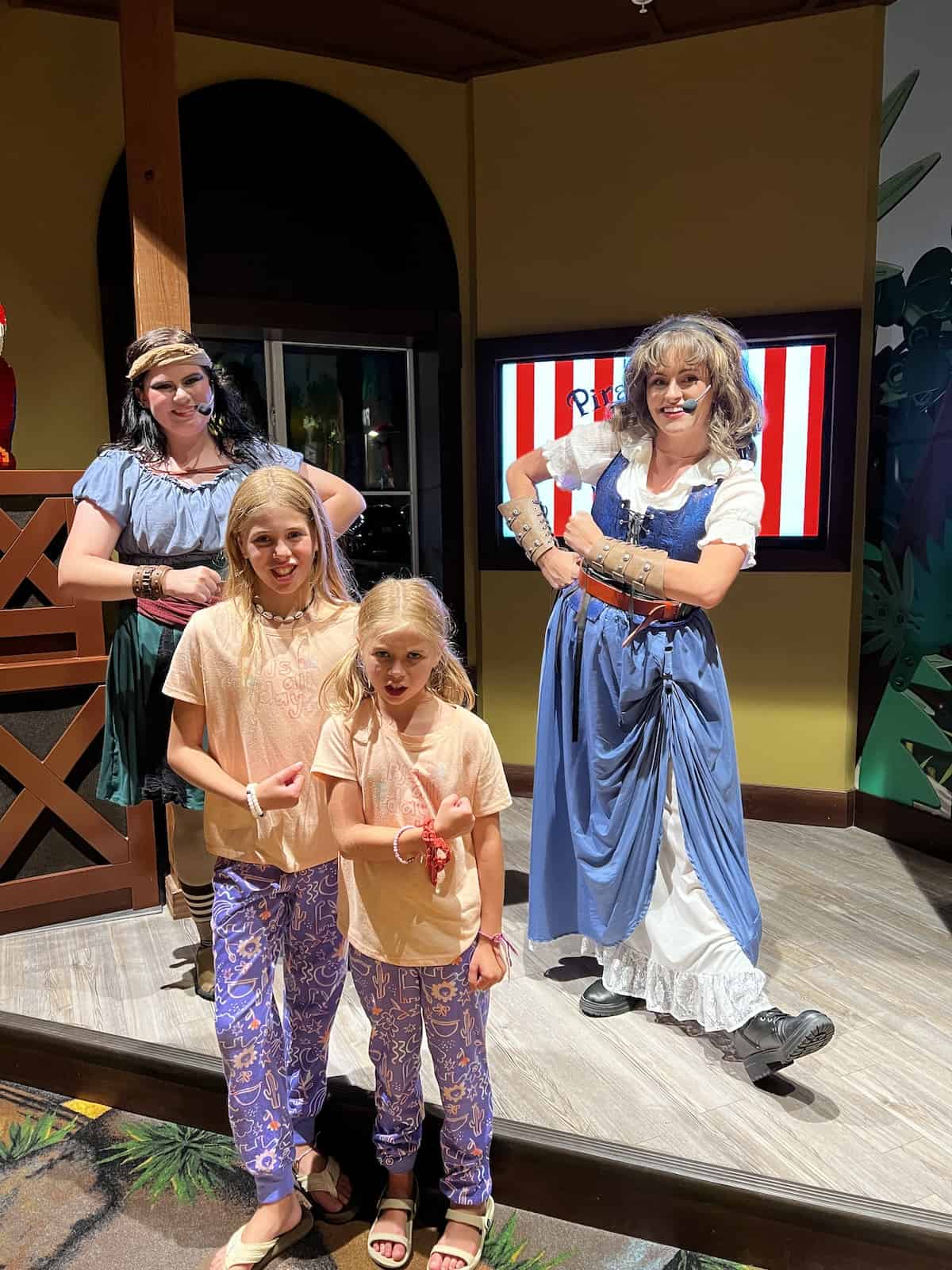 We had the same table for breakfast and the food was sooooo good. The kids said the chocolate milk was the best ever and I drank alllll the water 😉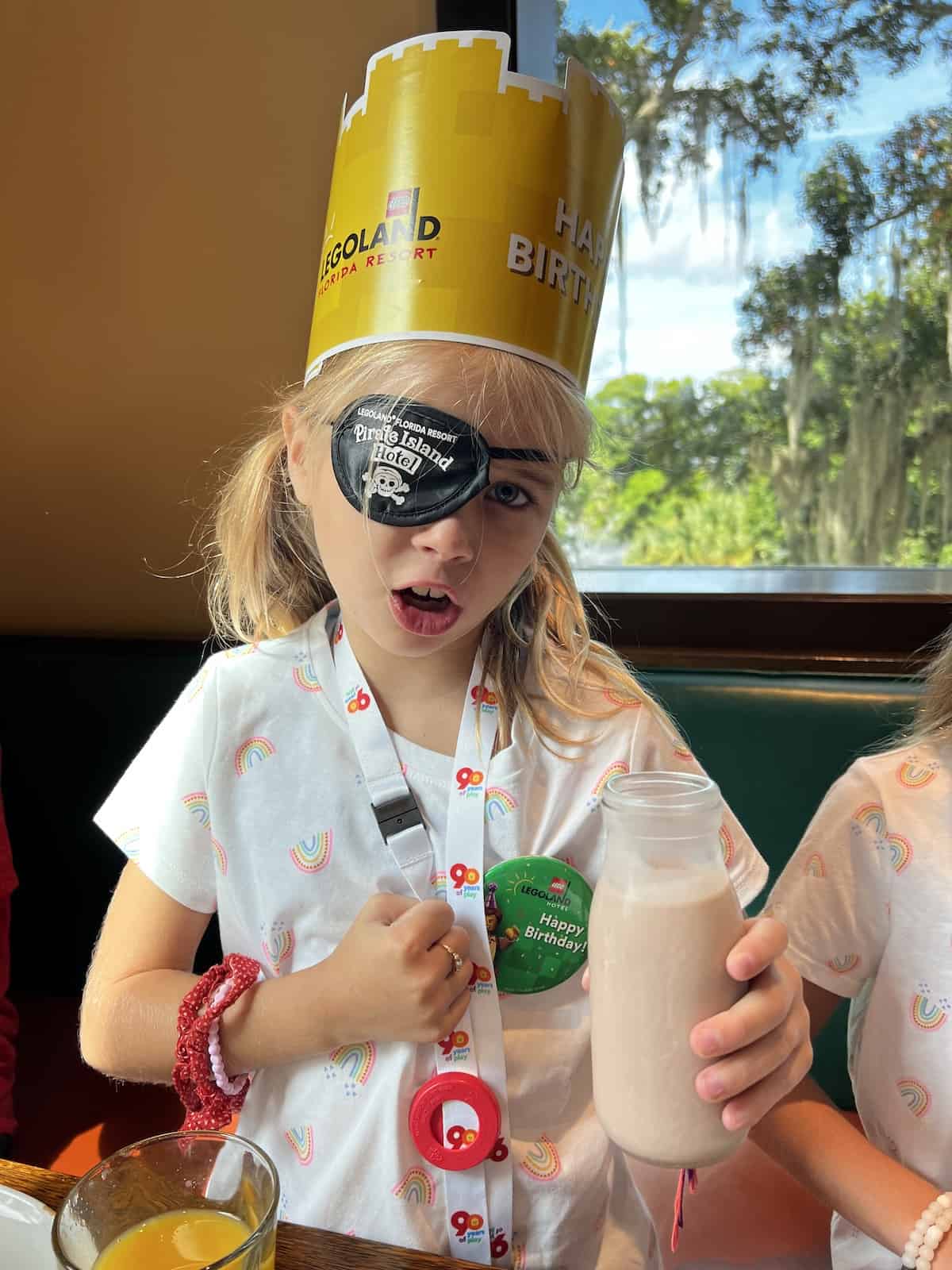 None of us wanted the fun to end! Tessie wore her eye patch the whole ride back to our Disney House while watching a movie 😉
We LOVE LEGOLAND and I'm sure we'll be back again soon!