Labor Day Disney Trip: Magic Kingdom
School started a week later than usual so the kids only had one full week of school and then it was Labor Day and we weren't mad about it!
We checked them out at the end of the school day to cut down time from them riding the buses home (the girls school day ends a full HOUR before they get home!) and so we could hit the road faster!
We stopped at McAlisters on the way down for dinner. It's SO funny to me the random stuff that people will get crunk about on Instagram. I shared this pic in my stories and people came at me about how we packed the kids dinner and brought it with us in the restaurant. Um. Seriously?
Zach and I still ordered food and still spent almost $30 just on our two orders! I am zero percent apologizing for bringing in food for our kids. We literally do it ALL THE TIME and always have since Kye was little! I didn't know people ever had issue with this? It's a GREAT way to cut spending costs while still getting the fun experience of eating out!
When I grabbed park passes for Labor Day weekend I had one real goal: Magic Kingdom. The kids and Zach hadn't been since January and I really wanted to go as a family!
We are always early morning park people but especially right now with the way the parks are operating with all the guidelines. It's best to arrive an hour prior to opening so as soon as they open the parking lot you can park and get into the park to have time before the crowd starts coming!
We were literally one of only TWO families on the ferry boat for the ride over to MK. It felt EERY to be SO EMPTY!
I was excited for the kids to see the new castle for the first time and they were excited too!
It was a BEAUTIFUL morning, before the heat set in, and it was wonderful having the park be so empty first thing in the morning. The park opened at 9 and we were inside by 8:30 and that 30 minutes was the best part of the day for sure!
It's tricky arriving that early though as they are NOT consistent as to which rides are open prior to the parks opening so you can very easily waste that window if you don't rush to ride the right thing!
We weren't in a super hurry and made sure to take the time to savor the moment and allow the kids to really SEE the castle and soak it in!
The big kids wanted to ride 7 Dwarfs Mine Train and it was only a 5 minute wait! We tried to stretch Spear's neck to be tall enough but it wasn't happening quite yet 😉 Tessie loves to measure herself even when she knows she's tall enough because she's ridden a ride many times haha
I was VERY thankful that NONE of the cast members said ANYTHING regarding Spear not having a mask on. He ran around freely and no one ever stopped me to ask me to have him wear one. When we entered the park that morning they DID require him to put one on but after entrance we were good to go!
While we waited on them riding Mine Train we just enjoyed the beautiful morning walking around an empty Fantasyland! It's SO nice that Spear is getting to be an age where he CAN walk around and be trusted with a bit more freedom…only a bit though 😉
When they got done with Mine Train Peter Pan was just opening up with ZERO wait so we were able to walk right on through the regular line which was a special treat as the kids have only ever entered through the fastness line!
We knew Spear would love the "race cars" so we hit that up (and Tess asked me to drive and we named our team "Team Chillax" because everyone else kept saying that THEIR car was going to win and Tess kept saying "we are just going to chill").
She may not like competition but she LOVES some thrill rides and was tall enough for Space Mountain for the first time and LOVED IT. Britt didn't want to ride it but Tess had NO FEAR and had a BLAST riding!
We were able to ride Buzz twice (Tess also insisted that she wasn't trying to win) and it was Spear's favorite ride of the day – he said he liked shooting the gun 😉 Even though Tess didn't care about winning…she ended up being a Galactic Hero with Daddy as they rode together and BOTH got the top scores possible on the ride.
Tess is obsessed with BAGS. She loves any sort of bag or box or storage tote. Literally ANYTHING. She loves putting things inside of them. Def going to be a purse girl someday! One of the main things she wants for Christmas is this Forky bag!
Classic.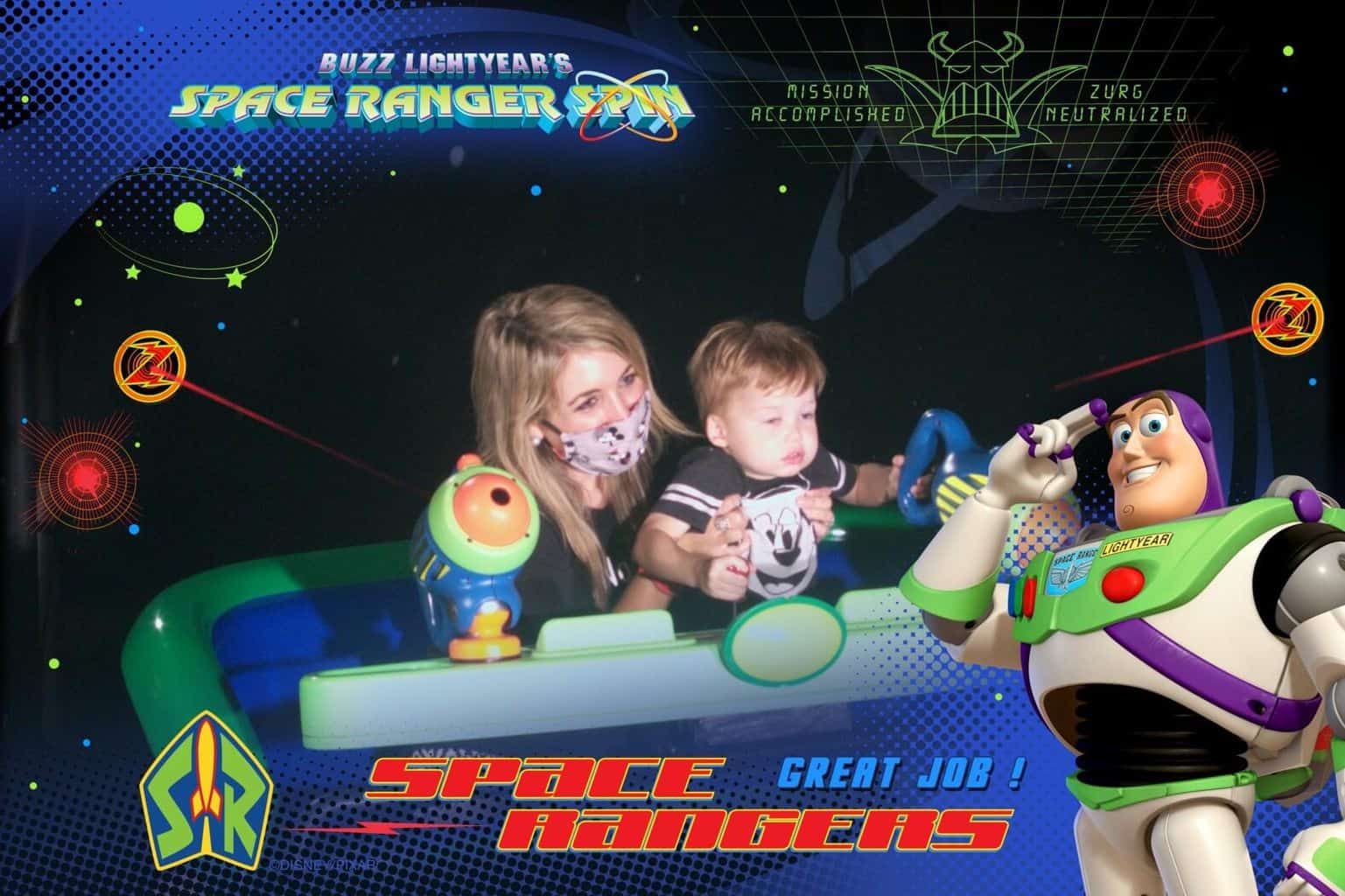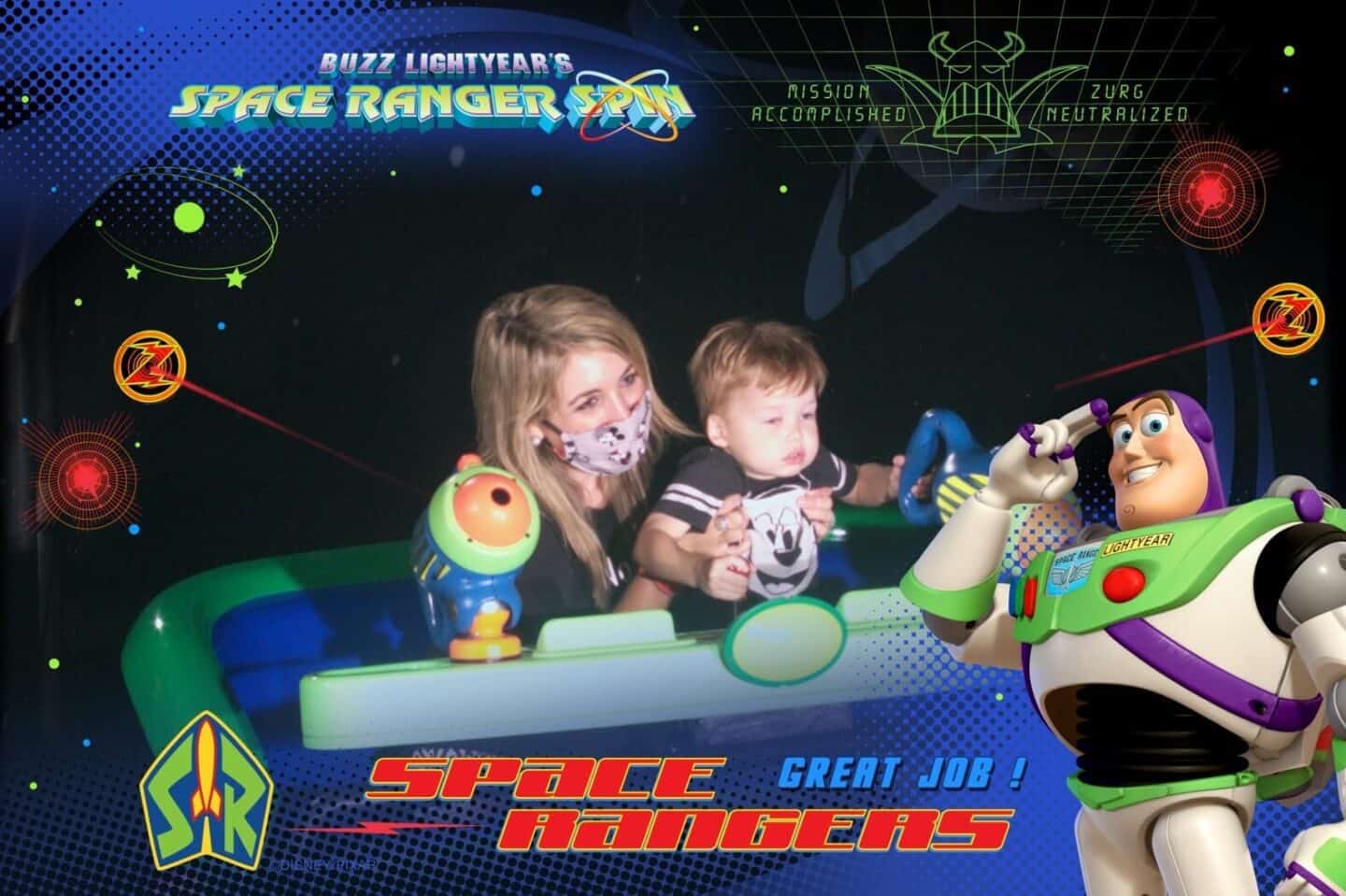 This time to the parks the kids wore lanyards with their masks so we could quickly remove them for photos. YES we take off our masks for QUICK pictures. No I'm not apologizing for it and no I don't feel any guilt about it.
We are not around ANY people. We get in position for the photo then take down the mask, smile and put it back on. If we can be stationary and not wear a mask while holding food in our hands I don't see the difference in being stationary and removing a mask for a fast picture. I understand and respect that there have to be health and safety guidelines in place right now but I personally feel like Disney is taking it to the extreme level.
Universal doesn't mind if you remove the masks for a quick photo. Yet do it at Disney and people come for blood at you about it.
We brought our popcorn bucket for a snack and it was neat seeing how active all the Disney ducks were! They were probably just as excited for guests to be back as we all were to be there! They came around the kids hoping for food but you know my kids were too busy snacking to share with the ducks 😉
No wait for Dumbo and I just love rides that we ALL can experience and I love moments where I can really focus on SPEAR. We discussed how IF we weren't pass holders that this would have probably been Spear's FIRST VISIT!
All the older kids had their first visits around 2.5 and we always typically did their first visit in September. As a family we really poured into Spear and tried to keep things about him as much as possible. He is really starting to "get it" which makes it even MORE fun and exciting!
My Disney Boy!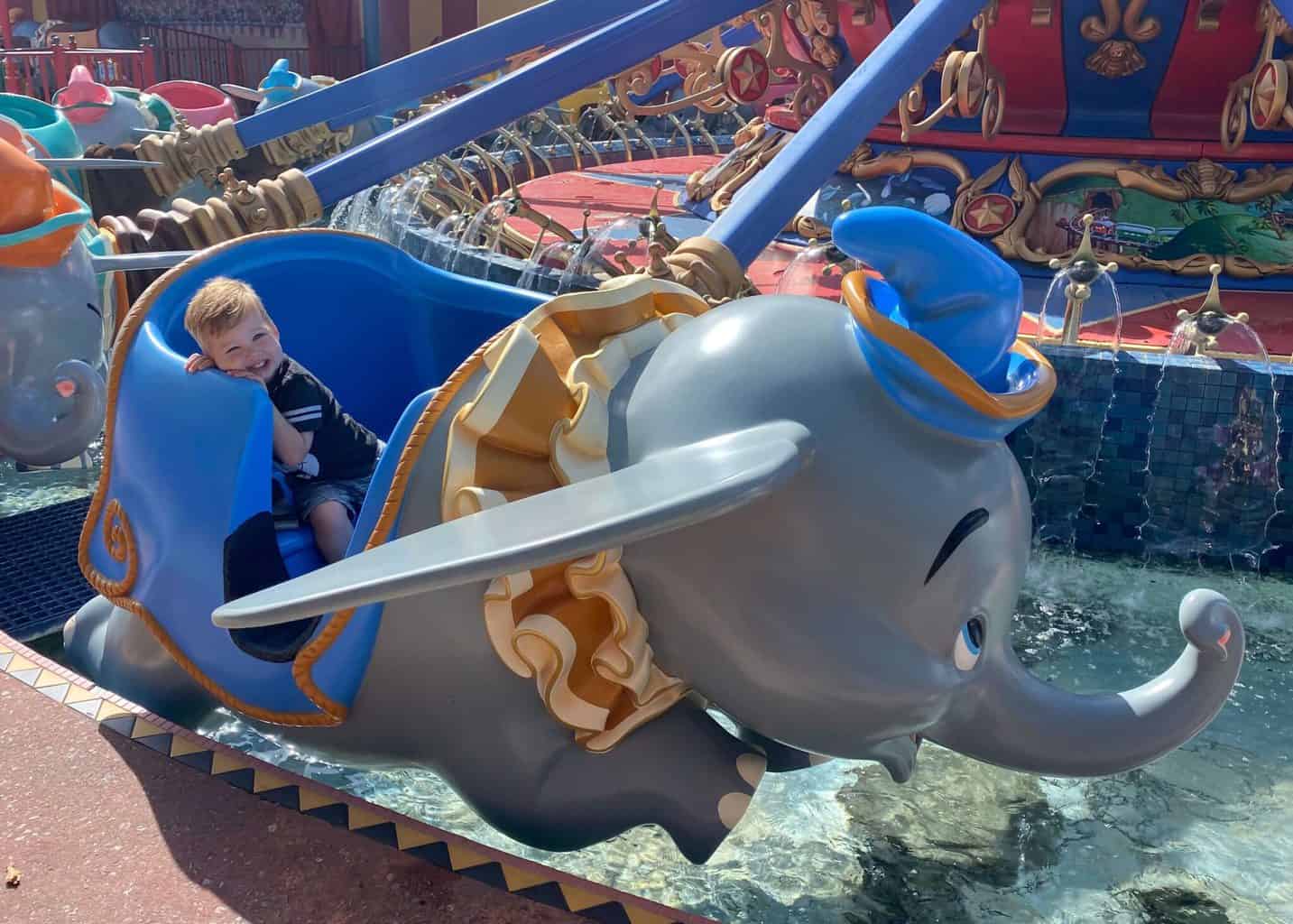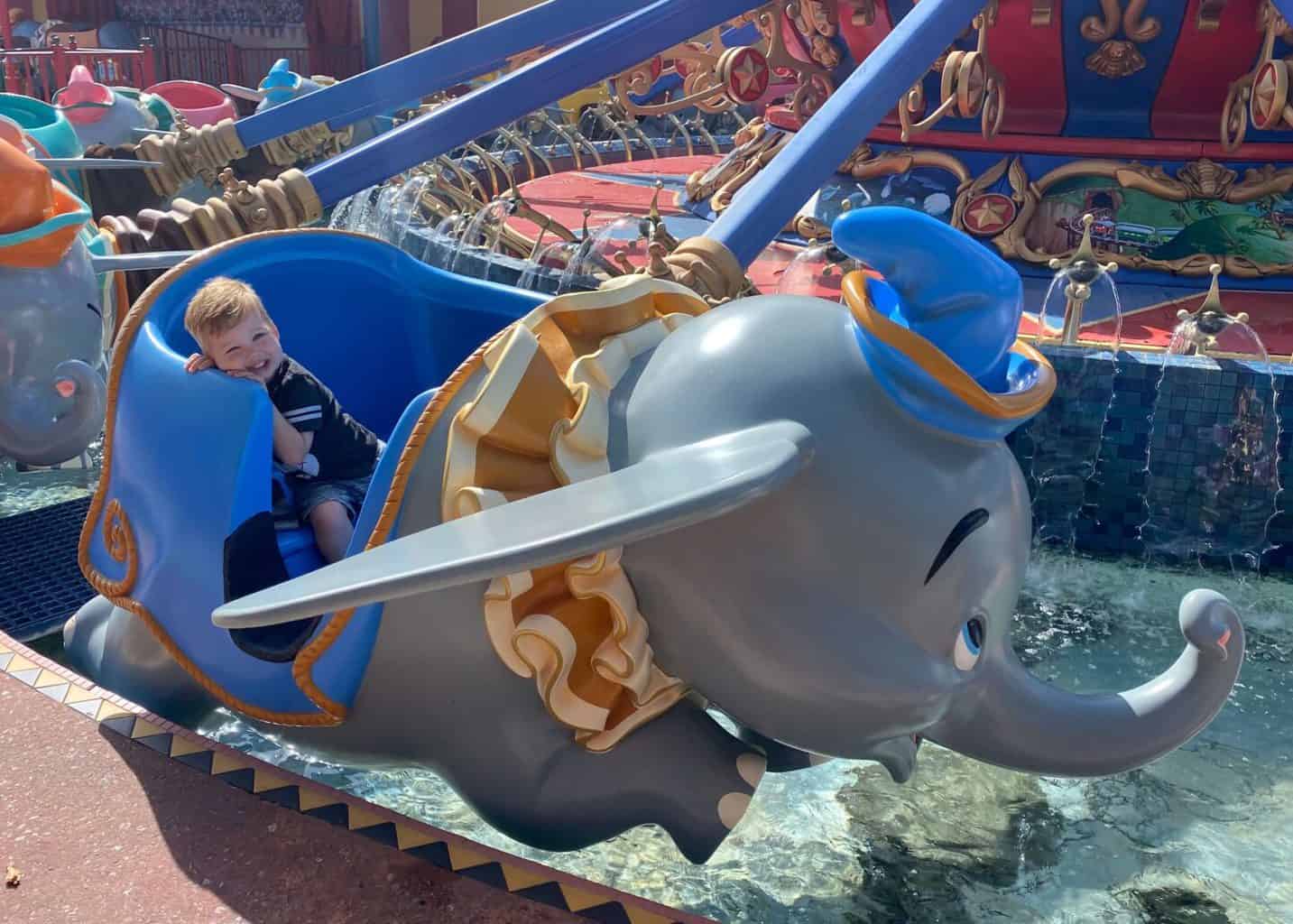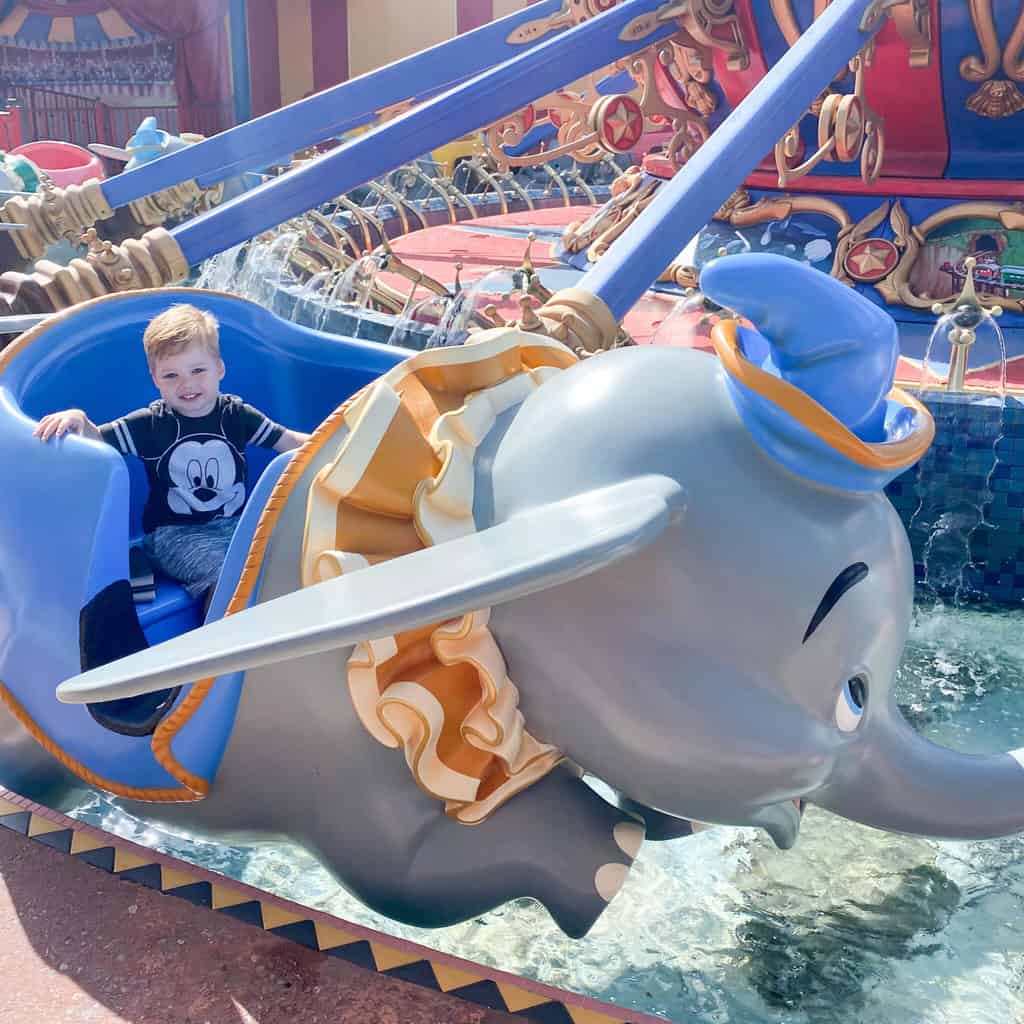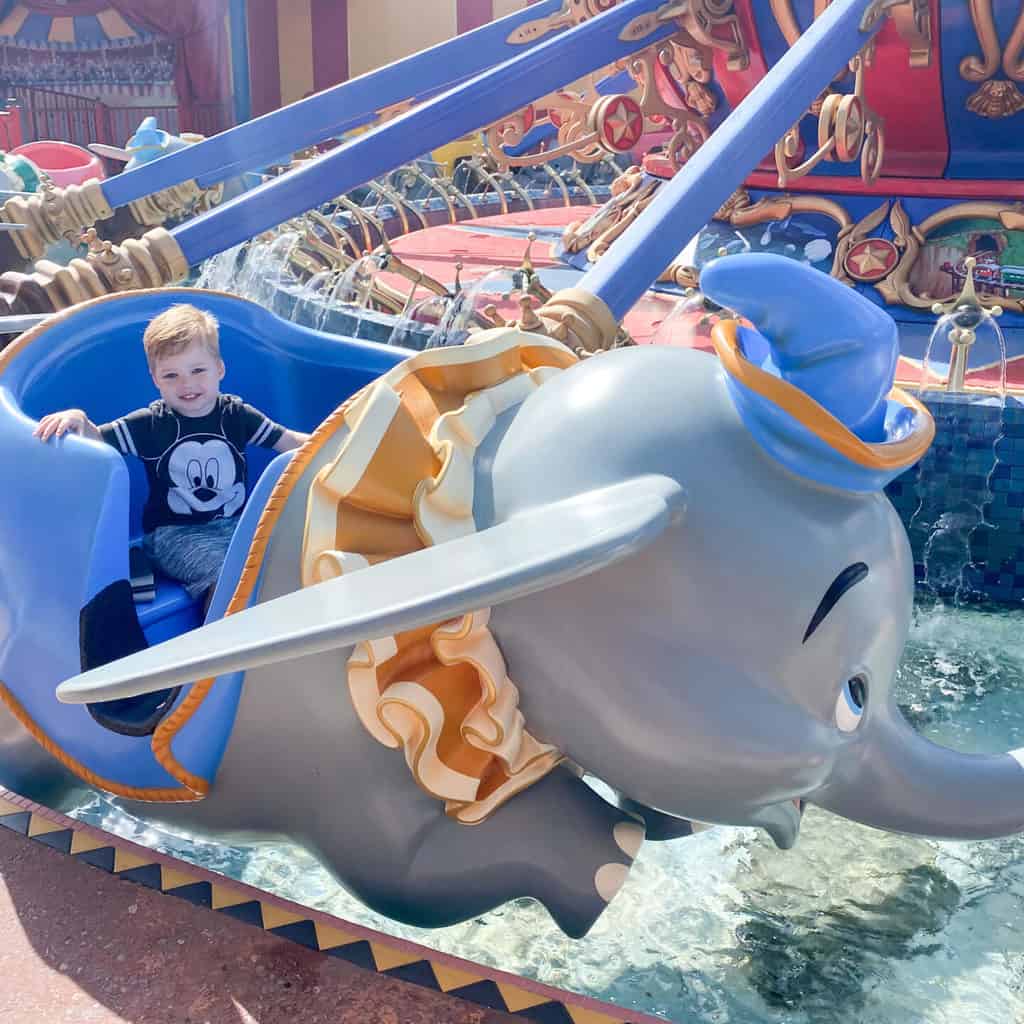 Zach was SO GREAT all day as well! It was my absolute favorite Disney Day EVER with him! Zach doesn't have that natural love for Disney like I do and it takes a little extra effort for him to be that Disney level of fun but he brought his A-Game and def is killing it for that 2020 goal of being a Fun Disney Dad for surrrrre 🙂
I love to just YOLO at the parks. Stop when we see cool things. Embrace moments. Take pics. I'm not a rush rush rush to the next thing kinda park person and it meant a lot to me that Zach really slowed down the pace and soaked in those fun moments that make Disney magical!
Whoop whoop! Spear is tall enough for Barnstormer! We KNEW he'd love his first rollercoaster and YUP he was all about it 🙂
While we waited to do rider swap for Tessie she requested a little photo shoot 😉 Duh I'll never say no to that!
When we swapped Spear and I went over to check out the "choo Choo" which is usually a water feature splash area. He wasn't as interested in the actual train as he was in trying to "fix it"
I got lots of questions about the girls dresses. Super soft and comfortable, I recommend sizing up! Here's the link!
Other than the pre-opening walk on rides the wait times were at least 30 minutes for just about everything all day. It's for sure gotten more crowded and longer waits since I came in July and I predict it'll only continue to get more crowded and have even longer waits. I wish they'd start back up the fast passes!!!
Zach has a DAS pass due to his MS and without that I don't know that we would have stayed at the park as long as we did. We are spoiled by fast passes and just aren't used to waiting in long lines anymore!
We used a DAS for It's a Small World but did wait for Phillarmagic. Kye didn't mind taking advantage of the social distancing to allow for some lounge time. I mean how often can you LAY DOWN in line while at Disney, right?!?!
We saw some cast members measuring out that 6 feet for the tape lines and we also got to see some of the Country Bears from a distance!
We grabbed another DAS for Pirate's and then ate lunch while we waited. Yes, we brought in lunch food for all of the kids and Zach grabbed nachos from Peco's Bills for us! You are allowed to bring food into the parks – it's one of my favorite tips for saving money while at the parks (you can read more of my tips here).
Kye got hit with some major growing pains and I felt so bad for him because he was in LEGIT pain! The break was good for him to stretch a bit and rest.
Spear LOVED Pirates. It was my favorite ride with him because he was just SO excited about it and so into it even after the ride ended. It's just such a classic and brought back so many fun memories of Kye when he was little too.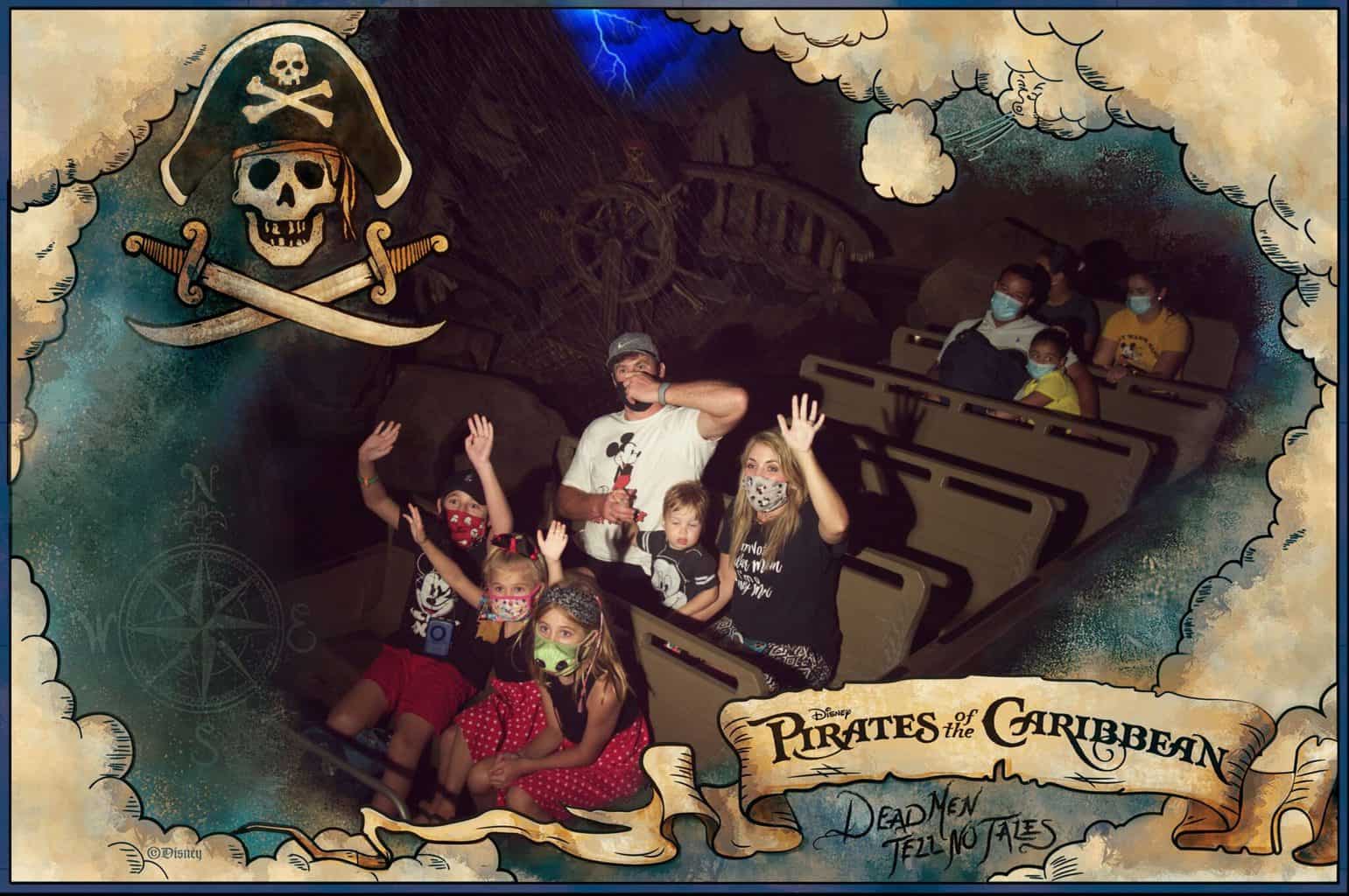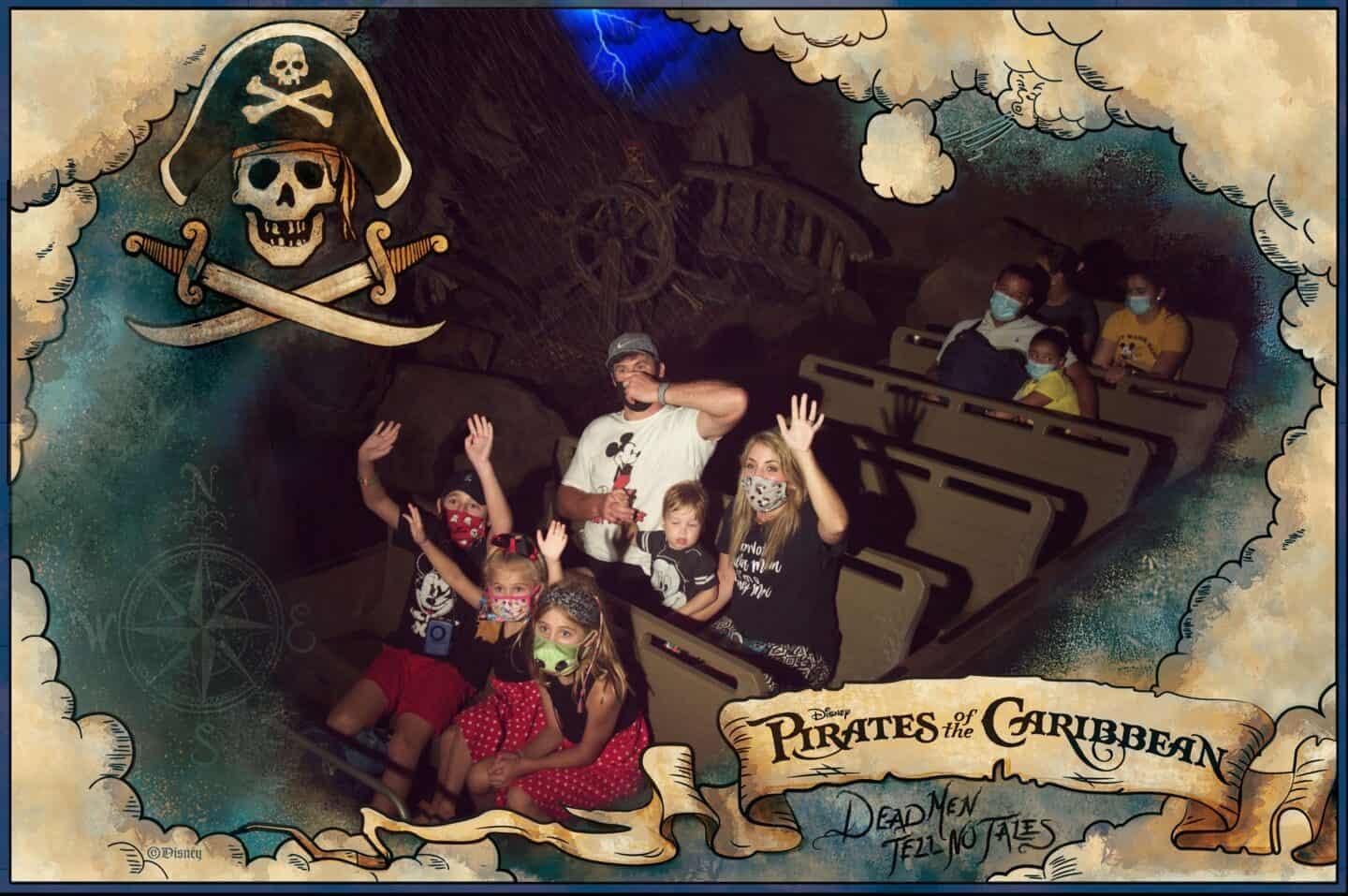 Zach and the big kids ran ahead to get a DAS for thunder/splash and Spear and I took our time. I had to grab a costume for a friend at the gift shop at Pirates and while I was getting it Spear fell in love with a sword. It was only $6 so I was like "let's get it!"
I really wanted it to feel like a special day for Spear with that "first visit" magic and if it was his legit first visit I'd totally buy him a prize so why not? Well. He then changed his mind and suddenly LOVED Pirate Mickey. Mom fail b/c you know Pirate Mickey wasn't as cheap as that sword ha!
He was SO CUTE with Mickey though and it made for a special present and I love that Spear is my only kid that has ever really loved Mickey 🙂
We had some downtime while the others were riding Thunder and Splash so we hopped on Magic Carpets and were able to ride it twice 🙂
Spear LOVED it and it is another great moment for me with him as I have such happy memories of moments riding with Kye (and he still considers it "our ride"). I loved seeing Spear having SO MUCH FUN. His REAL first visit was beyond special and our "first visit" day for him was special too!
Recently Disney announced that they will be changing the theme of Splash Mountain to a Princess and the Frog theme and I made the decision to CONQUER MY FEARS and face the mountain.
Splash is Tess's FAVORITE ride and the others love it too and I wanted to ride it with them as it is before it changes.
On my 25th birthday I visited Magic Kingdom (remember back in the day when they did that free admission on your birthday discount?) and Zach and I made a deal that he'd ride It's a Small World if I'd ride Splash Mountain.
I literally got ON THE RIDE and then chickened out the last second and just couldn't do it. That mountain just looks SO HIGH and I do not like heights. So I've never ridden it! (You can read about my day at Magic Kingdom on my 25th birthday here!)
When we went to Disneyland I decided to ride that Splash Mountain as it's NOT one big drop, it's multiple smaller ones and apparently, their largest drop is smaller (or close to) the same length of drop as Pirates so I knew I could handle it. (You can read about that experience here!)
But on this day I decided it was time to conquer my big fear – and I DID IT!
Britt kept saying to me over and over "You're going to be SO PROUD of yourself!" Kye just kept laughing and turning around to watch me with my fear. He LOVES moments like this haha
I kept saying "it's only 50 feet, it's only 50 feet." And guess what? It wasn't all that bad!!! I would totally ride it again and I'm so glad I went for it 🙂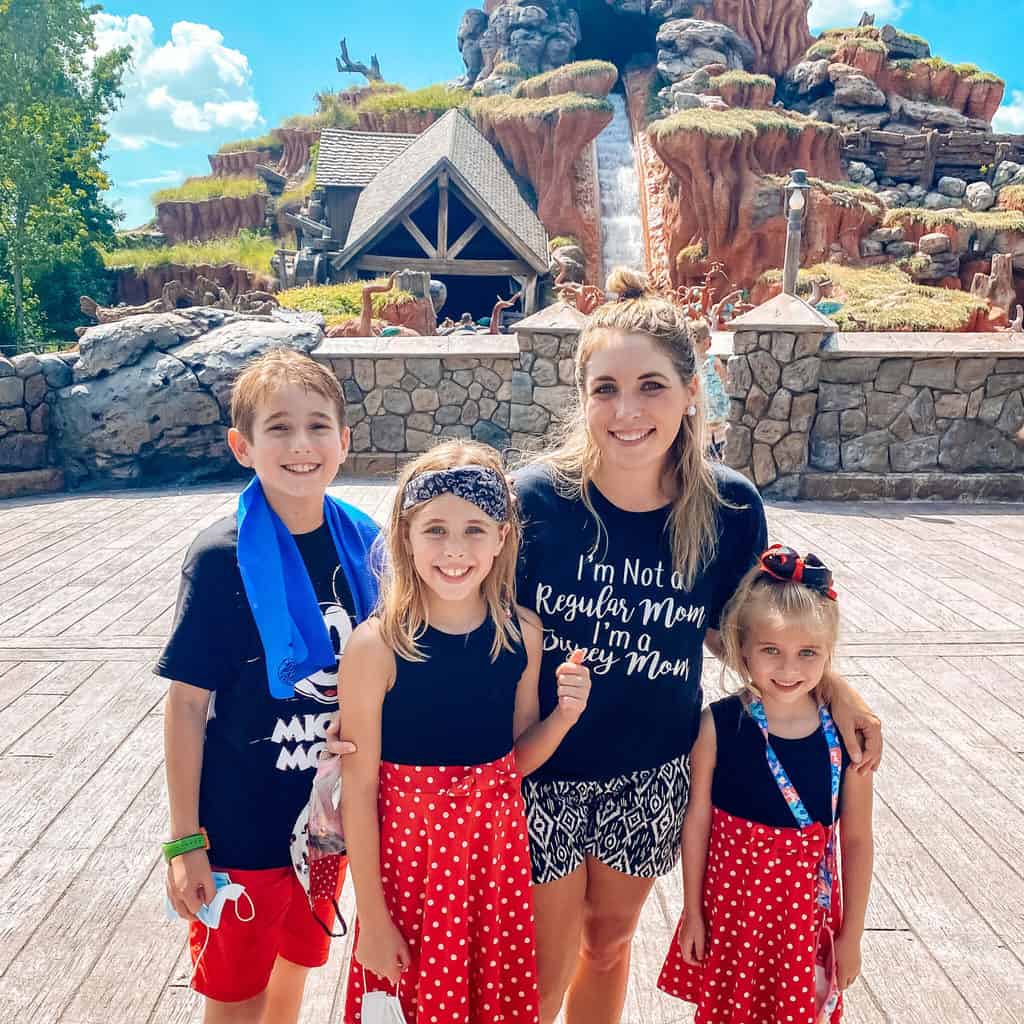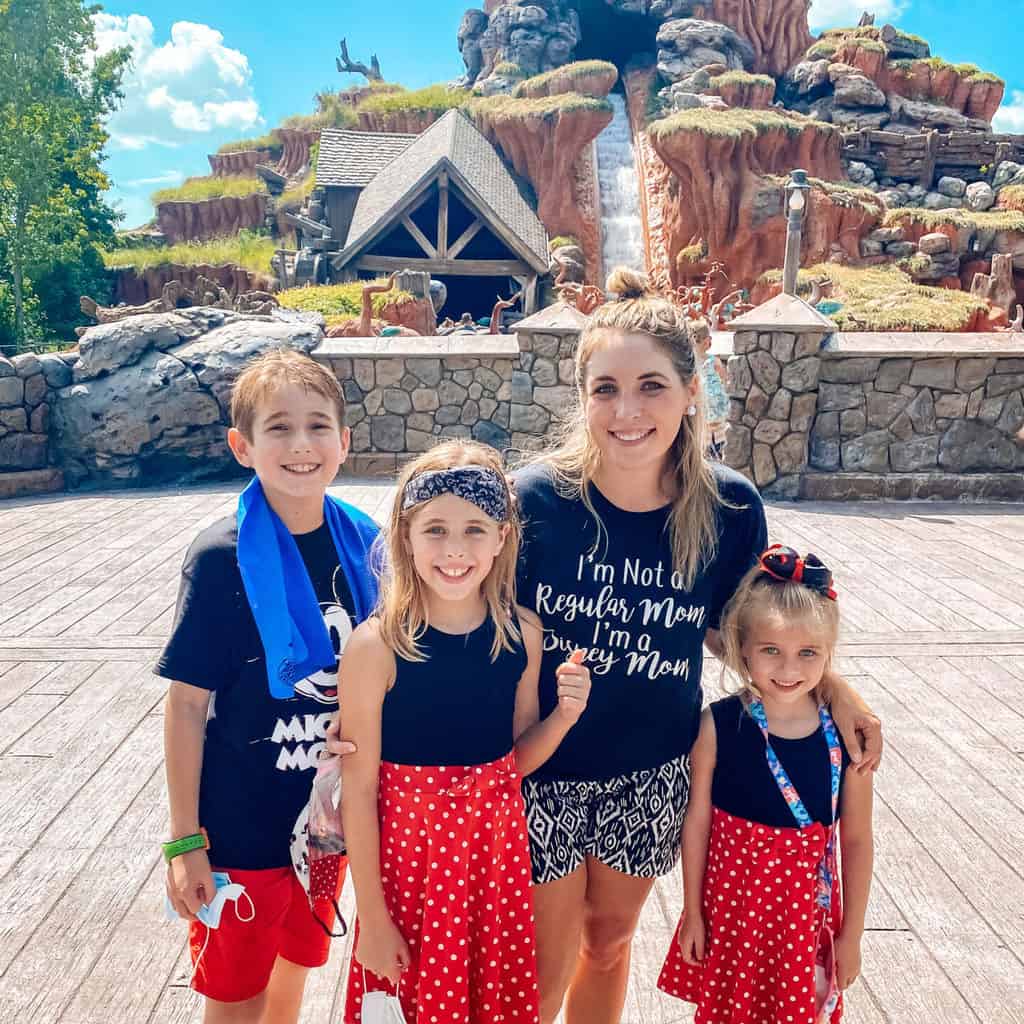 Yes, we prefer mask-off photos naturally but with photo pass photographers you MUST leave masks ON. At first Zach was like "why take a picture then?" BUT this is a time in history and I am thankful to have some photos of this crazy year to remember it by too!
It ended up being THE first day since reopening that ALL four parks were maxed to capacity! It was def still not normal-life crowded but much more crowded than in July for sure.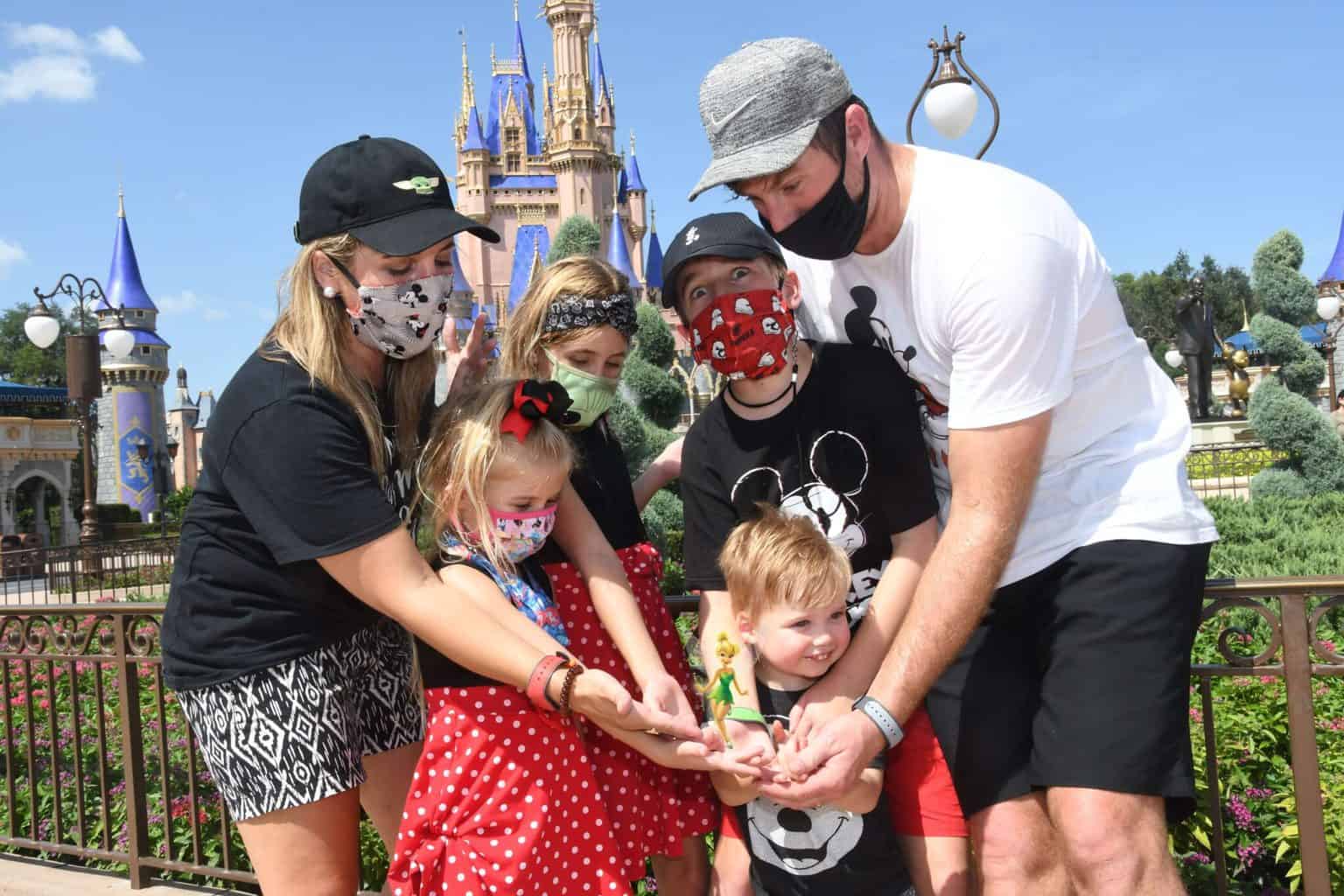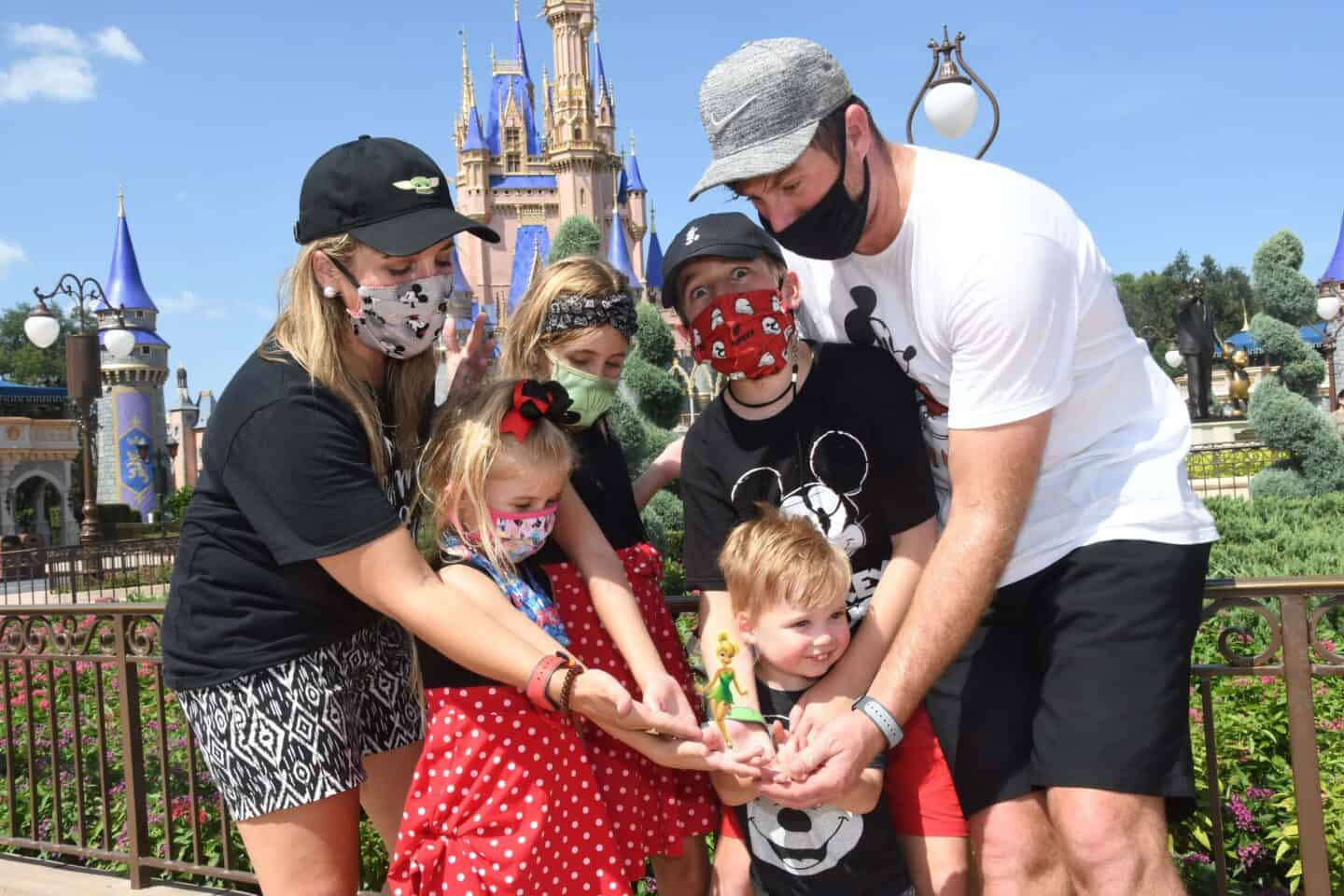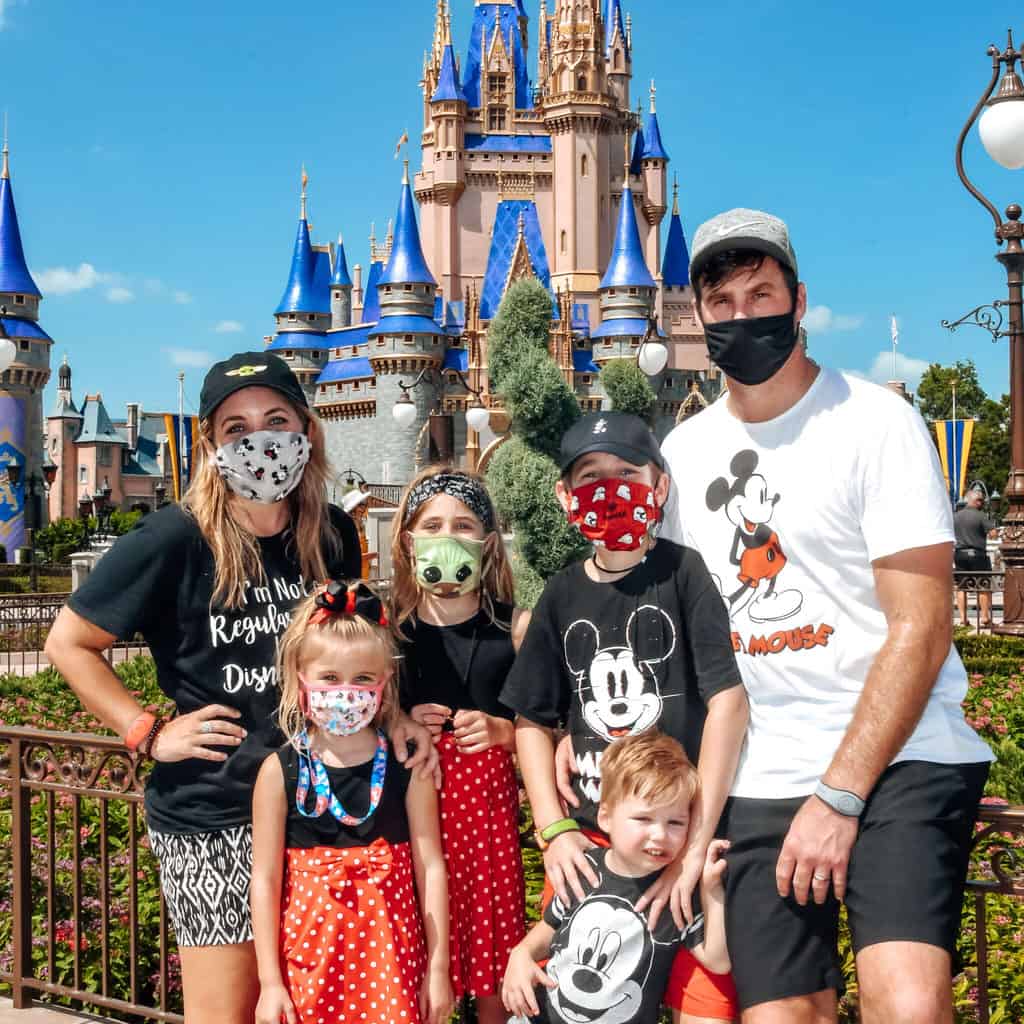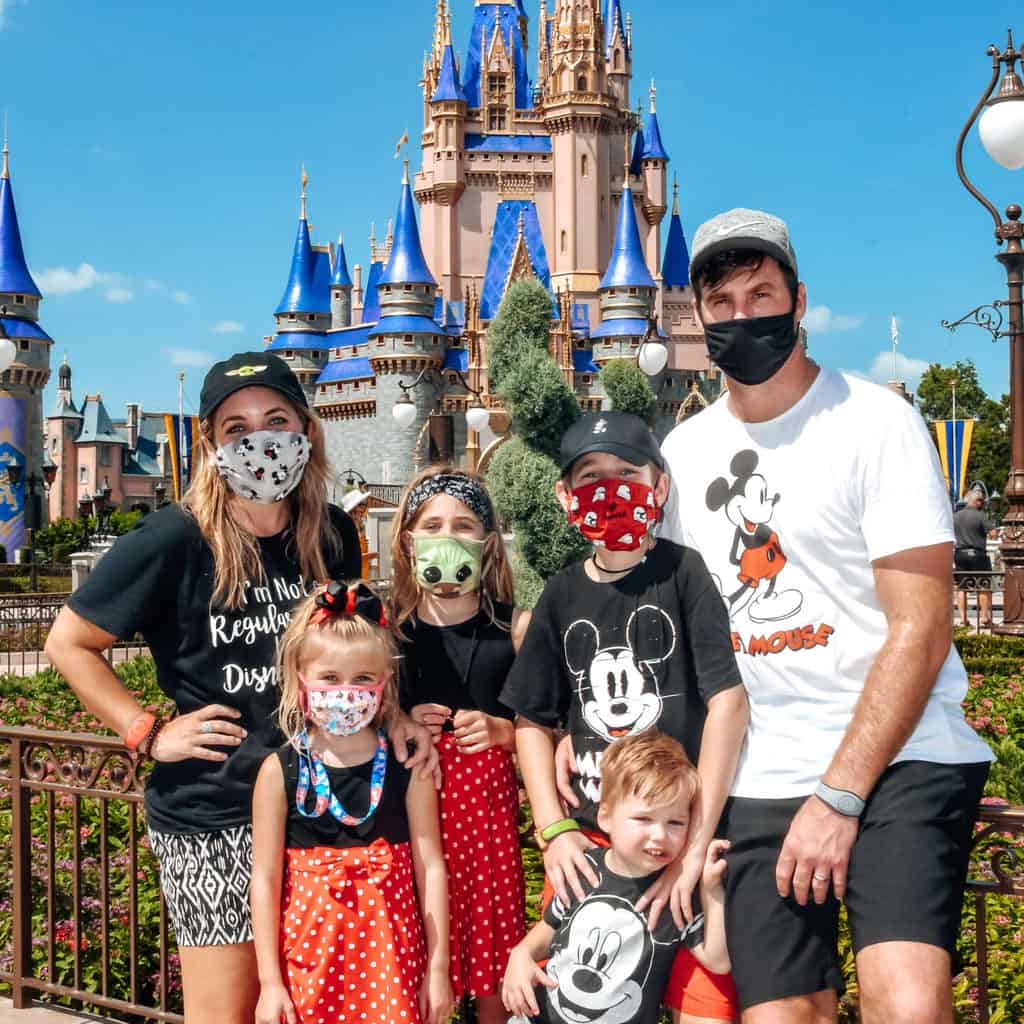 Poor Kye was struggling with his growing pains and Britt was so sweet to help him walk and let him lean on her. We didn't have a whole lot of luck with characters on this morning but did see Pooh and friends waving to us AND we got to see a proposal too!
It made me so sad to see him propose with the masks on and they had masks in their pictures and all too. We are living in SUCH A WEIRD TIME!
Yolo Disney Daddy was also down for us to do a little shopping before heading out. All the big kids used a bit of their chore earnings for a treat. I think it's important to not just save every single dime! They work hard and using a bit of their earnings towards something fun is a good way to stay motivated.
Kye used his to buy a slushee, Tessie bought some suckers and Britt bought (shocker) a little stuffed animal!
We headed out and rode the monorail back to the parking lot…perk of being a larger family meant we got to ride in our own monorail car 😉
It was a CRAZY hot day (not the hottest we've ever seen though) and the masks made it EXTRA hot. Whew! It was still super super fun though and such a great time together.
We were thankful to come back to our Disney rental house to jump in the pool and cool off 🙂
Our first day of the long weekend was super perfect 🙂
Video should auto play in this post of a bit of our fun!
Finally got the pics off of Zach's phone! Here are his pics from our day 🙂 Love that he's getting more and more of the pics during our park days!