Kye's 11th Birthday
Kye turned 11 on March 4th.
His birthday fell on a Wednesday which is always a crazy day for us.
It was also Wacky Wednesday at school so Kye looked pretty hilarious when we went to wake him up with his birthday song that morning.
His birthday balloon was a video game controller and I was pretty pumped about it 😉
We did a Minecraft banner for him and Star Wars plates – the best of both of his favs!
Spear and I surprised him at school for lunch and he'd had a super fun day.
We took Cosmic Brownies for him to pass out to his class for their snack of the day.
I opted to enjoy lunch with him over passing out the snack because last year I came for his snack and it's during recess and the kids just grab and go so it's kinda silly for me to even be there!
For dinner Kye wanted to eat as a family at Fazoli's!
I can't remember EVER having eaten there before?
Zach and Kye ate it recently together just the two of them and really liked it and man it's a super affordable option for larger families when eating out.
And…TESS LOVED IT.
I mean when does that EVER happen? She gobbled up the spaghetti!
We were all about the unlimited breadsticks!
And the staff was so sweet to bring Kye a free birthday dessert too 🙂
It was one of those days where the pictures look happier than the day actually was.
Britt spent the ENTIRE time we were at the restaurant on the toilet because she felt sick.
The week prior Spear missed school due to puking.
The weekend prior Kye threw up.
So we felt like whatever short tummy bug the boys had was probably hitting Britt.
We opted not to go to church as we worried about passing it around so we went home instead and were juggling sick kid struggles (and Britt is a sick kid who requires lots of attention while not feeling well haha) AND trying to still celebrate the birthday boy.
Kye is such a trooper but I felt so bad that his day wasn't ALL about him!
We got home and opened gifts and Kye was so excited about everything.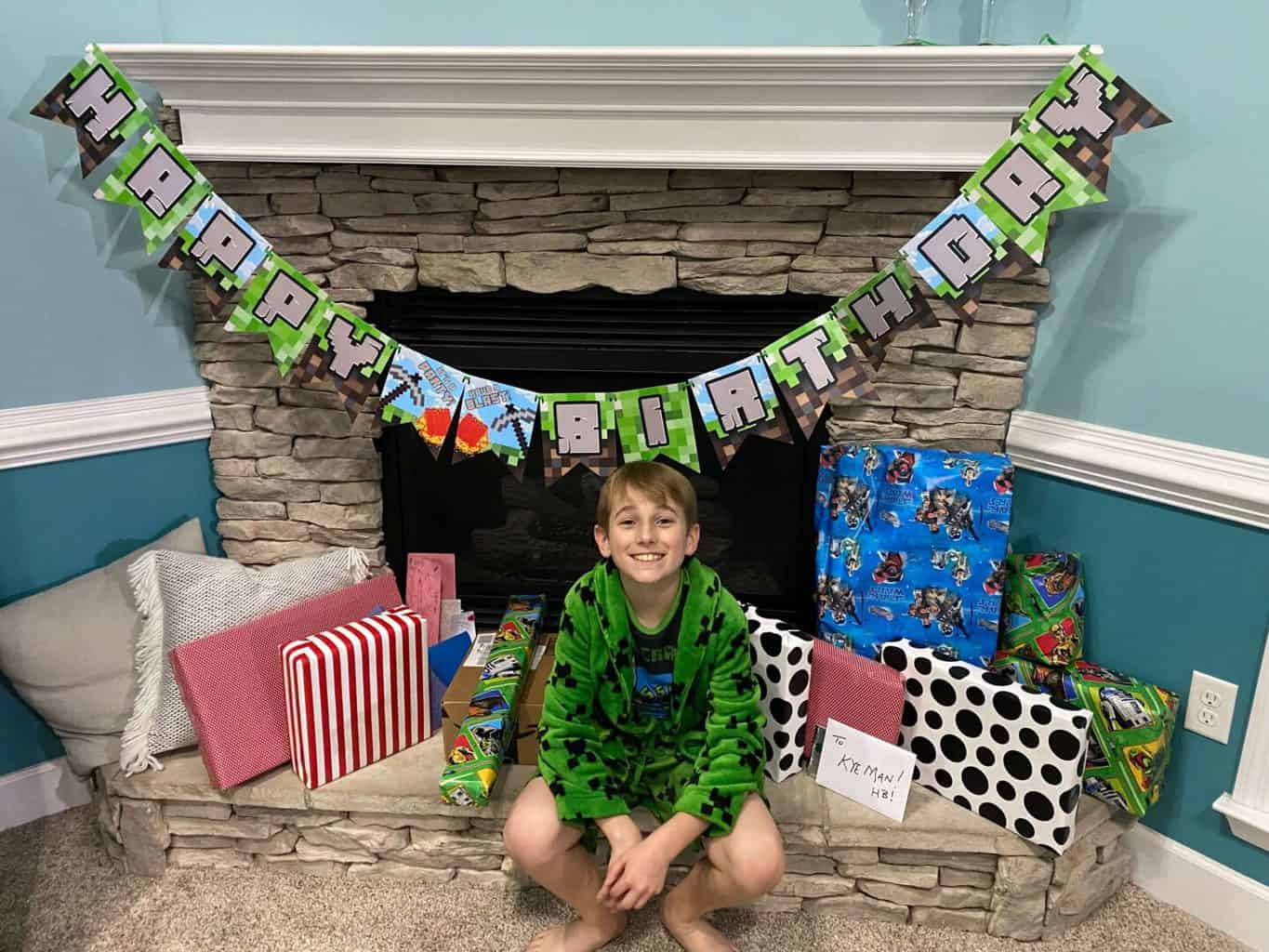 I feel like Kye went through a stage where he wasn't really all that excited but now he's turned this corner and is SO fun to buy gifts for 🙂
The girls each wrote him a sweet card and we had picked out a gift for him on our girl's trip to Disney.
We bought him Disney Monopoly and it's AWESOME.
Grandpa and Grammie sent a super sweet card and bought him Super Mario U Deluxe for the switch
Auntie Katie is always so thoughtful and never disappoints. She sent Kye the Encyclopedia for Minecrafters and he literally couldn't put it down and was taking notes on how to improve his game 😉
Kye is super into video games, Lego and Nerf so it made gift buying pretty easy this birthday for us!
If you have a Nerf lover this set of 300 bullets is a STEAL!
The gift he wanted most this year was this Civilization game for his Nintendo Switch.
He loves civilization style of games and I love that this one wasn't nearly as expensive as so many others 😉
I love getting a surprise gift for my kids that I KNOW they will love but that they have NO CLUE that I'm getting them.
I've been super pumped about giving Kye a Nintendo Switch Pro Controller!
We also got him a new charger for the controller too. He was super excited!
I hope as he gets older that we're still able to have him this excited over his birthday gifts 🙂
In addition to the ones listed above we also got Kye:
For his birthday cake Kye asked for me to make the home version of the Dairy Queen ice cream cake.
It was SO good!
I felt bad that Kye's day wasn't ideal so I surprised him after school the next day with a Happy 1st Day of Being Officially 11 Celebration 🙂
Nothing fancy or crazy.
Just a simple afternoon pouring into him in ways I knew would make him feel special!
I NEVER let the kids eat in any rooms other than the kitchen or the living room when we do a family movie (and even then we have hardcore blankets down) so I let Kye take a snack of his choosing upstairs and play video games and he was SO PUMPED.
I also made one of his favorite meals for dinner and we played his new Monopoly game as a family.
He prayed at dinner and thanked God for his best birthday ever. He really appreciated it and it made me feel so happy!
Over Thanksgiving, I'd gotten a killer deal on a video game chair for Kye and then totally forgot to give it to him for his birthday!
So he had a bonus gift 😉
For Kye's birthday celebration with Zach's family, he wanted to go to The Mill, shocker.
I'm SO thankful we went when we did.
The day we went was when the coronavirus talk was starting to get more serious.
I felt a bit nervous being out but at that time kids were still in school and life was still very much normal!
It really took a huge turn in the days following the birthday outing so I'm just thankful we were able to all celebrate Kye together at that time!
Sidenote: We got a cookie cake from Sam's for the first time and it was LEGIT!
I'm so thankful for Kye and the 11 years I've been blessed to be his Mama! I'm so glad he had a great birthday this year!
A video of his birthday celebration should be located in this post, if not you can watch the video here.