Star Wars Weekend – Our Stay at Wyndham Grand Bonnet Creek
Leading up to Disney opening the new "Star Wars Land" I haven't really been paying a whole lot of attention to it.
I assumed we'd handle it like we did Pandora…stay away for AWHILE. Let the crowds die down.
I honestly assumed we'd have to wait a good YEAR or so to be able to see Star Wars Galaxy's Edge.
Disney has gotten clever and has started offering extra-extra early morning magic hours for Hollywood Studios.
I assumed they'd be doing this for a LONG TIME to encourage people to spend money to stay on property with the advantage of entering the park mega early and getting to see Star Wars.
That would mean our typical get-to-the-park-early strategy would no longer work, at least until Disney eventually stops doing the early morning opening for on site guests.
So. Basically I've laid low about Star Wars with the kids.
I've explained we will be avoiding DHS for a LONG TIME and that it's just what it is and that we will get to see it eventually!
Then. I heard they were doing a passholder preview event. I let Zach know that I didn't care WHEN it was that IF we could get it – we'd BE THERE.
I assumed it'd be like past pass holder events and that I wouldn't even get notified about it. I had very low expectations.
When they did a preview for Toy Story I didn't even get the dang email!
But the day of the Star Wars email release I happened to see someone post on facebook that the sign up was live. I jumped on. Waited 35 minutes AND I GOT IN.
I not only got in but I scored us a timeslot on a SUNDAY MORNING. No missing school!
Yall. I literally jumped up and down. I screamed. No joke. I had tears and freaked out and basically couldn't even handle my excitement.
The kids had NO CLUE at all about it and Zach was totally on board, duh!
Our Disney Rental House was booked the weekend of the preview so we decided to just stay one night at a hotel and then go to the event and drive home after.
We planned to only take the big kids. I'm a stickler for rules and technically Spear isn't a pass holder (bc he's under age 3 and is free) and he also isn't tall enough to ride the ride so I figured it'd be best not to bring him!
We debated where to stay for the night and my initial thought was to stay on property but honestly? I'm just not a huge fan of the more affordable Disney Resorts (you can read my thoughts on why I DO NOT recommend staying on Disney Property here!)
I've heard from so many people that Wyndham Grand Bonnet Creek is a great off-property option so we booked the night there.
I wanted somewhere with a LOT to do as we planned to go down early Sat morning and just hang at the resort all day!
We decided to wake up the kids and surprise them with the news about the trip! I got them all packed up the day prior so we'd be ready to go.
Zach and I had so much fun surprising them! The video should auto play in this post 🙂
We got loaded up and took Spear over to Mrs Charlotte's house and then hit the road.
It was SO CHILL and so nice just not really worrying about anything or feeling rushed or anything at all.
We decided on a whim to hit up Disney Springs for lunch and to try out the new Chicken Guy restaurant!
It was a beast to get a table but it was so worth it!
All the sauces were really fun to try and the fries and chicken were both AMAZING.
Once we finished eating we headed over to the resort to get checked in and were super pumped that we were able to go ahead and go straight to our room!
We just did a regular sized room for the one night.
Wyndham Grand Bonnet Creek Resort is MASSIVE yall. Like SUPER HUGE.
It was frustrating that the cost for the room was so high and then a resort fee was added on and then a parking fee was added on. It's just annoying to have the fees add up.
We got our suits on and headed down to the pool area.
There are several pools on property and lots of options for things to do.
Many of the activities require an upcharge which I do find super annoying. We paid a dang resort fee! We then have to pay extra to do the activities at the resort?
We stuck to all the freebies! DUH.
The layout of the resort is really great because it's in a huge circle. We ended up walking the entire circle and visited every pool or at least almost every pool.
One thing that really surprised me was that there weren't any lifeguards.
It was also a bit of a pain to get the pool towels.
But otherwise we had a super fun time! I'm glad we chose this resort over a Disney one as there were WAY more options at Bonnet Creek than there would have been at one of the affordable Disney options.
The first pool had a really cool slide but Tess wasn't tall enough to slide down it so we didn't stay super long there.
But they all loved the hot tub and Zach and I loved that we had kids old enough to play in the pool without us actually being in with them!
We headed over to another pool and they had karaoke going on which was SO ANNOYING.
We don't do loud music anyway, but loud music of some random person singing it? NO WAY.
Needless to say we didn't stay there long haha!
Which brings up one more thing that annoyed us about the resort…they didn't give us ANY information ABOUT THE RESORT.
The map was confusing and hard to read.
They didn't give us any sort of activity list or idea that they even HAD activities going on.
Kinda annoyed by that! So we didn't know that there was dang karaoke until we walked allllll the way to that pool.
So we didn't stay here long!
Tess though yall made my heart so happy – she just wanted to swim with her mama!
It made me realize that she hasn't gotten to swim with me all summer! She didn't want me to play with her. She just wanted me to stand in the pool so she could swim back and forth to and from the steps to me.
Like we used to do alllll summer long before Spear started swimming.
It made me feel very proud of Tess for the fact that she hasn't complained or had any jealousy of my needing to swim with Spear this year but it was also SO NICE that we had this time where she got to enjoy swimming with me!
When we left the loud pool we headed over to another pool but passed by a putt-putt course on the way.
Zach and Kye wanted to play (once we learned it was FREE! whoop whoop!) and Tessie loves some putt-putt too so she wanted to play.
Britt isn't as into putt-putt so she and I moved on and let them play. Britt was more about exploring the resort 🙂
She and I stopped for a long time to play at the playground. Which was a very nice playground and nicely covered with some shade too!
Britt was so funny at the playground! She spent the whole time trying to master crossing the bridge without touching the bridge…and she did it!
We headed over to the last pool and it was one with a lazy river as well as a regular pool.
We couldn't believe it – not a SINGLE PERSON was swimming!
Britt jumped right in and was living her best life and then we saw the sign that said it was closed for cleaning. Oops!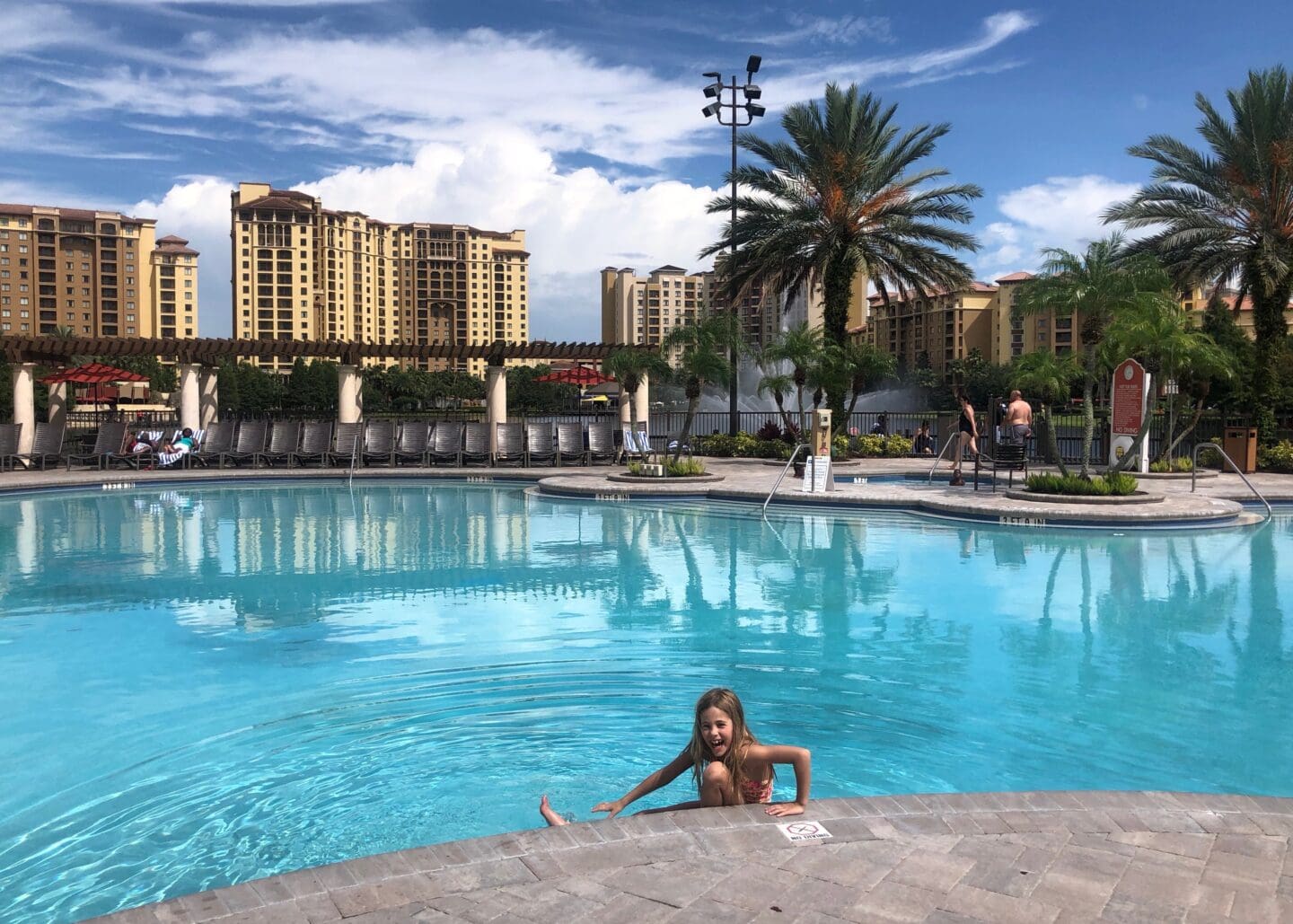 Once Zach, Kye and Tess finished up they met up with us for some lazy river fun!
We went around a few times then made our way back to our room, enjoying the walk and the wildlife along the way.
We wanted to get to bed nice and early so we decided to just eat pizza at the resort.
A BIG negative, to us, about staying at a resort is the lack of food options. And the food they do have is so crazy expensive.
We got the pizzas and they got the order wrong but who wants to walk allll the way back to exchange it? So we made do and had a picnic on the floor!
We had some chill time while Zach was handling getting the pizza and then after we ate we got ready for bed!
We had some talk time and the next morning Kye said he couldn't sleep b/c "Mommy and Daddy were SNOGGING too much" Bahahaa
We went to bed at 6:40 and had my alarm set to get up at 6:20. It was GLORIOUS.
My kids sleep 11-12 hours every night and it was so fun to get to have that Babywise experience 😉
We had such a super fun chill day and it was really perfect to get us ready for the next SUPER EPIC DAY!
I'm sure someone will ask if I recommend Wyndham Bonnet Creek and here are my thoughts:
The resort itself is SO HUGE that it's SUPER far from ANYTHING to do other than AT THE RESORT
Our travel time to the parks was more than it takes us from our Rental House
Tons of activities which was really fun!
Very expensive. It's a basic hotel room…I can only really compare to our house obviously but yall our rental house has SIX BEDROOMS. For cheaper than ONE basic hotel room.
We'd never stay for more than a night (mayyyybe two) because we like to have SPACE to really sleep well but for one night it totally fit our needs!
I love Disney theming and Disney resort food was def better but the things to do at this resort were way better than many of the Disney ones we've stayed at!