Over the summer Kye and I were lounging in the pool and he mentioned that he REALLY misses my themed parties. Which you know just melted my HEART. I really, really loved the theme party days and it is so sweet to me that Kye has such great memories of them. He talked about how he'd really love to plan another themed party and help make it happen.
We brainstormed and thought of the perfect themed party occasion: G-Mama's 60th Birthday! Mrs. Charlotte ALWAYS goes ABOVE AND BEYOND for us ALL so why not go above and beyond for her special day?
I got with Courtney and Casey and they were on board and I really think it all came together so well and was such a great opportunity to all get together in a fun way to celebrate Mrs Charlotte who we all love so much. The party was also a fun chance to all bring our own talents to the event. I hosted it at our house and did my themed party thing, Courtney hooked it UP with so many great food ideas that she knew her Mama loves, and Casey balled out on planning the competitive family games.
It was truly a group event that poured our love for G-Mama!
We talked through different party theme ideas and eventually landed on the idea of having it be an army-themed party. This may sound odd as a theme for a 60-year-old woman haha but for Mrs. Charlotte, it fits PERFECTLY.
Mrs. Charlotte is THE ultimate SOLDIER. She has rheumatoid arthritis and myasthenia grieves and literally wakes up in pain every single day. But you would NEVER, EVER know it. She pushes through. Not just to survive or make it through the day, she goes above and beyond for ALL of us on a regular basis. She shows up at ALL the TEN grandkids' events. Sports, art shows, awards programs. SHE IS THERE. She drops everything anytime any of us needs even the smallest bit of help. She does it all with a smile and has the most genuine, giving heart.
Tess is really so much like Mrs. Charlotte. She WANTS to give. She WANTS you to have that last piece of cake. It's genuine and authentic and we ALL wish we were more like them!
You can see ALL the Army Party Ideas we put together in this post!
We had the party at our house on January 22nd. Kye and I had so much fun shopping for party supplies and putting the party together! He loved every second of it and even personalized each dog tag for the members of the family included their names and rank 😉
We had everyone wear camo which I think added SO MUCH to the event. Often when we do themed parties people don't participate but who doesn't have some sort of camo in their closet?!? Even Brad and Aaron had stuff since they enjoy hunting – so their were no excuses!
As everyone arrived they got geared up!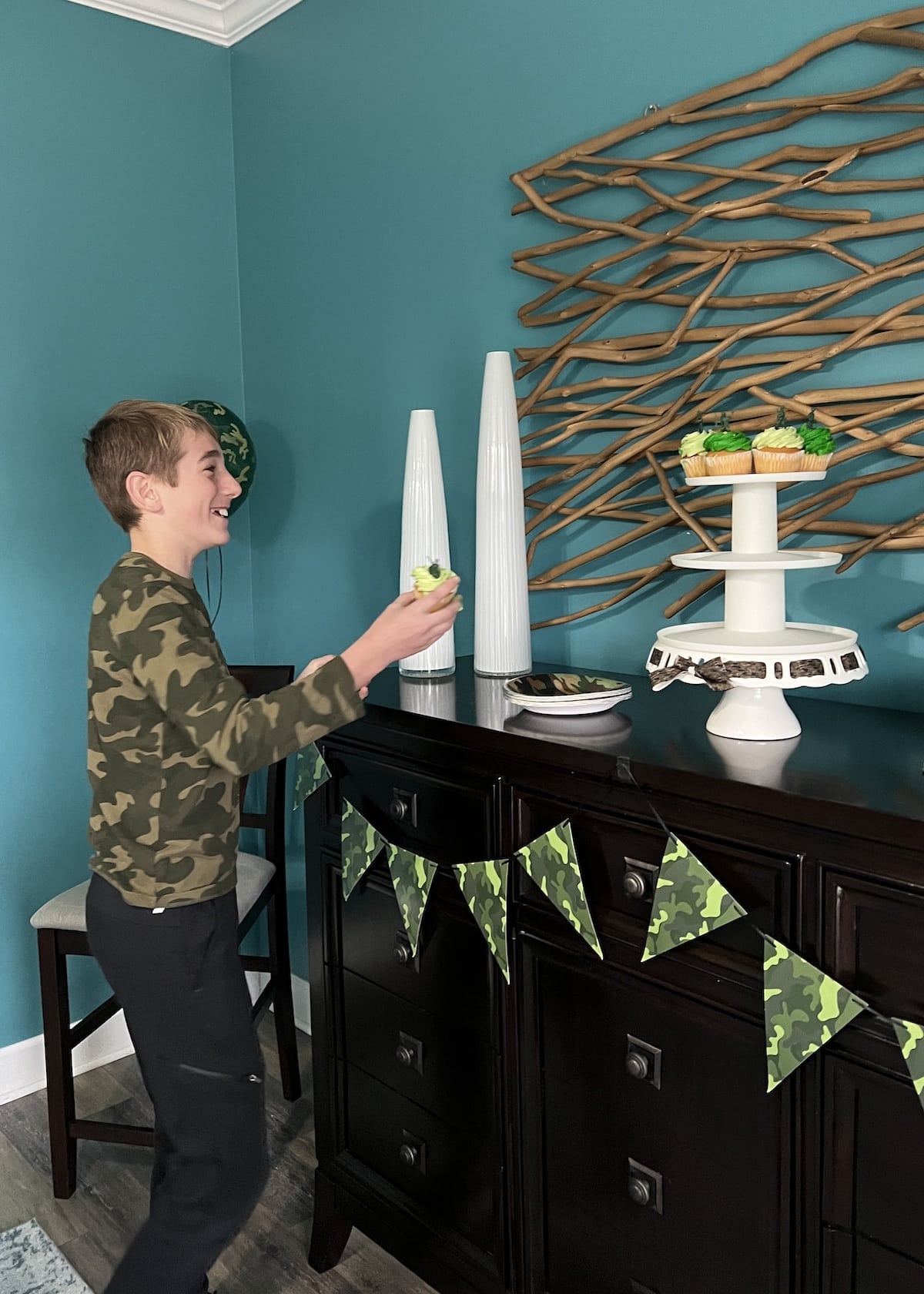 We made sure to take lots of pictures with Mrs. Charlotte and all wanted to make sure she was truly the guest of honor! The cousins all love being together and having all 18 of us making memories together is Mrs. Charlotte's FAVORITE thing!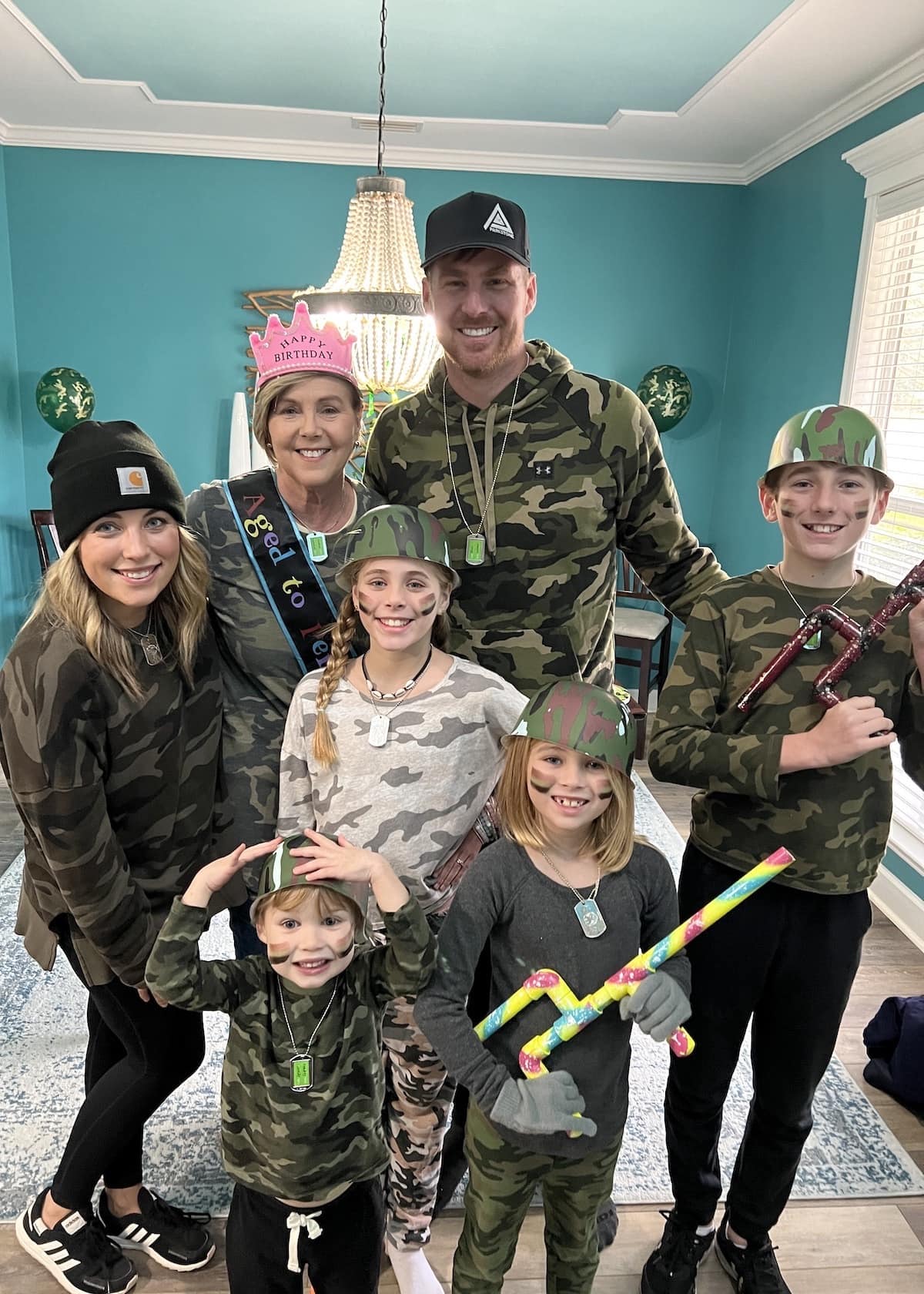 We got split up into teams for the games and each team had their own bandana color. The Parker Family is EXTREMELY competitive. As a non-competitive person myself I don't really "get it" but I did my best not to let my team down 😉 The pressure is always high – there is no such thing as playing "just for fun" with this group 😉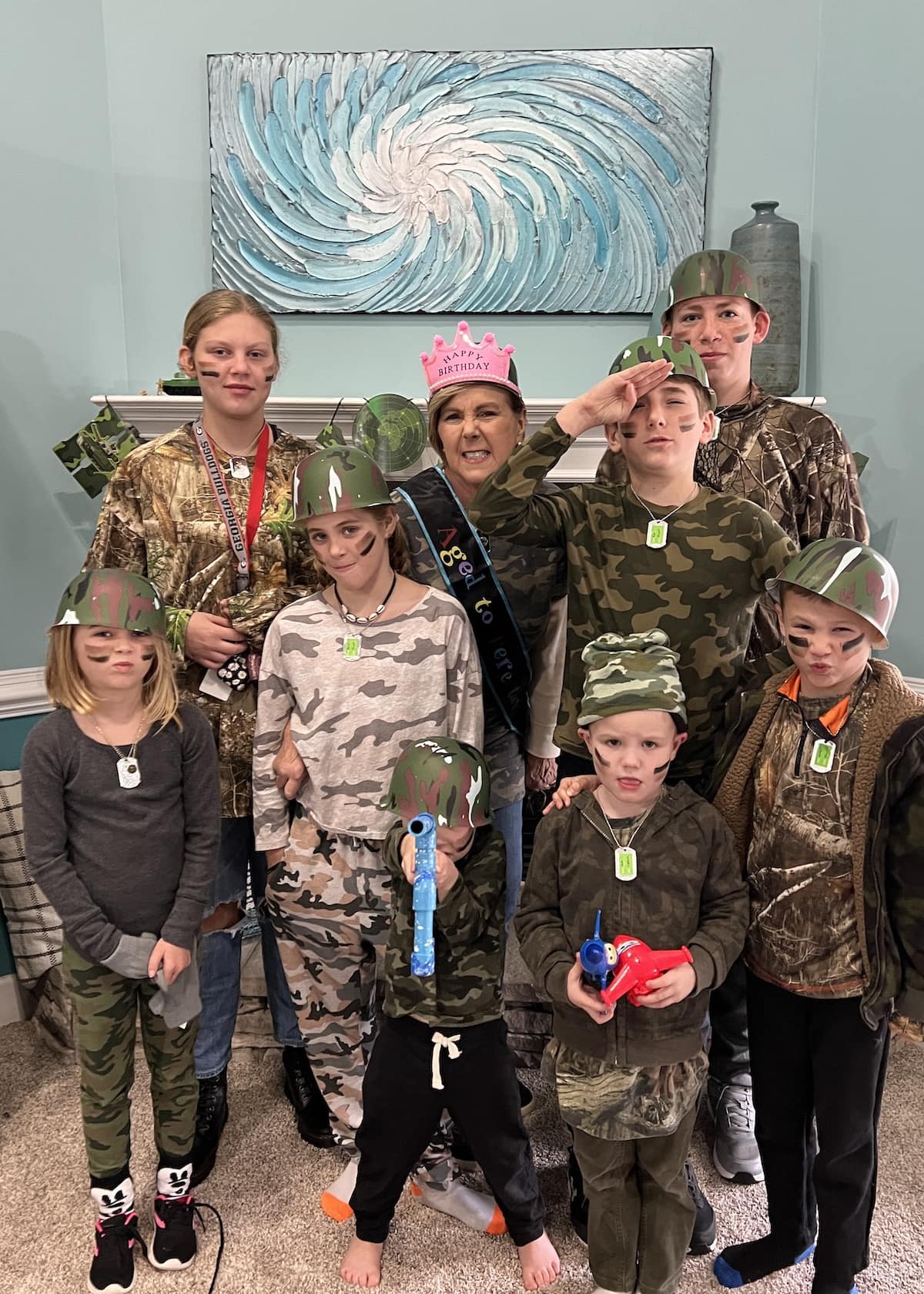 First up a G-Mama classic. Zach, Courtney and Casey grew up having donut on a string at their birthday parties so we had to have it as a game for the party! The kids were hilarious to watch (I captured lots of video you can see in this post).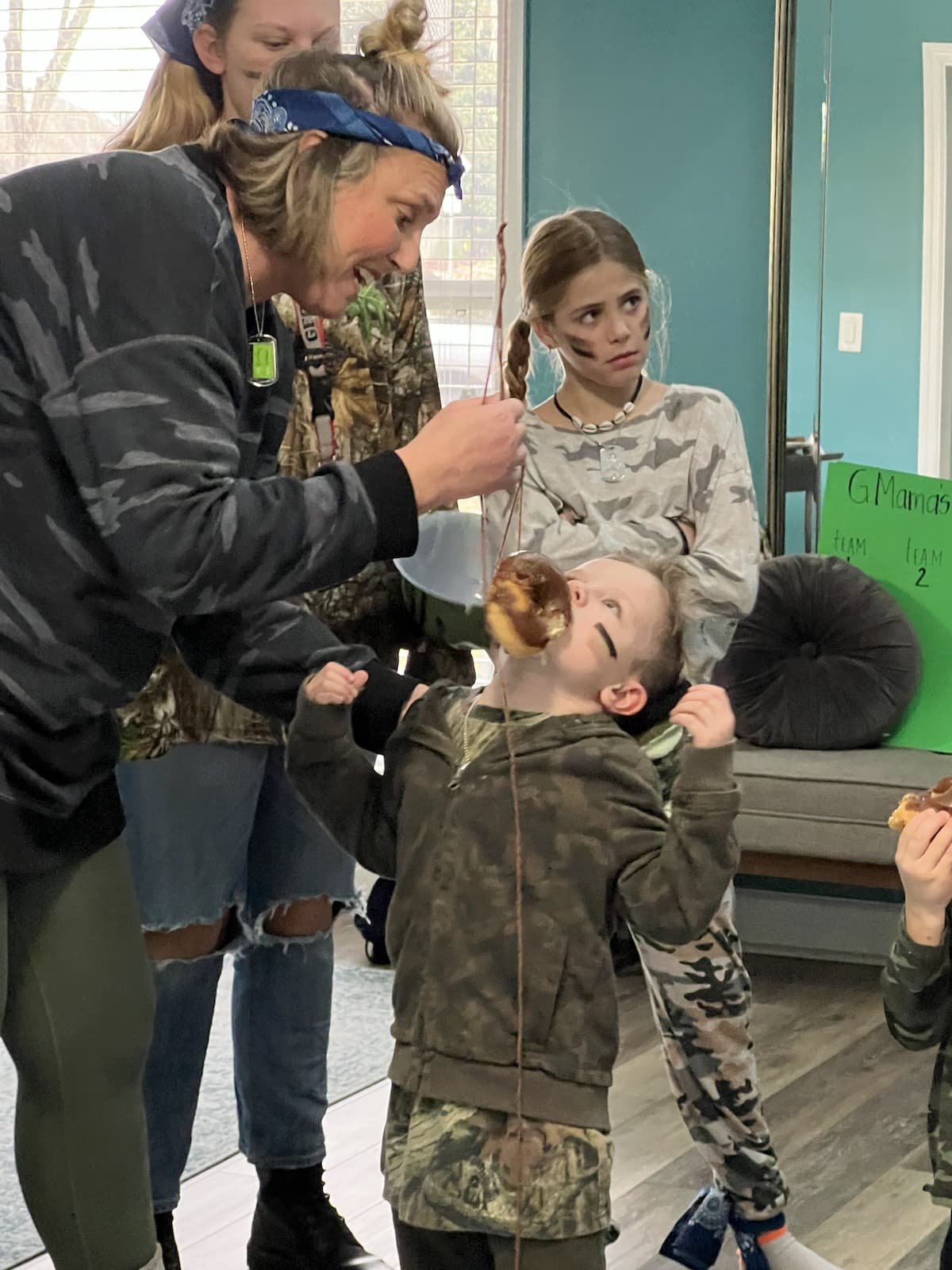 You can also tell the Parker Competitive Gene is STRONG. Kye is hardcore competitive and Britt is just about as hardcore as he is…and then there is Tess who takes after her mama and gets a little overwhelmed by anything where there is a winner haha. She was just there for the donuts 😉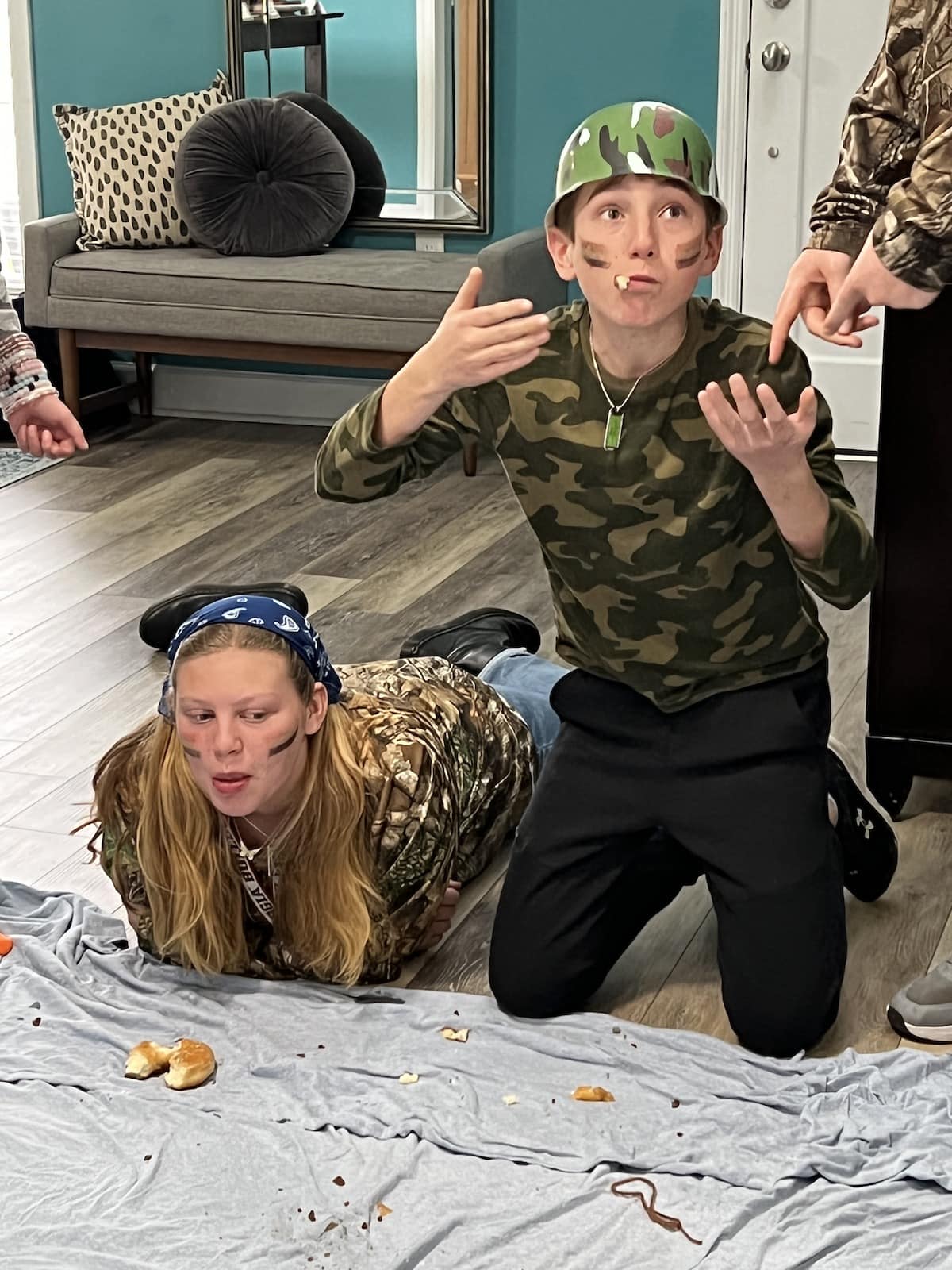 Kye not only helped in the planning and setting up, he also was so excited to design his own competition in the playroom. He set up all sorts of targets and a whole play by play instructional video for everyone to watch before competing. And then he recorded it on an old video camera. So. Adorable. I can totally picture him as a Daddy someday 🙂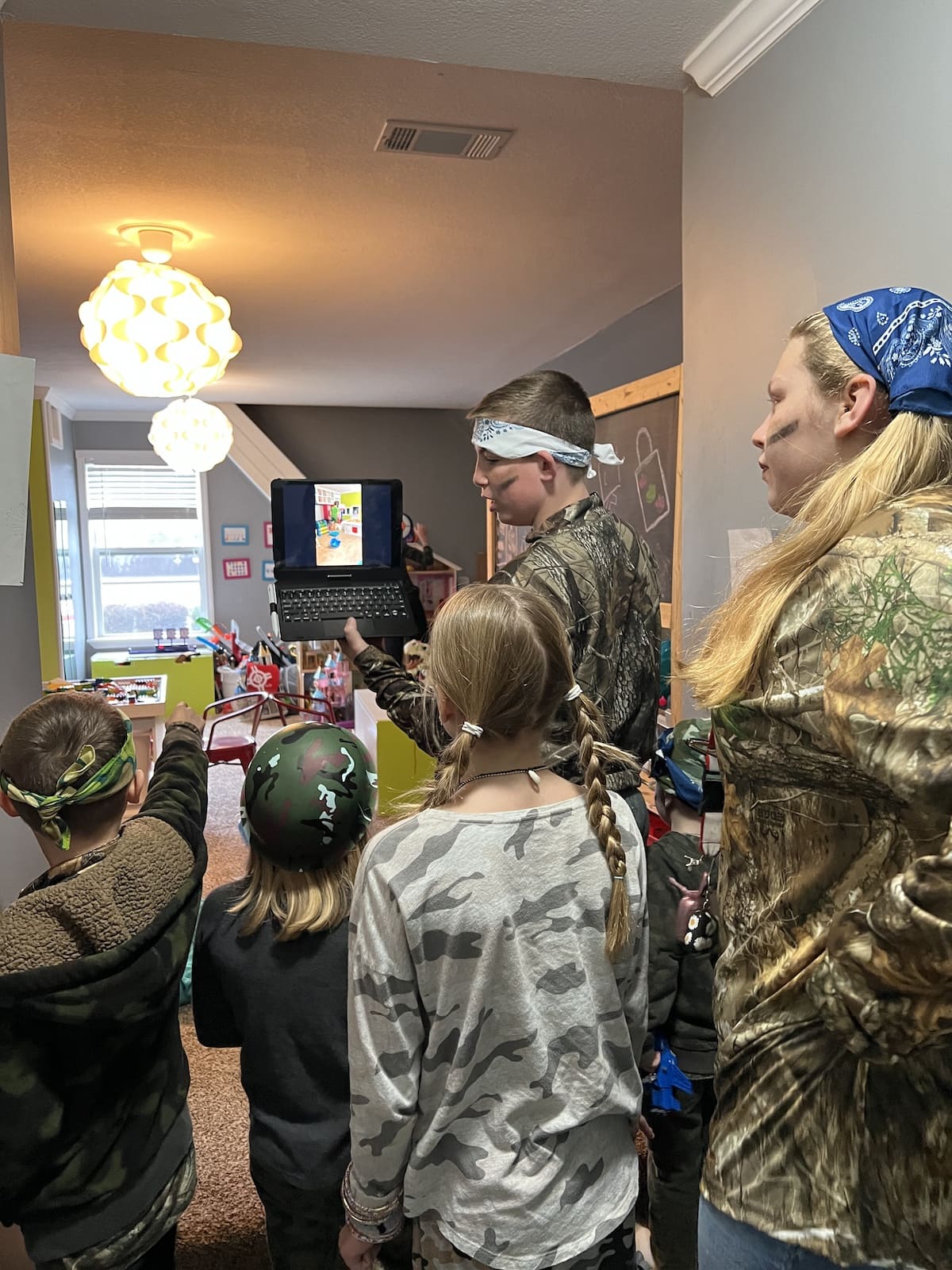 Before heading outside for the outdoor game portion of the party we enjoyed the party food and gifts!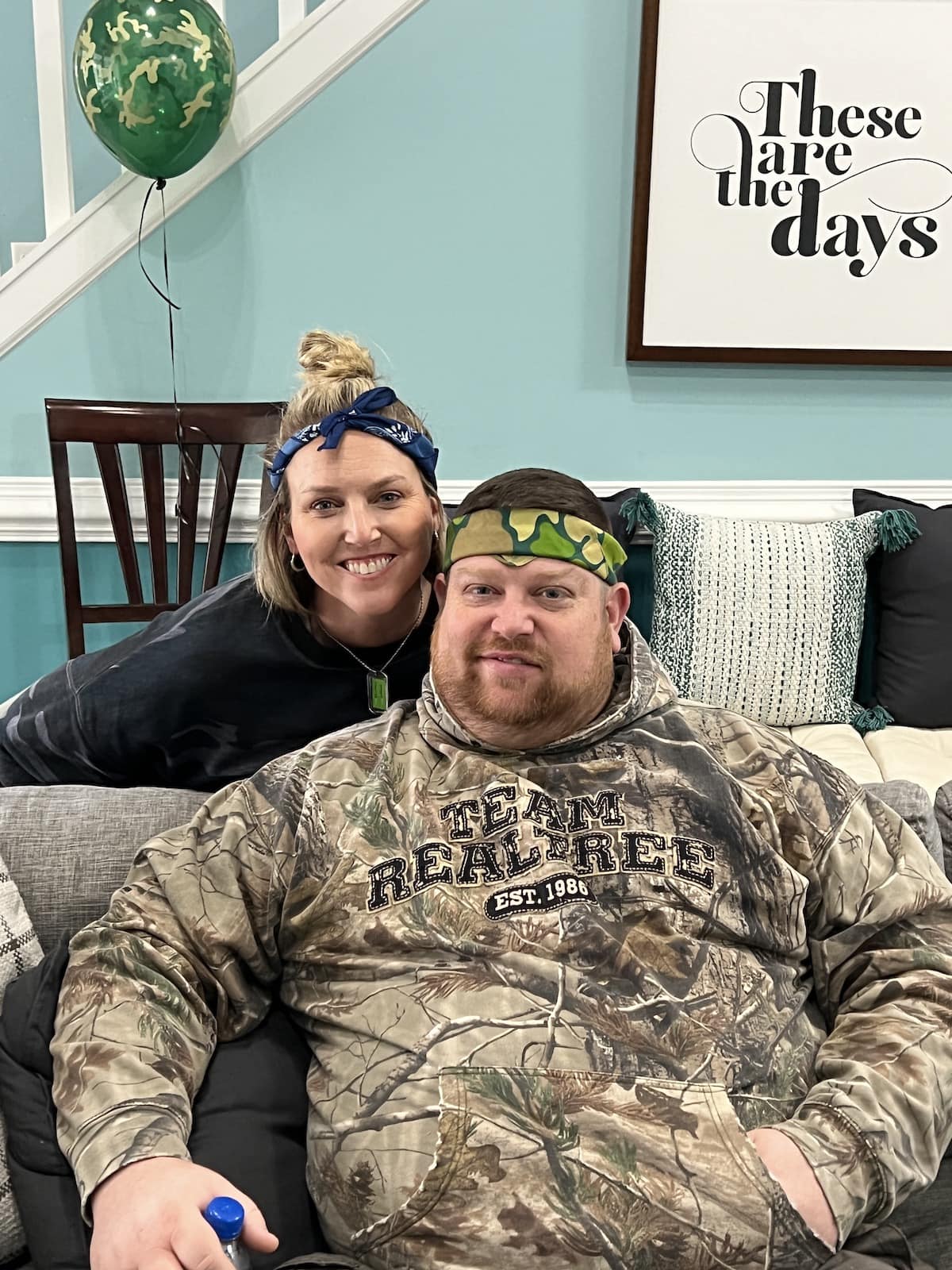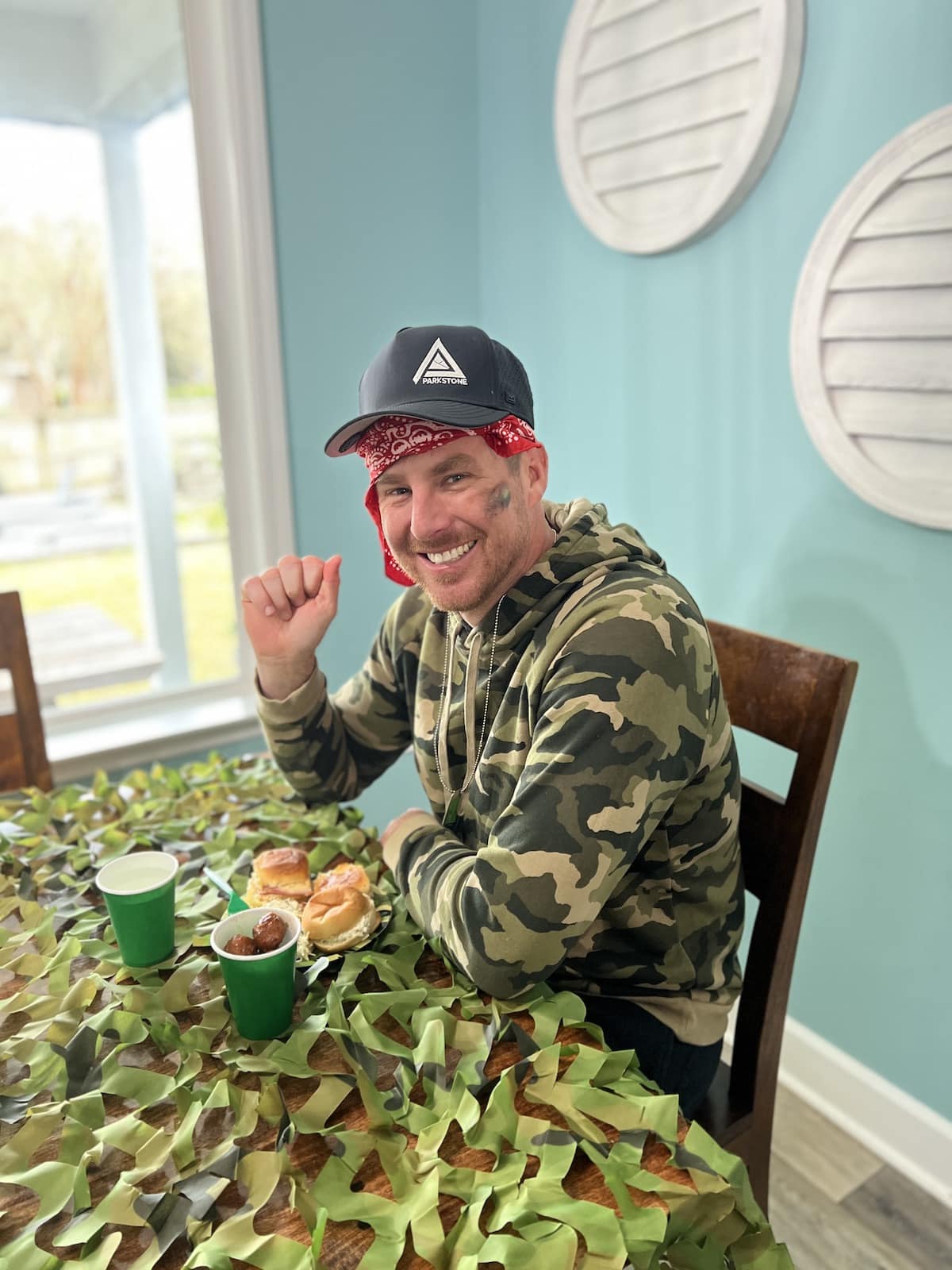 The kids all told her their favorite things about her and I just love these pictures of Mrs Charlotte with my babies! Zach and I picked out a gift for her while in Savannah. I just ADORE Kendra Scott and Zach put a lot of thought into the pieces we got for her special day!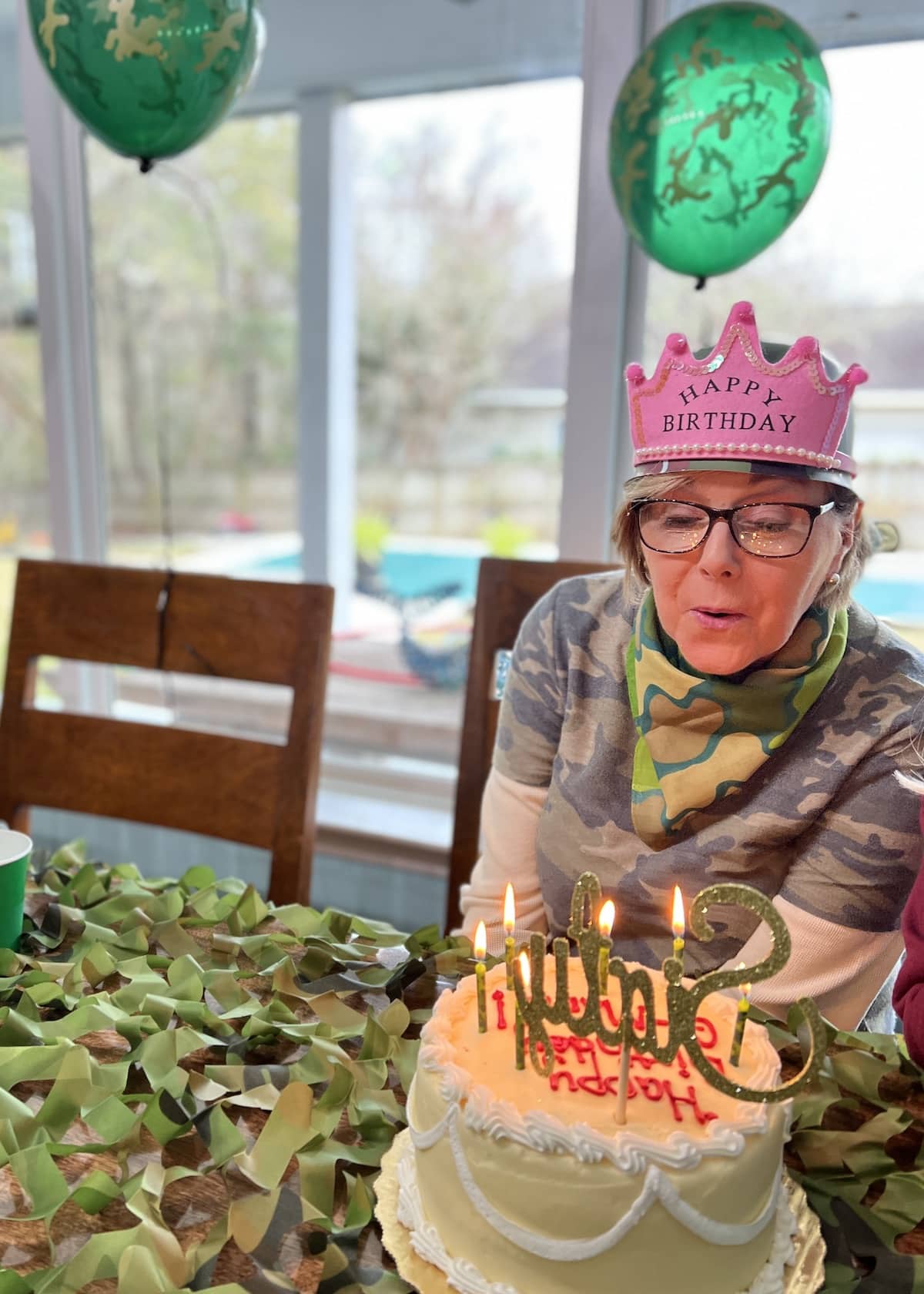 After we grubbed out we headed outside (of course it was a FREEZING wet kinda weather day which is pretty rare for us to have, even in Jan). We did a challenge where you had to hold hands and get a hula hoop over your entire team – and our team (Team Red) WON! Whoop whoop!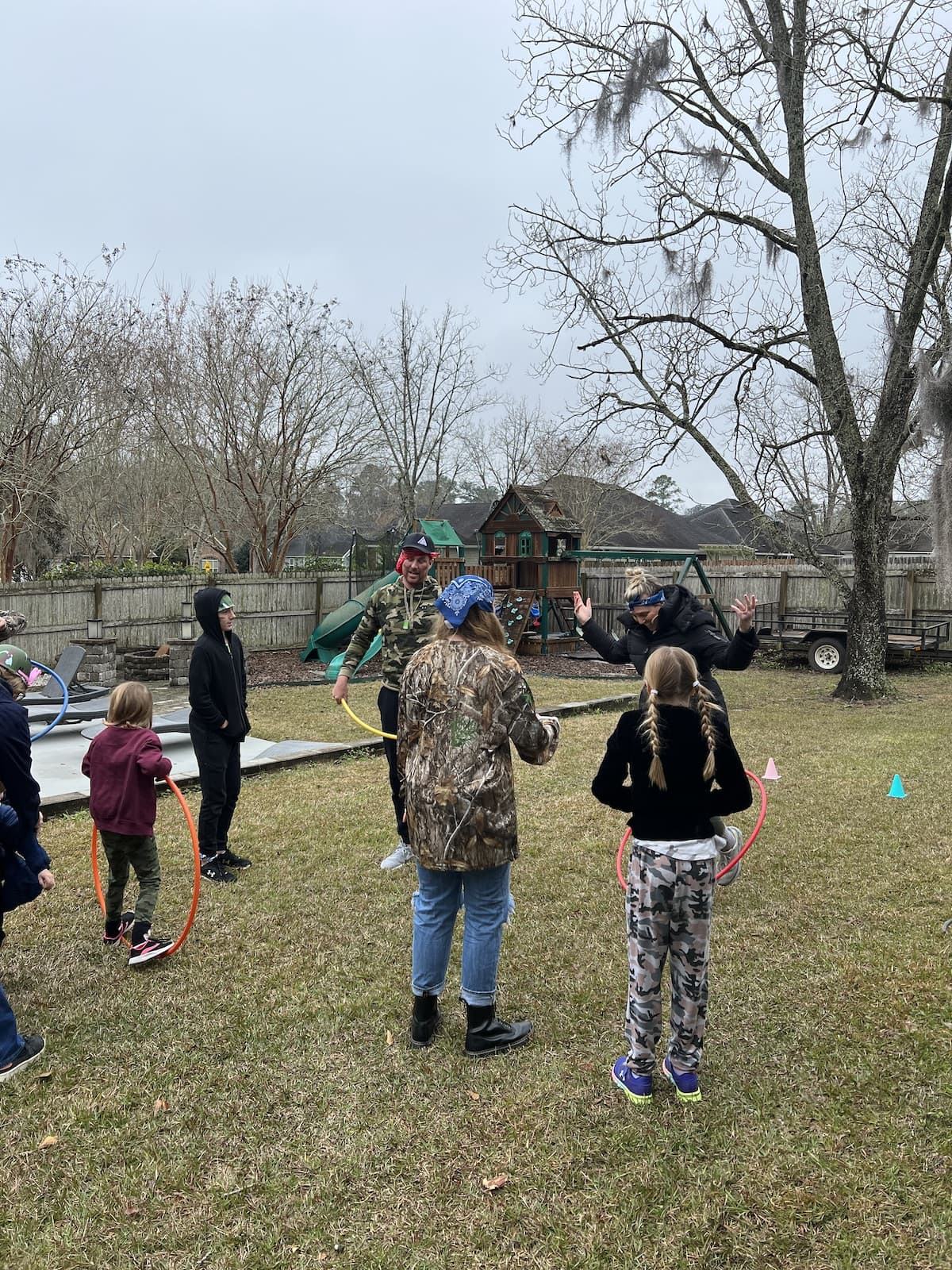 We also did a three-legged race and I surprised myself and Zach and I made a pretty good team…he didn't even have to drag me to the finish line 😉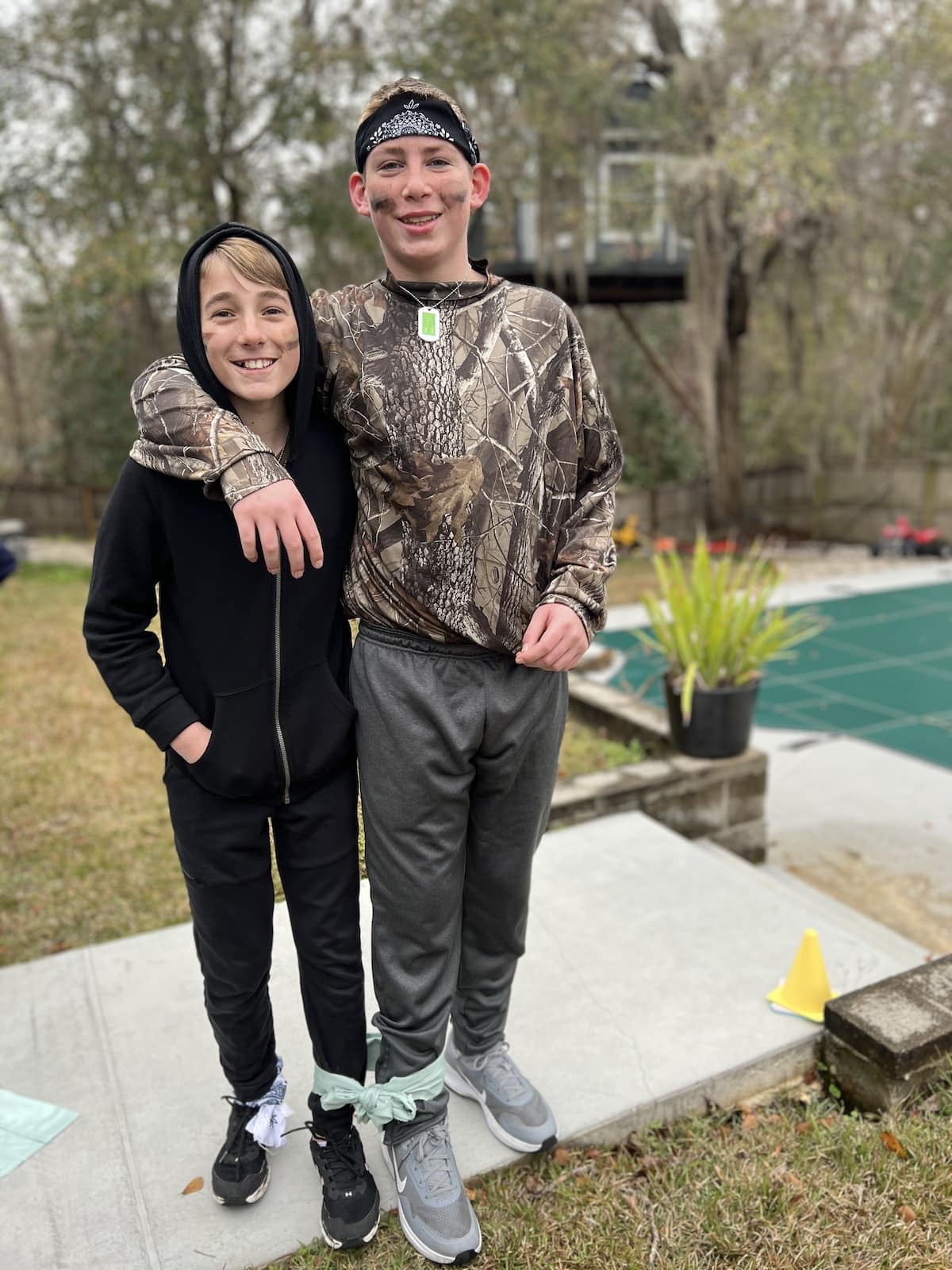 Last was an egg toss and we had one pair from each team compete…lucky for Tess and I that Big Papa and Zach volunteered as our partner set 😉 G-Mama's team came out victorious!
But the kids were all having so much fun we busted out some board games to let the competing keep going!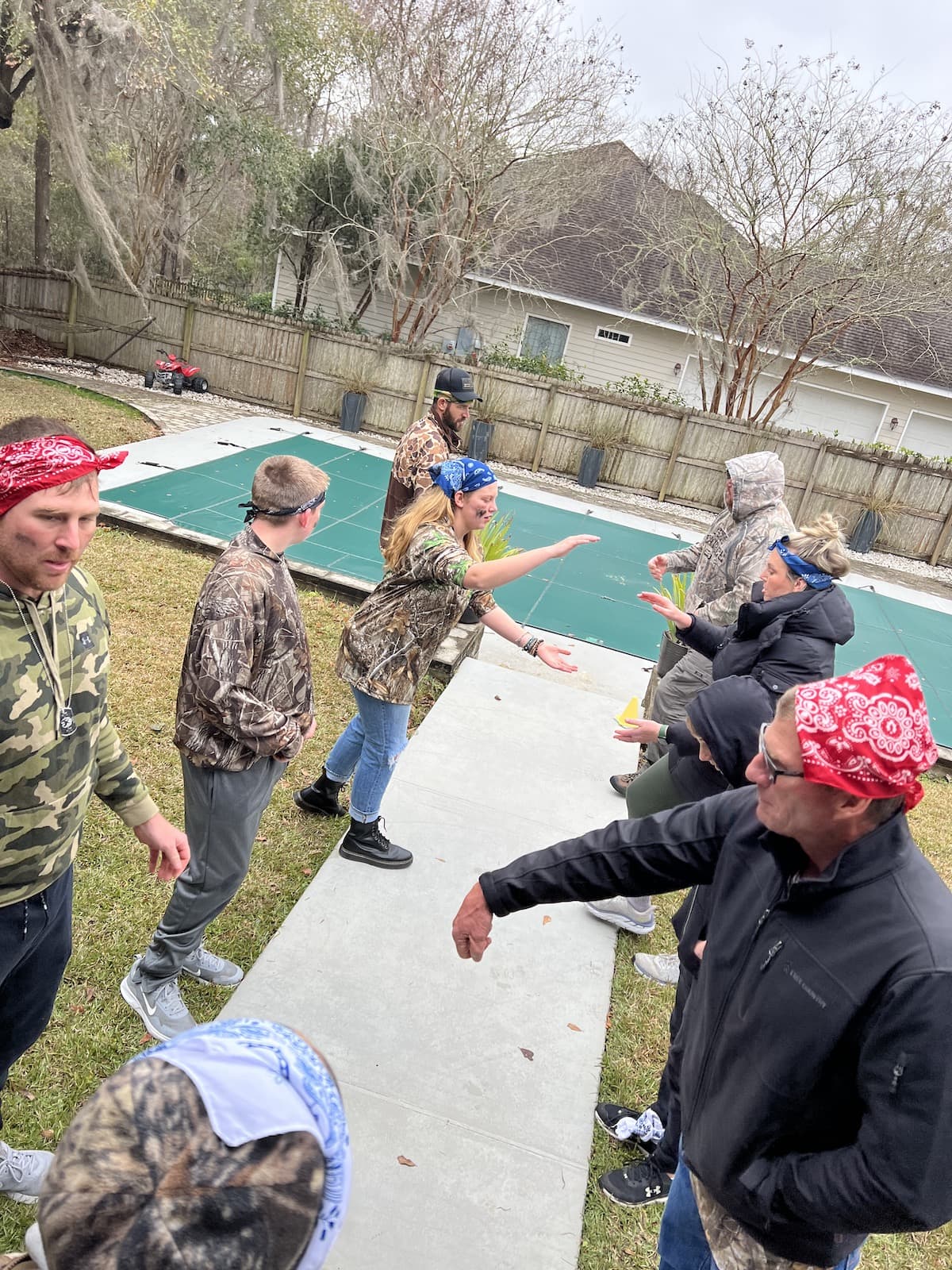 We had SUCH a fun day and everything came together so well and it was such a great opportunity to celebrate Mrs Charlotte who is so special to each and every one of us. I pray my kids, their spouses and their children love me even half as much as we all love G-Mama! We are so blessed to call her ours 🙂