Britt turned 19 months old on July 6th!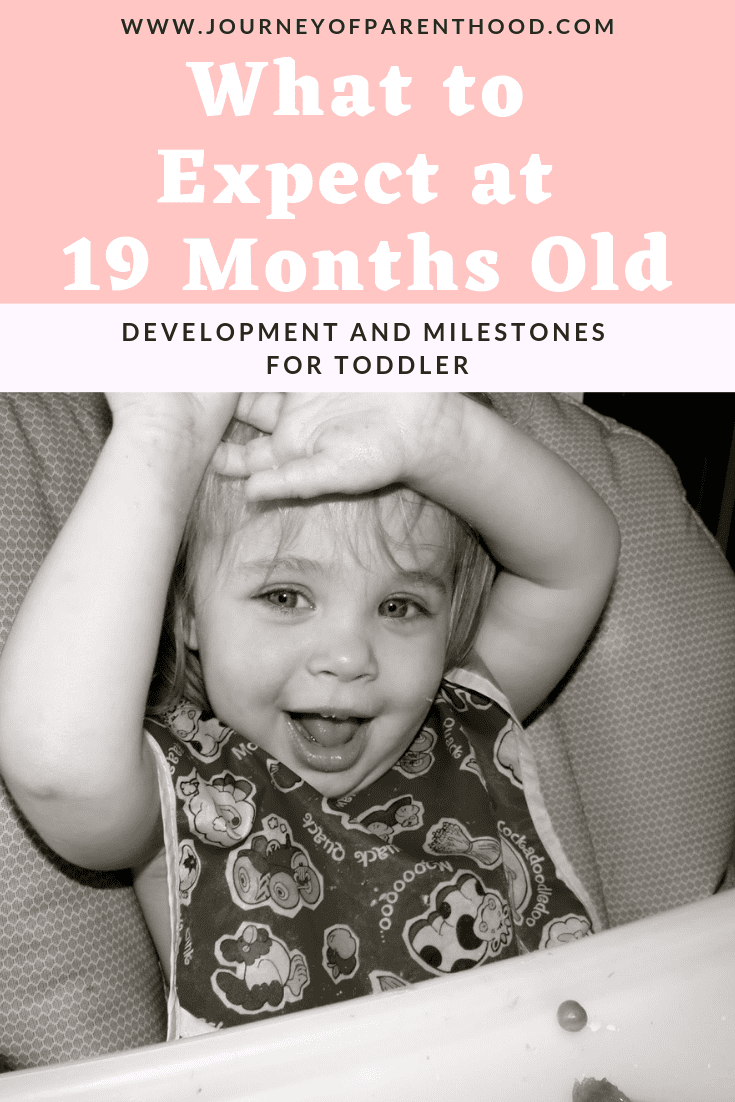 This month I decided to use some pics of her during lunch. She is SO silly at meal times.
She loves to play peek-a-boo and loves to lay her head down on her tray…as if eating just wears her out 😉  
I'm also using What to Expect the Toddler Years to see where Britt is at in comparison with other toddlers her age!
Britt can do all the things a child her age should be able to do.
The book says that by the end of this month it's important that a toddler is able to do ALL the previous "should be able to dos" from other months.
If not then it's time to mention it to your child's pediatrician.
At 19 months old Britt is able to do everything a toddler her age will probably be able to do including:
"feed" a doll
use 6 words
walk 6 steps
Britt can also do everything a 19 month old may possibly be able to do including:
build a tower of four cubes
identify two pictures by pointing
She can also do everything a toddler her age may even be able to do including:
name 6 body parts
wash and dry hands
This chapter covered a lot about ADHD symptoms which surprised me as I can't imagine diagnosing it this early in a child's life???
It seems a bit young to already see signs of that?
It also dealt with a lot of issues that simple discipline solves.
Majority of the questions asked in this chapter can be answered, in my opinion, with one word: discipline.
Issues with climbing out of bed? Discipline.
Issues with wandering off? Discipline.
Resisting getting nails cut? Discipline.
The other questions asked in this chapter I'm thankful I don't have to deal with such as night issues, sleep problems, and delayed development things. 
I really enjoyed the lists of ideas of things to do with my toddler!
Now that Britt is no longer napping in the mornings and since Kye has school every day, I'm always looking for fun things to do together!!!
I wrote out the entire list of ideas the book suggests in Kye's 19 Month Old Post but here are a few new things I want to try with her:
kiddie aerobics (jumping jacks, toe touches, etc)
bean-bag tossing
practice pedaling on a bike
tag
play follow the leader
You can compare back to Britt's 18th Month HERE and Kye's 19th HERE.
I'm enjoying this age with her and love that she's really coming into her own little personality and is truly her own person!