Tess's Birthday Dinner at Beaches and Cream
Prior to the Disney shut down due to Covid, reservations for Disney dining locations could be made 180 days in advance. Which means we've had Tess's birthday planned since February.
When everything shut down Disney also auto canceled all dining reservations. Currently many locations are still not reopened and there is NO character dining.
However, I did still really want to make sure Tessie got a special Disney birthday experience and was able to grab reservations at Beaches and Cream Soda Shop.
We dined there once as a family for Kye's birthday in 2017 but haven't been back since and they did a recent remodel so I felt like it'd be a fun vibe and a newish experience for us all!
I LOVE Disney's Beach Club Resort. We've never stayed at this property but have visited many times for dining (Cape May is one of our fav character dining options) and I just love the vibe and the decor and the area out back behind the resort is SO pretty for picture taking 🙂
Disney dining options can currently be booked 60 days in advance (I have a hunch this policy will be sticking around). It's pretty competitive to book a reservation since there are less options open AND lower capacity for each restaurant.
The original Beaches and Cream was VERY tiny so I think the remodel is great! It's not as fun theme-wise as it could have been but there is a lot more space and that's a big win.
It was our first time eating at a Disney restaurant since reopening and they do have all the tables spaced out and it was obviously at a lower capacity and we were also asked to keep our masks on except when sitting at the table.
We were also alerted by the Disney App to check in via the app for our reservation and then received a notification when our table was ready. It was a pretty seamless process which is saying a LOT as the My Disney Experience App isn't known for it's reliability!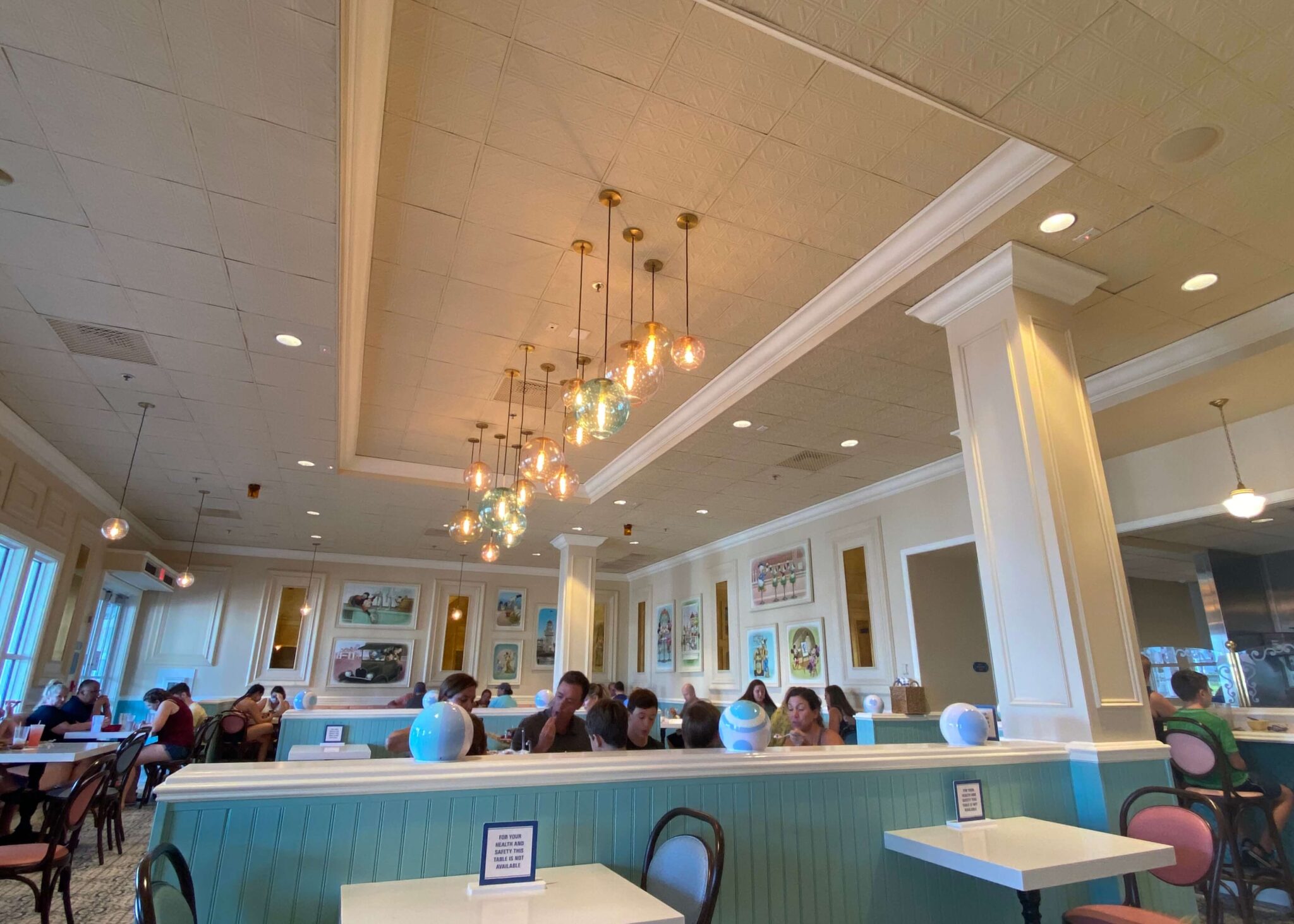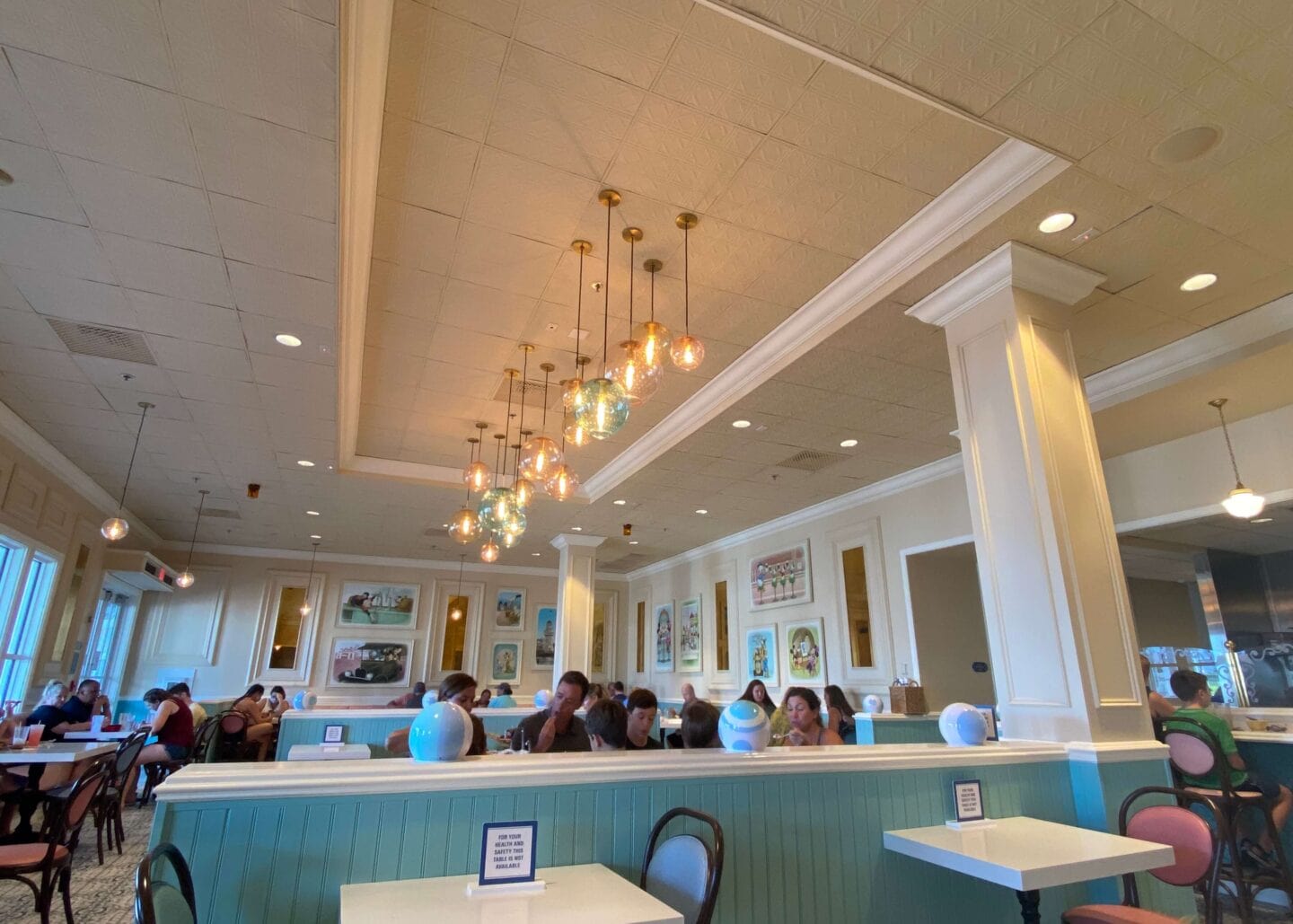 Digital menus were the main menu option but we asked for a physical paper menu and were provided with one. Good to keep in mind that it's an option! None of our kids have mobile devices and using the mobile menu is a PAIN in my opinion. I'm old school and like my paper menu 😉
We were seated right beside a juke box which was so fun! The kids LOVED getting to pick songs and to listen out for their selections. We played "Sugar Sugar" by the Archies which is a personal favorite of mine. Kye also picked some Beach Boys jams which I know would make my dad proud!
Our main reason for choosing Beaches and Cream for dinner? THE KITCHEN SINK.
It's a MASSIVE ice cream served in a kitchen bowl. You are able to customize it and have things left off (for example, we opted for NO fruit). It also includes an ENTIRE CAN OF WHIPPED CREAM. Which I cannot stand so we got it on the side for the birthday girl!
It's a REALLY fun treat as they dim the lights and make an announcement when they are bringing it to your table. It's very fun and upbeat and makes it exciting when everyone is excited about it for you!
With seven people in our crew it was also easy to finish off the entire thing 😉 We are some ice cream PROS around here!
It made Tessie feel super special and was a great birthday treat and still had a bit of Disney Magic for the birthday girl!
After dinner we stopped by the beautiful bench area on the backside of the resort. I LOVE the pics we took in this spot back in 2015 and loved getting the chance to take updated ones as a whole family 🙂
I cannot get over how GROWN Tessie looks in these pics!!! She's almost 6…going on 16!!!
It felt so NICE to be back on Disney property celebrating a birthday and having a "typical Parker Family Disney experience." I've always loved Disney but I think the shut down will give me an even greater appreciation for it for a LONG time!