Tess's 5th Bday at Disney: Mommy Morning at Animal Kingdom and Disney Springs.
Last year my birthday celebration with Tess was a bit of a cluster.
Out of all the plans we had for the Disney trip, I was most hardcore about Animal Kingdom being REALLY GREAT.
I wanted to make up for last year 😉
We kicked off the day with a birthday surprise…a family first: breakfast at Tusker House!
I've heard SO MANY wonderful things about Tusker House and was so excited to experience it for myself!
We had an 8:00 am breakfast and it was pretty frustrating the way Animal Kingdom handles early morning reservations.
We just joined the masses and had to wait for park access and then everyone with a breakfast reservation was checking in at the same time.
Even though it started off a little frustrating and rocky…everything changed once we got inside.
YALL. WE HAD THE BEST EXPERIENCE!
Our server/cast member, Neil, was the best server we've ever had at a Disney dining experience. He was AWESOME.
The layout and theming of the restaurant is SO PERFECT.
The food was incredible and the characters were all so cute and so great!
We LOVED IT!
Sidenote: Zach took the van with the big kids and Mrs Charlotte and parked in handicap with her pass…Tess and I took her car and parked in regular parking.
They keep moving the regular parking further and further away from the entrance…hello premium parking spots for an upcharge (*eyeroll*).
188 ELEPHANT steps to the car from the entrance. YIKES.
Anyway back to breakfast 😉
The breakfast is a buffet which we LOVE and they have TONS of great options. Zach even lucked out and got a recipe from the chef 😉
The characters were so super cute and it was great getting to meet Daisy, Donald, Goofy and Mickey!!!
The only other meal I know of to meet Daisy is Cape May!
Goofy mayyyy have taken over Stitch's spot as Spear's favorite!
Donald is still Britt's FAV!
And yall. We got some GREAT family pics this trip (which I LOVE b/c it's a HARD thing to get!) but this one with Mickey?
MY FAVORITE.
Totally my new phone lock screen pic…and I love the comment I got from someone on Instagram about how it's such a special picture b/c it's really the first one where Spear isn't being HELD in the photo! BIG KID STATUS.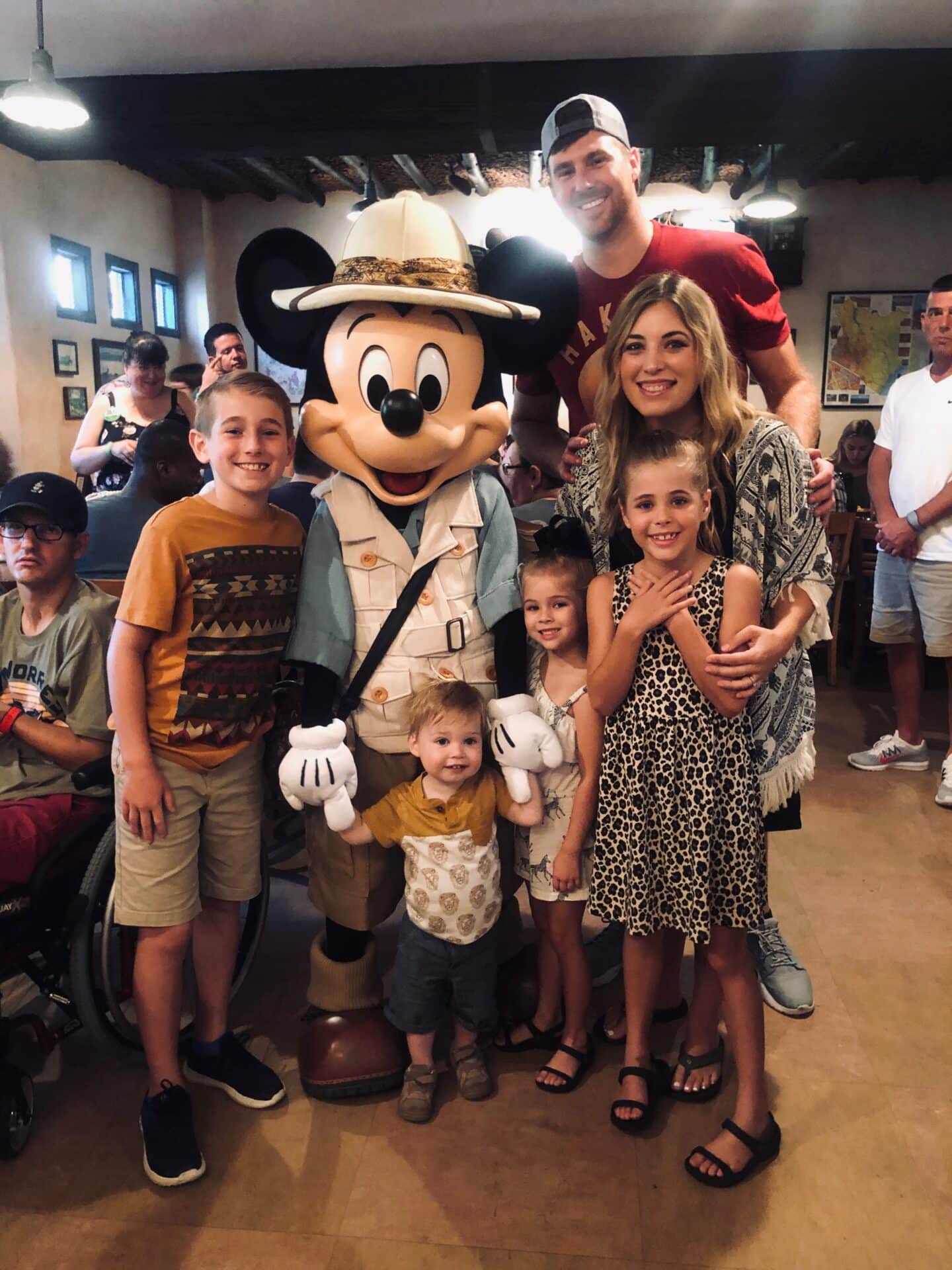 As part of the breakfast fun they have a cute little parade around the restaurant.
Kye reluctantly joined in. And Britt was stinking EMBARRASSED.
Um. What is happening? My kids are getting TOO GROWN for these experiences!!! At least Tessie loved it!
We fully enjoyed our experience at Tusker House and all agreed we'll be back!
After breakfast we split up for the remainder of the morning.
Tess and I did our thing and Zach, Mrs Charlotte, Britt, Kye and Spear did theirs.
I had a few Fastpasses booked for us but I really wanted to focus on seeing the animals as that's what Tess was so heartbroken of not getting to see last year.
Since the park had just opened we went ahead to Safari to hop on with no wait!
There are SO many animal areas to explore at Animal Kingdom that we've NEVER done because we always just end up walking through the Gorilla Trail by the Safari.
Tess loves leading the way and had fun searching for birds!
Love that there is a photo pass outside of the Safari!
We had a weird window of time before our set plans so we snacked it up.
Then we checked in for our Birthday Surprise!
Last year I booked the Caring for Giants tour and she enjoyed it but didn't LOVE IT.
I don't know why I thought it'd be any different this year but I thought maybe the hands-on experience of the Up Close with Rhinos Tour.
It is very similar to the elephant one…an hourish long and behind the scenes.
I will say of the two encounters the rhino one is much better. You get to go to the animal area and PET A RHINO.
I mean how many people can say they have PET A RHINO?
We can say it!
Tess immediately pet him and said "I want to wash my hands" haha.
We not only got to pet a rhino but got to pet the large male rhino! It was SO AWESOME yall.
So yeah Tess didn't LOVE IT (I did NOT buy her a stuffed rhino like I did the elephant last year) but I loved it so no regrets on doing it 😉
I really wanted to just let Tess lead in the day and she was admamant that she no longer cared about seeing the animals and just wanted to play in the dinosaur playground…so that's what we did!
It's HER DAY not mine!
On our way to the playground we ran into Zach and Kye!
We said hey and caught up on their day…they had gone to ride Everest while Mrs Charlotte, Spear and Britt were looking at animals.
They all had a super fun morning with FINALLY riding the one fastpass ride we've never ridden…Kali River Rapids! And they loved it!
G-Mama also got to ride Flight of Passage for the first time and they rode Dinosaur. So they had a super epic morning for sure!
Kye was so sweet and handed Tessie some flowers he'd picked and she and I got some Tree of Life pics from a not so talented photo pass person who didn't even really get the tree in the pics haha
Tess did NOT want to leave the playground and I know it was her day but yall she LOVES the Nemo Show and I knew if I didn't push for us to leave and see it that she'd probably get tired of the playground and then want to see the Nemo Show and it'd be too late.
So I convinced her to leave with the promise that we'd be back!
Tess's all time favorite song is "In the Big Blue World" which is from the musical.
After the show I grabbed myself a MICKEY PRETZEL for a snack and we headed back to the playground.
Yall know I've had some Mickey Pretzel struggles lately.
My go to spot for 'em at MK has started serving the cheese in a little container rather than handing out the prepackaged kind.
But AK still has my back 😉 SO GOOD.
We played for a bit then headed out because we had afternoon plans and needed to get back…but didn't rush too much b/c yall know I can't pass up a photo pass spot 😉
BTW Happy 25th Birthday Lion King. Like WHAT?!! How is Lion King TWENTY FIVE?!?!?!
Whew. July. It's SO HOT yall. SO HOT. And those 188 ELEPHANT STEPS back to the car about DID ME IN.
I was literally THE LAST CAR in the long row of cars on our row of the parking lot. That walk is THE WORST.
Yes, all caps are NECESSARY. Can you see my car? SO FAR AWAY.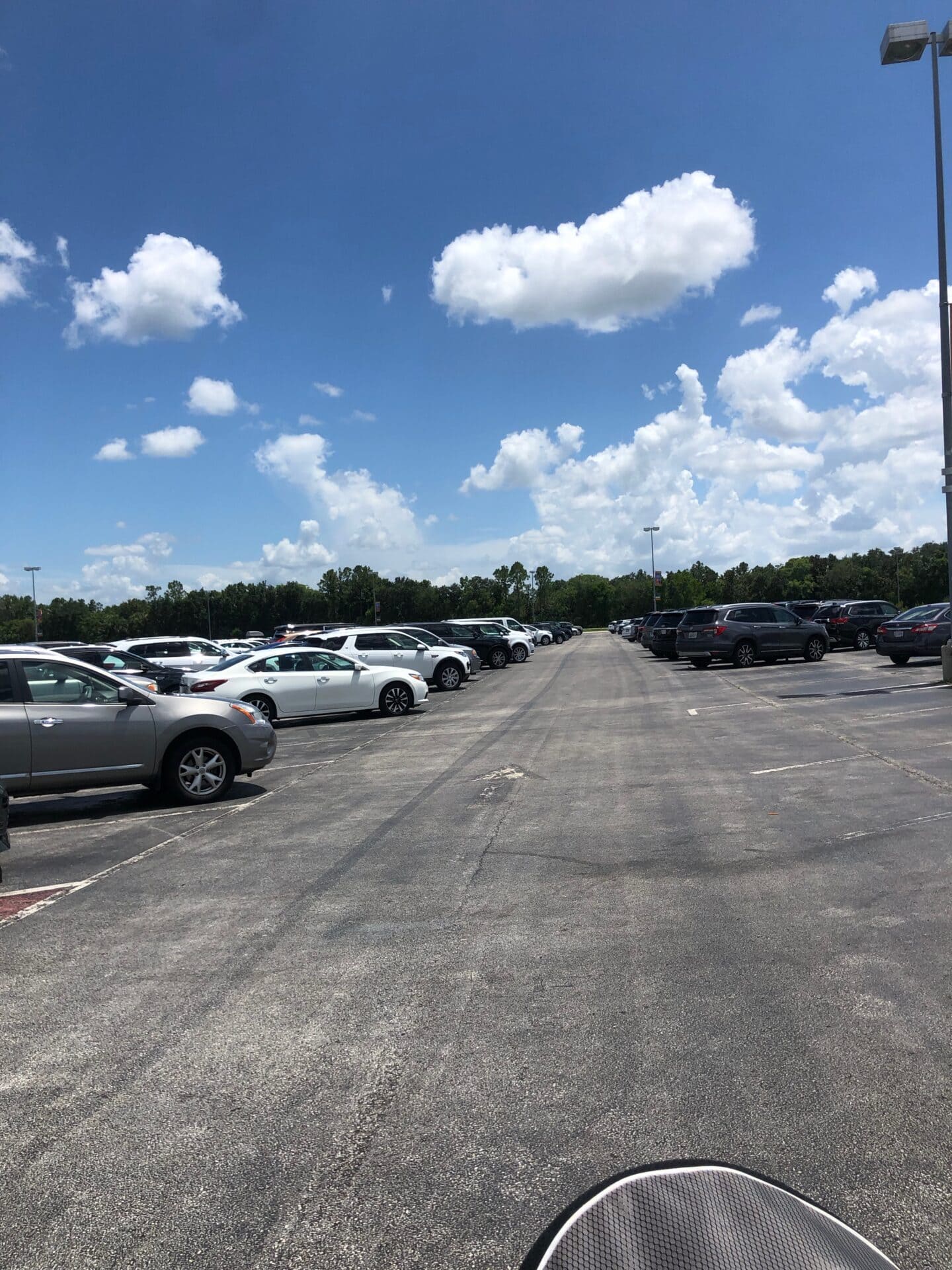 We got back in time to get freshened up and say bye to G-Mama as she wanted to go ahead and head back.
We'd planned to go the night prior but it stormed so we had to shift our plans, but ending the trip on Disney Springs isn't a bad way to end it either!
It was super cool seeing the gondolas on the drive into the area!
We had a little time before our reservation to walk around a bit and check out the Lego Store, pick an ornament from the Christmas Shop, and have each kid choose their pin for the trip!
Then we headed over to Rainforest Cafe for dinner.
Again, Tess LOVED it last year and wanted to eat there again so we made it happen!
I feel like we balled out this trip with some GREAT family photos and the trip ended with another one!
Dinner was fun but personally Zach and I just don't really LOVE Rainforest Cafe. It's loud. It's crowded. The staff are not Cast Members so the service is typically not so great. It's pricey and the food it not that amazing.
But the environment is fun at least 😉
I walked the kids around a LOT to look at the "animals" and to waste time while waiting for the food to come 😉 Gotta keep the toddler happy!
The kids also loved looking at the gift shop and Kye was so funny b/c he picked up this hat and said "I was going to try this on to be funny b/c I'm NOT messing up my hair" haha!
The kids LOVE Rainforest Cafe and Kye LOVED the RIBS!
Kye has his own little tradition at Disney Springs where he always uses his own money to buy a slushy at Goofy's Candy Co.
Tess wanted to use her money to buy one too.
And Britt? Yall I AM SO PROUD OF BRITT! She did NOT buy a slushy because she is saving her money to go to Hawaii and she's SET on that goal!
Tess's Disney birthday trip this year was SO FUN and went SO WELL.
I felt like it was a pretty flawless trip…other than the HEAT and there isn't any amount of planning that could help with that.
Well I guess other than planning to get pregnant with a due date in cooler months haha
I def think 5 is a GREAT AGE to start with experience type birthday celebrations. Tess didn't "get it" last year but she fully enjoyed it this year so much!