On Tess's Disney Birthday celebration she visited Magic Kingdom three mornings in a row haha but it just happened to work out that way with our planning! We had our princess morning for her, our family morning to actually ride rides and then she wanted to go to MK with Zach on her Daddy morning too. So lots of Magic Kingdom this trip!
It's so fun being able to visit the parks as an entire family. I was a bit nervous about the heat but it was actually cooler this visit than it was on our visit in June! I wouldn't say it was cool by any means but for sure cooler. We were also very surprised at the crowd level. I'd always heard summer was the busy season but I disagree. I think because of the heat people just don't want to come to the parks. It was MUCH less crowded than I'd expected. I had a super easy time booking dining and fast passes and everything else for the trip and our time in the parks never felt super busy the whole trip.
Our typical time at the parks with Spear with us is to go first thing in the morning and then be back at the house by afternoon nap time. We get a good solid few hours in and being there at opening means we really get a lot accomplished because it's the least crowded time of the day!
The parking situation was off for us. Usually we are there so early that we're literally parked where the preferred parking is with no issue but we were just ONE ROW beyond that and they parked us super far away. We very, very rarely ride the parking tram but Zach walked with Spear and the stroller and the rest of us rode it!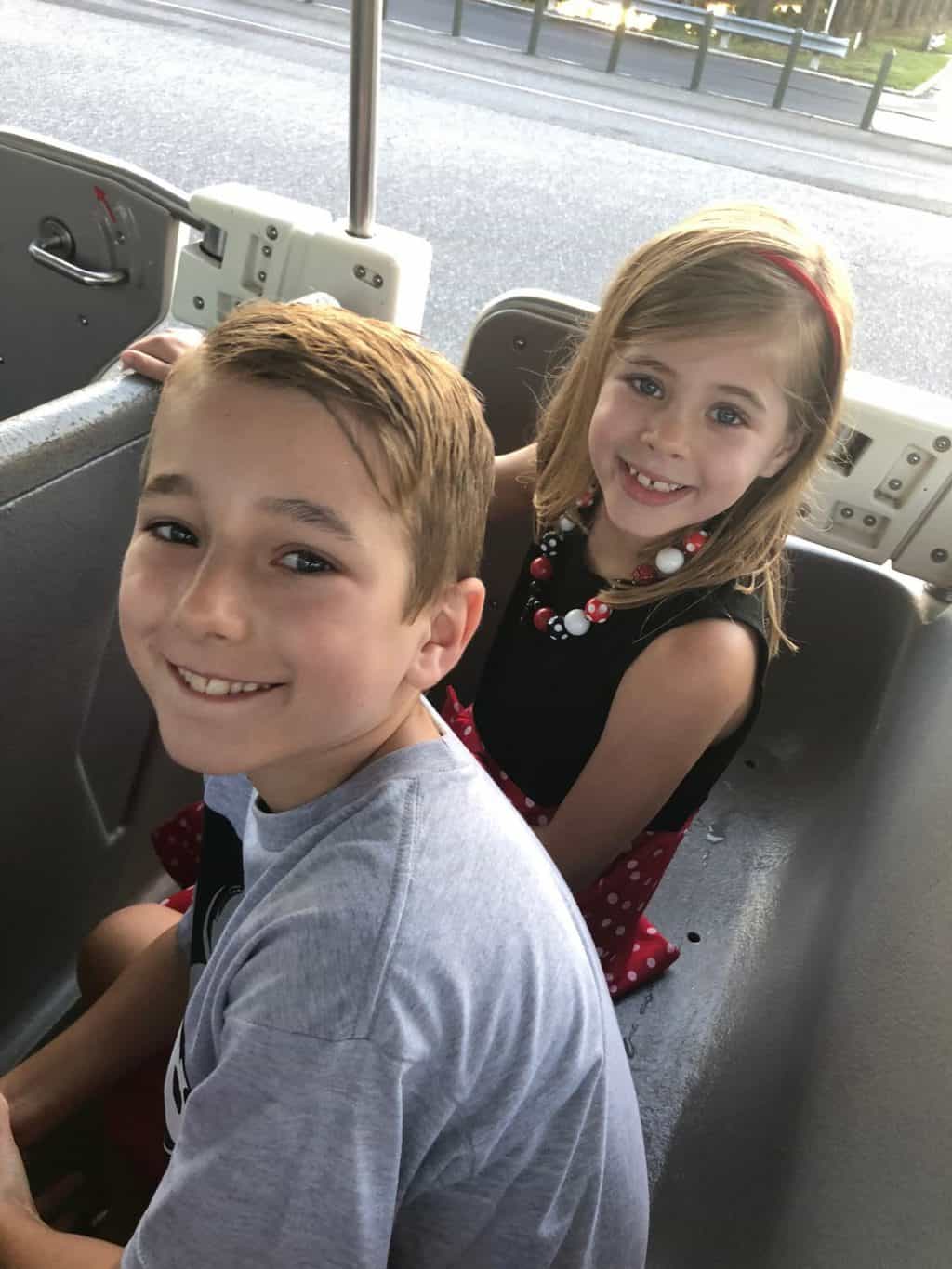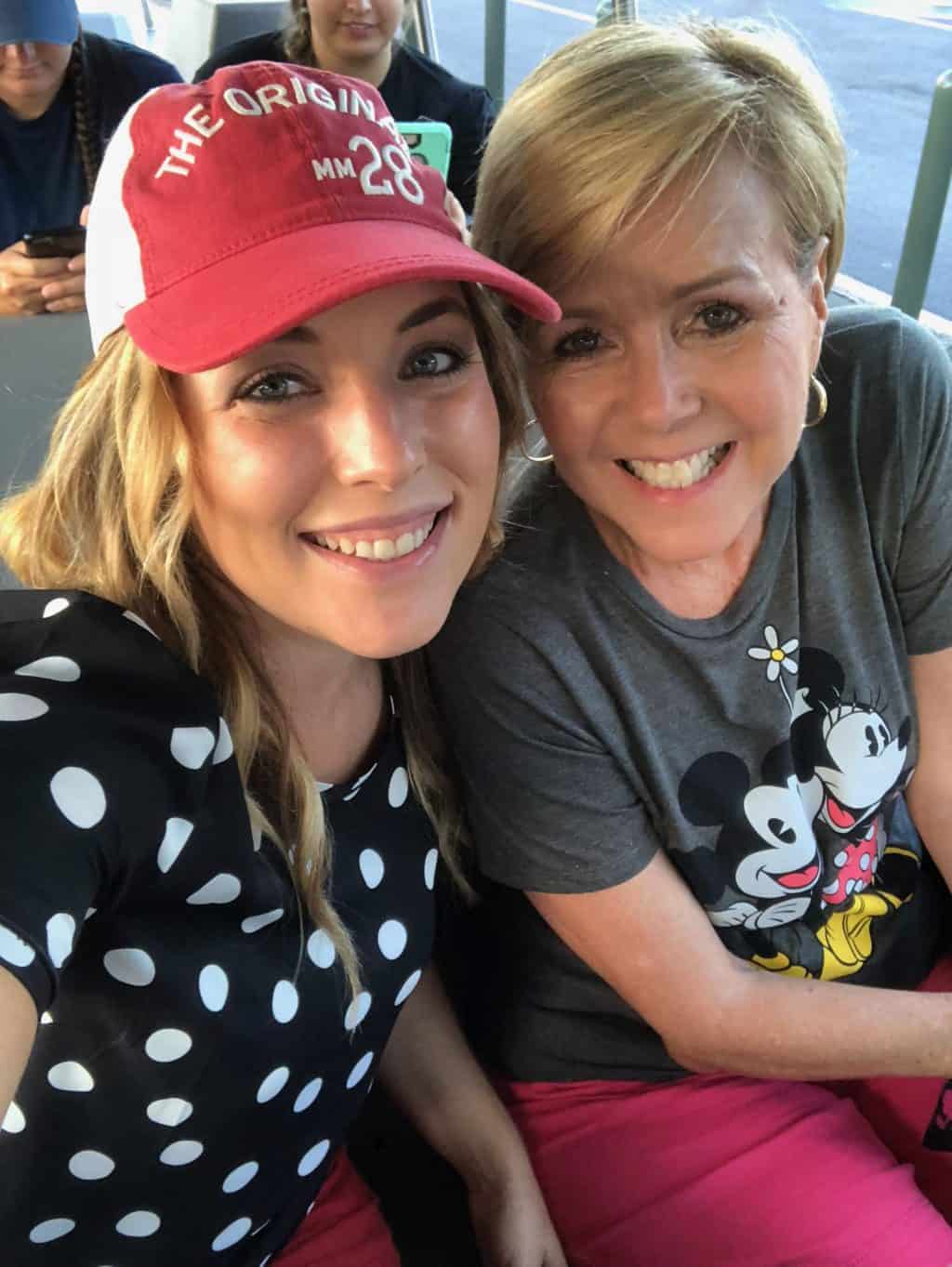 Our favorite mornings at MK are the ones where the park opens at 8! We feed Spear on the monorail on our way!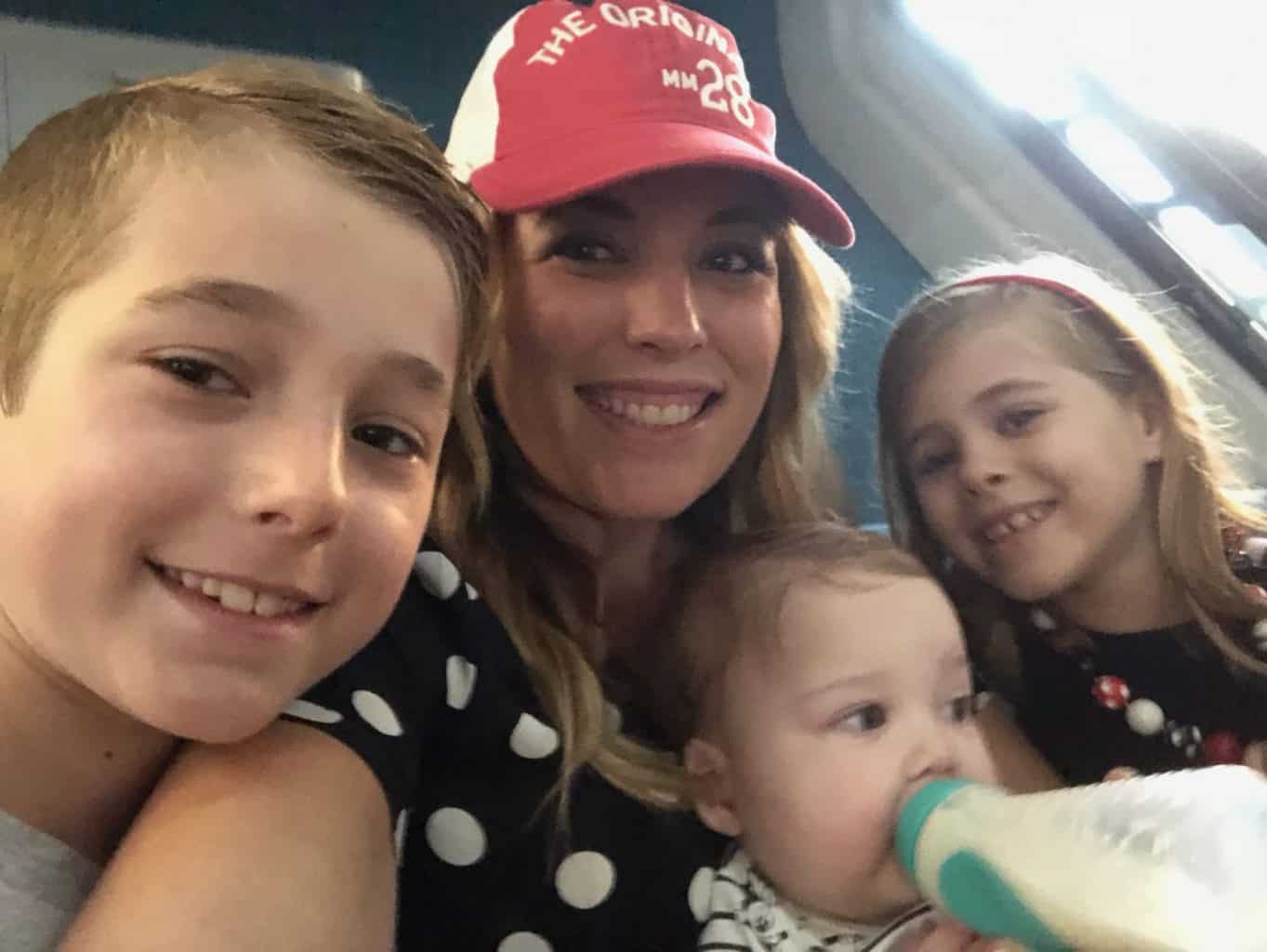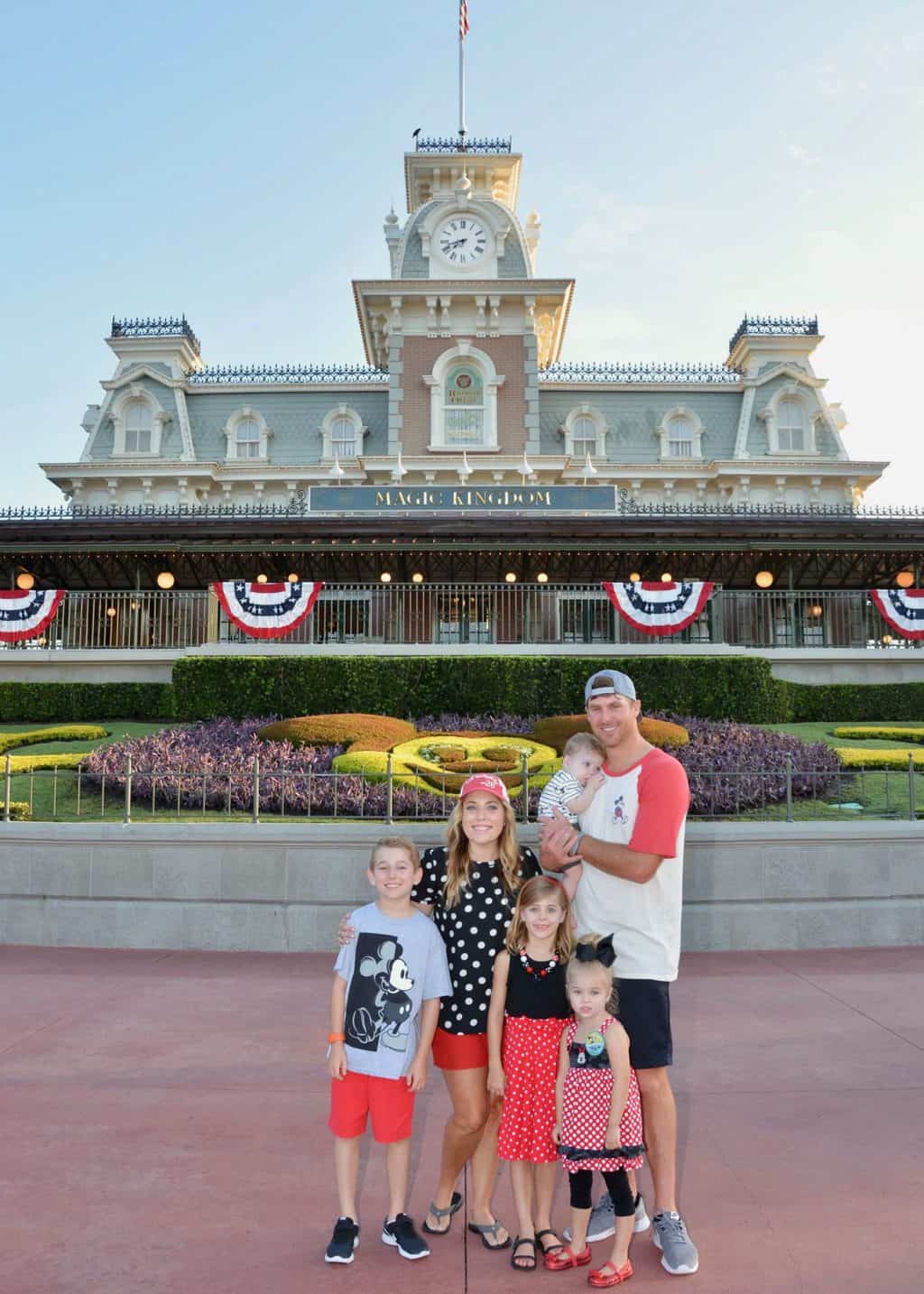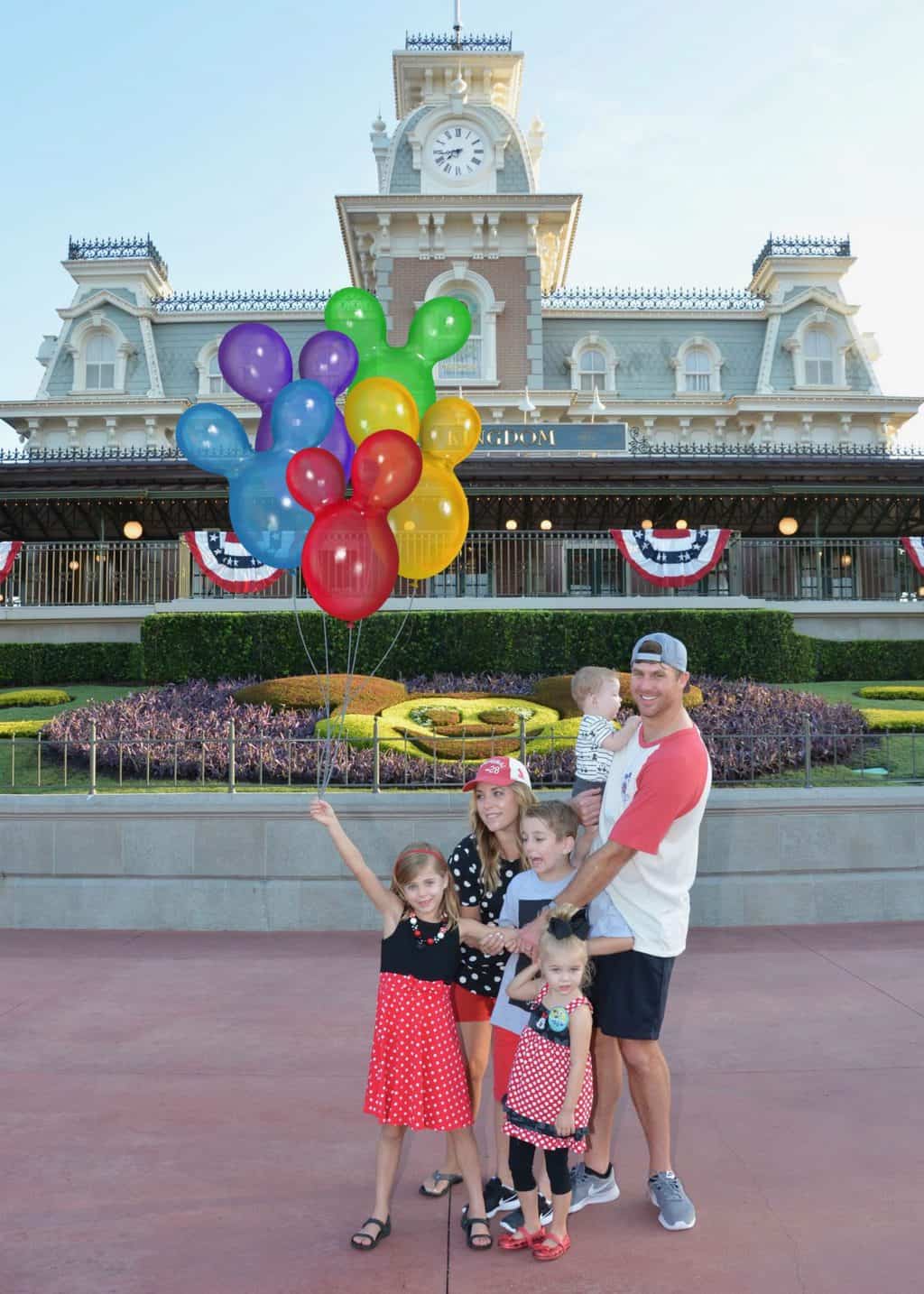 Britt has a sweet friend who is her age and LOVES Space Mountain so Britt was really eager to try riding it for herself this visit. Zach, Kye, Britt and G-Mama headed straight for Space Mountain at opening and Tess, Spear and I hit up People Mover 😉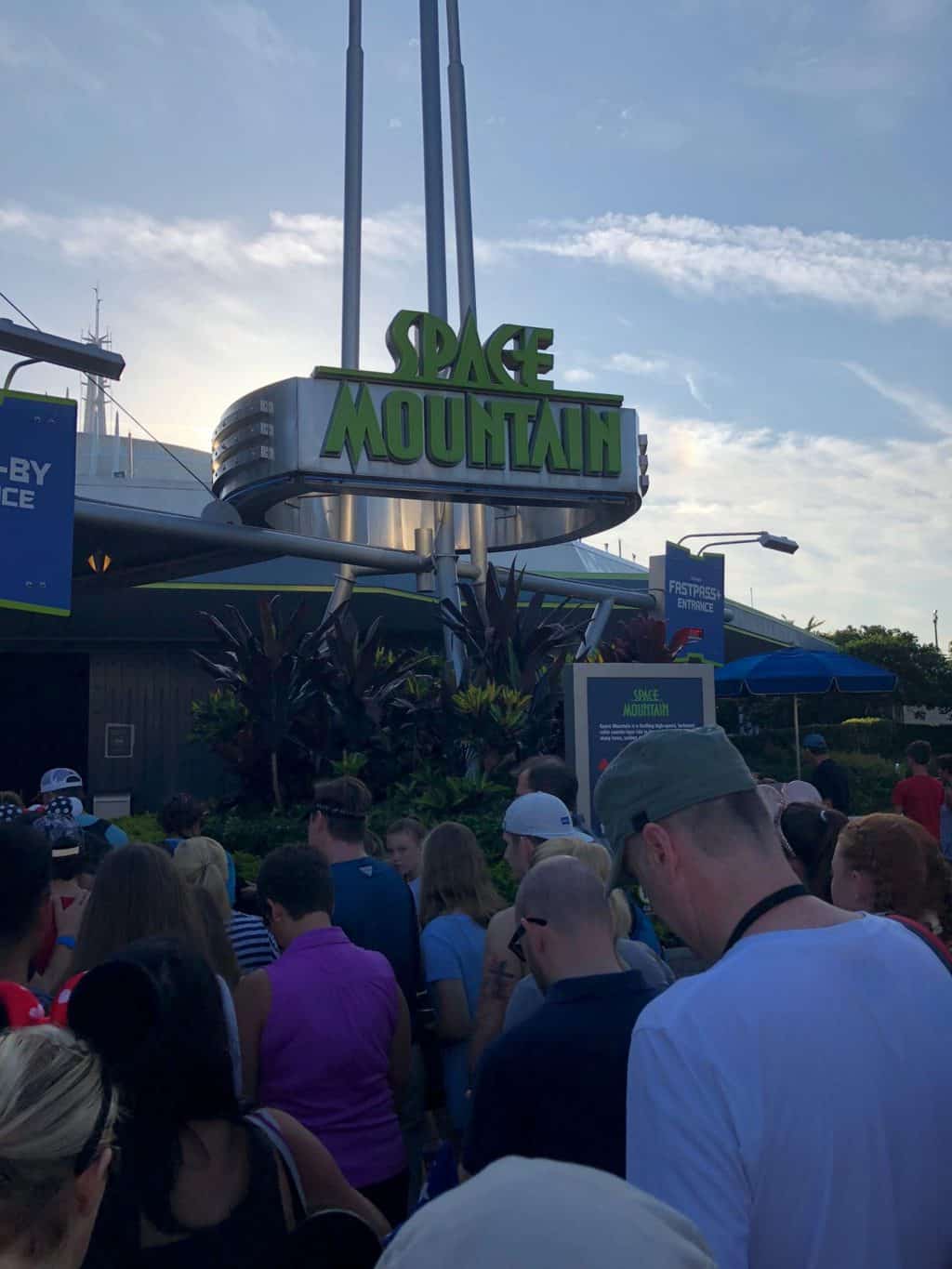 Coolest G-Mama!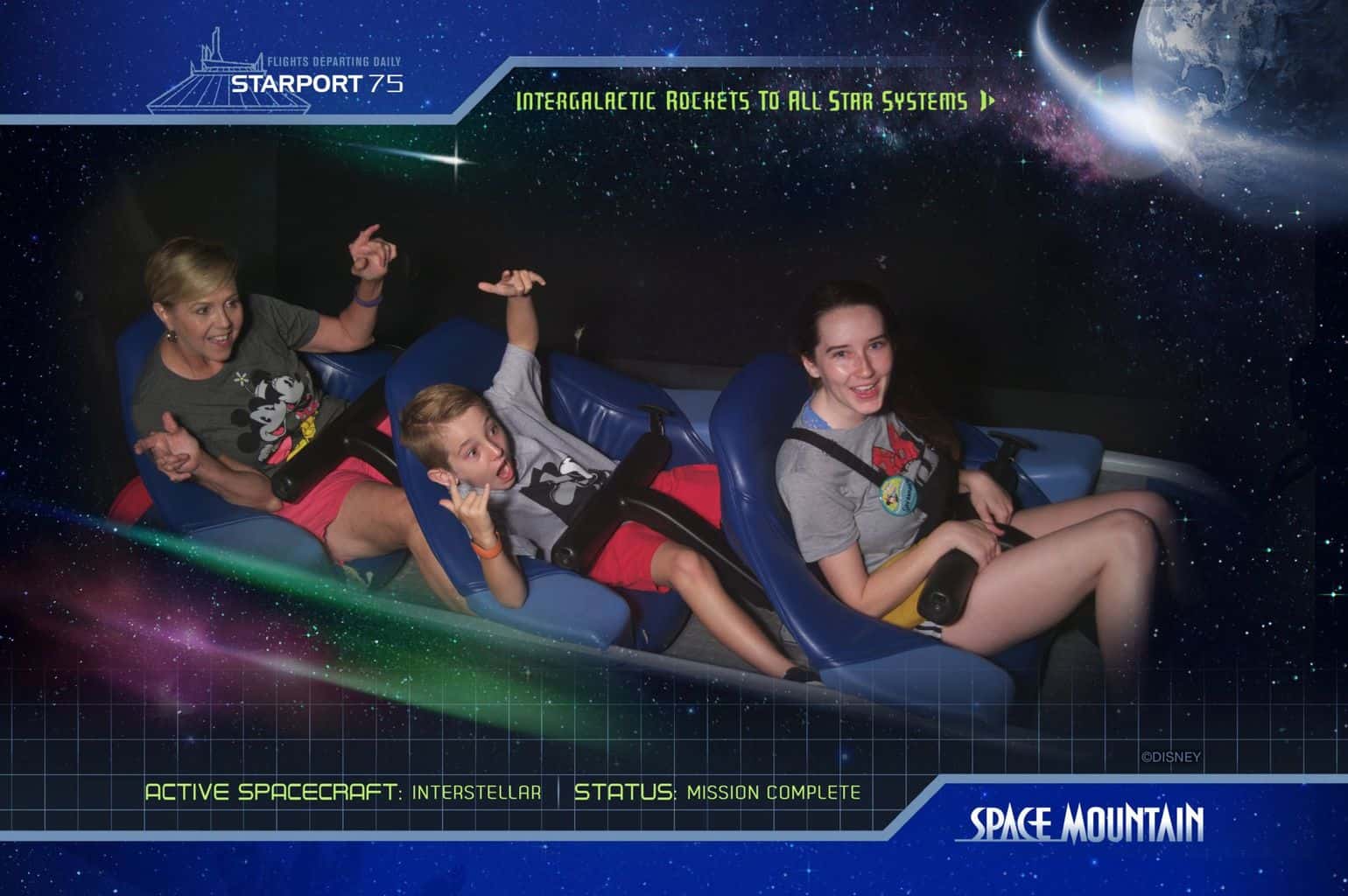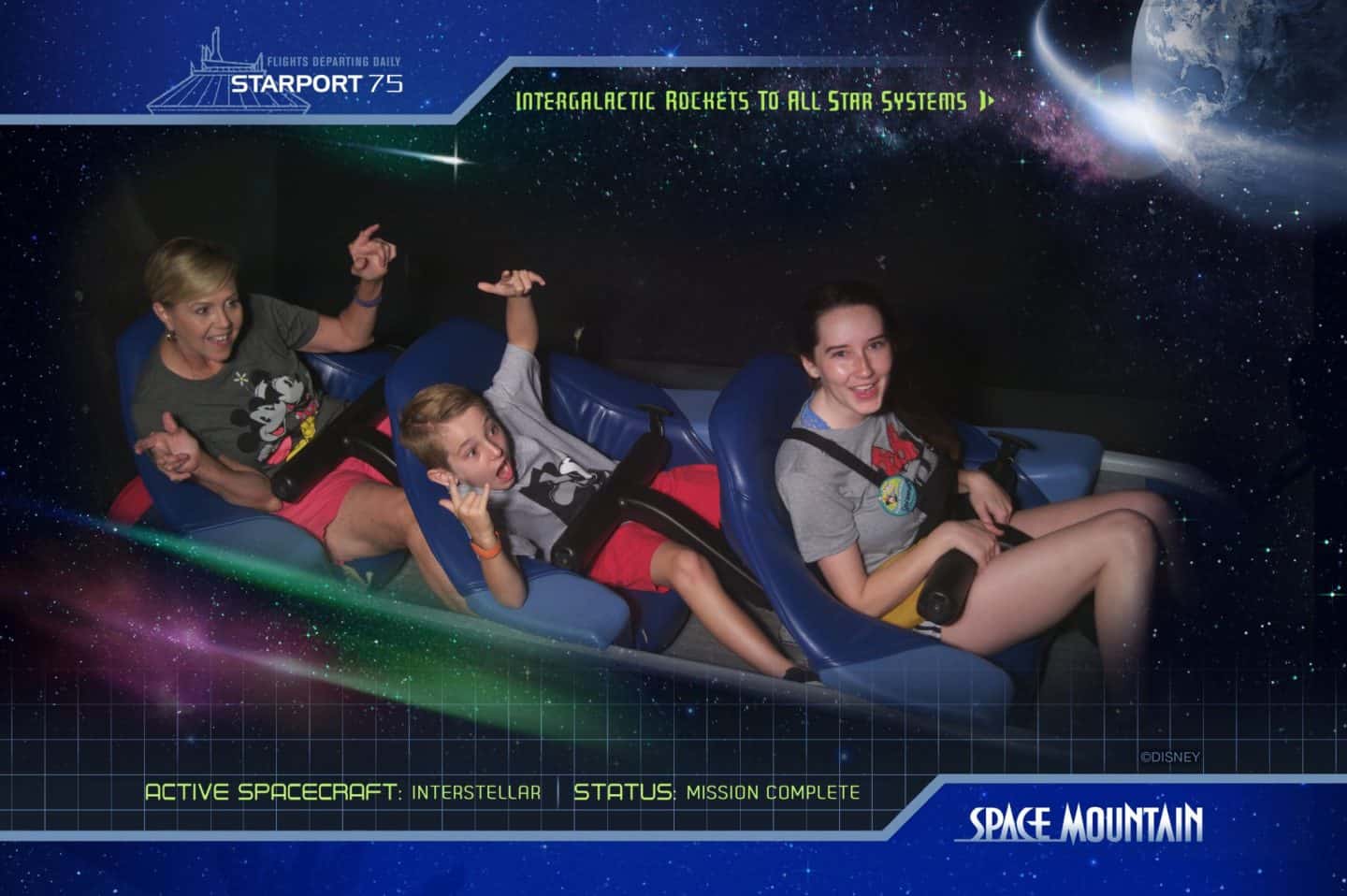 Oh Britt. When will she just admit that she does NOT like thrill rides?!?!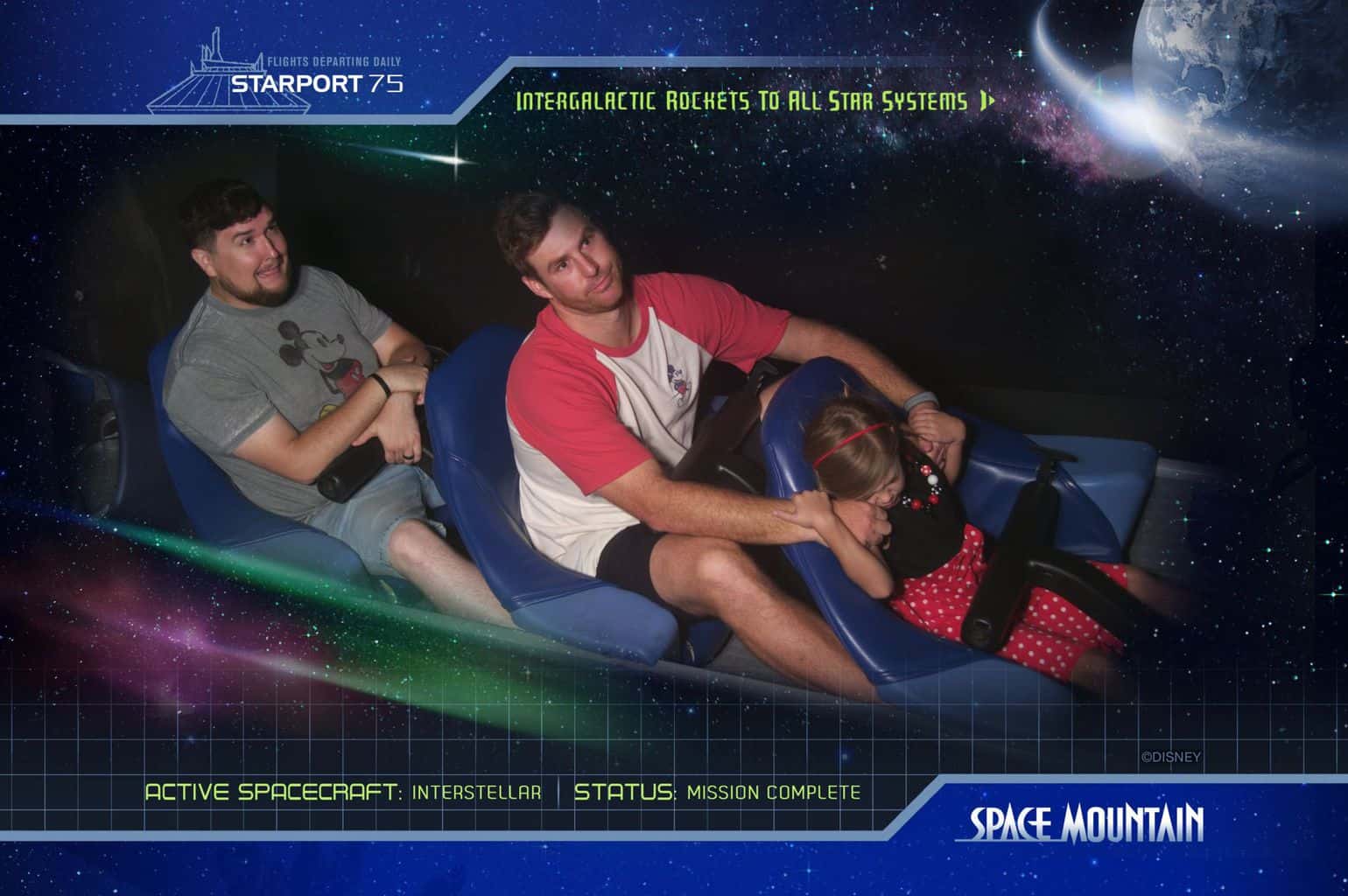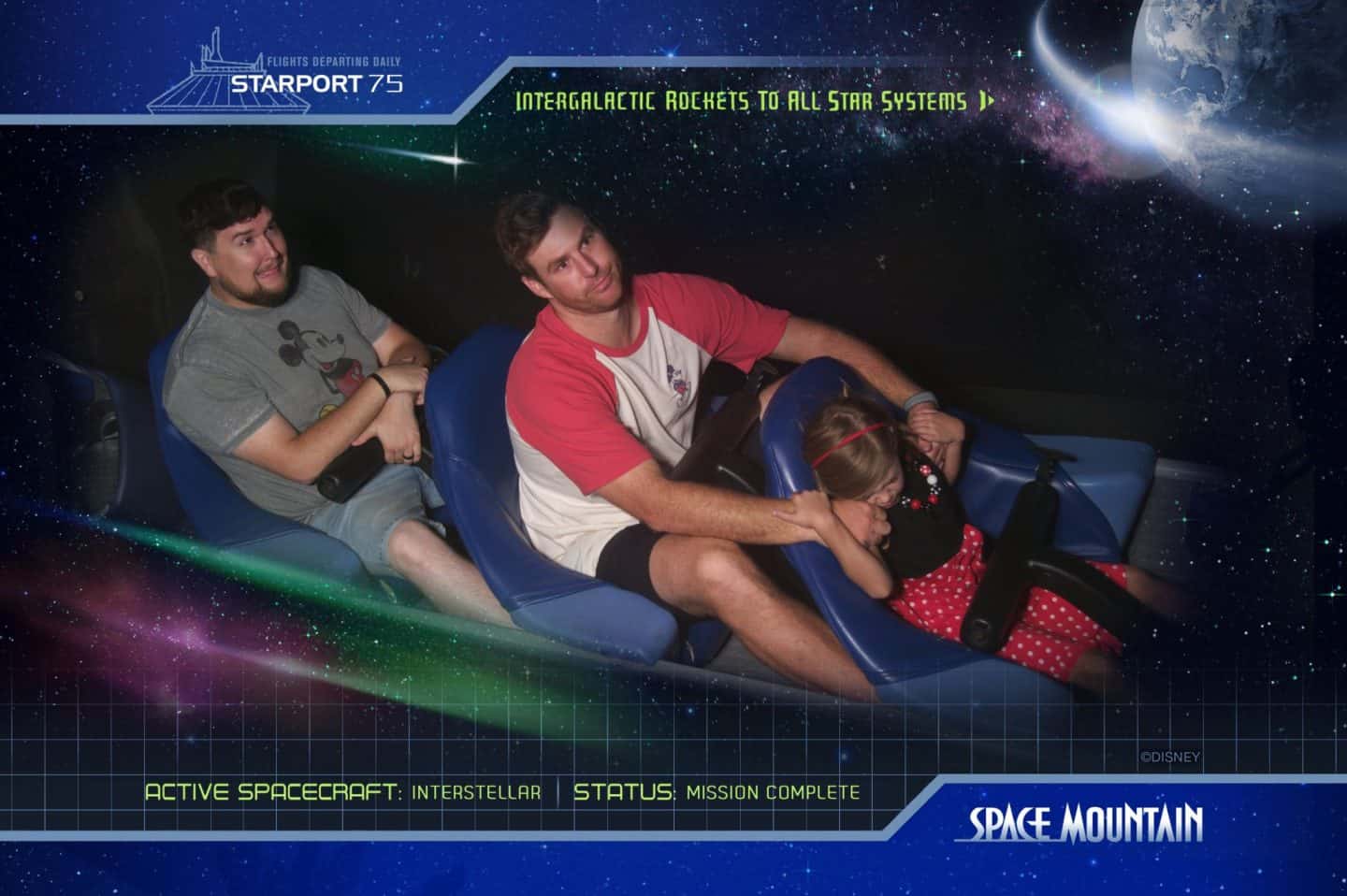 People Mover Morning!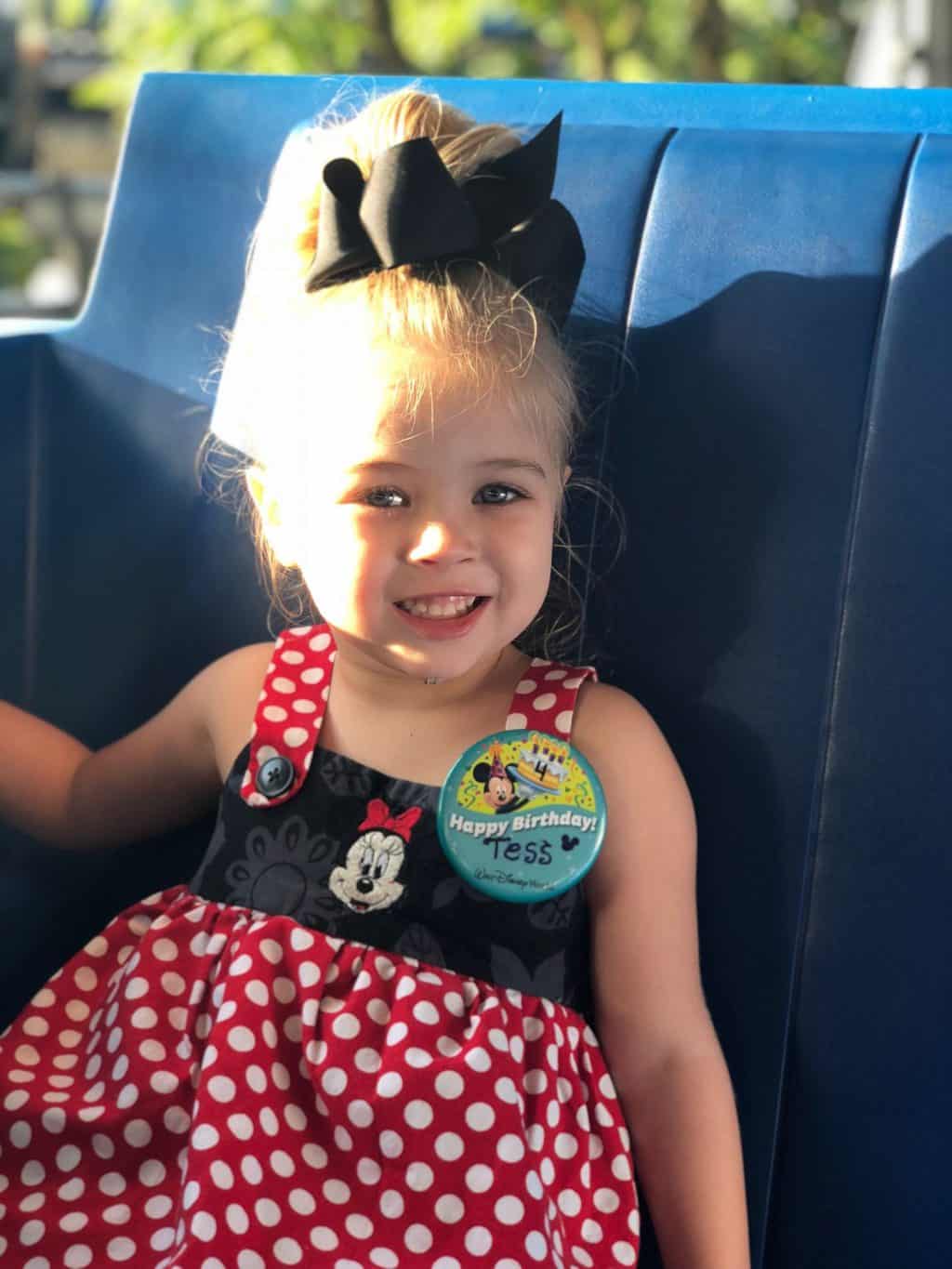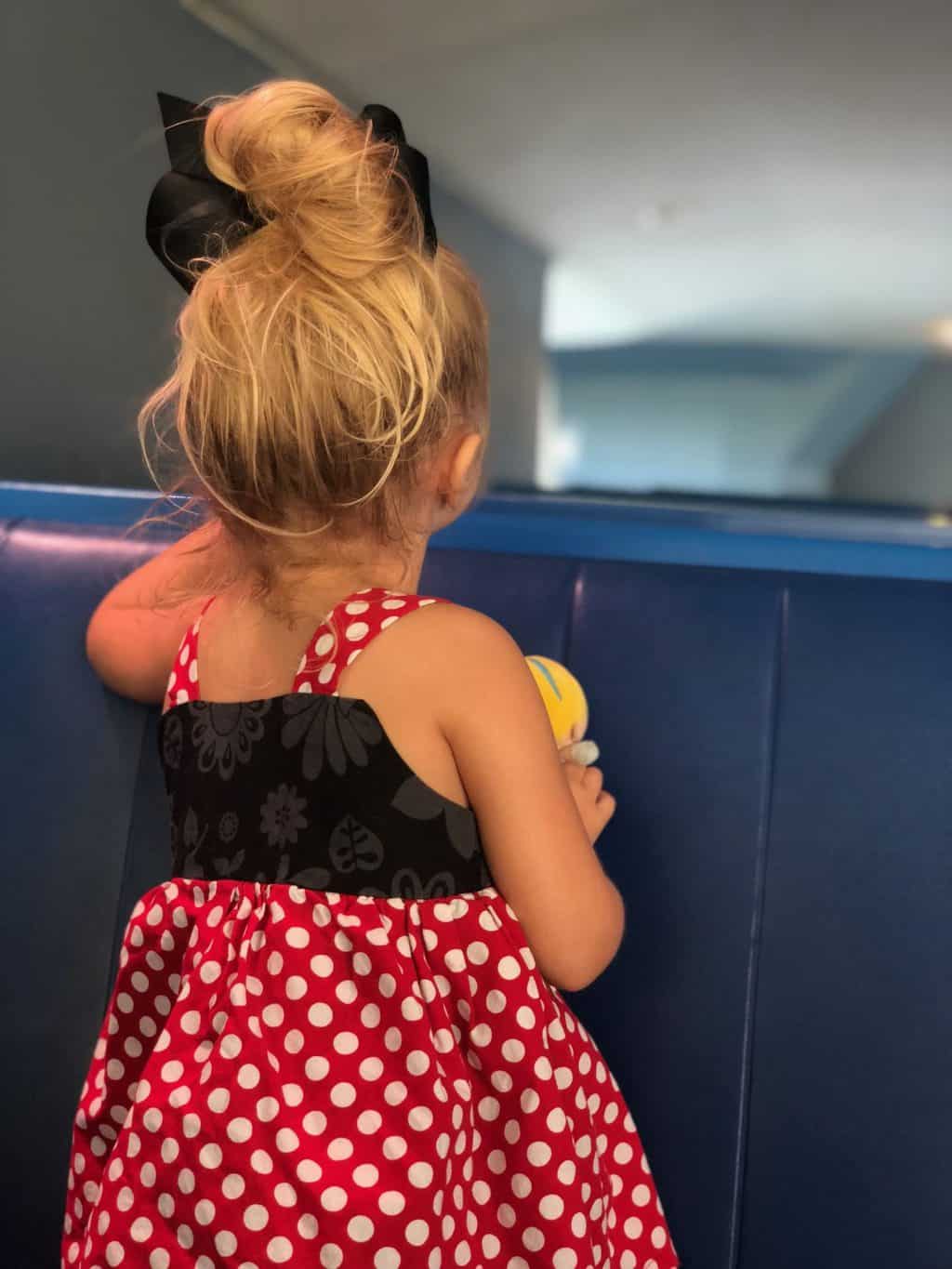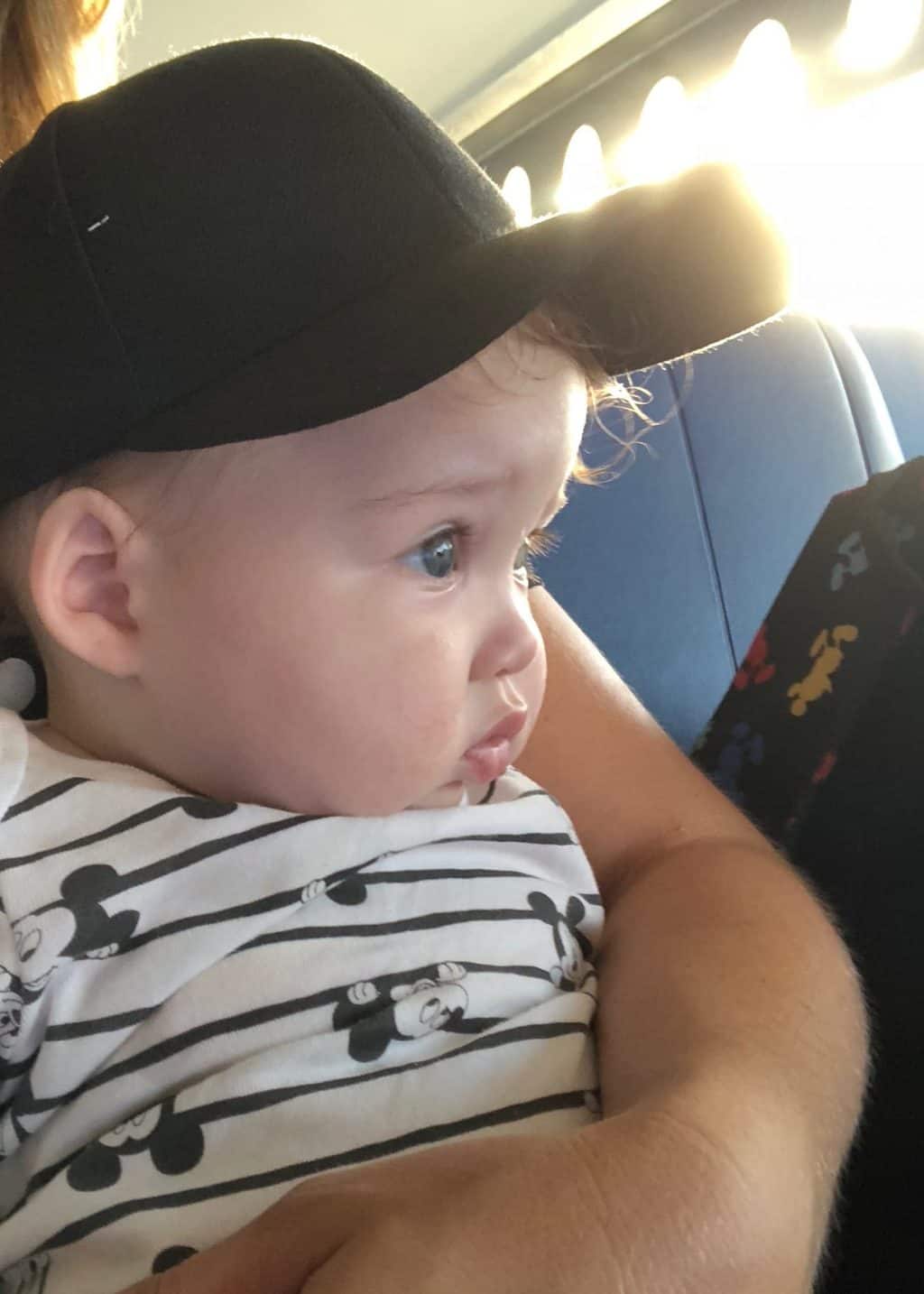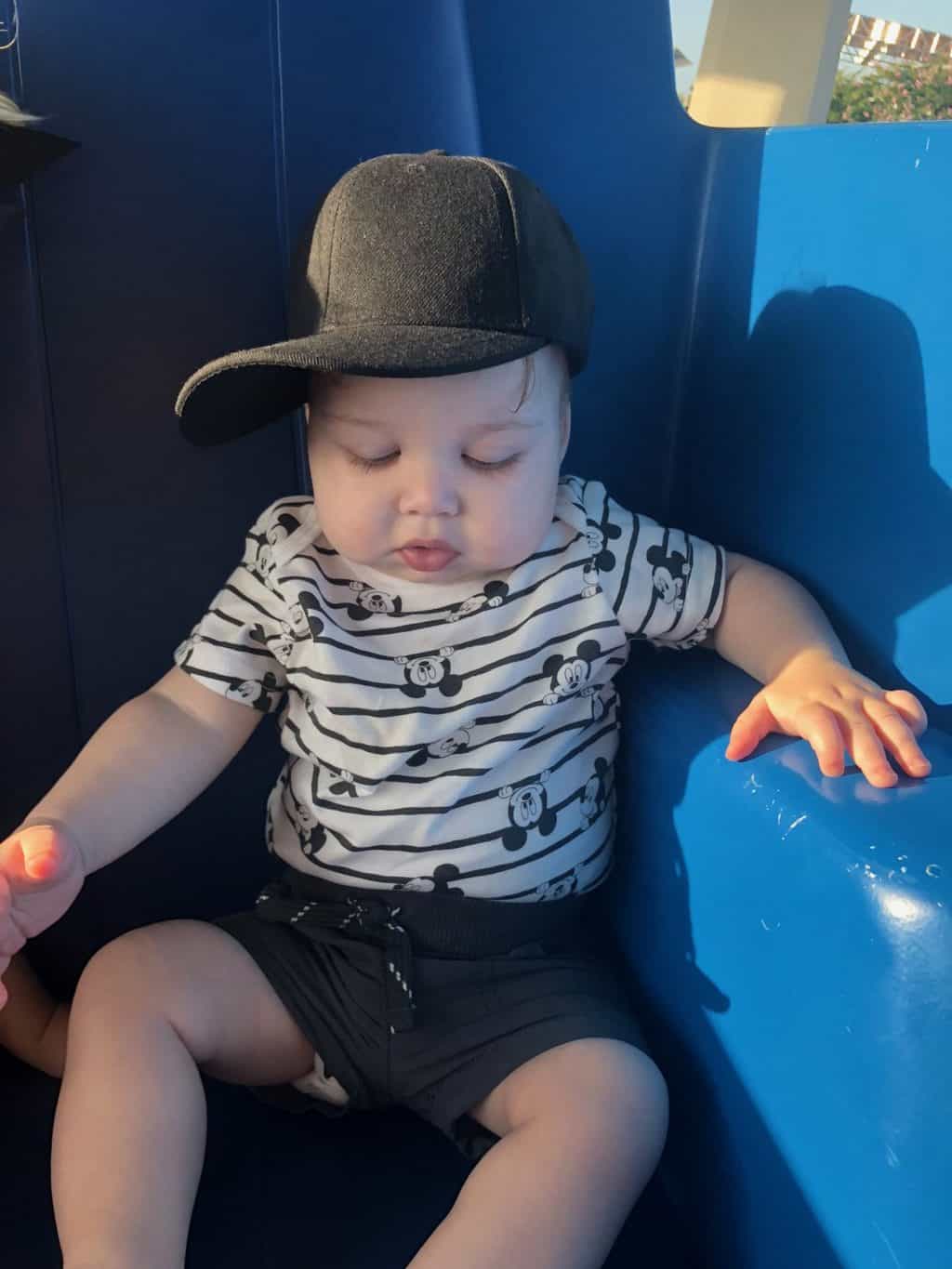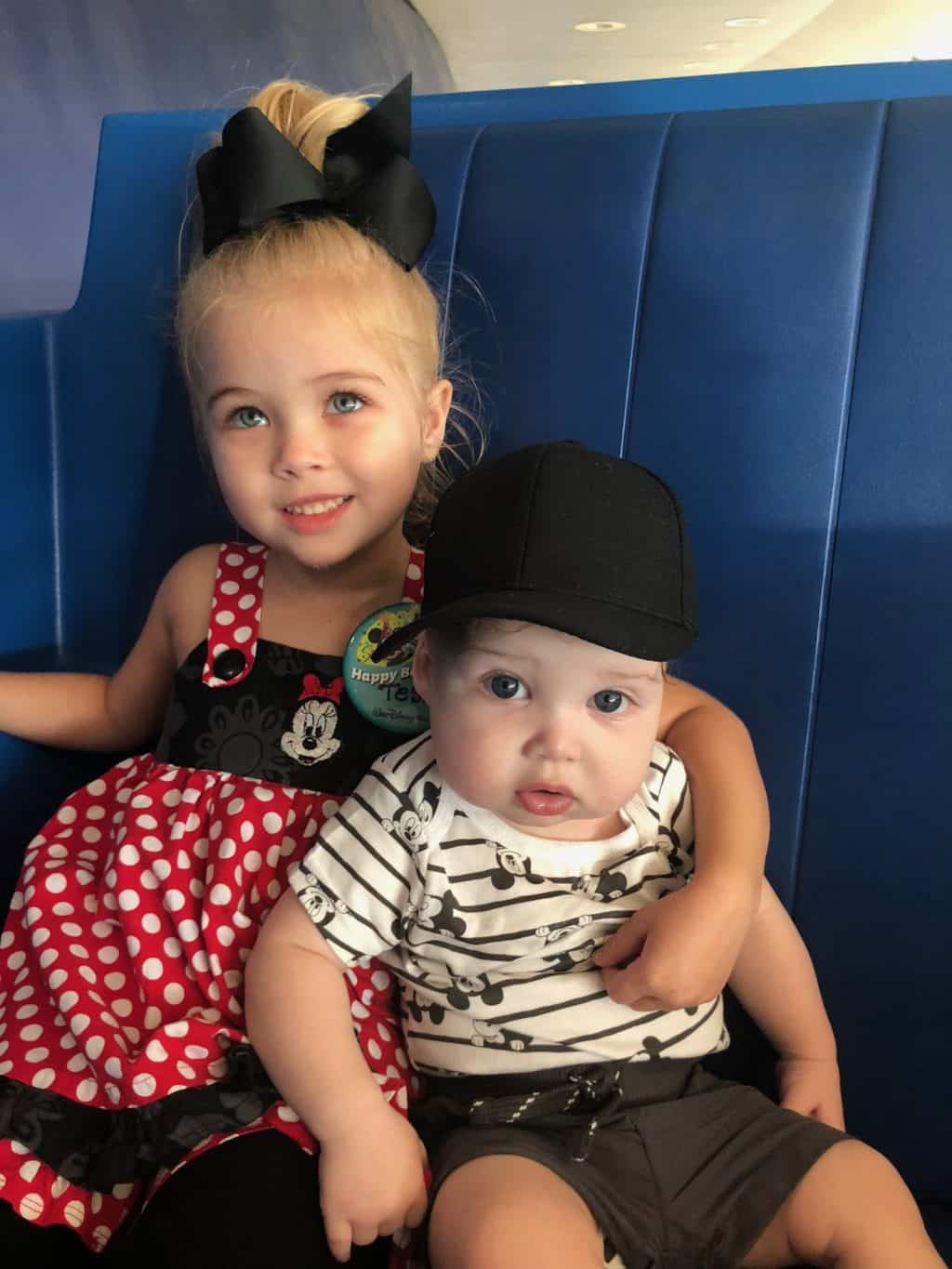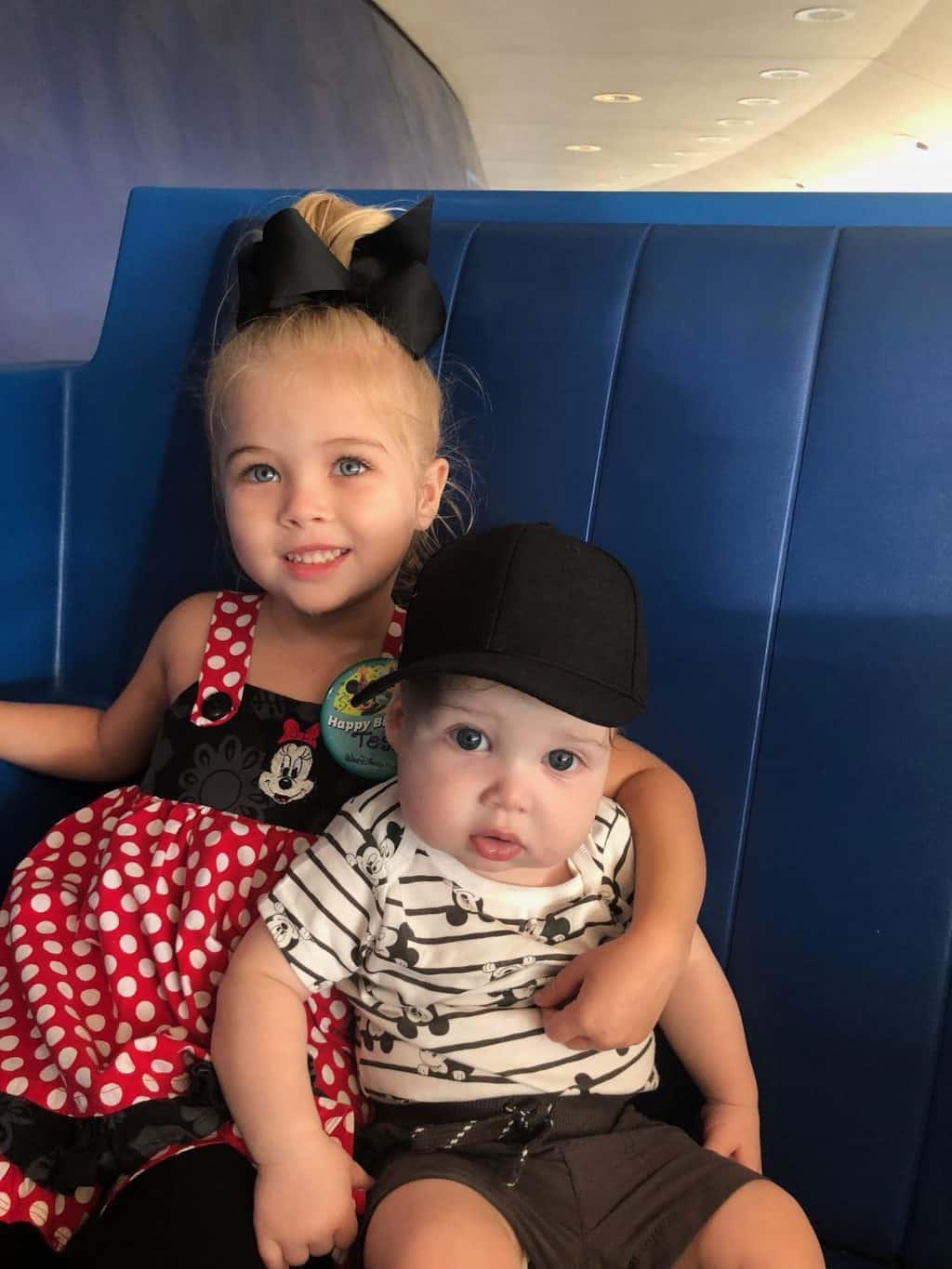 Even after their Space Mountain time and having to wait on us because People Mover broke down (I was slightly panicky about being up that high at a complete stop with a baby!!!) we still were able to just walk on Buzz and were able to ride it back to back with no wait! Spear is going to be a pro by the time he's able to actually play 😉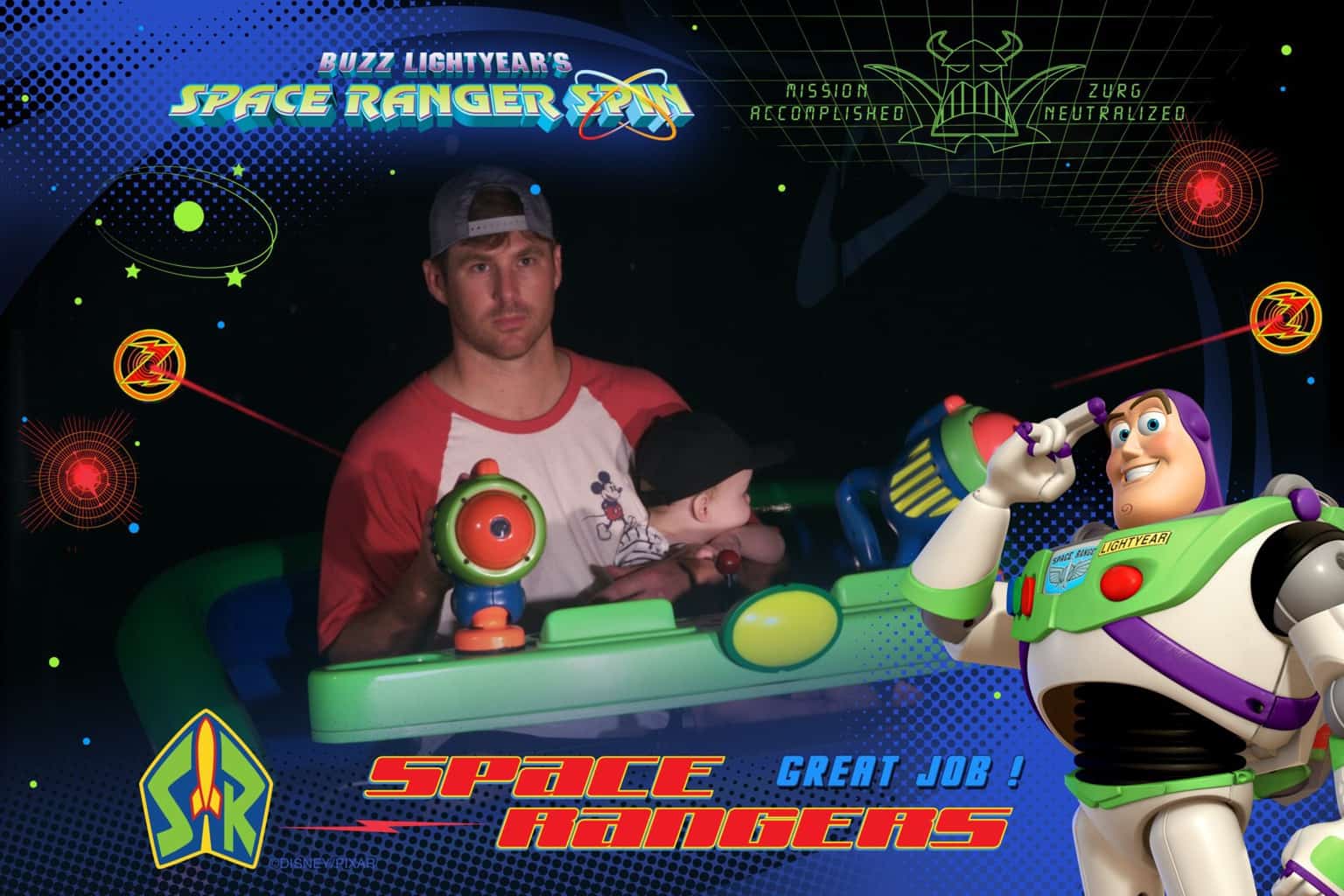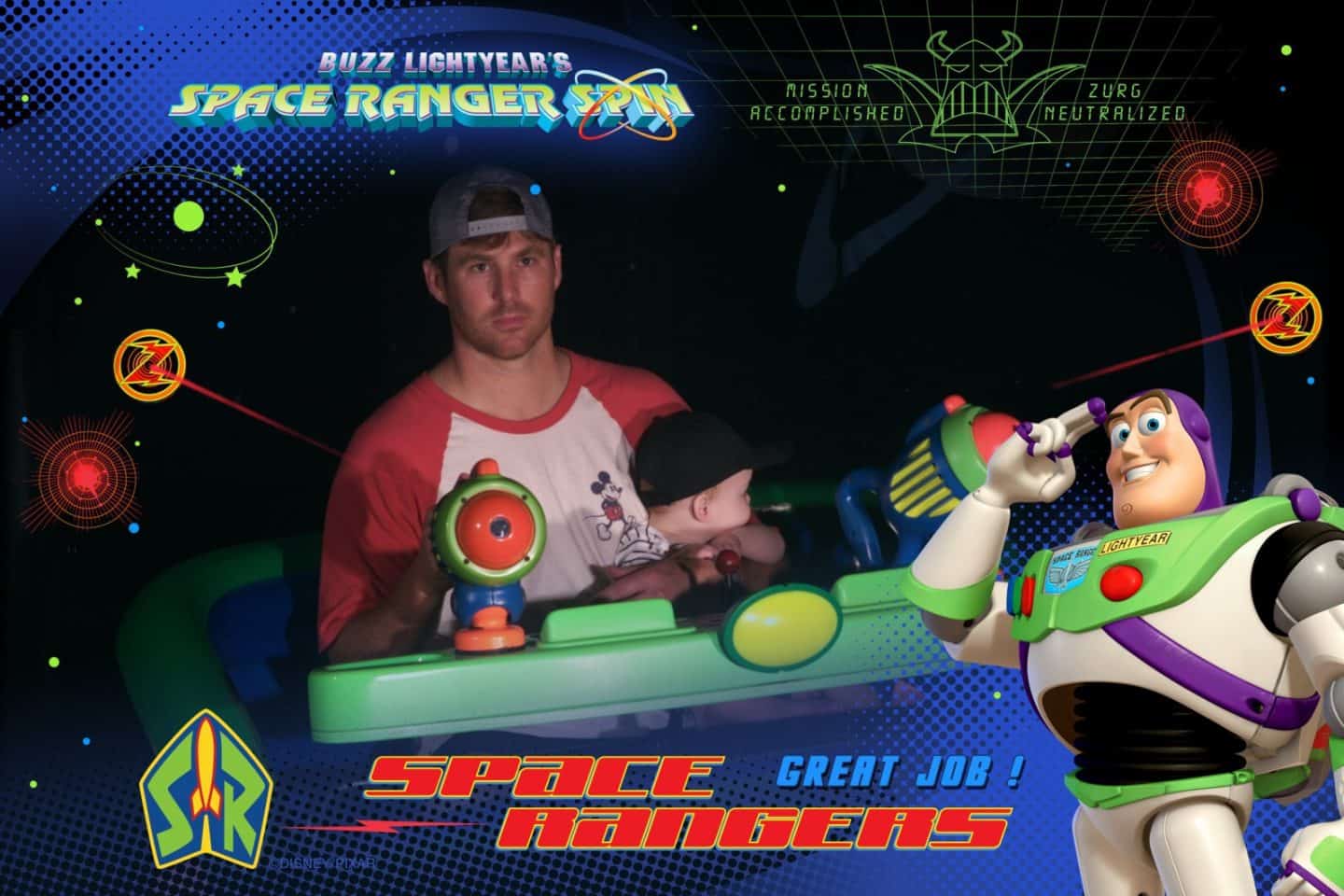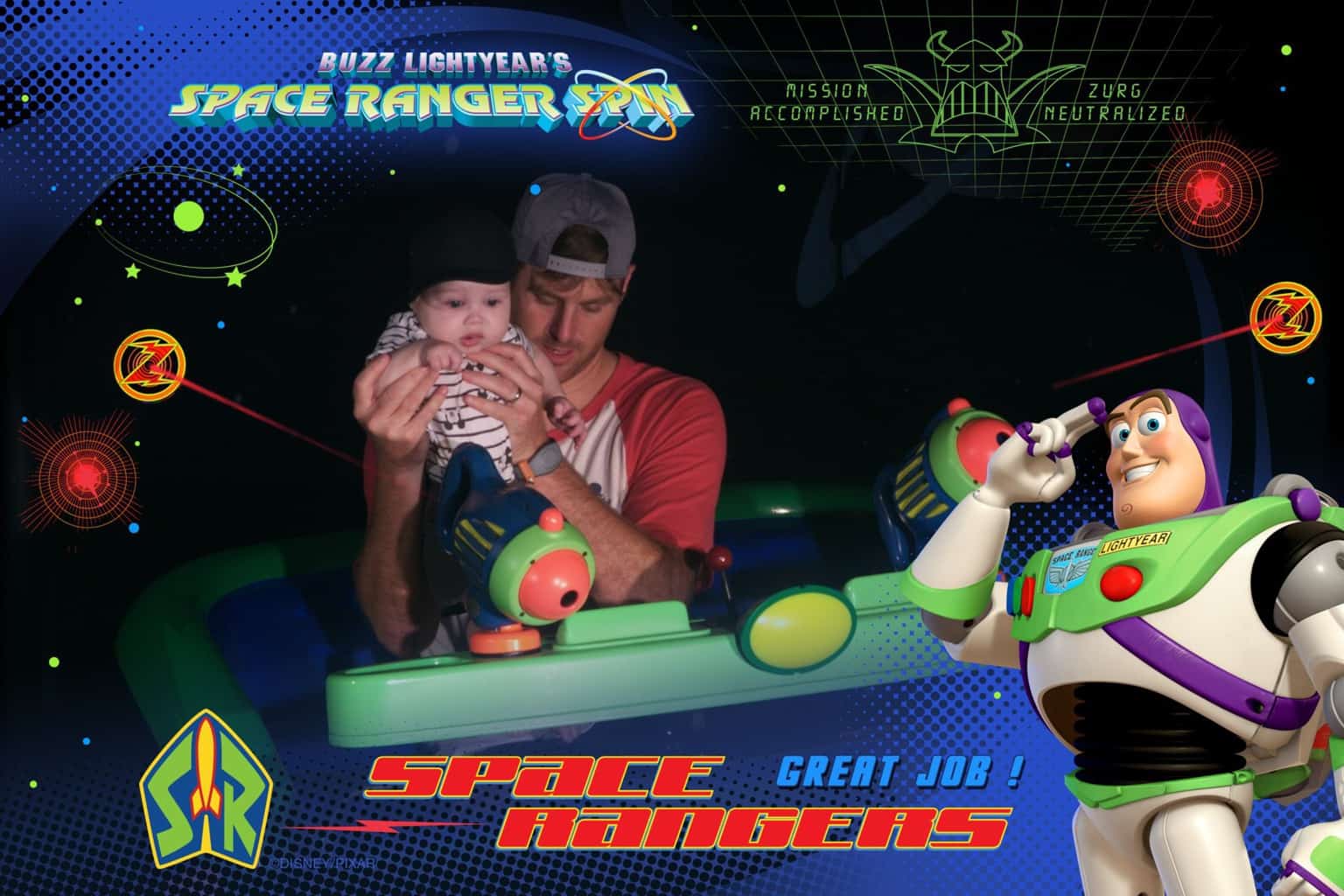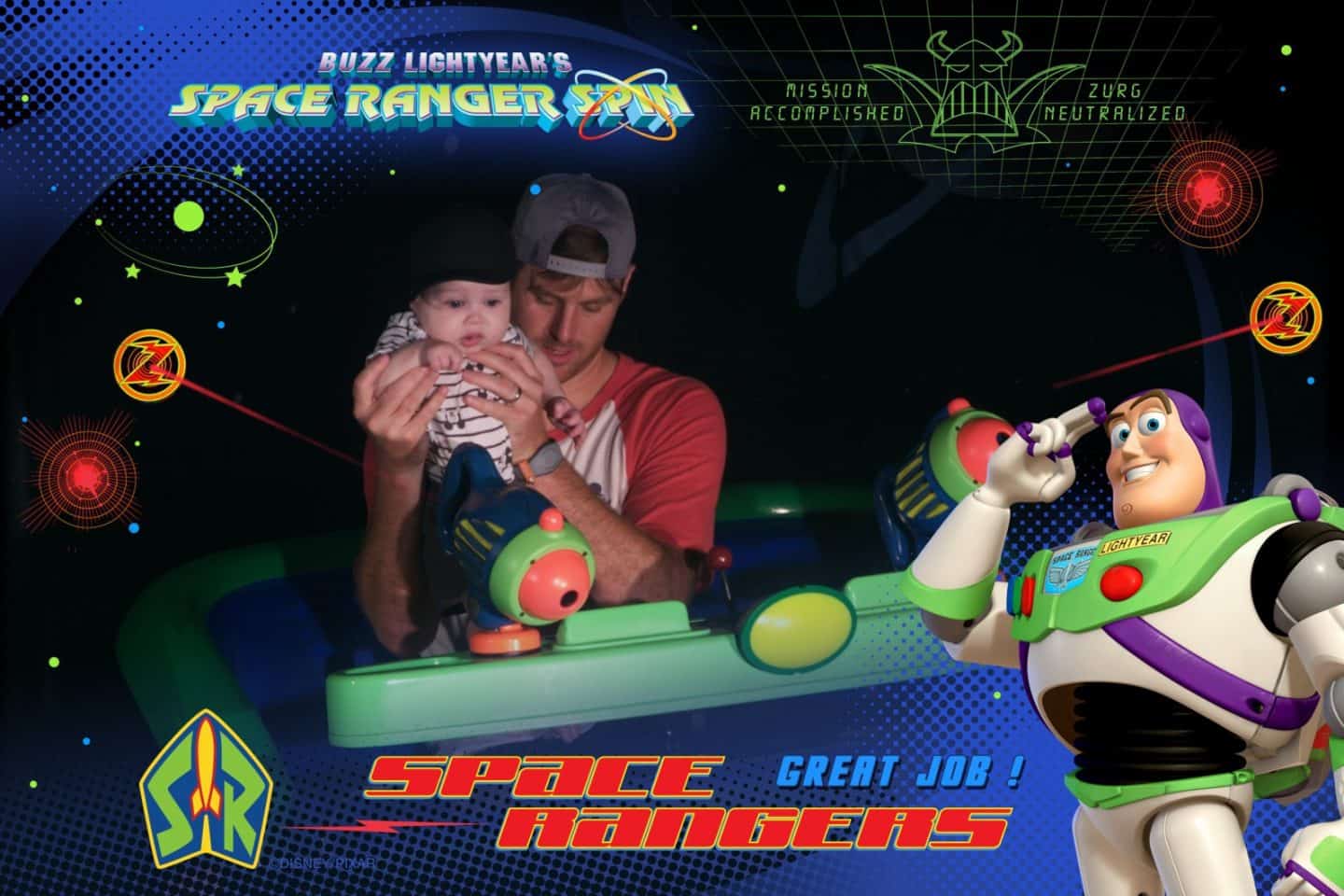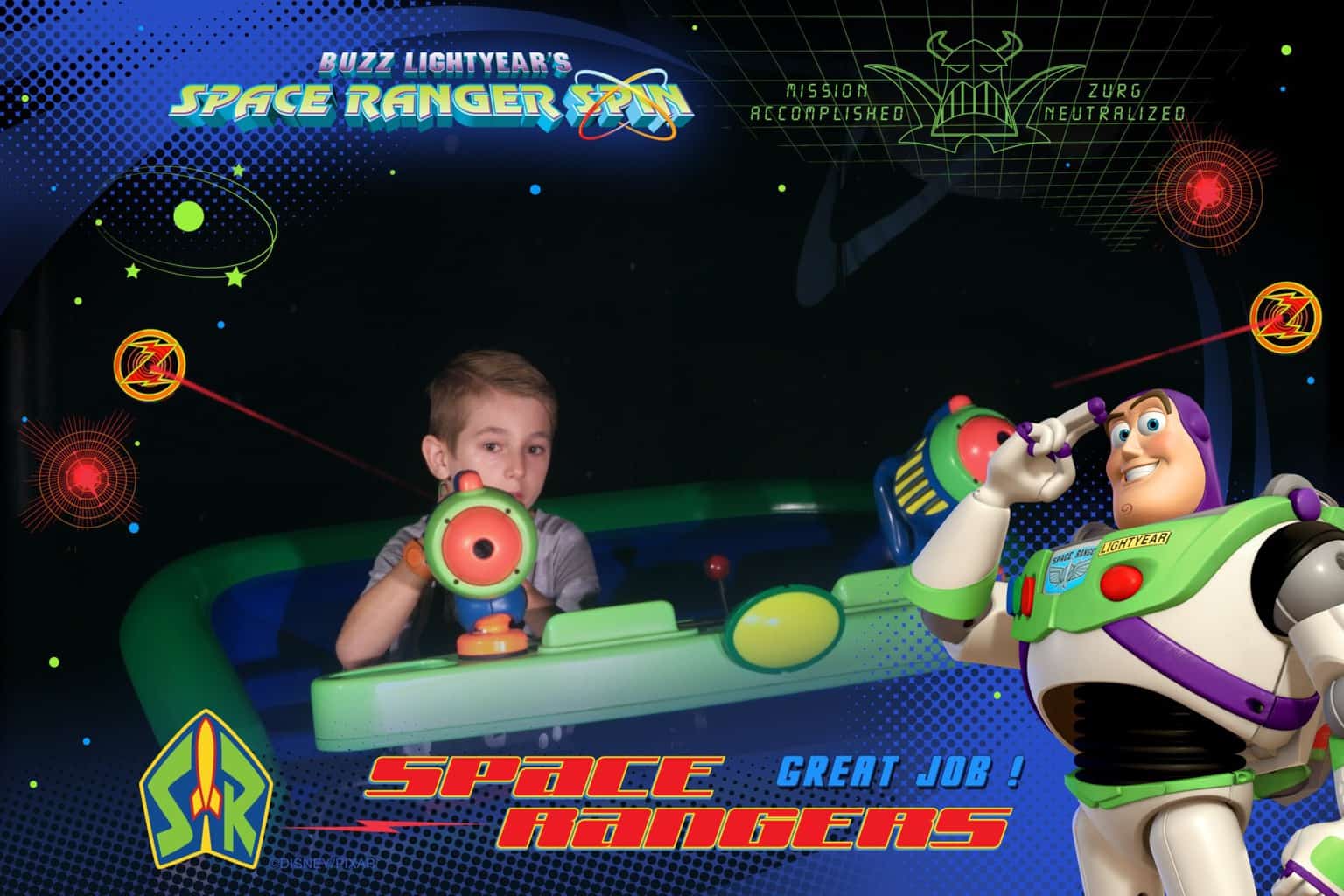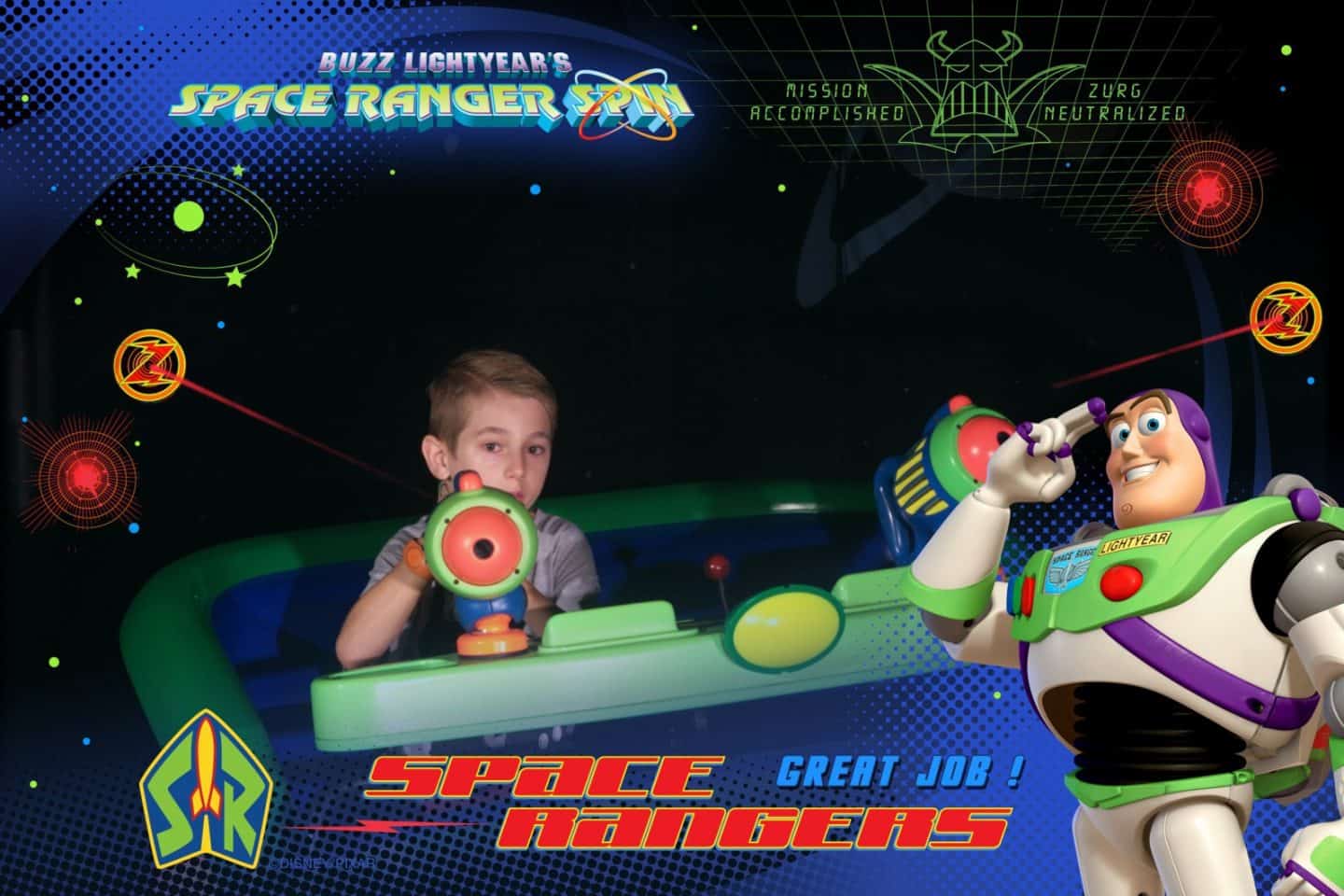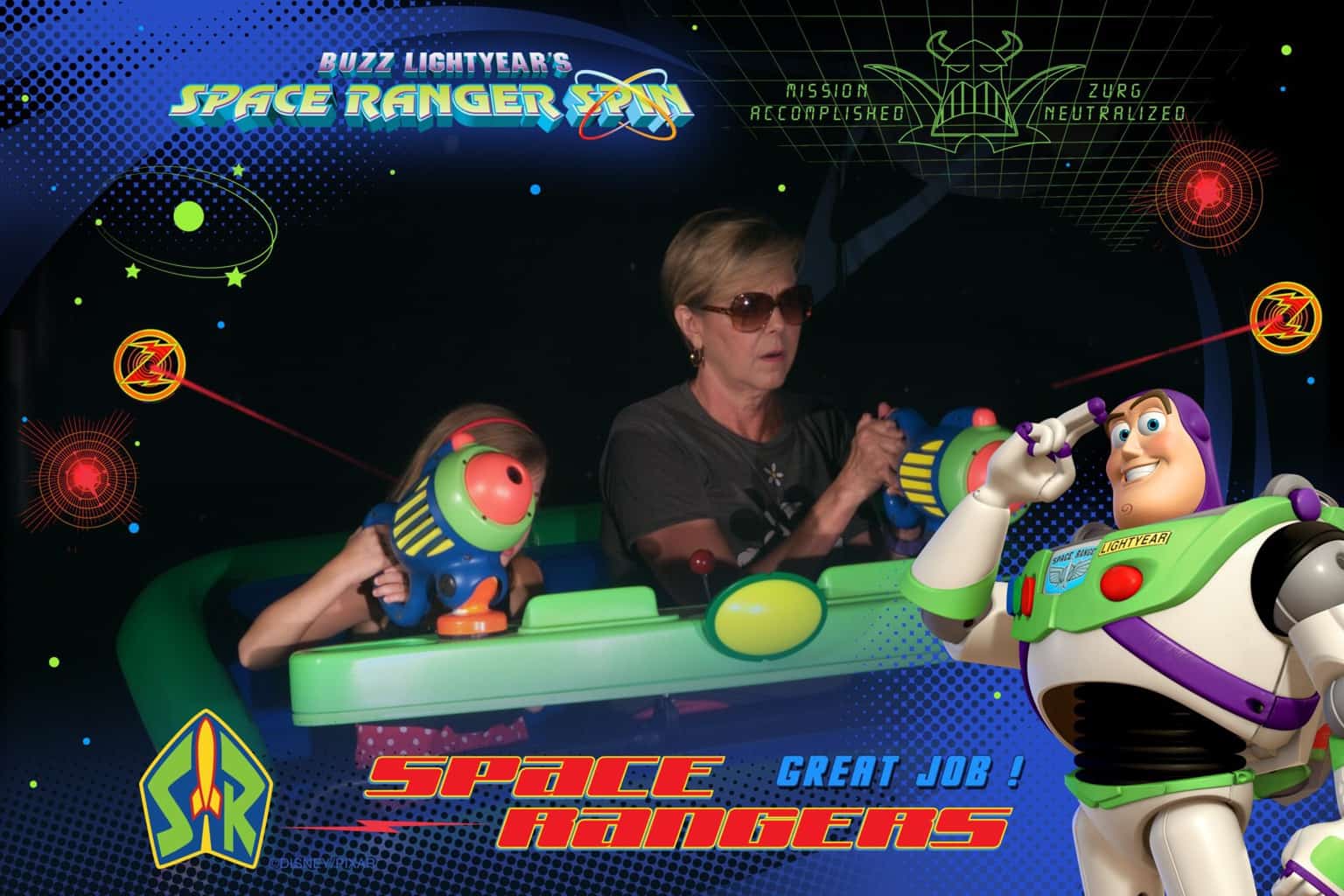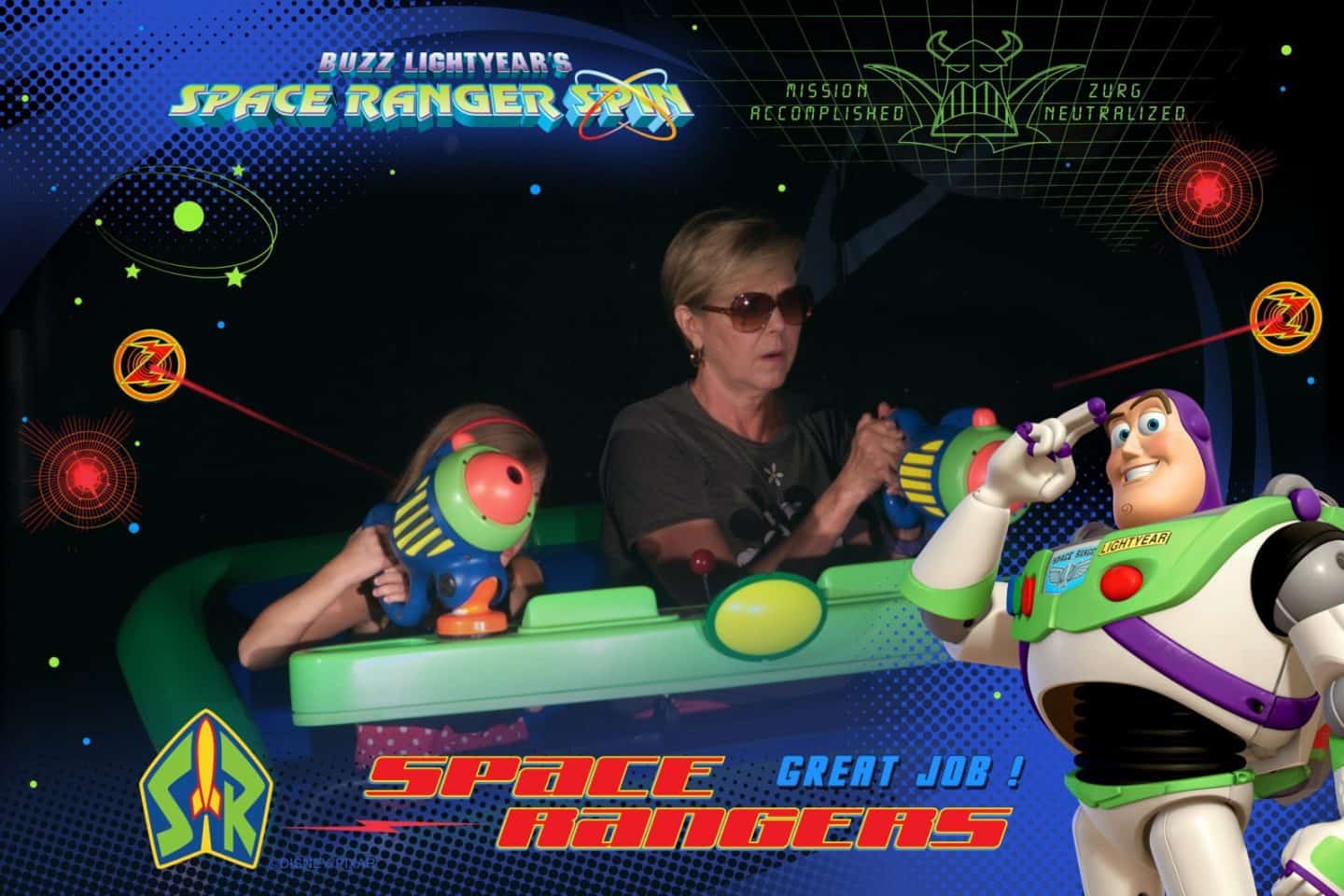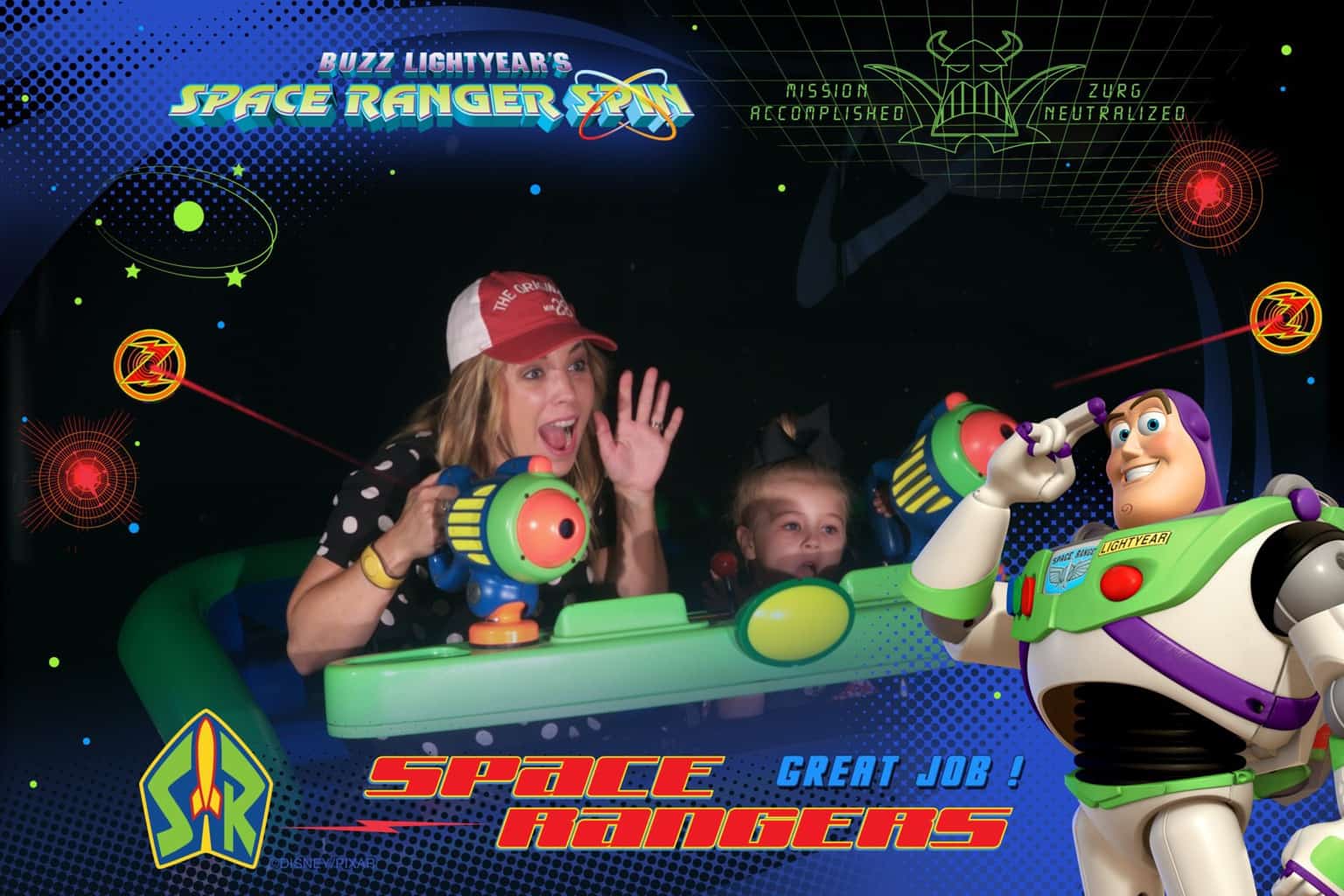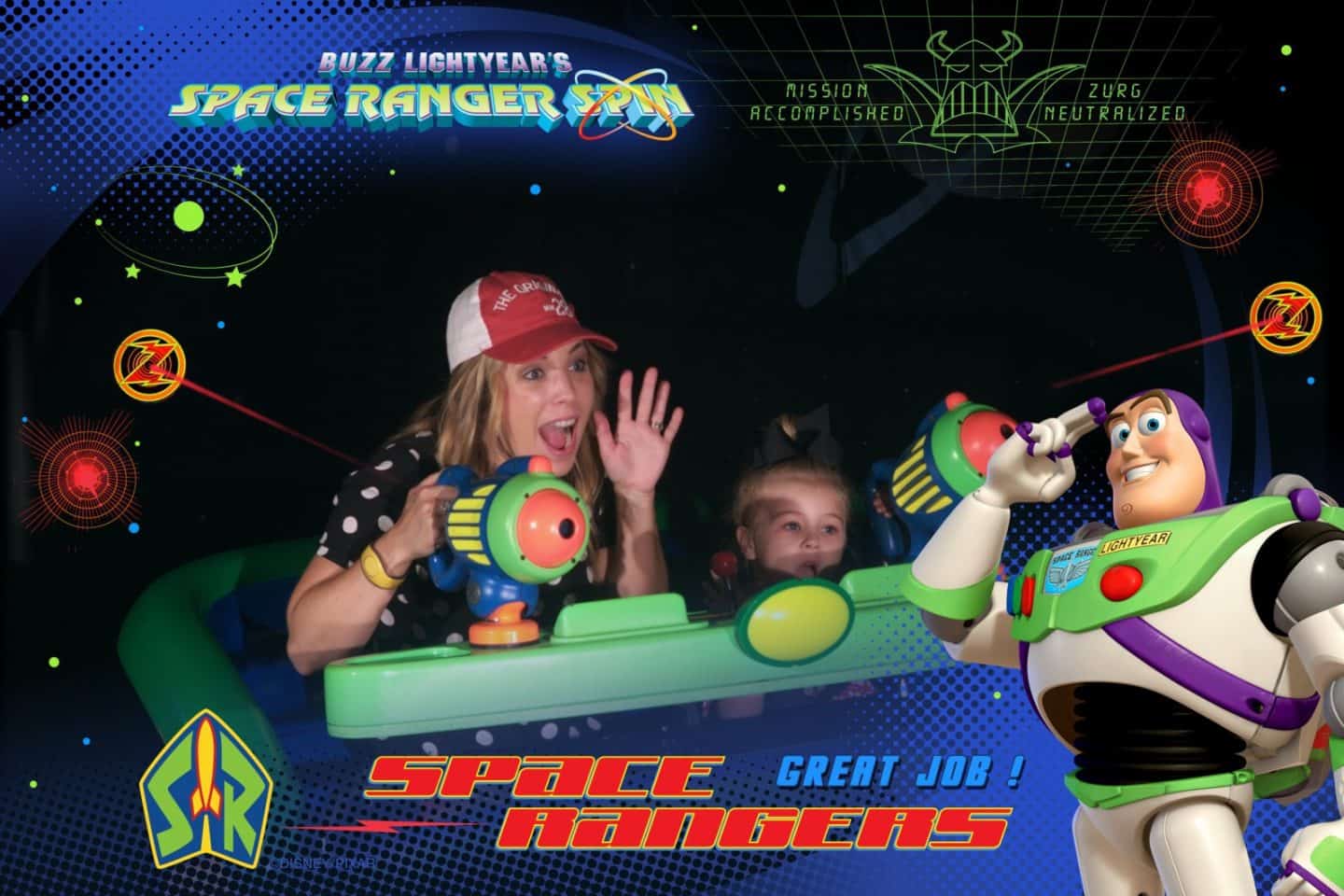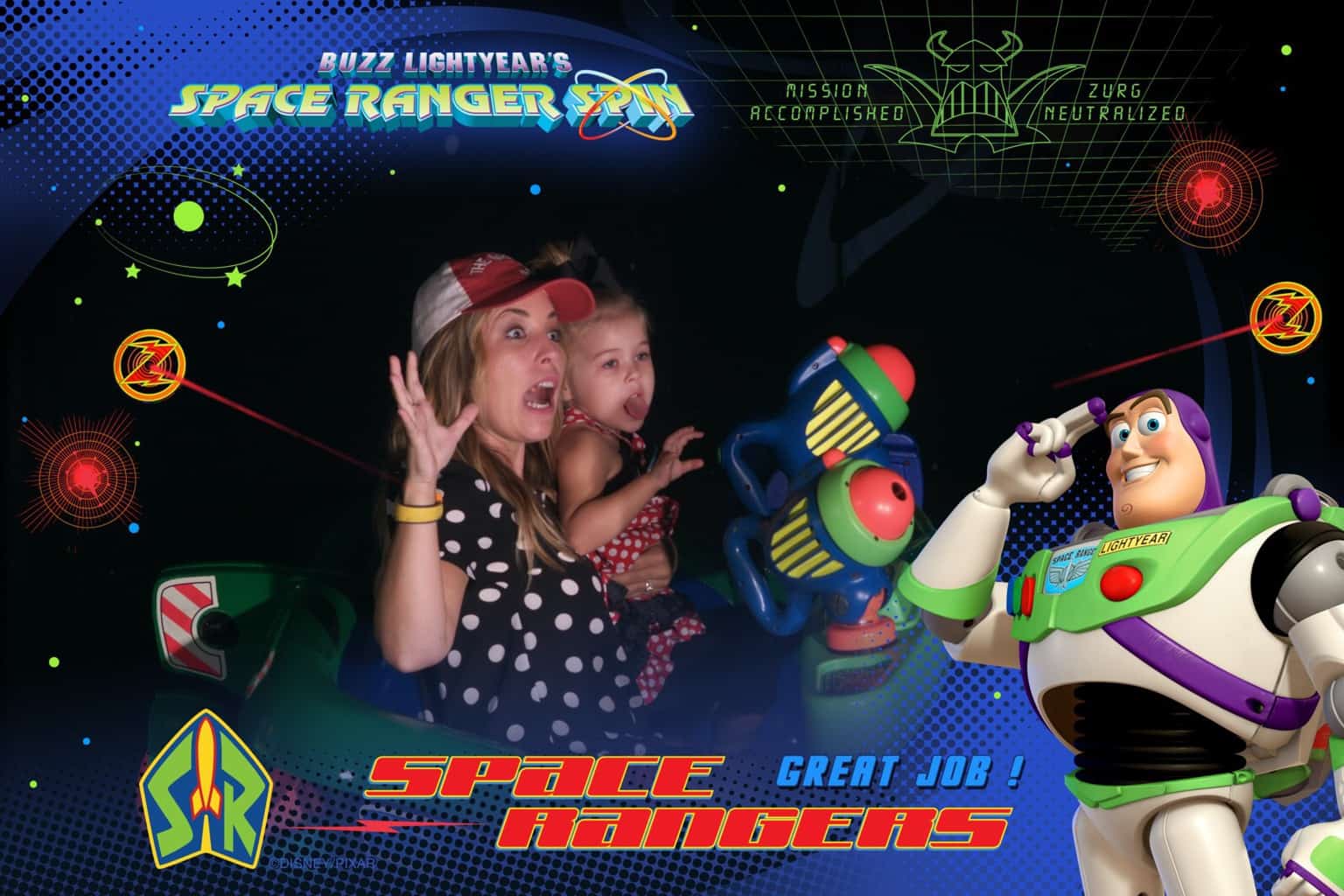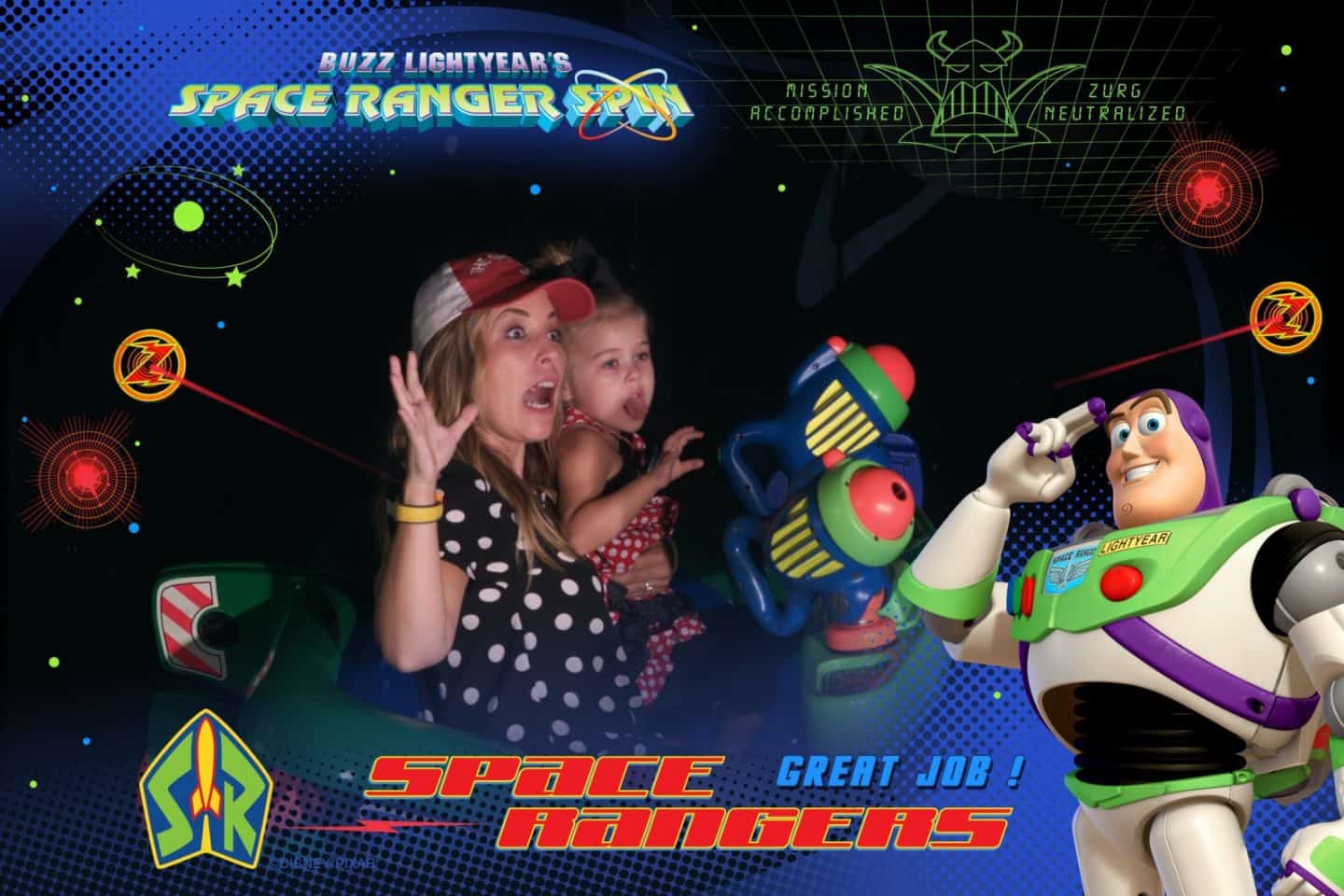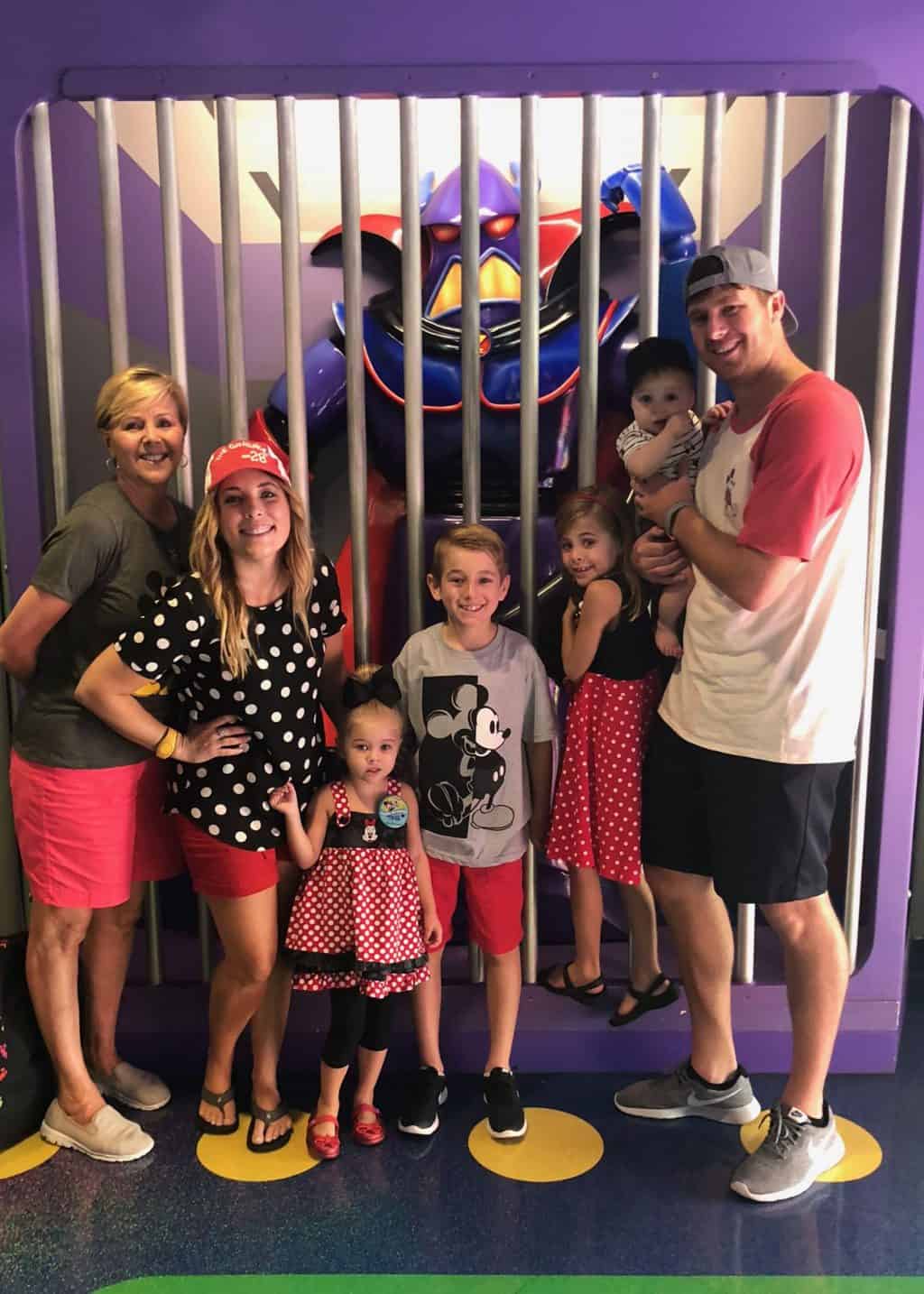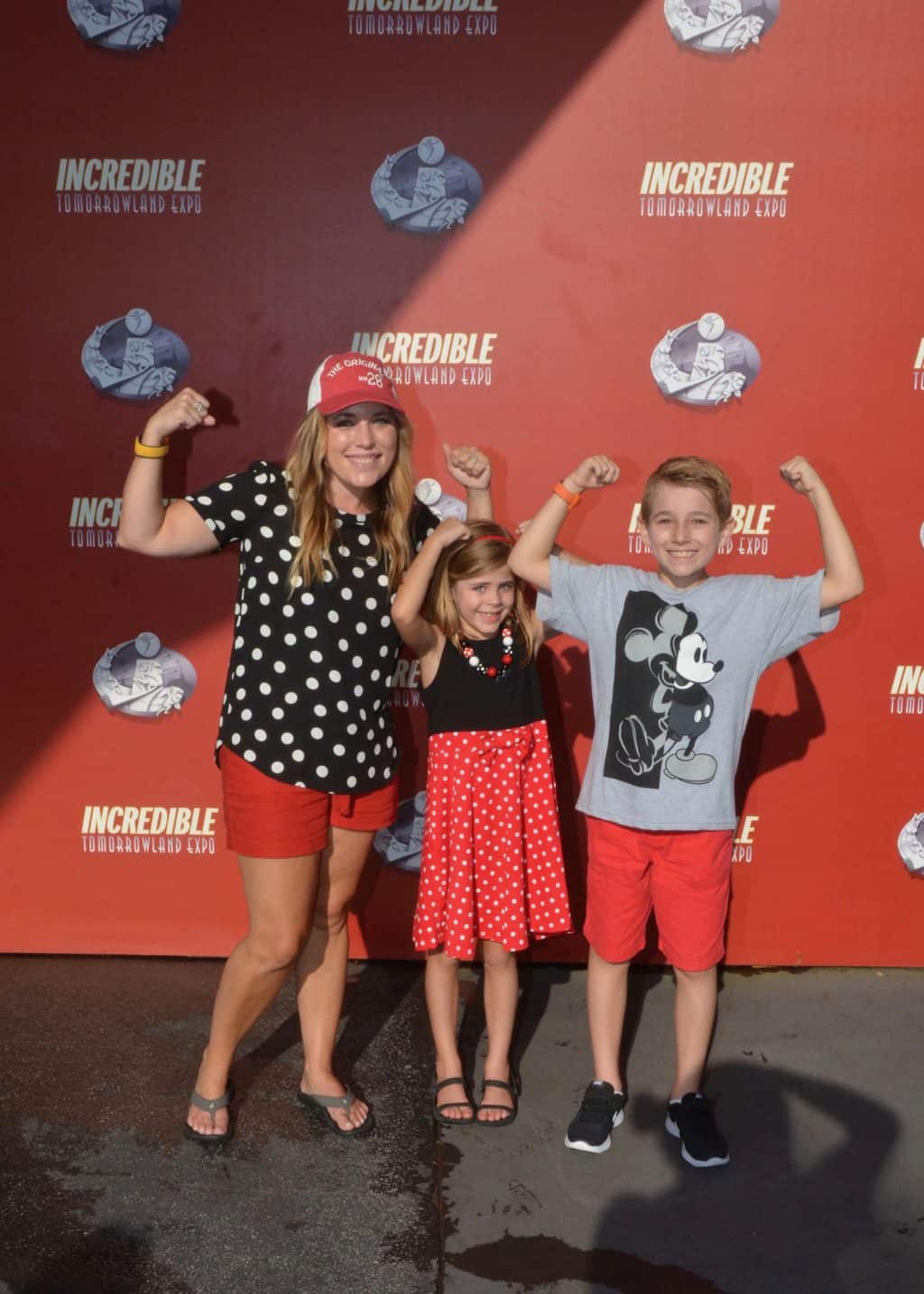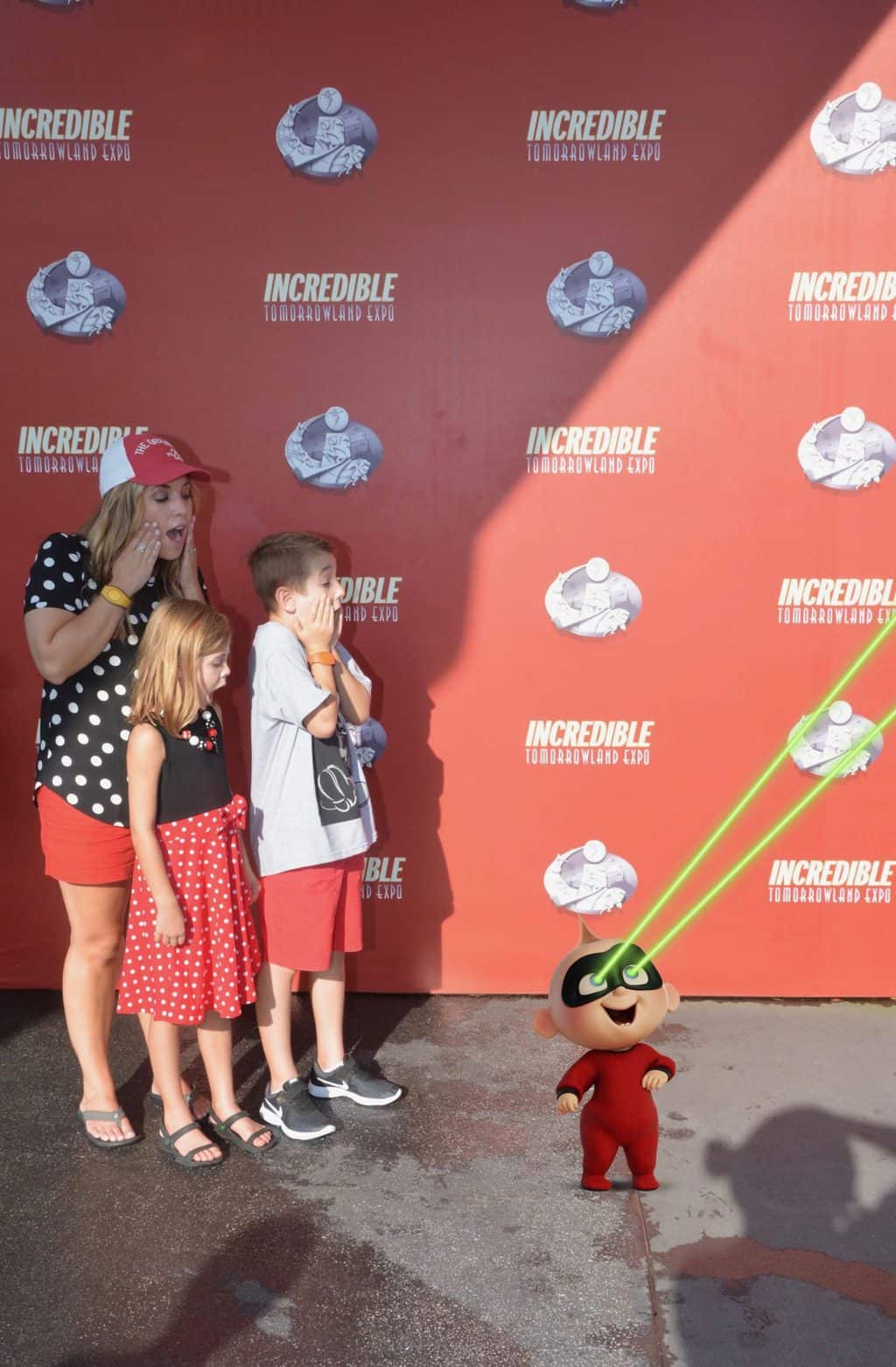 We haven't done Dumbo in awhile and it's a great ride that everyone can enjoy together – plus I thought it would be fun for Mrs Charlotte to get to ride with Spear!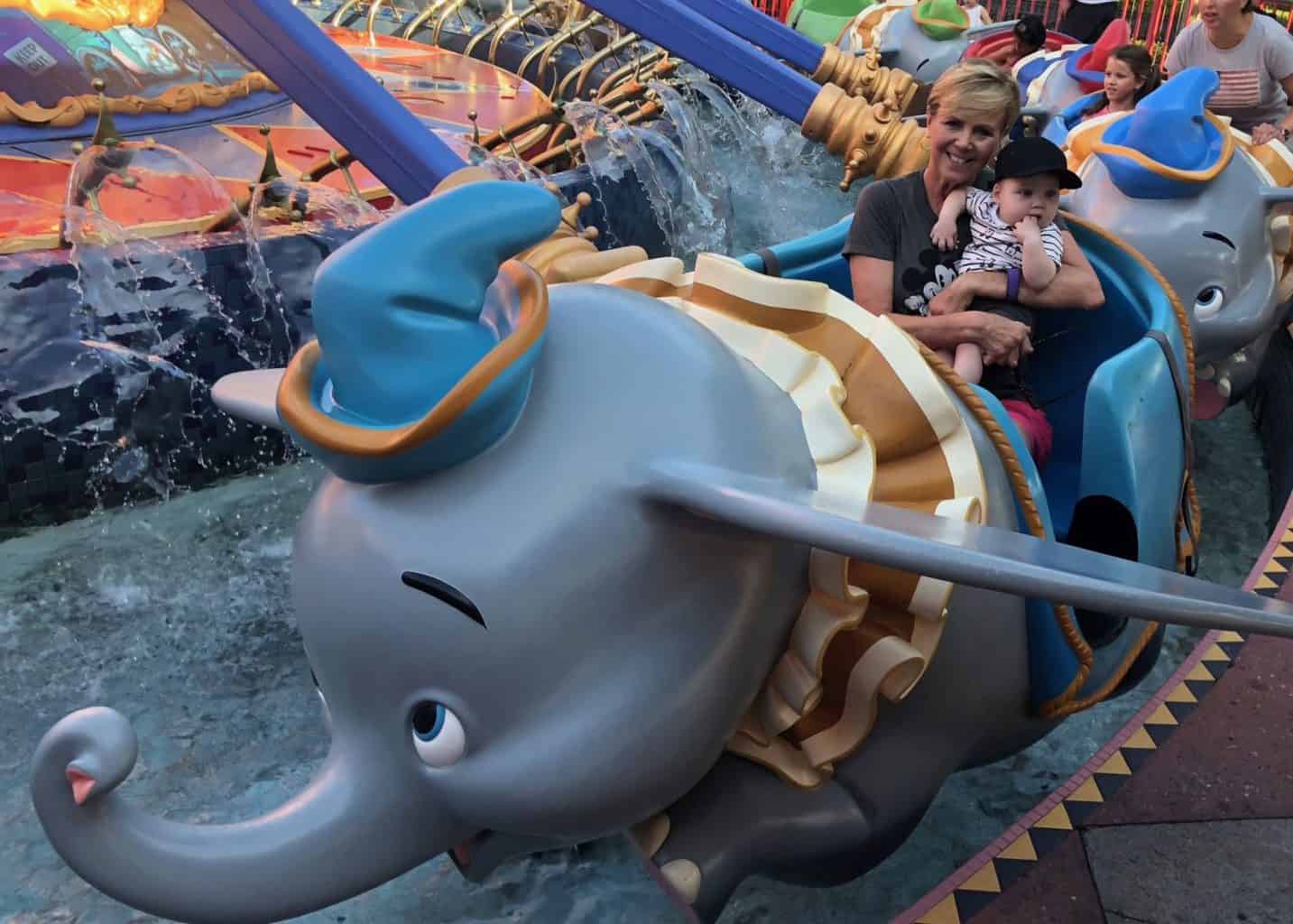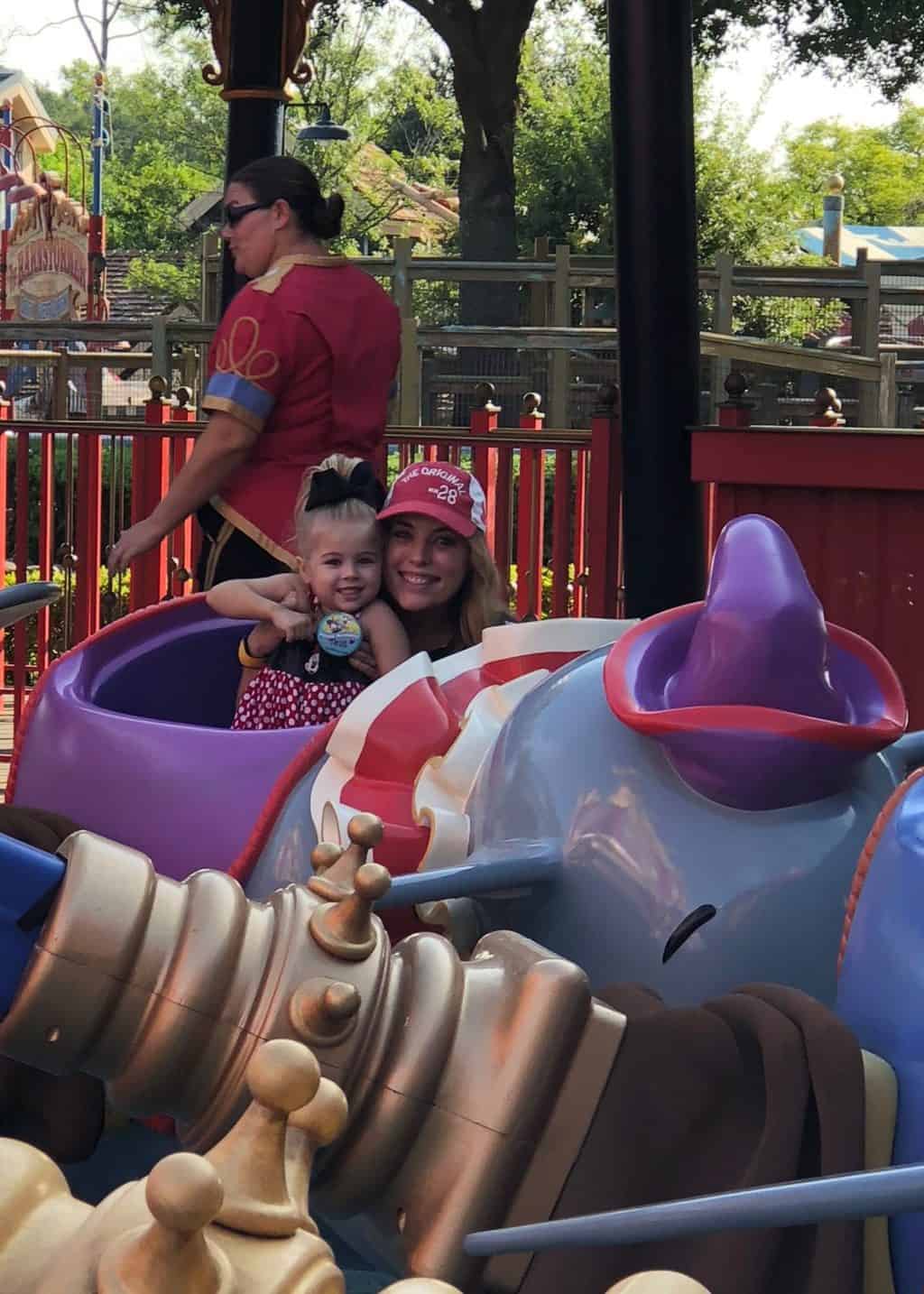 We are all SO EAGER for Britt to be 7. Poor Kye has to always ride stuff solo! Thankfully he's my introverted kid and doesn't mind having that quiet time to himself. But I still feel bad that he's always stuck on his own!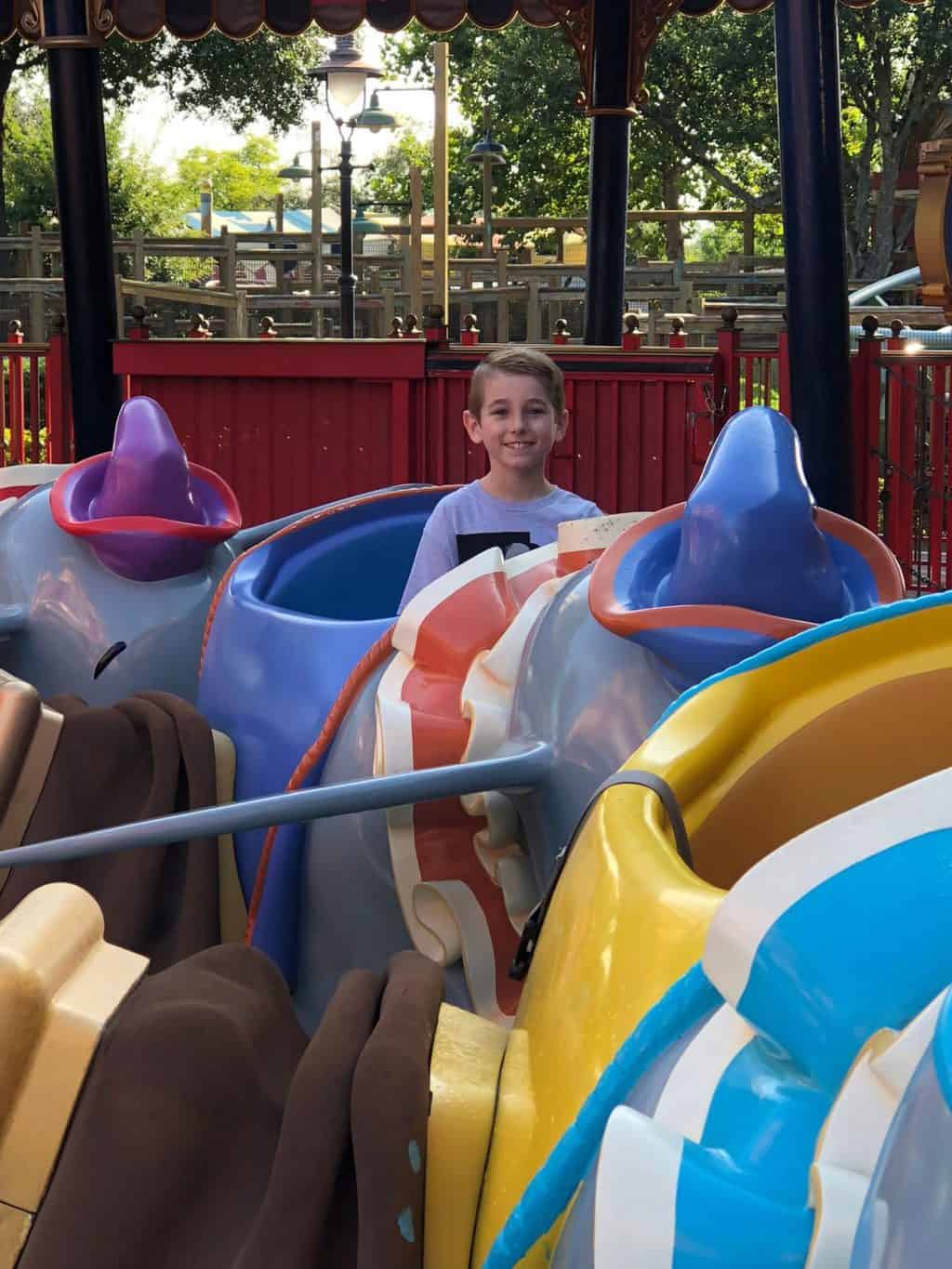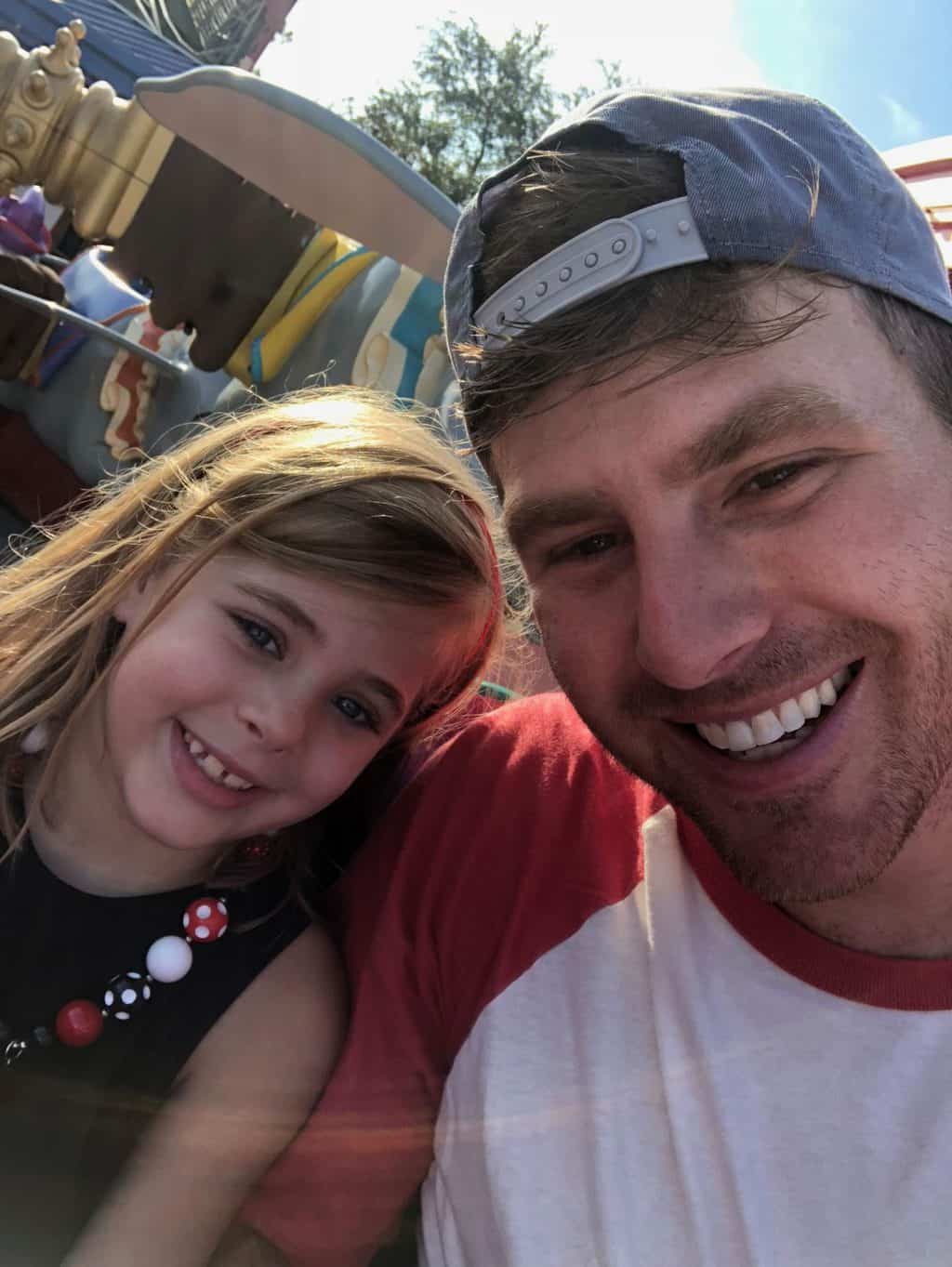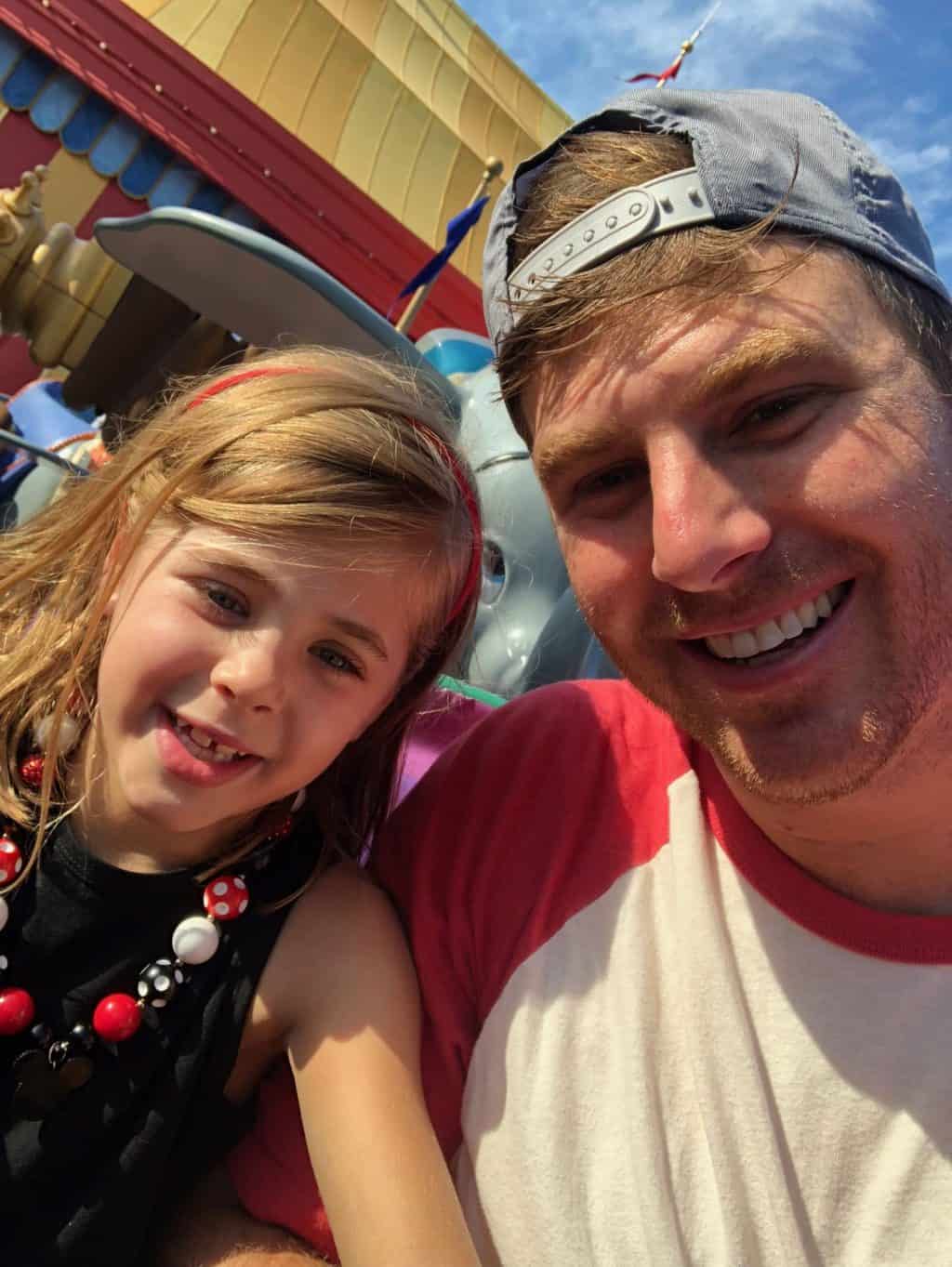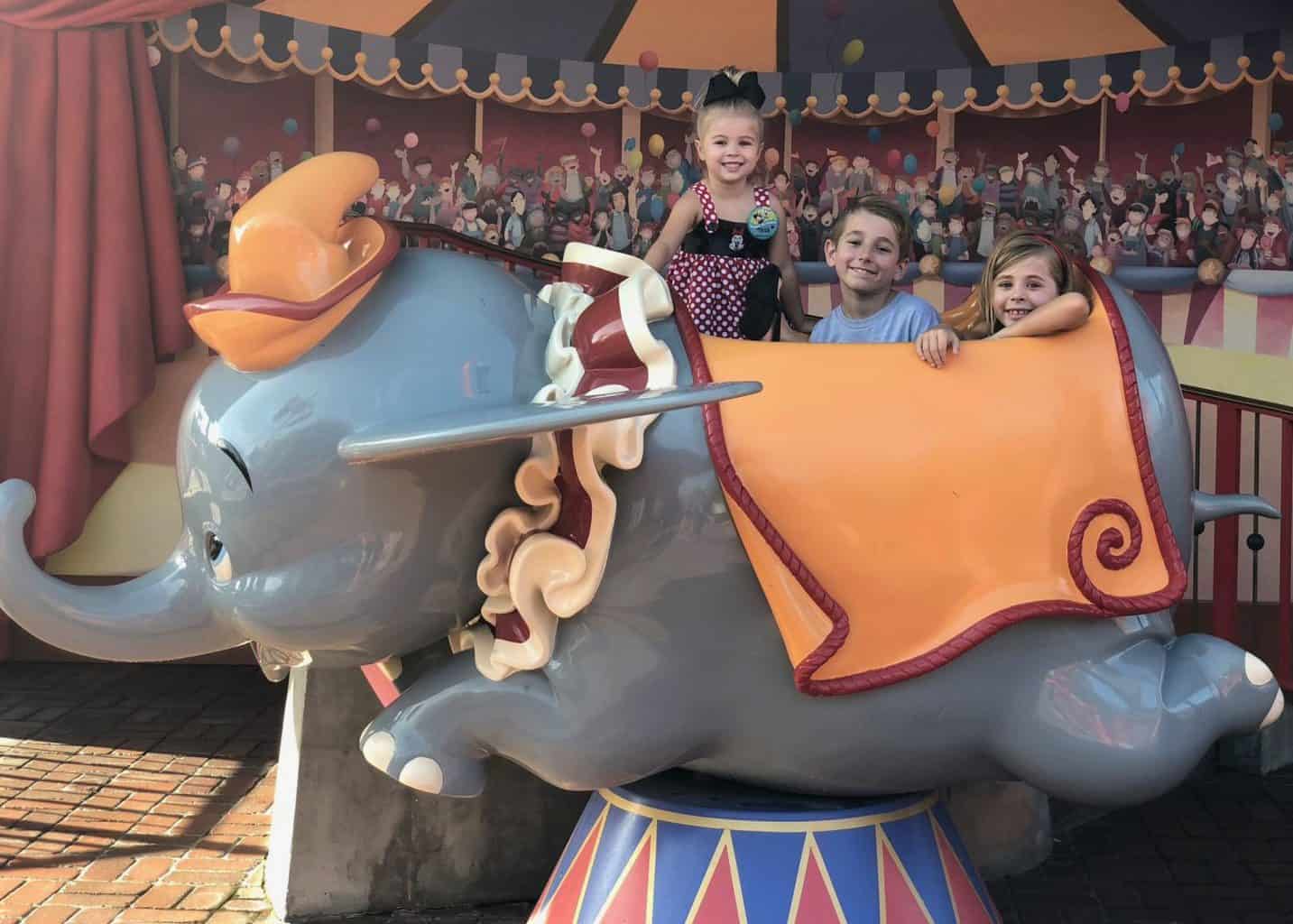 Zach is always down to take pics but it cracks me up how he'll be zoomed in on the subject and not get the actual thing in the picture that I'm wanting. Like if I was in front of the castle Zach would be getting ME in the pic and crop out the castle haha I have to remind him when he takes pics of me or the kids to get in all the stuff around us 😉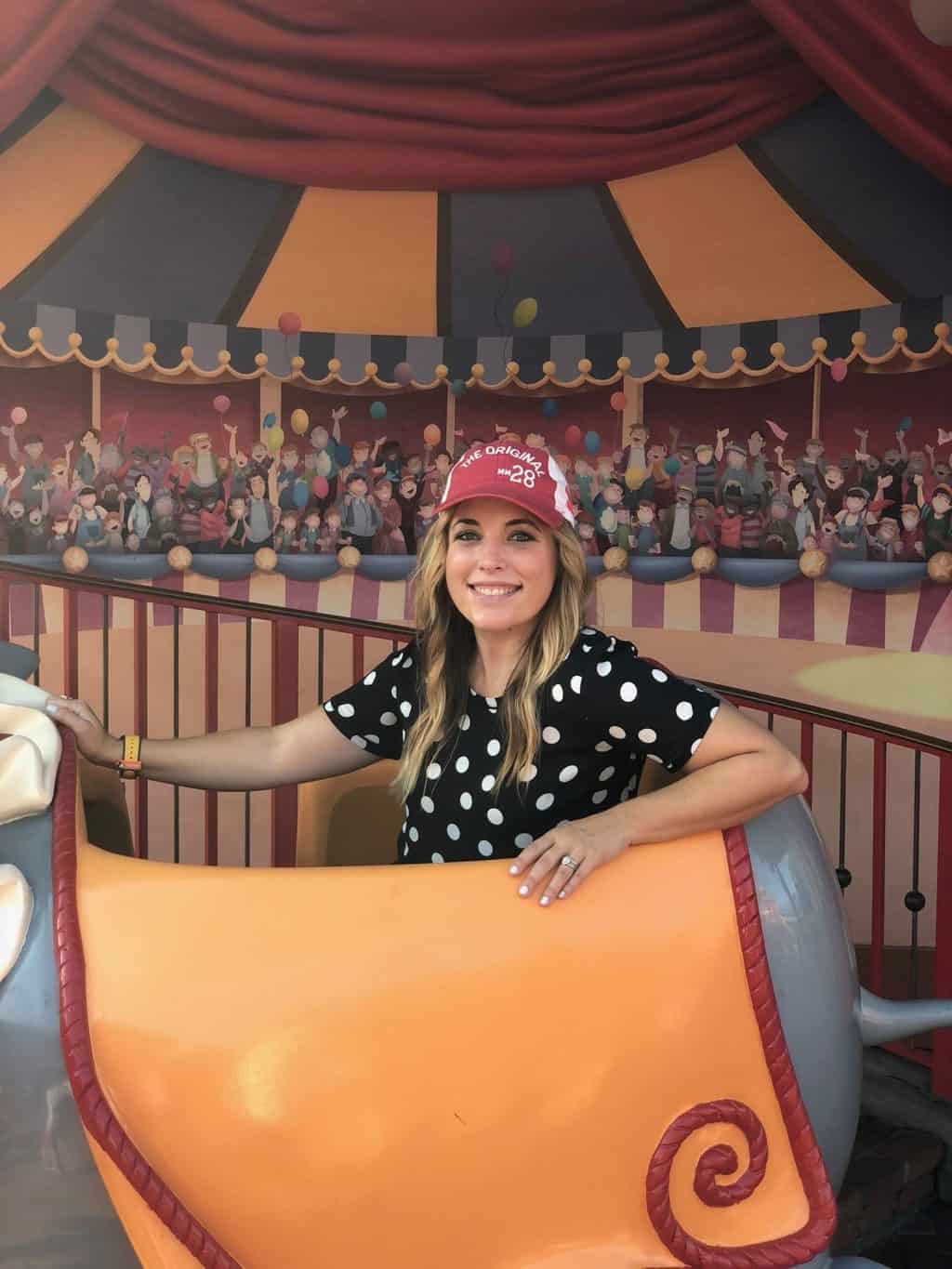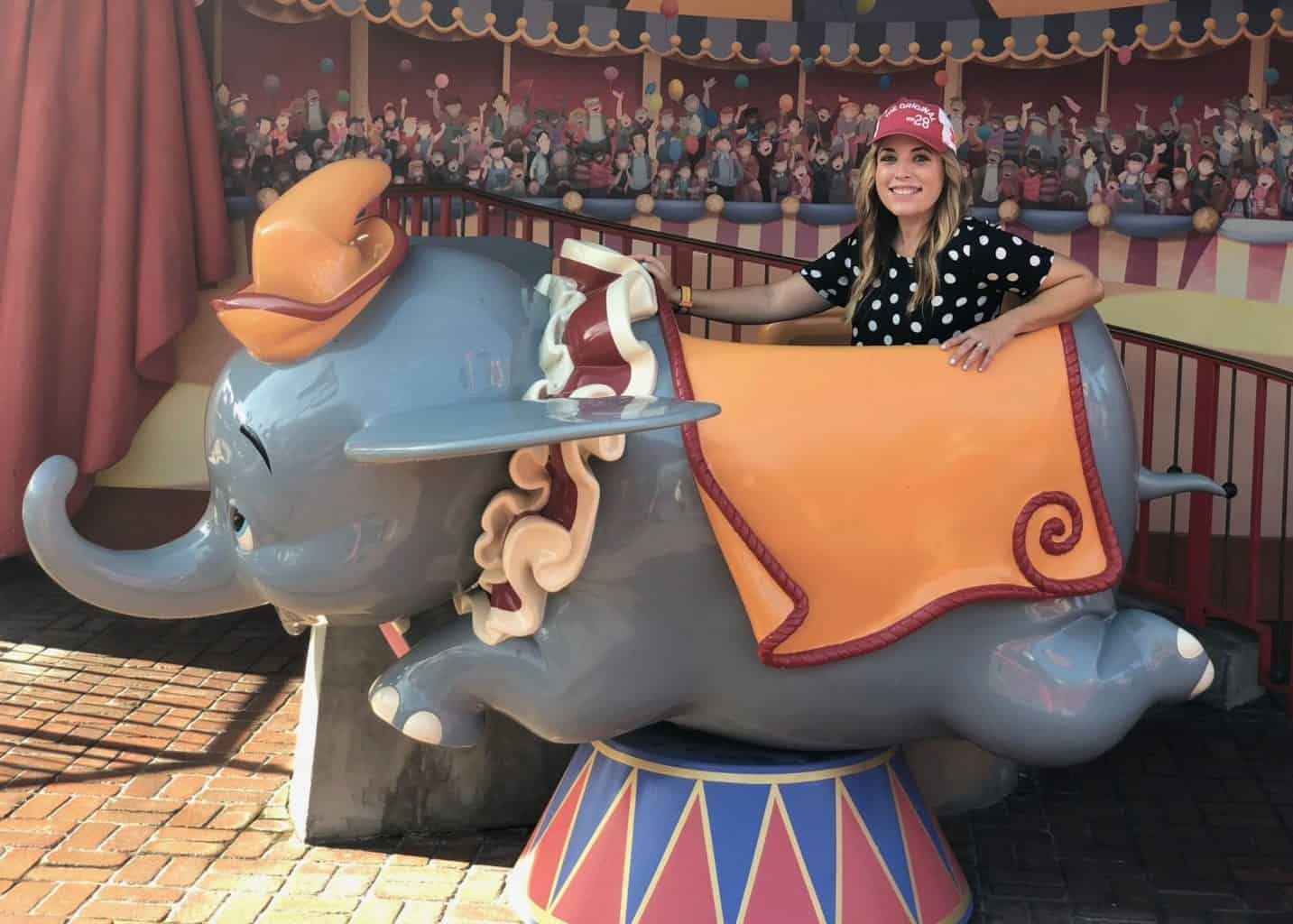 So thankful for this man and the cheerleader and supporter he is in my life!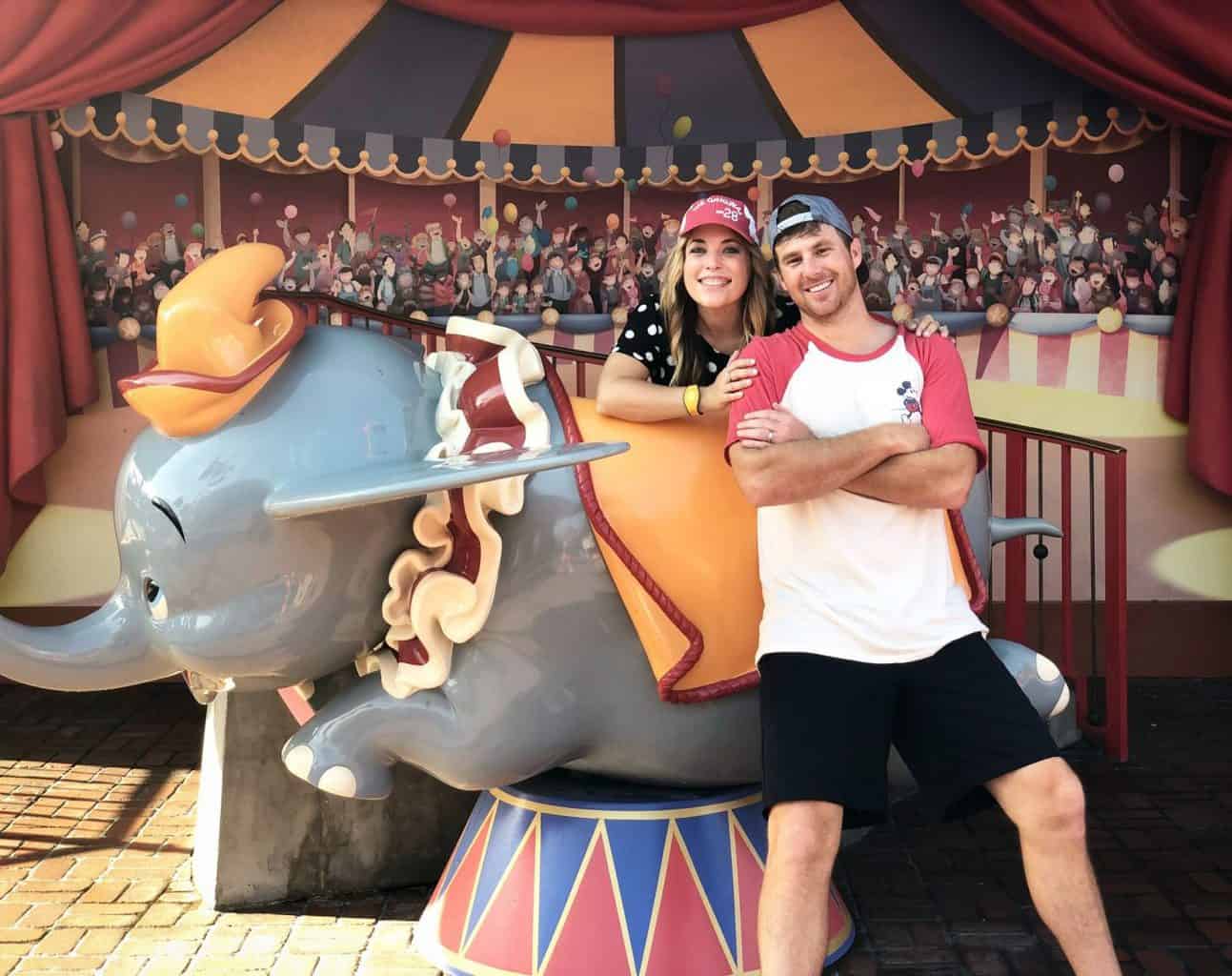 I LOVE this picture of Mrs Charlotte with the kids! A framer for sure! We are so blessed that she loves Disney like we do!!!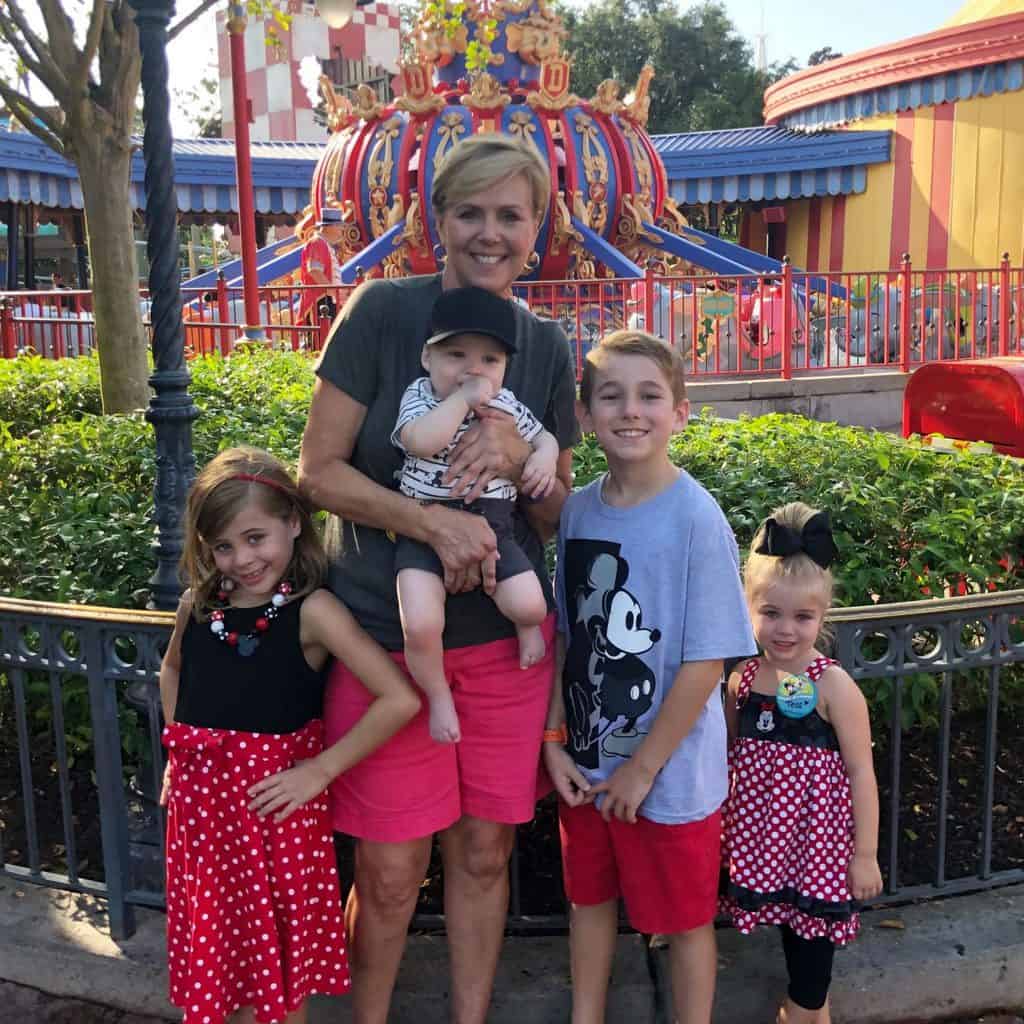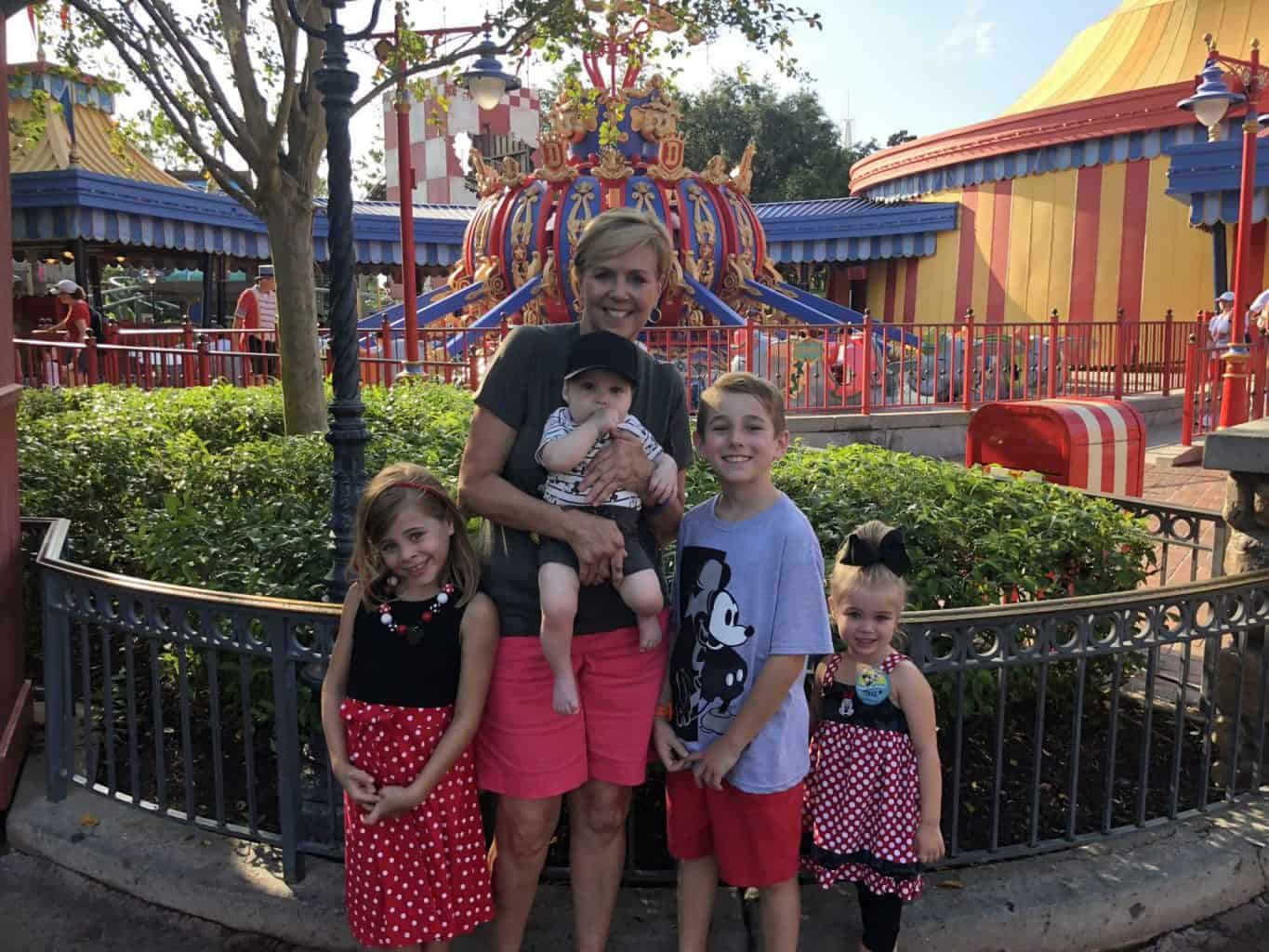 The main reason we headed to MK that morning was for Peter Pan. Tess LOVES Peter Pan (actually all my kids do, so random) and it's tough to ride because it's SO slow loading. I grabbed us all fast passes and we were excited to ride it together. Spear had fallen asleep and Zach is more hardcore about the kids sleep than I am (I know that shocks people!). So Zach skipped the ride so Spear could nap. Yall know I would have been getting him up to ride haha I don't miss Disney moments if I can help it! Kye opted to skip too and just snack it up while us girls rode together!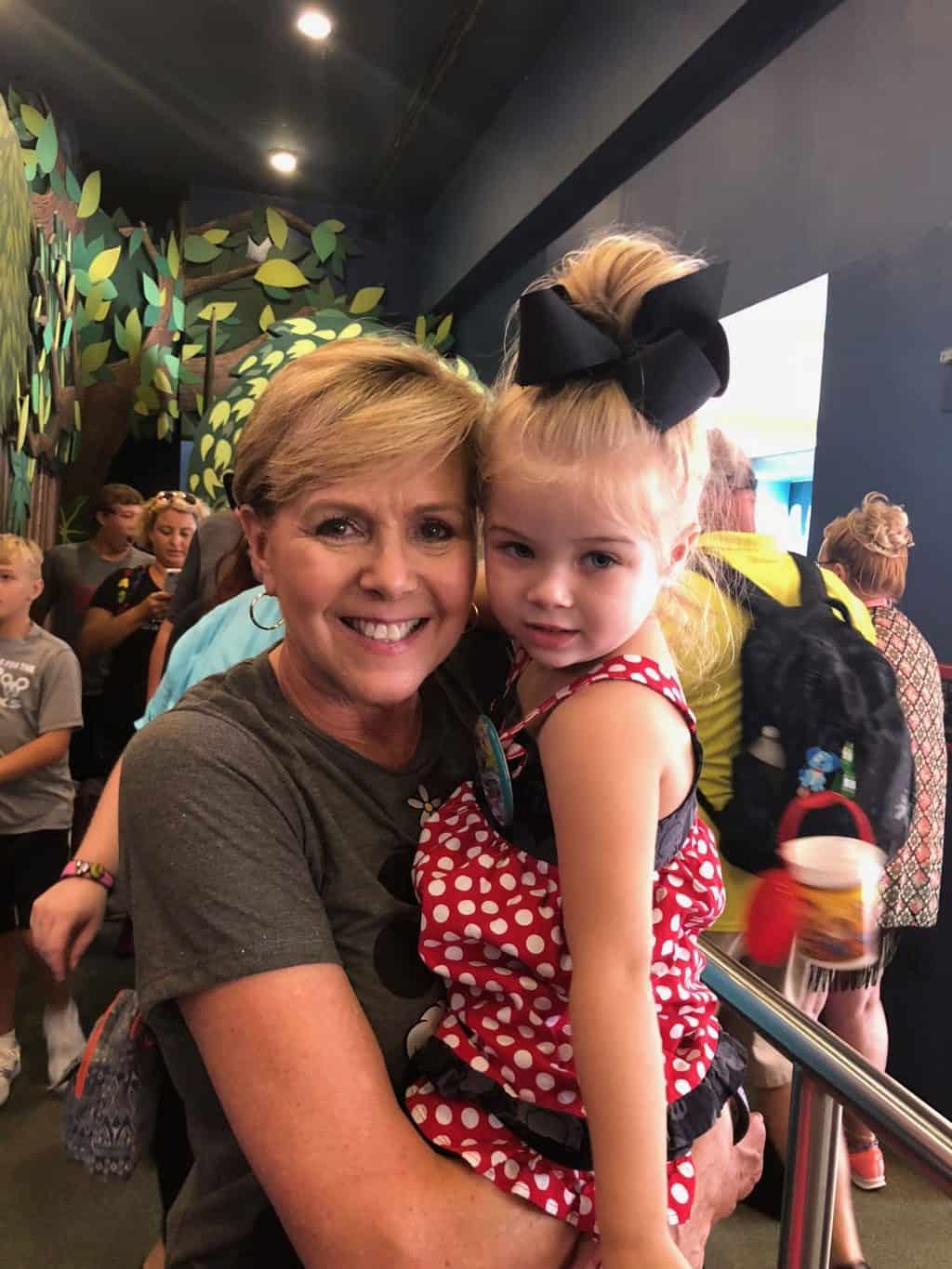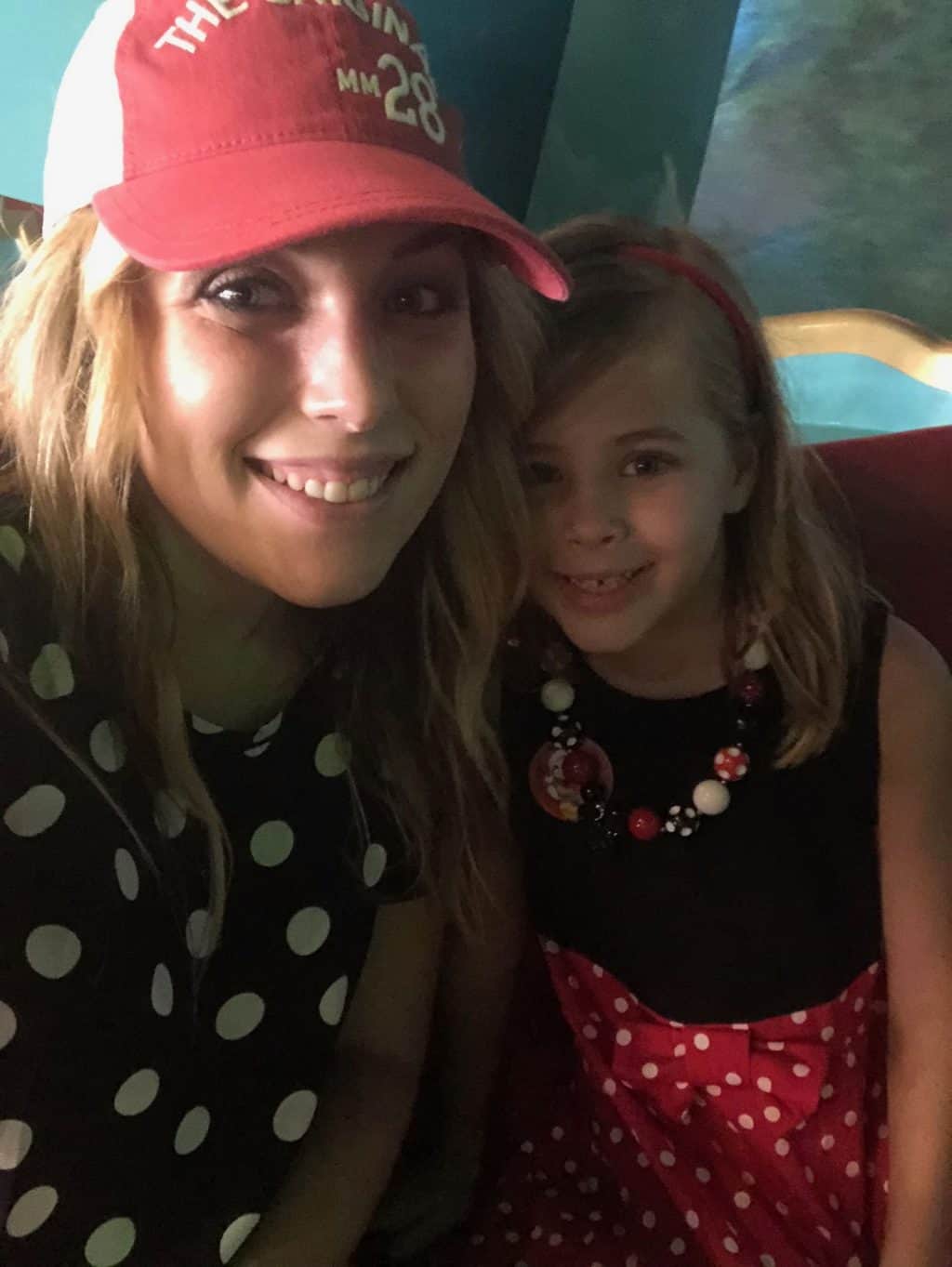 Time for Pirates!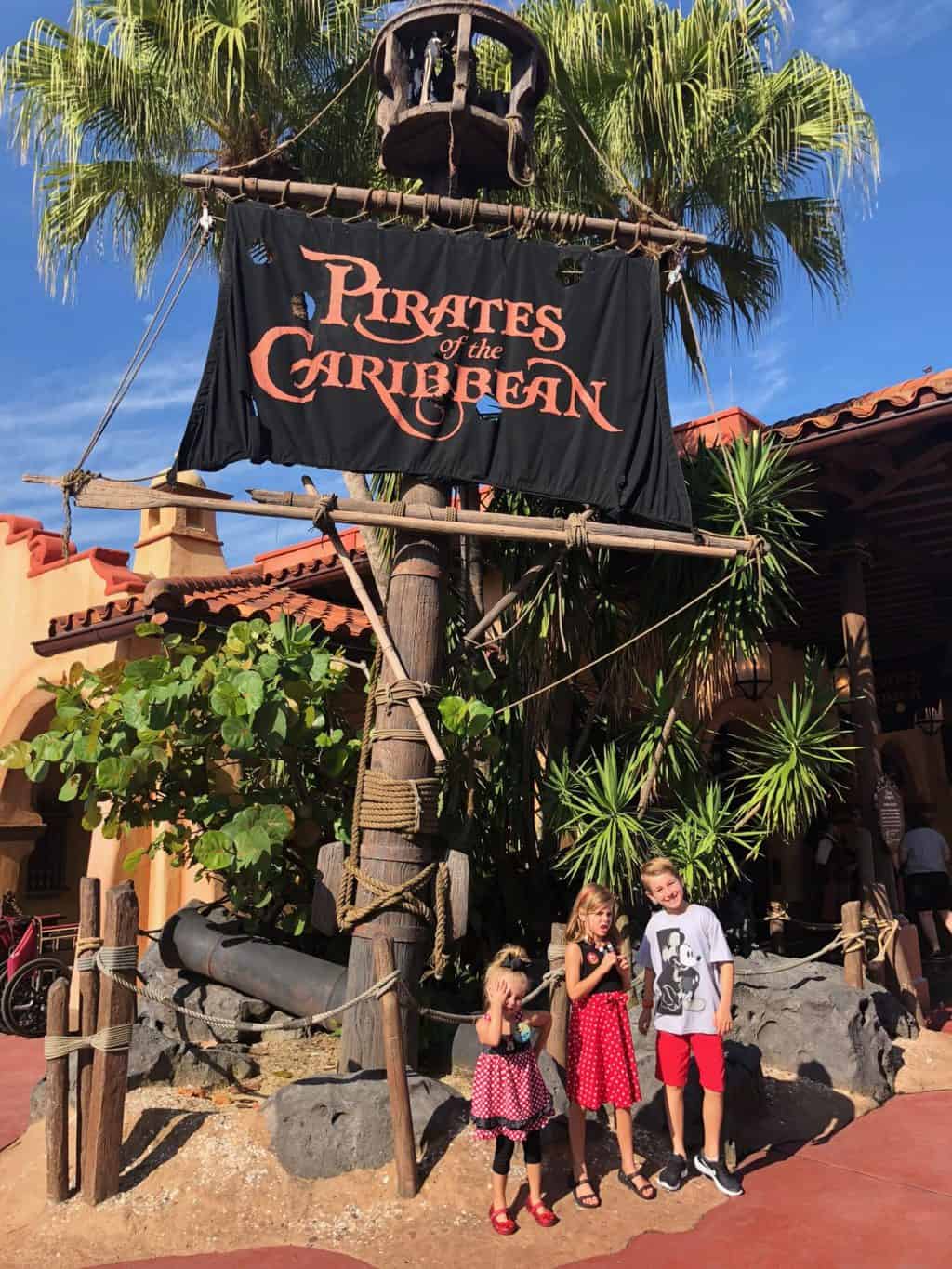 Zach and I will always yell "WE WANT THE RED HEAD" and the kids are catching on 😉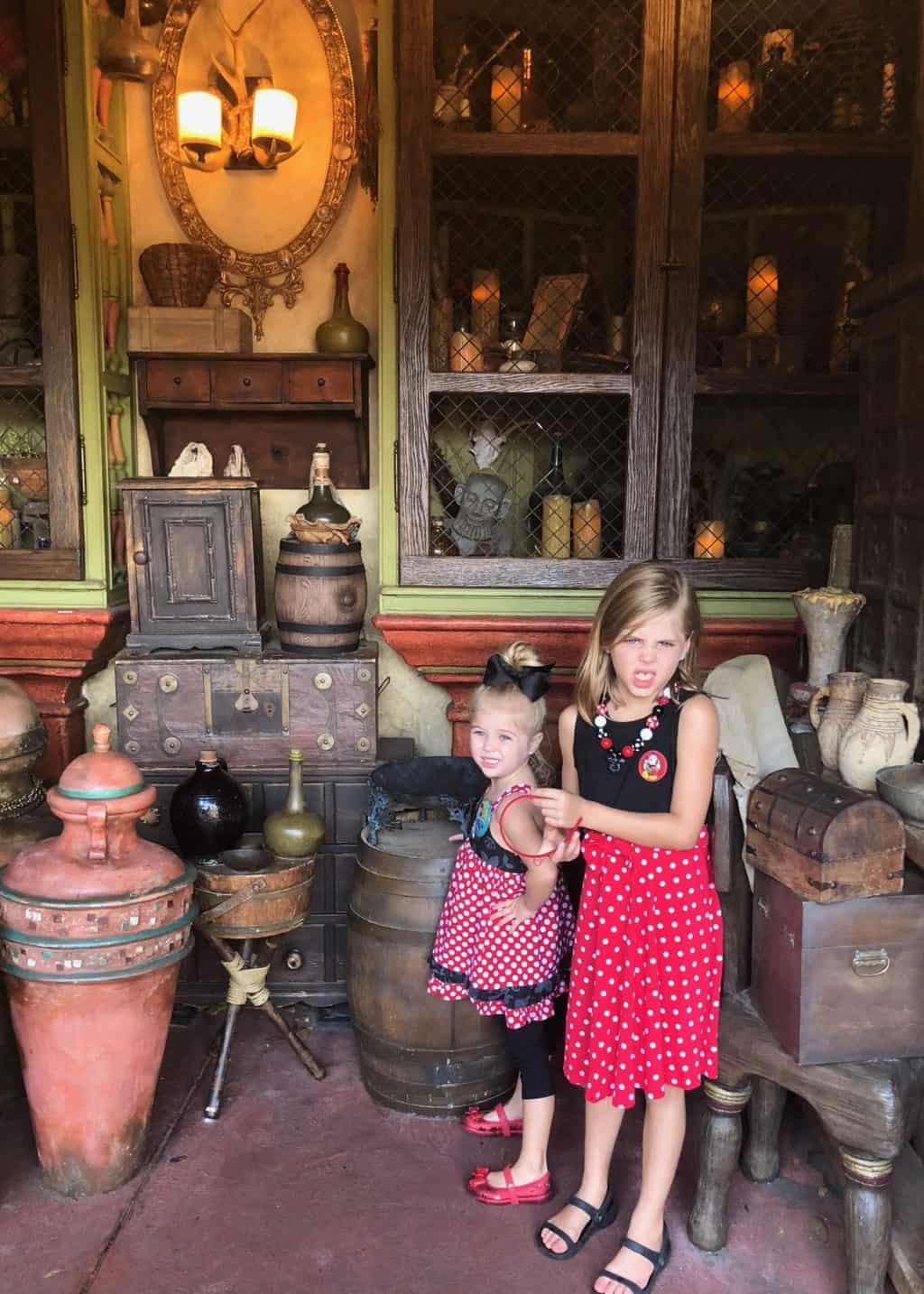 Sometimes Jungle Cruise can be boring 😉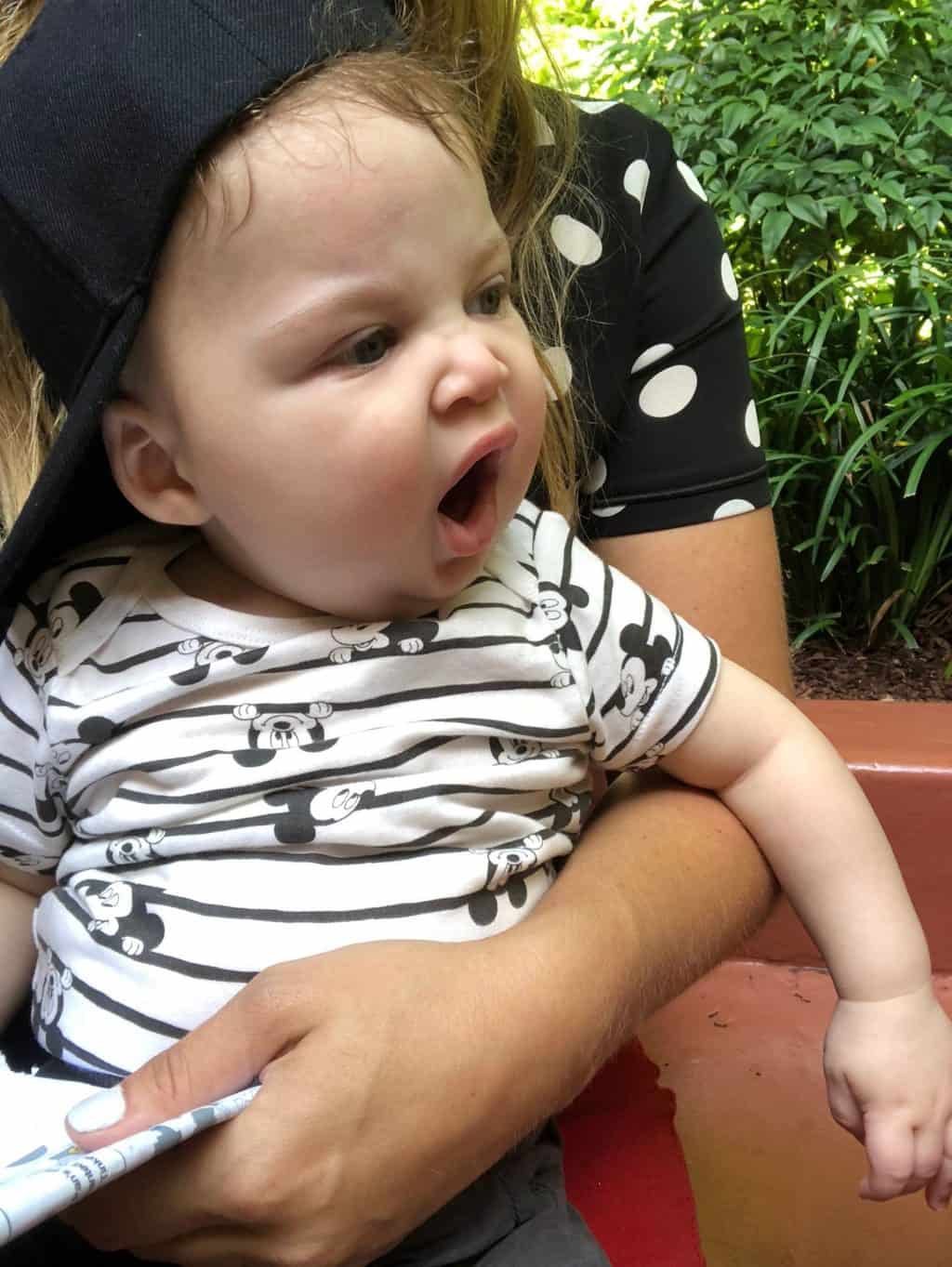 We split up again so Kye could ride either Thunder or Splash Mountain with Zach. Britt opted out this time and instead we introduced Spear to THE TIKI ROOM! We haven't done it in ages and it was so nice to get to experience it again. Of course he loved it, I mean who doesn't?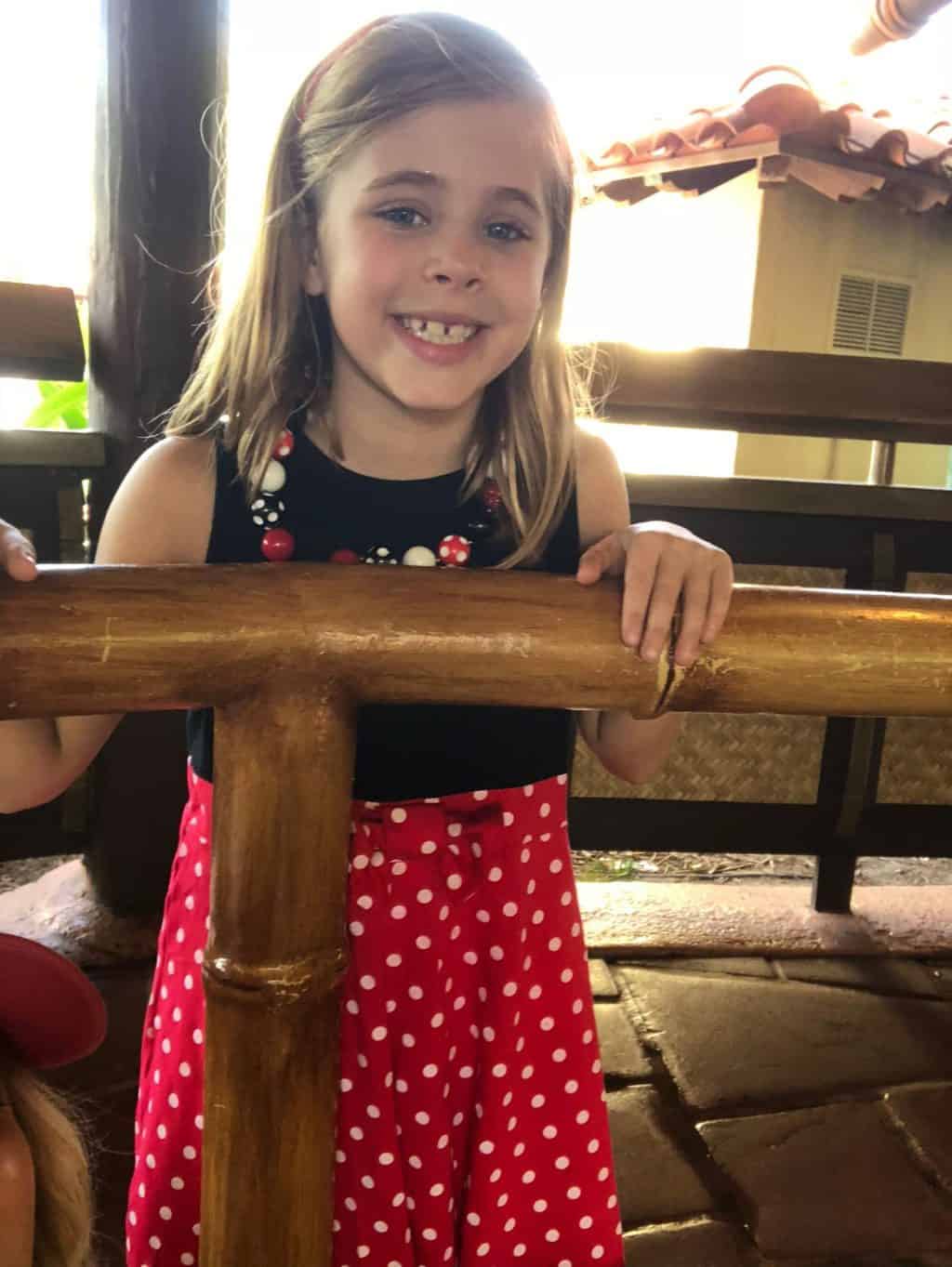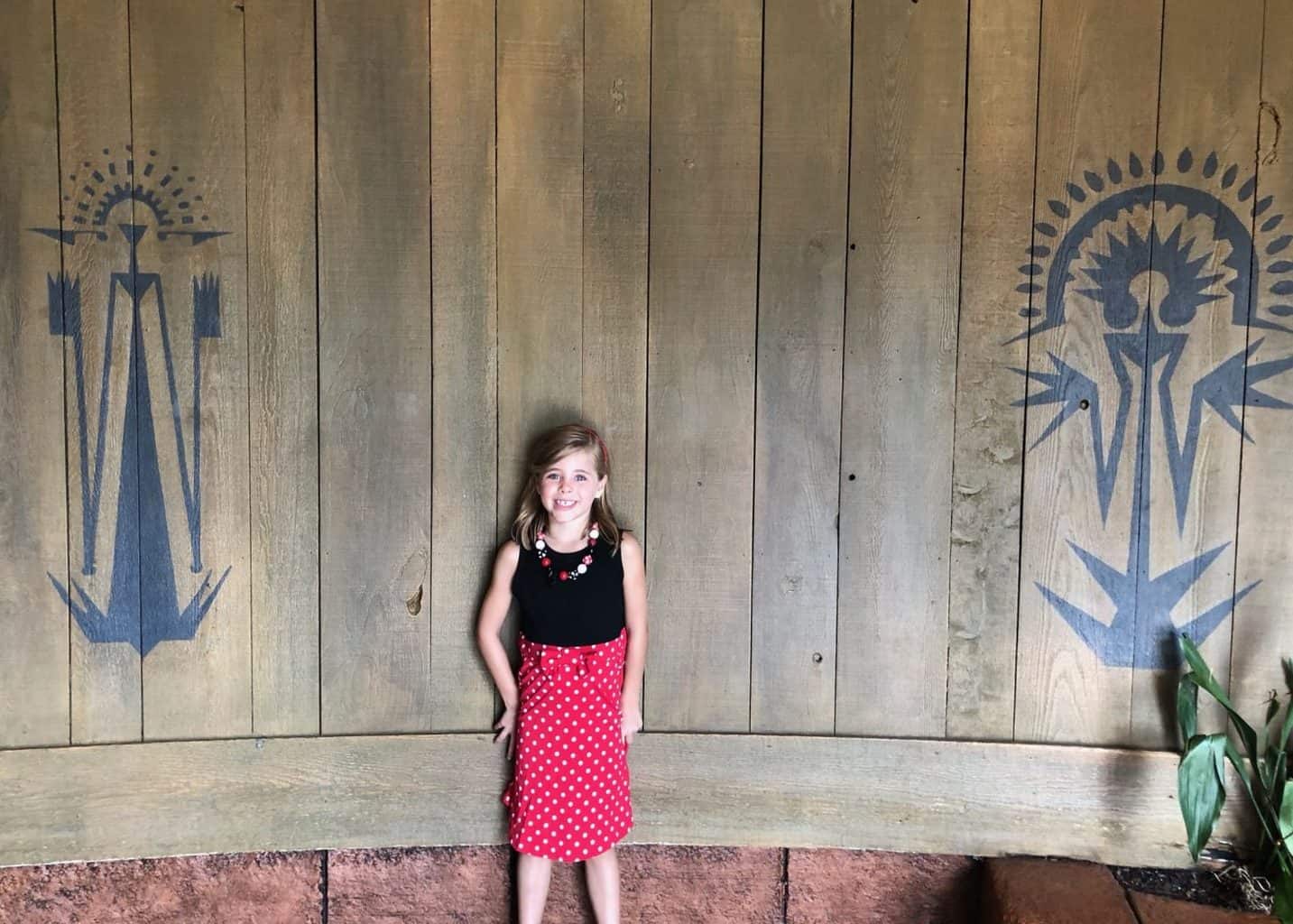 Newest member of the Tiki Room Club!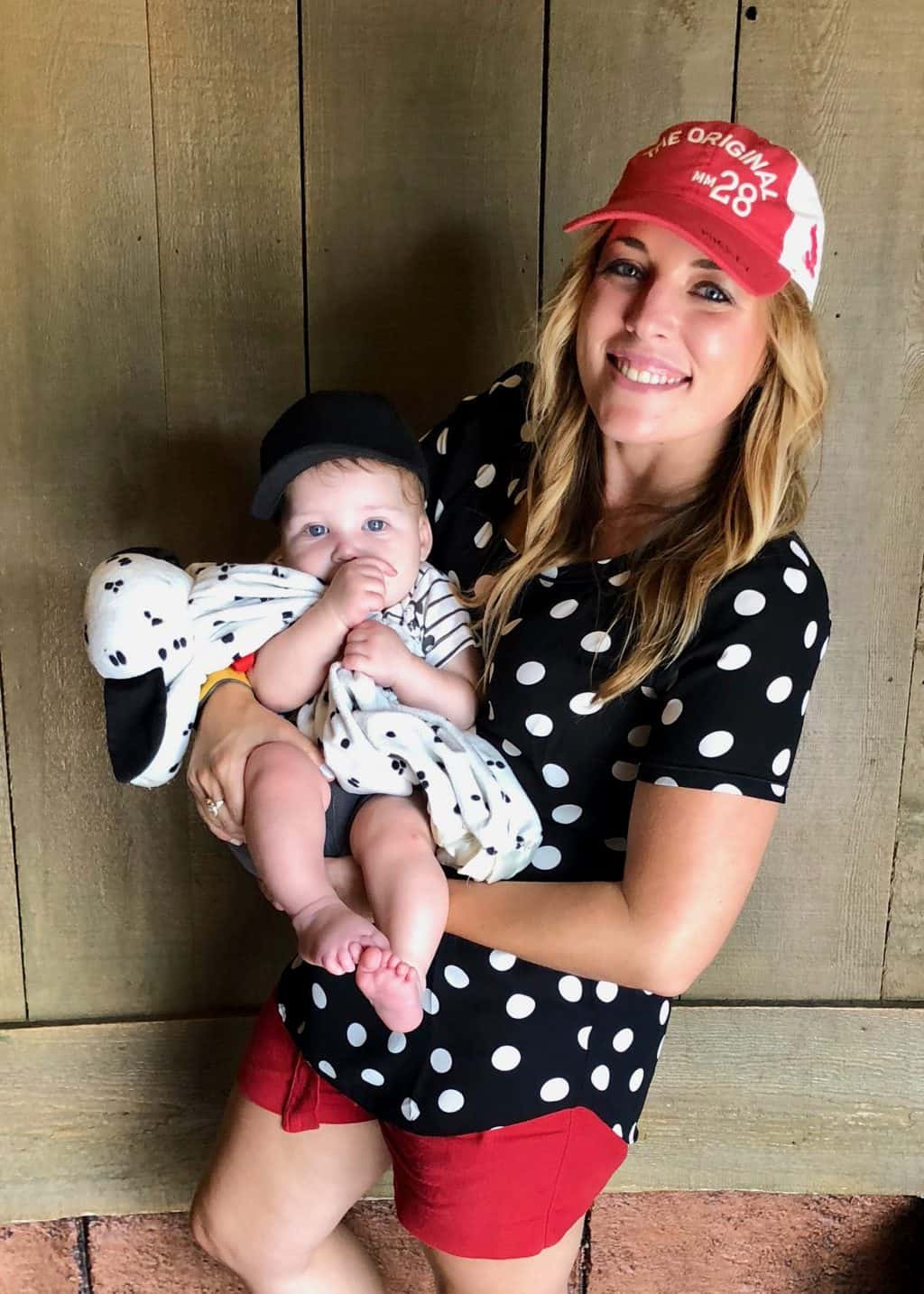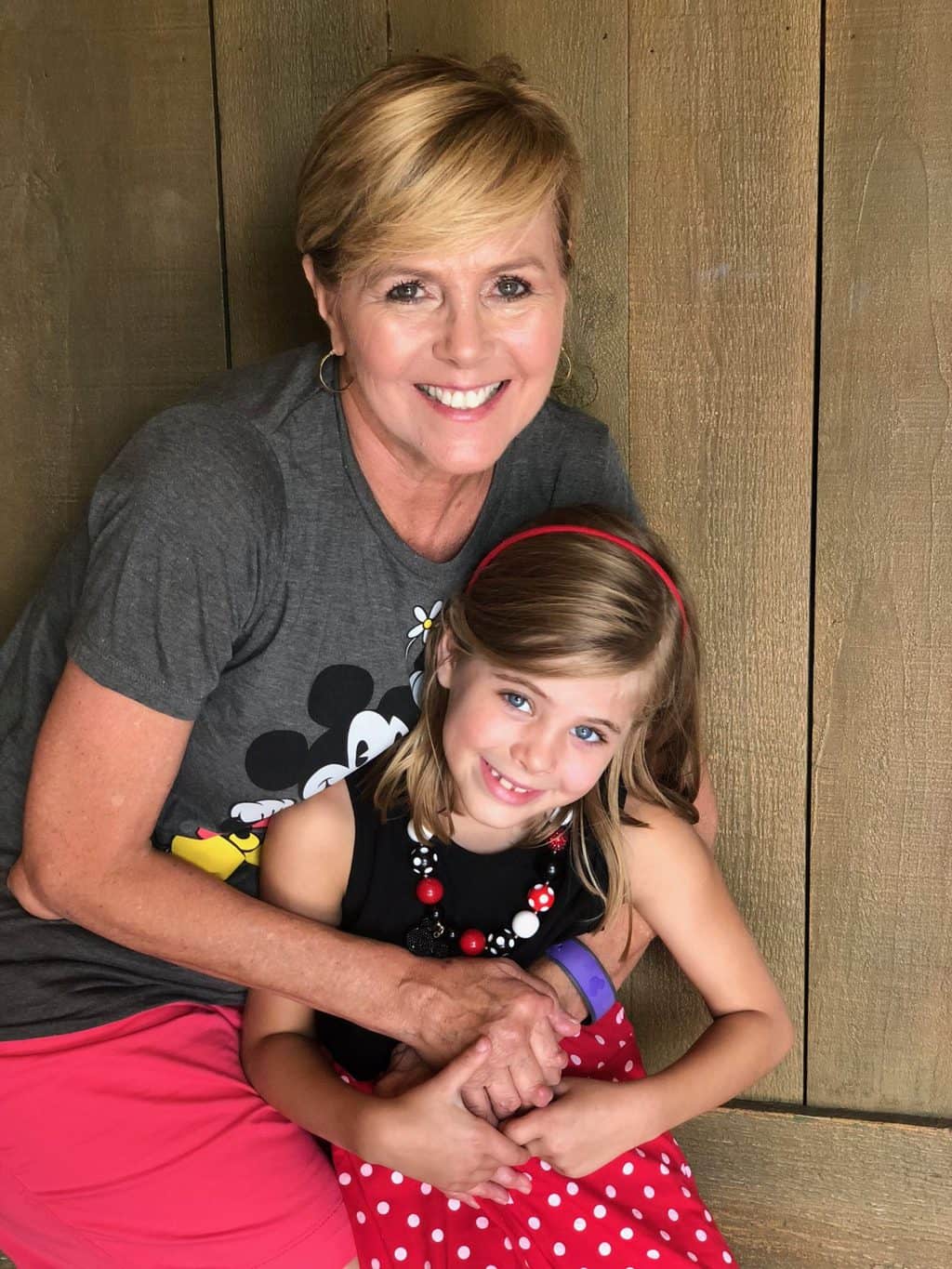 They ended up riding Splash (shorter wait time) and it did something great for Kye's hair!!!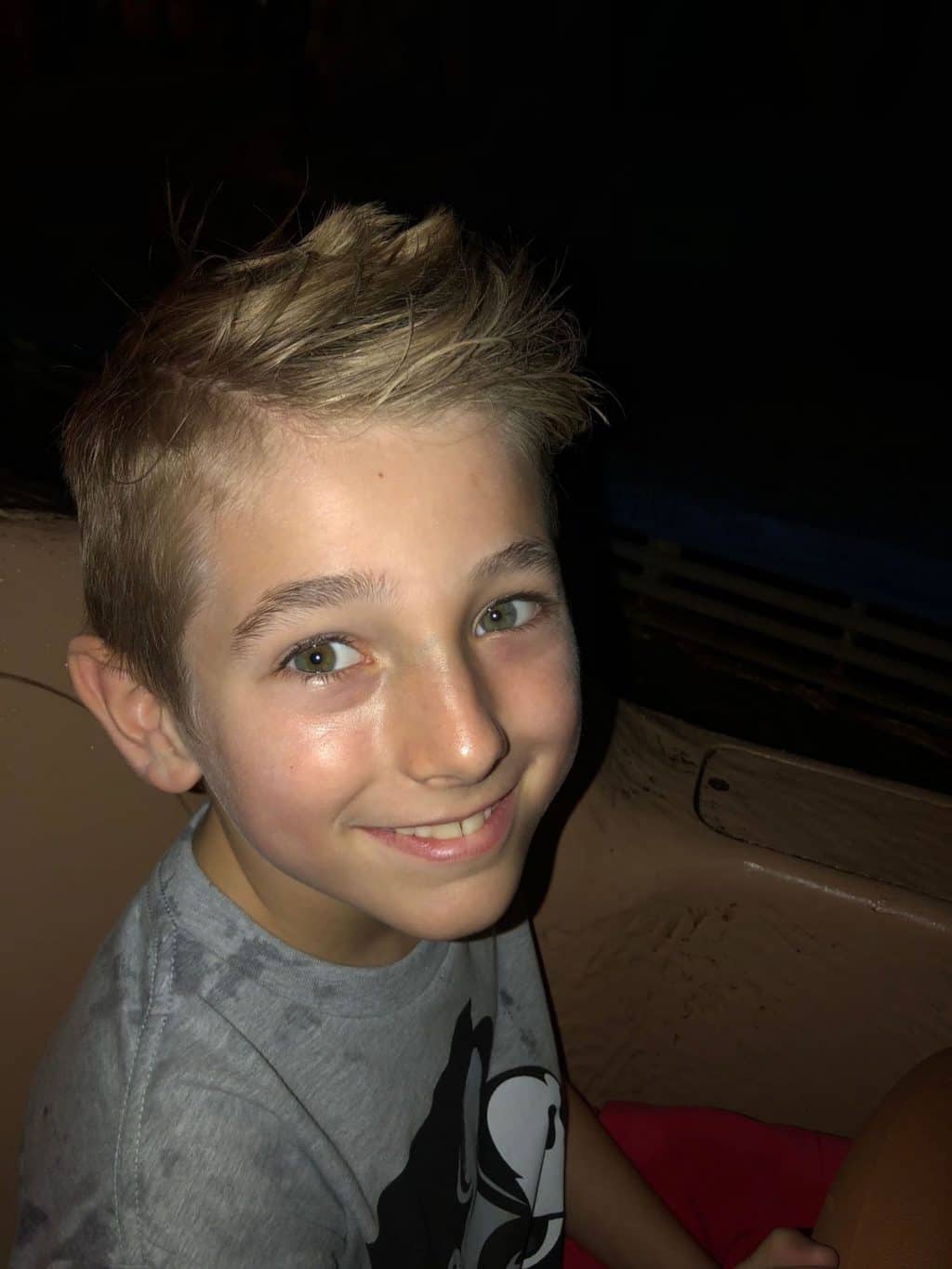 Britt's favorite part of the day was playing in the Tiki Water Fountains 🙂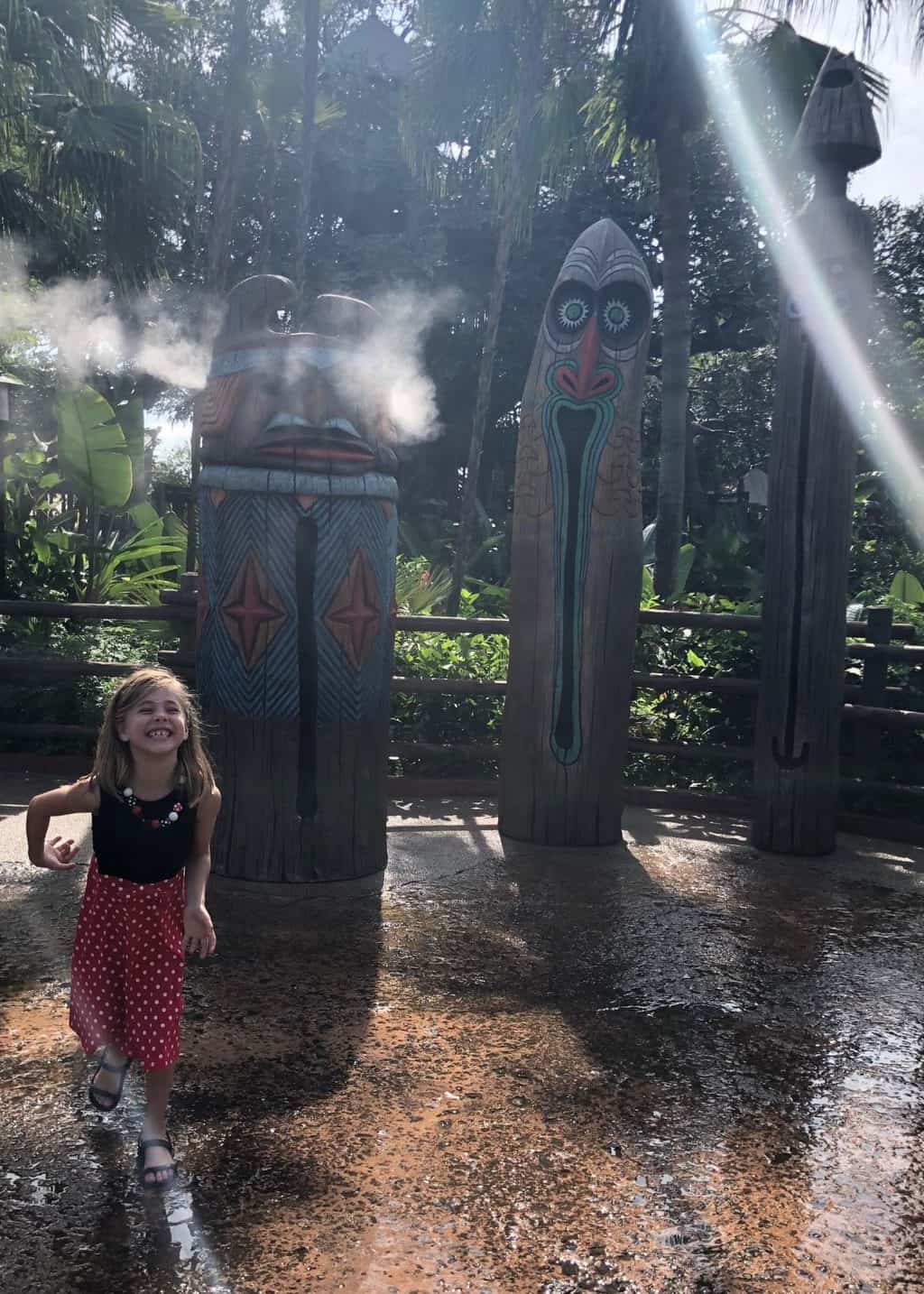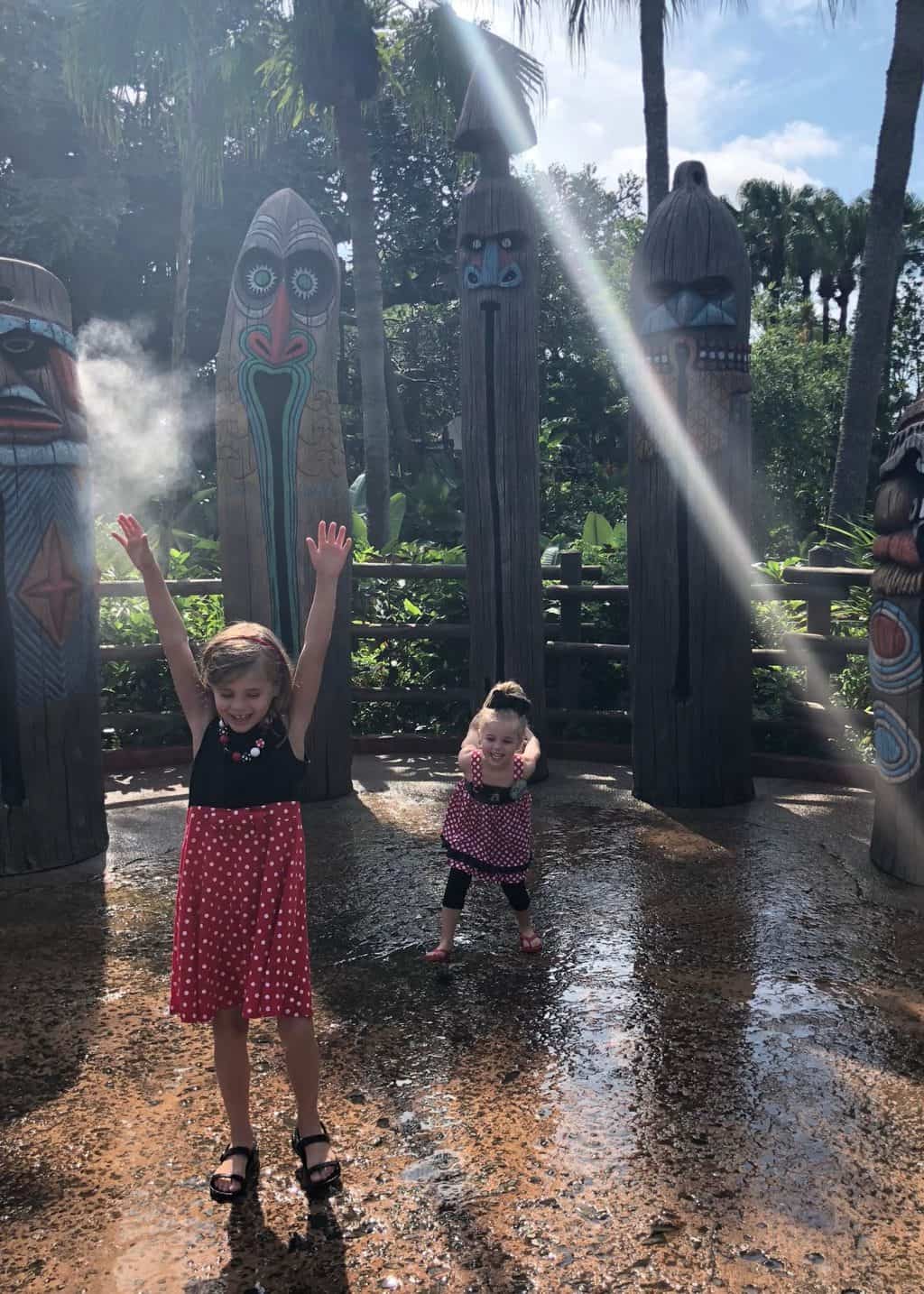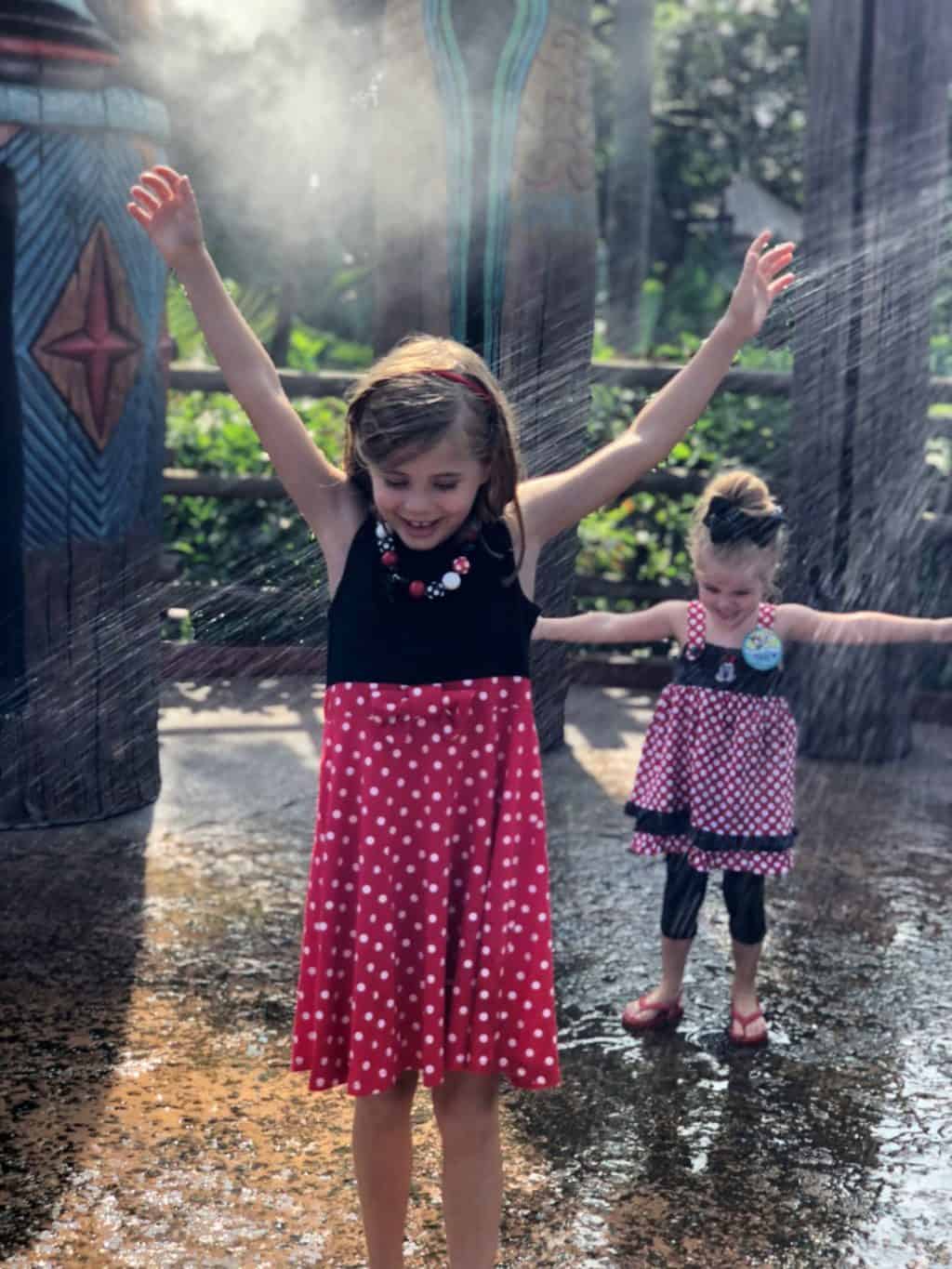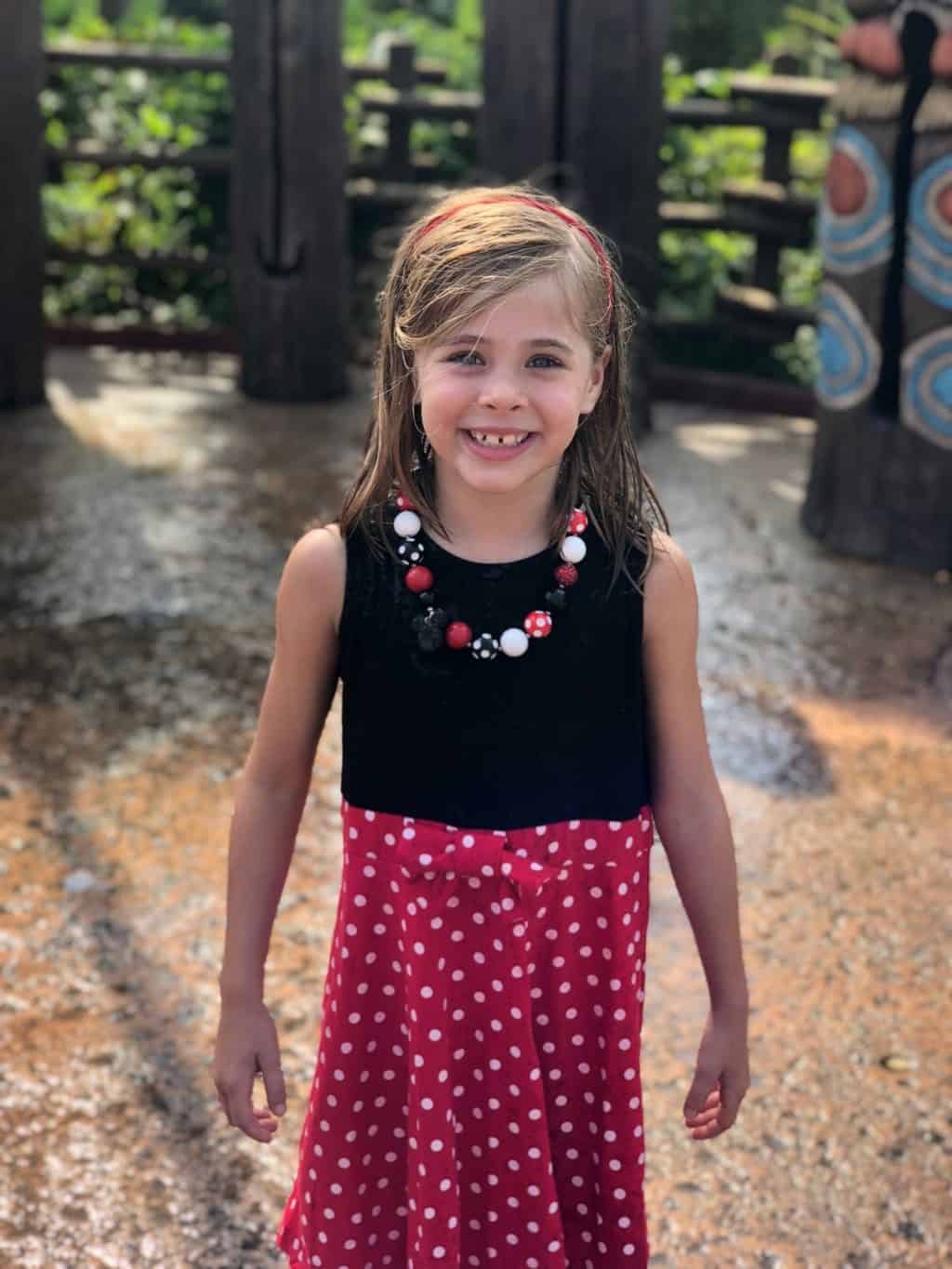 Oh hey there Aladdin and Jasmine!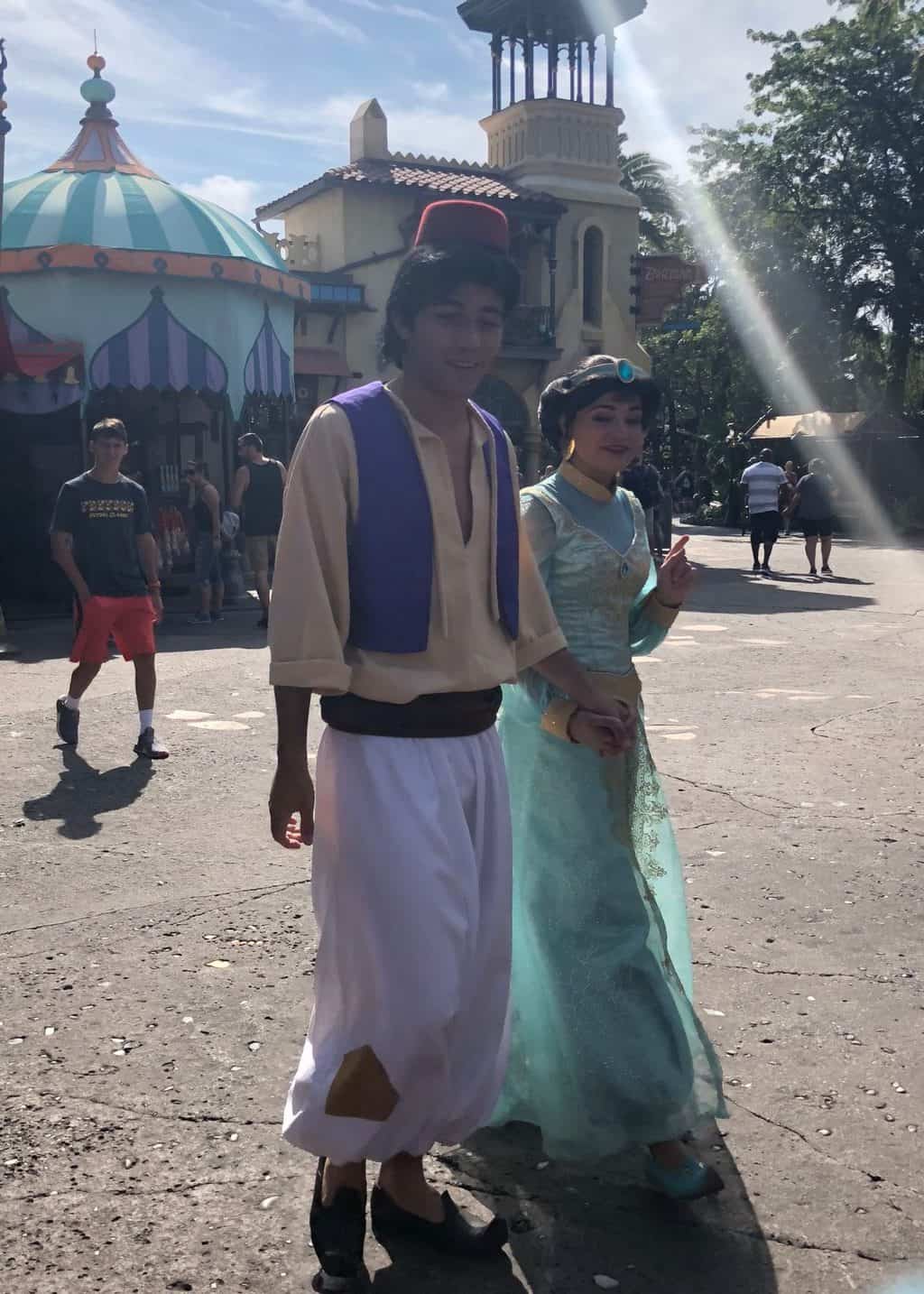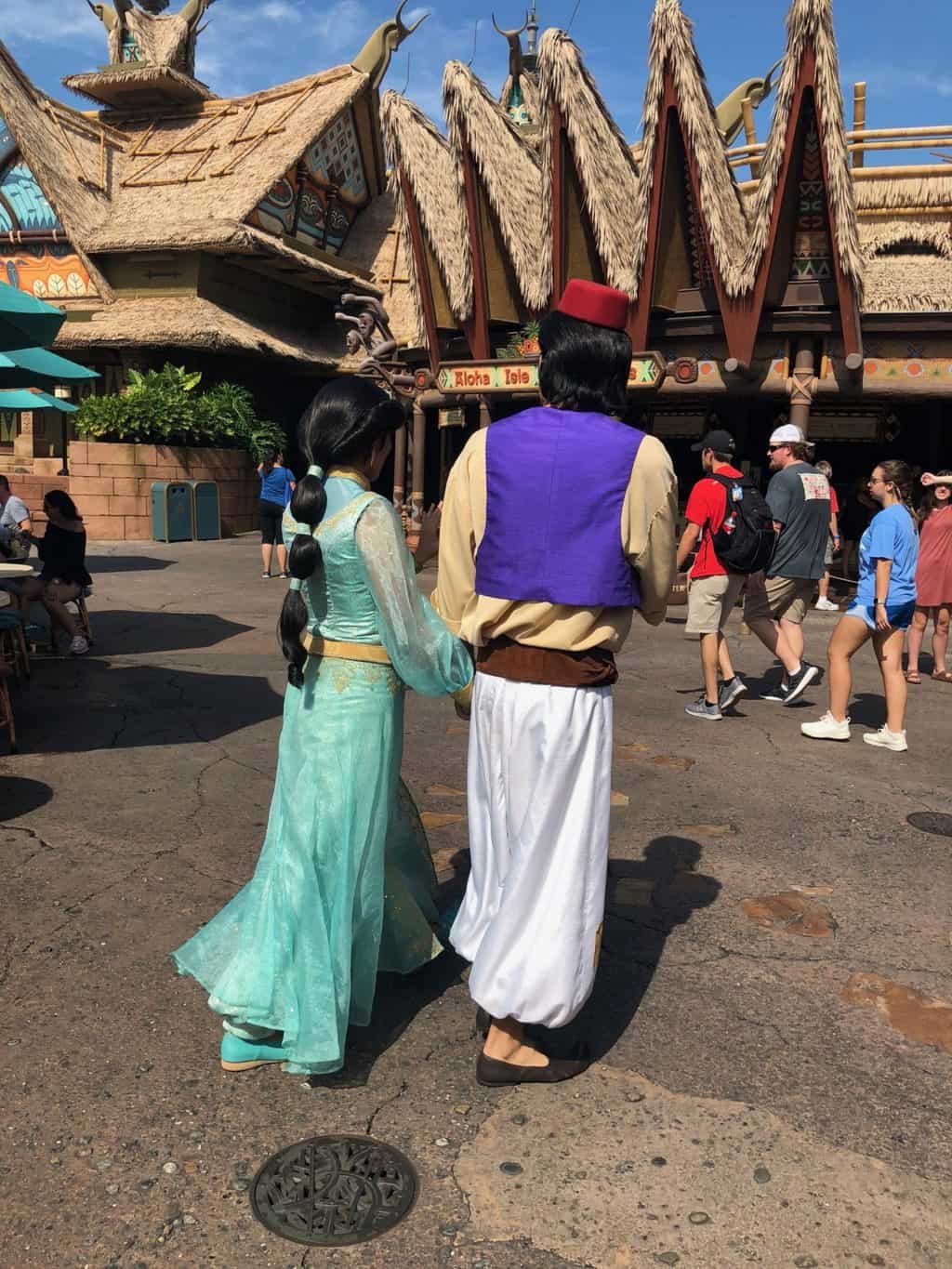 I happened to see an email come through from Disney so I check it and it was notifying me that our fastpass for Enchanted Tales with Belle had been converted into a "just about any experience" fastpass option. I think this is a GREAT new feature from Disney! If we were at the park all day we could try to do Belle when it opened back up or we could swap it for the experience options during our scheduled fastpass time! We ended up deciding to opt for a Disney Snack instead of a ride but it was still neat to have that option!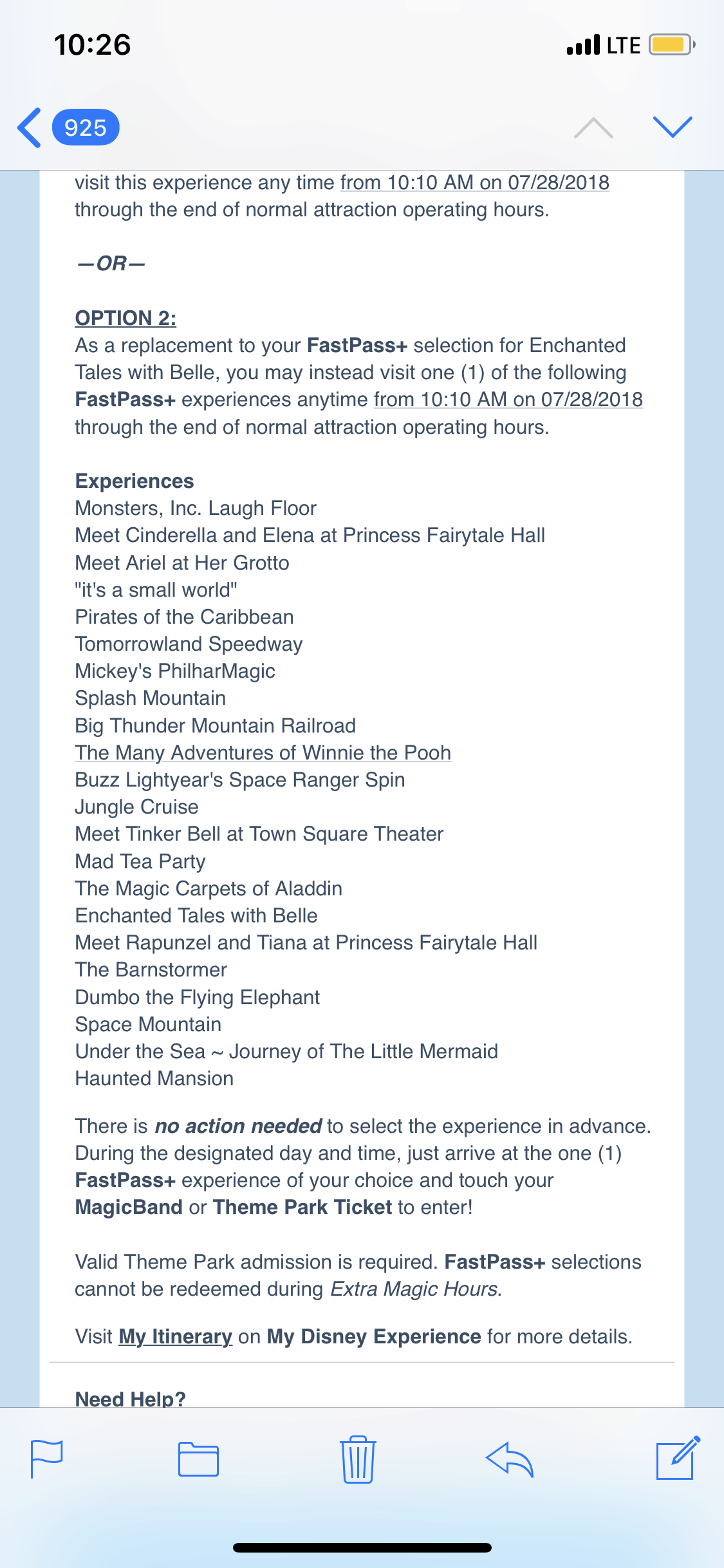 Our Mickey Baby!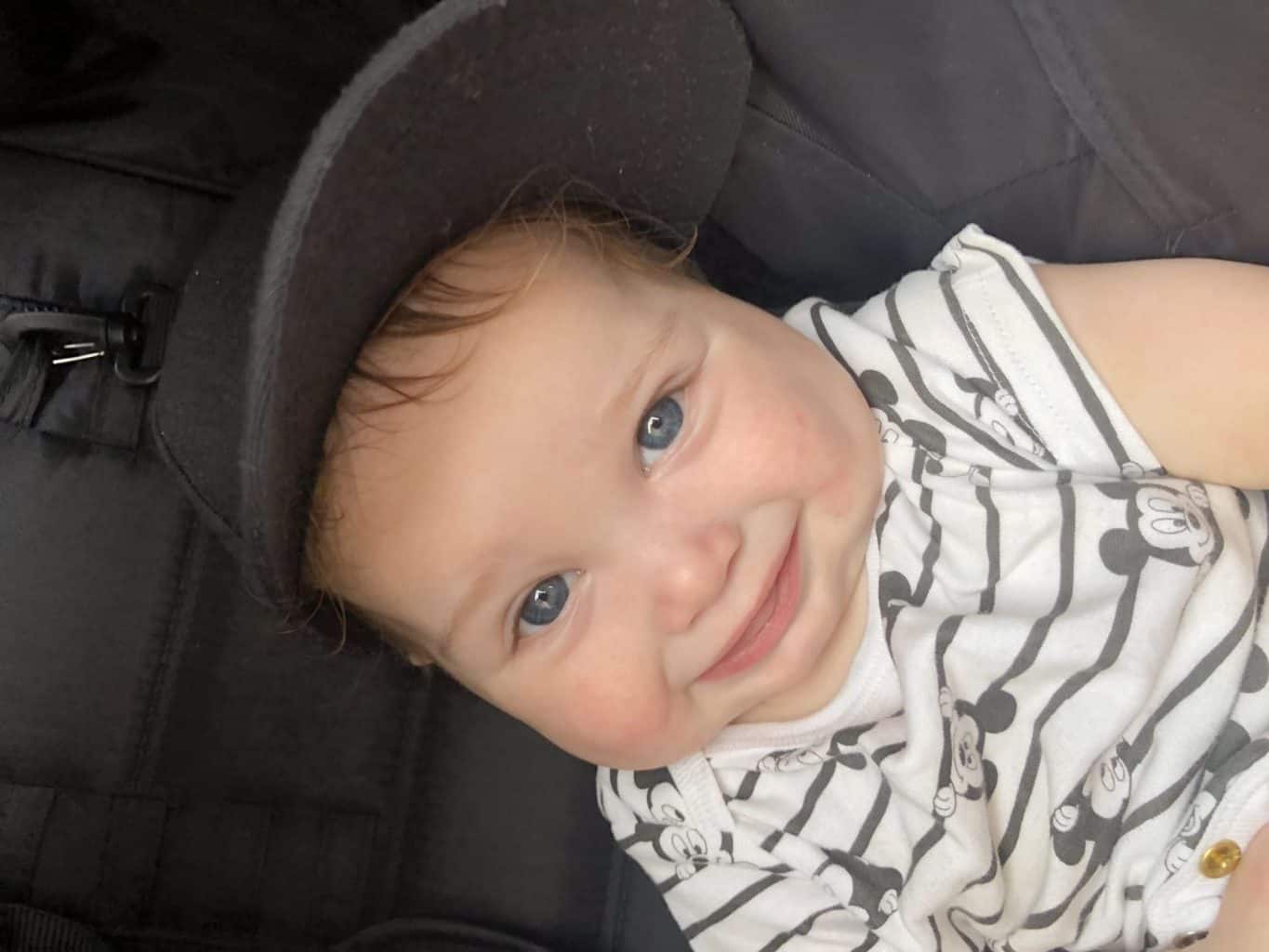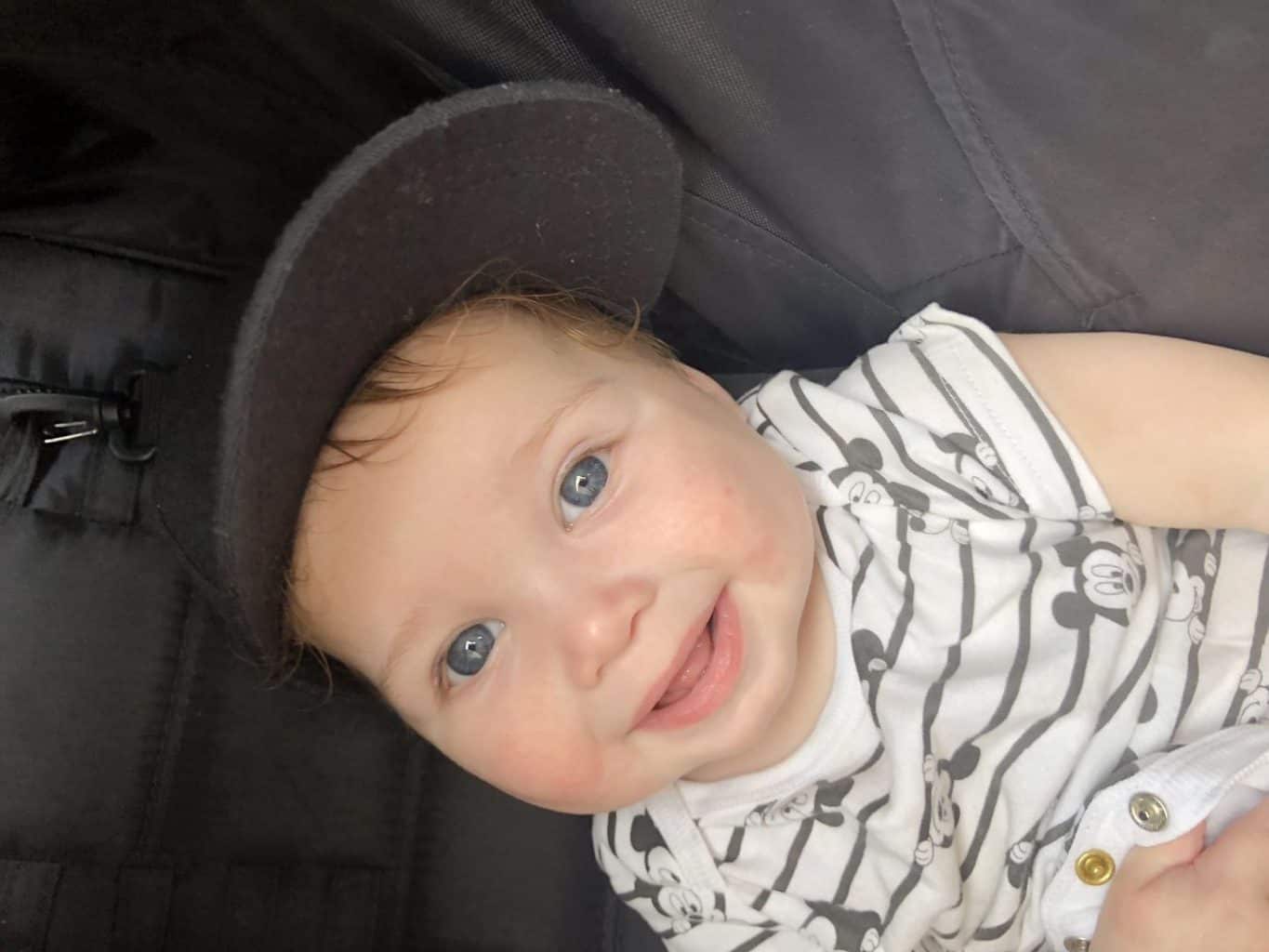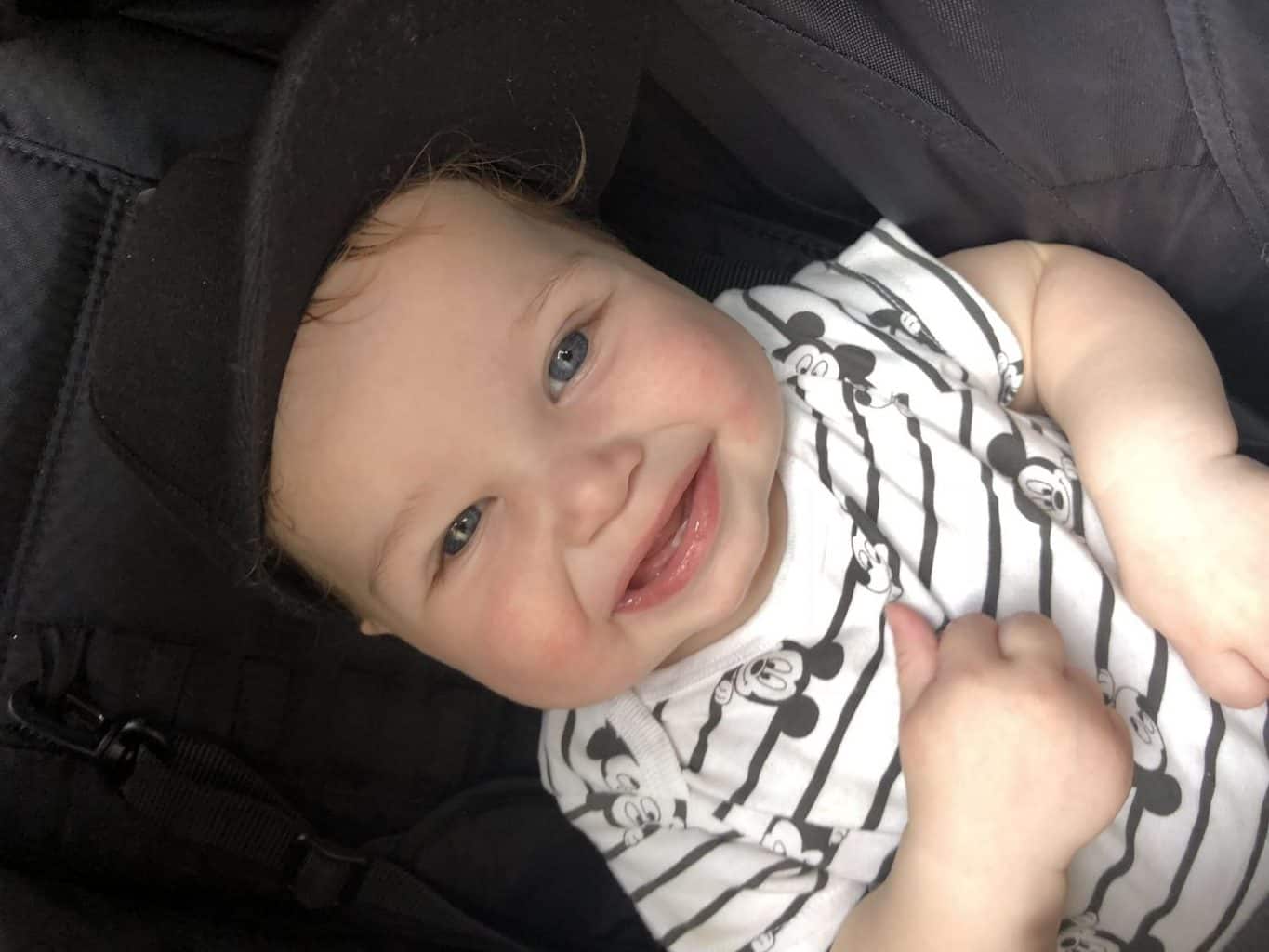 Zach and I haven't visited The Hall of Presidents since we were in college and the kids haven't ever experienced it. I don't get political here and I'm personally not huge into politics but Zach is and we both wanted to wait to experience it until the change over in current president and until Trump was added! It is funny to me how people aren't shy about hooting and hollering for their favorite presidents (Obama in this case) but I got some looks when I cheered for our current president. Regardless of political beliefs as Americans we should try to support whoever is in office (and not boo those who we may not agree with).
I had always remembered Hall of Presidents being a super snooze fest but we all loved it and it was SO GREAT for the kids to experience and learn more about our country and it's history! It's SO well done and we all enjoyed it!
I would have voted Walt in office any day 😉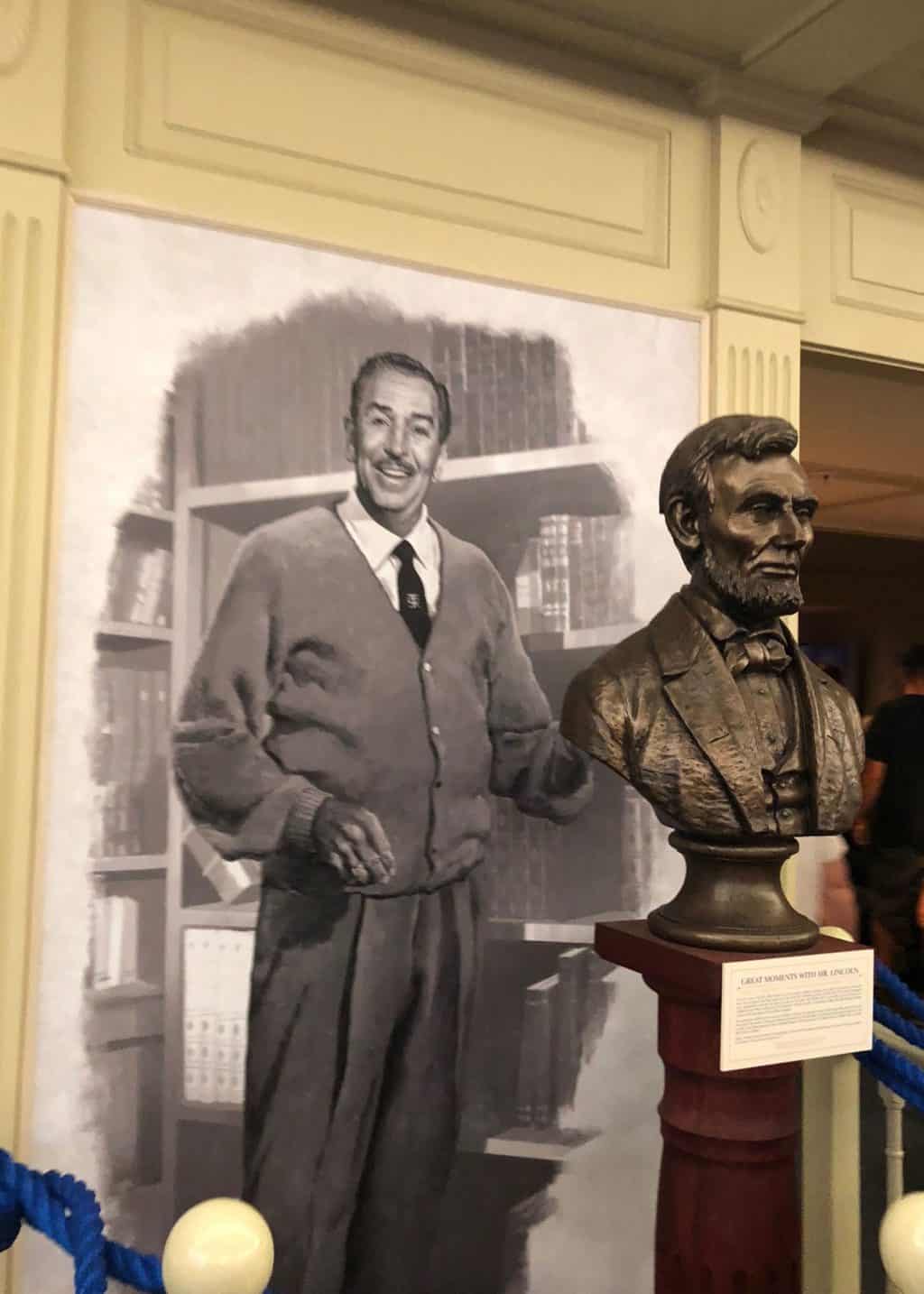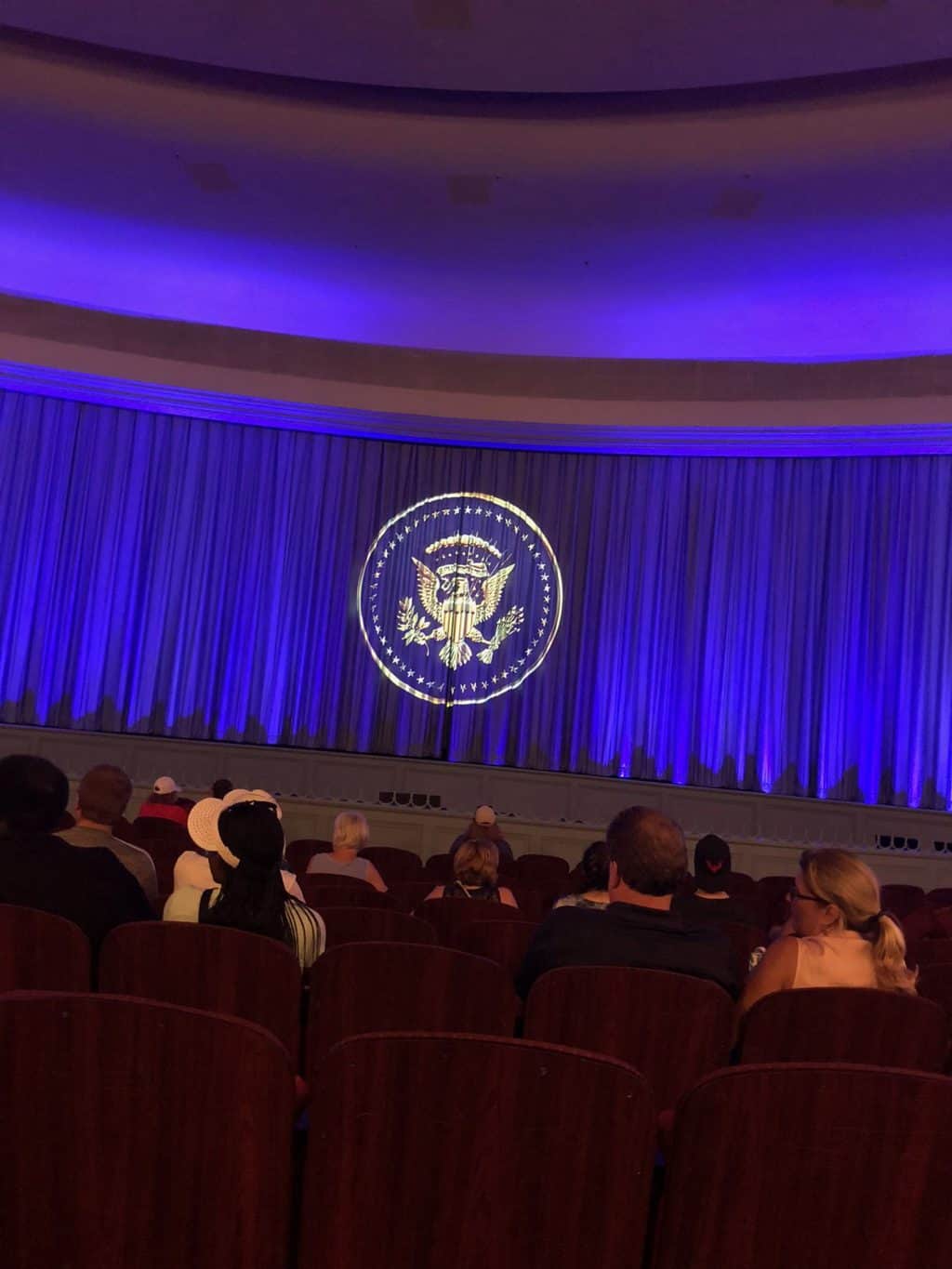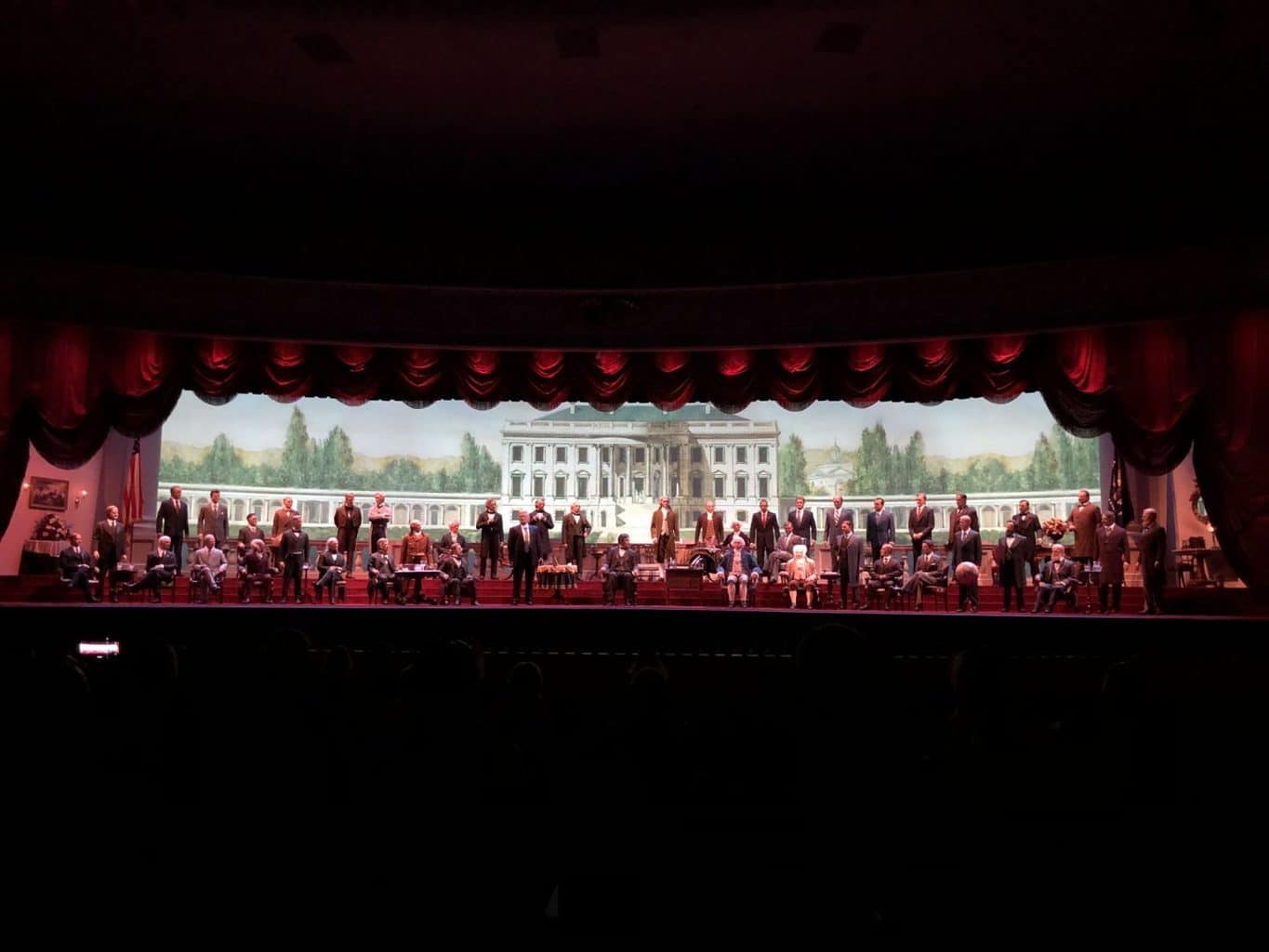 In order to be a good future president he must first learn about those who come before him 😉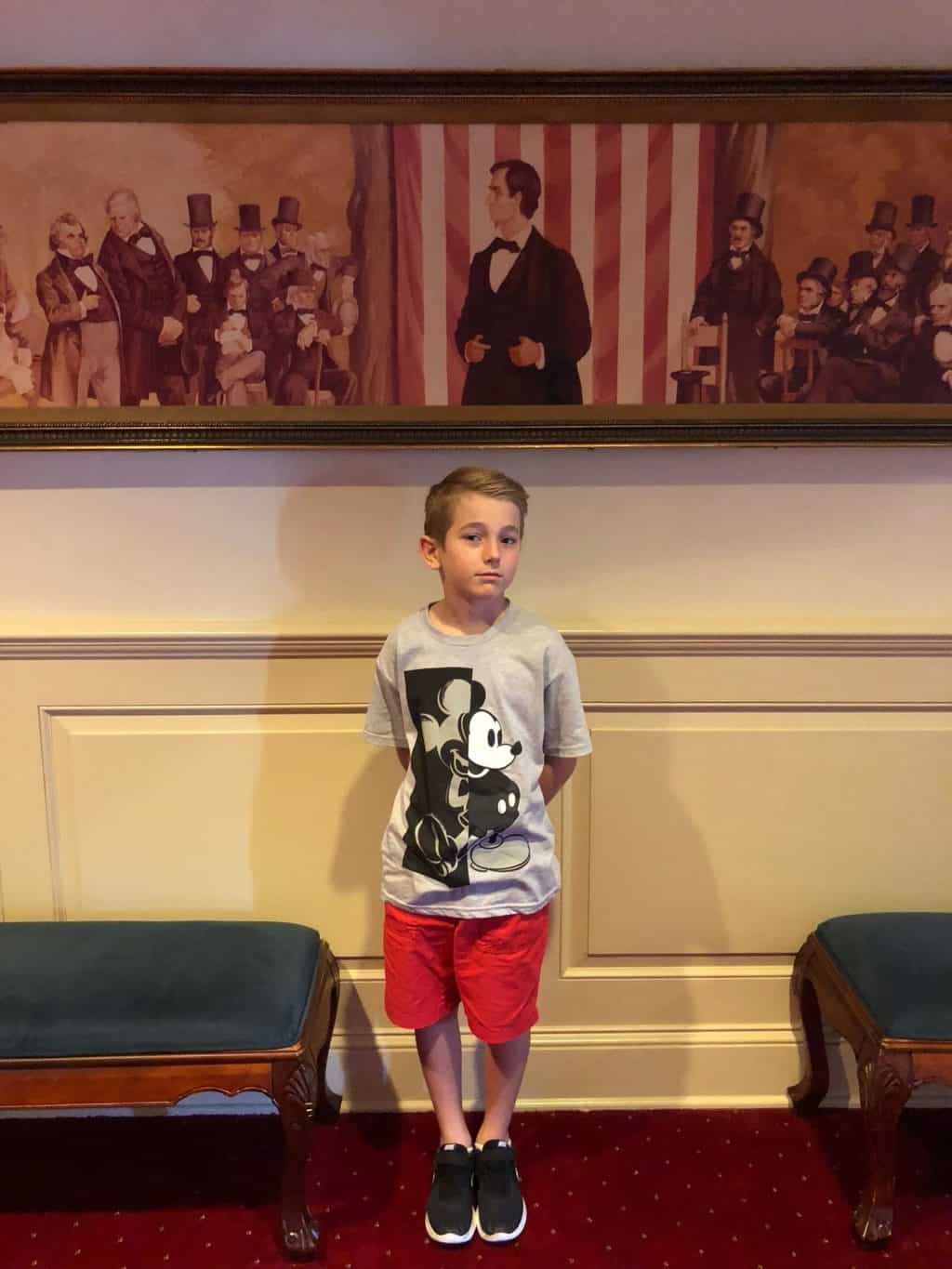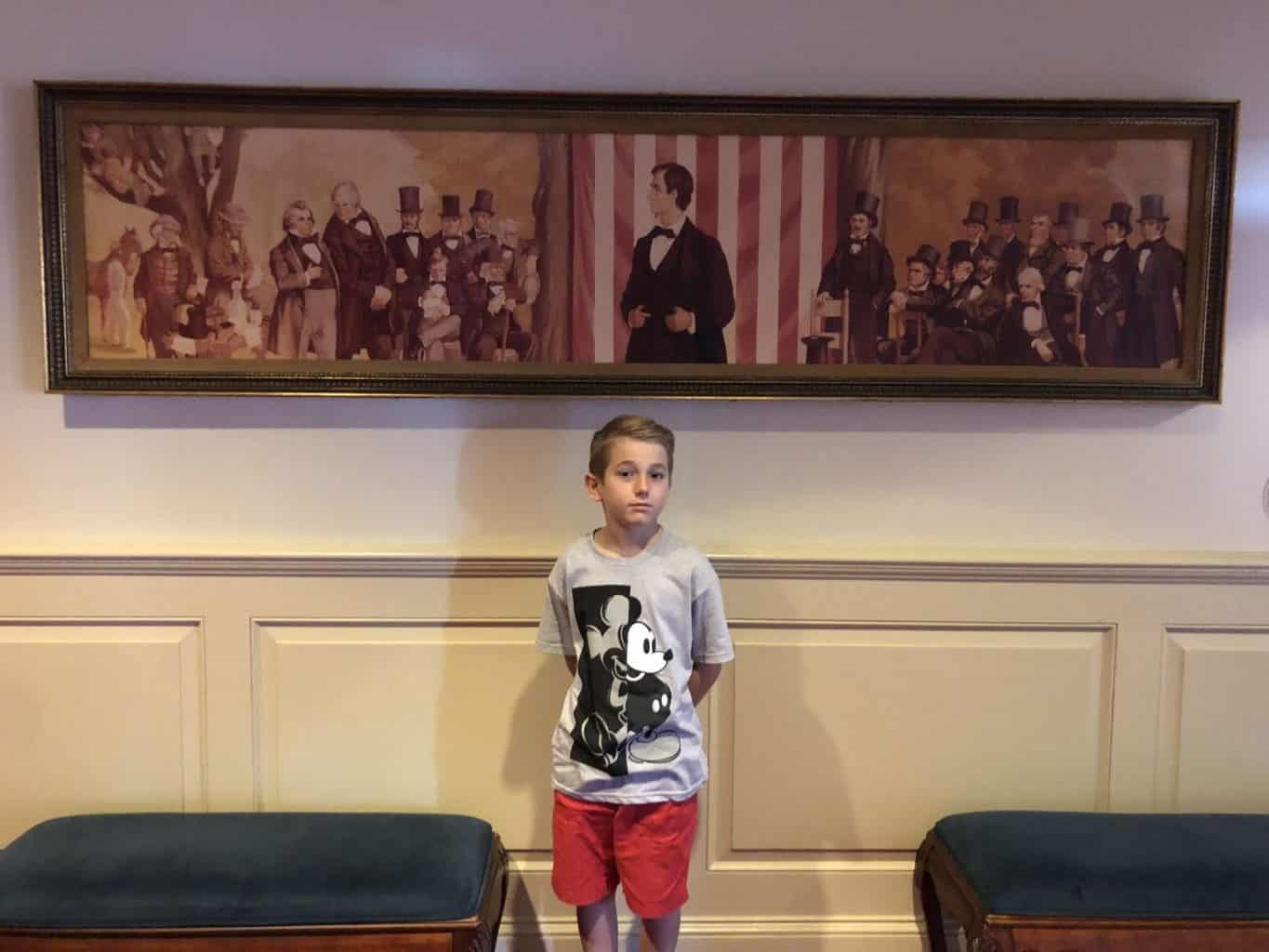 We decided to head to Sleepy Hallow for our snacks. Yall. I've NEVER gotten any food from Sleepy Hallow. I know it's rated as THE best snack spot in MK but it's just not an area that we frequently go by, especially at a snack time. Since we decided to pass up the Belle fastpass swap we had plenty of time and Sleepy Hallow is located right beside Hall of Presidents so it worked out perfectly…and did not disappoint!
Yall know I tend to be cheap cheap with things but I'm learning to invest more in items that we use frequently and that are worth investing in. I recently purchased new Disney cups for the three big kids. I did lots of research (and asking for opinions) and decided to get Thermos Funtainers for them! I let them choose their own designs and they have been THE best investment. They have a little hook that makes them easy to hold and carry, they keep water and ice COLD, and they are easy to tell whose is whose thanks to the variety of colors and design options. You can view them all here (click on the design type to see other options)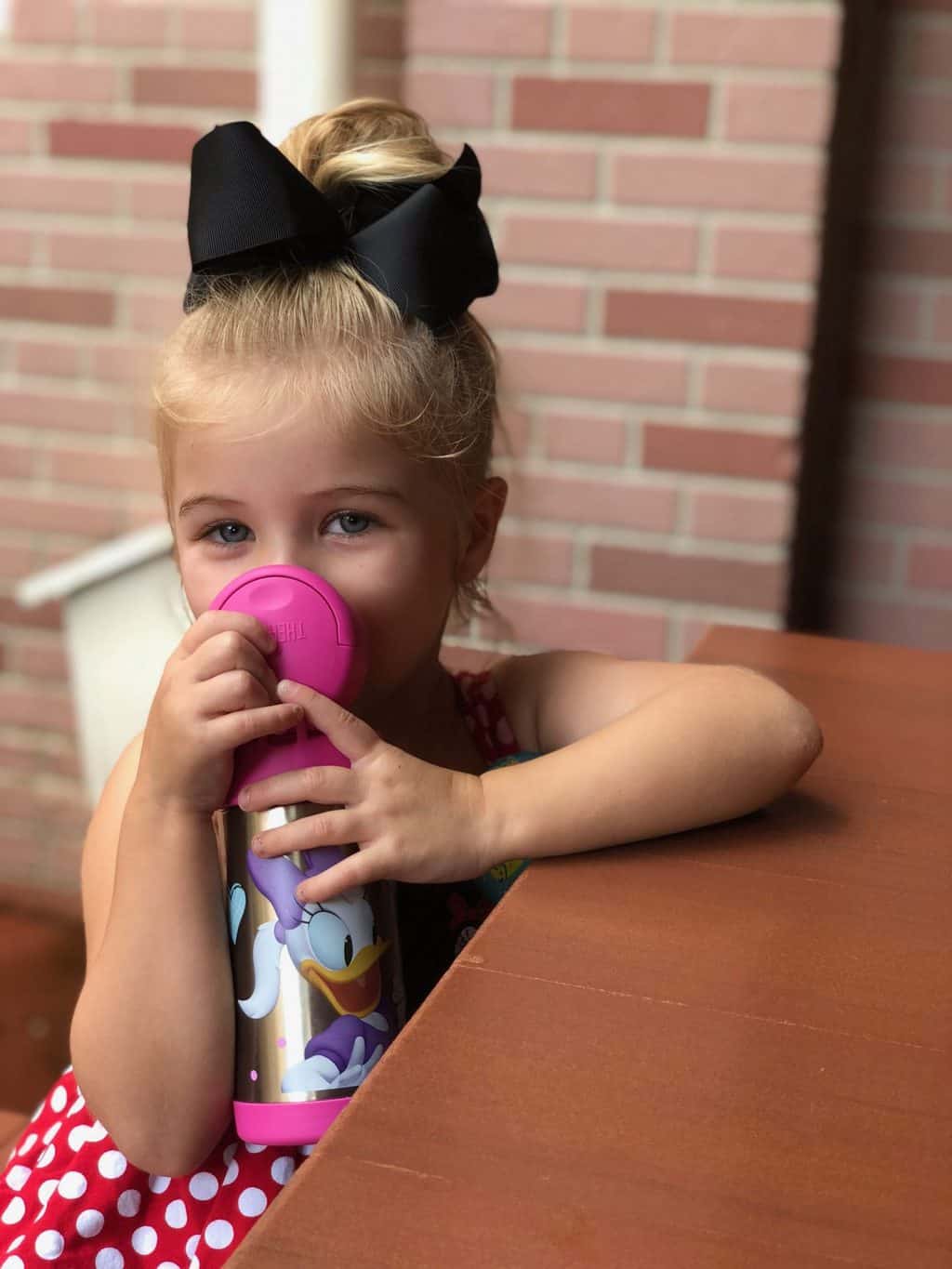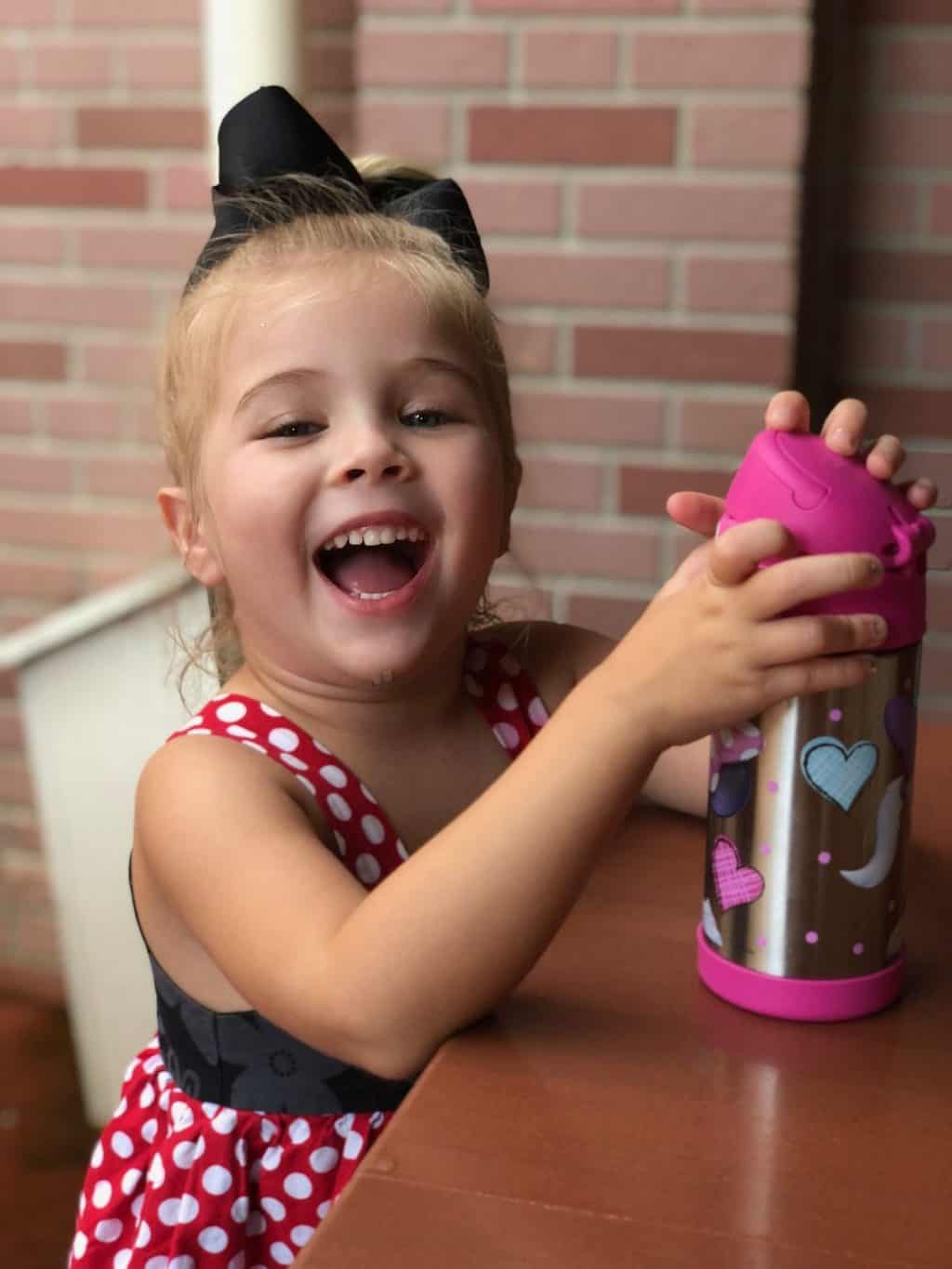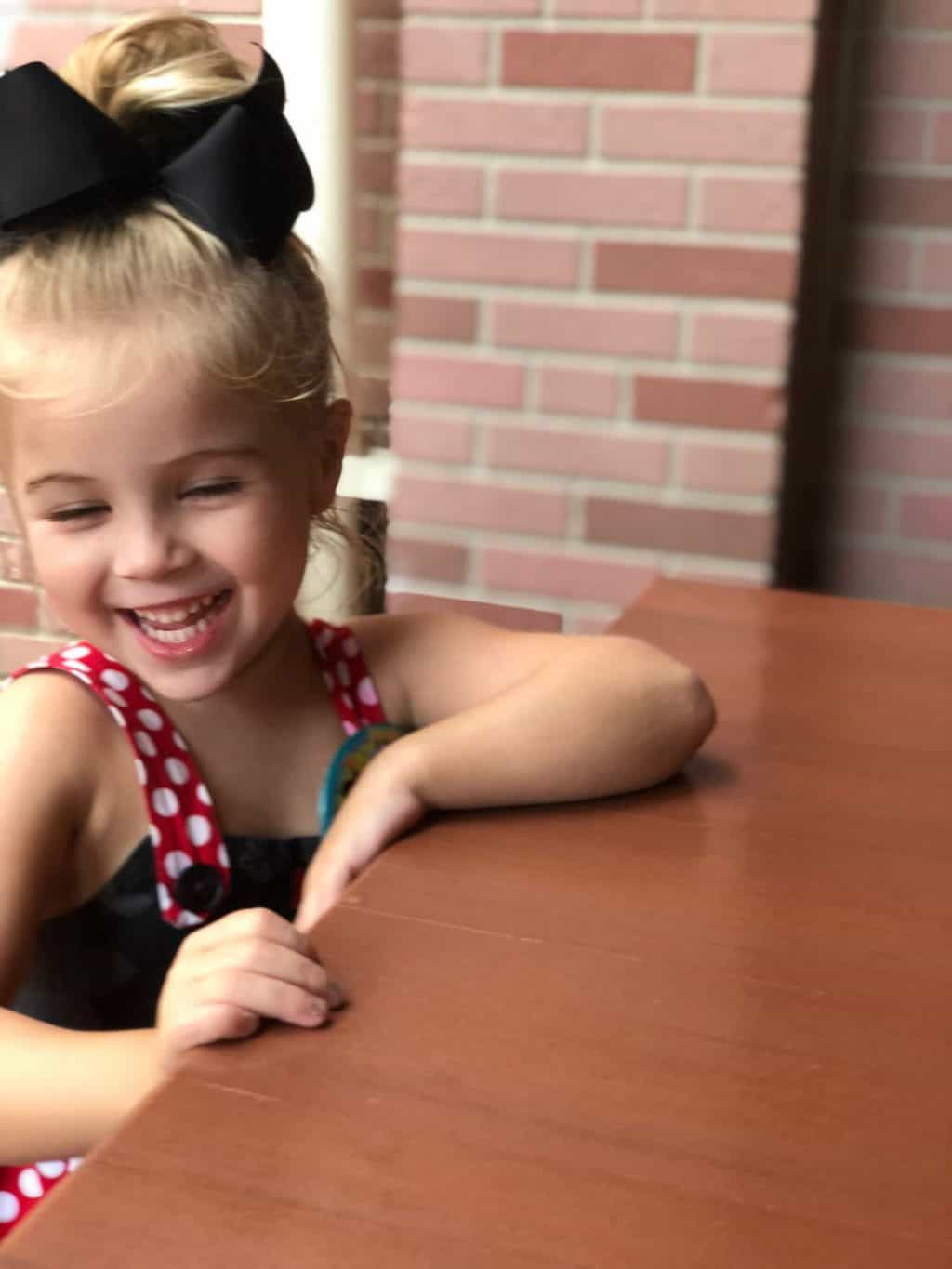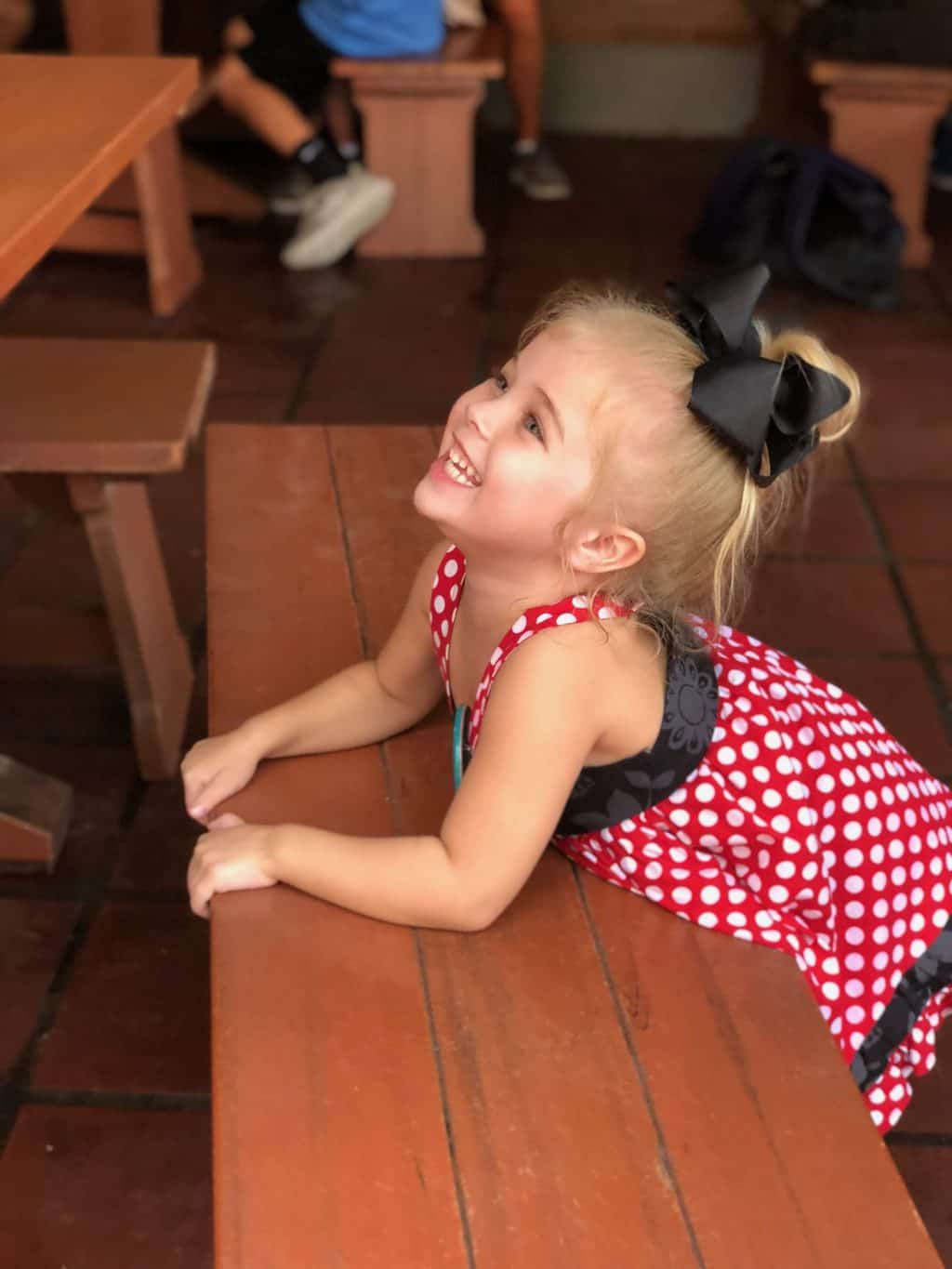 Several of us ordered churro ice cream sandwiches and they did NOT disappoint. SO GOOD.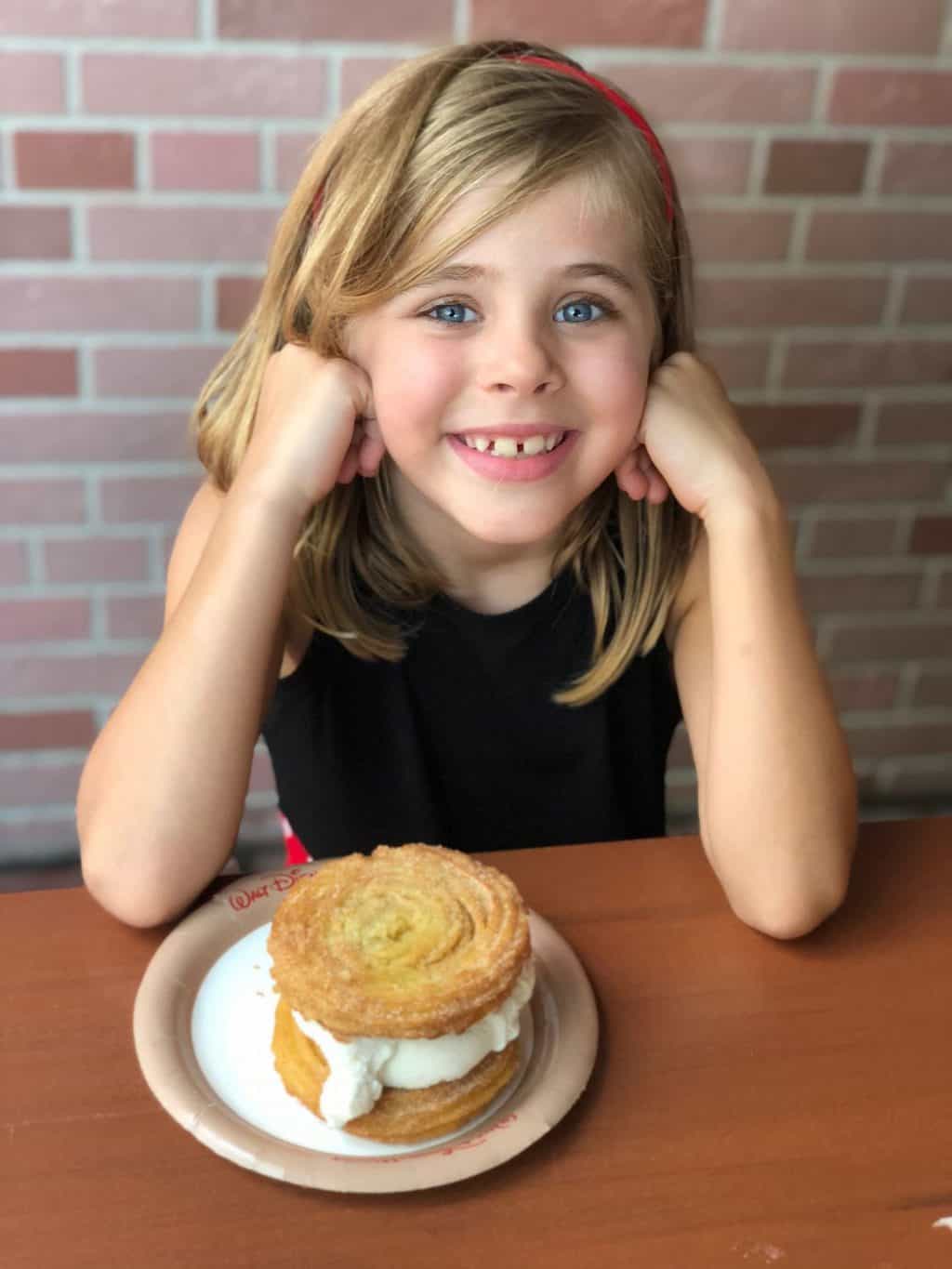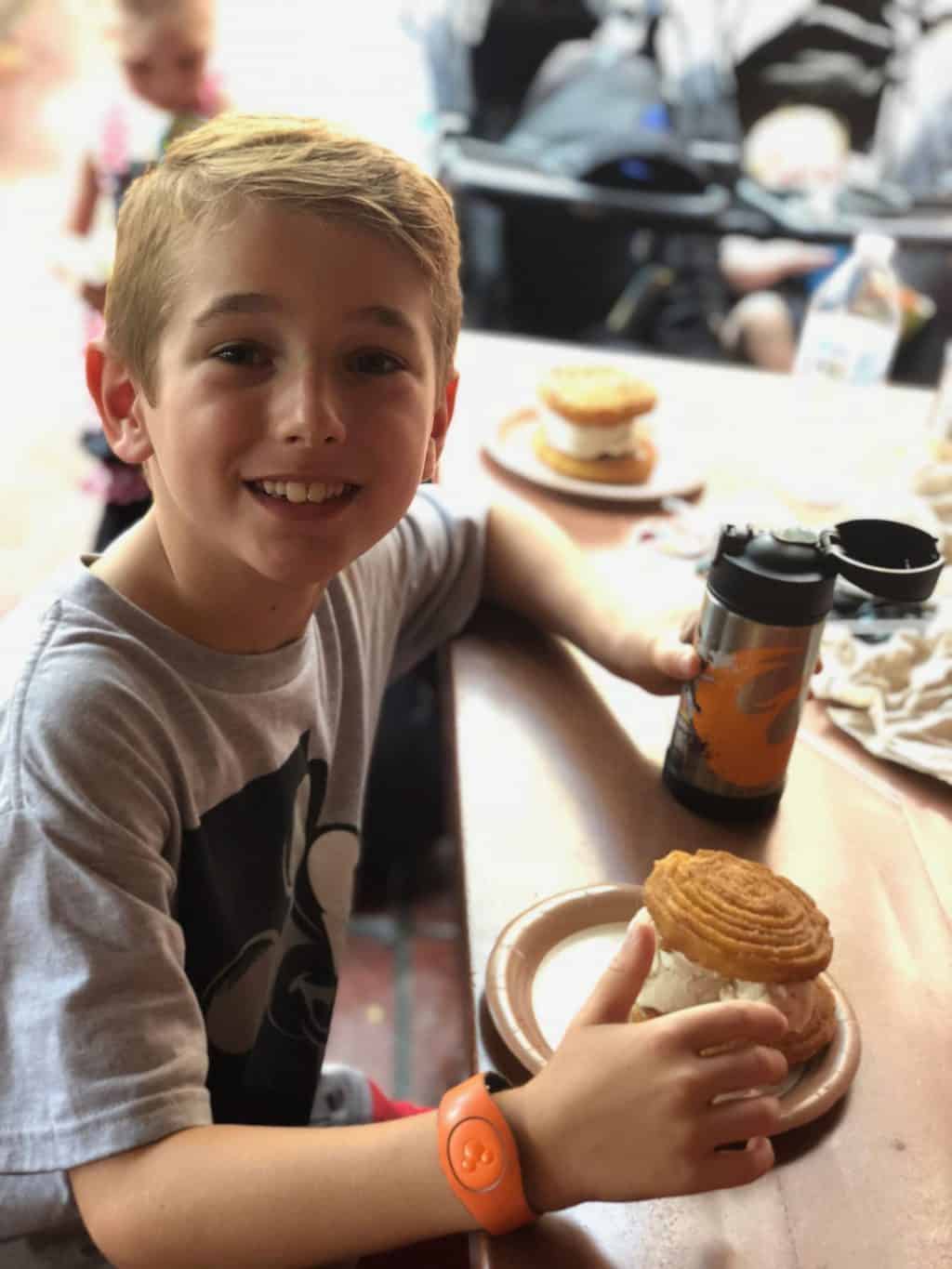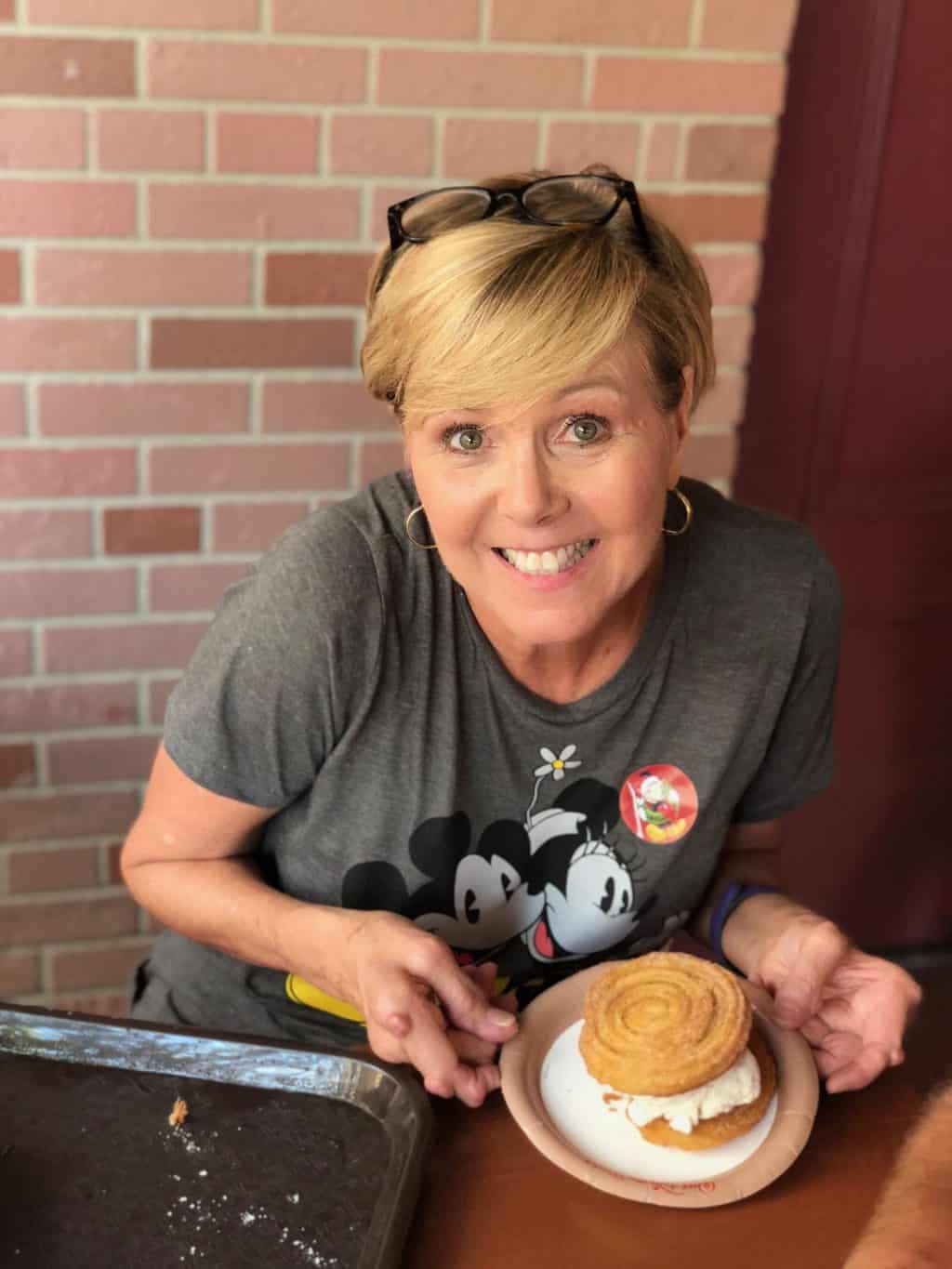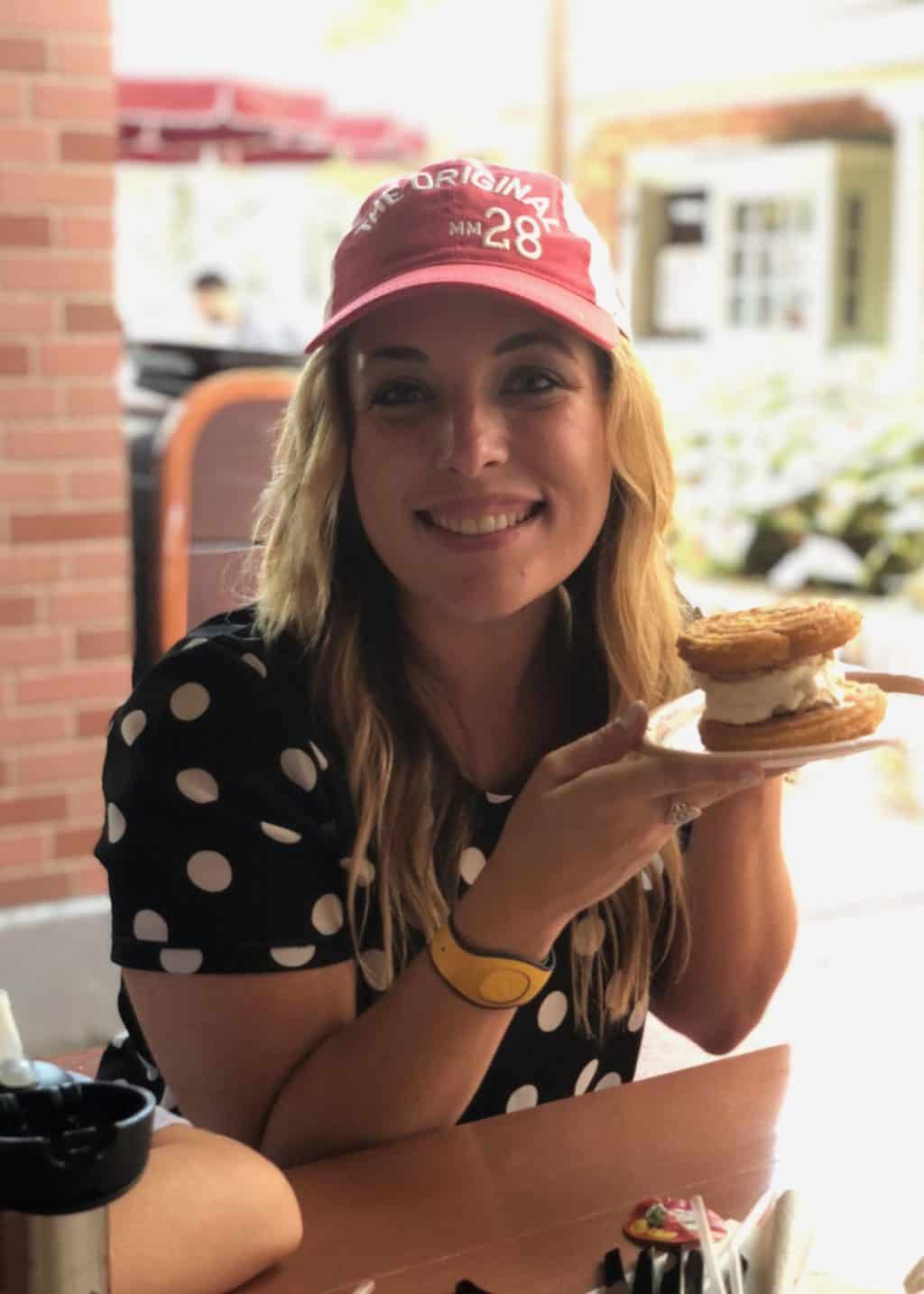 Snackers gotta snack…we loved the funnel cake too!
Tess opted to eat a Sticky Foot rather than have a treat haha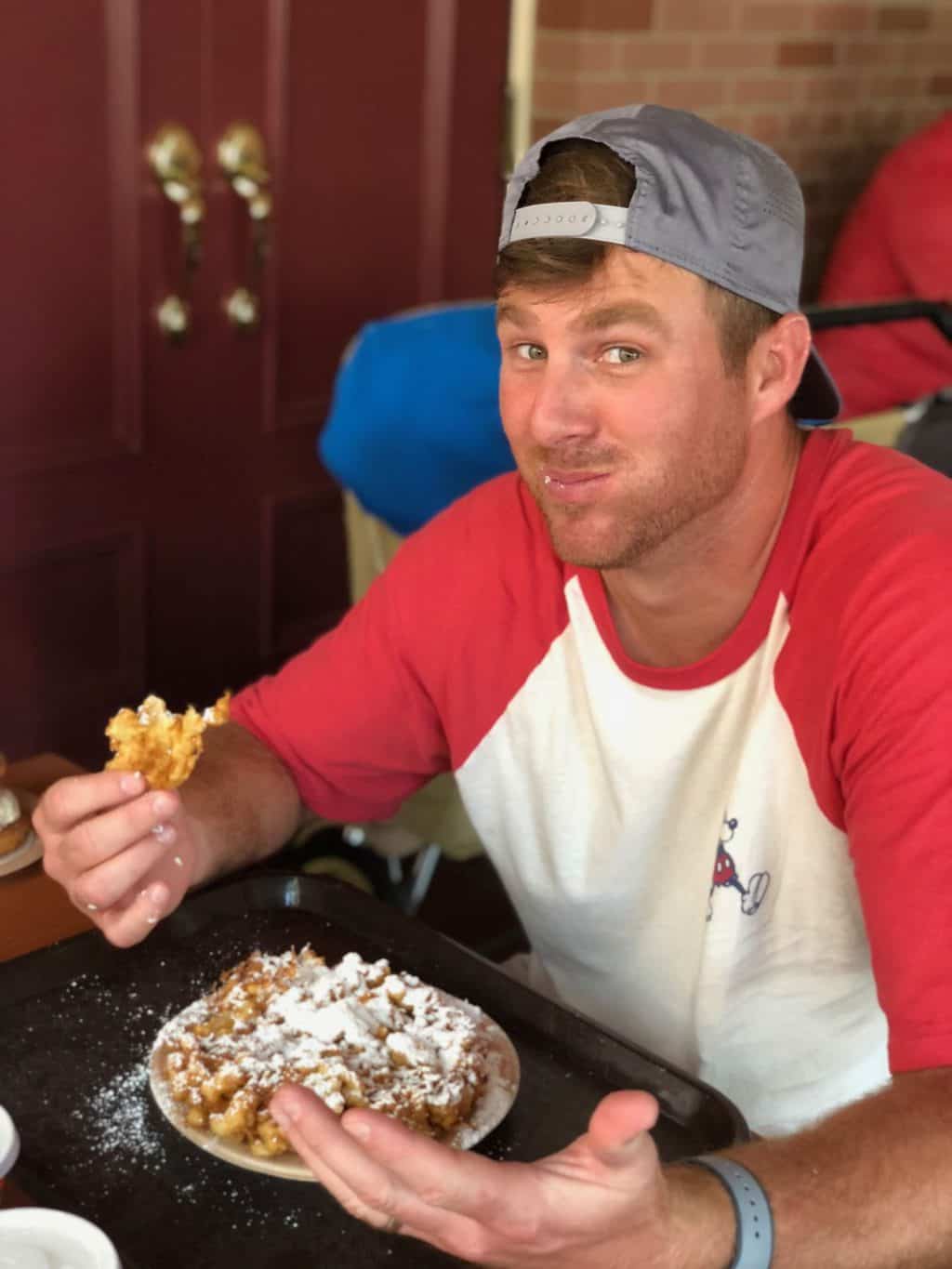 Brick Wall + waiting for everyone to finish eating + cute sunglasses I grabbed on clearance = Picture Time!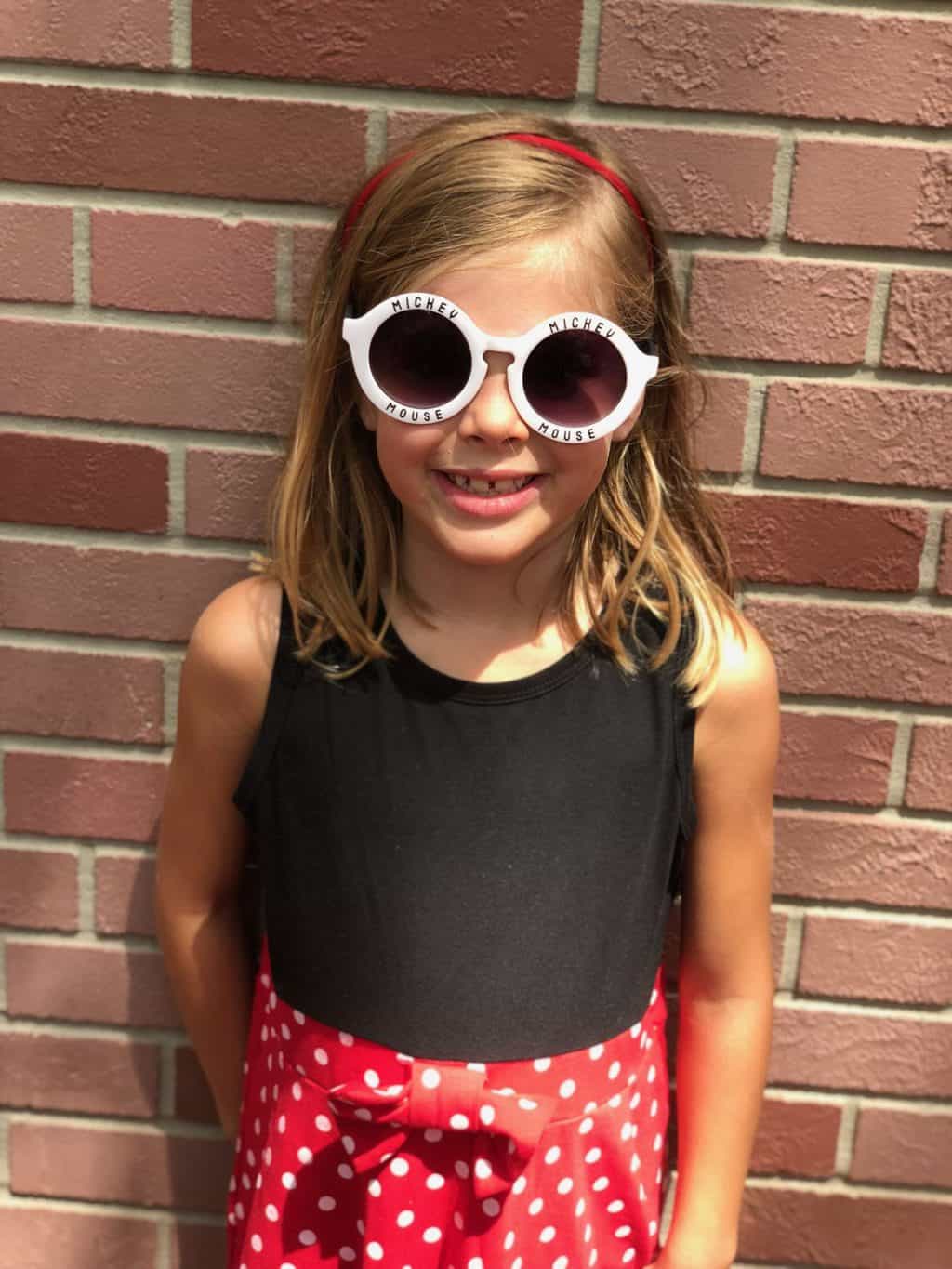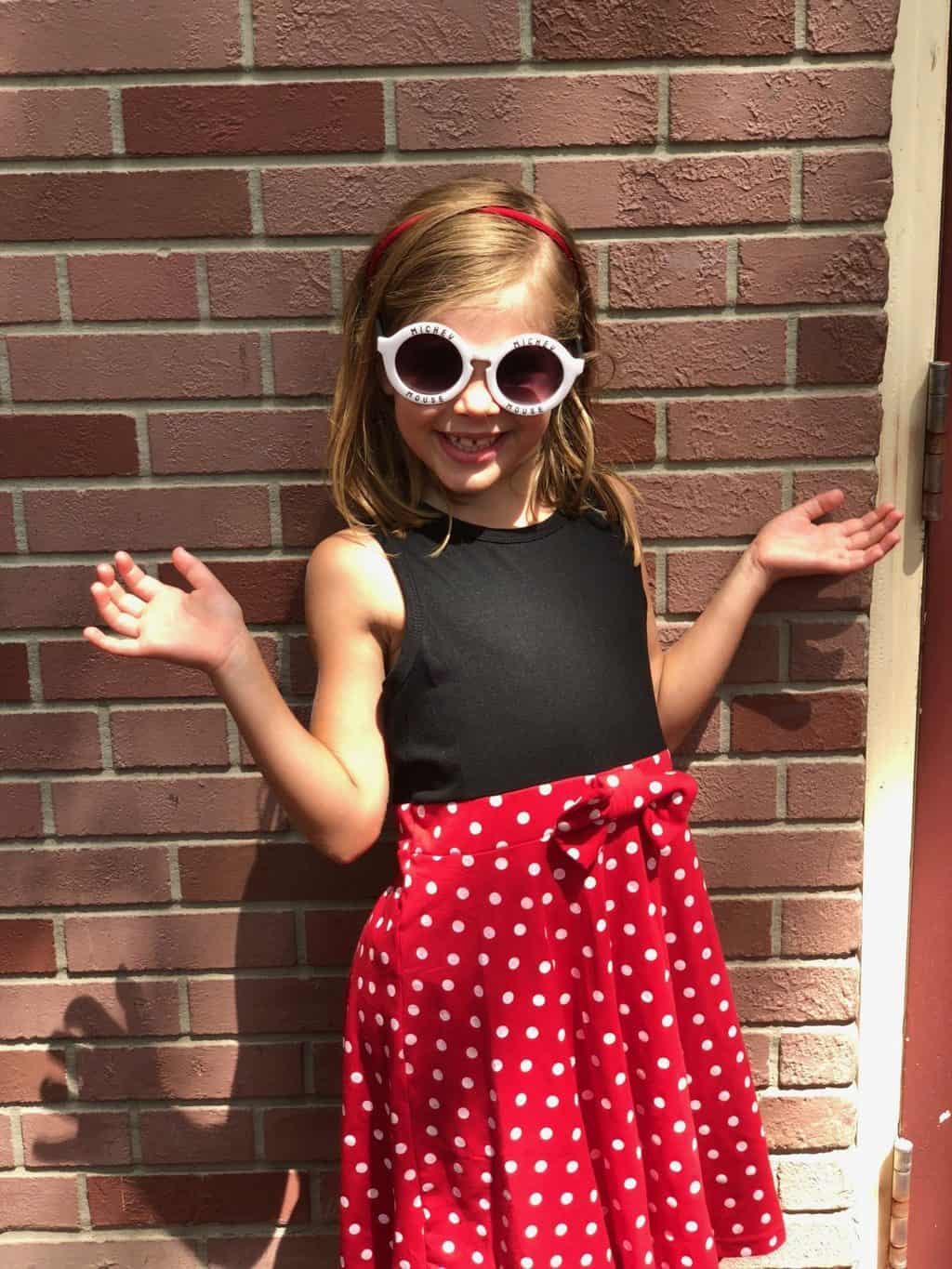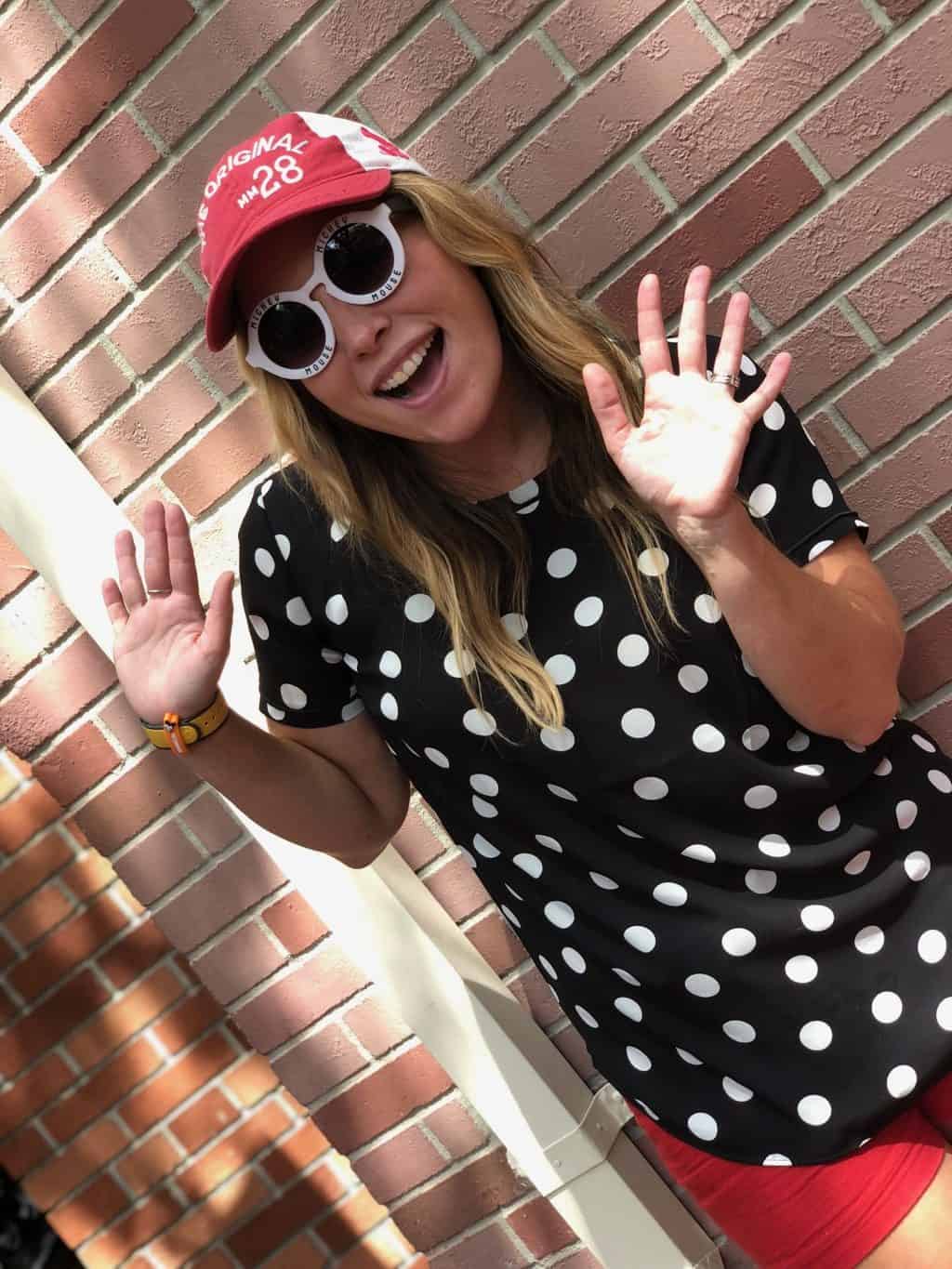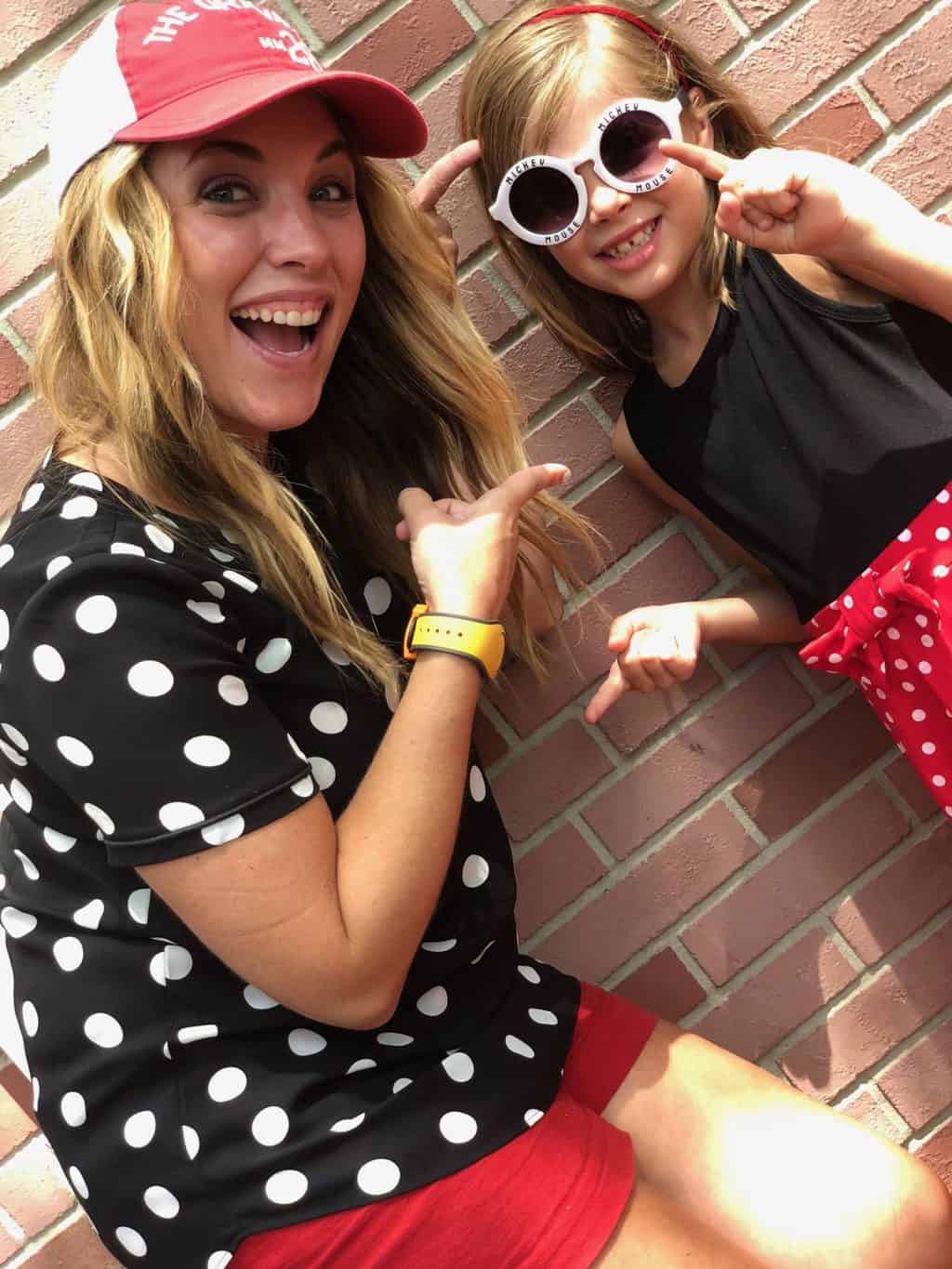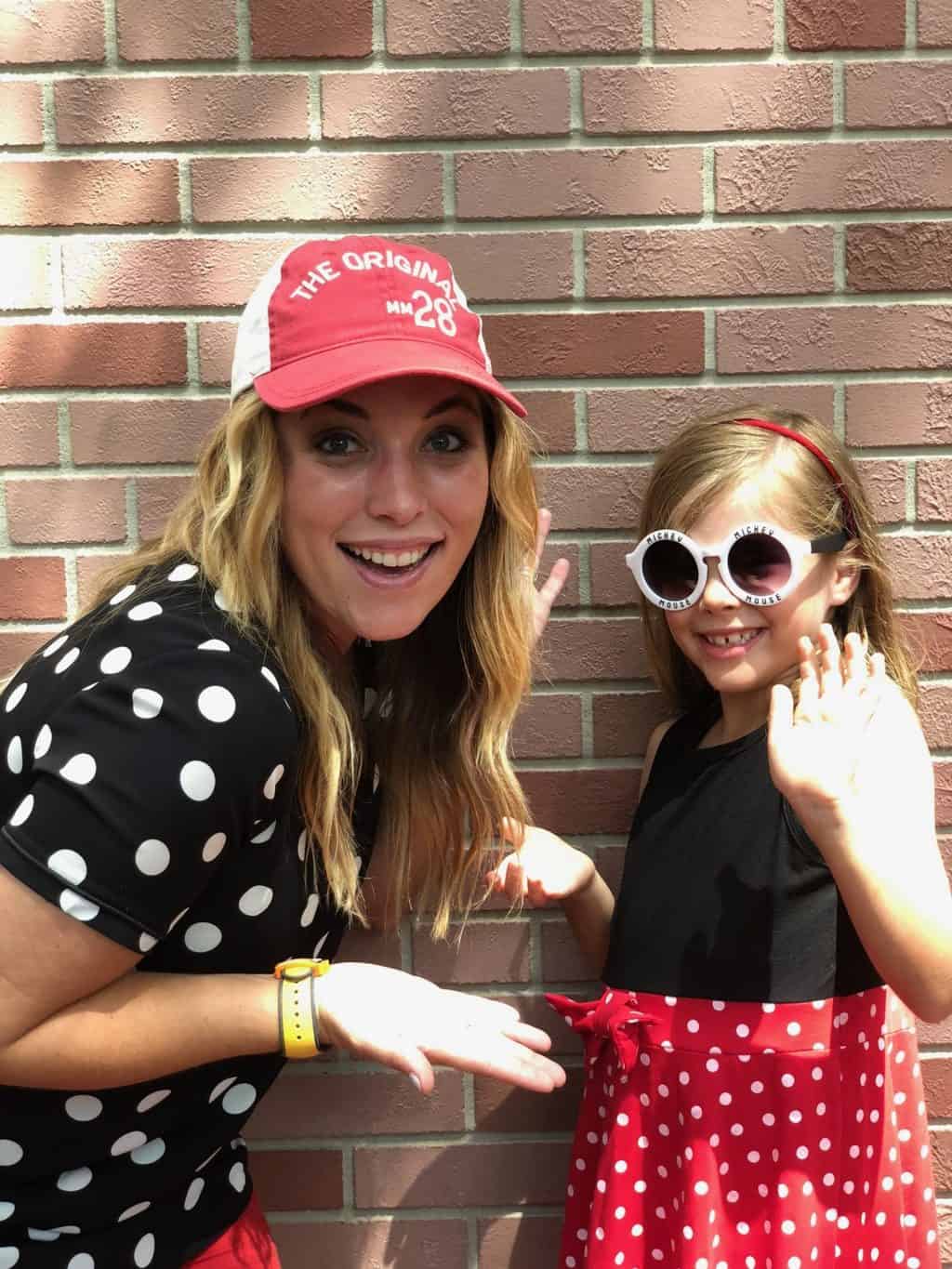 I'm a sucker for a good castle pic! If no one else wants to be in the picture then there is no shame in my solo pic game either!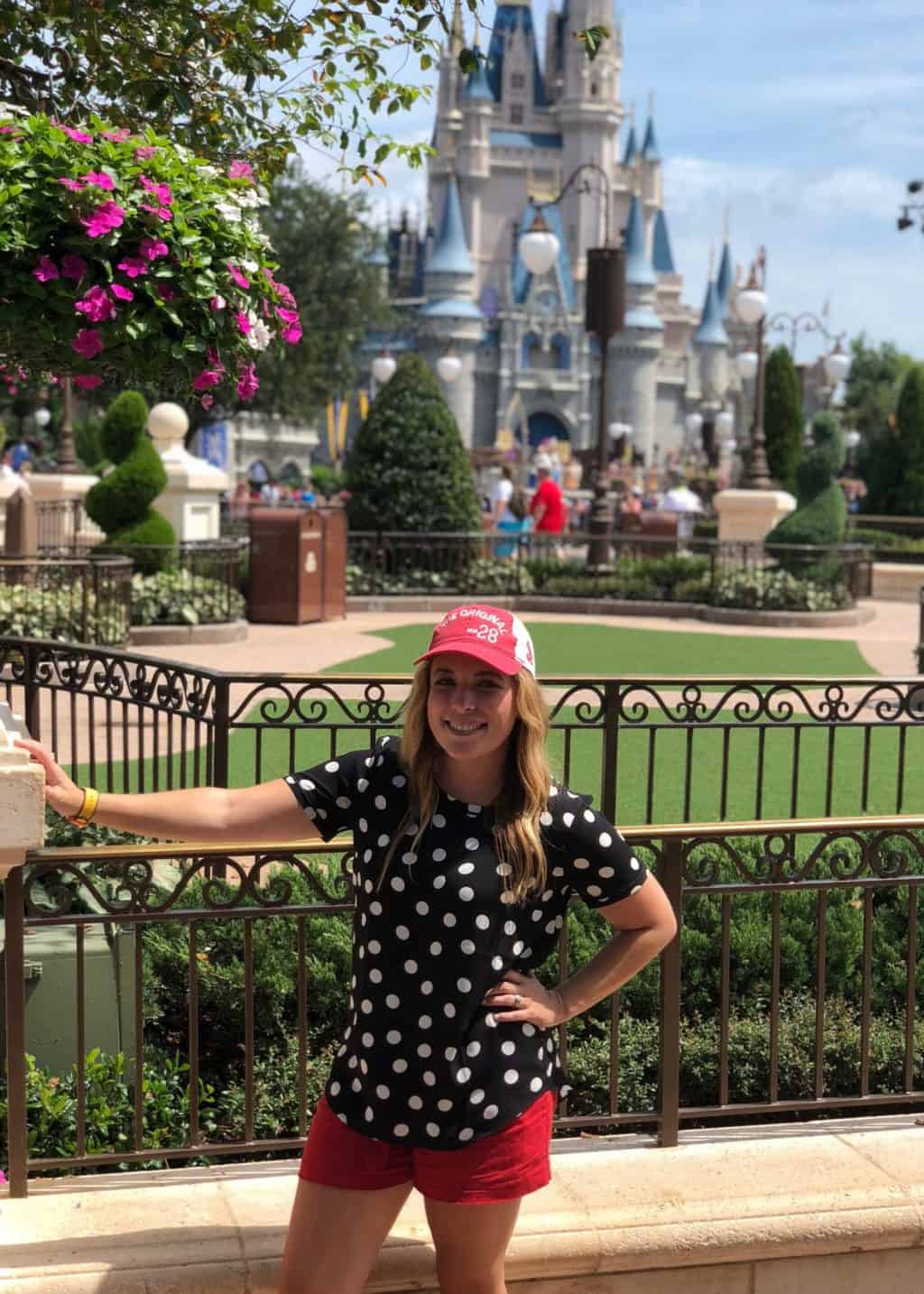 For our last fastpass I scheduled Tinkerbelle meet and greet as she's someone Tess has been talking about wanting to meet again and we haven't met her in awhile! Out of all the character meet and greets, Pixie Hallow is really such a cool experience! Even if you're not a Tink fan, it's neat to do at least once!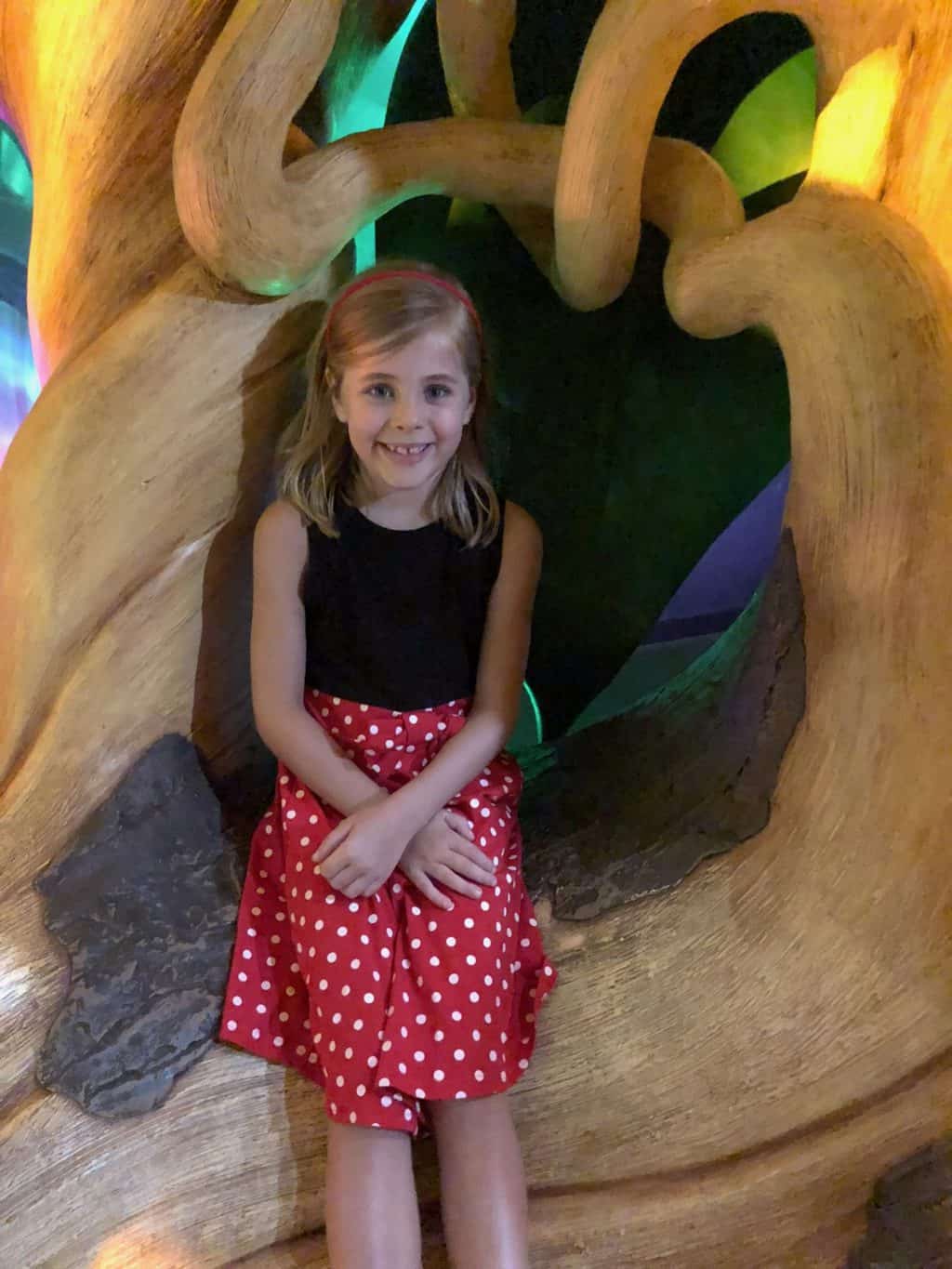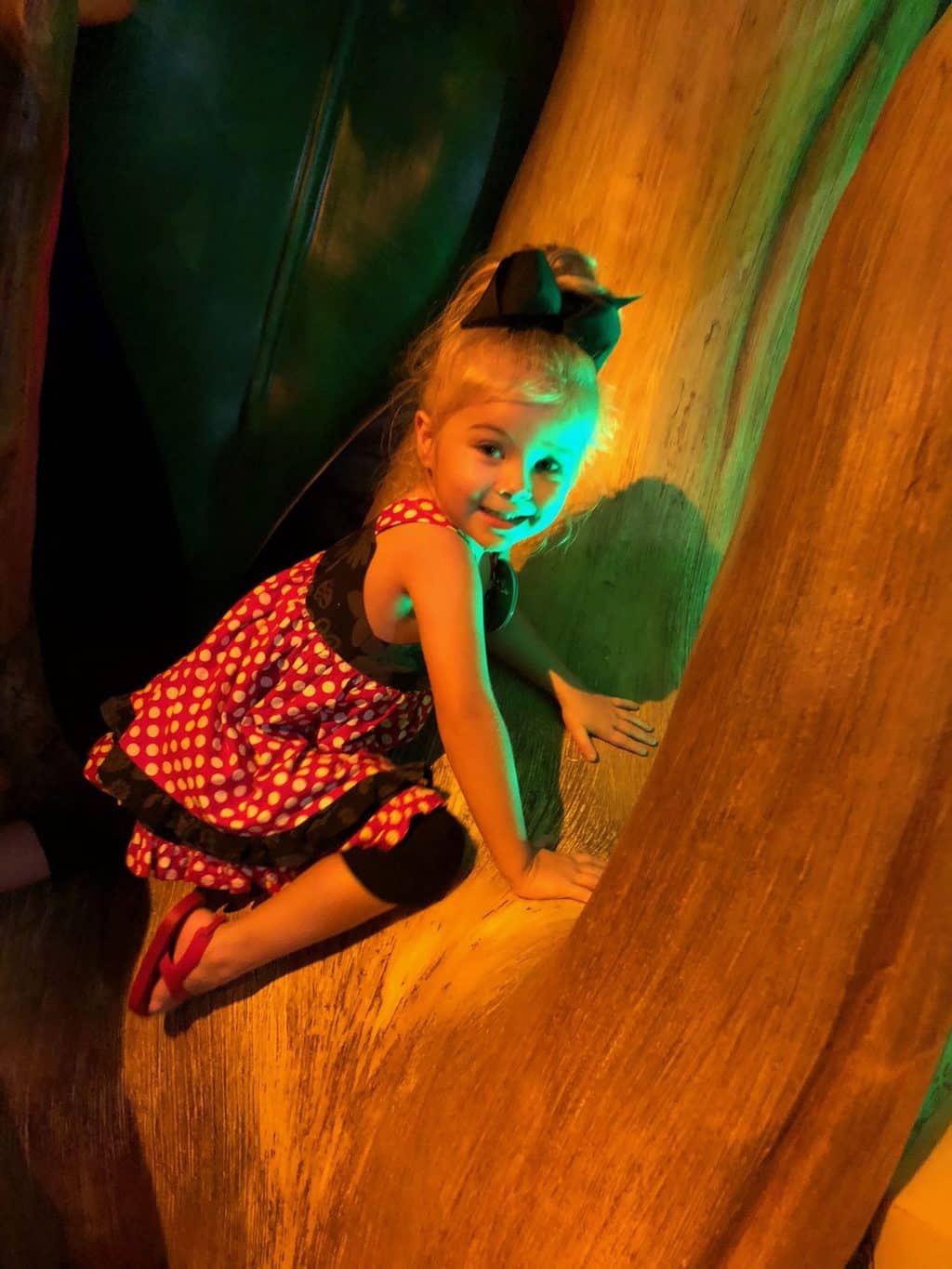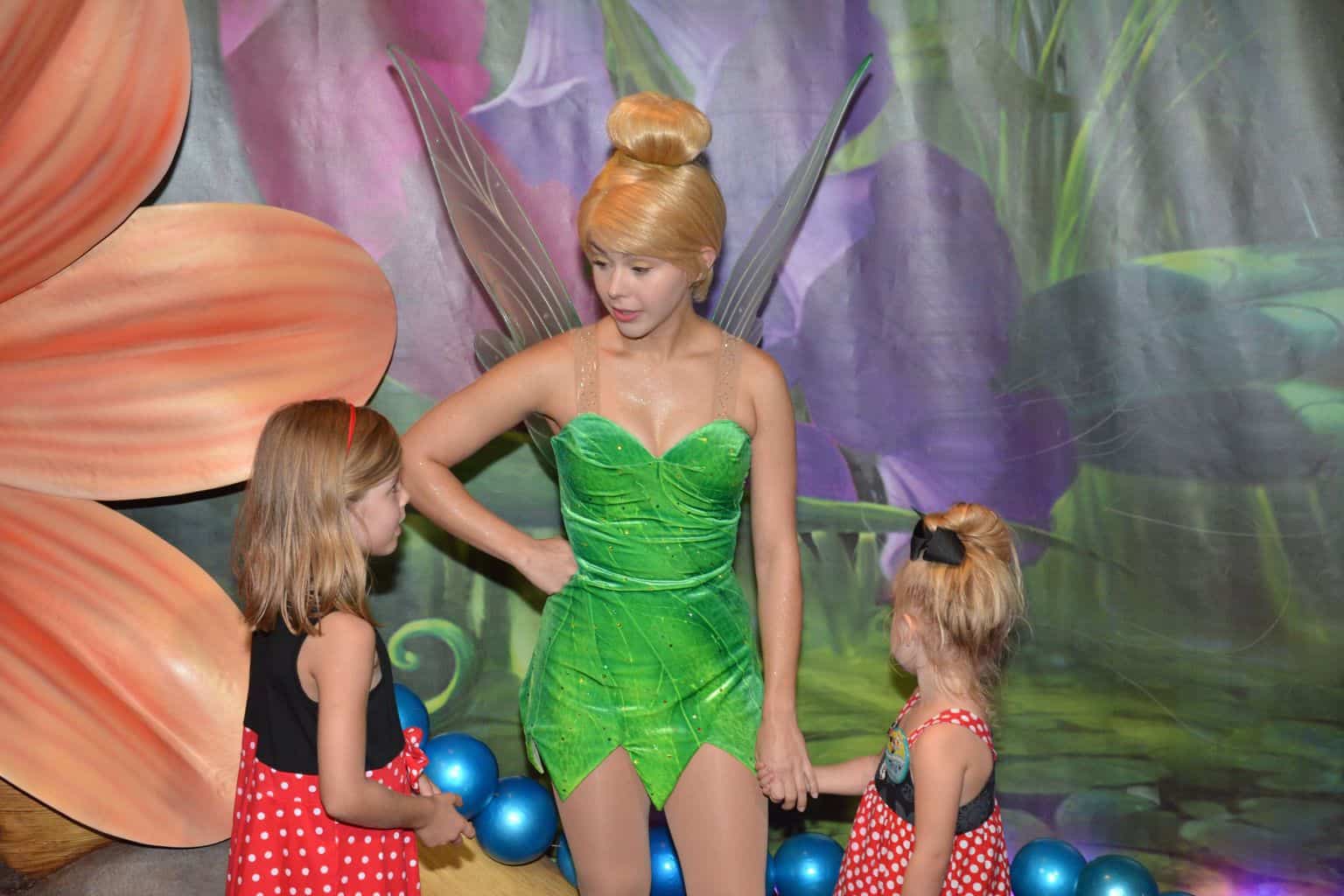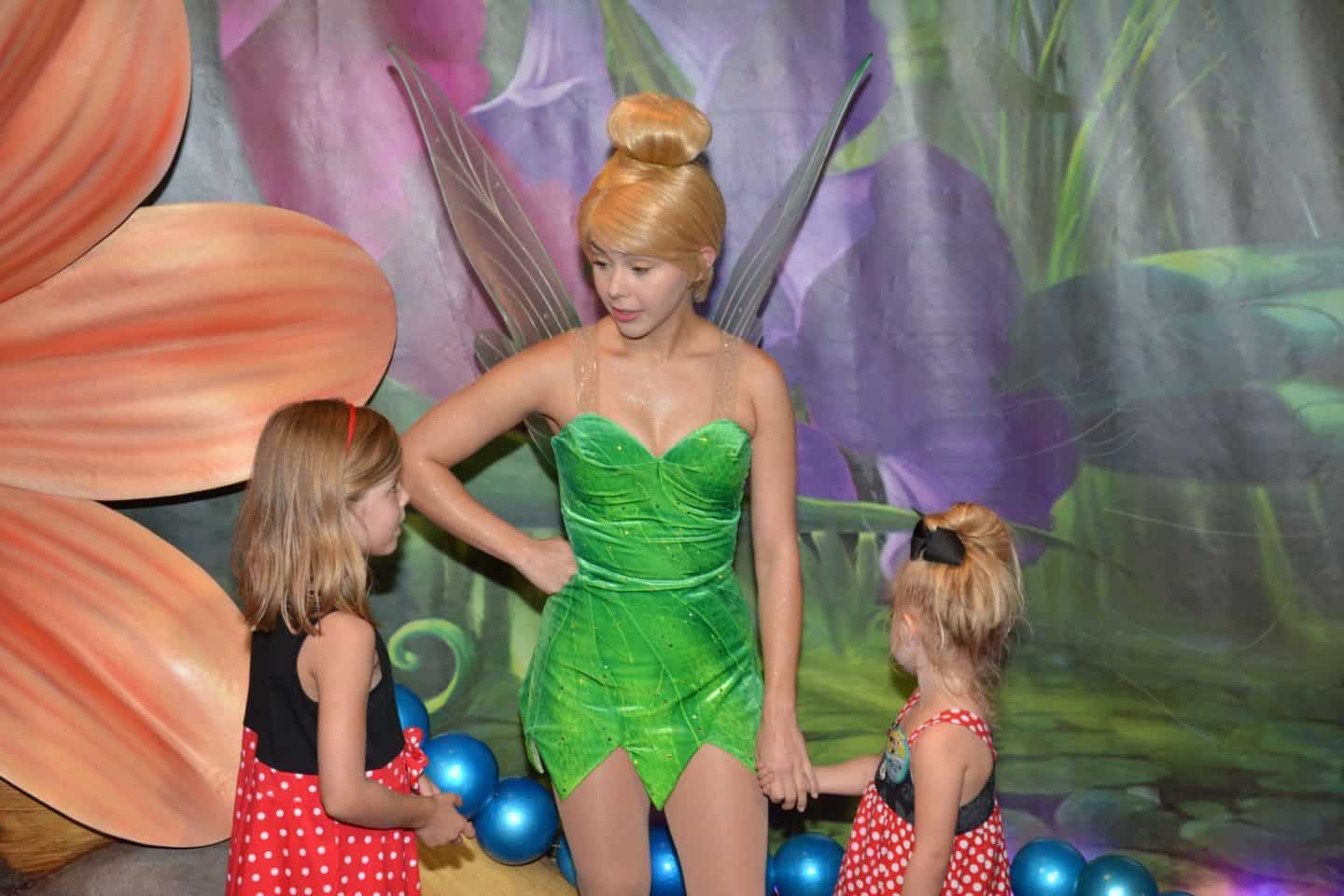 Kye is sorta awkward now with character meet and greets like this one. He sorta just stands off to the side and lets the girls have their moment and then will go in for the picture. I think he's trying to figure out a way to be like Zach and I…just stand with the photo pass photographer until it's time for the group photo. Like I don't think Kye had any desire to speak to Tinkerbelle. But he's a KID so when a character sees him they draw him in and he'd never want to be rude. It's just the way it is for now and I'm not really quite sure how to best advice him in handling it because if he stays back the character will give him more attention than if he just joins in with the girls!
Tess was also super funny during this interaction. She became obsessed with Tinkerbelle's shoes and kept touching them and Tink kept explaining her shoes and trying to brush Tess away but she kept on trying to touch them anyway haha!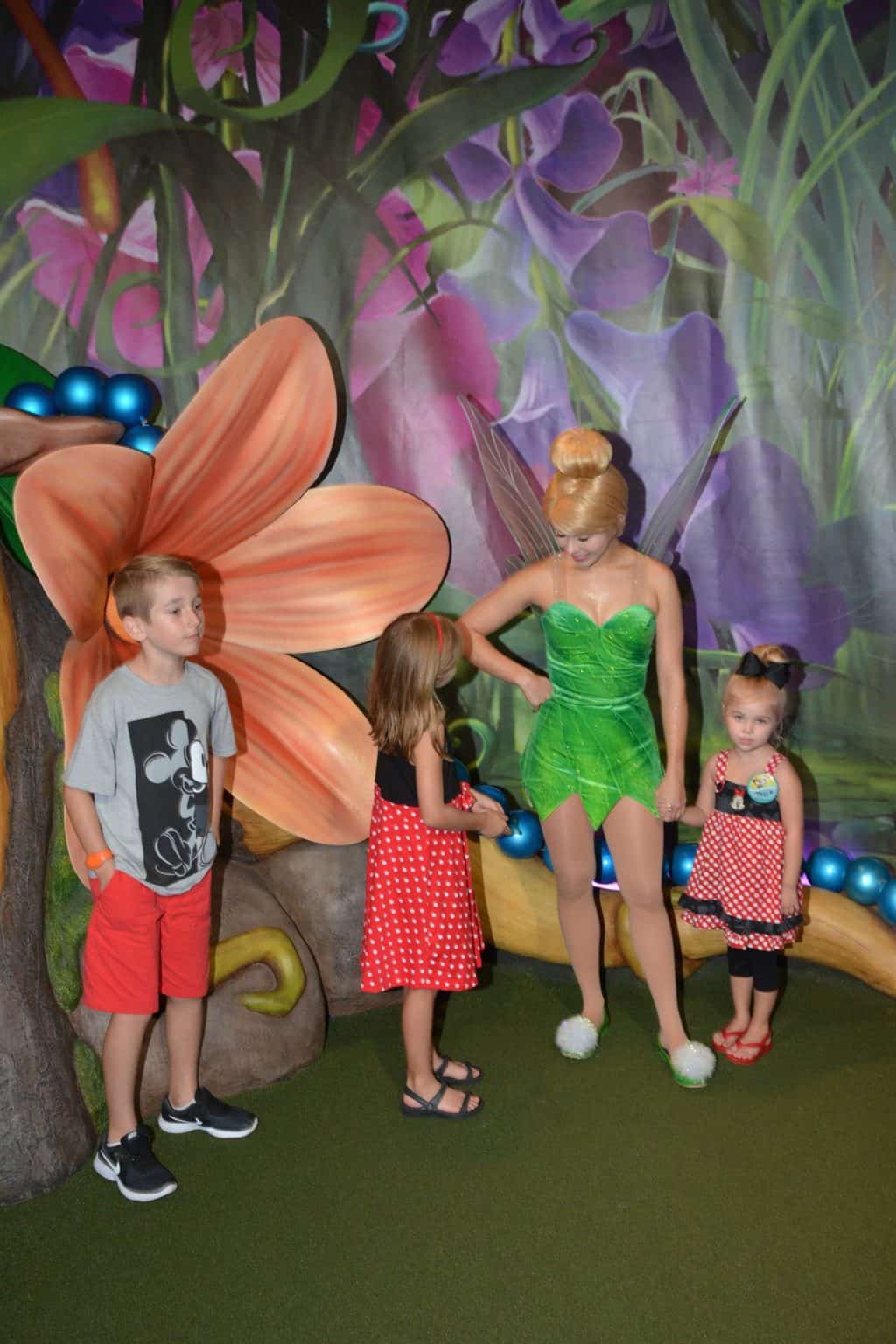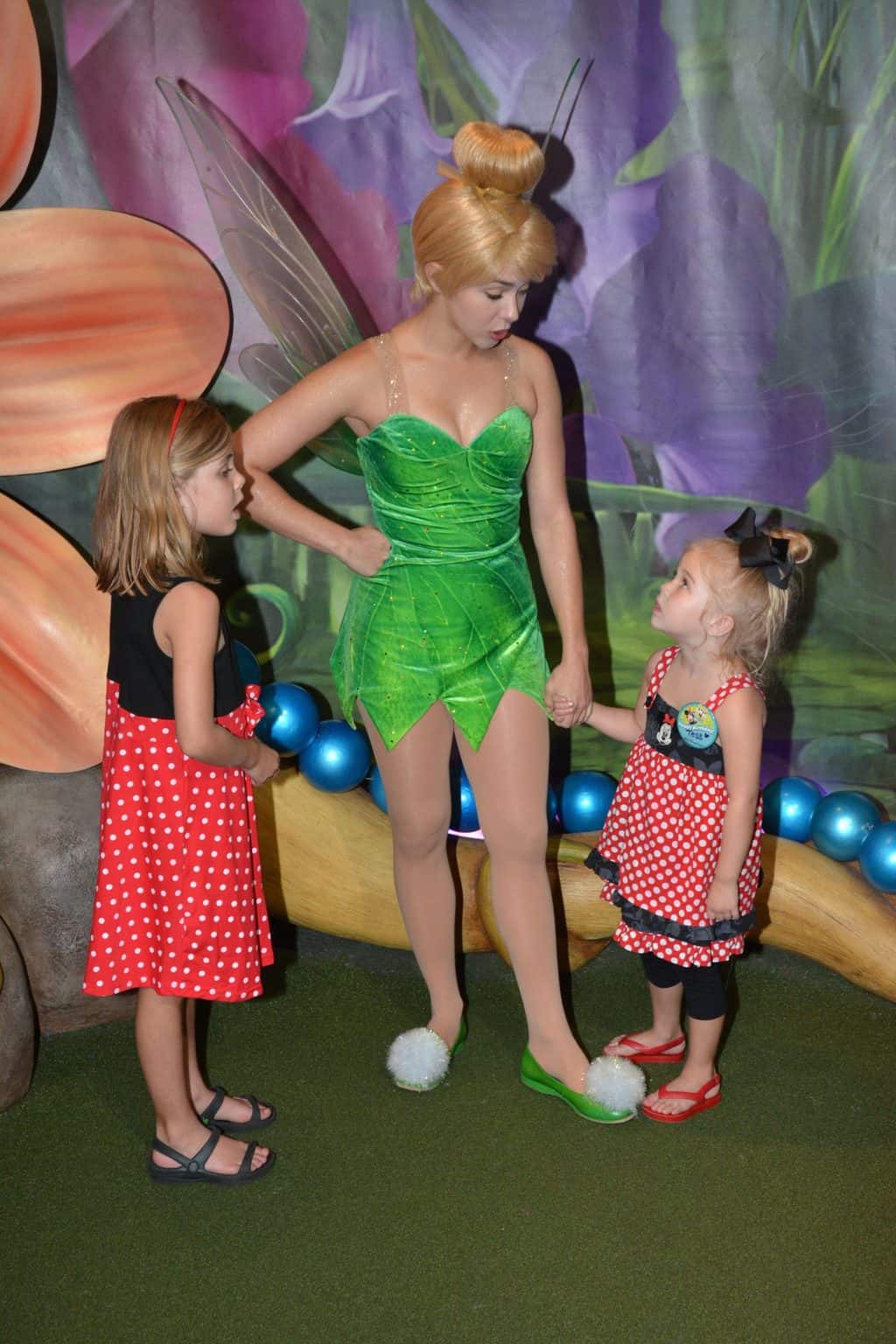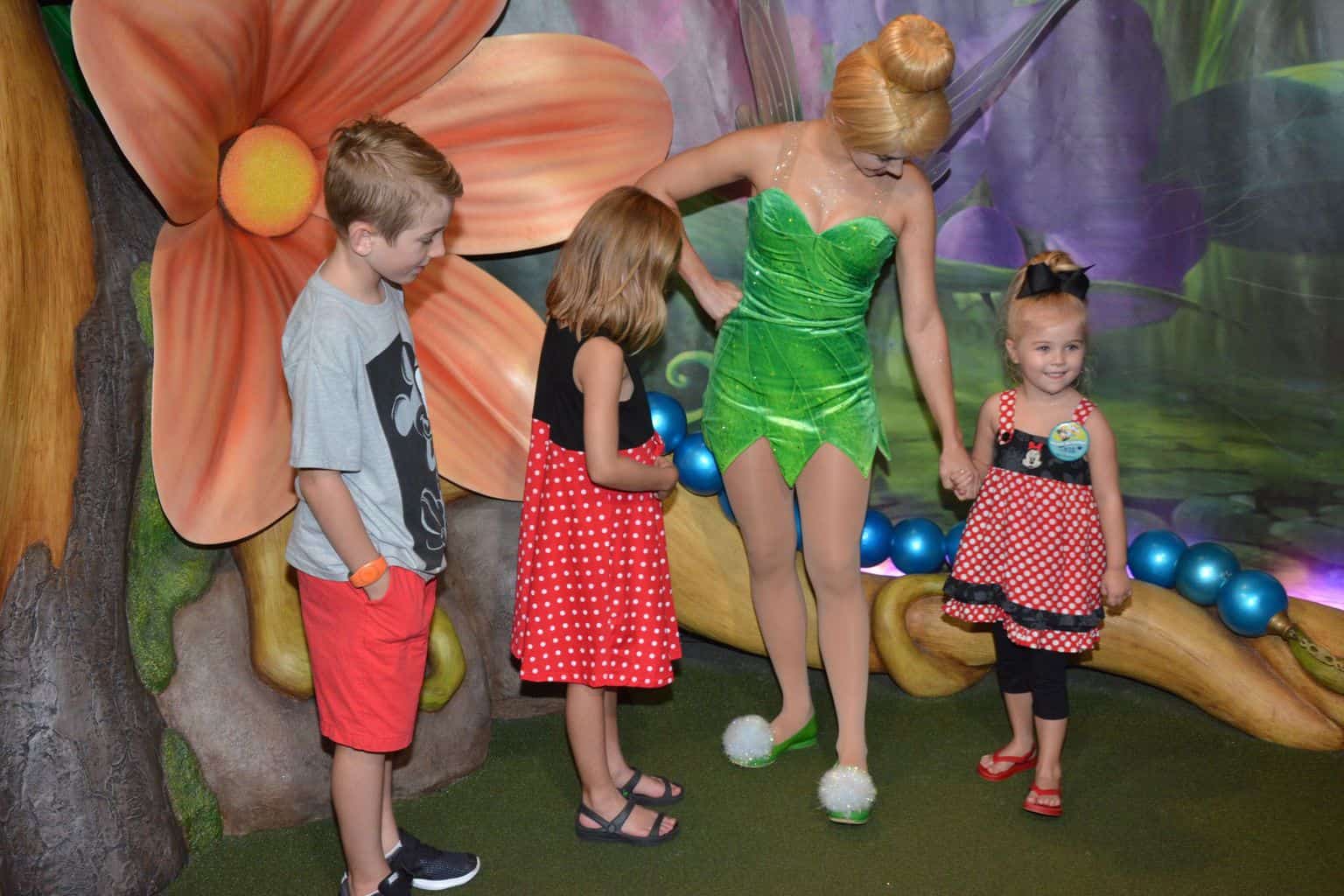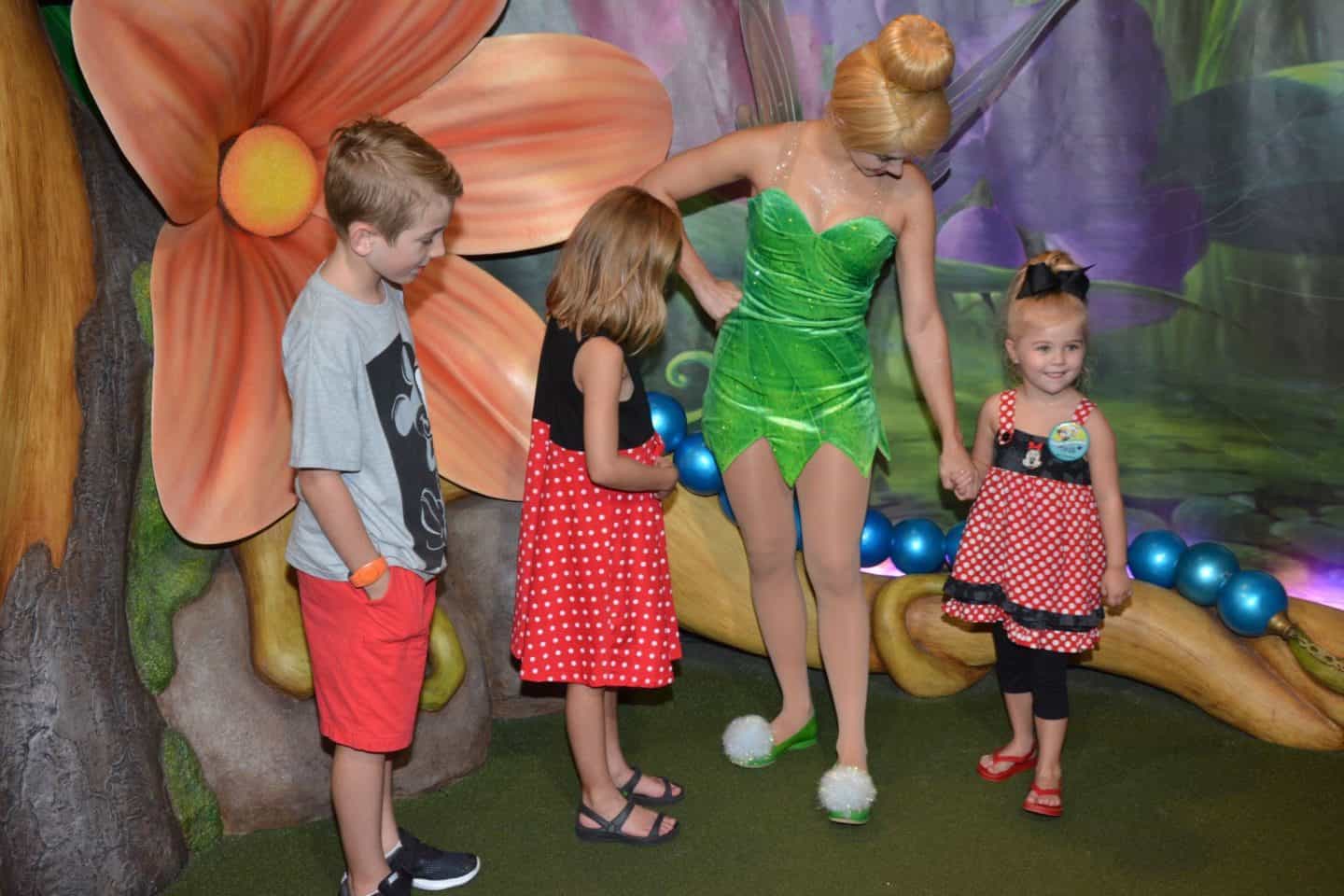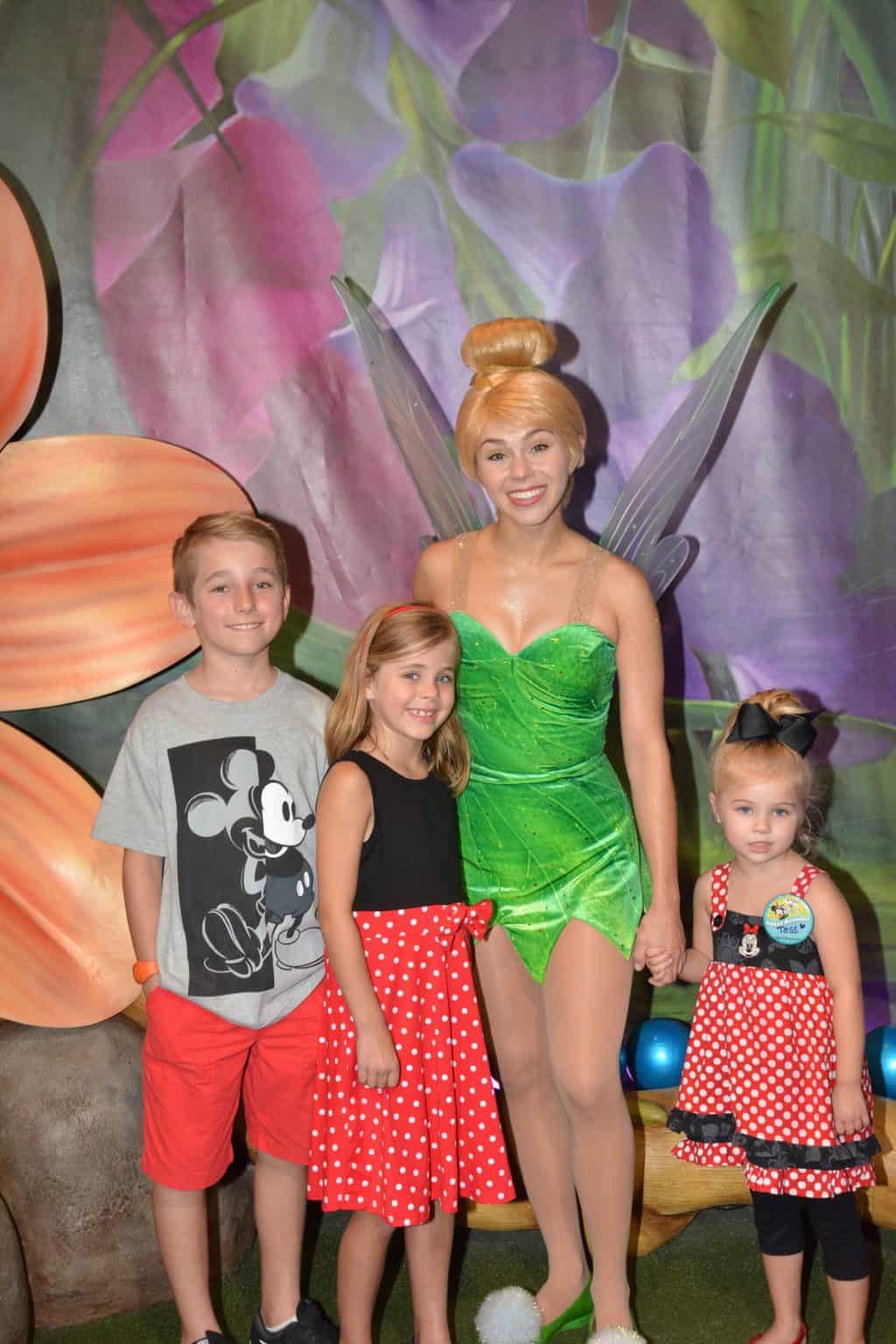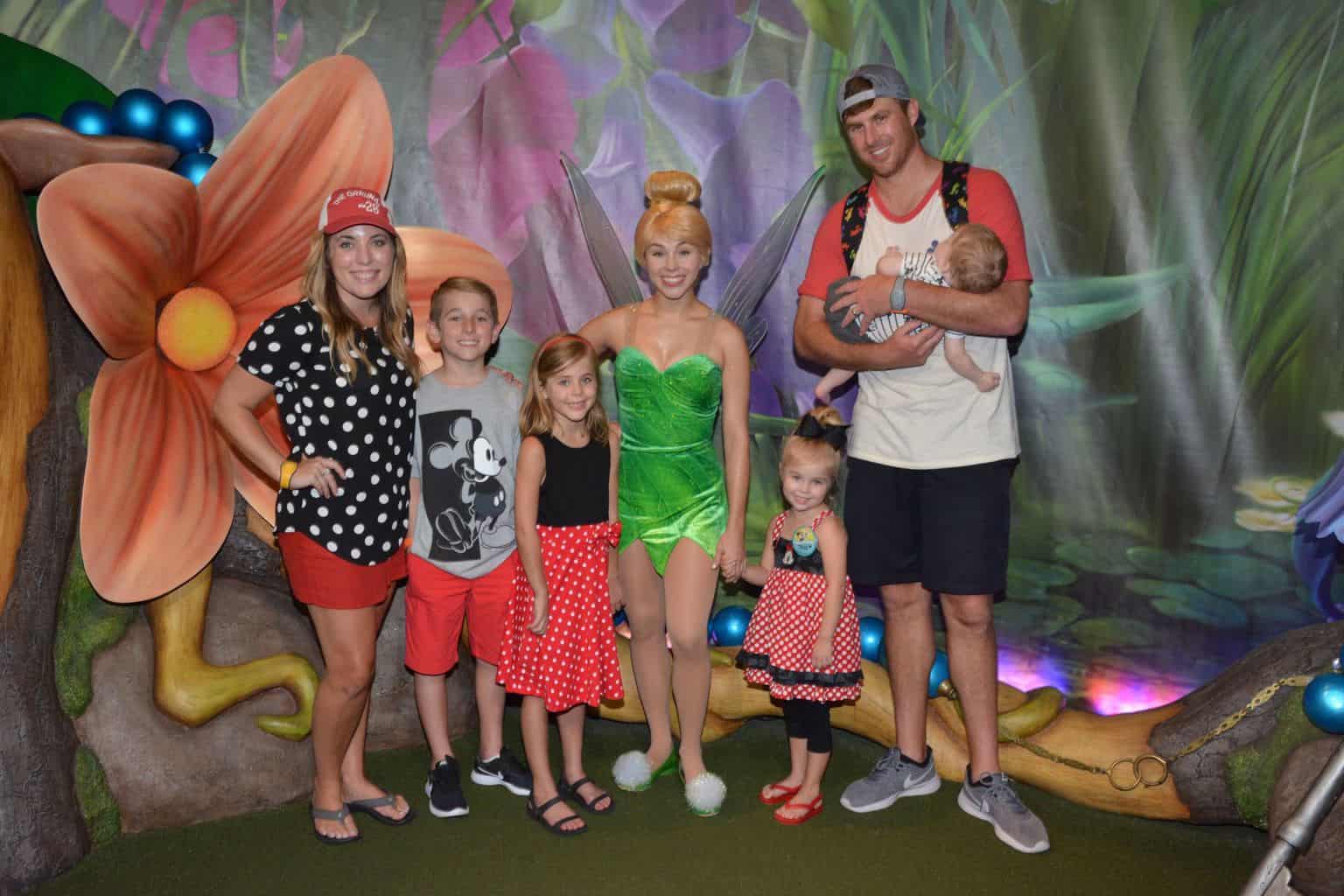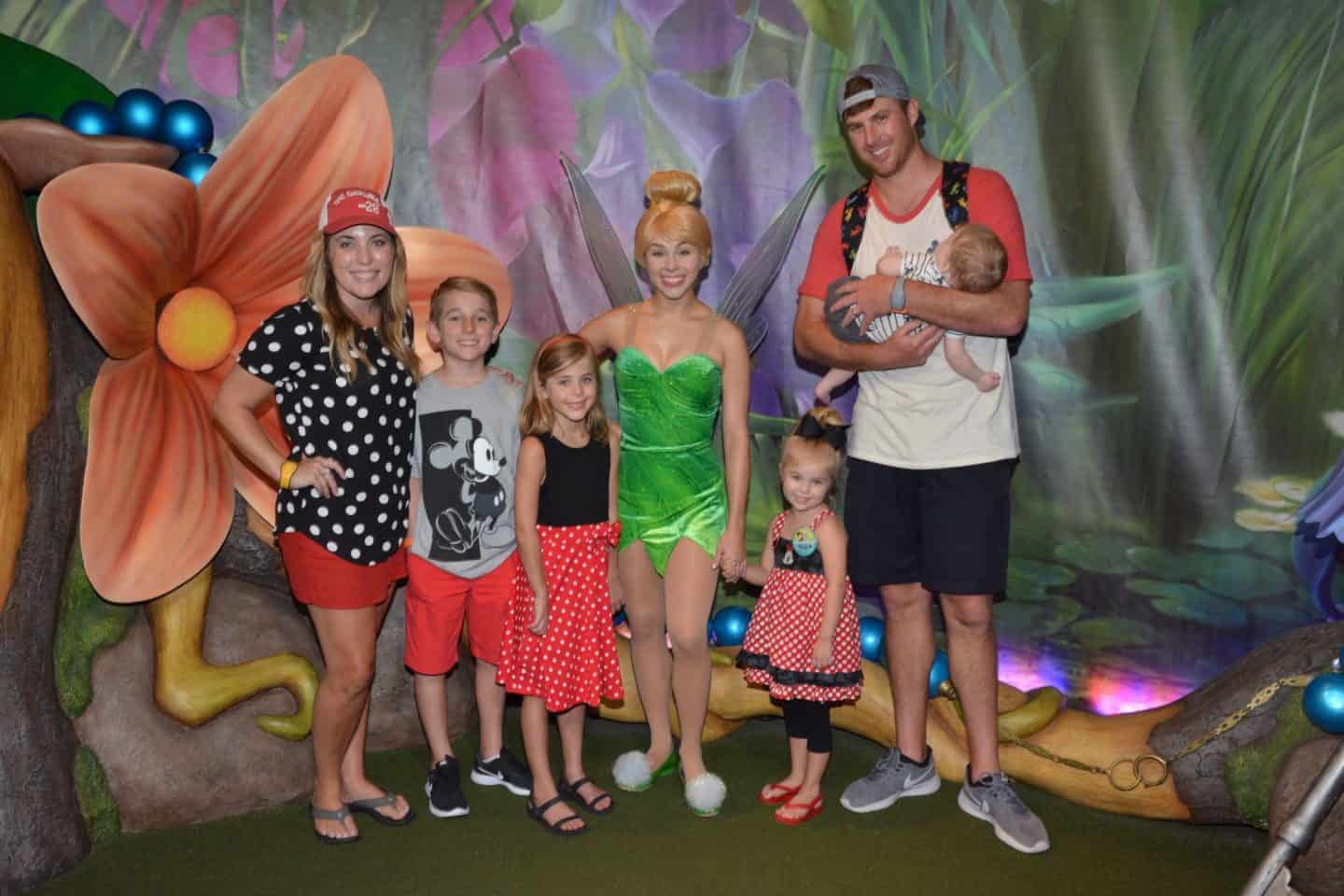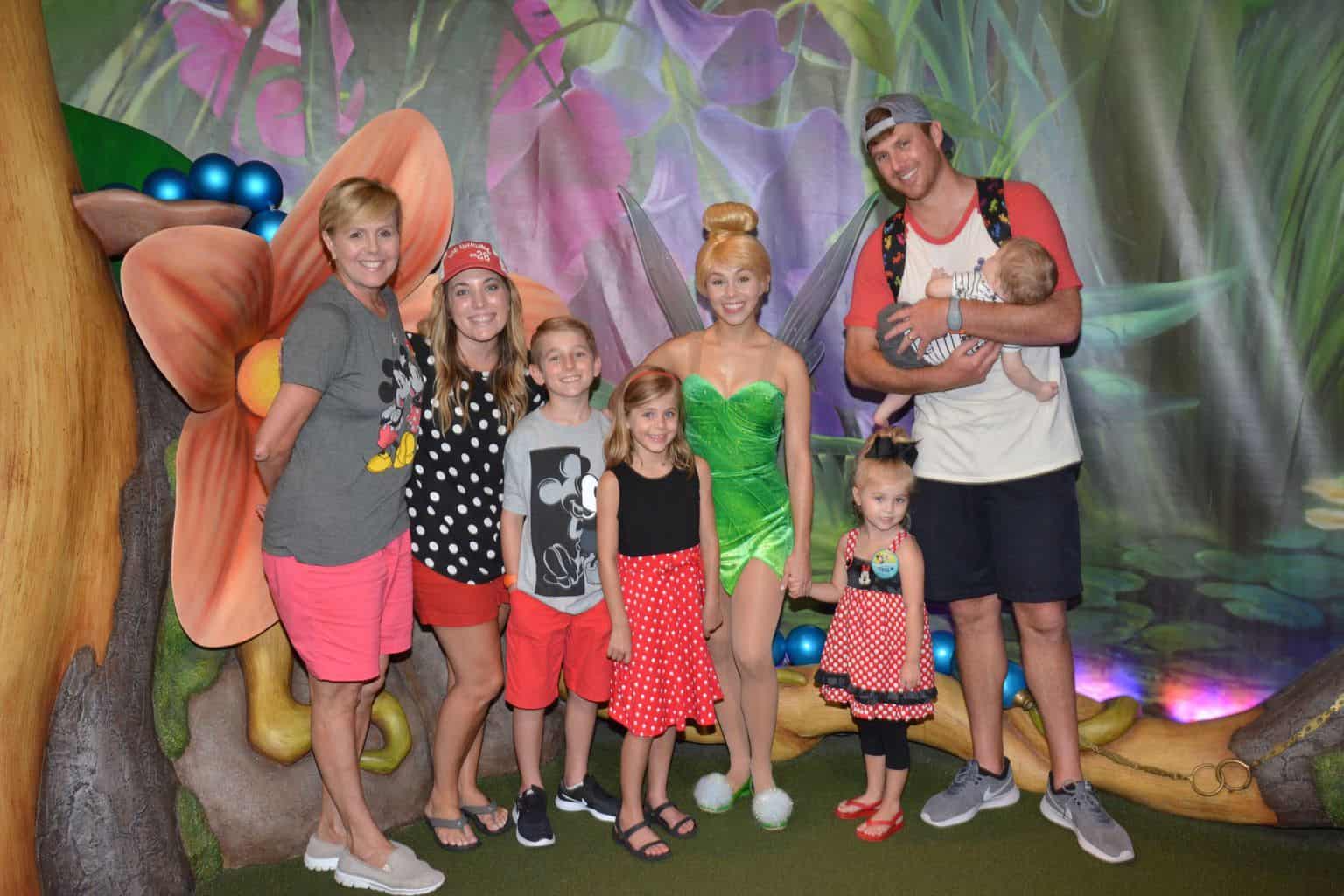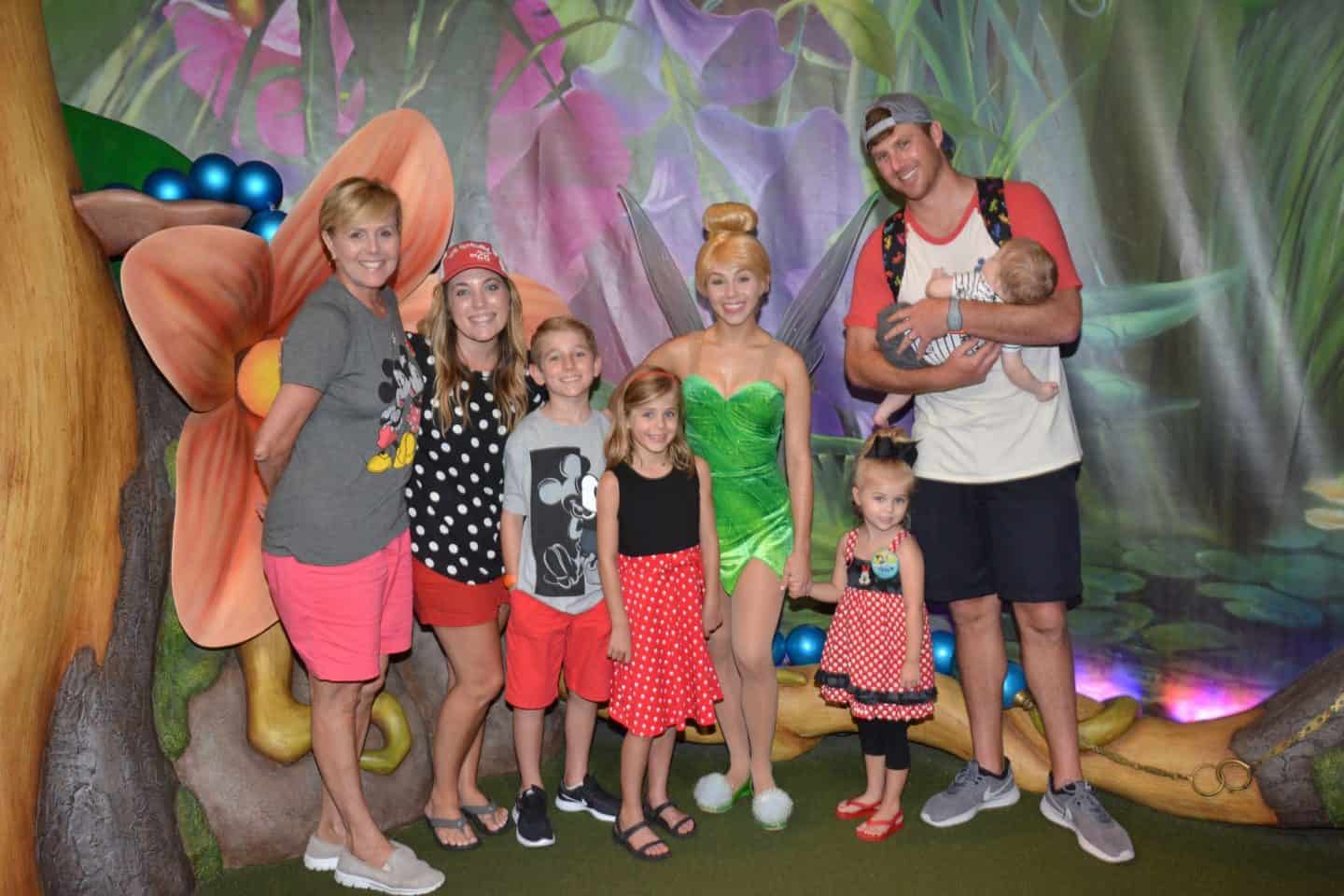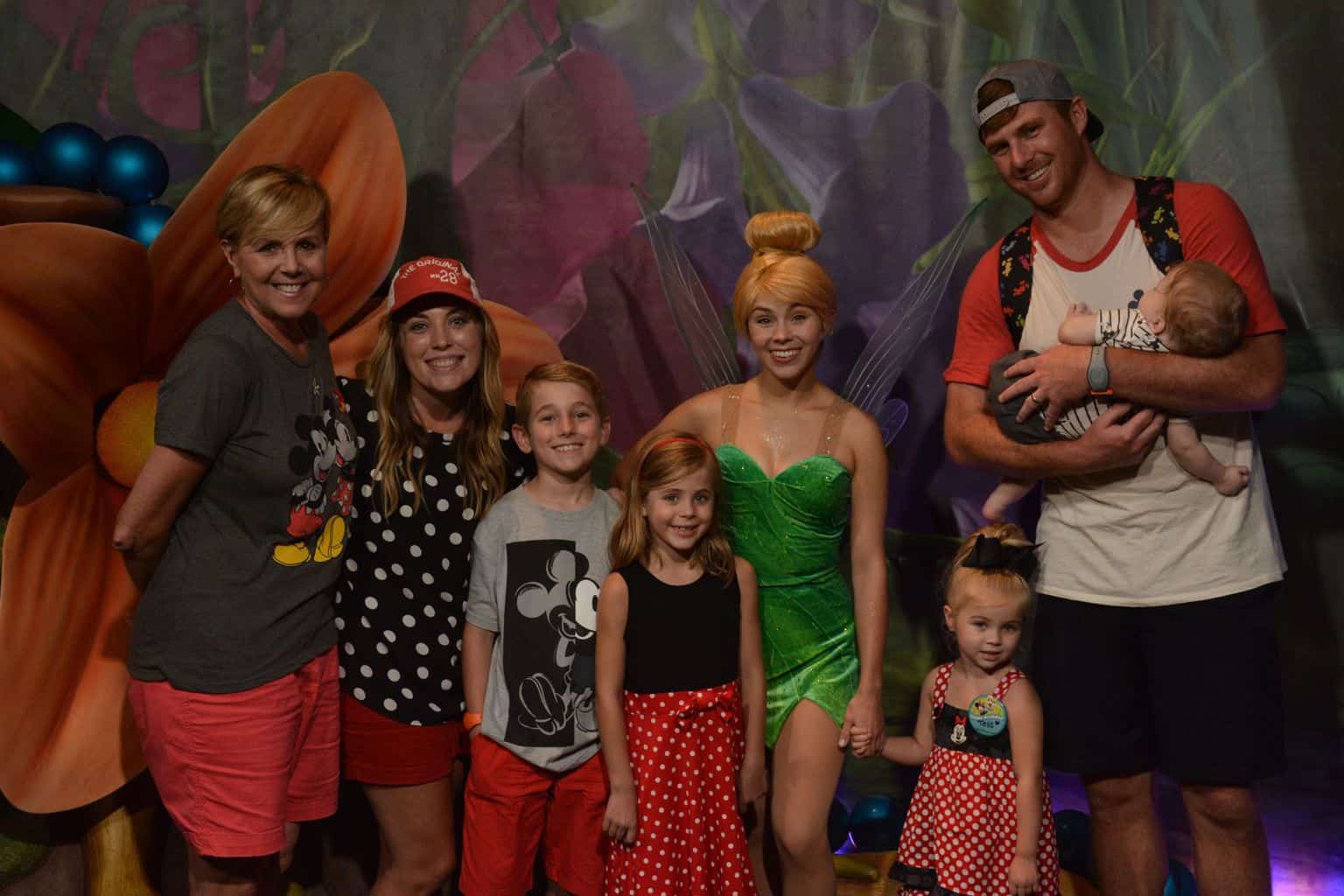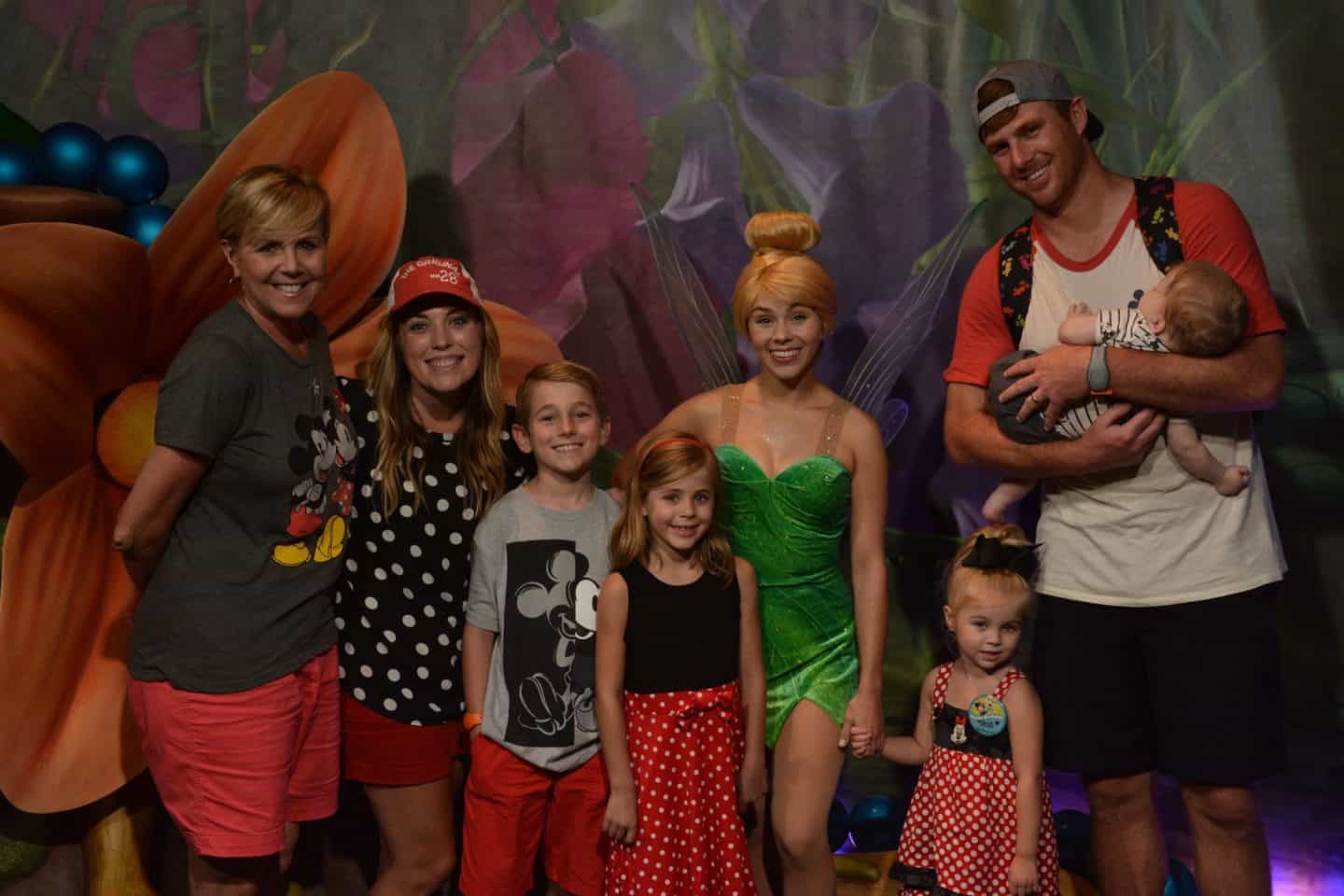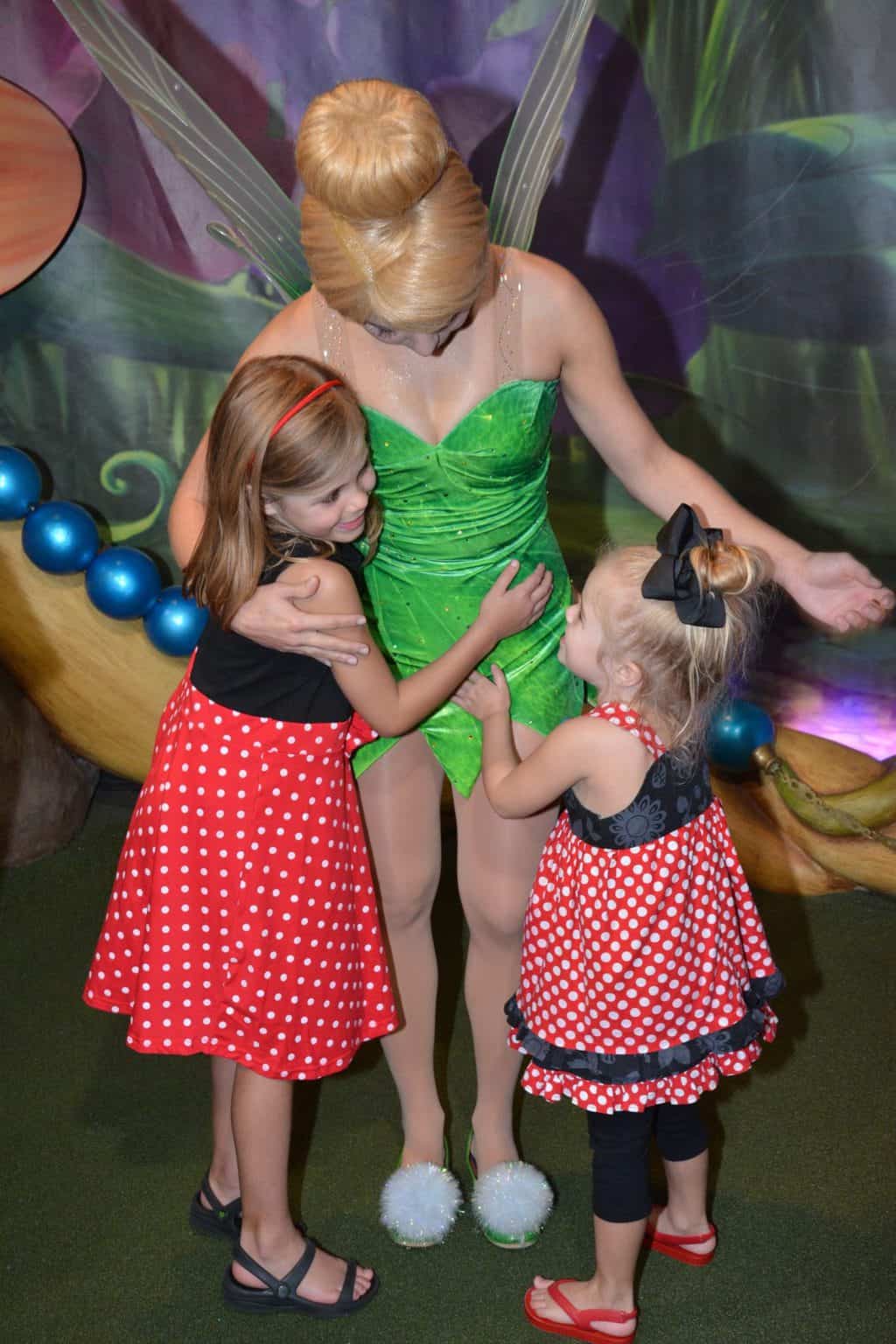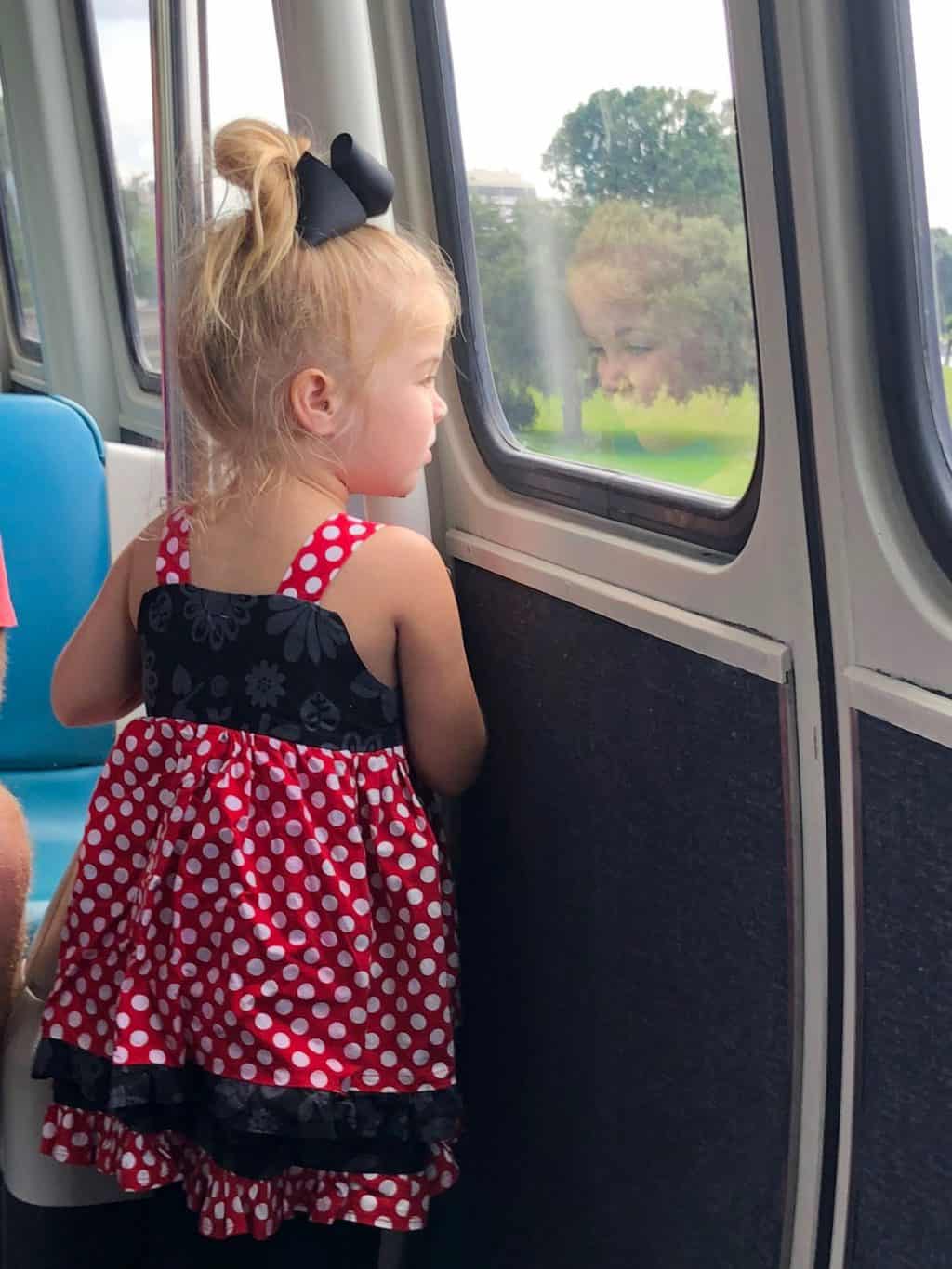 By the time we left the parks it was HOT. Like hot, hot. Since the car was parked decently far we did the same routine we did that morning…Zach took the stroller and the stroller kids (Tess and Spear) and walked to the car and the rest of us waited for the parking tram. HUGE MISTAKE. Yall that line for the parking tram is in direct sun. No shade to be found. It also took so long to arrive. Literally Zach was in the car with the kids buckled before we even loaded up on the tram. Plus the tram doesn't stop like at your vehicle. Oh no, this tram passed our parking lane and kept on going and made one stop between two parking areas. Meaning we had to then walk all the way back to the car. Def not doing that again anytime soon! If you're parked on a far end of a parking section (like we were in the first line of cars in that section and all the way at the end of that first line) then it's def better just to walk it out!!!
This girl keeps us laughing!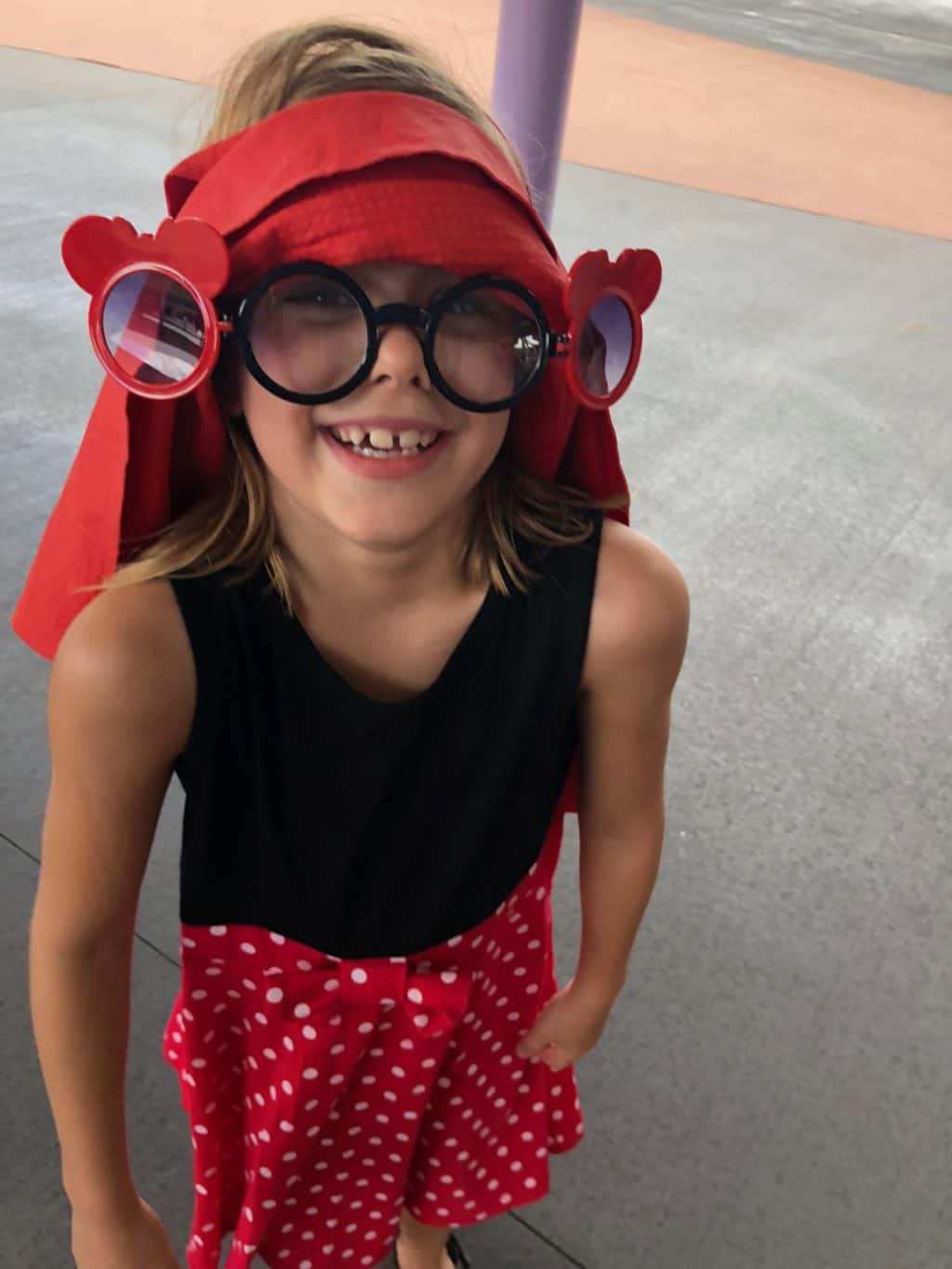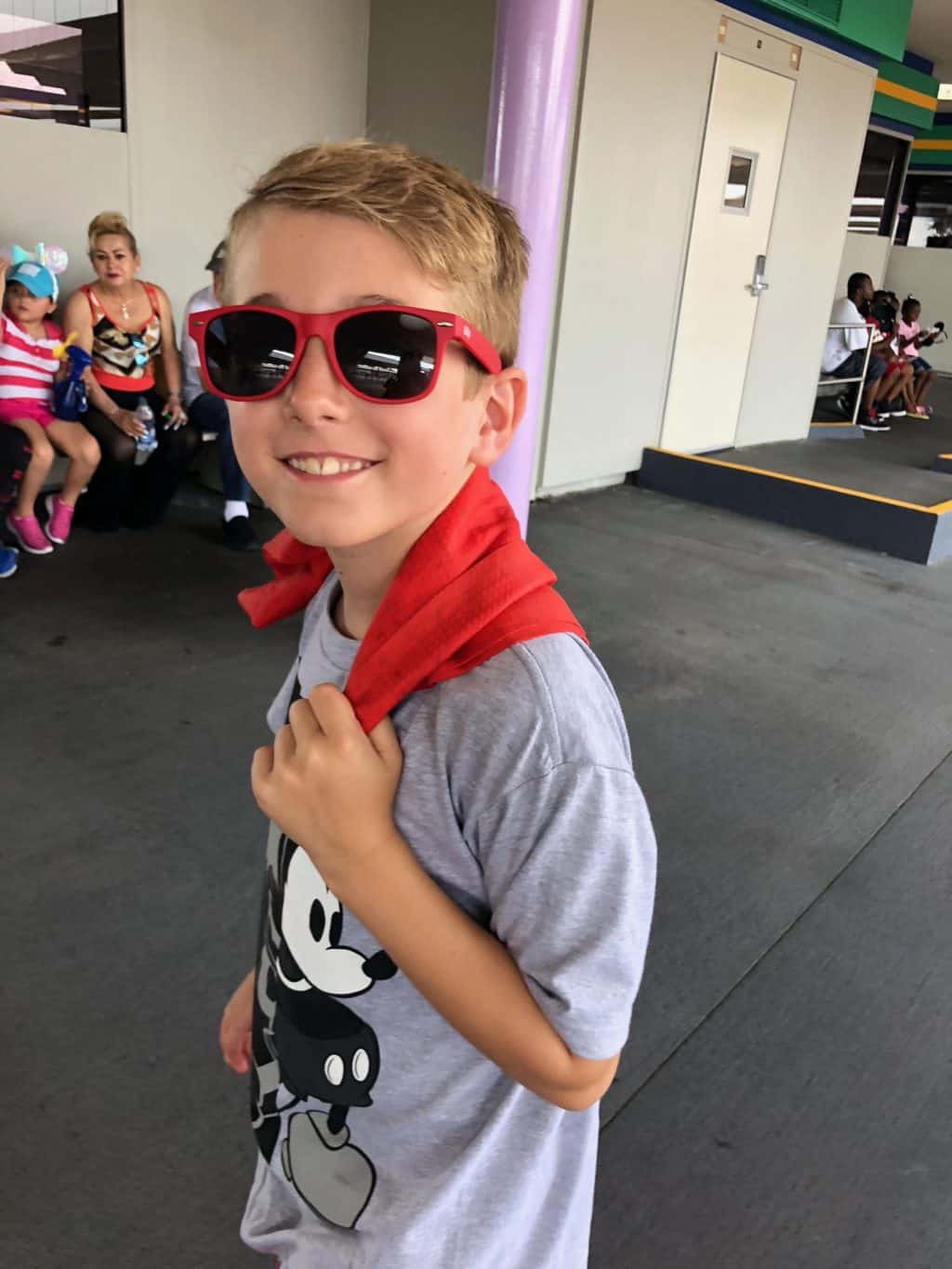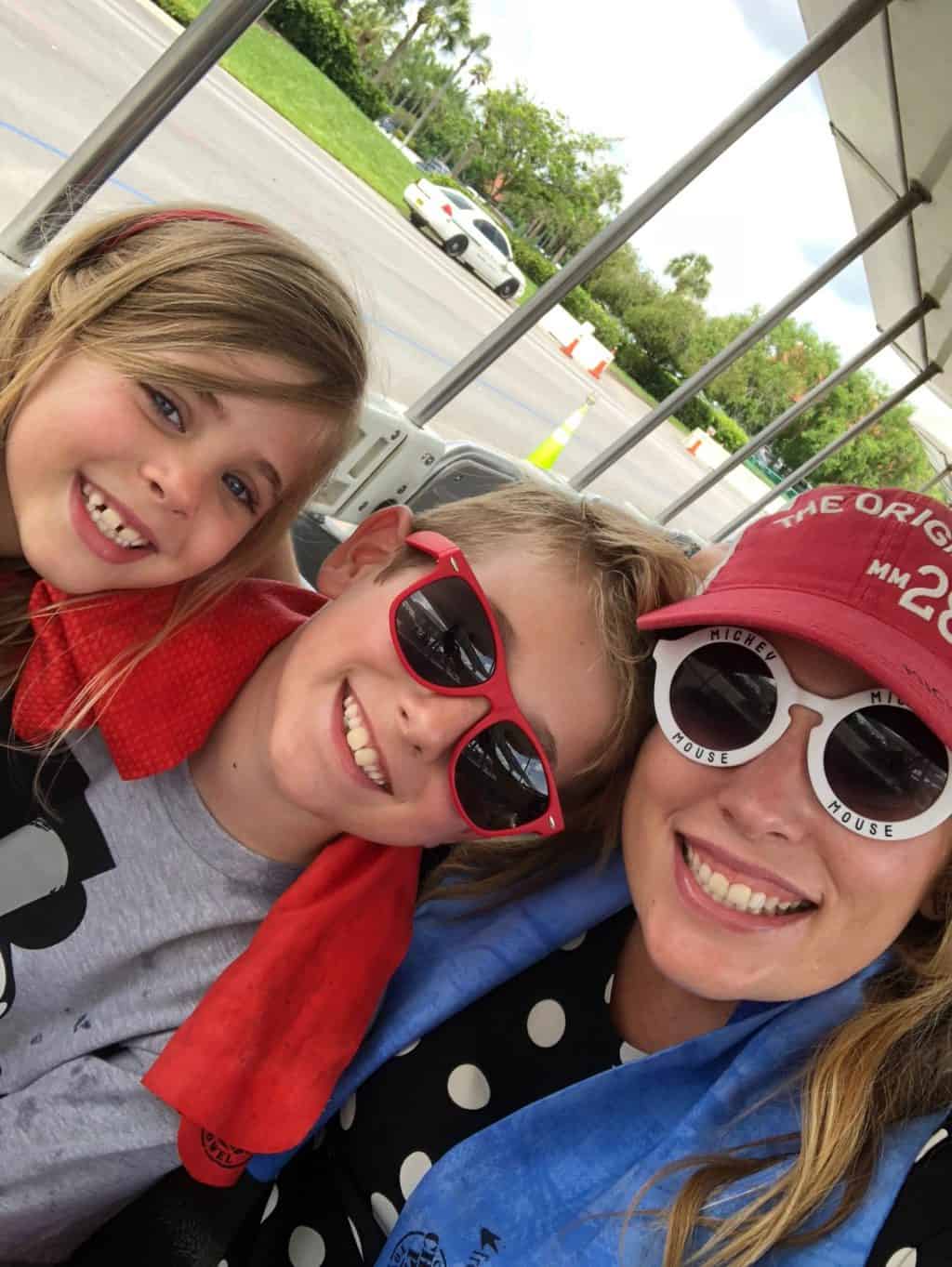 That day was our downtime day so we planned to just spend the afternoon at the house and get pizza for dinner and CHILL. Tess had busted her chin on the side of our pool the week prior and we were nervous about it getting wet so Zach rigged this up. Totally worked. For like two seconds bahaha.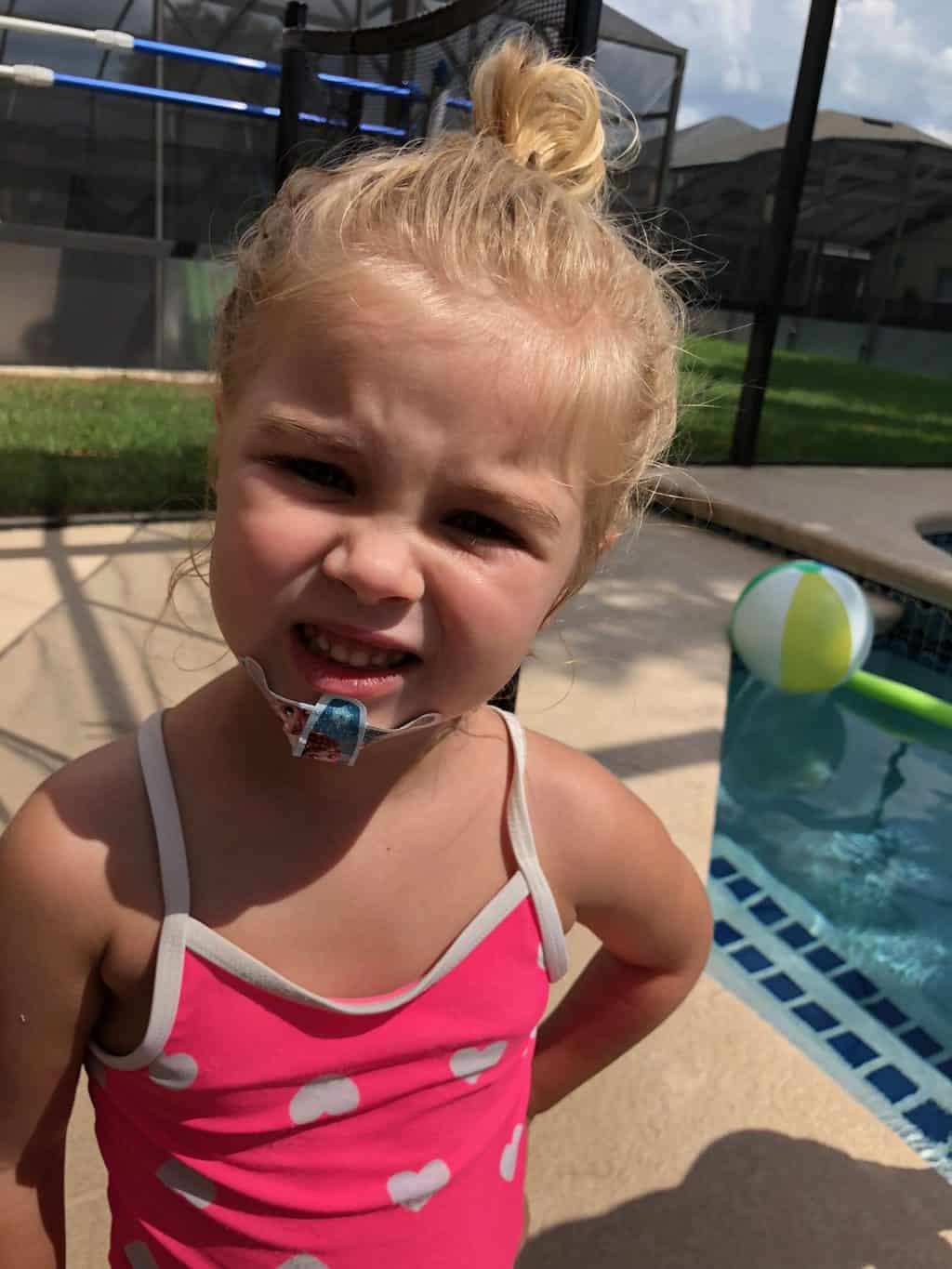 Yay for healing!!!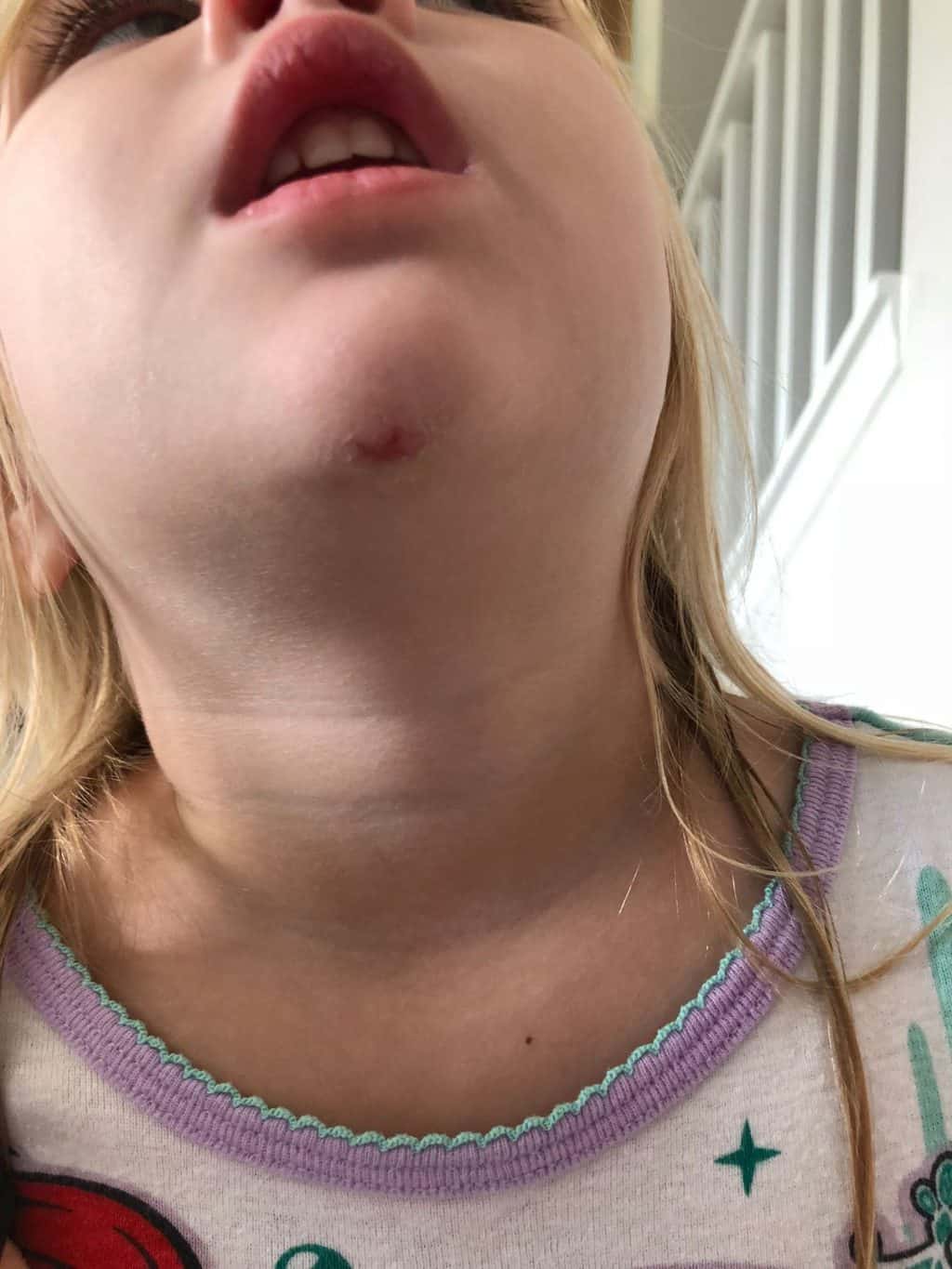 The kids were all doing jumps and Kye did a dive and told G-Mama to copy him. When she came up from the dive she said "well I just copied Tess with her jump!" I thought she was joking because she was looking right at me and looked fine…but then the blood just came pouring out from her face. When she dove she hit the bottom of the pool and scrapped up her nose and upper lip pretty badly. Thank GOD it wasn't worse but we felt so bad!!! Once she was fine it was pretty funny because Mrs Charlotte is the definition of a "helicopter Mom/G-Mama" and is ALWAYS warning everyone to be super careful and cautious and knows a story about some kid who got hurt from every thing and anything. So of all people to hit her face on the bottom of a pool, you'd never guess it'd be Mrs Charlotte. I also felt SO BAD b/c I'd just been reading her all the sweet DMs I got on my IG Stories about how pretty she is and we still had a few park days left to go. Thankfully it's all healed up and was able to be covered pretty well with makeup and such, and just SO thankful it wasn't worse!!!
The pool injury twins
A little injury situation aside, we had a wonderful day together as a family and just love having our own Disney House to be able to relax and unwind and have so much space to really spread out! Having Mrs Charlotte there with us was great because there are two master bedrooms so she can also have her own space and privacy and bathroom! If you're planning a trip to Disney we'd love to hook you up with more details about our rental home: you can see it all here, including the big discounts we offer!
Looking for more Disney insight? Tips? Our Disney travels? Be sure to visit my Disney Page!