When the countdown to summer begins our crew starts looking forward to our annual beach trip! We spend a week every summer in St Augustine and it's one of our favorite family traditions.
Last year a Buc-ee's opened in St Augustine and now it's a must-stop on our way to the beach!
Spear hadn't interacted with ANY characters since he was 2 and I was a tad nervous when we saw Buc-ee himself that Spear may be scared. But in true Spear form, he instantly ran into Buc-ee's arms and grabbed his hands to jump with him 🙂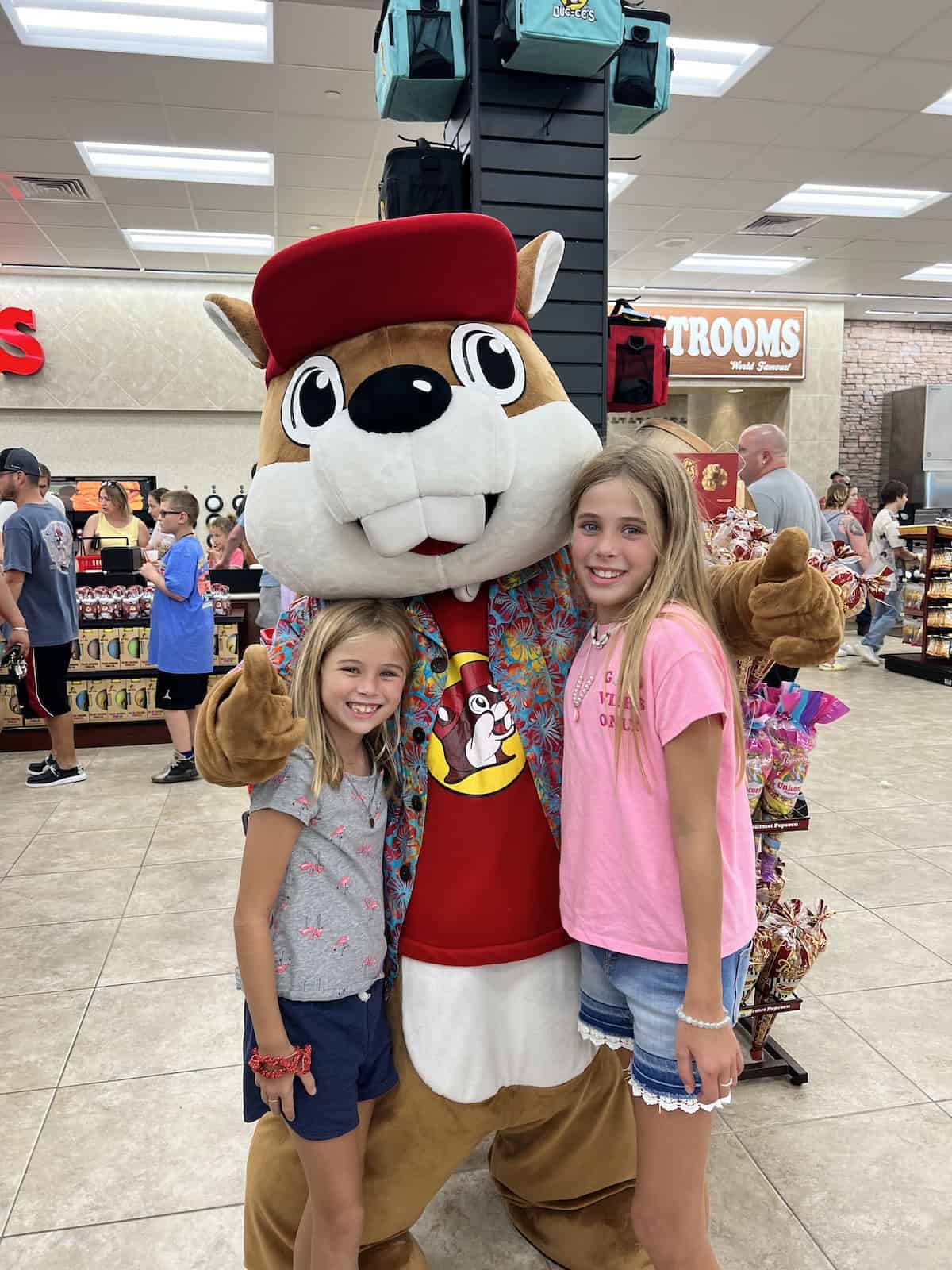 The last several years we've stayed at the same condo unit and we love it. I think owning the house at Disney has spoiled us because we feel at home there. The same is true for the beach condo – we never want to go somewhere else because we're so comfortable at the unit where we stay!
Our motto for traveling with kids is that "it'll only get easier" and it's very true. This trip is one where I can really see the changes in our family as the kids get older. The older kids were sooooo helpful and Spear was SO much easier during the packing and unpacking and getting settled process!
We even had an IG campaign I needed to get photos for and we knocked that out first thing and I love the way they turned out 🙂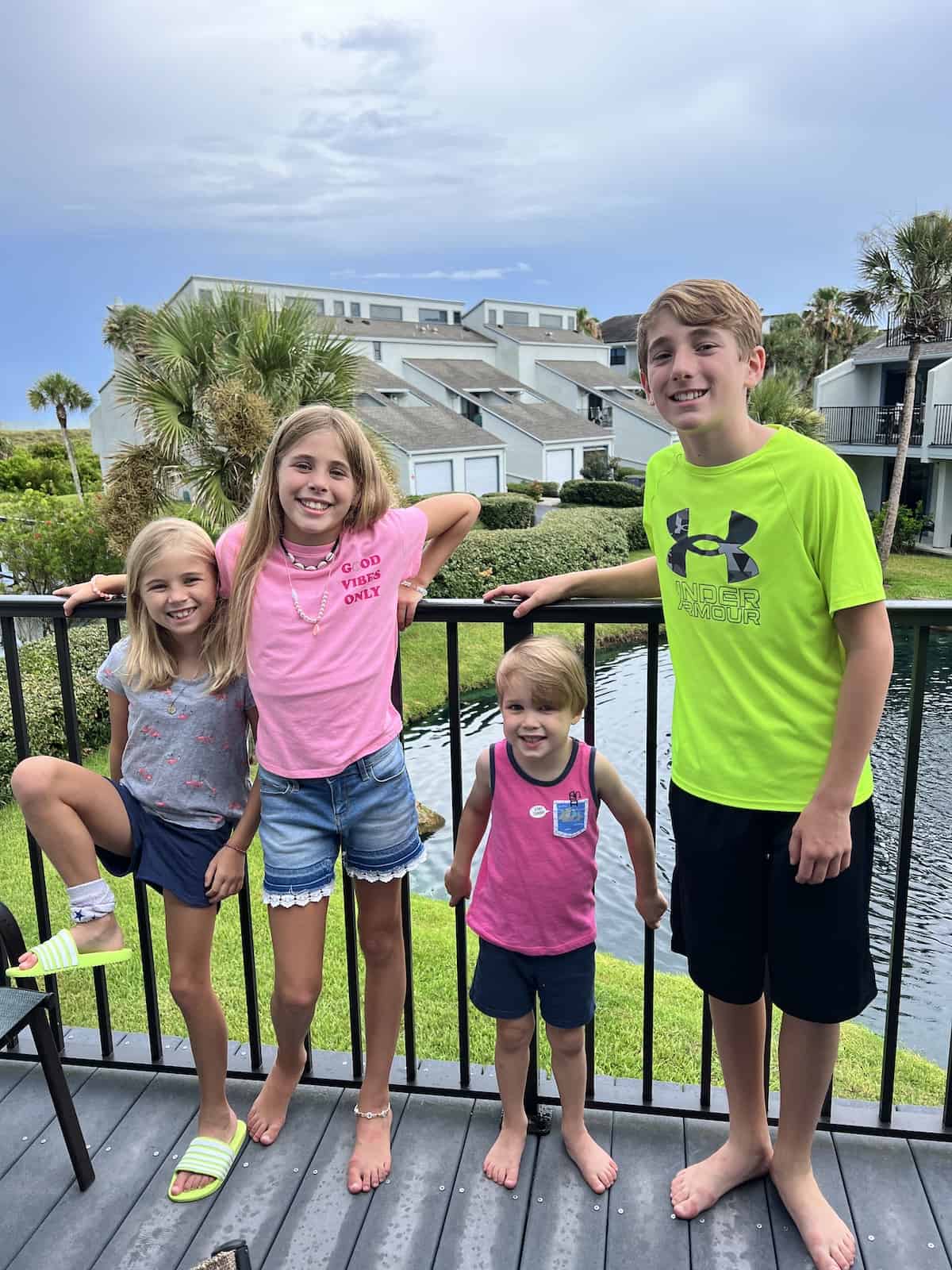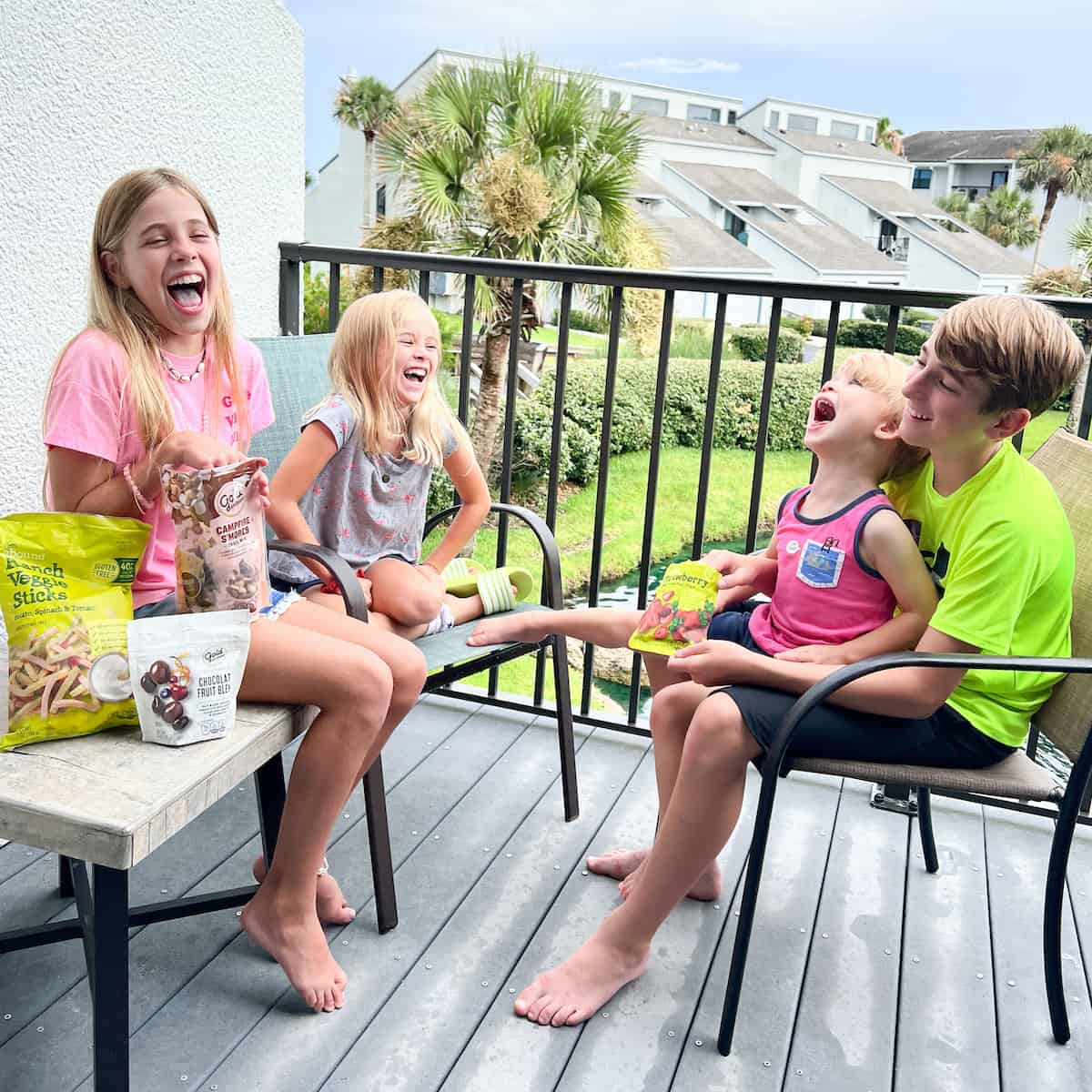 Zach went to pick up the grocery order while the rest of us got settled in and ready for dinner time. Steak tacos to kick off the chill week!
Since we are a Disney family and those trips are BUSY we try to be super intentional to make the beach trip as relaxing as possible and plan very few things to allow for lots of downtime as a family.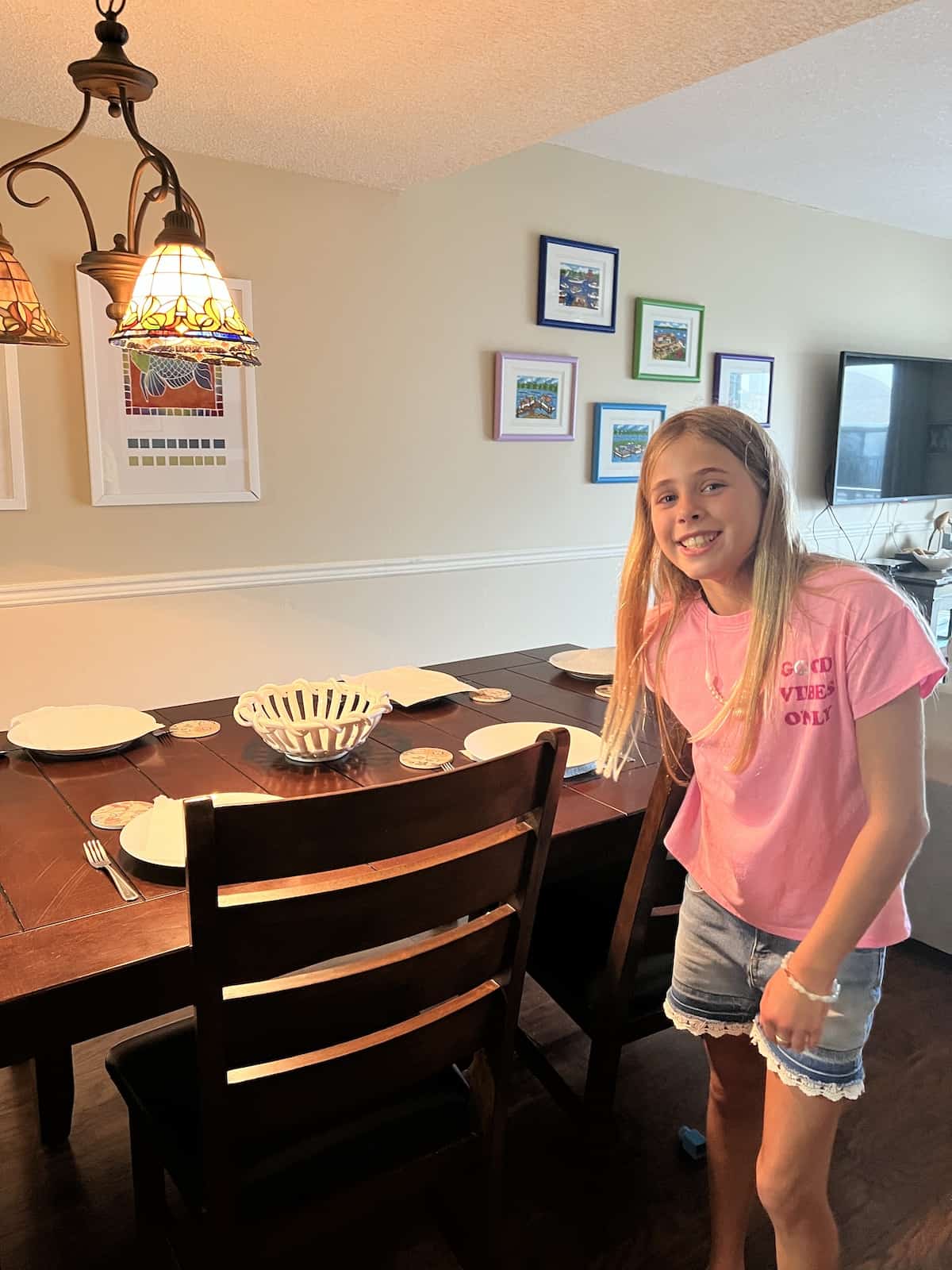 Having the downtime allows for cool mom moments too…like taking a walk on the beach at bedtime 🙂
Although I'm pretty sure they just had me along with them to hold their jewelry and beloved sweatband anklets!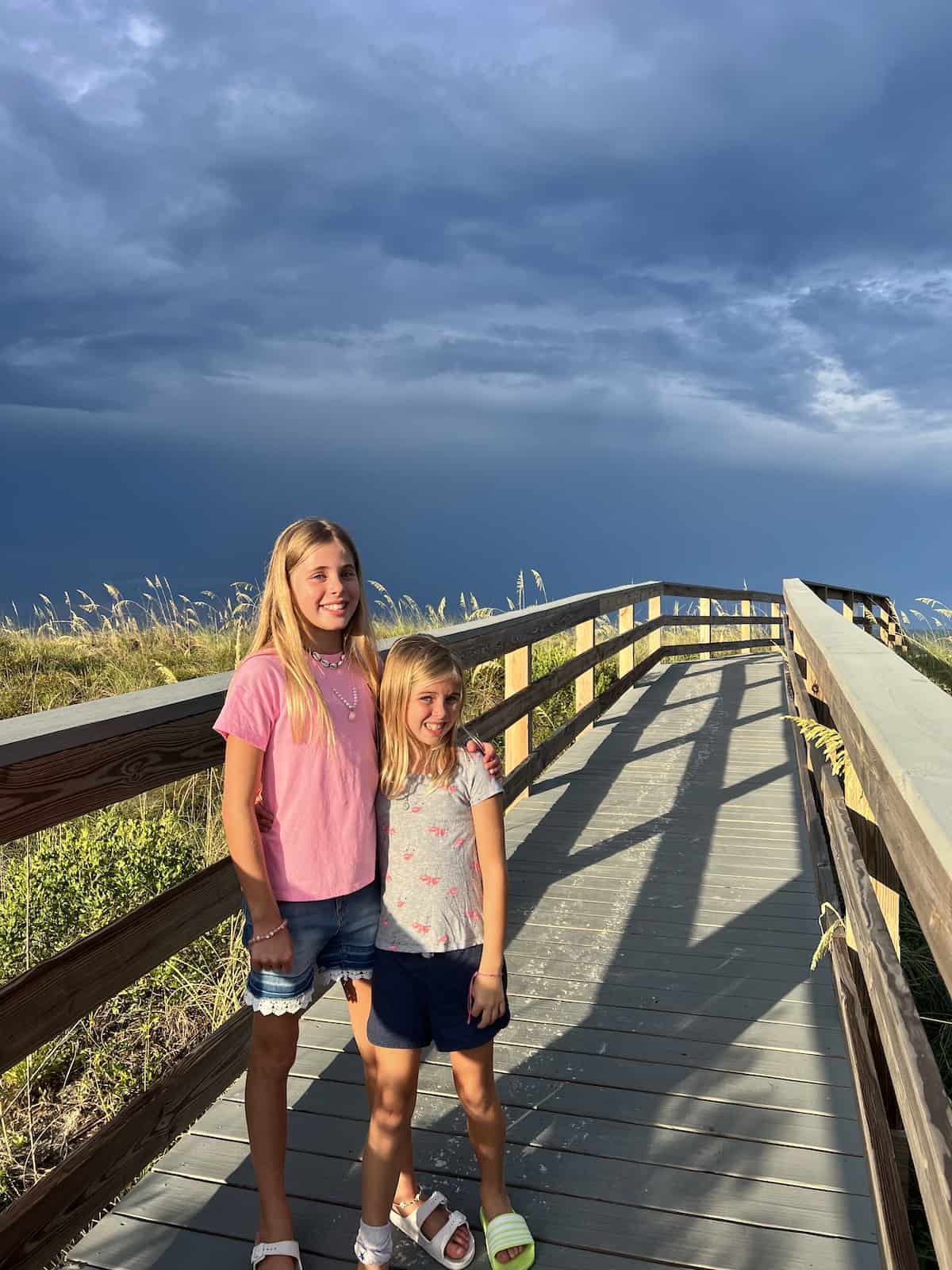 It's always a mission to get that ONE cute beach pic so my rule is "pic before play." The kids get their pictures and then they are off doing all the fun beach things.
I love having a family tradition like this one as it's such a great chance to really notice how much the kids grow and change year after year. Spear is SO GROWN.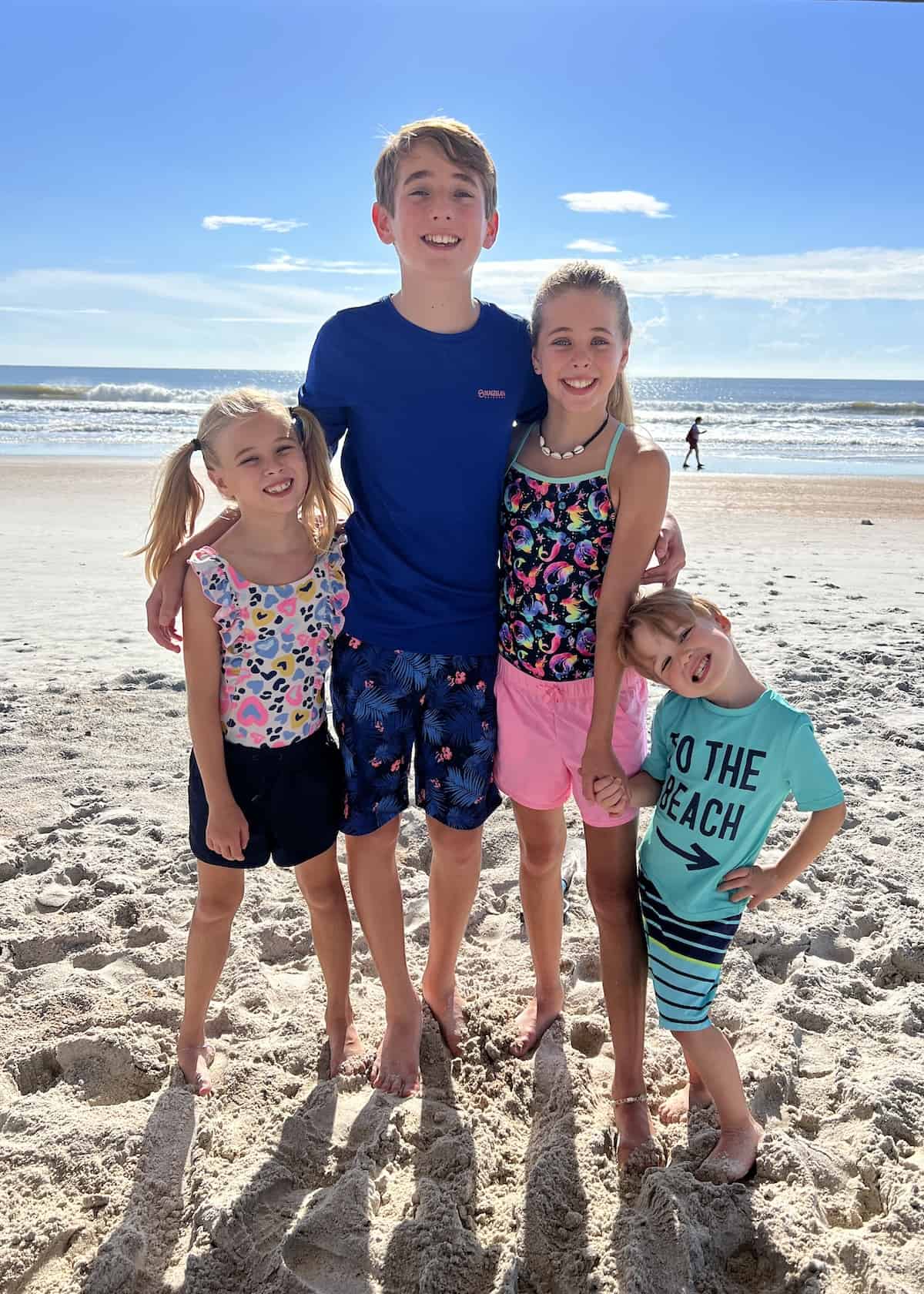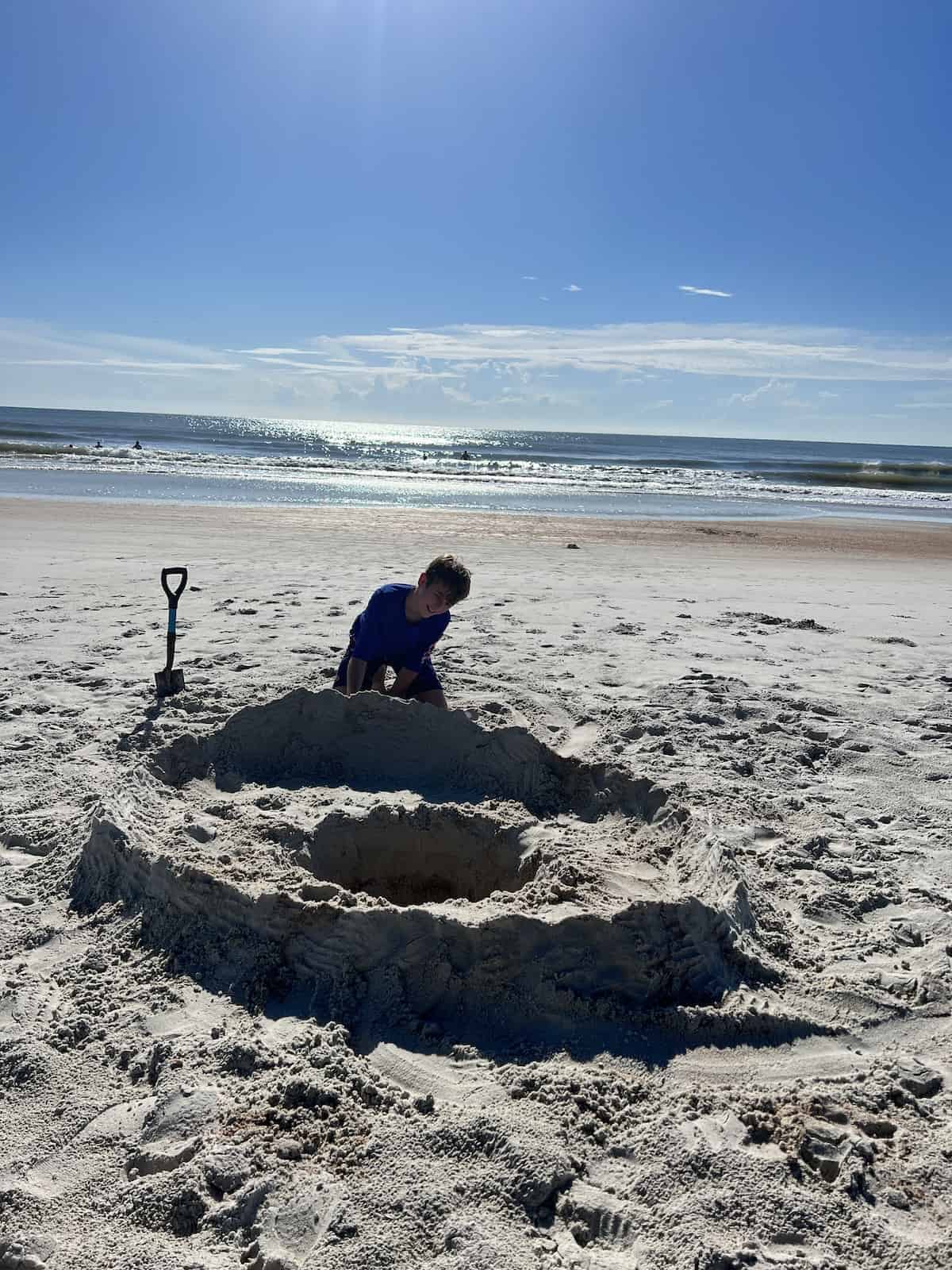 A new addition to our tradition – paint sets! I saw a friend share this idea online and I bought a few paint kits and the kids loved painting sea shells. It was the perfect thing to do during breaks or waiting for sunscreen to dry or just wanting to rest some in the shade.
Next year I'll buy more kits as all the beach friends ended up wanting to paint too!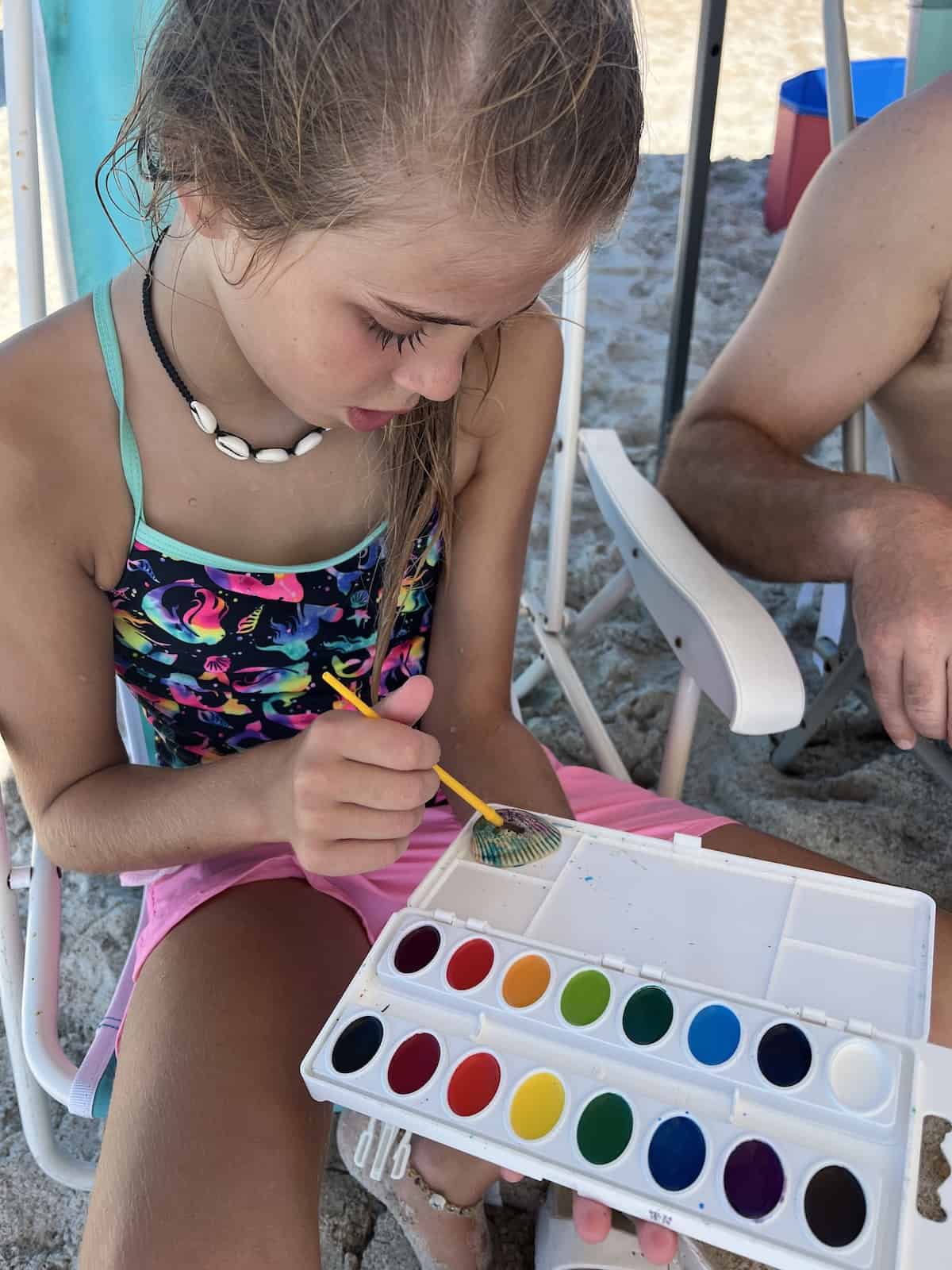 The kids not only love the beach but they especially love their beach friends. The friends is Britt's FAVORITE part of the trip! When we had some stormy weather she and Tess went to the friends condo to play games and they had the best time!
This year traditions were changed a bit as Katie and her fam decided to switch to another beach for their 4th of July trip. We've literally celebrated EVERY SINGLE 4th of July with Katie's fam since we got married and, actually, I'm pretty sure even prior to that!
It felt weird not having anywhere to go for the 4th but we kept the prep low-key and chill and enjoyed using the stormy weather for making Oreo pudding together!
Brinner is a classic beach week dinner!
Officially beach shirt people! It's just so much easier for the girls to wear a shirt and minimizes the frustrations of sunscreen!
We love hitting up the beach AFTER dinner and ended up staying out until 9 pm just enjoying the beauty God created.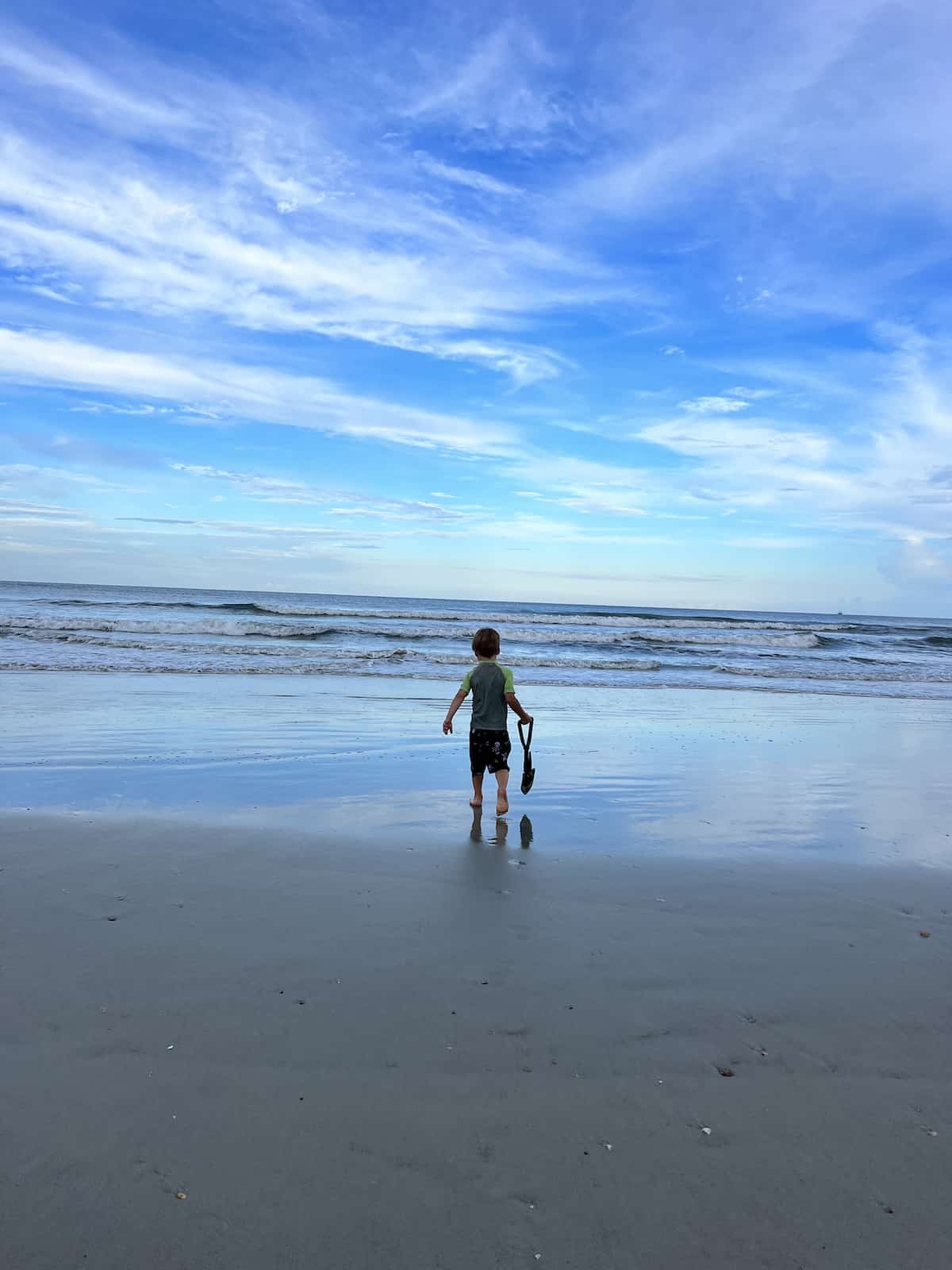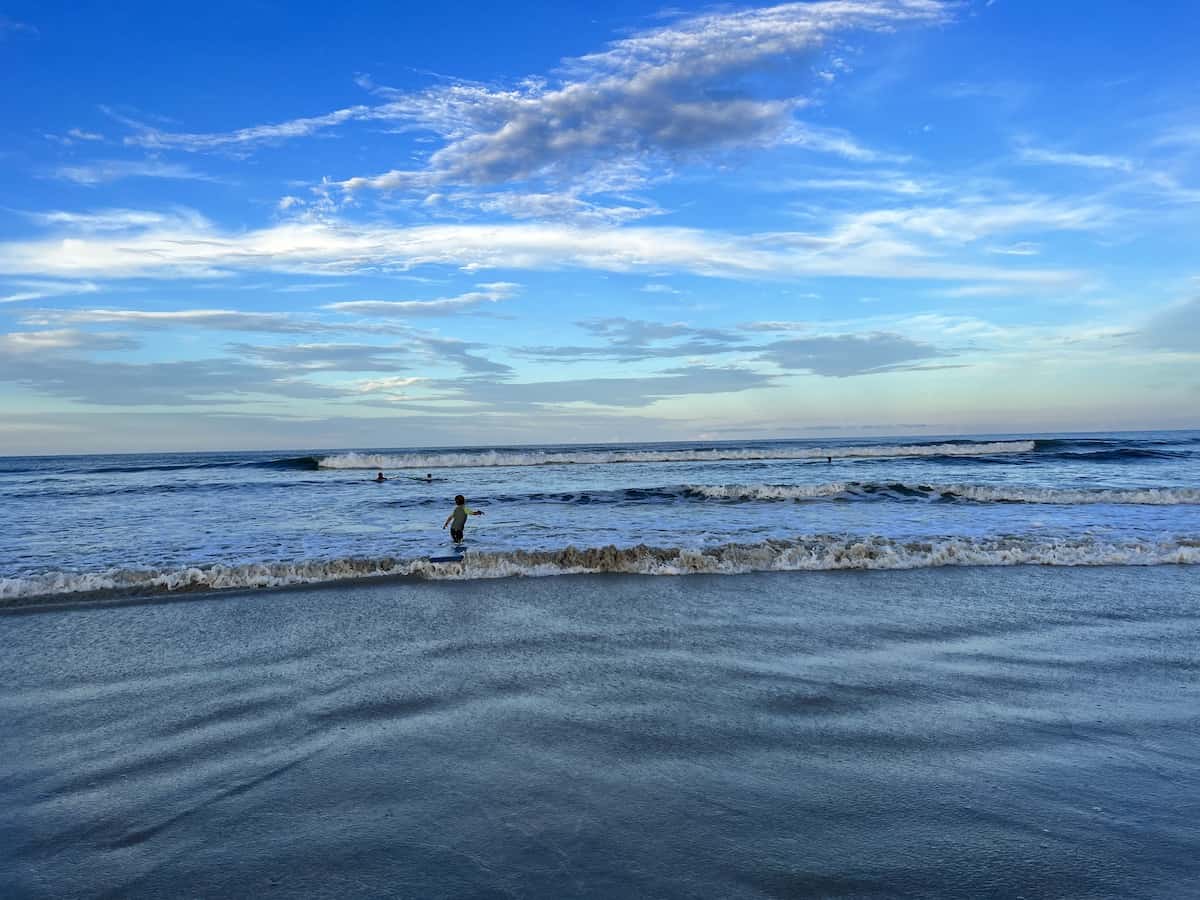 With a late beach night…Spear slept in until 8:30! Whoop whoop! Never complaining about that 🙂 It also helped our beach morning be more chill as he was content to sit and eat breakfast for awhile.
Kye is def the oldest…he said "go ahead and take a picture of my castle now in case Spear knocks it over" haha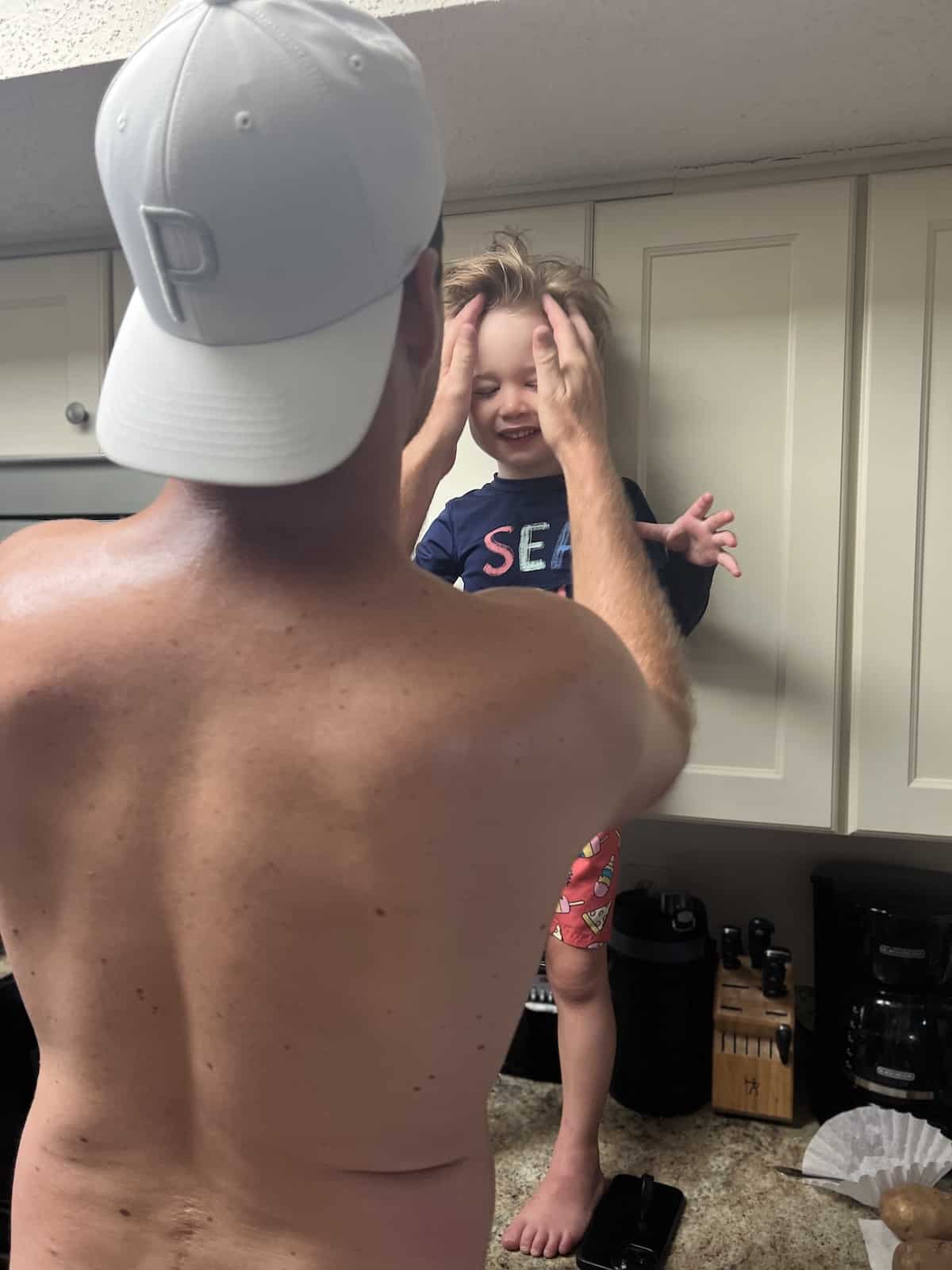 I may be the fun Disney mom but Zach is for sure the fun beach dad! He does the grocery ordering and pick up for our annual beach trip and always gets fun snacks and treats…and this year he shocked us all by grabbing SODAS! Whhhhhat.
In years past I've spent a lot of my beach time with Tessie snuggled up on my lap. She was never a big fan of the beach and it's been awesome to see her develop such a joy for the ocean and beach activities over the years but I miss those beach snuggle moments too and soak 'em up on the rare moments they happen!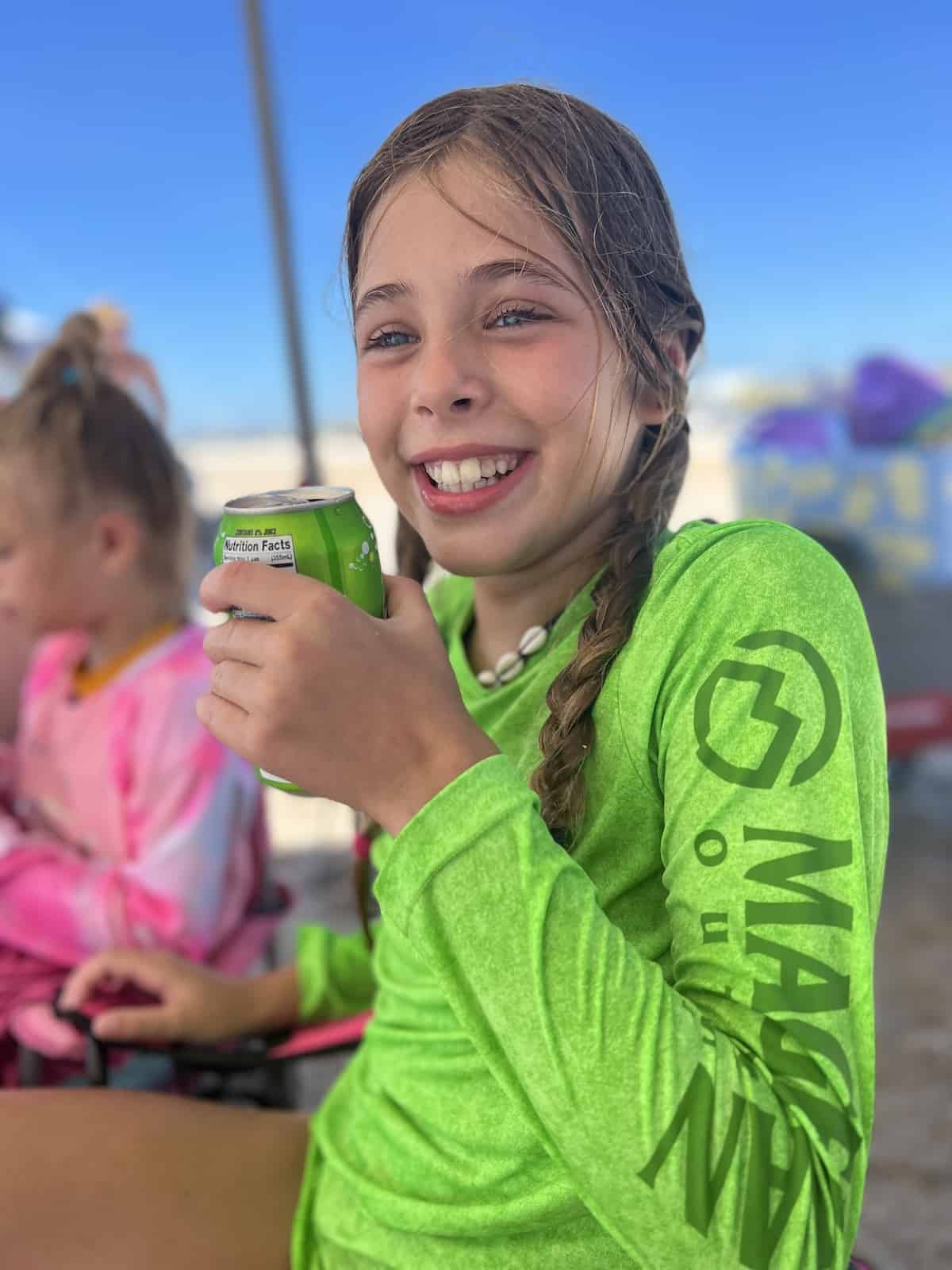 Post beach nap time is always chill time for the older kids. Tessie was so worn out she even wanted a beach nap! So the four of us had an epic Mario Kart tournament…and I even came in 2nd place on the battle portion. What what 😉
Britt sometimes gets headaches (soda at the beach probably didn't help) so some snuggles and rest time were def on the agenda too.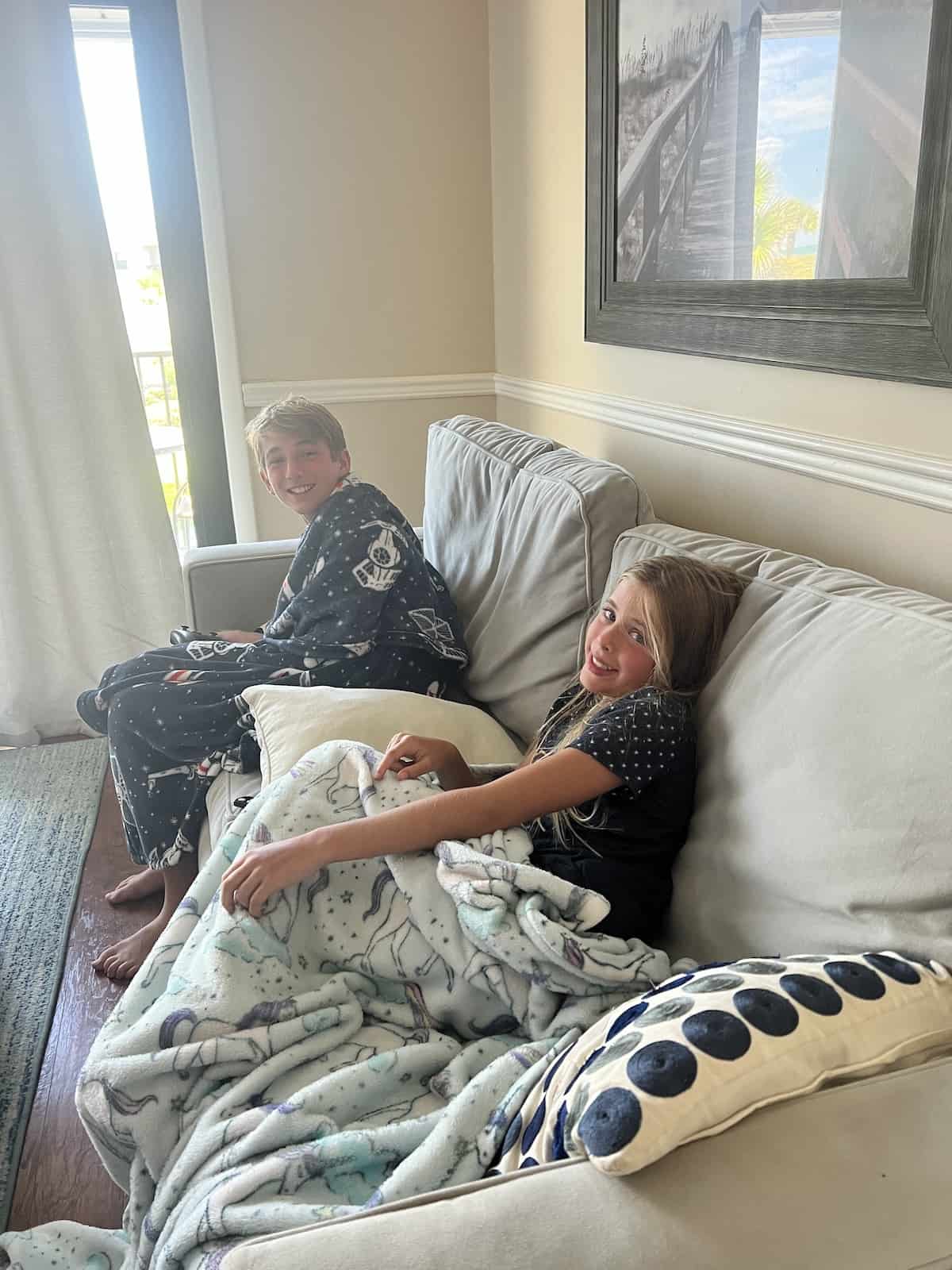 Not only did we miss Katie and her fam and the time we usually spend with them on the 4th…but we also missed our annual photo session. We clearly struggled with pics this year haha We asked a random condo neighbor to take 'em for us and they clearly weren't as skilled as Katie 😉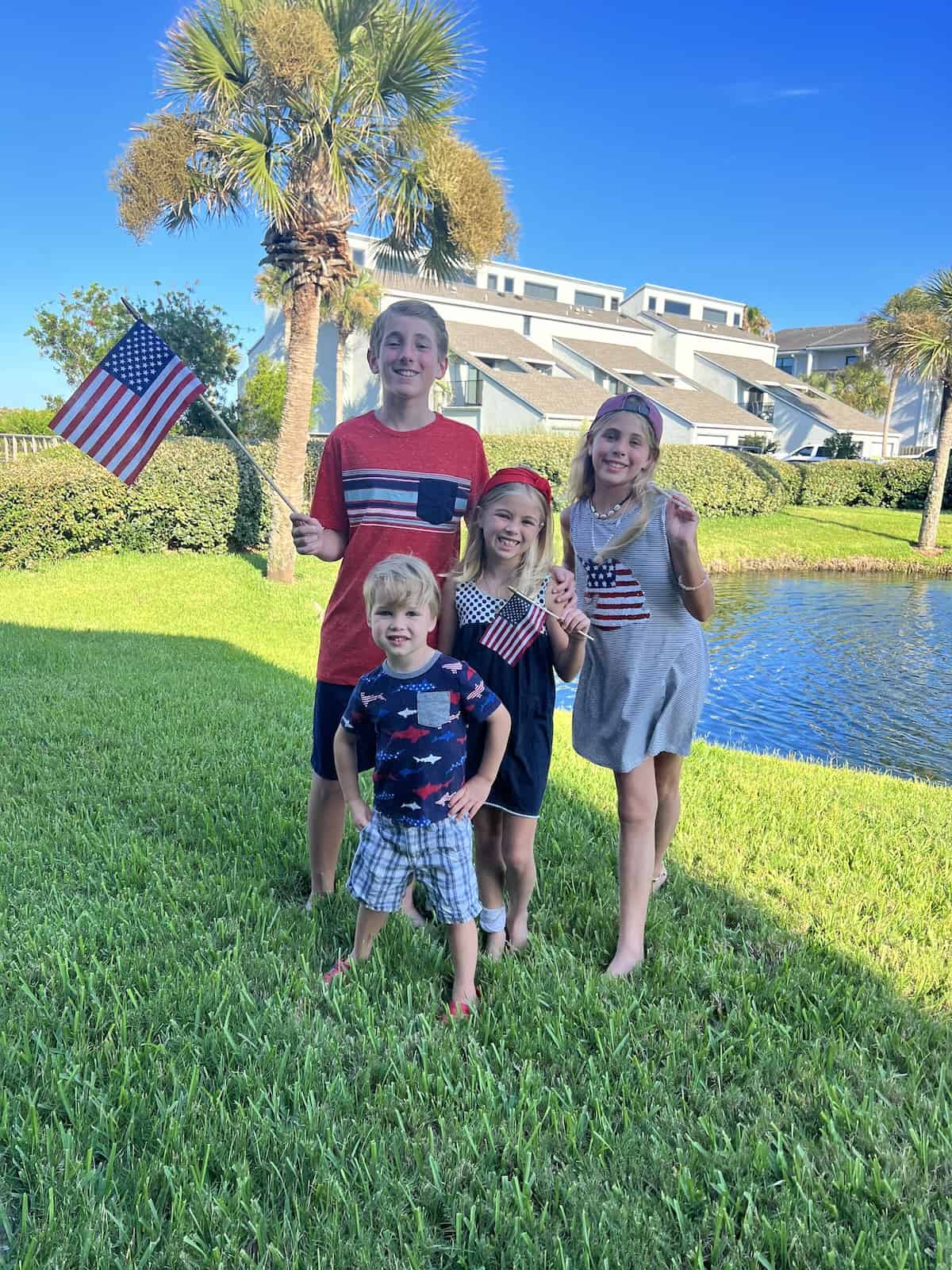 We dressed in our festive fourth gear and had a Feast Mode 4th of July Mode dinner 🙂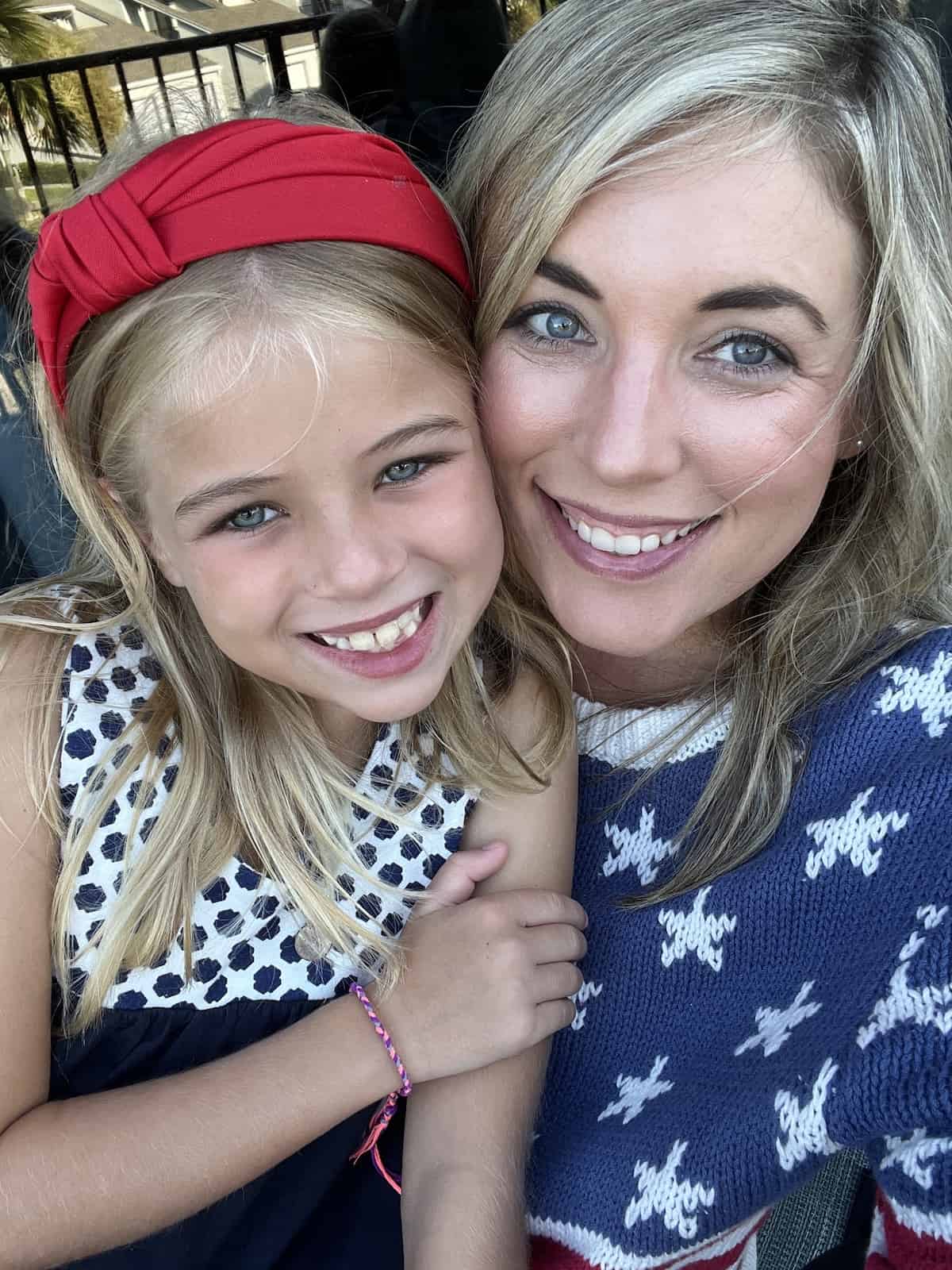 Followed by playing Canasta (a new to us card game!) while we waited for the sun to go down so we could do some sparklers and head to the beach to watch the fireworks.
Usually I take the big kids solo out to the beach so they can play with their beach friends while fireworks are set off by random people at the beach.
Zach isn't a big fireworks guy so he always offers to stay back at the condo while Spear sleeps – but Spear is old enough to enjoy the night so Zach tagged along this year! It was a full family affair! Spear's first 4th of July fireworks experience – nothing like getting buried in the sand at 10 pm 🙂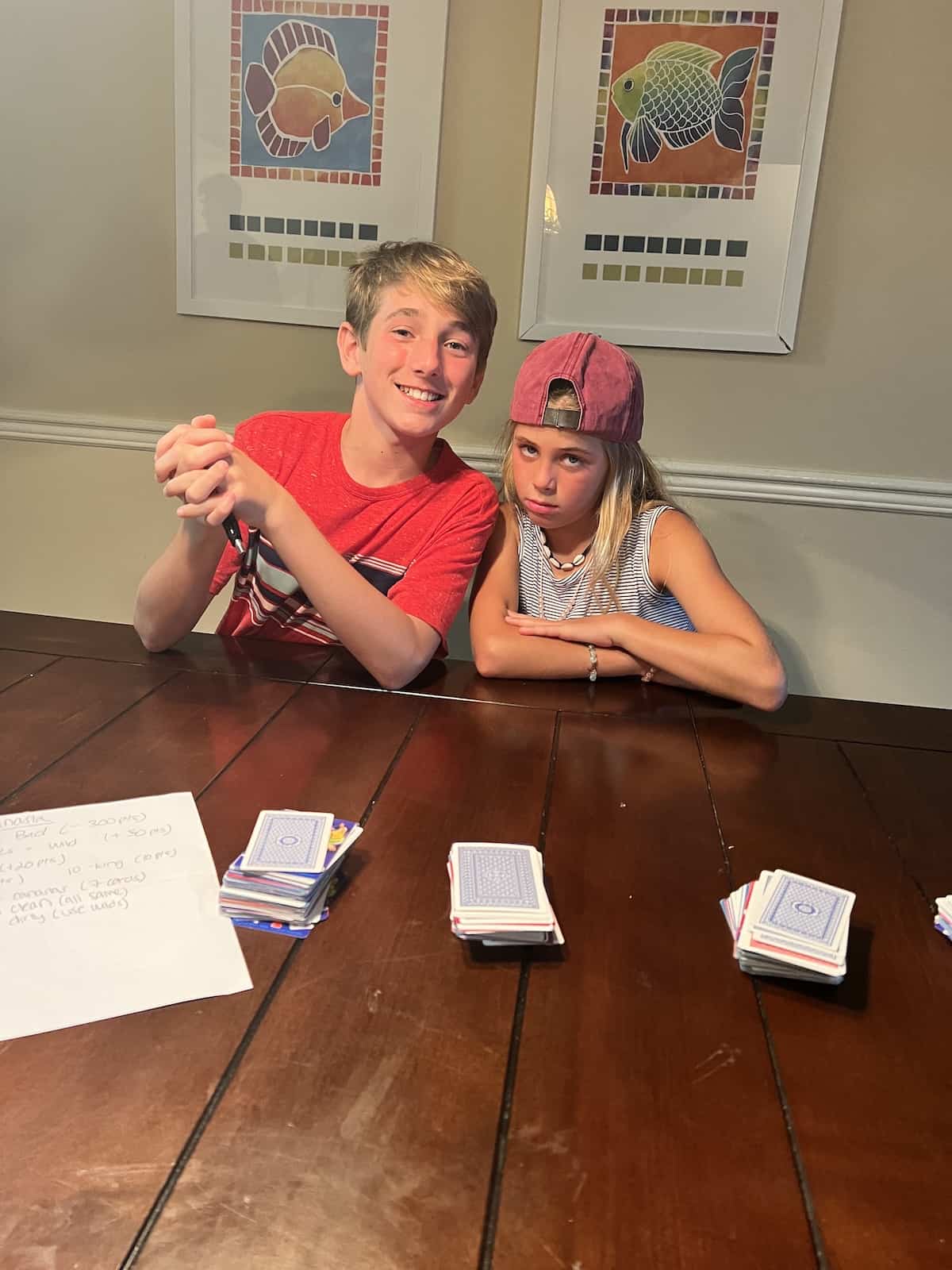 We keep things low-key at the beach but still continue to have our annual traditions as well. As the girls have gotten older one of our traditions is to go shopping!
St Augustine has an awesome outdoor outlet center and the girls love to browse and shop it up! We headed that way and stopped at CFA for a pre-shopping lunch date.
While we shopped the boys had chill time and hit the pool for a bit!
Britt can officially wear an adult xs which makes shopping more fun because we can buy matching clothes! We grabbed some matching dresses for next year's 4th of July! The girls mostly wanted to shop at Claire's 😉
We always have the mission to get new school shoes and basically hit up any sales or deals! We enjoyed the time together and my sweet Spear had a beautiful flower waiting for me when we got back.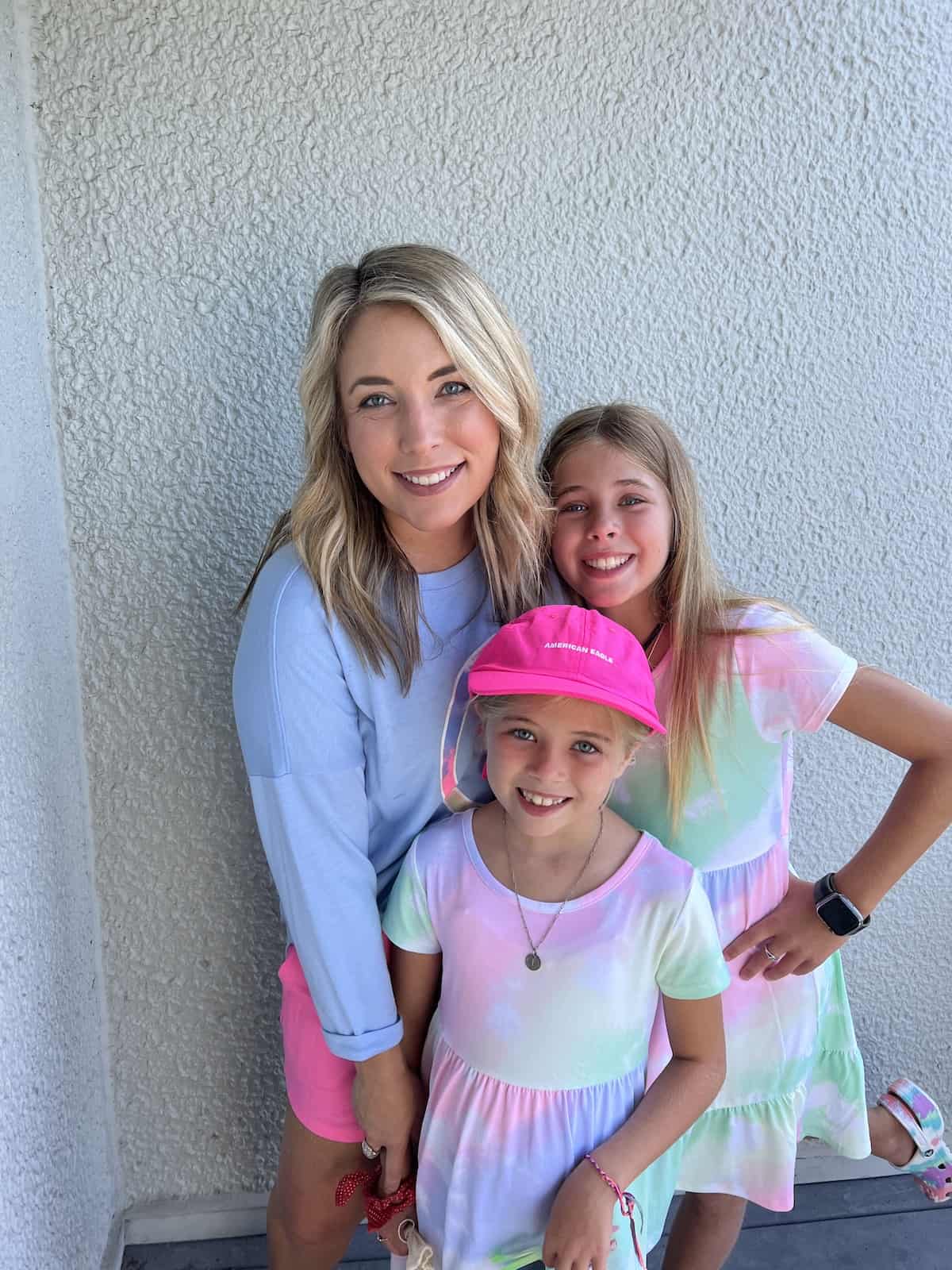 We had homemade bagels for dinner and EARLY bedtimes after having been up so late the night prior!
And then…another day at the beach 🙂
Since the girls are both liking swim shirts we found them some at the outlets and they wore 'em the very next day.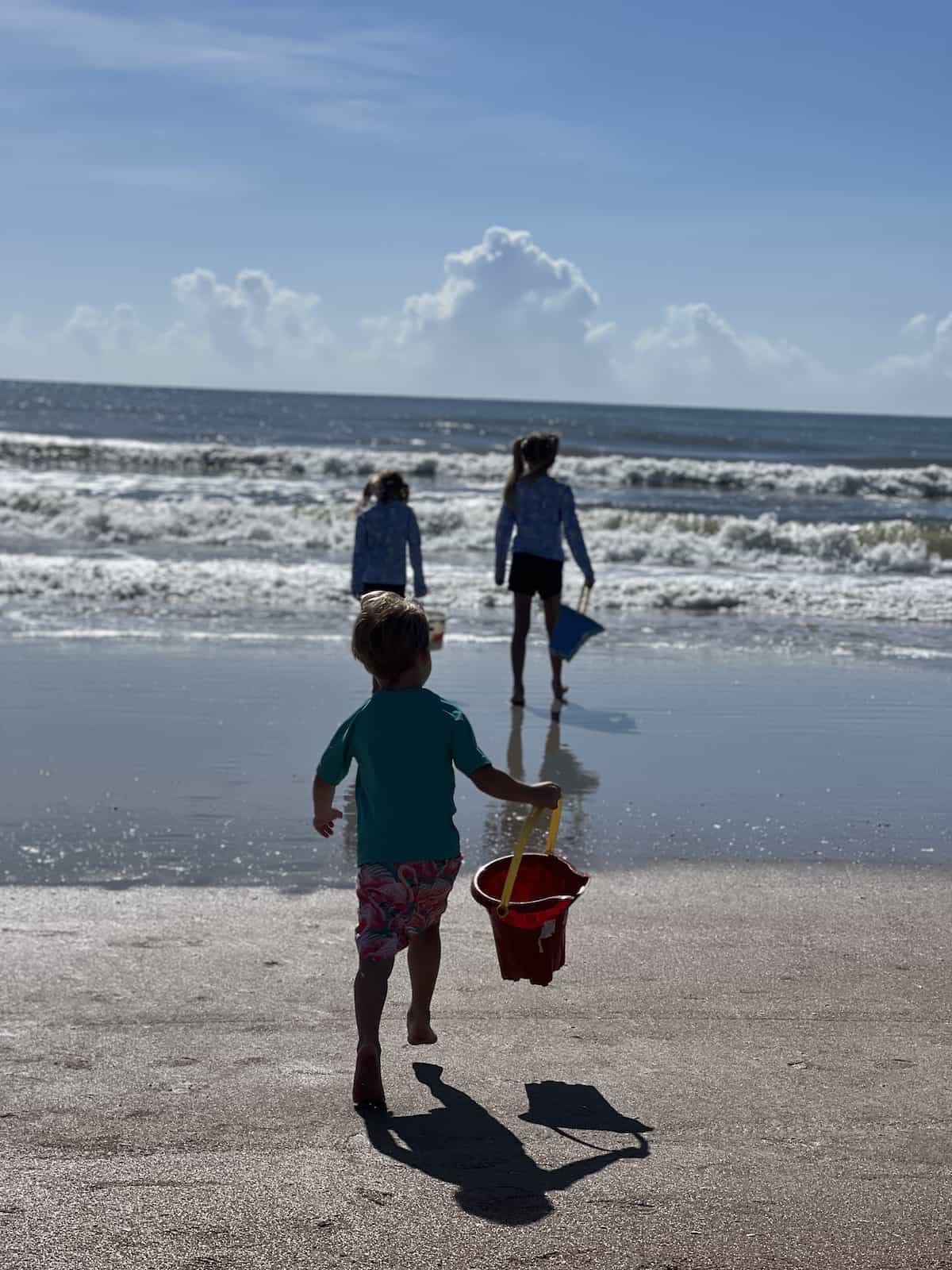 Kye has always been the kid who plasters on that fake smile for pictures so I LOVE to take a series of shots of him…and semi-embarrass him…in order to capture his TRUE smile!
I feel like so much of our time at the beach is watching the kids from afar do their thing on the boogie boards – especially as they get older!
Over the years we've planned less and less activities during our annual trip because the kids just simply ADORE their beach besties.
Zach met Lee through Aflac years ago and his whole family just so happens to visit St Augustine every single year during the week of July 4th. We met up years ago on the beach and his family suggested we shift to the condo unit we now stay in which is in the same community as the condos their family rents each year.
They have a BIG group of extended family who all come every year and they are all so kind and welcoming. It truly is a "more the merrier" vibe and our kids LOVE their kids so much and have so much fun together.
It's really neat and Lee's family is actually still friends with THEIR beach friends from when they were kids and THEY still meet up too. So it's cool to think about our kids may truly stay beach buddies with these same kids for another generation!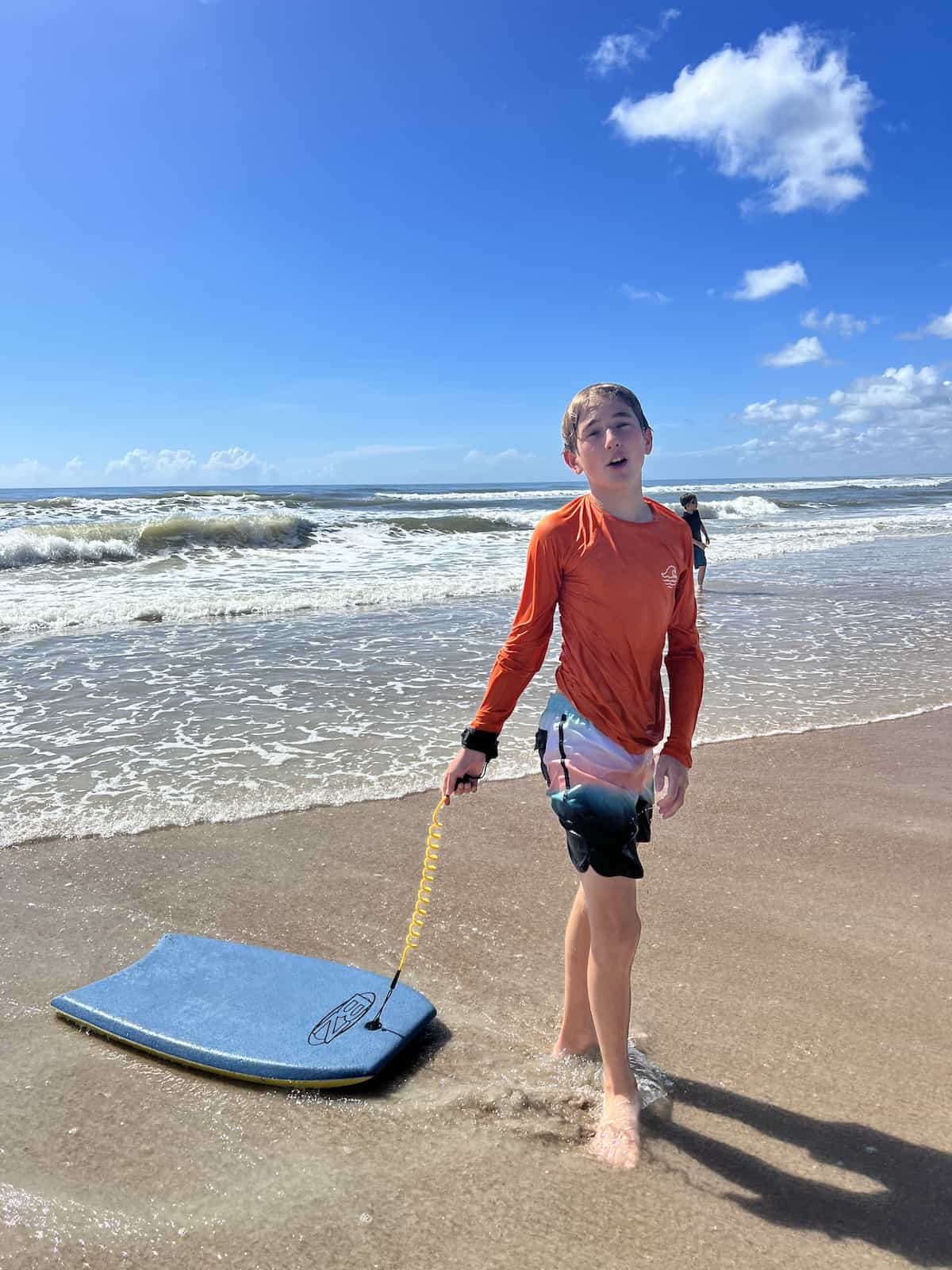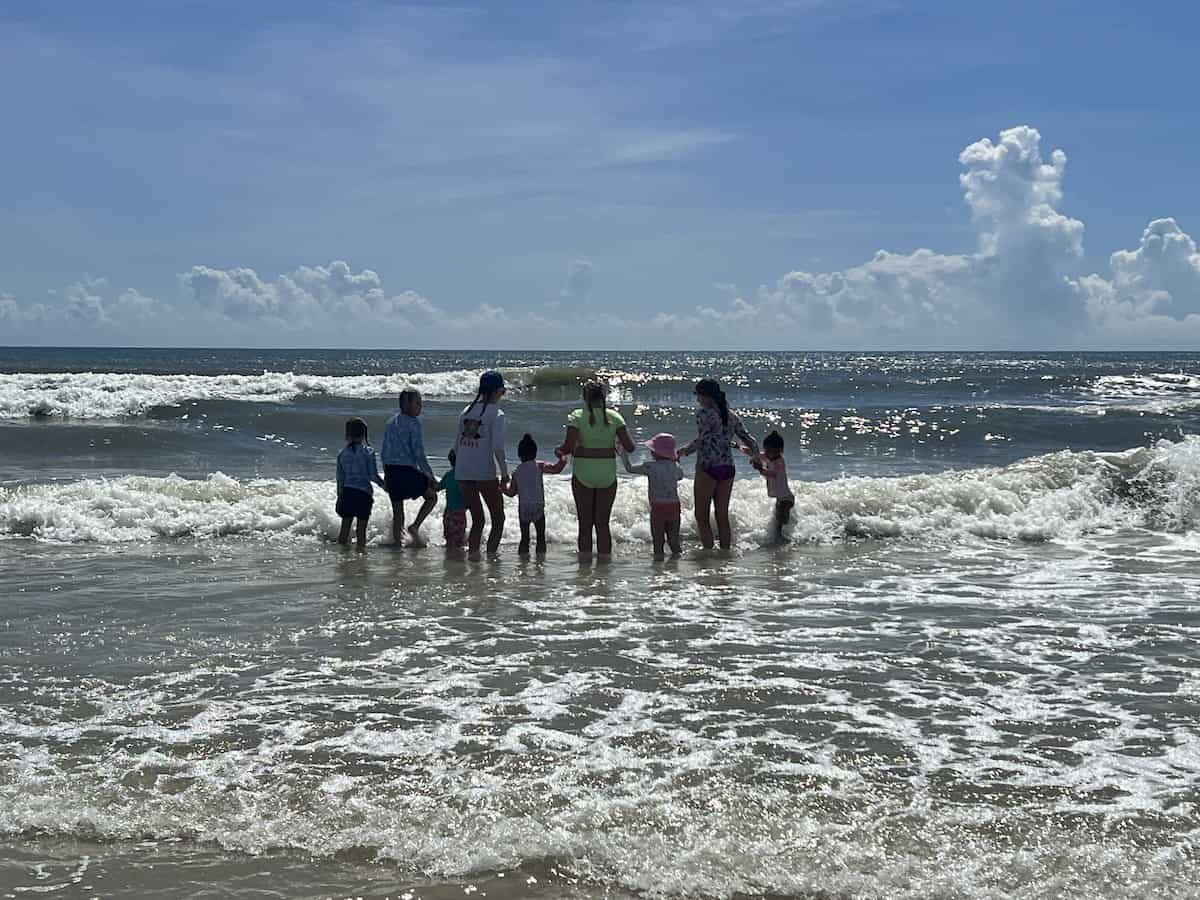 Every year at the beach I take the girls shopping and I take Kye on an ice cream date. Now that Spear is a bit older he and I started our new tradition of having a little date too! We went and got ice cream together and I even let him get blue 😉
Ended the night with a beach date with my love! A perk of kids getting older – free babysitting 😉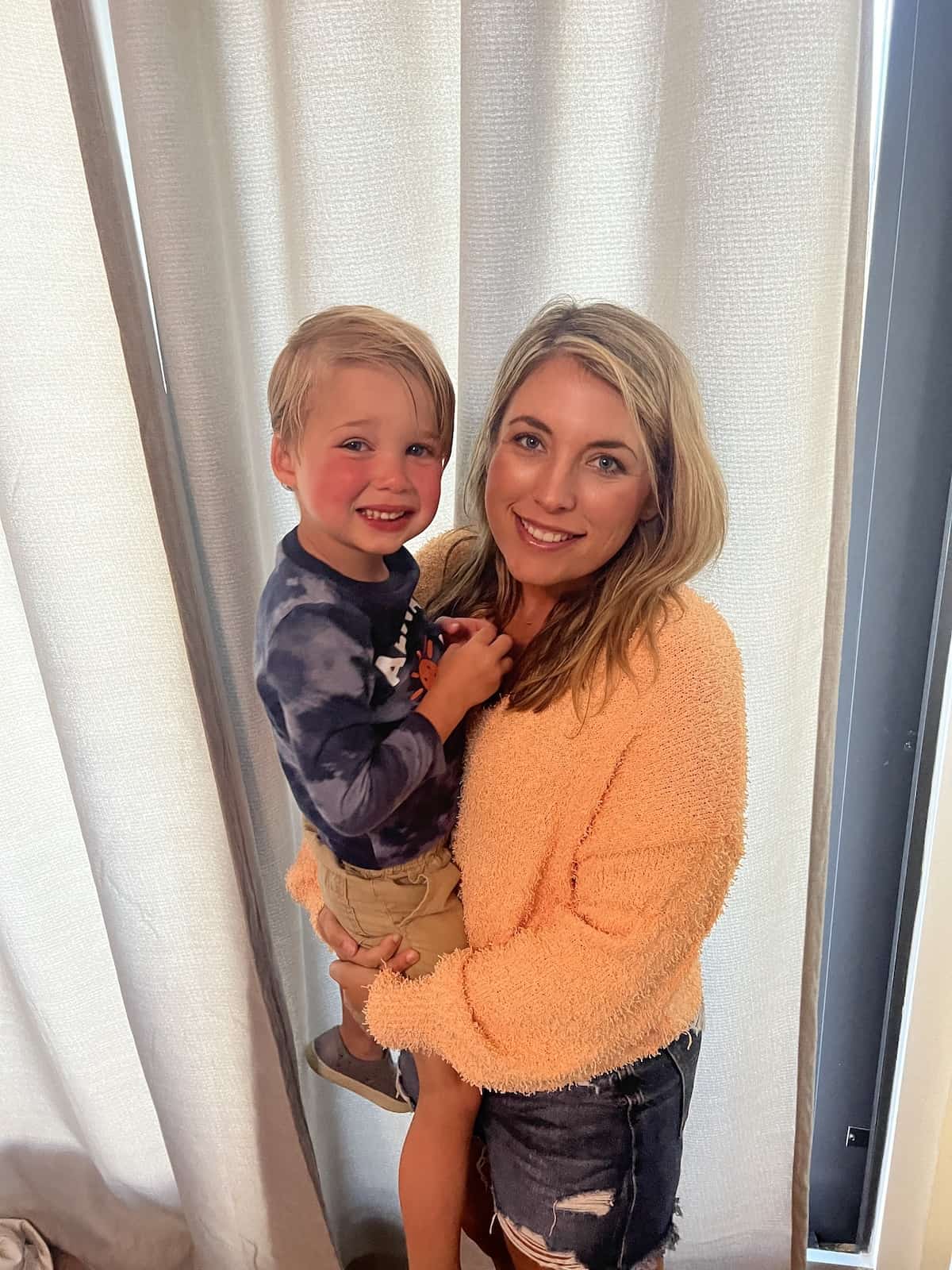 Spear LOVES him some beach sleep. He slept in until 9 am! I could def get used to beach vibes Spear life 😉
Another annual tradition is going to play putt-putt as a family! Last year we invited Britt's beach bestie along and she came with us again this year 🙂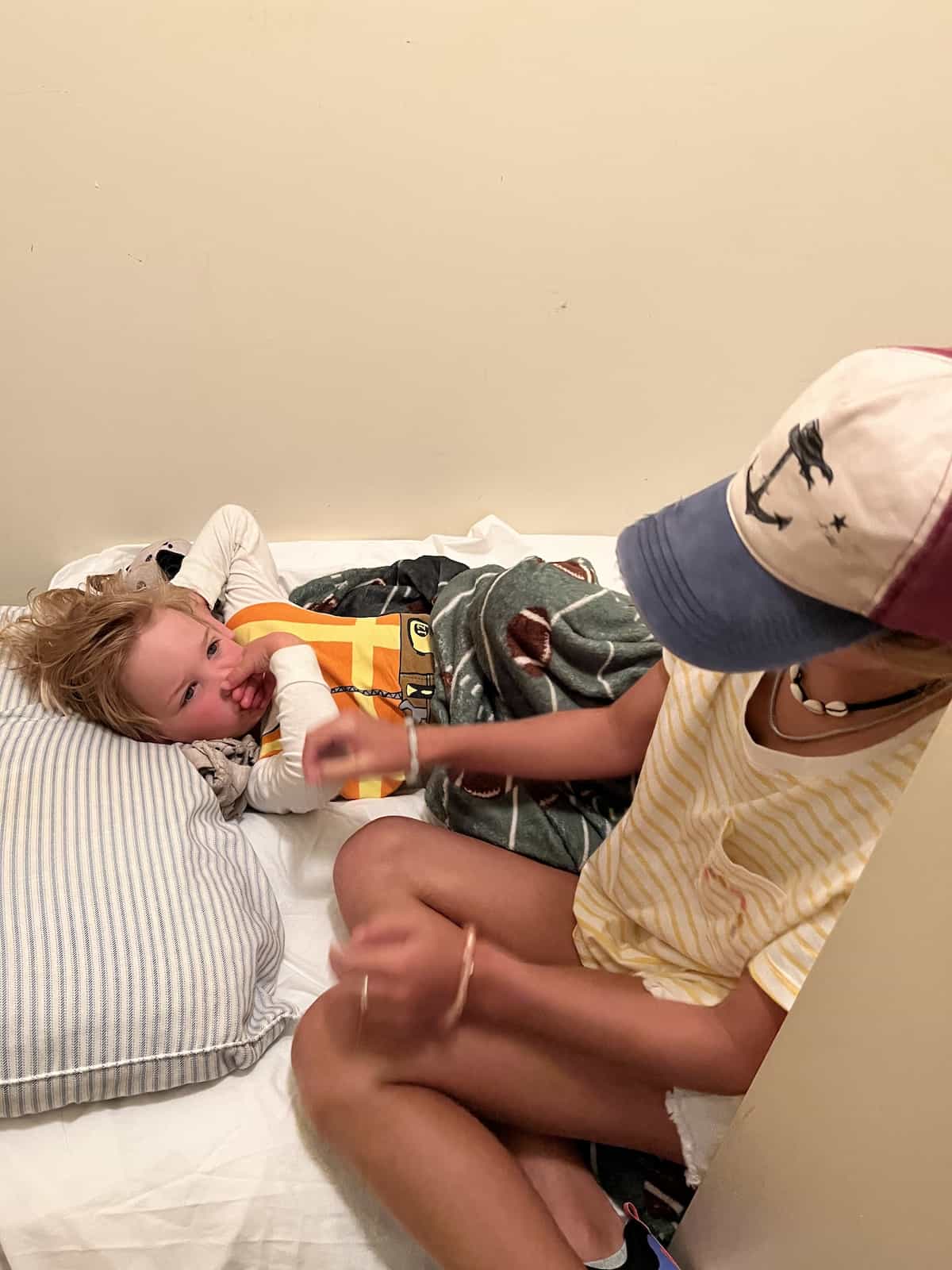 When you've got ultra-competitive kids it means that family putt-putt often includes tears and forced smiles.
Spear was the first one in the fam to get a hole in one! AND in even BIGGER news – he made it ALL 18 holes!!! He only had to have one timeout and otherwise did amazing.
Next year…MOM may even get to play for literally the first time EVER!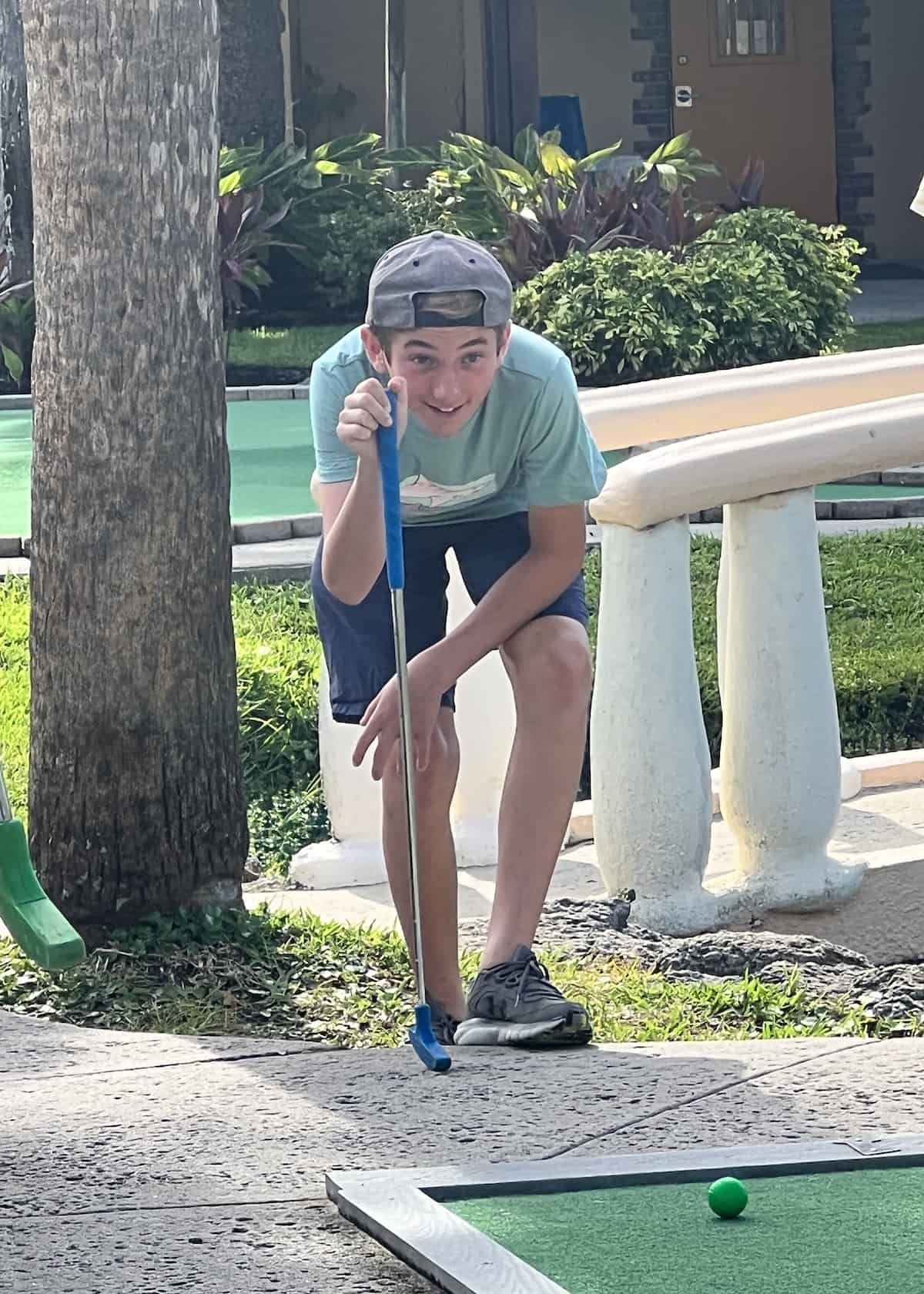 We always go to play putt-putt first thing in the morning and try to be among the first guests to play when they open. With so many kids we don't like to slow people down and also don't want to be slowed down either!
After putt-putt we just had some downtime at the condo with lunch and naptime. The big kids and Z and I played Tripoley while Spear napped.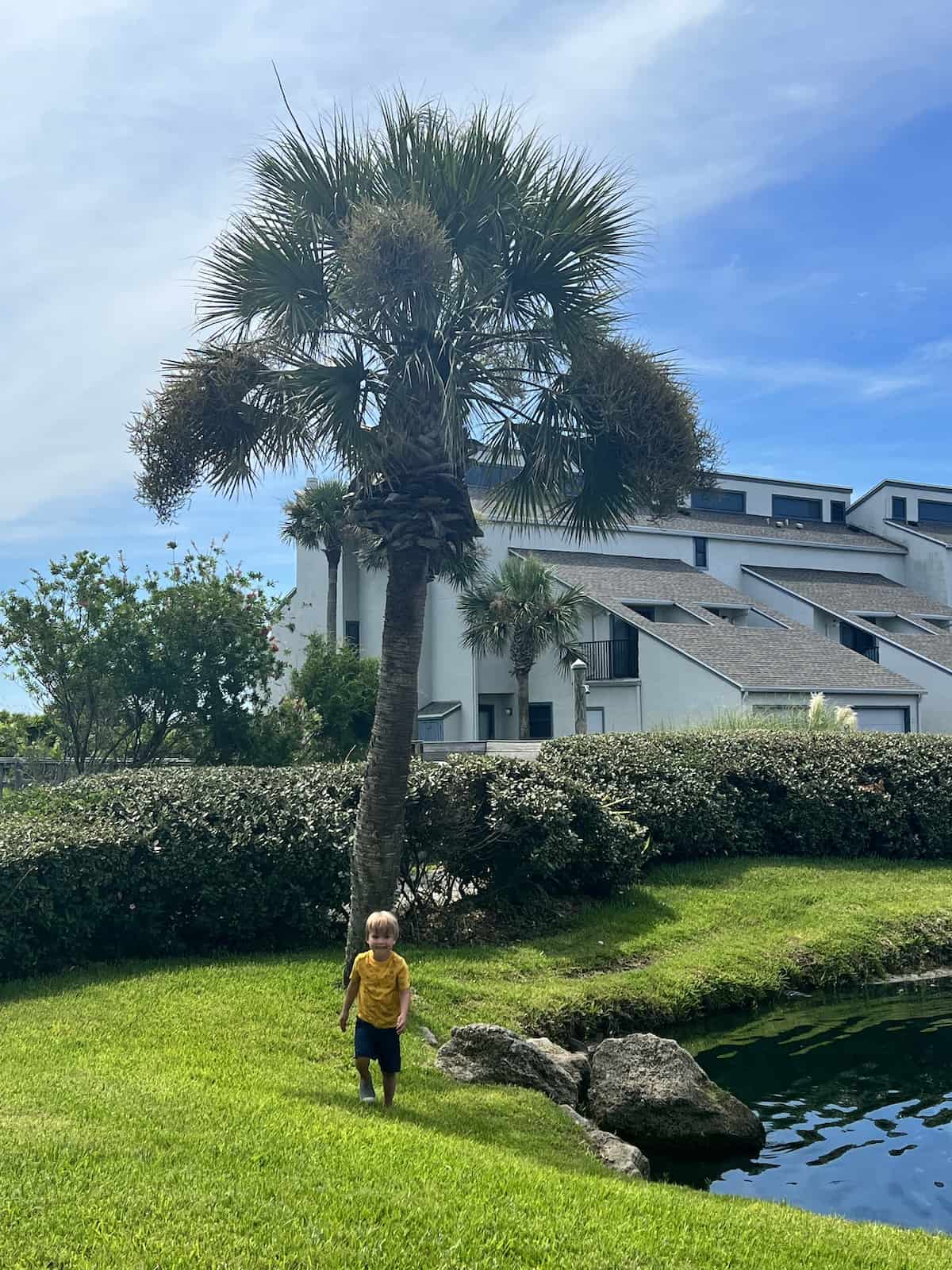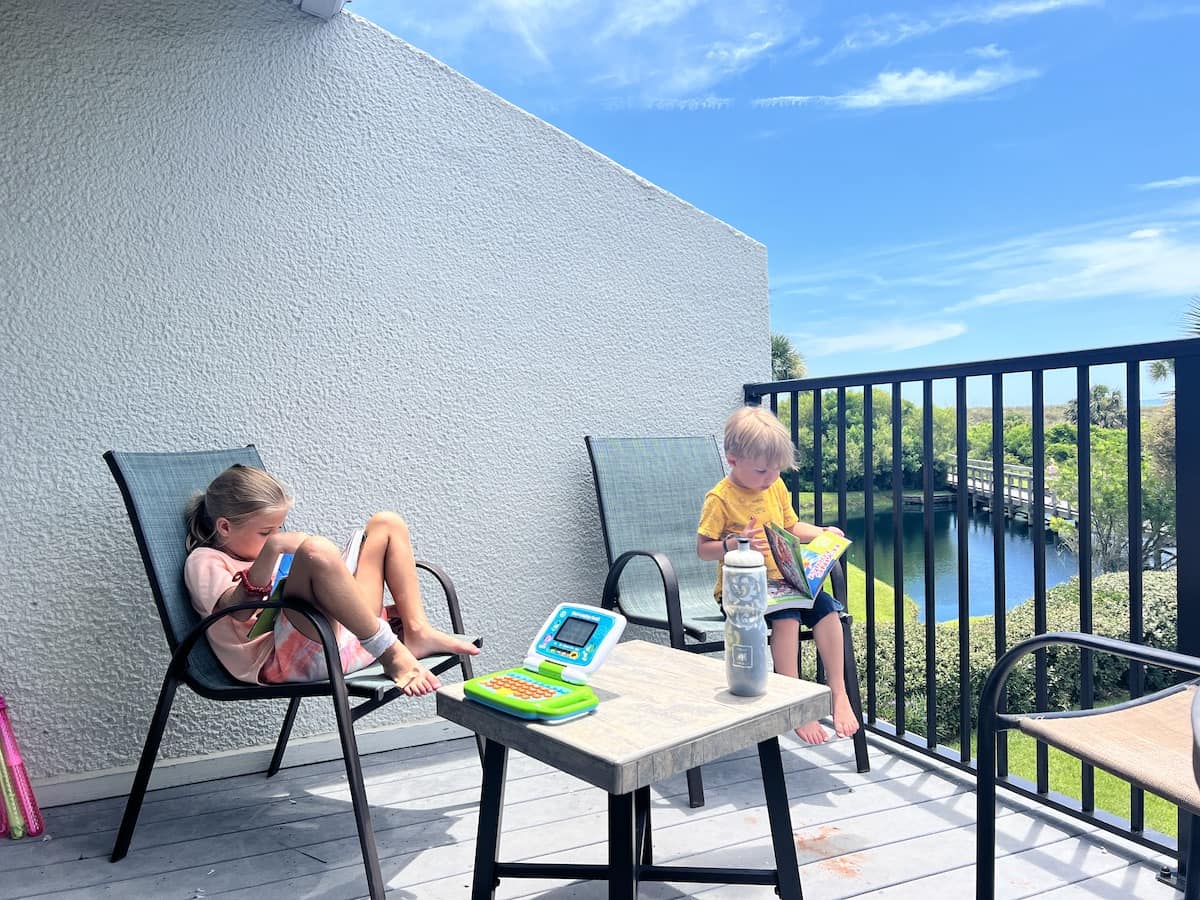 Another annual tradition is a visit to Old Town for pizza at Pizzalley's and ice cream. However…the last two years (post-Covid) Pizzalley's just hasn't been the same. It's super disappointing but it was also a great year to switch things up a bit!
We visited Carmelo's Pizzeria and think it's our new spot!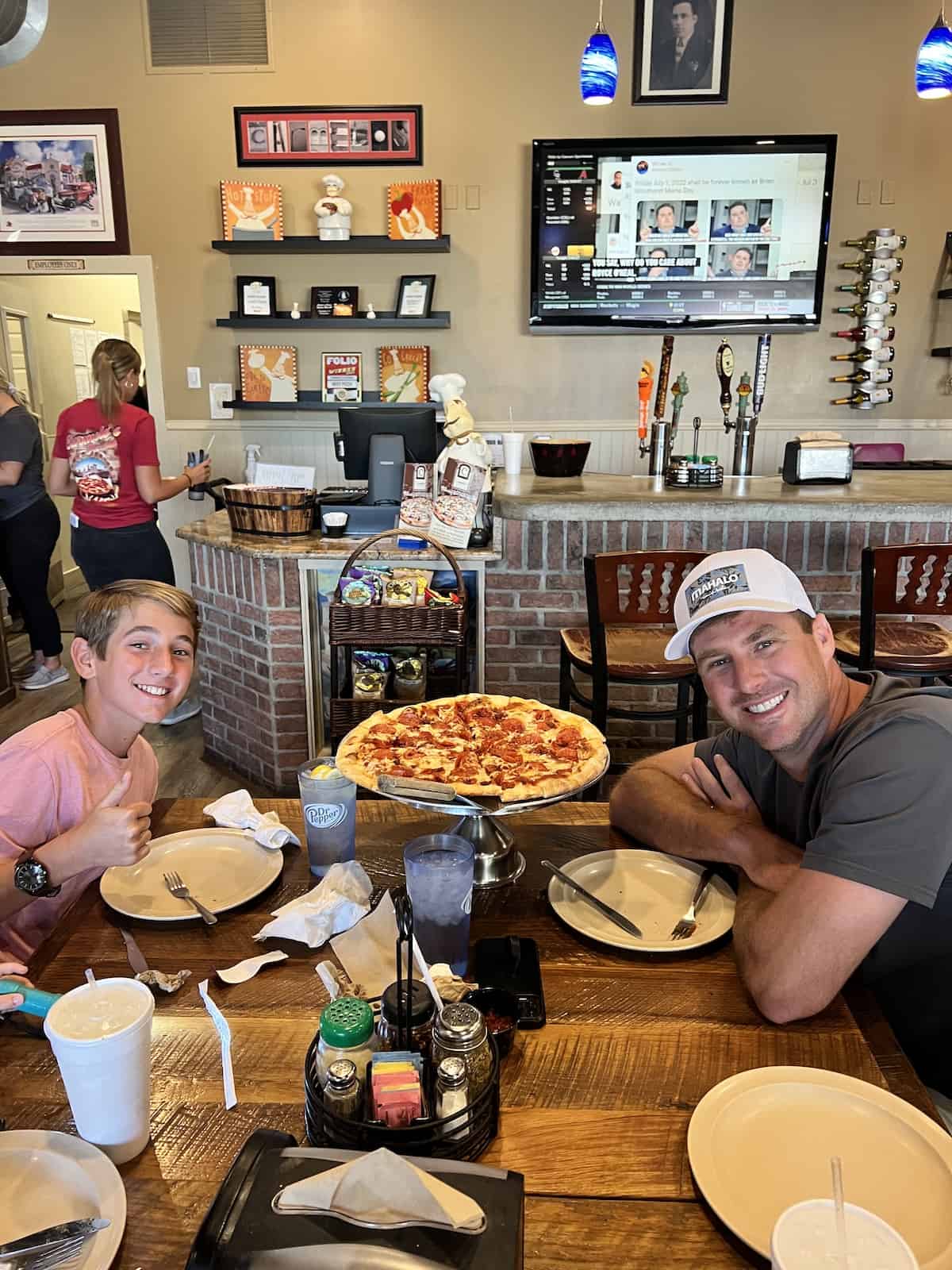 We then still headed to Old Town. In the past we've always brought the double stroller but this year was the first year we just tossed an umbrella stroller in the van. Tess didn't even hesitate to immediately sit in it haha
Even though some traditions may change…our cannon pics are a MUST DO! 13 years of these pics 🙂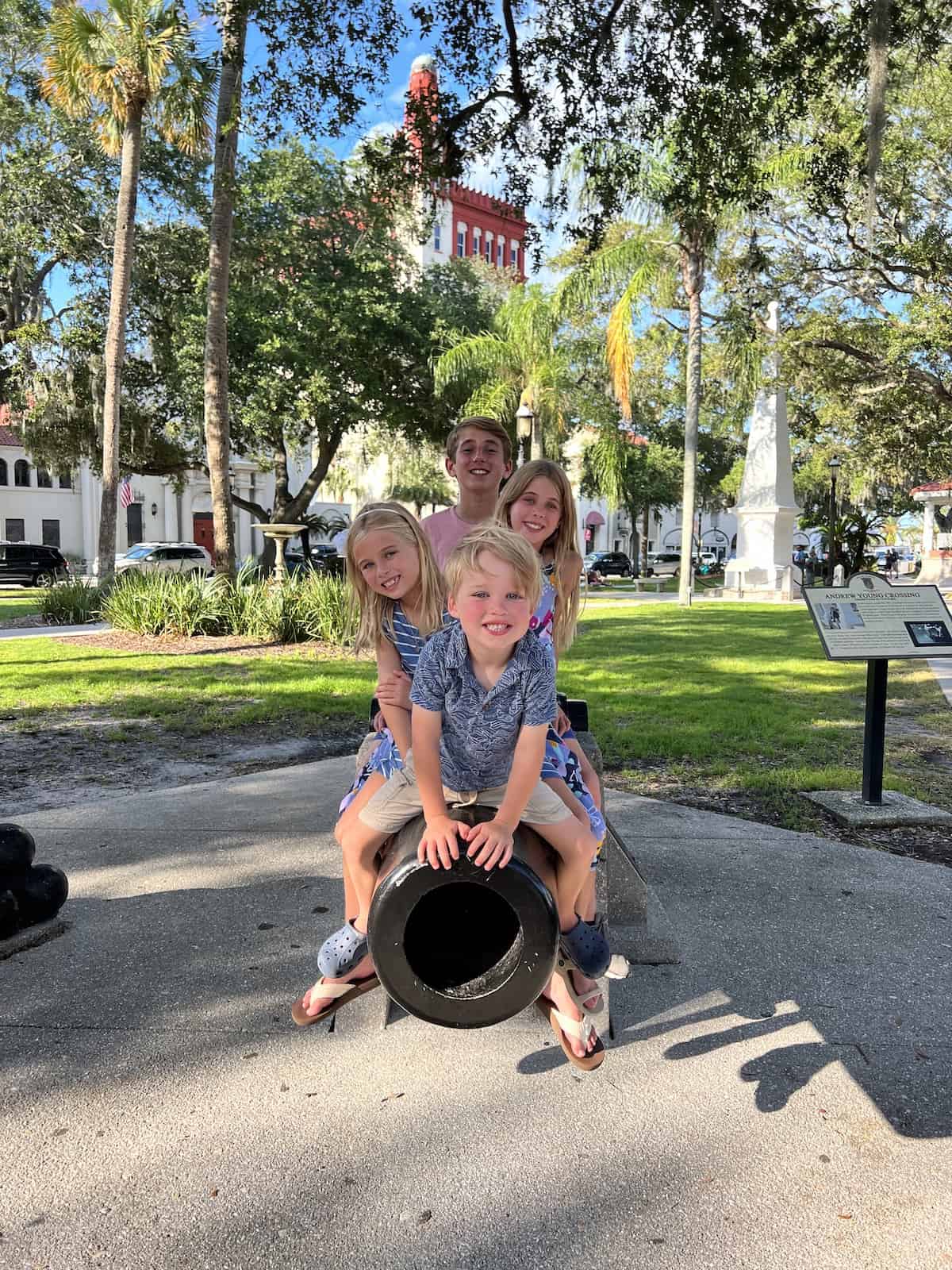 Next year we won't bring the stroller at all! Spear opted to walk the whole time anyway 🙂
As the kids get older I know we'll enjoy Old Town more – we just still aren't at that stage yet where browsing shops really makes sense.
But ice cream is always a good idea 😉 Britt is officially old enough to order Superman ice cream but she admitted that it's just not good!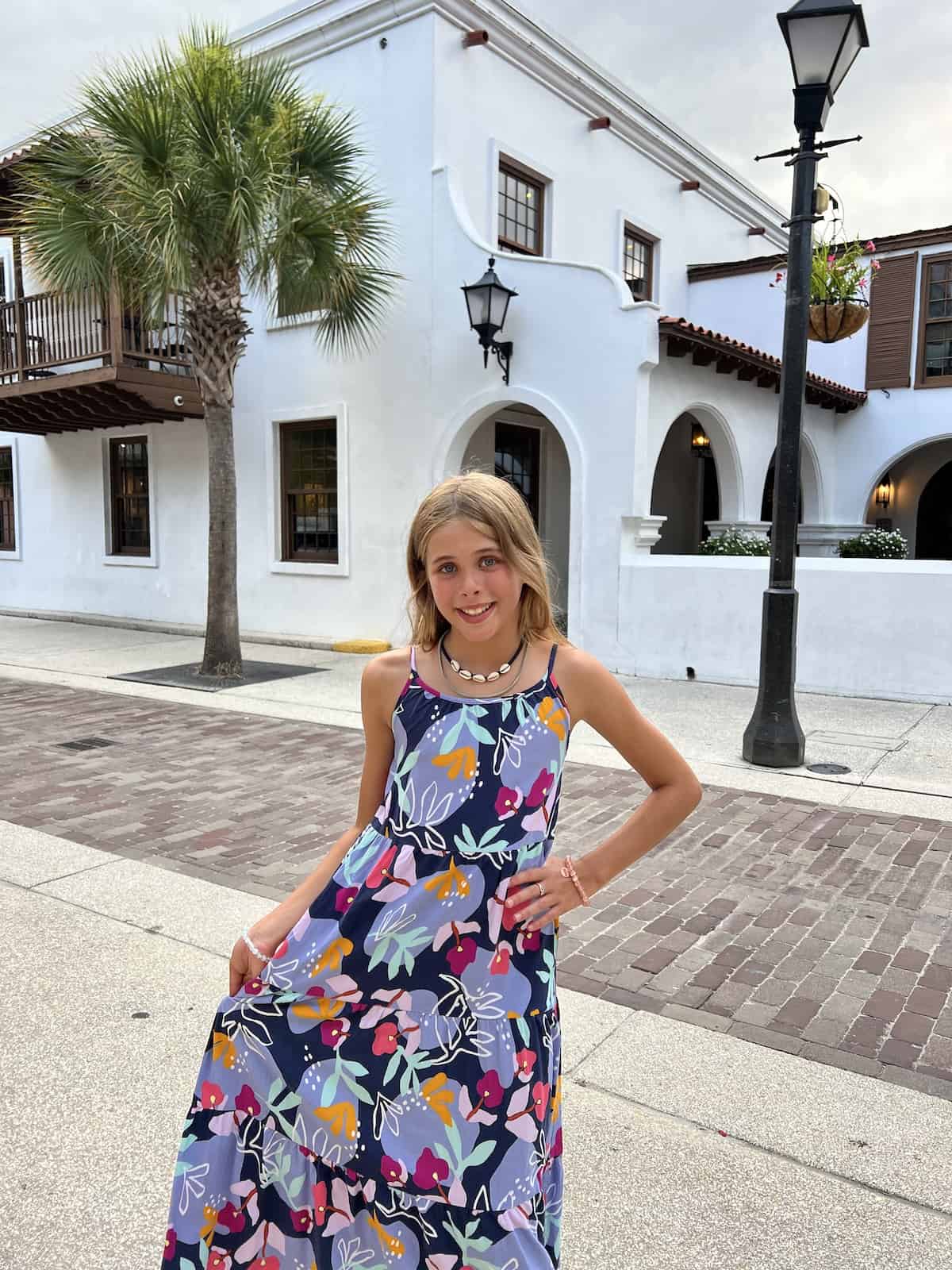 My heart. I love these slower moments together.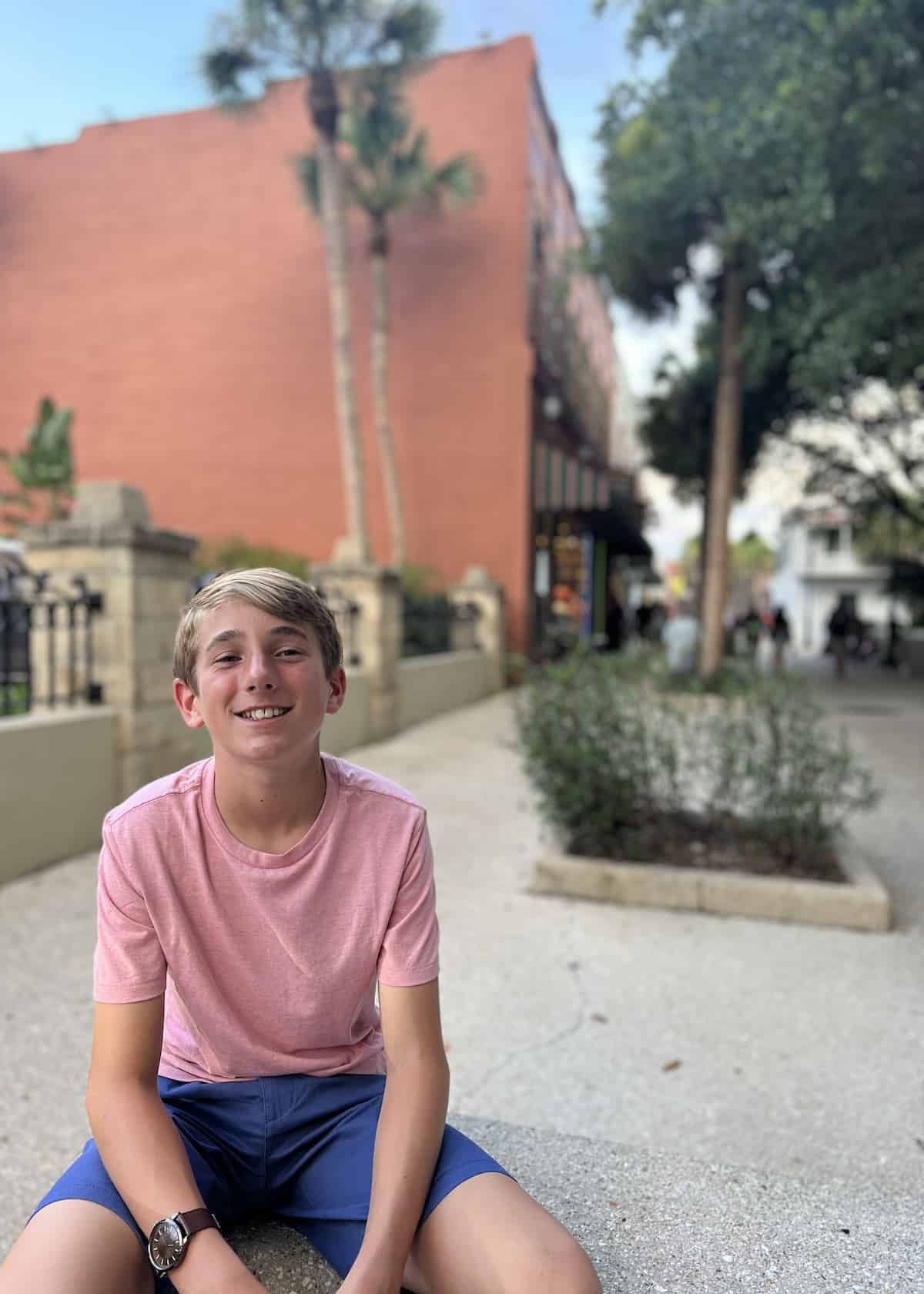 Old Town went so well and I was enjoying each of the kids so much that I didn't want it to end soooo I pulled a super cool mom move and offered to take the kids night swimming 🙂
Even though we have a pool at home, Tess is ALWAYS asking to go to the pool during our beach trip so she was thrilled!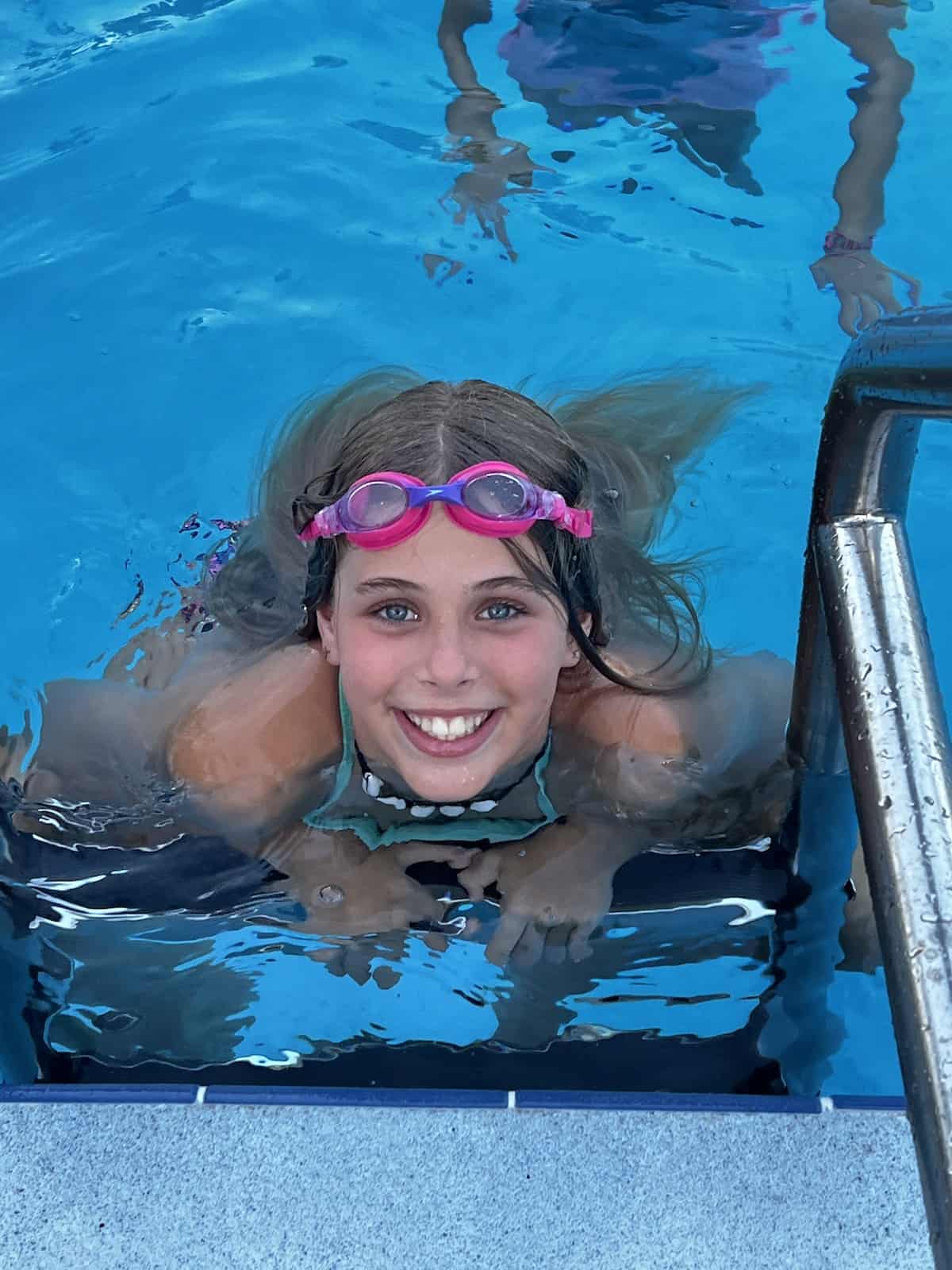 Four kids. At the beach and ZACH AND I GOT TO SIT IN CHAIRS. Whhhhhat.
I NEVER thought the day would come when we'd be able to SIT on the beach with our kids! But here we are!
The painting shell hack is def my new fav beach tip! Every beach day the kids spent at least 30 min painting shells. It helped to give more downtime and less anxiety watching the waves time for Z and I.
This trip was a HUGE game-changer overall with Spear. It was a big lesson for us with how crucial consistency is for him. Usually, we spend the majority of our time at the beach chasing him from one activity to another. Over and over. Back and forth.
This year we made a rule up front that he HAD to communicate with us before switching activities. And if he didn't communicate with us? He's have to sit out.
We remained SUPER consistent and it worked BEAUTIFULLY. It resulted in him sticking with an activity longer and us not having to do nearrrrrly as much beach chasing. Most importantly? We got to ENJOY SPEAR so much more this year!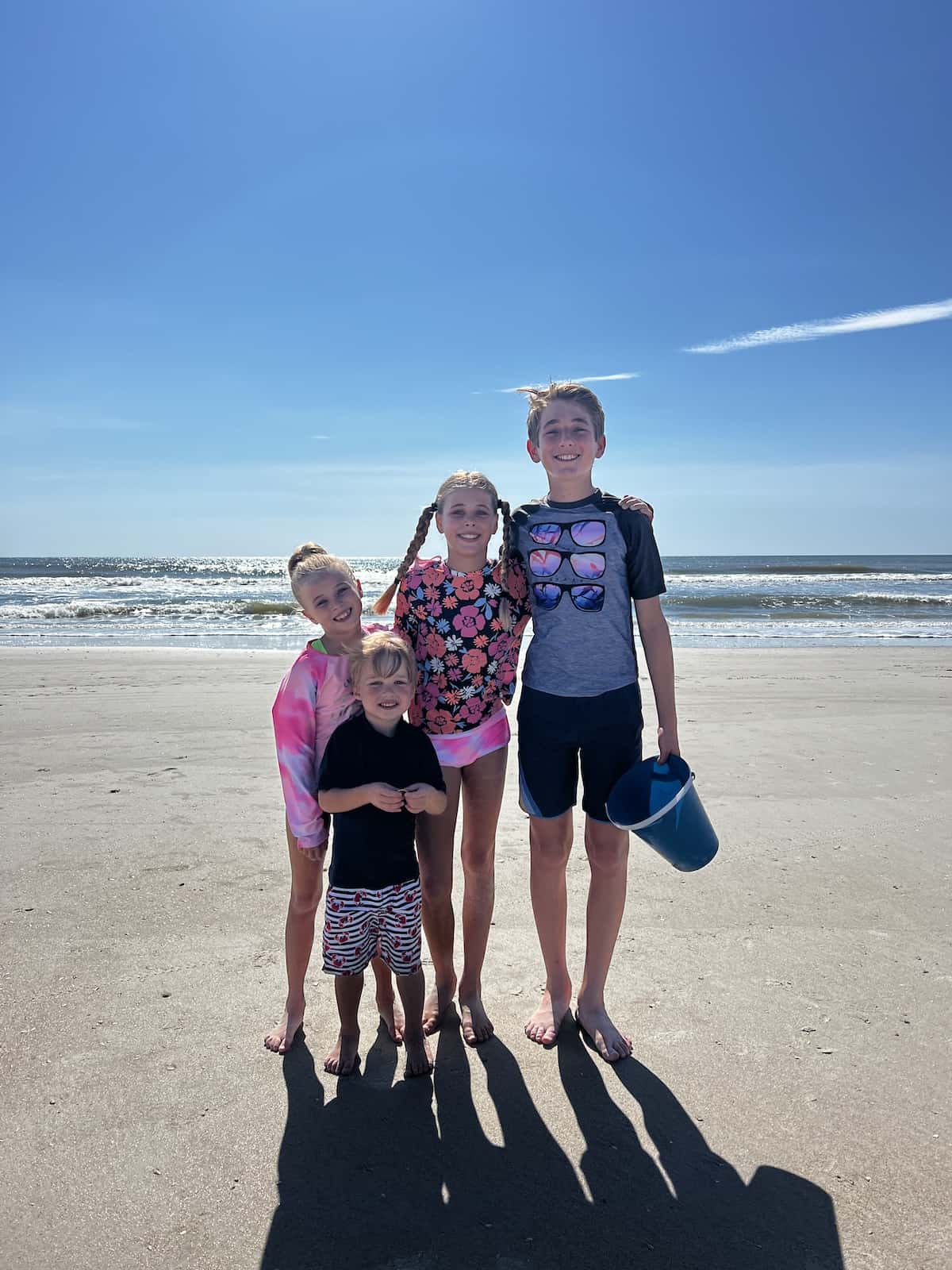 Occasionally I'll be a fun beach mom 😉 I have my moments!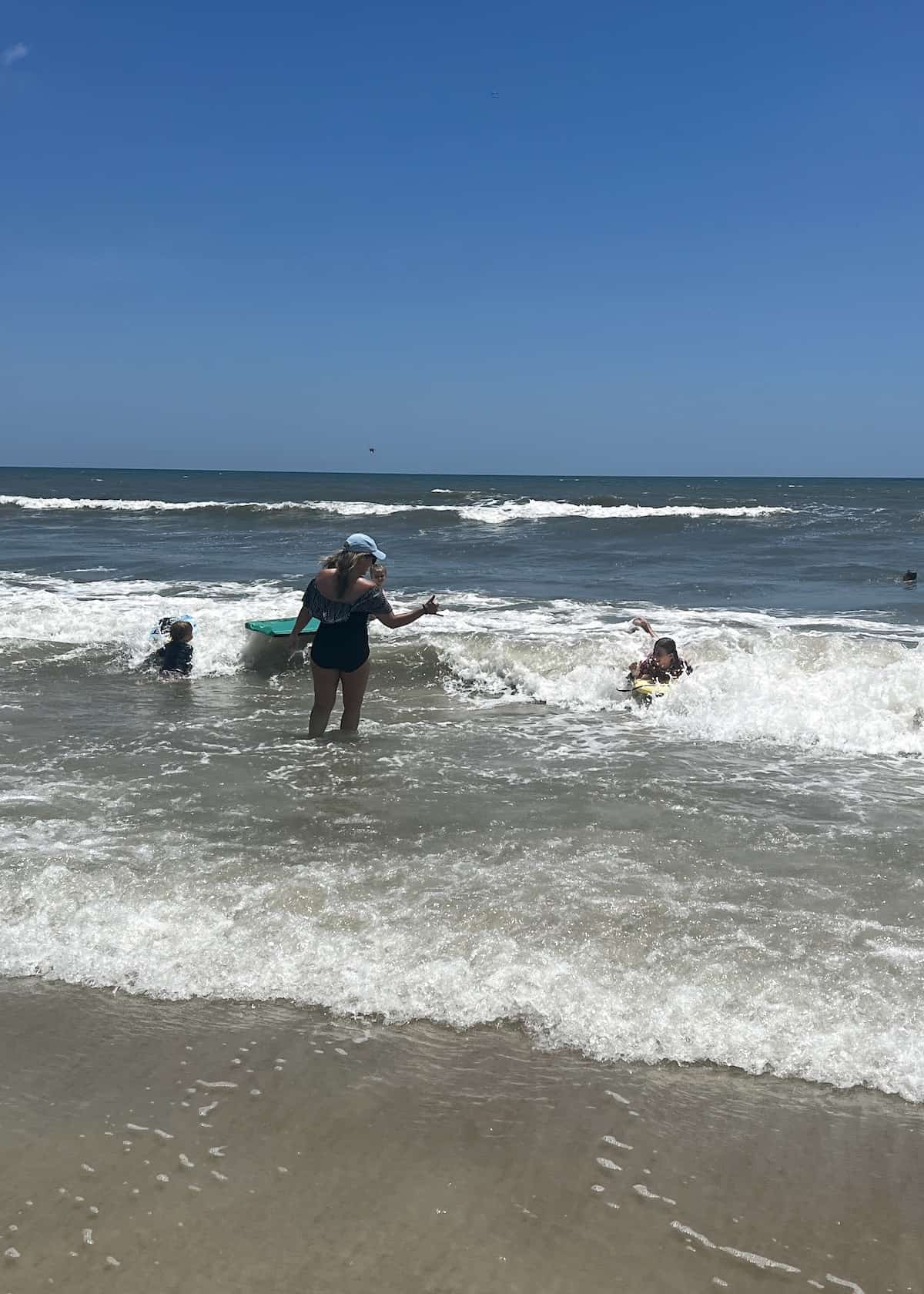 Kye and I saved our ice cream date for the last day. We've enjoyed Rita's the last couple of years and agreed we wanted to go back this year too!
While we were gone Spear napped and Zach had his beach tradition with the girls – snuggling and watching National Treasure
For the last night – we ate leftovers! Hodge podge dinner for the win!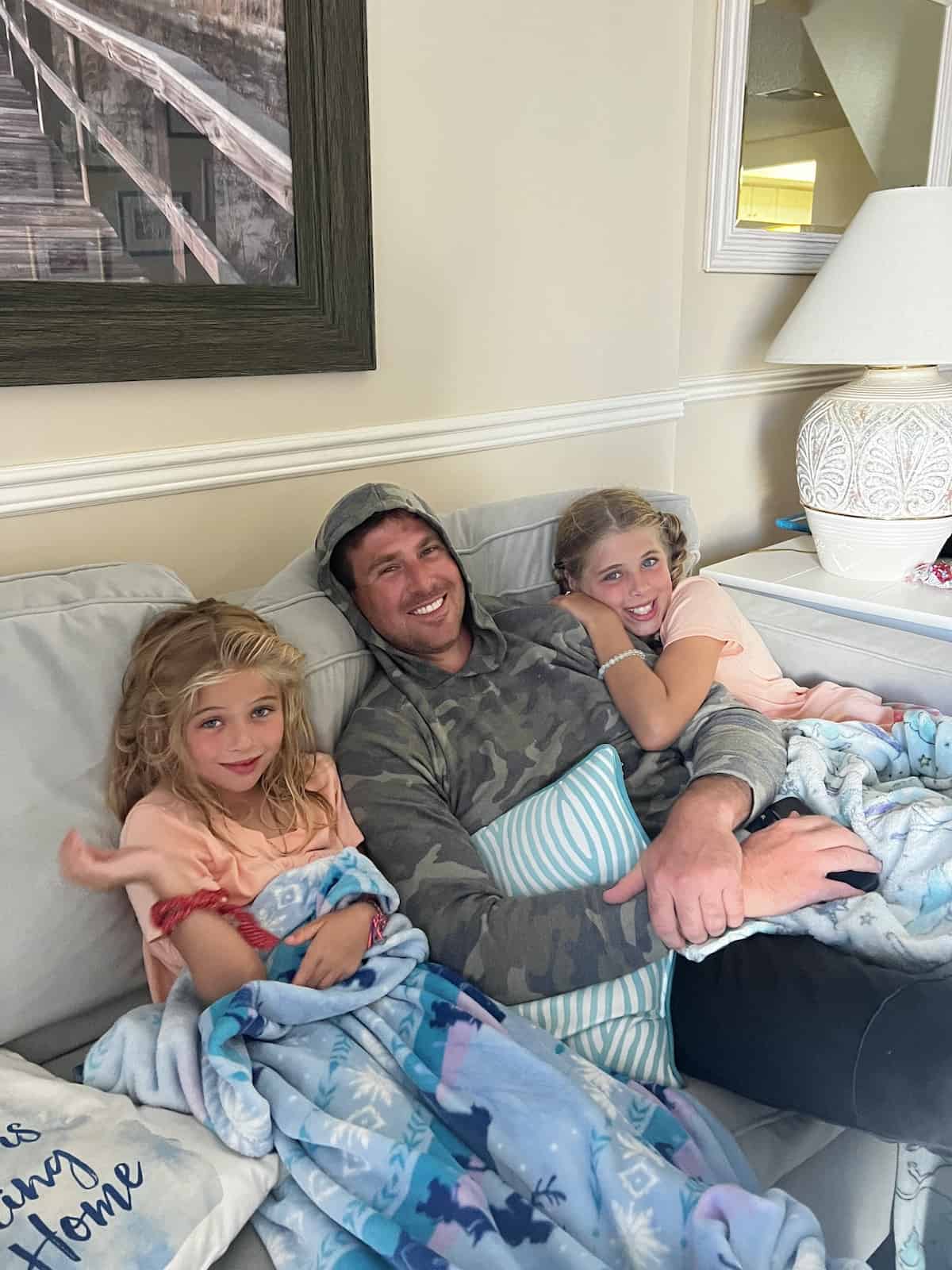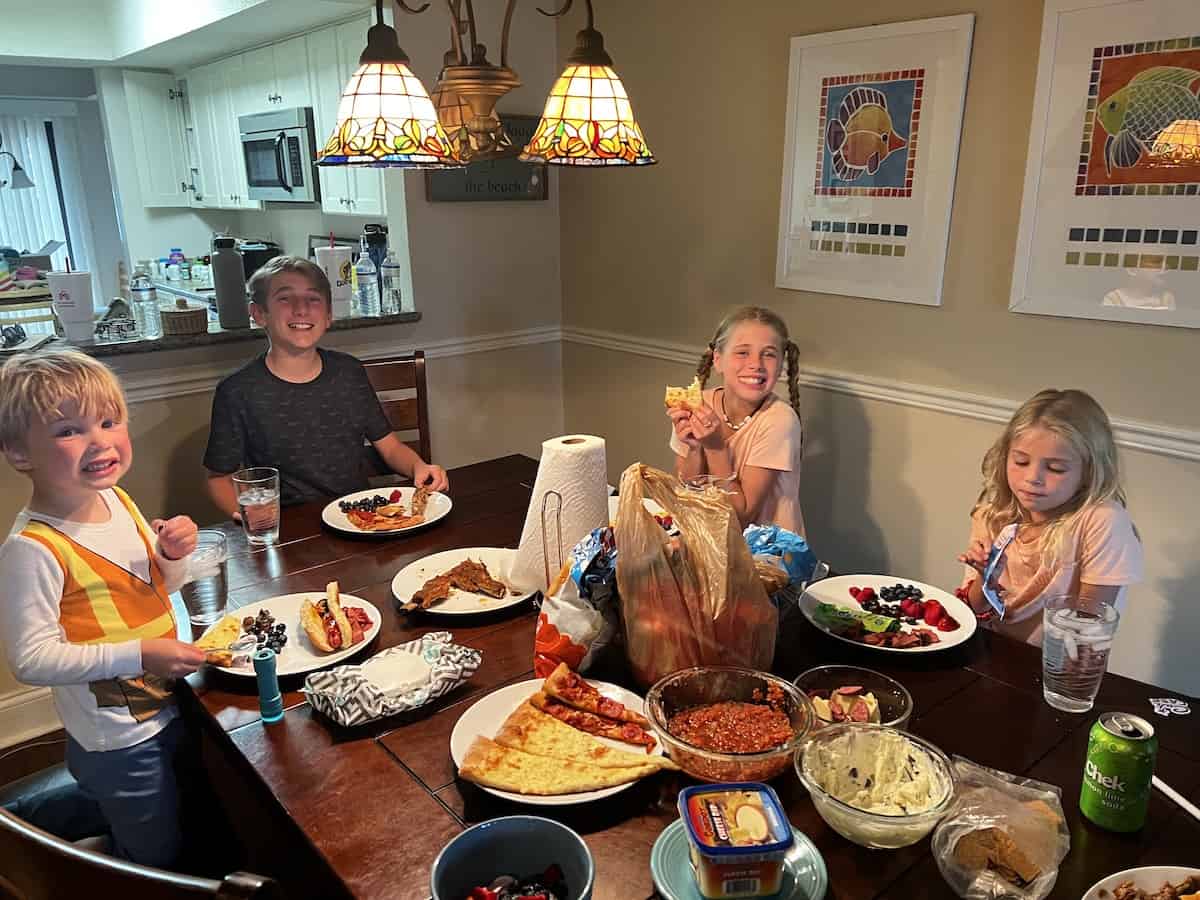 And, of course, we had to have one more post-dinner beach outing.
Beach evenings are my FAV for SURE!
Our beach trip is one where every year is better than the year prior. Less stressful, more enjoyable. The kids were truly HUGE help this year. They stepped up and pitched in and it made me so proud!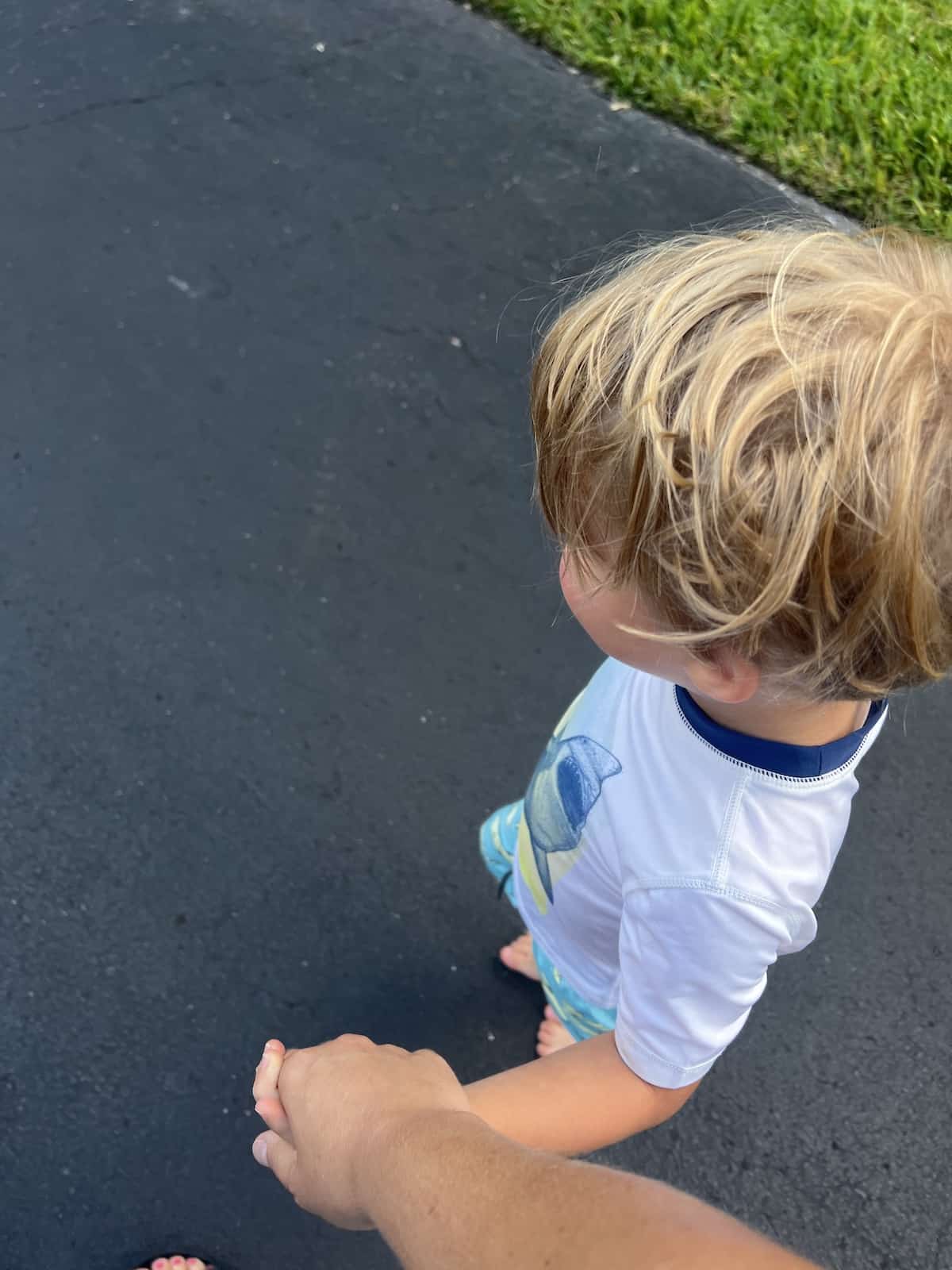 Finished out the night with more Canasta and ice cream sandwiches for breakfast before heading home.
I had to share this comparison pic that I posted on IG too…CRAZY how much Kye has grown in ONE YEAR!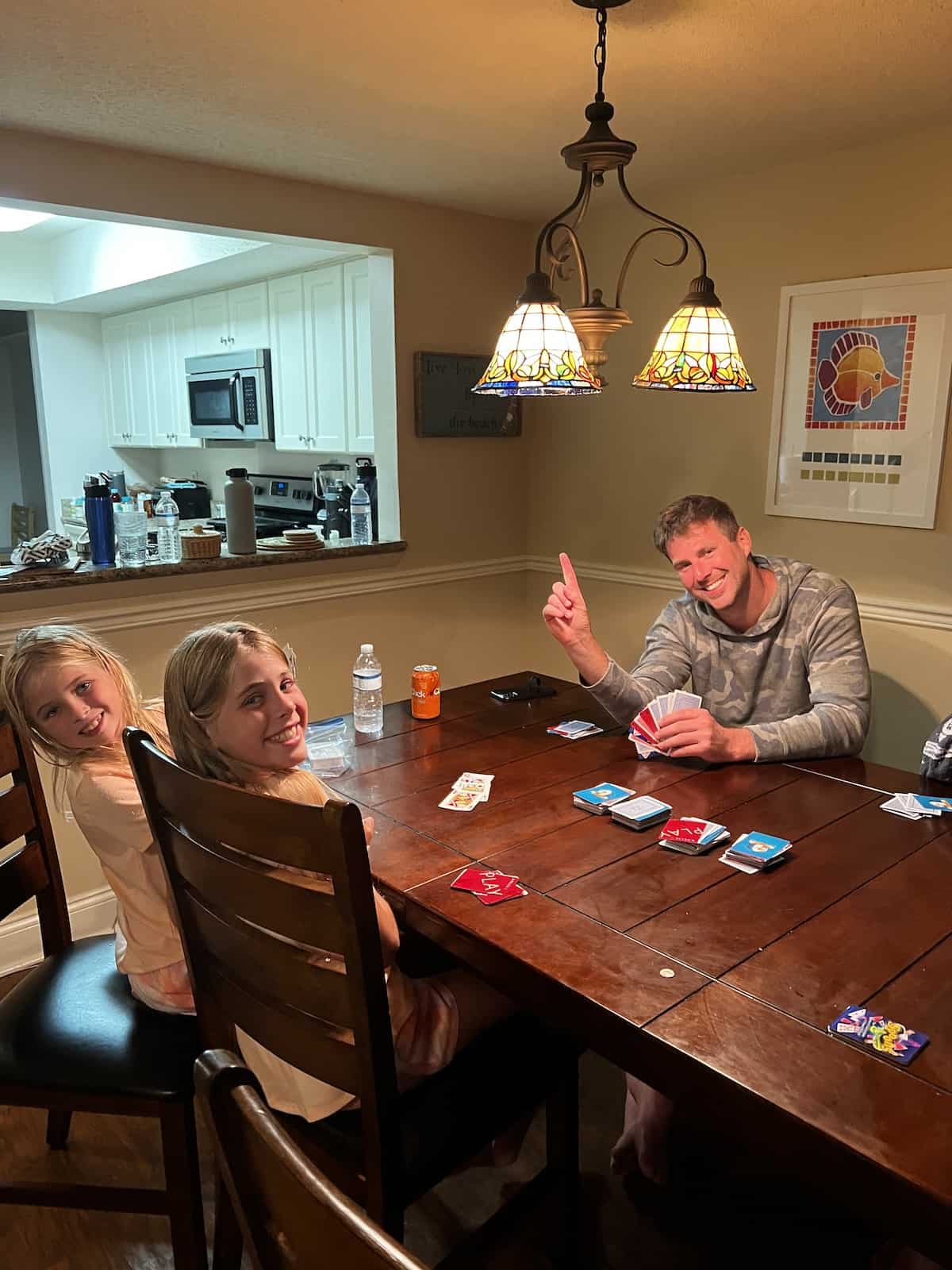 Reel recap of our trip from my IG: